The term 'labour of love' is an idiom that has become unbearably clichéd with overuse in recent years, but railway photographers deserve such an accolade, because had it not been for a small number of dedicated amateur cameramen a huge amount of our railway heritage would never have been recorded on film.
As a boy there was a handful of railway photographers I admired - even idolised - whose pictures appeared regularly in the monthly magazines. Some names are less well known than others, yet each and every one was responsible for converting thousands of youngsters into 'wannabe' railway photographers.
But taking pictures of express trains is a lot harder than it looks. Unlike landscape photography, you can't wait for the right light, a speeding train is gone in the blink of an eye! As a result, several factors have to be taken into consideration, such as type of film, angle of shot, focus, choice of lens - and, the most important of all: a fast shutter speed.
Of course, success also depends on the vagaries of the weather! How often have we selected a 2X yellow filter to pick out those 'fluffy' white clouds scudding across an otherwise uninteresting sky, then just as the train came into view - at the precise moment we pressed the shutter - a cloud blocked out the sun?

(Below) A lovely shot by Steve Davies of 'Castle' class 4-6-0 No 4085 Berkeley Castle in a classic Western Region location. This is Sonning Cutting, just east of Reading; a popular spot for serious students of railway photography, particularly Maurice W Earley, whose shots of GWR steam are legendary; indeed there is much evidence of his numerous visits to Sonning...dotted along the top of the retaining wall are mysterious holes made by the legs of his heavy tripod which are still visible today...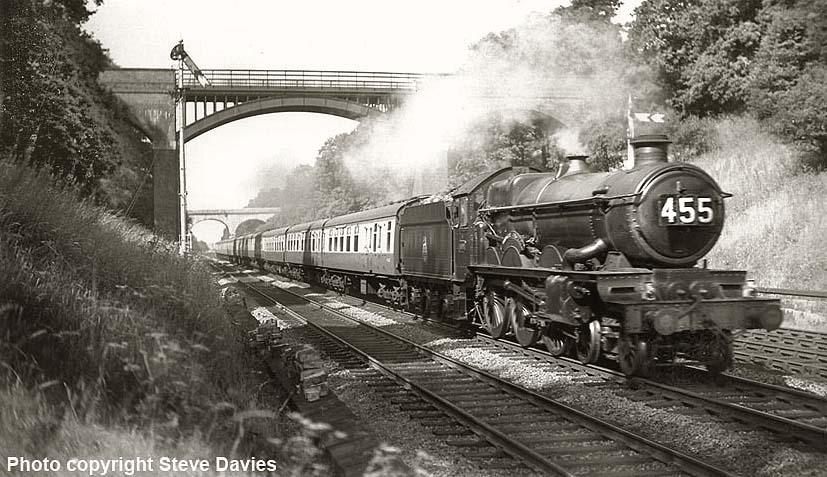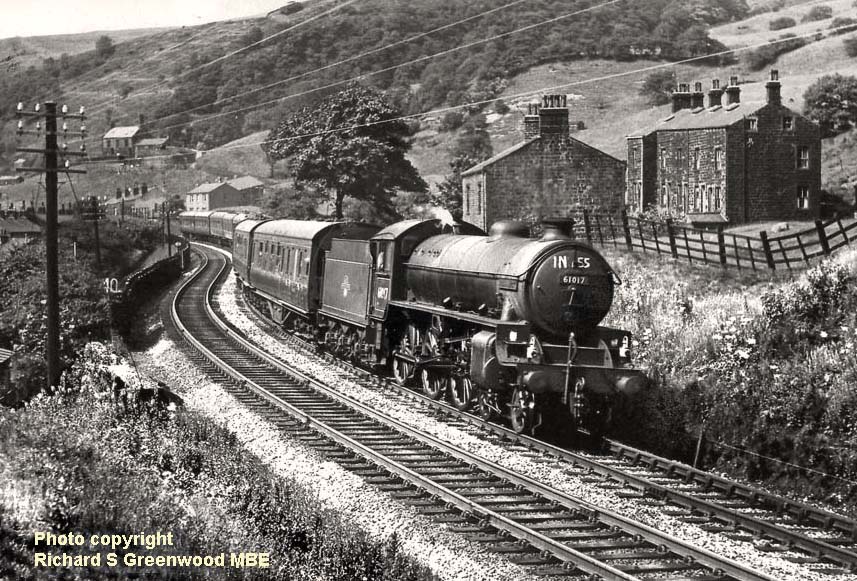 (Above) A publisher would be hard pressed to find a more deserving photo for a double-page spread than this one, however due to an error on my part (there were no details identifying the photographer on the reverse of the photo) I wrongly attributed the photo to Alan Parkin, who commissioned an oil painting of this scene, and so I am glad to set the record straight here.
The photo is copyrighted to Richard S Greenwood, who explains that it is from one of his own negatives (Ref HC22) and shows B1 61017 Bushbuck working train 1N55. The ensemble is descending from Copy Pit summit through the reverse curves at Cornholme on 4th August 1962 and the shot was taken from a location above the Staff of Life public house.
Richard had earlier in the day photographed its outward working at Lydgate viaduct when it was banked up the gradient by a WD 2-8-0. Richard adds - 'The Calder Valley and the Copy Pit line were largely ignored by most photographers in the early 1960s but, living as I do in Rochdale, they were on my doorstep. However by spring 1963 I acquired an 8mm film camera and so concentrated on cine with only a few still photos after that date...'
Needless to say, I apologize unreservedly for wrongly crediting his photo…after all this is one of the best photos on the entire site, stirring up fond memories of lazy lineside trysts with a camera in the early Sixties; indeed compared to the frenetic jostling for elbow room among the rat pack of steam photographers today,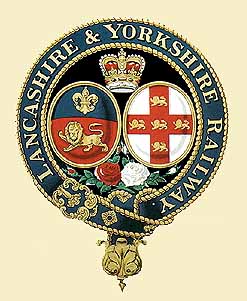 railway photography was largely a relaxing pursuit in the old days - at least, that's how I remember it. There is a tranquil quality about this photograph that you're unlikely to find anywhere near a steam special nowadays.

At this juncture I must mention Richard's allegiance to the Lancashire & Yorkshire Railway Trust, which can be traced back to the Lancashire & Yorkshire Railway Preservation Society when a group of Rochdale railway enthusiasts formed the L&Y Saddletank Fund. In 1987 the L&YST Fund changed its identity to the Lancashire & Yorkshire Railway Preservation Society and started negotiations to form a Charity to secure the collection, thus ensuring that the influence of the Lancashire & Yorkshire Railway continues to the present day. If you are interested in helping with the Trust's praiseworthy effort to restore and conserve the quality of L&Y workmanship, click HERE to visit the Trust's website to find out more; indeed you can make a big difference by providing either your skills in engineering or carpentry, or perhaps you are simply competent at DIY...you will be welcome with open arms!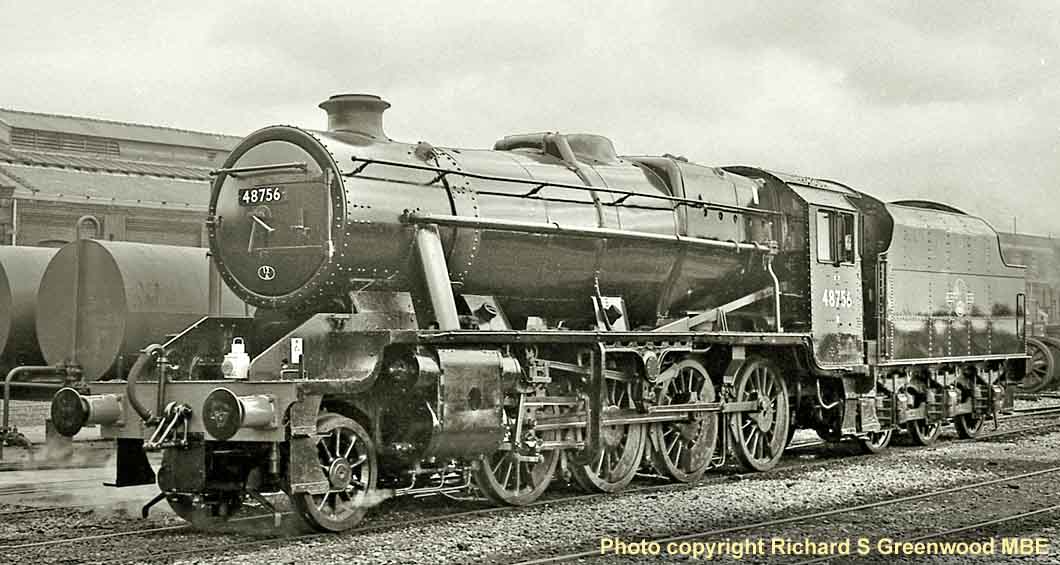 (Above-Below) Established in 1887, the Lancashire and Yorkshire Railways's Horwich Works had a long proud history of locomotive construction, the first to roll off the production line being John Aspinall's 2-4-2T No 1008 in 1889, now preserved at the National Railway Museum. During Aspinall's tenure as Chief Mechanical Engineer (1886-1899) a further 677 locomotives were built, and another 220 under Henry Hoy who became CME when Aspinall was appointed General Manager of the LYR. By 1907 the Works had produced its thousandth engine, a four-cylinder compound 0-8-0.
Then in 1923, the LYR became part of the LMSR and its irst Chief Mechanical Engineer (1923-1925), George Hughes, was responsible for the design of a 2-6-0 mixed traffic loco, better known among enthusiasts as the 'Horwich Crab'. The class proved extremely successful, and a total of 245 were constructed, 70 at Horwich - these being Nos 42700-42729 between May 1926 and December 1927, with Nos 42810-42849 following in April 1929 to December 1930. Other locomotives rolling off the production line included HG Ivatt's Class 4MT 2-6-0s Nos 43000-49 between December 1947 and November 1949, followed by Nos 43112 and 43136 in March 1951 to January 1952. A batch of Fowler 4F 0-6-0s Nos 44457-66 was built between March 1928 and July 1928 plus four batches of the Stanier Class 5MT 4-6-0 Nos 44668-44717 (December 1948-December 1949) Nos 44783-99 (March 1947-October 1947) Nos 44932-66 (September 1945-August 1946) Nos 44982-99 (September 1946-March 1947). The Fowler 0-6-0T Nos 47667-81 appeared in April to October 1931, followed by the diminutive Kitson Dock Shunter 0-4-0ST Nos 47005-8 in October 1953 to January 1954. Two batches of the Stanier '8F' 2-8-0 were built at Horwich, with Nos 48331-99 rolling off the production line between September 1943 and June 1945, with Nos 48490-5 following in June to August 1945). The final steam class to appear was the BR Standard '4MT' 2-6-0 Nos 76000-19 between December 1952 and July 1953 followed by Nos 76075-99 in December 1956 to November 1957.
In all, Horwich was responsible for the construction of 1,840 steam locos, the last being BR Standard Class 4 2-6-0 No 76099 in 1957. Thereafter new construction was limited to 0-6-0 diesel shunters, later TOPS Class 08, the last being No D4157 in December 1962. For the next two years the Works continued to overhaul steam engines and carry out wagon repairs, plus the electric multiple units, but steam locomotive repairs ended in May 1964, the last to leave being Stanier LMS 8F 2-8-0 48756 - under its own steam - seen here being given a great send off by the Works staff on 4 May 1964. Thereafter the Works was used for carriage and wagon repairs until closure in 1983, the site was sold by BREL in 1988 and the rail connection to the works was removed in 1989.
FOOTNOTE - a DVD based on Richard's 8mm filming days has been released by Telerail in their 'Steam World' series volume 24. The film includes footage of 48756's big day at Horwich Works plus other locations in Manchester, Bury, Bolton, Oldham loop line, Copy pit, Rochdale to Todmorden and through to Sowerby Bridge, the line through Diggle and also up to Earby and Skipton. Archive footage of this quality is seldom seen publicly…click HERE to find out more from the Telerail website.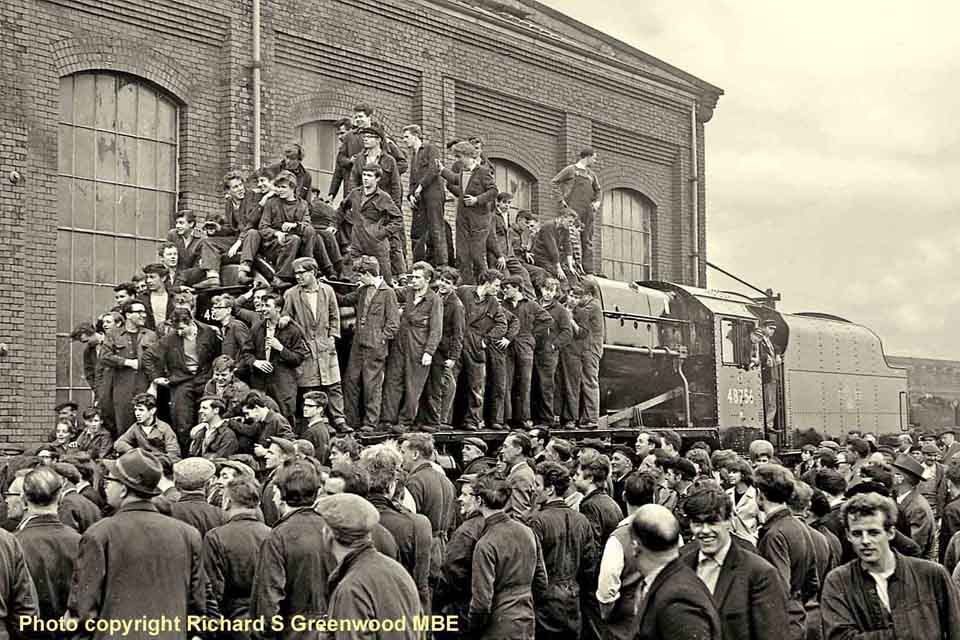 If you need any further evidence of Richard's allegiance to the Lancashire & Yorkshire Rly, you will find a 'Rail Cameraman' page 'Up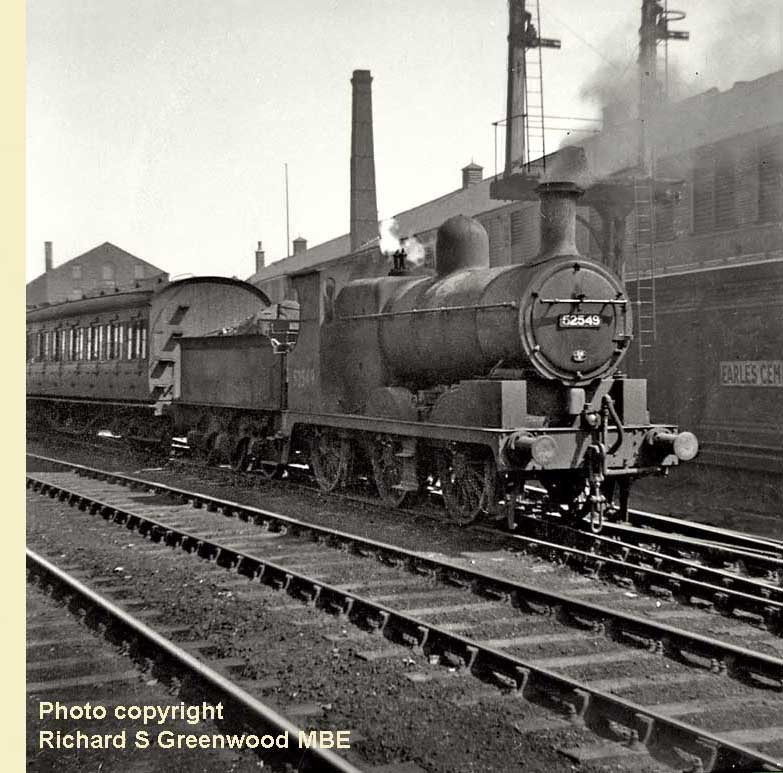 North in Colour' featuring his superb colour photographs HERE. The page includes this photo (below) which he captions as follows - 'Forget Swindon, forget Brighton; the first high degree superheated long travel piston valve locomotives in Britain were a pair of Lancashire & Yorkshire Railway's Class 3F 0-6-0s tender engines built at the company's Horwich Works, both entering service in November and December 1906. These were LYR 898 and 900. No 898 went on to become LMS 12515 and BR 52515. They were downgraded to saturated engines in 1927 and became virtually identical with the majority of the Aspinall 'A' class. It was a considerable surprise when 52515 was outshopped from Horwich after a general overhaul in November 1961. It is seen at Castleton as CMD pilot, running in on 21 November then setting off for Sowerby Bridge, its home shed the day after.
Also check out Richard's 'Rail Cameraman' page 'Down South in Colour' HERE...highly recommended.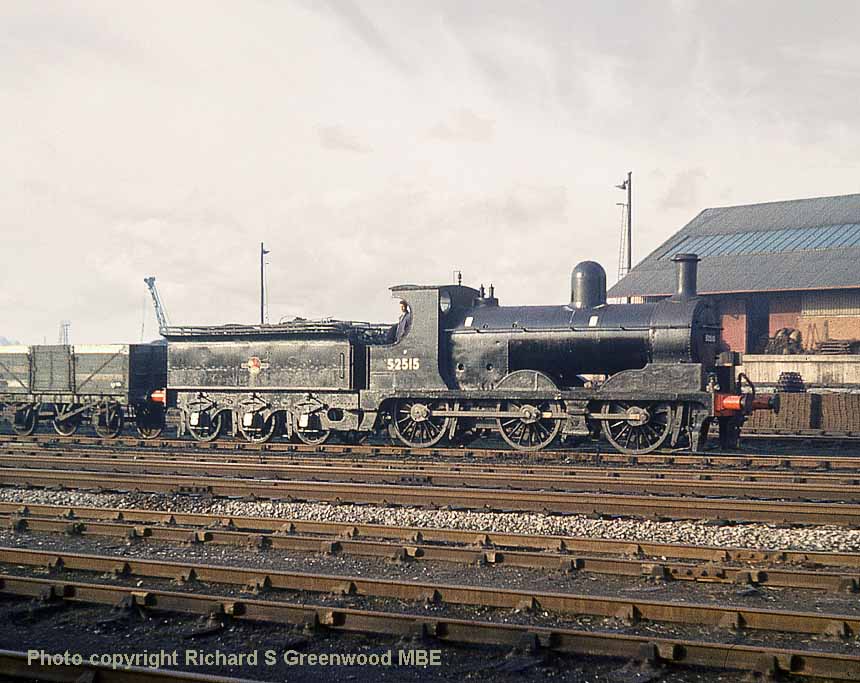 (Below) Two classic Class 5MT 4-6-0 designs: Thompson B1 No 61013 Topi stands alongside an unidentified Stanier 'Black 5' at the south end of Carlisle station on 26th July 1952.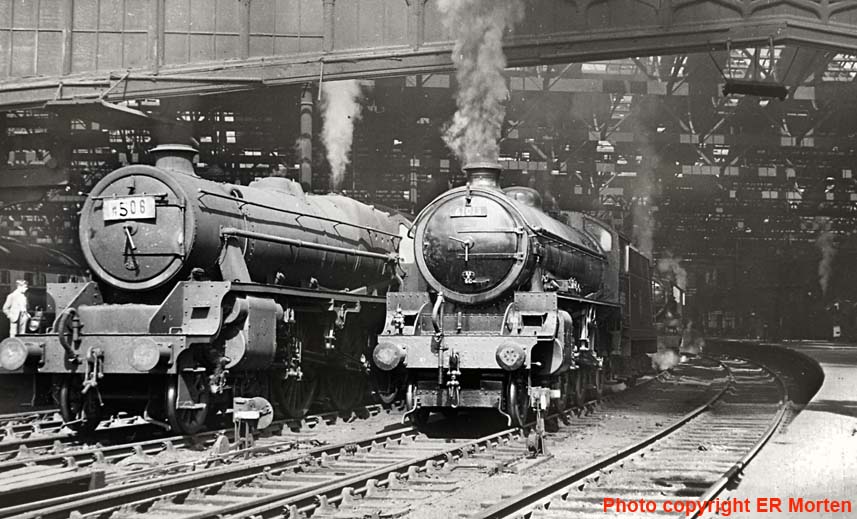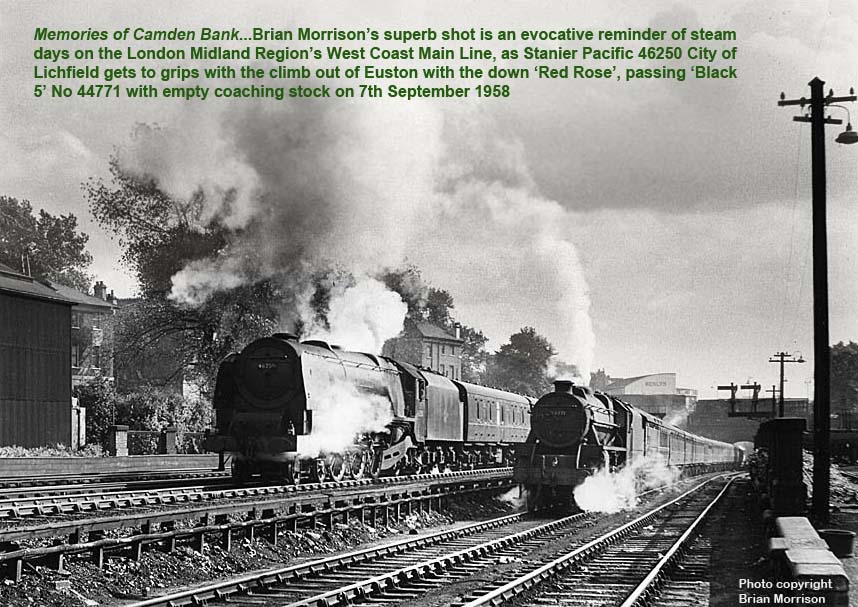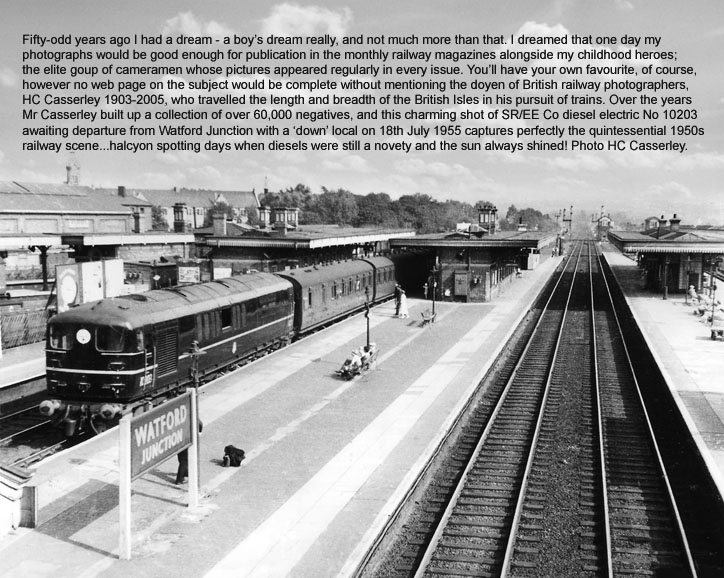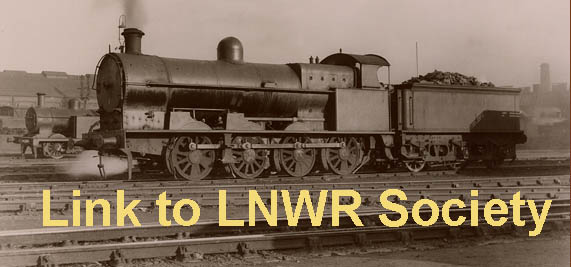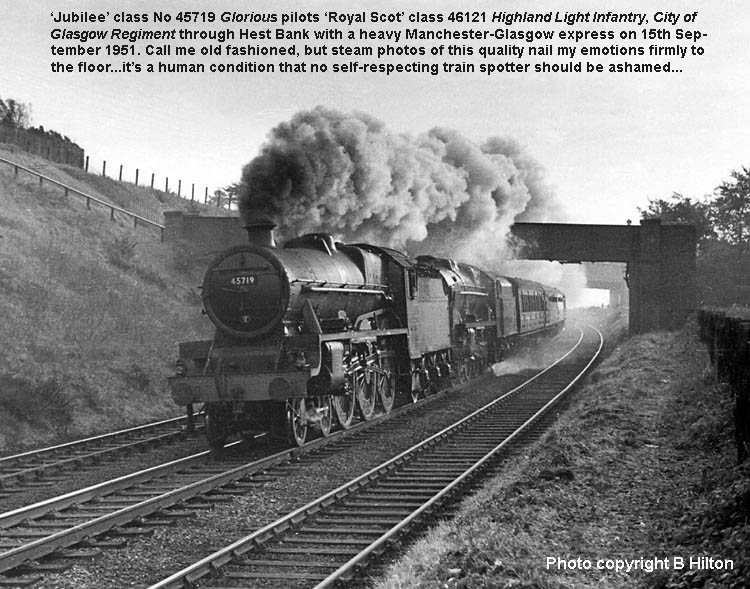 Needless to say, unlike the opening shots (above) I had more failures than successes, but when a picture entered the category of one's personal best, it was sent to a publisher in the hope that it would appear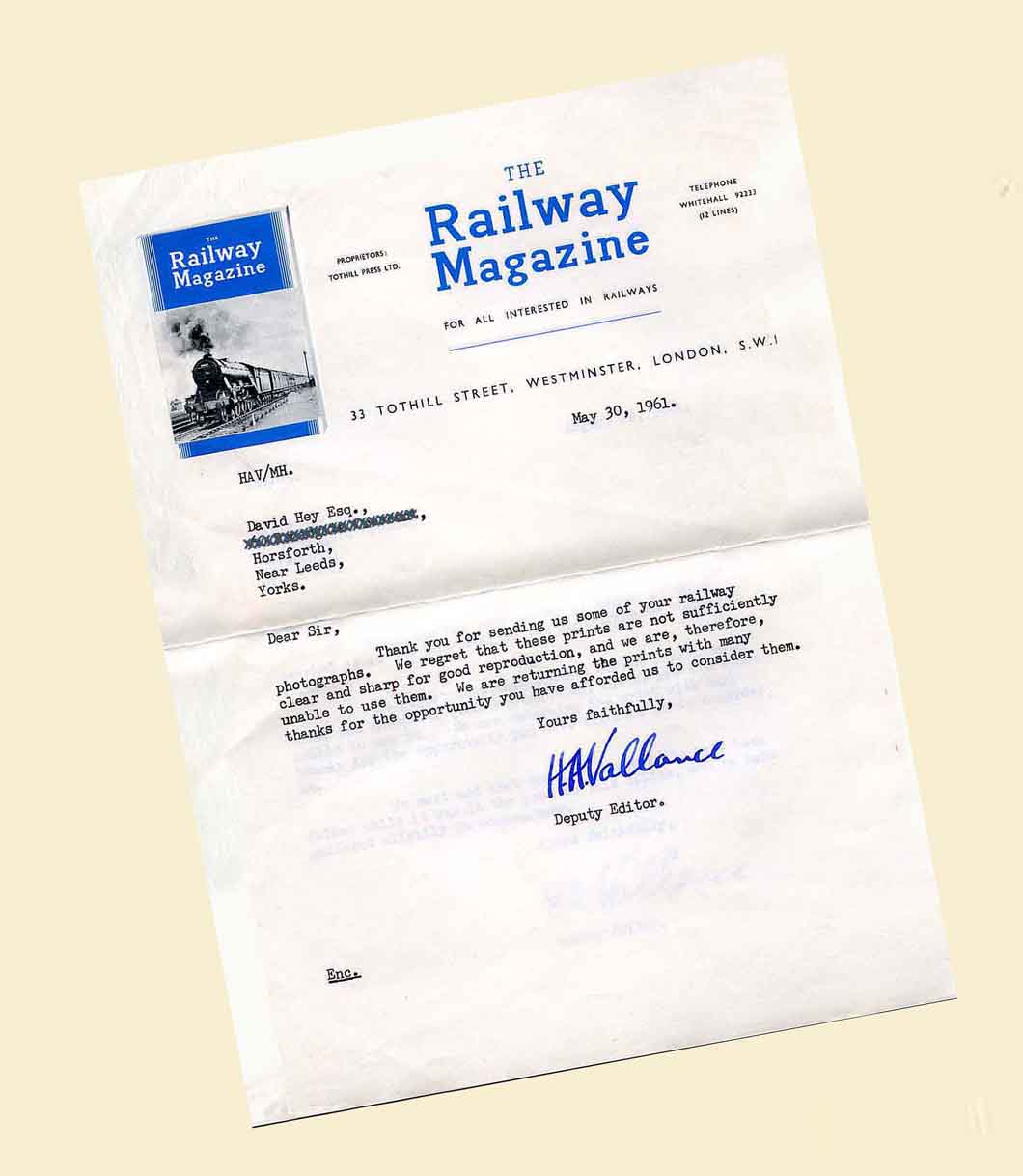 alongside photos taken by the 'masters' such as Jim Carter, Derek Cross and Brian Morrison.
There were many other famous names, of course: the Rev Eric Treacy, George Heiron, Maurice Early, WJV Anderson, Ian S Carr, ER Morten, Kenneth Field - plus many more too numerous to mention here. This close cadre of photographers seemed to monopolise the magazine pages and set such high standards that it was difficult to get a picture published.
At first the number of rejection letters I received was disheartening, but in many ways being denied my lifelong dream of joining the list of cameramen on the pages of 'Trains Illustrated and 'Railway Magazine' only spurred me on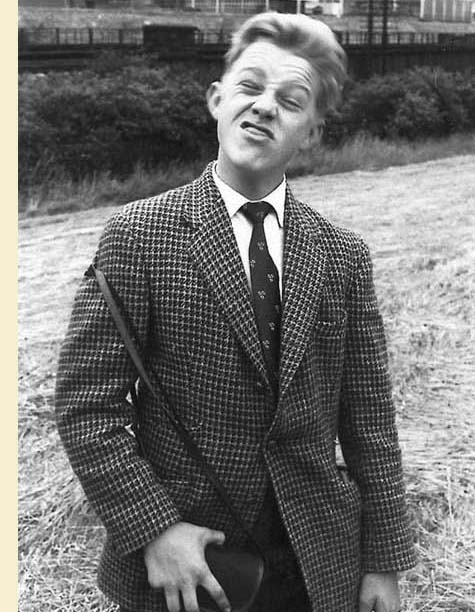 to try even harder.
Then one day I eventually received an acceptance slip advising me that my prints were to be kept on file for future use. I was over the moon and didn't care if I received a fee or not, which might sound naïve, but having a picture published somehow conveyed an official stamp of approval. At long last I had been accepted into the inner sanctum of Britain's elite rail photographers...
But as the saying goes, youth is wasted on the young, and if I had the chance to do it all again, I wouldn't waste so much time taking silly pictures. I suppose one's boredom threshold was minimal as a young teenager, because during a lull between trains I'd photograph anything from a blade of grass to a close-up of my big toe. This shot of my 'gurning' spotting chum, Rodney S (left) is about as daft as it can get. Doubtless my old friend - whom I haven't see for over forty years - is a fine, upstanding citizen, and so I apologise unreservedly for publishing this photo of him on the web. But then, you really don't want to see the one I took looking up his nose!

(Below) Is this the best railway photograph on the web? This breathtaking shot of a clapped-out Britannia battling the grade to Ais Gill summit on 18 March 1967 was taken by a master cameraman. But don't take my word for it...Mike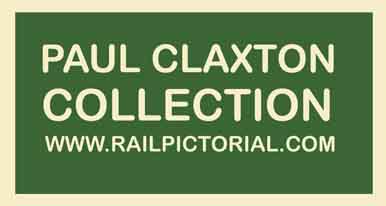 Claxton's www.railpictorial.com is a brilliant website dedicated to the memory of his brother Paul, who sadly passed away in April, 2009.
Mike has created the 'Paul Claxton Collection' so that enthusiasts can enjoy his late brother's extensive range of railway photographs online - and what a collection it is! Rarely have I see such quality and in such high numbers on one website - currently 7,400 images and counting! Incredible!
Needless to say, I am a big fan and a visit is highly recommended.Click on photo below to visit the 'Paul Claxton Collection'...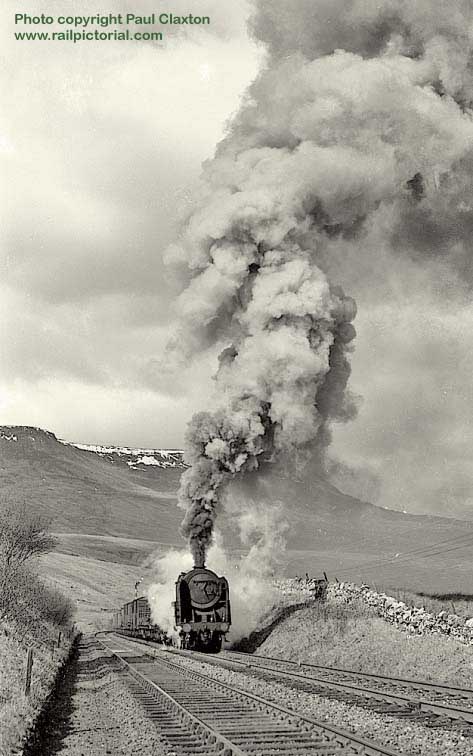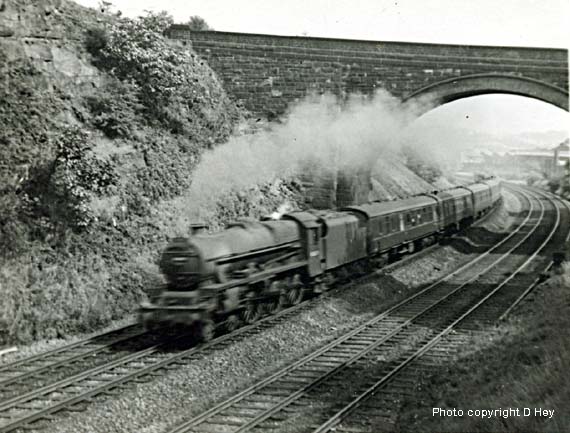 (Above-Below) Like many others, I suspect, when starting out in railway photography the first action photos of trains were disappointing. The compulsion to aim the camera at a speeding express train got the better of us all! (Above) A case in point is the blurred locomotive in this 'It's so bad it's almost good' shot of Jubilee class 45739 Ulster heading the northbound 'Waverley' between Leeds and Shipley. It's a classic example of 'how not to do it', yet in an odd sort of way the photo captures the immediacy of the moment perfectly. (Below) On the other hand, should things get really bad, then you can always chance your arm taking a spur of the moment shot. This ER Morten photo of 'Jubilee' class 45609 Gilbert and Ellice Islands storming through Kingswood is a pearler! I'm sure most photographers would have seen the approaching coal train intruding on the shot and put the camera back in its case! But then, every cloud and all that...this photo is probably one of the best action shots on this page.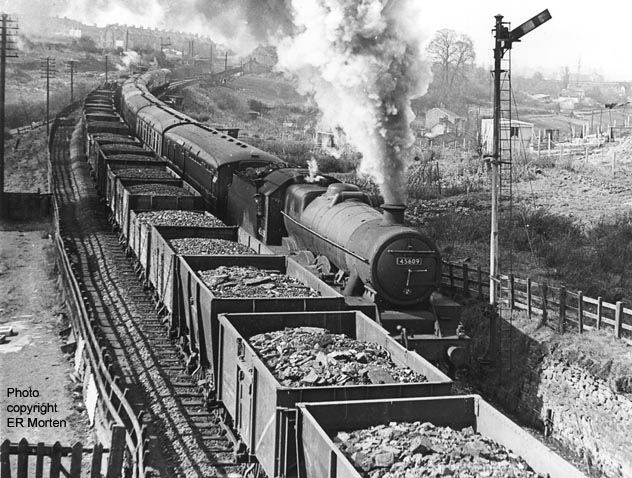 LINKS TO PHOTOGRAPH COLLECTIONS
Click on photo to visit the photographer's individual collection.
(Below) JR CARTER: The reason railway enthusiasts are ridiculed in some circles is because the po-faced opponents of the hobby underwent emotional by-passes when they were young, and have no nostalgia reserves of their own from which to draw. Such is the unforgiving climate nowadays, that to express one's feelings about childhood spotting days is to invite ludicrous charges of soppy sentimentality. Well, excuse me, but what made train spotting so remarkably civilised is that by its very nature the hobby embraced every emotion from great joy and elation to deep despair and unfulfilled hopes, so to run away with notion that railway enthusiasts are 'not quite the full shilling is way off the mark. One has only to study the photographs of retire railwayman, Jim Carter, to understand the depth of feeling - yes, even amongst hardened railwaymen. Click on photo to visit Jim Carter's collection.
(Above Right) JOHN STODDART: Whilst discussing plans for a 'Rail Cameraman' page, John admits to being totally buoyed-up going through old negatives and making some exciting discoveries. One is that he didn't know where quite a few of them were taken, although running them through the scanner solved much of the mystery. This included a batch of photos he took during a memorable ScR bash in 1964. Click on photo to visit John Stoddart's page.
(Below) IAN S. CARR: Our interest in steam trains has its roots in childhood and is thus born out of nostalgia. Well, the same can be said of the early diesels - the 'Westerns', 'Warships', 'Hymeks', 'Deltics', 'Whistlers', 'Hoovers', 'Claytons', 'Syphons', 'Peaks', 'Duffs' and 'Cromptons' chief amongst them. At first they were openly disliked by steam fans until we realised that they too had identities, and many examples have now been preserved as part of this nation's industrial heritage. This brings me to the railway photographs of Ian S Carr, because if I had to single out the cameraman who influenced my interest in diesels the most, then Mr Carr is my first choice. Click on photo to visit Ian S. Carr's Collection.
(Above Right) Roy Lambeth did not start taking photographs of trains until 1960, by which time BR steam was already in steady decline. His first camera was an Ilford Sporti that used 120 film, but it was a very basic model with a fairly poor lens, a 1/50 sec shutter speed and a choice of only 2 apertures - sunny & cloudy. Coupled with that, the camera's limitations meant that his photos could never match his expectations, but judging from what you'll find on his page, Roy had many successes, including this selection of 'gems' from his collection of unforgettable steam days…click on photo to visit Roy's page.
(Below) Railwayman Keith Long started working in signalboxes in 1960 at the age of 15, and passed out as a signalman in 1965. His first camera was a Kodak Box Brownie, which he used for three years before graduating to an Ensign 120; a very good camera, which took ether 2.5" x 2.5" or 2.5" x 3.5" negatives on 120 roll film. Keith opted for the larger size because in spite of getting 8 negatives instead of 12 from one roll, they were larger and at that time he didn't own an enlarger. Most of Keith's B&W pictures were taken on Ilford HP4 film, though some of the early ones were on Kodak. All B&W films and prints were developed at home in a makeshift darkroom. Click on photo to visit Keith's page.
(Above Right) My non-anorak friend, Phil Spencer is a professional photographer who regularly travels the world covering international news stories. In between hanging about in bars, Phil may take a few railway shots for me to have a gander at on his return home...isn't that what friends are for? Of course, many non-anorak types think 'nerdish' people like me (who have a passion for trains) are totally bonkers - 'chuffing loco' as Phil so eloquently puts it, but he's only partly right. There is a logical side to railway enthusiasts too. We might be misty-eyed steam fundamentalists, who lament the passing of an era, but hankering after the old days isn't only because we miss the spectacle of BR steam in everyday service, it's because we miss the vitality of youth. It's called nostalgia, pure and simple. Ckick on photo to visit Phil's page.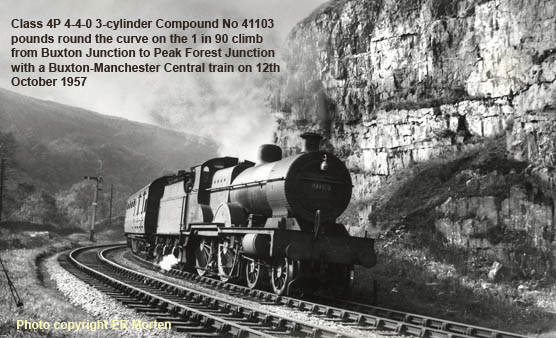 (Above-Below) E.R.MORTEN (1904-1986): A large number of railway photographers are creatures of habit. One has only to visit Ribblehead viaduct on the occasion of a S&C steam special to prove the point - the place is teeming with photographers hoping to 'bag' that all illusive 'master' shot. Trouble is, perfection is unattainable, so even our best shots come with failure built-in. However, there are always exceptions to the rule, and ER Morten's photos are a case in point...talk about pictures with the 'wow'-factor! When I first saw Mr Morten's photos in Bill Hudson's excellent book, 'Through Limestone Hills' - featuring the MR main line over the Peak between Chinley and Ambergate - I became one of his biggest fans. Click on photo (below left) to visit E.R. Morten's Collection.
(Above Right) MIKE MITCHELL is perhaps the most fêted photographer of railways in Yorkshire, so I'm delighted to include his photos on this website. Mike is an outstanding cameraman, whose generous contributions to publishers of railway books and magazines have been an invaluable aid, not only to the authors of the work, but to readers. This shot of Class B1 No 61020 Gemsbok heading the 2.30pm Leeds-Scarborough at Church Fenton evokes all manner of train spotting memories, from the NER station nameboard (with raised white letters mounted on a tangerine background) to the ornate station platform lamp and water column complete with drip bowl and brazier - and, of course, the quintessential young train spotter at the end of the platform. Click link on photo to visit Mike's page...

(Left) BARRY K HILTON. As a small boy, Barry lived in a house with a long distance view from his bedroom window of trains at Rochdale. The East Lancashire town was served by local trains from Manchester and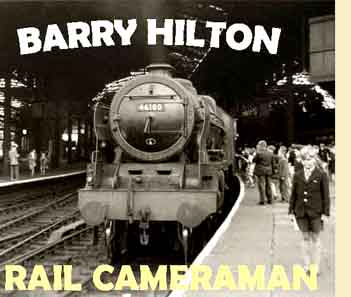 through services via the Calder Valley connected to Bradford and Leeds in the West Riding of Yorkshire, all of which added to the variety of traffic. The highlight of the day was hearing the sound of a Bank Hall 'Jubilee' being thrashed on the Liverpool to Newcastle, known by local spotters as the 'Ten to Twelver'; in those days the engine crews had their work cut out to keep time as the train was only allowed 18 minutes to cover the 8½ miles or so from Manchester to Rochdale, and this included a steep climb up Cheetham Hill Bank from a dead start out of Manchester Victoria.
Like many train spotters, Barry started taking the monthly 'Trains Illustrated' magazine which steered him towards an interest in railway photography. It all began with a Brownie 127 camera and enough pocket money to reach some of the local popular railway resorts such as Manchester, Crewe and Doncaster. Like many youngsters in the late 50s he joined the merry band of train spotters and travelled around with camera in hand. He was lucky to have inherited his father's 2¼ square SLR camera at quite an early age and therefore he had the advantage of taking better quality railway photographs; as such he was able to develop the art of railway photography through the early 60s when it was still possible to capture a good variety of steam railway traction. Click here to visit Barry's 'Rail Cameraman' page 56 and here to visit his 'BR Railway Roundabout' page 86.

(Right) RICHARD S GREENWOOD MBE. Richard has always lived in a house where he could hear steam trains - from all night shunting in the 1940s to the sound of overnight freights during the 1950s and 1960s, and even today he can hear the East Lancashire Railway's locomotives whistling close by in Heywood.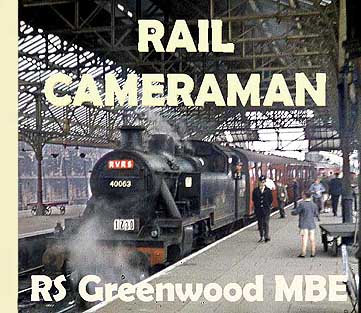 Born and raised in the closely-knit town of Rochdale in East Lancashire, Richard's earliest memories of railway photography takes him back to his first camera, an Ensign FulVue box camera which he purchased in 1951. It wasn't until he started his first job in August 1958 that he was able to afford an Ilford Sportsman 35mm camera with a 1/200th second shutter and f3.5 45mm lens. It had its limitations, of course, especially when photographing fast moving trains or in poor light, but it turned out some acceptable work.
Then in October 1959 he graduated to an Iloca Rapid 35mm camera which had a 1/500th second shutter speed, a f2.8 lens and integral (but not coupled) light meter. The lens was a 3 element example and its performance fell off at wide apertures, but the Iloca served him well until early 1961 when he acquired a Leica II with its f3.5 Elmar lens and nominal 1/500th sec speed, though the shutter was very tired and something like 1/100th actual fastest speed was the best it could do. His next camera was a Leica IIIa which had a 1/1000th shutter and this was to remain his camera of choice for black and white work until the mid 1970s. In recent months Richard has been a major contributor to this site, particularly with photos for Geoff Burch's Southern Region pages 32-36 however this is the first chance we've had to bring together Richard's own 'Rail Cameraman' page - click here to visit 'Up North in Colour' on page 53...

Trevor Ermel's first railway photographs were taken with the family 'Brownie 127', hardly suitable for action shots, but okay for providing a record of different types of locos seen and places visited. It was not until January 1967, almost right at the end of the steam era, that he acquired his first 'proper' camera - a 35mm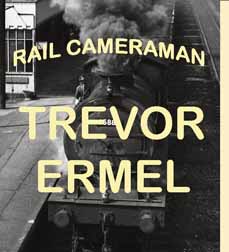 Kodak Retinette. Better late than never, I say...Trevor has captured some truly wonderful shots of steam days, using his bedroom as a makeshift darkroom for developing and printing his own photographs Trevor was one of the early members of the North Eastern Locomotive Preservation Group (NELPG) which was formed in 1966 with the aim of saving a Class J27 0-6-0, and later a Class Q6 0-8-0, both designs dating back to North Eastern Railway days and lasting until the end of steam in the area twelve months later. Over the next few years he helped in working parties at Tyne Dock and Thornaby depots to restore them to working order for use on the North Yorks Moors Railway. In November 1989 Trevor had a selection of his photos published in the 'Glorious Years' section of Steam Railway. Ten years later he was involved with 'North East Focus', a photographic exhibition at the National Railway Museum, with accompanying book of pictures. This gave a group of six photographers from the north east the opportunity to show their own personal take on the end of the steam era. The other five were John Hunt, Ian Krause; the late Malcolm Dunnett; the late Ken Groundwater and the late Kevin Hudspith, some of whom were friends of Trevor's from the 1960s and many of them well-known among today's steam enthusiasts. Click on image to visit Trevor's page...

(Right) Simon Lathlane's interest in steam locomotives began at an early age. His very first recollection of going out to watch a main line run was March 1983 when the local press publicized the news that 'Flying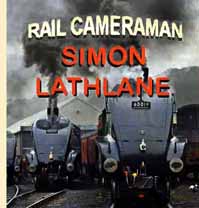 Scotsman' would be stopping to take on water at Newark Northgate station during a steam run from Kings Cross to York. The wonderful sight and smell of a hard-working steam loco had got into his blood and he was well and truly hooked! Although Simon cannot relate to 'real' steam in the sense that he was born in 1967, he has more than made up for it since then. During the past few years he has managed to build up a fantastic collection of 35mm slides and medium format negatives - plus a superb collection of glass plate negatives. Indeed not only is Simon a superb railway photographer in his own right with a website of quality digital photographs - 'Steam Railway Photography by Simon Lathlane' - he is one of the new generation of avid enthusiasts who rarely misses the chance to photograph steam on the main line and I am thrilled to include a Rail Camerman page dedicated to his work. Click on image to visit Simon's page….
(Left) As mentioned elsewhere on this site, the quality of 'top drawer' railway photographs to be found on the Internet is truly amazing. Today we have the benefit of blindingly-fast search engines to help us find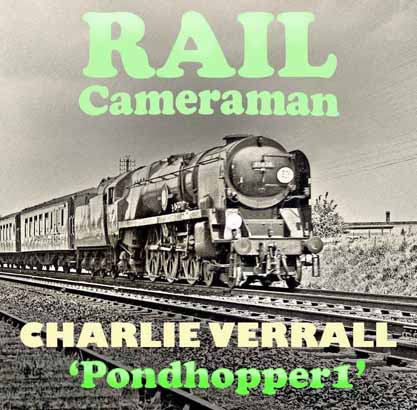 the best sites, but sorting out the wheat from chaff can take an age, however I can point you in the direction of a superb collection of photos taken by Charlie Verrall, who goes by the name of 'Pondhopper1' on 'Flickr's' online photo management facility. Charlie's interest in trains began as a small boy; his grandfather was a footplate man on the London Brighton & South Coast Railway (LBSCR) and Southern Railway, and his uncle was on the footplate with both the Southern and BR, plus his father who was also a railwayman - so it was not surprising that on leaving school he would follow family tradition by joining BR in 1953.
His interest in photography began with family holidays in the West Country, his first trip on the 'Atlantic Coast Express' (ACE) hauled by 'Merchant Navy' No 35005 Canadian Pacific and the use of a 120 Box Brownie type camera, all of which introduced him to railway photography at a very early age. He lived next to Wivelsfield station where he spent many happy hours photographing the steady procession of local steam trains hauled by the likes of the SECR's Class Ds and Brighton Atlantics on the Brighton Main Line. Over the years Charlie has built up a collection of railway photographs taken the length and breadth of the country. Click on the image left to visit his page; you will find links to his 'Pondhopper1' Flickr photostream…a visit is highly recommended.

(Below) PETER BATTY: To give credit where it's due, the compilation of this website would not have been possible without the support of many 'seasoned old timers' (now well past the Big Six-'0') who have all shared a small boy's passion for collecting engine numbers at one time or other. As the years rolled by, many turned their attention to railway photography - a natural adjunct to train spotting - and spurred on by the pictures that appeared in the monthly railway magazines, set about the task of recording the railway scene for the sheer joy of it. One such man is Peter Batty, whose collection of railway photographs date back to the 'Big Four' railway companies (LNER; LMSR; GWR; SR) before they came into public ownership in 1948. Clink Link on photo.
(Above Right) ANDY SPARKS's photo-journalistic approach to recording the railway scene during the 1970s provides a thought-provoking journey through a period of economic, political and social change. At the start of the decade, the thirteen-year-old aspiring photographer realised that the economical changes would eventually impact on our railways - and thank goodness he did. For in his quest to record the scene, Andy has captured perfectly all the key ingredients of Britain's railway infrastructure during the 1970s - a poignant reminder of better days before our railway heritage was swept away by rationalisation and demolition. Indeed, using the railway as a vague backdrop, Andy record the everyday activities of rail passengers and station staff going about their business, but unlike the voyeuristic stitch-up artists of the paparazzi, who point their cameras at people in an exploitive frame of mind, Andy has captured something quite remarkable - a slice of 1970's railway history and northern life now long since gone...click on photo to visit Andy's page.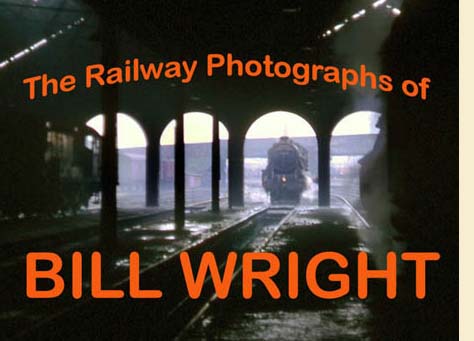 (Left) BILL WRIGHT: Being a relative newcomer to the world wide web, I am constantly amazed at the quality of 'top drawer' railway photographs to be found among its myriad of sites. For example, I recently came across Yahoo's online photo management and photo sharing facility called 'Flickr' (okay, it was launched back in 2004, and discovering it four years later is hardly spellbinding!) On the other hand, it's better to be late than never, I suppose, for it was there I discovered a veritable treasure trove of colour photos taken by the dubiously-named 'Barking Bill'! Evidently it's 'cool' to call yourself a daft name on Flickr! But then, with a Flickr name like 'woowoofan', who am I to talk? The point is, don't be put off by silly names, because as I browsed through his top-notch pictures of 1960's steam and diesels it struck me that I was looking at one of the best collections of railway photos on the web. Therefore I am delighted to include a small selection of Bill's work here. Click on picture to visit the page. A link to Bill Wright's full Flickr collection is on the page.

(Right) Southern Region engineman, Geoff Burch, has written an excellent book 'Ramblings of a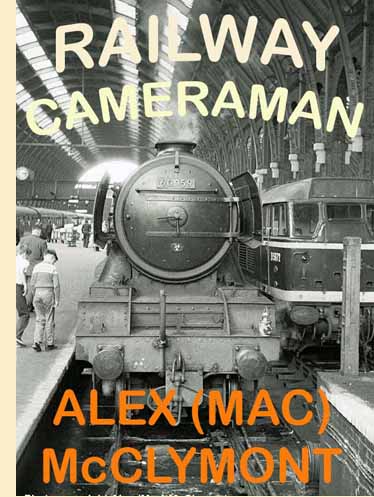 Railwayman', describing his life as an Engine Cleaner and Fireman at Guildford Motive Power Depot (70C) from April 1961 to July 1967. Geoff is also a major contributor to this website with a stunning compilation five pages devoted to SR railwaymens' memories. Geoff first met SR engineman Alex (Mac) McClymont when he was a young 16 year-old fireman. Once Mac had passed for driving duties, Geoff found it a pleasure to be booked as his fireman. Mac is very well-informed about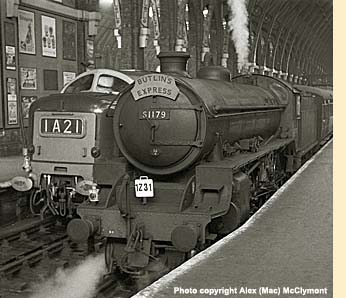 railways in general and surprisingly (for a Southern region engineman) his favourite loco class is the Gresley A4. Indeed Mac has taken some wonderful photographs of classic Eastern Region steam at Kings Cross station and Top Shed during the early 1960s. He has also contributed several eye-catching photos of SR steam for inclusion on Geoff's pages of BR Southern Enginemens' Memories. Click on photo (above-right) to vist Mac's Rail Cameraman page 61.

(Left) David (Sam) Salmon attended the Firing School at Guildford and Feltham MPDs, and after passing out for firing duties, his first firing turn was on the shunting loco at Woking Yard. In April 1953, ASLEF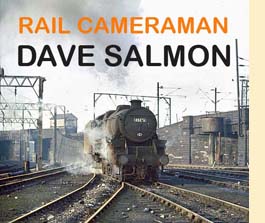 called for strike action and as an engine cleaner, Dave was paid just £1 strike money per week. National service in the armed forces beckoned and Dave decided to join the RAF. After serving three years, he was de-mobbed on the 1st April 1958 and returned to Guildford hoping to return to his passed cleaner's job. Alas, he was told that since he'd been away for three years, he'd have to start at the bottom again as a cleaner. He also had to be re-trained at Firing School. Undeterred, Dave attended his medical at London Bridge and the Firing School at Guildford MPD and Feltham MPD, and started firing again on a 'when required' basis at Guildford and also on loan to Reading, Basingstoke, Fratton and Nine Elms. Not only is Dave an accomplished railwayman he is passionate about railways and over the years has travelled far and wide to capture some astonishing colour images of BR steam's final days...click on photo to visit Dave's 'Rail Camerman' page.

AND NOW FOR SOMETHING COMPLETELY DIFFERENT!

I have recently been contacted by Rail Cameraman, John Stoddart (see pages 71-72). It concerns an aspect of railway photography that rarely gets a mention on the web; I'm talking about stereoscopics, better known as 3D imaging, which is used for creating the illusion of depth by means of stereopsis for binocular vision.
John's friend, Ben Clifford, has been scanning a number of his grandfather's old photos circa 1900-1935 for archiving purposes. Ben is pretty certain the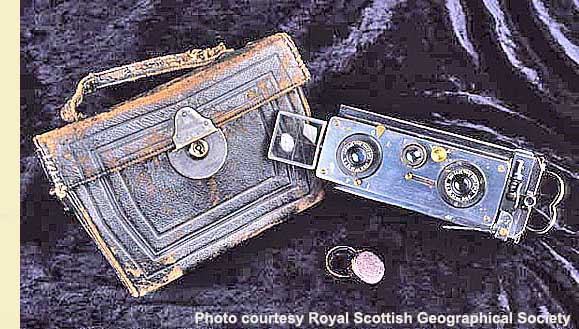 camera used was a Richard Verascope which took 44mm square images. A similar camera belonging to the Scottish explorer William S Bruce was donated to the Royal Scottish Geographical Society by Bruce's granddaughter Moira Watson of Hamilton, Ontario. Details of the camera and case (right) can be found on the excellent RSGS's website HERE.
Ben is converting the stereoscopic photos into 3D images viewable with red/cyan glasses. One stereoscopic slide (below) was taken at Liverpool Street station in 1928, and shows the famous old roof with two local trains in the foreground...

3D EXPLAINED by Ben Clifford

Here are short outlines of a few techniques that have been devised for 3D viewing. With one or two exceptions, they simply enable us to focus our left eye on an image taken through the left lens of a 3D camera, while our right eye focuses on the image taken through the right lens. The superimposed images are perceived by the brain to have depth, mimicking the way we view the physical world.

Viewing 3D image pairs with a stereoscope: 3D image pairs duplicate the separate left and right views that our eyes see in the physical world. 3D cameras have two lenses spaced about 70mm apart, approximately the distance between our eyes. For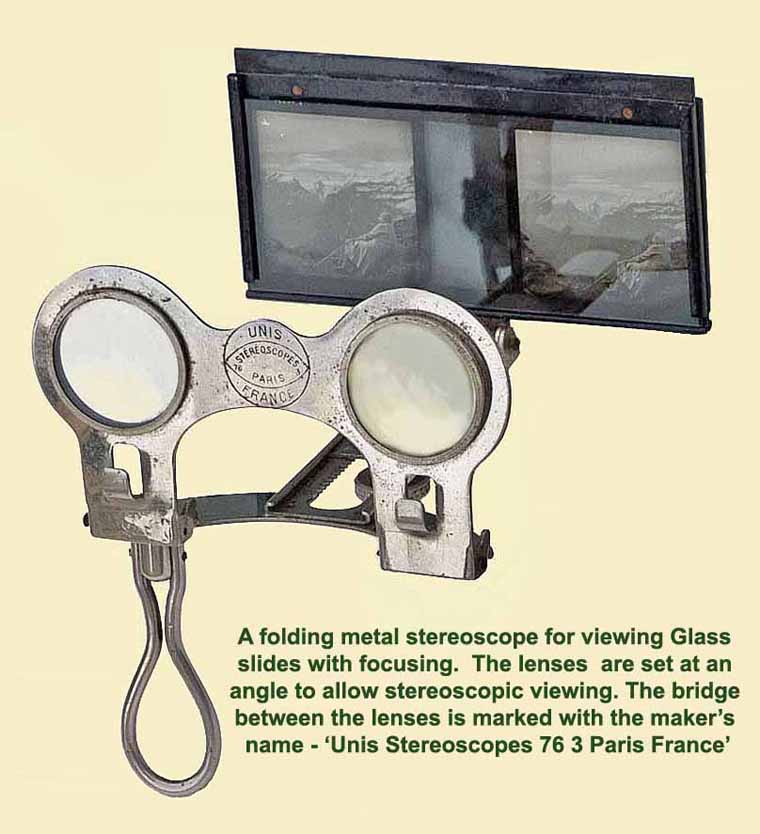 conventional 3D viewing, the two images - as slides, prints, or images on a screen - are positioned next to each other. Without the use of a special device or technique, both of our eyes normally see the pair as two flat (2D) images. For 3D viewing the left eye must focus on just the left image while the right eye focuses on just the right image. A stereoscope is a device with lenses angled so each eye sees its correct left or right image. However, with practice, it is possible to learn to 'free view' stereoscopic image pairs without the aid of any devices. (This will be described in a following section.) As when viewing the natural world, our brain interprets the superimposed right and left images as a single image having depth.
A View-Master is probably the most common example of a stereoscope. The images are as pairs of transparencies mounted in cardboard disks. Right and left lenses align and focus the correct image for each eye. Stereoscopic viewers have been used since the mid-1800's. (Sir Charles Wheatstone made the first viewer in 1838.) Some use mirrors or prisms instead of lenses, but all make it easier to view the left image with the left eye and the right image with the right eye. (Above Left) The Unis stereoscope, ca. 1900.

'Free viewing' 3D image pairs: It is possible to learn to view 3D image pairs without the use of any devices. This technique requires a little practice at first, but soon becomes quite easy. There are two different ways to 'free view':
Parallel Viewing - The right and left images are positioned next to each other, as for normal viewing with a stereoscope. (The image taken through the left lens of the camera is on the left, and the image taken through the right lens is on the right.) The left eye is trained to focus on the left image while the right eye focuses on the right image. When the images appear to merge, the lines of sight of the eyes are parallel to each other. The brain interprets the superimposed images as a single image having depth. Such image pairs are labelled as 'U' to designate the required parallel lines of sight.
Most people at first have some difficulty in learning the parallel 'free view' technique. Normally our eyes view with parallel lines of sight only when focussed on distant objects (mountains, stars etc.); not when focussed on an image pair at a distance of a foot or two. There is a psychological conflict between focussing on close objects while aligning the eyes parallel to each other, as if focussing at infinity. That said, the parallel technique can be learned by staring at the dividing line between the left and right images of the pair, then relaxing one's vision and gazing through the image pair towards infinity. Eventually the images superimpose and focus as a single 3D image. (This all sounds very '60's...but think 'daydreaming').

Note: There is a constraint on the use of the parallel free viewing technique. The left/right image pair must be sized no wider than about 6". Larger images would require the eyes to be angled outwards to superimpose the images. That is difficult or impossible to do.

Cross eye viewing - The two images are reversed, with the image taken through the right lens of the camera positioned on the left, and the image taken through the left lens of the camera on the right. Now the eyes must be crossed, so the right eye views the image on the left and the left eye views the image on the right. Thus this orientation of the two images is designated as 'X' because the lines of sight must be crossed to merge the images properly.
Most people find the 'cross eye' technique to be easier to learn. This is because our eyes automatically cross when viewing near objects. (Try looking at your finger, then move it slowly towards your face.) Below are the two possible orientations of the Liverpool Street Station image pair. If you try to 'free view' the parallel pair, be sure to scale the image pair down to a width of about 6" on your monitor. On the other hand, it is possible to free view relatively large X-oriented image pairs using the cross eye viewing technique. (See the second image pair marked 'X' below.)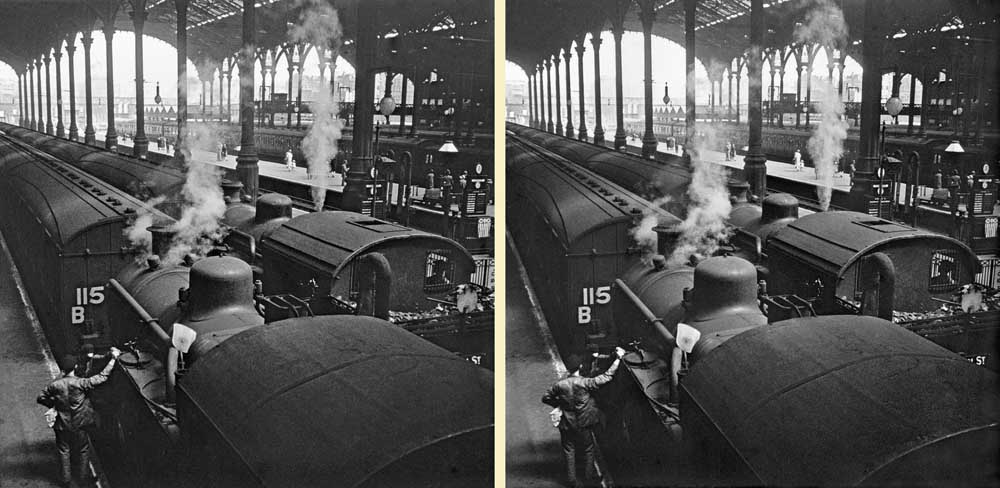 (Above) Charles Billaux photo: 'Liverpool St. Station'...left/right images oriented for parallel free viewing.
(Below) Charles Billaux photo: 'Liverpool St. Station'... images oriented for cross eye free viewing 'X'.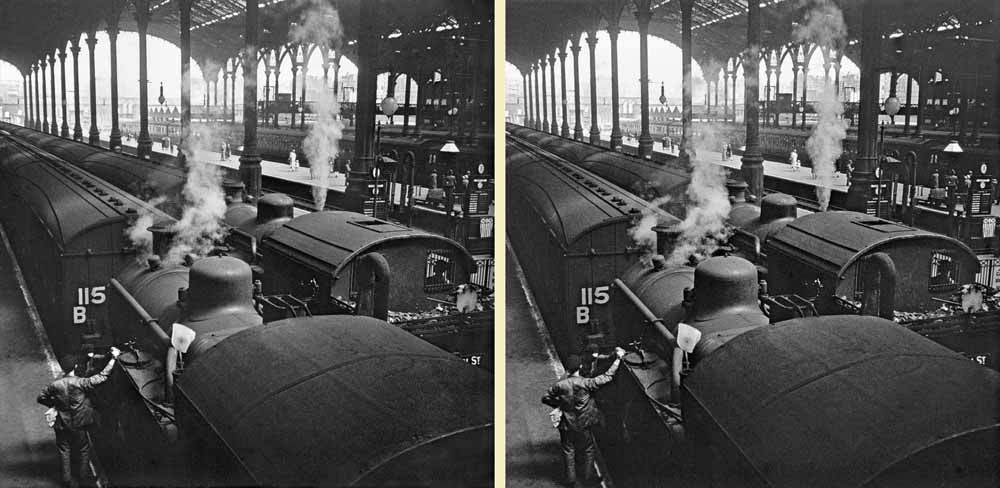 Anaglyph 3D
Viewing left/right images that are not spatially separated.

Free viewing and viewing with a stereoscope are techniques by which the eyes focus on left or right images that are separated spatially. Several other 3D techniques allow each eye to focus on right or left images that are superimposed onto each other. The advantage is that the lines of sight of the eyes do not have to be manipulated as with free viewing. Rather, other strategies allow each eye to see only one of the two superimposed images.
An anaglyph uses colour to separate the superimposed images. Glasses with coloured filters transmit light from the left or right image to the correct eye. The colours of the right and left filters are complementary such that each filter transmits only light that is blocked by the opposite filter. Common colour pairs for making anaglyphs are red/cyan and green/magenta. The Canadian National Film Board produces films using blue/amber colour pairs. (Perhaps this combination better matches the colours of the filters to those of monitors.)
(Note: It is actually possible to make anaglyphs of coloured images, but the following explanation refers specifically to anaglyphs of black and white image pairs.)
An anaglyph is made by printing or displaying superimposed left and right images, with each image displayed in one of the two complementary colours of the filters in the glasses. For the red/cyan system, it is conventional to display or print the left image in red and the right image in cyan. In viewing the anaglyph, the left filter (red) transmits only red light from the left image to the left eye, while the cyan filter transmits only cyan light from the right image to the right eye. Neither filter transmits light from the opposite image. The brain perceives the merged images as a single 3D image. And surprisingly, after a few seconds of viewing, the brain also perceives the combined red and cyan images to appear black and white!
Viewed without glasses, the overlapping images look in some respects like a normal black and white picture because the complementary colours combine as neutral tones in areas of overlap. (Equal intensities of red and cyan look like neutral grey.) However anaglyphs also display red and cyan fringing along vertical edges in the images. These fringes define the areas of difference between the right and left images that do not superimpose. These fringes represent the differences between the images our two eyes normally see in the physical world, and which our brains integrate into a single image with depth.

Below is a red/cyan anaglyph of Charles Billaux's Liverpool Street Station stereoscopic photo....click on image to see the full size (the image will open in a new window). (Note: The red/cyan filter glasses must be worn with the red filter on the left eye.)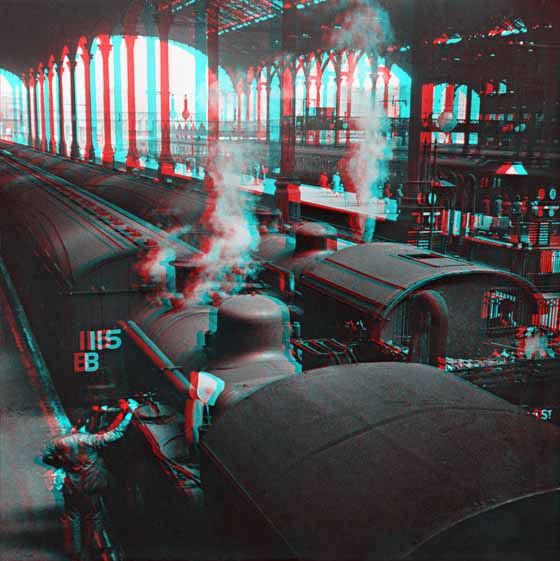 The Rolling Stones Technique

There are a few unusual 3D techniques that do not involve taking image pairs with a two-lens camera. In 1989 the Rolling Stones produced a broadcast of their 'Steel Wheels' concert for television. That broadcast included a 3D segment that did not use separate left and right images per se. The Stones used a trick to create separate left and right images from a conventional 2D broadcast. Free special glasses were made available to viewers. The glasses had a dark filter for the right eye, and a clear filter for the left eye. Viewed through these glasses the left image was brighter than the right. This induced 'retinal fatigue' in the left eyes of viewers, but not in the right. The 3D segment was filmed with conventional 2D cameras which were moved clockwise around the stage (and around Mick and Keith). When the broadcast image was viewed through the glasses, objects in front moved to the right, and appeared to float in front of the screen. Those in the back moved to the left and appeared to be behind the screen. The illusion was produced because the left eye with the clear lens experienced more retinal fatigue than the right eye, so the left image was retained longer in the eye. So the left image appeared to drag behind the right image as Mick's arm (or his lips or tongue) moved across the screen. Here is a YouTube posting of the actual 3D section of the concert. In a darkened room the 3D effect does work if a very dark sunglass filter is placed over the right eye. This 3D effect is a trick, but an interesting one.
(BTW... the Stones are great in this clip HERE.)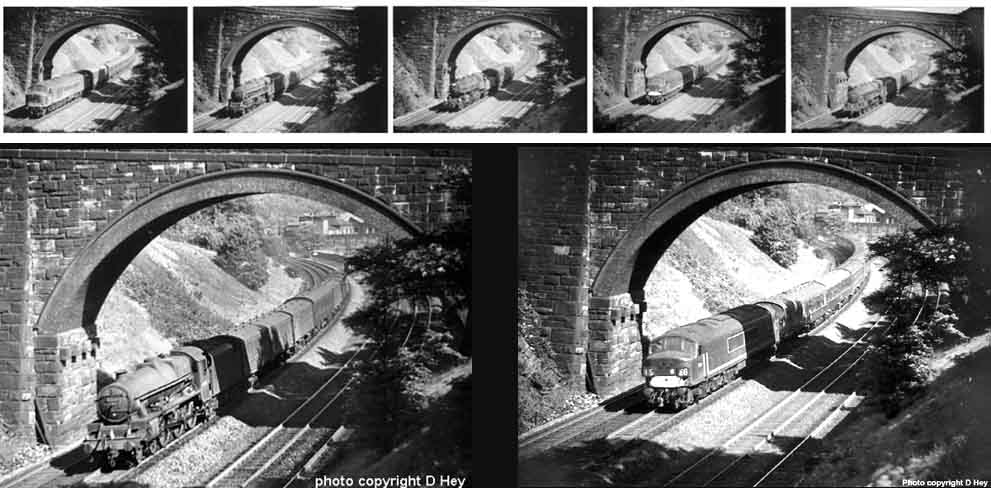 (Above) Comparisons are odious, they say, but when I look at photos by Jim Carter, Alex (Mac) McClymont, IS Carr, ER Morten, Dave Salmon, Keith Long and M Mitchell, my own attempts at railway photography pale into insignificance. Browsing through my old negatives, I could kick myself for visiting the same location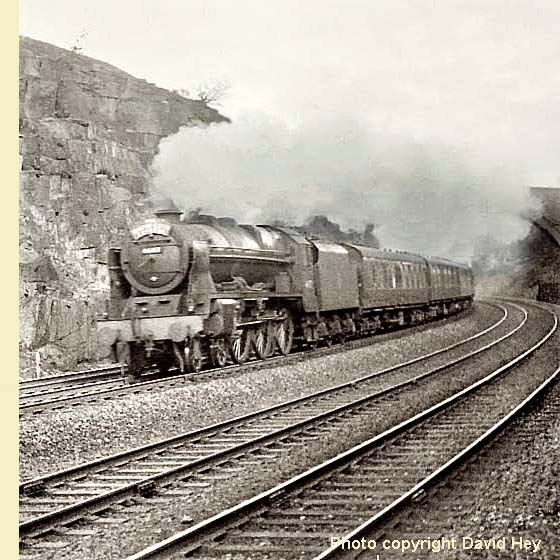 over and over again, but I couldn't resist the Aire Valley line between Leeds and Shipley, since it was only a five minute cycle ride from home. What an idiot! I could just have easily visited other locations in the area, but being a 'creature of habit' I stuck doggedly to a familiar routine in the hope of taking that all-illusive 'master shot'.

(Inset Right-Below) In much the same way, we're all creatures of habit when it comes to surfing the web. I've been a regular visitor to the 53A Models' Flickr site for donkey's years; rarely do you get to see such high quality railway photographs in one place on the Internet - the late Antony Darnbrough's photos on John Turner's superb website are simply the best! There are just not enough accolades that can justify the brilliance of ASM Darnbrough's pictures. This shot (below) of Carlisle Kingmoor (68A) shed's 'Jubilee' class No 45691 Orion heading a down express through Newlay Cutting is a case in point…it's very similar to the one I took of 'Royal Scot' class No 46117 Welsh Guardsman heading the northbound 'Thames-Clyde Express with my Halina 35X as a young boy all those years ago; indeed if I close my eyes I can imagine myself standing shoulder-to-shoulder with Mister Darnbrough, but of course his photos knock spots of mine! Needless to say, I can't reproduce anything like the same size of images that appear on the 53A Models' Flickr website, so my advice is click here - John Turner has uploaded a site full of 'master shots' and a visit is highly recommended.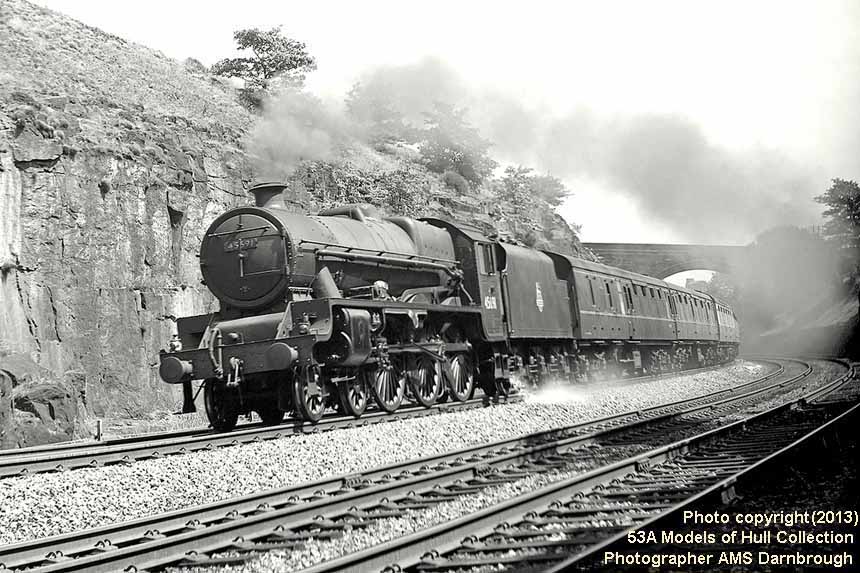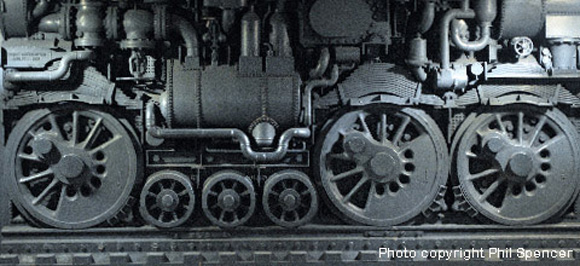 (Above-Below) Take a butchers at these shots! (Above) This is most odd! Any idea what it is? Phil Spencer's journalistic approach to raiway phtography goes to prove that a prerequisite for taking a good railway photograph doesn't neccessarily require an actual train in the shot! Click on photo to find the answer. (Below) Another wonderful example of ER Morten's approach to railway photography...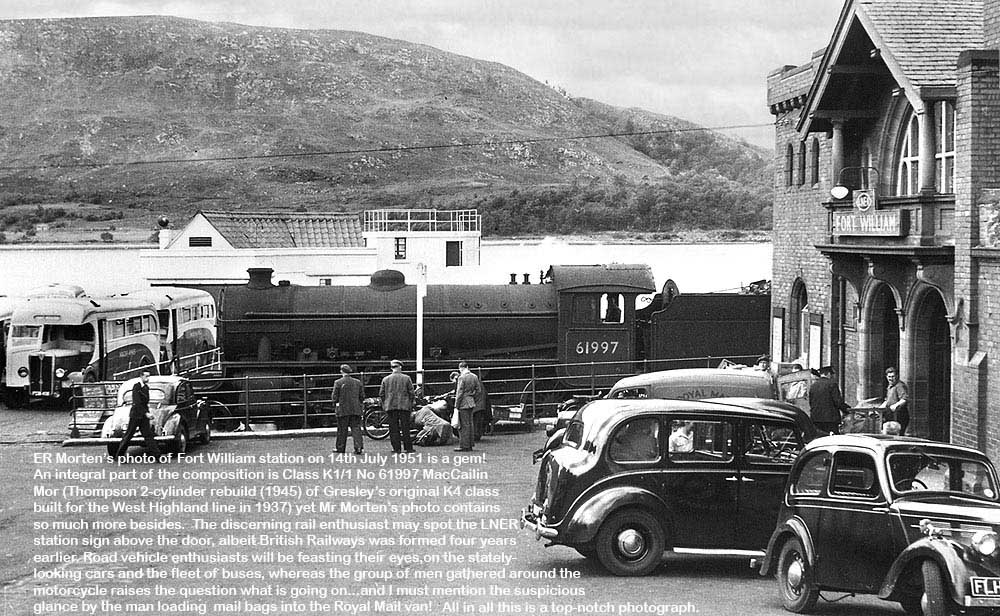 THE QUESTION OF REPRODUCTION FEES
Since launching this website (as a hobby) in 2007 I've received a number of requests from publishers seeking permission to use photographs for commercial reasons. I do not sell photos off the page, nor do I represent the interests of photographers (I am not an agent) but I will put the enquirer in touch with the copyright owner enabling them to deal with any requests directly themselves. However, I do allow the use of my own photos free of charge to non-commercial railway websites and similar organisations, particularly Preservation Groups, requesting only a reciprocal link to this site. Photographs on this site are large enough for visitors to download - but reproduction is strictly forbidden unless it is for their own personal use.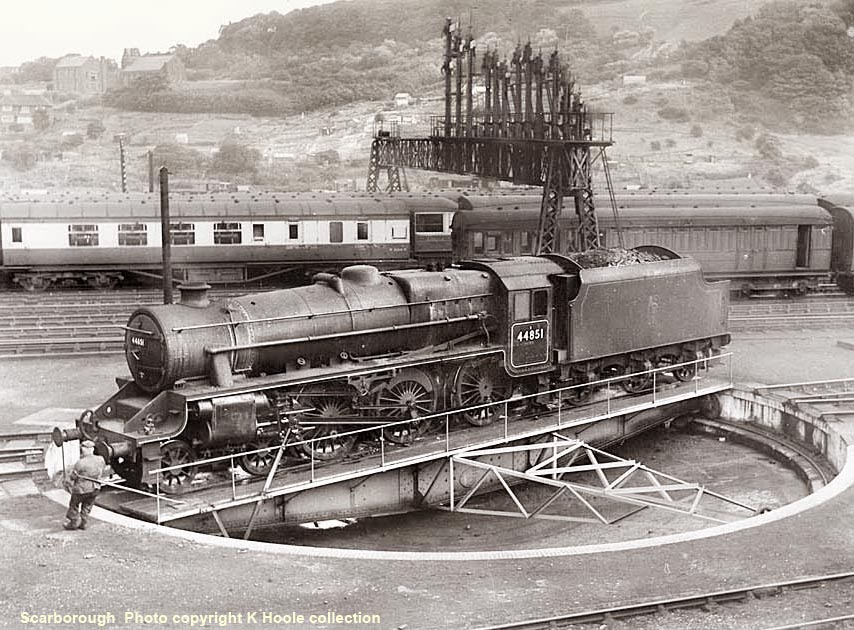 Meanwhile, having trawled the web for guidelines to reproduction fees there are various prices quoted for the use of photos in books, magazines, journals, newspapers etc. These range from £50 for inside pages to well over a £100 for a front or back cover, dust jacket or CD and DVD covers; CD-Roms, websites and other electronic publications.
However, this site would rather deal with small specialist authors and publishers who produce books on railway subjects that a large publisher might avoid on account of its limited appeal, therefore the guidlines on reproduction fees are of little use. For example, the photos are usually provided (and paid for) by the author (average 250 pics per book) which increases his personal costs considerably.
Indeed the author may think that royalties (usually 10% of the book's retail selling price) is a small reward and decide to publish himself, in which case strict financial stringencies must be adhered to otherwise the book can become extremely expensive, especially when you factor in origination and production costs.
And I speak from personal experience because a large part of this site was cobbled together from several railway books I planned on publishing but never got off the ground due to the high costs involved. If this happened to every other aspiring author then the future of specialist publishing would cease to exist.

PHOTOS SOUGHT

HELP! I have received a request from Ove Tovås in Norway who is seeking photos of Norwegian railways. He writes...
'Hello David, I found your interesting website with quite a collection of photos and information about railway photographers. Some British photographers also went abroad, and some even to Norway. Not many Norwegians had any interest in taking photos of railways and trains, and the best sources from the age of steam before 1970, seems to be abroad. I write to you because I wonder if you have any knowledge of collections that contains photos from Norway. Some are already known, like P Ransome Wallis and W J Verden Anderson.
I have found some photographers with pictures published in books and magazines, but I have not been able to find the collections of the following:
Ian G.T. Duncan visited Norway in 1949
Sir Francis Leyland Barratt visited Norway in 1939
Sir Peter Allen visited Norway in 1938 and 1956
Cecil J. Allan visited Norway in pre 1940
A small part of the Peter Allen collection is at the NRM in York, but not anything from Norway. I would be very grateful if you had some time to review my questions, and I am looking forward to your answer.
It seems like Ian G.T. Duncan travelled almost the length of Norway in 1949 by car, approx 2000 km. It must have been an adventurous journey just a few years after WWII, with an infrastructure that was quite rundown.Regards, Ove Tovås.'
If you can help Ove in his search his email address is ovept@hotmail.com Please note this is a non-clickable link via Outlook Express...you will have to email manually. Many thanks....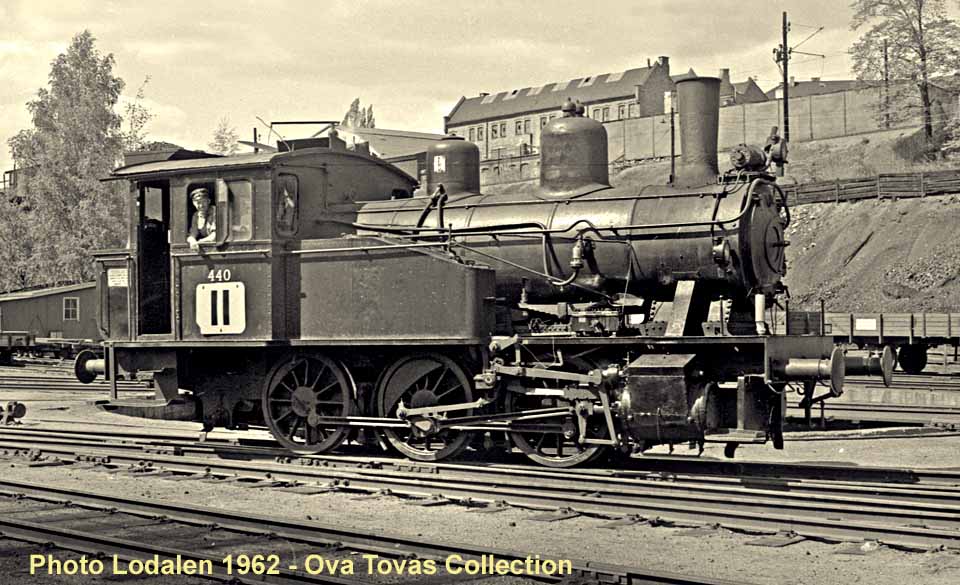 (Above-Below) HELP! I have recently been contacted by Nic Greene, a volunteer at the Watercress Line, who is in the process of making a short video to promote awareness of, and hopefully raise funds towards, the overhaul of Merchant Navy No 35005 Canadian Pacific and he is desperately trying to find 30-plus seconds of mainline footage of Merchant Navy locos, in particular 35005, from the 1950-60 period. If anyone has any footage or ideas for sources he would be very pleased to receive them. If you can help Nic (who goes by the name of 'geralldus' on YouTube) he can be contacted at n.greene@blueyonder.co.uk Please note this is not a clickable link via Outlook Express; you will have to email manually. Many thanks in anticipation…



(Right) HELP! David Aspden contacted the site requesting railway photographs of Tebay taken before 1965 along the the stretch of line from the Fairmile to Scout Green - especially those of the station. David Aspen is connected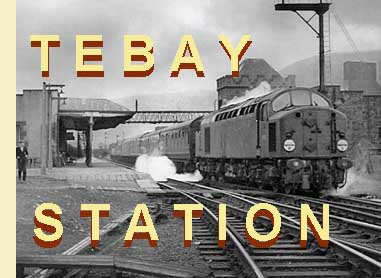 with St James' Church in Tebay, which was built by the railway in the 1880s.
He writes: 'The church attendances have fallen over the last few years and our Vicar is looking at using the rear of the church to put on a permanent exhibition of Tebay's railway history. There are still a few retired railway employees living in Tebay and one gentleman has collected local photographs to help illustrate talks about the railway around Tebay in the 1950s. My reason for contacting you is to promote the church to the many visitors who come to take photos on the occasion of a steam special on the WCML. The idea is to put on a photographic exhibition, and we are seeking photographs taken before 1965, especially those of the station. My email address is david@thepines25.plus.com Many thanks in anticipation. Regards, David Aspden.' Click on photo link to visit 'Tebay, Lune Valley & Shap' page.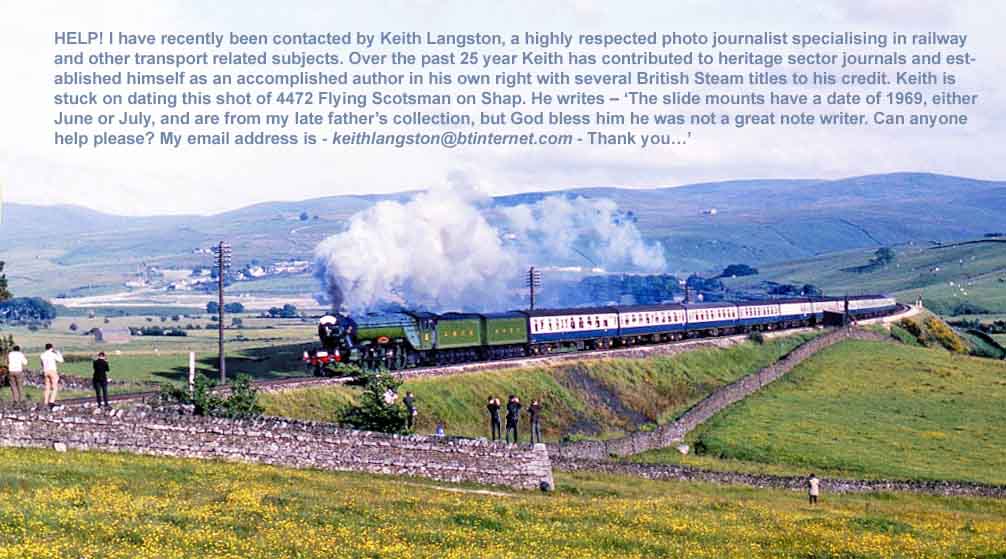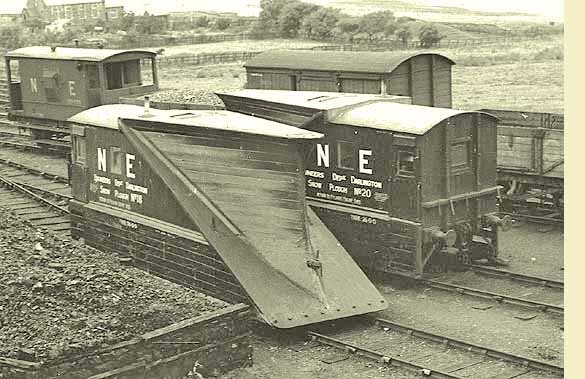 HELP! Bryan Blundell recently contacted the site requesting photos of ex-NER Timber Snowploughs that operated around the NE region. Out of 20 timber ploughs, 3 survive - 1 at the NRM, 1 at Beamish and a 3rd at the NYMR that Bryan is currently in the process of restoring. Bryan's plough was featured in the BTF film 'Snowdrift at Bleath Gill'. This photo at Waskerley is of plough No 18 (Bryan's) and No 20 (now at Beamish) possibly mid-1930s, photographer unknown. Both ploughs spent most of their working life around the Darlington area prior to withdrawal circa 1974. Bryan is also seeking photos of the 4 steel-bodied ploughs, which ended their days at Holbeck and Mirfield. If anyone can help, please contact Bryan at bryanandchristine-at-tiscali.co.uk - please note this is not a 'clickable' email address via Outlook Express. You will have to replace the '-at-' with '@' and email manually'. Any help with photo material is much appreciated.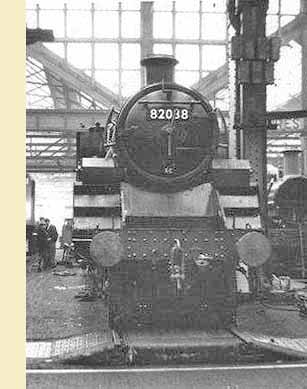 (Right) Retired railwayman, Dave 'Dropgate' Wilson is an ex-55C, 73A, 70A and 56A fireman who now writes articles for several railway magazines. Dave is putting together an article on the BR Class 3MT 2-6-2 82XXXs, in conjunction with the 82045 Locomotive Trust, of which he is a member. The Trust are in the process of building a new member of this class for work on the Severn Valley Railway and other preserved railways. The proposed article covers their work and Dave's own footplate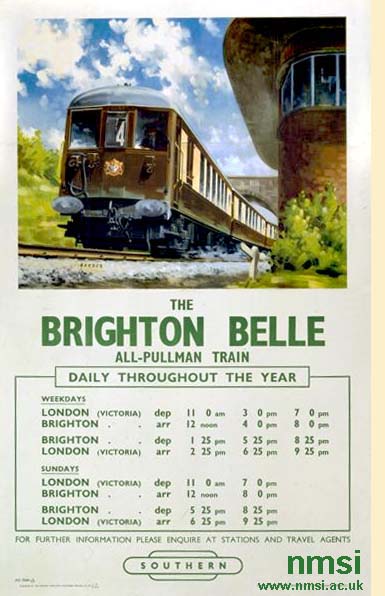 experiences with these engines. Dave is seeking photos of the 2-6-2Ts, preferably in action, which are suitable for publication. If any visitors to your site have photos would they please contact dave.wilson@tesco.net Many thanks in anticipation; any help offered is much appreciated.
(Left) 'Bringing back The Brighton Belle to the mainline'. Neil Marshall recently contacted the site on behalf of the 5BEL Charitable Trust, which is restoring a complete five car 5BEL set to mainline use. The Trust is recording for posterity stories and images of people and buildings connected with the Belle and Preston Park Pullman Works - for example, the Trust recently filmed an interview with 90 year-old Jim Bishop, a chargehand of the paint shop at Preston Park Pullman Works, from just after the war until British Railways took over. Neil is Communications Director of the 5BEL Trust and asks if visitors to the site have any images of Preston Park and/or the Brighton Belle that they might allow to be displayed [with a full attribution] on the 5BEL Trust's website? Click here to to visit the website which provides background information, progress reports and contact details. Alternatively try - neil.marshall@brightonbelle.com Kind regards Neil Marshall. Registered Charity No 1133545.

(Above) This British Railways (Southern Region) poster is from the NMSI collection, and features the Brighton Belle All-Pullman Train by Barber in 1958.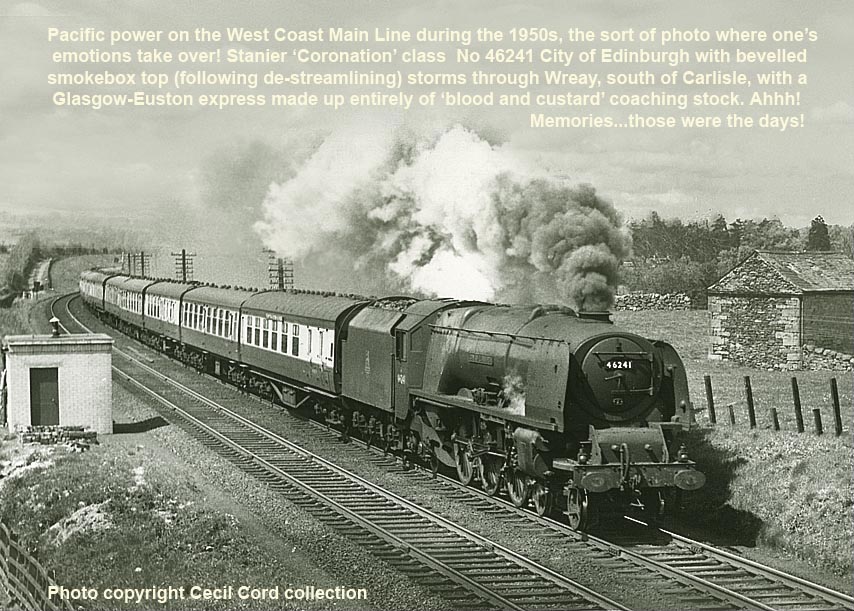 (Above-Left) I have recently received a letter from Cecil Ord's daughter, Madeline, regarding her late father's collection. Madeline writes - 'Hi, when dad died in 1967, his photographs and plates were dispersed, with a large number going to Peter Wilson of Darlington. My sister and I have little idea of where these and others now reside; despite several enquiries we have drawn a blank. Only out of curiosity are we wondering if anyone knows the whereabouts of his photographs or plates. We would like to think they have found a good home! Many thanks, Madeline.' Please...if anyone can help, the email address is: mv.ord12@gmail.com (please note this is not a clickable address to avoid spam, but you can email manually).
If you are still thinking of publishing a railway book yourself, then I suggest reading Peter Johnson's interesting article - 'Publishing Picture Books' which can be found on the excellent 'The Railway & Canal Historical Society' website. The article raises an interesting point about the prevalence of low-cost reproduction fees in railway book publishing. It seems there is an inflation-free zone in our field and low payments are still commonplace. Click on link to Peter Johnson's article to find out more. Polite Notice: The copyright of photographs on this site remain with the photographers and reproduction is prohibited without their prior consent.

UK MARSHALLING YARD PHOTOS SOUGHT...I have recently been contacted by Michael Rhodes, who is seeking images to revise his 1988 marshalling yard book - 'The Illustrated History of British Marshalling Yards'. The yard images he is short of are as followed… NE - Shildon (pre-1935), Erimus, Hull Inward,
Dringhouses hump in action; EASTERN - Colwick, Dunford Bridge, humps working at Worksop, Warsop, Barrow Hill; LM - Edge Hill Gridiron, Chaddesden, Basford hall, Mottram; SOUTHERN - Feltham; WESTERN - Hump working at Swansea Burrows and Llandeilo Junction; SCOTLAND - Cadder and Alloa.
He adds - 'A bit of a rag tag mixture and all somewhat hard to find, but it would be really nice to update the 1988 book with a really definitive guide to all the yards in the UK.
If you are able to supply any pictures of the above then I will pay a reproduction fee of £10 per picture, plus a copy of the book when I finish it. Any help will be most welcome. With kind regards, Michael…'
Michael's contact email address is mr@lapsurgeon.co.uk Please note this is not a click-on link via Outlook Express. You will have to email manually.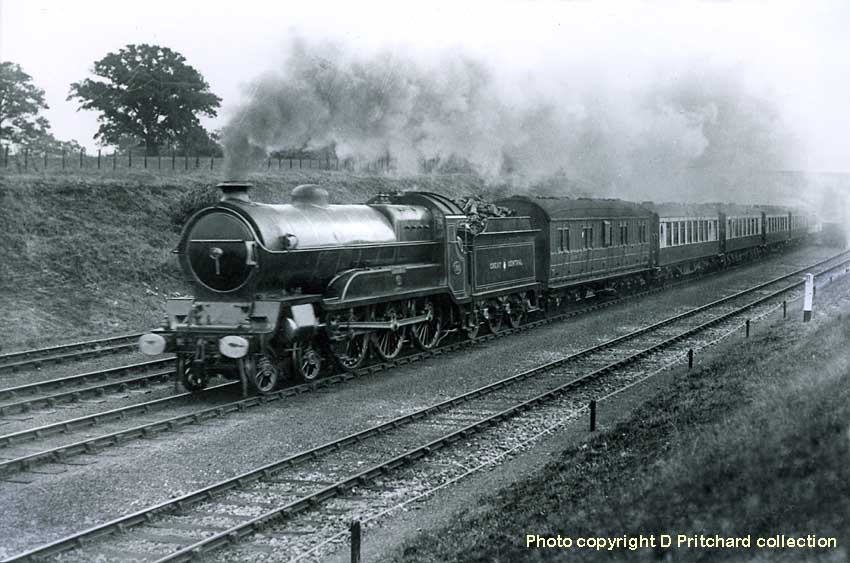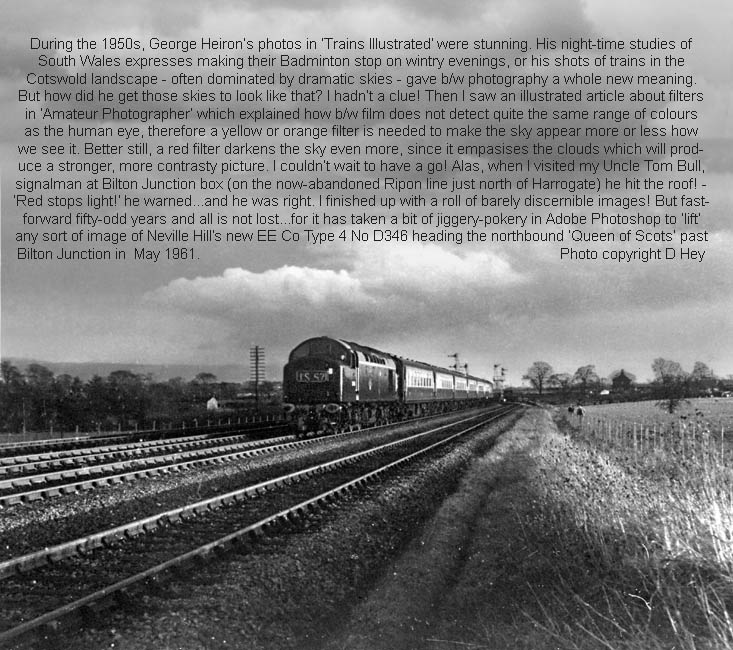 FIRE!!! Whoomph!...the whole collection went up in smoke...
Friends tell me that there's passion and there's obsession, and because I never stop talking about trains, I'm both boring and batty, in equal measure, they say.
Okay, I'm hardly in the first flush of youth and like a stick of rock I have 'anorak' written all the way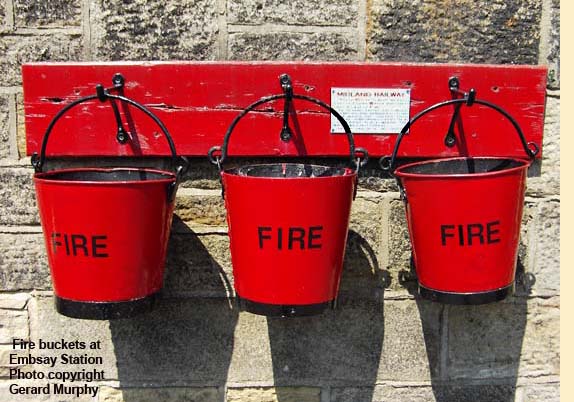 through, but I enjoy harking back to the Fifties. I can't remember a better time; families were stronger, personal standards higher and the country was a nicer place to live than it is today. And in case you're wondering, this isn't one of those suger-coated 'we were poor but we were happy' stories from the post-war Fifties. Quite simply, children were grateful for even the smallest things in those days.
For example, a balanced diet was a jam butty in both hands, followed by mum's special home-made bread and butter pudding, and if we were still hungry, we were told to lick the plate clean.
Today such practices would carry a Government health warning, yet the kids I knew were in great physical shape because we played out all day, usually within sight of a railway line, so we could indulge our passion for train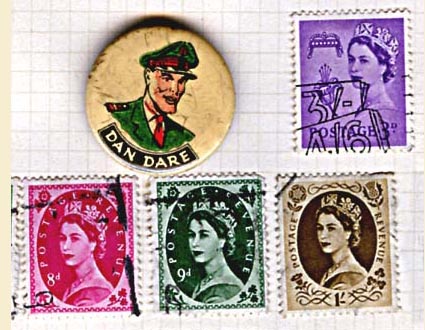 spotting.
Over the years I've collected a mountain of childhood memorabilia from old 1950s maps and postage stamps, to 'Eagle' comics and the tackiest tin badges - but not everything I've collected evokes happy memories. I recently came across an old edition of 'Bella' magazine dated June 30th 1998, though why I have kept it all this time is anyone's guess, the bare shamefacedness of what I did is simply best forgotten. There on page 34, smiling forcibly through clenched teeth, is a picture of my daughter, Nicola, who is featured in an article dealing with the problem of home-sharing between parents and grown-up children who refuse to leave the nest because it's cheaper to live at home. At the same time, there is a growing number of single parents who, for a variety of reasons, have moved in with children because they have nowhere else to live. This has become increasingly common in recent years due to the rising divorce rate, or the high cost of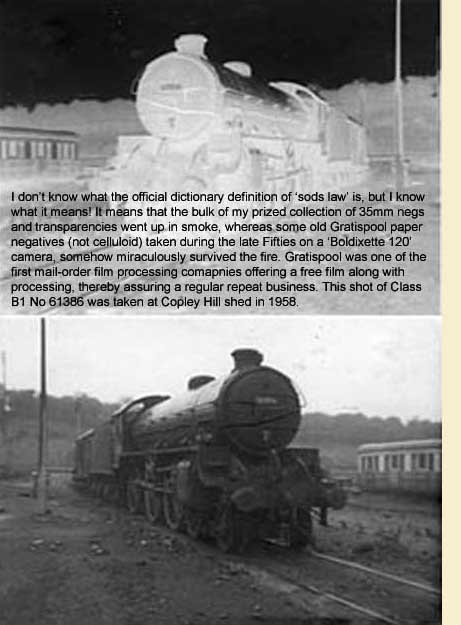 housing, which has made it an economical necessity for many.
Back in 1991 it happened to me. Having lived in Spain for several years, I returned to England and moved in with my daughter and her husband, Simon for a couple of weeks. But the weeks turned into months, and the months into a year...
'He has to go,' Simon said.
Simon was right - especially after setting fire to their house. Not deliberately, of course. I carelessly dropped a lighted cigarette among the boxes of railway memorabilia squirreled in the corner of their cellar - Whooomph! The whole cellar went up in flames...Luckily, Nicola managed to put out the fire fairly quickly so the structural damage was minimal, but Simon took a rather dim view of his now-villainous father-in-law.---'It's either him or me,' he said finally.
I started packing.
Oh dear, no one could have remotely appreciated my utter dejection; not only because I came to within an inch of burning down their matrimonial home, but I never imagined for one moment that a small fire could cause such irrevocable damage. As a result, I lost the best part of my 35mm railway negatives and my prized set of colour transparencies had melted into a solidified lump of plastic. I managed to save 30 slides mounted in glass slide holders, but the remainder were stored in unprotected card mounts and contained no celluloid whatsoever.
The memorabilia I lost in that fire was stomach-churning - it meant more to me than anything in the world - a pageant of memories gone up in smoke forever. Well, not quite...I still have the rest of my old photos to fall back on, which is why I embarked on this website.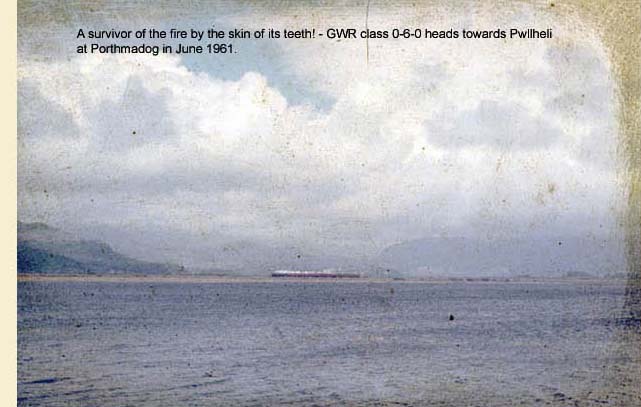 And why am I telling you all this? It's because I want to thank all the contributors who have subsequently helped fill in the gaps of my own collection. In particular, I am indebted to Brian Lister, Dai Pickup, Barry Tate, Peter Batty, Ian S Carr, Jim Carter, Mike Mitchell, Bill Wright, EA Wood ('Nettletea' on eBay) and last, but not least, Jeremy Suter, custodian of ER Morten's railway negatives - all of whom have spent many hours blowing the dust off old negatives and slide boxes in search of suitable prints and transparenciies to help fill the gaps in my own collection. Without their help this site would not have been possible...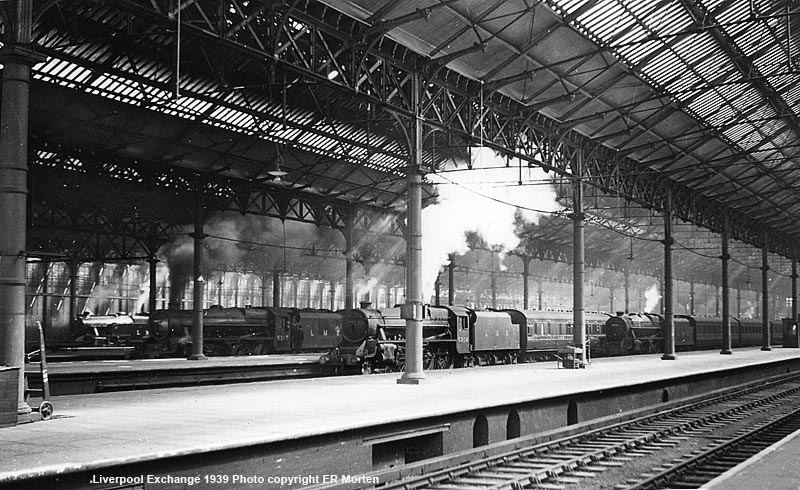 (Above) Railway photographers are creatures of habit, invariably taking the traditional three-quarter shot of a train to the exclusion of almost everything else in the surroundings, however this interesting shot by ER Morten of 'Black 5s' Nos 5206 and 5217 at Liverpool Exchange station makes a refreshing change. Taken in 1939, Mister Morten just about manages to record the whole ten platforms beneath the magnificent cavernous roofs (the station closed on 30 April 1977).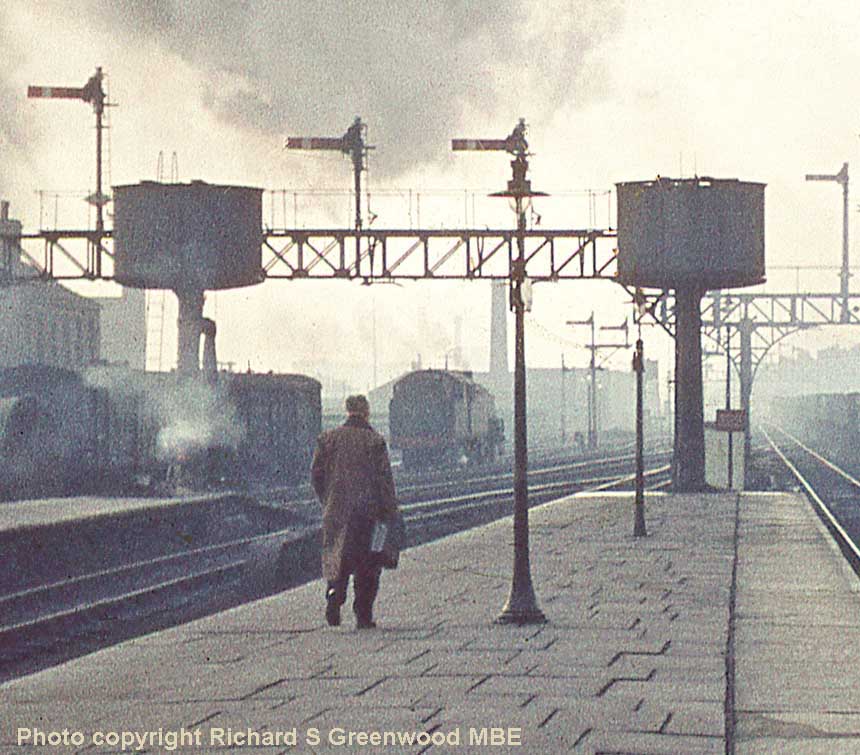 (Above-Below) A picture within a picture...Richard Greenwood's photo of Rochdale Station (above) would not look out of place at the Lowry Art Gallery in Manchester. LS Lowry is famous for his paintings of industrial landscapes featuring human figures often referred to as 'matchstick men'. In wintry weather, this is an interesting study of signalman Cyril 'Tater' Jones walking home after arriving by train at Rochdale from his place of work at Smithy Bridge Level Crossing. Out of picture on the right, an empty wagon train rumbles through the station bound for Healey Mills in Yorkshire…the full image can be seen below. Click HERE to visit Richard's 'Rail Cameraman' which now contains over 180 colour shots of steam days up north.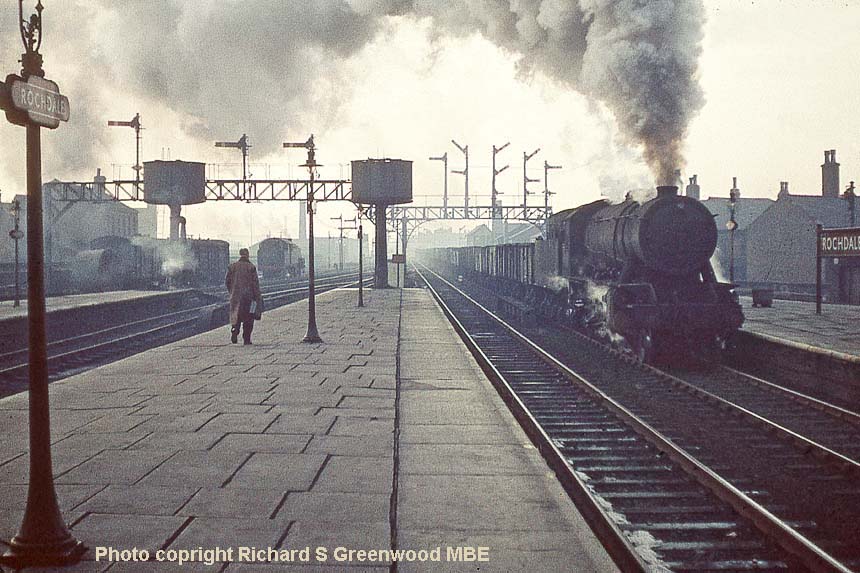 (Below) Wth the onset of dieselisation some 20-odd years later, the new generation of rail cameramen had to find new ways of making their pictures more interesting - photos of diesels on their own are nowhere near as photogenic as those of steam - hence the inclination to embrace more of the railway infrastructure or surrounding scenery as shown in the shot below of a 2-car Metro-Cammell dmu heading towards Greenfield on the Standedge route. Whatever the difference in photo-technique, however, the results are exactly the same - it records the railway scene for posterity...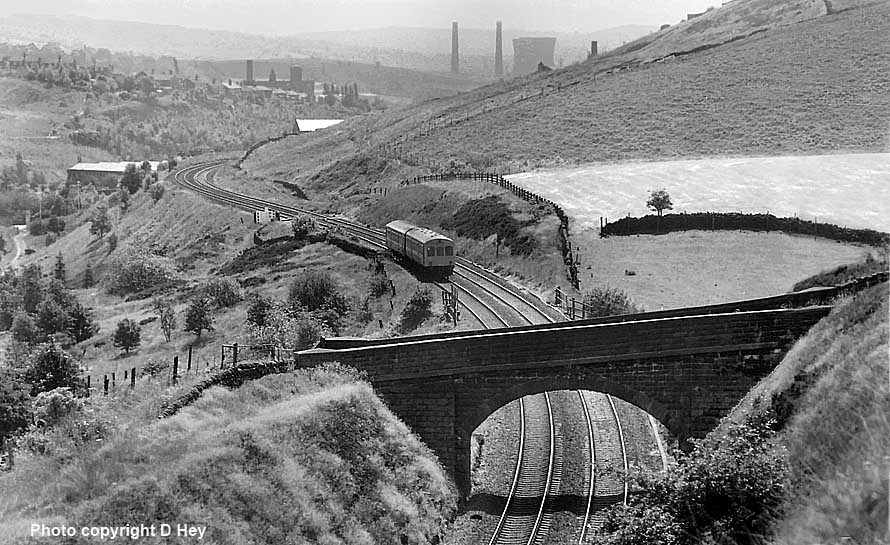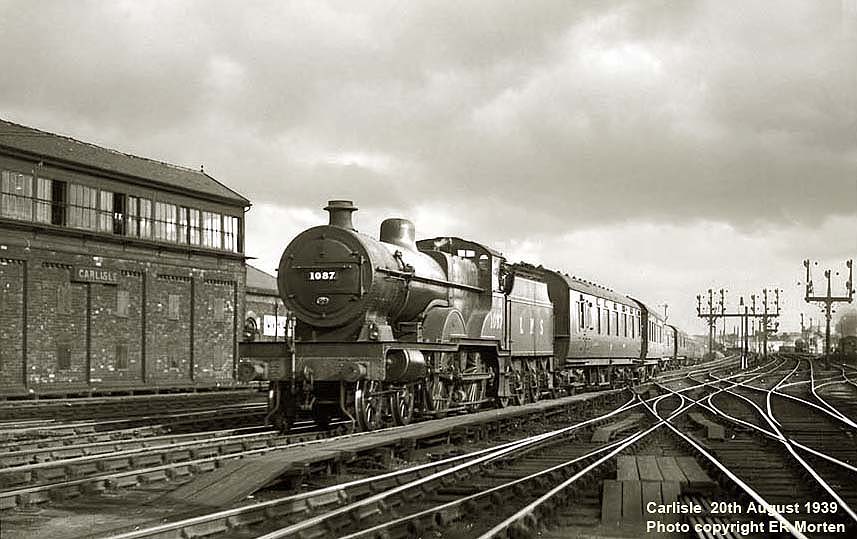 LOOKING AFTER YOUR PHOTOGRAPHS
Alas, over the years our old photographs can get mislaid for a variety of reasons, yet surprisingly, almost half a century later our prized pictures can turn up in the oddest places. This shot of Class A3 No 60035 Windsor Lad (below) heading the southbound 'Queen of Scots' up Cowlairs bank out of Glasgow Queen Street was discovered in a box of household bric-a-brac at a jumble sale in Leeds. How on earth it got there is anyone's guess! On the reverse side of the photograph are the details of an aspiring 17 year-old photographer, CWH (I have used his initials to protect his identity) of Renfrew, who attended the John Neilson Institution, Paisley, during the Fifties and entered this shot into a photographic competition for juniors run by GE Williamson Ltd of Glasgow. Unfortunately I have not been able to trace CWH, but if he will write to me I will be pleased to hear from him and trust he will forgive the use of his material without prior permission. If CWH tells me his surname and the title of the photograph (both appear on the back of the print) then I will gladly return it to him.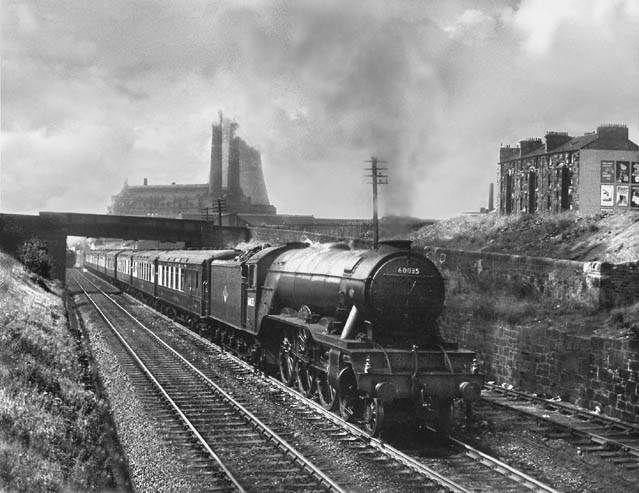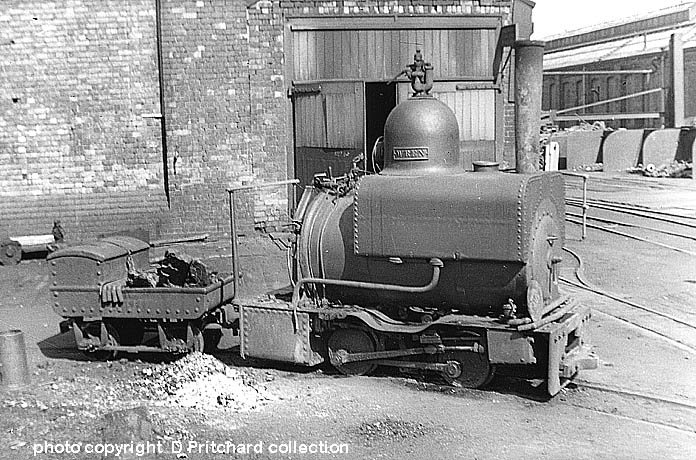 (Above-Below) Over the years, our old photos can become valuable archive material for a variety of reasons, either because the rail network has disappeared beneath hundreds of acres of motorways, modern housing estates and purpose-built industrial units, or else the locos themselves have vanished without trace. Yet there are some remarkable survivors. One example is the L & Y's quaint-looking narrow gauge 0-4-0ST shunter 'Wren'. Built in 1887, this 3½ ton loco had 1ft 4¼ inch driving wheels and 5in X 6in cylinders, and was used for transporting materials on the 18-in gauge system at Horwich works. The other engines in the fleet were named Mouse, Bee, Fly, Wasp, Midget, Robin and Dot - now be honest, did you know there once was a steam engine called Dot? (Below) This rare colour photograph shows the now-preserved 'Wren' coupled with the 20 hp Ruston & Hornsby 0-4-0 diesel shunter ZM32. Built in 1957, the narrow gauge diesel replaced 'Wren' at the Horwich Works. Fast forward to the present day and Wren has of course been preserved at the National Railway Museum, albeit in a somewhat fictitious livery, whilst the Ruston & Hornsby diesel is also preserved and now operates on the Steeple Grange Light Railway near Wirksworth in Derbyshire. Established in 1985, this 18-inch gauge line runs on a section of the old Cromford and High Peak Railway. Click here for link.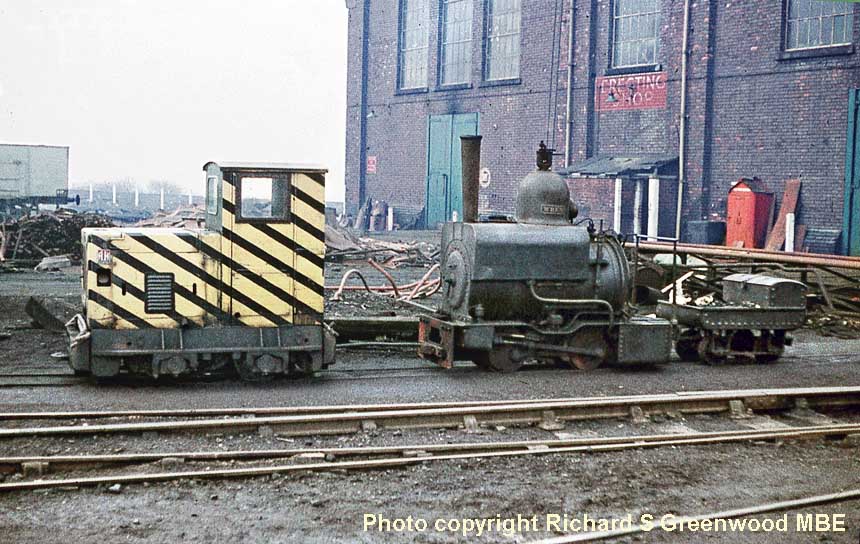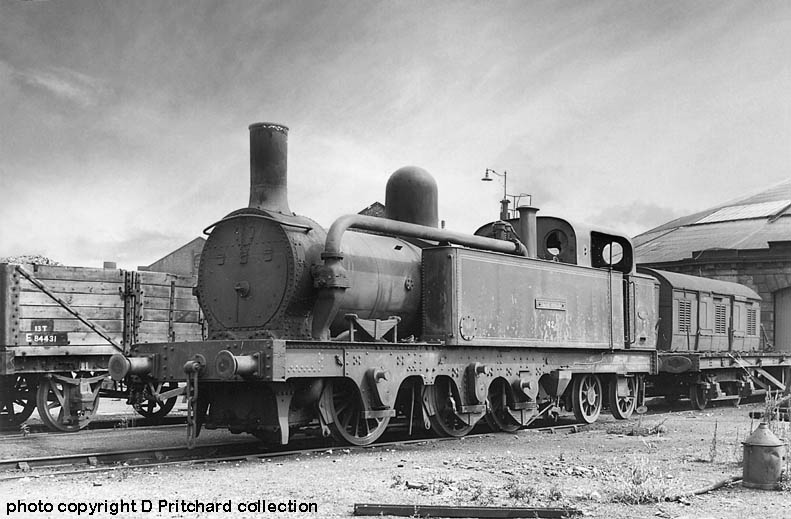 (Above-Below) Opened in 1886, the Mersey Railway linking Liverpool and Birkenhead beneath the River Mersey was operated by steam locomotives. The sole survivor of the original batch of eight locos built by Beyer Peacock & Co Ltd of Gorton, Manchester in 1885, is 0-6-4T No 5 Cecil Raikes, now preserved at the National Museum of Liverpool. Steam condensers were fitted to the engines in order to convert the exhaust steam back to water and to avoid excessive emissions of steam in the tunnel. When the Mersey Railway system changed over to electric traction in 1903, this historical engine was sold to Shipley Colliery in Nottinghamshire, where it spent fifty years before being put in storage at Derby Locomotive Works awaiting a decision on its future. In this shot, Cecil Raikes looks in a pitiful state at Derby prior to the British Rail Board's presentation to the Liverpool museum in 1965. Photo © D Pritchard collection (Below) Hughes-Fowler Class 6P/5F 2-6-0 at Dore & Totley in 1934. Photo © ER Morten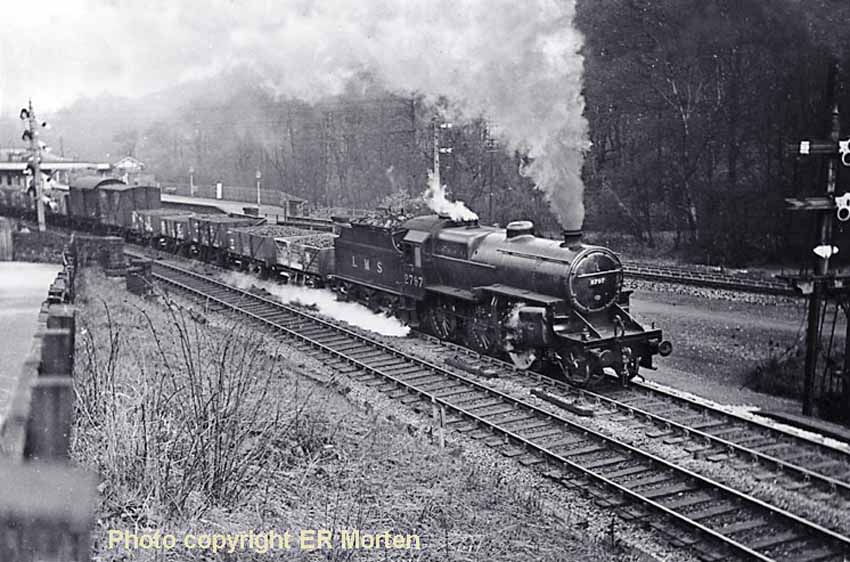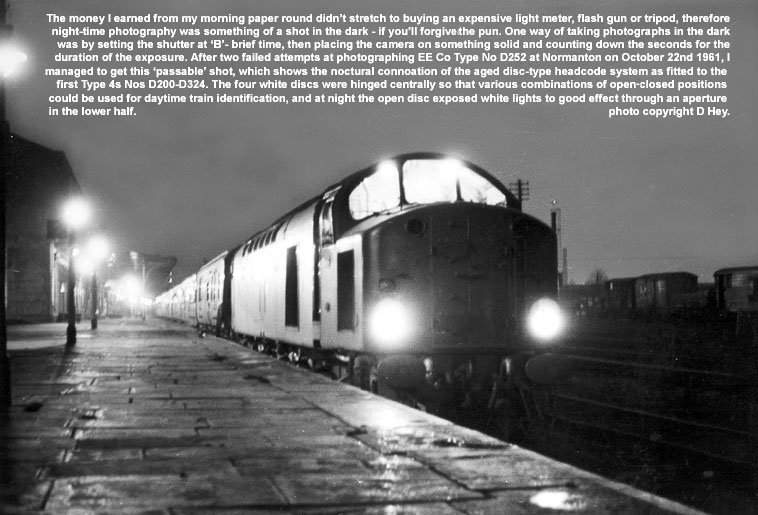 COPYRIGHT LEGISLATION IS FOR YOUR PROTECTION
The subject of Disclaimers and Copyright is often overlooked by amateur photographers, but if you are planning on sending pictures to a publisher then always read the small print first. Photographers are constantly warned that whilst every care is taken when submitting prints and transparencies, the recipients make it clear that they cannot be held responsible for any loss or damage, however caused…
...however caused? That pretty much covers everything, doesn't it? A cop-out, if ever there was one! I know from my own bitter experience of sending irreplaceable transparencies to a Greeting Card publisher (I won't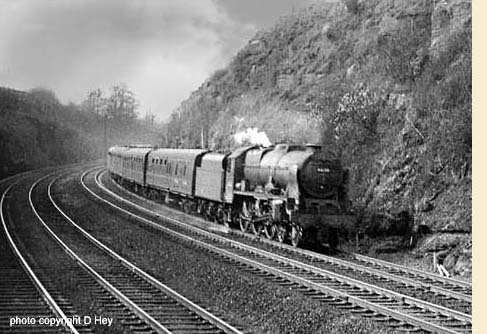 mention the name of the company to avoid embarrassment) but I will mention the humdinger of a row I had with the company's snotty secretary, who didn't care that my slides had somehow disappeared - 'If they turn up, I'll get back to you,' she promised. Needless to say, she never did. In another memorable instance, I sent a full-size oil painting of a Class 'N1' tank for reproduction on the front cover of a model railway manufacturer's catalogue and that too mysteriously vanished without trace. More recently one of my photographs turned up on eBay. It had been 'lifted' from the 'Embsay & Bolton Abbey Steam Railway website. All too often, it seems, the moral scruples of a tiny few can spoil it for the mainstream bona-fide dealers and, unless you have eyes in the back of your head, breach of copyright goes unnoticed.
So how do you prevent a photograph from going astray? Nothing is guaranteed, of course, but if you follow a few basic steps it will help reduce the risk. First, stick an irremovable label on a slide mount or the back of a print, which should include your name, address and telephone number, along with © sign, so in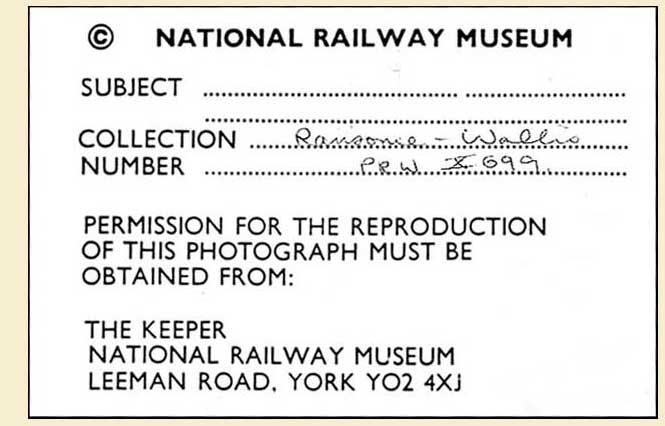 the event of loss or damage there is no disputing who is the rightful owner. It is also advisable to give the picture a reference number, and keep a record of where the picture was sent and the date you sent it. Finally, always enclose a SAE - it is amazing how many don't bother. Indeed, it is hardly surprising that publishers refuse to accept responsibility for loss or damage when all too often it is the fault of contributors for engendering the risk in the first place. Copyright legislation exists to protect an author, artist and photographer, who have the right to be identified as the creator of a work. This sizeable sticker (right) appears on the back of an 8 X 6 print from the National Railway Museum and includes a very clear © sign and warning, so that the picture can be traced to the rightful owner. The NRM is custodian of P Ransom Wallis's collection and the reference number X699 refers to his excellent shot of Nos 10000/1 heading 'The Royal Scot' up Shap Bank.
However, publishers are not entirely blameless. The deluge of material they receive might explain away some losses, but more commonly it is down to sloppy handling by staff. I'm amazed at the way a publisher can reproduce countless photographs in magazines and books, and credit the pictures to the company's own library.
A couple of my own photographs have been credited this way - even though my details were on the back! Trouble is, infringement of copyright can only be established after the transgression has taken place, therefore I contacted the publisher and asked for a retrospective payment. A cheque duly arrived accompanied by a meaningless complimentary slip - meaningless, because I didn't receive one word of apology....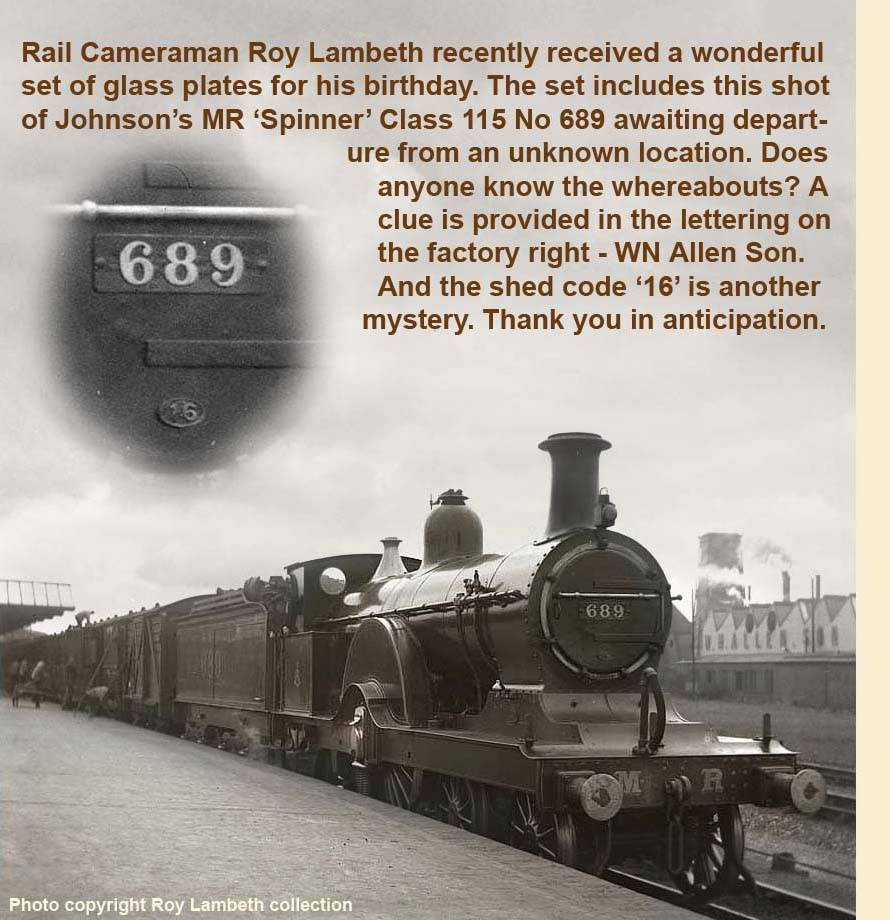 (Above) The location of this photo from 'Rail Cameraman' Roy Lambeth's collection - first published here back in 2009 - remained a mystery until March 2017 when an email from Jeremy Michel revealed the picture to be of the Channel Island of Alderney.
Opened by the British Government in 1847, the Alderney Railway was built primarily to convey stone from a quarry at the eastern end of the Island during the construction of a 1,430 metre-long breakwater and Victorian forts at Braye Bay. The standard gauge line became the first nationalised railway to be operated by the Admiralty.
Following Germany's occupation of the island in 1940 (the railway was used to build fortifications during WW2) the line was back in the hands of the Ministry of Defence, its locomotive at that time being a Sentinel vertical boiler 0-4-0 engine called 'Molly' which was replaced in 1958 by an 0-4-0 diesel built by Ruston-Hornsby, appropriately named 'Molly 2'. By the mid-1970s the British Home Office had taken over the responsibility of maintaining the railway and an approach was made to see if the line could be used as a passenger carrying venture. After several years of negotiations a lease was eventually granted and the first revenue earning passenger train consisting of a two car Wickham trolley set ran on the 5 March 1980. Click HERE to visit the interesting RMweb forum on the railway's history; this is an archive of RMweb content from 2007-9. Also click HERE to visit the excellent Alderway Railway Society's website.

(Above Left) Another classic shot from 'Rail Cameraman' Roy Lambeth's collection. The shed code '16' of the Spinner (left) has been identified as Kentish Town; the shed was recoded 14B in 1935. As for the location? My thanks are extended to all visiting enthusiasts who pass on their own expertise. The history of Britain's railways is extremely complex and it is important to get the facts right on the World Wide Web which has now become a major source of reference. Among the most prolific contributors is to this site is ex-BR Fleet Engineer, Vic Smith, who has identified the location to be Bedford; the factory on the right is actually W H Allen & Son, Queen's Engineering Works at Bedford.

(Below) This superb image of 'Royal Scot' class No 6131 Planet is reproduced here courtesy of Simon Lathlane, who writes: 'Hi David, I have enjoyed your website for a long time and wondered if you might be able to assist with a photograph puzzle. Some years ago I purchased a box of old glass plate negatives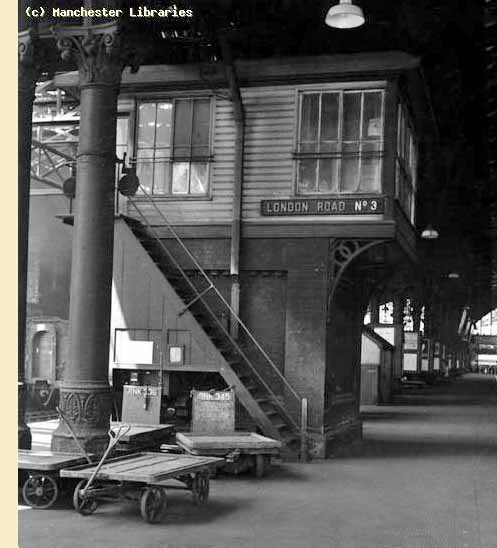 showing various early 1930's images of Royal Scots. Sadly the envelope containing the slides was torn open and the information inside lost by the seller. This is one of the glass plate negatives of Royal Scot class No 6131 Planet displaying a 16 shed plate, which was Kentish Town. Do you have any ideas where the photograph was taken? One suggestions is Manchester London Road - the building on the right could be the base of London Road No 3 signal cabin. I look forward to hearing from you and many thanks for any help you can offer…kind regards, Simon.'
Unfortunately I am unable to identify the location, but again ex-BR Fleet Engineer, Vic Smith, comes to the rescue. Vic agrees with Simon that it is indeed London Road station and sent the photo (inset right) from the Manchester Libraries website which shows the same roof structure layout and footbridge...this almost certainly confirms the location. However, Vic adds that Simon's photo is currently under debate on the excellent 'Time Capsule' website HERE and so the query remains entirely resolved. Meanwhile you will find more superb glass negatives on Simon's 'Rail Cameraman' Page 73 HERE - a visit is highly recommended.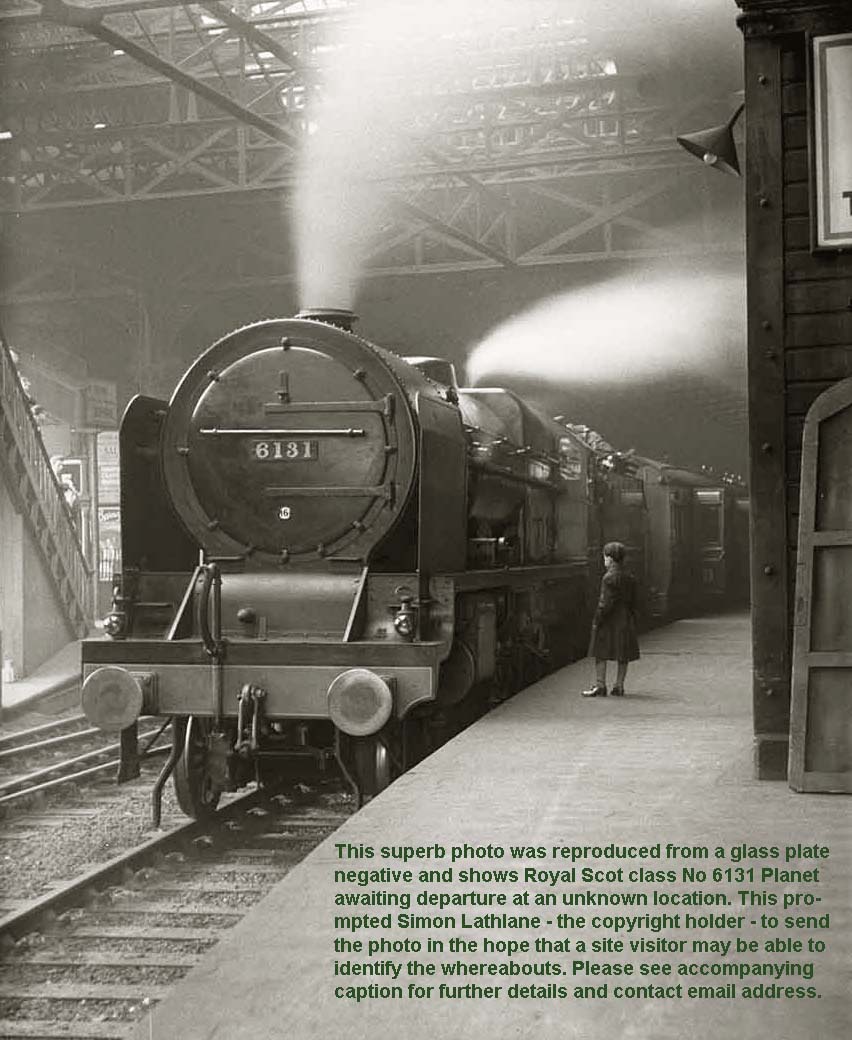 INFRINGEMENT OF COPYRIGHT - 1

The phrase 'possession is nine-tenths of the law' is one of the oldest clichés in the glossary, yet it is an appropriate a warning as any when trying to assert one's right to copyright. Protecting yourself against infringement is becoming increasingly difficult in today's 'digital age', particularly with such a huge increase in personal computers, scanners, printers and CD-writers. This allows the most unscrupulous person to effectively copy a photo from an original work, remove all identifying features and produce a print of his or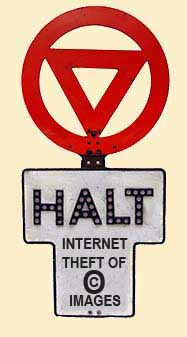 her own. All the more reason then for following the basic steps I mentioned earlier, because once a picture has been replicated, the copyright owner has the tricky task of proving the work belongs to him. For many old-timers, this can become a major headache because many of our photographs were taken donkey's years ago and we have lost track of them entirely.
Another concern is the number of photographs for sale at Open Days, Railway Exhibitions and on eBay. Now I'm not talking about cheap ink-jet copies here. I'm referring to the countless thousands of original photos where the photographer hasn't bothered to write his name on the back. He probably thought it was unnecessary at the time, since railway photography is a hobby, albeit an expensive one - camera equipment doesn't come cheap. Indeed, if you add on travelling costs, a photographer can spend a small fortune taking photos of trains the length and breadth of the country.
It stands to reason then, that a photographer should prevent his photographs from falling into the hands of some unscrupulous person running a lucrative sideline selling bootleg copies of photos directly to the public (or using the photos to promote a business for financial gain) without any due consideration for the copyright owner!
That's the reason a copyright notice is affixed to all the photographs on this site. A copyright notice is a piece of text that conveys the rights of the copyright owner. However, there is no legal requirement to include any copyright notice because even without one it does not alter the fact that copyright exists on all photos. And it makes no difference how the work is stored or published either, because copyright law still applies to all photos published on the Internet. It is however strongly recommended that you include some sort of identification to deter all attempts at copyright infringement or plagiarism. It is also important to remember that since we are dealing with a worldwide audience on the Internet that some countries will not accept the copyright © symbol on its own. They also require the word 'copyright' to appear wording in order to consider the notice valid.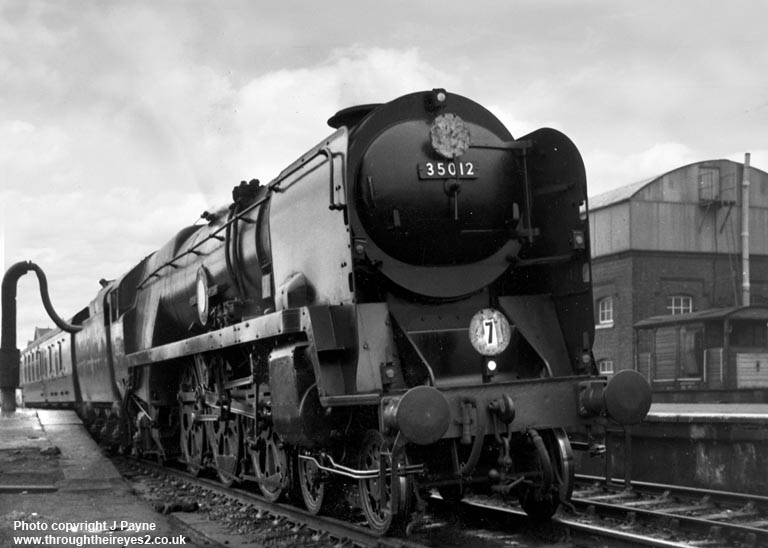 Now this brings me to the thorny subject of copyright infringement on the Internet.
In many cases there may be a legitimate lack of knowledge by the offending party that they are breaking the law; indeed there is a lot of naivety regarding what can and can't be used without permission which probably accounts for the large number of people unwittingly uploading unauthorized photos online.
However, copyright legislation speaks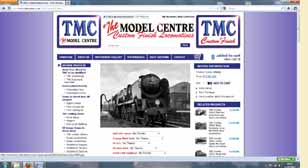 for itself, therefore when people take risks online then they need to be made aware of the penalties!
The potential legal consequences in breaching the law governing photograph copyright in the UK can lead to legal action or in some cases even criminal charges.
The governing copyright statute in the UK is called the Copyright Designs and Patents Act 1988 (CDPA 1988) which protects copyright in photographs under 'Artistic Works' and this includes images uploaded to the Internet. In this particular case (Click on insert left for full-size image) a breach of copyright has occurred where a website proprietor has not only uploaded eleven photos onto his website without my consent, but the copyright notices of 6 photos have being cropped off...worse still - the copyright notice of 5 others have been digitally removed including this one on of Merchant Navy Class 35012 United States Line at Basingstoke!
Now it is important to realise that whilst a person who unwittingly breaches copyright may escape the full enforcement of copyright law, the person who wilfully infringes it (particularly one who obtains an income from the photos used on his website) should be held accountable for his misdemeanour.
Under the terms of copyright law the copyright owner of a work (or his exclusive licensee) can bring legal action against anyone who infringes the law. However, the success or failure of bringing a case does rely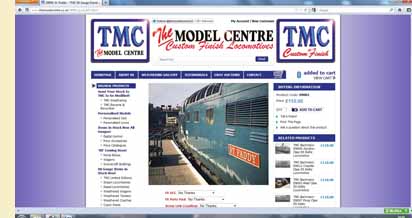 heavily on the quality of the evidence you can provide.
One of the simplest ways of proving an offence has been committed on the Internet is by using a 'screen shot' (click on inset right for full-size image) to show the infringing work.
If you are not sure how this is done, then Google-search 'How to take a screen shot'; it is a relatively simple procedure. The content of your screen shot will show the tool bars top and bottom of the screen, particularly the time and date the screenshot was taken, thus you now have a specific record of the offending page which will prove invaluable if the other party decides to change the content at a later date in an attempt to deny your claim.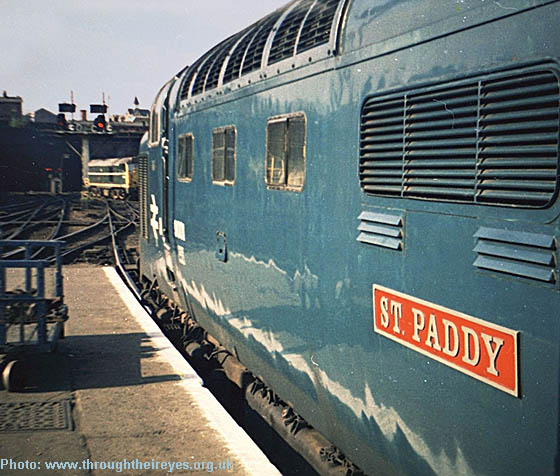 The infringer may also claim that he downloaded the image from another site, but by comparing unique aspects of your photo with the suspected copy, such as the addition of a sky in the photo - then it is sufficient proof in itself where it came from. Click here to visit the 'Railway Photo Workshop' page.
The first course of action is to contact the copyright infringer and make them aware of your complaint by describing the photo that you are raising objections to being used, the reason why you consider this to be an unauthorized copy and request that it is withdrawn from the site. It would be best to specify a deadline for your conditions to be met, and make it clear that failure to comply with your request within the time period will lead to further action.
However, no matter how aggrieved you feel a professional and fair attitude will be a credit to you in the long run, which is what I intended when contacting ACE Trains, but alas our exchange of emails went somewhat awry...
I am referring to the copyrighted photo of 'Britannia' Class 7MT No 70004 William Shakespeare at Stewarts Lane depot in London (below) which somehow appeared on the ACE Trains website without authorization.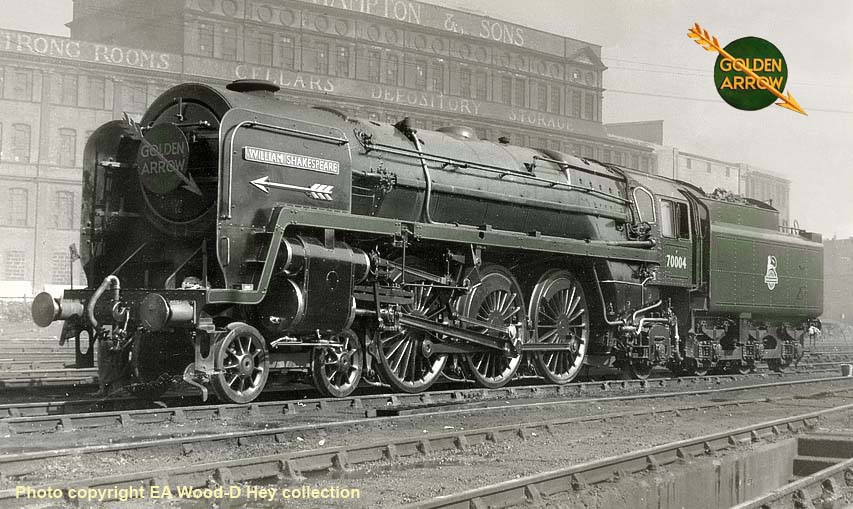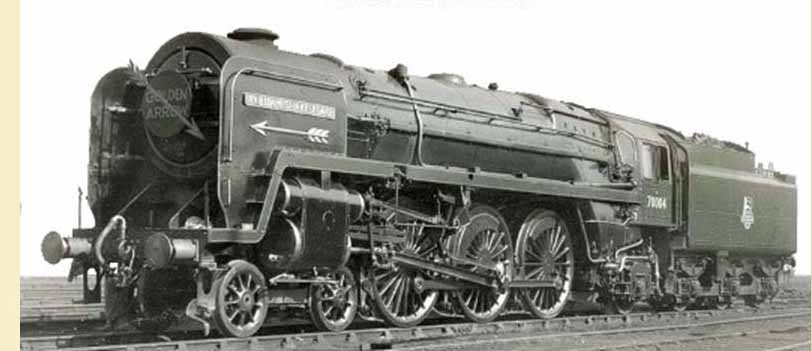 The image on the ACE Trains website (right) is barely recognizable as the same picture (above). The background has been digitally removed and the foreground cropped, hence the copyright notice has disappeared.
So I contacted the company on 26th November 2013 and requested that the 'tampered' image should be replaced with the original image and provide a link to my site…
I received a speedy reply - 'Sorry I was not responsible for publishing your picture and did not know its source other than it came up on Google. I will pass your message on to the people concerned who run our website etc and make sure they raise the appropriate credit.
Regards Allen Levy ACE Trains.'
I was pleased to receive a positive response from Allen and waited and waited, however when I visited the website two months later on January 24th 2014 I was surprised to find that the image had not been changed, though a link had been inserted.
I contacted Allen again and explained my disappointment at finding the photo on the company's website had not been replace, adding - 'Please remove the photo from your site forthwith. It should not take any longer than 24 hours.'
A speedy reply followed - 'Dear David, Your link works perfectly well. We will replace your picture when we next revisit the site next week...'
I responded immediately requesting the photo be removed entirely, adding that failure to delete the image is in breach of copyright and will result in further action…'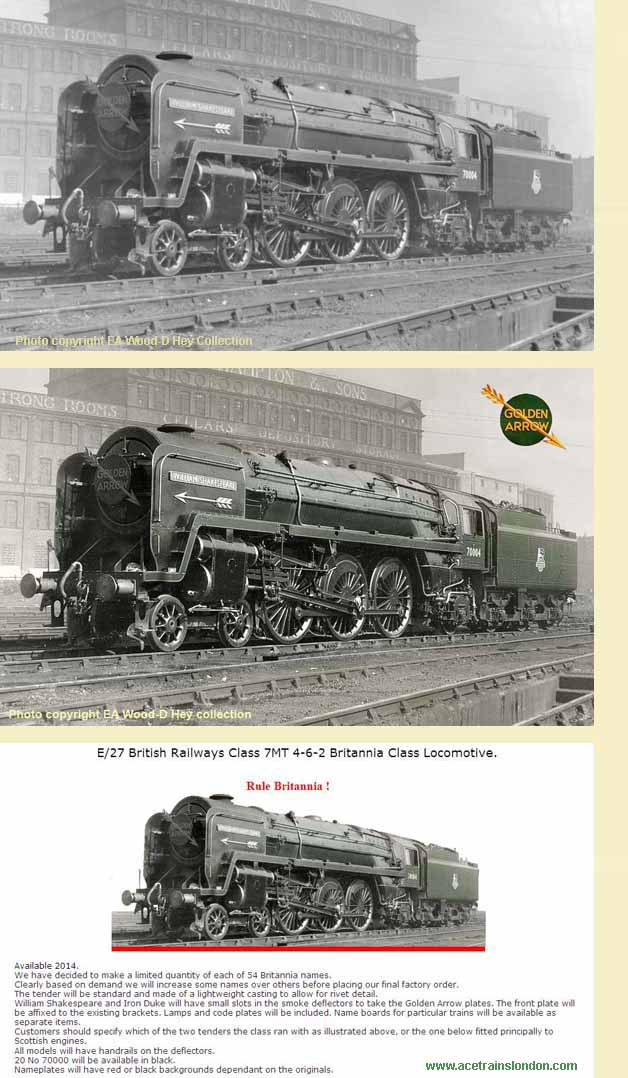 Allen replied - 'David, I have just come back from the Far East. I will organize the removal of the picture asap. I do not operate the site otherwise I would do it myself today.
You have had a free link so stop being so hysterical!
You have suffered no loss and our project could be represented equally well with another picture, which it will be.
Talk of action is hardly realistic.
The picture will be off notwithstanding there was nothing to indicate that it was your picture in the first place, We accepted it was yours on trust...'
Whoa! He's now questioning my integrity!
As for being hysterical?
I was bemused that he should mock what is clearly a breach of copyright.
As for you finding nothing to indicate it was my picture in the first place? See inset left; the first picture is my rough original, the second is the same image after many hours of cleaning it up in Photoshop - the third image is what the company posted on the site, albeit all detail has been obliterated including the copyright notice!
The question is why? Perhaps it was done to deliberately remove all identification?
Finally Allen wrote - 'David, we thought the link was more than a quid pro quo. I cannot imagine using the picture has cost you a penny in lost sales. However I agree let's not make matters worse and suffice to say that ACE has been in the business of trying to short change anybody over 17 years.
I wish you well in your enterprise. We will remove your picture today.
Regards Allen Levy, ACE Trains.'

Admittedly, it's a shade unlikely that anyone in Allen's company would deliberately violate copyright law, unless of course they were not copyright savvy, and perhaps this is the case here? However, judging by Allen's response I get the distinct impression that he thinks I am making a big fuss about nothing!
Wrong!
The bottom line is someone plundered my website, downloaded a photo, removed the copyright notice and obliterated the surrounding detail then uploaded it to their own site - and afterwards added a misspelled link! In case you're wondering, this related my name David Hay - it is David Hey!
Okay, the link may have worked, but that's not the point! The cropped picture is an abomination of the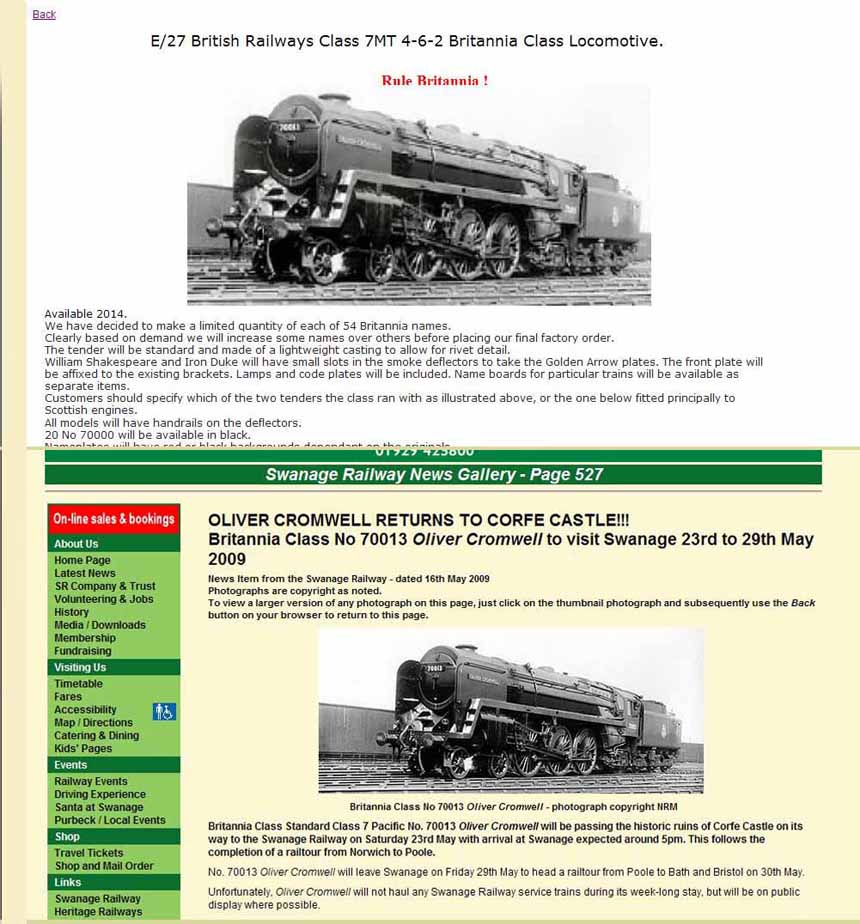 image I photoshopped; it falls a long way short of the quality I try to produce for this site and I am embarrassed to have my name associated with it!
However, the problem has been swiftly resolved and the matter is now closed...or is it?
Now is it me, but doesn't the replacement image that Allen spoke of (inset right) of No 70013 Oliver Cromwell look remarkably similar to the image on the Swanage Railway website (copyrighted NRM)?
Surely not...
I can't imagine for one minute that Ace Trains would pull the same stunt again, however I mention it here as a warning to others since I know some website proprietors would take matters further and feel entitled to financial remuneration including damages or royalties...
For crying out loud! There's no need for all this malarkey! Just don't do it!

(Below) A happy ending to the story...the 'Britannia' Class 7MT '0' gauge model is now rolling off the production line...and a nice job they've done of it too! Click HERE for details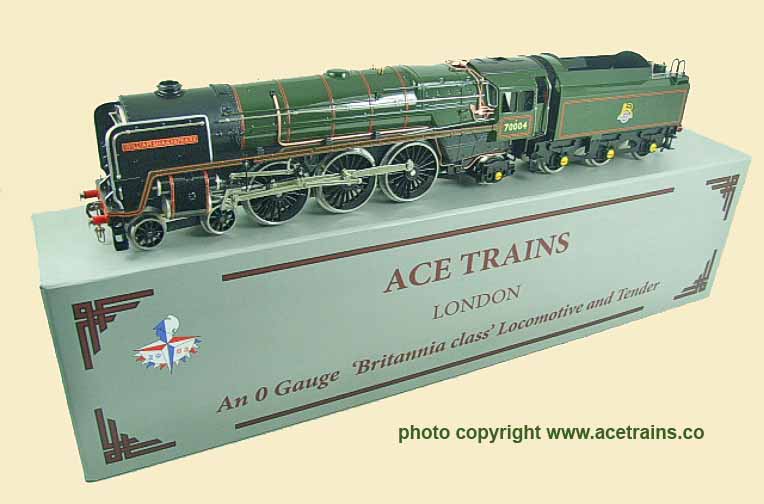 Meanwhile, if anyone wishes to use an image from these pages on their website they only have to ask; an acknowledgement (photographer's name) and reciprocal link to this site is all we ask in return. However, if you are seeking material with a view to publishing then I will put you in touch with the copyright owner and they can deal with it directly yourself.
I can't make it any clearer than that...
Of course, copyright infringement works both ways - if you use a photo from another website then it is important to include an acknowledgement of the origin of any such images that are not your own. And as a matter of common courtesy you must ensure that you obtain permission first before posting anyone else's work on the web.

Fair Dealing - all in all, copyright protection is a question of respecting the rights of others and only using their work when it is correct to do so. For example, there is a term called 'Fair Dealing' which describes the extent one can use copyrighted material without seeking authorisation.

1) A copy of a photo can be made for the purposes of research or private study.
2) A copy can be made for non-commercial purposes, providing the source of the material is acknowledged.
3) The person downloading photos or text cannot make further copies of the material available to others...in other words, they must not profit from it!

I don't profit from this site...I don't sell pictures; it is here for the benefit of everyone. My sole aim is to protect the copyright of all contributors without whom this site would not have been possible.
I am beholden to them always...

For further details on copyright click here to visit the UK Copyright Service (pdf file).
If we all play fair and stick by the rules, the World Wide Web will be a lot happier place to surf...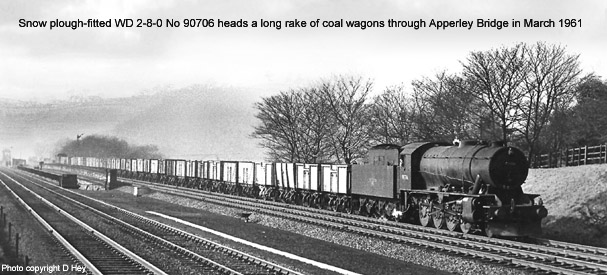 PROTECTING YOUR PHOTOS ONLINE

I have recently been sent additional guidelines regarding copyright issues; the content is so important I am passing it on to you.
'A new piece of UK government legislation seems to have snuck onto the statute books almost unnoticed which illustrates just how important online privacy is becoming. You see, the new law could give companies such as Facebook and Twitter ownership of any data you post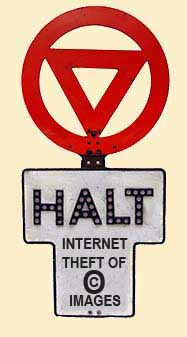 online.
Until now, the UK followed pretty much the rest of the world in giving you copyright over any digital data you produce online. In fact this right to claiming ownership of things you produce has until now been considered a fundamental human right, and being protected by the Berne Convention and other international treaties.
The idea is that if someone uses your photo without permission, you can sue them for breach of your copyright.
This brings me to the trendy web media companies in Silicon Valley, which in all fairness, provide a wonderful service for a worldwide audience on the Internet, but let's not forget that they are also in the business of making money and seemingly they want to have control of any data you share using their systems.
In December 2012 'Instagram', a popular online photo-sharing, video-sharing and social networking service, announced new Terms of Service thus granting itself the right to sell users' photos to third parties without notification or compensation, however this caused such widespread outcry among its users and Instagram was forced to abandon the plan.
So it is extremely disappointing (and worrying) that the UK government has pretty much introduced the terms of the widely disliked Instgram contract into UK law. According to this new law, part of the Enterprise and Regulatory Reform Act which has received Royal Assent, companies can use images for commercial purposes, where information identifying the owner of the image is missing.
Image files such as PNG and JPEG do contain so-called metadata, with information such as the name of the person who took the picture invisibly embedded into the image file. Unfortunately some image processing software removes this information, and many users don't bother to set it in the first place; as a result most of the images posted online cannot be traced back to the person who created them.
However the actual terms of the new laws have to be defined by politicians, so it is not clear yet exactly how this will work in practice, nevertheless it does set a chilling precedent. Not just for normal Internet users, but for professional photographers who publish their work online.
Photographers are trying to fight back though. A new service is being launched which allows you to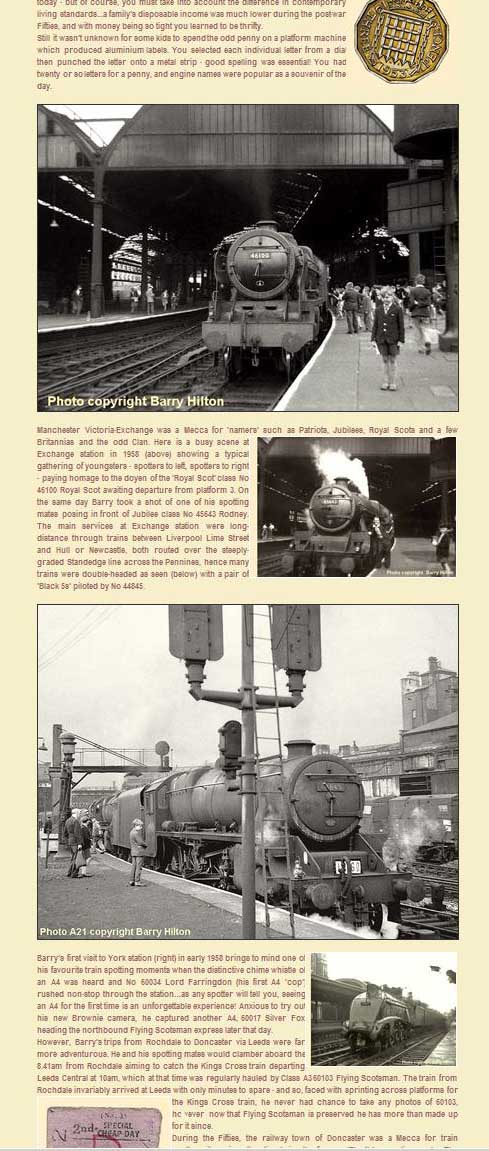 register a picture as belonging to you. You can find the website here.
The idea is, you post all of your photographs to this registry website, and anyone looking to exploit them for commercial gain would need to check here first, however this is likely to be time consuming and expensive for the home user, so you might want to hold off posting anything on the web until the terms of the new laws are clarified…'

The key part to the above message is - According to this new law companies can use images for commercial purposes, where information identifying the owner of the image is missing…
I mention it here because all the photos featured on the site carry the name of the copyright holder.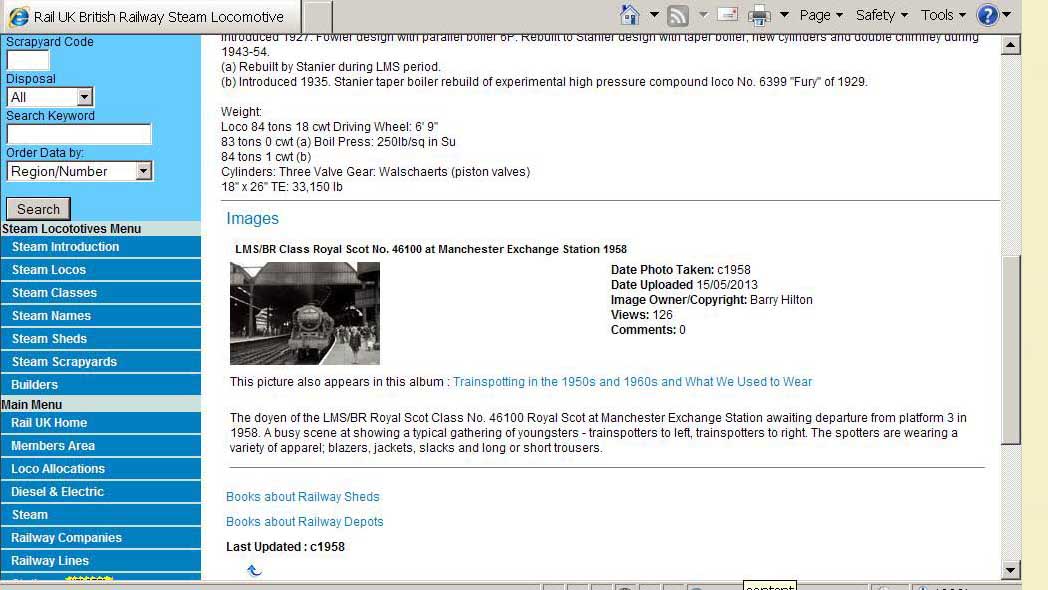 The way I see it, a website proprietor has a duty of care to protect the interests of everyone who contributes to their site, hence the reason a copyright notice is added to all the images; indeed I am amazed at the number of images that appear on the web without a copyright notice. That, to me, is just asking for trouble. A simple copyright notice will surely deter any unscrupulous person claiming the picture as their own, since the only way they can do that is by cropping the photo or digitally removing the copyright notice...'

Oh dear, I wish this was the case...but alas, once again I have discovered a number of copyrighted photos have been 'lifted' from this website and used elsewhere on the Internet. Worse still, some of the photos were cropped, effectively removing the copyright notices, including Barry Hilton's shots at Manchester which I uploaded to Page 5 and they have now appeared on the Rail UK website.
Barry adds - 'This is totally unacceptable and an obvious breach of copyright. I don't mind other people using my photos if they ask first, state who they are and why they want to use the photos.
Above all else the copyright should remain on the photo and the necessary link provided back to the original source...'




First off, let me make it very clear that I'm not pontificating without good reason; I am merely protecting the interests of Barry Hilton, Dave Salmon, Joseph Waterfall, Trevor Ermel, Brian Cooke, Jim Payne and ER Morten, all of whom have made their photos available for publication on this site, and set proper store by the virtue of giving credit where it is due; indeed I suspect it means every bit as much, and possibly more to Howie Milburn, the Rail UK proprietor. In my view Rail UK is one of the best on the Internet; it is a valuable resource for enthusiasts, and so in spite of feeling exasperated by a blatant breach of copyright law, this is not a 'rant' nor is it intended to be a 'name and shame' article. On the contrary...if a high calibre website such as Rail UK can fall foul of copyright legislation then there's no hope left for the rest of us!
Brian Cooke came of worse than most; his name has been completely removed from all credits to his photo of 'King' class 6010 at Swindon which appears on Page 4. Brian adds - 'David, pretty bad form removing a copyright notice and name credit. And they made a crap job of it into the bargain! Worse still, whoever did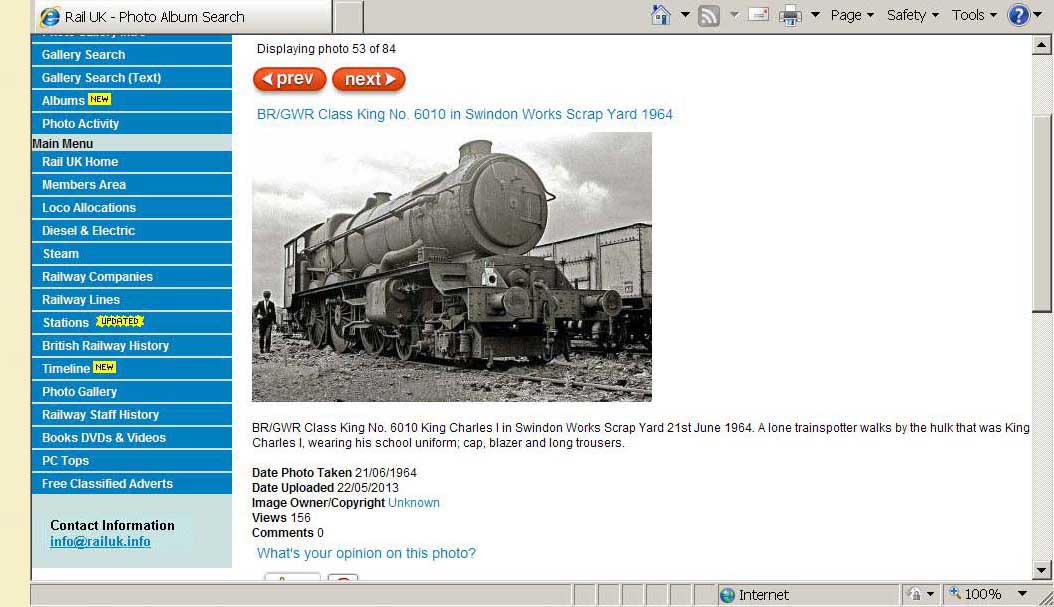 it must have know what they were doing; there is no doubt as to the owner of the copyright...'

So, having identified the photos used, I contacted Howie, who apologise for displaying them without permission.
Howie then went on to say - 'I am very aware of this problem for all photos I receive and put on line, if the copyright holder is unknown I always put a link through to a page which says:- "Some photographs and/or images obtained from Rail UK users, railway news groups, other 3rd parties are shown with the owner as "unknown". If these infringe any copyright, please contact Rail UK and if permission to continue displaying these images is not given, the relevant images will be removed from the web site".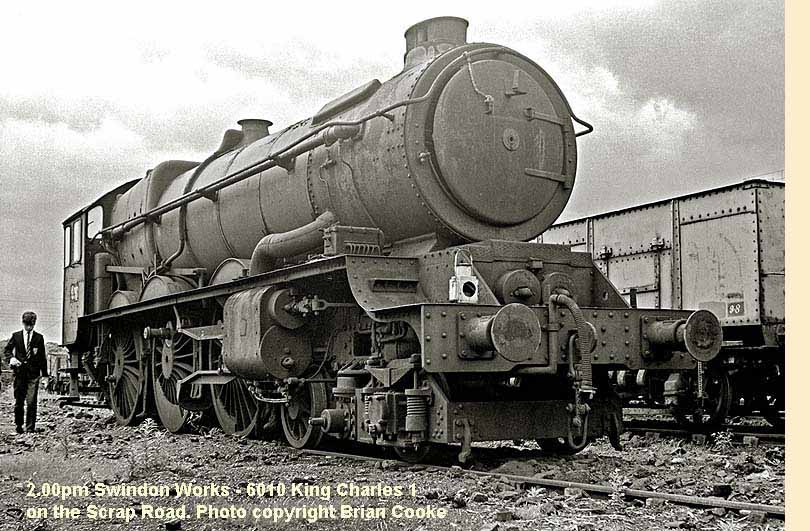 I also have found instances where my own personal photos (and steam/diesel locomotive data) have been used on other web sites. After contacting the owners on these sites if there was an acceptable or reasonable answer, I usually let the user continue to use the photos as long as there was a link to the photo on the RailUK site.
I also found instances where commercial sites were using my photos, in these instances, I usually ask for the photos to be removed. Note RailUK is not a commercial site.
As for the origins of the photos and where I received them from; I have done an article for the site titled 'Train spotting in the 1950s and 1960s and what we Used to Wear'. I sent out a bulk email to all RailUK members asking them if they had any photos or knew where there were any photos, pertaining to the above subject and received a large number of replies with photos attached, along with locations, dates and copyright information if known. After perusing them, I picked out the ones I wanted to use and uploaded them to the site, in good faith that the people who sent them to me were the authorised copyright holders. However, it seems that in these cases, the members who sent them were not the actual copyright holders. Unfortunately, as I get hundreds of emails a week, once I have finished with the email it is usually deleted, thus in this case I cannot discover which user(s) sent them to me.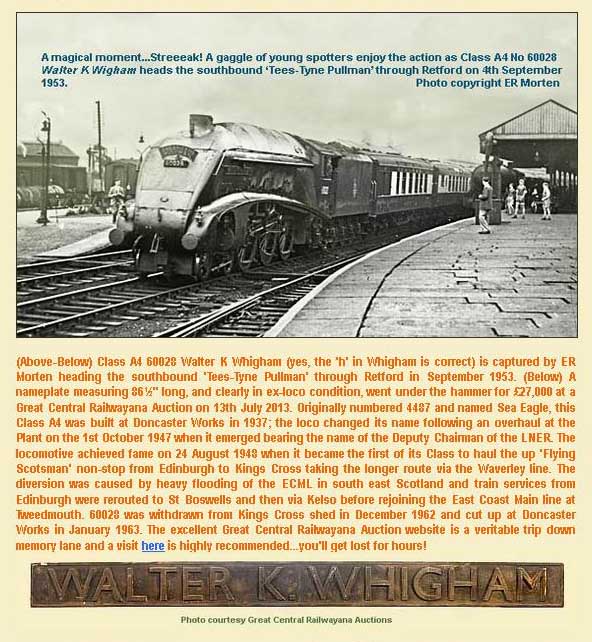 This was my first bulk email asking for photos to accompany an article and in retrospect, as the copyright for photos cannot be readily confirmed, I will have to think about repeating this in the future.
Again, I do apologise for displaying the photos your without permission and would really like to continue to use them, as they are prime examples to go with the article 'Train spotting in the 1950s and 1960s and what we Used to Wear'.
I note that you state "I am willing to allow the use of photos just as long as you provide a reciprocal link to the page where the image appears". If you advise me where the 'uncropped' photos are located (URL if possible) I will replace the ones I currently have and provide the reciprocal link to the original pages. I fully understand if you do not wish to do this and if this is the case, I will remove them from the site...'

Fair enough, I was prepared to send Howie the details but it wasn't the end of matter...in the meantime I identified another 17 photos used on the site, making a total of 20 images in all! These were made up of eight with the copyright notices cropped and 11 with the copyright notices digitally removed; this included an ER Morten photo of Class A4 60028 Walter K Whigham at Retford where the caption embedded in the sky has been digitally removed - and, funnily enough, even the caption on the Rail UK page replicates the spelling mistake I had made in the caption removed from the original photo!
I suggested to Howie that he immediately replace all the images with the correct ones (as they appear on this site) plus provide a link to the relevant page or else remove them entirely.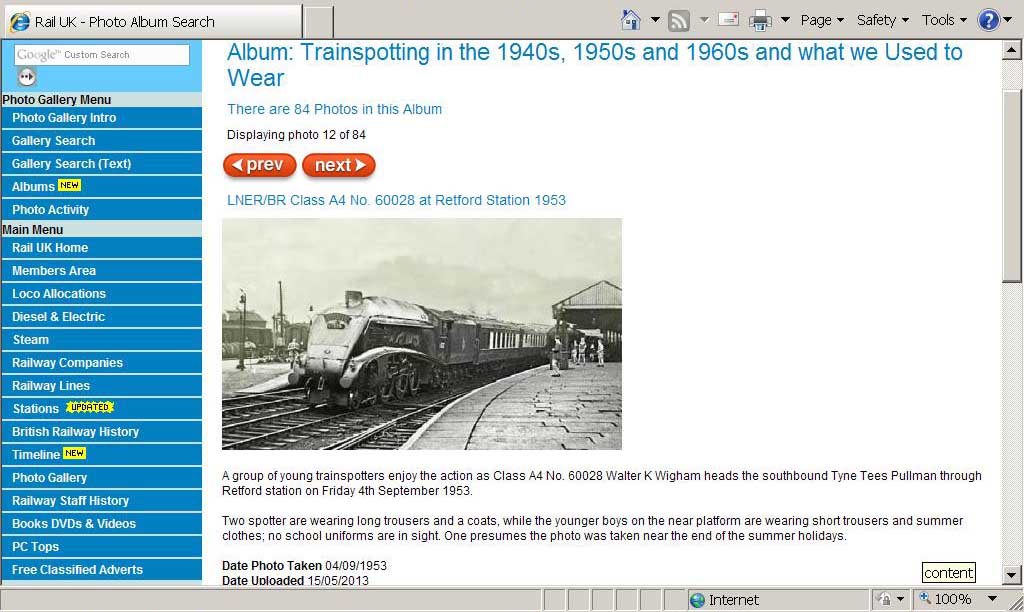 Howie replied...
'Hi David, Once again I can only apologise...I have removed all the photos you have annotated from the web site which was the easiest option. I have had an image gallery since the site started 12 years ago and this is the first instance where I have had copyright problems in all that time. As I said in my last email, this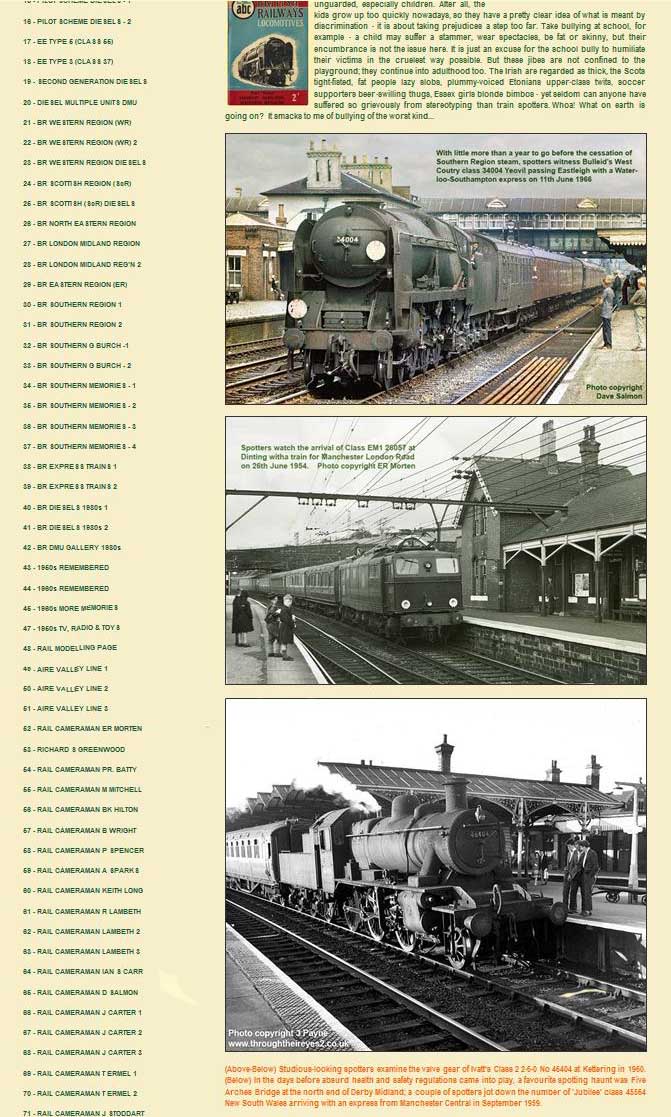 was my first bulk email to members asking for photos to accompany an article and in retrospect I will definitely not be doing this again. From now on I will source all my photos and where there is any copyright, I will go out and ask for permission from the copyright holder to use the photos on the site. Regards, Howie.

Needless to say, removing the photos has swiftly resolved the matter, but it does beg the question how (and why) it happened in the first place.
I don't imagine for one minute that Howie deliberately flouted copyright law, but someone did! And that's the whole point. By bringing this issue to the attention of all web users, it might deter others from erasing copyright notices either by cropping or digital removal.
Not only is it morally wrong it is breaking the law.
Perhaps if the words: 'thieving', 'robbery' and 'stealing' were used it might make a difference; because that is exactly what a breach of copyright is - theft!
DON'T DO IT...

(Above Right-Below) A screenshot of the 'Train Spotting 1' page 4...these are just three photos (out of ten 'lifted' from the page). All were used by Rail UK with the copyright notices removed. It was all so unneccessary. Howie only had to ask; we're not in competition with one another.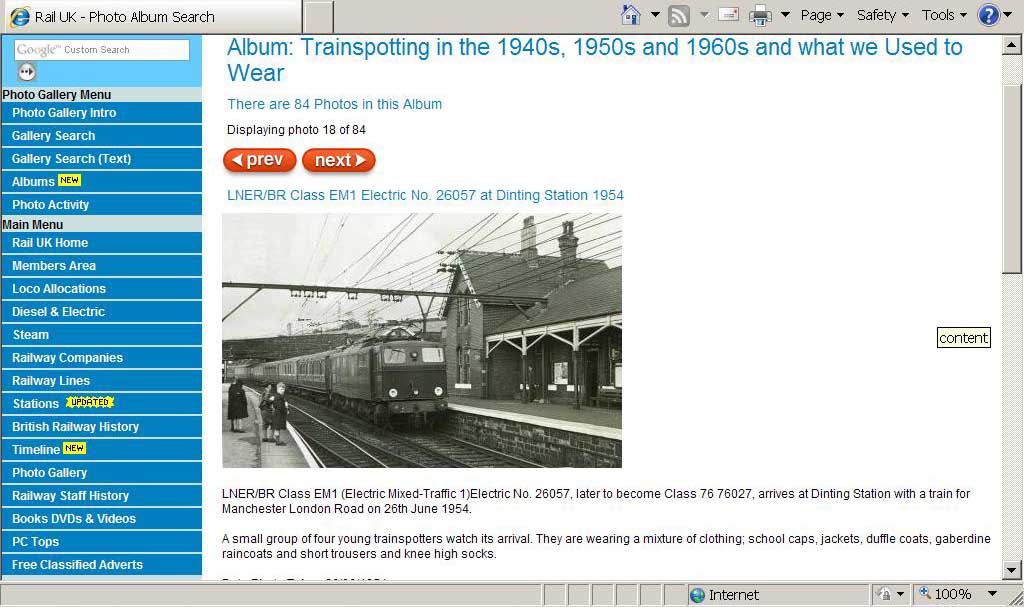 INFRINGEMENT OF COPYRIGHT - 2
A PERSONAL APOLOGY TO COLOUR-RAIL
Taking the rap, carrying the can or facing the music - it all comes to the same thing in the end…
As mentioned above, copyright legislation exists to protect the people who have the right to be identified as the creator of their work. It stands to reason therefore that if a person (other than the rightful copyright owner) knowingly and willfully purports to be the owner of such a work, with the intention of making a profit from the deceit, then that person should be brought to book.
However more recently the subject of copyright legislation has meant another thing altogether…
Unbeknown to me I have committed the very same transgression that I deplore!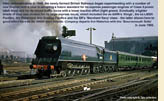 Let me explain…when I started this site in 2007 I unwittingly posted several Colour-Rail photos and credited them to someone else. Now I won't go into any ludicrous waffling or gung-ho excuses - infringement of copyright cannot be swept away with stupid excuses. Nor will I garner any sympathy by telling you that I was the victim of some scurrilous person who claimed to be the rightful copyright owner either. No, the only way to solve the situation is to accept full responsibility and put the matter straight, therefore I have spoken to Paul Chancellor of Colour-Rail, and removed all the offending photos from the site.
Now at this juncture it must be pointed out that Colour-Rail did not bombard me with indignation or demand a groveling apology. On the contrary, Paul Chancellor has handled the situation impeccably throughout,

even offering invaluable help along the way. No, it was my decision to post this notice on the page; not only does it allow me to apologize unreservedly to Colour-Rail, but it gives me the chance to offer advice to other website proprietors, who, regardless of guilt or innocence, may have breached the copyright of an image in some way, and can redeem themselves with a similar tangible response.
In my view, being frank and open about it is far better than pretending it never happened. Posting copyright material on the Internet regardless of the consequences only sends out the wrong message; it inflames the situation and copyright legislation is far too important for that. As Paul Chancellor said - 'The whole thing is a minefield!'

For example, the inserted thumbnails are just three of Colour-Rail images I have removed. Not unsurprisingly they were among the most popular photos on the site and I regularly got asked about them. However, since I added text in the sky - to protect the copyright of the bogus owner, ironic isn't it! - a lot of people enquired if they were for sale without the text. Now it was never my intention to sell photos on the web; this site is a hobby, pure and simple - the best place to go is Colour-Rail.
Established more than twenty years ago, the company has built its reputation as the premier source of high quality images of road and rail transport throughout the ages. These are available in a range of formats including online downloads, high quality prints, duplicate slides and in large format for gifts. Colour-Rail's website has an excellent search facility which helps visitors find images of steam, diesel and electric locomotives as well as trams and trollybuses from the early 1900s to the present day. You will also find images of stations, signal boxes, tunnels and bridges as well as glimpses of contemporary cars and fashions.
Click here to visit the 'Colour-Rail page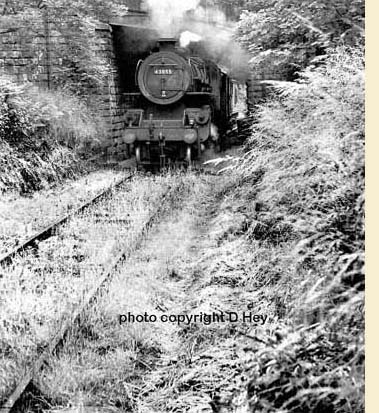 (Left) Talking about meeting one's Maker, I almost came a cropper a couple of times in my early teens - and all in the pursuit of photographing trains! In July 1962, I was walking a remote branch line deep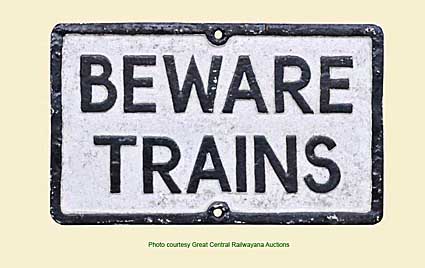 in the Papya New Guinea jungle - no, I tell a lie...it was between Ripley Junction and Pateley Bridge in North Yorkshire, and a farm tractor working in a nearby field drowned out every sound around, so I never heard an approaching train. I deplore the phrase 'near miss' - it suggests all kinds of connotations - a 'near hit' is a better description, it attaches due importance. The Ivatt Mogul was returning to Harrogate with a pick-up goods from PateleyBridge and caught me off guard. But it didn't happen by chance. I shouldn't have been there. I was planning on taking a shot of Dacre station just beyond the bridge and found myself in the path of a speeding train - can you imagine the headlines: 'Train Spotter killed by Flying Pig!' For the uninitiated, Flying Pig was the irreverent nickname given to the ex-LMS Ivatt Moguls...i
t should be a warning to others thinking of trespassing on railway lines. DON'T! It's not worth the risk; even the most lightly used branch lines are extremely dangerous places...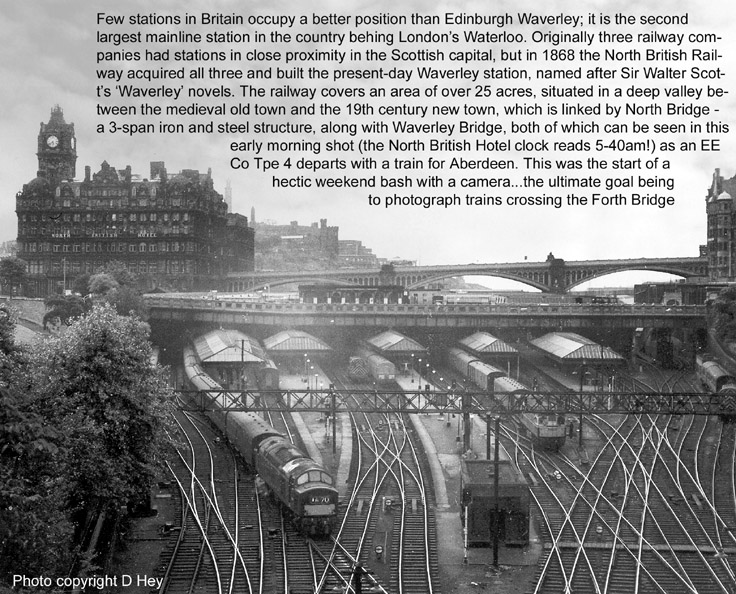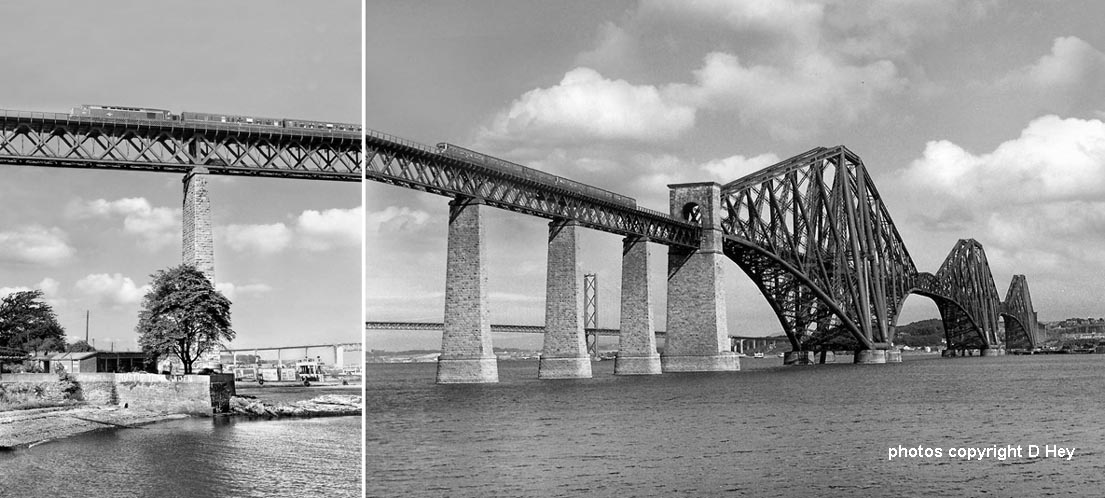 (Above) All the best pictures exist only in our imagination, they say, and this is especially the case when photographing trains. You spend so much time planning a shot there isn't a hope of enjoying the actual moment because you are too busy squinting through the viewfinder and, in the blink of an eye, it is too late, and the moment has gone. So how does one compose a picture that captures something of the grandeur and style of a great railway bridge? Having seen photographs of steam trains crossing the Forth Bridge in books and magazines, I wanted to see it for myself, but nothing quite prepared me for the overwhelming sense of wonder when I clapped eyes on it for the first time - the trains looked minuscule in comparison. The first shot shows EE Co Type 4 No D264 heading an 'up' train in April 1964. Behind the stone pier can be seen the Forth Road Bridge under construction and the ferry boat awaiting departure from South Queensferry. The second shot is a traditional view of the Forth Bridge and shows a pair of 3-car Metro-Cammel dmus forming an 'up' train. I spent the best part of the day at this spot and didn't see a single steam loco! At the time the frenetic rate of modernisation was gathering pace at an alarming rate and those pesky diesel railcars were becoming a pain in the neck! Photos © D Hey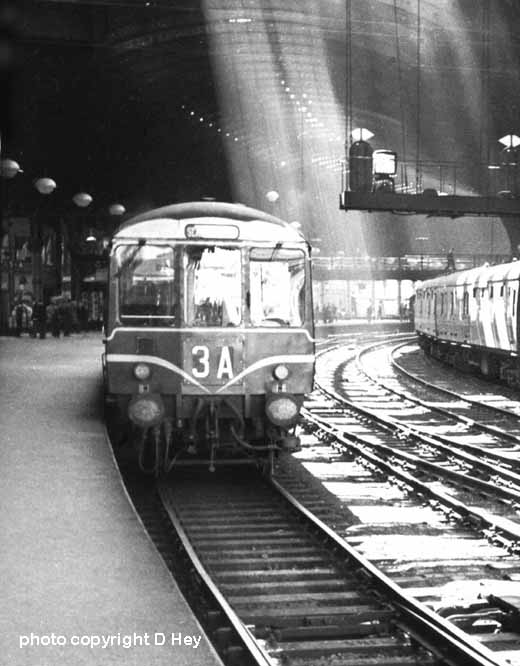 In case you're wondering, sentimentality is a human condition that we all suffer from at one time or other - yes, even when it comes to something as passé as a dmu from the Fifties and Sixties. That's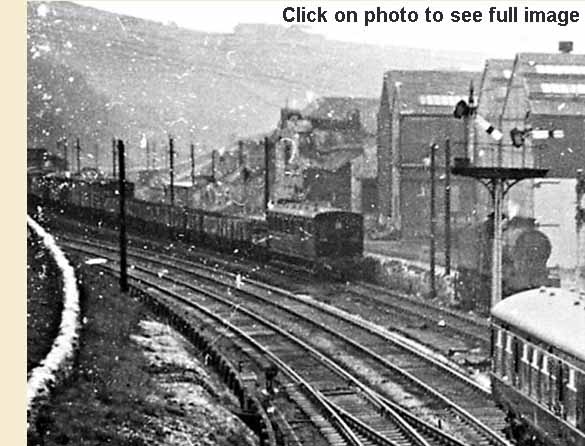 why I have included this section of an ER Morten photo (right) to draw attention to Page 46 on this site, which deals with repairing old photos in Adobe Photoshop.
There are historical railway photographs that deserve a wee-bit of personal care and attention, including shots of diesel railcars - click on photo to see full image. The fact is, the new dmus were no substitute for our beloved steam - and,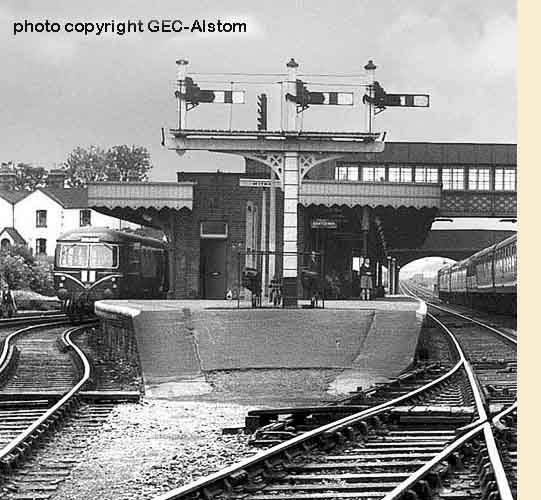 if truth be told, it was difficult to single out a diesel railcar that would merit a British Standard 'Kitemark' stamp for good looks. Such prejudices are, however, long since gone because nostalgia is a potent thing and the sight of a dmu in its original green livery with straw lining and 'speed whiskers' on today's preserved lines certainly grabs my attention. So if you're offended by my disparaging remarks about dmus being boring 'boxes on wheels' - as you have every right to be - then I should explain that's how I felt in the old days. After all, what self-respecting train spotter would want to photograph a dmu on its own? But you couldn't avoid them entirely since they sneaked into a picture relatively unnoticed. I've included a couple of examples above - click on inserts to see the full images.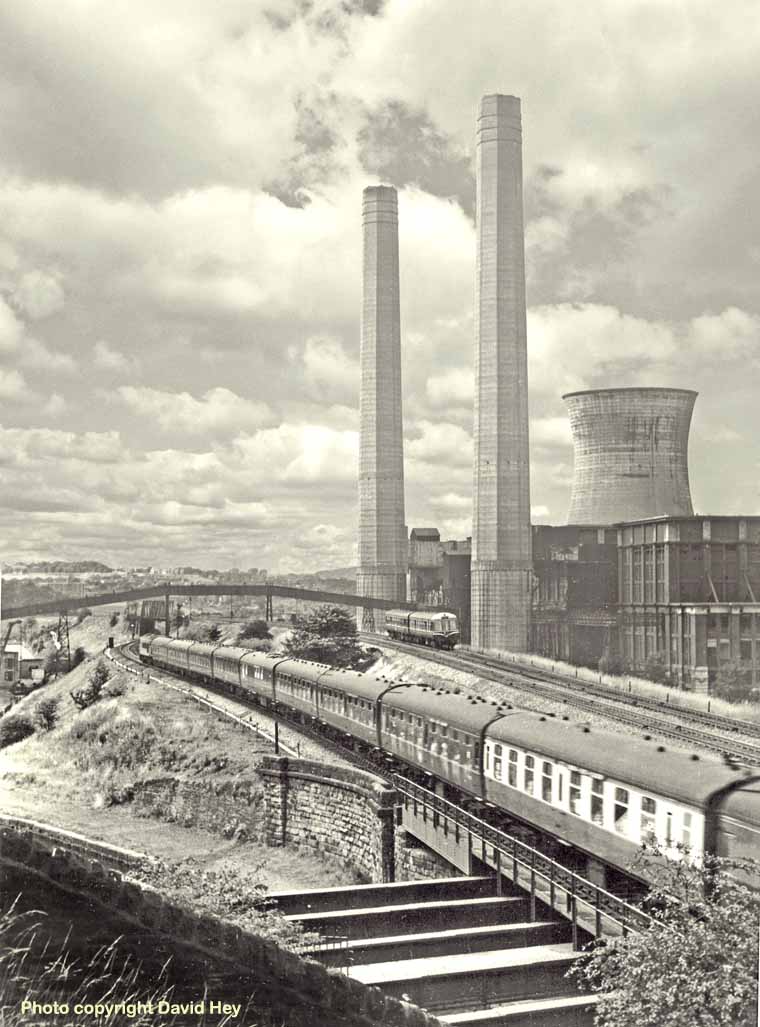 (Above-Below) Kirkstall Flyover on the Aire Valley line between Leeds and Shpley. (Below) How many of today's adult enthusiasts wish they had taken more railway photographs when they had chance? I certainly do - and I would have done a lot more - but, as ever, reality was not so clear cut.
For one thing, most of the kids I knocked around with didn't understand my passion for photographing trains. In their view, it was juvenile and 'square', and the question most frequently asked was - why did I do it? But why not? I felt neither shame, regret or even a shred of guilt for what I did. I'd embarked on a personal crusade to record the railway scene before it vanished completely and no amount of peer pressure was going to be intimidate me.
But the rules of engagement were about to change. By 1962 a visit to the lineside between Leeds and Harrogate might yield the odd photograph of steam, but for the most part I had to satisfy myself with taking pictures of dreary-looking dmus, as seen here on the climb from Bramhope Tunnel heading towards Leeds.
Sadly, railway photography had taken on a whole new meaning; BR's stock of motive power seemed to consist of only run-down steam classes and equally drab-looking diesels - and, if truth be told, the lack-lustre railway scene bored me to death.
Not only had the enjoyment gone out of railway photography, I could see no point in watching steam's imminent demise in such a lamentable state.

| | |
| --- | --- |
| | |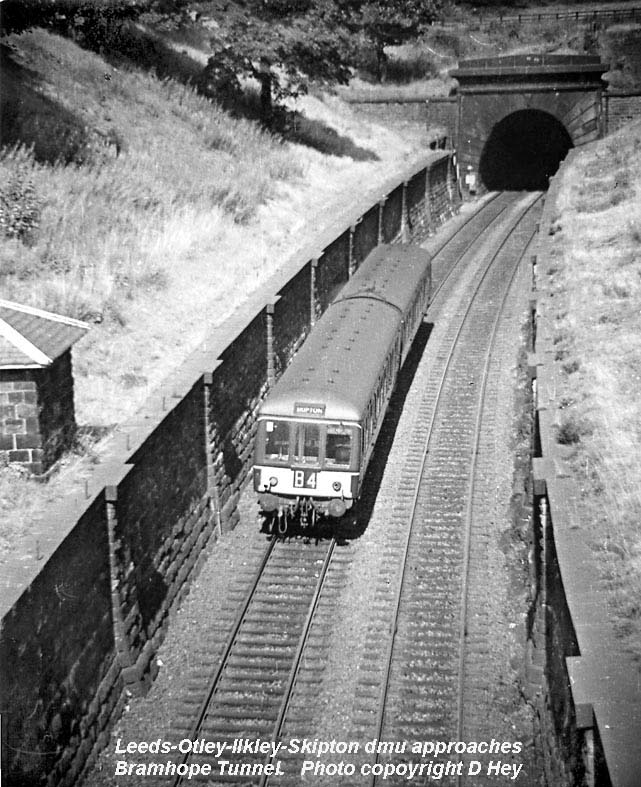 (Below) So, finally caving in to peer pressure, I ditched my 'rag-bag' spotting image: wellies, anorak and pom-pom hat emblazoned with Ian Allan Locospotters badges and hot-footed it down to the nearest dance hall - and, with lips puckered like innertubes, pranced around like a sack-of-spuds to the Rolling Stones' hit - 'I Wanna Be Your Man'.
With hindsight, I made a complete prat of myself, and it wasn't until a few months later on a Youth Club trip to Blackpool that I came to my senses. It happened during a visit to the famous tower. On hearing a steam locomotive whistle in the distance all my spotting memories came flooding back - and, hoping the gang wouldn't see me, snatched a 'sneaky' shot of the resort's now-closed Central Station - once the terminus of the direct route from Preston.
Nowadays I have little trouble talking about my passion for trains, but the reality was not so clear-cut back then. I would rather have confessed to an infestation of nits than declare my penchant for taking photographs of steam trains. On reflection, peer pressure can make Judas's out of us all and it's sad that I didn't make a clean breast of it earlier.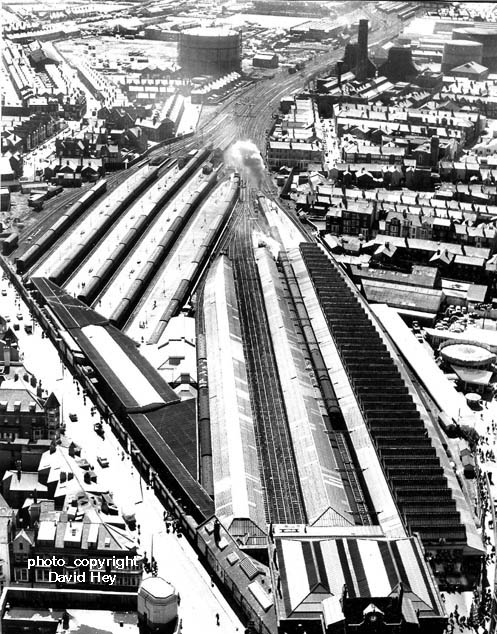 As for the rest of the photographs that appear on this website? In the majority of cases, I know the copyright owners personally and duly credited them where applicable. However, some photos have been purchased through eBay, and it is difficult to establish provenance here. Nonetheless, one of the conditions of dealing on eBay is that the seller accepts full responsibility for listing the item, therefore I have credited them. In the majority of cases, however, the photographer's name is printed clearly on the back of the print together with the appropriate © sign, date and location. However, if you've read this page and still unsure what copyright legislation means, then I do recommend reading Chris Tolley's views on 'Acceptance User Policy'. Today we live in a shouty 'me-me-me!' world where it seems the majority are looking after number one without a care in the world for the interests of others. For me, Chris's words are a breath of fresh air....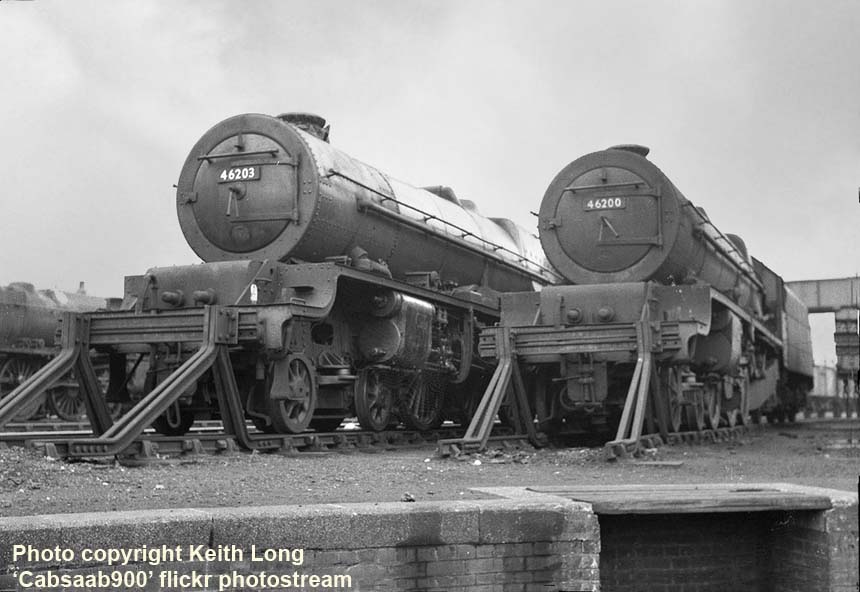 (Above) Shots like this give good reason for a 'Rail Cameraman' page featuring Keith Long's photos...his 'Cabsaab900' flickr site is one of the best on the web. Not content with the usual three-quarter angle, he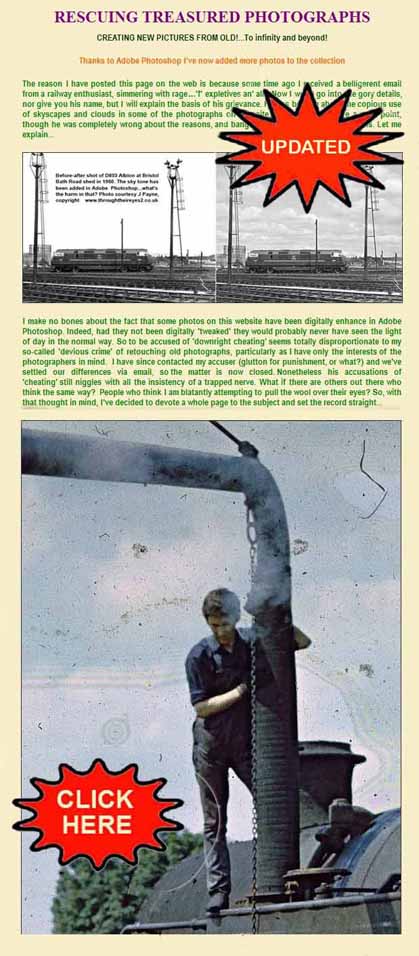 chose a viewpoint from the turntable pit at Carnforth shed to photograph two Princess Royal class locomotives in store: 46203 Princess Margaret Rose, the first of the modified design, withdrawn in October 1962 but now preserved - along with the first of the original design, 46200 Princess Royal, withdrawn in November 1962 and scrapped at Connell Union Works, Coatbridge in October 1964. This is one of numerous negative scans of Ilford HP3 Black & White 120 Roll Film he recorded with an Ensign Selfix 820 camera back in the 1960s. Click here to visit Keith's flickr site..
On a final note, the most poignant message I've seen on the web was posted by Marion, the daughter of David Lennox Booth, who, in tribute to her late father, created the site: 'David Lennox Booth - A personal In Memoriam'. She says - 'I am willing to give permission to use the pictures as long as it is in the spirit of this page. You do need to ask first, however; they are not in the public domain. Also, do not publish them elsewhere on the net. Please respect them. Thank you.' Her message touched me more than any technical copyright jargon could ever do. It sums up the spirit of worldwide web; it also gives one a sense of one's own mortality. Before reading her message I seldom questioned the value of my railway photographs, but I do now. I urge others to do the same..

NOT SURE WHAT TO DO WITH YOUR PHOTO COLLECTION?

On dear, what I am about to say will not suit everyone's tastes but it needs to be said in the hope that it will help alleviate some of the problems that bereaved families have to face when dealing with the death of a loved one.
Indeed there is no other way of putting it…death is a milestone in everyone's life, so when the time comes to join that great roundhouse in the sky it is important that one's next of kin knows how to dispose of your irreplaceable railway negatives and colour slides. Photographers need to think about how they would like to see their collection used and ensure that an appropriate home is found when they are gone. And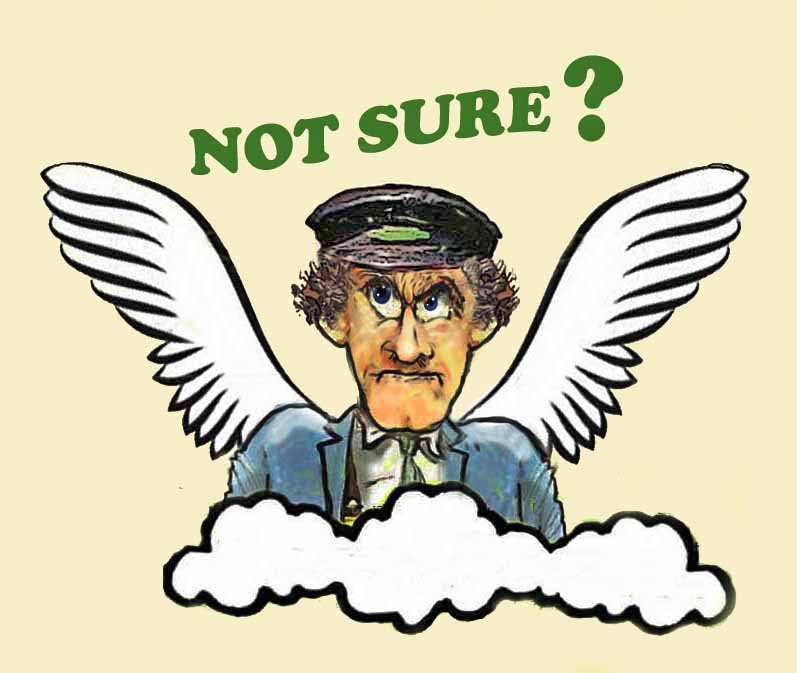 please don't put this off until tomorrow or the next day, and the day after that…rest assured the days will turn into weeks and the weeks into months, and before you know it the task has slipped furthermost to the back of your mind. To avoid this happening...why not do it now? There is nothing stopping you, and even if you change your mind you can always amend it later. At least it will ensure your wishes will be taken care of should anything happen tomorrow.
Still not sure?
Well, not wishing to labour the point, just imagine what it's like to sift through the belongings of a deceased loved one? This is one of the most depressing things we have to do in life. Our personal grief is exacerbated when no clear instructions have been given on the disposal of possessions, hence difficult decision have to be made on what should be thrown away and what is worth keeping. Nevertheless a start must be made on filling black bin bags with personal belongings, some destined for collection by the bin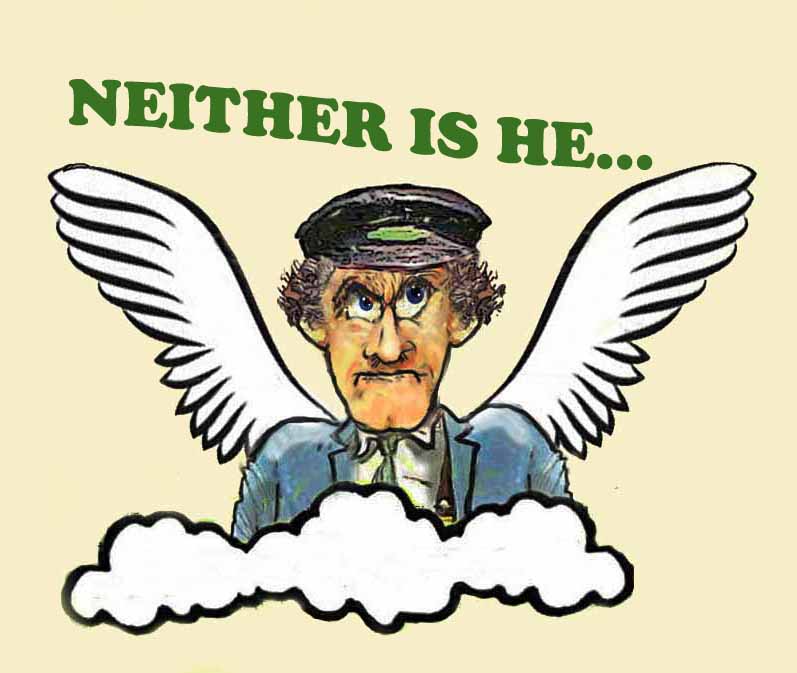 men, others containing items for the charity shop, and all along you can't shake off the awful feeling that you're doing the right thing at the time.
Sadly, there is no useful advice anyone can offer in these circumstances. The bereaved must do what they think is best. However had the deceased left clear guidelines on the disposal of his prized collection he would doubtless have bequeathed it to a favourite Railway Preservation Group, a local museum or a similar organisation?
Trouble is…making out a will is something everyone promises to do, but never get around to doing. This can cause big problems for families when it comes to unfashionable railway memorabilia. On the face of it a box of mangy old railway books, magazines and photographs will look as if it contains nothing more than worthless junk and the whole lot could easily end up in the bin!
For crying out loud! Don't let this happen to you. I recently visited a general household auction (not a specialist railwayana auction) where a family was selling the household contents of their recently departed father, including a collection of tram slides - probably his life's work?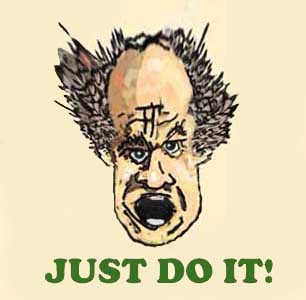 Unfortunately, bereavement is not a good time to think clearly, hence house clearances are carried out with the minimum of fuss in order to alleviate the heartbreak of rummaging through possessions.
In this particular case the family members found themselves encumbered with the task of 'getting rid' of dad's 'boring' collection of tram slides, but without an expert to advise them on its value - and by that I mean the 'historic' value of the slides rather than their monetary worth - a low reserve was put on the collection and the whole lot went for a pittance!
It broke my heart...
Quite simply, if you want your collection of railway negatives and slides to fall into the right hands, then name the person or organisation to whom you'd like it to go; it will make things a whole lot easier for everyone...

At this juncture it should be pointed out that the reason I am posting this message is because over the years I've received a large number of emails from families seeking advice on this very subject, and although I try to point them in the right direction I am not equipped to offer a professional advisory service; this site is a hobby whereas I do know of several websites run by people (listed below) who're able to help much better than anyone...incidentally, I am not affiliated with any of the outlets listed here, merely passing on a few contact names and addresses to make life a little easier...

COLOUR-RAIL - Colour-Rail is always interested in taking new pictures into its collection and so if you have black & white negatives or colour slides (or know someone who does) and you are looking for a good home, please contact Paul Chancellor by visiting the Colour-Rail' website...
Paul writes - 'The slides and negatives may contain irreplaceable images of our transport history, and it is important that they are preserved for posterity and can be made available to future generations. Rest assured that if you decide to allow Colour-Rail to take care of your extremely rare images they will be safe and secure for future generations to see and enjoy.
Colour-Rail also offers an executors service which means that the company will take a whole collection of railway memorabilia, sort it and put it in lots for sale at auction (done on a commission basis). All too often railwayana material rarely gets properly sorted; instead it goes straight to auction and returns are lower…'
For further details e-mail Paul Chancellor at colourrail@aol.com or write to Colour-Rail, 558 Birmingham Road, Bromsgrove, BD61 OHT.
Visit the Colour Rail website HERE

JUSTACLICKAGO and GWRA - Justaclickago Auctions, as the name implies, is an online auction company specialising in Railway and Transport Photographic material, particularly slides and negatives. Resident expert Tony Hoskins ensures that all related material is properly protected, assigned, catalogued and auctioned to a world-wide audience. Tony is a life-long railway and transport enthusiast and has been in the Railway Auction business for over 20 years with GW Railwayana Auctions (GWRA). Located in the heart of GWR territory in Worcestershire, GWRA generally deals with larger items of Railwayana from all British and Foreign railway companies.
Justaclickago, is an offshoot of GWRA providing a more suitable environment for photographic material and smaller Railwayana items whereby these are protected from the heavy-handed treatment often encountered at general auction during viewing by the general public. We deal with deceased estates and probate in a professional, confidential and sympathetic manner and our mission is to achive the greatest financial return for your treasures.
Visit us on the internet, either at Justaclickago HERE or GWRA HERE
Or email Tony at either webmaster@justclickago.com or master@gwra.co.uk
If you prefer to talk, telephone 01684 773487

THE TRANSPORT TREASURY - The Transport Treasury collection is run by Barry and Janet Hoper who supply rail, bus, and tram photographs to publishers and enthusiasts. Many famous railway photographers have chosen Transport Treasury to care for their collections, familiar names such as: R C Riley, Dr Ian C Allen, Richard H N Hardy, Roy Vincent, John Robertson, David Idle, Alan Lathey, Mike Mitchell, Eric Sawford and W (Bill) A C Smith to name but a few.
More material is eagerly sought to build up the archive further. Should you wish to place your collection with Transport Treasury, negatives are usually purchased with copyright. However, larger collections (2000+) of good quality, can be placed on loan (minimum 5 years) and any royalties split 50/50; with this option you retain ownership and copyright of the collection during the period of the loan but royalties earned are subject to material being accepted by publishers.
Barry writes - 'The Transport Treasury is probably the only privately owned archive that sells to publishers, enthusiasts, via our website, hard-copy lists, are open to the public by arrangement, and more importantly, provide traditional darkroom hand-printed photographs as well as digital scans. Of course, donations of material are particularly welcome but whatever you choose, you can rest assured that your material will be looked after and your name given credit whenever any material is used. If you require more information or would like to discuss valuations etc, you can contact the Transport Treasury using any of the following methods...
Telephone 01464 820717 - Mobile 07867 645410 Email info@transporttreasury.co.uk or by post to: The Transport Treasury, Logie Shannoch, Drumossie, Insch, Aberdeenshire AB52 6LJ
Visit the Transport Treasury website HERE

RAIL PHOTOPRINTS - The Rail Photoprints collection is a labour of love for John Chalcraft, who has taken many hours producing high quality images from transparencies and negatives that photographers rarely achieved in the old days of the photographic dark room. The Rail Photoprints website is a wonderful showcase for a photographer's work, however the company is constantly seeking new material either to purchase or to work with the photographer on a 'Royalty' basis paying a set fee for sales of any prints produced from his work; in such instances the photographer retains ownership and copyright.
John writes - 'All too often we have seen priceless material inadvertently binned due to wives and relations not appreciating the true historic value of the image, please help us to change this...
As railway photographers whose work is regularly used by the media our aim is to showcase quality material on the web and make it available to enthusiasts, editors and publishers...'
For further details e-mail John Chalcraft at john.railphotoprints@googlemail.com or you can write to him at 'Stoneycombe', 8 Paulmont Rise, Temple Cloud, near Bristol, BANES, BS39 5DT.
Visit the Rail Photoprints website HERE



Polite notice: All text and photographs on this site are protected by copyright and reproduction is prohibited without the prior consent of the © owners. If you wish to discuss using any of the contents of this page the email address is below. Please note - this is not a 'clickable mail-to link via Outlook Express:
dheycollection@ntlworld.com