JIM CARTER 1937 - 2011
DEDICATION
The most popular idols back in the Fifties were the comic 'cape crusaders' Spiderman, Batman or Superman, together with the Hollywood cowboy stars: Hopalong Cassidy, Gene Autry, Roy Rogers and the Lone Ranger.
However, the idols I worshipped above all others did not come from your usual ruck of pop singers, soccer players or film stars - and, unless you were a train spotter, none were household names. They were the railway photographers whose pictures appeared in the 1950-60s monthly magazines - the unsung heroes who helped shape my perception of the railway scene.
So when I bumped into Jim Carter in the mid-Eighties, the fear of causing him even the slightest embarrassment deterred me from asking for his autograph. We met on the embankment overlooking Marsden's reverse curves at the Yorkshire end of Standedge Tunnel, a line he regularly worked during his days on the footplate.
Mindful of those romantic tales about steam days, I asked him - Did he really fry eggs and bacon on a shovel across the firebox?
Jim left me in no doubt about his feelings - "Yon shovel is for feeding t'engine, not your gob!"
So there you have it - straight from the horse's mouth. This wintry shot of Diggle at the Lancashire end of Standedge Tunnel is just one of Jim's classic studies...
Few photographs - or photographers, for that matter - can leave such a lasting impression.
God bless you Jim, this site will always be dedicated to you...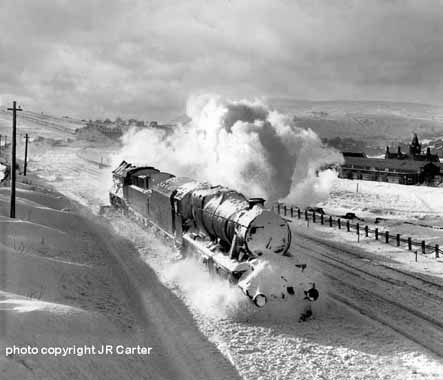 The reason railway enthusiasts are ridiculed in some circles is because the po-faced opponents of our hobby underwent emotional by-passes when they were young, and have no nostalgia reserves of their own from which to draw. Such is the unforgiving climate nowadays, that to express one's feelings about trains is to invite ludicrous charges of soppy sentimentality. Well, excuse me, but what made childhood spotting days so remarkably civilised is that by its very nature the hobby embraced every emotion from great joy and elation to deep despair and unfulfilled hopes, so to run away with the notion that railway enthusiasts are not 'quite the full shilling' is way off the mark.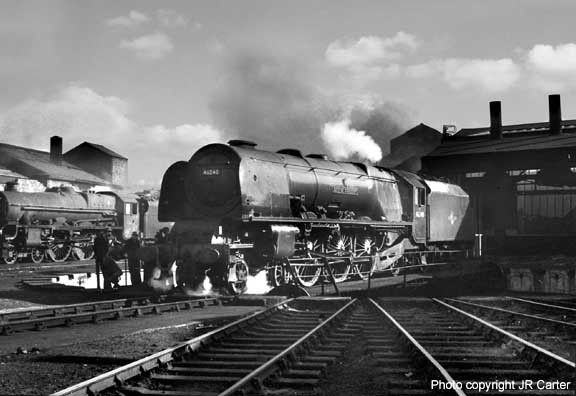 One has only to study the photographs of retired railwayman, Jim Carter, to understand the depth of feeling towards steam - yes, even amongst hardened railmen. Over the years Jim has regaled me with stories from the footplate - and to tell the truth, his gritty hands-on credentials deserves my respect because he was firing locos when I was still a small boy in short pants. Working for BR gave Jim a definite advantage over the average railway photographer because he could get into places we could only dream of going. Take Crewe North, for instance - only a a kamikaze cameraman would dare enter its hallowed ground without a permit, whereas Jim had unlimited access - 'It was like manna from heaven,' he told me - 'all except for those damned poles!'
(Above Left & Right) Jim Carter's unashamed adoration for all things Stanier is well know by enthusiasts. If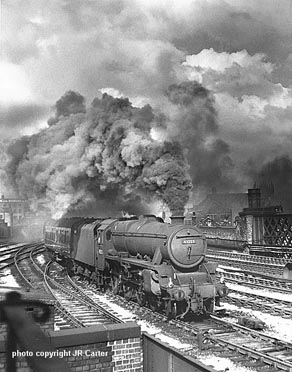 you combine his eye for a good photograph along with a bevy of buxom 'Duchesses' at Crewe North then you have a magical combination, including among these shots (top left) is No 46250 City of Lichfield being turned in readiness for express duties. Beneath it are two typically fine JRC studies of Stanier 'Coronation' Pacifics beneath the smoke hoods at Crewe North shed. On the left is No 46254 City of Stoke-on-Trent, and on the right No 46250 City of Lichfield. (Above Right) In this aerial view of the shed yard, there are poles to the left, poles to the right!

(Below) My thanks to Vic Smith of York for contacting the site. He writes: 'I hope you will not mind me pointing out a couple of minor points regarding your excellent site. Jim Carter's photo of 'Black 5' No 45447 and Class 8P Pacific No 46246 at Winwick Junction in March 1960 should be captioned as 45017, not 45447. The latter loco had a separate dome & top feed to boiler whereas 45017 had a combined dome & top feed as per photo…small detail, perhaps a typing error, but I like to think the information should be corrected for future researchers. Best wishes, Vic.'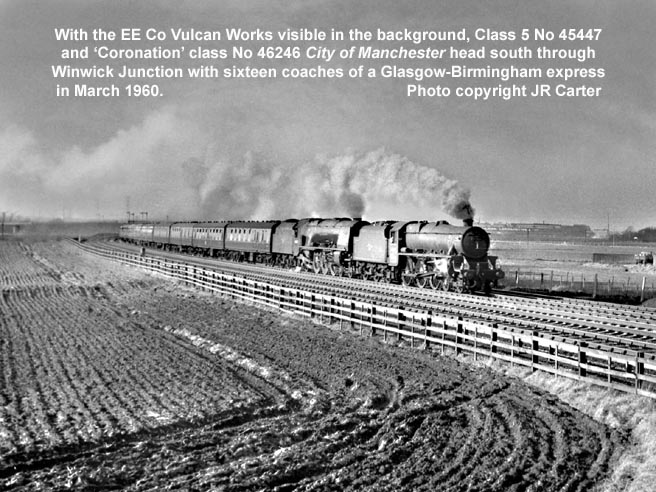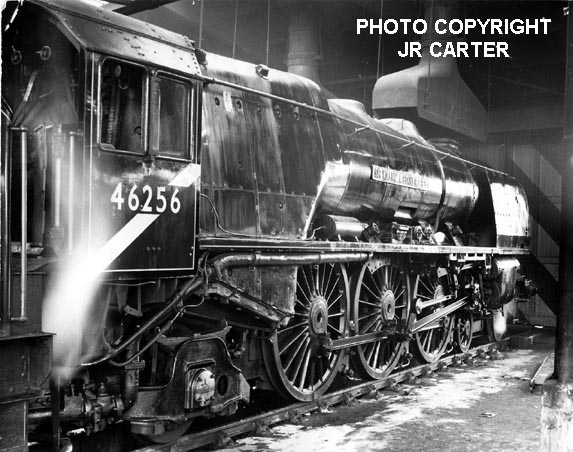 (Above) By the end of September 1964, the entire class had been ousted by Type 4 haulage on the WCML - and, not surprisingly, Jim was at Crewe North shed to photograph the last working Stanier Pacific No 46256 Sir William Stanier, FRS on the eve of the return farewell special from Crewe to Carlisle. On the back of the photograph he writes - 'This was the last time I photographed a 'Coronation' Pacific at North Shed. In 1964, English Electric Type 4s were hauling most West Coast passenger trains, but diesels were known to fail, which left Crewe men struggling with second-hand 'Britannias' whilst the 'Duchesses' were being towed away to the scrap yards with years of good hard work still left in them. Some were out-shopped from Crewe Works and put into store at 5A awaiting disposal. But why weren't they used in a similar fashion as the A4s in Scotland?' Indeed, it is hard to understand why the LMR could find so little work for their still serviceable 'Coronations' - after all, the operating department valued their coal pushing tenders in overhead electrified areas as an insurance against train crews attempting to climb into the tender to trim the coal forward. Instead, the Pacifics were consigned to the scrap heap with indecent haste.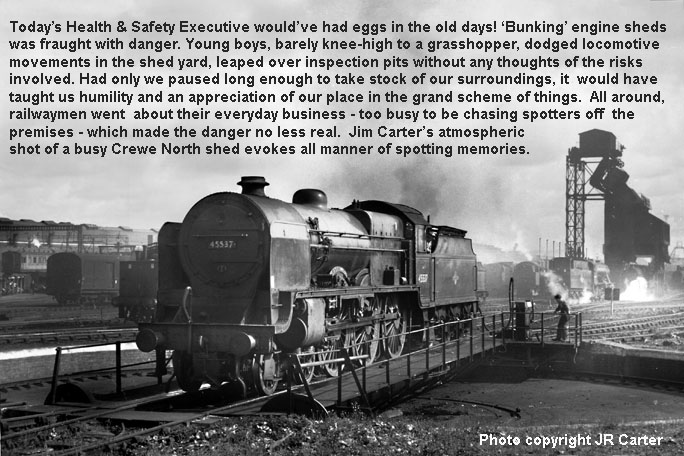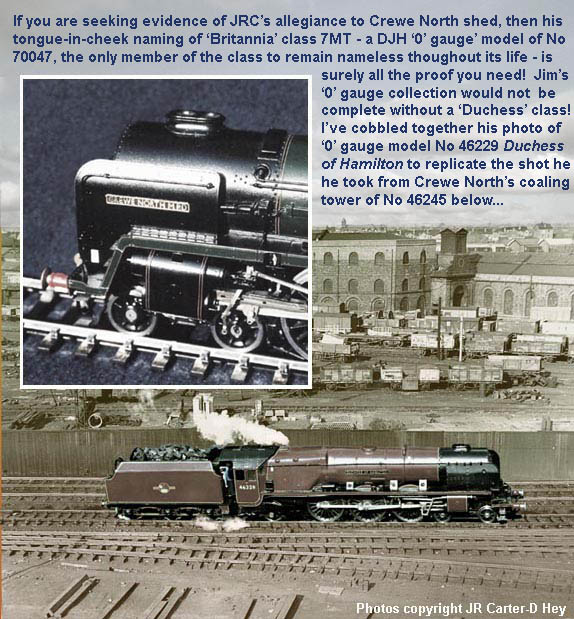 (Above-Below) A product of Crewe workshops, No 46245 City of London, introduced to traffic in June 1943 - and the first of 16 Duchesses to be repainted in BR-style red livery by the London Midland Region in December 1957 - heads past the works prior to taking over a Railfan Special on September 1st 1964. The locomotive was one of 17 Duchesses withdrawn the same month. Note the boilers in the background, now the site of the Crewe Heritage Centre. (Below) Jim the railway enthusiast...pride of place amongst his collection of books, models and paintings was this superb model of 46238 City of Carlisle built by (name of follow). The coal in the tender is for real! During Jim's travels with his camera he collected a small thimble-sized lump of coal to drop into the tender...I joined him on a visit to Haworth on the KWVR and we spent several minutes foraging around the shed yard to find one in the correct scale! It was just one of his quirky habits, which gives you some measure of the great man...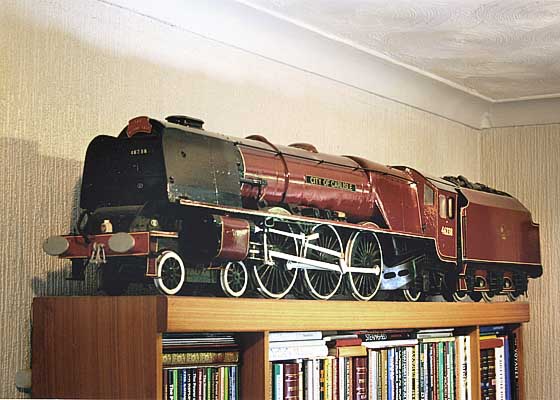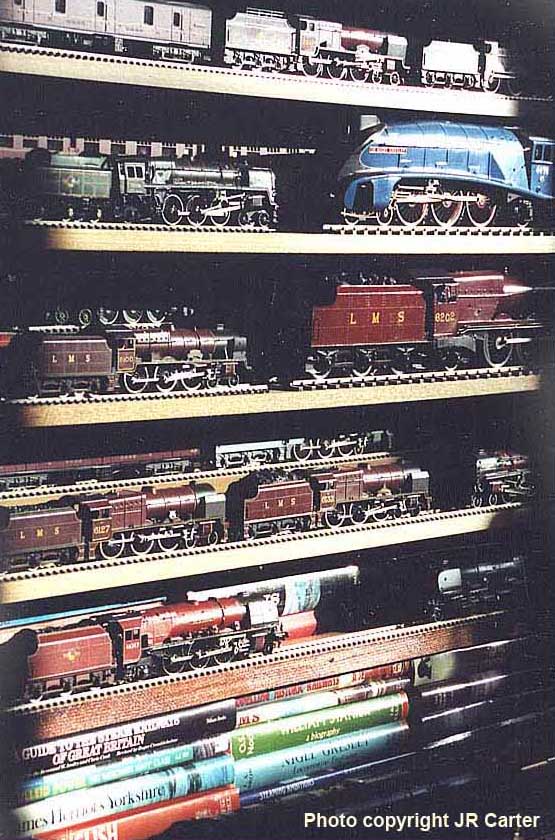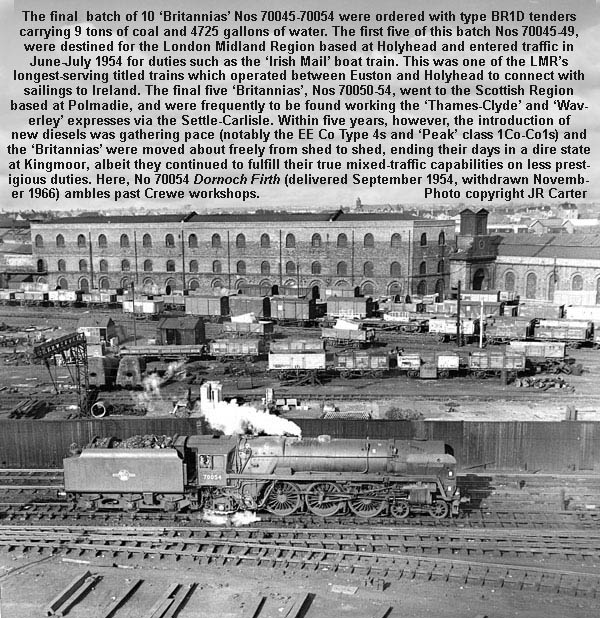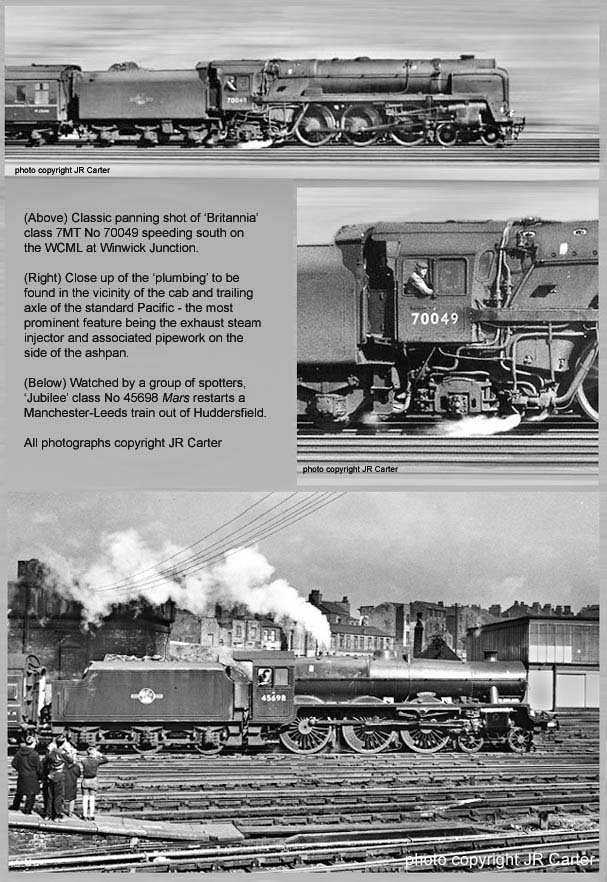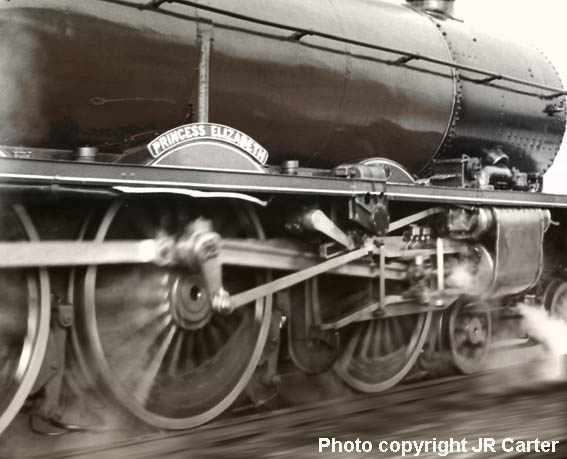 EDGE HILL SHED (8A) LIVERPOOL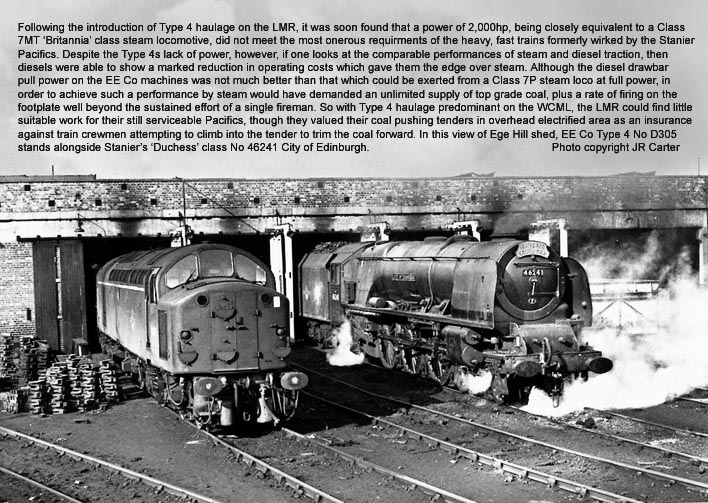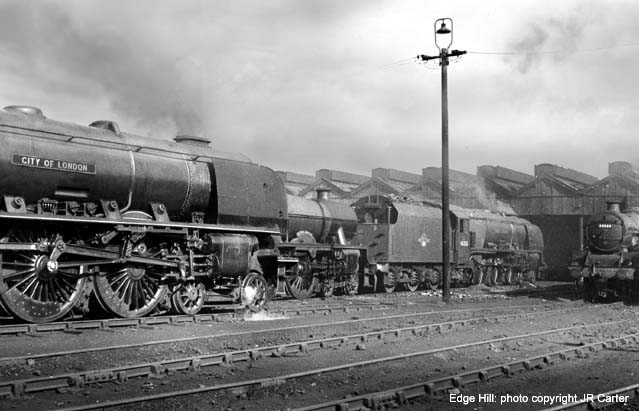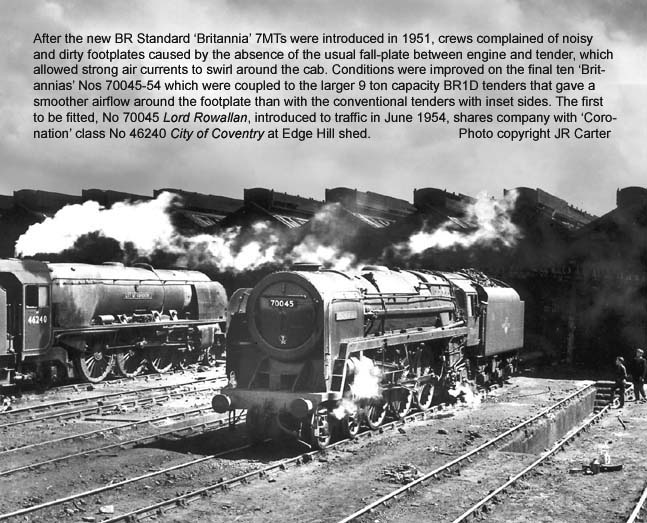 Ever since Jim's railway photos first appeared on this site, a lot of people have expressed interest in his work. A number of Jim's railway photographs are now available from www.rail-online.co.uk. This on-line railway photographic library is well worth a visit. Over the next few months more than a thousand of Jim's photos will be added. Click here to visit the site. Please note I am not affiliated with the sale of Jim's photos in any way, merely passing on a contact address

WEST COAST MAIN LINE - WINWICK JUNCTION

Winwick Junction is a popular venue for railway photographers. Click here to visit 'Along Winwick Lines Blog Spot' created by David Platt, which contains both modern and historic content. I'm sure Jim would firmly approve...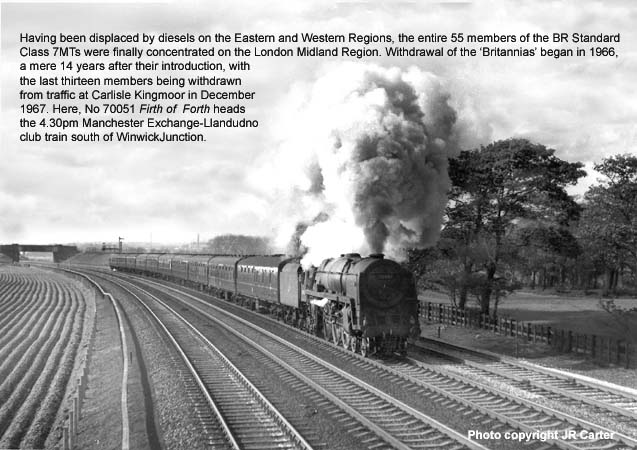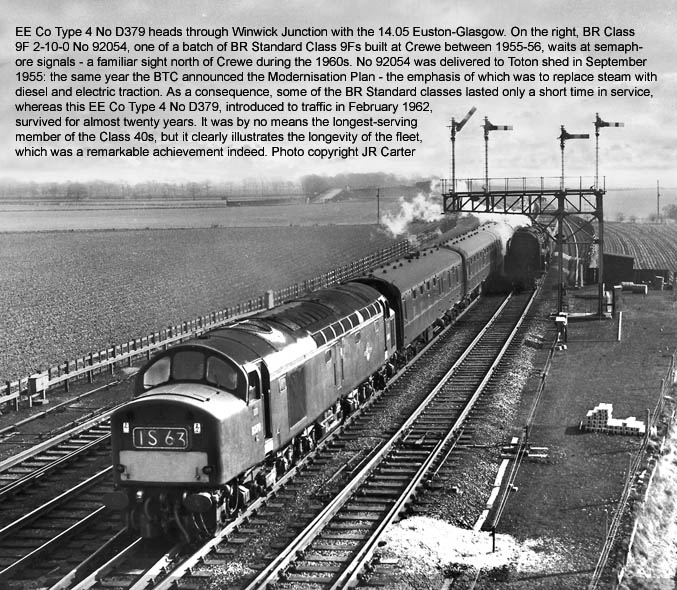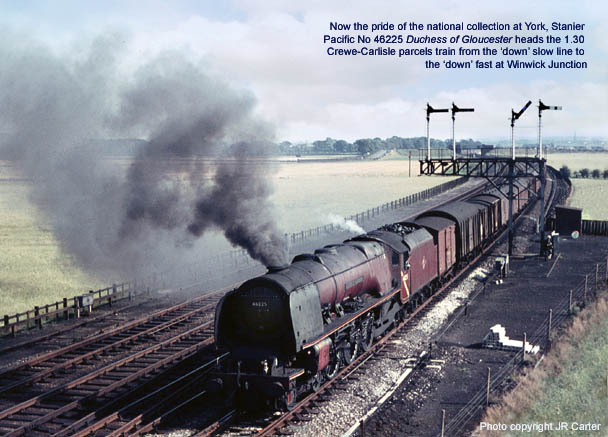 WEST COAST MAIN LINE - WARRINGTON and WIGAN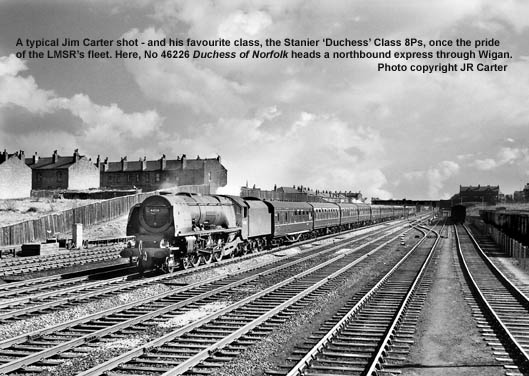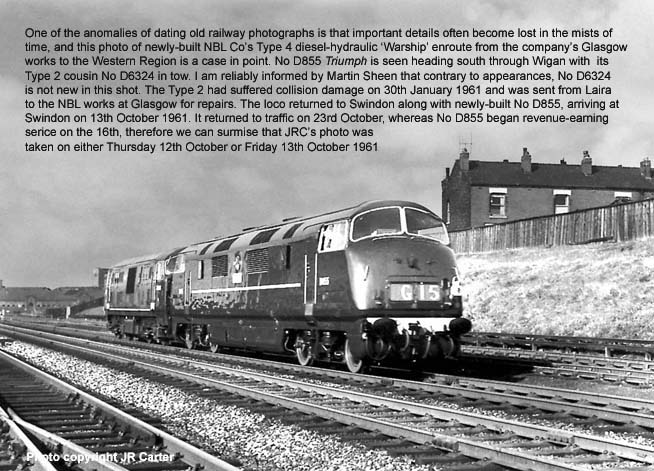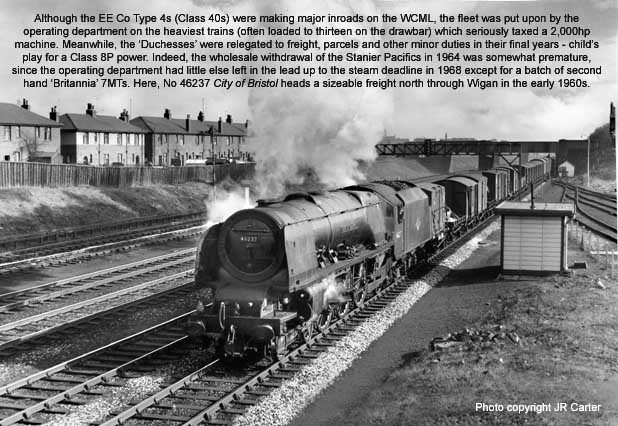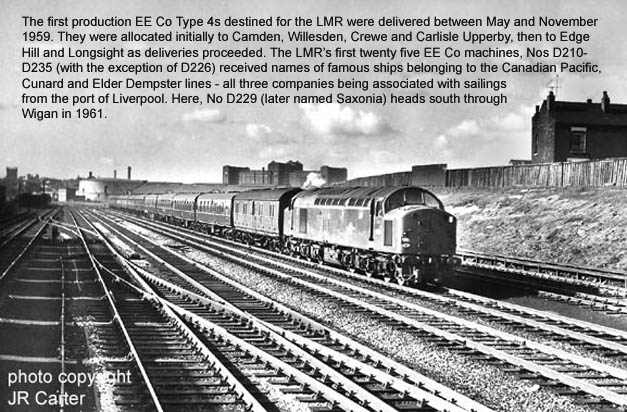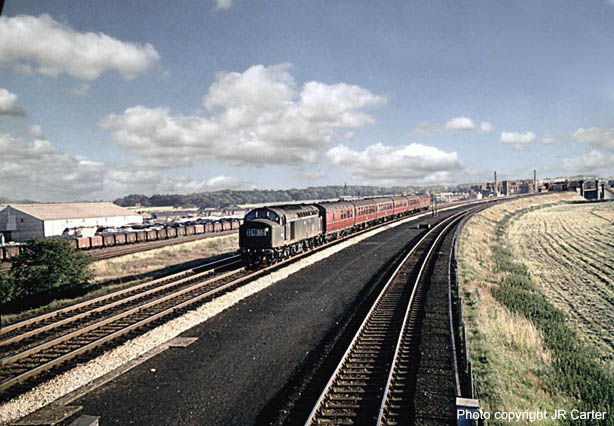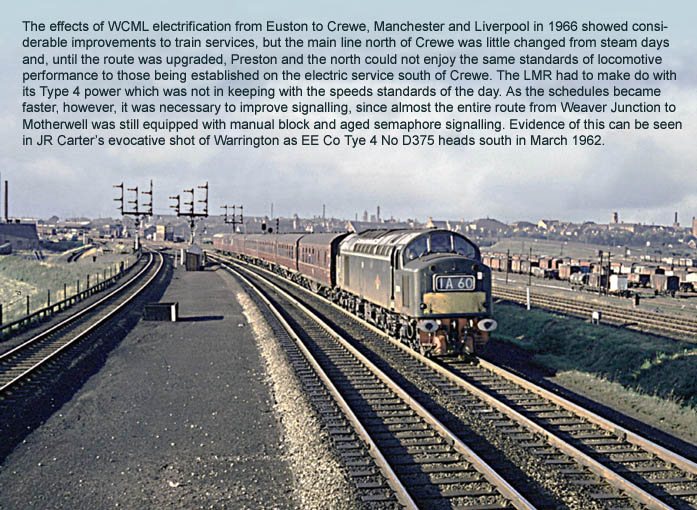 NORTH WALES COAST MAIN LINE - CHESTER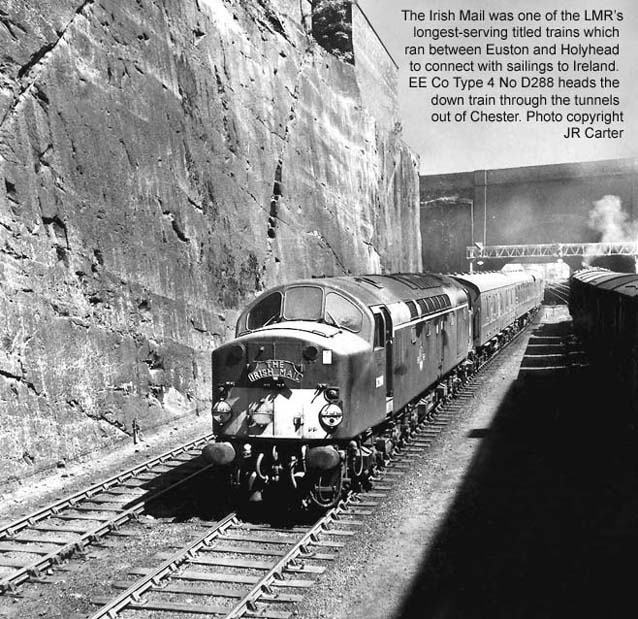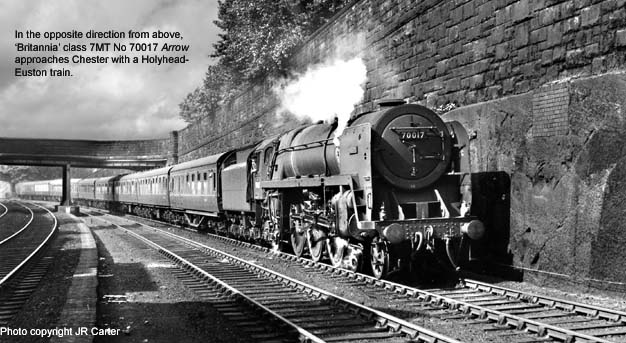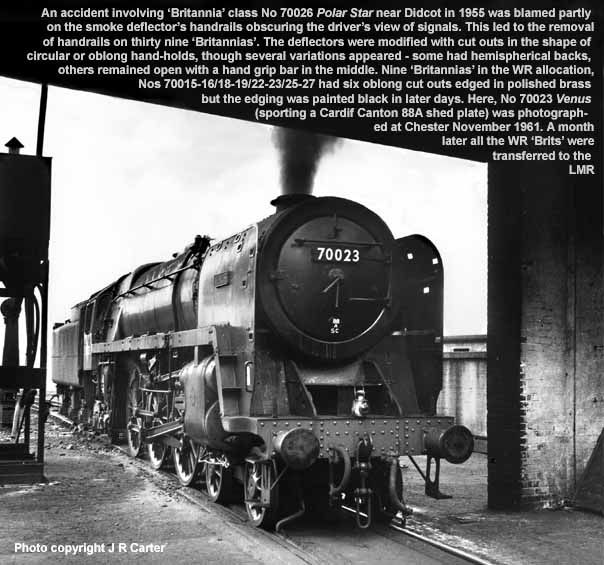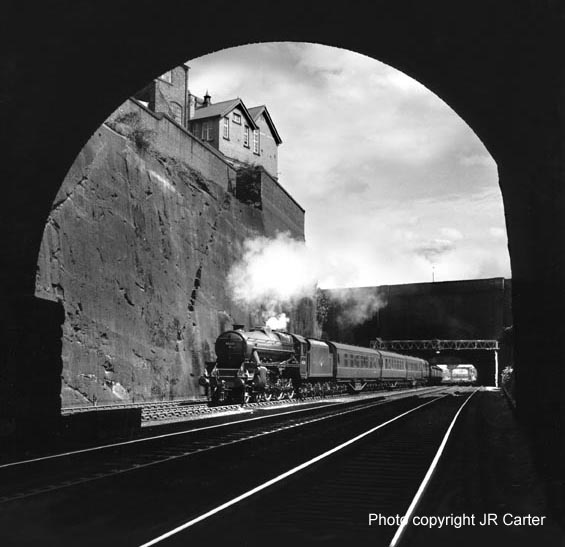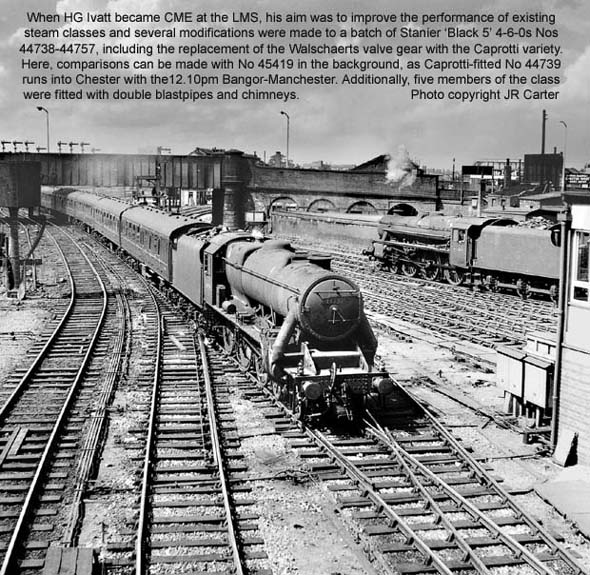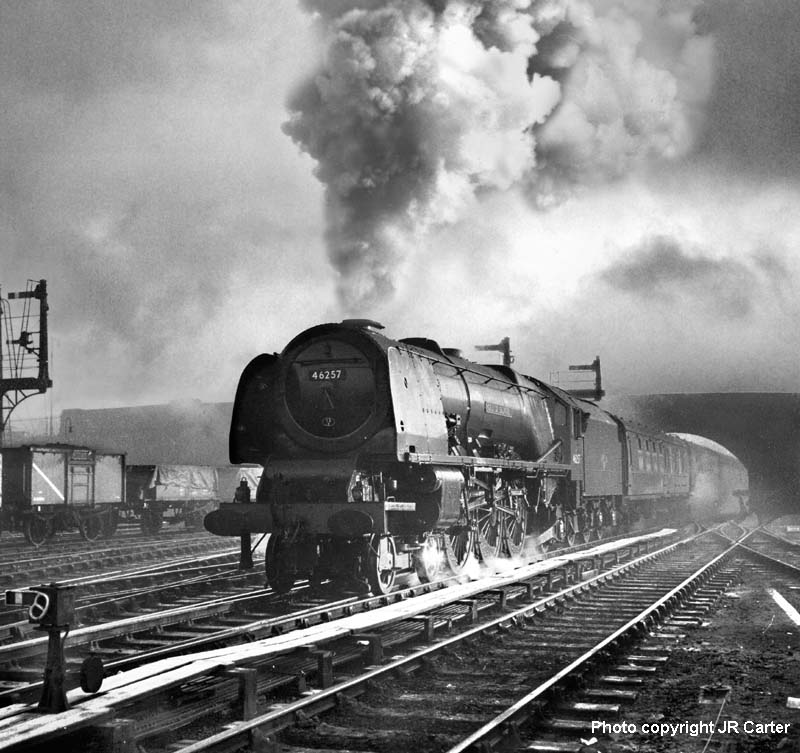 WEST COAST MAIN LINE - LUNE VALLEY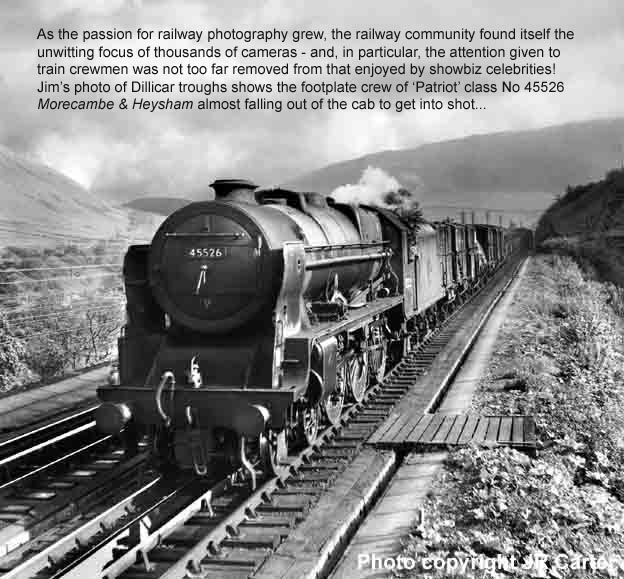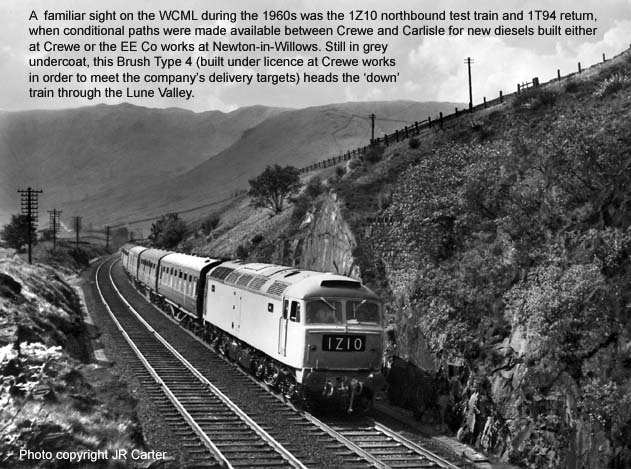 No words can express how big an influence on the railway fraternity Jim has been, and will always be, I'm sure, for Jim's superb photographs touched the lives of many people. Although the geographical distance between Leeds and Leigh meant our meetings were all too infrequent, when we did get together our bonds were quickly reinforced by our mutual love of talking trains - and could Jim talk! He loved telling the tale and I just loved listening to him...his memories of footplate days will stay with me forever...

Jim passed away on Monday 14th February 2011 after a long illness.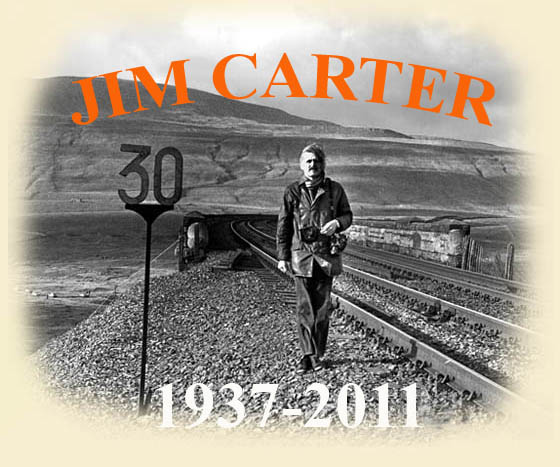 GREAT NEWS! CHRIS HAS LAUNCHED HIS OWN WEBSITE DEDICATED TO HIS DAD
CLICK ON IMAGE BELOW

Polite notice: All text and photographs are protected by copyright and reproduction is prohibited without the prior consent of the © owners. If you wish to discuss using the contents of this page the email address is below. Please note - this is not a 'clickable' mail-to link via Outlook Express. You will have to email manually.

dheycollection@ntlworld.com