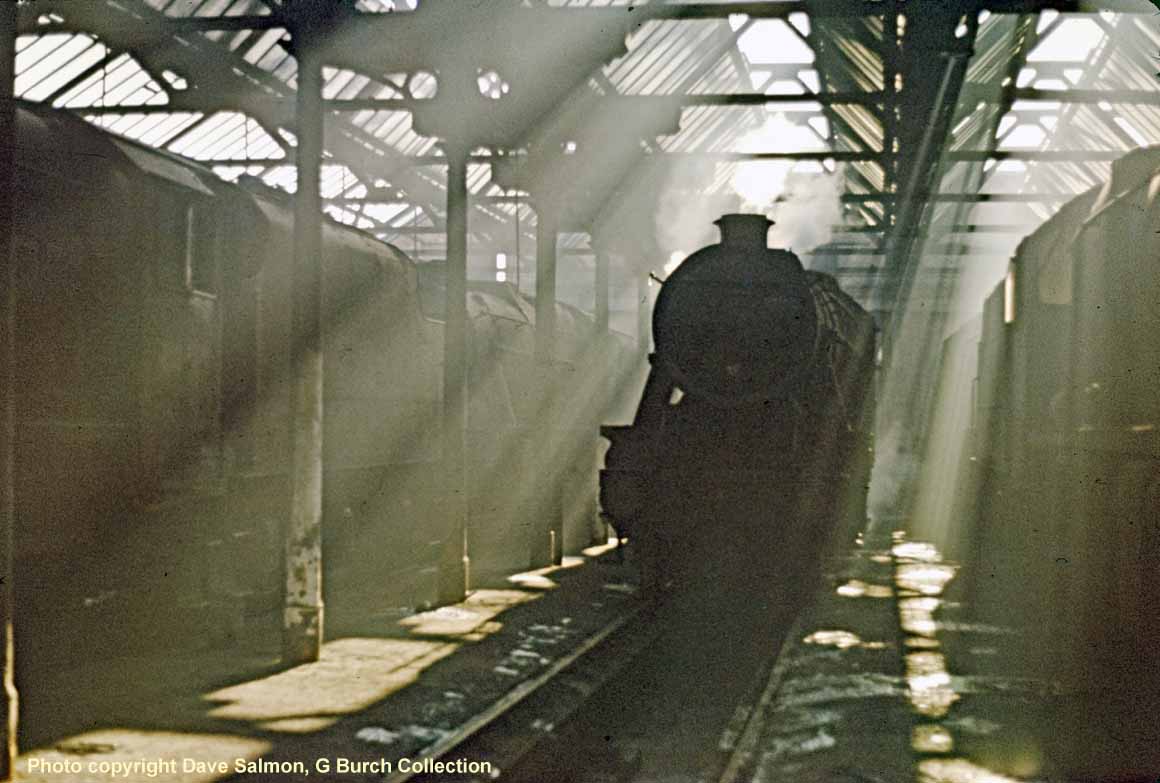 It is with the deepest regret that I have to inform everyone that Dave Salmon passed away peacefully at the Royal Surrey County Hospital Guildford at 8pm on Thursday 9th July after a short illness. It seems ironic that it was 48 years to the day that Dave took his superb photographs of locomotives leaving Guildford on the final day of steam that he should pass away on the same date - a sad day on both occasions. RIP. A graveside funeral for family and friends was held at Stoke New Cemetery, Stoughton Road, Guildford on Thursday 30th July at 2pm. A lovely tribute can be found HERE on the Guildford Dragon's website.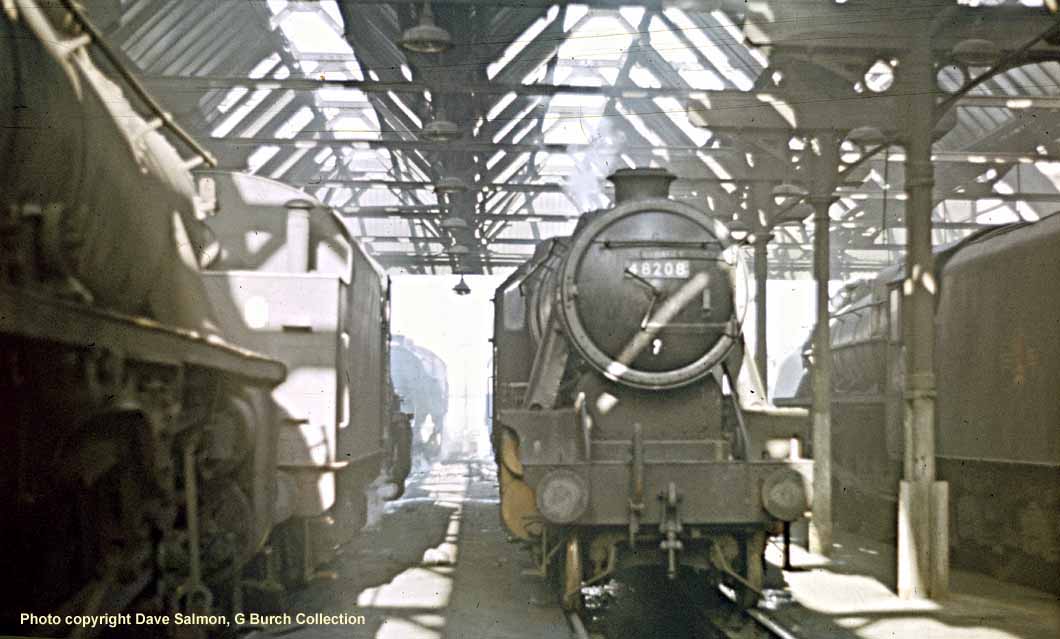 I had only recently reacquainted myself with Dave (Sam) Salmon, who was a fireman at Guildford Loco (70C) before I joined the railway. Sam has been kind enough to give me permission to publish some of his excellent colour photographs taken during the steam days.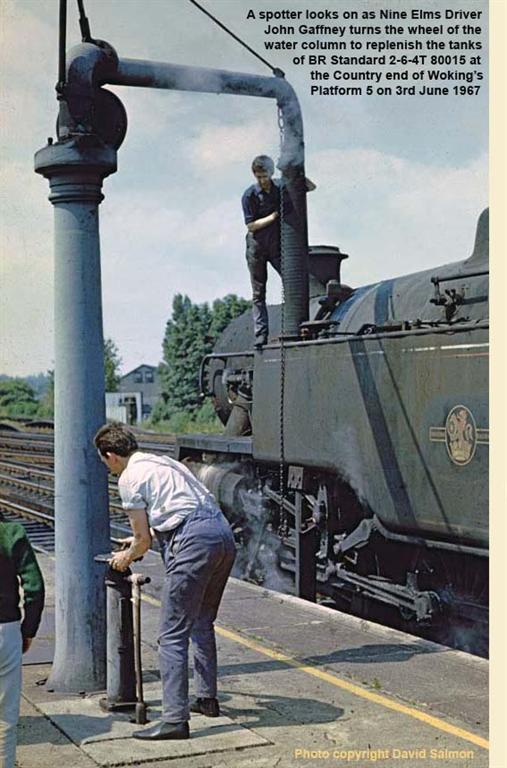 Sam left Stoke Secondary Modern School at 15 years of age and joined the railway as an engine cleaner in August 1952 (about the time when the roof of the New Shed was being replaced with new sheets of corrugated asbestos). Dave quite often used the Weaver Plant under Jack (Cock) Robin's supervision (see Pat Kinsella's anecdote on the 'SR Enginemen Remember 1' page.
Once Sam reached 16 years of age, he attended the Firing School at Guildford and Feltham MPDs with other cleaners of his age; his Instructor being Mr George Bolland. After passing out for firing duties, his first firing turn was on the shunting loco at Woking Yard with Driver Hector Stovold. In April 1953, ASLEF called for strike action and as an engine cleaner, Dave was paid just £1 strike money per week. National service in the armed forces loomed and as Dave had an interest in aircraft, he decided to join the RAF for three years (other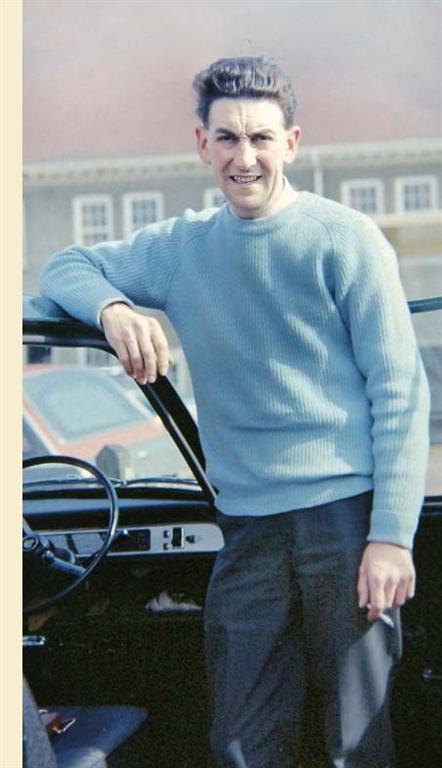 services were two years) and on the day after his 18th birthday in May 1955 he reported to RAF Surbiton.
He went to Cardington, Bedford to be kitted out in uniform and then had the necessary inoculations before attending training at Padgate in Cheshire for the next eight weeks. On returning home on a weekend pass, Dave found that he couldn't return to his base as the Union had called a General Strike and therefore no trains were running. So, using his initiative, he ended up catching a bus to Aldershot and then another to RAF Odiham which was the nearest RAF base to Guildford walking the last couple of miles lugging his suitcase!
Dave then spent three weeks at Innesworth in Gloucestershire and at Kirkham near Blackpool (where training was given on small arms, automatic weapons and farey pistols). Dave's squadron was given a choice of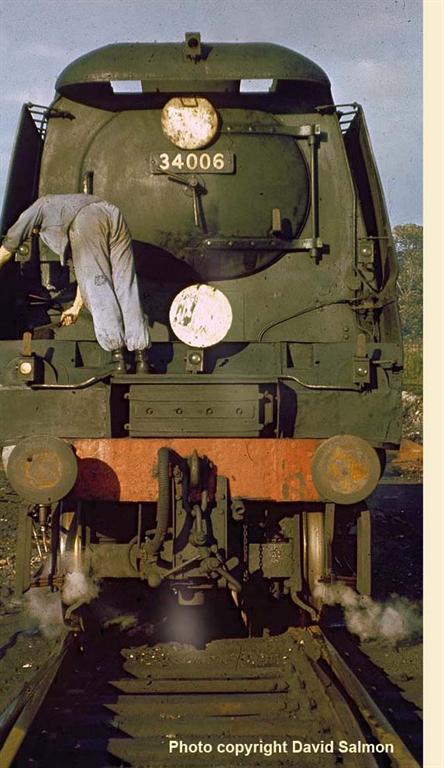 being sent to the Middle East, Far East or Germany and Dave drew the short straw and ended up being sent to Oldenberg near Bremen via Parkstone quay, Harwich and the Hook of Holland.
After serving three years in the RAF, he was de-mobbed on the 1st April 1958 and returned to Guildford. After three weeks leave, he approached Archie Martin (Shedmaster George Stovold's chief clerk) to see if he could return to his passed cleaner's job. Alas, he was told that because he'd been away for three years, he'd have to start at the bottom again as a cleaner. He would also need to be re-trained at Firing School.
As you can imagine, this was a bitter blow but undeterred, he attended his medical at London Bridge and the Firing School at the Orphanage Hut, Guildford MPD and Feltham MPD with the same Instructor - George Bolland.
It was only then that Dave could start firing again on a when required basis at Guildford and also on loan to Reading, Basingstoke, Fratton and Nine Elms. When Dave wasn't on firing duties, the Chargehand Cleaner Reg Foan would give him the opportunity to load a wagon of ashes-clinker instead of cleaning engines, which gave him the chance of going home early when finished! In March 1960, due to domestic reasons, Dave decided to leave the loco. Nonetheless he was still passionate about Railways and over the years travelled far and wide to capture some astonishing colour images of BR steam's final days...

(Above Left-Below) After the end of World War Two, peacetime conscription continued between 1947 and 1960 and a number of staff working on the railway was called upon to do their 'National Service'. The majority of recruits opted to join the Army as the 'call up' period was two years therefore following their demob they could return to their job without starting at the bottom of the ladder again. I mention it here because the fireman sweeping the ash from the front of Unrebuilt West Country Class 34006 'Bude' has probably completed his National Service in the army; the leggings of his overalls are gathered in at the ankles in a similar fashion to that of army uniform trousers...very useful for keeping the coal dust out...particularly when cleaning a smokebox - a filthy job! This bicycle clip-style protection was a familiar sight on the footplate in steam days. The photo was taken at Basingstoke MPD on 5th September 1965. (Below) Rebuilt West Country Class 34036 'Westward Ho' (minus her nameplates) stands in number 9 road inside Nine Elms MPD on the 24th March 1967. An unidentified West Country Class locomotive in unrebuilt condition (also minus her nameplates) stands in front of her plus another Bullleid Pacific in number 10 road. All I suspect suffered the same fate and were towed away to the scrapyard at Barry in South Wales.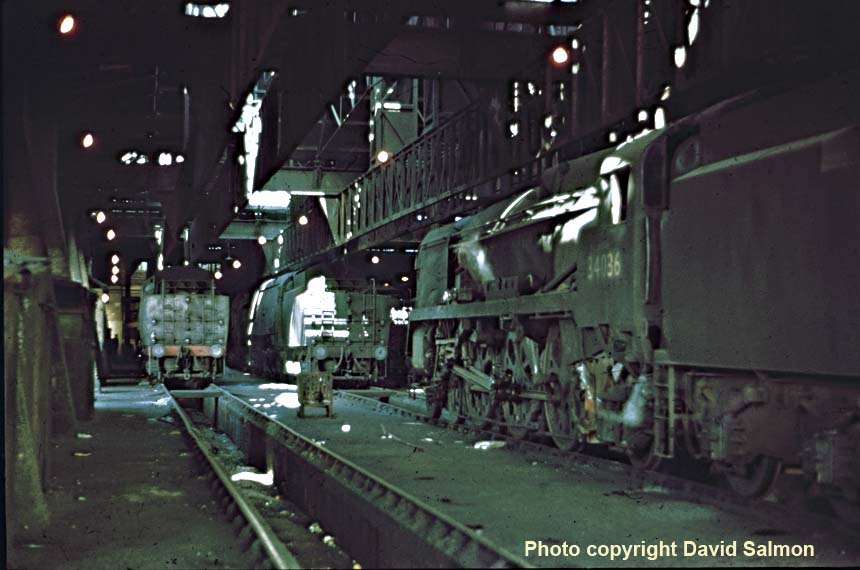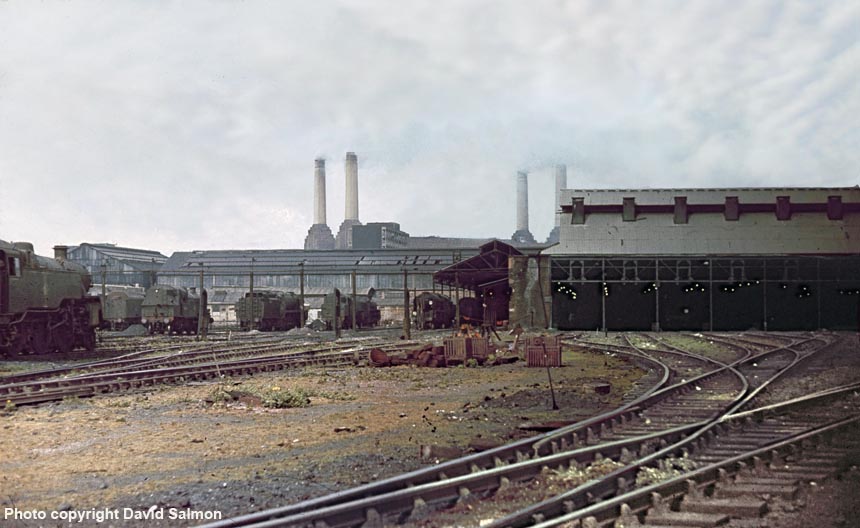 (Above-Below) BR Standard Class 4MT 80143 stands in the foreground on No.14 road on 24th March 1967- other BR Standard Class and a couple of Bulleid Pacific Class locomotives reside on other roads outside the shed, most destined for the scrap yard. (Below) Someone has emptied the bunker of coal and dust onto the ground from Ivatt 2MT Tank 41284 presumably before she goes for scrap. Rebuilt West Country Class 34040 'Crewkerne' can just be seen on the left of the photograph....see photo beneath.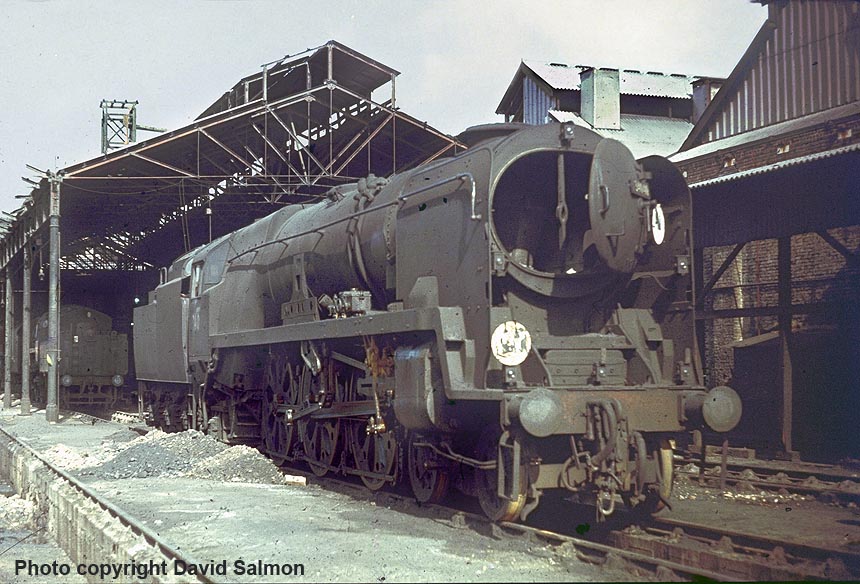 (Above-Below) Rebuilt West Country Class 34040 'Crewkerne' minus her nameplates stands outside the shed at Nine Elms MPD on 24th March 1967.The smokebox door is ajar to reveal the vertical smokebox locking bar through which a long bolt with fixing lug (affixed to the inside of the door) would pass; once turned to the horizontal position, the outer handle on the front of the smokebox door would then be screwed tight to form an airtight seal. This shot reminds me of my boilersmith shop duties of climbing into the firebox and clambering onto the brick arch to clean the tubeplate. (Below) An unidentified Rebuilt West Country Class locomotive is being turned on the turntable at Nine Elms MPD on the 24th March 1967. Devoid of her once resplendent 'West Country' nameplates and number plate, she looks a sorry sight to behold and one wonders how these once magnificent locomotives managed to keep going considering the dire working conditions and woeful lack of maintenance they received at the end of steam. Spare a thought for the residents of the two large blocks of flats behind the turntable; the noise generated from the shed yard was relentless day and night.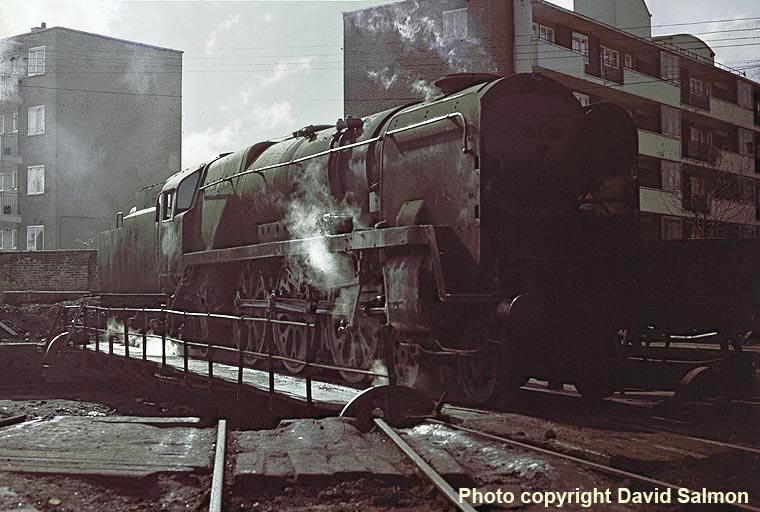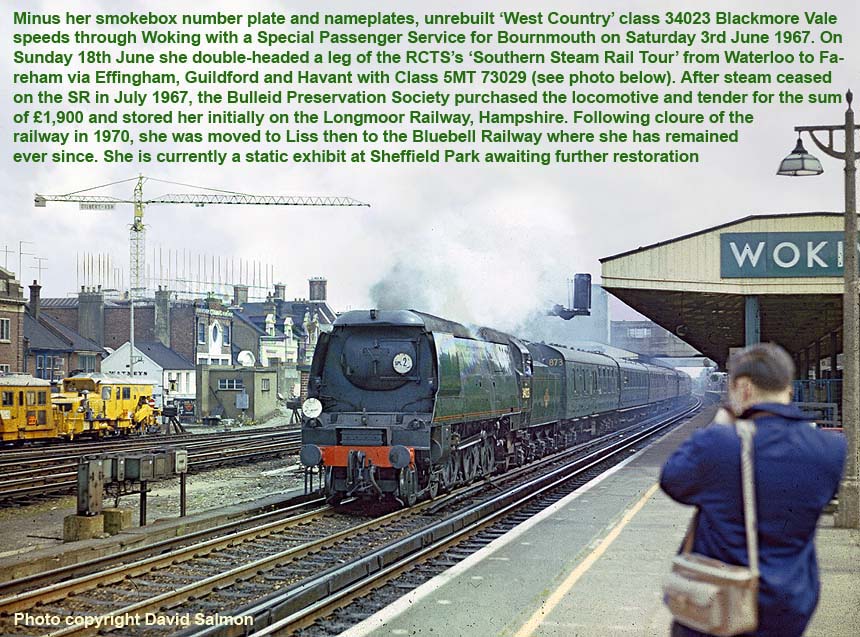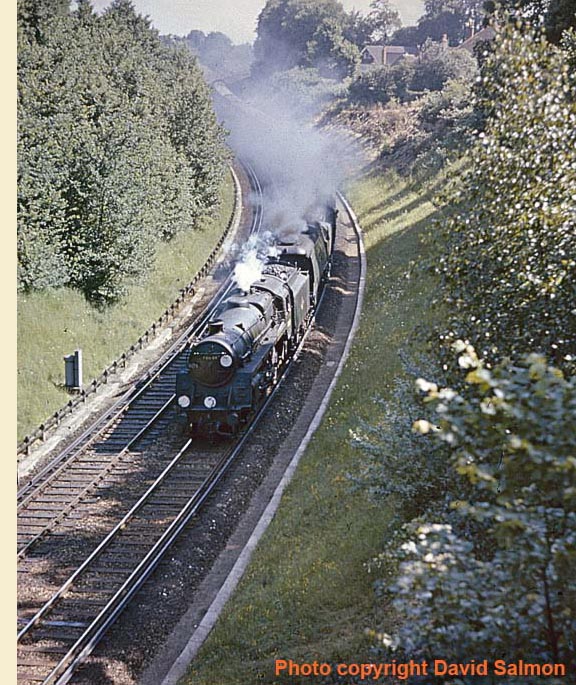 (Right-Below) As a tribute to the final days of steam over the LSWR main line, the RCTS organised the 'Farewell to Southern Steam' Rail Tour on 18th June 1967. Dave Salmon's photo shows the first leg of the tour at London Road near Guildford. The twelve coach train was headed by 73029 and 34023 Blackmore Vale (the BR5 was crewed by Guildford Driver Lew Wooldridge and fireman Ray Bartlett and a pair of Nine Elms men worked on 34023). Starting from London Waterloo the special was routed (via Windsor through lines) to Clapham Junction - East Putney - Surbiton - Effingham Junction - Guldford - Haslemere - to Fareham. At Fareham 'Battle of Britain' class 34089 602 Squadron continued the journey via Netley to Southampton Central, where 34089 was joined by West Country class 34108 Wincanton for the journey from Southampton via Brockenhurst and Bournemouth to Wareham. At Wareham 34089 (with 80143 at the rear) headed to Swanage returning at the rear of 80146 to Wareham. 34089 then continued alone to Weymouth, where Class WCs Nos 34023 and 34108 headed the Rail Tour via Bournemouth Central, Eastleigh and Romsey to Salisbury. At Salisbury Merchant Navy class 35013 Blue Funnel headed the return leg via Basingstoke to London Waterloo. The info regarding this tour came from the excellent 'Six Bells Junction' website. (Below) BR Standard Class 4 No 76053 at Eastleigh shed (71A) on 11th June 1966.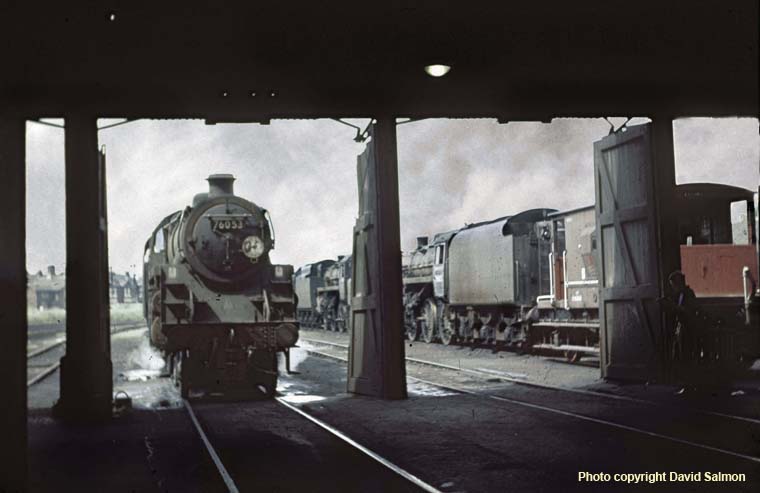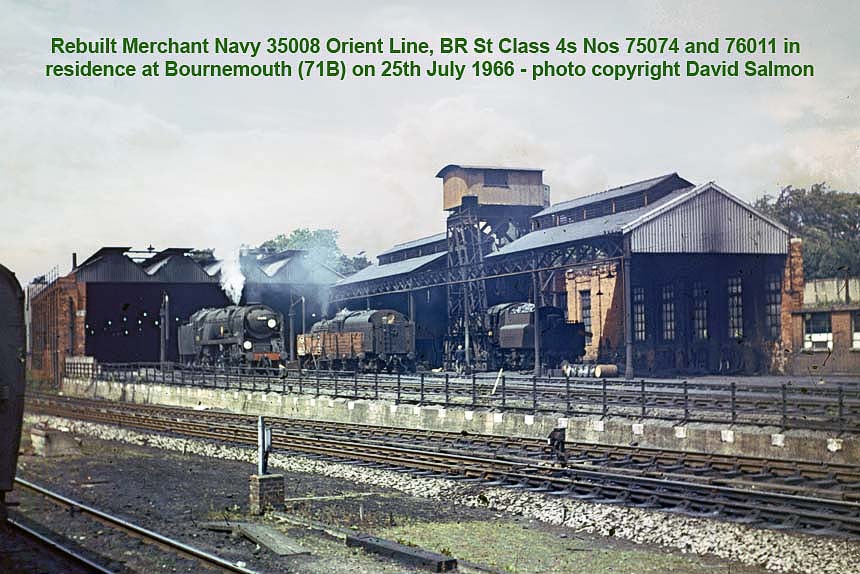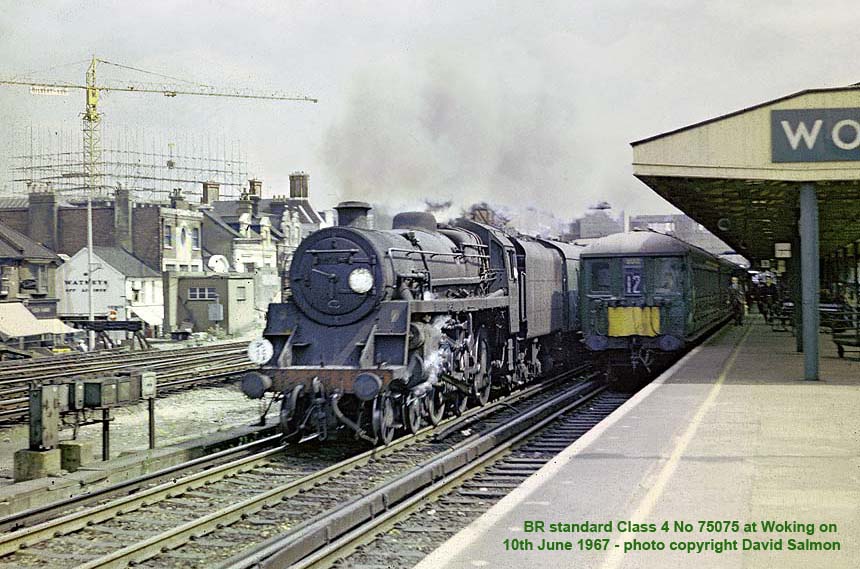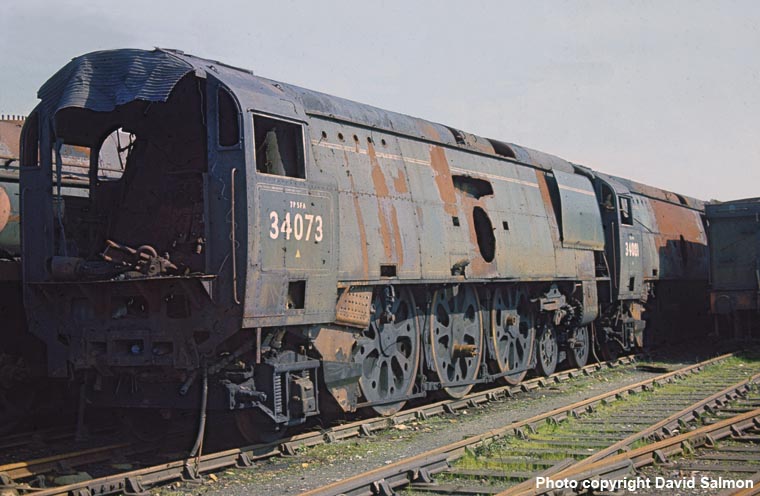 (Above-Inset-Right) The headlong rush to modernise Britain's railways led to the scrapping of condemned steam locos at an alarming rate. The surge in numbers soon began to outstrip the capacity of BR's main railway works to dispose of them, and so it was decided to contract out the disposal of its redundant fleet of steam locos and rail wagons via tender to selected scrap merchants across the country. This included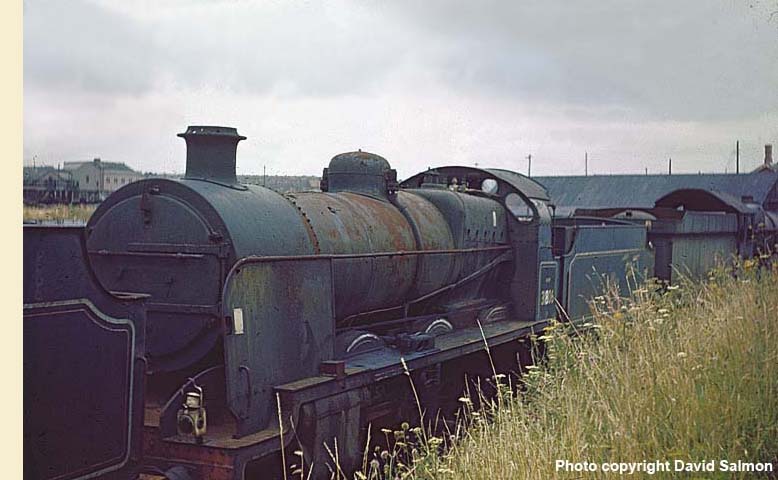 Woodham Brothers scrap merchants in Barry South Wales, which, as history now reveals, was a massive stroke of good fortune for the preservation movement. During the early Sixties Woodham Brothers decided it was easier (and commercially more viable) to concentrate on scrapping rail profile rolling stock than steam locos. The sheer volume of freight wagons and brake vans that the company had successfully tendered was taking up a lot of space and reducing the yard's capacity to bid on more contracts. Therefore it was decided to concentrate on scrapping these wagons first and leave the more difficult task of cutting up locomotives until later. The first batch of engines was made up of ex-GWR locos from Swindon which was despatched to Barry in March 1959. By the early 1960s additional storage had to be found as the number of deliveries increased. From 1964 onwards, the scrapyard won additional contracts to scrap Southern Region stock, and in 1965 sixty five locomotives arrived, of which 28 were scrapped, but the additional volume of Southern Region rail wagons meant that the lion's share of steam locos remained intact at the yard. (Above)Unrebuilt Battle of Britain Class 34073 '249 Squadron' and 34081 '92 Squadron' wait in line at Woodhams scrapyard at Barry. Thankfully both locomotives escaped the cutters torch; 34073 is still unrestored and currently for sale and 34081 is receiving an overhaul at the Nene Valley Railway. (Above Right) 'U' class 31806 awaits her fate on 13th August 1966.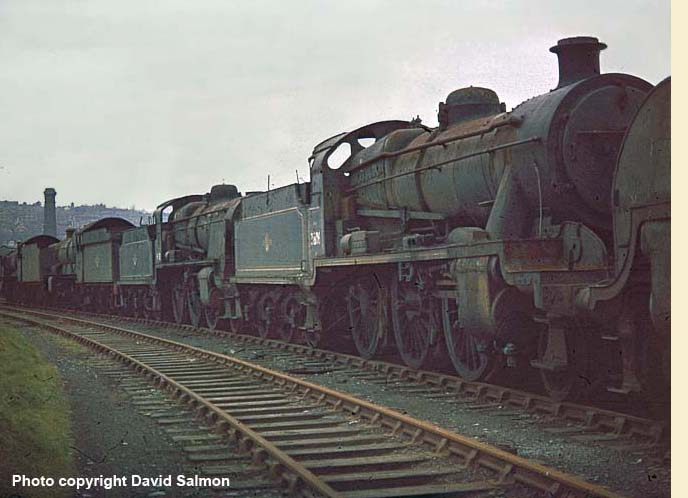 (Inset-Left-Below) A second photo of 31860 three years later on 28th March 1970. Woodham Brothers continued to purchase steam locomotives right up to the end of steam, bringing the total purchases by August 1968 to 297, of which 217 remained at the Barry scrapyard. It was the dawning of the preservation boom as several groups began rescuing locos from Barry, however under the terms of the contract with British Rail the scrapyard could not sell complete locomotives unless payment of a levy was made. Woodham Brothers set the price for each locomotive at its scrap value based on the exact metal content breakdown supplied by BR, which was simply adjusted to that day's scrap rate for each metal component plus the BR levy and, of course, the Government's VAT introduced in April 1973. (Below) The rank and file of redundant steam locos weren't the only candidates for scrapping; the end is nigh for these two AIA-AIA 'Warship' Type 4 diesel locomotives, D600 'Active' and D601 'Ark Royal' at Woodham Bros, Barry on 16th November 1968. As a 14 year old spotter at Reading, I recall seeing these two locomotives and their B-B 'Warship' cousins hurtling through the station with named trains such as 'The Cornish Riviera Express'. Somewhat ironically. The initial fleet of five lasted just eight years in revenue-earning service, D601 actually spent more time in the scrapyard than it did hauling trains on the main line.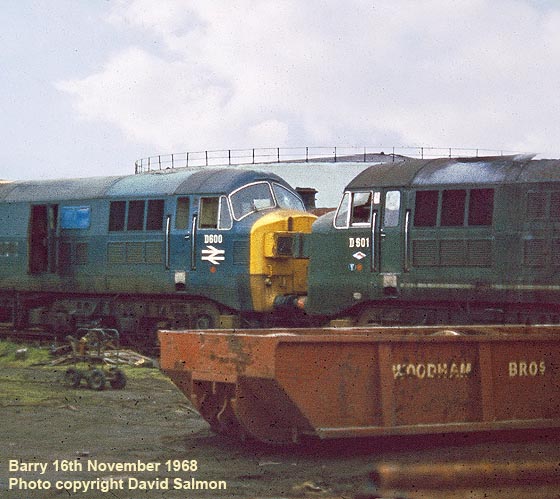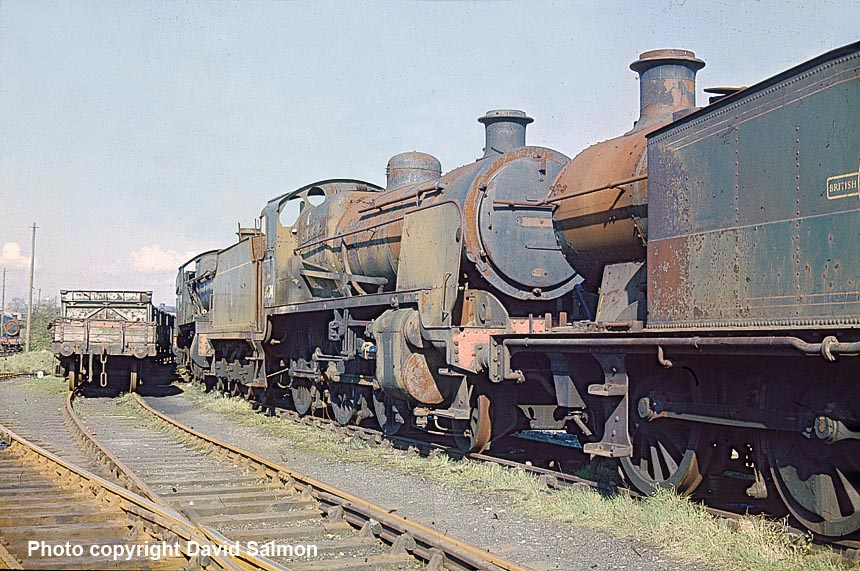 (Above-Below) Some of the Southern Region's N Class locomotives were known as 'Woolies' due to a number being assembled at Woolwich Arsenal. Here No 31874 looks in a sorry state at Barry on 6th May 1969; the loco was based at Exmouth Junction Shed for almost all her working life and is the only survivor of the class. After languishing at Woodham Brother's yard just short of ten years, she was finally rescued in March 1974 and restored for use on the Mid-Hants Railway. Three years later she was steamed for the first time in preservation and had a starring role at the railway's re-opening as a heritage attraction in April 1977. The locomotive was withdrawn in 1998 due to problems involving firebox reconstruction, and as of 2009 is stored pendingoverhaul. (Below) Designed at Derby and built at Crewe Works in May 1954, the unique Class 8 Pacific 71000 Duke of Gloucester was intended to represent the pinnacle of modern British locomotive development, but No 71000 was unpopular with crews for being a shy steamer and after only a short working life based at Crewe North MPD the locomotive was withdrawn from traffic in November 1962 and languished at Crewe - see 'Rail Centre Crewe' page - for a long period pending a decision on its future. Following the removal of the loco'soutside cylinders for display at the Science Museum London, a bizarre mix up resulted in the condemned 71000 being sent initially to the wrong scrapyard at Cashmore's in Newport instead of Woodham Bros in Barry. Had it stayed at Cashmore's there is no doubt that it would not have survived, but in the event it landed at Woodham Brothers where its rescue led to one of the most remarkable restorations in the preservation movements. No 71000 was photographed on 13th August 1966.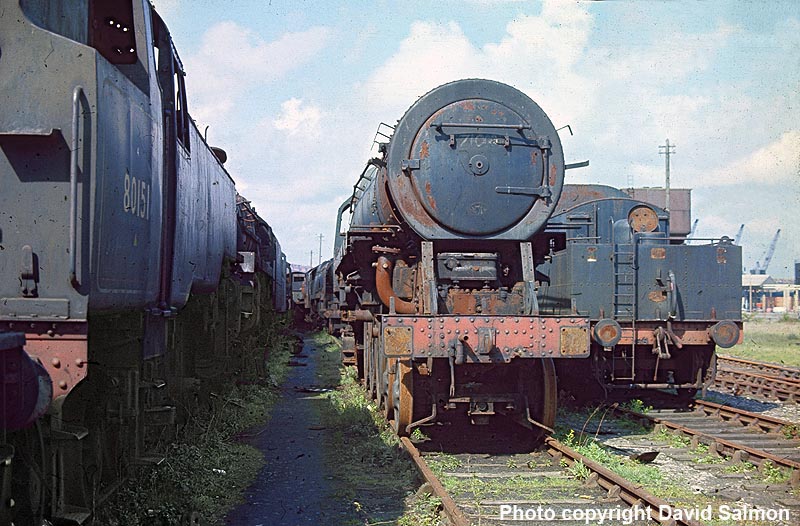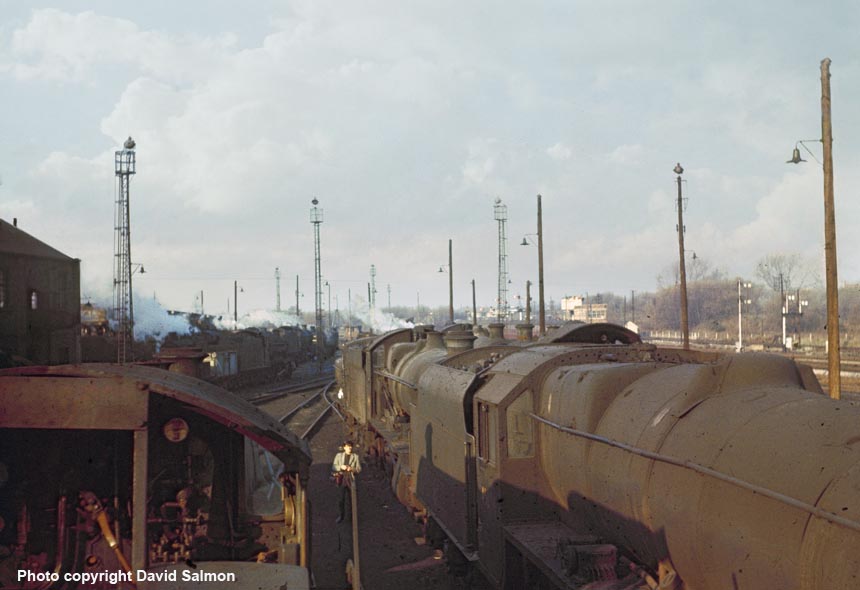 (Above-Below) Two fine views of Oxford MPD (81F) on 30th November 1965.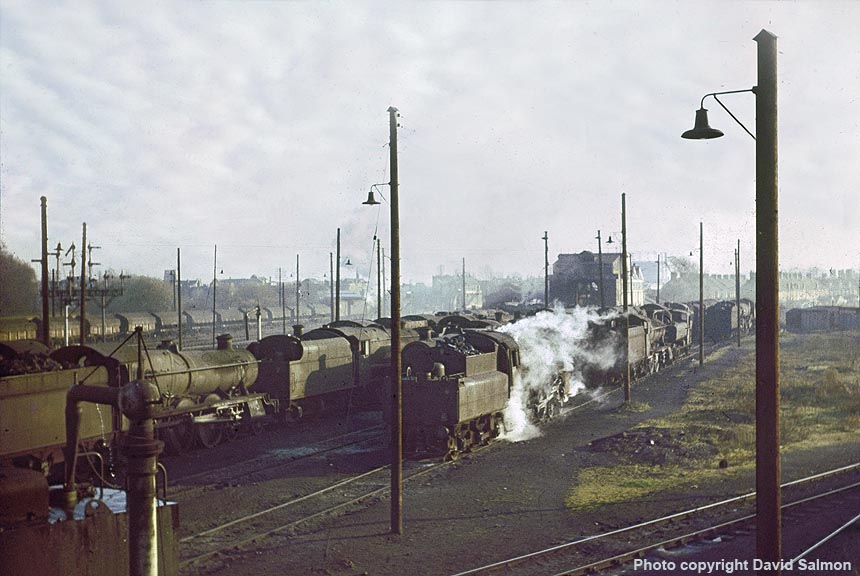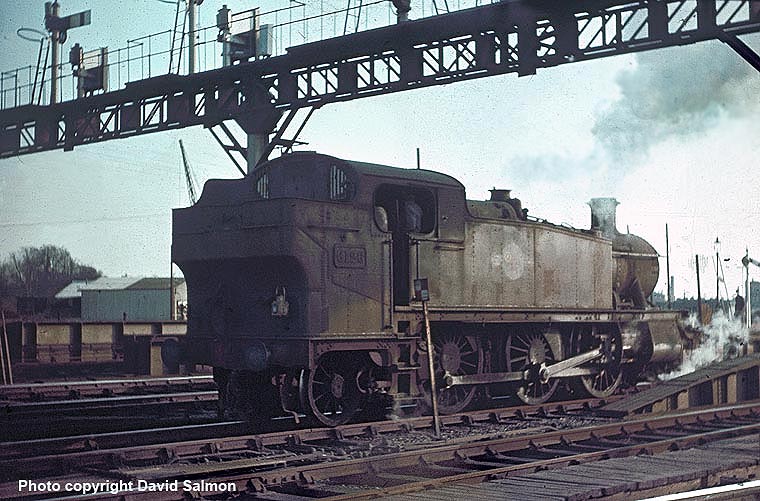 (Above-Below) Class 6100 4MT 2-6-2T No 6126 trundles through Oxford on 13th November 1965. Introduced in 1931 the majority of the class was employed on local suburban services in and out of Paddington station and were mainly allocated to Old Oak Common, Oxford, Reading, Slough and Southall sheds. After the suburban services were dieselised, they could be found across the whole of the Western Region of British Railways. (Below) Water suddenly overflows from the tender as the Driver of Unrebuilt Battle of Britain Class 34079 '141 Squadron' hastens to close the gate valve of the water column at Oxford on 13th November 1965.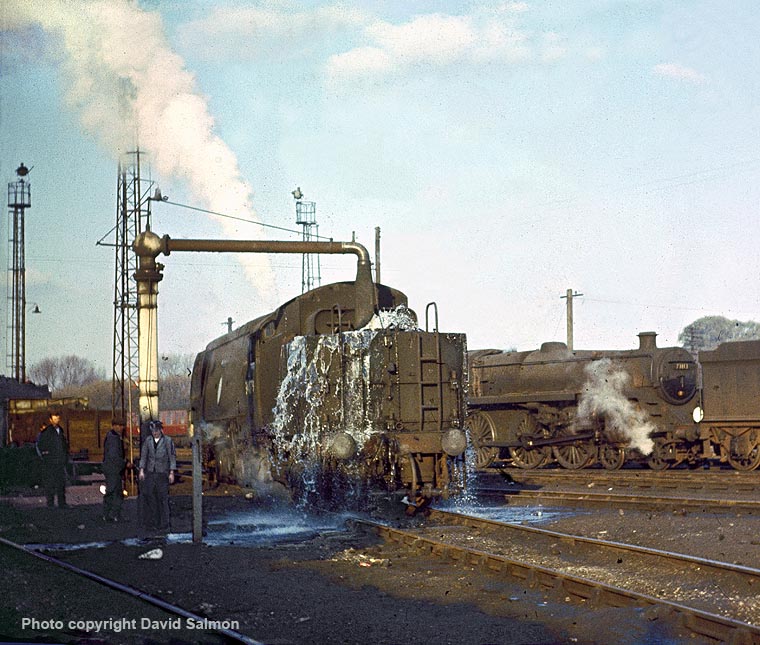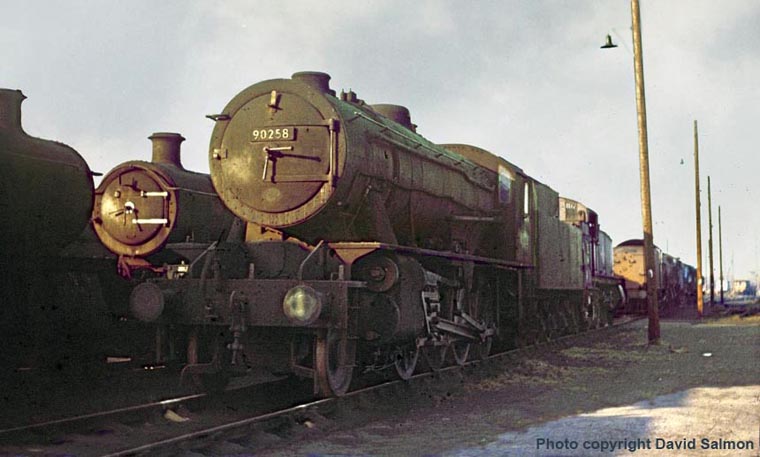 (Above-Below) WD Class 90258 (minus smokebox shedplate) stands proud in the evening sunlight at Oxford MPD on the 13th November 1965. Another locomotive in the adjacent road has also been robbed of her smokebox shedplate and numberplate. (Below) Despite her relatively clean condition, WD Class 90009 is in a sorry state at Sunderland South Dock (54A) on 9th September 1967. Her rods are off and there is a huge hole in her right cylinder; she was probably considered irreparable. In 1948 the newly nationalised British Railways took over the Ministry of Supply's 733 Austerity 2-8-0 freight engines still remaining in the UK. The class had been designed by Riddles during the Second World War 1939-45, when he held the position (and the impressive title) of Deputy Director of Royal Engineering Equipment.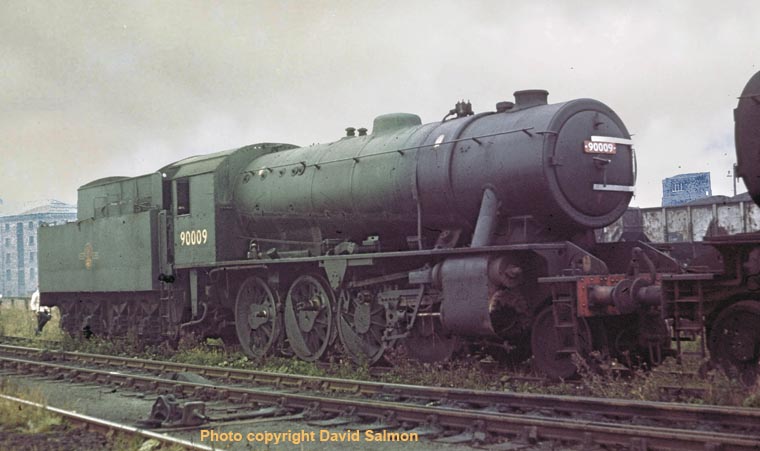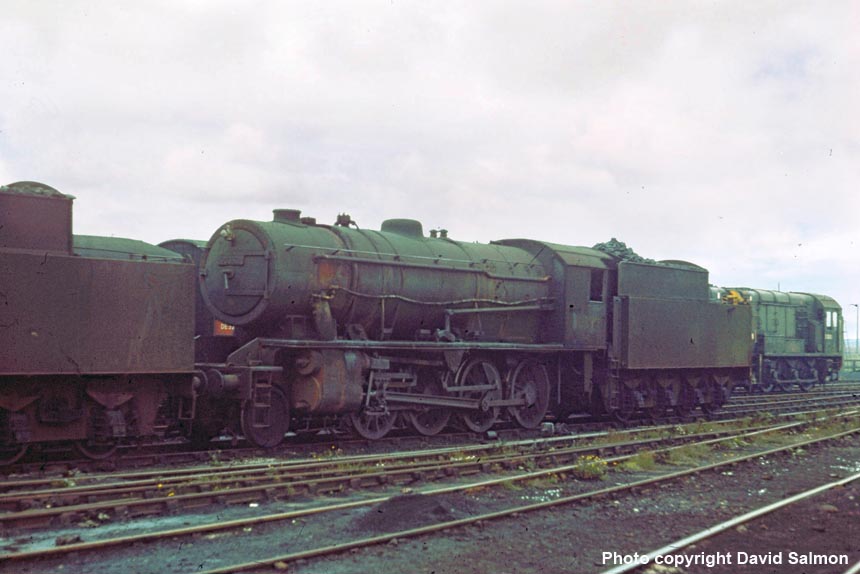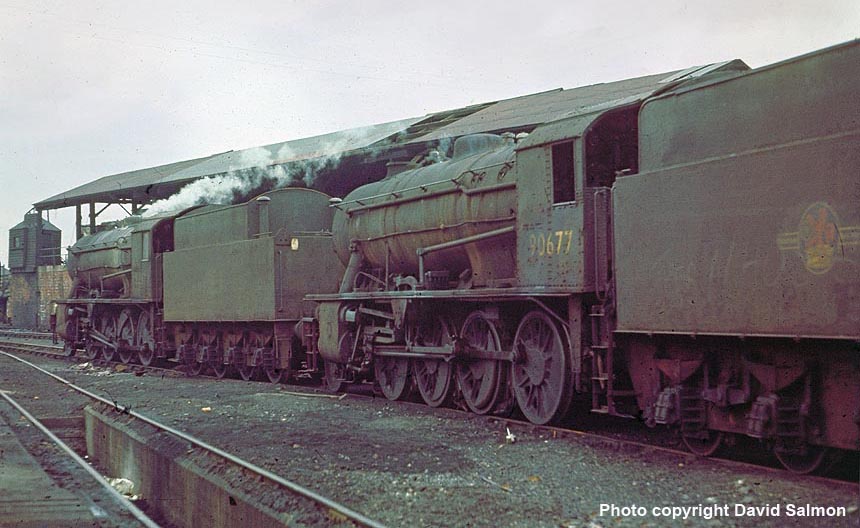 (Above-Below) Wonderfully ugly, the 'Austerity' 8F WDs were a no-frills machine, built for hard work, day in and day out - here a pair of filthy-looking 2-8-0s 90677 and 90478 await their next turn of duty at Hartlepool on 9th September 1967. Riddles also penned the similar but larger 2-10-0 which begot the BR Standard 9F. (Below) J27 Class 65879 stands in Sunderland shed on the 9th September 1967. Post-war, the J27s stopped hauling goods trains but they continued to haul heavy mineral trains. Withdrawals began in March 1959, but in June 1966, thirty six were still working hard hauling coal in County Durham and Northumberland. The final J27s were withdrawn from the Blyth area where they operated the short trip workings between the nearby coalfield and shipping staiths. The last J27 was withdrawn in September 1967.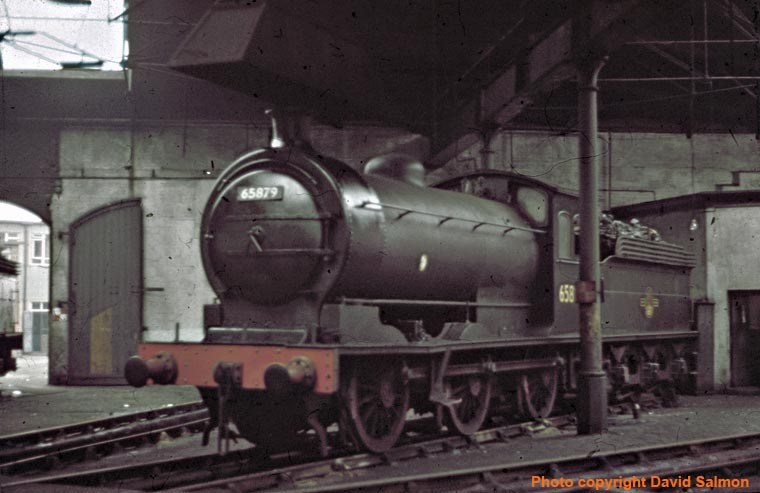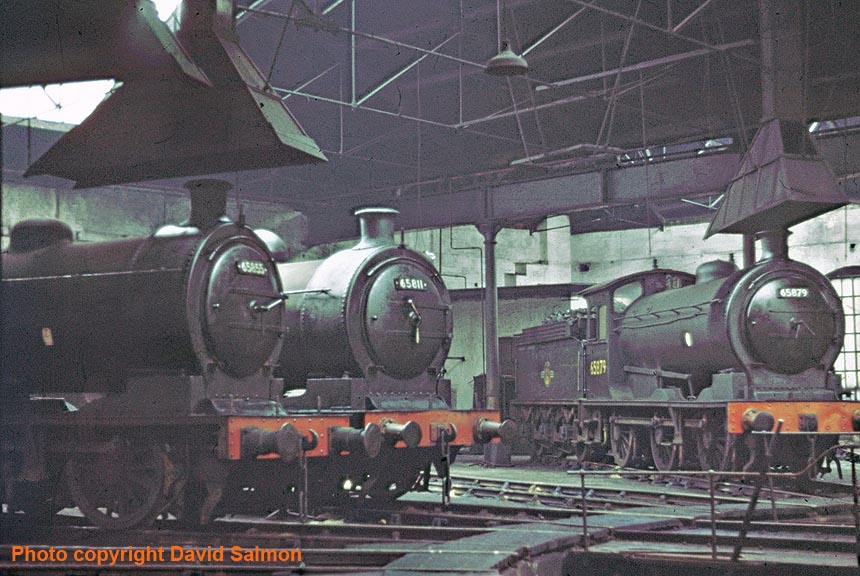 (Above-Below) Another group of J27s in Sunderland shed on 9th September 1967 are 65855, 65811 and 65879. Only one J27 has been preserved. After operating the last steam service out of Sunderland Shed in September 1967, No. 65894 (LNER No 2392) was moved to Tyne Dock ready for disposal. In November 1967 she was purchased by the newly formed North Eastern Locomotive Preservation Group (NELPG) No 65894 was moved to the North Yorkshire Moors Railway (NYMR), where she provided many of the services whilst the line was being rebuilt; and took part in the 1973 re-opening train (Below) A sorry looking sight at Hartlepool on 25th June 1967 with Q6 Class 63407 dominating the line up of locomotives awaiting their fate. One, 2238 (LNER 1946 number 3395; BR 63395) has survived to preservation on the North Yorkshire Moors Railway; it is owned by the North Eastern Locomotive Preservation Group (NELPG) and re-entered service after a major overhaul in 2007.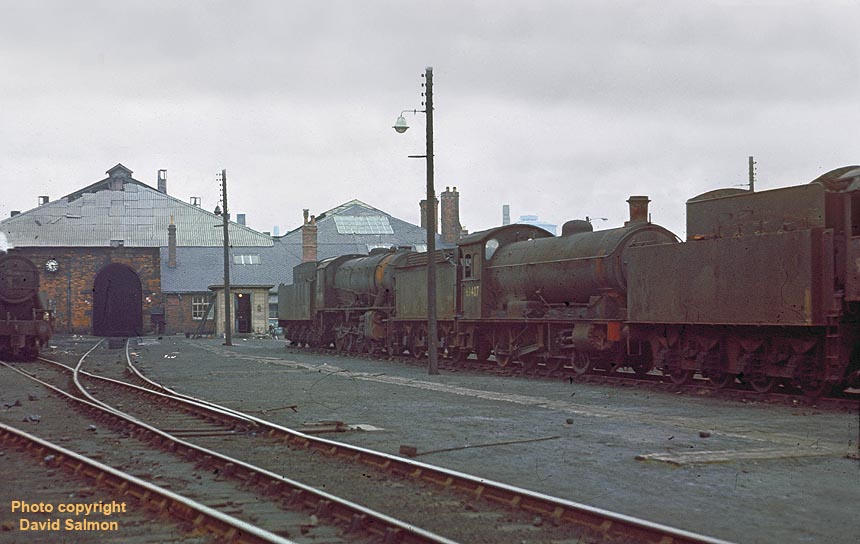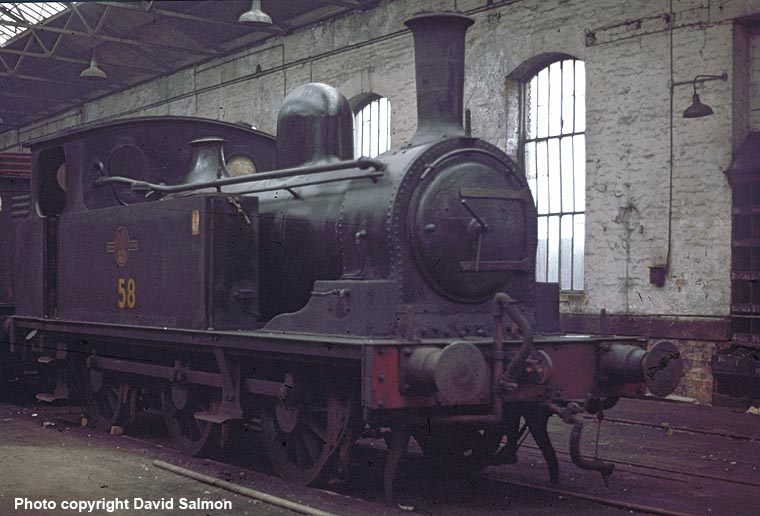 (Above-Below) J72 Class 0-6-0T No 58 (formerly 69005) stands in Tyne Dock shed on the 9th September 1967. The last J72 was withdrawn from regular service in 1964, although two (Nos 69005 & 69023) were transferred to service stock. Renumbered as Departmental 58 & 59, these locos were used to de-freeze coal wagons on the Blyth shipping staiths. After one year at Blyth, they were moved to Gateshead where No 58 was unsuccessfully used to clean the bogies of diesel locomotives. They were also used to de-ice points in Tyne Yard. After a long period in store, No 59 was sold in September 1966 and has been preserved, however not so lucky was No 58 which was withdrawn in October 1967 and scrapped in January 1968.Another WD Class locomotive 90382, this time at Sunderland on 9th September 1967. (Below) I'm sure hopes are high of bagging a few 'cops' for this group of schoolboy spotters, some carrying duffle bags over shoulders, as they head towards Crewe South MPD on 25th June 1967. With a little over a year left to go before the August 1968 deadline for BR steam, there are plenty of locos in residence to 'spot' and maybe 'cab' before they disappear forever.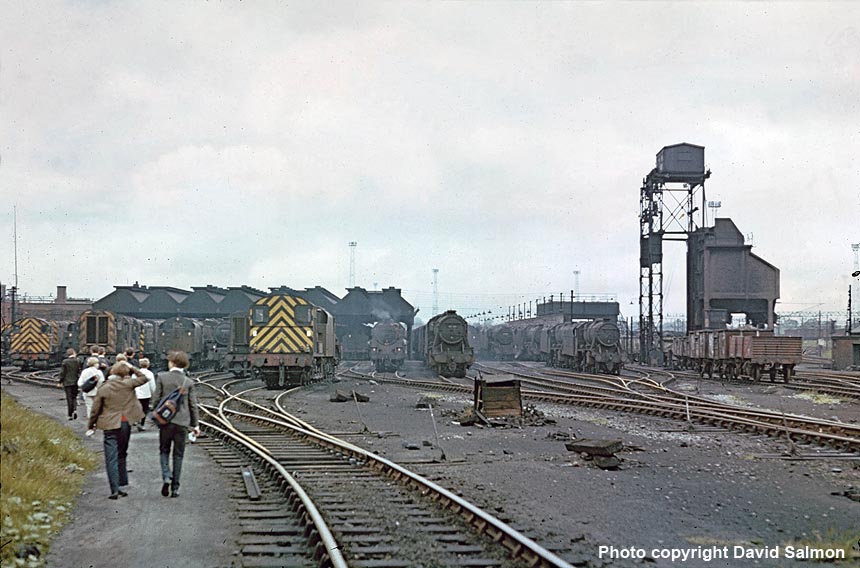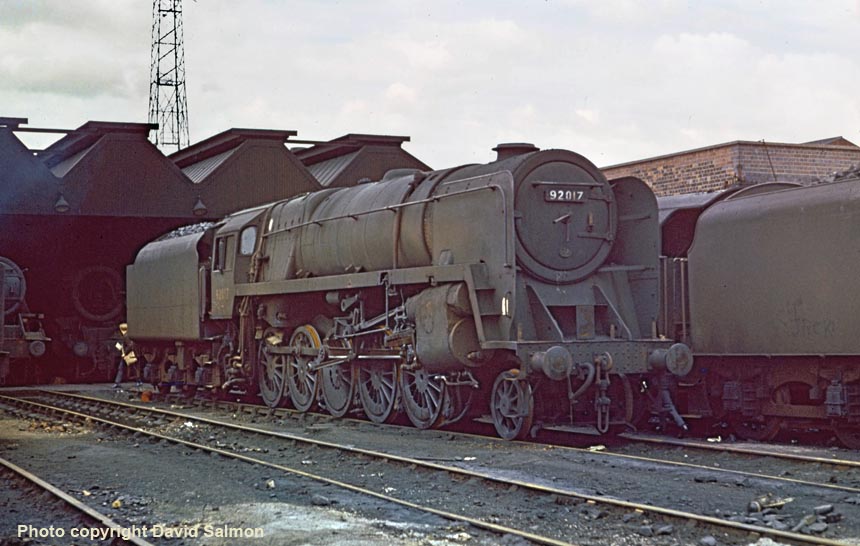 (Above-Below) BR Standard Class 9F 92017 stands outside the shed at Crewe South MPD on 25th June 1967. Designed for British Railways by Robert Riddles, the Class 9F was the last in a series of standard locomotive classes designed for British Railways during the 1950s, and was intended for use on fast, heavy freight trains over long distances. It was one of the most powerful steam locomotive types ever constructed in Britain, and successfully performed its intended duties. At various times during the 1950s, the 9Fs worked passenger trains with great success, indicating the versatility of the design, sometimes considered to represent the ultimate in British steam development. Several variants were constructed for experimentation purpose in an effort to reduce costs and maintenance, although these met with varying degrees of success. The total number built was 251, production being shared between Swindon (53) and Crewe Works (198). The last of the class, 92220 Evening Star, was the final steam locomotive to be built by British Railways in 1960. Withdrawals began in 1964, with the final locomotives removed from service in 1968. Several examples have survived into the preservation era in varying states of repair, including Evening Star. (Below) An assortment of locos rest at Crewe South MPD including two Stanier Class 8Fs 48767 and 48441 on 25th June 1967. The imposing coaling plant stands in the background.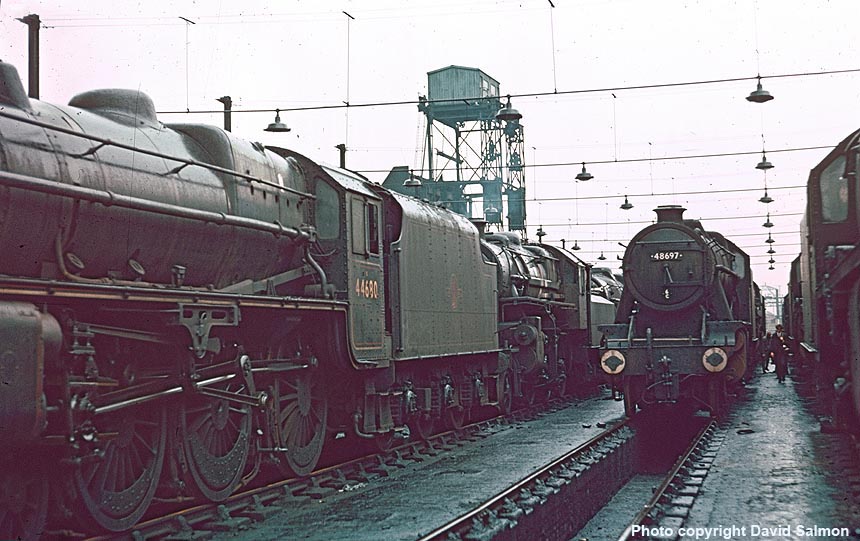 (Above-Below) Crewe Depot again on 25th June 1967 with Stanier Class 5MT 44680 and Stanier Class 8F 48697 dominating the photograph (Below) Two Stanier Class 8F locomotives 48125 and 48460 (with smokebox door open) stand outside the shed at Crewe South MPD. Designed for heavy freight duties, 852 were built between 1935 and 1946 (not all to LMS order) as a freight version of Stanier's successful Black Five. The class saw service overseas during the Second World War, and eleven 8Fs are known to exist; of these, seven LMS/BR locomotives have been preserved in the UK, and an eighth member of the class has been repatriated to the UK from Turkey. In addition, several Turkish Railway (TCCD) locomotives have been preserved in Turkey, and at least one locomotive may have survived in Iraq. Two more are also visible underwater in the Red Sea on the wreck of the SS Thistlegorm which was sunk by two German bombers during the Second World War. One 450kg shell hit the ship's ammunition hold resulting in a huge explosion, killing nine crew members, and sinking the ship almost instantly. The wreck was discovered 15 years later by Jacques Cousteau, and became "popular" for diving activities in the mid 1980s. When she sank, the ship was not only carrying the two locomotives but also a wide range of supplies, from rubber boots to Bedford trucks, BSA motorcycles, rifles and RAF equipment.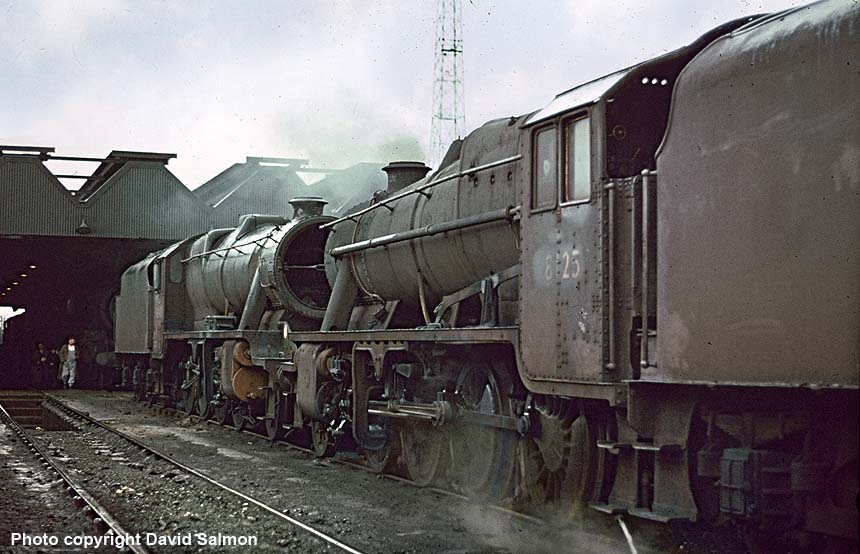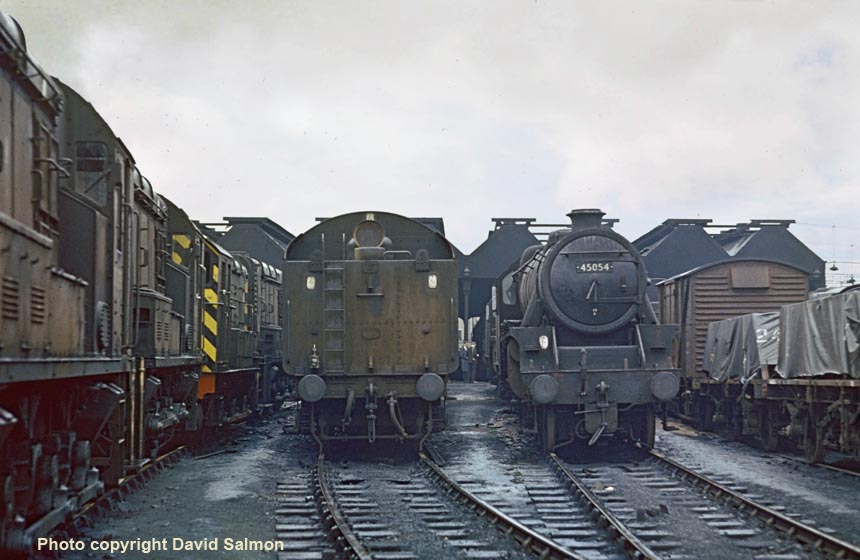 (Above-Below) Stanier Class 5MT 45054 awaits her next turn of duty at Crewe 25th June 1967. A row of four 350hp Diesel Shunting locomotives also await their next movements. (Below) Ivatt Class 4MT moves under the coal hopper at Crewe MPD on 25th June 1967. No 43002 was withdrawn from Workington shed in December 1967 and scrapped by GH Campbell of Airdrie in April the following year.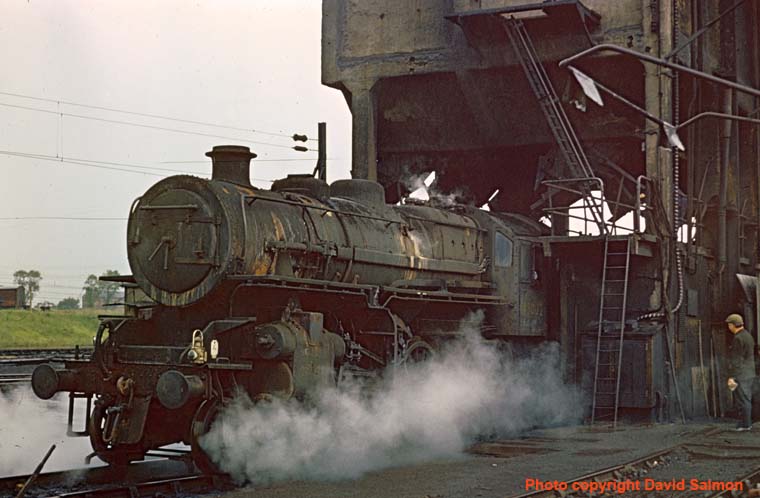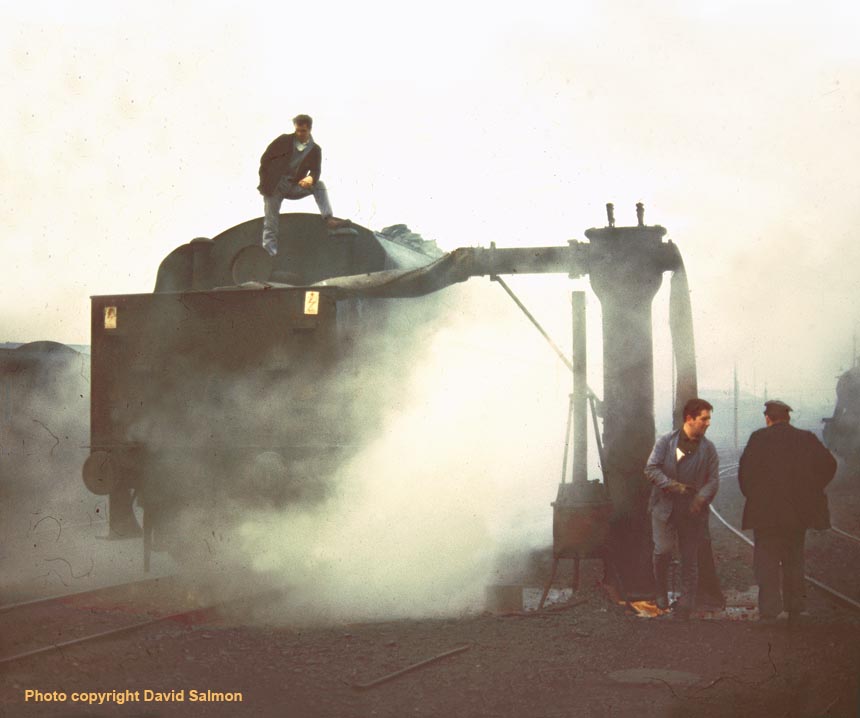 (Above-Below) The fireman of Stanier 8F Class 48168 watches carefully as the locomotive takes water at Northwich on a cold winter's morning 21st January 1968. (Below) The same day, shunting is in progress as Stanier Class 8F 48168 pulls some mineral wagons from the coaling point. The shunter cadges a lift on the smokebox steps; his shunting pole resting between the buffer beam and the front coupling hook. Incredibly, No one seems to acknowledge the dangers of bystanders wandering around the track.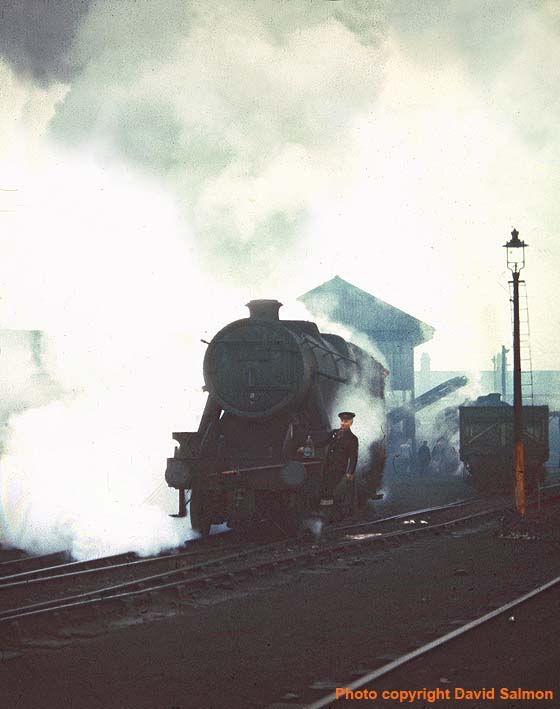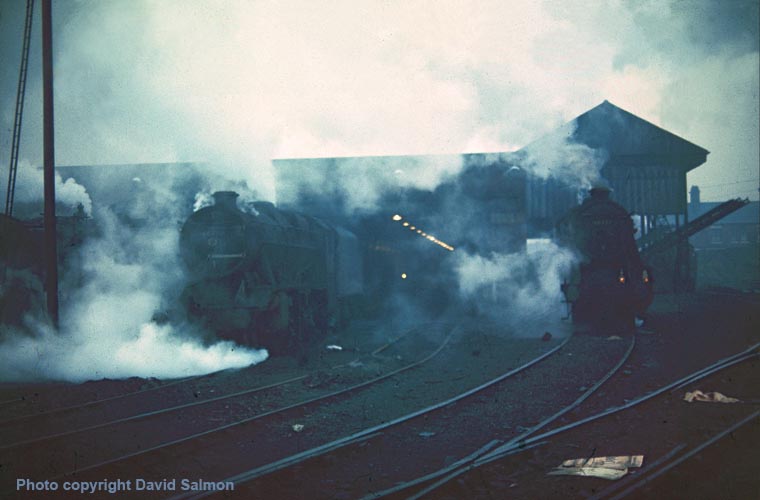 (Above-Below) Spotters congregate at Liverpool's Edge Hill MPD (8A) as Black Five 45376 prepares to depart. Other Black Fives with similar coats of grime stand in other roads. (Below) Stanier Class 8F 48665 awaits her next turn of duty at Edge Hill Depot.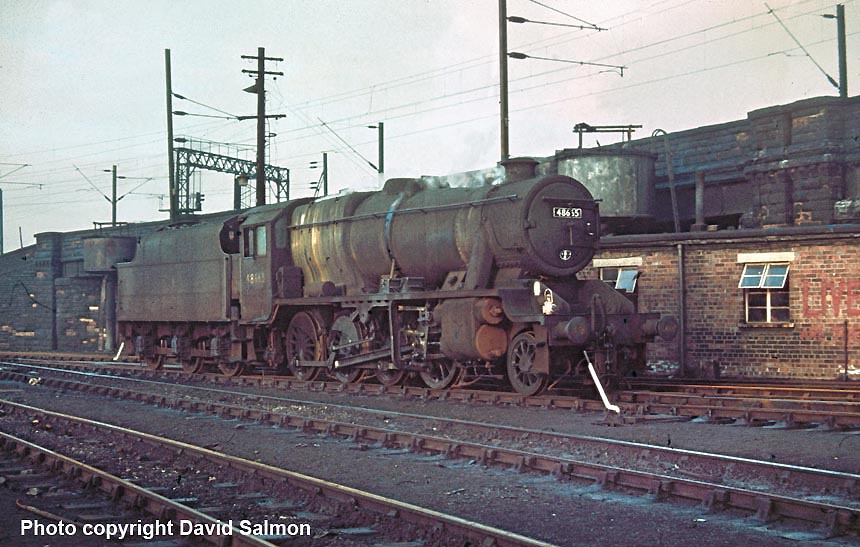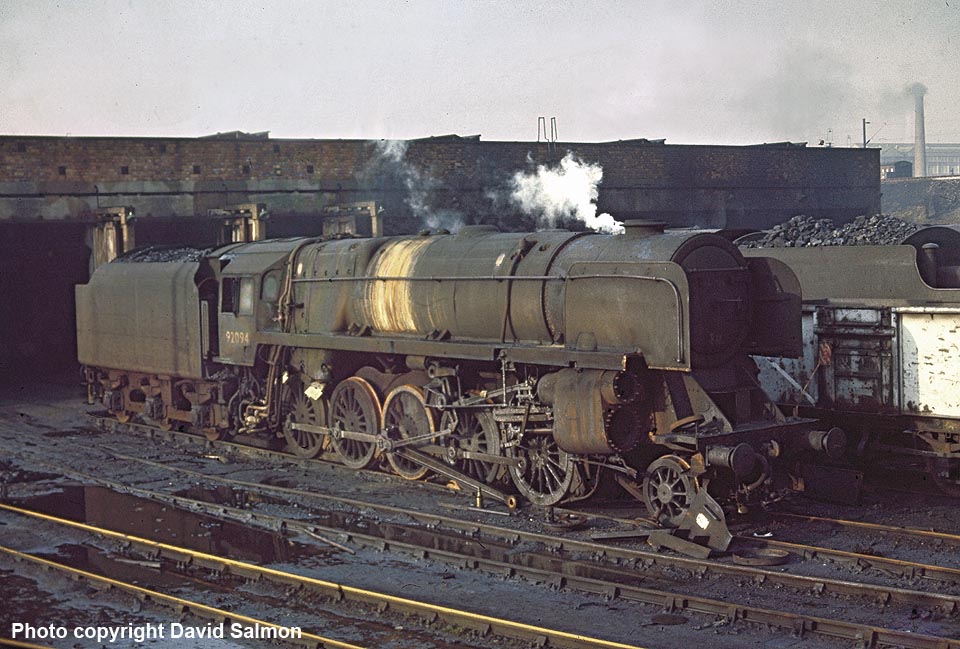 (Above-Below) It is patently obvious why the 'Not to be Moved' board has been mounted on the buffer beam of BR Standard Class 9F 92094 which is receiving some serious attention to her right hand side cylinder and valve gear. (Below) If a book publisher or magazine editor is seeking a suitable photo to grace a cover then they need look no further than this superb David Salmon shot of 'Black 5' No 45376 at Edge Hill.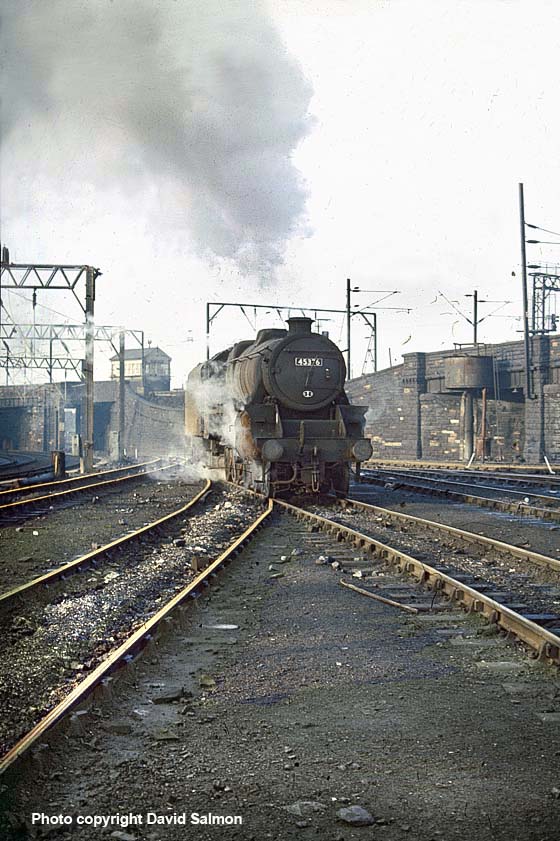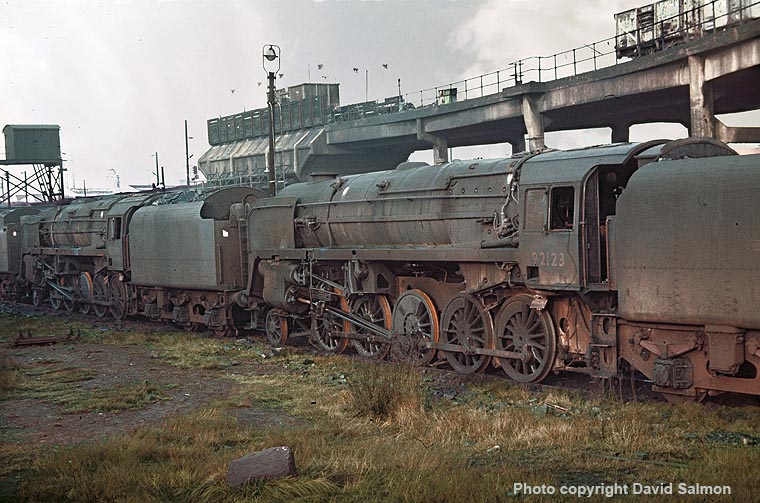 (Above-Below) Judging by the rust that's accumulated on their wheels, BR Standard Class 9F 92123 and 92013 have been standing in the rain for some time at Edge Hill MPD on 2nd January 1968. The coaling plant dominates the skyline. (Below) The BR standard Class 9F locomotives were considered to be the most thermally efficient steam locomotives ever to operate in Britain. In 1955, numbers 92020-92029 were built with Franco-Crosti boilers, but the modification only improved them a little, and the experiment was not considered to be worth the effort, particularly as the end of BR steam was already in sight. They were subsequently re-built as conventional locomotives, the pre-heater sections removed leaving a single main boiler barrel smaller in diameter than the standard Class 9 locos; their appearance was very distinctive.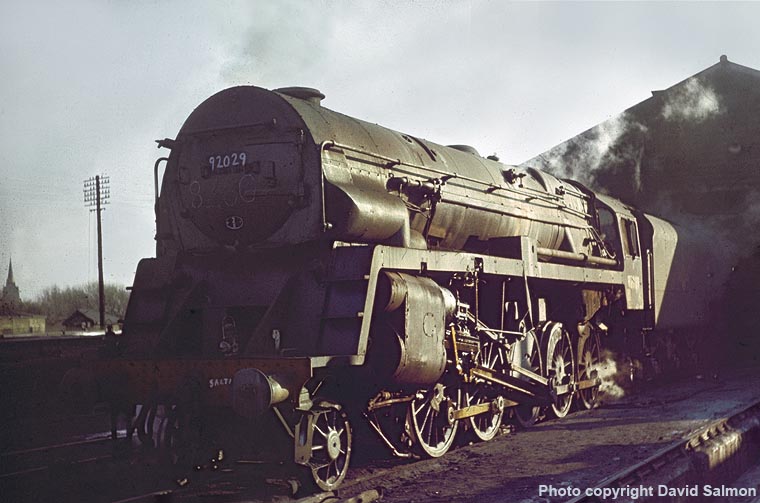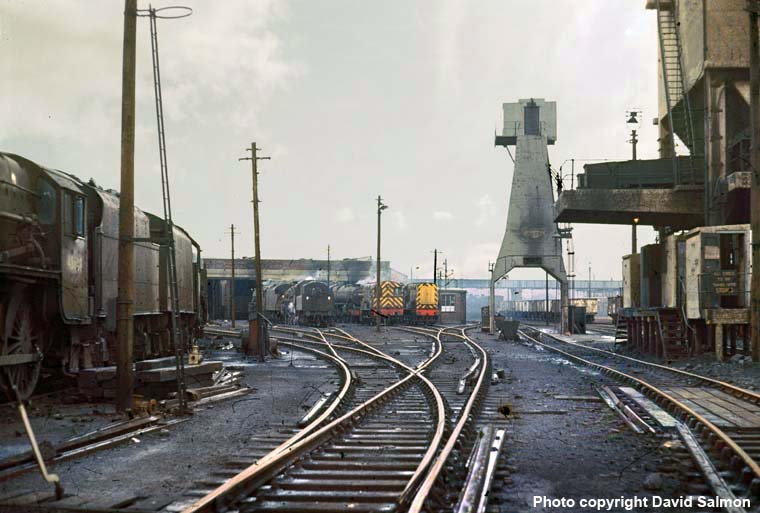 (Above-Below) View of Carnforth MPD on 22nd October 1967 with Stanier Class 5MT 45001.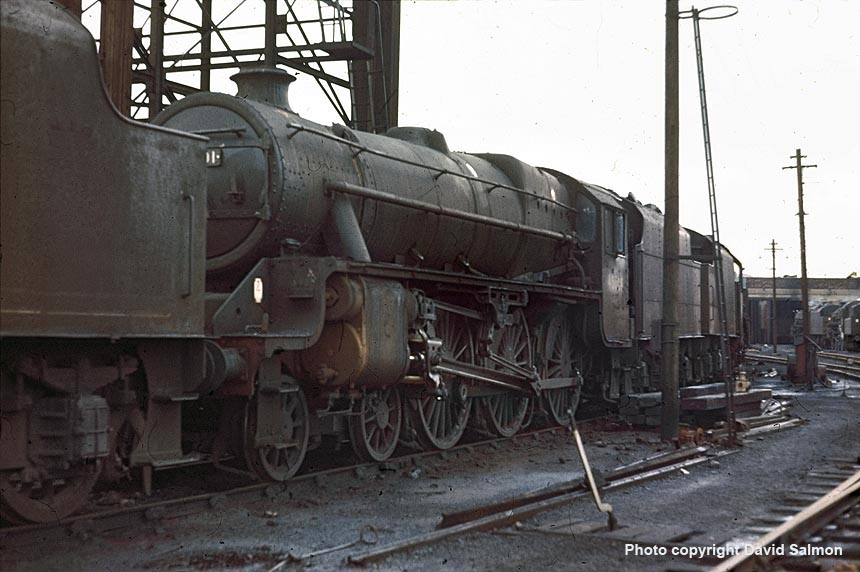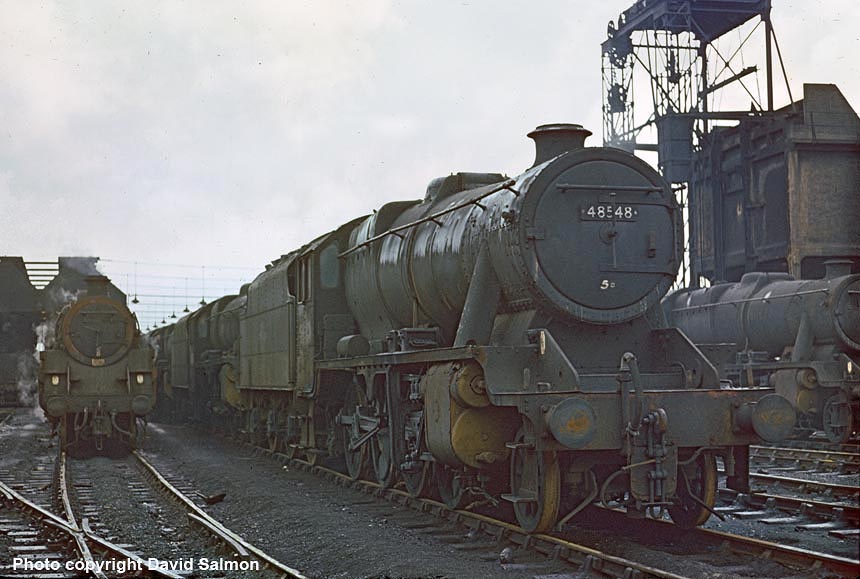 (Above-Below) Crewe South MPD on 25th June 1967, with Stanier Class 8F 48548 awaiting her next turn of duty whilst in the adjacent road is BR Standard Class 75073. It looks as if souvenir hunters have robbed the 8F of her smokebox shedplate now chalked 5D (Stoke) and 75073 has also suffered the same fate plus her smokebox numberplate is missing. (Below) A line up of locos at Trafford Park MPD Manchester including two Stanier Class 8Fs 48344 and 48454 on 8th July 1967.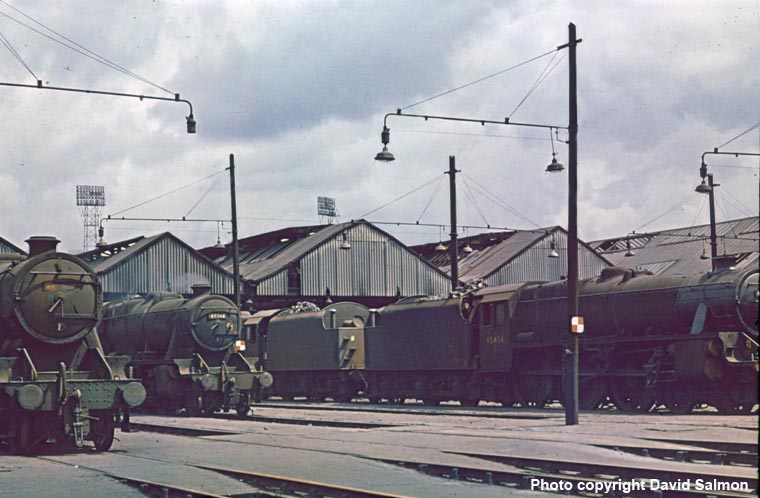 (Below) Links to two new pages: 'Southern Railmen Remember One & Two, both featuring a selection of colour photos from the David Salmon Collection of SR steam days.


Polite notice: All text and photographs are protected by copyright and reproduction is prohibited without the prior consent of the © owners. If you wish to discuss using the contents of this page the email address is below. Please note - this is not a 'clickable' mail-to link via Outlook Express. You will have to email manually.

dheycollection@ntlworld.com