'SOUTHERN ENGINEMEN REMEMBER 2'
by
Geoff Burch and Pat Kinsella

INTRODUCTION BY DAVID HEY

In the normal way I wouldn't muscle in at the start of anyone else's page, but I must make an exception in this case. Ex-Southern Region railwayman Geoff Burch and I have been working online together for some time now and between us we've managed to compile Geoff's 'Ramblings of a Railwayman' and 'Southern Region Railwaymen Remember 1'.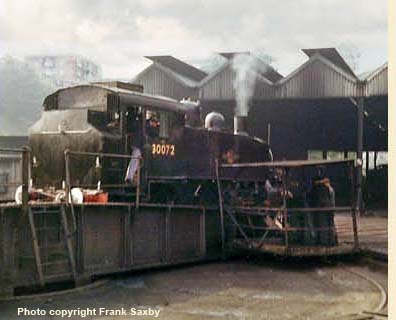 Since my knowledge of the Southern Region is limited Geoff's help has been invaluable; his affection for the subject is undeniable, and so too is that of Pat Kinsella, a colleague of Geoff's at Guildford Loco (70C) who kindly allowed Geoff to use his stories recording his own experiences (and that of others) whilst working on the footplate - and what stories they are! Every personal anecdote is ladled over the narrative with tongue in cheek humour and topped off with a liberal dose of homespun philosophy.
And I mustn't forget Dave Salmon's contribution; his colour slides of BR Southern Region steam during the Sixties are a fantastic reminder of bygone days long since gone. But then Dave is not alone. When I first saw Alex (Mac) McClymont's photos of steam days it reminded me of another great BR footplate photographer, my dear friend, the late Jim Carter - a man for whom the word doyen could have been coined. I consider myself fortunate to have had a long association with Jim. However, I never had the chance to meet Mac until recently...which brings me to the point.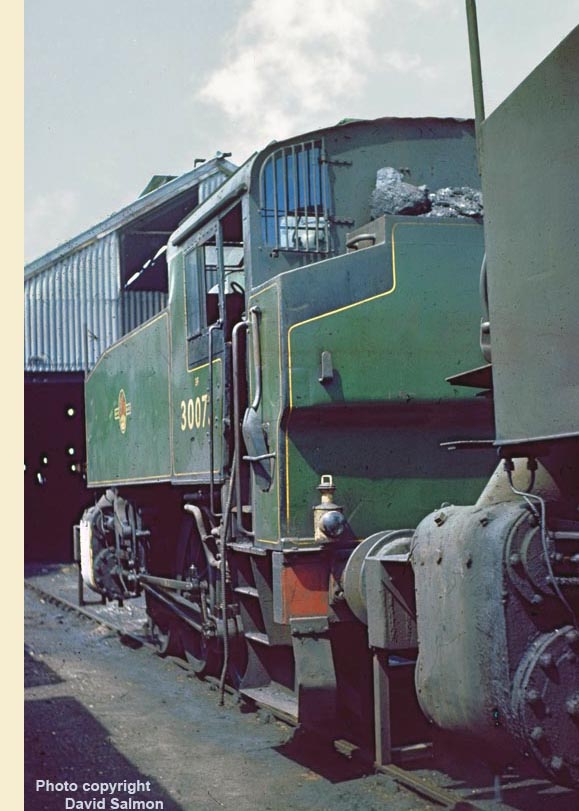 Having already worked together on a page about Southern Region railmens' memories, it was decided to do a second and third page and so we arranged to meet up at Leeds Railway station to discuss our plans further. Having agreed a date, Geoff then decided that both Mac and Pat would be joining us...now I'm not prone to a nervous disposition in the normal way, but having three professional railwaymen (now retired) traipsing all the way from Guildford to Leeds for a site meeting (in the literal sense) was somewhat humbling. But then, as I discovered on 20th July 2011 there was no needs to worry. After all, the worldwide web is a wonderful resource and it is through Geoff's emails, Pat's vivid writing and Mac's photography that I feel I have known each one of them for a long time.
So there I was in a meeting with an Irishman, Scotsman and Englishman exchanging playful banter over a few pints on the outside terrace at Weatherspoons...and what stories they had to tell! A second and a third 'Southern Region Railway Remember' page is justly deserved. Welcome to 'Southern Region Railmen Remember 2'...compiling this page has been both a privilege and a joy.

(Above Left-Right) Shunting engines for departmental use at workshops, loco sheds or employed for station pilot duties often received special treatment. The lamp irons, handrails and buffers of 'USA' tank 30072 at Guilford Loco has received a generous splash of white paint. (Right) This photo at Eastleigh shows 'USA' class 0-6-0T No 30073 in malachite green livery, with yellow and black lining, BR crests on the watertank sides and numbers on the cab sides. Withdrawn from traffic at Guildford shed on 31st July 1967 30072 is now among four 'USA' tank locos preserved, the other three being 30065 and 30070 plus another ex-Guilford loco No 30064. The USA tanks that worked Southampton Docks were replaced by BR Class 07 diesel-electric shunters in 1962.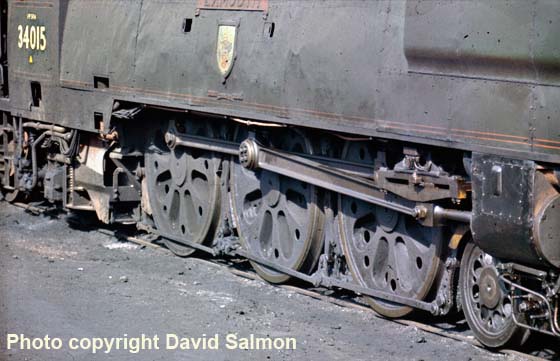 (Above-Inset Left-Below) Designed by Bulleid, the first light Pacific class was named after the towns and regions served by Southern Railway in the West country - and like the naming policy of the earlier 'Schools' class 4-4-0s introduced in 1930, the 'West Country' (WC) class names were a huge success. Many locos sported an additional plaque depicting the coat of arms of the particular town or region. This plaque was mounted on the casing between the gunmetal locomotive nameplate and the WC class scroll above the middle driving wheel. This shot of No 34015 Exmouth was taken at Guildford shed. Built in November 1945 No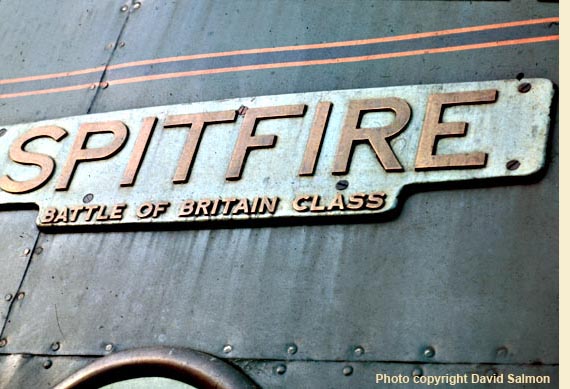 34015 was withdrawn in April 1967. (Inset Left) Following on from the WC class, the remaining 44 light Pacifics were named after RAF squadrons, famous airfields and aircrafts that participated in defeating the Luftwaffe in the Battle of Britain over the south of England. With the co-operation of the Air Ministry, the 'Battle of Britain' class names incorporated an enamelled crest of the aircraft, personality or squadron, mounted beneath a nameplate resembling the wings of an aircraft. Fast-forward to the mid-Sixties, however, and the demise of steam was gathering pace at a rapid rate and steam loco nameplates shot up in value, hence many nameplates were removed from surviving locos to prevent theft, but David 'Sam' Salmon grabbed the opportunity to photograph No 34066 on 11th July 1965; the RAF blue background can be clearly seen. This loco was built at the SR's Brighton Works in September 1947 as No 21C166 and named after Mitchell's famous fighter aircraft powered by Rolls Royce Merlin engines; the Spitfire is synonymous with the dogfights in the skies above southern England. Renumbered 34066 by British Railways, the loco remained unrebuilt throughout its career but ended its days at Salisbury shed in September 1966. BR presented most of the nameplates to the Royal Air Force, including 34066's which was mounted on a varnished board and presented to RAF Bentley Priory. Following closure of the RAF station, the commemorative plaque was retrieved by the Royal Air Force Museum and a total of nineteen Battle of Britain class locomotive nameplates are now stored there. (Below) Unrebuilt Battle of Britain Class 34066 'Spitfire' prepares to leave Bournemouth Central station with a stopping service for Waterloo on 25th July 1966.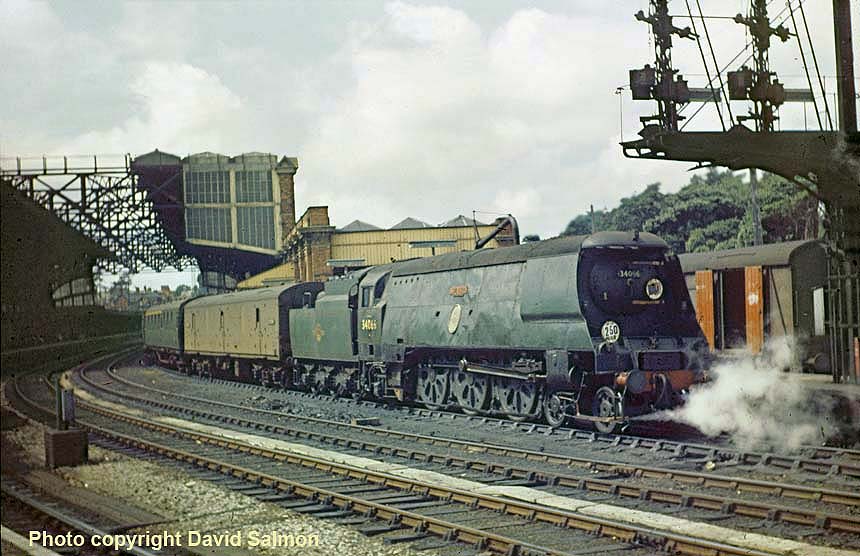 Firing School
by
Pat Kinsella
When reaching the tender age of sixteen years, cleaners were booked to attend the Firing School as soon as it could be arranged. This was looked upon with knee knocking trepidation, primarily because of the fear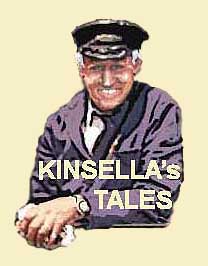 of failure and secondly because being passed out for firing duties changed your world dramatically. It meant that your 'Lord and Master' was your Driver, who became the kingpin both on and off the loco and was responsible for everything you did.
Perhaps what made it worse for me was my Irish roots; I still had a distinctive Limerick accent in those days that became the butt of numerous jokes, so the fear of failure was the more poignant since I felt a need to prove myself more than the others.
Our Firing School was held in the old Orphanage Hut at Guildford, adjacent to the builder's yard and coaling stage. It involved a fortnight of intensive classroom work with just a couple of hours engine disposal, but because the curriculum didn't include any 'preparation' or 'running work' perhaps a day or two acting as 'third man' on the main line would have been advantageous. Our instructor was Mr George Bolland, whose job it was to mould his class of reprobates into absorbing the school's ethos on firing duties and demanded our full attention in class at all times....continued below.

(Below) Unrebuilt West Country Class 34006 'Bude' simmers in the Back Road at Guildford (70C) whilst the fireman gets the coal forward. Standing behind the locomotive are a couple of empty coal wagons and a couple of wagons destined to be loaded with ash and clinker; Frank Mitchell the resident shed labourer stands nearby. To the left of the photograph is a brick walled enclosure which contained pebbles - these were spread on the firebars to help guard against clinker adhering to them. The coalman's hut was situated just behind the enclosure. At the top of the photograph, the wooden Orphanage Hut is clearly visible - most of the firing school classes were held there. Two 2HAL Electric Units are stabled in the Up Yard Carriage Road awaiting the evening rush hour.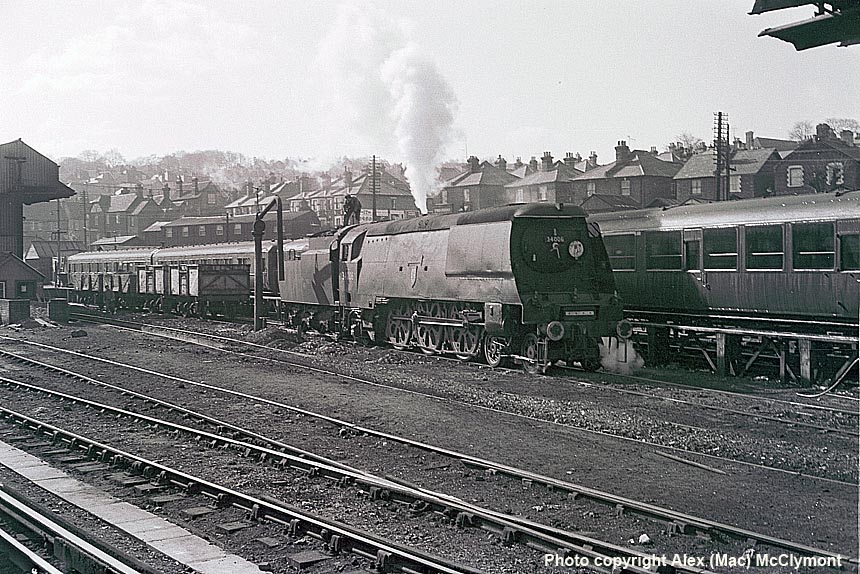 Back at the Firing School the format was first and foremost - the Rule Book, starting with Rule 55 - 'Protection and to remind the Signalman of the position of your train'. Okay, it was nice and neat in the classroom, but in practice it could be an entirely different kettle of fish. The second rule instilled into us was detonator protection after a mishap or derailment especially when the opposite line or lines are blocked. This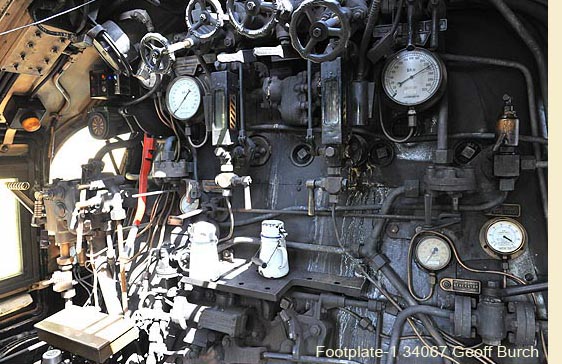 included an assessment on which lines to protect in the event of multiple lines.
After that came rules 179/180 which involved setting detonators, one at a quarter of a mile, one at a half a mile and three at least three quarters of a mile ten yards apart. And if not sure of the distance then count the telegraph poles - eight poles to a quarter of a mile! And don't forget to set detonators at both ends of tunnels and at junctions.
Signalling recognition was obviously very important, which led us onto the complex subject of passing signals at danger. What is little known is that Drivers were allowed 13 exceptions to ignore a stop signal, and each one had to be thoroughly memorised. There were 11 propelling movements permitted by Drivers, and in order to remember these we used the abbreviations 3 'As', 4 'Bs', 'S', 'O', double 'P'. We learned about Single Line Working, Wrong Line Orders, Hand Signals and Whistle Codes for shunting purposes that gave us a headache. All this sudden responsibility being heaped onto young shoulders was quite alarming and I was relieved to move onto the theory of firing duties for a change...
'What is smoke?'
'Smoke is the unburned carbon particles in the coal, Sir.'
'What is steam?'
'Steam is an invisible elastic gas with great expansive properties, Sir...'
'And Combustion?'
'Combustion is the consuming by flame of the volatile gasses released by applying heat to the fuel and is brought about by the rapid chemical combination of the carbon in the coal with the oxygen of the atmosphere...'
Bloody hell!I spent all evening learning that last one and he never asked me it!Bugger!...and to cap it all I was the only one in the class of twelve that bothered to even learn it.Bugger again!
Next came a discussion on tools, lamps and fire irons as required on locomotives, easy enough to remember but not so easy to acquire in practice. An engine being prepared after a washout period would certainly be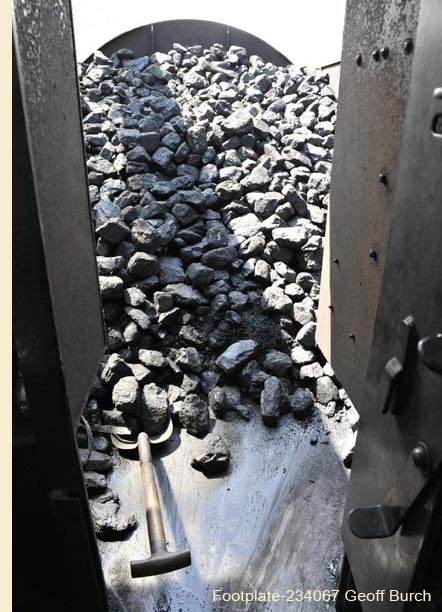 devoid of all tools, so a fireman would have to 'rob' other locos nearby. In the event of an engine being prepared for duty later in the day it was necessary to lock its tools away in the tender locker with a BR 1 lock to avoid them being plundered.
Coal should only be the size of a man's fist.What a hope!In practice you often got lumps of coal weighing about 1cwt stuck in the hole on a 'Bulleid'.
Anyway, after passing out as 'passed cleaners' we were deemed trained enough to be handed over into the charge of various Drivers when required. As far as I was concerned it was a pretty concentrated course and was glad when it finished.
Ironically, after passing out for firing duties and eventually some years later 'going in for driving' (a fireman had to be at least 23 years of age before they could drive steam locomotives) we had no instruction at all. Everything for driving had to be learnt in our own time and from experience gained.
A driving exam consisted of a medical in advance, followed by the rules and locomotive knowledge which were combined in a one-day exam, then a one-day practical exam that consisted of, in my case, about an hour and a half driving. My charge was the 10.54am from Waterloo to Basingstoke with unrebuilt Pacific Battle of Britain Class 34064 Fighter Command for the outward trip and a BR 5MT Standard on the 1.13pm stopping train from Basingstoke to Waterloo as far as Woking for the return. After our successful arrival at Basingstoke I was instructed to have a drink and report on the up slow platform for the 1.13pm to Woking.
The Examiner put me in charge of the Basingstoke Driver and asked him to keep an eye on me telling him - 'Pat's alright...let him have a go to Woking. I'm going back into the train to check on the horses...'
Stepping off the engine at Woking my 'Examiner' alighted from the train and informed me that I had passed and could go back to depot and tell the list clerk that I was available for driving duties straight away and the paperwork would follow...
Phew! What a relief.Obviously, in those days our firing experience was taken into account when we underwent our Driver's exam.
BR SOUTHERN REGION GALLERY
by Alex (Mac) McClymont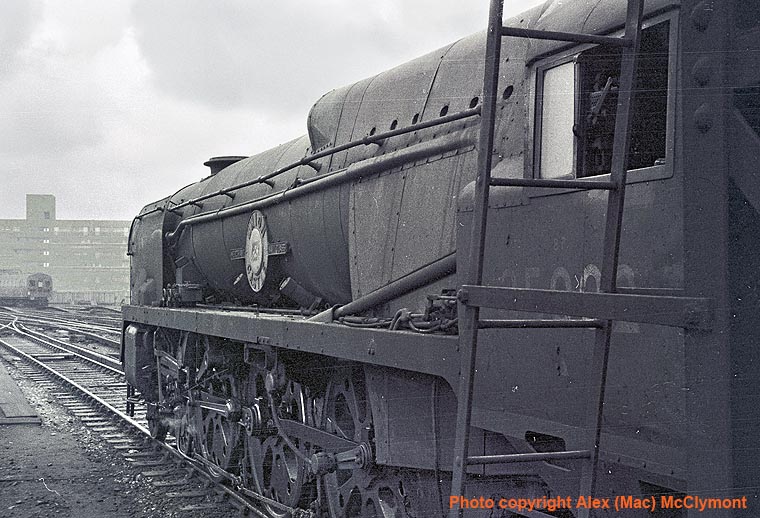 (Above) Bulleid's rebuilt Merchant Navy Class 35002 'Union Castle' gets ready to leave Waterloo on 15th June 1962. Originally numbered 21C2 she was one of 30 Pacific locomotives of this class originally built with air smoothed casing. Rebuilt in 1958 this Class 8P was the most powerful of the Bulleid Pacifics. Because of the SR's close connections with the boat traffic the thirty locos were all named after famous shipping lines (at the suggestion of the then Chairman of Union Castle Line) hence the 'Merchant Navy' designation. With a firebox grate area of 48½ square feet they were a magnificent locomotive to fire. During preparations at Nine Elms the firebox would be filled to the brim to such an extent, the fire would be rolling out of the firehole door. In the background, a 1936 4SUB with tail lamp attached can be seen working out of Waterloo (Windsor Side) either on a 'Round the World' train (Waterloo (W) - Waterloo (M) via Kingston, or else it could be a 'Round the Loop' working which was a train that went from Waterloo (W) - Waterloo (W) - Waterloo (W) via Hounslow.

Following the success of Geoff Burch's first book 'The Ramblings of a Railwayman' published in 2011 - the 1,000 copies sold out very quickly! Geoff has decided to self-publish a fully revised 2nd edition, lavishly illustrated with many previously unpublished photographs kindly supplied by Peter Trinder, the late Dave Salmon and Richard S Greenwood MBE. Even though the production costs of a revised 2nd Edition have increased, Geoff has decided to keep to the original price of £20 a copy. However, only a limited number of books will be printed and each one will have a hand-embossed 'Rambling Railwayman Books 70C' crest on the inner cover (with the Author's signature if required) which will make each one especially unique. The book will become available in early April 2016, however demand is expected to be high, so it is advisable to pre-order your copy to avoid disappointment.
Please contact Geoff via his email address: ramblingrailwayman@gmail.com for further details.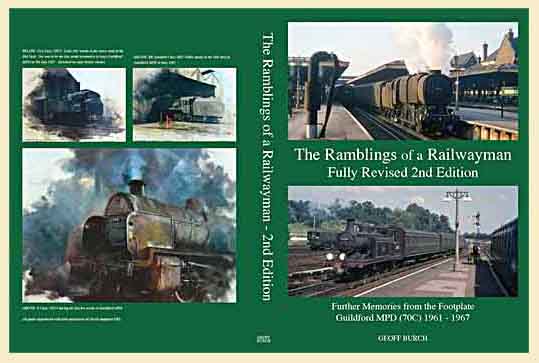 (Below) Rebuilt Merchant Navy Class 35025 'Brocklebank Line' is about to run through platform 3 at Woking with an Up Express from Exeter to Waterloo as BR Standard Class 5MT 73119 'Elaine' waits to leave platform 2 for Waterloo with the 12.12pm ex-Basingstoke stopping service on 16th June 1962. Platform 1 (the Up Bay) was situated to the right of the barrows parked on platform 2.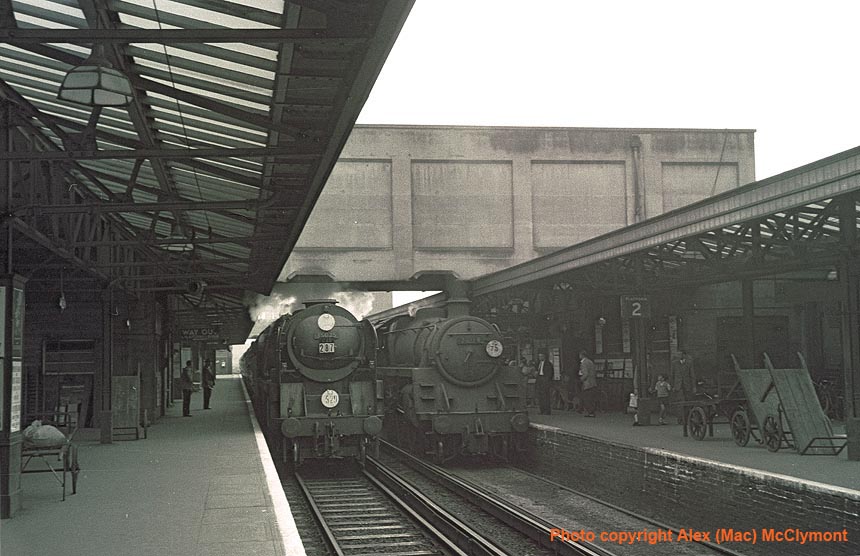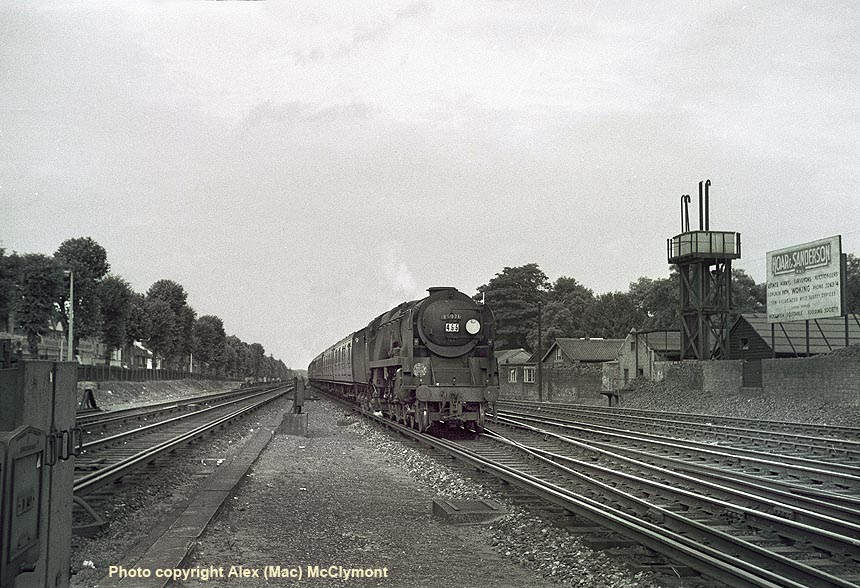 (Above-Below) Rebuilt Merchant Navy Class No 35021 'New Zealand Line' approaches Woking with a Waterloo-Bournemouth express on 16th June 1962. On the right are offices that made up the 'nerve centre' of the running trains of the South Western Division. Aptly named 'Control' during the Second World War years, in the event of an air raid by the Luftwaffe the staff continued their work in office facilities provided below ground inside a concrete air raid shelter. Along the edge of the wall can be seen a vast amount of coke to feed the boiler house that served to heat the offices. This was systematically shovelled by hand through an opening in the wall next to a short platform. The water tower for the heating system is situated above. A stop block that protected the Up local line from number 1 platform (Up Bay) can just be seen on the left of the photograph. (Below) Waterloo Station and Rebuilt West Country Class 34005 'Barnstaple' waits on the blocks for the train to be released so she can run light engine to Nine Elms MPD for disposal. The headcode discboards suggest she's just worked Spl 31; a Boat Train from Southampton New Docks. 34005 was among many of the light Pacific West Country and Battle of Britain classes to be rebuilt in 1957. .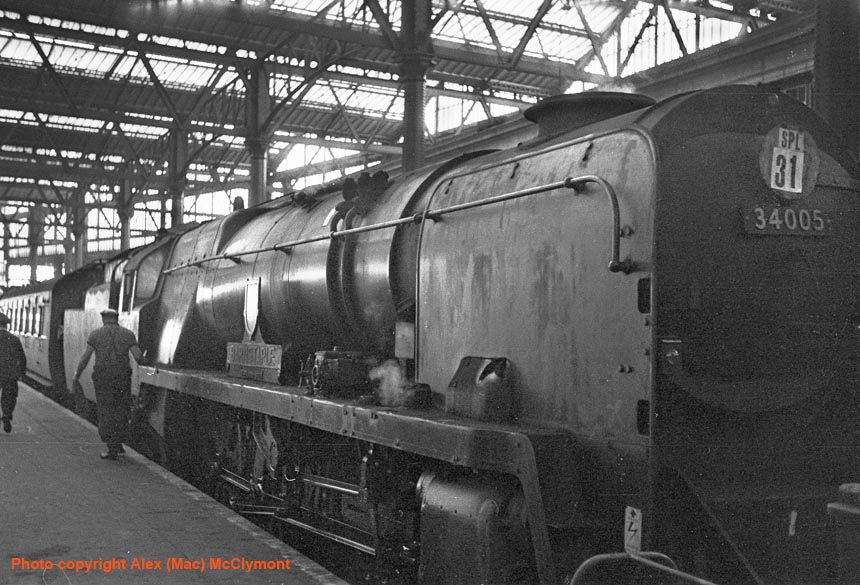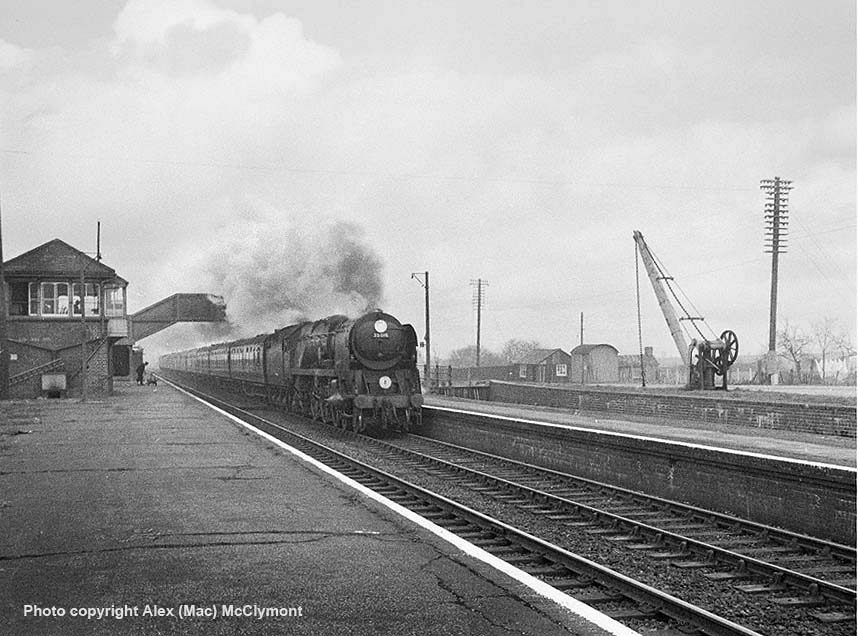 (Above-Below) Rebuilt Merchant Navy Class 35016 'Elders Fyffes' heads through Grateley station for Salisbury and then Exeter with the 3pm Express service from Waterloo. It was customary for the 2.02pm stone train empties to be put back inside to await the passage of this prestigious train. Grateley signalbox can be seen on the Up platform along with a solitary crane in the dock beyond the down side platform. (Below) On the same day, an Up stopping passenger train is headed by Rebuilt West Country Class 34016 'Bodmin'. The semaphore signals at the Country end of the platform are for the main line and the branch to Amesbury and Bulford Camp. To the left is The Railway Hotel (now called the Shire Horse Pub) and was used by the crew of the two BR Standard Class 5MT locomotives during a stop at Grateley on their final journey from Guildford to Salisbury on Sunday 9th July 1967.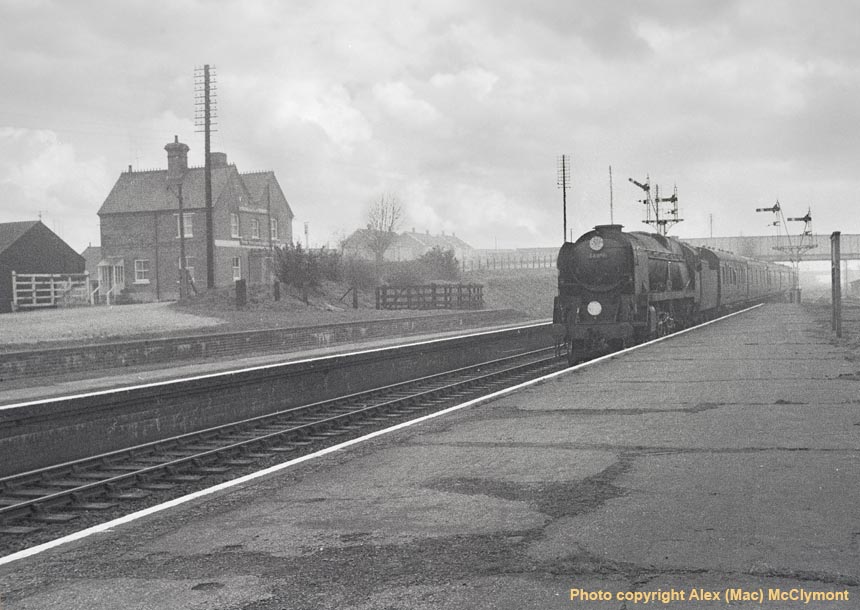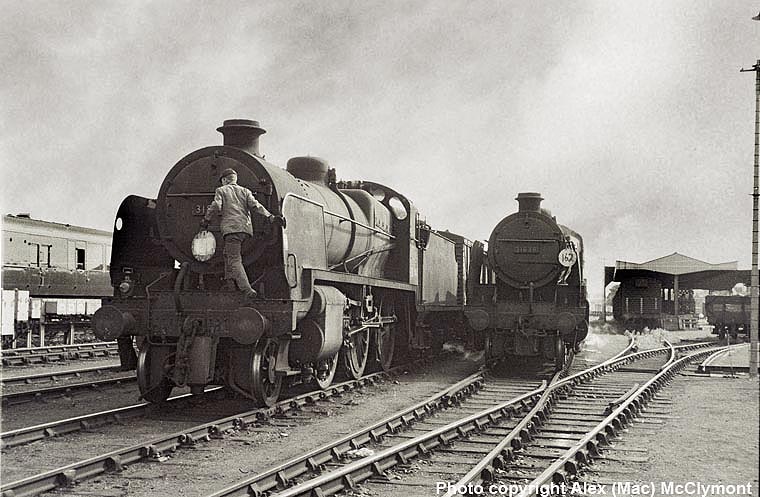 (Above-Below) The fireman on N Class 31844 is about to affix a disc board to show the train's headcode whilst U Class 31638 waits to work a freight train from Woking Down Yard to Basingstoke. (Below) Rebuilt West Country Class 34028 'Eddystone' at Nine Elms waiting to run light engine to Waterloo to work the 6.9pm passenger train to Basingstoke - a prestigious Guildford Top Link turn. 34028 was one of the first Bulleid light pacifics to be rebuilt in August 1958 and was then transferred to Bournemouth where it worked services over the main line between Weymouth and Waterloo. She was also a regular performer on the Somerset and Dorset route to Bath. During this period 34028 was often photographed on the most famous of the S & D trains, the Pines Express. In September 1962 she was transferred to Eastleigh MPD and in April of the following year it worked a Southampton FA Cup special through to Birmingham Snow Hill. In May 1964 34028 had the dubious honour of being the first rebuilt Bulleid Light Pacific to be withdrawn from traffic. She was towed to Woodham's scrapyard at Barry where she awaited her fate for the next 22 years. She is now fully restored to her original glory residing on the Swanage Railway.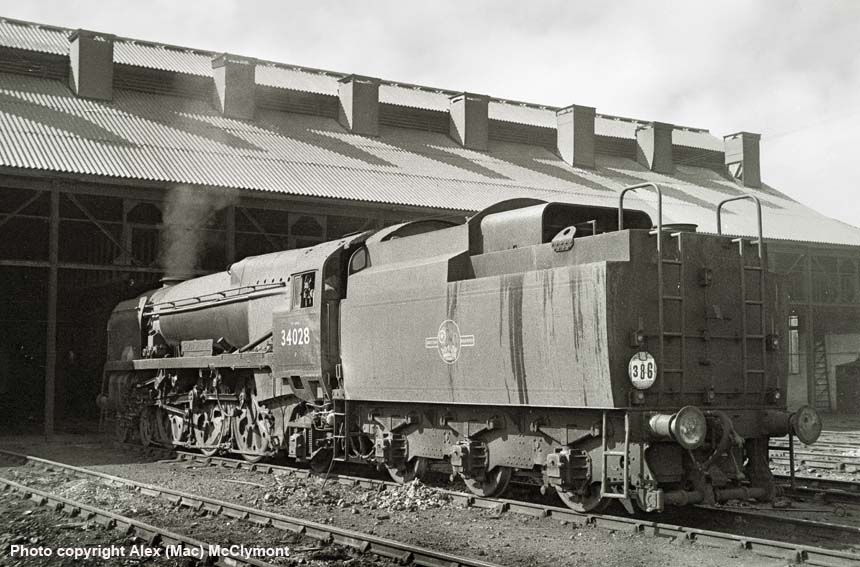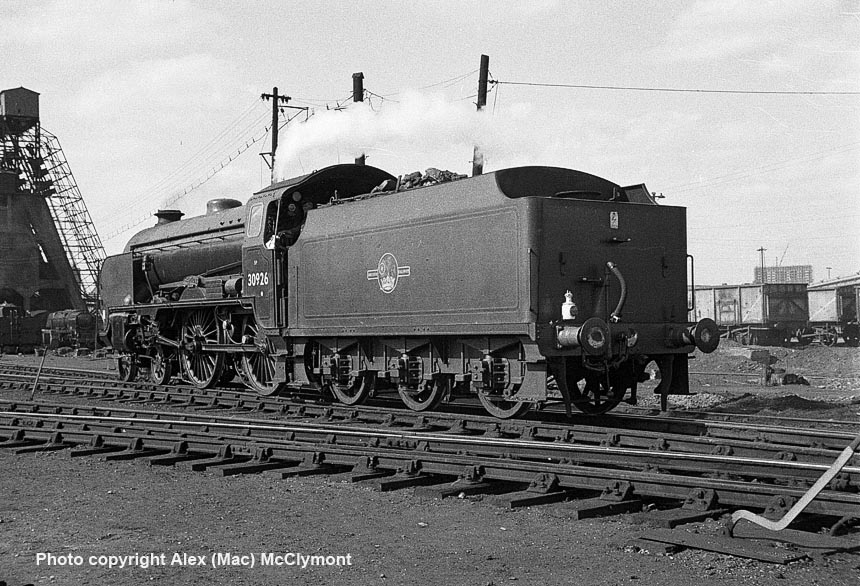 (Above-Below) V Class 'Schools' 30926 'Repton' waits to leave Nine Elms in 1961. One of 40 of the class designed by Richard Maunsell, they were the most powerful 4-4-0 locomotive built. Another successful publicity campaign by the Southern Railway when named from 1930 onwards, they represented the public schools of the south of England, initially due to their proximity to the railway that served them. The class naming process consisted of pupils attending these schools visiting "their" engine during the naming ceremonies. 30926 is now preserved and resides on the North York Moors Railway. The 'Schools' Class were a particular favourite of mine when I first started my apprenticeship as a fireman as three of them were shedded at Guildford. 30903 'Charterhouse', 30906 'Sherbourne' and 30909 'St Paul's', which incidentally, was the first locomotive I helped to clean on my first day at work on 4th April 1961.(Below) Rays of sunlight stream through the shed roof onto an assortment of locomotives stabled in Nine Elms depot in 1961; they include a rebuilt Merchant Navy Class 35027 'Port Line', GWR Pannier Tank 4681, E4 Class 32487, BR Standard Class 5MT 73110, and finally another unidentified GWR Pannier Tank.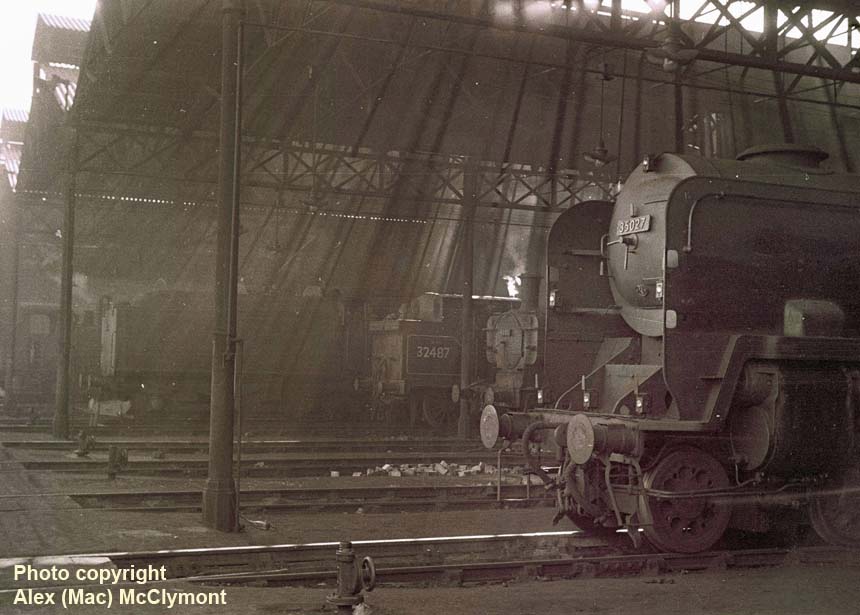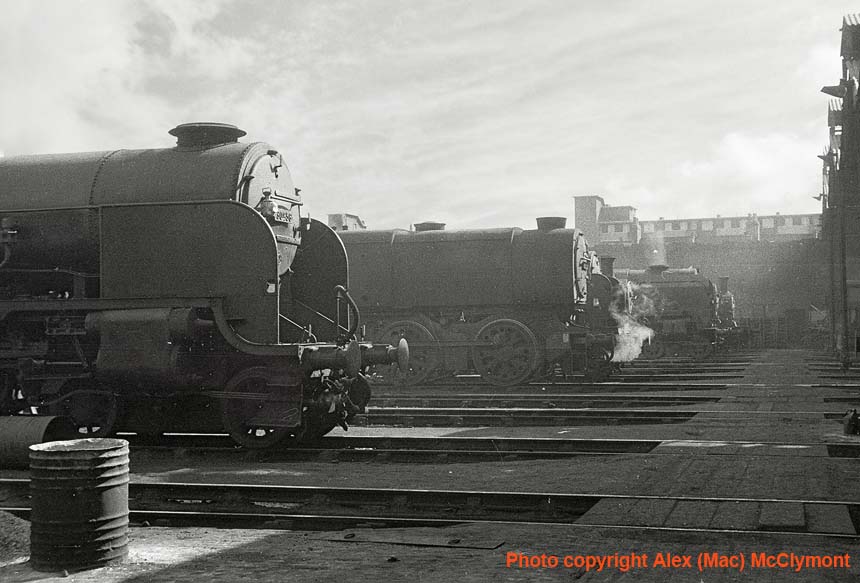 (Above-Below) Another line up of locomotives at Nine Elms depot in 1961 - in the foreground is LN Class 30856 'Sir Francis Drake' - next is Q1 Class 33008 and then an unidentified M7 Class, Rebuilt West Country Class and finally another M7 Class.(Below)1966 and the Bournemouth electrification scheme is in full swing with engineers occupation of the Down Fast and Up Fast lines between Brookwood and Basingstoke. On the Up Local line, a passenger service from Salisbury rushes by with Rebuilt Battle of Britain Class 34056 'Croydon' in charge.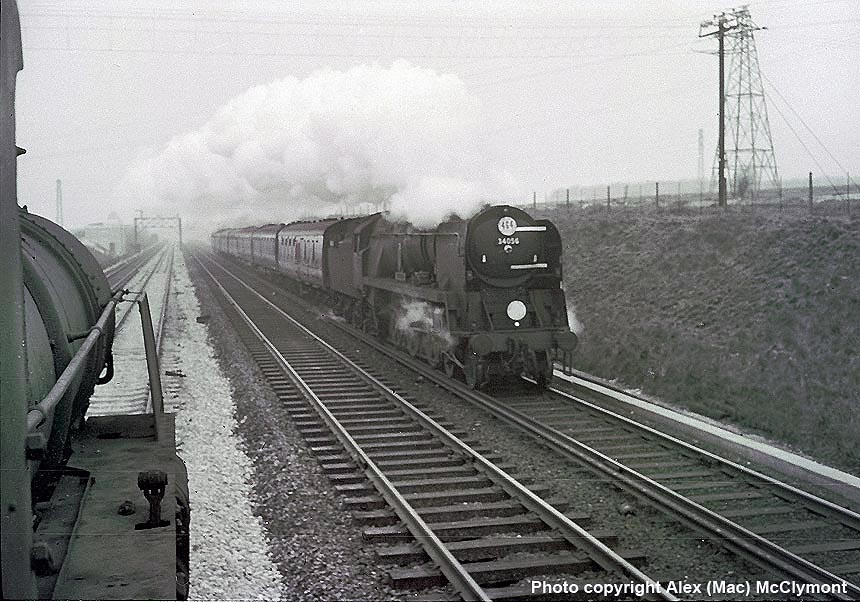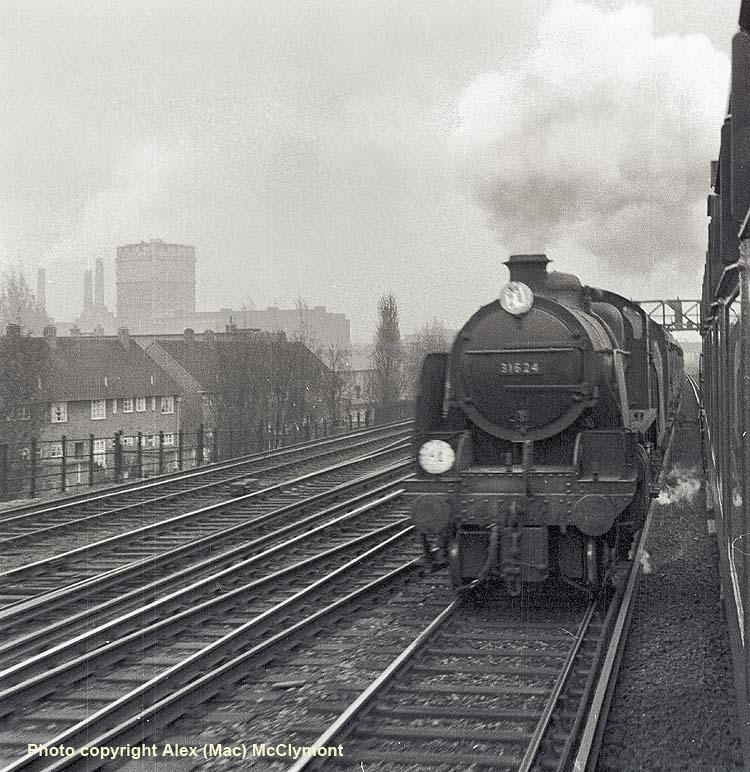 (Above-Below) U Class 31624 is about to pass Mac's train between Queens Town Road and Clapham Junction as she works a set of empty coaching stock (ECS) from Waterloo to Walton via Brentford and Weybridge to be berthed in the sidings at Oatlands. The four chimneys of Battersea Power station can be seen in the distance (Below) Photo taken from the footplate of BR Standard Class 5MT 73029, an Up Bournemouth passenger service headed by Rebuilt West Country 34095 'Brentor' approaches Basingstoke on its way to Waterloo. Just behind the tender of 73029, a DMMU is also waiting departure from the Up sidings. On the far side of the photograph, Basingstoke Yard box can be seen and beyond that, an assortment of wagons destined for Eastleigh Yard.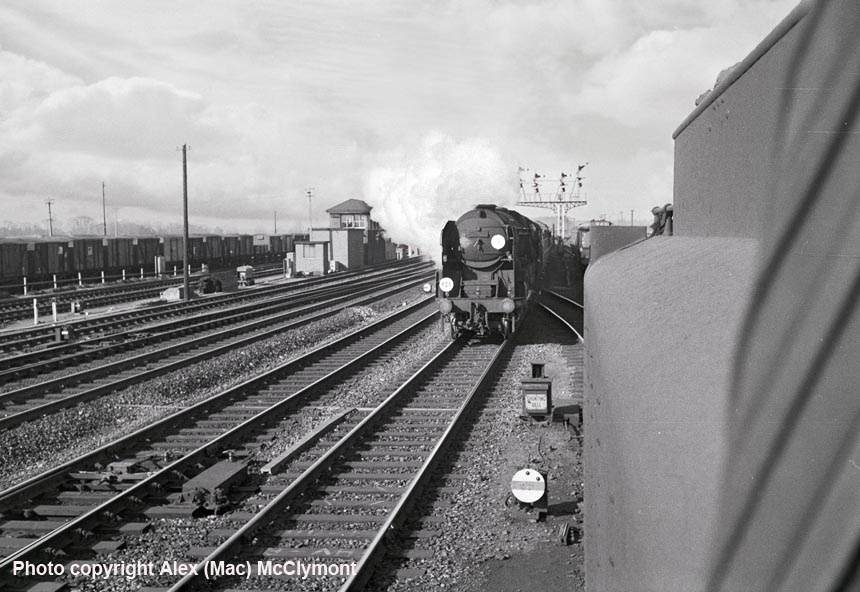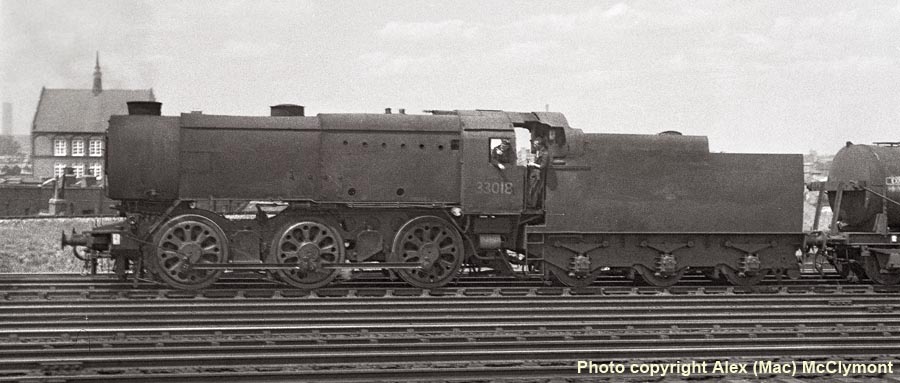 (Above-Below) Class Q1 33018 heads the Milk empties from Waterloo to Clapham Yard on the 15th June 1962. The loaded milk tanks would have been emptied the previous night at Vauxhall station where United Dairies had a bottling plant. Loaded milk trains would have started their journey at Torrington and were unloaded at two other places besides Vauxhall - one at Kensington and the other adjacent to the London Transport terminus at Morden. (Below) Class LN 30856 'Lord St Vincent' works a mixed freight through Basingstoke from Eastleigh on its way to Feltham in 1961. One Lord Nelson Class 30865 'Sir John Hawkins' had the crank setting adjusted to give the normal four exhausts per revolution of the driving wheels, the others of the class giving eight blasts. Either way, its 33 square foot firebox grate area, which sloped away half way down, wasn't easy going for the fireman.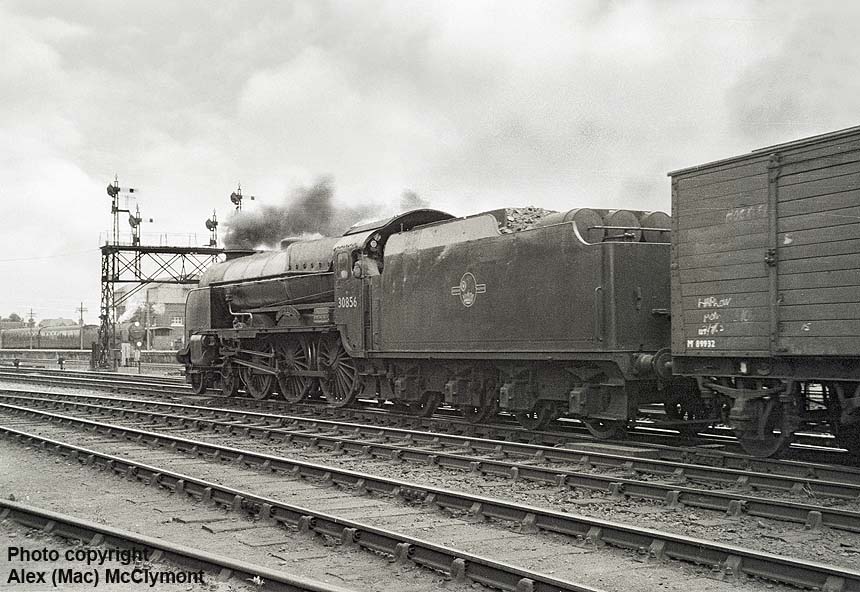 (Below) BR Standard Class 5MT 73112 'Morgan Le Fay' (nameplate originally belonging to King Arthur Class 30750) passes Weybridge on the Down Through with a passenger service from Waterloo to Bournemouth. The brick pillars on the right of the photograph held up the offices of Mann & Co an Estate Agent's office - hence the sign on the overbridge. The starting signal on the Up Through was quite unique for the area as it was of a lower quadrant design and on the right hand side of the track due to sighting problems. The white diamond sign on the signal post means that the signal is track circuited and if stopped at the signal, Rule 55 (Detention of trains on running lines) didn't need to be carried out unless detained for 'an unusually long time' such as ten minutes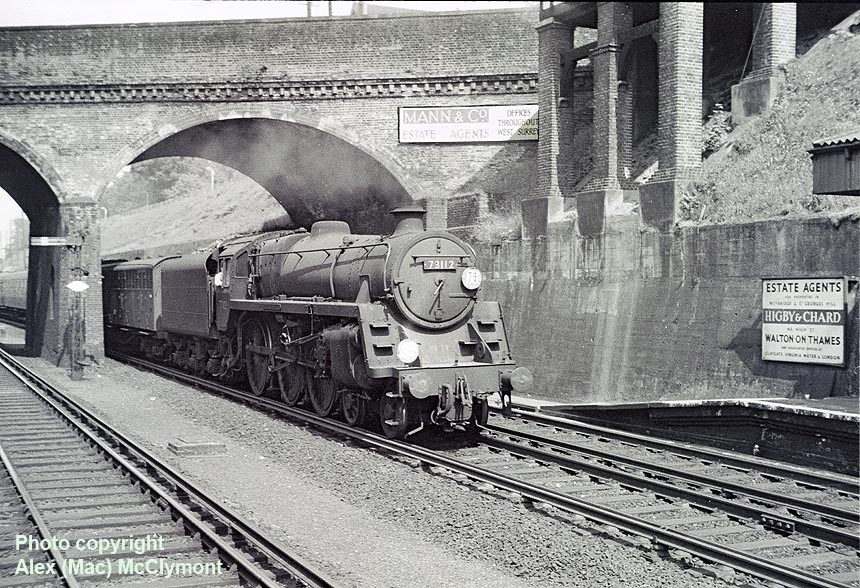 (Above) This shot of 1600/600hp Electro-Diesel E6013 was taken at Guildford Up Yard Carriage Sidings crewed by Driver Mick Sparrow and fireman Allen Mansbridge. The conductor shoes are down on the conductor (juice) rail waiting to work a freight from the Guildford Up Yard to Feltham Yard. The 600hp diesel engine would be used in un-electrified areas (or in Yards or Sidings) and once onto the main line, the conductor shoes would be lowered onto the conductor rail and electric power employed. Six Prototypes (JA) of this class were originally built in 1962 with slight differences and were painted green. They were a tremendous success and a further 43 locomotives built numbering E6007-E6039 (JB) painted blue. In the background, several 2-BIL Units are also berthed in the Up Yard Carriage Siding awaiting duties.

'GOOD OLD BOYS'
by Pat Kinsella
I consider it a privilege to have known and acted as fireman to a great many 'older drivers' and listened to their tales of what happened before, during and after both World Wars. It was not uncommon for some of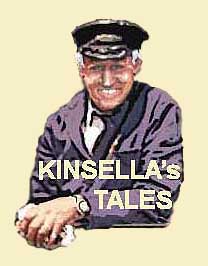 these men to have started their career on the railway prior to the 1923 'grouping' of the railway companies into the 'Big Four'. Indeed some men spent twenty five years or more 'on the shovel' before obtaining their drivers appointment. Some worked throughout two World Wars and experienced several industrial disputes including the 1926 General Strike, experiences which at times could have put their employment and homes in jeopardy.
When the First World War broke out, young men responded to the call of Lord Kitchener's poster campaign 'YOUR COUNTRY NEEDS YOU' and joined up for the military (inset Right). The recruitment was such a success that essential services such as those provided by the Southern Railway were robbed of key staff and as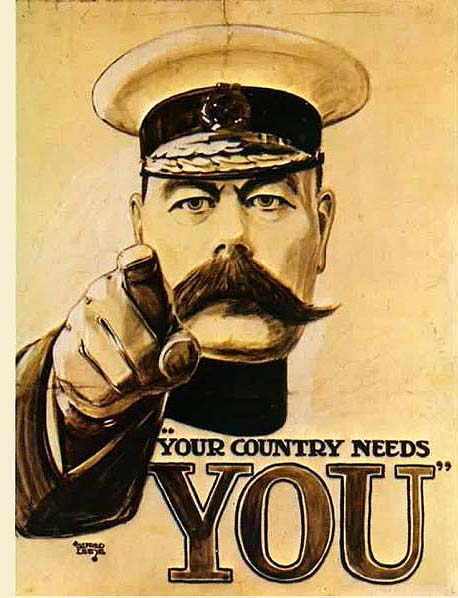 Train Crews and Signallers were increasingly in short supply it caused something of a crisis on the network.
This mistake was not emulated in Word War 2 however. People working in essential services were classed as being in 'Reserved Occupations' and only permitted to join the armed forces in exceptional circumstances. As a consequence many railwaymen were mistakenly regarded as 'Conscientious Objectors' and ended up being treated downright shabbily at times. I have heard stories of train crews, especially during the Dunkirk Evacuation, working twenty or more hours at a stretch and being refused refreshment at some of the tea stalls that were provided for the troops returning from overseas. There were even instances of railwaymen being sent a white feather which must have been deeply distressing for them and their families...
In an effort to stop this unwarranted condemnation, some railway companies minted a badge to be worn by employees which indicated that they were in railway service. The photo (Inset Below) shows one of these badges with the initials SR (Southern Railway) to indicate the company to which they were employed.
All in all, these veteran railwaymen succeeded in doing a tremendous job and tolerated so much hardship, and I have only the utmost respect for them. They were my tutors, along with others, on the art of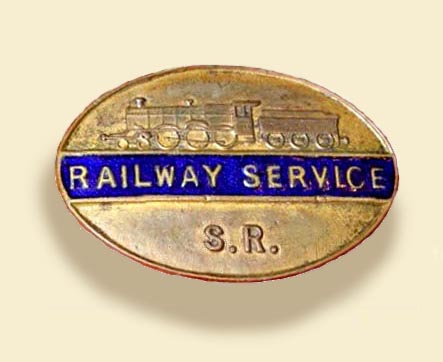 'firemanship'...and all were proud men in a respected profession.
Needless to say, by the time I started on the railway in 1957 many senior drivers were in their twilight years of service and closing in on retirement fast. Goodness knows what hardships they endured over the years and how those trials and tribulations moulded their characters. Some men managed to retain a 'boyish' quality whereas others developed a rather more serious attitude to their job, but on the whole the majority were quiet and thoughtful with a certain dignity about them...well, that is until something went wrong of course... and who could blame them for displaying, shall we say a little indiscretion at times?
One occasion springs to mind. I was booked as fireman to Fred Cole and we were rostered to work a special duty. This involved travelling as passengers to Nine Elms, preparing a locomotive before going light engine to Waterloo and working a boat train to Southampton Old Docks. Fred and I turned up for duty well turned out in clean overalls and serge jackets, although Fred being Fred, he had gone the extra mile with a collar and tie and highly-polished shoes.
Arriving at the 'Elms' we found our locomotive, WC class 34018 Axminster in splendid external condition with both nameplates clean and polished, but the footplate was in a deplorable state due to it being her first duty 'off shed'. We barely had an hour for preparation, so Fred dashed off to the stores for oil and I set about th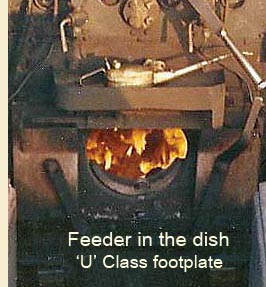 e task of finding the tools with a will, then made a start on preparing the fire and cleaning the boiler front and gauges glasses as best I could. Fred returned with the oil then filled up the feeder before standing it on the firehole ring (or dish...see photo right) for a few minutes to warm it up; in effect making the liquid more fluid. I began cleaning the windows and spectacle glasses and when the oil had reached sufficient elasticity Fred went underneath to lubricate the inside motions.
Had there been enough time I would have offered to do it for him, but as it was getting ever closer to our departure time, there were precious few minutes spare to do the job between us. As Fred climbed down into the heavily clinkered pit in his spotlessly-clean shoes, his grim expression told me that it did not cheer him one bit, yet he proceeded to lubricate the various parts until he reached the vicinity of the 'big end'. Stretching up he placed the feeder on the connecting rod then levered himself into position to replenish the oil reservoir. Unfortunately, as he struggled up into position he knocked the feeder off its perch and it jammed upside down between him and the connecting rod. Even worse, as there was no cap on the feeder, the hot oil spewed out all the way down Fred's freshly-laundered bib and brace overalls as though being pumped by an invisible force.
Alarmed at the 'f'-expletives emanating from beneath our locomotive, I jumped down to find out what had happened. Poor Fred, unable to free himself in time, finished up with almost the entire contents of the oil feeder down his front before he managed to escape into the pit. But being the consummate professional, he replenished the container and returned to oiling the underneath, albeit in the foulest of moods, muttering profanities to himself.
After all that, we managed to reach Waterloo in good time and set off for Southampton 'Old Docks' with the 'Cunarder' to rendezvous with the RMS Queen Mary as scheduled - and, as it turned out, it was a memorable trip. Ironically, Fred's incident had assisted me on our journey because although I had to shovel more coal than usual, 'Axminster' steamed better than ever due to being worked harder as Fred got his own back on our locomotive.
After Fred retired he was for a time a locker attendant at the Guildford Lido. I enquired of him would not the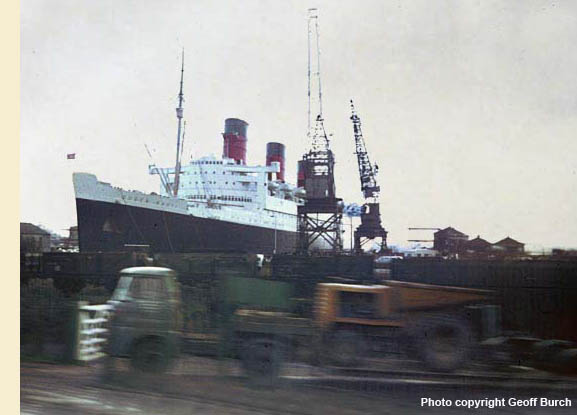 job be suitable for his old colleague George Boon?
'No!' he replied - 'You've got to have the right temperament for this job!
I think he was serious.
Good old Fred...

(Right & Below) It was always a thrill to work into both the 'Old' (East Docks) and 'New' (West docks) and pull up alongside those great liners. When some 'Cruise Liners' departed the docks a military band from the marines in full uniform used to play them away from the quayside. Geoff took this photo of RMS Queen Mary from a passing train at Southampton Docks in the mid-1960s. RMS Queen Mary was officially retired from service in 1967; the great ocean liner left Southampton for the last time on 31st October 1967 and sailed to California in America, where she now serves as a tourist attraction. The ship is permanently moored at the Port of Long Beach and listed on the National Register of Historic Places. (Below) Unrebuilt Battle of Britain Class 34064 'Fighter Command' has just returned from Southampton Old Docks to Eastleigh MPD after working 'The Cunarder' Boat train from Waterloo. The train would invariably be comprised of 1st Class coaches throughout. In 1962, 34064 was fitted with a Giesl ejector on the grounds that a desired spark arrestor would "suffocate" an ordinary blastpipe. It quickly became apparent, following some adjustment, that the ejector improved the locomotive design, and it was held in high regard by the train crews I myself had the good fortune of working this train twice with 34064; once where we prepared our own locomotive at Nine Elms and the other where we relieved a Nine Elms crew at Waterloo with the locomotive already on the train. I'll let you guess which trip went well and which didn't!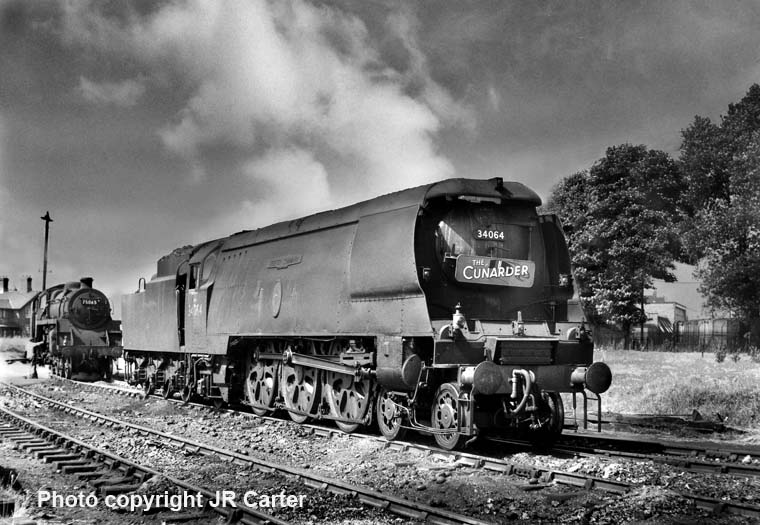 ON LOAN DUTIES
by Pat Kinsella
During the Fifties and Sixties there was a desperate shortage of locomotive crews at most London depots and their satellite sub depots. Consequently if a depot had crew to spare they would often be booked 'on loan' to cover this work. In the event it was not unusual for men at Guildford (70C) to be booked duties at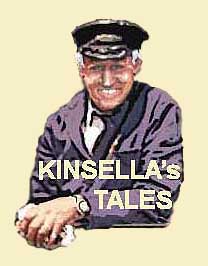 other depots such as Nine Elms (70A), and in these cases the men were allowed two hours travelling in each direction to and from Guildford. The same time was allowed for men on loan to Stewarts Lane (73A) or Feltham (70B), whilst the time allowed for Fratton (70F) and Basingstoke (70D) was one and a half hours with Reading Southern (70E) about the same. These hours were in addition to the length of the loco crews diagram covered by the 'on loan' driver or fireman, therefore most duties usually meant a twelve hour day - or, in some cases, if the diagram finished at the 'borrowing depot' after the last train had gone, then a fourteen hour shift was not unheard of.
Sometimes things could work in our favour though. On one occasion I was 'on loan' to Reading Southern. Now it has to be said that working over Western metals was a novelty I enjoyed very much, especially as we were in 'no man's land' so to speak, but I was always a bit apprehensive because mostly I had no idea who my driver was beforehand. For example, if I was with a driver with whom I had not previously worked, then it was difficult to ascertain his method of driving. Was he heavy handed or light handed? It made a significant difference to firing techniques.
Well, on this occasion there was no need to worry. My mate was a local Reading man by the name of Driver Bill Kirk whose knowledge of routes over some of the Great Western Lines was first class, and he gave me some very good advice on what was required of myself and the locomotive. Our duty entailed preparing a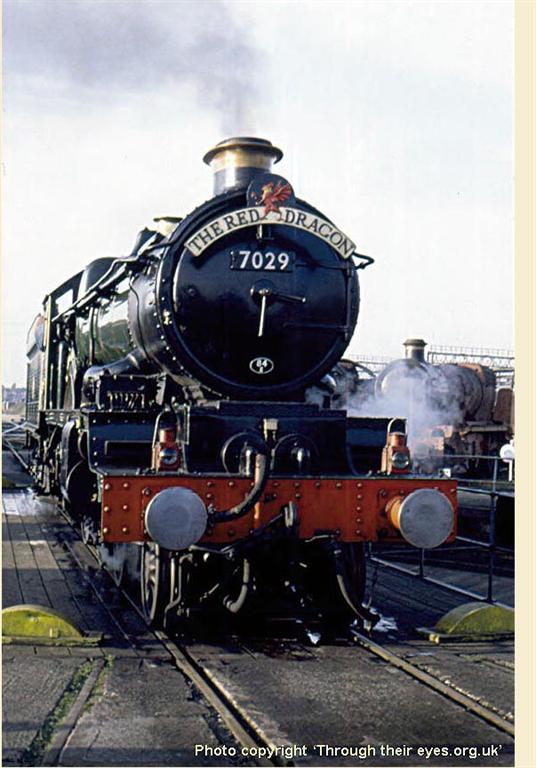 Bullied Q1 class, or 'Charley' by nickname, before turning her to go 'tender first' light to Morton Cutting near Didcot followed by a double trip back up to Reading West Yard with two freight trains, each comprised of sixty wagons. However, on arrival in Morton Cutting we were informed that both of our trains were already made up and ready to depart, so if we preferred, we could put both of them together and make just one trip of it. This entailed pulling forward and setting back onto the second half making a total of 60 wagons in all equal to 120. My driver agreed, since it meant an early day, so off we set on the up relief about mid morning.
Once the 'Charlie' had got the train up to speed the rest was fairly easy since the road from Didcot to Reading is exceptionally level with hardly any deviation in the 160 feet average above sea level, which is why the water troughs were strategically situated near Goring. Everything was going well when to my alarm Driver Kirk called out to me and gestured towards my side of the loco - 'Look back, look back!' he cried out.
Thinking he meant for me to examine our train my side I looked back only to see the 'Red Dragon' headed by a 'Castle' on the up main, gaining on us very fast, her train's name board proudly displayed on the smoke box door. What a sight she made as her fireman lowered the tender water scoop into the trough, displacing hundreds of gallons of water left and right, even up into the tender! Doing in excess of seventy, she passed us in great style, and with a brief wave from the fireman she was gone, the sound of her vacuum pump just audible above the roar from the chimney.
Being a rooky teenager I was staggered by the excitement of it all, especially this senior fireman saluting me a fellow engineman! The speed, the noise the whole experience left an indelible impression on me which has lasted to this day. My driver must have seen the excitement on my face because he grinned broadly from ear to ear.
On arrival in Reading West Yard we detached and ran light to the 'Southern' depot. Then after a quick disposal I was on my way home a couple of hours or so earlier than expected...and in truth, I so enjoyed the trip a repeat performance would have been most welcome...

BR SOUTHERN REGION GALLERY
by David (Sam) Salmon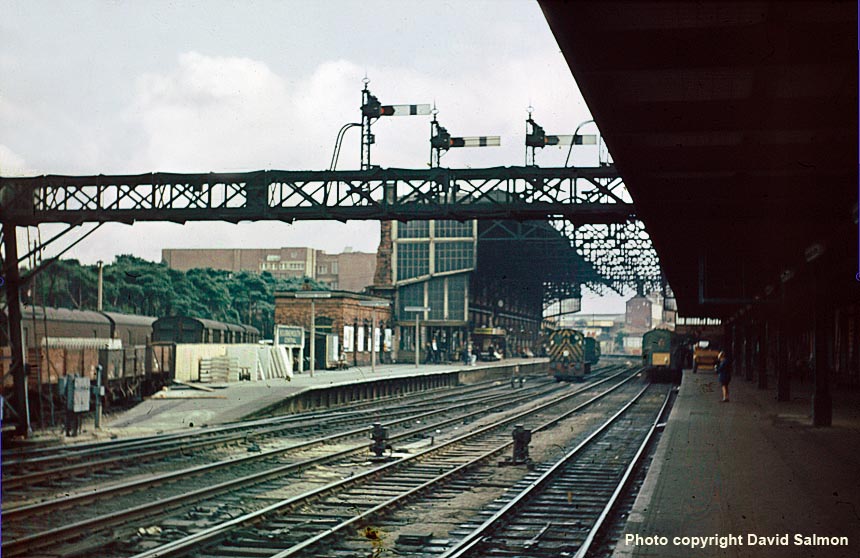 (Above-Below) In this July 1966 photo the 'Through Roads' at Bournemouth are still intact; a Hampshire Diesel Unit (DMU) waits in the down platform as a Drewry shunter uses the Up Fast line to 'run round' some parcel vans on the Up Slow Line. The semaphore signalling is still in place and there are signs of progress to the Bournemouth Electrification Scheme that commenced the following year - new concrete panels and troughing being unloaded at the end of the Up platform. The station was renamed Bournemouth Central on 1 May 1899, but following closure of Bournemouth West became Bournemouth on 10 July 1967. By 1967 third rail electrification had reached Bournemouth and continued beyond to Branksome and Bournemouth Depot but no further. Following the end of steam, most trains were formed of 4REP EMUs coupled up with one or more unpowered 4TC units. The 4TC units would be uncoupled at Bournemouth and attached to a Class 33/1 diesel for the onward journey to Weymouth. This continued until the electrification of the line from Branksome to Weymouth and the introduction of Wessex Electric units in 1988. The end of steam also saw the removal of the station's centre tracks which ran between the up and down lines serving platforms 2 and 3 respectively. (Below) The fireman pulls the points to allow Rebuilt Merchant Navy Class 35008 'Orient Line' to leave the depot for her next turn of duty at Bournemouth on 25th July 1966. The headcode displayed suggests she will work the next passenger service to Waterloo. A sign saying 'Quiet Please -Residential Area' is displayed on the concrete fence at the back of the depot. Following demolition of the locomotive sheds the station car park is now located on this site.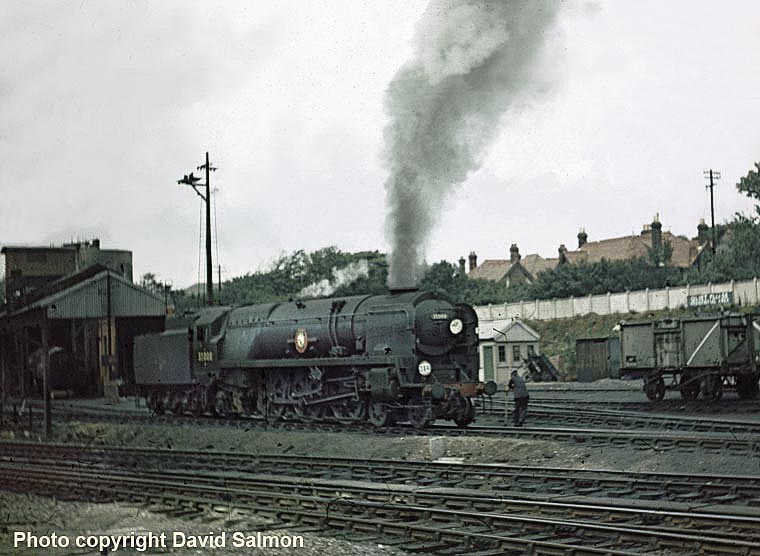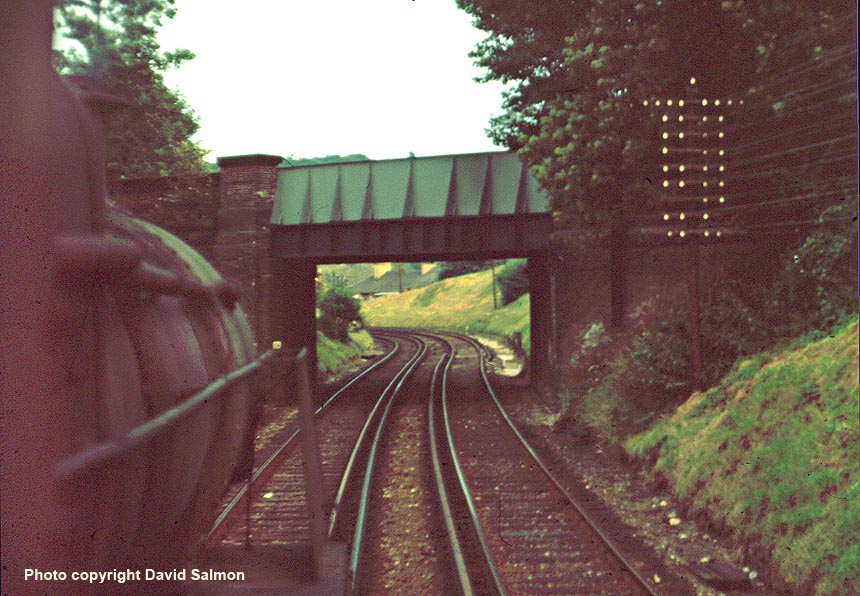 (Above-Below) N Class 31873 climbs Reigate Bank from Redhill with a parcels train; on the footplate are Driver Arthur Streatfield and fireman Geoff Ball, both Guildford men. It was folklore that if you could get up Reigate bank with a heavy train you could also ascend Dorking Bank and Pinks Hill Bank from Guildford to Reading. (Below) D2085 is about to haul away Rebuilt Merchant Navy Class 35011 'General Steam Navigation' (minus nameplates) BR Standard Class 4MT 76065 and BR Standard Class 4MT 76019 at Eastleigh MPD on 11th June 1966. 35011 was saved from the cutter's torch and is currently undergoing restoration. She is regarded as the only steam locomotive to bear the word 'steam' in the name.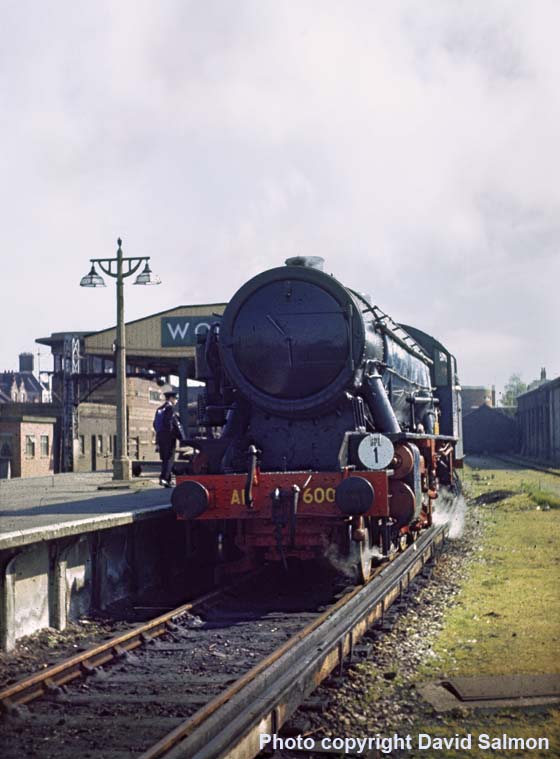 (Above-Below) WD Class 600 'Gordon' stands in the Down Bay Platform 6 at Woking awaiting the arrival of the RCTS 'Longmoor Rail Tour' from Waterloo on 30th April 1966. Earlier that morning, Guildford driver, Denis Tack, had travelled passenger with his regular fireman, Ian Coles, to Liss to collect the locomotive and then ran light to Woking (via Addlestone Junction and Weybridge) in order to turn the locomotive facing 'engine first' for the second leg. Denis conducted the train from Woking via Guildford, Haslemere to Liss for the RCTC's visit to the Longmoor Military Railway. Here, Denis looks towards the camera as the WD Class 600 takes on water in the Down Bay at Woking. Click here to visit the 'Six Bells Junction' site, which contains a definitive list of railtours.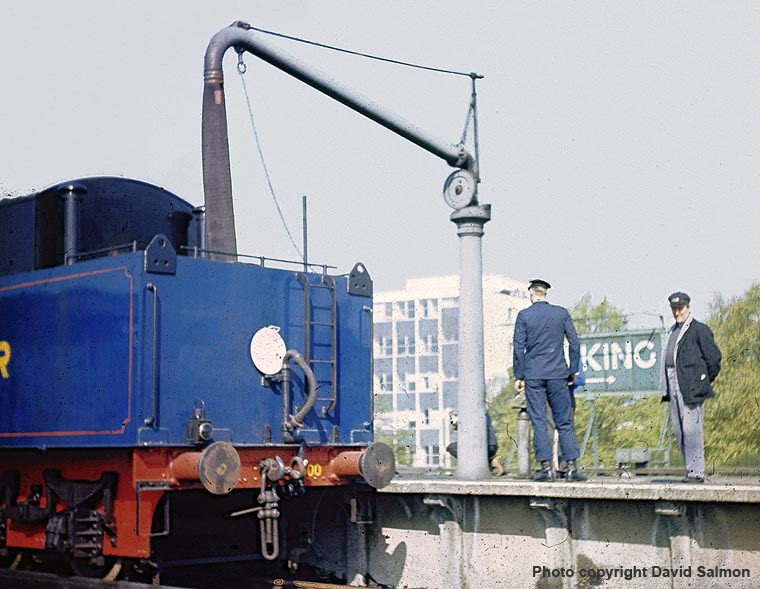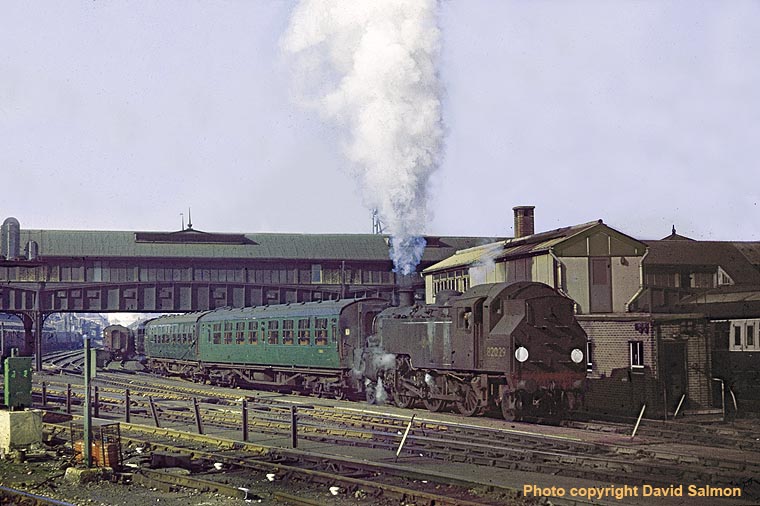 (Above-Below) BR Standard 3MT 82029 starts away with a set of empty coaching stock (ECS) from No 40 Road, Clapham Yard bound for Waterloo on 24th March 1967. The brick building next to the locomotive was the Yard Foreman's office and the shunter's cabin was on the second floor of the adjacent building (the toilets etc being positioned on the ground floor). The shunter's cabin housed a huge cast iron kettle that was always on the boil. As a young fireman in the early 1960s it was an effort to lift it off the stove even when nearly empty probably because of the amount of chalk deposits that had adhered to the inside of the kettle! A long overbridge (with numbered boards denoting each siding number) stretched right across Clapham Junction station which allowed access to all platforms from the Central lines on one side, South Western lines in the middle and Kensington line at the Northern end. (Below) Steve Burke shovels coal from the tender of N Class 31873 into the Coal Crane's skip before she is hauled to Eastleigh for scrap on the 28th January 1966. For some reason, the tender has been partially cleaned and would have needed a step ladder to finish the job. USA Class 30072 had hauled her there to have her coal removed while in the Back Road Q1 Class 33027 (minus her smokebox number and shedplate) waits for her next turn of duty.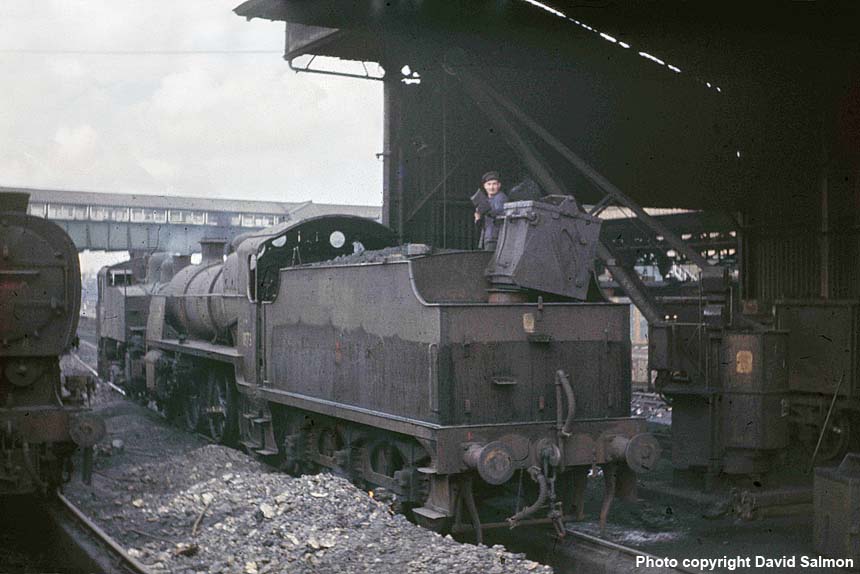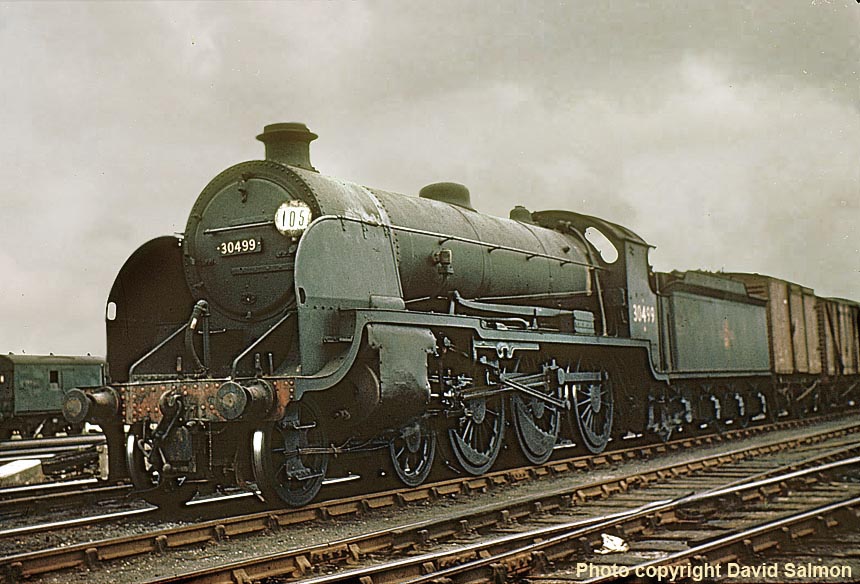 (Above-Below) Urie S15 Class 30499 is about to work a freight from Woking Down Yard to Basingstoke Yard in July 1963 with Driver George Nurse and fireman Frank Saxby. Withdrawn from service in January 1964, she was among 213 engines to be rescued from the Barry scrapyard. Built in May 1920, the engine is the oldest surviving locomotive constructed at the LSWR Eastleigh Works. The Urie Locomotive Society purchased her in 1983 and she is now in store on the Mid-Hants Railway awaiting restoration. The overhaul is partially underway with the frames and wheels receiving attention. The frames are due to arrive at Ropley soon so that work can re-commence. (Below) 31405 rests in the Back Road at Guildford awaiting her next turn of duty in June 1966. Built in 1932, she was one of a final batch of fifteen locomotives Nos 31407-14 built at Ashford Works with left hand drive as opposed to all the previous sixty five being right handed. Before entering service, the batch was attached to 4,000-imperial-gallon tenders to increase their operational range over the Southern Railway's Western section routes. Despite this advantage, tenders fitted to the eight left-hand drive examples were intended for use with right-hand drive locomotives. This resulted in the location of the fireman's fittings on the 'wrong' side of the cab. The design also necessitated the addition of a step to the footplate, as the boiler backhead was lower than the fall-plate that connected the tender and cab floors. The new batch incorporated a new set of footsteps beneath the front buffer beam, modified slide-bars and the dome was redesigned to incorporate the regulator to ease access during routine maintenance.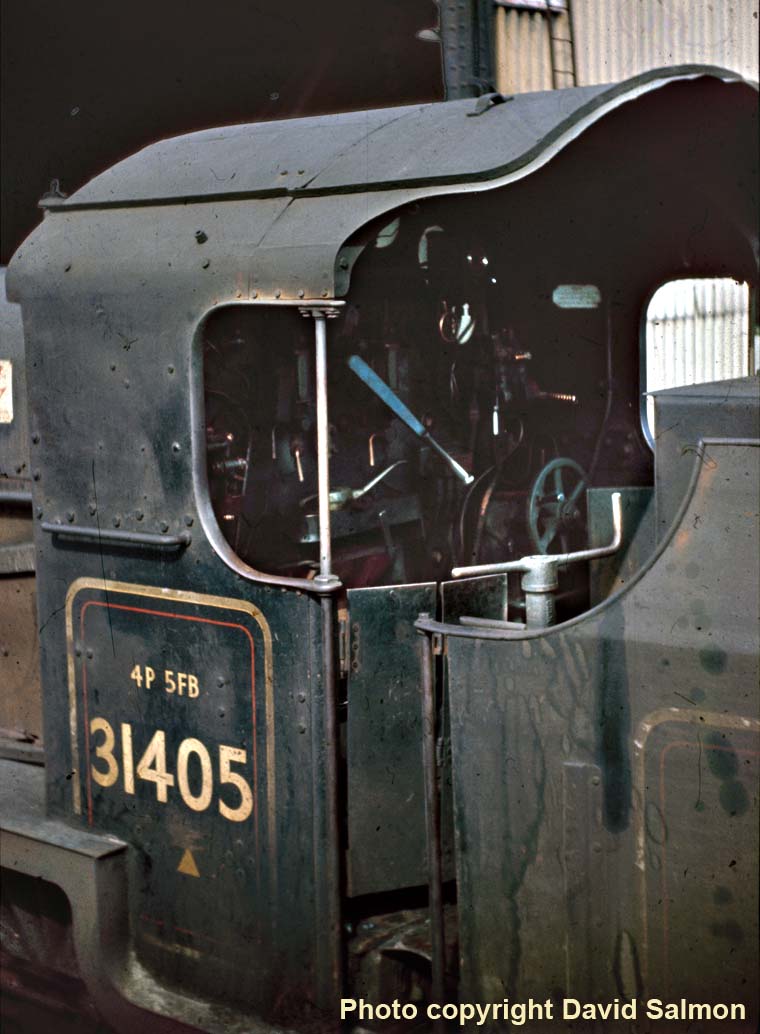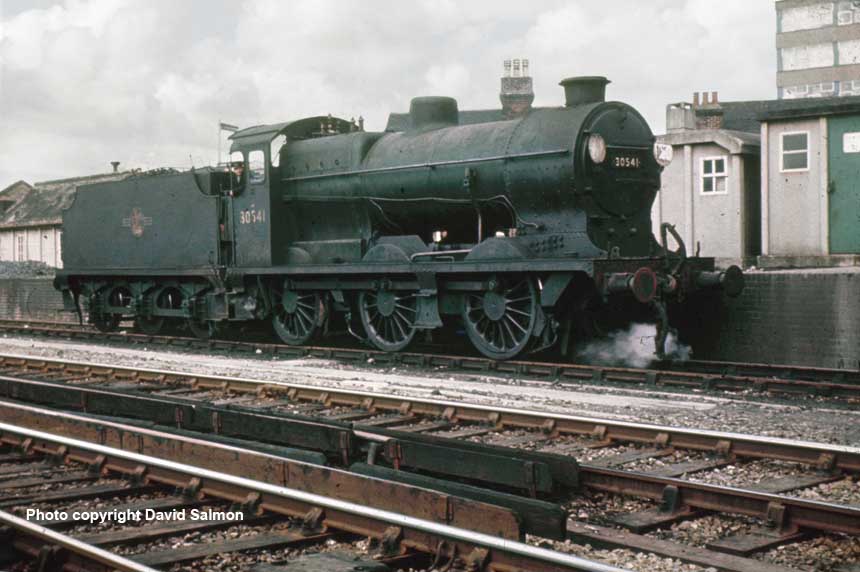 (Above) Q Class 30541 stands in the Dock at Guildford in April 1964. The class was not considered sufficiently important for official preservation and had it not been for Woodham Brothers's scrapyard in Barry, South Wales, no examples would have survived. Only one, number 541 (BR No. 30541) was rescued, and has operated on the Bluebell Railway in Sussex. However, it has not been steamed since 1993, though overhaul to working order is planned to take place in the near future due to the popularity and versatility of the locomotive. 541 has gained the nickname of the 'Q Boat' after the SR U Class (U Boats), two of which are also preserved on the Bluebell. Known as 'Doctor Noise' by Bluebell crews due to its exhaust bark.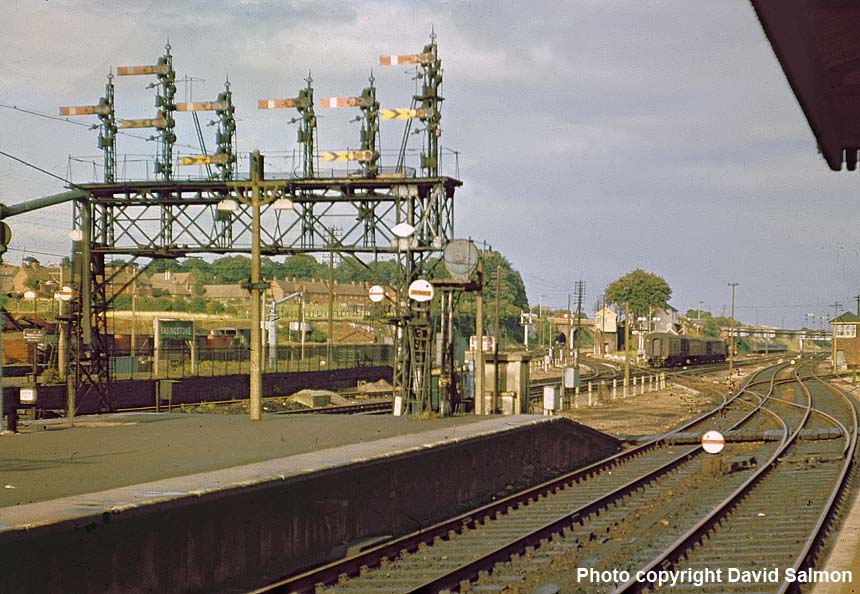 (Above-Below) A fine array of upper quadrant semaphore signals adorn the gantry on the Up lines at the London end of Basingstoke platform on 21st August 1965. The signals reading from left to right are as follows: Up local to Reading branch starter; Up Local Stop & Distant; Up Local to Up Through Stop & Distant; Up Through to Reading Branch Starter; Up Through to Up Local Stop & Distant and finally, Up Through Starter and Distant. The lines to and from Reading played a vital role in trains coming and going to other regions. (Below) Basingstoke MPD on 11th June 1966 with a Brush Type 4 and a number of BR Standard Class locomotives in residence.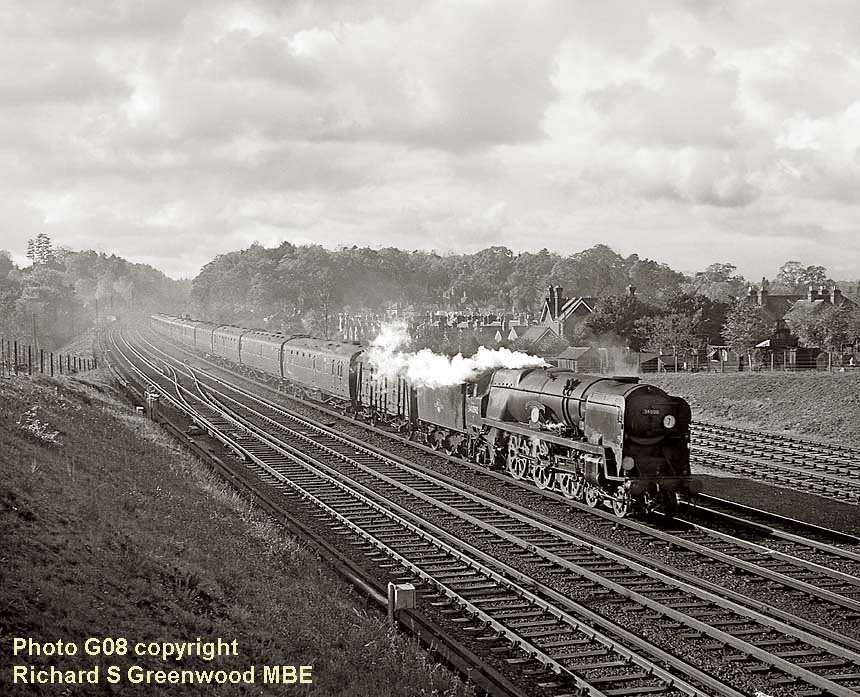 (Above-Inset-Below) Suffering a signal check, Rebuilt Battle of Britain Class 34090 'Sir Eustace Missenden,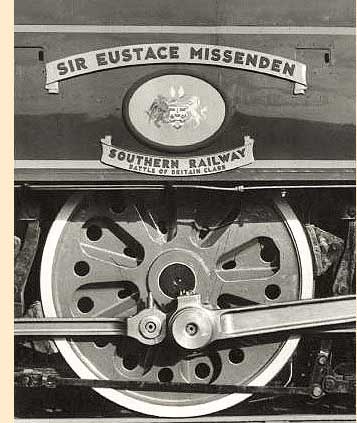 Southern Railway' heads towards Woking and eventually Waterloo with an Up passenger service from Bournemouth on 4th November 1961. Sir Eustace Missenden was a British railwayman, successively the last General Manager of the Southern Railway and the first Chairman of the Railway Executive. In 1949 British Railways gave the locomotive 34090 the name 'Sir Eustace Missenden - Southern Railway', the intention being to honour his personal contribution and to act as a tribute to the war effort of the Southern Railway's employees. (Below) By 1967, with steam power in its last few weeks on the Southern, a lot of attention is drawn to Rebuilt Battle of Britain Class 34090 'Sir Eustace Missenden, Southern Railway' as she runs into Woking with a Bournemouth service on Saturday 3rd June 1967; young trainspotters and old Signalmen alike will remember those days for the rest of their lives.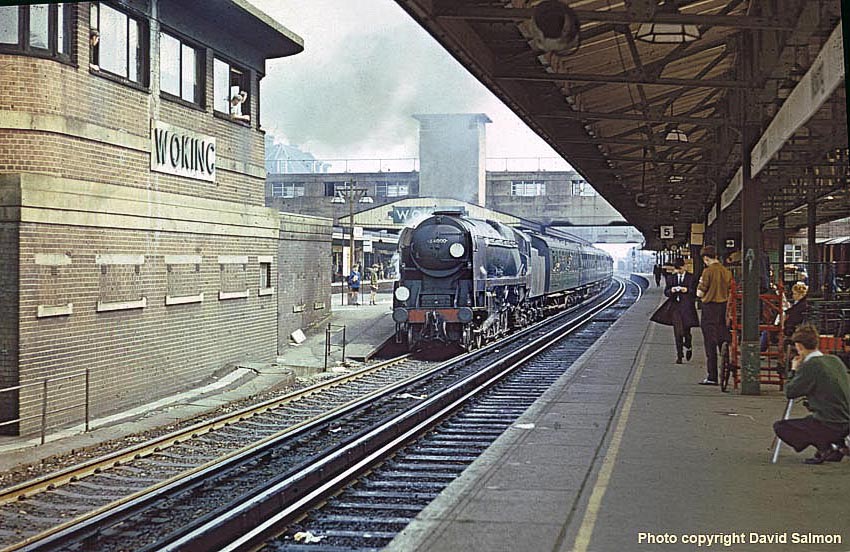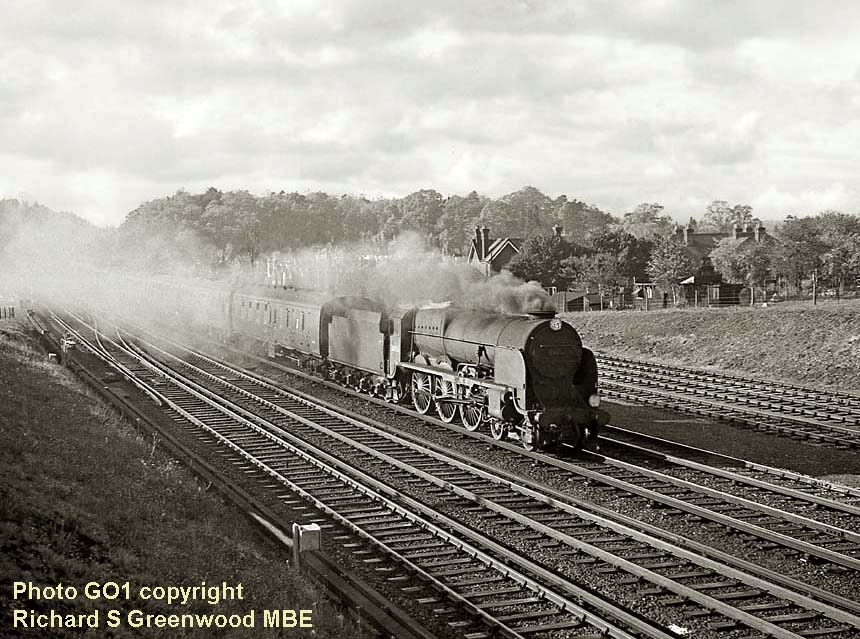 (Above-Below) With regulator closed and the Driver adjusting his speed for a signal check, LN Class 30856 'Lord St. Vincent' coasts towards Woking Junction with a Boat Train from Southampton Old Docks bound for Waterloo on 4th November 1961. The passengers would have disembarked from a ship at the Ocean Terminal at Southampton. (Below) BR Standard Class 4MT 76066 powers away with a stopping service for Woking to Bournemouth on Saturday 10th June 1966 as another BR Standard Class approaches on the down local (platform 5) with a parcels train. The crane in the background belonging to Gilbert-Ash is working on the site that is now 'Albion House'.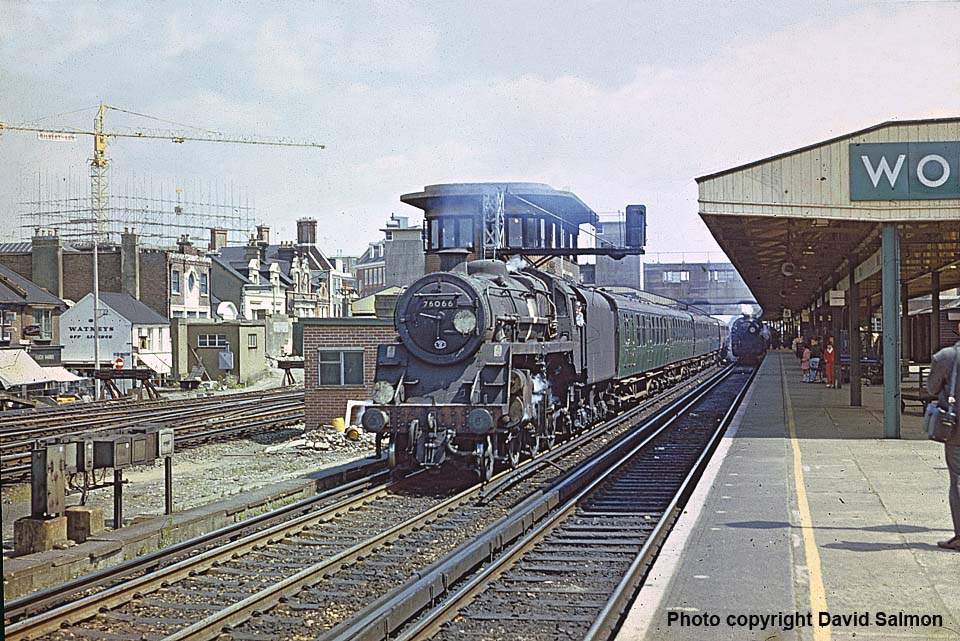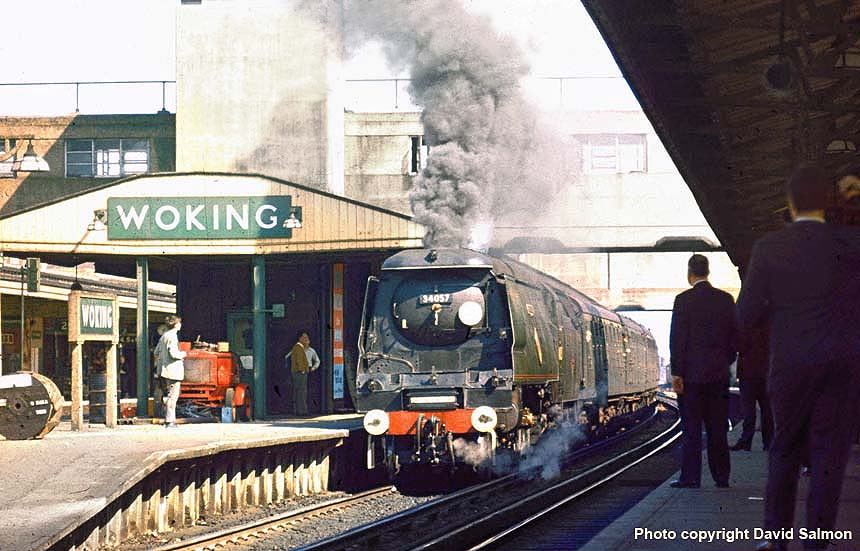 (Above-Below) In the September sunshine, Unrebuilt Battle of Britain Class 34057 'Biggin Hill' makes an impressive sight as she blasts away from Woking with a Basingstoke stopping service on 10th September 1966. (Below) Rebuilt West Country Class 34032 'Camelford' heads towards Woking Junction with a Sailsbury - Waterloo Semi-fast service on 4th November 1961. 'Twin Bridges' situated on the west side of Woking was an excellent vantage point for photographers. the bridges spanning the Portsmouth Direct and lines to London and the West Country.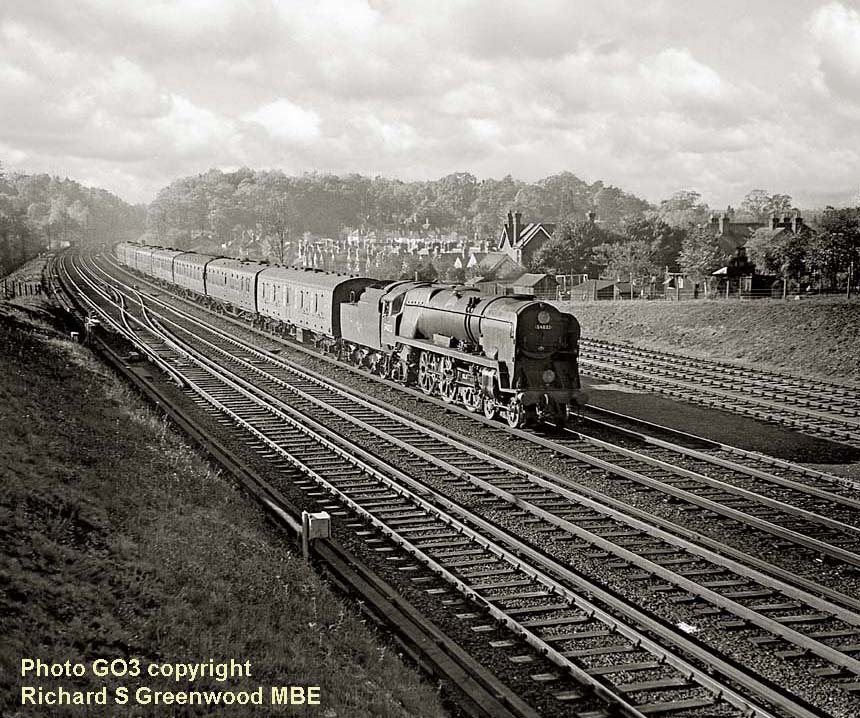 (Below) BR Standard Class 3MT 82006 stands in the Up Bay at Woking (platform 1) on a murky December evening in 1965. Ghostly images of the surrounding buildings and the Number 5 bus stop can be seen on the left of the photograph. The Up Bay and water column have now long gone and platforms have since been renumbered accordingly.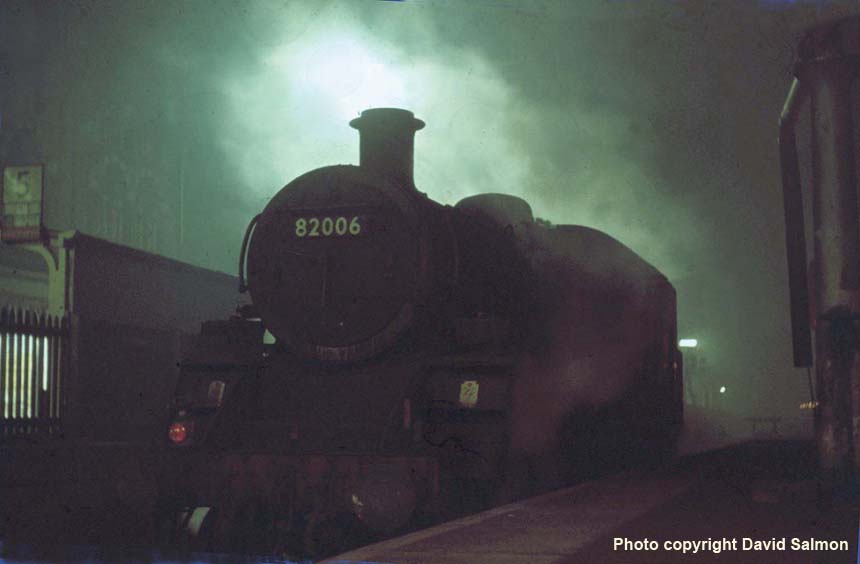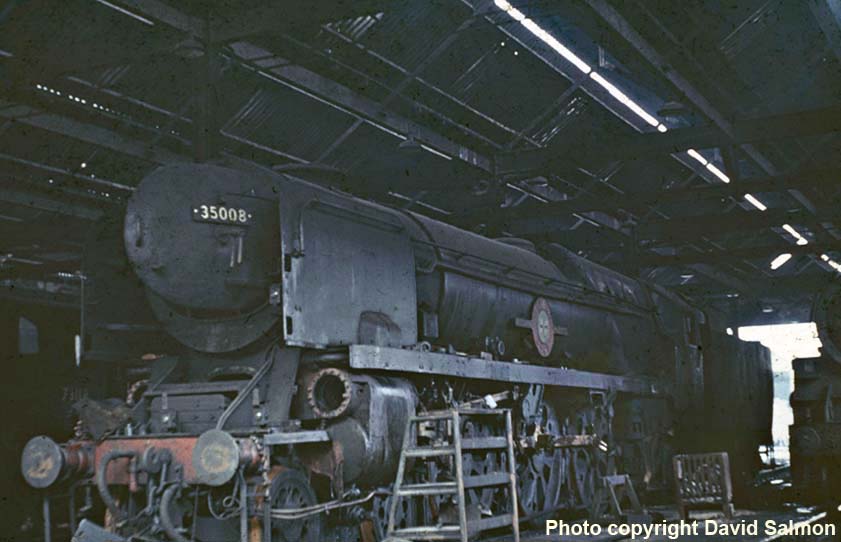 (Above-Below) Rebuilt Merchant Navy Class 35008 'Orient Line' undergoes a Piston Valve exam in number 2 road of the New Shed in 1966. Quite a number of exams of Bulleid Pacific Class locomotives were performed at Guildford, however because the turntable wasn't long enough to turn this class of locomotive, the exams were carried out in number 2 road as the locomotive could cross over straight across the turntable from the New Pit. (Below) Eastleigh MPD on the 11th June 1966 and Rebuilt West Country Class 34048' Crediton' (minus her number plate and nameplates) awaits to be towed to John Cashmore's scrapyard at Newport. An unidentified Ruston & Hornsby Diesel shunter sits in the adjacent road outside the shed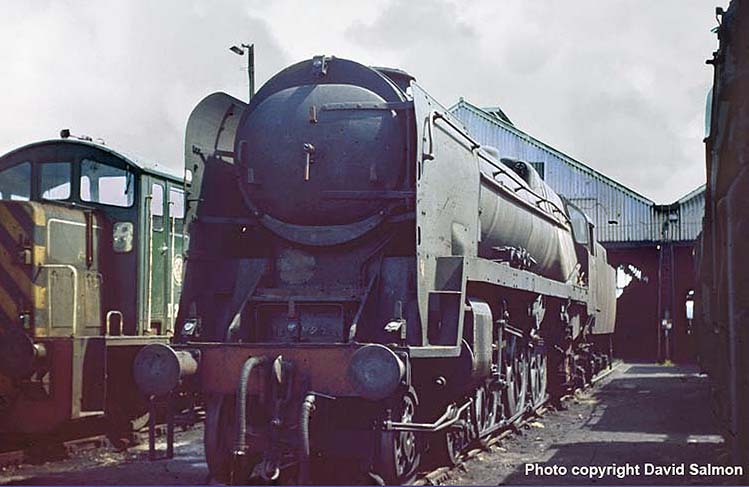 Geoff Burch's contact details can be found HERE

Polite notice: All text and photographs are protected by copyright and reproduction is prohibited without the prior consent of the © owners. If you wish to discuss using the contents of this page the email address is below. Please note - this is not a 'clickable' mail-to link via Outlook Express. You will have to email manually.
dheycollection@ntlworld.com