Introduction to Railway Signalman Keith Long's Flickr site of British Railways Steam and Diesels during the 50s and 60s
As mentioned elsewhere on this website, the quality of 'top drawer' railway photographs to be found on the world wide web is amazing. Today we have the benefit of blindingly-fast search engines to help us find the best sites, but sorting out the wheat from chaff can take an age. However, I recently stumbled upon a great collection of photos taken by retired railway signalman, Keith Long, who goes by the name of 'Cabsaab 900' on Yahoo's online photo management facility called 'Flickr'. The diversity of his shots of 1960's BR steam and early diesels to the modern goings-on of the present day is like striking gold!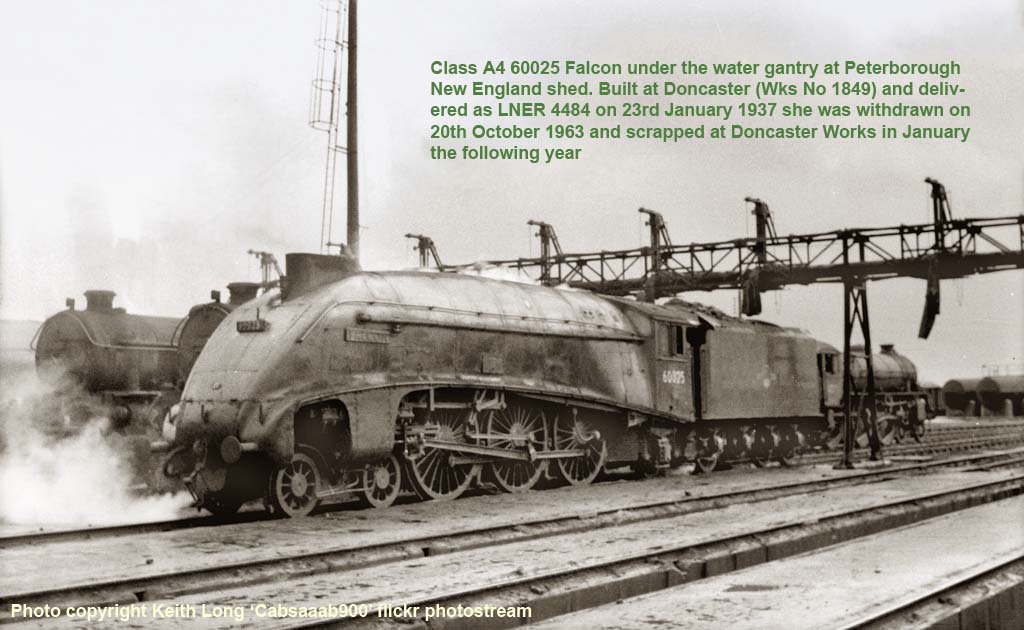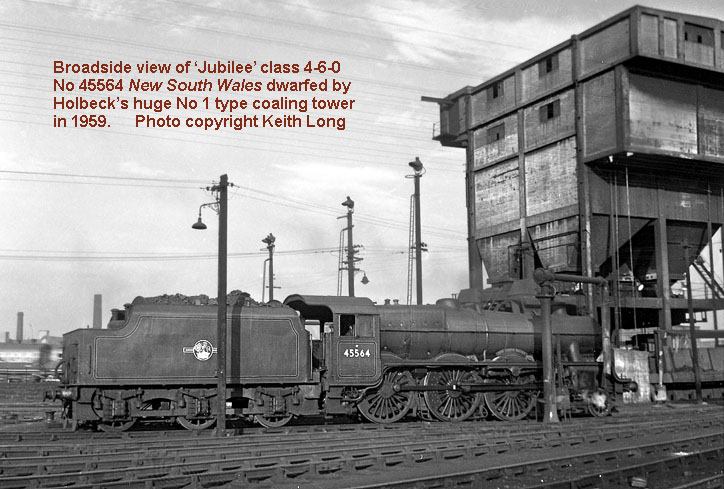 With over 14,000 colour slides still to scan, Keith's Flickr photostream of 1960's steam and diesels will doubtless build into one of the best collections of railway photographs on the web, and so I am delighted he agreed to release some of his railway photographs for publication here. I have selected only a few, though I haven't cherry-picked the best - merely chosen those shots that are relevant to this site. Of course, you'll have your own favourites - from Gresley A4s to Stanier Duchesses, or you might prefer shots of the EE Co's Deltics and Class 40s - all can be found by 'clicking' on the links to Keith's Flickr website.
If you are a newcomer to the Internet, I should explain that 'Flickr' is among the best online photo management and sharing applications on the web. If you fancy posting your photos on the Internet but don't want the hassle (and expense) of creating your own website, then you'll find Flickr much simpler; it has grown into a massive photographic community used by millions of people who share a common interest, which, for visitors to this site, is probably a passion for railways - from steam and diesels of the Fifties and Sixties to more modern traction; it's all on flickr...
RECONNAISSANCE WITH A CAMERA
Keith Long is a retired railway signalman who worked in signalboxes for 45 years. His main interest is transport in general but railways and SAAB cars in particular, which explains the origin of his 'Cabsaab' flickr name. Keith also likes photography, cooking and travelling. His other interests are Motor Sport and Ice Hockey (Toronto Maple Leafs).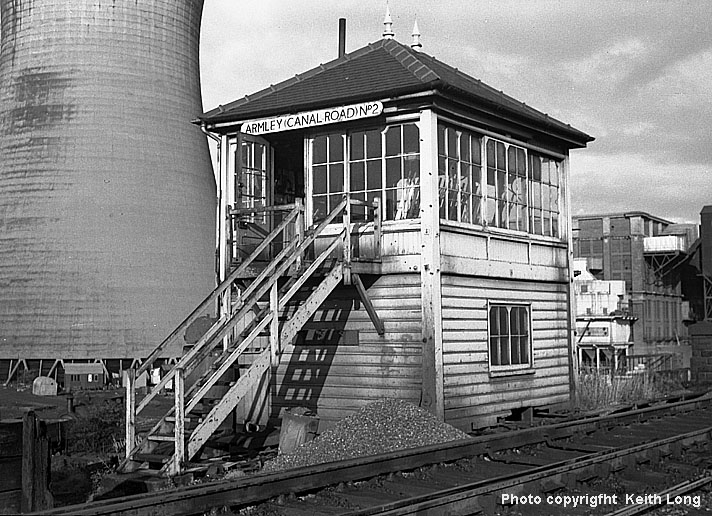 (Above-Below) Armley Canal Road No 2 signalbox on 2nd August 1965. The name on the signalbox diagram was Armley Canal Junction. At the levers is a dapper-looking young Keith wearing a drip-dry Double-2 shirt, pencil tie (and obligatory tie-clip) drainpipe trousers and what looks suspiciously like suede hush puppy shoes to me...it could only be the Sixties!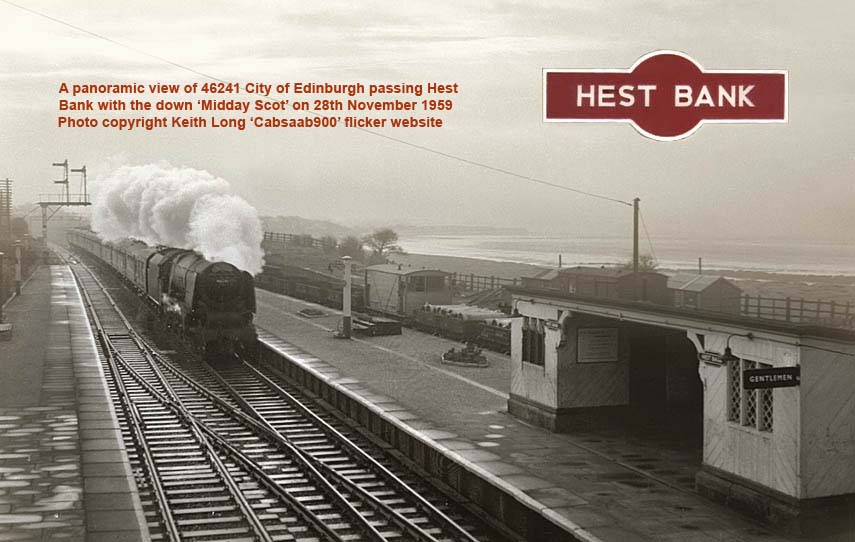 (Above-Below) A lovely panoramic shot of 46241 City of Edinburgh passing Hest Bank with the down 'Midday Scot' on 28th November 1959. Hest Bank station was situated between Lancaster Castle and Carnforth on the shores of Morecambe Bay in Lancashire; it is the only point along the WCML between London and Glasgow that provides rail travellers with a sea view. The station closed on 3rd February 1969. The inset shows one of the distinctive LMS pattern 'Hawkseye' station nameboards, which went under the hammer at a Great Central Railwayana Auction in April 2009. Introduced in 1937, this style of nameboard was superseded by the lozenge-shaped stove enamelled totem signs designed by BR in 1948. The lozenge logo displayed the various British Railways Regional colours and appeared on uniform badges, railway timetables and BR's Regional publicity in general....all of which are collecters items today!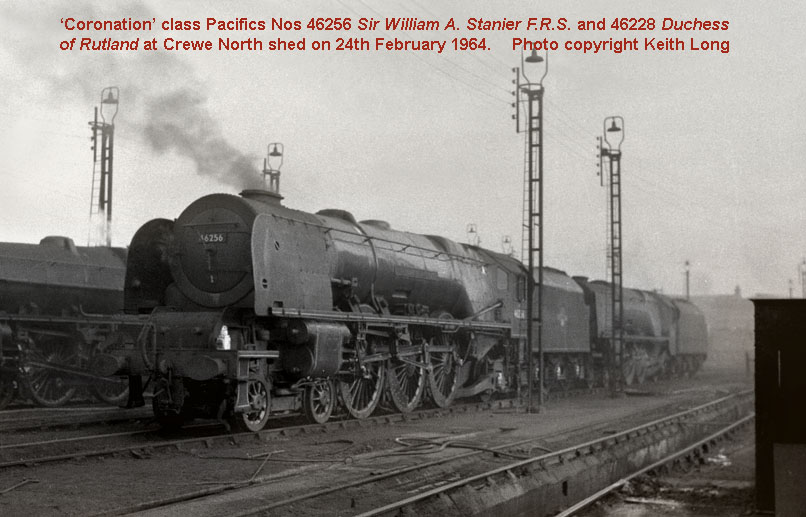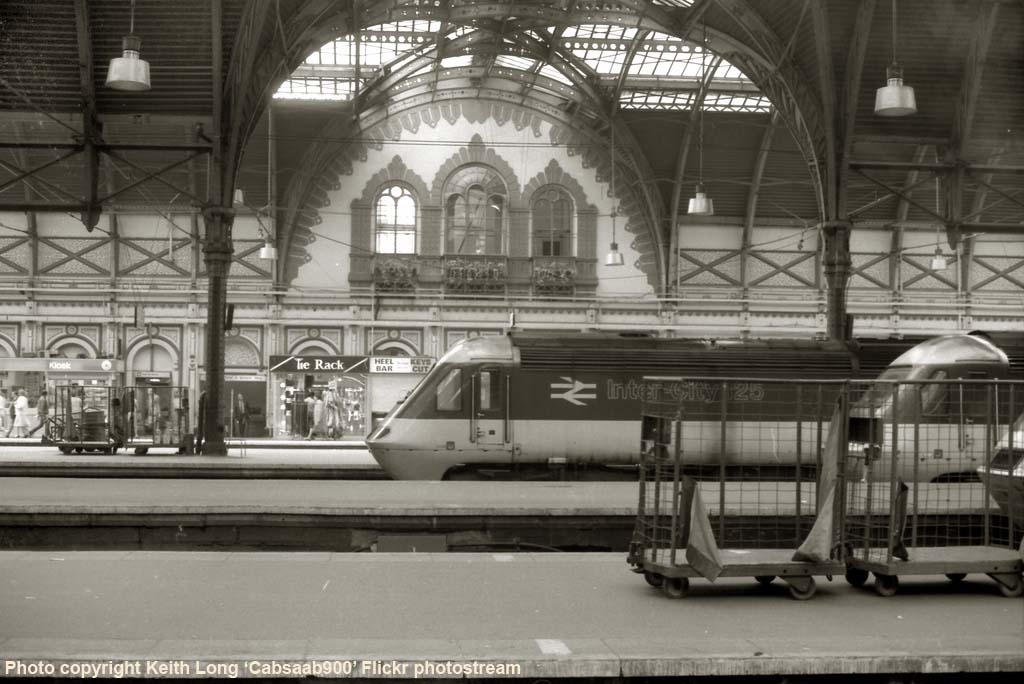 (Above-Below) Shots like these are a good enough reason for a 'Rail Cameraman' page featuring Keith's photos...his 'Cabsaab900' flickr site is one of the best on the web. He certainly has an eye for a good shot, as shown above with this superb composition of 43014 and 43188 at London Paddington on 31st July 1985. (Below) Not content with the usual three-quarter angle, he chose a viewpoint from the turntable pit at Carnforth shed to photograph two Princess Royal class locomotives in store: 46203 Princess Margaret Rose, the first of the modified design, withdrawn in October 1962 but now preserved - along with the first of the original design, 46200 Princess Royal, withdrawn in November 1962 and scrapped at Connell Union Works, Coatbridge in October 1964.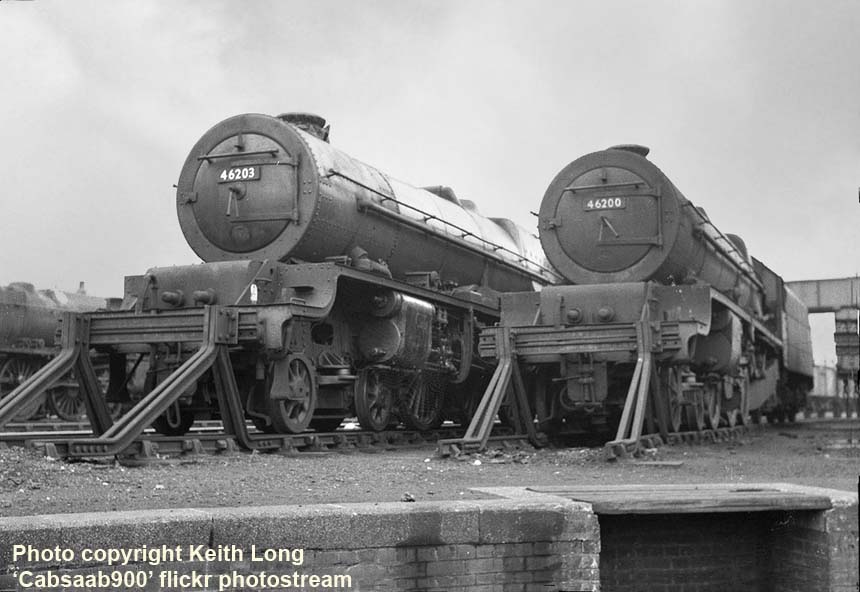 Keith's first camera was a Kodak Box Brownie. He used it for three years before graduating to an Ensign 120; a very good camera which would take ether 2.5" x 2.5" or 2.5" x 3.5" negatives on 120 roll film. He mainly used the larger size because although you only got 8 negatives instead of 12 from one roll they were larger and at that time he didn't own an enlarger. Most of hisB&W pictures were taken on Ilford HP4 film, though some of the early ones were on Kodak. All B&W films and prints were developed at home in a makeshift darkroom. In 1967 Keith started taking 35mm colour slides using a Halina camera and Agfa 64ASA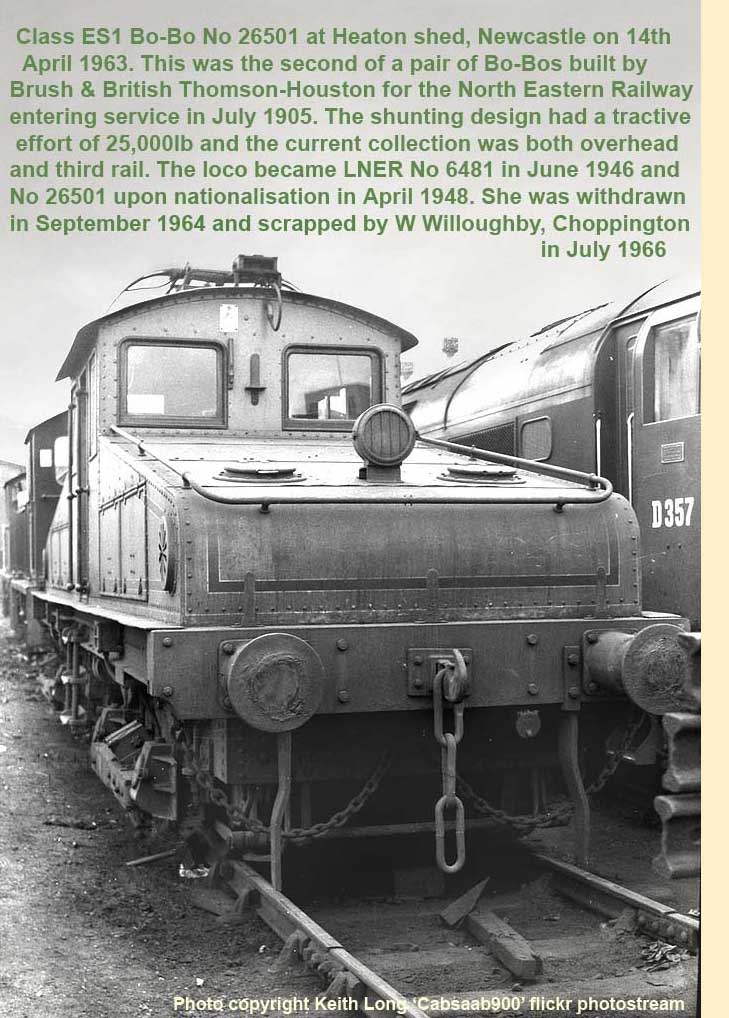 film, unfortunately he used Agfa until changing to Fuji film in 1981. The Agfa slides have not worn very well over the years and he should have used Kodak as Bill Wright did. (Keith is referring to 'Barking Bill who has a Flickr site - see Page 40). Keith used the Halina followed by two Yashica cameras until I bought his first Canon camera in 1981, and since then have exclusively used Canon up to the EOS 300 he still use for slides. It was only in 2005 that Keith started digital photography using a Canon S70. He has a total of over 14000 colour slides of which he is currently scanning the best to put on his flickr site using a Canon 9900F scanner.

Keith started working in signalboxes in 1960 at the age of 15, first as a train recorder and then passing out as a signalman in 1965. Until 1967 he worked in Leeds, but with the opening of the new Leeds Power Signalbox he moved to the Newcastle-Carlisle line for two years before moving again to work on the Woodhead electrified route for a further five years. In early 1975 Keith returned to Leeds, working the fringe boxes, and a few in the Wakefield area, before becoming a signalman in Leeds PSB in 1988. He remained there until he closed the box for good at 00.30hrs on 16th June 2002 when the work was transferred to York IECC. Keith then moved to Barnsley box from where he retired at the end of 2005 after working in 21 different boxes. It's odd that in 45 years of working in signalboxes Keith was only been made redundant twice, the first when Leeds PSB opened in May 1967 and the second when Leeds PSB closed in June2002.
STEAM AND EARLY DIESELS ON SHED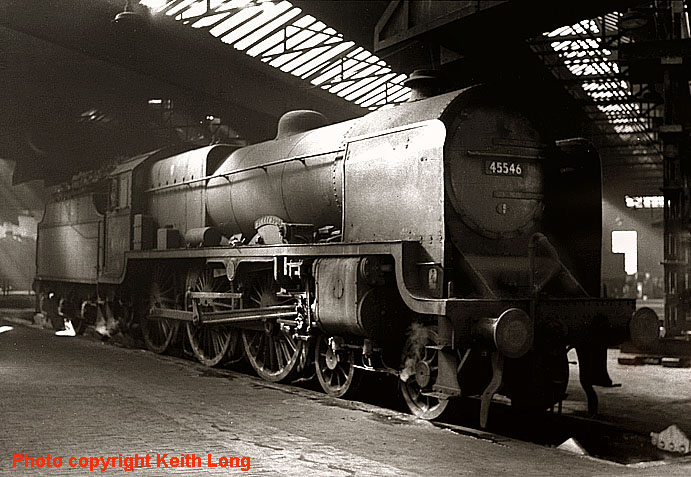 (Above-Below) In pre-digital days - before cameras were equipped with auto-focussing and through the lens light metering - few photographers attempted interior shots of steam sheds. The results could be most rewarding, but engine sheds were dark and dismal places where the changing light made it difficult to get the exposure right. Nonetheless, Keith managed to produce a few 'gems' for his collection, including this one of 'Patriot' class No 45546 Fleetwood, still fitted with the original Belpaire boiler and single chimney, at Willesden shed (1A). (Below) Introduced in 1929, CB Collett's 0-6-0PT 3F 5700 Class became the standard shunting engine for the GWR. Eleven members of the class (from 9700 to 9710) were fitted with condensing apparatus and larger side tanks for working over the LT Metropolitan line. Here No 9707 shares the company of 0-6-0 diesel mechanical shunter No D2126 in a corner of Old Oak Common shed on 16th September 1961.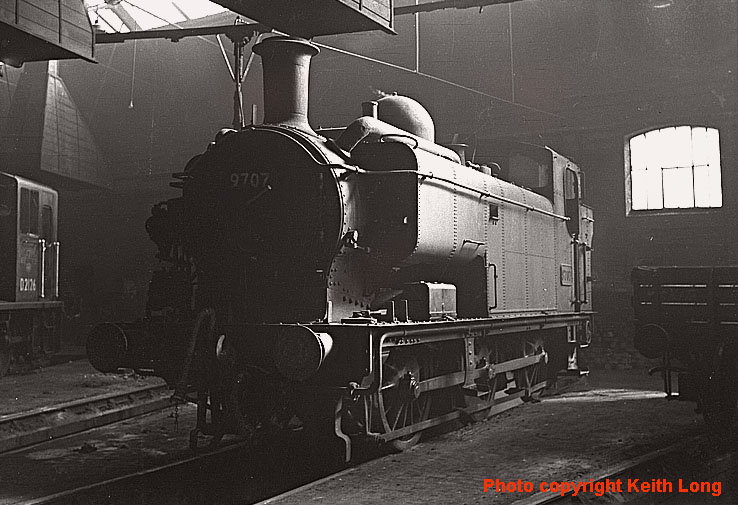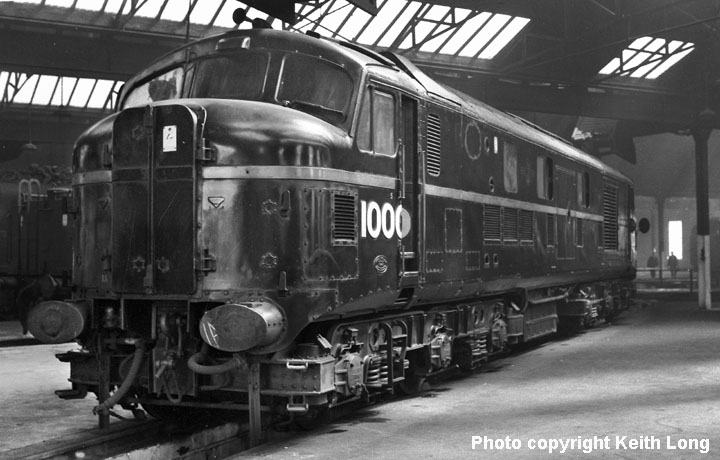 (Above) One of the great things about opening a free Flickr account is that visitors to your site are given the chance to comment on your photos. For example, this excellent interior shot at Willesden depot of HG Ivatt's Co-Co No 10000 on 2nd July 1961 created some dialogue. It goes to prove that there must be countless thousands of enthusiasts who were disappointed that such an important locomotive was not saved from the cutters torch. Indeed Keith has posted his own comments - 'The real shame is that the loco survived so long after being withdrawn in December 1963 (it was not cut up until January 1968). It would have been better to have saved something like this rather than say eleven out of the thirty 'Merchant Navy' class. It's not that I have anything against the MNs, or steam in general; it's just that the preservation scene is so unbalanced. Still I remember watching 10000 & 10001 at Watford Junction heading the 'Royal Scot' express during the 50s and 60s and a lot of people didn't have chance of that.' Click on this link to visit Keith's main collections of railway photos. The collection continues to grow and contains a massive number of sets:. Cabsaab 900 photostream'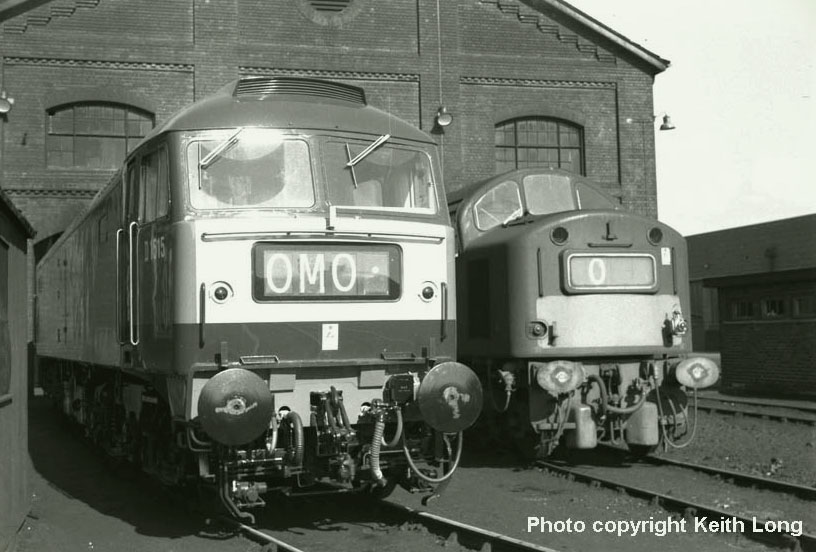 (Above) During the transition from steam the new diesel fleet acquired a fair degree of grime after only a short while in service. In this view of Neville Hill shed in April 1963, brand new Brush Type 4 No D1515 has yet to turn a wheel in revenue-earning service, while the EE Co Type 4 (could this be the celebrity Class 40 D345?) has acquired a fair degree of dirt on the nose end. However, the bodyside discolouration was the main problem, as inorganic dust originating from brake shoes spread along the bodyside from rail level upwards, which, together with oil seepage from the engine compartment could quickly eradicate any semblance of a loco livery.
(Below) Unfortunately, it would take several years before suitable premises could be constructed for the stabling and maintenance of the new diesels throughout the BR Regions, therefore the fleet had to share the same facilities as steam locomotives. As a result, the reliability of the new diesels was seriously impaired by the dire conditions which they were kept. During the early years, it came as no surprise that, in spite of BR Publicity Department trumpeting facts about the new diesels being significantly cleaner than steam, the fleet ended up just as filthy as its predecessors. By its very nature, a diesel locomotive requires a clean environment where fitters can work on the various automative and electrical faults, along with the complicated circuitry attributed to the different types of traction introduced in the 1955 Modernisation Plan. This shot of the fourth production 'Peak' class D14 - retaining gangway doors in the nose end (as used on the ten pilot scheme locomotives) and carrying a 55H shedcode plate - was taken at Neville Hill on 28th July 1961. Click on link to Cabsaab's collection of BR Diesels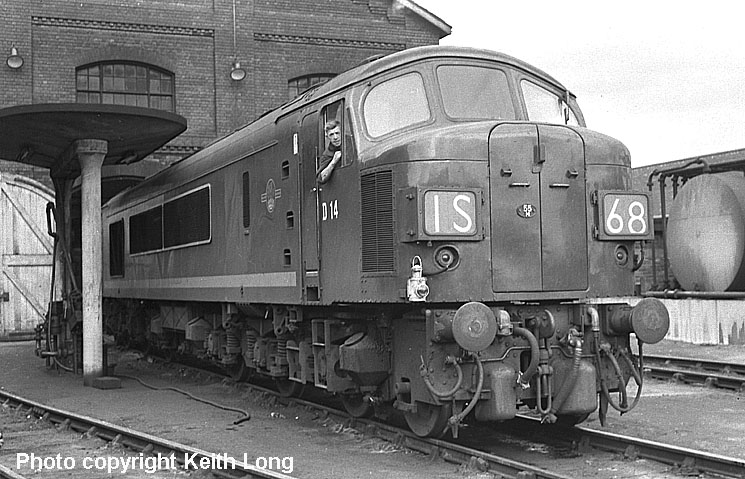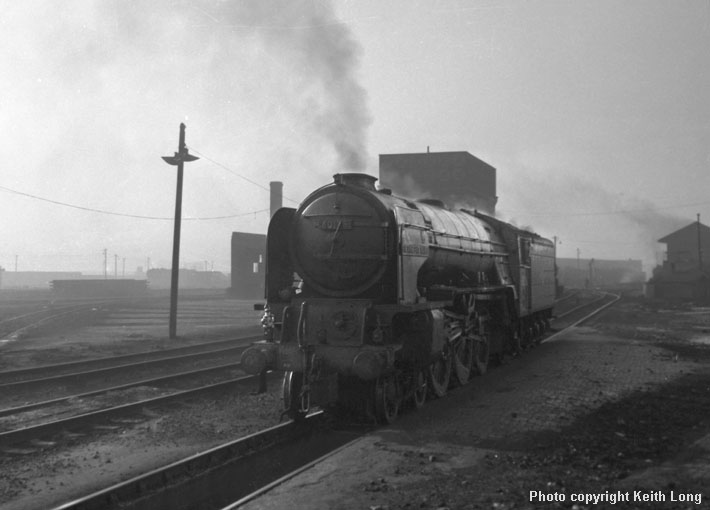 (Above) Class A1 No 60126 Sir Vincent Raven at Leeds Neville Hill shed on 6th February 1960. As mentioned earlier, the original steam shed followed NE practice - a large building containing four turntables all interlinked beneath one roof. At any given period during the immediate post-war years, the following types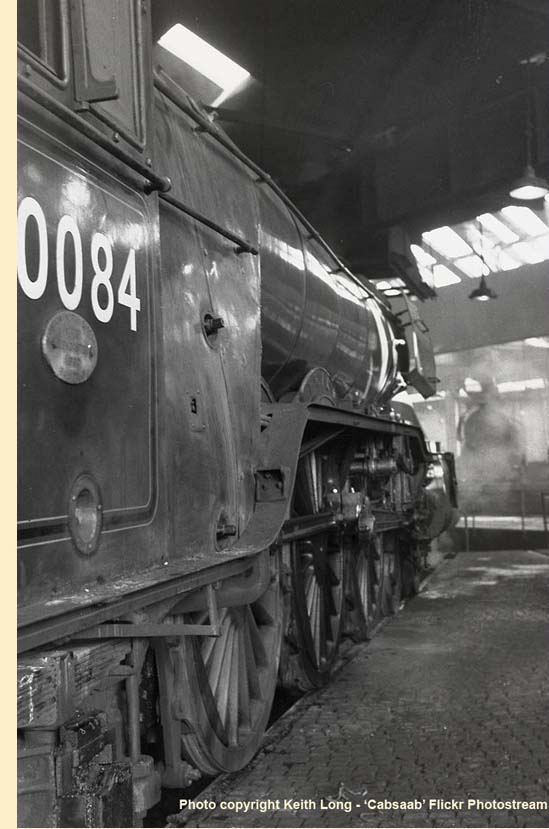 of engines usually made up the shed's allocation: five A3s, ten B16s, thirteen B1s, two D20s, four D49s, eleven J39s, five N13s, 2 A8s and four G5s. The shed was reduced by half during the late 50's and demolished in its entirety in September 1970. In this view, a surviving part of the shed wall can be seen to the left of the A1s smoke deflector and on the right by the coaling stage in the distance. It is difficult to imagine this spot being part of the shed interior, but evidence of the line leading from the third turntable can be seen in the right foreground, and the original lines feeding the stalls from the fourth turntable in the middle distance.

(Right-Below) A fine shot of Class A£ 60084 Trigo inside the shed on 22nd April 1961. (Below) Fast-forward 4 years and a new DMU refuelling shed has been constructed at Neville Hill. The DMU facility was separate from the main line locomotive part having been built between the locomotive shed and 'down' Goods Yard. DMUs arriving from Leeds would run into this shed and refuel, then if they were going straight back into service they would proceed to the Carriage Sidings at Neville Hill East to await their next duty, but if they wanted maintenance they would run to the Maintenance shed between the locomotive shed and the main line. Both these buildings were built during the 1955 Modernisation Plan in the late 50s when DMUs first started operating from Neville Hill. In the foregound Class A3 No 60051 Blink Bonny is serviced on a cold foggy 29th February 1964 after working a football special from Newcastle to Leeds. Built at Doncaster Works as Class A1 No 2550 in October 1924 she was rebuilt as an A3 in November 1945 and withdrawn on 23rd November 1964. The loco was scrapped at Hughes-Bolckow, North Blyth in February 1965.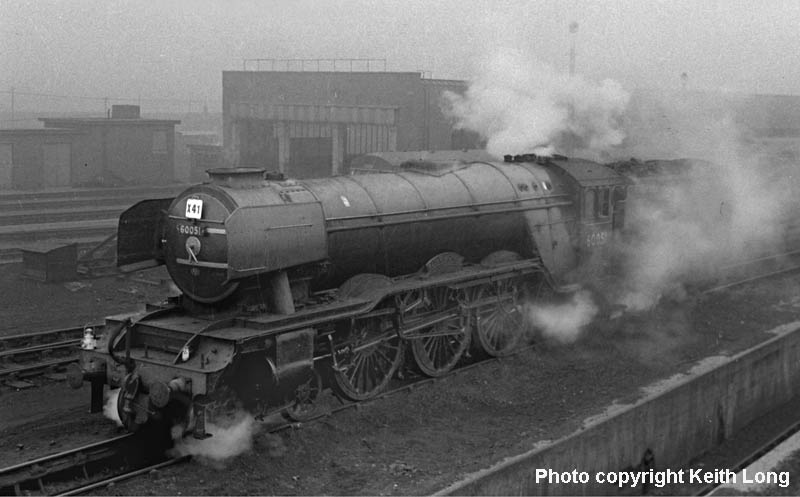 (Above) Doyen of Sir Henry Fowler's 'Patriot' class 6P - No 45500 Patriot at Carnforth shed on 28th October 1959. This locomotive was rebuilt from the LNWR 'Claughton' class No 2511 Croxteth in November 1930 at Derby Works and retains, together with 45501, the original wheels with the large bossed centre. All the others were only paper rebuilds constructed at Crewe with all new parts fitted. You wouldn't believe that this shot was taken with a Box Bownie and very slow Kodak film, mind I have done some work on it. Click on link to Keith's Cabssaab 900 Flickr photostream of 'BR Steam Locomotives'.
(Below) Visits to BR Workshops were a relatively easier option - orderly, spacious and the amply glazed roofs provided sufficient light to risk a hand-held shot without the need of a clumsy tripod. Here Bowen-Cooke ex-LNWR 0-8-0 Class 7F rebuilt with G2 boiler and Belpaire firebox, No 49025, is under repair at Crewe Works on 8th October 1961 - the unusual wheels with 'H'-section spokes can be clearly seen.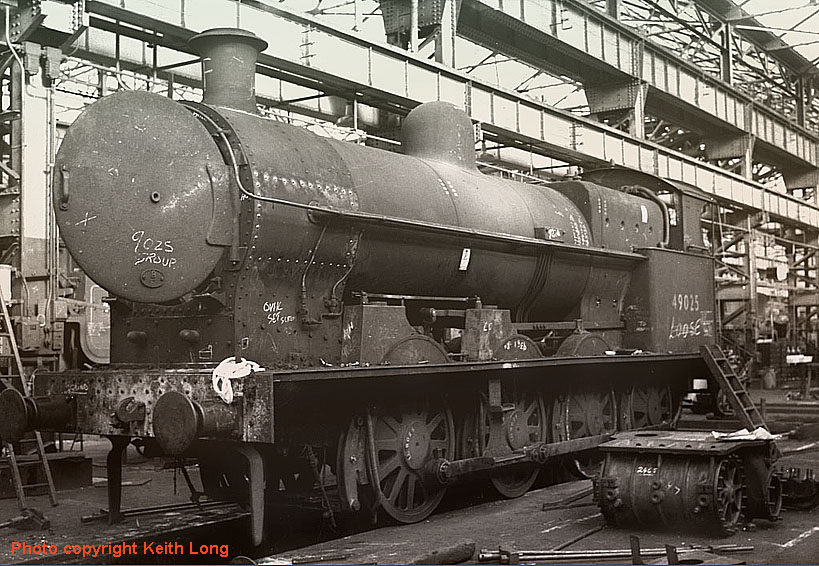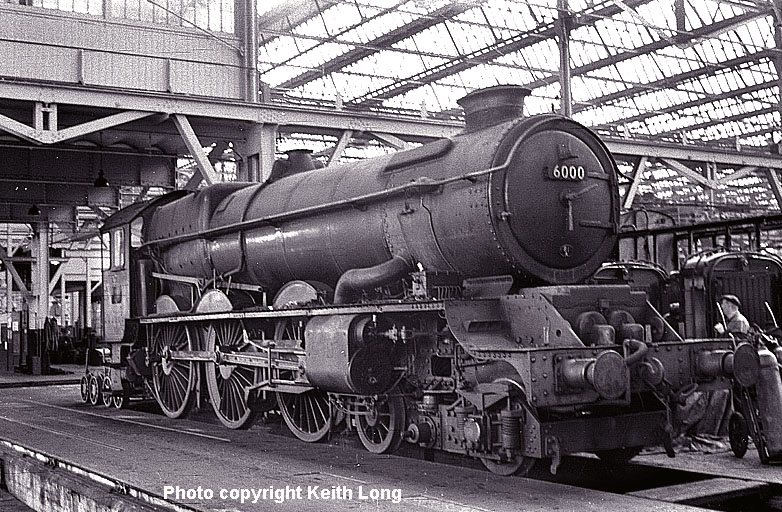 (Above-Below) Working on the railway gave Keith the benefit of free travel by train that he used extensively. Visits to Swindon Works were relatively easy as every Wednesday afternoon you just met at the gates paid your fee and a guide took you round. The view of 6000 was taken on one such trip when Keith had a Wednesday rest day. He was also a member of the RCTS since 1963 and the West Riding Branch made monthly vists to Doncaster Works, the view of 60006 was taken on one such visit. Keith also made visits with them to Crewe Works and coach tours to the Scottish, Western and Southern Regions where my camera was in constant use. Within weeks of entering service on 29th June 1927, the first of CB Collett's 4-cylinder 'King' class No 6000 King George V, was shipped to America to take part in the centenary celebrations of the Baltimore and Ohio Railroad, taking a 543-ton train from Washington DC to Philadelphia at speeds of up to 74 mph. To commemorate the visit, the Railroad struck medallions for the cabside and a typical railroad brass bell for the b8ufferbeam. For the benefit of artists and modellers, this excellent shot of No 6000 under repair at Swindon Works 19th June 1963 shows a novel aspect of the 'King' class; the plate-frame front bogie in which the four wheels are independently sprung. The front bogie was responsible for instability in riding (derailing No 6003 at speed in 1927) and modifications were carried out to resolve the problem. No 6000 was withdrawn in December 1962. Visit Keith's Flickr photostream of 'GWR Steam Locomotives' (Below) Class A4 No 60006 Sir Ralph Wedgwood in the paint shop at Doncaster Works on 9th August 1961.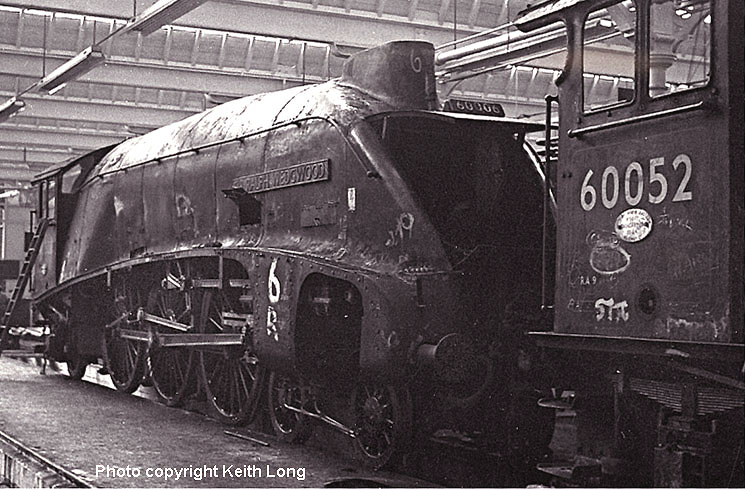 (Above-Below) Class A4 No 60017 Silver Fox passing Ardsley station with a Kings Cross to Leeds Central train on a misty 28th January 1962. This locomotive was the last of the original four A4s built for the Silver Jubilee train, entering service on 18th December 1935 as No 2512. The loco was withdrawn on 20th October 1963 and scrapped at Doncaster Works (her birthplace) in January 1964. (Below) Class A4 No 60014 Silver Link and 'Deltic' class D9009 at Kings Cross on 15th May 1962. Click on link to Cabsaab 900s Flickr photostream 'LNER Steam Locomotives'.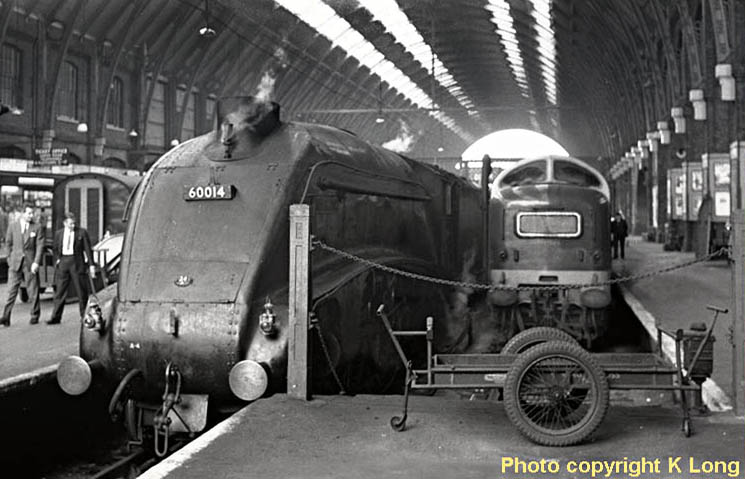 (Below) USA 0-6-0T No 30064 at Guildford shed (70C) on 30th August 1964. This shot was taken during an RCTS coach tour from Yorkshire - eleven sheds in the day, they were great trips. Keith saw 464 engines and 186 were cops. If you did the same trip today you'd be lucky to see 50 locomotives. The guide arranged for the engine to be brought out of the shed for photographs. Guidford shed closed on 9th July 1967 and was demolished in April 1969. Click here for Cabsaab 900's photostream of 'SR Steam Locomotives'.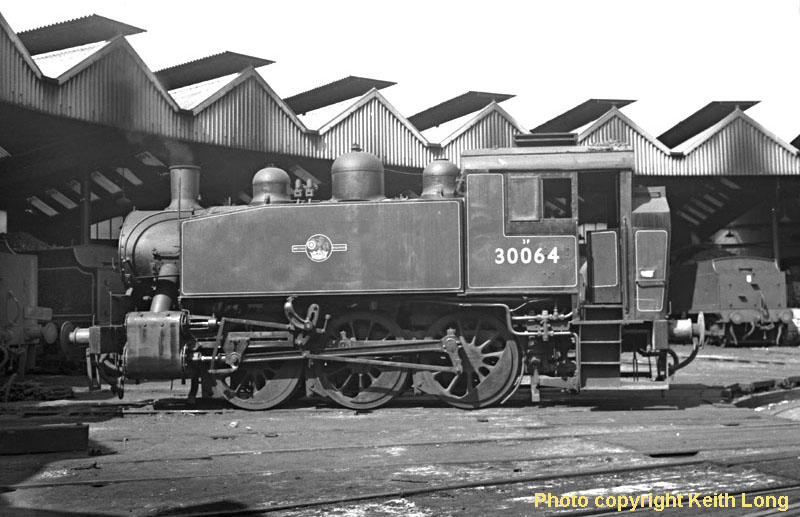 (Below) In time-nonoured fashion, I save the best two photos until last! A historical shot of Class EM1 Bo-Bo No 26056 Triton about to depart from Sheffield Victoria with the last westbound electric hauled passenger train over the Woodhead route - the 1M26 22.15 to Manchester Piccadilly on 4th January 1970. As Keith explains - 'It was a great ride too, apart from the sadness. A very cold night with a lot of frost on the overheads, not many trains on a Sunday, the arcing lit up the countryside! We decided to travel on the last westbound train, as this should have been the last one through Woodhead tunnel. There had been a derailment on the Manchester side and they were going to cancel the last eastbound train and put on a bus (it was the 'up' eastbound line that was affected). There were so many people waiting for it that they reinstated it but it was so late that the eastbound train turned out to be last electric hauled service train through the tunnel. I never travelled through Woodhead Tunnel again on a passenger train, and there were lots of them went through, diversions and specials, but I did travel through in the cabs of EM1s on freight a few times.'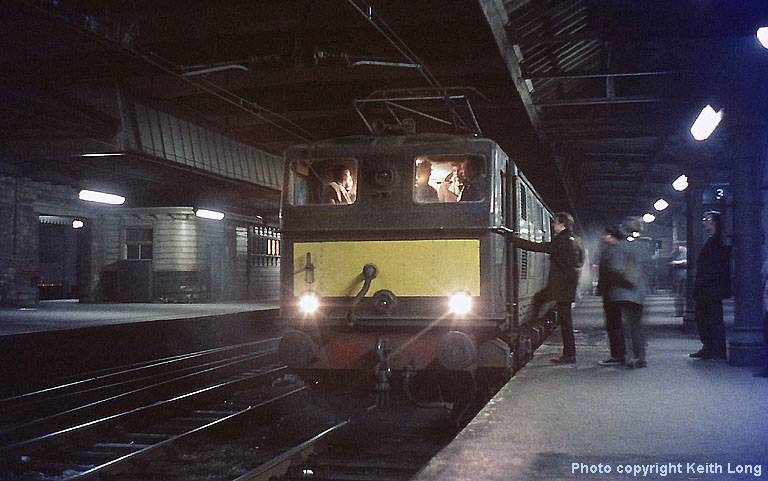 (Above) This photo, for me, sums up the end of BR steam days. I have fond memories of cabbing this Class J72 0-6-0T No 68736 when it worked as the York Station Pilot. In those days, the plain BR black livery of 68736 (and that of sister engine No 68723 at Newcastle) gave way to NER green with black-white lining and BR numbers flanked by BR and NER crests on the tank sides, but by January 1964 the smokebox is all that remains in this view of the Darlington North Road Scrapyard. This remarkable class was unique in that it was constructed during five regimes of Locomotive Superintendants and three different railway ownerships over a period of 53 years. Designed by Winston Worsdell and designated Class E1 by the North Eastern Railway, the first twenty engines were built at Darlington in 1898-99 and a further 55 engines were constructed when Sir Vincent Raven was in charge. By grouping (LNER) the class became J72 and

additional batches were turned out under the superintendency of Gresley, Thompson and finally Pepercorn, who later became the first CME of the Eastern and North Eastern Regions of British Railways during which a final batch of 28 J72s (Nos 69001-28) were built by BR between 1949-1951. Today only one, No 69023 Joem, survives in preservation.

(Above Right) A nameplate from ex-LMS 4-6-0 'Jubilee' class No 5655 (later BR No 45655) went under the hammer for £8,000 at a recent GCRA auction. Built at Derby in December 1934, 5655 was a Manchester Longsight loco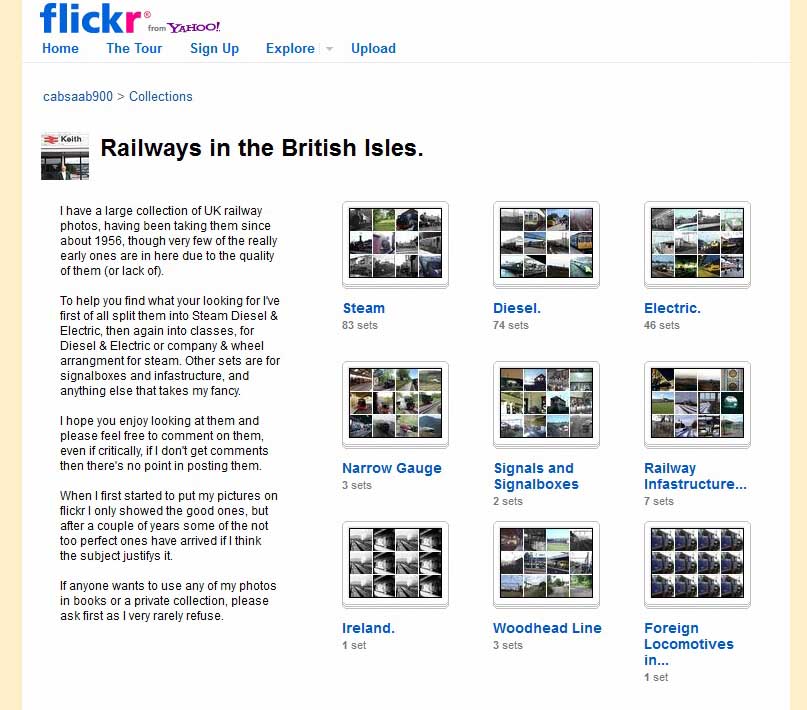 for a long period before going to Crewe in 1957. It spent a short time at Llandudno Junction followed by a return to Crewe, then a transfer to its final shed at Warrington in 1961 from where it withdrawn in April 1965. It remained in store at the shed until November prior to being sold to Birds of Bridgend in December 1965. The loco was cut up the following year. The GCRA sales brochure describes the plate as being in outstanding, ex-loco condition with lots of Brunswick green on the underside and more importantly, retaining all the original 'split-pin' bolts and nuts. A single punch mark on the rear denoted the left-hand side.

(Left) Keith Long has a large collection of UK railway photos from 1956 to the present day on his Flickr site. To help visitors find what they are looking for in his 'Railways in the British Isles' section, he has split the collection into Steam, Diesel & Electric, then again into the various different classes. Other sets include signalboxes and signalling, railway infastructure plus anything else that has taken his fancy. It really is a fantastic site to behold...in fact he reminds me of the proverbial magician pulling rabbits out of the hat! All in all Keith's photostream of 1960's steam and diesels is the best collection you'll find anywhere on the Internet. Click here for a link to his fabulous 'Cabsaab900' collection - highly recommended!
Polite notice: All text and photographs are protected by copyright and reproduction is prohibited without the prior consent of the © owners. If you wish to discuss using the contents of this page the email address is below. Please note - this is not a 'clickable' mail-to link via Outlook Express. You will have to email manually.
dheycollection@ntlworld.com

saabinn@virginmedia.com