INTRODUCTION BY DAVID HEY
During the Fifties, train spotting was the most respectable of pastimes. It gave small boys a chance to learn something about railways: train timetables, shed allocations, loco classifications, geographical distribution and a wide-eyed appreciation of 19th Century civil engineering. The hobby was a miniaturised encyclopaedia with established traditions, conventions and boundaries, all of which gave youngsters a semblance of meaning - and, more importantly, a grasp of our history.
However, if I had to find a down side, it is that most parents viewed 'bunking' sheds and 'cabbing' engines as the dirtiest pursuit imaginable, which it was! When offspring came home 'mucked-up' to the eyeballs after a day's spotting, parents had reasonable grounds for complaining. But since the hobby offered no other evidence of nonconformity or adolescent tantrums they should have at least been grateful that we weren't carrying knives, or buying drugs from scumbag dealers on street corners.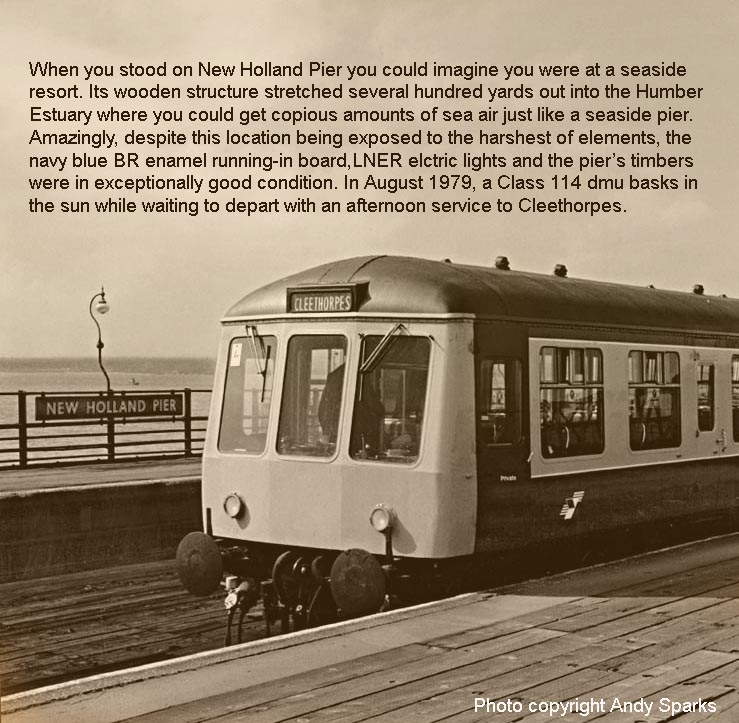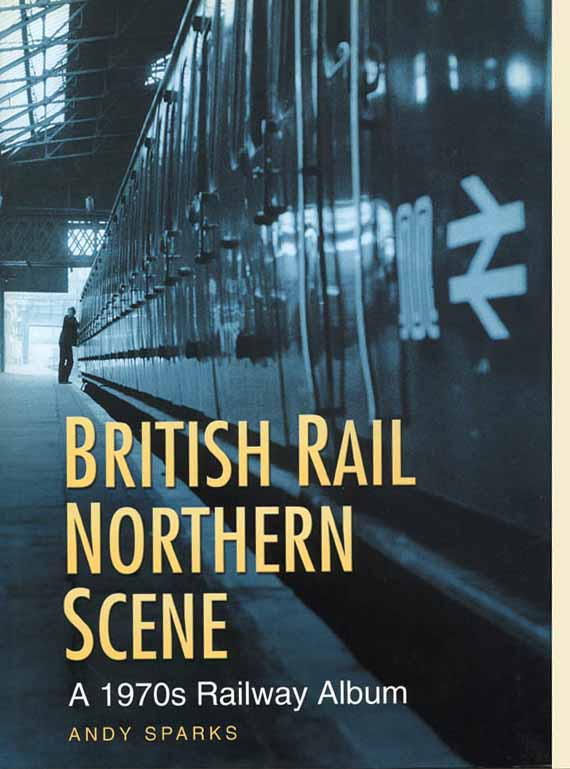 Of course, parents knew precious little about our commitment to train spotting. By the mid-Sixties, steam's demise was gathering momentum at an alarming rate and with clear signs of imminent separation just a few years away the pursuit of 'cops' took on a whole new meaning. When the 'Duchesses', 'Kings' and A4 'Streaks' were assigned to the scrap heap, it became a race against time as uncontrollable as the wildest edge of obsession. The end of steam was something from which most of us would never recover, but since the world was so full of other things to do during the 1970s we didn't take much notice of modern goings-on - train spotting belonged only to our childhood. As a consequence, many boys ignored the 1970s railway scene entirely, which, thinking back on it now, was a simple coping mechanism.
But time is a great healer, because when the Eighties came along we looked at the railway scene in an entirely new light. Until then we hadn't articulated any thoughts that our old railway photographs were worth anything. We had a feeling that, after the end of steam in 1968, our collections contained everything they ever would. Nonetheless, many of us felt uneasy that our photos were just sitting there in a cardboard box gathering dust at the bottom of a wardrobe. So with a renewed sense of urgency we began photographing trains again - albeit ten years too late. The 1970s had come and gone, and much of our railway heritage had disappeared with it.
This brings me to the railway photographs of Andy Sparks, who set about recording the railway scene in an entirely different way; whilst many cameramen displayed an abject lack of empathy for railways as a whole, Andy had a clear agenda to photograph the hustle and bustle of passengers dashing to catch trains and station staff going about their everyday duties, all of which dispels the myth that a prerequisite for taking a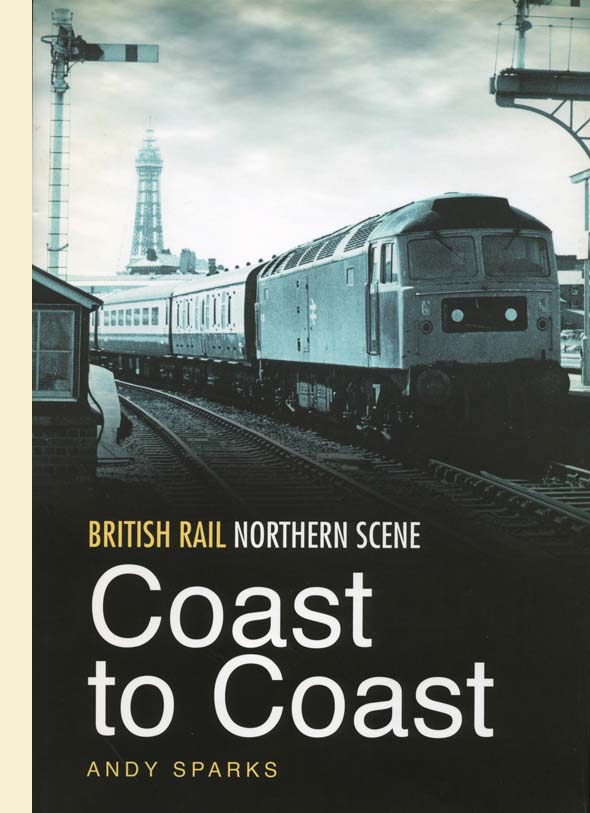 classic railway photo is that it should include a locomotive or a train. However, unlike the voyeuristic stitch-up artists of the paparazzi (who take sneaky shots of people in an exploitive way), Andy has succeeded in capturing something quite remarkable - a slice of 1970'-80's railway history now long since gone.
Many of Andy's images were published in his books: British Rail Northern Scene 'Coast to Coast' (Right) and British Rail Northern Scene '1970s Railway Album' (above left), both featuring the railway scene in the North West of England, North Wales and the Yorkshire area in the days before BR's squeaky clean new order, now synonymous with the modern railway network, swept it away for ever.
Fast forward to the present day, and Andy's third book - 'British Rail Scene' (ISBN 978 0 7509 7013 6) - captures the railway scene in many other parts of Britain; it gives a fascinating glimpse into the nation's rapidly changing railway network from 1972 to 1982, covering everything from rationalisation and modernisation, to the country's massive social, political and economic changes, all of which made it a period like no other. The 'British Rail Scene' (below) will be published in March 2017 and signed copies will be available from the Class Forty Preservation Society's Sales Department, either via the sales stand or online and mail order. In addition unsigned copies will be available at many book shops or on Amazon (orders are now being taken) and direct from the publishers History Press HERE.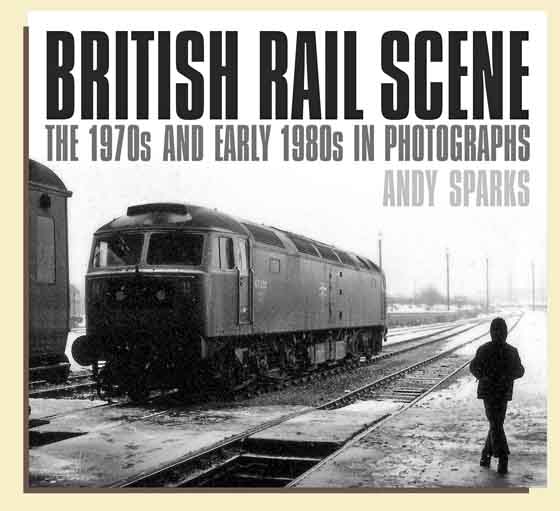 Andy's first attempts at railway photography date back to 1968 when BR steam was coming to an end. He acquired a Kodak Brownie 127 camera from a local junk shop when he was just 9 years-old, but the limitations of the camera meant that his first attempts at railway photography could never match his expectations, and so he decided to give it up until he was a little older. In the meantime, he spent many happy hours train spotting and pouring over timetables, books and magazines to 'gen-up' on railway facts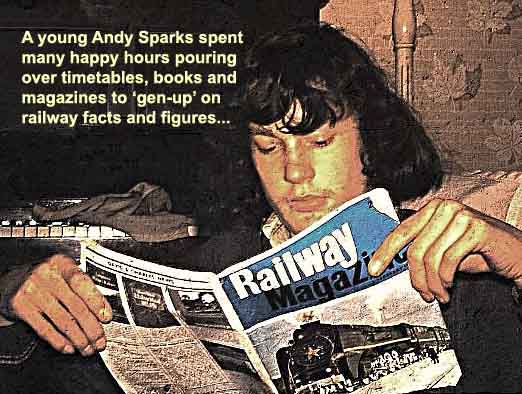 and figures (right); he also studied the various railway photos in a bid to develop his own particular style. He was greatly influenced by railway photographer, Colin T Gifford, whose knack of capturing so much in a single picture was a valuable lesson to be learned; above all else Andy realised just how quickly the railway scene was disappearing.
On his travels he used to pass a second hand camera shop in Gorton, Manchester, where the proprietor, Mr Dodds, had a vast array of cameras on display, albeit most were far too expensive for a small boy to ever dream of owning; these included Bronica, Canon, Minolta, Leica, Pentax and Rolleiflex to name but a few. However, just before his 14th birthday, he spied a cheap little Russian camera sitting near the front of the shop's display. It was nowhere near as sophisticated as a Russian 'Zenith', but it did help him resume his long-burning ambition to photograph as much of the changing railway scene before it disappeared entirely.
After mum and dad bought him the camera, his first port of call was the hyper-atmospheric and very busy Manchester Victoria station, a popular venue for local spotters. This was followed by a train ride to Wigan Wallgate station, which in 1973 was like a veritable time-warp trip back to the steam age, a far cry from the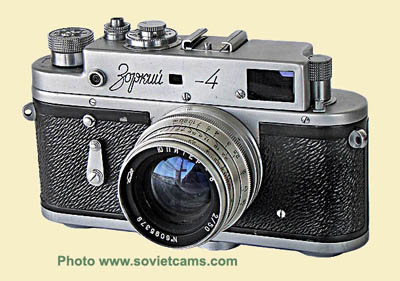 adjacent Wigan North Western station which had been recently modernised pending electrification of the West Coast Main Line north of Crewe and the introduction of AC electric locomotive-hauled expresses throughout between London Euston and Glasgow in 1974.
Andy had soon worn the camera out, and so for his 15th birthday his parents bought him a brand-new bomb-proofed Russian Leica lookalike; the 'Zorki 4' (left) and after he started work as an engineering trainee, the 'Zorki 4' was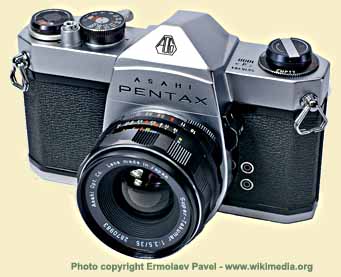 eclipsed by a 'Pentax SP1000' (right) bought on the never-never from Debenhams in Manchester. For the record, Andy more often than not used Kodak Tri X or Ilford HP5 'fast' 400ASA film for all year round versatility. On sunny days Ilford FP4 125 ASA was occasionally used.
Over the years his quest to photograph the changing scene has yielded thousands of images, albeit many have either been lost or destroyed, whereas others have survived including several unprocessed films which have astonishingly produced many usable photographs despite the films being twenty five years past their use-by dates! Thanks to the wonders of modern technology, he has been able to create a series of themed chapters to produce several books, and his latest publication is not only informative, it is smile inducing, thought provoking and an unashamed wallow in nostalgia…a book that readers will enjoy dipping into time and time again.
Incidentally, I am not affiliated with the sale of Andy's books in any shape or form, merely drawing attention to a refreshingly different style of railway photography that I wish I'd thought of myself. A slice of Andy's stories appear below and his email address is posted at the bottom of the page.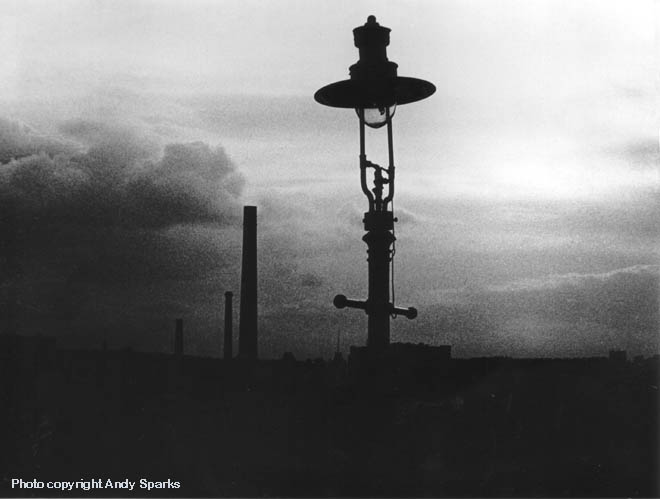 (Above-Below) This photograph was taken at Stalybridge station during the winter of 1974. It was used in my GSE Art portfolio (Edgerton Secondary Modern, Denton, 1975). I christened it 'Industry Personified'. The mill chimneys, gas lamp and the pollution-laden skies are long gone. I wonder what today's sixteen-year-olds would produce to illustrate this title. (Below) Arnside - Summer 1974. Wet summers are not a new phenomenon. An appropriately dressed lady meets her friend, who's just arrived from Lancaster aboard the afternoon train to Carlisle. Note the maroon enamel Arnside Station sign, soon to be replaced by a far less attractive 1970s B.R. corporate black on white version. In addition you can see the barred doors on the Carlisle based Class 108 diesel multiple unit. They were designed to stop people hanging out of the windows, but made it very difficult to open the door when having to reach from the inside to outside.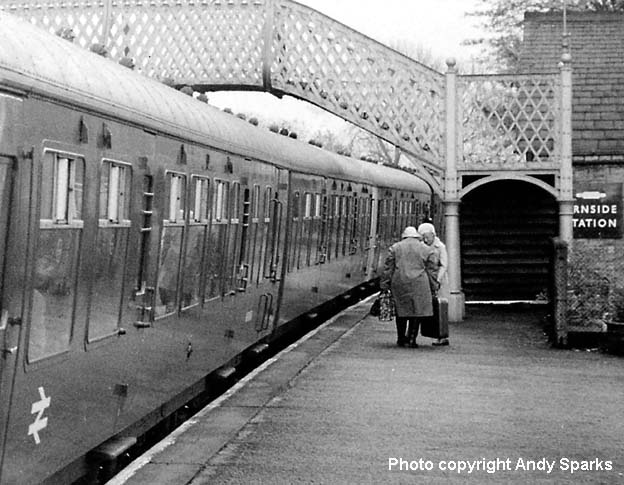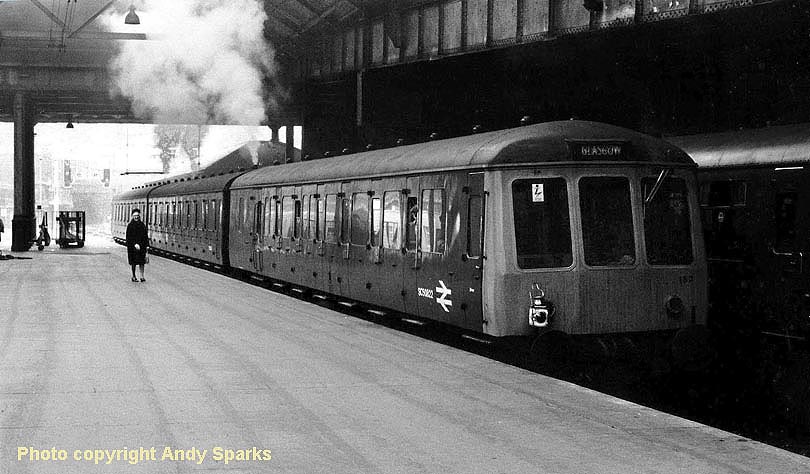 (Above-Below) Easter 1976. An early evening d.m.u. to Glasgow leaves behind plenty of noxious clag as it departs from Edinburgh. This shot clearly shows how much cleaner second generation units are. The lady in black had waved farewell to her similarly dressed friend and was heading back into the city centre.(Below) August 1979. Southern Region Kent Coast e.m.u. 7164 blends in well with the light and dark shades created by London Victoria's magnificent train shed. The electric unit has now passed into history, but the station environs will live on for many generations to come.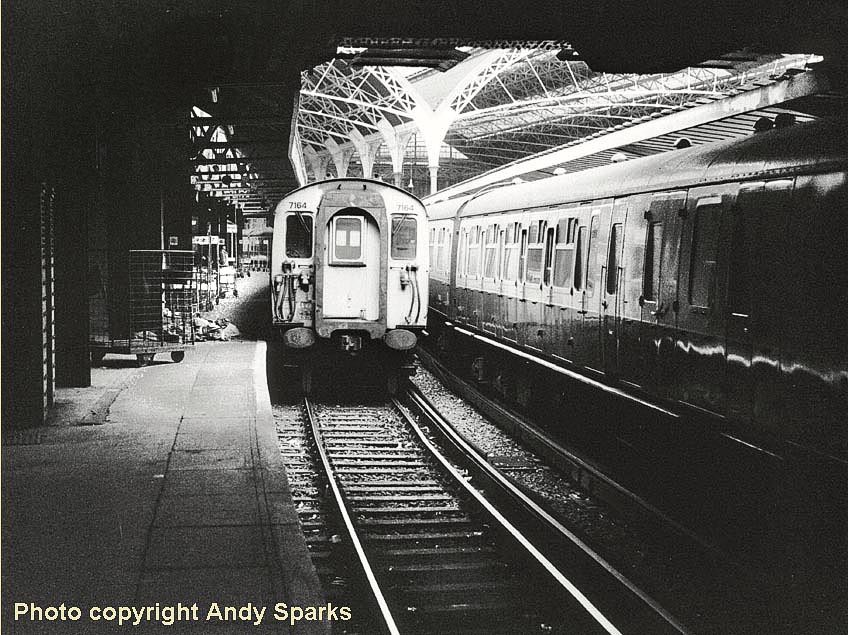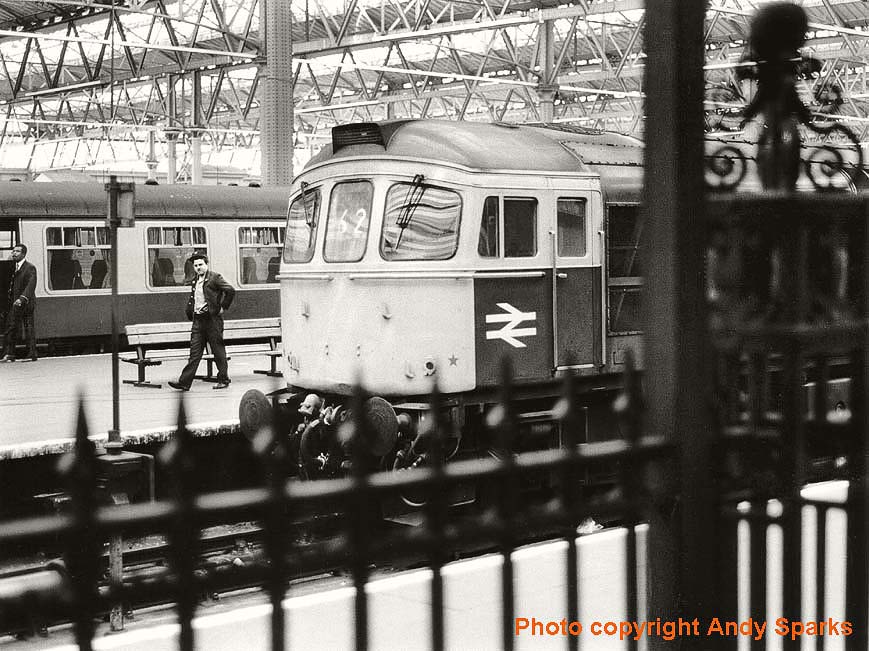 (Above-Below) London Waterloo - August 1979. The rush hour is about to start and this Class 33 had recently brought in empty stock for a service to Salisbury. The station worker caught sight of me taking this photo at the moment of pressing my Pentax SP1000 shutter... his facial expression improved the photo considerably.(Below) 'Through the bars' - Bury Bolton Street station, winter 1977. A pair of Class 504 EMUs prepare to depart with a train bound for Manchester Victoria. At the time Bury's new interchange was in the early stages of development, and this station's days were numbered, with dereliction followed by demolition thought to be in prospect. However, today it is still possible to recreate this photograph, with just one main difference - locomotive-hauled trains (including Black 5s, Pacifics and heritage diesels) have replaced the 504s. The station is now the headquarters and operating hub of the modern East Lancashire Railway. I wonder if the Mk 10 Jaguar, URN 679, still exists.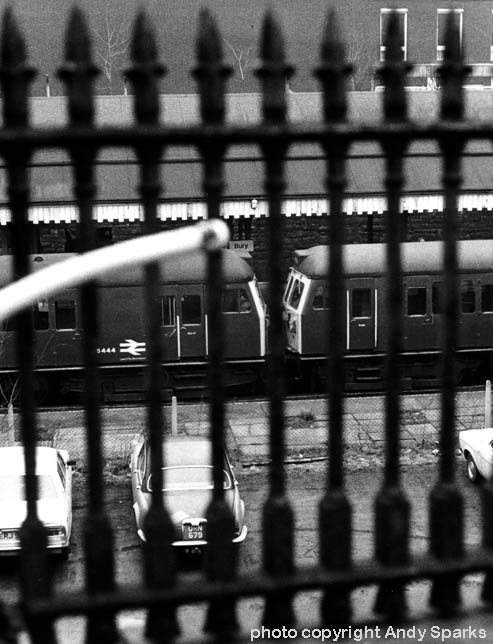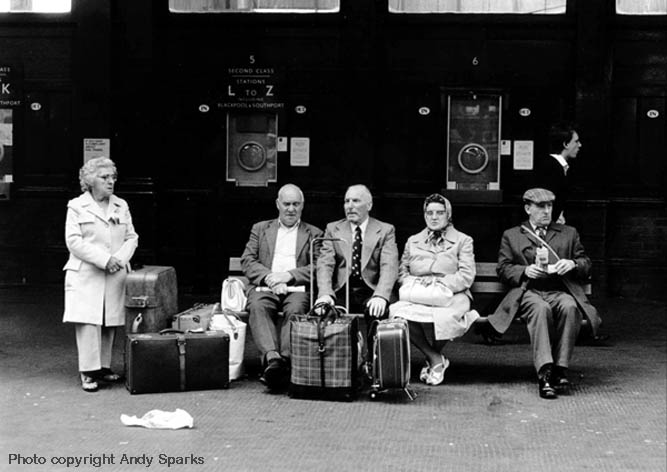 (Above) 'Going on Holiday'; Manchester Victoria, July 1979. These lucky people are taking a break on the station concourse bench, before heading towards Platform 11 for the train to their North Wales holiday resort. There is no risk of their cases bursting open en route, the heavy- duty supplementary straps will see to that. The seated lady has her holiday sandals on and her newly set hair rollers protected by a tightly tied headscarf…she obviously wants her hair to looks it's best on the first night at the digs. It looks like the lady who is standing is not with the group and has been given the job of looking after the cases while her husband has gone to check up on the train times. The gentleman, complete with well polished shoes, at the end of the bench appears to be lightly laden indicating he is on a day trip. His packet of raisins will provide him with sustenance on the journey and was probably purchased from the adjacent Findlays kiosk. The hardwood L. & Y. booking office windows can be seen in the background…window No. 5's sign indicates that tickets for destinations beginning with L to Z plus Blackpool and Southport can be purchased there. This enabled queuing on busy days to be kept to a minimum.

(Below) 'Heading Home'; Stalybridge, winter 1974. This lady makes her way out of the gloom of the glazed brick-lined subway, where she will board the 'Paytrain' bound for Guide Bridge, Denton, Reddish South and Stockport. Today she would be an easy target for a mugger; her handbag and shopping basket could easily be snatched. This photo clearly shows how carefree people once were.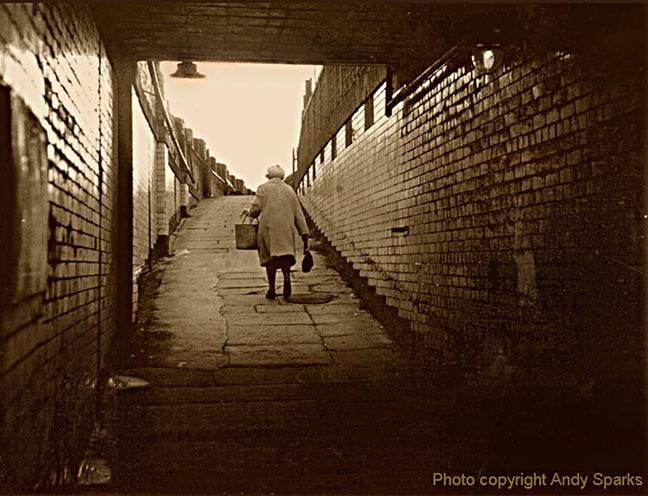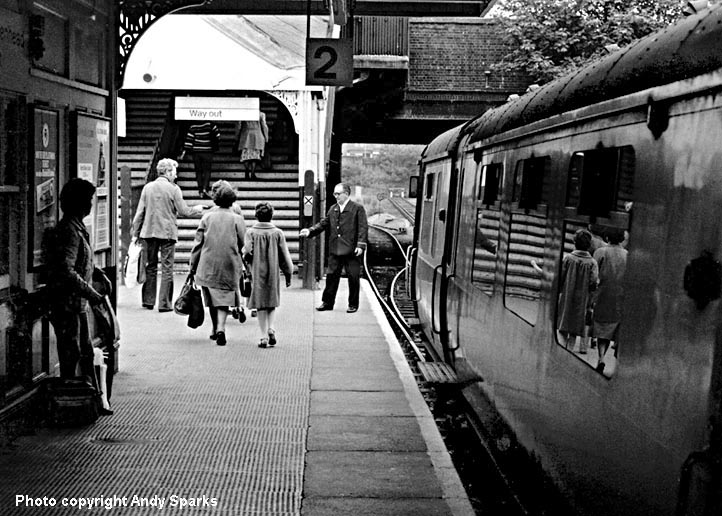 (Above-Below) 'Tickets Please'; Birkenhead Park station, summer 1979. Since the earliest days of passenger railways, ticket collection ensured people paid for their journey - 'Revenue Protection' in today's language. During the 1970s the programme of station cost-cutting included the phasing out of this practice. While it did cut manpower costs, it also made free travel an easy option for the less honest passenger. This narrow minded 1970s thinking must have cost B.R. more in lost income than they saved on manpower. Today's train-operating companies have recognised this loophole and now take action to minimise the risk people travelling without paying. (Below) Whilst two passengers wait at Sheffield Midland for the next train to Rotherham a friendly member of the station staff keeps them entertained; July 1979. They look quite comfortable sat on the trolley. I, plus hundreds of other enthusiasts, can certainly vouch for the comfort of these once common perambulators. I've spent many hours perched on them whilst spotting and waiting to take the ever illusive master shot. The pair of Class 114 Units stabled on the station's 'centre roads' would later on in the day be utilised on a stopping train service to Lincoln Central.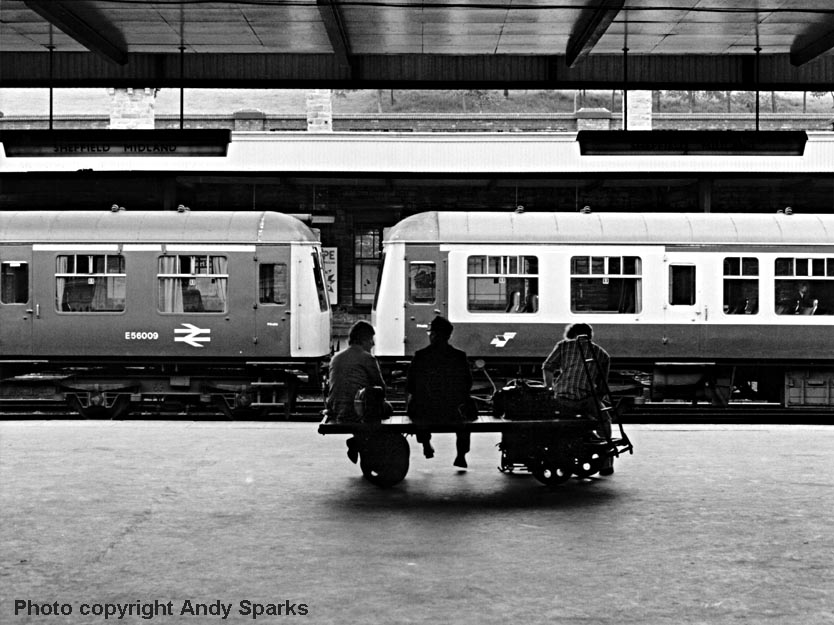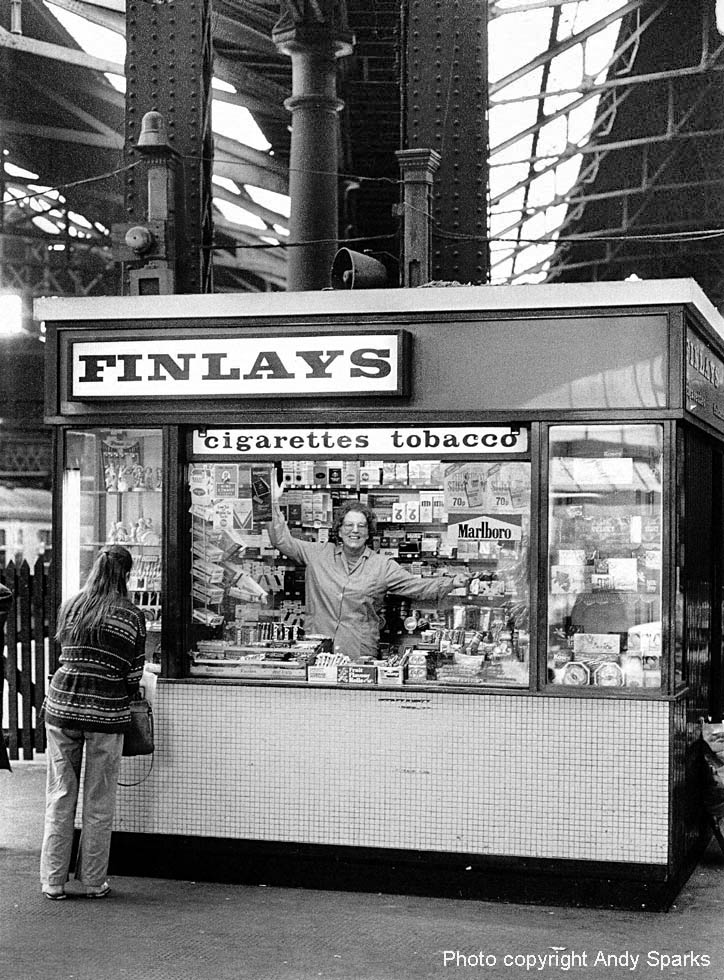 (Above) 'Star Performer' - Manchester Victoria, summer 1979. The lady obviously enjoys life and provides her customers with those vital added ingredients - good humour and friendliness. At the North's major railway stations, boxes of chocolates (for the wife, girlfriend or mother), sweets, chewing gum, pipe tobacco and cigarettes (including 1970s favourites such 'No.6', 'Park Drive' and 'Woodbines') could be readily obtained from these handy little shops. Today they have all been swept away and at the few stations that still have places to buy something for the journey they are far less friendly places… corporate uniformity, commercial pressure having largely stifled the personal touch.

(Below) Nos 76016 and 76025 have just coupled up to a lengthy Dodworh Colliery to Fiddlers Ferry HAA coal train at Penistone yard; May 1979. The train had recently been brought into the yard by a Tinsley allocated Class 37 which had powered it over the non electrified Dodworth/Barnsley branch. The increased track to overhead wire height (for rail staff safety reasons) can clearly be seen. This health and safety consideration shows just how advanced the 1940's design of the Route really was. It's interesting to compare how much the pantograph height varied dependant on location.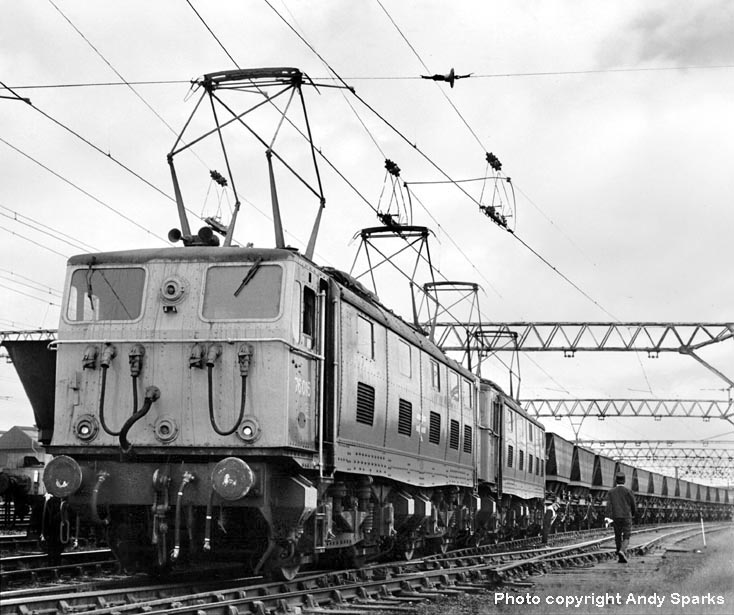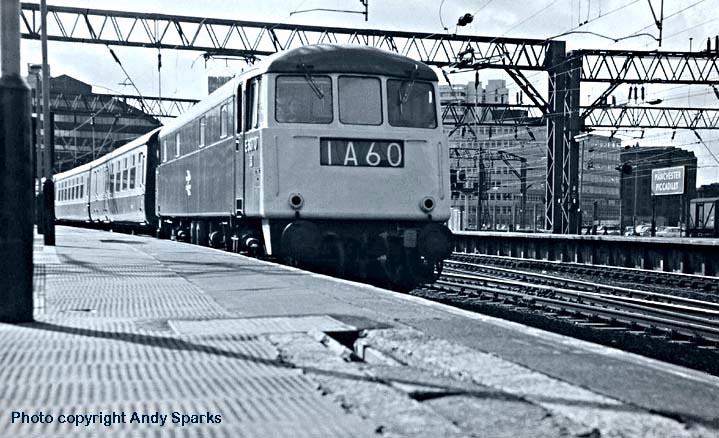 (Above-Below) Just as the 1966 Inter-City visionaries intended - an immaculately presented E3070 (85015) and rake of Mark 2b's pull out of Manchester Piccadilly with the 17.40 to London Euston; June 1973. This scene makes a clear statement - trains are now bright, clean, fast and modern. People liked the new experience and went on to make full use of what Inter-City had to offer. (Below) Manchester Victoria station frontage; August 1979. Curiously this photo almost looks as if it was taken quite recently. The people's clothes and hairstyles would not appear out of place in a modern station/street scene. Only the familiar FX4 taxi's "R" reg. (1975/6) number plate suggests that the photo may be older than it looks. Perhaps in a couple of years time when all the old style taxis have been pensioned off this scene will reveal its true age? If you can spare a few moments see if you can spot a few more tell tale 1970's ingredients tucked away in the detail - there are a few. I've included this shot to show that not everything within the northern scene has significantly changed over the last thirty years.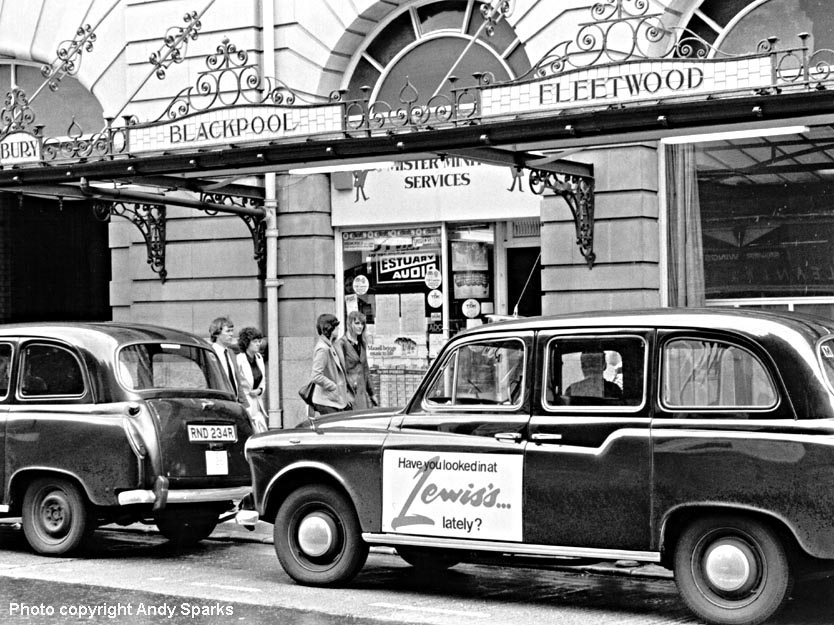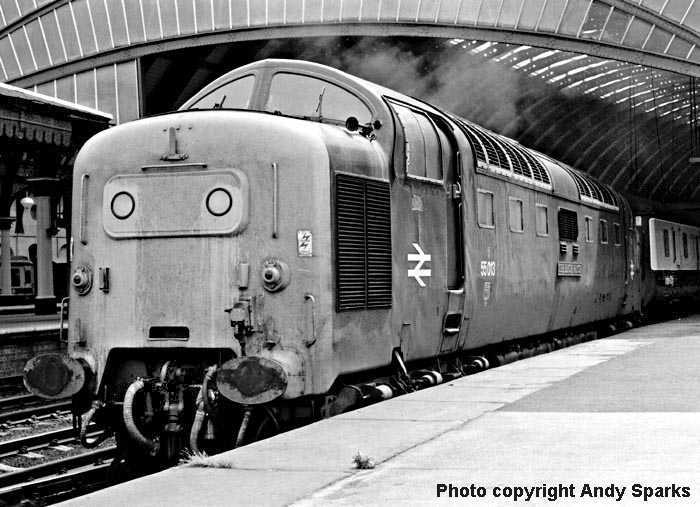 (Above-Below) I think this photograph says why the Class 55 'Deltics' were - and still are - a class above all the rest. Magnificent! You can almost here the thunder of the loco's Napier engines being engaged as 55013 'The Black Watch' departs from York with the 08.40 Kings Cross to Newcastle train on Sunday 8th July 1979. By the time this shot was taken the train was one of the few remaining timetabled 'Deltic' hauled services linking London with Newcastle, most had been entrusted to the 'Inter-City 125' Class 254 units. (Below) On a Sunday afternoon in August 1978, three horse riders skirt Reddish Depot's boundary fence. Today this location is virtually unrecognisable; a housing estate has been built on the land.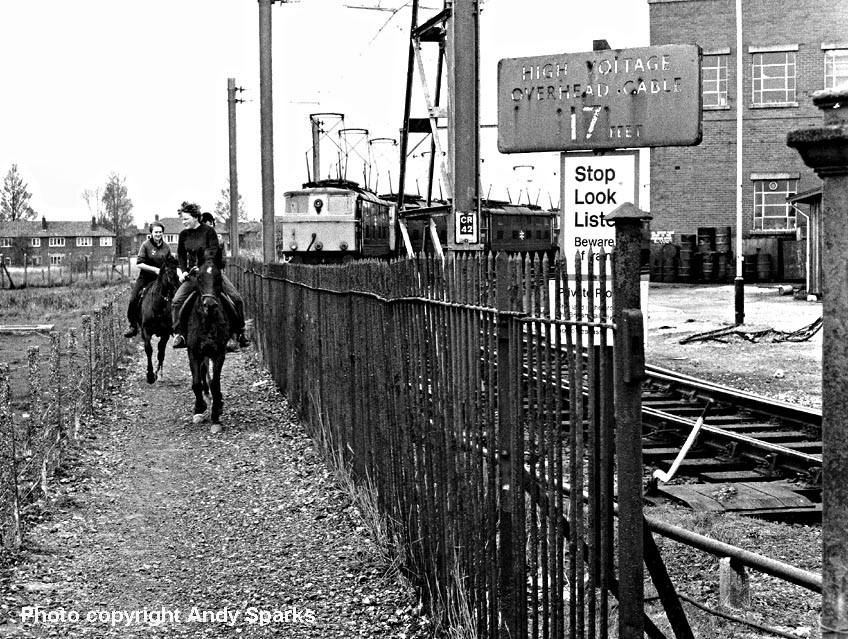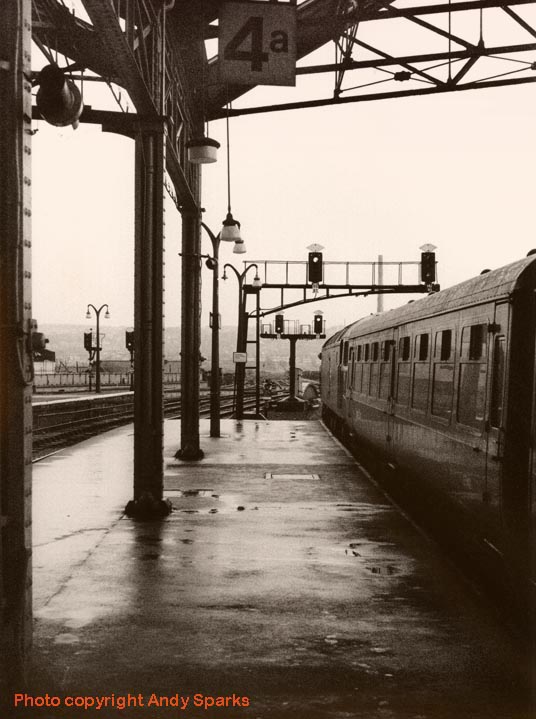 -(Above-Below) On a dismal November day in 1979, the driver of a Gateshead allocated Class 47 'Generator' hauling this Liverpool Lime Street to Newcastle working waits for the flag from the guard prior to getting the train underway. This atmospheric shot shows that you do not always need a sunny day to create something a bit special (if I do say so myself) - the L.N.E.R. lantern covers are what really makes this picture.(Below) This once commonplace sight of mail bags being loaded onto a train is now very much a thing of the past. This postal worker certainly has his work cut out with this trolley load. Despite having his hands full he's managing to smoke his 'No.6' cigarette without any difficulty. Notice the spotter (and his bicycle), who's keeping his eyes peeled for the next piece of railway action. You can also just make out the driver (behind the sign) climbing into the cab of March (MR) allocated 37023, prior to taking the mail/parcels train to its next port of call. Andy took this photo at Peterborough whilst touring the East Midlands, using a Runabout/Rover Ticket, during August 1978.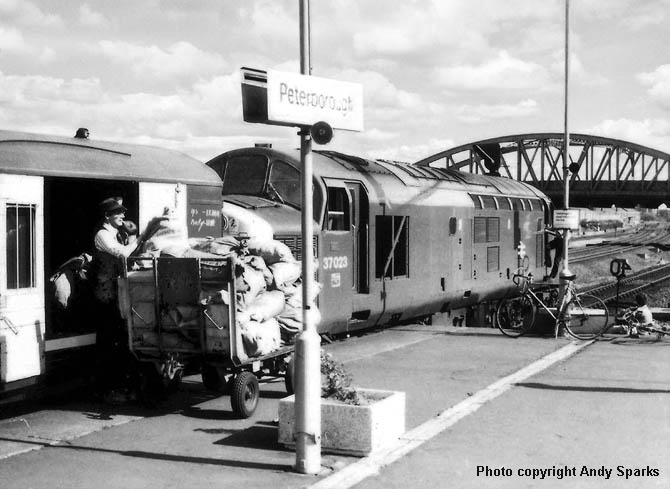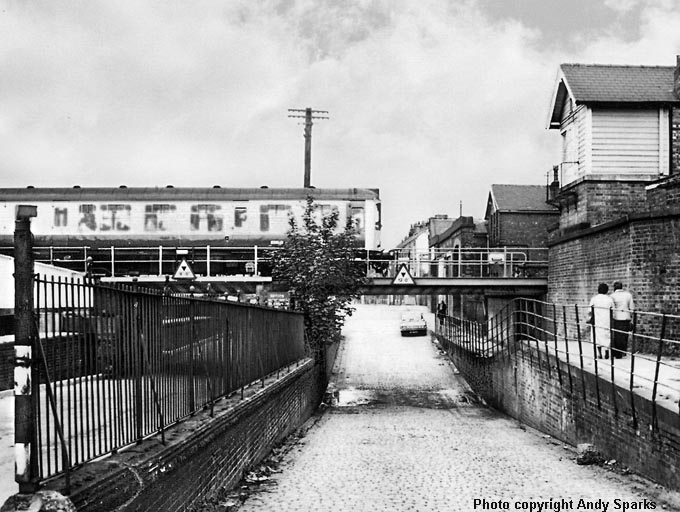 (Above) Selby summer 1979. A great deal of the infrastructure in this view had probably changed little since Great Northern Railway days. Out of shot, to the left, is the impressive Victorian built swing-bridge which until the 'Selby Diversion' (to avoid coal field subsidence) carried E.C.M.L. trains across the navigable river. The refurbished Class 110 'Calder Valley' unit goes unnoticed by the couple as it approaches the station with a Hull - Leeds service. Incidentally, the vehicle approaching is an example of the now rare Triumph 2500 motorcar, which was considered to be very desirable at the time.

(Below) Back in the 1960s and 70s, holidays and days out included trips to Blackpool aboard a 'Black Five' hauled train of mixed B.R./L.M.S coaches, in later years a 'White Stripe' Class 104 d.m.u. En-route, near Clifton Junction, stood the towering C.E.G.B. Agecroft power station. It had its own a fleet of 0-4-0 saddle tanks that pushed long lines of 16 ton coal wagons through a tippler. The coal then went by conveyor belt across the line to boiler house. From quite an early age I began to keep my eyes pealed for the little steam shunting locos as we flashed by. Interest in the place never waned; as soon as I was old enough I made my way, complete with camera, to this super pocket-sized industrial railway. By the mid 1970s I'd become a regular visitor, the team that worked there were very friendly. They let me photograph every aspect of the railway's operation and partake in as many cab rides as I wanted! This shot was taken at the system's mini motive power depot on a Sunday afternoon during the winter of 1973, one of my first visits. 'Agecroft No. 3' is in the foreground, 'No. 1' is having some cylinder attention inside the depot building.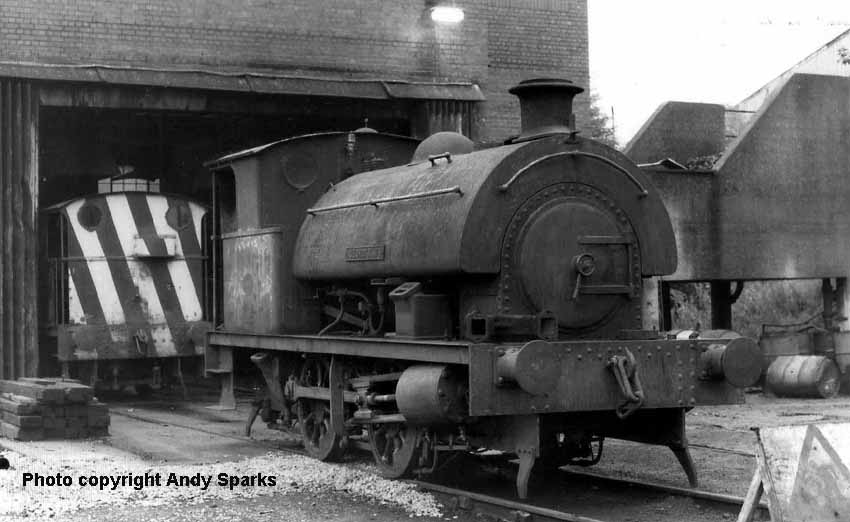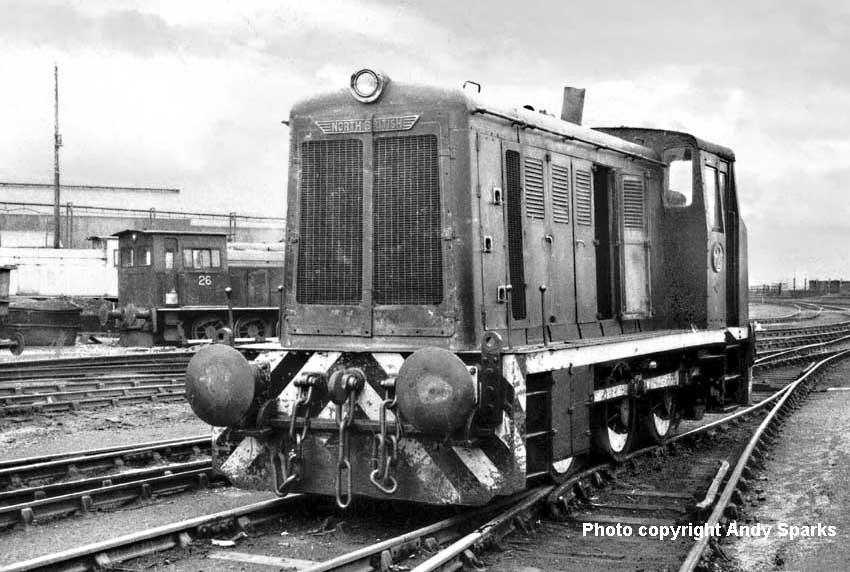 (Above) My visits to Agecroft triggered an interest in other industrial railway systems. With the help of the Industrial Railway Society's bumper directory of Britain's then vast array of lines I was able to sample quite a few of them. I thought the best were those operated by the National Coal Board (N.C.B.), Central Electricity Generating Board (C.E.G.B.) and British Steel Corporation (B.S.C.). Many railway systems still used steam power. However, being a fan of diesel locos, I didn't focus entirely on those that used steam. This shot was taken inside the confines of B.S.C. Shotton during the winter of 1975. It shows North British 0-6-0 '2' waiting its next duty. Across the tracks stands '26', also awaiting another task. The steel works was an amazing (slightly fearsome), busy, sprawling place, which certainly made full use of its sizeable diesel fleet.

(Below) Whit Saturday 1978. An unidentified Class 504 approaches Radcliffe on the service from Manchester Victoria to Bury Bolton Street (now HQ of the East Lancashire Railway). In the foreground, the lifted line ran to Clifton Junction where access could be gained to Bolton and beyond. Following withdrawal of the rail link, part of the trackbed is now used as a footpath. Correction…site visitor, Ian Allen, made contact via the Guest Book Page; he writes - 'Andy Sparks' photo showing the class 504 EMU approaching Radcliffe is incorrectly captioned. The lifted lines through Radcliffe Central actually ran to Bolton directly, via Bradley Fold. Clifton Junction was reached from Radcliffe Bridge St station on the original ELR line…' Thanks for the correction, Ian...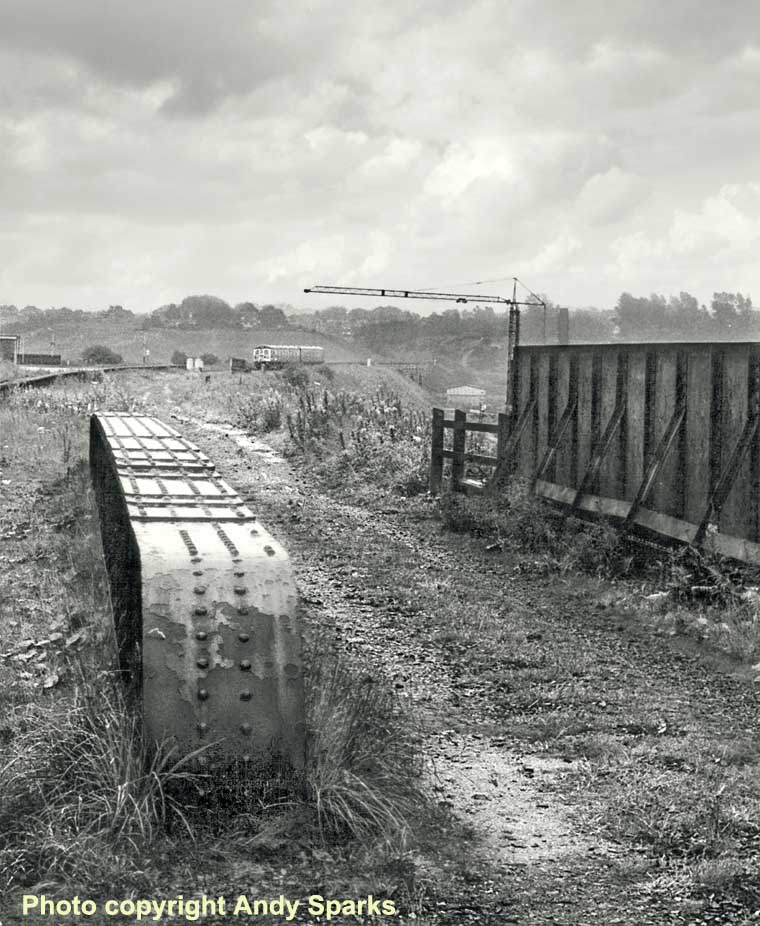 EXTRA BRITISH RAIL SCENES
Andy Sparks

(Below) 'Western' class 1043 Western Duke, Torquay, July 1973. Get ready for 1043's engine roar and accompanying plume of black clag as the driver brings on the power. It will happen any minute, now…just as soon as Torquay's lower quadrant signal drops. This is the afternoon return working of the summer timetabled train between Paignton and Plymouth, a service intended to take day-trippers to Plymouth after breakfast and bring them back in time for tea. Not only did it prove popular with holidaymakers it gave enthusiasts a great opportunity to have a low-cost run behind a 'Western'. This of course included the challenging Devon Banks… unmissable! Upon arrival at Newton Abbot the loco was uncoupled, then ran round its train to couple on at the other end for the journey onwards to Plymouth; this allowed enthusiasts a brief spell to stretch their legs on the platform. I travelled on it several times and welcomed the opportunity to have a gander at the depot, although I ran rather than strolled! There was so much to see and so little time…Newton Abbot was a fantastic place for enthusiasts, especially the depot area - 'Westerns' a plenty!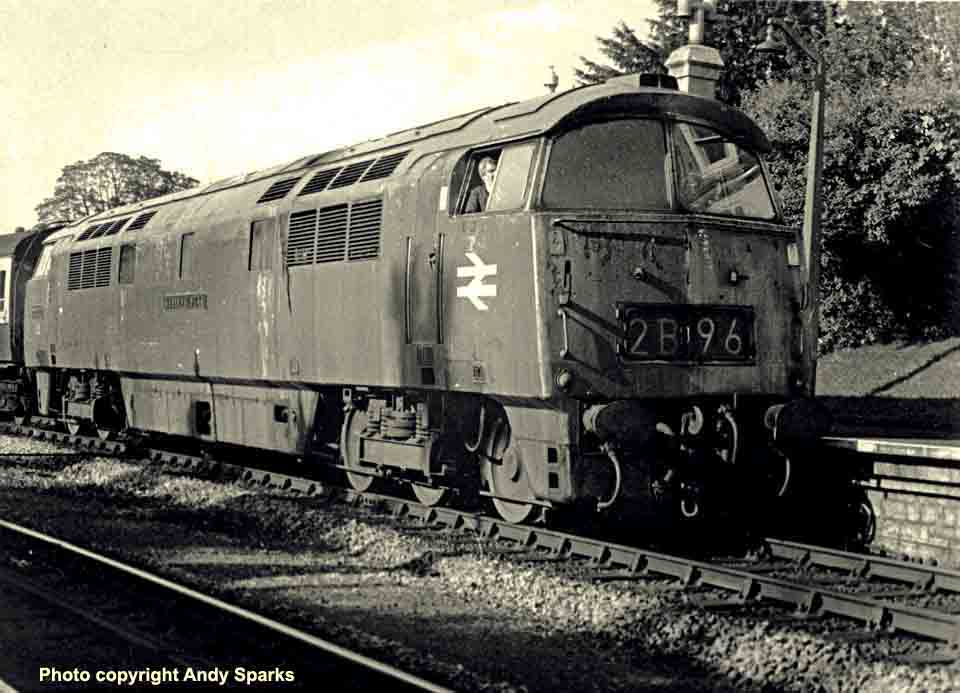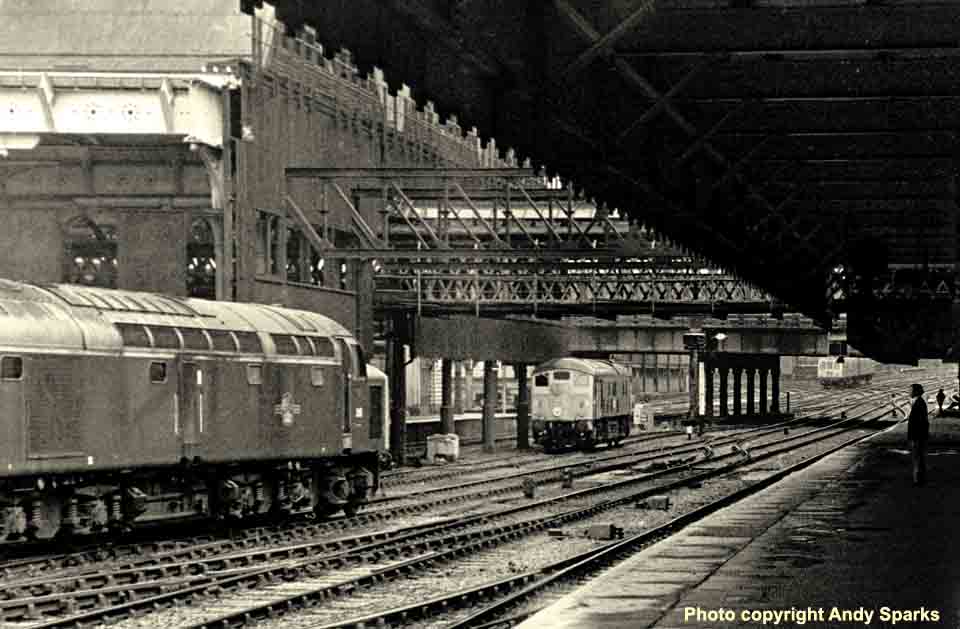 (Above) What a Vista! Manchester Victoria, winter 1973…for many generations of rail enthusiasts Platform 11 was the best place to be for watching trains. The platform continued throughout from Victoria into the now-closed Manchester Exchange making it the longest platform in the world! It was in the Guinness Book of records. During the early 1970s it was still possible to walk its full length, providing another brilliant vantage point to watch trains. In pre-TOPS days, Class 40 No 318, passes through with an eastbound freight while an unidentified 'Skinhead' Class 24 awaits its next assignment on station pilot duties in the siding adjacent to Platform 12. Meanwhile, a Metro-Cammell Class 101 2-car DMU drifts down Miles Platting Bank towards Platform 14.

(Below) During the 1960s I saw lots of books and posters with images depicting the rather stylish 'Blue Train' Class 303 and 311 EMUs operating in the Glasgow area. Like the Southern EMUs, I found them rather exotic but for a long time they were alluringly inaccessible. Little did I know that the Class 303s would be drafted closer to home in the Manchester area, primarily to replace the withdrawn Hadfield and Glossop Class 506 EMUs, hence they became a commonplace sight during the 1980s. In this shot at Glasgow Central in 1979 I hadn't enough time to sample either of the tempting delights depicted here. Both trains were ready to depart but l was soon to return home on the afternoon train to Manchester, a journey involving Class 87-haulage to Preston followed by a Class 47 for the final leg to Manchester Victoria. The DMU on the left is one of the Swindon-built Class 126 3-car sets; these units had very different front ends - a standard full-width cab at one end (as seen here) and a half-cab incorporating a central gangway connection at the other; the idea being that two 3-car sets could be coupled together to create a double-length 6-car train with a corridor access throughout…good in theory, but not in practice if the train ends were the wrong way round! On the right 303 080 is ready to depart for Gourock, a rather pleasant destination.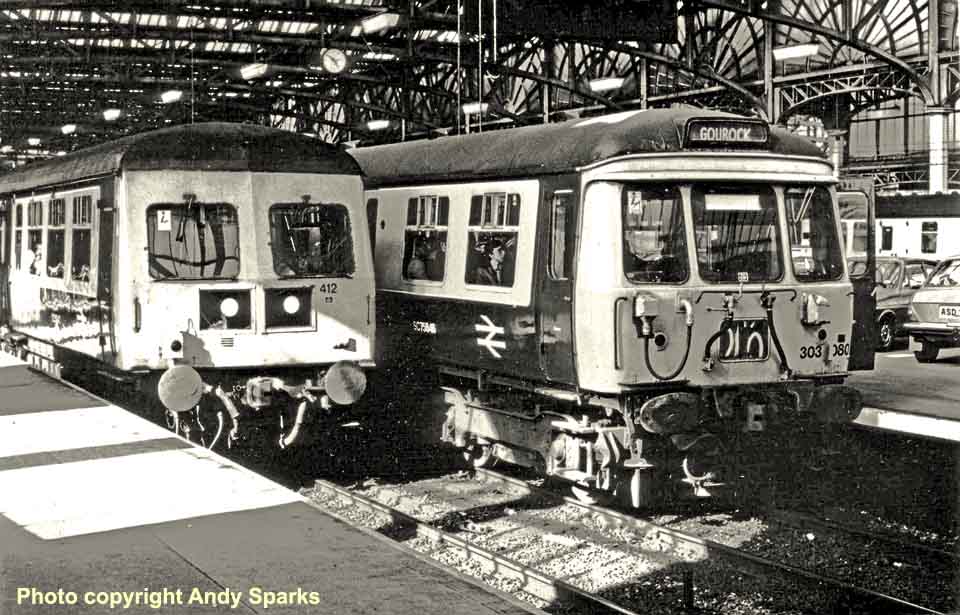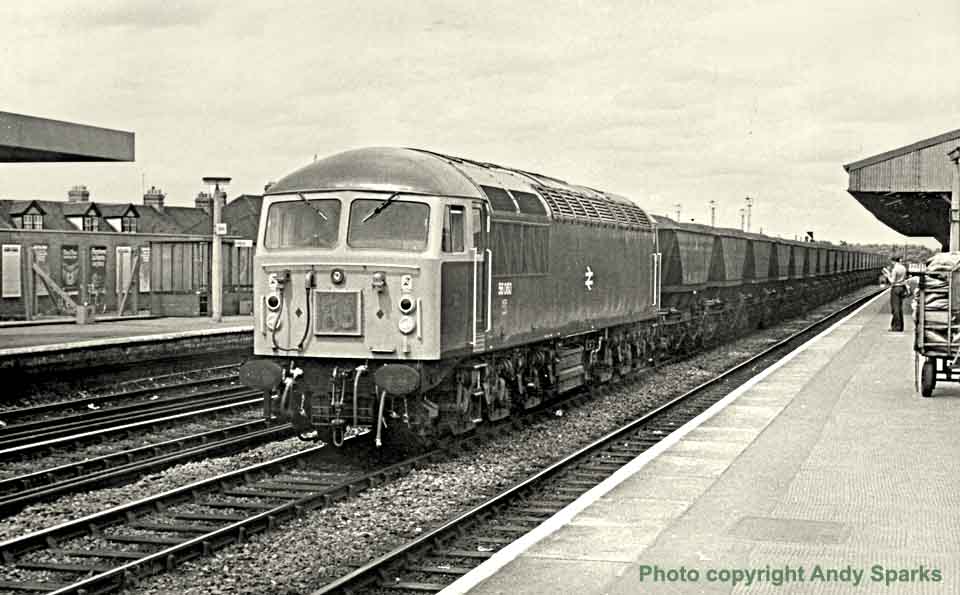 (Above) 'Merry go Round', August 1979. A brand new Doncaster-built Class 56 No 56060 heads a train of fully-loaded HAA hopper wagons through Oxford bound for the now-closed Didcot Power Station in August 1979. Introduced in 1966, the concept of moving coal by a block train of hopper wagons with automatic loading and unloading facilities was conceived as the best way to deliver the black stuff between the National Coal Board (NCB) collieries and the Central Electricity Generating Board's (CEGB's) power stations. The block trains of hopper wagons (each had a capacity of 33 tons of pulverised coal) were hauled by locomotives equipped with an electronic speed control enabling the driver to proceed at a fixed slow speed when loading and unloading at terminals; a highly efficient cyclic working that very quickly earned its very apt 'Merry Go Round' nickname. The Class 56s were ideally suited for this work, but with the demise of Britain's coalfields many became redundant and several locos later found work in mainland Europe, plus a few are still to be found working on our modern rail network. 56060 managed to dodge the scrap man rather well.

(Below) 'Push Lads!'…in the days before rigorously-enforced health and safety rules, these chaps power a permanent way trolley wagon eastwards through Ashburys on a warm summer's day during 1979.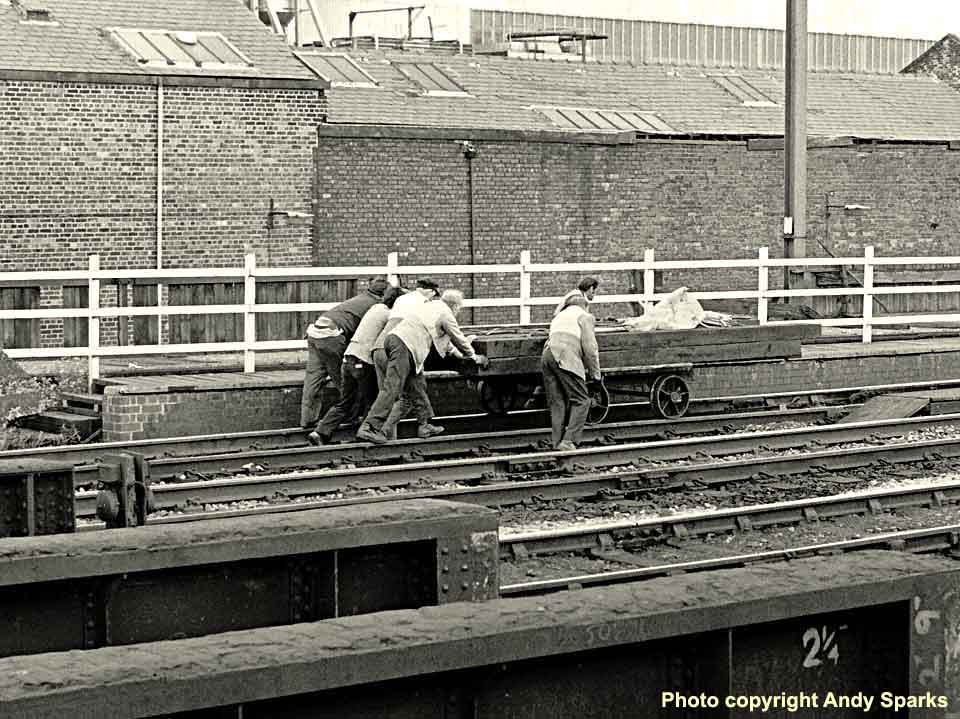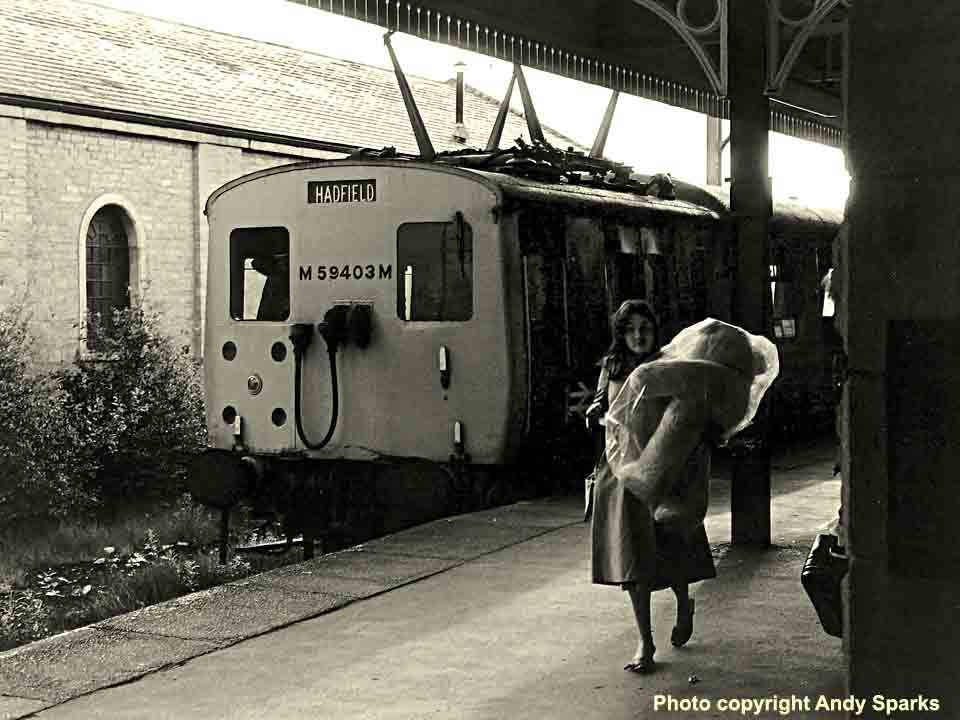 (Above) M59403M. Big teddy and his proud new owner have just arrived at Glossop after their journey from Manchester. I'll bet the teddy was pleased to be released from the plastic bag when he arrived at his new home. I wonder if the lady owner still has him tucked away and if she remembers that July 1979 evening? The platform and disused goods warehouse are now part of the town's co-op supermarket.

(Below) Following closure of Sheffield Victoria in the early 1970s, the station was 'mothballed' just in case it could be included in the City's future transport network. Unfortunately, by the time these photographs were taken in 1979 it was clear that any hope of a new lease of life had passed. The demolition men had moved in and by 1980 there was not a great deal left to remind us of the role it had played in the Great Central-LNER coast to coast route, and its ill-fated 'London Extension'. As I walked around the beleaguered station I felt sorry for the place…it had survived intact for so long after its closure it was as if it deserved to be spared-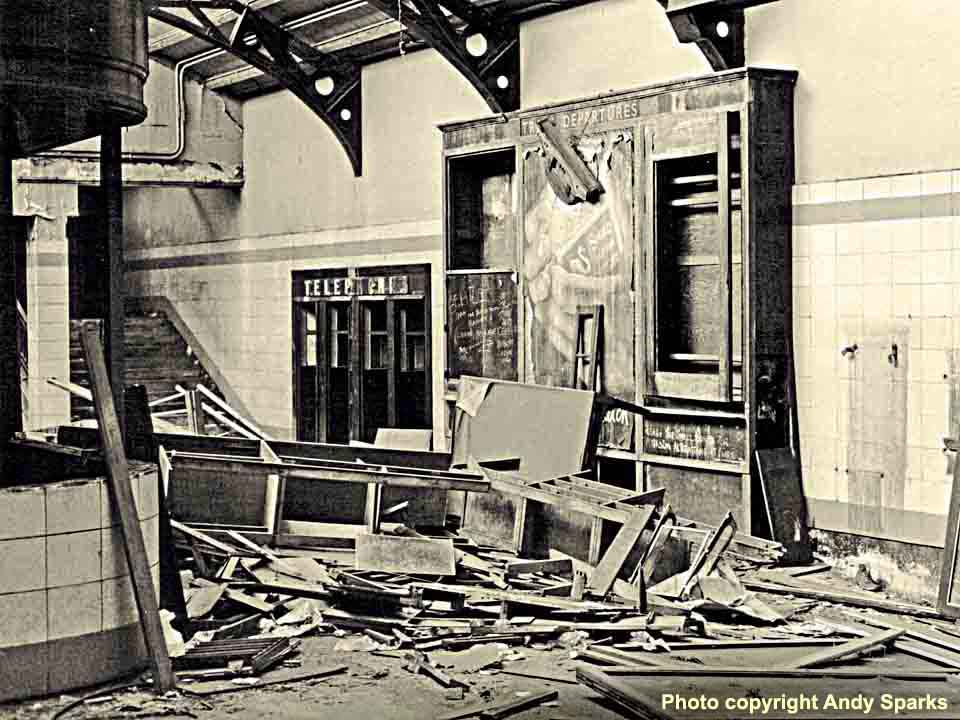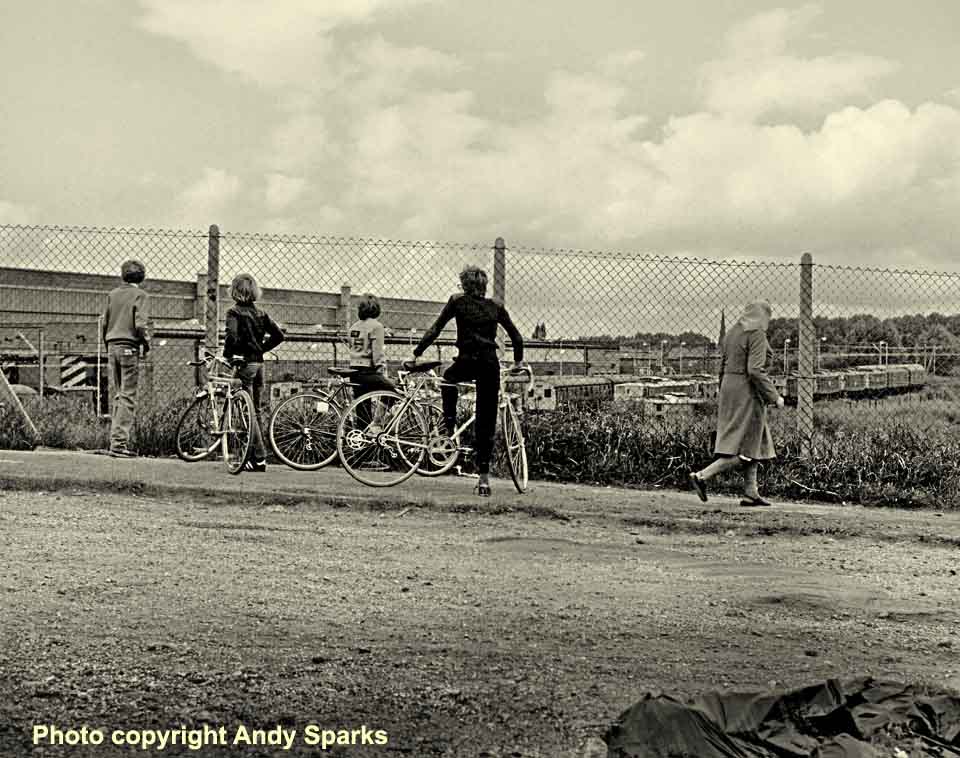 (Above) Journeys End at Reddish Depot during the school summer holidays of 1979. These spotters were making good use of their drop handle bar racing bikes to get round the Manchester railway hotspots; pedal power enabled them to quickly take in Guide Bridge, Longsight, plus all the nearby suburban and mainline routes. This vantage point allowed them to view both the depot and the Gorton Junction to Trafford Park line running under the bridge to their immediate left. Even the passing lady can't help but take a look at the line up of locos and units on display in the distance. The depot was reduced to rubble a few years later and a housing estate was built on the site; the closed Trafford Park line was subsequently lifted and converted to a Sustrans cycle path, and the foreground roadway is now virtually impassable. Change and progress.

(Below) A Liverpool Lime Street-bound ETH-fitted Class 47/4 waits in the afternoon sun for departure time at York station in October 1979. The platform end is packed with spotters who appear to be far more interested in the Deltic hauled train snaking out of the station destined for London Kings Cross.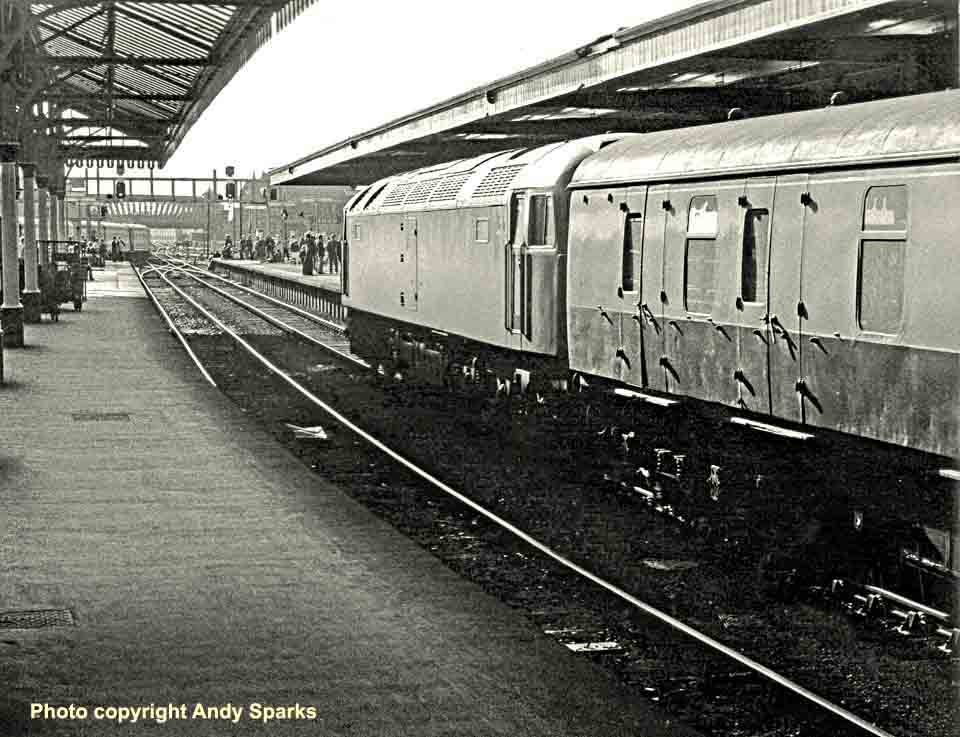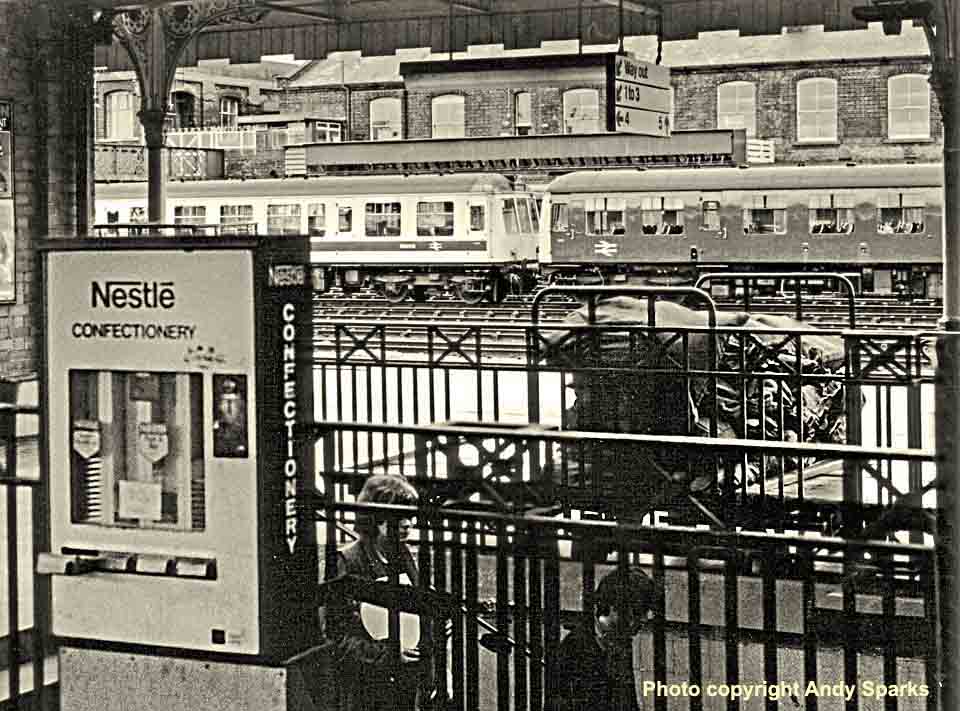 (Above) Viewed through Doncaster station's Platform 3 can be seen a refurbished Class 114 DMU No E50015 and an unidentified Class 105 stabled in the storage sidings adjacent to the BREL workshops. Goole is displayed in the destination blind of the 114 suggesting that it may have worked a stopping train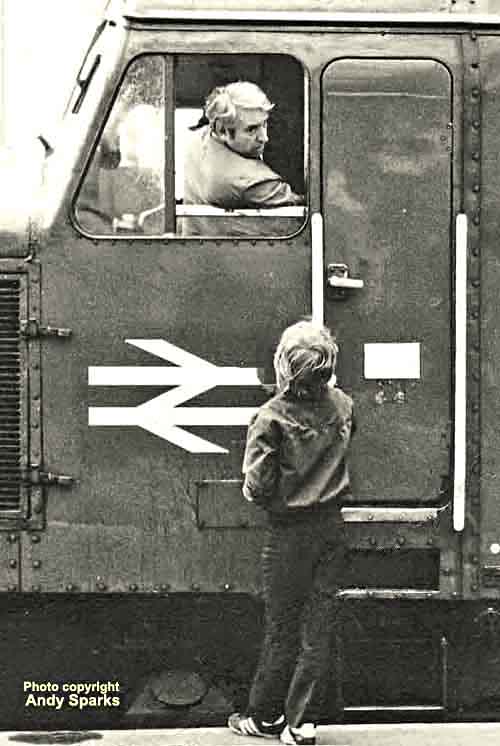 from Hull before proceeding to Doncaster. The DMUs were either waiting to enter the BREL Works for repairs or a roster that would return them to their home depot of Lincoln.

(Inset) 'Can I cab it please?' I recall the driver's response was an emphatic 'No!' However, sometimes you'd be lucky and the response would be to your advantage so it was always worth asking, just in case. On this particular occasion the driver of 'Peak' class 45018 had only a few minutes to go before getting his Newcastle to Liverpool Lime Street train underway from Huddersfield during May 1978. .

(Below) End User, Agecroft, October 1976…I spent many happy afternoons at the CEGB's Agecroft Power Station. Not everybody's way of wistfuly remembering their teenage Saturday afternoons. No kidding, it was really good. I gained access through the fence separating its coal wagon storage sidings and the football field close to Clifton station, where I alighted on the hourly Manchester Victoria to Blackburn service. The power station had a fleet of three small Robert Stephenson and Hawthorn 0-4-0 saddle tanks, named 'Agecroft 1', 'Agecroft 2' and 'Agecroft 3', all of which have now been preserved. Each day the locomotives would push long strings of 16 ton coal wagons through the tippling plant, and one by one the wagons' contents would be discharged onto a conveyor spanning the Manchester-Bolton railway line to feed the power station. This operation was controlled by a red-green light, which informed the driver when to stop and then push the next wagon through the tippler. This process was quite lengthy allowing me plenty of time to spend in the loco cab or photographing the proceedings. Once the process was complete the empties would then be pushed to the far end of the site, as seen In this shot. At the other end, beyond the A6044, was the NCB Agecroft Colliery where the coal trains originated. It was a terrific example of integrated working, although the system was often interrupted when the miners or power station workers went on strike - a commonplace occurrence during the 1970s and early 1980s; the upshot was widespread power blackouts and short time working. Agecroft Colliery closed in March 1991 and the power station was shut down two years later. The site of the power station is now occupied by HM Prison 'Forest Bank'.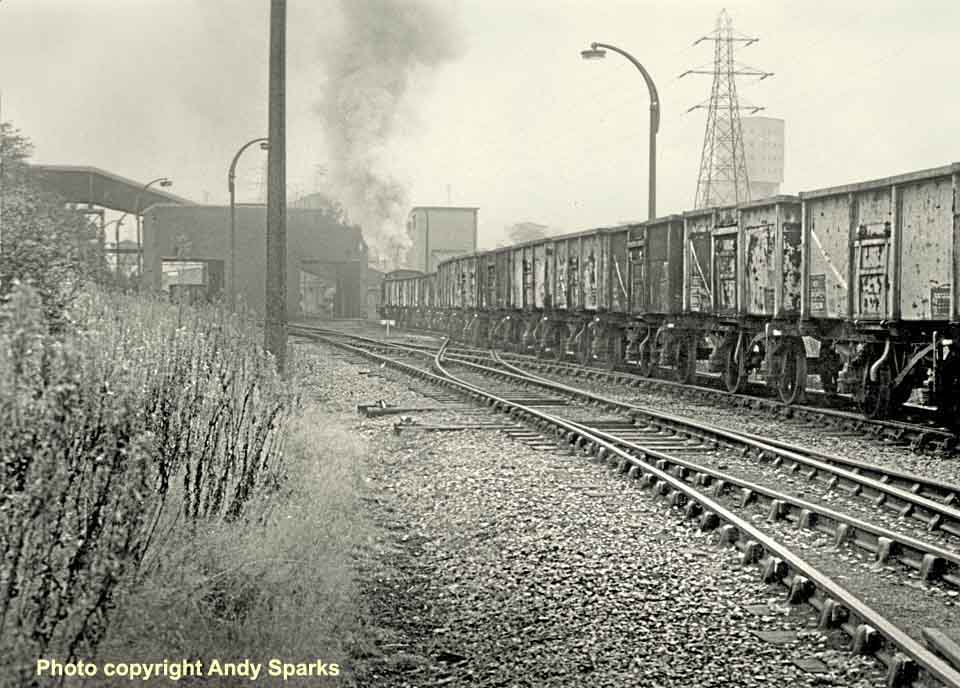 (Below Left) Unlike today, football matches were a sure Saturday afternoon event for the smallest through to the largest of teams. In this photograph taken alongside the Manchester Victoria to Bolton line at Clifton Junction just before Christmas 1976 one of the smaller teams are caught in action. Supporters are in short supply, clearly this failing doesn't apply to the players and linesman's concentration which is so intense they do not notice the Preston bound Class 25 hauled parcels train rattling past. Check out the player's trendy George Best and 'Department S' haircuts, complete with matching sideburns - they are in stark contrast to the linesman's old duffle coat. (Below Right) The CFPS's Whistler magazine...
On a final note, my thanks to Andy Sparks for filling in my missing years; his photographs provide an enjoyable and thought-provoking journey through a period of economic, political and social change during the 1970s. Even as a small boy, the thirteen-year-old Andy was aware that Britain's economic changes would eventually impact on our railways - and thank goodness he did. For in his quest to record the scene, Andy adopted a photo-journalistic approach to the subject, capturing perfectly all the key ingredients of Britain's railways during the 1970s, much of which was swept away by this decade of change. Fast-forward thirty-odd years, and Andy has recently handed over the role of editor of the Class Forty Preservation Society's (CFPS) excellent quarterly magazine, 'The Whistler' to Andy Coward. This periodical is packed with articles and photographs spanning the six decades since the English Electric Type 4 (Class 40) was introduced. The magazine also contains anecdotes, curiosities, information and news, and is free to members of the Society. More info can be found via this link - CFPS's website.
(Below) The quintessential young spotter on the rear cover of Andy's second book 'Coast to Coast'...both books are available direct from History Press (Sutton Publishing) and Amazon.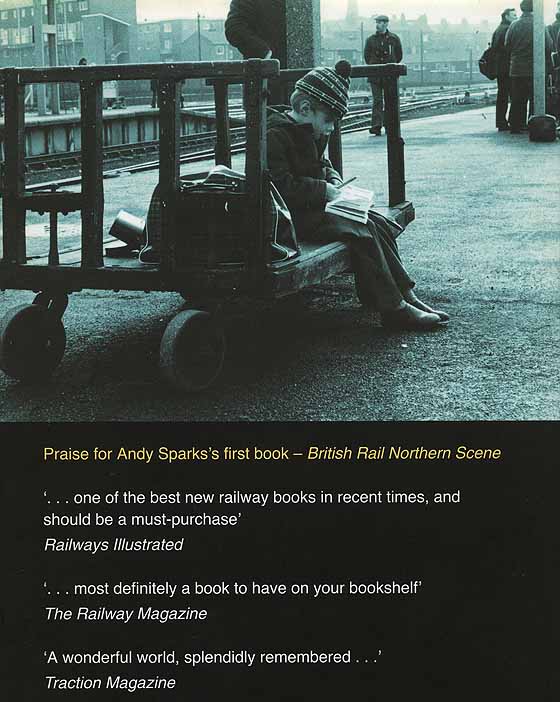 Polite notice: All text and photographs are protected by copyright and reproduction is prohibited without the prior consent of the © owners. If you wish to discuss using the contents of this page the email address is below. Please note - these are not a 'clickable' mail-to links via Outlook Express. You will have to email manually.

andysparks1958@gmail.com
dheycollection@ntlworld.com