In 1962 the influx of diesels was gathering pace on Britain's railways and many steam classes were in rapid decline. With so few years left before BR's steam fleet was ousted entirely from main line duty, Barry Hilton was among a small group of enthusiasts from the Rochdale area, who set off on a marathon six day 'train bash' to southern England, principally to train spot and take photographs of steam engines before they became just a memory. By the early 1960s most of the old order of steam locomotives had already been withdrawn from service and could be found in various states of decay at Motive Power Depots or in railway yards awaiting their fate. Although Barry was aware of the Bluebell Railway at that time, he could never have foreseen the preservation movement growing to the size that it is today or envisage the number of steam engines that would survive into preservation.
This page features two of Barry's reconnaissances with a camera on the Western Region and Southern Region operating in the south and west of England, beginning with his first trip in April 1962; his second excursion came a year later during a family holiday to Weymouth which is featured further down the page, but I'll let Barry take up the story...


EASTER TOUR 1962 - ROCHDALE TO SOUTHERN ENGLAND

Although we only had six short days, we were keen to see and capture on film as much as possible of a disappearing age, therefore

the object of our six-day bash was to visit as many MPDs and other railway locations as possible.

As such, a rather adventurous schedule was planned, which included planned visits to
sheds at 81F Oxford, 81E Didcot, 81D Reading, 70C Guildford, 70D Basingstoke, 71A Eastleigh, 72B Salisbury, Eastleigh Works, Isle of Wight, 73A Stewarts Lane, 70A Nine Elms, 75C Norwood Junction, 75B Redhill, 75E Three Bridges, 75A Brighton, Horsted Keynes on the Bluebell Railway, 73A Stewarts Lane, 70B Feltham, 81A Old Oak Common, 84B Oxley and 84A Wolverhampton (Stafford Rd
) - plus whatever else we could fit in!
All in all

this was a rather ambitious undertaking

, bearing in mind that during the early 1960s long distance travel at any reasonable speed was limited. In those days motorways were still in their infancy and the top speed of most cars was little more than 60mph, therefore the travelling time was much greater than it is today.
So, with permits in hand, we set off from Rochdale on the long trek south to our base at Guildford using a Ford Prefect (107E) and a Mini. For some of us, this was a whole new experience since our train spotting roots were firmly entrenched in LMS territory and so this was the first real chance we had of seeing many GWR and SR engine classes for the first time...

DAY 1 - Tuesday 24th April 1962.

Travelling south on the Tuesday, the first engine of note was an ex-LNW G2a class (Wessy D) No 49281, a Buxton (9D) engine seen at Ashbourne in Derbyshire. Although Oxford MPD was the first scheduled stop, we decided to call at Leamington Spa station in Warwickshire. The station opened in 1852 as part of the GWR line from Birmingham to Oxford. The LNWR originally had a separate station at Leamington but later the two lines became linked. Eventually Leamington Spa station became mainly served by trains from Paddington travelling on via Birmingham to Shrewsbury and to some of the furthest reaches of the GWR into Mid Wales and to Chester.
Being mainly GWR territory, we saw several ex-GW engines on passenger and freight plus an ex-LMS Stanier 'Black 5' visiting from Rugby then coded (2A), possibly via the LNWR route. We also saw the Birmingham Blue Pullman. The trains I photographed included

this one below of Castle class 5060 'Earl of Berkeley' of (81A) Old Oak Common, heading a down express from Paddington

.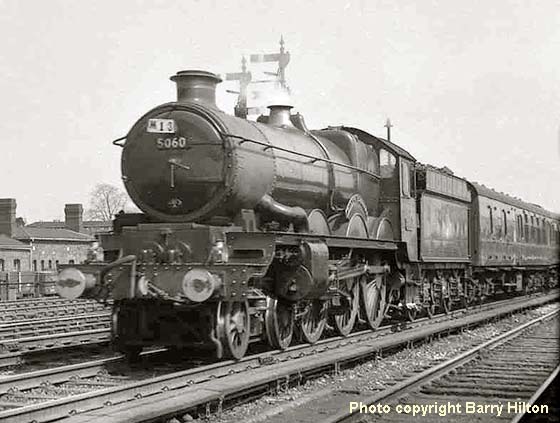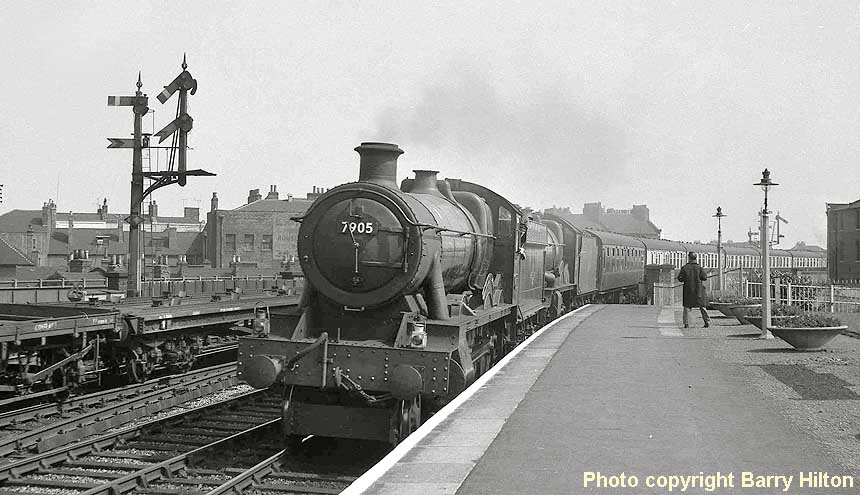 (Above-Below) Hall class 7905 'Fowey Hall' of (84C) Banbury pilots another down express with train engine 5068 'Beverston Castle' from (81F) Oxford. This was believed to be a delayed Cambrian Coast Express. (Below) Freight traffic was also evident with a GWR 4-6-0 Grange class 6853 'Morehampton Grange' (84E) Tyseley ambling along the up through road on a mixed freight.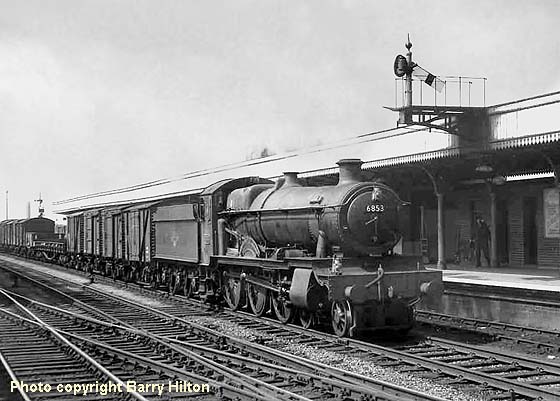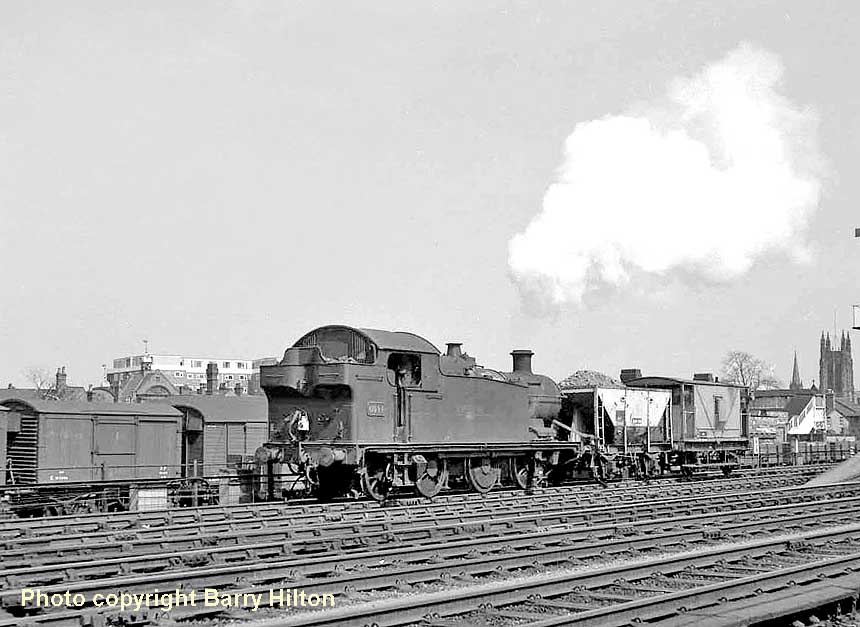 (Above-Below) A local engine 0-6-2T 6644 from (84D) Leamington Spa was shunting the nearby yard. (Below) From further afield, a freight from South Wales arrives behind GWR Mogul 2-6-0 6326 (88A) Cardiff Canton, demonstrating the variety of GW motive power that could be seem at this time.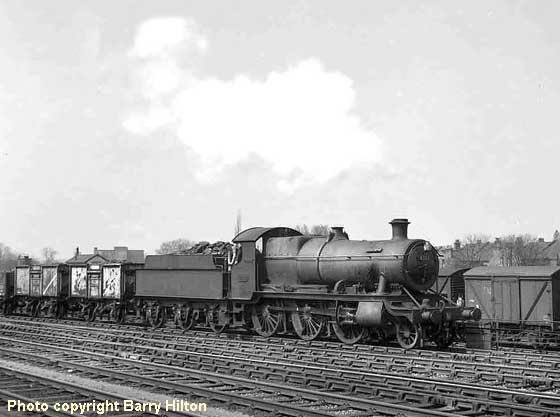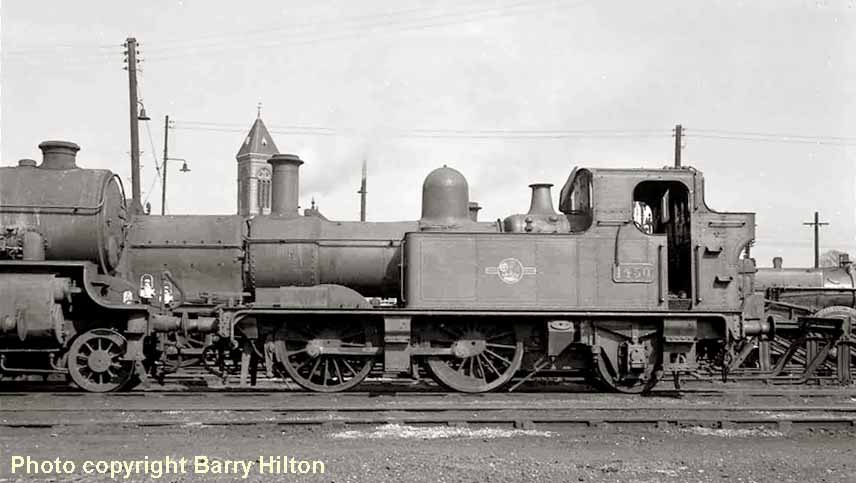 (Above) We continued to Oxford MPD (81F) where we found more varieties of inter-Regional motive power, though this is not surprising as many inter-Regional steam-hauled trains changed engines at Oxford,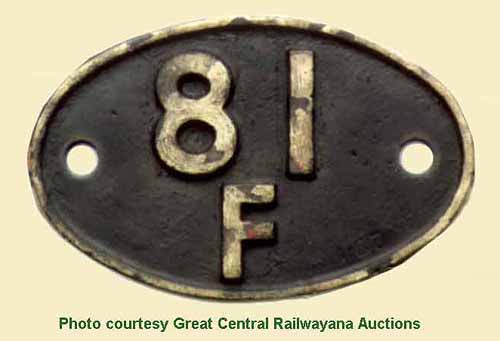 including the southbound 'Pines Express', which at this time worked from Manchester Piccadilly to Bournemouth West via the Midlands, and the GW engine was usually changed for a SR Bulleid WC/BB Pacific. Another example of the loco variety can be seen is this shot of Collett 0-4-2T No 1450 'buffering up' to an ex-LNER Class B1 No 61056 of (41A) Sheffield Darnhill. The latter engine was probably off a Newcastle to Bournemouth train via Sheffield Victoria, which left its train at Oxford. In the background is the tower of St Barnabas church in Jericho. This area of Oxford features regularly in TV's 'Inspector Morse' episodes.

The engines we observed on shed were predominantly GWR origin, with some interesting exceptions. Those to note were South Wales based engines, a Bescot 'Wessy D', Class B1 61056 as mentioned above and 76061 that had probably worked a train from the Southern Region.

Collett-0-4-2Ts Nos 1444, 1450 and 1468
Collett 0-6-0 2221
Collett 0-6-0PT (pannier tank) Nos 3653, 9431, 9653 and 9654
Collett 2-8-0 Nos 3811 (87F) Llenelly and 3832 (86A) Newport (Ebbw Junction)
Collett 'Castle' 4-6-0s Nos 4098, 5012, 5033 and 5036
Collett 'Hall' 4-6-0s Nos 5918, 5923, 5955, 6901 of (86G) Pontypool Rd, 6961, 6970, 6973 and 7911
Collett 2-6-2Ts Nos 6106, 6138 and 6156
Churchwood 2-6-0 6345
Collett 2-8-2T 7239
Ex-LMS Stanier 2-8-0s Nos 48330 and 48495
Ex-LNW 'Wessy D' 0-8-0 49431 (2B) Bescot
Ex-LNER Thompson B1 4-6-0 61056 (41A) Sheffield Darnhill
Std 4 2-6-0: 76061 (71A) Eastleigh
D3960

Our next call was Didcot MPD (81E) where we found a variety of GW motive power:
Hawksworth 'County' 4-6-0s Nos 1002 and 1027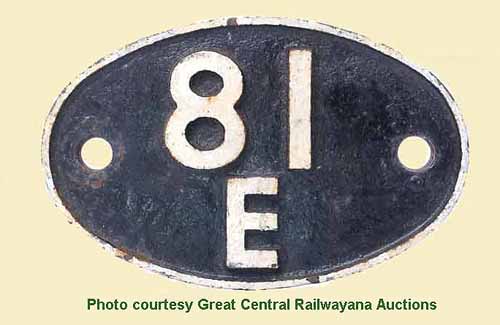 Collett 0-6-0: 2201
Churchwood 2-8-0s Nos 2834 and 2836
Collett 0-6-0PTs Nos 3665, 3697, 4606 and 9791
Collett 2-8-0: 3840
Collett 'Hall' 4-6-0s Nos 4902, 4908, 4950, 4994,
5914, 5963, 6910, 6969 and 6983
Churchwood 2-6-0s Nos 5380 and 6309
Collett 2-6-2Ts Nos 6112, 6120, 6130, 6136 and 6159
Collett 'Grange' 4-6-0 6821 (pictured below)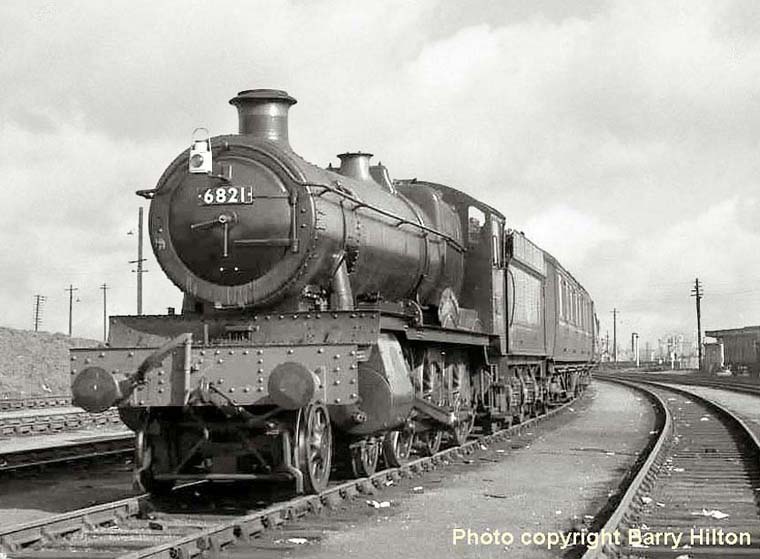 A Diesel Hydraulic B-B Type 4 D839 passed the shed on a service train showing the changeover from steam to diesel traction had already begun. Most engines on shed were local to the area. Some of us had not seen the GW 'County' class before.


The third port of call was Reading GW (81D) MPD
(1948 to January 1965).

A shedplate

recently went under the hammer at one of the Great Central Railwayana Auctions. This ex-GWR shed had an allocation of 90 locos in the 1950s, which included a handful of Castles and over 20 Halls, however during our visit on 24th April 1962 w
e saw the following: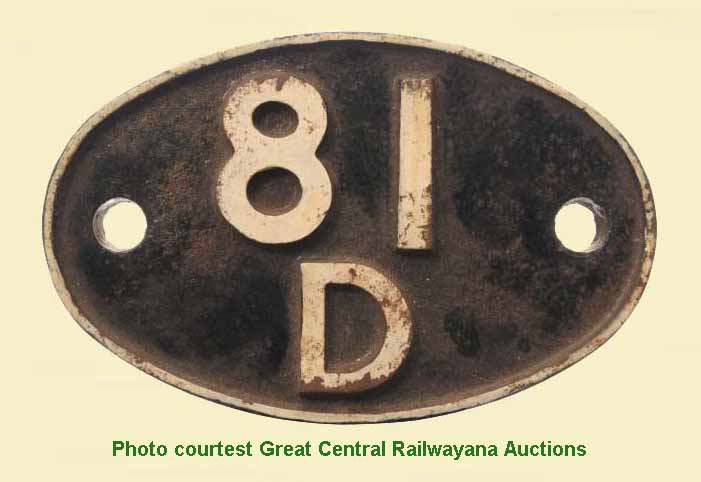 Collett 0-6-0: 2201, 2212
Churchwood 2-8-0: 2853, 3816, 3858
Collett 0-6-0PT: 3723, 9763
Collett 'Hall' 4-6-0: 4941, 4951, 5936, 5966, 5979, 5986, 5993, 7921
Collett 'Castle' 4-6-0: 5002, 5067, 7014
Collett 'Grange' 4-6-0: 6849, 6861
Churchwood 2-6-0: 7338
Hawksworth 0-6-0PT: 8430, 9450
WD Austerity 2-8-0: 90174, 90355.

Again most of the engines were local although two WD Austerity engines were visiting from Southall. Passing the shed and at the station we saw in about one hour:
Collett Castle 4-6-0s Nos 4082 5018 5025, 5075 and 7007 (pictured below)
Collett Hall 4-6-0 5977
Collett 2-6-2T 6134
Churchwood 2-6-0 7331
Diesel Hydraulic B-B Type 4 D821
Diesel Hymek D7023

(Below) Many GWR expresses could be seen on the main line travelling between Paddington and Cornwall or diverging north just west of the station and heading for Worcester and Hereford via Oxford. We saw two of the recently built diesel classes on trains, however, 'Castle' class No 7007 'Great Western' was captured on the 'Cathedrals Express' which was travelling along the embankment adjacent to the shed.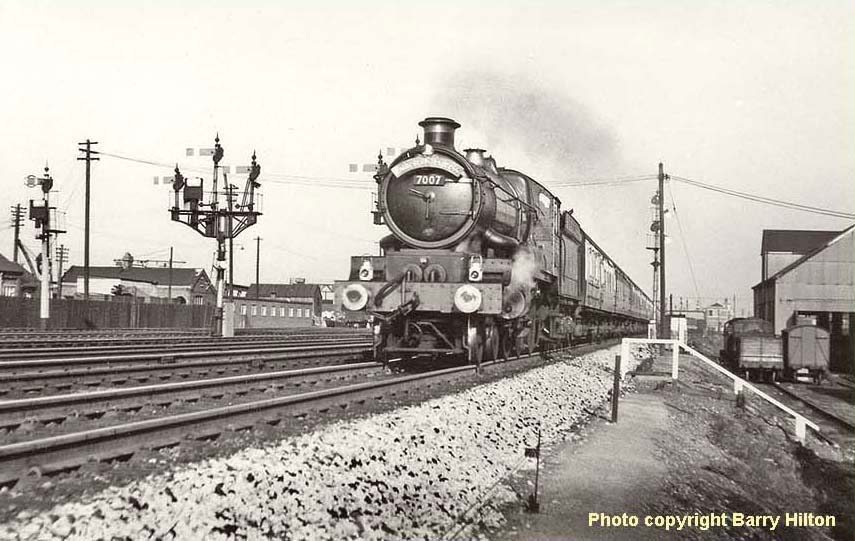 We also managed to see a few engines at Reading South MPD. This shedplate (70E) for Reading South (1949 to December 1962) recently went under the hammer at a GCRA auction - link at bottom of page. The shed code was transferred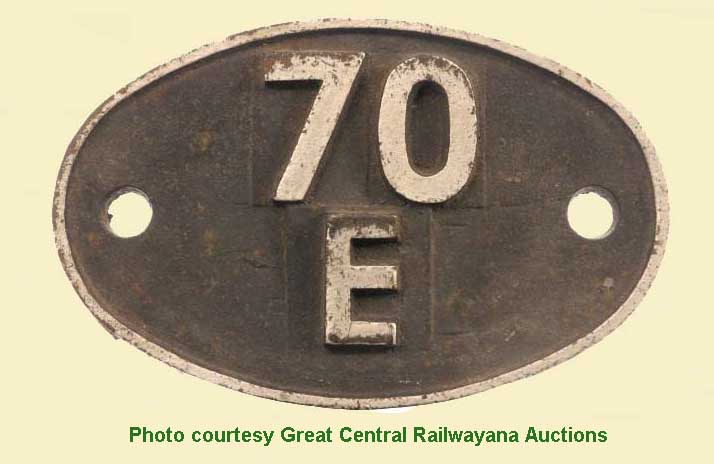 to Salisbury (September 1962 to July 1967). The ex-SECR shed at Reading had just 17 locos allocated in 1950 and was to lose them all by 1957. It continued to operate as a steam servicing shed until closure in January 1965. On shed the day of our visit were: Schools 4-4-0: 30903 (70C); Maunsell U 2-6-0 31627 (70C); Maunsell N1 2-6-0s 31852 (75B) and 31872 (75B). The MPD was then more of a stabling point for engines from the Redhill to Reading service. Redhill was then coded (75B). The shed was to the south of the Western Region main line just east of Reading General station. It was good to find our first Schools class 30903 'Charterhouse', a class which was by then in decline. We finally arrived at our destination Guildford, and retired for the evening after the long journey.

DAY 2 - Wednesday 25th April 1962

Based in Guildford, the first port of call on the Wednesday morning was Guildford's

semi-roundhouse MPD

(70C) situated

in an area excavated from a chalk cliff

to the south side of the station just beyond the A31 road bridge. During our visit we saw the following engines both on shed and the main line:
Drummond M7 0-4-4: 30049, 30378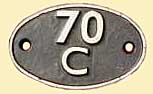 Adams B4 0-4-0: 30089
Drummond '700' 0-6-0: 30325, 30690, 30698
Maunsell Schools 4-4-0: 30906
Maunsell N 2-6-0: 31414, 31821, 31842, 31859
Maunsell U 2-6-0: 31612, 31628, 31633, 31635, 31638, 31800.
Bulleid Q1 0-6-0: 33022, 33034
Ivatt 2-6-2T: 41325
'Std 4' 4-6-0 75068
D3273
Although three Drummond 700 'Black Motors' were on shed, a class much liked by enginemen, this would be their last year in traffic and by the Spring of 1963 they were no longer listed in the ABC Loco shed book, as were the M7s. We also added another 'Schools' class to our list.
At the time of the visit, an ex-LSWR B4 class 0-4-0T locomotive 30089 was acting as shed pilot. Designed by William Adams and built at the Nine Elms Works between 1891 to 1893 they were designed for shunting tight curves as found at Southampton Docks. Many of the B4 tanks in the past were given names rather than numbers and 30089 was called 'Trouville'. The B4s had been replaced by the USA 0-6-0T and in this case 30089 was relegated to shed pilot duties. 30089 was later replaced the following year by one of the USA tanks No 30064 from Southampton Docks, which was later replaced by 30072. On withdrawal the latter was purchase privately for preservation and currently resides on the Keighley and Worth Valley railway. It was one of the two engines, along with Ivatt 2-6-2T 41241, that hauled the KWVR reopening special in 1968.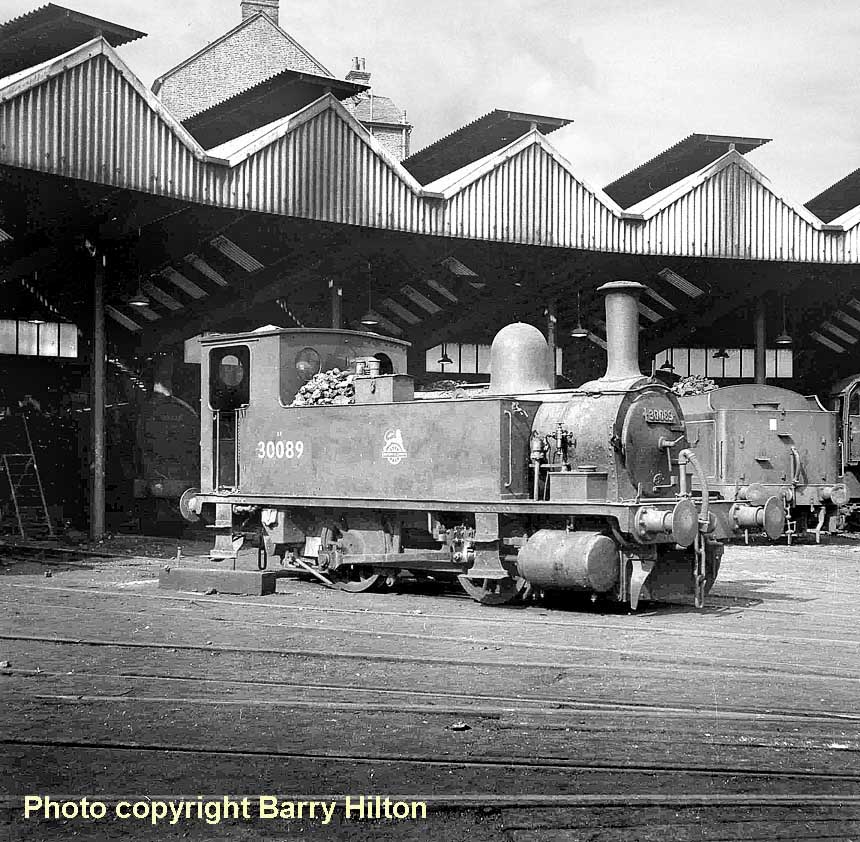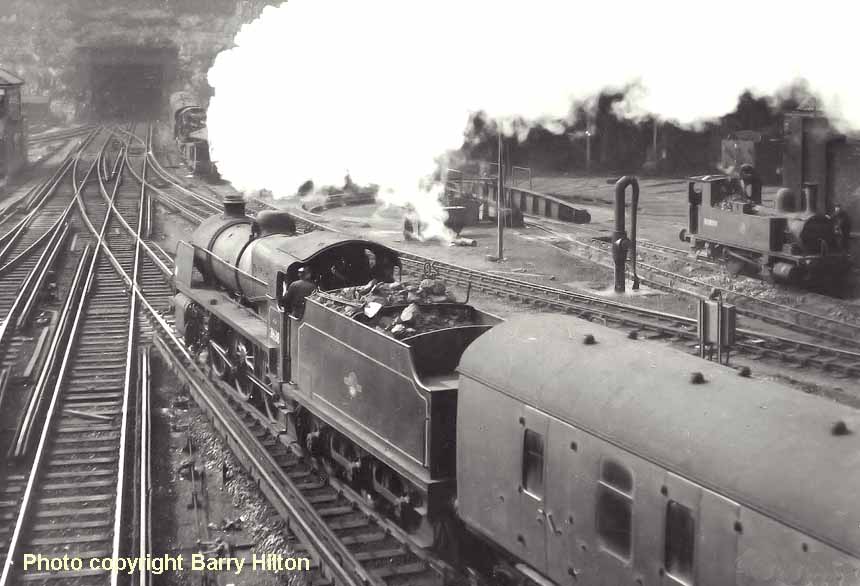 (Above) Later in the week, I took this photo from the road bridge showing 30089 'parked' in its usual stabling position whilst the now-preserved Mogul 2-6-0 No 31638 heads a Reading-Redhill train towards the tunnel;

31638 is based at the Bluebell Railway

but the site of the MPD is now a multi-story car park.

(Below) After visiting Guildford we headed for Basingstoke and found many examples of the older express engines still in traffic, including some of the few remaining King Arthur and Lord Nelson classes. By the end of the year all the King Arthurs, Lord Nelsons and Schools had gone. This photo of BB class No 34049 Anti-Aircraft Command was taken at Basingstoke shed.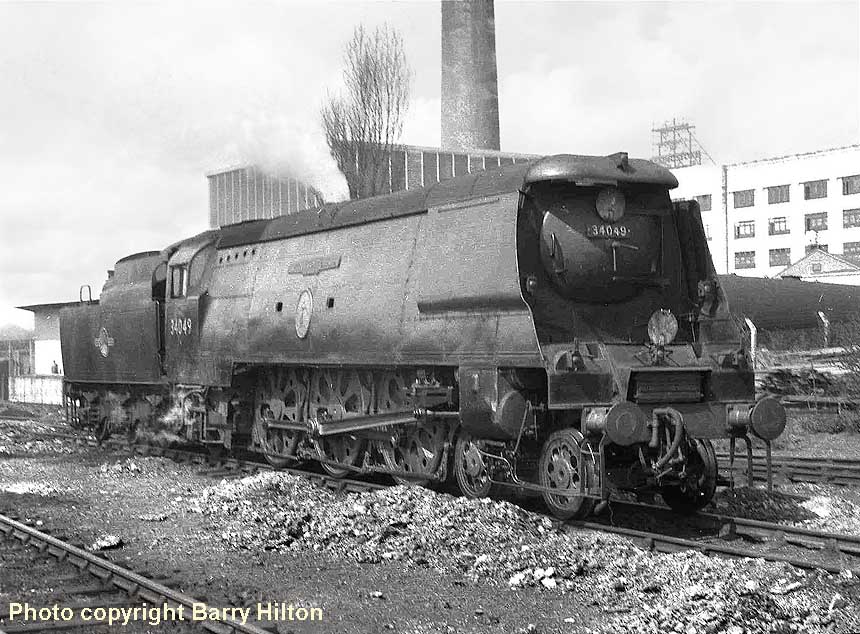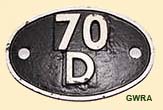 On Basingstoke shed we found the following:
Collett 'Grange' 4-6-0 6851 (84B)
Collett 'Hall' 4-6-0 6980 (84B)
Drummond '700' 0-6-0 30368
Urie S15 4-6-0s Nos 30502 and 30507
Bulleid Q1 0-6-0s Nos 33002 and 33016
Bulleid BB 4-6-2 34049 (picture above)


'Std 4' 4-6-0 75069
Maunsell U 2-6-0 31611
Maunsell 4-6-0 King Arthur:
30765 'Sir Gareth', 30793 'Sir Onzlake'
Maunsell 4-6-0 Lord Nelson class:
30856 'Lord St Vincent' (pictured below).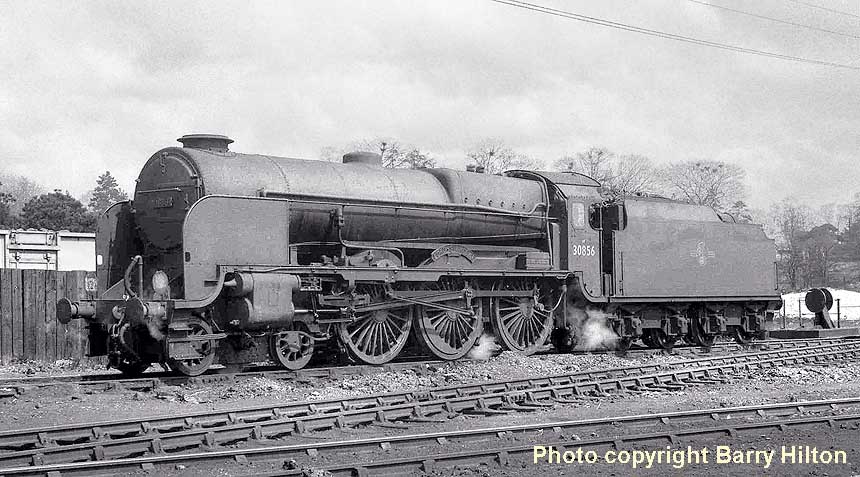 We then spent an hour and a half on Basingstoke station and saw the following: Urie S15 4-6-0 30513; Maunsell King Arthur 4-6-0 30795 'Sir Dinadan'; Maunsell Lord Nelson 4-6-0 30850 'Lord Nelson'; Bulleid Q1 0-6-0 33019; Bulleid BB/WC 4-6-2s Nos 34016, 34022, 34038, 34082 and 34091; Bulleid MN 4-6-2s Nos 35009, 35020, 35024 and 35027; 'Std 5' 4-6-0s 73022 and 73088; 'Std 4' 4-6-0 75076 and diesel shinter D3013. During our visit to Basingstoke we saw three of the seven remaining King Arthurs and two Lord Nelsons - 30856 Lord St. Vincents (pictured above) and the doyen of the class No 30850 Lord Nelson on a local 'stopper' (below).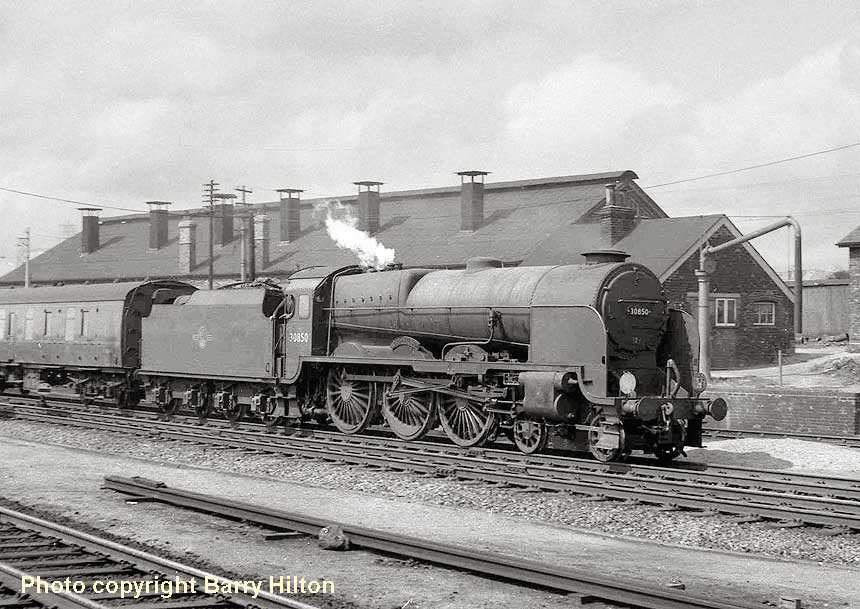 We then headed for Eastleigh to visit both the MPD and spend some time at the station.

The shedplate inset right shows 71A Eastleigh (1950 to September 1963). This ex-LSWR shed housed 11 King Arthurs and 8 Lord Nelsons among its 1950 allocation of 140 locos. By the time it changed code to 70D in 1963, 15 West Country pacifics were present in a total of 100 locos. Closure to steam came in July 1967. During our visit

in April 1962 we observed the following: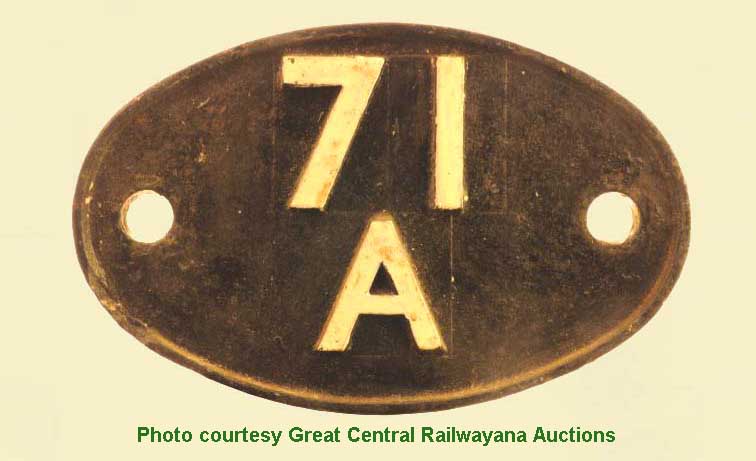 Collett 0-6-0PT: 3671, 4666, 4694
Collett 2-8-0: 3819 (81E)
Drummond M7 0-4-4: 30102, 30377
Drummond T9 4-4-0: (30)120
Adams O2 0-4-4T: 30200
Urie S15 4-6-0: 30499, 30504, 30505, 30509, 30530, 30542, 30543
Drummond '700' 0-6-0: 30316, 30377, 30695
Maunsell 'King Arthur' 4-6-0: 30770 'Sir Prianius',
30781 'Sir Aglovale', 30782 'Sir Brian'
Maunsell S15 4-6-0: 30825, 30827, 30845
Maunsell 'Lord Nelson' 4-6-0: 30862 'Lord Collingwood'
Maunsell 'Schools' 4-4-0: 30916 'Whitgift', 30927 'Clifton', 30934 'St Lawrence'
Maunsell Z 0-8-0T: 30952
Maunsell N 2-6-0: 31407, 31816, 31859
Maunsell U 2-6-0:31610, 31613, 31615, 31619, 31639, 31793, 31809
Maunsell W 2-6-4T: 31911, 31912, 31916
Stroudley 'A1X' 0-6-0T: 32636, 32650
Bulleid 'Q1' 0-6-0: 33010, 33020, 33037, 33039
Bulleid 'WC & BB' 4-6-2: 34007, 34018, 34025, 34026, 34040, 34079, 34087, 34092 'City of Wells'
Bulleid 'MN' 4-6-2: 35003, 35008, 35010
Ivatt 2-6-2T: 41300, 41305, 41311, 41317, 41319, 41322, 41328, 41329
Std '5' 4-6-0: 73113, 73118
Std '4' 4-6-0: 75003
Std '4' 2-6-0: 76008, 76011, 76012, 76014, 76016, 76028, 76029, 76059, 76060, 76064, 76067, 76078
Std '4' 2-6-4T: 80084, 80142
Std '3' 2-6-2T: 82014
9F 2-10-0:-92205, 92206, 92211, 92231, 92239
D2083, D3013, D3465, D6563
15212, 15231, 15232, 15236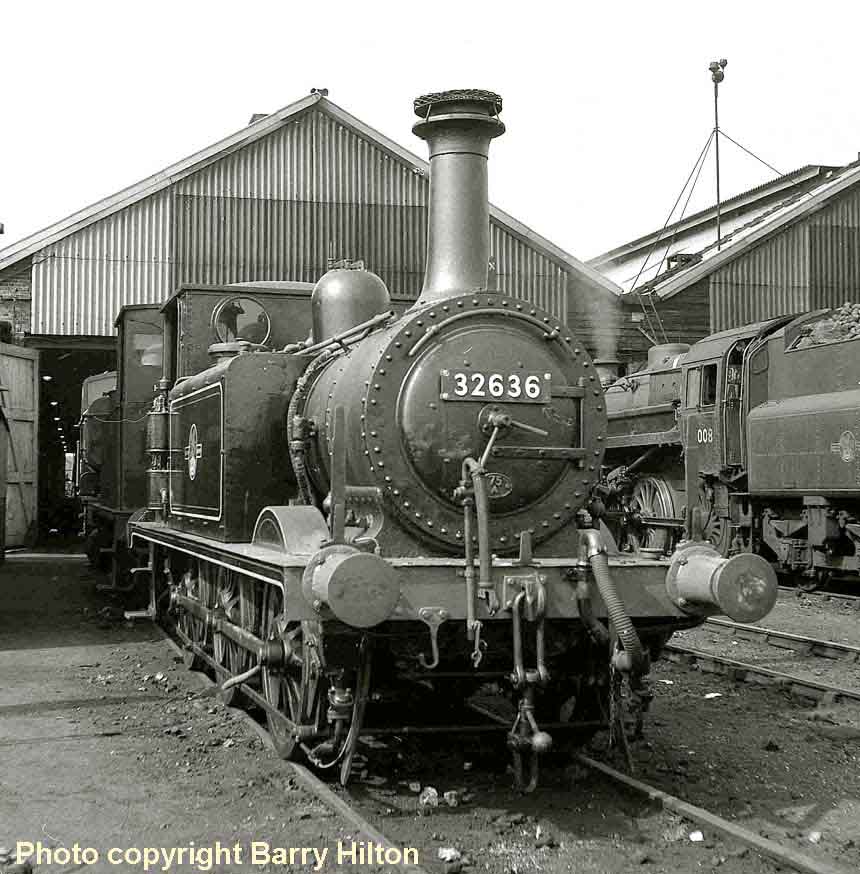 (Above-Below) Sporting a Brighton (75A) shedplate on the smokebox door, Stroudley A1X Terrier No 32636 appeared to have been recently 'outshopped' and worthy of a photograph during our visit to Eastleigh shed. (Below) The T9 was painted in a striking LSWR livery having recently been withdrawn from BR service and saved as part of the National Collection. It is currently on loan from the National Railway Museum to the Bodmin and Wenford Railway.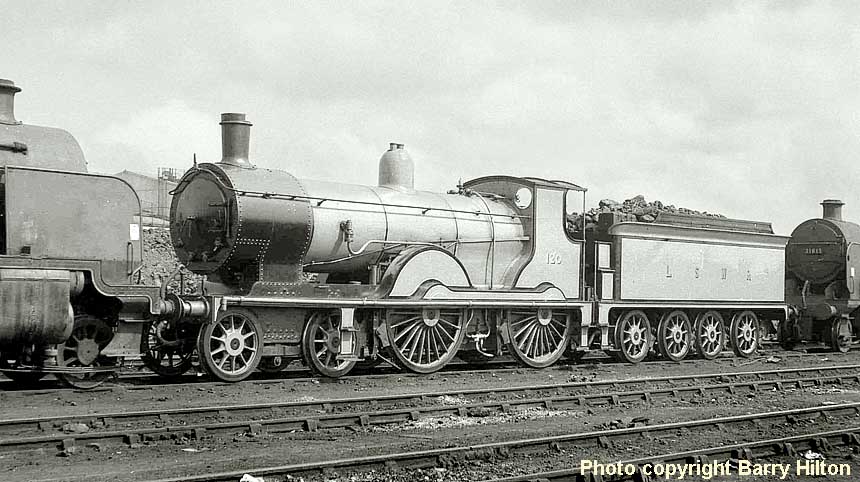 Following our visit to the shed,

while others in the group went on to Hayling Island chasing the A1X class on the 'Hayling Billy' train

, I headed for the station to photograph the newly painted ex-works engines as well as normal service trains; one of the three 'Arthurs' seen on shed - 30782 Sir Brian (below) kindly obliged by allowing us to photograph it at the station whilst working a down 'stopper'. Note the bogie tender; this eight-wheeled tender was attached to Nos 30763-30792 in the class.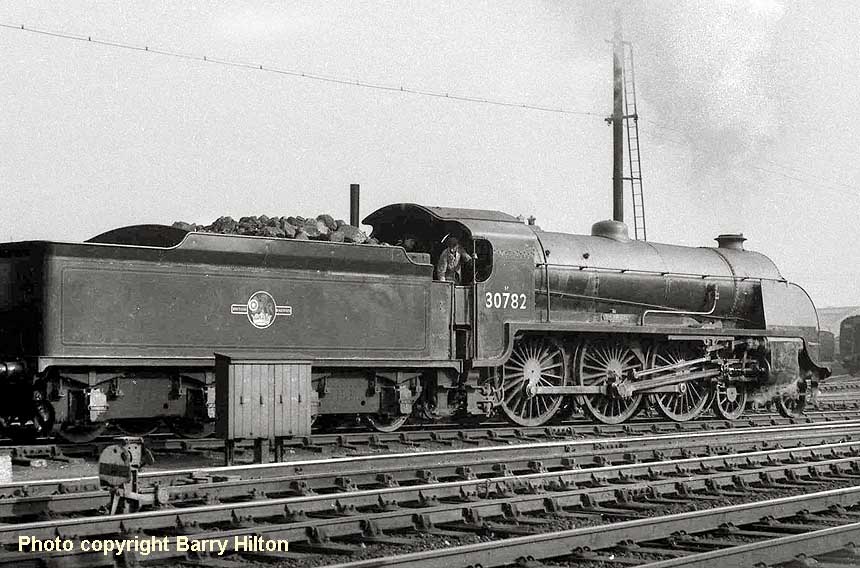 Other engines noted at the station were either going to and from the shed, transferring from the works to the shed or on passing trains; they included: Maunsell S15 4-6-0: 30845, 30847; Bulleid WC & BB 4-6-2: 34046, 34079, 34092 'City of Wells'; Bulleid MN 4-6-2: 35008, 35027; Ivatt 2-6-2T: 41319, 41322, 41329; 'Std 4' 4-6-0 75078; 'Std 4' 2-6-4T 80084 and BRCW Type 3 Bo-Bo D6583. The two engines highlighted in dark green, 34092 and 75078 were seen together in the station, 34092 light engine after just leaving the shed, whilst 75078 was heading an up freight. Both engines were later rescued from scrap and both currently reside at the KWVR.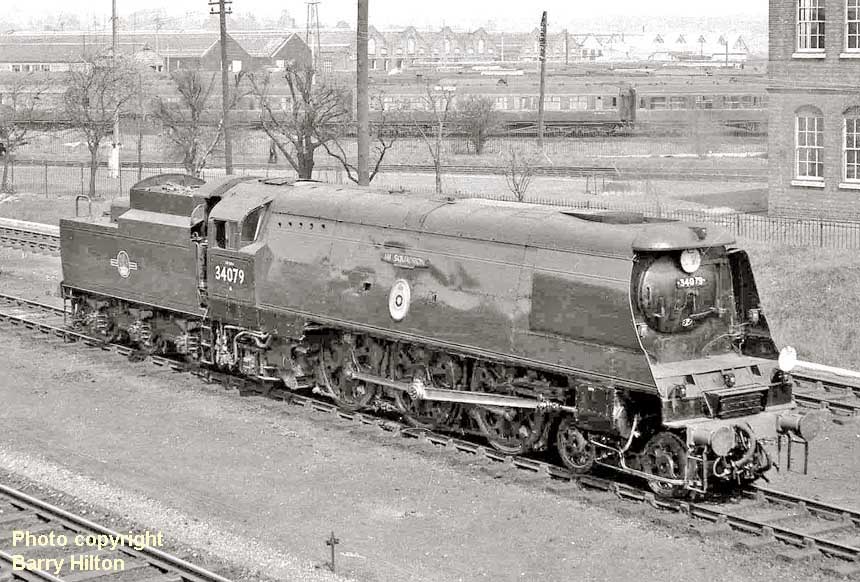 (Above-Below) Bulleid BB Class 34079 '141 Squadron' was captured from the footbridge looking ex-works, whilst Standard Class 4 2-6-4T No 80084 arrived at the station also appearing to be in ex-works condition.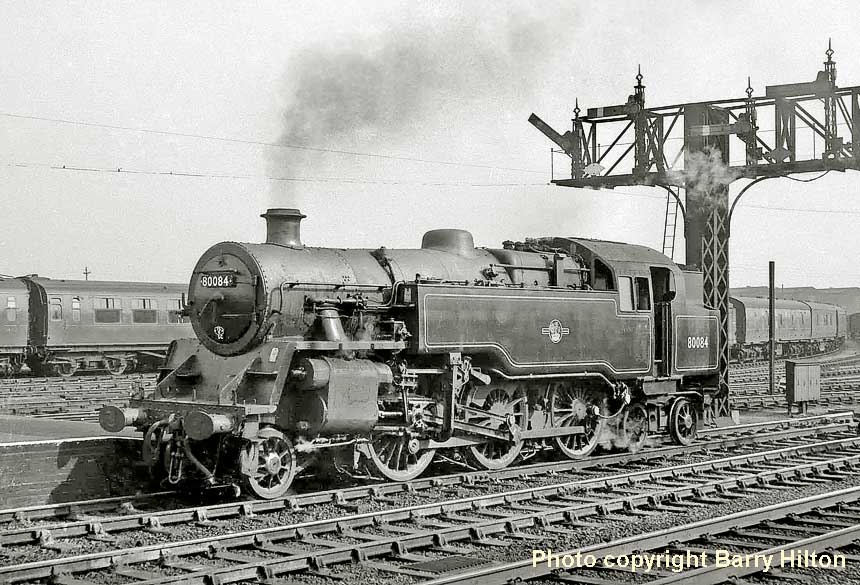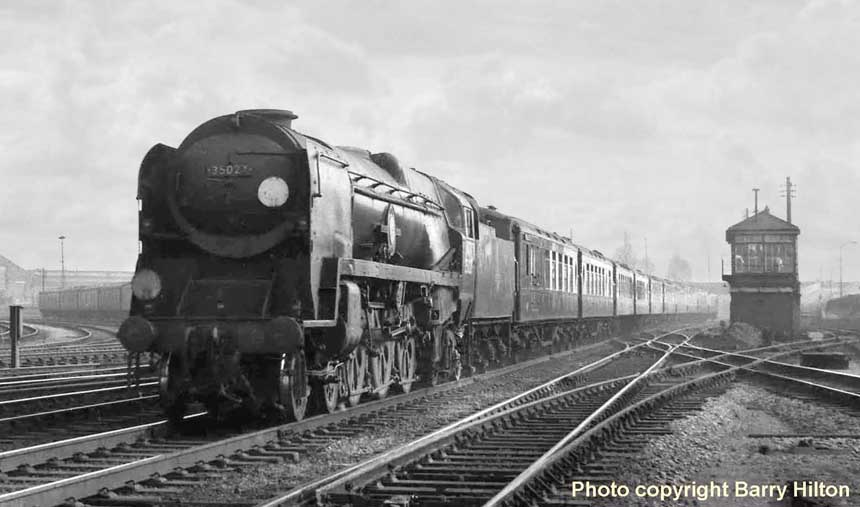 (Above-Below) BB Class 35027 'Port Line' was photographed from the platform end at Eastleigh at the head of the up 'Bournemouth Belle', whilst Class S15 No 30847 awaits the 'right away' on the down road. After spending time at Eastleigh station we did not get to Salisbury as planned and so headed back to Guildford.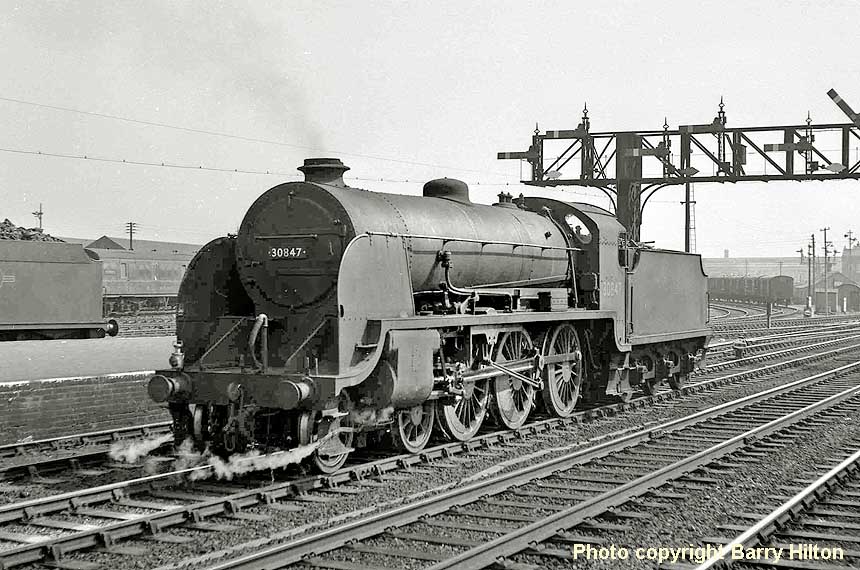 DAY 3 -Thursday 26th April 1962

We began the day by travelling from Guilford to Eastleigh Works. This became the principal works for the Southern Railway when the 'Big Four' railway companies were formed

at Grouping in 1923

. Under the Southern Railway the following locomotive classes were built. Under Maunsell: 4-6-0 'Lord Nelsons', 4-4-0 'Schools', 2-6-0 U1s, 2-6-4T Ws and 0-6-0 Q class locomotives. Under Bulleid: 4-6-2 'Merchant Navy' class, 4-6-2 'West Country' class. During World War 2, 23 Stanier designed 2-8-0 8F class were also built there. Steam locomotive building ceased in 1950 following nationalisation, however the rebuilding programme for the Bulleid (light) Pacifics kept the works fully occupied between 1956 and 1961. From then on the works concentrated on steam and diesel repairs, but following a spell of privatisation the works finally closed in 2006; the site continues to be used for various railway maintenance and repair work to the present day. This April 1962 shot depicts how it was in its heyday with 34005 'Barnstaple' nearest the camera.




During our visit to Eastleigh Works, the list of locomotives included: Collett 0-6-0PT 9667; Drummond M7 0-4-4s Nos 30053, 30059, 30107 and 30133; Adams O2 0-4-4T 30193; Urie S15 4-6-0 30508, 30511 and 30515; Maunsell 'Lord Nelson' 4-6-0 30851; Maunsell Z 0-8-0T 30951 and 30952; Maunsell N 2-6-0 31407; Maunsell U 2-6-0 31626; Stroudley 'A1X' 0-6-0T 32640; Bulleid 'Q1' 0-6-0 33035; Bulleid WC & BB 4-6-2 Nos 34005, 34016, 34036, 34044, 34045, 34064, 34068, 34071 and 34086; Bulleid MN 4-6-2s Nos 35005, 35012, 35017 and 35030; Ivatt 2-6-2T 41326; 'Std 4' 2-6-0s 76009 and 76058; 'Std 4' 2-6-4Ts Nos 80011, 80067, 80142, 80147 and 80153; 'Std 9F' 2-10-0 92239; diesel shunters Nos

15212, 15217

, D3044, D3223 and D3468; Type 2 Bo-Bos Nos D5013 and D5014; BRCW Type 3 Nos D6504 and D6510, and finally one the SR's new Electrodiesels (later Class 74) No E5011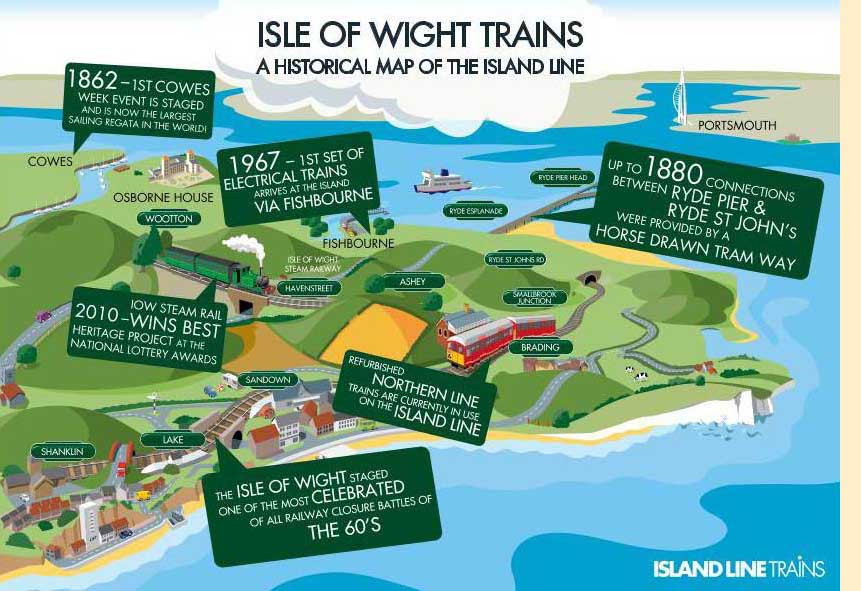 After the works visit the party split up into two factions, with some of us heading to the Isle of Wight whilst others went to Bournemouth by train. The Isle of Wight Railway opened in 1864 and became part of the Southern Railway upon Grouping in 1923. Early motive power had been examples of ex-LBSC 'E1' class 0-6-0Ts which had been transferred from the mainland and renumbered W1, W2, W3 and W4. However, by the time of our visit they had all been withdrawn, the last two, W3 and W4 by October 1960.
So, we were treated to a fleet of ex-LSWR Adams 'O2' class engines which again had been transferred from the mainland and numbered from W14 to W36. In 1962 there were more O2s operating on the island than on the mainland with a total of 19 locos still remained out of the original island batch of 23. On the mainland only a handful were still on the books and most of them had been withdrawn, hence the ones that we saw around Eastleigh were waiting to be scrapped.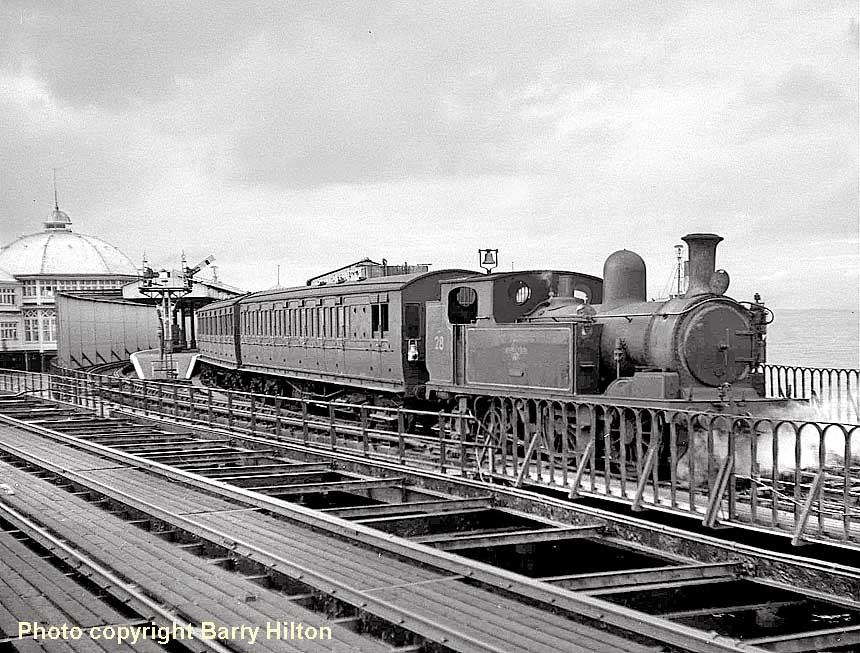 (Above-Below) The Isle of Wight's ageing O2s and rather antiquated rolling stock seemed like a railway from the distant past. We travelled on the pier tramway to take photos of the 'O2' trains as the track ran parallel with the tramway along the length of the pier. Here W28 departs from Ryde Pier Head station, its first stop being 'Ryde Esplanade' where W24 (below) was captured arriving; we caught this train as far as Ryde St Johns Rd to visit the works...the works can be seen in the background of W24 at St Johns Rd station

in the picture beneath it

. In all we saw 15 engines from a total of 19 as follows: Adams 0-4-4Ts Nos W14, W16, W17, W18, W21, W22, W24, W25, W26, W28, W29, W31, W32, W33 and W36 - all carrying names of towns or places on the Island.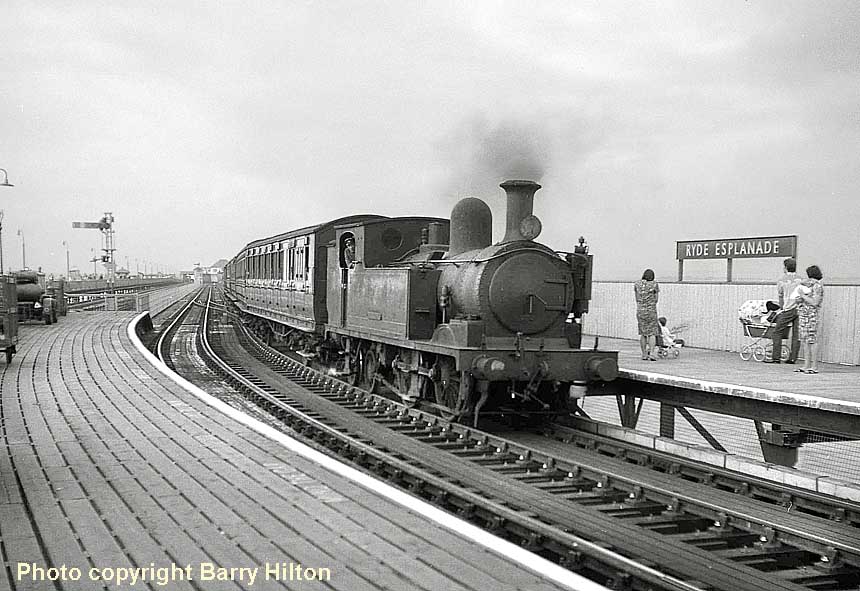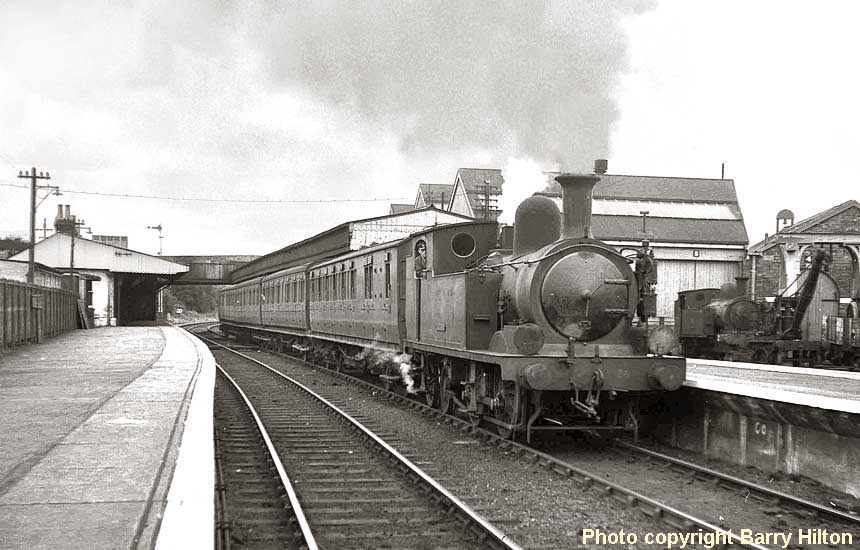 DAY 4 - Friday 27th April 1962

From Guildford we caught the train to Reading then onto Swindon to visit the Works. We later travelled to Paddington and spent a late afternoon there before visiting the Model Railway Club Exhibition at Central Hall in Westminster. The engines noted below include those at the works, those seen enroute and finally at Paddington, such as the Hawksworth 9400 0-6-0PTs on station pilot duty.

Hawksworth 'County' 4-6-0s Nos 1007 and 1010.
Collett 0-4-2T 1440.
Hawksworth 0-6-0PTs 1504 and 1507
Collett 'Castle' 4-6-0s Nos 4096, 5000, 5074, 7000, 7016, 7033 and 7004 (pictured below)
Collett 0-6-0PT: 4615 and 4616
Collett 'Hall' 4-6-0s Nos 4987, 5975, 7906 and 7923
Collett 'King' 4-6-0s Nos 6001, 6016, 6020 and 6021
Collett 2-6-2Ts 6109, 6122, 6132, 6141, 6142 and 6151
Collett 'Grange' 4-6-0 6821
Churchwood 2-6-0 7331
Collett 'Manor' 4-6-0 7813
Hawksworth 0-6-0PT 8458
Collett 0-6-0PTs Nos 8752 and 8753
Hawksworth 0-6-0PTs Nos 9405, 9410, 9411, 9423, 9428, 9477, 9479 9710 and 9755
'Std 9F' 2-10-0 92240
D400 D823, D830, D831, D832, D833, D855, D858, D861 D3032 D3601 D8227

(Below)

Recently outshopped at Swindon Works,

Castle class 7004 'Eastnor Castle' awaits the return of its nameplates and tender.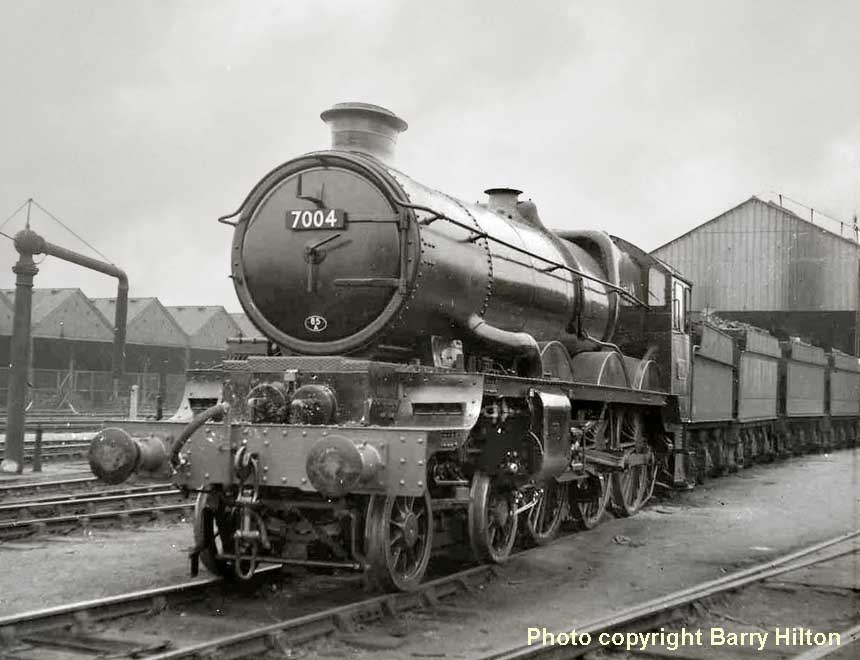 DAY 5 - Saturday 28th April

On the Saturday we concentrated on more of the Southern MPDs and locations again, starting with one of the major London sheds (70A) Nine Elms. We then travelled south as far as Brighton and also paid a visit to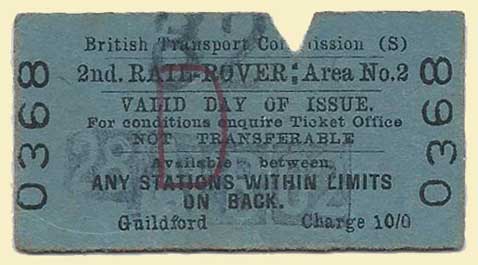 the Bluebell Railway. To save on travelling costs we purchased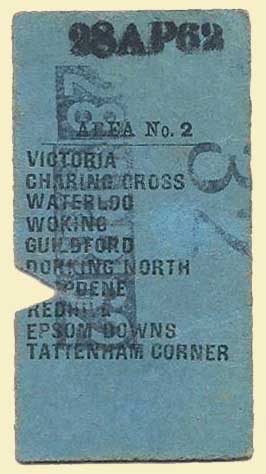 a day '2nd Class 'Rail Rover' (left-below) for 10/- (50p) which covered rail travel to London and to stations south as far as Redhill. Some of the return halves of other tickets we used that day between Redhill to Three Bridges and Three Bridges to Brighton are shown below.

Starting from Guildford, we travelled to Woking and caught a Salisbury to Waterloo train, departing Woking at 8.46am. As luck would have it, the train engine was 30451 'Sir Lamorak', by then the last of the 'Eastleigh Arthurs' - batch Nos 30448 to 30457 - so we had now seen all the remaining King Arthurs at this time, namely 30451, 30765, 30770, 30781, 30782, 30793 and 30795. As 30451 was allocated to Salisbury there was a good chance that it would turn up again on a Salisbury to Waterloo stopper.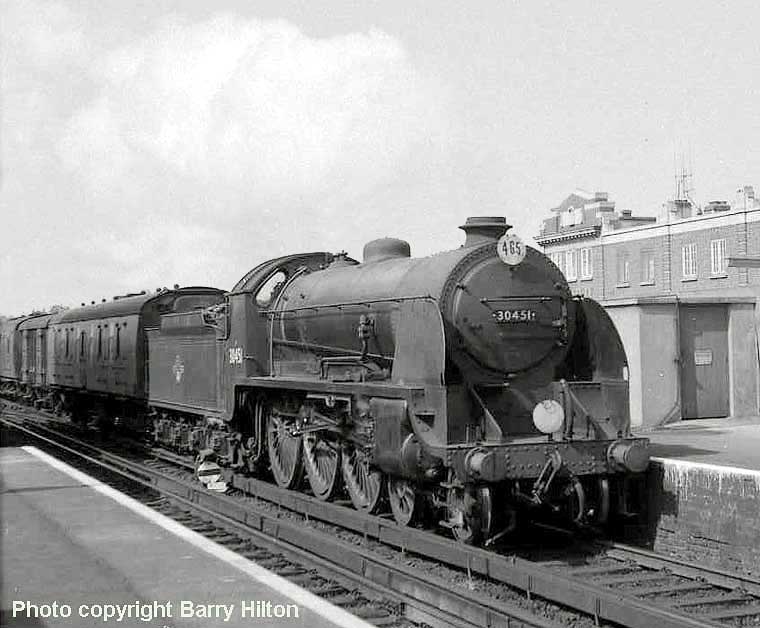 Enroute to Waterloo and at Nine Elms we saw the following: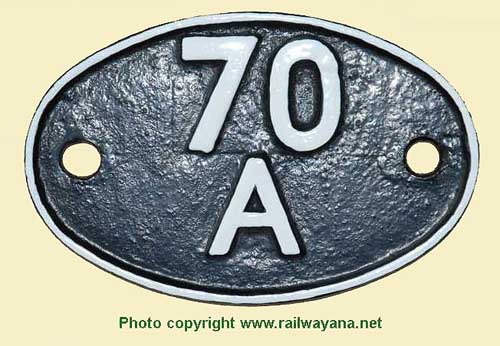 Collett 0-6-0PTs 3653, 4601, 4634, 4692, 4698, 9770
Drummond M7 0-4-4s 30039, 30051, 30052, 30241,
30245, 30320, 30321
Urie S15 4-6-0 30499
Maunsell S15 4-6-0 30834
Maunsell 'Lord Nelson' 4-6-0s 30860, 30861
Maunsell 'Schools' 4-4-0s 30902, 30912, 30921, 30935 (pictured below)
Maunsell 'U' 2-6-0s 31617, 31626, 31634, 31801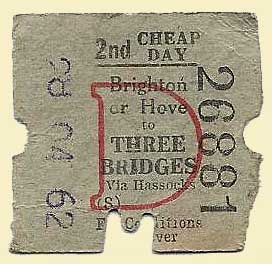 Billinton 'E4' 0-6-2Ts 32472, 32473, 32557
Bulleid 'Q1' 0-6-0s 33003, 33014, 33019, 33040
Bulleid 'BB & WC' 4-6-0s 34002, 34004, 34020, 34038,
34071, 34073, 34077, 34085, 34088, 34090, 34093, 34095
Bulleid 'MN' 4-6-0s 35001, 35002, 35003, 35004, 35010,
35014, 35015, 35016, 35018, 35020, 35022, 35025.
'Std 5' 4-6-0: 73081, 73082, 73087, 73089,
73114, 73115, 73116, 73119
'Std 4' 4-6-0: 75077, 75079.

There were still quite a few of the 'old order' around, particularly the M7s although GW Pannier tanks were making inroads into Southern Region territory and taking over many station pilot duties. Note also the large number of Bulleid Pacifics - 24 in all - which was only to be expected at a mainline station and large London MPD. Here 'Schools' class 30935 Sevenoakes is being prepared for duty at Nine Elms.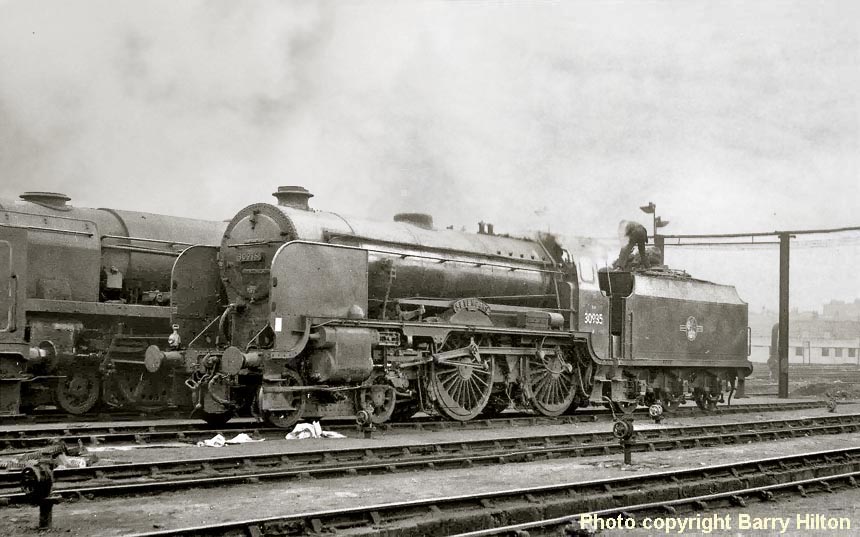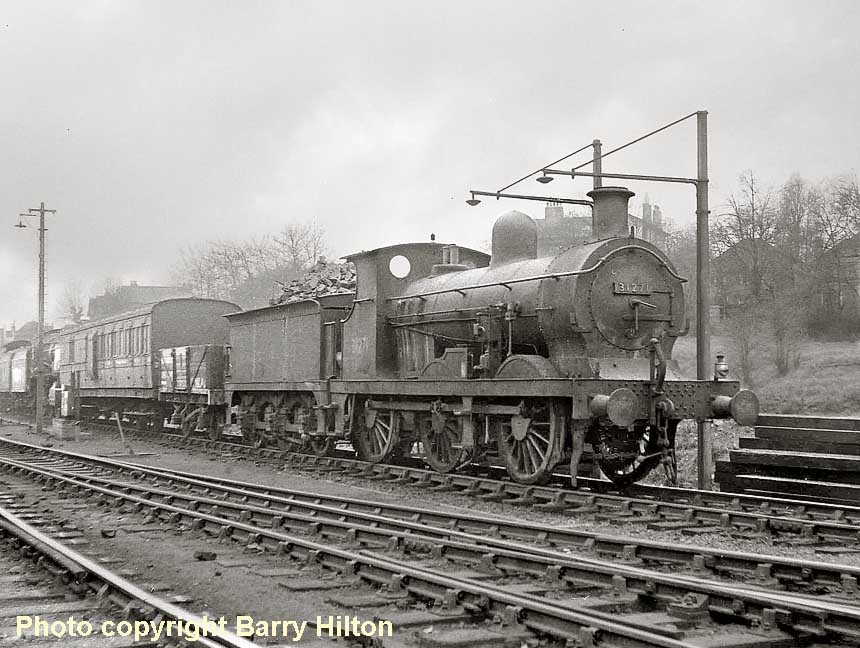 (Above) From Nine Elms we travelled to Norwood Junction (75C), albeit there wasn't the same variety of engines to found there as we saw at 70A, however this Wainwright 0-6-0 'C' class 31271 (above) then a (73B) Bricklayers Arms engine made a welcome sight.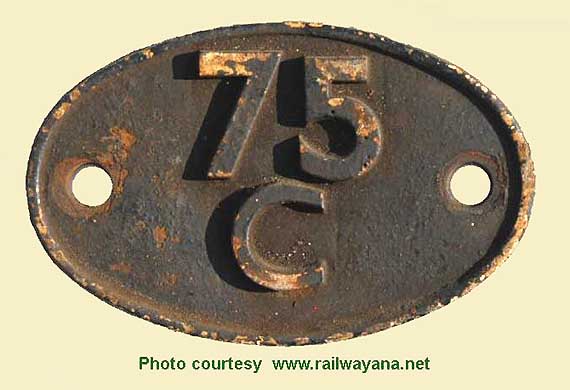 The locos we observed on shed were as follwed:
Maunsell 'Q' 0-6-0 30549
Wainright 'C' 0-6-0: 31271 (pictured above)
Maunsell 'N' 2-6-0s Nos 31401, 31412, 31829, 31863
Maunsell 'U1' 2-6-0s Nos 31895, 31896, 31897, 31898,
31899, 31901, 31902, 31903, 31904, 31905, 31906,
31907, 31908, 31909
Maunsell 'W' 2-6-4Ts Nos 31914, 31917, 31919, 31920, 31925
Billinton 'K' 2-6-0 32351
'Std 4' 2-6-4T 80012
D2278, D2287, D3016, D3222, D3274 15215

We saw all but two of the Maunsell U1 class 2-6-0 batch which were allocated to Norwood Junction at the time. This, for some of us, was the very first time we had spotted the class. All the 'W' class then allocated to Norwood Junction were also seen, suggesting that there was little work for the 'U1's and 'W's by then. By the following year, practically all the 'U1's and 'W's had been withdrawn.

From Norwood Junction we travelled on to Redhill to visit the MPD (75B) and observed the following:
Maunsell 'Schools' 4-4-0s Nos 30915, 30916, 30925, 30930
Maunsell 'U' 2-6-0s 31636, 31797, 31807
Maunsell 'N' 2-6-0s 31812, 31821, 31842, 31850, 31851, 31861, 31869, 31871.
'Std 4' 2-6-4T 80039
D6542

It was good to see more of the 'Schools' class which were working the Redhill to Reading trains. As the ticket above shows we then travelled on to Three Bridges (75E). The locos we observed both on shed and on local trains are as follows:

Maunsell 'Q' 0-6-0s 30534 and 30547
Maunsell 'N' 2-6-0s 31410, 31813, 31814
Wainwright 'H' 0-4-4Ts Nos 31551 and 31522 (pictured below)
Maunsell 'U1' 2-6-0s 31891 and 31894
Billinton 'K' 2-6-0: 32338, 32346, 32348,
32349, 32350, 32352 and 32353
Bulleid 'WC' 4-6-0 34012
'Std 4' 2-6-0s 75070, 75075
'Std 4' 2-6-4Ts 80010, 80089

(Below) The Wainwright 'H' class 0-4-4Ts were used on the Three Bridges to East Grinstead service. In 1963 I returned to take more photos before the 'H' class disappeared entirely, however one example, No 31263, has survived in preservation and is now at the Bluebell Railway.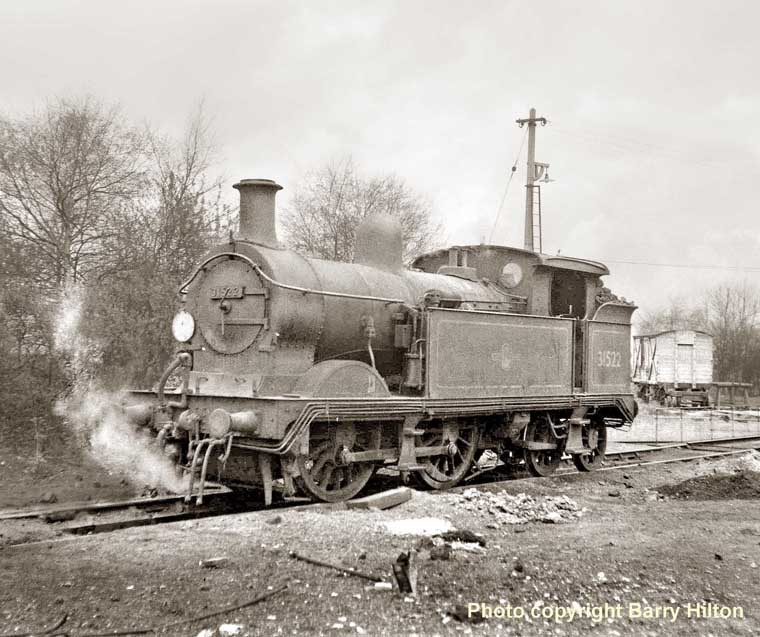 By the time we visited Brighton, both the Works and MPD were in decline. Under the BR Modernisation Plan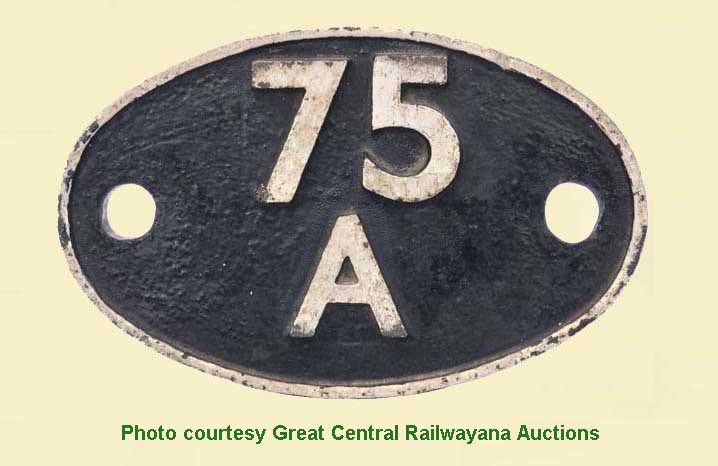 announced back in 1954, Brighton Works had again been passed over. Locomotive building ceased in 1957, and locomotive repairs ceased the following year. The buildings were closed in 1962 and demolished in 1969. The motive power depot was officially closed on 15 June 1961, but remained in use for stabling steam locomotives until 1964, and was demolished in 1966. However, at the time of our visit there were still many locomotives to be found. The following were noted in the area.

Drummond 'M7' 0-4-4T 30055
Maunsell 'Q' 0-6-0s 30533, 30538, 30546
Maunsell 'Schools' 4-4-0s 30901, 30917, 30923, 30928, 30929
Maunsell 'N' 2-6-0s 31400, 31852, 31862
Wainwright 'H' 0-4-4T 31544
Billinton 'K' 2-6-0s 32337, 32340, 32342, 32343, 32344, 32345
Billinton 'E6' 0-6-2Ts 32417, 32418 (pictured below)
Billinton 'E4' 0-6-2Ts 32468, 32470, 32479, 32503
Stroudley 'A1X' 0-6-0T 32635
Bulleid 'WC & BB' 4-6-0s 34019, 34055, 34089
Ivatt 2-6-2Ts 41287, 41300, 41301, 41324, 41325, 41327
'Std 4' 2-6-4Ts 80013, 80040, 80041, 80081, 80138, 80144, 80150, 80151
D2280, D2281, D3096, D3218, D3221
D6537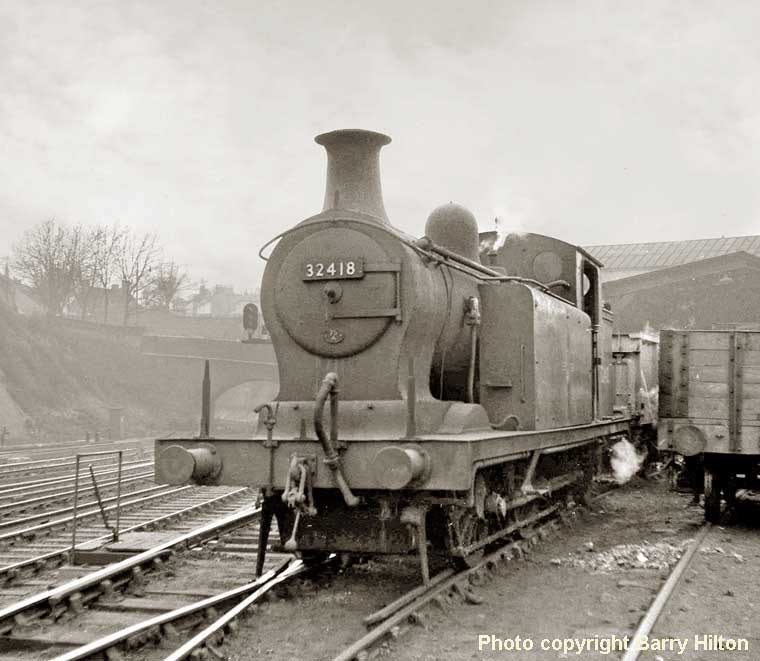 (Above-Below) Billington Class 'E6' 0-6-2T 32418 on shunting duties at Brighton. (Below) Spotting five more 'Schools' meant that we had seen all but two of the surviving class at this time. The two E6 class engines were another new class for me and with another four E4s I had now seen most of the remaining members. Here 'Schools' class No 30928 Stowe awaits the next turn of duty at 75A.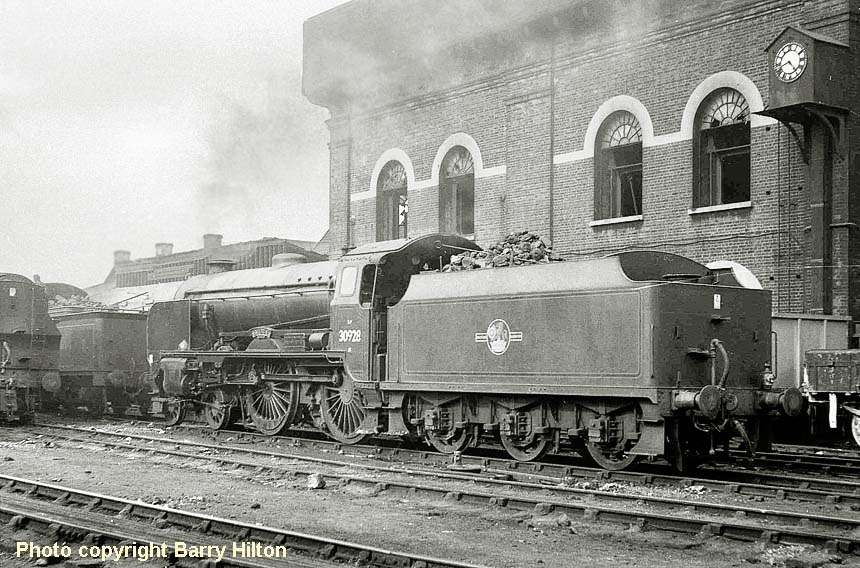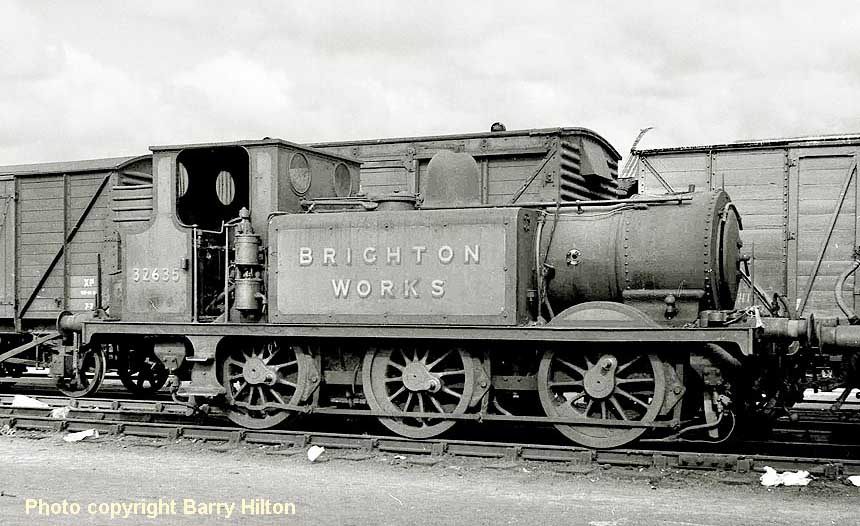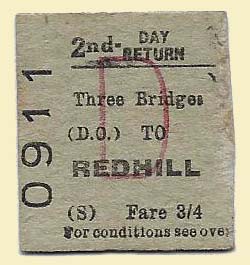 (Above-Below) Another engine to note was the A1X 0-6-0T of Brighton Works. Sent to Brighton in 1946 as the works shunter, it was repainted in 1947 as DS377 in Stroudley livery and named Brighton Works. Although photographed at Eastleigh later in 1962 (Brighton Works having then faced closure) it was seen at Eastleigh again in a similar condition in the summer of 1963. It was not disposed of until the September that year, and no doubt the chimney went to one of the restored examples. (Below) We returned to Guildford from Redhill behind 'Schools' 30911 'Dover'. This shot was taken at Redhill before boarding the train; the picture beneath it shows our train on arrival at Guildford before 30911 continued on to Reading.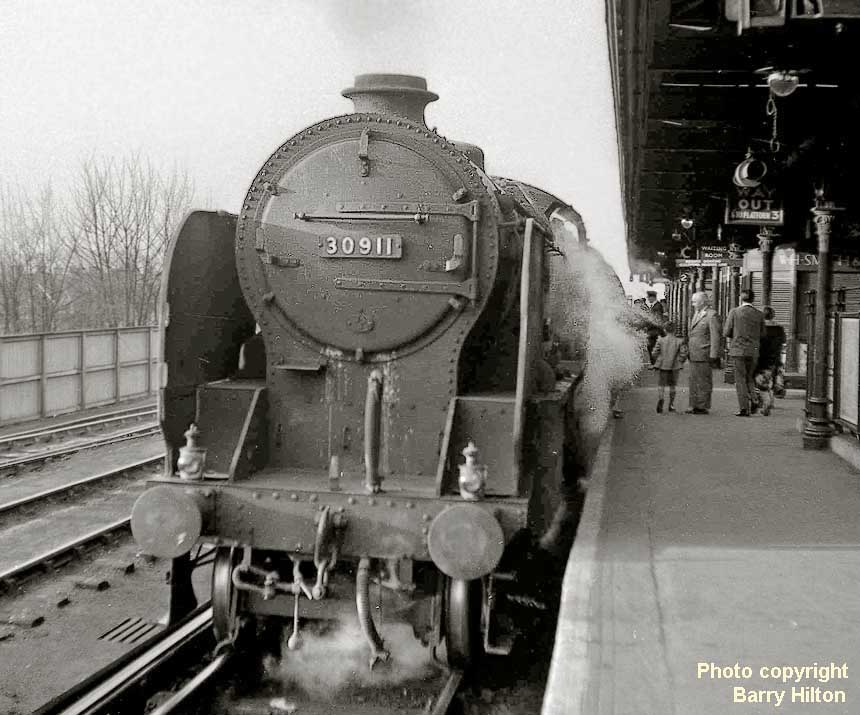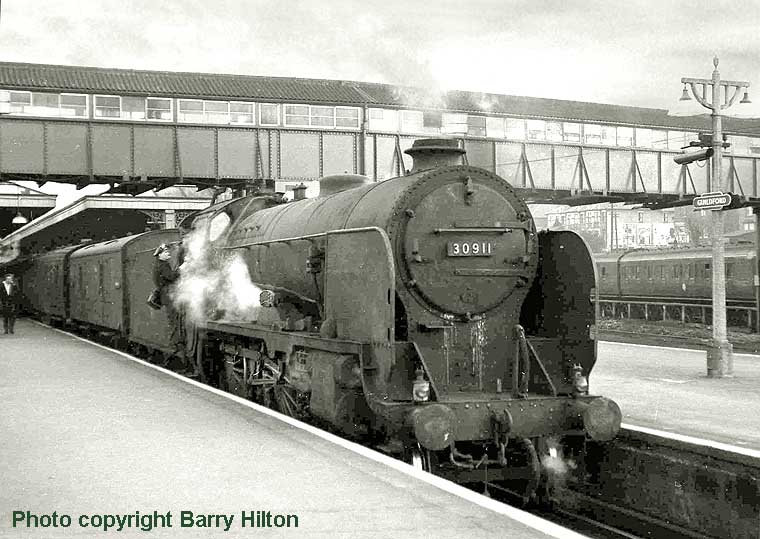 DAY 6 - Sunday 29th April 1962

Before leaving 'Southern' territory and beginning the long journey home we decided to call at Feltham (70B) which was mainly a 'freight' engine depot. The Feltham shedplate below is reproduced courtesy of
railwayana.net - a specialist railwayana site which runs regular Internet auctions and provides a free valuation service and guides to help anyone interested in collecting railwayana...a link can be found at the bottom of page.
During our visit to 70B we found some interesting additions to the week's collection:

Drummond 'M7' 0-4-4T: 30032, 30035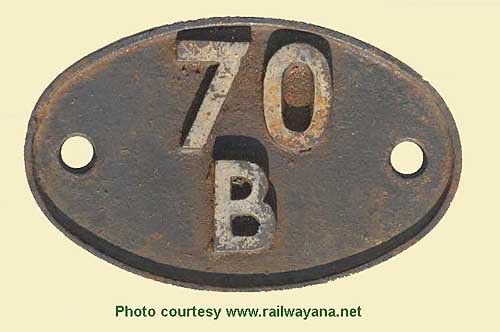 Drummond '700' 0-6-0: 30339
Urie 'G16' 4-8-0T: 30494, 30495
Urie 'S15' 4-6-0: 30496, 30498, 30500, 30502, 30506,
30509, 30510, 30512
Urie 'H16' 4-6-2T: 30516, 30517, 30518, 30519, 30520
Maunsell 'S15' 4-6-0: 30838, 30839
Billinton 'E6' 0-6-2T: 32408
Bulleid 'Q1' 0-6-0: 33004, 33006, 33007, 33010, 33011,
33013, 33015, 33017, 33024, 33026, 33027
D3041, D3042, D3100, D3459

At the time Feltham had the complete allocation of Urie S15s 30496 to 30515 as well as the last remaining two G16s and five H16s. As it was a Sunday there were a good number of engines on shed. Most of the S15 and Q1 allocations were there, along with both G16s and the five H16s. Two H16s, 30516 and 30518, and a G16 30495, were captured together (below).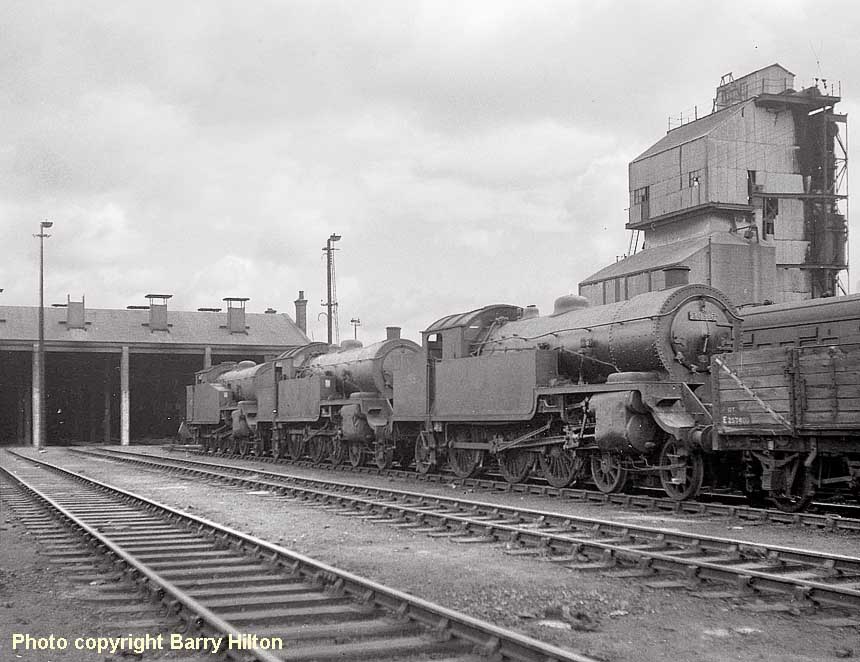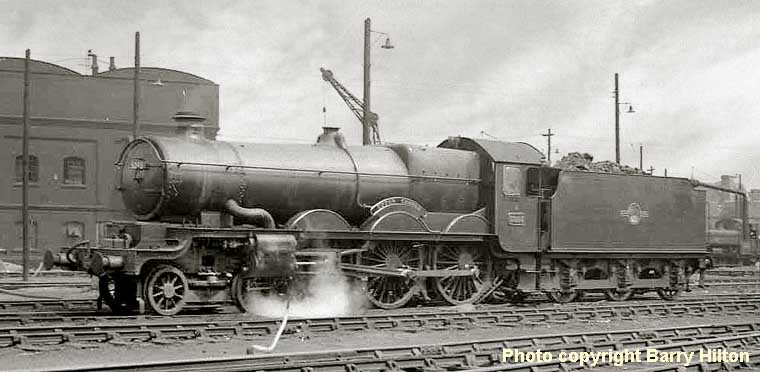 We then returned to Great Western territory and called at Old Oak Common (81A) before starting the long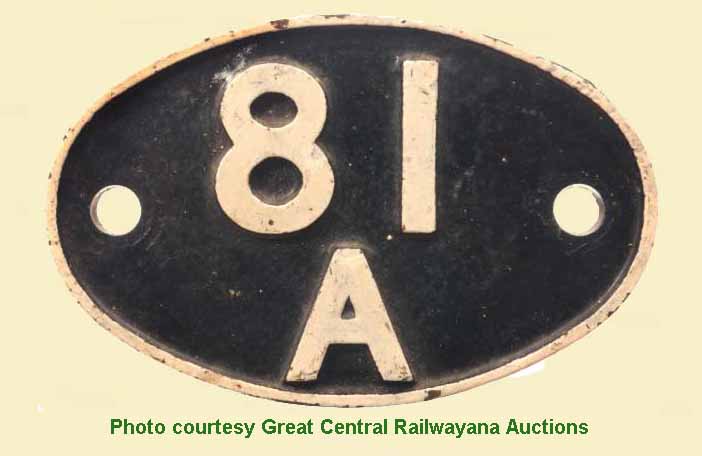 journey back home to Lancashire.

A shedplate 81A Old Oak Common (1949 to March 1965) was recently sold at a Great Central Railwayana Auction. This ex-GWR shed had a star-studded allocation of nearly 200 locos in the 1950s, including 8 Counties, 30 Castles, 13 Kings and 37 Halls, making it the largest shed on the Western Region.

Again, since it was Sunday, there were plenty of engines on shed, including 'Castle' class No 5093 Upton Castle (above). The other locos on shed were as follows:

Hawksworth 0-6-0PT: 1503, 1504, 1507
Collett 0-6-0PT: 4606, 8458, 8459, 8756, 8765, 8767, 8768, 8771, 9405, 9407, 9410, 9411, 9420, 9658, 9661, 9700, 9704, 9707, 9709,9710, 9725, 9730, 9755, 9758, 9784
Collett 'Hall' 4-6-0: 4929, 4956, 4969, 4979, 5968, 5979, 5999, 6942, 6954, 6978, 6998, 7921
Churchwood 2-8-0: 4701
Collett 'Castle' 4-6-0: 4074, 4082, 4085, 4093, 4096, 5001, 5007, 5011, 5014 (pictured below) 5015, 5020, 5021, 5023, 5036, 5060, 5065, 5066, 5084, 5093 (pictured above) 7003, 7014, 7018, 7020, 7030, 7032, 7037
Collett 'King' 4-6-0: 6000, 6015, 6016, 6025, 6026, 6029
Collett 2-6-2T: 6125, 6135, 6151, 6163, 6164, 6169
Collett 'Grange' 4-6-0: 6831
Stanier 2-8-0 8Fs Nos 48412, 48431
Austerity 2-8-0 90565
Std 9Fs 92217, 92218
'Warship' class B-B: D800, D810, D825, D838, D867
'Western' class D1002
D3032, D3114, D3404, D3597, D3600, D3601, D3602, D3954, D3962 D4000, D4006, D4033
The Stanier 8F 48431 is now preserved and resident at the KWVR.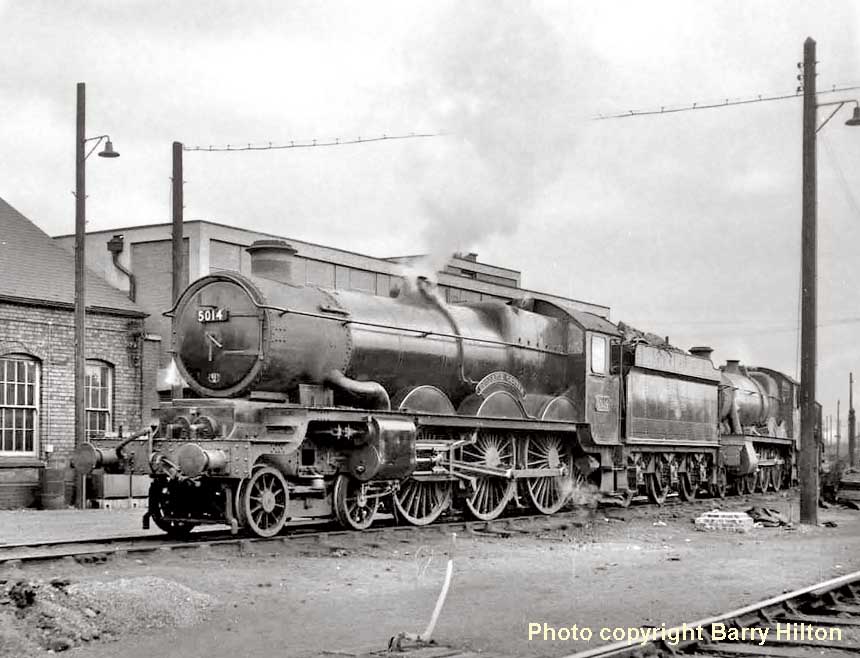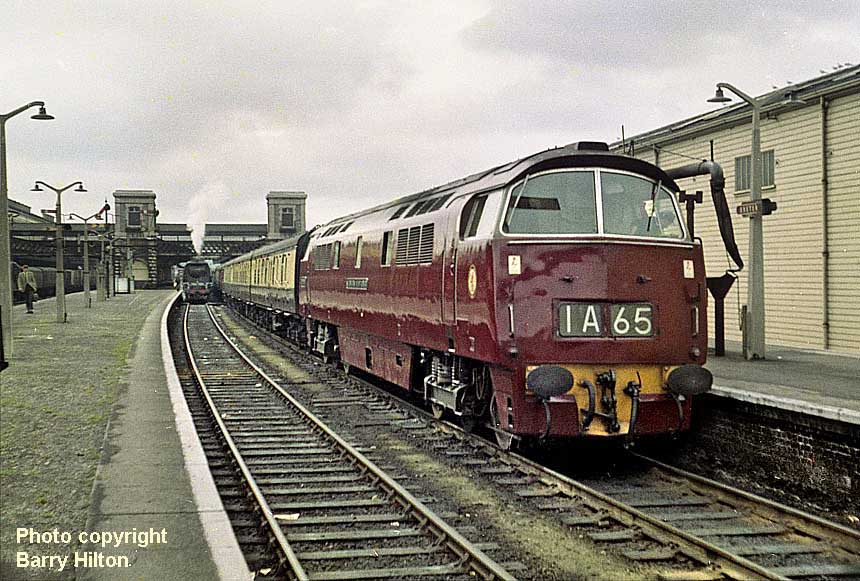 (Above-Below) The new diesels were becoming more evident with the Warship class series reaching as high as D867, whilst the newly-built (March 62) 'Western' class D1002 'Western Explorer' represented another emerging diesel class at the time. Later becoming class 52 with British Rail, they were relatively short lived as many were scrapped by the mid to late 70s, although six examples have been preserved. D1001 'Western Pathfinder', another early example which did not survive, is seen in the Summer of 1962 at Exeter St Davids. In the background is Bulleid West Country class 34067 'Tangmere'. Who would have thought at the time that 34067 would outlive the Diesel?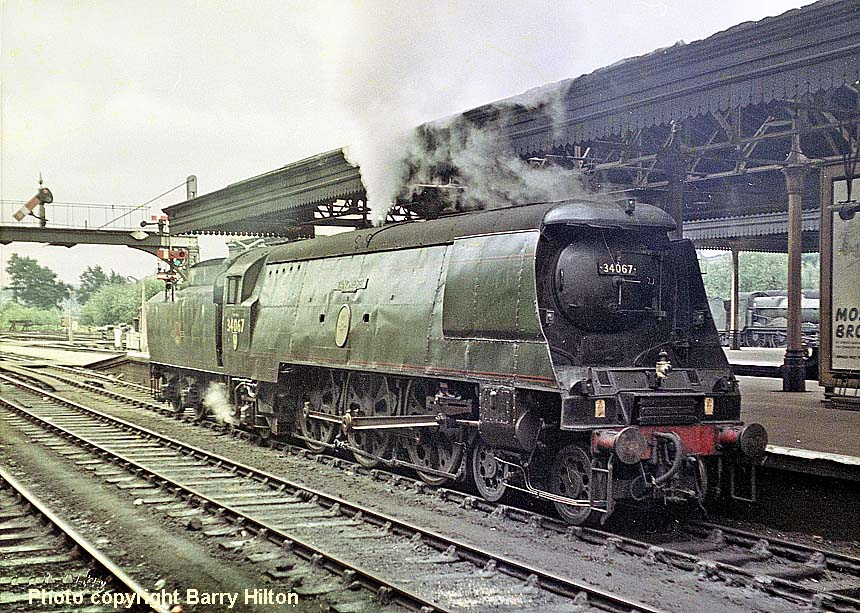 In summary, on the Easter trip of 1962, we must have seen about 80% of the Southern region locomotives that were 'still on the books' at this time. Most of the ones not seen were allocated in the South West i.e. Exmouth Junction and the engines in Southampton Docks. Overall you could say that it had been a successful trip, having seen in excess of 600 steam engines. A year later, the numbers of older classes would be further depleted or completely gone. As such they would become just a memory but for the all important photographic record.

SUMMER HOLIDAY IN THE SOUTH WEST - JULY 1963
No 1 - UPWEY AND WEYMOUTH 20th July 1963

A family holiday in July 1963 was spent at 'Guppies Farm' caravan site near Upwey, just north of Weymouth. I purchased a 'Holiday Runabout Ticket' Area No 10 which covered the area of Weymouth and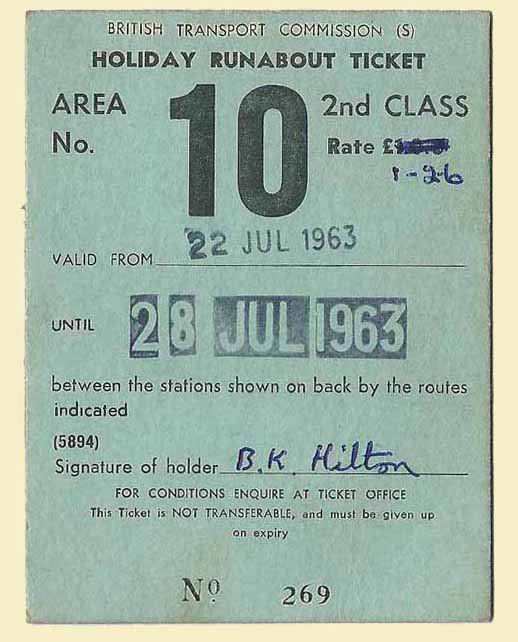 Bournemouth and made a saving against individual fares.
Whilst exploring the local area I discovered the then named 'Upwey and Broadwey' station and Signal Box. Historically the first station near this location was just named 'Upwey' and was opened by the GWR in 1871. In 1886 a new station named 'Upwey Junction' opened to replace the original one which had been sited just further to the north. The 'Junction' station also accommodated the branch line to Abbotsbury which was worked for some years by GWR 0-4-2T 14xx class engines. On closure of the branch in 1952, the station then took the name of 'Upwey and Broadwey' and this was its name when the following shots were taken in 1963. The station finally took the name 'Upwey' again in 1980.
(Below) This shot was taken from the station footbridge looking north towards the infamous Bincombe tunnel; Bulleid 'Battle of Britain' (BB) 34071 '601 Squadron' coasts downhill towards Weymouth with a train from Waterloo. The Abbotbury line once branched away to the left just out of the picture.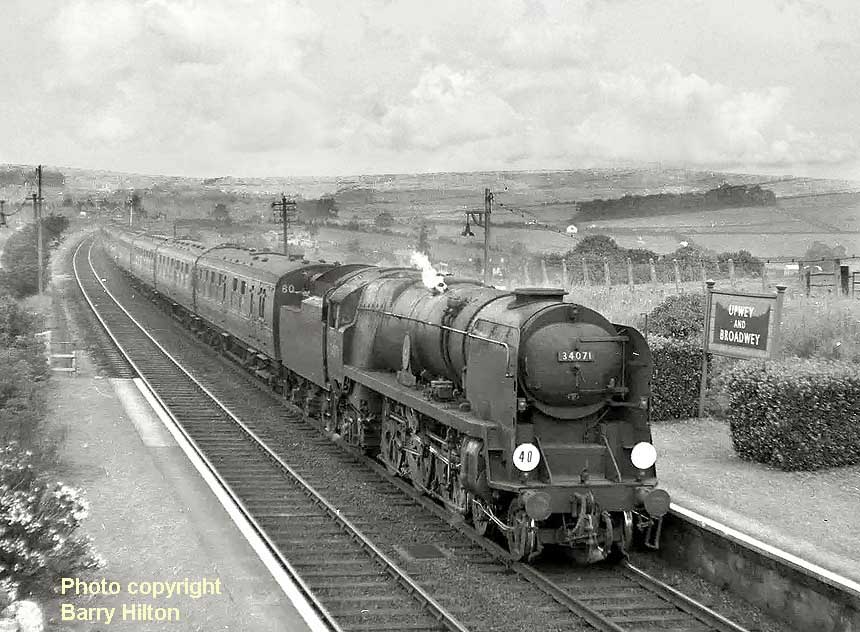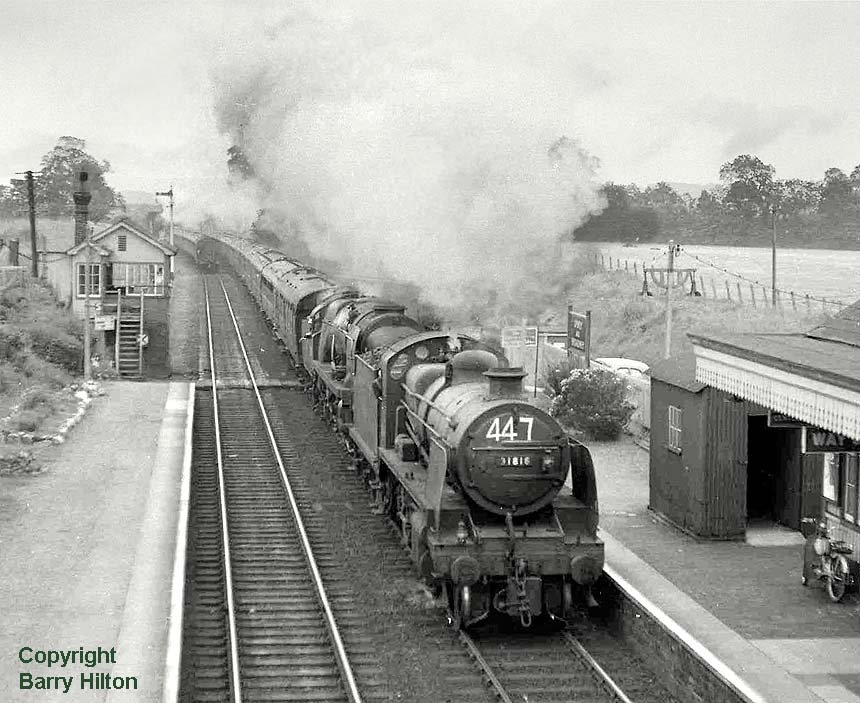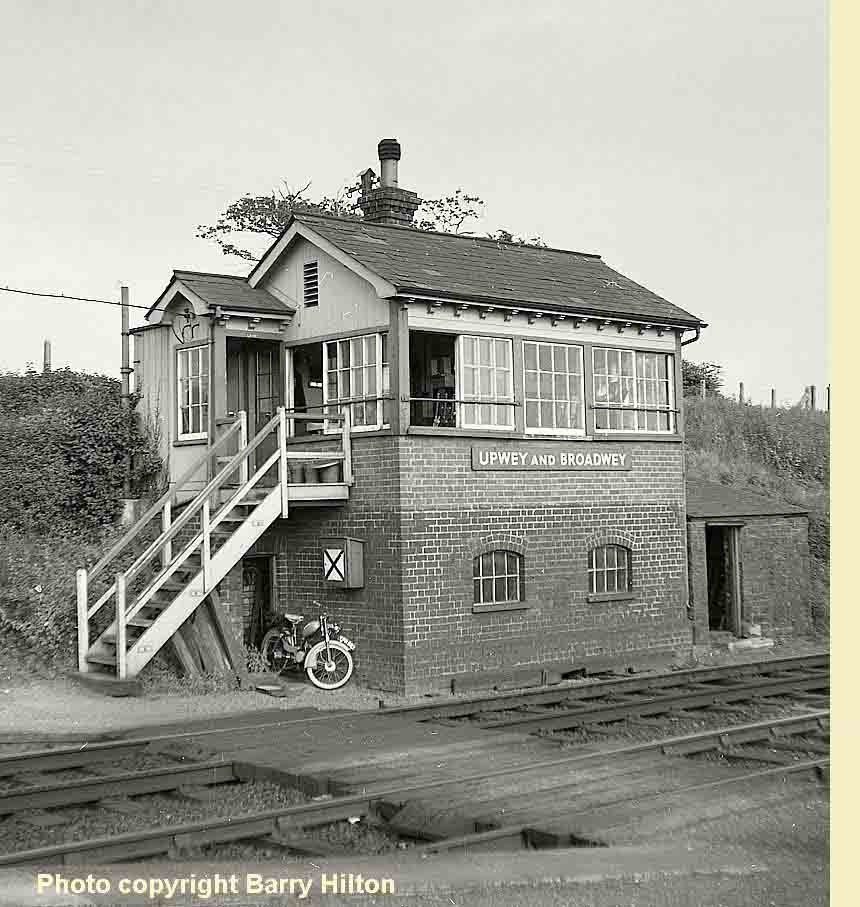 (Above-Inset Below) Immediately after photographing 34071 with a down express, I had just enough time to wind on the film for this shot of Weymouth shed's Maunsell 2-6-0 N Class 'Mogul' 31816 piloting Bulleid Pacific 34088 '213 Squadron' on a Saturday holiday relief heading for Waterloo. These heavy trains were often piloted to Dorchester, or 'banked' to just beyond Bincombe tunnel, about another 2 miles up the track. The tunnel could prove a problem for the Bulleid Pacifics which could slip to a stand if unassisted through its damp interior. The tail end of 34071's train can be seen in the distance; Upwey and Broaswey Signal Box is on the left, situated on the 'down' side of the tracks, just south of the station; the signalman's large 'rear split windowed' car can be seen parked behind the station nameboard on the right; this well and truly dates the photo. (Below) Insert UW04 Bulleid Meachant Navy (MN) 35021 'New Zealand Line' heads the Weymouth portion of the 3.30pm departure from Waterloo to Bournmouth Buffet Car Train downhill towards Weymouth on a sunny Summer evening.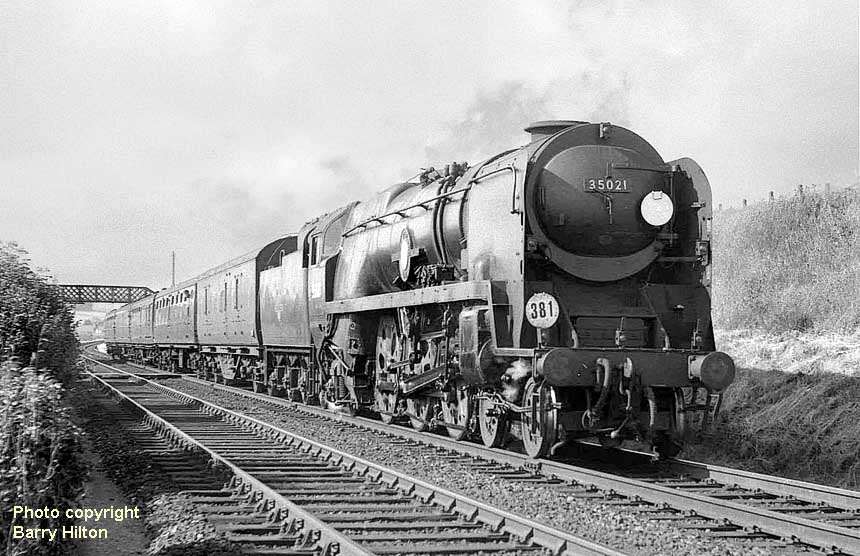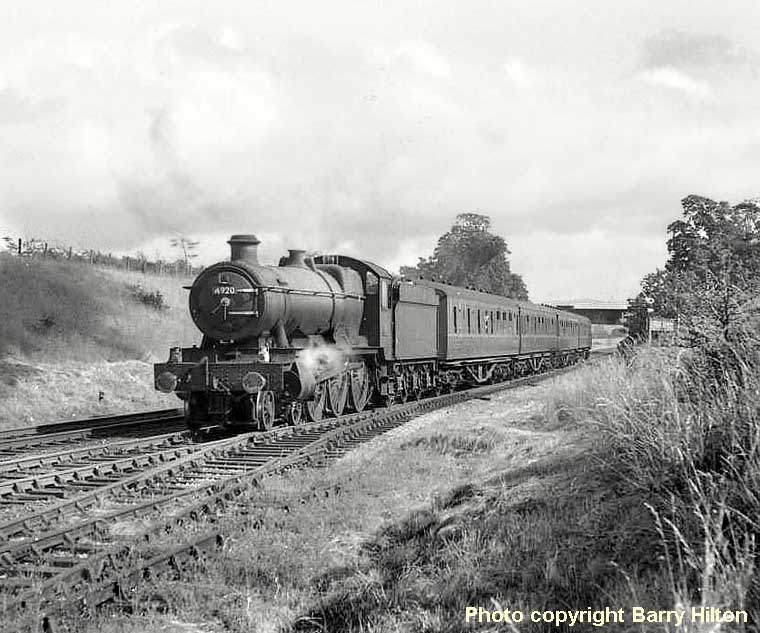 (Above-Below) At this time there were also GW workings from Weymouth to South Wales via Bristol and to Birmingham and Wolverhampton. The line to Weymouth was first built by the GWR and later the Southern was given running rights from Dorchester. These are two such workings to the Midlands. The first is GWR Hall class 4-6-0 4920 'Dumbleton Hall' of 84A Wolverhampton, followed by another Hall class 6926 'Holkham Hall' of 84E Tyseley (below). At this time there were two stations, Dorchester West and Dorchester South. Dorchester West as a through station served the GWR trains bound for the Midlands and South Wales via Yeovil Pen Mill. Dorchester South, was originally the terminus of the Southern railway for trains from Waterloo. When the extension railway was first built to Weymouth, the station remained as a terminus with a connecting spur for the Weymouth line. So, trains from Waterloo would arrive first at the terminus then reverse back to join the line down to Weymouth. In the Waterloo direction, trains would first reverse into the terminus then proceed forward towards Waterloo. Eventually a curved platform was made available for southbound trains in 1878. However, east bound trains continued to reverse into the station until 1970 when another platform was built on the curve. Recent modernisation has made further improvements with the onset of the electrification programme.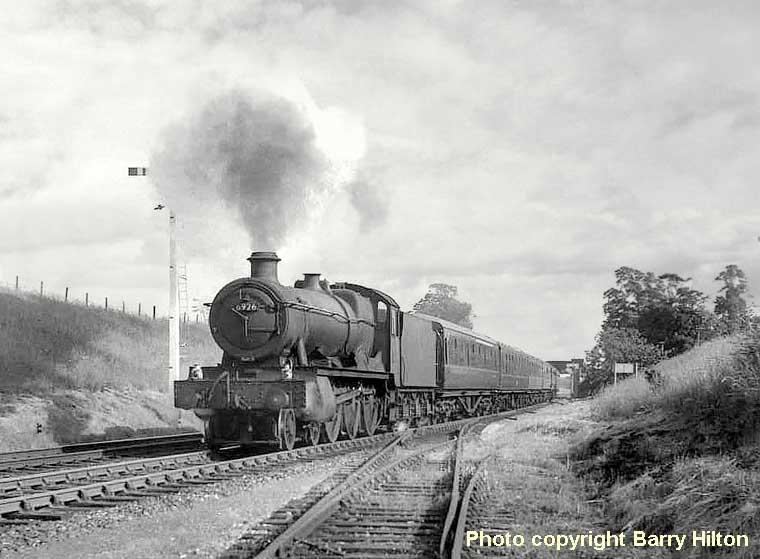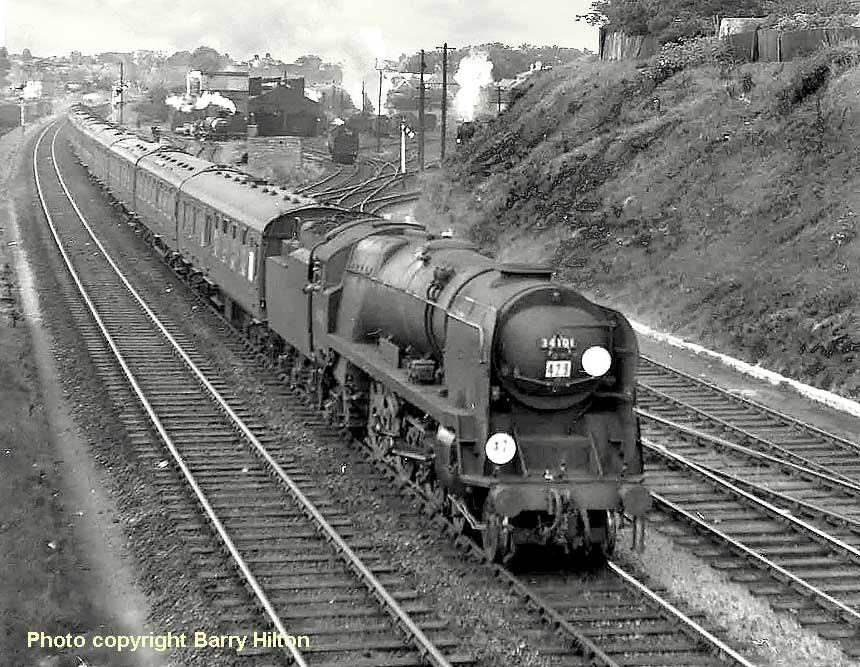 (Above-Below) Down the line towards Weymouth, Southern Bulleid WC 34101 'Hartland' is passing Weymouth MPD with a down train from Waterloo. On shed that day was BR Standard Class 4MT No 76018 of 70E, Salisbury; the loco is being 'coaled' and made ready for its return journey on one of the few summer working from Weymouth to Salibury via Bournmouth West.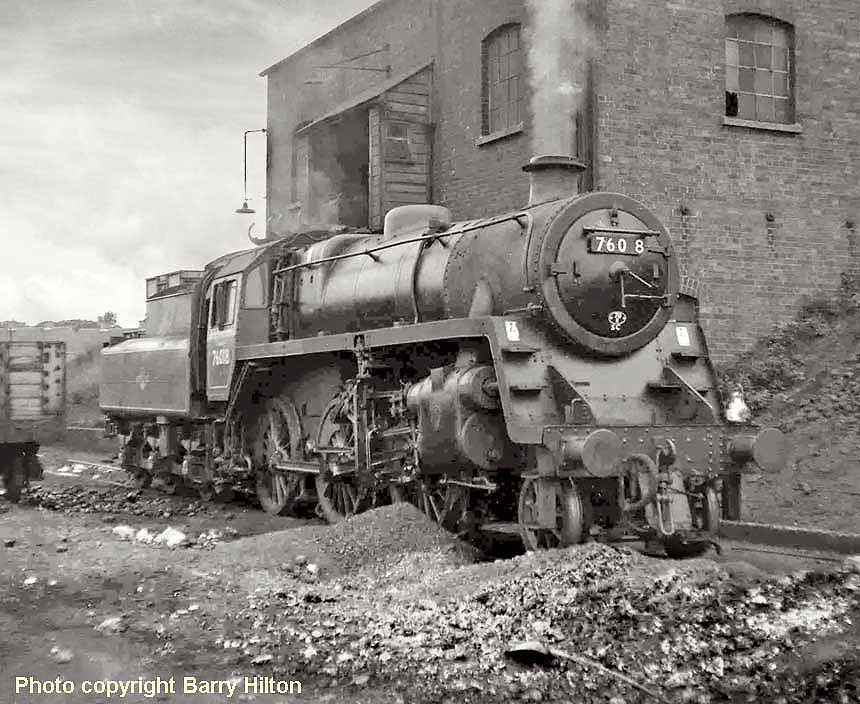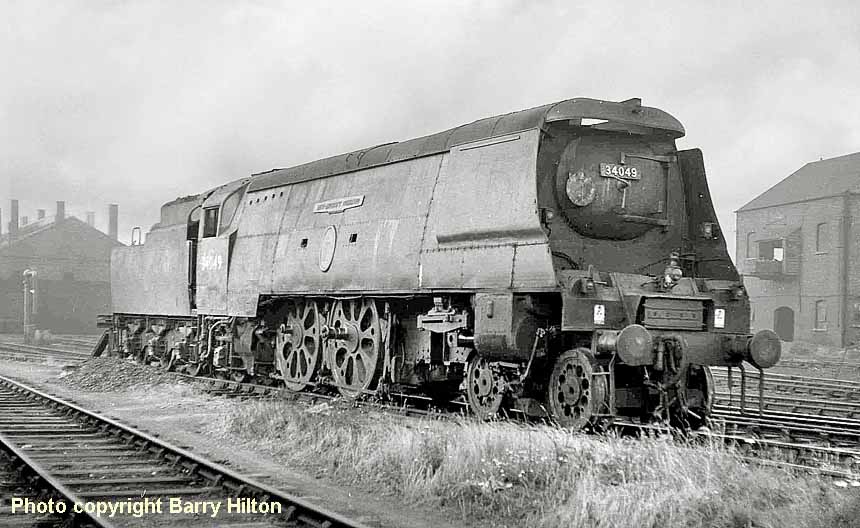 (Above) Rather ambitious work is being carried out by Weymouth's shed staff on Bullied 'Battle of Britain' Class No 34049 'Anti-aircraft Command' seen here minus its front pair of driving wheels.
Engines on shed that day were as follows:
Ex-GWR: Pannier 3633, 3759, 4610/24, 7780/2, 9620 plus Grange 6822 and Hall 6981
The ex-SR locos were made up of S15 30506, Mogul 31407, BB 34049 and Merchant Navy Nos 35003/23/8.
The BR Standard locos on shed were Class 5 Nos 73017, 73022, 73042 and 73080, Class 4 4-6-0 75065, Class 4 2-6-0 Nos 76018, 76026 and 76061 and Class 4MT 2-6-4T No 80147.
Diesel Shunters: D2082, D2295, D2398.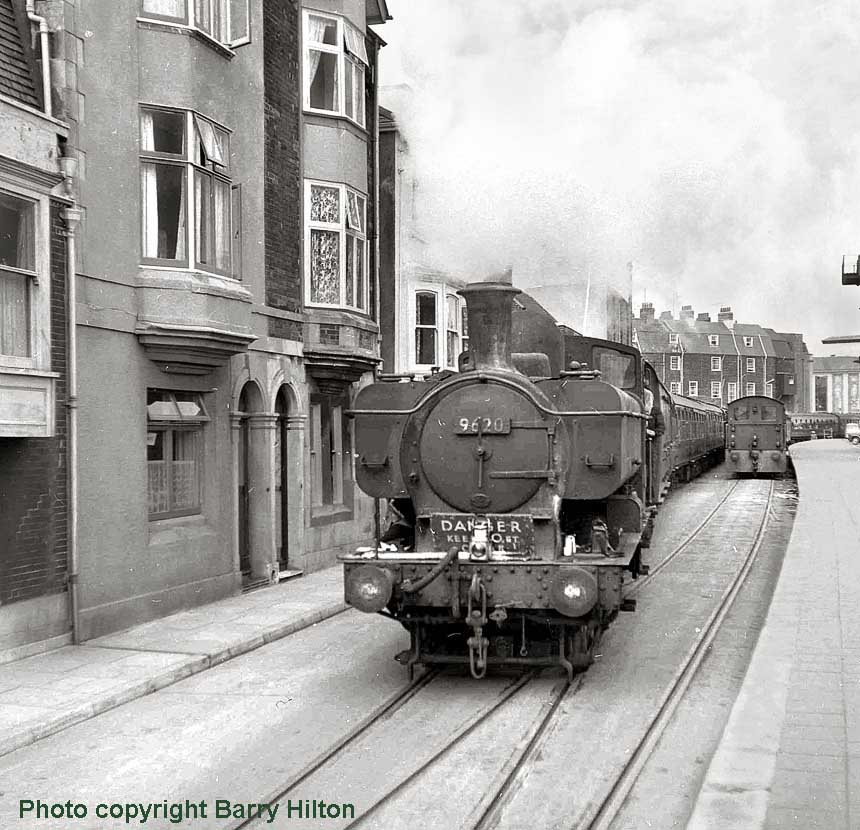 (Above-Below) No trip to Weymouth would be complete without a visit to Weymouth Quay Tramway. GWR Pannier tank 9620 draws the Boat Train stock from the Quay and is seen again (below) arriving adjacent to the yards just beyond Weymouth station. As these photos were taken on Saturday 20th July 1963, it is probably the stock of the 8.15am train from Waterloo, due at Weymouth Quay at 11.46 am, arriving at Guernsey at 4.30pm and Jersey at 7.00pm. The fares at this time (Summer 1963) were as follows:


From Waterloo to Guernsey/Jersey or visa/versa:

1st Class Rail, One class steamer: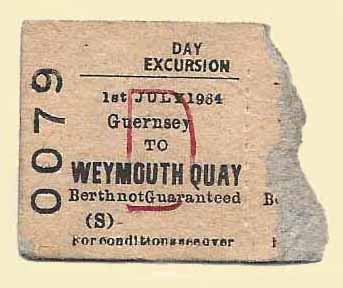 Single (valid for 3 days)...£5 16s 2d
Return (valid for 3 mths)..£10 11s 4d
Period Mid week return.....£8 4s 0d

2nd Class Rail, One class steamer:
Single (valid for 3 days)...£4 18s 3d
Return (valid for 3 mths)..£8 15s 6d
Period Mid week return.....£6 17s 0d

From Weymouth to Guernsey/Jersey or visa/versa:

Single (valid for 3 days)...£3 2s 6d
Return (valid for 3 mths)

..
£5 4s 0d
Period Mid week return.....£4 3s 0d

The following Summer, again holidaying at Weymouth, I caught the boat to Guernsey on the 1st Jul
y 1964.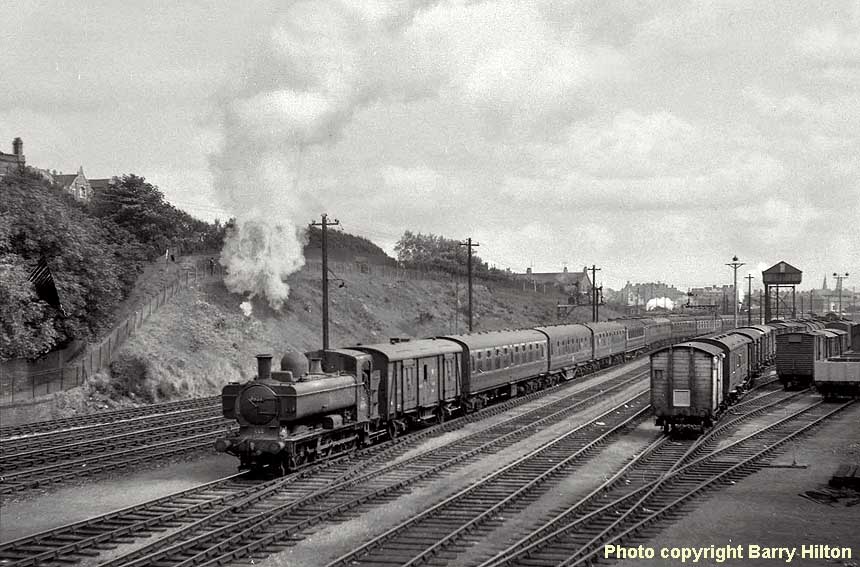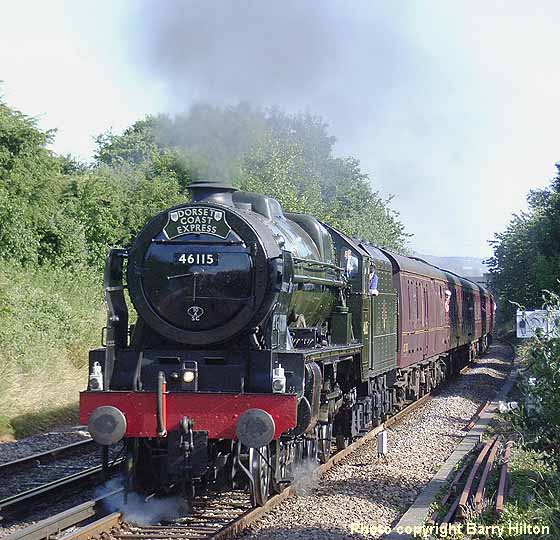 (Above) Returning again to 'Upwey and Broadwey' station, now known as just 'Upwey', a recent shot of the now-preserved Stanier Royal Scot 46115 'Scots Guardsman' on the 'Dorset Coast Express' shows it climbing away from Weymouth on 9th July 2010. Following the extension of third rail electrification from Bournemouth in 1988, Weymouth has now a much improved service to Waterloo. The Weymouth to Bristol line, now known as the Heart of Wessex line operates eight service trains each way per day. The current station at Weymouth however, in appearance, is but a shadow of its former self...

No 2 - BOURNEMOUTH, LYMINGTON AND RINGWOOD LINE
22nd-23rd July 1963

Continuing with the holiday near Weymouth, on Monday 22nd July 1963 I caught a train to Bournemouth Central. Engines seen at Bournemouth that day (station and MPD) were: GWR: Hall: 7911 SR: M7: 30056, 30107, 30127, 30129 Q class: 30535 BB & WC: 34009, 34038, 34040, 34046, 34047, 34057, 34095, 34097 MN: 35015, 35023 STD 4 2-6-0: 76005, 76009, 76010, 76060, 76069 STD 9F: 92155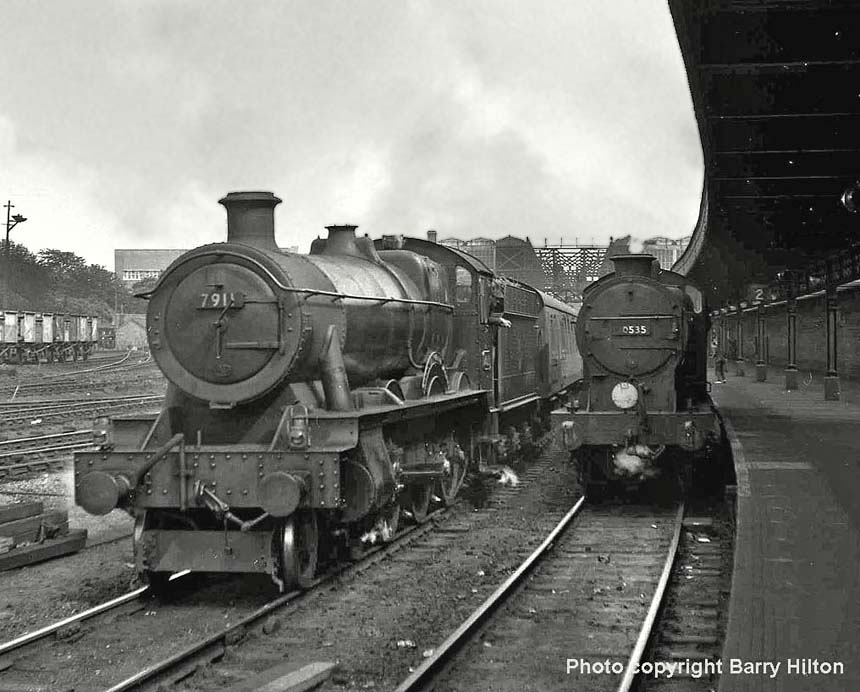 (Above-Below) GWR Hall 7911 of 81F Oxford is seen arriving with an inter-regional working from Manchester on the 'Pines Express' routed via Crewe, Birmingham and Oxford. This was usually worked from Oxford by either a GW Oxford engine, or a SR (BB/WC) returning to its home territory. Engines on this service normally changed at Oxford usually to replace an ex LMS engine, for example a Stanier Black 5 which had brought the train from Crewe. From personal experience of travelling on this train in the summer of 1964, it departed at 10am from Manchester Piccadilly with an 'electric' to Crewe, a Stanier 5MT from Crewe to Oxford and a Bulleid WC Class No 34103 'Calstock' to Bournemouth West. In the shot above, 30535 of (70F) Bournemouth is probably waiting to retrieve the stock after 7911 has reached the terminus at Bournemouth West. (Below) On another occasion, an unidentified GW Hall arrives on an inter-regional train. Note Bournemouth MPD on the far left. Visible on shed is S15 No 30506 of 70B, Salisbury. At this time the majority of the Urie S15s were allocated to Salisbury and this one has probably worked a 'stopper' from Salisbury to Bournemouth West via Wimbourne.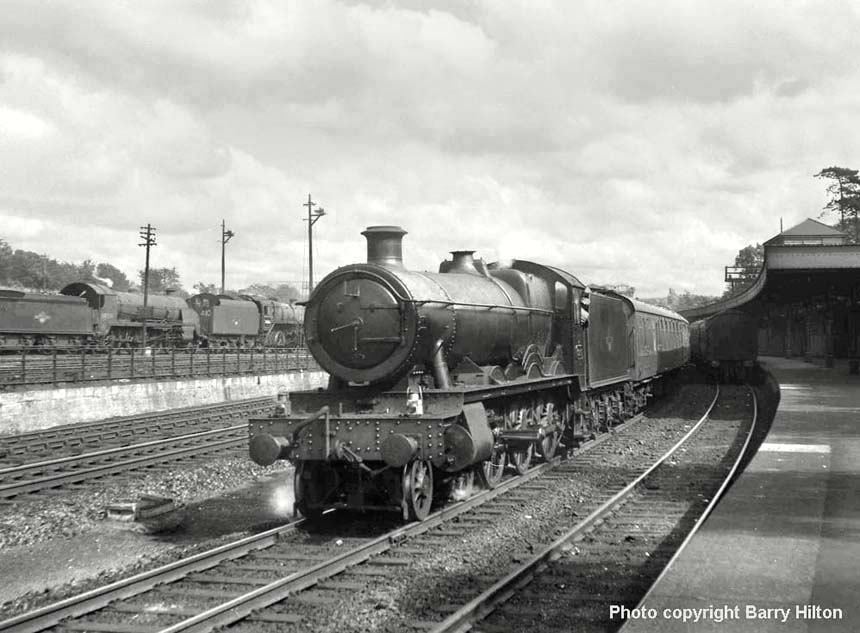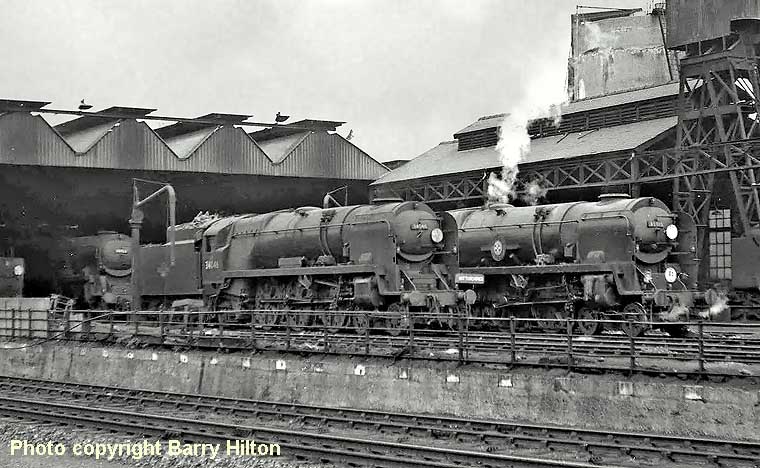 (Above-Below) All the Southern express trains to Bournemouth now were worked by either 4-6-2 Pacific, (BB/WC) or Merchant Navy engines along with a few 'Standard' classes. The first MPD shot above shows a typical day with 3 SR Pacifics 34045 'Ottery St Mary', 34046, 'Braunton' (now preserved) and MN 35015 'Rotterdam Lloyd' all serviced and awaiting the next turn of duty. (Below) By contrast WC 34104 'Bere Alston' arrives on shed for servicing, (note the empty tender) and passes the famous sign 'QUIET PLEASE RESIDENTIAL AREA' for the benefit of the local populous. By this time the older order of passenger engines had all but disappeared. Gone where the 'Nelsons', Arthurs and occasional 'Schools' classes. On my first visit to Bournemouth in 1959 I captured a Lord Nelson class number 30856 'Lord St Vincent' with my 127 Brownie camera, on a very wet day.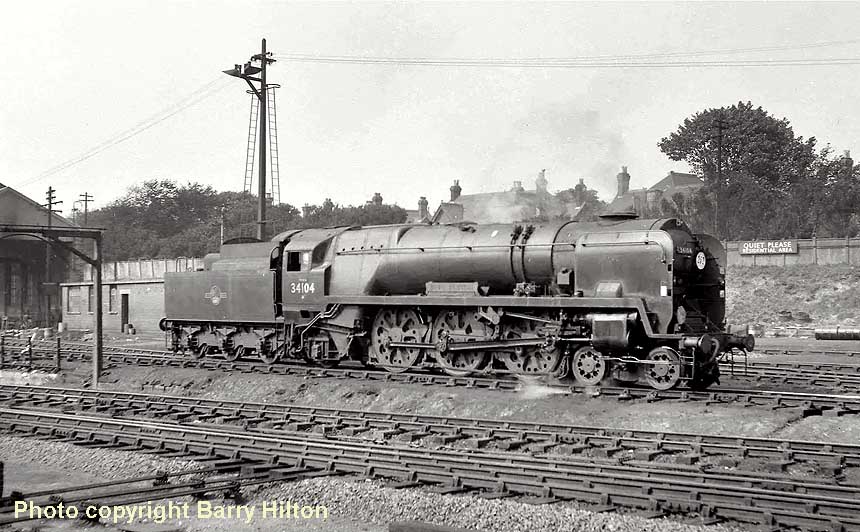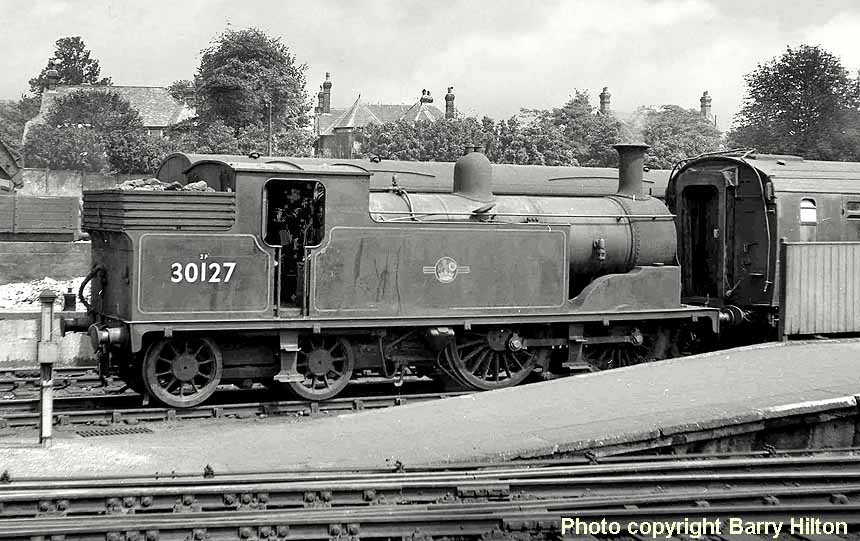 (Above) However, from the MPD list above, there were still a few of the older M7s around. On this visit 30127 was acting as the station pilot. Probably its last working before withdrawal as it had been a regular engine on the Lymington branch the previous year along with sister engine 30480. Many M7s had worked the southern coastal branches, such as Swanage, Exmouth and Sidmouth for many years but were rapidly being withdrawn having been replaced by either ex-LMS Ivatt 2-6-2T or standard tanks, until many of the branch services to most of the coastal resorts were finally withdrawn.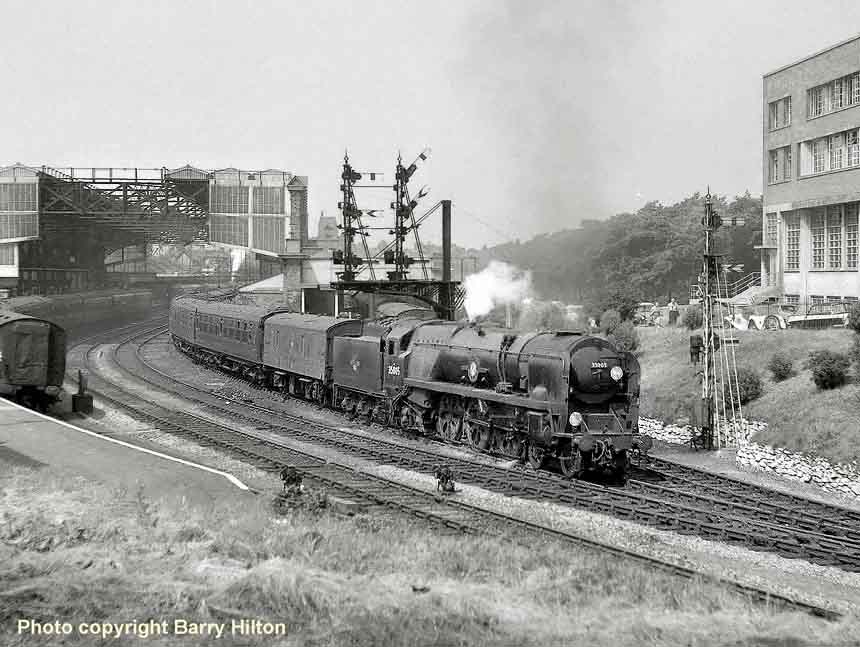 (Above-Below) At the other end of Bournemounth Central station, panoramic shots could be taken of 'up' trains departing. Merchant Navy Pacific 35005 'Canadian Pacific' is ready to depart. Shortly after, WC Class No 34038 'Lynton', also with a full head of steam, gets underway.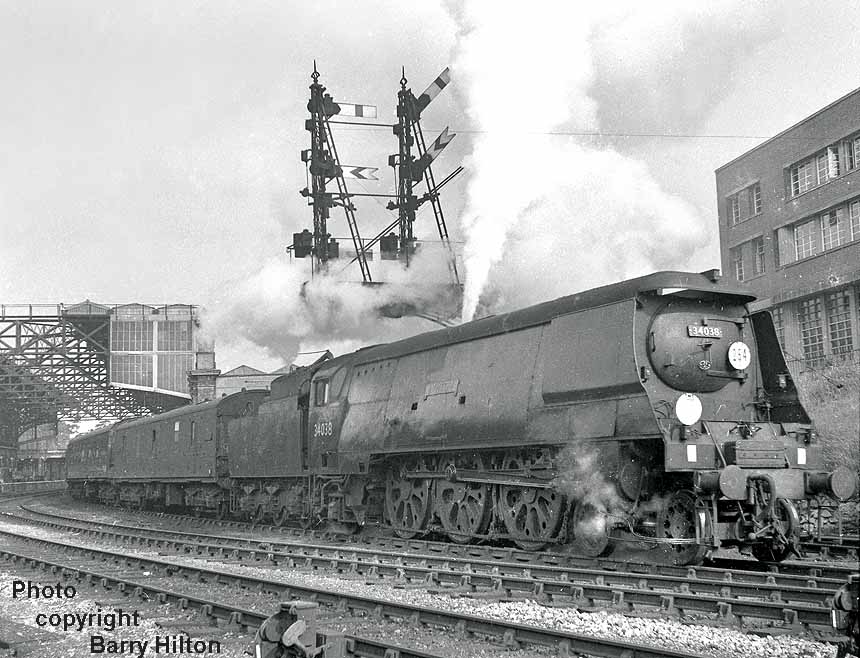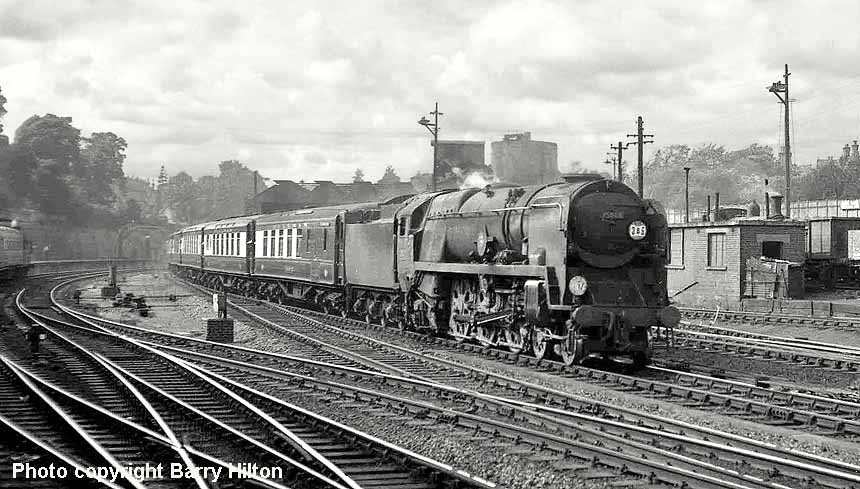 (Above-Below) This feature would not be complete without a shot of the Bournemouth Belle, although the grubby appearance of MN 35007 'Aberdeen Commonwealth' was something of a let down. In the background is the MPD and M7 30127 awaiting its next turn of duty. (Below) A nameplate from the Bulleid 'Merchant Navy' Class 4-6-2 No 35007 Aberdeen Commonwealth went under the hammer for £11,800 at a Great Central Railwayana Auction (GRCA) in June 2016. Built at Eastleigh in June 1942, the locomotive was originally numbered 21C7 and allocated new to Salisbury where it spent most of its working life before moving to Weymouth in January 1965; two years later it was transferred to Nine Elms from where it was withdrawn on 9 July 1967 and sold for scrap to J Buttigieg at Newport in September 1967. A visit to the GRCA website HERE is highly recommended; it contains a wealth of fascinating historical detail on the various lots that have appeared for sale over the years; in this particular instance the auctioneers reveal that various components of this lot became separated and 35007's circular nameplate has only recently been re-united with the original 'Merchant Navy' side plates. However, the original shipping line's house flag has never come to light and has been replaced by an exact copy in vitreous enamel.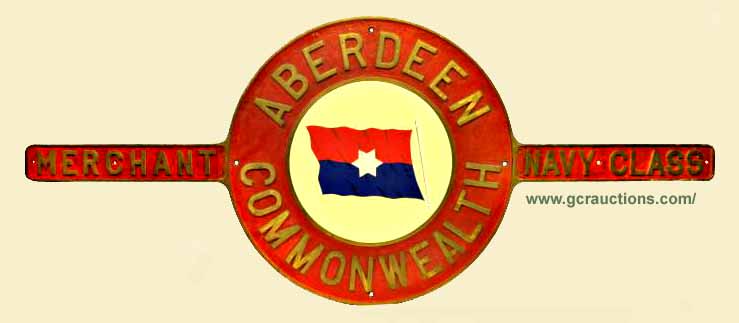 (Below) On the 23rd July I travelled from Weymouth to the Lymington branch. This branch diverged from the Bournemouth mainline at Brockenhurst and travelled south to the coast at Lymington pier where a ferry would take passengers to the Isle of Wight. In 1962 and 1963 this service was worked by Drummond M7s. On the 23rd July 1963, No 30480 worked the service. The following shot shows the train arriving at Brockenhurst whilst a Rebuilt WC is about to depart on the mainline.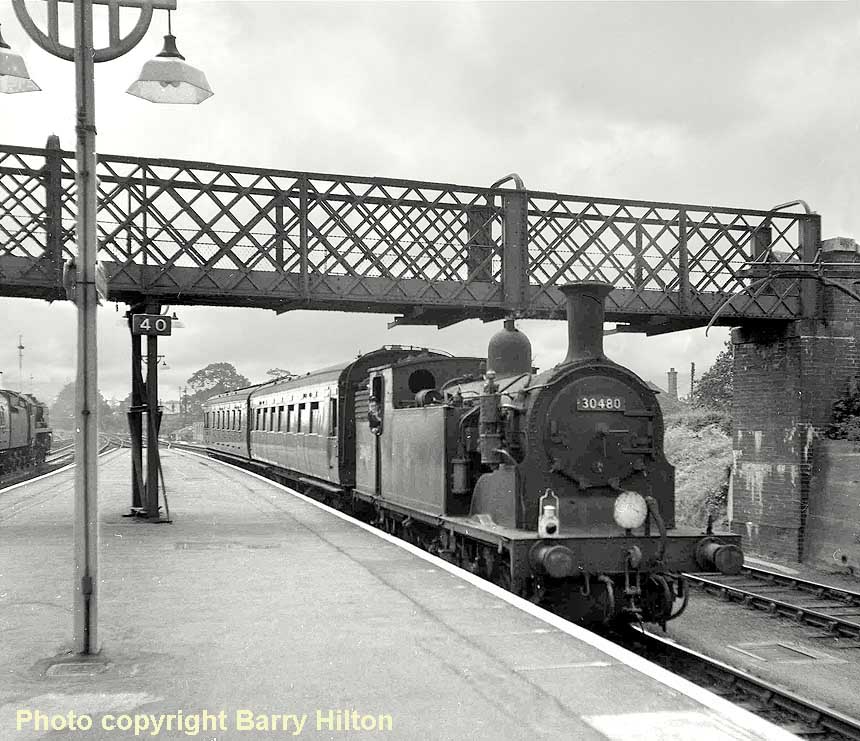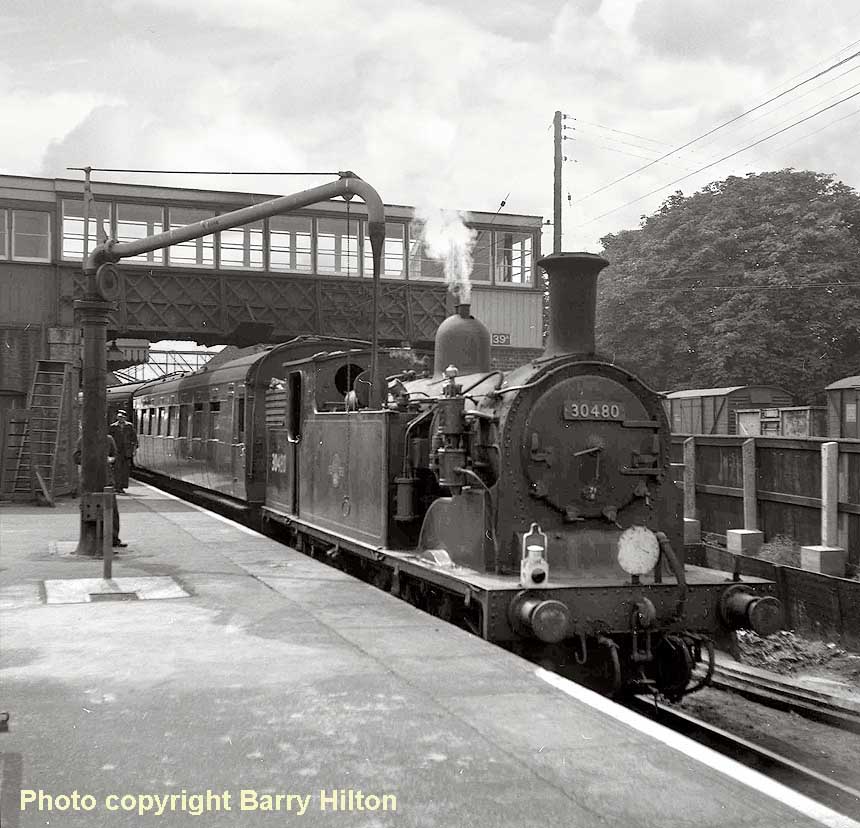 (Above-Below)

After taking water, Class M7 0-4-4T 30480 is seen leaving Brockenhurst for Lymington, then later returning from Lymington with the habour in the background.

The shot beneath shows the M7 at Lymington with the Isle of Wight ferry in the background.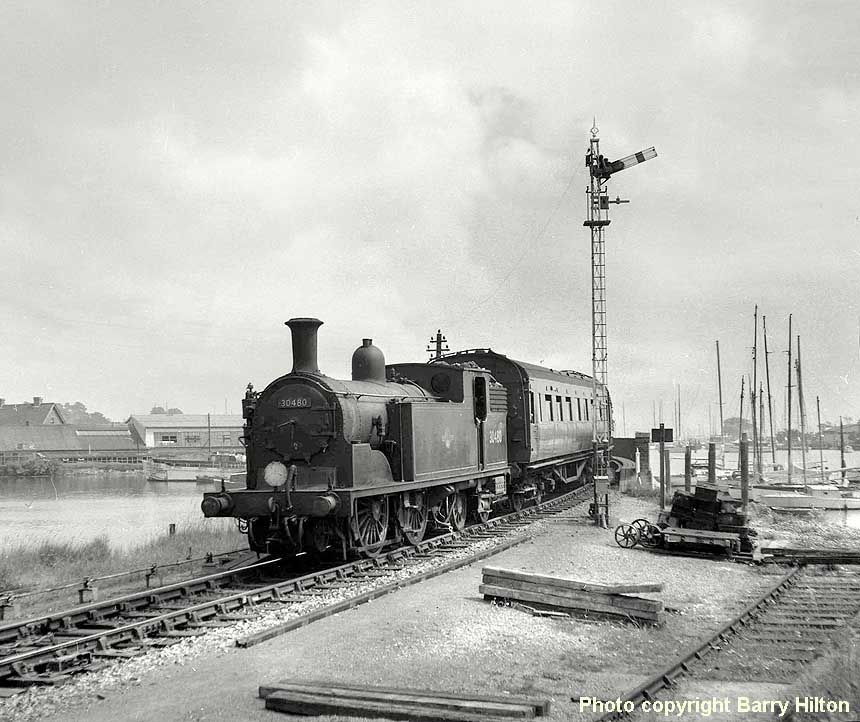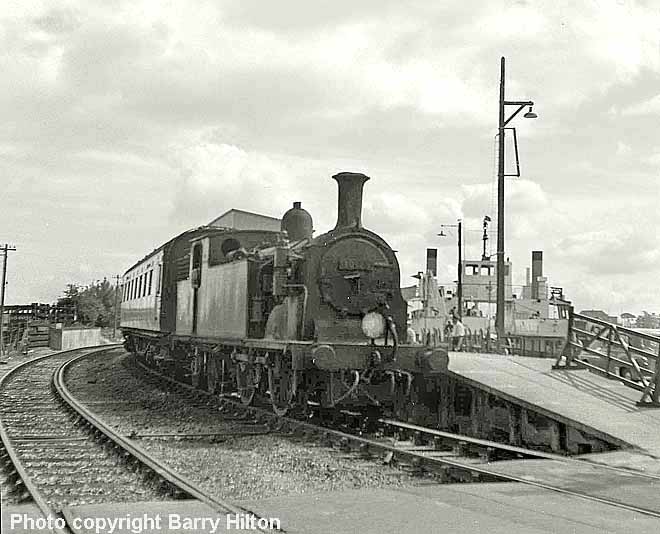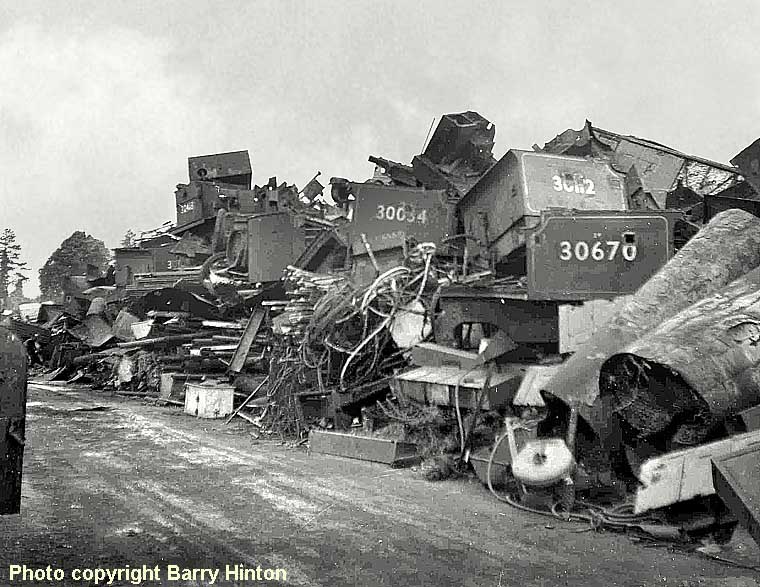 (Above-Below) From Brockenhurst I decided to return to Bournemouth via the Ringwood line. This line was locally known as 'Castleman's Corkscrew; Castleman being the name of a Wimborne Solicitor who promoted the line back in 1845, and the name 'corkscrew' describing the rather circuitous route the line took. Originally, from Brockenhurst the line went through Ringwood, Wimbourne and down to Poole. After a ferry crossing to the town centre of Poole, a branch line from there took passengers through Broadstone to Bournemouth West. Bournemouth then was only a small town and was initially bypassed by the main line from London. However, expansion into a tourist resort meant the construction of a new main line route via Bournemouth Central. At the time I was unaware of the scrap yard at Ringwood, but when I saw a pile of M7 bunkers from the train, I broke my journey to explore. Those recognisable were, M7s 30031, 30034, 30045, 30112, 30670 and the bunker of an ex LBSC Billington E6 32418. However, as I could only see ferrous scrap and no boilers I concluded that they were just disposing of the scrap and not actually dismantling locomotives; this was probably carried out at Eastleigh Works first. (Below) An earlier shot of 30670 and other M7s at Eastleigh during the previous April shows some of the engines waiting to be scrapped.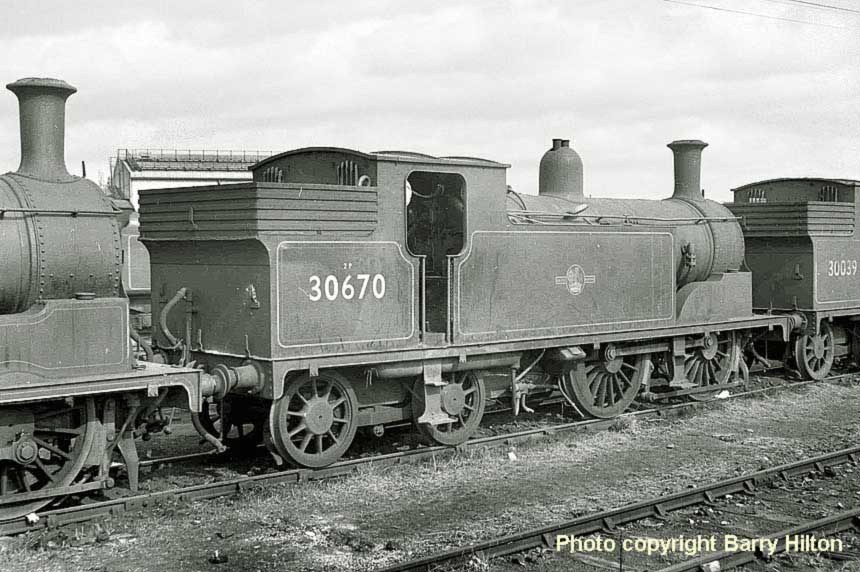 No 3 - SALISBURY and EASTLEIGH
25th July 1963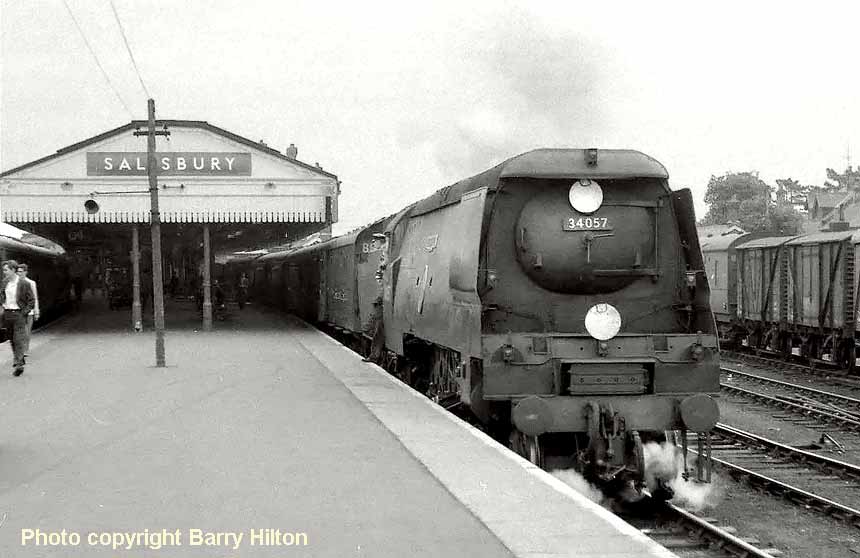 (Above-Below) On Thursday the 25th July 1963 I took the train from Upwey and Broadwey to Bournemouth, then a train to Salisbury and finally onto Eastleigh. From Bournemouth I travelled via Wimbourne and Fordingbridge arriving at Salisbury behind Bulleid WC 34057 'Biggin Hill'. (Below) Again, the older order of motive power was by 1963 disappearing here too. By comparison, the shots I took in 1962 would be unrepeatable as the engines by now were withdrawn from service, such as King Arthur 30770 'Sir Prianius' seen here awaiting departure on a down stopping train.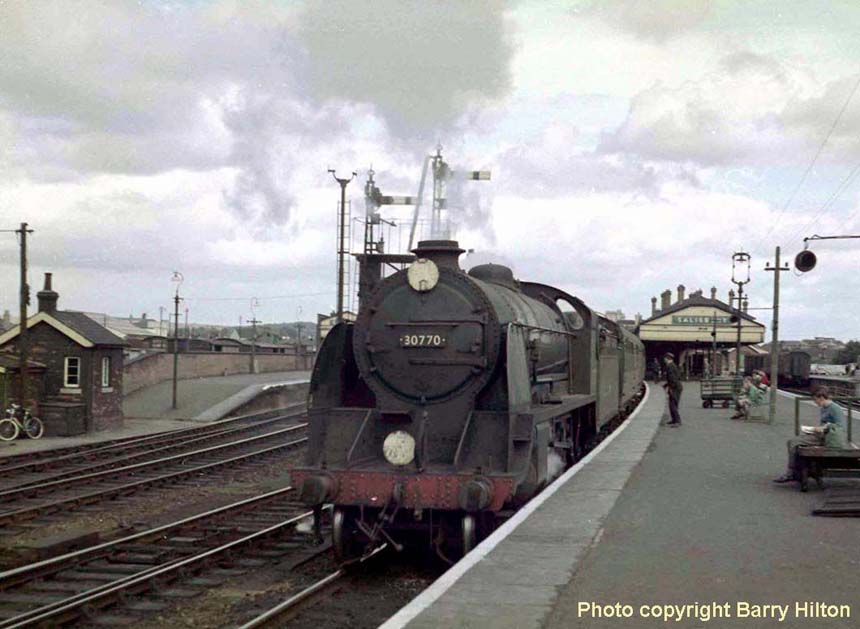 A quick trip around Salisbury MPD found the following engines on shed:
Panniers 4616 and 4630, Hall 4-6-0 5932 'Haydon Hall' (81A); Collett 2-8-2T 7252 (88B); M7 30021; Maunsell S15 30825, 30830 and 30831, and N 2-6-0 31408. Of note was the Collett 2-8-2T which had worked a freight from South Wales.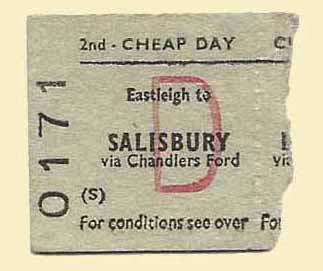 Continuing my journey to Eastleigh via Romsey and Chandlers Ford (see ticket), on arrival at Eastleigh I made for the MPD (71A) and saw the adjacent yards contained mainly withdrawn engines that totalling almost 100. Most of the uncommon and interesting engines were unfortunately waiting there to be cut up and as such were generally the older classes and not many were local to Eastleigh. For example, four Maunsell N1 class 2-6-0s (below) had obviously been towed together from their home depot of (75D) Stewarts Lane and were awaiting scrap (below). They were numbered consecutively 31877, 31878, 31879 and 31880.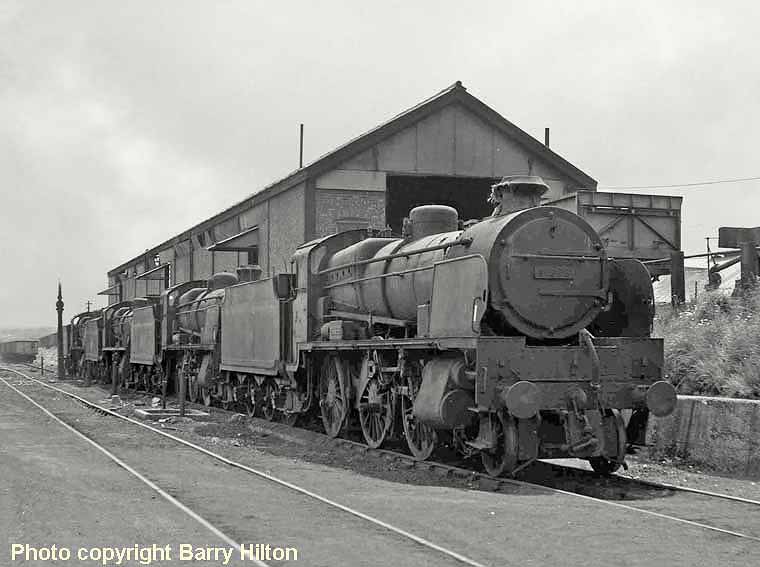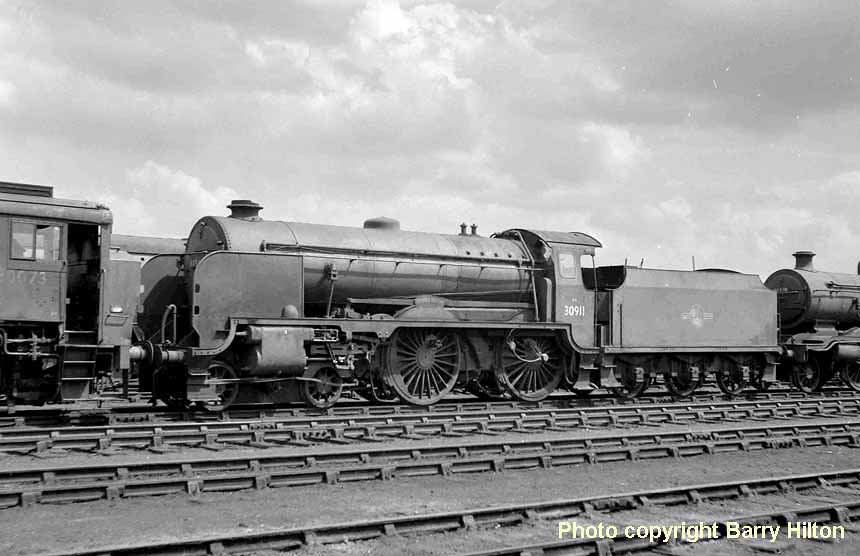 (Above-Below) Another class suffering large withdrawals at this time was the 'Schools' class 4-4-0s. Five of them were awaiting scrap that day, namely 30901 'Winchester', 30909 'St Paul's', 30911 'Dover', 30915 'Brighton' and 30936 'Cranleigh'. (Below) Adding to the loco variety is Maunsell U1 Class 2-6-0 No 31901.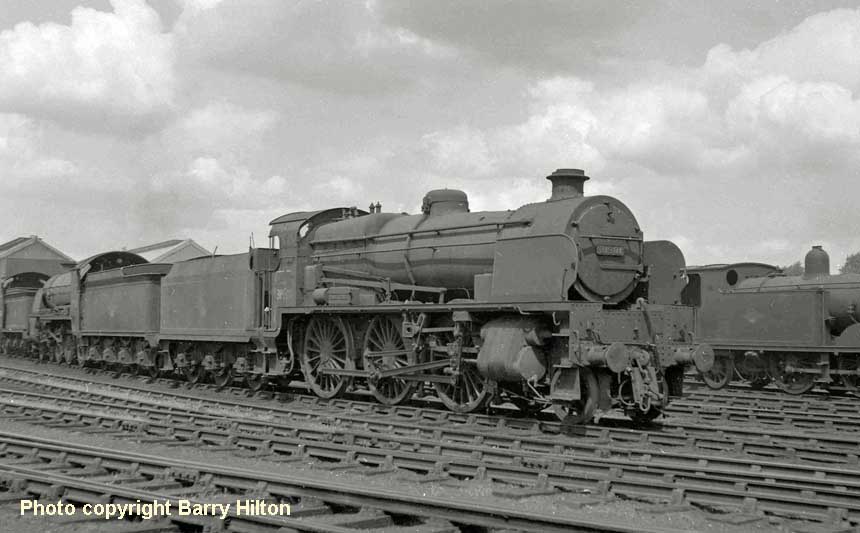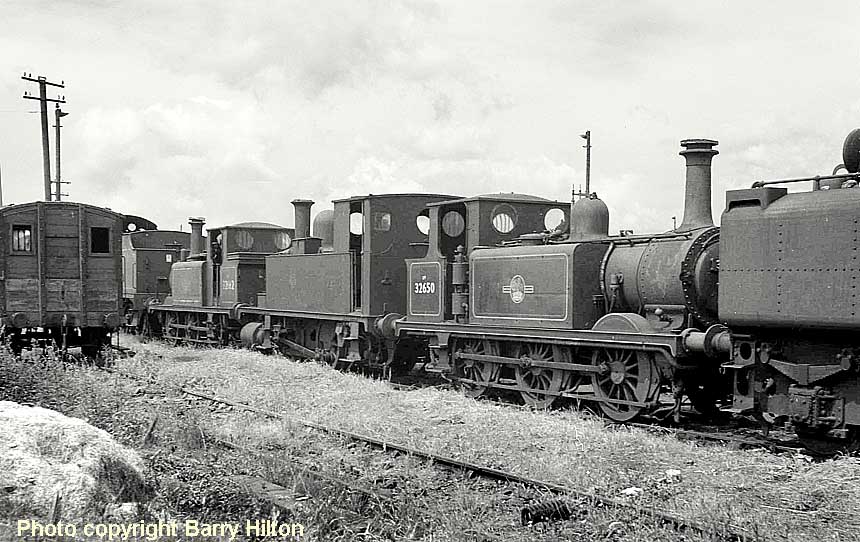 (Above-Below) Also awaiting scrap were some of the older smaller varieties of tank engines. The shot above captures three together, namely B4 dock tank 30102 and two LBSC 'Terriers' 32650 and 32662. (Below) On a happier note it was nice to see a recently worked M7 No 30025 in a clean condition. This was a result of a recent rail tour.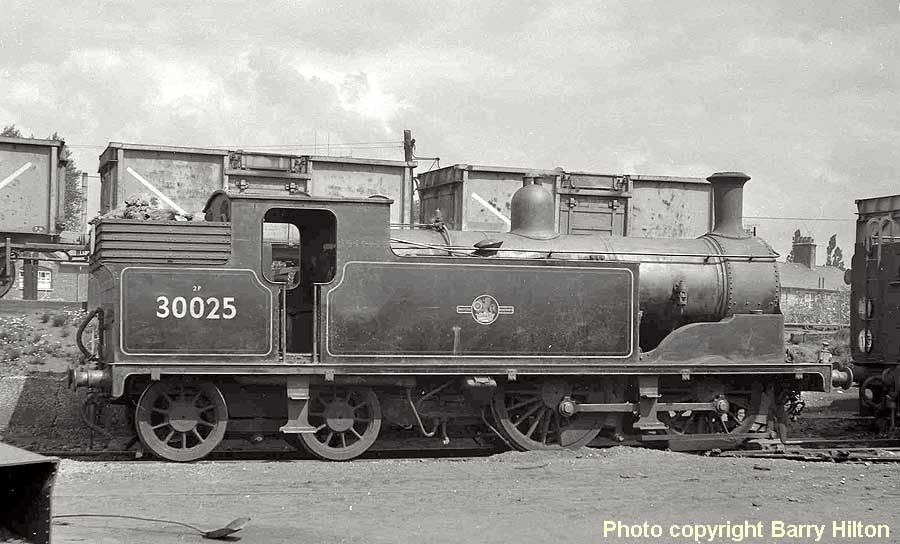 Listed below is the overall classes represented in the running shed and surrounding yards, the latter generally used for withdrawn engines awaiting scrap in the adjacent Works:
M7 0-4-4T 30025, 30241, 30251 USA 0-6-0T 30063, 30065, 30071, 30073 B4 0-4-0T 30089 and 30102.
T9 (30) 120: 02 0-4-4T 30199; 700 0-6-0 30346, 30368; Urie S15 4-6-0 30496, 30498, 30500, 30501, 30503, 30510, 30515, 30516, 30519; Q 0-6-0 30538; Maunsall S15 30826 and 30845; Schools 4-4-0 30901, 30909, 30911, 30915, 30936; N 2-6-0 31403 and 31855; U 2-6-0 31794, 31795, 31809, 31810; N1 2-6-0 31877, 31878, 31879, 31880; U1 2-6-0 31895, 31898, 31901, 31906, 31908, 31910; W 2-6-4T 31916, 31921; K 2-6-0 32338, 32341; A1X 0-6-0T 32646; E4 0-6-2T 32497, 32557; WC/BB 34008, 34025, 34035, 34039, 34043, 34074, 34082, 34094; MN 4-6-2 35012; Ivatt 2-6-2T 41224, 41261, 41305,41311, 41319; 5MT 4-6-0 73002, 73111, 73117, 73155; 4MT 4-6-0 75066, 75079; 4MT 2-6-0 76005, 76011, 76012, 76014, 76028, 76063, 76068; 4MT 2-6-4T 80082; 9F 2-10-0 92155, 92206, 92212, 92231. Diesels: D2289, D3012, D3014, D5233, D6527, D6533, D6578 and 15201.
This totalled twenty different Southern classes and five standard classes. Whilst many had made their last journeys, in contrast un-rebuilt Bulleid WC 34094 'Mortehoe' stands idly in steam on one of the 'running' shed roads below.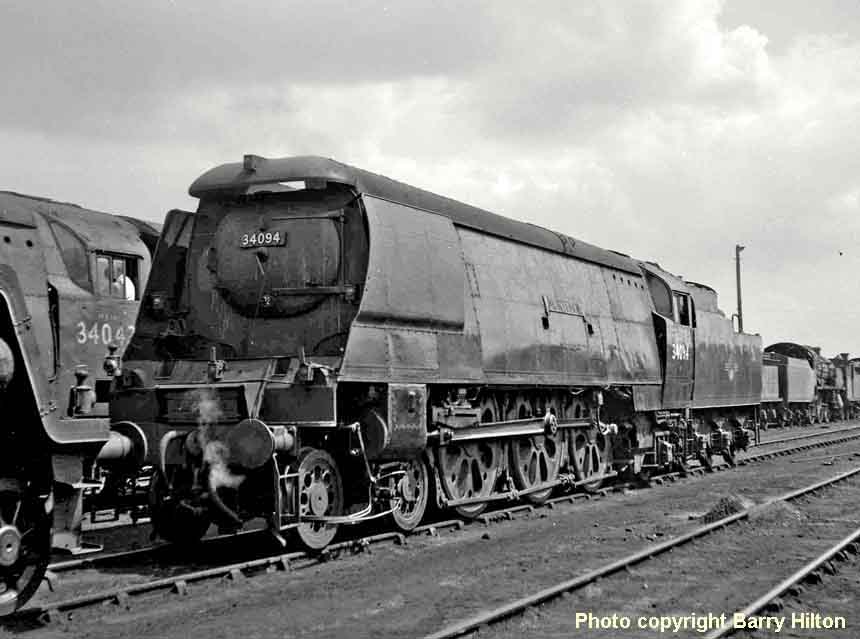 No 4 YEOVIL
26th June 1963.

On the Friday of the holiday I decided to take a train to Yeovil from Upwey and Broadwey station just north of Weymouth. This train was worked by an ex-GWR Hall class bound for the Bristol and the Midlands over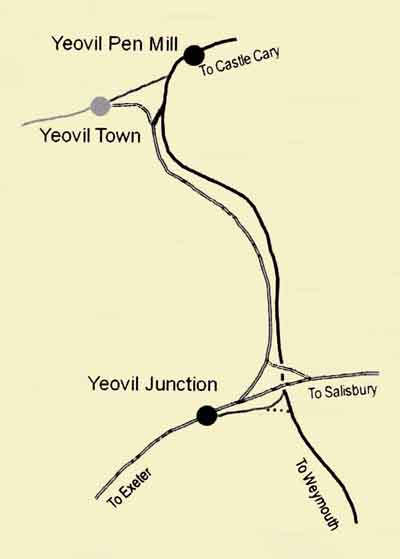 the old GWR route. The train stopped at Yeovil Pen Mill station where I alighted. The map shows the lines around Yeovil. The line from Weymouth passes under the old SR main line from Waterloo to Exeter before shortly arriving at Yeovil Pen Mill. This line was first opened by the GWR as part of the Wilts, Somerset and Weymouth railway in 1854. At Yeovil Pen Mill the GWR had a locomotive depot until it closed in 1959 and the locomotives were transferred to Yeovil Town depot. In the 1960s three stations served Yeovil, namely Yeovil Pen Mill, Yeovil Town and Yeovil Junction. Yeovil Town finally closed in 1967 whereas the other two stations have survived, the latter Yeovil Junction, is on the old SR main line.
The service between Yeovil Pen Mill (below) and Yeovil Town was also part of the GW system with trains running west beyond the town station to Taunton. The majority of these trains in 1963 were operated by Prairie tanks, the 45xx and 55xx classes and some by 61xx on the Taunton trains.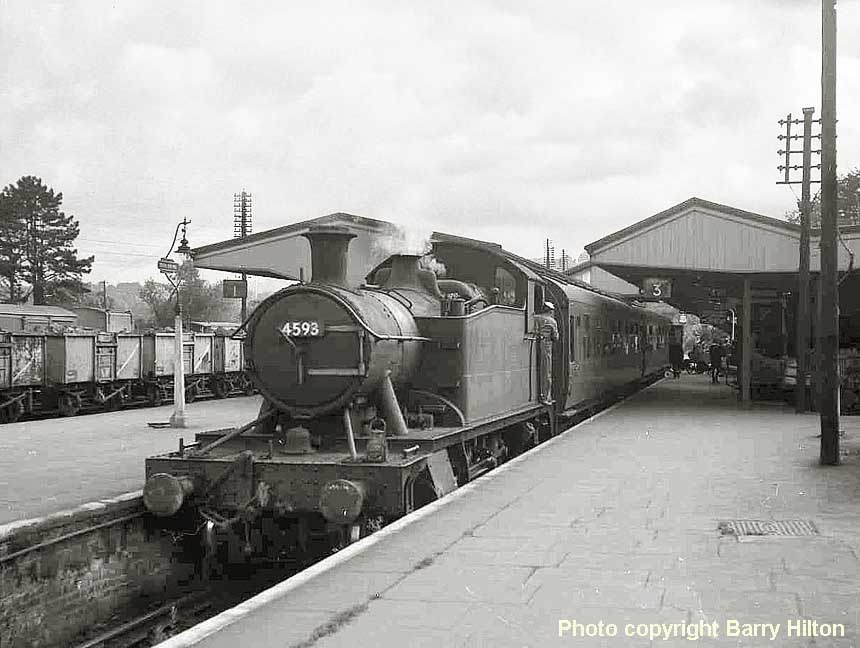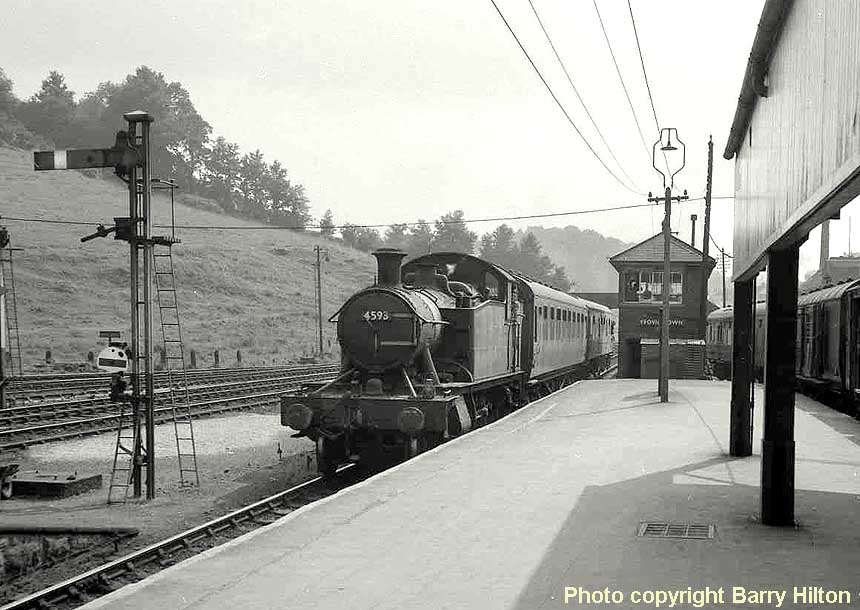 (Above-Below) I caught the train headed by a small GW Prairie No 4593 at Pen Mill and travelled to Yeovil Town station above. Here I decided to visit Yeovil Town MPD and found a larger Prairie number 6113 in the shed yard below.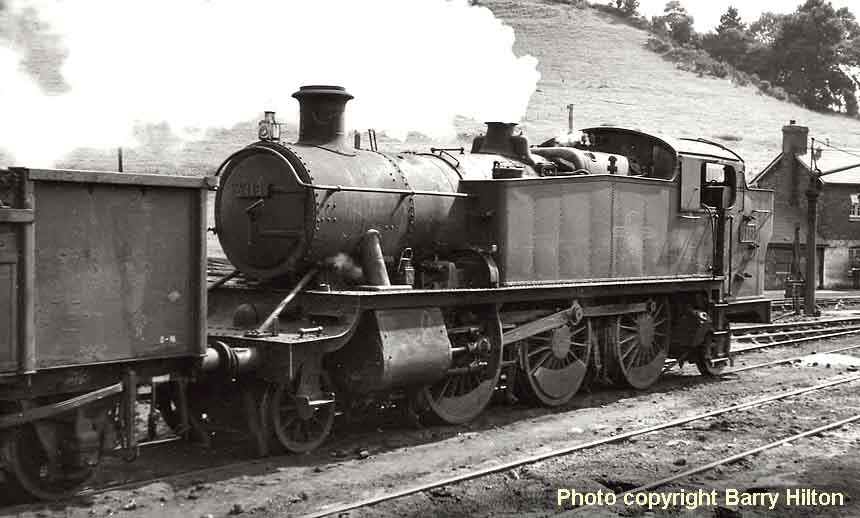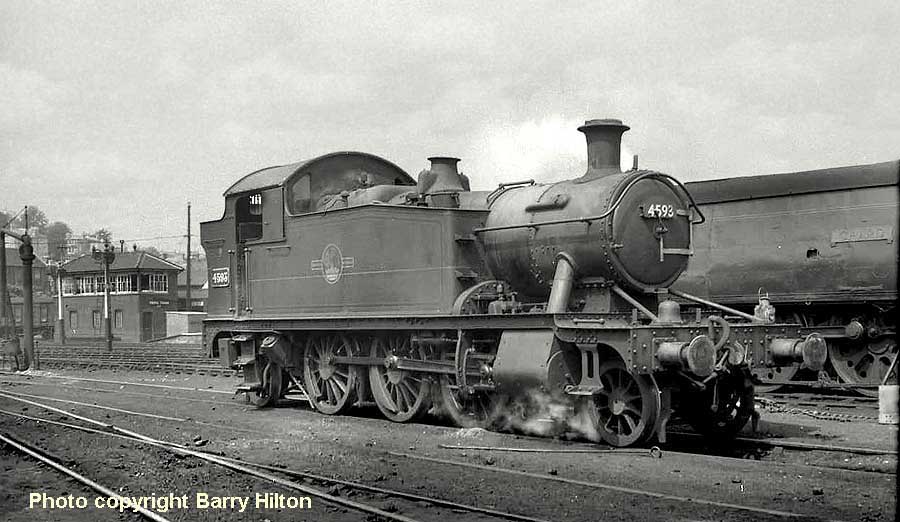 (Above-Below) Meanwhile 4593 arrived on shed; Yeovil Town Signal Box can be seen in the background along with a Bulleid WC 34033 'Chard' which had worked over the southern main line from Exeter on a stopper to Yeovil Town. Other examples of Prairies were also on shed Nos 4507 and 5563.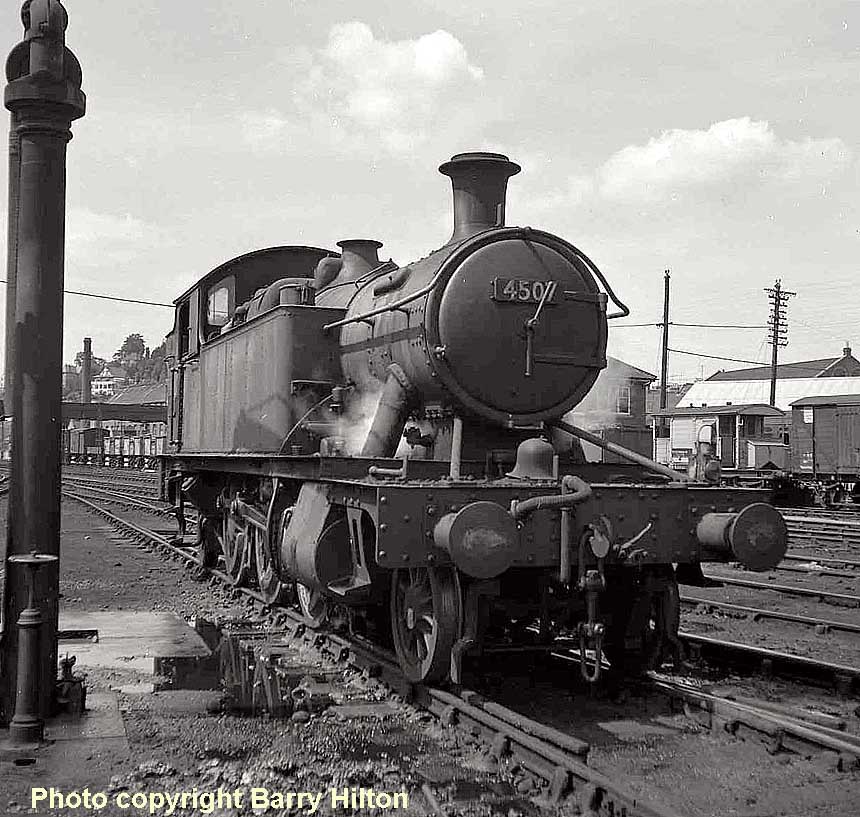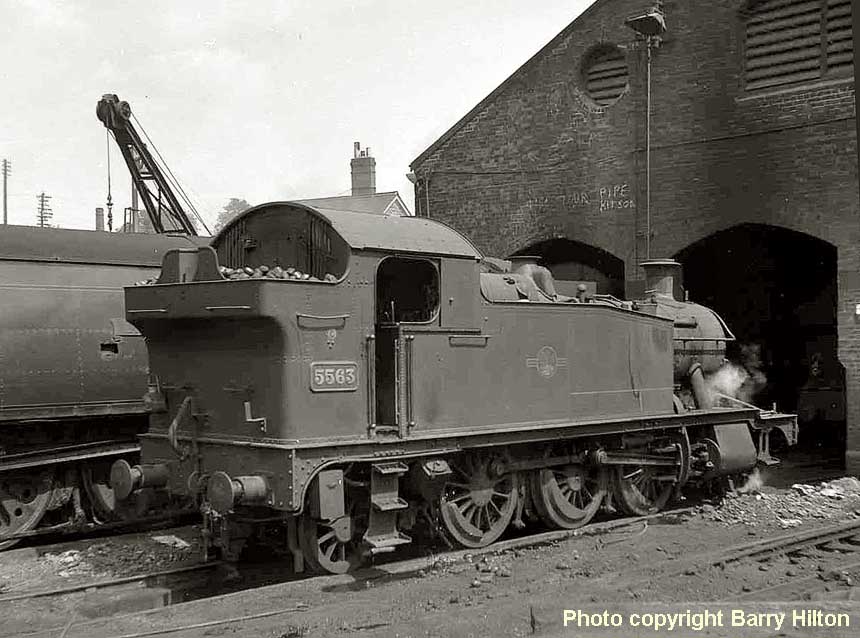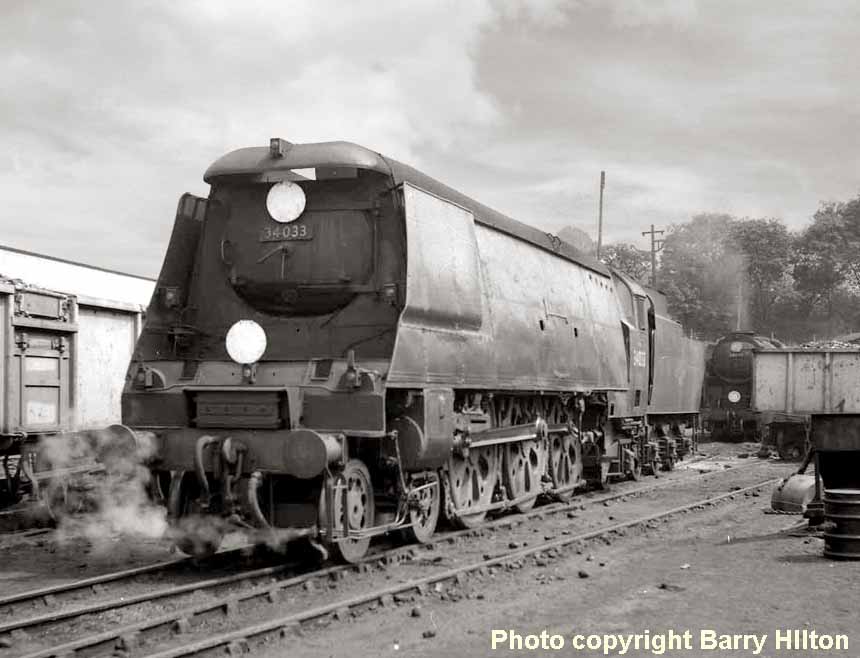 (Above-Below) Another shot of 34033 'Chard' shows this and a sister engine, Rebuilt WC 34048 'Crediton', both turned, serviced and awaiting their next trip. Another WC shot of 34099 'Lynton' of Salisbury (70E) shows the proximity of the MPD to Yeovil Town station. Most of the Bulleid BB and WC engines found at Yeovil at this time were usually either Exeter or Salisbury engines. It is just possible to see a GW Pannier tank in the platform. This was 6435 on the Yeovil Town-Yeovil Junction auto train 'shuttle'.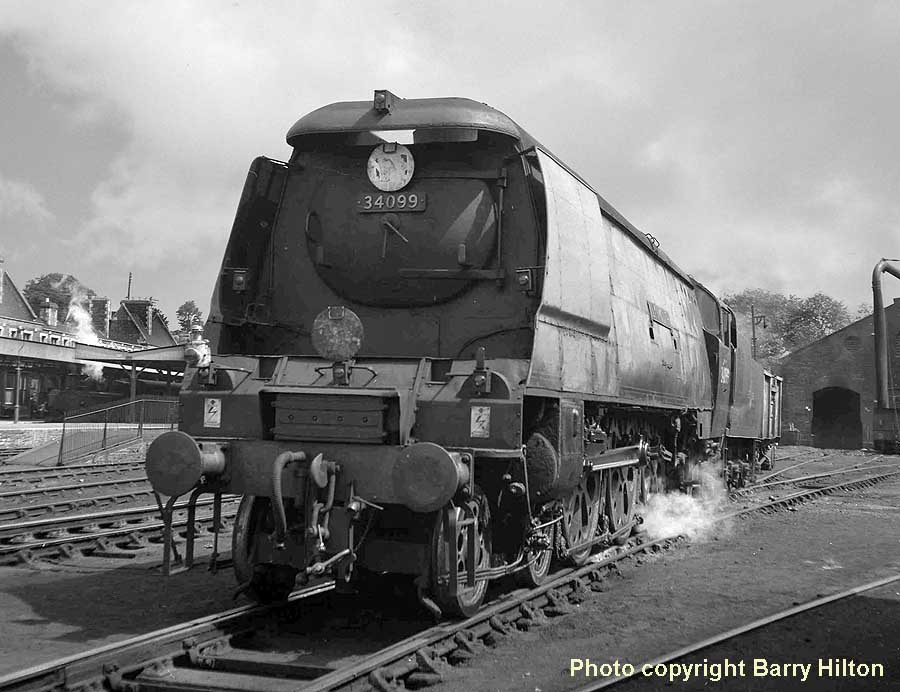 As previously mentioned the first railway to serve Yeovil was the GWR line in 1857 from Weymouth to Yeovil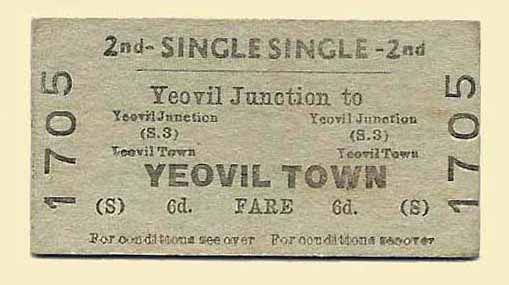 Pen Mill and onto Castle Cary. By 1860 the Southern railway opened its route to Exeter and added the line from Yeovil Junction to Yeovil Town station and this was also linked to Yeovil Pen Mill. The GW line passes under the SR line just east of Yeovil Junction and the line from the junction to the Yeovil Town took a northerly spur off the junction to then parallel the GW line for a short distance before turning west into Yeovil Town station. The GW line here turning east into Yeovil Pen Mill. It was not until 1943 that the lines were linked as part of the War effort.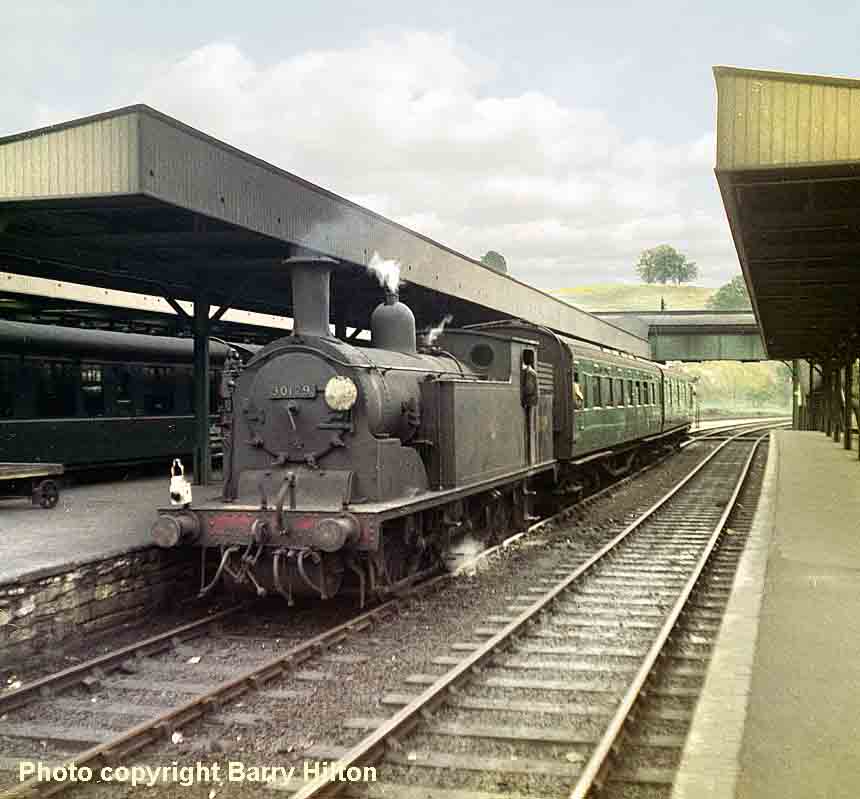 (Above-Below) In 1962 the 'shuttle' was being worked by southern M7s and a shot from this time shows M7 30129 at Yeovil Town station. In March 1963 the M7s had been replaced by GWR Panier Tanks 64xx class with two car auto sets. In October that year GWR Collett 14xx tanks were tried but were not very popular and so the panniers returned to this service. In contrast to the M7 shot from 1962, 6435 can now be seen at the same spot with the characteristic tree on the far hillside having grown a little.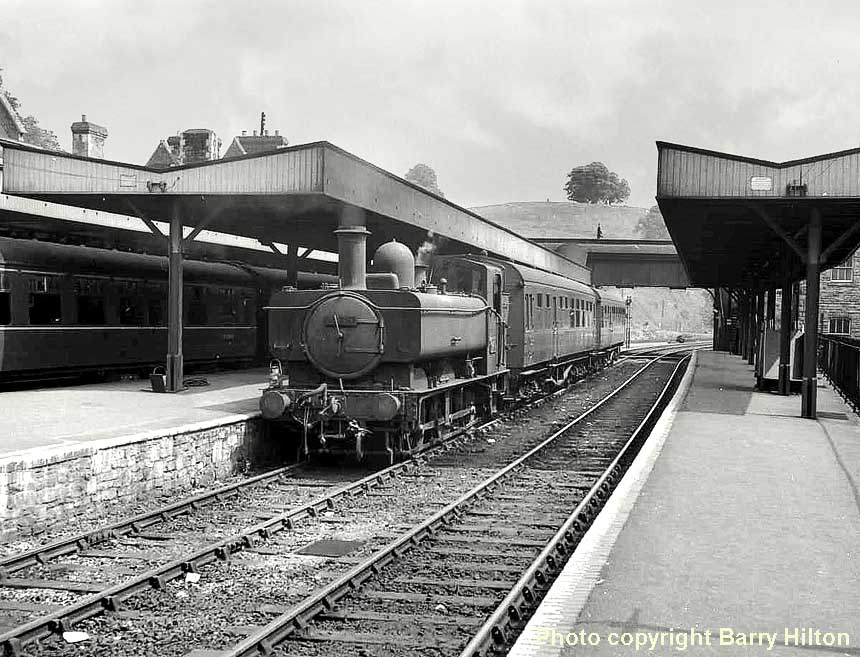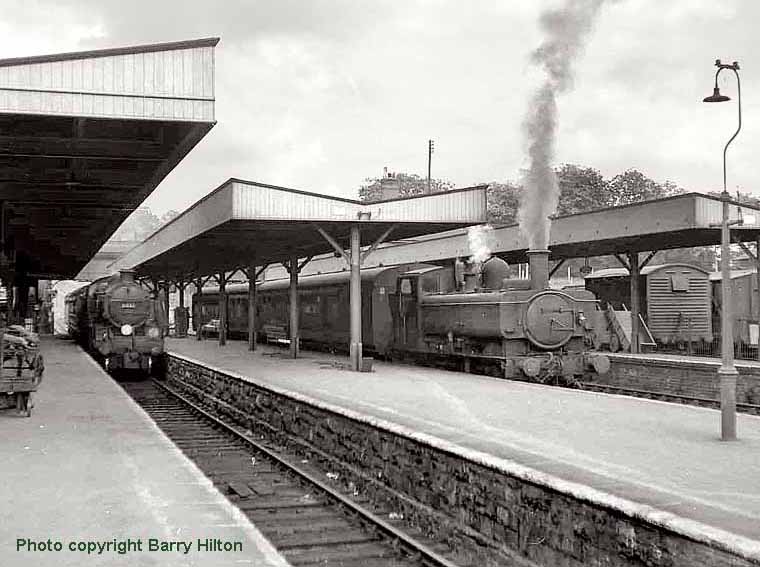 (Above-Below) A later shot shows 6435 now minus the front number plate about to depart for the junction whilst Maunsall U class 2-6-0 31632 of Yeovil (83E) arrives on the next platform. (Below) 6435 is seen next 'up the junction' standing in the up platform at Yeovil Junction station, ready to return to Yeovil Town. The main express through lines can be seen as the two centre roads. A 'stopper', possibly a Salibury to Exeter train pauses on the left.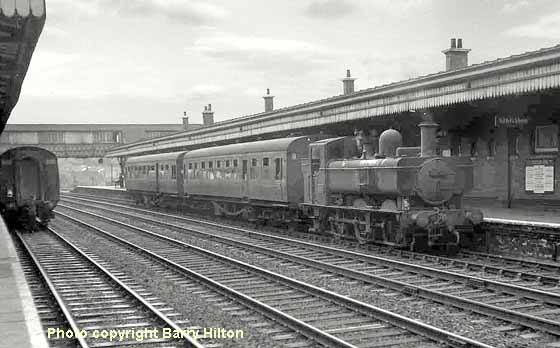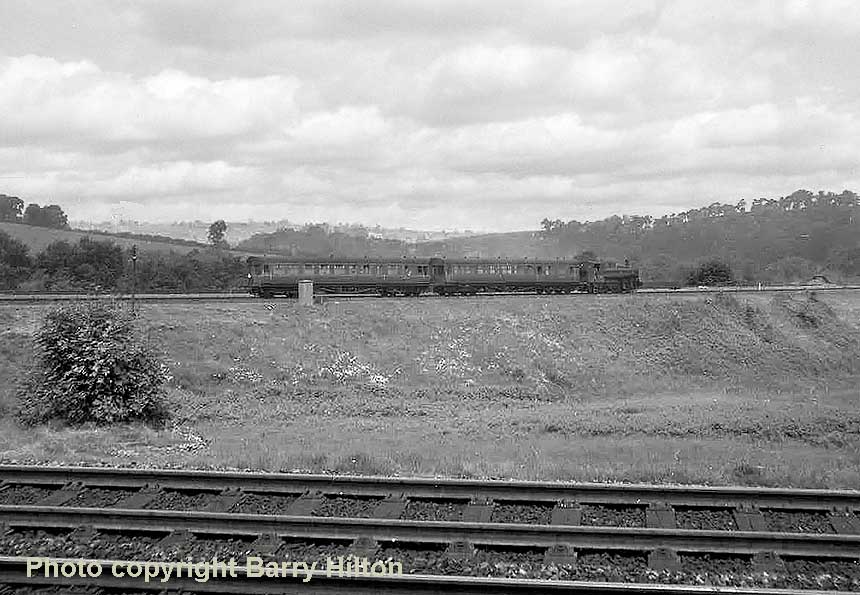 (Above-Below) This distant shot shows the same train on its journey back to the 'Town' as the connecting line branches north, with the tracks of main Exeter to Waterloo line in the foreground. (Below) BB class 34081 '92 Squadron' of (83D) Exmouth Junction is seen following the 'shuttle' towards Yeovil Town with an Exeter Central to Yeovil stopper
. Following withdrawal in August 1964, No 34081 92 Squadron was sold to Woodhams for scrap but good fortune prevailed and in 1973 the loco survived into preservation. Restoration commenced at Wansford, on the Nene Valley Railway in December 1976, and some 22 years later she moved again under her own power. Today the Battle of Britain Locomotive Society owns and operates the restored locomotive and it has become a regular performer on Heritage Railways…a visit to the Society's website here is highly recommended.
..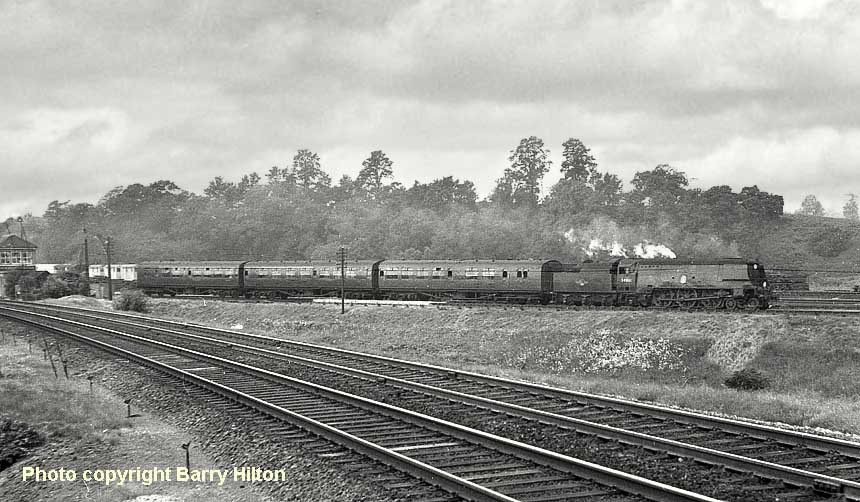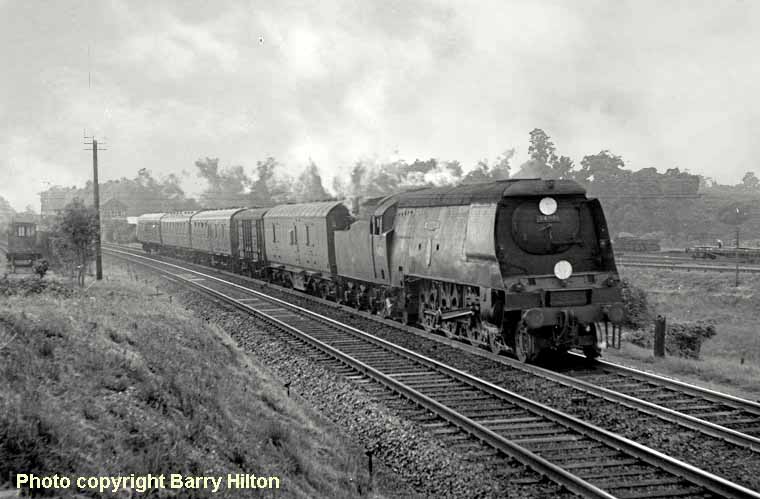 Later, and taken from the same location, 34081 '92 Squadron' returned along the main line with a train in the Salisbury direction. The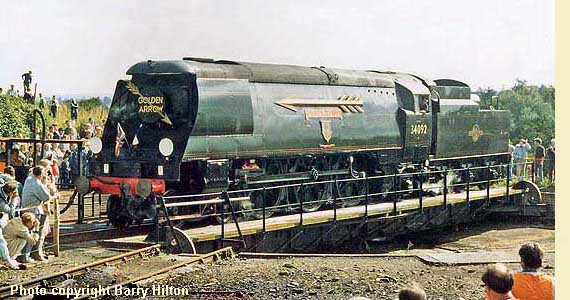 Yeovil Town to Exeter trains were usually a combination of passenger stock, parcels and milk wagons. There were also 'stoppers' from Templecombe and pick up freights from Chard and Crewkerne. From 1917 when the turntable at Yeovil Town MPD closed, engines would come to the turntable at Yeovil Junction to turn. This turntable is occasionally still in use today for special steam workings.
For example, the turntable was used by Bulleid WC Class 34092 'City of Wells' on 17th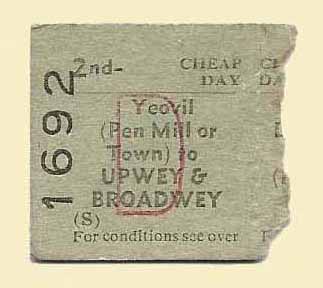 July 1988

in full 'Golden Arrow' regalia

whilst working a number of trips between Salisbury (Andover Junction) to Yeovil
.
The Yeovil Town MPD closed in June 1965 although engines were stabled there until 1968. In December 1964, rail buses from the Tetbury and Cirencester region were employed on the 'shuttle'. Yeovil Town station closed to passengers in October 1966 and closed completely in October 1967. From October 1966 the shuttle as a single unit railcar ran into Yeovil Pen Mill using the 1943 wartime connection from the Town track to the track into Pen Mill. Pen Mill station has survived but practically all traces of Yeovil Town station and MPD have now gone...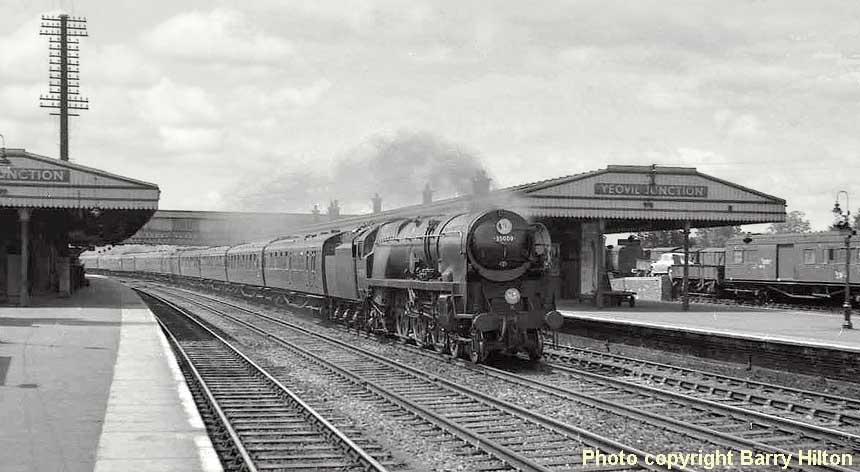 (Above-Below) This feature would not be complete without examples of the high speed expresses that could be seen at Yeovil Junction station in the summer of 63. Merchant Navy 34009 'Shaw Savill' appears along the centre road on an up Waterloo express. On the down through road, the

sound of the characteristic Bulleid whistl

e heralds the approach of Merchant Navy 35015 'Rotterdam Lloyd' on the down 'ACE'. Those were the days!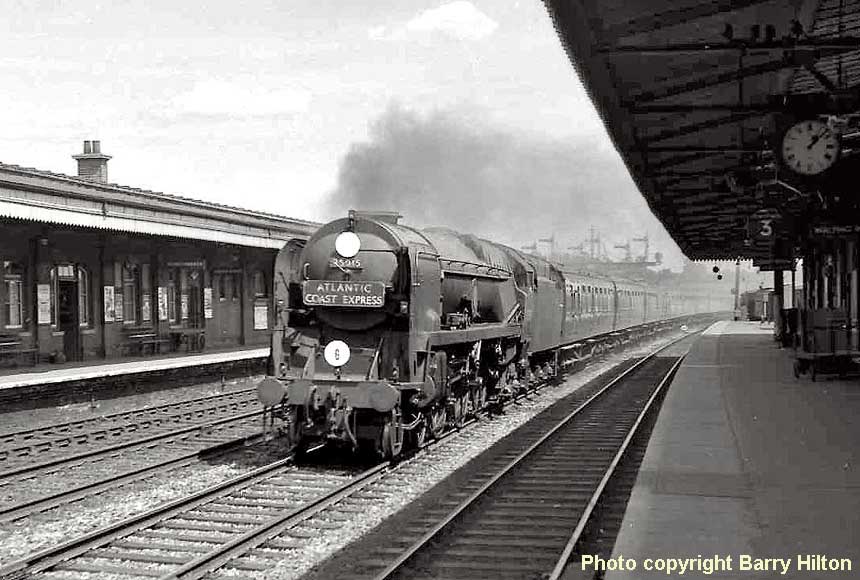 CLICK HERE TO VISIT BARRY'S FIRST 'RAIL CAMERAMAN' PAGE - 'RAILWAYS AROUND ROCHDALE'
CLICK HERE TO READ BARRY'S 'EARLY SPOTTING MEMORIES'.
CLICK HERE TO VISIT BARRY'S PHOTO FEATURE - 'STEAM DAYS AT BATHGATE' ON THE ScR PAGE
Links to two excellent websites for anyone interested in collecting railwayana...
Great Central Railwayana Auctions....click here.

Railwayana.net.........................................click here

Polite notice: All text and photographs are protected by copyright and reproduction is prohibited without the prior consent of the © owners. If you wish to discuss using the contents of this page the email address is below. Please note - this is not a 'clickable' mail-to link via Outlook Express. You will have to email manually.

dheycollection@ntlworld.com