STEAM TRAINS TO THE LEFT, STEAM TRAINS TO THE RIGHT…
Introduction by David Hey

When asked by Coastline Radio 97.7FM - a local radio station on the Costa del Sol - to talk about train spotting in the Sixties, the idea did not sit easily with me - and just as I feared, when I opened my mouth to

speak, a lot of emotional twaddle came out. That's because the shock of seeing so many once-proud (and still serviceable) steam locomotives being towed away for scrap is engraved in granite, and stuff like that doesn't go away that easily. It was the end of civilization as I knew it.
But the misery didn't end there. When Beeching became BR chairman in 1961 he turned the screw even further. Not only did he orchestrate thousands of station closures, he slashed the railway network by half, and had the radio station given me a chance to explain this perplexing - and, some would say, chaotic background to train spotting in the Sixties - then I could have voiced my opinions in a more rational manner. But the producer didn't want a mind-numbing lecture on railway history - 'It might send listeners into a coma,' he said.
Well, he couldn't have put it more eloquently, though how anyone can describe the twilight years of steam as being deadly dull is the same as saying that people like me should be pitied and that's just asking for trouble. What the producer couldn't possibly understand - he was too young to know, or care - is that train spotting was the national hobby for boys during the Fifties; it cut right across all social classes and I wouldn't have missed it for all the world.
That's why I started the 'David Hey's Collection' website back in 2007. It began as a rehabilitive form of exercise, a means of stimulating the few remaining grey cells I have in retirement. This site is meant to be a hobby, pure and simple; it gives me the chance to showcase some old rail photos on the web and for anyone to share their old train spotting memories with others. As a result, the site has just grown and grown, though this is not entirely down to me; it would not have been possible without the generous help of dozens of photographers, all of whom have searched through old negatives, prints and slides to find suitable pictures to fill the gaps of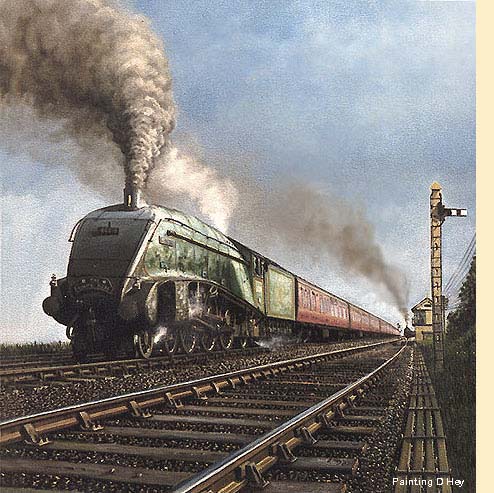 my own collection. I am grateful to everyone, of course, but in an odd sort of way their help has given rise to some misunderstanding.
Fast-forward a couple of years and the domain name, 'David Hey's Collection' is something of a misnomer. It implies that the site contains photographs from my own collection; that all the photographs belong to me...LET ME MAKE IT VERY CLEAR - THEY DON'T!
Worse still, I risk delivering a snub to the dozens of cameramen whose generosity allows me to post so many photos on the site in the first place, which is definitely not what I intended. And in case you're wondering, the name 'David Hey's Collection' was chosen because the 'Embsay & Bolton Abbey Railway' and 'Lost Railways of West Yorkshire' websites adopted this name back in 2007 (I contributed photos to both sites) and so I merely followed their lead.
Getting to the point...the idea of this site is to rekindle fond memories of bygone days - well, the memories that an old fogey can dredge up, that is. Alas forgetfulness is one of the foibles of old age - a senior moment, as it's often called - and it's not until you dig deeper into your subconsciousness (ferreting through memories shoved furthermost to the back of your mind) that the foggy confusion suddenly clears...this nostalgia malarkey is nothing like a rehabilitive exercise at all!

(Below) The renowned 3.40pm Bradford-Carlisle all stations 'stopper' turned up some top-drawer engines on a daily basis in the mid-Sixties. Terry Sykes's study of 'Britannia' Pacific No 70035 Rudyard Kipling awaiting departure at Saltaire is a prime example of what could be expected. With two large cylinders, six foot two inch driving wheels - plus a huge boiler producing an endless amount of steam…these locomotives exude muscle! What else could you want...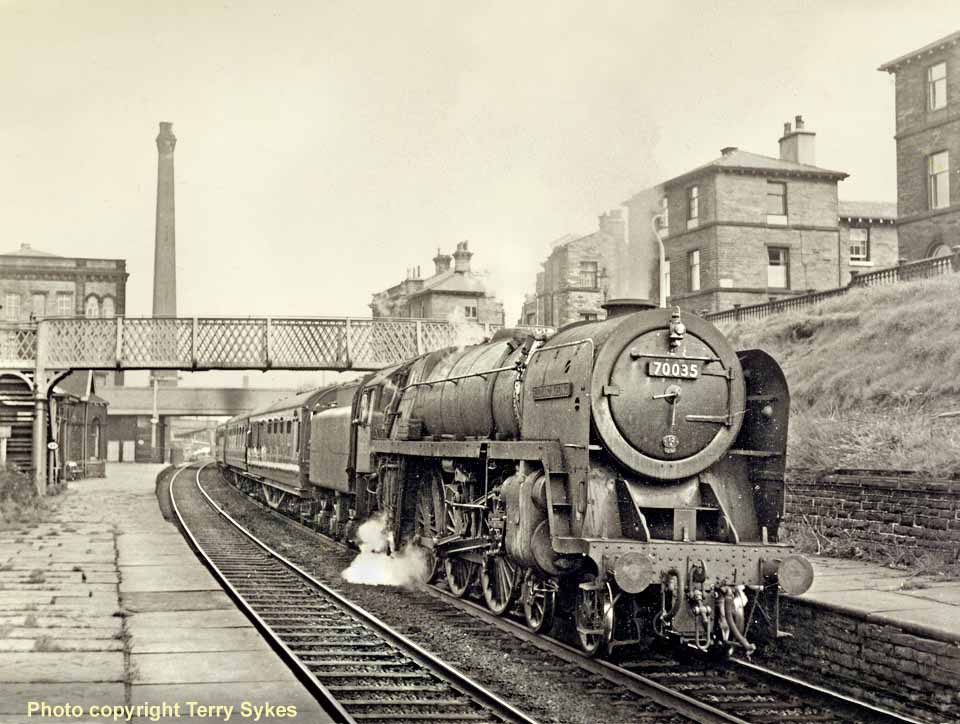 The 3.40pm Bradford Forster Square-Carlisle Stopper

Stephen Owens recently dropped a line to comment on Peter Thorpe's 'Rail Cameraman' page 63 which features a photograph of the 3.40pm Bradford Forster Square-Carlisle stopping train. This all stations service - due into Carlisle at 7.29pm - was normally worked by a crew from Carlisle Kingmoor who had worked a Carlisle-Bradford train earlier in the day and were returning to their home shed at 12A.
By the mid-1960s, due to the poor state of BR's fleet of steam engines (plus an abnormally high number of diesel failures) it became increasingly difficult for Kingmoor to find a suitable steam or diesel loco with a power classification relative to the 3.40pm stopping service, either being too heavy or too light for the purpose. As a result an odd range of motive power appeared on the train, ranging from 'Clans' and 'Brits' through to 'Patriots' and 'Black Fives', and whatever else Kingmoor could find; indeed since the shed was one of the last outposts of steam, it became a Mecca for enthusiasts wanting to pay their last respects; a final glimpse of steam's endless struggle before the final curtain came down and the shed closed its doors to the last survivors on January 1st 1968.
As a boy, Stephen Owens remembers seeing the 3.40pm Bradford-Carlisle stopping train on his way home from school at Keighley, and has kindly allowed me to feature his memories on the site; Stephen also has a Flickr photostream featuring mostly BR blue, some preserved steam, and steam in India and the Philippines - plus a lot more besides and well worth a visit HERE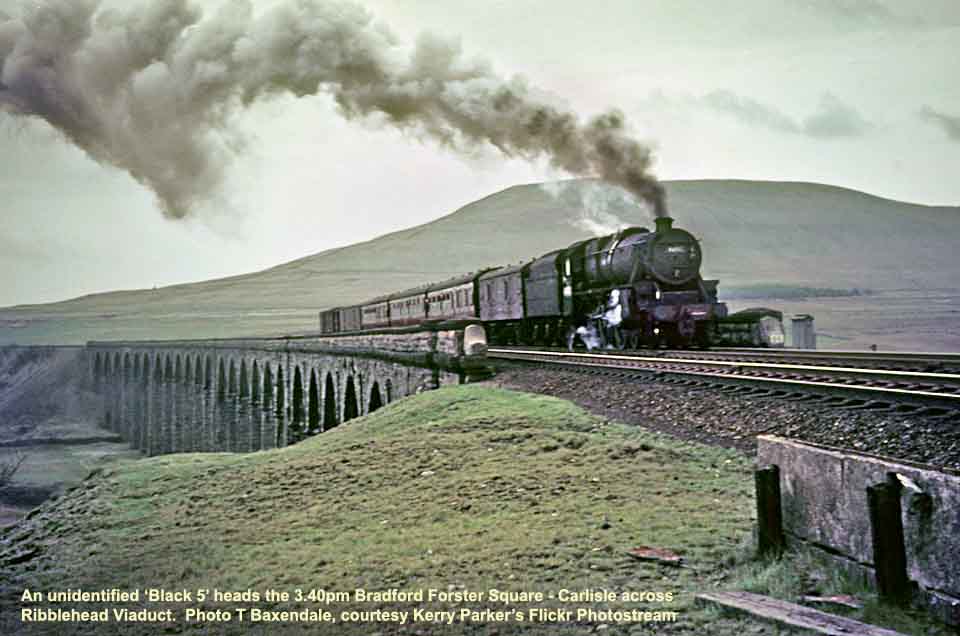 (Above) An unidentified 'Black 5' crosses a windswept Ribblehead Viaduct with the 3.40pm all stations stopper from Bradford Forster Square to Carlisle. This evocative shot can be found among the colour photos in the BR pre-1968 Album on Kerry Parker's excellent Flickr photostream HERE

A MEMORY BY SM OWENS
'THE FOUR-SIX'

After all this time, it doesn't matter much, nor is it of any great importance…to anyone except me. However, dreams were inspired by this:
The mid-afternoon stopping train left our station at four-six - six minutes past four - a perfect time for me to see it on my way home from school. It occurred to me, years later, that the only reason I went to that school was to see the four-six on my way home. I spent half my afternoon lessons wondering about what I would see later. It's a great pity children are not similarly distracted today.
My vantage point for seeing it was a bridge further up the line than the short tunnel which hid the station from view, and this made the train's appearance, so much more dramatic.
The four-six was always hauled by a steam engine; often, but not always, one with an inspirational name. I learnt much more about literature, geography and history, from the names of locomotives, than I ever learnt in my afternoon lessons. And, its appearance from the short tunnel, a slow and gradual revelation, was always shrouded in smoke and steam, as if to keep its identity a mystery until the last minute.
It was a mixed train - I doubt there are such things anymore - a mixture of passenger coaches, parcels carriages and an odd assortment of vans at the back. It was always long, and it was always on time.
I never caught the four-six, although I wish I had, and I can't imagine now, the people who did. They were obviously people in no hurry; people with time and patience, and a sense of their destiny and the importance of the train.
It started its journey in a woolly, industrial city - Bradford; then, beyond the smaller mill towns of Shipley and Keighley, continued through green fields to Skipton, and then to Settle. It had already started to climb by now, and the scenery became bleaker and more desolate - sheep country. It passed the stark peaks of Ingleborough and Whernside; stopping at isolated, lonely stations - Ribblehead, Dent, and Garsdale; up hill and down dale, over viaducts, through countless tunnels, to Appleby, and green pastures new. From here the line followed the Eden Valley, until arriving at the citadel at the end of the wall, on the northern border - the important railway town of Carlisle. It stopped at every station along the way; it was sometimes dark by the time it arrived at its final destination. In summer, the journey might have been idyllic, but in winter, it could be intimidating and harrowing - it snowed aplenty in these parts.
I can't remember what became of the train - schedule change or service withdrawn; but regardless, it became nothing more than an irrelevant piece of railway history. Steam engines were consigned to preservation societies and museums; the passengers of the four-six, disappeared, as if into the ether.
Years later, in India, I caught the mid-afternoon stopping train from Gaya to Patna. It arrived in Patna early in the evening, where it terminated, and, by the sheer weight of disembarking passengers, I was swept along the platform and up over the bridge, toward the exit. From the bridge, I was distracted by a familiar noise; and at the far end of the station, I could see the telltale black smoke of a steam engine, rising beyond the signal gantry, with the red sun setting in the distance. I wanted to turn around and hurry back to look at the locomotive, but, because of the crowd, I couldn't. It was the last time I ever saw a steam engine in India, and I didn't really see it. The following day, I waited patiently and optimistically, but there were none, and now they are gone - like the four-six.
But I'm not being unduly nostalgic here, this is no sad, melancholic memory; this one burns like a perpetual flame: a constant, glowing reminder of my good fortune; it has value, and it will last, for ever.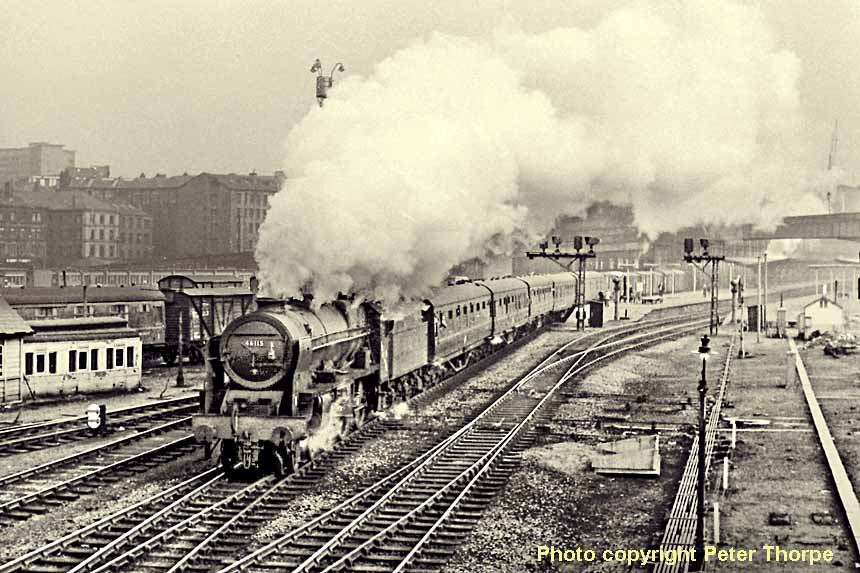 (Above-Below) Looking more like a railtour, with vans attached, the now-preserved 'Royal Scot' No 46115 Scots Guardsman is getting a fitting send-off from local enthusiasts at Bradford Forster Aquare; the 3.40pm stopper's first port of call is no more than a mile away at Manningham; the shot was taken from the veranda of Bradford Forster Square signal box. (Below) After collecting coaches at Skipton station, 46115 gets back into its stride before its next stop at Gargrave. Peter Thorpe had chased the train all the way from Bradford and arrived just in time to take the shot from Niffany Bridge on Broughton Road.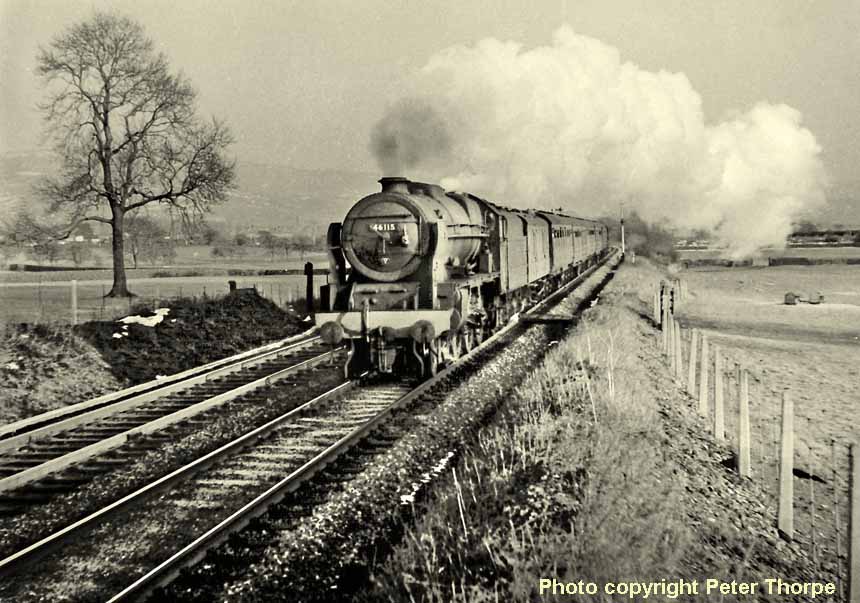 MORE MEMORIES BY SM OWENS
THE RAILWAY STATION
A Fragmented, Sombre Reflection from the Old World.

Sometimes, even when I'm not travelling, I still go to the railway station. I do this not for any particular reason, but because I always have done.
As I like to remember them, railway stations were always busy places - smoky, untidy and cluttered. They were representative of the era in which I grew up - a transient, austere, industrial era; caught somewhere between a conflict-ridden past, and an uncertain future. Lots of uniformed people seemed to work at the
stations: a station master, booking clerks in the ticket office, and porters on the platform; and the porters were constantly moving things around: newspapers, parcels and mailbags, and helping passengers with their luggage.
Some stations had waiting rooms and a buffet. Why did they call it a buffet and not a café or a restaurant, or even a dining room? A buffet sounds so continental, but perhaps that's the point: you could take the train to a foreign country; and, to spin the same illusion further, on some station platforms there was a model of a ship, in a glass case. The stations were adorned with all kinds of signs and notices: a complicated timetable and colourful posters advertising far away places in Scotland or Wales, or beach resorts hundreds of miles away; and these adverts always featured a train pulled by a steam engine, and idyllic, sunny weather.
At some of the bigger stations, if you weren't travelling and wanted to go on to the platform, it was necessary to buy a platform ticket. It was like paying to go into the cinema or the theatre, but in this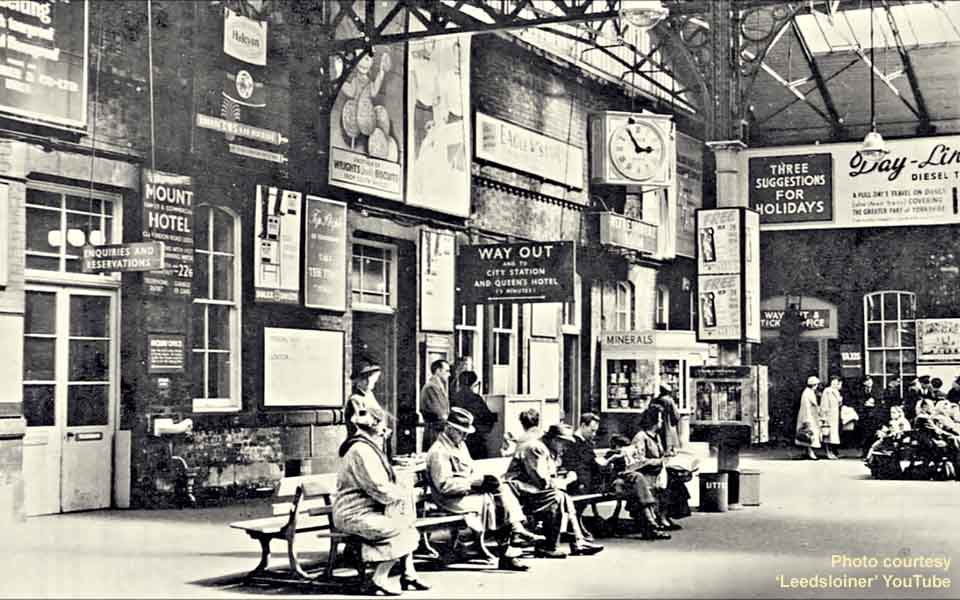 instance you became a participant in the film or the play; you weren't separated from the actors - you were an equal part of the scene. But, undeniably, the real stars were the trains themselves, and of course, the steam locomotives that hauled them. They created an air of excitement - a drama; and they added to the tension and the atmosphere: there was no need for a fog machine.
How things have changed. These days, railway stations are trying to be modern, clean and tidy, almost futuristic, efficient places: they have automated ticket machines, and public address announcements from a disembodied, computer-generated voice, advising customers - not passengers - that the station has closed-circuit television, and that they should keep their luggage with them at all times, and that if they see anything suspicious, they should notify a member of staff. Yes…, very modern.
It's a pity when realization dawns, and the tedium of everyday reality sweeps away the imaginings of optimistic youth - but life was ever thus. We have to learn to come to terms with what we are and where we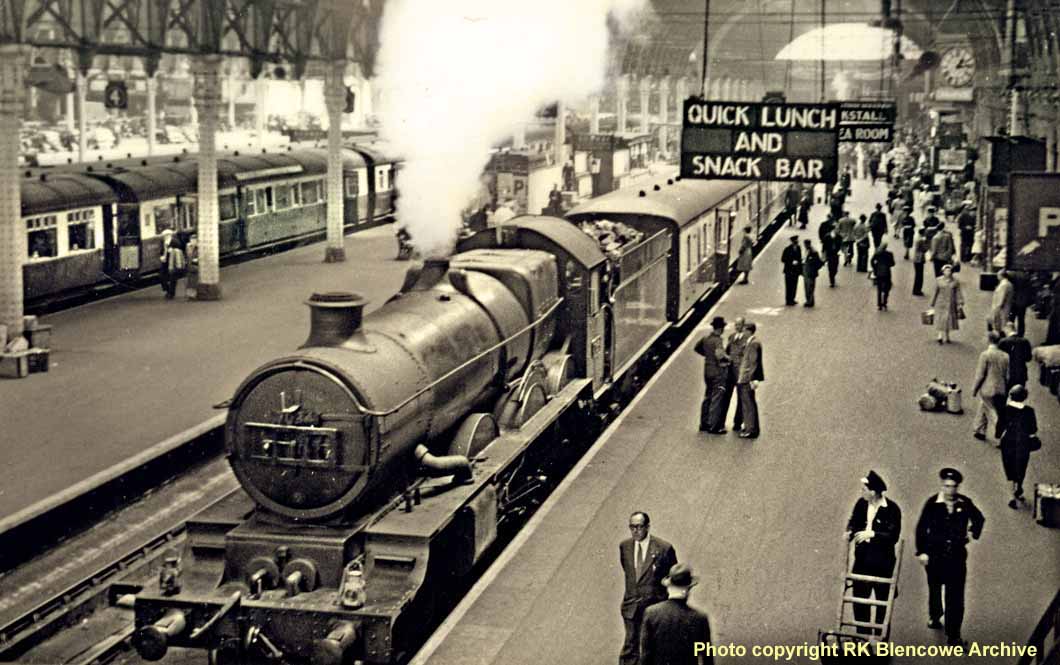 came from, and equally, we have to come to terms with the way things are. It's futile to hanker for the past - there's no going back; time-travel is the stuff of science fiction.
I've said somewhere that my early memories of trains and railway stations are filed-away in black and white - they are colourless monochrome; and that those innocent days were all the same - autumnal, and uniformly grey. However, this is far from true - there was plenty of sunshine and lots of snow. Ultimately, what I'm left with is the awareness that any attachment is based merely on some sombre reflection concerning a time in my life which was so unimaginably dull, that it only acquired any importance because of the paucity of anything else worthy of taking its place.
And yet, despite of the severity of this admission, even when I'm not travelling, I still like to go to the railway station. I do this not out of nostalgia - that's gone; but because I always have done. These days, it seems the station has become symbolic; it represents both a refuge and an opportunity - a place of arrival, and a point of departure.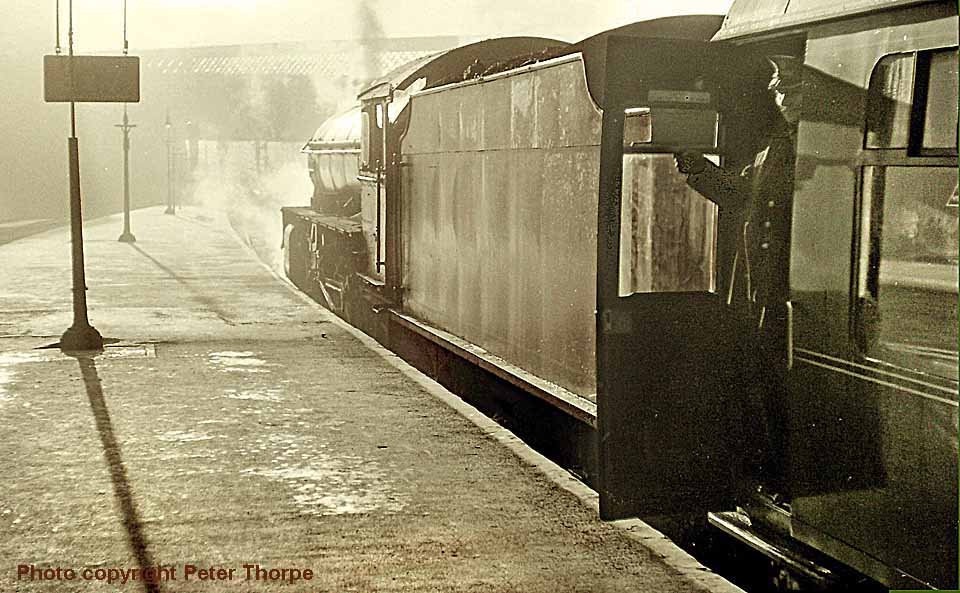 MORE MEMORIES BY SM OWENS
SETTLE JUNCTION
A Fragmented Reflection.

Settle Junction lies in a cutting surrounded by green fields and partially hidden from the nearest road. The place has an absorbing stillness; it is often one of peace and solitude, and can be found some distance to the south of the Yorkshire Dales market town of Settle. In many ways, it is unremarkable for many, just a place to hurry through on their way to somewhere else, but on a sunny day the views can be quite enchanting.
There was a signal box at Settle Junction, a collection of semaphore signals, and points for ensuring that trains were dispatched to their correct destinations: north to Appleby and Carlisle, or west to Morecambe. Perhaps of equal importance is that there is a bridge over the four lines; I suspect this was built for the farmer, whose land was divided when the railway was built, so he could herd his animals from one side of the line to the other.
My earliest memory of the junction was the view from the back seat of my father's green Hillman Minx car; we were returning home south along the A65 in about 1963, although I've no recollection of where we'd been. An old bridge took the road under the line to Carlisle; and as we passed beneath it I could see the rear trucks of a freight train heading north above our heads. It appeared to be moving very slowly, making hard work of the incline; this being the beginning of the relentless climb that railwaymen often referred to as the 'Long Drag'. I don't think I saw what was hauling the train; it was simply an anonymous steam locomotive. However, what I did see, and what is indelibly imprinted in my memory, is the Guards Van at the back - and, more than this, standing on the platform-veranda of the van was the guard looking longingly back down the line toward the junction.


Obviously, I cannot say for sure whether he was 'looking longingly' or not, but in my memory he most certainly was, and this image of solitude now strikes me as being evocatively romantic.
The first time I took a train through Settle Junction was on Easter Monday 1965. My brother and I walked the three miles from home into town and caught the first train of the day from Keighley to Lancaster Green Ayre; it was pulled by 'Peak' D17. Our day was a huge, memorable success: we saw ten 'Britannias' and 'Clan Stewart' was in Green Ayre shed, and on our return journey we were hauled by a 'Black 5'.
The first time I passed through the junction by train to Carlisle was almost immediately after the end of steam in August 1968; a few of the steam locos used on the last steam specials were still resident in Kingmoor shed: lifeless...dead. By then diesel locos were in complete control of all passenger and freight trains on the line, whilst DMUs operated the Leeds to Morecambe passenger service.
Naturally, after the end of steam the interest in trains and railways fell into decline; by the 1980s there were rumours circling that the Settle-Carlisle line was under threat of closure; it began when the line's most prestigious Anglo-Scottish express, the London to Glasgow 'Thames-Clyde ' was foreshortened and only operated between Nottingham and Glasgow. Then later it was foreshortened again and became merely a Leeds to Carlisle stopping service made up of two trains daily in each direction: one step away from being cancelled altogether. Despite this, the line continued to be an indispensable diversionary route when BR Civil Engineers required possession of running lines to carry out essential maintenance work at weekends on the West Coast Main Line, and much traffic was sent over Ais Gill following the tunnel collapse at Penmanshiel on the East Coast route in 1979.
I was fortunate to live not that far from Settle Junction, and so when I acquired a car I'd sometimes drive to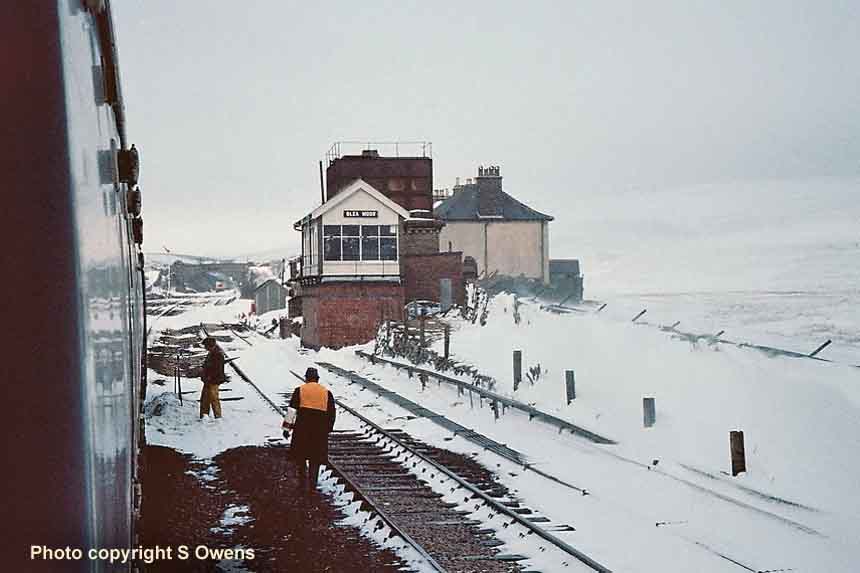 Settle or Skipton and take the train from there; at other times, especially if snow was forecast, I'd drive to Preston on a winter Sunday and take a diverted train over Ribblehead and Blea Moor to Carlisle (see inset shot of Blea Moor Sidings in the snow taken from a diverted Preston-Carlisle train in 1978). There were occasions when I was simply happy to drive to Settle Junction and take photos of the trains (shown below). This period in the late 70s and early 80s is now commonly referred to as the 'BR Blue' era.
And what of Settle Junction today? It's years since I've been to visit; I know there are regular steam specials - I've seen the photographs. But regardless, in my memory, at least, it is just like it was, and just like it appears in my own photos.
And yes, if I want to, I can still dream a bit and recall seeing the train's guard: a solitary figure, looking longingly back down the line...belatedly to him, and probably, posthumously: thanks for the memory.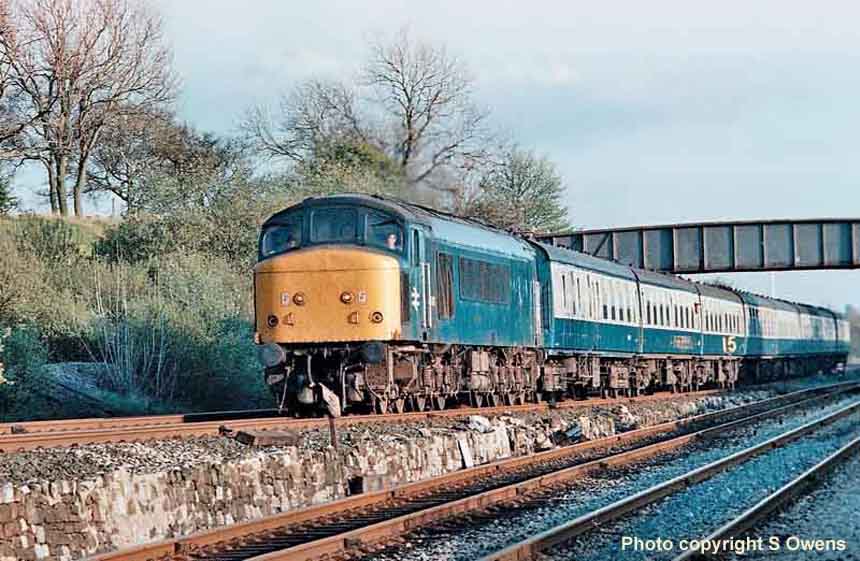 (Above-Below) Once trumpeted by BR as being 'England's Greatest Historical Scenic Route', the real importance of the Settle-Carlisle line lies in the fact that it provided a major rail link for passengers between Central England and the west of Scotland; it also had the advantage of providing paths to slow, heavy goods traffic serving the industrial centres of the Midlands, Yorkshire and Scotland. However, the Settle-Carlisle line's status as a major Inter City route was seriously weakened following the withdrawal of the Anglo-Scottish expresses from London St Pancras via Leeds to Glasgow and Edinburgh. British Rail replaced it with just three Nottingham-Glasgow trains each way from Monday to Saturday inclusive, and one each way on Sundays. From 17 May 1982 these trains were withdrawn and a bare minimum passenger service was introduced comprised of just two trains in each direction between Leeds and Carlisle; these being loco-hauled at first, made up of four-coach formations until they too were replaced by DMUs. The photo above shows 'Peak' Class 45 No 45005 hauling the last Nottingham to Glasgow service through Settle Junction. The 'Long Drag start proper here and climbs for twenty miles to 1,169ft above sea level at Ais Gill summit. (Below) In the opposite direction, a Class 47 is coasting down the final leg of 1 in 100 gradient at Settle Junction the last southbound train to Nottingham.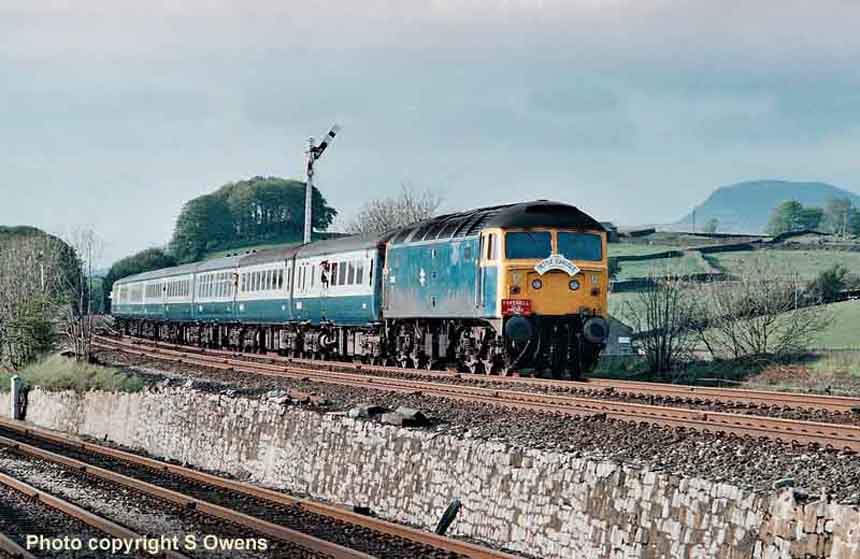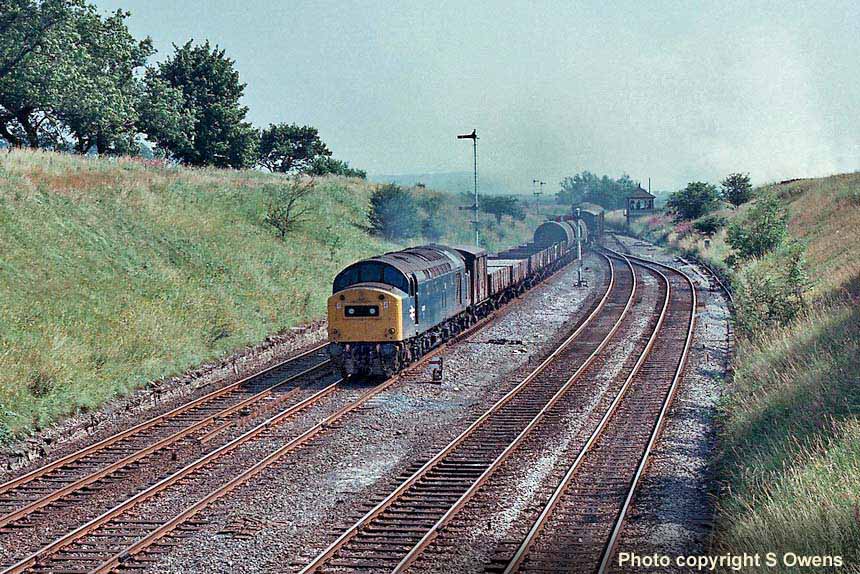 (Above-Below) When BR's senior management decided to close the Settle-Carlisle line, they knew that any attempt to shut it down would be extremely difficult unless they could demonstrate to the Minister of Transport that the line was no longer a vital part of the Inter City network, therefore a decision was taken to dilute its passenger traffic in order to seriously affect its importance as a major artery. At the same time, goods trains were rerouted onto the other lines, a classic example being the cement trains from Clitheroe to Scotland; rather than taking the most direct route north via the Settle-Carlisle, they were rerouted south via Blackburn and the already busy West Coast Main Line. An unidentified Class 40 heads a Class 9 unfitted freight through Settle Junction in 1981 (Below) On March 25 1978, just short of ten years after the August 1968 finale and the 'Last Day of Steam' special ran over the Settle-Carlisle, to the delight of railway enthusiasts BR relaxed its total ban on steam operation on the rail network and the Settle-Carlisle welcomed back its steam-hauled specials trains again, including this one hauled by 'King Arthur' Class 4-6-0 No 777 Sir Lamiel in about 1980.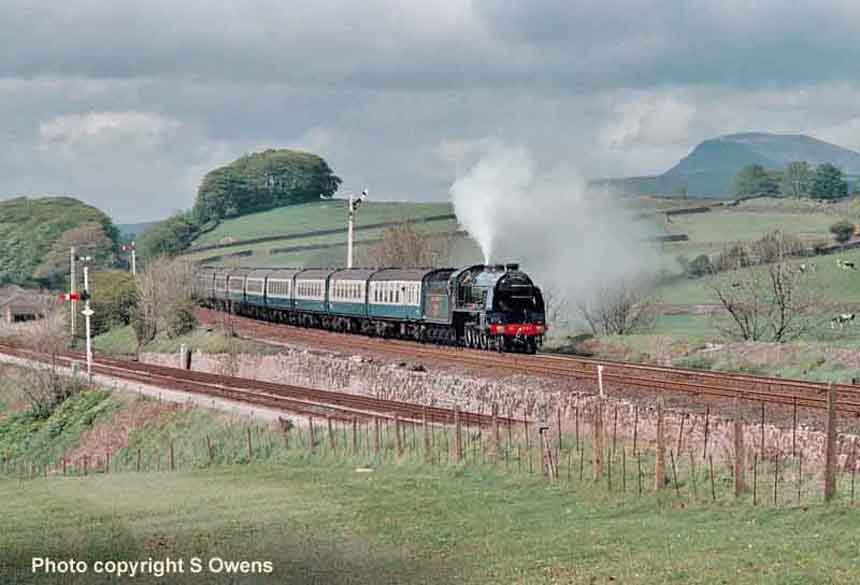 (Above) BR Standard Class 4 4-6-0 No 75078 departs Keighly © S. Owens.

THE TRAIN DEPARTED
A fragmented reflection
by SM Owens.

I arrived at the railway station just in time to see the train leave - I'd missed it.
It seems I'm not the only one to be tormented by this misfortune - there are legions of us, from various generations, brooding, silently, feeling that we have been cheated: robbed of that which was rightfully ours; one moment it was there, the next, it had gone.
To compensate, perhaps forlornly, we try to make amends and become overly enthusiastic about what we're left with - like having missed the main course at a banquet, we have double helpings of dessert. However, this won't do - the dessert doesn't quell the appetite; and we're left pining, and forever hungry.
In the mid 1960s, I witnessed the last few years of steam on British Rail. In this respect, I was fortunate to live in the northwest of England. At this time, the locomotives were grimy and unkempt, and it was as though any excuse was sufficient to withdraw them and drag them off to the breakers yard. There were rows of these discards, neglected at engine sheds: places where men had once toiled - laboured - to keep them operational and in good condition.
Although I was able to observe this era, I didn't own a camera, and thus, unable to record it for posterity. Thankfully, others did, and it is because of them that we are left with a permanent and poignant collection of images to remind us of precisely what happened.
Did this make me feel as though I'd been cheated or robbed? That might be overstating it, somewhat; children have an unerring ability to accept their circumstances, no matter how dreadful others may think they are.
Sometime later, I had the wherewithal to record a brief period of railway history which is now looked back on by some as a time to be cherished. The 1970's and early 80's were not really a 'golden era' - certainly not compared with the days of steam; they were simply, BR blue, but, obviously, more interesting than what we have today.
So, I had my double helping of dessert, and, for good measure, saw the beginnings of the steam railway preservation societies. Further, in an attempt to revisit the main course, and sample again what had been so hurriedly whisked away, I was able to see steam on its last legs in India, and in a couple of other, far-away locations.
Today, I appreciate that I was immensely lucky; no regrets: I was not robbed. Yes, sometimes I pine for the past - don't we all; but more often, I celebrate, silently, that I saw what I saw. In the end, I accept that it was a privilege to be a witness, as the train departed.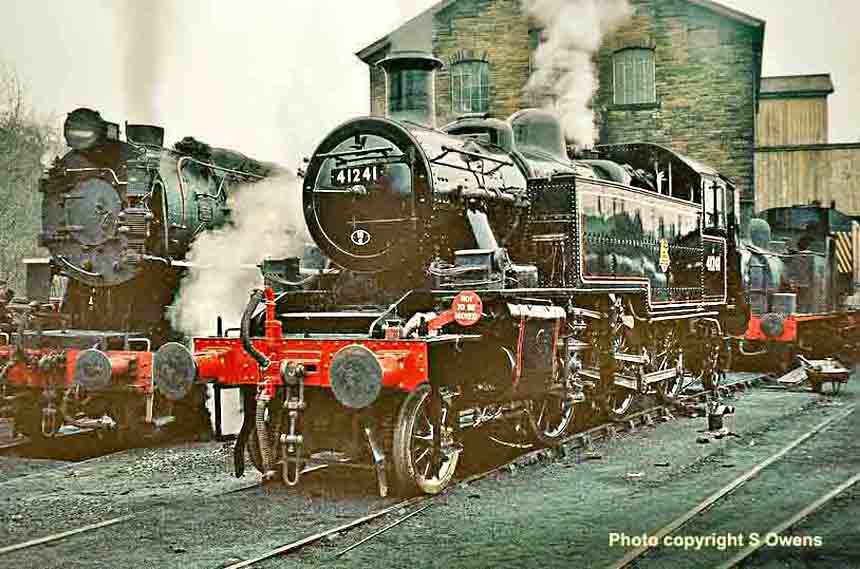 (Above) Introduced to traffic in 1949, HG lvatt's Class 2MT 2-6-2T No 41241 went new to Bath (Green Park) shed where it spent several years working on the Somerset and Dorset railway. It was later transferred to Bristol (Barrow Road), followed by spells at Wellington (Salop), Leamington, Bangor, Croes Newydd (Wrexham) and Llandudno Junction before its final move to Skipton. Following its withdrawal in March 1967 the 2-6-2T ran under its own steam for preservation on the then fledgling Keighley & Worth Valley Railway (KWVR); and along with the newly preserved USA 0-6-0T No 30072, it hauled the very first public passenger service on 29th June 1968. Fast forward to the present day, subject to a completion of a major overhaul it is hoped the 2-6-2T will be available to haul a special train to celebrate the 50th Anniversary of the KWVR in June 2018. Click HERE to visit the KWVR's Ivatt Appeal page.

(Below) The fact that so many LMS 'Black Five' 4-6-0s were built between 1934 and 1951 (total built 842) is a fitting tribute to Sir William Stanier's mixed-traffic design. Today no fewer than eighteen have found a new lease of life in preservation. Built by Armstrong Whitworth in September 1937, No 45407 was outshopped initially to Kettering shed for services on the Midland Main Line; this was followed by spells at Shrewsbury, Derby, Holbeck, Grimesthorpe, Millhouses, Derby, Saltley, Derby, Kentish Town, Bedford, Nottingham, Burton, Speke Junction and finally to Lostock Hall shed from where it was withdrawn in August 1968 for a new lease of life as part of the Steamtown collection based at Carnforth. Here No 45407 hauls the return leg of a 'White Rose' steam special at Giggleswick in the summer of 1982.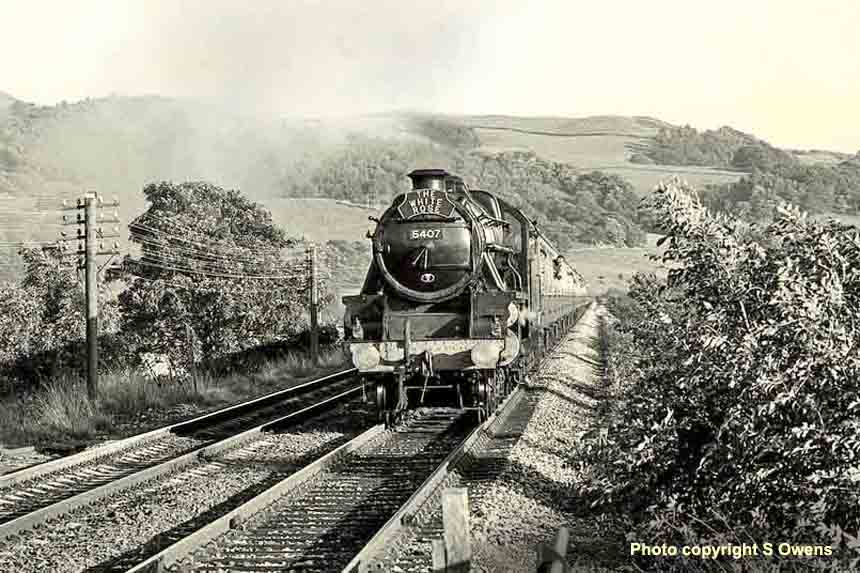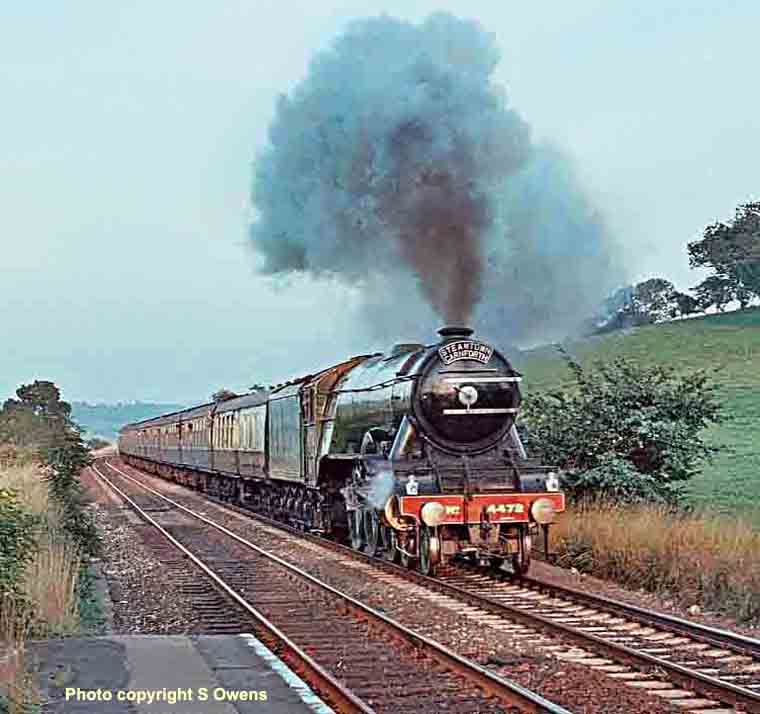 (Above) Class A3 No 4472 Flying Scotsman, heads north through Gargrave with a steam special early '80s.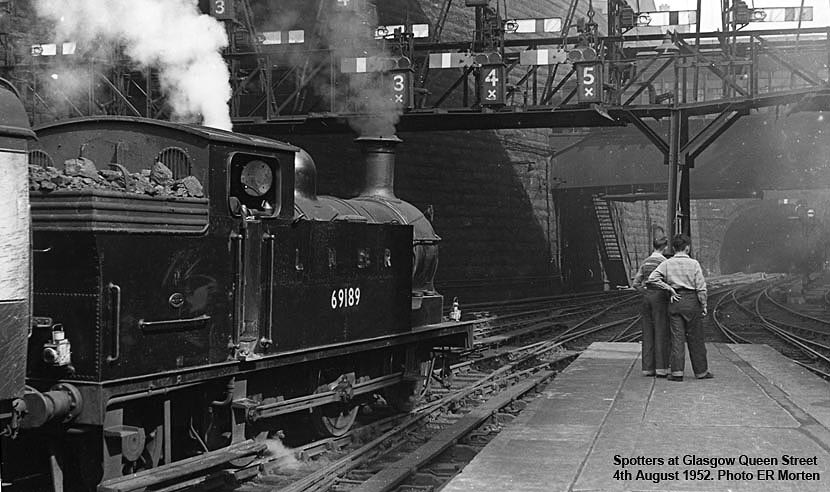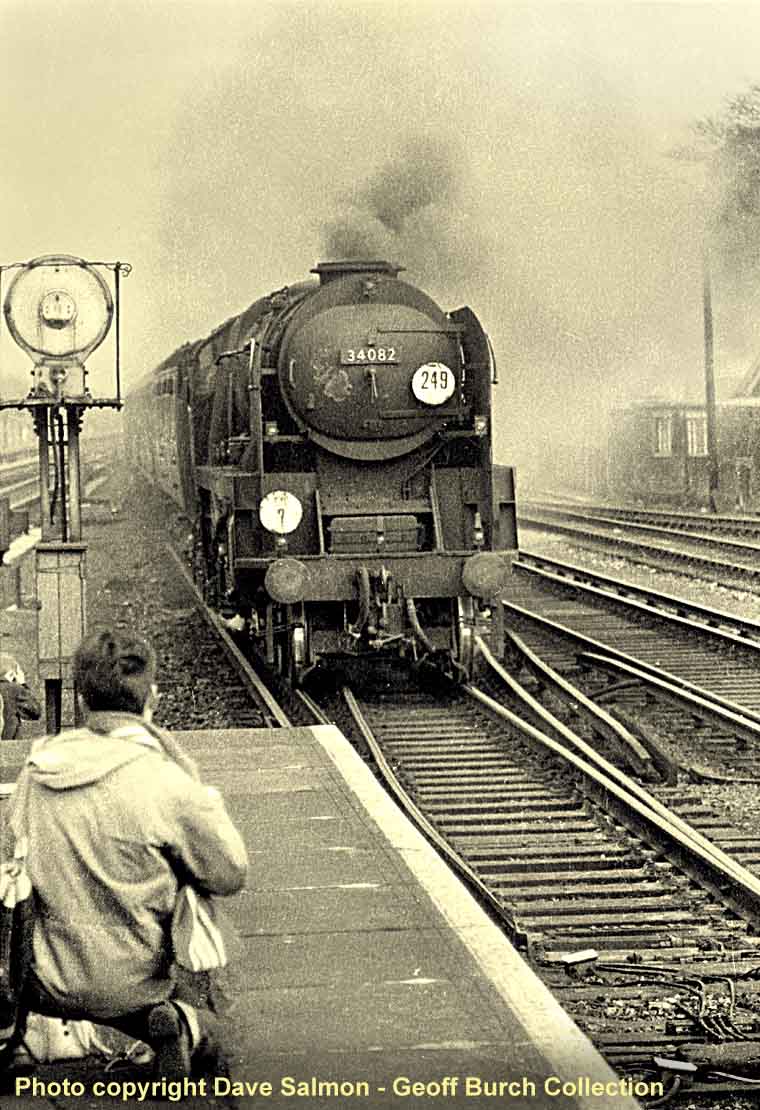 (Above-Below) Two young spotters with cameras record the arrival of Rebuilt Battle of Britain Class 34082 '615 Squadron' at Woking with a Waterloo to Bournemouth Semi-fast passenger service. The apparatus on the end of the platform is the rear of a banner-repeater signal which in this case indicated the aspect of the 3-aspect colour-light starting signal at the Country end of Woking station. In effect these types of signals repeated the indication of the following signal where the driver's view of it was restricted due to track cuvature or bridge abutment, and displayed either a horizontal black bar on a white background (signal at Danger) or a 45 degrees black bar on a white background (signal Clear) one yellow or green. (Below) Hoards of spotters greet the arrival of BR Standard Class 5MT 73113 'Lyonnesse' as she passes down the Main Through line at Clapham Junction with a Waterloo - Basingstoke passenger service. One can only assume this was a Saturday or Sunday for so many train spotters to be on the station platforms.




SPOTTING MEMORIES 1

Jim Oakley's Spotting Notebook - 1961-62


If I was asked to explain the intricacies of train spotting I'd start by comparing it with another favourite pursuit for boys...fly fishing. The similarities are scarcely apparent at first, yet the basic principles are much the same. For starters, both groups are driven by the same Zion-style love of the great outdoors, they enjoy the peace and quiet of the countryside and being close to nature. They experience long periods of suspenseful waiting and spend hours, often frozen to the bone or soaked to the skin, idling away the hours in all-weather conditions. But don't be fooled. On the face of it, they may appear to be in a docile state, but their senses are highly-tuned. They are homing-in on the first tell-tale signs that some action is about to kick off. For an angler this can be a float dipping teasingly on the water; for a train spotter it is the tantalizing rustle of signal wires which never fails to stimulate a sense of expectancy! This is the moment that both have been waiting for - a highly charged few minutes, a sudden surge of high-octane excitement!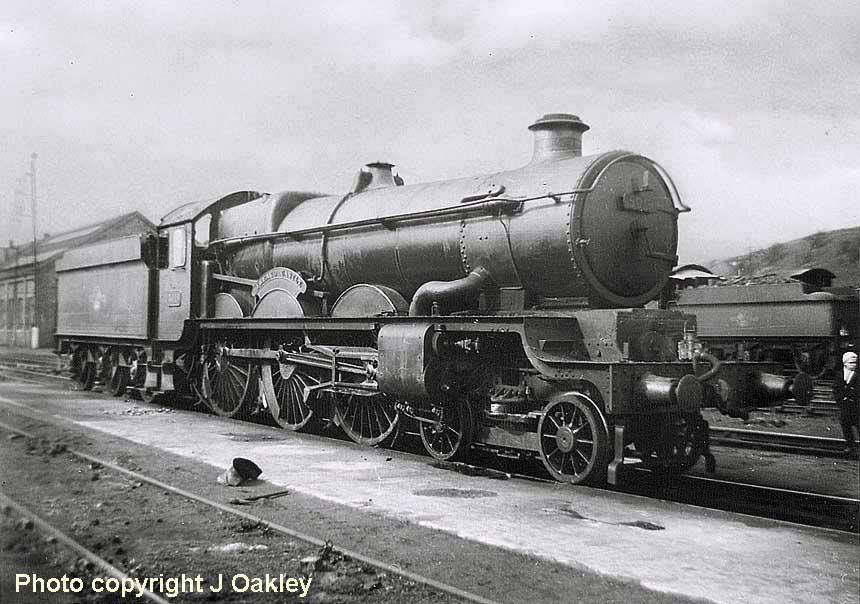 The childhood memory is fallible, they say, but if I had to pick out my best spotting memories then I'd opt for the summer holidays spent watching express trains thundering through Thirsk station more than 50-odd years ago. The station is situated on the superbly-aligned East Coast Main Line between York and Northallerton; a stretch of line that has seen more high-speed running than any other in Britain.
In pre-diesel days the A4 'Streaks' were the star turns on the ECML, regularly topping 90mph in normal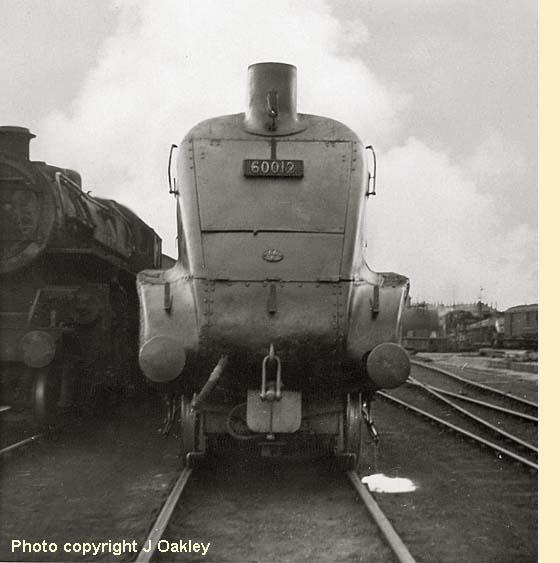 service. From the platform edge, it was easy to spot these streamlined machines; the sun caught their sloping wedge-shaped fronts which produced the effect of a beam of light in the distance; it was barely discernible at first, merely a pin prick of light shimmering through heat haze rising from the track. But there was no mistaking what was hurtling towards you; the apparition would slowly transform into the distinctive streamlined shape of a 'Streak - so sleek and dashing; a thoroughbred racing machine in full flight, rocking and swaying over the points like a wild stallion.
Then as the driver blew the melodious chimed whistle heralding his warning, the sleepy station was awakened to a crescendo of sound; the ferocity of it was spellbinding, a tumult of swirling smoke and steam engulfing everything in its wake. Then it was gone, the moment all too brief; yet the magic will stay with me forever.
..and that, I have to say, is the big difference between
us.
..the sheer thrill of train spotting puts the pedestrian pace of fly fishing into the shade any day of the week!

(Above Left-Below) The steam action at Doncaster was a big draw for spotters, including Jim who made several pilgrimages there from his home in Oldham. Here he captures the distinctive wedge-shaped front of 60012 Commonwealth of Australia on shed at 36A, and below a more traditional three-quarter view of the now-preserved 60007 Sir Nigel Gresley heading south with an express for Kings Cross.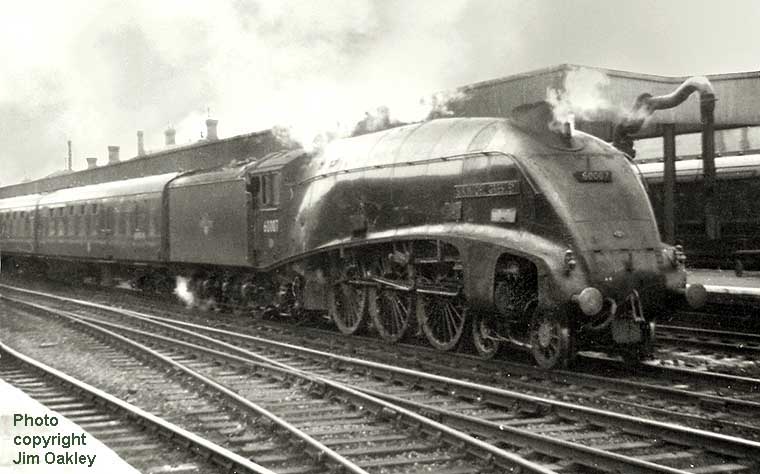 However, there is another disparity that exists between us that I haven't quite fathomed out. Why is the public's perception of train spotters so downbeat? What makes it doubly difficult to understand is that their slant on angling is far more possitive. Is it because the hoi-polloi knows so little about trains and railways? I suspect a good fifty per-cent think that all steam engines are one and the same; that train spotters are a bunch of loons.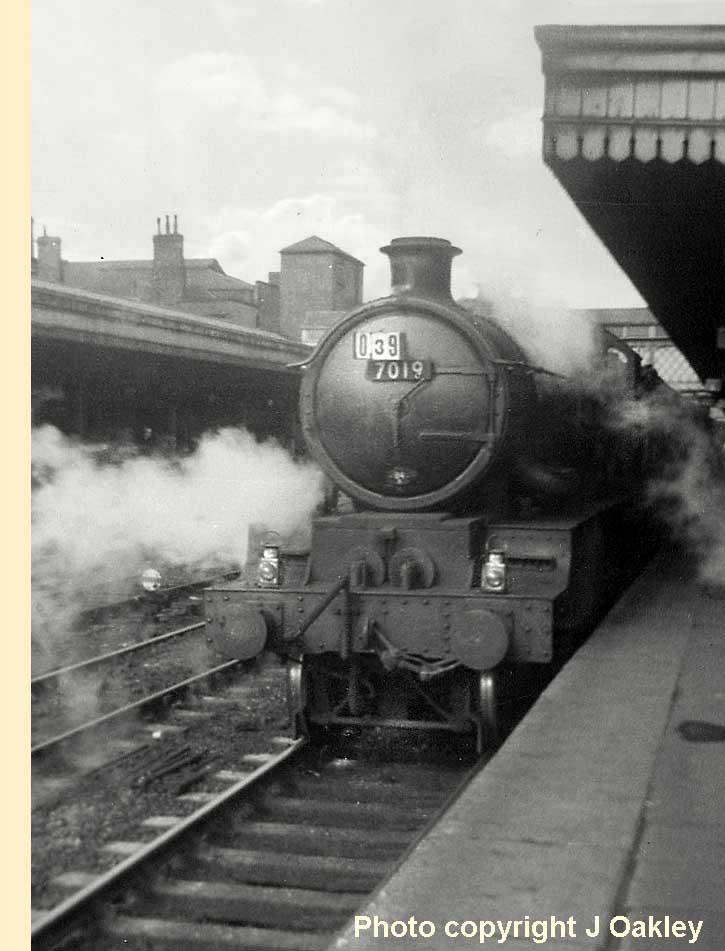 S
o for the benefit of the uninitiated let me explain - train spotting is all about collecting ('copping') as many new engine numbers as possible; a simple task in the ordinary way - but therein lays a problem. You see, the rudiments of train spotting demanded a good measure of 'honesty' and 'integrity' - both admirable sentiments, but hardly the stuff you can rely upon when the very reason for collecting engine numbers was to push the 'cop'-rate as far as you could go.
So it gives me no pleasure to tell you that a small number in the spotting fraternity thought nothing of adding a whole raft of random numbers to their collection, perhaps thinking that cramming their Ian Allan abc chock-full of underlined 'cops' somehow absolved them from paying any attention to a credible story...like where and when the sightings were made?
These 'cheats' had no place in the club; they were offenders of the worst kind, whose indiscriminate spotting didn't depend on their powers of observation, it was down to the fertility of their youthful imagination. Not only were they cheating on others they were cheating themselves.

(Above Right-Below)
Castle class No 7019 Fowey Castle departs from Wolverhampton. (Below) EE Co Type 1 D8077 (later TOPS Class 20) at Parkhead (65C) on 22nd April 1962; this was one of the shed's visited during the Northern RCailfan Club's marathon bash of 11 ScR sheds mentioned below..
.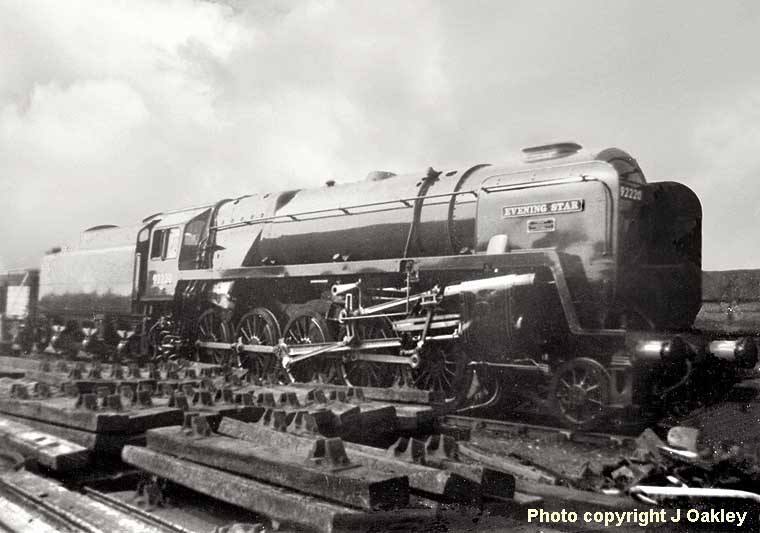 This brings me to Jim Oakley's spotting notebook,
which, on the face of it, contains nothing more than a list of loco numbers, but on closer examination it reveals a slice of our railway history.
Prior to leaving Robin Hill Secondary Modern School in December 1959, fifteen year-old Jim became a member of the Northern Railfans Club (NRC). Based in Goostrey in Cheshire, the NRC was run by the enterprising Ray Hawley and Tom Smith who organised official visits to BR Locomotive Works and Motive Power Depots the length and breadth of the country. A monthly newsletter was circulated amongst members with details of forthcoming visits, and during the next 3½ years Jim went on numerous spotting trips.


(Above-Below) Jim can recall a NRC tour to Swindon Works - the highlight of which was seeing the newly-built 92220 Evening Star just two days after its naming ceremony on 18th March 1960. The starting point of the tour was Crewe station, where they caught a train to Birmingham then changed onto a train for Gloucester; a coach picked them up at Gloucester station for official visits to all three Bristol sheds, followed by Swindon Works and then the two Gloucester sheds on the return journey to Crewe. (Below) Another Swindon shot on that day shows 'King' class 6028 King George V1 in the Works yard.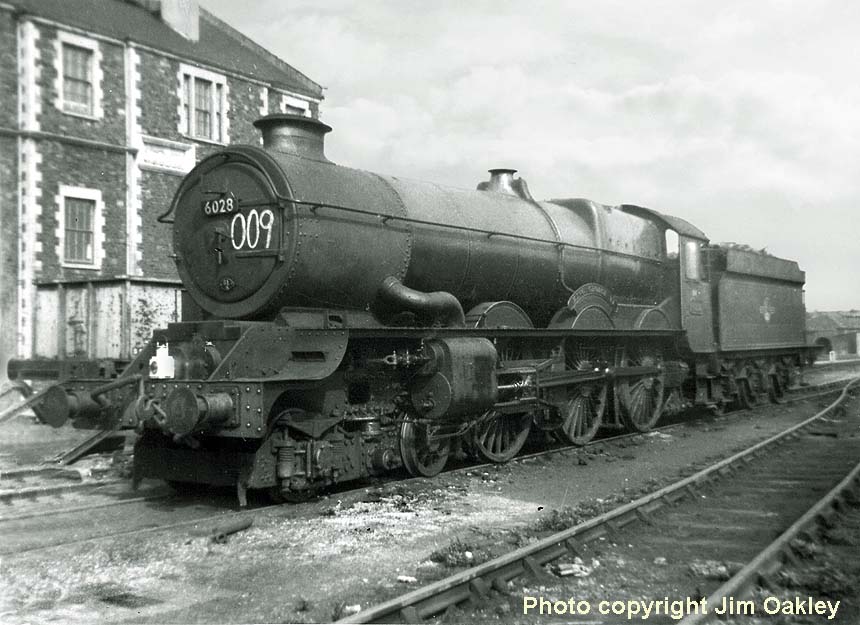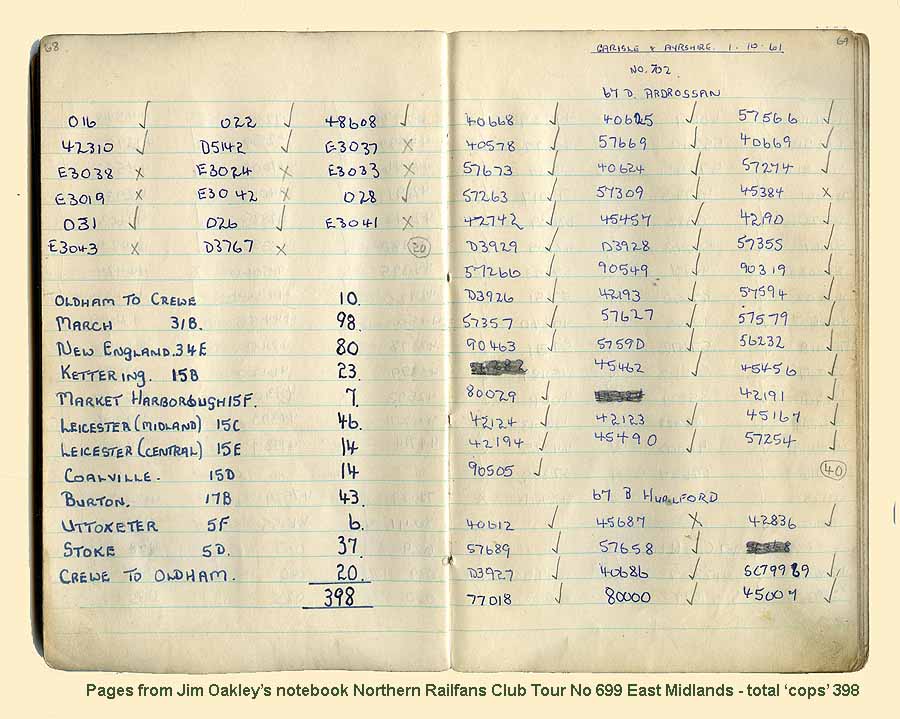 T

he page (left) shows the total number of 'cops' Jim logged on a
Northern Railfans Club Tour (No 699) on 17th September 1961. No less than ten steam motive power depots were visited in the East Midlands area, including March (31B); New England (34E); Kettering (15B); Market Harborough (15E); Leicester (Midland) 15C; Leicester (Central) 15E; Coalville (15D); Burton (17B); Uttoxeter (5F) and Stoke (5D) - the sum total of ten sheds and 398 'cops', just two short of 400...not bad for a day's spotting trip.

(Right) But there was another NRC trip he joined that produced an even better result than that!
On the 22nd April 1962 he joined the Northern Railfans club's overnight trip from Manchester to Scotland. A
coach picked them up at Manchester Victoria for the marathon bash of eleven ScR sheds. After a quick bite at the Transport Cafe in Carnforth, it was a case of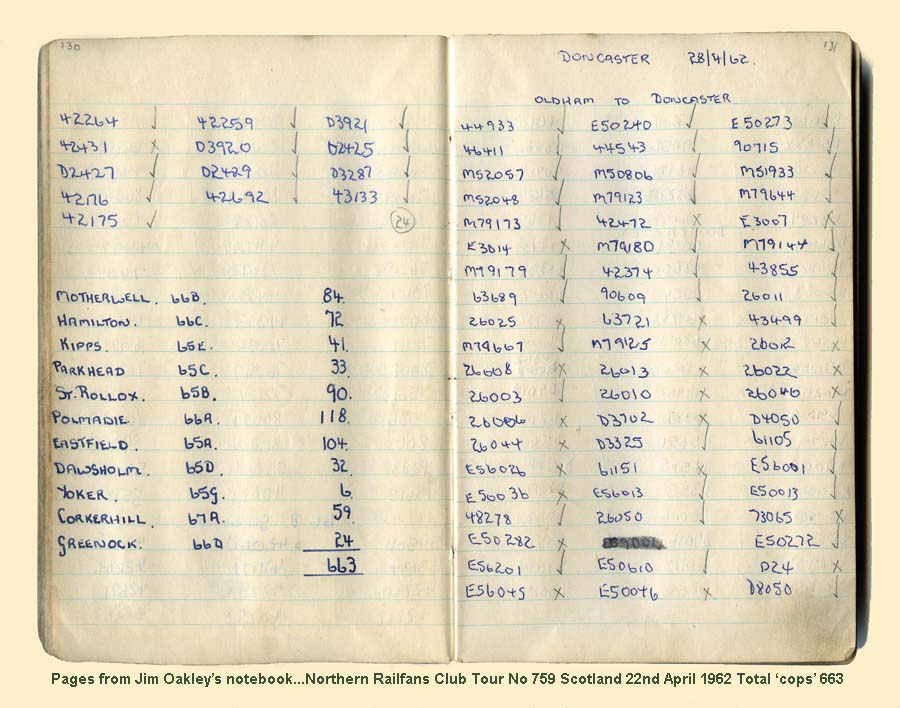 grabbing what little sleep he could as the coach headed up the A6 to Scotland...no M6 in those days! Once north of the border the tour began with a visit to Motherwell (66B) followed by Hamilton (66C); Kipps (65E); Parkhead (65C); St Rollox (65B); Polmadie (66A); Eastfield (65A); Dawsholme (65D); Yoker (65G); Cockerhill (67A) and Greenock (66D) the most 'cops' he ever had in one day - 663 in all! But not content with that, the following weekend he was off again...this time to Doncaster, including a visit to the famous 'Plant' Locomotive Work
on 17th September 1961...indeed If you were seeking an alternative title for this feature - 'Extreme Train Spotting' would fit the bill nicely.

(Below) Jim photographed the English Electric Company's Gas Turbine Locomotive GT3 on shed at 15E Leicester (Central) during a visit by the NRC featured above left. At that time this experimental one-off loco was less than a year old, having emerged from English Electric's Vulcan Foundry in May that year; GT3 was exhibited at the Institute of Locomotive Engineers exhibition at Marylebone before it was subjected to a number of proving and comparison tests on the stationary rollers at the famous Rugby testing station; this was followed by trials on the former Great Central Railway's Leicester-Woodford Halse. By this time, however, the British Transport Commission (BTC) had decided to invest in diesel and electric traction and this interesting gas-turbine experiment was abandoned. GT3 was returned to Vulcan Works in late 1962 and after the removal of components the chassis was sold to Wards of Salford for scrap.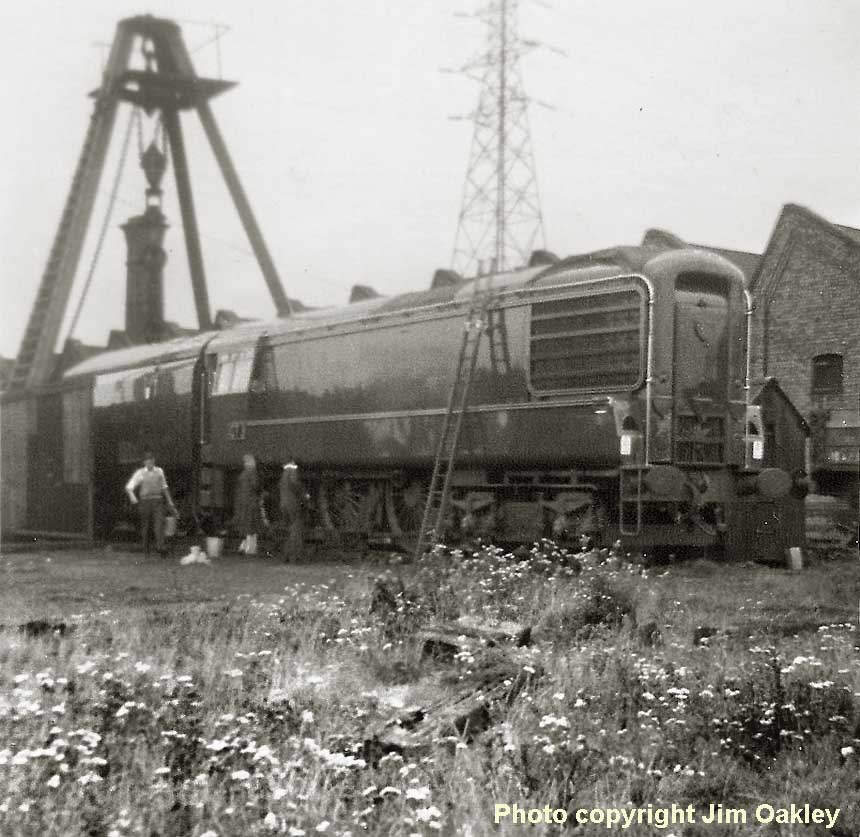 It is quite remarkable that Jim has kept his spotting notebook all these years - we're talking here of 1961...the same year that the fleet of 'Deltics', 'Hymeks', Westerns' and EE Type 3 (Class 37) were introduced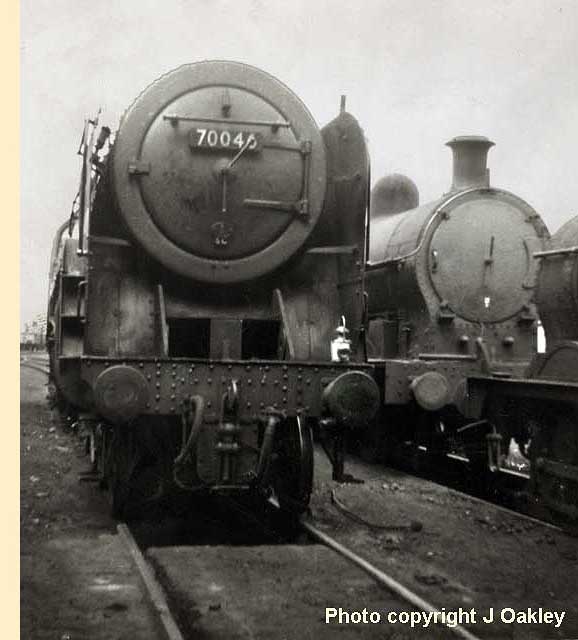 to traffic; when Angela Mortimer beat Christine Truman in an all-British women's final at Wimbledon and Tottenham Hotspur did the 'double' by winning both the English league and FA Cup. In January 1961, John F Kennedy succeeded Dwight D Eisenhower as the 35th President of the United States of America, and by May 25th he announced his goal to put a man on the Moon before the end of the decade. The Apollo space programme was born; the Beatles performed for the first time at the Cavern Club; the old black and white £5 notes cease to be legal tender; South Africa pulled out of the Commonwealth of Nations; Soviet cosmonaut Yuri Gagarin became the first man to orbit the earth in space; Britain applied for membership in the European Economic Community and 'Breakfast at Tiffany's', 'Guns of Navarone' and 'West Side Story' became smash hits in cinemas. Also in 1961 Eden Kane 'Well I ask you' made it to the No 1 spot; the Everly Brothers 'Temptation' became their fourth UK No 1; John Leyton's 'Johnny Remember Me' topped the charts and in December 1961 Frankie Vaughan had his second UK No 1 with Burt Bacharach's 'Tower of Strength'. The Christmas hit was 'Moon River' from the Oscar-winning film 'Breakfast At Tiffany's' - the only UK No 1 for Danny Williams.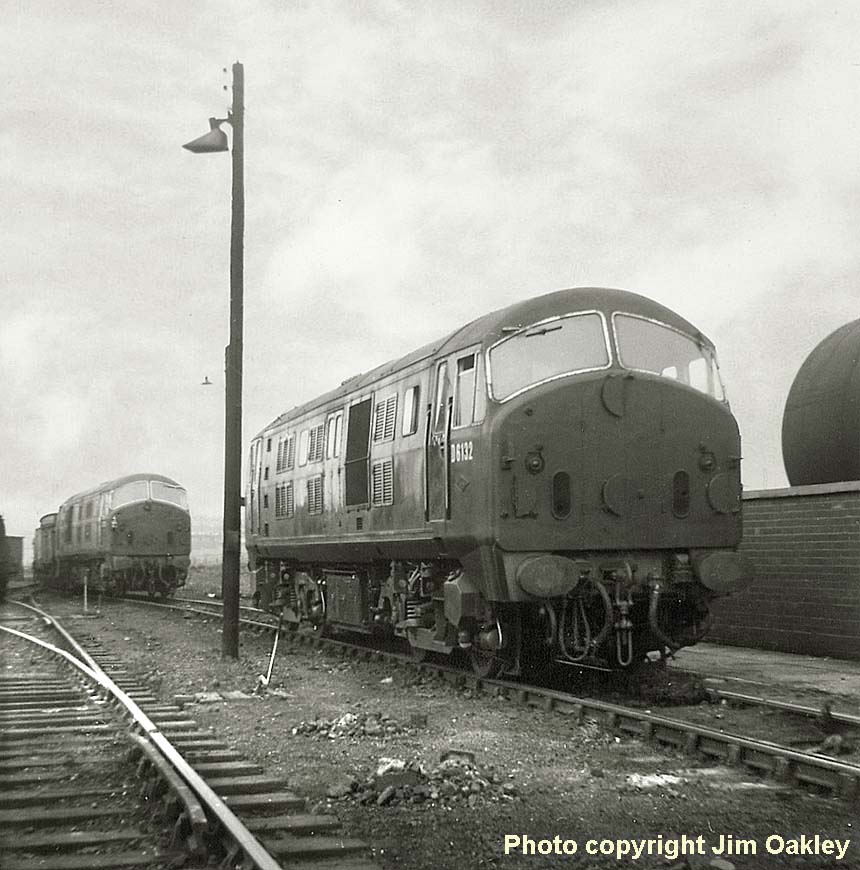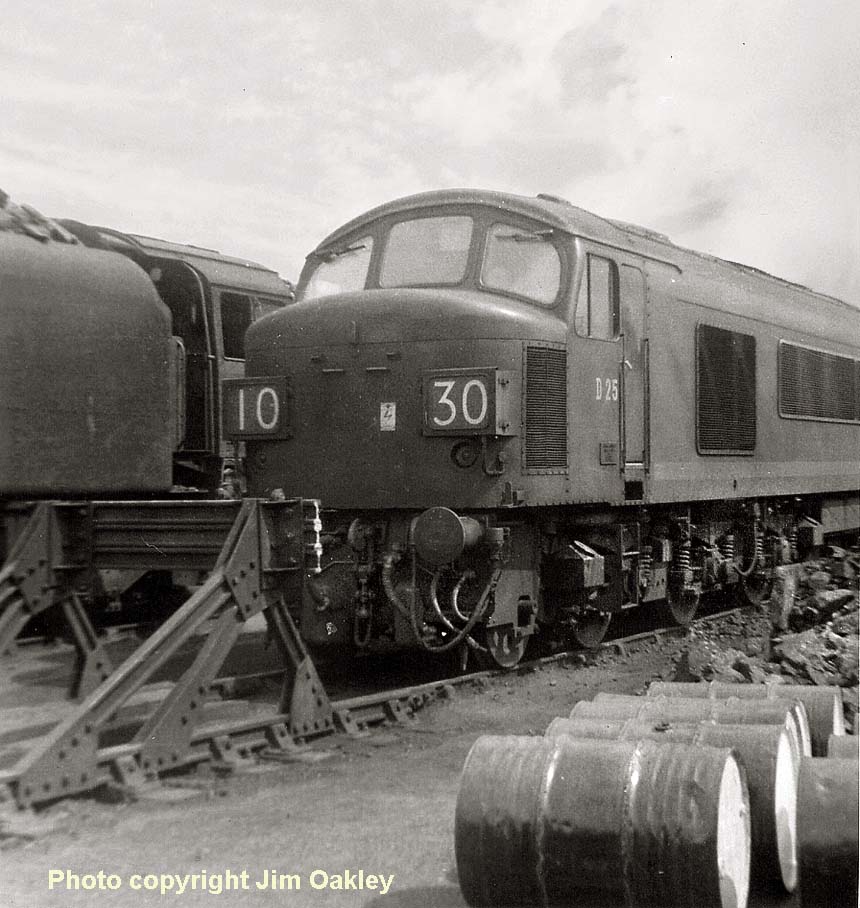 (Above-Below) 'Peak' class D25 awaits its next turn of duty at Holbeck. (Below) Here are two pages from Jim's notebook covering a small section of the Northern Railfan Club's Tour No 738 of the West Riding on 10th February 1962. The book contains nine pages covering a total of eight steam sheds visited: Farnley (55C); Copley Hill (56C); Neville Hill (55H); Stourton (55B); Ardsley (56B); Wakefield (56A); Mirfield (56D) and Low Moor (56F). For some reason Holbeck (55A) wasn't included in the itinerary...perhaps it had something to do with construction work then taling place on the new diesel facilites? Meanwhile, the Copley Hill visit reveals no fewer than 10 Class A1s in residence: 60113 Great Northern; 60115 Meg Merrilies; 60117 Bois Roussel; 60119 Patrick Stirling; 60120 Kittiwake; 60123 HA Ivatt; 60128 Bongrace; 60130 Kestrel; 60133 Pommern and 60134 Foxhunter - plus a solitary Class A4 60003 Andrew K McCosh. A good mix of steam and diesels were to be found at Neville Hill, where he finally 'copped' his last Class A3 60081 Shotover to 'bag a full house' of 78...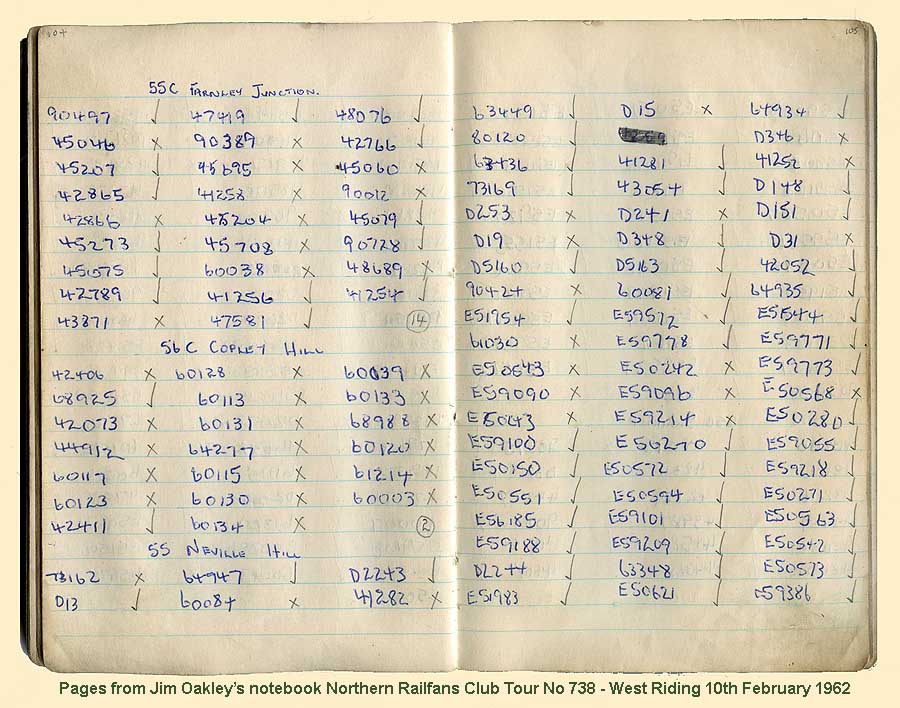 (Right-Below
)
This page from Jim's spotting notebook reveals the variety of locos in residence at Carlisle Kingmoor (12A) during a Northern Railfans Club visit on 1st October 1961. The numbers include two 'Princess Royal' class Pacifics 46201 Princess Elizabeth and 46210 Lady Patricia...the latter eking out its final days; it was withdrawn that same month - all twelve members of the class ended their days between October 1961 and November 1962.
Also on shed that day were no less than seven Stanier 'Duchesses', though only one of them, No 46226 Duchess of Norfolk, carried a Duchess name. Indeed out of a total of 38 only 10 members Nos 46225-46234 - had that distinction. The remainder noted in Jim's book are 46221 Queen Elizabeth; 46236 City of Bradford; 46244 King George 1V; 46247 City of Liverpool; 46249 City of Sheffield and 46255 City of Hereford....the entire class was withdrawn by October 1964.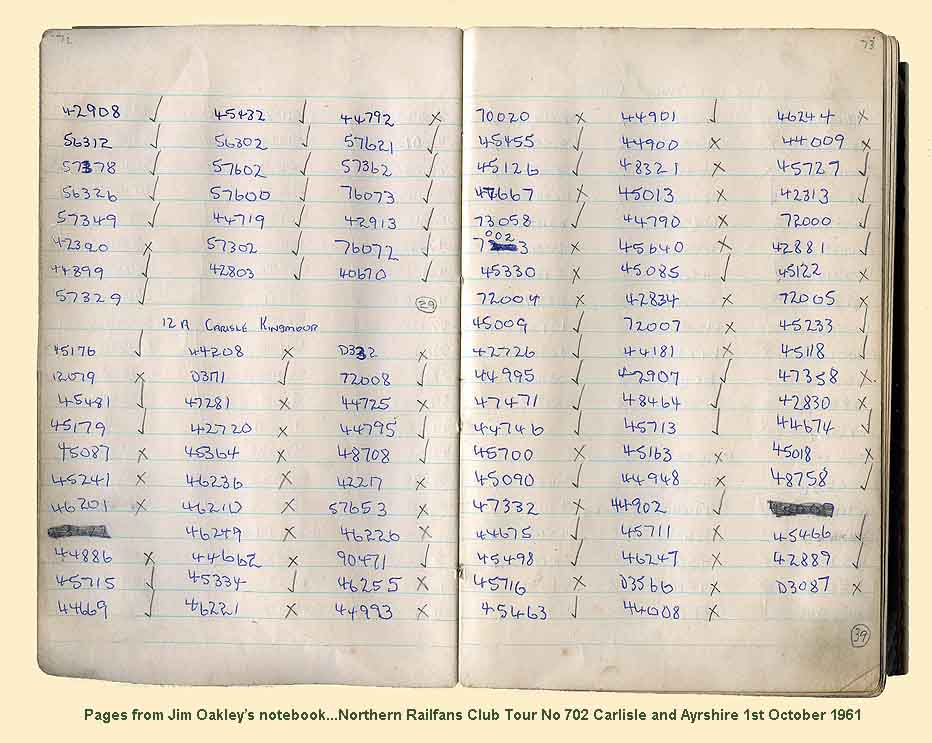 The shed was also host to five BR Standard Class 6P5F 'Clans' Nos 72000/4-5/7-8, namely Clan Buchanan; Clan Macdonald; Clan Macgregor; Clan Mackintosh and Clan Macleod, though their life expectancy was a little over a year....withdrawal of the class began in December 1962 with 72000-4; the last to go being No 72008 in May 1966...the class became extinct when 72008 was scrapped in August 1966.
The two 'Britannias' spotted at Kingmoor that day were 70020 Mercury (withdrawn January 1967) and 70023 Venus (December 1967).
The BR Standard class 7MT Pacifics were among the last survivors of WCML steam based at Carlisle Kingmoor before the shed closed its door to steam on January 1st 1968. No fewer than 13 engines survived up to the December 31st deadline
.

Finally, three 'Jubilees' 45700 Amethyst, 45716 Swiftsure and 45727 Inflexible were noted on shed that day - a total of 39 'cops' for Jim, who, oddly enough opted to photograph EE Type 4 No D332 (introduced to traffic in February 1961) and sporting 1M22 in its route indicator boxes plus a 'Royal Scot' headboard in readiness for the southbound trip
.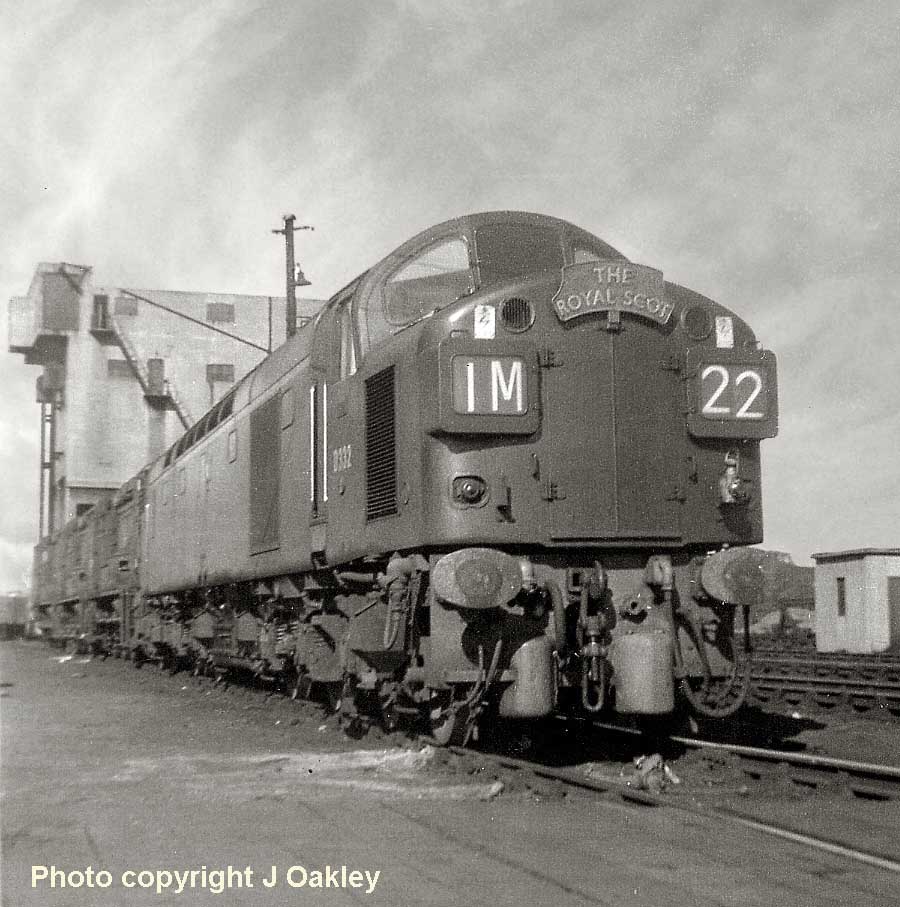 SPOTTERS GALLERY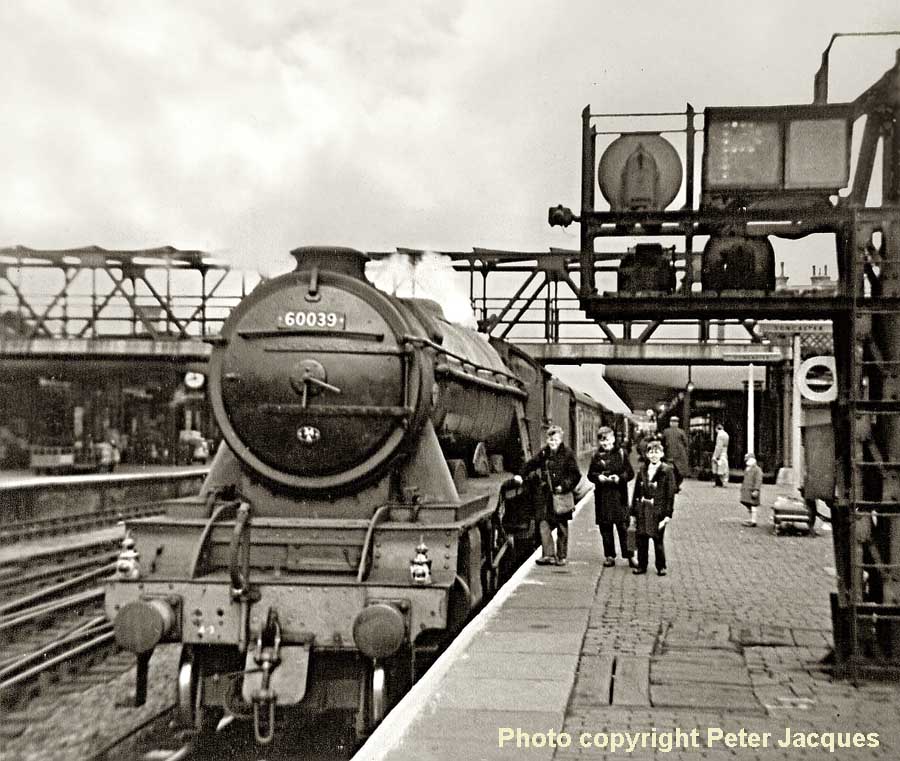 (Above) Back in the old days, a hooded duffel coat with pegs for buttons was very much the spotting attire! This is very much in evidence during a spotting trip to Doncaster in the early 1960s, when Jim Oakley's spotting pal Peter Jacques took this shot of the rest of the gang: Granville West, Neil Sinker and Keith Wilde, happily posing next to Class A3 60039 Sandwich awaiting departure with an 'up' express for Kings Cross...see Neil Sinker's email message below

SPOTTERS REUNITED

It's one thing to have great memories of old spotting days, quite another to find someone willing to tell their stories on this site. So I've hit on a very simple idea! When I started this website back in 2007 I felt sure it would touch a nerve with people of my age group because I am only articulating what thousands of ex-spotters feel about the old days; indeed the 1950s and 60s were exciting times for countless thousands of youngsters who embarked on some quite extraordinary adventures and often to faraway places, though it must be said that many of our escapades ended up in dark and sooty steam sheds, which was more complicit with breaking and entering than collecting engine numbers!
Fast forward to the present day, however, and many ex-spotters find themselves wondering what became of their old childhood spotting pals? I've received an email from Neil Sinker, who writes…

'Good morning David, I have been looking at the wonderful photos on your site. I was alerted by a friend who was searching for photos of Rochdale Station in the 1950s and 60s. He rang to inform me that he had come across a photo of me on Doncaster Station in the early 60s. The photo was taken by Peter Jacques who was a childhood friend. I am the lad in the middle flanked by Granville West and Keith Wild. We are posing next to Class A3 Sandwich. In my distant memory I can recall both boys but struggle to associate them with the major members of our gang who regularly thrilled at the sight and sound of a hard working steam locomotive during spotting days. Forgive my rambling but the real point of my email is to ask about Peter, who I lost touch with during the mid-Sixties; he will be about 68 now and I am interested to see how his life panned out. Hoping you get a codger's mind back on track…Yours Neil Sinker.'

Well, I immediately got in touch with Jim Oakley (who sent me the shot of A3 Sandwich) then Jim contacted Peter - and to cut a very long story short, this led to the group being reunited via emails some fifty-odd years later.
Getting to the point…you too can have the chance to catch up with your long-lost spotting pals. All it takes is a photo along with a few words; not forgetting to name the person with whom you wish to contact…and I'll simply post it here.

Old photographs are a wonderful way of
reviving memories

of spotting days
;
they remind us that in spite of our strict upbringing or perhaps because of it (praise was strictly rationed by parents in those days) our behaviour was at best boisterous and at worst, a downright nuisance. So to run away with the notion that the train spotting fraternity was an angelic lot is something of a misnomer. The majority of boys I met were loyal, trustworthy, and because we shared a common interest in trains, there was a wonderful sense of belonging to a club that excluded no one from joining.
The hobby embraced youngsters and grown-ups from all walks of life: from the big-shot luminaries in high places to the average-Joe on the street, and all could be found congregated at the ends of platforms, drawing cries of Cop! or Cope! and Strake! and Streak!
Indeed if you were seeking to find a group of spotting stereotypes, a main line station was the place to go.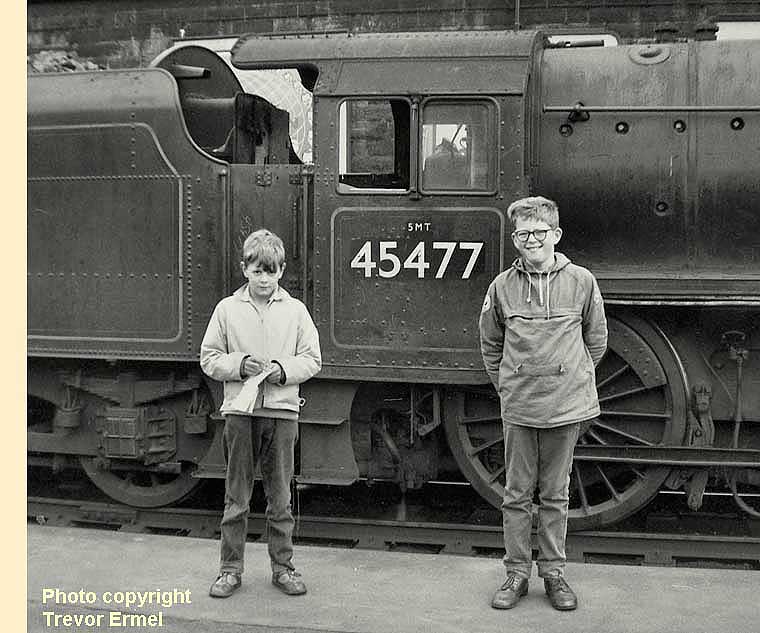 There you'd see scruffy kids in anoraks chomping their way through jaw-aching jam butties whilst the posh kids donned natty school blazers and dined on a veritable banquet of chocolate éclairs - and, after they'd finished, they in all probability fluffed instead of farted - but so what? We were all committed to a single cause, and that made all the difference...we were famil
y.


(Right-Below) Photographed by a young Trevor Ermel, both these shots show his 12 year-old brother Eric (in glasses) and cousin David during a 'spotting' expedition from Newcastle to Haymarket station, Edinburgh, on 3rd August 1965. The 'Black Five', with large Scottish Region cabside numbers, was working a Waverley to Carstairs passenger train. All three 'copped' it! (Below) Another posed shot at Haymarket on the same day, this time with David and Eric in front of a pair of Type 2 diesels, Nos D5338 and D5323. Trevor isn't sure of the actual working, but why would he? At 14 years-old, taking down numbers was the name of the game, and he 'copped' them both! Doubtless he probably hadn't noticed the tablet-catching apparatus for single line working on the cabside of D5338?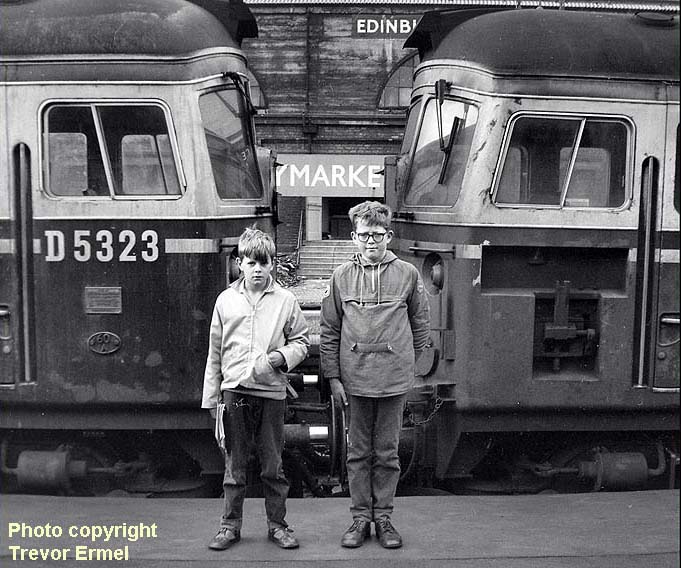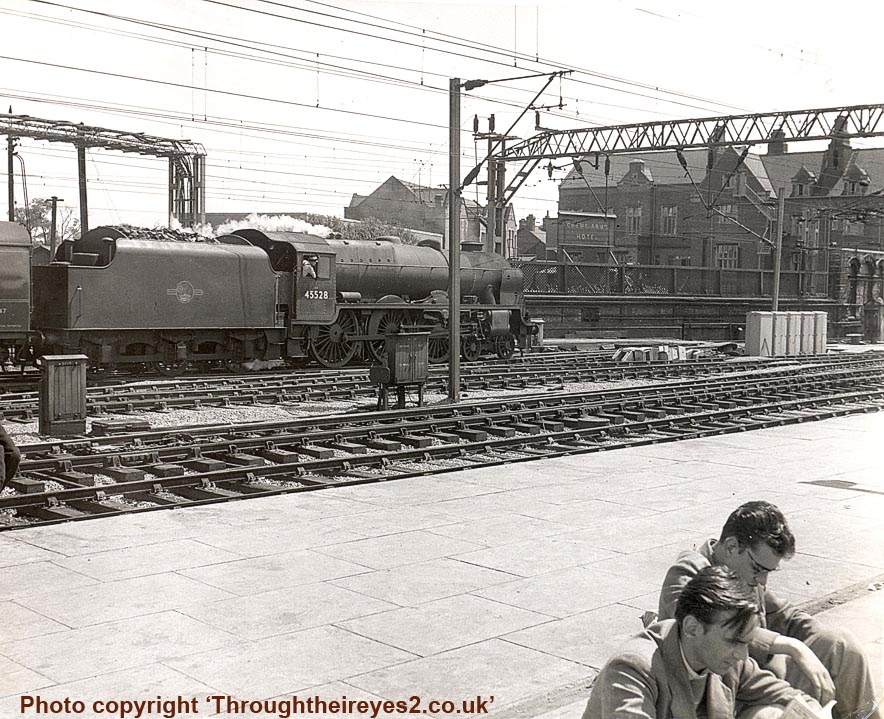 (Above)
There's a lot more to train spotting than dashing around in the pursuit of 'cops'. This photo of a Rebuilt 'Patriot' class No 45528 REME entering Crewe with a southbound train somehow emphasises those chronic long periods of languor (when nothing exciting seemed to happen) which was all part and parcel of a spotter's itinerary.
These spotters had probably glanced up, jotted down the number, but since it wasn't a 'cop' it was of no further interest. One is leafing through his Ian Allan abc while the other is similarly apathetic seemingly contemplating nothing in particular or else he's nodded off! The photo might convey a total air of indifference, but it certainly struck a chord with Ian Cook, who writes...
'Hi David, just found your site and had a good wallow in the past which brought back lots of fond memories. Got to reading your page about spotters and came upon the picture of the bored spotters at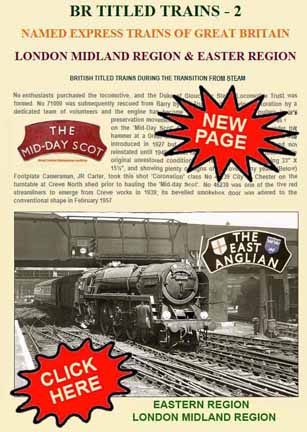 Crewe, which made me smile and then stare open mouthed as the one looking at his combined is (now sadly was) my Uncle Geoff as a teenager. It was he who got me into train spotting and he later had a motorbike and took me to numerous engine sheds around Lancashire. He lived in Wigan with my grandparents and I would go and stay for weeks at a time and spot on the main London-Glasgow line.
We lived in Blackpool at the time so bizarrely I must be the only kid in history living in Blackpool who went for his holidays to Wigan!
When you think back to all the places we went spotting at only 11 or 12 years old and the freedom we had as kids it is hardly any wonder that as we all get older, each time there is a further curb on our freedom we want to start revolution and get even more crotchety.
Took my Grandsons to the station a couple of weeks ago to watch the trains and Princess Elizabeth steamed majestically through...you should have seen their faces, smiles from ear to ear, almost as big as their Granddad's!
Kind Regards, Ian Cooke...'

THE QUEST FOR COPS!
Phil James

The spotting stories on this website certainly stir the old grey cells and rekindle happy memories. I was born and brought up in Coventry and have a vague memory of writing down engine numbers to amuse myself on a long train journey to Cornwall when I was five years-old.
A couple of years later, in the mid 1950s, my parents took me to visit relatives in Luton. The adults decided to go shopping in Hitchin, and on the basis that I would probably be a pain walking around shops, I was allowed to go and stand on the end of the platform at the station under strict instructions regarding my behaviour. After a few minutes Class A4 60033 Seagull came racing through with the distinctive chime whistle going like crazy and I was hooked.
On the subject of A4s, about ten years ago I was travelling through Crewe and 60009 Union of South Africa was there on a special and I was able to 'cop' my last of the class. Can I claim a record for the fifty years it took?
Because of my age, I was not really able to go anywhere except our local branch line, but as soon as I became a very young teenager I was spending days at Rugby, Bulkington and Nuneaton on the West Coast Main Line and my Ian Allan ABC London Midland Region book was filling up nicely. Why were so many fellow `spotters such big liars? You could almost guarantee that when you turned up somewhere you had just missed a rare engine. My local destinations were expanding to include Tamworth and Crewe and I soon reached a point where the 'cops' were becoming rarer and rarer.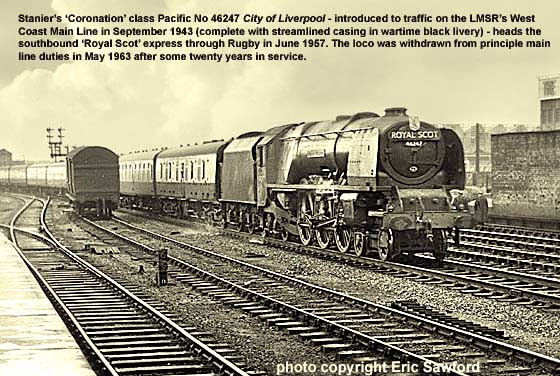 In 1960 I started at Bablake School, Coventry, where there was a very good Railway Society and we enjoyed trips to Manchester, Liverpool and North Wales, Leeds, Sheffield and Doncaster, South Wales and London. By the early 1960s, it soon became apparent that many of the gaps in my Combined Volume were Scottish based engines that hardly ever managed to reach the southern end of the main line. In later life I found out that both Camden and Crewe engines were frequent visitors to Glasgow and beyond but the Scottish Region's 66A engines were almost always taken off their trains at Carlisle. Most frustrating!
Drastic action was called for, so in April 1963 I went with the Warwickshire Railway Society to Scotland for a shed bash which included Perth, Edinburgh and Glasgow. Over 800 engines were seen and nearly every one a 'cop'…it was bliss! Prior to the Scottish shed bash I had not managed to see a single 'Clan' because they never seemed to travel further south than Manchester and Leeds, however as our train was approaching Glasgow we passed Polmadie shed and standing out in the yard, right next to the main line, were all five allocated to 66A. I believe they were stored at the time. I had waited three years to see one and then five appeared at the same time. It made me realise that the rarity of an engine is completely dependent on where you live.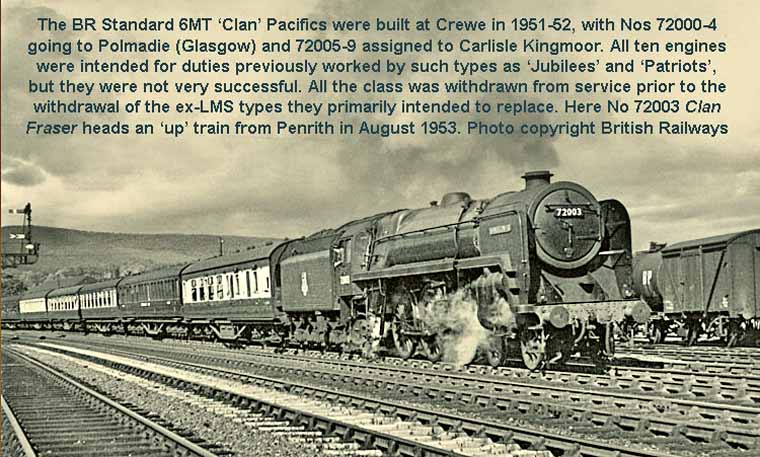 About two miles south of Birmingham, there is a New Street avoiding line that passes under the line to Coventry. It was used by all of the freight trains that were never seen at New Street. One day I was travelling from Coventry to Birmingham and as we approached this avoiding line I got a brief glimpse of the last few carriages of a passenger train. It was subsequently reported that the engine was a Corkerhill 'Jubilee' on a special to the Bristol area. It was assumed it had worked through to Leeds and then, for whatever the reason, Holbeck had borrowed it to work this special. 67A Jubilees were as rare as rocking horse manure in the Midlands and I was not best pleased when I found out what I had missed by a few seconds. There was a very similar event reported but this time in reverse. Holbeck was again deemed to be the cause when it used a Bristol Jubilee on a Glasgow service. Somewhere on the journey the engine developed a fault and when it finally reached Glasgow it was taken off to Corkerhill where it was subsequently spotted tucked away near the back of the shed awaiting repair. I can only imagine the stir that caused when word got round among the `spotting fraternity.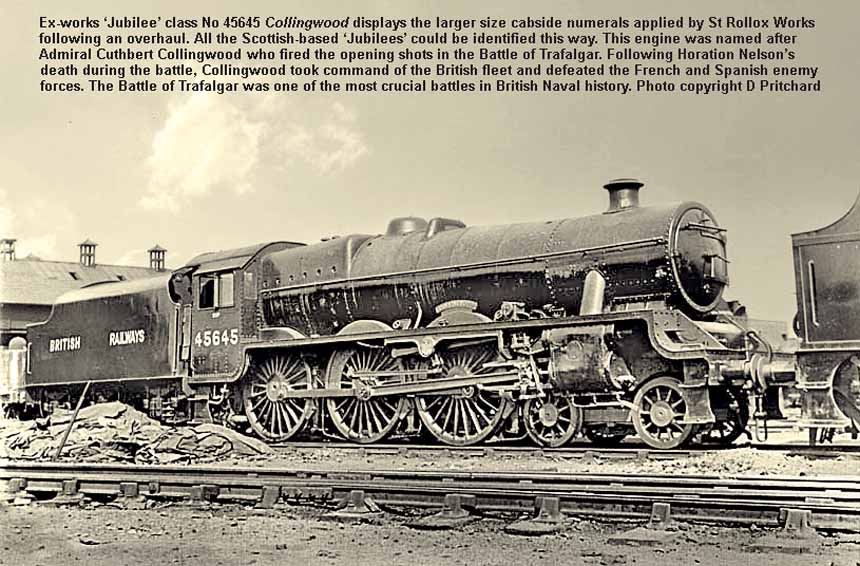 These sorts of rare incidents often made me wonder how the engine allocating system was supposed to work. In a perfect world I would imagine the foremen were under permanent instruction to return visiting engines as soon as possible but the railways were a decidedly imperfect world. In the above example, the Bristol foreman would have found out that one of his passenger engines was sitting 400 miles away and would not be coming back any time soon. If that left him short did he borrow something suitable that arrived on his shed? If that were the case the whole thing could snowball and there would be foremen all over the country not knowing when they were going to get their engines back. The more I think about it, the more problematic it becomes and it would appear to be something of a miracle that so many trains were actually worked by the intended engines. It must have been a nightmare dealing with very high maintenance steam engines when they could need repairs at any time.
As I mentioned earlier, by about 1963 my Ian Allan was starting to fill up and many of my days spent by the main line or on a platform were producing virtually no 'cops'. With the benefit of hindsight I should have abandoned the idea and concentrated my efforts on organised shed visits to areas that would have produced good results. There was a certain 'buzz' about going round sheds and hopefully seeing a few dozen engines all in the one place. Like most people, I was not averse to walking in uninvited, but only where there was no sign of a foreman`s office. I only ever got in trouble once when my cousin and I had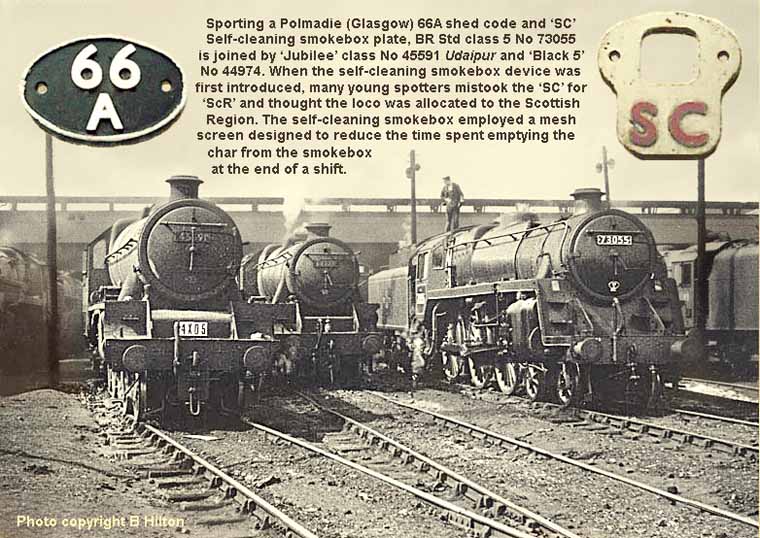 been round the shed at York and were out in the yard when this guy appeared from a brick hut and gave us a 'severe telling off' and informed us he was calling the police. As he disappeared back into the hut an engine came on shed and passed close by, so I decided to use it as a shield and started walking back to the shed. Unfortunately my cousin had not moved; he seemed rooted to the spot. I went and retrieved him and we beat a hasty retreat using the engine as cover.
Where there was very little likelihood of getting in unobserved, I found a polite request often worked, especially if you emphasised how far you had travelled. I tried this at Swindon Works and the chap at the end of the tunnel explained that all visitors were required to have a guide but if I waited a while I could join an official party. Had they all been like this then life would have been so much easier.
In more recent times I have read a number of articles saying how difficult it was to `bunk` 52A Gateshead because of the layout of the access and the fact that the foreman took great delight in making the place a fortress. I knew nothing of this back in 1963 when my best `spotting friend, Hoppy` and I made our way there. We were having a tentative peep from the top of the steps trying to assess our chances when a Geordie voice informed us that we had no chance because 'Hitler' was probably on duty. The prophet of doom turned out to be a local lad in his late teens who told us that we could get in at the far end of the shed if we made our way to a certain road. When we said we hadn`t got a clue where that was he very kindly took us down four or five side streets and pointed to a hole in a fence. We made it around the place even though we were being ultra cautious because we had no wish to be caught by someone referred to as Hitler! I learned a valuable lesson that day. If possible, try and talk to someone local who might be able to point out alternative 'entrances' to the official one in the Shed Directory. Old Oak Common and the hole in the fence from the canal springs to mind and I'm sure there must have been many others.
Like many others, I started to lose interest when the diesels and electrics were taking over and the steam that was left was in a terrible state. However, for about five years I thoroughly enjoyed the hobby and don`t regret any of it. If anybody ever invents a time machine, I would be one of the first in the queue to go back and do it all over again. Thanks again for a great website, Phil James...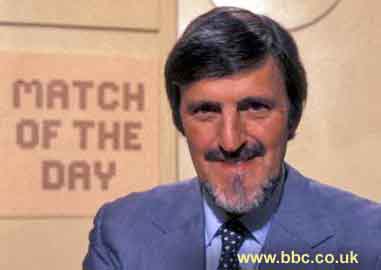 Often caricatured for his long chin and distinctive beard, Jimmy Hill's career in English football embraced every aspect of the game, from his early professional playing days starting in 1949 through to his role as a trade union leader, coach, manager, director, chairman, television analyst and presenter of the BBC's 'Match of the Day' between 1973 and 1988; he was truly one of the game's greatest pioneers and personalities. Awarded an OBE for his contribution to sport, Jimmy Hill sadly passed away in 2015…Phil James remembers how Coventry City's Sky Blue Revolution affected his boyhood spotting days…

THE QUEST FOR COPS - 2
Phil James

The recent passing of Jimmy Hill got the grey cells working again; perhaps my memories may be of interest to others. In the mid 50s, when I was about five years-old, my dad started taking me to watch Coventry City. I do not know whether this was fatherly love or whether it was a punishment because the Sky Blues was a team that had never achieved anything and never looked like they ever would. A few years later, in 1961, a certain Jimmy Hill was appointed manager and, almost overnight, he completely transformed the team, club and support.
One of his ideas was to charter a train to take fans to away matches. This became known as the 'Sky Blue Special'. There was a real family atmosphere on these trains and never a hint of any trouble. Not too many years later the football hooligans were wrecking special trains for fun and the railways were forced to stop running them. Six of us who were interested in railways as well as football would select trips where the journey and destination should prove interesting. Usually the engine was a Stanier 'Black 5' from Rugby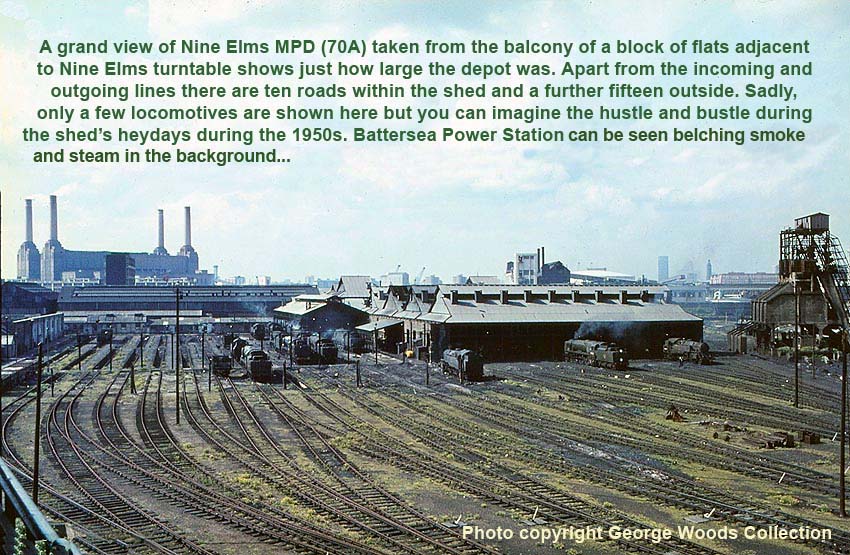 but I can remember a couple of Aston 'Brits' and an occasional 'Royal Scot' or 'Jubilee'. The object of the exercise was to arrive about midday, do a quick trip to a shed or two, and then get to the ground in time for the start of the match.
I remember going to Bristol and visiting Barrow Road and St. Philip`s Marsh and then just making it to the ground in time. Southampton was a struggle, having to catch a train to Eastleigh, but we made it. The Shed Directory was an essential part of any serious spotters kit but, for some inexplicable reason, it did not give directions from sheds to football grounds and there were quite a few places where we were indebted to local people for helping us with bus routes.
By far the most frequent destination was London where the first thing on the agenda was a short trip from Euston to Kings Cross station to see if there was anything interesting lined up at the buffers. In an ideal world we would then have headed for Stratford but we knew there was virtually no chance of getting in. I did go on two organised trips, both times on a Sunday, and it really was an amazing place. There were buildings everywhere and the sheer size of the site had to be seen to be believed. On each of my visits there were just shy of 200 engines on shed with a lot of different classes. This was comfortably the most I ever saw on a shed, 160 on March and 150 on Eastfield being the next best.
Had we had a free choice, Kings Cross shed would probably have been next on the list, not so much for its own allocation, but in the hope that there might be a visitor or two from Gateshead or Haymarket. This shed was also ruled out because the entrance was so enthusiastically guarded. Our choice usually came down to either Nine Elms (above left) or Old Oak Common (below right) where we were confident of getting round.
Old Oak Common, accessed from the canal footpath, could always be relied on to have a few visitors from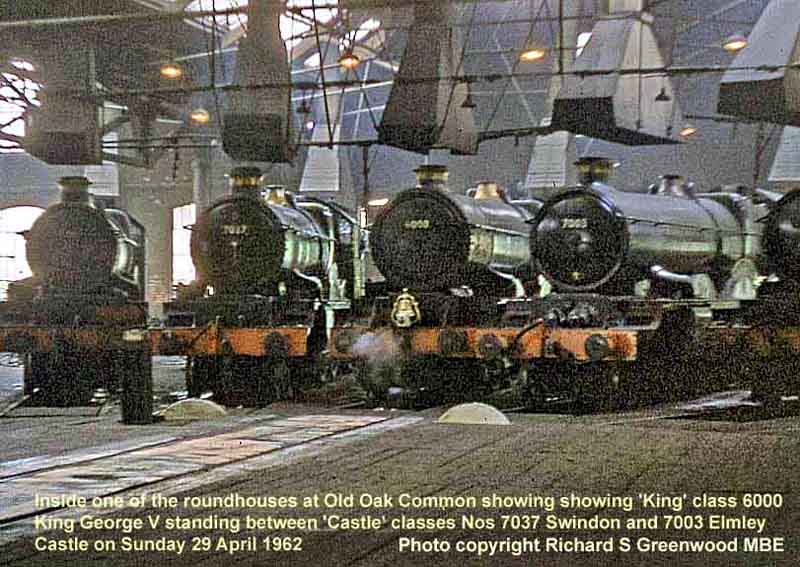 Devon and South Wales that we did not get to see in the Midlands and was usually good for fifty to seventy engines in residence, even on a Saturday.
I could never really get my head round Nine Elms. It appeared to be a toss up which came first, the end of steam or the shed buildings falling down. I cannot remember a shed where there was so much ash lying around everywhere; not just bits, there were mountains of the stuff. Someone suggested that it was used to bury `spotters who had been caught on the premises without permission. Ironically, this place lasted longer than any of the other main London sheds.
Having seen the size of the sites of all the major London sheds, I think a special award should have gone to the people working at Camden. Compared to the others, there was a small shed and yard that had been squeezed into an area that was clearly unsuitable for a major terminal. They must have worked miracles to get the locos ready on time and in the right order.
Jimmy Hill was an amazing, innovative man who frequently thought 'outside of the box'. Football and the people of Coventry owe him a great deal. There are even some railway enthusiasts who look back with affection, but he would have been blissfully unaware of this. RIP.


Spotting Memories of Rose Grove
by Craig Duncan

Rose Grove always seemed to be an inappropriate name to me. The year is 1945 and I am gazing from the Up platform of the island station where one had a grandstand view of the gravity marshalling yard. Many hours were spent watching the shunting engines, often working in pairs, while the controller barked details over the tannoy. The shunting staff would run with the wagons applying brakes and occasionally ride the poles with panache. There is one vivid memory of watching two 'Saddle Tanks' blasting up the incline side-by-side with glowing smokeboxes and sending up towering columns of smoke and sparks high into the cold dark evening winter sky; truly a sight to behold. Meanwhile the ubiquitous 'Waiting Room'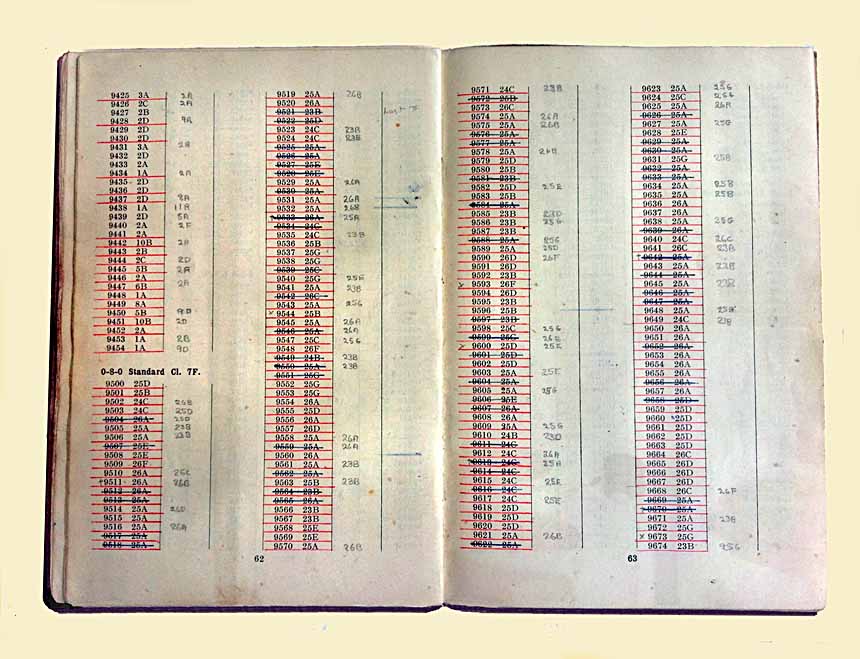 provided refuge from rain and cold. As in many homes the customary basic, yet ornate, grate emitted a welcome warmth together with a constant hiss of gas lamps that barely lit the room.
Rose Grove lay a mere 6 miles from my hometown of Colne and for a young spotter it could be accessed by train, bus or, more often, an evening cycle ride. Nearby Gannow Junction was where the East Lancs and Calder Valley lines merged.
During the latter part of the war there was a constant procession of coal trains from South Yorkshire which fed the insatiable mills and factories of Lancashire. Another lasting memory is seeing three such trains extending up the Todmorden line with a mixed freight from Goole somewhere in the middle, all waiting to be processed. The coal trains consisted of mainly private-owner plank wagons which added interest. Heavy freight / mineral traffic in the area was mainly in the hands of Fowler 7F 0-8-0's, complete with their distinctive 'chuff', and maximum truck loadings of 60 full or 100 empty were a common sight. After they had all been concentrated on the Central Division it was possible to see almost the whole class at Rose Grove. There were however twenty that worked on the ex-LNWR route through Marsden. I had developed a fetish for these engines and after hunting them down through Sunday visits to Farnley Junction, Huddersfield and Lees I was finally able to cross off the whole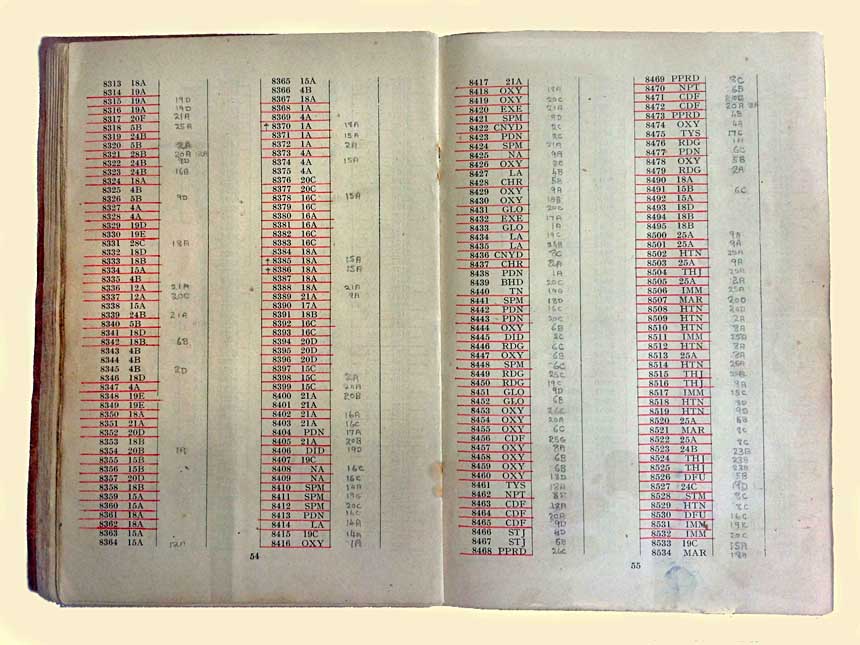 class of 175, and on a minimal budget. See page (above left) from the LMSR Locomotive Reference Book 2nd edition June 1947 published by The British Locomotive Society based in Birmingham).
In 1945 Rose Grove still retained 13 of the 26 remaining LYR Hughes 7Fs. These powerful engines presented a strange appearance due their large boilers sitting on top of small coupled wheels complete with short cabs and eight-wheel tenders. They were ageing engines and were gradually being relegated to trip freights and banking duties.
One Sunday in January 1947 a routine visit to the shed produced an amazing sight. The yard was flooded with 8Fs that had been returned from the LNE and Great Western railways and all were in their original liveries. These engines bore numbers on the buffer beams together with the unique shed designations. Of course all these were new to me, in fact the 8Fs had been something of a rarity at Rose Grove and limited to a single turn from Royston or Normanton. The Calder Valley route from Wakefield appeared to be a proving ground and distribution centre for many of these engines. In December 1947 the LNER O6 class were handed over to the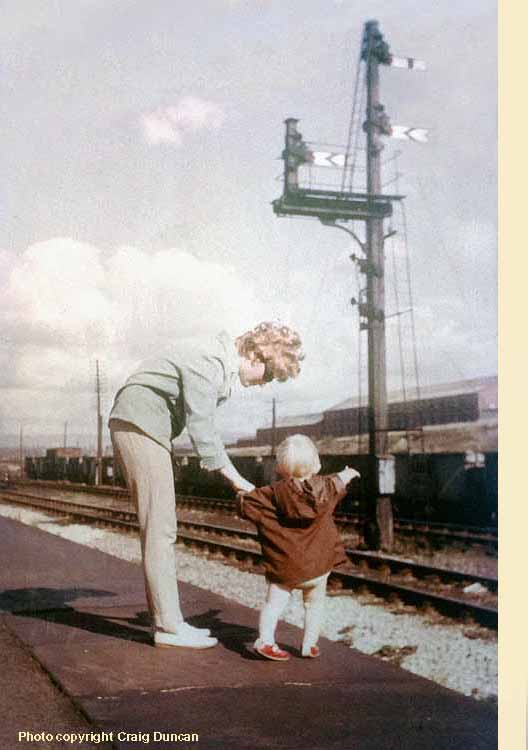 LMS and renumbered 8705-8772 of which 24B received six, viz, 8710/11/13-15/18. Many of this batch would also be initially allocated to the Central Division.
The 'Austerity' 2-8-0s arrived in December 1948 and austere was their persona. These grim and grimy engines presented a motley bunch with expedient WD numbers while some still retained their Westinghouse brake pumps. Thus started a long association with the shed that lasted almost to the end of steam. One recollection is seeing a 'Dubdee' running light towards Nelson. It had a distinct shuttling gait which gave credence to the well documented out-of-balance problem for which the class was noted. Nevertheless they proved to be valuable workhorses and their utility design would interlock with decreasing standards of maintenance over the years. Towards the end of July 1968 I paid a final visit to Rose Grove. There were large numbers of almost frenzied enthusiasts scrambling about the yard. No doubt for some it was their first visit. It seemed somewhat ironic that their cine cameras could only record the present semi-graveyard whereas I could rewind to a myriad of cherished mental pictures taken all those years ago…

24B Rose Grove 1945 allocation.

LMS Stanier 4P 2-6-4T Nos 2438, 2439, 2632 and 2635.
LMS Fairburn 4P 2-6-4T No 2212
LMS Hughes 5F 2-6-0 Nos 2726, 2727, 2728, 2732, 2866, 2867 and 2869.
LMS Fowler 3F 0-6-0T Nos 7575 and 7576
LMS Fowler 7F 0-8-0 Nos 9610 and 9668.
LYR Aspinall 2P 2-4-2T Nos 10642, 10653, and10654.
LYR Hughes 3P 2-4-2T Nos 10885, 10921 and 10953
LYR Aspinall 2F 0-6-0ST Nos 11410, 11492 and 11497
LYR Aspinall 2F 0-6-0 Nos 12146, 12183, 12187, 12220, 12262, 12268, 12278, 12309 and 12529
LYR Hughes 7F 0-8-0 No 12841, 12873, 12875, 12886, 12902, 12906, 12913, 12916, 12920, 12928,
12945, 12952 and 12958.

(Above Left-Below)

This lovely snapshot of Rose Grove station in 1965 will resonate with enthusiasts and their families. It shows Craig's wife Kathleen and their son Ian then aged 2, who is unwittingly being seduced into the wonderful world of steam trains and railways. Our fifty-odd year-old snapshots from the family album hold many treasured memories from days of yore!

(Below) On his 'Rail Cameraman' page 53 'Up North in Colour' (see left-hand menu),

Richard S Greenwood writes - 'The bulk of the freight crossing the Pennines in steam days was coal: coal for factories, coal for electricity power stations, coal for Gas Works, coal for Steam Loco Depots and coal for household fires. The LYR moved it in trains hauled by 0-8-0s - the large boiler variety being nicknamed 'Lanky Bombers' - but these were replaced by the Fowler 0-8-0s 'Austin Sevens' which were themselves quickly replaced in the late 1940s by a large fleet of WD 2-8-0s. Here No 90561 climbs to Summit West with empty coal wagons in the late afternoon of 1st January 1962. By the mid-Sixties the WDs succumbed to Stanier 8F 2-8-0s and later of course the EE Type 4 diesels (Class 40s).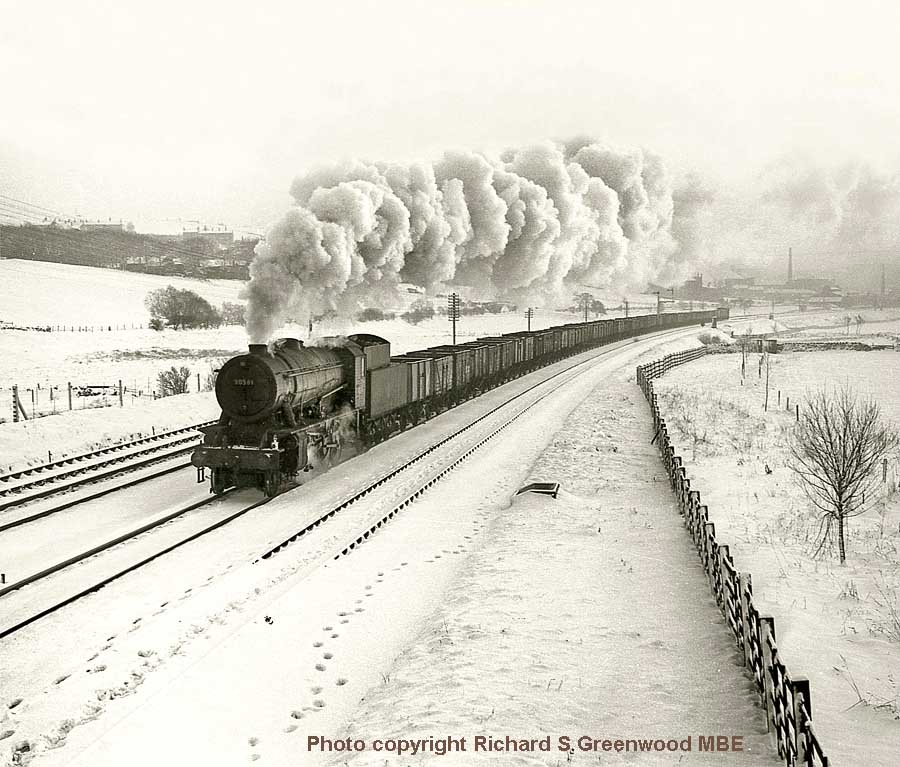 Memories of Horwich by Craig Duncan

In March 1948, aged 15, from my hometown of Colne, I began monthly cycle visits to Horwich Works which continued for most of that year. Apart from a watchman who sat in a hut the place was deserted on Sundays and therefore easy to wander around.
In addition to building new locomotives the works was responsible for major maintenance of all Stanier 3P 2-6-2Ts and Fowler and Stanier 5F 2-6-0s except those allocated to the Northern Division. All ex-LYR locomotives together with 4Fs, 8Fs, Black-Fives and Fowler 7Fs that worked on the Central Division also came under the umbrella.
The first visit produced newly-built Ivatt class 4 2-6-0 No M3009 standing outside the paint shop. These were unbelievably ugly-looking engines and I never understood the reason for the early ones being fitted with double chimneys.
A relic I found abandoned between the lines near the boiler shop was a number plate from an old Hughes Baltic tank (No 111XX). Unfortunately it was too large to fit in my saddle bag! As BR's renumbering gained momentum, the redundant LMS number plates were thrown down an embankment near the north west corner of No 1 Erecting shop and it's quite possible they still exist today as buried treasure trove.
Visits to nearby Bolton shed (26C) were included since a number of ex-works engines were normally present. One fine memory was seeing the last two Hughes Railmotors Nos 10600 and 10617 standing by the south wall of the depot awaiting their fate. They were used on the Blackrod-Horwich branch and coincidentally represented the first and last of the class of 18.
Attempts to access nearby Plodder Lane (10D) had failed so it would soon be excluded from my Horwich visits. The attraction here was the batch of Webb 2F 0-6-2Ts but these would later be replaced by Ivatt 2P 2-6-2Ts Nos 41210-7.
By November 1948, however, my monthly visits to Horwich were becoming less 'productive' but they provided an important chapter as well as the chance to see many engines from far afield.
All the best for 2015, Craig.

(Below) A rare photograph of two now-preserved narrow gauge shunters coupled together in Horwich Works yard. Built in 1887, the 0-4-0ST 'Wren' had 1ft 4¼ inch driving wheels and 5in X 6in cylinders; the 3½ ton loco was used for transporting materials on the 18-in gauge system at the works. On the left is the 20 hp Ruston & Hornsby 0-4-0 diesel ZM32 built in 1957, which supplanted 'Wren'. Fast forward to the present day and 'Wren' has of course been preserved at the National Railway Museum in a somewhat fictitious livery, whilst the Ruston & Hornsby diesel now operates on the Steeple Grange Light Railway near Wirksworth in Derbyshire. Established in 1985, this 18-inch gauge line runs on a stretch of the standard gauge trackbed of the old Cromford and High Peak Railway.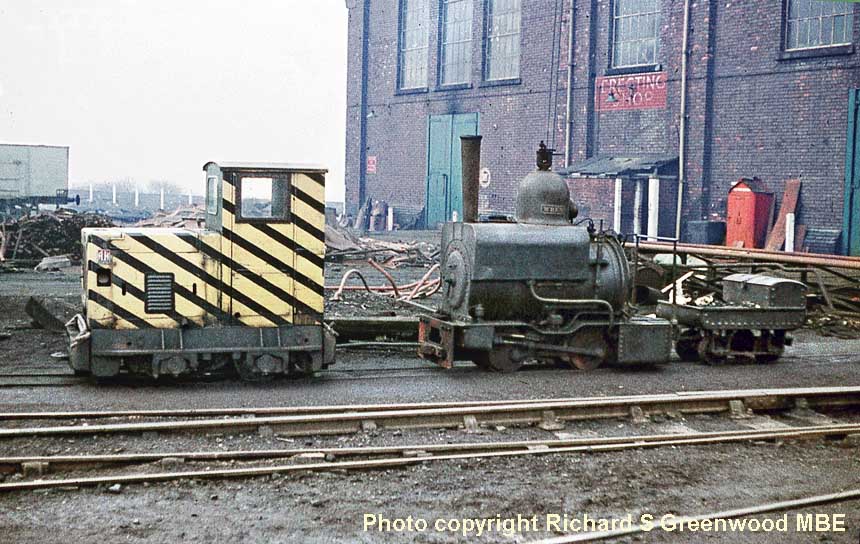 Memories of the Woodhead Line
by Peter Griffiths

Hi David, very impressed by your website. In the late 50s my auntie ran the Wentworth Arms public house adjacent to Penistone station, and even nearer to Penistone West signal box. I spent all summer school holidays there. I was 11 years old and passionate about trains; after their shift ended the signalmen would have a pint in the pub, they would show me the special notices sent which showed light engine movements, these were initially the early series of English Electric Type 4s D200-D210 destined for the GE main line and later the production Deltics en route to the ECML, all of course from the Vulcan foundry heading to Doncaster Works for acceptance trials before entering service. I was invited into the box and saw these immaculate new machines on their delivery turn. I have never seen these movements noted in the railway press, and later began to believe they were in my imagination. I have never seen any photos of the locos on the Woodhead line, but assume it was the most direct route from Newton le Willows to Doncaster and the Eastern Region, but then I know I Was There! Thanks again for a great site. Regards Peter Griffiths.

(Inset Left) Peter's email touched a nerve...I recall reading an article about the newly-built English Electric diesels being delivered to Doncaster via the Woodhead route, but for the life of me I can't remember which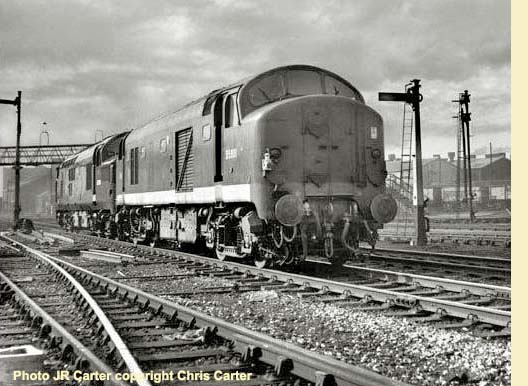 railway magazine featured it. There are several Jim Carter photos of new deliveries on pages 67-68 plus elsewhere on this site, but these were taken in the Manchester area, including this one of EE Co Type 3 No D6790 hauling 'Baby Deltic' No D5901 past Patricroft shed Manchester en route from the company's works at Newton in Willows to Doncaster Plant for acceptance trials.
If anyone has a photo of the new diesels being delivered via the Woodhead line I'd love to post it here...

In 1939, the LNER embarked upon electrifying the former Great Central main line from Sheffield to Manchester using the Government recommended standard 1,500-volt dc, with overhead line current collection. At the outbreak of World War 2, work was halted and the electrification did not start again until February 1952 when the Wath-Penistone section was energised. By May 1954, electric trains began running through Woodhead Tunnel, but the Manchester to Penistone section was not fully energised until June. The Sheffield Victoria to Penistone section followed in September and the final few miles from Sheffield Victoria to Rotherwood was opened in January 1955 - the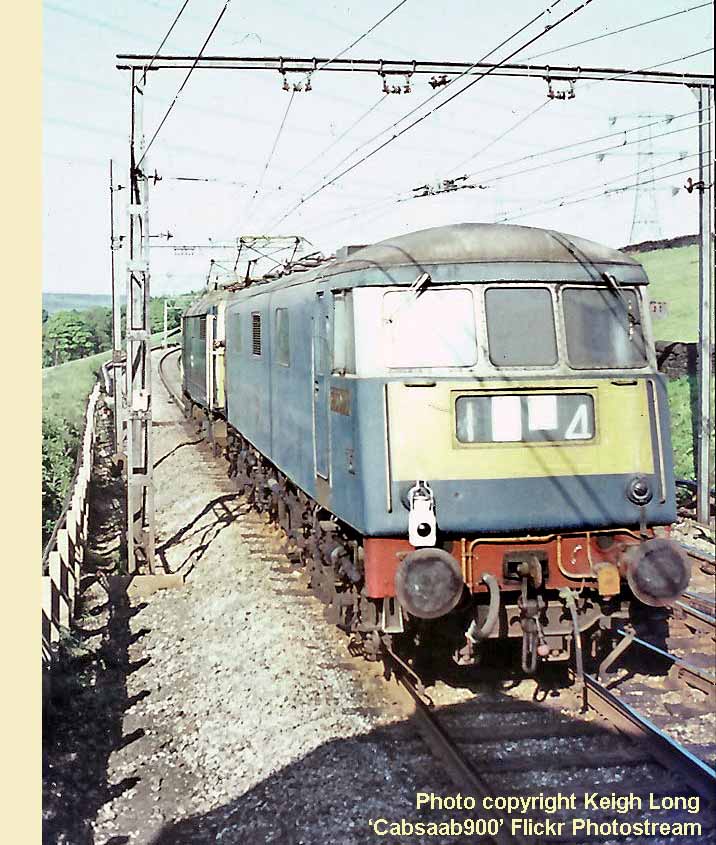 same year that the BR Modernisation Plan was announced, which included in its proposal the electrification of the WCML. It was generally assumed that the 1,500 volt dc system would be adopted as the future British standard, but the BTC decided on the 25kv 50-cycle ac system as used on the French National Railways.

(Inset right) Retired railway signalman, Keith Long, has a fabulous Flickr site 'Cabsaab900', which features photos of the Woodhead line, including this shot of 25kV electric Class 83 E3098 being hauled by Class 76 26053 past Dunford East signal box on 2nd June 1971 as 8Z30 1230 Bury to Doncaster Works. Keith worked in various signalboxes in the Penistone area from 1969 to 1975 and clearly has a strong empathy with the Woodhead Line; he writes - 'It was so different being fairly compact and separate from the rest of the railway system, almost like a small family business.' You can read much more on Keith's site; a visit is highly recommended HERE.

(Below) By 1965 the non-standard electrical equipment on the Woodhead route was becoming life expired and in 1970 all passenger services were re-routed via the Hope Valley line, leaving the Woodhead line as a freight route until closure in July 1981…with a year to go before the wrecking crew moved in, the Sheffield Branch of the RCTS ran a railtour from Sheffield to Penistone-Wath and return on 17th July 1980; this is another classic shot by Keith, who writes - 'The weather was poor very dull and then heavy rain. Here we see 76003 arriving at Penistone from Sheffield where 76001 is ready to attach for the next leg over the Worsborough Incline to Wath
.'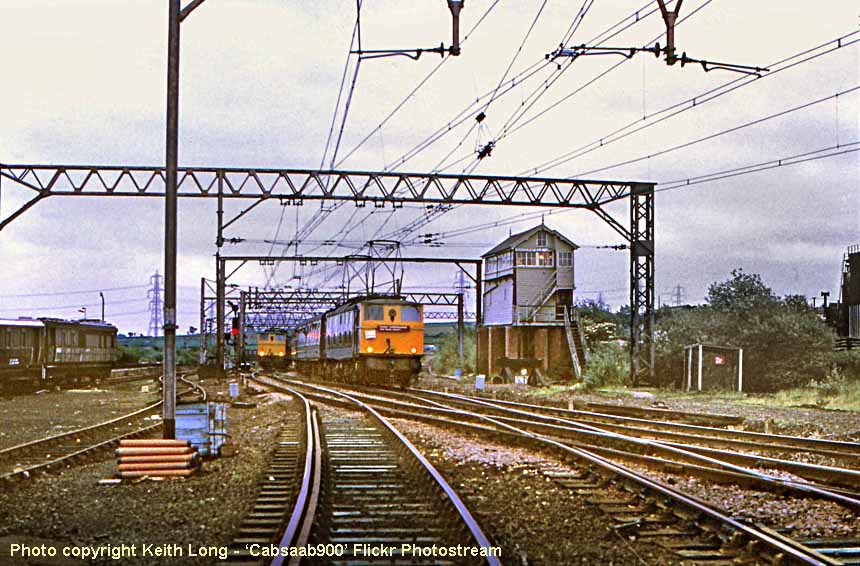 BRAMLEY for SILCHESTER
Chris Williams

Born in 1941, Chris Williams recalls his early spotting days as a small boy at Bramley station on the Reading to Basingstoke line in Hampshire. It led to a lifelong interest in trains and railways, all of which can be found on his 'Chris the Coal' Flickr photostream, including (among other things) a couple of hundred railway photos, mostly taken in the 1950s and 1960s of both Southern and GWR types with a few LMS and BR ones thrown in for good measure HERE.

I grew up in the village of Bramley in Hampshire. Our station was called Bramley for Silchester, situated five miles north of Basingstoke on the Basingstoke branch of the Berks and Hants Railway, which became part of the Great Western Railway. The station did not exist until 1895 after the line was converted to Standard Gauge.
When I was young, the trains usually consisted of Southern Railway coaches, but the motive power could be anything from a GWR pannier tank to a SR 'King Arthur'. There were also two long-distance expresses which I spotted racing through the station non-stop; one was a York-Bournemouth express, which, on alternate days, had a string of Southern coaches, or the impressive sight of a whole train of LNER stock. These would be headed by either a SR 'Lord Nelson' or an ex-LBSCR 'Remembrance' class, which worked the train to and from Oxford, calling at Reading West and using the West Curve onto the GWR main line. The other was a train for Birkenhead, which was entirely GWR, with a 'Hall'.
The village of Bramley also had its own Military Railway serving a huge Army Ammunition Depot containing

thirty miles of track and extensive exchange sidings. Built in WW1, it was worked by Royal Transport Corps saddle tank engines, most of which were of the Hunslet 'Austerity' type, but I remember at least one smaller one. There were also two railway Fire Engines and several little Wickham petrol railcars. Nearer to our house was a narrow-gauge railway serving an ammunition dump in a wood, worked by a Simplex petrol loco. No-one was supposed to know about the depot and the story was put about that it was a Dummy Airfield. People still believe this! Neither of these railways ever appeared on any Ordnance Survey maps.
My mother told me about an accident she had with me when I was a toddler. It was wartime and the blackout was in place. We were returning from Basingstoke by train in the dark. Bramley was the first station, and when the train stopped my mother picked me up and stepped out onto the unlit platform….only the platform wasn't there! The train had actually stopped at Sherfield Signal Box. We were helped back aboard by some soldiers on the train.
Sherfield Signal Box, near the summit of Chineham Bank, has long gone, I remember it as a typical GWR wooden design, but by the time I was going to school by train in the 1950s, its signals had no arms, and the siding for the Daneshill Brick Works was rusty and overgrown.
Another pre-school memory was my first sight of a 'Packet', as the SR 'Merchant Navy' engines were called. This huge, strange shaped engine arrived and we went to look at lt. I was just a little four year old boy, and all of a sudden, this huge thing blasted off its safety valves and frightened the hell out of me. At that time the boiler pressure was 280lbs. Having recovered my wits, I could only admire this big bright green engine, with a roundel on the smokebox door, which I couldn't read. It was nothing like the engines I was used to. The wheels looked funny, with holes in them, and there was no chimney. The Guard gave the 'Right Away' and this huge thing began to shudder from side to side, its wheels spinning round without moving an inch. Incredible to me. The driver shut off steam and reversed the engine against the buffers. This time it began to move forward. What a wonderful engine...the GWR had nothing half as exciting as this.
We sometimes visited relatives who lived at Winnersh. This involved a steam train ride to Reading where we changed to the Southern station and boarded a Southern electric 2-BIL unit - and, with a toot on its air-whistle, we glided silently away. When it stopped, all you heard was the 'chug-a-chug' of the brake pump. Fascinating, but rather boring to a small boy. I did like the chime whistle, though.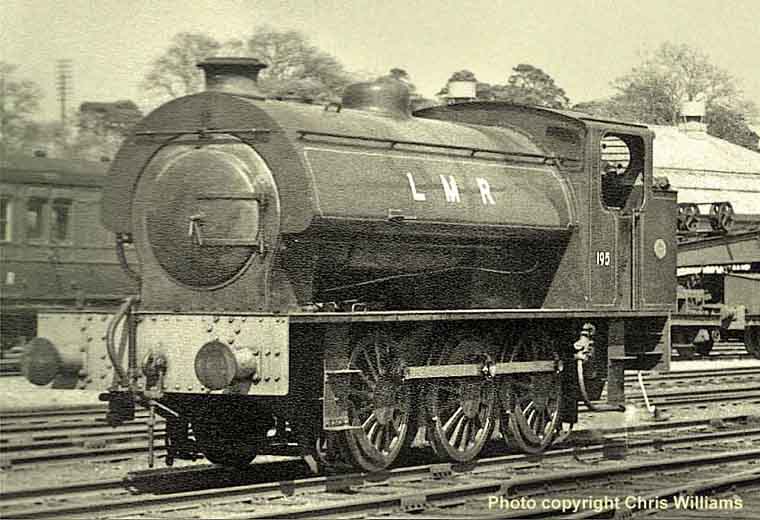 From the bottom of our garden I could see the Military Railway's little tank engines in their smart dark green livery and red coupling rods. All day long they puffed around the depot, blowing their LMS-type hooters accompanied by the musical clanging of wagon buffers and flanges squealing on the sharp curves. I also heard the occasional 'Boom' of munitions being tested, and on a very quiet day I could hear the Sergeant-Major drilling his men on the parade ground.
At one time in my childhood we went to visit my grandmother who lived at Dingle in Liverpool around 1952. The local train took us to Reading West, where we joined the Bournemouth to Birkenhead train. This took the West Curve onto the GWR main line, then the Avoiding line at Didcot and onwards to Birmingham Snow Hill. Here I recall leaning out of the window to chat with the very young fireman of a Pannier tank standing alongside in the centre road. A wheel-tapper came along, tapping the wheels with his long-handled hammer to see if they rang true. If the ring was cracked, then so was the wheel. He also felt the bearings with the back of his hand, feeling for a hot axlebox. I don't remember much of the journey, apart from writing down engine numbers in my notebook in true 'spotter' style. I saw one of the odd-looking Sentinel shunters, and I remember passing through Port Sunlight - what a strange name!
After our train terminated at Birkenhead Woodside (what wood?) we boarded the Ferry across the Mersey to Pierhead. We met my grandmother there amongst all the streamlined tramcars, then we went up to the station of the Liverpool Overhead Railway. This had rather ancient wooden electric units. The train took us all along the busy Docks, giving us wonderful views of the many ships. Then the Overhead Railway entered a tunnel into the underground station at Dingle.

After Nationalisation in 1948, it was the big school for me; I was given a Season Ticket from Bramley to Basingstoke but since it was just an ordinary green BR ticket, it made me envious of the boys from Mortimer who had proper Great Western tickets.
There was a bay platform at Bramley, owned by the Army, and in it were two Wickham railcars which took workers off the train to the various parts of the depot. In earlier days it would have been a saddle tank and an old clerestory coach, one of which still languished in the sidings. Later on they were using diesel locos and ex-London Transport Underground coaches. On leaving Bramley station, we passed the depot for the Army locomotives, which were always kept spotless, in typically Army style. Our morning train to school was usually made up of three Bulleid coaches, but sometimes older Maunsell ones were used, even an odd Maunsell open saloon from the Boat Trains was attached at times. Motive power for these SR coaches was normally a WR 6100 Prairie tank. Sometimes a 2251 Class 0-6-0 tender engine, which would have to be turned at Basingstoke, or a 9400 Class Pannier, and even a 5700 0-6-0PT, which would pant desperately up the gradient trying to keep time with its small wheels.




One day the train arrived behind a WR engine with a big dome and a tender! It was Reading's one and only Dean Goods. Usually working on the Reading Central Goods line, and now here it was out on the main line with a passenger train. God knows what Basingstoke shed made of that when it came in to be turned. The usual tanks just stayed on the WR line and ran round their train. The return journey after school was a

through working from Portsmouth to Reading. Three Bulleid coaches headed from Portsmouth by a WR 'Hall', usually 4995 'Easton Hall'. One evening we had 4900 'Saint Martin', the original rebuild. No idea how he got there!
The timetable still gave the train a fifteen minute pause at Basingstoke for an engine change and to pump up the brakes, although this no longer happened.
During this wait I usually saw the York - Bournemouth express arrive, LNER coaches and a 'Lord Nelson'. If I missed my normal train, it was possible to catch a 'Ghost Train' which left ten minutes later. This was a special working for the workers at Bramley Ammunition Depot. It came down from Reading in the morning, deposited the workers at Bramley, and then ran empty to Basingstoke, where it sat in the GWR sidings all day. It was three red-painted non-corridor coaches. In the late afternoon, a 61 Prairie arrived, and pushed it back into Platform5, which was the old GWR station. There it sat, unannounced, and no-one cared if a young schoolboy got aboard. No-one else seemed to know about this train, no other passenger ever got on it. It wasn't in the timetable. Sooner or later it departed, with no ceremony and ambled as far as Bramley station, where again it sat, crossing gates closed against it, waiting for its passengers. Later, this became a working for one of the GWR diesel trains, which also sat at Basingstoke all day. I suspect that the whole operation was paid for by the Army. If I was very late - Games Night or something - there was a bit of a treat to make up fort. The six o'clock to Reading was usually hauled by a LSWR T9 4-4-0. 30726 comes to mind - she was a Basingstoke engine. The sight of this old lady, simmering in the lights of the level-crossing at Bramley, was magic.
Having time to spare in the morning, between arriving at Basingstoke and having to walk up the hill to school, a bit of spotting was in order. There was usually a 'King Arthur' around on shunting duty, with 30745 'Tintagel' or 30455 'Sir Lancelot' doing the job quite often. The entire 'Remembrance' class were Basingstoke engines. I was a bit puzzled at why an engine with a memorial plate to the men of the LB&SCR should be here in L&SWR territory. They often worked up to Reading and even Oxford. Goods trains came through with H15 or S15 engines, and sometimes a couple of electric units would come by hauled by a steam engine, whilst a 700 class 0-6-0 'Black Motor' was often standing around.


The train announcements at Basingstoke station seemed to be made by whoever was nearest the microphone at the time, often in a broad 'ampshire accent. 'Baysingstowke, this is Baysingstowke'!
This was quite different to the plummy lady announcer at Reading. My favourite was the train for 'Weston Soopa-Mare'. She also made the odd announcement telling everyone that 'The Diesel train has NOT arrived at platform nina!'
Sometimes I would go up to Reading for a day's spotting. As they say - 'All Great Western engines look the same' and sound the same. Their numberplates were more difficult to read, particularly from a distance or if they were dirty. Not all were dirty, though, and I once saw a Cheltenham Race train, with not one, but two, immaculate locomotives. Another time, I was talking to the driver of a Pannier Tank sitting in the Bay, when a train pulled in on the main. 'First one of those I have seen' he said, pointing to the Travelling Post Office coach in the formation. What he was referring to was the 'E II R' on the newly painted vehicle. It was shortly after the Coronation.
The highlight of the morning was when a strange musical whistle was heard in the distance, and the 'Red Dragon' roared through, with an enthusiastic Cardiff driver in control of a spanking new Britannia. Like the Southern diesels, I was not very impressed when one of the GWR gas-turbine locos came screaming through. I think it was the Swiss-built one. I did have a fondness for the GWR diesel railcars though. One was often in the Newbury Bay and I sometimes rode it to Reading West. It had a Buffet in the centre car, but it was never used. Again, our lady announcer always referred to 'The Diesel train for Newbury'. She seemed to have a liking for diesels.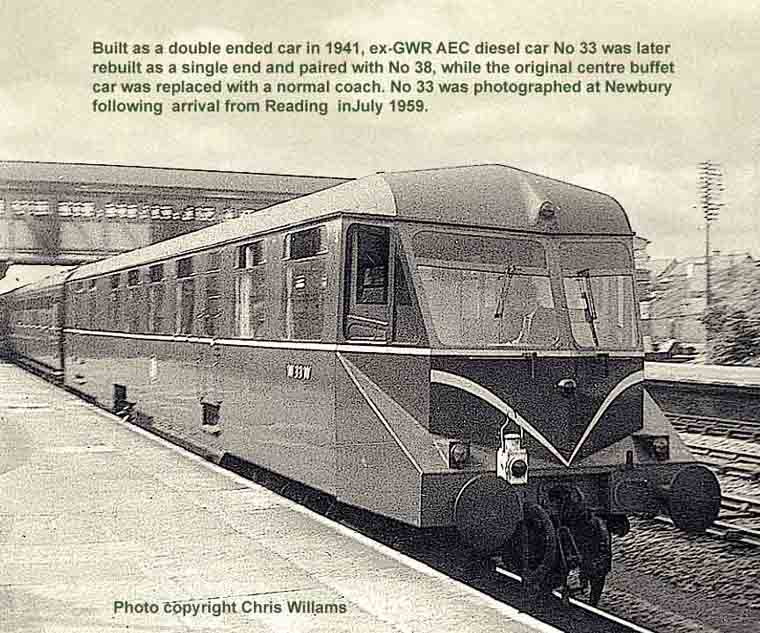 In May 1953 'Bibby Line' of my favourite Pacific class suffered a broken axle at speed. As a result the whole class was withdrawn from service and replaced with LNER V2s and BR Standard 'Britannia' locomotives, causing great interest among spotters. Later the 'West Country' and 'Battle of Britain' classes were temporarily replaced by LMS Black Fives. Apart from this excitement, things stayed much the same for the rest of my school years. The older Southern engines were slowly replaced by BR Standard designs, but the Western Region seemed to carry on as ever.
Some years later, I was standing on the platform at Basingstoke in 1957 and was astonished to see an electric train coming up from Eastleigh. How could this be? As it rolled into the station it was making a deep 'thumping' noise from its diesel engine…it was my first sighting of a newly-built 2-car 'Hampshire' Class 205 unit, commonly known as a 'Thumper', a unit that I became very familiar with over the years.




On leaving school in 1957, I began my working life at an engineering firm in Basingstoke, travelling there by bike. Around this time I spent my summer holiday roaming the Southern Region with a Rover ticket, which allowed me on any Southern train. I visited many branch lines, unaware that within a few years they would be closed. The line to Plymouth was covered, although I have to say I don't remember going over Meldon Viaduct, but of course I had, in both directions. All the little branches to such places as Lyme Regis, Sidmouth and Budleigh were steam operated, sometimes pull & push workings. One evening I was at Bournemouth and caught a pull-push train to Brockenhurst the long way round, via Ringwood. I sat in the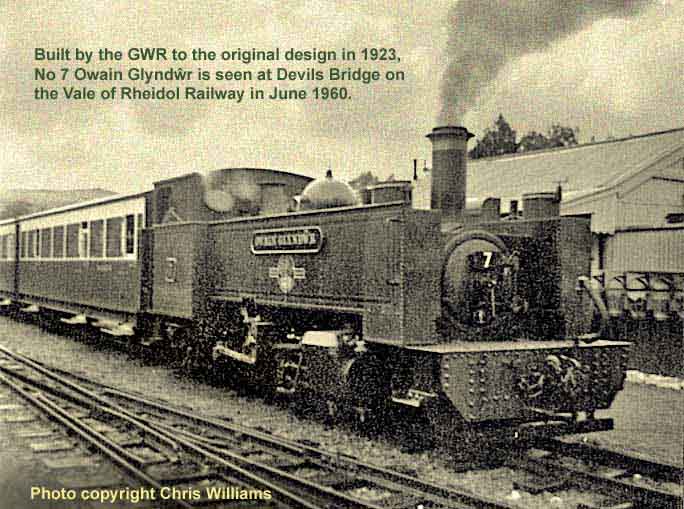 front compartment of the two car set, pushed by an M7 0-4-4 tank. All I could hear was the wheels going over the rail joints, and the occasional toot on the air operated chime whistle.
I went to Hastings on one of the new 'Hastings Diesels', rode the little train on the Romney, Hythe and Dymchurch, and various other lines. I wish I had kept a record of it all. It was certainly very good value for the money. Another summer I did much the same on the Western Region, visiting Three Cocks Junction, Hay-on-Wye, Machynlleth, the Tal-y-llyn, the Ffestiniog and the Vale of Rheidol. I rode the once a day, summer only, train from Carnarfon to Llanberis and caught a train to the summit of Snowdon on the Mountain Railway. Again, such good value.




In 1959 I went on a special train visiting some of the freight-only branches in the south. It was two coach pull & push set No 6, with M7 tank 30111. Starting from Portsmouth Harbour, we visited Lavant, Bishops Waltham, Droxford and Gosport…all now long gone. In Hampshire, most of the services off the main line were being run by Thumpers…except one. The Didcot, Newbury & Southampton line was still steam worked, GWR coaches, SR T9 4-4-0s, WR 2200 0-6-0s and Moguls from both companies. I wonder how many people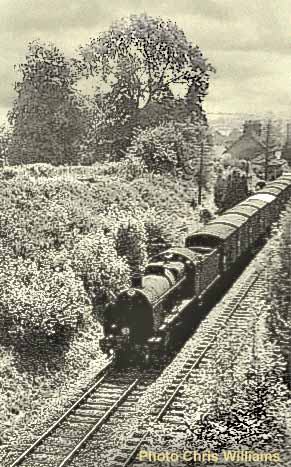 in Winchester know there was once a Great Western station there. It was much nearer the City centre than the Southern one, but hidden up a side street.
I made several trips on the The Didcot, Newbury and Southampton Railway (DN&S) to Newbury or Didcot; I did it just for the pleasure of riding on this lovely, lonely line; see photo (left) ofMogul 31793 heading a northbound van train through Highclere station in July 1959. Often it seemed I was the only passenger, and its existence depended very much on its freight traffic. Incredibly, after it closed to passenger traffic in 1960, a northbound 'Pines Express' was diverted over the line due to a derailment at Reading.
A few Class 9F 2-10-0 freight engines were based at Eastleigh for a couple of years to handle the oil trains which used the DN&S, but sadly the line closed for good in 1965 and much of the line now lies under tarmac. After closure, I tried to walk through the tunnel at Winchester, but after stumbling over a set of points in the dark, I gave up. It is now used by the City Council for storage. I also walked across the viaduct at Hockley, the rails still in place. It is now a public footpath and cycleway.
After a few years, I changed my job and went to work in Reading; my morning train to Reading was usually headed by an Oxley based 'Hall', which had presumably brought down an overnight parcels train. Once we were blessed with a '2800' Class 2-8-0 freight engine in the middle of winter with no steam heating! Another time our miserable three SR coaches were headed by a gleaming 'Castle'. God knows what that was doing there! If there were no Western engines available, a Standard Class 4 or 5 normally replaced it. The Fives

were noticeably faster than the Halls, or perhaps the drivers pushed them harder? We once had a 'West Country' and on one occasion, unbelievably, an L1 4-4-0.
Those were the days!
You could never be quite sure what would turn up.
Returning from Reading in the evening was usually in the care of a 6100 Prairie tank, so speed was not on the agenda and they were short of power on the 1 in 106 gradients, even with only three coaches. Sometimes if the train was lengthened to six coaches, they really struggled. One evening the engine seemed to struggle even more than usual, the brakes were coming on and we eventually came to a stand. After a while, the crew managed to get them off enough to move and we struggled to a stand again, nearer to Mortimer. Eventually a 'Hall' was sent 'Wrong Road' from Reading, reversed at Mortimer and backed down to the train engine. The brakes came off and we were away. The odd sequel to this is that the very next evening my train had the same two engines on. Had they been coupled together all that time? Who knows! Two engines for three coaches seemed a bit extravagant.
Not long after this the line was dieselised, at first with Western Region mechanical units, which again struggled with the gradients, dropping down into third to get up the 1 in 106 past Chineham. There was also the time, one frosty evening, when we sailed right through Mortimer, all wheels locked and a worrying swishing noise from below. The approach to Bramley was much more cautious! These things also stank of paraffin when the heating was on, and vibrated horribly. They did not compare well with the older GWR diesel trains.
After a while, most services were taken over by Southern Region's 'Thumpers', although for many years the last train to Reading, and the first back down were still worked by steam engines, usually a SR 'U' Mogul, which stayed at Reading overnight. The 'Thumpers' were solid, reliable units, with their 600hp diesel generator powering what was essentially an electric train. I remember how they thumped steadily up the gradients, only once having trouble due to wet leaves on the tracks. The single power bogie was, for some reason, at the opposite end of the coach to the heavy diesel engine. We eventually got to the summit, with a lot of whining from the spinning motors.
Meanwhile the through trains, both freight and passenger, were still steam. LMS 'Black Fives' and 8Fs became more common, and after the DN&S had closed, 9Fs began to appear. I remember lying in bed one quiet night and hearing an owl answering the hoot of an 8F. I could hear the locomotives climbing the gradients both ways out of Bramley.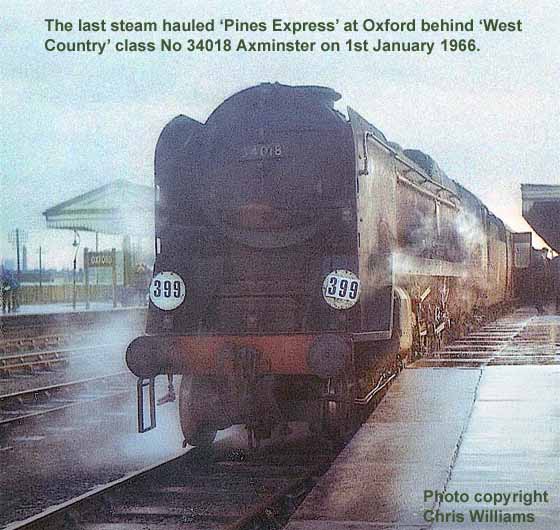 In 1962, the Somerset & Dorset line closed, and its famous train, the 'Pines Express' was diverted to our line. It was usually worked by a Bulleid Pacific, the locomotive being changed at Oxford for a GWR 'Hall '
The York - Bournemouth train was usually worked either by Bulleids or Halls, the latter running through to Poole. This train came down via the Great Central until it was foolishly closed. In the mid-60s Freightliner trains began to appear, carrying containers to and from Southampton Docks. These were usually worked by Class 37 diesels in pairs. They made a great sound as they powered up the gradient.
But by now steam was rapidly disappearing. Reading shed closed on 1st January 1965, followed by Oxford shed on 1st January 1966. I travelled up to Oxford that day on the last steam powered Pines Express; surprisingly there was only one other enthusiast on this train. At Oxford, the shed was open to everyone, most of the engines cold and dead. A few were still working, brass plates removed. There were all sorts, mostly GWR, but also a 9F, WD 2-8-0, an LMS 8F and the Bulleids off the Pines. Since all GWR engines were now withdrawn, the York - Bournemouth arrived behind a Banbury Black Five, which continued on to Poole. From now on this train was the only steam train to be seen between Basingstoke and Banbury. It was worked alternately by Black Fives and Bulleid Pacifics, the Bulleids working up to Banbury for servicing. So for a few more months we still had steam going through Bramley. No more GWR whistles though.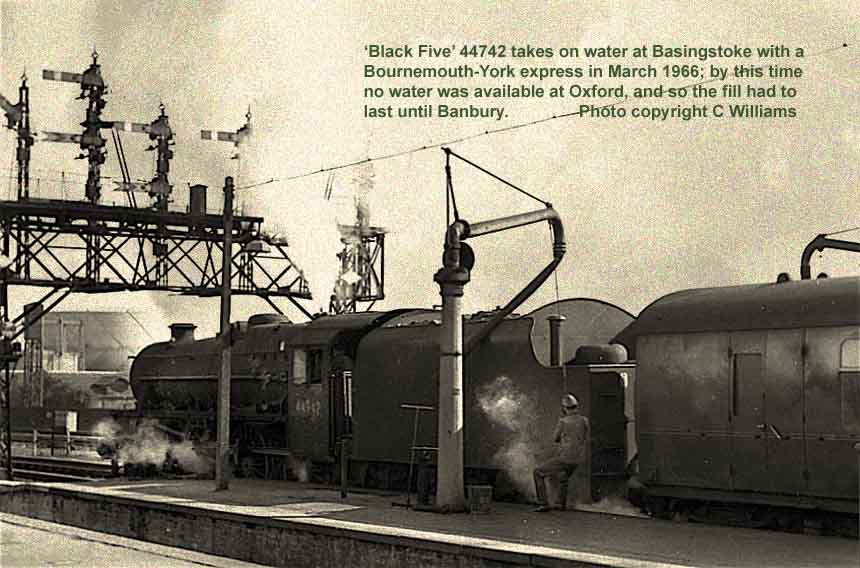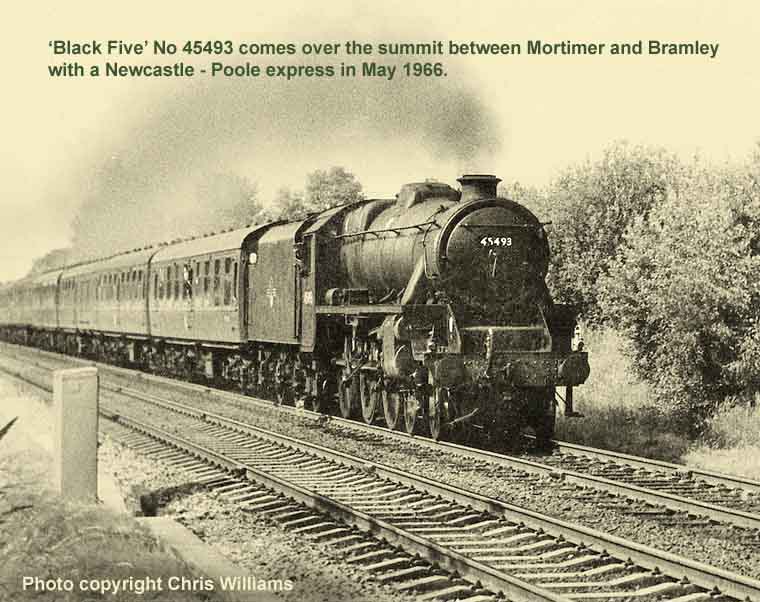 It all finished with the Summer timetable, 1966, when Class 47 diesels took over, going into Reading General and running round their train instead of calling at Reading West and going round the West Curve. A strange working was the first train out of Basingstoke in the mornings; a Western Region DMU with 'Paddington' displayed in its destination blind. It ran all-stations to Slough, then fast to London. There was a return train from Paddington in the evening. So, probably for the first time, you could catch a through train from Bramley to Paddington!
When the Southern main line was electrified, and steam disappeared, I lost interest in the whole thing, built a boat and went off up the canals. Nowadays, the local trains are clapped-out Sprinters and the through trains are Voyagers. The freights are hauled by Canadian diesels and the line is scheduled to be electrified on the 25kv overhead system into platform 5 at Basingstoke. No-one seems quite sure what will happen when the high voltage AC trains join the 750v DC Southern system. The freight operators will probably carry on using their diesels, which can run anywhere.
So, what started out as a Broad Gauge branch line from Reading has become a major route. The inhabitants of Bramley now complain that the village is cut in two by the frequent closing of the level-crossing gates. The Military Railway has long since gone, although for a time there was an old BR DMU lying around for terrorist training by the Territorial Army. Much of the sight is now housing, whilst one or two of the saddle tanks have survived in Preservation.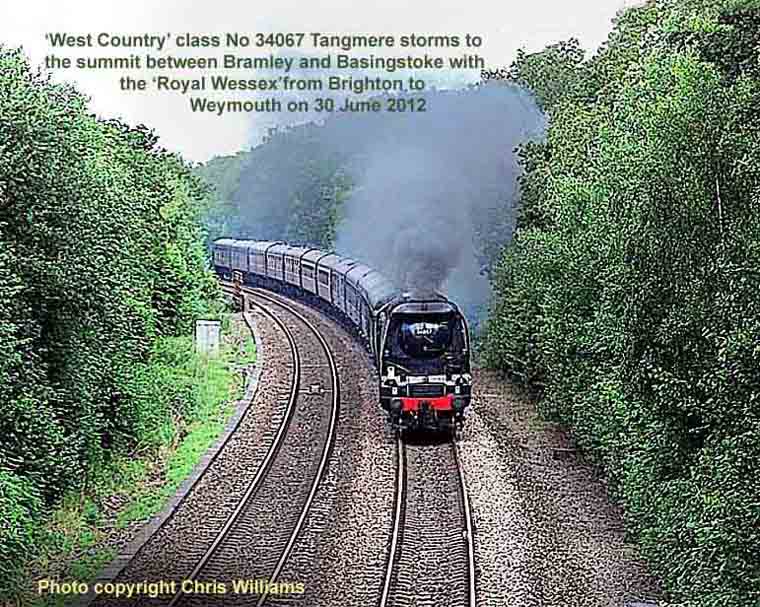 Spencer Jackson's Railway Memories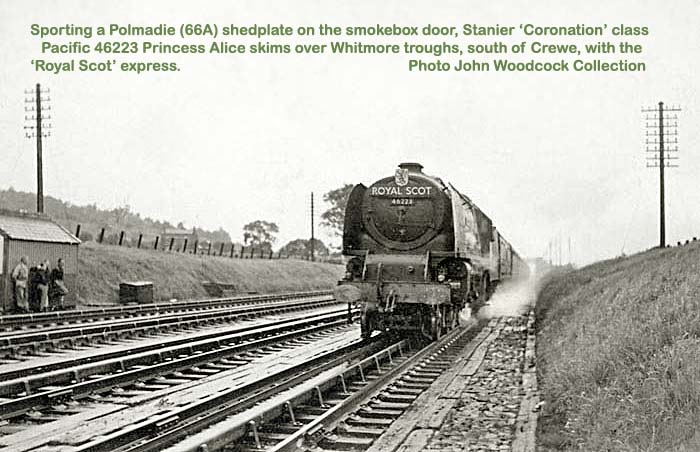 (Above) The photographer is about to get a good drenching! Photo courtesy Spencer Jackson's website; Spencer has been interested in steam railways for as long as he can remember. He spent many hours train spotting from 1952 to 1955, before he took an interest in railway signalling, visiting 23 signal boxes. Spencer worked for British Railways from September 1958 to June 1963, starting at Kidsgrove Booking Office (6 miles north of Stoke-on-Trent) and finishing at Brent (Cricklewood, North-West London) as a goods guards clerk.
Spencer has compiled his own website of railway memories; he writes - 'Did you ever say as a child - 'Mum, I'm really bored. What can I do?'
Well, I did once, when I was about eleven.
'Why don't you go and watch the trains at Chatterley. You know where it is. Catch Brown's 'White Fleet' bus for Tunstall, like we do when we go Tunstall Park, and get off at Chatterley, where the railway tunnel is…'
I knew it well from travelling on the bus, because I always looked out of the window as the bus crossed the bridge spanning the railway cutting just before Hardcastle Tunnel. I caught the bus and arrived at Chatterley, located about 4 miles north of Stoke-on-Trent. There was another lad there, and he told me that at one o'clock there would be a 'namer' coming through…
'What's a namer?' I asked.
'An engine with a name, of course,' he replied.
Sure enough, almost exactly on the dot at one o'clock, (later I was to learn that the booked passing time at Kidsgrove, 1½ miles north of Chatterley was 1.03 pm), the 'double peg' came off for the Stoke direction, and after a couple of minutes the 12 noon Manchester London Road to London Euston came out of the tunnel mouth headed by No 45701, a 'Jubilee' class locomotive….and there on the side, and I can still see it now, was the name 'Conqueror'.
It wasn't long before I found out where one could see dozens of 'namers' in a single day. That was Crewe, of course. Soon after starting at Wolstanton Grammar School in 1953 I found out that a lad in the same class, Malcolm Sutton, was also interested in train spotting, and we spent most of a Saturday on the footbridge at the north end of Crewe Station. There was always something different to see there. I remember a 'string' of three or four engines coupled together, one in steam pulling the other 'dead' ones, which would either come under the road bridge from Crewe South shed heading for Crewe Works, or be heading in the opposite direction. Those going into the works would appear rusty and dirty, those coming out clean and shiny. The air coming out of the open steam cocks would make a strange sound. There was some excitement when the cry 'String' was heard, because often a string would contain engines we had not seen before, possibly from some faraway shed.
What I remember most, I think, was standing on the footbridge looking down into the chimney of a 'Duchess' or a 'Scot' standing in platform 2…who cared if you got a black face, the smell was worth it!
Click HERE to read Spencer's railway memories on his website…well worth a visit.'


(Below) The World Wide Web is just that - worldwide! Its muscle circumnavigates the globe and several ex-pats have written in to say how much they enjoy reviving fond memories of train spotting on these pages. I've received an email from Alan Grange, now residing in sunny California, who writes - 'Just spent the last couple of hours reliving my Scottish railway bashing via JP Stoddard's excellent recollections on page 71. Tremendous! I am sending a shot of some spotters standing alongside the now-preserved 'Taw Valley' at an unknown location on the Southern Region. Perhaps the lads might recognize themselves. Thanks again for all your efforts. Sincere regards, Alan Grange.'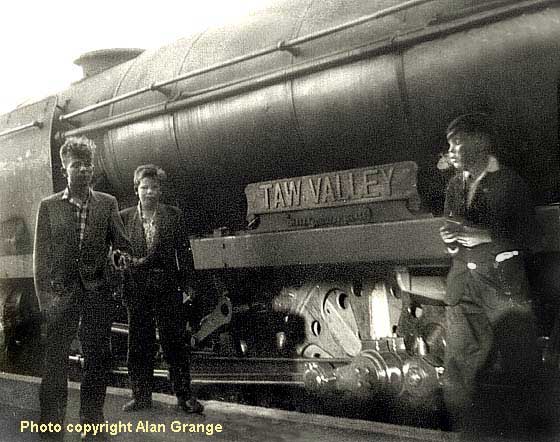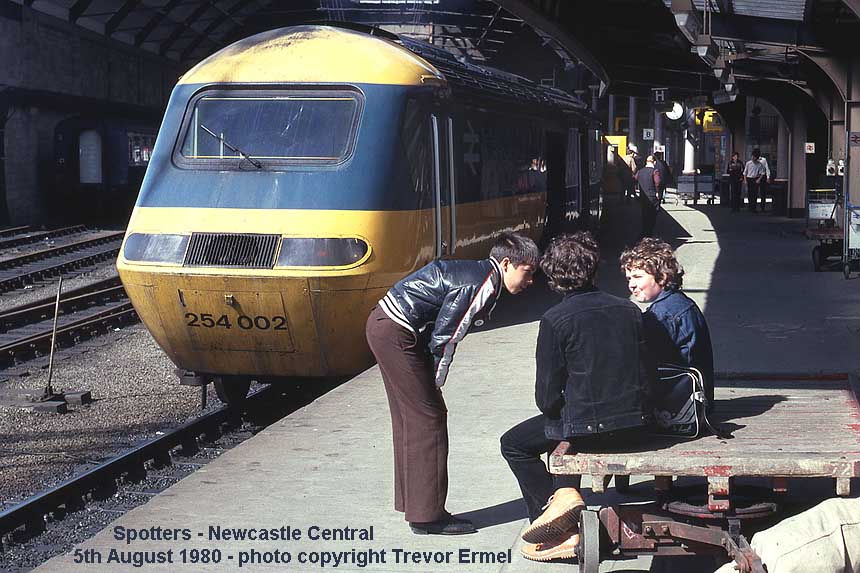 (Above)
What appears to be a conspiratorial discussion between three young spotters is caught on camera by Trevor Ermel at Newcastle on 5th August 1980...could this be you? It may be thirty-odd years ago, and you're probably suffering a mid-life crisis by now, but perhaps the following diary of events might jerk the memory - topping the charts that week was Odyssey's 'Use It Up and Wear It Out' and Newcastle United finished 9th in the old League Division 2. The 1980s kicked off with another all too familiar nationwide strike, this time by British Steel workers demanding a 20% pay rise. In February, figure skater Robin Cousins won an Olympic gold at the Winter Games in Lake Placid New York, and the BBC aired the first episode of the popular political television sitcom 'Yes Minister'. In April 1980 the SAS stormed the Iranian Embassy in Knightsbridge in Central London, Liverpool won the First Division title for the 12th time; West Ham won the FA Cup with a 1-0 victory over Arsenal and Nottingham Forest beat Hamburg SV 1-0 in the European Cup Final...but it wasn't all good news - by May inflation had risen to a whopping 21.8% and Margaret Thatcher's Conservative Government was trailing James Callaghan's Labour in the opinion polls. In July, Alexandra Palace was gutted by fire, British athletes won 5 gold, 7 silver and 9 bronze medals at the Moscow Olympics Games, and Ford launched the Mark 3 Escort, a front-wheel drive hatchback rather than the traditional rear-wheel driven earlier models. By October, the 1980 Housing Act came into effect which gave council house tenants the right to buy their home; British Leyland launched the Austin Metro and Margaret Thatcher made her famous - 'The lady's not for turning' speech at the Conservative Party conference in response to complaints that her economic policy was largely responsible for the current recession and rising unemployment...ring a bell with anyone? It is amazing how history has a habit of repeating itself...

Spotting Days Remembered
by Michael Hill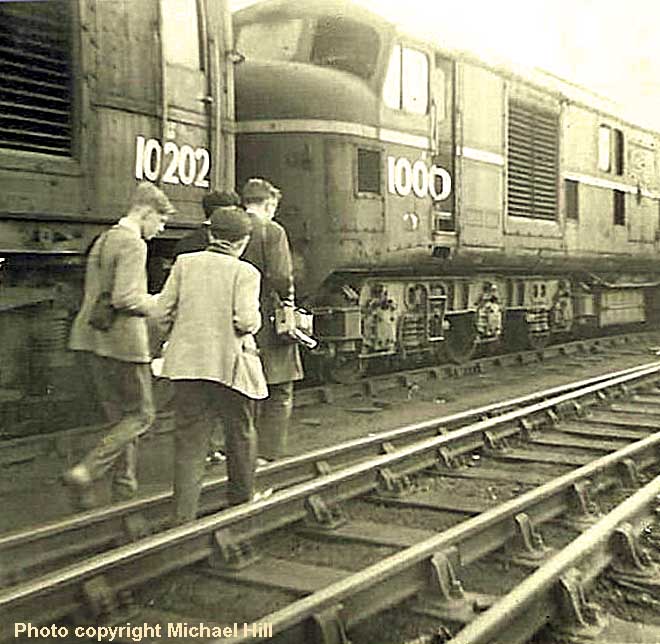 I've received a chatty email from ex-pat Michael Hill, now living in Vancouver Canada, who has fond memories of childhood spotting days. He writes - 'Hello David, I've just spent a pleasant thirty minutes or so browsing your 'Doncaster' web page 7. I got there via a circuitous route; I was doing my daily read of Wikipedia's front page and there was an article on the Flying Scotsman. Well, one thing led to another...
I spent most of my childhood in Batley Yorkshire, living in a big old Victorian house adjacent to the main line about one mile away from Morley tunnel. When I was old enough to go out and about by myself, I made frequent trips to Leeds and Wakefield with my duffel bag containing the Ian Allen books, some coloured pens and a few sandwiches etc.
Well, before emigrated to Canada in April 1964 mum and I spent the last two weeks in England at my grandmother's house in Derby. I guess mum felt sorry for me and booked two seats on a steam excursion from Derby to Crewe Works and Derby Works, hauled by Class A3 60051 Blink Bonny. Derby Works at the time was undergoing great change but steam facilities were much in evidence and there was still significant steam hauled traffic around.
I managed to get some photos (below) with my very cheap box camera. There is a shot of Blink Bonny, and one of 70000 Britannia which was in steam sitting on a shed track at Crewe. When I 'cabbed' 70000 I felt like King of the world!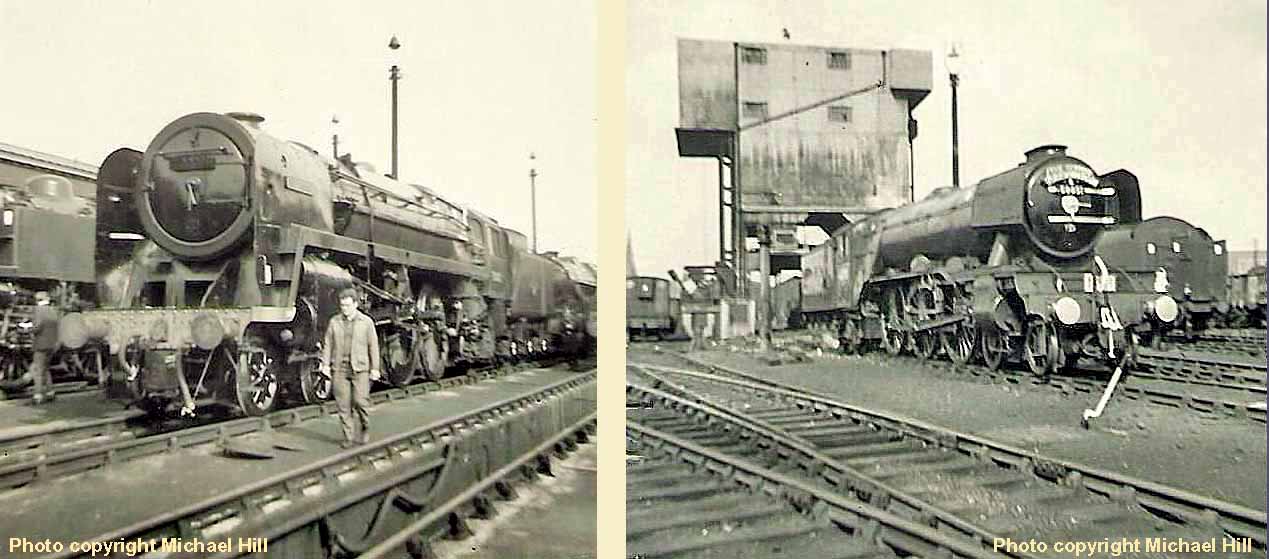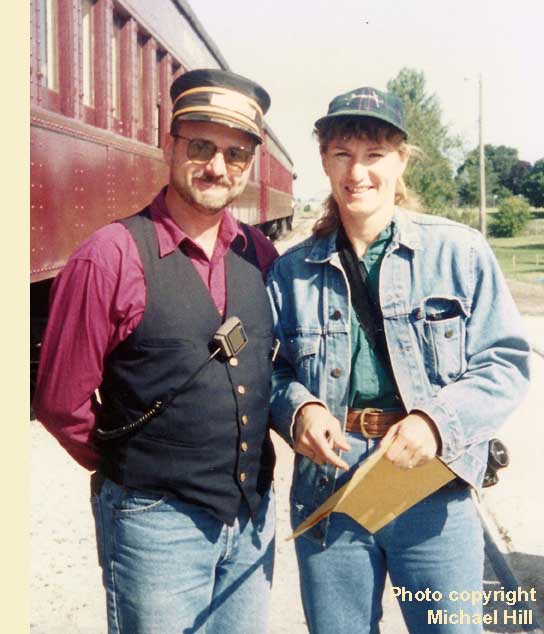 In later years I became involved with the historical South Simcoe Railway (SSR) Tottenham, Ontario; the six miles of old track is part of the line that previously ran from Hamilton to Barrie and north. The SSR has two old CPR steam locos - No 136, a very old 4-4-0 that has featured in a couple of CBC documentaries, several movies and numerous TV shows. The other is a 4-6-0 No 1057 that is a real beast to fire and run. I enclose two pics from those days; the first (right) is me as conductor (my uniform was in the cleaners that day!) with the teacher who brought a group of schoolkids (below) who gathered around to 'cab' the loco at the end of a run.
I recently made a pilgrimage to England in October 2014 after an absence of 42 years, and made a bee-line for the GCR in Loughborough for the annual Autumn Steam Gala. Then a week later I enjoyed a stay in Pickering and a trip on the NYMR. Bloody fantastic! Thanks for the outstanding web pages. Michael Hill, Vancouver, Canada…'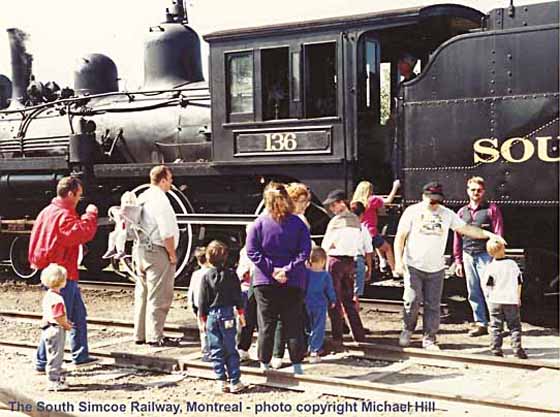 Spotting Memories
by Keith Mitchell

Hi David, you asked me to send some old steam photos which I've wrapped up in a narrative of my childhood train spotting days. It began when my older brother gave me an Ian Allan Southern Region ABC. I was just 8 years-old, and at that tender age I was dependent on him taking me 'down the railway' on the main line just west of Wimbledon.
Not much later I copped my first 'foreign' engine, a Fowler Class 4F on the West London line at West Brompton during a trip on the District Line to either Earls Court or Olympia. As a result I received my first Ian Allan combined volume at Christmas 1959, which is still on my bookshelf today. Acting on my brother's advice, I took a notebook when out spotting numbers, and then underlined the 'cops' on returning home.
When not venturing further afield, I regularly visited the same location near Wimbledon where a crowd of spotters used to gather on a footbridge near Wimbledon C box which controlled the junction of the line to Sutton. It was also the country end of Wimbledon goods yard. When waiting for the 'Atlantic Coast Express', 'Royal Wessex', or 'Bournemouth Belle' we used to watch various locos shunting the yard. At first these could be C2X, 700, Q1, U or U1 classes, but as time went by they were replaced by Ivatt 2-6-2 tanks or BR Standard 2-6-4 tanks, and even the occasional ex-GWR pannier tank.
On more than one occasion the loco driver was a bit heavy-handed with the regulator and sent a wagon hurtling down the siding until it hit other wagons with an almighty crash and a huge cloud of dust. For anyone restoring old wagons on today's heritage lines come across bent frames and buckled buffer beams, that's how it happened!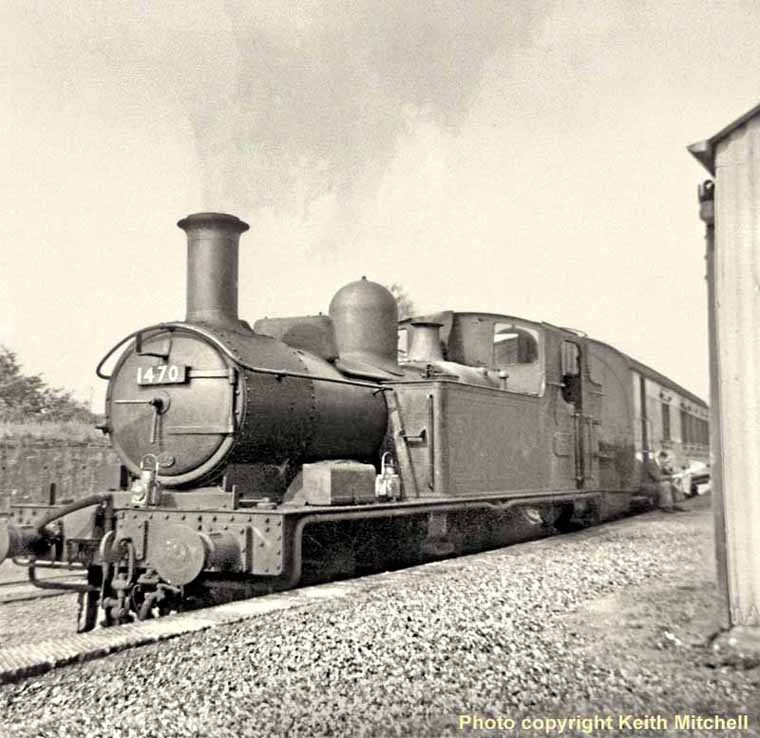 (Above-Below) My first camera was a Kodak Brownie 44A. but I have only one train picture. When on holiday to Devon with my parents in August 1962, I took this picture of a Class 0-4-2Ts No 1470 at Culmstock station on the 7½ mile-long Culm Valley branch between Tiverton Junction and Hemyock. Not long afterwards my brother gave me an old Werra 35mm camera which had a good quality lens, but could I do it justice? Frankly most of my pictures were rubbish. My first attempt was in the spring of 1963 at Raynes Park station (below) of BR Standard Class 5 No 73029 speeding through with a Waterloo-Bournemouth express. By this stage the Nelsons, Arthurs and Schools had been replaced by BR Standard Class 5s and 4s. The BR Standards always sounded like they were being driven hard, but maybe we were used to the soft exhaust from multiple jet blastpipes of their predecessors. The young lad in the foreground of the picture is my spotting pal Barrie Shapland. Shame the picture isn't much good.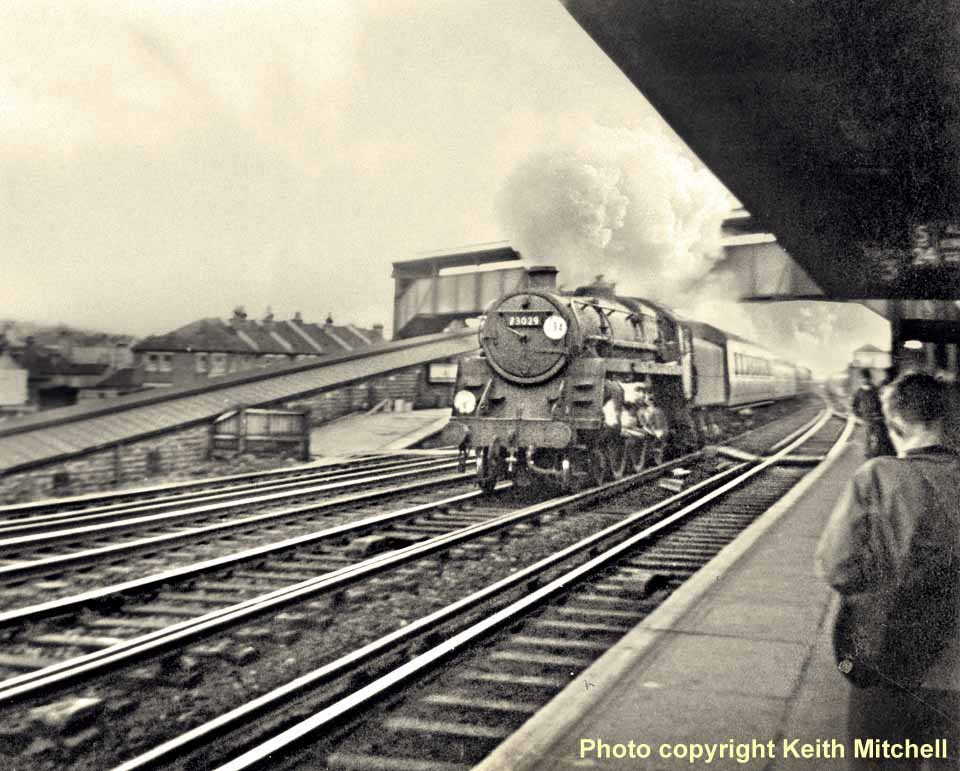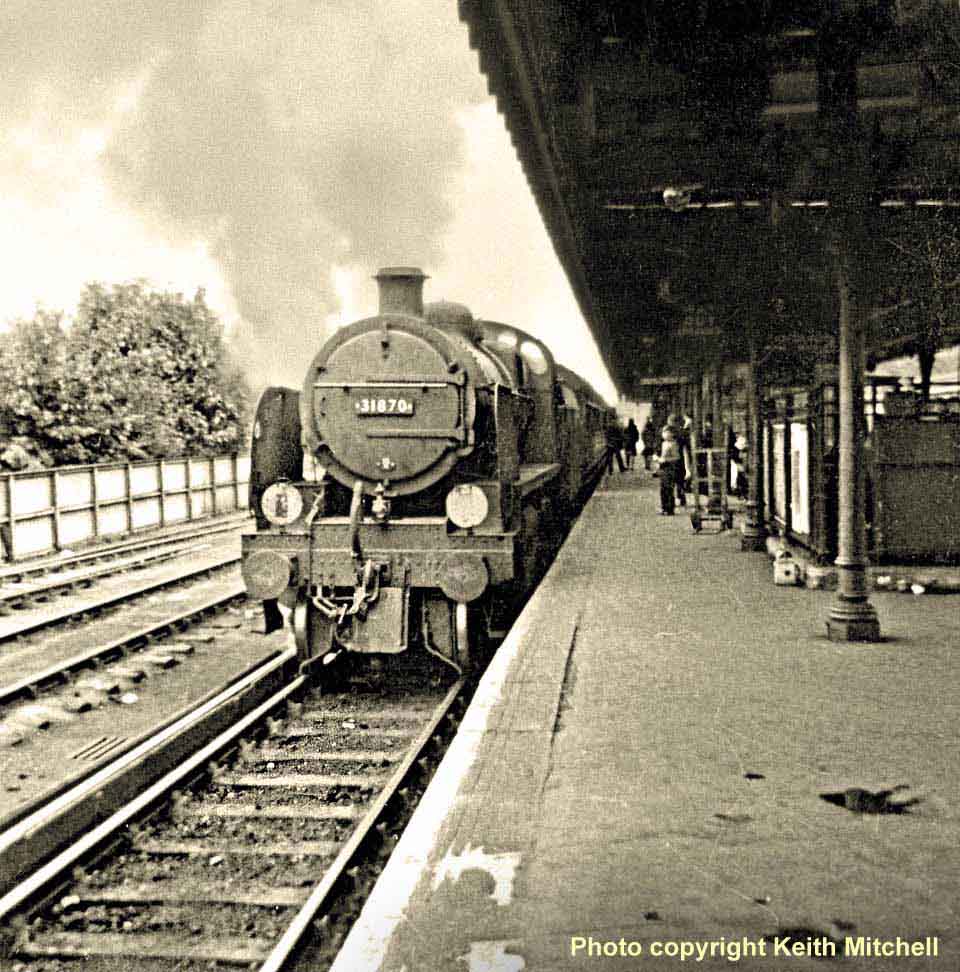 (Above-Below) Later that year Barrie and I went on a day Rover ticket in August. During the day we changed trains at Guildford. Our train was hauled by 'N' class No 31870 which I photographed after arrival at Redhill. On occasions Barrie and I used to spend all day going around London's termini stations and getting chucked out of places like Old Oak Common depot. It was during one of these trips in 1963 that I took this picture of Class A1 No 60144 King's Courier awaiting departure from Kings Cross.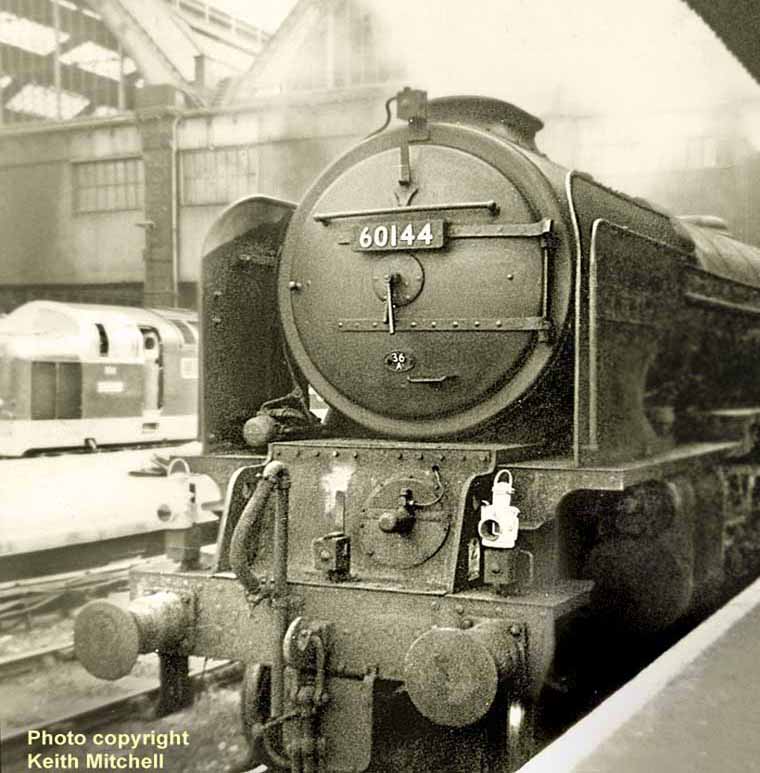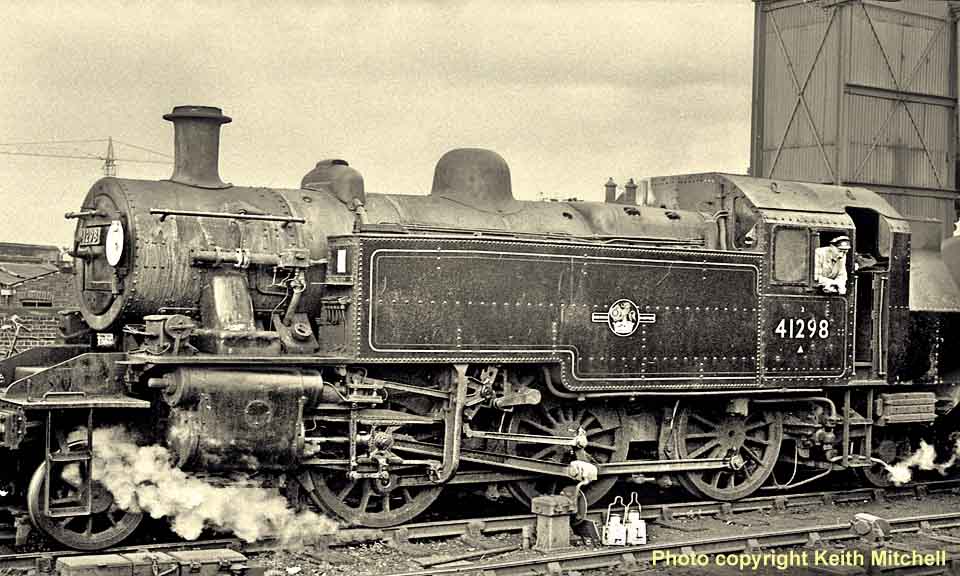 (Above-Below) I didn't appear to take many more pictures of any use until 1967, by which time I woke up to the fact it would soon be all over for steam. There was still an occasional steam-hauled express passenger train so I went towards London for more photo opportunities. I have included these pictures of an Ivatt 2-6-2T No 41298 at Clapham Junction and BR Standard Class 4 2-6-4T No 80085 at Waterloo, however all the other photos I took appear to have a shutter fault, with a light patch down the centre of the frame.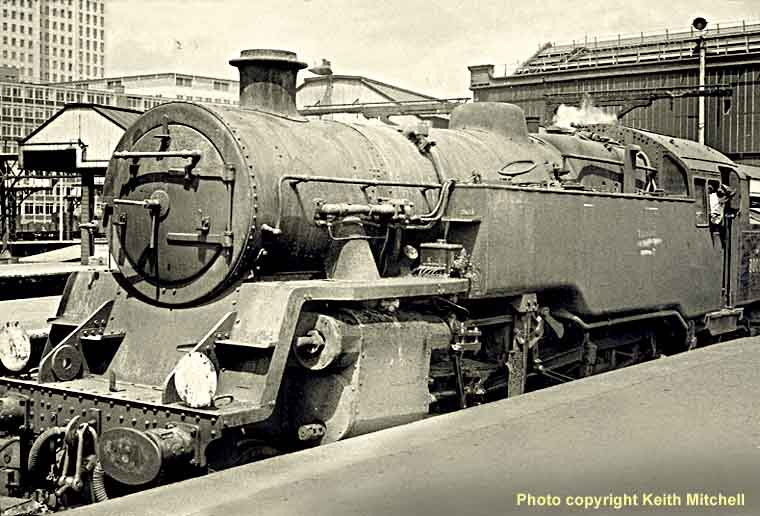 (Above) At least my final shot of 'Merchant Navy' class Pacific No 35028 Clan Line with the Farewell to Steam in July 1967 is slightly better. This was taken from a favourite footbridge vantage point from childhood spotting days near Wimbledon. After that I ignored railway photography for years. In 1980 I shared an office with Matthew Wells, who already had his first book 'First Stop Maidenhead' published. He later wrote another book about the Isle of Wight railways. His enthusiasm fired me up and at one point we started a photographic survey of all Southern region stations, but as the saying goes…that is another story.


Spotting Adventures
by Brian Edgill

I guess that during World War II, parents of trainspotters gave their children a lot more freedom to go off hunting down 'cops'. Having lived in London throughout the war and, for periods, experienced nightly bombing (the girl who sat next to me at school had a bomb in her back garden) and the odd doodlebug (one flew just about 500 feet high over my house at Mill Hill), going off collecting engine numbers was a reasonably risk free activity.
I lived near the LMS line to St Pancras which may well have been a target but the bridge over the line near Apex Corner was a good meeting place. Four of us used to do what we called 'the round'. This comprised weekly visits on a Sunday, on our bikes, to four engine sheds - Neasden (Marylebone line), Old Oak Common (GWR), Willesden (LMS to Euston) and Cricklewood (LMS to St Pancras). We had a system of coded phone calls to allow each other's phones to ring a specific number of times to establish who was going and who wasn't (probably illegal for using up their electricity).
Bunking the sheds was not too difficult. Sunday was a relatively quiet day and we knew where there were panels missing from fencing to gain access. We also knew where the foreman's office was (to be avoided at all costs). If caught you were only ordered out but engine drivers and firemen rarely took any notice of us. Being a reasonably fit teenager had its advantages, I recall at Stockport out running a youngish railway policeman!
We travelled far and wide and my knowledge of Britain's towns was soon second to none. A friend and I put our bikes on a train and went to Sheffield where I had relatives. They put us up so we could visit the local engine sheds. Then we made a further train journey to Carlisle where we started our serious cycling (and number collecting) heading north to Inverness via Glasgow, Dundee, Aberdeen and then back via Aviemore to Edinburgh plus innumerable smaller towns en route.
Another epic cycle trip with a friend was from Mill Hill to Swindon and back in one day to visit Swindon works where steam engines were lined up waiting to be scrapped. Yes, I do admit that we thumbed a lift in a lorry for part of the journey from Reading to Swindon (yes, you could actually thumb whilst cycling!) but all the rest was a hard slog. My friend only made it back to Reading where he phoned his dad to come and collect him. I got home at 2 am.
I guess the trip I made on my own aged 14 to Wales is noteworthy. I was going on holiday with my parents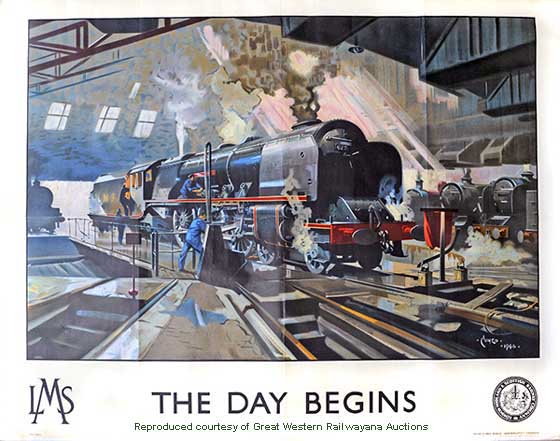 to Aberystwyth. I left the night before and caught an overnight train to Newport. It was about 5am when I bunked a shed there, then on to Cardiff and up the valleys and back. My next train would take me to Swansea. I was standing on the platform at Cardiff talking to the engine driver when he asked me if I would like to come onto the footplate. Amazingly I was allowed to stay there for the whole journey to Swansea!
Arriving at Swansea I had missed the last train to Aberystwyth. My father had told me that if I ever needed accommodation to ask at a police station. I found one and put this idea to them. Perhaps my dad got it wrong as I was asked what time my train was and then told to 'Mind how you go!' I found an unlocked car and went to sleep on the backseat. At about 3am I was woken by a torch shining in my eyes. It was the same policeman who simply said - 'Oh, that's where you've got to - well make sure you wake up in time!'
I joined my parents for breakfast at their boarding house a few hours later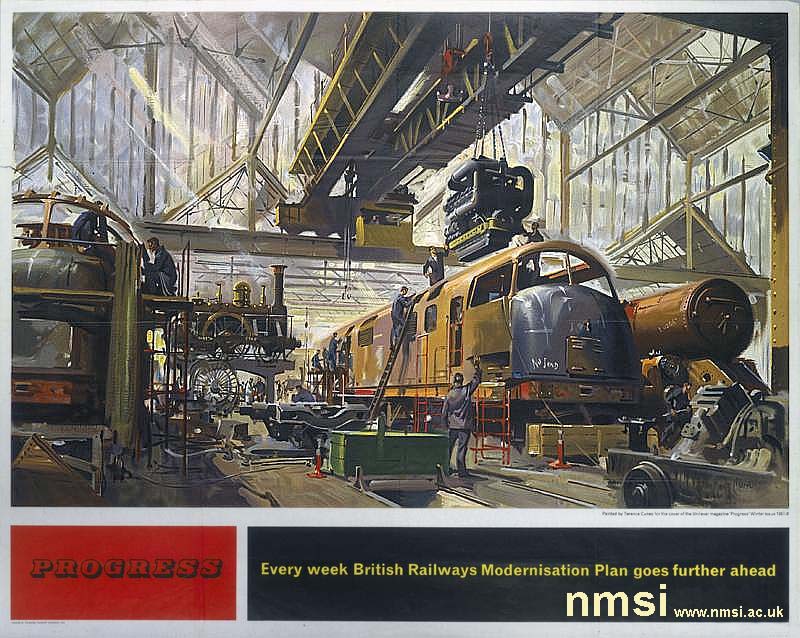 (Above Left) A famous LMS Poster 'The Day Begins - 1946' by Terence Cuneo, measuring 50" x 40", shows a wonderful image of Princess Coronation Class locomotive City Of Hereford being prepared on the turntable at Willesden shed. This vibrant poster went under the hammer for a whopping £6,100 at a Creat Western Railwayana Auction in November 2012...click HERE.

(Right) Another British Railways poster - 'Progress' - by Terence Cuneo was published in 1957 and depicts the interior of Swindon Works during the construction of the new 'Warship' class diesel hydraulic locomotives. The illustration shows a power unit being lowered from an overhead gantry. In the background is the 1837 Great Western Railway 2-2-2 locomotive 'North Star' mounted on a raised platform. The main text reads - 'Every week British Railways Modernisation Plan goes further ahead' while the small text beneath the illustration reads - 'Painted by Terence Cuneo for the cover of the Unilever magazine 'Progress', Winter issue 1957-8'.

A BOYHOOD DREAM COME TRUE!

Back in the day when train spotting was all the rage, every small boy dreamed of driving a steam engine, but after the rank and file of BR steam ended their days in 1968 the vast majority missed their chance to achieve a lifetime's ambition. However fast-forward to the present day and a legion of stalwarts have worked their way through the ranks in the steam railway preservation movement, including Andy Burns who writes...

Hi David, I chanced across your website today and my attention was drawn by your tribute to Jim Carter, and your comments about commonly held views of train spotters.
In the mid 80s I was a member of Peak Rail, and our CME Martyn Ashworth was a great fan of Jim's, having met him at the KWVR. I don't think I ever met him, I recall Martyn saying his health hadn't been great. He told me of his work and I managed to get myself a copy of 'Footplate Cameraman'. He certainly had an eye for a photograph and his footplate role gave him unprecedented access, a rare combination. He was also a really nice fella and it's evident that you held him in high regard. Me too, RIP Jim, your work lives on and tells its own story.
Your comment about train spotters is very true. As a spotter in the dying years of steam and the 70s it taught me lots of things: geography, map reading, travel planning, timetable reading, photography, social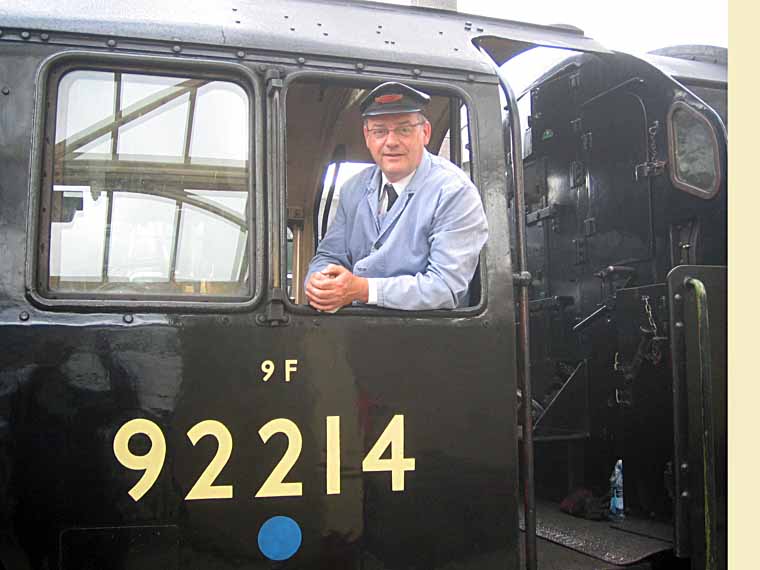 history and development, and commerce…I found out what was made/mined/refined etc where, and where it went to be used. It did me no harm and I went on to enjoy a successful sales career (not something often associated with train spotters as they are generally classified as socially inept!).
As a volunteer I worked on Peak Rail and, following a career move, the Swanage railway, before joining the East Lancs Railway (ELR) in 1993, eventually becoming Steam Locomotive Operations Manager from 2009 to 2012. I had to give up the manager's role as it just took up too much of my spare time, however I remain a Driver there.
I recall as a little lad of eleven going from Stockport to Carnforth with my Dad behind "Flying Scotsman" one way and "Oliver Cromwell" the other. That was my last experience of travelling behind steam and I seriously believed we would never see it working again.
Who would've thought that some forty-odd years later 70013 would visit the ELR and I would get the chance to drive it? Dreams don't come true like that very often, in train spotting or any other walk of life. I'm never ashamed to say I was a spotter. Best regards, Andy Burns.
This photo of Andy (inset left) was taken at Bury Bolton Street in August 2008 when Class 9F No 92214 was resident with the ELR.
'LIFE AFTER BR STEAM'

Trevor Ermel's 2nd 'Rail Camerman' page

As a small boy during the 1950s Trevor Ermel lived in Gateshead within sight and sound of the East Coast Main Line, but it wasn't until the end of 1963 that his interest in railways was fully roused. By then he was a 13 year-old pupil at Gateshead Grammar School for Boys and his favourite spotting haunt was by the lineside at Low Fell - a ten-minute bicycle ride from home.
Once bitten by the 'spotting bug' Trevor chased steam throughout the 1960s and ended up visiting places the length and breadth of the country - from Aberdeen on the Scottish Region (ScR) to Weymouth on the Southern Region (SR) - all of which is recorded on his superb 'Spottings & Jottings' page

here

.
However, after the August 1968 deadline, Trevor's interest in a railway without steam began to wane - after all, the new diesels would be with us forever, so why bother photographing them? Eventually it dawned on him that green diesels, which he remembered as an integral (if unwelcome) part of the steam era, were themselves an endangered species, and he began to take a belated interest again. He also started visiting new locations for photography as he still enjoyed travelling by train, whatever the motive power up front...
So, with a little arm-twisting I am delighted Trevor has agreed to compile a second page - 'Life After BR Steam' - starting with 'D' for Diesel - click here to visit the page.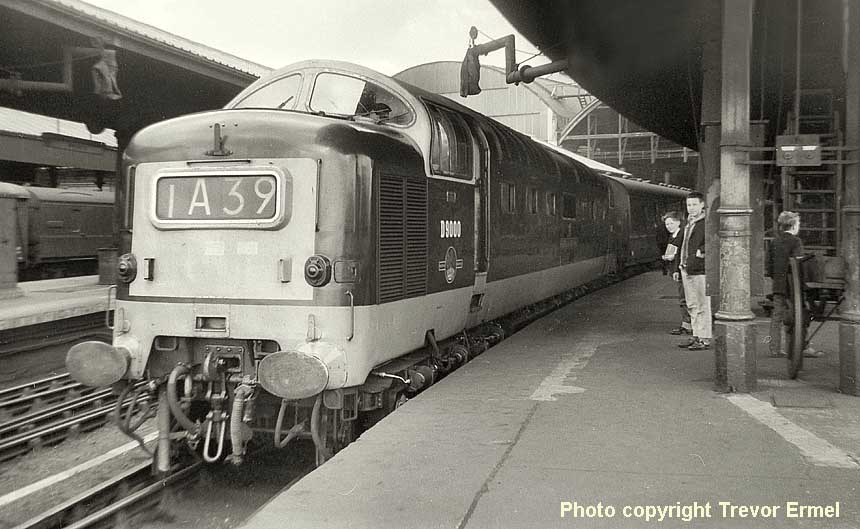 (Above) Trevor writes - '
Many of us on the East Coast main line blamed the Deltics for sounding the death knell of our beloved Pacifics but there is no doubt that, for a diesel, they were extremely impressive. Their two-tone green livery suited them very well, particularly when set off by the red-backed nameplates mounted amidships. I do remember several of them before their plates were fitted and the difference was quite noticeable. On the other hand I have no memories of them (or of any other diesel, for that matter), before they acquired the small yellow warning panels at each end, and judging by pictures of them 'as built' I do think that this addition certainly improved their looks. No doubt those who grew up with the all-green (or even the 1970s all-blue) versions will have a different view! Which just goes to show just how subjective is the matter of locomotive aesthetics!
This picture shows the first Deltic (happily still with us today) D9000 Royal Scots Grey at Newcastle in 1964, in the condition I remember them best. The young lad on the left of the group is Peter Long, the next-door neighbour who originally prompted my interest in trains the previous year - thank you, Peter, wherever you are these days! - Canada, I believe?'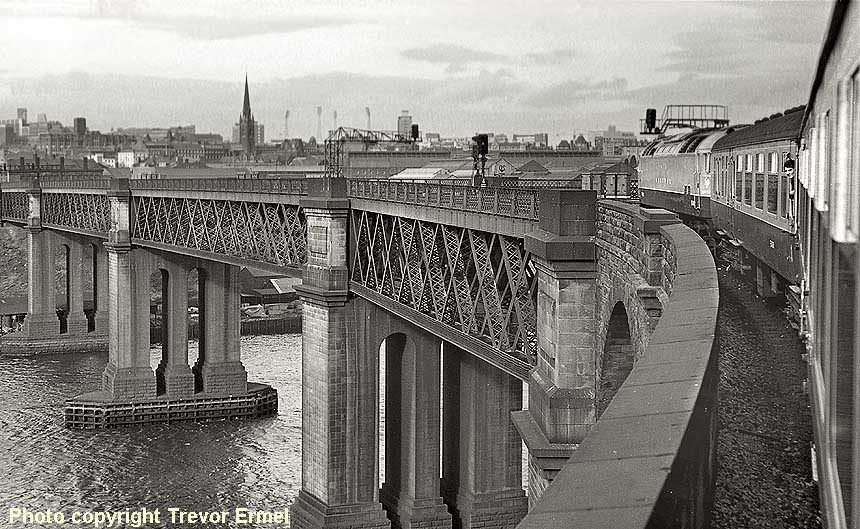 (Above) The Brush/Hawker Siddeley 4000hp prototype Kestrel, photographed from the train about to cross the King Edward Bridge into Newcastle on 1st November 1969. This loco had been on trials on the East Coast main line for a while and I took the opportunity of travelling behind it from Durham that day. A beautiful design in an attractive yellow and brown livery, it was hoped by the manufacturers to be the next stage of diesel development - more powerful, of course, than a 3300hp Deltic. But alas! BR did not regard the locomotive as a success and it finished its days in the USSR and was reported as having been scrapped in 1993.

Although Trevor's second page is still in its infancy, there is s
till so much more to come: Eastern and Western Rail Rovers, Deltics Galore, Chasing Steam in West Germany and South Africa...but next up - 'More Trains on Tyneside', which includes a series of superb colour shots. Click here to visit the page.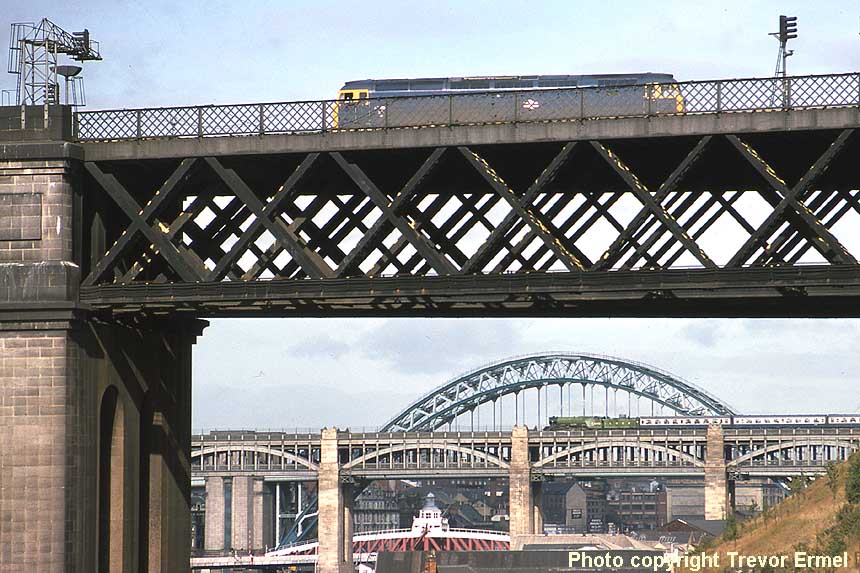 PORTRAITS OF STEAM DAYS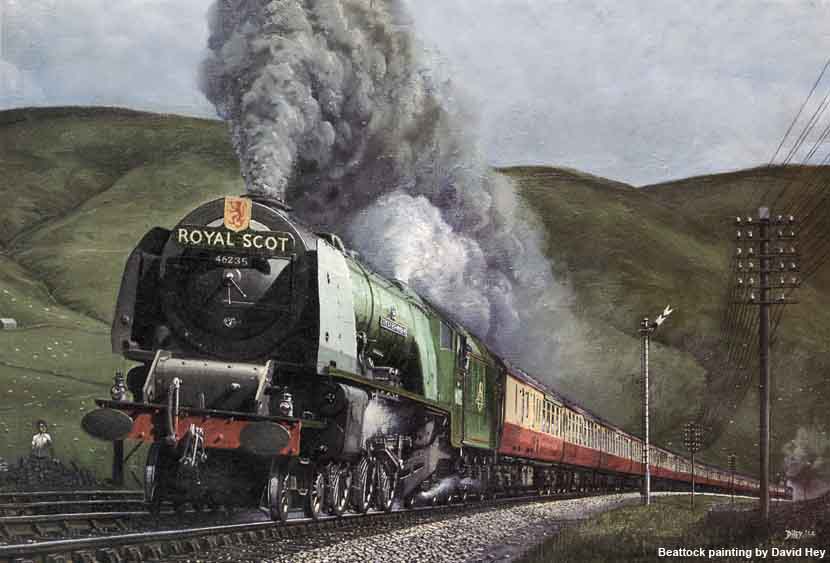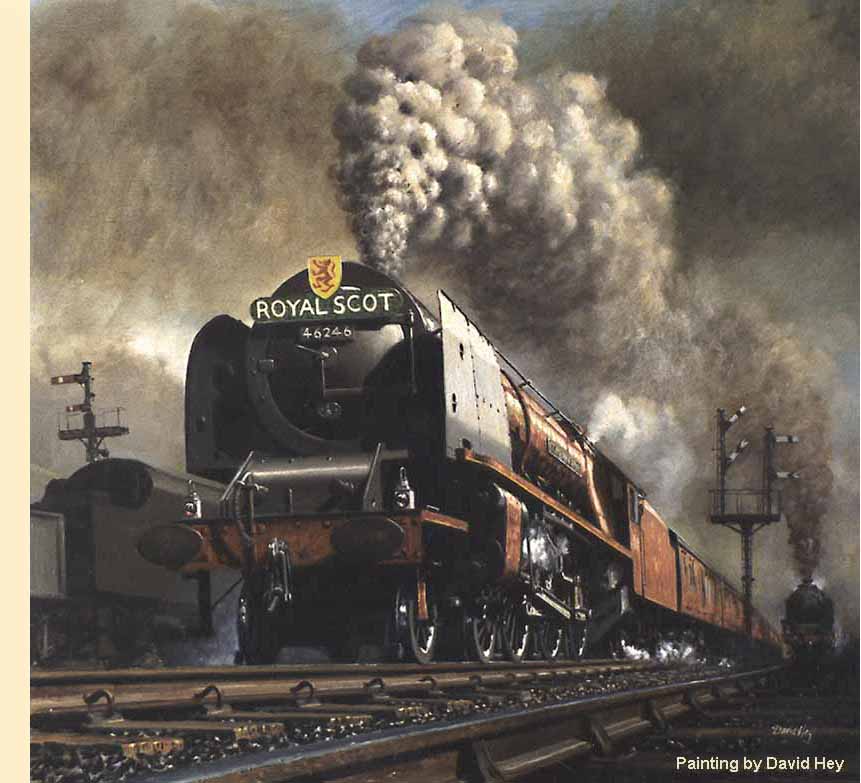 (Above-Right)

Just as railway photography is a natural adjunct to train spotting, so too is railway art. Most train spotters will have dabbled in oils or water colours at one time or another, and as likely as not they were inspired by the works of Terence Cuneo, David Shepherd or a great photograph; indeed all artists nurture delusions of painting a masterpiece; it is the fabric that binds us together. We dream that one day it will bring instant success and recognition for our work and earn a 'pile' of money

.
Well, sorry to disillusion anyone, but it doesn't work out that way. In the real world the pictures that fetch the highest prices have been painted by artists now deceased! This painting of 'Coronation' class No 46246 City of Manchester (right) on the down 'Royal Scot' was inspired by Eric Treacy's shots of steam at Penrith.
(Below) Few artists can claim not to be inspired by a great photograph. I certainly have. The one man who has fired my enthusiasm for the Western Region is Dick Blenkinsop, whose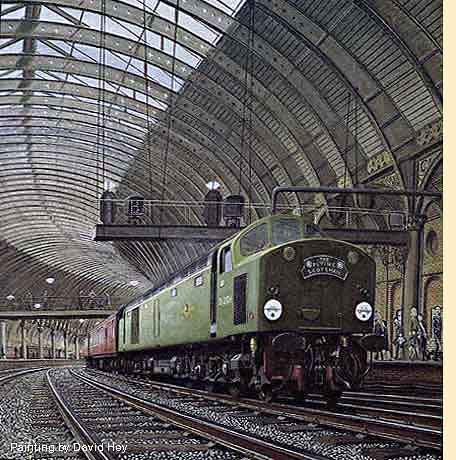 books on the Western Region: 'Silhouettes'; 'Shadows'; 'Reflections' and 'Echoes' - to say nothing of his similarly titled books on the 'Big Four' - inspired me to seek out the places he visited in South Devon.
Needless to say, I hadn't a hope of replicating the great man's shots of steam days but his photographs have always been a source of inspiration. In particular I recall his shot of 'Battle of Britain' class No 34061 73 Squadron heading a local Plymouth-Exeter train along the seal wall between Dawlish and Teignmouth. It appears in 'Echoes of the Big Four', in which he writes - 'it is not easy to obtain pictures of trains with a clear seascape in the background.'
But there is! It's called artistic licence! And this is the result; a painting of 'King' class No 6024 King Edward 1 heading the 'down' 'Cornish Riviera Express' towards Teignmouth. Okay, I've turned the Earth on its axis (hence the sun is shining from the north) which might be taking artistic licence a step too far, but surely that's one of the joys of painting pictures…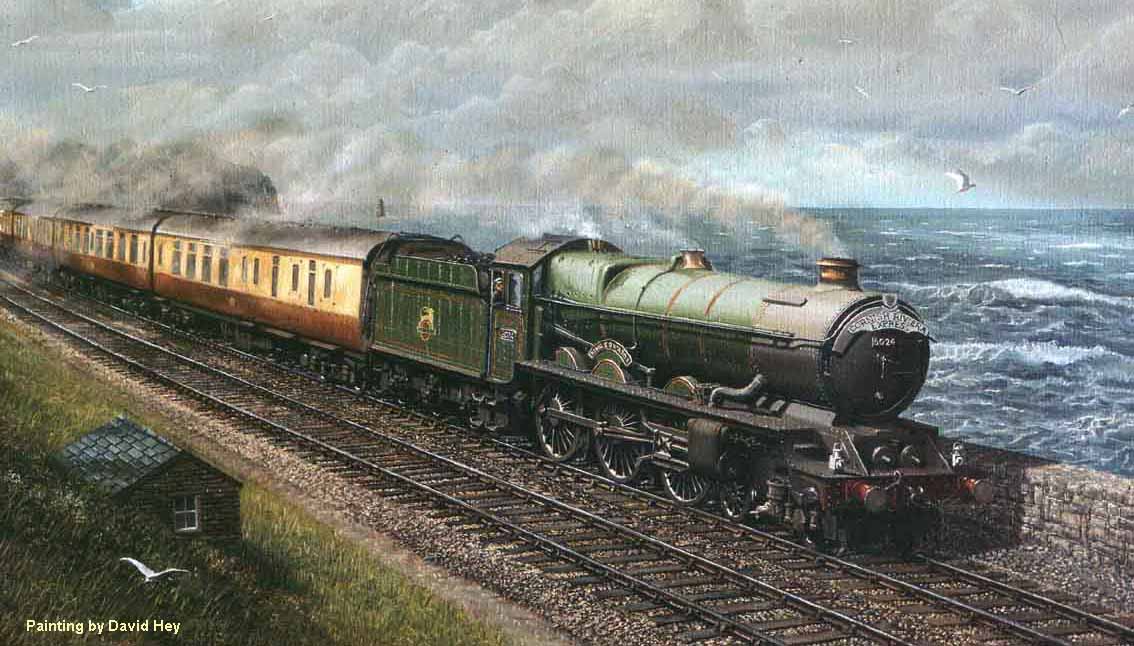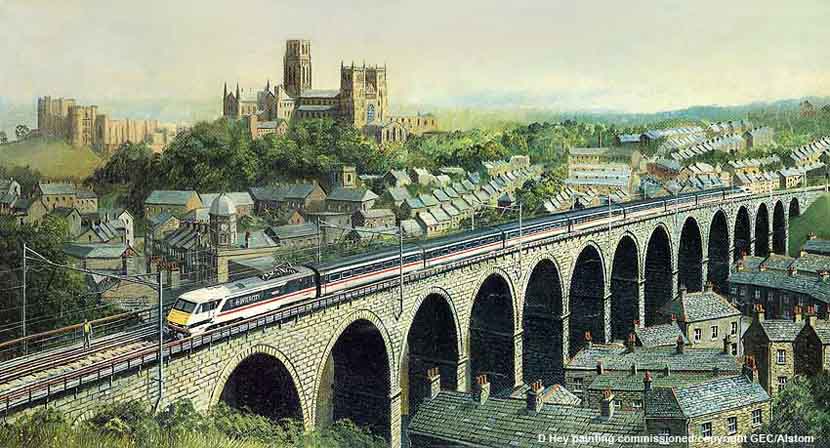 (Above) another case of artistic licence that should be taken with a hefty pinch of salt! In this case a major siesmic shift in the earth's crust has moved Durham Cathedral quite some distance south in relation to the viaduct straddling the city! But then railway art is like railway modelling; you can do whatever you please, so long as it looks right in the end. I suppose the jury is still out on that one...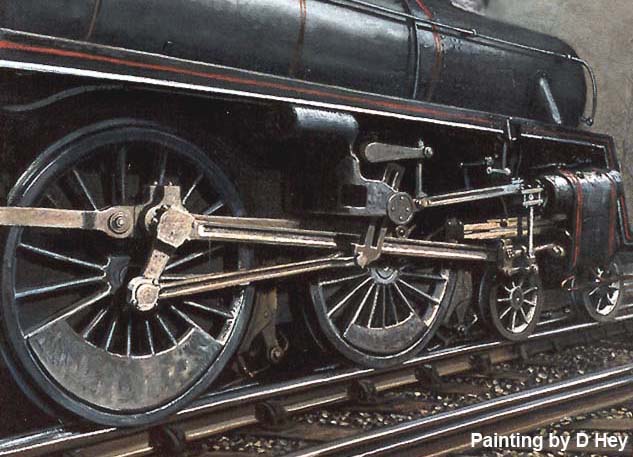 A POT SHOT AT ANORAK BASHERS!
Why do the guys in the media label things so indiscriminately? They do! This is especially the case when it comes to mocking umpteen millions of train spotters - yes, millions! Make no mistake, the hobby is huge! Yet even at my age - I'm in my mid-Sixties by the way - I feel like a needy child, constantly striving to justify a lifelong passion for trains and railways, but it seems the media's tolerance is strictly rationed, or perhaps they think train spotters are just too plain stupid to warrant a serious investigative nod. Odd that, don't you think? After all the media does a wonderful job exposing any Government shenanigans that might otherwise remain hidden behind a wall of bureaucratic spin; it embarrasses minor-league celebrities, who'll cheerfully strut their stuff at every paparazzi opportunity, then just as quckly vanish into thin air when they're caught with their trousers down - metaphorically speaking, of course. But as soon as there is nothing newsworthy to report, some mean-spirited hack will bash out a few column inches on train spotters for a cheap laugh. Laugh? I could crush a grape! The very idea of turning inncocent people into fodder for satire is both unfair and infuriating in equal measure, especially when I'm on the receiving end of it.
Okay, call me a grumpy old fart, but this outpouring of bog-standard journalism is reprehensible in my view. Clearly the media have got their wires crossed somewhere, because when I look at today's spotting fraternity I don't see a gang of disaffected youths mooching about in shopping malls, blasting their brains into a mulch with mega-decibels of gangsta-rap from walkmans. Nor should train spotters be confused with the angst-ridden youngsters who wear back-to-front baseball caps, or hide behind a mask of hard-faced indifference under the hoods of anoraks.
And train spotting isn't a tribal thing either, so you won't find us squaring-up to a ritual punch-up with a rival gang of fans, or pestering rail passengers into handing over money to feed our drug habit. No, the kids I'm referring to are not lonely, insecure or desperately in need of a sense of purpose, but because of their passion for trains, they've become an easy target for ridicule.
(Below) Could this be you? The quintessential Sixties spotter (complete with tartan duffel bag) is caught by the official BR photographer at Doncaster station on 9 January 1961. The Metro-Cammell dmu awaits departure for Lincoln.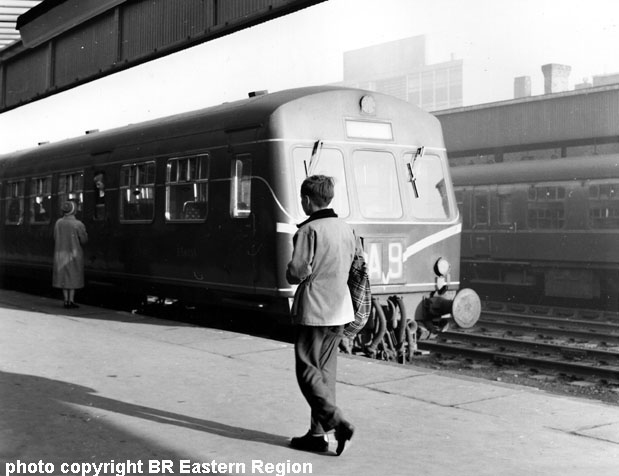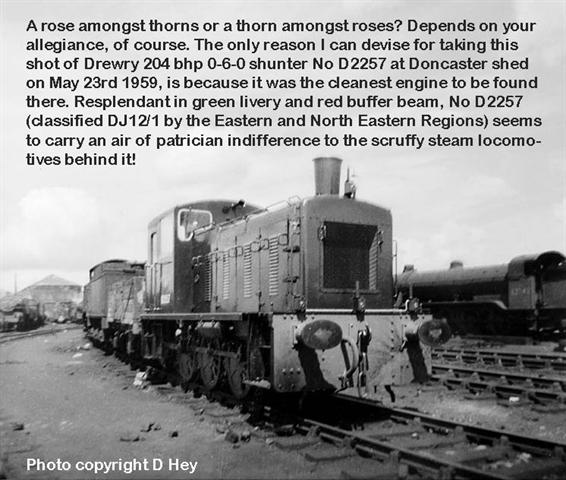 As for my own contemptuous views of the media? I suppose an old fogy like me should be impervious to their derision - and I am - but I'm also aware that today's youngsters lack the granite self-assuredness that comes with adulthood, so is it any wonder that fewer and fewer boys will declare an interest in railways when the very words 'train spotter' now carries snide overtures? Well, enough is enough - the boundaries of common decency have been pushed as far as it can go. If you ask me, the British media is no longer a byword for decent family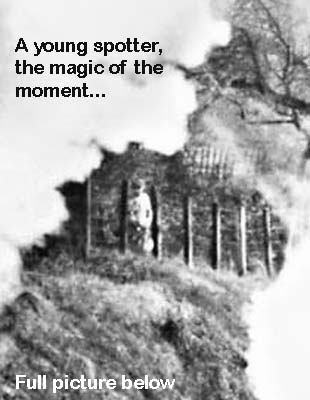 principles because the values they promote seem unreasonably out of touch with general sentiment. That train spotting has become something of a national joke is undeniable, albeit in a light hearted way (I hope) since I suspect the populace is laughing 'with us' and not 'at us', yet the way in which the 'anorak' label has stuck in the nation's consciousness is a rather worrying story, in much the same way as the media's all-pervading influence on its readership is another.
Of course, the media didn't invent our image, they went to a railway station and found us there, and in case anyone is wondering what they found, then let me be quite honest about this. The interest in trains is huge, therefore the train spotting fraternity is bound to attract its fair share of nerds, geeks and wacky characters. Indeed the media's sideswipes at train spotters contains enough truth to gain wide currency, but since we can't exclude people from joining us it's pointless sinking into a mire of righteous complaining because it doesn't solve the problem. Instead we must find a way of improving the general public's perspective of us. Perhaps the solution can be found by looking at the country's obsession with boom-time consumerism and the crafty way some advertisers keep bombarding us with a stream of glitzy imagery. It seems immensely fashionable these days to have a scantily dressed girl draped over the bonnet of a new car at a motor show, or a beau idol stripping off his denims in a launderette, yet the public are not so easily fooled. We know some adverts are deliberately phony. For instance, I'm unlikely to find myself being seduced by a bevy of gorgeous girls because I've splashed on a certain men's fragrance - a sex symbol, me? In your dreams image-makers. I'm a train spotter, for goodness sake, and dullards like me are not supposed to have sex appeal!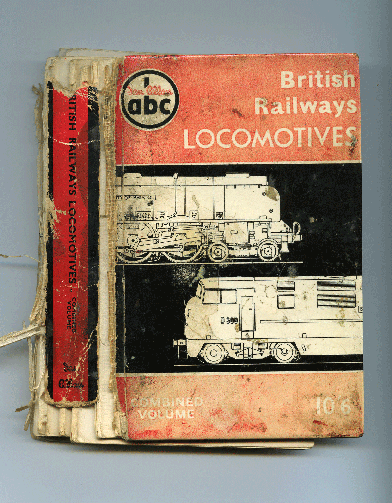 (Above-Below) My own interest in train spotting has its roots in childhood, so I have no genuine nostalgia for the current scene. I lost interest in train spotting because from 1959 onwards visits to the lineside produced less evidence of Britain's railway past, which, until then, had always seemed so constant.
For example, my last Ian Allan abc Locospotters book - the winter 1958/59 edition - could not keep apace with the modernisation. By the early 1960s, unwelcome gaps began to appear among the steam classes (due to scrapping) and the proliferation of new diesels did not enter the equation because they were not yet listed. Call it a dereliction of duty, if you like, but the inconsistencies creeping into the hobby was totally at odds with the orderliness that spotters expected, and many disenchanted youngsters turned to something more rewarding, such as railway photography - a natural adjunct to train spotting.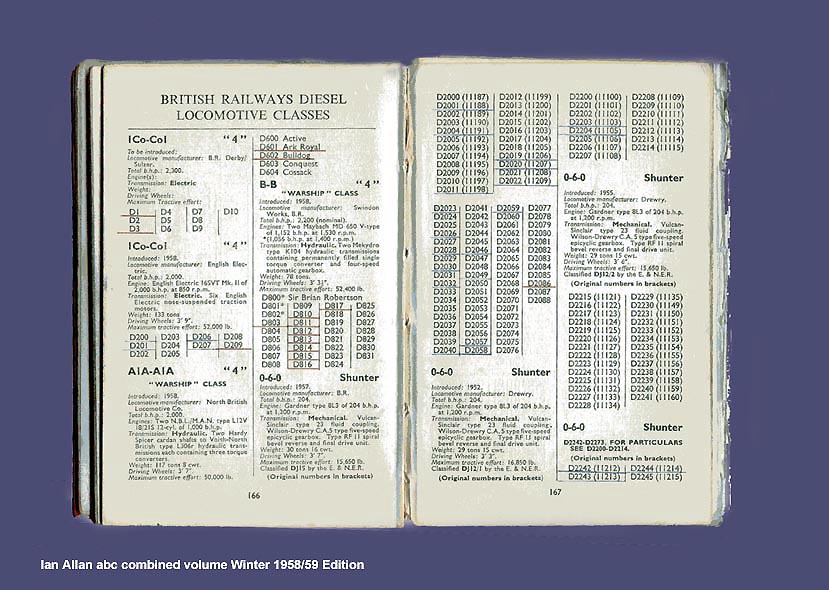 Like it or not, image plays an important part in our lives, so if we create the right image, then all the rest will fall neatly into place. Create the wrong one, however, and we end up becoming a laughing stock.
This reminds me of the pair of jogging pants I once bought which came with the guarantee not to run in the wash. It was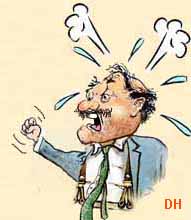 a faux pas I found only mildly amusing, whereas the multi-million pound advertising campaign launched by British Rail in 1973 wasn't even remotely funny...
'This is the age of the train,' trumpeted BR's publicity department.
'Time to get new ones,' commuters shot back.
Oops!...an own goal if ever there was one. Only the gaffes haven't stopped there. Whilst the private train companies now responsible for running our railways are making millions of pounds profit for their shareholders and fat-cat executives award themselves huge bonuses, is it any wonder that passengers (customers in case it's forgotten) demand more for their money rather than late trains, dirty trains, crowded trains, even cancelled trains.
Worse still, when the delays are blamed on the 'wrong kind of snow' and 'leaves on the line' what are the chances of train spotters soliciting approval from anyone?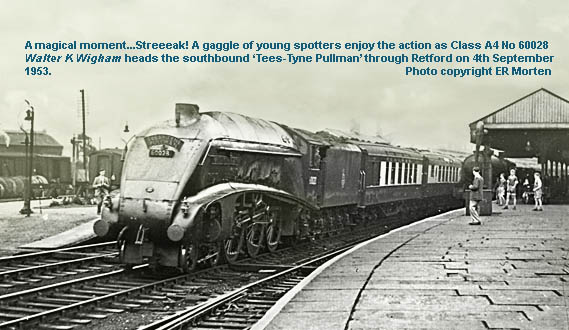 Okay, let's not waste any more time complaining about the media's blatant intrusion on our lives. This page concerns the highs and lows of train spotting in the Fifties and Sixties, only in doing so I've had to trawl my own experiences, therefore I might be accused of throwing up a smoke-screen of romance which fuels the desire to believe that train spotters were somehow denied the best years of their lives when steam vanished from the scene. True, it did effect our lives but it wasn't only the demise off steam (tragic though it was) that brought my passion for spotting days to a premature end, it was the arrival of adolescence.
For many testosterone-fuelled boys, the fun-loving Sixties offered so many other distractions we simply outgrew the hobby, which is a crying shame really, and I do wonder how many of today's closet spotters wish they had the chance to do it all again? My guess is - all of us!
So, in the final analysis, rather than accusing the adult enthusiast of being trapped in adolescence, isn't it about time we were forgiven our passion for trains? For me, a steam train ride on a preserved railway is like a trip down memory lane - a poignant reminder of all the good times I missed all those years ago. Perhaps the reminiscences on this page may jog some memories of your own?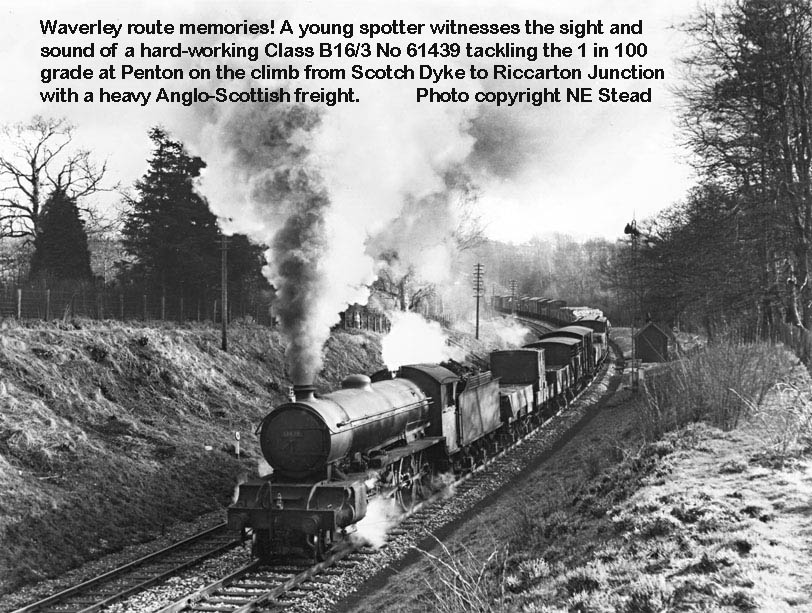 'SPOTTING MEMORIES 3'
by Barry Hilton.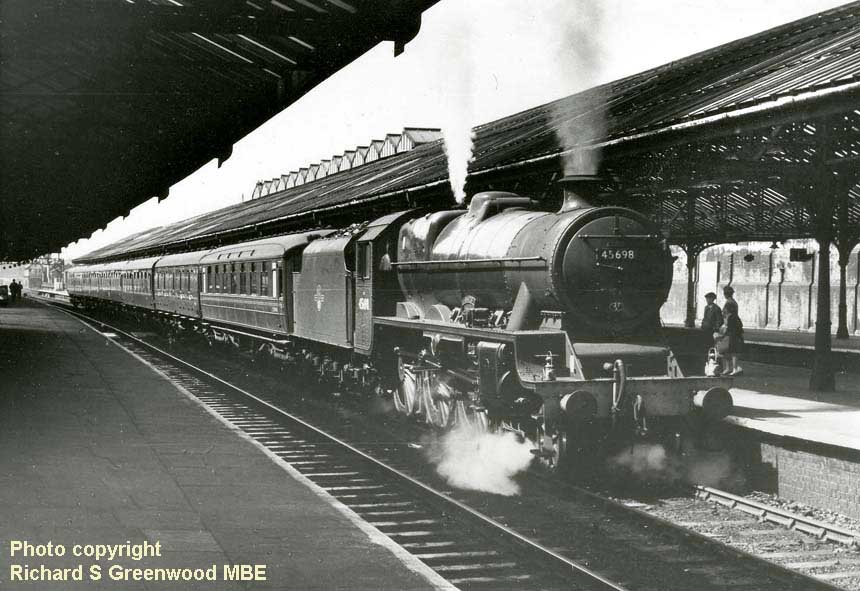 Continuing Barry Hilton's childhood spotting memories (from the previous page) the highlight of a day's spotting at Rochdale was hearing the sound of a Bank Hall 'Jubilee' being thrashed on the Liverpool to Newcastle, known by local spotters as the 'Ten to Twelver'. Timed to leave Liverpool at 10.30am it was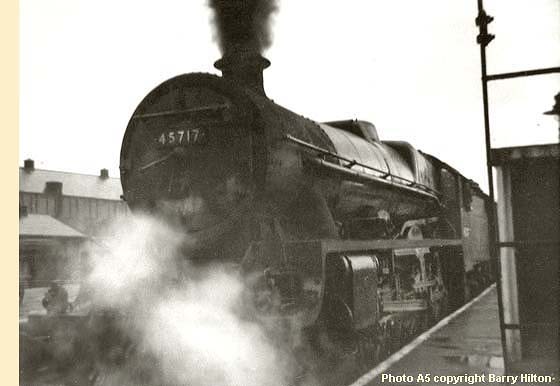 regularly worked by 'Jubilee' class No 45698 Mars, 45717 Dauntless or 45719 Glorious, however the engine crews had their work cut out to keep time as the train was only allowed 18 minutes to cover the 8½ miles or so from Manchester to Rochdale, and this included a steep climb up Cheetham Hill Bank from a dead start out of Manchester Victoria. The Bank Hall Jubilees were responsible for hauling the train as far as York where an A3 hooked on for the remainder of the trip to Newcastle. However, from 1962 this train terminated at York.
(Above) Awaiting the right away from Rochdale is No 45698 Mars on

11th May 1961, by which time the train had been cut back to York from 1st January 1961 after Trans-Pennine services were dieselised.

On another day

(right) No 45717 Dauntless departs from Rochdale; both locos were kept in relatively clean condition by Bank Hall staff.


On their return to Liverpool, the Bank Hall locos had an interesting working diagram. They worked the 5.15pm from York to Wakefield where they detached and then picked up the 4.42pm Newcastle to Liverpool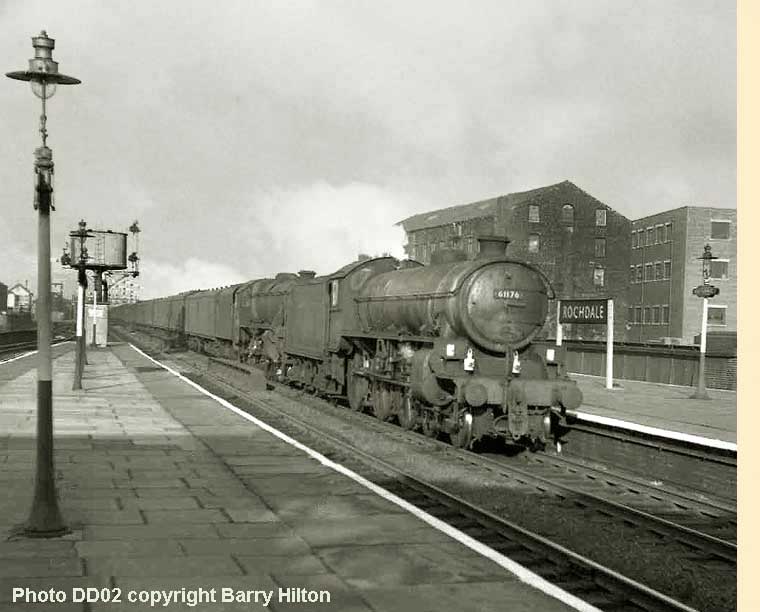 Exchange from Wakefield through to Liverpool. The 10.30am was worked by a Bolton crew between from Liverpool to Manchester, where a Sowerby Bridge crew took over only to be relieved at Sowerby Bridge by another Sowerby Bridge crew. Adding to the loco variety in August 1958, was un-named Patriot No 45517 which joined the trio of Jubilees at Bank Hall and became a regular on the 10.30am Liverpool-Newcastle. On Sundays the train ran only as far as York and the Bank Hall locos worked the train throughout each way. This train, along with all other Calder valley passenger services (except the 2.8am York-Manchester) went dmu from 1st January 1962.
The other highlight of the day was the teatime Newcastle (Scotswood)-Manchester (Red Bank) Newspaper train seen here at Rochdale (above left) being worked by Class B1 No 61176 and an unidentified Stanier 8F.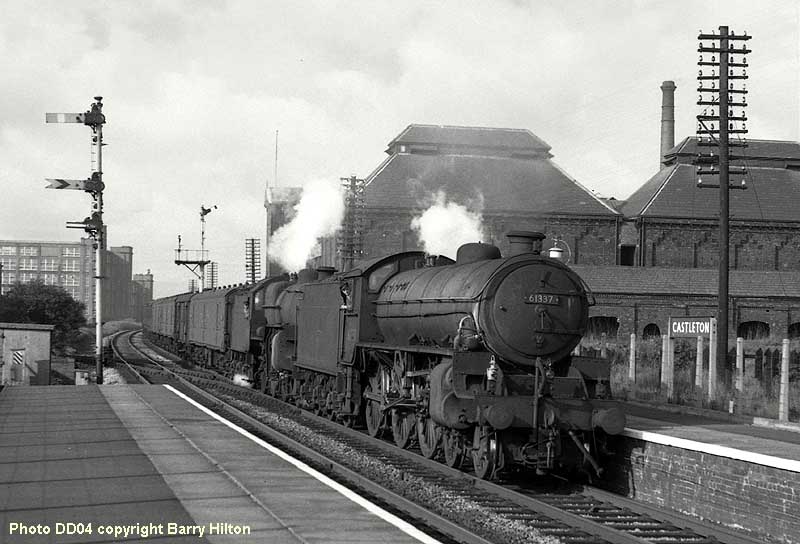 (Above) Class B1 No 61337 and an unidentified Hughes 'Crab' class 2-6-0 head the

Newcastle (Scotswood) -Manchester (Red Bank) Newspaper

train through Castleton. The train was made up of empty newspaper vans from Newcastle and Leeds returning to Red Bank where they were re-marshalled with other empty vans from such places as Carlisle, Bangor, Colne and Blackpool etc before being sent out again full of newspapers that same night. The train was originally worked by two Newton Heath locos, but this later became one Newton Heath and one York engine, and then at a later date it was worked by two York locos, usually a pair of 'Black 5s' and sometimes a pair of B1s, but often York would use a Doncaster, Darlington or Darnall-based B1, and very occasionally a B16 or even a V2. On Tuesdays after a Bank Holiday weekend a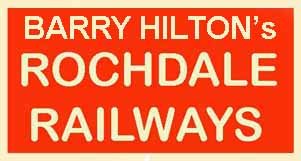 Bristol Jubilee was often used - no doubt having worked up to York on a relief the previous day. On Sundays it was worked by a Farnley Junction plus a Patricroft loco most of the time, whereas on Saturdays for a period towards the end of steam, a Carlisle Britannia or rebuilt Patriot was one of the pair. The Sunday train went diesel at one time then reverted back to steam! The last steam operation was a Sunday in April 1966 when 70015 and 45200 worked the train. From then on it was normally handled by a Class 40 in later years although 45s and 47s occasionally turned up. (Below) Jubilee class No 45708 Resolution and unidentified 'Black 5' head the train at Belfield; the Rochdale Canal is in the right background. Click here to visit Barry's 'Rail Cameraman' page 56 - featuring 'Railways Around Rochdale'.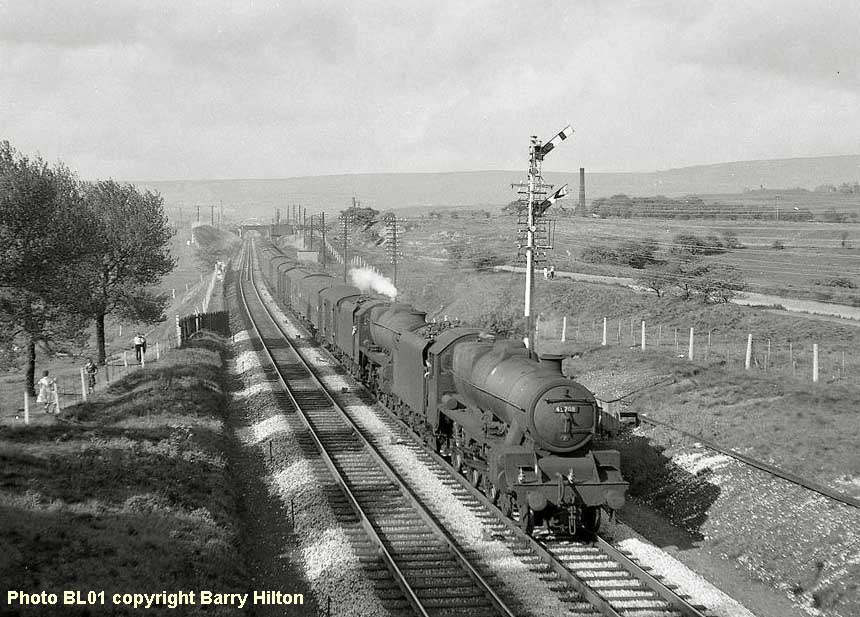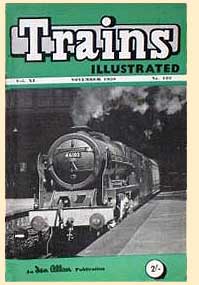 Like many train spotters, Barry

started taking the monthly 'Trains Illustrated' magazine (left) which was an invaluable aid in keeping him up to date with the changing railway scene. Two years earlier the British Transport Commission (BTC) had announced its 1955 Modernisation Plan and by 1957 the first pilot scheme diesel locomotives were starting to appear. Clearly big changes were about to take place on Britain's railways, yet countless thousands of misty-eyed youngsters continued to collect engine numbers completely unaware of the full extent of the BTC's modernisation scheme, nor could they have imagined that within the next ten years they would witness the wholesale withdrawal of BR's main line steam locomotives.
Among the early casualties of steam's demise were the once-numerous L&Y Rly 27 Class 0-6-0s of 1889 vintage, including Nos 52456 and 52275 below, both minus coupling rods, awaiting their fate at Lees MPD on 28th July 1961.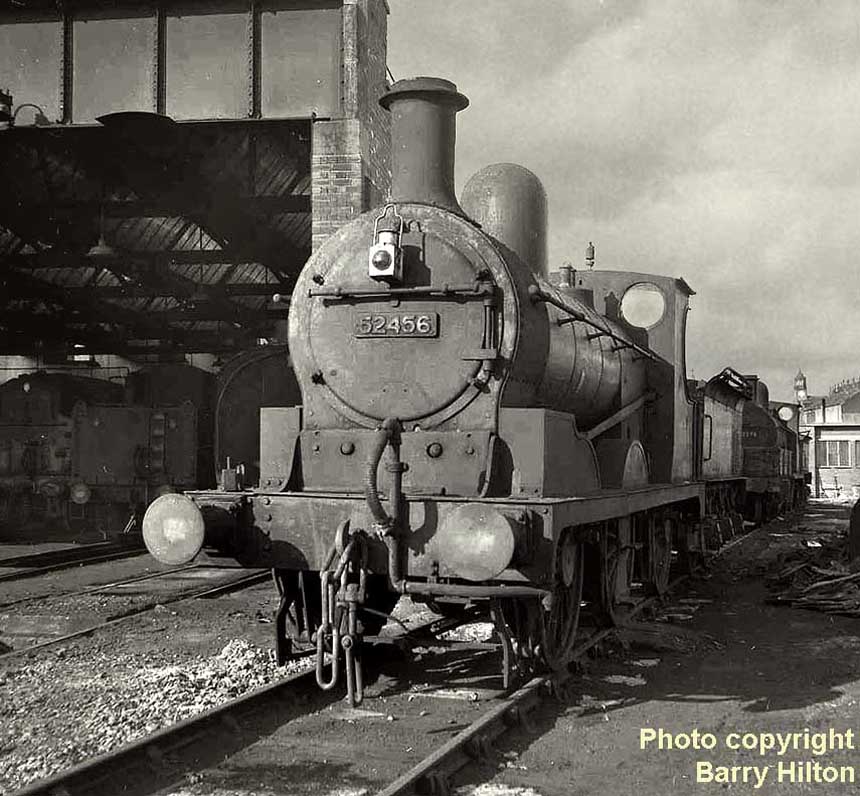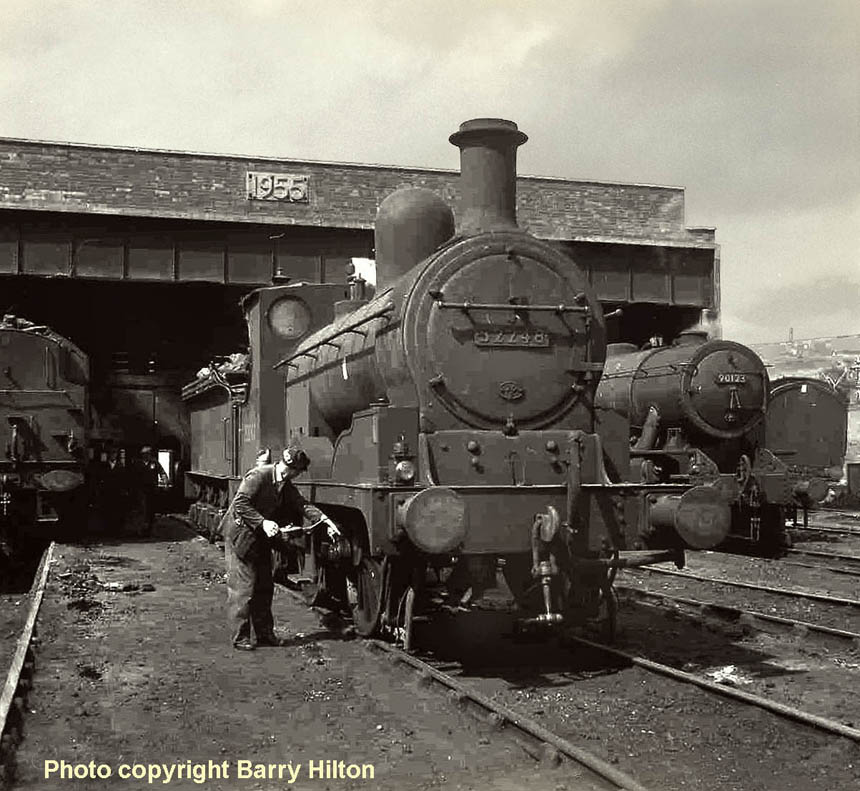 (Above-Below) A
lso on shed at 26E that day was L&Y 27 class 0-6-0

No 52248 seen (above) being prepared for duty

and a Fowler 2-6-4T No 42337 (below) visiting from Stockport. The remaining locos included three Fairburn 2-6-4Ts Nos 42114, 42115 and 42287, and three WD 2-8-0s Nos 90123, 90141 and 90718, plus
L&Y 27 Class No 52271
.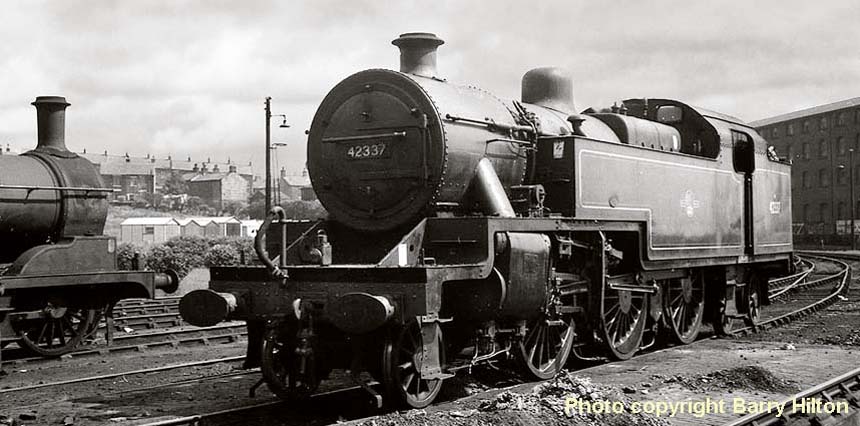 Keen to venture further afield, Barry joined the 'Northern Railfans Club' which organised various shed 'bashes' and Works visits, namely to Crewe, Doncaster and Darlington. However, the busy Manchester Victoria and Exchange staions, approximately 10 miles away, were relatively easy to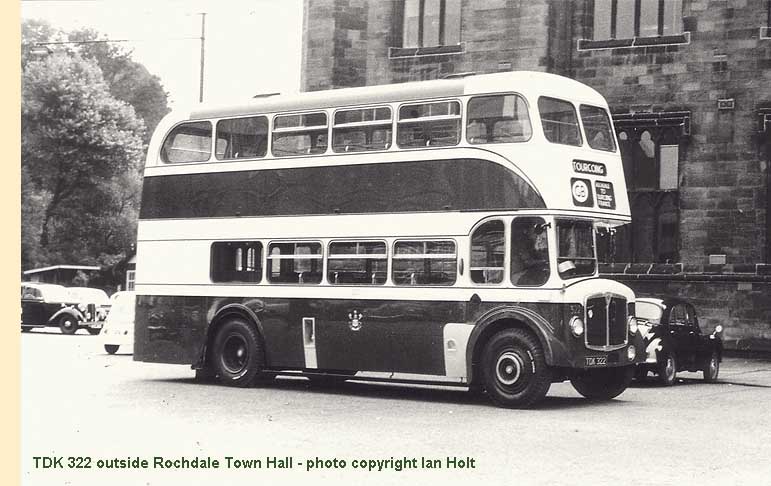 reach on his own, and so with a couple of pals from school, he caught a No 1 bus on the Castleton to Rochdale route via Deeplish and Rochdale station which terminated in the town centre.
In those days the livery of Rochdale Corporation's bus fleet was

monstral blue and ivory, with black lining.
Prior to the advent of spray painting in 1961, the double deckers had the swept blue edge on the upper deck - and on the lower deck too until around 1955. The single deckers had the swept band on both sides of the lower deck, so the front was effectively all-over cream.

The No 1 bus route was operated by a single-decker (below) for clearance reasons beneath the railway bridge at the south end of Rochdale station, whereas the No 18 service (which

could be caught at the same bus stop as the No 1

) was operated by double deckers and took a different route to Rochdale passing beneath the railway on Oldham Road, just north of the station. If catching the No 1 service you could alight outside the station whereas the No 18 bus stop was about a five minute walk away.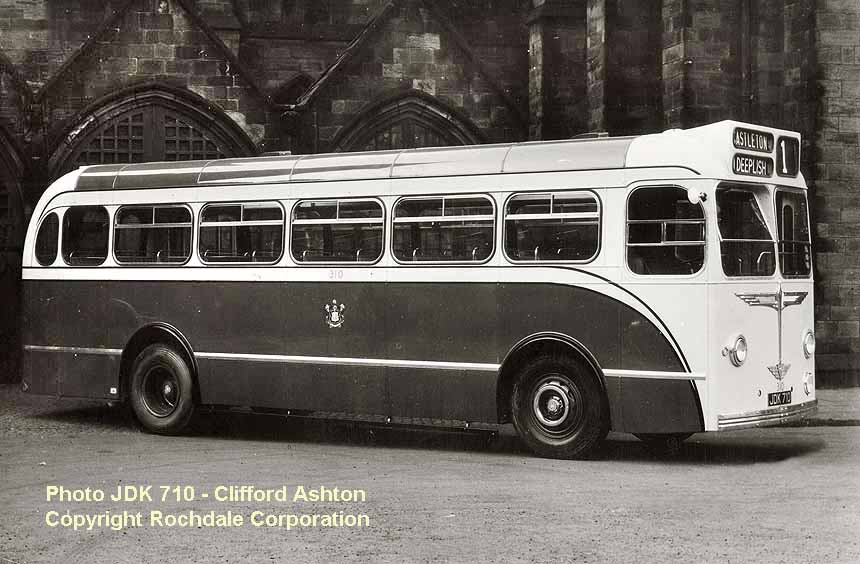 The single fare was less than sixpence to the station, however if a bus from Rochdale arrived first, Barry would hop on it to Castleton station and then catch a train into Manchester. Not only was the bus journey to Castleton shorter, the cost of the bus fare combined with the rail fare from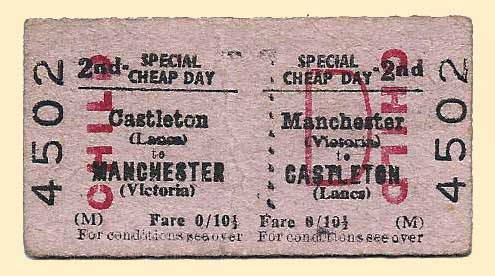 Castleton to Manchester was marginally cheaper than that from Rochdale station. He had to watch the pennies in those days!
Indeed, any little saving on fares might allow the purchase of an extra frozen Orange flavoured 'Jubbly' or even a chocolate bar from a station platform machine.
Back in 1957 a 'Milky Way' or 'Wagon Wheel' cost as little as 3d (1¼p)
and a bag of chips from the local fish 'n' chip shop set you back about a 'tanner' (sixpence) in old money.
However, if you multiply the 1950's price by a factor of about fifty to calculate today's equivalent, then a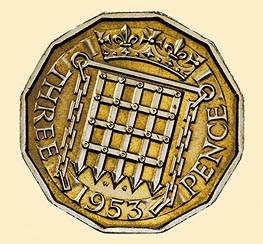 'thrupenny bit' (3d) in 1957 would have the purchasing power of a little over 62p today - but of course, you must take into account the difference in contemporary living standards...a family's disposable income was much lower during the post-war Fifties, and with money being so tight you learned to be thrifty.
Still it wasn't unknown for some kids to spend the odd penny on a platform machine which produced aluminium labels. You selected each individual letter from a dial then punched the letter onto a metal strip - good spelling was essential! You had twenty or so letters for a penny, and engine names were popular as a souvenir of the day
.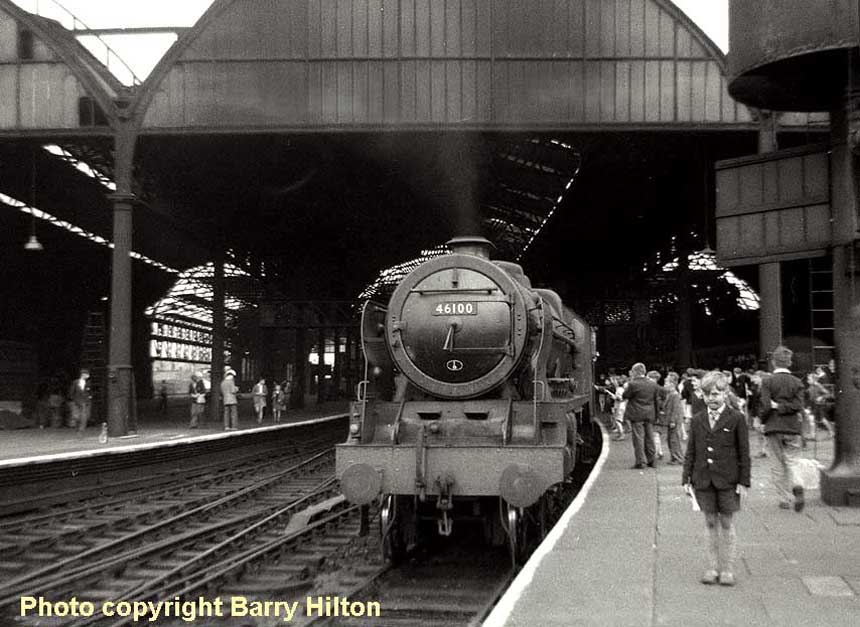 Manchester Victoria-Exchange was a Mecca for 'namers' such as Patriots, Jubilees, Royal Scots and a few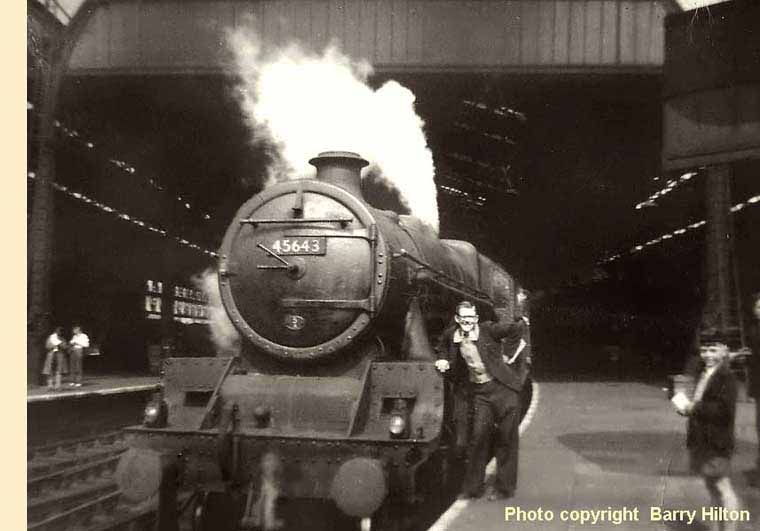 Britannias and the odd Clan. Here is a busy scene at Exchange station in 1958 (above) showing a typical gathering of youngsters - spotters to left, spotters to right - paying homage to the doyen of the 'Royal Scot' class No 46100 Royal Scot awaiting departure from platform 3. On the same day Barry took a shot of one of his spotting mates posing in front of Jubilee class No 45643 Rodney. The main services at Exchange station were long-distance through trains between Liverpool Lime Street and Hull or Newcastle, both routed over the steeply-graded Standedge line across the Pennines, hence many trains were double-headed as seen (below) with a pair of 'Black 5s' piloted by No 44845.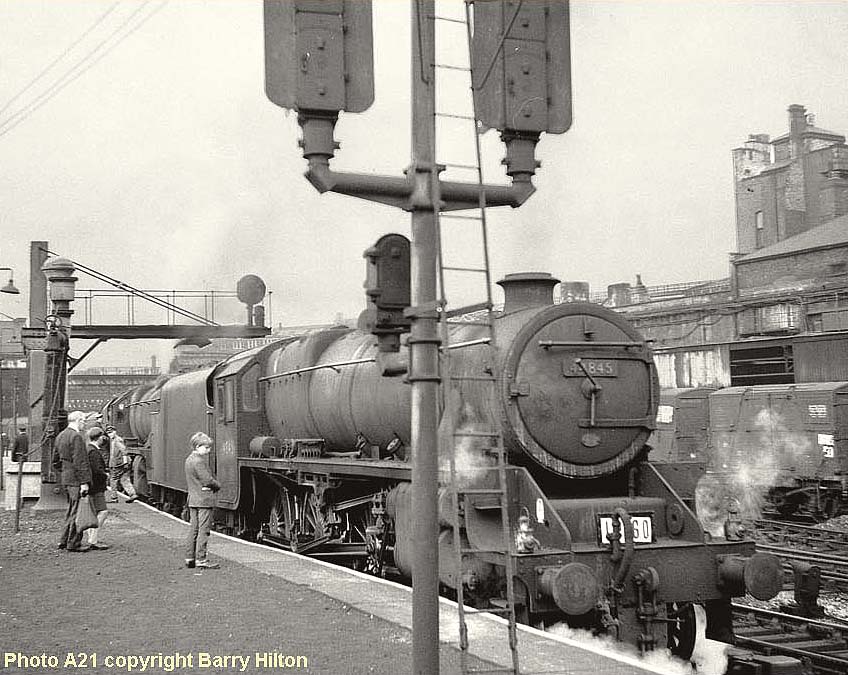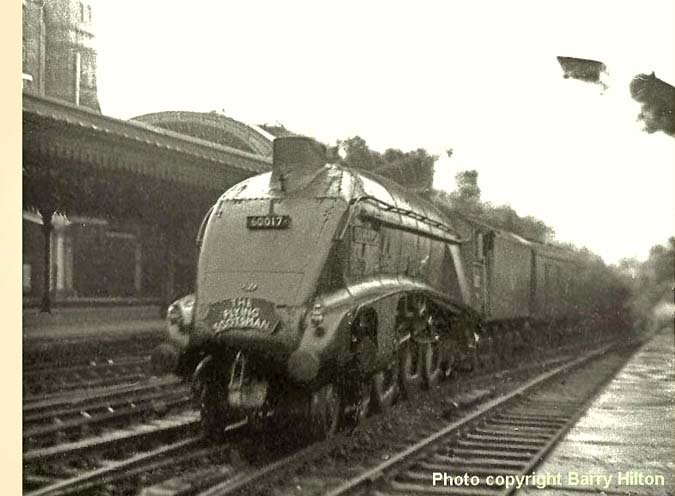 Barry's first visit to York station (right) in early 1958 brings to mind one of his favourite train spotting moments when the distinctive chime whistle of an A4 was heard and No 60034 Lord Farringdon (his first A4 'cop') rushed non-stop through the station…as any spotter will tell you, seeing an A4 for the first time is an unforgettable experience! Anxious to try out his new Brownie camera, he captured another A4, 60017 Silver Fox heading the northbound Flying Scotsman express later that day.
However, Barry's trips from Rochdale to Doncaster via Leeds were far more adventurous. He and his spotting mates would clamber aboard the 8.41am from Rochdale aiming to catch the Kings Cross train departing Leeds Central at 10am, which at that time was regularly hauled by Class A3 60103 Flying Scotsman. The train from Rochdale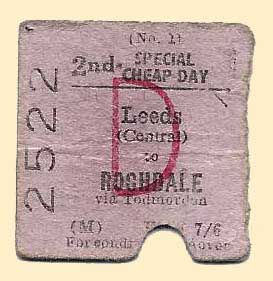 invariably arrived at Leeds with only minutes to spare - and so, faced with sprinting across platforms for the Kings Cross train, he never had chance to take any photos of 60103, however now that Flying Scotsman is preserved he has more than made up for it since.

During the Fifties, the railway town of Doncaster was a Mecca for train spotters, its major attraction being the famous 'Plant' locomotive works. The superb condition of the outshopped locomotives acted like a magnet for the crowds of youngsters who congregated to pay homage at the main gates just off Hexthorpe Road.

When Barry wasn't on an official Northern Railfans Works visit, a wander around the perimeter fence of the Plant would sometimes reveal the sad sight of engines awaiting scrapping at the rear of the Works. He recalls a caper cooked-up by some scurrulous wag to trick the more gullible spotters into believing that a row of stationary boilers at the Works were Sandringham Class locomotives and at one point the numbers were chalked on the smoke box. Spotters were seen writing the numbers in their notebook...cruel!
(Right) Introduced to traffic in 1924, Gresley's experimental 4-6-4 W1 class No 10000 - dubbed the 'Hush-Hush' locomotive on account of the initial secrecy of the design - had a somewhat problematical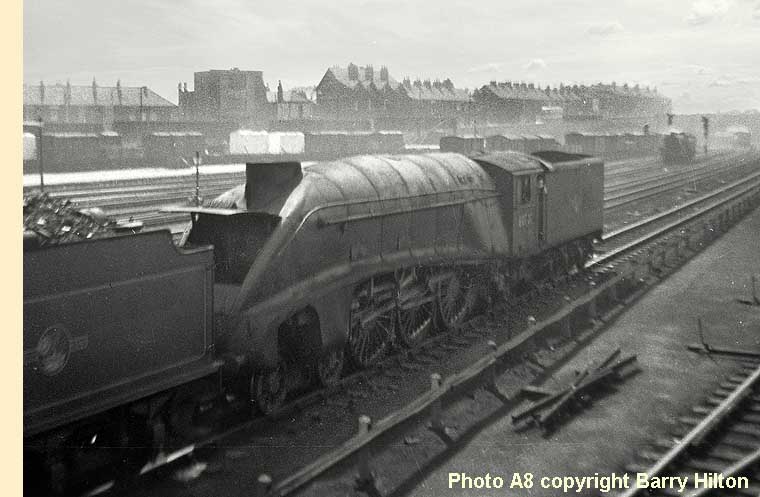 career involving lengthy visits to both Doncaster and Darlington Works for repairs and modifications. In November 1937, Gresley decided to halt all further work and the loco was completely rebuilt with A4-style streamlining, although it retained its original number 10000 up until 1948 when it became BR No 60700. The solitary Class W1 was used as a standby engine at Doncaster station prior to withdrawal on 1st June 1959 and this shot may well show the loco being towed from Doncaster shed to the Works for disposal
(Below) Fifties spotters will remember the 'Plant streamer' - a cavalcade of immaculate engines fresh from the workshops; the locos were coupled together for transfer from the Plant to Doncaster shed before returning to traffic. Here, the tail end of the 'Plant Streamer' shows an immaculate ex-Works 'Britannia' Class 7MT 70013 Oliver Cromwell sporting newly-modified smoke deflectors in June 59. Introduced to traffic at Stratford (30A) in May 1951, No 70013 was transferred to Norwich Thorpe (32A) in January 1959 then to March (31B) in June 1961 before spending the remainder of her career on the London Midland Region based at Willesden (1A), Crewe North (5A), Crewe South (5B) and finally Newton Heath (9D) from where she was withdrawn in May 1966.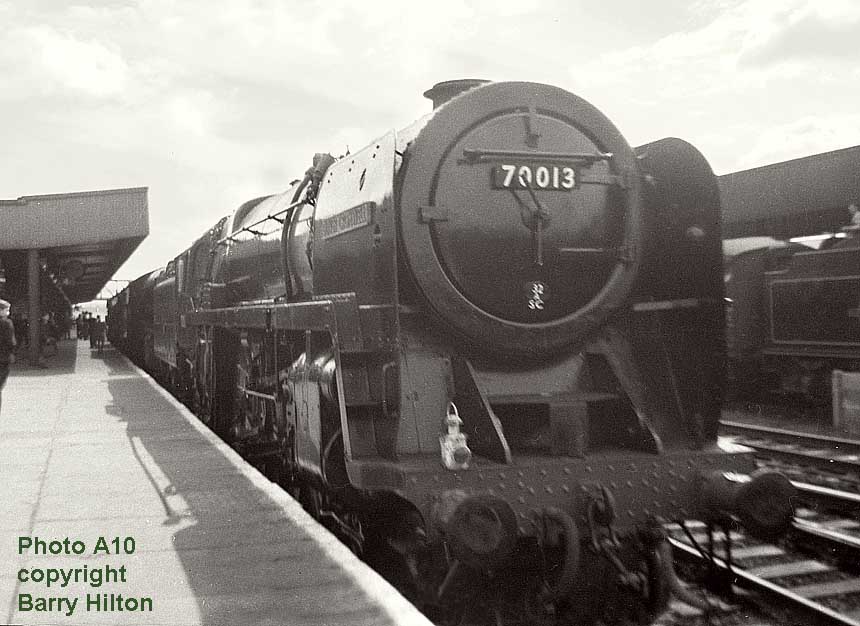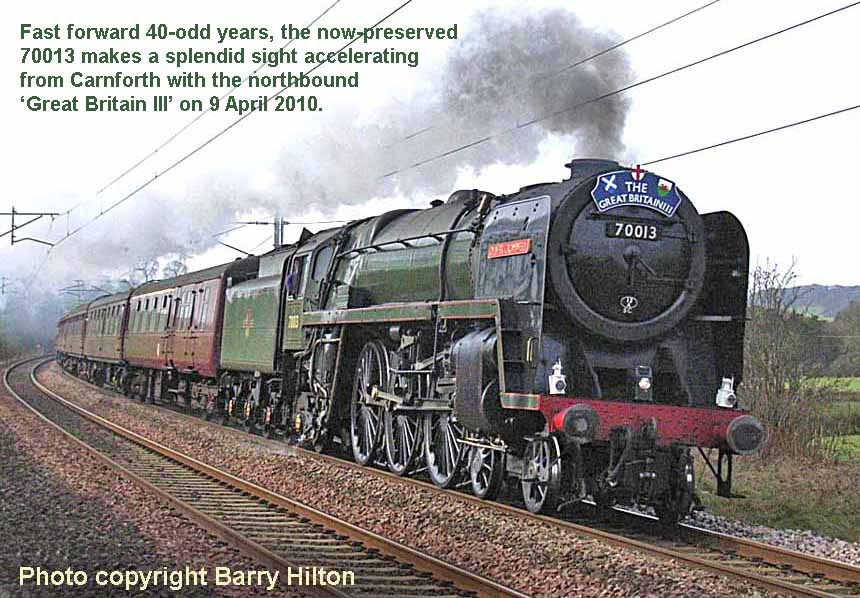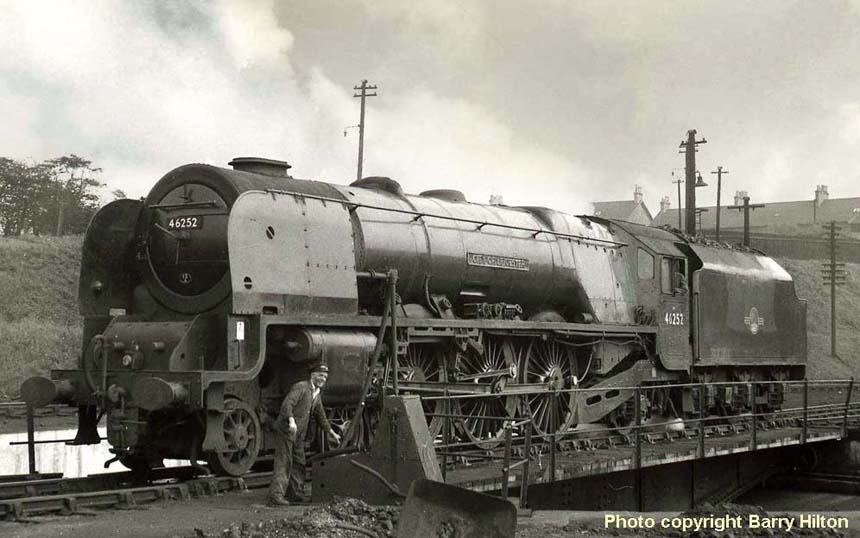 In ending Barry's early spotting reminiscences (his story continues elsewhere on this site) nothing defines our childhood memories more lucidly than the wise words expressed in old proverbs; the maxim - 'All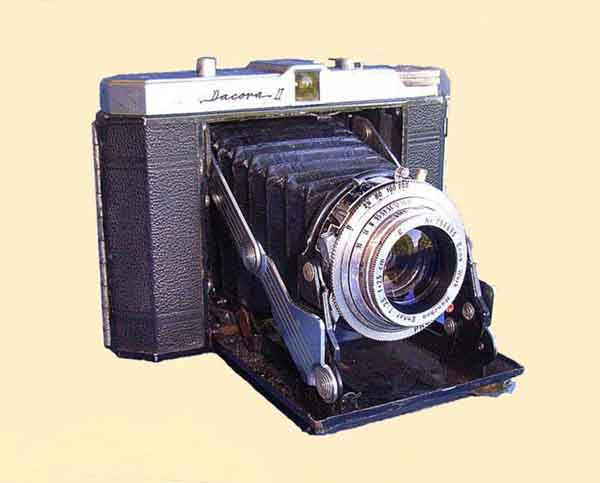 good things come to those who wait,' must ring true for most of us.
Indeed rarely do we get a second chance at taking railway photographs, but this shot of 46252 City of Leicester (above) on the turntable at Kingmoor Shed (12A) on 13th May 1961, must go some way towards compensating Barry for the missed chance he had of photographing his first 'Duchess' No 46254 City of Stoke on Trent on the turntable at Manchester London Road station all those years ago.
And yet there's another truism - 'Better late than never'. In
late 1959, Barry wisely replaced his old Brownie 127 with a SLR Dacora II camera, which improved the photographic potential enormously, and during the next six years or so he captured the bulk of his steam shots on 2¼" sq negatives until the camera was finally replaced by a 35mm camera up to the end of BR steam days - a gallery of
Barry's photos can be found on the ScR page 24, including this shot (below) of J36 No 65297 at Bathgate (Upper) Station
.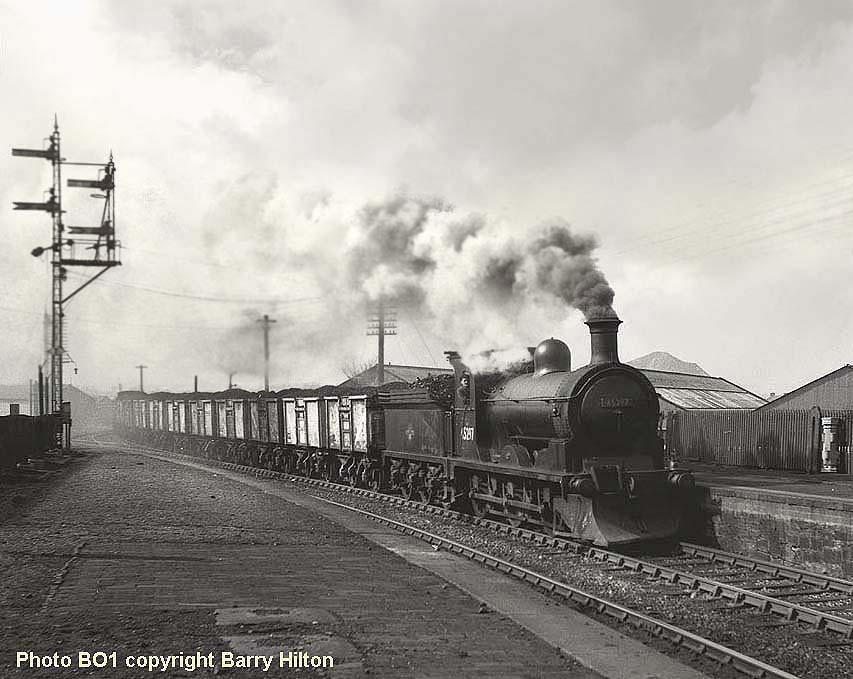 MEMORIES OF HORSFORTH STATION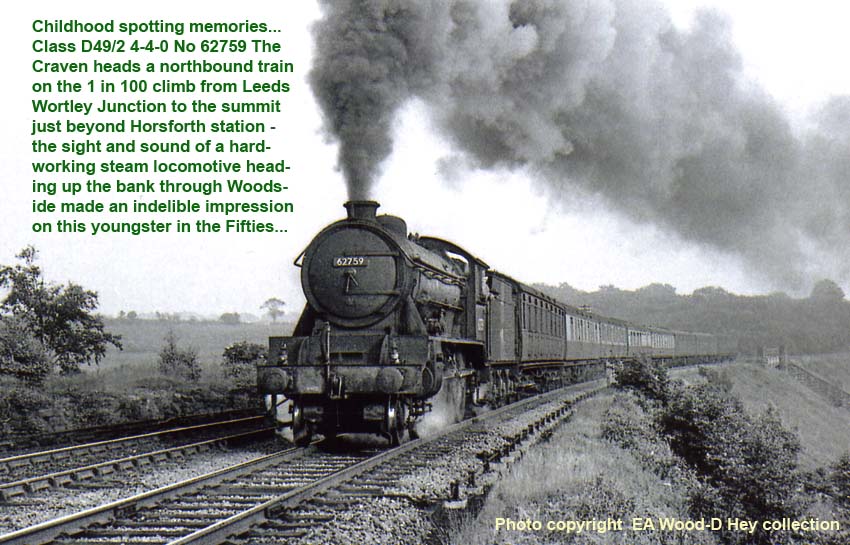 If I had to find a plausible reason for compiling a website about train spotting, it is the chance of reviving memories of the best years of my life. I'd give anything to turn the clock back and re-enact the military-style hit-squad 'bunks' of engine sheds, the thrill of chasing 'cops' and the eye-popping moment I copped my las Class A4 'Streak' at Doncaster shed on May 23rd 1959. But then, sentimentality is a human condition that we all suffer from at one time or other, and this is especially the case as you get older and your memories become more distant.
Trouble is, this business of regressing into second childhood can also bring with it a bagful of insecurities long since forgotten, so I'll stick to writing a quirky account of spotting days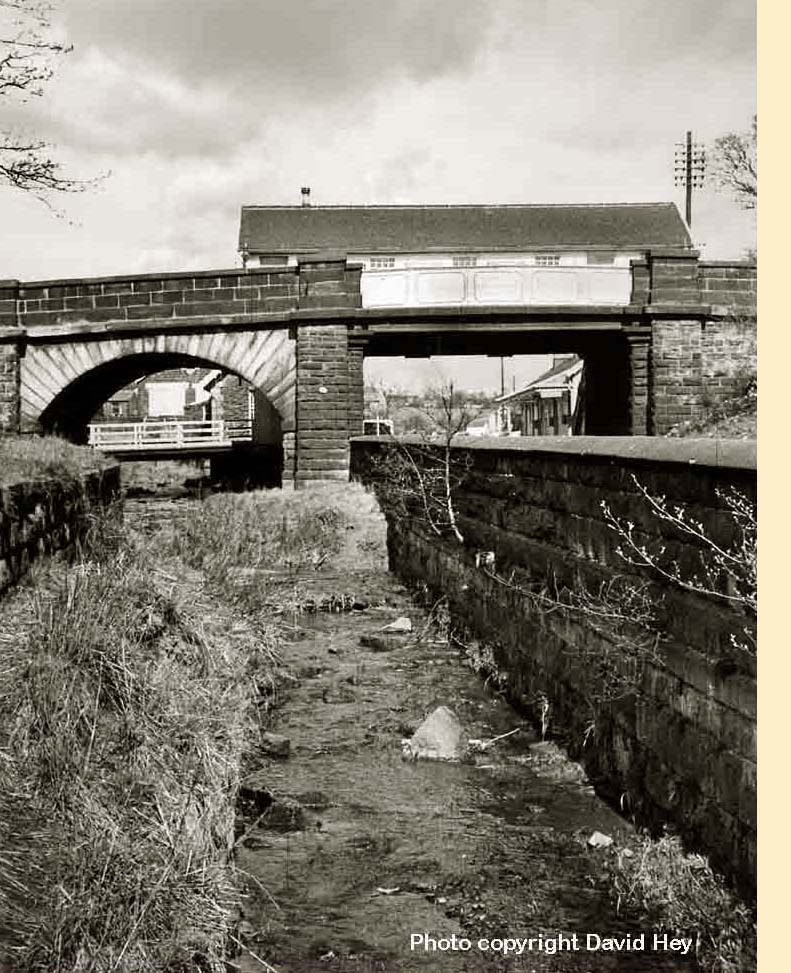 peppered with anecdotes in an attempt to strip the hobby of its eccentric aura and make it look cool...some hope! It stIcks in the craw that the public's perception of train spotters will probably never change.
The question most frequently asked by friends is - 'What on earth do you see in trains?' It's simple. As a small boy, the fascination for trains was handed down by one's peers - an older brother, for example, though there were thousands of boys, myself included, whose penchant for collecting engine numbers came from the simple pleasure of collecting things: stamps, cigarette cards, even birds' eggs.
I'm harking back to a more innocent age when children fished for sticklebacks in the local beck or played hopscotch and marbles in the street. Indeed, there was little else to stimulate a boy's interest - no television, no computer games, and no emporium-style toy shops awash with expensive playthings to pervert a child's sensibilities. Instead, toddlers had to create their their amusement, and since I was born and raised within sight and sound of the Leeds-Harrogate line, the earliest childhood memory I have is watching the steady procession of steam trains(woo-woos) from my bedroom window overlooking Woodside in Horsforth.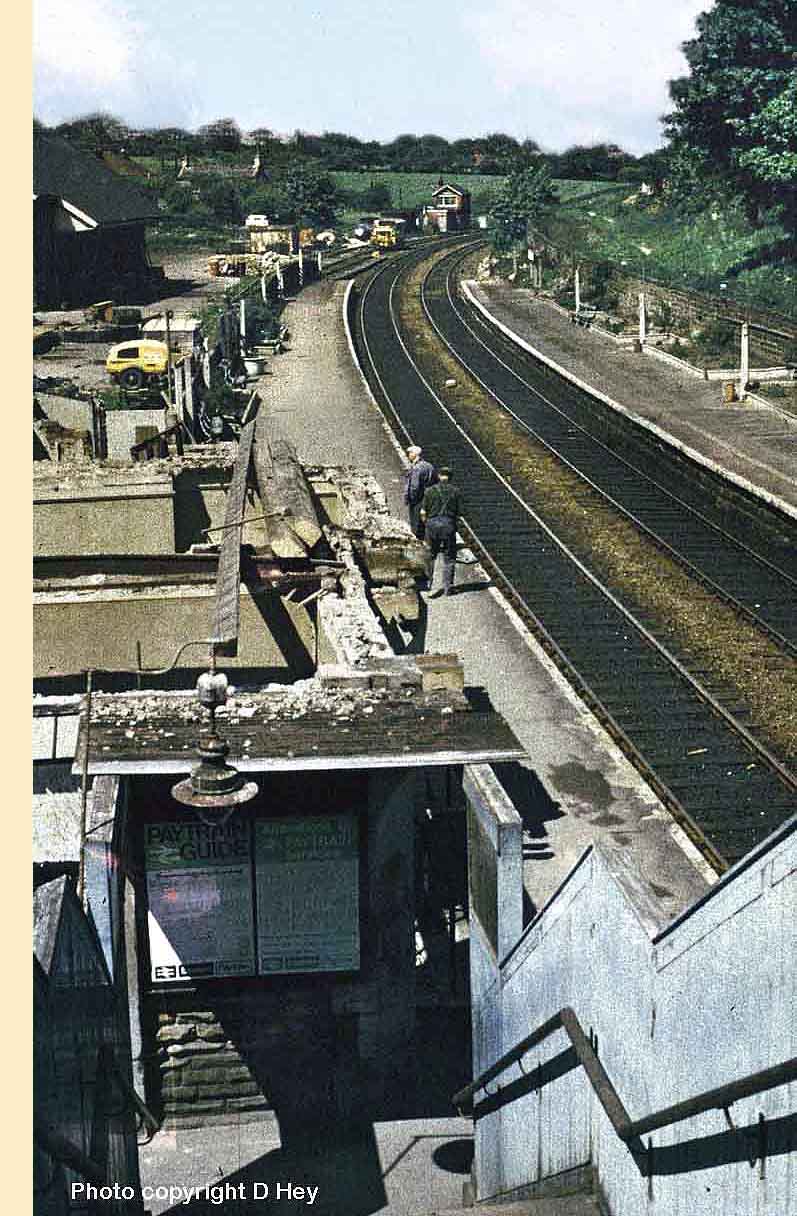 (Above Left) A Sixties view of Brookfoot Beck running alongside Horsforth Station. (Right) I can't work out what was achieved by Beeching's orgy of cutbacks. Even if a station survived, the passenger facilities were often reduced to rubble then later replaced with so-called modern 'bus stop-type' shelters; it was a deplorable state of affairs. The demolition crew do their worst at Horsforth station in June 1972.

The best chance of seeing trains at close quarters came on a Sunday evening during a leisurely family stroll through the woods to the Fox & Hounds pub near Horsforth station. I remember the two evening expresses (one in each direction) both headed by the strikingly handsome Class A4s based on Tyneside. The booked time for the 'down' train was approximately 7pm which coined its nickname the 7 o'clocker and the 'up' train became known as the 8 o'clocker for the same reason.
The childhood memories of those two Sunday-night streaks will never go away, for the sight and sound of an A4 was the defining moment which kick-started my interest in trains. Better still, being a relative newcomer to the hobby, my visits to Horsforth station produced a 100% success rate of cops, all carefully logged in an Ian Allan abc Locospotters Book, costing a princely sum of 1/3d (6½p) and backed in brown wrapping paper to protect it from the rigours of a day's spotting. But it wasn't long before my cop-rate had reached saturation point and the same engines began to appear with monotonous regularity; even the more engaging express trains between Liverpool and Newcastle brought relatively few cops after a while. I decided it was time to move on to pastures new, and that's when I discovered another Horsforth station on the line between Leeds and Shipley - a four-track main line with engines galore...the chase was on!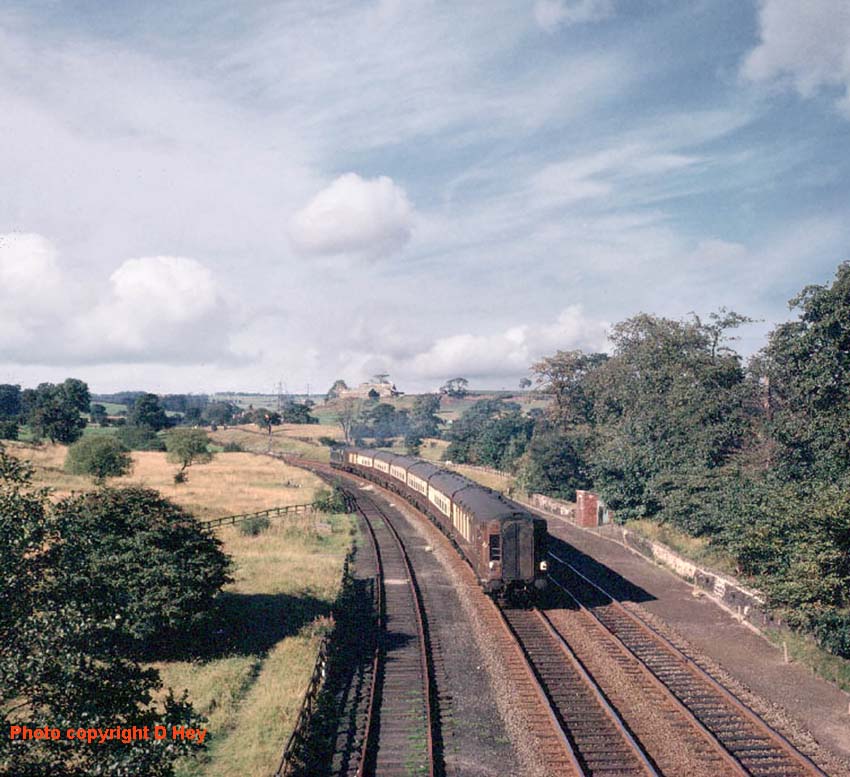 (Above)
I remember the steady procession of 'stoppers' and 'non-stoppers' on the Leeds-Harrogate line, but the most memorable train was the regal-sounding 'Queen of Scots', consisting of one train daily in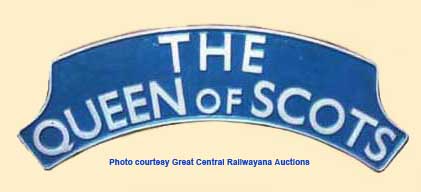 each direction between London Kings Cross and Glasgow Queen Street. The swanky train was composed of flat-sided chocolate and cream Pullman cars with distinctive vestibule ends, each containing recessed doors, oval windows, even polished handrails and the cars had a fine feudal Pullman coat of arms and a feminine name on the side.
Here the northbound Pullman tops the summit of Headingley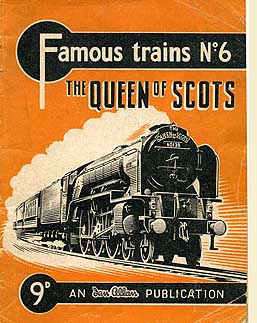 Bank just north of Horsforth station in July 1962. The Pullman cars even had electric table lamps, which left an indelible impression on this youngster in the early Fifties. We lived in a house without electricity until 1954, and so there were no labour-saving devices such as fridge-freezers, vacuum cleaners and washing machines. Instead the household chores had to be done the hard way, especially on a washday. First a peggy tub was filled with hot water from the gas boiler. Then, as the dirtiest clothes soaked, the more stubborn stains were removed on a scrubbing board followed by strenuous possing - yes, possing! - before the heavy sheets and towels were rinsed in a stone sink, the whites soaked in water laced with Dolly Blue. Then, the clothes were squeezed through a mangle and 'pegged' out on the washing line to dry - what a palaver! For the record, the 'Queen of Scots' coaching stock was made up of an almost uniform rake of the new Metro-Cammel Pullman cars, first introduced on the London-Sheffield 'Master Cutler' Pullman in September 1960. They appeared on the 'Yorkshire Pullman' and 'Tees-Tyne' Pullman duties in January the following year. The 44 vehicles were used entirely on the East Coast main line services, but as no Pullman brake cars were built in the same order, the elderly flat-sided Pullman brakes were utilised.

(Right) If I had to choose my best spotting moment, it was time I 'copped' my last Class A4 'Streak' 60031 Golden Plover at Doncaster shed on May 23rd 1959. It was a prized cop and I couldn't wait to tell my old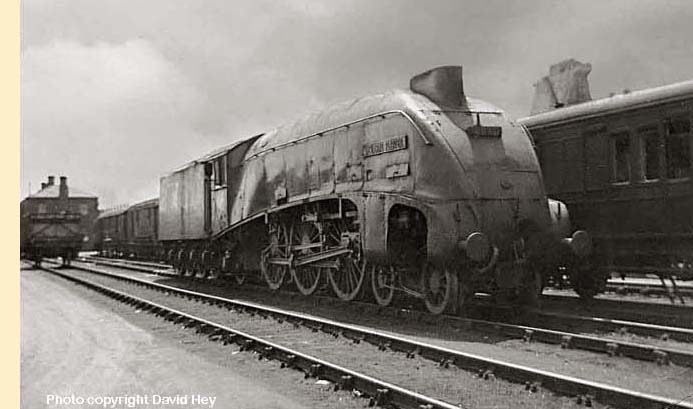 spotting chum, Bonzo. Oh, big mistake! At one time he'd have blown up a storm, but Bonzo had more important things on his mind. He was all awash with debilitating testosterone - and Bonzo being Bonzo, it was more like a bloody tsunami! He was verging on the cusp of manhood and fallen madly in love with the delectable Sonia Barker, a curvaceous 5th Form girl at school. For some reason he had the crazy notion that she found him irresistible and spent most days hanging around the school gates hoping to walk her home.
Trouble is, Bonzo was the latest casualty that she'd hoodwinked into thinking her flirty sideways glances were meant especially for him - the truth is the only person she fancied was herself and, despite telling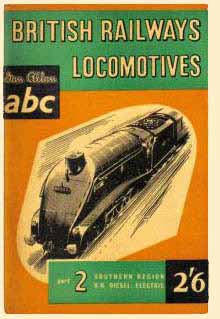 Bonzo for the umpteenth time that she wouldn't be seen dead in his company, he had some half-baked idea that she was playing hard to get.
And that's when Bonzo screwed up badly. She'd made it abundantly clear from the start that his feelings were not reciprocated, but he wouldn't take no for an answer and began shouting ribald invitations at her outside the school gates - more innuendo than anything else - then the obscenities began to flow.
Now I don't know why I didn't try to stop him - laddish bluster, peer pressure? - perhaps both or neither, I haven't a clue. One thing for certain, though, the only cure for his animal passion was a rabies jab. His behaviour was totally at odds with the far-reaching hopes I had of my own for Sonia Barker in the back row of the 'flicks'. I was acutely aware that a girl's perception of a potential suitor was based on the company a boy kept and, for me, Bonzo's outburst spelled the end of our friendship. Not only had he queered his own patch, he'd queered mine too - it was the first lesson I learned about the ways of the world...sometimes you have to leave someone behind in order to grow and develop yourself.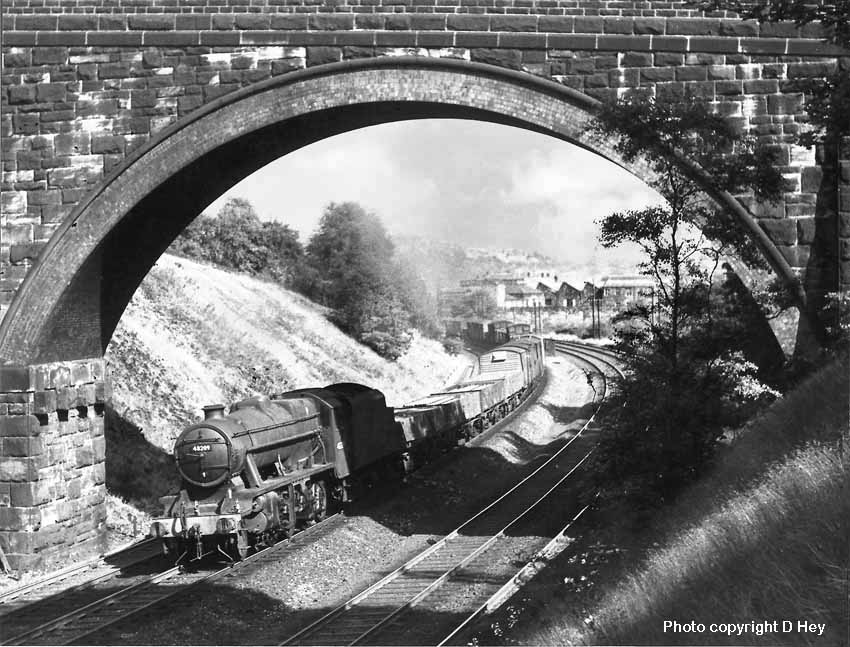 (Above-Below) It's extraordinary how some photographs can whisk you back to a moment in the past, overwhelming you with vivid, sometimes quite forgotten images of childhood. One such place for me was the retaining wall in Newlay Cutting on the Aire Valley line between Leeds and Shipley; it became a veritable hiding place where I could indulge my passion for watching trains without any bigoted gazes heading my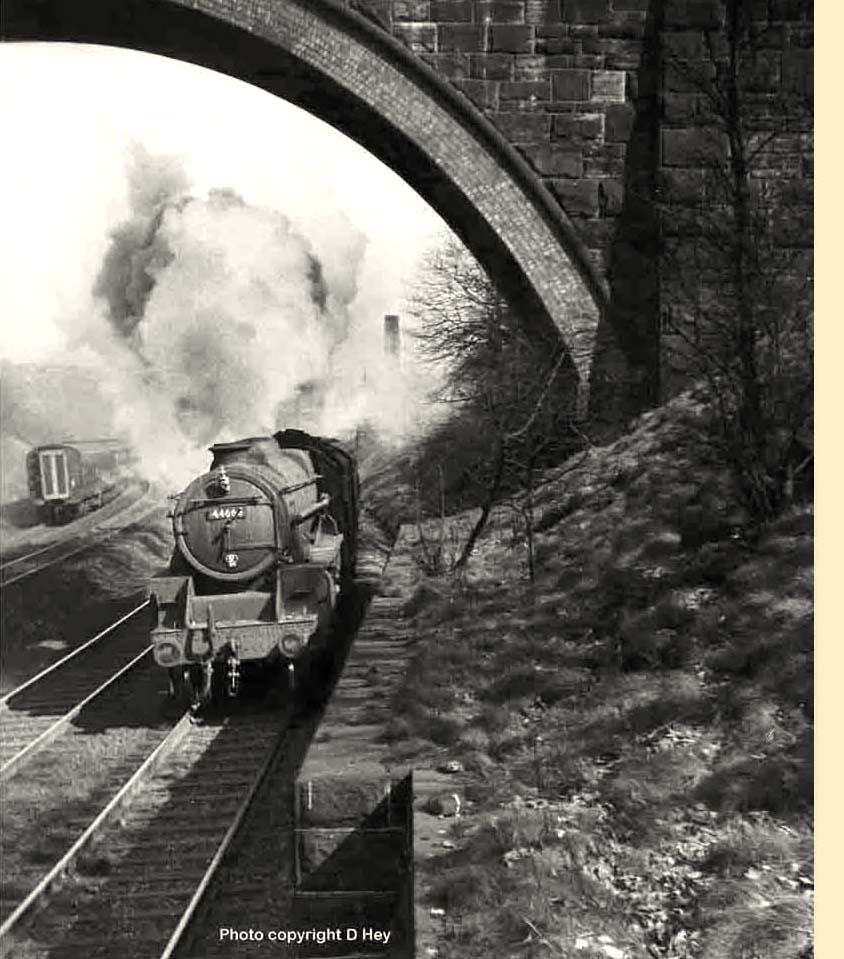 way…the spotting fraternity was stigmatised even then.

Here Class 8F No 48209 heads a Leeds-Carlisle goods on June 11th 1962. Amazingly, the Class 8F (introduced in 1935) was still doing the job for which it was designed - hauling heavy freight - right up to the end of steam days in 1968...a fitting testimony to Stanier's design.


With hindsight I must have cut a rather reclusive, enigmatic figure to the indigenous wildlife in the cutting; I'd sit there for hours on end beneath the overhanging trees, spending most of the day shaded from the sunlight shimmering through the canopy of leaves. But then most spotters have a love of the great outdoors and the solitude in the cutting was as close to nature as anyone could get.
In between the stately passage of trains (steam still carried considerable clout in those days) the peace and tranquillity was a rural idyll that few people knew about and so I claimed it as my own. But as the months passed by and my visits became more frequent, a tacit understanding seemed to develop with the local wildlife; the birds became more daring, the rabbits and squirrels more inquisitive, though I suspect this had more to do with the scraps of food I left behind, which had all gone when by the time I returned the next day...because there was always a next day, and the day after that - and in no time at all the days turned into weeks, the weeks into months and I was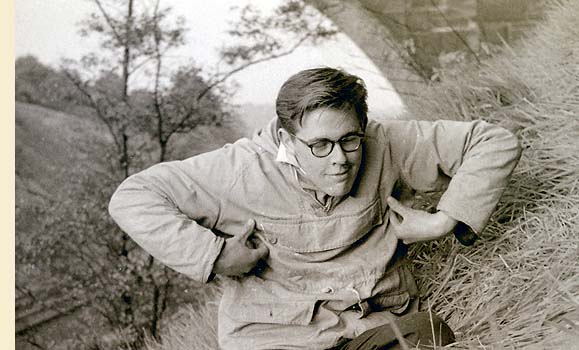 metamorphosing into Tarzan.
(Right) Yours truly aping around in anorak and jeans during an idle moment between trains...
Mind you I had good reason for my bohemian existence, and it's pointless hiding behind any fancy rhetoric to justify what I did. You see I should have been at school, but I hated the drudgery of school lessons and spent the best part of a year avoiding school. I became a serial truant; the prospect of going to school filled me with loathing, and the cutting was the only place I could escape.
Alas, I did get caught in the end though, but even today I'm not sure if it was a teacher who spotted me, or someone in class who'd snitched - whatever the reason, I was hauled before the Headmaster, who told me in no uncertain terms that unless I attended school for the remainder of the year, he would impose an extra term on my education…a whole year of school rules, regulations and discipline! It was my worst nightmare, and so I had no other choice. I went back pronto - and, realising how much catching up I had to do, I've lived to regret wasting such a precious education! (Below) the same spot forty years later, but looking quite different in 2004...click here to vist the first 'Aire Valley Line' page 49.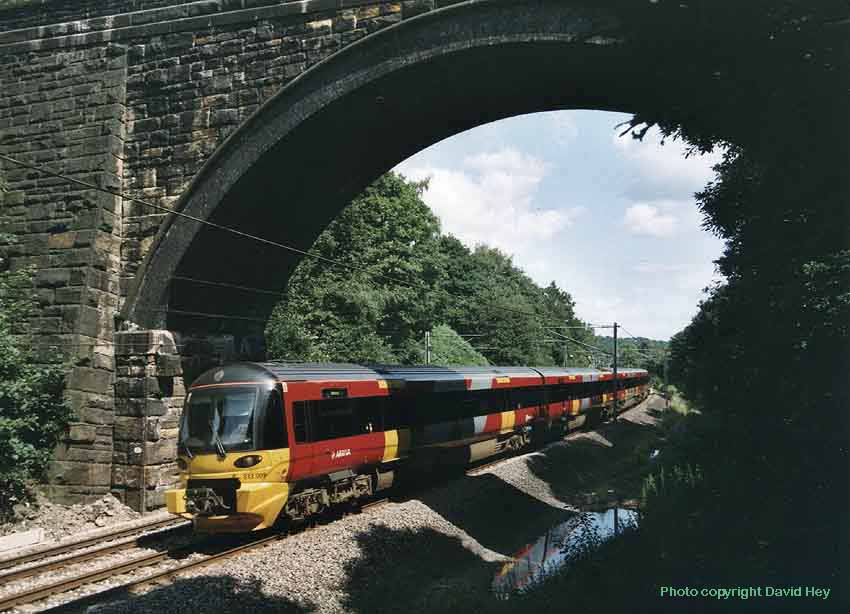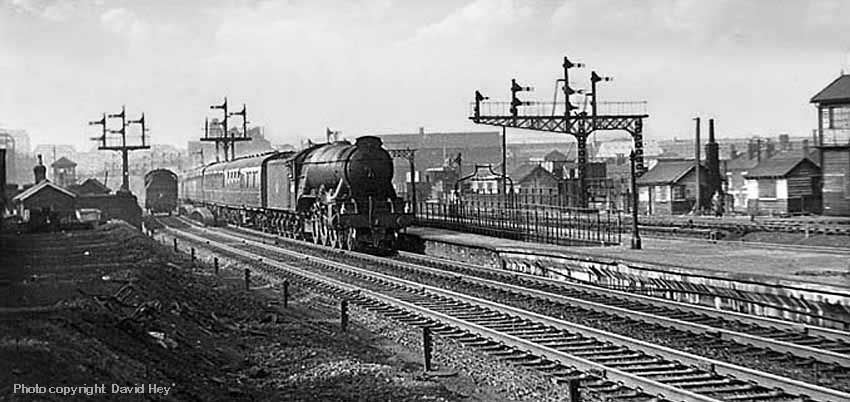 (Above)
Holbeck's newly-acquired Class A3 No 60082 Neil Gow (named after the 1911 2,000 Guineas winner) passes the disused platforms at Holbeck Low Level with the 'up' 'Thames-Clyde Express' in May 1961. The lattice signal gantry on the right controlled traffic to Wellington Street Goods Depot and Leeds Central station. On the left are siding serving the gasworks, and in the middle distance the former MR Wortley Junction signalbox. The name Wortley Junction is now given to the present day divergence of the Harrogate line from the route to Bradford, Skipton and Ilkley near Armley Bridge. Holbeck Low Level station closed on 5th July 1958.

(Below) I have fond memories of photographing the two Anglo-Scottish expresses on my local line between Leeds and Shipley. Prior to the arrival of the BR/Sulzer 'Peak' class Type 4 diesels, a variety of steam power worked both expresses north of Leeds - 'Jubilees', 'Scots' and BR Standard 'Britannia' classes, all based at Holbeck shed - but the most surprising allocation was the eight Class A3s transferred from Tyneside due to the cascading effect of dieselisation on the ECML It was a welcome move for Holbeck crewmen, as most of the A3s were fitted with the double Kylchap blastpipe which produced a freer steaming engine and gave fireman an easier time over the steeply-graded Settle-Carlisle line. Here Class A3 No 60086 Gainsborough heads the northbound 'Thames-Clyde' though Whitehall Junction in May 1961. The two turntables at Holbeck shed were found unsuitable for turning the Gresley Pacifics - length 70ft 5ins - hence sister A3 No 60082 Neil Gow (just visible in the right background) is being turned on the triangular junction to the west of Leeds station, while an 'Austerity' is awaiting a clear road on a down freight.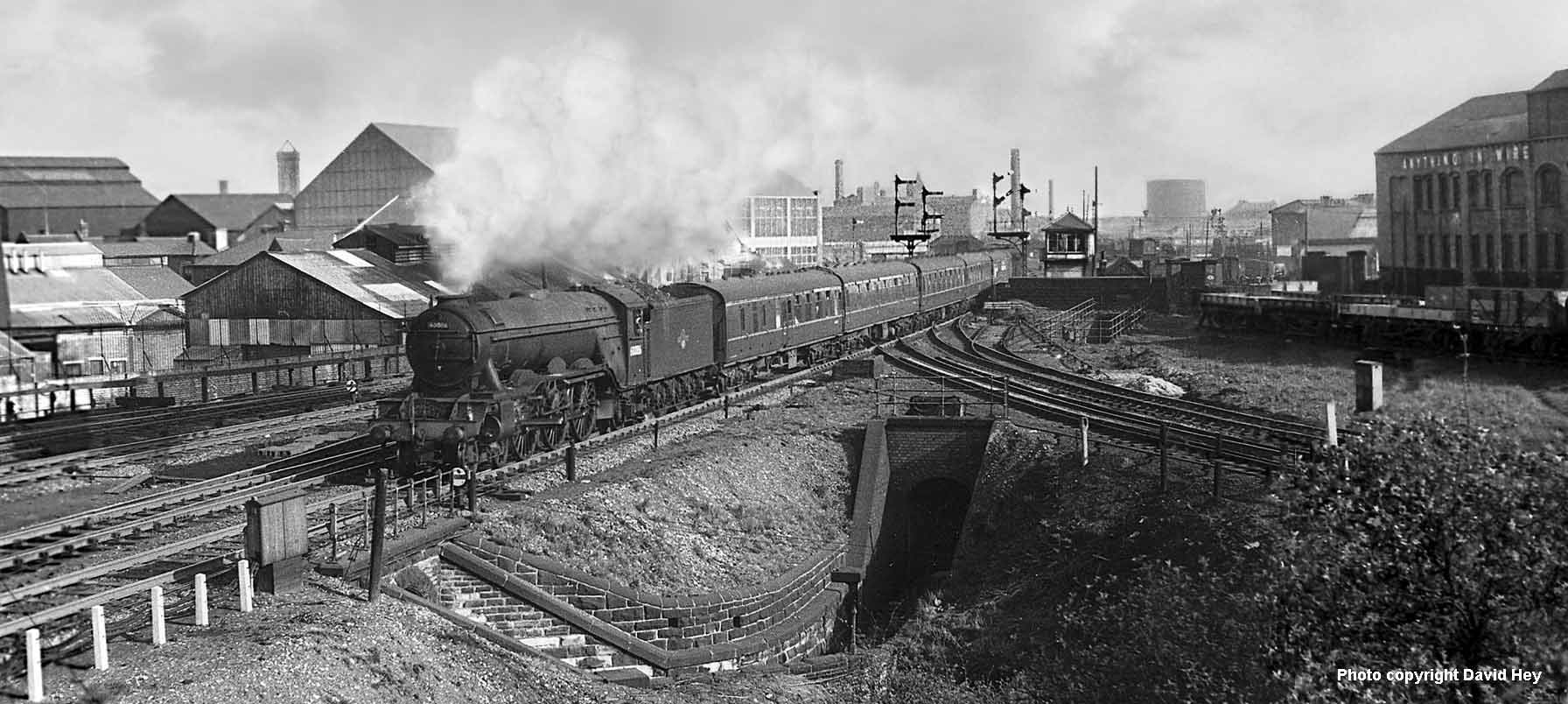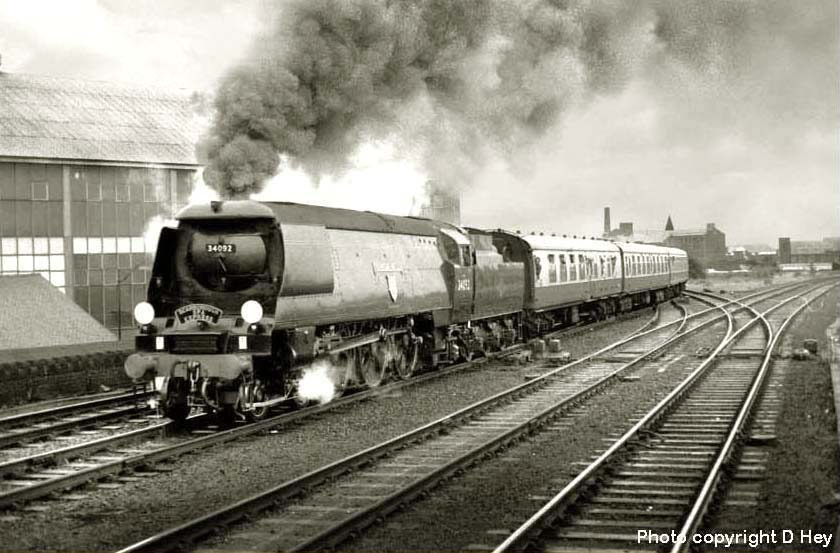 (Above) Being Yorkshire-born and bred, I was brought up on a mix of ex-LMSR 'Royal Scot' and 'Jubilee' classes, together with the 'A' class Pacifics belonging to the former LNER, so the Southern Region engines

were all foreign to me. I remember borrowing books of trains from the local library, and pictures of the ex-Southern Railway's 'Spam Cans' in their original form (with air-smooth casing) looked strange to me. Odder still, under the Southern Railway's numbering scheme the Bullied Pacifics carried a 21C prefix that represented the continental system of wheel arrangement - the number of axles on the bogie was denoted by a '2', followed by a '1' for the pony truck, and the six driving wheels were represented by the letter 'C'. It wasn't until I'd reached my teens in the early 1960s that I visited the Southern Region. By then, most of the Bullied Pacifics had been rebuilt - and, whilst not wishing to incur the wrath of SR fans, they looked like proper engines with their streamline casings removed. The Bullied Light Pacific was essentially a scaled-down version of the earlier 'Merchant Navy' class introduced in 1941. The new engines were named after cities, towns and tourist spots in south-west England, and became known as the 'West Country' class, whereas later examples had wartime commemorative names, mostly taken from RAF Squadrons associated with the Battle of Britain. Here, 'West Country' class No 34092 City of Wells (built at Brighton in 1949 - preserved in 1971) heads the 'Scarborough Spa Express' out of Leeds in the 1980s. Today, no fewer than 20 have been preserved, nine of them in unrebuilt condition, which is a fitting tribute to the Bulleid design.

(Below) Fast forward twenty-odd years and Whitehall Junction has radically changed. This 1983 view shows one of the 'First Generation' Class 108 dmus which were built to designs conceived during the 1950s, but by the time this photograph was taken the units were way past their best. BR refurbishment programme in 1975 (repainting, improved heating and ventilation, soundproofing and general improvements to the interior) may have been tangible proof of the worthiness of the old stock, but it underlined the desperate need for more modern vehicles; it wasn't until 1984 that BR embarked on the replacement of its existing fleet with the introduction of the second-generation dmus, including the new Class 14X 'Pacer' and Class 15X 'Sprinter' types. I sat here for hours watching trains coming and going; the junction is less than a mile from the city centre, yet the grassy bank was like a green oasis amidst the industrial setting and busy Armley gyratory road system, yet the distant hum of traffic was barely noticeable as the dmu rattled past on its way to Harrogate. Note: some photos on this page are 'super wide images' - click on photo once, then again to see the full wide-angle shots.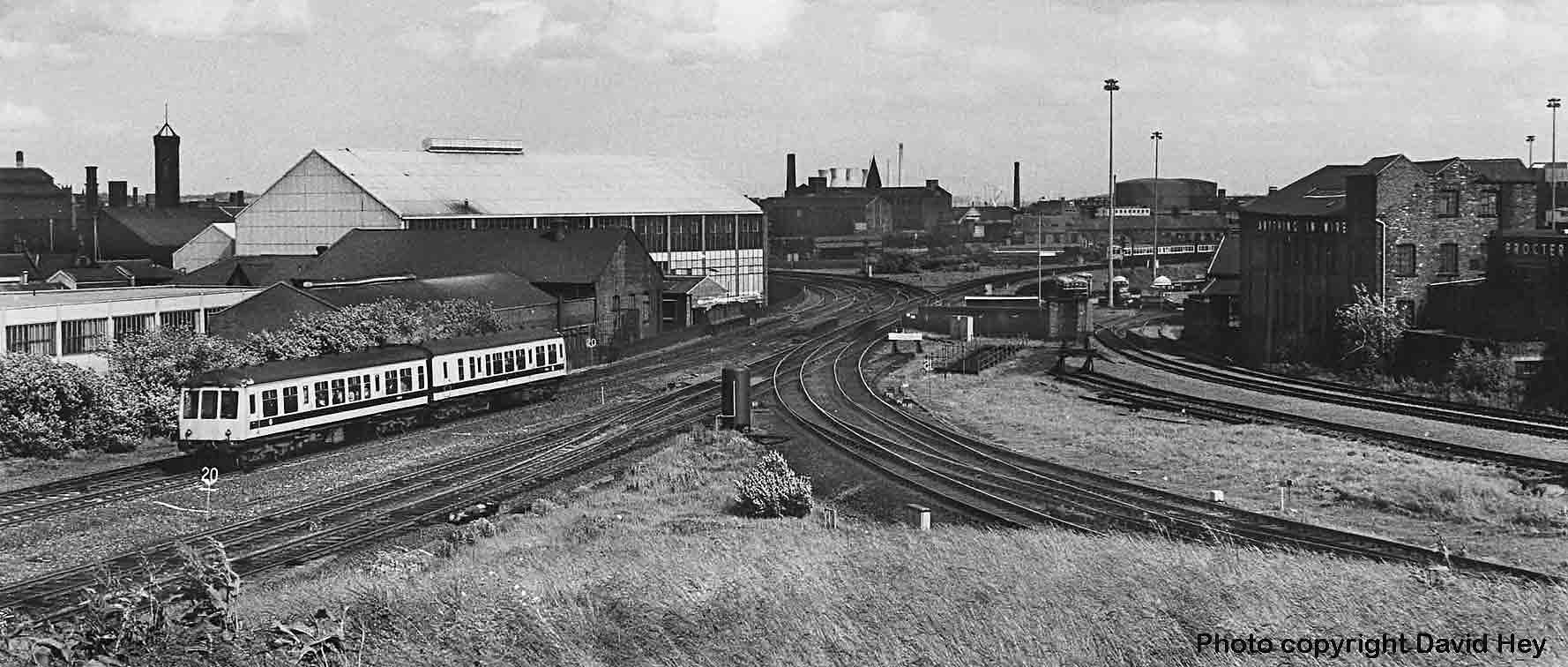 BEESTON JUNCTION MEMORIES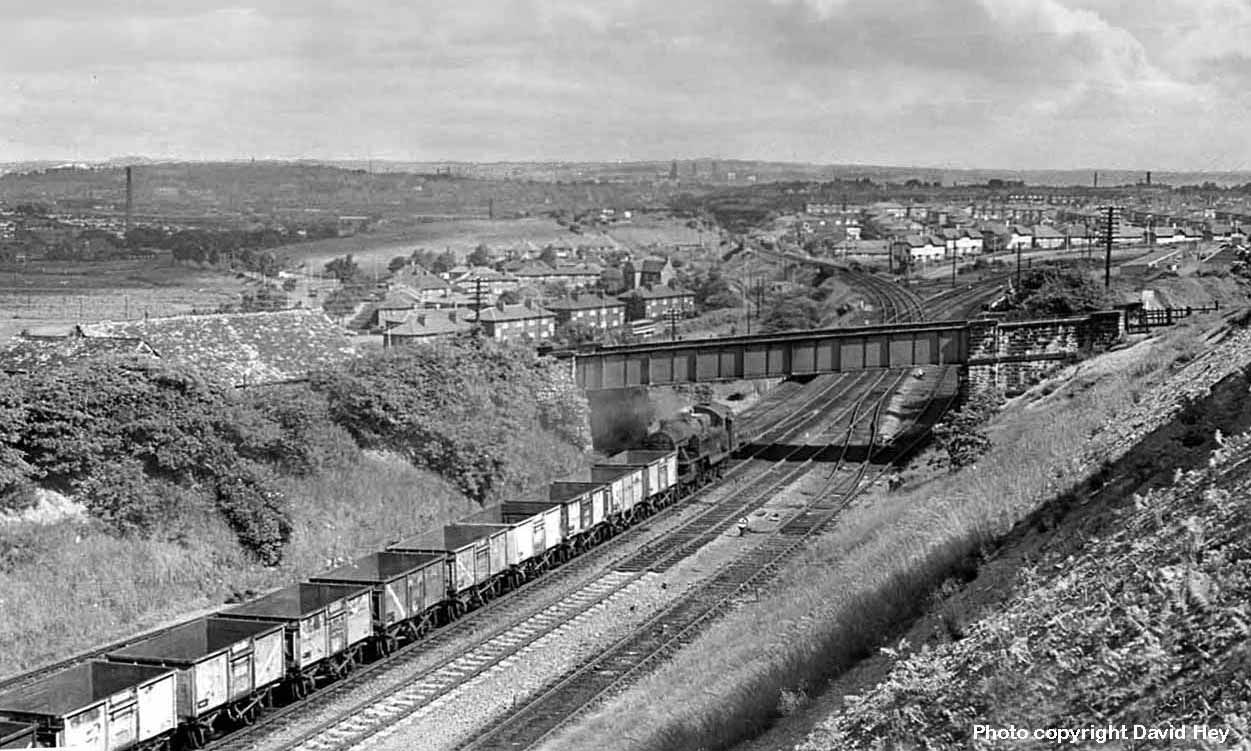 (Above-Below) These two super-wide photos of Beeston Junction show a scene that has changed dramatically over the years. With ever-increasing demands for modern housing and purpose-built industrial units, there's no stopping property developers making inroads into 'green-belt' areas. A modern out-of-town shopping centre now occupies the fields on the extreme left, whilst the post-war pre-fab housing at Cottingley in the distance has been replaced by high-rise tower blocks - and typical of the motorway extravagances in the region, the Leeds Ring Road has been upgraded to serve the busy M62 at Junction 28. (Top) Stanier 2-6-4T heads empty coal wagons towards Leeds. The loops on either side of the main line were once the start of a fly-over junction with the Batley Branch, which closed to passenger traffic on 29 October 1951. (Below) The same spot twenty years on, but a view already consigned to history following the completion of the ECML electrification scheme connecting Leeds with the main line at Doncaster - a 3-car Metro-Cammell dmu heads towards Wakefield in 1983.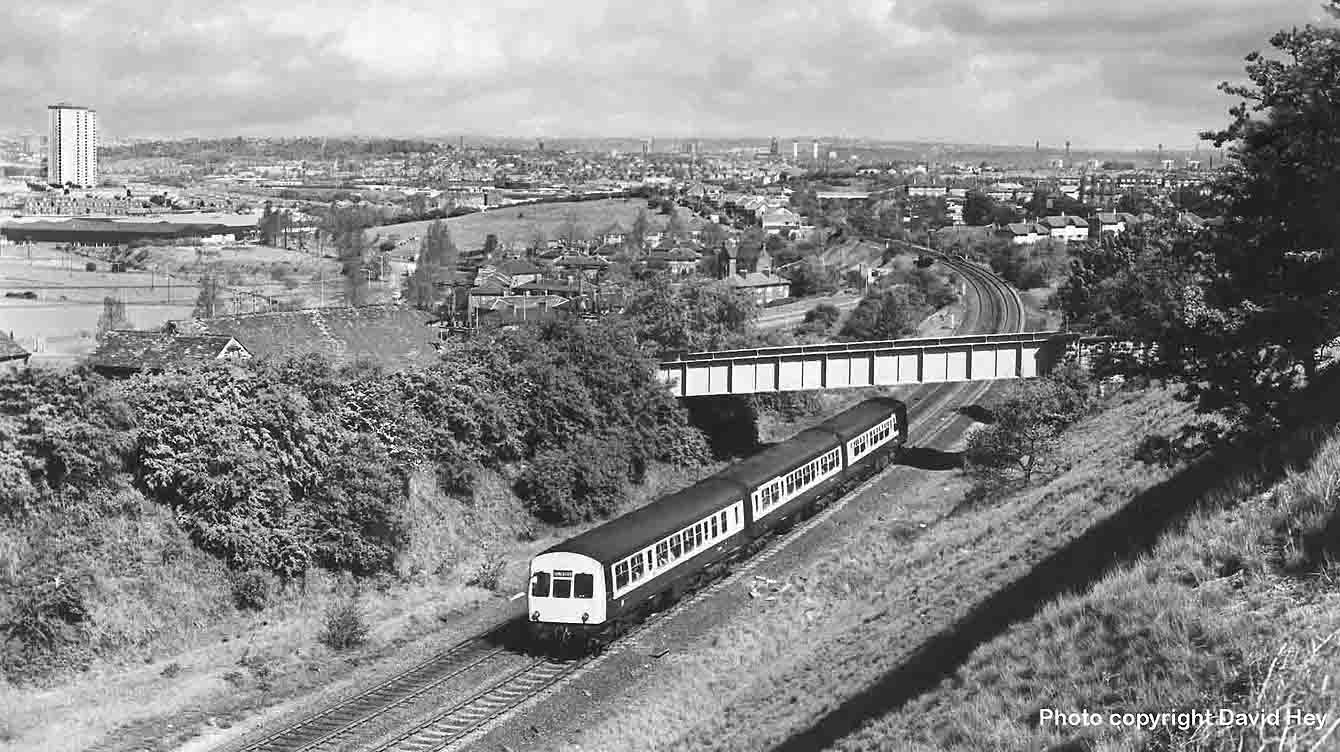 A photograph doesn't necessarily have to be valuable archive material; it may simply trigger a distant memory. John Booth writes...
'Just found a picture of Class A1 60117 on your website page (BR Steam Days Leeds 1) which brings back many happy memories for me. Now aged 73, I recall spending countless hours train spotting at Beeston Junction as a boy.
My disabled grandmother lived in the ground floor flat of the first house facing Dewsbury Road; it is just visible behind the left hand side of clump of trees to the right of the roadside telegraph pole. My mother and I visited almost every other day to help care for her, and a kindly neighbour kept an eye on her when we were not there.
In the bottom left hand corner of the photo (below) can be seen a wooden fence on which I sat. Many a time the signalman would order us to get off the fence. I suppose (technically) we were trespassing, though I cannot recall ever actually doing anything wrong.
Although my favoured position was the other side of the bridge to where this photo was taken, the view as illustrated is the better vantage point. It may be that I was told not to cross to the other side of the line so that my mother could see me from my grandmother's flat; the door now has a white surround and can be seen on the gable end on the shaded side of the house.
Many thanks for bringing back so many memories, John…'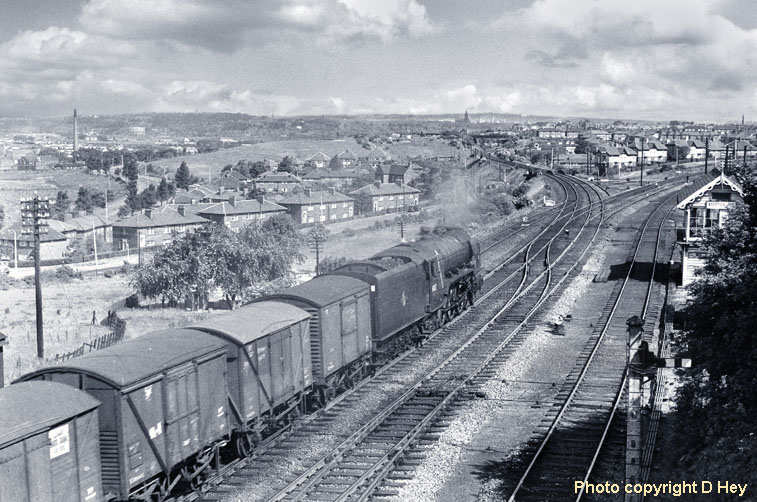 'SPOTTING MEMORIES 3'
Steam Days at Warrington Bank Quay
by George F McKie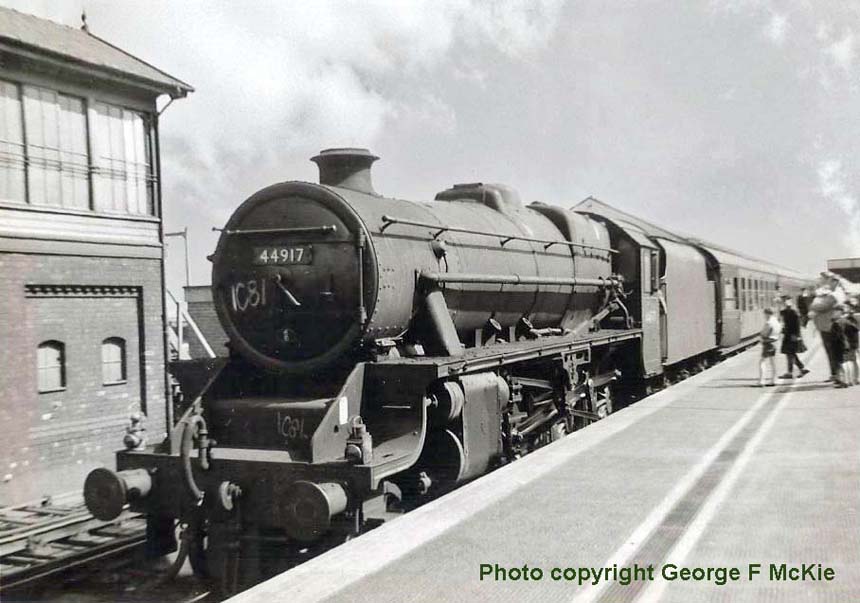 (Above-Below) When I was about 12 years-old I was mad keen on steam engines and spent a lot of time train spotting at Warrington Bank Quay station on the West Coast Main Line. I recently discovered these fifty-odd year-old photos which were taken on a battered old Brownie 127 and Instamatic 50 long before the digital boom arrived. Not only do they bring back a flood of personal memories it is quite remarkable that they have survived all these years, and I'm glad David has given them a new lease of life in Adobe Photoshop. In the first shot, Stanier Class 5 No 44917 pauses at Warrington Bank Quay with a northbound train; more than likely destined for Blackpool. Before the driver got the right away, some of the lads on the platform were allowed on the footplate for a couple of minutes. (Below) The now-preserved 'Royal Scot' class No 46115 Scots Guardsman powers through Warrington Bank Quay with an enthusiasts special, its last official run on BR before withdrawal.
A Longsight engine for most of its life, 46115 was the last member of the class to survive in BR service. Withdrawn from traffic in January 1966 the loco was restored to main-line running order in June 2008.
In this photo is a lad from my school who died a few days later from leukemia - a dedicated spotter to the very end.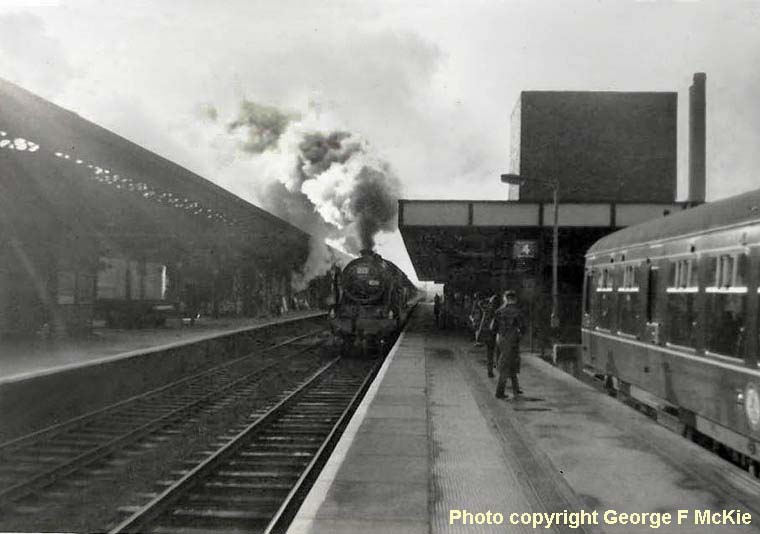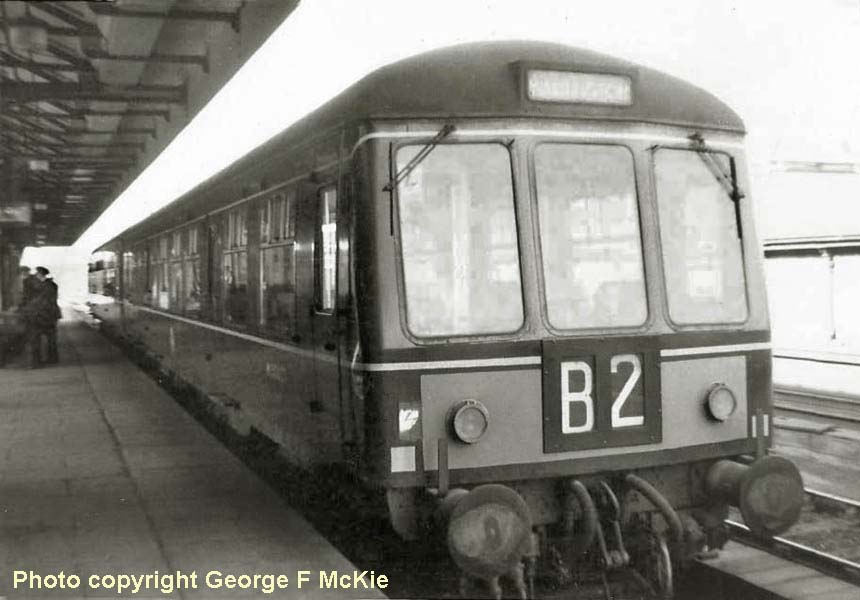 (Above-Below) Warrington Bank Quay station saw its fair share of diesel multiple units on the service between Chester and Liverpool or Manchester, though at the time I never understood why this should be the case since the station at Warrington Central on the Manchester-Liverpool route was better catered for these journeys. The Class 108 2-car unit in this shot was bound for Manchester.
When I was a lad
I hated these units as they were taking over all the local steam-hauled trains…and like most spotters at that time the DMUs were sneered at and called 'trash cans'. Today, however, I enjoy seeing them on preserved lines, as they bring back memories. (Below) This shot shows the larger destination code box as fitted on some later Class 108 vehicles. This 2-car set spent a lot of time sitting in platform 4 with a St Helens destination. From Bank Quay it would head north on the 'slow' line before branching off at Winwick Junction past the Vulcan Locomotive Works and on through Earlestown to St Helens.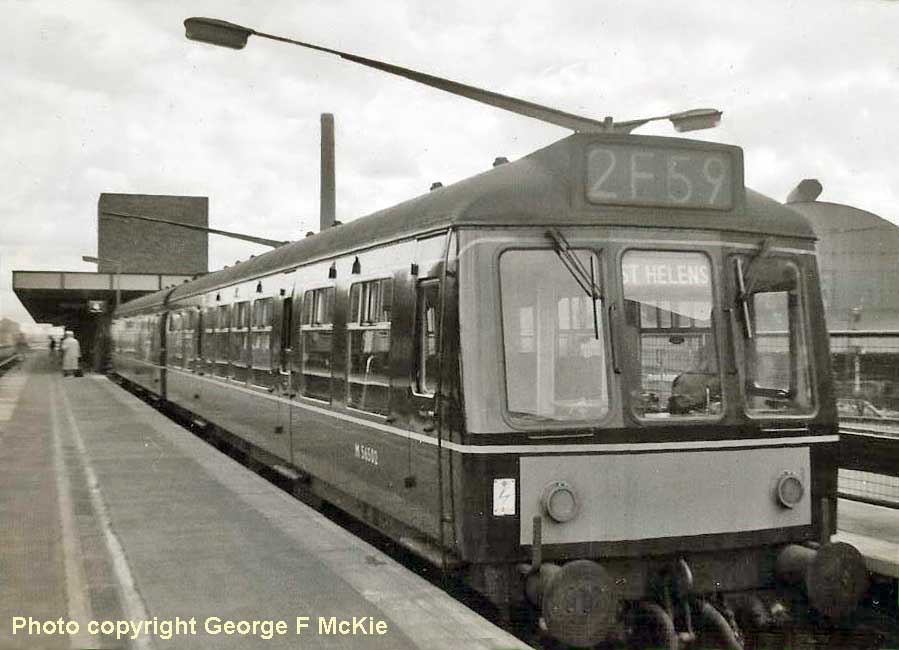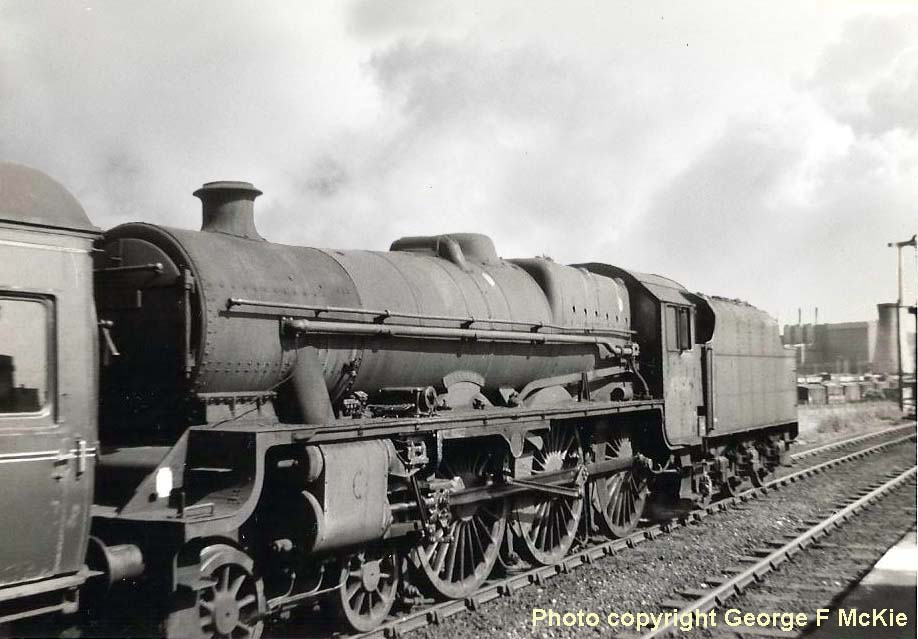 (Above-Inset-Below) Working tender first, 'Jubilee' class No 45666 Cornwallis pauses at Bank Quay on a southbound empty stock movement. This loco and its classmate No 45590 Travencore were seen quite a lot in our area. Cornwallis was withdrawn from Warrington shed in April 1965 and cut up at Hayes of Bridgend five months later. In the background is part of the cardboard paper mill owned by Thames Board and shows the powerhouse with its own electricity generators and cooling tower. I and my father worked there and a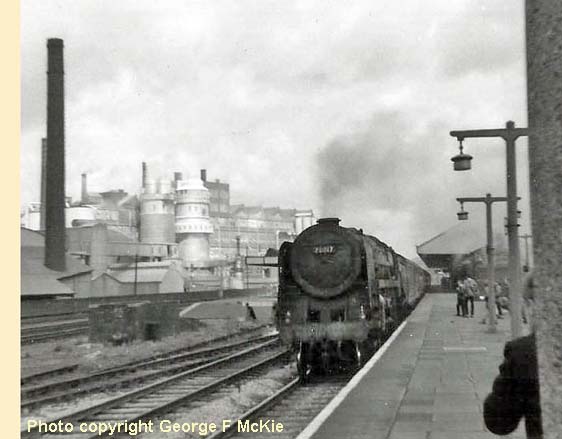 great place it was. Just behind the tender of the loco is the location of Arpley sidings where goods traffic was sorted.
Thames Board despatched quite a lot of products to customers by rail from here before the lorries took over completely.
The company even had its own diesel shunter for the job. I was presented with the shunter's Acme Thunderer whistle as a keepsake by the driver. (Inset) Britannia class No 70017 Arrow heads through Warrington Bank Quay station with a southbound non-stopper for London Euston. A bell would ring on the station to warn waiting passengers of an approaching train passing through at speed. There were no yellow lines on the platforms in those days. In the background is Joseph Crosfields Soap Works where they made Persil. The firm was established in the town in 1814 and later became a subsidiary of Unilever. The 'Brits' were my favorite of all the steam classes and I saw all but one, No 70005 John Milton. At night we would try to get on the platform for the 'half seven' mail and 'half eight' flyer which were always Britannia hauled. On one particular cold drizzly night I was told that 70020 Mercury was at Dallam sheds. I dashed there on my bike and watched it being steamed up in ex-works condition. I only saw it that once.
(Below) Stanier class 5 44937 taking on water on No. 1 platform with a train to Llandudno
.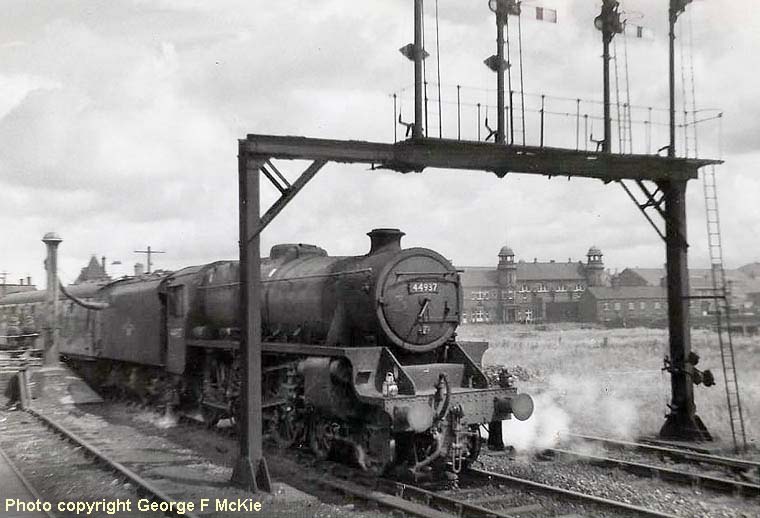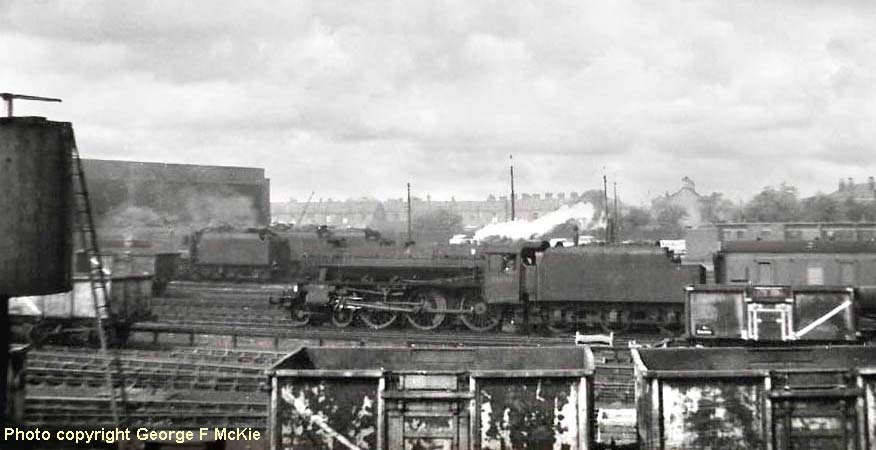 (Above-Below) Stanier class 5 passes Dallam sheds with a local passenger working, heading south probably to Llandudno. The shed in the background is part-full of the usual 9Fs, Fowler 4Fs and Stanier 8Fs. (Below) An unidentified Class 47 Brush Type 4 diesel passes Warrington Dallam Shed on a Saturday with a parcels train. It was uncommon at that time to see these Type 4s in our area - the majority being EE Co Type 4s - but within a few years many more Class 47s began to put in an appearance.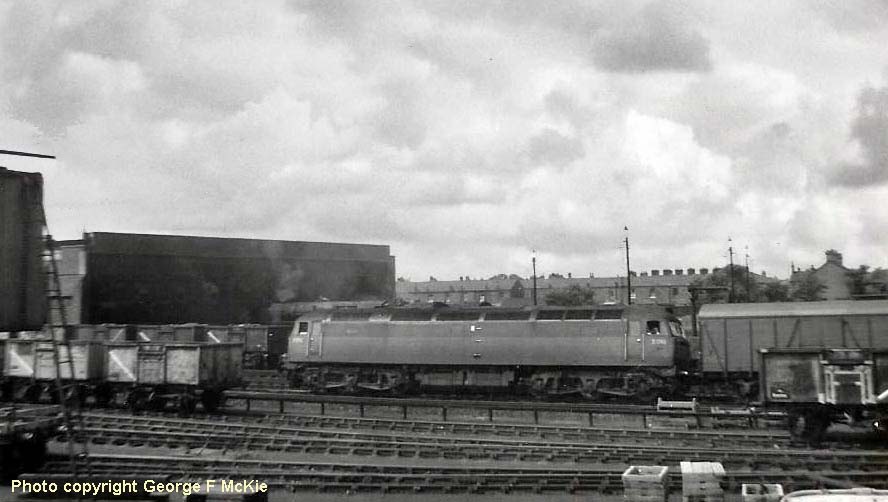 (Below) A view of Dallam sheds (8B) Warrington, on a weekday as very few locos are in the shed. It wasn't easy to get around here if the foreman 'Mona' was on duty. On some days it was easily accessed. I was chased off the premises more than once!
This reminds me of the first time I visited the shed during the summer school holidays of 1959. I was just 7. My ten year-old friend Malcolm thought it would be a good idea to spend the day watching trains at Dallam shed. So we set off at about 8.00am, though I didn't tell my mother; she would have flatly refused to let me go!
We headed off through the back streets, past Malcolm grannies house up to Winwick Road then over the crossing under the Liverpool to Manchester loop - all of which has since been replaced by a major road junction near the Fire Station.
After crossing the railway bridge we squeezed though the wire fence surrounding the shed; I had never seen so many engines in one place before; a large engine was being turned on the turntable and the smell of smoke hung in the air. As we brazenly headed down the ramp into the busy shed yard a railwayman stopped us in our tracks. Malcolm told him that we just wanted to look at the trains.
Amazingly, rather than send us packing, the railwayman was most obliging, and for the next hour or so he kept a wary eye out for us as we moseyed around the shed; it was quite an experience to be so close up to these enormous engines and to some extent frightening, however we were very careful not to lose sight of the railwayman and he began to trust our vigilance.
After a while he showed us how he turned a loco on the turntable by connecting a pipe in the front of the engine and pulling a lever. Then at lunchtime (dinner time to me) our new-found friend offered us an 'egg butty' each and a drink of horribly-stewed tea from his billycan - more like vile brown sludge if you ask me! Not only that, the bread was smudged with his black finger marks and the sharp bits of eggshell took some getting used to, but not wishing to upset him we dutifully scoffed the lot!
He was indeed very kind to us and we were extremely lucky to have bumped into him (as future failed attempts to enter the shed, when I was older, later proved). He even gave us a ride on an engine from the turntable back into the shed, though he had to lift me up into the cab, which, I must admit, was scary; the firebox was a roaring inferno, yet the excitement of riding in the cab was a great experience.
We spent the rest of the day engrossed in watching trains and with the light fading fast Malcolm decided we had better head for home. Trouble is he couldn't remember the way back! Eventually, after several wrong directions, we finally reached the end of our street to find a police car waiting outside our house.
I was in big trouble!
According to my frantic mum, at 2.30pm that afternoon my dad had arrived home from his shift at the paper mill and found her searching high and low for me. The police was called. Worse still, there was always a cooked family meal prepared when dad came home from work; mine had been put in the oven to keep warm. After giving me a good hiding, he sat me at the table and forced me eat my shriveled-up dinner, which had turned to a crisp in the oven; it was marginally easier to swallow than the egg butty I'd had earlier.
After that I was told never to play with Malcolm again, but I did though…he was always good fun to be with. I still remember that day now 54 years on…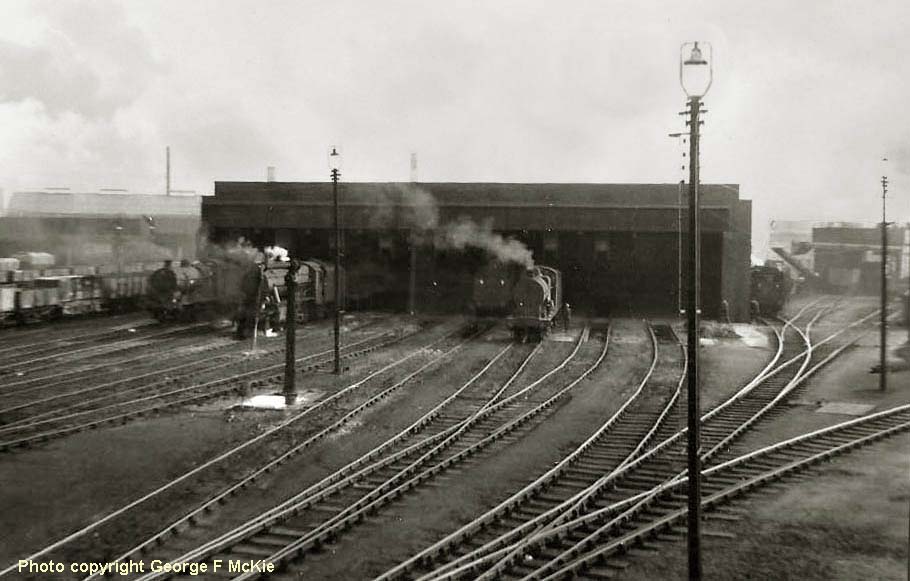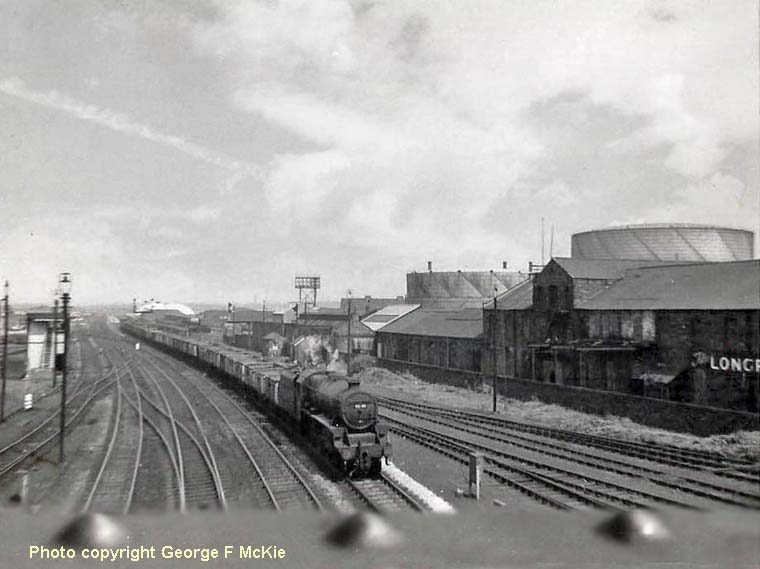 (Above-Below) An unidentified Black 5 heads south with a train of 16-ton mineral wagons. To the right is Warrington Gas Works which was part blown up by the IRA in 1993. In the distance is the Redpath Dorman Long Engineering Works on Hawleys Lane. Both the engineering factory and the gasometers were familiar landmarks in the town but they have long since gone. (Below) Britannia Class 7MT No 70048 The Territorial Army 1908-1958 was photographed at Dallam with a southbound local passenger train. This was the only time I ever saw this loco. When new,
70048 was among the batch of 'Britannias' allocated to Holyhead, but following the arrival of the EE Co Type diesels on the LMR, No 70048 was transferred to various depots including Chester, Willesden, Newton Heath, Annesley, Aston, Carlisle Upperby and finally ending its days at Carlisle Kingmoor from where it withdrawn in May 1967.
By the time this photo was taken, electrification of the WCML from Euston to Liverpool and Manchester was well advanced and steam engines had their smokebox door lamp bracket moved to a lower position to prevent locomen climbing up to chimney height in the vicinity of the 25kV overhead wires. The official ban south of Crewe began on September 1st 1964.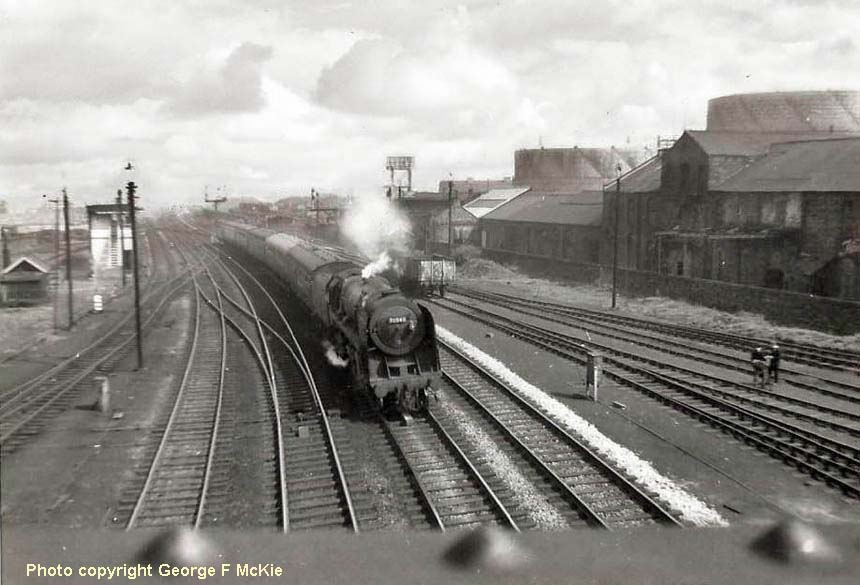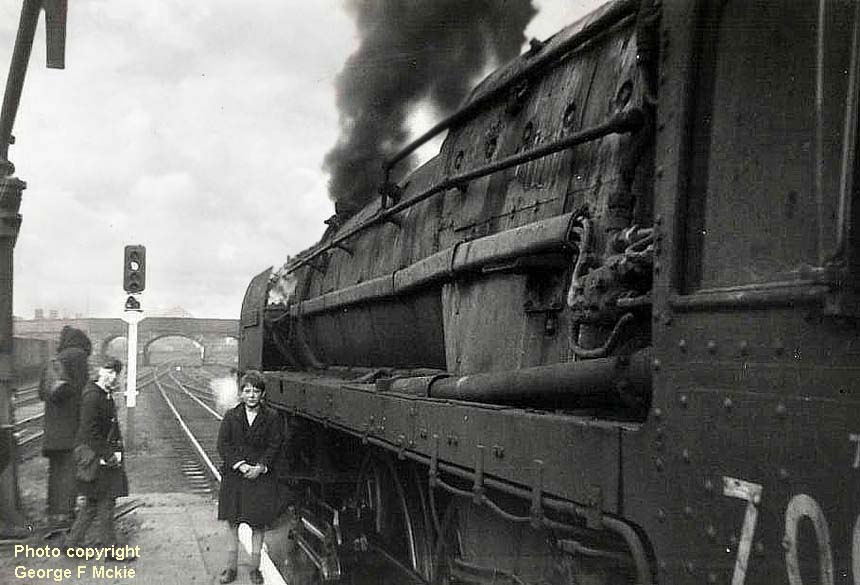 (Above-Below) 'Britannia' Class 7MT No 70010 Owen Glendower pauses with a northbound mail train at Bank Quay station. In the photo are a few of my spotting mates, but none of whom I remember the names of. The driver chatted to us whilst the fireman put coal on the fire, hence the black smoke.
(Below) This cast brass locomotive nameplate - measuring 60" long from the BR Standard Class 7 'Britannia' 4-6-2 No 70010 Owen Glendower - went under the hammer for £14,000 at a Great Central Railwayana Auction in July 2009. Built at Crewe in May 1951 No 70010 was named after the Welsh Chief (1350-1414) who conducted war against the English on the border between England and Wales. The loco was allocated new to Norwich but soon moved to March and later to Willesden, Crewe North, Crewe South and finally Carlisle Upperby from where it was withdrawn in September 1967 and cut up at J McWilliam, Shettleston the following January.



(Below)
This is the actual nameplate fitted to 70010 Owen Glendower and shows the LMS pattern smoke deflectors with hand holes instead of handrails; the deflectors were modified after the Milton incident where the handrails were blamed for the driver not seeing a signal at danger and the resulting accident. It was about this time that
BR began to remove nameplates from locos because their value as collectors' items led to a wave of thefts from depots.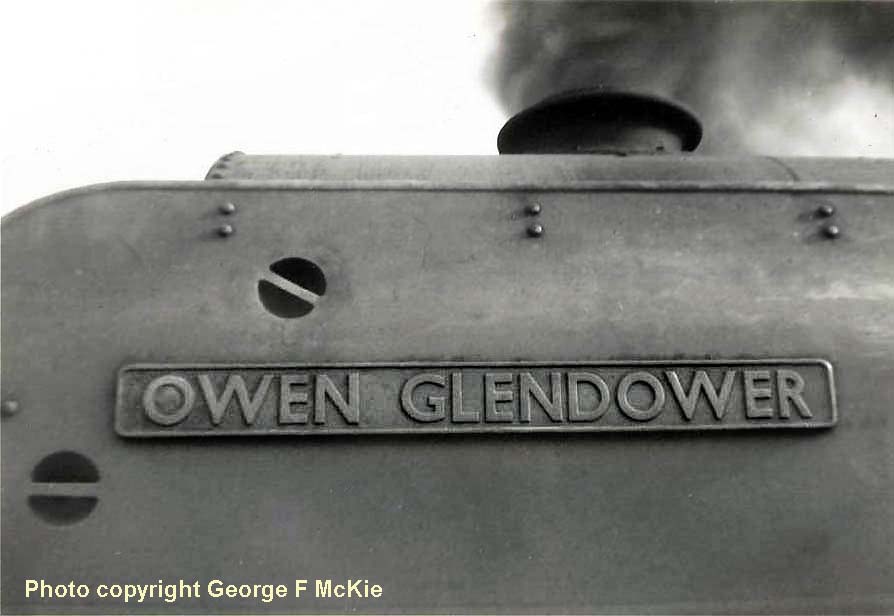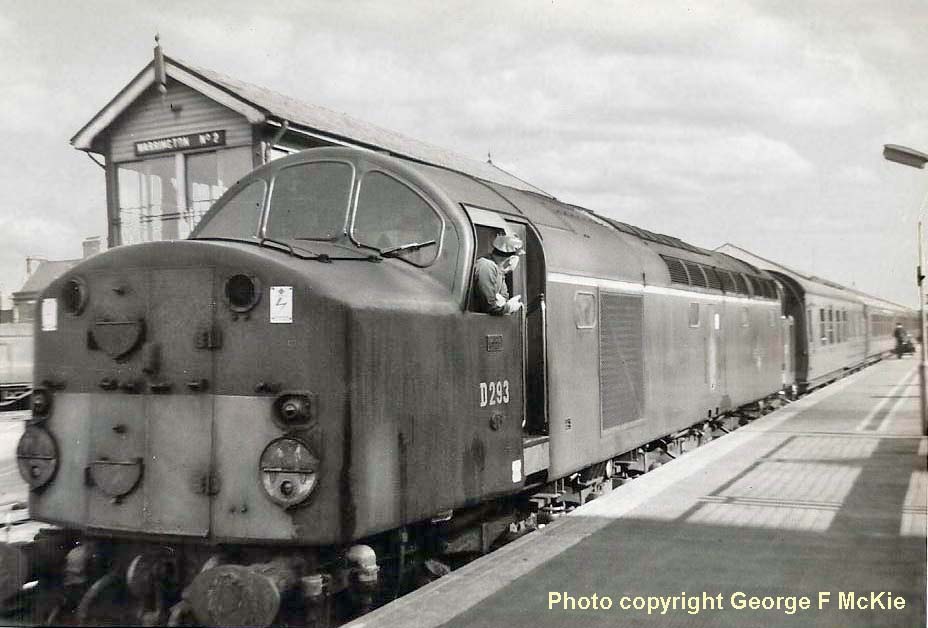 (Above-Below) Comparisons can be made between the different nose-ends on the English Electric Type 4 1Co-Co1s in these photos taken at Warrington Bank Quay's Platform 3. Sporting the old-fashioned doorway connection and headcode discs, EE Type 4 No D293 (later Class 40 40093) was allocated new to the LMR in October 1960. The driver is awaiting the 'nod' as mail is loaded into the full brakes at the rear of the northbound train. I remember seeing several pickups of mail each day from Bank Quay. (Below) Allocated new to the LMR in February 1962, this EE Type 4 1Co-Co1 D375 (Class 40 40175) is fitted with the much neater 4-character headcode panel, though the jumbled configuration on display doesn't help identify the train. At the time I took these photos the Type 4s were replacing the Stanier Coronation Pacifics and BR Standards on most long distance WCML expresses. This is a northbound express from London to Glasgow. Warrington No 2 box was a big box with many levers; it was later replaced by the new box on the east side of the station adjacent to platform 1. I was lucky to have been given a guided tour of the new box by a kindly station master during the 1970s.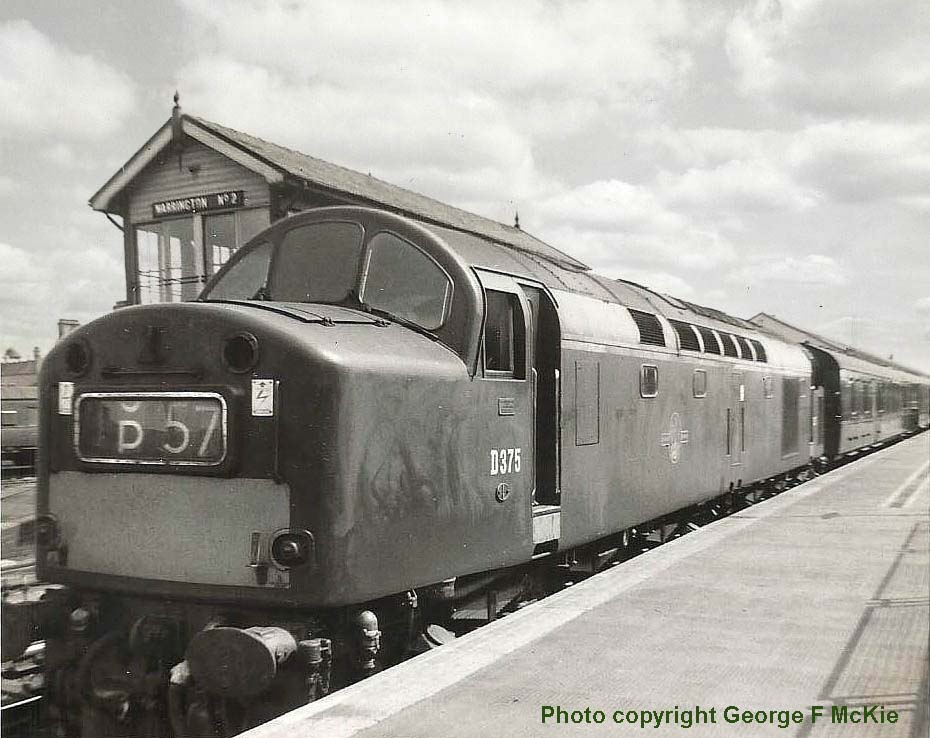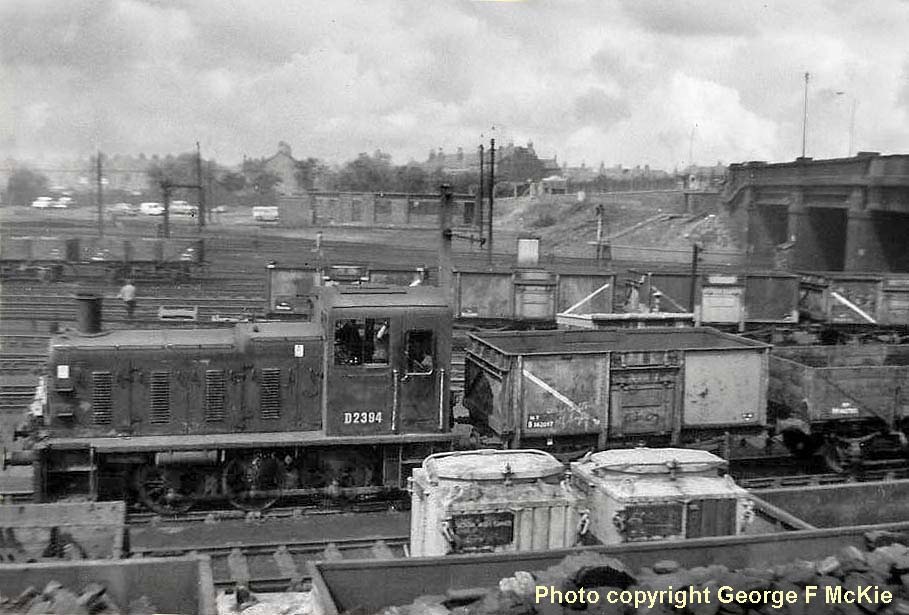 (Above-Below) This 0-6-0 diesel-mechanical shunter No D2394 was a common sight at Dallam sidings. This photo was taken through a large hole in the perimeter fence courtesy of the older members of the spotting brigade who congregated there. (Below) The final photo shows Class A4 No 60007 Sir Nigel Gresley heading south through Warrington Bank Quay station on a special train to Shrewsbury. I waited 3 hours on a cold foggy October day to see this. I was just about to give up and go home when I heard a chimed whistle. Thinking it was a Britannia I rushed back on the platform, camera ready, and lo and behold it was 60007!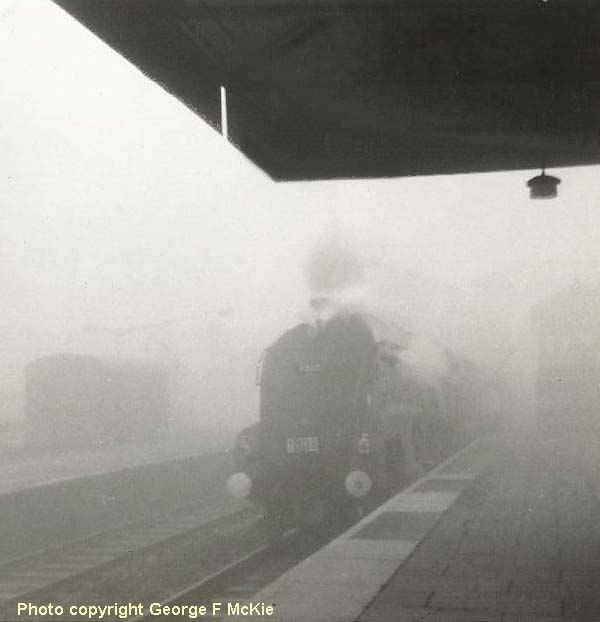 GEORGE McKIE's MEMORIES CONTINUED

Some years ago I posted George's photo gallery (above) featuring his spotting memories at Warrington Bank Quay in the early Sixties. George has now sent more jaw-dropping memories which I'd like to share with you here...
He writes - 'I can reflect a bit more on my childhood spotting days at Warrington with another story about my ten year-old spotting friend, Malcolm, who I hung out with all those years ago. Besides train spotting he was also mad keen on the military and had a really great collection of militaria, from a machine gun carrier off a Lancaster Bomber to a plethora of cap badges, guns and gas masks. Playing with Malcolm was always fun but at times it bordered on the downright dangerous.
I remember one particular day just before bonfire night when we began making 'banger guns' from offcuts of copper pipe and bits of wood. It worked by slipping a 1d banger into the copper tube fuse-end down and lighting the taper through a small hole cut in the pipe - boooom! It launched the banger casing out the other end like a bullet!
Malcolm later began developing his military capabilities even further; he built a tank mounted on a set of pram wheels using a larger bore pipe as a barrel; a wooden frame was fitted to the makeshift chassis and this was draped with old blankets leaving the high-calibre cannon barrel poking out from the front.
However, his plans ended up becoming something of a disaster! Geoffrey, another lad in our gang, was singled out to be the tank driver. Malcolm gave the order to fire…there was uncanny silence, followed by a muffled bang, the blankets bellowed and a huge cloud of smoke billowed into the air…but nothing from the pipe end! A battle-scarred Geoffrey then emerged, his face blackened, his hair and clothes smoking and singed. He gaped around in a daze clearly shaken, then he ran off home and we all scattered!
About an hour later his hysterical mother was banging on our door, shouting at my mum - 'Look what they've done to him!'
After that episode it was decided that any future war games would be on the old RAF camp at Padgate where the council had changed the course of a brook through the centre to prevent flooding and built a small wooden bridge across it.
Meanwhile Malcolm had stolen a fog detonator and began experimenting with a weed killer and sugar explosive mix, using fuse wire from Jetex engines, which apparently made some great bangs in his back garden! Anyway, on this particular day about twenty of us were playing war games dressed as German and British troops, the object of our campaign being to blow up the bridge at Arnhem (the said new wooden bridge) which was well away from any housing and so nobody was likely to bother us.
However, the ever enthusiastic Malcolm had surpassed all expectations this time and made an even bigger bomb out of a Nescafe coffee tin and armed it with a potentially lethal measure of his sugar and weed killer mix. The order was given to blow the bridge. There was an enormous bang and part of the embankment collapsed. I have never moved so fast in my life!
The next planned offensive was to halt an ammunition train at Padgate Junction. Malcolm gingerly climbed the railway banking and placed the fog detonator on the track while we all took up positions. Then a goods train came into view and ran over the fog detonator with an almighty bang. When the train slowed to a stop we scarpered in all directions as fast as we could. Today we would all be in borstal on terrorism charges, and I can see now why my parents didn't like me playing with him. Great days though…
Some time later, I took my new friend, Fergus, to more or less the same spot to see the trains close up. We were on the footbridge at Padgate Junction when an express approached on the by-pass line. As it roared beneath us the whole bridge shook and Fergus was panic stricken. I'll never forgot the engine, though, a Class B1 No 61016 Inyala - it was the first '6' numbered loco I underlined in my new combined volume.
Like you and other baby-boomer spotters, I too moved from train spotting and got into bike racing then girls, and left trains behind for a while. Now I am back with trains and cars and my new Jaguar XE.
I hope you enjoy my little flick back in time as much as I enjoy your website…Best wishes, George McKie.'

(Below) LNER B1 Class No 1016 'Inyala' at York in 1949. Built in January 1947, later BR No 61016, the loco was withdrawn in October 1965. Several Thompson B1 4-6-0s were named after species of antelope...61016 was named Inyala which is a spiral-horned antelope native to southern Africa.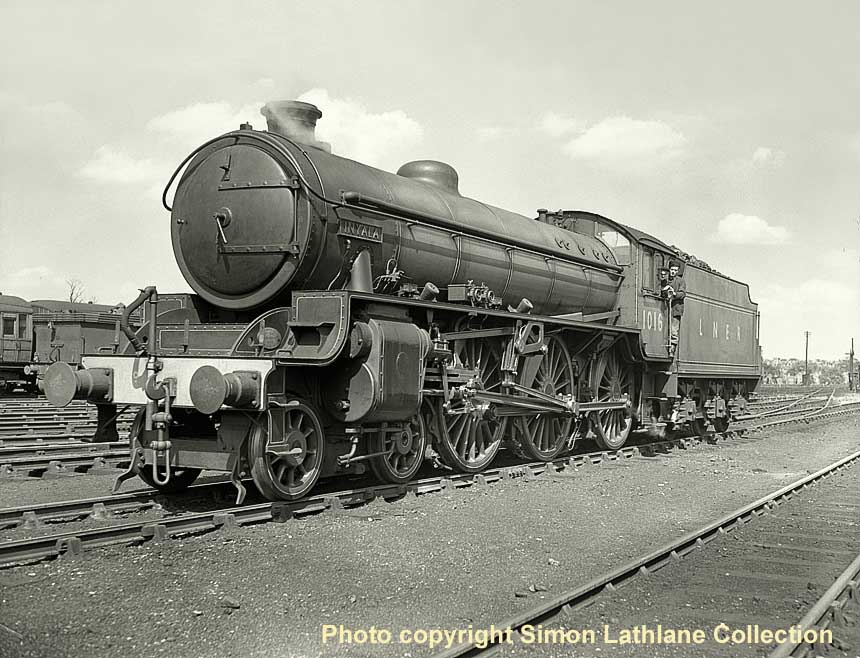 Bob Pearson writes - 'You've made my day!!
I am working my way through your picture collection on the web and all the memories are flooding back! I was a train spotter of a similar era (66 years old now) which began at Didcot. It struck a chord with me when you mentioned the Milton accident, I was probably about ten years-old and recall seeing all the emergency vehicles rushing over Foxhall bridge; it was my first lesson that life can perhaps have a dark side to it. My trips to London with other lads used to result in similar troubles as George McKie's after spending the day in Warrington shed, although I can't compete with returning home and finding a police car waiting outside the door!
I guess the term - How time flies when you are enjoying yourself - never applied more than in those days. Although I can see the problem now, when I was a small boy I never understood why my Mother got so worried about me catching a train to Paddington and then the underground to Kings Cross, spending the rest of the day running between Kings Cross and St Pancras! My infatuation with spotting ended abruptly when I was 15 and a young lady showed me an alternative form of entertainment. Back to your pictures...thanks again for the treat. Regards Bob...'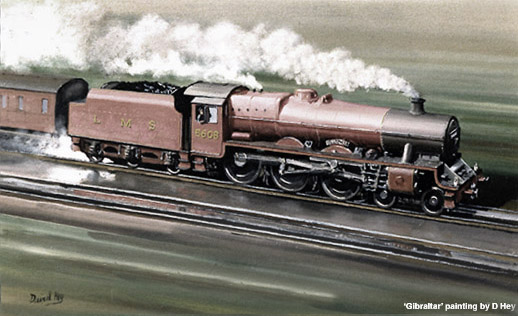 (Above-Below) This painting of 'Jubilee' class 45608 Gibraltar Is based on one of Footplate Cameraman, Jim Carter's panning shots. However, I'm not the only ex-train spotter interested in producing railway art - Don Marshall recently contacted the Guest Book Page - 'What a lovely site,' he wrote, 'Reading about the social conditions as a lad growing up in the West Riding at the same time as yourself with a train spotting madness brought back a flood of nostalgia. I could have been the lad on the fence near you when you took many of the photographs. Looking back occasionally is probably the reason I started my own website - 'Elegant Steam'. Those locomotives were the most beautiful things I could see within a fairly bleak and humdrum 1950s. The images remain clear to this day...'
I couldn't agree more.
Clearly Don's website is a labour of love. Click here to view his work...highly recommended.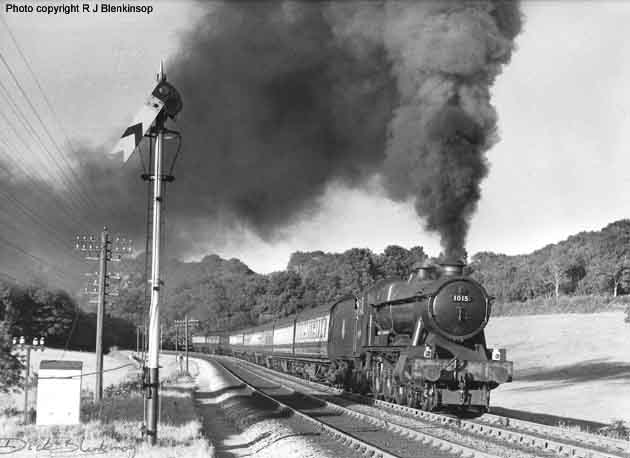 Finally, in time-honoured fashion, I have saved the best until last! For me, Dick Blenksinsop represents the very best of a Sixties demigod that few people outside the spotting community know about - the railway photographer...this picture of 'County' class No 1015 County of Gloucester storming Dainton bank epitomises all that is great about steam railway photography. Having read Dick Blenkinsop's books on the Western Region: 'Silhouettes'; 'Shadows'; 'Reflections' and 'Echoes' - to say nothing of his similarly titled books on the 'Big Four' - it inspired me to seek out the locations he visited whilst holidaying in South Devon, albeit some twenty five years after steam had vanished from the scene. Needless to say, I didn't get anything quite like this! The eagle-eyed reader may spot Dick Blenkinsop's signature in the bottom left hand corner. This signed photograph is a treasured item in my collection of railway memorabilia.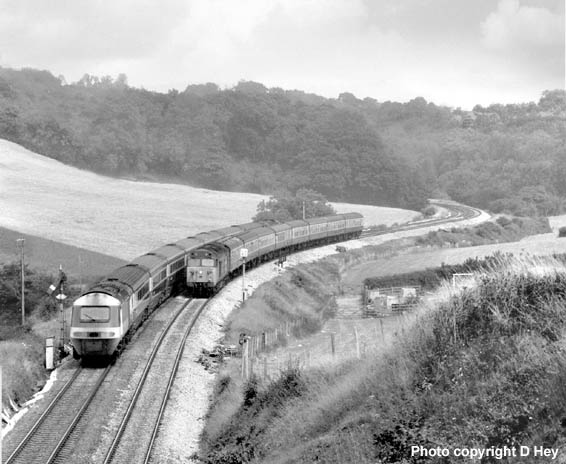 IF YOU HAVE ANY SPOTTING MEMORIES AND PHOTOS I WILL BE HAPPY TO ADD THEM TO THE PAGE...





Polite notice: All text and photographs are protected by copyright and reproduction is prohibited without the prior consent of the © owners. If you wish to discuss using the contents of this page the email address is below. Please note - this is not a 'clickable mail-to link via Outlook Express:
dheycollection@ntlworld.com