INTRODUCTION BY DAVID HEY


As a small boy during the 1950s Trevor Ermel lived in Gateshead within sight and sound of the East Coast Main Line, but it wasn't until the end of 1963 that his interest in railways was fully roused
. By then he was a
13 year-old pupil at Gateshead Grammar School for Boys and his favourite spotting haunt was by the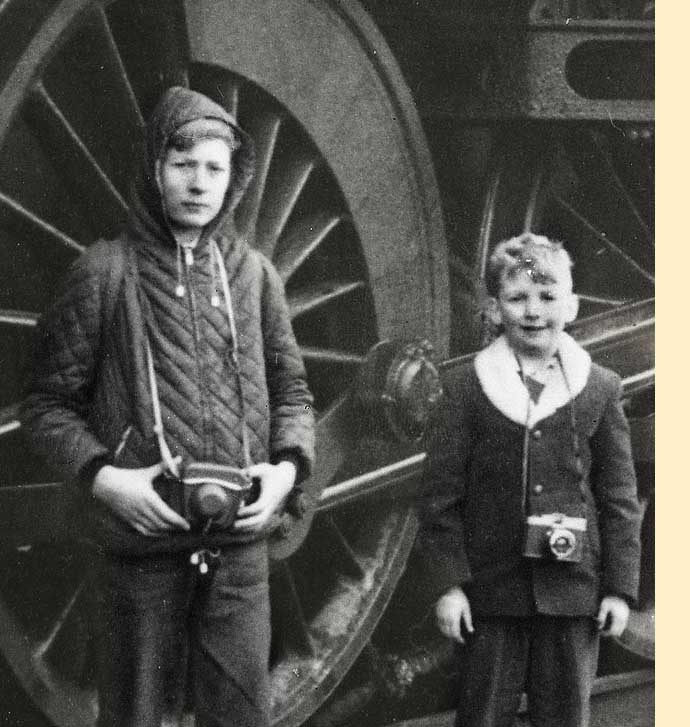 lineside at Low Fell - a ten-minute bicycle ride from home - and, of course, the magnificent Newcastle Central Station, then a major spotting hotspot for countless thousands of young boys during the 1950s and 60s.

(Left) We start the page with this shot of Trevor as a 14 year-old and younger friend Michael Ions alongside 'Britannia' No 70048 The Territorial Army 1908-1958 at Upperby shed, Carlisle in 1965. Click here for a wider image of the loco...
By 1963,
dieselisation
was well to the fore on the East Coast Main Line, therefore Trevor missed out on the regular top-link steam workings in the area, but his local shed - 52A
Gateshead
- still boasted the last English-based A4s, and he was around to witness the final steam workings in the North-east, consisting mainly of coal and mineral traffic which lasted until September 1967.

Whilst at school Trevor chased steam throughout the 1960s visiting places the length and breadth of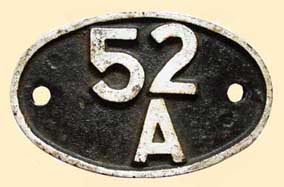 the country - from Aberdeen on the Scottish Region
(ScR
) to Weymouth on the Southern Region (SR) - including several places in-between which he'd otherwise never have visited had it not been for his passion for photographing steam.

Although Trevor regrets missing out on the Western Region's (WR) steam heydays, there is one massive consolation for the rest of us - he still has his original spotting notebooks, which, together with his evocative memories, read as a diary of a bygone era.

All in all, Trevor's memories and his superb photographs make for a magical combination and I am delighted that he has agreed to share it with others.

But I'll let Trevor take up the stor
y..
.


'SPOTTINGS AND JOTTINGS'

by Trevor Ermel


My first railway photographs were taken with the family 'Brownie 127', hardly suitable for action shots, but OK for providing a record of different types of locos seen and places visited.

This is me (below) just f

ifteen years old and 'O' level exams are still ahead of me, in the cab of a J27 at North Blyth in 1966

.
Sadly it was not until January 1967, almost right at the end of the steam era, that I acquired my first 'proper' camera - a 35mm Kodak Retinette. I was developing and printing my own photographs by now, using my bedroom as a makeshift darkroom. By this time the emphasis had shifted from merely seeing as many different locos as possible,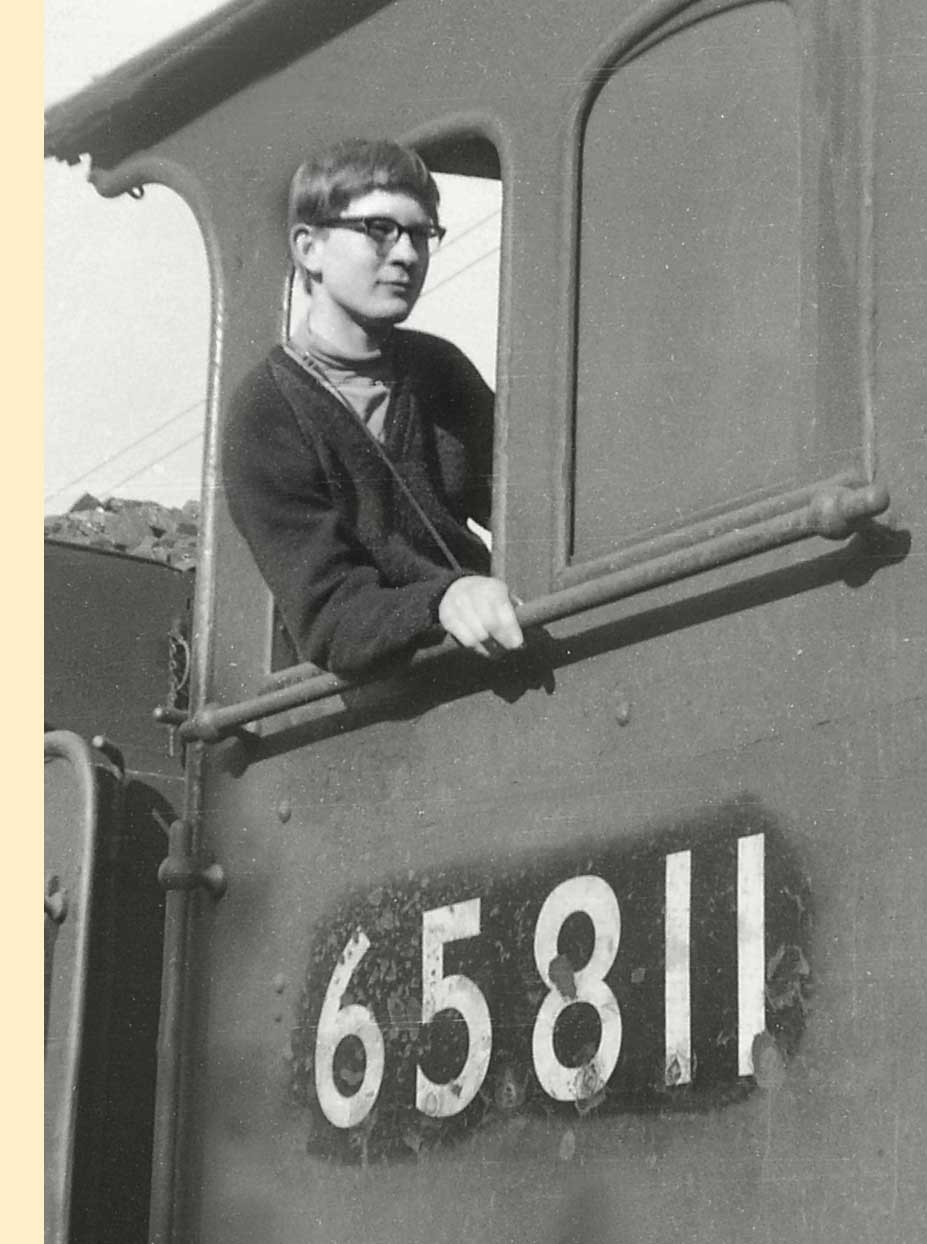 through trying to travel on as many steam-hauled trains as I could, to attempting to capture on film an era which we all knew was coming to a close. I was still only 17 years old when the 'Fifteen Guinea Special' ran in 1968, but my trip with friends to witness the event at Ais Gill came to a halt due to flat tyres on the Landrover we were in!

I was one of the early members of the North Eastern Locomotive Preservation Group (NELPG) which was formed in 1966 with the aim of saving a Class J27 0-6-0, and later a Class Q6 0-8-0, both designs dating back to North Eastern Railway days and lasting until the end of steam in the area twelve months later. Over the next few years I helped in working parties at Tyne Dock and Thornaby depots to restore them to working order for use on the North Yorks Moors Railway.

In November 1989 I was delighted when I had a selection of my photos published in the 'Glorious Years' section of Steam Railway. Ten years later I was involved with 'North East Focus', a photographic exhibition at the National Railway Museum, with accompanying book of pictures. This gave a group of six photographers from the north east the opportunity to show their own personal take on the end of the steam era. The other five were John Hunt, Ian Krause; the late Malcolm Dunnett; the late Ken Groundwater and the late Kevin Hudspith, some of whom were friends of mine from the 1960s and many of them well-known among steam enthusiasts today. Kevin Hudspith once said - 'It's a great hobby, isn't it? And if you weren't there at the time, you can't be part of it...'

Very true! And how glad we all should be that we really were there to experience it!


In fact the hobby is to become the focus of a forthcoming season at the National Railway Museum at York from September 2014 to March 2015. What a brilliant idea! Let's face it, train spotters have some great tales

to tell. So why not share your stories and photographs with the NRM?
Click HERE to visit the spotting page on the NRM's website. The museum is seeking photographs of train spotters and stories about their adventures, past and present… and it doesn't matter whether you are a steam, diesel or electric spotter, the NRM would like to hear from you. Go on, give it a try! It'll be great to be involved…

BACK TO MY ROOTS.

I first joined the happy band of 'spotters' beside the fence near the road bridge at Low Fell as a fresh-faced thirteen year-old at the end of 1963. By this date main line steam in the Newcastle/Gateshead area was well in decline. Even so, Gateshead shed (52A) still housed a number of Pacifics and during the summer of 1964 there was a fair amount of steam activity on passenger trains, particularly on weekend 'extras' at the height of the holiday season, or as substitutes for diesel failures.
The superb Class A1 4-6-2s were the most likely to be seen on such workings, with V2 2-6-2s and the occasional A3 4-6-2 also in evidence. And in the background to all this excitement the J27 0-6-0 and Q6 0-8-0 veterans plodded on with short-haul coal trains, the job they had been designed to do back in North Eastern Railway days. Tyne Dock's 9F 2-10-0s frequently blasted through Low Fell on Consett-bound iron ore trains when diverted from their normal route and B1 4-6-0, K1 2-6-0 and WD 2-8-0 types were also regularly seen, while over at Newcastle Central Station the V3 2-6-2 tanks still handled empty stock duties.
Back in those far-off days, when every spare minute was spent by the lineside at Low Fell or at Central Station, the Pacifics still carried their nameplates. I found their names a very attractive part of the railway scene and Blink Bonny, Hal o' the Wynd, Flying Fox and the rest gave character to the engines which carried them, as well as being a useful aid to recognition - it was obvious whenever a 'new' locomotive was seen, rather than having to rely on the number alone.
At first the daily 'cops' were entered into a notebook carefully laid out with a different page for each class of loco, and I entered the details in the relevant section in the order I saw them. Occasionally an unfamiliar name was misread as the engine went by and such aberrations as 'Trico' or 'Miniru' found their way into my collection. This 'do-it-yourself' style of record was abandoned by the summer of 1964 when I discovered the Ian Allan books listing loco numbers and names just waiting to be underlined, and I then began making notes by the lineside in a more conventional manner and updating the 'proper' book at home.

My record of activities dated 24th July (below) shows a typical full day's spotting at Low Fell, when I saw 17 different steam locos and 47 diesels. Unfortunately I had not yet got in to the habit of recording the actual train workings (apart from the 'Flying Scotsman' in this case), although it is likely that one or two of the Pacifics were on passenger trains. (In fact a picture published several years afterwards taken by the late Malcolm Dunnett, a photographer I got to know quite well towards the end of his life, shows No 60062 Minoru on the same date after arrival at Newcastle with a northbound express, the same train I must have seen at Low Fell.) Typically the total number of J27 and Q6 locos seen (8) accounts for nearly half the steam locos in action that day. Of the three steam 'cops' the 9F, No 92168, was the furthest from home, being shedded at Doncaster. On the diesel side of things I saw no less than 13 of the 22 Deltics, including D9004 on the 'Flying Scotsman', no doubt identified by the attractive fibreglass 'winged thistle' headboard it would have carried.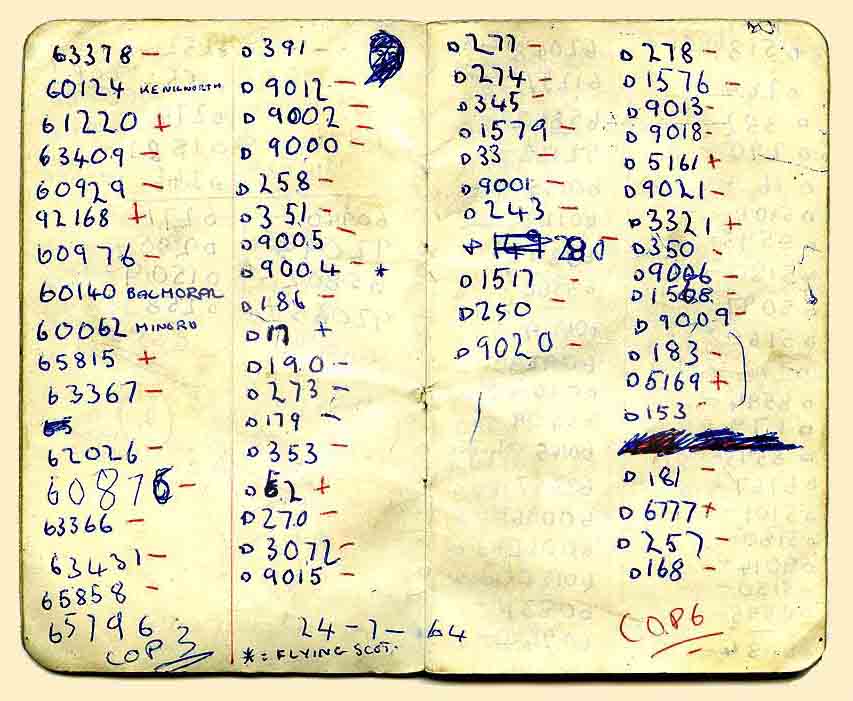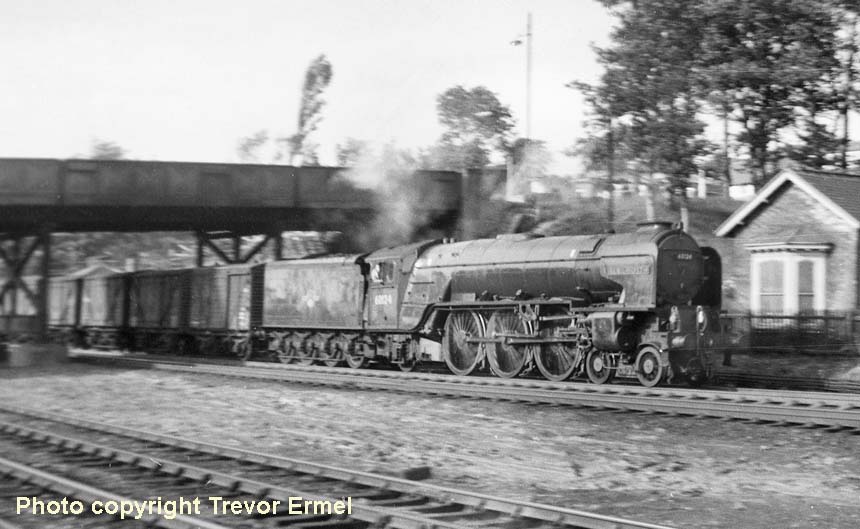 I started taking photographs with the family 'Brownie 127' camera around May 1964. One of my first railway pictures was this attempt at panning (above) as A1 No 60124 Kenilworth speeds through Low Fell with a southbound freight. This picture is undated, but records elsewhere indicate that this loco emerged from Darlington Works after overhaul in May 1964; judging by its immaculate condition in the picture this must have been only a few days earlier, so May/June 1964 should be an accurate estimate. The buildings on the right are the remains of part of Low Fell station, still standing (and inhabited) twelve years after it closed. Normally I waited for stationary or slow-moving trains for acceptable results, such as 9F No 92060 waiting for signals on the slow lines at the same spot (below), with a load of iron ore empties from Consett to Tyne Dock later that year.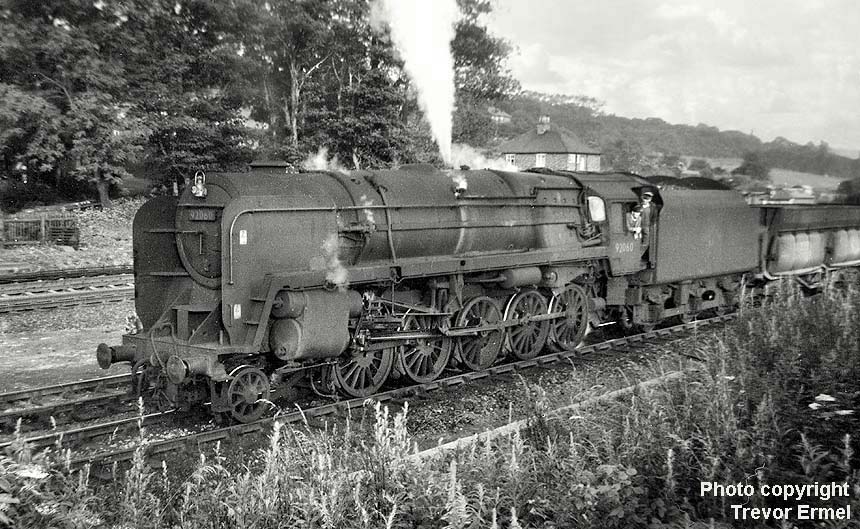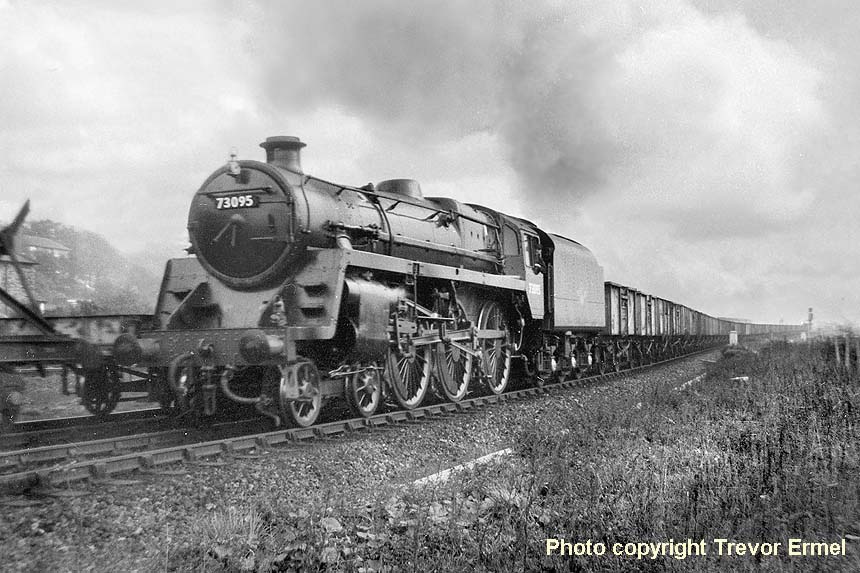 The 15th of October 1964 was the date of a General Election. Of more immediate interest to me was the fact that my school was closed for use as a polling station, so I had a free day to spend at Low Fell. I was rewarded with the fabulous sight of this ex-works Standard Class Five No 73095 heading north with an enormous train of coal empties. I managed to visit Gateshead shed several times (unofficially!) in 1964 and captured these two scenes for posterity. The view towards the 'Pacific shed' shows V2 No 60816 posing outside the building with the tender of A1 No 60116 Hal o' the Wynd looming above me on the left.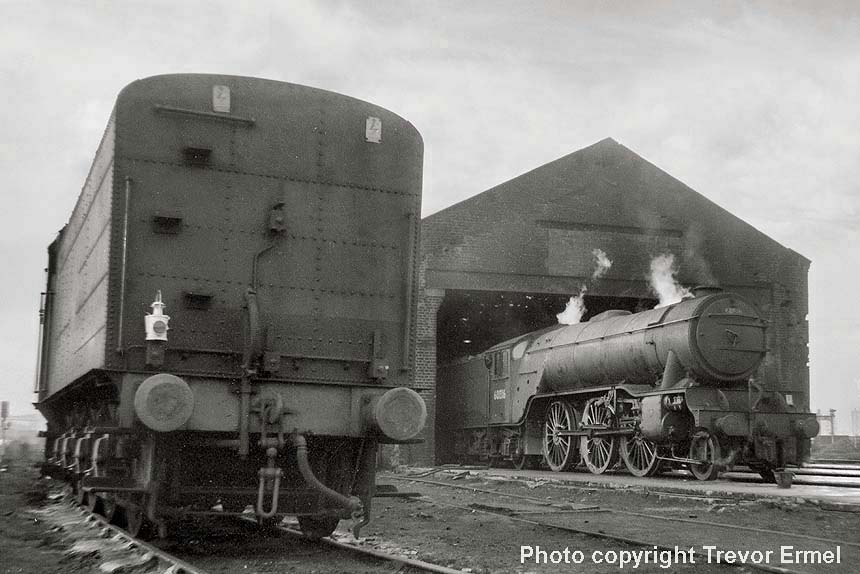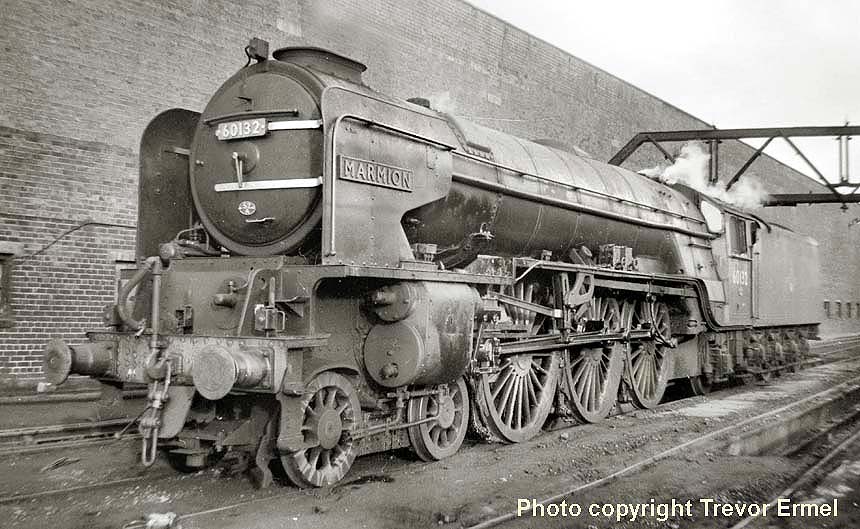 Turning to the right reveals another A1 No 60132 Marmion, complete with smokebox numberplate apparently painted in North Eastern Region tangerine. The building behind is part of the original steam shed which had been substantially rebuilt by then to house the recent influx of diesels. Gateshead shed closed to steam in March 1965 which reduced the sightings of Pacifics at Low Fell, although York and Darlington still retained examples for standby duties in case of diesel failure (quite a common occurrence that summer.) My notebook showing spottings from five days in the middle of August 1965 (below) gives another snapshot of activites at Low Fell, with actual train workings now being noted. On the other hand I no longer recorded local diesels (hence the absence of 'Peaks', Type 3s and 4s etc; even Deltics seem unworthy of note!) On the 13th Class Q6s predominated the steam workings, with 9F No 92097 also noted on southbound oil tankers and K1 No 62050 on another freight (coal, again?) On the 14th iron ore trains were again running through Low Fell, with 9Fs Nos 92061, 92064, 92097 and 92099 in action. On the 16th I copped No 60824, a Scotttish V2 on a southbound freight probably heading for nearby Lamesley Marshalling Yard (or 'Tyne Yard' to use the official term.)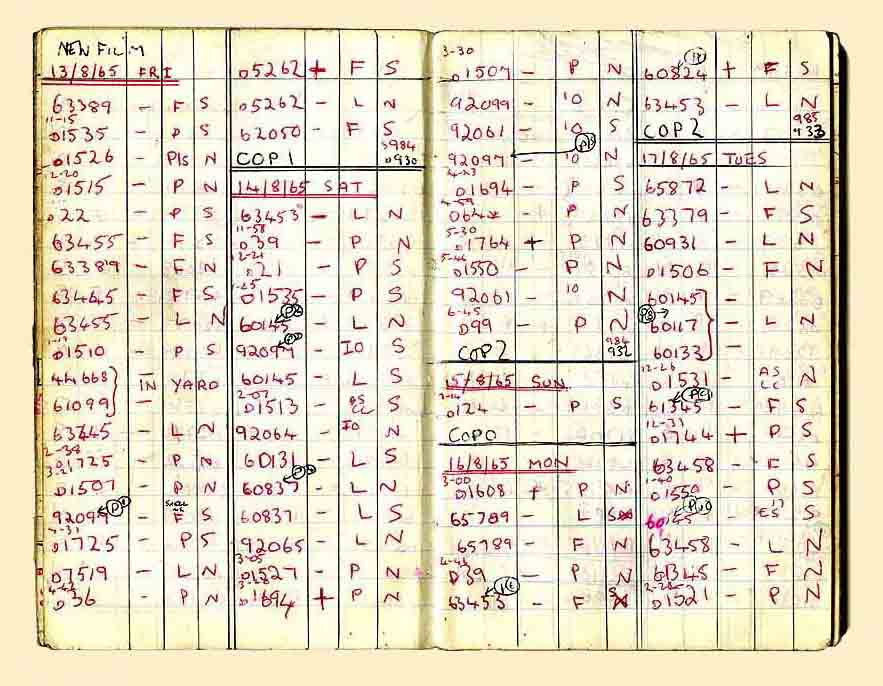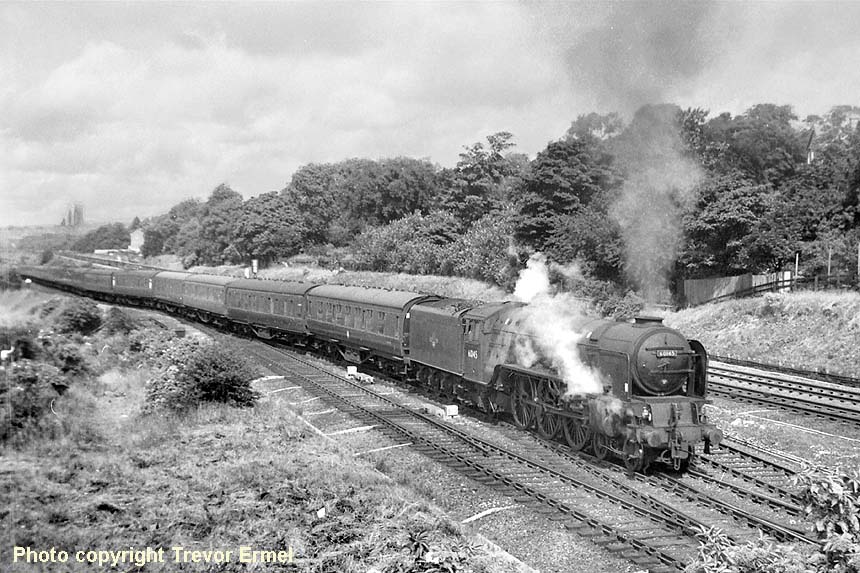 On the 17th the most notable event was the sight of three A1s coupled together - No 60145 (Saint Mungo) hauling No 60117 (Bois Roussel) and No 60133 (Pommern). The two dead engines had recently been withdrawn from Ardsley (56B) and were on their way to the scrapyard of Clayton & Davie in Dunston, as I later found out. A couple of hours later we heard the distinctive sound of a double chimneyed engine standing in the distance with the blower full on. Rushing up to the road bridge we were greeted with the sight of No 60145, now with an enormous empty stock train, waiting to tackle the climb up from Low Fell Yard. Without a trace of a slip the engine came up the bank, although with hardly any visible exhaust (above), which was a bit of a disappointment from a photographic point of view! I counted the coaches as they went by - a total of 17. (The following day No 60151 (Midlothian) came through with an identical load, although it was on the main line and caught us unawares.)Visits to Tyneside by Carlisle-based engines were fairly common at this time, such as 'Black Five' No 44674 in Low Fell Yard on 2nd June (below). Strangely enough I had 'copped' this loco at the same spot the previous month.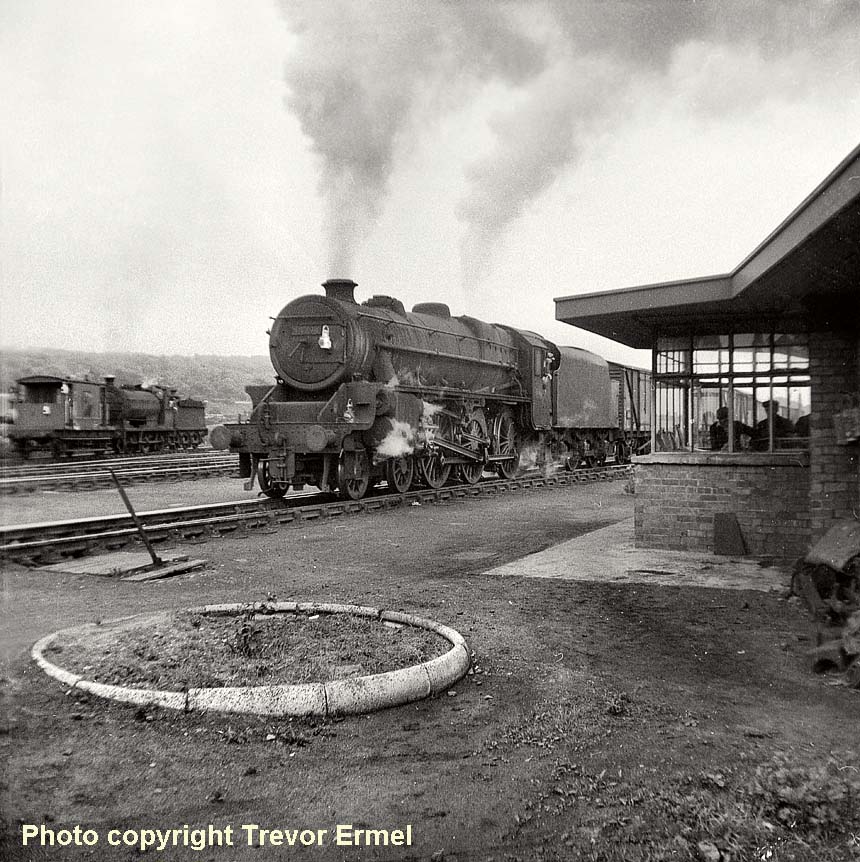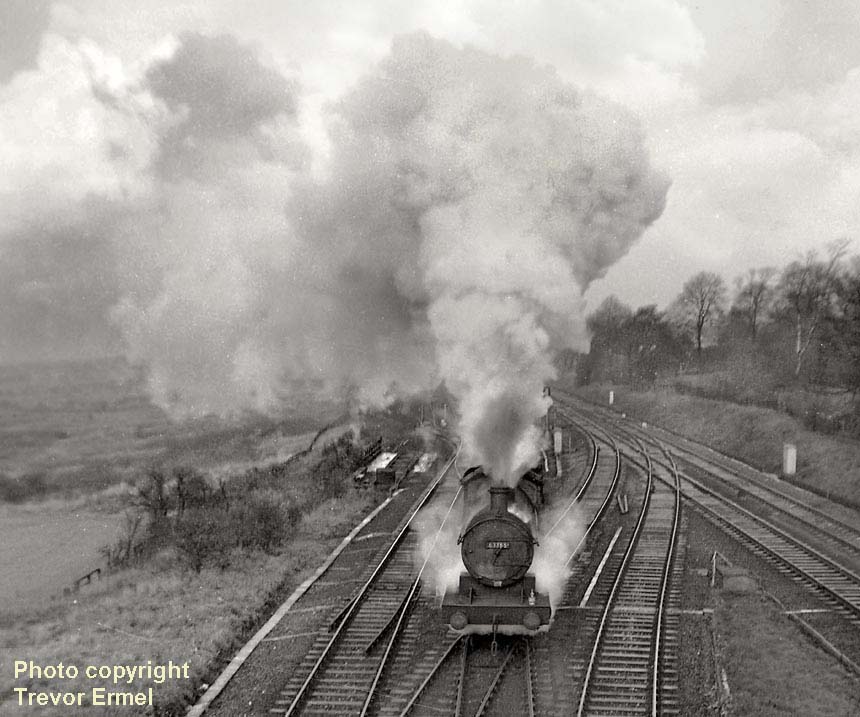 On 13th November 1965, I photographed Q6 No 63366 blasting up the climb from Low Fell Yard (above) with a southbound coal train. The tracks on the right are the main lines to Gateshead and Newcastle. Although Central Station was only a short bus ride from home, my notes tell me that I didn't go there all that often, unless it was an evening session, the weather was bad, or there was something special worth seeing at close quarters. On 5th June No 60052 Prince Palatine, one of the last two A3s in service, was at the station on its way to Carlisle with a Rail Tour from Edinburgh. I think the authorities had given up trying to prevent the tour participants from crossing over the running lines for a better view, so I joined the crowd to take this picture (below).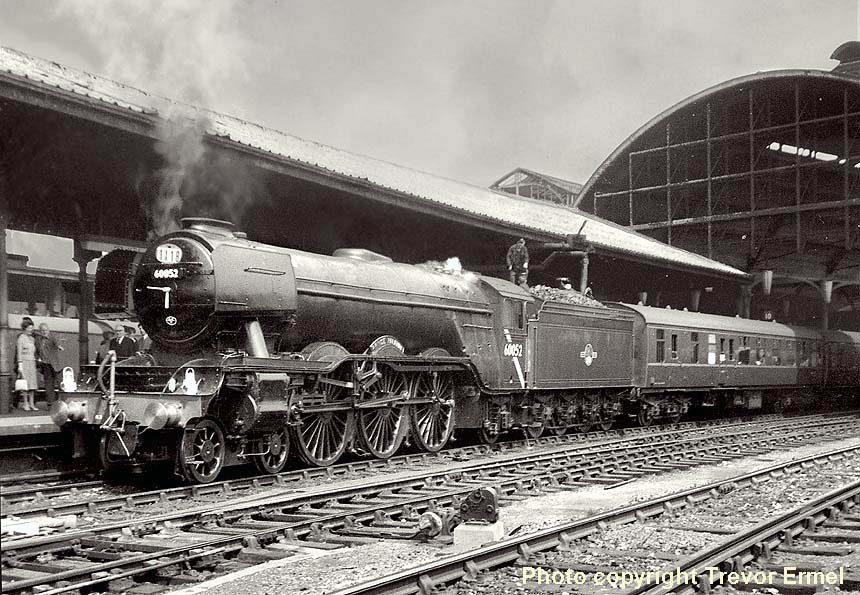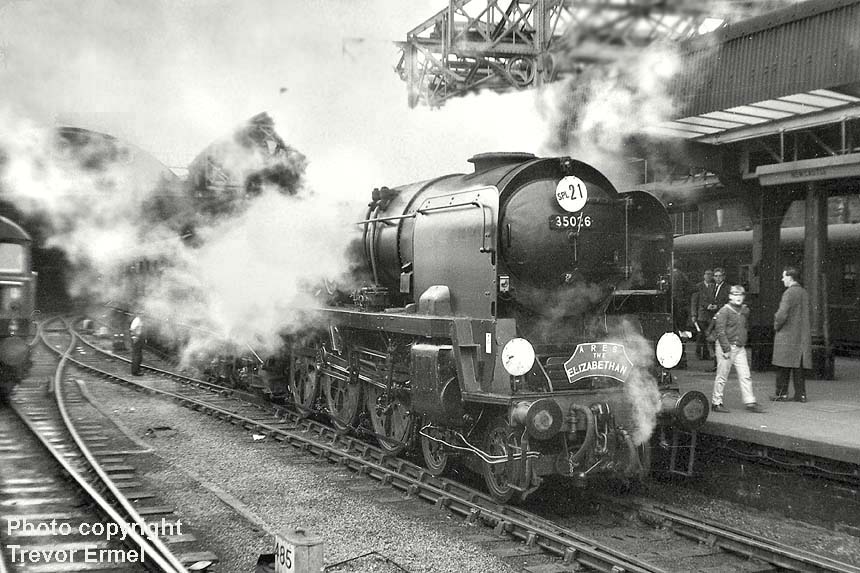 In October the following year a real stranger appeared at Newcastle on a Rail Tour, in the shape of 'Merchant Navy' No 35026 Lamport & Holt Line (above). I remember how disappointed I was in the choice of loco, as I had already seen it during the course of my Southern Rail Rover I enjoyed in July. My notebook showing spottings at Low Fell over much of June 1966 (below) reveals the Pacifics were conspicuous by their absence - the final one (No 60145) had been withdrawn that very month. (My own 'last sighting' of an A1 had been on 25th February that year when No 60124 headed a northbound parcels train at Low Fell.) Most of the coal trains were still handled by the ageing J27s and Q6s, although Tyne Dock's 9Fs were also noted, plus the odd one or two K1s. On 25th June I noted the ill-fated DP2 diesel on a southbound express and later that day I recorded seeing V2 No 60886 in Clayton & Davie's scrapyard. Other 'last sightings' at Low Fell in 1966 included a 9F (No 92060 with an oil train) on 10th August and a V2 (No 60831 on a parcels train) on 26th August.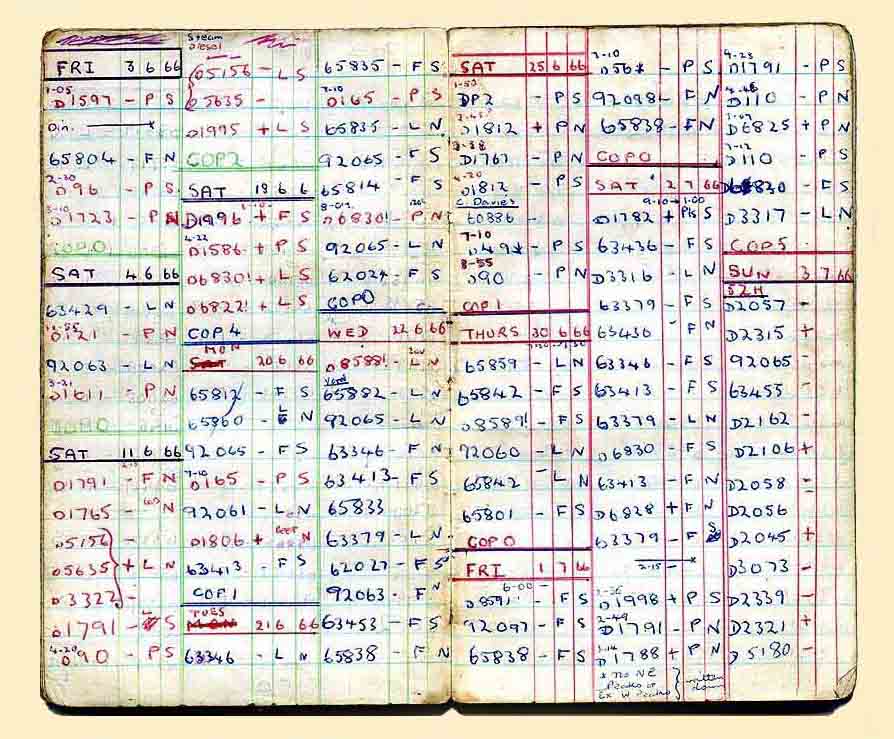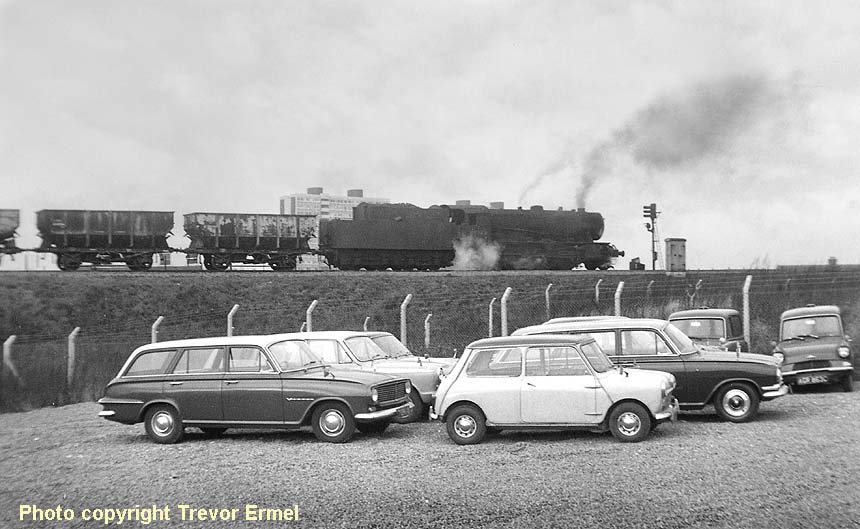 I spent much of that summer further afield on the Southern and Scottish Regions and as a result I seem to have taken few pictures locally. However, here is a picture of a WD 2-8-0, too dirty to identify (even at the time, I suspect!) with a train of coal empties on one of the legs of the triangle of lines at the north end of Low Fell Yard. I'm not sure whether the cars in the foreground were regarded as a distraction at the time, but they certainly add extra interest now!
At the beginning of 1967 I started using a (second-hand) 35mm Kodak Retinette camera which now made it worthwhile shooting action pictures, something I had not been able to do successfully before then. On 22nd January I captured WDs Nos 90116 and 90370 with coal trains in Low Fell Yard (below). Ten minutes earlier No 90074 had also been present but I was unable to include all three in one picture.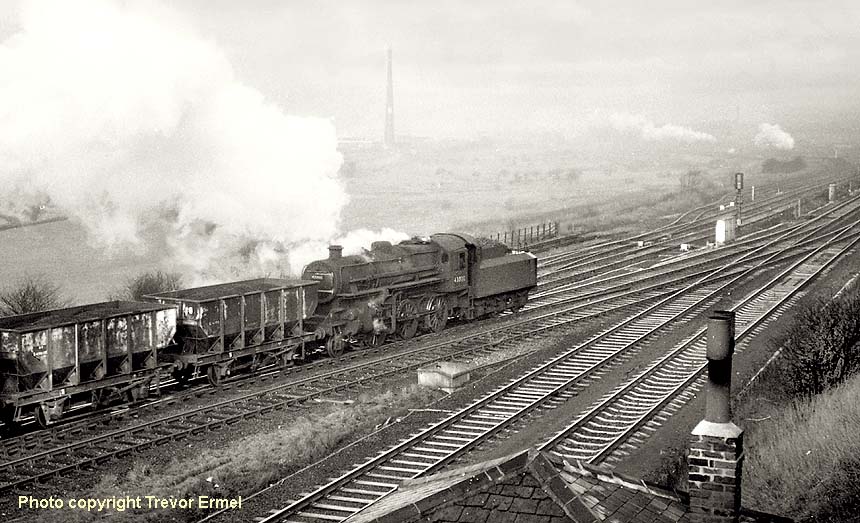 Six days later I photographed Ivatt 2-6-0 No 43000 from the bridge at Low Fell (above) as it crossed over to the main line. Although several of these engines were shedded at Blyth at the time, I rarely saw them south of the Tyne, and this is the only photo I took of one at Low Fell. (Three months earlier No 43000 had been one of the locos which double-headed the 'Wansbeck Piper' Rail Tour along the Woodburn branch in Northumberland and it still shows signs of its smokebox embellishments.) Further steam activity can be seen in the mist over Low Fell Yard in the right background. My notebook covering the period 10th February to 4th March 1967 (below) still records the indefatigable J27s and Q6s on coal trains, with K1 and WD types also appearing. On 18th February I 'copped' the last 'Black Five' I ever saw at Low Fell when No 44842 headed a freight, probably bound for Carlisle from Lamesley Yard. On the 25th I was at Newcastle to see 'Jubilee' No 45562 Alberta on the 'Border Countryman' Rail Tour, the first of several visits it made to the area that year. Also appearing in my notes are two named Brush 'Type 4' visitors, D1677 Thor on 27th February , and D1673 Cyclops the following day and also again on 2nd March.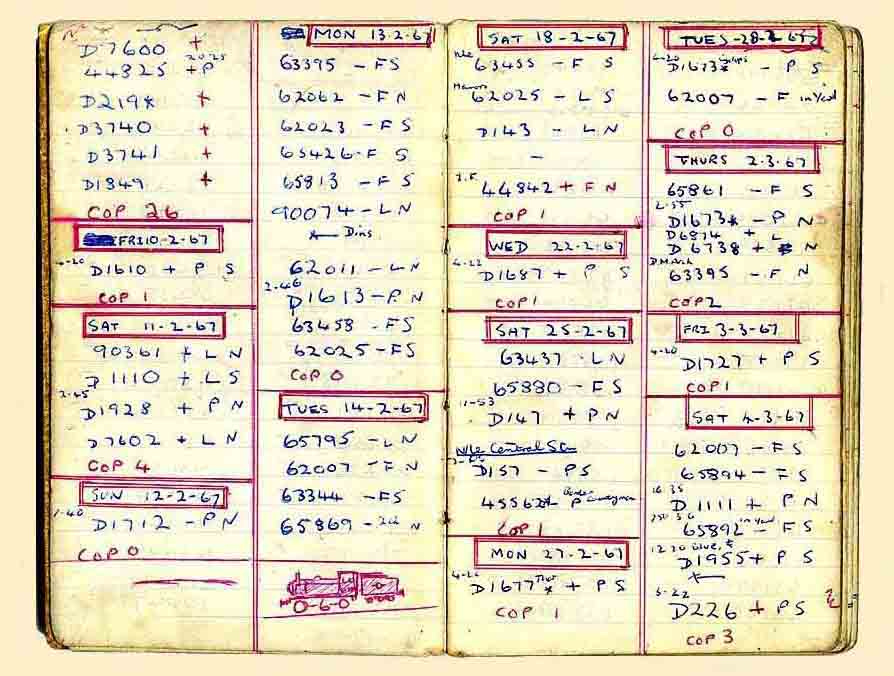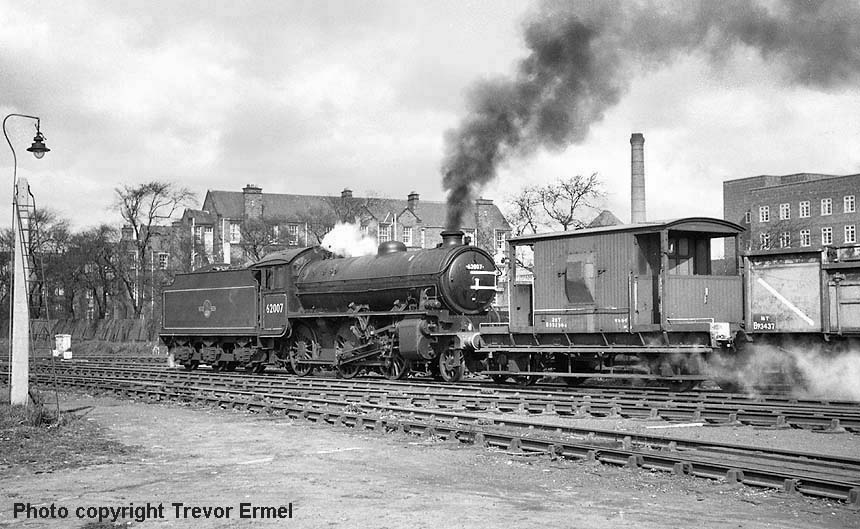 On 29th March I photographed K1 No 62007 shunting in Low Fell Yard (above), evidently fresh from Rail Tour duty judging by its condition. The site of the yard is now occupied by the Tyneside Royal Mail Centre, with a couple of tracks alongside to allow trains from Low Fell and the south to reach Dunston and the Carlisle direction without passing through Newcastle. On another occasion I captured J27 No 65892 just north of this spot leaving with coal empties (below).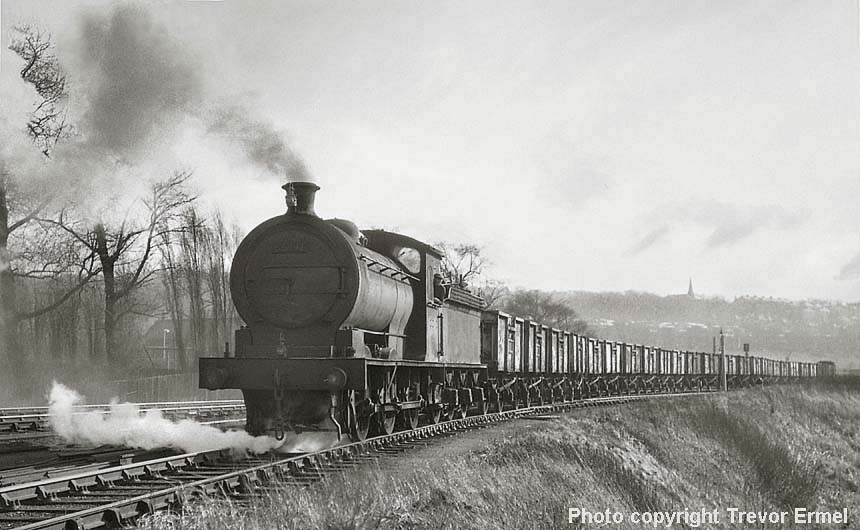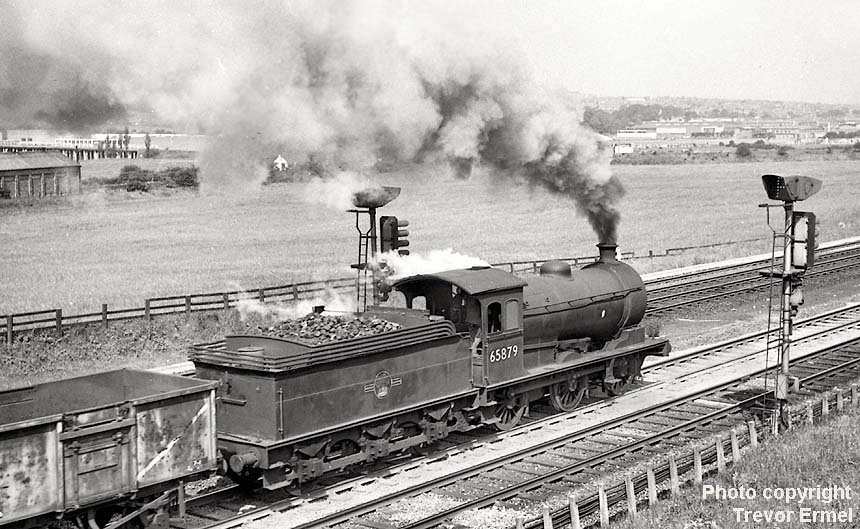 Half a mile or so south of Low Fell I photographed another J27, No 65879 (above) heading north from Lamesley with more empties on 17th June. The building on the far left is the loco shed for the NCB line which crossed the viaduct (just visible above it) to Ravensworth Park drift mine, which I describe in a later article. In the intervening years the Team Valley Trading Estate has encroached onto all the fields beyond the fence. During the summer of 1967 I spent a lot of time over at Carlisle or chasing steam in the Preston area, and I rather neglected Low Fell as a site for many more pictures, although sessions photographing coal trains at Pelaw and Derwenthaugh made up for this. By now the end was in sight for steam in the area, perhaps summed up in the following two pictures. The view looking south from Low Fell bridge (below) shows D1102 on a northbound express passing Q6 No 63429 on the slow lines. The space between the tracks was the location of the island platform for the station which closed in 1952, with two further platforms to the left and right.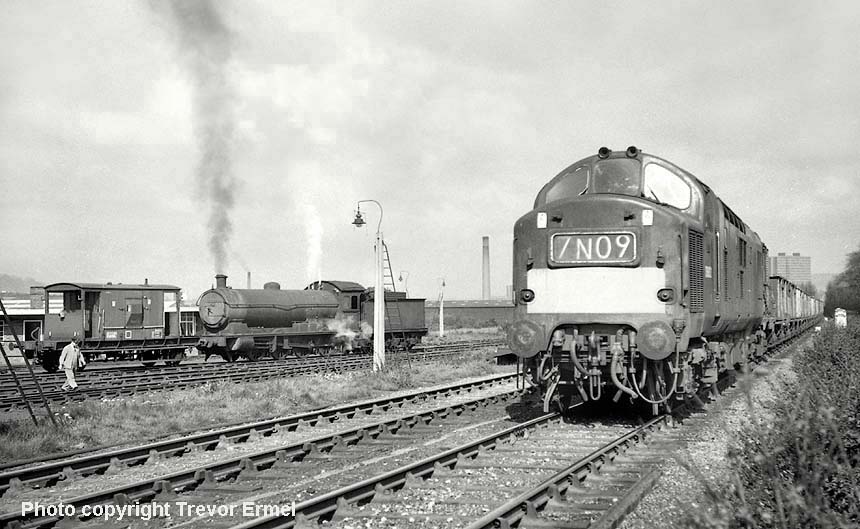 Another Q6, No 63346, is shunting in Low Fell Yard (above) as D6831 passes with a southbound coal train later that year. Steam finished on Tyneside on 9th September 1967, when I saw Q6 No 63395 and WD No 90417 heading coal trains through Gateshead for the last time. On the same day preserved 'Castle' 4-6-0 No 7029 Clun Castle arrived at Newcastle with a Rail Tour from London, which I photographed passing the WD near King Edward Bridge Junction (below) - but that's another story!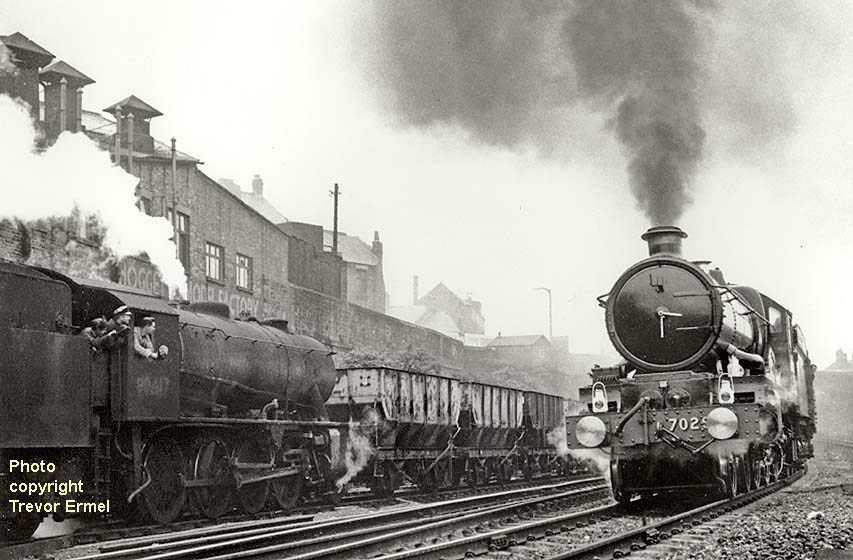 SUMMER SATURDAY AT CARLISLE
Have you ever had one of those perfect days when everything goes just right, either by accident or design? Well, one such occasion for me was Saturday 22nd July 1967, when I spent a day at Carlisle. And if the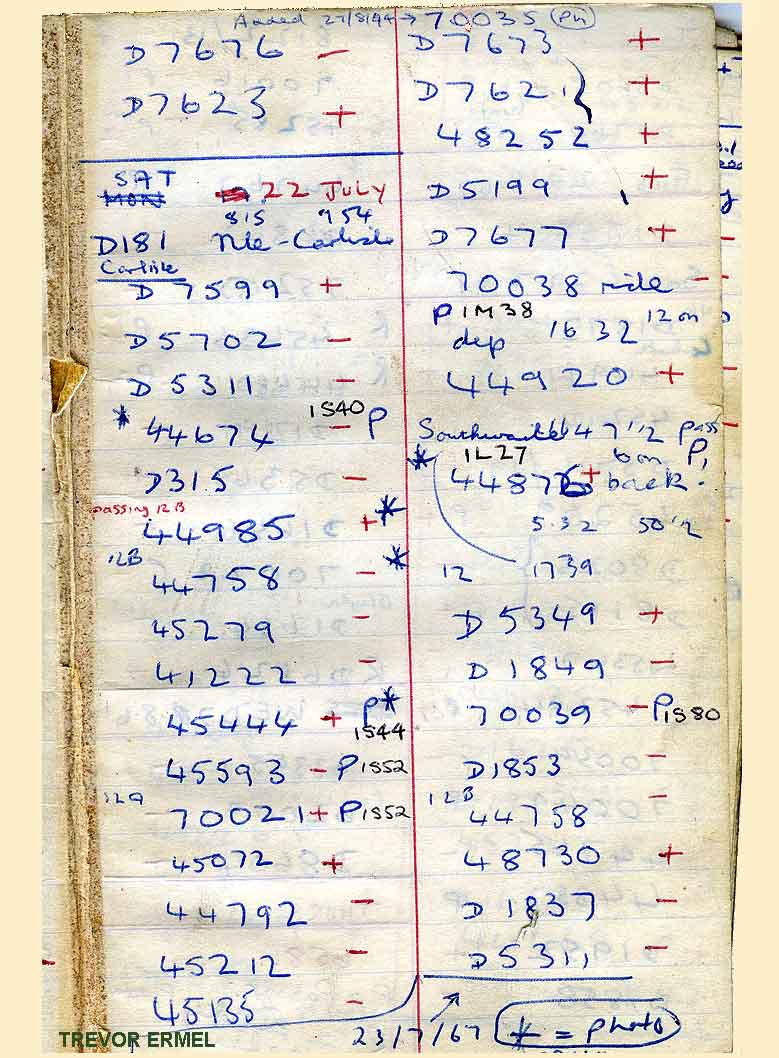 account which follows seems a little over-enthusiastic to those who remember everyday steam in the 1950s and 60s, let me quickly explain…in 1967 I was an impressionable 16 year-old (today I am an impressionable 62 year-old!); steam workings back home on Tyneside consisted almost entirely of plodding coal trains headed by elderly 0-6-0 and 0-8-0 locomotives; and it had been a year since my last run behind steam on a scheduled passenger train.
My notebook (
left)
shows that I travelled from Newcastle to Carlisle on one of the few loco-hauled trains on the route - the 08.15 Newcastle to Heads of Ayr and Stranraer Harbour. This was pulled by a Gateshead 'Peak' diesel, No D181. My record tells me we arrived eight minutes early at 09.54, so I was in good time to see the first steam-hauled passenger train of the day. This was the 08.25 Morecambe to Glasgow (1S40), due in at 10.17. The 'Black Five' No 44674
below
was replaced here by a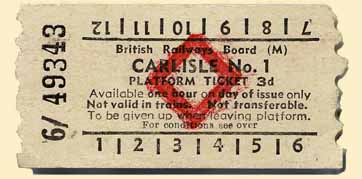 diesel for the last leg to Scotland, presumably D315 which is the next loco I noted down. Details not noticed at the time but visible in the photograph include the old LMS coach; the pile of coal still remaining in the tender despite the run of 75 miles from Morecambe over Shap; the water filler cap left in the open position (which would have been frowned on by authority, no doubt!); and the small patch on the tender side, together with the nice rivet detail for modellers.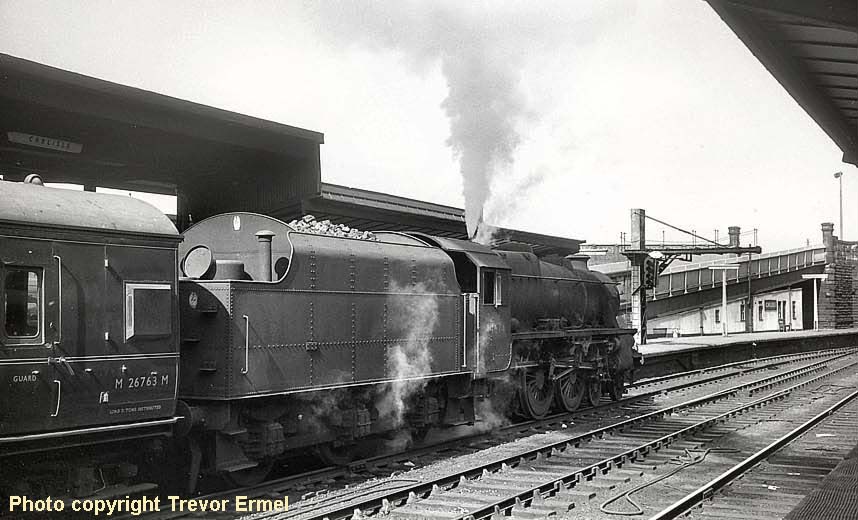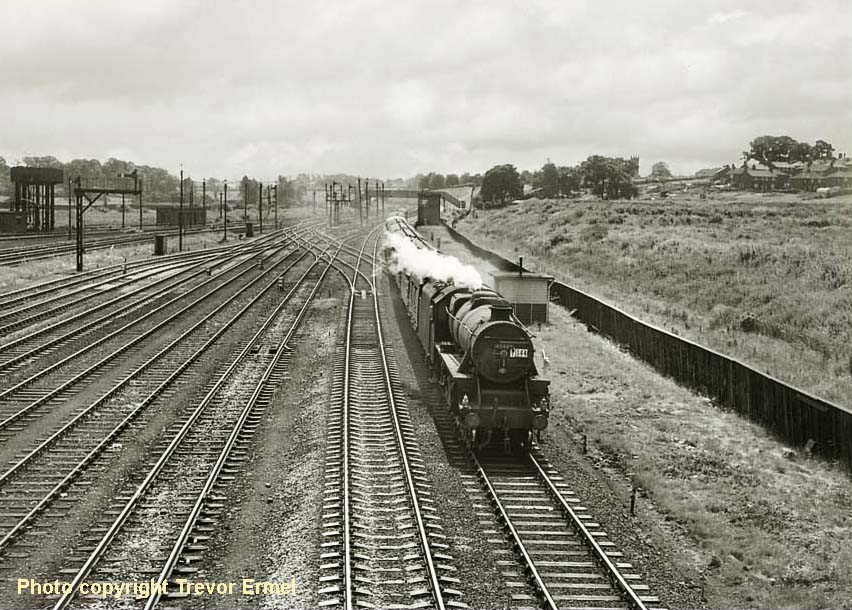 I then left the station and walked south to Upperby, noting the locos from the footbridge leading to the engine shed which was nominally closed to steam by then, although 'Black Five' No 44758 was shunting some dead locos. The next picture
(above)
shows the second passenger train of the day drifting through below me as it slows for the station stop - 'Black Five' No 45444 ('copped' it!) with the 09.25 Blackpool to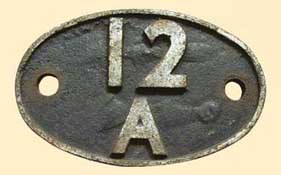 Glasgow (1S44), scheduled non-stop from Preston and another train which succumbed to diesel haulage from Carlisle.
This is where luck comes in to the story. I then met a fellow enthusiast who introduced himself as Donald Mackinnon, from Benfleet in Essex, who kindly gave me a lift in his car to Durran Hill Junction to see the first of the two 'Jubilee'-hauled trains of the day come in off the S&C line. This was the 10.17 Leeds to Glasgow (1S52) due in at 13.03, which arrived behind No 45593 Kolhapur. Another lift from Donald took me to (12A) Kingmoor shed, just beating the 'Jubilee' arriving light-engine from the station.
Its replacement for the final stretch to Scotland turned out to be 'Britannia' No 70021 Morning Star, quite a surprise as we were expecting a diesel, and another 'cop' for me. The picture
(below)
shows this engine accelerating past No 45593 which had just been turned, ready for its next trip back to Leeds. The fireman of 70021 can be seen wearing the traditional white knotted hankie on his head as he leans out of the cab.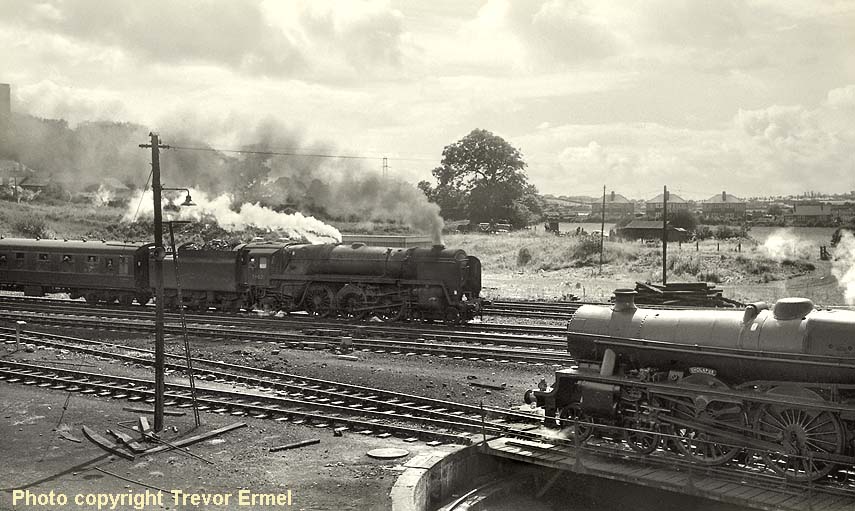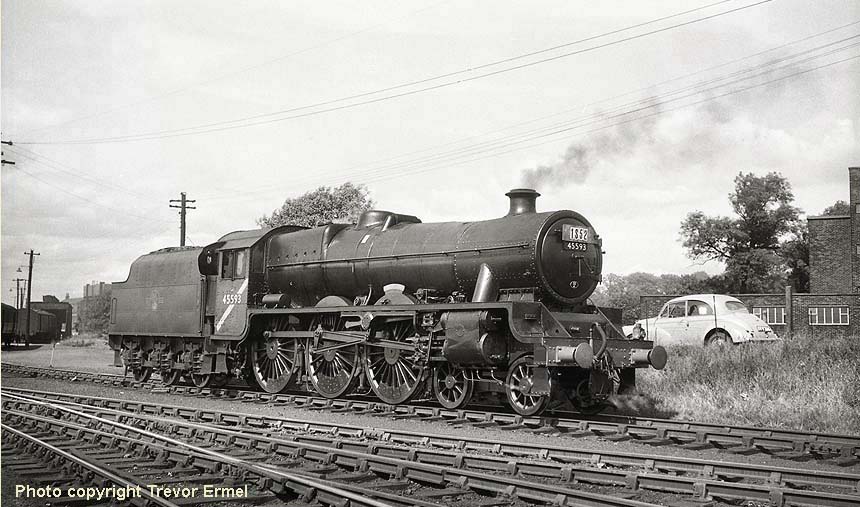 I was able to photograph No 45593 a couple of times near the turntable - a nice portrait
(above)
and a shot of 'Black Five' No 44792 running past on its way to the shed

(below)
. The 'Jubilee' was beautifully clean (thanks to enthusiasts at Holbeck shed), but looked rather plain in unlined green. It was devoid of nameplates, although the name (incorrectly spelt as Kholapur) had been painted above the left-hand splasher. (I remember reading the story much later behind this, and no doubt the enthusiast who painted it winces every time it comes up!)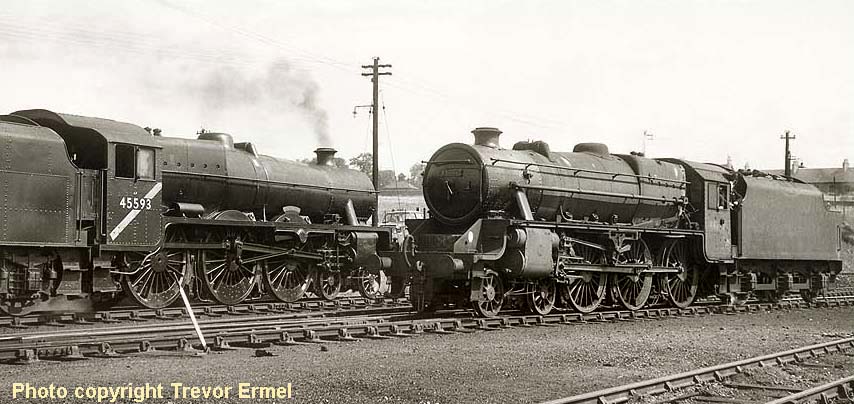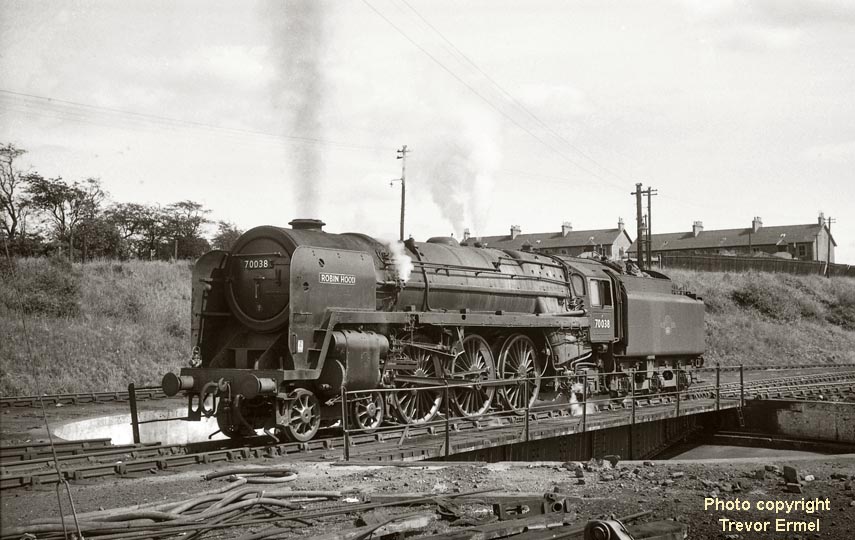 In the meantime a smartly turned-out 'Britannia', No 70038 Robin Hood, was being prepared to work 1M38, the 16.25 from Carlisle (originating in Glasgow and Edinburgh) to Manchester/Liverpool. I later discovered that this engine had been used on an enthusiasts' special the previous week, hence its cleanliness. Note the name has been carefully painted on to the smoke deflector. The picture (

above)
shows the engine after backing on to the turntable. At this point I must have decided 'They can only say 'no'! by asking for a ride in the cab. Amazingly the crew agreed, so we turned and headed off the shed, and the next picture

(below)
is taken from the cab on our way to the station.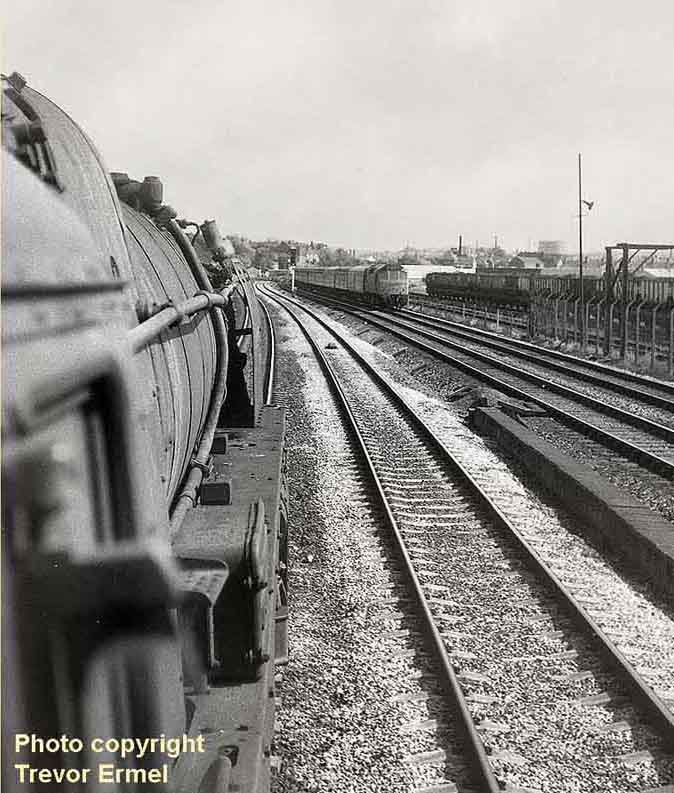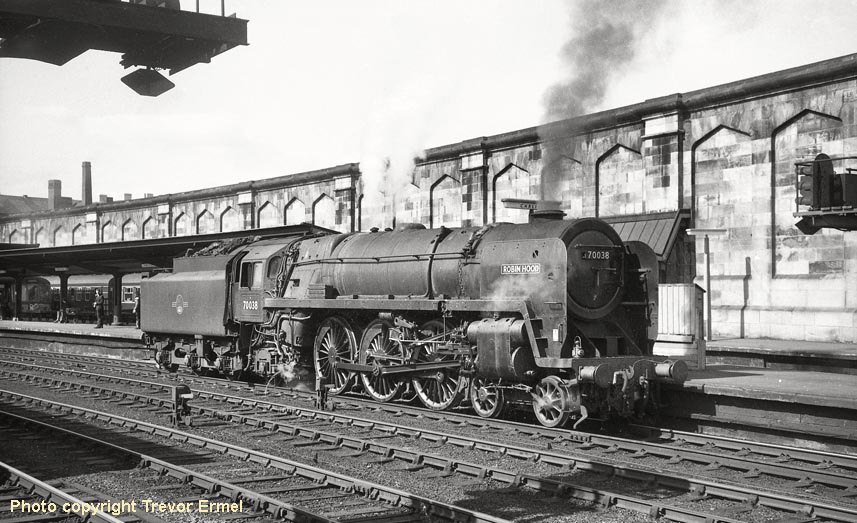 Bidding a thankful goodbye to the engine crew, I dashed off the platform to buy a return ticket to Penrith,
before returning to take two more pictures of 70038 - another portrait

(above)

and a shot

(below)

of it backing on to the train which had now arrived from Scotland behind a diesel. For the record, 70038 was the thirty-ninth Standard Class 7 Pacific to be built and entered traffic on 29th January 1953, almost exactly two years after the first Britannia 70000 rolled off the production line at Crewe. The
loco spent its last four years working out of Carlisle before being sold for scrap to J McWilliams of Shettleston in January 1968
.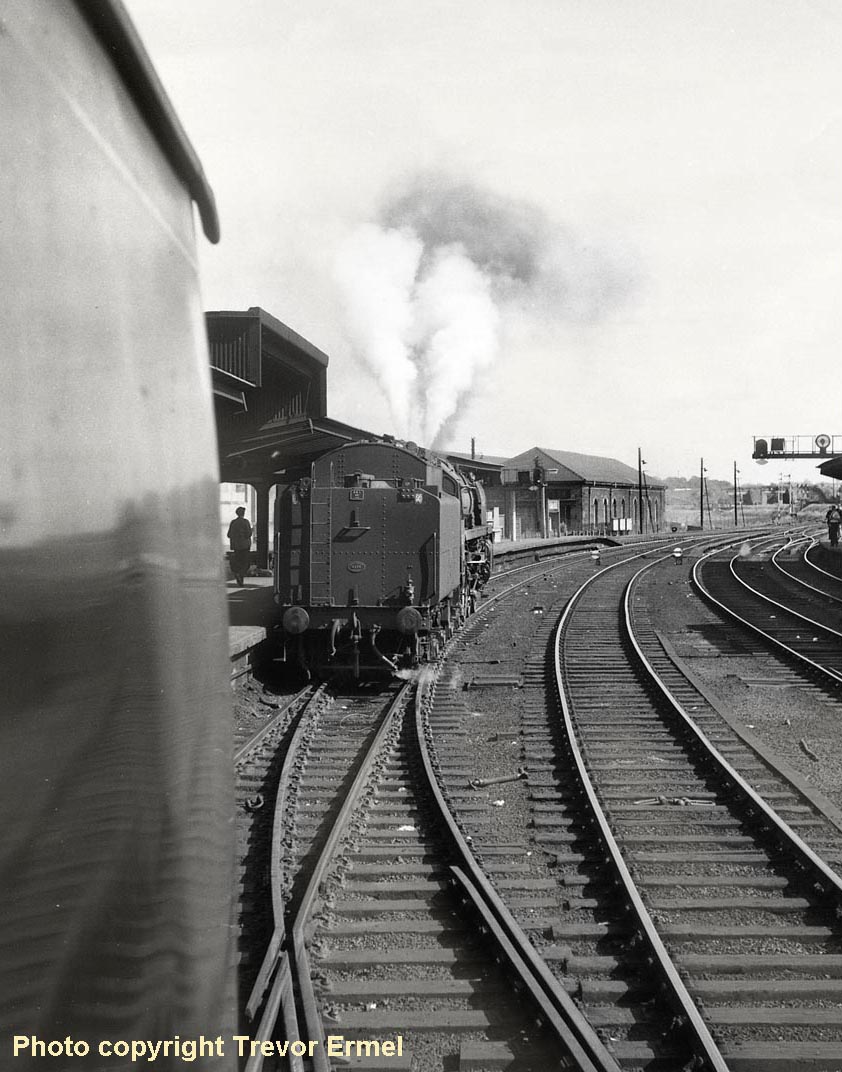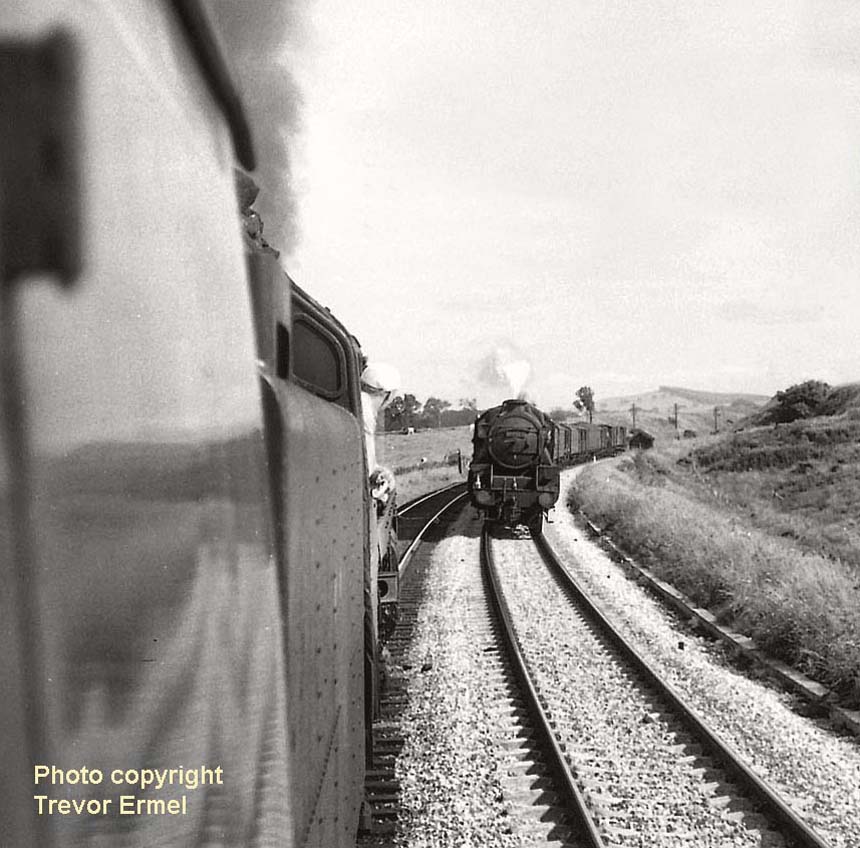 When the train departed, I was fortunate in securing the first window on the right hand side, from where I grabbed a shot

(above)
of a 'Black Five' with a northbound freight a few miles south of Carlisle. My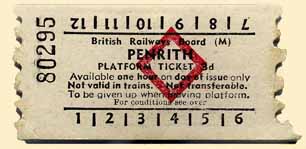 notebook shows that our train consisted of 12 coaches and we passed Southwaite at 16.47½, for what it's worth!
After all the excitement I retired to the waiting room following our arrival at Penrith, and changed films. My peace was soon disturbed by the sound of a steam-hauled train heading north, and I rushed out in time to join the 11.55 Euston to Carlisle (1L27), worked forward from Crewe by another 'Black Five', No 44876 (and another 'cop'!) The photo (

below)
shows the train after arrival at Carlisle. Hauling only six coaches the engine had stopped under the footbridge, rather than continuing to the platform end.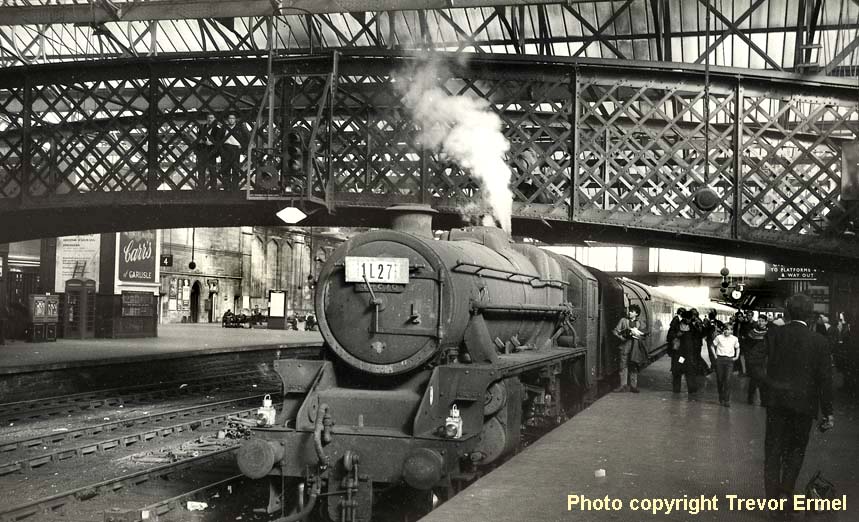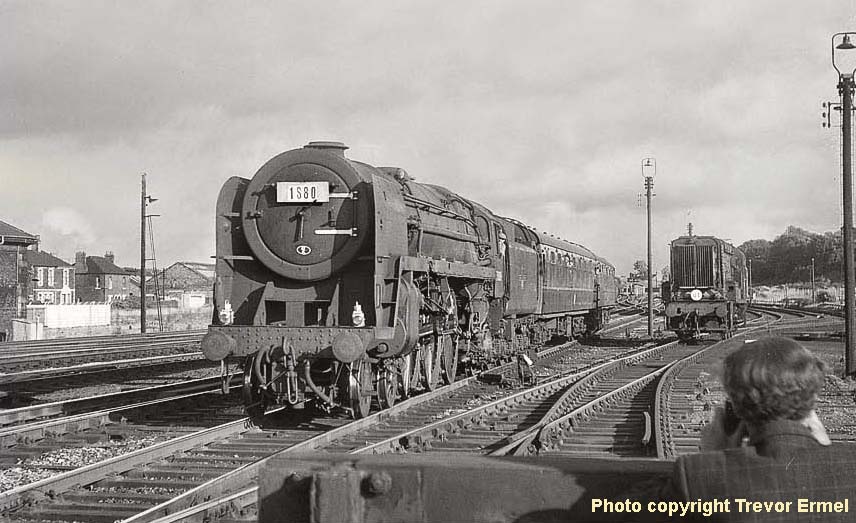 The 'star-turn' of the day was the 13.20 Euston to Glasgow (1S80), timetabled to run non-stop all the way from Crewe, no less, and due in at 18.23. This duly arrived behind another 'Britannia', No 70039 Sir Christopher Wren, my final picture of the day

(above)
.
It appears that I probably returned home on the 19.35 DMU to Newcastle, which is surprising considering that the Blackpool to Newcastle through train was due ten minutes later, and which would have provided another loco-hauled journey. (Perhaps it had been reported as running very late?)
All in all it had been a most satisfying day and the amount of steam activity was quite an eye-opener. As a result I made several more trips to Carlisle on subsequent Saturdays, and usually managed to include the Carlisle to Penrith round trip, with steam both ways.
Footnote: the train reporting numbers, e.g. 1S44, were added to the notebook at a later date. And if Donald Mackinnon should ever read this, many thanks once again!
UP THE JUNCTION - Pelaw 1967

In the 1960s Pelaw was an important junction about three miles east of Gateshead, on the route from Newcastle to Sunderland. Here the line branched three ways just beyond the station - left to South Shields at the mouth of the River Tyne; straight ahead to Sunderland and on to Hartlepool; and right to Washington and beyond (known as the Leamside line.) Blaydon and Dunston power stations, west of Gateshead, were both coal-fired, and a procession of steam-hauled coal trains would head there daily through Pelaw with full loads from the Durham coalfield, passing empties returning in the opposite direction.
Although Pelaw did not provide the spectacle of the Silksworth branch, near Sunderland (a line I never got to, unfortunately), it did have the advantage of frequent traffic, with trains converging from all four directions. I also found it easily accessible by local DMU, living as I did in Gateshead. During the summer of 1967 I travelled to Pelaw several times to photograph the steam workings, featuring locos mainly from Sunderland (52G) and Tyne Dock (52H) sheds. Between 26th May and 12th June my notebook (below, click to enlarge) recorded 27 different engines from four classes: ten Q6 0-8-0s, nine J27 0-6-0s, four K1 2-6-0s and four WD 2-8-0s. On the first of those days I attempted to log the traffic by indicating the train and direction it was heading, with F for freight etc. (C for coal and E for empties would have been a better description!), but later entries were just a list of loco numbers. And yes, that is a 'Jubilee' recorded on 10th June - No 45562 ALBERTA was in the area with the 'Ashington Railtour'. (It was also noted at Gateshead the previous Saturday sharing railtour duty with 4472 Flying Scotsman.)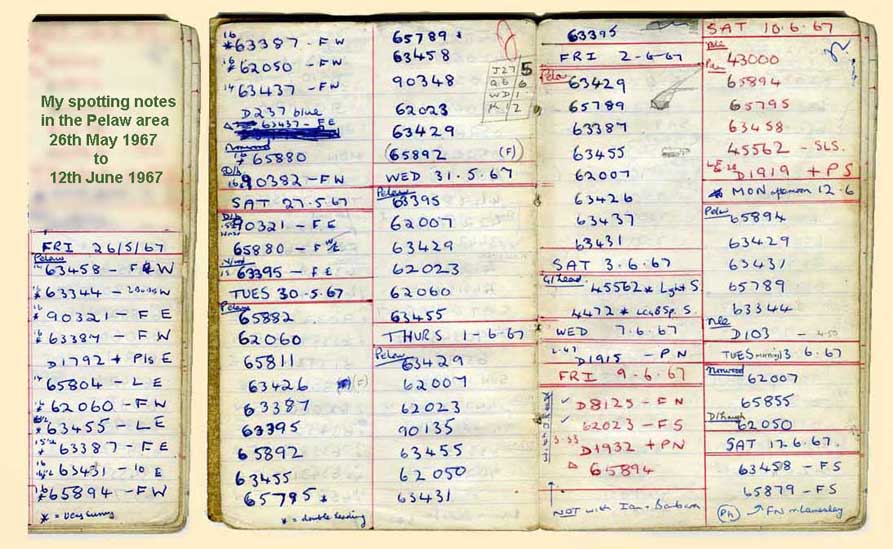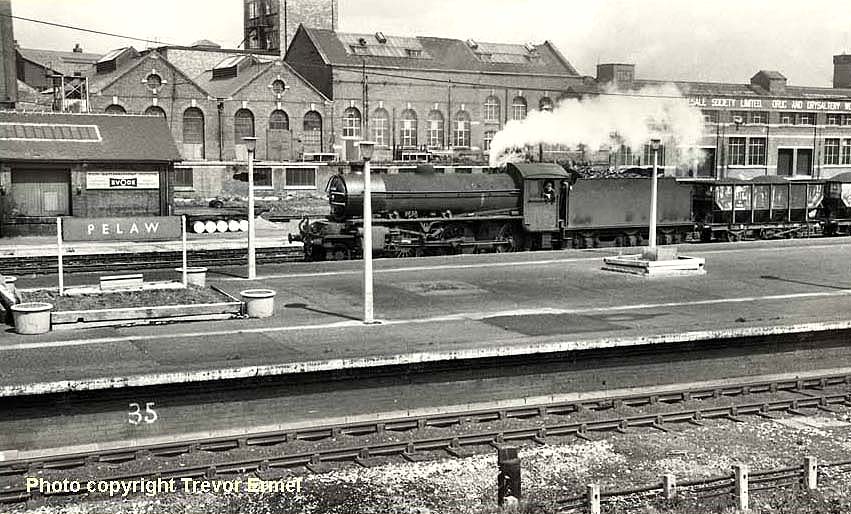 The first two pictures show the island platform of the station itself. K1 No 62060 is heading west with a loaded coal train (above), and J27 No 65882 is returning with empties (below). My train from Gateshead had passed the J27 on the approach to Pelaw and I had run up the ramp and grabbed a shot through a broken window of the covered footbridge. The fireman had seen me with my camera and drew the attention of the driver, so they were both looking up as they passed below. Funny how the smallest details still remain firmly in the memory!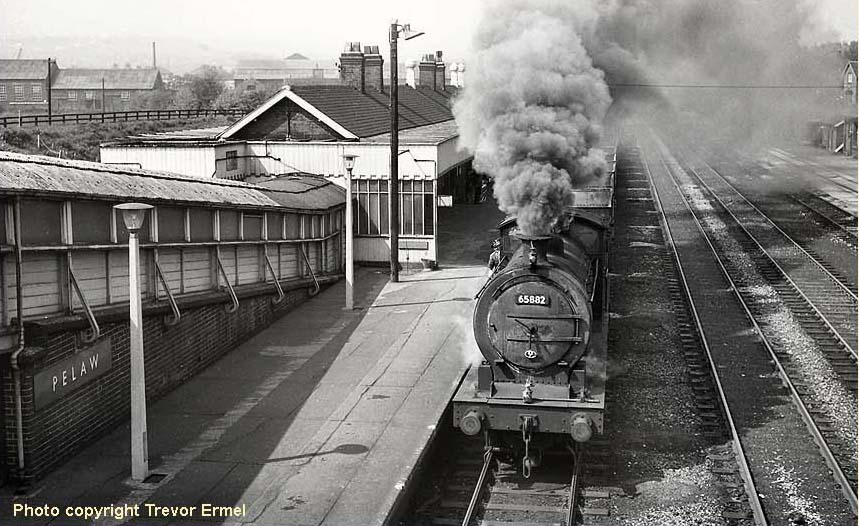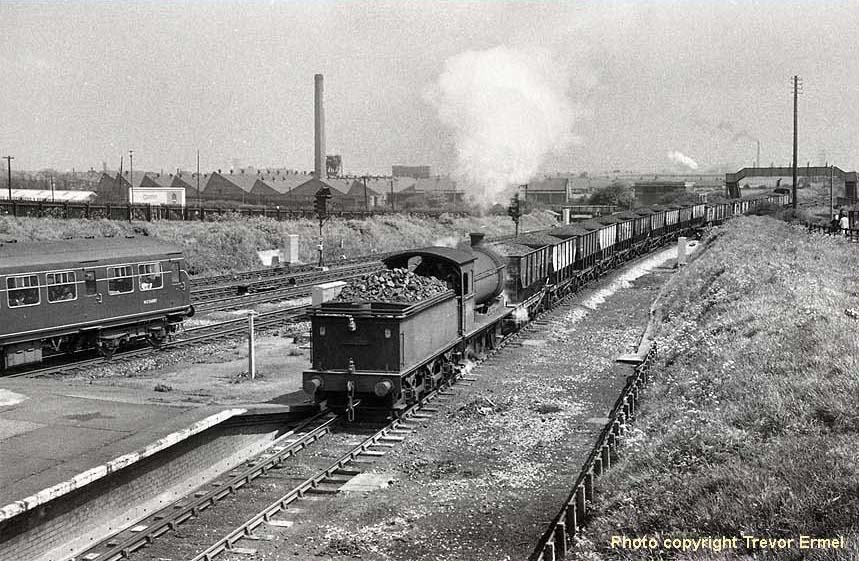 Among the engines photographed were the J27 and the Q6 destined for eventual preservation by the North Eastern Locomotive Preservation Group (NELPG), still doing the job they had been designed for over forty years earlier. No 65894 is approaching the station (above) as a DMU leaves for South Shields from the far platform, and No 63395 is seen (below) having just passed the station heading east with coal empties. In the foreground is a bridge over the remains of an old mineral line leading to coal drops on the Tyne, closed in the 1950s.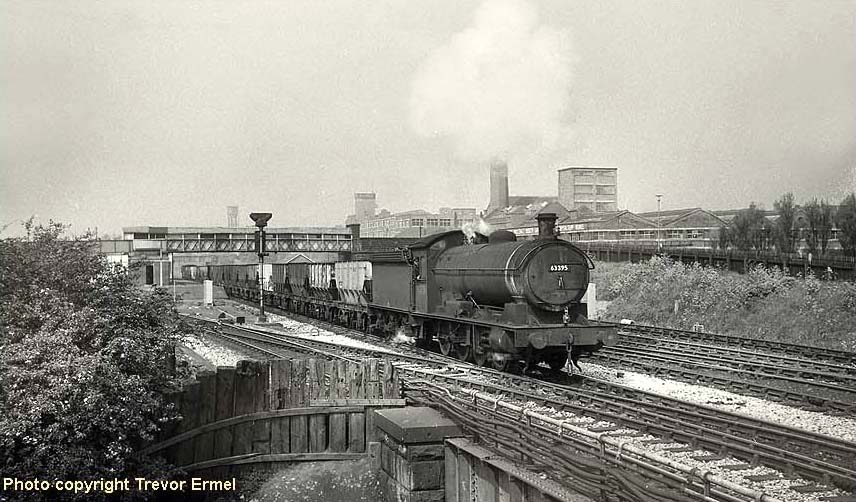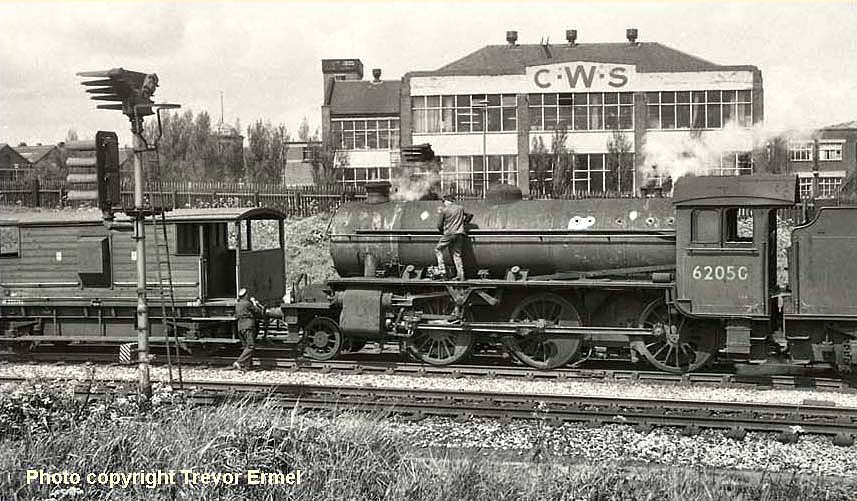 Another loco of note (from a personal point of view) was K1 No 62050, an old friend from the Alnwick branch in Northumberland where I'd had a cab ride the previous year. During a spot of shunting just east of the station (above) the driver is walking forward along the running plate to offer assistance (or swear words!) to his fireman, who is having trouble coupling up. An unusual working was Q6 No 63431 with one iron ore wagon (and brakevan), photographed from the platform end (below). As the chalk inscription on the wagon tells us, this was on its way to the Wagon Repair Shops at Tyne Dock before resuming duties on the celebrated ore trains up to Consett.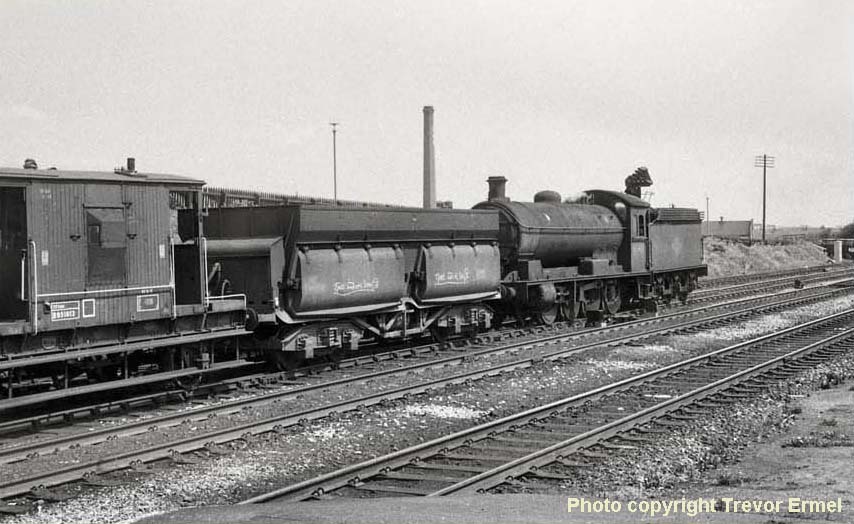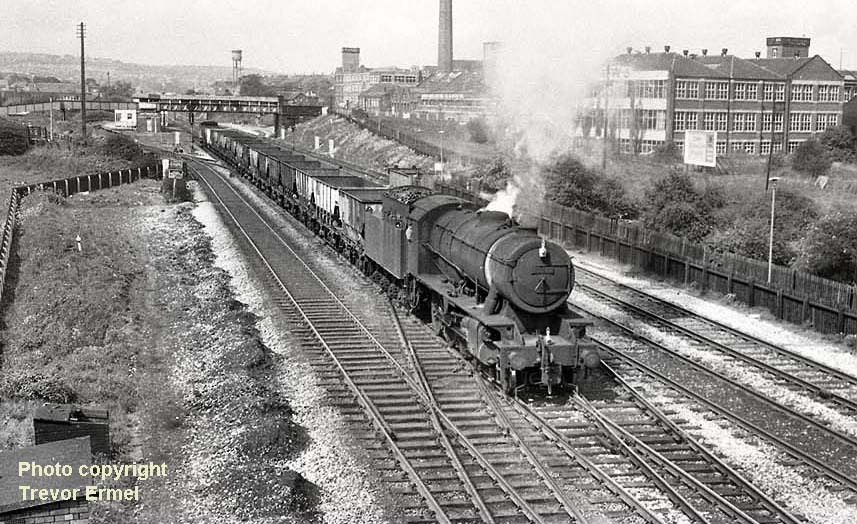 A footbridge across the tracks between the station and the junction was a good vantage point to see trains in both directions, such as WD No 90321 heading for Sunderland with empties (above), and Q6 No 63387 heaving a full load off the Leamside line (below). The p.w. gang on the left seem unimpressed with the drama alongside them - and not an orange vest in sight! The modern signal box on the right is of recent construction, opened in 1960.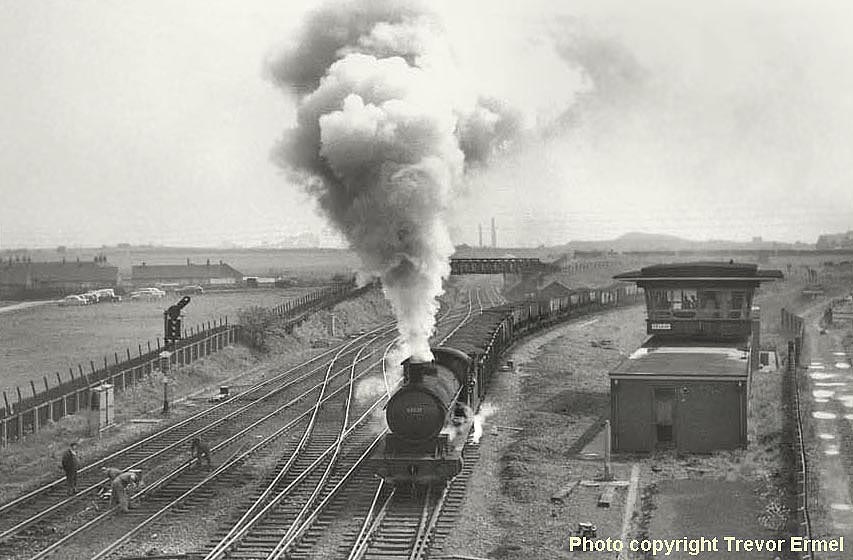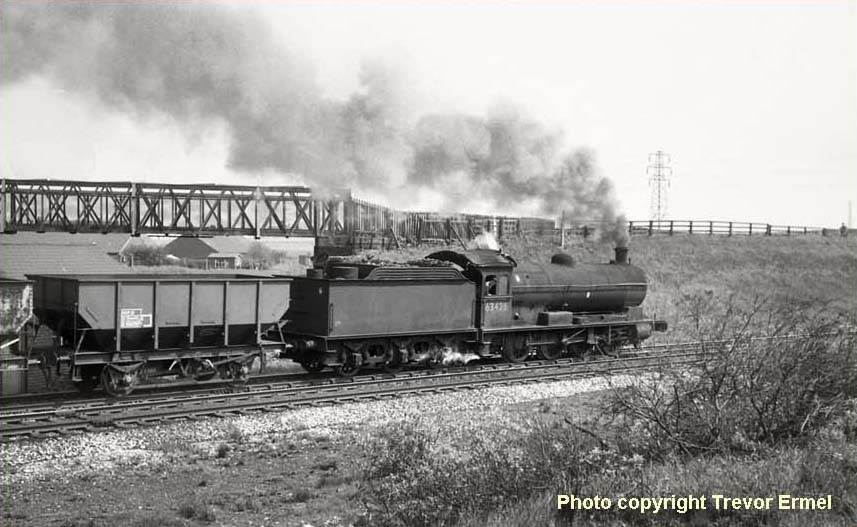 Going up the Leamside line in the opposite direction towards Washington is another Q6, No 63426 (above) with coal empties. K1 No 62050 is seen again (below) as it breasts the summit from Sunderland at walking pace with a full load, with the Leamside line in the foreground. This was taken on a dull day - the sun usually shone at Pelaw!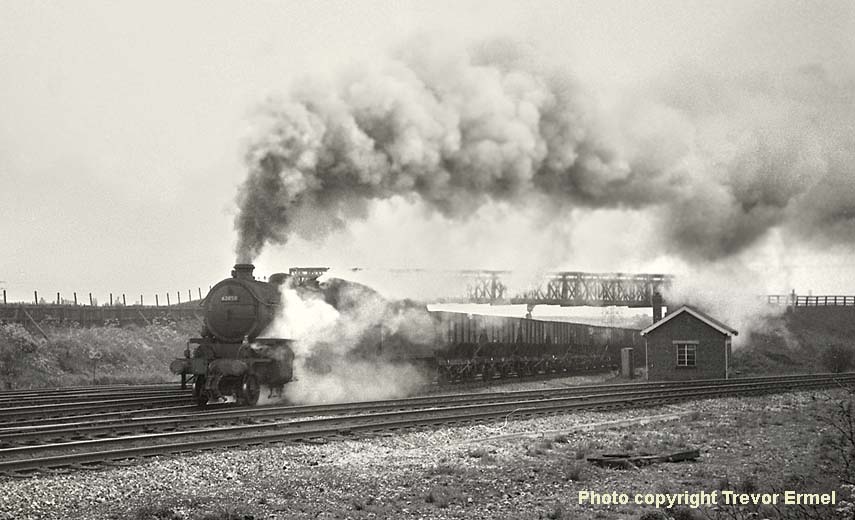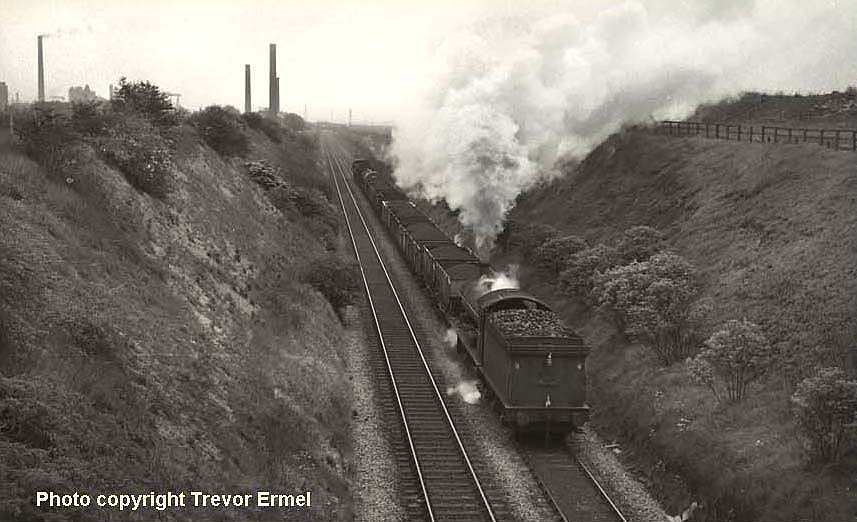 Beyond the junction the line dropped downhill in a cutting towards Sunderland. Here Q6 No 63395 is seen again (above) on the last leg of the climb up to Pelaw with a loaded coal train.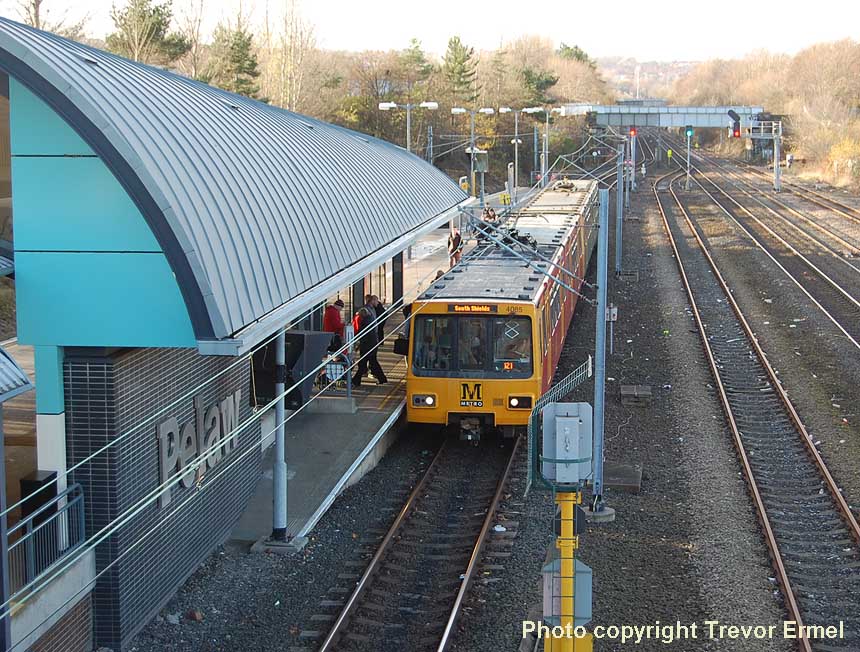 After the middle of June my thoughts turned further afield towards Carlisle and the West Coast Main Line, and I rarely visited Pelaw again before the end of steam in the area in September. Today trains on the Tyne & Wear metro system bound for South Shields or Sunderland call at the new station at Pelaw (above), built on the site of the old. This makes an interesting comparison with the earlier view of 65882! The Leamside line has been closed for many years but is currently mothballed, with the possibility of one day seeing trains running again. Blaydon and Dunston power stations are long-gone, and today's air-braked coal trains run between Butterwell opencast coal mine in Northumberland and Thoresby in Nottinghamshire.


At this juncture David has suggested writing something about the cameras I used. The first one was a Brownie 127 camera in 1964, with photos developed at the chemists. At Christmas I received a present of a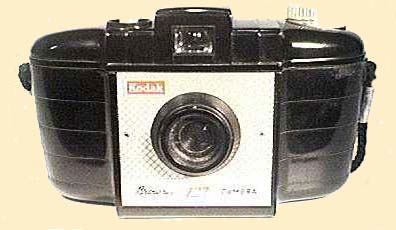 slightly better camera, still taking 127 film and no fast speeds.
Then in January 1967 I bought a second-hand Kodak Retinette 35mm camera and following a crash course in developing and printing at a friend's house (John Reed, with whom I had many spotting outings) I started processing my own photos. I used a very slow (but fine grain) film called Kodak Panatomic-X, rated at only 32ASA. I did try HP4 but found it too grainy at 400 ASA. However, after seeing a Take Four photospread in 'Railway World' by Paul Riley I gave Plus-X a go - this was okay at 125 ASA and I used that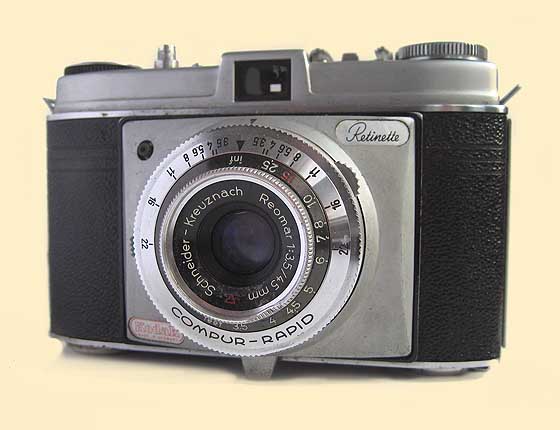 up to the end of steam in 1968.
The Retinette camera had a fixed lens so I couldn't take any telephoto shots which were all the rage at one time and could give very dramatic results. My photos were really taken as a personal record of the era, and it was all about being in the right place at the right time, and though I hardly scratched the surface compared to many other photographers I admire, I am so grateful I was able to do what I did.
Unrepeatable!

(Left) This is the Retinette I used from 1967. Sharp-eyed viewers will notice a bash in the focusing ring near the bottom - this is due to falling off a tripod in Lostock Hall shed in August 1968 at the very end of steam! It was withdrawn from service shortly afterwards along with the Black Fives…

As for the next feature on the Southern Region below? The photos were taken before I got my Retinette, so static shots only this time…

1966 AND ALL THAT!
Southern Region Railrover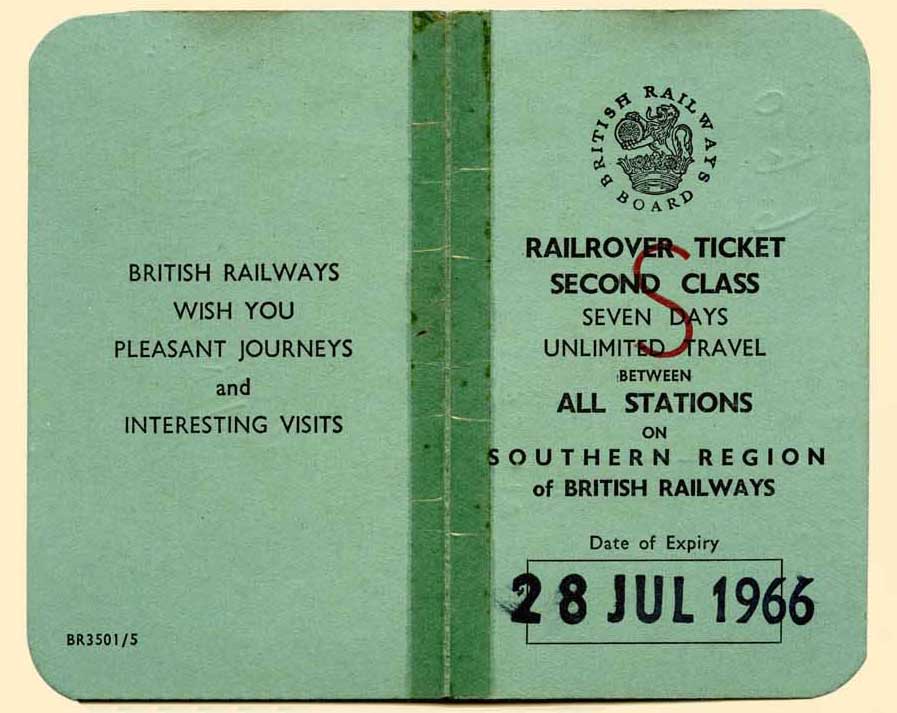 It was the summer of 1966. I was fifteen years old, England was poised to win the World Cup, and steam still reigned supreme (almost) on the Bournemouth main line! Eager to take advantage of a family holiday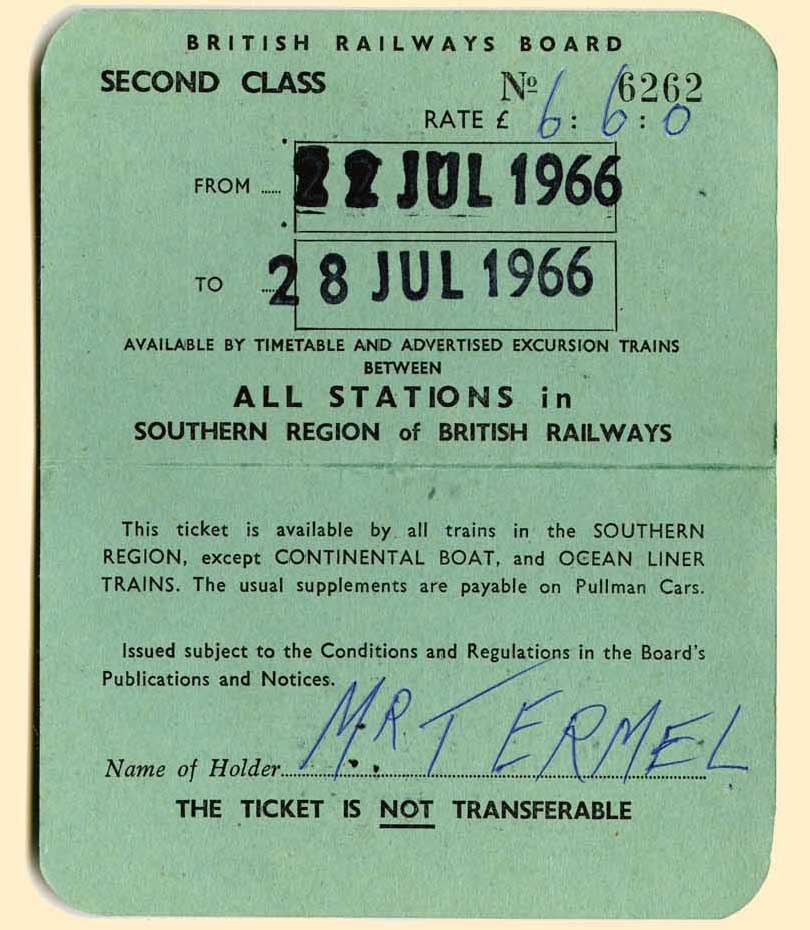 with relatives near Brighton, I applied in advance for a Southern Region Railrover ticket, to be collected at Victoria Station prior to the start of the last leg of our journey to the South coast. Imagine my dismay, then, when the man at the ticket office window knew nothing of the booking and no ticket was waiting for me.
Could I buy one on demand, I wondered? It was to cover the whole of the Southern Region - 'As far as Weymouth,' I added helpfully.
'But Weymouth is on the Western Region,' he replied.
For a moment I considered showing him my Locoshed Book, pointing out that Weymouth had a 70G shed code and was therefore definitely Southern Region. Had it been on the Western Region it would be eighty-something, surely? He was obviously not a railway enthusiast.
My fears were unfounded, however. He disappeared from the window, discussed it with a colleague and returned a few minutes later with the ticket freshly stamped to cover the seven days from 22nd to 28th July. Success!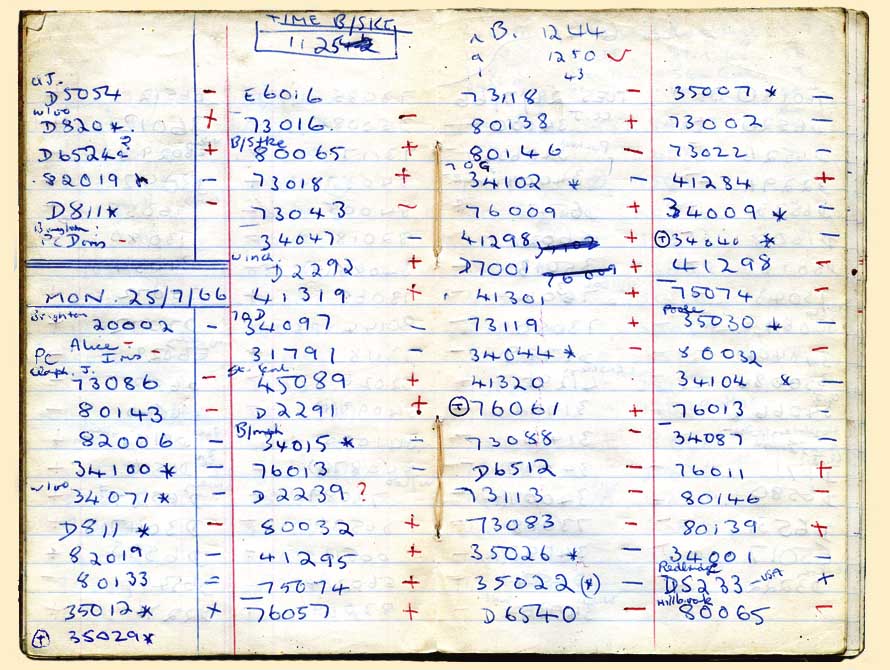 It would probably be tedious for you to read a blow-by-blow account of every train I travelled on over the next seven days, but suffice to say I covered 1,022 miles behind 26 different steam loco, plus an uncalculated mileage with five diesels, one electro-diesel (E6011 on the first leg of a Brighton to Salisbury train) and numerous electric multiple units (EMUs) and diesel multiple units (DMUs). Also bear in mind that I was using a basic Kodak 127-type camera and the pictures were taken as a 'I was there' kind of record...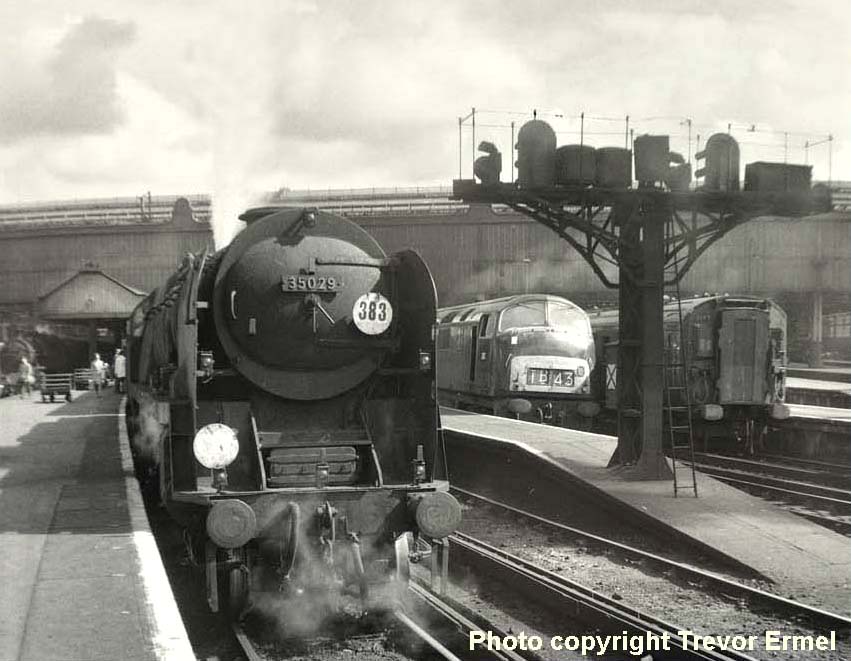 Waterloo Station in London was the starting and ending point for many a steam-hauled trip that week and as a result it became my favourite terminus in the capital. This picture (above) was taken on the fourth day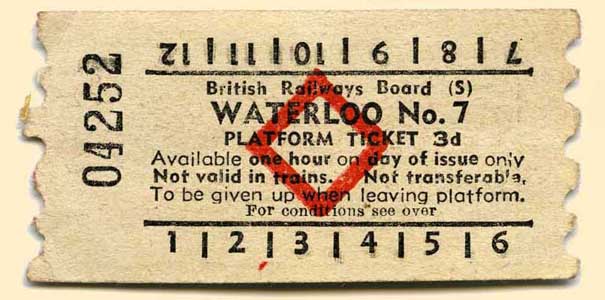 of the ticket, but is a good place to start. Just blowing off nicely at the head of my train, the 10.30 departure for Weymouth, is 'Merchant Navy' No 35029 Ellerman Lines. The 'Warship' diesel is No D811 Daring on a train for Salisbury. We all tended to ignore the green EMUs at the time but we miss them now! My notebook page shows the amount of steam activity that day, and it was strange to 'cop' a 'Black Five' at Southampton!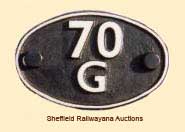 143 miles and just over three hours after leaving London I was in Weymouth, and made the short trek out to the engine shed (70G). Approaching the depot, not sure whether to risk going in without permission, I was aware of a young lad approaching. As I tried to avoid eye contact he asked the question I was dreading - 'Are you a trainspotter?'
Before I could think of a suitable non-committal reply he continued - 'There's a way in through the fence,' and directed me towards a gap I hadn't noticed. What a helpful soul! The elevated pathway beyond the fence gave a good view of the north end of the shed yard (below).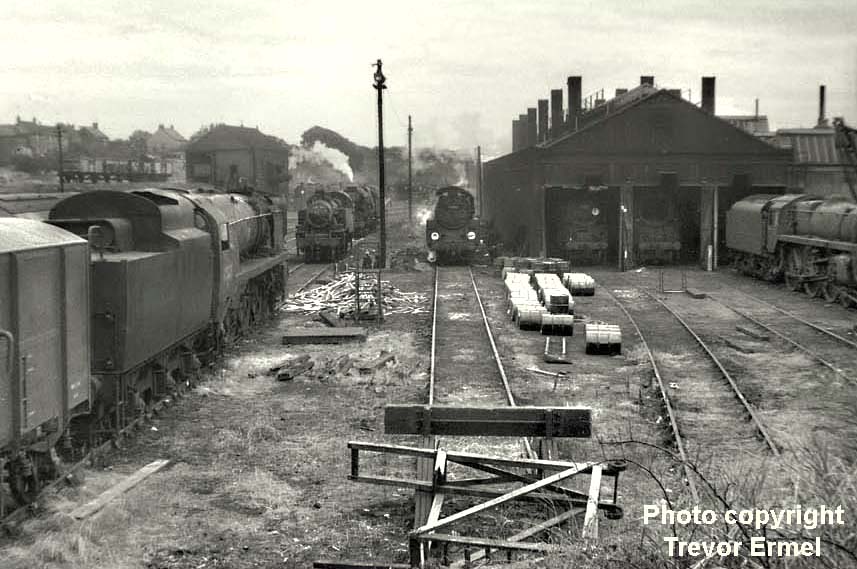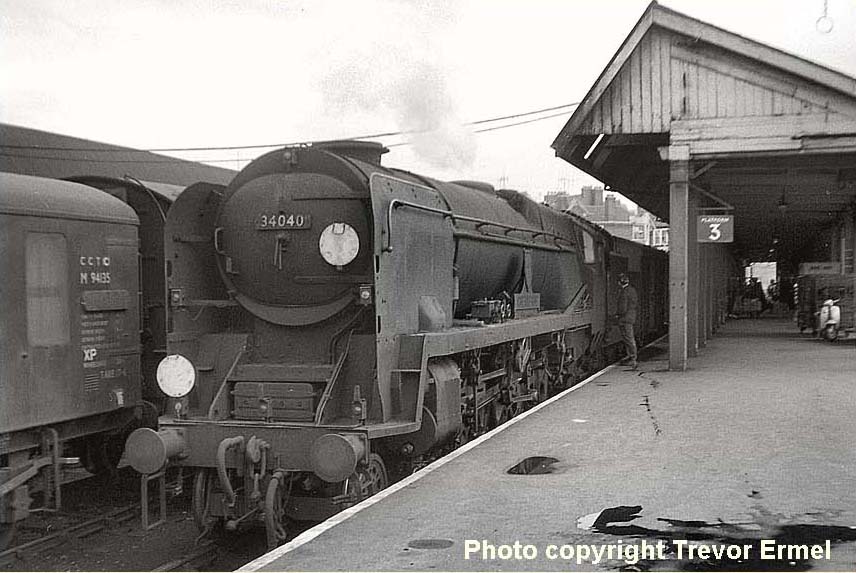 I decided to return to London in stages, to clock up as many different loco-hauled journeys as possible - after all, that was the name of the game. First up was a rather grimy 'West Country' No 34040 Crewkerne which took me to Bournemouth, seen (above) waiting to leave Weymouth. Next was a Standard 4MT 2-6-0 No 76018 on a local as far as Southampton, followed by No 35029 (again) with a very full express (standing room only f

or the final leg to Waterloo)

. Not that I was complaining, since I tended to stand at the front for most of the time anyway! I remember how disappointed I was to have the same loco twice in one day! Another engine which featured twice in my travels was No 34008 Padstow. Later in the week I travelled behind it from Southampton to Waterloo, but on my first day I took this picture (below) which shows it after arrival at Woking on a ten-coach Waterloo to Basingstoke train - hence the single white disc on the smokebox door.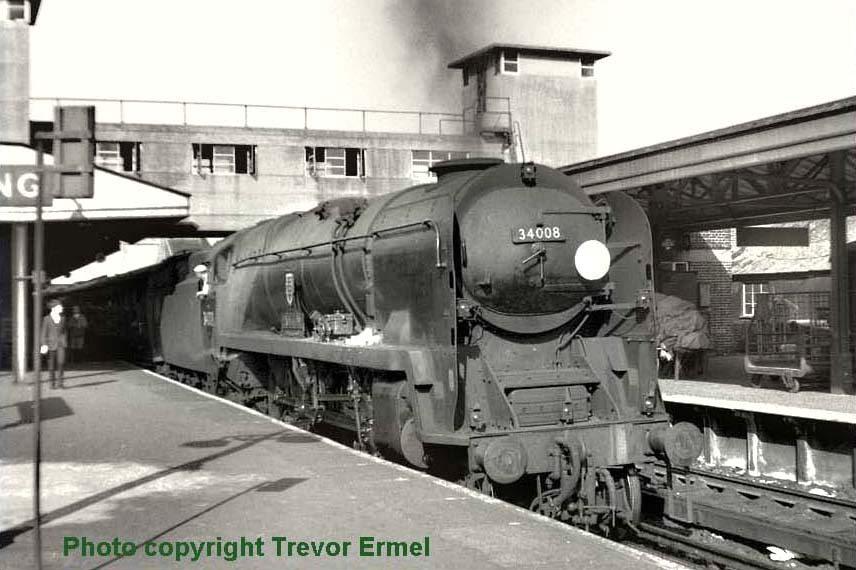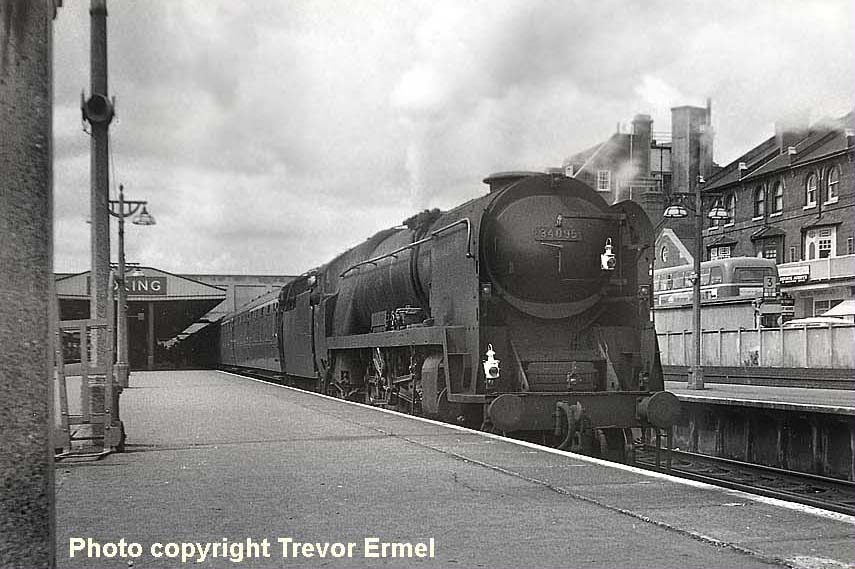 On the subject of white route indicator discs, another view at Woking on a different day shows No 35095 Brentor (above) with a Bournemouth to Waterloo express, after I had just travelled from Basingstoke. The loco's home depot must have been short of discs that day - it was quite unusual (I think) to see normal headlamps mounted on the front like this. Photographed in the classic location (as I later realised) at Southampton was 'Battle of Britain' No 34089 602 Squadron, in quite nice condition, prior to my run to Eastleigh (below). I was surprised to see a picture in 'Railway Magazine' a few months later of the distinctive clock tower being demolished. The picture also shows one of the frustrating things about long-distance train travel that week - parcels vans were sometimes marshalled at the front of the trains, which meant I was one or two coach-lengths away from the action!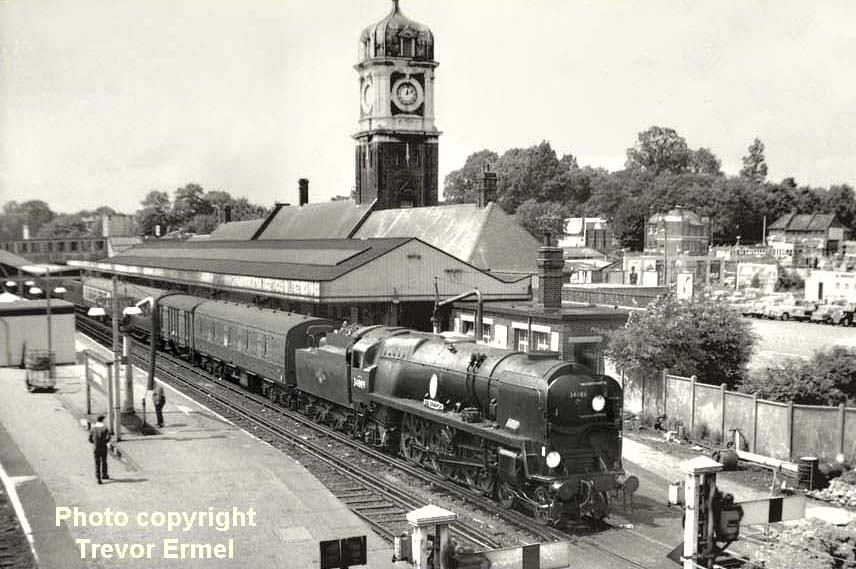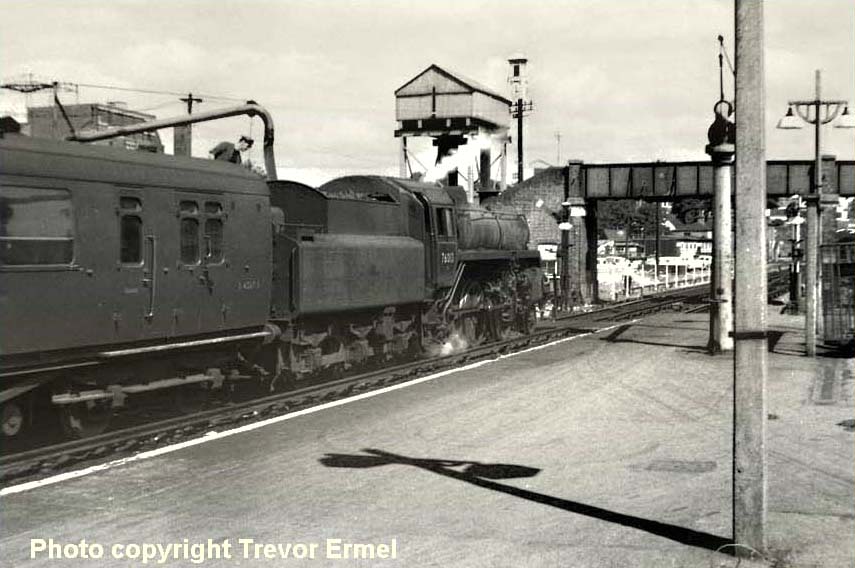 Also seen at Southampton (above) was Standard 4MT 2-6-0 No 76013, taking water after arrival with my train from Bournemouth. It was a pleasant surprise to find that most of the local trains (in this case a Bournemouth to Eastleigh stopper) were still steam-hauled, when DMUs had mostly taken over such workings elsewhere. Another class of Standard loco I travelled behind was the 5MT 4-6-0. No 73043 was photographed at Basingstoke (below) after arrival from Waterloo. A note in my book records it as 'No numberplate, fairly clean.' Two others were named examples - No 73080 Merlin (Woking to Waterloo) and No 73086 The Green Knight (Waterloo to Woking), although only the former still carried nameplates.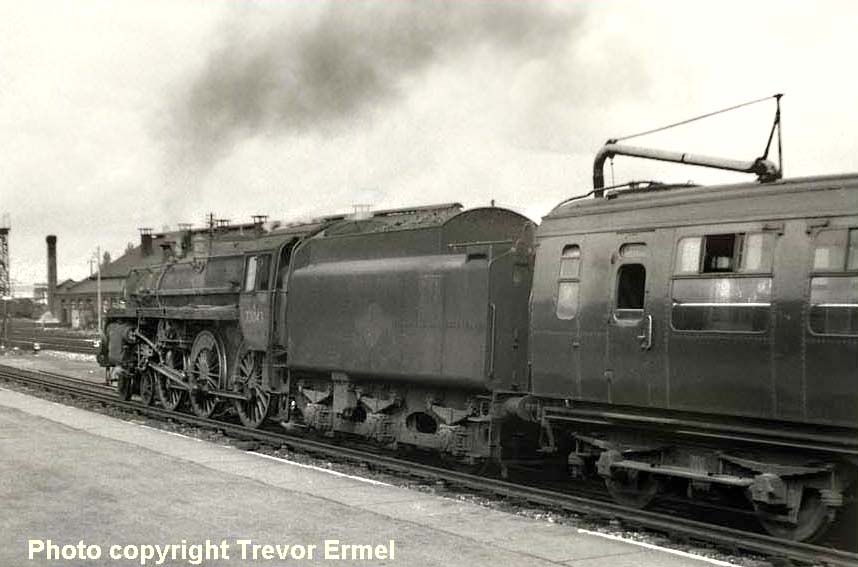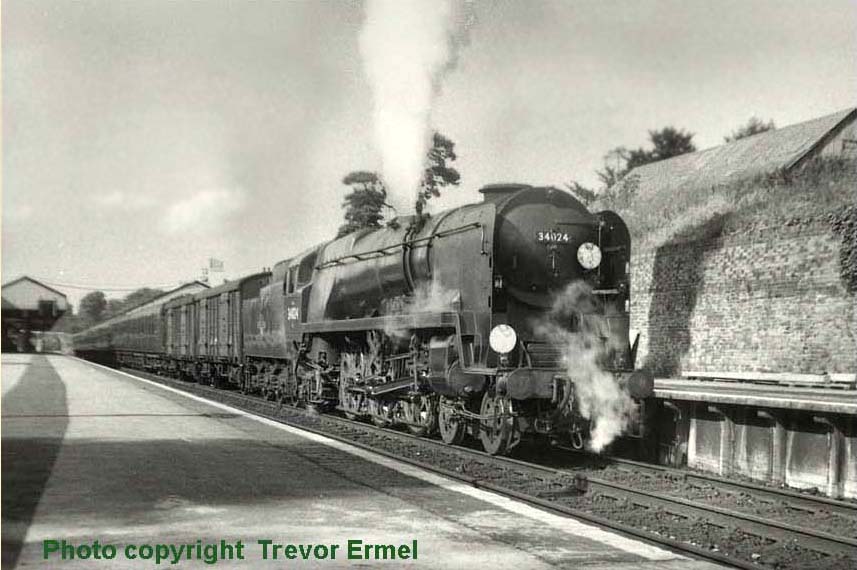 In general I found the cleanliness of most of the engines left a lot to be desired. No 34013 Okehampton was the main exception to this, as I recall, followed a close second by No 34024 Tamar Valley. This is seen at Winchester (above) after our arrival from Woking. The overall appearance was rather spoilt by the lack of nameplates! On the Saturday I opted to go to the Isle of Wight, and travelled on seven trains behind five of the little Class 02 0-4-4Ts. I have to admit I found this rather an anti-climax compared with Pacifics thundering down the South Western main line, but with every train guaranteed steam-hauled I could hardly complain! My picture (below) shows No 14 Fishbourne at Ryde Pier Head. By this time all the engines were without their nameplates, although some of them had been fitted with wooden replacements.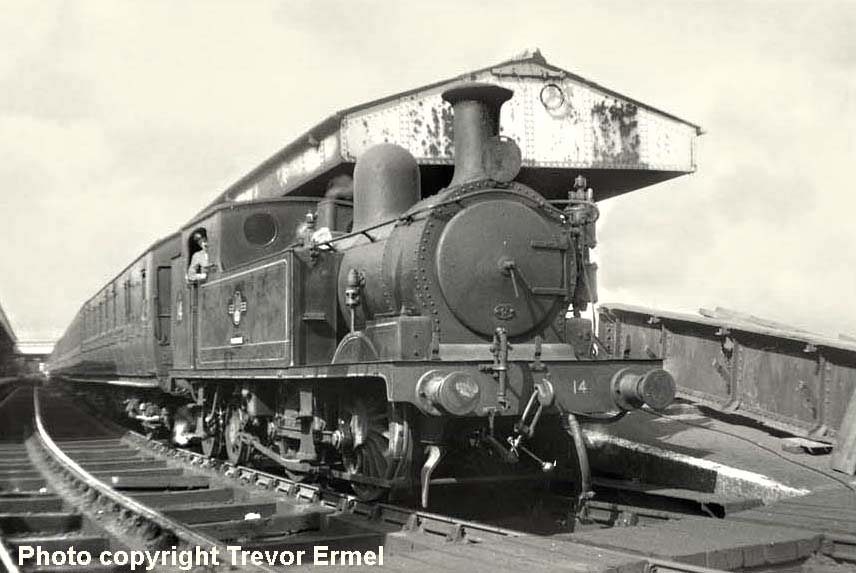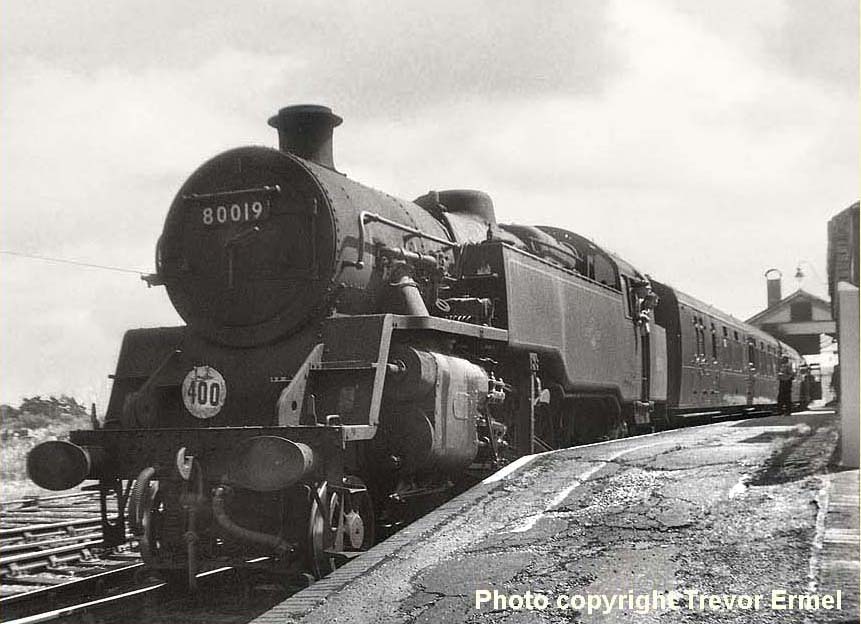 The only tank engine I travelled behind on the mainland was 2-6-4T No 80019 on the Lymington branch, seen here (above) with its three-coach train at Lymington Town. The Sunday was a bit of a disappointment, as the three main line trains I travelled on were all pulled by Birmingham RCW Type 2 diesels, as we used to call them. (As a matter of fact I still call them that - what are they now? Class something-or-other, no doubt. Are there any left?) So I made the effort to visit Nine Elms shed (70A) where the steam locos were having a day off. Locos visible in my picture (below) were No 34009 Lyme Regis, No 73085 Melisande (presumably minus nameplates, as I did not put a star beside its number in my notebook) and an unidentified Pacific without its smokebox numberplate. This still has the 'Golden Arrow' fixing bolts on the smoke deflectors, so it might be identifiable by someone with specialist knowledge. After studying published photographs from the 60s and comparing them with other locos noted on shed that day I suspect it might be No 34088 213 Squadron. Incidentally I can't for the life of me understand why I was carrying around such a large holdall, which has managed to get in to the shot on the left. As far as I remember all I was carrying was a camera, timetable and perhaps some sandwiches from my aunt's home in Hove!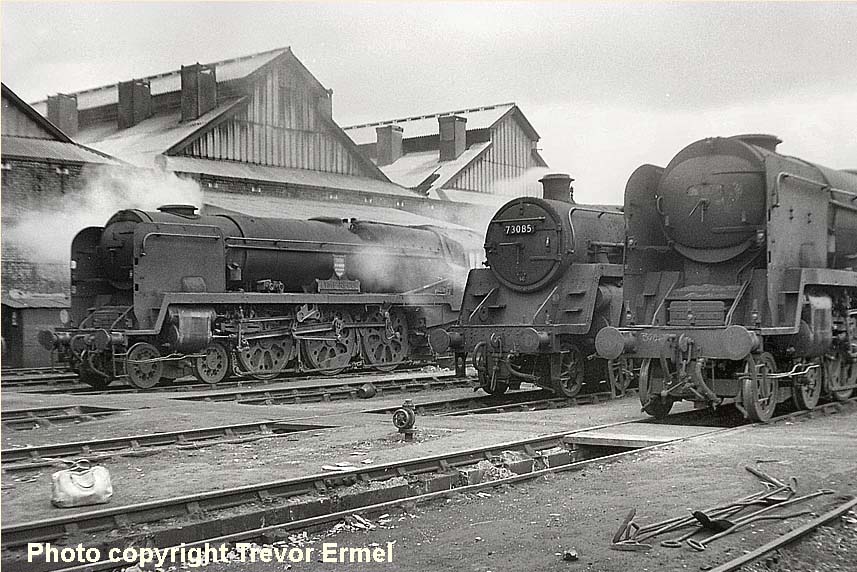 One general impression that week was the absence of any large enthusiast contingent on the trains or by the lineside, and the matter-of-fact way the general public seemed to regard steam locomotives. No doubt the same scenes had been enacted in other parts of the country where we thought steam would go on for ever. No 35029 Ellerman Lines, behind which I travelled over 200miles, has survived - or at least most of it has, since it has been preserved as a sectioned exhibit at The National Railway Museum in York. Whenever I see it I think of that fabulous week I spent on the Southern Region in 1966. And you know what? It usually brings a lump to my throat!


ENCOUNTERS WITH 'ALBERTA'
I first came across No 45562 Alberta in Farnley Junction shed (55C) on 6th February 1965, as recorded in my notebook (below left). Of course, as a fourteen year-old I didn't know that it would be the last of the 'Jubilee' 4-6-0s to run; that it would become my favourite of them all; or that I would actually travel behind it one day a normal service train. At the time it was merely one of 14 'Jubes' seen that day on a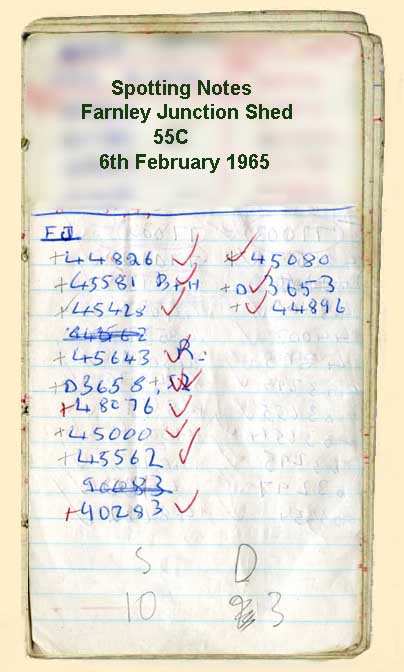 visit to various engine sheds in the Leeds area with my young friend Michael Ions and his father.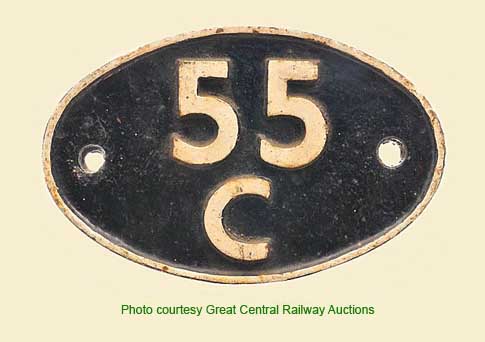 Farnley Junction was the third of five depots on the itinerary - a long, straight shed, I remember, with few engines inside. Alberta was one of three 'Jubilees' we found at home, the others being No 45581 Bihar and Orissa and No 45643 Rodney. Probably of greater interest to me was the loco I noted down immediately prior to No 45562 - 'Black Five' No 45000 which I probably imagined, (incorrectly, as I later discovered), to be the first of the Class. Strangely, Alberta was recorded by its number only. This seems unusual as most of the others 'copped' that day were also identified by a short-hand version of their name, such as 45573 NEWF (for Newfoundland) or 45661 VN (for Vernon). Perhaps even at that relatively early date the engine had been shorn of nameplates, or maybe my hand was getting tired by then. It was, after all, the 79th number I wrote down on the trip, with another 133 still to go!

Two years later Alberta had become something of a celebrity locomotive. Now based at Holbeck Shed, Leeds (55A), it was one of only a handful of remaining 'Jubilees' and was kept in very presentable external condition, mainly due to the unofficial efforts of enthusiasts eager to have a clean engine for their 'master shots'!

On 25th February it was a visitor to my home patch at Newcastle during the early hours of darkness at the head of the 'Border Countryman' Special from Carlisle. Resting my camera on a porter's barrow which I had no doubt dragged in to a suitable position, I was able to capture the scene (below) with a simple time exposure - my first picture of the 'Jubilee' I would see and photograph many more times that year, usually in an immaculate state as it was used a couple of times in the coming months on Royal Train Duties.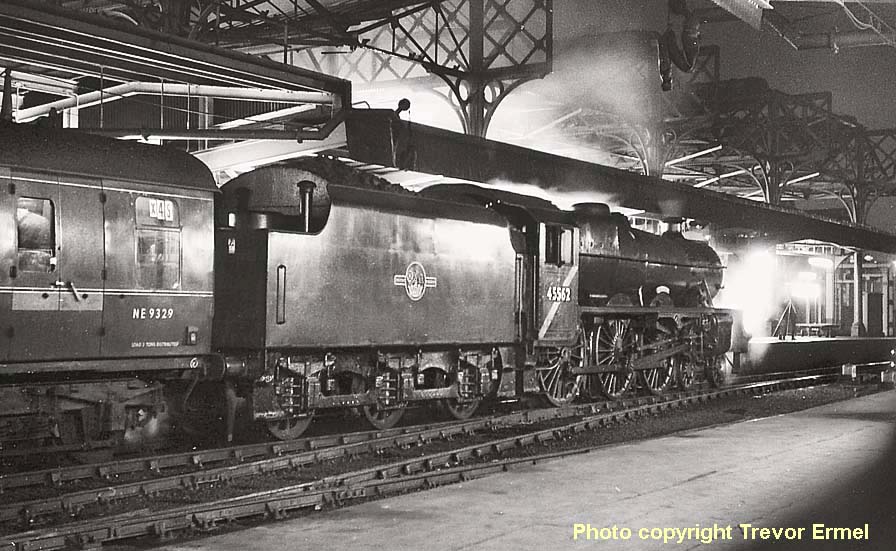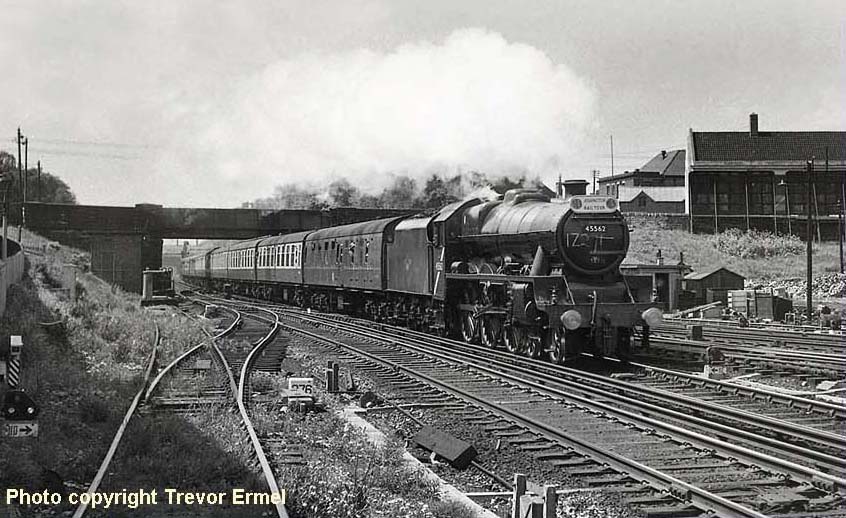 In the early summer Alberta was in the area twice more. On 3rd June I was on the (by now closed) platform at Gateshead West, at the south end of the High Level Bridge across the Tyne, awaiting the passage of an LCGB Special. This was advertised as being 'Jubilee'-hauled from Carlisle to Newcastle, where preserved A3 No 4472 Flying Scotsman was due to take over for the next leg south. As there were only four active members of the Class left by now there was a 25% chance that 45562 would be in action that day. Sure enough Alberta rolled light-engine over the bridge and through Gateshead West, its massive driving wheels (at 6ft 9inches, larger than the A3) being seen to good effect as it passed by at close quarters. Although I photographed Flying Scotsman a few minutes later as it followed the 'Jubilee' south, I didn't take a shot of Alberta. I probably felt that a light-engine movement wasn't really worth a picture, as it was neither a loco portrait nor a shot of a train in action.The following Saturday, 10th June, I made up for this lapse when No 45562 was in the area once more, with the joint SLS/MLS 'Ashington Rail Tour' from Huddersfield. My picture (above) shows it on third-rail territory accelerating through Heaton, shortly after leaving Newcastle.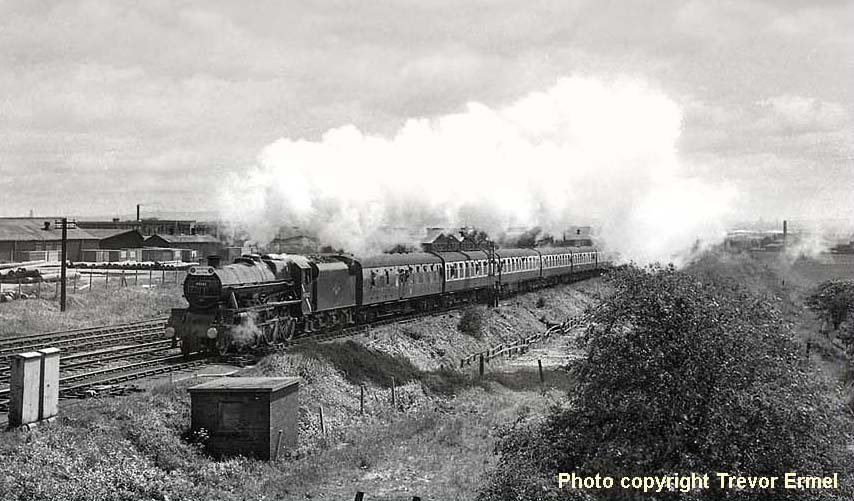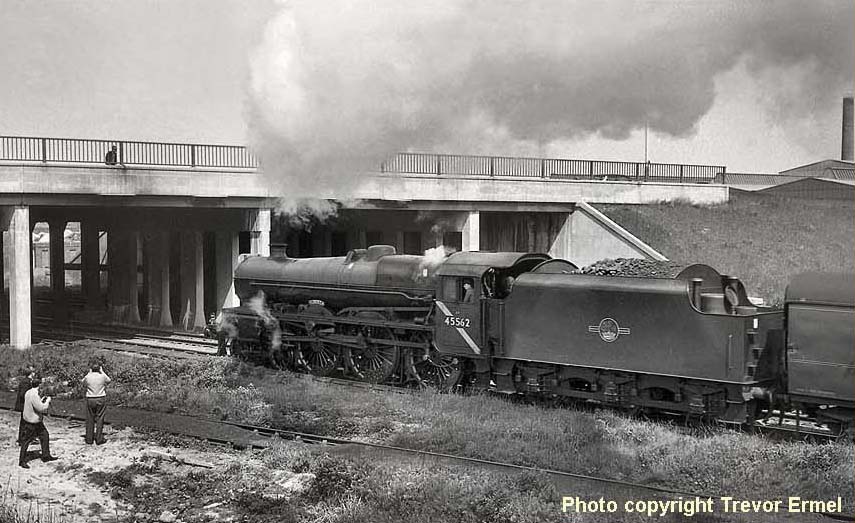 After travelling over the North Tyneside electrified loop as far as Percy Main the train turned sharp left and headed north up the 'Blyth & Tyne' freight-only line towards Ashington, where passengers would enjoy a tour of the substantial National Coal Board system, using NCB stock. The 'Jubilee' was probably the largest engine ever to traverse the joining curve at Percy Main and after much hesitating and screeching of wheel flanges it eventually forged its way up the grade and past us (both pictures above). The 'going away' shot gives a good view of the tender which has actually survived in to preservation, now attached to sister engine No 45593 Kolhapur, after a tender swap in October. Incidentally the figure on the right of the group in the foreground is WB (Bryce) Greenfield, a prolific photographer of LNER subjects in the 1930s and at the time of the picture the NELPG's first Chairman. Click here for a link to Bryce's page on the NELPG's website. It would appear that no damage was done to the track or the loco which is next seen returning south that evening near Low Fell (below).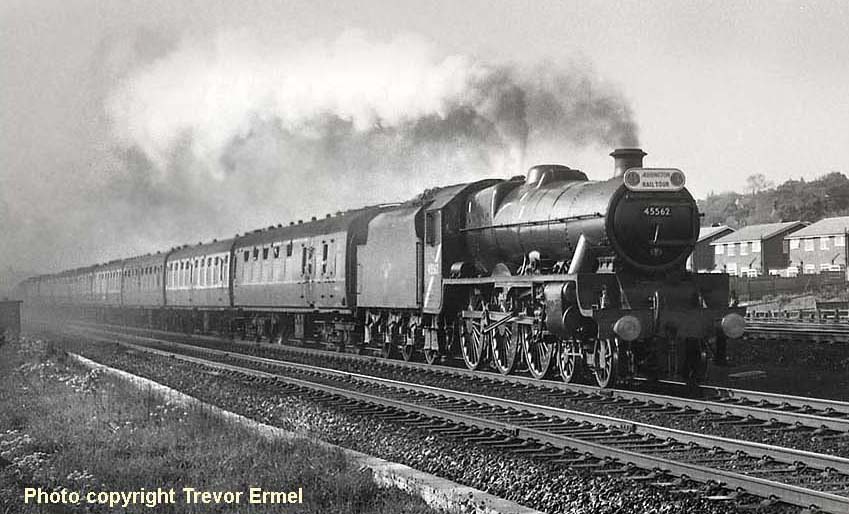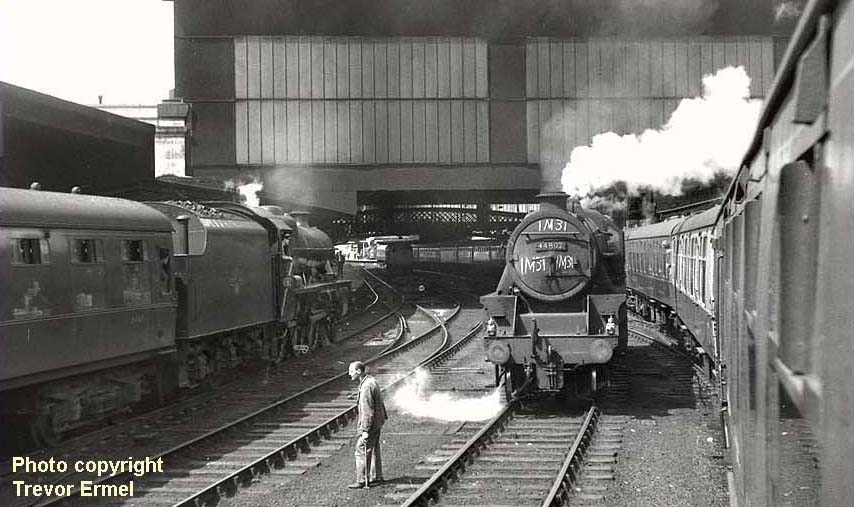 The 1967 summer timetable showed a couple of Saturdays-only trains which turned out to be steam-hauled between Leeds and Carlisle: a Birmingham to Glasgow train (1S52) followed by a St Pancras to Glasgow relief to the diesel-hauled 'Thames-Clyde Express' (1S67). During each Saturday in August both trains were worked exclusively by two Holbeck 'Jubilees' - Alberta and No 45593 Kolhapur respectively, and much nocturnal engine cleaning apparently took place, to the delight of the numerous photographers who flocked to record them. My picture (above) shows Alberta arriving at Carlisle on 5th August, to be replaced by a 'Britannia' for the onward run to Glasgow. This was taken from the window of a southbound train and also shows 'Black Five' No 44802 waiting to relieve a following express to Blackpool, which was diesel-hauled from Edinburgh. The railwayman leaning on the hammer is a wheel-tapper - now that's something you don't see these days! I was also at Carlisle the following Saturday, 12th August, and captured this standard three-quarter view of Alberta arriving with the same train, this time from the platform end.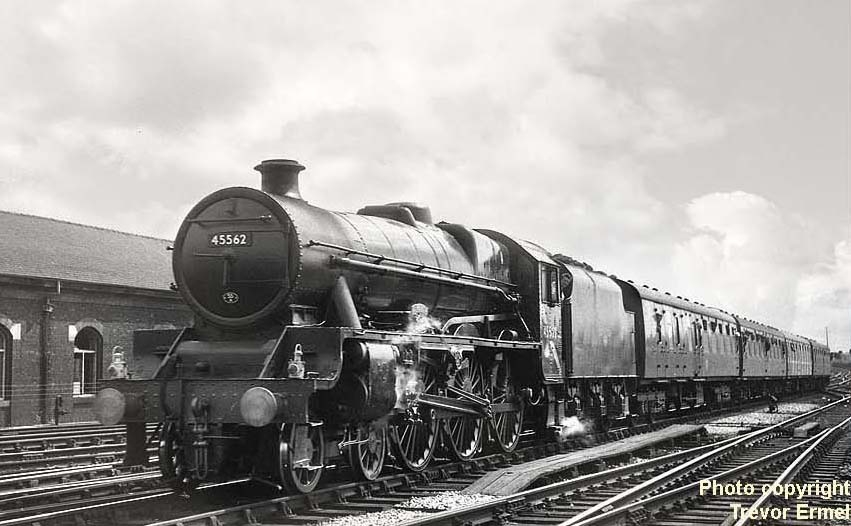 As the pattern of 'Jubilee'-hauled trains had now settled into a fairly predictable pattern, some friends and I decided to chance our luck and head south over the Settle & Carlisle line for the chance of a ride back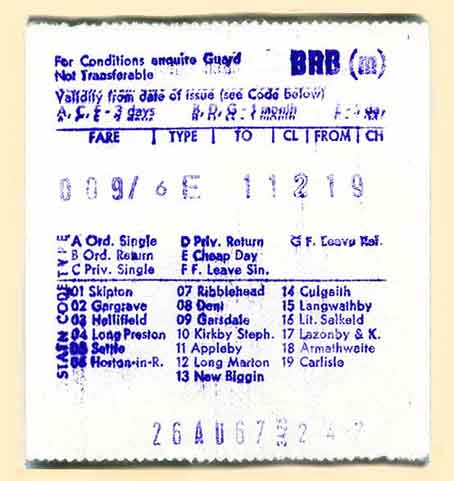 behind one of these locos. And so, on 26th August (the last day of the summer timetable) my younger brother Eric, cousin David, two friends and I travelled by DMU from Carlisle to Appleby to await the first of the trains, and this apology for a ticket (inset) records the event. The fare of 9s 6d (under 50p!) seems rediculously cheap now, but for schoolboys at the time that was quite a lot for a gamble which was by no means guaranteed! Two hours before the train was due Appleby station was deserted; then with ten minutes to go the crowds descended, although only one enthusiast slightly got in the way of the shot (below). The others were standing on the footbridge beside me, or had instructions (especially younger brothers and cousins!) to 'keep out of the way! Even in the dull lighting Alberta positively gleamed as it rolled in to the station at the head of an extremely full train.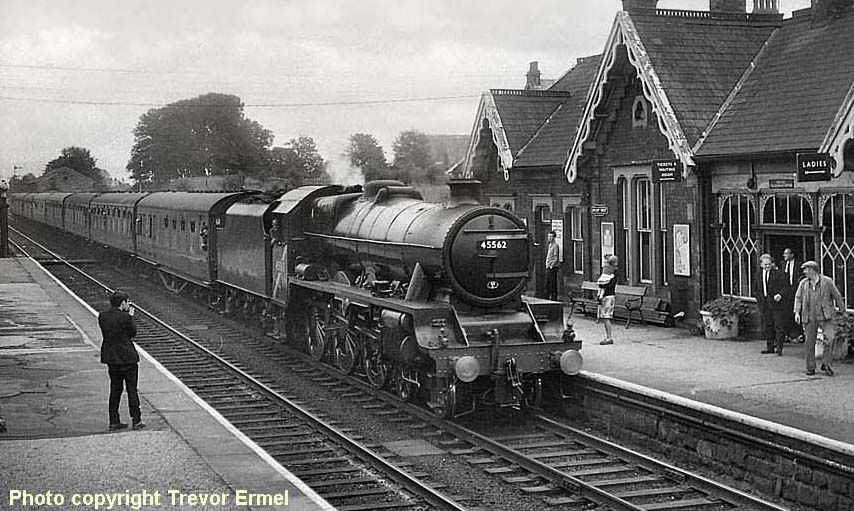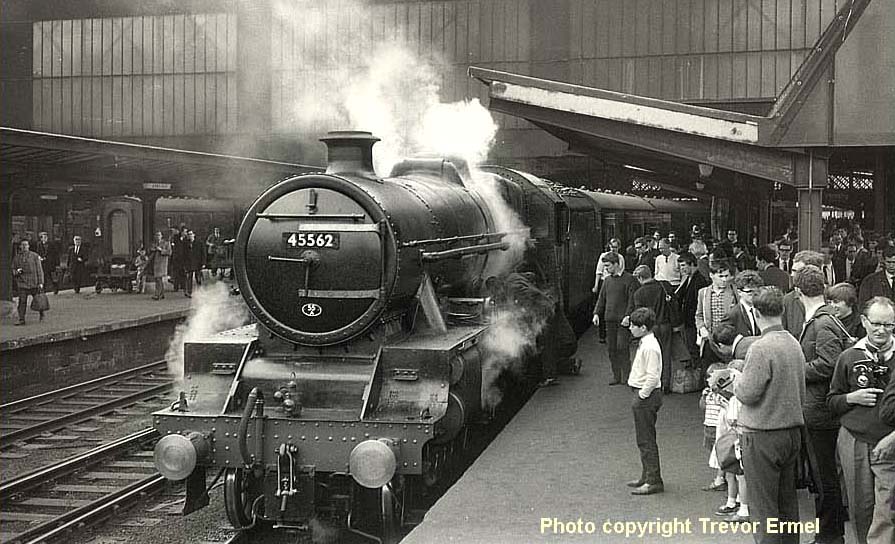 And so we had our first and only run with a 'Jubilee'. I was amazed I was able to get such an unobstructed view after arrival at Carlisle (above), considering that the train had been packed with enthusiasts along for the ride for the last time. And we were still able to fit in a run out to Penrith behind 'Britannia' No 70039 and back with 'Black Five' No 44993, before rturning home by DMU to Newcastle. Quite an anti-climax! My final pictures of Alberta were taken on 7th October when it worked the 'South Yorkshireman' Rail Tour from Bradford to Carlisle. The journey north was captured from the popular Shap Wells viewpoint (below) when the fireman had evidently just put on a round of coal, judging by the sudden appearance of smoke from the chimney.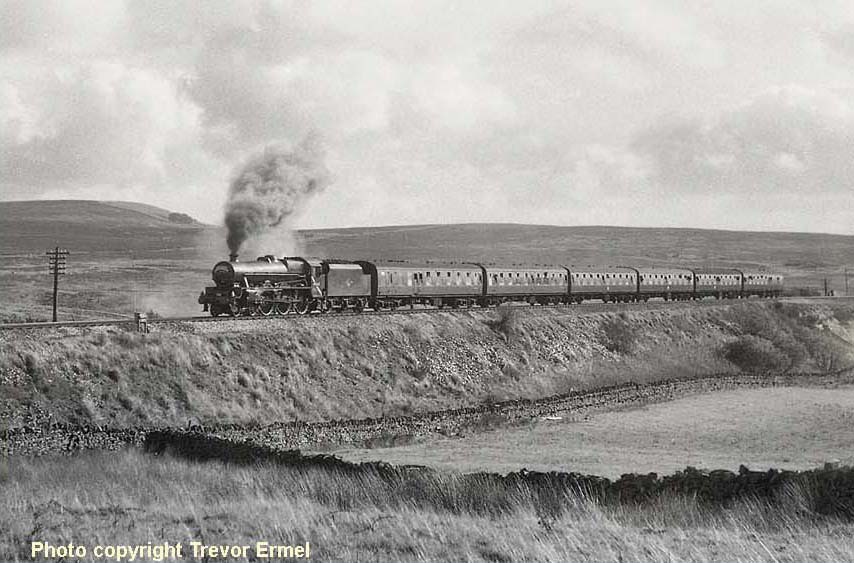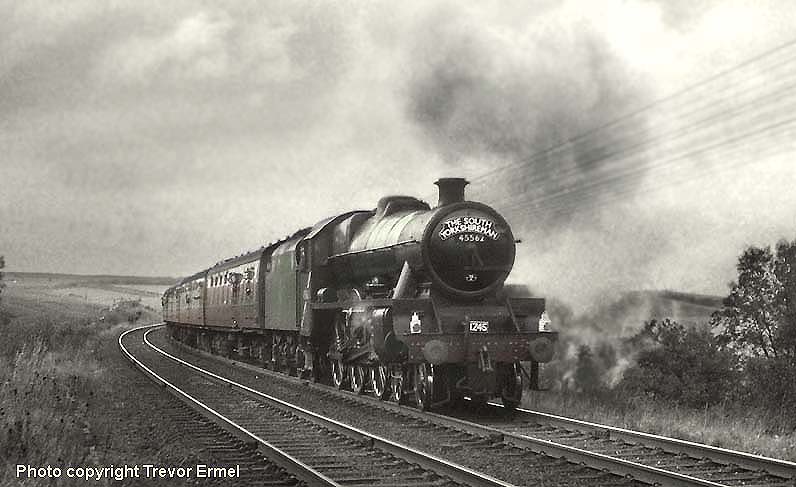 After seeing only one other steam-hauled train climbing the bank (45444 with a freight banked by 75037) we headed back home to the the North East, pausing on the S&C for a view of the Special returning south. As the weather turned dull and the light was fading the 'Jubilee' eventually appeared, and my picture (above) records the last time I ever saw the loco. Alberta was withdrawn from service on 4th November 1967, not long after one final Royal Train duty (steam heating at South Gosforth on 19th October) and it was eventually scrapped by Cashmores of Great Bridge - no doubt the cleanest engine they ever cut up!


NORTH WEST RUNABOUT ROVER

I spent many happy Saturdays during the summer of 1967 over in Carlisle, where quite a few seasonal passenger trains were scheduled steam turns. During the rest of the week, though, steam workings were concentrated further south. The school summer holidays (remember, I was still only sixteen years old and had just finished sitting O-level exams) now enabled me to take advantage of a week-long 'Runabout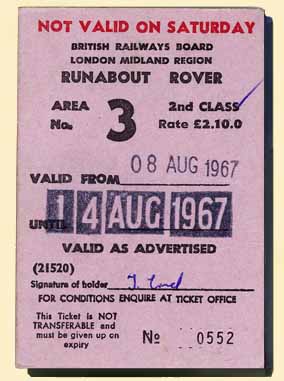 Rover' ticket covering the line between Carlisle and Preston. This ran from Tuesday 8th to Monday 14th August (excluding Saturday, when the ticket was not valid) and a similar 'Rover' ticket gave daily access from home near Newcastle. An early start would see my cousin David and me arrive in Carlisle in good time to catch a southbound Ango-Scottish express, with a Brush Type 4 diesel in charge. At every loop we seemed to pass a freight headed by a 'Black Five', kicking its heels as we sped by on the main line, and a foretaste of the delights ahead. Dropping down from Shap Summit we might catch a glimpse of the bankers at Tebay, perhaps having already passed one toiling up the hill at the rear of a northbound freight. After Oxenholme, where the Grayrigg banker would probably be waiting for business just beyond the station, the distinctive twin concrete towers at Carnforth engine shed would eventually come into view. Visible for miles away on the approach from the north, they signalled one of the main surviving steam centres, and all eyes would be to the right as we passed the depot.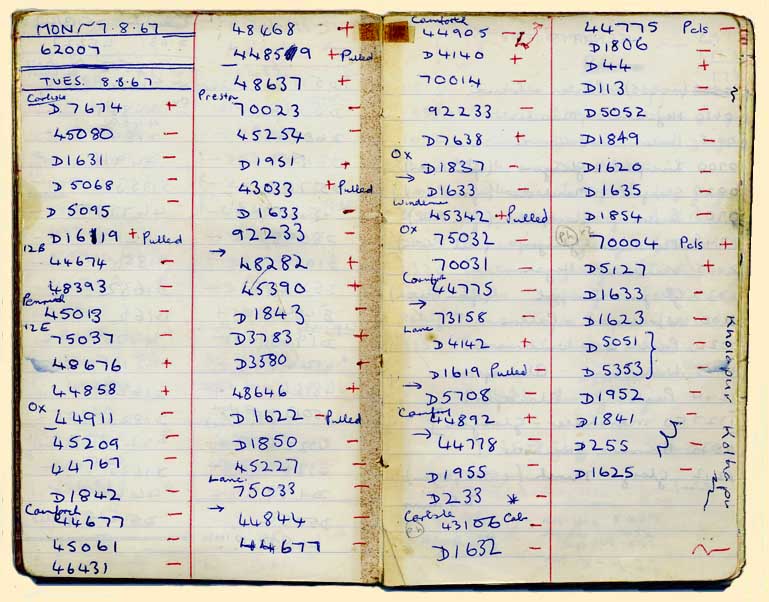 At Lancaster we usually alighted in order to pick up the 11.00 train from Windermere, steam-hauled as far as Preston by a 'Black Five'. The first picture (below) shows No 45227 entering Lancaster on one of the four occasions we travelled on this train, with a different loco each time.
My notebook (above) shows spottings on 8th August. It records I 'copped' the three different steam locos we were pulled by that day. Down the right hand edge, during an idle moment, I was trying out two spellings of the name of 'Jubilee' No 45593, which I had seen the previous month!
T
he K1 noted down on the previous day, at the top of the first page, was at my normal haunt of Low Fell
.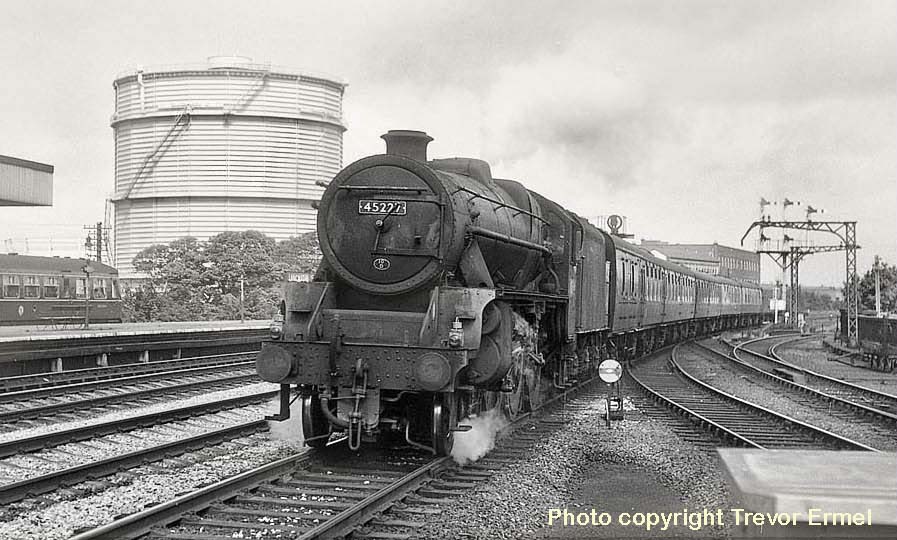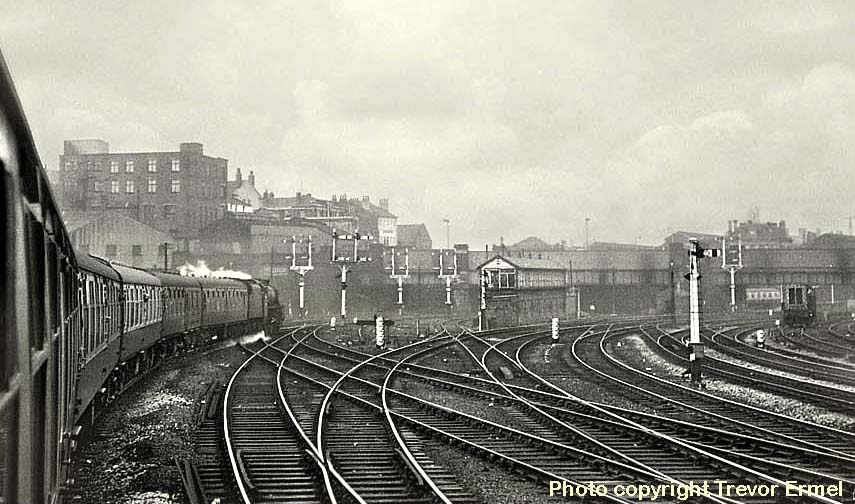 On another day No 44915 was in charge of our train from Lancaster, seen (above) approaching Preston. Here the Windermere coaches would be combined with those from a Blackpool train for the onward journey behind a diesel to London Euston. I found Preston to be a vast, imposing station. With wonderful gantries of semaphore signals it was the perfect setting for the procession of steam-hauled freights which passed through, such as that headed by 9F No 92071 (below) at the south end of the station on a rather wet day. I have just about managed to include the station nameboard on the left, (although I was more intent on not missing off any of the signals on the right), and fortunately the photographer has ducked down enough not to intrude too much.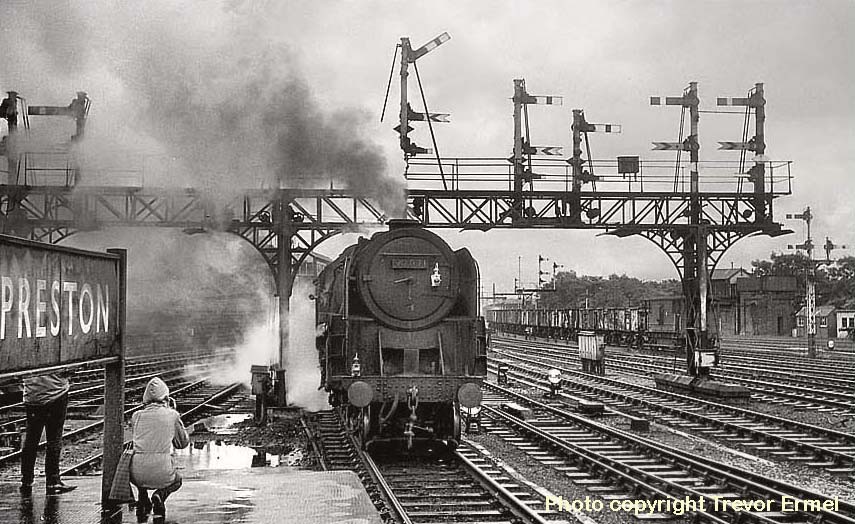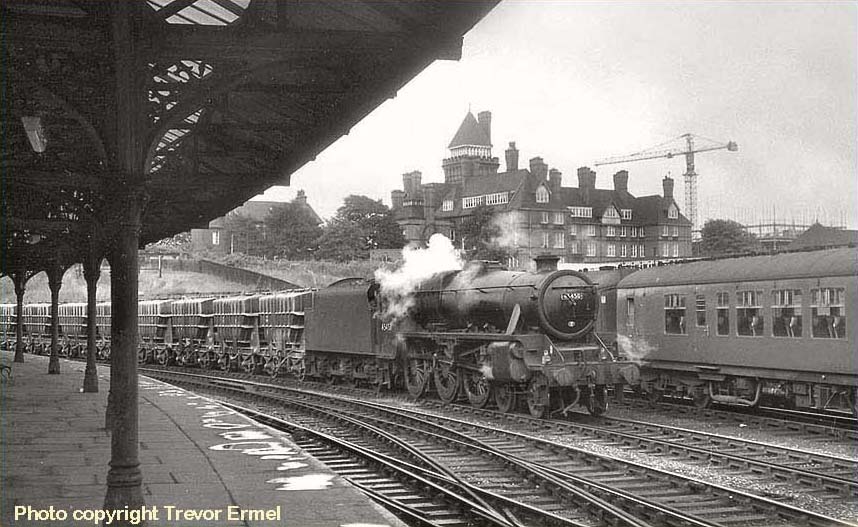 Although taken on a different day, the weather has not improved much as 'Black Five' No 45450 drifts in off the now long-closed 'East Lancs' line with a cement train (above). Looking back at my photographs at Preston I realise I did not have too much luck with the weather! At the north end of the station the top deck of a car park opposite the impressive signal box was an excellent vantage point away from the platforms. This 'Black Five' heading north with a parcels train (below) was too dirty to identify from that distance, but perhaps the spotters on the wall were close enough to read the front numberplate.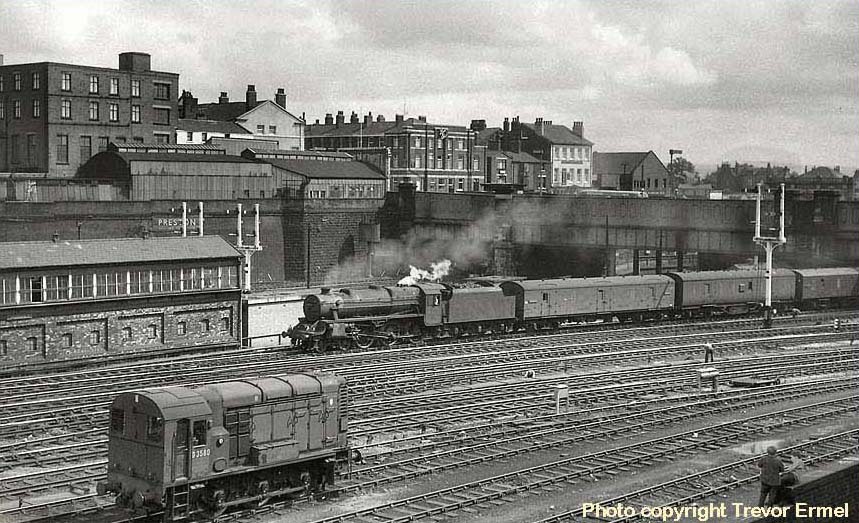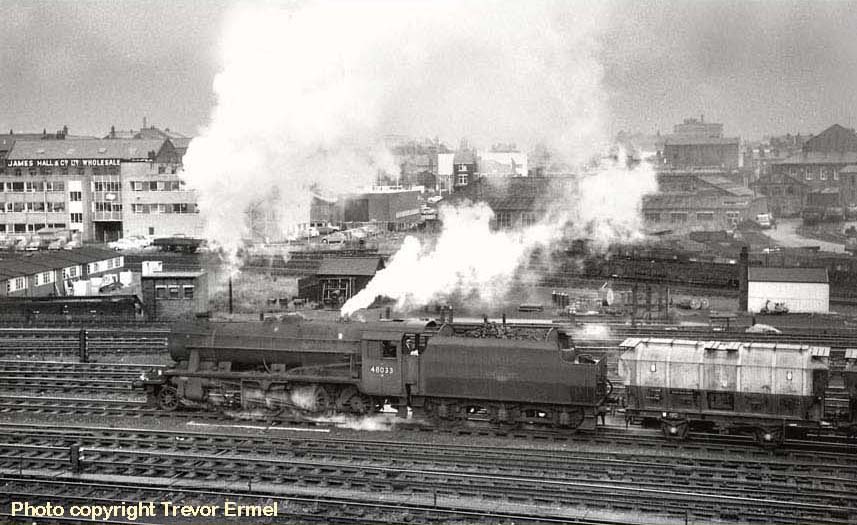 No problem with identification this time as 8F No 48033 gets to grips with the gradient at the head of a heavy northbound freight (above).Although several passenger trains boasted steam-haulage south from Preston, mainly to Liverpool or Manchester, they were outside the range of the 'Rover' ticket. One such was the 1545 to Manchester (diesel-hauled from Scotland), seen here (below) headed by 'Black Five' No 45347, and about 15 minutes late judging by the station clocks in the background!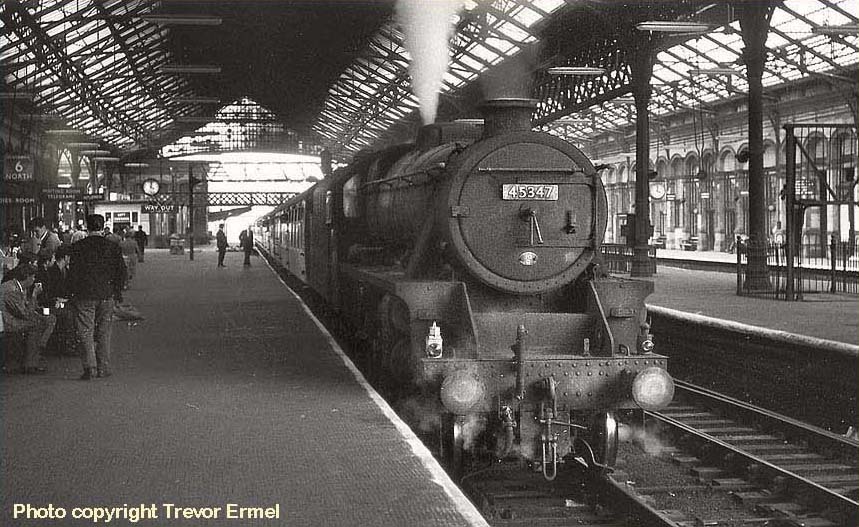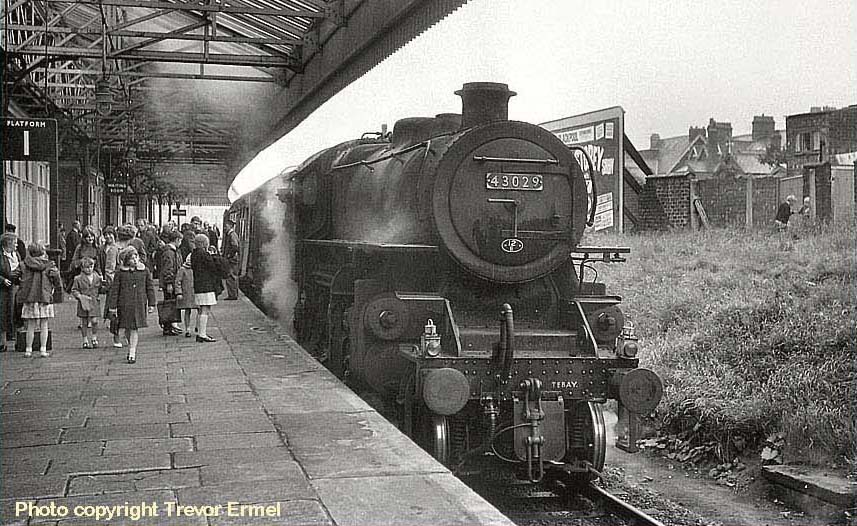 On the other hand we were able to visit Blackpool where steam was still in command of a number of trains. We went there twice behind Ivatt 2-6-0s, the first time I had seen any of these engines carrying express passenger headlamps. The picture (above) was taken at Blackpool South after our arrival behind No 43029. I rather like the scene with the group of school children on the left, although I was probably unaware of them at the time! On a different day we travelled on the same train behind No 43033, seen awaiting departure from Preston (below), with 'Britannia' No 70023 (the former Venus) about to pass through the station in the background with a southbound freight. More fresh ground was broken on the Windermere branch with tender-first 'Black Five' No 45342, although due to torrential rain I did not attempt to take a photograph.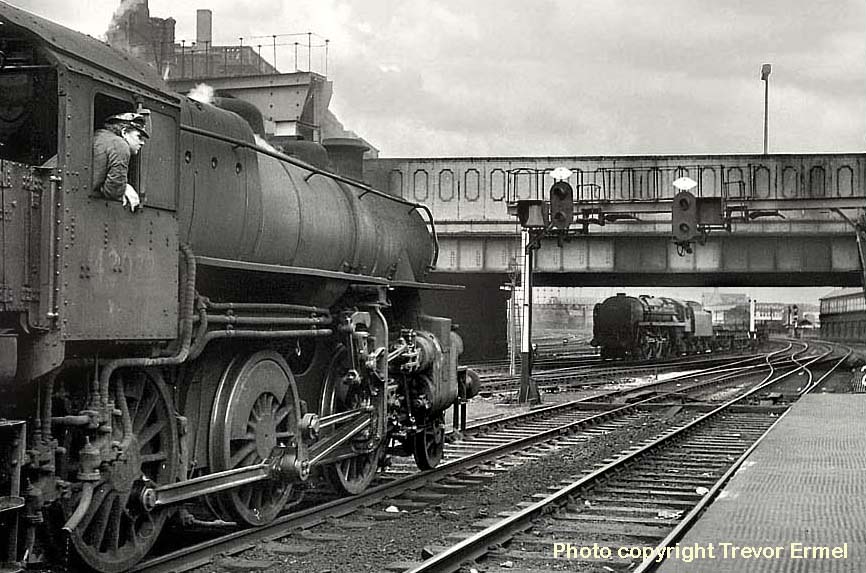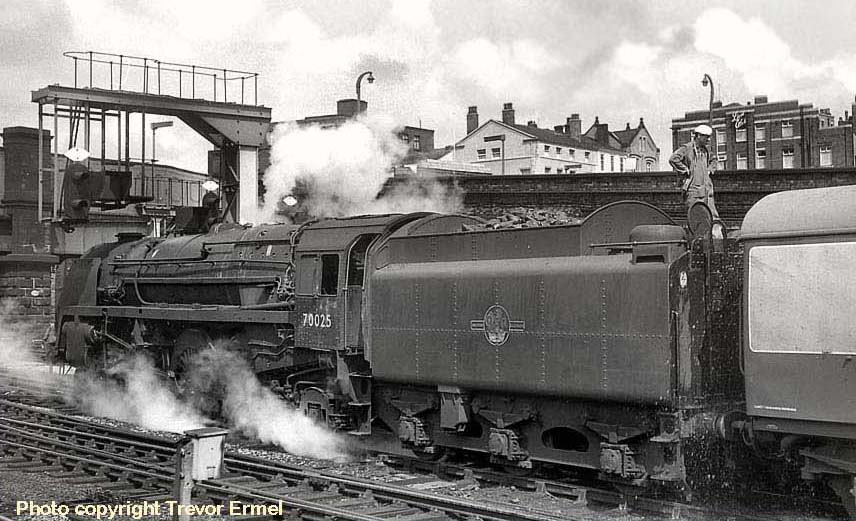 The highlight of the week was travelling from Preston to Carlisle on a Fridays-only Liverpool/Manchester to Glasgow express hauled by 'Britannia' No 70025 (Western Star). The picture (above) is of the locomotive taking water before heading north. This shows the fireman with typical 'knotted hankie' on his head supervising activites, as well as revealing that lining-out out had been omitted from engine and tender at the last repaint, as was fairly standard practice at the time so near the end of steam. Much consternation was caused to intending passengers by the loco pulling forward with the coaches from Liverpool, then setting back to couple up to the Manchester portion - a total of eleven coaches for the journey to Scotland. The picture (below) looks as though is was taken during this manoeuvre, judging by the signals being 'on' and the engine blowing off furiously, although my memory fails me on the exact details!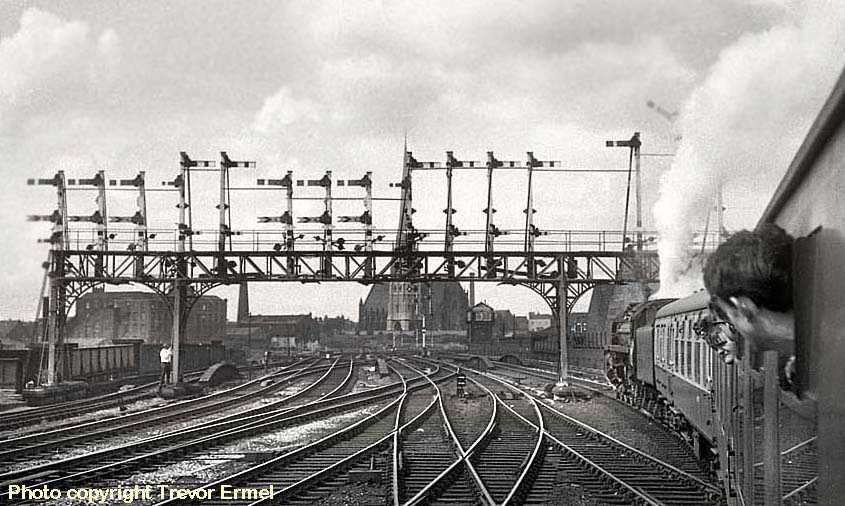 I certainly do remember calling at Lancaster, where a young enthusiast on the platform desperately wanted to know if we would be stopping at Carnforth - presumably so he could join us. Not surprisingly he looked very crestfallen when I had to tell him the next stop would be much be further away at Penrith, and we set off without him. Scorning a banker we pounded up to Shap summit, a face at every open window revelling in the sensation: by the end of the year steam over Shap would be gone for ever (or so we thought at the time!) I made a basic log of the run which I wrote out neatly shortly afterwards (below). Nothing special - we actually lost more time after a late start, but valuable to me as another personal record of something unrepeatable...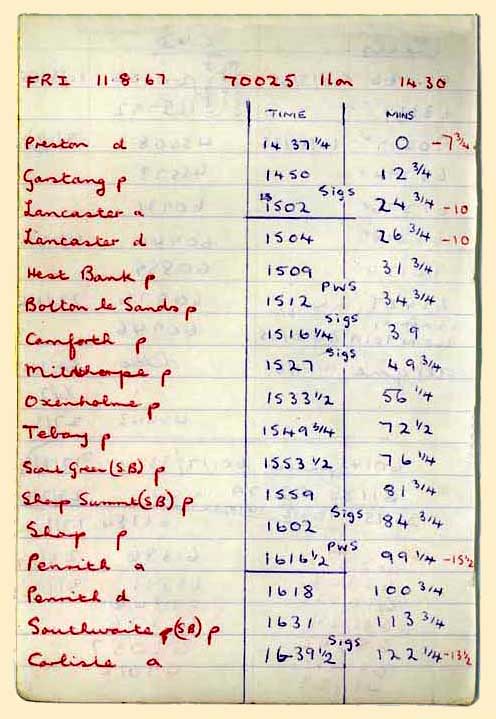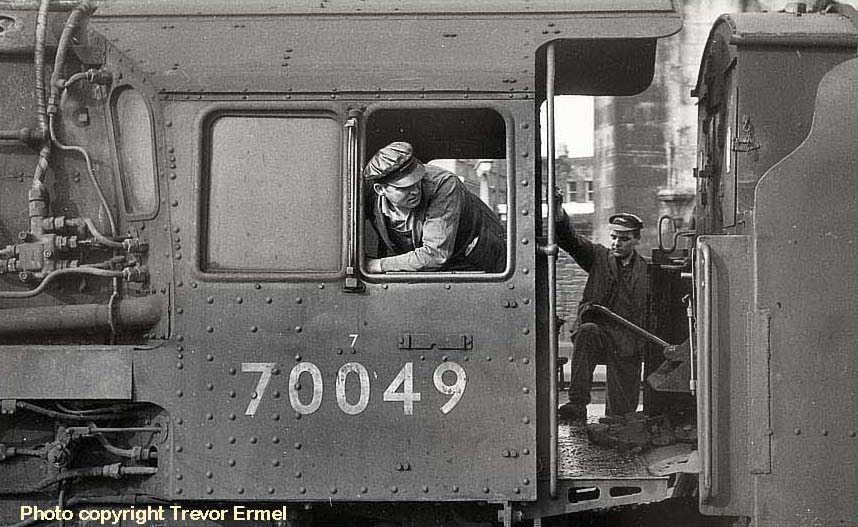 The final picture from that week (above) shows another 'Britannia', No 70049 (Solway Firth). The loco was setting back to couple on to its train at Carlisle - I have no record of the working, although it had just relieved a diesel. I saw the driver looking back along the platform as he approached tender-first, so I took a shot just as he drew level (above). By extreme good fortune the fireman was climbing down from the far side at the same time and I got them both in the same shot - a lucky accident!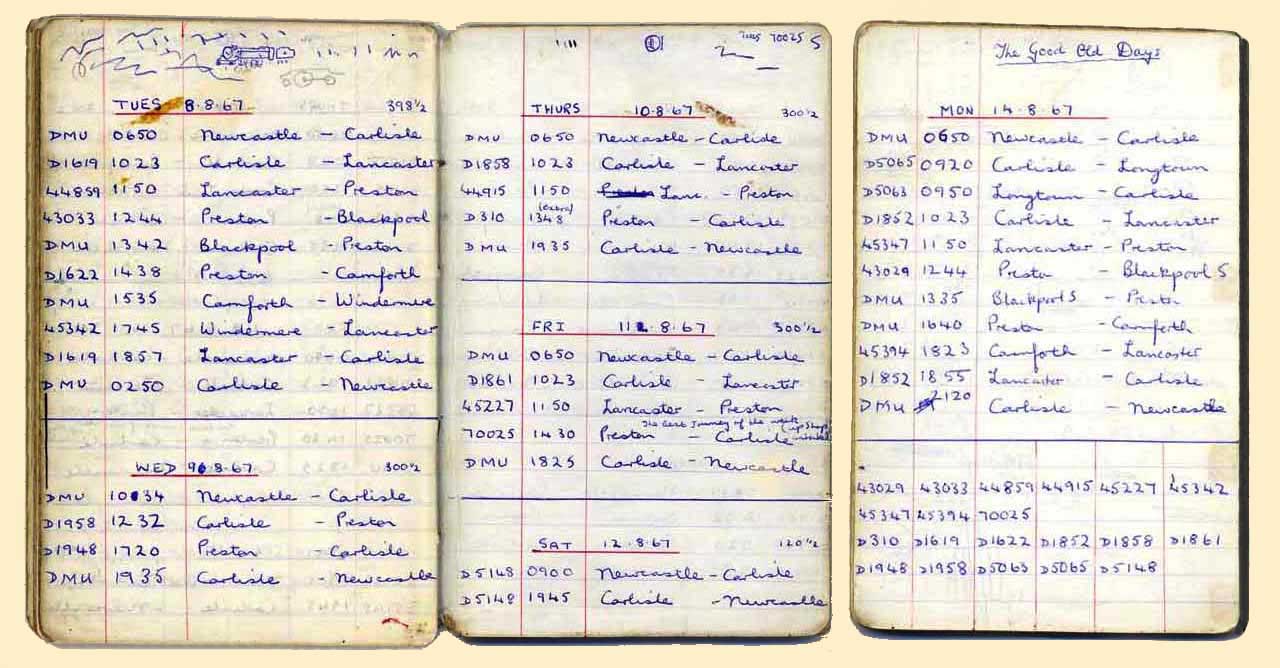 Pages from my notebook (above) show the trains we travelled on that week - Saturday doesn't count, of course (although we still went to Carlisle that day), and it looks as though we had Sunday off! Nine different steam locos, including a run over Shap - all in all not bad for £2-10s-0d (£2-50).
THE SOUTH BANK (of the Tyne) SHOW


The landscape to the west of Gateshead is rich in railway history. As early as the 17th and 18th centuries the forerunners of today's railways - the 'waggonways' with their rails and rolling stock made of wood and horses for motive power - made their way down to the Tyne with loads of coal for shipment to London and beyond. They had all gone by the early 19th century, either abandoned (although traces of them still remain to this day if you know where to look), or converted to the type of railway we would recognise nowadays. By 1967 the coal trains which passed this way were now bound for the power stations at Dunston or Stella South (Blaydon), and until September of that year they were usually steam-hauled. Armed with my recently-acquired 35mm camera I now realised it would be worthwhile seeking out new locations for action shots. Cycling the three miles or so from my home in Gateshead I found a good spot at Derwenthaugh, about half-way between Dunston and Blaydon. Here the railway crossed a bridge over the mouth of the River Derwent at its confluence with the Tyne. A wooden footbridge spanning the tracks gave a good view, allowing me this shot in foul weather (below), of WD No 90200 heading for Blaydon with a full load. You can almost feel the ground shake and smell the smoke! The footbridge was also a good vantage point for observing activity at the National Coal Board's loco shed and exchange sidings a few hundred yards upriver on the banks of the Derwent, although I wasn't tempted to take photographs there until 'real' steam had finished on the main line later that year.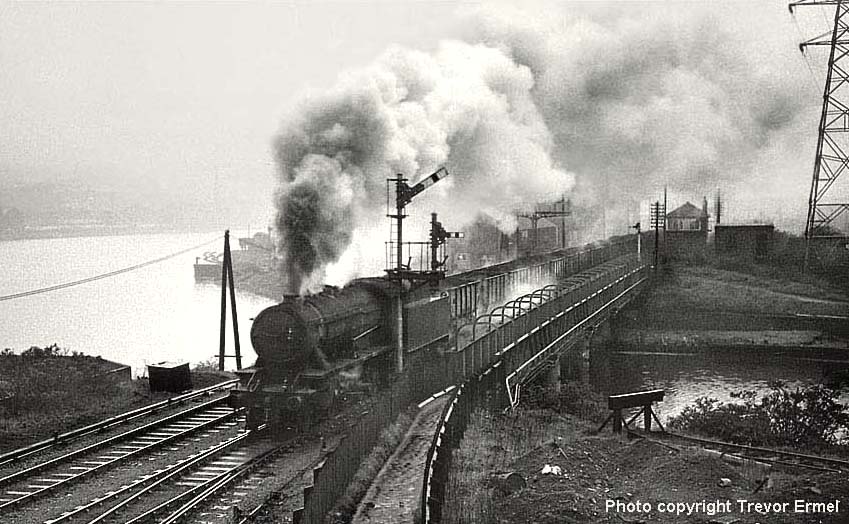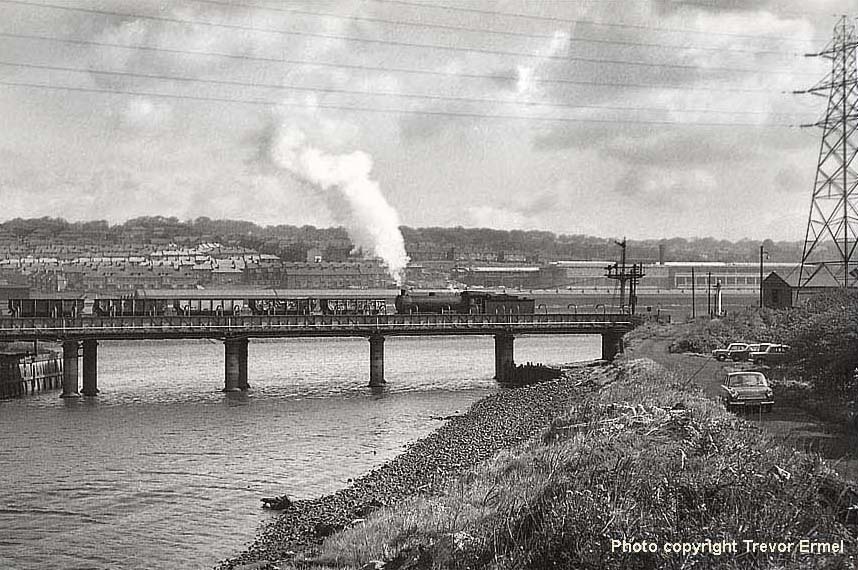 On a much finer day I captured this side view (above) of Q6 No 63346 crossing the bridge with coal empties. This engine was always recognisable from a distance by the bend in its boiler handrail on the driver's side. Another Q6 I photographed was No 63395 (below), just east of the bridge with another full load. Very few of my railway photographs are pure dramatic action shots - I usually managed to include some of the surroundings to put the train in context, and this is a case in point. Happily this loco is still with us today, saved for preservation by the NELPG. The track in the foreground ran a short distance to the NCB Disposal Point at Swalwell, on the opposite bank of the Derwent to the loco sheds mentioned earlier.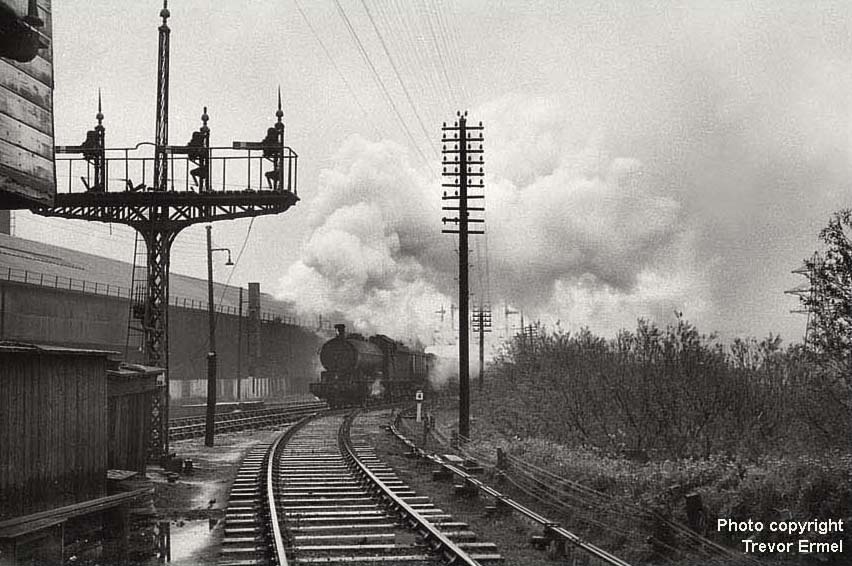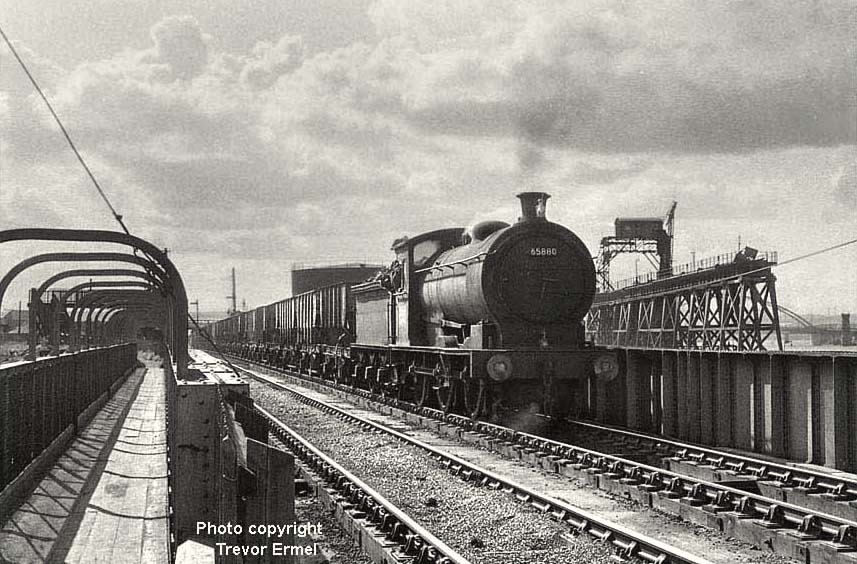 Another view of the bridge, looking west (above), shows J27 No 65880 rumbling over with a load of empties. The wooden structures on the right are coal staiths, used in the shipment of coal, although this set was unused by this time, if I remember correctly. (Similar staiths at Dunston remained in operation until much later.) A final shot from the wooden footbridge (below) shows another load of empties returning from Blaydon behind WD No 90321, against a fine industrial-type background.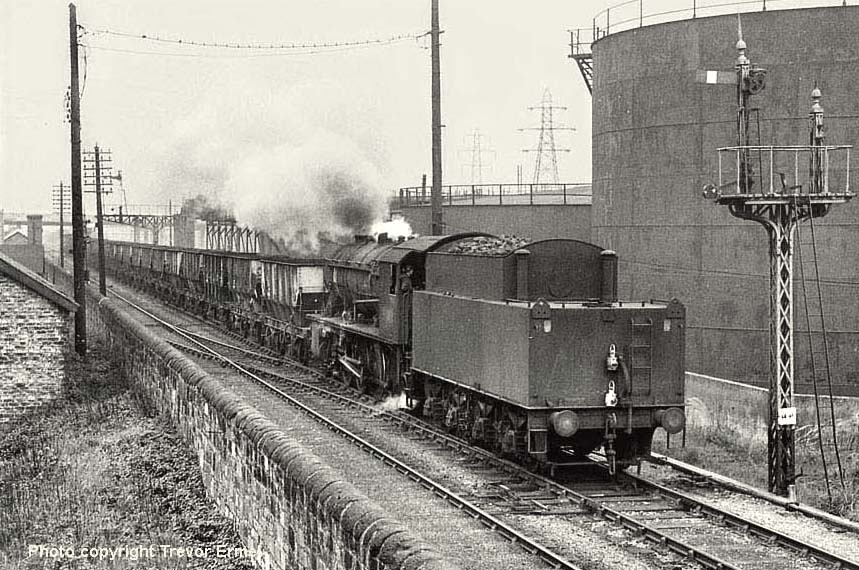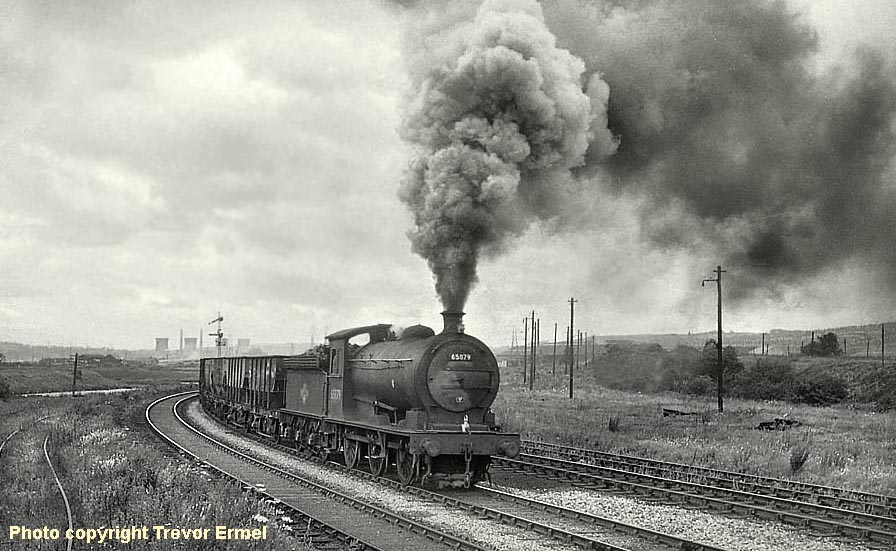 Most people will have heard of today's Gateshead MetroCentre, often described as the biggest out-of-town shopping centre in the UK (or is it Europe?) In 1967 the spot where its own railway station now stands was a veritable scene of desolation and abandoned track; J27 No 65879 was captured there heading east (above), getting to grips with a load of coal empties. The cooling towers of Stella North Power Station, on the Newcastle side of the Tyne opposite Stella South, are visible behind the signals on the left of the picture. Nearer the outskirts of Gateshead the line passed the distinctive signal box at Norwood, which straddled some of the tracks leading to Dunston Staiths. This is the setting for K1 No 62007 (below) leaving a clear exhaust as it heads east.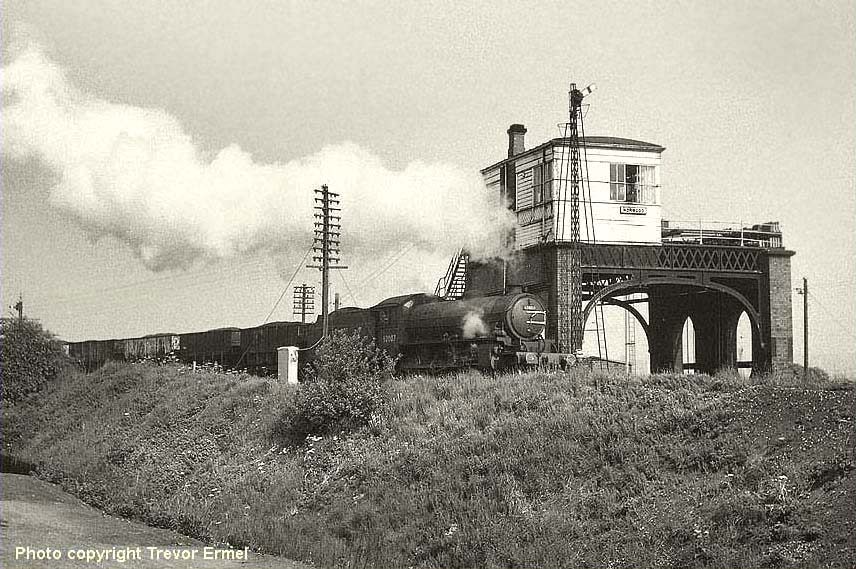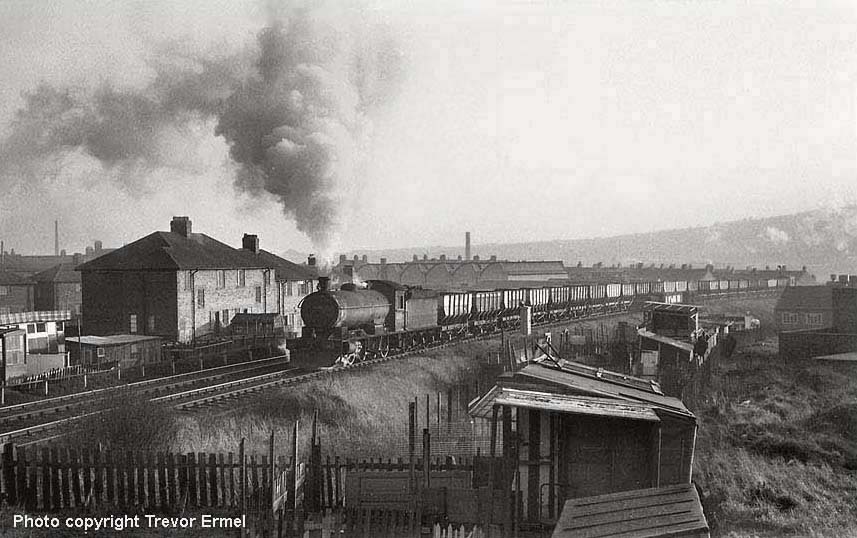 To gain access to the Durham coalfields, the returning empty coal trains faced a stiff climb up from Norwood to join the main line near King Edward Bridge Junction. Here Q6 No 63395 again, still fitted with a small snow plough from the recent winter months, makes a fine sight (above) passing pigeon lofts and allotments halfway up the bank near the spot we knew as 'Dead man's arch', although the folk-lore explanation behind this term escapes me now. Mention should be made of the two scrapyards in the Dunston/Swalwell area which cut up steam locos in the 1960s. Clayton & Davie Ltd had premises alongside the Tyne to the east of Dunston Power Station. Among the victims were three 'Jubilees', including No 45608 (Gibralter) photographed (below) in 1965.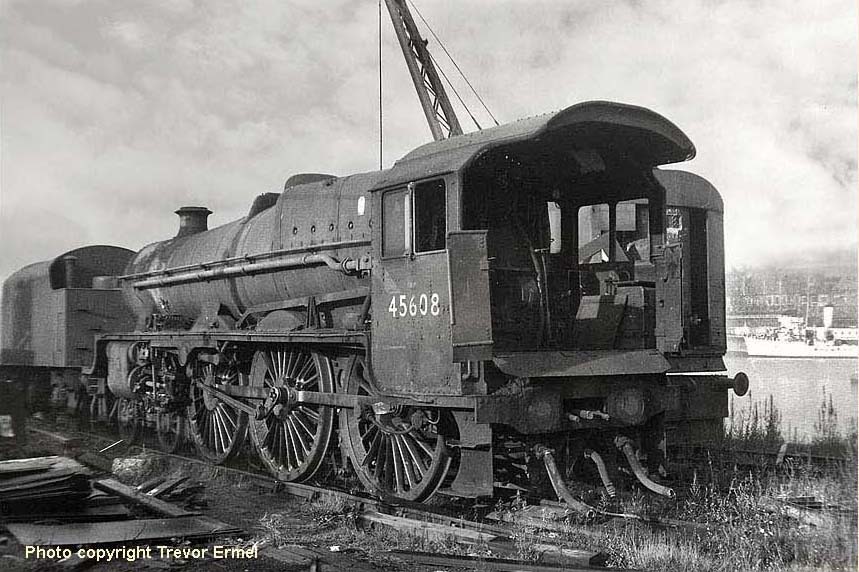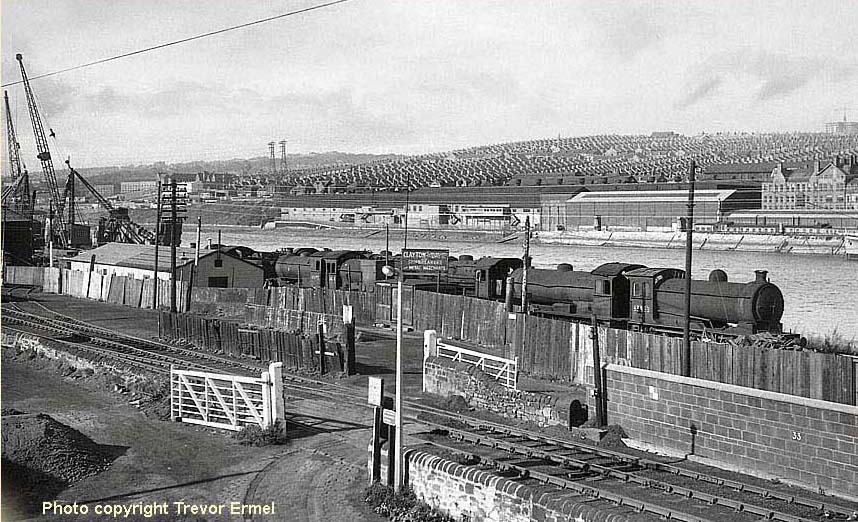 After the end of steam locally in September 1967 the yard soon filled up with J27s, Q6s and Ivatt 2-6-0s (above) - note the tell-tale boiler handrail again on No 63346, second from the right! Ellis (Metals) Ltd cut up several locos in their yard at Swalwell, at the end of the branch which ran up the east side of the Derwent past the NCB Disposal Point. This line-up (below) from 1965 shows B1s Nos 61276 and 61218 and WD No 90124. The largest loco they cut up was the first of Tyne Dock's 9Fs to be withdrawn, No 92066.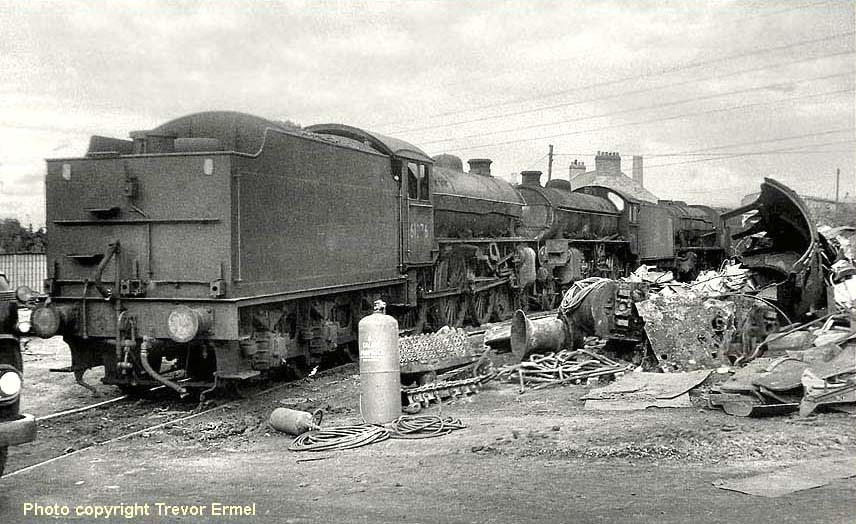 I took a dozen or so pictures in the Derwenthaugh area in 1967, but I have never seen photos taken there by anyone else. Am I the only one to have found this spot?


CHASING A4s in SCOTLAND

Although as a young lad I lived a short distance from the ECML in Gateshead, my real interest in trains began too late (around Christmas 1963) to see the end of regular Anglo-Scottish steam workings. What really annoyed me was just missing the fabulous A4s. True, my local shed (52A) still housed England's only members of the class at the start of the following year, (although I rarely saw them in action, certainly not on passenger trains), but the last of them was withdrawn in October 1964. This was No 60001 Sir Ronald Matthews, photographed (below) at about this time in an area at Gateshead that we knew as 'the ramp'. This was an elevated section on the other side of the running lines to the shed buildings which seemed to be used as storage for engines due for repair or, more likely, 'the chop'. Sir Ronald was eventually cut up a few months later in a Blyth scrapyard, leaving the dozen or so survivors at sheds in Scotland. During 1965 it was frustrating to read monthly reports in the railway press of the exploits of the A4s between Glasgow and Aberdeen, and worse still, to find out they were gradually being withdrawn before I had the chance to see them. Six went that year and I missed five of them, leaving a final six at the start of 1966.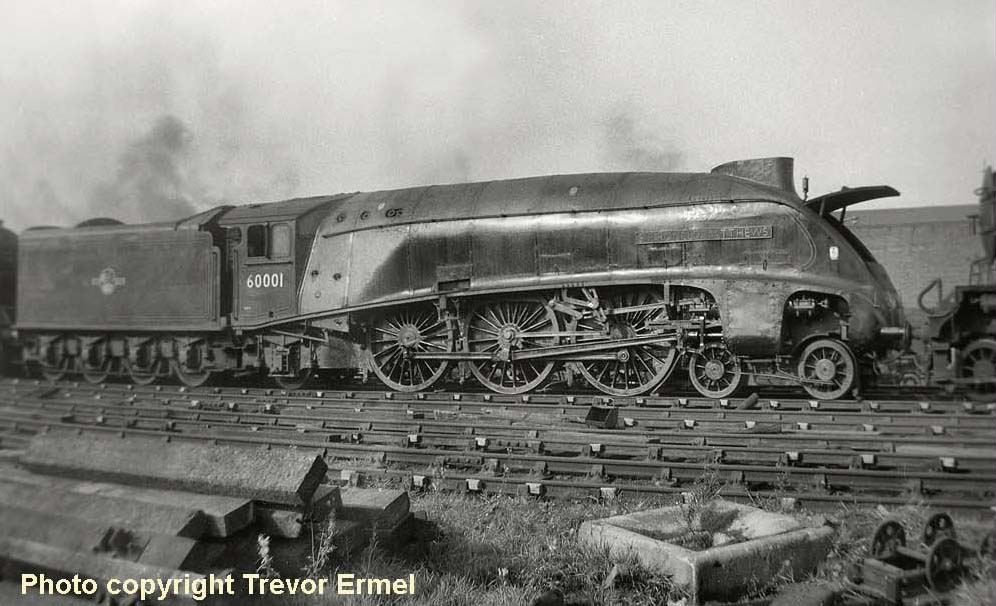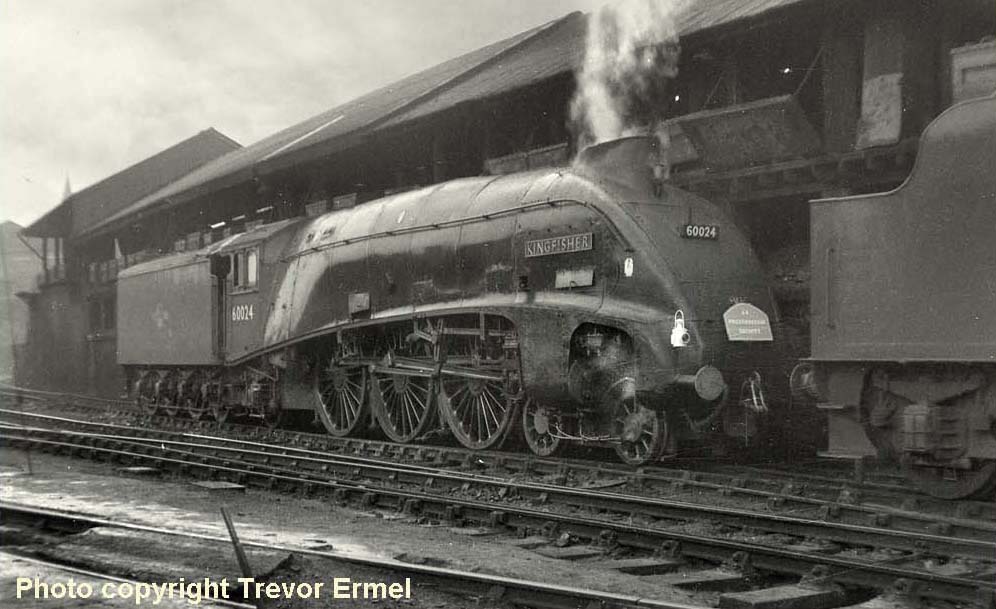 On 21st May 1966 I had my first recorded run behind an A4, when No 60024 Kingfisher was at the head of the 'East Coast Ltd' Rail Tour from Doncaster to Edinburgh, which I joined at Newcastle. This was a trip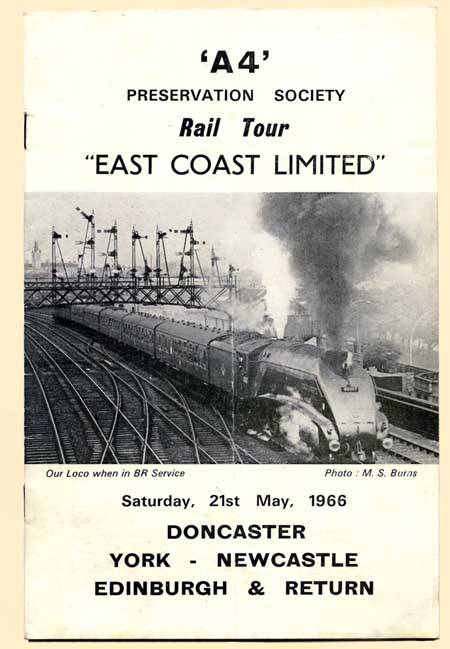 organised by the A4 Preservation Society to help raise funds for the restoration of No 60007 Sir Nigel Gresley, which the Society had purchased earlier that year. This engine appears on the Rail Tour brochure (inset brochure) in a photograph by Maurice Burns, a friend of mine from the 1960s and one-time NELPG chairman. My picture of Kingfisher (above) was taken alongside the coaling stage at St. Margarets shed (64A) during its stopover in Edinburgh. Well, Rail Tours are one thing, but I still needed to see an A4 on a normal service train, or better still, travel on one!
And then, during the late summer school holidays I had the chance of a week with friends in Scotland. On 15th August we were at Larbert station awaiting the arrival of the 13.30 Aberdeen to Glasgow train, an A4 roster. But no! Never have I been so disappointed to see a steam loco, when the late-running train eventually arrived behind 'Black Five' No 44794 (below). Evidently A4s were in short supply that week as the same train turned up at Laurencekirk two days later behind 'Britannia' No 70036 (Boadicea).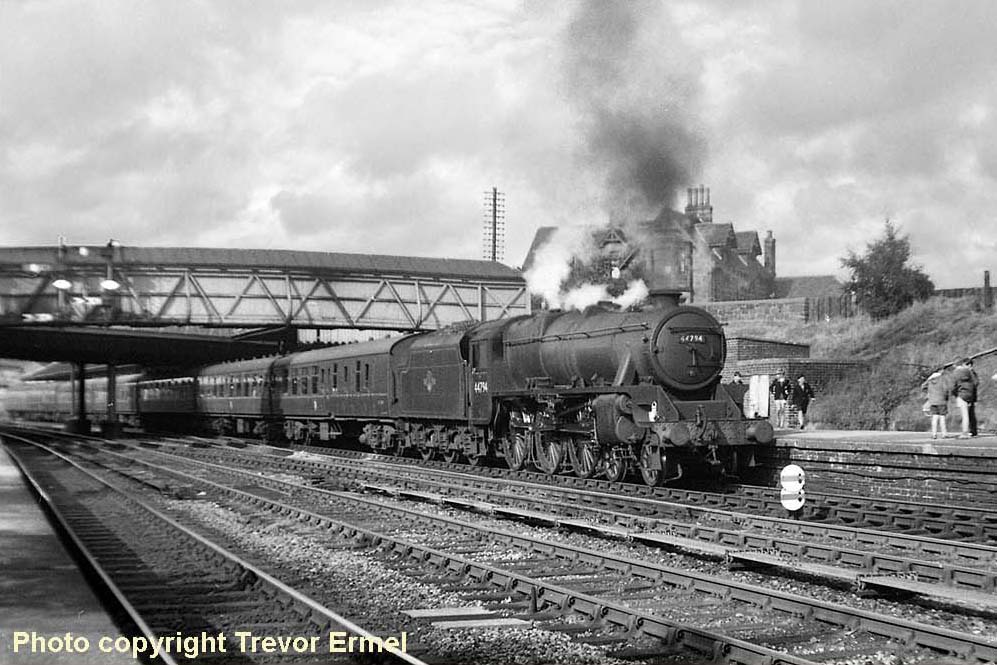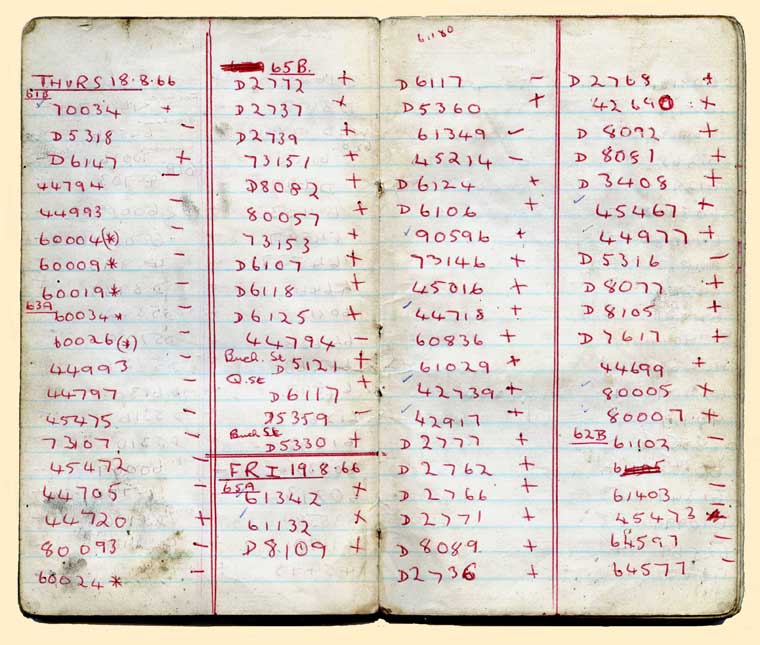 Although I saw six A4s that week, all were on shed at either Aberdeen or Perth, including two withdrawn examples without nameplates. Details appear in my notebook pages from 18th and 19th August (above), showing spottings at Aberdeen (61B), Perth (63A), St. Rollox (65B), Eastfield (65A) and part of Dundee (62B). On Saturday 20th August, before we drove home, I had a run over the Forth Bridge with V2 No 60813 - the one with the small smoke deflectors. This was pulling the 14.25 Edinburgh to Dundee train, which we travelled on as far as Kirkaldy, returning to Edinburgh behind Type 4 diesel No D362. My picture (below) shows the V2 leaving Kirkaldy in a cloud of steam on the next leg to Dundee.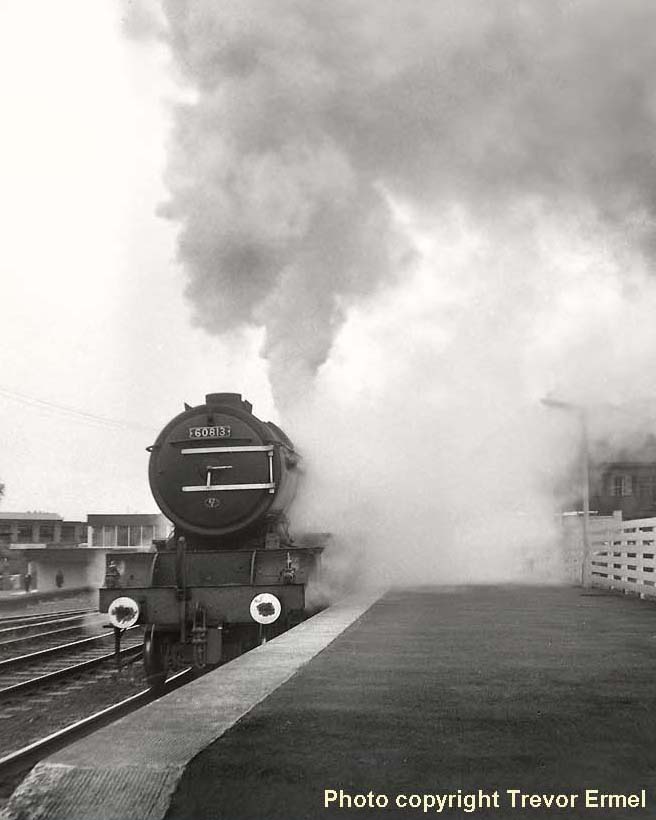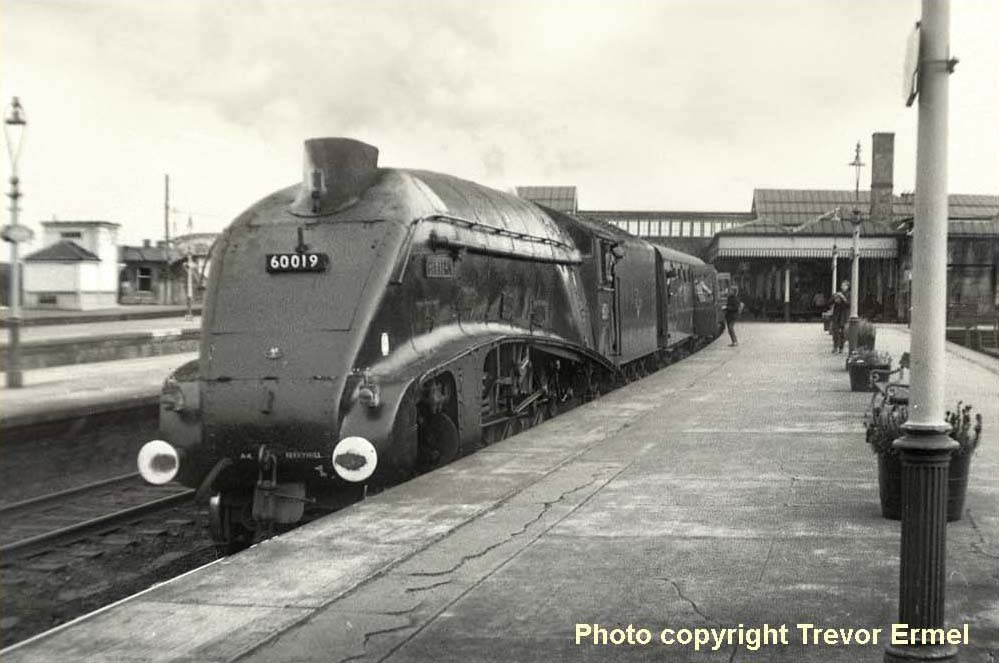 Just over a week later we were north of the border once again, for word had got round that BR were planning to run the last A4-hauled train on 3rd September. By now only two of these locos remained in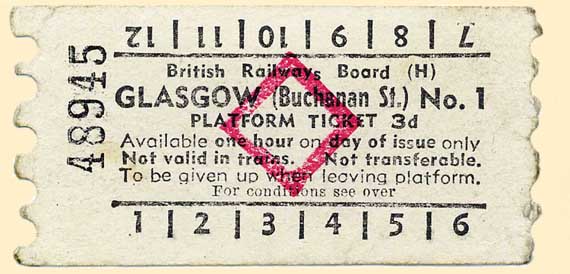 service, No 60019 Bittern and No 60024 Kingfisher. On our first day, Tuesday 30th August, my luck was in. Bittern was in Buchanan Street Station, Glasgow (platform ticket inset) at the head of the 17.30 express to Aberdeen. To put the icing on the cake I saw Class A2 No 60532 Blue Peter arrive on a train from Aberdeen prior to our departure. I travelled behind the A4 as far as Stirling (above) and returned to Glasgow behind D6123. At last! I could tick off another ambition fulfilled - my first recorded run with an A4 on a normal service train. The following day Bittern was in Glasgow again and was photographed entering Buchanan Street Station (below), which was itself living on borrowed time - it closed later that year.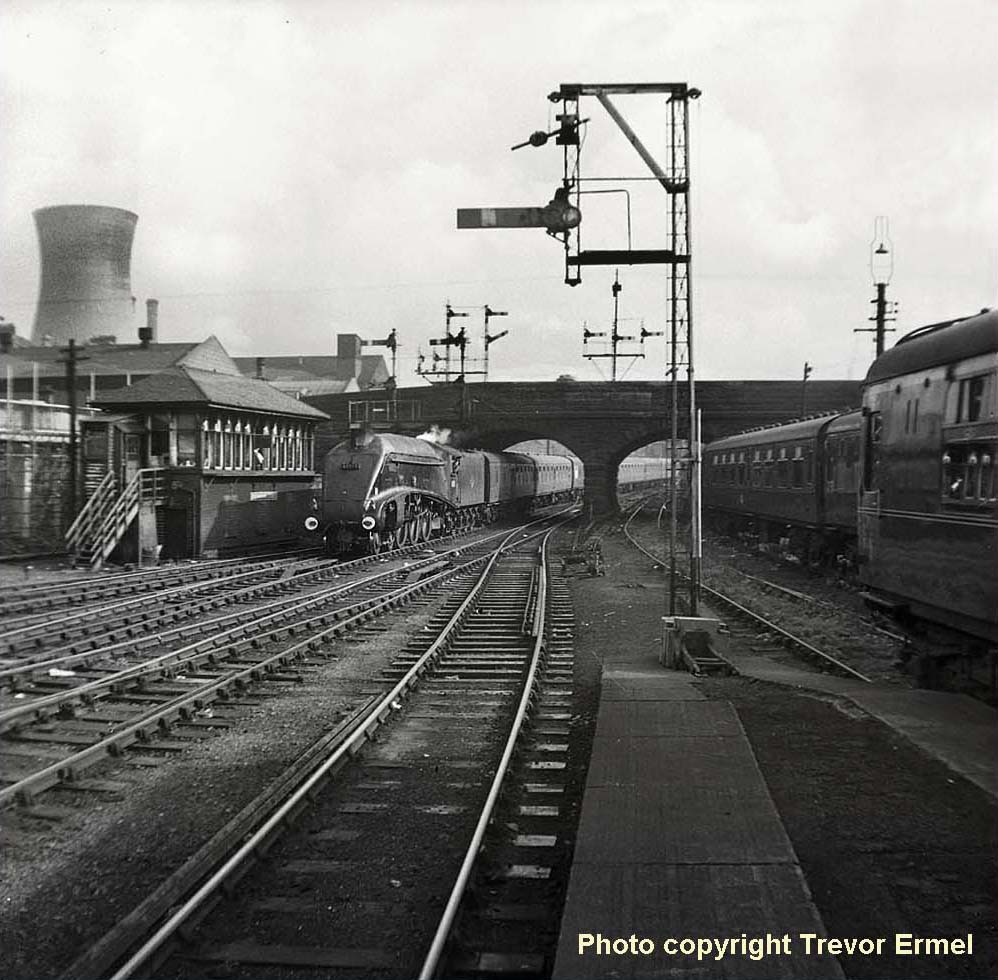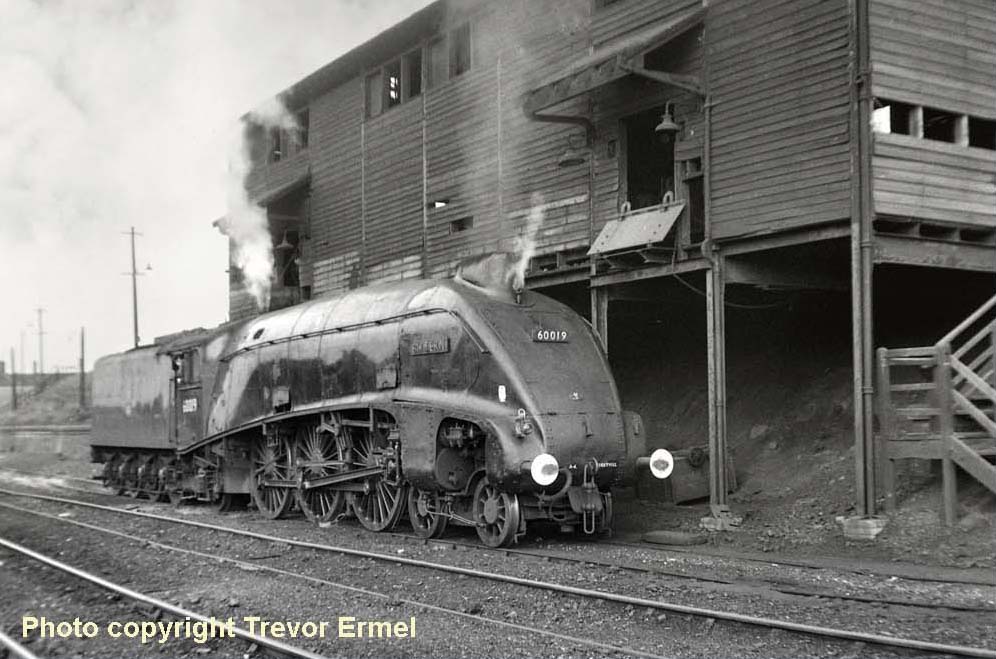 A short drive out to St. Rollox shed (65B) found the A4 alongside the wonderful wooden coaling stage (above). One sometimes forgets how primitive (to modern eyes) some of the infrastructure was in the final years of steam! (The overturned coal tub to the right of the buffer shows unusual modelling detail.) I was back at St. Rollox shed during the hours of darkness a day or two later, as Bittern was being prepared for its next trip. A photographer, his camera on a tripod, was giving a series of exposures, each burst from his flashgun lighting up the gleaming paintwork of the locomotive - near the end of their days the A4s were well-groomed. I felt privileged to sit in the cab as we moved around the shed yard, with a feeling of elation and also sadness, knowing that their end was only days away. As Bittern's haunting whistle echoed around the dark Glasgow suburbs I realised that I had made it after all, but only just! (Many, many years later I saw a time-exposure photograph taken probably on this occasion by the late, great, Jim Carter - I wonder if our paths crossed then and he was that photographer?) Before the 'big day' I was able to visit more sheds in the Glasgow area. Polmadie (66A) (below) contained mainly Standard 4-6-0s and 2-6-4Ts and a number of diesel interlopers - lineups of 'Coronation' Pacifics were long-gone by then, unfortunately!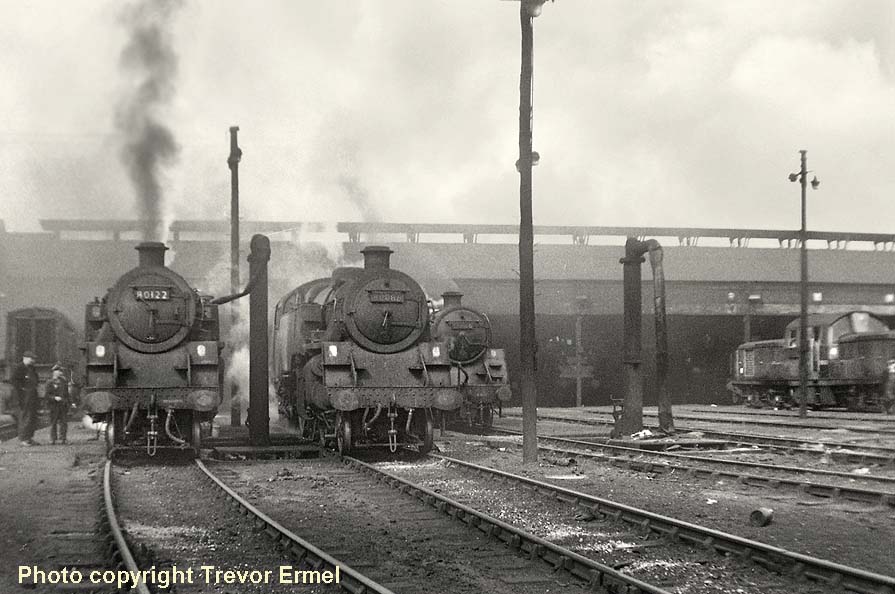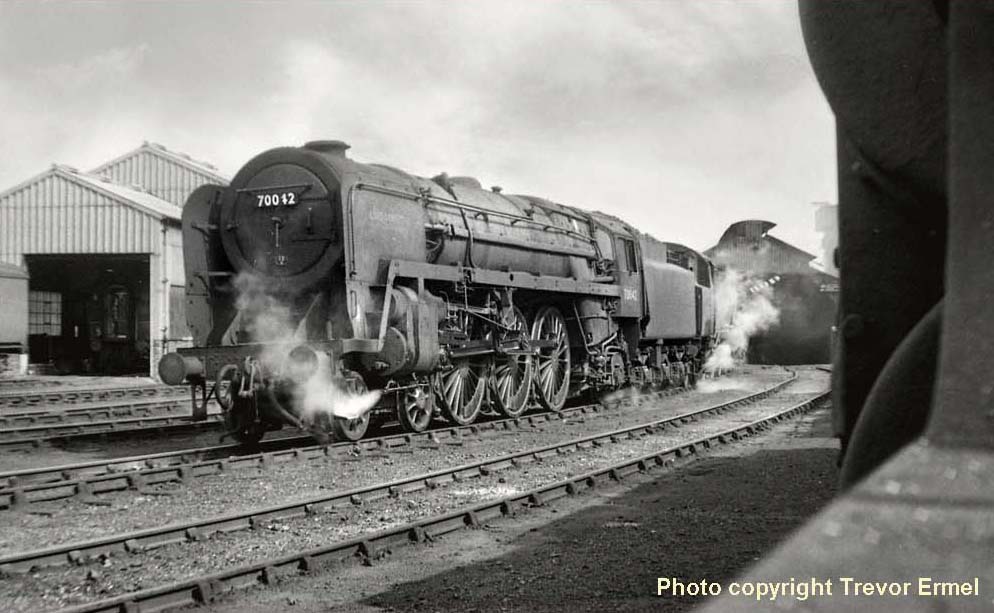 Much of the same was to be seen at Corkerhill (67A), including 2-6-4T Class leader No 80000. My picture (above) shows 'Britannia' No 70042 (Lord Roberts) nicely posed in the sunshine. To ensure maximum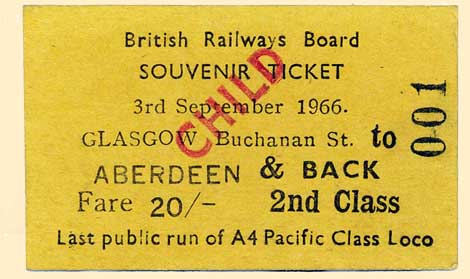 sharpness, I rested my basic 127-type film camera on the running plate ahead of the cylinders of a handily-placed loco nearby. I am not sure whether I intended to show so much on the righthand side, but the photograph certainly includes a lot of foreground interest! I also managed to have a tour of Cowlair works on 1st September, which included three steam locos under repair - Nos 45347, 73096 and a local (NER) K1 No 62059.
On Saturday 3rd September Bittern bowed out in fine style with a run from Glasgow to Aberdeen and back for the last time, and I managed to buy ticket No 001! (see insert above) How I did that I don't remember now - perhaps I applied by post in advance, or maybe I was just first in the queue at the ticket office that day! In any event it was a good 20s (£1)- worth. The first picture of the occasion (below) shows Bittern after arrival in Aberdeen.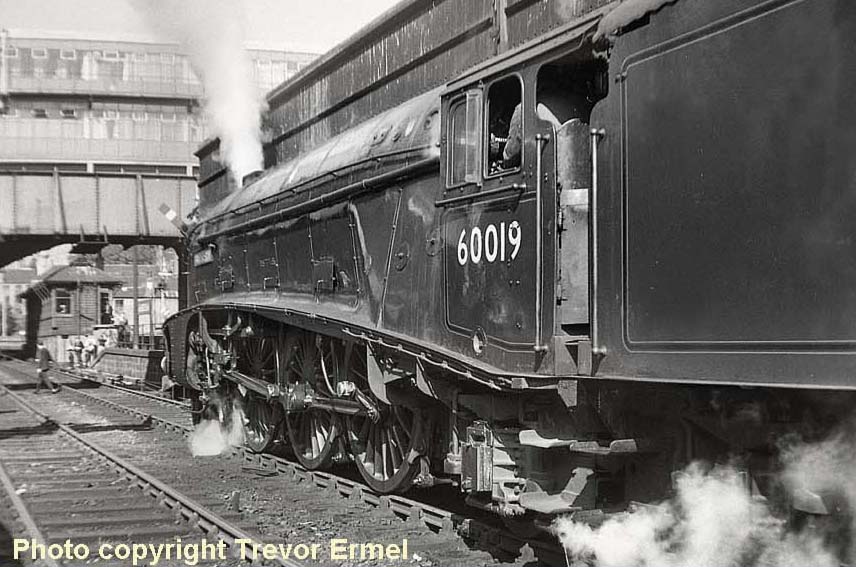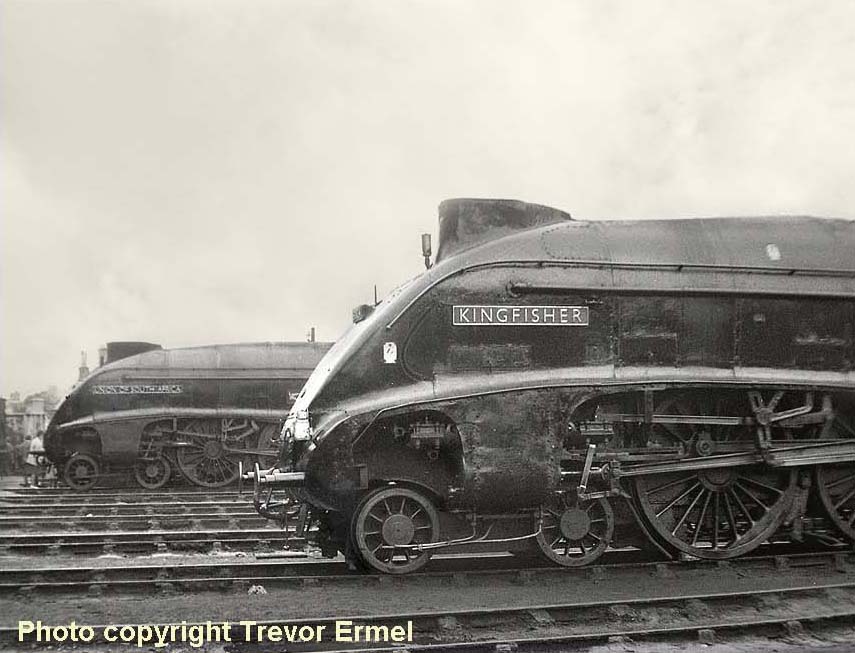 At Ferryhill shed (61B) two other A4s were outside for viewing (above), whilst the nameless No 60004 was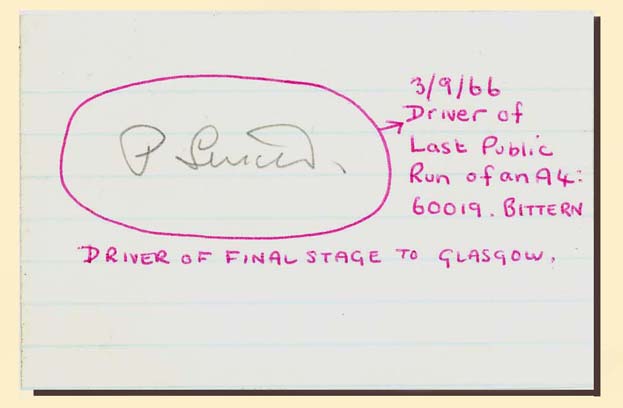 tucked away inside the shed building. It took quite a wait to get this picture, and when Bittern moved in to position between the two it was fairly hopeless due to the sheer number of spectators on the site. After our return to Glasgow I was able to get the driver's autograph, although I was never able to decipher his name! P. Sinclair? - (see inset) Despite the best intentions of BR, Bittern did not work the 'Last public run of an A4 Pacific Class Loco' as intended. This distinction goes to Kingfisher, which deputised for a failed diesel shortly afterwards. Bittern went on to a new life in preservation, whereas the next time I saw Kingfisher in March 1967 it was in the same Blyth scrapyard where Sir Ronald Matthews had been cut up. How are the mighty fallen!


THE BIG PUSH - SHAP!

The climb up to Shap summit on the WCML through the hills of what is now Cumbria, was perhaps the most celebrated of all locations for seeing steam locomotives in action, certainly in their closing years, and it was a place I wanted to experience for myself. Northbound trains storming the formidable 1 in 75 gradient, often requiring rear-end assistance, seemed to epitomise steam's final struggle against the odds, political as well as physical. For although steam locomotives would still survive for a few months afterwards in small pockets elsewhere it would, in truth, be an anti-climax. I made it, at last, in 1967. My first visit was on 15th July, a summer Saturday, and numerous 'Saturdays-only' and holiday 'extras' boasted steam-haulage. Banking duties up to the summit were in the hands of Standard Class 4 4-6-0s which had recently taken over from the more familiar 2-6-4Ts. Active that day were Nos 75026 and 75024, seen posing together at Tebay shed (below), the former distinctive by its double chimney and green livery which was just visible beneath the grime which most steam locos carried at that late date.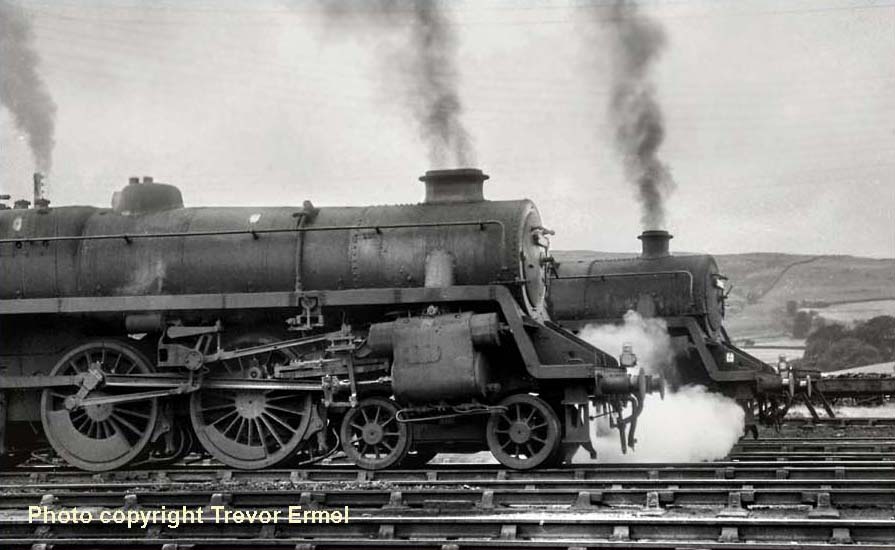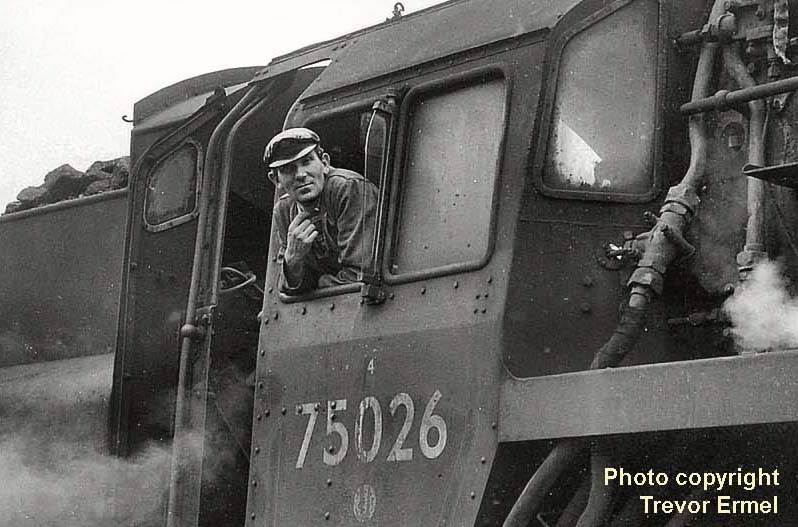 The friendly driver (above) let me shelter in the cab of No 75026 during the occasional showers on that first day. I was with friends in a car and we were able to get to a number of different locations. High ground to the east of the line near the lonely signal box at Scout Green, half-way up the bank, provided an excellent vantage point. Twin columns of smoke away to the south gave ample notice of approaching freight trains, such as that headed by 'Black Five' No 44675 (below), making heavy weather of the climb despite the exertions of the banker at the rear.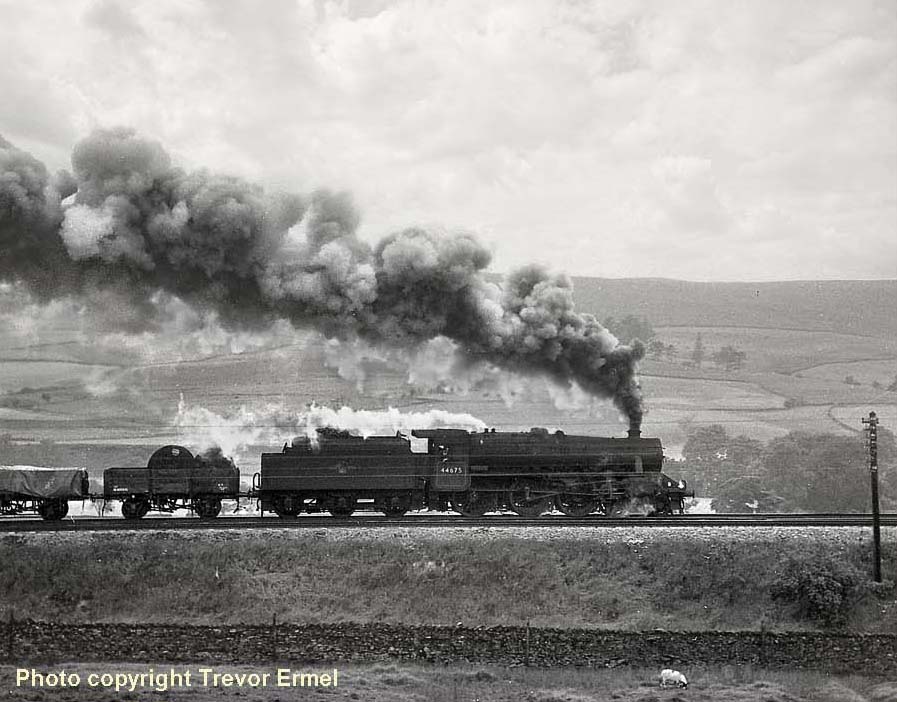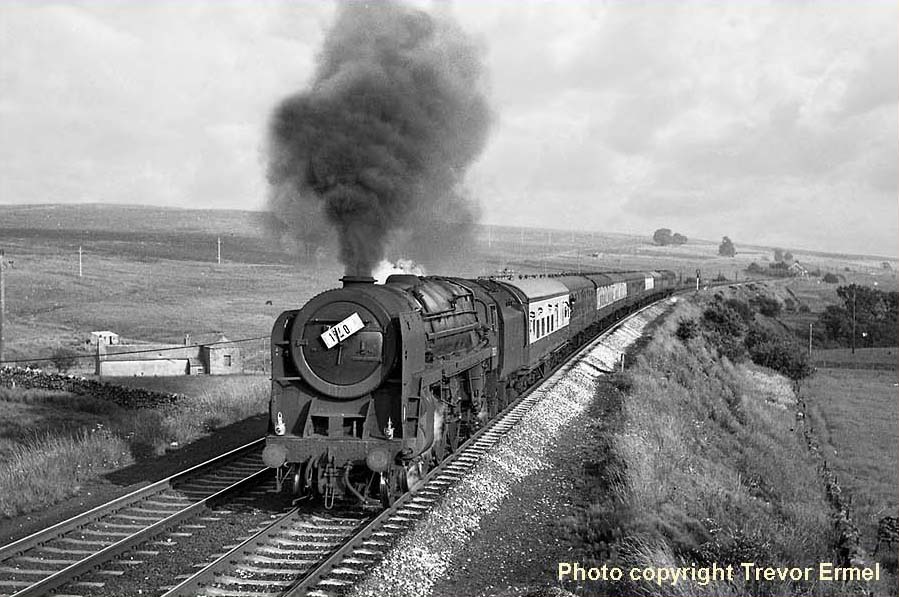 The sun had come out that afternoon in time to see No 70029 (Shooting Star) with the 13.20 Euston to Glasgow express, rostered for a 'Britannia' non-stop from Crewe to Carlisle, tackling the climb past Shap Wells (above) in fine style. The engine crew rather played to the gallery of photographers, as I remember, with the driver doffing his cap and taking a bow!
The best place to see southbound trains was from the grassy embankment overlooking Dillicar Water troughs, just beyond Tebay station. Earlier that day another 'Britannia' No 70039 (Sir Christopher Wren) picked up water (below) at the head of a Glasgow to Liverpool express, the 16.25 from Carlisle...a chime whistle through the station announced the approach of the train before it burst in to view below the road bridge, steam streaming from the safetly valves; a white cascade erupted from beneath the tender as the water scoop hit the troughs, and we had a fleeting impression of steam and flying spray as the train swept past, faces grinning from the leading coaches, and was gone. For a few seconds, before the spell was broken, no-one spoke word; then we checked our cameras ready for the next performance, as the water troughs gurgled and began to refill.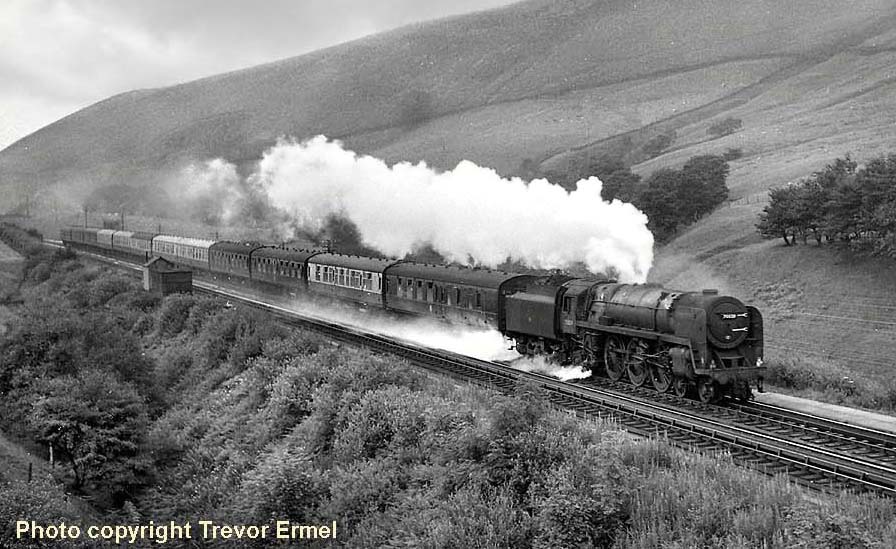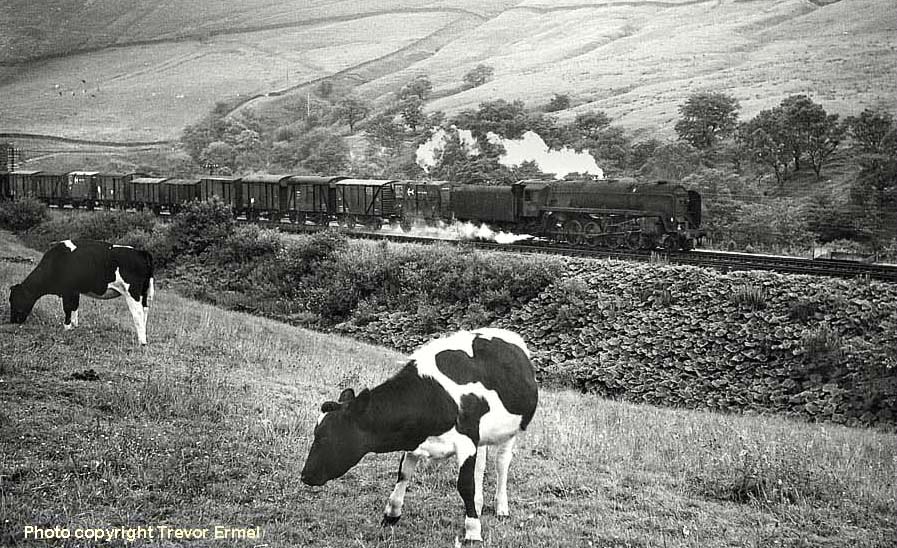 Making more sedate progress was 9F No 92137 with a southbound freight at the same spot (above). To take this view today I would have to stand in the southbound carriageway of the M6 Motorway! That day was such an eye-opener - I hadn't realised just how much steam traffic there still was on this line - that I was prompted to travel over to Carlisle on most of the following summer Saturdays. On the other hand, I would need a lift from car-owning friends to visit Shap again. In fact I was fortunate in being able to do that several more times that year, although none of those subsequent occasions had quite the same impact on me as the first, when I saw eight rostered steam-hauled expresses and another four holiday 'extras', plus a number of parcels and freight trains. On 28th October the summer holiday trains had finished running, although freight trains were often still steam-hauled; 8F No 48077 was making slow but steady progress at Shap Wells (below) with a mixed freight which included several tanker wagons.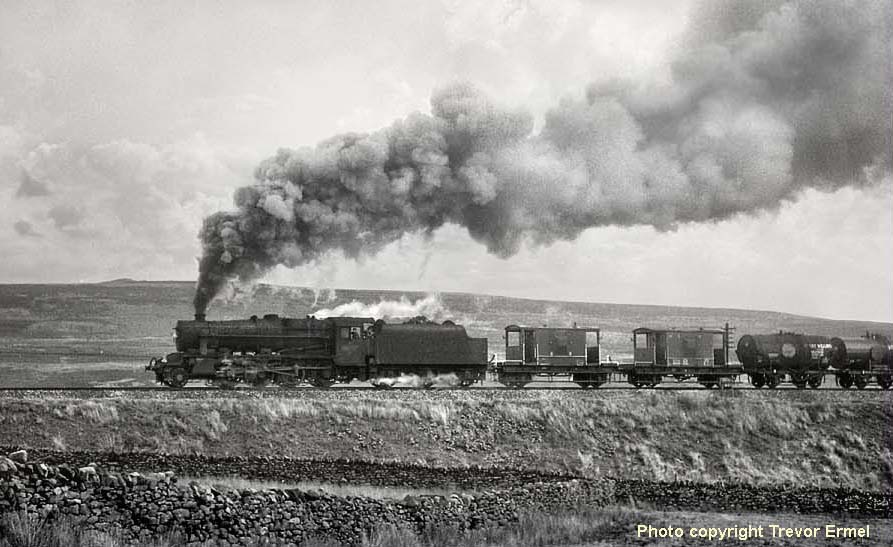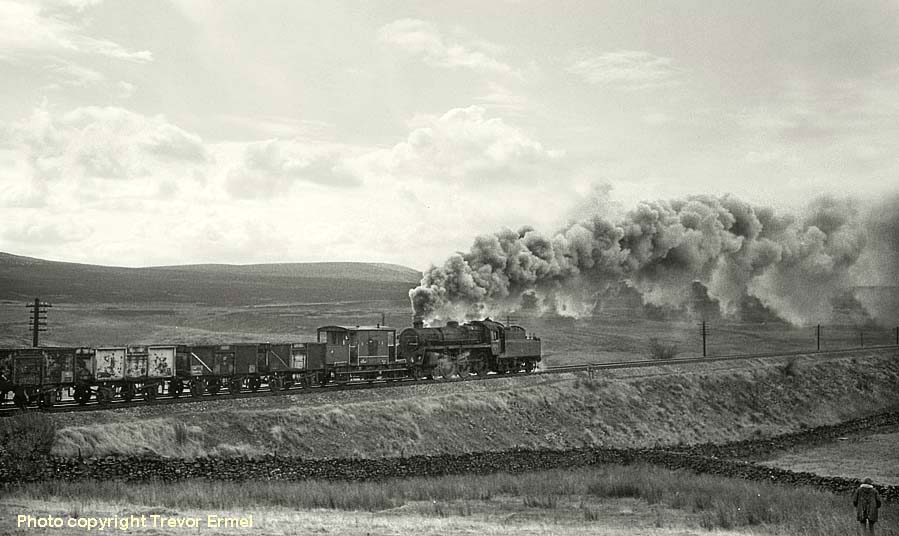 On the same occasion Type 4 diesel No D244 headed a heavy freight with assistance from No 75026 pushing hard at the rear (above). By December steam-hauled trains over Shap were not so frequent, although the Standard Class 4s were still busy assisting diesel-hauled freights. On a cold and frosty 16th December No 75037 was starting the big push away from Tebay (below), photographed from a spot where the M6 now crosses over the line.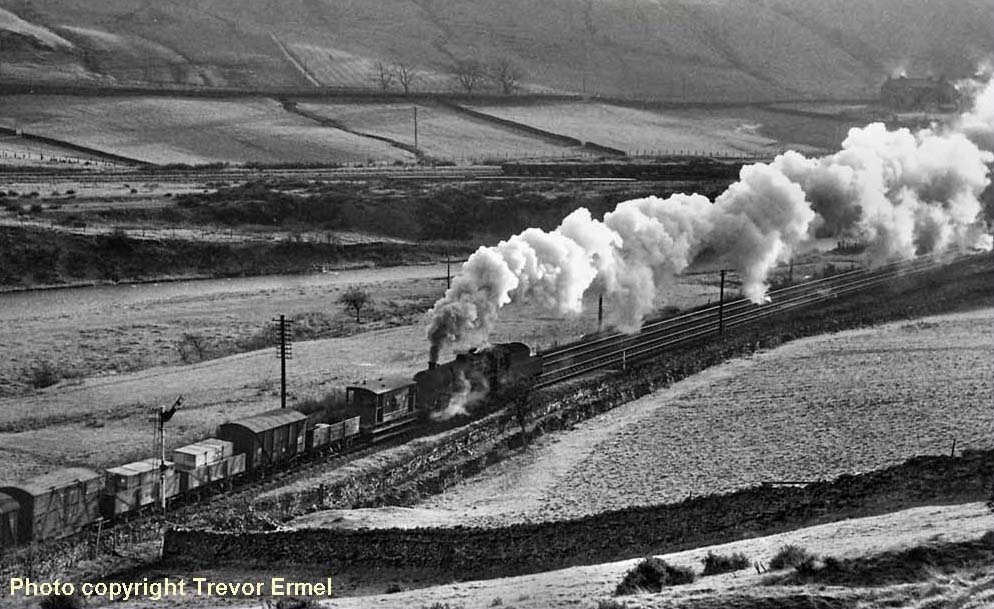 Viewed from the other side of the line No 75030 made quite a dramatic sight at the same spot (above). Back at the station two loco men were just coming off-duty from the shed as 'Black Five' No 44897 headed south through the platforms (below) after doing a spot of shunting with a ballast train.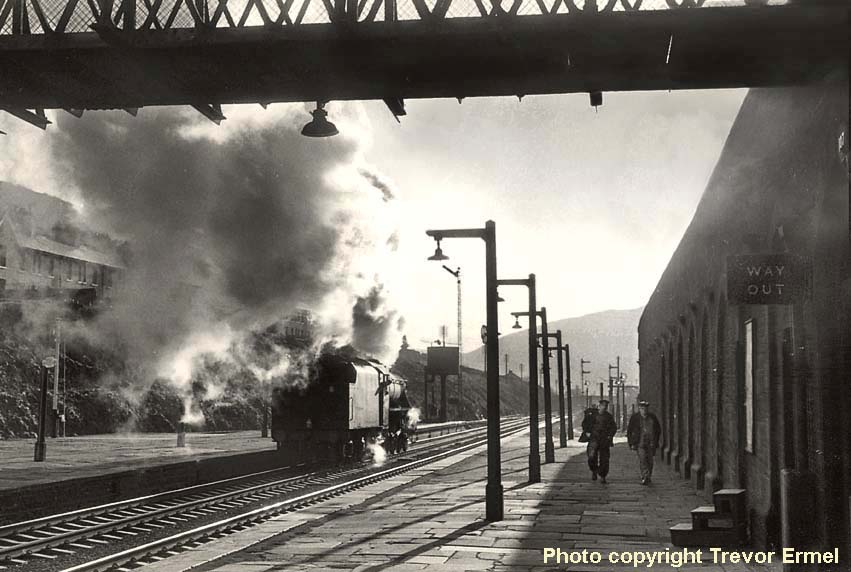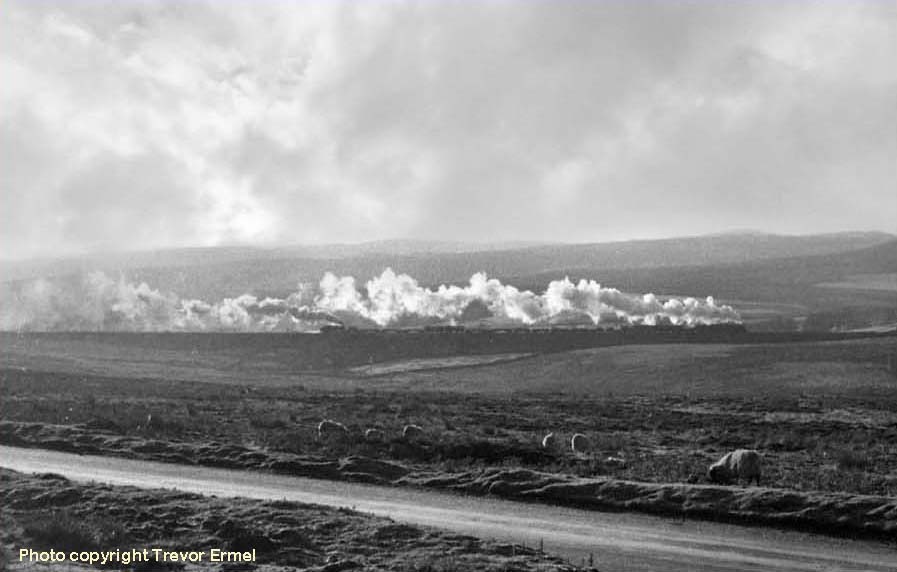 The final shot (above) sums up Shap for me - a train with a loco at each end (in this case Standard Class 5 No 73067 with No 75030 banking) in the lonely setting of the Westmorland hills before the coming of the Motorway. My last visit was on 30th December, when Tebay shed contained three Clayton Type 1 diesels ready to take over banking duties in the New Year.
A note in my diary reads 'Last day for steam at Tebay. 75026 in steam. Steam locos running light from Carlisle to Carnforth. Very sad day.'
How true!


TICKET TO RIDE

I really enjoyed travelling by trains pulled by steam locomotives. In most cases the whole point was not to reach a specific destination, but to experience the sensation of the ride itself. My first recorded journey by steam in August 1964 was an exception to this, however, in the course of travelling overnight from Newcastle to Stranraer Harbour en route to Scout camp in Northern Ireland, when 'Black Five' No 44887 was in charge of our train for the final leg from Carlisle. I went off at Stranraer to check the identity of the loco and was surprised on rejoining the group when the Scoutmaster asked me, 'Is it a Pacific?' This was the first inkling I ever had that he was remotely interested in trains! Unfortunately I was not able to identify the two locos which pulled our train back a week later, due to a rush changing trains at Carlisle, although a good view of a 'Clan' Pacific alongside our Newcastle-bound DMU convinced me that this was a place worth visiting again!
It was a year later when the opportunity to travel behind steam next arose. Our spotting sessions at Low Fell during the school summer holidays had shown that some northbound expresses, particularly the Liverpool to Newcastle trains, were prone to (diesel) loco failure. As a result, perhaps once or twice a week they would turn up with a York or Darlington standby A1 (usually) or V2 in charge, sometimes with the failed diesel still coupled behind the tender. Eventually I realised that it should be possible to take part in this 'final fling' by travelling on the trains. The timetable revealed that most northbound trains called at Durham, only 14 miles away, and therefore within affordable reach. So I travelled to Durham five times altogether and waited, fingers crossed. On two memorable occasions it worked! On 20th August I returned to Newcastle in triumph behind A1 No 60154 (Bon Accord) on a very late-running Liverpool train, although much to my regret I did not have my camera to record the event! Eight days later I was better prepared and photographed my train (again from Liverpool) about to cross the King Edward Bridge into Newcastle (below) pulled by, of all things, 'Black Five' No 44864.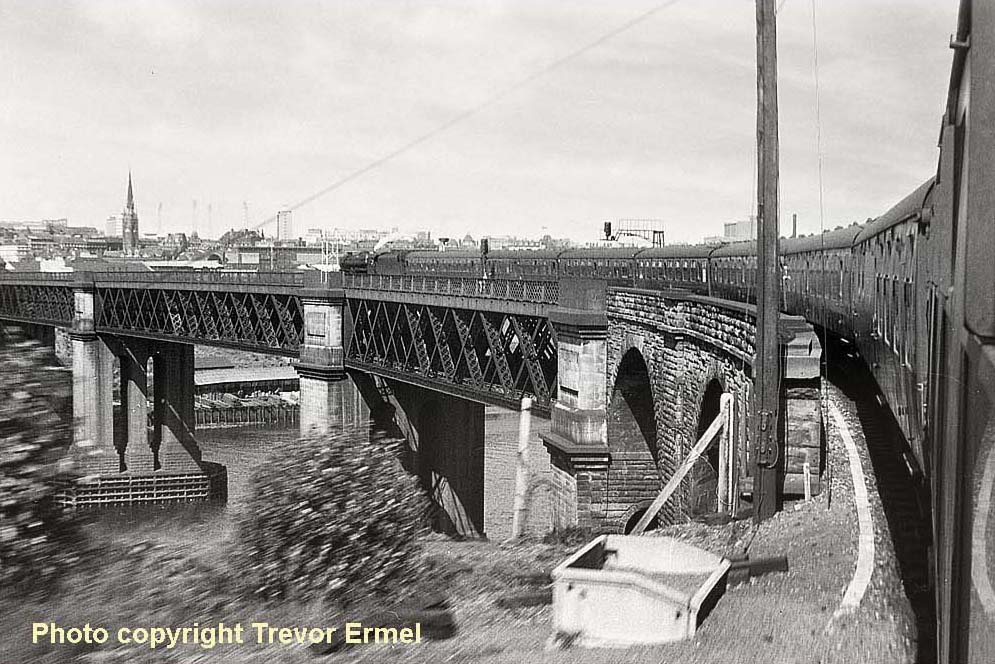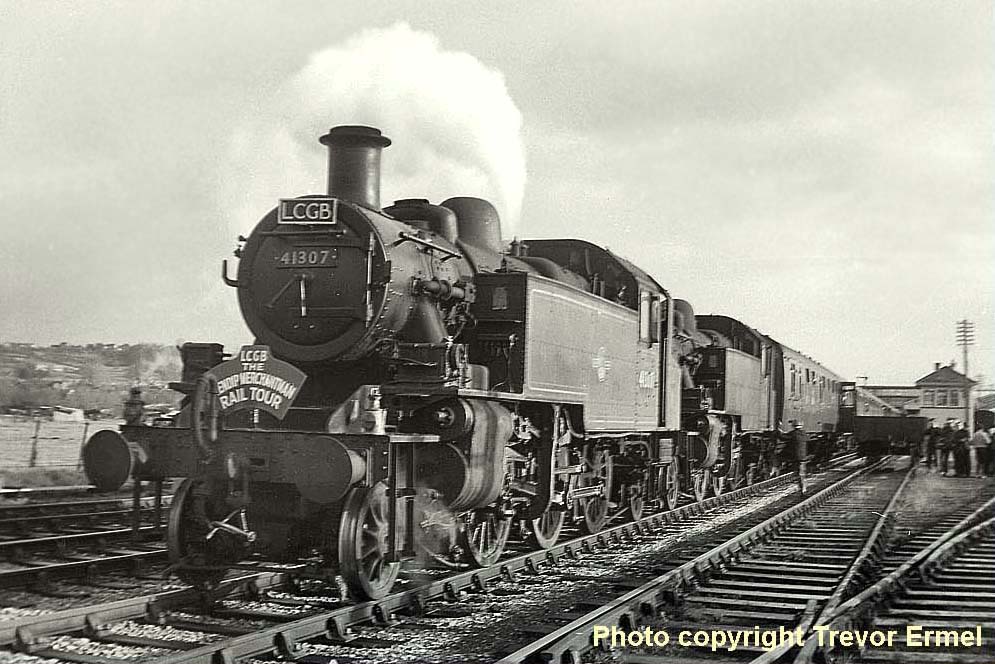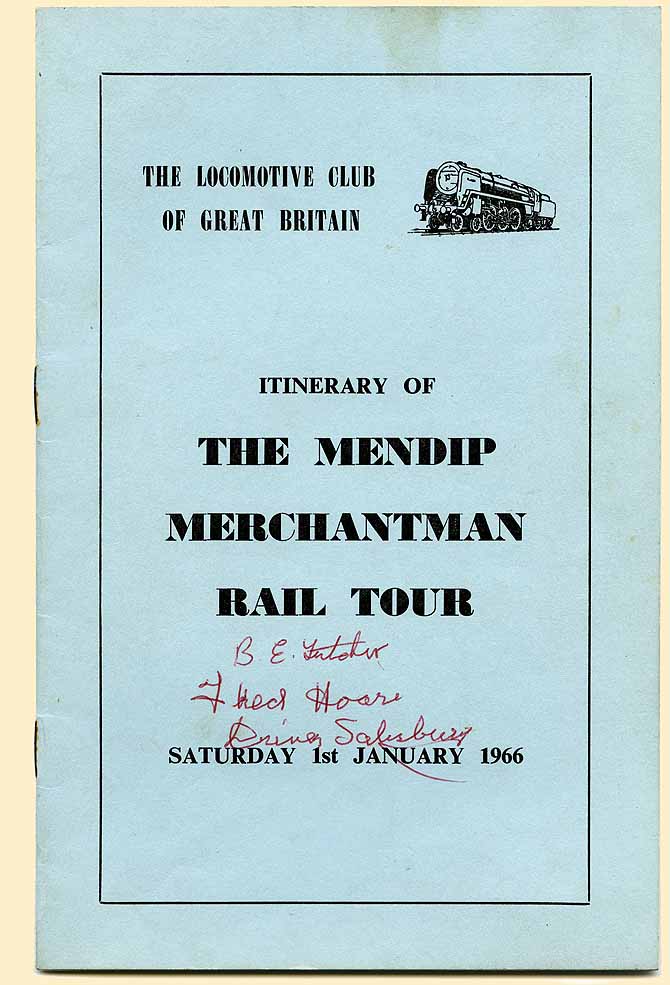 On 1st January 1966,
taking advantage of a family holiday with relatives near London, I was able to travel on my first enthusiasts' Special - 'The Mendip Merchantman Rail Tour'. This involved six different steam locos, starting with 'Merchant Navy' No 35011 General Steam Navigation out of Waterloo, a trip along the entire length of the Somerset & Dorset line (including the Highbridge branch), an engine failure (9F No 92243) which meant we were 90 minutes late at one point, and an enforced stop by an angry signalman protesting about the imminent closure of the line! My picture (above) shows the pair of Ivatt 2-6-2Ts (Nos 41307 and 41283) which were in charge between Templecombe and Highbridge, during a photo stop at Glastonbury earlier in the day. Other locos involved were 8Fs Nos 48309 and 48760, one of which had to rescue our stranded 9F at Staple Hill, near Bristol, after a 'Warship' diesel had given us a helping shove at the rear. The 8Fs eventually double-headed the train from Bath Green Park to Templecombe, with the unscheduled stop at Binegar due to the signalman's protest. Our 'Merchant Navy' was waiting at Templecombe to give us a fast run via Salisbury back to Waterloo, where I got the engine crew to sign the rail tour brochure. What a day!

1966 will be remembered with most affection for my Southern Region Rail Rover in July. Details of the week were covered in an earlier piece, but here's a new picture of 'Battle of Britain' No 34090 (Sir Eustace Missenden, Southern Railway) at Southampton (below) before I joined the train to Waterloo.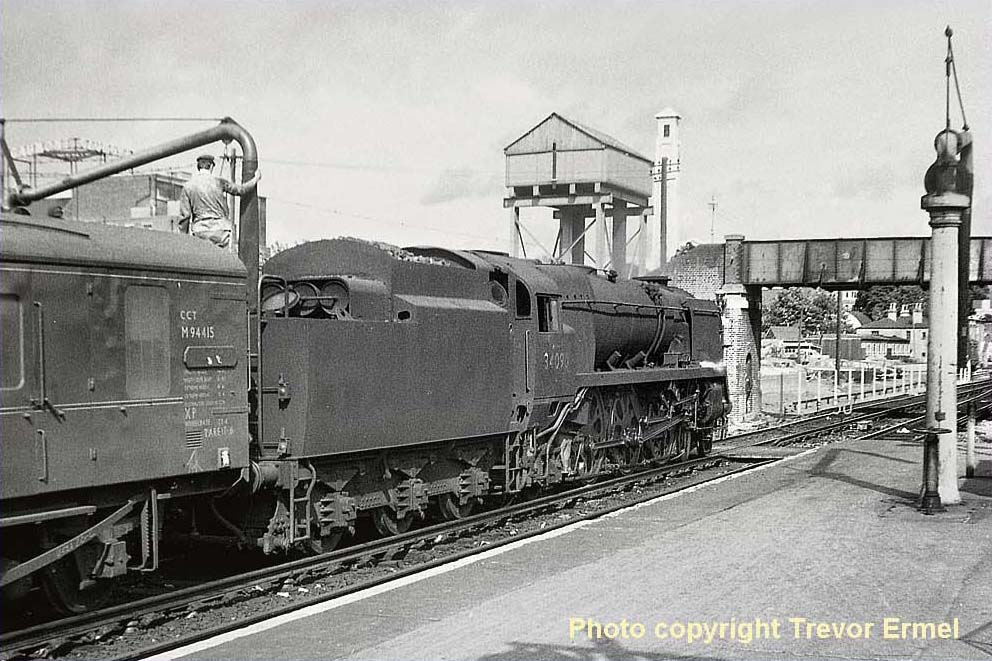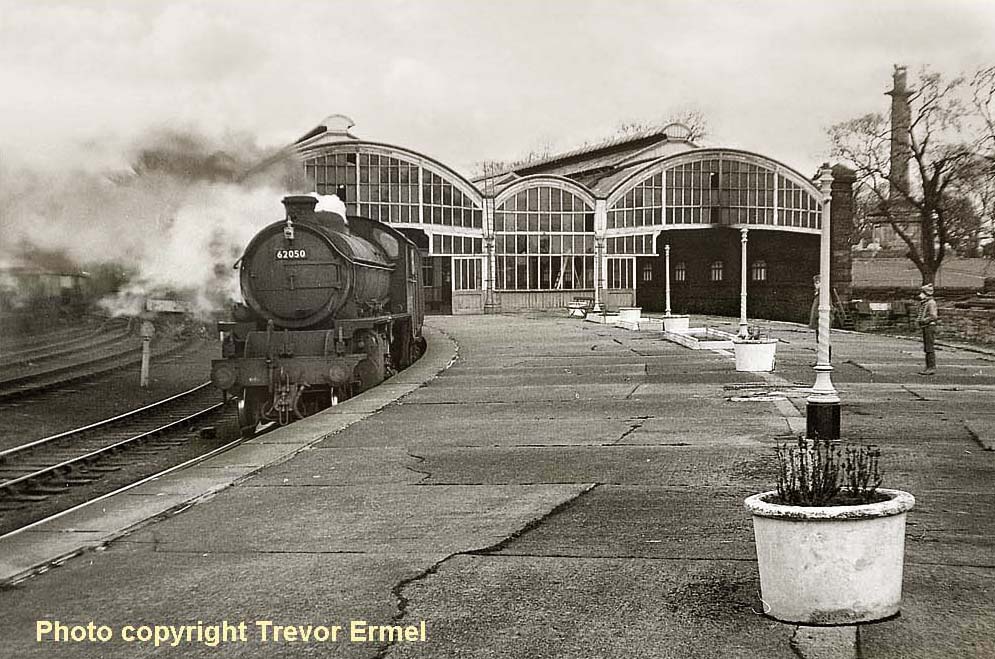 Other highlights that year included a trip on the Alnmouth to Alnwick branch in Northumberland. I'd heard that this line was still steam-worked, but needing first-hand confirmation I telephoned the shedmaster (or was it the stationmaster?) at Alnmouth. From the public phonebox outside the school gates I politely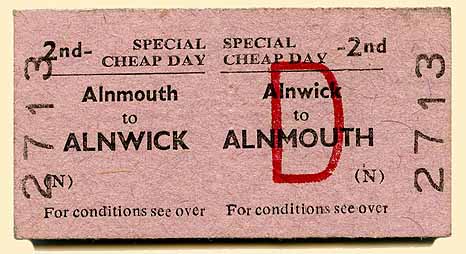 asked which trains were still pulled by steam engines. The answer was to the point - 'They all are!' And so, on 13th April, my young brother, cousin and I alighted at Alnmouth from a Newcastle to Edinburgh express, which had growled its way north behind D354. Awaiting us at the branch platform was a tender-first K1 with a sparsely-filled two-coach train for Alnwick. With such a light load the engine was probably coasting for much of the way, but it was exciting at the time. Here we were, in the midst of diesel territory, in a passenger train actually pulled by a steam loco! My picture at Alnwick (above) shows No 62050 waiting to depart with my brother Eric and cousin David trying to look inconspicuous on the platform, before we all cilmbed in to the cab to join the friendly crew for the four-mile trip back to the junction at Alnmouth. Brilliant! The line eventually closed in January 1968 but is today the subject of a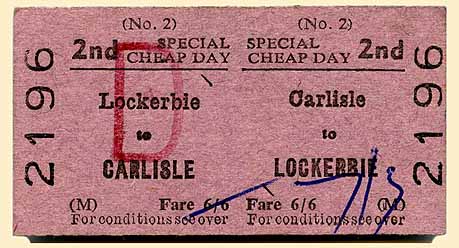 re-opening scheme, although not all the way back to the impressive terminus station at Alnwick.
During the May school half-term holidays my friend John Reed and I spent a few days at Carlisle, staying at the Youth Hostel near Kingmoor shed. Perfect! We discovered that the 20.25 Carlisle to Perth Express was regularly hauled by a 'Britannia', so we decided to travel on it one evening to the first stop, Lockerbie. No 70005 (John Milton) gave us an enjoyable run, seen (below) awaiting departure from Carlisle. We had set off in the sure and certain knowledge that there was no train back that night, but were hopeful (!) that there would still be buses running. Fortunately there were, and indeed the sympathetic driver dropped us off near the Youth Hostel around midnight on his way back to the bus depot. By this time the Hostel had closed and we had to sleep in the bike shed!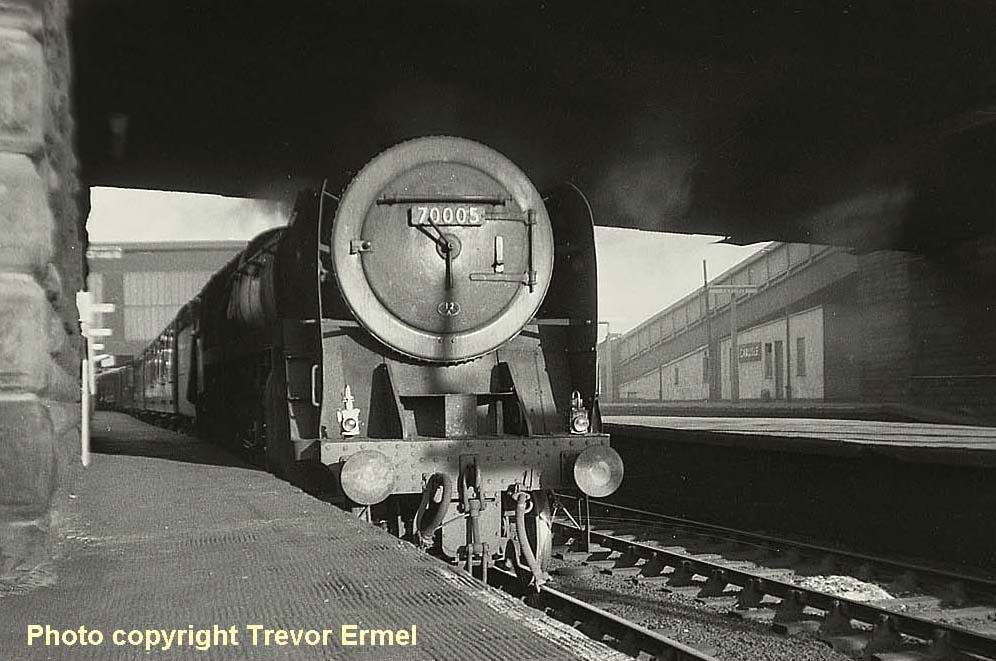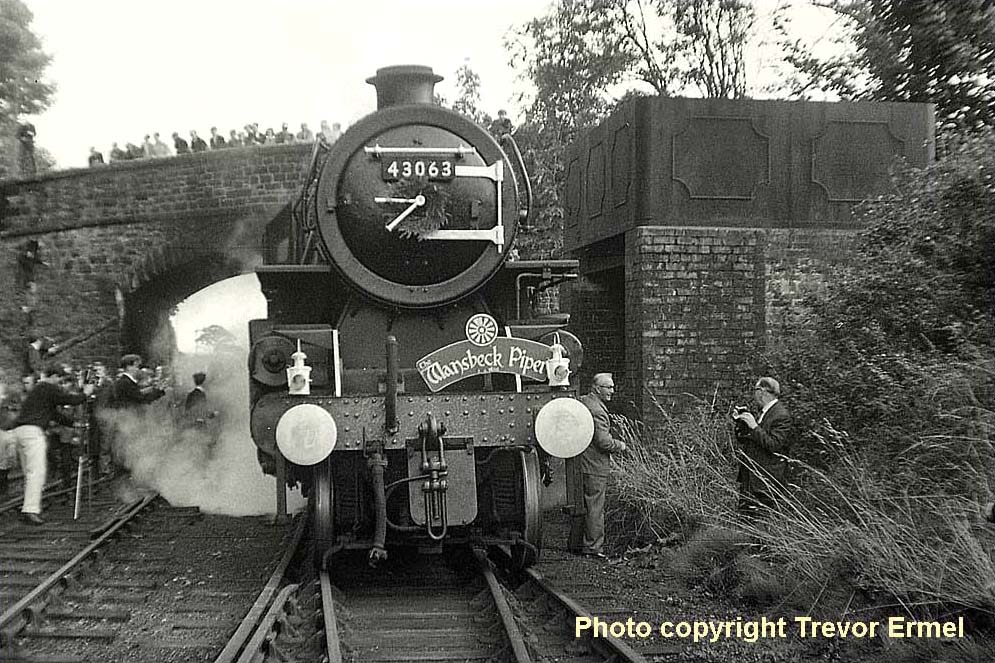 Runs in Scotland that summer behind A4 No 60019 Bittern and V2 No 60813 (already described in an earlier section) were followed by a fabulous Special on home territory on 2nd October. This was 'the Wansbeck Piper', which travelled along the branch from Morpeth to Woodburn. This was all that remained of the former North British Railway line to Riccarton Junction on the Waverley Route and which was closing the following day. The eleven coach train, which the organisers claimed as the longest ever on the line, was hauled by a pair of Ivatt 2-6-0s, Nos 43000 and 43063. The picture (above) shows them taking water at Scotsgap on the outward trip. And the fare from Newcastle? - 18s 6d (92½p)!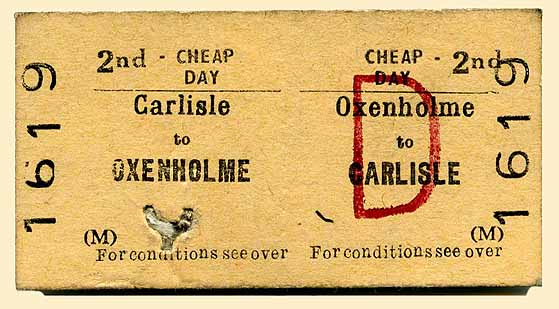 'Black Fives' and 'Britannias' featured strongly on my travels in 1967, with most of the journeys starting or ending in Carlisle. On 5th August, for example, I headed south behind D1631 to Oxenholme, to await the 11.55 Euston to Carlisle train, steam-hauled from Crewe, with the aim of having my first run behind steam over Shap. No 45227 duly obliged, seen here (below) arriving at Oxenholme, although some of the train reporting numbers (1L27) seem to have come adrift! A band of other enthusiasts also came along for the ride, three of whom can be seen carrying tape recorders ready to capture the uphill run beyond Tebay.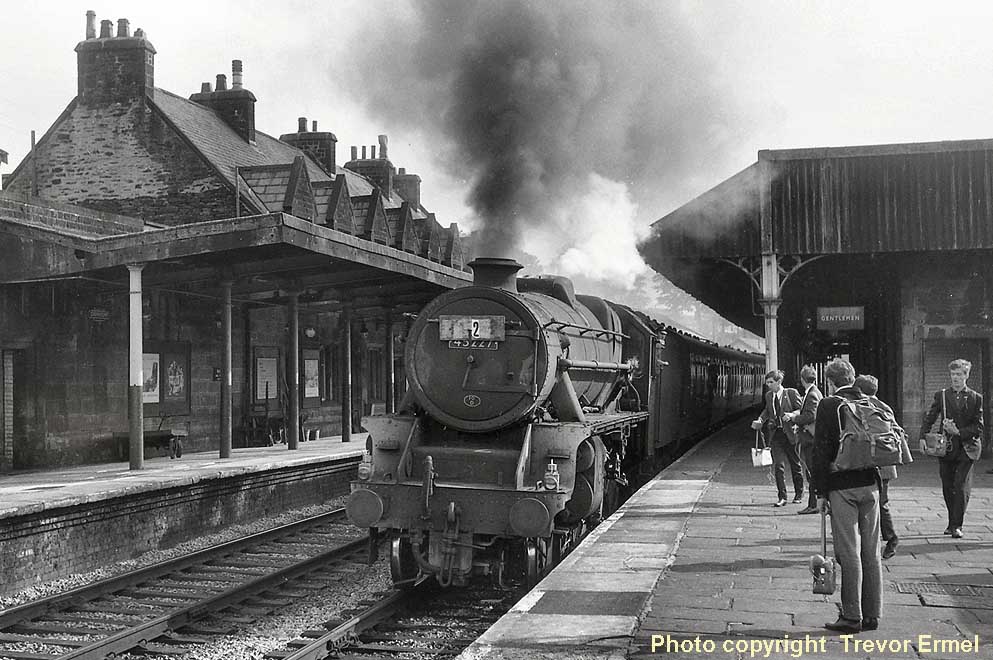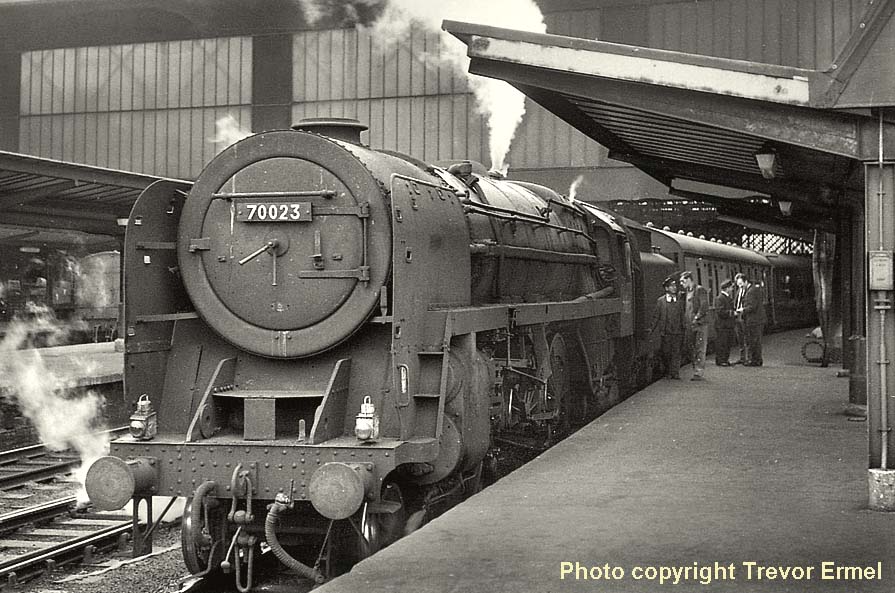 Nine locos featured on my North West Runabout Rover ticket between Preston and Carlisle in August. After my trip from Preston behind 'Britannia' No 70025 (Western Star) on a Fridays-only Liverpool to Glasgow express, (as detailed earlier), I travelled on the same train two weeks later. This time I joined the train at Penrith. No 70023 (Venus) was in charge, and judging from my picture after arrival at Carlisle (above), not many other enthusiasts made the same journey.

Travelling the short (and therefore inexpensive) distance between Carlisle and Penrith guaranteed steam both ways on summer Saturdays, and I did this out-and-back trip three times that year. On 29th July it was a 'Black Five' in both directions which was a bit of a disappointment, as the southbound train (the 16.25 from Carlisle) was headed by a 'Britannia' on every other occasion I saw it. (In those days we could be choosey - oh! for the chance of a ride behind 'just another 'Black Five' today!) Never mind, the inside of a nice warm coach was a more attractive proposition than standing around in the wind and rain at Carlisle that day, so No 45436 took us to Penrith. We came back behind No 44680 on the 11.55 Euston to Glasgow, which I photographed (below) entering Penrith. Once more the train reporting number (1L27) on the smokebox door seems to have seen better days!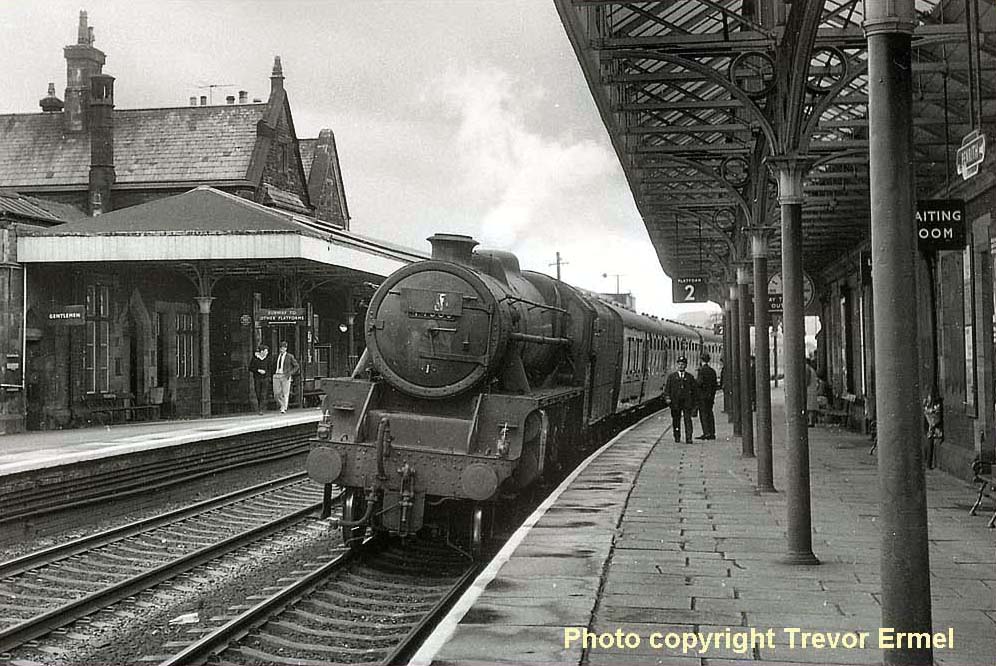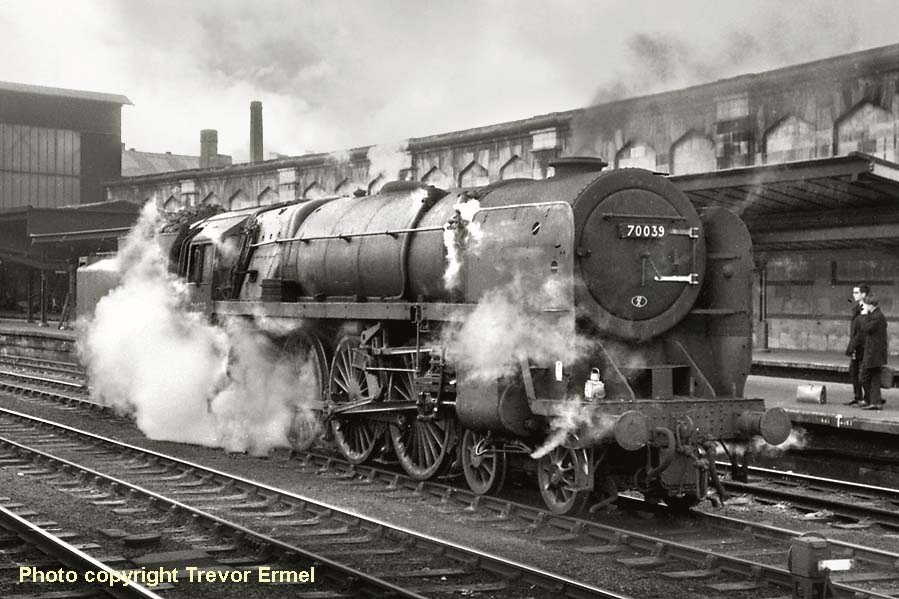 On 26th August No 70039 (Sir Christopher Wren) worked the southbound train. My picture (above) shows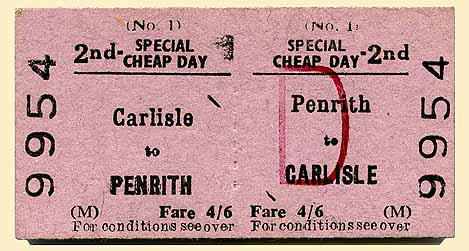 the engine on the centre road at Carlisle awaiting the arrival of the diesel-hauled train from Scotland, prior to our run to Penrith. The loco looks in quite poor condition and perhaps not surprisingly it was withdrawn the following month, unlike most of the other Kingmoor 'Britannias' which lasted until December. The journey back with No 44993 was my final steam-hauled run of 1967, as well as probably my fastest ever. The load was only about five coaches, but even so, we were certainly travelling! My crude attempt at timing the train by checking the quarter-mileposts against my stopwatch suggested 92mph; after arrival at Carlisle the driver proudly claimed 96
!
In 1968 steam was very thin on the ground, and my first steam-hauled journey was on a 'Williams Deacon's Bank Club Special' on 17th March. This featured the one surviving 'Britannia', two 'Black Fives' and the preserved Flying Scotsman. Actually two such trains ran that day, covering much of North West England, with the locos interchanging between them. After one of the legs involving No 70013 Oliver Cromwell on our train as far as Carnforth, I was able to photograph it at the head of the other train leaving the station (below) before our own continued behind Flying Scotsman.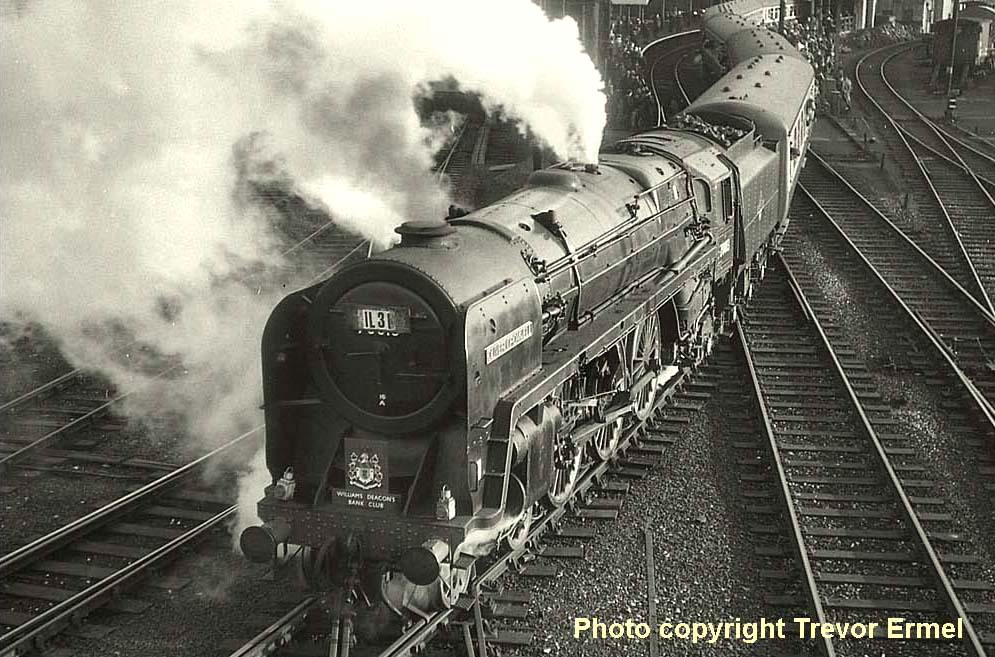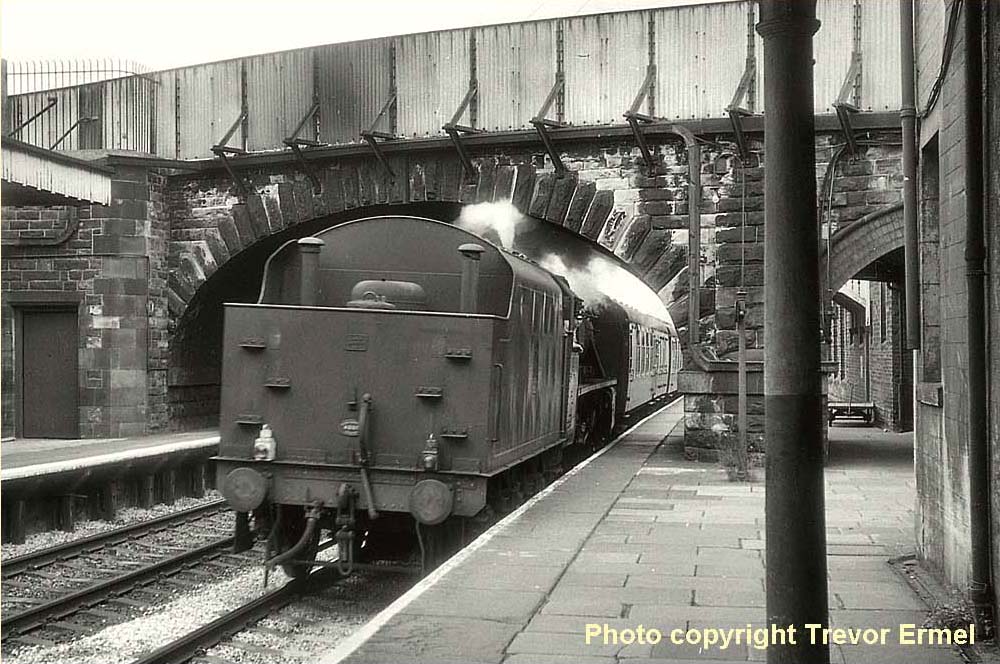 During the final week of steam in the school summer holidays I had another North West Runabout Rover ticket, based at the Youth Hostel at Arnside, near Carnforth. On 29th July I had an unexpected run behind a 'Black Five' - following a diesel failure No 45110 worked a Preston to Windermere train and return. Much to my delight I joined the train at Carnforth for the ride back to Preston, after photographing it entering Carnforth tender-first (above) due to the lack of turning facilities at Windermere. My final run was on the last weekend of normal steam workings. On 3rd August 'Black Five' No 45212 headed the 20.50 Preston to Blackpool South train (diesel-hauled from Euston), amazingly still rostered for steam right up to the end. It was standing room only all the way, and at Blackpool the crew were giving away pieces of coal as souvenirs! No photographs were possible on my part due to our departure from Preston just as the sun was setting, and also due to the general mayhem!
By the end of steam I had travelled behind 65 different steam locos (excluding preserved examples) of 17 Classes. As perhaps to be expected, most of them were 'Black Fives', 16 in all. For several years the numbers of the six 'Britannias' gave me my six National Lottery numbers - 5, 13, 23, 25, 38, and 39. As I am writing this from my current home in Whitley Bay, rather than the Bahamas, the numbers never came up!
INDUSTRIAL INTERLUDE

After the end of BR steam in North East England in September 1967 I began to pay more attention to the various industrial railways which still used steam locomotives. The National Coal Board had some extensive local railway systems of its own, with five such lines within easy reach of my home in Gateshead.
Norwood Coke Works, at the northern end of the Team Valley Trading Estate, was only a ten-minute walk from my own front door. This system enabled action photographs to be taken against a dramatic industrial background by merely pointing the camera through the fence. The largest loco used in the round-the-clock shunting operations was No 77, an 0-6-0ST built by Robert Stephenson & Hawthorns (RSH) in 1948 (below)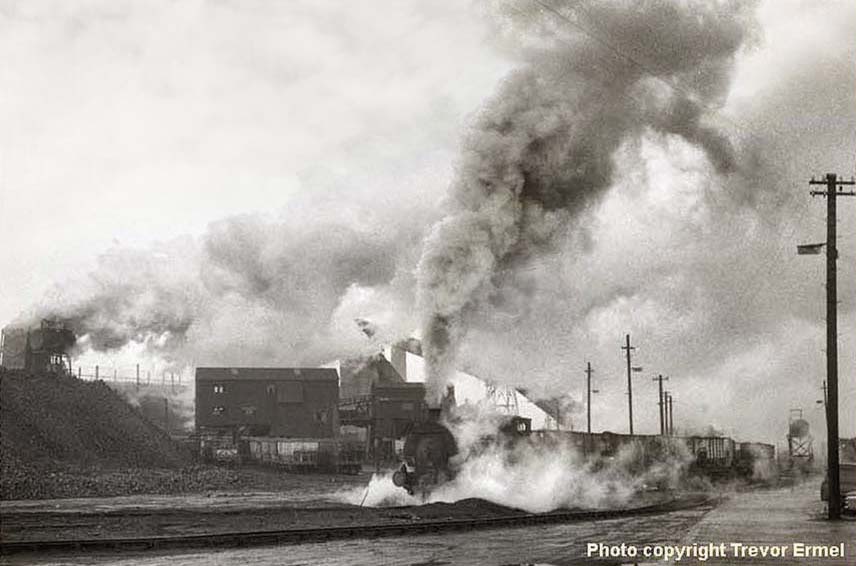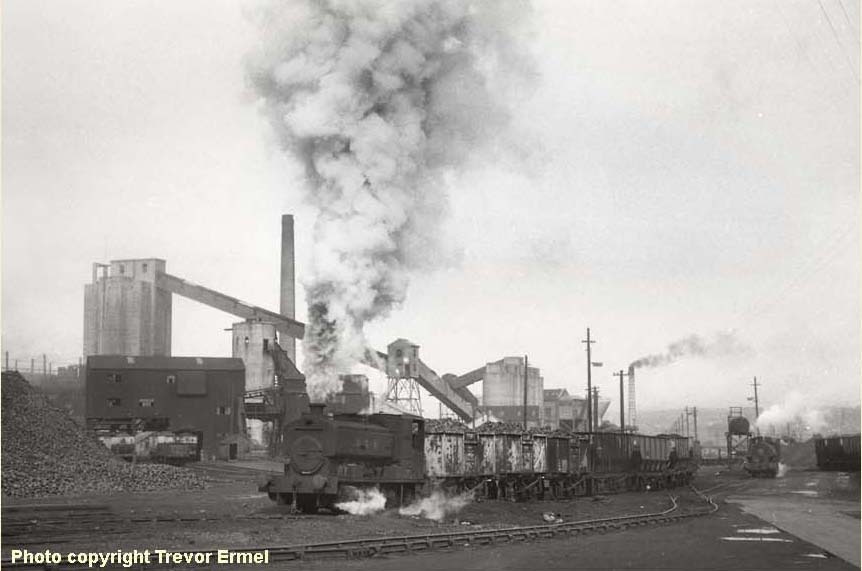 No 92 was a neat little Andrew Barclay (AB) 0-4-0ST, photographed (above) at the same spot. Once I summoned up the courage to go in through the gates I was able to get some close-up shots, such as the third loco in the fleet taking water (below) - another from RSH, a little 0-4-0ST which didn't seem to carry a running number. (This would have caused a few problems for spotters trying to underline it in a book!) Norwood Coke Works closed in the 1980s and after extensive decontaminating and landscaping it became part of the site for the 1990 National Garden Festival. Houses now occupy much of the area.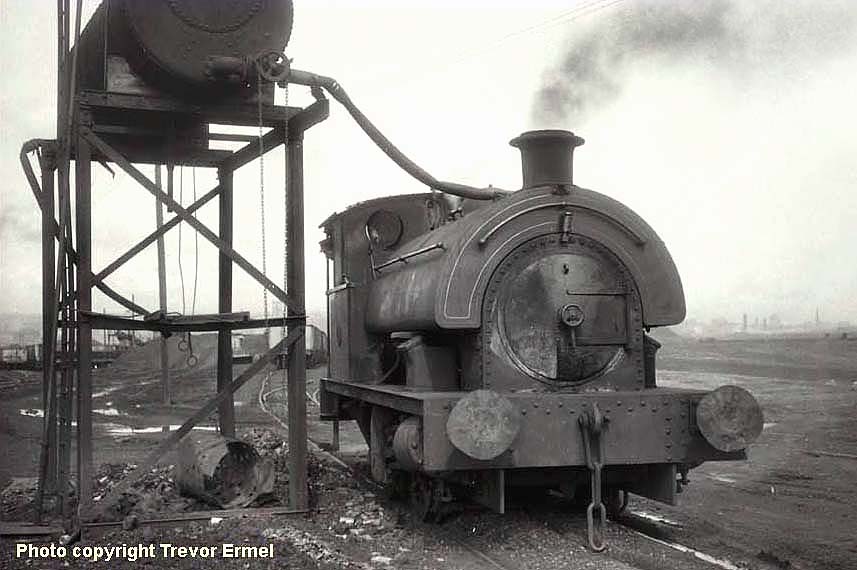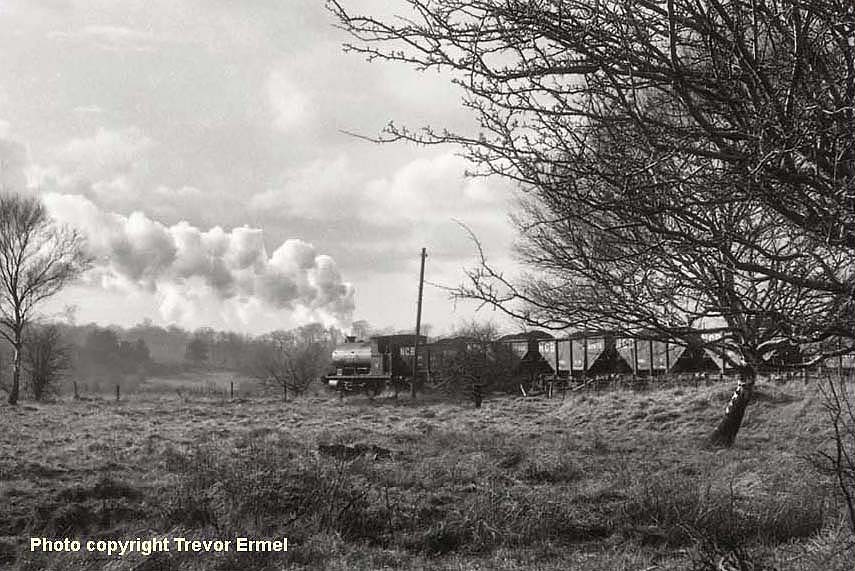 A short bike ride from home took me to Ravensworth Park Drift Mine, on the western side of the Team Valley. From here the line crossed a low concrete viaduct over the centre of the Trading Estate to Allerdene Sidings, within site of the East Coast Main Line. From this point the loaded wagons were hauled by cable up an incline which climbed the eastern side of the valley, after which another loco took over for onward transmission, although I never checked out that aspect of the line at the time. Despite its close proximity to the Trading Estate, the line between the mine and the viaduct passed through quite a rural landscape.
Here No 66 'Charles Nelson', a nice little green Peckett 0-4-0ST of 1928, pushes its loaded train through the trees (above) shortly after leaving the mine. No 81, a black 0-4-0ST built by RSH in 1949, came to the line in March 1968. The picture (below) shows it propelling a loaded train approaching the viaduct with the lookout man clinging to the leading wagon. (Health & Safety? What Health & Safety?!) I enjoyed several trips over the line in the cab of both engines thanks to the kindness of the regular driver, Jim McIvor.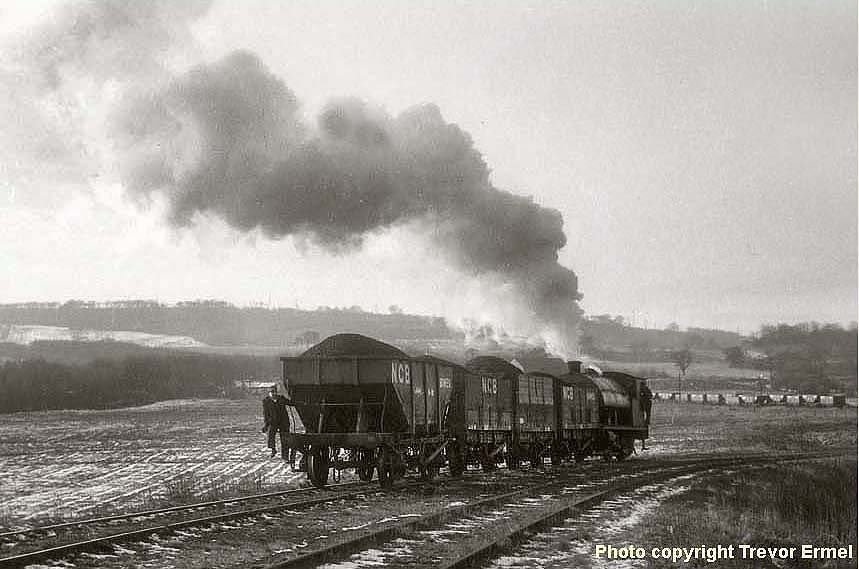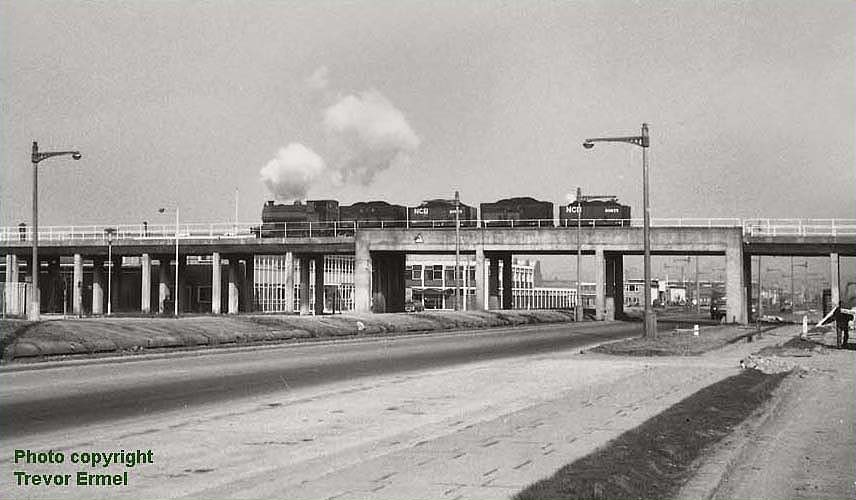 No 66 is seen again (above) crossing the viaduct over the dual carriageway of the Team Valley Trading Estate. (The locomotive always pushed the wagons, whichever direction it was going.) The final picture on this system shows a loaded train being hauled up the Allerdene Incline (below), motive power being a stationary winding engine further up the hill. The line closed in 1973; the site of the mine is now occupied by Retail World shopping complex.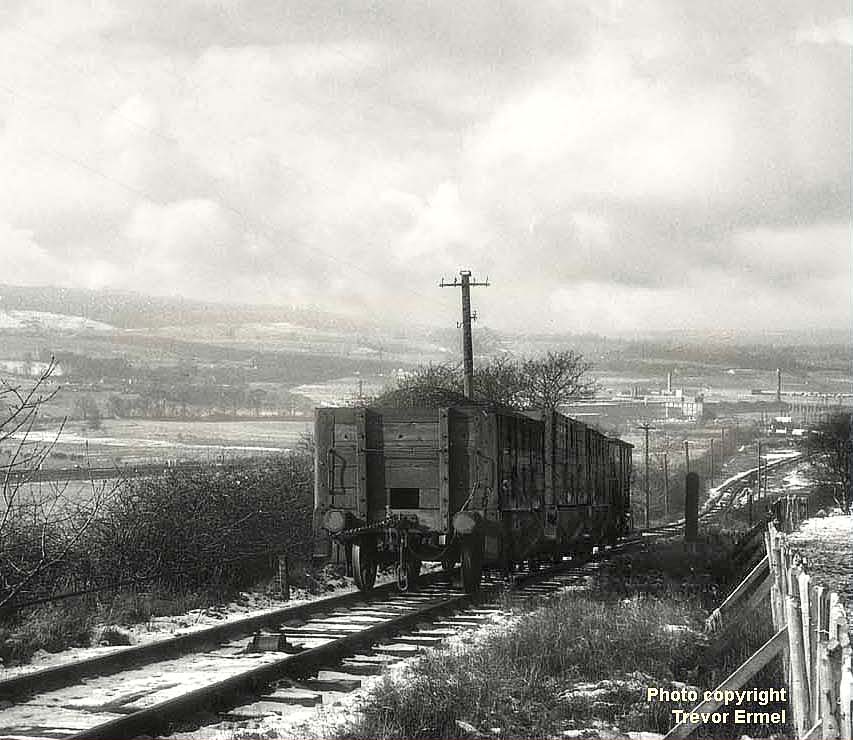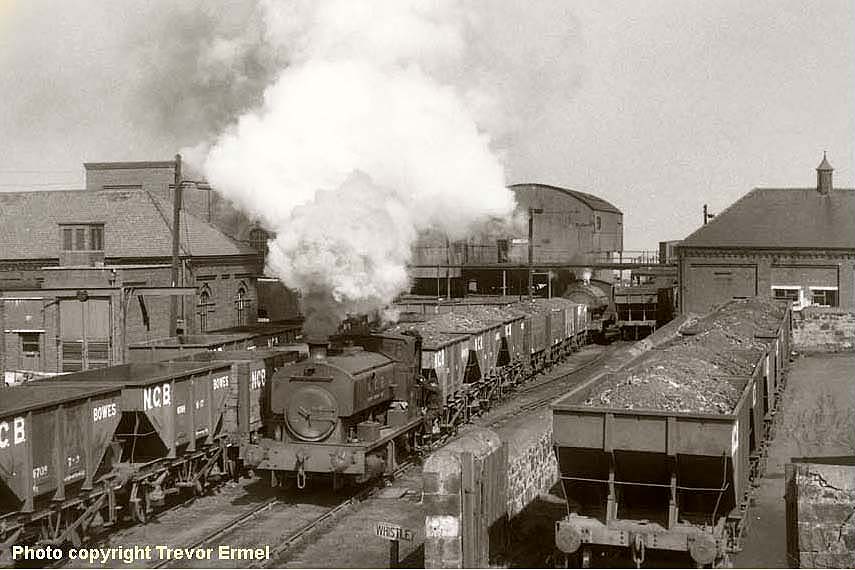 The NCB system based on the locoshed at Marley Hill, to the south west of Gateshead, was about to suffer a contraction of activites when I 'discovered' it in April 1968. Burnopfield Colliery closed in August, shortly after I photographed AB 0-4-0ST No 85 in action there (above). Loaded coal trains heading east from the colliery towards the River Tyne at Jarrow Staiths were limited to 20 wagons down the severe Hobson Bank, with a gradient mostly 1 in 35. Trains had to be assembled in stages, such as this seven wagon load being worked back up to the colliery with a loco at each end (below).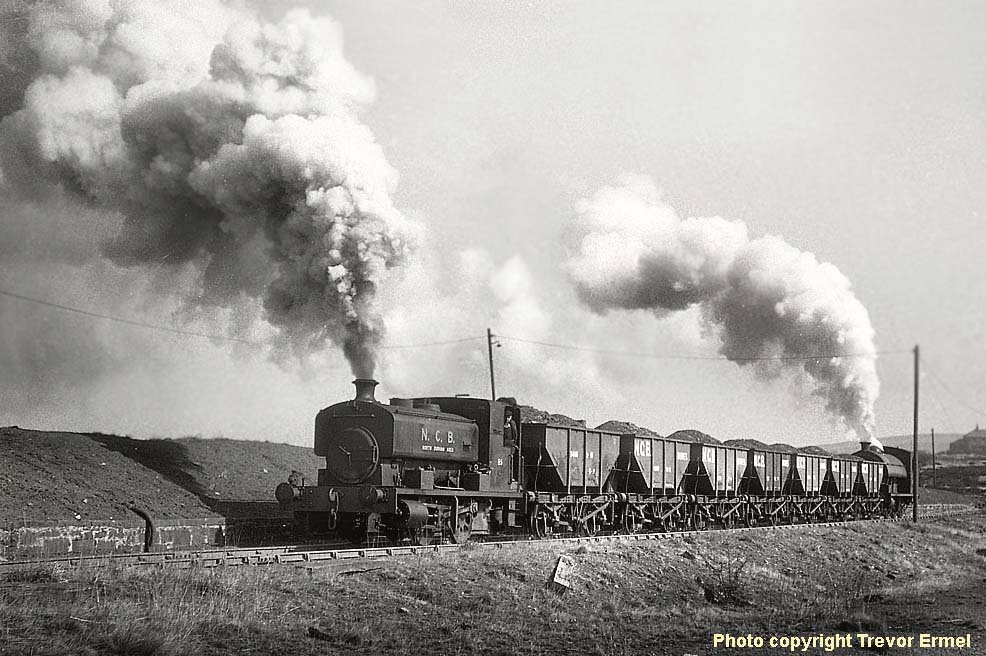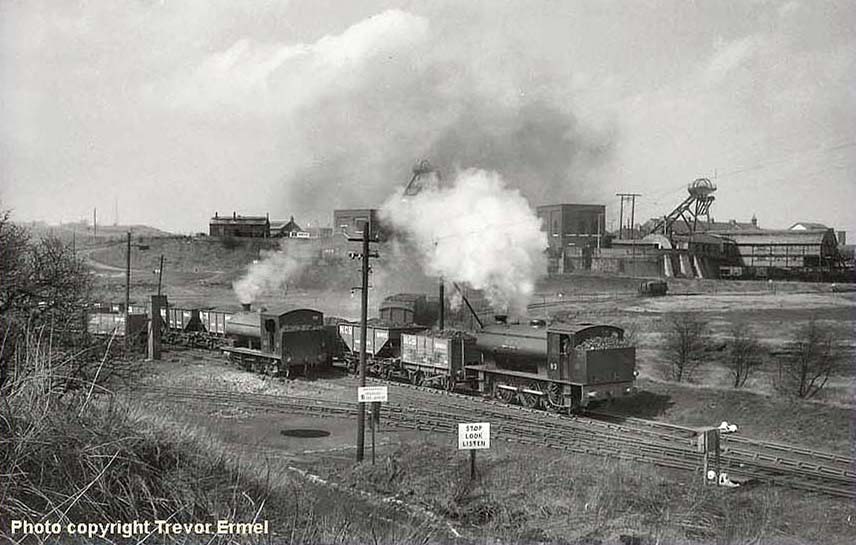 The view (above) was taken near the locoshed at Marley Hill, with Marley Hill Colliery in the background. No 22, a Hawthorn Leslie 0-6-0ST of 1915 vintage is passed by 'Austerity' 0-6-0ST No 83 with a loaded coal train. No 83 was Marley Hill's last working steam loco when the shed closed in 1970. Today the building is the headquarters and running shed for the highly successful Tanfield Railway, which now runs trains over part of the nearby ex-BR Tanfield branch. This crossed the NCB tracks on the level just off the picture to the right.
Another quite extensive NCB system ran down the valley of the River Derwent to exchange sidings with BR at Derwenthaugh, between Dunston and Blaydon. Most of the working locos at the beginning of 1968 were of the ubiquitous 'Austerity' 0-6-0ST type, (a design known to LNER fans, of course, as the J94 - the same as Marley Hill's No 83). The first three pictures show examples of these in action. No 27 is engaged in a spot of 'push-pull' activity (below), propelling a rake of BR 16-tonners while pulling five NCB wagons, heading north alongside the River Derwent.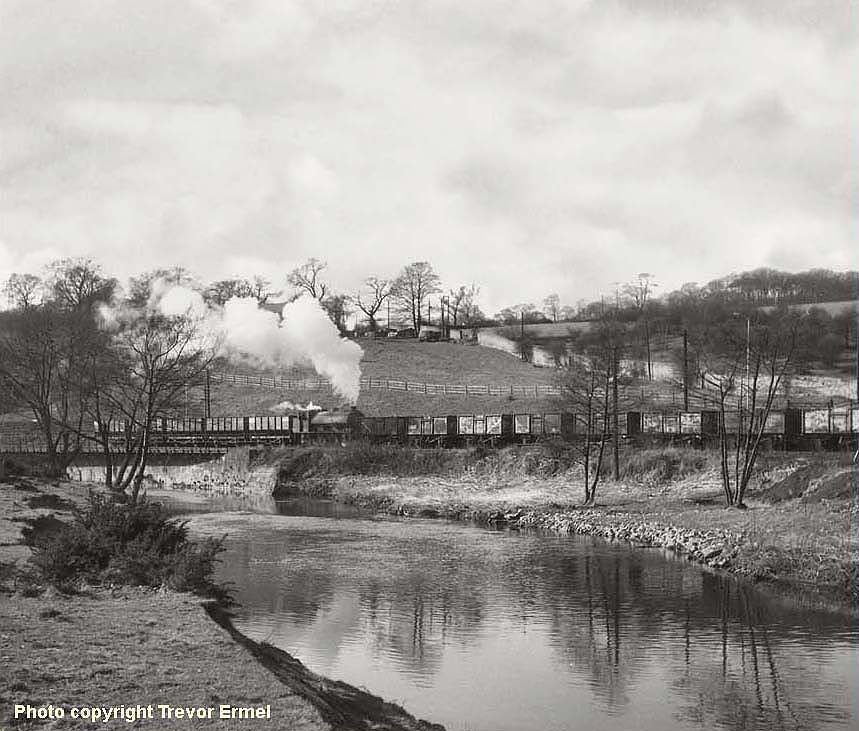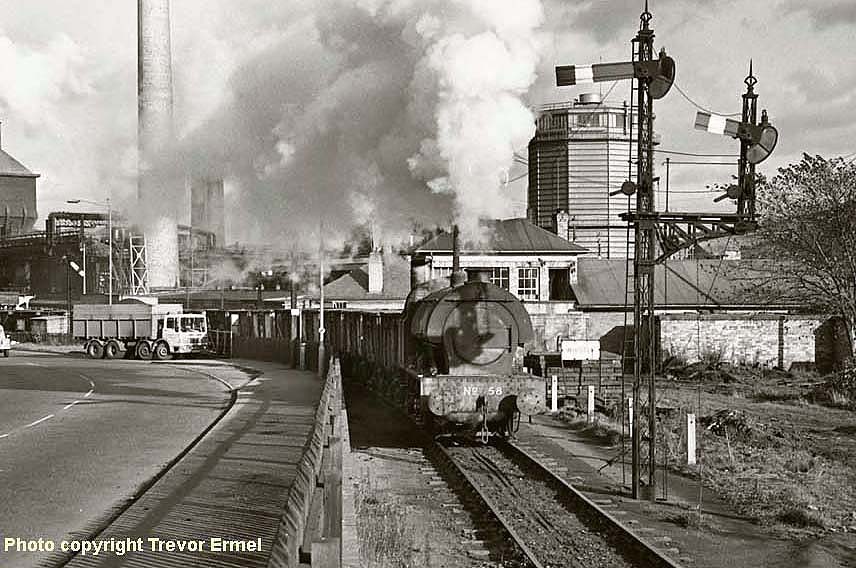 Just south of the previous viewpoint was Derwenthaugh Coke Works, seen in the background (above) as No 58 heads south with empties for Clockburn Drift Mine. The rather splendid signals were operated from the signalbox just behind the loco, as were the level crossing gates. No 82 is shunting a mixed train of wagons in the sidings at Derwenthaugh Yard (below), just south of the junction with the BR Gateshead to Carlisle line.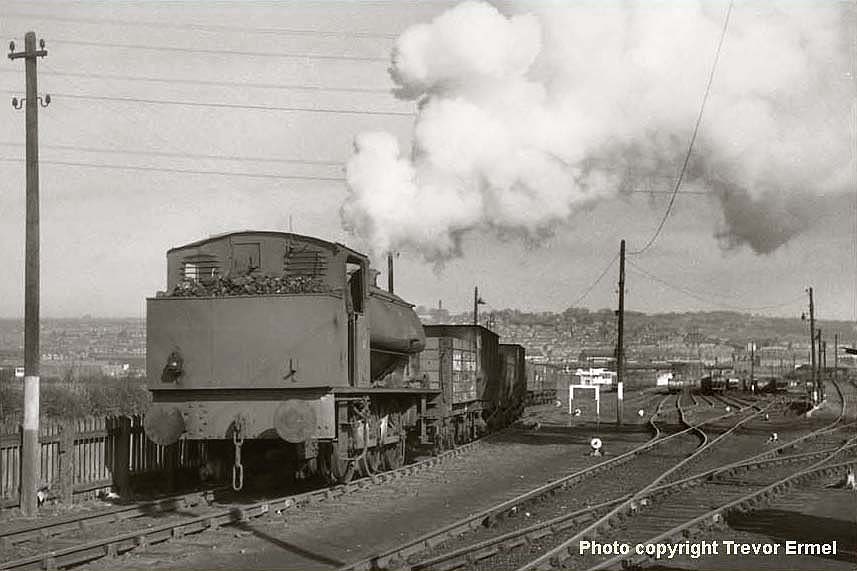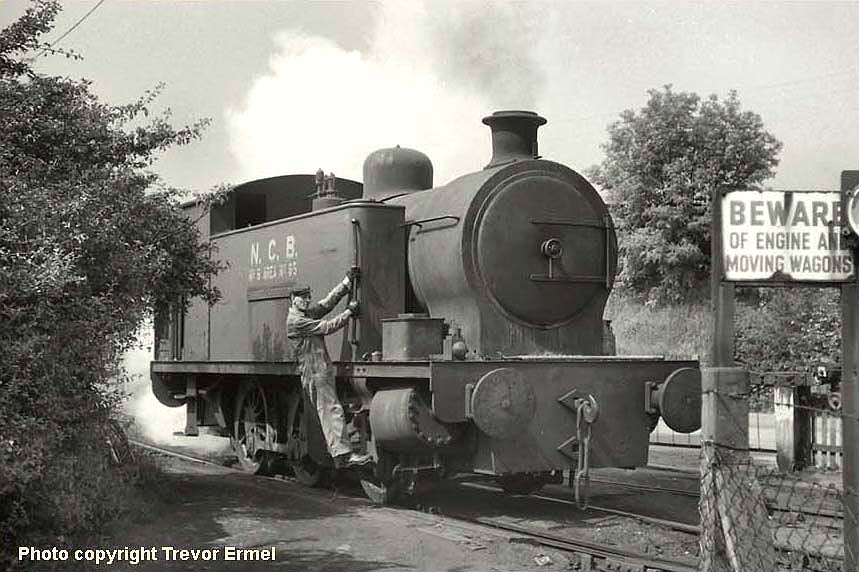 A pleasant surprise one day, and a change from the usual 'Austerity', was this rather nice Hawthorn Leslie 0-6-0T No 65 'Henry C. Embleton' at work (above), shunting the yard. Steam locos finished on this system in the early 1970s, but the line to the Coke Works lasted until 1985, latterly worked by Class 08 diesel shunters hired from BR. Extensive landscaping of the area has taken place and the Derwenthaugh Country Park now occupies much of the site.
On the opposite (east) bank of the River Derwent was Swalwell Disposal Point, where coal from various opencast sites was brought in by lorry. Here it was sorted and loaded into railway wagons for onward despatch via BR. Three 'Austerity' 0-6-0ST locos were there in early 1968, operated by Mechanical Navvies Ltd on behalf of the NCB. The 'star attraction' was No 71515 in smart, clean maroon livery, seen shunting the yard (below).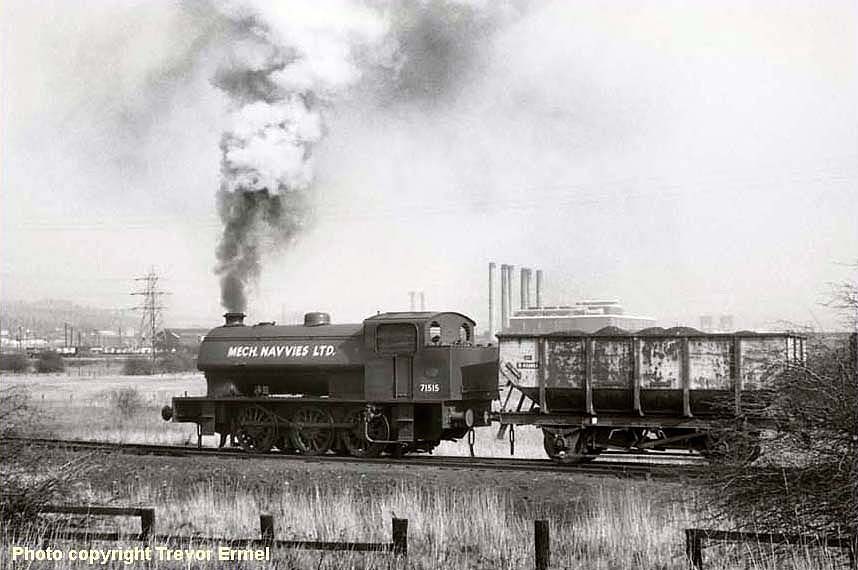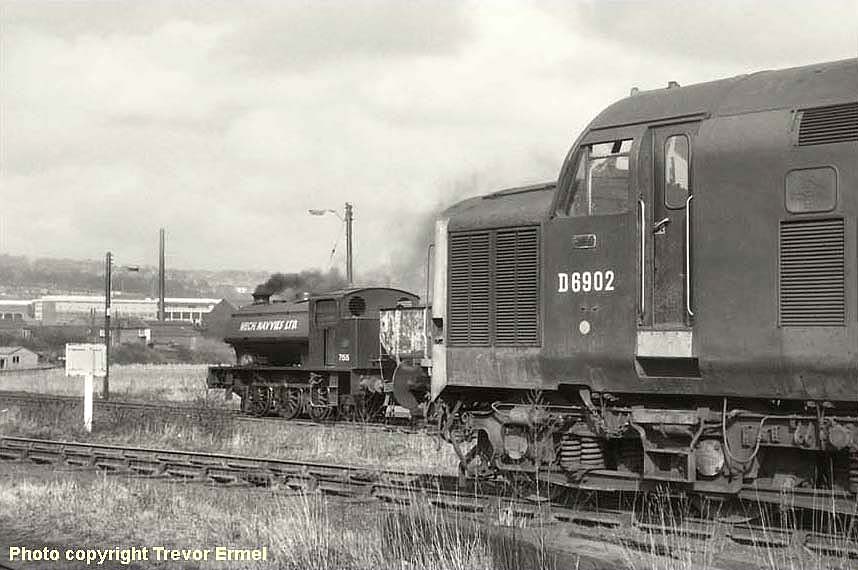 Type 3 diesel No D6902 has just arrived with a train of empties and will shortly leave with a full load (above) via the junction with BR (out of shot to the left). Ex-BR diesel shunters operated this little system in its final years until closure in 1989.
Apart from the locoshed at Marley Hill, now the focal point for the Tanfield Railway, little tangible evidence remains of any of the five NCB systems I visited in 1968. At the time I regarded industrial steam merely as a stop-gap until I was able to get back to 'proper' steam, which ended on BR that August. I am glad I made the effort, though; like the end of BR steam it was the end of an era.
Unlike BR, however, the NCB systems themselves have disappeared virtually without trace
...


A FEW LOOSE ENDS

This final chapter of 'Spottings & Jottings 1' gives me the chance to show some photographs which didn't fit any earlier sections, starting with a picture I took on my first 'spotting' visit to Carlisle on 29th August 1964 (below). This shows 'Coronation' Pacific No 46244 King George VI at Kingmoor shed (12A). Although this wasn't the first time I had seen one of these superb locos, (I had been enthralled by the sight of No 46250 City of Lichfield on an overnight parcels train at Carlisle station the previous weekend, while returning from Scout camp in Northern Ireland), it was the first one I saw in red livery. (Yes, I know this colour is perhaps better described as 'maroon' or 'crimson lake', but we all knew it as 'red' at the time!) 'Wow', I thought, 'A red engine! I must take a photo!' - not realising, of course, that it would look the same as any other loco in a black and white photograph! It remains my only record of a Stanier Pacific.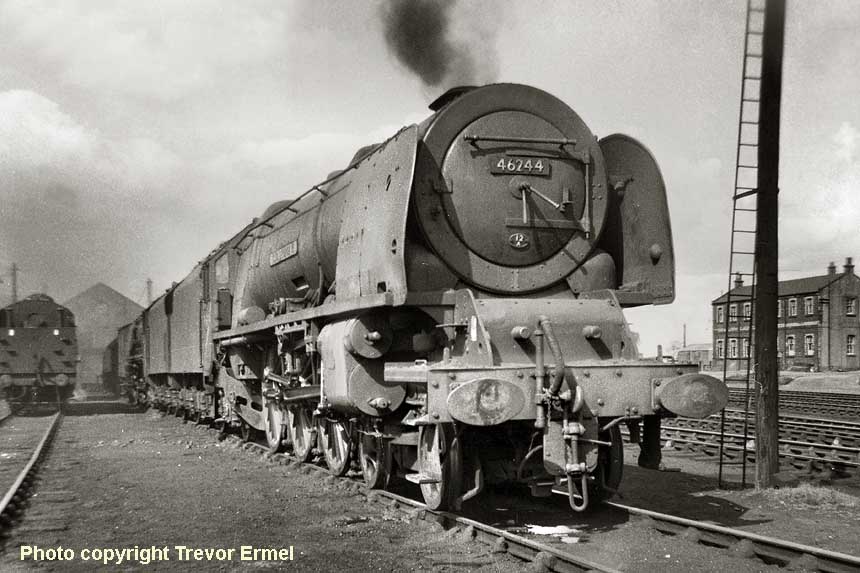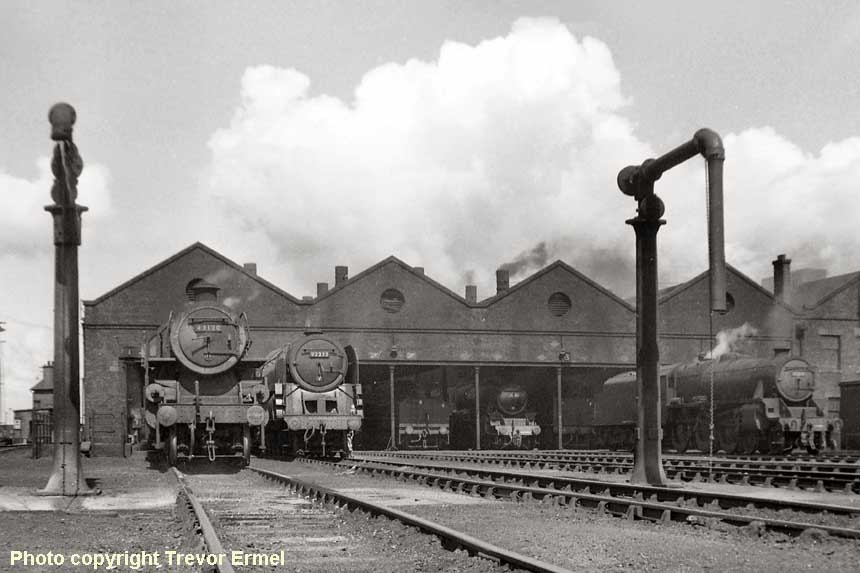 A couple of years later I captured this view (above) from the same spot, showing locos Nos 43120, 92233, 45236 (inside the shed) and 45214. No red engines by now, of course, but a green 'Britannia' would have been a welcome addition to the lineup. On 25th July 1965 I was on a visit to sheds in the Manchester area and took this similar picture (below) at Trafford Park (9E). This shows a nice group of ex-LMS engines comprising Nos 45150, 43012, 44888 and 42066. Apparently the foodlights in the background are at Old Trafford football ground.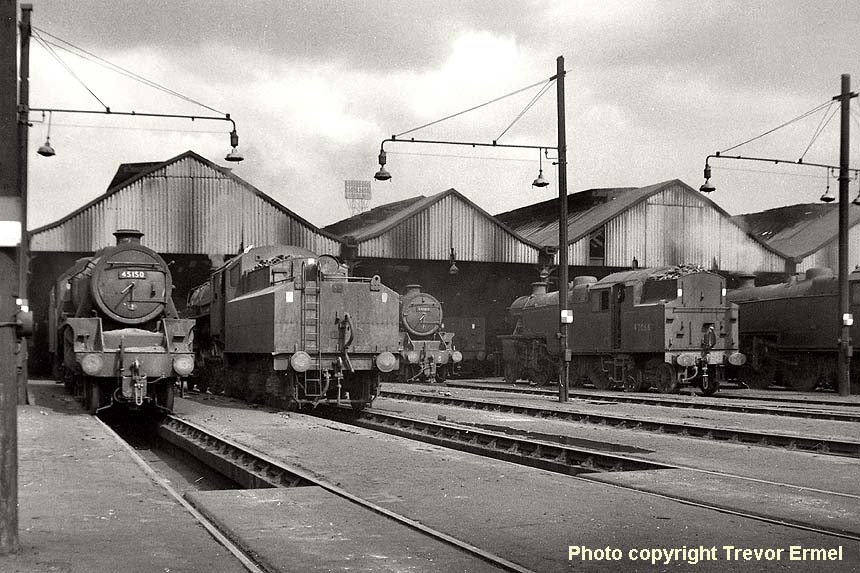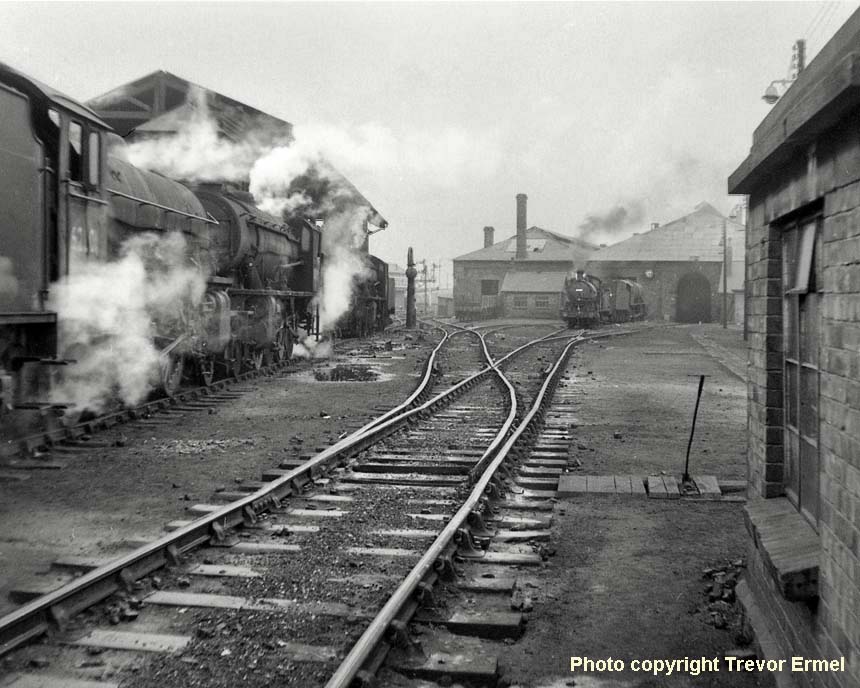 West Hartlepool (51C) was one of the last steam sheds in North East England, closing in September 1967. The previous year I captured this rather atmospheric view (above) featuring K1, WD and Q6 locos. A cold wind was blowing in off the nearby North Sea, as can be seen by the drifting smoke and steam. One of the other final steam sheds in the area was Sunderland (52G), where I photographed three J27s around the turntable a couple of weeks before the end (below).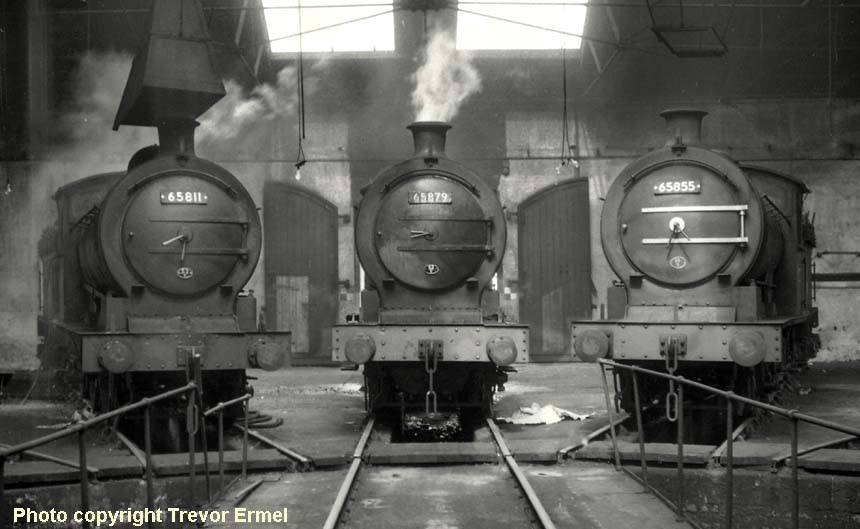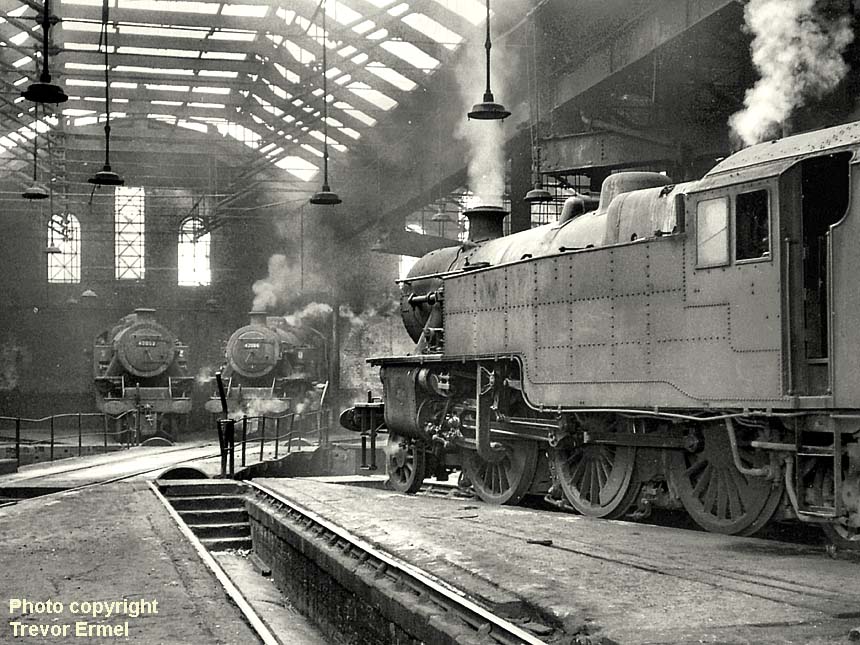 Another roundhouse features in this next shot (above) of Holbeck shed, Leeds (55A) in May 1967. On view are three Fairburn 2-6-4T locos, Nos 42052, 42066 and 42055. (Incidentally, No 42066 also appeared in the picture at Trafford Park, although I hadn't realised until I was putting this section together.) Back on home ground now, (below), sees the view from the train as Ivatt 2-6-0s Nos 43063 (leading) and 43000 double-head the 'Wansbeck Piper' Rail Tour out of Newcastle on 'third rail' territory, bound for Morpeth and the Woodburn branch in October 1966.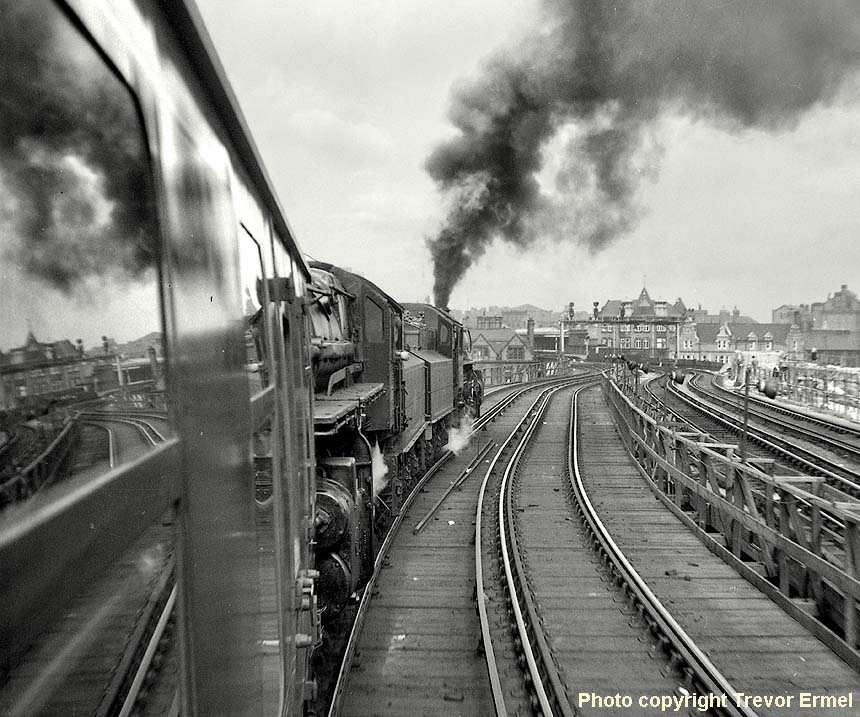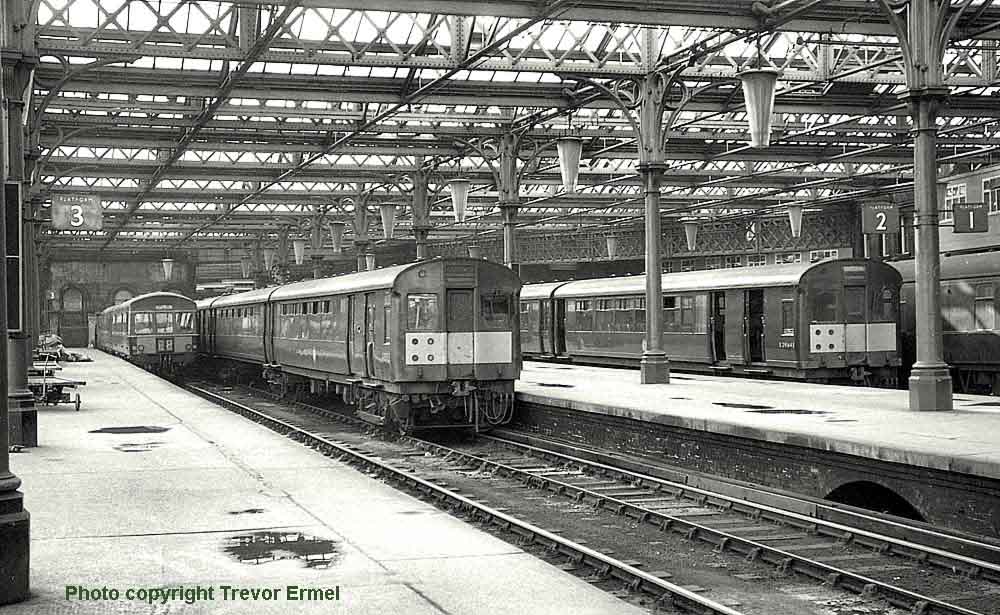 The electric trains alluded to above ran on the suburban lines between Newcastle and the coast until replaced by DMUs in June 1967. This view (above) at Newcastle the previous month shows two electric trains alongside a DMU bound for Alnwick. The replacement diesels were themselves displaced some fifteen years later when the new Tyne & Wear Metro took over the Newcastle suburban routes, and platforms 1,2 and 3 were filled in and used as a car park. I was able to witness the end of steam on BR in the summer of 1968 at first hand, staying in the Youth Hostel at Arnside, near Carnforth, over two separate weeks in July and August. The first picture (below) shows Nos 73069 and 45025 getting to grips with a northbound ballast train, viewed from the footbridge which used to cross the tracks just south of Carnforth station.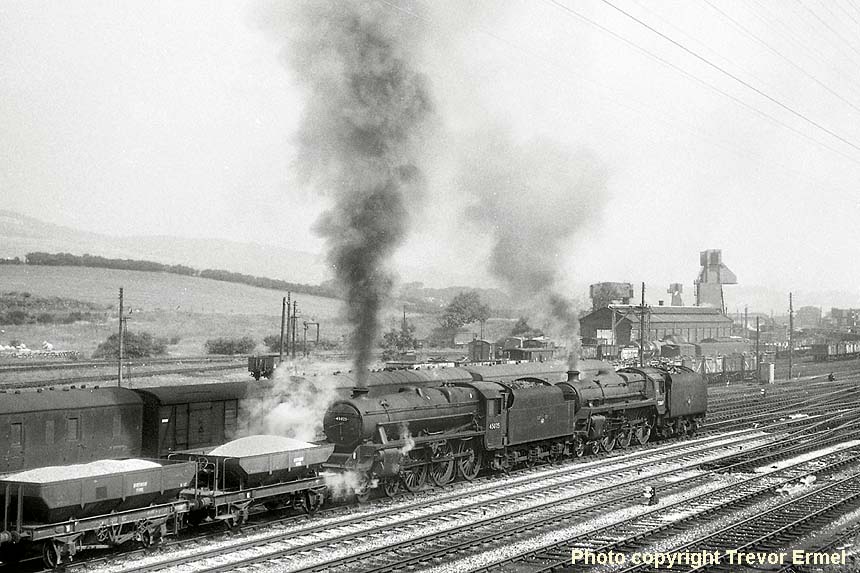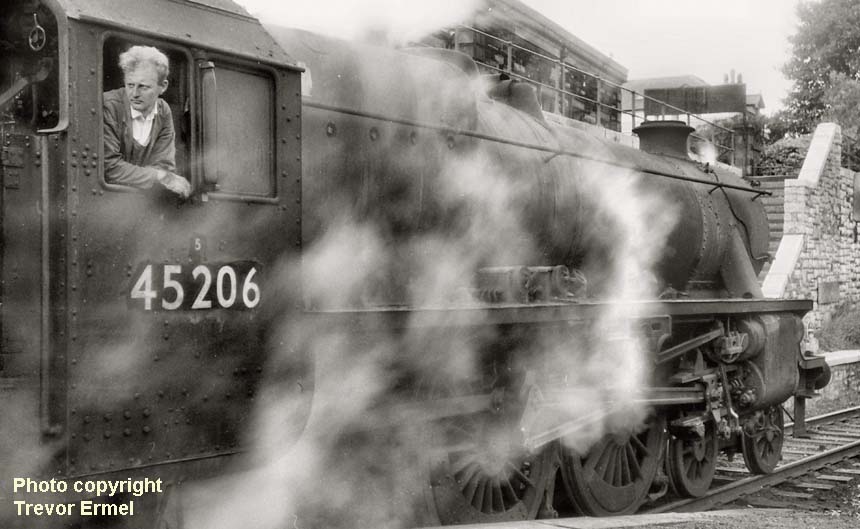 An evening parcels train from Barrow was always steam-hauled, on this occasion by a 'Black Five' pausing at Ulverston station (above). The low light levels at this time (around 9pm if I remember rightly) have necessitated the use of a tripod (home-made from an old music stand!) The slow shutter speed has blurred the steam but the fireman has been nicely captured. At Carnforth shed (10A) I took this shot (below) of the crew of No 45395 turning their 'Black Five' for one of its last trips.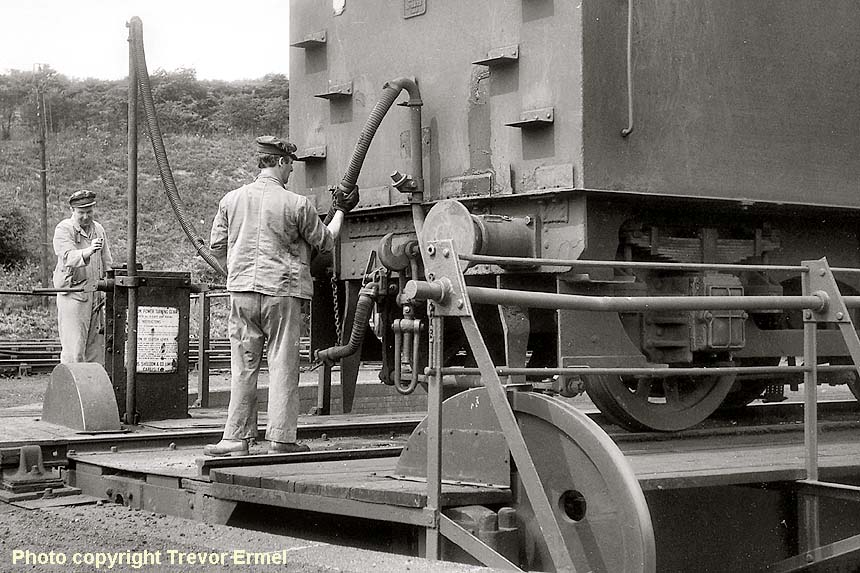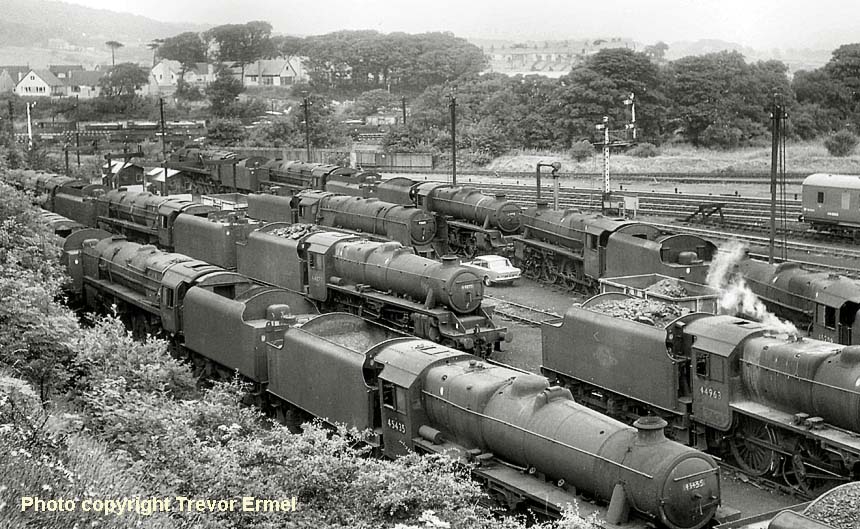 The final picture (above) perhaps fittingly shows rows of dead engines awaiting their fate in the shed yard. No 44963, (bottom right), had just been driven into position and was left to cool down for the last time. Several tenders have already been emptied of coal which has been piled up in adjacent wagons.
A sad end to an era I will always remember with affection - and I am so thankful I was able to see the last five years. Fortunately my parents never tried to discourage me, so long as it did not interfere with school work!
After August 1968 I lost interest, somewhat, in a railway without steam - after all, the new diesels would be with us forever, so why bother photographing them? Eventually it dawned on me that green diesels, which I remembered as an integral (if unwelcome) part of the steam era, were themselves an endangered species, and I began to take a belated interest again. I also started visiting new locations for photography as I still enjoyed travelling by train, whatever the motive power up front.
As a consequence, David has persuaded me to compile an extra page - 'Spottings & Jottings 2' - and this is currently in the planning stage.
Finally, I would like to offer my sincere thanks to David Dunn for doing such a great job in scanning my negatives, and of course to David Hey for doing his magic and adding my pictures to his excellent website.
TO VISIT TREVOR'S - 'LIFE AFTER BR STEAM' - CLICK-ON THE NEXT PAGE...

Polite notice: All text and photographs are protected by copyright and reproduction is prohibited without the prior consent of the © owners. If you wish to discuss using the contents of this page directly with Trevor his email address is below. Please note - this is not a 'clickable' mail-to link via Outlook Express. You will have to email manually.

trevor_e@live.co.uk