(Above-Inset-Below) The post-war 'baby-boomers' (at the top of page) will have no genuine sense of nostalgia for the 'Big Four' pre-nationalised railway companies since they didn't start train spotting until
after BR was formed, so the heady days of 'Apple Green' and 'Garter Blue' liveries fall outside their spotting experience. But I must include this shot of Class A4 No 4499 Sir Murrough Wilson approaching York from the north with an 'up' train in 1939. No other locomotive made such an remarkable impact than the first member of the class, No 2509 Silver Link, when it averaged a speed of 100mph for 43 miles during its famous press run on the 'Silver Jubilee' on 27th September 1935. The train was named to mark the Silver Jubilee of King George V, and the first four A4s Nos 2509-12 carried names with a silver theme and emerged from Doncaster 'Plant' in a silver-grey livery to match the train set. (Inset) Fast-forward twenty-odd years to the Fifties, and Class A4 60017 Silver Fox heads the northbound 'Flying Scotsman' through York...this was one of the first shots taken by a young aspiring railway photographer Barry Hilton with his trusty Kodak Brownie 127.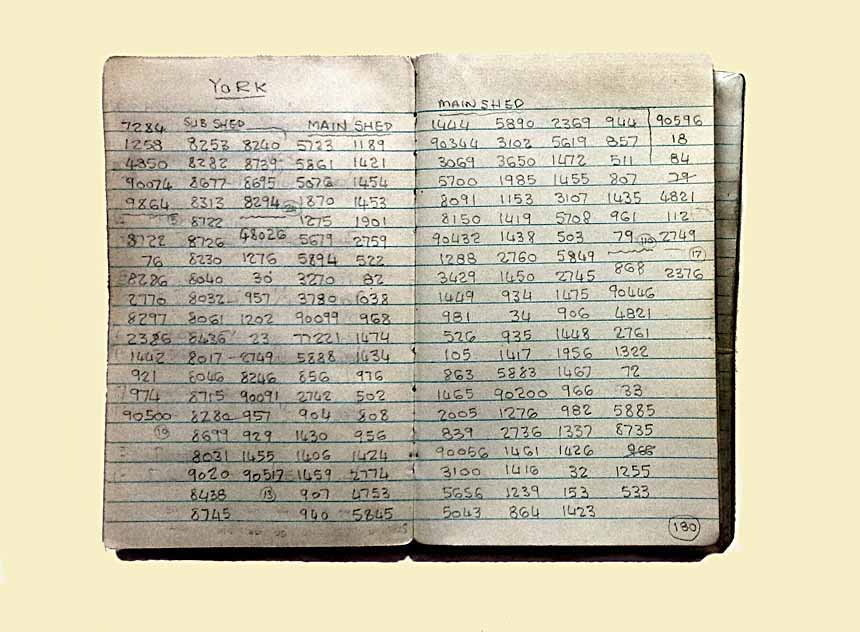 (Left) Born in Inverness, Scotland - and proud of his Scottish roots - ex-spotter Craig Duncan upped sticks in 1969 to live in South Africa; a regular contributor to this site, Craig writes - 'Hi David, I recently came across these pages from my 'archives' which you may find of interest...
'Having taken advantage of a cheap Sunday excursion from Colne to York in 1949, these are the notes of my visit (left) plus two pages from my 1948 ABC of ex-LNER locomotives (below). I also did the 60-mile trip from Colne to York by cycle the same year, spending Saturday night at the youth hostel in Clifton. The six roundhouses (* see note below) were then visited on the Sunday together with dropping in at Starbeck at Harrogate on the way home. Recent television coverage of the second stage of the 2014 Tour-de-France cycle race was of particular interest since it covered 40 miles of that run via Blubberhouses. If you look closely at the 1948 Ian Allan ABC you'll find three locomotives listed that have subsequently been preserved. Can anybody spot them? And who remembers a D20 standing in York station with that rhythmic panting of its brake pump?'
*The six roundhouses mentioned by Craig were at York North which consisted of four turntables back then. In 1958 two of these were replaced by a straight shed. The other two roundhouses were situated at York South close to the station. They were used for stabling shunting engines. One of these buildings was known as the Midland as it was used by locos from that railway in the early days. Of course the one remaining turntable at Clifton now forms the main hall of the National Railway Museum. In 1949 the railway museum was a much smaller building situated to the south-east of the station and close to the old 4 road LMS shed. There was also a 3 road shed at York South which was ex-Great Northern. This was later used by the LMS and coded 19F. Click HERE to visit the fascinating Wikipedia website.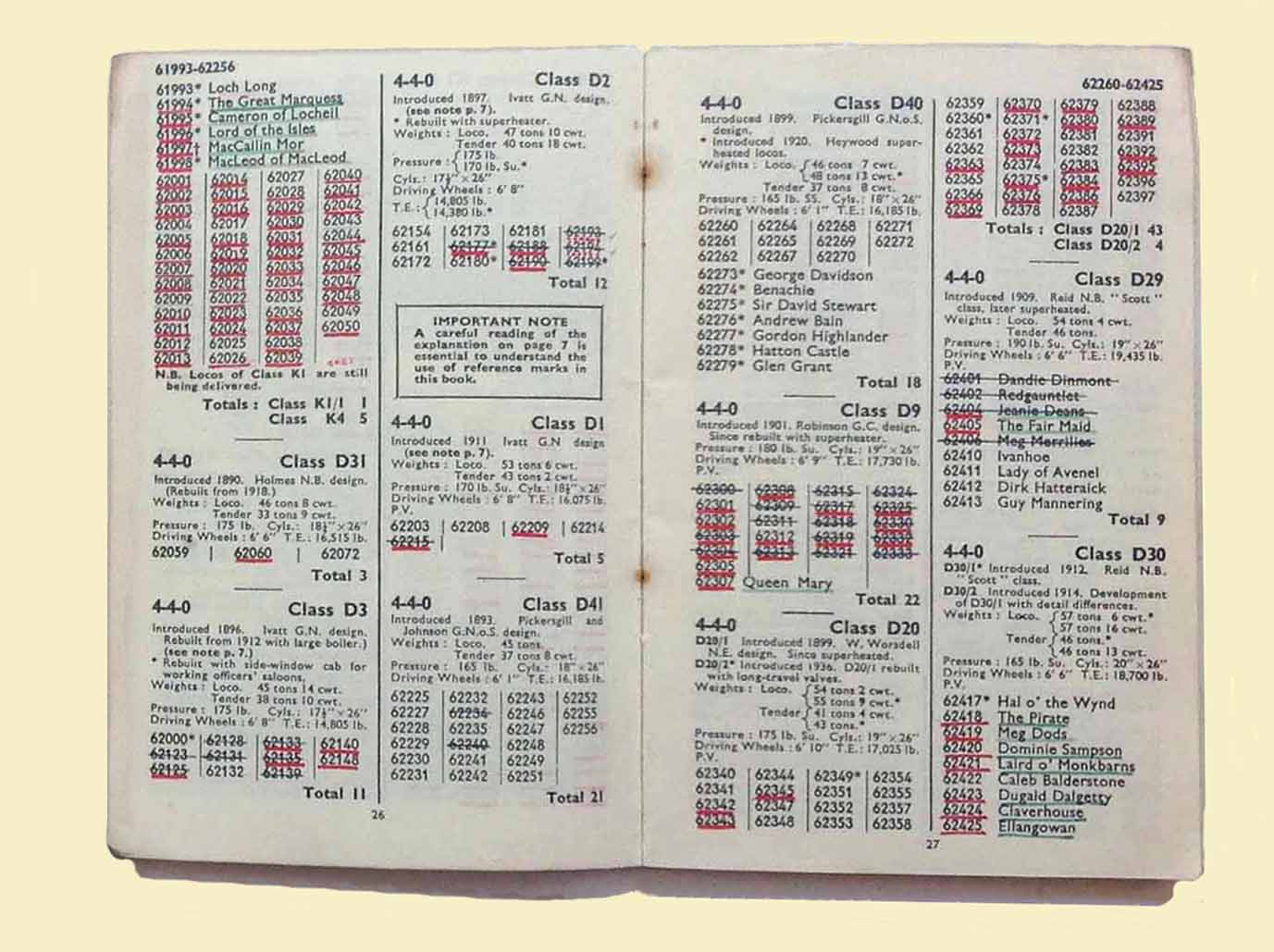 (Left) A quick glance at Craig's 1948 Ian Allan abc of ex-LNER locomotives is relatively easy to understand compared to some earlier Ian Allan Locospotter Books.
Imagine having to fathom out the contents of Ian Allan's 1946 edition (below); it was published during a mass renumbering scheme of LNER locomotives just two years before the 'Big Four' railway companies were nationalised in 1948 and all LNER locos were prefixed with a '6'.
Beneath the heading 'Numerical List of Engines with Classes' it states - 'In all entries, the new number appears on the left and the old one on the right. Numbers in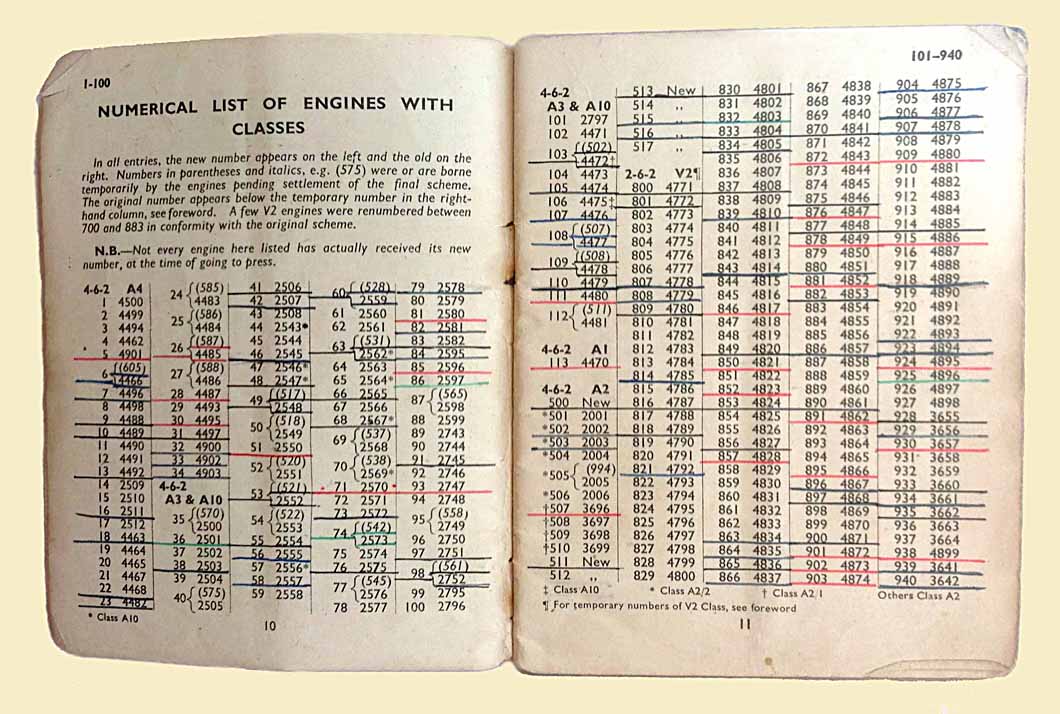 parentheses and italics, eg (575) were or are borne temporarily by the engines pending settlement of the final scheme. The original number appears below the temporary number in the right-hand column. A few V2s were renumbered between 700 and 883 in conformity with the original scheme.'
And if that wasn't difficult enough to understand, a note beneath it states: 'Not every engine here listed has actually received its new number, at the time of going to press.' In my view, anyone who thinks that spotters are dull, boring and stupid is about as ill-judged as booking a stripper to perform at a wedding.

Fast-forward to my own spotting days at York in the Fifties, by which time collecting engine numbers had become the national hobby for boys, it was a good lesson for those who hated the scholarly drudge of school homework. By far the most rewarding part of a day's spotting was underlining the relevant 'cops' in an Ian Allan abc Locospotters Book, which came as close to school homework as anyone could get! My abc combined volume was a journey of discovery, containing the oddest names belonging to the former GC Director class D11 Nos 62671-62694 built to Scottish loading gauge, including a Hobbie Elliot and a Luckie Mucklebackit - both characters from the novels of Sir Walter Scott - along with the ex-NB Class D30s Nos 62418-62441 which had a Cuddie Headrigg, Dumbiedykes and Caleb Balderstone among their classmates. Sadly, the majority of the ScR's engines listed in my abc remained woefully blank. This included several Scottish-based A4s and A3s, which belonged to the prestigious class 'A' Pacifics - a prized 'cop' among Eastern and NE Region fans; indeed having been brought up on a diet of ex-LNER locos, train spotters were familiar with the letter-number code representing a locomotive's wheel arrangement: the letter 'A' was designated to the 'Pacifics'; 'B' for 4-6-0s; 'D' for 4-4-0s; 'J' for 0-6-0s; 'N' for 0-6-2s; 'V' for 2-6-2s and 'Y' for 0-4-0Ts. By the early 1960s, however, unwelcome gaps began to appear among the steam classes (due to

scrapping) and the proliferation of new diesels did not enter the equation because they were not yet listed. Call it a dereliction of duty, if you like, but the inconsistencies creeping into the hobby were totally at odds with the orderliness that spotters expected and many disenchanted boys gave up the hobby in despair…strange then, that some fifty-odd years later, our memories of 'cabbing' locos and 'bunking' sheds remain crystal clear! For no other experience elevated the soul to a higher spiritual level than hearing the sound of a Class A4's melodious chimed whistle in the distance - Streeeeak!
Even now, some fifty-odd years on, the sight of a speeding A4 turns me into a blithering idiot. Their tri-tone whistle instantly takes me back to memories of York, where dozens of kids lolled around in a languid state contemplating what might be their next 'cop' - then all of a sudden a wave of hysteria is sweeping down the platform; an approaching A4 has been spotted just beyond Holgate Junction and straight away the zany brotherhood is back on its feet again.
All around dozens of youngsters are jumping up and down, their languid state instantly forgotten; they've metamorphosed into a gaggle of frenzied kids erupting with unabashed excitement. The prospect of seeing an A4 means so much, the shrill cry of 'Streeeeak' is echoing around the cavernous roof….but I must stop there, I can feel my old ticker beating faster by minute! Needless to say, the whole thing was crazy…but I wouldn't have missed it for all the world...
(Below) Class A4 60021 Wild Swan approaches York's Holgate Junction with the northbound Flying Scotsman express.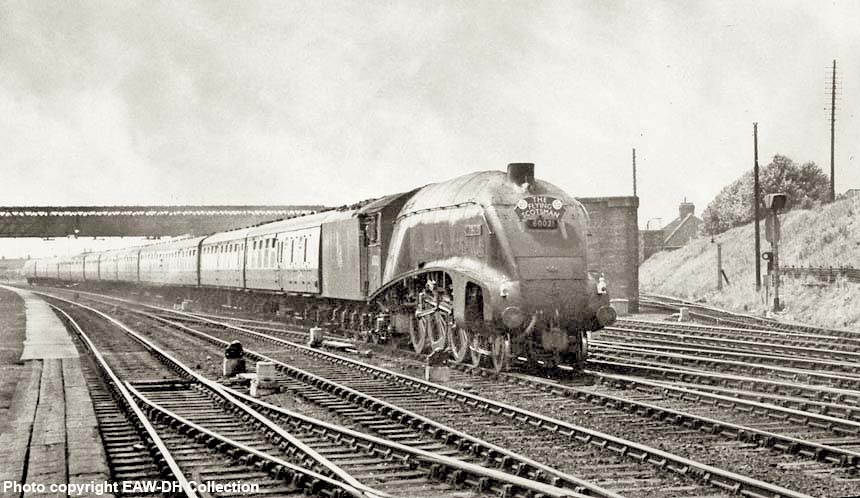 (Inset Left & Right-Below) A couple of readers have written in to say that a page devoted to the railway centre at York is not complete without mention of the National Railway Museum in the city - I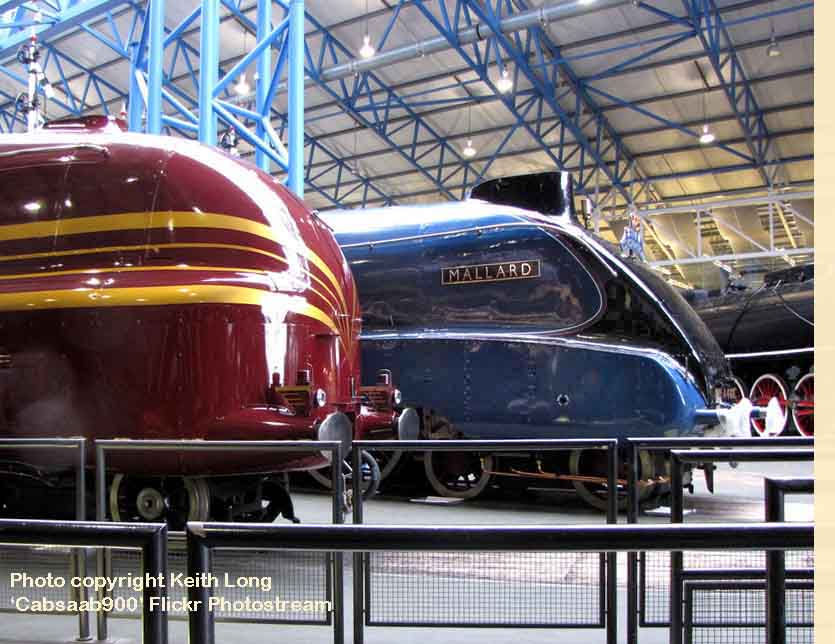 agree. It is a gross oversight on my part. When you have a major attraction like the NRM slap bang on the doorstep it is all too easy to take it for granted, and so I am happy to redress the imbalance here. In fact, it seems apt to mention the historic reunion to mark the 75th anniversary of one of the NRM's star attractions, Class A4 Mallard, which broke the world speed record for steam in 1939.
The NRM's spectacular celebratory programme of events in 2013 included a line-up of all six surviving A4 locomotives in the world! Now that was something worth waiting for!
After all, the Class A4 is a major source of international pride for rail enthusiasts and I suspect the country as a whole - the iconic streamlined front-end is on a par with the sleek shape of Concorde - and, for those old enough to remember, the E Type Jag! And so it was wonderful to see two expatriate Class A4s Nos 60008 and 60010 back to Britain. Following the withdrawal of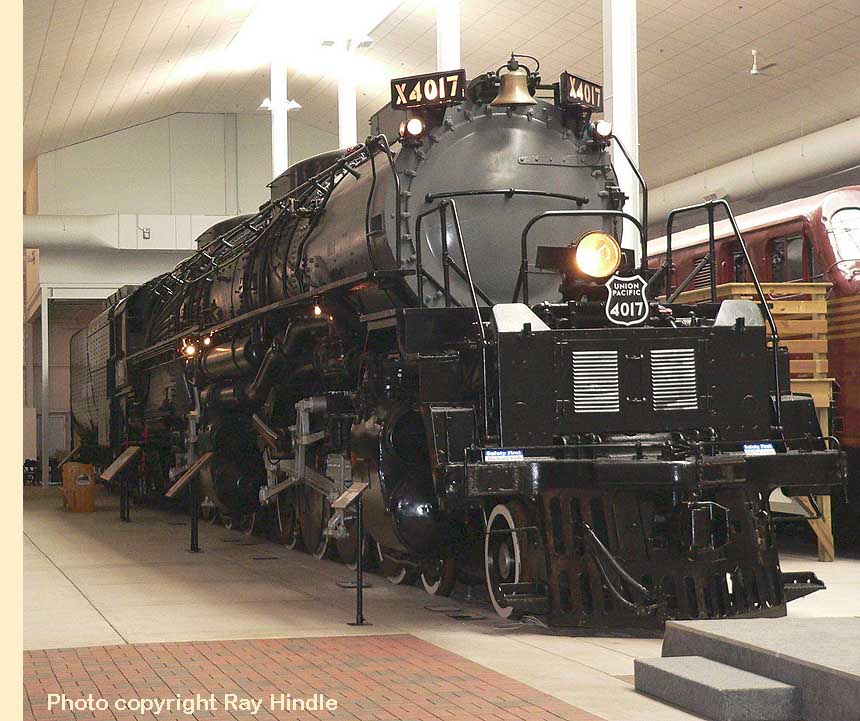 No 60010 Dominion of Canada in May 1965, the loco was restored at Crewe Works here prior to being donated to the Canadian Railroad Historical Association (CRHA) for display at the Canadian Railway Museum at Delson/Saint-Constant, Quebec near Montreal.
Similarly, Class A4 No 60008 Dwight D Eisenhower was withdrawn from Kings Cross shed in 1963 and restored at Doncaster Works in readiness for display alongside the Union Pacific's articulated 4-8-8-4 'Big-Boy' No 4017 (Right) at the US National Railroad Museum, Green Bay, Wisconsin.
Photographer Ray Hindle writes - 'Compared to the sleek lines of 60008 the 'Big Boy' is a brute of a loco. It is rumoured that during WW2, German agents sent reports of Union Pacific using giant coal-hauling locos with 100 plus cars attached measuring over 2km in length. Nobody believed them!
But having sat in the engineers seat, I can tell you I've stayed in hotel rooms smaller than that cab!'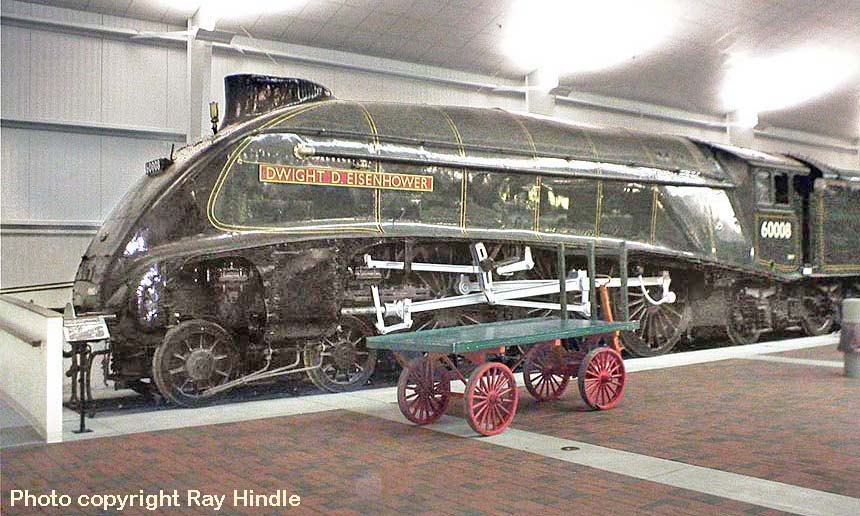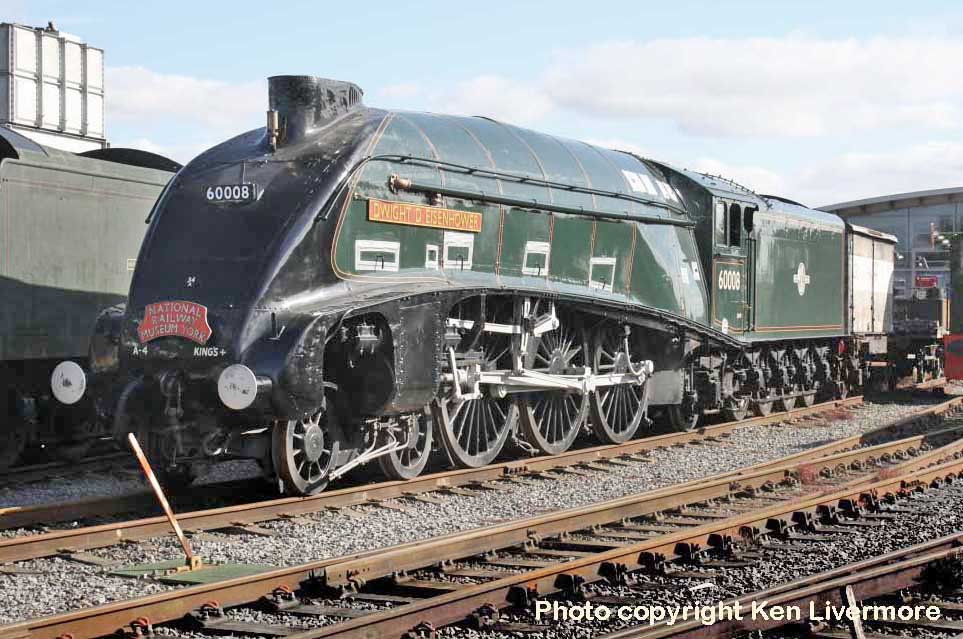 (Above) Originally named Golden Shuttle, No 60008 (its later BR number) was renamed Dwight D Eisenhower in recognition of his service as Supreme Commander of the Allied forces during World War 2 (Eisenhower later became the 34th President of the United States 1953-1961). These shots by Ken Livermore of the repatriated 60008 & 60010 were taken at Shildon. Nick Newport and Ken made a 540 miles round trip from Reading to Shildon to photograph them. Ken writes - 'It was well worth the effort and saved us several thousand air miles! Full marks to the NRM!' Indeed it was due to the sterling efforts of the National Railway Museum at York that the A4 duo were back on home soil to celebrate a spectacular family reunion - a line-up of all six surviving A4 locomotives in the world! Now that was something worth seeing.



(Inset-Below) This cast iron smokebox number plate, its face cleaned and estored, as carried by the LNER 'A4' Class Pacific 60008 Dwight D Eisenhower, was advertised for sale at a Talisman Auction in November 2014, but the plate was subsequently withdrawn. Built at Doncaster in 1937 (Works No 1861) and originally named Golden Shuttle' the A4 was withdrawn from traffic at New England shed in July 1963 and sent to Doncaster Plant for restoration prior to its presentation to the National Railroad Museum, Green Bay, Wisconsin, USA in April 1964. The smokebox plate is distinguishable by its irregularly spaced zeros....click HERE to visit Talisman's fascinating website. (Below) The National Railway Museum at York not only houses the largest collection of railway objects in the world, but admission is absolutely free - a good reason to take the Missus and kids for a brilliant day out! Click here to visit the NRM website...No 60010's number plate is mentioned in more detail below.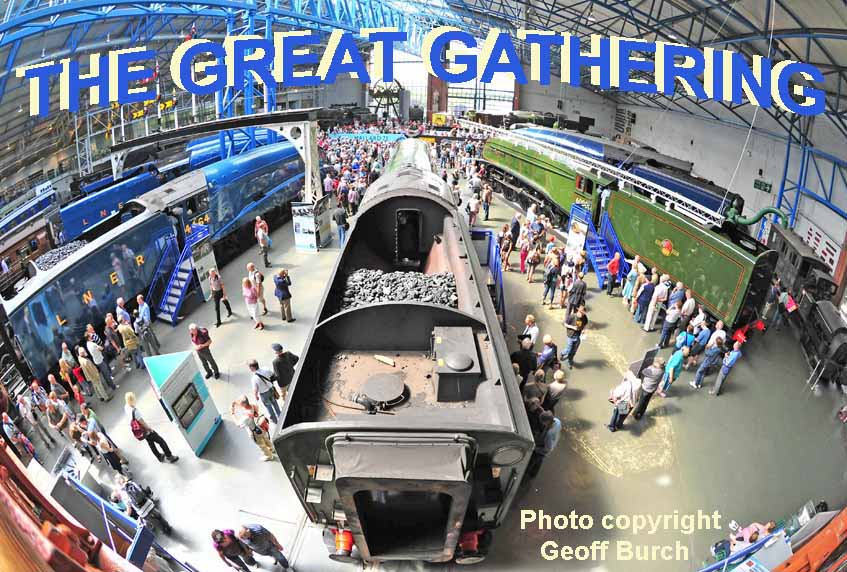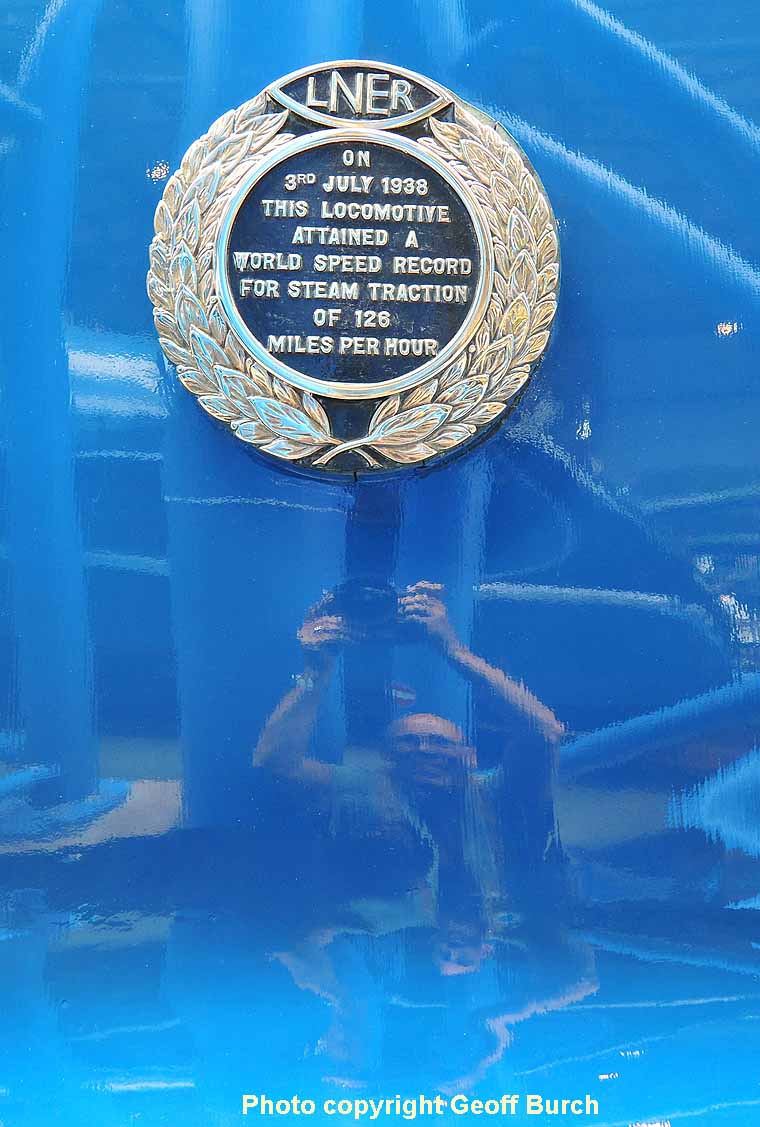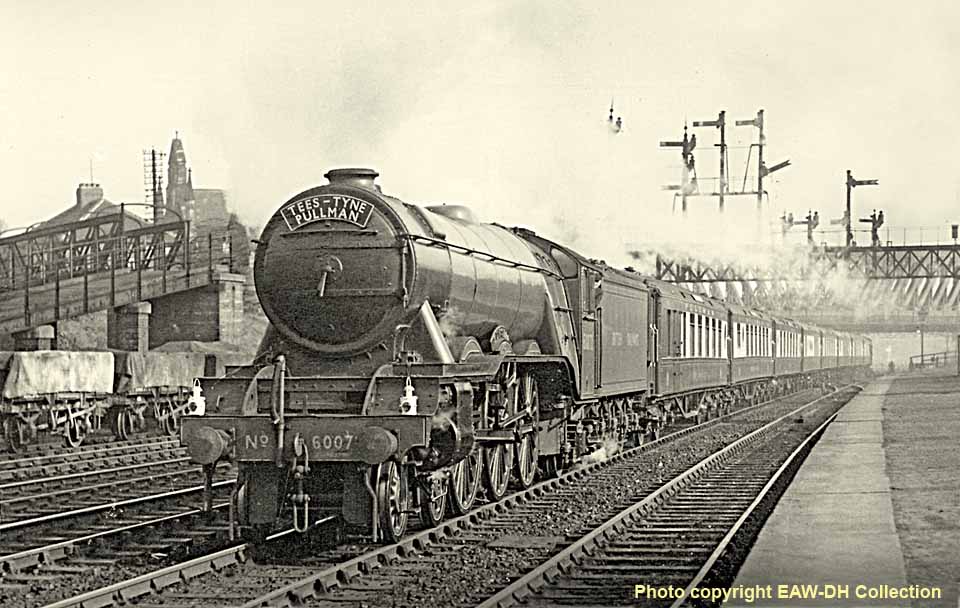 (Above-Inset-Below) After nationalisation in 1948, the newly-formed British Railways began experimenting with a number of liveries with a view to adopting a future standard for its express-passenger engines of a Class 8 power classification (dark blue) and for its fleet of express-passenger locomotives with a lower

tractive effort (light green).
Eventually a lighter shade of blue was chosen for its large express locos, which included the ex-SR 'Merchant Navy', the ex-LMSR Pacifics, the ex-GWR 'King' class 4-6-0s and the Peppercorn and Gresley Pacifics of the Eastern and North Eastern Regions. The repainting was started before the first British Railways totem device had been designed and BRITISH RAILWAYS was painted in full on the tender sides.
(Above) Still awaiting its new five-digit smokebox numberplate, Class A3 No 60072 Sunstar heads the southbound Tees-Tyne Pullman out of York. (Inset Right) This locomotive nameplate, Sunstar, is from the LNER A1 Class 4-6-2 built by the North British Locomotive Co, Works No 23109, in September 1924, LNER No 2571. It was rebuilt and re-classified as an A3 in July 1941 and renumbered 72 in 1946, becoming BR 60072. It was allocated new to Gateshead in October 1924 and later to Tweedmouth, Copley Hill, Holbeck and finally Heaton again from where it was withdrawn in October 1962. After six months in store at Blaydon, it was cut up at Doncaster Works in May 1963. The loco was named after the racehorse, owned by Mr J B Joel, which won the 1911 Derby and 2000 Guineas. The plate - clearly stamped '2571' and '72' on the back - was mounted on a detailed wooden splasher with rivets and went under the hammer at a recent Great Central Railwayana Auction. (Below) Yet to be named 'Curlew', Class A1 No 60122 heads a motley collection of coaching stock out of York.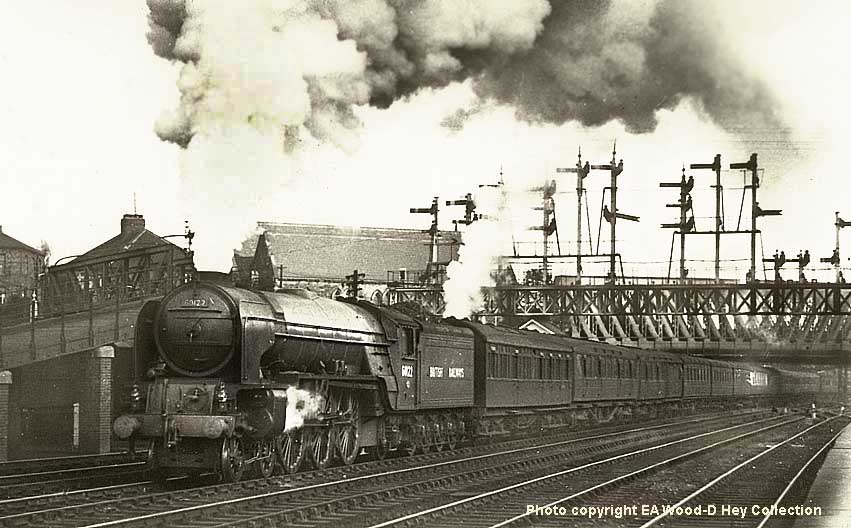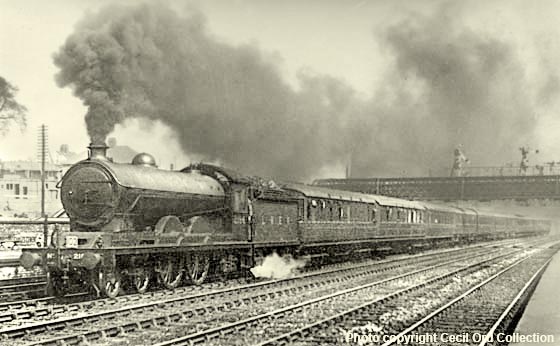 (Above Below) Another oldie from the excellent Cecil Ord collection. Environmentalists will not approve of this shot of Class C7 4-4-2 No 2156 blasting out of York with a special train for the south. A total of 50 Class C7s were built between 1911-1918, but only 14 survived into nationalistation in 1948 - they were all gone by the end of the year....I recently received a letter from Cecil Ord's daughter, Madeline, regarding her late father's collection. Madeline writes - 'Hi, when dad died in 1967, his photographs and plates were dispersed, with a large number going to Peter Wilson of Darlington. My sister and I have little idea of where these and others now reside; despite several enquiries we have drawn a blank. Only out of curiosity are we wondering if you are able to help with the whereabouts of his photographs or plates. We would like to think they have found a good home! Many thanks, Madeline....'
If anyone can help, Madeline's email address is: mv.ord12@gmail.com (please note this is a non-clickable address to avoid spam, but you can email manually). (Below) The new British Railways colours also included carmine and cream for its mainline coaching stock, or 'blood and custard' as the livery became popularly known. This livery can be seen midway along the stock of the up 'Northumbrian' express headed by a blue Class A4 No 60003 Andrew K McCosh at York.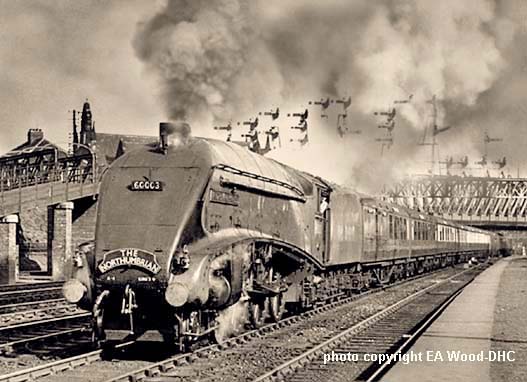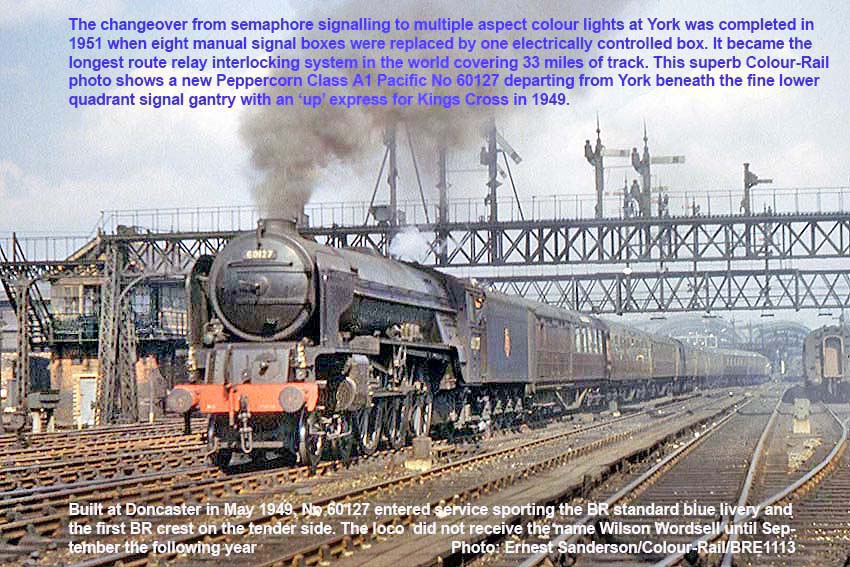 (Above-Below) This photo of Class A1 Pacific No 60127 departing from York with an 'up' express is just one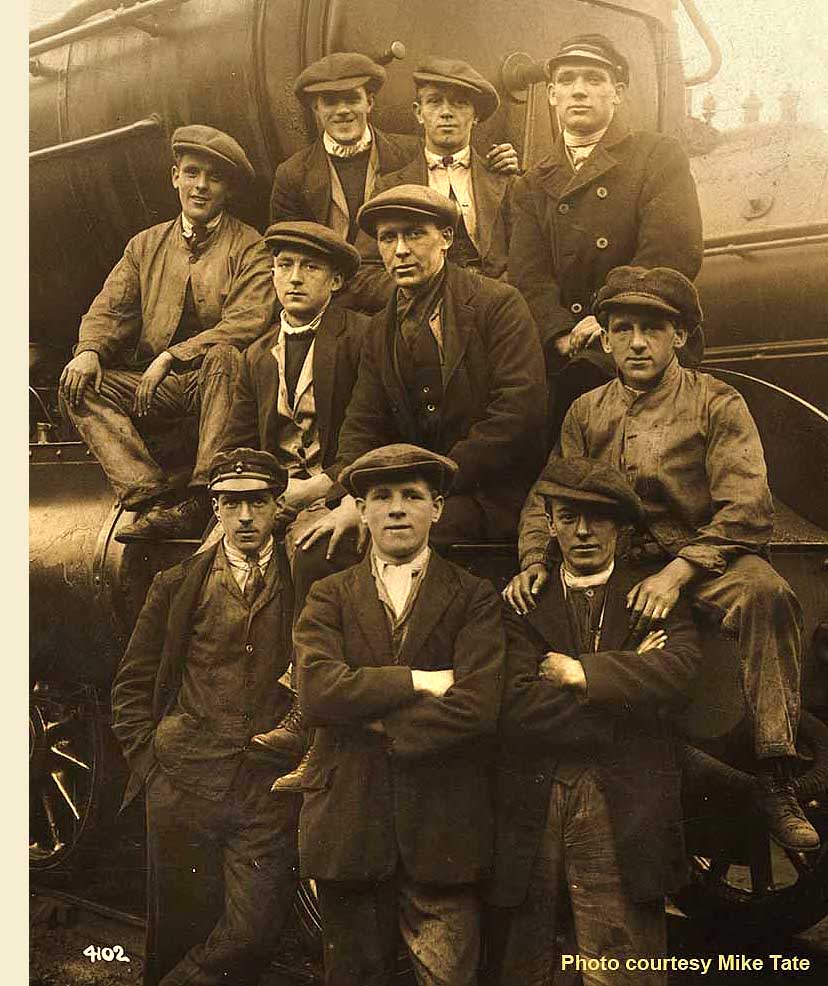 of the many thousands of images to be found on the Colour-Rail website. Established more than twenty years ago, Colour-Rail has built its reputation as the premier source of high quality images of road and rail transport throughout the ages. These are available in a range of formats including online downloads, high quality prints, duplicate slides and in large format for gifts. Colour-Rail's website has an excellent search facility. Click here to visit the site.

(Right) Inspired by this evocative photo of Grandfather JC Tate and other railway workers posed on the front of a locomotive circa 1920, Mike Tate contacted the site via email seeking identification of the others in the photo - JCT is first in the bottom row. The photo prefix '4102' may identify the photographer or agency. Mike's address is dreambase-at-aol.com - you will have to replace the '-at-' with @ and email manually. Any help is much appreciated. Thank you...

GARRY HALL'S LIFE WITH RAILWAYS
Introduction by David Hey

I have recently been contacted by Garry Hall, a former BR/BREL (British Rail Engineering Ltd) Sheet metal Worker, later promoted to Workshop Instructor at York Training School. Starting as an apprentice in 1968, Garry loved every minute of being a railway worker during his twenty seven year career at York Carriage Works.
The first railway workshops at York were established in 1842. This was followed by the North Eastern Railway's (NER) Wagon Works for vehicle repairs in 1865. Then in 1884 the NER opened a new Carriage Works on the Holgate Road site for the construction of vehicles for the NER, LNER and British Railways.
The Carriage Works was extensively modernised in the 1980s, and in addition to producing carriages the company was responsiblre for the construction of diesel and electric multiple units for British Rail and overseas, including orders for vehicles for the Docklands Light Railway, the South East Region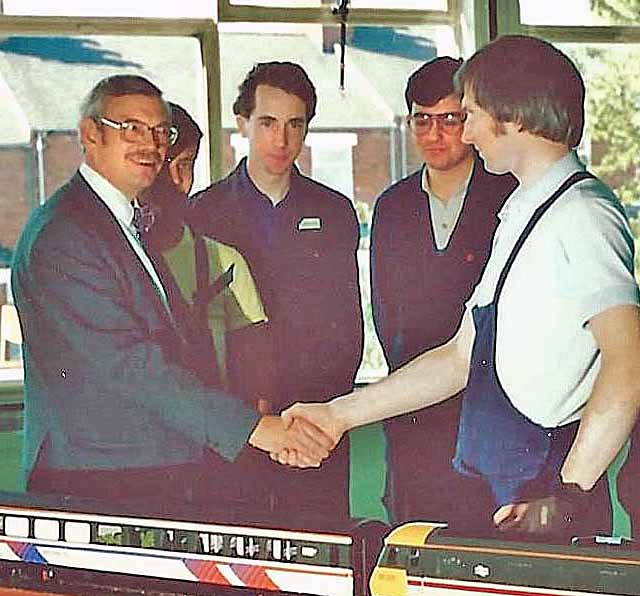 'Networkers', the Strasbourg Eurotram and electrics for Taiwan.
The works became part of British Rail Engineering Ltd (BREL) in the 1980s but was later sold to Asea Brown Boveri Ltd. The works closed in 1996 through a lack of orders after the privatisation of British Rail.
Garry dropped a line after reading a story in 'Life at Aulty Towers' by Railway Press & PR Officer Neil Johnson on the 'Train Spotting-1' Page 4 where mention is made of BREL's Public Affairs Manager Bernard Ault, who visited Garry at York Training School to discuss the BREL's requirements for a model to be used for marketing purposes both home and abroad.

(Right) The photo shows a handshake between Bernard and Garry at the handover of the model, however the full story (and other anecdotes) are told by Garry below...

MY LIFE WITH RAILWAYS - 1 SPOTTING DAYS
GARRY HALL

It all started when I was about 2 years old and my mother took me to watch the steam trains on a viaduct near where we lived in the Huddersfield area. A couple of years later we moved to York where I spent most of my life. Living near the Scarborough line my father used to take me to the 'Glass Bridge' to watch trains, however this was not ideal as the bridge was enclosed with only a couple of windows to look through but alongside were school playing fields which had a good vantage point; nowadays it is the York District Hospital.
Soon after my father was taking me on long walks past the famous Rowntrees factory to watch the company's own steam locos working near the road side and then on to Bootham Junction where the line to Market Weighton diverged from the York-Scarborough line and a plentiful supply of B1s and B16s could be seen working trains to Hull together with excursion to Bridlington, Filey and Scarborough on the Yorkshire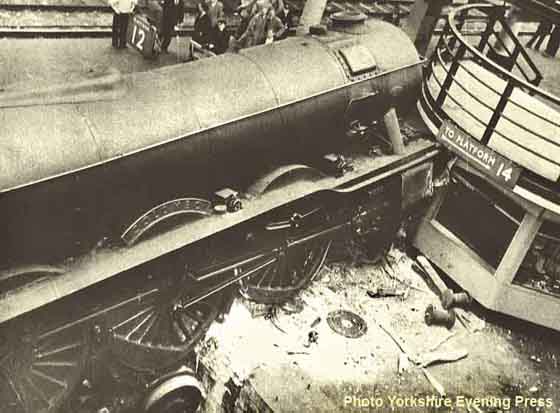 coast. In those days family journeys were always made by steam train as we had no car at the time.
In 1958 I was just six years-old when my father took me to York station; he'd heard about an accident involving Class A3 60036 Colombo which disgraced itself by crashing through the buffer stop into the kiosk at the end the Harrogate bay platform. It would be a long time before the kiosk opened again.
Ten years later I was at college when Jim Brownbill, Chief Press Photographer from Yorkshire Evening Press, did a presentation and brought a photo of this accident which he kindly allowed me copy with my camera.
By the time I was six years old I was well and truly into the steam trains, both real and models. I recall trips to York station with my mother to collect engine numbers and long walks with my father to get a close-up view from behind the perimeter fence off Leeman Road of engines being coaled up beneath the coal tower in the yard at York shed (50A).

(Below) A BR North Eastern Region semi circular York station sign measuring 22"x11", designed to fit the roof support pillars, went under the hammer for £640 at a Great Central Railwayana Aucion in February 2015. The only other station to use signs of this style was Bradford Exchange. Click HERE to visit the fabulous GCRA website.



Within two short years, I was allowed to go spotting on my own with friends after school and on weekends; it was about this time I was shown a way of gaining unauthorised entry into York shed, an activity known in spotting parlance as 'bunking'. Emerging from the railway bridge beneath the station, on the right was a gate that led to a staff entrance off Leeman Road; all it needed was a quick look around to check the coast was clear and we were in! I must have 'bunked' York shed hundreds of times, but I never once got caught and thrown out.
In those days the shed was constantly full of engines, including A1s, B1s, 9Fs and V2s (the named ones were regularly seen there too) and every stall around the shed's two turntables was occupied by an engine of one description or another.
The hardest way to get into the shed was further along Leeman Road where a gate opened onto the shed premises just beyond a row of railway terrace houses, but turning right at this gate was a definite no-no as it meant passing the shed foreman's office and a good chance you'd be caught and thrown out. Turning left was the best option as it led along the ash pits to rows of locos, the coaling tower and the turntable at the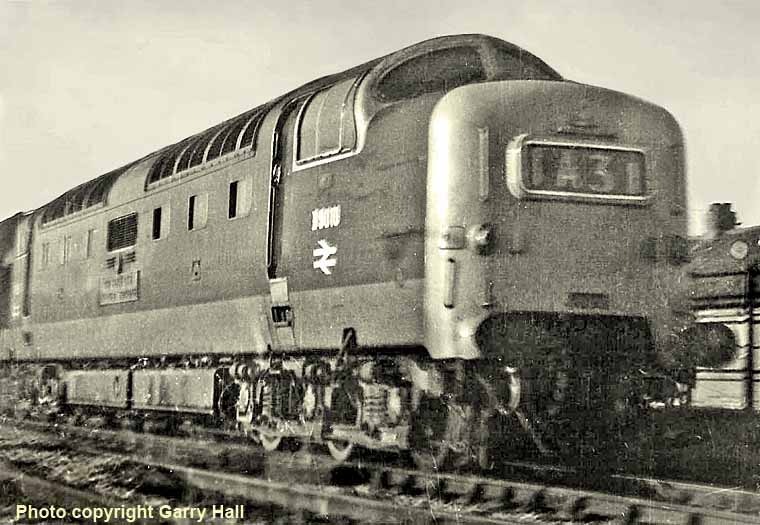 end of the yard. (Left) One photo I took from there was of a southbound express crossing Leeman Road bridge headed by a Deltic Type 5 D9010 The King's Own Scottish Borderer in its original two tone green livery but with the new BR Double Arrows insignia in place of the old Lion and Wheel totems, something I have never seen since.

(Below) With the passing of years the rank and file of steam locomotives fell into decline all too soon; by 1964 I had acquired my first camera and thankfully managed to get some photos, although the few I have managed to locate fifty-odd years later are poor quality but I still have the memories. One instance is the day we were near the perimeter fence at York just off Leeman Road and my spotting pal took this shot of Class B1 61176 with me posing alongside it. I was just 12 years-old at the time. Imagine my surprise when in 2014 I saw one of the actual loco buffers from this locomotive advertised for sale. I did write but was told it had already been bought and I think it is intended for the new B17 61673 Spirit of Sandringham being built by the Class B17 Locomotive Trust. Click HERE to visit the Trust's site.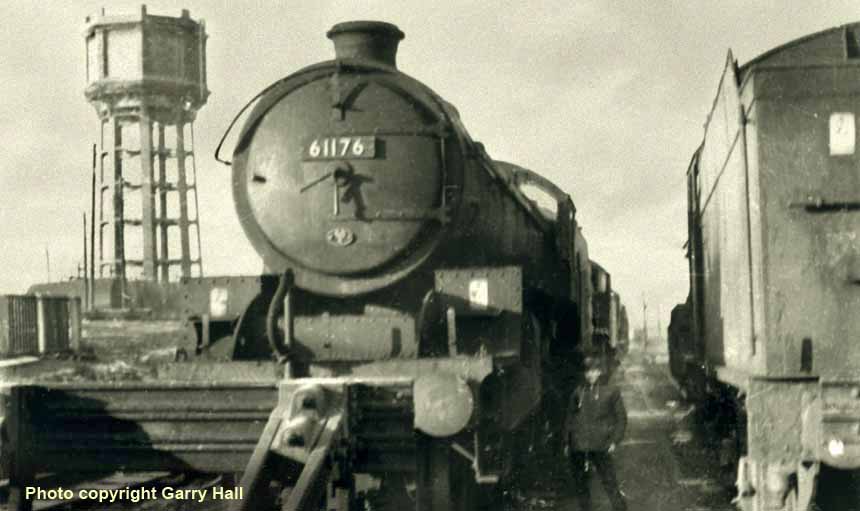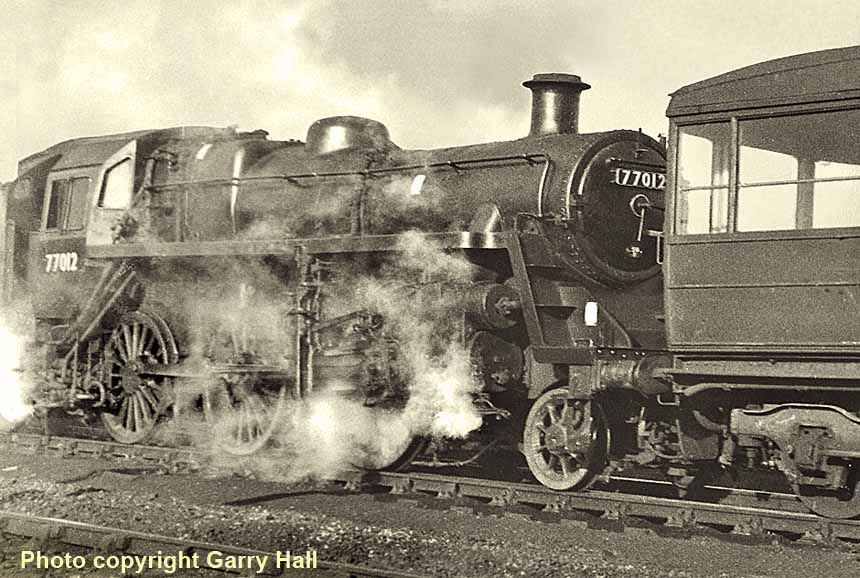 (Above) This photograph of BR Standard Class 3MT 2-6-0 No 77012 shunting an engineers saloon in York yard won me a competition at York College in 1968. I was presented with a black & white film as a prize by the then chief Press photographer of the Yorkshire Evening Press, Jim Brownbill, who had brought in the picture of Colombo I mentioned earlier. Our paths crossed yet again in the mid 1980s when I was one of six people to be a photographer for the day at the Yorkshire Evening Press. Who was the judge? Jim Brownbill, however the photo I submitted this time was a shot of Duchess of Hamilton in York station.

Returning to train spotting at York station, a 1d platform ticket offered spotters the best value for money, but when we were short of funds we might gain access to the station by sneaking through a hole in the fence in a passageway between the Royal Mail Post Office and Platform 4. The Bay Platforms 4, 5, 6 and 7 were used for local Scarborough trains and services to Bridlington and Hull. These were regularly operated by B1s and B16s with a lot of suburban coaches as well as main line corridor stock.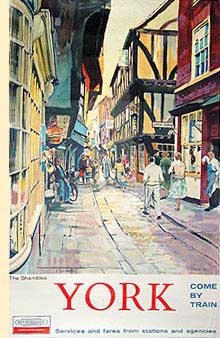 York's bay platforms 10 and 11 handled the service from Harrogate whereas the main platforms 8s and 9 were the domain of the prestigious Class 'A' Pacifics and V2s on East Coast Main Line expresses in both directions. A lot of these locos were usually 'cabbed' northbound on Platform 9 but for some reason not southbound on Platform 8s, however I was lucky to have spotted all the A4s, which still remain my favourite locomotive class, along with several other Pacific types.
Among the Class A3s, I remember 60049 Galtee More, 60106 Flying Fox, 60105 Victor Wild, 60102 Sir Fredrick Banbury, 60110 Robert the Devil and 60051 Blink Bonny; all were regular visitors to York, but I never saw 60103 Flying Scotsman during BR days, only after preservation.
The names among the Class A1s I remember seeing on a regular basis were 60153 Flamboyant, 60116 Hal o' the Wynd, 60120 Kittiwake, 60115 Meg Merrilies and 60157 North Eastern, along with most of the A2s and the 'ugly' A2/3s such as 60512 Steady Aim, 60517 Ocean Swell, 60514 Chamossaire and 60524 Herringbone. I recall spotting Thompson's Class A2/2 Pacifics Nos 60502 Earl Marischal and 60501 Cock o' the North. In all, six Class A2/2 Pacifics were rebuilt from Gresley's 1934-built Class P2 2-8-2 locomotives, and each looked rather odd to us little ones compared to his other Class A2s. I cannot remember if I saw the other four Nos 60503-7 but those two names are fixed in my memory, though I have to admit my pronunciation of some names are probably still incorrect. We used to say at times - 'Oh no! Not Andrew K. McKosh or Empire of India or Merlin again..'
How I wish I could see them there now.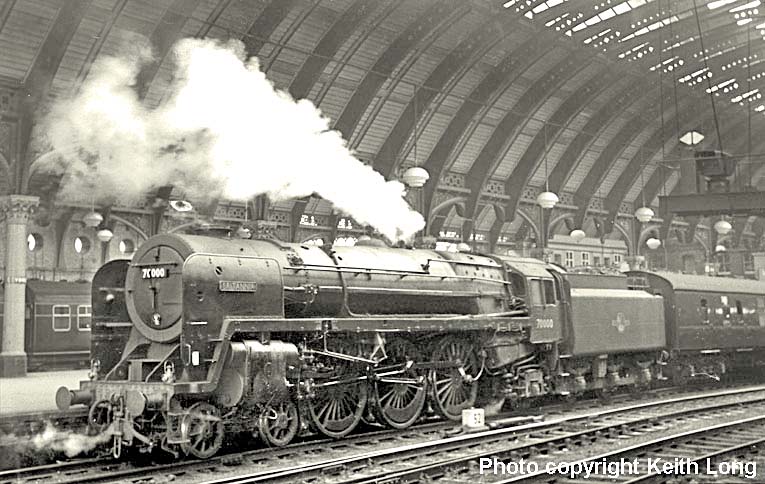 It was while sitting on Platform 9 on 23rd September 1961 that I 'copped' the doyen of the BR Standard Class 7MT Britannia class, No 70000, which arrived on platform 8n with a train from Great Yarmouth. I was really pleased to see Keith Long's photo on this page (full details featured below) since it proves I had seen it; coincidentally I was keen to get my hands on Tri-ang's new 00 model of 70000 and so was overjoyed to see the real version.
That same year I acquired my very first Ian Allan Combined abc costing the princely sum of 10/6d from York station's WH Smiths. After thumbing through its spotless pages I spent the next half hour collecting engine numbers at York shed, but this time from the opposite side of the tracks. To reach this location we followed the footpath along the bank of the River Ouse then 'over the wall' and up a small embankment to walk along the loop line next to the up main. This was the only way to get the numbers we couldn't see from the perimeter fence on the south side of the shed, but on returning to the station you can imagine my horror at discovering I had 'lost' my brand new Ian Allan Combined. Panicking, I headed straight back and thankfully found it on the river bank.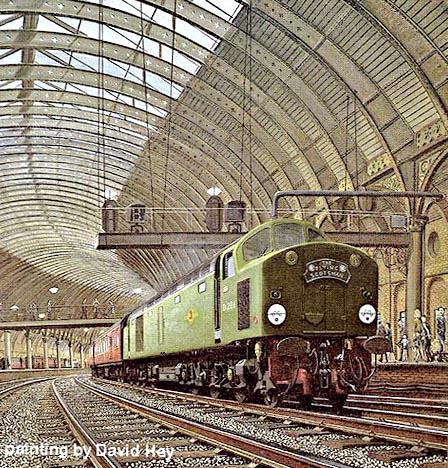 We did on odd occasions venture to the south end of Platform 16 so we could cross a few tracks to get to the small York South roundhouse. I remember seeing the odd tank engine and small tender engine inside; the shed had closed as such but still stored locos there. In those days, steam hauled trains were plentiful.
As for diesels? I always said we never saw any…perhaps it's because in the early days we never noticed them.
However, closer to home, approximately 400 yards away from where we lived was the Gas Works where a number of small industrial standard gauge tank locos could be seen crossing the River Foss and the road leading into the old York Hospital grounds. In those days you could cross these tracks as a public footpath ran alongside the gasworks. We used this path to visit the Foss Islands branch goods depot where oil and cattle were delivered. Many times as a child my mother took me there to see the livestock being unloaded for the trip down the road to the market itself.
This branch was an extension from Rowntrees Halt where the factory workers arrived and departed by train. The goods wagons were usually hauled by a Black 5 or BR Standard class engine which reversed up the incline for the factory locos to take over. After Rowntrees this extension passed the City General Hospital before crossing a large steel plate bridge spanning the River Foss and Huntington Road. As there was no fence it was easy to have access to the tracks, and many a time a friend and I would go into the hospital grounds where a large stockpile of coal was delivered by the rail for the hospital boilers. However, I remember one day we used the steel bridge as a short cut to cross the river to Dodsworth Avenue Park and on the way back we heard the distant roar of an approaching locomotive. With so little time to get out of the way we decided to hide between the upright ribs of the bridge. When the Black 5 passed I cannot tell you how frightening the deafening rumbling sound was to a nine year-old.
Before reaching the gasworks and goods depot there was also a siding for the BR laundry and many a time we saw a tank engine dropping off or collecting wagons while we were playing in the park. It was never the same when the Class 08 and 03 diesel shunters took over.
Having made regular trips by train to Blackpool, Leeds, Scarborough and Harrogate, the highlight of my steam haulage experience was a trip to London. My father had to visit the capital on business and said I could go with him for a couple of nights. When the big day arrived, our train was waiting in York's bay platform 1 and what a sight it was; York based Class A1 60153 Flamboyant was taking us down.
While in London we stayed at a hotel somewhere close to the Southern Region; from our window I could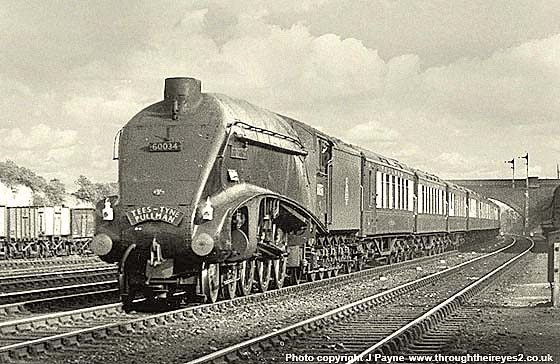 see the Merchant Navy and smaller West Country and Battle of Britain class Pacifics in both original and rebuilt forms crossing a viaduct quite close by. On our return to York my father said he would pay the extra supplement to travel back on the 'Tees-Tyne Pullman' and what joy it was! When we got off at York I was doubly thrilled to find we had been hauled by Class A4 60026 Miles Beevor. Both loco classes, the A1 and A4, have been built by me in N gauge, 00 gauge and 0 gauge over the years.

(Right) Class A4 No 60034 Lord Faringdon heads the 'Tees-Tyne Pullman though Hitchin in 1957. Originally numbered 4903 and named Peregrine, this A4 entered traffic on 1st July 1938 and was for a time used on the WCML during the Locomotive Exchange Trials in 1948. No 60034 was allocated to seven depots during its career: starting at Doncaster from new, followed by Kings Cross Top Shed, Grantham, back to Kings Cross, then to New England before a transfer to the ScR's St Margarets and finally Aberdeen in May 17th 1964. It was withdrawn from Aberdeen on 24 August 1966 and cut-up at Hughes, Bolckow, Blyth in October 1966.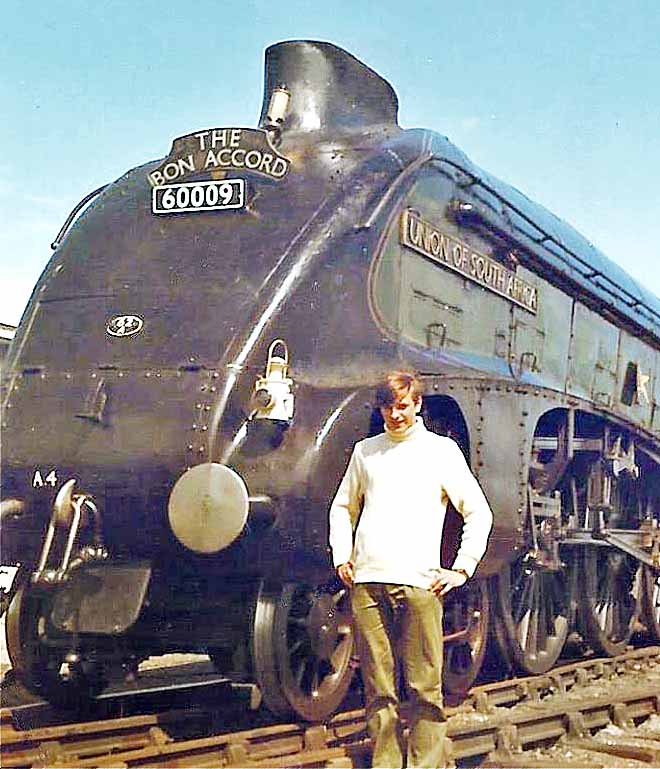 (Left) As mentioned earlier the Class A4 is my favourite class, and so when I read about No 60009 Union of South Africa being steamed along a short length of track in Scotland during the early 1970s I just had to go and see it! My father joined me on a visit to the Lochty Private Railway. This was only the second time we had ever travelled together, and both occasions featured an A4! For the record, 60009 Union of South Africa was the first of five Class A4s Nos 60009-13 to be named after countries belonging to the British Empire.
Following withdrawal, the locomotive was purchased by John Cameron for preservation on the newly-formed Lochty Private Railway in Fife, which occupied a stretch of abandoned trackbed of the former East Fife Central Railway, a fifteen mile-long freight only branch built to serve the coal pits and agriculture in the area. After closure in 1965, a shed was built to house the newly-acquired A4 and 3-4 mile length of track was relaid. Every Sunday afternoon during the summer No 60009 was steamed up and down the line for the benefit of the many photographers and public spectators. However, in 1973 the lifting of BR's ban on mainline steam led to 60009 moving back to BR metals at the end of January 1973. Two routes were allocated in Scotland for the running of steam special trains and it was fitting that 60009 hauled the first stream trip after the ban was lifted. The Lochty Private Railway closed in 1992.

Back at York, there was always a plentiful supply of BR standards and ex-LMS locomotives to see, including the Jubilee class Nos 45647 Sturdee, 45675 Hardy and 45581 Bihar and Orissa which were regular visitors; one day when 'cabbing' Bihar and Orissa we were given the delight of a short trip from one end of the station to the other; another fantastic memory! Then there was the visit of 'Merchant Navy' class No 35026 Lamport & Holt Line at the head of the Altrinchamian Railway Excursion Society's 'Elizabethan' which is the only time in BR steam days I saw a Southern engine in York.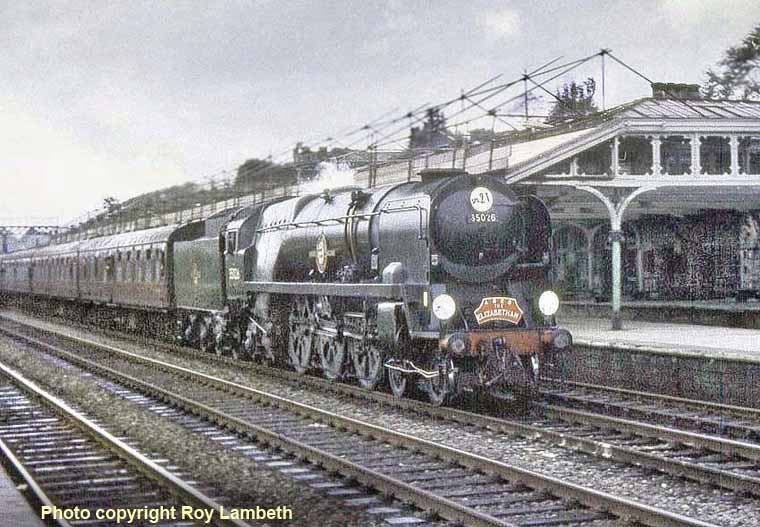 (Right) 'Merchant Navy' No 35026 Lamport & Holt Line heads the Altrinchamian Railway Excursion Society's 'Elizabethan' through Durham on 22nd October 1966. The Bulleid Pacific shared the tour with Class A3 No 4472 Flying Scotsman, whichhauled the London Kings Cross-York run via the ECML, while 35026 headed the York-Newcastle and return to York, where 4472 completed the run back to London.

By the age of ten, I had already been allowed to travel alone by train to Blackpool (I suffered chronic travel sickness in the new car my father had bought) and so catching a train on my own (or with spotting friends) to places such as Leeds and Harrogate was okay…would parents allow a child that young go off on their own these days? I don't think so!
I remember travelling from Leeds City station behind an A4 as far as Wakefield Westgate, though I never did find out the name of the loco as it was too far off the platforms, but there was no mistaking the melodious sound of its chimed whistle.
From Westgate it was a short trip by train down to Kirkgate station for more spotting before making my first visit to Wakefield shed (56A), which, for a ten year-old, felt like a marathon distance of a walk.
Leeds Holbeck shed (55A) was breached a few times albeit this usually ended up with me being thrown out. Entry was gained by climbing a small wall and then slipping through a hole in a corner of the shed building, but when venturing out into the yard there was always the risk of encountering the Foreman or someone who'd throw you out, but by then it didn't really matter because you'd already got the bulk of 'cops' inside.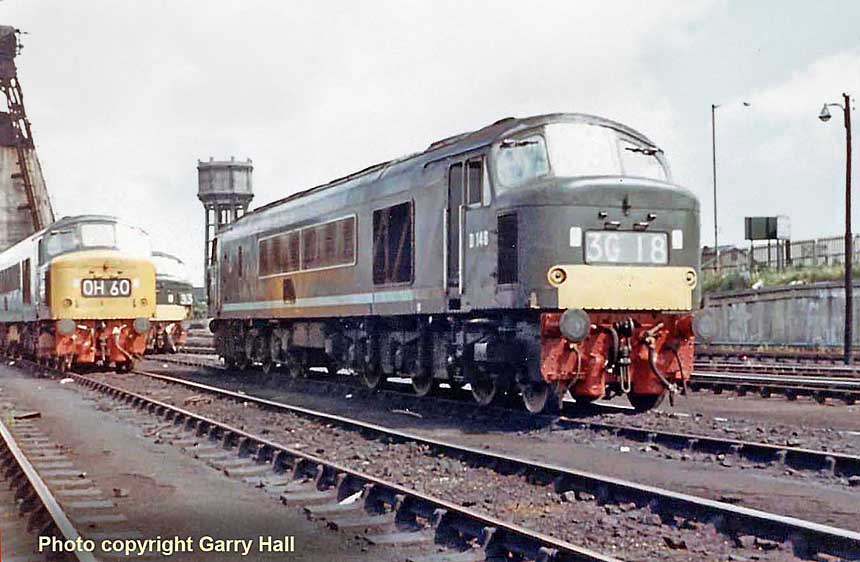 (Above-Below) In 1967 I used colour film for the first time and the day before seeing Sir Nigel Gresley on a run to Newcastle I went to York shed, no steam around but a green-liveried 'Peak' 1Co-Co1 No D146 was taken as my first ever slide. A total of fifty six Class 46 locomotives were built by BR Derby Works between 1961 and 1963 initially numbered D138-D193. With the arrival of TOPS, however, D146 became Class 46 No 46009. The first of the class was withdrawn in 1977 and all had gone by the end of 1984. I also took a shot of EE Co Type 5 Deltic D9018 Ballymoss in two tone green livery awaiting departure from York's platform 8s on a frosty day with train 1A05 for London Kings Cross.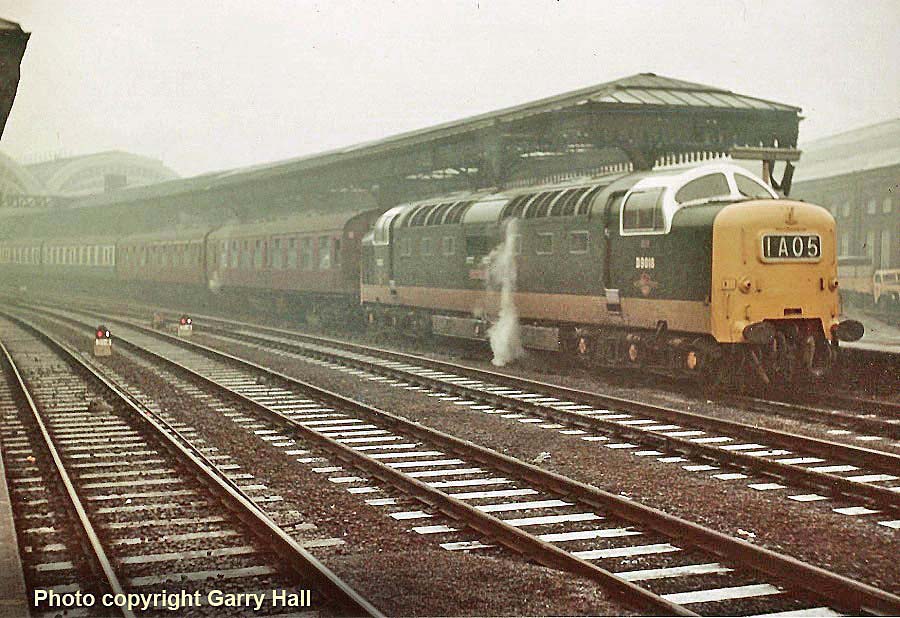 MY LIFE WITH RAILWAYS - 2
YORK WORKS TRAINING SCHOOL

It was inevitable that after leaving Park Grove school and later York Technical College on Tadcaster Road I would end up working on the railway; I first applied for an apprenticeship at Clarksons Engineering, a York-based company that manufactured live steam locos in various gauges plus raw castings for customers wishing to build their own. At the interview I was told to get an apprenticeship somewhere else and try again. I was more successful in my application to British Rail where I started my apprenticeship as a sheet metal worker at the York Works Training School in August 1968, coincidentally the same month that steam finished on BR.
Right from day one I just loved working on the railway. Some of the training staff at the school had been recruited as part of a new apprenticeship scheme called the 'module' system through the Engineering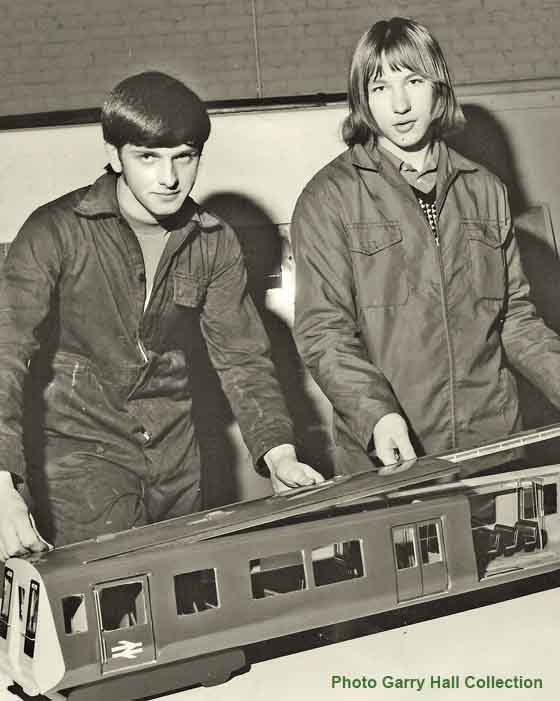 Industrial Training Board. Prior to reaching the end of my apprenticeship, the training staff was well aware of my interest in railway modelling, which explains why I was asked if I would like to make a model of the new aluminium stock Class 313/314 working under the supervision of the Module Staff Manager, Peter Taylor.
This photo (right) shows me and apprentice vehicle builder, Steve Lickiss, with one of two models we built of the new Class 313 driving coaches. These were of the new all riveted aluminium design and I think the first with sliding air-operated doors.
I was responsible with Peter Taylor for the design but the construction and build was mainly down to me. For this model aluminium was also used and I had to learn how to 'gas' weld which was not easy. Gas being the oxy-acetylene method. Steve and Peter did the interior panelling to hold the glass in place and the seats.
The new units were built at York from the mid-1970s; variations including Class 313/314-15/507-08 classes, possibly others, powered either by 750 dc only, 25Kv only and dual voltage for services at such places as London, Glasgow and Merseyside. One 2-car set actually had the panels glued on as opposed to riveting. The glue when set was extremely hard and could not be chipped with a hammer.
The model was fairly basic, consisting of solid wooden block bogies and a body showing the new open style seating with open vestibules; there was also a section to show the new style under floor and ceiling ducting for ventilation and wiring; this model is now in the NRM.




This group photo (above) was taken in 1969. One year into my apprenticeship, I had won the very first competition for an individual first aider at York Training School (Pickersgill Cup) and the others are our team with the 2nd place trophy we obtained against other training schools from around the country at the competition in Derby. The people are Harold Hopper (Chief Instructor) Dave Easton, Les Mainprize (holding team cup) Kev Winship, me (holding Pickersgill Cup) Jim Stonehouse and Alan Harper Electrical instructor and part time First Aid Instructor.

Over the next few years nothing in particular happened on the modelling front, although by now I was an acting Relief Instructor, a job I started within a few months of completing my apprenticeship. Around the late 1970s, the Training Manager, Gerry Hart, who served his apprenticeship at Horwich Works, asked me if I would be interested in making a model of the soon to be new Class 317 for St Pancras-Bedford line. The 317 units were built at the York works in two batches between 1981/2 and 1985/7, these being the first EMUs based on the MK3 shell.
The Training Manager was looking for a large scale coach approximately 4' long with removable roof and a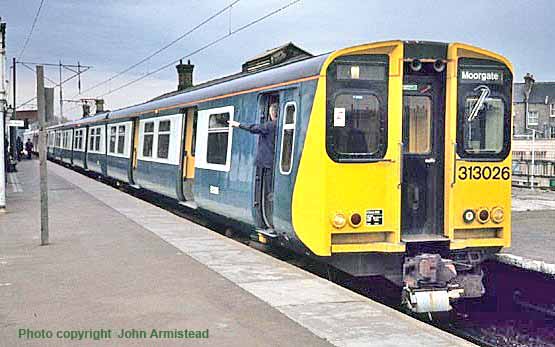 full 4-car set in 00 scale from one piece of wood; these were called block models. He told me I would be in charge of the project and have a couple of apprentices working for me, but added that I would only be paid my shop floor rate and not training staff rate. Okay, perhaps I should have held out for more; I was a skilled sheet metal worker by trade with a good knowledge of all the other trades, but without any hesitation I agreed - how can anyone turn down the chance of doing a job that was essentially their hobby?
The only down side to this task, if I had to find one, was the short time scale allowed; the London Midland Region wanted the model ready for display at the announcement of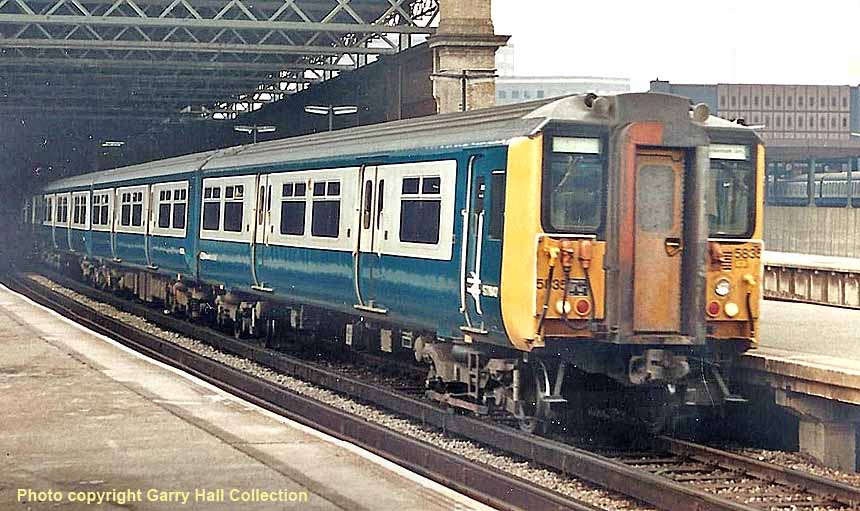 the new-style trains they were getting. Within days a team of LM management came to see me at York to discuss the necessary details so I could get the model started...
(continued below).

Products of York Carriage Works. (Above Left) Class 313 built York 1976-77 (Right) Class 455/8 Unit 5835 from batch one built at York between 1982-84 (Below) Class 150 unit 103 at York Carriage Works Open Day. These vehicles were built at York between 1984-87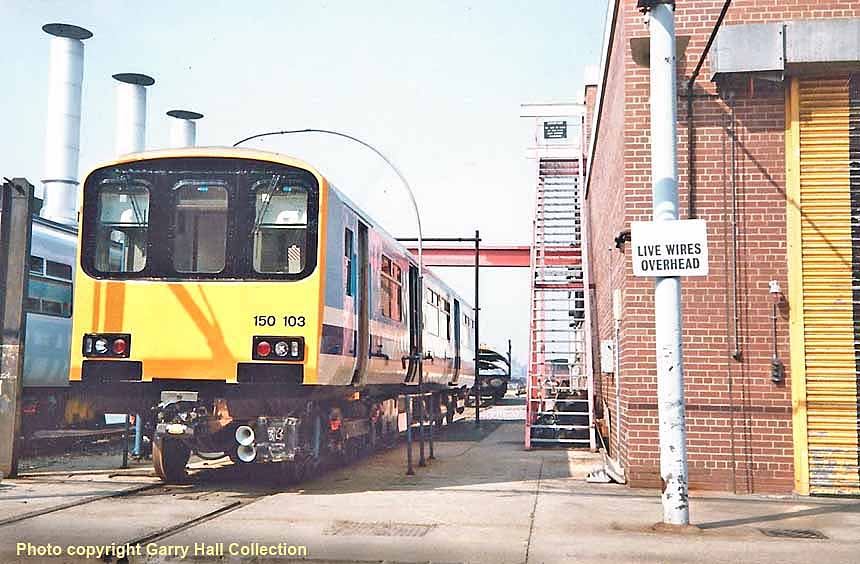 Over the next couple of months I was busy scaling down the necessary drawings for the apprentices to do their work, and making patterns for the spindle moulder in the sawmill to mill solid wood into the sectional profile. Meanwhile I set about the task of cutting out the large scale bodysides and ends from steel and joining them together, producing two of each as the York Carriage Works also required a model before building the real ones. It was necessary to cut out all windows and gangways for the block model with a router yet keeping it all in one piece.
This block model also needed a pantograph, but unfortunately the Tri-ang-Hornby ones were quite poor. I found Fleishmann did a very good one and was given a free train pass to visit their offices and spares department in London's Piccadilly Circus, where I was supplied with two lovely pantographs.
By now time was pressing but the task was still on schedule until it came to painting. I was told to take the block model to Mac, the Paintshop Foreman at the Carriage Works. But when the finished model was returned I was horrified! The quality was very poor; the lining had been done freehand - it was all over the place!
Management agreed and told me to take the model back to Mac.
The Paintshop Foreman was not happy either and shouted - 'Caple, get down here!'
Immediately, one of the Foreman's two sign writers appeared; his name was Barry Caple, who later became a great friend.
Mac didn't mince his words - 'Caple! Get down to the Training School. Do what Garry wants and don't come back until it's finished and he's satisfied!'
By now all four models were ready for painting and both Barry and myself did this together. In fact, Barry gave me a lot of useful tips for my own models. As for the transfers? None were available in York, but since waiting was not an option, I was provided with a free rail pass to visit Eames of Kings Cross in London.
At last the models were finished and the LM management came up to collect them, treating me, Barry Caple and the apprentices: Mick Cropper, Paul Huron and Graham Ward, to a celebratory meal in the Railway Institute in York. One of these large scale coaches is now in the NRM.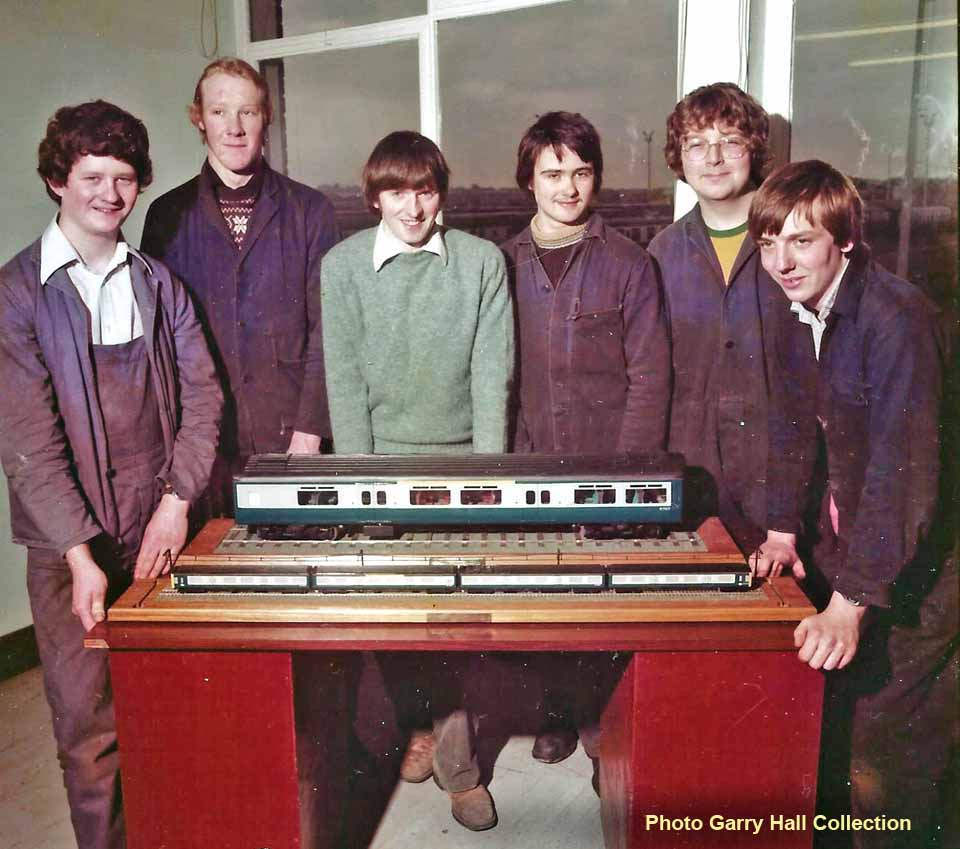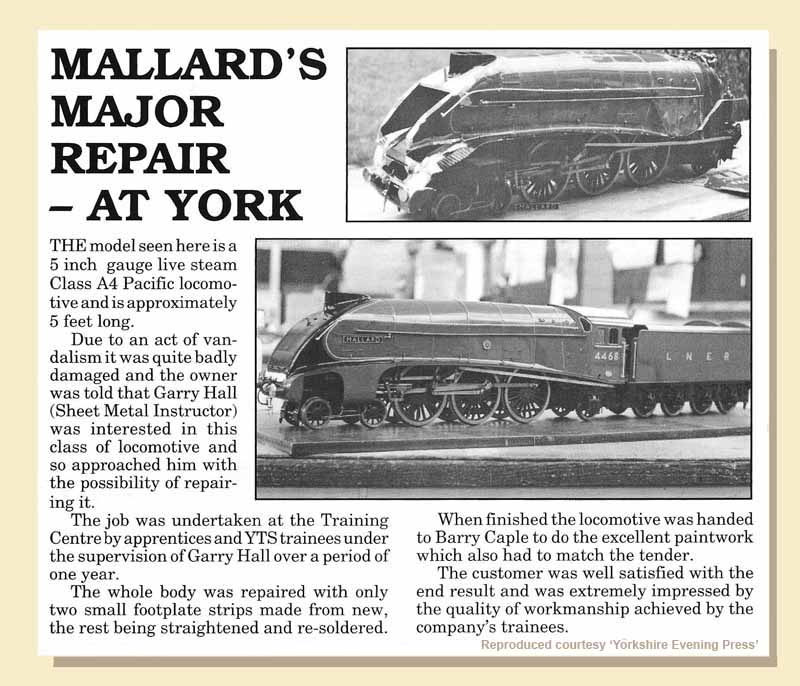 (Left) One interesting model was a repair to a 5" gauge live steam A4 which had been dropped by burglars at the owner's home. This involved making a whole new body casing and getting Barry Caple to paint it. The story featured in the local Yorkshire Evening Press...

Following completion of the models I returned to the shop floor as a Relief Instructor and not long after a new Works Manager arrived on the scene. His name was Roy Wagstaff, who, incidentally was also interested in railway modelling. About this time there was talk of the new 'Sprinter' Class 150 being introduced and the new Works Manager called me to his office, an unusual occurrence in itself…shop floor workers were rarely summoned to his office.
Clearly he had heard about my previous modelling projects, and asked me if I would look after the apprentices again, only this time to build a couple of large scale models of the new Sprinter and a 2-car '0' gauge model. In view of how important the project was, he told me that if I ever needed assistance I had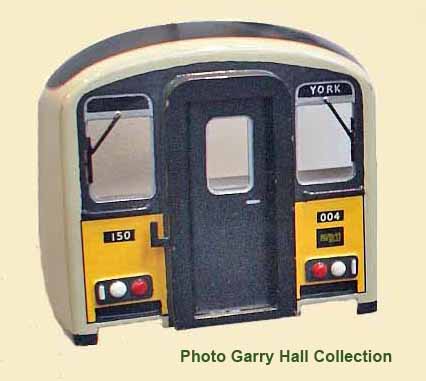 only to contact his personnel manager, Phil Jones, who would arrange everything.
I immediately agreed and got started. Once the bodyshell was made and the interior was being fitted, the Works Manager called me back to his office and advised me that BREL was looking at a different style of front and would it be possible to have three interchangeable fronts made to fit as required?
This challenge was duly accepted, the models were completed and the painting again done by Barry and myself. For this, I had to go to St Peters House in Derby to talk to the design team since the colour scheme had yet to be finalised and the logos required hand painting. Transfers were the last requirement to complete the lining and the nearest supplier was the Wakefield Model and Craft shop. As time was pressing the Works Manager instructed the company's chauffer to run me to Wakefield.
What a life of Riley I was having!
As it turned out, one 2-car Sprinter was to be mounted on a plinth along with an engraved plaque for presentation to BREL's Chief Personnel Manager as a leaving present; as with all such presentation models, the plaques were supplied by York Cameo Engraving on Holgate Road. This '0' gauge model is now in the NRM, although for some reason one coach has been removed. The large version is also there but with only 2 of the 3 ends.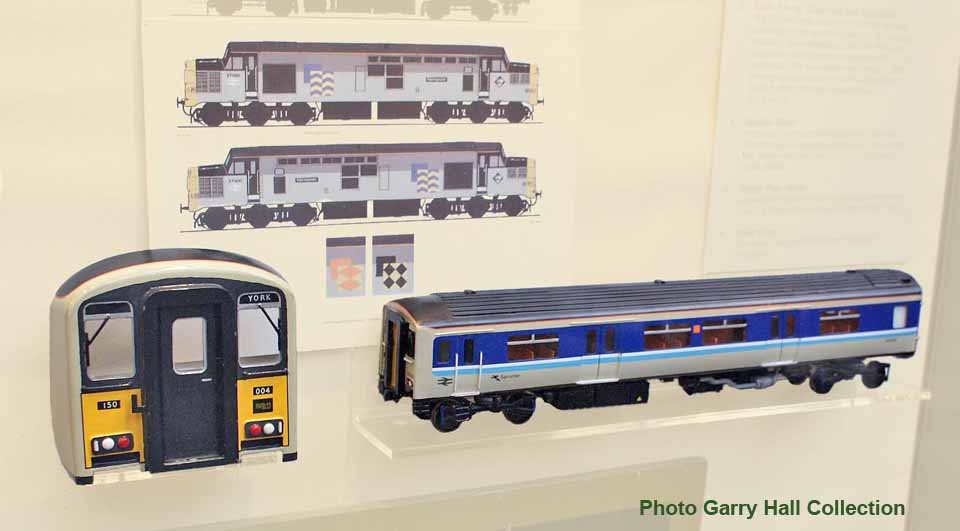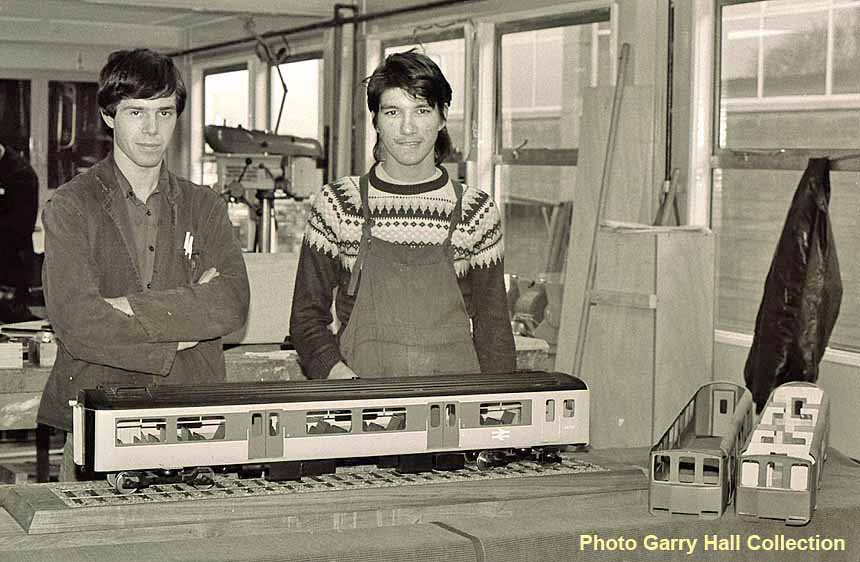 (Left) Class 150 DMU Sprinter in 2nd variation livery of pale blue body and dark blue window surrounds. This now has the standard BR arrows used. The two apprentices are Mike Williamson (fitter) and Paul Farmery (vehicle builder). As can be seen there were 3 vehicles to be made for various venues.

By now the Works Manager was wanting more and more, but always in a rush, which involved working many overtime hours; the deal was I'd be reimbursed with time in lieu rather than payment, which suited me fine. Around this time the management team of British Rail Engineering Ltd (BREL) was looking at a new 'International Train' for marketing purposes both home and abroad. The BREL's Public Affairs manager, Bernard Ault, came to see me at York to discuss his requirements; indeed seeing Bernard's name in a story by Railway Press & PR Officer Neil Johnson - 'Life at Aulty Towers' - on the Train Spotting page 4 is what prompted me to contact the website.
Bernard wanted a large model consisting of two full coaches, a short-length coach coming out of a tunnel (to disguise not having ten coaches or more) and a locomotive, with each vehicle being mounted on a separate base for various formations. It was intended to take the model around the world to interested countries, therefore the locomotive was not a specific class but a basic 'modern' shape with a removable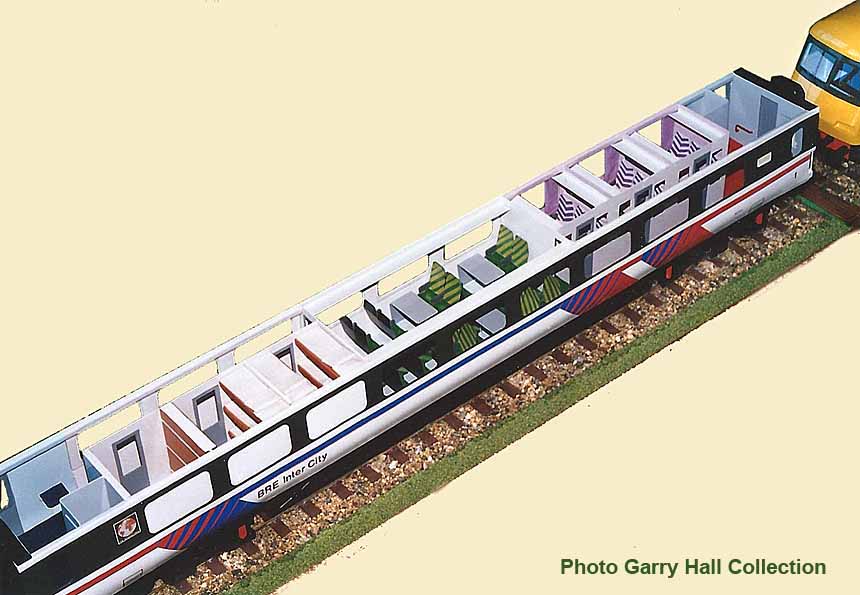 roof and pantograph so it would look like either an electric or diesel depending on which country it was being shown. One of the coaches (right) had to have a removable roof with three different style compartments to demonstrate the various options of, I think, 1st class corridor, 2nd class open and sleeping compartments. However, the time allowed for this one was even tighter, and so it was another trip to Derby for drawings in order to make a quick start.
Due to the time constraints the Carriage Works 'had to work around me as it seems'. Roy Wagstaff told the tapes office in the Planning Department to make a CNC tape for cutting the windows out and told the press shop to fit my job in as soon as the next production full size batch was finished; this included the guillotine operator for cutting my brass and the CNC for punching out the windows. Again a trip to Derby was called for to discuss the paint finish which ended up a little out of the ordinary. This design necessitated stripes to be made in a self adhesive vinyl for the full length.
Once this was finished Bernard came to collect it ready to be packed in individual boxes. In the photograph (below) from left to right I am at the window end, Bernard Ault, an apprentice I cannot remember, Barry Caple, apprentice Mark Thacker and apprentice David Bainbridge. I hope someone can help fill in the blank name...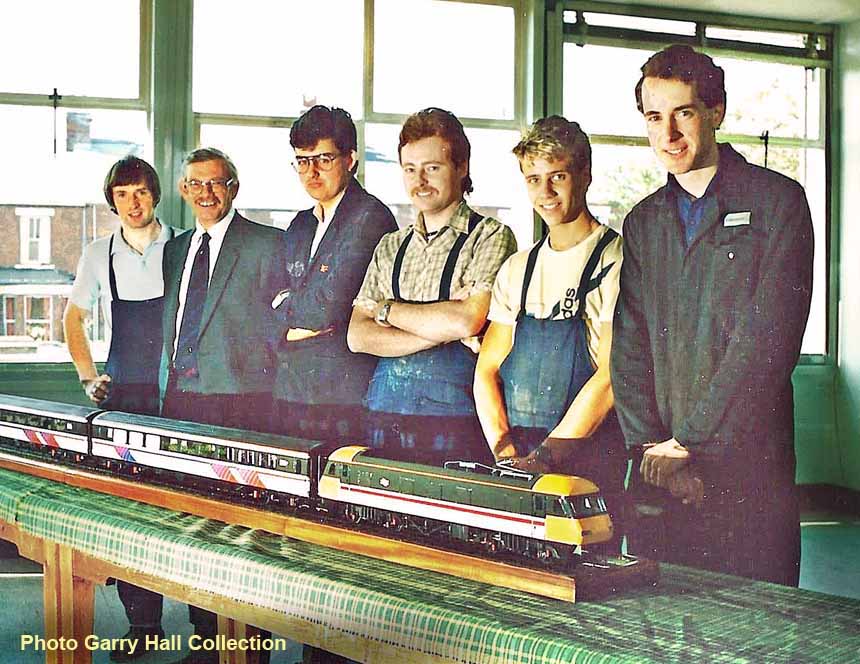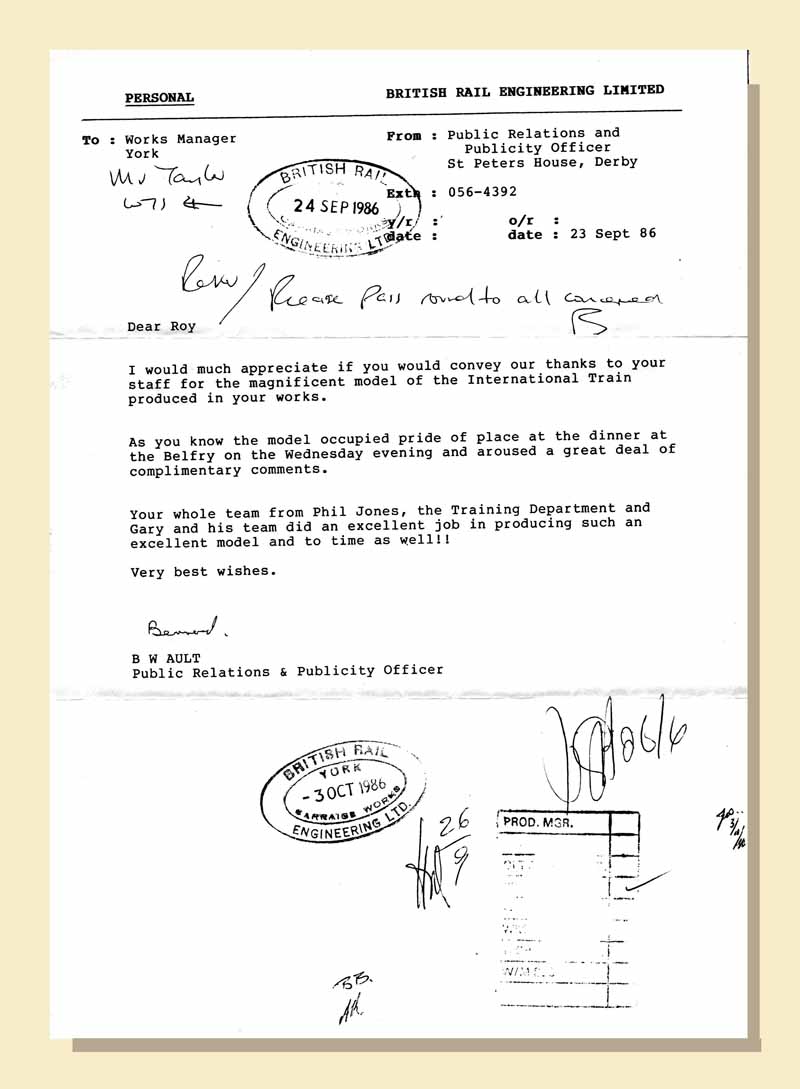 (Right) This is the thank you letter kindly sent by Bernard Ault to Works Manager Roy Wagstaff after completion of the International train models.

I was now also involved in making some 3-car Strathclyde sets and 4-car Network South East sets in '0' gauge. One Network South East set was to be a surprise present for the Managing Director of NSE Chris Green during the official handing over of the first full-size vehicle at the York Works.
To get this 6' long model finished on time I worked the Saturday, Sunday and Bank Holiday Monday from 8am to 9pm on my own in the Training School. On the Tuesday the model was finished, and just before the official handover I was given the signal to walk out in front of the ceremony to present it to Chris Green on behalf of the York management.
I remember his surprise and commenting - 'Thank you, I have always wanted one of your models…'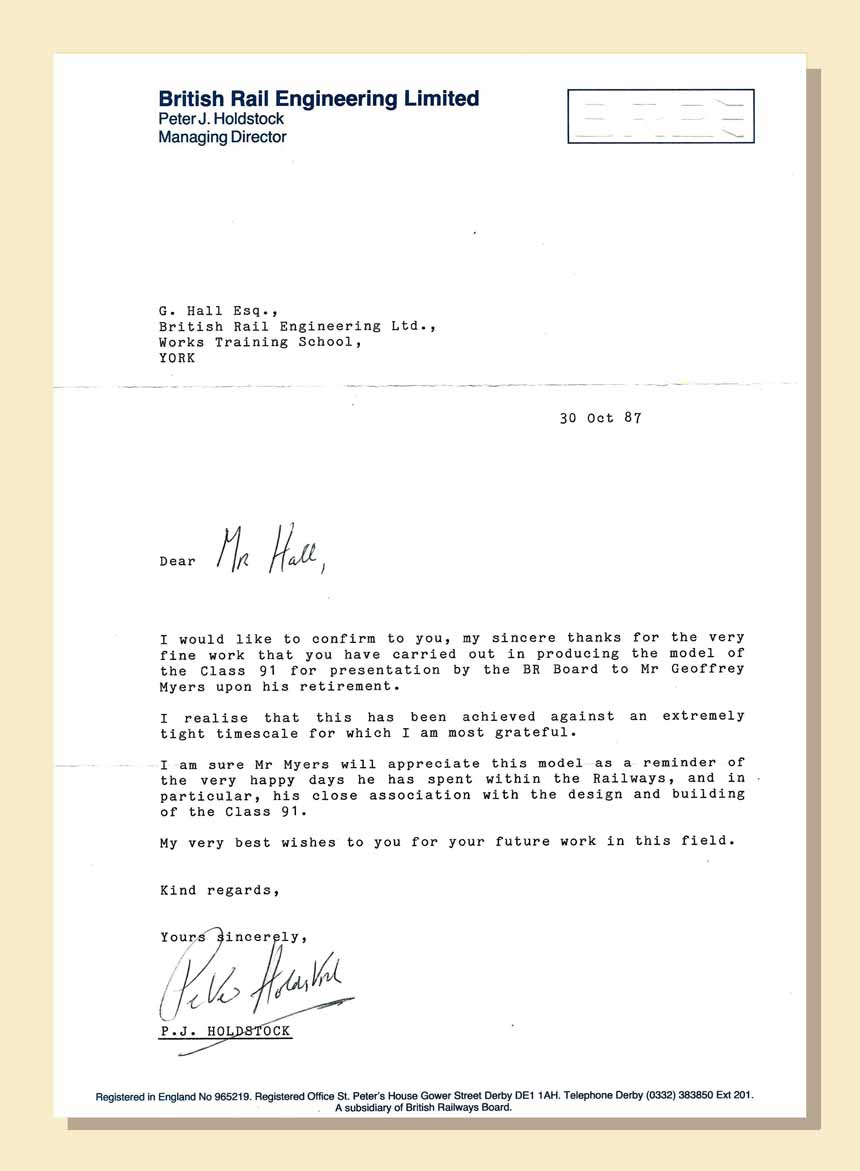 After the handover, Chris Green was uncertain how he was going to get the model back to London and so it was left to an apprentice and myself to take it on the train then carry it by hand from Kings Cross to an office in Euston - not an easy task with a model over six foot long!

By now the Managing Director of BREL, Peter Holdstock, was also interested and asked Roy Wagstaff to have me make a couple of Class 91 locos as leaving presents. When these were completed my 4 year-old son accompanied me to his office in Derby to hand them over. You can only imagine the look on my son's face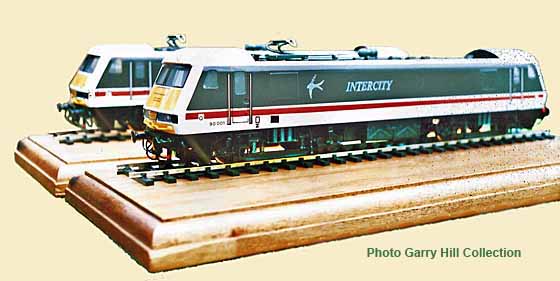 when he was told to sit in 'The Chief's' chair around a table larger than out dining room.

(Above and Right) Here is the letter kindly sent by BREL's Managing Director Peter Holdstock after the presentation of the Class 91 model to Geoffrey Myers. (Right) This is a photo of the two models, although I do not know who received the second one.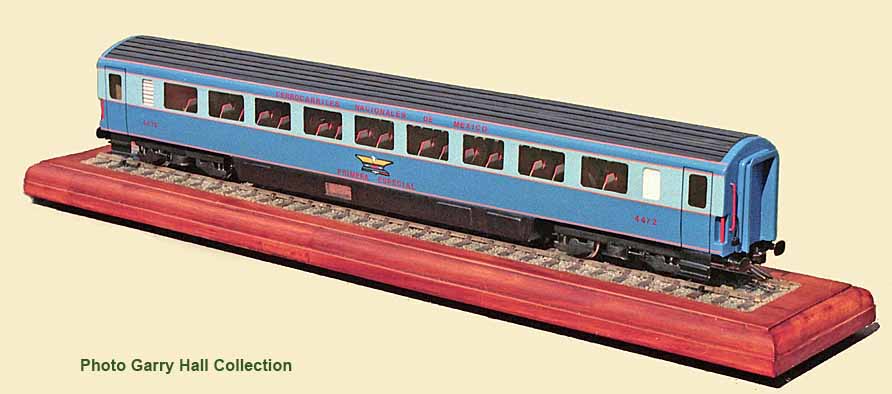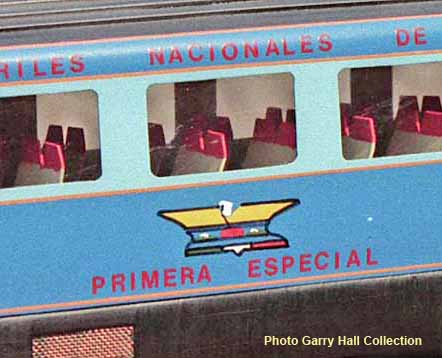 Another one-off model was completed for the Mexican railways (above). For this I had to paint all the crests and symbols myself as none were available. I actually took the coach home one weekend to hand paint the crest free-hand (right) and use Letraset transfers for all the words before varnishing. There was also a couple of models of the Docklands Light Railway to make (below); indeed one year my workload and overtime hours had increased to such a level I was told to use up all the lieu time I had accrued. To give you an idea of how busy I had been with the various modelling projects, I finished work on Christmas Eve and did not get back until mid-February, but even so there were occasions when I was called in to talk about another project thus accruing yet more lieu time.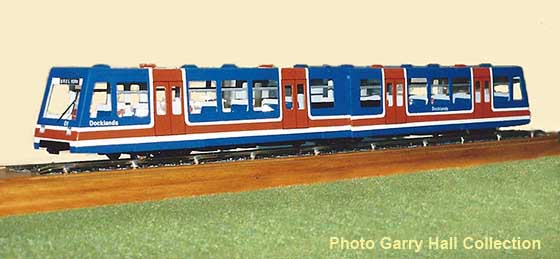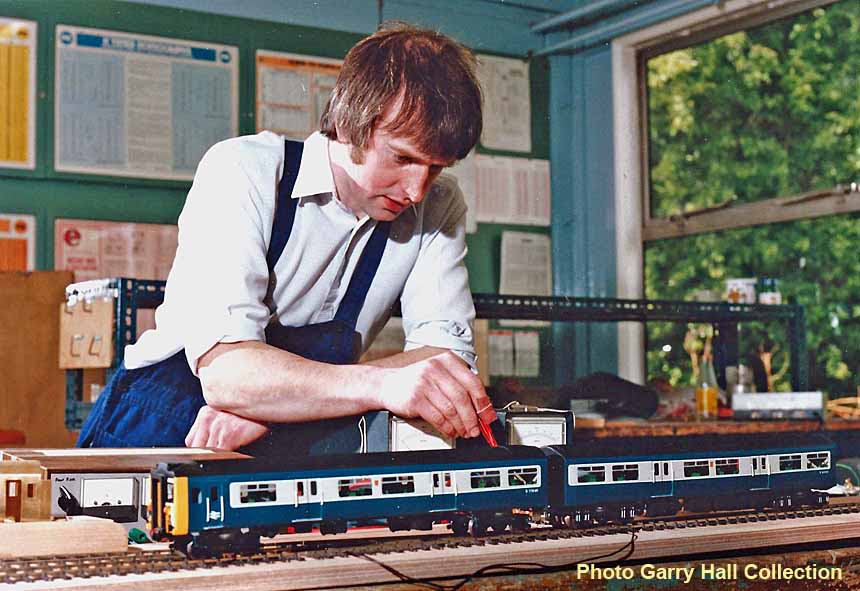 Around 1987/8 I was asked to see about promoting the BREL models and so I contacted the organisers of the 4 day Easter Model Railway Exhibition in Harrogate. They were only to pleased to have the 'real' railway there so a busy time was had to prepare for this. One 4 car class 455 was motorised and a display track was built to have it running up and down with an electrical apprentice (and instructor) making the control unit as an exercise. The shot (above) shows me testing the motorised 0 gauge Class 455 in preparation for the Harrogate show. We were very lucky to have Bernard Ault's International Train model to show as it had only just returned from China a few days earlier. However, some of exhibits on the stand were made up of my own steam based models. This led to my own model railway layouts being shown there over the next 3 years.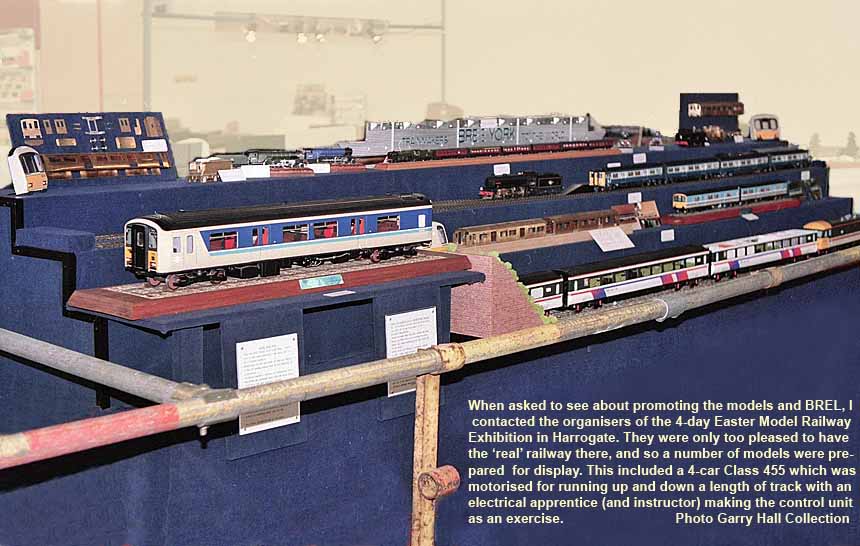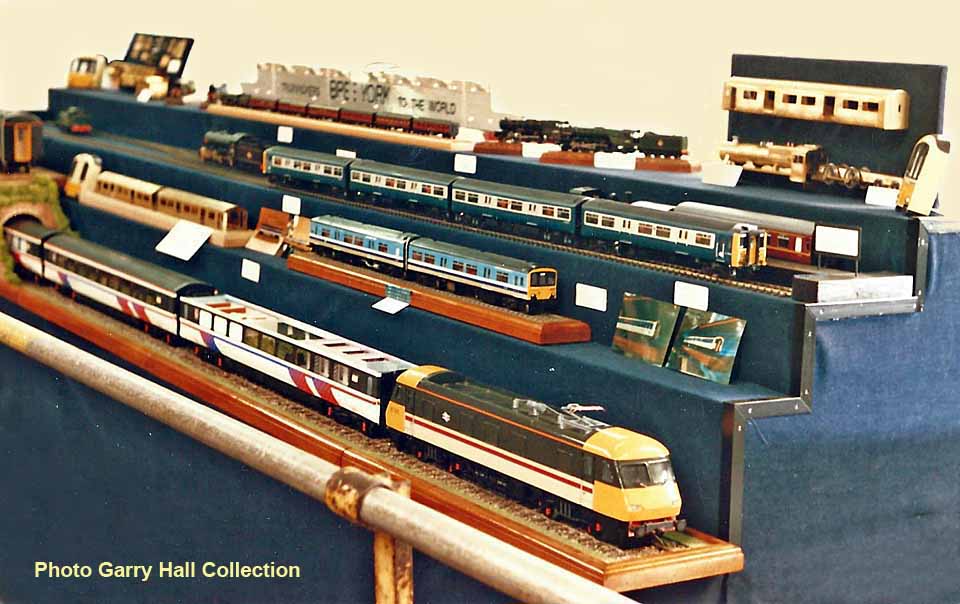 My last modelling project came after BREL gave the Chinese a licence to build approximately 500 of their own coaches. The Chinese had originally bought three from BREL, and part of the deal involved the training of about 250 senior engineers at York and Derby in the different processes and methods of manufacture. A few months before this came to a close I was asked to build 300 models in 00 gauge to give each one as a present on their leaving do.
Needless to say, the Press Shop Foreman at the Carriage Works was not happy being told to halt production yet again for my models but he had no option. When the Works Manager said 'jump!' - he had to reply 'how high?'.
The model coaches were all brass, as were most others I made, but by now Barry Caple had the company and so I had to paint them all myself. The roof ribs were just painted on, previously they were soldered to the brass roof or to panel pins in the wooden block models. When it came to the presentation evening in Derby, I was the only shop floor worker at the party and everyone in the delegation came to shake my hand.

(Below) In this photo I am escorting a hanfdful of the Chinese delegation around the Carriage Works in 1991. Due to the amount of people involved, each large group was split into smaller groups to allow easier access into the coaches and other areas. Behind is one of the new 365 or 465 driving vehicles.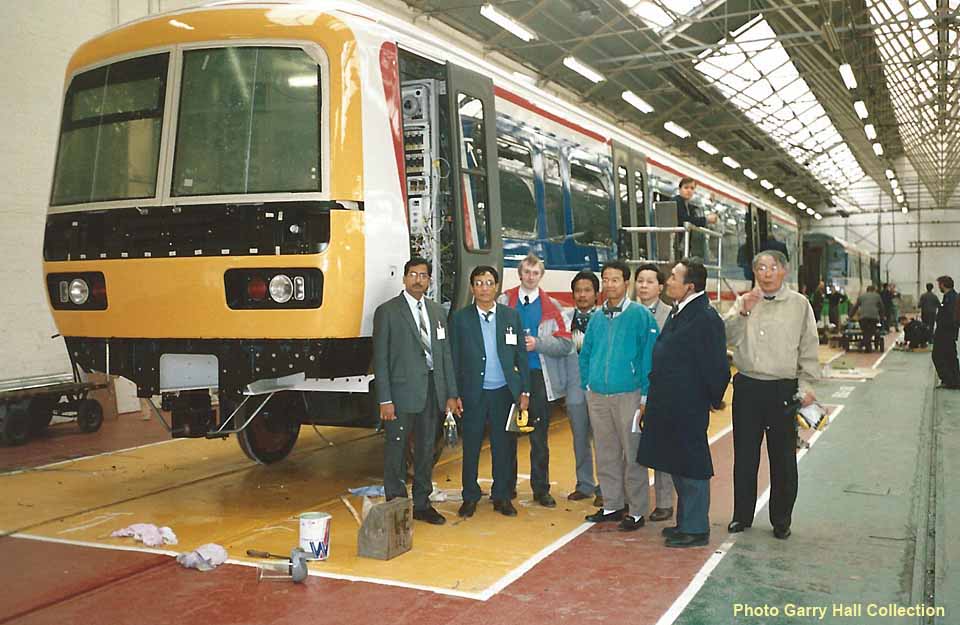 But things were about to take a turn for the worst, I was promoted to a full time Instructor at the Training School and then BREL was taken over by ABB. It was a very sad day for York Carriage works. Initially we were told all terms and conditions would continue, but within three or four years the York site closed and the terms and conditions were torn apart.
My life with real railways was now over - from train spotting to building them - and I was out of a job and still only 45 years-old.
But I don't want to end this story on a low…I just want to say that York Carriage Works was THE BEST! We trained Rowntrees apprentices as well as many others from lots of non-railway companies and from other cities.
There were lots of characters there, all with different stories to tell.
In short it was one great place to be part of…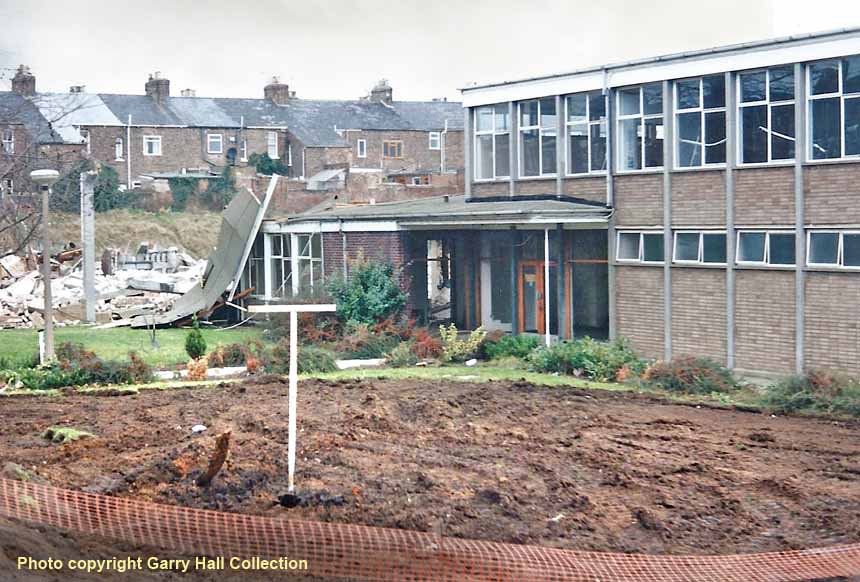 (Above-Below) The end of an era...the wrecking crew have moved in and the school is being dmolished, a place where for 35 years hundreds of apprentices were trained. Over the years the premises were extended to house the training facilities for the new aluminium welding process then being used for constructing the all-aluminium stock Class 365s and 465s. Originally the school accomodated up to 60 apprentices, but later this was extended to take around 140 apprentices. As Mary Hopkins sang - 'Those were the days...' (Below) This is the sad view of York Carriage Works yard after the track had been lifted to make way for a housing estate.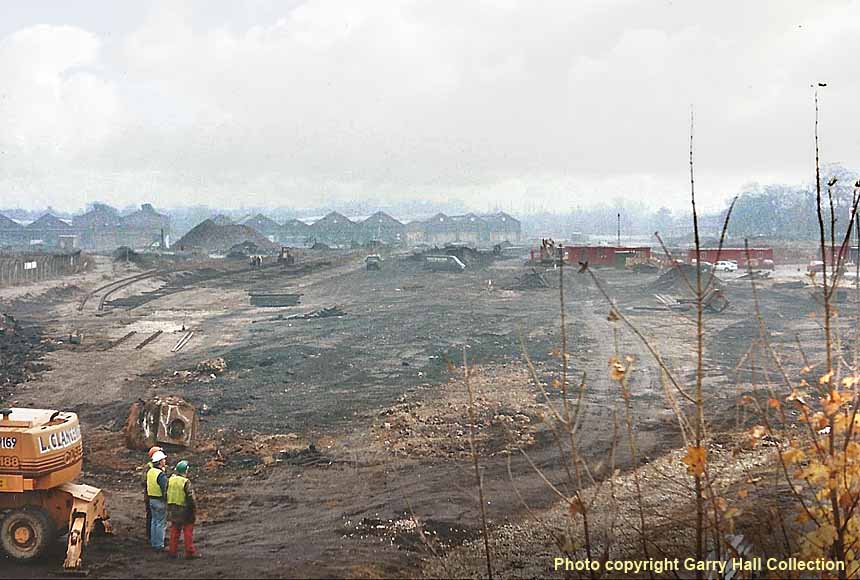 (Above) In 1989 British Rail Engineering Limited was acquired by ABB (ASEA Brown Boveri) but in 1995 the company announced closure of the factory due to lack of orders caused by the uncertainties following the privatisation of British Rail. The Carriage Works closed its door in 1996 with 750 redundancies. This aerial view of York shows the current site. Click HERE to read more about the history of the the York works on the Wikipedia website...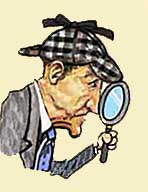 (Below) Not being sure of the full details below, I contacted Vic Smith of York who kindly supplied the caption information and suggested link. He writes - 'Flanked by the ancient Grade 1 listed City Walls on the right and York Minster on the horizon, the footbridge spanning the main line provides the photographer with this splendid view of the 1839-built 4-road York and North Midland Railway's (Y&NM) engine shed on 11th July 1937. Reposing in the shed yard from left to right: LMS Fowler Compound 4-4-0 No 1047 (BR 41047), LNER Gresley K3 2-6-0 No 2934 (BR 61925) and NER Worsdell J71 0-6-0T 482 (BR 68268). Vic writesReposing in the shed yard from left to right: LMS Fowler Compound 4-4-0 No 1047 (BR 41047), LNER Gresley K3 2-6-0 No 2934 (BR 61925) and NER Worsdell J71 0-6-0T 482 (BR 68268)...'
Vic adds - 'This photo was probably taken during the shed's last days; the 1931 OS maps shows the building in use as an engine shed with the carriage shed built behind, whereas In 1937 the engine shed became a carriage shed and the building behind was converted into a Lost Property Office. Beyond the buffer stops can be seen the water tank with the white walled turntable well in front. The building on the extreme right is the original 1928 Railway Museum. The overall scene has changed since 1937. The footbridge has gone and the shed replaced with a car park. The water tank behind the buffer stops still remains and is now a Grade 2 listed building; the tank continues to display a Y&NM plate on the tank side.' Click here to visit the interesting York stories heritage page...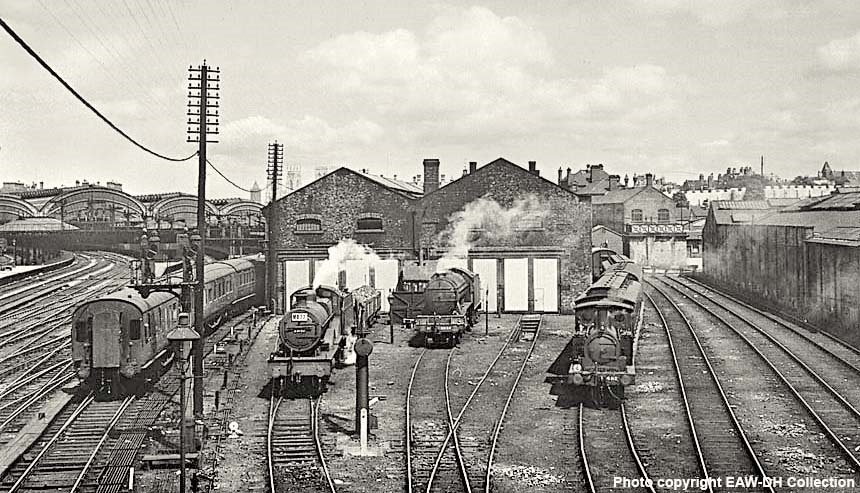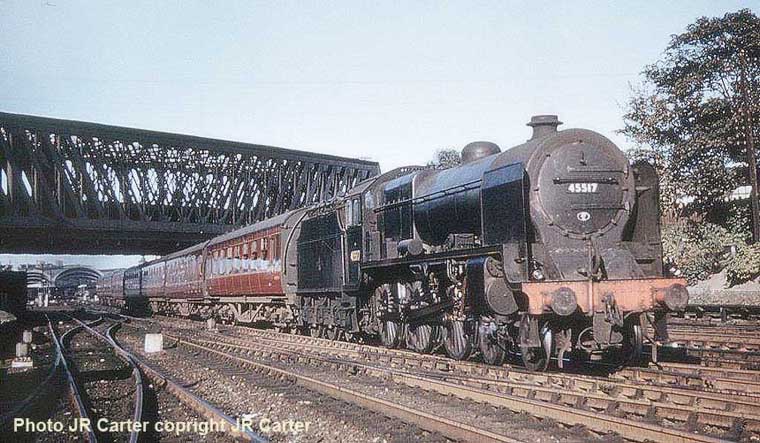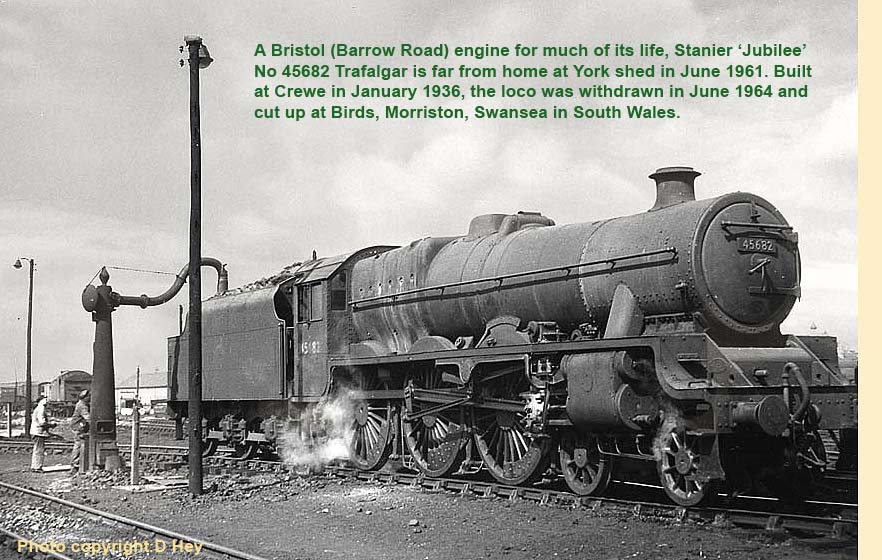 (Above-Left) By way of a change here are two shots of ex-LMS locos to illustrate the spotting potential of a visit to York during steam days. Adding to the loco variety is unnamed 'Patriot' class No 45517 heading south through Holgate Junction and 'Jubilee' class 45582 Trafalgar with the bag in at 50A.

(Below) A busy moment at York station on 2nd May 1964 with Class B1 61031 Reedbuck heading the RCTS 'North Eastern Limited' which arrived from Newcastle behind Class A3 60051 Blink Bonny. The B1 continued via Malton, Seamer, Falsgrave Junction (Scarborough) to gain the scenic coastal route via Robin Hoods Bay to Prospect Hill Junction, Whitby. After running tender first into Whitby Town, the railtour continued via the Esk Valley line to Battersby and on to Middlesborough, where withdrawn Class Q7 No 63460 (specially reinstated for this tour) contined the journey via Thornaby, Bowesfield and Redmarshall junctions, Wynyard, Wellfield, Murton, Penshaw Junction, Ryhope Junction and Sunderland back to Newcastle Central. Another Class A3 at York that day was preserved 4472 Flying Scotsman seen on the left awaiting the arrival of 60106 Flying Fox on the Gresley Society 'London North Eastern Flyer' from Kings Cross. No 4472 headed the railtour to Darlington and return trip to Doncaster where 60106 took the final leg back to Kings Cross. Class B16 No 61463 awaits signals on the right. Click here to visit the the definitive railtour guide on the web - 'Six Bells Junction'.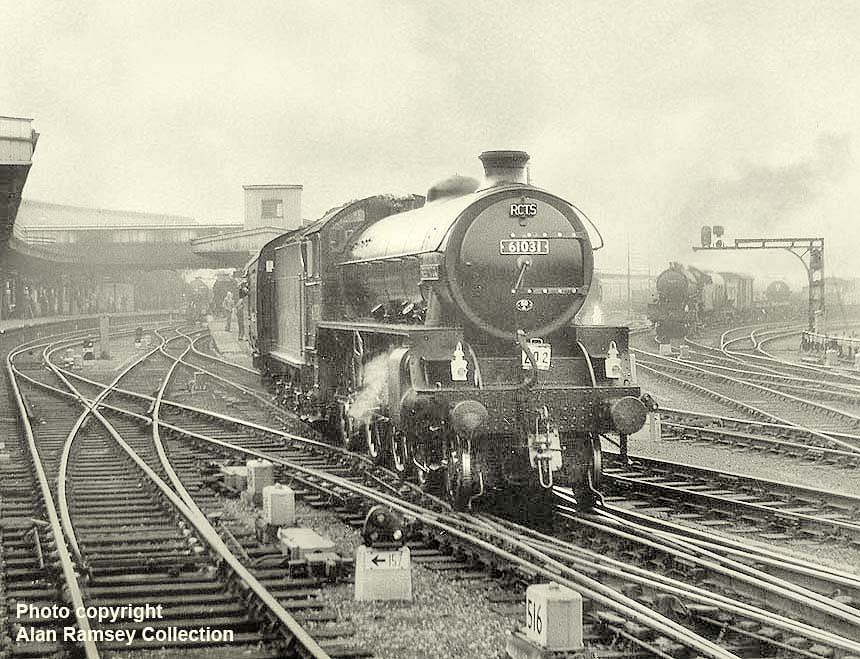 (Below) A locomotive nameplate 'Reedbuck' from the LNER B1 Class 4-6-0 No 1031 (later BR 61031) went under the hammer for £7,400 at a Great Central Railwayana Auction on 13th October 2012. Built at Darlington in July 1947, the loco was allocated new to Leeds Copley Hill shed; its later sheds included Bradford, Thornaby, York and Ardsley from where it was withdrawn on 9th November 1964 and cut up by Drapers at Hull in May 1965. The Reedbuck name refers to a greyish-brown species of antelope which inhabits grassy swamps across West to East Africa...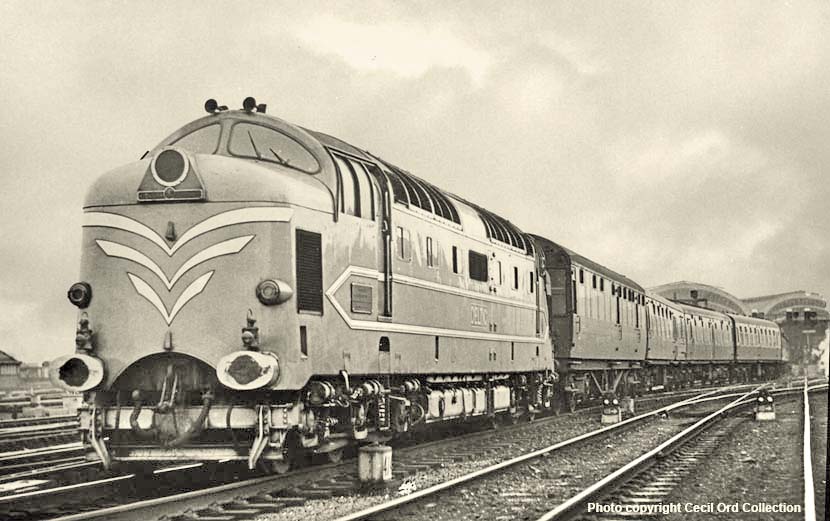 (Above-Below) The English Electric Co's 3,300hp 'Deltic' Co-Co heads south out of York on a test run - just visible are cables trailing from the window of the rear cab to the LNER's Dynamometer Car No DB99950, the leading coach in the ensemble. The burley proportions of this prototype seemed to stretch the loading gauge to the limit. During a proving run to Berwick it dislodged chunks of platform-edge coping at Manors Station, Newcastle - and a close encounter with a platform at Darlington cost a new set of cabside steps. As a result, the prototype was employed mainly on the ECML south of Leeds, and photos of 'Deltic' at York are rare. In view of the clearance problems, the production fleet of 22 locomotives appeared with a revised bodyside contour swept in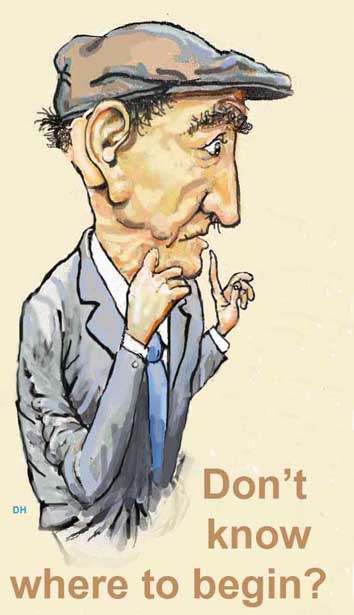 at the waist to comply with the rigid restrictions of the British loading gauge - no more than 9ft wide over the body and 7ft 6ins below the underframes. The difference in body style can be seen further down the page.
(Below) An incoming 'Hunt' class 4-4-0 alerts a group of spotters at York station and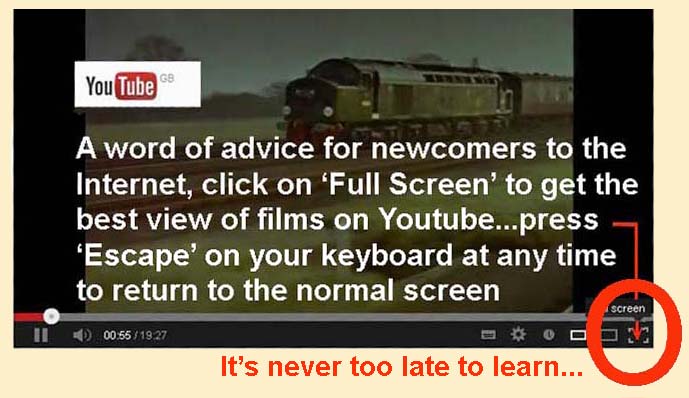 (beneath it) they check the numbers in their Ian Allan abc books. These 'stills' are from the 1953 British Transport Film (BTF) 'This is York' - a behind the scenes look at the staff working at York Station as seen through the eyes of the Station Master...pure nostalgia. Click here to watch the film uploaded to You Tube by David Bromage..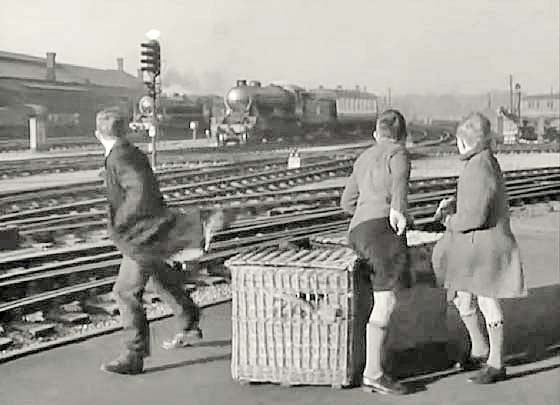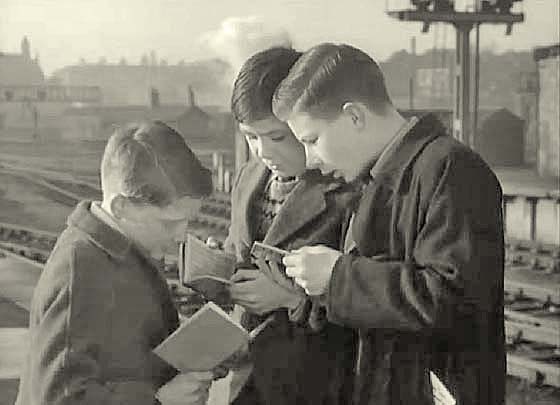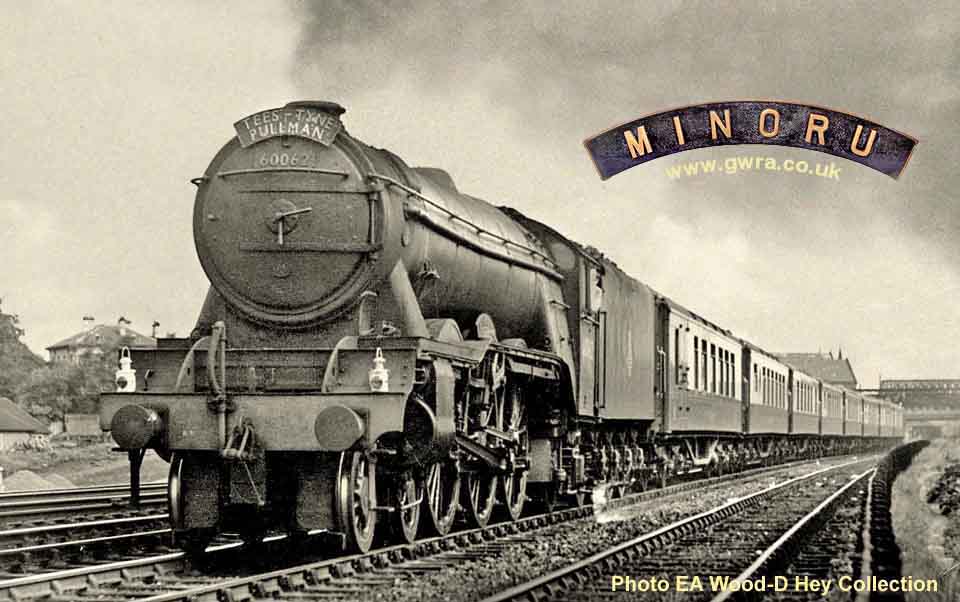 (Above-Below) Class A3 No 60062 Minoru heads the up 'Tees-Tyne Pullman' away from Holgate Junction York. (Inset) This nameplate went under the hammer for £7,000 at a Great Western Railway Auction in July 2016. Built at Doncaster in May 1925, the LNER Class A1 was originally numbered 2561 and named after King Edward Vll's racehorse which won the 1909 Derby and 2000 Guineas. The locomotive was rebuilt to an A3 in June 1944, renumbered 62 in 1946 and finally No 60062 following nationalisation of the 'Big Four' railway companies in 1948. Allocated new to Gorton the locomotive was later based at Kings Cross, Doncaster, Grantham, Copley Hill and finally New England shed from where it was withdrawn on 26 December 1964 and despatched for scrap to RA King of Norwich in March 1965. Click HERE to visit the fascinating GWRA website for a veritable trip down memory lane. (Below) Most biographers' version of Edward Thompson's reign as CME of the LNER (1941-1946) is that of a man dedicated to diminishing Gresley's record at Doncaster. His decision to rebuild the original Gresley Pacific - GNR Class A10 No 1470 Great Northern, built at Doncaster in April 1922, later numbered No 4470 by the LNER in 1925 - was seen as a calculated move to discredit his predecessor's legacy. This is supported by his controversial rebuilding of another Gresley design - the six Class P2 2-8-2s - into new Class A2 Pacifics. Whatever one's opinions there is an interesting exchange of views accompanying a photo of Great Northern on ex-signalman Keith Long's excellen' Flickr site. Cabsaab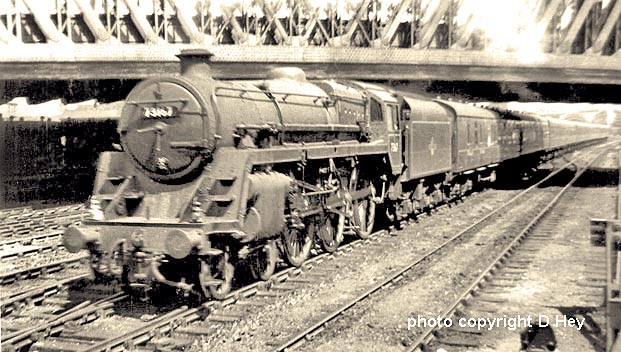 (Above-Inset-Below) Borrowing my sister's battered Kodak Brownie 127 camera for a day's spotting trip to York, I hadn't a hope of freezing the action of this Standard Class 5 No 73167 and Class A3 (below)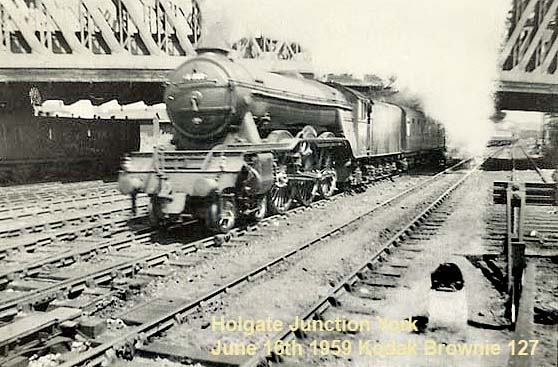 heading 'up' trains in August 1959. A year later, though, and the most basic of Kodak models whetted my appetite for buying a new camera with a range of shutter speeds and 'f' numbers on the lens barrel. But what did all those confounding numbers mean? I hadn't the foggiest!
Had it not been for a friendly photographer giving me a quick lesson on aperture settings and optimum shutter speeds on my first 35mm camera - an Halina 35X, which I'd bought on the 'never-never' from mum's mail order catalogue - my attempt at photographing Class A1 No 60116 Hal o' the Wynd on the 'up' 'Heart of Midlothian' on April 20th 1960 would have been a complete waste of time. No 60116 was one of 17 locomotives in the class that perpetuated names borne by the former NBR 'Atlantics' and 'Scott' class engines after characters in the books of Sir Walter Scott - Hal o' the Wynd was the blacksmith in 'The Fair Maid of Perth'. The remainder were named after racehorses, birds and names associated with the LNER's constituent companies and their loco superintendents. Both photos © D Hey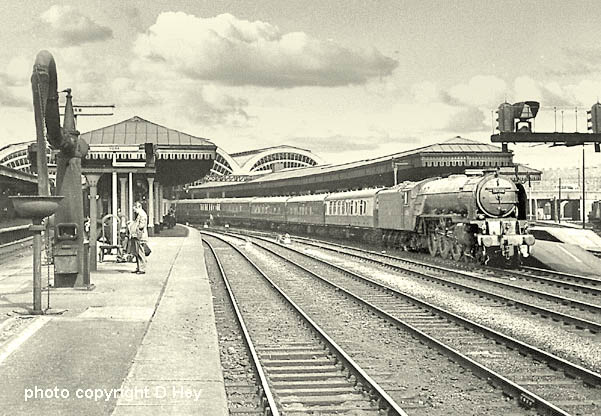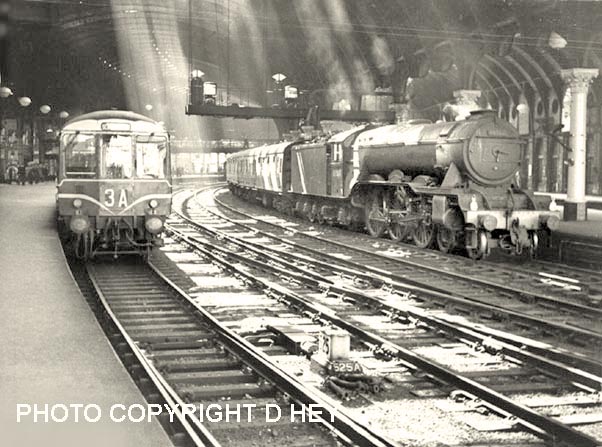 (Above) Class A3 No 60064 Tagalie restarts a train for Newcastle beneath the great arched roof at York station on April 20th 1960. On the left, a BRCW 3-car set awaits departure for Scarborough. The dmu service commenced on March 17th 1960, replacing most of the weekday steam-hauled passenger services to the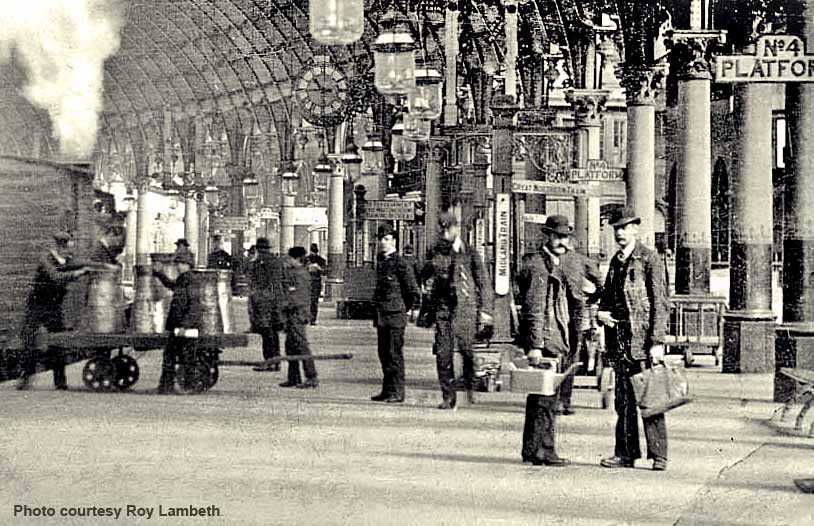 Yorkshire coast, the majority of which were through workings from Leeds.

(Right) The first York railway station was opened in 1839 by the York and North Midland Railway on Queen Street outside the walls of the city. It was succeeded in 1841, by what is now York old railway station inside the city walls. The present station was designed by the North Eastern Railway's architects Thomas Prosser and William Peachey, and opened in 1877. It had 13 platforms and was at that time the largest station in the world.

Curved from end to end, the graceful symmetry of the roof at York is best appreciated from platform level. The 81ft span is 800ft long and covers the two main through platforms at a height of 42ft; of course, the rail centre at York has changed considerably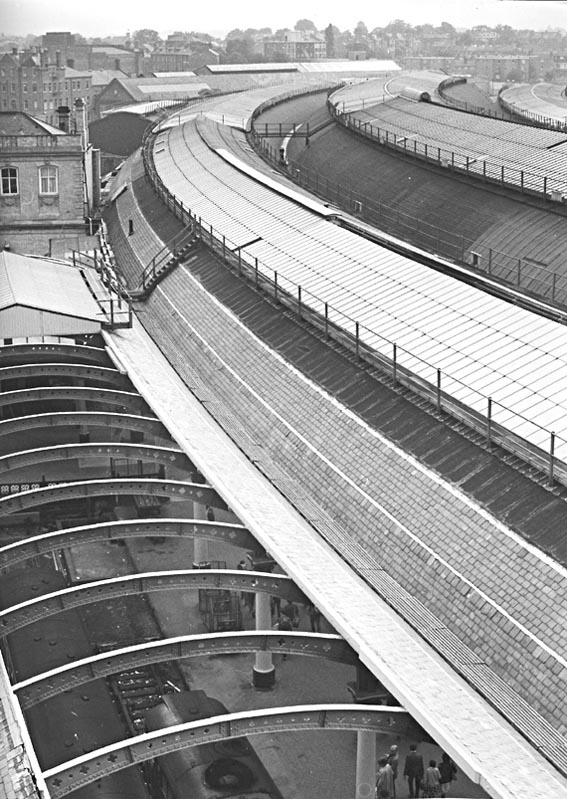 over the years with track rationalisation and a forest of catenary support masts, but the station itself still retains an air of grandeur.

(Left-Right-Below) As part of the 1877 station project, the Royal Station Hotel (now The Royal York Hotel) was also designed by the NER's architect. William Peachey, and opened a year later in 1878. During the early 1980s the hotel management gave me permission to photograph the curvature of the station roof from the hotel's fire escape; a good idea but easier said than done!
Even though I was using a 26mm wide-angle lens I still couldn't get a satisfactory composition and opted for two vertical shots instead, hoping I could somehow stitch them together…some hope! The curvature of York station roof has so many angles at odds with each other that it was virtually impossible to marry both vertical 26mm wide-angle shots into one satisfactory whole without distorting the image; indeed having spent countless hours trying to cobble it together I finally gave up, and posted my half-hearted effort on the 'BR Rail Photo Workshop' page 75 HERE.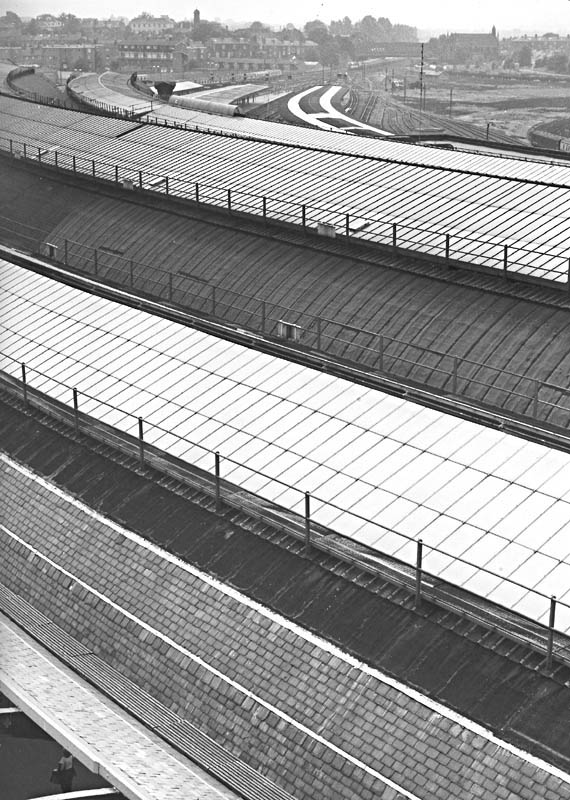 And I thought no more about it, until out of the blue, I received an email from Adrian Warren, who writes...'Hi David, I've really been enjoying reading your site; and I think there's something I can help you with? On your BR Rail Photo Workshop page you have a 'Work In Progress' of the roof of York Station. There's a very easy way to get those two pictures combined; full Adobe Photoshop now has some panoramic merging capabilities. They're fully automatic, and my first result is attached to this email.
However, I also used a dedicated panoramic stitching program called PTGui, and attach the results of that too. PTGui required a lot more work as I had to add the control points manually; usually it can do that automatically; but the alignment of those two shots is tricky. Anyway I thought that might be of some interest. Please keep up the hard work on your site.
Kind regards, Adrian...'
Well, it goes without saying that I'm thrilled with the result, and my sincere thanks to 'Maestro' Adrian for taking the trouble to stitch the two images together...I wish I'd taken more now!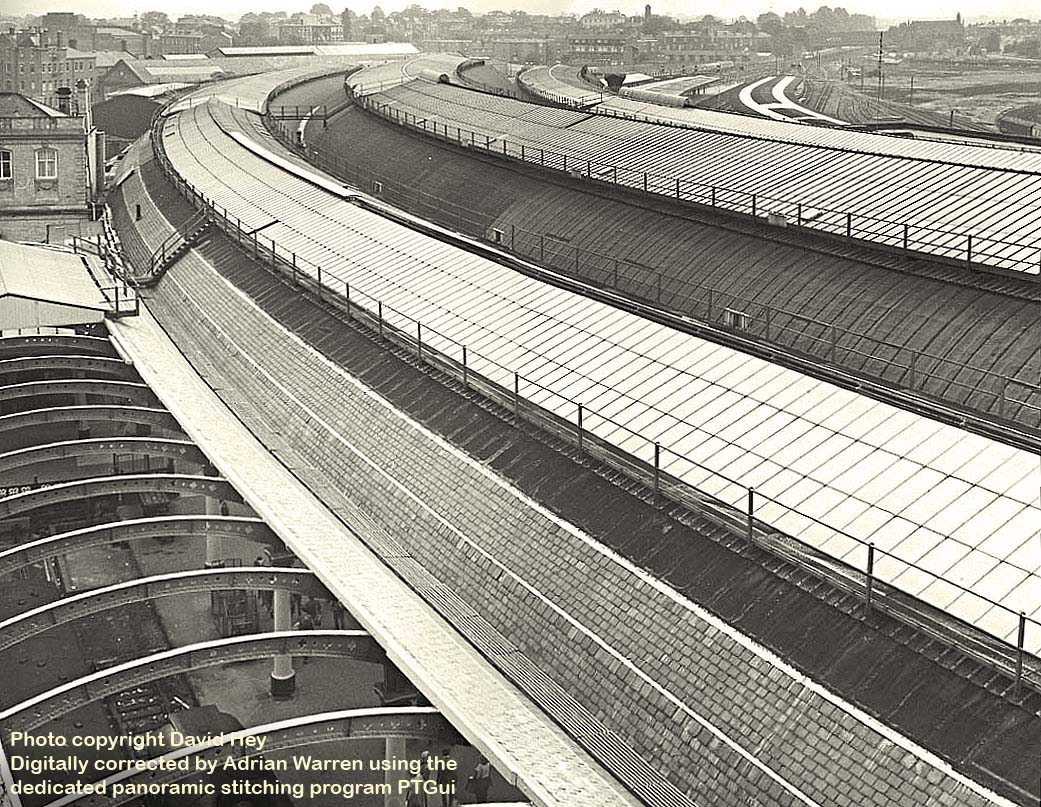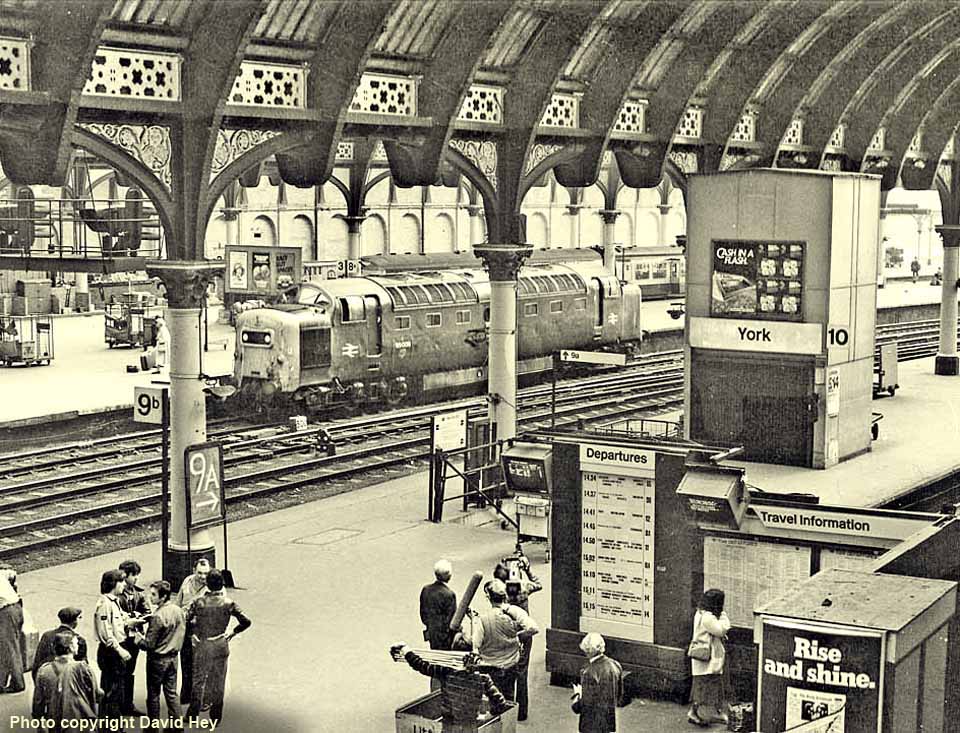 (Above) Class 55 No 55008 The Green Howards passes light engine through York. Everything about this scene is very Nineteen Eighties! Among the advertising hoardings is a slogan for the Daily Telegraph's 'Rise and Shine' in the foreground - and just discernible above the cab of the locomotive is a car advert with the slogan 'Racy but Spacey' - also affixed to the platform goods lift on platforms 9A-10 is a National Westminster Bank poster featuring an ATM and promising - 'Cash in a Flash'. For the record, the world's first ATM was installed in a branch of Barclays in Enfield in 1967, north London, its launch featuring comedy actor Reg Varney, from the television series 'On the Buses'.

(Below) The preservation movement was born in the hope that at least one example of a class could be saved, though some classes faired less better than others. The Class A1 Pacifics had the distinction of being the last express passenger locomotive to be designed by a pre-nationalisation company, but none survived the cutter's torch. The first A1, No 60114, entered traffic just 8 months after British Railways was formed, therefore it never carried an LNER number. The locos were constructed consecutively at Doncaster (26) and Darlington (23) and all 49 were completed by the end of 1949. By the summer of 1966, however, all had gone for scrap, the last being No 60145, after a working life of just 17 years. A study of Gresley Class V2s and Peppercorn A1s inside the roundhouse at 50A in 1963. By January 1964, York's allocation of Class V2s totalled 26 and its allocation of A1s consisted of Nos 60120-21/24/26/38/40-1/43/45-47/50/55 - 13 in all. By 1966 all the A1s had gone after an average life of only 15 years, the last from York depot. Sadly, none survived the cutter's torch - and out of a total of 184 Class V2s, one remains, No 60800 Green Arrow, which has found a home at the NRM. Photo © B Lister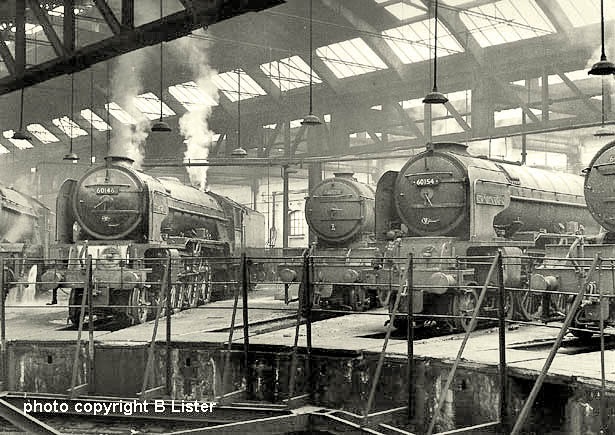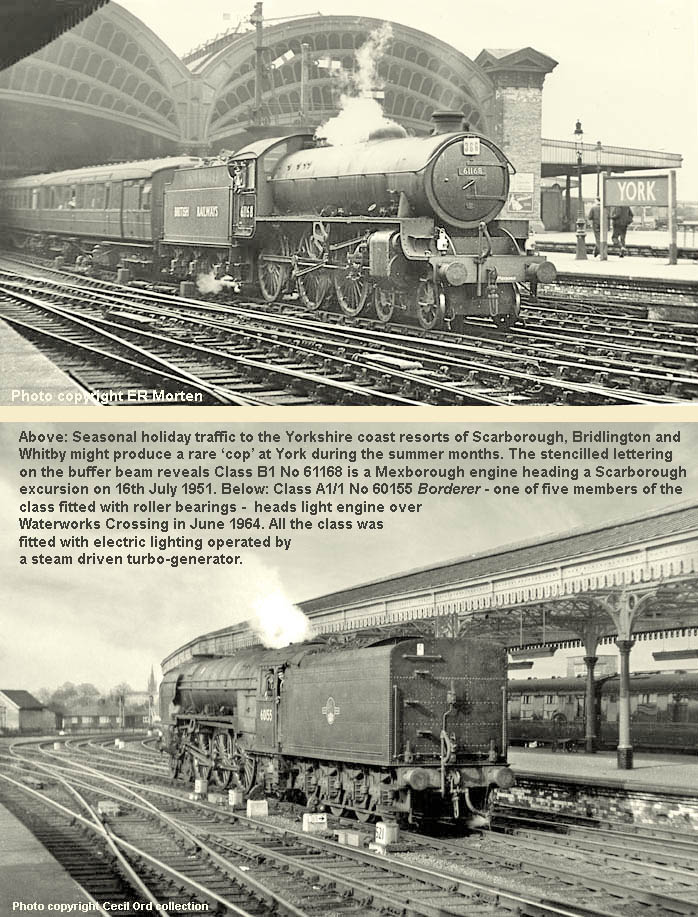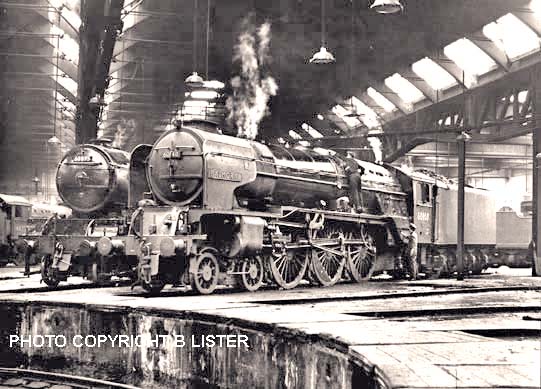 (Above-Below) This view of cleaners sprucing up Class A1 No 60140 Balmoral at York shed in October 1963 gave photographer, Brian Lister, a preliminary glimpse of things to come, as the building came under the auspices of the National Railway Museum ten years later. Work began in January 1973 with Number 3 and 4 roundhouses destined to become the NRM's main hall. The No 3 shed possessed a 60ft turntable whereas No 4 shed had a 70ft turntable, both having radiating stalls providing an imaginative way of displaying locomotives and rolling stock. The removal of the smaller turntable caused some controversy, but this enabled the NRM to exhibit rolling stock on parallel lines. Ironically, the old steam shed - once filled with sulphurous smoke, hot oil and steam - is now designated a no-smoking area to visitors! Photo © B Lister.(Below) A cast brass nameplate for A1 Class 4-6-2 Pacifi 60140 Balmoral went under the hammer for £7,000 at a Great Western Railwayana Auction in April 2015. Built at Darlington in December 1948 under works number 2059, the loco was allocated to York throughout its career with the exception of a short spell at Top Shed. Withdrawal came in January 1965.



(Below) Sporting a Kings Cross (34A) shedplate on the smokebox door, Class A1 No 60139 Sea Eagle restarts a London-Newcastle train out of York.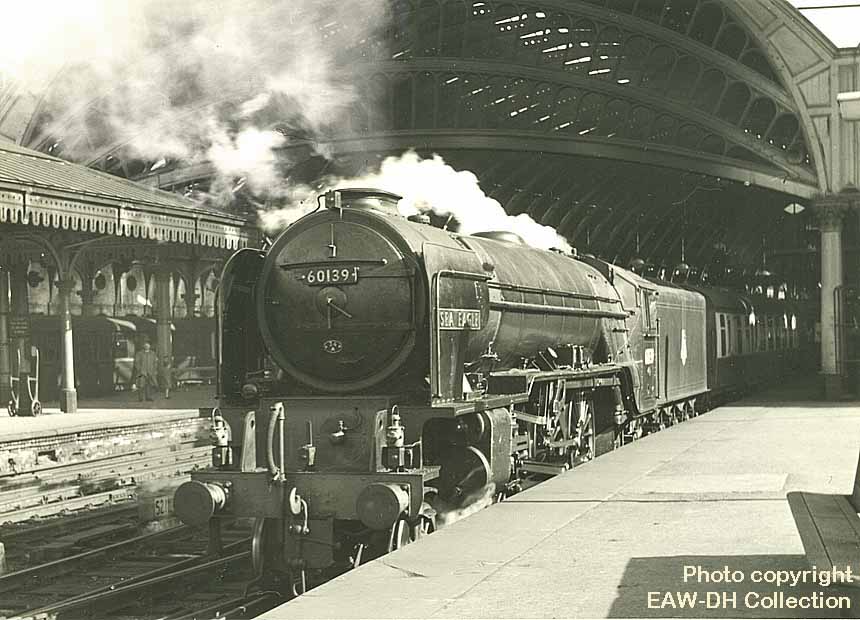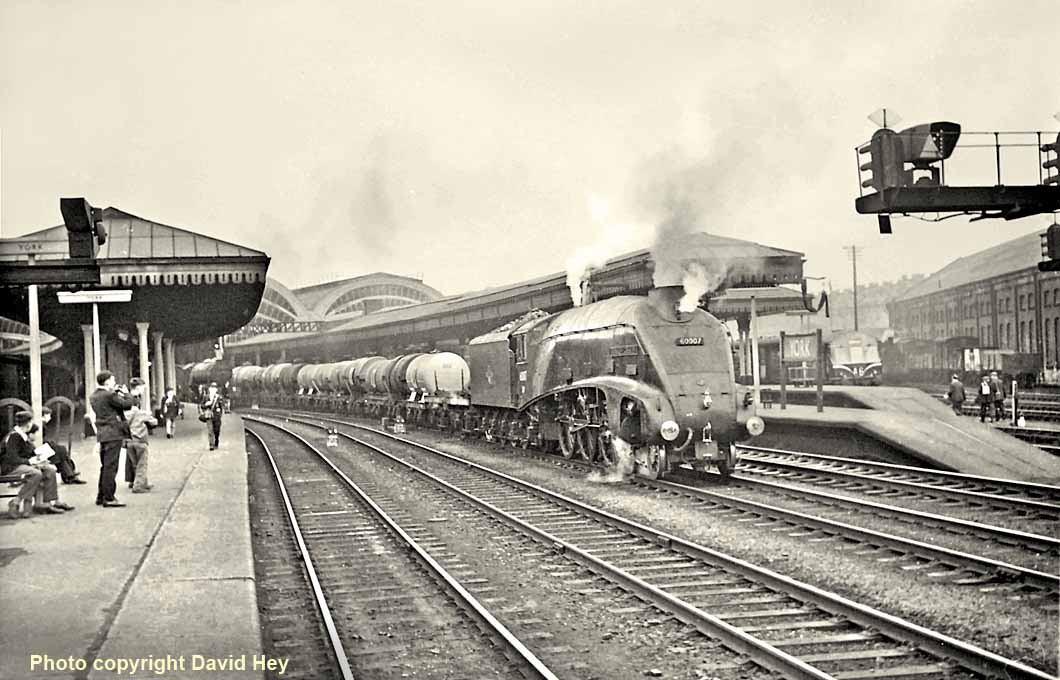 (Above) A favourite among steam enthusiasts today - Class A4 No 60007 Sir Nigel Gresley - one of six A4s to be preserved (four in Britain and two in North America) - is seen here at York performing duties for which it was not designed. It is hard to believe that this locomotive set a post-war world record for steam traction of 112mph on May 23rd 1959, almost a year to the day that this shot was taken on April 20th 1960.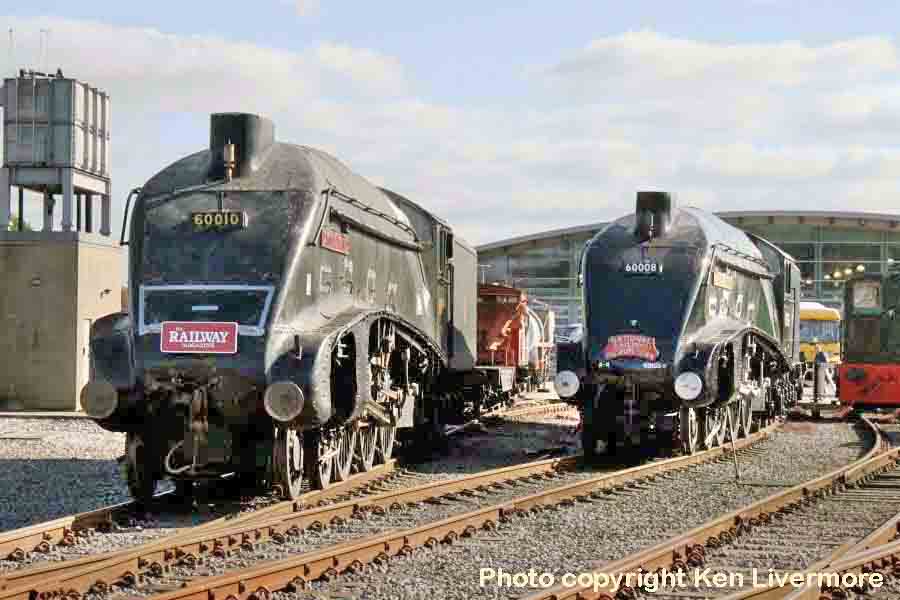 (Above-Below) Prior to taking part in the historic reunion at the NRM in 2013, Ken Livermore took this shot of the repatriated 60008 and 60010 shortly after their arrival at Shildon where they were being prepared in readiness for the 'Great Gathering', a name given to the historical reunion of all six surviving A4s to mark the 75th anniversary of Mallard's world speed record. After the celebrations were over, the owners of 60010 Dominion of Canada requested that several items from the locomotive should be presented for sale at auction before the locomotive returned to the Canadian National Railway Museum at Montreal. The items went under hammer at a Great Central Railway Auction on 12 July 2014; these included the smokebox numberplate (£9,400); the chimney cowling, solid copper, with base surround, original Brunswick green paintwork (£3,600) and the locomotive's Crosby tri-tone chime whistle £6,200. There's a certain poignancy about flogging off bits 'n' pieces from this iconic locomotive, but the high bidding does reflect the significance of the A4's role in our railway history. Built at Doncaster in May 1937, Gresley's Class A4 60010 Dominion of Canada was allocated new to Kings Cross, where it remained, apart from a few months spent at Grantham in 1957, before moving to New England in June 1963 and finally to Aberdeen Ferryhill in November 1963. Following withdrawal on 29 May 1965, 60010 was cosmetically restored at Crewe Works prior to being presented for display in the Montreal Museum. Click HERE to visit the famous Great Central Railway Auction's website. A visit is highly recommended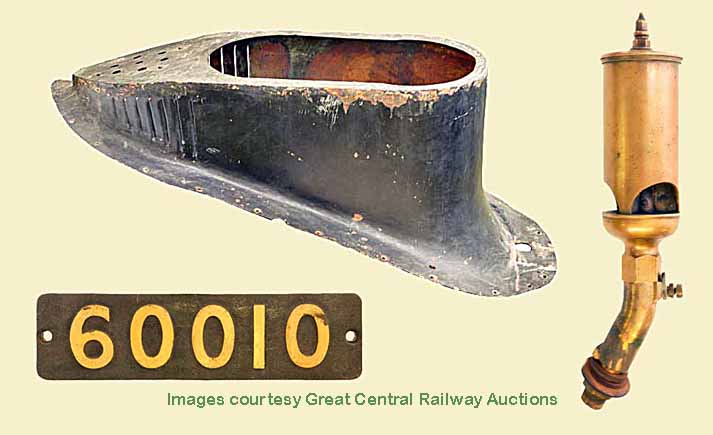 (Below) This photo by Trevor Ermel reminds me of Terence Cuneo's 1947 painting 'Giants Refreshed' at Doncaster Plant. Here Class No 60010 Dominion of Canada is seen undergoing restoration to LNER livery at Locomotion, Shildon on 29th December 2012. The wheels have already been repainted red and a start has been made in applying the Garter Blue livery to the cylinder cover. New skirting will be fitted over the wheels and the double chimney is to be replaced by a single chimney, as built, allowing the Canadian bell to be refitted; this can be seen in the foreground of the picture, along with the stainless steel figures of her original LNER number 4489. Trevor Ermel has become a major contributor to this site. His quite remarkable Rail Cameraman page 69 can be found on left-hand menu.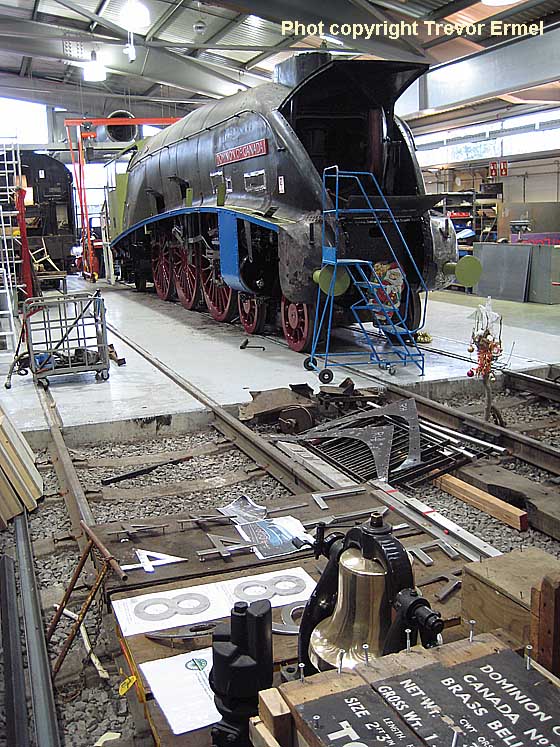 (Below) Mention is made earlier of Edward Thompson's reign as CME of the LNER between 1941 and 1946 as being that of a man dedicated to diminishing Gresley's reign as CME at Doncaster. On the other hand, supporters of Thompson will say that the rebuilding of certain loco classes was a sensible strategy given the need to standardise wherever possible during wartime conditions - and to give credit where it's due, Edward Thompson's first new loco design for the LNER - a 2-cylinder all-purpose Class B1 4-6-0 - was one of his most notable contributions. Due to the priority on economies of materials, he went to great lengths to save on costs by using existing patterns, jigs and tools at Darlington. In all, 409 engines were built, with 41 named after species of antelopes and 17 after LNER Directors. An 'up' freight headed by Class B1 No 61321 is overtaken by a pair of B1s at Dringhouses York in the 1950s. Today, two B1s survive in preservation - Nos 61264 and 61306. Photo © E A Wood-DH collection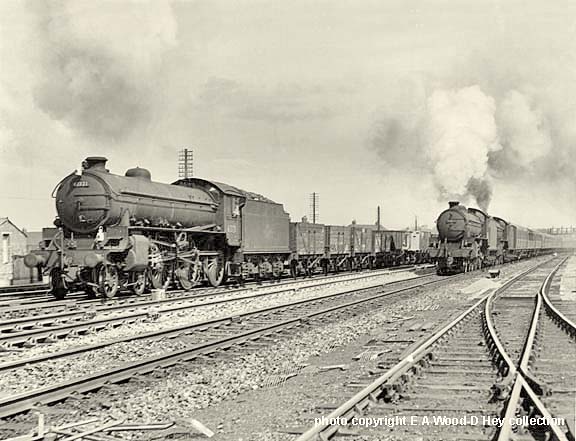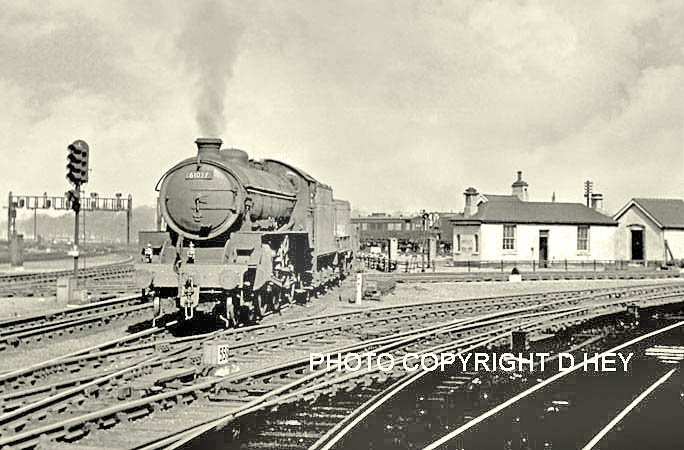 (Above-Below) The divergence of the Scarborough line at Waterworks Crossing has radically changed since the remodelling of the rail layout at York in readiness for ECML electrification. The use of diamond crossings is now deemed out of favour, partly because of the high cost of maintenance and partly because of the ever-increasing demand for high-speed running. The Waterworks Diamonds were removed as early as 1974. Here Class B1 No 61037 Jairou heads an 'up' freight over Waterworks Crossing on April 26 1960. Forty members of Thompson's Class B1 4-6-0s were named after species of antelope and 18 after LNER directors. In all, 410 locomotives Nos 61000-61409 were constructed, the first batch of 40 emerging from Darlington works from 1942, including (Below) A more familiar antelope name, Impala, was carried by 61002, seen here awaiting departure with a train for Scarborough on 2nd July 1955.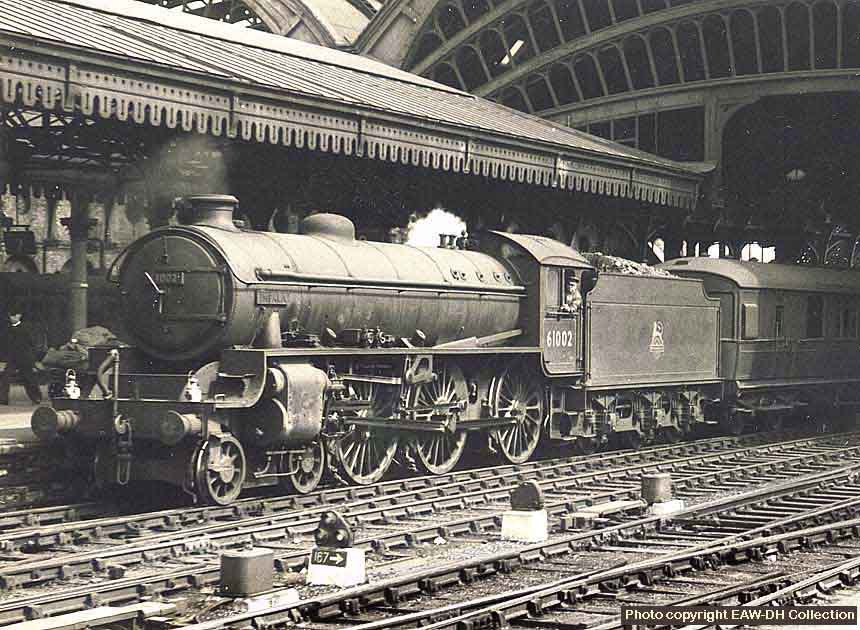 (Below) A seemingly impatient Class V2 No 60964 The Durham Light Infantry blows off at signals with a

southbound freight. (Inset Right and Left) A locomotive nameplate 'The Durham Light Infantry' appeared at a recent GEC Auction. The LNER V2 Class 2-6-2 No 3676 was built at Darlington, Works No 1904, in January 1943, renumbered 964 in 1946, becoming BR 60964. It was ceremonially named at Durham Station on 29th April 1958 by the Colonel of the Regiment. The choice of 60964 was appropriate as the loco spent the whole of its working life at nearby Gateshead and Heaton. It was withdrawn from Gateshead in

May 1964 and, after short periods in store it was cut up at Swindon the following October. The surviving nameplate and 'splasher' is a one piece brass casting with the regimental badge fitted separately, with the original BR chromium plating. The integral splasher repainted green with orange lining and the background to the lettering red, original chrome to the lettering, border and badge, the back also completely untouched. This lot sold for £20,000 on 17th January 2009, while the smokebox numberplate of 60964 sold separately for £2,300.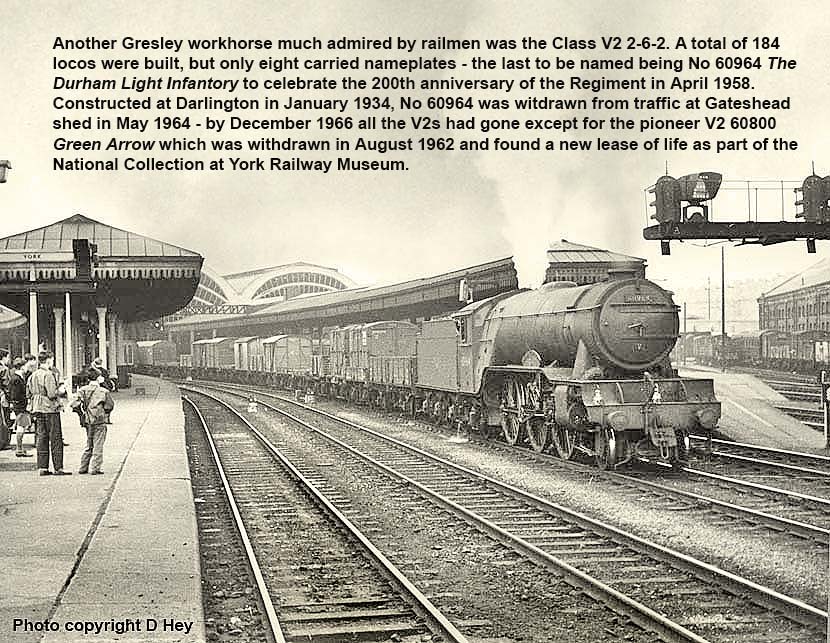 (Above) Another locomotive nameplate from a Class V2 2-6-2 No 60847 'St Peters School York AD627' recently appeared for sale at auction. Originally numbered 4818, the V2 was built at Darlington in March 1939 and named at a ceremony at York station on 3rd April 1939 by JT Brocklebank, Head Boy of the school; this was one of two V2s named in honour of public schools in the north-east of England, the other being 'Durham School'. Doubtless others would have followed had it not being for the outbreak of World War ll. The loco was renumbered 847 in 1946, becoming 60847 upon nationalisation of the former 'Big Four' railway companies. Appropriately a York (50A) engine all its life, 60847 was withdrawn in July 1965 and after brief periods in store at York and Oxley it was removed to Cashmores at nearby Great Bridge where it was cut up the following October. The plate was repainted in the correct colours and the brass lightly polished, overall dimensions being 54" long and 15½" high. This lot sold for £24,000 at Great Central Railwayana Auctions on 25th April 2009. Click here to visit the GCR Auctions fascinating website.

(Below) The Class A2s Pacifics were early candidates for withdrawal, the first going in 1960. The original six members, Nos 60501-60506, were Edward Thompson rebuilds from the Gresley Class P2 2-8-2s, and introduced in 1944. The second batch, Nos 60507-60510 was a similar design with a V2 2-6-2 boiler and Pacific wheel arrangement, designated A2/1. A further Thompson development came with the construction of Nos 60500, named in his honour, and Nos 60511 to 60524 from 1946-1947, all designated A2/3. Following the appointment of AH Peppercorn as CME of the LNER, a further fifteen was built with a shorter wheelbase, designated A2s - and, as it turned out, the performance of the Peppercorn engines was in sharp contrast to the unreliable Thompson design. The first, No 525, was named A.H. Peppercorn and emerged from Doncaster works in December 1947, just a few days prior to nationalisation. Here, No 60526 Sugar Palm, which set a 101mph record for the class on Stoke Bank in 1961, was photographed at York, just a few months before withdrawal in October 1962. The last three Peppercorn A2/3s, Nos 60528, 60530 and 60532 Blue Peter soldiered on in eastern Scotland prior to withdrawal in June 1966. Photo © JR Carter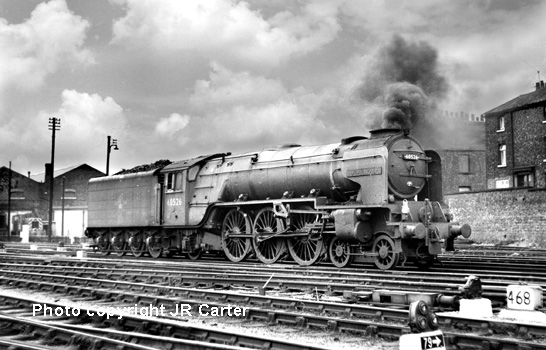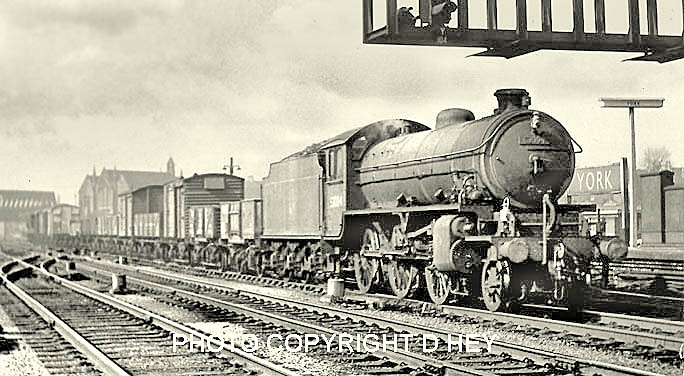 (Above) In 1960 BR's stock of steam locomotives shrank to less than 13,250, whilst the fleet of main line diesel increased by 409 to 842. In that same year, the Trans-Pennine units and Calder Valley sets were introduced in the north of England. On April 26th 1960, Class K1 2-6-0 No 62004 was photographed at York station heading a northbound loose-coupled freight. The 2-cylinder K1s were evolved from the Thompson 1945 rebuild of No 61997 MacCailin Mor (one of Gresley's original five 3-cylinder 'K4' 2-6-0s built for the West Highland line). In all, seventy K1s Nos 62001-62070 were constructed by the North British Locomotive Company during 1949/50.



(Below) Approaching York station from the south, ER Morten took this unusual shot of the breakdown train - unusual because most photographers would ignore a picture of the train, preferring instead to photograph the steam locomotive on the front. This, for me, is why ER Morten's photos are special. Check out Mister Morten's 'Rail Cameraman' page 52 on the left-hand page menu.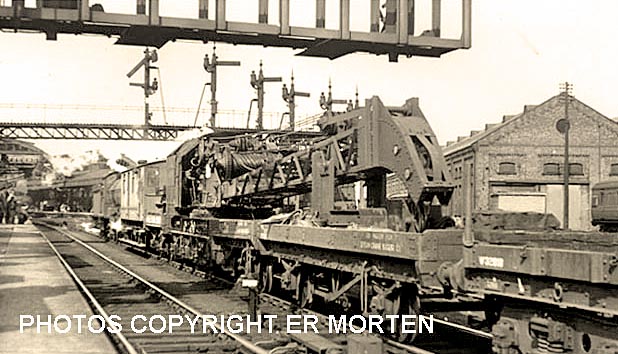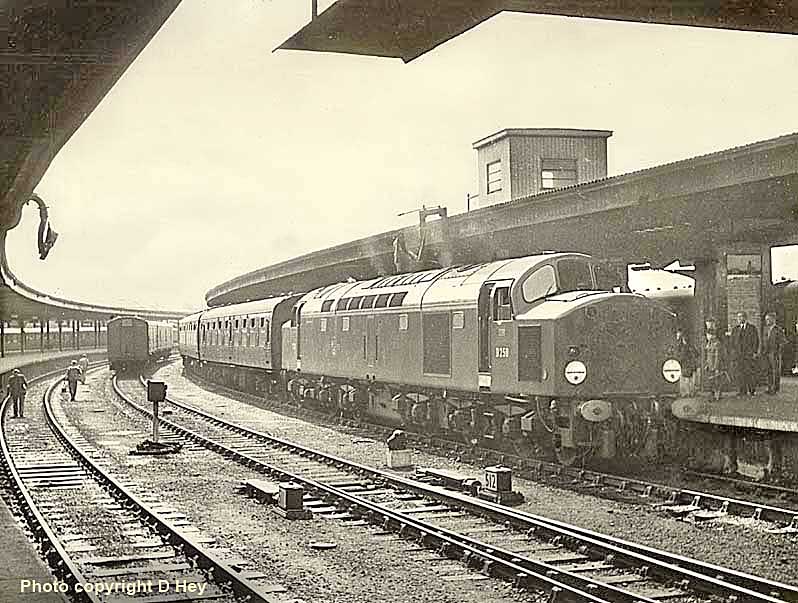 (Above-Below) Divided allegiances...the new diesels may have been derided by older enthusiasts during the early days of dieselisation, yet they caused quite a stir amongst young spotters. As the transition from steam got into its stride, the enterprising English Electric Company became the only manufacturer to have designed and built diesel locomotives to meet the requirements of all five BR power classes - Class 20, 'Baby Deltics' (in the Type 2 power range), Class 37, Class 40 and the Class 55 fleet. The company also supplied more than half of the diesel fleet. Comparisons are odious, they say, but the box-like shape of a diesel loco looked very ordinary when compared to the bulky proportions of a steam locomotive. Above: No D250, introduced to traffic on the North Eastern Region in December 1959, attracts a crowd of platform-enders in 1960. Below: Young spotters get a close-up view of No D258 being coupled-up to a southbound train at York. Photo EA Wood-D Hey.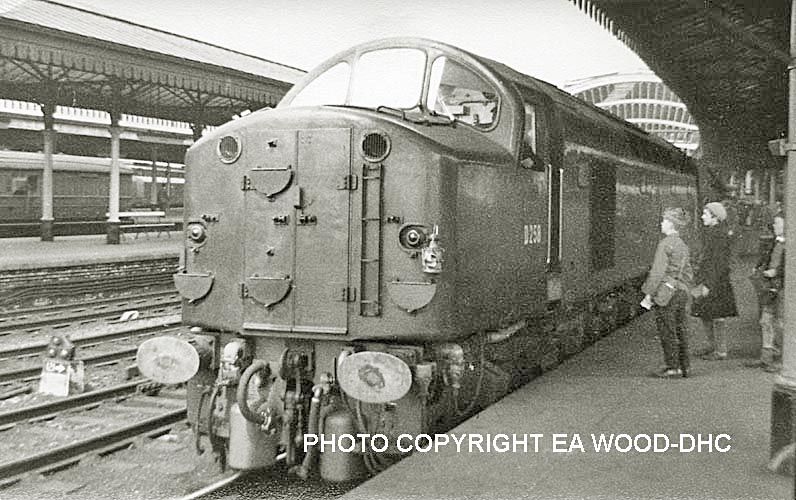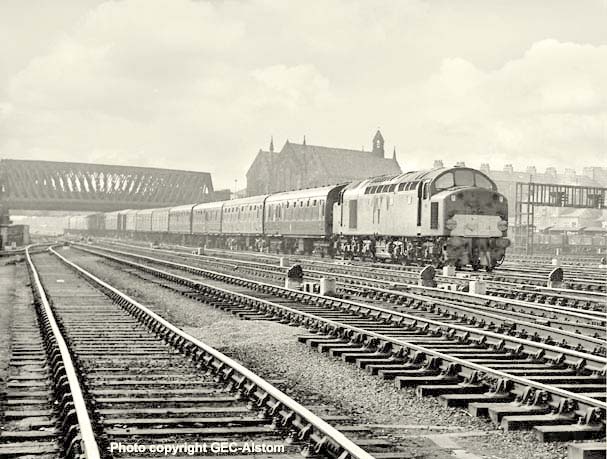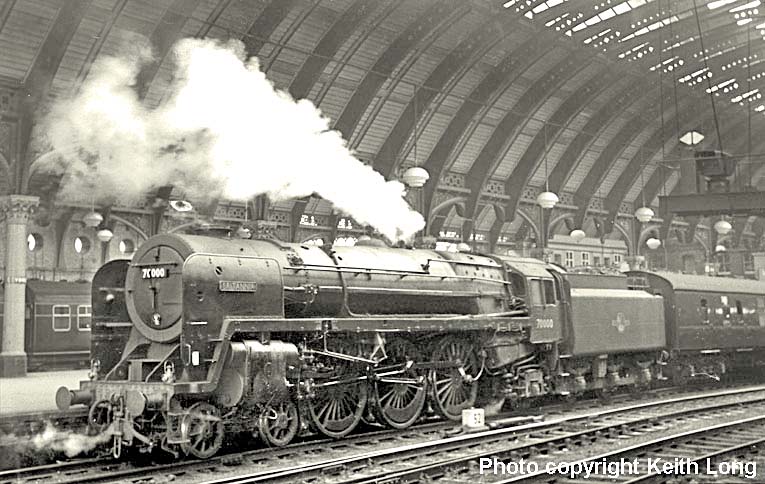 (Above) BR Standard Class 7MT Pacific No 70000 Britannia arrives at York with a train from Great Yarmouth on Saturday 23rd September 1961. This was the first of twelve new 'standard' classes introduced to traffic in the Fifties. However the full complement of 55 Pacific locomotives Nos 70000-70054 was far from 'standard'. I was contacted by the eagle-eyed Derek Dean, who described 14 visible modifications of No 70000! Now I ask you…who would have thought it? This is worthy of further investigation, I thought and so I am indebted to Derek Dean for submitting three pages 90-92 on the subject. He writes - 'David, if you believe that a detailed explanation of the quoted modifications will be of interest to enthusiasts in general, and to railway modellers especially, then that's what we shall do...' Click HERE to visit Derek's first page.

(Below) Although the history Britain's railways should be taken seriously, some sections of this site are pitched in a light-hearted fashion to relieve the tedium; contrary to popular belief we are not all 'nerds', 'geeks' and 'anoraks'! Hopefully it will give you a measure of the 'knockabout' banter amongst enthusiasts. After all, we enjoy a joke - often at our own expense - though the delivery might be so deadpan that non-enthusiasts might fail to recognise the bone-dry humour.
For example, the photo below contains a personal stock of memories. The painting of Class A4 Pacific No. 60020 Guillemot (on the floor) heading the 'up' Elizabethan through York raised a few smiles when it appeared in the May 1988 issue of 'Railway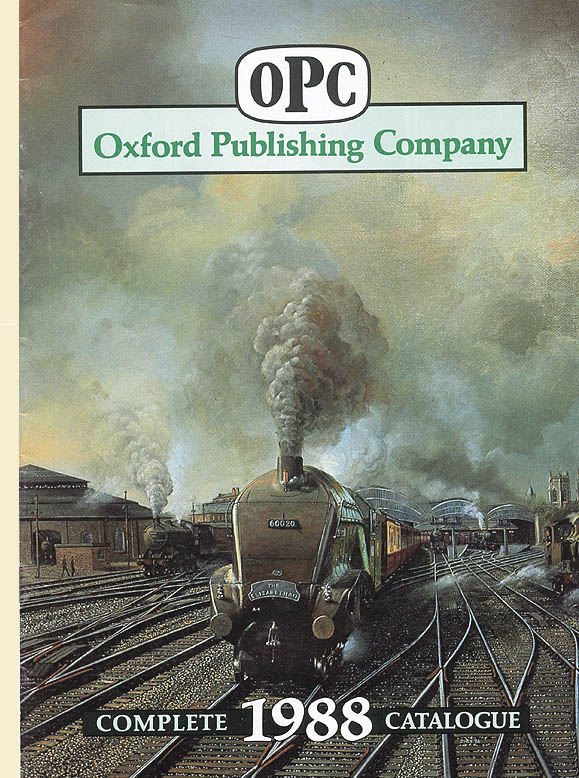 Magazine' together with the caption: 'This illustration - used on the jacket of the Oxford Publishing Company's book 'Northern Steam Remembered' by David Hey and Peter Batty - involved the publishers in considerable correspondence as this locomotive, never having been fitted with a corridor tender, was not rostered for the Elizabethan. However, it was a particular favourite of the artist, whose explanation is that it had substituted for a failed diesel!'
True, I did say that, but it was a lame excuse to make. No 60020 - a Gateshead engine all its life, and one of eleven A4's coupled with a non-corridor tender - was a regular visitor to Leeds and I must have seen it countless times.
However, the mistake was later redeemed by P.W.B. Semmens, who wrote in his Railway Practice & Performance feature (tongue in cheek, I might add) 'I was amused by the caption to David Hey's painting of Guillemot on the 'up' Elizabethan leaving York, and would confirm that there must have been some major failure that day. The 'up' line out of York station runs almost exactly south-west, and the light in the picture is very clearly coming from the left-hand side as viewed, which means the time must have been about 7pm - long after the train's booked time!'
Bless you, Mister Semmens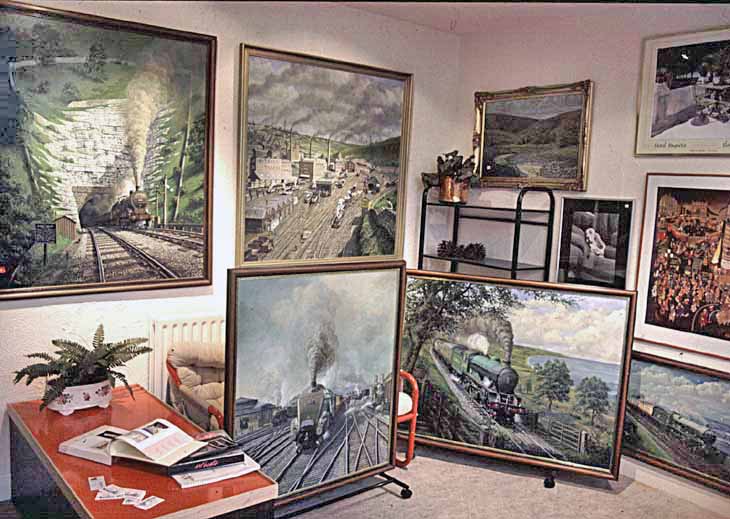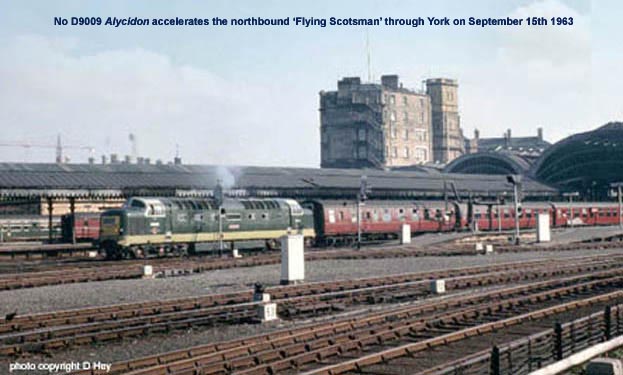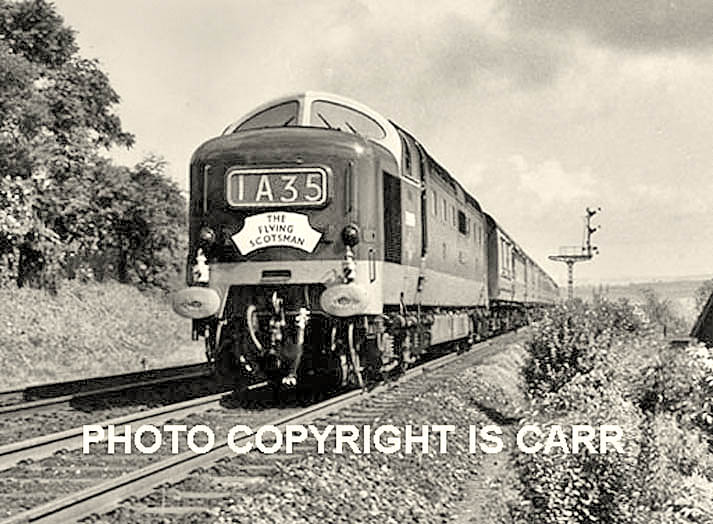 (Above) The late Ian S Carr is widely regarded as one of the elite among railway photographers and I couldn't resist using his shot of EE Co Deltic No D9009 Alycidon heading the 'up' 'Flying Scotsman' on the climb from Durham on August 8th 1961 - it packs all the power of a 'Deltic' at full cry. No D9009 entered traffic less than three weeks earlier on July 21st, joining sister engines Nos D9001/3/7 at Finsbury Park. The depot's full allocation was made up of eight 'Deltics', with D9012/15/18/20 following in quick succession. For the record, Alycidon won the Goodwood Cup in 1949, and sired the famous Meld - No D9003 in the 'Deltic' fleet. In the days before top lamp irons were fitted to the nose end, named-train headboards were mounted on a bracket that slipped into two front-end slots below the headcode display panel. Note also the standard express passenger headlamp code - two lamps above the bufferbeam - a legacy of steam days.

(Below) By September 1961 thirteen Deltics were available, and at the beginning of the winter schedules the Class A4s were displaced from the premier ECML expresses and more frequently to be found on Kings Cross-West Riding duties. It was the beginning of the end of the A4's reign, for the Deltic fleet took charge of numerous Anglo-Scottish expresses. The rosters were mainly undertaken by the Haymarket allocation, which included the up morning 'Talisman' and down 'Aberdonian' - the up 'Flying Scotsman' and 10.15 from Kings Cross - the up 'Heart of Midlothian' and 11.35 return from Kings Cross - the 11.15 from Edinburgh and the 'down' Flying Scotsman'. Another famous ECML express, 'The Elizabethan' began life in 1949 when it was decided to create a new non-stop train between the capitals - aptly named 'Capitals Limited' - to run ahead of the 'Flying Scotsman' in both directions. In 1953, when a suitable commemoration was desired for the Coronation of Queen Elizabeth, the 'Capitals Limited' was changed to the 'Elizabethan' and the time allowance was cut to 6½ hours bringing the express to within the charmed circle of mile-a-minute running. Engine crews changed by means of the corridor tenders fitted to the Gresley Class A4 streamlined Pacifics, but the non-stop record was discontinued at the commencement of the Deltics reign when a Newcastle stop was introduced for changing crews. Train spotters dutifully note down the number of D9018 Ballymos passing York on the 'down' train on 13th August 1962. A top lamp iron has been fitted above the headcode panel on the nose to allow the locomotive to carry a named-train headboard. Both © IS Carr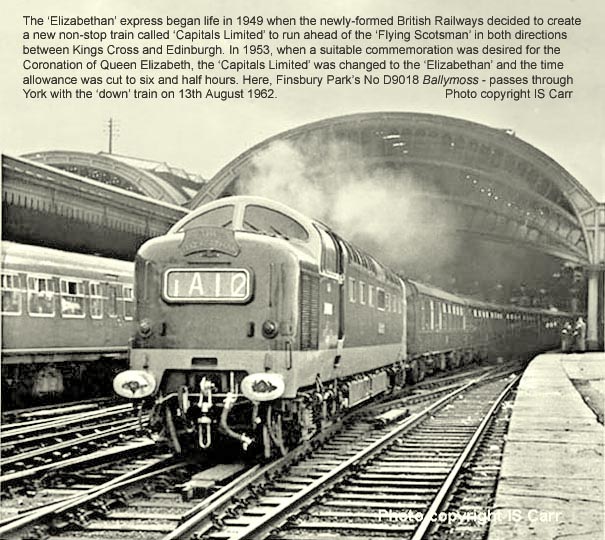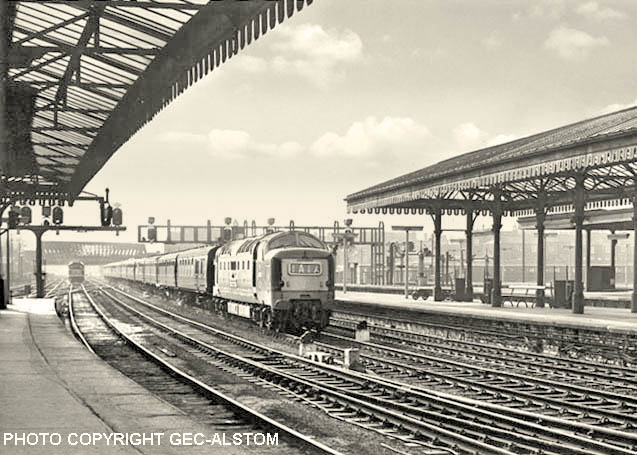 (Above) The theatre-type route indicators of the 1951 signalling scheme are much in evidence as No D9021 Argyll & Sutherland Highlander approaches York with the down 'Flying Scotsman' in March 1965. We are now well into the post-1961 BR period, after the British Rail Board (BRB) was formed, and the diesel fleet has acquired the obligatory yellow warning panel on the nose end (as stipulated by the BRB's Accident Prevention Service) though the effectiveness of the panels are somewhat marred by the centre position of the four-character headcode panels on the nose end which restricted their size. The era also heralded the handsome gilt-winged thistle emblem introduced by the BRB design panel for use by the Deltic fleet on 'Flying Scotsman' express duty.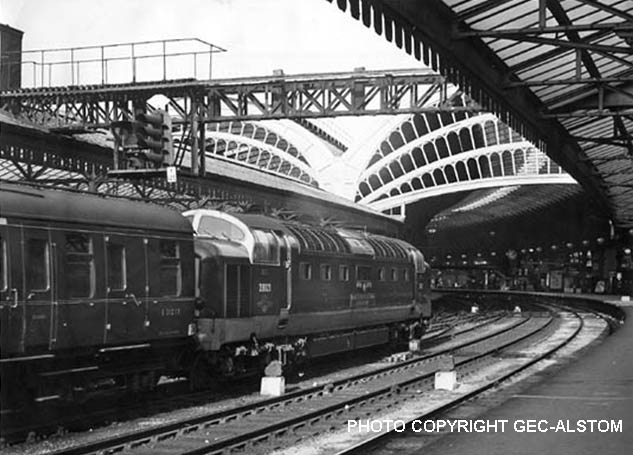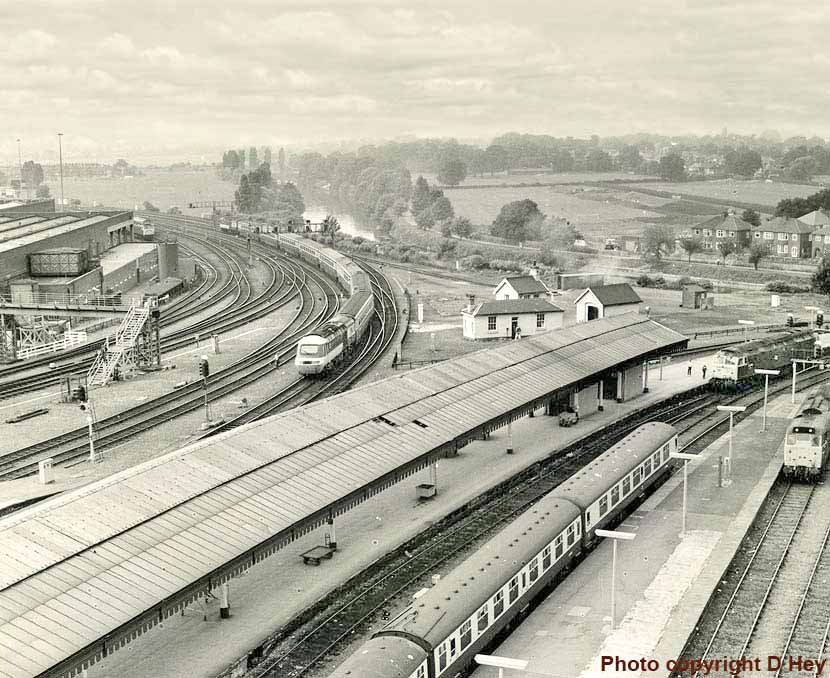 (Above-Below)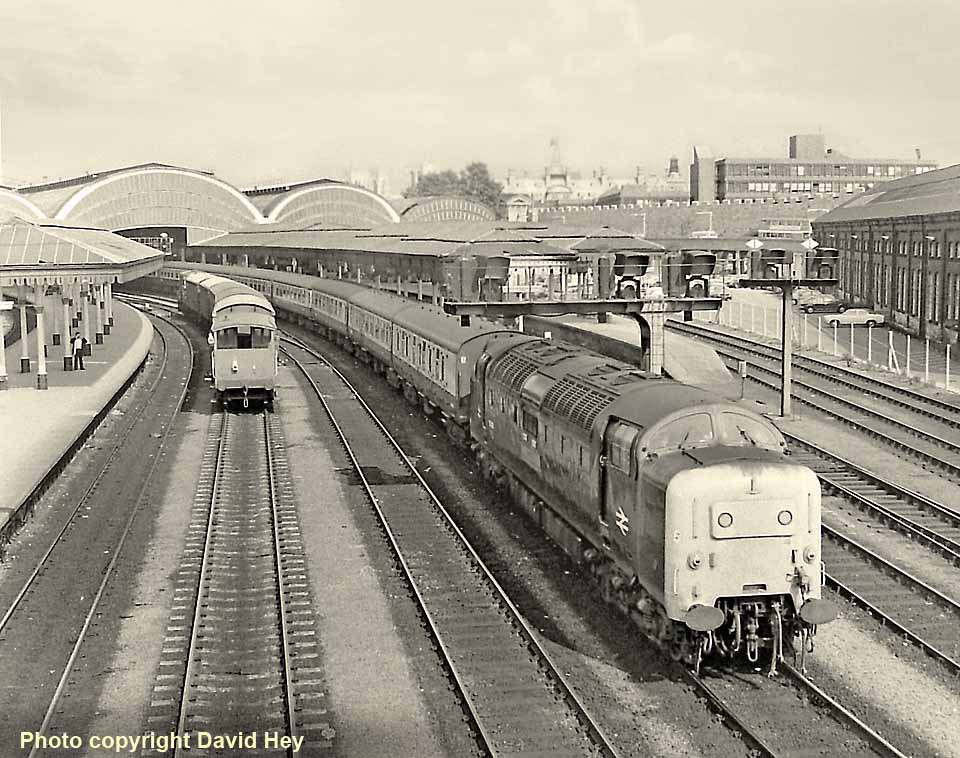 (Below) The BRB's choice of a plain overall blue livery for its loco fleet came as a big disappointment and it wasn't until the early 1980s that any variations in locomotive liveries arrived. Stratford depot was the first to deviate by painting silver roofs on some of its allocation of Class 47s, then bodyside Union Jacks were added. Meanwhile, Finsbury Park reinstated the white window surrounds on its six remaining Deltics. In May 1979, the eight Haymarket and six Gateshead Deltics were transferred to York, followed in June 1981 by the Finsbury Park allocation. But time was quickly running out for the Class 55s; the last Deltic-powered BR service taking place in January 1982. Following the introduction of full IC125 service on the ECML the diesel running shed was closed to all but minor maintenance at the end of 1981. On 7th June, No 55012 Crepello and No 55009 Alcydon receive attention. The shed at York now forms part of the NRM's annexe storage building. No 55013 The Black Watch awaits its next turn of duty at York in October 1980. Both © D Hey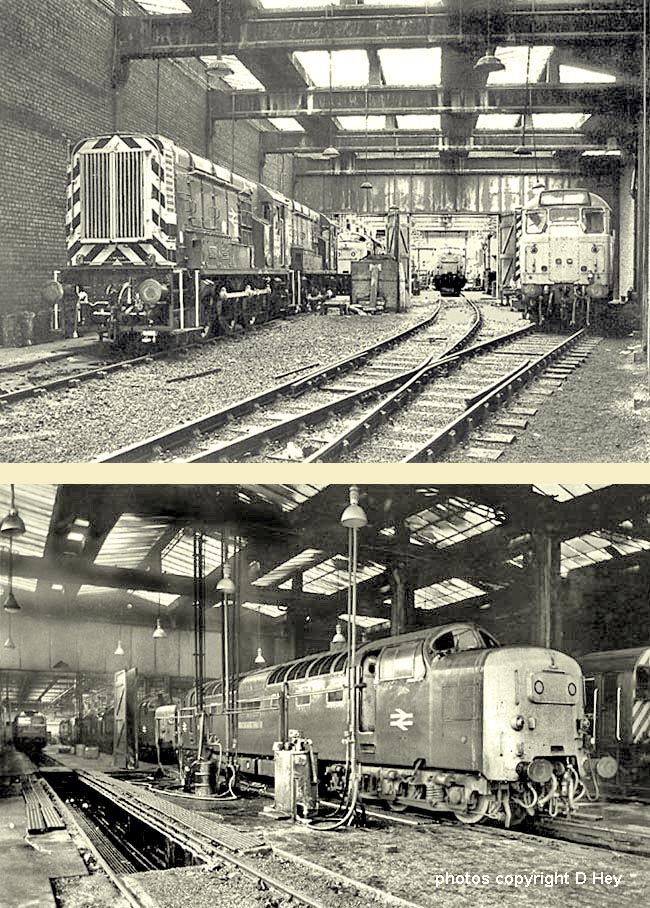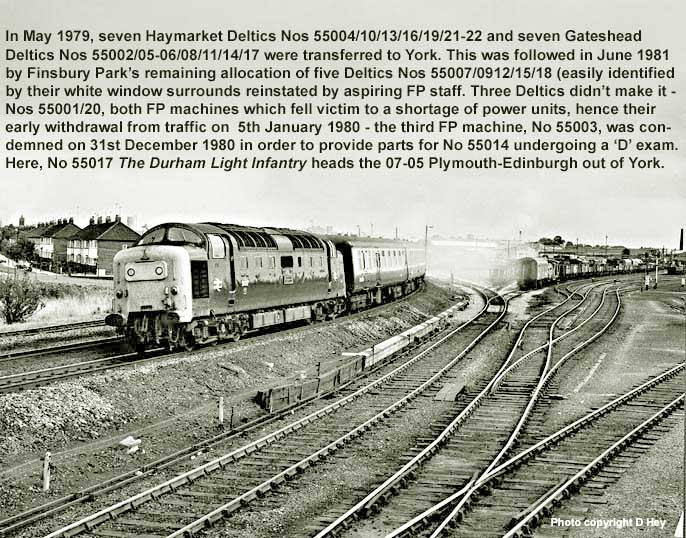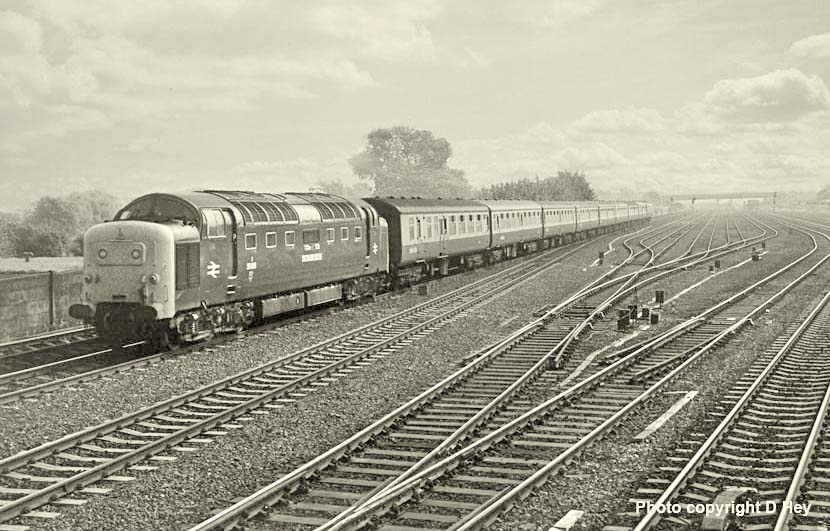 (Above-Below) When a class of locomotive is earmarked for withdrawal and their numbers begin to decline, the chase is on to photograph as many different members as possible. An easy enough task you might think - particularly if the class is so few in numbers such as the 'Deltic' fleet: 22 in all. The opportunity arose during a week's holiday in September 1981, but for that entire week No 55013 The Black Watch hauled the 07.50 Plymouth-Edinburgh north of York. Here the loco accelerates out of York past North Yard at Clifton.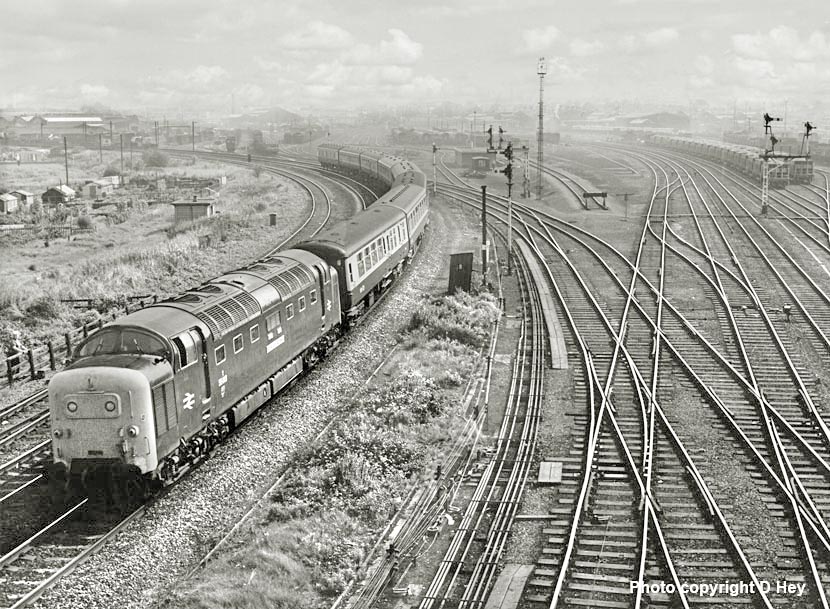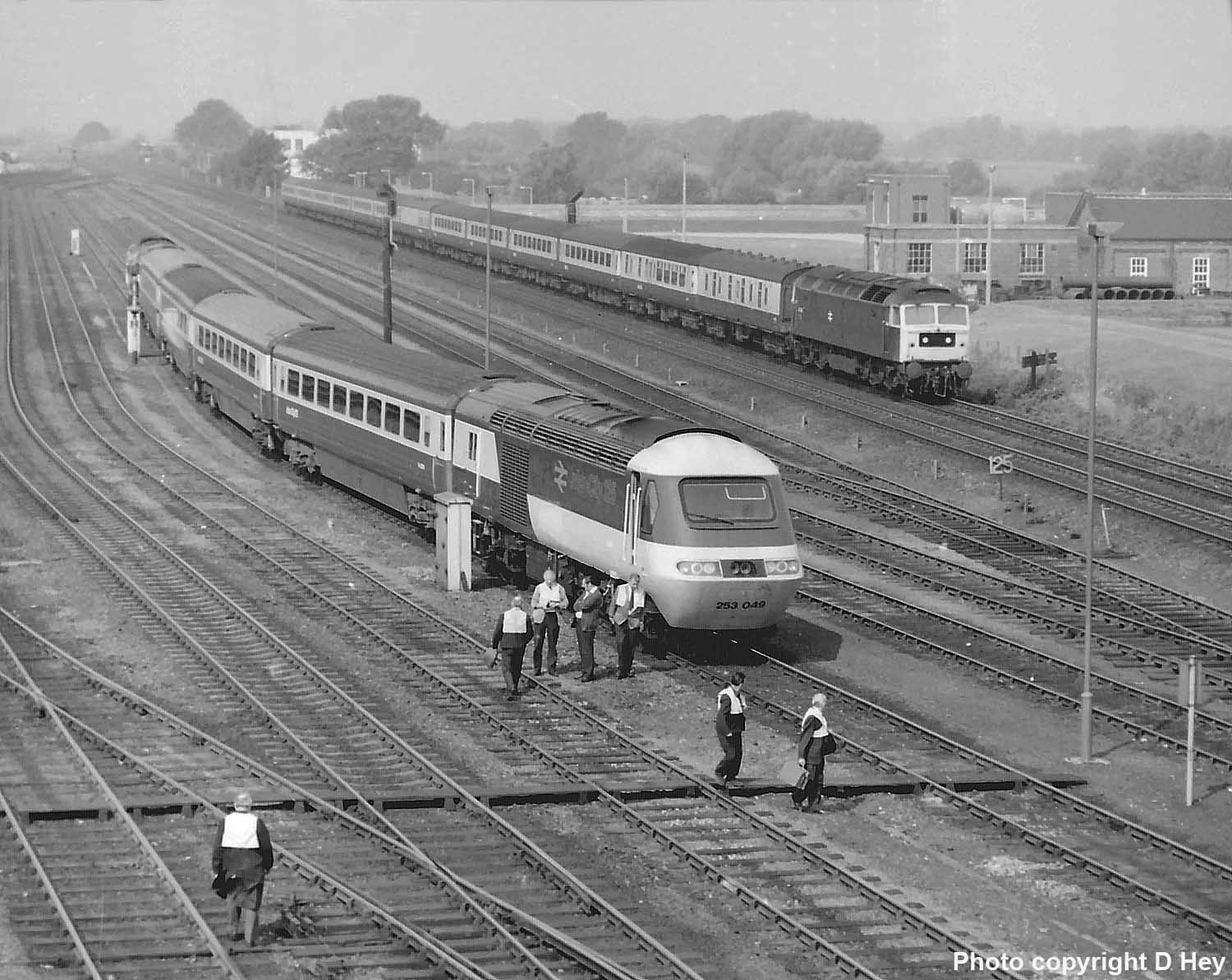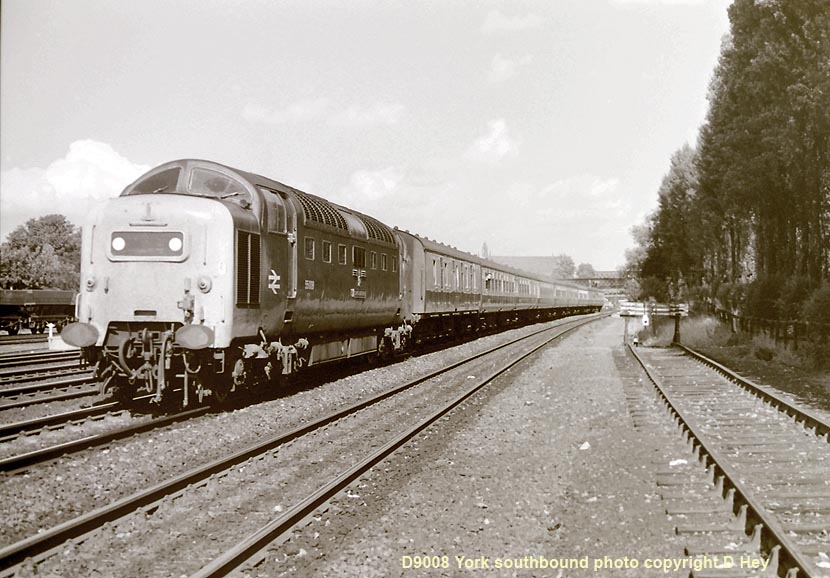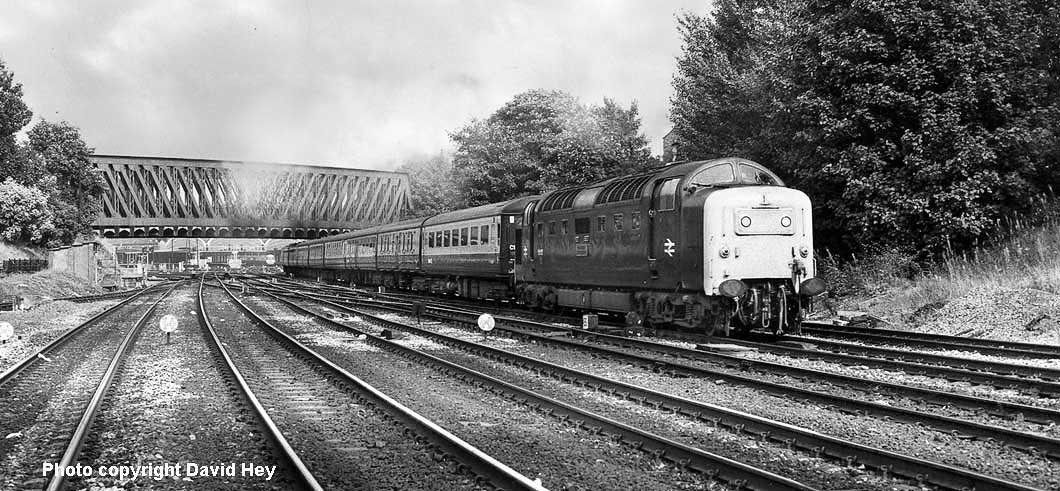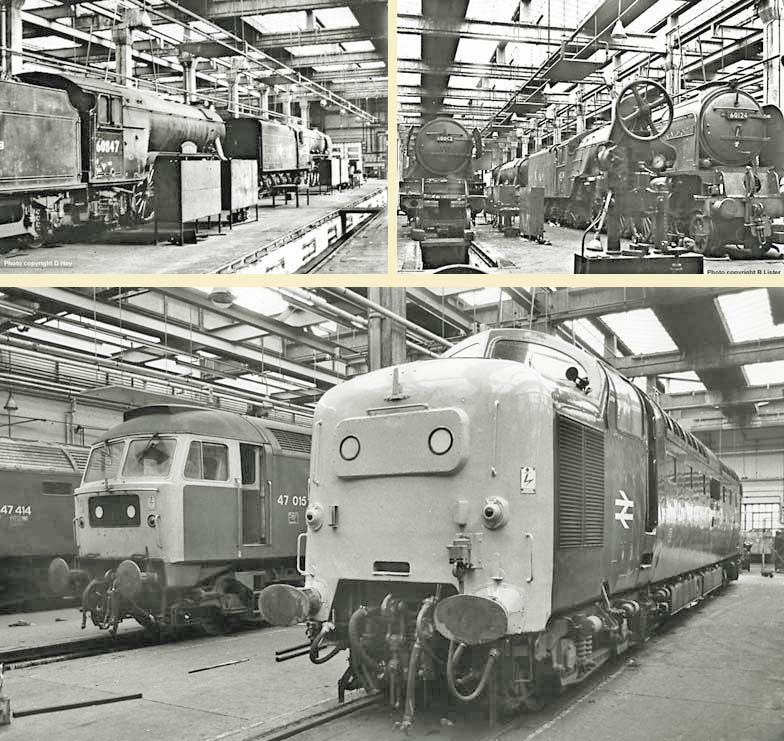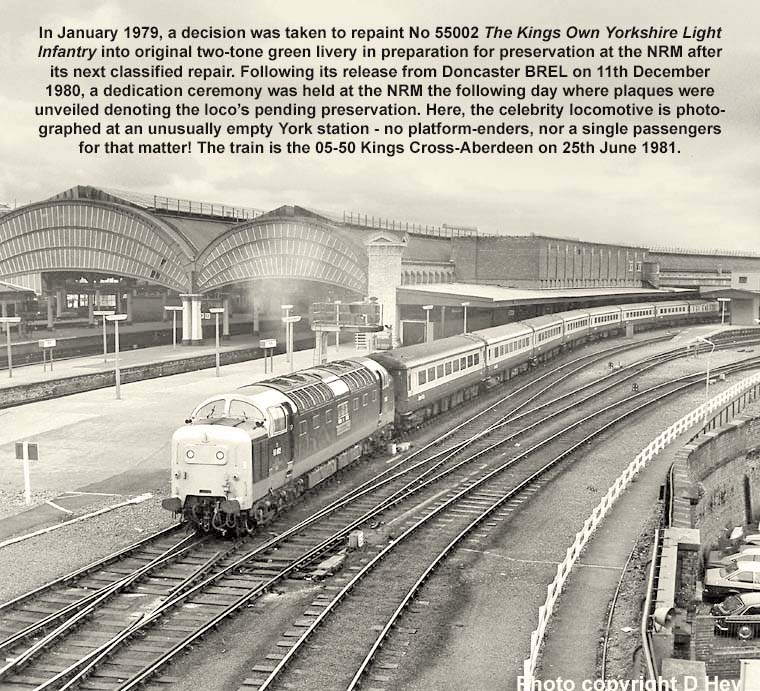 (Below) Railway photography is a notoriously subjective matter. The time-honoured ¾ shot handed down by our peers from steam days is the standard that most follow, but with the absence of a smoke effect, diesel photography is definitely more challenging. The cameraman seeking to break from the traditional ¾ perspective should be applauded, not scorned, and all credit must go to Colin Gifford for setting new standards of excellence. The images in his pictorial railway book 'Each a Glimpse', published by Ian Allan blew me away! A tongue-in-cheek shot of a Class 03 propelling coaching stock at a seemingly breakneck speed into Scarborough station may not be everyone's cup of tea, nor is the photograph of a stationary Class 08 shunter being passed by a mixed freight at York South Junction. But to placate the enthusiasts of the old school, I've included a traditional view of No 08540 waiting beneath Holgate bridge. Photos: D Hey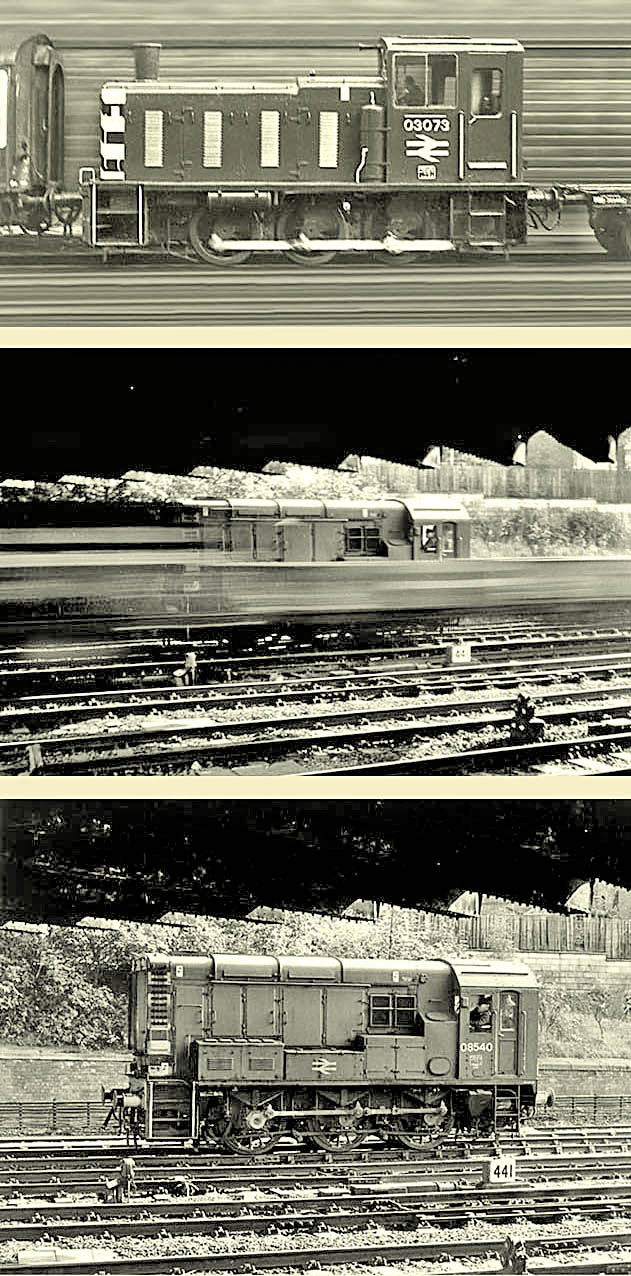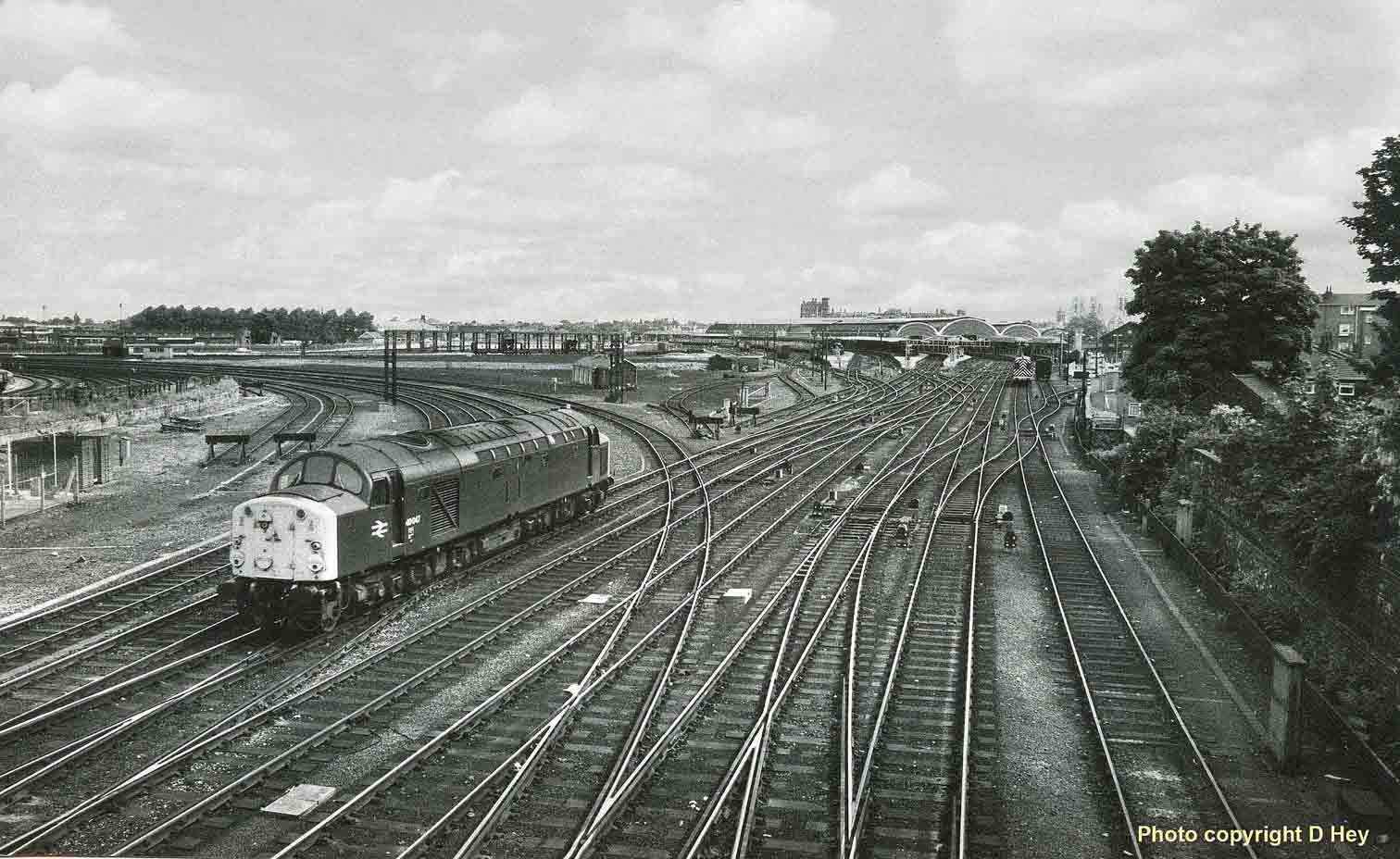 (Above) Click on image to see super-wide view of Class 40 No 40047 at Holgate Junction. (Below) The trouble I have with childhood is that I was constantly strapped for cash; the paltry wages I earned from a morning paper round (half-a-crown -12½p in today's money) barely covered the cost of a cheap-day return, let alone the cost of film and processing, therefore with financial stringencies in mind, few railway photographs were deemed worthy enough to snap. But now I have more financial clout, a visit to the lineside is one big photo-opportunity and I can snap away to my heart's content - only I'm not interested in the modern-day scene. It's a funny old world, isn't it? This contact strip of a visit to York during the Eighties illustrates the point perfectly. Had it been the Sixties, there would be a few 'gems' in there of steam trains worth a closer look…but as it is, HSTs, Class 31s, 40s, 'Peaks' and 'Duffs' do not appeal to me as much. Please note...the contact strip has been re-sized to fit the page - click on photo to see the original size.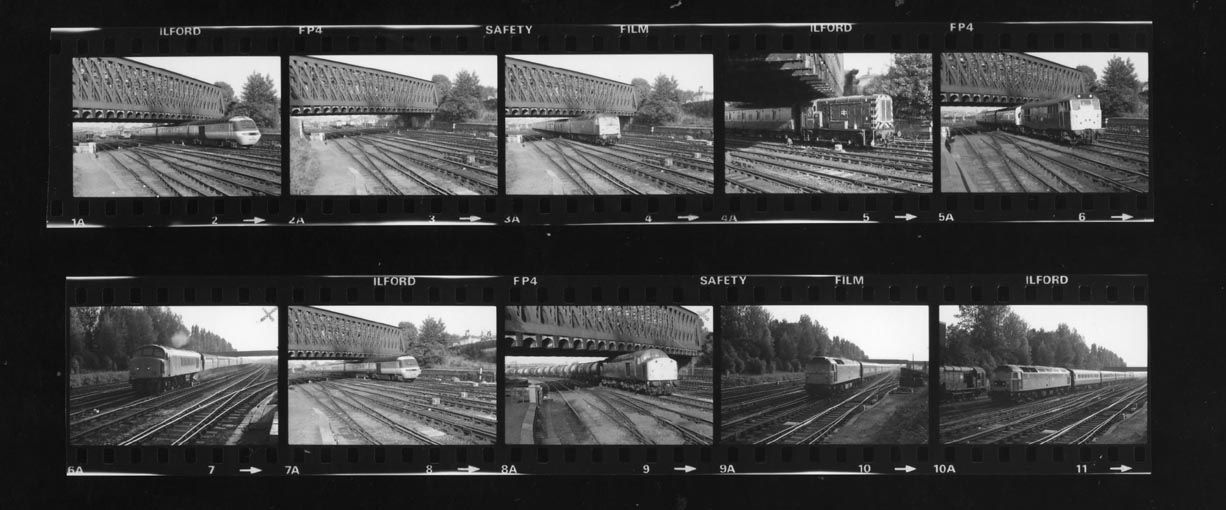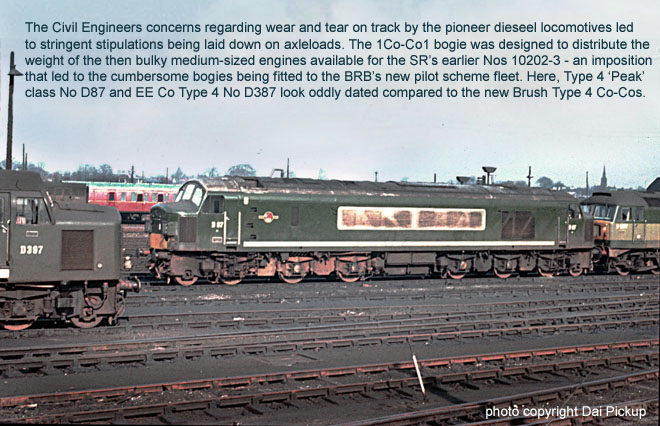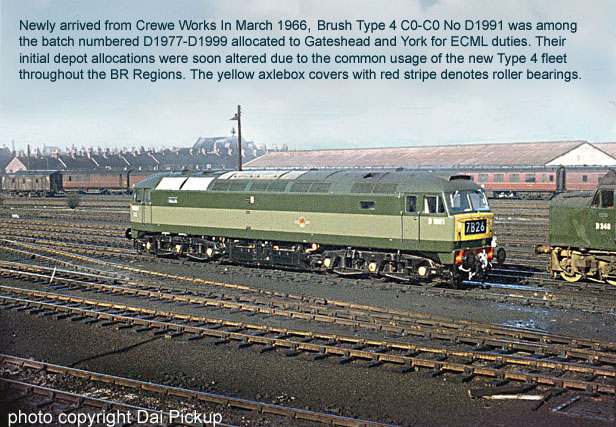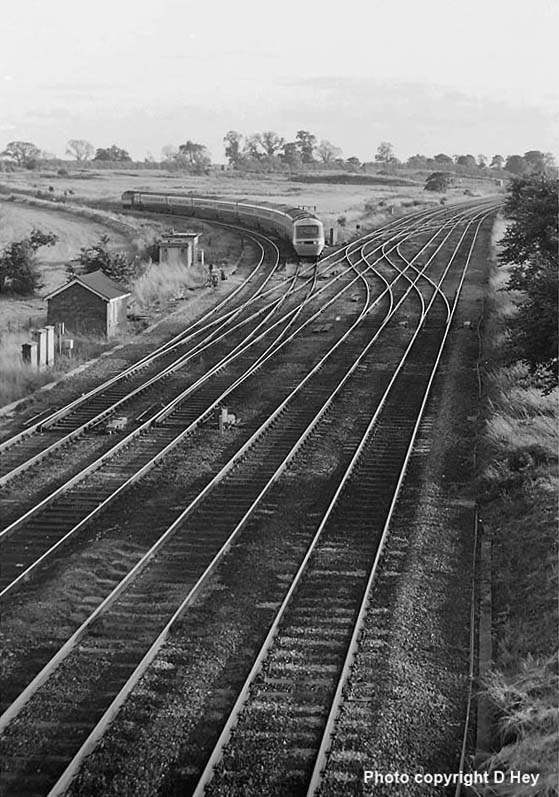 (Above-Below) A northbound 1C125 approaches Chaloners Whin Junction on the stretch of ECML from Selby to York in June 1983. Following the completion of the new 23 kilometre line to avoid the Selby Coalfield, BR engineers quickly reclaimed redundant ECML track south of Chaloners Whin Junction. The end of the line deprived Selby of a direct Anglo-Scottish ECML service, but no formal notice of withdrawal of service was required as the closure of the route was decreed in the private act of Parliament for construction of the diversion. The last day of operation was on 24th September 1983. (Below) This is a general view of the specially designed turnouts at the new Colton North Junction at the northern end of the ECML Selby Coalfield diversion. The new line was built to enable the National Coal Board to mine a mile wide belt of coal, and to avoid the risk of subsidence seriously affecting the fast Intercity service on the original line. During the summer of 1983, BR introduced an intensive staff routing programme, using two withdrawn Craven Class 105 units and involving train crew men from BR's Doncaster, Leeds, Kings Cross and Newcastle divisions. One of the twins, renumbered TDB 977124 and TDB 977125 in the departmental fleet approaches the newly-installed junction in August 1983. Colton North Junction became the longest and fastest on the BR network and was specially designed for 125mph running. The York-Leeds and Sheffield lines can be seen in the background.

Polite notice: All text and photographs are protected by copyright and reproduction is prohibited without the prior consent of the © owners. If you wish to discuss using the contents of this page the email address is below. Please note - this is not a 'clickable mail-to link via Outlook Express:

dheycollection@ntlworld.com