JULIE BRIDGES FAMILY ALBUM
Working under the direction of many famous CME's whose names are synonymous with steam locomotive designs: Stirling, Ivatt, Gresley, Thompson and Peppercorn - the town of Doncaster has a proud history of locomotive building. Established in 1851, the Plant works was one of the town's major employers and it is estimated that over 40,000 steam locomotives were overhauled and repaired there. This undated photograph shows the inside of Doncaster Plant's Crimpsall shop with a Diagram 100A Boiler, a type of boiler fitted to the Class B1, B2, B3/3 and B17/6 (all 4-6-0s) and Class 01, 02/4 and 04/8 (2-8-0s) receiving attention.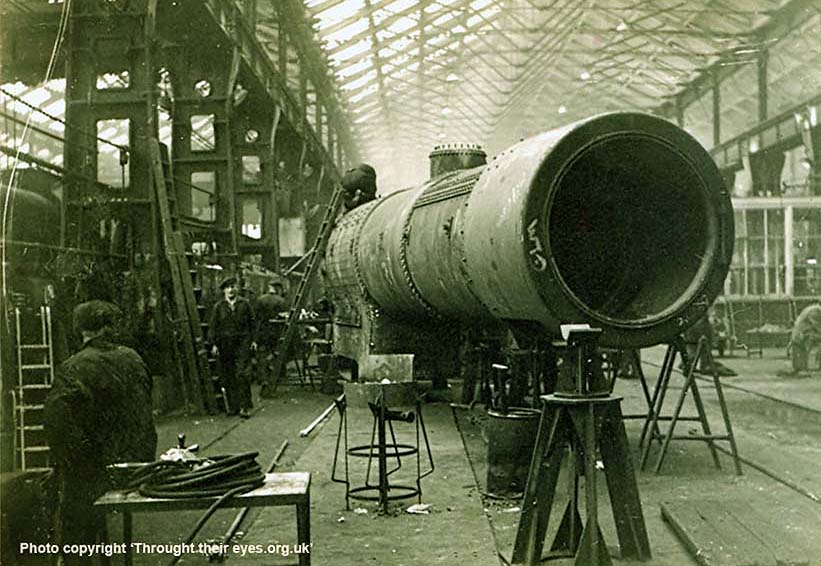 Born to a railway family in Doncaster, Julie Bridges contacted me via the Guest Book page, with a view to posting photographs from her family album on the web. My thanks to Julie for sharing her treasured photos... In her emails, Julie writes: It would be so nice to share these photos instead of them being stored away in a box. My Great Grandfather Samuel Toulson Walker was born in Stamford in 1880 where he worked as a house painter. He moved to Doncaster, presumably to work at the Plant as a locomotive painter around 1902 -1904. He and his wife Ethel lived on Beaconsfield Road, Hexthorpe until they died. Ironically, my dad met my mum on the tennis courts at Eden Grove, which was opened in 1914 to cater for The Plant's sports needs. Hope the photos are of some interest and in good enough condition to replicate…
They are most definitely worth publishing. Julie's photos of Doncaster's famous 'Plant' are true classics of a bygone age and I am delighted to post them on the World Wide Web. Established in 1851, the Locomotive Workshops built locomotives for both the Great Northern Railway and London & North Eastern Railway. Over the years, the works expanded rapidly reaching some 200 acres by the start of the 20th Century and employing more than 4,500 men.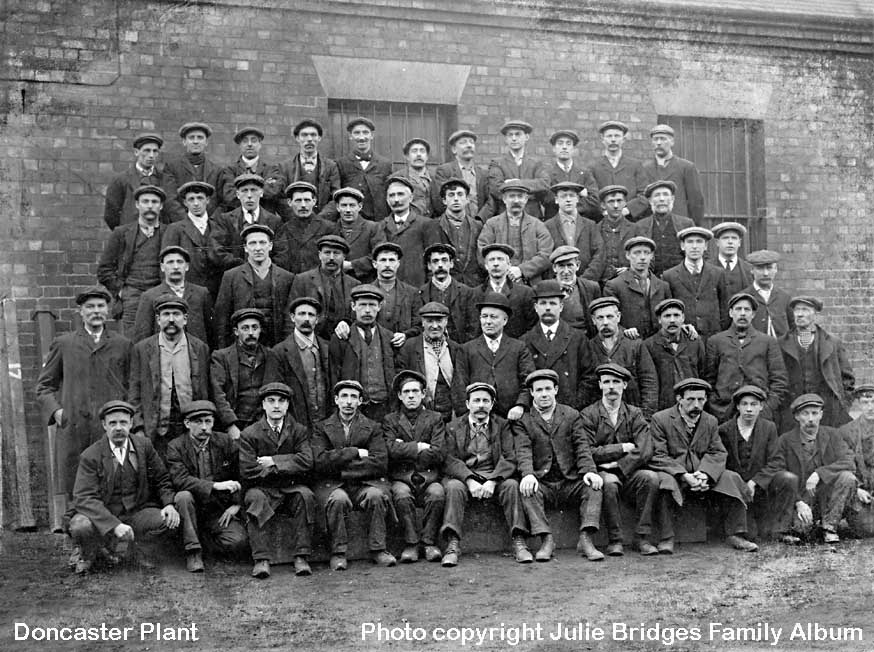 (Above) In the group photo (date unknown) Samuel Toulson Walker is seated on the bottom row, the fourth 'full person' from the right with arms folded.

(Below) Another undated photo shows 'Flying Scotsman' with my Great Grandfather standing fourth from the right with hands on hips. Sorry I haven't any dates or other information, perhaps your site visitors could enlighten me?
Yes they can! Alistair Nisbet has kindly provided additional information via the Guest Book Page on this shot of No 4472. He writes - 'I expect someone has already spotted this, but the Doncaster Plant photo of Flying Scotsman seems to show the loco before the valve gear improvements introduced in 1927 were done (the casing over the valve gear is inboard of the leading driving wheel splasher). Also, the brass beading on the splashers looks like the finish applied for the British Empire Exhibition at Wembley in 1924…'

Also, Stuart Cutmore has kindly dropped me a line. He writes - 'I've just been looking at information on the British Empire Exhibition of 1924 as I have the very same photo of the Flying Scotsman and the Plant lads in my house. My grandfather, John Shimelds was a joiner at the Plant and is 4th from the left. As a former Plant guy myself, and now working for one of the ROSCO's it still has a very special place in my heart.
It was lovely to see it on the web. Kind regards, Stuart...'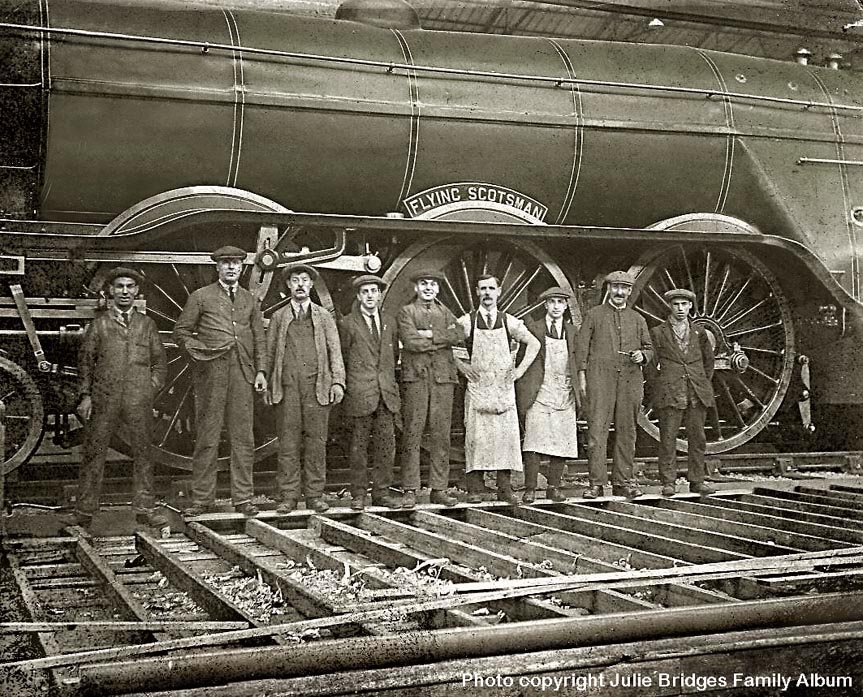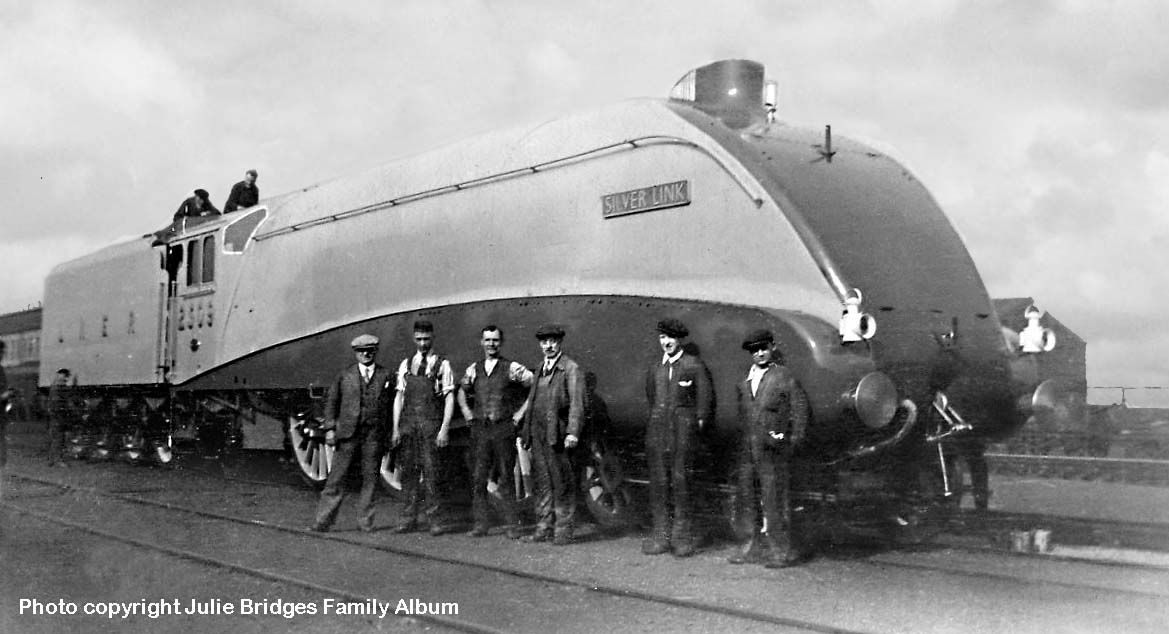 (Above) The introduction of the LNER's streamlined service between London and Newcastle in the autumn of 1935 was one of the truly outstanding events in British railway history. The train was named 'The Silver Jubilee' to commemorate the Silver Jubilee of King George V's reign in 1935. At the time, Gresley was the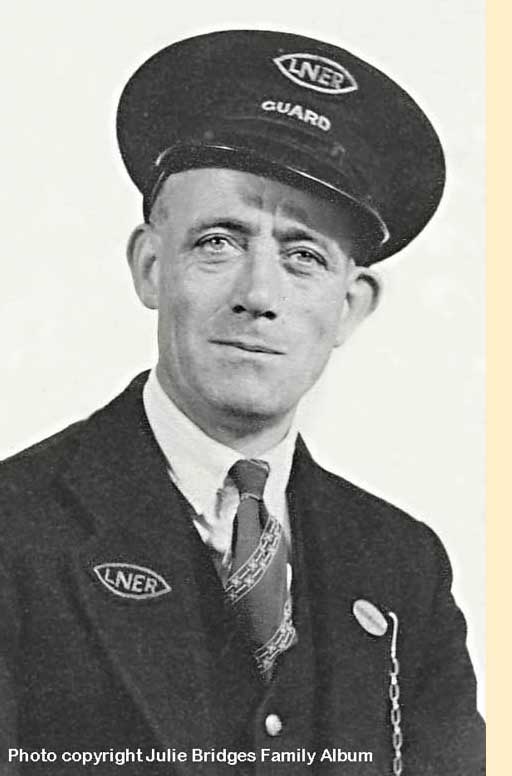 Chief Mechanical Engineer (CME) of the LNER 1923-1941, who set about the design of a new Pacific Class A4. This was essentially a development of his earlier Class A3 4-6-2 with boiler pressure raised to 250psi.
However, the most startling aspect of the new engine was its sleek, streamlined casing and a Bugatti-inspired wedge-shaped front end along with a valance covering the driving wheels. In this historical photo from Julie's collection, the first of the class, No 2509 Silver Link (the loco entered traffic on 7th September 1935) is fresh from the Paint Shop, and sporting a silver-grey livery, which was also carried along the full length of the train. In this photo Samuel Toulson Walker is standing in the centre of the group hands on hips again!

(Left) My Dad (Denis Bridges) and his father (William 'Billy' Bridges) both worked on the railway out of Doncaster. Dad fired the engines and Grandfather was a guard (left). Dad worked his way up the goods links to the level before passenger status, before leaving due to the difficult hours being unsuitable when raising a young family. I've emailed Doncaster Archives for information on The Plant Works, as I understand they hold some records...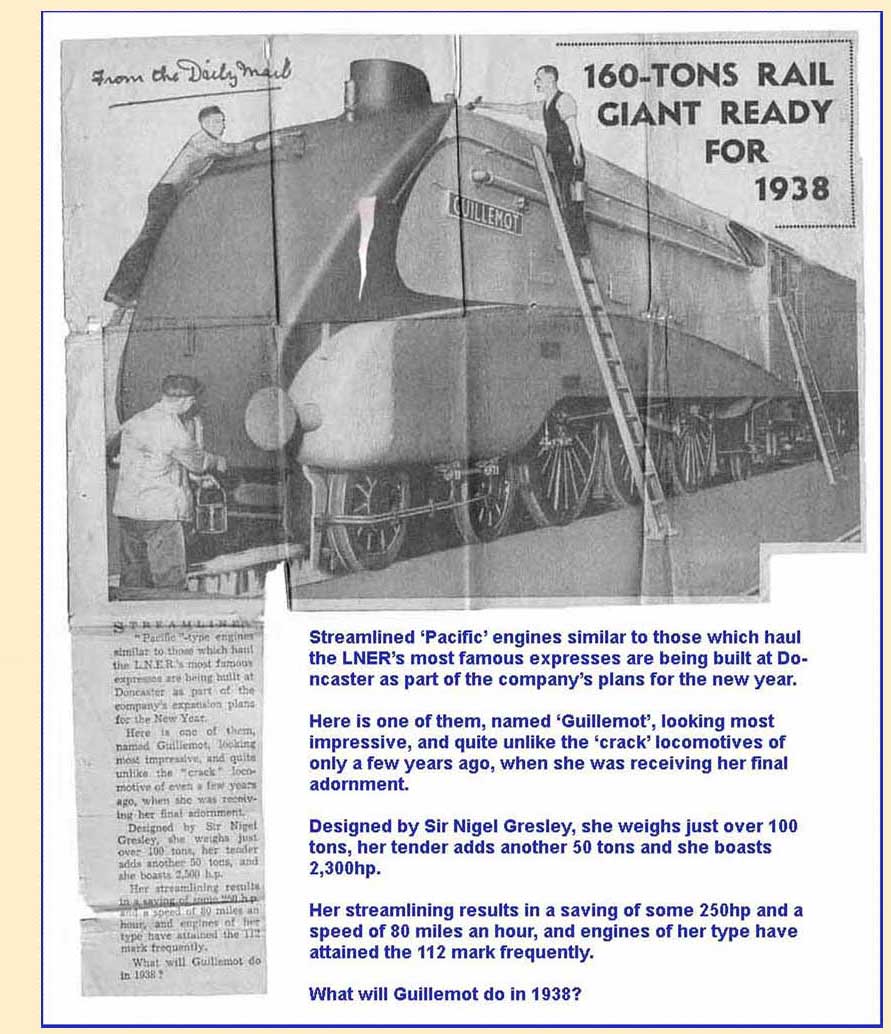 (Right) As mentioned above, the Class A4 streamlined Pacifics of the LNER achieved instant success, and their high-speed running on the ECML was bound to capture both the press and public's imagination. The LNER publicity machine cetainly made the most of it! Another item of interest amongst Julie's collection is this Daily Mail newspaper cutting of newly-built No 4465 Guillemot, which entered traffic on 8th January 1938; this item appeared in the paper prior to sister engine, No 4468 Mallard, entering traffic at the beginning of March 1938, and later attaining the world record speed of 126 mph on 3rd July 1938. Nevertheless, the optimism of the caption writer reflects the mood of the time with a mention made of the LNER's new streamliners regularly topping the ton! The photo shows Class A4 Guillemot inside the paint shop with Samuel Toulson Walker on top of the ladder. The caption has been replicated for clarity. The combined effect of the A4's streamlining and its high-speed performance on the ECML certainly caught the public's imagination. It was one of the town's greatest triumphs.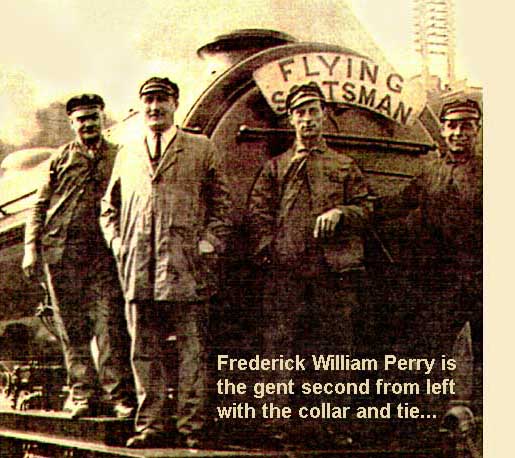 HELP! John Tadman has recently dug out an old photograph of his wife's Great Grandfather on the Flying Scotsman. John writes - ' I'm sorry about the quality of the picture but it has been copied so many times over the years. My wife's Great Grandfather is the gent second from the left with the collar and tie. His name was Frederick William Perry and he died on 24 February 1953 aged 80 yrs. He used to live in Finchley I believe.
We have some information from a newspaper which states that he retired from the LNER in 1933 and that he was the first driver to reduce the journey time of the Flying Scotsman between Edinburgh and Kings Cross by 45 minutes on 18 July 1932. On another occasion he was on the footplate when the journey was filmed and broadcast.
The National Railway Museum has told me that the LNER records are now held at the National Archives in Kew but I have been unable to find them yet. I would really welcome any pointers in finding any information about him. Looking at this picture of Kings Cross in 1929 it looks as though he is on an A3 loco but I am not sure that it is the Flying Scotsman. I would welcome views on that too. Kind regards, John Tadman…'
Please, if anyone can help, a contact email address can be found at the foot of the page…I will pass the message on. Many thanks in anticipation.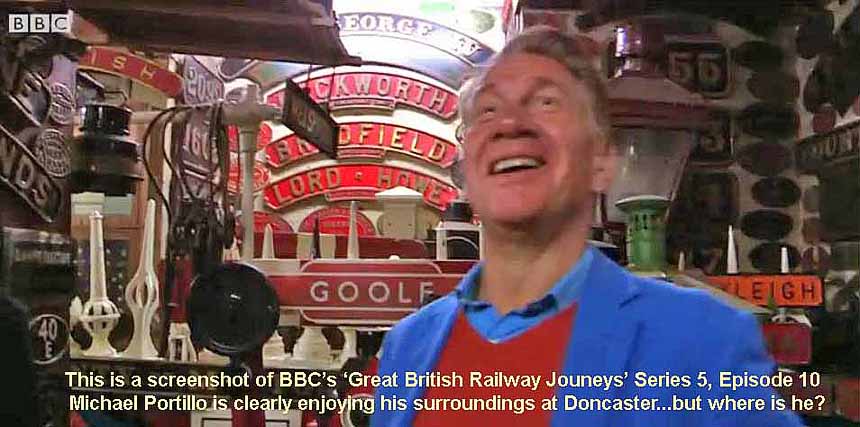 (Above) HELP! Site visitor Roger M has sent me an interesting email enquiring about the whereabouts of the accompanying image featuring Michael Portillo on his visit to Donny during the making of the BBC's excellent 'Great British Railway Journeys'. I missed this particular programme.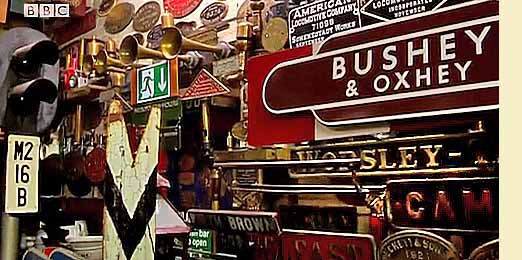 Can anyone identify the location of this veritable treasure trove of railway memorabilia? More to the point, is the collection accessible to public viewing?
MYSTERY SOLVED!
Within a few hours of posting the above appeal, Gordon Sharpe of Doncaster writes...
'I don't know if anyone has answered your query about the 'secret museum' in Doncaster visited by Michael Portillo in Series 5 of his 'Great British Railway Journeys'. The collection is held in the tower of the Hall Cross School, now the Hall Cross Academy, originally the Doncaster Grammar School Railway Collection.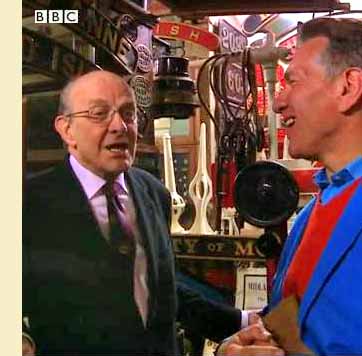 Visits are possible, however it should be pointed out that the museum cannot take more than about 6 people at a time - there just isn't room. But it is open to the public in fits and starts, generally on alternate Thursday evenings, or by special arrangement with the curator, who welcomes enquiries from enthusiasts and collectors of railwayana...'
Thanks Gordon...

(Left) Rarely do I get a cheery email like this one from Dave Baldwin, who writes - 'I am an ex-pupil of Keighley Boys' Grammar school, where the founder of the Doncaster Grammar School Collection, and greatest contributor of the museum's artefacts was Tony Peart, one time English master at Keighley Boys' Grammar school plus organiser and driving force behind the school's 'Railway Society'. Tony was an excellent teacher and interested in 'all things transport', who also founded the Doncaster Bus Museum. On the School Society's trips to loco depots, as soon as we (the lads) were on-shed, he would disappear until we'd finished our tour then rejoin us in time for for the next destination with one or two 'artefacts' which had somehow 'fallen-off' old locomotives!...'

'Tony was not only a great master he was a true all-round transport enthusiast, who talks about his passion on You Tube HERE.
The comment below was posted on the Keighley Boys' Grammar School website by Ian 'Rusty' Fearnside, one time metalwork master at the school, who, sadly, has also passed away.
He writes - 'I remember Tony well because he used to make great use of 'my' metalwork room. If he ever had cause to keep a pupil in for bad behaviour he used to bring them to the metalwork room, give them a steam whistle from some locomotive and some emery cloth and get them to clean them up. He had boys queuing to be kept in!
At Kirkcudbright (the school camp) he used to disappear every morning and return in time for the evening meal laden with pickings from closed railway stations. I remember sheaves of documents and at least one station clock!'
Thanks Dave, your uplifting email had me chuckling out loud…there must be countless thousands of boys who remember 'Sir' or perhaps a 'Miss', who have greatly influenced their lives...mine was the girls' gym teacher, who had big 'snog-me' eyes and legs to die for, but I won't go into that right now. Dave's refreshingly honest email is a far cry from the risible spin we get in today's politically-correct world.

IMPORTANT NOTICE - I have kindly been contacted by Richard Newman who advises me that the new curator of the Hallcross Tower Museum is Peter Sargieson...telephone number 01709 889000.
Richard, thank you very much for the update and my sincere apologies for any inconvenience caused by the previous posting.
This updated notice was posted 7 March 2014.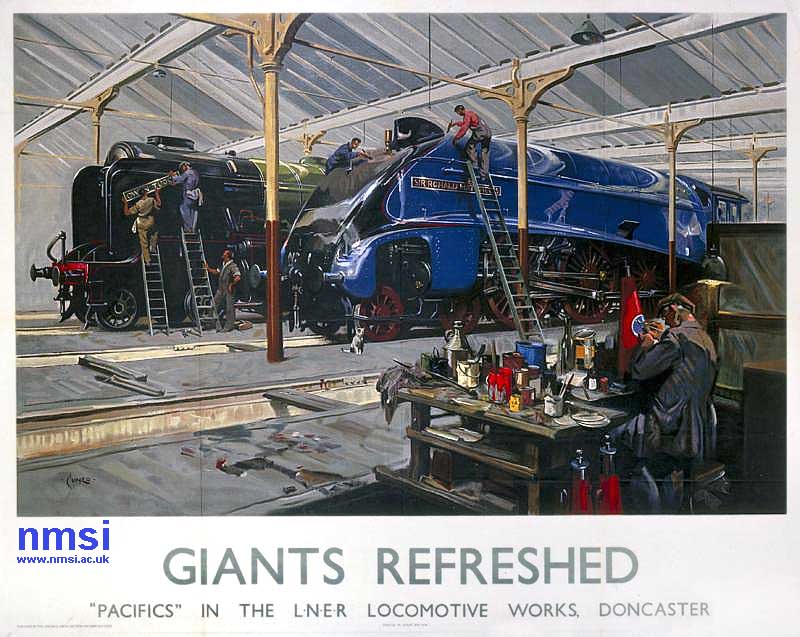 (Above) The stunning images from the NMSI collection shows the superb artwork commissioned by the 'Big Four' railway companies and later British Railways for posters across the country. The NMSI family is comprised of four award-winning museums, each with their own diverse identity: the Science Museum, the

National Media Museum and, of course, the National Railway Museum (NRM) at York which houses the world's pre-eminent railway collection. The NRM is spread across three halls: the Great Hall - formerly the steam engine shed (50A) - complete with a working turntable, while the Station Hall (previously York's central goods depot) is now laid out like a 'period' railway station. The Science Museum at Swindon is a massive site housing collections ranging from the iconic Lockheed Constellation airliner to super computers, bicycles and the last Fleet Street printing press, however the NMSI's full collection is so big that only 8% of the artefacts are on public view. The rest are hidden-away at an ex-WW2 airfield just off the M4, but enthusiasts are amply compensated by the NMSI Collections Online; it is a superb website displaying thousands of objects including a range of fabulous railway travel posters...a visit is highly recommended. This link will take you to the posters featuring the railway paintings of Terence Cuneo whose career spanned more than half a century, by which time he established himself among the highest echelons of twentieth century British art. This London & North Eastern Railway poster - 'Giants Refreshed' - by Terence Cuneo was published in 1947 and depicts two Pacific Class locomotives in the Paintshop at Doncaster Plant: Class A4 class 'Sir Ronald Matthews' in the LNER's Garter Blue livery and the newly-constructed Class A2/3 'Owen Tudor' in Apple Green. The LNER was nationalised at the end of 1947 so a second version of the poster with a revised inscription was produced by British Railways.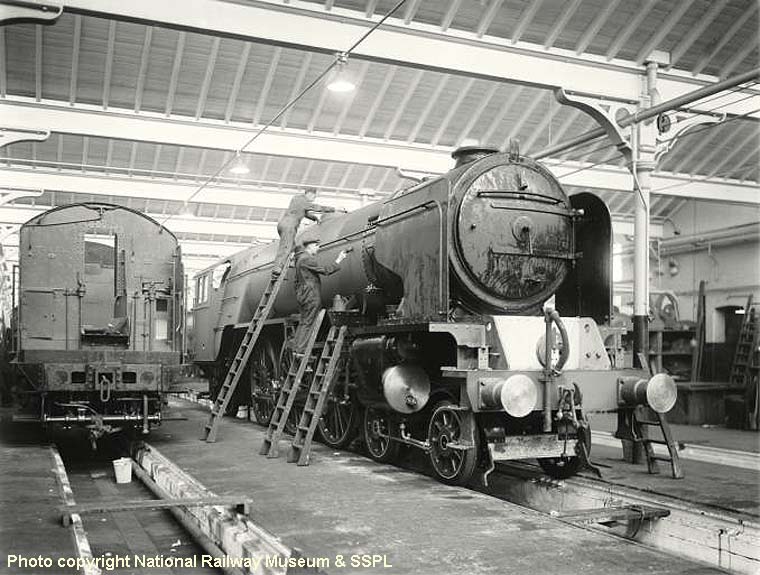 (Above-Below) When Edward Thompson became CME of the LNER (1941-1946) he rebuilt Gresley's original Class A1 and designated the locomotive Class A1/1; the loco was introduced to traffic in 1945. When AH Peppercorn succeeded Thompson as CME at Doncaster he set about redeveloping Thompson's Class A1/1 rebuild, and 49 locos were ordered by the LNER but deliveries did not commence until after the new British Railways was formed in 1948. Construction of the 49 engines was shared between Darlington and Doncaster workshops, with Doncaster being responsible for Nos 60114-60129 and 60153-60162, whilst Darlington built Nos 60130-60152. Deliveries began in August 1948 and the last batch entered service in December 1949 - all 49 engines had gone by the summer of 1966. Here one of Peppercorn's A1s gets a lick of undercoat in the Paintshop at Doncaster Plant on 28th November 1947. (Below) No 60154 Bon Accord (one of five A1s Nos 60153-60157 fitted with roller bearings) was photographed at Doncaster on 17th April 1951; the loco entered traffic in September 1949 and withdrawn in October 1965.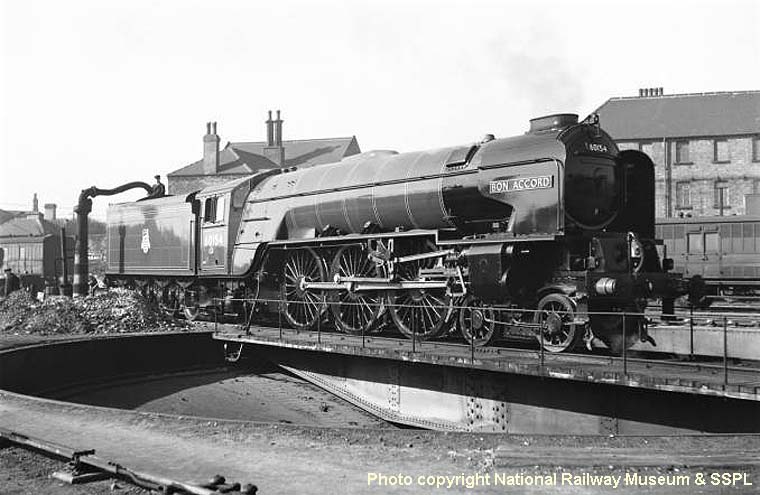 Julie Bridge's story at the top of the page has prompted a letter from the Reverend Ivan Lilley, who writes - 'Hello David, I have recently found your most fascinating website, and was particularly interested in Julie Bridges' collection of photographs of Doncaster 'Plant'. My father was a railwayman too. He worked on the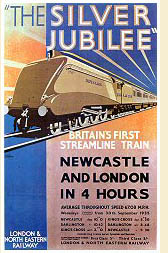 M&GN Railway most of his working life until his premature death in 1959. His last position had been as a passenger guard working from South Lynn Station, sadly no longer in existence. Until 1936 we lived in Thorney - a few miles east of Peterborough - and from our front window I could watch the M&GN trains as they made their way across the flat Fenland landscape. One day I was with my father on Peterborough North station. It must have been in 1935 because we moved to King's Lynn the following year. We were standing on the outside platform watching the goods trains trundling by, when my father suddenly scooped me up in his arms and dashed through into the 'shed' to watch a brand new 'Silver Link' passing through 'light engine' on the 'Up' line on its first trip to King's Cross and presumably 'Top Shed'. I remember to this day my Dad's words - 'Well, you've never seen one of those before!' Neither had he, come to that! Presumably it was a few days after the photograph was taken of Julie's Great Grandfather at the Plant. I hope that this will be of some interest to you and Julie. Best wishes, Ivan Lilley (Reverend).

Since making contact, Ivan relates two further experiences regarding the 'Plant' and ex-LNER employees. He writes - 'My last 'living' was north of Worksop on the A6 when I was Priest-in-Charge of 'Langold with Oldcotes'. One Sunday I baptised a child at St Mark's in Oldcotes - a delightful little church at the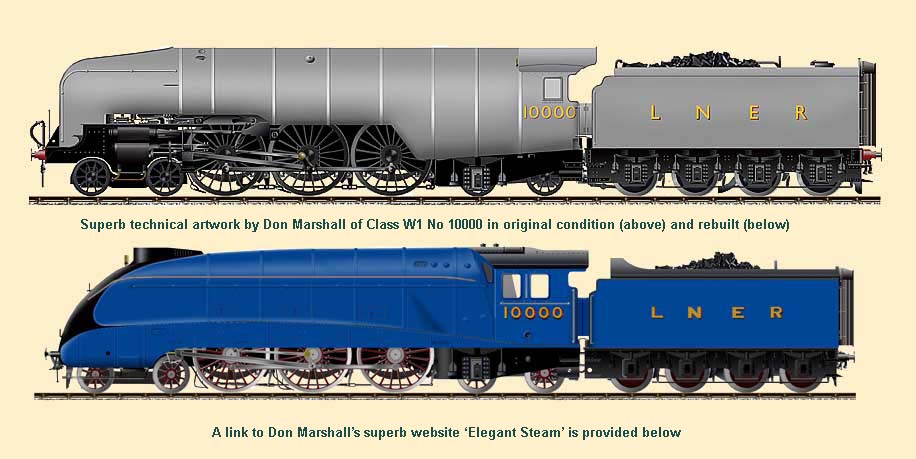 crossroads opposite the 'King William IV' pub, known locally as the 'King Billy'. After the Christening I was invited to the 'do' afterwards in the 'King Billy', and as was customary, I moved around the room to speak to every guest, at which point I found myself talking to a lovely old gentleman who told me that before his retirement he had been an Inspector at Doncaster 'Plant'. As you might expect I found his experiences fascinating - particularly with regard to No 10000 and the difficulties they had had with the loco. Then several years earlier, when I was conductor of the Holbeach Choral Society, I met another elderly man who lived with his maiden daughter in Holbeach. He was one of only three tenors in the choir (tenors are like gold dust) and as was the custom in those days we adjourned to the 'local' afterwards and I soon discovered that the old gentleman had been based at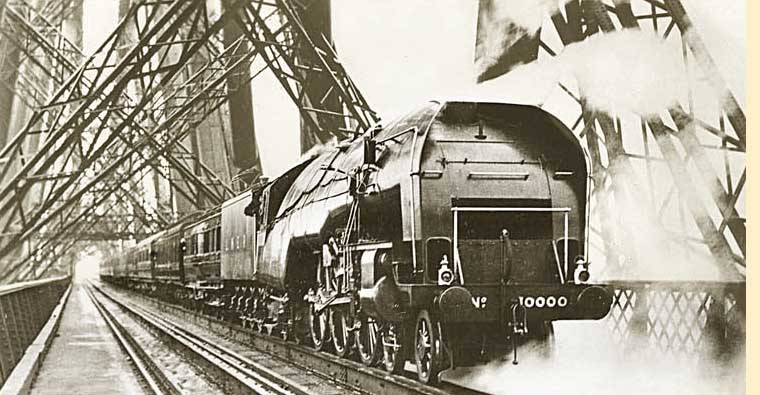 Doncaster as an Accident Inspector. One of his last tasks before retirement had been to enquire into the derailment of No 10000 just north of Peterborough North when, for no apparent reason, the 4-6-4 rolled over. As you can imagine, both these two men had fascinating tales to tell, and for a railway enthusiast like myself, gave me wonderful opportunities to hear of their experiences. As another child of a railwayman do give my best wishes to Julie Bridges and thank her for her fascinating photos. All the best, Ivan.

(Above-Below) Hush-Hush! Whisper it who dares, but not every one of Gresley's designs enjoyed the same success as his famous Class A4, even if important lessons were learned along the way. This included the experimental 4-6-4 tender locomotive W1 No 10000 - dubbed 'Hush-Hush' on account of the initial secrecy of the design. In 1924 the LNER's most famous Chief Mechanical Engineer (1923-1941) was seeking ways of efficiently generating steam using less coal that his A1 Pacifics and this led to the development of the W1 4-6-4 featuring a revolutionary marine type water-tube boiler working at 450psi, but following a somewhat problematical career involving lengthy visits to both Doncaster and Darlington Loco Works for repairs and additional modifications Gresley decided to halt all further work. The loco entered Doncaster Works in October 1936 to have its water-tube boiler replaced with a conventional fire-tube boiler based on the A1 pattern boiler stretched to proportions similar to the Class P2/2. (Below) The solitary W1 4-6-4 emerged from the 'Plant' in November the following year completely rebuilt with A4-style streamlining. It retained its number 10000 until 1948 when it became BR No 60700; the W1 was withdrawn on 1st June 1959.(Below) This superb nocturnal shot of No 10000 was taken by Bryce Greenfield at Newcastle Central in December 1937. Click here to visit WB Greenfield's superb collection on the North Eastern Locomotive Preservation Groups' website. Further details of Bryce's full catalogue of negatives can be obtained via this link to the NELPG page...well worth a visit!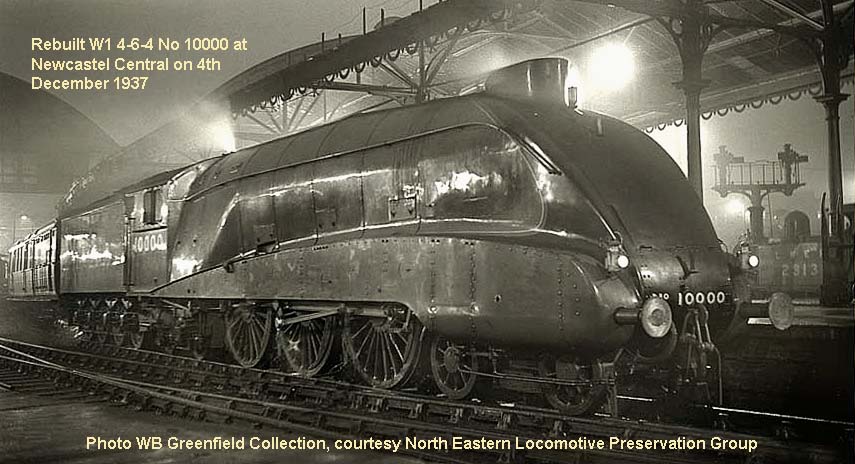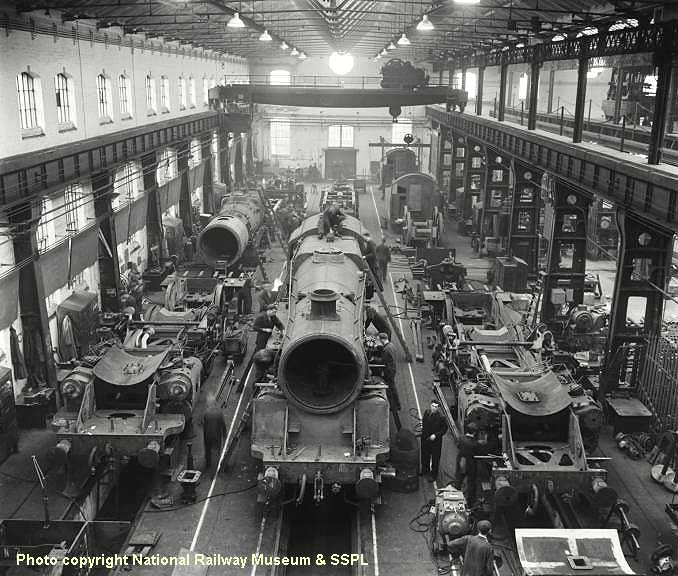 (Above-Below) These evocative images of Doncaster 'Plant' were taken on 8th April 1957 and show the Erecting Shop (above) and the Wheel Shop (below). The National Railway Museum in York has a collection of 1¾ million photos covering the history of Britain's railways from 1850 to the present day. The NRM's archives are currently being digitalised to make them available to a wider audience and preserve them for the future - more images like these can be found on the NRM's 'Liverpool Street Photos' page here - a visit is highly recommended…links on the NRM's website will take you to an extensive collection of railway travel posters and other images from the Science Museum Group collections here. Thousands of images are available as postcards, notecards and framed or unframed decorative prints...all sales go towards funding the work of the National Railway Museum.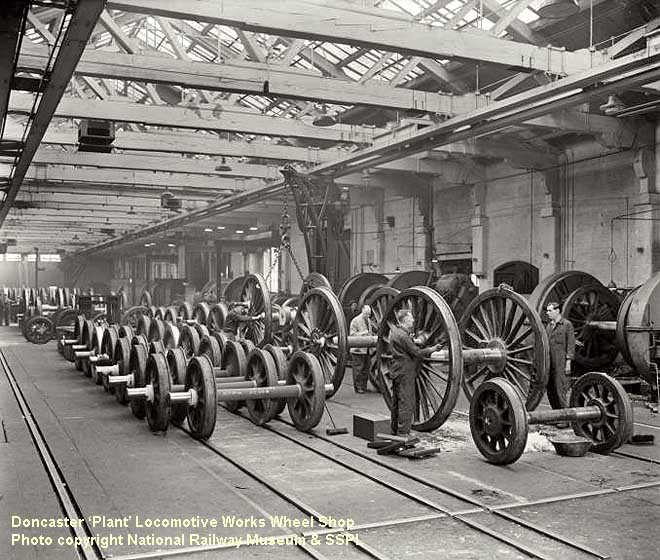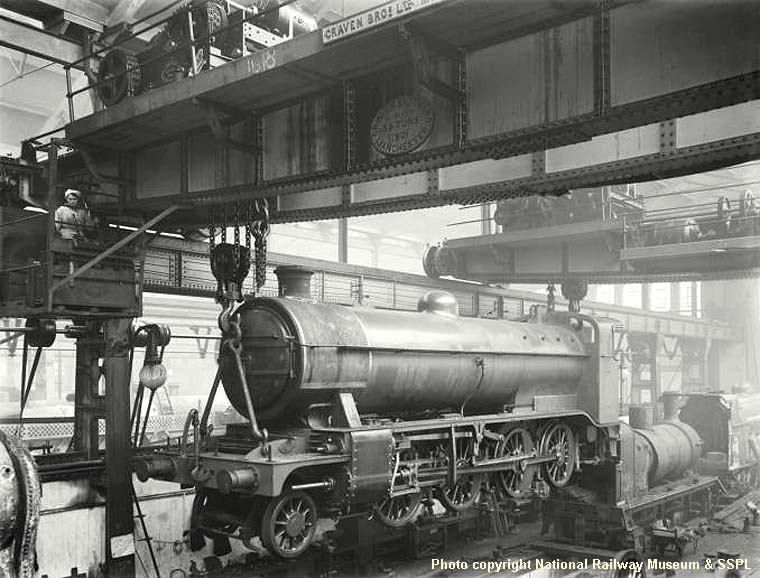 (Above) A pair of overhead cranes are lifting a newly-built Great Northern Railway O2 Class 2-8-0 locomotive in the erecting shop at Doncaster Works on 14th December 1919. The cranes, built by Craven Brothers of Manchester in 1901, could each lift 35 tons. The cranes are being controlled by a female operative wearing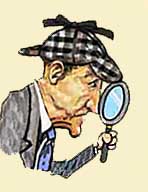 protective overalls and knotted head scarf - no hard hats in those days!; indeed women workers had a major role at Doncaster Works during, and just after, the First World War, while the menfolk were serving in the armed forces.

With regards to the caption (above) the World Wide Web is a major source of reference that draws thousands of enthusiasts every day, either to research a subject or to bring with them their own diverse interests and expertise; indeed the subject of trains and railways is extremely complex and therefore corrections are always welcome...

First Kevin Morris writes - 'Your 'Doncaster Rail Centre' page appears to have a small error. You show an 'O2' being lowered by overhead crane in December 1919. I am almost certain the loco is a Class 01, precursor to the 02s. The larger cylinder with tail rods rather as in Gresley's K2s does give it away; wonderful site by the way, a great pleasure to explore. Best wishes...'

Roger Horn observes a second error; he writes- 'Hello David, I have just been looking at the photograph of the 'newly-built' O1 2-8-0 being lifted in the works on the 14th December, 1919 or so the caption states. If you look closely you can see the worksplate on the front of the frame which means this locomotive was one of the first five built at Doncaster between late 1913 and 1914; their numbers being 456-460. The remaining ten (462-476) were built by the North British in Glasgow in 1919 with the worksplate on the smokebox side. There were detail differences between the two batches. Regards, Roger H.Horn.'
My thanks to both Kevin and Roger for dropping a line.



(Above) On a final note, the reason Roger is familiar with the Gresley 2-8-0s is that he has both an O1 (No 3464 the NB version) and an O2 (No 3479 - another NB version) in 7mm scale. However, whilst No 3479 was being scratchbuilt by Bill Davis of Lutterworth, Roger kept himself busy by building a full rake of wagons, though it will take him some considerable time to finish them! The number of wagons required is about 75-80 and Roger is up to 32 loaded and 35 empty private owner wagons at the moment...

(Below) Fast-forward thirty-odd years and the Plant is using a pair of more modern overhead cranes, also manufactured by Craven Bros, seen lifting an unidentified Pacific class locomotive from its wheels at Doncaster Plant on 7th October 1952. The cranes were built in 1921 and together could lift 80 tons. The locomotive alongside is Class A3 4-6-2 No 60078 Night Hawk, yet another product of the famous Plant works.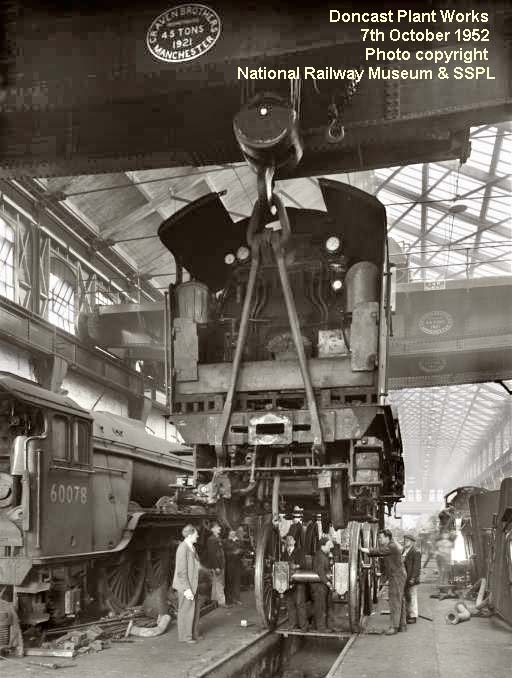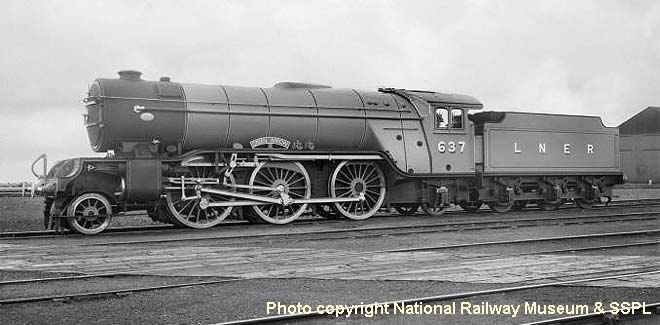 (Above-Below) This unusual image from the NRM's archives shows the first of Gresley's Class V2 2-6-2s posing for the official photographer outside the Paintshop on 1st June 1936. Numbered 637, the doyen of the class is carrying a somewhat inelegant splasher-shaped nameplate on the running plate, which is not how most enthusiasts remember it. Numbered 4771 by the LNER, the locomotive was renumbered 800 in November 1946, and 60800 by British Railways in February 1949 - and, of course, the curved 'Green Arrow'

nameplate was substituted by a straight one (inset) which the loco carried on both sides of the smokebox. A total of 184 Class V2s were built at Doncaster in eleven batches between 1936 and 1944, with a further four planned in the last batch, but these were abandoned when Edward Thompson, CME of the LNER 1941-1946, utilised the boilers for his A2/1 Pacific design Nos 60507-60510. (Below) Thompson went on produce an improved version of the Class A2 Nos 60511-60534 with a boiler pressure of 250 lb sq in and designated A2/3; Thompson was followed by AH Peppercorn (CME 1946-1949) whose version of the Class A2s Nos 60525-60539, had a slightly shorter wheelbase, first introduced in 1947. Here a group of railway workers pose for the official photographer in front of the first Peppercorn Class A2 4-6-2 No 525 (named AH Peppercorn in his honour) at Doncaster Works on 31st December 1947. This photograph was taken on the day before the country's railway network was nationalised and the 'Big Four' railway companies: London & North Eastern Railway, Great Western Railway, London, Midland & Scottish Railway and Southern Railway were taking into public ownership...big changes were underway.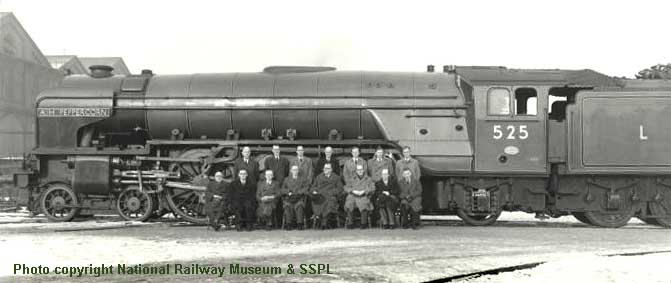 The photos featured above are just some of the evocative images now available from the archives of the National Railway Museum. The NRM's Imagination Works project contains a superb photo collection of British Railways digital imagery and a visit to the 'Doncaster Photos' here is highly recommended.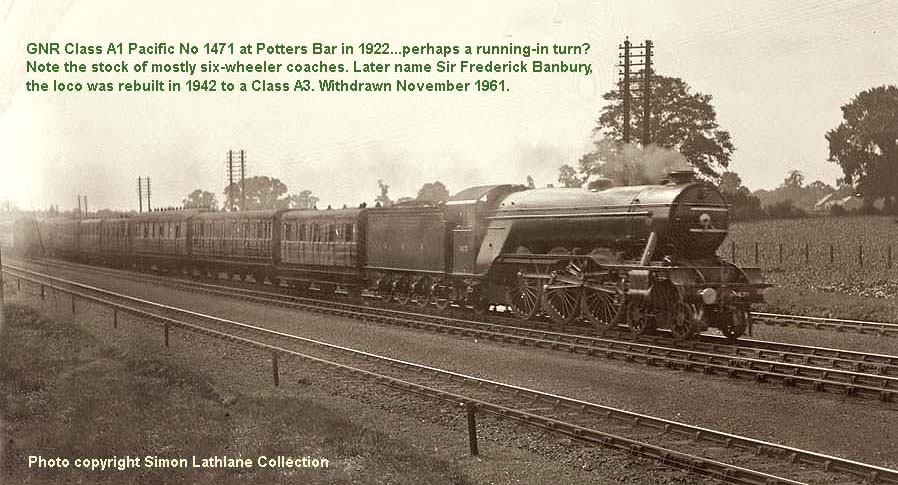 (Above) Returning briefly to Julie Bridges' Family Album, it would take a whole webpage in itself to cover the full history of arguably one of Doncaster Plant's finest products - the Class A1 Pacific introduced in 1922. Designed by Sir Nigel Gresley, CME for the Great Northern Railway, later to become CME of the LNER., the first, No 1470, was appropriately named Great Northern after its parent company and No 1471 was named Sir Frederick Banbury, then Chairman of the GNR. Following Grouping in 1923, one of the first things Gresley did as CME of the LNER was adopt his GNR Pacific design as the standard express passenger locomotive, designating it Class A1 under the LNER locomotive classification system. This rare shot of No 1471 is almost certainly taken on a running-in turn from Doncaster Works. For the record, the then GNR Chairman, Sir Frederick Banbury, was a strong opponent of the 1923 railway grouping and decided to retire from railway service at the end of 1922, thus taking no part in the LNER; indeed the first Chairman of the LNER was William Whitelaw, whose name appeared on Class A1 No 2563 in 1924; the engine was later renamed Tagalie (winner of the 1912 Epsom Derby and 1,000 Guineas) and William Whitelaw's name was transferred to Class A4 No 4462 (later BR No 60004). Click HERE to visit Simon Lathlane's page 73 which includes a superb selection of old LNER glass plate negatives.

(Below) Following the success of the first two Gresley A1 Pacifics, the GNR ordered a further ten (Nos 1472-1481) but these did not enter traffic until after Grouping in 1923. The first emerged from the works in February 1923, and as mentioned earlier it was subsequently renumbered 4472 and named Flying Scotsman for display at the British Empire Exhibition in 1924. All ten Pacifics were renumbered 4472-4481 from February 1924. This is a lovely shot of the last of the batch, No 1481, fresh from the works in September 1923 and without its 'St Simon' nameplates (St Simon was the winner of the 1884 Ascot Gold Cup). Built under Works Number 1573, No 1481 was renumbered 4481 in 1924, and then No 511 in January 1946, but just four months later it became No 112 and finally in March 1949 No 60112. The loco was allocated initially to Doncaster followed by spells at Grantham and Copley Hill. Withdrawal came at 34E New England in December 1964, just a little over 40 years after this photo was taken.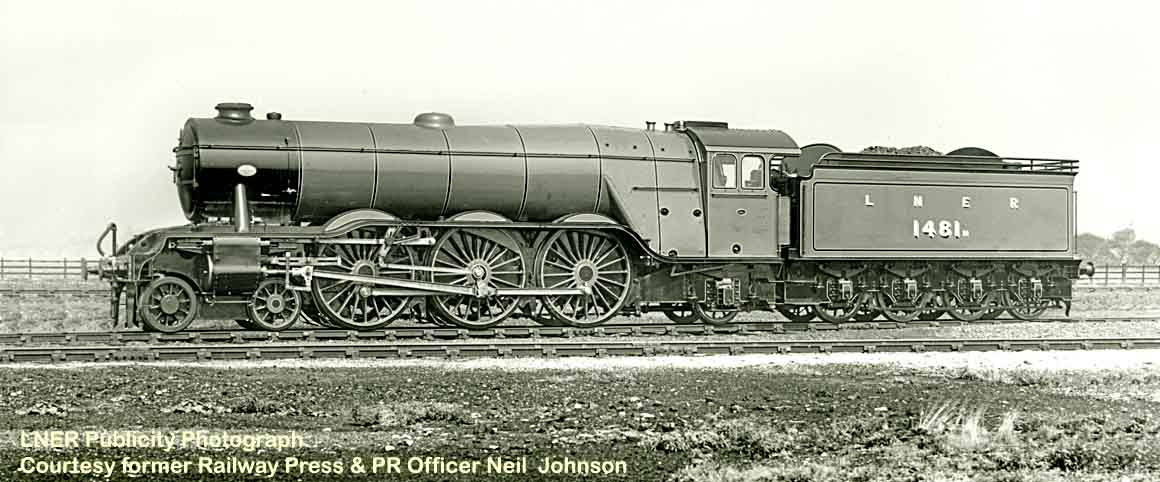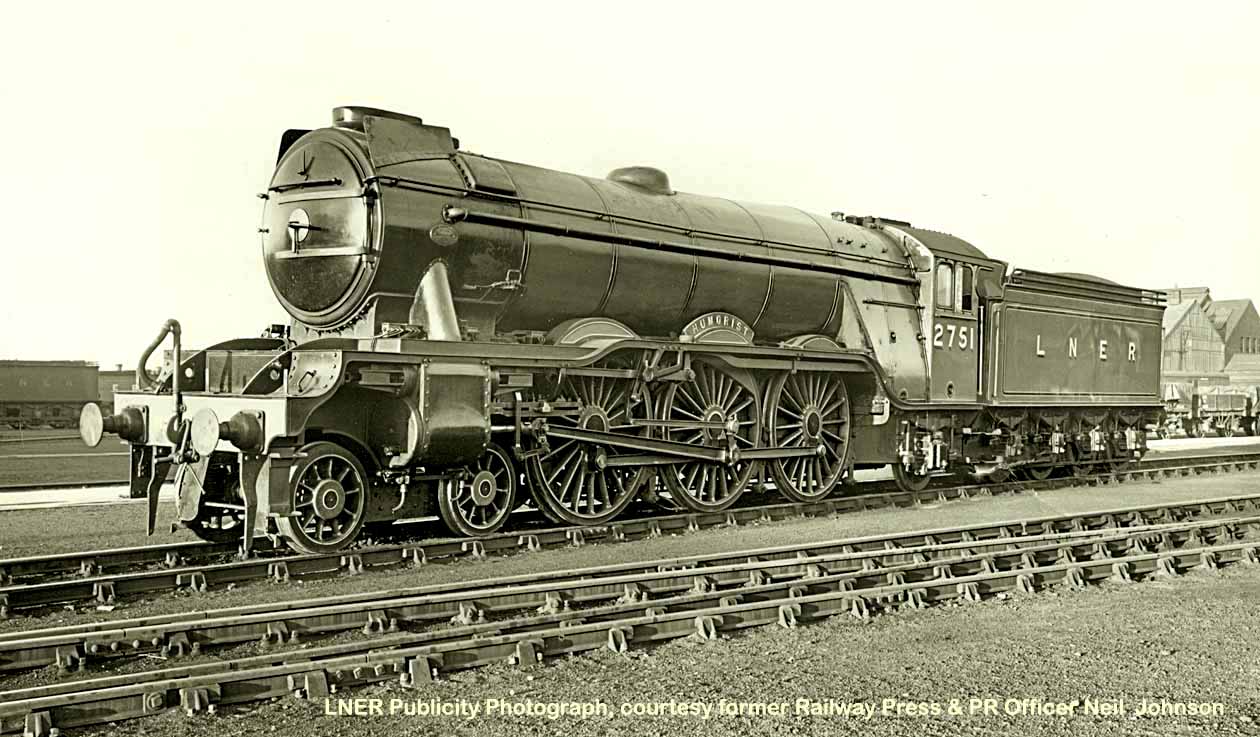 (Above-Inset-Below) The fitting of smoke-lifting devices were not a priority with the single-chimney Pacifics. However, in 1937 the original chimney of Class A3 2751 Humorist was replaced by a double stove-pipe variety, with miniature deflector plates added on either side in order to direct the air flow above the boiler.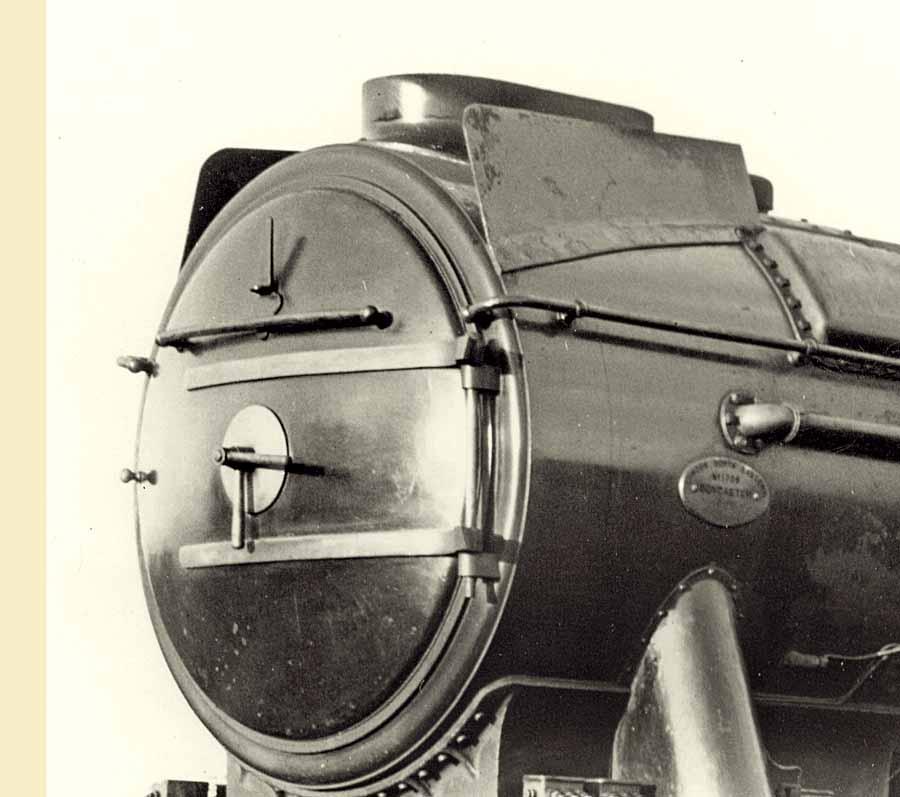 But 2751's double chimney and subsequent fitting of a double Kylchap exhaust continued to pose a problem of trailing smoke obscuring the driver's vision and the locomotive acquired the Peppercorn-type of deflector plates (as designed for his new Class A1) which the locomotive retained throughout its career. (Inset) The discerning model engineer may glean some interesting detail from this close-up shot of the double stove-pipe chimney and miniature deflector plates. (Below) The Peppercorn A1 deflectors appear to be doing their job in this shot of Humorist heading through Hadley Wood in 1947; by this time the locomotive is numbered 97 and a year later it became BR No 60097. The Kylchap blastpipe-chimneys were eventually fitted between 1958 and 1959 to all of the remaining A3s plus the fitting of the much-maligned German trough-style smoke deflectors. Fast forward to the early 1960s, the influx of new diesels was gathering pace on the East Coast Main Line and No 60104 Solario became the first casualty. Built at Doncaster Works in March 1923, No 60104 was withdrawn from Grantham shed in December 1959 and scrapped at Doncaster Works the following month…the last to go was No 60052 Prince Palatine in January 1966.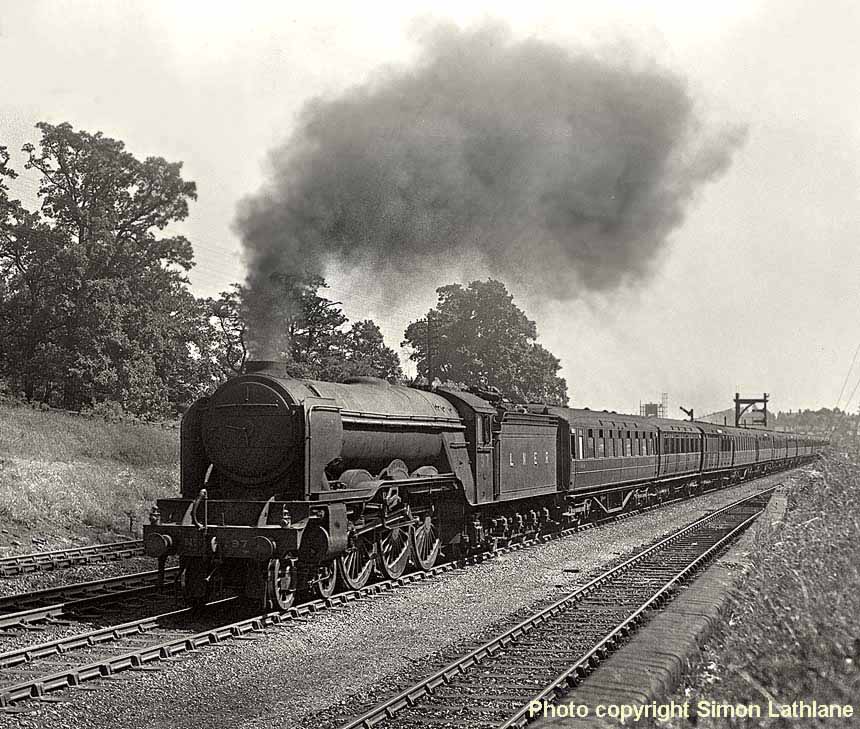 (Below) Returning to the Gresley Class A4, click on image below to visit Don Marshall's superb website. This link takes you to a page showing the full 'Silver Jubilee' train comprised of articulated stock in lightweight fixed formation carriage sets. His website 'Elegant Steam' includes a series of full-colour illustrations depicting the liveries of British steam locomotives and rolling stock throughout the ages.

(Below) Following hot on the heels of the 'Silver Jubilee' came the 'Coronation' express in 1937. Click on image (below) to see the full size illustration of the Beaver Tail Observation Car. Clearly Don's artwork is a labour of love; the very best on the web - a visit is highly to his website recommended.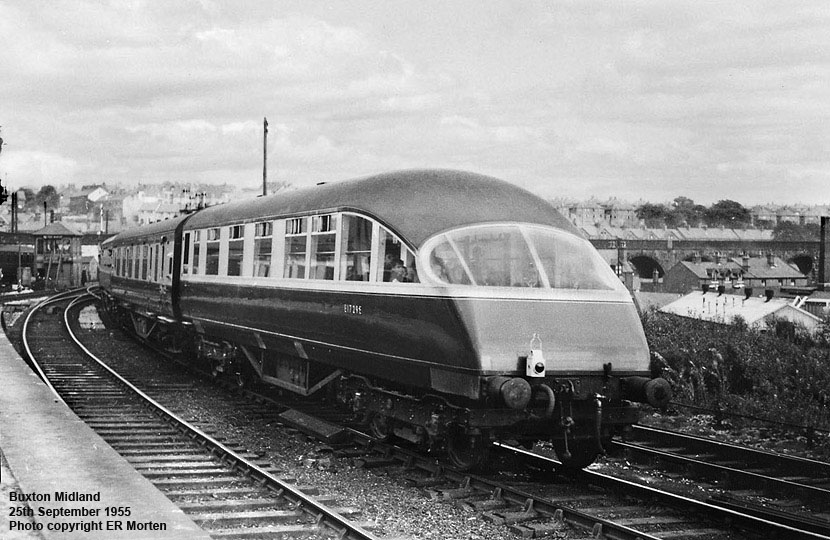 (Above) Another fine product of Doncaster Plant was the two streamlined observation cars built in 1937. In that year the LNER decided to mark the coronation of King George V1 with the introduction of the 'Coronation' express - a high speed train service between London Kings Cross and Edinburgh, taking just six hours for the 393¾ mile journey. Worked by the famous Class A4 Pacifics, the 'Coronation' was made up of a eight coaches comprised of articulated stock in lightweight fixed formation carriage sets with all open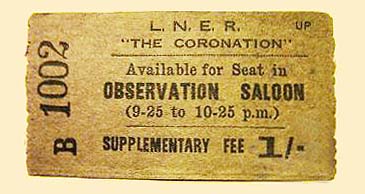 seating, Art-Deco styling and including a distinctive 'beaver tail' streamlined observation car at the rear.
Contrary to appearances, however, the shape of the beaver tail cars was not entirely a publicity stunt; the tapered-shape also provided a smooth effect at high speed, eliminating all the eddies and turbulences created at the rear of a fast-moving express train.
The train formation appeared in a pleasing two-tone blue livery, with a lighter Cambridge blue used on the upper panel and for the lower body the now familiar Garter blue - which later became the standard livery of the new LNER Class A4 Pacifics. When the Second World War broke out, the vehicles were put into store and both observation cars saw only occasional use on charter trains, including No E1729E seen here at the rear of this unidentified special at Buxton Midland on 25th September 1955. A year later and the observation cars were transferred to the West Highland Line, where a decision was taken to rebuild their original observation ends with more angled end windows to provide a better view of the magnificent Scottish scenery. Both the beaver-tail observation cars have survived and are being restored by Railway Vehicle Preservations Ltd - click here for link - with No E1719E restored to its rebuilt condition and the E1729 to its original condition as seen in ER Morten's photo above.



The highs and lows of a day's spotting on May 23rd 1959 when I 'copped' my last 'Streak' and ended up being thrown out of the 'Plant' on the same day.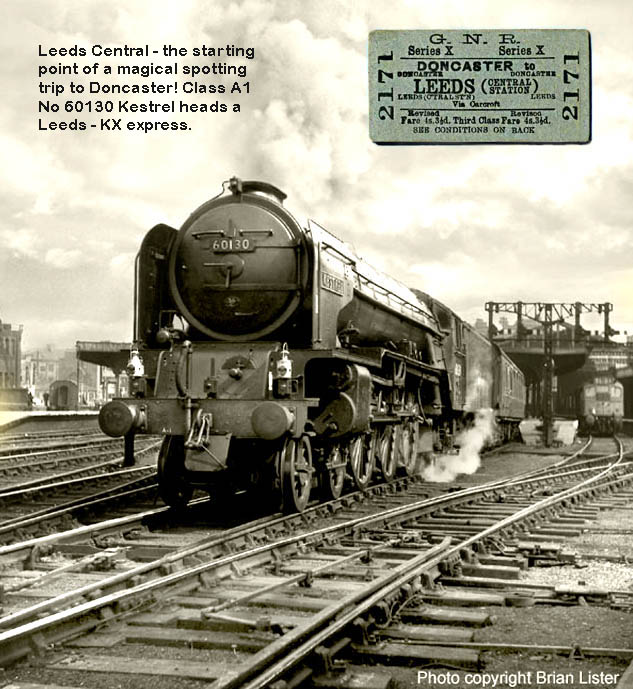 1956 was a landmark year for me, not only because I had grown out of wearing short pants at long last, but because I failed the 11+ Exam - gateway to the grammar school system - and ended up at my local Secondary Modern. However, failing the exam was no big deal to this eleven year-old, since most of my mates failed too, and we remained kindred spirits right up to leaving school at fifteen.
We had no idea that a secondary education was seen as the dispiriting dumping ground, where girls were taught 'Domestic Science' and boys learned practical skills such as woodwork in the hope of getting an apprenticeship in some trade or other. In fact, a lot of bright youngsters lost their chance early on in life, since most were written off as academic failures and finished up as factory fodder.
I remember the first day at Secondary School turned me into many things - 'unhinged' and 'certifiable' chief among them. As we drank free milk at morning break, a group of stroppy Fourth Formers with cauliflower ears, goose-stepped around the playground terrifying the smaller kids with knuckle-dusters. A mote of common sense should have told me that when you're young and gullible, you're fair game, especially on your first day at school. It took only the slightest provocation (a mere glance was enough) and a racketeering 4th-Form Prefect demanded a whole week's dinner money for protection. I swear even the teachers wore garlic and crossed themselves in class...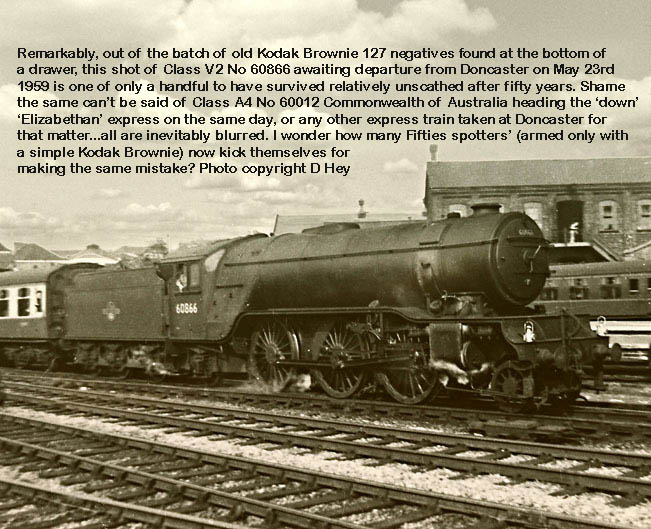 (Above-Below) Memory is fallible, they say, but let's face it - May 23rd 1959 is a long time ago. I recently discovered this old Kodak 127 enprint of Class A4 No 60012 Commonwealth of Australia heading the 'Elizabethan' express (mentioned in the photo above) except it's heading the 'up' train, and not the 'down' train as I recalled it. I include the photo here for two reasons - the blur is nothing like as bad as I remember it, but more importantly it shows a young spotter celebrating a 'cop' in typical jubilant fasion...memories of train spotting days!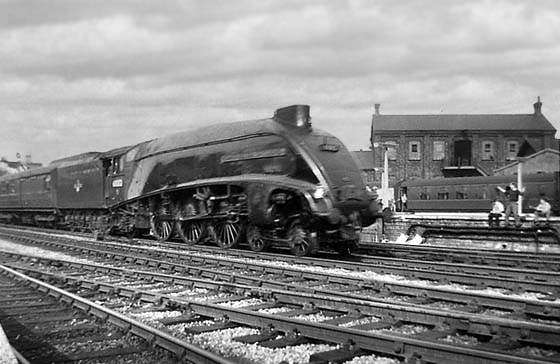 In many ways, those rabble-rousing reprobates in the Fourth Form gave me a preliminary glimpse into the cabalistic affect that adolescence was going to have on me. Sure enough, when my own aberration came,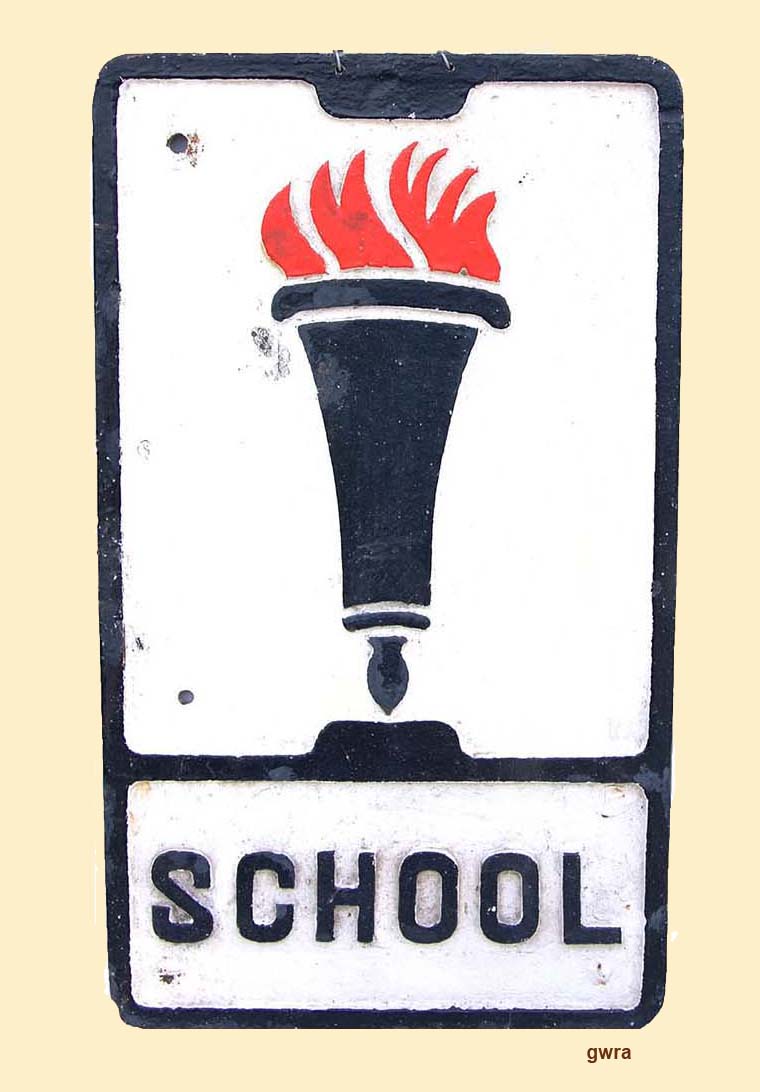 instead of growing into a confident, swell-looking dude, I turned into a walking oil slick. My over-productive sebaceous glands produced enough oil to bring down the world price of crude. My face erupted in pimples, blackheads and boils. And if that wasn't enough to turn a youngster into a manic depressive, I had a mad crush on Sonia Barker from Form 4B (her handstands in the school yard had turned her into the object of every pubescent schoolboy's fantasy) and, like most boys in my class, she was all I ever wanted…
...well, not quite - the one thing I wanted more than anything in the world was to 'cop' No 60031 Golden Plover, a Scottish-based A4 which spent most of its life allocated to Haymarket shed before it was transferred to St Rollox. It was the last 'streak' I needed to cop for a full house, so if anyone had asked me to choose between copping Golden Plover or getting up close and personal with Sonia Barker, then Golden Plover would've won hands down every time.
I finally caught up with 60031 on May 23rd 1959, though it was a fluke 'cop' really. I had planned on a trip to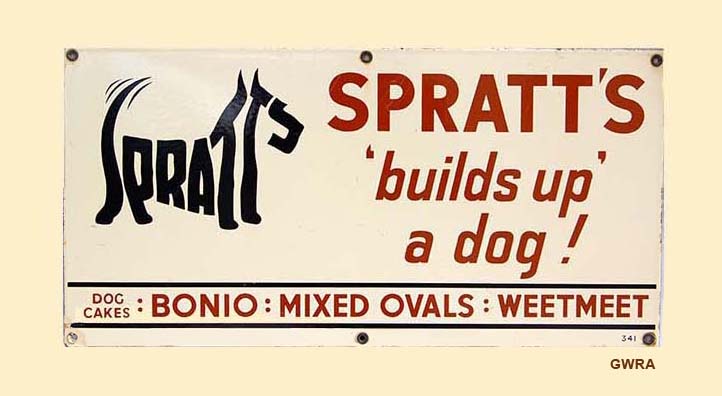 Crewe, but missed the train to Manchester and caught a train to Doncaster instead. Within minutes of arriving I heard that No 60031 was languishing in the shed yard conveniently positioned next to a hole in the perimeter wire fence - and as she was not in steam, the engine was unlikely to be going anywhere unless the shed staff moved her for some reason.
I wasn't going to take that chance and headed straight for the shed, following the path skirting the allotments at Kelham Bank, desperately trying to avoid the crazy gardener who, only a few weeks before, caught me taking a short cut through his prized crop of rhubarb. Okay, I shouldn't have been there - and I guess he was only trying to scare me, but there is an unreasonable disparity between a broken stick of rhubarb and the man yelling 'Kill!' to his dog.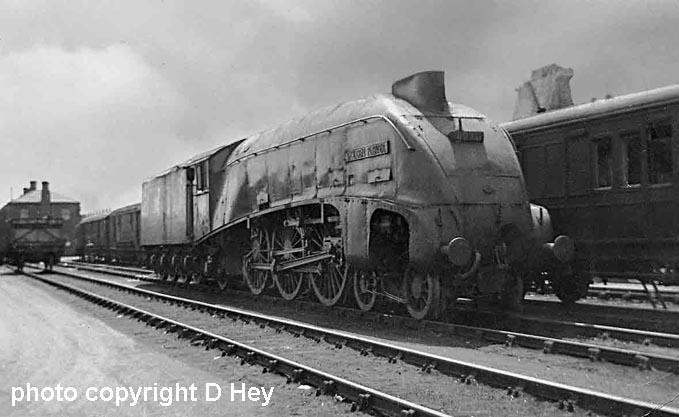 I ran like I'd never run before, and even to this day I'm not sure whether the crazy gardener deliberately delayed calling off his mutt until the very last second, or the animal hadn't heard his master's voice above the sound of an engine movement in the shed yard. Whatever the reason, it was a close call, and probably the only time I've been chased into a shed, not out of it - a split second later, though, and his hound would have ripped the backside out of my pants. As I stood at the perimeter fence close to 60031, my emotions were sky high. Not only was Golden Plover a prized cop, I managed to 'cab' her, then I photographed her - and, if someone had given me a mop and bucket I would have cheerfully swabbed her from buffer to buffer. At long last my search was over, but any excitement was overlaid by a deep sadness. Now that I had copped my last 'streak', there was no longer that fantastic sense of anticipation when an A4 appeared in the distance...



Mention of 'copping' 60031 Golden Plover above prompts me to post this shot of fifteen year-old Chris Baines (below) in front of 60031 at Ferryhill in 1964; the photo was taken by fellow Wiganer and Railwayman Mick Langton. Chris writes - 'Great site, David - I visited Scotland in Easter 1964 and your site brings it all back. During our ScR bash we got as far as Aberdeen, and saw lots of A4s on Ferryhill because it was Sunday. We also saw 15 North British type 2s on Kittybrewster, but I don't know if Mick took any images... we were then more interested in steam locos. Until recently I had the logbook for that trip but it was lost in a house move. In those days I couldn't afford a camera but Mick has been in touch and very kindly sent me this image. You can see a couple of images from the trip on my Flickr site here, Regards Chris Baines.'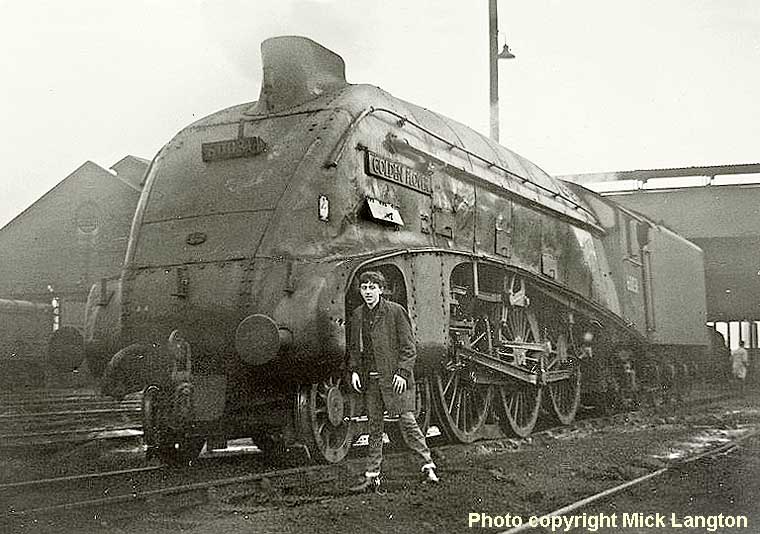 JIM OAKLEY's SPOTTING MEMORIES OF 'DONNY'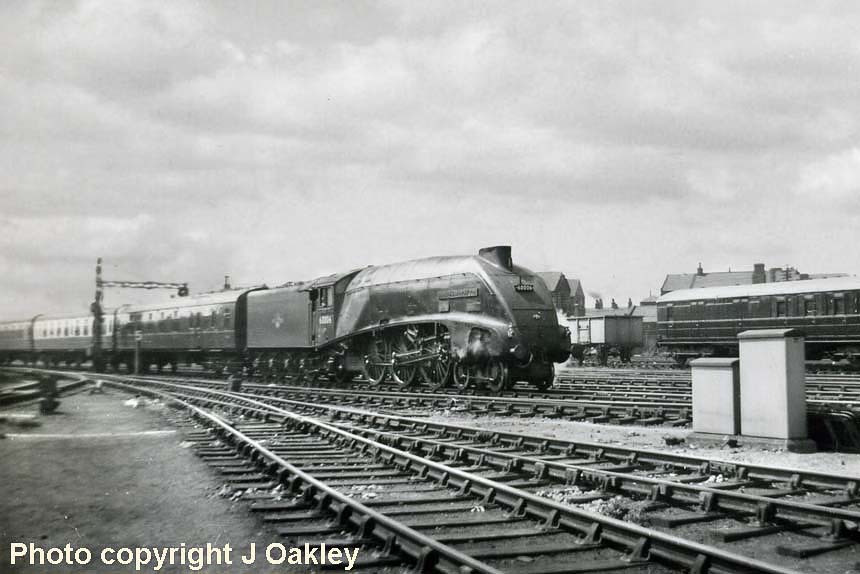 Jim Oakley recently sent me a chatty email full of anecdotes about his old spotting days, along with a bundle of fifty year-old photos he took with a Kodak Brownie 127 when steam still reigned supreme over a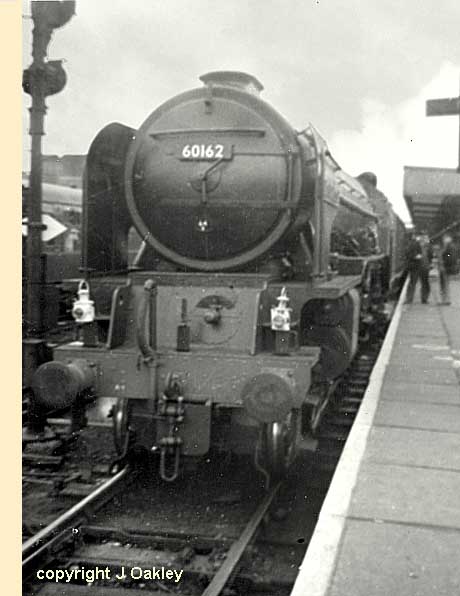 handful of diesel upstarts. I'm sure his shots of Doncaster will ring a bell with many ex-spotters...
Indeed there is a common strand amongst small boys who have now reached pensionable age; apart from our mutual loathing of growing old and a yearning to turn back the clock, the majority of us can at least console ourselves with fond memories of high-octane spotting trips during the Fifties.
However, it wasn't all plain-sailing. The rarest 'cops' were invariably further afield and this led to countless thousands of youngsters embarking upon some remarkable journeys of discovery, which, for many young kids - some barely knee-high to a grasshopper - pushed health and safety to the absolute limits. Not that they came to any harm; truth is train spotting left us with an indelible memory, and Jim's trips to Doncaster are no different...
He writes - 'It all began in the spring of 1958 when my friend, John Raynor, called round one Saturday dinner time and asked if I wanted to go train spotting with him to Wigan. It was okay with mum, so off I went.
To say this was a magic moment is an understatement. At that time the song 'Magic Moments' was one of the best selling records of the year (spending eight weeks at number one in the hit parade). Whilst Perry Como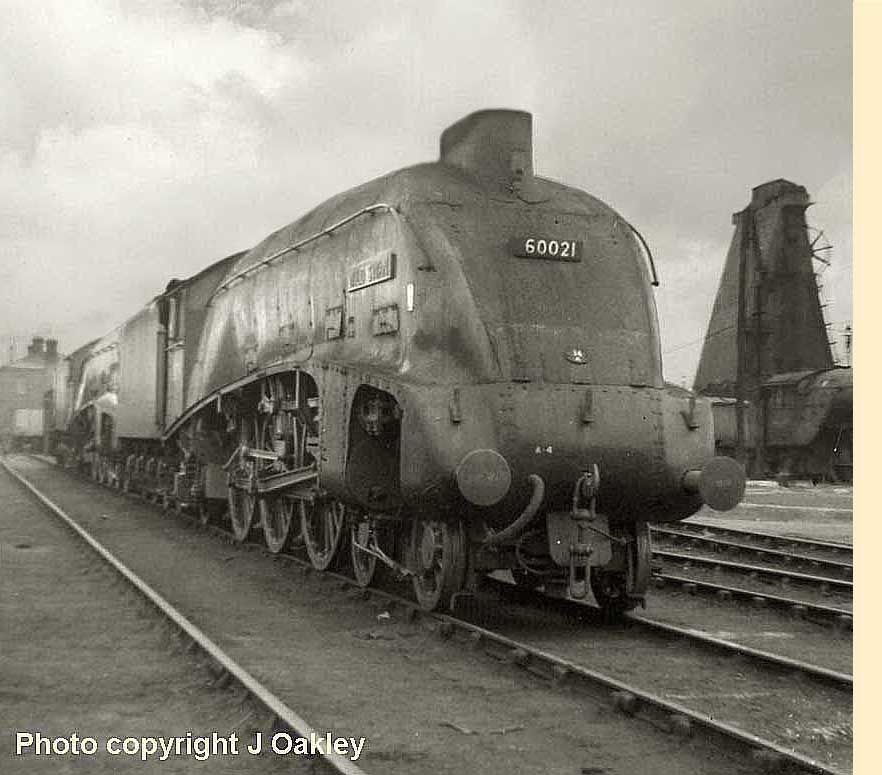 was warbling away on the BBC's Light Programme, I was sitting with my spotting pal on a grassy embankment just a short distance from Wigan North Western station which gave us a good view of both the West Coast Main Line and the Manchester to Southport line coming out of Wigan Wallgate…with so much going on I was well and truly hooked on train spotting, and it's all thanks to John, who sadly passed away in November last year...'
Once bitten by the spotting bug, there was no turning back. By the end of the year Jim was making his first foray to Leeds Central where he 'copped' his first A4 'Streak' No 60033 Seagull…it was the start of a lifetime's love affair with the Eastern Region. In March 1959 he was making his first trip to Doncaster, affectionately known as 'Donny', and from then on Donny was the 'place to go'...
(Above-Inset-Below) 60006 Sir Ralph Wedgewood was taken on Jim's Brownie 127 during his first visit to Doncaster in 1959. (Inset) 60021 Wild Swan on shed at 36A (Below) 60011 Empire of India heads north.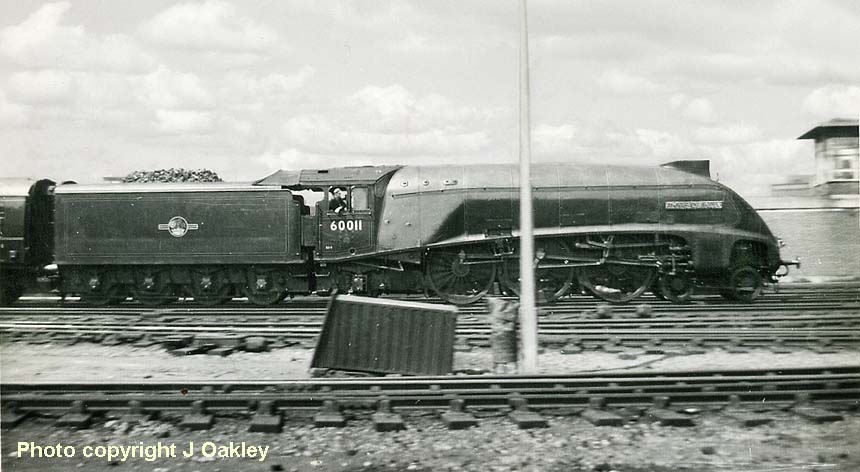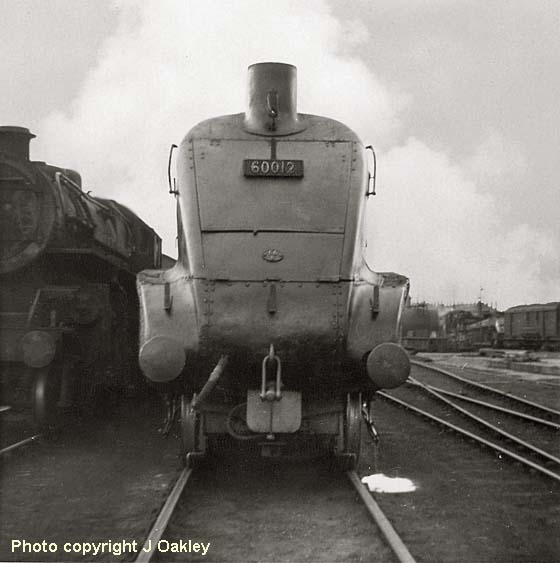 (Above) This photo could well be entitled 'Beauty and the beast!' - the 'beast', of course, being Ivatt's Class 4MT Mogul on the left. Gresley's striking wedge-shaped front end design can be seen to good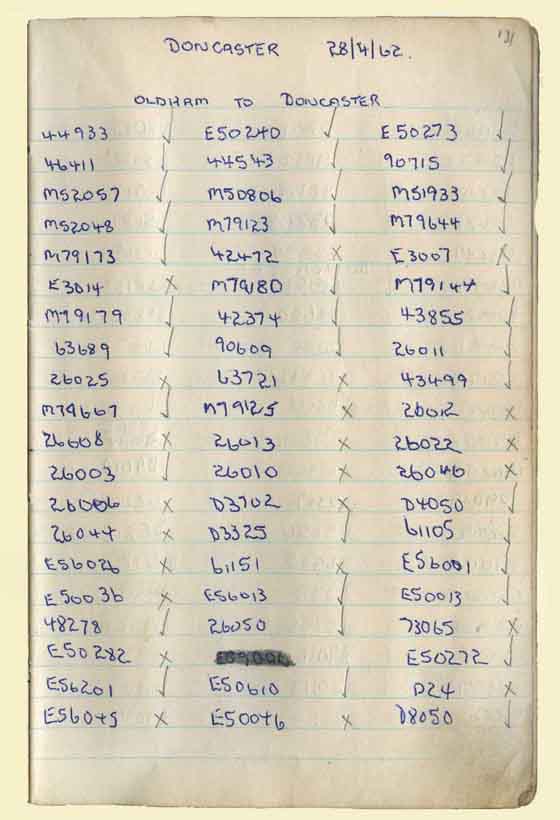 effect in this shot of 60012 Commonwealth of Australia at Doncaster shed.
The streamlining was inspired by the design of the Bugatti diesel rail car in France. However, adapting a similar design for steam purposes proved a little more difficult, since it was necessary to lift the trailing smoke above the streamlined casing to avoid obstructing the driver's forward vision from the cab. Before the shape could be finalised, tests were carried out using a plasticine model in the wind tunnel facilities at the National Physical Laboratory at Teddington.
Remarkably, the final design was achieved quite by chance - in fact you couldn't make it up! During the wind tunnel tests, someone had accidentally left a thumb print when handling the model. The indentation was made on top of the body casing just behind the chimney, and it wasn't until the model was tested again that the discovery was made!
(Inset-Below) Interesting pages from Jim's spotting notebook during a trip to Doncaster and a vist to the Plant on 28th April 1962...a veritable snapshot in time!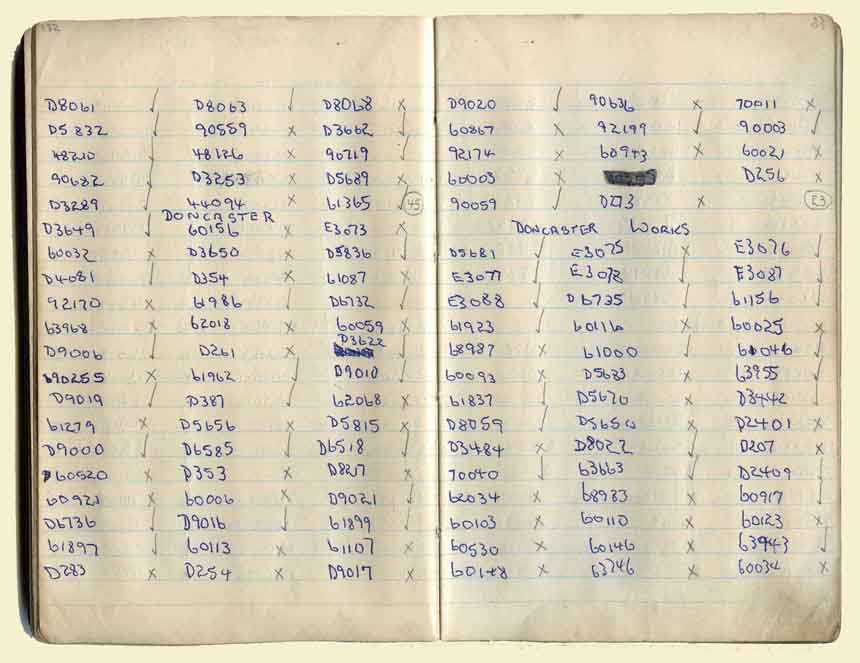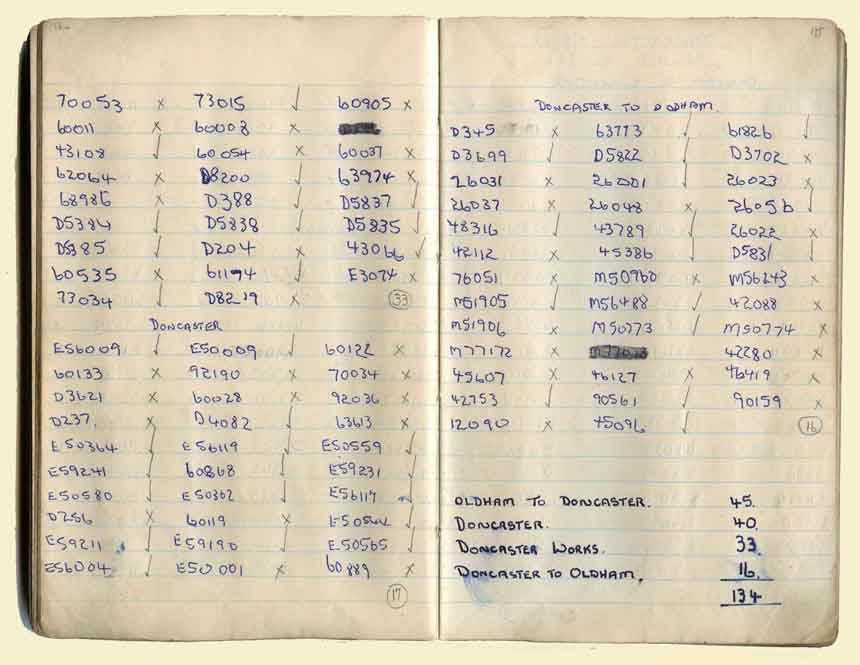 (Below) Just like the real thing - Hornby's Class A4 No 60021 Wild Swan...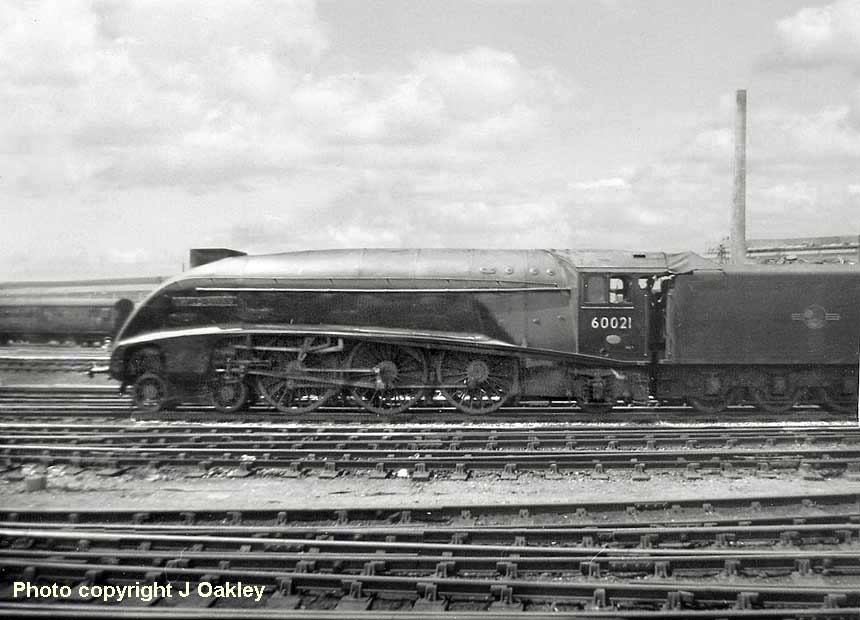 (Above-Below) Comparisons can be made between the Hornby model and the prototype...60021 Wild Swan heads south with a train for Kings Cross. (Below) Opened in 1954, Doncaster Power Station's twin chimneys were a familiar landmark in the vicinity of Doncaster station. The coal-fired power station was located on an island surrounded by the River Don and the Sheffield and South Yorkshire Navigation, which enabled coal to be delivered by boat to the power station's own staith. The station had a generating capacity of 122 MW before it closed on 31 October 1983; a prison now occupies on the site. Class A1 60123 HA Ivatt heads south.
More of Jim's photos will appear on this page (and elsewhere on the site) in due course, starting with Class A2 60523 Sun Castle awaiting the right away with a train for Kings Cross...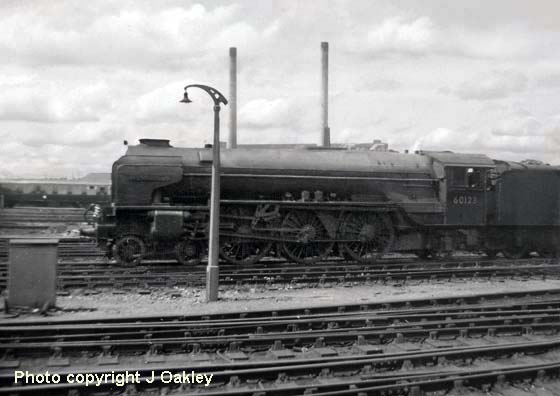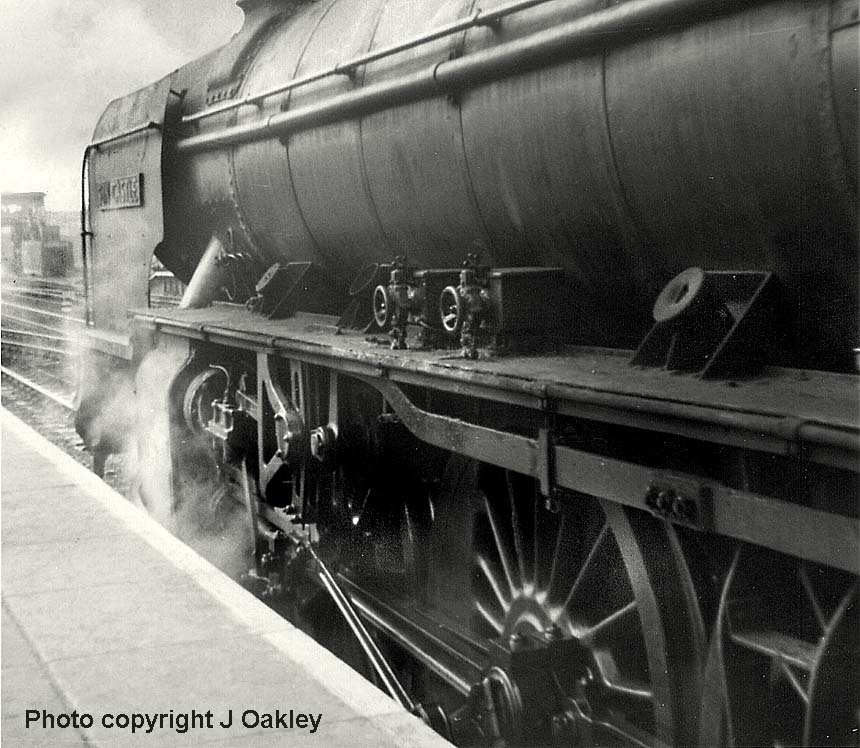 .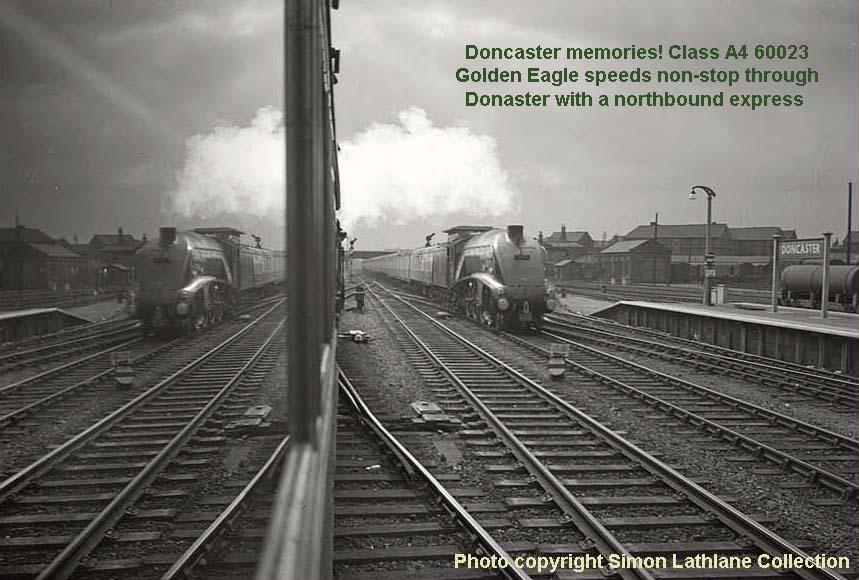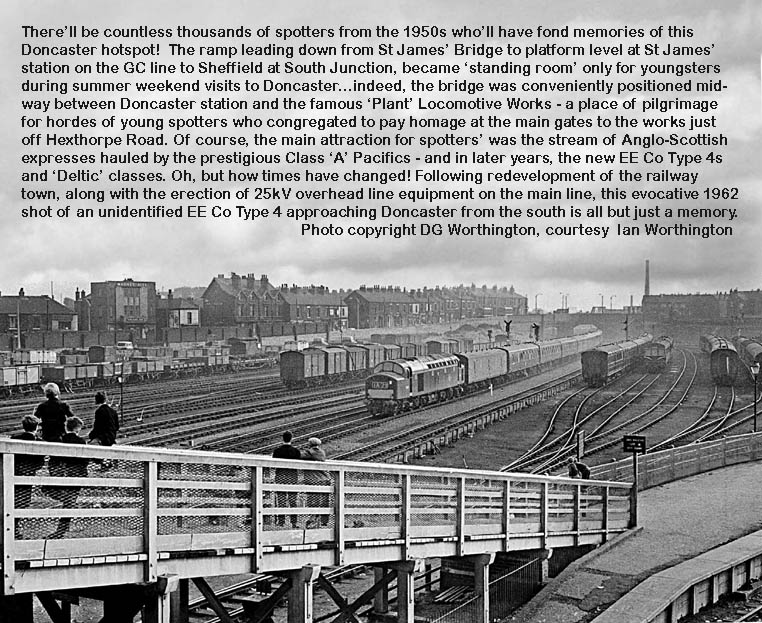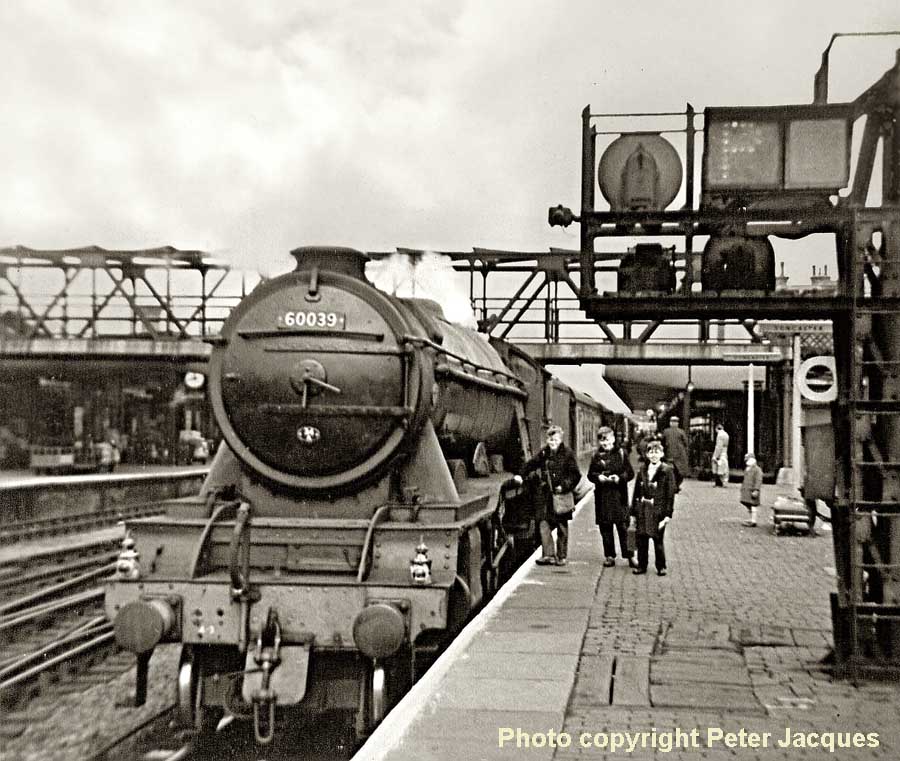 (Above) Hooded duffel coat with pegs for buttons are very much in evidence during a spotting trip to Doncaster in the early 1960s. Jim Oakley's spotting pal Peter Jacques took this shot of the rest of the gang: Granville West, Neil Sinker and Keith Wilde, happily posing next to Class A3 60039 Sandwich awaiting departure with an 'up' express for Kings Cross.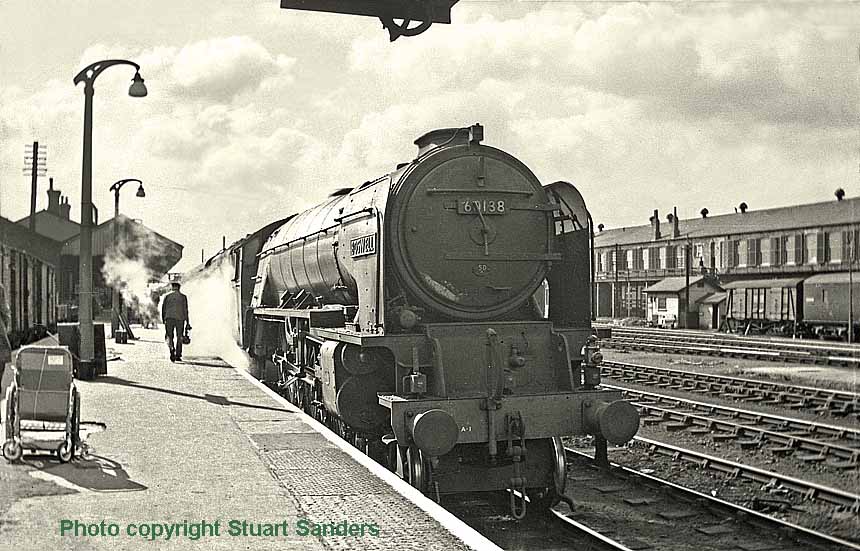 (Above-Below) Following the retirement of Edward Thompson in 1946, Arthur Peppercorn became CME of the LNER. He had 18 months in office before the 'Big Four' railway companies were nationalised, during which time 49 Peppercorn A1s were built. Construction was shared between Doncaster and Darlington workshops; No 60138 Boswell (above) was among the batch of fourteen A1s Nos Nos 60130-60143 built at Darlington in 1948. The engine was scrapped in 1965; by summer of 1966 all 49 class members had gone for scrap. (Below) In true LNER tradition, several members of the class appeared with names of racehorses and birds, but five engines carried names of the constituent railway companies which had gone to make up the LNER, including No 60161 North British, seen here at Doncaster shed on 11th September 1954; this Haymarket (64B) A1 had arrived with a race special for Doncaster's famous St Leger day. For the record, the winner of the St Leger Stakes that day was 'Never Say Die', this was its second British Classic win in 1954, the first being the Epsom Derby. The chestnut colt was later retired to a successful stud career…there's a gag in there somewhere but modesty prevents me commenting further.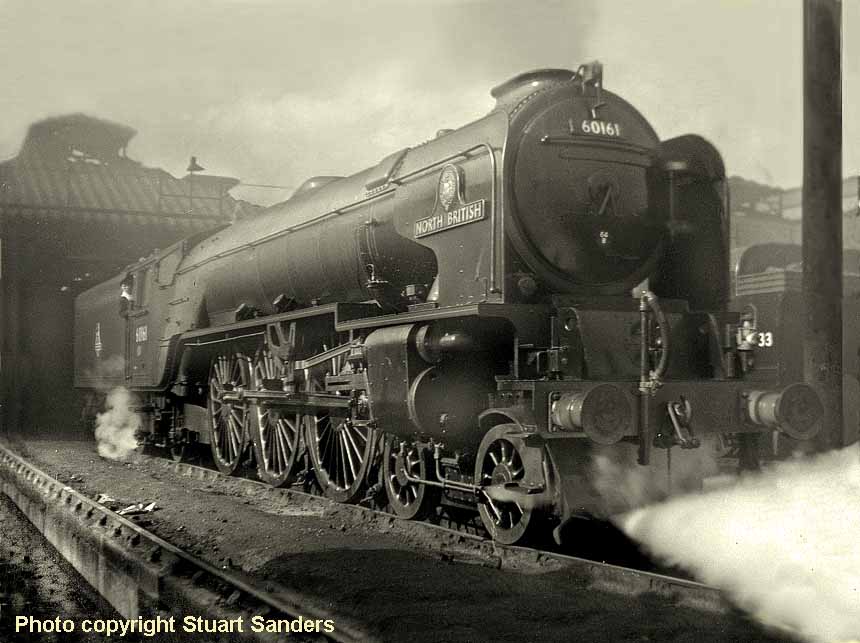 THE PAUL CLAXTON COLLECTION
DONCASTER MEMORIES

Mike Claxton's www.railpictorial.com is a superb website dedicated to the memory of his brother Paul, who sadly passed away in April, 2009. Paul began train spotting at a very early age, and like most young boys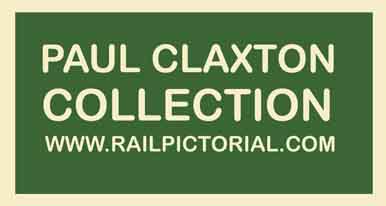 during the late 1950s he started taking railway photographs, a natural adjunct to train spotting.
Paul's first camera was a Kodak Brownie 127, but this was quickly replaced by a Zeiss Ikon Nettar 120 rollfilm camera followed by a Kodak Retinette 1B 35mm camera in 1961. Paul acquired a Pentax S1A in 1965 and by the late 1970s he had graduated to a Nikon F 35mm and a Pentax 6X7, albeit too late for BR mainline steam, but ideal for recording most preserved railways and steam specials on the main line.
To give credit where it is due, Mike has worked hard in creating this superb website for the simple reason that it gives enthusiasts a chance to enjoy his late brother's photographic collection online...and what a collection it is! Rarely have I see such quality and in such high numbers on one website - 7,800 images and counting! - incredible! Needless to say, I am a big fan and a visit here is highly recommended.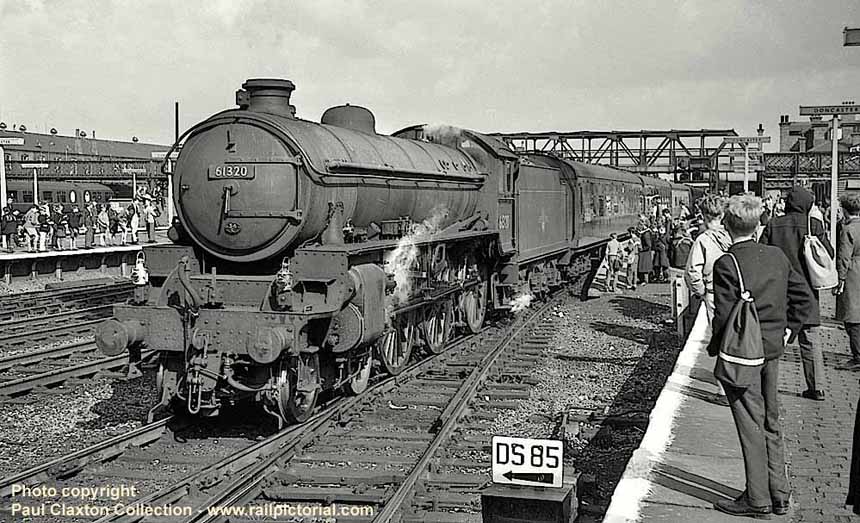 (Above-Inset) There are just not enough accolades to describe the quality of Paul's photographs which cover all BR Regions, however this tiny selection is from his reconnaissance with a camera to Doncaster during the 1960s. I guarantee it will rekindle many fond memories of spotting days...perhaps you might recognise yourself amongst this crowd of spotters (above) at the south end of the station on 8 September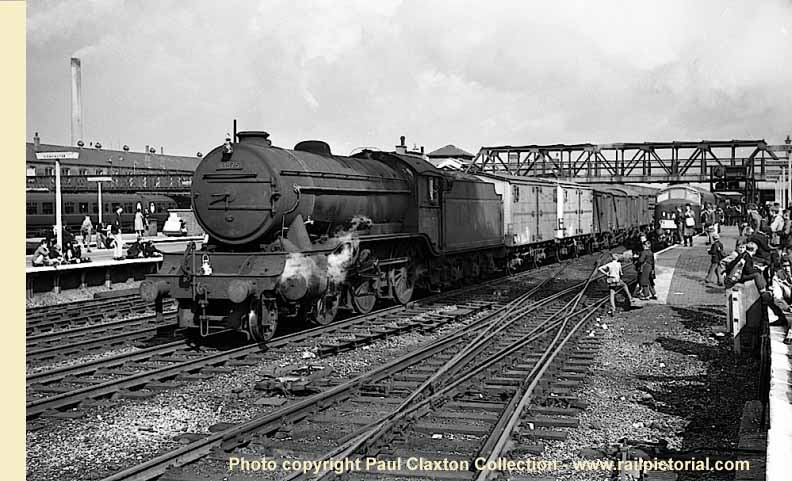 1962. Sporting a Leeds Copley Hill (56C) shedcode on the smokebox door, Class B1 No 61320 gingerly picks its way through the crowd with an 'up' train. This was followed by Class K3/3 No 61875 (right) heading a southbound mixed freight. With hindsight, is it any wonder that train spotters were banned from stations? However it wasn't a case of downright bad behaviour, just boys being boys - still it was no less disconcerting for station staff; both scenes smack of a Health & Safety executive's nightmare!
(Below). On the same day, another of Thompson's Class B1's - the now-preserved No 61306 - heads a train on the GC line to Sheffield. Built by the North British Locomotive Company in 1948, No 61306, was allocated initially to Hull Botanic Gardens Depot (53B) and in June 1959 it was transferred to nearby Hull Dairycoates Depot (53A) until June 1967. This was followed by a brief spell at Low Moor Depot (56F) from where it was withdrawn in September 1967. No 61306 was subsequently purchased for preservation at Steamtown in Carnforth, and given the name Mayflower (previously carried by the scrapped BR-built B1 No 61379). Although 61306 was delivered after nationalisation, therefore a BR engine from the beginning, in its preserved guise it was renumbered 1306 and painted in the LNER's attractive Apple Green Livery. Out of a total of 409 Thompson B1 locos built, only two survive in preservation, the other being LNER-built No 61264.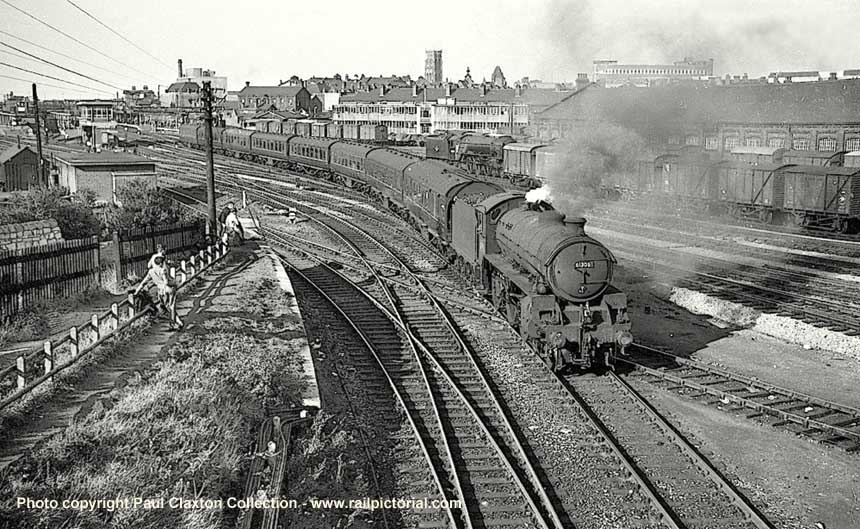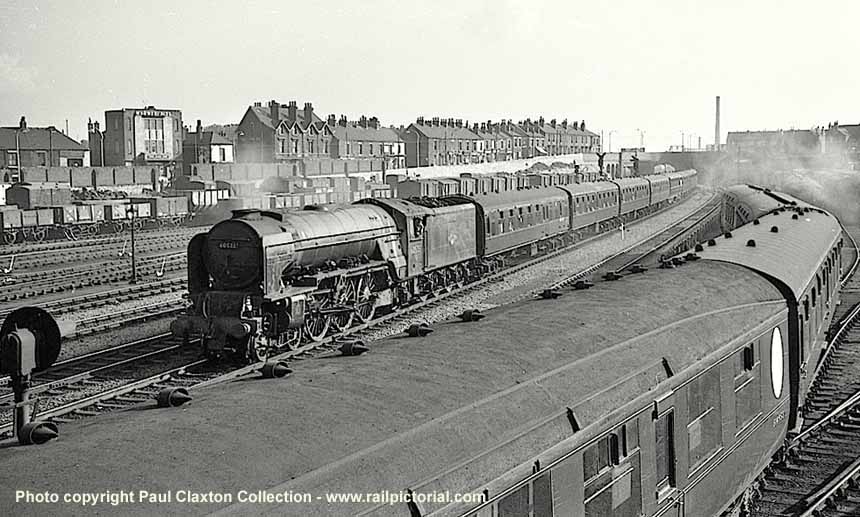 (Above-Below) St James' bridge provided a good vantage point for railway photography and Paul's second shot was taken looking south from the top of the ramp leading down to St James' station; Class A2 No 60533 Happy Knight arrives at Doncaster with a 'down' train on 8 September 1961. (Below) By the early 1960s, the Eastern Region was desperate to shake off years of post-war stringencies, but any plans for ECML electrification was mired in penny-pinching bureaucracy. Whilst the LMR got the go ahead for electrifying the WCML there was little the Eastern Region could shout about that caught the public's imagination. By the 1950s the golden age of the LNER had long since gone and all throughout the decade the pinnacle of the ECML's crack Anglo-Scottish expresses remained firmly rooted in the exploits of the Gresley Class A4 Pacifics. Here No 60025 Falcon heads an 'up' express on 8 September 1961.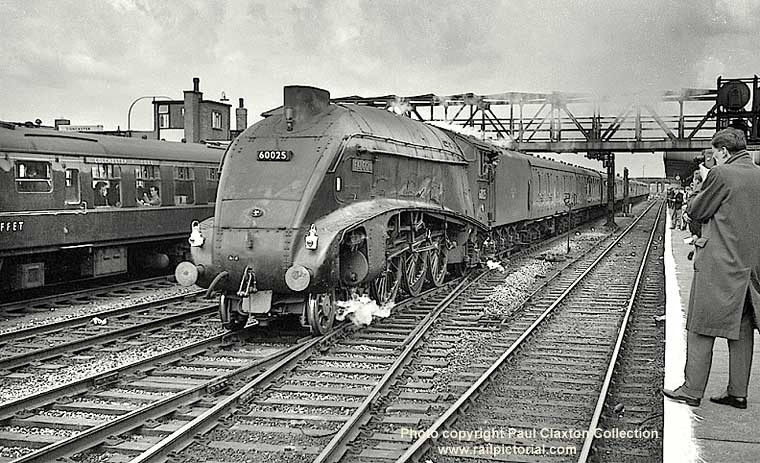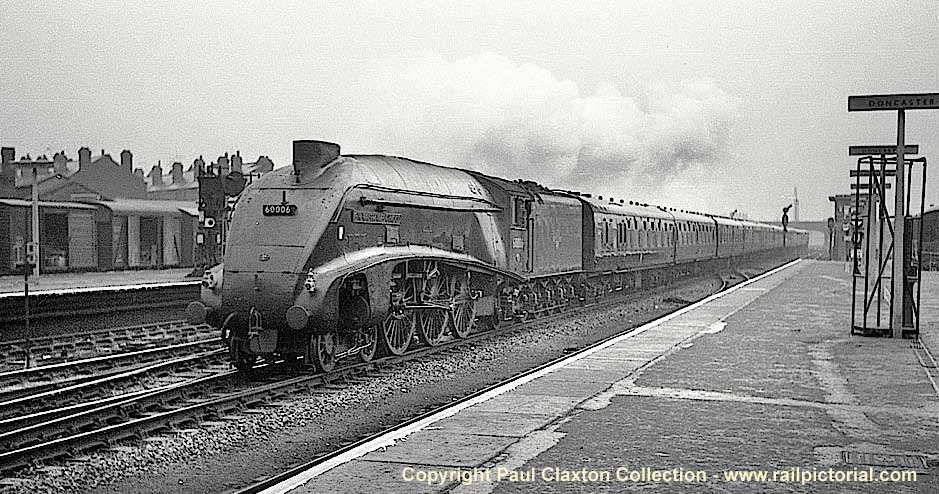 The A4s put in some remarkable performances on the crack expresses, but by today's standards they were slow. The introduction of the EE Co Type 4s during the late Fifties didn't improve matters either, since there was little to choose between the tractive effort of a 2,000hp diesel and a good A4. What was needed was something more powerful, something capable of sustaining 100mph running, and the EE Co 3,300hp Type 5s ticked all the right boxes! All the rest as they say is history.
Meanwhile Class A4 No 60006 Sir Ralph Wedgewood heads the down 'Flying Scotsman' through Doncaster on 12 September 1961 (above). Inaugurated in 1862, this Anglo-Scottish express is perhaps the most famous of all the ECML titled trains. Departing both Kings Cross and Edinburgh every morning at 10.00 am, the journey took around seven hours non-stop with engine crews changing by means of the corridor tenders fitted to the Gresley Class A4 streamlined Pacifics, but this non-stop service was discontinued at the commencement of the Deltics' reign when a Newcastle stop was introduced for changing crews.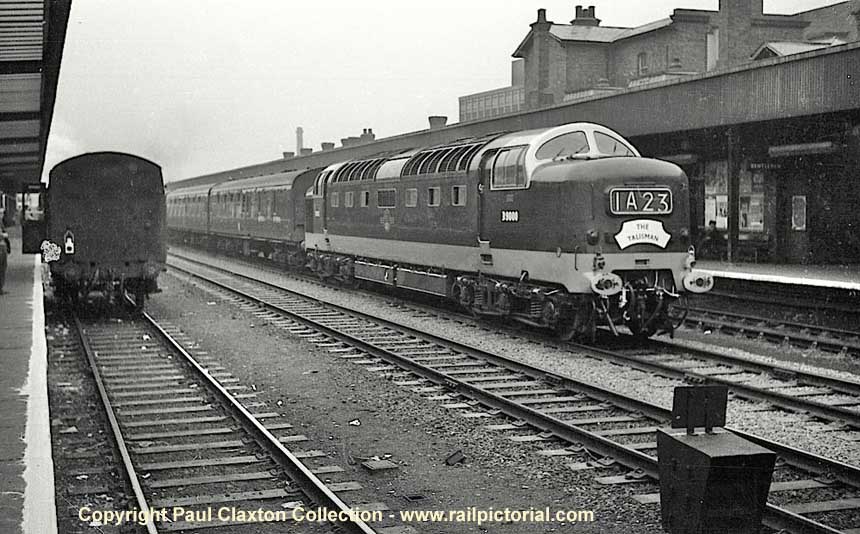 (Above-Inset) On the same day, the doyen of the EE 'Deltic' Type 5 fleet, D9000 heads the southbound 'Talisman' through Doncaster. Paul's photo is reminiscent of early diesel days; a top lamp iron has yet to be fitted to the nose end, and the express train headboard is mounted on a bracket that slipped into two front-end slots below the headcode display panel. Note also the express passenger headlamp code - two lamps above the bufferbeam - a legacy of steam days.
By September 1961 thirteen Deltics were available for traffic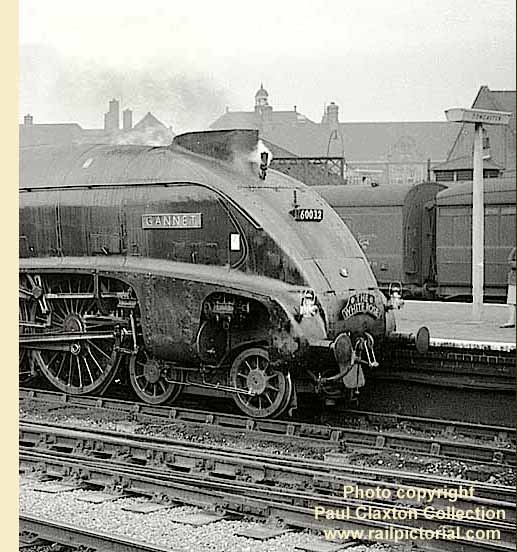 and at the beginning of the winter timetable the Class A4s were displaced from the premier ECML expresses and more frequently to be found on Kings Cross-West Riding duties. This included 'The White Rose' (right) seen here with 60032 Gannet awaiting departure from Doncaster with the 'up' train on 12 September 1961. It was the beginning of the end of the A4's reign, for the Deltic fleet took charge of numerous Anglo-Scottish expresses.
The Deltic rosters were mainly undertaken by the Haymarket allocation, which included the up morning 'Talisman' (Paul's photo above) and down 'Aberdonian'; the up 'Flying Scotsman' and 10.15 from Kings Cross - the up 'Heart of Midlothian' (Paul's photo below) and 11.35 return from Kings Cross - the 11.15 from Edinburgh and the 'down' Flying Scotsman'.
D9000 was introduced to traffic at Haymarket (HM) on 28 February 1961, but it wasn't until February 1962 that it was named 'Royal Scots Grey' and after twenty years plying the ECML the loco's life expiry came at York (YK) at the beginning of January 1982; thankfully a saviour was found with the Deltic 9000 Limited and preservation on the Nene Valley Railway.

(Below) Fast-forward a couple of years, and Paul is back at Doncaster again, this time photographing another HM Deltic No D9010 'The King's Own Scottish Borderer' heading the up 'Heart of Middlothian' through South Junction 8 September 1963; by this time the recently formed British Rail Board (BRB) announced its Corporate Identity Programme and BR's diesel fleet was about to enter the new 'Rail Blue' era for locomotives, the house colours including yellow warning panels, as stipulated by the BRB's Accident Prevention Service. The panels were later incorporated into the new overall blue livery by covering the entire nose ends and, in some examples, wrapped around the cab windows...the attractive two-tone green livery (and white cab window surrounds) would soon be a thing of the past.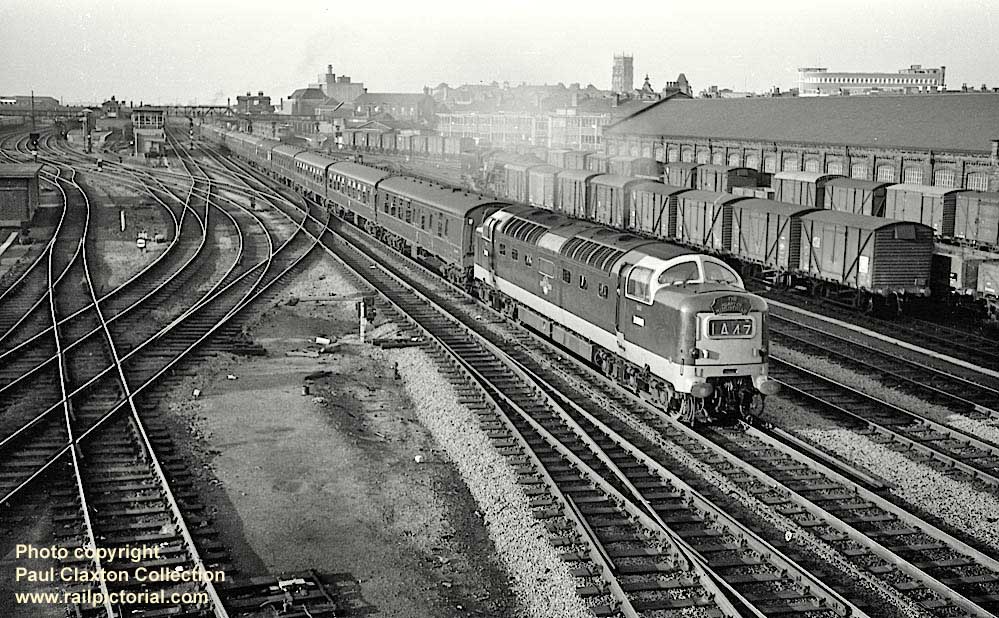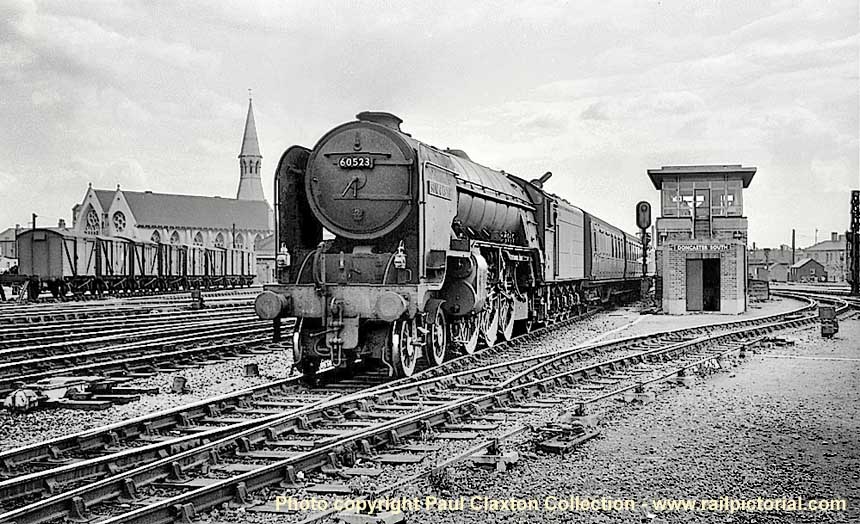 (Above-Below). A familiar landmark in the vicinity of Doncaster station is the spire of St James church. The church was built for the use of GNR staff, paid for by subscriptions from GN shareholders and friends. The spire can be seen in the background as Class A2/3 No 60523 Sun Castle (named after the winner of the 1941 St Leger) slows for the obligatory stop at Doncaster with a Grantham to Newcastle train on 8 September 1962. Designed by Thompson and built as LNER No 523 in August 1947, later renumbered BR 60523 and painted Brunswick Green in September 1949, the loco's initial shed was Kings Cross, followed by Copley Hill, Grantham, Doncaster, but it was mainly a New England engine during periods 1948-58,1959-60 and 1962-1963. The loco was withdrawn from traffic and cut up at the Plant in August 1963. (Below) Paul's visit to the Plant on 3 November 1961 saw EE Type 4 D365 (TOPS Class 40 40165) awaiting acceptance trials prior to entering service on the ScR. Please note, should you download copies of any of Paul's photographs from this page then it would be appreciated if you would make a donation to the Trinity House Hospice, Blackpool who cared for Paul in his fight against cancer. A click-on link is available here...it only takes a couple of minutes!.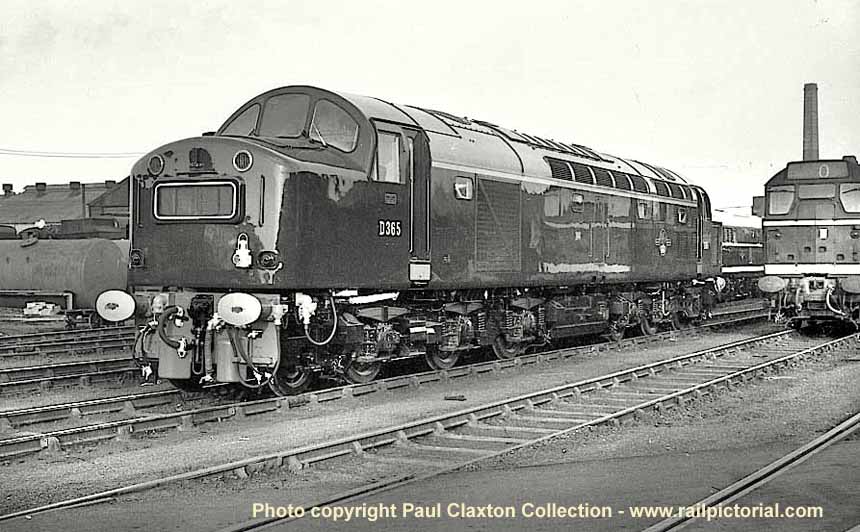 (Below) Yet another evocative reminder from the NMR's archive of old spotting days at Doncaster is this shot of Class A1 class No 60134 Foxhunter departing with the 'up' 'Yorkshire Pullman' on 9th January 1961. The luxury Pullman service was comprised of portions from Bradford, Sheffield, Harrogate and Leeds for the run to London Kings Cross arriving in the capital at 2.38 pm. The return journey north departed London in the late afternoon.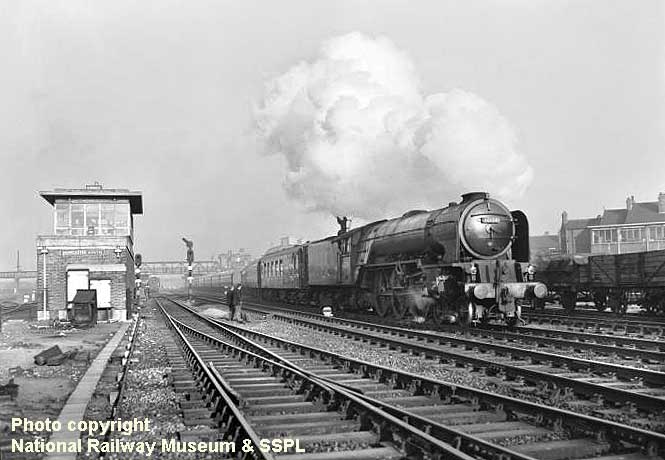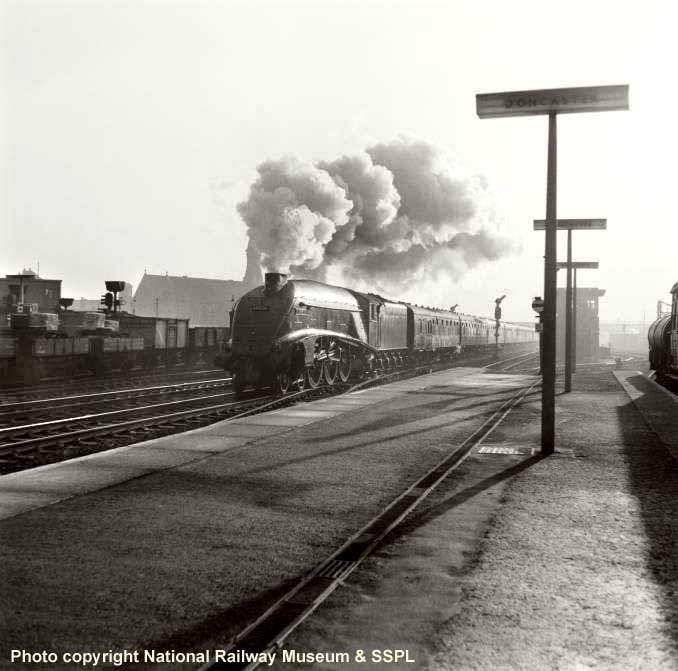 (Above) Class A4 No 60026 Miles Beevor races north with the 10.00am London Kings Cross-Edinburgh 'Flying Scotsman' in 1957. The National Railway Museum in York has a collection of 1¾ million photos covering the history of Britain's railways from 1850 to the present day. The NRM's archives are currently being digitalised to make them available to a wider audience and preserve them for the future - more images like these can be found on the NRM's 'Doncaster Photos' page here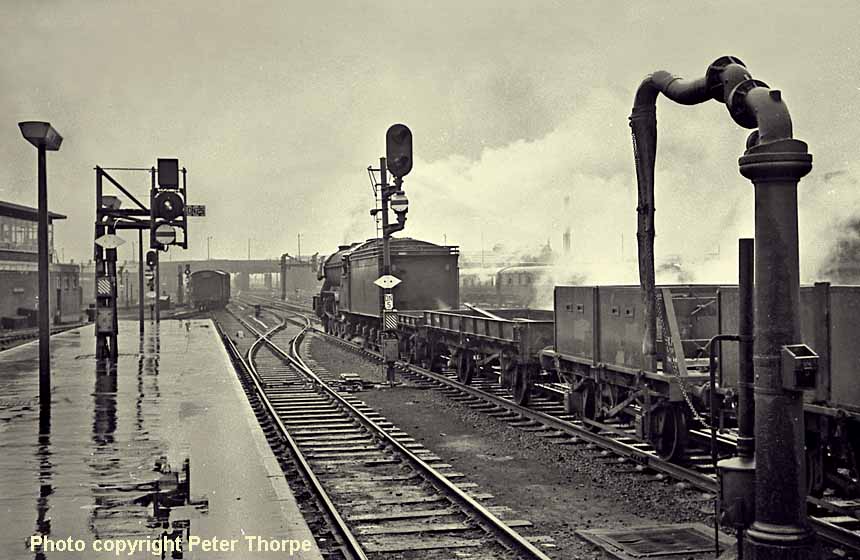 (Below) Clearly my own interest in train spotting has its roots in 1950's childhood, so I have no genuine nostalgia for the current scene. I lost interest in train spotting from the early 1960s onwards because visits to the lineside produced less evidence of Britain's railway past, which, until then, had always seemed so constant. For example, my last Ian Allan abc Locospotters book - the winter 1958/59 edition - could not keep apace with the modernisation. By the early 1960s, unwelcome gaps began to appear among the steam classes (due to scrapping) and the proliferation of new diesels did not enter the equation because they were not yet listed. Call it a dereliction of duty, if you like, but the inconsistencies creeping into the hobby was totally at odds with the orderliness that spotters expected, and many disenchanted youngsters turned to something more rewarding, such as railway photography - a natural adjunct to train spotting. (Below) Could this be you? The quintessential 60's spotter (complete with tartan duffel bag) is caught by the official BR photographer at Doncaster station on 9 January 1961. The Metro-Cammell dmu awaits departure for Lincoln.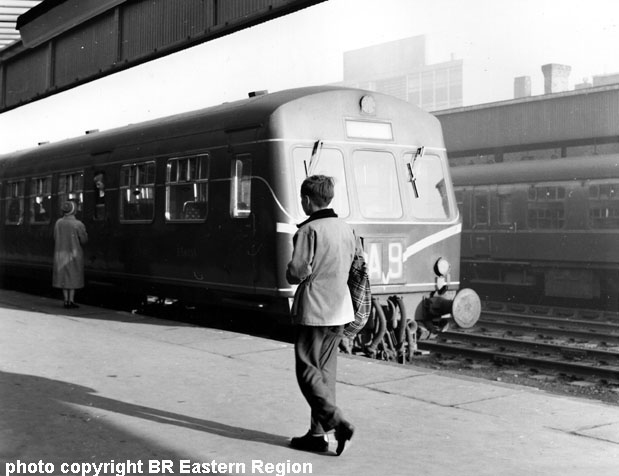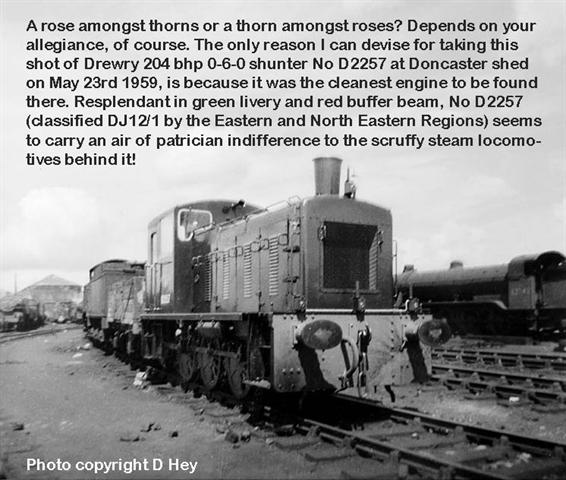 (Above-Inset-Below) This smokebox numberplate, 60022, from the LNER A4 Class 4-6-2 No 4468 Mallard, went under the hammer for £20,200 at a Great Central Railway Auction on 14th July 2011. Built at Doncaster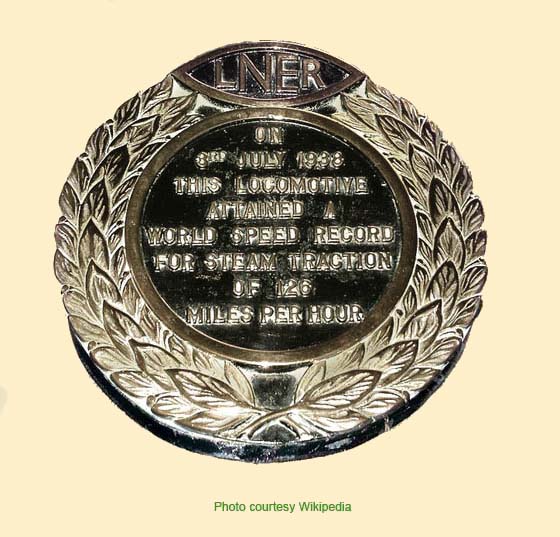 Plant (Works No 1870) in March 1938, Mallard went new to Doncaster then moved to Grantham in October 1943 followed by a transfer to Kings Cross in April 1948 where it spent the remainder of its working life until withdrawal in April 1963. It was immediately earmarked for preservation, reflecting its status as a world record speed holder, however since it was decided to restore the loco in LNER blue livery the smokebox numberplate was not required and subsequently disposed of. Interestingly, the number has the early 'curly' 6 that it carried throughout its BR days. (Below) Renumbered No 22 in September 1946, Gresley's most famous Class A4 is seen here at Doncaster sporting the old Garter Blue livery with Coronation Red wheels in the days before the newly-formed British Railways decided on a future main line livery for its fleet of express locomotives. Mallard is carrying the plaque (inset) commemorating its 1938 world speed record, though this was not fitted to the engine until some ten years after the historical achievement. Perhaps the LNER hierarchy had more important things on their mind, such as a little matter of WW2, than prestige and publicity?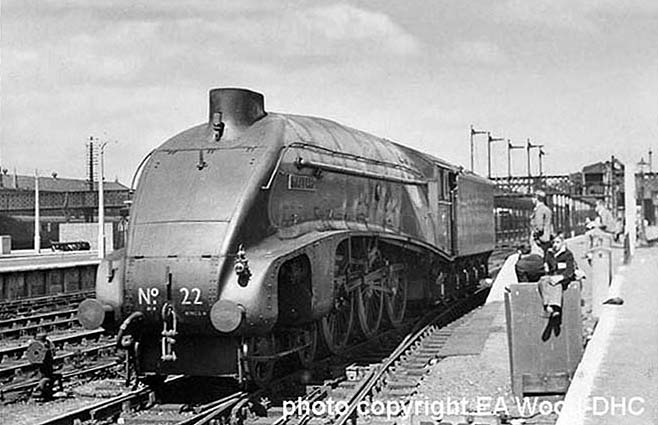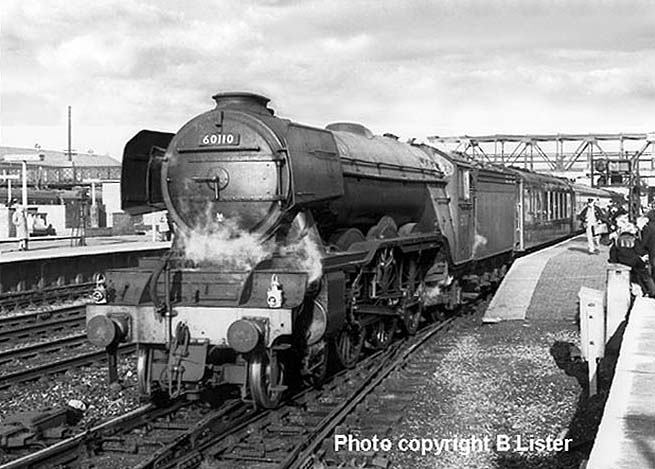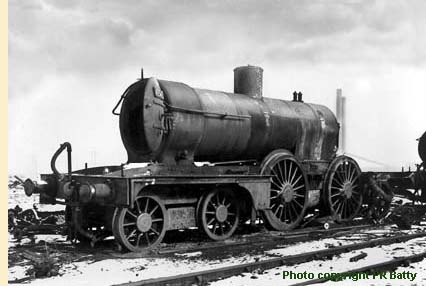 (Above) Fast forward to 1962 and the next generation of young spotters occupy the same vantage point at the south end of Doncaster station, giving them a close up view of Class A3 No 60110 Robert the Devil at the head of the 'up' 'Yorkshire Pullman'. By this time, most A3s were fitted with double Kylchap blast pipes which improved steaming but created a soft exhaust, and German type trough deflectors were fitted to 55 members of the class to eliminate the risk of smoke obscuring the drivers' vision.
(Inset) The final indignity for Class C12 4-4-2T No 67362, one of sixty of the class built between 1898 and 1907 for handling suburban trains...it looks in a pitiful state on the scrap line at Doncaster Plant on March 9th 1958.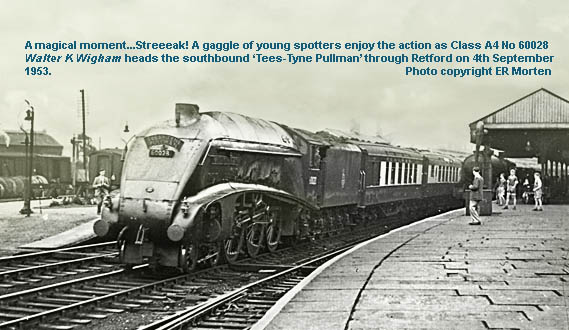 (Above-Below) Class A4 60028 Walter K Whigham (yes, the 'h' in Whigham is correct) is captured by ER Morten heading the southbound 'Tees-Tyne Pullman' through Retford in September 1953...more photos of Retford are featured further down the page. (Below) A nameplate measuring 86½" long, and clearly in ex-loco condition, went under the hammer for £27,000 at a Great Central Railwayana Auction on 13th July 2013. Originally numbered 4487 and named Sea Eagle, this Class A4 was built at Doncaster Works in 1937; the loco changed its name following an overhaul at the Plant on the 1st October 1947 when it emerged bearing the name of the Deputy Chairman of the LNER. The locomotive achieved fame on 24 August 1948 when it became the first of its Class to haul the up 'Flying Scotsman' non-stop from Edinburgh to Kings Cross taking the longer route via the Waverley line. The diversion was caused by heavy flooding of the ECML in south east Scotland and train services from Edinburgh were rerouted to St Boswells and then via Kelso before rejoining the East Coast Main line at Tweedmouth. 60028 was withdrawn from Kings Cross shed in December 1962 and cut up at Doncaster Works in January 1963. The excellent Great Central Railwayana Auction website is a veritable trip down memory lane and a visit here is highly recommended...you'll get lost for hours!




(Below) It's always great to receive contributions for inclusion on the website, no matter how big or small. Jeff Pugh from Scunthorpe went a step further and sent this Dave Murray photo of Class A1 No 60116 Hal o' the Wynd at the Plant; Jeff writes - 'It's amazing how someone else's reminiscences can tie in so much with your own. One of my enduring memories is of walking along the scrap line at Doncaster Works around 1962. It was a fine Saturday afternoon in June, and the only sound was the distant hum of ventilators in the erecting shop, a skylark above me and the wind blowing through the long grass and line of locos....a sense of sadness I couldn't understand at ten years old...I attach a photo from that day; I was standing next to Dave Murray, who opined that it was 'a rare 'un!' Dave Hewson kindly gave me a copy many years ago which I have kept to this day. Keep up the good work. Regards Jeff…'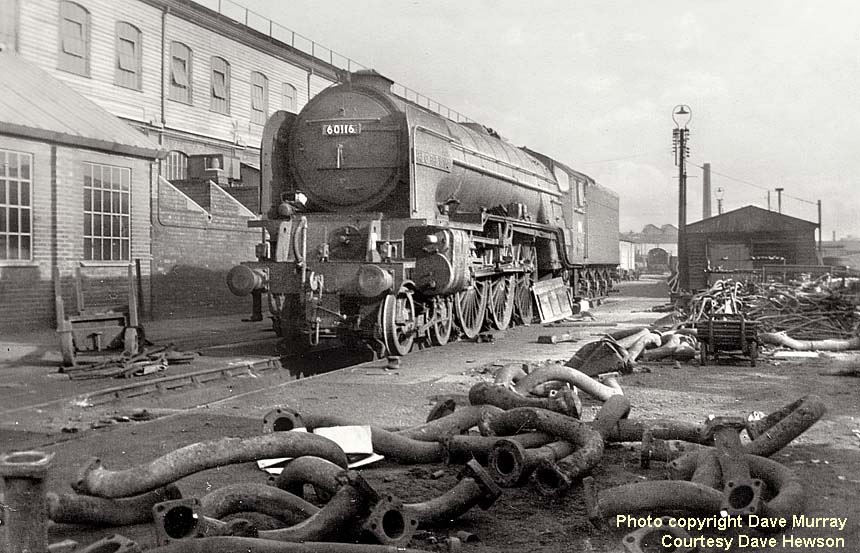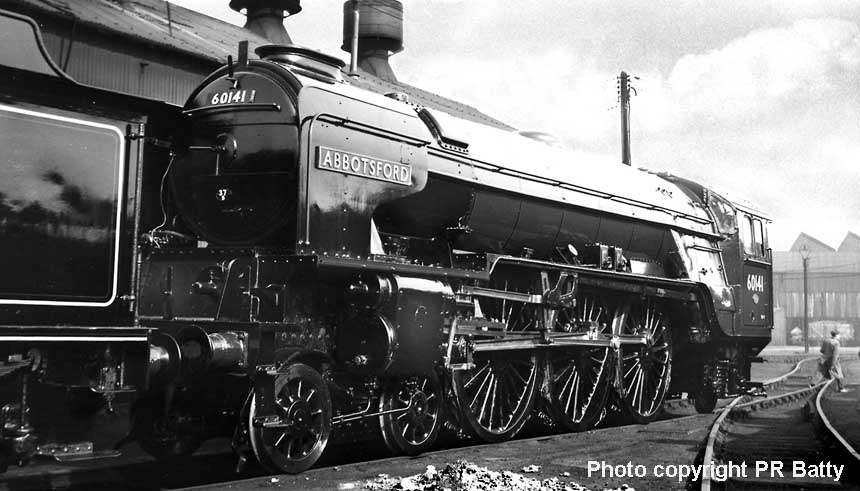 (Above-Below) Established by the GNR in 1853, by the turn of the century the Plant covered 200 acres and employed 4,500 men. A total of 2,228 steam locomotives were built there, the last being BR Class 4 No 76114 in 1957. Fifties spotters will remember the 'Plant Streamer' - a cavalcade of immaculate engines fresh from the workshops, coupled together for transfer to Doncaster shed before returning to traffic. It was a sight for sore eyes! (Above) Class A1 No 60141 Abbotsford was photographed at Doncaster in March 1954. (Below) Here, the tail end of the 'Plant Streamer' shows an immaculate ex-Works 'Britannia' Class 7MT 70013 Oliver Cromwell sporting newly-modified smoke deflectors in June 59. Introduced to traffic at Stratford (30A) in May 1951, No 70013 was transferred to Norwich Thorpe (32A) in January 1959 then to March (31B) in June 1961 before spending the remainder of her career on the London Midland Region based at Willesden (1A), Crewe North (5A), Crewe South (5B) and finally Newton Heath (9D) from where she was withdrawn in May 1966.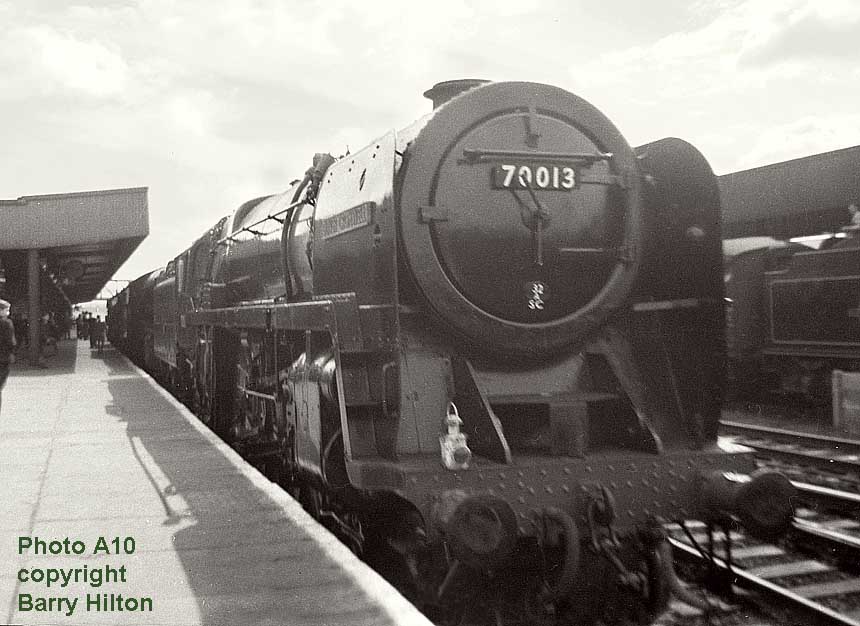 THROWN OUT OF THE PLANT!
During the Fifties, the railway town of Doncaster was a Mecca for train spotters, its major attraction being the famous 'Plant' locomotive works. The superb condition of the outshopped locomotives acted like a magnet for the crowds of youngsters who congregated to pay homage at the main gates just off Hexthorpe Road. At the back of the Plant, however, it was a different story - the area was designated a dumping ground for scrapped engines awaiting cutting up at the abattoir. At the front of the Plant, however, the less than salutary sight of the brand new EE Co Type 4 diesels awaiting acceptance trials outside the Paint Shop was a pertinent reminder of things to come!
On the morning of May 23rd 1959 a friendly gateman at Doncaster Plant gave me permission to photograph a gleaming EE Co Type 4 No D211 (the second of the EE Cos production batch destined for the LMR) and a Brush Type 2 No D5531 destined for ER - both standing outside the paintshop in view of the main entrance - 'You've got two minutes,' he said - 'And be quick about it.'
Two minutes was all I needed...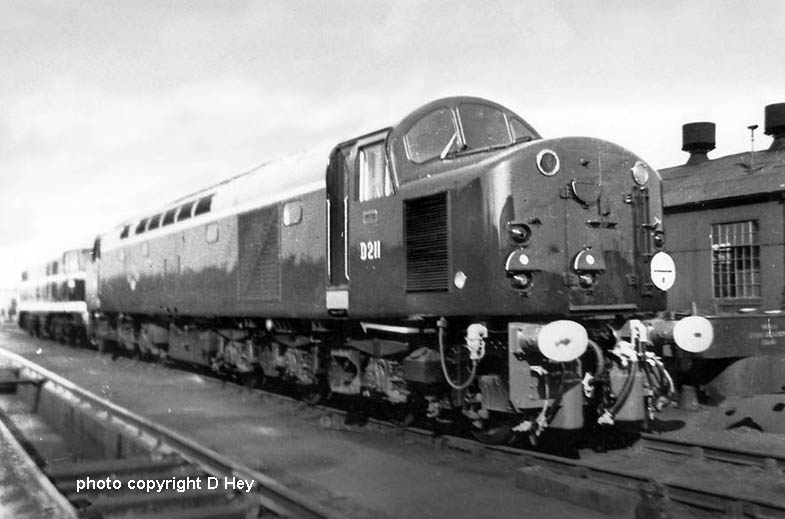 After taking a snapshot with my trusty Brownie 127, I was approached by a young apprentice, who, for the price a packet of five Woodbines, promised to escort me around the works during his lunch break. A works visit! Not wanting to miss a chance like that, I dashed off to the corner shop, told the shopkeeper I was buying the cigarettes for my dad, then returned to the Plant where my 'unofficial' guide was waiting. Perhaps I should have had more sense than hand over the cigarettes before the visit, and not after, because he escorted me no further than beyond the main gates - then, without any warning, disappeared inside the main erecting shop leaving me stranded like a prized lemon in full view of the gate house. I looked around for an escape route, but there was no place to run, or hide, so I edged back to the main entrance - knowing all along I'd be spotted. I wasn't mistaken...
'Hey you!' a man shouted.
I froze. He had a mouthful of teeth like a Venus Fly Trap.
On the Richter scale, my knee-knocking probably registered an 'eight-point-five', especially when the guard marched me into the gate house and threatened to slit my throat. Once inside, I was confronted by the same gateman who had allowed me to photograph D211 earlier. He locked the door behind us, then sat opposite me glowering with umbrage. I had obviously put his nose out of joint. Both men regarded me across the desk in the same way that Hannibal Lector might size up his next meal. On the desk was a flask of tea, an open lunch box. They were on a break, and so the last thing they wanted was some pea-brained train spotter trying to sneak past them when their backs had been turned. I had dented their pride in a big way, their malevolence plainly showed and so I confessed everything - the apprentice, the packet of Woodbines, his Houdini vanishing act. I blurted out the whole truth, never for one moment thinking they wouldn't believe me. I was wasting my time. They accused me of cooking-up the whole story - and, by fair means or foul, they were going to get to the bottom of it.
You'd have thought they were grilling a suspected terrorist; they kept badgering me to go over my story again and again, and at one point, I'd have told them anything to save my grubby neck.
'Just tell the truth!' they kept saying...
A half an hour later, I could stand it no longer and came to within an inch away from bursting into a flood of tears, when 'Jaws' asked me if I would recognize the apprentice again.
'Yes sir,' I said.
'Right!' he ordered, 'Stop blubbering and follow me.'
It has to be every spotter's dream! Starting at the erecting shop, we covered every inch of the Plant before tracking down the apprentice hiding inside a locker room in the boiler shop.
'Is this 'im?' the man asked.
I nodded.
'He's a liar!' the apprentice said.
Of course, I had expected him to say that, so I was more than relieved when 'Jaws' ordered him to empty the contents of his pockets and the incriminating packet of Woodbines was found. I was frog-marched out of the main gate and warned not to go near the Plant again. But why would I? Both men were capable of doing a first-class demolition job in just one sitting...

If a publisher was seeking a sure fire winner to add to their list of new titles then they need look no further than former Railway Press & PR Officer Neil Johnson's anecdotes about the railway industry based at the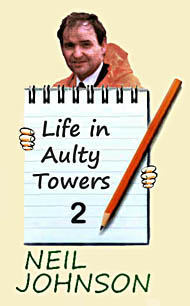 Railway Technical Centre (RTC) at Derby. Here Neil regales us with the second in his series of stories from the land of the railway press office...

MEMORIES OF DONNY
By Neil Johnson

In 1978 a promotion to Assistant Public Relations Officer was just heaven in my book; no longer tied to a desk every day I was encountering an endless variety of tasks and interesting people. I truly believed I had found my niche. Our office was on the top floor at the Rail Technical Centre (RTC) and became affectionately known as 'Aulty Towers' by all who knew us.
We were a very happy small band of writers, commercial artists and press men. My earlier years working for 'Derbyshire Life' magazine stood me in good stead, but there was still a lot to learn about representing thirteen major workshops across the country including the famous Doncaster Works or 'The Plant' as it was known in Tyke land.
My boss, Bernard Ault, was then Public Relations & Publicity Officer for British Rail Engineering, a man with a lively mind and an equally lively sense of humour. Bernard ran the ship with great aplomb and panache, but he was one of the untidiest people I had ever encountered; his filing system was simply a heap and his handwriting looked as if a spider had endured an apoplectic fit. The content though, if ever deciphered was beautifully crafted.
Perhaps Bernard's greatest attribute was dealing with the Press; it was with some admiration that I watched him handle journalists from the Financial Times or Matlock Mercury with equal professionalism and candour. Humour was often employed as a disarming tool to tough questioning and when it came to negotiating I felt he had no equal - this he proved when enticing a Radio One jacket off the back of a leading broadcaster presenting a live show from Derby Locomotive Works.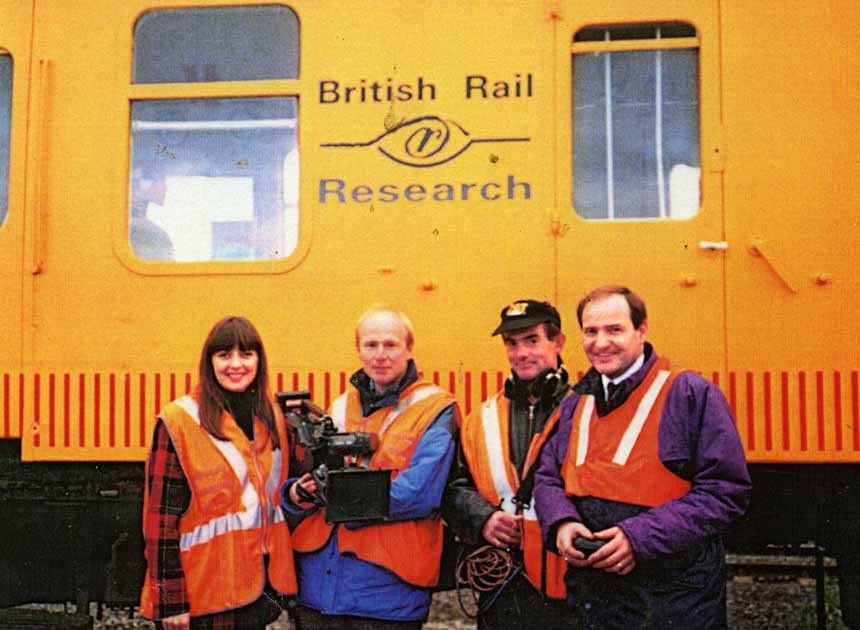 (Above) Of course, there was a serious side to the job too...in October 1994, Neil Johnson and TV Presenter Carol Vorderman pose with the crew during a break in filming a BBC 'Tomorrow's World' programme about vehicle crashworthiness. A number of tests were arranged to measure the effects of an impact between a train and road vehicle, and the staging of road-rail collisions was part of the campaign to warn people of the folly of ignoring level crossing warning lights-barriers. The tests were carried out on the 13¾ mile-long Old Dalby Test Track which ran between Melton Mowbray in Leicestershire and Edwalton on the southern outskirts of Nottingham; originally part of the Midland Railway's route from Nottingham to Kettering. Neil was also involved in an exercise at Yafforth level crossing on the Redmire branch; this was devised by Railtrack after the Yorkshire and Humberside British Transport Police reported catching on average eight drivers a day violating railway level crossing laws. The train was comprised of a Class 47 No 47981 pushing a BRR lab coach, which, in turn, pushed a diesel multiple unit made up of former SR driving trailers without engines, previously used as part of the Channel Tunnel test train. The full story can be found on the Derby Telegraph's website page HERE

Life at Aulty Towers was a heady mix of virtually everything, and because no two days were the same I relished the variety. Although theoretically a 9 till 5 office job, it was far from being straightforward; the railway operated over a 24 hour period, and the job involved many early starts, late evenings and a lot of travelling with the odd stay away.
My pal in the office, Mark Bentley had worked with Bernard for some years, and like me he was a bit of a closet rail enthusiast with a particular love of the steam era. By contrast, Bernard had spent his early railway life as an apprentice engineer at Derby Loco works, working with the nitty gritty of such beasts - he thought steam engines were dirty, heavy and awkward, and if we had worked upon them as he had, we would have a totally different perspective on their charm and allure. He was probably right. This led to letters from rail enthusiasts ending up on my desk or Mark's, each one suitably endorsed by the spider - 'Mr Bentley, Mr. Johnson please deal with & reply…'
In fairness though, Bernard readily echoed the then Rail Chairman Sir Peter Parker's comments, in stating that the enthusiast fraternity would stand up for the Industry when no one else would other than its employees.
Bernard however was also quite pragmatic in stating that it was fine to like trains but to never forget we were running a business. I remember only too well, late one afternoon he returned from a press day on a south coast railway station and was still shaking his head when entering the office, 'I just cannot believe it' he said - 'Every time a train pulled in, the occupants of the office ran outside to get its number!'
Railway enthusiasts both within and external to the industry were certainly a mixed lot; the knowledgeable, the helpful, the annoying and the downright nutty. We did however get some very varied letters. I remember a letter from a seven year-old boy, which was written in a hand much neater than Bernard's - 'Please mister, I like trains: who makes them?' He enclosed a charming picture of himself entitled 'ME'.
We duly invited him and his dad to the works for a tour, and I got my mate 'Tilly' the BR photographer to take a snap of our office - this we returned with the caption 'US'!
Another dropped us a line demanding that we send a member of staff post haste into all the works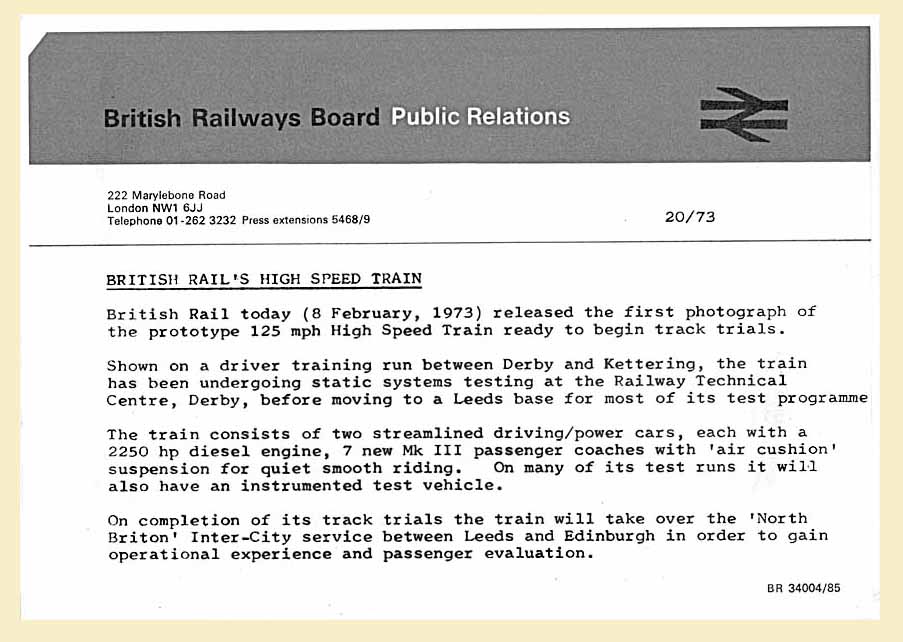 to record which vehicles at our thirteen sites were receiving modifications and furthermore return a comprehensive list back to him asap - and of course at no cost.
This just about had Bernard emitting steam from his ears! Needlessly to say, I politely declined the request on behalf of the British Railways Board.

(Left) This press release dated 8 February 1973, reveals details on the back of British Rail's first publicity photograph (below) showing the new prototype 125mph High Speed Train on a driver training run between Derby and Kettering. On completion of its track trials the train would take over the 'North Briton' Inter-City service between Leeds and Edinburgh to gain operational experience...
All the rest, as they say, is history…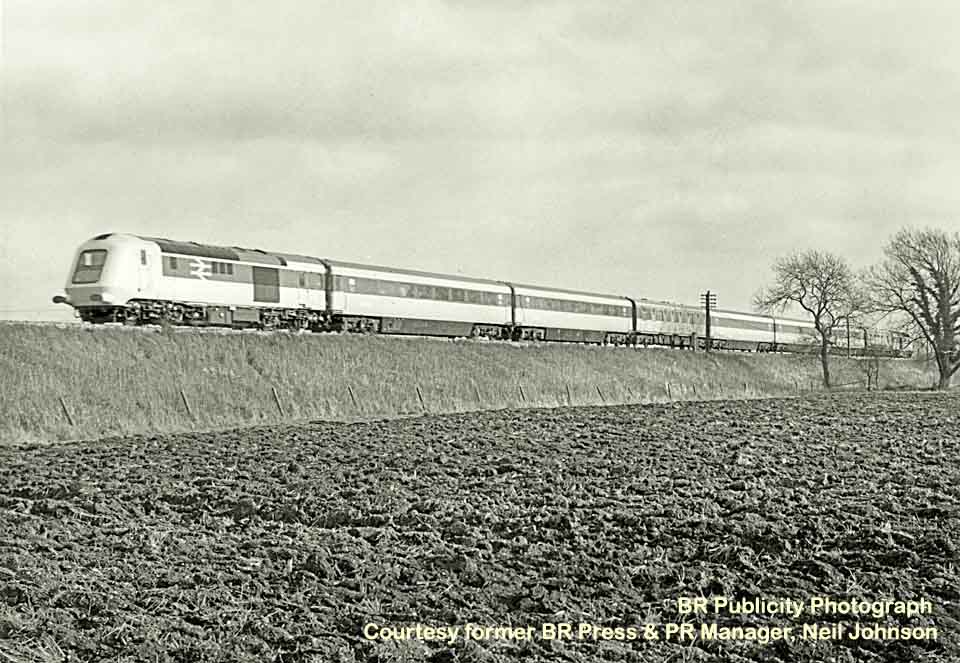 The introduction of the HST spelled the end for many favourite diesel classes, including certain locomotives that had a virtual cult following, even in the early diesel era - the Napier Deltics being one such animal; they were a powerful class that handled top trains like the 'Flying Scotsman' and 'Yorkshire Pullman'; a big favourite among Easter Region rail fans.
Returning to Derby one weekend after a football match in the north east and visiting relatives, I stood on Newcastle Central awaiting the Derby-Bristol service. Arriving first in the platform was a Kings Cross-bound express headed by a Deltic. I got chatting to both the driver and second man and flashed my BR pass, thereby authenticating my employment pedigree - upon which I was duly invited to travel with them in the cab as far as York where they were to be relieved by a southern crew.
'You'll have to get doon on yer honkers(knees) till we pass the Power Box mind,' said the Geordie driver - 'Ahh divn't want a reprimand for an unauthorized on the footplate'.
It was a kind offer, but it was a damp Sunday afternoon and all I wanted was to get home.
'Thanks,' I replied, 'but I think I'll just wait for the Derby train and travel back on the cushions'.
'Aye wey, ahh div'nt blame yu son,' added Tyneside's answer to Casey Jones, 'they're 'rot boxes' these ye knaa. They mak an affful din when yu get gannin, don't they Jimmy?'
His mate nodded in agreement.
Upon my return to the Midlands a number of my rail fan pals, particularly those who didn't work on the railways were stunned that I had turned down such a cab ride - 'You must be mad' was all I heard for weeks.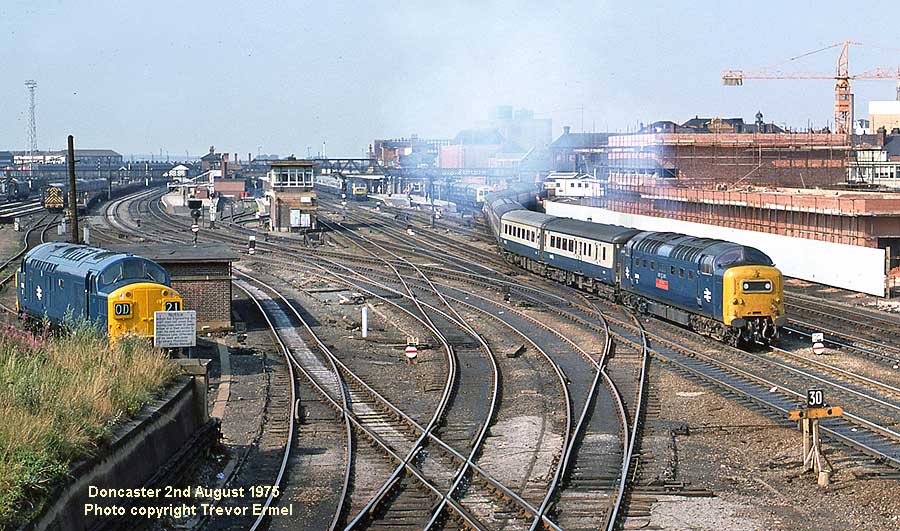 (Above-Below) Fourteen members of the 22-strong 'Deltic' fleet were named after famous Regiments, including No 55006 The Fife and Forfar Yeomanry seen here heading a Kings Cross express out of Doncaster on 2nd August 1975. (Below) In the days before it was officially preserved as part of today's National Collection, Class 55 No 55002 The King's Own Yorkshire Light Infantry speeds non-stop through Doncaster with a down express on 29th July 1975.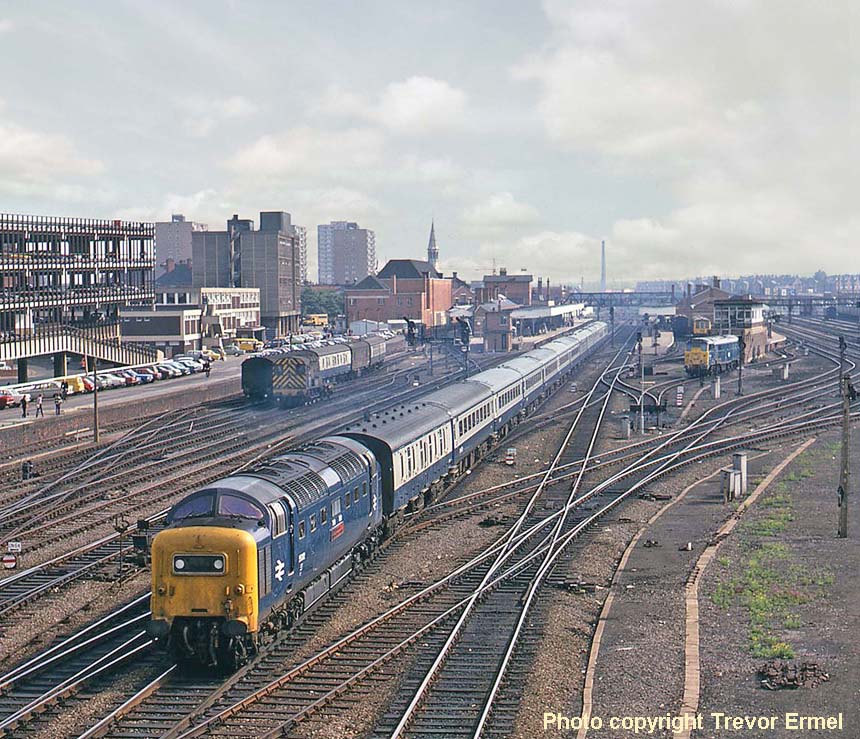 Within a few weeks of starting as an Assistant Public Relations Officer, a young Steve Somerset from the nearby Derby Carriage Works joined the staff at Aulty Towers. Steve not only had decisive organizational and commercial skills, he was a talented musician who played in a group and had a mini recording studio in the spare bedroom of his house. At this time the Deltics were being phased out - probably due to them being rot boxes ye knaa!
However, like most non-enthusiasts Steve was baffled by the letters and requests we received from rail fans concerning their demise. He decided we should make a spoof record with him on guitar and me singing. I penned the lyrics and Steve compiled the tune; it was a Country & Western style ditty poking fun at those who spent time on the ends of platforms. Just recently, some thirty plus years on, Steve is a successful singer-songwriter in London and he kindly sent me a copy CD of my warblings of long ago...

'For rail fans on the east coast route they're days are sad and long...
With tears upon their notebooks, cos they're favourite trains have gone...
They no longer tear through Donny and onwards to the Cross...
So sitting on the platform ends the rail buffs are at loss...
Chorus. Oh an HST, it just must be - but not for me, oh no sireee!'

Doncaster was where British Rail Engineering maintained these wheeled objects of deep admiration and one day the Yorkshire Post newspaper picked up on a story that staff at the works were refusing to move such a loco awaiting repair because some blackbirds had built a nest on top of an axle box. It was the type of scenario that a railway pressman could just not win. If we removed the nest it would be 'Cruel British Rail', and if we waited for the chicks to leave, we would be accused of wasting money as a profligate nationalized Industry. Soon, both national tabloids and radio and TV were chasing the story. The phones in our office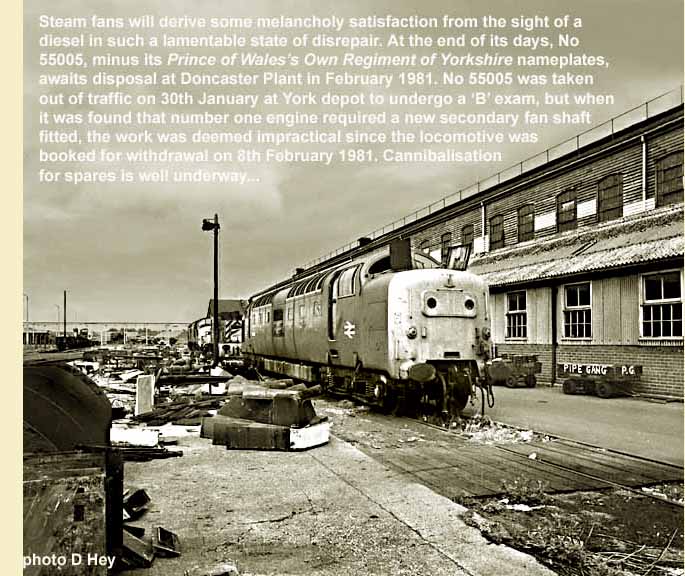 were red hot with calls. Thankfully within twenty four hours or so the fledgling chicks and their mother vacated the nest and the loco was rolled into the shops for repair.
Some years later when I worked for the new rail maintenance company BRML, I was at Donny again covering a story for both the house journal and the 'Rail News' periodical. The superintendent of the diesel loco repair shop had transformed an area of redundant soiled land on the edge of the works into a miniature reserve with a small wildfowl pond, where the staff at lunchtime could eat their sandwiches in an ornithological paradise. Upon meeting South Yorkshire's answer to the birdman of Alcatraz my suspicions were confirmed. I now knew who'd been behind the Blackbirds fiasco of nearly two decades previous!
Doncaster Works was also the final resting place of the beloved Deltics. Enthusiasts tried everything to save them and succeeded on a few counts, the rest were turned into razor blades. One set of enthusiasts hired a helicopter to fly over the works and film their death by the cutters torch, another enterprising individual dressed up as a woman cleaner and tried to sneak in, complete with mop, bucket and Pentax camera. The eagle-eyed gateman who spotted the ruse later told me - 'I thought it was Les Dawson!'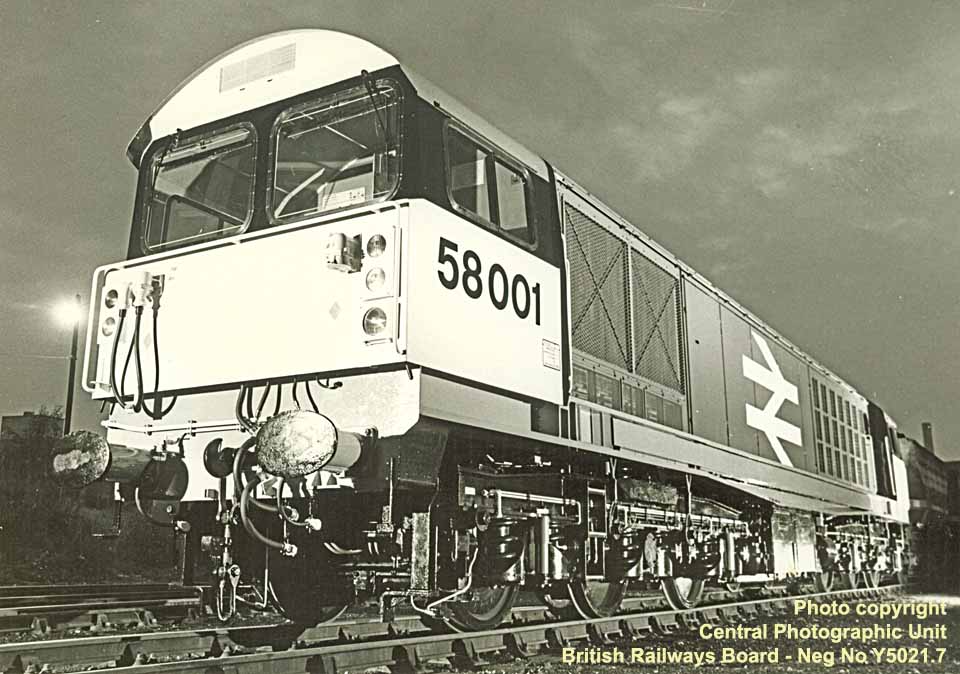 (Above) Introduced to traffic on 9th December 1982, the first of British Rail's Class 58 Co-Co Class 58 heavy freight locomotives No 58001 poses for the official photographer at the 'Plant'. British Rail Engineering Limited's (BREL's) departed from traditional British locomotive construction in favour of an innovative modular design, whereby the load-bearing underframe was fitted with exchangeable modules: No 1 cab, radiator, power unit, turbocharger, electrical equipment and No 2 cab, enabling each one to be easily removed and replaced. Another departure from traditional British locomotive design was the absence of an interior engine room walkway between the cabs. Instead, the body was thinner than the cabs, allowing maintenance staff easier exterior access to the engine room equipment. The new Class 58 locomotives were built to handle the predicted rail freight growth during the 1980s and the export market, but as it turned out no export orders were forthcoming and No 58050, the last Class 58 to be built, was also the last diesel locomotive to be built at the Plant, thus bringing to an end more than a century of locomotive building in the town.

Yes, life in Aulty Towers certainly had its moments, looking back I think they were amongst the happiest and most fulfilling of my working life: there are a host of other tales to be told from the land of the railway press office but sadly I fear, must be told on another day…Neil's 3rd series of stories appear on Page 28 HERE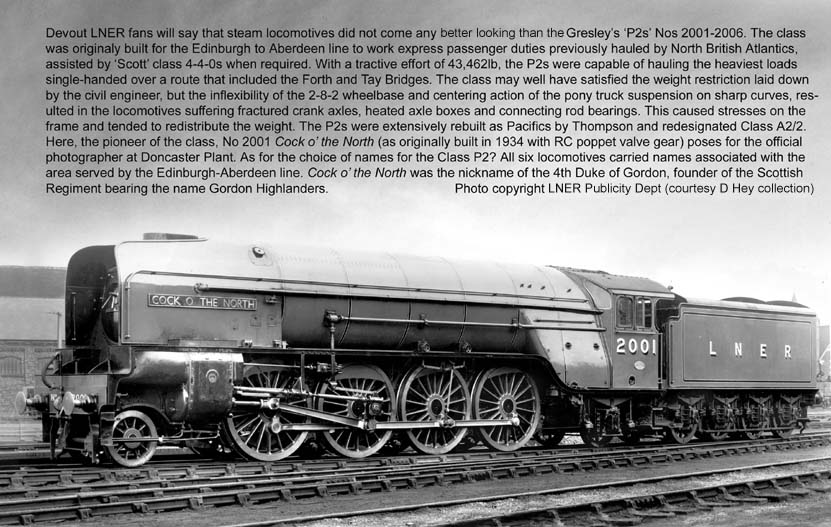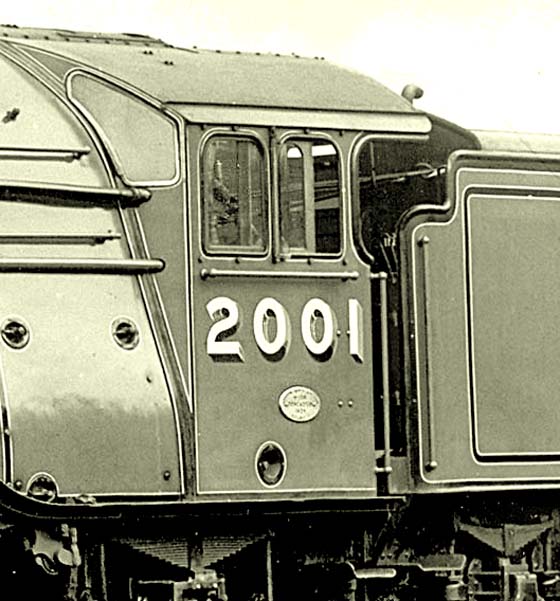 (Above) Close ups of one of the most iconic locos ever built, Gresley's No 2001 Cock 0' The North, showing the nameplate and cab.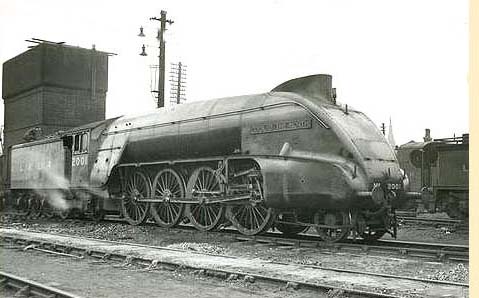 (Inset) I have recently been contacted by Mike Hobdell, a member of the Doncaster P2 Locomotive Trust, who is seeking pictures of LNER 2001 Cock O' The North in its post-1938 streamliner form. Can anyone help? The praiseworthy aim of the Trust is to recreate one of the great missing legends of the steam railway age, the magnificent and iconic Cock O' The North. The Trust needs your help, support and commitment to take this fantastic project to the next level. For the latest news, visit the Trust's News page HERE.
Meanwhile if anyone has photos of the streamlined 'Cock O' The North' which the Trust can use for publicity purposes, please contact Mike Hobdell at zen231005@zen.co.uk Please note - this is not a 'clickable' mail-to link via Outlook Express; you will have to mail manually.

(Below) The original brass LNER Worksplate from Gresley's masterpiece, the prototype of his P2 2-8-2 class. Built Doncaster in 1934 No 2001 was allocated to Haymarket shed for the heavy Waverley-Aberdeen expresses. The locomotive was rebuilt by Gresley with a (Bugatti) A4 type front end in 1937. After Gresley's death the loco was rebuilt again by Thompson in 1944 as the forerunner of his A2 class Pacifics. The Worksplate bears an additional casting in brass which was added in 1944 to signify the rebuilding. No 2001 was ultimately renumber BR 60501 following nationalisation. This classic piece of railway history and an iconic plate went under the hammer for £10,000 at a Staffordshire Railwayana Auction on Saturday 11th January 2014. Click HERE to visit the excellent uk railwayana website.


(Below) The beginning and the end! When Edward Thompson became CME of the LNER in 1941-1946, his guiding principle was to standardize wherever possible by using existing patterns, jigs and tools to save on costs. It was a sensible strategy given the stringency of wartime conditions, though the scale of rebuilding Gresley's six Class P2 2-8-2s into new Class A2 Pacifics in 1943-44 required extensive surgery and did not come cheap. Unfortunately, Thompson's Class A2s ended up becoming second-rate locomotives and had the dubious distinction of being the first ex-LNER Pacifics to be scrapped. The six Class A2/2s were transferred from Scotland at the end of 1949; Nos 60501-3 were allocated to York while Nos 60504-6 went to New England. These allocations lasted until their withdrawal - the first two being Nos 60503/5 in November 1959, followed by No 60501 Cock o' the North in February 1960. Here, No 60501 looks in a forlorn state of disrepair in the scrapyard at Doncaster Works on 9th April 1960.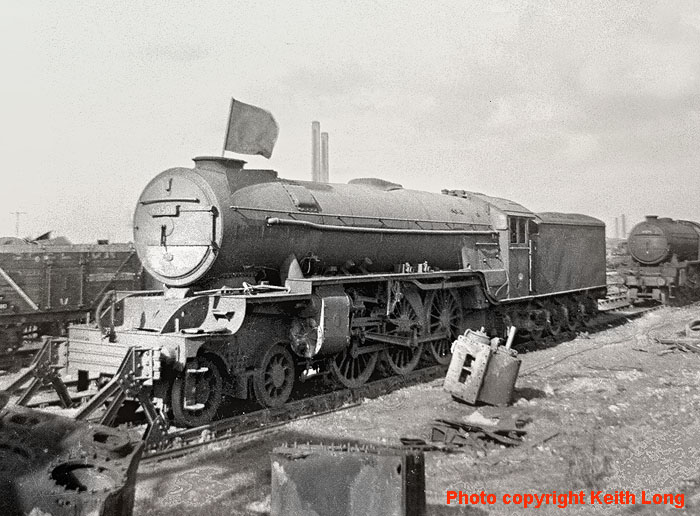 ALL CHANGE AT RETFORD

The decision to feature Retford on the Doncaster page was prompted by a message posted by Tony Saville on the Guest Book Page in February 2016.
Tony writes - 'Wonderful site and very evocative of happy days and a life long interest in railways with many happy hours spent at sheds, stations and line sides throughout England. I was a regular visitor to Retford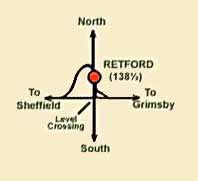 hence I wish to make a comment about the photograph of the 'Master Cutler' Pullman train hauled by EE Co Type 4 D208 which appears on the 'Pilot Diesels 2' page 16. You state that it is going over the flat crossing at Retford: it is not. The flat crossing was south of the station and the only curve on it was East to North that brought the Lincoln to Sheffield trains into the platforms. What the 'Master Cutler' is actually traversing is North junction on the curve to gain the line to Sheffield at Whisker Hill Junction; the lines being crossed are those leading into the Loco Shed (GN). I hope you do not mind this comment as this really is an amazing resource…'
Tony is absolutely right, of course. The caption was completely wrong, sloppy in fact...and I am happy to put things right. My thanks for taking the trouble to point it out and for the help in the compilation of this feature, which includes photographs of Retford station and the 'right angle' crossing prior to the construction of a dive-under junction.
Alas I have to admit that during my spotting trips from Leeds to Doncaster in the Fifties, Retford was a stop too far…it meant travelling a further 16½ miles by train, and anything beyond the railway Mecca simply paled into insignificance. Perhaps this feature will make amends…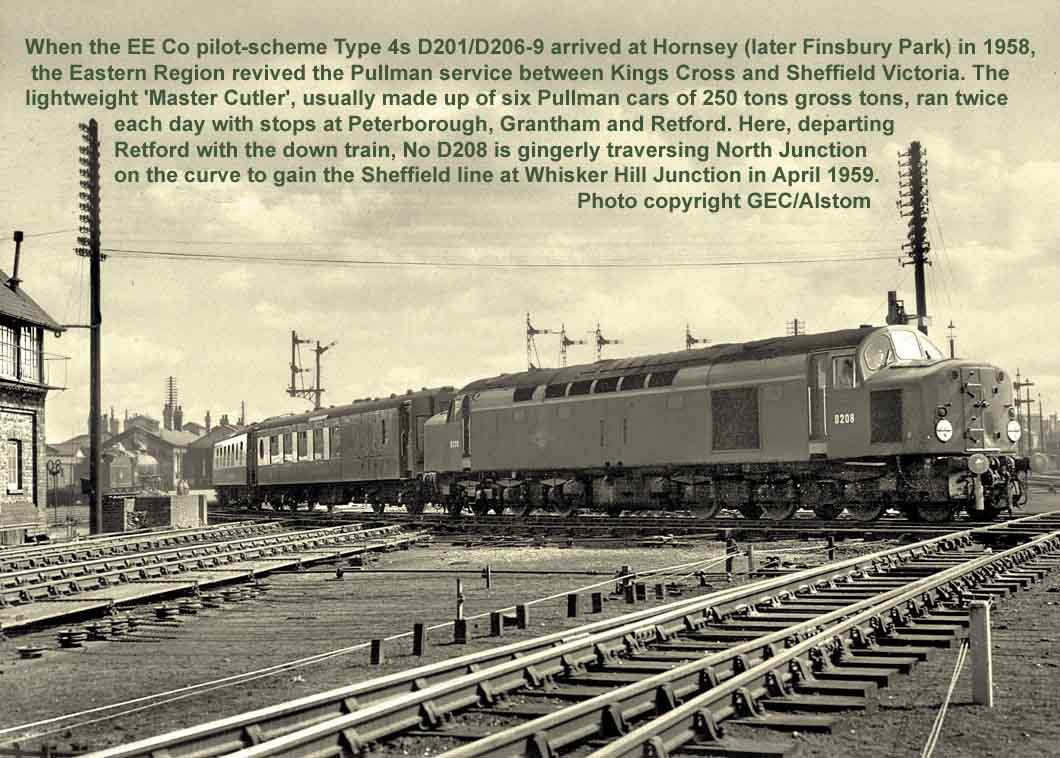 (Above) When the EE Co pilot scheme Type 4s D201/D206-9 arrived at Hornsey (later Finsbury Park) the Eastern Region revived the Pullman service between Kings Cross and Sheffield Victoria. Here, No D208 heads the down 'Master Cutler' across Retford North Junction on the curve to gain the Sheffield line at Whisker Hill Junction in April 1959. The Pullman train ran twice each day with stops at Peterborough, Grantham and Retford.

(Below) Class A4 No 60021 Wild Swan sweeps over the flat crossing at Retford South Junction with the down 'White Rose' on 4 September 1953. Prominent in the picture is the 10mph speed limit emphasising the severity of the curve connecting the station with the ex-GC line to Gainsborough, Lincoln and Grimsby.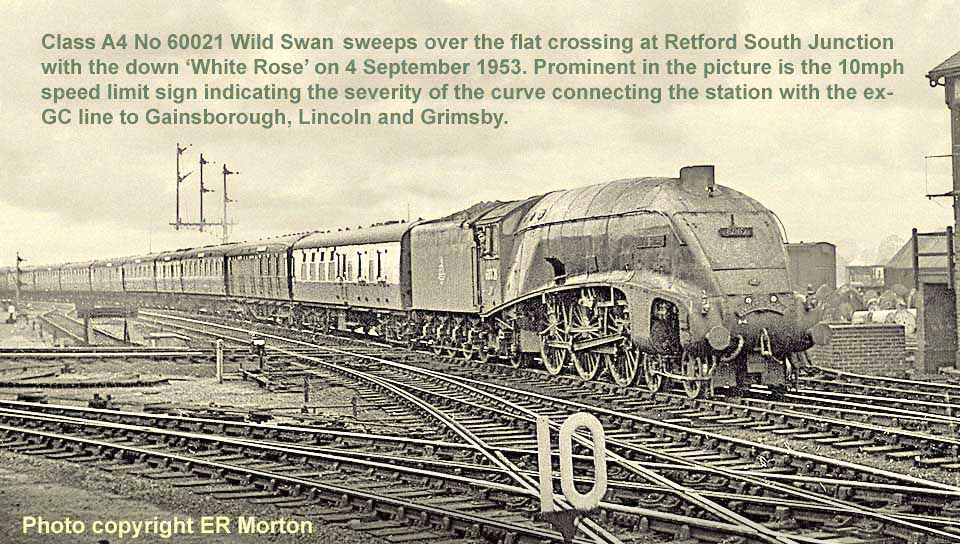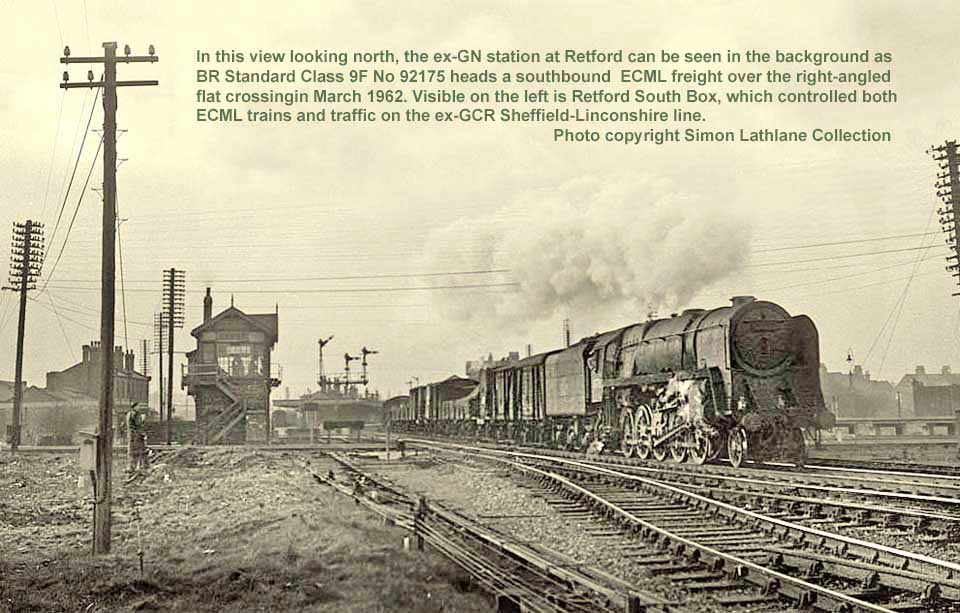 (Above) In this view looking north, the ex-GN station can be seen in the background as BR Standard Class 9F No 92175 heads a southbound ECML freight over the right-angle flat crossing in March 1952. Visible in the middle distance is Retford South box which controlled both the ECML trains and traffic on the ex-GCR Sheffield-Lincolnshire line. The 'right angle' crossing was eliminated in June 1965 when a dive-under was built for the Sheffield-Grimsby trains.

(Below) The 'Master Cutler' was usually made up of six Pullman cars of 250 tons gross tons, and was often used as a test train for new locomotive designs, notably DP2, Lion, Kestrel and Falcon prototypes, albeit the lightweight schedule made so little demand on a Type 4 locomotive; indeed it was well within the capabilities of the less-powerful Brush Type 2s. Here the driver of No D5805 awaits departure from platform 1 with the 07.20 Sheffield Victoria-London Kings Cross 'Master Cutler' at Retford on November 16th 1961. Following abolition of the headcode disc system for train identification, four-character headcode boxes began to appear on the cab roofs on Brush's 243 production machines, however supply problems saw this modification fitted at random sequences and the old-style roofs continued to appear on some locomotives, dubbed 'Skinheads' by enthusiasts. The ER fitted brackets onto the lamp irons of their allocation to allow a named train headboard to be carried.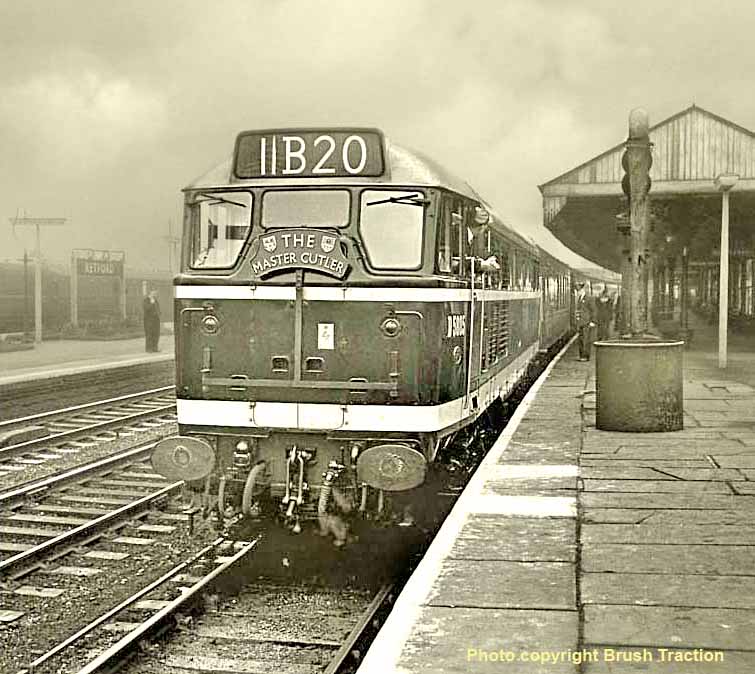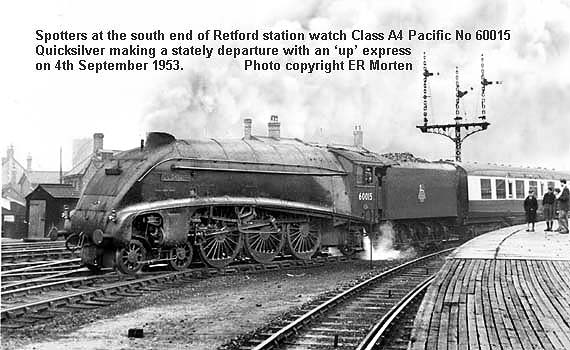 (Above-Below) Spotters at the south end of platform 1 watch Class A4 No 60015 Quicksilver making a stately departure with an express for Kings Cross on 4 September 1953. Platform 1 handled southbound trains to London and trains to Lincolnshire, plus a timber-built extension (platform 1A) was built on the south curve enabling Lincoln-bound trains to clear platform 1 entirely thus avoiding any congestion with main line trains. (Below) Enjoying the sunshine, a crowd of spotters occupy the curving platform 1A as an unidentified Class A4 approaches the island platform 2-3 with a northbound express. The train is arriving at the now-closed platform 2 and platform 3 on the opposite side has been renumbered 2 leaving two centre fast lines for non-stop ECML express traffic.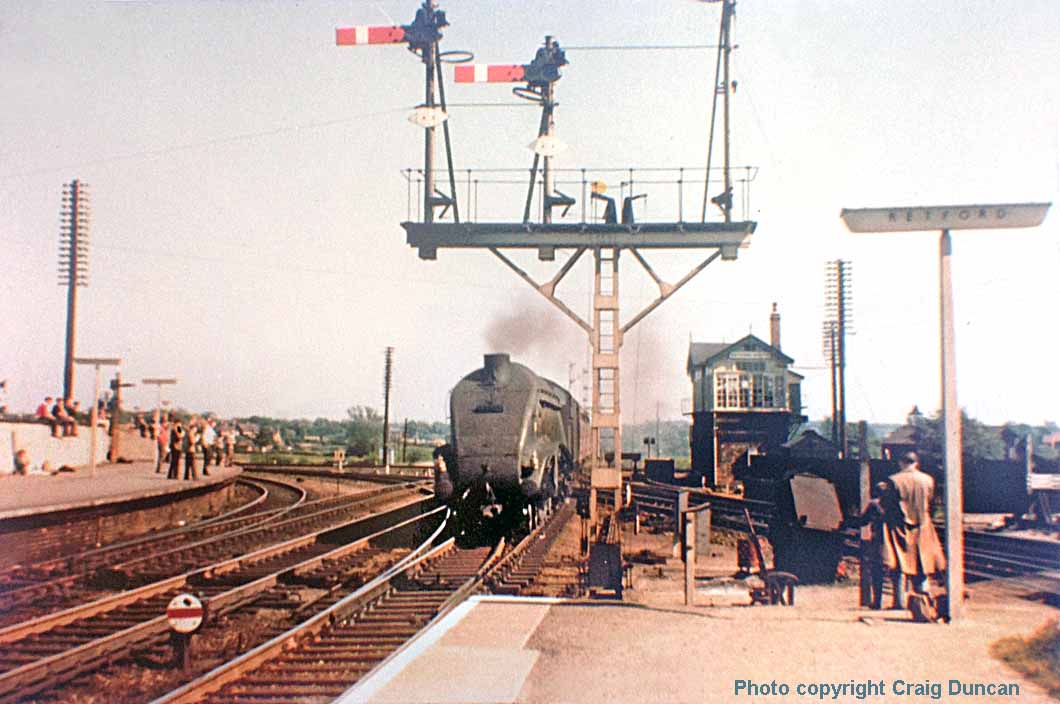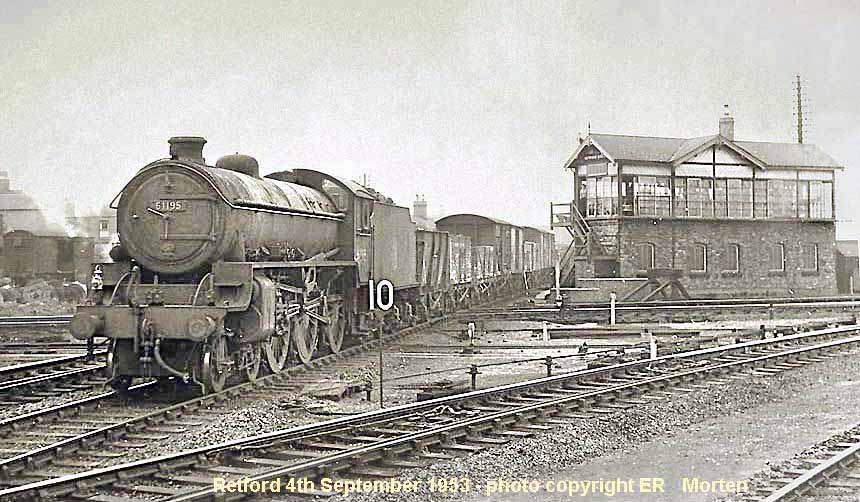 (Above-Below) This shot looking west towards Worksop and Sheffield affords a good view of Retford South Box, as Class B1 No 61195 crosses the ECML with a mixed freight for Lincolnshire. (Below) With increasing demands for higher speeds on the ECML between London Kings Cross and Edinburgh, greater emphasis was given to the introduction of more efficient locomotive rosters for the new diesel fleet, and so it was disappointing that they were unable to offer the complete predictability which was expected. But at the time, the renewal of trackwork and outdated signalling was long overdue, and until this work was completed BR's timetable was made up of a depressing number of engineering slacks. Here an unidentified EE Co Deltic eases the southbound 'Flying Scotsman' through the revised track layout at Retford on 14 June 1965...the truncated Sheffield-Grimsby line once occupied by curving platform 1A can be clearly seen on the right. By this time, site engineers have eliminated the notorious 'right angle' flat crossing, and work is finished on the new dive-under and additional independent platforms 3-4 for a new low-level station on the Sheffield-Grimsby line. However, it would take several more years before the ECML was modified throughout for 100mph running between Kings Cross and Newcastle, therefore the possibility of constant high-speed running by the powerful Type 5 Deltic fleet could not be fully exploited until the entire route had been fully upgraded.

FOOTNOTE. Peter Levick has fond memories of train spotting at Retford; he started collecting engine numbers in 1958 when he was ten years-old, and carried on until 1965 by which time there was very little steam left. He got around to visiting many places from London to Scotland, but as he lived in Sheffield he was a regular visitor to Doncaster and Retford; he has kindly emailed a page of spotting notes which show the diversity of both steam and diesel classes he recorded during a 3-hour visit to Retford at the end of April 1963.
The numbers he noted were: D376. D189. 63807. 60126. 63969. 90601. D9020. E56013. E50013. 90146. 90613. 63613. 63976. 63632. 90130. 90538. 90551. 61208. 63839. 63971. 63692. 63946. 63738. 63737. 63704. 63655. 63602. 48057. 90180. 62054. 63986. 90280. 63785. 63736. 63885. E51471. E50041. E56041. 60021. D1508. D9009. D242. D259. 90061. E50610. E50011. E50025. E56010. 63636. 63703. 63861. 63720. 90302. 63893. 63731. 63853. 48020. 90483. D4066. D4069. D4057. 63683. 63801. 63828. 63715. 63717. 63694. 90209. 63776. D4060. 90145. 90418. 63829. 90449. 63722. 63765. 48772.
In all, he observed fifteen different classes, starting with diesels first… Class 46 - 1; Class 55 - 2; Class 40 - 2; Class 47 - 1; Class 08 - 5 and Class 108 dmu - 10. And the steam….Class A1 1; Class A4 - 1; Class B1 - 1; Class K1 - 1; Class O4 - 30; Class O2 - 5; Class WD - 12; Class 8F - 3 and Class J94 - 1.
Thanks Peter.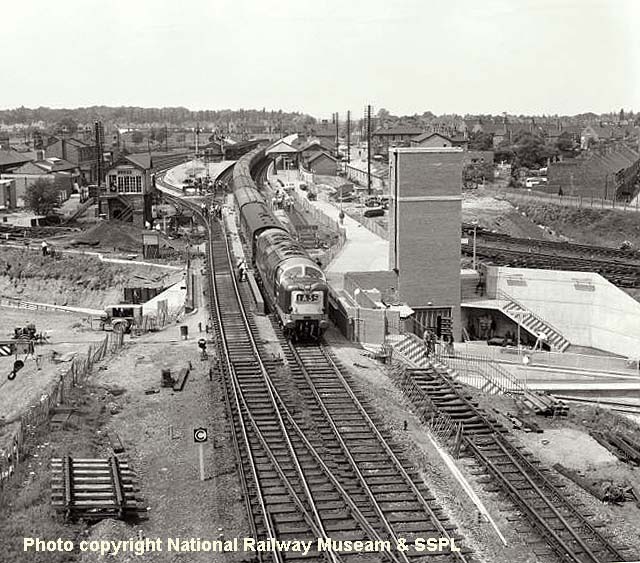 RACEHORSE NAMES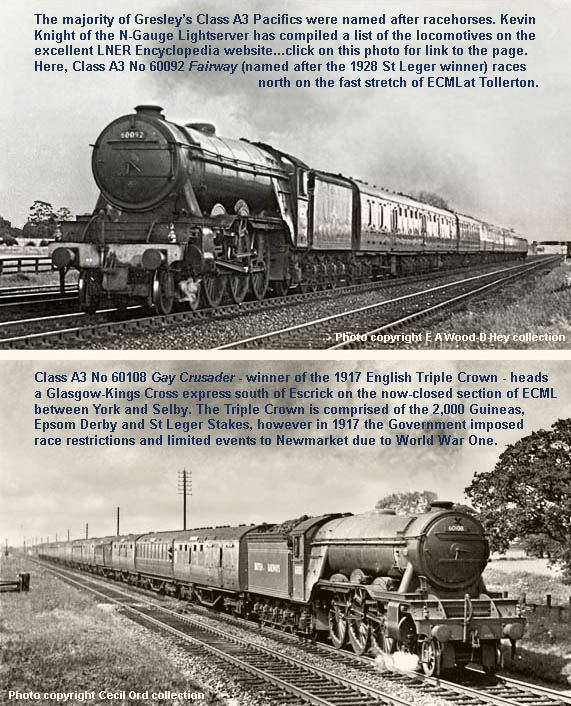 Mention of racehorse names reminds me of the tale about a female teacher accompanying a group of primary school boys on a field trip to Doncaster racecourse.
When taking the children to the toilet, she waited outside when one of the boys came out and told her that he couldn't reach the urinal.
She went inside, assisted the boy with his pants, and helped him direct the flow - 'Who else needs a hand?' she asked.
'Me, me, me!' chorused the other boys.
She began hoisting them up to the urinals, one by one, until she came to an unusually well endowed boy along the line.
'You must be in the Fourth Year,' she said.
'No, madam,' he replied. 'I'm riding Silver Arrow in the 2.15, but please carry on…'
THE TRANSITION FROM STEAM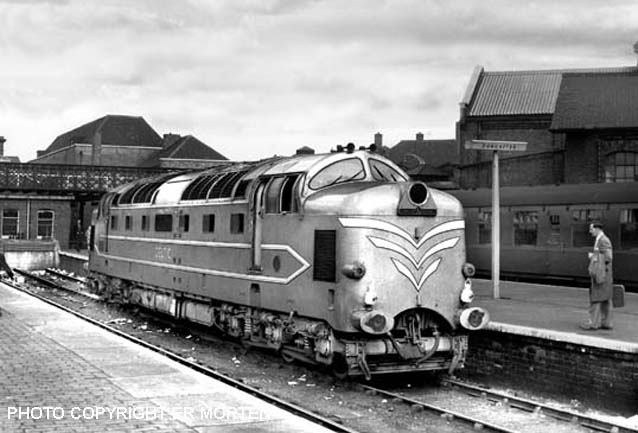 (Above-Below) To deal adequately with the history of Doncaster as a railway town would take a whole website in itself, but here is a scene (typical of the late Fifties) of the EE Co Deltic following its transfer from the LMR to the ECML in January 1956. The prototype was found unsuitable for the restricted loading gauge on some stretches of the former NE and NB systems, and Deltic was transferred from the NER based at York to Hornsey shed on the ER. From there it was regularly employed on a Mon-Fri diagram of 'down' White Rose out of Kings Cross to Leeds, a Leeds-Doncaster local, then returning to London with a Hull train from Doncaster. Here the prototype waits in the bay platform for the return trip to Kings Cross on 5th September 1959. © E R Morten (Below) A year after Hornby Dublo introduced its new 2-rail system the company was also updated its fleet of locomotives. The company didn't actually include a model of the prototype Deltic in its new range of models, but it was featured on the cover of the company's catalogue 2nd edition 1960 - and what an eye-catching cover it was! In the days when diesels were still something of a novelty - and jazzy school blazers were the norm - the startling livery of the EE Co's prototype draws a crowd of spotters at Doncaster station.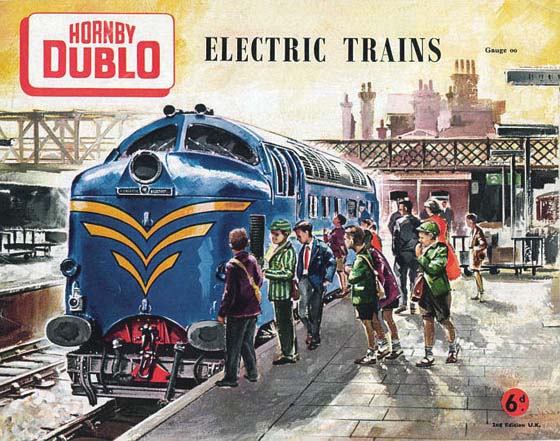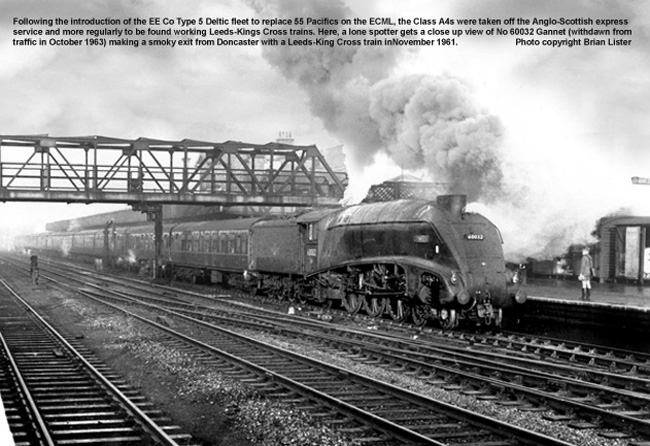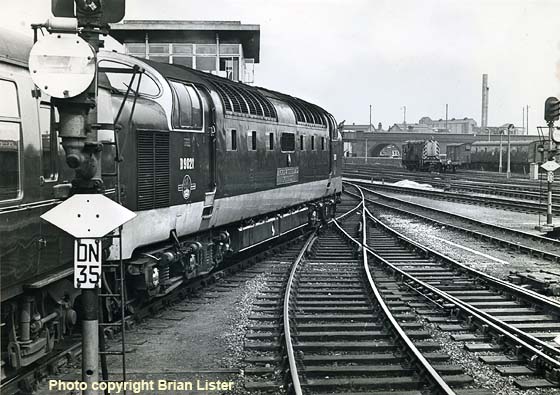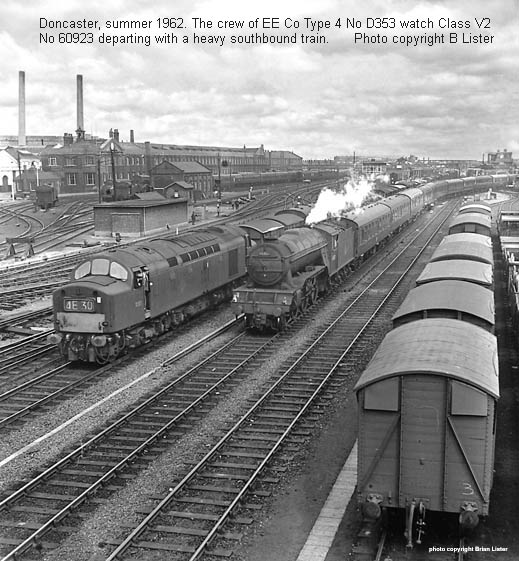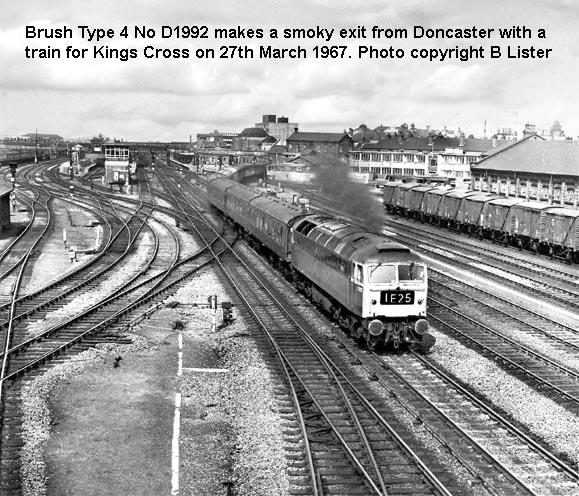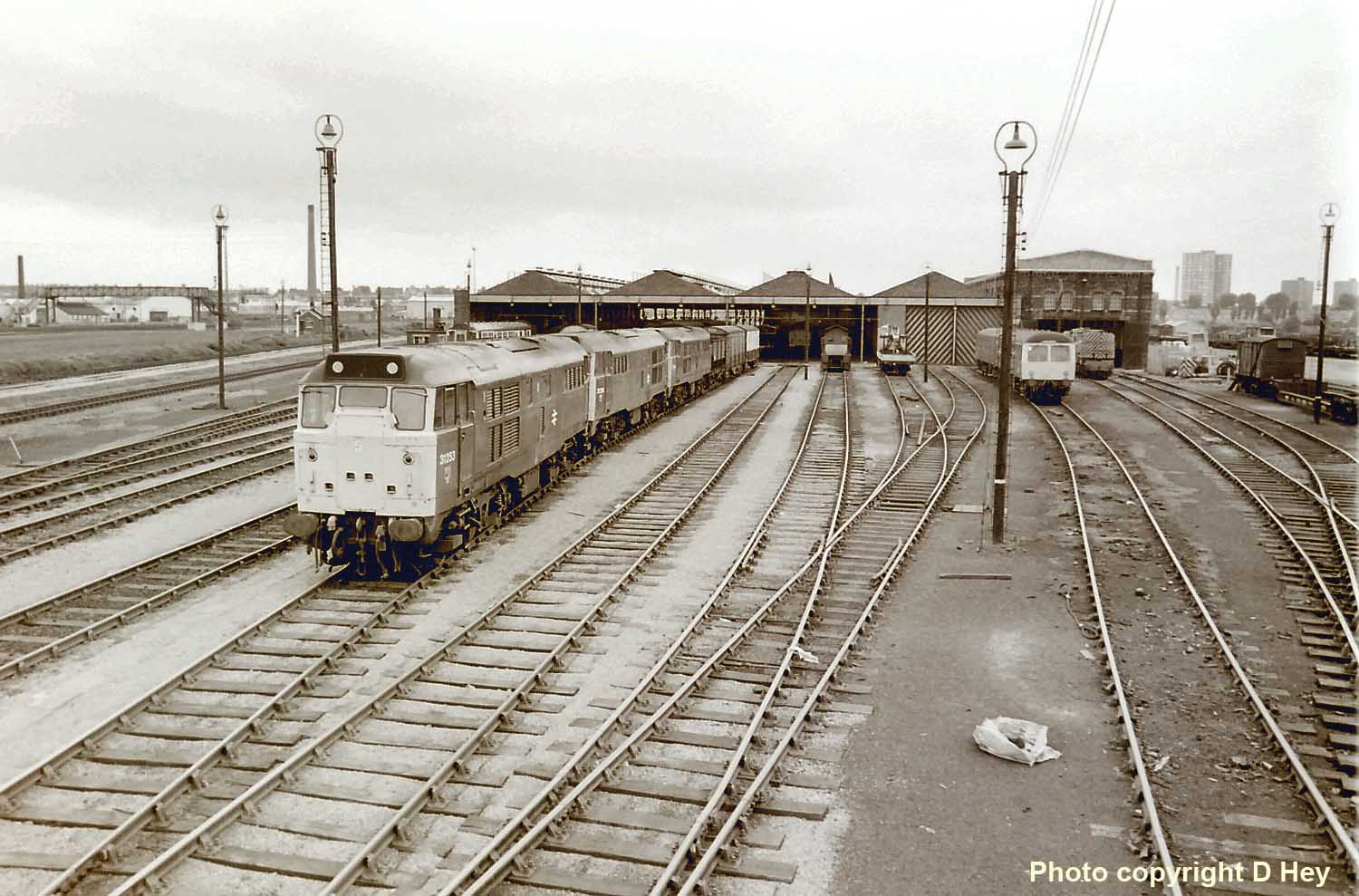 (Above-Below) General viw of Doncaster Depot on 4th June 1981. (Below: Letting off steam in the Repair Shop at Doncaster, Class 40 No 40013 Andania was photographed on the same day having its steam heat boiler emptied. Although officially withdrawn in January 1985, this locomotive, alias D213 was taken into custody at Tyseley Depot and repainted in various guises of green livery, including at oine time white window surrounds ('Deltic' style) for use as a non-working exhibit and static display at LMR Open Days.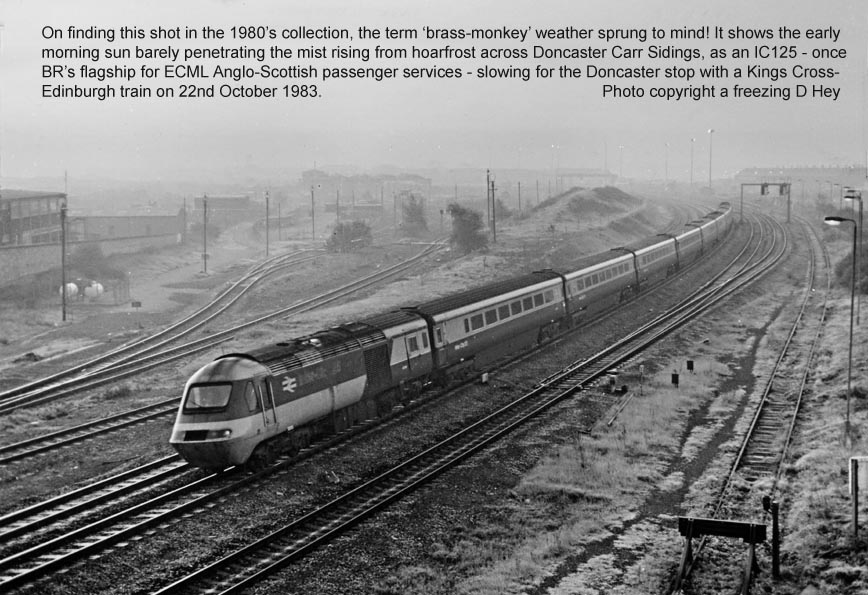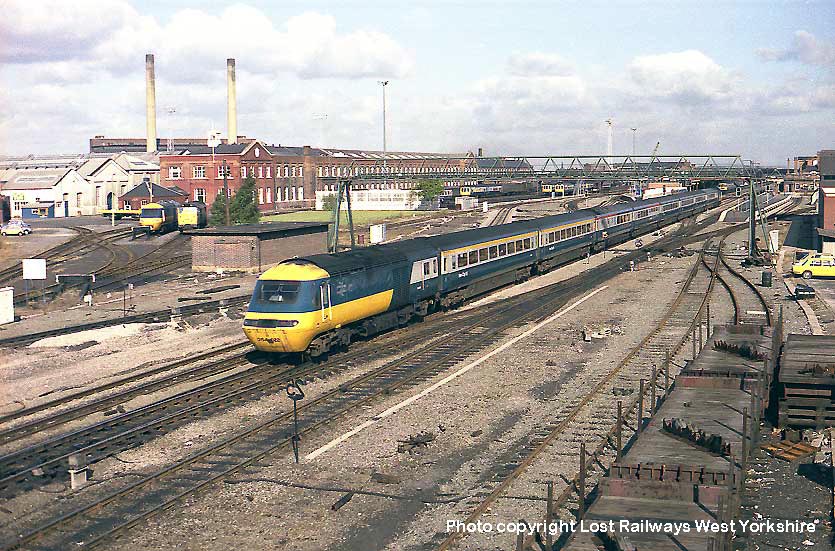 Polite notice: All text and photographs are protected by copyright and reproduction is prohibited without the prior consent of the © owners. If you wish to discuss using the contents of this page the email address is below. Please note - this is not a 'clickable mail-to link via Outlook Express:
dheycollection@ntlworld.com