THE SIMON R LATHLANE COLLECTION

A NEW GENERATION OF RAILWAY PHOTOGRAPHER


Harking back to the days before digital photography arrived on the scene, railway cameramen loaded their rickety old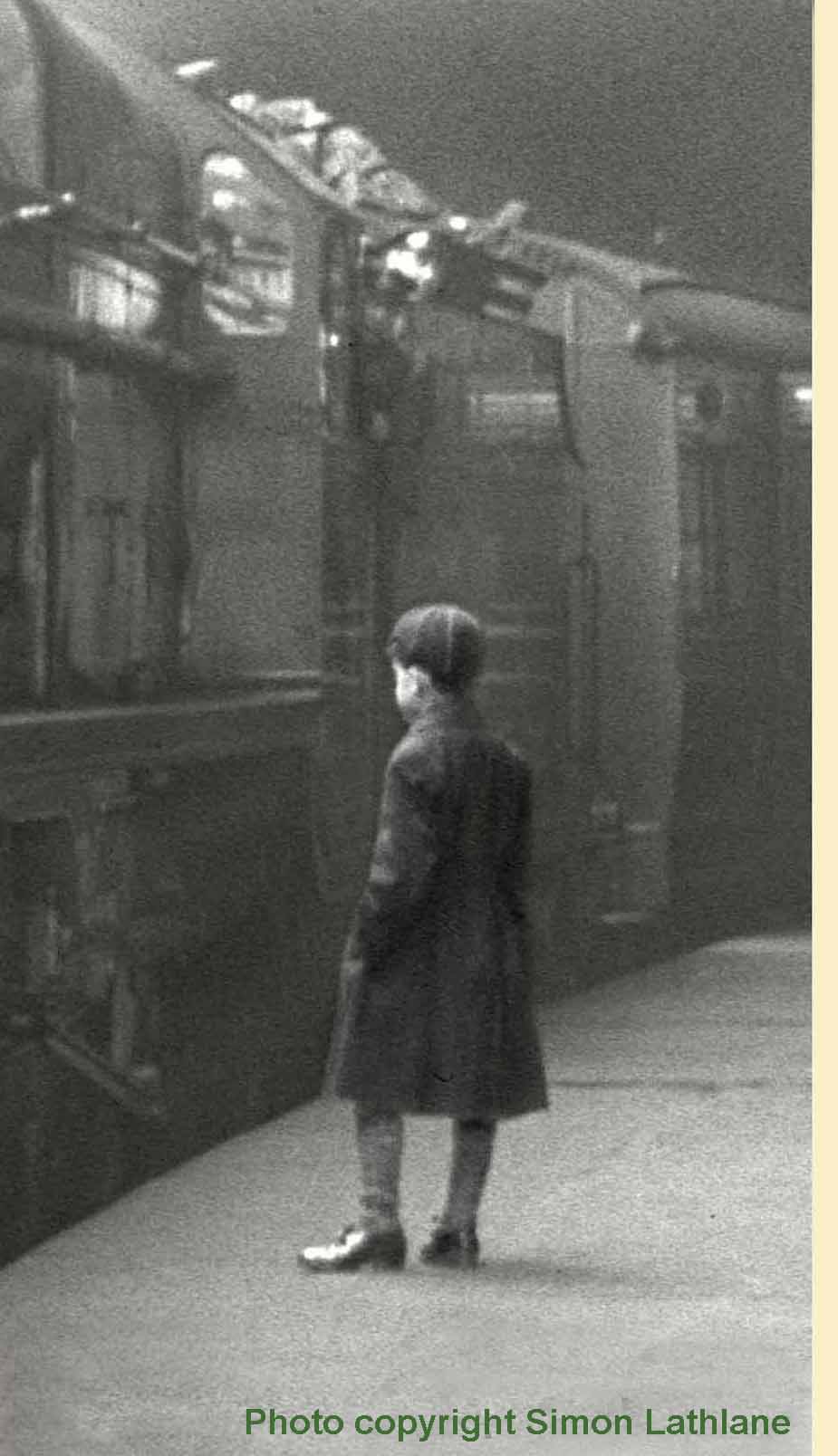 cameras with black & white film then set off to record their visit to the lineside before dashing off to the chemist to get the film processed, and
after waiting a whole week (1-hour processing was unheard of) they returned to the chemist, hoping the film contained at least one
'master shot'.


But alas, it usually came to nothing in the end, because no matter how good the shot, it never matched their expectations, and so their photos usually ended up
gathering dust at the bottom of a drawer where they remained out of sight for donkey's years. T
his didn't mean they appreciated their pictures any less...far from it, they still had a special relationship with them, not because they were any good but because they were theirs. After all, they had spent a small fortune and busted a gut to take them, therefore it stands to reason that they should think of them as their private property and no one else's.
Furthermore, and this is the saddest part, since they were born and raised at a time of post-war austerity when ownership was equated with possession rather than sharing,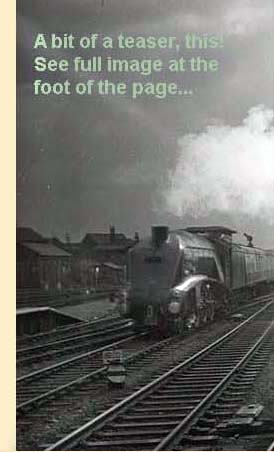 then it's hardly surprising that so few photos ever saw the light of day.


Thank goodness for a new generation of railway photographers; i
ndeed fast-forward to the present day and the niggardly old ways are completely alien to the culture of today's digital photographers, especially on the World Wide Web, where everyone can share their photographs.
Even so, the idea of sharing doesn't come easy to everyone; the sceptical older generation will argue that there is a distinct lack of education when it comes to the subject of copyright. After all, the World Wide Web is a public arena so what protection does it offer?
Well, it's a good question...so let me briefly explain how copyright law works.


For a start, publishing an image on the web doesn't mean that it's in the public domain - in other words, a 'freebie' to be used and abused. Yes, the image is on public display, but the photographer retains both the copyright and moral rights of his images at all times, and is entitled to ask for a remuneration when they are used or simply ask for a credit thereby identifying the work as his.
This same rule also applies to his surviving family, or perhaps the person or organization to which the collection has been bequeathed or sold. However if you wish to read more about copyright issues then take a look at page 2 on this site.
But enough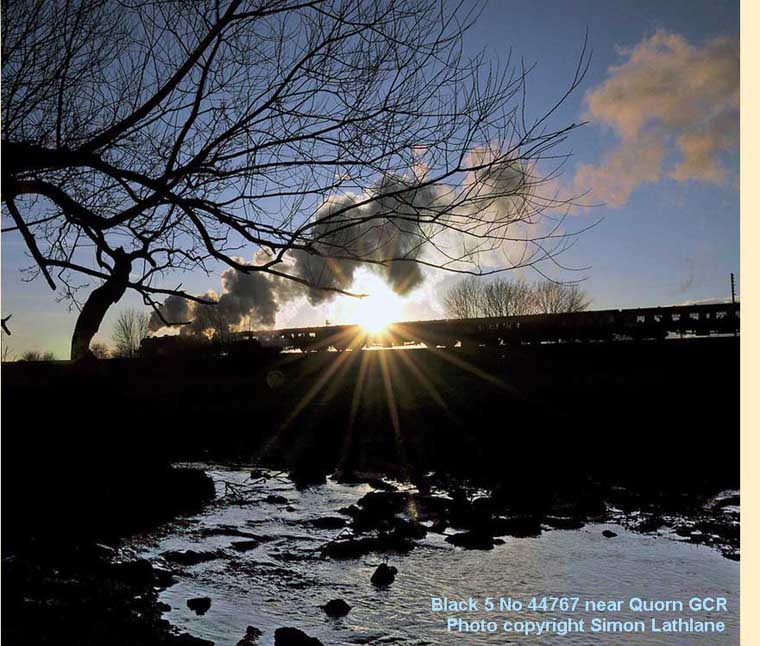 moralizing from me; I'm simply trying to make the point...which
brings me nicely to the fabulous Simon Lathlane's collection...


Now I am not au fait with the current scene in the normal way, but I'm making an exception in this case. Simon Lathlane is a superb photographer in his own right, with a website chockful of quality digital photographs, including this one (left) which appears on his Zenfolio site HERE. In addition to Simon's own website there are more railway photographs on his 'Flying Scotsman 4472' Flickr account - link HERE
Above all else, he is one of the liberal-thinking railway photographers I mentioned above; an avid enthusiast who is more than willing to share with others and rarely misses the chance to photograph steam on the main line.

Indeed the expression 'born too late' decribes Simon perfectly, for he was born in 1967 and cannot relate to 'real' steam, yet he has more than made up for it since then. For his interest in steam began at a very early age, and over the years he has managed to build up a nice collection of 35mm slides and medium format negatives - plus a superb collection of glass plate negatives, some taken by George John Drysdale who also took many similar quality images of ocean liners that docked at Liverpool. Simon purchased several glass plate negatives from a gentleman whose late God Mother was a commercial photographic printer by trade. She did a lot of work for numerous railway photographers who were publishing their work either in magazines or in their own right in book form.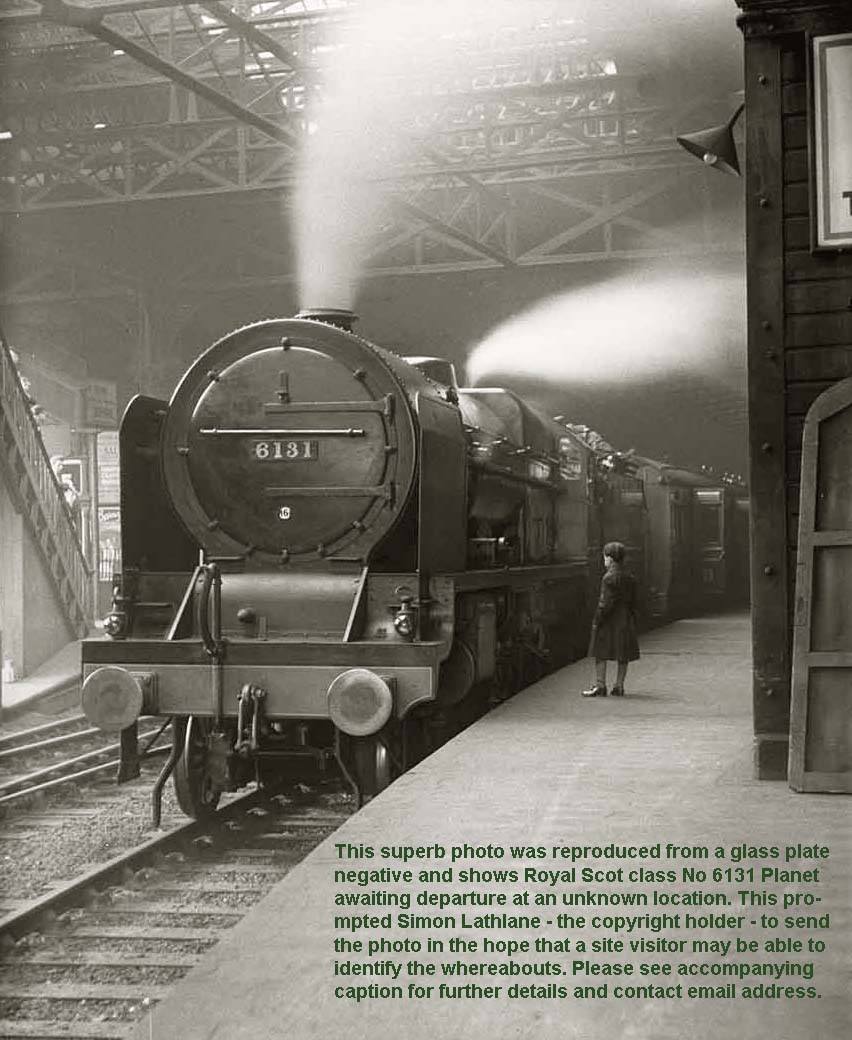 (Above) This shot of 'Royal Scot' class No 6131 'Planet' is the reason Simon and I decided to produce this page. Simon writes: 'Hi David, I have enjoyed your website for a long time and wondered if you might be able to assist with a photograph puzzle. Some years ago I purchased a box of old glass plate negatives showing various early 1930's images of Royal Scots. Sadly the envelope containing the slides was torn open and the information inside lost by the seller. This is one of the glass plate negatives of Royal Scot class No 6131 Planet displaying a 16 shed plate, which was Kentish Town. Do you have any ideas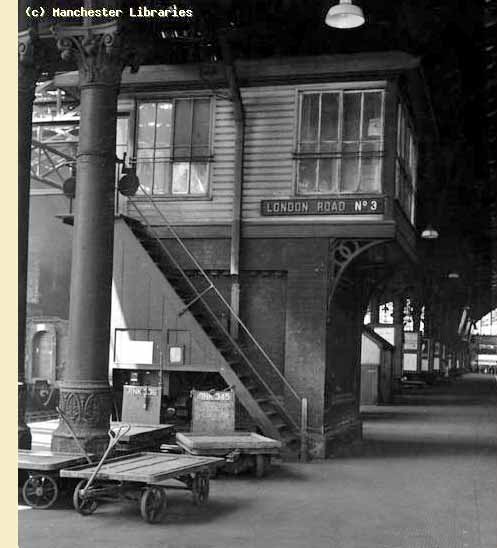 where the photograph was taken? One suggestions is Manchester London Road - the building in the right foreground could be the base of London Road No 3 signal cabin. I look forward to hearing from you and many thanks for any help you can offer…kind regards, Simon.'
Well, visitors to this site usually come up trumps…everyday thousands of enthusiasts visit the Internet, either searching for information or bringing with them their own diverse interests and expertise; indeed the subject of trains and railways is extremely complex and so it is essential to get the facts right. This is especially important as the World Wide Web is now considered a major source of reference.
Among the most prolific contributors to this site is ex-BR Fleet Engineer, Vic Smith, who agrees with Simon that it is indeed London Road station and sent the photo (inset right) from the Manchester Libraries website which shows the same roof structure layout and footbridge...this almost certainly confirms the location. However, Vic suggests caution because Simon's photo is currently under debate on the excellent 'Time Capsule' website HERE and so the query isn't entirely resolved.


(Below) Stanier Coronation class No 6221 Queen Elizabeth at Crewe North in 1946.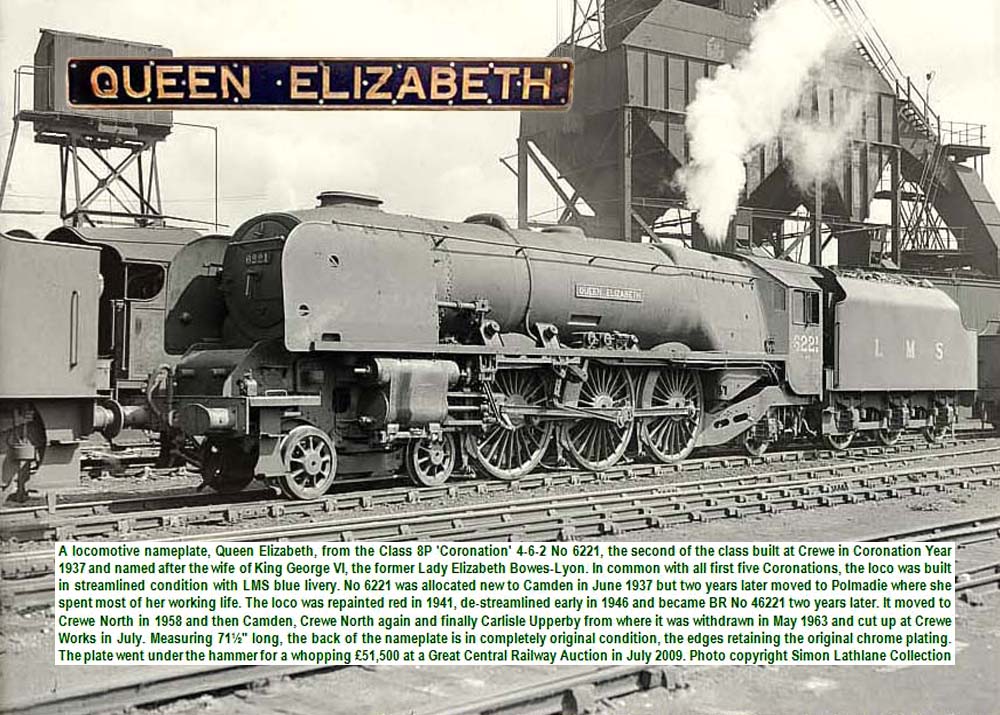 As for Simon's own photographs? Well, if you ask me, he is one of the best railway photographers of his generation with a canny eye for a geat picture, and it's reassuring to know that today's railway scene (tomorrow's archive) is being recording for future generations.
A visit to his website is highly recommended.
www.simonlathlane.zenfolio.com

But enough blathering from me! I'll let Simon take up the story...


'CAN WE HAVE SOME SILENCE PLEASE!'

By Simon Lathlane


I will explain the reason behind the title a little later on…

My interest in steam locomotives began at an early age but my first recollection of going out to watch a main line run was March 1983. The local press had been publicizing the news that 'Flying Scotsman' would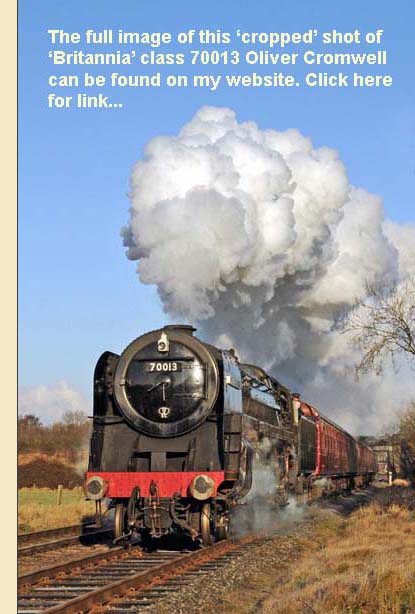 be stopping to take on water at Newark Northgate station during a steam run from Kings Cross to York; the paper even gave the time of 4472's visit at around lunchtime.
Well, not wishing to miss a chance like that, when the big day came I biked to Northgate station to catch a glimpse of this iconic engine and take some photographs…some hope! When I arrived it looked as if the whole of the UK had descended on Northgate station to witness the event. The only time I had seen crowds like this was at a top Premiership League football match…it was madness! I abandoned all plans of getting into the station and decided to watch the famous engine steaming by on the embankment some distance south, but every vantage point from Newark to Balderton some two miles away had already been claimed! Looking down the line towards the station the whole scene was chaotic. The staff and stewards were simply overwhelmed by the sheer numbers that day; people jostled for elbow room and others clambered down onto the track, and a whole raft of high-speed 125 inter City trains were being backed-up awaiting a clear road. I eventually managed to squeeze in among the lineside spectators, and as 4472 steamed past she made glorious sight! Not surprisingly, the following week it was decided to water the loco away from Newark Northgate to avoid any repeat of the disruption…
The following year I started work at the GPO, which at that time was operating a six day shift; hence my trips out locally to see mainline steam were effectively over. Then two years later I met a lovely girl called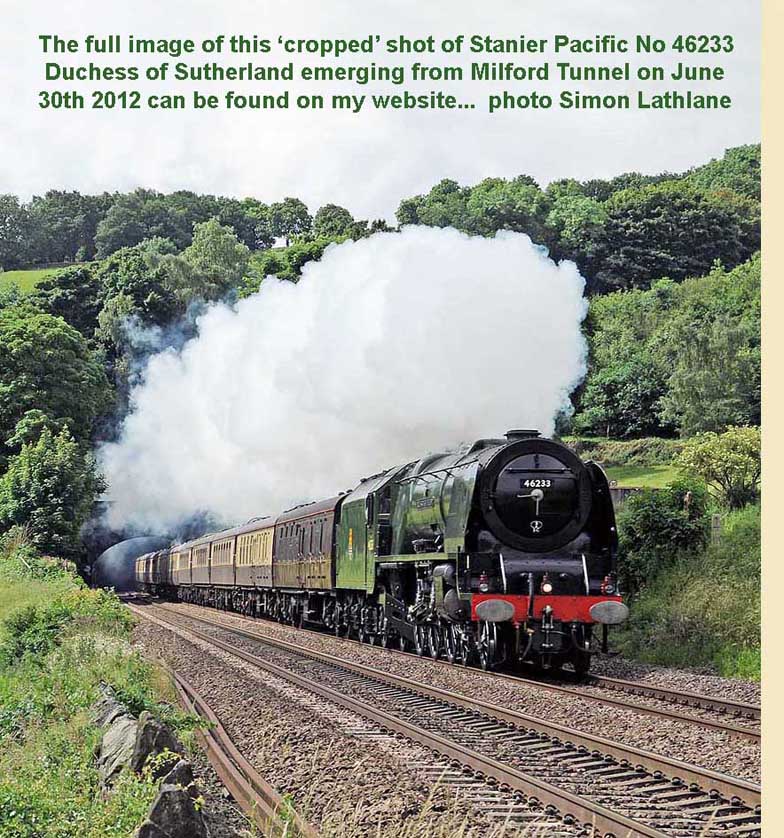 Lisa and that put an end to any more steam events…I had more important matters on my mind. We were married in 1991 and Sophie my daughter was born in 1994 and James followed in 1999. Thankfully the GPO went onto a five day working week with a rolling day off, but I had to wait another six years before my love of steam was fully reignited.

We booked a family trip on a 'Scarborough Spa Express' steam special from York station in August 2005, and as luck would have it, the locomotive that day was none other than A3 Class 4472 'Flying Scotsman' and what a magical sight she was beneath York station's magnificent roof! I spent several frantic minutes photographing 4472 from every angle and was so busy operating both my camcorder and camera that I didn't hear the shout from the guard! With only seconds to spare before departure, I somehow managed to grab my photographic gear and scramble aboard just in the nick of time, much to the delight and laughter of my family.
The trip to Scarborough was superb and we had a fantastic day travelling behind 4472, even if the weather on the way back was dreadful.
Still that trip to Scarborough was the turning point. The wonderful sight and smell of a hard-working steam loco had got into my blood again and I was well and truly hooked! The first thing I did was to buy a steam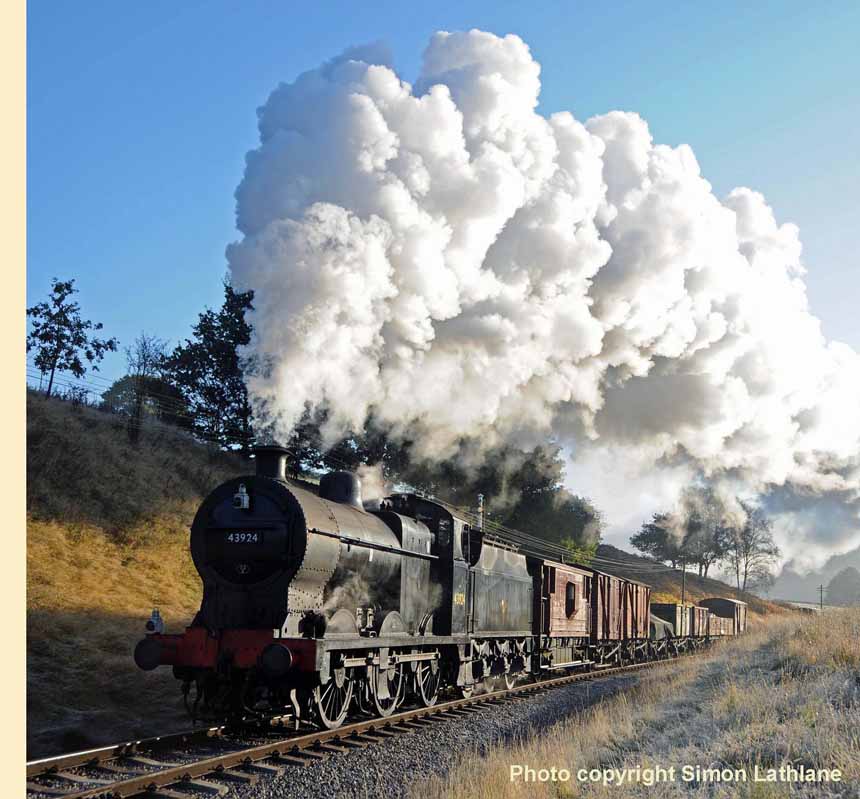 railway magazine and discovered that steam was still out there alive and kicking, and so the following week I travelled north to Doncaster to see ex-LMS Princess Coronation 46233 'Duchess of Sutherland' on a steam special, and once again, a huge crowd of enthusiasts had turned out to witness the scene.

Eager to record as much steam action as possible, I did stills and video, but soon realized that if I wanted quality then it was impossible to do both; therefore I made the conscious decision to go with stills and purchased my first SLR camera - a new Nikon D50, a great entry level SLR camera. Then browsing through my steam books at home I studied the superb photographs taken by some of the old masters such as Eric Treacy, WJV Anderson, Ivor Peters, Colin Walker and Eric Bruton - to name just a few. This elite band of railway photographers definitely knew how to take a top-notch photo - top drawer quality shots to be
cherished
from the moment the shutter was pressed - and whilst I never imagined I could ever equal their efforts, I learnt a great deal from the techniques they used.

(Above Right-Below Left) I'm equally at home photographing on the preserved lines and those nearest my home are the GCR, KWVR and NYMR. For me, Gala days are the best time to visit as there is plenty of non-stop action including a visiting engine to boot. A recent Autumn Steam Gala at the KWVR was one to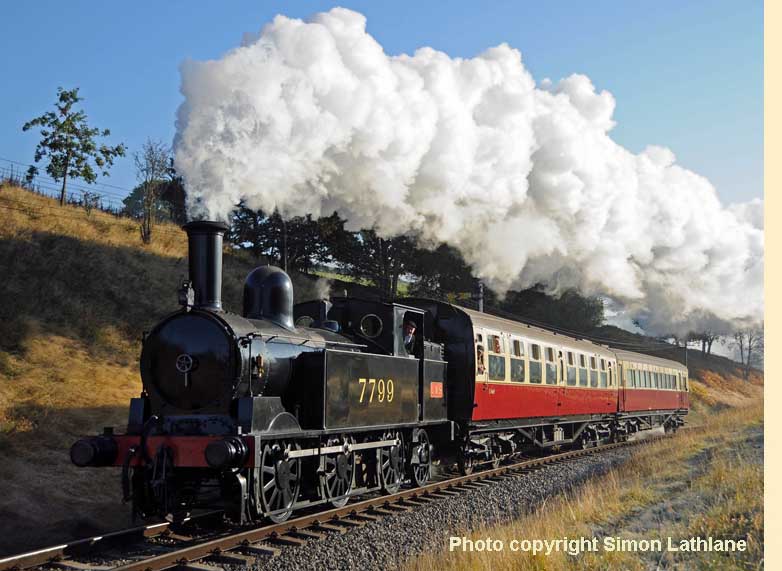 remember, as it fell on a day with stunning weather conditions and with visiting engines 43924 and 7799. Days like this in steam photography don't come around very often. There was the usual large crowd at the mound so I decided to stay at this spot...and I'm glad I did.
So for the next few years, the trusty D50 went everywhere with me, and my trips to the lineside became a personal quest to achieve the very best in steam photography, which will probably take me a lifetime to achieve but it'll be great fun trying. My motto is...if you are willing to learn from others then take a good look around, for there are so many talented photographers out there to emulate, especially on the World Wide Web - just take a look on Flickr!

Above all else, it's the skill and dedication of the person behind the camera that counts, not necessarily the
value of the camera equipment, although I do admit to replacing the D50 in November 2009 and upgrading to the superb Nikon D300s with the 18-200mm lens.

Now what about that title?

Well, one day I was out and about locally and met up with Keith Robinson who lives at Tuxford not far from where I live. I had seen Keith at various other lineside locations from time to time and before long we were organizing our first trip north. It was great to have some company on the two hour drive to the Settle-Carlisle line or Shap, and to share a few comical memories about the characters we've met along the way. One of them is John Marriott - Boy, can he tell a story! His jokes help pass the time away as we wait for the main event.

Now Keith shoots solely video and the one thing that annoys him is when he's accompanied (usually outnumbered) by still photographers who have the irksome habit of talking when he is still shooting…it drives him nuts! So what he does now, just before the train is due, is tell everyone in the group - 'Can we have some silence, please!' and in all fairness, he is absolutely right…people should respect those that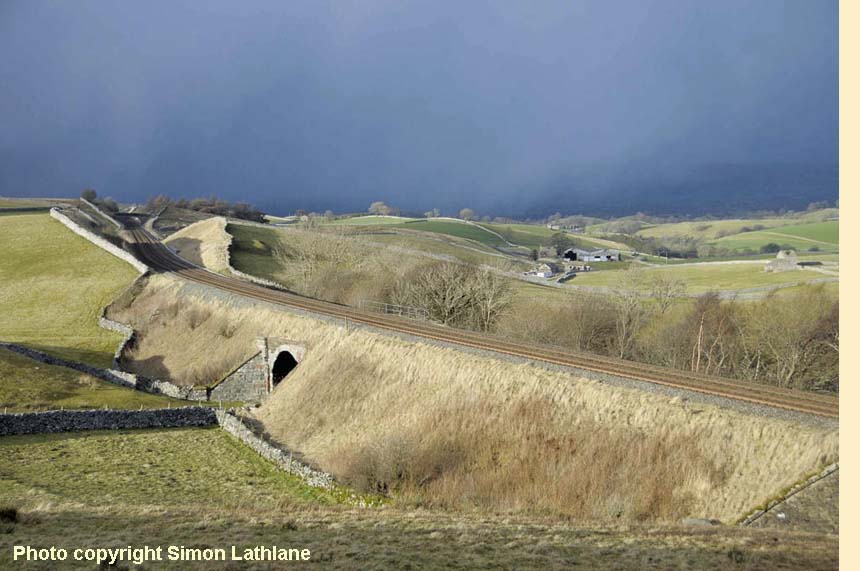 shoot video, though it's easy to keep quiet when one's emotions get carried away.

The days we spend chasing main line steam usually starts around 7.00am at Tuxford. We take it in turns to drive, which, in view of the high cost of fuel today, make it a little easier on the wallet. We like to arrive at a location in good time before the main event to give ourselves the chance of finding the best spot, though it's getting increasingly difficult today given that lineside growth looks more like a jungle due to Network Rail not trimming back.
(Above Left-Right) I always enjoy finding new locations and on travelling north for the first time I was transfixed by the beauty of the wild scenery on the S&C Railway and Shap, which have the best locations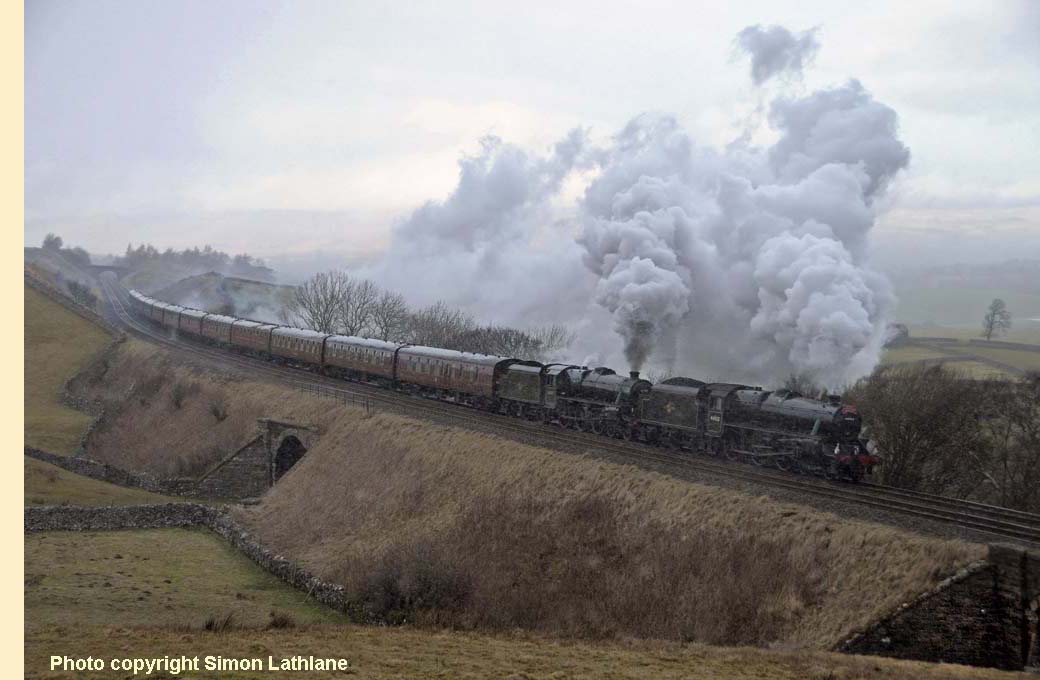 to photograph steam on any main line in Britain. Sadly the weather is often against you, invariably wet and overcast at the vital moment of pressing the shutter, but it still is a joy to witness the excitement of steam storming the northern Fells whatever the conditions. I recall standing with forty other enthusiasts at Birkett Common, one of the best locations on the S&C; we were gathered to photograph a pair of Black 5s double-heading a southbound train. Just before the special was due the light was the best I have seen on the line. However in the distance we could see what was heading our way - and boy, did we get it! I can only describe the conditions as a blizzard! These are the before-after shots I took just thirty minutes apart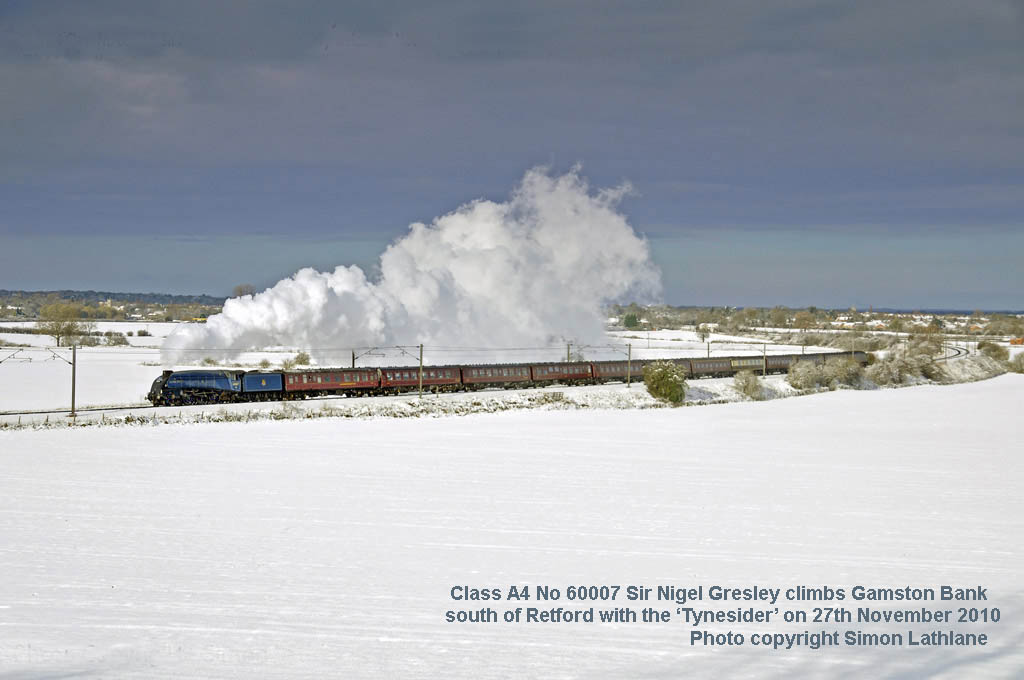 (Above-Inset Left) Sometimes the Gods do smile down on you…and all the right ingredients come together that will hopefully produce that all-elusive 'master shot'. Towards the end of 2010 ex-LNER A4 Class No 60007 'Sir Nigel Gresley' was performing some main line runs along her old ECML stamping ground. An overnight fall of snow provided a picture postcard setting and my chosen location that day was the hill overlooking Gamston Bank south of Retford station. The A4 was due to stop for water so I had an idea the restart would be interesting and conditions were perfect with the sunlight falling on the snowy landscape. Sadly Keith had opted to go north on the 18th December to get shoot video at Colton Junction whereas I preferred this location on our doorstep. Had Keith stayed locally to record this then it would have made for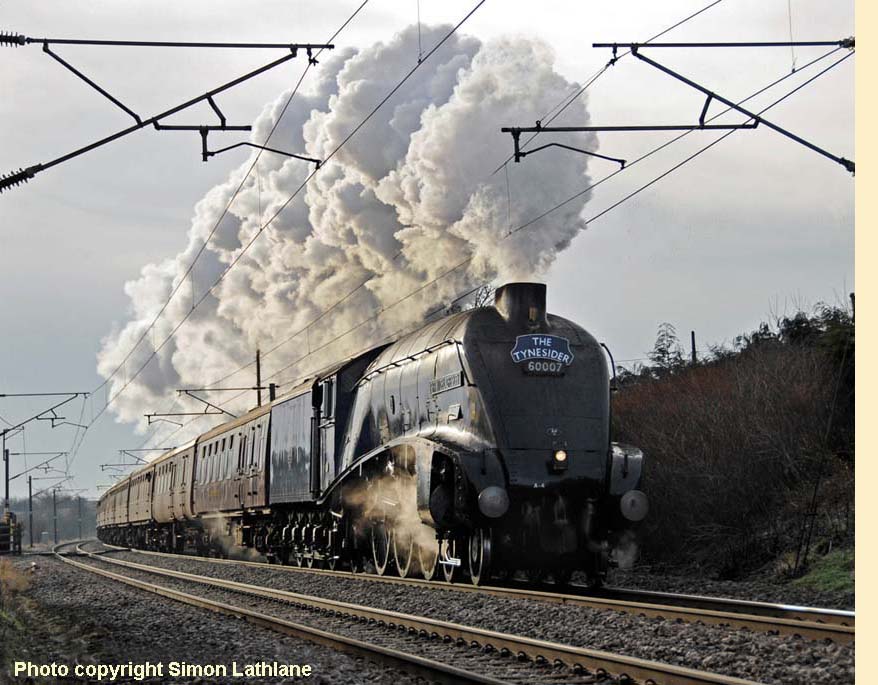 fabulous viewing; the noise from the A4 and chime whistle from the pathing stop in Carlton Loop was superb. Even with the intrusive overhead catenary it remains one of my favourite photos.
(Below) Class A4 No 60007 heading the 'Lindum Christmas Fayre' at Collingham on 5th December 2010. The conditions during the 2010 winter were superb for steam photography although getting out there to record the events were extremely hazardous. Every year the city of Lincoln holds a Victorian Christmas market but the conditions were so dangerous that they had no alternative but to cancel for the first time in its history. The RTC were running No 60007 into Lincoln for the market and the decision to cancel cast doubt on whether the run was still going ahead. Thankfully it did and what a memorable day it was; certainly it was one I will never forget. The roads leading to Collingham - our chosen location on the Newark-Lincoln line - were deadly and it was steady going to get there. When we arrived a few other photographers were already in place, including a regular lineside photographer, Trevor Law. A friend down at Newark gave me the call to say the A4 had gone through giving us some twenty minutes before it reached our location. The conditions were stunning, with snow and sunshine- and what better than a blue streak to finish off the picture? Little did we know at the time that a local DMU was approaching from the opposite direction and had this shot been twenty seconds later it would have blocked the A4. Looking at Keith's footage from that day I think how lucky we were

! This shot of 60007 attracted much interest from the owners of the A4 SNG group, and I didn't hesitate to give permission for the group to use the image for publication material like calendars and Xmas cards to help generate some much needed cash. I am always happy to oblige locomotive owners and the like..after all it is due to their sterling efforts that enthusiasts like myself can continue to enjoy the sight and sound of steam on the mainline...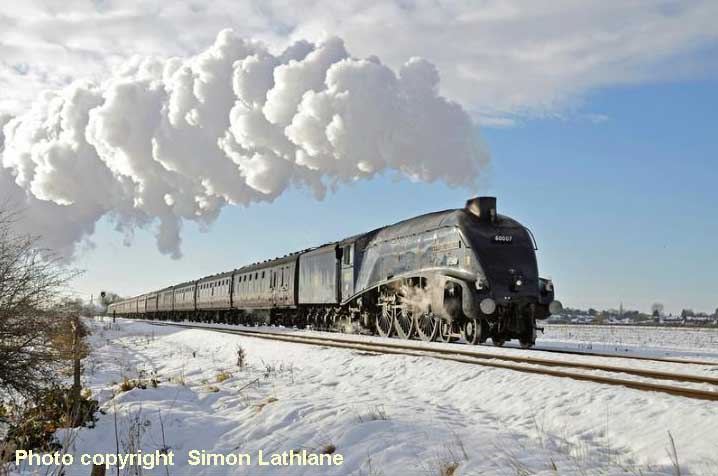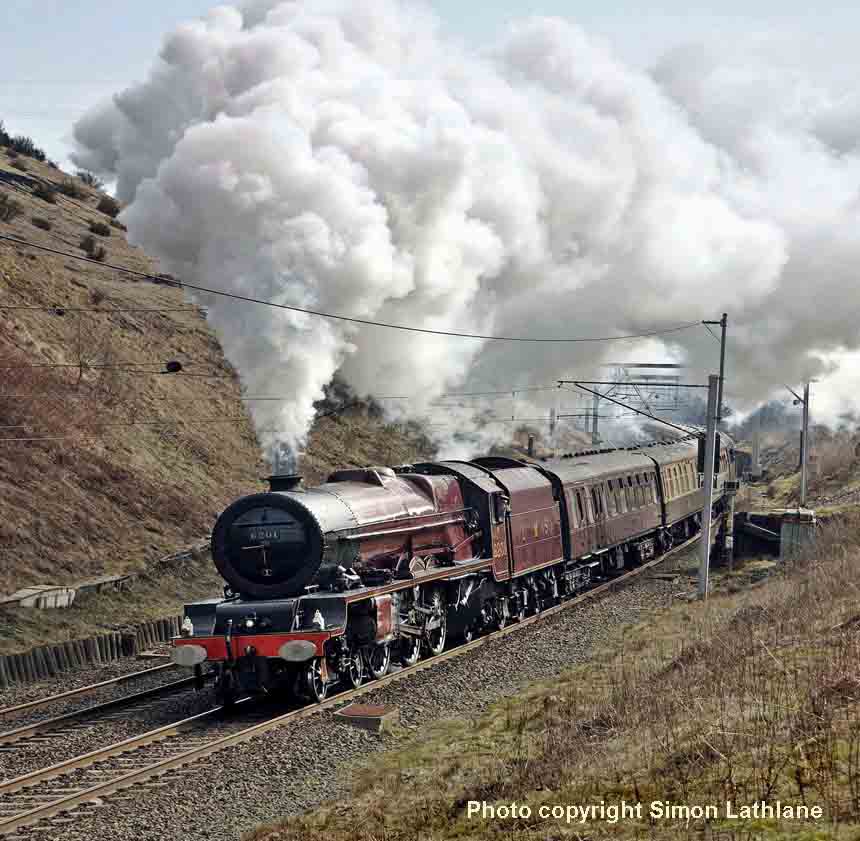 (Above-Inset Right) I don't have a favourite class of locomotive but I do love seeing No 6201 over Shap simply for the noise alone. Any trip north to see this engine on duty is one of those 'never to be missed'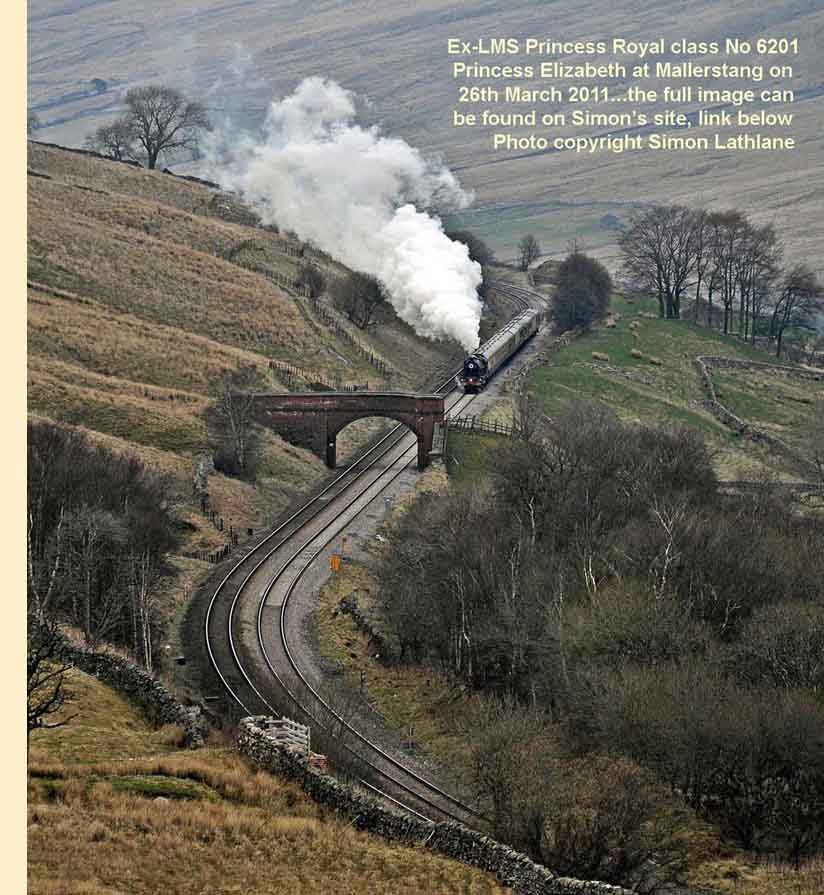 moments, and when you see her climbing the 1-75 gradient to Shap summit, the hairs do really stand up on the back of your neck! I recall one event in 2011 when No 6201 was going over Shap and back down the S&C and for this run we decided to do the shoot from the wall at Shap Summit. I always enjoy the walk to Shap Summit chatting along the way and wondering how wonderful it must have been to witness the Shap bankers assisting a filthy Britannia on a freight slogging it out to the summit at sunrise. One of my favourite books is by Ivor Peters who nearly missed the spectacle of steam over Shap but thankfully his good friend and photographer Derek Cross persuaded him to make the journey north. The book is called 'Farewell to North West Steam' and there are many fine evocative shots from those glory days of steam over Shap Fell.
However, getting back to our day with 6201 we got a nice shot of her at the wall and again the noise was superb; you could hear her all the way from Salterwath. We then moved over to the S&C and decided to go to one of the popular spots on the line at Aisgill. I opted to take the long walk to the viaduct whilst Keith stayed at the well-known spot near the road bridge and took some memorable footage. The view from the viaduct looking back down Mallerstang is quite simply breathtaking even on an overcast day. This photo above right is just one of several shots of the Settle-Carlisle line to be found on my website

here

.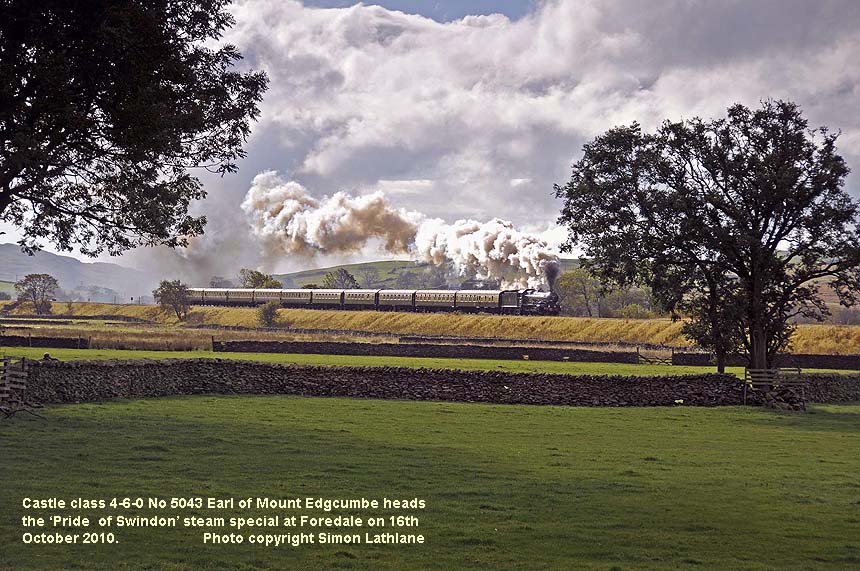 (Above-Below) One of the best runs over the S&C in preservation was by the former GWR Castle Class No 5043 'Earl of Mouth Edgcumb' when it hauled the 'Pride of Swindon' steam special on 16th October 2010. We made the journey to our chosen location at Foredale for the run north, but photography was difficult on the day with the light all over the place - one minute sunshine, the next overcast. Still there was no holding No 5043 as she stormed past us in fabulous light. How many times have I read on the Internet that this was the best run over the S&C that year? For the return we decided to go to Birkett Common in the hope that we would at last get a shot in the sun at this location. Once again it did not happen, but all was not lost…looking at the itinerary there was a planned water stop at Hellifield. Could we really get to the car and drive down to Hellifield before 5043 left?
Well, what can only be described as absolute madness, we drove like we were in an RAC rally; the conditions ahead looked superb for photography, but we got held up behind every slow moving vehicle all the way down Ribblesdale, through Settle, finally arriving at Hellifield - and lo' and behold, the Castle still there! We had information of a good location at Nappa, so off we went again, foot hard to the floor until we arrived at a spot chocker-block with parked cars. This was the place! We screeched to a halt; jumped out, dashed into a field…the light was stunning and the location perfect for the shot below...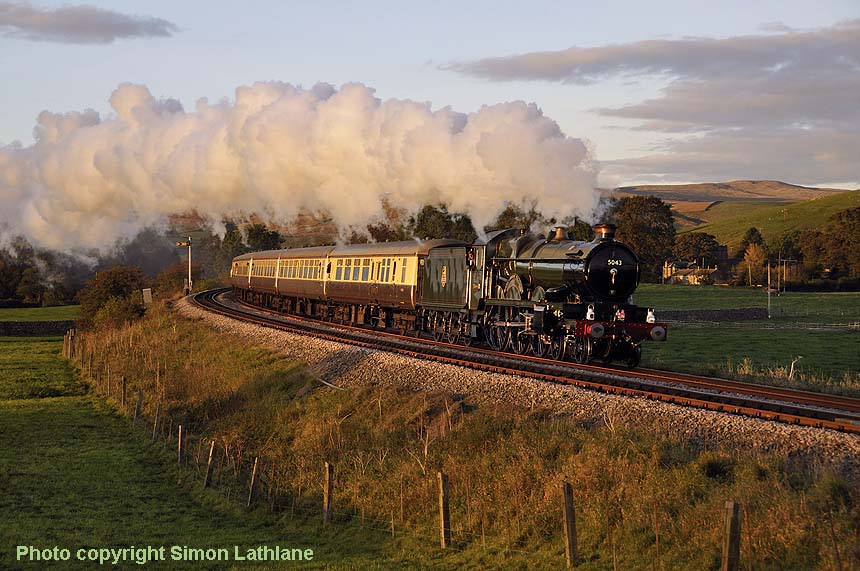 I hope you have enjoyed viewing some of my own steam railway photographs and you are most welcome to visit my webpage
www.simonlathlane.zenfolio.com
THE SIMON R LATHLANE COLLECTION
I live on the doorstep to the International Antique & Collectors Fair which is held on the showground at Newark on Trent. A few years ago I came across a box of old glass plate negatives and viewing them against the light I could see images of steam trains. So I negotiated with the vendor, a price was agreed and I went home a happy customer. From that day on I began to build up my collection of old photos including 35mm slides, medium format negatives and glass plate negatives - all original. I have carefully checked my collection with back copies of the leading railway magazines: 'Railway Magazine, 'Steam Days', 'Steam World' and 'Back Track' etc, and none of them have appeared in print before.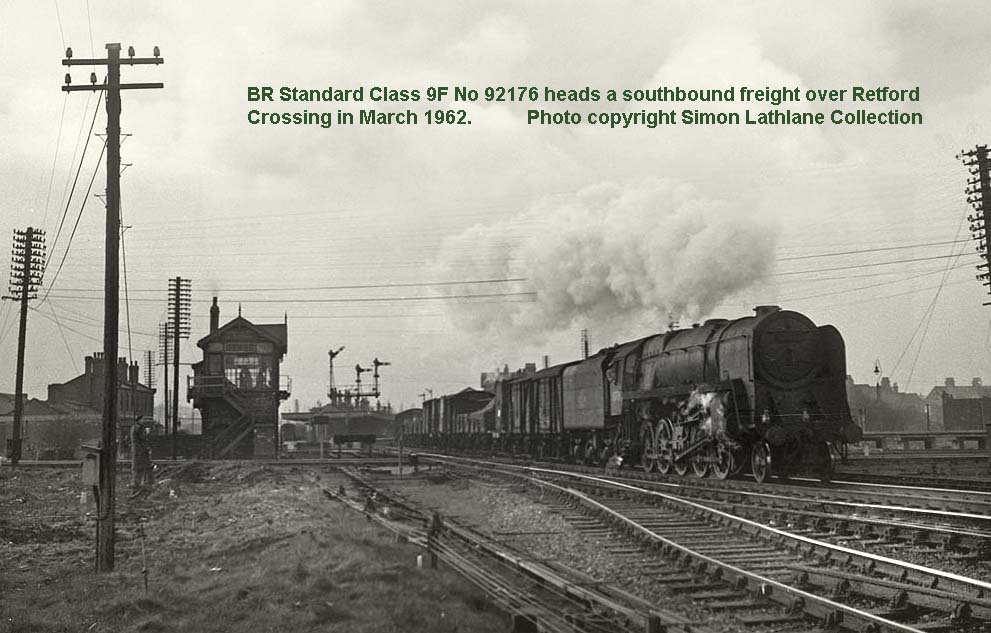 In time I hope to learn more about their origin, such as the name of the photographer; this can be done by using the many genealogy search programmes on the Internet today. For example, I have purchased some old glass plate negatives, which are superb in detail, and was given the name of G J Dyrsdale from the Liverpool area. I'm surprised that his name hasn't appeared in any of my railway books because his work is truly outstanding. He not only took superb railway images but I have seen his excellent shots of ocean liners at Liverpool being sold on ebay in 2011.

However, I discovered through my on-line search that his full name was George John Drysdale who lived at 38, Green Lane, Seaforth - a district of Liverpool. The 1911 census told me that he was a 37 year-old single man living with his parents George and Agnes Drysdale. He had a younger brother named Arthur aged 35 who was a draper by trade. George's occupation was an electrician for the National Telephone Company which ceased trading at the end of 1911 and the business was taken over by the GPO. Sadly that is all I know about him so far, but if you know anything more I will be please to hear from you, thank you
...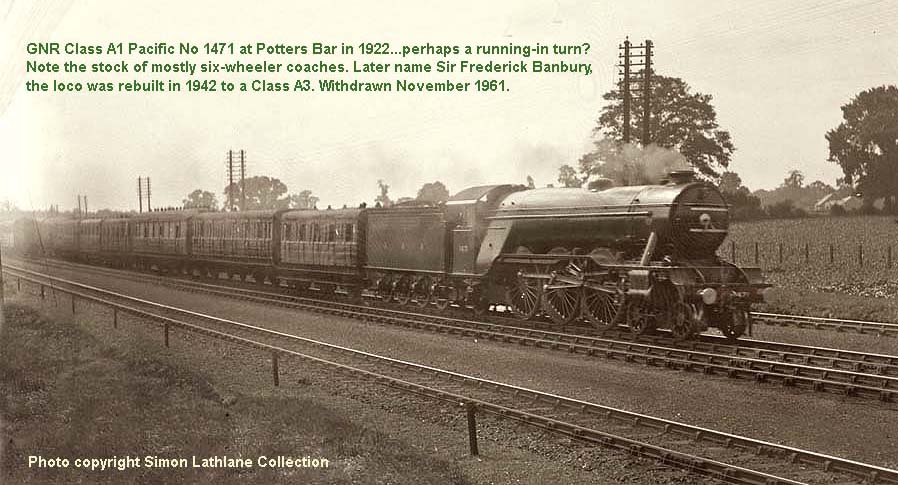 (Above-Inset Right-Below)
The first two Gresley Pacifics Nos 1470 Great Northern and 1471 Sir Frederick Banbury were introduced on the GNR in 1922. A year later the Great Northern Railway was incorporated into the newly formed LNER in the 1923 Grouping and Gresley was appointed Chief Mechanical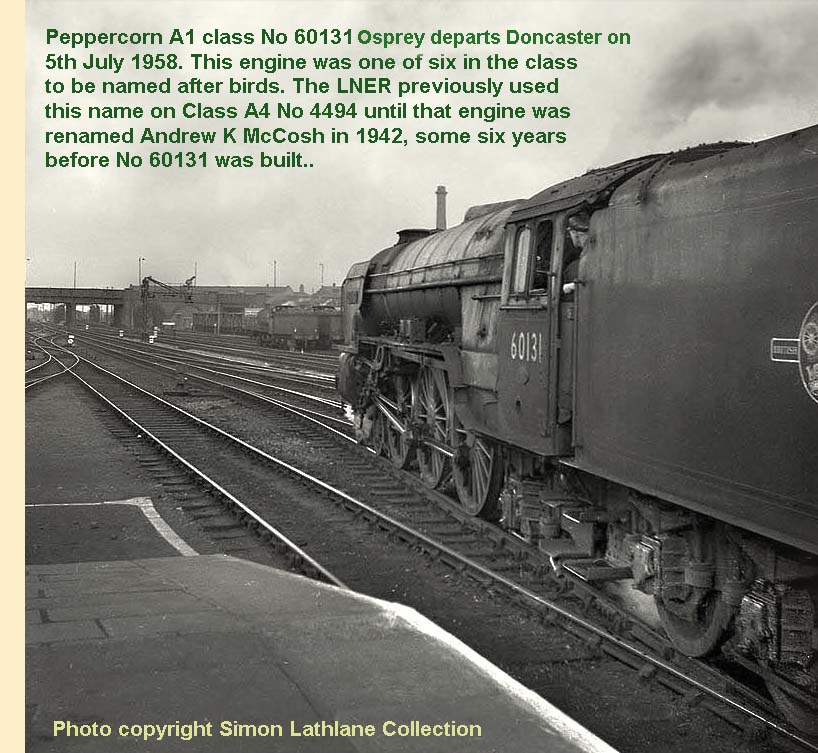 Engineer of the new company. One of the first things he did was adopt his GNR Pacific design as the standard express passenger locomotive, designating it Class A1 under the LNER locomotive classification system. This rare shot of No 1471 (above) is almost certainly taken on a running-in turn from Doncaster Works.
For the record, Sir Frederick Banbury was the last Chairman of the Great Northern Railway. A strong opponent of the 1923 railway grouping, he took no part in the LNER and retired from railway service at the end of 1922. The first Chairman of the LNER was William Whitelaw and his name appeared on the Class A1 No 2563 in 1924; the loco was renamed Tagalie in 1941 and the Chairman's name was transferred to A4 No 4462, formerly Great Snipe
.

Fast-forward to the late 1940s and most of the original LNER Class A1 locomotives had been rebuilt as LNER Class A3 locomotives prior to the new Peppercorn Class A1 being conceived. The new A1s were ordered by the LNER but delivered after British Railways was formed in 1948. The 49 engines were built consecutively at Doncaster and Darlington works between 1948-1949.

The names of the A1s were an eclectic mix of birds, racehorses, railway superintendants, pre-Grouping railway companies, plus several names relating to the works of Sir Walter Scott and Scottish place names; No
60118 Archibald Sturrock (below) was one of six in the class named after GNR and NER locomotive superintendants, this one honouring the first superintendant of the Great Northern, whilst 60131 Osprey (above right) was one of six named after birds.
No 60118 was part of the batch Nos
60114-60122 built at Doncaster, Order No 382 in 1948 and emerged from Doncaster in November 1948, whereas No 60131 was part of the batch Nos 60130-53 constructed at Darlington, Order No 383 in 1948 and introduced to traffic in October 1948...both locos were among 24 members to be withdrawn in 1965, leaving just two - No 60124 Kenilworth and 60145 St Mungo which were gone by June 1966
.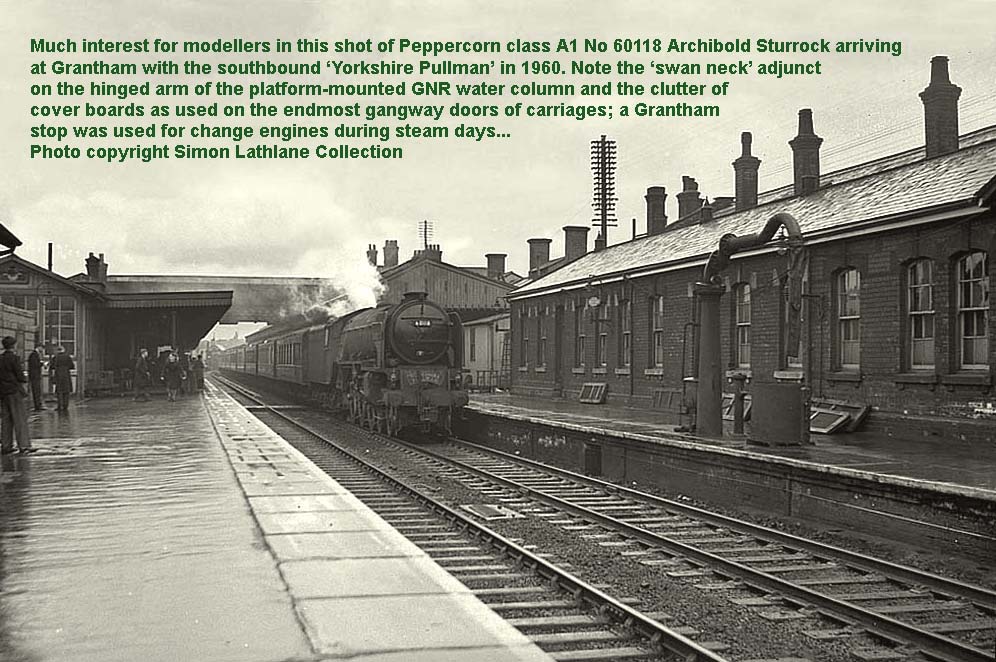 The source of my collection is mostly through ebay the on-line auction site, although many others have been purchased at the specialist railway auctions. On occasions some slides have been located for me by people who know that I'm interested in steam locomotives.

There are a lot of generous collectors out there who share their collections on the Internet, one of those being the Geoff Plumb archive and, of course, David Hey, which is why I chose this site to display just a small part of my collection. My intention is to add extra pictures to my own site and share these wonderful images with others, which I am sure is what the photographers would have wanted.

It is through their superb work that we can see how much has changed on the railway, sadly not for the better I have to say. Many of the images illustrate what has been lost in terms of railway infrastructure and especially noticeable is how tidy the lineside was in the 1930s. If I can add a date to the photographs it is included but sadly many photographers did not write anything on the mounts or envelopes, so if you can add any information please get in touch, thank you.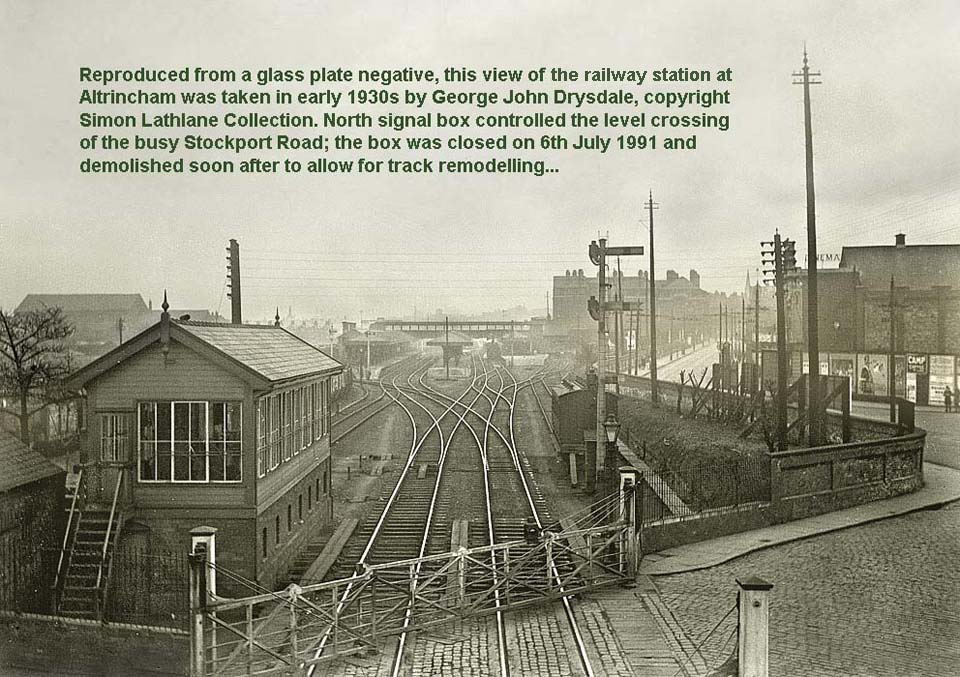 (Above)
This glass plate negative showing Altrincham station by George J Drysdale is a beauty!
On the left is the London and North Western Railway's Type 5 Altrincham North signal box, built in 1909 for the Manchester South Junction and Altrincham Railway (MSJAR). The box was fitted with a 72-lever LNWR Tappet frame and controlled the busy traffic on Stockport Road level crossing, which necessitated the introduction of traffic lights from the late 1950s. The level crossing was replaced by a road bridge in the 1970s. Following closure of the signal box at 22:00 on 6th July 1991 the structure was demolished in preparation for new trackwork to accommodate the arrival of the Greater Manchester Metrolink tram system. Click

here
for photo and details on Ingy the Wingy's Flickr site.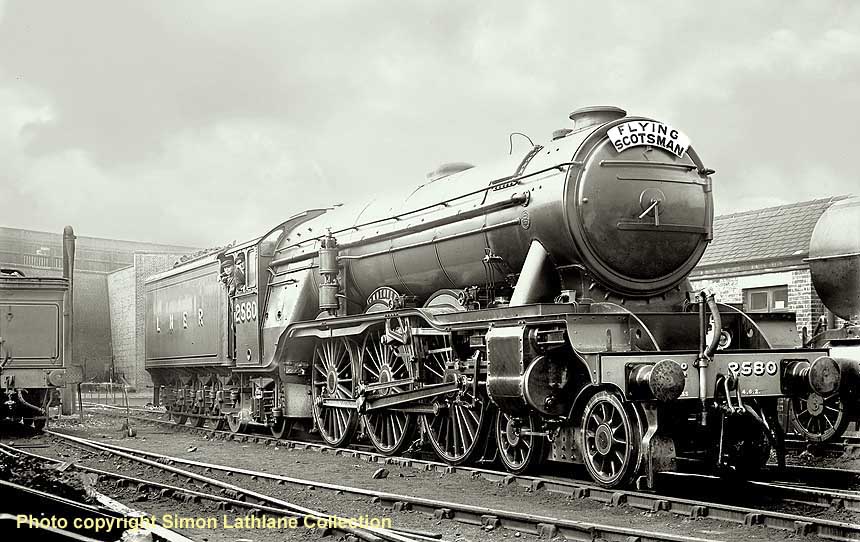 (Above-Inset-Below) This 12cm x 16cm glass plate negative was taken at Kings Cross (the envelope has the date 1924 written on the front). It shows LNER A1 Class No 2580 Shotover coming off the turntable at Kings Cross with the headboard 'Flying Scotsman'. This engine took part in the inaugural non-stop run of the Anglo-Scottish express between the two cities London-Edinburgh. No 2580 did the 'up' run, arriving two and half minutes inside the scheduled time. From a search in Google it would appear that this image was published in the book 'The Steel Highway' by Cecil J Allen, however I don't have a copy so I cannot confirm this. The image shows the engine with the Westinghouse brakes seen on the outside mounted near the rear coupled wheel. They were removed from the fifteen A1s between 1933 and 1935.

A RESULT! Within days of posting the above photograph I received a very interesting email from Owen Brison informing me that a similar image appears in a book published by Oakwood Press in 2001 and the caption gives the date as the non-stop run in May 1928. This was my initial thinking from the beginning, but seeing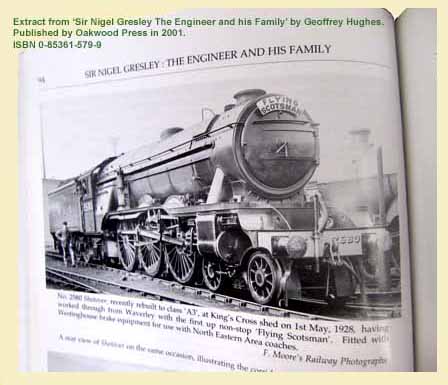 as the envelope had the date 1924 written on the front I had to go by that.
As a consequence this is a rather special photo because it records 'Shotover' following arrival at Kings Cross of the inaugural non-stop run of the up 'Flying Scotsman' in 1928.
This is the email from Owen - 'Hi Simon, I came across some of your photos on David Hey's site including those from the old glass plate negatives. This was via a thread on the LNER forum. I like your photos! However, concerning the photo of 2580 Shotover at Kings Cross, there is a very similar, but definitely different, photo on p94 of the following book - 'Sir Nigel Gresley The Engineer and his Family', by Geoffrey Hughes, published by Oakwood Press in 2001. ISBN 0-85361-579-9.
The photo in the book is credited to F Moore's Railway Photographs. The caption states it was taken on 1st May, 1928 after working the first up non-stop Flying Scotsman. The photo in the book appears to have the same engine crew in the cab, but also has someone on the ground. The loco in both photos is in back gear.
Your photo shows, on the right, part of the smokebox and cylinder of an Ivatt 'large Atlantic', while that in the book shows, from the same angle, the chimney, more of the smokebox and part of a bogie wheel and a driving wheel of a large atlantic. Presumably 2580 had reversed a couple of yards between the photo in the book and yours but they are fairly clearly taken on the same occasion. I'm attaching a rather rough digital photo of the photo in the book; I think this qualifies as 'private study' and so shouldn't infringe copyright. I had to take it a bit skew in order to get the atlantic in on the right. Best wishes, Owen Brison, Lisbon, Portugal...'
I am so pleased to have received this message from Owen, it makes posting the glass plate negatives on the Internet all the more worthwhile; moreover I'm doubly pleased because Owen has taken the trouble to follow it up with a second email - 'Hi Simon, I was a bit rushed earlier but have now looked through some more books. The same photo of 2580 as in the Gresley book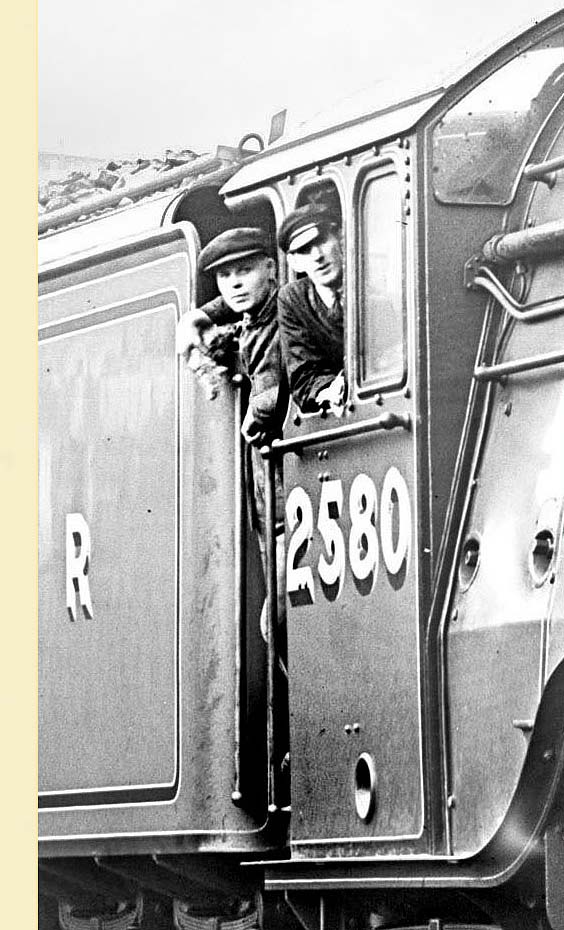 also appears as fig 43 of RCTS 'Locos of the LNER' Volume 2A. In that volume it is ascribed to a long-time photographer of the GNR-LNER, WJ Reynolds, whose photos go back to the Stirling Singles in the 1890s. Perhaps Reynolds took a number of photos, or perhaps several photographers were allowed into the loco depot on what must have been a special day and they took very similar photos?
I don't think 1924 was ever going to be the date of the photo: 2580 is shown with a 220 lb/sq in boiler (first introduced in 1927) as well as a corridor tender, introduced in 1928. According to the above RCTS volume, No 2580 got its 220 lb boiler in Feb 1928. The 220lb boiler is recognisable by the cover plates over the ends of the superheater header near the top rear of the smokebox. Will keep looking out for any new photos you put up. Old glass plate negatives have a certain 'something' to them, but I also think your own photos are marvellous. Best wishes, Owen...'
Thanks Owen, your response confirms my earlier suspicions that the date on the envelope did not relate to the photograph...

(Inset below) A locomotive nameplate, 'Shotover', recently went under the hammer at a GCR Auction. The Gresley Pacific, originally Class A1 numbered 2580, was built by the North British Locomotive Co, Works No 23118, in November 1924. It was rebuilt and re-classified to A3 Class in February 1928, renumbered 81 in 1946, later becoming BR 60081. It was allocated new to Heaton, then went on loan to Haymarket, and its later sheds

were Gateshead, Heaton again, Neville Hill, York, Gateshead again and finally back to Neville Hill where it spent its final thirteen years up to withdrawal on 1 October 1962. It was cut up at Doncaster Works. As mentioned above the loco achieved fame on 1st May 1928 when it hauled the inaugural southbound non-stop running of the Flying Scotsman, departing from Edinburgh Waverley at 10 am, with 4472 Flying Scotsman hauling the northbound train from Kings Cross on the same day. The cast brass nameplate measures 56½", the base clearly stamped 2580. The Lot sold for £14,800 at a GCR Auctions on 14th January 2012. Click

here

to visit the GCR Auction's fascinating website...a wonderful trip down memory lane for enthusiasts

…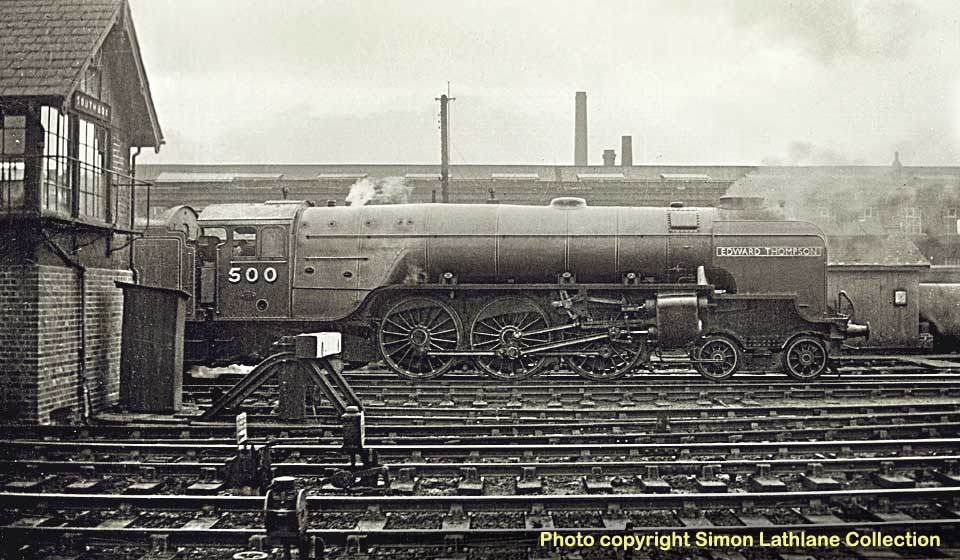 (Above) I have recently acquired a very nice large glass plate negative of Thompson Class A2/3 No 500 'Edward Thompson' seen at the side of 'South Box' ? I wonder if this could be Top Shed as sadly there is no description or date on the outer sleeve...perhaps someone will know? Indeed they can...Vic Smith of York dropped a line; he writes - 'The view is from the south end of Doncaster station platform looking acrosss to Doncaster Works. The siding ending at the signal box can be seen on the 'Old Maps' website HERE. If you see a blue screen, reduce the size of the image using the minus sign top left...' Thanks Vic.
No 500 was the first of the class named after its designer being built in May 1946 at Doncaster Works and named at Marylebone on 31st May. It was later given the number 60500 in October 1949 by BR. All the Thompson A2/3 engines were turned out in full LNER lined green livery with a total of fifteen built. From July 1949 BR Brunswick green livery with orange and black lining was adopted on the A2/3s. I understand No 60500 was transferred from Kings Cross to New England with the introduction of the Peppercorn A1s. No 60500 survived until withdrawn in June 1963. (Below) Moving onto a superb medium format negative of Peppercorn A1 Class No 60128 'Bongrace' seen here arriving with a up express at Darlington. No date but must be late 1950s with some nice Gresley teak coaches in shot. What a great location this is with the building on the far right topped by chimney pots adding so much. No 60128 was named after the 1926 Doncaster Cup winner and named in November 1950. Built at Doncaster Works in May 1949 and allocated to Copley Hill. Final shed was Doncaster and she remained in service until 10th January 1965 and cut up by A.Draper of Hull.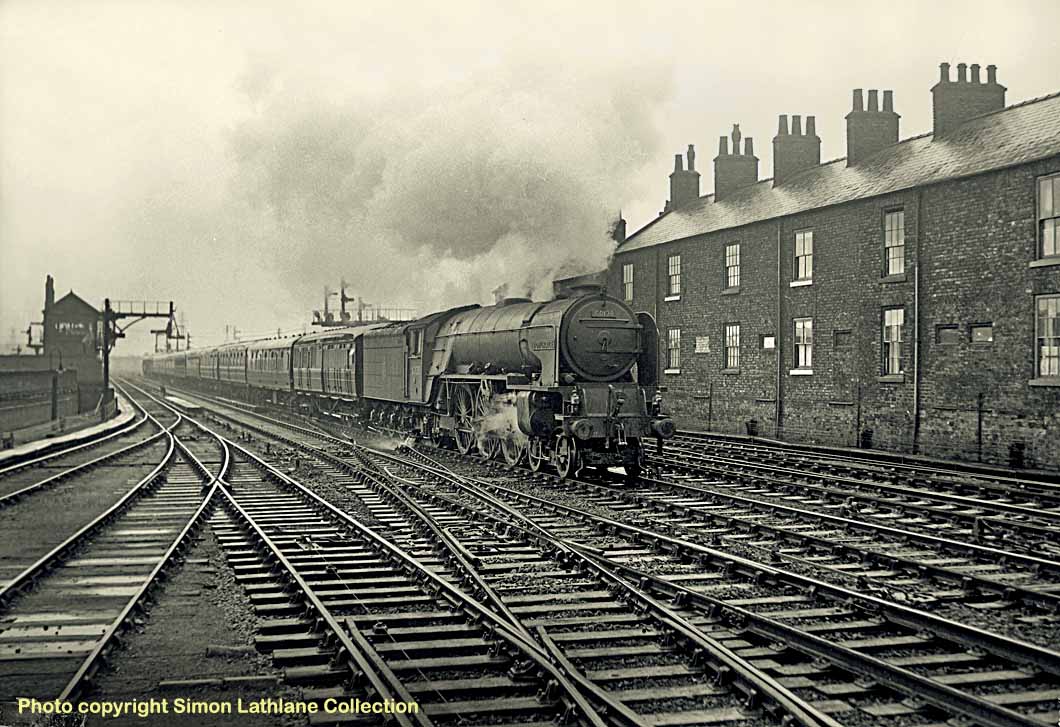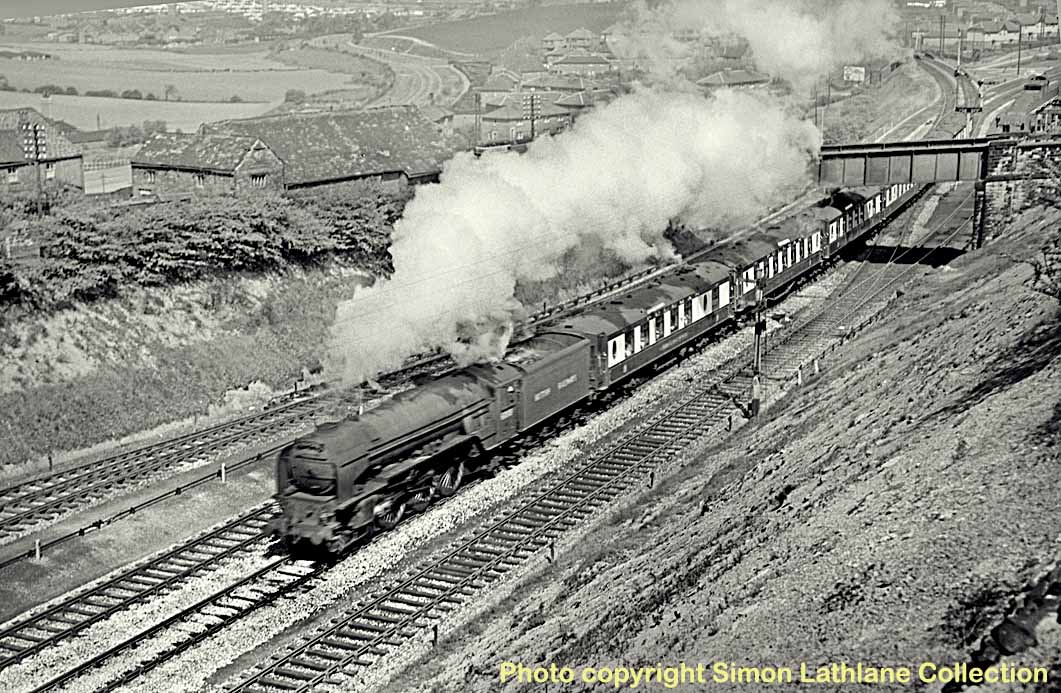 (Above-Below) The next glass plate negative shows an unknown class member of the new Peppercorn A1s not yet named but on the southbound 'Yorkshire Pullman' at Beeston junction near Leeds. In the background you can see that the A6110 Beeston Ring Road around Leeds which appears to be under construction. Identical shots can be found on David's 'Transition from Steam at Leeds' on Page 9 HERE (Below) We now move onto a large medium format negative of re-built

Thompson Class A1/1 No 60113 'Great Northern' seen here waiting to depart south from Doncaster its home shed from 1957. The negative sleeve is dated July 1962, so the engine has a little over four months left to go before withdrawal. This is the original Gresley Pacific, built at GNR Doncaster Works, Works No 1536 and delivered to the GNR in April 1922 as No 1470. She became LNER No 4470 in March 1925, however she was controversially rebuilt by Edward Thompson as Class A1/1 in September 1945, withdrawn in November 1962 and scrapped at Doncaster in February 1963.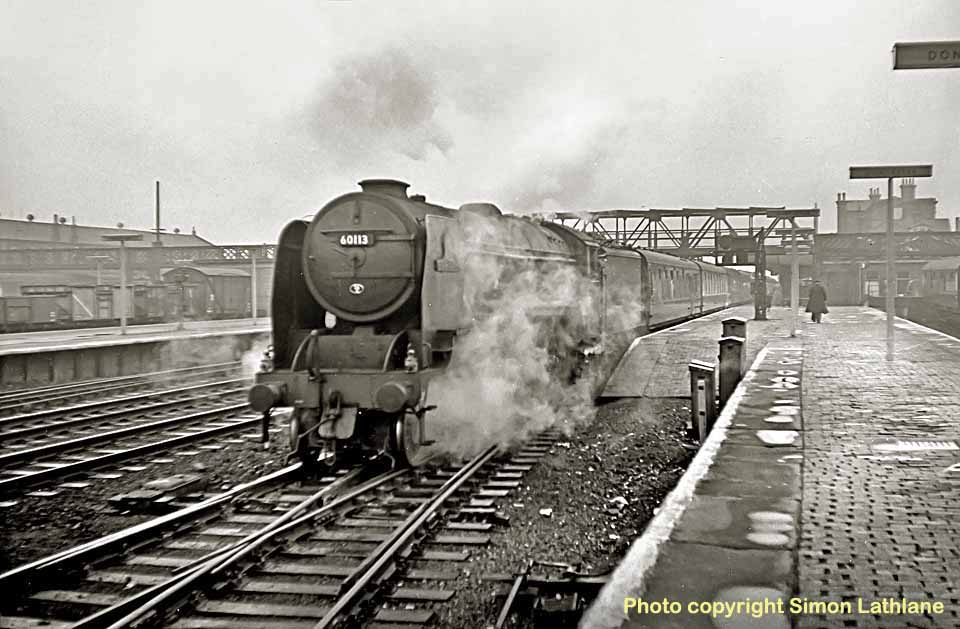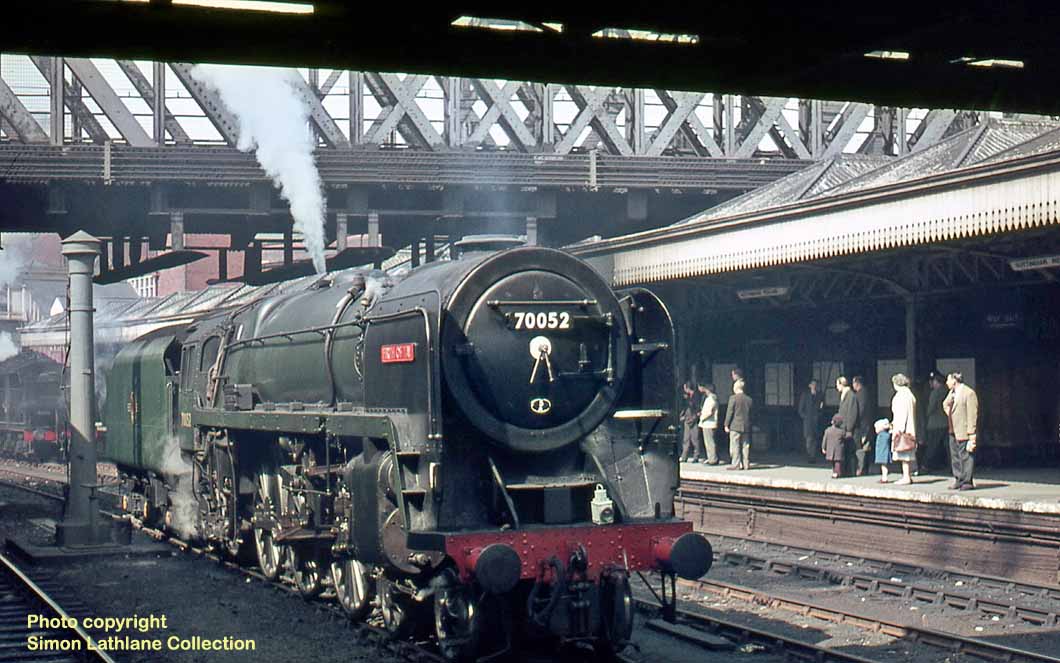 (Above) Here we have a superb Agfa CT18 slide of BR Britannia Class No 70052 'Firth of Tay' at Nottingham Midland station after arriving with the LCGB's 'Notts & Lincs Railtour' on 24th April 1965. The Brit had started off at London St Pancras station and travelled north through Bedford-Attenborough and Lenton South junction to get to Nottingham Midland. She worked the return working later in the day through Melton Mowbray-Kettering-Bedford and then arriving back at London St Pancras at 20.40 information from the excellent 'Six Bells Junction' website. No 70052 is paired with one of the high-sided larger capacity BR1D type tenders, with coal pushers. Also of note is the unlined paintwork, which was a frequent economy measure during steam's last few years.

(Below) LNER B1 Class No 1016 'Inyala' at York in 1949. Built in January 1947, later BR No 61016, the loco was withdrawn in October 1965. Several Thompson B1 4-6-0s were named after species of antelope...61016 was named Inyala which is a spiral-horned antelope native to southern Africa.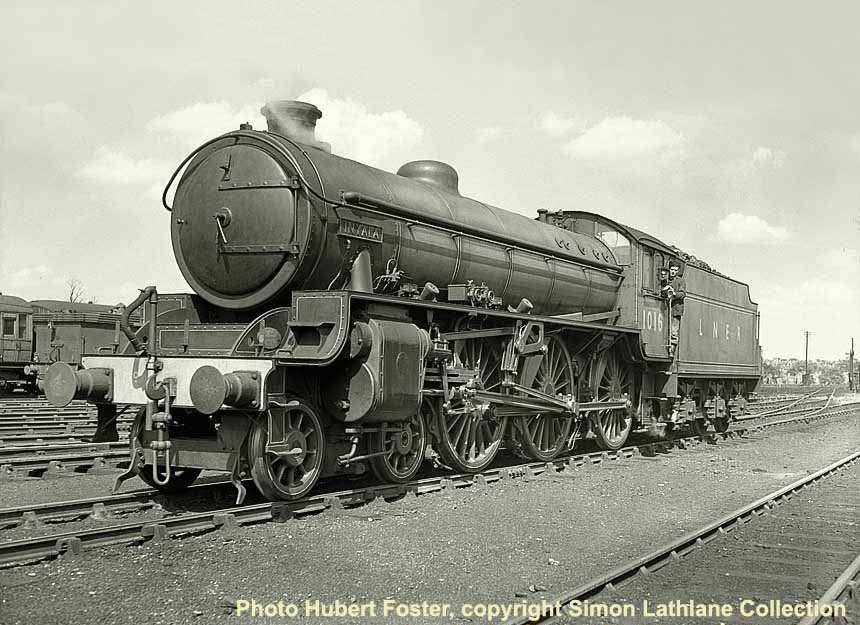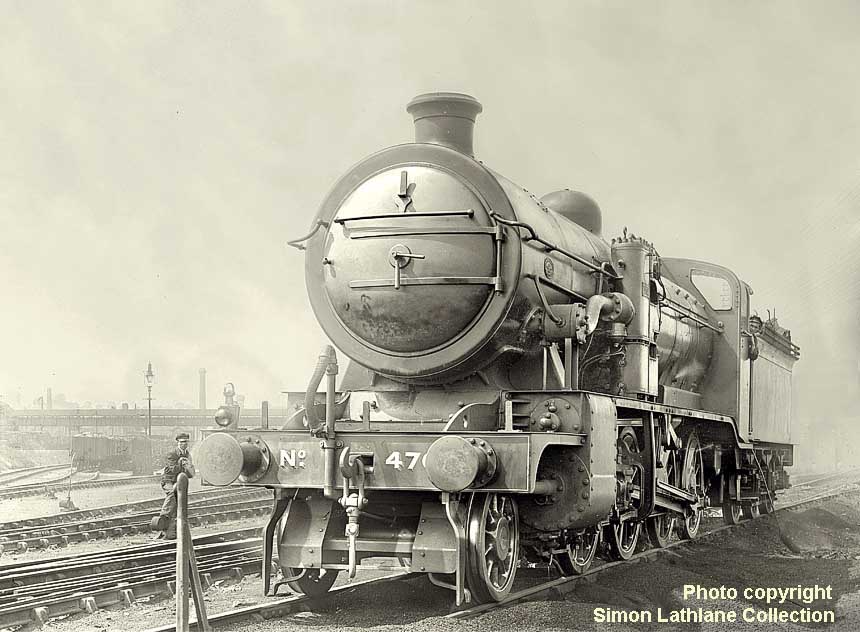 (Above) This is a very nice early glass plate negative of GNR 01 Class No 476 prior to 1924. Both Owen Brison and Simon have studied the photo and think it was taken in the vicinity of King's Cross behind the main shed, but they stand to be corrected if anyone knows otherwise.
You can see that the engine is fitted with the Worthington feed water heater and boiler feed pump which was fitted in June 1921, mounted on the left hand side running plate. The pump was replaced by a larger one in December 1924 when the engine became LNER No 3476 and this pump was removed in May 1927. No 476 was the last of the class to be built at Doncaster in November 1919 (Works No 22103). In 1946 it was renumbered 3494 and remained in service a few more years until withdrawn March 1948.

Please note (below)... when reproducing an image for this website it is necessary to considerably reduce its size. For example, the above image of the Class 01 has been reduced from 2.50MB to less than 100KB, and this reduction can barely do it justice, hence the reason for inserted a close-up image (below) which shows a small portion of the original. As you can see, the tiniest detail is incredible!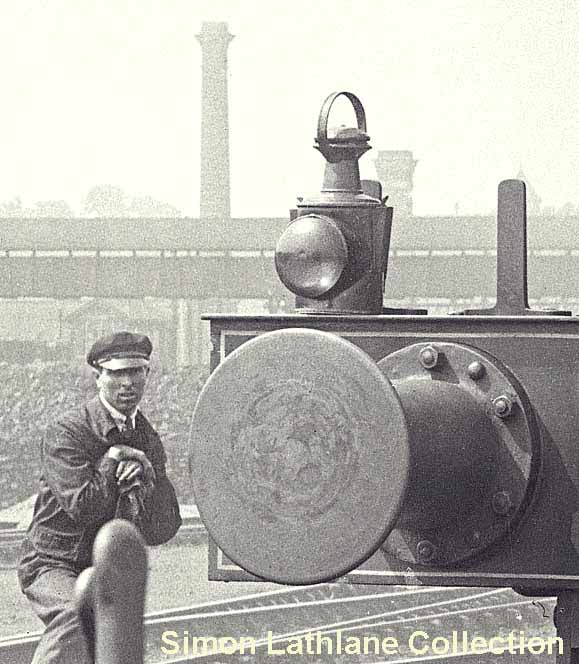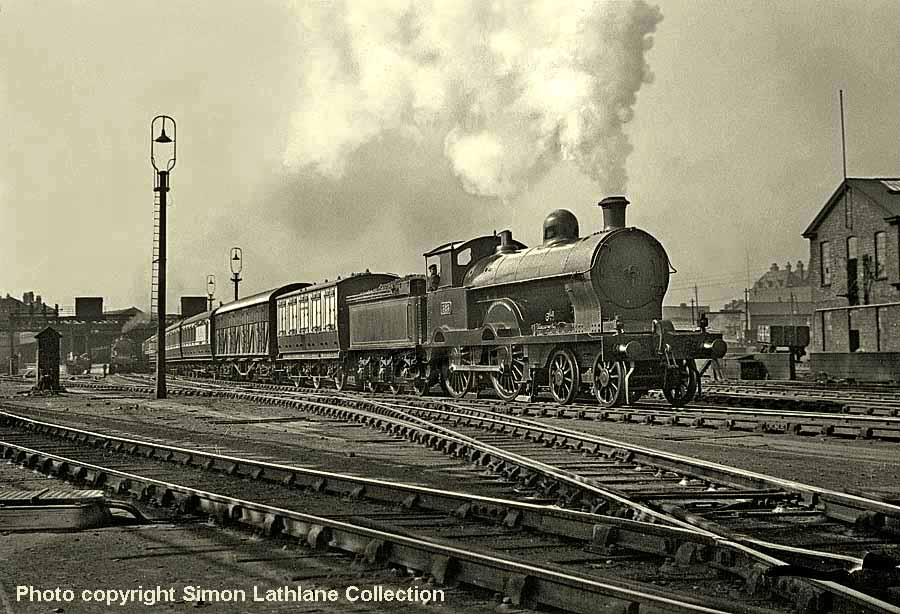 (Above) This fabulous glass plate arrived the other morning and what a beauty it is! Departing from Crewe station we have a wonderful LNWR Precursor Class 4-4-0 No 323 'Argus' prior to 1927. The loco was renumbered No 5303 under the LMS in February 1927 having been built at Crewe in February 1905 designed by George Whale. The loco was withdrawn in October 1936 and scrapped at Crewe.
I wanted to find out more about the coaching stock, and so I emailed the LNWR Society and asked if they could help with any information on the two leading coaches, one of which is a very early six-wheeled vehicle.
I received a reply from the LNWR Society's Librarian & Archivist, Dave Pennington, who writes - 'Argus was built in February 1905. In your photo it has a boiler with a short smokebox. In January 1923 it was rebuilt effectively as a George V with a superheater and an extended smokebox. This narrows down the date a little. The leading van is a five compartment parcels van to Diagram 425, 30ft 1in long over headstocks and 8ft wide. The second vehicle looks to be a GWR Syphon of some sort, presumably with parcels from the south west and south Wales via Shrewsbury (certainly not an LNWR vehicle). I do not know much about GW vehicles but the Syphon may help to set an earliest date for the photo. The next LNW carriage looks like either a Diagram 306 or Diagram 307 corridor brake third as it appears to have top lights at the top of the sides between the doors in the brake compartment. This would set the earliest date as 1913/4 when these carriages were built. I hope this is of some help. Regards, Dave Pennington...'
It is most helpful, and thanks for your help David...
Click HERE to visit the LNWR Society's excellent website.

(Below) The other image is also a very nice glass plate of LMS Royal Scot No 6139 'Ajax' later re-named 'The Welch Regiment' arriving with what looks like a 'Royal Scot' service no precise date but with running number on tender must be about 1928c. Built at the NBLC Glasgow in October 1927 and later rebuilt in 1946 with the standard 2A tapered boiler and later withdrawn from Newton Heath in October 1962. It was not scrapped until May 1963 at Crewe.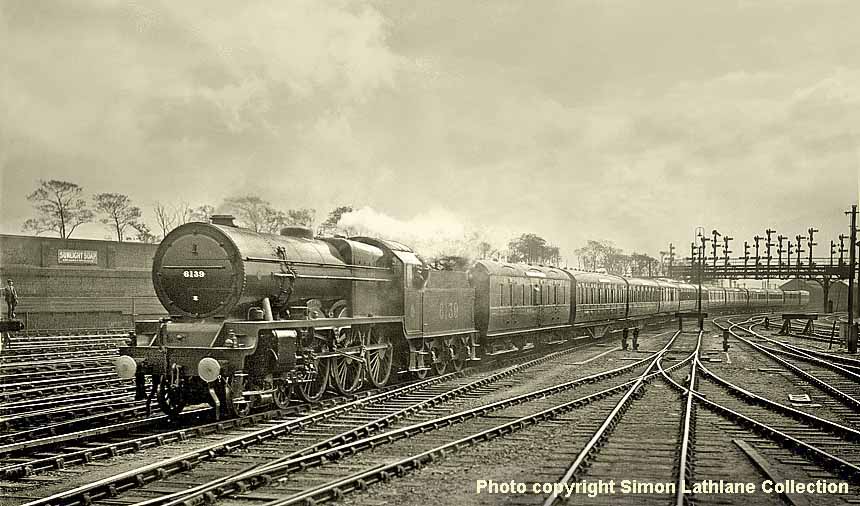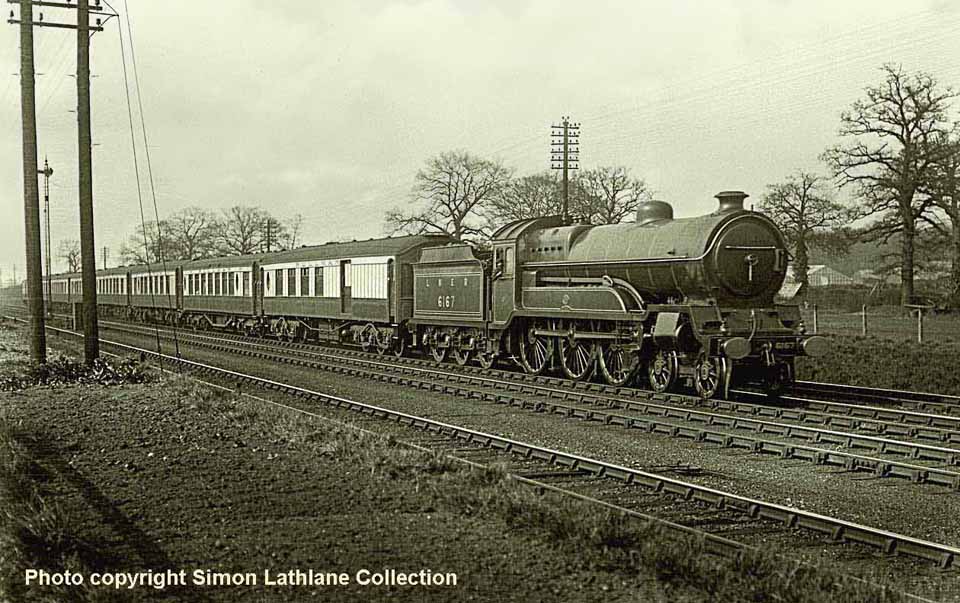 (Above) This lovely glass plate of ex-GC B3 Class No 6167 'Lloyd George' was taken at Marshmoor near Brookmans Park; the date on the sleeve is 1925. Built at Gorton Works in September 1920, No 6167 was withdrawn in December 1947 and none of the class made preservation. Interestingly, the photo shows No 6167 without its nameplates; these were removed in August 1923 on the orders of Sir Frederick Banbury, then Chairman of the Great Northern Railway and a strong opponent of the 1923 railway grouping. David Lloyd George was Prime Minister when the Railway Act was passed, which led to the grouping of the rail companies into four major concerns. He also fell out of favour with the British public due to concerns that he had traded honours in return for political advantage. The nameplates were later discovered in a partition at Kings Cross in 1963 when Top Shed was demolished. Finally, I think the identity of the train is the 'Harrogate Pullman', forerunner of the 'Queen of Scots' service in1928. The Harrogate Pullman train started in July 1923 with a schedule time of 3 hrs 25 minutes, which at that time was the longest non-stop run on the LNER.

(Below) This glass plate shows another unnamed engine, this one being Gresley A1 Class No 2551; thus far I cannot find anything on the web to say when the engine was named 'Prince Palatine'. Built at Doncaster Plant, No 2551 entered traffic on 29th November 1924, allocated initially to Gorton and then Grantham MPD in 1925. No 2551 was rebuilt to A3 specifications in August 1941 whilst still a Grantham engine, but two years later the locomotive was transferred to Copley Hill followed by spells at New England, Doncaster, Leicester Central, Neasden, Heaton, Gateshead and Darlington before ending her days at St Margarets (Edinburgh) where she was withdrawn from traffic on 17th January 1966. I think I'm right in saying No 60052 Prince Palatine was the last A3 Class in service. This glass plate is dated 1925 and shows the Pacific hauling a lengthy express of twelve bogies; note the lengthy carriage destination boards. The signalbox at Woolmer Green can be seen in the far distance.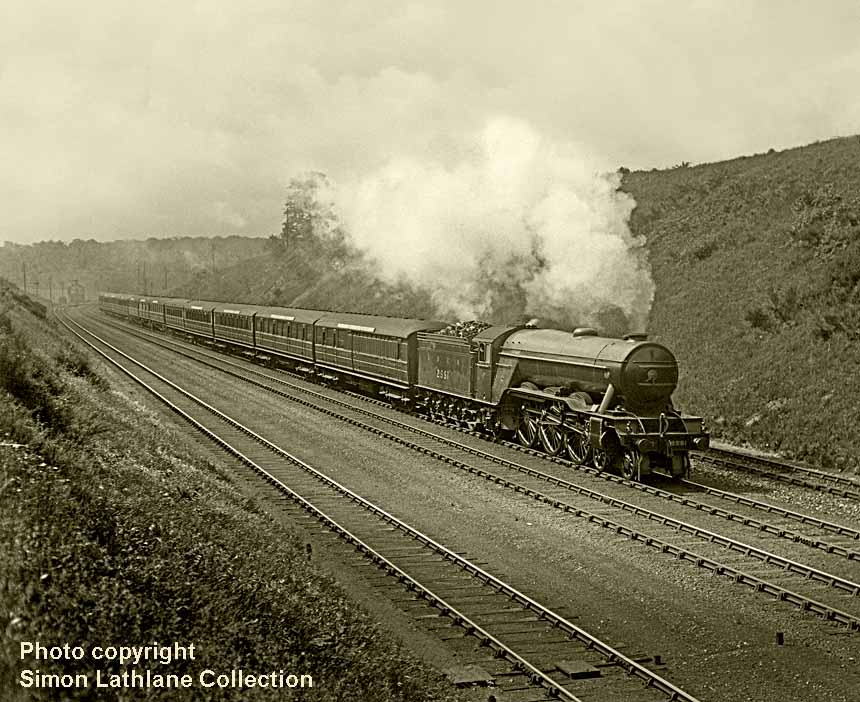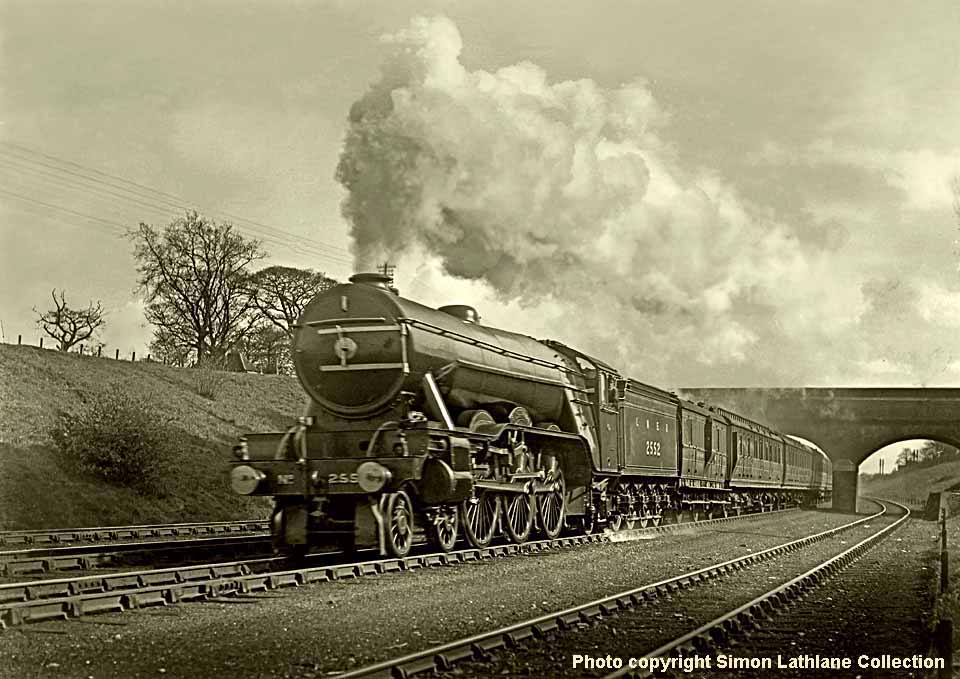 (Above-Below) The photographer certainly knew a thing or two about composition when eyeing up the angles for this shot of LNER Gresley A1 Class 4-6-2 No 2552 'Sansovino' at Potters Bar in 1926…what a superb picture! Built at Doncaster Plant (Works No 1608) on 11th December 1924, No 2552 was allocated new to Kings Cross for fifteen years before a transfer to Neasden MPD beckoned in 1939. Rebuilt from an A1 to A3 Class in September 1943, the locomotive later had a long spell in the north-east based at Gateshead, Darlington and Heaton; this was followed by a move to St Margarets on the ScR before returning to Heaton where she was withdrawn from traffic in May 1963 and cut-up at Doncaster Works that same month. (Below) LNER Gresley A1 Class 4-6-2 No 2575 'Galopin' was built by the North British Locomotive Company (Works No 23113) on 14th October 1924 and allocated new to Gateshead MPD. Rebuilt to a Class A3 in June 1941 and renumbered BR 60076 in 1948, the locomotive was withdrawn from traffic 29th October 1962 and cut-up at Doncaster Works in April 1963. This particular glass plate is dated 1929 and shows No 2575 at Haymarket shed with the Westinghouse Brake that was fitted to all the fifteen A1s in the north east. They were removed between 1933 and 1935.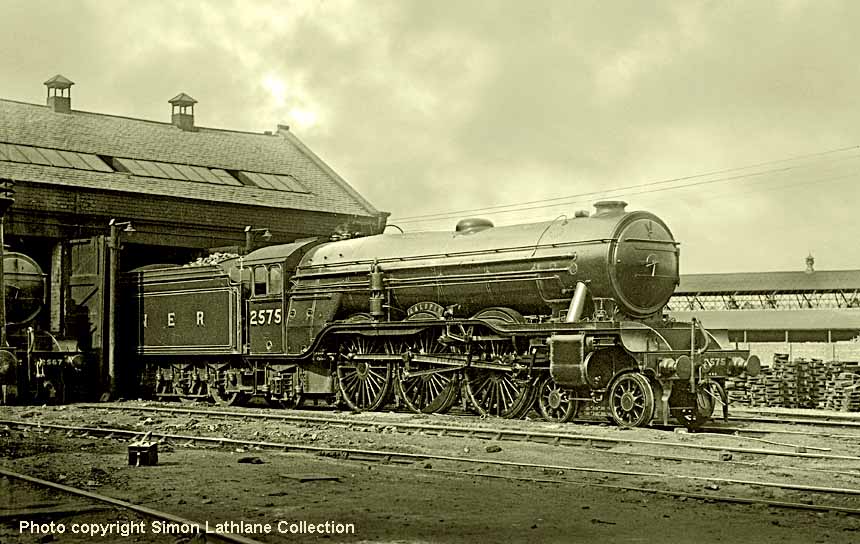 (Below) Yet another very early glass plate negative, this one showing Patrick Stirling's Single Class No 544 heading an express at Oakleigh Park dated 1899 on the sleeve. Some of the Stirling Singles were later rebuilt with a domed boiler by HA Ivatt who took office after the death of Patrick Stirling in 1895. No 544 is seen here with a domed boiler which was fitted in May 1897. It was built at Doncaster in August 1877 (Works No 230) and it was withdrawn from service in October 1906. They were being replaced by Ivatt Atlantics, but thankfully the first of the Stirling Singles numbered No 1 has been preserved.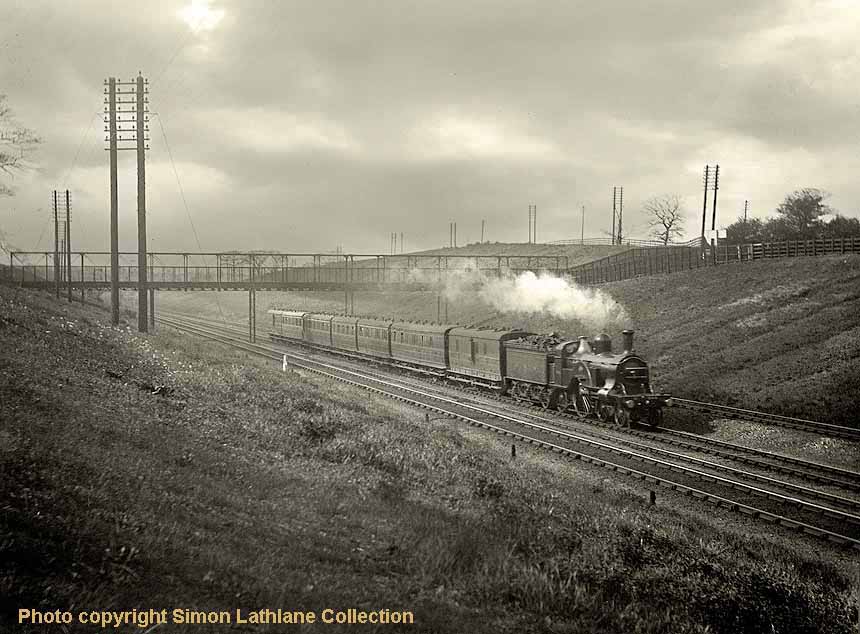 (Below) A rather grimy 'Princess Coronation' 4-6-2 No 46237 City of Bristol was photographed at Eglinton Street station, Glasgow in June 1949. By this time the LMS had given way to the new order, yet the engine remains in LMS colours some eighteen months after nationalisation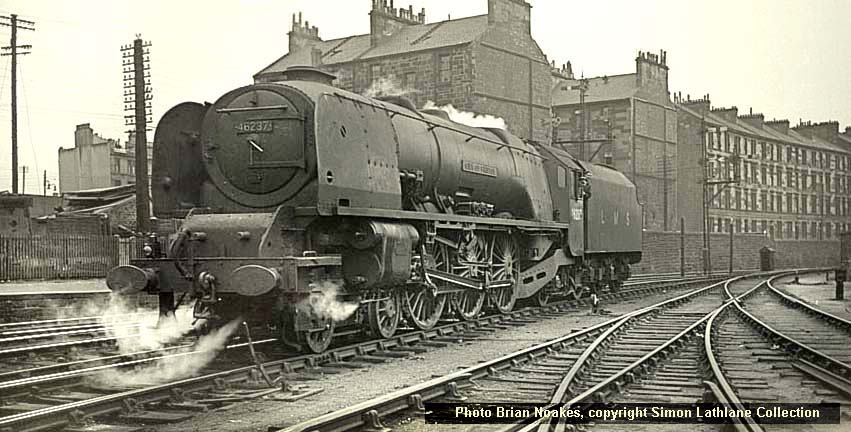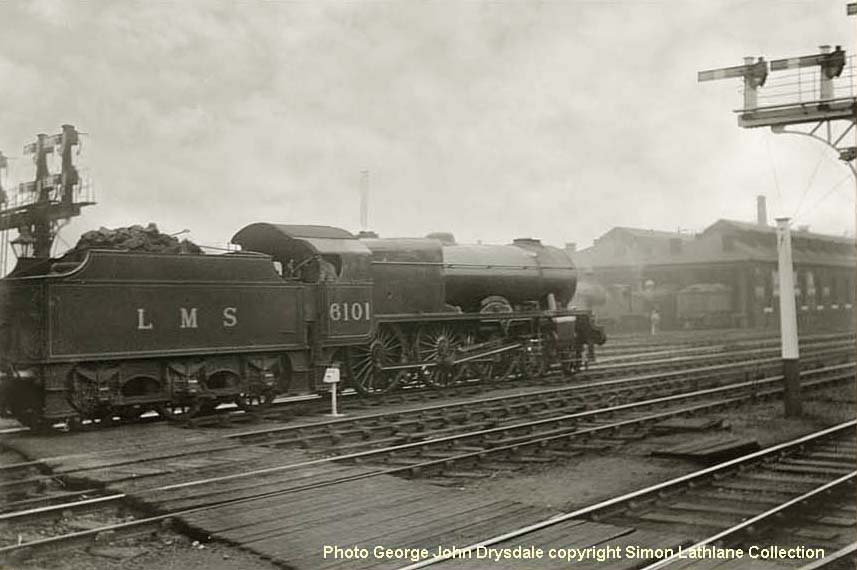 (Above-Inset-Below) This is another image reproduced from a glass plate negative and shows the second of the LMS Royal Scot class 4-6-0s No 6101 'Royal Scots Grey', at an unknown location…perhaps someone out there can help identify where it is? You will see that she is fitted with 'wing' smoke deflectors behind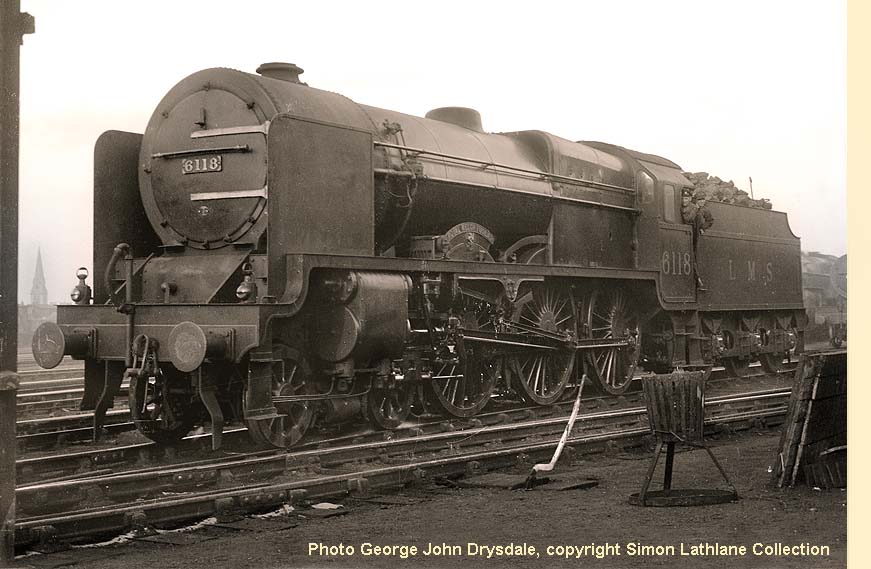 the chimney; this feature became known as the 'Gladstone Collar', a nickname derived from the style of men's shirt collars which had the points pressed to stick out horizontally at the side-fronts; a style made popular by the then British Prime Minister, William Ewart Gladstone. The experiment with smoke deflectors started in 1928-9 in an attempt to stop drifting smoke obscuring the crew's forward vision, so this dates the image to around that time. After several forms of smoke deflectors were tried, including (inset left) the straight-sided example as seen on

LMS Royal Scot 6118 'Royal Welch Fusilier' at Crewe in 1938
, the
commonest form of smoke deflectors were those with angled tops
, as seen (below) on LMS Royal Scot 6119 'Lancashire Fusilier' at Brock in 1931 ...another fabulous glass plate negative don't you think? The photgrapher certainly knew a thing or two about composition!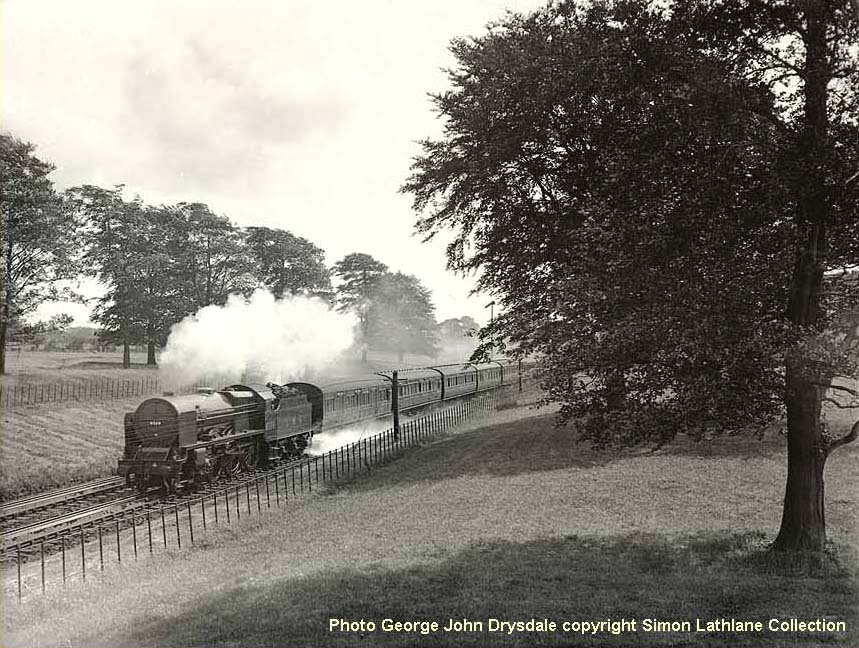 (Above-Below) The angled deflectors were later replaced by ones with curved-style tops, as seen (above) on No 6140 'The Kings Own Royal Rifle Corps'. Also note t
he absence of a Fowler tender - the Fowler tenders were later fitted with coal rails to faciliate extra coal, however their limited capacity led to wholesale exchanges with the new Stanier 4,000 gallon 9 ton tenders as built for the new 'Jubilee' class.
Sadly no date accompanied this glass plate negative but it must have been taken after 1935-6 when the locomotive was renamed from its original one of 'Hector'
. (Below) Sporting a Crewe North 5A shed plate on the smokebox door, Royal Scot class No 46165 'The Ranger' (12th London Regiment) was photographed at Bay Horse in 1956…however I suspect this date may be wrong. I say this because the loco is in its original form, and my research shows that all the Royal Scots had been rebuilt by March 1955, the last one being 46137. No 46165 was withdrawn on 21st November 1964 and cut up at Wards, Beighton on 31st March 1965.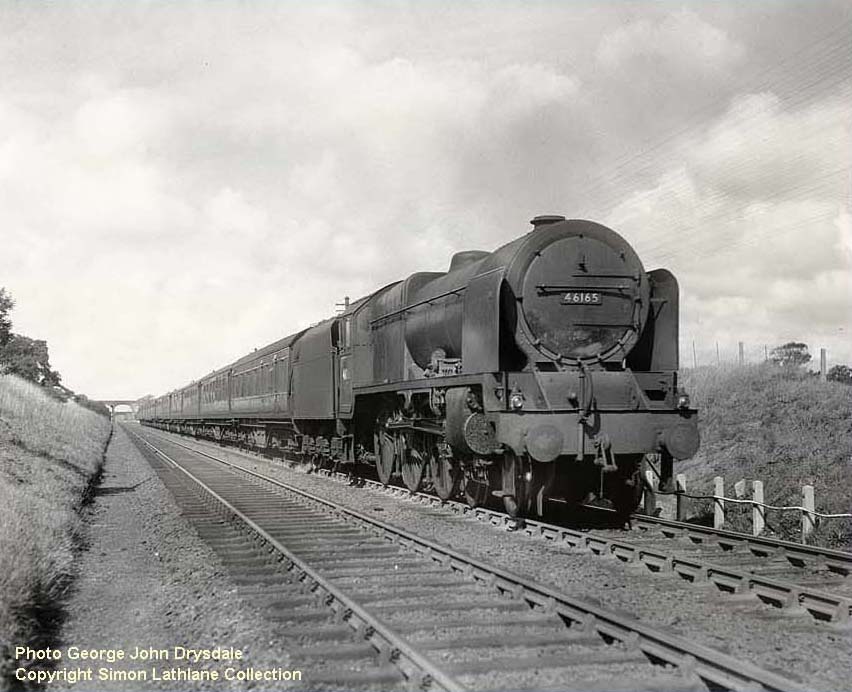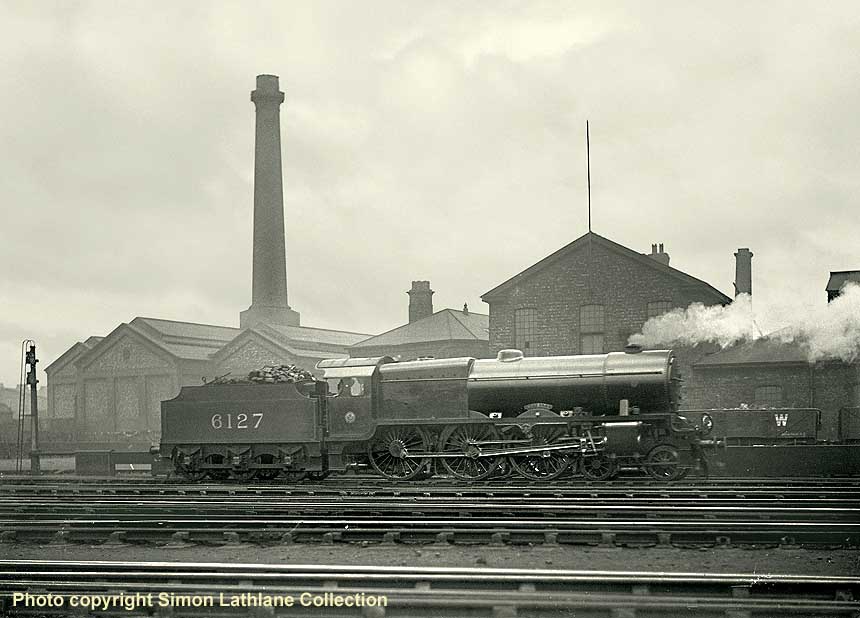 (Above-Below) Another update to Rail Cameraman, Simon Lathlane's page; one of the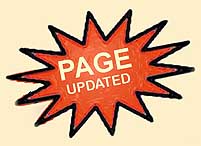 few enthusiasts I know who has the knack of finding jewels of photos where nobody thinks to look; his collection of old glass plate negatives are especially interesting as they reveal a standard of railway photography from fifty-odd years ago that few of us can hope to rival - and let's be honest about this, considering what's on offer in today's high-tech digital age that's saying something!
Well, the Maestro has done it again! But I'll let Simon take up the story...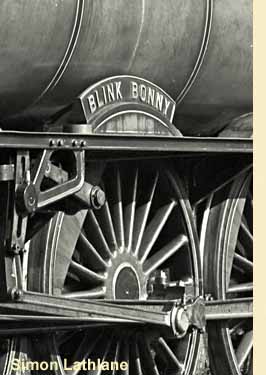 'Hi David, I thought you might like to see two recent purchases of glass plate negatives. The first one (above) shows LMS Royal Scot No 6127 reversing into Crewe station with the corner of Crewe North shed on the extreme right. No date for the photo but it must be around 1929 due to the early LMS livery of cabside crest and tender numbers. Built at NBL Glasgow in 1927 then named 'Novelty' but later changed to 'Old Contemptibles'. She was rebuilt in August 1944 and remained in service until withdrawal from Carlisle Upperby 12A in December 1962 - one of the early casualties. The loco was cut up at Crewe 1st May 1963.The second glass plate (below) is a pure beauty showing LNER A3 Class 4-6-2 No 2550 Blink Bonny at King's Cross. Built at Doncaster Works in 1924 this plate cannot be long after that date. In the background you can see LNER A1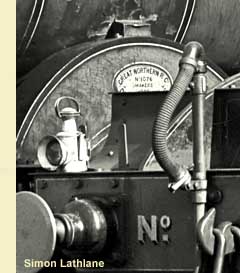 Class No 2559 The Tetrarch and behind No 2550 is a GNR Atlantic C1 Class No 1400 built in 1905. The works number (see inset right) gave me the information of the loco. She was withdrawn in December 1947...one of the class (No 251) has survived in preservation. These fine looking locomotives were replaced by the A1 Class which took over the express trains out of King's Cross. No 2550 Blink Bonny became No 51 in 1946 and later BR No 60051. She was withdrawn in November 1964 from Gateshead 52A and cut up in early 1965 by Hughes Bolckow of Blyth. By all means please display the photos on your site. Best wishes, Simon...'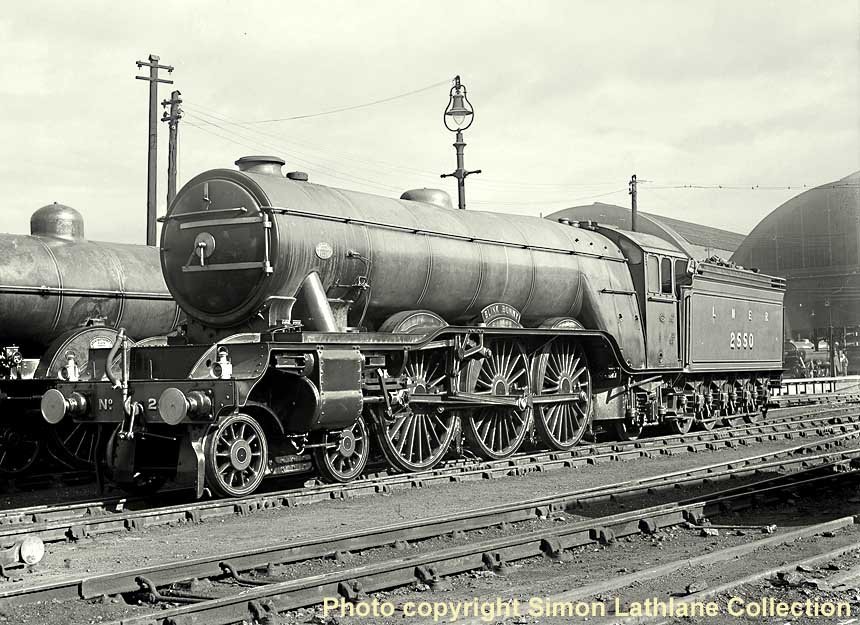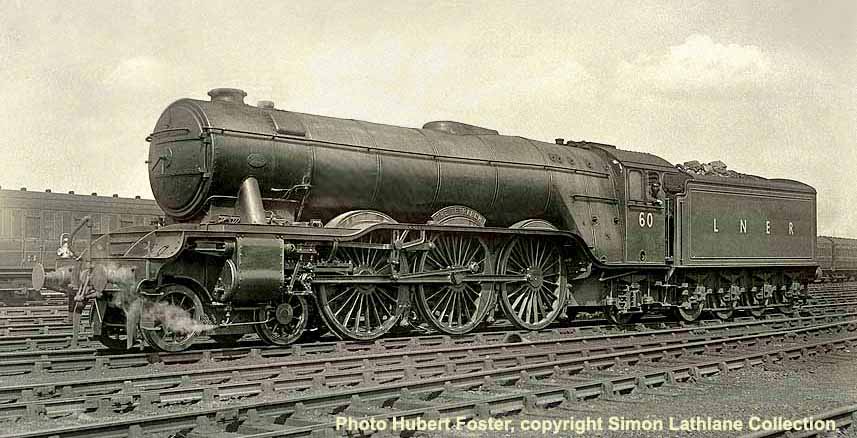 (Above-Inset-Below)
Getting back to the theme of smoke deflectors…we move across country to the LNER where the fitting of smoke-lifting devices were not a priority with the single-chimney Pacifics. As mentioned earlier, the Class A1 Pacific was designed by Sir Nigel Gresley, CME for the Great Northern Railway, later to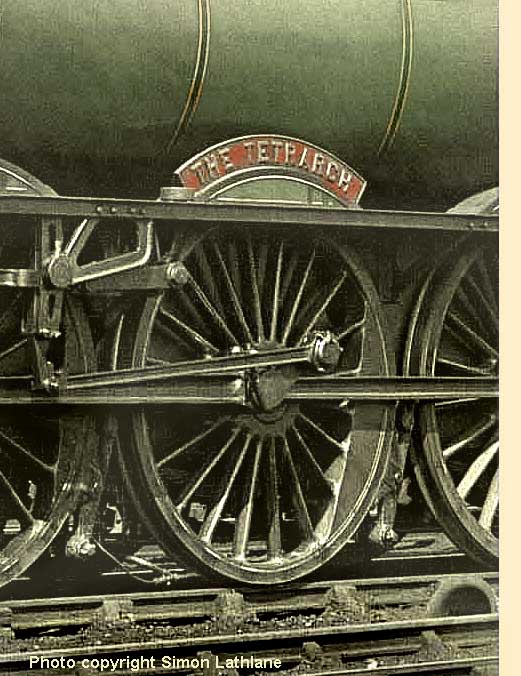 become CME of the LNER. The A1 class was Introduced in 1922 and comprised of 52 members, all built at Doncaster Works. The first, Great Northern, was appropriately named after its parent company while other members took names of high-ranking company officials and famous racehorses. The entire class was modified to A3 specifications between 1927 and 1947. The change in class designation to A3 came about following Gresley's modifications of his earlier A1s during the late 1920s, which led to the fitting of a higher pressure boiler with a greater superheating surface and a small reduction in cylinder diameter. Eventually all the A1 locomotives were rebuilt to A3 specifications, with the exception of No 4470 Great Northern, which was rebuilt by Thompson in 1945 as Class A1/1 BR No 60113. (Above) This shot at York in 1949 shows the gracefulk lines of No 60 The Tetrach (winner of the 1913 Doncaster Champagne Stakes); the loco entered traffic as Class A1 No 2559 in April 1929 and was rebuilt to A3 specifications in January 1942. (Below Right) No 60061 Pretty Polly (named after the Oaks, St Leger and 1,000 Guineas winner) was built at Doncaster as Class A1 No 2560 in April 1925 and rebuilt in May 1944. The loco is fitted with the Kylchap double blastpipe arrangement which produced a softer exhaust and required the fitting of small wing deflectors on either side of the chimney. Both A3s were withdrawn in September 1963. (Below) Gresley Pacific No 2751 Humorist was fitted with the
Kylchap double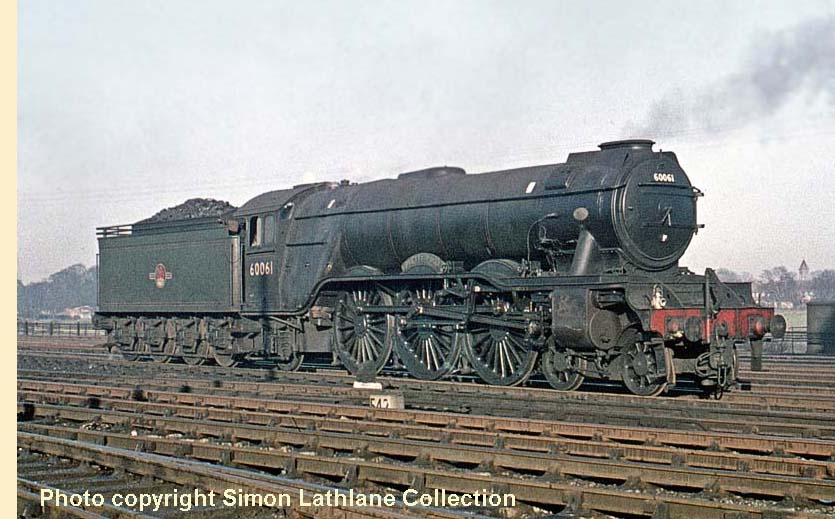 blastpipe arrangement in 1937; various experiments were carried out in an attempt to lift the air flow above the boiler and avoid trailing smoke obscuring the driver's vision. This included small wing deflectors but these were eventually replaced in 1947 with the larger deflectors as used on the new Peppercorn A2s; this shot shows Humorist heading through Hadley Wood in 1947. By this time the loco is numbered 97, and a year later it became BR No 60097. The Kylchap blastpipe-chimneys were eventually fitted between 1958 and 1959 to all remaining A3s which were equipped with the German trough-style smoke deflectors. Meanwhile No 60097 Humorist retained its large smoke deflectors throughout its career. With the influx of new diesels gathering pace on the East Coast Main Line, the first A3 was withdrawn in 1959 and the last to go was No 60052 Prince Palatine in January 1966
.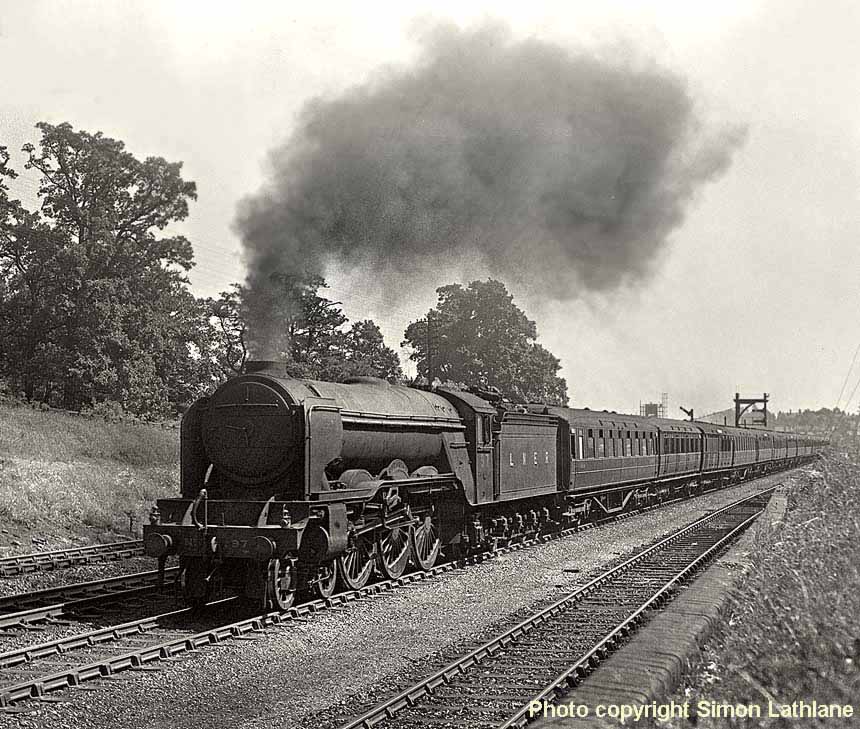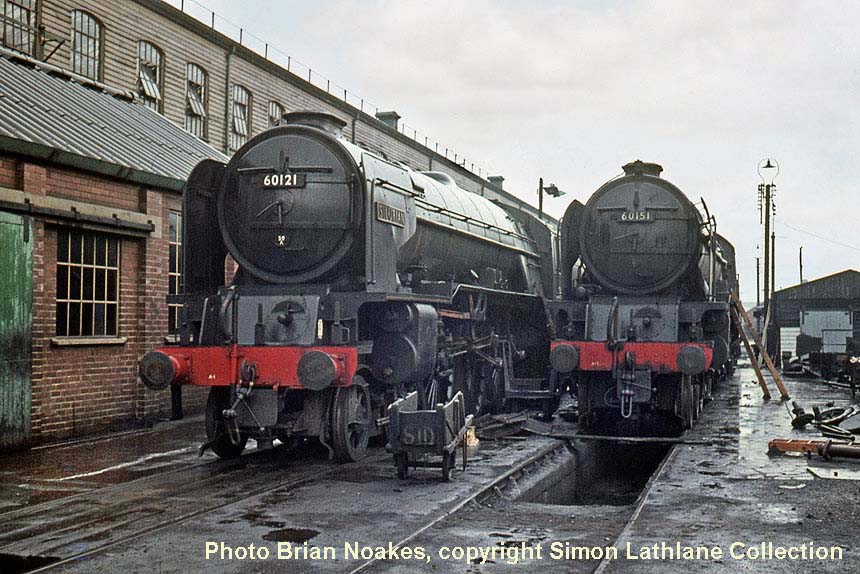 (

Above-B
elow Left
) Peppercorn Class A1 No 60121 Silurian, built at Doncaster in December 1948, receives attention at the Plant alongside its Class A1 brother No 60151 Midlothian, built at Darlington in June 1949. Both were withdrawn from traffic in 1965. (Left) The Gresley V2 was a versatile and powerful loco designed primarily for express goods work, but the class proved very adaptable and often used to substitute the more powerful Pacific classes on express passenger work. Perhaps the 2-6-2s are better known for their remarkable feats of haulage during World War II when trains of over 20 carriages loaded to 700 long tons proved within their abilities. The V2s were used on the East Coast Main Line, the Waverley Route between Carlisle and Edinburgh and on the ex-Great Central main line between London Marylebone and Sheffield.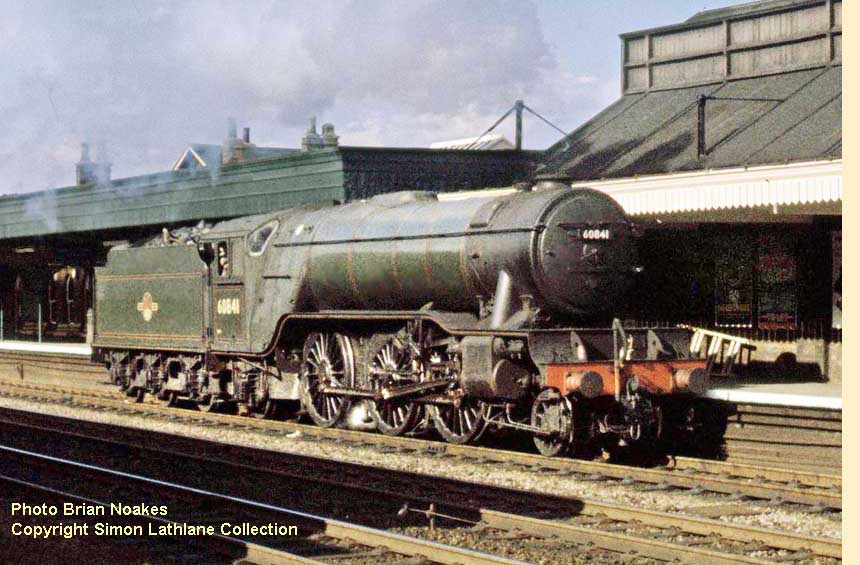 Withdrawals started in February 1962, and by 1966 184 V2s were withdrawn from stock, the last being No 60831 on 6th December 1966. Today only one survives: the pioneer V2, No. 60800 (LNER No 4771) Green Arrow, now preserved as a part of the National Collection. No 60841 works light engine through Hitchen on the ECML
.
(Insets-Below) Built at Doncaster Works in 1935, the Gresley Class A4 was the ultimate development of the LNER's Pacific technology. The first, No 2509 Silver Link, was completed within just six months: the boiler was ordered on 11th March and major steel castings 22nd March; cylinder patterns were completed by mid-May; main frames laid on 26th June and the locomotive steamed on 7th September 1935. Externally, of course, the loco differed greatly from anything that had ever gone before - the spectacular wedge-shaped front end!

Needless to say, much has been written about the way Sir Nigel Gresley gained valuable experience from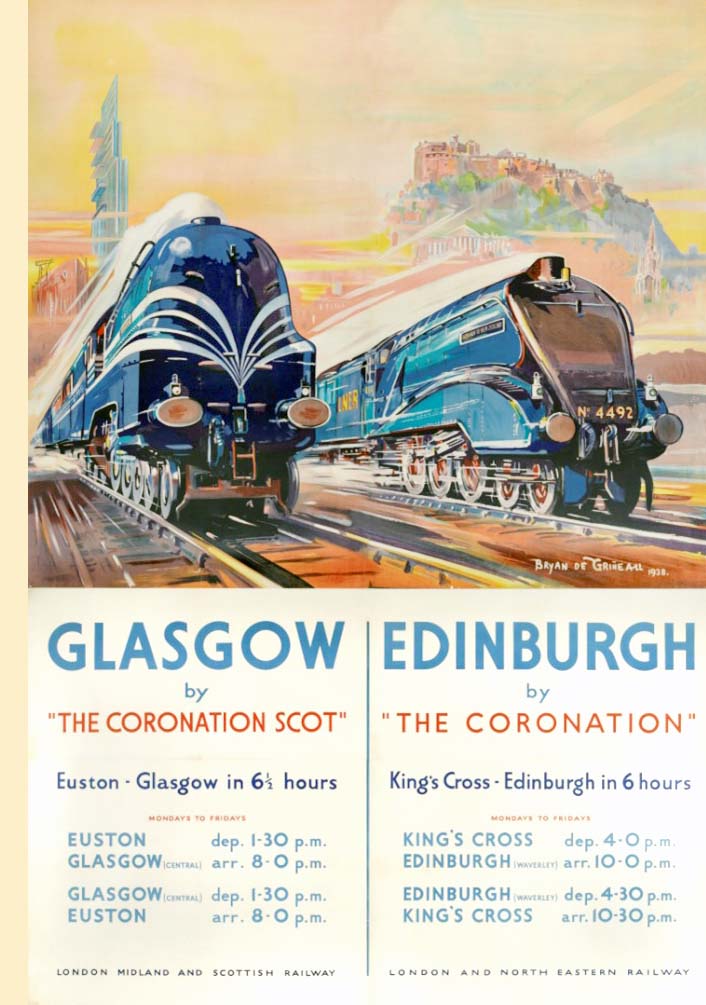 seeing the early Bugatti-style french railcars operating between Deauville and Paris; he was greatly impressed by the aero-dynamic efficiency of their chisel-shaped front ends as they passed through the atmosphere with the minimum of disturbance; instead of hitting the approaching train with an alarming 'bump' of air pressure, the displaced air was deflected upwards.

Now it should be remembered that we are talking here about 1935 and travelling faster than ever before on a steam train! This is more than seventy five years ago, and the LNER was about to introduce everyday train travel at groundbreaking speeds for miles at a stretch!

The high speed London-Newcastle 'Silver Jubilee' train was made up of seven coaches comprised of a twin-articulated brake third, triple-articulated restaurant set, and a twin-articulated first class, all with valences between the bogies and flexible covers over the coach ends to maximise the streamlining effect. During a press run to publicise the service, Silver Link twice achieved a speed of 112.5 mph, breaking the British speed record and sustained an average of 100 mph over a distance of 43 miles.

Four Class A4 locomotives were built for this service, all with the word 'silver' as part of their names, the first being 2509 Silver Link the others 2510 Quicksilver, 2511 Silver King and 2512 Silver Fox. The Silver Jubilee service was such a commercial success that the LNER Board gave Gresley the go-ahead to create a further two streamlined trains: the London-Edinburgh 'Coronation' in July 1937, for which five A4s with 'Empire' names
were specially built in Garter Blue livery to match the two-tone blue livery of the coaching stock train; the Leeds and Bradford-London 'West Riding Limited' service which followed in November 1937.

Meanwhile nine members of the class were named after wild birds and received the LNER's Apple Green livery for other ECML express passenger services; this included No 4486 Merlin, built at Doncaster in March 1937, Works No 1851, and named after a small species of falcon. Six A4s carried crests on both sides of their boiler casings, including 60027 seen here (below) at Newcastle Central in August 1963, though the crest has gone by the time Brian Noakes took this second shot (inset) of 60027 at its last shed St Margarets (64A) on 27th March 1965. The loco was withdrawn from 64A on 3rd September 1965 and cut up at Campbells, Shieldhall in December 1965…St Margarets shed closed on 1st May 1967
.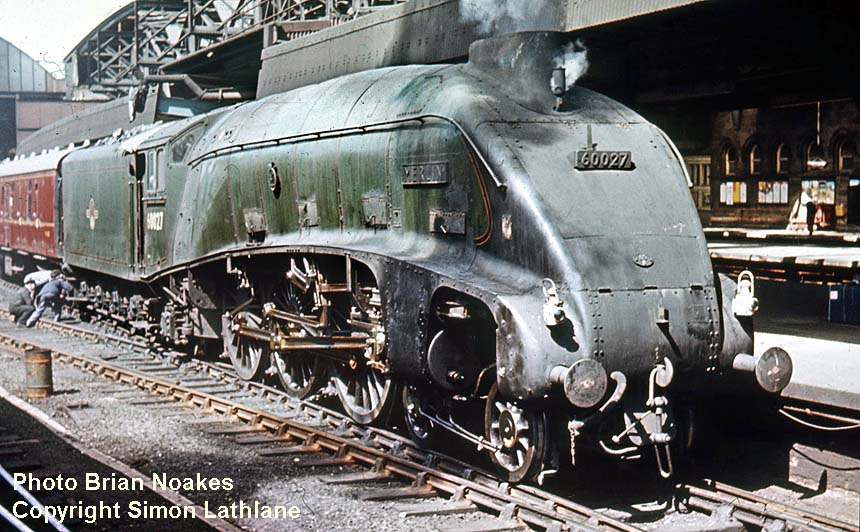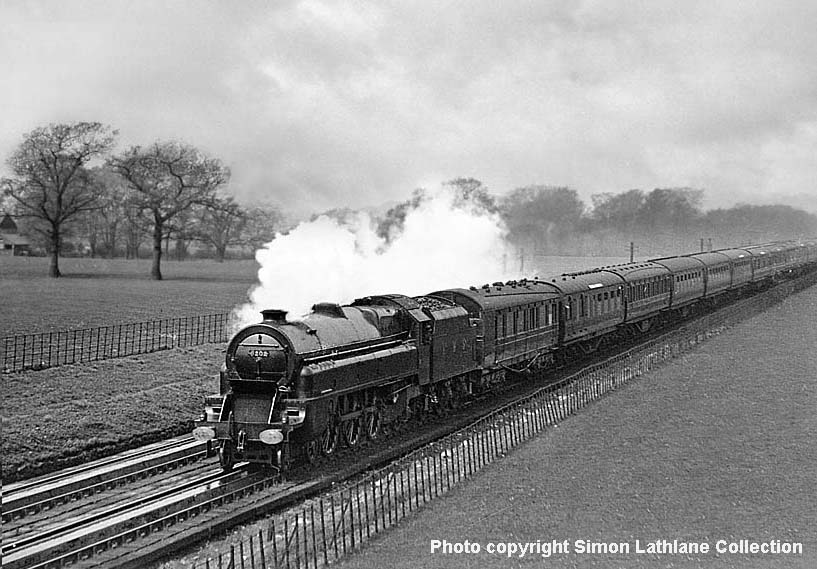 (Above) Back on the LMS, following the appointment of Sir William Stanier as CM, he set about the design of a new express locomotive that could work the Anglo-Scottish expresses throughout between London and Glasgow. The first two 'Princess Royal' class Pacifics Nos 6200-1 were built at Crewe Works in 1933. However, subsequent to 1935 - following development work on the first two Pacifics - various modifications were made to the remaining ten Nos 6203-12. But the one notable deviation in the class was No 6202, dubbed 'Turbomotive', which was built in 1935 using the set of frames originally intended for a third conventional Pacific; instead the loco was built as an experimental non-condensing turbine-powered machine. This shot of 6202 at Brock shows the main forward-drive turbine running the full length of the left-hand side from the cab to the smokebox; the much shorter reverse turbine was mounted on the right-hand side. In 1952, despite proving to be an excellent performer on the heavy London-Liverpool expresses, this interesting experiment was abandoned and the loco emerged from Crewe Works during the summer rebuilt as a conventional four-cylinder Pacific, albeit a somewhat ungainly-looking hybrid of a 'Duchess' and 'Lizzie'. The end came for 46202 a short while after when the loco was involved in the tragic collision at Harrow & Wealdstone in October the same year.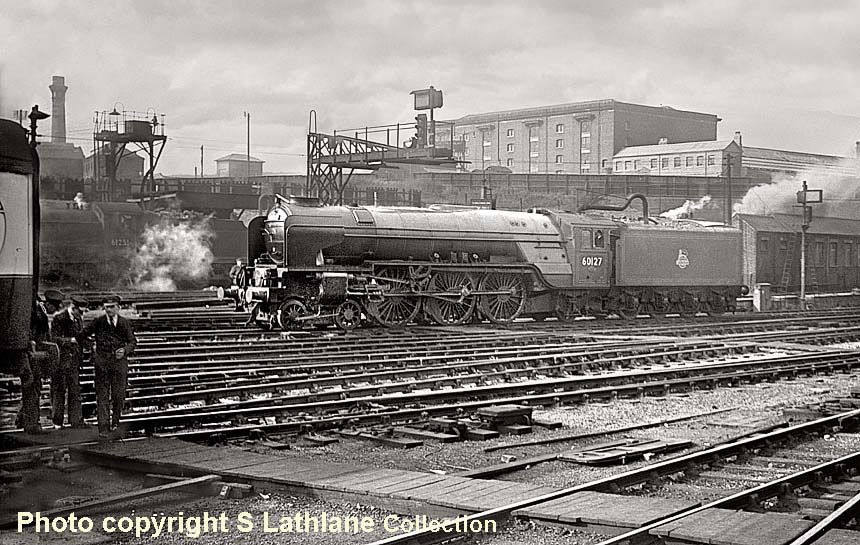 Above-Below) Simon Lathlane is one of the few enthusiasts I know who possesses the priceless knack of finding jewels of photos where nobody thinks to look; his growing collection of old glass plate negatives reveal a standard of railway photography which many of us couldn't hope to rival - and let's be honest about this, that's quite an achievement in today's high-tech digital age.

Simon writes - 'I've recently purchased some more glass plate negatives but without any information and sadly no name of the photographer(s). The locations are easy to identify although the dates are not, but my guess is late 1940s or early 1950s. I'm sure your more knowledgeable visitors will be able to narrow down a date for them. The negative (above) shows a brand new Peppercorn A1 Class No 60127, the first of the class to appear in the new BR express passenger blue livery with black and white lining plus the early lion and wheel emblem on the tender…

the loco
entered traffic in May 13th 1949 and was named Wilson Wordsell (after the North Eastern Railway's CME 1890-1910) in September 1950; 60127 wasn't

repainting in BR green until March 1952,
so this shot clearly predates all that. It was taken from the platform at King Cross near to the signalbox. Also in the shot is LNER B1 Class No 61251 'Oliver Bury'.

(Below) Here we have an unidentified Coronation Class Pacific - the last number appears to be a '4' but the rest are unclear. However the photo shows the
bevelled
smokebox, a legacy of its streamlined days and it carries the 'Royal Scot' headboard…the station is Kings Langley, and judging by the direction of the light, the photographer has captured the northbound express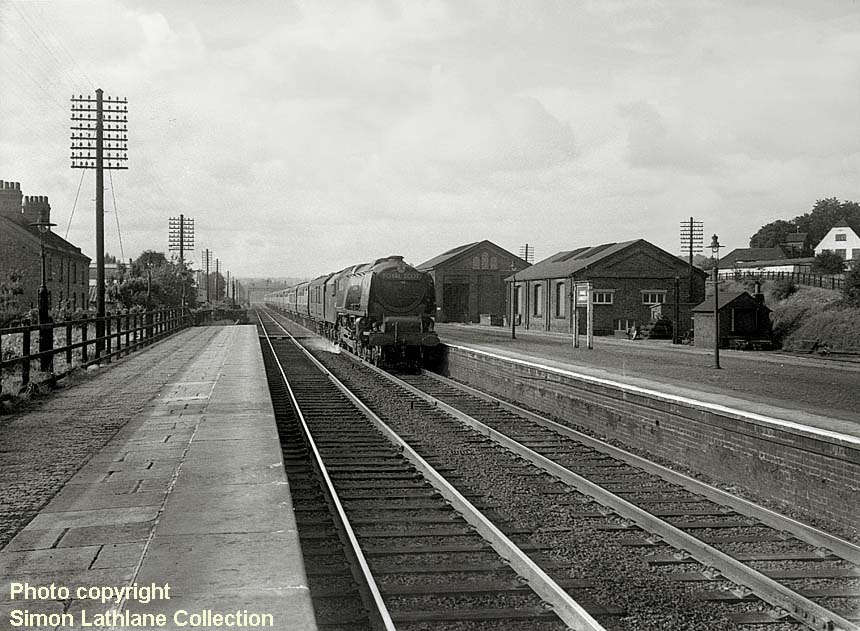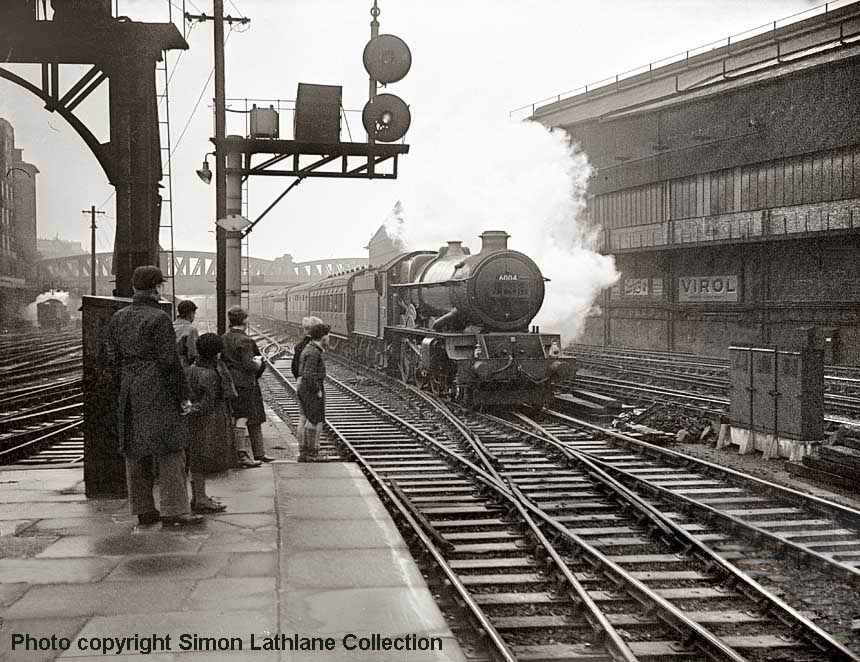 (Above-Below) We then move onto a delightful image of a GWR King Class No 6004 'King George lll' entering Paddington station with a group of platform-enders in knee-length shorts, coats and caps. You might be able to identify the leading coach behind the King...it could be on a Birkenhead-Paddington service. (Below) This shot of GWR 4700 class No 4706 was taken along the sea wall at Teignmouth in 1937. What a beautiful photo...and just look the fine stock of clerestory coaches in tow. Designed by GJ Churchward and introduced 1919-1923 for fast goods work, although sometimes they did haul summer holiday passenger trains. This example was built in March 1923 and remained in service until withdrawn in February 1964. Sadly no member of the class was saved for preservation although the Great Western Society are in the early stages of building a new member of the class No 4709.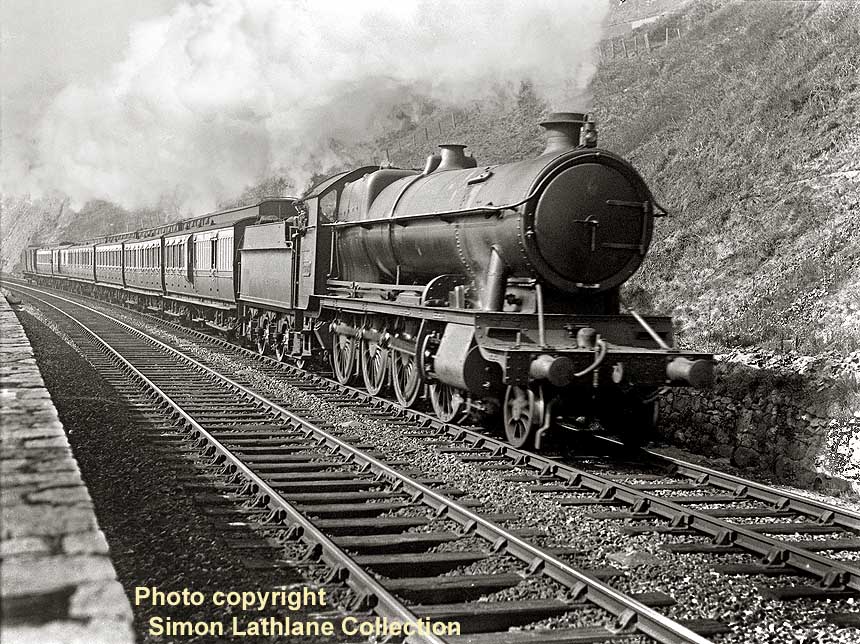 (Below) Lastly we have a nice shot of Euston station following the arrival of a parallel-boilered LMS Royal Scot Class No 46110 Grenadier Guardsman (sporting a 3A shedplate on the smokebox door); note the fireman trimming the coal forward atop the Stanier tender with LMS on the side. Love the taxis on the platform left hand side...
.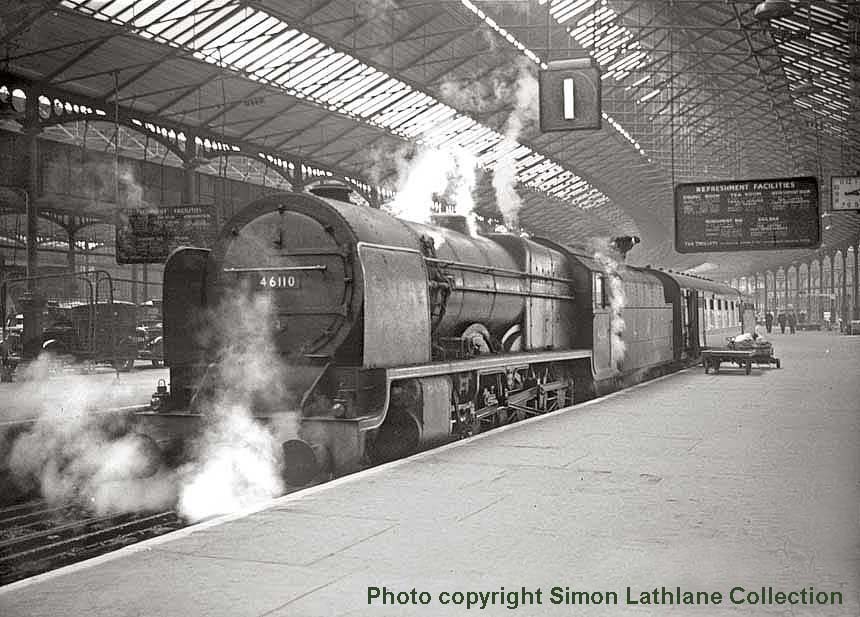 (Below) I am always greatly encouraged by the generousity of contributors like Simon, without whom this site would not be possible. Simon contacted me again recently with another batch of classic railway photos he has acquired.

He writes - 'Hi David, thought you might be interested in seeing three more glass slides I have found. The first shows a very new LNER A1 Class No 2547 'Doncaster' at Kings Cross dated 1925. You will see that the letters of the LNER are very small and the loco number is also on the tender. This was changed in 1928 when the loco number was repositioned on the cabside enabling the LNER lettering to be increased in size on the tender. The A1 would have been in the Apple Green livery. She was re-built in 1946 to an A3. She was named 'Doncaster' after the 1873 Epsom Derby winner. The engine was withdrawn from service at Grantham (34F) in September 1963 and stored at Doncaster before scrapping in October 1963...'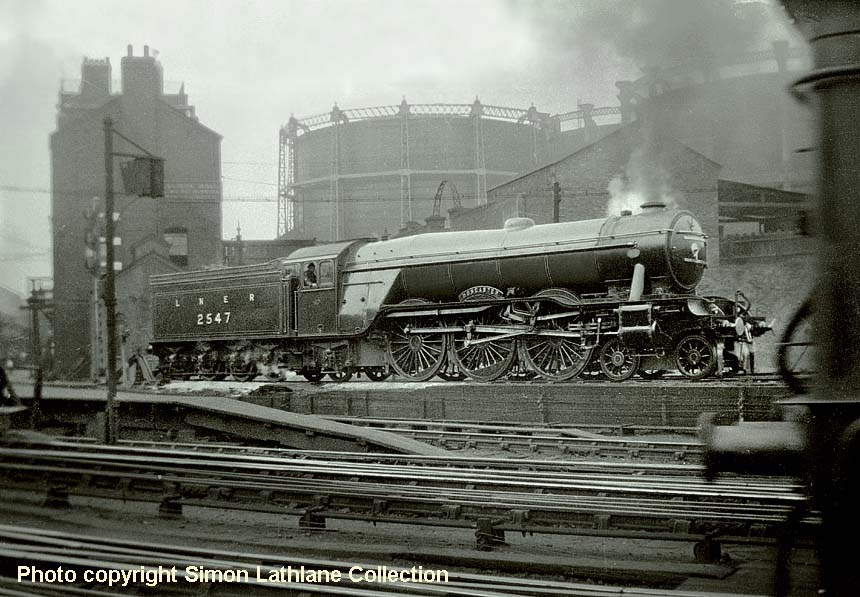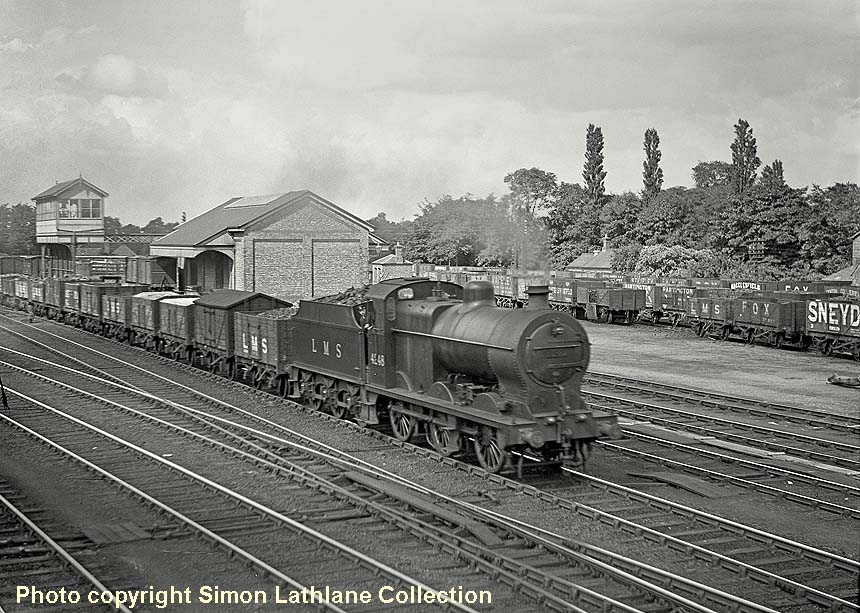 (Above-Below) Simon continues - 'Next we have an LMS 4F 0-6-0 No 4248 built at Derby in May 1926. Not sure about the location but judging by the amount of colliery wagons from the Staffordshire pits then it must be in that area. I'm sure someone out there must know the location from the signalbox. No 4248 was withdrawn from Kirkby in Ashfield (16E) in September 1964 and scrapped by G Cohen of Ickles near Rotherham. The last glass slide (below) shows Nottingham Midland Station yard during the flood of May 1932, the worst in the city for forty years. I hope these recent finds might be of interest to your visitors...'
Simon is a master of understatement! The good news is he promises be in touch again should any more turn up...Watch this space! Thanks Simon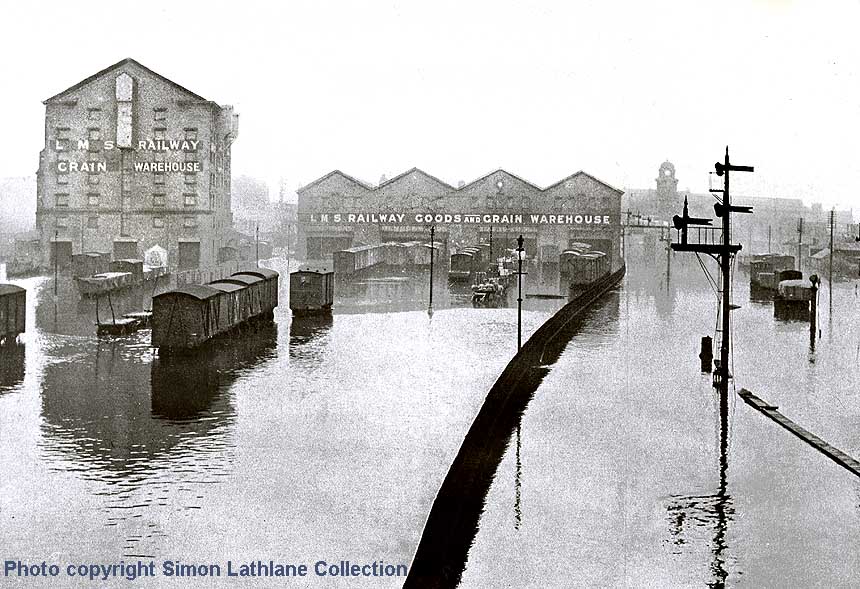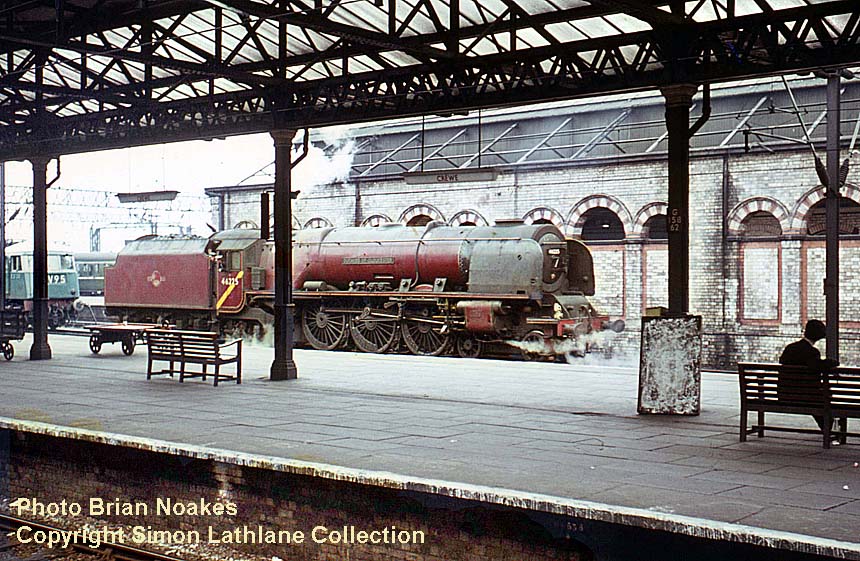 (Above)
Returning to steam days in colour, photographer Brian Noakes was a staunch railway enthusiast who travelled the length and breadth of the British Isles. This is a lovely shot of No 46225 Duchess of Gloucester at Crewe in the final few months before withdrawal. The smokebox gives a working number of 1S03, and judging by the coal in the tender she is getting ready to work an express to Glasgow. A trolley waits on the platform for the next arrival of mail and parcels. A splendid scene caught in August 1964. No 46225 was withdrawn from service 30 September 1964 and cut up one month later by Arnott Young of Troon.

(Below) Once an important railway junction, the former MR station at Hellifield provided connections from Lancashire and the old West Riding to Scotland. Local passenger services were withdrawn from the ex-LYR Blackburn line on 10th September 1962 and the steam shed (the coaling stage is just visible on the right) closed a year later. Thereafter local trains to Carlisle were withdrawn in May 1970 and the station was downgraded to an unstaffed halt served only by stopping trains between Leeds and Morecambe. By the late 1980s, the deteriorating structure was a bad state and BR was seeking to demolish part of the wrought iron canopy (all of it adorned with historical MR insignia and ornate iron supports) to reduce maintenance costs, but the station was listed as a building of architectural and historical interest, and following a £500,000 cash injection from British Rail in conjunction with English Heritage and the Railway Heritage Trust the building was refurbished. In this evocative shot, a couple of young spotters are talking with the crew of BR Standard Class 4, No 76080; probably in the hope of 'cabbing it'? The smokebox door displays a shed plate of 24D which was Lower Darwen until the code changed to 10H in 1963. No 76080 was withdrawn in December 1967 and taken to Barry scrapyard. She was the only engine cut up in 1972 although the 16 spoke driving wheels still exist having been stored at Eardington Halt on the Severn Valley Railway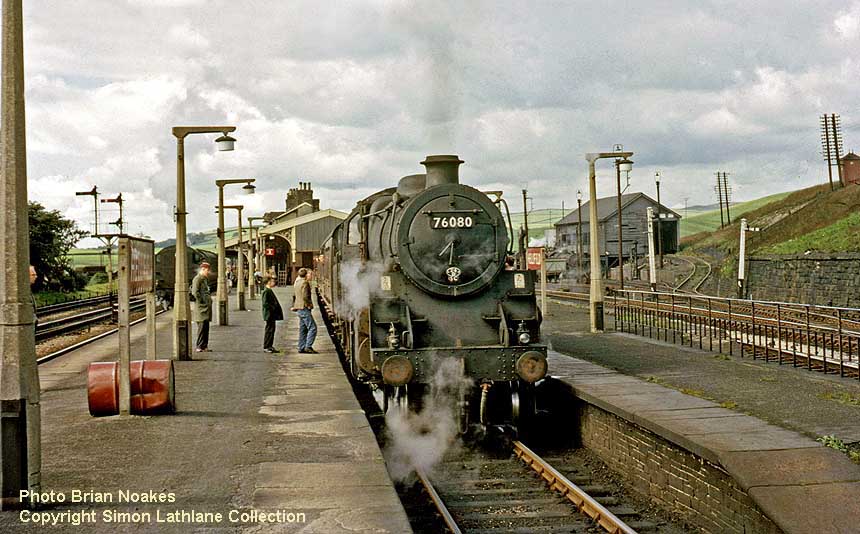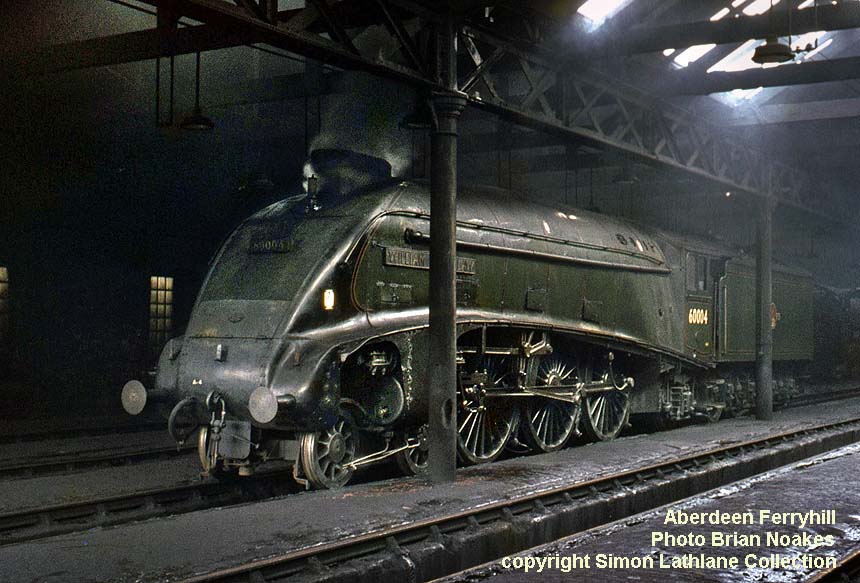 (Above-Below) Two classic Gresley loco classes - A4 and V2 - on shed at Aberdeen Ferryhill (61B). The shed closed on 26th December 1987 after 134 years of operation, 114 of them steam. The buildings were not demolished until 1995 and the site was redeveloped for housing, however the 1860's shed has remained council owned. The turntable was last used by LNER B1 Class No 61264 in 2000 whilst working a special train from Inverness.

In 2007, the Ferryhill Railway Heritage Trust was set-up to take over the remaining building of the former Ferryhill locomotive depot and transform the site into a working railway heritage site for the North East of Scotland. The Ferryhill Railway Heritage Trust has the active support of both the Aberdeen City Council and the Ferryhill Community Council

. Aberdeen Ferryhill (61B) may once again house Gresley locomotives, though not quite in the way Brian Noakes has captured them here.

FOOTNOTE Bill Jamieson has made contact regarding the two Bill Noakes photos purportedly taken at Ferryhill shed 61B.
He writes - 'This location can't be correct, as the roof at 61B had transverse pitches. I have no doubt that the one of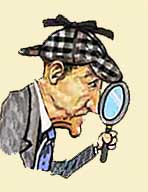 V2 60955 is actually at St Margarets 64A. There are various shots in Roger Siviters 'Waverley' album and Harry Knox's 2014 history of St. Margarets 64A which show the roof structure to be identical, plus there are a few shots of the interior of St. Margarets shed on the excellent Rail Scot site HERE.
Bill adds - 'Apart from the roof, the presence of the two Standard 2-6-4Ts on either side of 60955 made me suspect that it wasn't Ferryhill; certainly these locos were synonymous with Aberdeen at one time, but working from Kittybrewster shed until they all moved away in 1961. Admittedly two of them only went as far as Ferryhill in the summer of 1961 when 60955 was still allocated there, but only spent a few weeks at 61B before heading further south. I believe that Dundee (and Perth?) examples might have reached Aberdeen after that, but it is very unlikely that two of them would have been on Ferryhill shed at the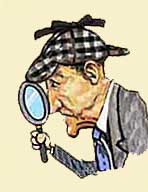 same time.
By way of contrast, St. Margarets had a large allocation of 2-6-4Ts from 1962, so there would have been a two year overlap with the time 60955 was based at Ferryhill, before moving to 64A. This allocation included 80054, the subject of the Hornby Dublo 3-rail model and the staple power on my own model railway, so I was pleased to see it working into Edinburgh Waverley on empty stock from Craigentinny!'
My thanks to Bill for pointing out the error. This is just what this site is all about, and I am more than happy to have a caption corrected on a location that I am not 100% sure. Yes the V2 does have 'St Margarets' in stencilled letters on the buffer beam but with the A4 I was going on information that had been given to me. Once again, many thanks…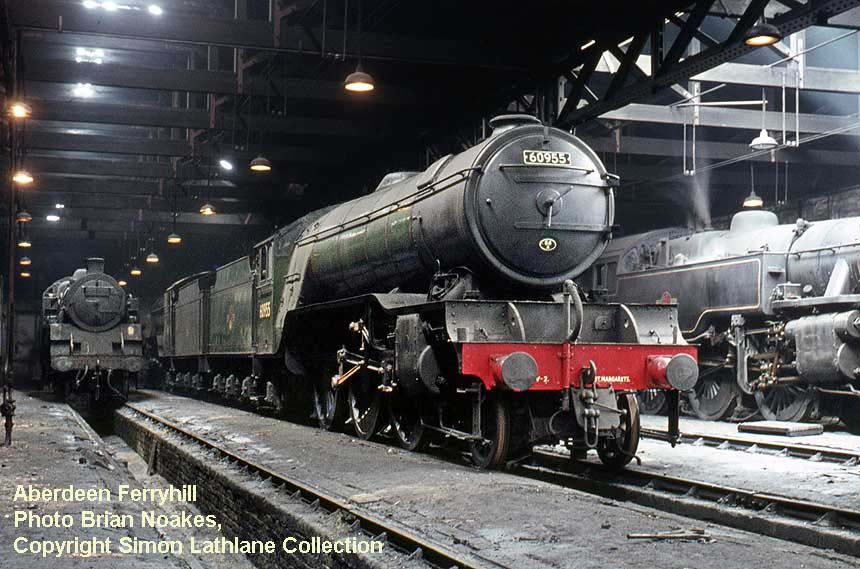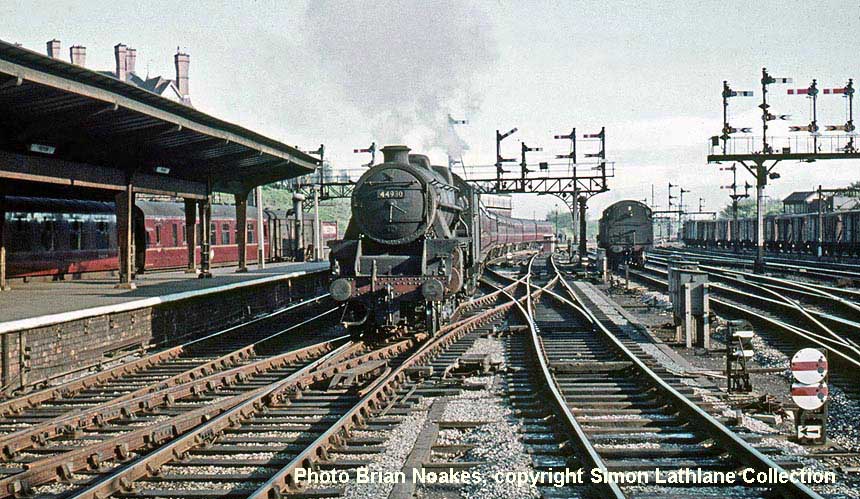 (Above-Below) Much of interest for modellers in this shot of Stanier 'Black 5' No 44930 arriving at Preston station with a northbound express having just passed the station pilot. Also in shot are two of the large signal gantries for which Preston was well known. No 44930 was built in 1946 at Crewe Works and remained in service until withdrawn from Warrington Dallam shed (8B) on 31th May 1967. The engine was stored until cut up on 30th April 1968 at Cohens of Kettering. (Below) A great shot of light and shade inside the roundhouse at Leeds Holbeck shed.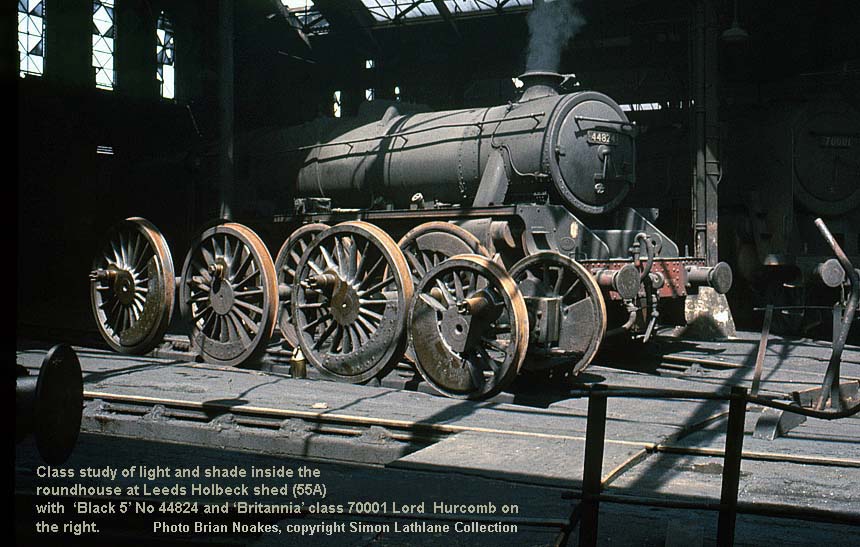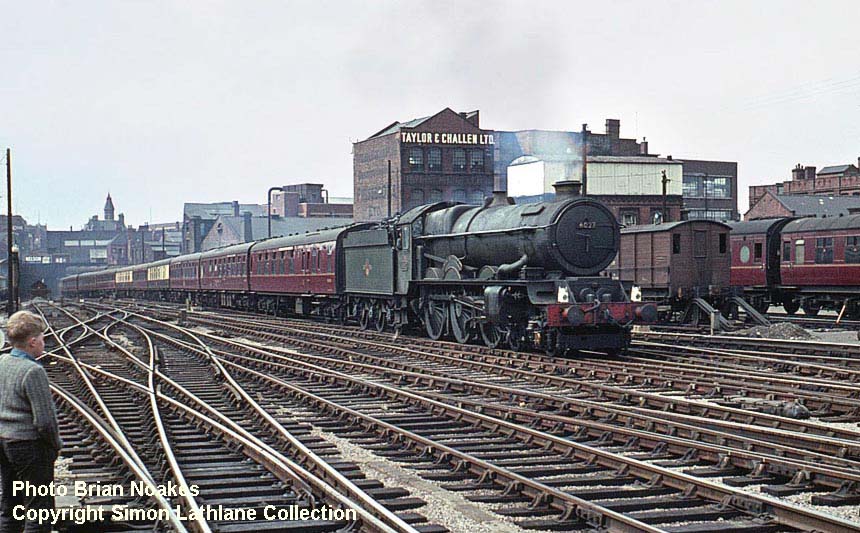 (Above-Below) The highlight for any spotter at Birmingham Snow Hill was the arrival of a 'King' class. In this shot a young spotter watches the No 6027 'King Richard 1' with an 'up' express composed of Mk 1 coaching stock in both maroon and 'chocolate and cream' livery. No 6027 was withdrawn from service on 30th September 1962 and stored at Banbury until cut up on 30th July 1963 by Cox & Danks of Oldbury. Three of the Class have survived into preservation but sadly none are main line active at the present time.

FOOTNOTE: I have received an email from Richard Postill who writes to say that the Taylor & Challen Ltd's building in the background was not a piano factory (as I originally stated) but a manufacturer of steel pressings.

Snow Hill was the Great Western Railways' principal station in Birmingham but decline set in from 1967 following electrification of the former LNWR route from Euston to Birmingham New Street. In 1972 Snow Hill station was closed and lay dormant for many years being used as a car park. Despite much public outcry the station was partly demolished five years later. The Great Western Hotel was demolished in 1969. Some of the original items were saved to be used in the new Moor Street restoration which included the gates and booking hall sign. In 1987 a newly-built station was opened for services to the south but this is nothing like the old Snow Hill station seen here. However, Birmingham Snow Hill is long before my time, and so I asked one of my Flickr contacts Richard Postill - Ricsrailpics (click here for link) - if he could share any memories with us of life at Snow Hill station.
Richard very kindly wrote back...

'Hi Simon, I don't know whether my experience of Snow Hill is typical, but here goes…
I arrived in Birmingham in 1960 aged 23 after University. It was the following year that my interest in railways was re-kindled and in early 1962 I bought my first 35mm camera. For someone from the North Eastern Region, the WR seemed quite exotic with all the green paint and brass fittings! So I did spend some time on Snow Hill station. I do not recall that it was crowded with spotters, but it was such a large and open station that there was plenty of room. The platforms were wide and the view onto the main lines unimpeded.

In those days there were 4 tracks through the central part with two outer tracks dealing with local services. The through lines carried a lot of freight (even on Saturdays) and there was constant trip working between Tyseley and the Handsworth area. Trains coming from the south entered the station directly from the Moor Street tunnel on a fairly stiff gradient which made for a great noise and much exhaust.

Similarly it was uphill from the north and the alignment of the station was more conducive to photographing south-bound traffic. Stations were much noisier places in steam days with locos blowing off and chuffing around and even when stationary, making all sorts of hissing sounds. This gave a great atmosphere
and g
enerally speaking, engine crews were welcoming if one wished to 'cab' the loco. Station staff doubtless kept a discreet eye on the younger spotters, but I don't remember any rowdy behaviour, although there was plenty of excitement if a rare visitor appeared.

I suppose that even in the early 1960s there was still an inherent respect for 'authority'. I think we had to buy a platform ticket (1d) and officially they were time limited, but no-one seemed to worry too much. A day spent on the station resulted in a certain grubbines
-
steam trains were never the cleanest of environments! The sheer variety of motive power maintained interest, although I am sure that the old-timers of those days bemoaned the loss of the older locos.

Those were good days and I count myself fortunate to have got in at the end of that era and bewail all the missed opportunities for photography. Later a friend and I had lineside passes for a considerable area of Birmingham and I spent a lot of time at Queen's Head signal box just south of Handsworth on the GW main line to Wolverhampton. This was quite near the school where I was teaching and so I would go down in the late afternoon for an hour or so.

I hope some of this rambling may be of use to you Simon. One final connection. After I became a Vicar, my last Parish was Acocks Green and in my first month there I conducted the funeral of Elsie Swancutt whose late husband had been Station Master at Snow Hill when I was taking my pictures...
Best wishes, Richard Postill...'


My thanks to Richard Posthill, a brilliant railway photographer who retired after 34 years as a Vicar and before that spent six years teaching Biology and Chemistry in a Grammar School...
.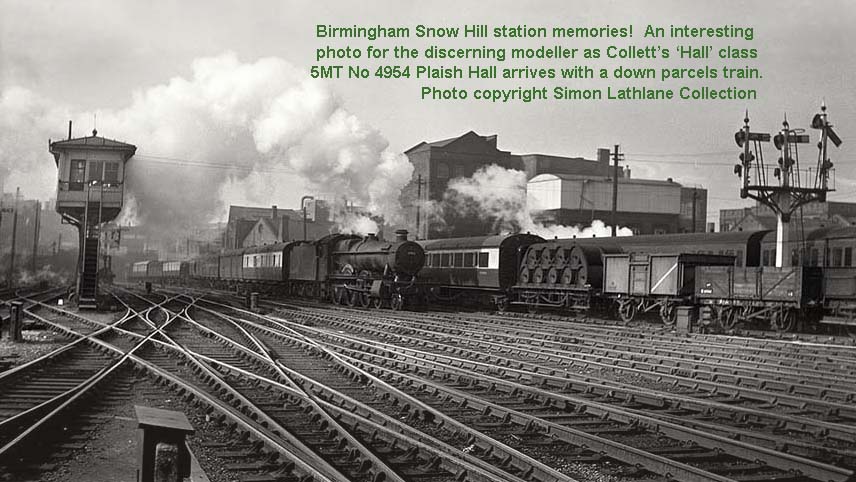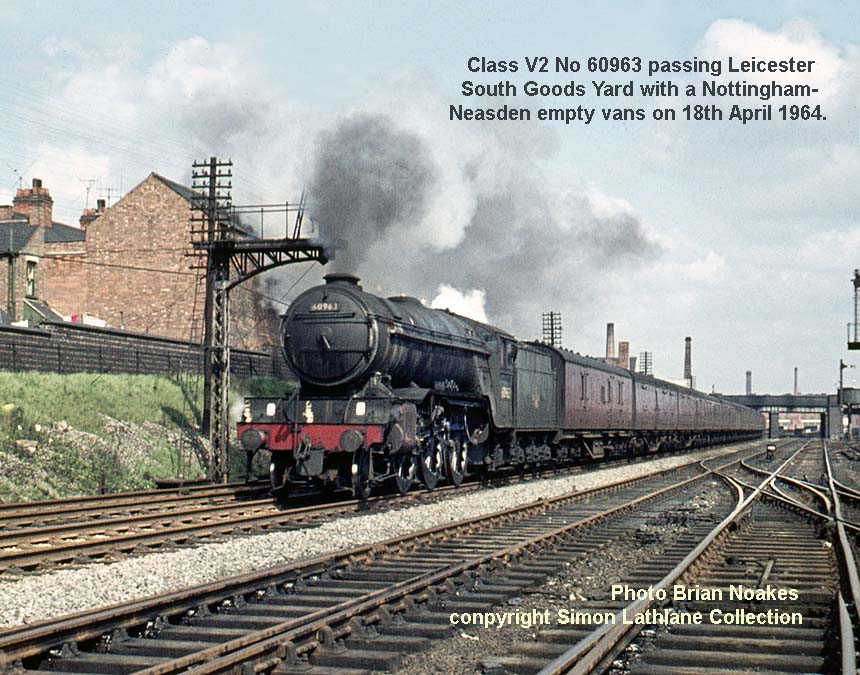 (Above) Very much on home ground on GCR metals is Class V2 No 60923 at Leicester.
(Below) King class 6017 King Edward 1V at Paddington with an express for the Midlands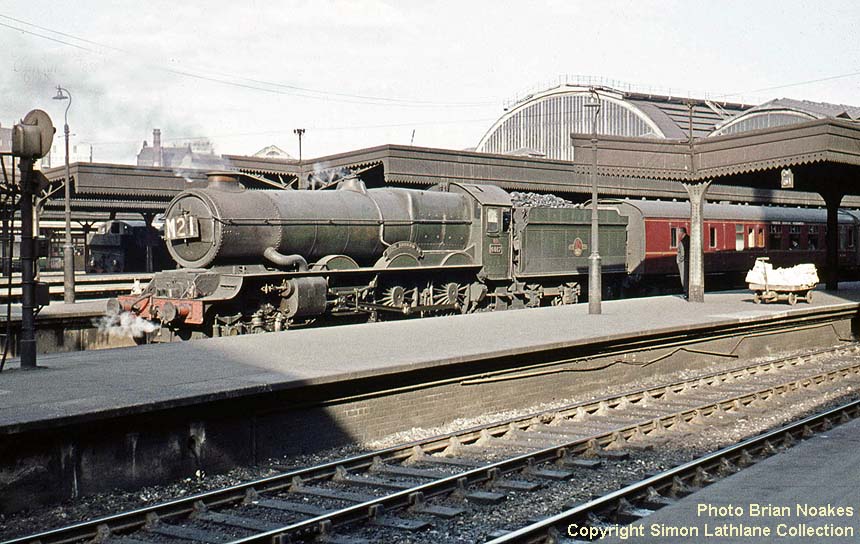 REMEMBERING THE GWR DEAN SINGLES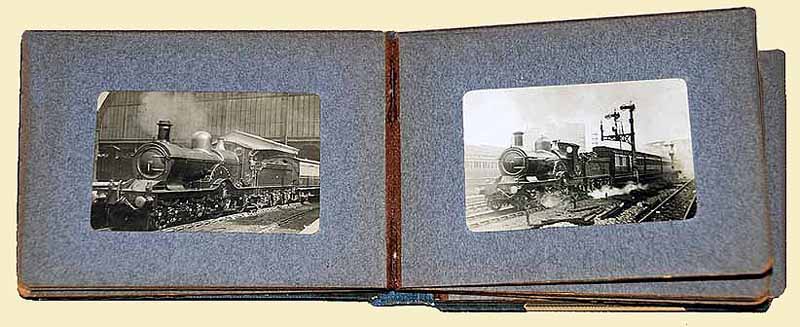 I recently came across a small photo album containing original photographs of the GWR Dean Bogie Single locomotives built in the late part of the 20th century. All the photos were taken at Paddington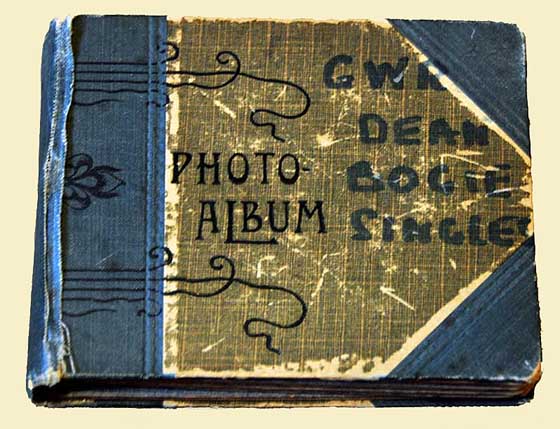 station, showing arrivals and departures plus engines waiting in the station platforms.
The photos measure approx 3½ x 3 ins, but only one of them provides any information such as date and working; this is GWR No 3076 'Princess Beatrice' photographed on her last trip departing Paddington for Reading in July 1912. These are wonderful images, not only of the locomotives, but of the clerestory coaching stock and the railway infrastructure such as the lamps on the station platforms.
I'm sure they will be of interest to Great Western enthusiasts, and perhaps modellers might pick up some obscure detail of how the prototype looked more than 100 years ago...

(Below) On a beautiful sunny day an immaculate GWR Dean Single 4-2-2 No 3007 'Dragon' pulls away past Paddington Departure signal box with an express for the west. Built in 1892 she had a service life of only twenty years before being withdrawn in March 1912.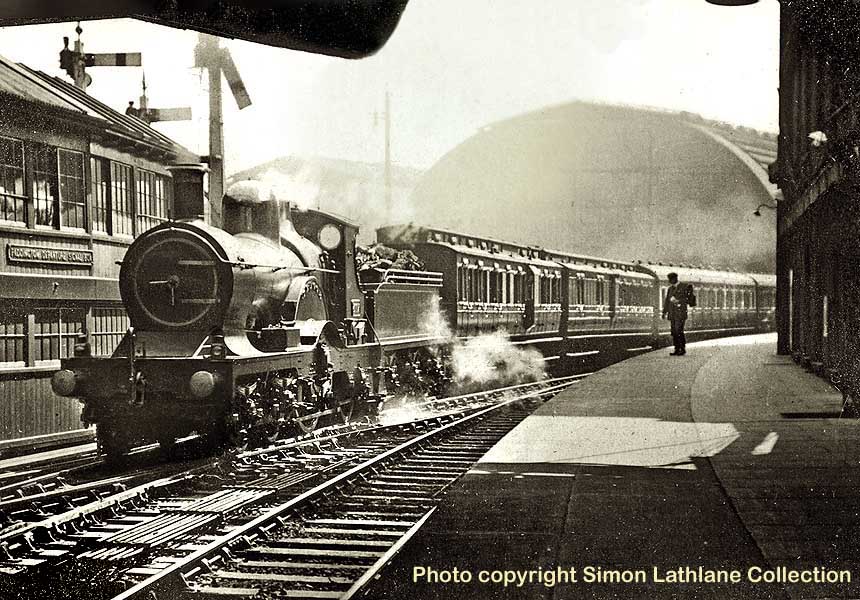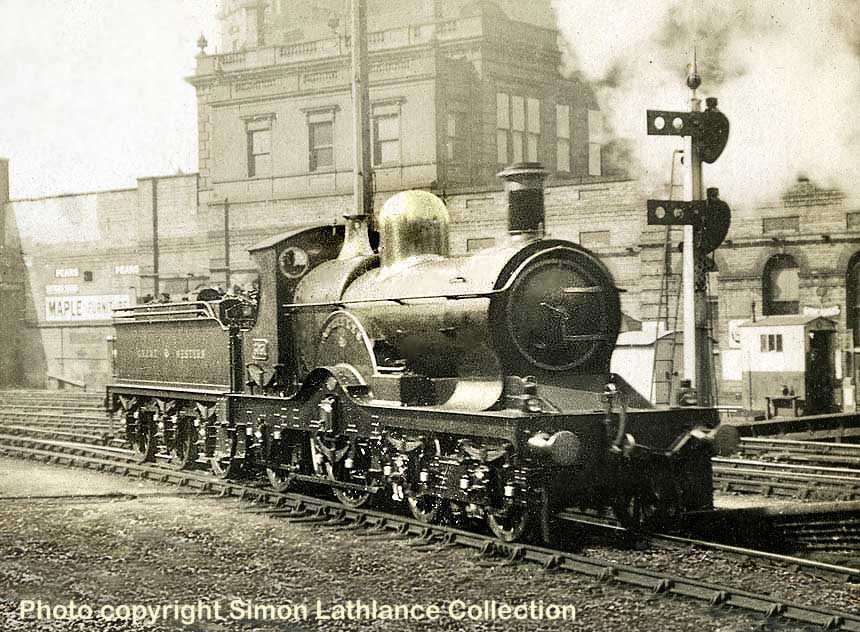 (Above-Below) Built in January 1895, No 3043 Hercules served the GWR for nineteen years; the engine was withdrawn in December 1913.
With their 7ft 8in driving wheels and polished brass and copper fittings, the GWR's elegant 7ft 8in 4-2-2 locomotives epitomised the high finish of the Great Western Railway's express steam locomotives at the turn of the century. Designed by William Dean, GWR Chief Mechanical Engineer (CME) 1877-1902, the first eight members Nos 3021-3028, were built as broad gauge 2-2-2 locomotives in 1891. At that time the 7ft broad gauge was still in existence and all newly-built locomotives had to be designed with a view to converting them into 4ft 8½ inch standard gauge locos at the conclusion of broad gauge running on the GWR. The first eight engines were followed by a batch of 22 standard gauge 2-2-2 locomotives between 1891 and 1892. However, the increased steaming capacity made for a much heavier (and lengthier) boiler and the 2-2-2 wheel arrangement proved inadequate due to the excessive weight being carried on the front axle. In 1893 a broken front axle caused the derailment of No 3021 Wigmore Castle in Boxhill Tunnel, and William Dean began replacing the leading pair of wheels with a 4-wheeled bogie to distribute the weight more evenly.
(Below) Framed by Bishops Bridge, this fine picture shows No 3009 'Flying Dutchman' (named after the 1949 Derby winner) departing from Paddington with a rake of clerestory coaches. The old Bishops Bridge was removed in 2004 when a new wider structure was installed to improve access to the station.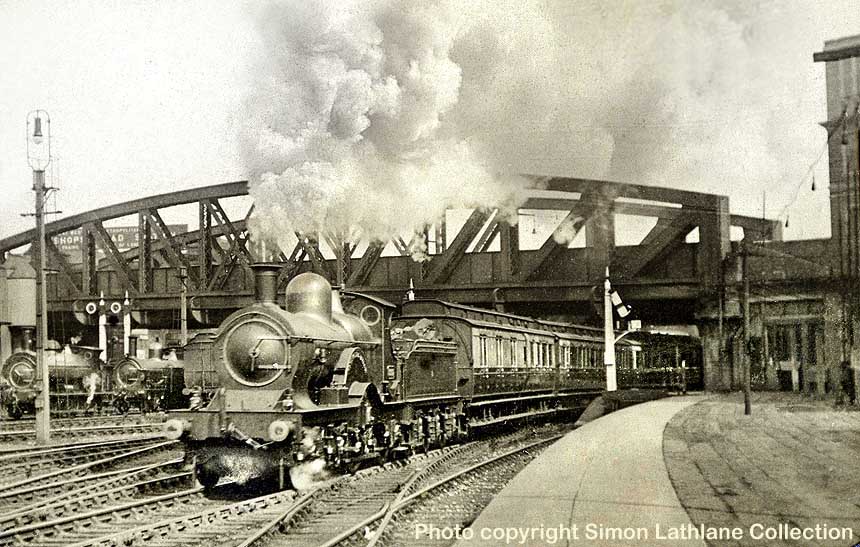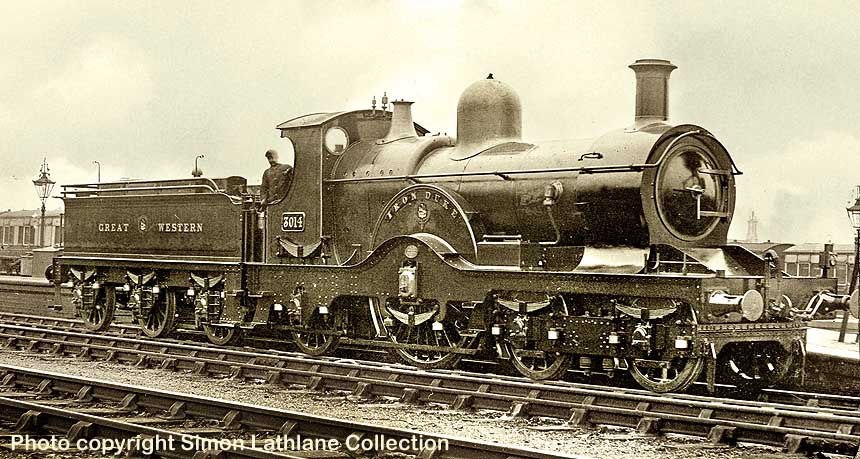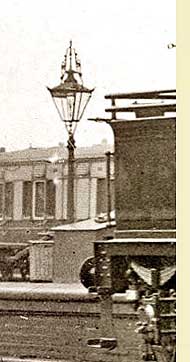 (Above-Below) After the first thirty engines entered traffic, a start was made on building an additional fifty 4-2-2s, beginning with No 3031 Achilles in March 1894 and ending with No 3080 Windsor Castle in March 1899. The full complement of eighty locomotives did some splendid work on the GWR's long non-stop runs, usually on the service between Paddington and Newport, and Paddington and Wolverhampton. Many members of the class were named after the obsolete 'Iron Duke' Class 4-2-2 broad gauge engines, which were withdrawn at the end of the GWR's broad gauge in May 1892. This shot above is a nice portrait of GWR No 3014 'Iron Duke' at Paddington - note the beautiful station platform lamp with ornate decoration (inset left). No 3014 was one of the early casualties of the class, being withdrawn in June 1908. (Below) Built in March 1895, No 3056 was initially named Timour (a name previously carried by a 'Rover' class broad gauge 4-2-2 locomotive), however No 3056 was later renamed Wilkinson in July 1901, and is seen here in immaculate condition entering Paddington with a tender still full of coal. The loco was withdrawn in October 1914.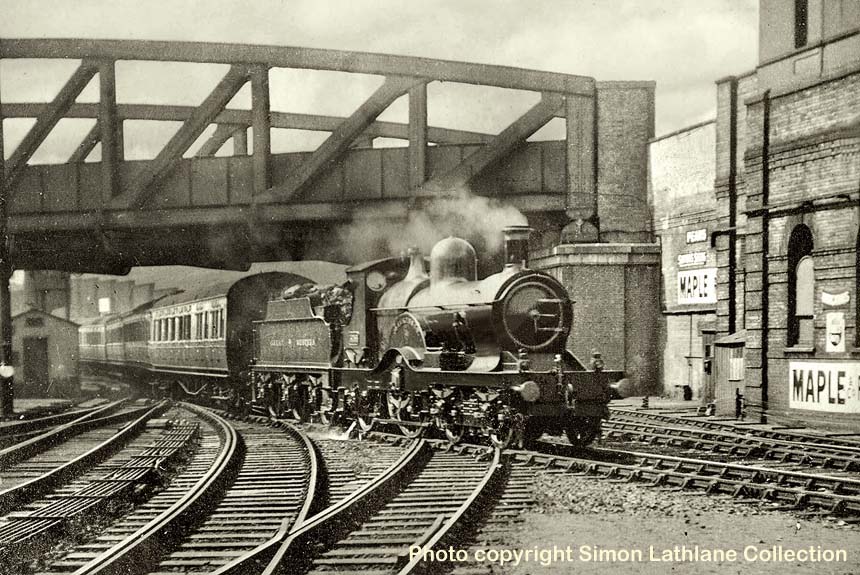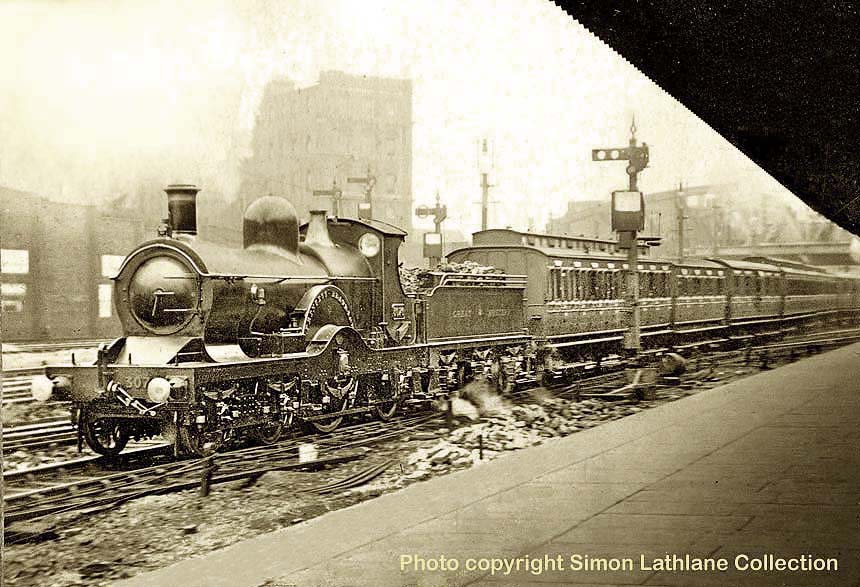 (Above) The 5.42 London-Reading train was last revenue-earning turn before No 3076 Princess Beatrice's retirement in June 1912; the loco was withdrawn after this trip. The tall building in the
background housed the Great Western Railway Goods Office. It later became the Head Office of National Carriers Ltd after BR's Sundries Division was hived off in 1969 at the formation of the National Freight Corporation (NFC). In the run up to privatisation, the NFC's various subsidiary head offices were merged into one unit at Bedford and the empty ex-NCL office and depot at Paddington were demolished in the 1980s.
(Inset) The GWR used quite a variety of subsidiary arms for semaphore signalling, particularly in the vicinity of a busy terminus where a good deal of shunting was required to remove coaching stock and release engines after arrival. The company's distinctive 'backing' signal displayed two circular holes in the arms and were often to be seen facing the opposite way to the main direction of traffic within the station limits; these were used to signal away a station pilot engine in the process of attaching or detaching vans or coaches, which by necessity may involve some restricted movement beyond a running signal in the danger position.
(Below) One wonders if the photographer only photographed clean locos! Or perhaps the GWR's locos were always clean? An immaculate-looking member of the class, albeit unidentifiable, makes a fine picture heading a rake of mixed coaching stock out of Paddington.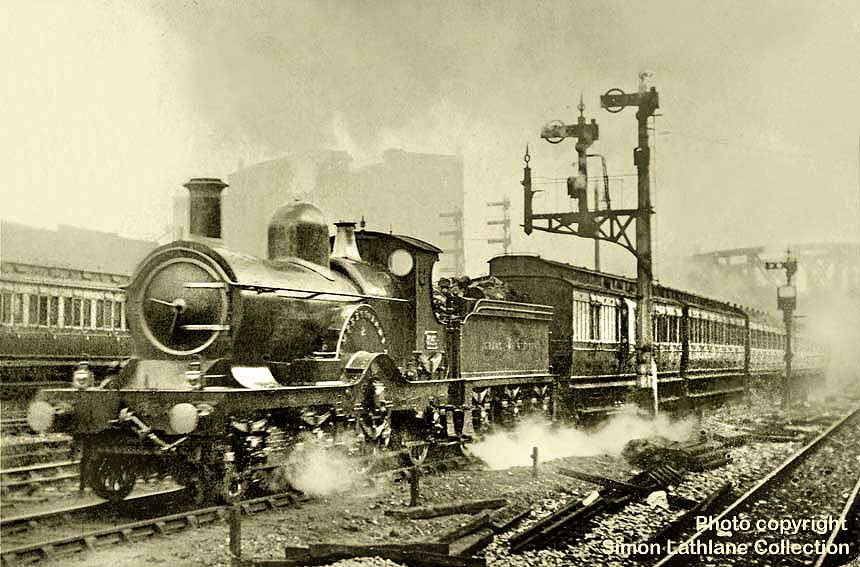 (Below) Yet another immaculate-looking locomotive to behold; No 3040 Empress of India (named after the title of HM Queen Victoria) awaits departure from Paddington.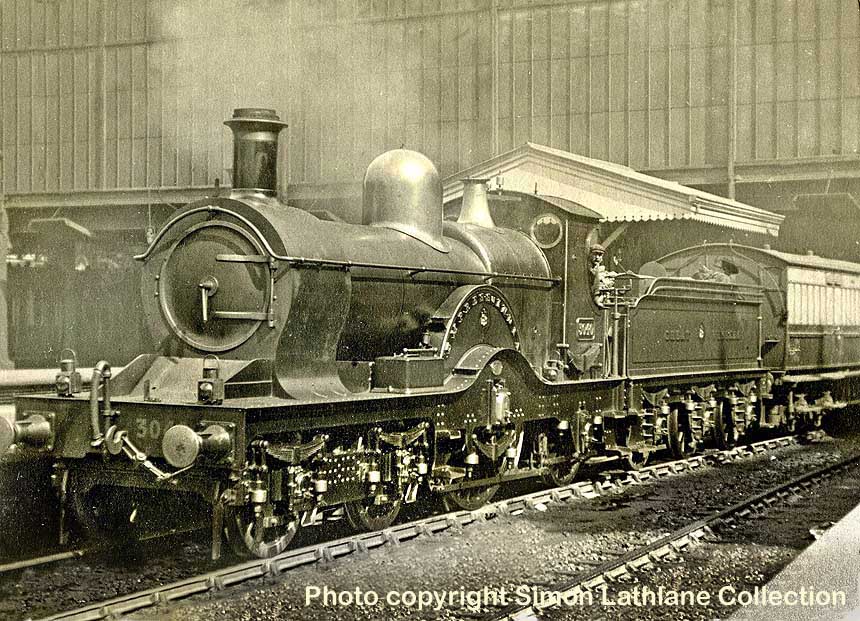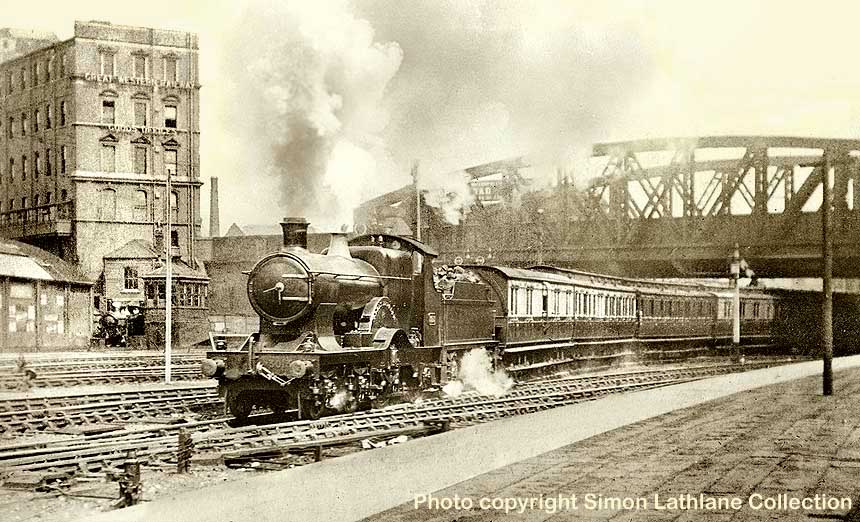 (Above) As mentioned earlier, the Dean Single, or 'Achilles' Class was designed principally for express passenger work, the first 30 members of the class being built as 2-2-2s of the 3001 Class. The first eight members of the class (Nos 3021-3028) were built as convertible broad gauge 2-2-2 locomotives, being converted to standard gauge at the end of broad gauge running on the GWR. A further 22 were built in late 1891 and early 1892 as standard gauge engines, followed by an additional fifty between 1894 and 1899.

However, with increased train loads demanding more powerful locomotives the GWR's new CME 1902-1921 George Jackson Churchward replaced No 3027's original straight barrelled boiler (with its raised round top firebox and distinctive large dome) with a non-tapered Standard No 2 boiler with a drumhead smokebox and no dome. Twelve further engines were similarly converted in 1905 and 1906

, including No 3013 'Great Britain'
seen here heading the 1.45 express beneath Bishops Bridge with the GWR Goods Office in all its glory on the left. Records show that No 3013 had a boiler replacement in November 1906 and again in October 1910, this time with the raised Belpaire firebox, large dome at the back. No 3013 was withdrawn in February 1914

. (Below) The passenger coaching stock of that period was many and varied, ranging from four and six-wheeled vehicles through to bogie coaches up to 70 feet long. The livery was a chocolate brown with the upper panels painted cream, and all adorned with elaborate lining out, although this did change over the years. Parcels vans and similar vehicles were seldom painted in the two-colour livery, being plain brown or a red lake colour instead, which caused them to be known as 'brown vehicles'. A variety of vehicles can be seen in this shot of an unidentified 4-2-2 departing Paddington
.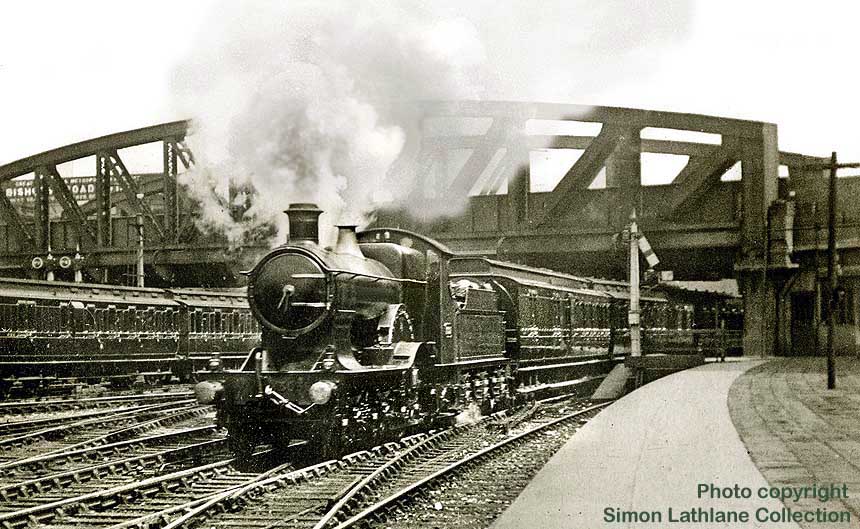 (Below) I was very fortunate to buy some excellent 35mm slides discovered during a loft clearance. These were taken by the late Brian Noakes, a railway enthusiast who took his camera on his travels. His daughter sold me the box of transparencies, which contained 87 slides in total, and told me that her dad had a way of getting into difficult places. He must have been a good talker or else he knew the right people because some are taken inside engine sheds. She sold some of his slides to the Transport Treasury and only came across this box my accident. It is a privilege to share just a small selection of Brian's superb 35mm slides with you
. The collection was scanned using an Epson V700 photo scanner; and at a later date I hope to put some on my own webpages.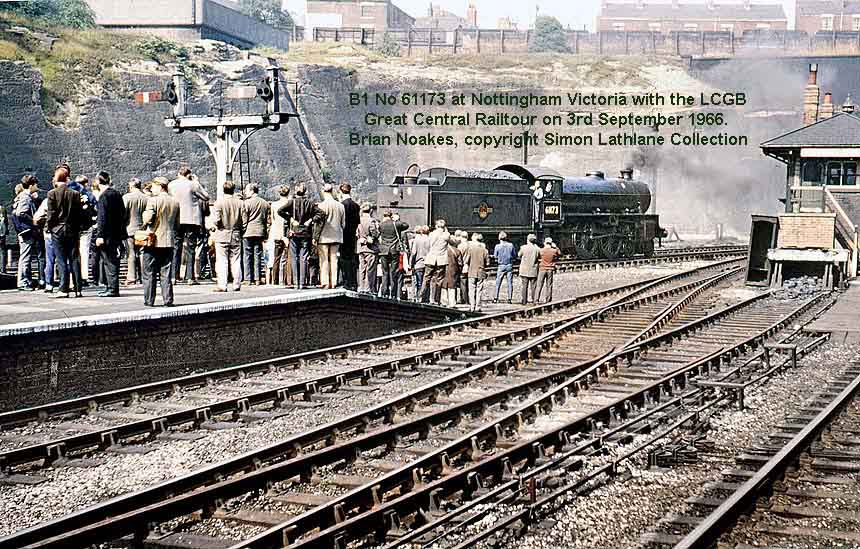 (Above-Inset) Brian Noakes took this photo of the LCGB's 'Great Central Railtour' at Nottingham Victoria on 3rd September 1966. Departing London Waterloo at 9am, Merchant Navy class No 35030 Elder Dempster Lines headed north via Clapham Junction, Barnes, New Kew Junction, Acton Wells Junction, Neasden Junction, Neasden South Junction, Harrow-on-the-Hill, Rickmansworth, Amersham, Aylesbury, Woodford Halse, Rugby Central, Lutterworth, Leicester Central and Loughborough Central to Nottingham Victoria, where Class B1s 61131 and 61173 double-headed the tour via Kirkby South Junction, Heath, Staveley Central, Woodhouse East Junction, Darnall, Attercliffe Junction, Shepcote Lane Junction, Rotherham Central, Wath Central to Elsecar Junction. Class EM1 Bo-Bo No E26021 then continued via Elsecar Junction, Aldam Junction, Wombwell Main Junction, West Silkstone Junction, Barnsley Junction, Penistone and return to Sheffield Victoria. The return journey was hauled by the B1s via Woodhouse East Junction, Killamarsh Junction, Clowne South, Langwith Junction, Mansfield Central, Kirkby South Junction, Annesley North Junction, Bestwood Junction and Bagthorpe Junction to Nottingham Victoria. The final leg was undertaken by 35030 - a reverse of outward route - then via Grendon Underwood Junction, Ashendon Junction, Princes Risborough, High Wycombe, West Ruislip, Neasden South Junction - arriving back at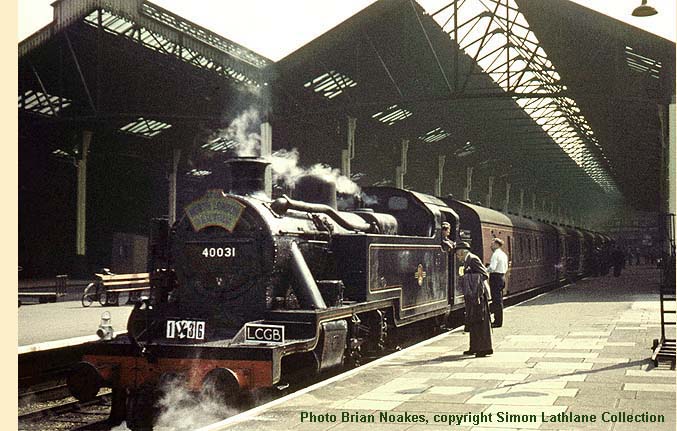 the capital (London Marylebone) at 21.37.
(!nset Right) LCGB North London Railtour on 2nd September 1961 - Fowler 2-6-2T No 40031 is hooked on to four non-corridor LMR Metropolitan widened lines suburban stock and awaits departure from London Marylebone station. The railtour was routed via Neasden South Junction (via south curve) Wembley Stadium, North Curve, Neasden South Junction, Neasden Midland Junction, Acton Wells Junction, South Acton, Kew East Junction, Old Kew Junction, Hounslow, Whitton, Richmond, Kew Gardens, South Acton, Acton Wells Junction, Neasden Midland Junction, Dudding Hill, Cricklewood, Kentish Town, St Pauls Moorgate, Kings Cross Metropolitan, Finsbury Park, Highgate, Finchley Central, High Barnet Road Junction, Kings Cross Metropolitan, Moorgate High Barne, Finchley Central, Finsbury Park, Canonbur, Dalston Eastern Junction, Victoria Park, Loughton Junction, Lea Bridge, South Tottenham, Junction Road Junction, Highgate Road Junction, Kentish Town - returning to London St Pancras
…all information courtesy of the excellent Six Bells Junction website
here.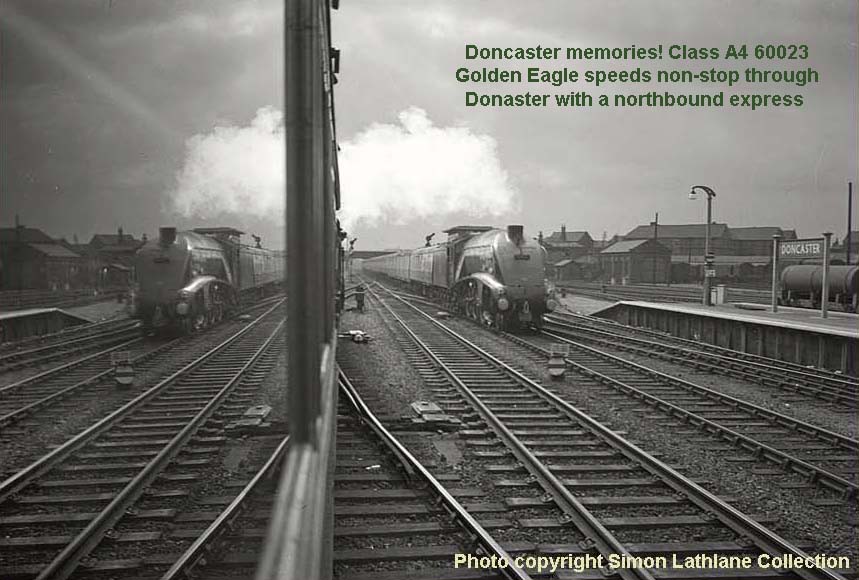 I hope you have enjoyed viewing my collection of
railway photos and you are most welcome to visit:
'Flying Scotsman 4472' Flickr photostream
or my website below

www.simonlathlane.zenfolio.com
Polite notice: All text and photographs are protected by copyright and reproduction is prohibited without the prior consent of the © owner, Simon Lathlane. If you wish to discuss the contents of this page the email address is below. Please note - this is not a 'clickable mail-to link via Outlook Express:
simonlathlane1967@gmail.com