Crewe! It was a spotter's paradise, and I wish I could have gone there more often, but as the journey involved catching a train from Leeds and changing stations at Manchester, my mother had a morbid fear that her small boy could get lost somewhere along the way. It never dawned on me that she had another, more tangible reason, like 'Mother Love', for example, but since she offered no other explanation, her refusal seemed very unfair. Didn't she realise how important this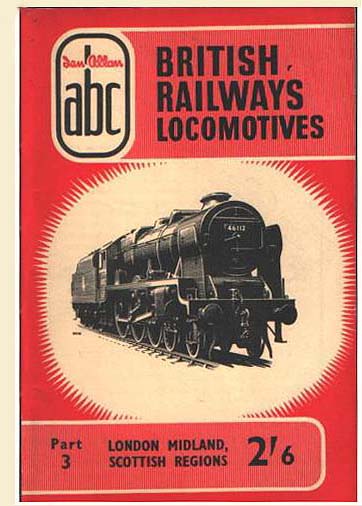 was to me? - I mean, a trip to Crewe? But the answer was an emphatic 'No, no, no!' every time, and that was the end of the matter - or, rather, it was the beginning of another...
A few weeks later I met the doyen of young train spotters called Bonzo. Aged thirteen, he was a veritable professor on railways, who taught me all I needed to know about the Stanier 'Black 5' two-cylinder 4-6-0s with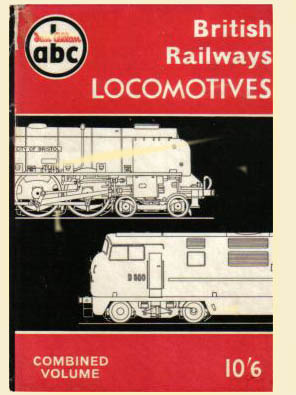 Belpaire fireboxes, tapered boilers and outside Walschaerts valve gear; the 3-cylinder express variant 'Jubilee' class and rebuilt 'Royal Scots', and the 4-cylinder 'Princess Royal' and 'Coronation' class Pacifics.
The 'Coronations' included the ex-streamlined locos which had been stripped of their casing in 1945, yet instantly identifiable by their bevelled smokebox tops. It coined their nickname 'semis' among spotters, but by 1957 they were becoming something of a rarity since only four remained in that guise; the last being No 46246 City of Manchester in May 1960. This loco ran a few months in BR maroon livery with a bevelled smokebox top - the only member of the class to do so. My thanks to Alan Taylor of Fleetwood for the additional information.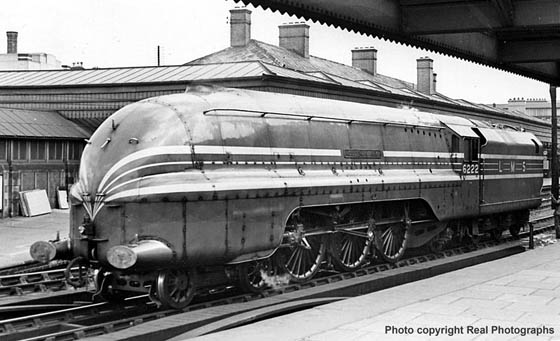 (Above-Below) In 1937 the LMS decided to commemorate the coronation of King George VI with the introduction of a new non-stop 'Coronation Scot' express between London Euston and Glasgow. The 6½ hour schedule for the 401½ mile journey required a powerful Class 8P locomotive, and Crewe Work's was designated the task of building Sir William Stanier's streamlined 'Princess Coronation' Pacific, a development of his earlier 'Princess Royal' class - the first of which, No 6220 Coronation, emerged from Crewe's Erecting Shop in May 1937 sporting the most imaginatively designed air smooth casing painted in a striking blue livery with silver stripes. Of course, the fierce rivalry between the pre-grouping companies on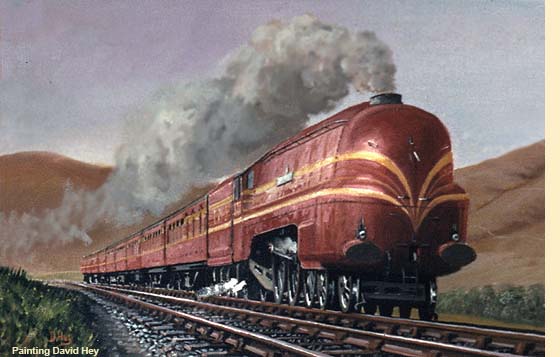 the WCML and ECML's Anglo-Scottish service is well documented, and this continued between the LNER and LMS.
The introduction of the LNER's high speed streamlined 'Silver Jubilee' service between London and Newcastle in 1935 was a truly outstanding event in railway history; Gresley's Class A4 'Silver Link' achieved a British railway speed record of 112½ mph.
The LMS hierarchy was keen to have a crack at the record and upon completion of 6220 they invited the press for a special run from London Euston to Crewe on June 29th 1937.
In order to get the best performance out of the loco a section of the WCML's maximum speed limit was raised for the attempt, but it wasn't until the special train got perilously close to Crewe that the LNER record was eventually beaten - the LMS claimed a peak of 114mph recorded on the chart of the loco's speed-recorder.
The first five Stanier Class 8Ps (blue livery) were assigned 'Coronation Scot' duties, including this ex-works 6222 Queen Mary (above b/w photo) seen on a running in turn from Crewe to Shrewsbury.
(Below) Needless to say, black & white photography cannot possibly do justice to loco liveries, and one can't rely entirely on early colour photography which is prone to fading with age, so thank goodness for 'Elegant Steam' - a superb website featuring the artwork of Don Marshall, who illustrates the liveries of British steam locomotives and rolling stock - a joy to behold if you like looking at beautiful and elegant machinery. Click on photo to see the full 'Coronation Scot' train.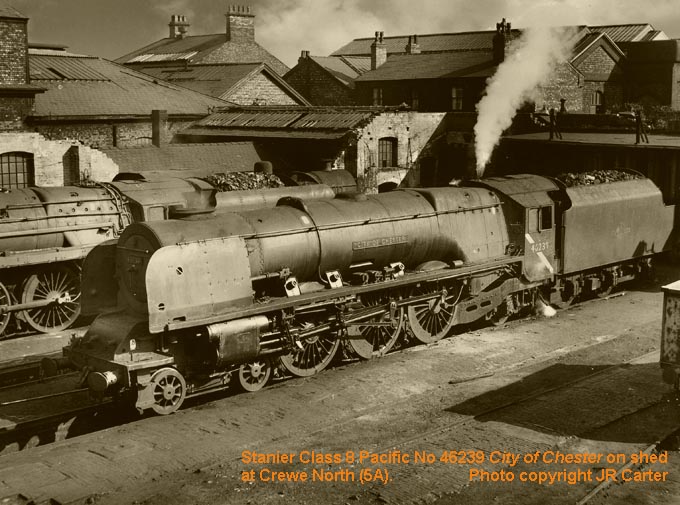 (Above-Below) A locomotive nameplate 'CITY OF CHESTER' as carried by the LMSR 4-6-2 Pacific 'Princess Coronation' class 7P (later 8P) loco No 6239 built at Crewe in September 1939 to Lot 150. It emerged from the works with a double chimney, streamlined casing and painted in red and gold livery. A year after the streamlined casing was removed the loco became 46239 upon nationalisation in. A long time allocation to Camden (1B) the loco moved to Willesden (1A) for a short time and finally Crewe North (5A) from where she was withdrawn in September 1964. The loco was broken up at Cashmores, Great Bridge in December 1964. The cast brass measuring 75" x 7½" is one of the original plates fitted when the locomotive was built in its streamlined form and originally bore chromed letters. BR took most of the chrome away, but this example has retained it around the edges. The back has a 2" wide cut away section which slotted into the streamline banding. With so few members of the class (total 38) it was rare opportunity to obtain a nameplate at auction; it went under the hammer for £28,000 at a Sheffield Railwayana Auction in December 2008. Click here to visit the company's fascinating site.





(Above-Below) A locomotive nameplate, 'QUEEN ELIZABETH', from the Class 7P (later 8P) 'Coronation' 4-6-2 No 6221, the second of the Class built at Crewe in Coronation Year 1937 and named after the wife of King George VI, the former Lady Elizabeth Bowes-Lyon, born on 4th August 1900. Built in streamlined condition with LMS blue livery, in common with all the first five Coronations, she was allocated new to Camden in June 1937 but moved north of the border in 1939 to Polmadie where she spent most of her working life. The loco was repainted red in 1941, de-streamlined early in 1946 and became BR 46221. It moved to Crewe North in 1958 and then Camden, Crewe North again and finally Carlisle Upperby from where it was withdrawn in May 1963, although by that time it had already been in store at Upperby since the previous November. It was cut up at Crewe Works in July 1963. Measuring 71½" long, the front of the plate was repainted black and the brass polished, but the back was is in completely original condition, while the edges retaining the original chrome plating. The plate went under the hammer for a whopping £51,500 at a Great Central Railway Auction in July 2009. Click here to visit the GCRA's website.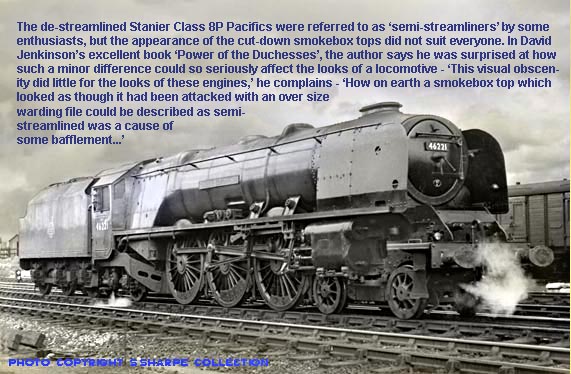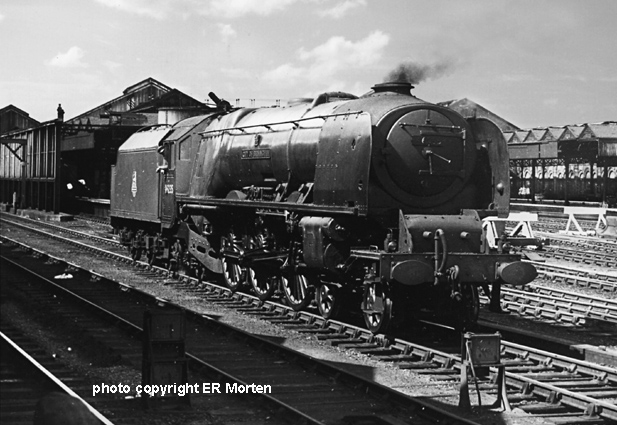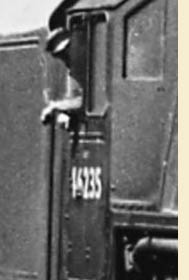 (Above-Below) Mistakes in captions can, and do happen on this site, so if anyone has information to correct errors it is most welcome. For example, I numbered the above loco as 46220, which, for an ex-1950s spotter is a cardinal sin!
Keith Woodside dropped me a line; he writes - 'Hello David, I have been visiting your website for nigh on three years now and there is one photo that has been bugging me. It is E R Morten's picture, reputedly of LMS 46220 'Coronation' at Crewe. I have studied this photo on numerous occasions and I do not think it is 46220. The number on the cabside is definitely not 46220, I think it is 46235; this loco also had the crown motif attached above its nameplate. What is your opinion? Regards Keith...'
Well...I don't believe it!
Keith is absolutely right! I haven't the foggiest idea how I missed it; I mention elsewhere on this site about getting up close and personal with a photographer's work in Photoshop, but in this case I obviously didn't get close enough!
My thanks to Keith for spotting the error...the caption now reads No 46235 City of Birmingham poses for the camera at Crewe on 29th June 1952.

Alas, this isn't the end of the story! Bob Johnstone has added his comments on the Guest Book page; Bob writes - 'Another update I'm afraid. City of Birmingham still has its fantastic 'semi' smokebox in the picture, so it can't be June because that was replaced in May. It is most probably still in its short-lived blue livery at this stage. Also mention of the crown above the nameplate is a mistake. It's the Birmingham coat-of-arms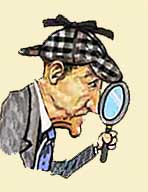 which was dedicated in 1945 when the loco was still fully streamlined and in its black wartime livery…'
Bob adds - 'I guess we all have our childhood favourites, and it just so happens that City of Birmingham is one of mine. It has been since the first time I looked up at the huge beast in the old Birmingham Science Museum. Not so easy for today's generation though - the loco is now crammed away in a corner of the 'Think Tank' and the walls of the museum have been purpose-built around it…it's so sad that it'll never see rails again. There is an excellent photograph of it being transported by road from Lawley Street to the old museum site in Newhall Street on your 'Extra' site. Back then, 46235 still oozed the smell of steam, coal and oil following its renovation at Nuneaton shed...'
Thanks Bob; if anyone finds a mistake in the text I am more than happy to correct it. Meanwhile the photo to which Bob refers (below) appears on John Stoddart's 'Lines Through A Life' page here and shows 46235 City of Birmingham (withdrawn from service November of 1964) being laid to rest in its namesake city. Bob also directs me to Barry Franklin's Flickr site here showing 46235 being transported from Lawley Street to Newhall Street on 22nd May 1966.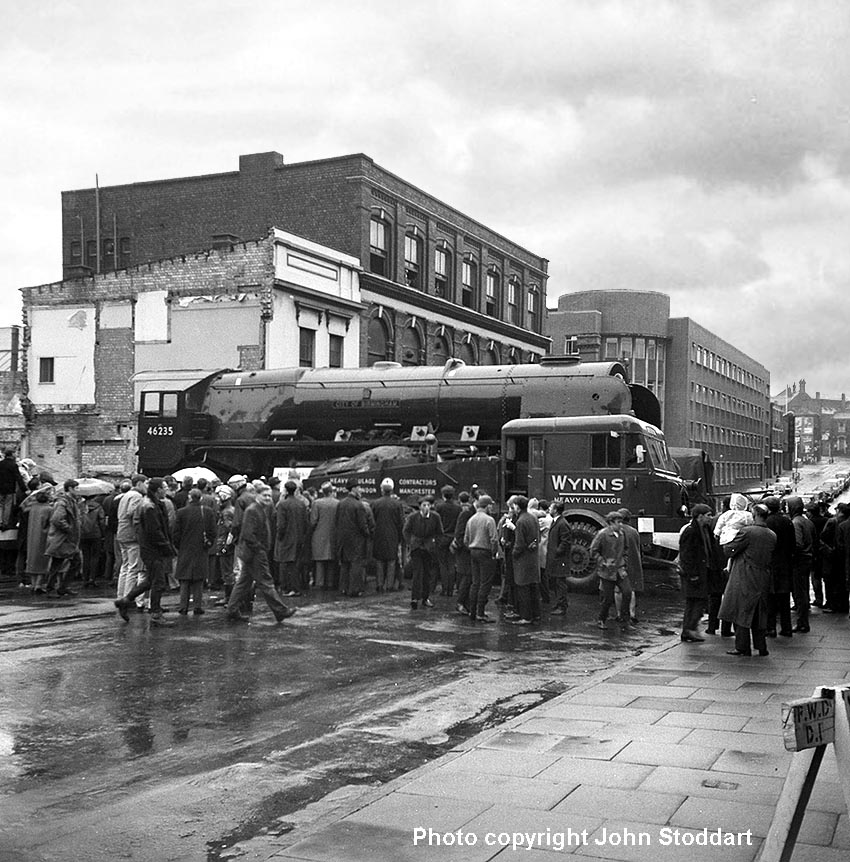 A BIT OF CREWE's RAILWAY HISTORY

Rail passengers changing trains at Crewe station today will find it hard to believe that prior to the arrival of the railway, Crewe was nothing more than a tiny hamlet with a population of less than a hundred. By the 1830s the hamlet quickly expanded when both the railway station and locomotive works were established. The involvement of the London & North Weswtern Railway turned it one of the busiest junctions on the West Coast Main Line. Indeed Crewe station is located 158 miles from London Euston and 243 miles south from Glasgow Central, a strategic location for both loco and engine crew changes on the Anglo-Scottish services.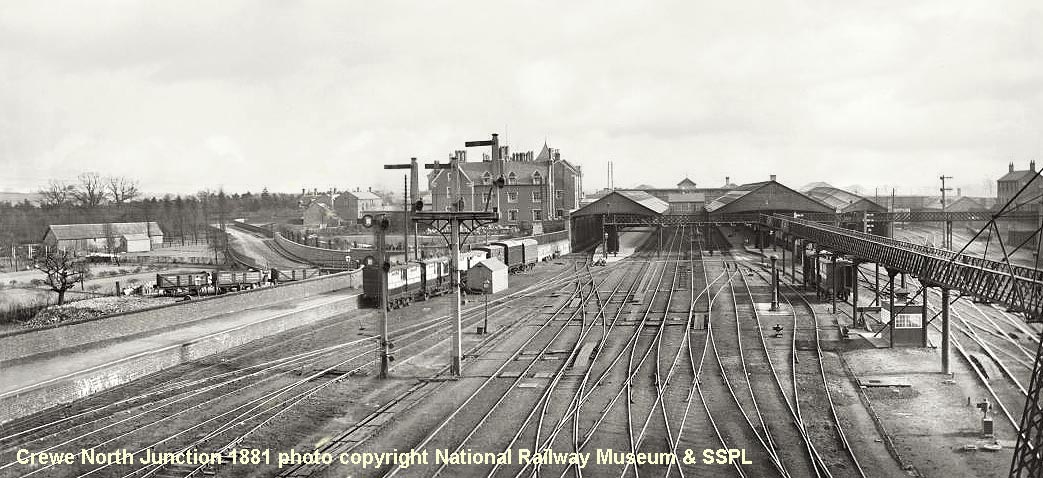 (Above) This evocative image from the NMSI archives shows a view of Crewe station looking south from North Junction signal cabin in April 1881...to set the record straight - confessional time now - the picture is actually made up of two separate NMSI images side-by-side in an attempt to show something of the rural aspect of the station.

(Inset-Below) I originally posted this first shot accompanied by the caption - 'Looking in the opposite direction is a photo of the Chester line curving away to the left and the famous locomotive works on the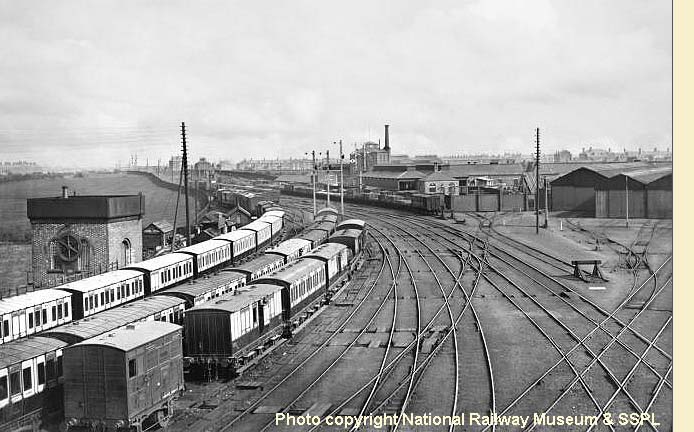 right. The NRM archive contains a superb collection of 1¾ million photos covering the history of Britain's railways from 1850 to the present day; the archives are currently being digitalised to make them available to a wider audience and preserve them for the future; the NRM's praiseworthy aim is of great interest to railway enthusiasts and historians alike; a visit to the NRM's website here is highly recommended.
However, not long after posted the photo I received an interesting email from Mike Hichen, who writes...
'I was intrigued by the LNWR era view of the North Junction; after some confusion I am positive the photo has been reversed (ie a mirror image). The curve is the Manchester Line with the Grease Works in the V, and the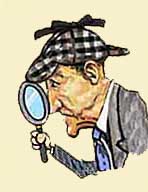 field is to the right. If this was the Chester line the extensive trackwork approaching North Shed would be where the fields are and the Old Works clock tower would be in the V. This is a well published view elsewhere. I hope this is of some help...'
Well, Mike's email intrigued me. I can't imagine for one minute that the NRM would post an incorrect image on their website. However since I am not familiar with the track layout at North Junction during LNWR days, I posted an appeal hoping that someone may be able to establish the correct one...
Sure enough, help came from David Campbell, who writes - 'Hello David, regarding the 1881 view of Crewe North Junction. This photograph appears in the book 'A pictorial Tribute to Crewe Works in the Age of Steam' by Edward Talbot; it is the reverse view, ie the chimney is on the left of the building. Regards, David Campbell...'
My thanks to both Mike and David for setting the record straight. Here is the correct image below...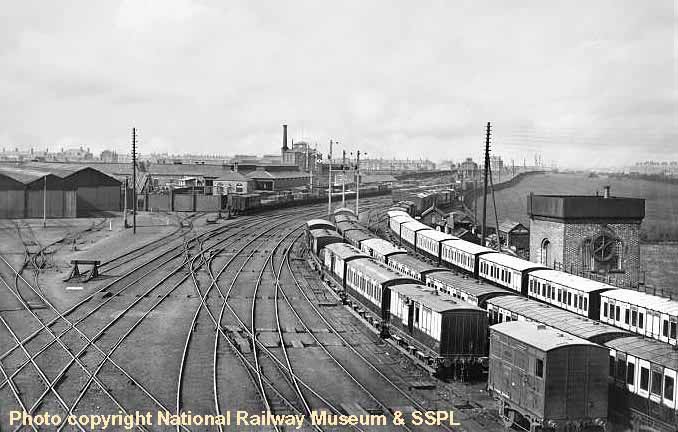 Established by the Grand Junction Railway in 1837, the geographical location of Crewe was considered an ideal place for the construction of a branch line to Chester, hence the Chester and Crewe Railway was formed which was absorbed by the Grand Junction Railway shortly before the line opened to traffic in 1840. The new railway was seen as the starting point for a major trunk route to Holyhead, the plan being to provide the fastest journey to Ireland, thus Crewe's importance as a railway junction was established very early on.
Further endorsement followed when the Manchester and Birmingham Railway, a separate undertaking which had hoped to build a wholly independent line linking the two cities, decided to divert its own line to meet the Grand Junction Railway at Crewe. In 1842 the Grand Junction Railway moved its locomotive works from Edge Hill to Crewe at the apex of the junction between the Warrington and Chester lines. In 1845 the Liverpool and Manchester Railway then merged with the Grand Junction, which merged a year later with the London and Birmingham Railway along with the Manchester and Birmingham Railway to form the London and North Western Railway (LNWR) making it the largest company in the world.
The enterprising LNWR extended the existing lines to Holyhead, the Warrington line to Lancaster and Carlisle, the Manchester line to Leeds, and built the new Crewe and Shrewsbury Railway to connect with the Shrewsbury and Hereford Railway's links to South Wales. These connections, together with the North Staffordshire line from Stoke joining up with the LNWR from the South East, was to establish Crewe as a major rail gateway to the North West of England.
To cope with the increase of traffic, the station was rebuilt in 1861 and the company's locomotive works was extensively redeveloped under the leadership of John Ramsbottom and henceforth all locomotive building was concentrated at Crewe. By the 1890s, due to the huge increase in freight business the LNWR decided to build a separate four-track railway line to segregate this goods traffic from passenger trains; a huge undertaking involving a burrowed section between Crewe north and south junctions, and including the construction of a vast marshalling yard to the south at Basford Hall.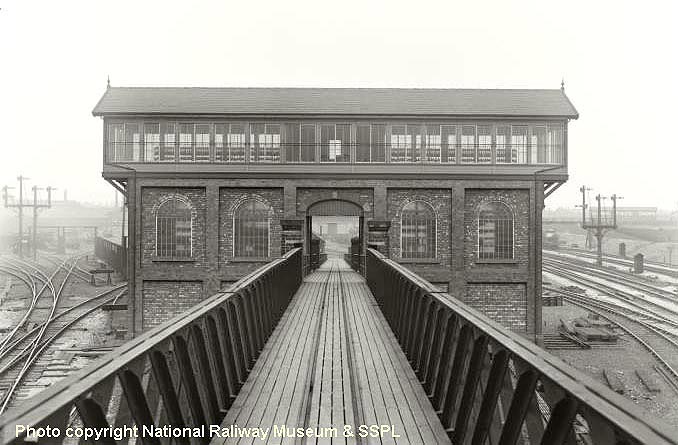 (Above) Another superb image from the NMSI's archive, this one showing a view from the station looking along the famous 'Spider Bridge' towards Crewe North Junction Box on 17th July 1906.
Crewe Works was served by an internal narrow gauge tramway system; this was built in 1857 by John Ramsbottom (then Locomotive Superintendant of the London North Western Railway 1857-1871). Over the years the railway system was extended from the works to Crewe station, involving construction of the Spider Bridge in 1878. This was essentially a typical railway footbridge built on stilts and supported by suspension cables for several hundred yards across Crewe North Junction. The footbridge carried the 18" single-line tramway from the works through the interior of the LNWR signal box to the footbridge spanning all passenger platforms at the north end of the station, where the goods had to be handled via the footbridge steps to platform level. This seriously limited its usefulness and eventually the transfer of goods by the tramway was abandoned, however the bridge continued to give pedestrian access for staff to the works until 1939.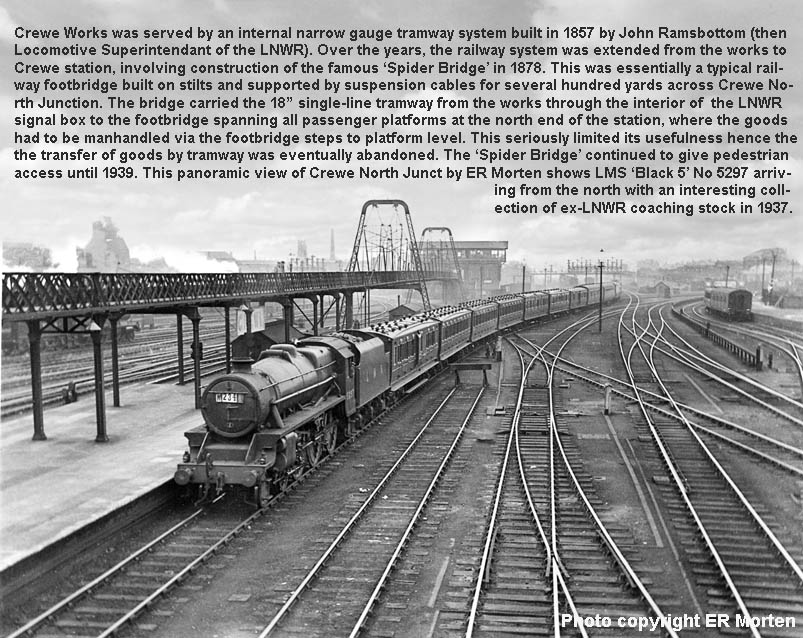 (Below) Established in 1845, Crewe works came under the direction of many well-known Chief Mechanical Engineers whose reputations are synonymous with the locomotive types that came off the assembly line. Crewe not only built steam locomotives for the London & North Western Railway (LNWR), London Midland & Scottish Railway (LMSR), and British Railways (BR), the works also designed and built the Covenanter tank for the war effort overseas. The last steam locomotive built at Crewe was the BR Standard class 9F No 92250 in 1958 - the 7,331st engine to be built from the beginning.
In this view outside the paint shop, a line-up of steam and diesel include BR Standard Class 9F 2-10-0 No 92004, an unidentified Crosti-boilered variant and a Standard Class 4 2-6-0 numbered in the 76000 series. On the diesel front, several EE Co Type 4 1Co-Co1s and a solitary EE Co Type 1 Bo-Bo are joined by a Class EM1 electric (one of 58 Bo-Bos Nos 26000-26057 designed by Gresley and Metro-Vickers for the Woodhead route). On the extreme right, a newly-built 2,700hp diesel-hydraulic Co-Co No D1072 Western Glory was one of 44 diesel-hydraulics to be constructed at Crewe for the Western Region.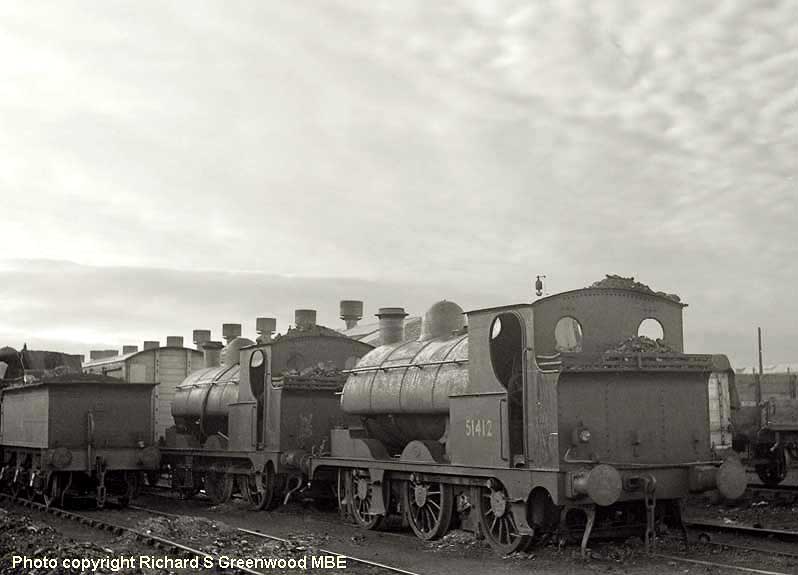 (Above-Below) Aspinall's rebuilds of the original Lancashire & Yorkshire Railway '23' class 0-6-0ST designed by W Barton-Wright and introduced in August 1876; three of these ex-L&Y saddle tanks numbered 51412, 51444 and 51446 went as Works shunters to Crewe in LMS days (then numbered 11412, 11444, 11446) and stayed there until the early 1960s, albeit they remained in the main stock as distinct from service stock (Below) A different view of the Aspinal 0-6-0T No 51412.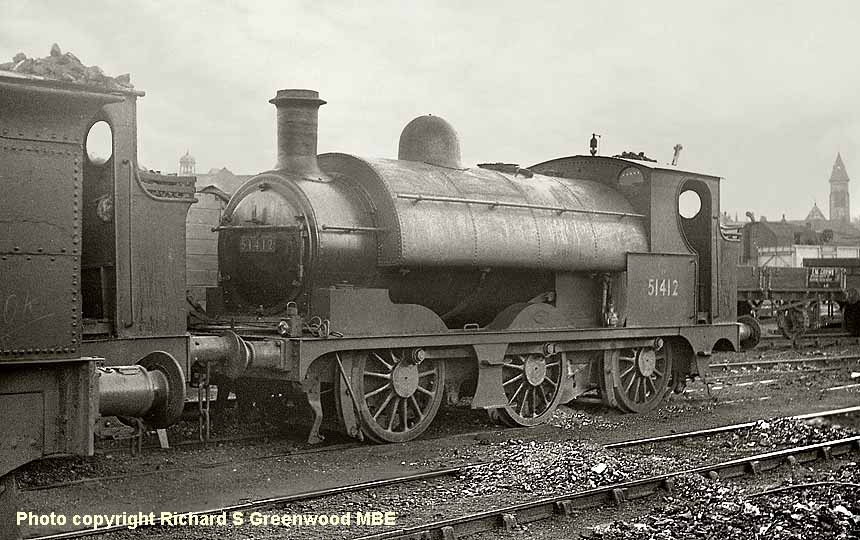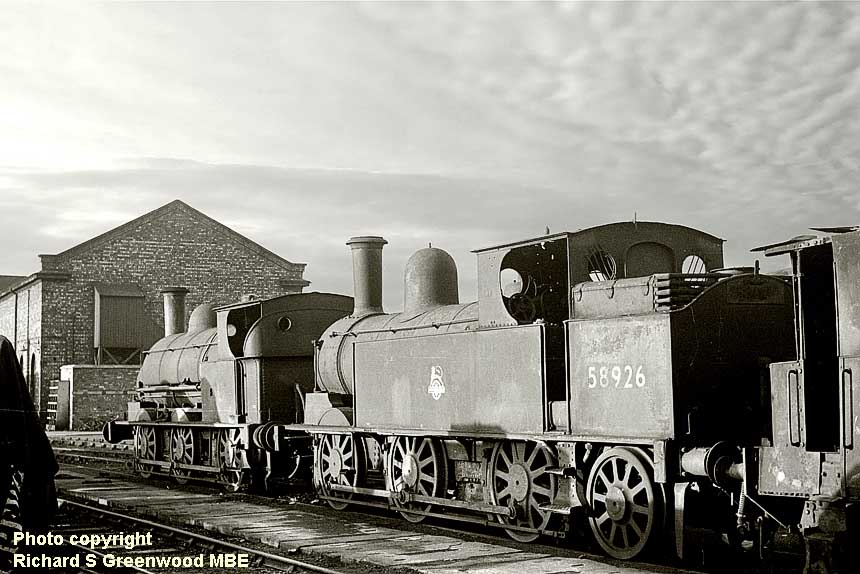 (Above) Another fine shot by Richard S Greenwood of locos languishing in the works yard on 20th December 1959; this one 0-6-2T No 58926...Richard writes on his 'Rail Cameraman' page 53 - 'It's hard now to realise what prodigious feats of haulage these lightweight 0-6-2T machines were capable of. They moved empty coaching stock from Liverpool Lime Street and Euston termini. They worked in pairs hauling Ocean Liner specials up the steep gradients from Liverpool Riverside station to Edge Hill. The last survivor was BR 58926 built 1881 at Crewe. It is seen here at the works awaiting a decision on its future on 20 December 1959. No 58926 was of course preserved and can be seen running on the Keighley and Worth Valley Railway in its LNWR livery and numbered 1054. However, no such good fortune awaited the locomotive standing in front of it, one of Ramsbottom's 'Special Tanks' No CD7 latterly used as a works shunters at Wolverton. What a shame it was not preserved; it dates back to the days of one of the most accomplished steam locomotive men, Todmorden born and bred, John Ramsbottom...'

(Below) Various ex-Lancashire and Yorkshire Railway 'A' class 0-6-0 tender engines were also sent to Crewe as Works shunters at some time in the early 1950s. The actual locomotives varied as some were withdrawn and others were discharged from works duties and sent out to earn their keep on the main line. Among the latter were 52345, 52201 (a Belpaire firebox engine) and 52207. Richard's visit to Crewe was on Sunday 20th December 1959 and so most locomotives were out of steam. The only one in steam that day was 52464 (EB 13). This interesting loco was one of a batch of ten built as late as 1917-1918, allegedly from spare parts at Horwich. Number 52464 was L&Y 926, which entered traffic on 21 November 1917 and being withdrawn in April 1961. This batch of ten could always be identified because the footplate valance was less deep than on the other members of the class. The other two 'A' class locos were 52093 (built 1890 and withdrawn September 1962) and 52218 (built 1893 and withdrawn May 1962).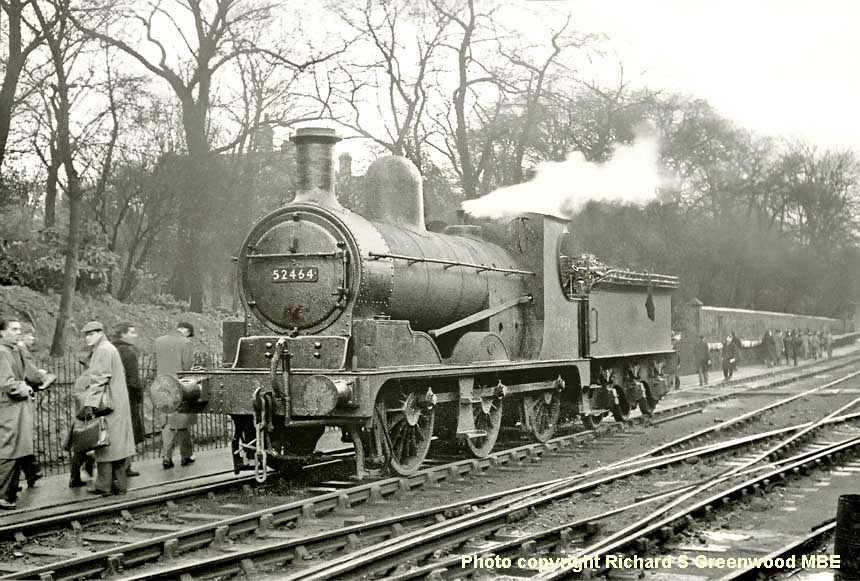 STANIER PACIFICS

(Below) The doyen of the 'Princess Coronation' class, No 46220 Coronation, was the first of five streamliners painted in Caledonian blue with silver stripes and emerged from Crewe works in 1937. The locomotive set a new world steam speed record during her press run with the LMSR's prestigious 'Coronation Scot' express. In September 1946, No 6220 was de-streamlined, but retained its cut-down (bevelled) smokebox top until December 1955. Here No 46220 (albeit with the conventional smokebox) poses at Crewe South shed.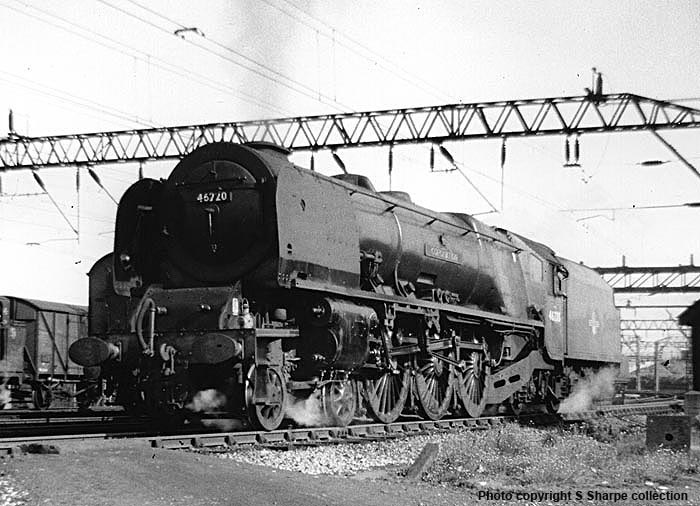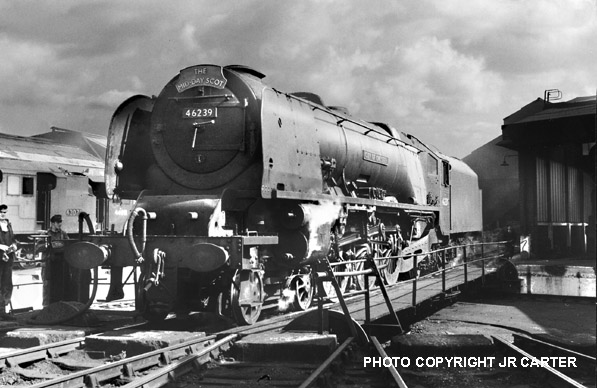 (Above-Below) One of the five red streamliners to emerge from Crewe works in 1939, Stanier Pacific No 46239 City of Chester, which had its bevelled smokebox door altered to the conventional shape in February 1957. The loco stands on the turntable at Crewe North shed prior to hauling the 'Mid-day Scot'. (Below) The last two of the Stanier 'Duchess' Pacifics resulted in both engines being fitted with self-cleaning smokeboxes, full rocking grates, modified hopper ash pans (necessitating a revised trailing truck and shallower cab side plates) in addition to which roller bearings were fitted to all axles. No 6256 entered traffic in December 1947 and No 6257 after nationalisation in May 1948 - both locomotives representing the highest development of British steam design. This rear view of 46257 City of Salford at Crewe on 1st September 1956 shows the revised detail from a different angle.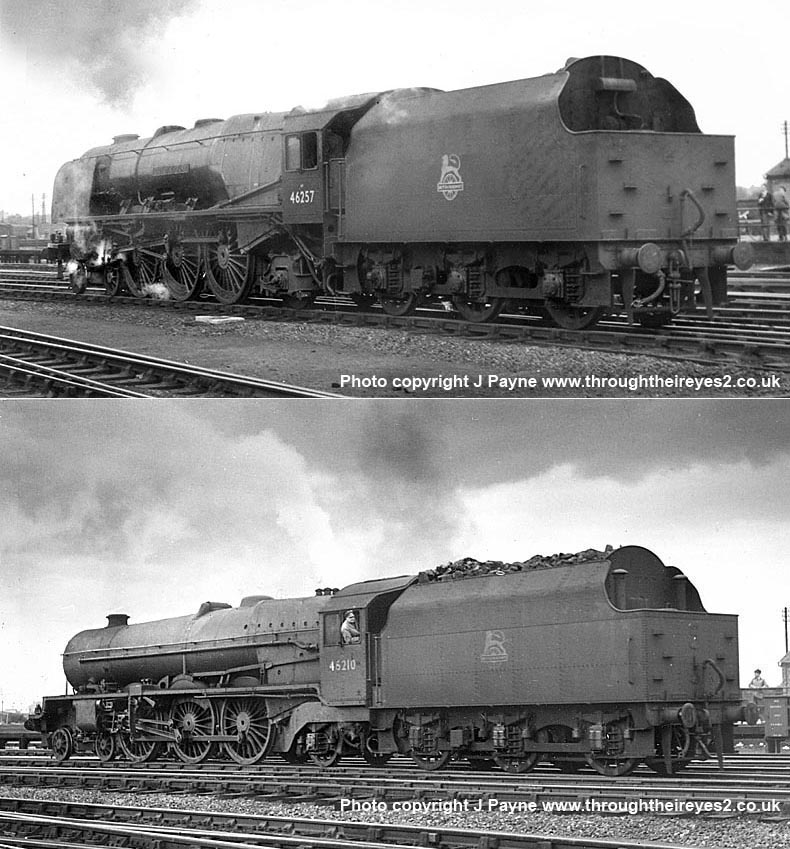 (Above-Below) Rear view of 'Princess Royal' class No 46210 Lady Patricia backing onto the coaching stock of a northbound express at Crewe on 1st September 1956. (Below) Unmistakably a photo from the legendary 'Footplate Cameraman', Jim Carter: 46205 Princess Victoria inside the roundhouse at Crewe North shed...it wouldn't surprise me if Jim had been up to his old tricks and placed the 'The Welsham' headboard on the top lamp iron himself!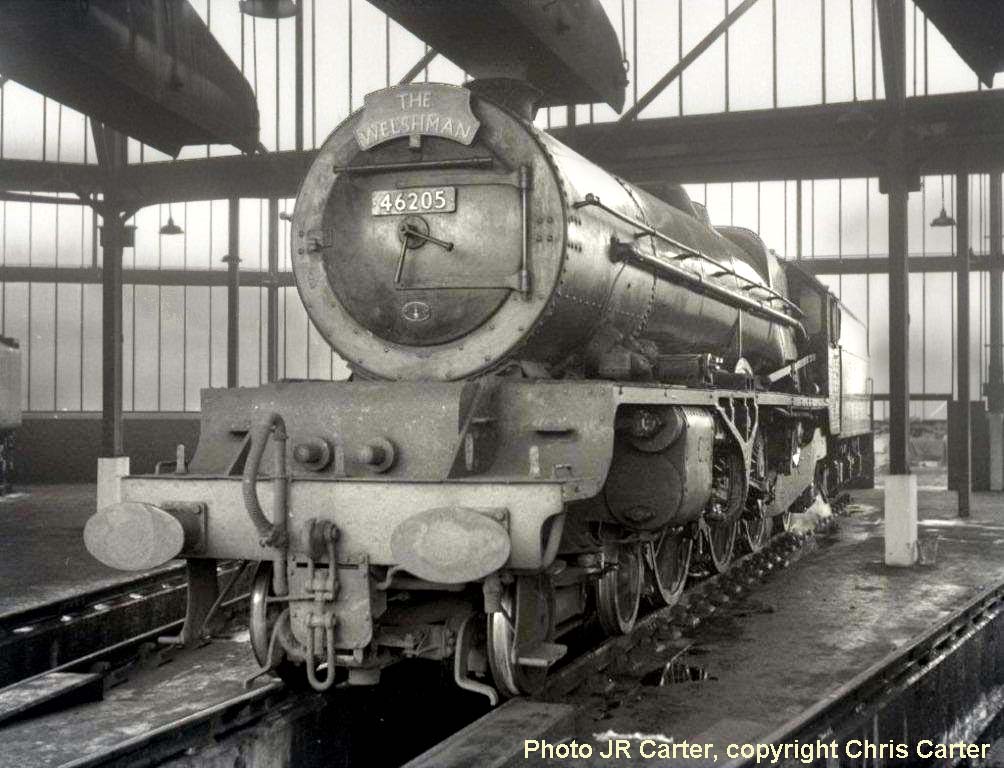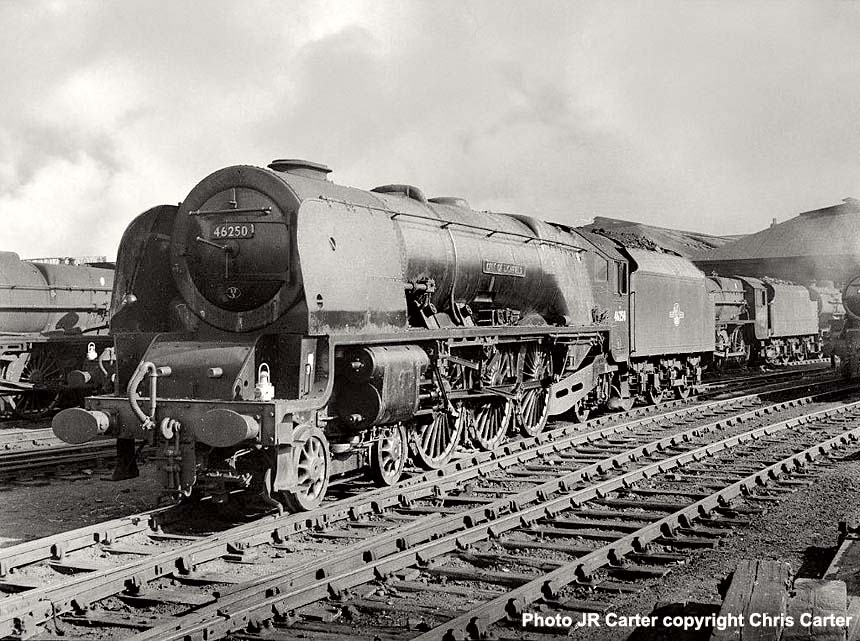 (Above-Below) Another JRC classic of Crewe North shed...this one showing No 46250 City of Lichfield basking in the sunshine; indeed it wasn't unknown for Jim to move a loco into position in order to get a better shot! (Below) Young spotters are about to have a close encounter with 'Duchess' Class No 46252 City of Leicester heading an 'up' express through Stafford in 1960.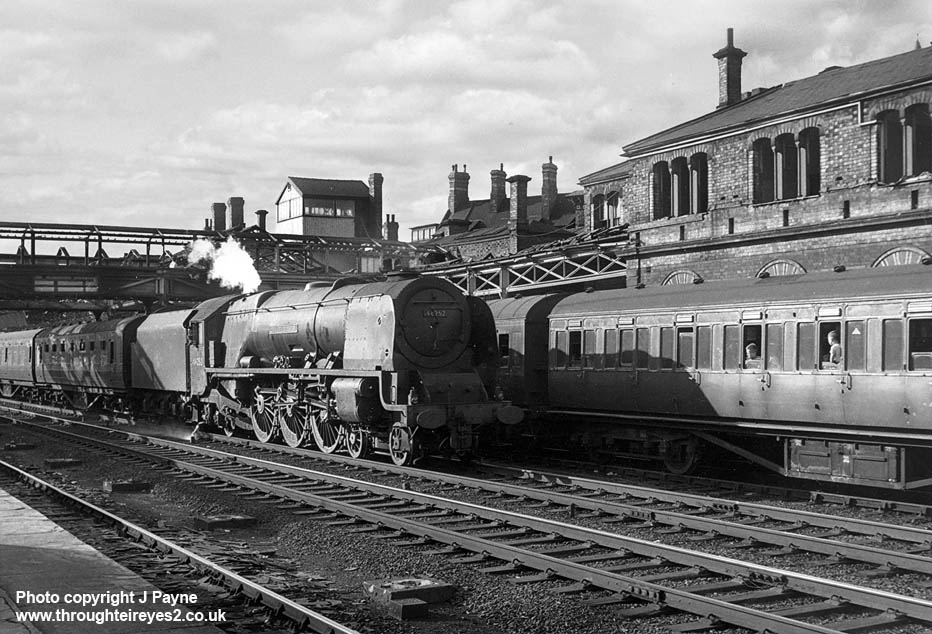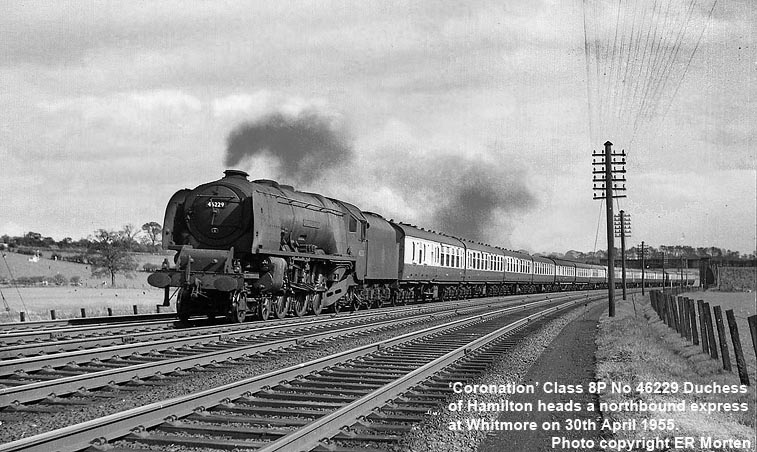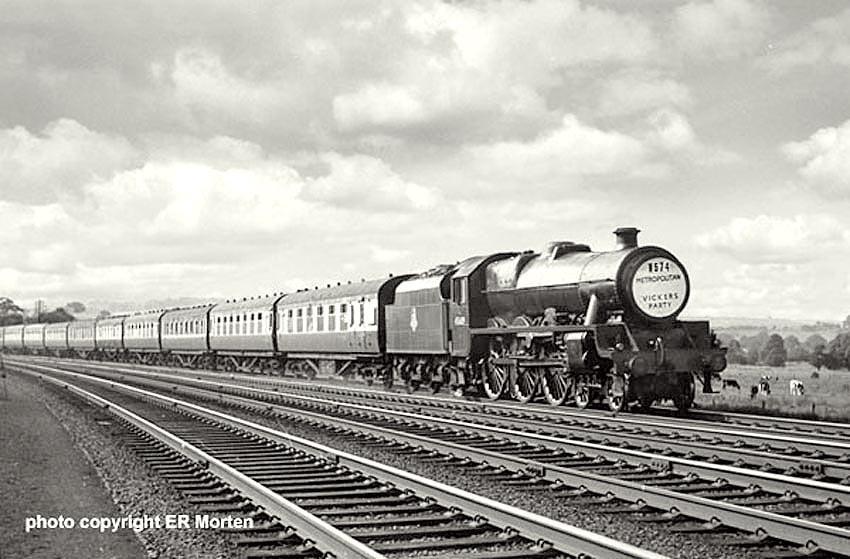 (Above) I'm not sure of the the destination of this special train headed by 'Jubilee' class No 45689 Ajax at Whitmore on 23rd July 1955, however there is no mistaking the inscription on the ostentatious headboard - 'W574 Metropolitan Vickers Party'.

Keith Woodside's Spotting Memories

Keith Woodhouse recently sent me a chatty email about old spotting days; he writes - 'When Pops was demobbed from the Army in 1946 we moved from Wallasey on Merseyside to Macclesfield, and this is where my twin brother and I began our interest in locomotives. We visited either of the stations in town - Hibel Rd or Central Station - but there came a period when we got itchy feet and decided to travel further afield; we'd be about nine years old at the time. We jumped on a bus at Macclesfield bus station to Alderley Edge, then walked across the road bridge and turned left into the children's playground which ran alongside the railway track. This was always a good day out with the sandwiches Ma had made for our lunch; I remember we spent the whole day sitting on the British Railways wooden fencing spotting locos before catching the teatime bus back to Macclesfield. Then as we got older we visited Crewe Station, where we spent many a happy day on the footbridge at the Crewe Works end of the station's platforms.
Incidentally, I was browsing through a railway book about Crewe at a Wirral Garden Centre recently and noticed a chap looking through the same book as myself. We got chatting and I made it known to him that I used to do a lot of train spotting from the footbridge at Crewe. He laughed and said that in the late 1950s he was employed by British Rail at Crewe Works and he used the bridge to get to work; it was called 'Eagle Bridge' - now that's something new to me and it shows that one is never too old to learn...

Colin Mansell writes on the Guest Book page - 'You mention talking to a man who told you that the footbridge at Crewe Station was called Eagle Bridge. Eagle Bridge actually crossed the Chester lines into the works and was originally built to take slag from the steel works to be tipped near the gas works on Victoria Avenue. It was also used for foot traffic to enter the works.' Thanks for the correction, Colin.

We also joined the Ian Allan Locospotters Club and went on many shed trips, including trips back to Liverpool (Edge Hill). It is a great pity that we didn't possess a camera at the time because there were many instances which would have produced some lovely shots.
Money was scarce, of course, even with my morning paper round, and 127 film & development was expensive. But Pops did buy us a small 127 film camera in July 1953, though it wasn't a Kodak 'Brownie'; we were holidaying in Dun Loaghaire at the time and he was buying something for his Rollieflex when he spotted a small red camera named BOY and purchased it for us. We did take photos of locos on our Ian Allan trips, but what became of them and the negatives I do not know. They probably got lost when we moved house back to Wallasey on Merseyside in 1954.
It is a pity that we lost interest in locomotives at this stage, because we could have easily nipped over to the Liverpool stations on the ferry or underground to Liverpool. We could have taken some nice pictures of the Liverpool Overhead Railway before it was pulled down in 1957. But then, the words - 'what we could have done' or 'what we didn't do' - seem to crop up a lot in our lives the older we get, doesn't it?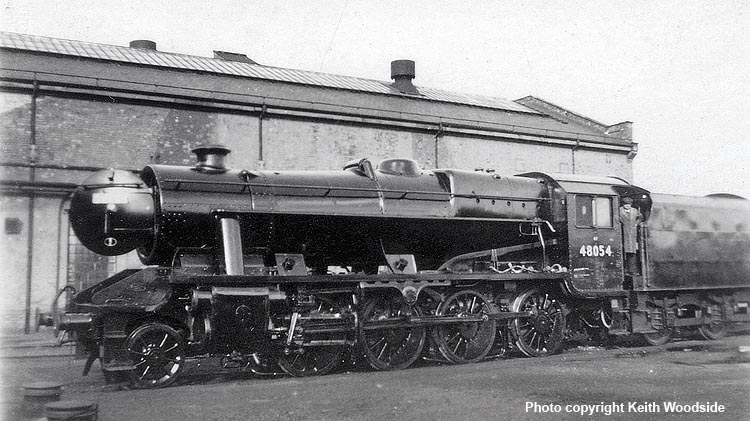 My brother worked on the railway all his life, starting as a Cleaner then working his way through the ranks of Fireman to Driver and then Inspector. He started in Macclesfield and transferred to Birkenhead in 1954. Even today, armed with his Nikon, he uses his free pass, jumps on the underground to Lime St and then gets on the first train that is departing no matter where it is going. A few years back I lent him some of my old 127 railway photos, but he can't remember where he put them!
However I do have three 127 photos that were enlarged on an old scanner and show 'Jubilee' 45559 British Columbia, Class 8F No 48054 and 'Clan' class No 72007 Clan Mackintosh at Crewe during an Ian Allan trip at some time between August 1953 and June 1954, which is the period we had the camera.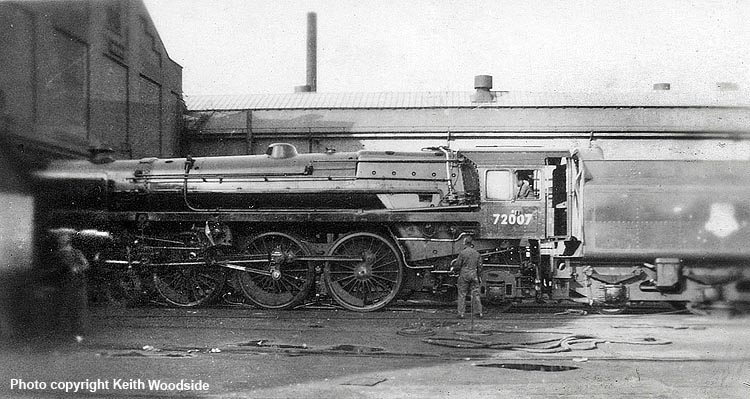 MORE CREWE SCENES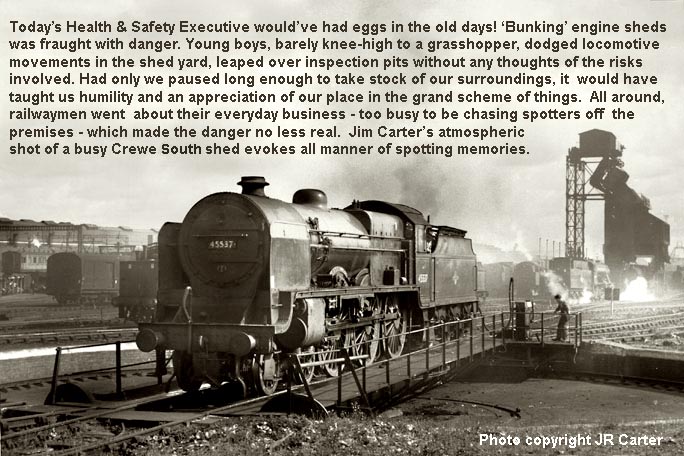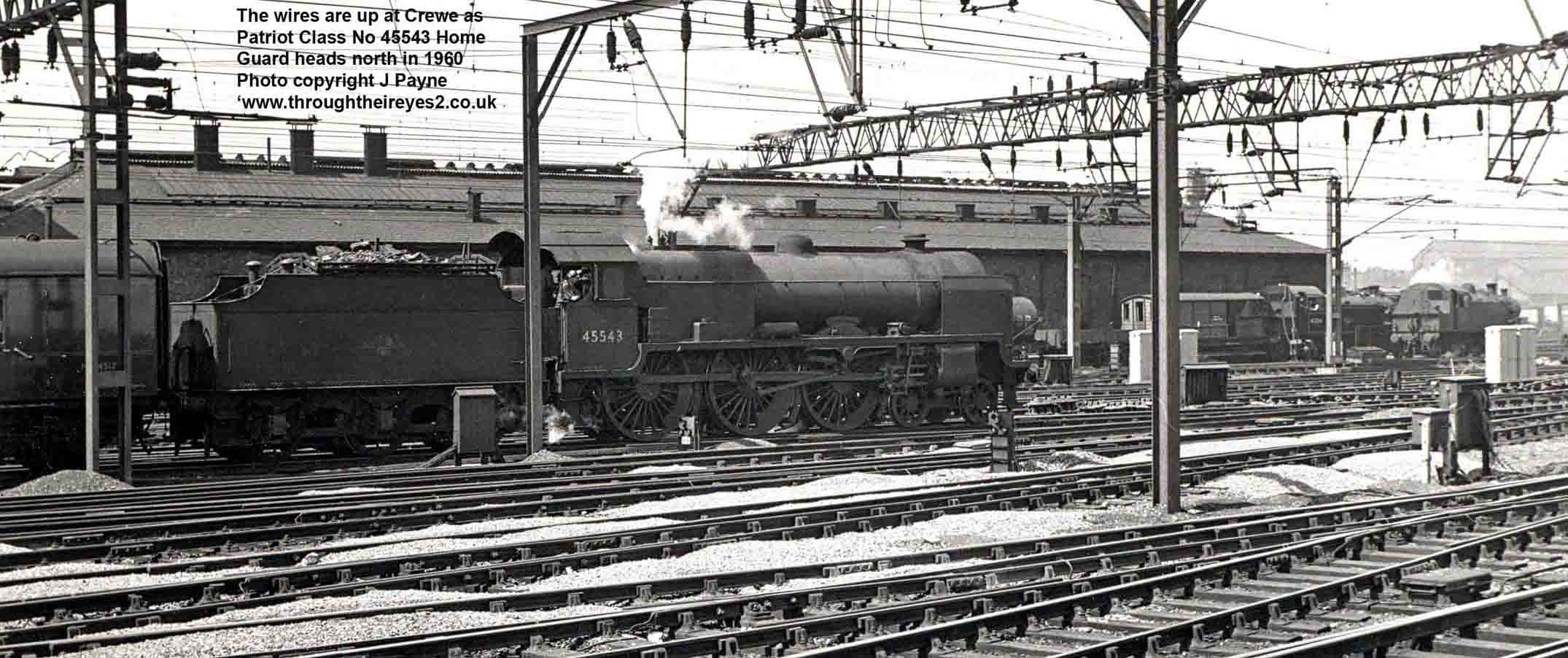 (Above-Below) 'Patriot' Class 6P5F No 45543 Home Guard heads a northbound train out of Crewe in 1960. Rebuilt 'Scot' class No 46124 London Scottish ready to depart north on the same day. These are 'super-wide' image, courtesy of Jim Payne's CD from 'www.throughtheireyes2.co.uk'...I am not affiliated with the sale of CDs in any way, merely reproducing what I think are interesting images...click on photos once, then again to see full-sized images. A word of helpful advice when viewing. Press F11 on the keyboard to empty the screen of all clutter (tool bars top-bottom etc) revealing a full-size webpage on screen...it really does make a difference! After viewing super-wide size, move cursor off the image and right-click to return 'back' to the page. You can press F11 on the keyboard at any time to return to the original screen.
(Above-Below) These colour shots of 'Duchesses' at Crewe were taken by Rail Cameraman, Richard S Greenwood, who writes: 'To my way of thinking there is no British steam locomotive class more pleasing to the eye than the Stanier Duchess Pacifics, especially those in the BR red livery. Their impressive lines suggest great power, speed and efficiency without the spiky or slab-sided shapes as seen on some other classes, and the Belpaire firebox breaks up the otherwise overlong boiler barrel.
The West Coast Main Line from Crewe to Carlisle was a magnet for North-West spotters. This view (above) looking south from the platforms shows two red Pacifics waiting to back down onto their trains. On the right is 46248 'City of Leeds' just ex-works about to take over a parcels working. On the left is 46254 'City of Stoke-on-Trent' waiting to relieve an electric loco on a Manchester-Birmingham express. The shot (below) shows 46254 'City of Stoke-on-Trent' awaiting departure on to its train…these photos were taken on Whit Monday 3rd June 1963, by which time the stretch of line between Crewe and Manchester had been electrified, but construction work continued on the WCML south of Crewe, hence the need to change engines... you'll find plenty of colour photos of London Midland Region steam on Richard's Page 53 here.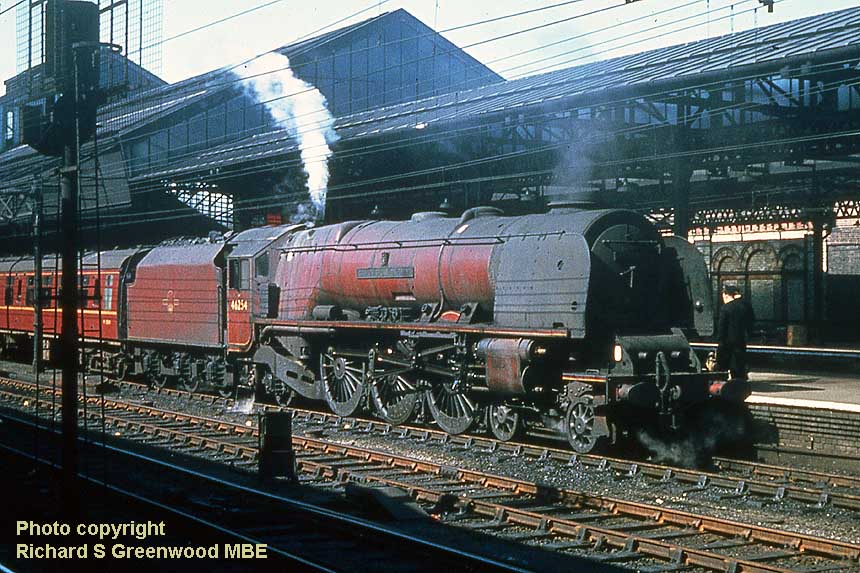 If truth be told, train spotting was more of a jolly jape for young boys - the 'thrill of the chase', if you like. However, there were certain rules to follow. I'm talking about 'honesty' and 'integrity', which are admirable sentiments but hardly the stuff you can rely upon when the very reason for collecting engine numbers was to push your 'cop'-rate as far as you could go.
Therefore it gives me no great pleasure in saying that some members of the spotting community thought nothing of added random numbers to their collection, perhaps thinking that by cramming their Ian Allan abc chock-full of underlined 'cops' it somehow absolved them from paying any attention to a credible story...like where and when the sightings were made?
In Bonzo's opinion, these 'cheats' had no place in the club; they were offenders of the worst kind, whose indiscriminate spotting didn't depend on their powers of observation, more likely the fertility of their youthful imagination. Not only did the 13 year-old Bonzo have a maturity well beyond his years, he was two years my senior which allayed my mother's fear that I could end up in some place I shouldn't.
The fact is, Bonzo opened all kinds of doors for me, because in spite of the distances involved, he was a master at deciphering railway timetables, and regularly organized visits to places like the railway Mecca of Crewe.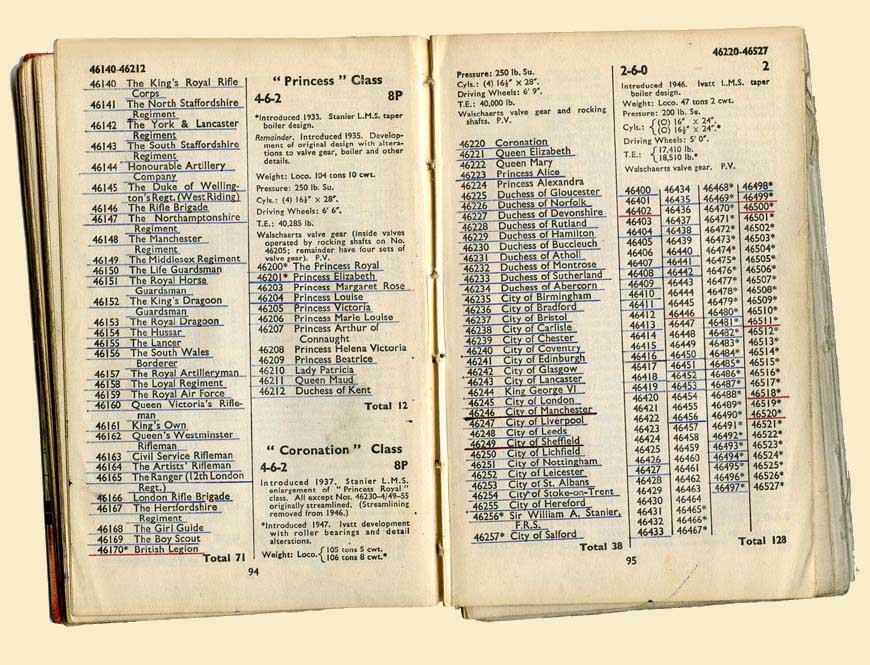 Like a fishing trip, we always started the day with the highest hopes, and a visit to Crewe offered by far the best chance of adding a new batch of engine numbers to our collections. I was desperate to see my first 'Princess Royal' class and, of course, the mighty 'Coronations' - both classes being the almost exclusive preserve of the West Coast Main Line.
As it turned out, I never did quite catch them all, though I came pretty close - just two short of bagging a 'full house' - but the expectation of 'copping' them all in the end never wavered.
Having risen early, we met at Horsforth station - both carrying the latest fashion accessories; a matching pair of tartan duffel bags or ex-Army & Navy khaki shoulder bags, both stuffed with jam butties the size of breeze blocks - and, in Bonzo's case, a well-thumbed copy of 'Health & Efficiency' magazine, plus umpteen bottles of fizzy pop. He loved Tizer, perhaps swigging up to three bottles a day, and mine if he'd had the chance. I've known him belch all the way from Leeds City to Manchester Exchange, spending much of the journey poking his head out of windows in search for cops. After a quick dash across Manchester city centre to London Road station, we hung around the Eastern Region platforms hoping to 'cab' one of the EM1 Bo-Bo electrics on the Sheffield service via Woodhead, some carrying the oddest names such as 'Diomedes', 'Ulysses', 'Mentor' and 'Pomethues'.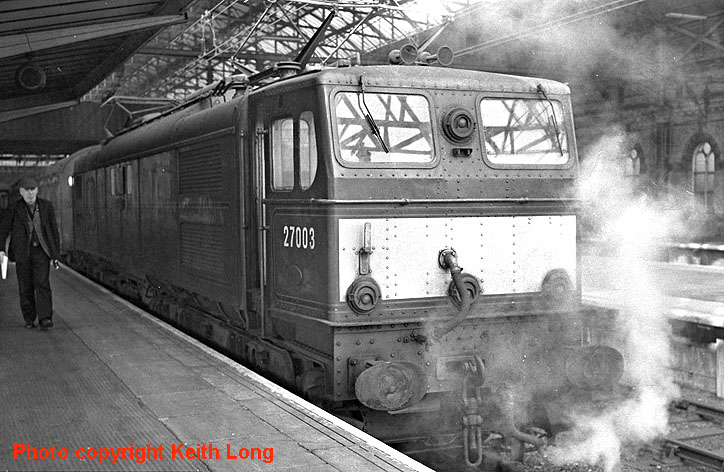 (Above-Below) A development of the earlier Metropolitan-Vickers and Gresley designed Class EM1 Bo-Bo introduced in 1941-1950 for the Manchester-Sheffield electrified route via Woodhead was the heavier Class EM2 (introduced in 1954) which had six powered axles and higher speed range for passenger duties. In all, seven were built, including No 27003 Diana seen here awaiting departure from Manchester Piccadilly with the 11.15 to Sheffield Victoria on 24th February 1963. Click on link to vist Keith Long's 'Rail Cameraman' page (Below) Class B1 No 61082 approaches Manchester (London Road) with a train from Sheffield on December 3rd 1953. Photo © BKB Green.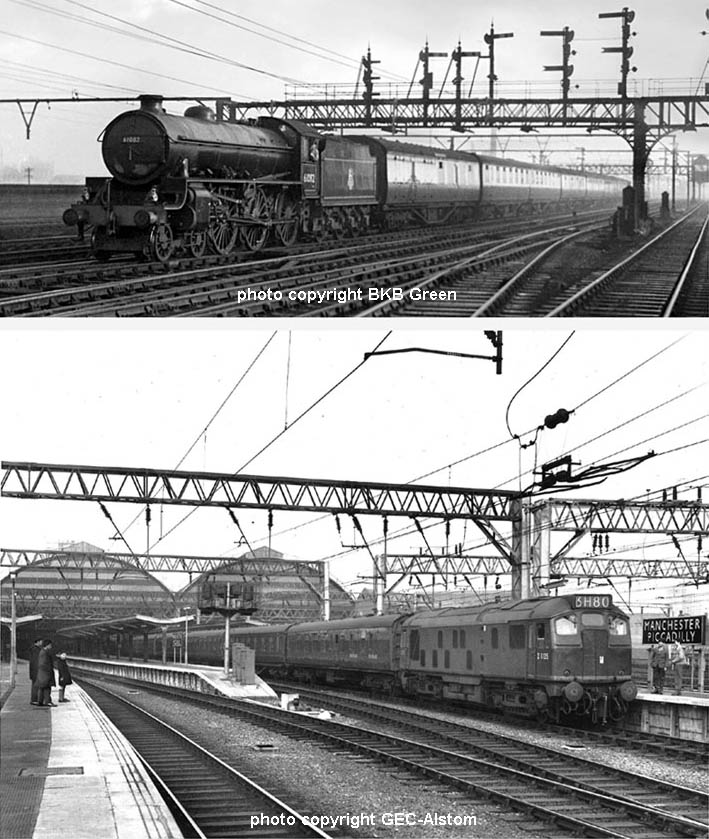 (Above-Inset-Below) When the Manchester-Crewe electrification commenced on September 12th 1960, the impact of the intensified, accelerated electric service saw an increase of 62% on passengers. It was just reward for Mancunians who had suffered a depressing timetable compilation and complicated diversions during electrification work. From the start, twenty two 2,300hp electric locomotives were provided for the new service which eliminated almost all steam working from the newly-named Piccadilly station. With the overhead electric warning sign on the cab end, BR/Sulzer Type 2 No D5135 stands beneath the overhead catenary at Piccadilly station in April 1961. For the record, during the Spring of 1963, the LMR were offering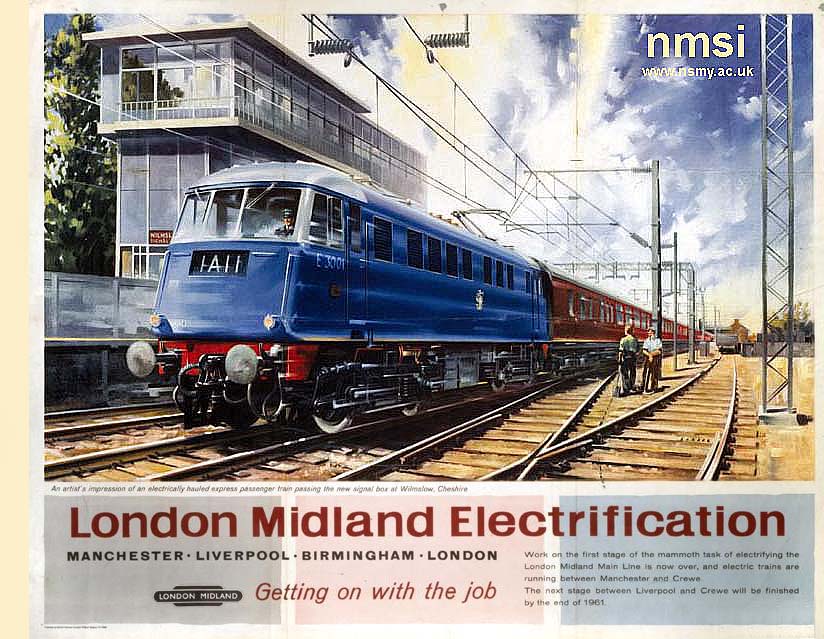 rail travellers week-end breaks in London, including hotel accomodation, meals, coach tours and a night club visit for an all-in fare of £12 to £19! (Inset) This BR(LMR) poster - 'London Midland Electrification - Manchester, Liverpool, Birmingham, London' was painted by Barber in 1960 and depicts a Blue Electric passing the new signal box at Wilmslow in Cheshire.
(Below) The stunning images from the NMSI collection show the quality of poster art to be seen on station platforms across the country during the 1950-60s. For the record, the NMSI family is comprised of four award-winning museums, each with their own diverse identity: the Science Museum, the National Media Museum and, of course, the National Railway Museum (NRM) at York which houses the world's pre-eminent railway collection. Spread across three halls, the Great Hall - formerly the steam engine shed (50A) - is complete with a working turntable, while the Station Hall (previously York's central goods depot) is now laid out like a 'period' railway station.
However, the NMSI's full collection is so big that only 8% of the artefacts are on public view. The Science Museum Swindon is a massive site housing collections ranging from the iconic Lockheed Constellation airliner to super computers, bicycles and the last Fleet Street printing press. The rest are hidden-away at an ex-WW2 airfield just off the M4, but rail enthusiasts are amply compensated by the NMSI Collections Online which is a superb website containing thousands of objects including a range of fabulous railway travel posters...a visit is highly recommended.
This British Railways London Midland Region poster (below) shows an artist's impression of the new Piccadilly Station and office block in Manchester by Claude Buckle in 1960. The text reads - 'London Midland Modernisation, replacing London Road Station will be completed in 1962. More platforms giving better service, easier access and more car parking space are but some of the improvements which will come from this rebuilding'. The poster was printed by Waterlow & Sons Ltd, London and Dunstable.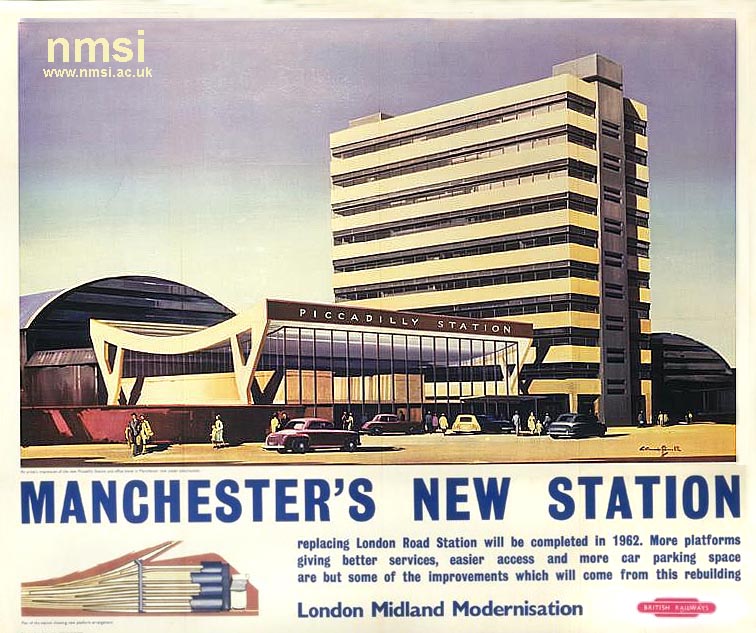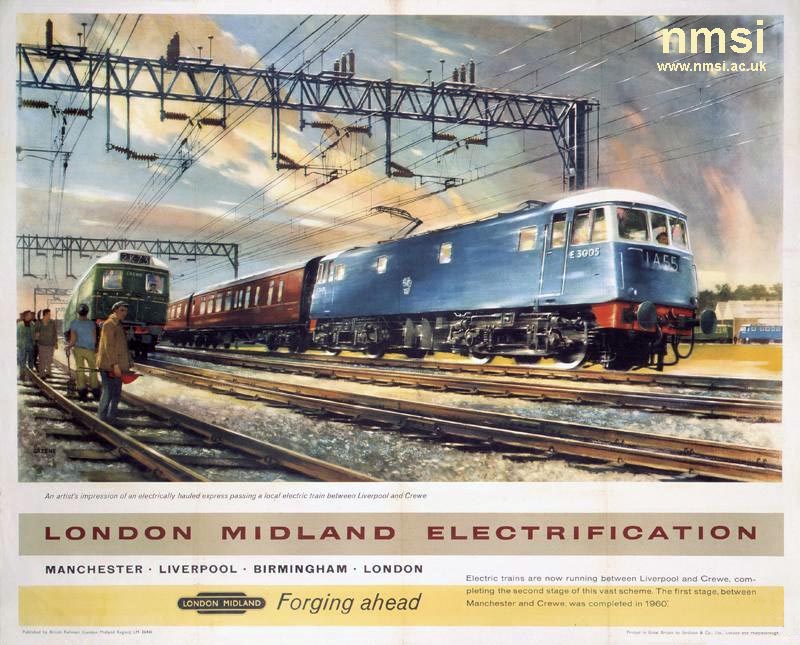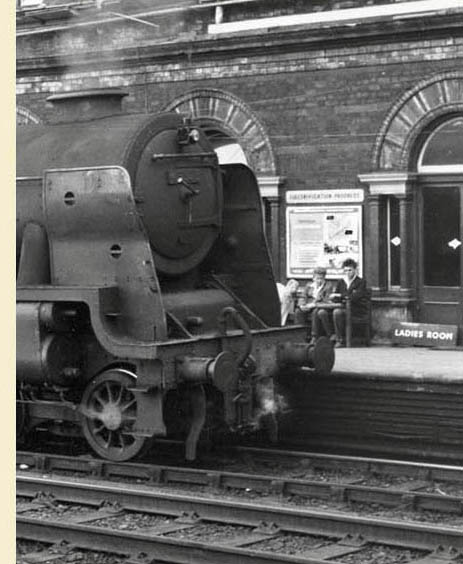 (Above) This British Railways (London Midland Region) poster - 'London Midland Electrification,' was painted by John Greene in 1961. The coloured lithograph depicts a permanent way gang watching an express passenger train hauled by AL1 class (later Class 81) No E3005 speeding past an electric multiple unit beneath the newly-erected overhead catenary wires. The accompanying text reads...
'An artist's impression of an electrically-hauled express passing a local electric train between Liverpool and Crewe' and 'Forging ahead, Manchester, Liverpool, Birmingham, London. Electric trains are now running between Liverpool and Crewe, completing the second stage of this vast scheme. The first stage, between Manchester and Crewe, was completed in 1960'

(Right) A progress report on WCML electrification can be seen on a poster on the wall of the Ladies Room at Stafford - a couple of spotters cast quizzical looks at the camera behind 'Patriot' class 4-6-0 No 45528 REME at the head of an 'up' train. Built in April 1933, this former paralleled boilered 'Patriot' (Baby Scot) suffered the ignominy of BR's dilly-dallying by remaining nameless for 26 years! The loco was rebuilt in September 1948, but it wasn't until September 1959 that No 45528 was named REME (in keeping with the Patriot class's military association). The loco was among five members of the class withdrawn in1963; it was cut up at Crewe Works in April of that year.
For the record, the Corps of Royal Electrical and Mechanical Engineers (REME) is responsible for almost all electrical and mechanical equipment in the British Army. Today, the REME Association's aims are to foster and promote comradeship between its members and those that are still serving - link here
(Below) The wires are up - and Crewe would never be the same again! A forest of catenary support masts is much in evidence in this shot of Stanier 'Black 5' No 45242 heading south with a local train.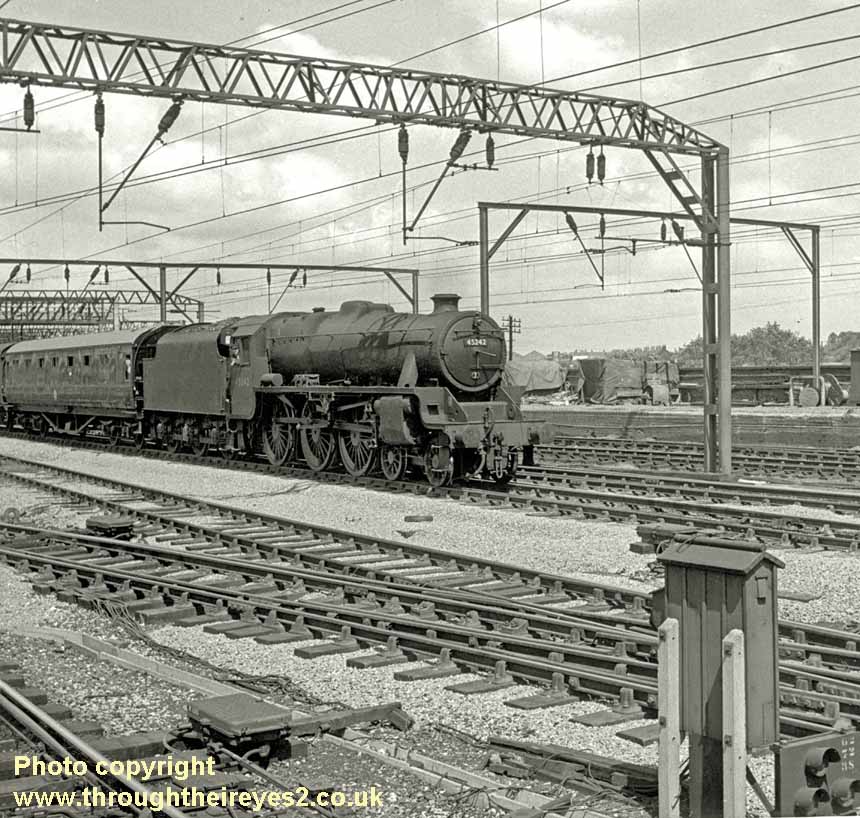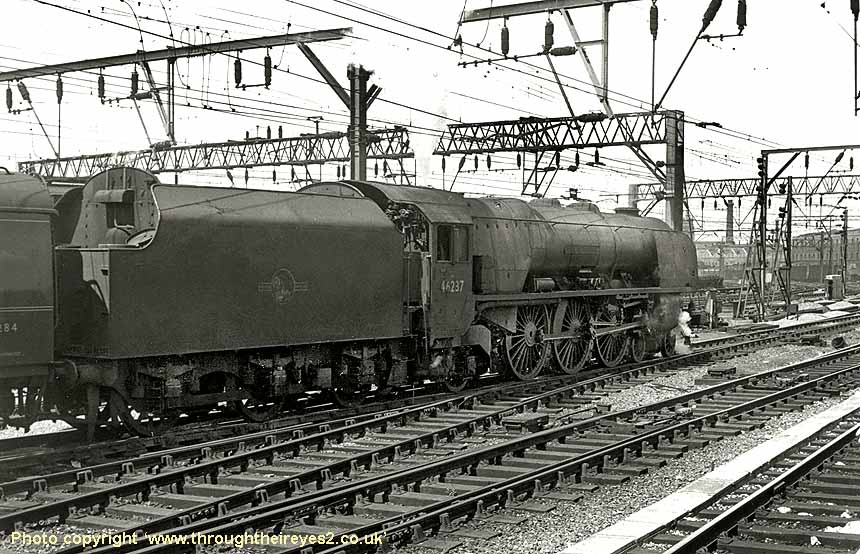 (Above-Below) Stanier 'Duchess' No 46237 City of Bristol departs with a northbound express. (Below) But forget the overhead wires! I'm getting ahead of myself...harking back to the old days, this shot of Caprotti fitted 'Black 5' No 44749 helps keep alive the memory of Crewe's steam days in the Fifties.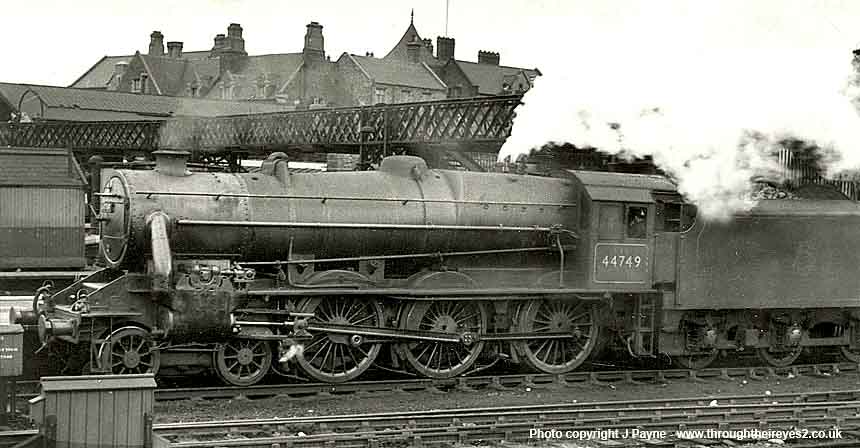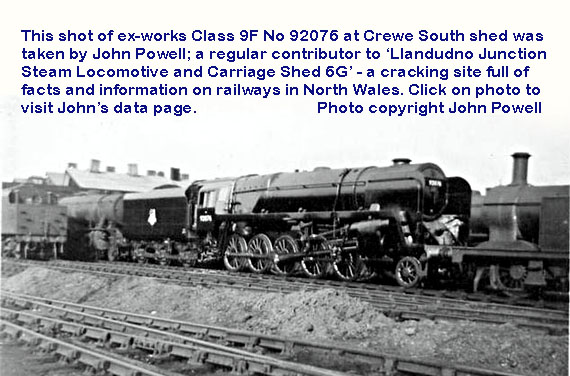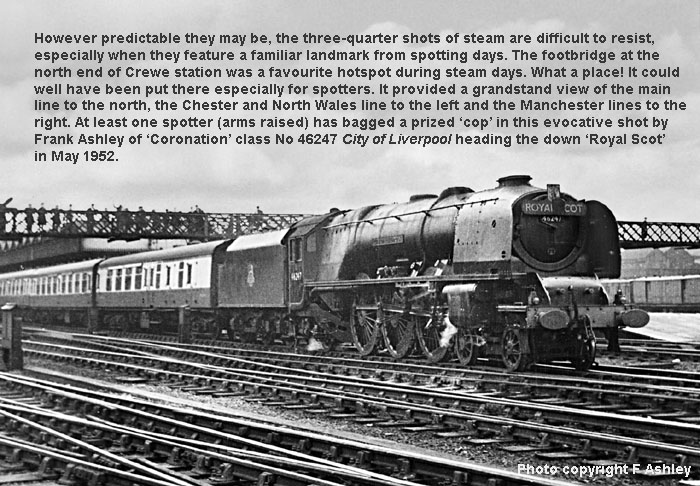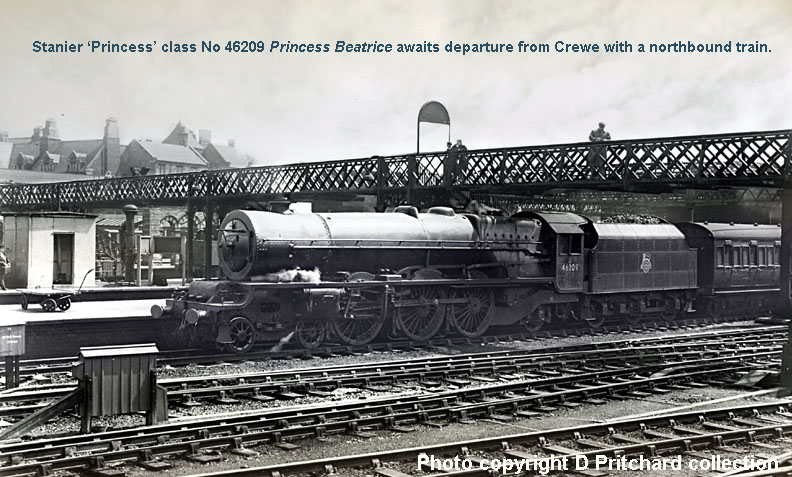 (Above-Below Right) For anyone unfamiliar with train spotting in the Fifties, then I should put the record straight. In spite of our strict upbringing (or perhaps because of it?) our behaviour was at best boisterous and at worst a downright nuisance. So to run away with the notion that the train spotting fraternity was an angelic lot is something of a misnomer. The majority of boys I met were loyal, trustworthy, and committed to a single cause, and because we shared a common interest in trains, there was a wonderful sense of belonging to a club that excluded no one from joining. The hobby embraced youngsters and grown-ups from all walks of life, from the big-shot luminaries in high places to the average-Joe on the street, and all could be found congregated at the ends of platforms, drawing cries of Cop! or Cope! and Strake! or Streak!
Indeed if you were seeking to find a group of train spotting stereotypes, Crewe was the place to go. There you'd see scruffy kids in anoraks chomping their way through jaw-aching jam butties whilst the posh kids donned natty school blazers and dined on a veritable banquet of chocolate eclairs - and, after they'd finished, they in all probability fluffed instead of farted - but so what? Here a spotter jots down the number of Princess Beatrice at the north end of Crewe station. All twelve members of the class were withdrawn between October 1961 and November 1962.
(Above Left-Below) The fireman of 'Britannia' class 7MT No 70021 Morning Star doesn't look best pleased! Perhaps a spotter has thrown something from the footbridge at the north end of Crewe station? Worse still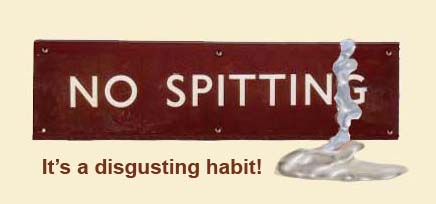 spitting was commonplace among factions of the spotting fraternity. The loutish behaviour of a relative few idiots reflected on us all.The BR Standard classes were the new image of Britain's railways in the 1950s, personified by the Riddles-designed BR Standard Class 7MT - the imaginatively named 'Britannia' Pacifics. Constructed at Crewe works, No 70021 was among the first batch (Nos 70000-70024) built between January and October 1951. Mr Morten's photo is dated 6th August 1951, so this is probably the first revenue-earning duty for the locomotive. On the other hand, judging by the pristine paintwork of the BR1 tender this is more likely to be a running-in turn prior to its allocation to the Western Region.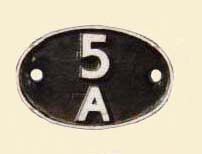 (Left-Right) Shedplate (5A) Crewe North (from 1935 to July 1965). This ex-LNWR shed with its predominance of express passenger engines was everything a spotter could wish for! There you'd find 'namers' galore: Patriots, Jubilees, Royal Scots, Class 8P Princesses and Coronations - and, during the final years Class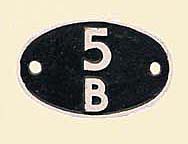 7MT Britannias.
130 locos were allocated here in the 1950s and in its final months around 40 locos carried this code. Another familiar shedplate was (5B) Crewe South (from 1935 to November 1967). This ex LNWR shed was responsible for the freight locos serving the adjacent marshalling yards. Its allocation of 115 in 1959 was briefly enhanced by the arrival of 10 Jubilees in the early 1960s. Between the summers of 1965 and 66 it was home to 24 Britannias out of a total allocation of 60 locos allocated.
This plate is a 1935 LMS pattern in ex-loco condition which sold for £120 at a Great Central Railwayana Auction in October 2011.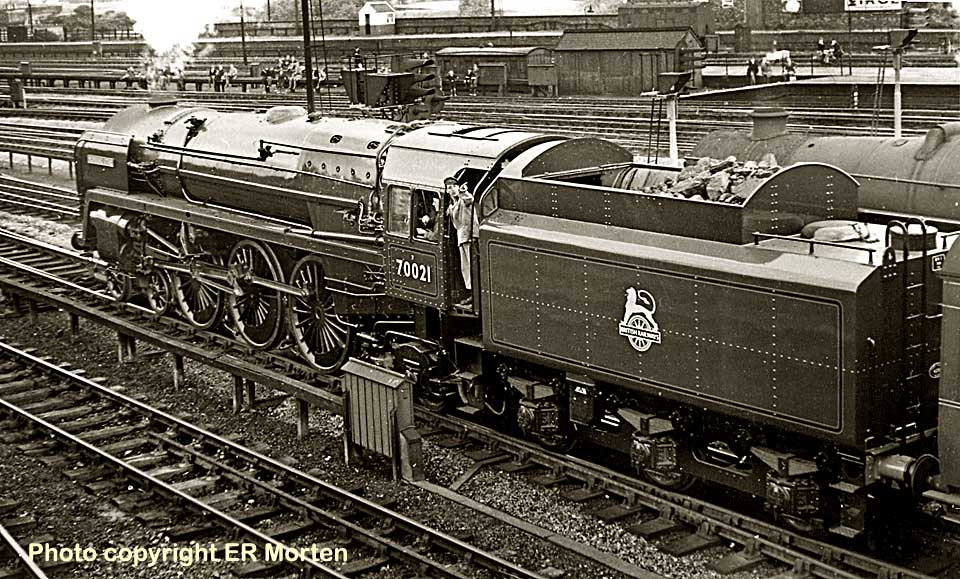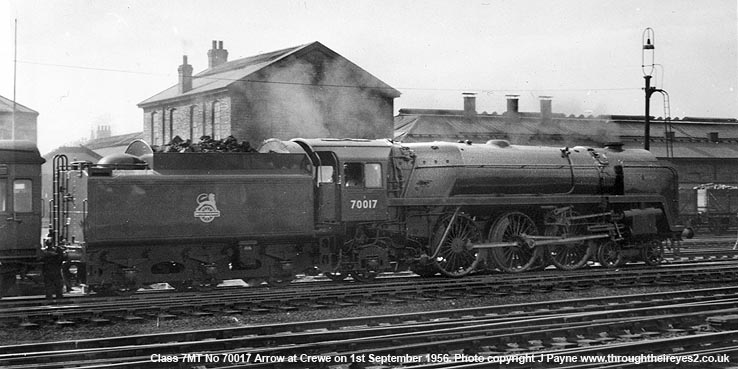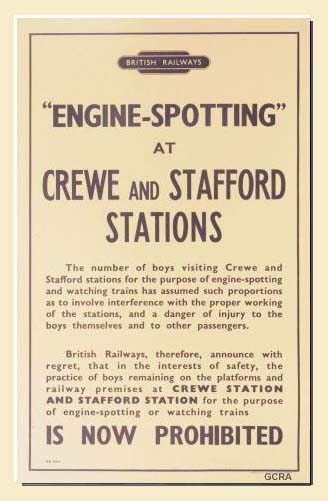 Sadly it was the reckless few vandals who infiltrated the spotting fraternity that spoiled the fun for the rest of us.
I'm harking back to the days when Britain stood at the social crossroads, and the stuffy, stiff-collared old order was about to be swept aside by a brash new youth culture.
All at once, the hobby began to take on insidious undertones. The foul-mouthed antics of the hooligan element became a menace to the rail-travelling public and, in some extreme cases, their thuggish behaviour would stand up well against the yob culture that began to creep into football in the Seventies and Eighties.
As a result, the authorities came down hard on spotters, and unless you could produce a valid ticket, anybody who looked remotely like a spotter was not allowed on the platform. Many stations barred us altogether, and warning notices were posted at ticket barriers - NO TRAIN SPOTTERS ALLOWED!
So when Bonzo and I boarded the train for Crewe, the hoity-toity displeasure on the faces of the London-bound passengers was a palpable thing. They shifted in their seats, as if shrinking from something nasty and baggage mysteriously appeared from suitcase racks onto unoccupied seats; anything to prevent us from sitting in their compartment. But we didn't want to sit down. We were only interested in what was going off outside the window. Within minutes of leaving London Road, the train was passing Longsight shed (9A) - two end-to-end buildings containing 12 and eight tracks respectively - and, judging by the dense layer of smoke shrouding the scene, sheltering a good proportion of its main line passenger stud. In the yard, we spotted a couple of 'Jubilees' and a 'Brit', but the rest were lost through the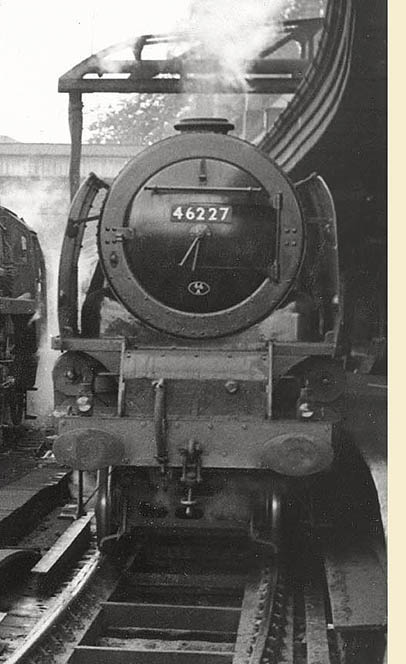 blur of rolling stock assembled in the intervening sidings.

(Above right) This BR(M) double royal poster, 'Train Spotting at Crewe and Stafford Stations is now prohibited' (BR35014) went under the hammer at a Great Central Railwayana Auction in October 2013.
On arrival at the railway Mecca, the first item on the agenda was to scout the station for any southbound departures. That done, we headed for the footbridge at the north end. What a place! The bridge could well have been put there especially for spotters. Not only did it provide a grandstand view of the main lines to the north, it gave a tantalizing glimpse of smoke and steam rising from express engines simmering in the shed yard at Crewe North. Having claimed our spot, a group of spotters told us what had been through earlier that morning. We had missed a 'Patriot', several 'Royal Scots', a 'Princess Royal', a couple of 'Coronations' plus the prototype Deltic had worked the up 'Merseyside Express'. But the prize cop I wanted above all others was No 71000 Duke of Gloucester which had run light engine in North shed, so there was a good chance it would emerge later that day. Only it didn't. I had to wait another year before I finally caught up with it at Carnforth. - link photo
I was rarely disappointed with my visits to Crewe because the railway Mecca produced the highest 'cop'-rate of anywhere I visited on the LMR. I even 'copped' my first Western Region locos on shed at Gresty Lane near the football ground.
As for the twin Co-Co diesels Nos 10000/1? I remember spotting them at Crewe heading the up 'Royal Scot' express and, judging by Bonzo's impeccable time-keeping, running a few minutes ahead of their booked time. Leading the ensemble was a rather grubby No 10000 in green livery with the BR insignia on its side, and carrying the distinctive tartan 'Royal Scot' headboard on the nose-end. A loud groan rose up from the pack of spotters, then another - and another - until the footbridge was awakened to a crescendo of cat calls and boos. I'd never heard the likes of it before. I glanced at Bonzo swigging his Tizer, his face showing a variety of emotions. I wasn't sure whether he was caught up by the hostility around us, or suffering from trapped wind? It turned out to be neither...like me, Bonzo was as pleased as Punch; the Co-Co twins were 'cops' for the both of us and, after watching them glide through the station, we dutifully logged them in our books, away from prying eyes.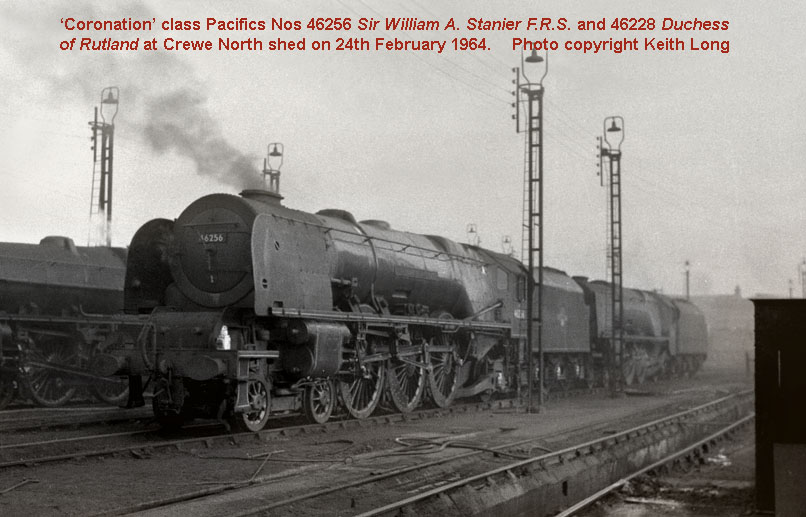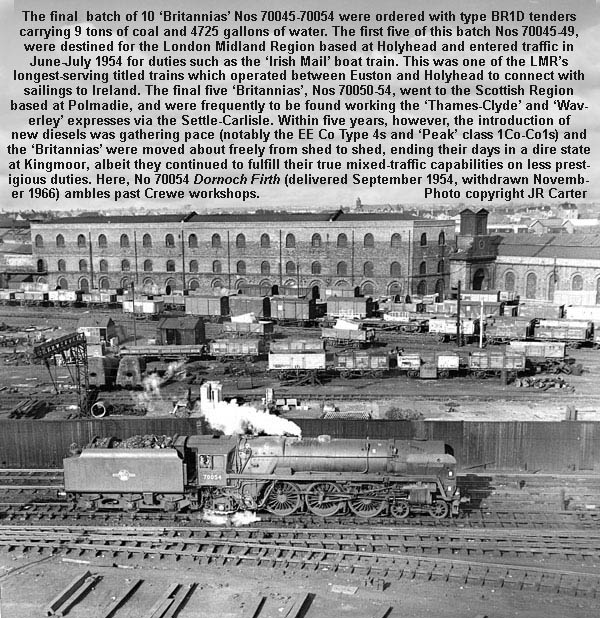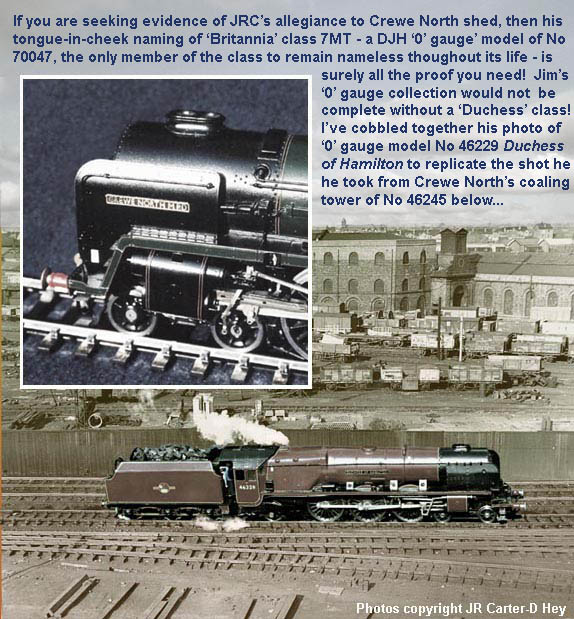 (Above) A product of Crewe workshops, No 46245 City of London, introduced to traffic in June 1943 - and the first of 16 Duchesses to be repainted in BR-style red livery by the London Midland Region in December 1957 - heads past the works prior to taking over a Railfan Special on September 1st 1964. The locomotive was one of 17 Duchesses withdrawn the same month. Note the boilers in the background (now the site of the Crewe Heritage Centre). Photo © J Carter Click on link to visit Jim's 'Rail Cameraman' Page.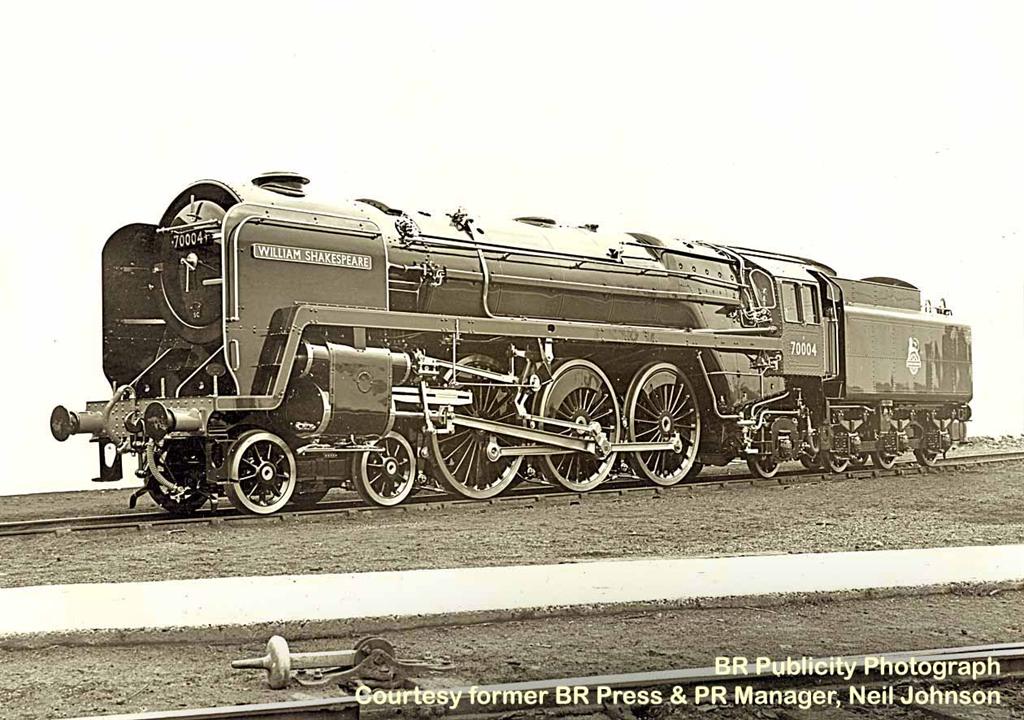 (Above-Below) Another product of Crewe workshops, No 70004 William Shakespeare, seen here reposing in the works yard for its official BR publicity photograph. 70004 became the pride of the Southern Region's Stewarts Lane depot (73A) where it was regularly used on the prestigious 'Golden Arrow' service. (Below) A legacy of its time spent at Stewarts Lane are the SR lamp irons affixed to the lower smoke deflector brackets and the 'Arrow' fixing pins are still visible beneath the nameplates, however No 70004 William Shakespeare is now displaying a 1A shedcode denoting its current Willesden allocation. The engine was photographed at Crewe North shed (5A) in the company of an unidentified WD, Black Five and Stanier 'Coronation' class Pacific.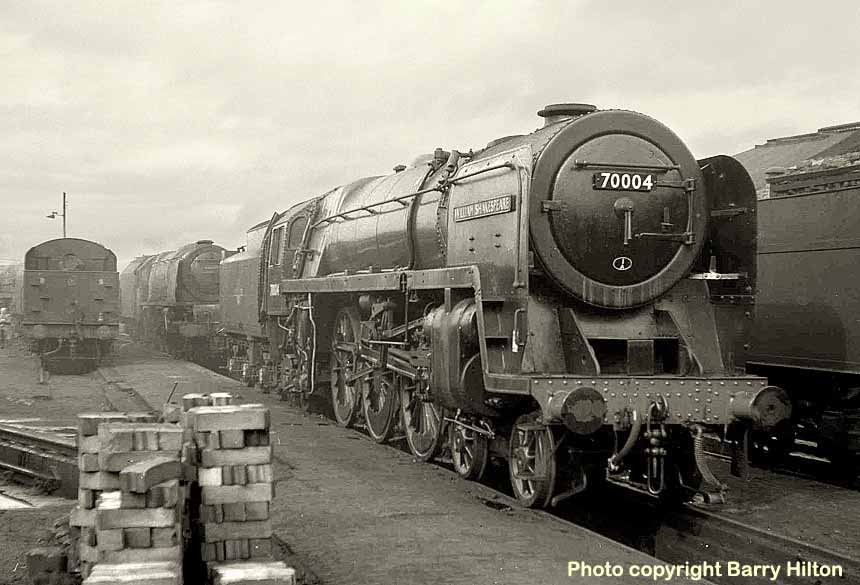 (Below) Prior to accelerating the Anglo-Scottish expresses on the West Coast route in 1927, the LMS took the unusual step of borrowing a 'Castle' class 4-6-0 from the GWR for tests between Euston and Carlisle. The performance of the GWR engine proved superior to the LMSR's 'Claughtons', so a decision was taken to dispense with Sir Henry Fowler's planned 3-cylinder compound and 4-cylinder compound Pacifics, and an order was placed with the North British Locomotive Company of Glasgow to build fifty 3-cylinder 4-6-0s with a parallel boiler and Belpaire firebox. At the time, the SR generously offered a few pointers of their own for the Derby drawing office to consider, so the 'Royal Scots' had more than a passing resemblance to the Southern Railway's 'Lord Nelson' 4-6-0s introduced a year earlier. Sporting a 5A (Crewe North) shedplate on the smokebox door, No 6149 The Middlesex Regiment waits its next turn of duty. Photo © L Turner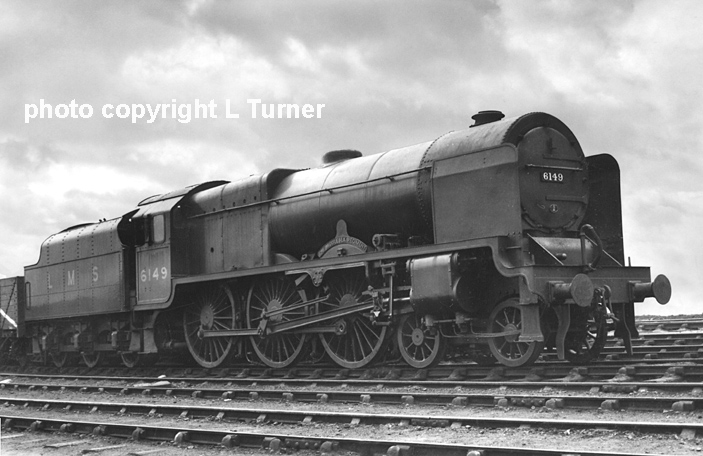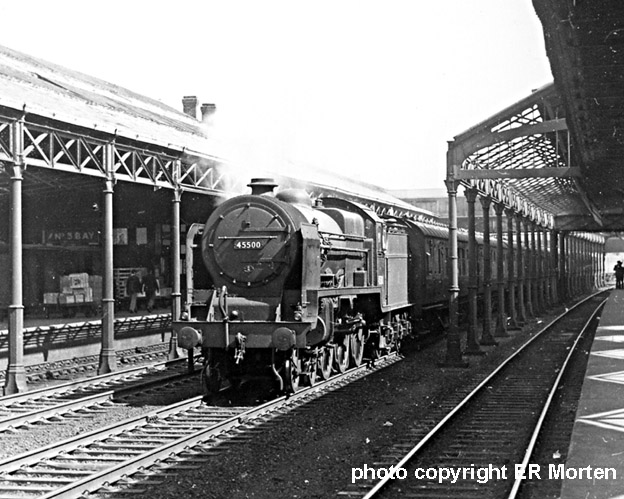 (Above) The doyen of the Class 6P5F 'Patriots' No 45500 Patriot heads a 'down' express through Stafford on 3rd June 1952. The resemblance in external style to the larger 'Royal Scot' class coined their nickname 'Baby Scot', but the scrapping of the LNWR's war memorial engine Patriot led to the name being transferred to the class. Photo © ER Morten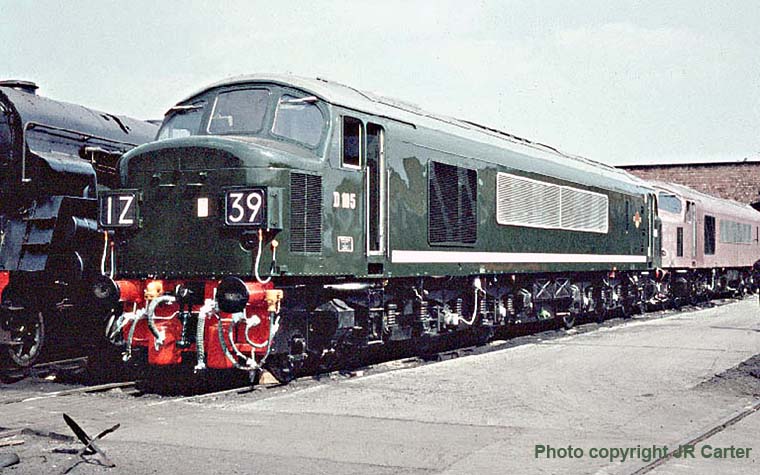 (Above-Below) Crewe Works was responsible for building Type 4 'Peak' class Nos D50-D137 in the fleet (Class 45); this view shows a newly-built 'Peak' No D105 standing alongside an ex-Crosti BR9 outside the Paintshop. (Below) In 1959, BR abandoned the pilot scheme orders, therefore the 'Western' class was introduced without the benefit of full prototype trials, yet no fewer than 74 locomotives were ordered - 35 to be built at Swindon and 39 at Crewe, but as it turned out, Crewe also constructed the last five of Swindon's allocation. Still in workshop primer, 'Westerns' Nos D1055 Western Advocate and D1056 Western Sultan are shunted into the paintshop yard at Crewe by Class 3F No 47597.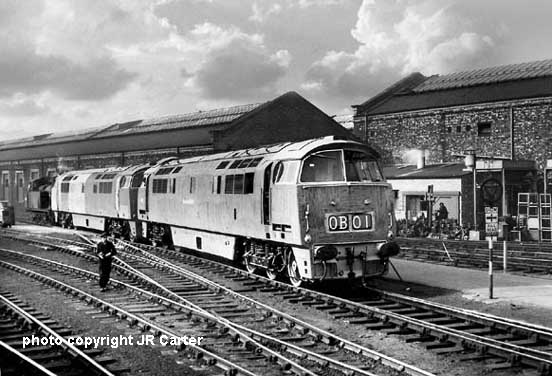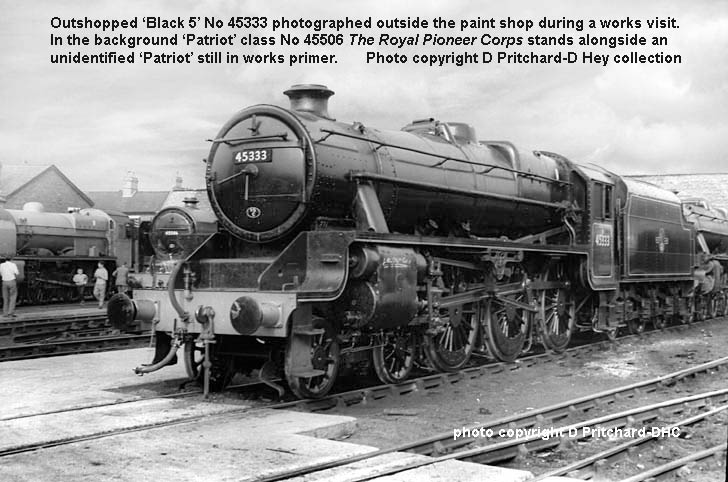 (Above) My thanks to Vic Smith of York for helping date this photo. He writes - 'This is the end of June 1960. 'Black 5' No 45333 was a 15C loco from December 1959; 'Patriot' class No 45506 was in the works 5/5/60 - 28/6/60, and the unidentified Patriot in undercoat is No 45549, which visited the works 20/5/60 - 6/7/60. Both Patriots received Light Casual Repairs...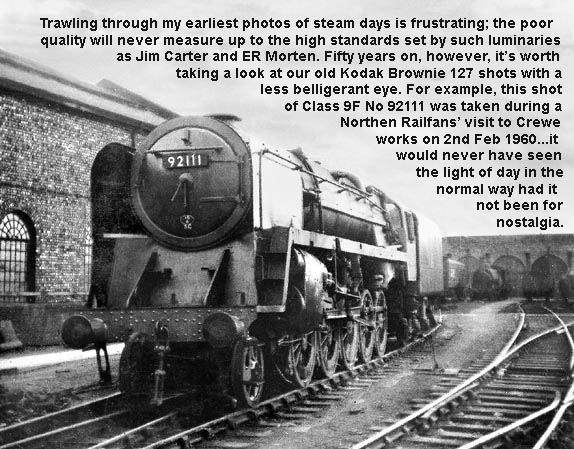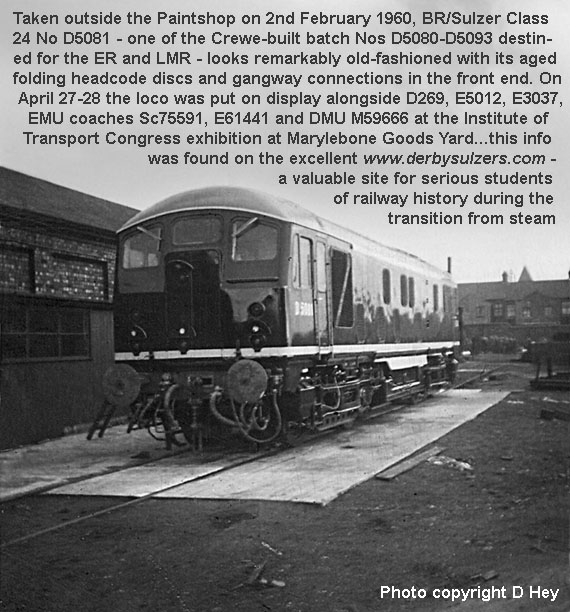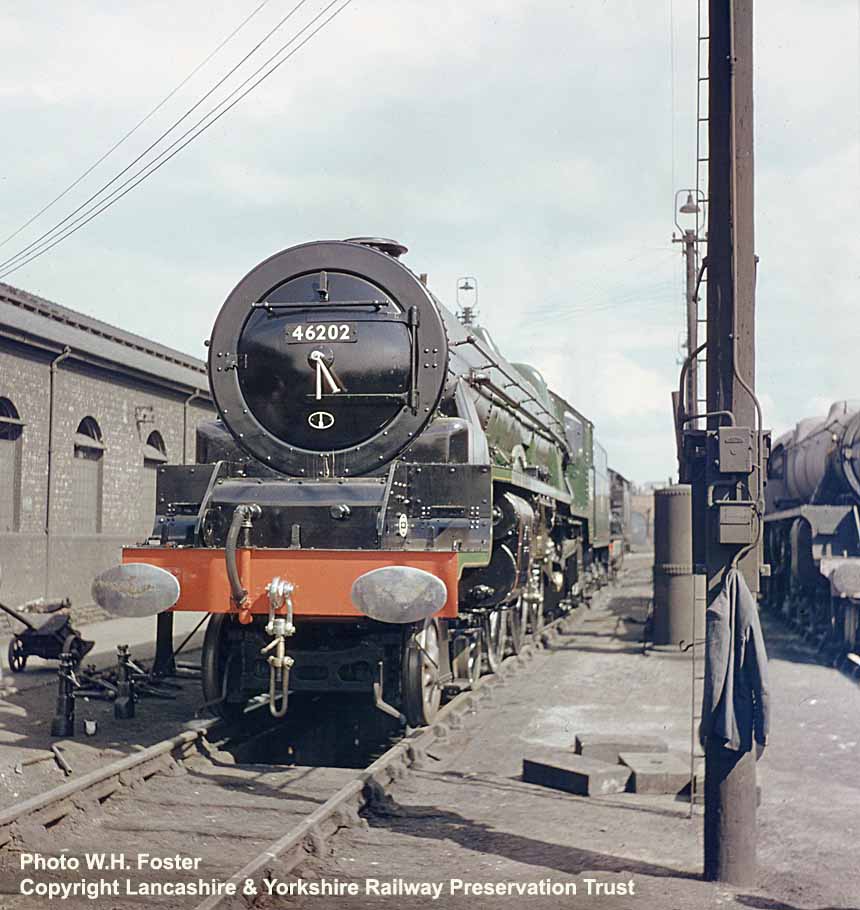 (Above) A front view of No 46202 Princess Anne, better known as the former experimental Turbomotive, seen here after the non-condensing turbine-powered experiment was abandoned and the locomotive was rebuilt to its conventional form in 1952. The photo was taken by W H Foster, who donated the slide to the Lancashire & Yorkshire Railway Preservation Trust. Click…HERE to visit the Trust's website. (Below) Had it not been for the involvement of No 46202 in the tragic multiple railway accident at Harrow in 1952, the design and construction of the BR 3-cylinder Caprotti-fitted No 71000 Duke of Gloucester would never have got off the ground. No 46202 sustained damage beyond repair and was subsequently written off. This led to the Railway Executive agreeing to Riddles's proposal for the construction of a prototype Class 8 standard 4-6-2 as a replacement locomotive. Designed at Derby and built at Crewe Works in May 1954, the unique Class 8 Pacific poses for an official photograph at Crewe.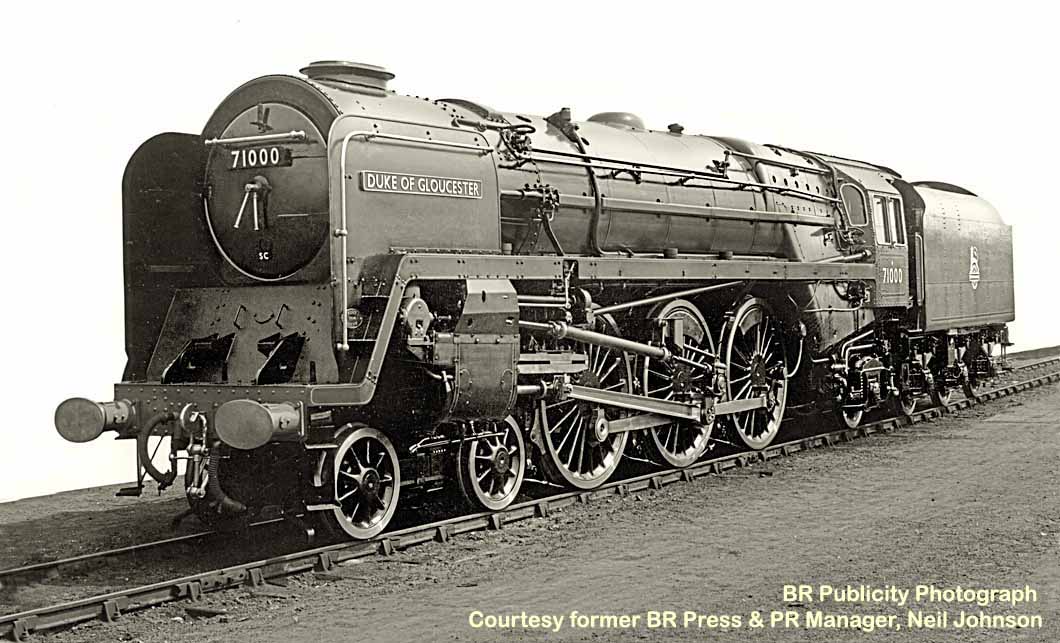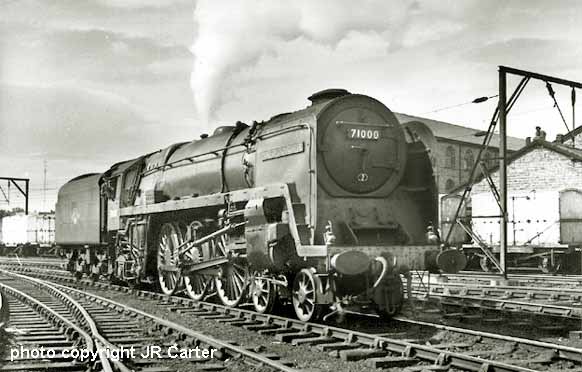 (Above-Below) The new Class 8P was intended to represent the pinnacle of modern British locomotive development, but No 71000 was unpopular with crews for being a shy steamer and after only a short working life on some of the heaviest Stanier 'Pacific' diagrams based at Crewe North MPD, the locomotive was withdrawn from traffic in November 1962 and languished at Crewe for a long period pending a decision on its future. With newly-erected electrification masts visible in the background, the 'Duke' blows off steam at its home shed at Crewe North (5A) in June 1962. Photo copyright JR Carter. (Below) John Crompton has corrected me on wrongly dating 71000's disposal date as 1962 in a previous caption...having visited Crewe Works on 6th March 1966, John took this photograph of 71000 (looking remarkably intact, complete with nameplates) whilst in store in the open in the works yard. On the same day 46235 City of Birmingham was in the paintshop being prepared for preservation. A brand new Brush Type 4 D1992 was also there, and A4 60019 Bittern was in Crewe Station with the 1T70 special for William Deacon's Bank Club. Despite 71000's steaming deficiencies, the loco was nonetheless selected for preservation as part of the National Collection, but it was later decided that the British Caprotti poppet valve gear was the only redeeming feature worthy of saving, hence the complete left-hand cylinder was later removed for display at the Science Museum, Kensington. Photo copyright DJ Crompton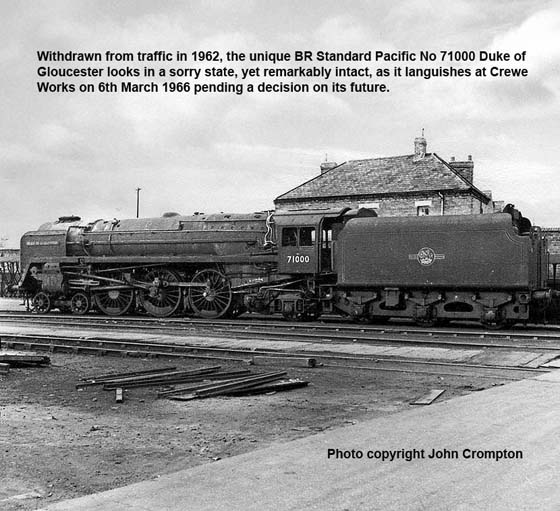 (Below) Here are the Crewe photos taken on March 6th 1966 - from top to bottom are: No 46235 City of Birmingham in the Paintshop at Crewe Works prior to its presentation to Birmingham Museum of Science and Industry. Then there's the Brush Sulzer Type 4 No D1992 in the Paintshop a few weeks before going into service. I took the next photo of Class A4 No 60019 Bittern in Crewe Station with the 1T70 special for 'William Deacon's Bank Club'...if I tried taking this shot today, I'd doubtless be carted off by the British Transport Police! Finally there's the shot of the BR Standard 'Britannia' Class 7MT No 70038 Robin Hood in the Repair Shop at Crewe Works. I initially thought it was being dismantled for scrap, but it did actually go back into service. The only evidence I have that it was No 70038 is that it had the number chalked on the side.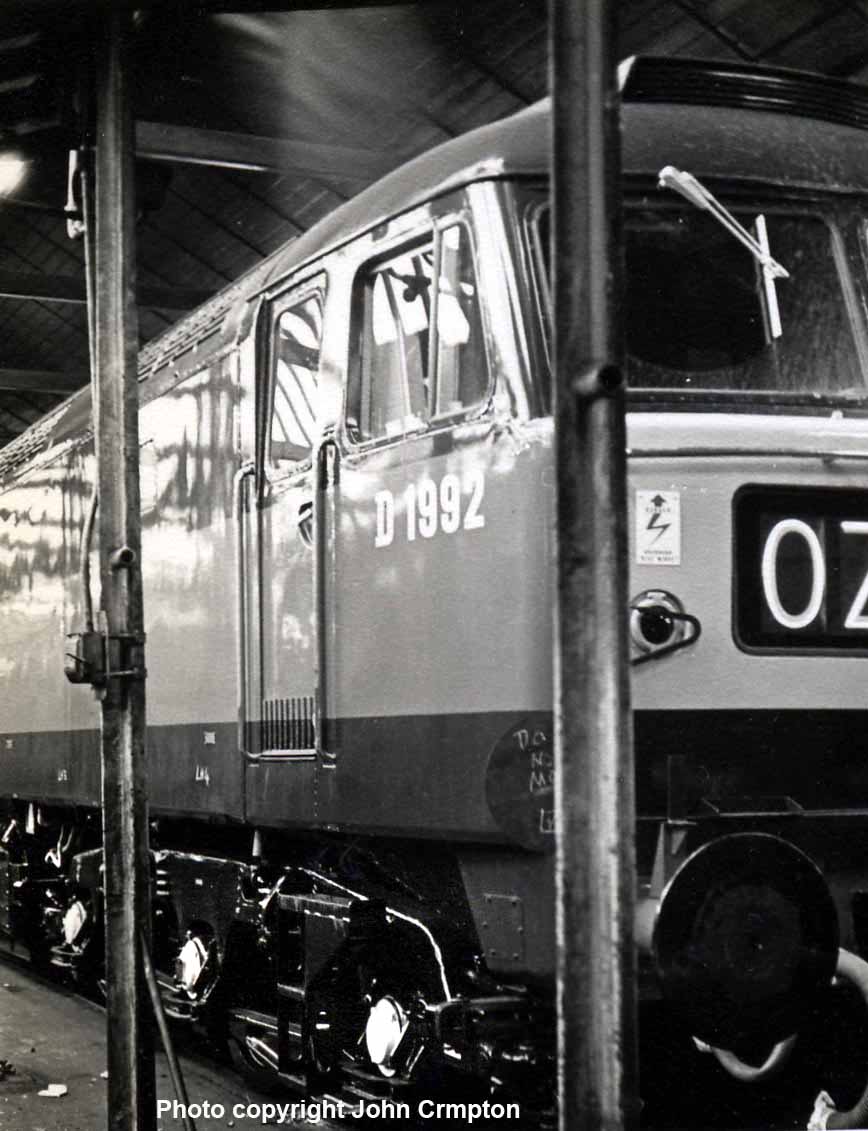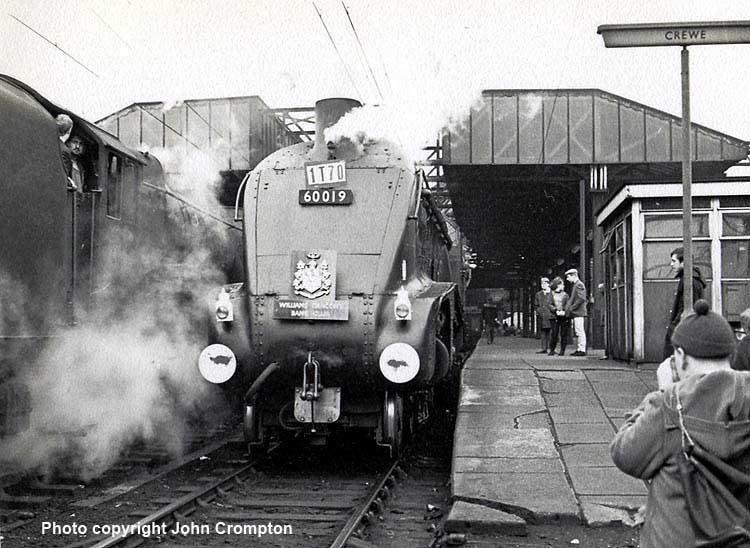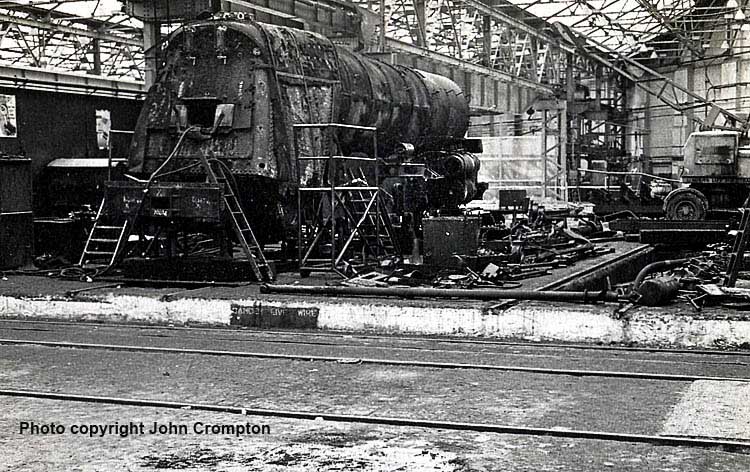 Reviving old memories from more than forty five years ago!
John Crompton has rescued three more gems of Sixties steam days; John writes - 'I have managed to scan a few more photos from my visit to Crewe on 6 March 1966. The negatives plus photos were stuck in an album and required cropping to make individual photos. I think they were taken on Tri X (400 ASA) film, which will add a bit of extra grain. (Above Left) Class 3F 0-6-0T ex LMS brings in the stock of an enthusiasts special from Crewe Works. (Not sure of the number 476?1). (Above Right) BR 'Britannia' Class 7MT No 70022 Tornado and 70036 Boadicea (both minus name plates) in Crewe South (5B) shed. (Below) Stanier black 5 No 45044, together with Metro-Vick Type 2 No D5701 and Brush Type 4 are pictured at Crewe Works - the Paint Shop is just visible in the background.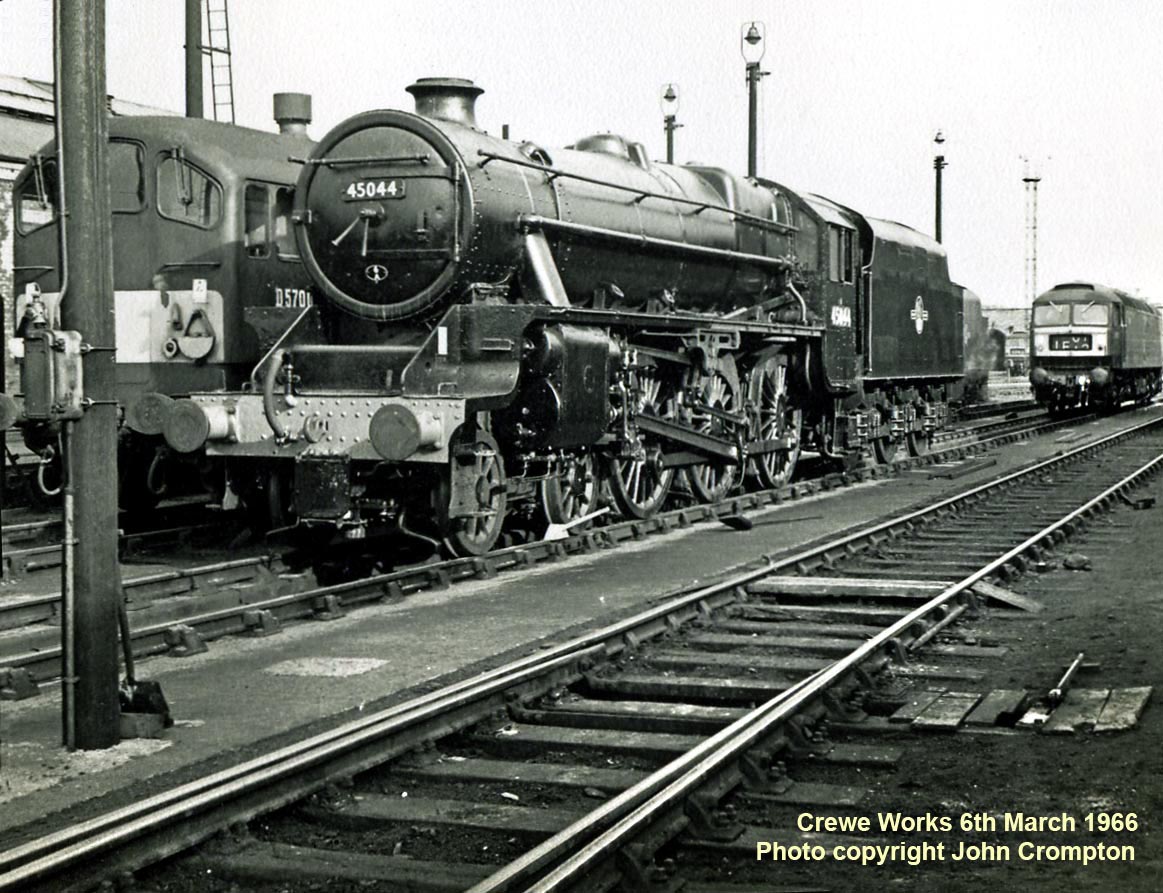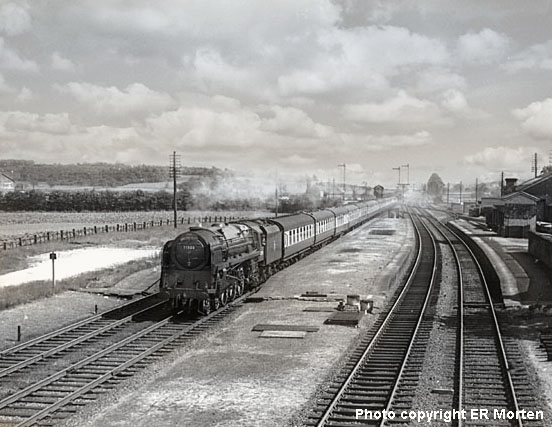 (Above) In this ER Morten photo, No 71000 heads north through Madeley just south of Crewe with the down 'Mid-Day Scot on 18th June 1955. Some twelve years later, having been stripped of both outside cylinders and valve gear in readiness for disposal, the butchered 71000 was eventually sold for scrap to Woodham Brothers of South Wales where it languished for many years at Barry Island until a group of enthusiasts purchased the locomotive in 1974, and the Duke of Gloucester Steam Locomotive Trust was formed. Rescued from Barry for restoration by the Trust, a dedicated team of volunteers discovered a design fault with the ashpan dampers, which partly explained why No 71000 was a poor performer in BR days - actually, I stand corrected yet again...Phil Saywood from Exeter emailed me - 'I think you will find that 71000's dampers were properly designed, but not built correctly to the drawings,' he writes, then adds somewhat impishly - 'I have always thought 'Designed at Derby, built at Crewe' was a recipe for disaster! Thanks to both John Crompton and Phil Saywood for taking the trouble to correct me. Needless to say, the engine has become one of the great crowd-pullers in the preservation movement. Click here to visit the 71000 (Duke of Gloucester) Steam Locomotive Trust Limited.
(Below) Because of the bulky medium-speed engines and electronic plant then available, the SR trio Nos 10201-3 had to be mounted on 1Co-Co1 bogies - made up of three motored wheel sets and an outer non-powered guiding axle to distribute the weight. With evidence of WCML electrification in the background, the second of the SR's trio No 10202 (sporting BR's Brunswick green livery) heads an 'up' train out of Crewe in July 1962 Photo © D Pickup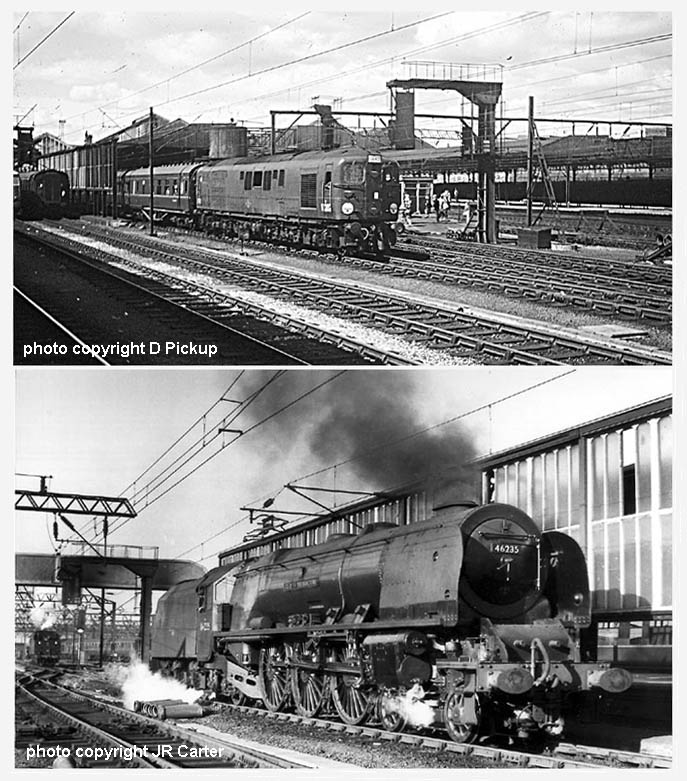 (Above) In the days before the obligatory warning stripe appeared on the cabsides of steam locomtives, an immaculate No 46235 City of Birmingham heads light engine to its home shed at Crewe North after working a Euston train from Glasgow. The ban on the Stanier 'Coronations' south of Crewe was imposed following the energisation of the overhead catenary, and surviving locomotives were painted with a diagonal yellow stripe across the cab side to denote prohibition of their movements south of Crewe. Fortunately, No 46235 was one of three 'Coronations' to survive the cutters torch. Withdrawn in October 1964, the locomotive found a new lease of life, albeit as a non-working static exhibit at the Birmingham Museum of Science & Industry.
(Below) Although officially designated the 'Princess Coronation' class - later shortened to 'Coronation' - the Stanier Class 8P Pacifics will always be called the 'Duchesses'. It seems an odd choice, seeing that of the 38 members of the class, only 10 - Nos 6225-6234 - were named after Duchesses. The remaining locos carried a proliferation of 'City' names, except for No 6257 Sir William Stanier FRS, named in honour of the LMSR's CME 1932-1944 at a ceremony held at Euston in December 1947. Here, No 46238 City of Carlisle heads a 'down' express at Warrington. Photo copyright JR Carter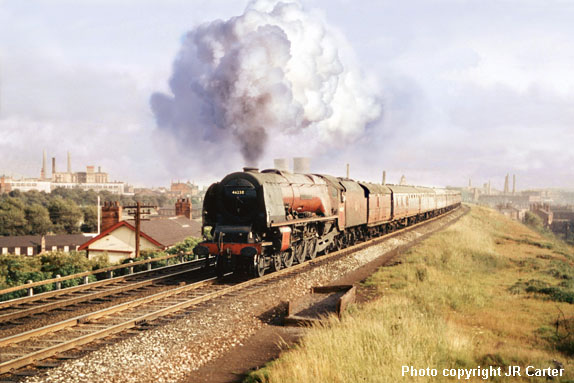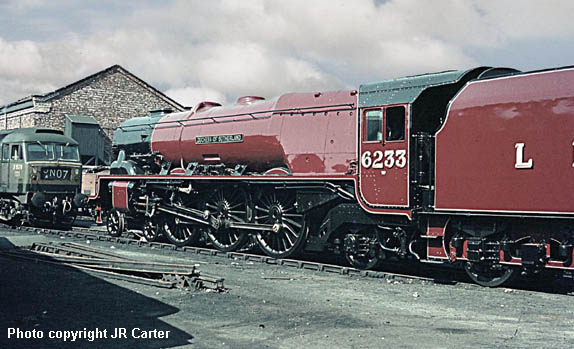 (Above) Introduced to traffic in July 1938, No 6233 Duchess of Sutherland was one of five non-streamlined 'Duchesses' Nos 6230-34 built at Crewe works in 1938. The locomotive was allocated initially to Camden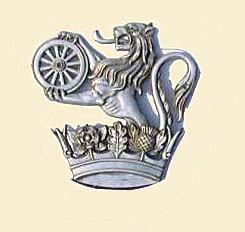 shed, then spent a long period at Crewe North before ending its days at Edge Hill shed on Merseyside. Withdrawal came in February 1964 after clocking over 1½ million miles in service. The loco was purchased by Billy Butlin and repainted for use as a static display at the company's holiday camp at Ayr. Here, No 6233 makes a splendid sight after being restored to its original LMS livery (well, a pretty-close version, some would say) at Crewe works before being towed by rail to the Ayr camp on 23 October 1964. No 6233 remained at the holiday camp until February 1971, then it was entrusted to the Bressingham Steam Museum on a free loan agreement. From there it went to the Midland Railway Centre in Derbyshire for overhaul and return to running order - a fitting end. Photo © JR Carter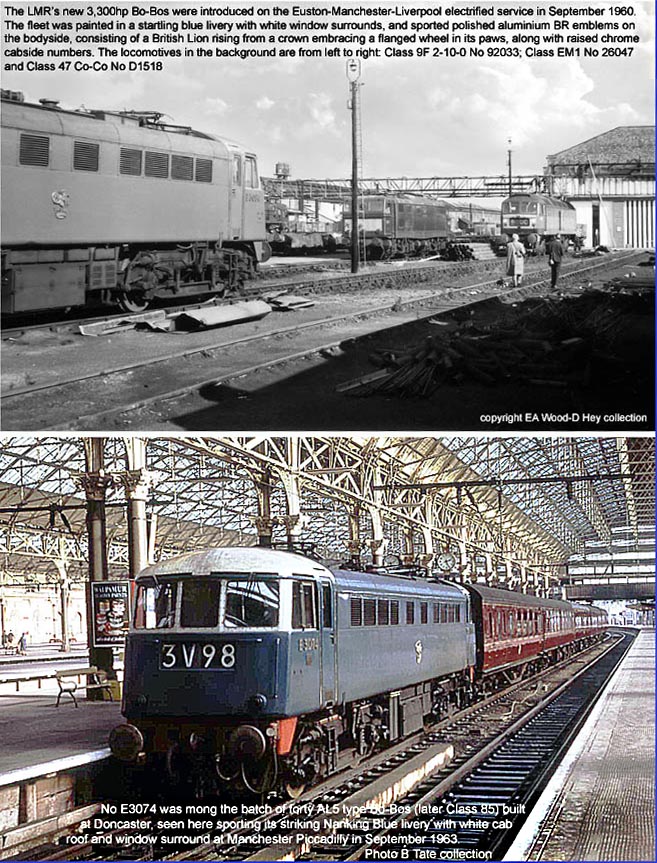 (Below) In 1966, an unusual visitor to Crewe works was Class A4 No 60010 Dominion of Canada. The loco entered service at Kings Cross shed in May 1937 as No 4489 Woodcock, but was recalled to Doncaster and re-emerged as Dominion of Canada painted in the LNER's garter-blue livery. A year later, the locomotive was fitted with a bell presented by the Canadian Pacific Railway. It also carried the Canadian Pacific Railway's five-note chime whistle in place of the Crosby tri-tone standard for the class. After a brief spell at Grantham shed between April-September 1957, No 60010 returned to Kings Cross where it remained until the shed closed in June 1963. It was transferred for a few months to New England for secondary duties on the ECML, before ending its days at Aberdeen Ferryhill shed to work the 3hr schedule Aberdeen-Glasgow expresses. Condemned at Darlington works in May 1965, the locomotive languished at Darlington shed until August 1966 before it was towed to Crewe for refurbishment.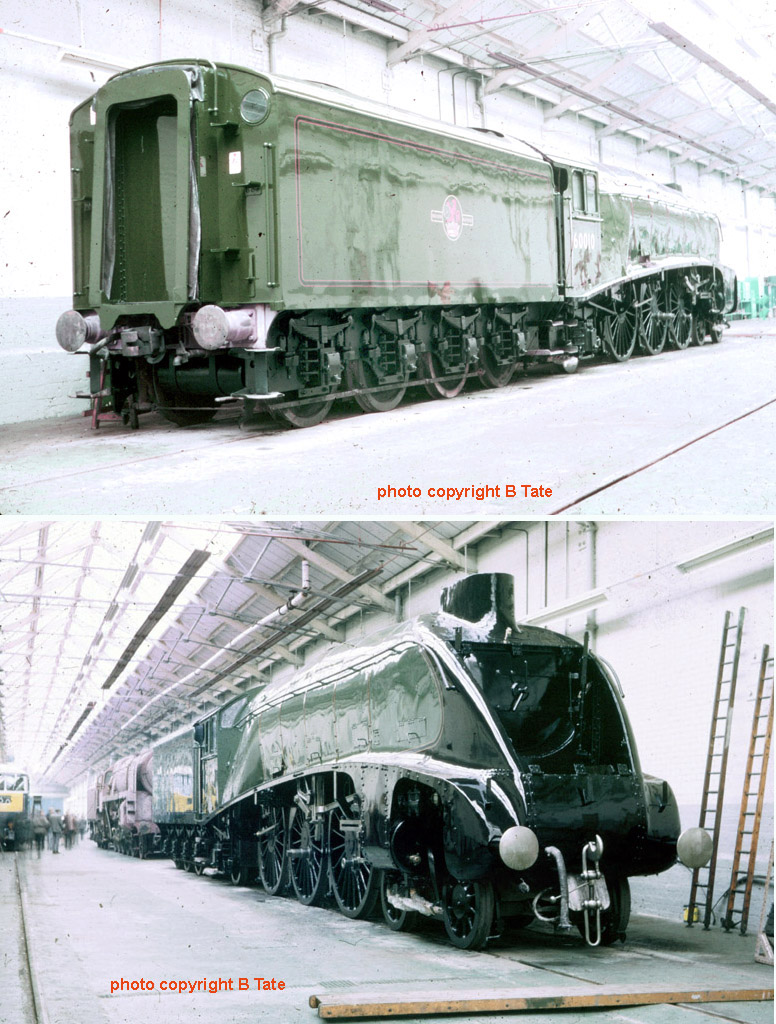 (Above) Class A4 No 60010 looks in sparkling condition at Crewe works (note the buck-eye coupling at the rear in the top picture) before it was formally presented to the acting High Commissioner for Canada at a ceremony held in the Royal Victoria Dock, London on 10 April 1967. The locomotive is now on static display at the Montreal Railway Historical Museum, Canada. Photo © B Tate
(Below) LMS/English Electric Co 1,600hp Co-Cos Nos 10000/1 © GEC/Alstom: The Ivatt twins as we remember them - powering the 'Royal Scot' in early British Railways days. Working in multiple, the Co-Co twins were regularly employed on the heavy Anglo-Scottish expresses during the 1950s. The 'Royal Scot' express had a distinctive tartan-coloured headboard, carriage destination boards, and end cover for the gangway door of the rear coach, all of which added a certain panache to this Anglo-Scottish service. Sadly, such extravagances as locomotive headboards and carriage destination boards had disappeared by the mid-Sixties, and most of the titled trains were named only in the timetable and the headboards discarded.If pioneer diesels are your bag, click on photo for link to page.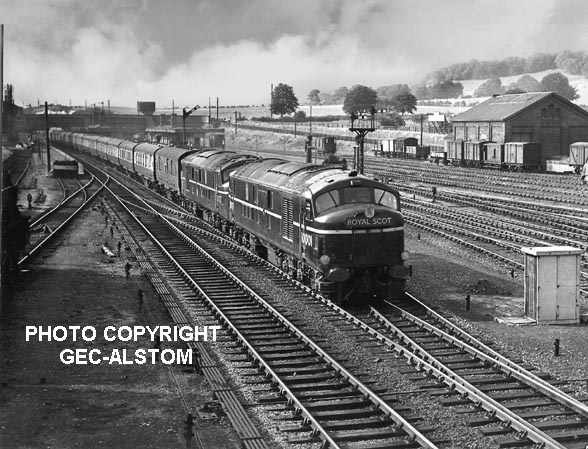 Polite notice: All text and photographs are protected by copyright and reproduction is prohibited without the prior consent of the © owners.
If you wish to discuss the contents of this page the email address is below. Please note - this is not a 'clickable mail-to link via Outlook Express:
dheycollection@ntlworld.com