RICHARD S GREENWOOD's PHOTO GALLERY
One of the joys of compiling a website is the people you meet online; fellow enthusiasts with a passion for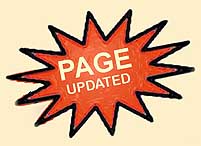 trains and railways
. Kindred Spirits each and every one.
Above all else there is the generosity of contributors whose
photographs of steam days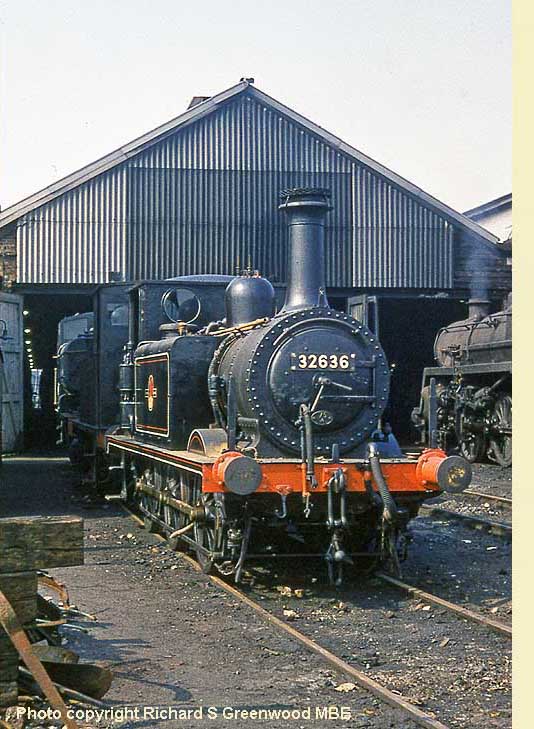 from fifty-odd years ago make this site possible. Indeed the remit has always been to give a voice to new talent on the Internet...
New talent? Now there's a conundrum!
The talent to which I am referring are gentlemen born and raised during the 1940s and 1950s, who spent the best part of their youth dashing around the country in the pursuit of loco numbers or taking photographs of trains just for the fun of it. They did it for themselves and no one else.
I'm talking about that quintessentially British 1950s curiosity called train spotting; a hobby demanding such high levels of commitment and pricey long-distance train travel, that it's surprising it ever got off the ground in the first place, especially during the penny-pinching post-war years. Even odder still, railway photography - a natural adjunct to spotting - didn't come cheap either, yet it became one of the fastest growing pursuits for boys - and hallelujah for that!


This brings me to the superb railway photographs of Richard S Greenwood MBE

, who travelled the length and breadth of the country recording BR steam days using both 'still' and cine cameras; this included a visit to Eastleigh Works (left) where he took this shot of ex-works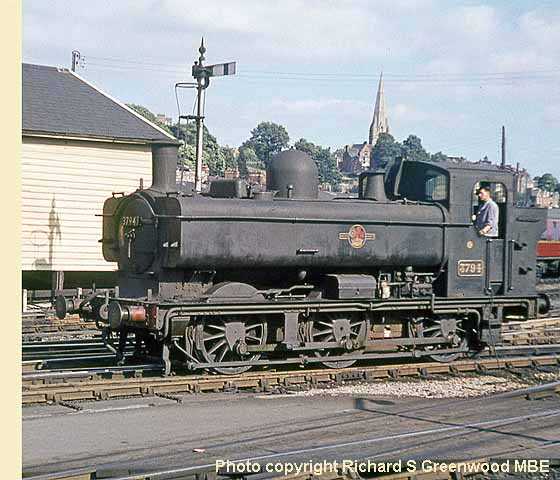 'Terrier' 0-6-0T 32636 on 6th April 1963, and Exeter St Davids (below) with this study of 0-6-0PT 3794 performing station pilot duties on 9th July 1961.
Fast-forward to the present day and Richard's fifty-odd year old photos of BR's steam days can now be enjoyed by millions on the Internet. After all, a colour photo will always polarise opinion about the transition from steam and command a scrutiny bordering on obsession.
Okay, perhaps the steam versus diesel debate may have lost some of its sting over years, but even the most placid spotter still bellyaches about the sad demise of Britain's railways during the Sixties, much of it inextricably linked to the decline of BR's ageing steam fleet and the dastardly Beeching axe.
But enough waffling from me...
I'll let Richard take up the story...


RECONNAISSANCE WITH A CAMERA
by
Richard S Greenwood MBE

I've always lived in a house where you could hear the trains - at least if the wind was in the right direction. All night shunting in the 1940s, overnight freights in the 1950s and 1960s and now East Lancashire Railway locomotives whistling in Heywood station. Some of my earliest memories involve train journeys.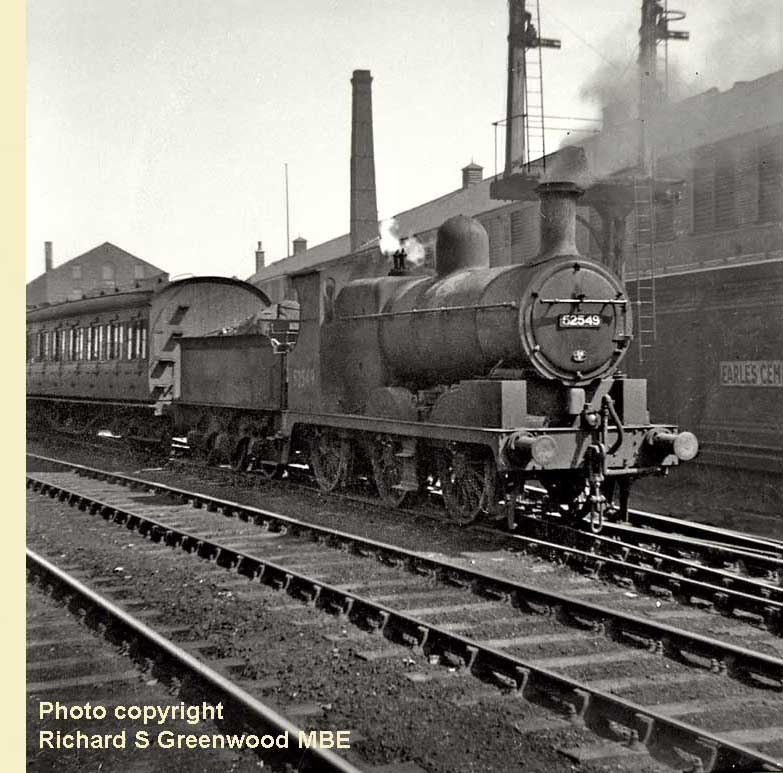 My first camera was purchased in 1951; an Ensign FulVue box camera, but only a handful of images remain: these include a D49 at Seamer,

a Belgian streamlined 4-4-2 at Lille

and a
L&Y Superheated 'A' class No 52459 seen here at Rochdale station (right). This engine was allocated to Bacup shed, which prior to closure in 1954, provided the power for the Rochdale station passenger pilot as well as the goods pilots. Until 1952 they ran over the direct Rochdale-Bacup line being the only traffic to use the Bacup Shed to Facit section. Then they travelled via Bury
.
It wasn't until August 1958, on starting my first fulltime job, that I was able to afford an Ilford Sportsman 35mm camera with a 1/200th second shutter and f3.5 45mm lens. It had its limitations, of course, especially when photographing fast moving trains or in poor light, but it turned out some acceptable work.
In October 1959 my boss drew my attention to a special offer on Iloca Rapid 35mm cameras; these had a 1/500th second shutter speed, a f2.8 lens and integral (but not coupled) light meter. The lens was a 3 element example and its performance fell off at wide apertures, but I bought one and the Sportsman was relegated to colour work.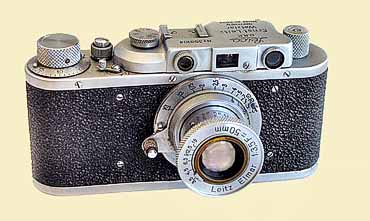 The Iloca served until early 1961 when a Leica II was acquired (left) which had a f3.5 Elmar lens and a nominal 1/500th sec speed, though the shutter was very tired and something like 1/100th actual fastest speed was the best it could do. So when I saw a Leica IIIa advertised in Amateur Photographer by someone living in Haslemere (I was resident in Guilford at the time) I dashed over and bought it. I soon found out that its f2 Summar lens was inferior to the f3.5Elmar on my Leica II and so I swapped the lenses over. The Leica IIIa had a 1/1000th shutter and this was to remain my camera of choice for black and white work until the mid 1970s.
I did try a Dufacolour film once, but only one image has survived. Early Agfacolour film was very grainy and tended to be contrasty but it sometimes yielded a 'pen and ink' effect which I found very attractive on some subjects. Then early in 1961 Perutz brought out a much improved film which I used extensively. The images have survived sufficiently well over the years, and with a little bit of Photoshopping they produce very good quality colour pictures. Later it was back to Agfa CT 18 and, when supplies were difficult, even an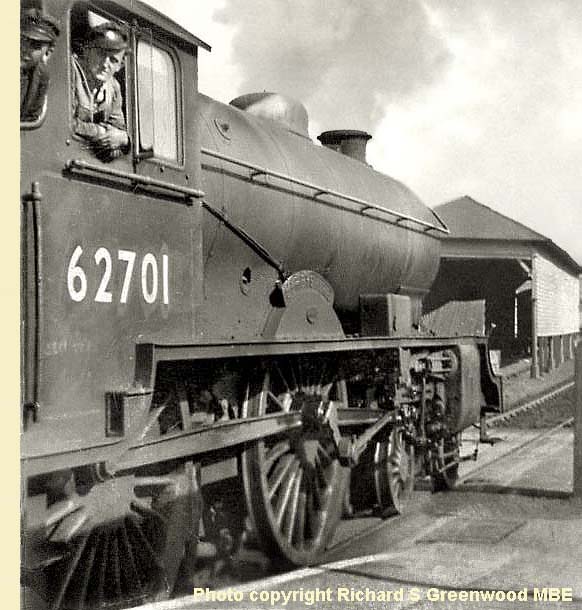 occasional Ilfochrome was tried. However, colour work tended to play second fiddle to black and white work with the Leica.
In spring 1963, I acquired my first 8mm movie camera, an Agfa Movex 88 with a fixed focal length lens but it did have focussing and an integral light meter. This performed very well until superseded by a zoom lens model by Bolex which in my opinion was a very indifferent performer in poor light. The Agfa camera suffered a series of breakages of the main spring and each repair shortened the time that one 'wind' lasted and eventually it had to be retired.
Many of my early colour photographs have rarely been seen, perhaps one or two have been projected occasionally, but on the whole they have been stored away in boxes; it is only with the advent of scanners and the ability to copy to disc or upload them to the web that has spurred me on to rediscover these 50 year-old colour images.
Some are I think worthy of a wider distribution.
I hope you enjoy viewing them.
(Above Right-Below)
As mentioned above, the first camera I purchased in 1951 was an Ensign FulVue box camera but only a handful of images remain, including this shot of Class D49/1 62701 Derbyshire at Seamer in August 1952 and t

his shot (below) shows an unidentified WD journeying along the up main line under clear signals at Rochdale in 1953. The signalbox is Rochdale West. The starting signal for the down main line is at clear but the Rochdale Goods Yard Box distant is at caution. The signal towards the left of the shot is off for an empty stock movement from the Carriage Sidings into Platform 3 Bay

.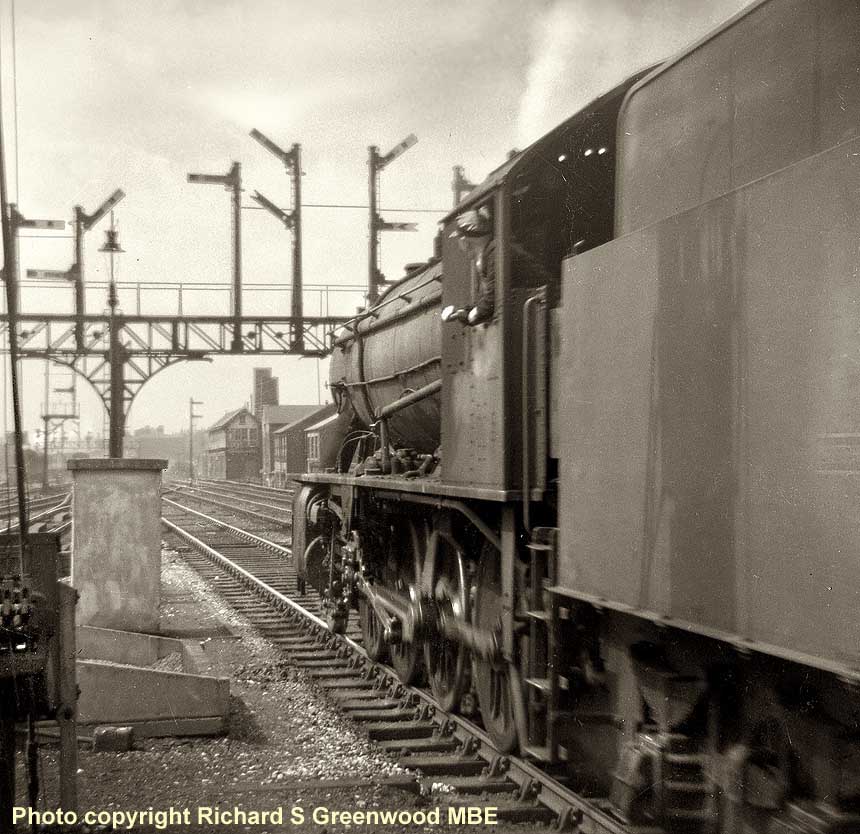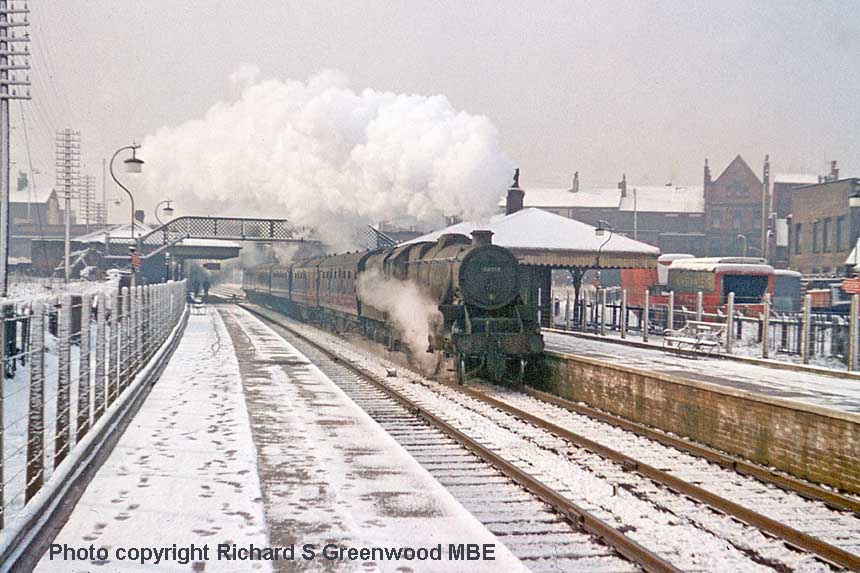 (Above-Below) Stanier 'Black 5' No

44934 heads non-stop through Castleton station with the 9.5am Liverpool Exchange to Rochdale semi-fast on 3rd March 1962; this service provided a connection for the 10.15am Manchester Victoria-York express.

Locals used to comment that in this part of the world we always saw some snow in March. (Below)

This shot of a WD 2-8-0 No 90470 in the snow at Castleton station has a wealth of detail. The locomotive was shedded at both Wakefield (56A) and at Sowerby Bridge (56E) during the 1960s. The train is a mixed freight rather than a block coal train so is probably from Healey Mills and is heading for Moston Sorting Sidings. The wan, midwinter, weak sunshine gives the shot a pleasing 'watercolour' effect, so much more attractive than the hyper saturated colour of some digital images. The colour is provided by the typical LYR signalbox with its window high in the gable end and the outside 'necessary' at the top of the steps. Castleton Station box was closed in .... which dates the picture. On the right is the Maltings of Magee, Marshall and Co, Brewers of Bolton. There is an enclosed canopy covering a crane from above the siding into the building. On the opposite side of the building was a similar arrangement over a berth on the Rochdale Canal. On the left of the picture is the entrance to the factory of textile machinery makers, Tweedales & Smalleys (Tweedales and Smallwages to those who worked there). With the decline of the textile industry this complex was taken over by FW Woolworths who used rail for distribution widely well into the 1960s. Note the pregrouping LYR subsignal protecting the exit from the private sidings. When the signalbox was demolished a ground frame was provided to operate the junction.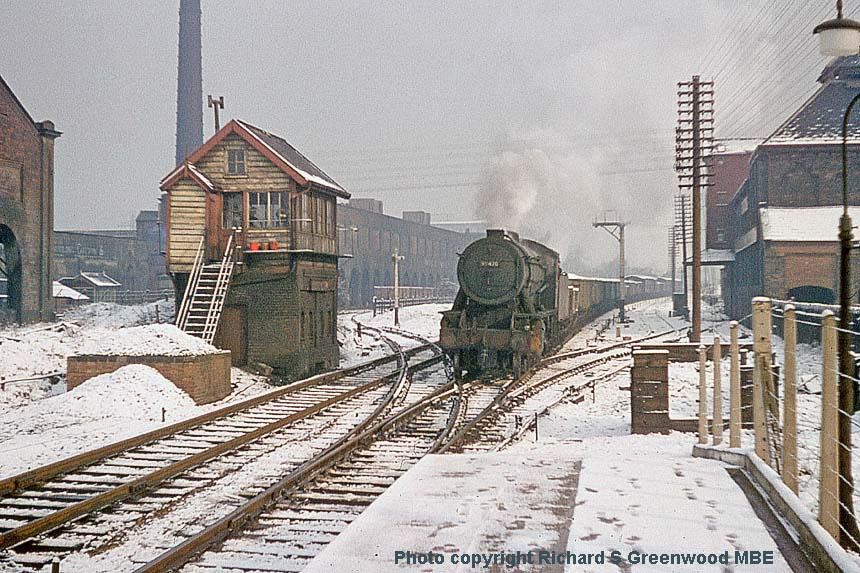 UP NORTH IN COLOUR
1 - BR Steam Days Remembered




(Above-Below) To my way of thinking there is no British steam locomotive class more pleasing to the eye than the Stanier Duchess Pacifics, especially those in the BR red livery. Their impressive lines suggest great power, speed and efficiency without the spiky or slabsided shapes as on some other classes and the Belpaire firebox breaks up the otherwise overlong boiler barrel.
The West Coast Main Line from Crewe to Carlisle was a magnet for North-West spotters as well as more serious steam locomotive admirers. We start at Crewe with this view looking south from the platforms showing two red Pacifics waiting to back down onto their trains. On the right is 46248 'City of Leeds' just ex-works about to take over a parcels working. On the left is 46254 'City of Stoke-on-Trent' waiting to relieve an electric loco on a Manchester to Birmingham express. This photo was taken

on Whit Monday 3rd June 1963

, by which time the stretch of line between Crewe and Manchester had been electrified, but construction work continued on the WCML south of Crewe - hence the need to change engines...the next shot (below) shows 46254 after reversal on to its train.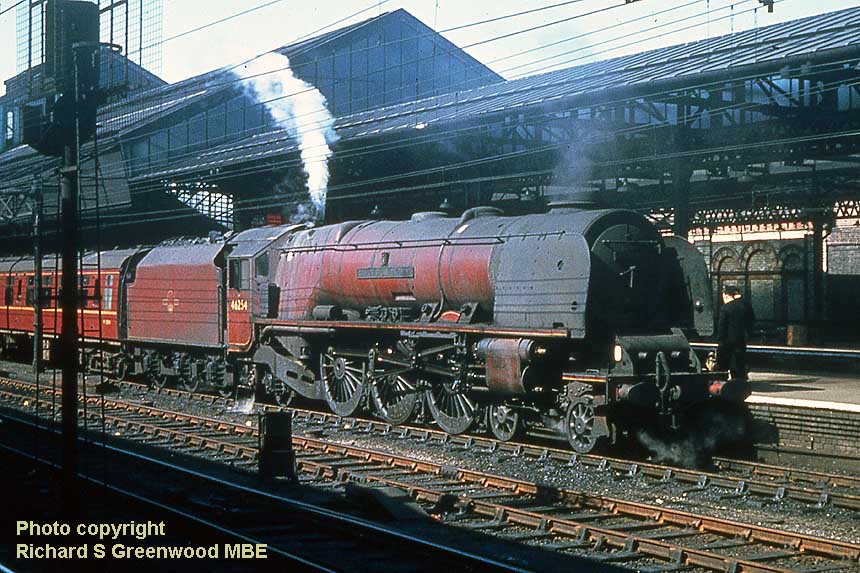 (Above-Below) Another shot of 46240 'City of Coventry', this time climbing Grayrigg Bank unassisted with a twelve coach Euston to Glasgow express in the late afternoon of Saturday 27 July 1963. (Below) 46245 City of London heads a Euston-Perth express through Golborne in the heart of the Wigan coalfield on 29 August 1963.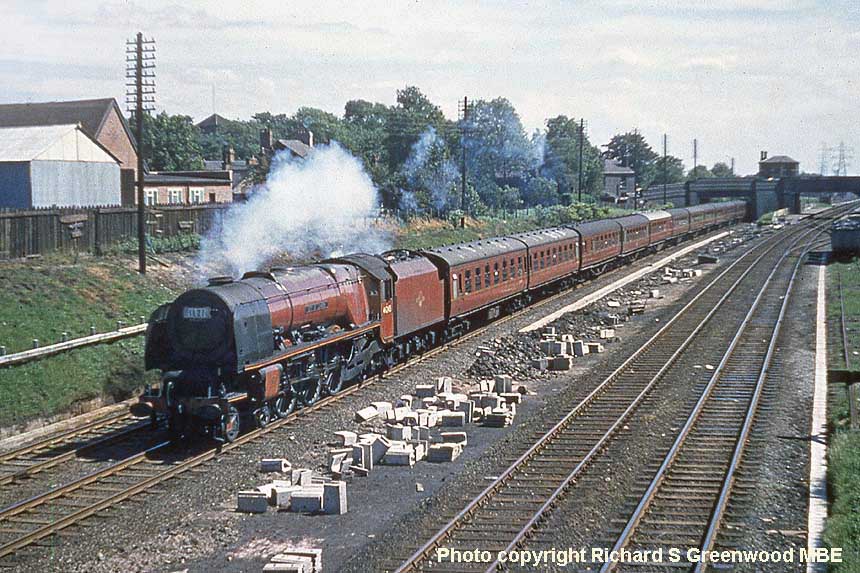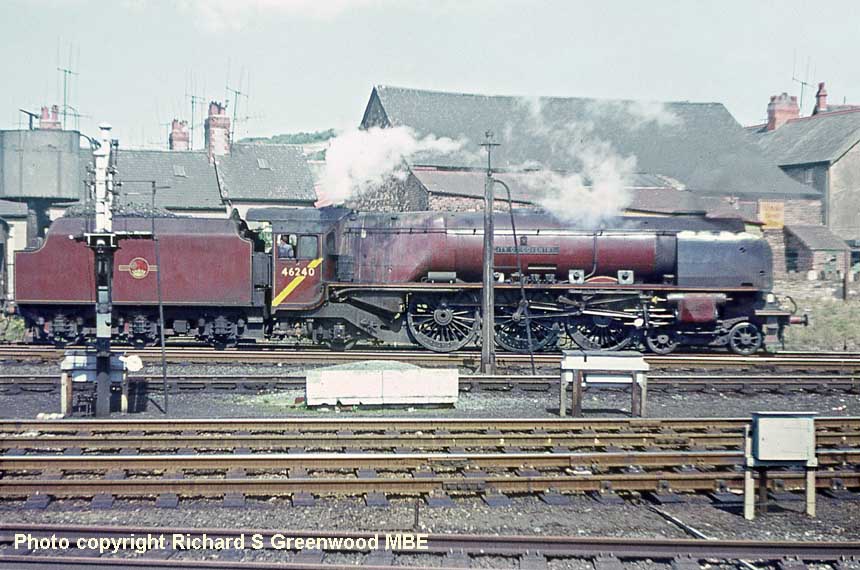 (Above-Below) And just three weeks before the mass withdrawal of the Stanier Pacific class, No 46240 is seen at Llandudno Junction with an up parcels train on 20 August 1964. I was one of a small party who travelled to Llandudno by boat from Liverpool on the Isle of Man Steam Packet Turbine Steamer 'Snaefell'. We visited Llandudno shed but seeing 46240 was the icing on the cake. This photo of Snaefell (below) was taken on another occasion by Ian G Holt.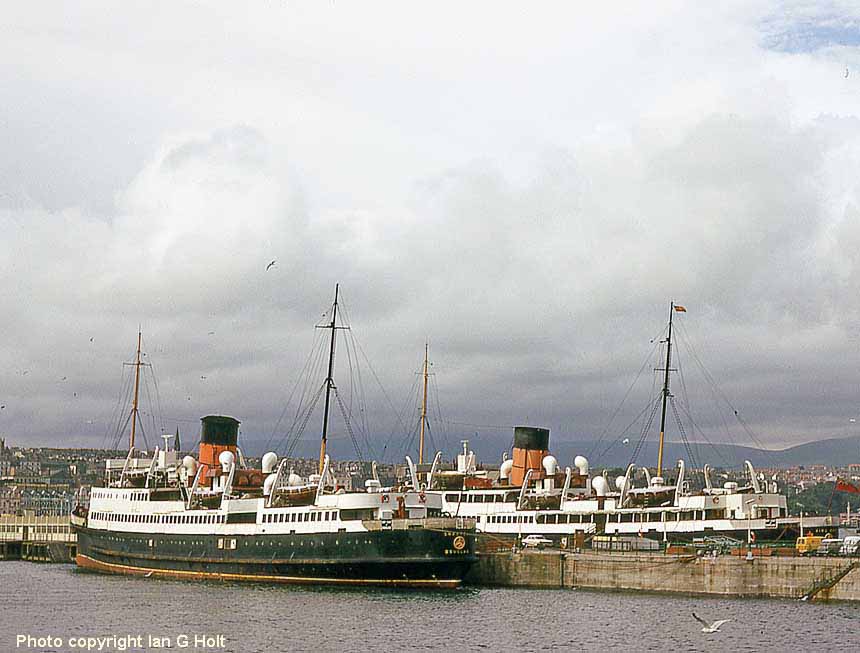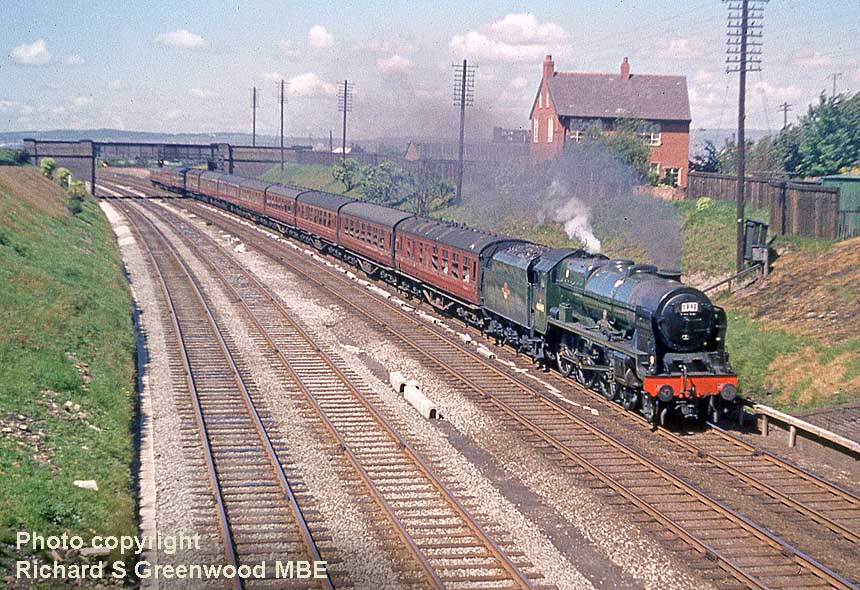 (Above-Below) The second string of former LMS express passenger locomotives was the rebuilt Royal Scot class, another impressive and well-proportioned design. Here we see ex-works 46148 'The Manchester Regiment'

at Golborne

on an up express. Since the Scot class locos were permitted to run on many more routes than the heavier Stanier Pacifics, they were often called upon to provide power for the Glasgow to Manchester and Liverpool trains. Here Polmadie-based 46105 'Cameron Highlander' is photographed in brilliant late afternoon sun whilst departing from Bolton Trinity Street with the Manchester portion of a Sunday train from Glasgow

on 26 March 1961

.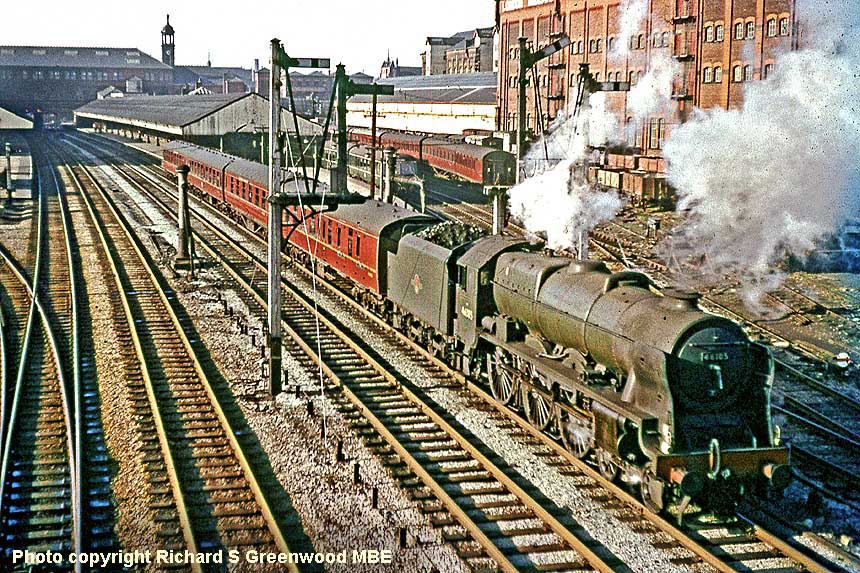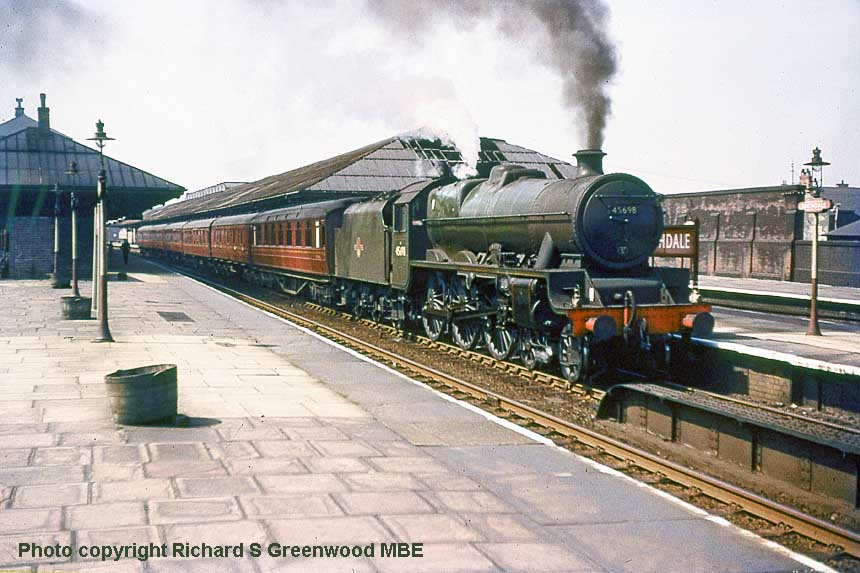 (Above-Below) The most numerous class of ex-LMS express locomotives was the Jubilee 4-6-0s. These ranged far and wide. The ex-LYR passenger shed in Liverpool, Bank Hall, had a trio of Jubilees which were employed on various duties to York and Carlisle among other destinations. No 45698 'Mars' looks resplendant in ex-works condition at Rochdale whilst working the 10.30am Liverpool Exchange to York express in August 1961. Prior to the commencement of the Trans-Pennine diesel service via Huddersfield on 1 January 1961, this train ran through to Newcastle although the Bank Hall engine came off at York. (Below) Newton Heath shed (Manchester) had a fleet of about a dozen Jubilees. Here No 45623 'Palestine' departs from New Hey, the second station on the Oldham line from Rochdale. It is in charge of a football excursion from all stations on the Oldham branch to Stockport conveying local supporters to a Stockport County v Oldham Athletic Derby match. Hardly a mileage job.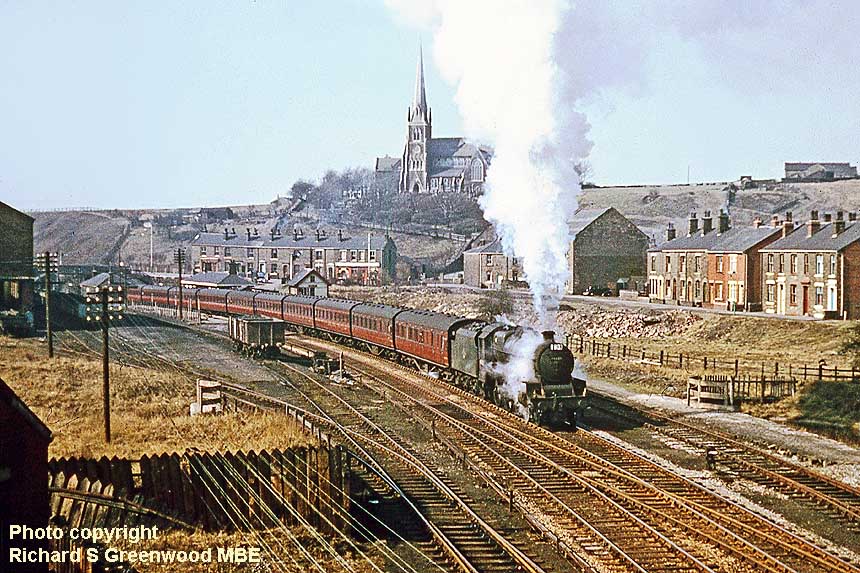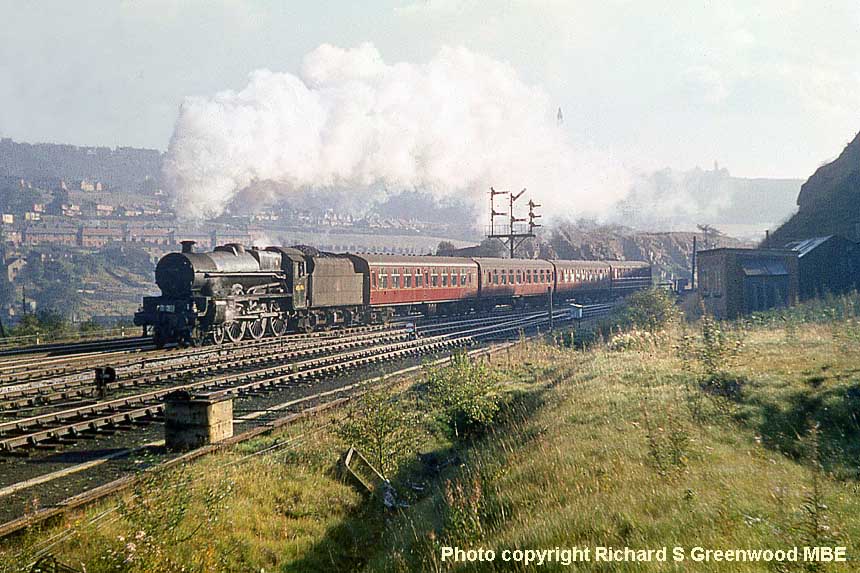 (Above-Below) The Eastern Region kept a number of Jubilees active well into the 1960s for excursion trains and summer extras. No 45694 'Bellerophon' approaches Sowerby Bridge station with the Wakefield Kirkgate portion of a Wakefield and Bradford Exchange excursion to Blackpool Illuminations on 29 September 1962. (Below) In the 1930s Newton Heath shed had an allocation of three Patriots for use on the Manchester-Glasgow trains but these were soon displaced by Jubilees. Twenty years later, however, a batch of Patriots Nos

45500/9/15/39

returned to Newton Heath. Here 45509 'The Derbyshire Regiment' is at the head of an afternoon Blackpool express

amid a surprising amount of clutter

on platform 12 at Manchester Victoria. This end of Victoria station was demolished during the Manchester Blitz of December 1940 and the temporary repairs remained as such until rebuilding in 1990.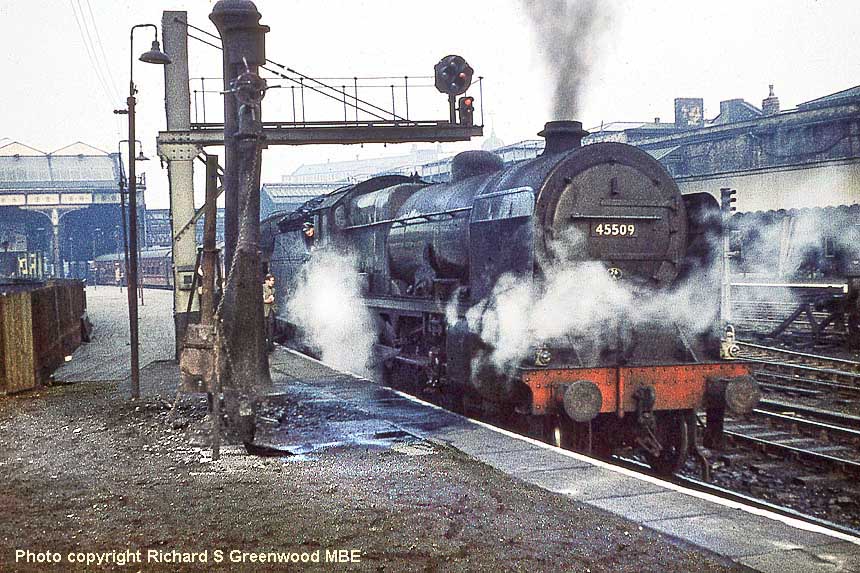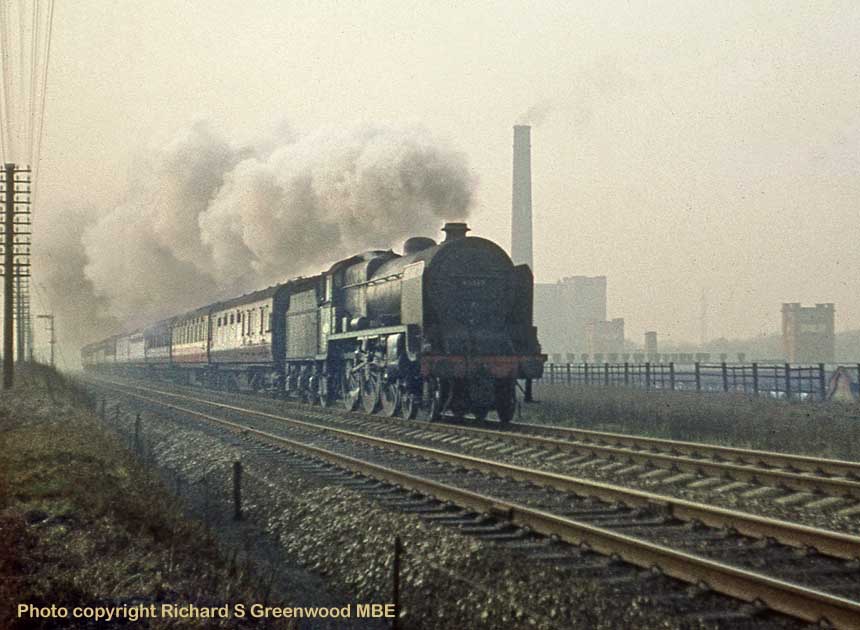 (Above-Below)

Apart from a Dufaycolor in 1958 which was a failure, my first attempt at colour came in the late autumn of 1959 when I'd purchased an Iloca 'Rapid' camera for black and white work and turned the Ilford Sportsman over to colour. Eager to try out colour I went to the lineside on 8th November 1959 with Agfa film. At the time I thought this shot was a failure and it made me realise just how important sunshine was for to quality colour work. However on revisiting the shot (with a little but not too much help from Photoshop) I've changed my mind and now regard it as excellent picture. Some may disagree but I think it's atmospheric and gets the feel of a damp chilly November morning with hazy sunshine and the almost contre-jour angle gives it dramatic contrast. Look carefully and you can see that it is a colour shot. It really is how the train looked that morning over 50 years ago. Patriot 45517 is on the Sunday 10.30am Liverpool Exchange to York express. Another shot taken the same morning of 44730 can be found further down the page.

(Below) In August 1958 Bank Hall shed acquired a Patriot, No 45517, which put in three years of hard work, turn and turn about, with the three Jubilees. This shot

was taken at Eastwood between Todmorden and Hebden Bridge

, and shows 45517 working the summer Saturday only train from Liverpool Exchange to Bridlington and Scarborough in the summer of 1960.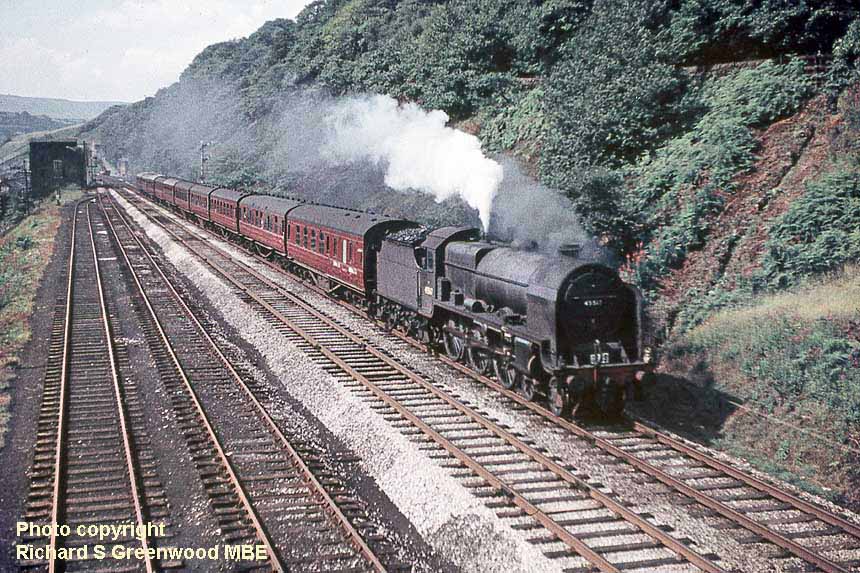 2 - The Old Order.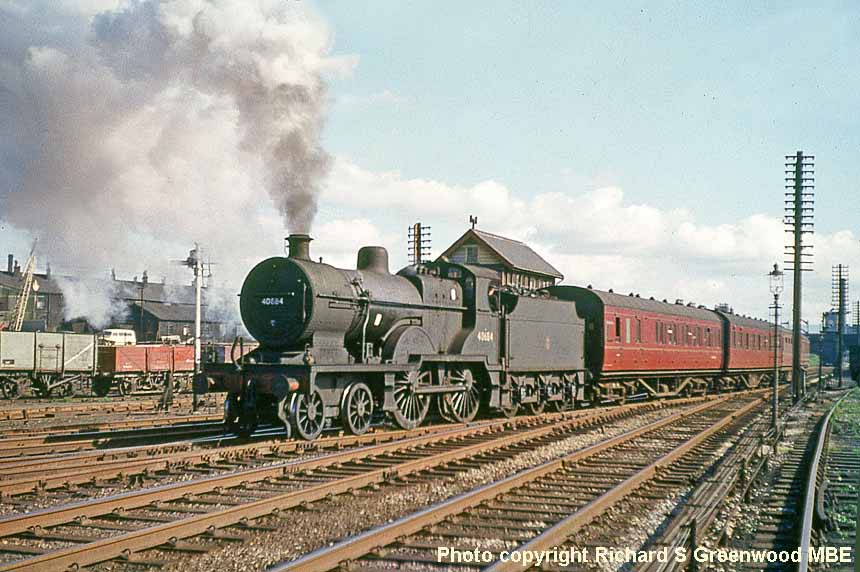 (Above-Below) In the early days of the LMS large numbers of a class 2P 4-4-0 were built to replace many ageing small pre-grouping passenger locomotives. By 1961 many of their duties had been taken over by dmus or more modern designs and very few remained in traffic. Bank Hall (Liverpool) had one remaining, 40684, which continued to work fast and semi-fast trains. I noticed 40684 was on the 8.40am Rochdale to Liverpool Exchange class 'A' semi fast on the local holiday, Whit Friday. I found to my horror that I had run out of colour film but very luckily found a small shop open and was able to load the camera in time to catch the loco at Castleton East Junction as it left the L&Y mainline and took the Bolton branch. Weeks if not days later it too had been withdrawn. (Below) The Class 4F 0-6-0 was another design perpetuated by the Midland Railway that flooded the LMS system, albeit derided as the Midland's idea of a 'Big Goods'. I've included this shot of 43880 one of the original Midland products for no better reason than it was the loco I had my first footplate ride on. Here it is Castleton Central Materials Depot (CMD) pilot. When I rode it, it was on Castleton Mainline pilot. The crew invited me to travel with them the mile or so along the main line to the Bradford Street yard with a load of coal. I glanced at my watch and decided I was going to be rather late for work. And I was.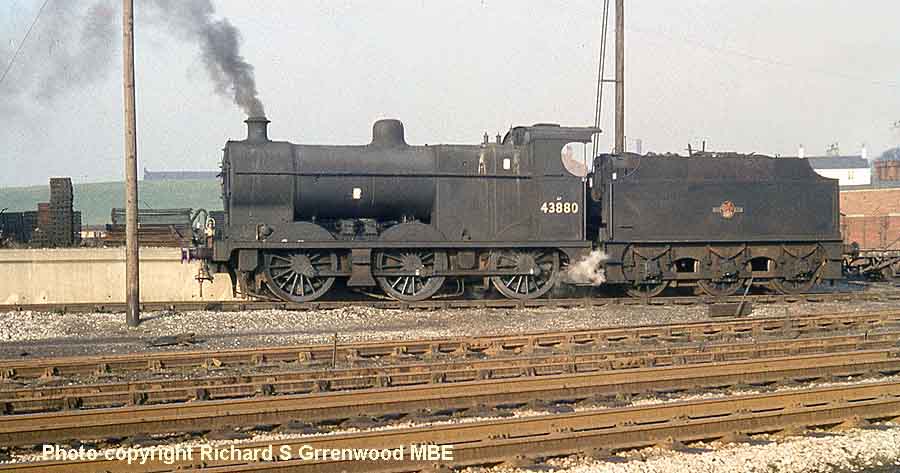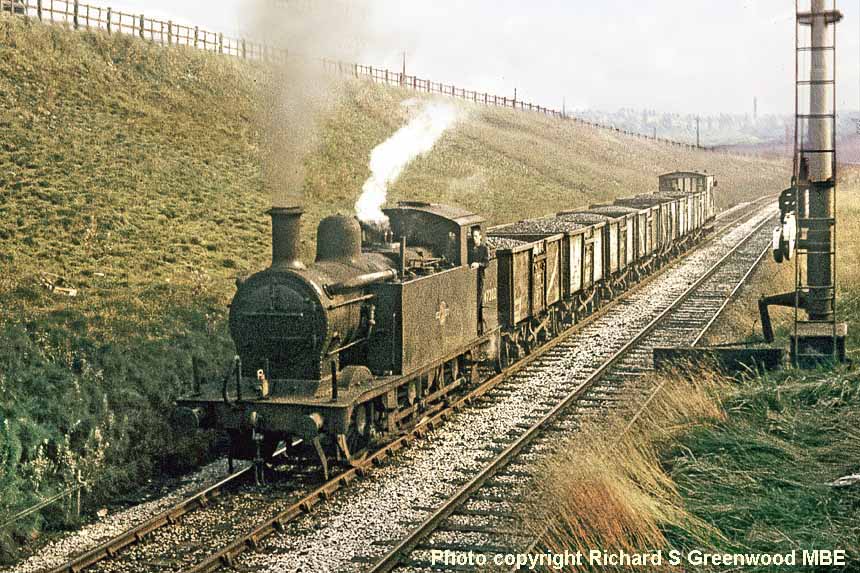 (Above) Following dieselisation in the London area a number of Midland 0-6-0Ts moved north - forerunners of the 'Jinties' or 'Derby Shunt Tanks' to work out their withdrawal mileages. In difficult autumn lighting Condensing Tank 47202 is employed on the Higginshaw Gas Works trip from Royton Junction in 1965
.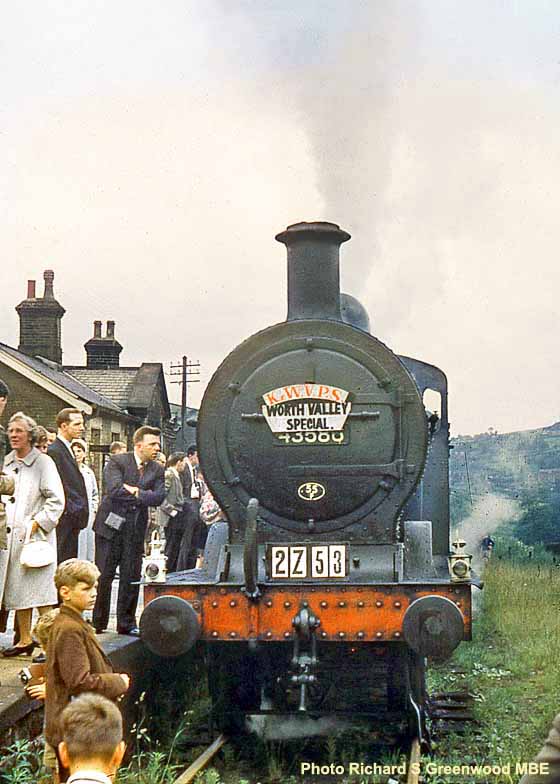 (Above-Below) The smaller Midland 3F 0-6-0 did not figure so largely west of the Pennines. One of the Manningham engines, 43586, worked the last BR train on the Worth Valley line on 23 June 1962 - a special organised by the then embryonic Preservation Society. The lining was applied unofficially.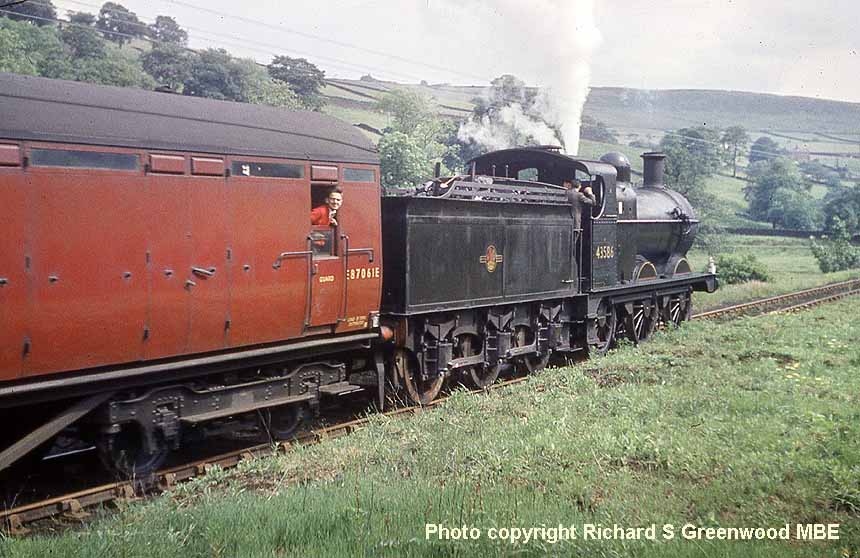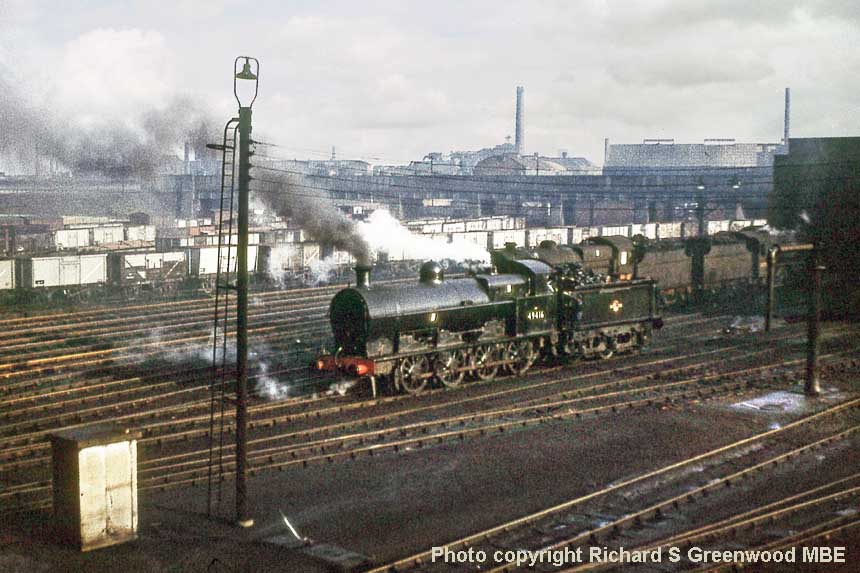 (Above-Below) The LNWR worked its heavy freight traffic by a large fleet of 0-8-0s, the latest variation being the G2As or 'Super Ds'. They did their job well but were somewhat lacking in amenities for the crew. They were becoming thin on the ground by August 1961 and I doubt whether very many received a full overhaul and coat of paint after 49416 was photographed at Warrington Dallam shed. (Below) The early LMS design to replace them was the Fowler 7F 0-8-0s. They turned out to be mechanically fragile and all went for scrap before the last of the Super Ds they were meant to replace. One of the last of the 'Austin Sevens', 49508, is heading an empty wagon train towards Yorkshire in 1960.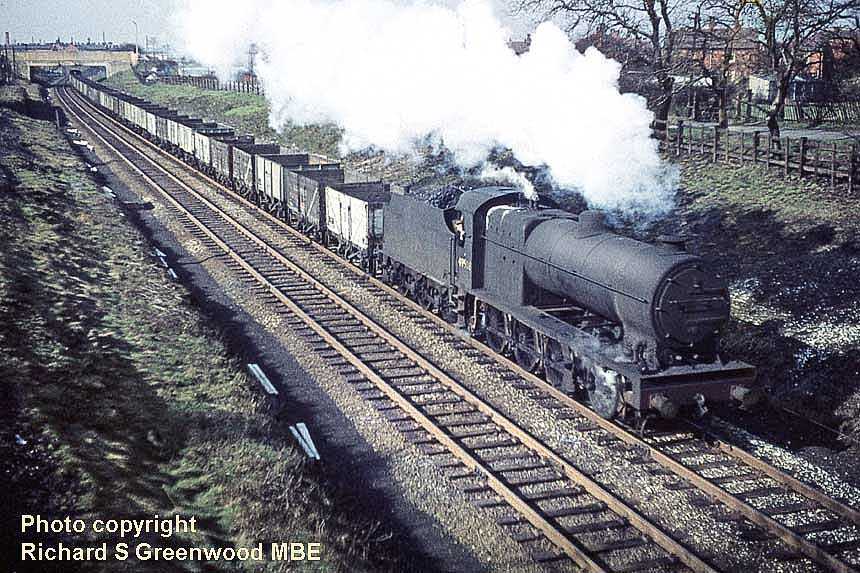 (Above-Below) Forget Swindon, forget Brighton; the first high degree superheated long travel piston valve locomotives in Britain were a pair of 0-6-0s built at Horwich, both entering service in November and December 1906. These were LYR 898 and 900. No 898 went on to become LMS 12515 and BR 52515. They were downgraded to saturated engines in 1927 and became virtually identical with the majority of the Aspinall 'A' class. It was a considerable surprise when 52515 was outshopped from Horwich after a general overhaul in November 1961. It is seen at Castleton as CMD pilot, running in on 21 November setting off for Sowerby Bridge, its home shed the day after. (Below) The moment of glory for this loco was on 29 September 1962 when doubleheading the Halifax Railfans Club's 'The South Yorkshireman' railtour with 4F 0-6-0 44408; the railtour ran from Sowerby Bridge to Doncaster and Darlington.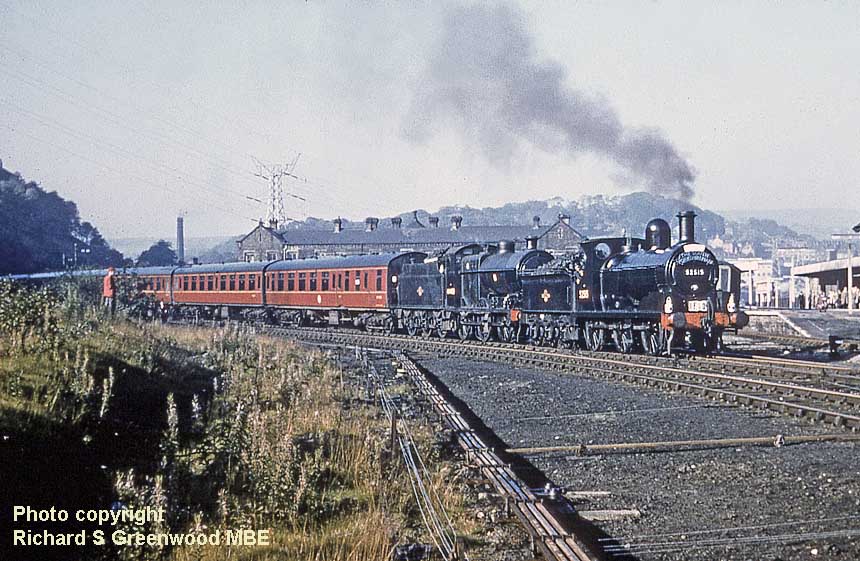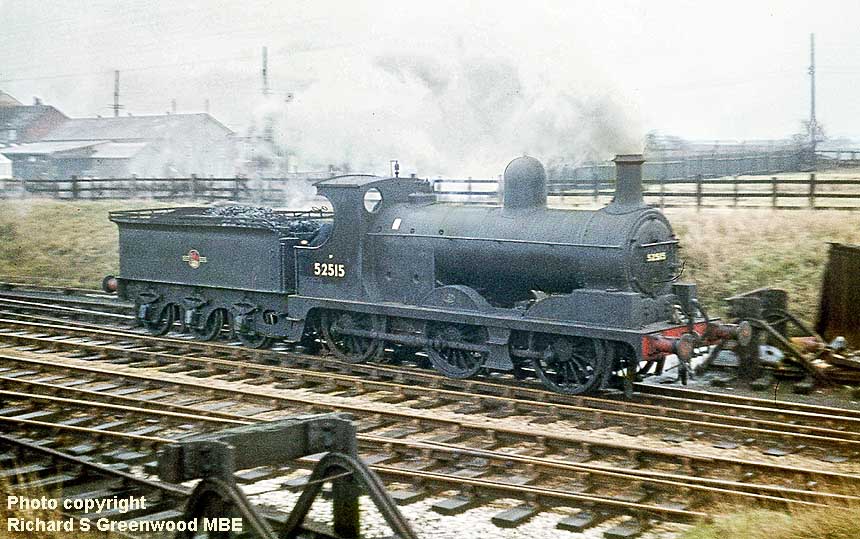 (Above-Below) 52515 proved to be the last 'A' class in service and was called in to Horwich for scrap in December 1962. Here we see it on its last lonely trip setting out from the Goods Loop at Bradley Fold West on 12 December barely ten miles from its final resting place. (Below) Castleton was long a haunt for 'A' class locomotives on either the CMD or Mainline pilot jobs. A frequent performer was 52129 seen here on mainline pilot with the little Fowler ED6 as the CMD pilot. ED6 was seldom fit for traffic and the CMD turn was usually covered by steam.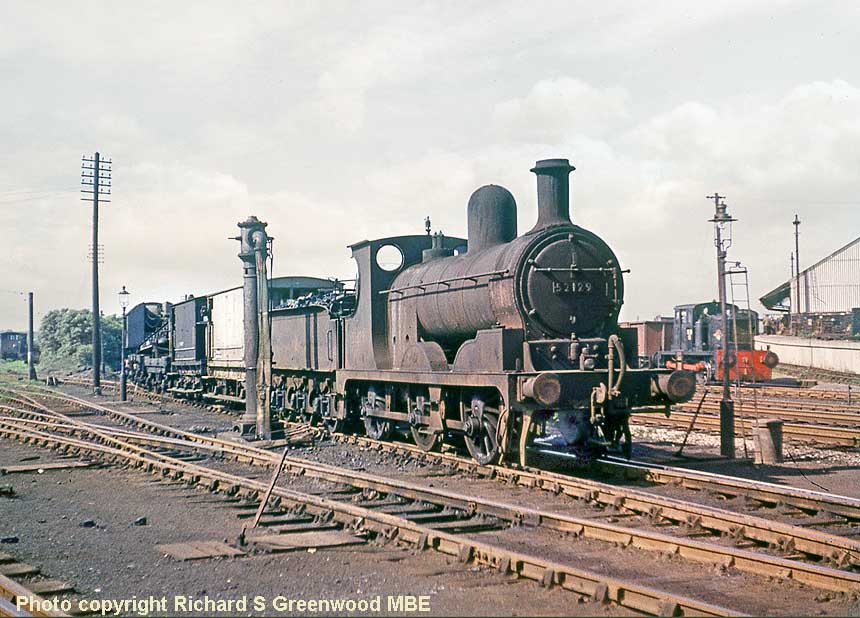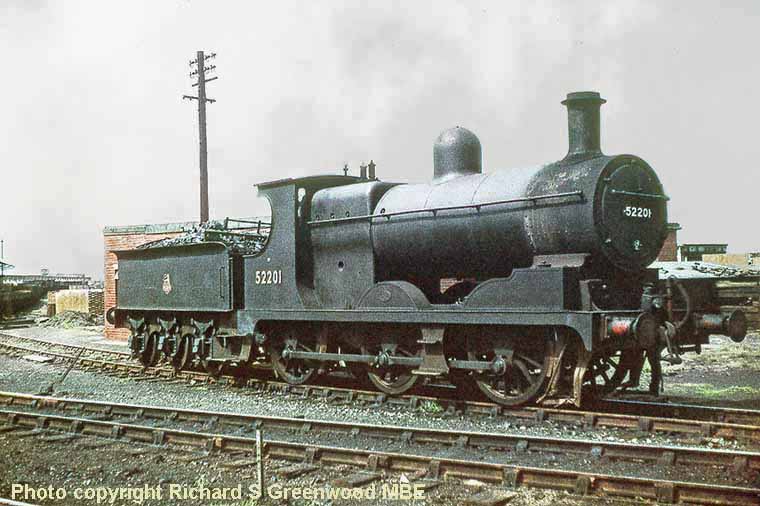 (Above-Below) The LYR 'A' class locos were used far and wide over the LMS system. Out of a total of 474 locomotives something like 100 were rebuilt with a Belpaire Boiler, some saturated, some superheated. No 52201 had been a Northampton engine and was then transferred to Crewe Works as a Works shunter, joining a dozen other LYR 'A' class locos. It later returned to Northampton shed before coming north and was at Bury when this photograph was taken of it on mainline pilot at Castleton on 4 June 1960. (Below) The standard LYR shunter - of which there were 230 - was created by converting the older Barton Wright 0-6-0 tender engines, and fitting them with a bunker and saddletank. Three of the saddletanks were employed as Works shunters at Crewe and another five, which, for some unfathomable reason retained their LMS numbers, were based at Horwch.
These five were used as as Horwich Works shunters and retained their LMS numbers, but another works shunter carried its BR number 51429
as witnessed below. The class remained in mainline use until the early 1960s.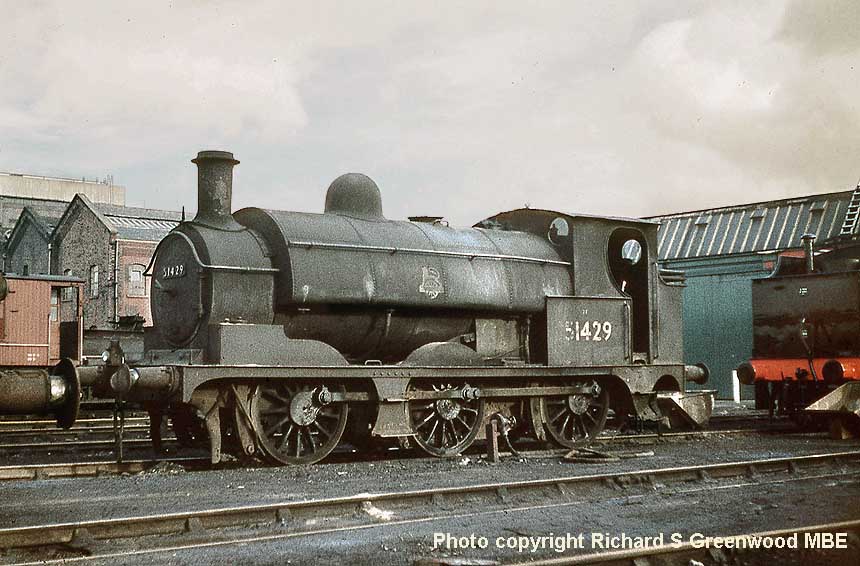 (Above-Below) The LYR built 330 2-4-2Ts in various sub-classes. The last in service was 50850, one of those with extended coal bunkers and Belpaire Boilers. First we see it on the turntable at Newton Heath shed on 17 September 1960 preparing to work a Railtour. At the time it was a Bolton engine. Later it transferred to Southport shed and was captured on film acting as additional passenger pilot to cope with the extra traffic for the annual Southport Flower Show 24 August 1961.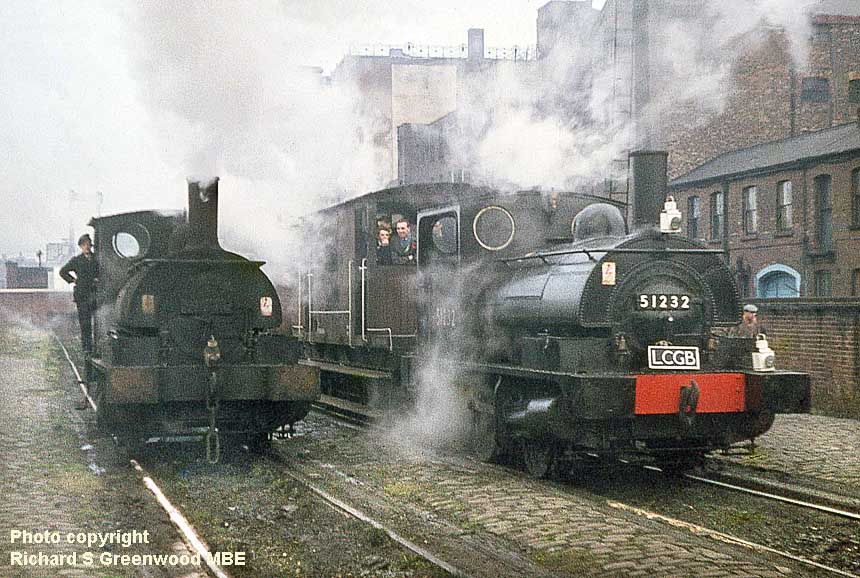 (Above-Below) Last we come to the LYR 'Pug' engines; a class of small four-coupled saddletanks built for use in docks, yards and warehouses with sharp curves. Salford Low Level was one of the last haunts and 51232 was spruced up to provide motive power, top and tailing with a Jinty (47428) for a brakevan trip from Salford Low Level to New Barnes Junction (the connection with the Manchester Ship Canal system) then onwards to terminate at Agecroft shed. Alongside is the Pug which has been in use that Saturday morning, 10 November 1962, as the regular engine, regrettably in the sort of external condition that Agecroft's Pugs were in latterly. (Below) This August 1961 view shows the two Salford LL pilots (a Pug and a Jinty) at the Continuous Pilot coal stage.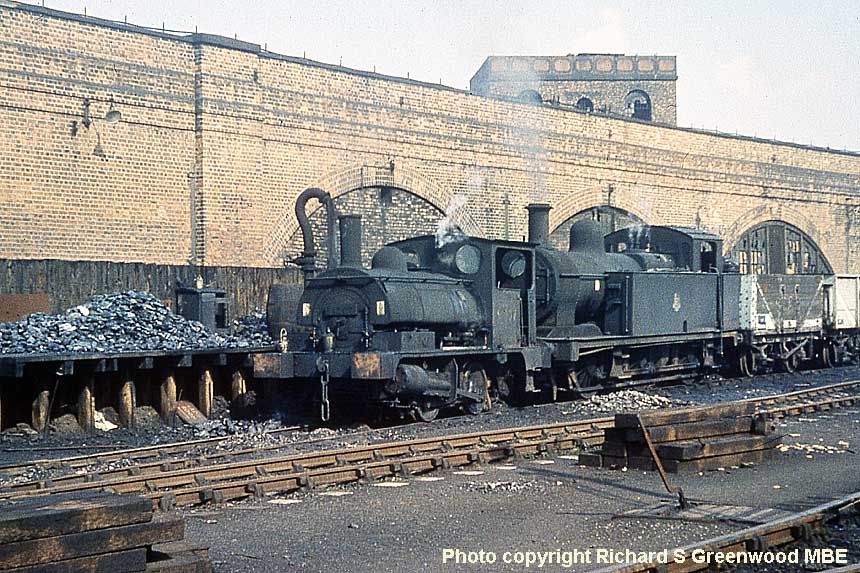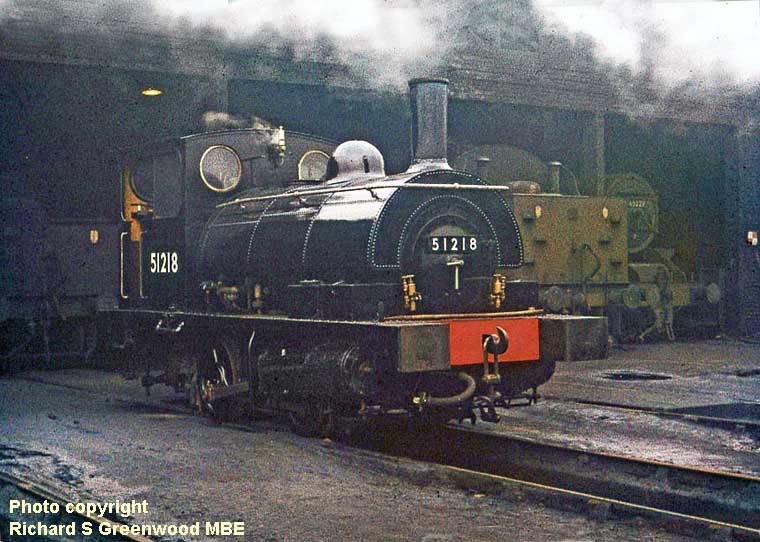 (Above) The LYR had many locations where shunting engines remained on site from early Monday to some time the following weekend. Limited facilities were provided and crews changed on location. The last LYR Pug in service was a Western Region loco. Privately preserved Pug 51218 is pictured at Newton Heath shed on a very gloomy 18 February 1967 as it was being prepared to work three brakevan trips between Rochdale and Whitworth the following day.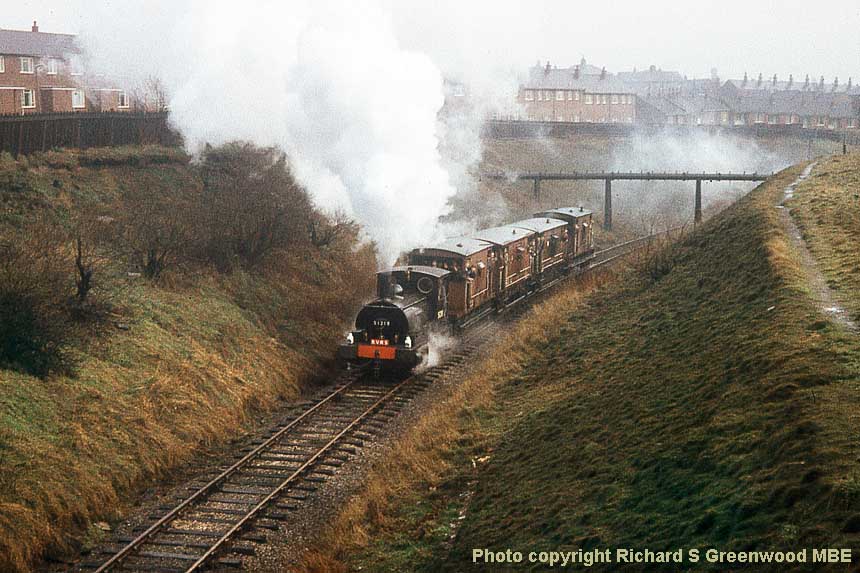 (Above-Below)
The LYR 'Pug' 51218 made three separate runs on the brakevan trips to Whitworth. The tour was arranged jointly by the LCGB North West Branch and the Roche Valley Railway Society (RVRS). In this shot (above) 51218 storms through Joy Street cutting Rochdale, and in more picturesque surroundings (below) crosses Healey Dell viaduct, the most scenic part of the Bacup Branch; the driver that day was local BR man Trevor Owen based at Newton Heath MPD.
..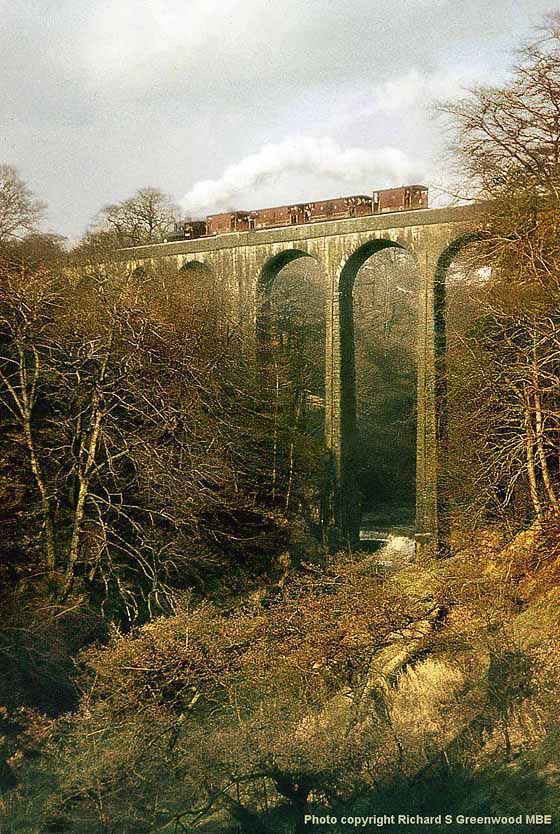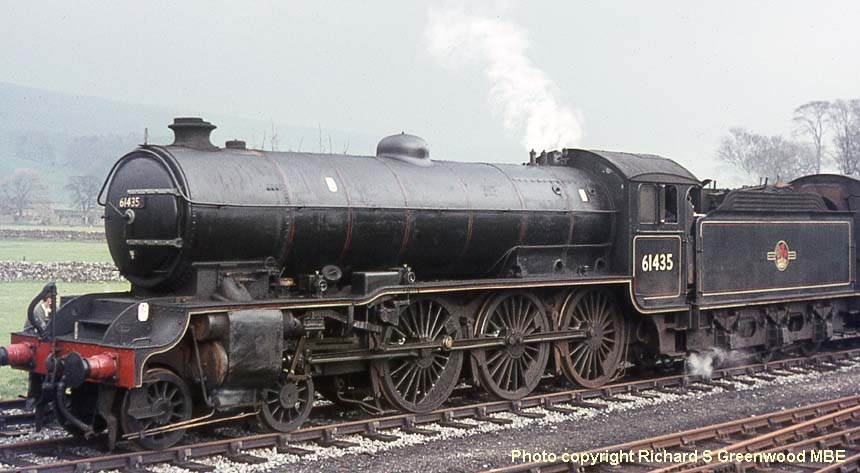 (Above) In 1920, Sir Vincent Raven, CME of the North Eastern Railway 1910-1922, designed and built a rugged 4-6-0 fitted with Stephenson valve gear, classified as B16/1 by the LNER. Over the years various modifications were made to the original 1920 design. In 1937 Gresley's 4-6-0s incorporated Walschaerts valve gears and derived motion for inside cylinders, designated Class B16/2. Here B16/2 No 61435 is seen at Hawes at the head of the RCTS's 'North Yorkshireman Rail Tour' on 25 April 1964. This rail tour started at Leeds and visited a number of ex-North Eastern branch lines in the Yorkshire Dales; this was the last passenger train to visit Hawes almost ten years to the day after passenger services from Northallerton were withdrawn in April 1954.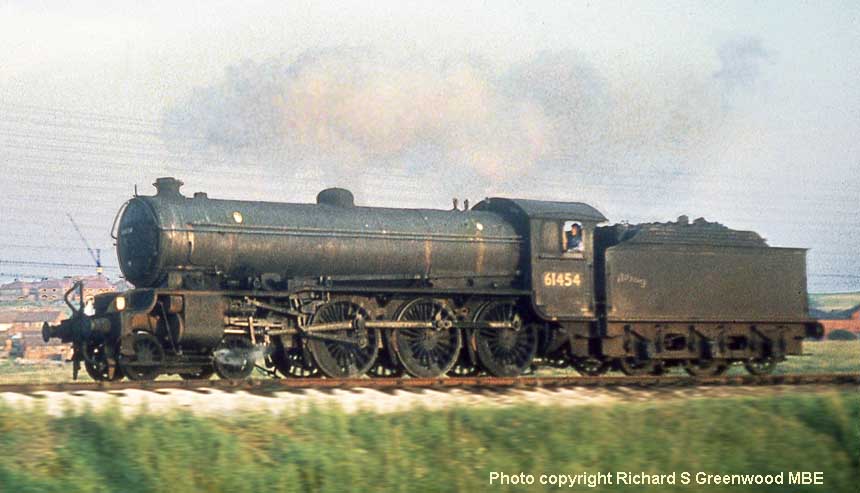 (Above-Below) The B16s were not unknown west of the Pennines but they were not that common either. Having worked to Manchester with the double-headed Scotswood Sidings-Red Bank empty newspaper van train, No 61454 - one of Thompson's 1944 rebuilds, fitted with individual sets of Walschaerts valve gear for each cylinder, and classified as B16/3 - is working light engine to Rochdale to take over the Burscough Junction to Normanton parcels train. (Below) On another occasion, sister B16/3 61434 was photographed in drizzly conditions at Rochdale waiting to take the Normanton parcels out

on Tuesday 23 July 1963

. The station clock shows 8.40pm; all mails and parcels have been loaded, the luggage trolleys stand empty, dusk falls and the oil headlamps are lit ready for departure
. My diary reveals there was barely any light left and the exposures I used (I took two colour shots) were ⅛-sec at f2.8 and ¼-sec at f2.8. I also took B&W shots at 1/20 sec f4 and 1/60 sec f3.5.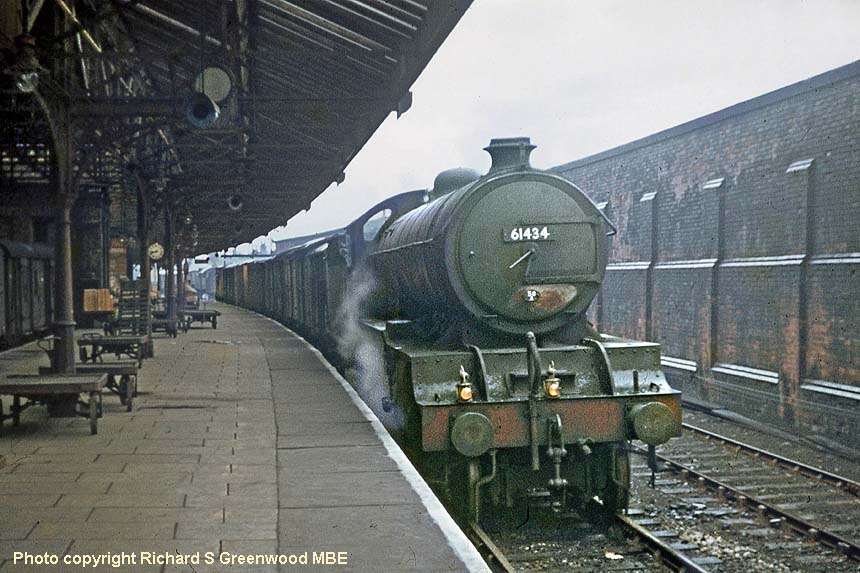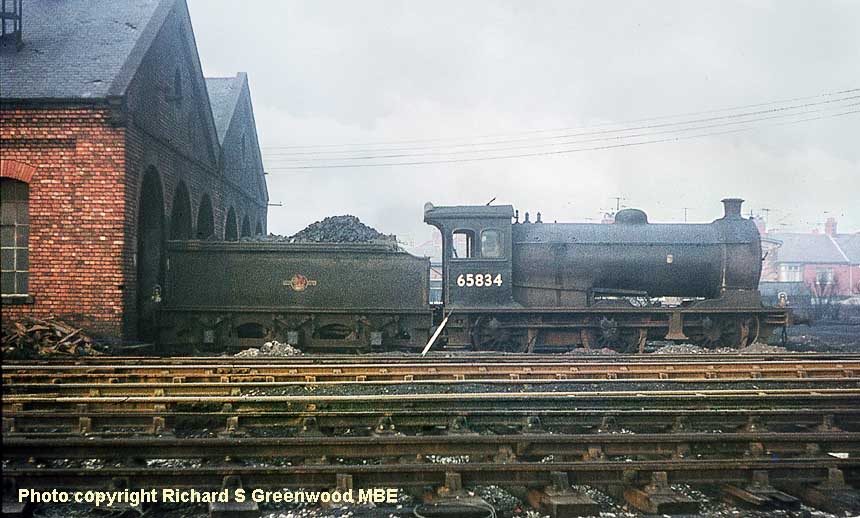 (Above-Below) The North Eastern Railway built a highly successful class of 0-6-0 from 1880. The LNER classified them as J27. No 65834 stands outside Blyth South shed (52F) - date? (Below) Sister Class 27 65855 is engaged in shunting duties somewhere in the North East - date?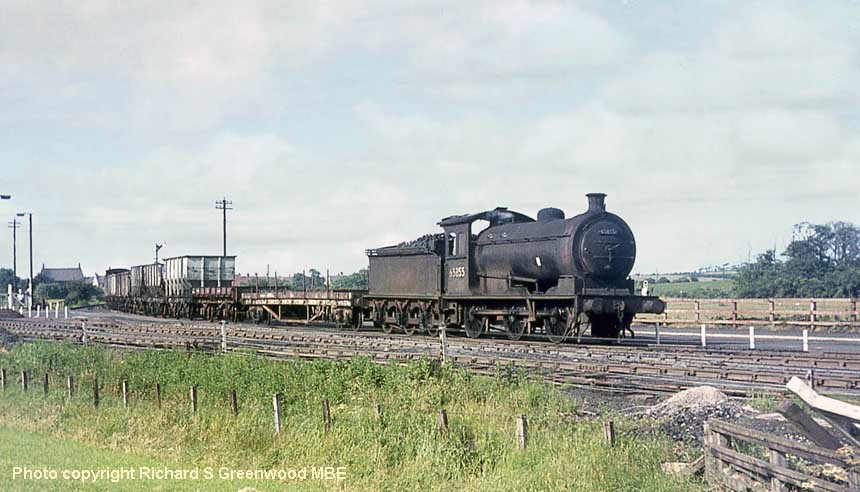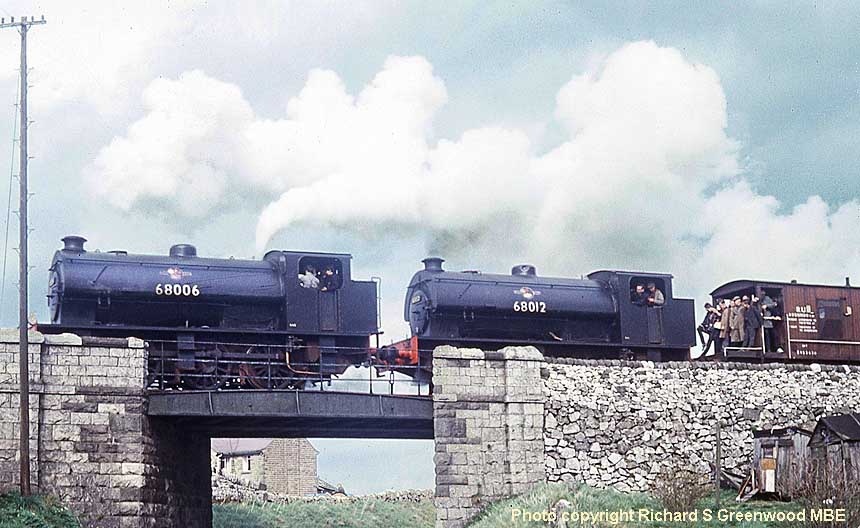 (Above-Below) During World War II the Ministry of Supply commissioned a straightforward 0-6-0 shunting locomotive
for war service overseas
based on the Hunslet 'Austerity' saddletank, but since the Hunslet Engine Company
could not meet delivery targets, the work was sub-contracted to Hudswell-Clarke; Bagnall; Stephenson & Hawthorn; Barclay; Yorkshire Engine Co and the Vulcan Foundry
.
After hostilities ceased, the 0-6-0ST became the most numerous steam locomotive in industrial use, particularly at collieries and steelworks; t
he LNER purchased 100 0-6-0STs which they classified as J94. When British Railways opted to replace the elderly ex-LNWR and ex-NLR locos on the Cromford and High Peak section they chose the Hunslet design. Here 68006 and 68012 are working the RCTS's 'High Peak Rail Tour' composed of brakevans on 29 August 1964; by this time the first section of the line including the rope-worked 1 in 8 Middleton Incline had closed the previous year. The remaining line closed fully in spring 1967, including the 1 in 8 Sheep Pasture Incline and the Hopton Incline. (Below) Sister engine 68037 is seen at Darlington shortly after shopping on 29 September 1962.
Several Class J94s have since found their way into preservation where they are still performing short-haul duties for which they were originally designed.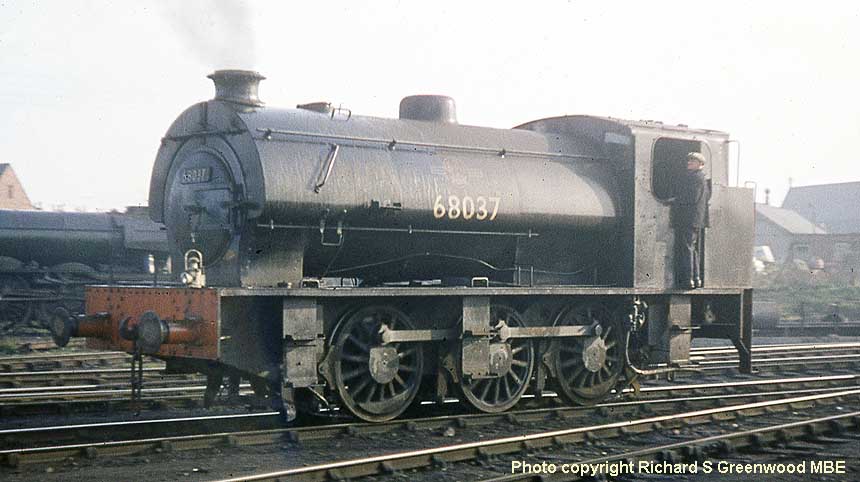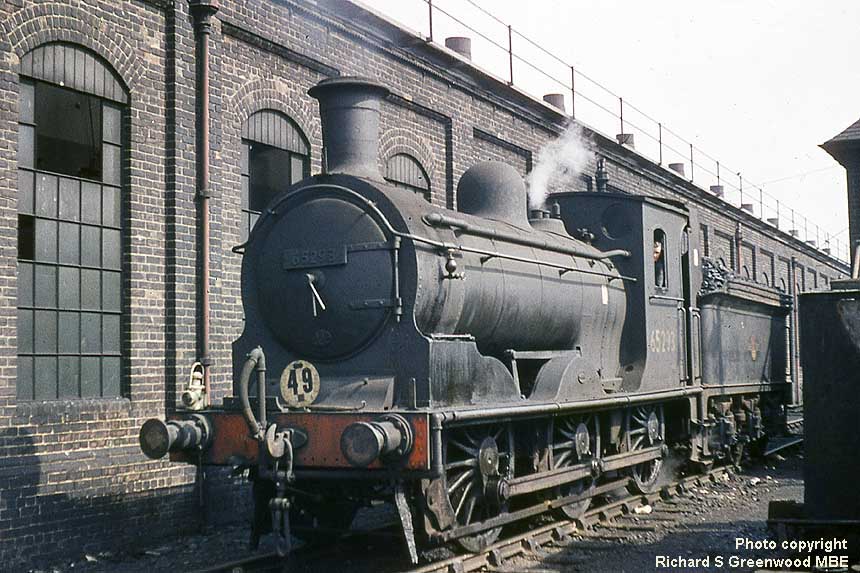 (Above-below) The North British Railway had their own shed at Carlisle Canal (12C), but this shot of NBR Class J36 65293 was taken at the former Caledonian Railway shed at Kingmoor (12A) on 13 May 1961. (Below) Finally a rare photograph of two now-preserved narrow gauge shunters coupled together in Horwich Works yard. Built in 1887,

the 0-4-0ST 'Wren'

had 1ft 4¼ inch driving wheels and 5in X 6in cylinders; the

3½ ton

loco was used for transporting materials on the 18-in gauge system at Horwich works. On the left is the 20 hp Ruston & Hornsby 0-4-0 diesel ZM32 built in 1957, which supplanted 'Wren'. Fast forward to the present day and 'Wren' has of course been preserved at the National Railway Museum in a somewhat fictitious livery, whilst the Ruston & Hornsby diesel now operates on the Steeple Grange Light Railway near Wirksworth in Derbyshire. Established in 1985, this 18-inch gauge line runs on a stretch of the standard gauge trackbed of the old Cromford and High Peak Railway I mentioned earlier on.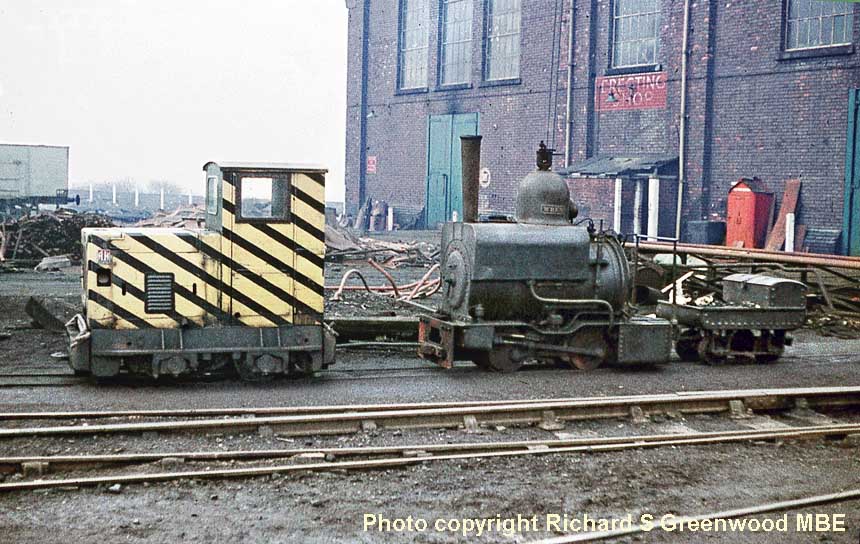 3 - MORE MODERN TANK ENGINES

Upon Grouping in 1923, the 'Big Four' railways companies had different priorities regarding Passenger Tank Engines. The Southern Railway relied heavily on pre-grouping designs, preferring to spend money on electrification whereas the Great Western had only moderate commuter traffic and continued with various 0-6-0 Pannier and 2-6-2Ts. The London and North Eastern Railway relied on upgraded its pre-grouping classes and only in 1930 produced the V1 class of 2-6-2T of which a mere 67 were built. In 1945 Thompson introduced the L1 2-6-4T with driving wheel of only 5' 2" diameter which did not see very much passenger work.
The London Midland and Scottish Railway had far more commuter and inter urban traffic than the others, thus for some years it, too, relied on pre-Grouping classes such as LYR 2-4-2Ts, Midland 0-4-4Ts and LNWR 4-4-2Ts, 4-6-2Ts 2-4-2Ts and above all the ubiquitous 0-6-2T 'Coal Tanks' as seen below...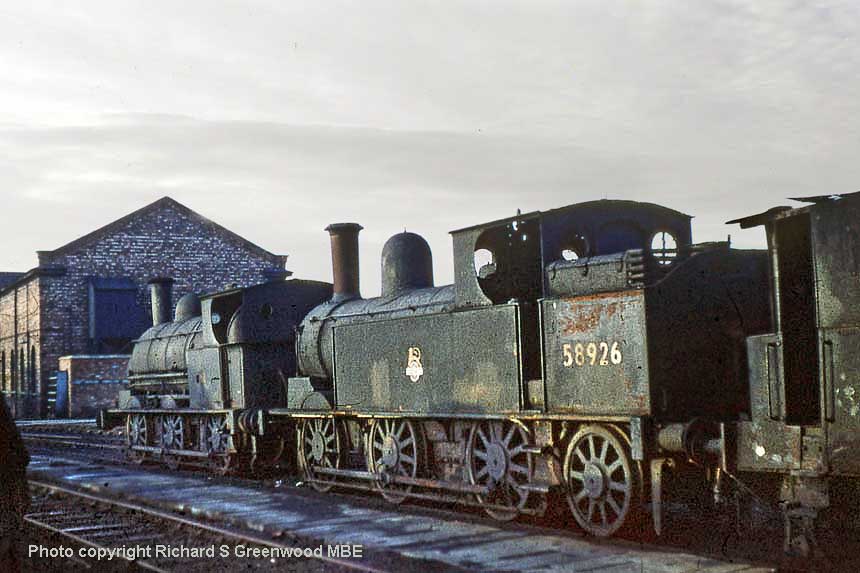 (Above-Below) It's hard now to realise what prodigious feats of haulage these lightweight 0-6-2T machines were capable of. They moved empty coaching stock from Liverpool Lime Street and Euston termini. They worked in pairs hauling Ocean Liner specials up the steep gradients from Liverpool Riverside station to Edge Hill. The last survivor was BR 58926 built 1881 at Crewe. It is seen (above) at the works awaiting a decision on its future on 20 December 1959. No 58926 was of course preserved and can be seen

running on the Keighley and Worth Valley Railway

in its LNWR livery and numbered 1054. However, no such good fortune awaited the 0-6-0T locomotive ahead of it, one of the Ramsbottom 'Special Tanks' latterly used as works shunters at Wolverton. What a shame it was not preserved; it dates back to the days of one of the most accomplished steam locomotive men, Todmorden-born and bred John Ramsbottom.
(Below) Returning to the BR main line in 1984, No 1054 worked a series of specials to commemorate the 150th Anniversary of Wilsons Brewery. It ran from Manchester's Victoria station to a temporary platform at (where else?) Brewery Sidings, Miles Platting
.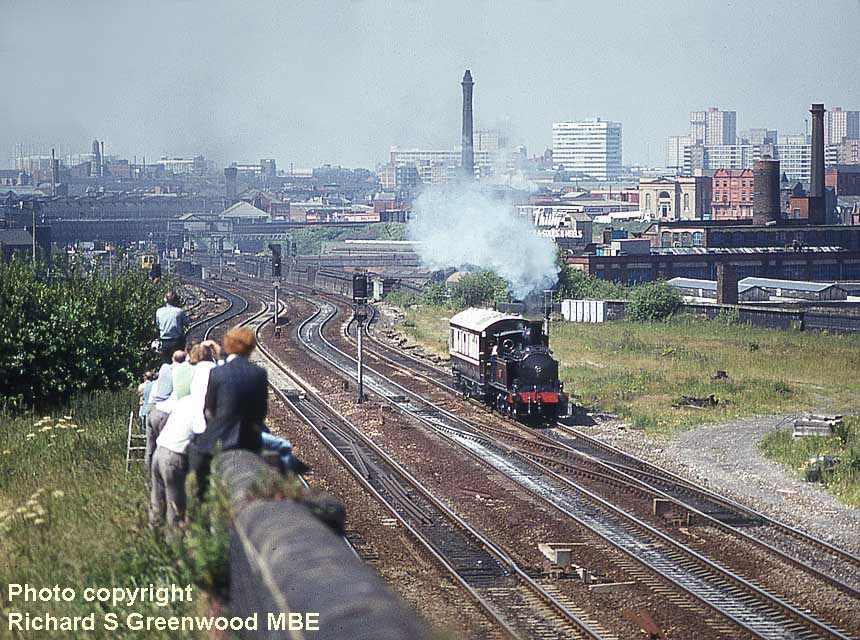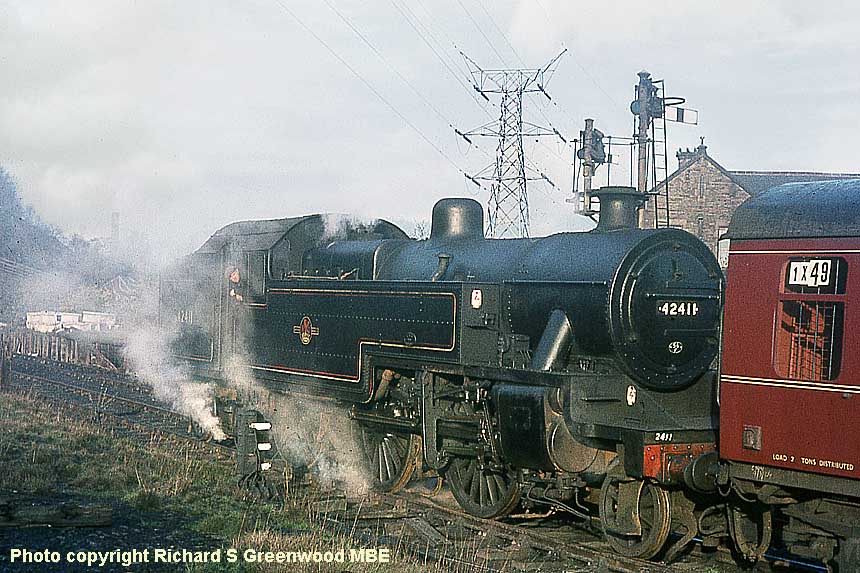 (Above-Below) Realising the need for something larger and more powerful, the LMS Loco Chief Sir Henry Fowler introduced the Class 4 2-6-4Ts in 1927. It's well known that he overruled his Derby draughtsmen and forced them to accept the principle of long lap long travel valves. As a result the Fowler 2-6-4T was the first truly modern loco to emerge from Derby works and it was a huge success. One hundred and twenty five of these locos were built, some surviving into the 1960s, with both Yorkshire and Stockport being their stamping grounds in the final years. 42411 is seen above arriving at Sowerby Bridge with ecs and below preparing to work the first leg of the
Halifax Railfans & Pennine Railway Society 'The South Yorkshireman No 2' on 18 April 1964. Running as 1X49 throughout, 42411 hauled the special from Sowerby Bridge via Brighouse to Huddersfield, where Class A3 60051 Blink Bonny continued to Derby and Crewe; the Railtour included visits to Derby Works and shed plus Crewe Works and sheds
.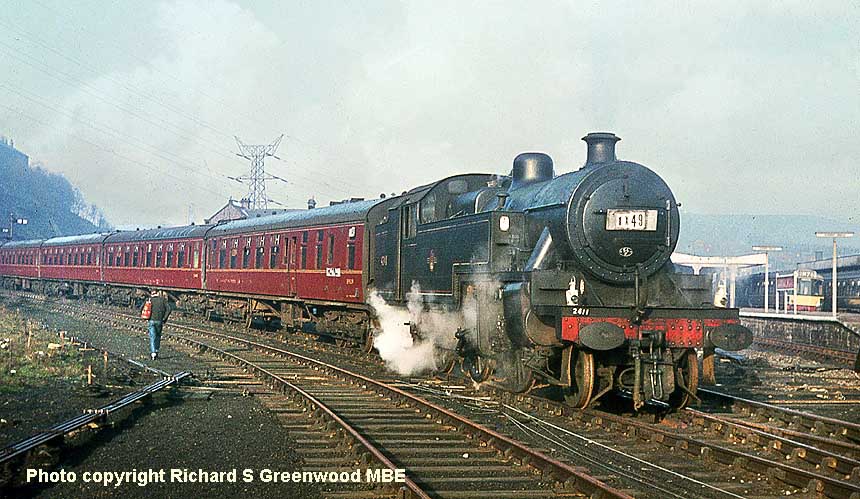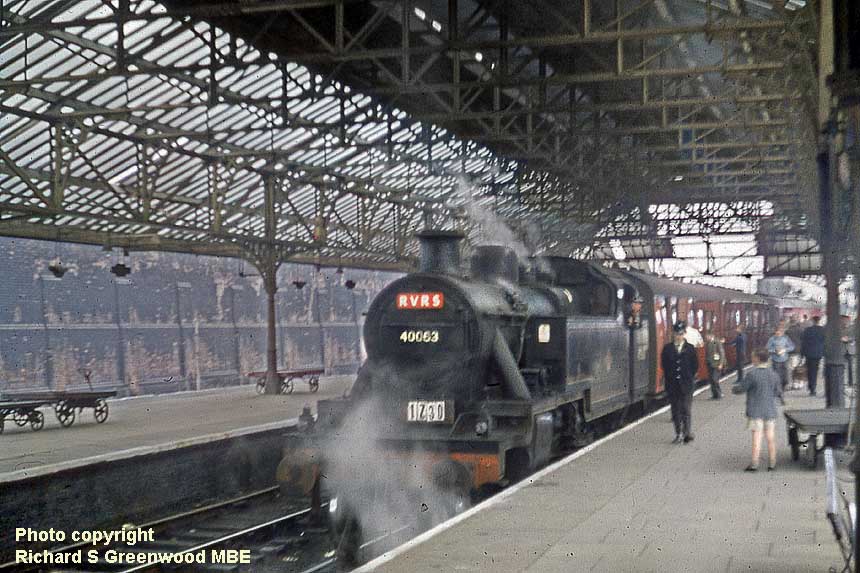 (Above-Below) In 1930 Derby went on to produce a Fowler Class 3 2-6-2T which was a feeble performer. One loco engineer is reported to have said that its boiler was incapable of boiling water for a busy refreshment room! These locos staggered on, unloved and relegated to menial duties and earned the nickname of 'Breadvans'. Newton Heath shed had a batch 40013-5 and 40062/23 which spent most of their time carriage shunting, however on 28 July 1962 No 40063 topped and tailed with LYR 'A' class 0-6-0 tender engine 52523 on the Roch Valley Railway Society's (RVRS) 'Salford Hundred Rail Tour' in East Lancashire; 40063 is seen above at Rochdale station...

a tricky shot this! Dismal weather and poor light demanded a steady hand and slow shutter speed, but the photo was worth it since it shows the splendid L & Y station architecture, all now long since gone

. (Below) 40063 was photographed blowing off at Facit, then terminus of the erstwhile Rochdale to Bacup line.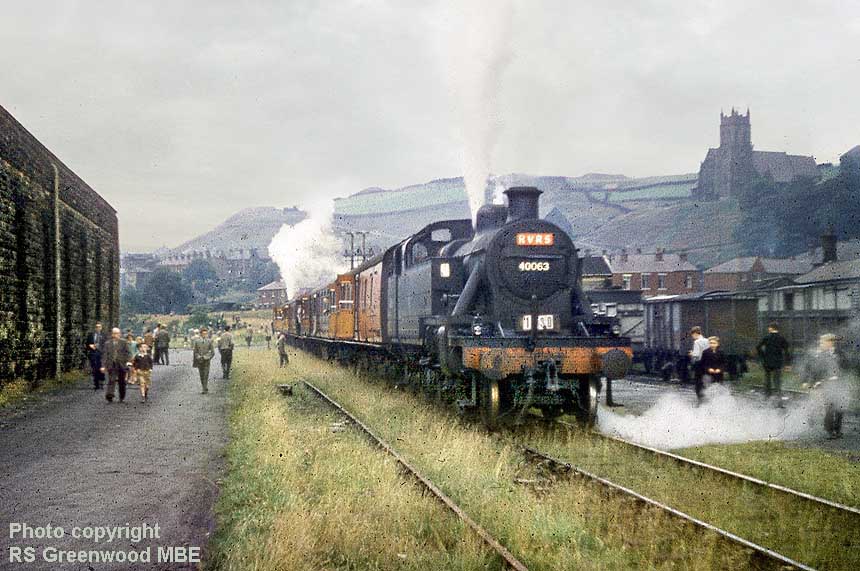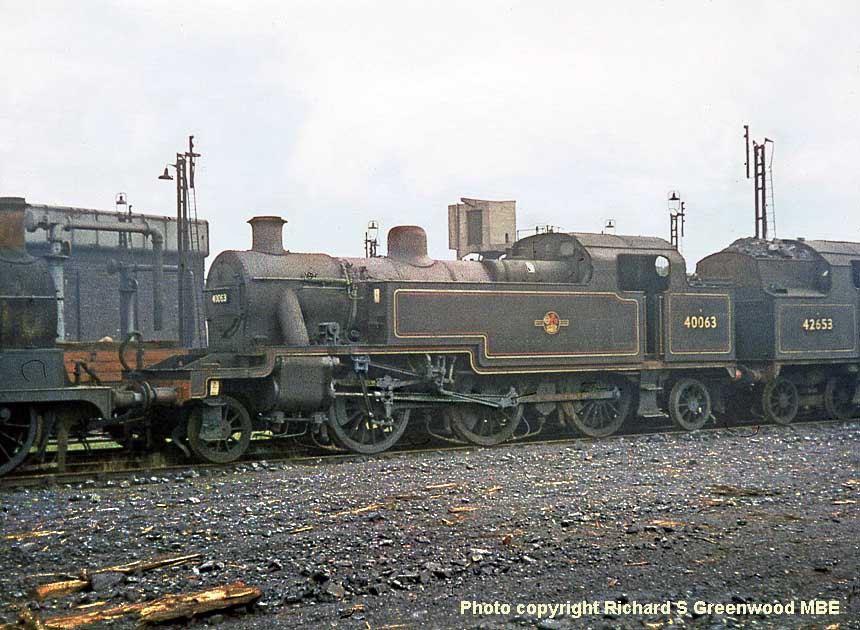 (Above-Below) In somewhat funereal surroundings Fowler Class 3 2-6-2T 40063 awaits its fate at Bolton shed, however a short reprieve arrived when it was taken out of store specially for the

Roch Valley Railway Society's (RVRS) 'Salford Hundred Rail Tour'

featured above. The Fowler tank was pleasing to the eye but handsome is as handsome does.
In 1935 Stanier tried to improve the class with new taper boilers but these too were a bit of a flop. A handful even received larger boilers to little avail. (Below) Since my colour shots of Stanier 2-6-2Ts seem to have been be lost in the ether over the years, rather than omit the class entirely here is a b/w photo of 40104 at Bolton station about to work a stores van to Horwich Works.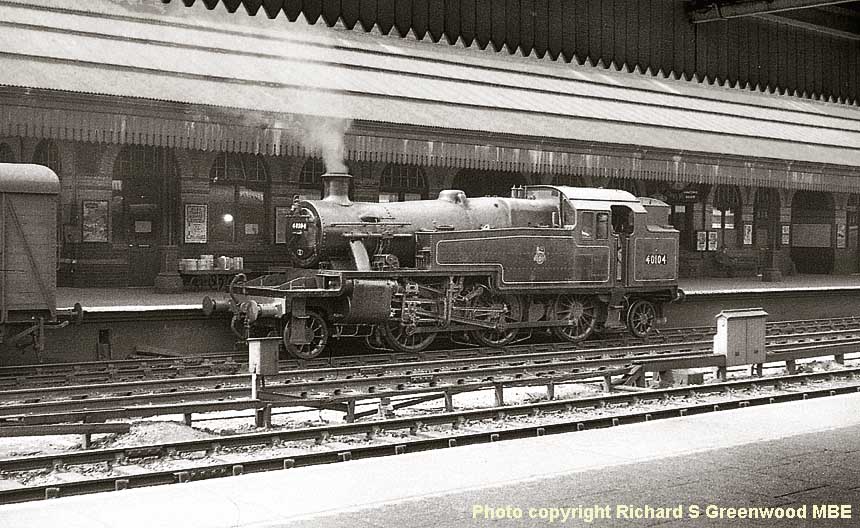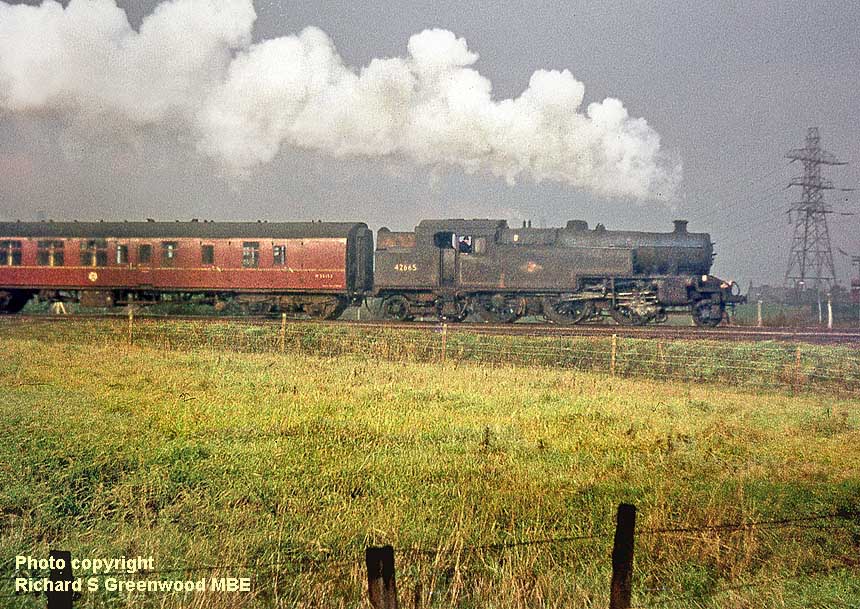 (Above-Below) Stanier then turned his attention to the already successful Class 4 2-6-4Ts. First however he allowed himself a diversion in 1933 by producing 37 locos with three cylinders for the Tilbury section which proved no better at acceleration than the 2 cylinder machines he had introduced in 1934; more than 200 were built. Equally at home chimney first or bunker first, these machines were very adaptable and continued the work of the earlier Fowler class 4 2-6-4Ts in revolutionising commuter and inter urban work. (Above)
Stanier 2-6-4T 42665 is seen on an autumnal day, 15 October 1965, weakly illuminated by a pale sun against a lowering storm cloud with the fast train from Southport due Rochdale at 0934. It was unusual to see a tank engine on this working and 42665 had been a Stoke area loco for a long time. It had come north in the middle of 1965 to Springs Branch, Wigan, which was by then responsible for all the work of the former Wigan L&Y shed.
How it came to be working a Southport turn I cannot say but possibly it was on loan or even transferred to Southport shed, by then renumbered an improbable 8M
. The Southport and Blackpool trains were the only ones to receive sets of BR Mark I corridor coaches. The rest subsisted mainly on compartment stock.
(Below)

An ex-works Stanier 2-6-2T No 42444 positively gleams on Rochdale passenger pilot duty.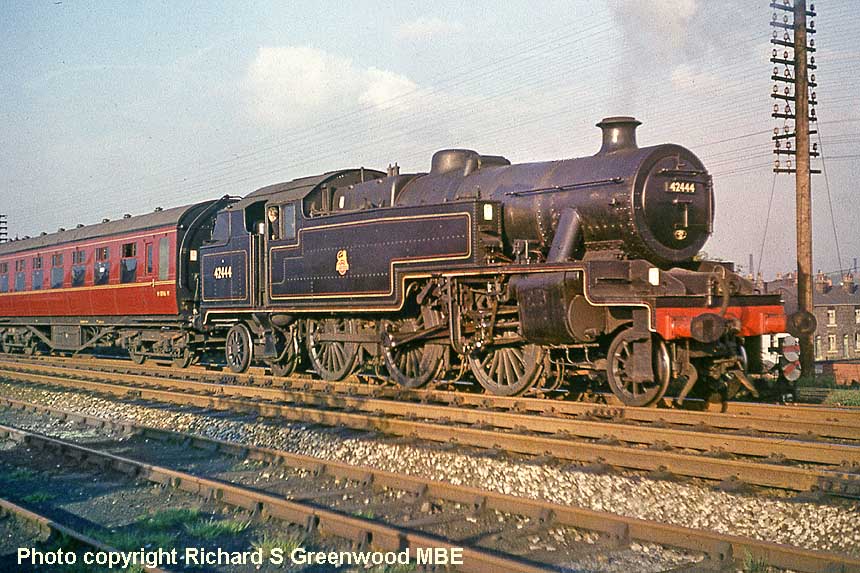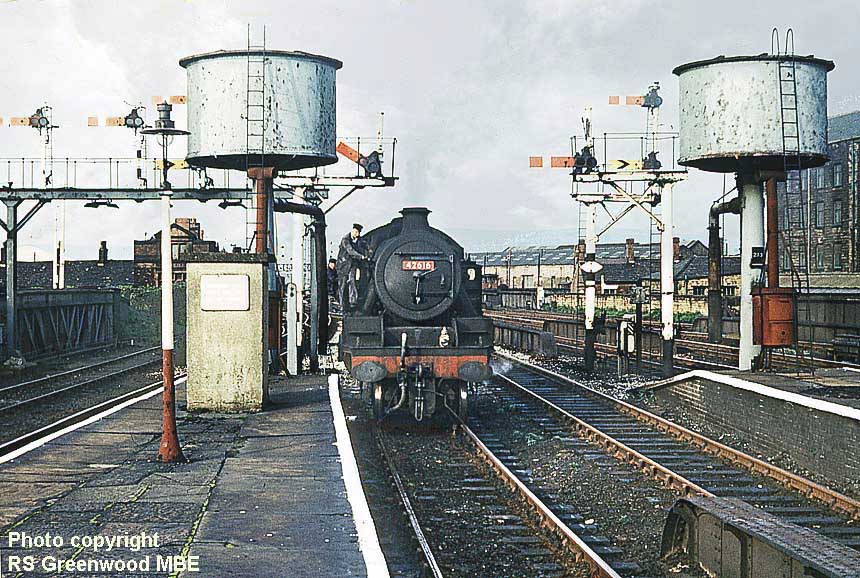 (Above) By 1967 the LMS 2-6-4Ts were confined to the North Eastern Region on parcels and mail traffic, and some short distance passenger work but they were all withdrawn when the Region went fully diesel in September 1967. This shot of Stanier 2-6-4T No 42616 gives us our first look at the evening parcels variously starting at Bradford, Mytholmroyd or Normanton to Rochdale. The Mytholmroyd traffic comprised of day old chicks from Thornbers Chick Hatchery. Having shunted its vans the loco crew take water in number 2 bay platform ready to return home to Yorkshire light engine.



(Below) Following Sir William Stanier's retirement as CME in 1944, WE Fairburn took over the reins but the only design credited to him was a development of Stanier's 2-6-4Ts with shorter wheelbase and detail difference (to cut maintenance costs) introduced in 1945. Numbering 275 these were a huge success and continued to be built during early British Railways days, with appreciable numbers being sent to work on the Southern Region where they were welcomed with open arms.
Fairburn tank 42138 was photographed on 10 June 1967 at 07.30 waiting to depart with the morning Rochdale to Bradford parcels, the return working off the early morning Normanton to Rochdale mail. In the adjacent platform you can just make out the shape of Ivatt class 2 2-6-0 46485 standing at the bufferstops having arrived with mail and parcels from Manchester Victoria and Oldham. The vans off this train form part of the load behind 42138
.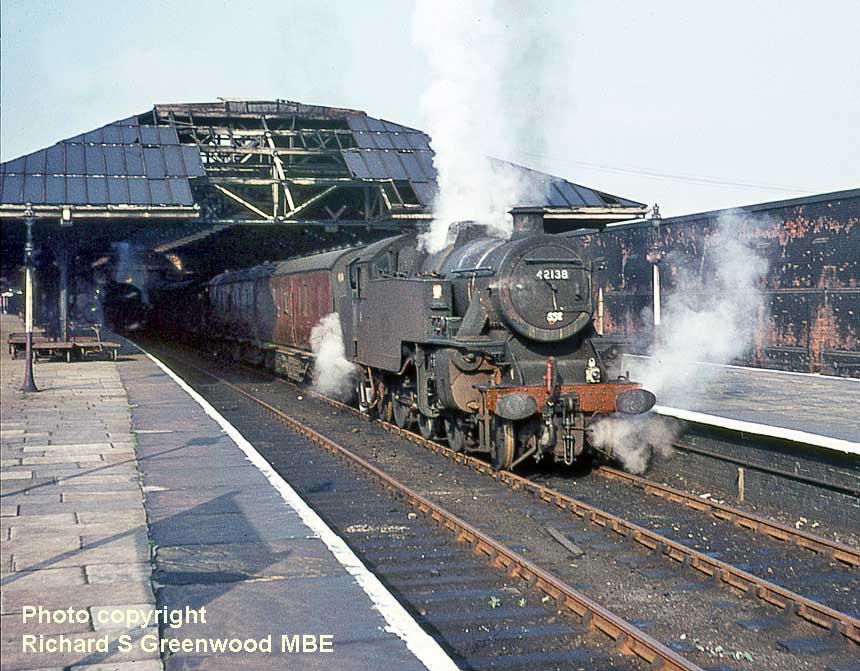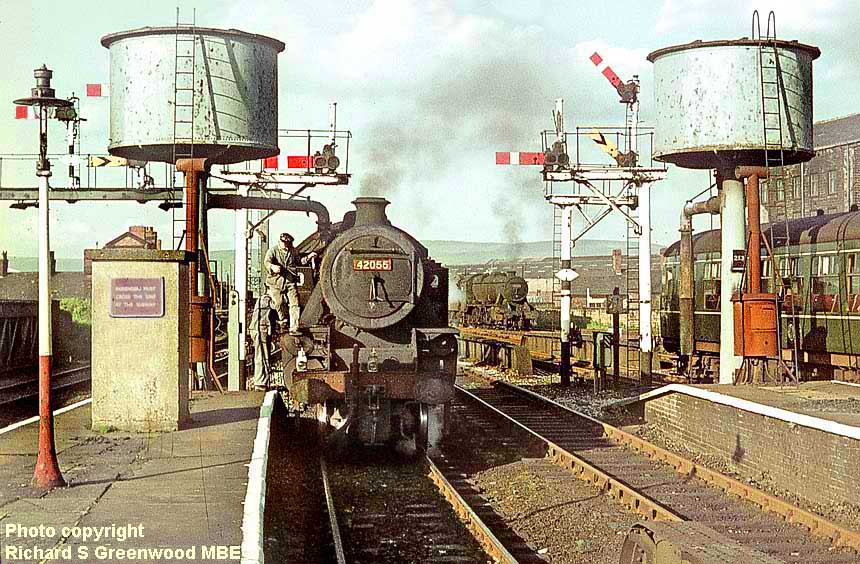 (Above-Below) I make no apologies for replicating the earlier picture with another Fairburn tank No 42055 on the same parcels working at Rochdale station. On the right a Class 110 'Calder Valley' 3-car set dmu departs on a Manchester Victoria-Leeds

passenger and getting into the picture is an 8F in the up goods loop

. A British Railways Standard Class 4 2-6-4Ts designed by Riddles but based on the Stanier and Fairburn class - with increased boiler pressure - was built to the tune of 155 locomotives. They went to all Regions particularly the Southern. Even Bacup, Bury and Blackpool sheds on the LMR received small allocations but the reason seems obscure with all the complications of stocking additional items in the shed stores. (Below)

Having brought in the evening parcels at Rochdale the crew of Fairburn 42116 seem intent on getting back to their home shed as quickly as possible; this view captures the engine scuttling along bunker first past the textile machinery works of Wm Tatham and Sons near Belfield on 21 April 1967

.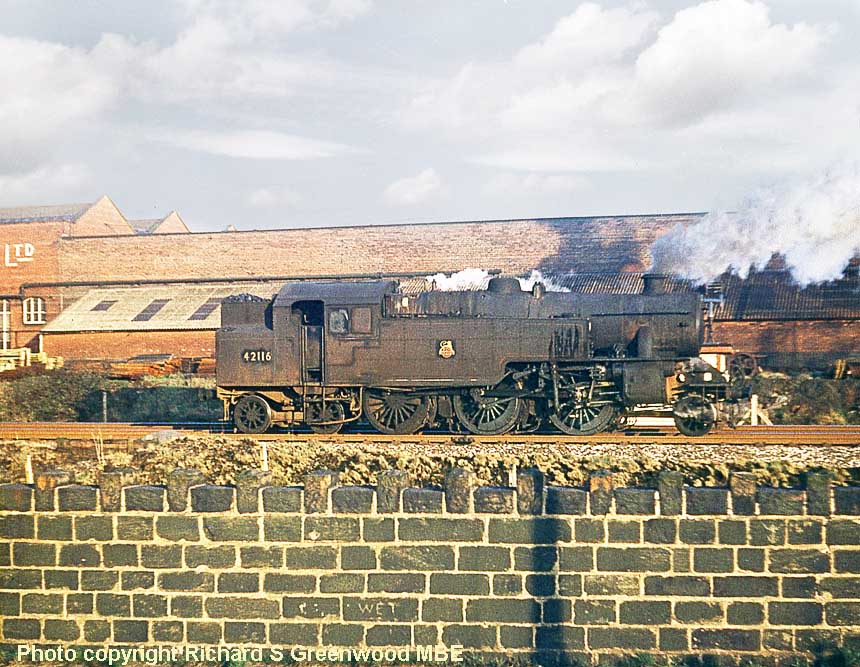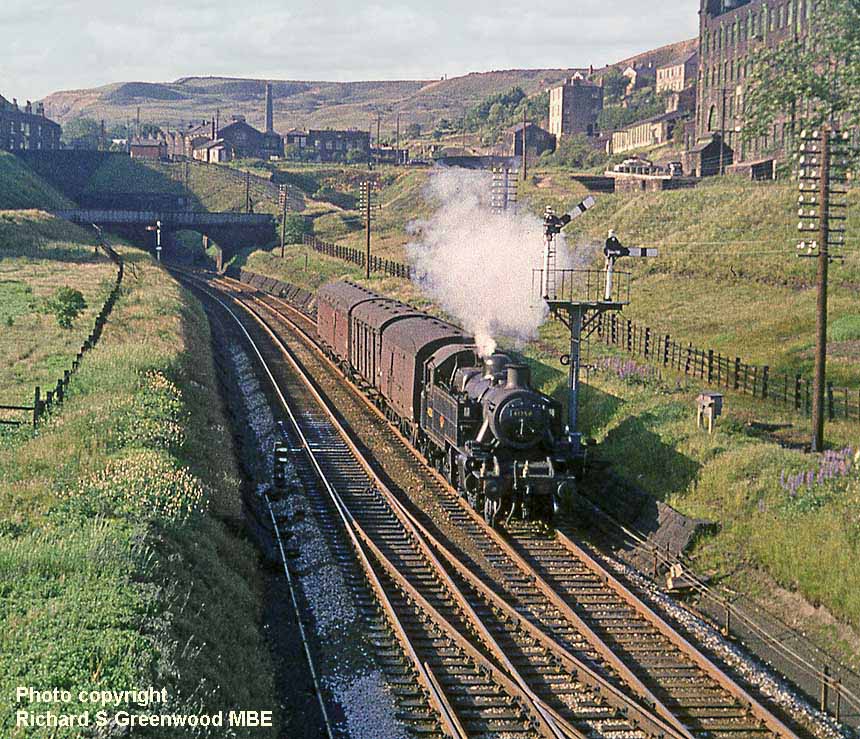 (Above-Below) Just prior to nationalisation in 1948, Fairburn's reign as CME at the LMS (1944-45) gave way to HG Ivatt (1945-1947) who introduced a Class 2 2-6-2T version of his predecessor's Class 2 2-6-0 tender locos. These Ivatt Twos were one of the most successful designs and, again, a large batch went to the Southern. Low Moor had a small allocation and in 1962 they appeared on the evening parcels from Yorkshire. Here 41253 has just emerged from Summit tunnel. The bridge immediately behind the train is an aqueduct carrying the infant River Roch, and beyond the A6033 road bridge the line enters Summit Tunnel, 2885 yards long and the longest in the world when opened in 1842. (Below) 41204 is seen late one evening in Stockport shed yard.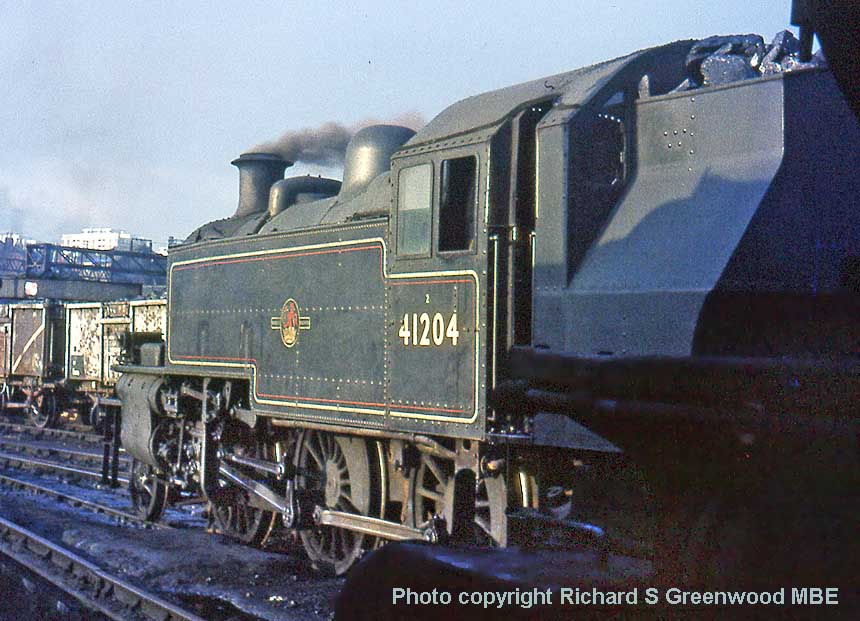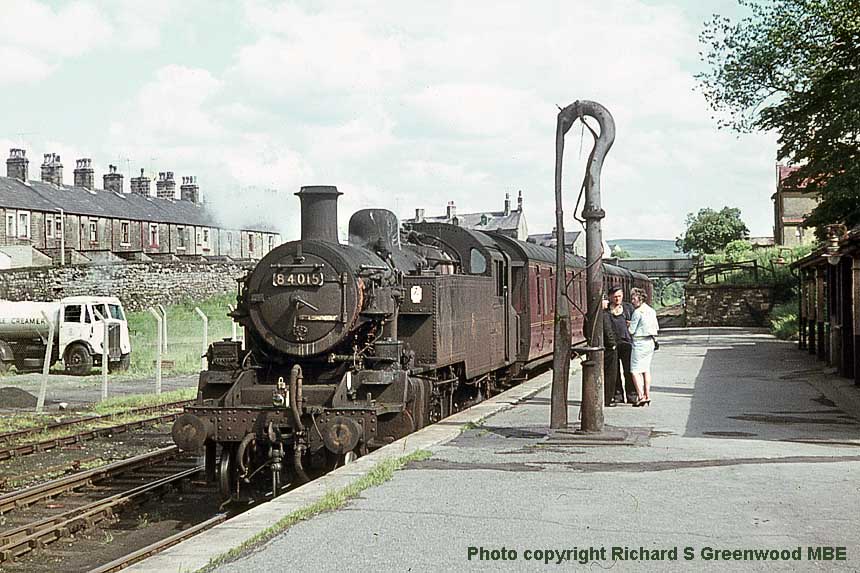 (Above) British Railways produced an almost identical version of the Ivatt Class 2 2-6-2T; here 84015 awaits departure at Barnoldswick station on date. Barnoldswick was served by only two trains a day each way at this time but this particular Saturday was the day of Skipton Gala and several additional trains were provided. Like many of the Ivatt class before it, 84015 was fitted for push-pull operation.
Of interest to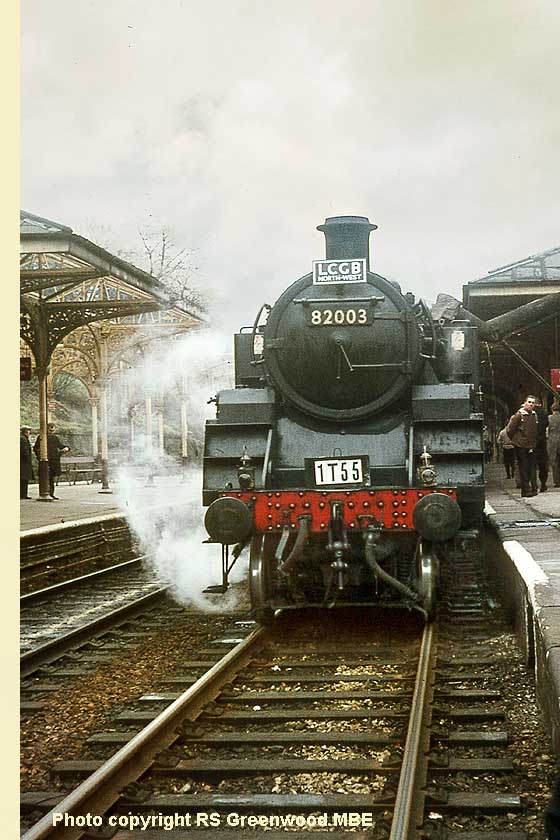 vintage road haulage fans is the milk tanker in the station yard; an AEC Mammoth Major three axle tanker (aka 6 wheeler) belonging to the West Marton Creamery. Mention should also be made of the 'Barlick Spud', the nickname given to the local train that ran between Earby and Barnoldswick - 'Barlick' is the local pronunciation of the town. As to the origin of the train's name, one snippet of folklore has it that when the first train arrived at Barnoldswick station behind a pocket-sized 0-4-2WT (a well-tank locomotive) a bystander remarked, 'What a little engine. It's not big enough to roast a spud!' Of course, any spud put INSIDE the firebox would be burnt in quick sticks, but if a spud was put on the manifold at the back of the boiler it would be nicely done by Barnoldswick. The L&Y Pugs at Newton Heath were known as 'Potato Engines' as they worked the Potato sidings in Oldham Road Goods Yard. Their crews also roasted their spuds under the dome cover.

(Right-Below) The BR Standard Class 3 2-6-2T 82000s was a Western Region speciality. Swindon Works designed and built the class using a slightly shortened version of the Swindon standard 'No 2' boiler, as fitted to the large GWR 'Prairie' tanks (51XXs) and 0-6-2 tanks in the 56XX series. The boiler was modified to carry a dome and normal type of superheater. The 2-6-2T was essentially a tank engine version of the Swindon-built 'BR3' mixed traffic 2-6-0 tender engines Nos 77000-77019, having identical 5ft 3ins driving wheels, 17½ X 26in cylinders, a boiler pressure of 200lb sq ins, and a tractive effort of 21,490 lb. When the Western Region's Cambrian section closed, three BR Class 3 2-6-2Ts were sent to Patricroft shed, including 82003 which was used on the 'Cotton Spinner' Rail Tour on 16 April 1966; the loco is seen

in this head-on shot (above right )waiting to take on water at Marple

. The tour was organised by the Locomotive Club of Great Britain (LCGB) North West Branch, and included visits to the Hayfield and Royton branches; the tour marked the last day of service on both branches
. The shot below of 82003 at Hayfield sums up the day...what dismal weather! It was snowing at Buxton and very wet everywhere else and the loco was nowhere near bright and clean!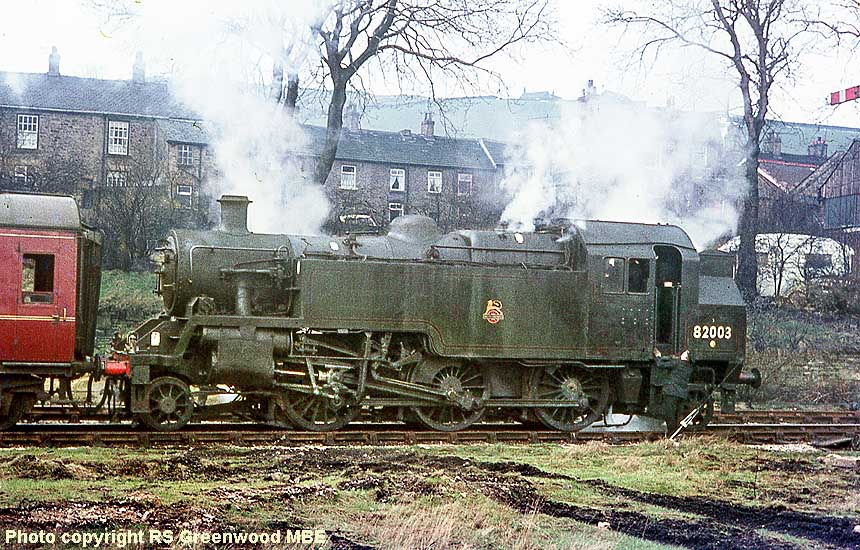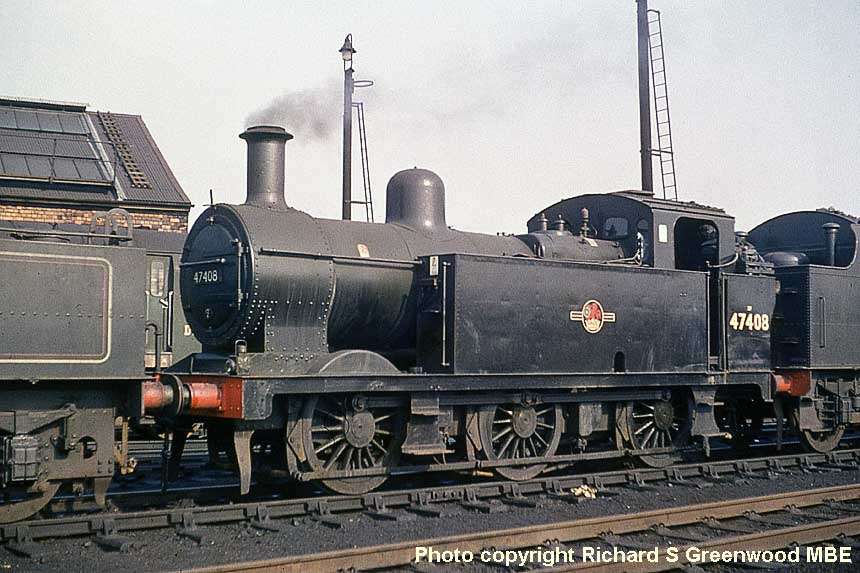 (Above-Below) Now to freight shunting locomotives, again only the LMSR produced a modernised standard. This 0-6-0T class (often referred to as 'Jinties' or 'Derby Shunt Tanks) was introduced in 1924 and over 400 were built; the class penetrated most parts of the LMS network south of the Scottish border. No 47408 was ex-works when photographed above at Carlisle Upperby in May 1961. (Below) No 47621 is fulfilling the Castleton CMD duties.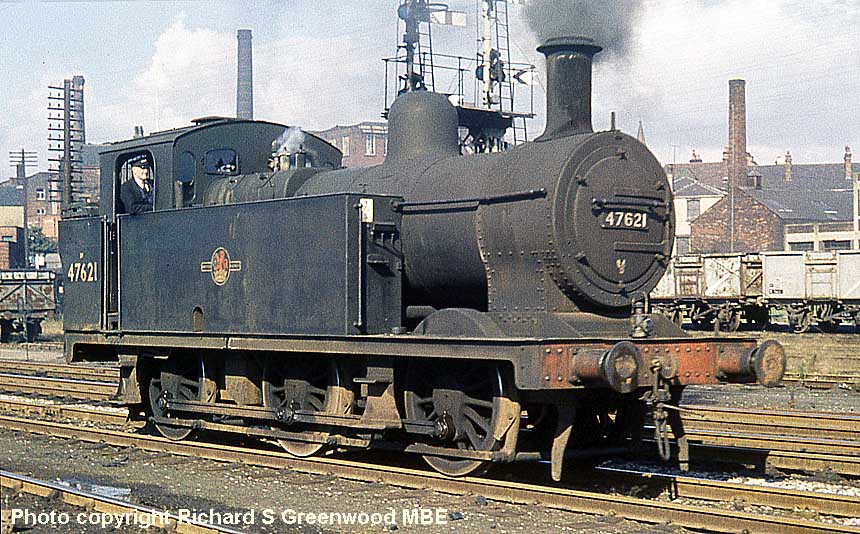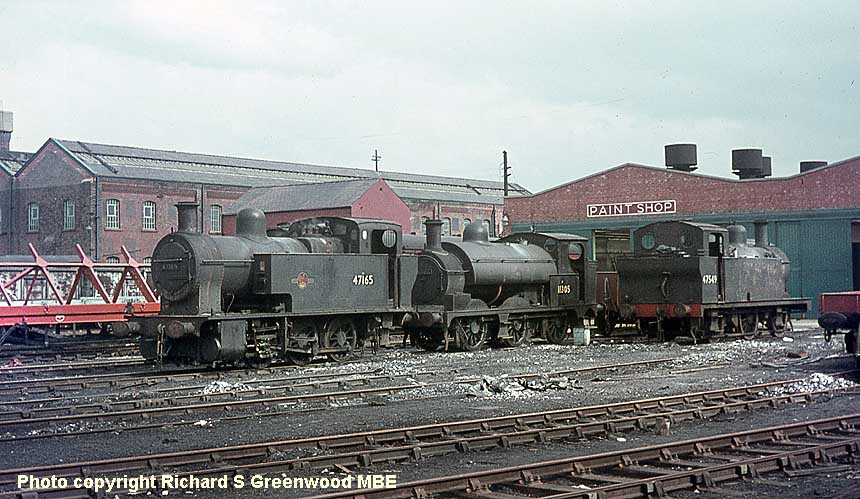 (Above-Below) Another early LMS shunting tank was the Fowler Dock tank of 1928. Only a handful were built but they lingered on into the 1960s. This view at Horwich shows three loco classes in use as Works shunters; the last surviving LYR 0-6-0ST 11305, Fowler Dock Tank 47165 and a Jinty 47549. In 1932 five 0-4-0Ts were purchased from Kitsons for duties previously covered by the LYR 'Pugs' and in 1953 five more were built. After the last Agecroft Pug 51232 broke its axle at Salford Low Level, 47001 was tried in its place as shown here but suffered from buffer locking so a Yorkshire Horse Class 02 diesel D2858 was employed instead.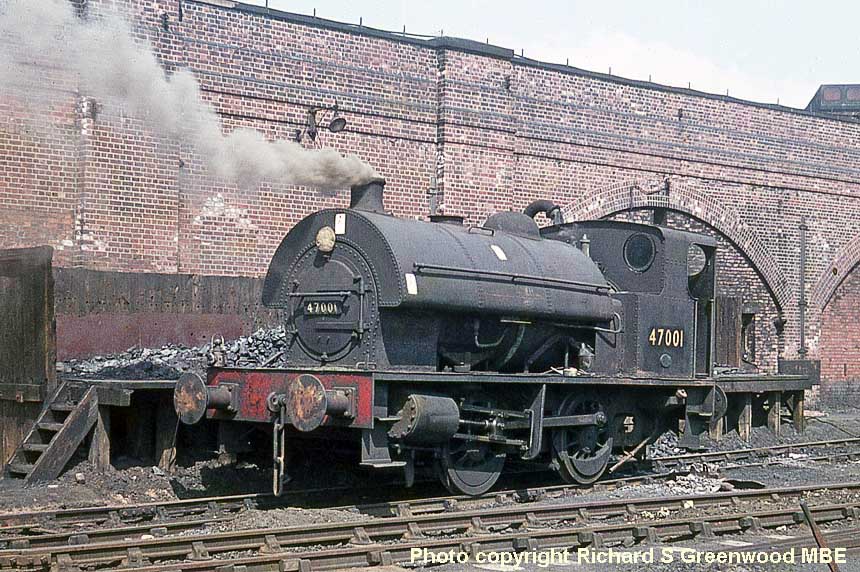 4 - BLACK FIVES OR MICKIES

I wonder what determined whether you as a spotter called them 'Mickies' or 'Black Fives'? Was it down to where you lived or simply a generation thing? What I do recall is that the term 'Mickies' tended to be used by spotters older than myself. Perhaps 'Black Fives' sounded more grown up and less Disneylike, but whatever you called the Stanier Class 5MTs, you couldn't ignore them. They roamed far and wide, from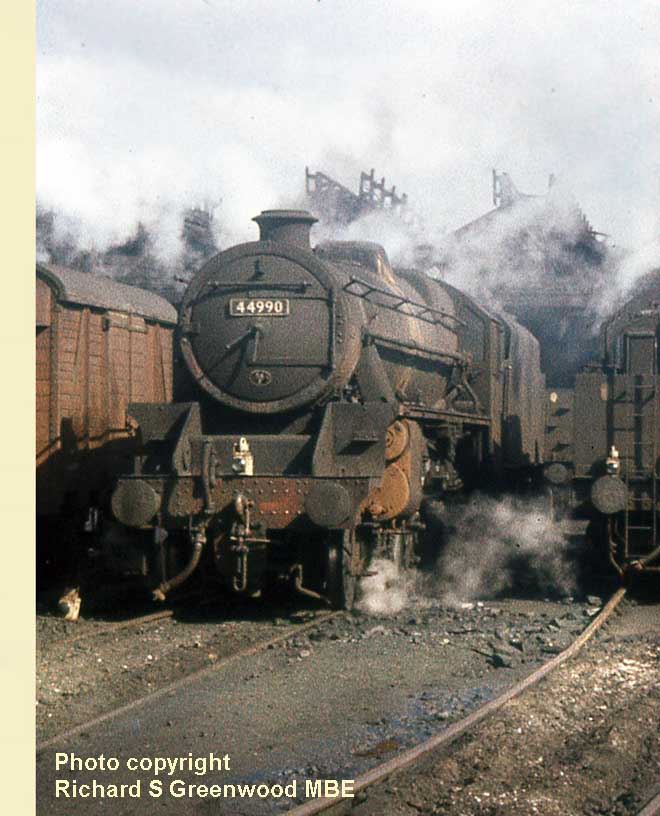 Holyhead to Scarborough, and as far north as Wick in Scotland to Bristol in the southwest and often beyond into the SR's territory.
A total of 842 was built, the largest single class on any British railway and they were a resounding success. Built over a period from 1934 to 1951 they included seventy variants introduced from 1947, but many of these locos (such as those fitted with rollerbearing axleboxes) were not easily recognised by the casual observer.
The basic ethos was a 4-6-0 with a driving wheel diameter of six feet, Walschaerts valve gear, two outside cylinders and Belpaire firebox. Classified 5MT they were the ultimate mixed traffic machine and capable of some very fast running, with speeds in the high 80s and even low 90s being recorded. However, they were not without teething troubles. The frames of 0.0938" thickness were beefed up to one inch, then later to 1.062", and axlebox horn guides became full horns first on the driving axle, then on all driving boxes.
(Right) The full image of 'Black 5' No 44990 at Newton Heath shed appears in the postscript at the bottom the page.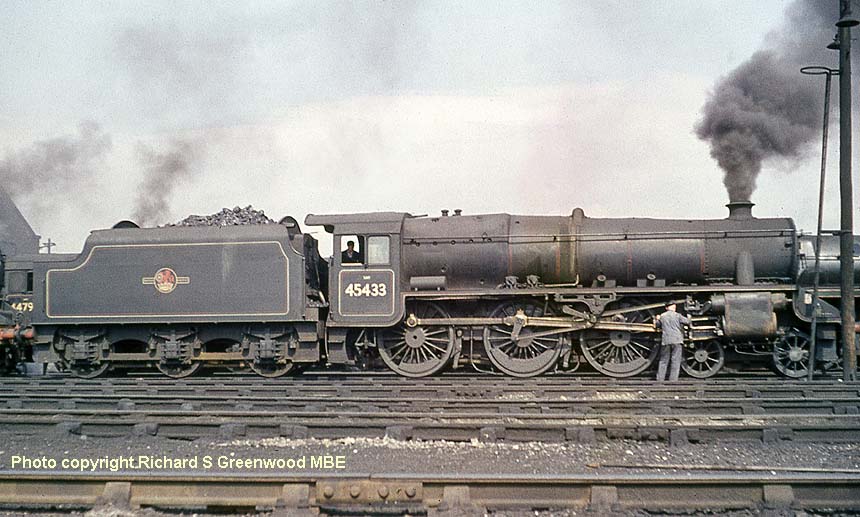 (Above-Below) The earliest boilers were built without domes, just a topfeed. A side view of this feature is most unusual. Here No 45433 was captured on film as the crew prepare it at Carlisle Upperby on 18 May 1961. (Below) When viewed from ground level or not quite side on it was often difficult to establish the 'Black 5' locos without a dome, as seen here with No 45104, recently ex-works and in plain black livery, shunting wagons on a very misty morning
at the site of Broadley station on the Rochdale to Bacup line. Broadley was the only passing loop on the single line section between Wardleworth and Facit; the remainder of the line was double track between Rochdale and Wardleworth and between Facit and Bacup
.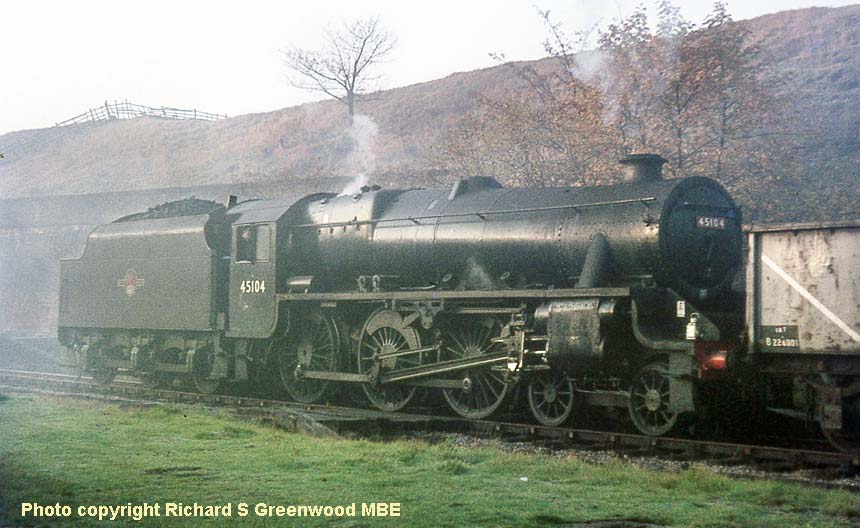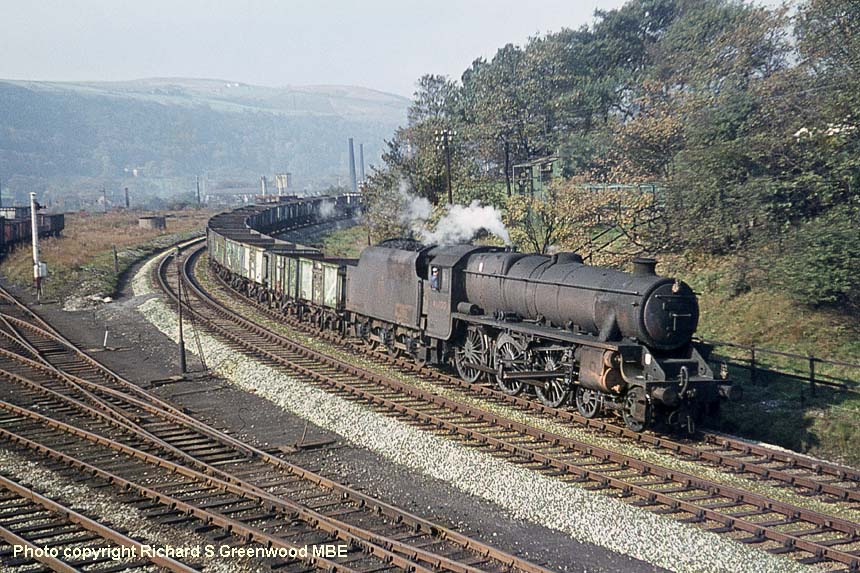 (Above-Below) Most modern loco designers (except those from Swindon) considered it a good idea to have the steam passing to the cylinders as dry as possible and therefore to separate the steam collecting dome from the top feed. The domeless boilers were not the best idea and the next batch of boilers had a dome with top feed combined. 45200 drifts downhill round the curve to Hall Royd Junction Todmorden having descended from Copy Pit with a train of coal empties. Black Fives were not the usual power for coal or empty wagon trains, WDs and Stanier 8Fs being the norm. (Below) Built to the same batch, 45210 also exhibits the dome and topfeed combined; the Black 5

is in platform 3 Bay at Rochdale on 5th March 1960 ready to depart on the 3.50pm all stations to Wigan. The inward working was the 12.42pm all stations from Liverpool Exchange to Rochdale.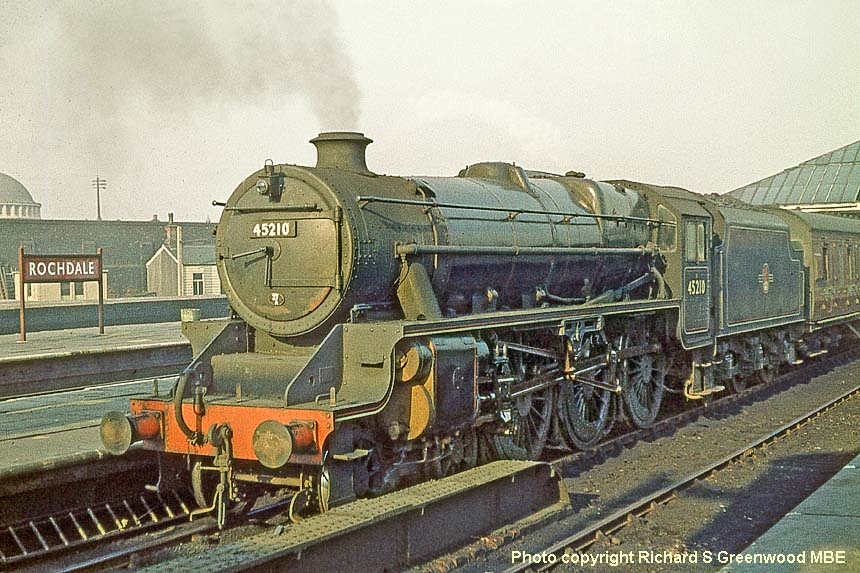 (Above-Below) 45076 ecs for excursion near Milnrow. (Below) 45103 at Clegg Hall on

a stopping train from Yorkshire to Manchester Victoria

, both locos fitted with dome-top feed combined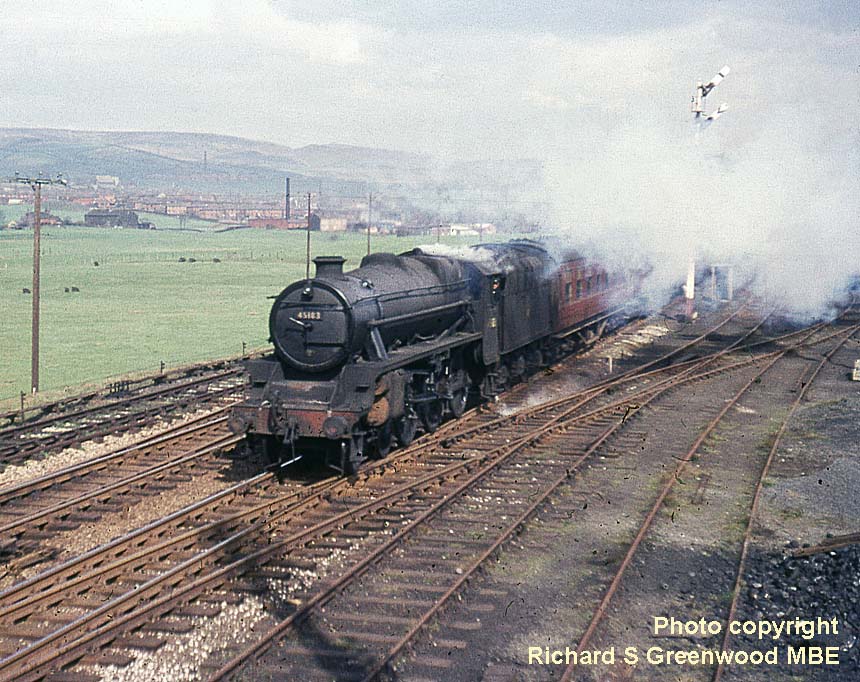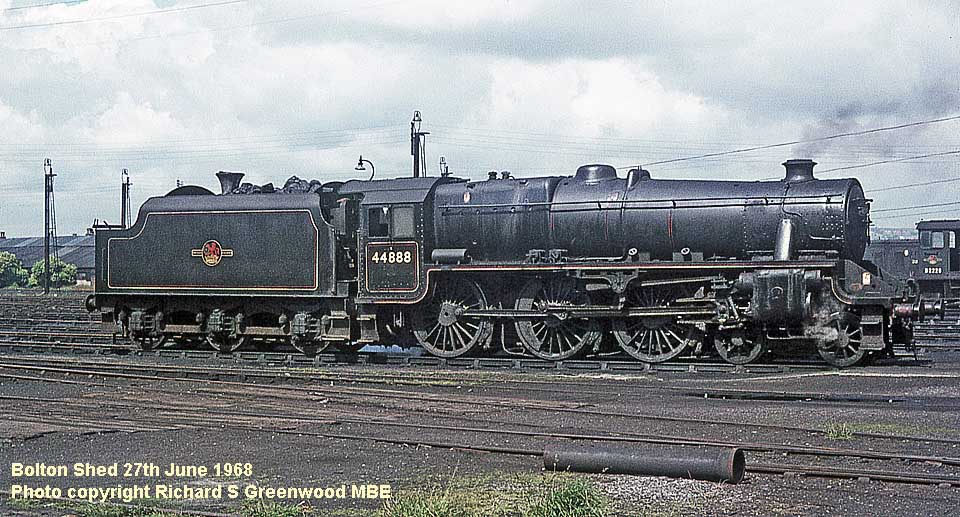 (Above-Below) The dome with top feed combined was not ideal and so the next top feed arrangement was a separate dome and the top feed placed on the middle boiler ring.

The position can be seen clearly on 44888 at Bolton shed on the afternoon of Thursday 27th June 1968, the shed closed three days later.

(Below)

The raking light picks out the detail of 45233 on pilot duty at Castleton

. Both shots may be useful for the discerning modeller seeking prototypical appearances of their 'Black 5' fresh out of the box. Capturing realism on a layout is one thing, but weathering a newly-purchased model costing umpteen £s is not for the faint hearted!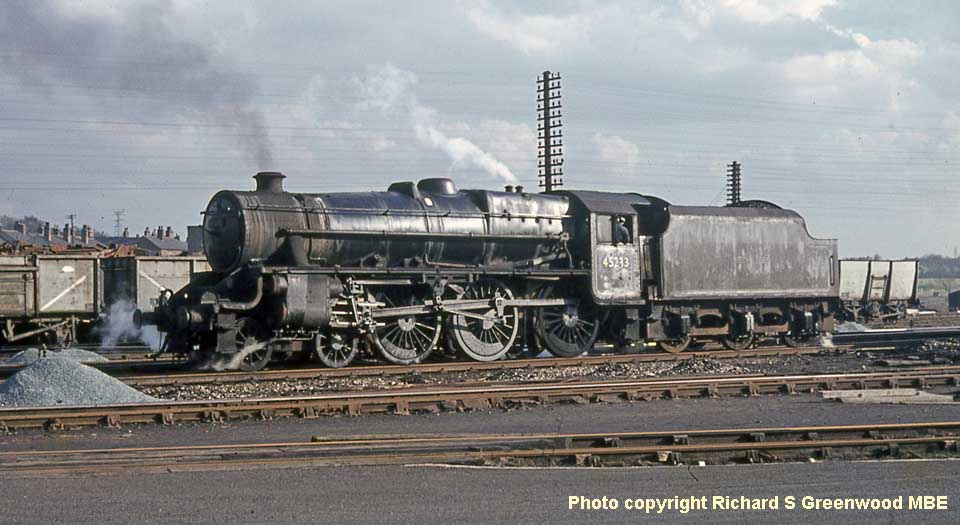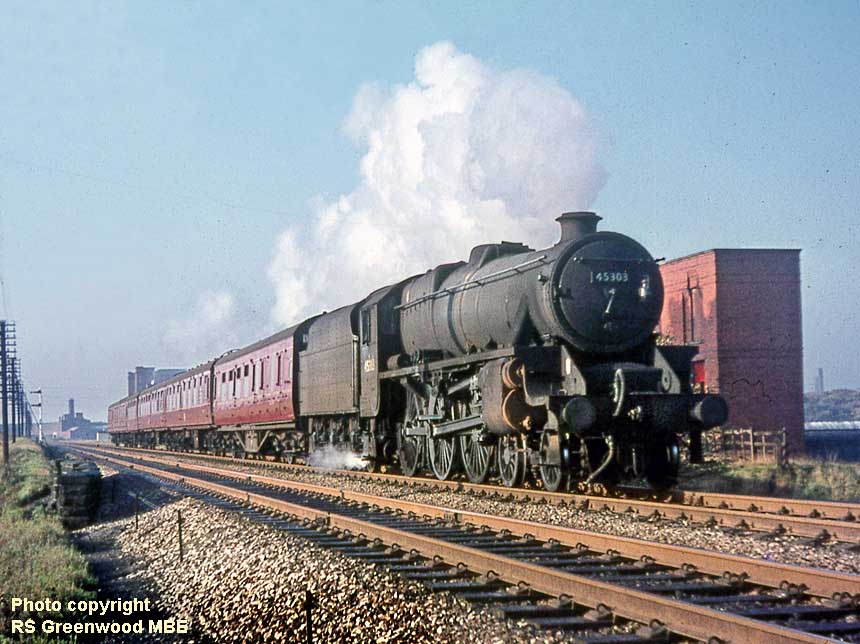 (Above-Below)

45303 and 44865 (not in the snow) both photos taken on 11 October 1965. There were two trains from Southport to Rochdale in the morning. The 7.35am which called at all stations after Burscough Bridge and the 8.14am which ran as a semifast. They arrived at their destination only 14 minutes apart. The trains are shown between Castleton and Rochdale.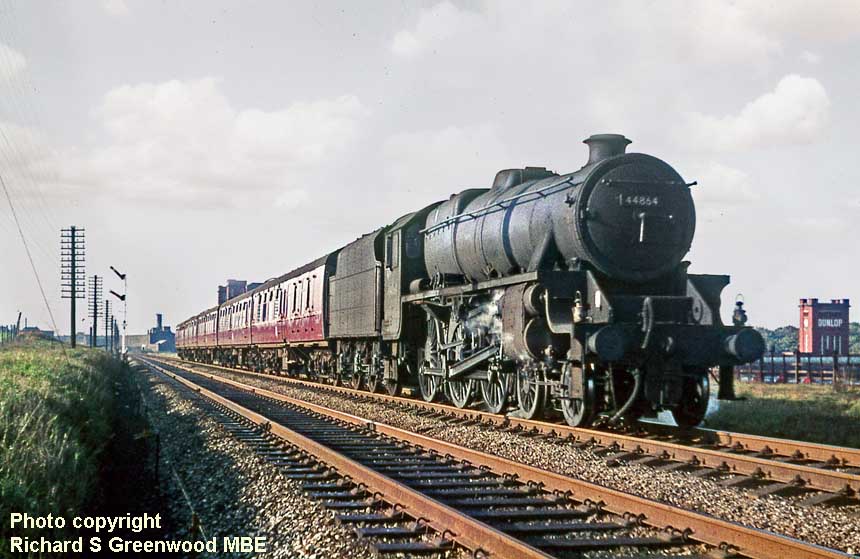 (Above) An unidentified 'Black 5' heads the 3.30pm Liverpool-Leeds Central and Bradford Exchange early in 1961. This area of Summit Gap between the Roch and Calder valleys was formed during the last Ice Age when melt-water spilled over from the glaciers covering South East Lancashire, and broke a way through to the North Sea. The area has been a major Pennine crossing since Roman times, the earliest transportation being pack-horses labouring over Blackstone Edge from Lancashire to Yorkshire. In 1804 the Rochdale Canal was opened from Manchester through Rochdale and over the summit to Sowerby Bridge where it joined the Calder and Hebble Navigation; construction of the canal included 92 locks, 6 bridges, 8 aquaducts and a 70 yard long tunnel, and formed part of a growing network of waterways created to open up a route across the Pennines between the ports of Hull and Liverpool. However in 1841, the building of the Manchester & Leeds Railway Company's 2,860-yard Summit Tunnel, then the longest railway tunnel in the world, soon put paid to the canal's dominance; indeed the canal had to be diverted to accommodate the railway as it originally ran across what is now the course of the line and took a loop behind the hill from which this photograph was taken.

(Below) 'Black 5s' Nos 44823 and 45103 have emerged from Summit Tunnel and begin the decent to Littleborough with the 2.2pm York to Liverpool Exchange express on 5th November 1960. The stone edifice to the right of the picture is one of the mill premises belonging to local philanthropic mill owners, Fothergill and Harvey.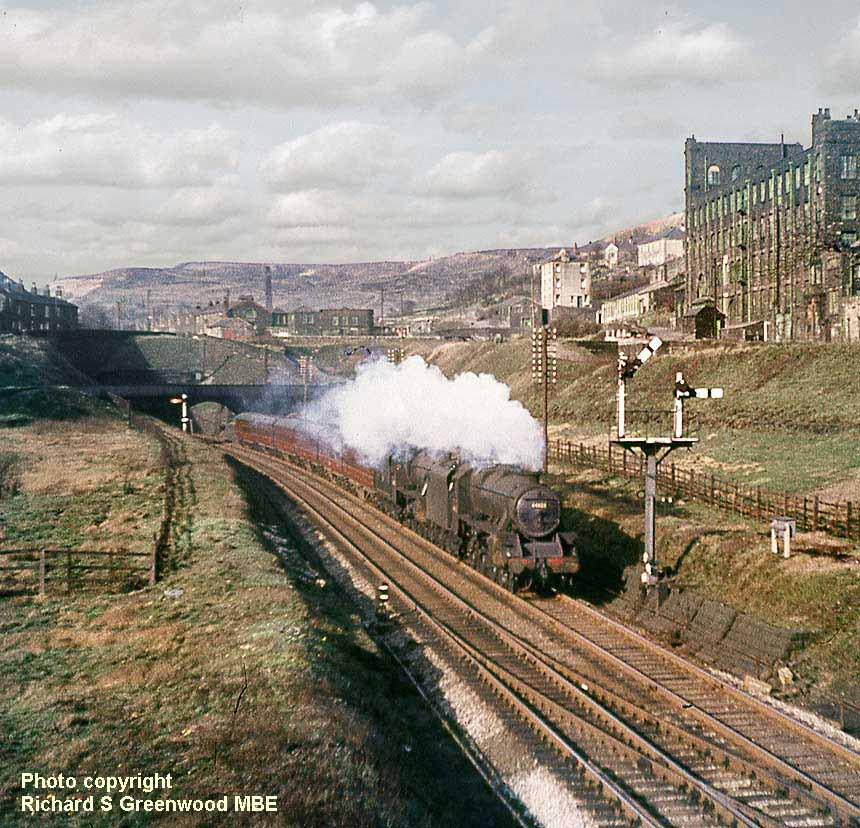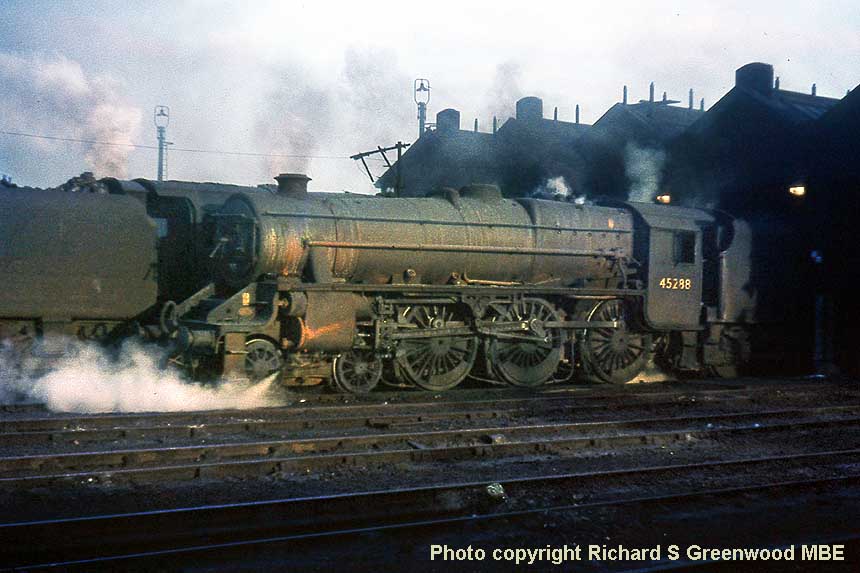 (Above-Below) This travel-weary 'Black 5' 45288 was photgraphed at dawn at a very run-down Newton Heath shed in 1968; part of the shed roof had been damaged by fire in February the previous year. (Below)

44865 in the snow.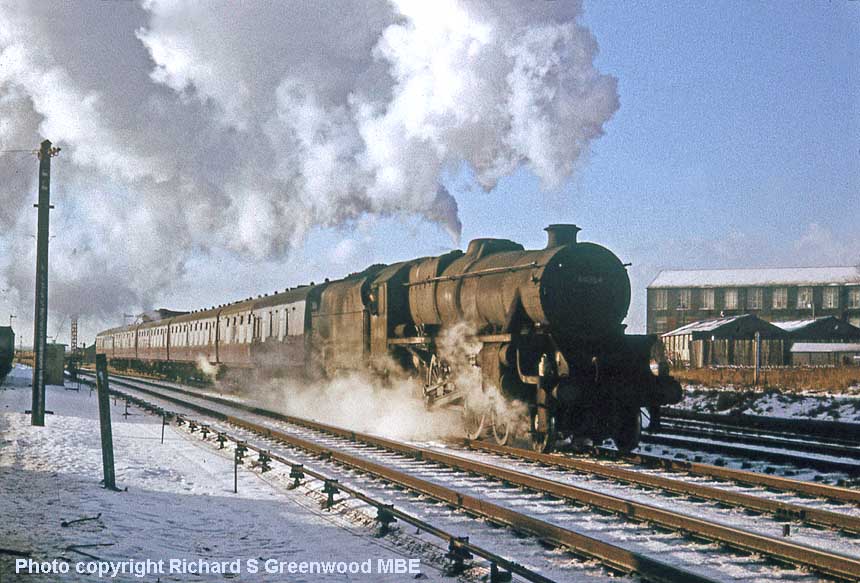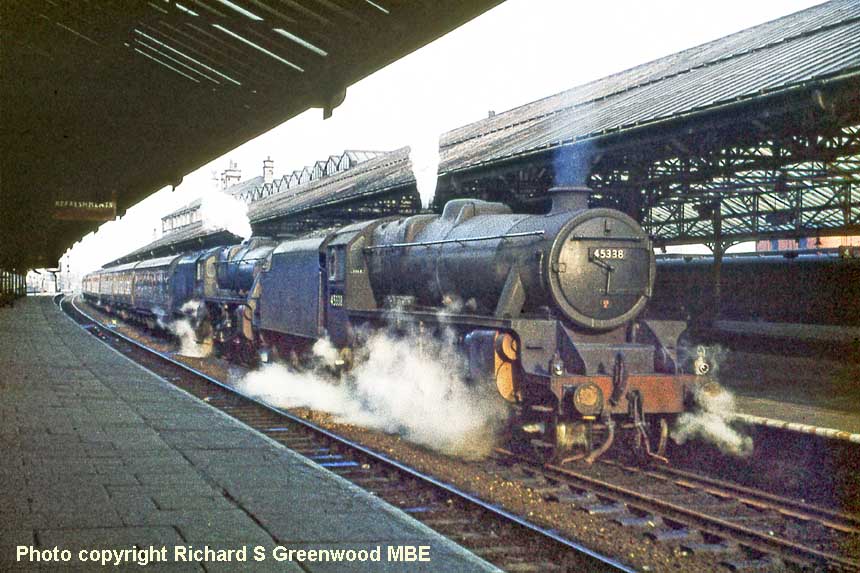 (Above-Below) 'Black 5s' 45338 and 44987 were photographed at Rochdale station working the 2.2pm York to Liverpool Exchange express on 5th March 1960 or 2nd April 1960. The train was double headed between Wakefield and Manchester on Saturdays during the winter timetable because there was an unbalanced outward SO working from Manchester (12.10pm to Wakefield).
There was a return train which ran only during the Summer timetable period. At this time the 2.15pm Wakefield to Manchester was also double headed as was of course the Scotswood Sidings to Red Bank empty Newspaper vans (below) making three double headed trains on Saturday afternoons within the space of two hours. Here

'Black 5' 45464 and 'Jubilee' class 45737 Atlas are on the Scotswood Sidings to Red Bank empty newspaper vans on 18 August 1962. The train is on the Clegg Hall troughs but neither locomotive seems to be taking water. Although the tank serving the troughs backs up against the Rochdale Canal, the water supply was not taken from the canal but from another source. In the Pendleton area water was taken from the Manchester Bury and Bolton canal and there were plenty of small fish found their way into the tenders! It was unusual to find a Blackpool loco (45464) on this train

.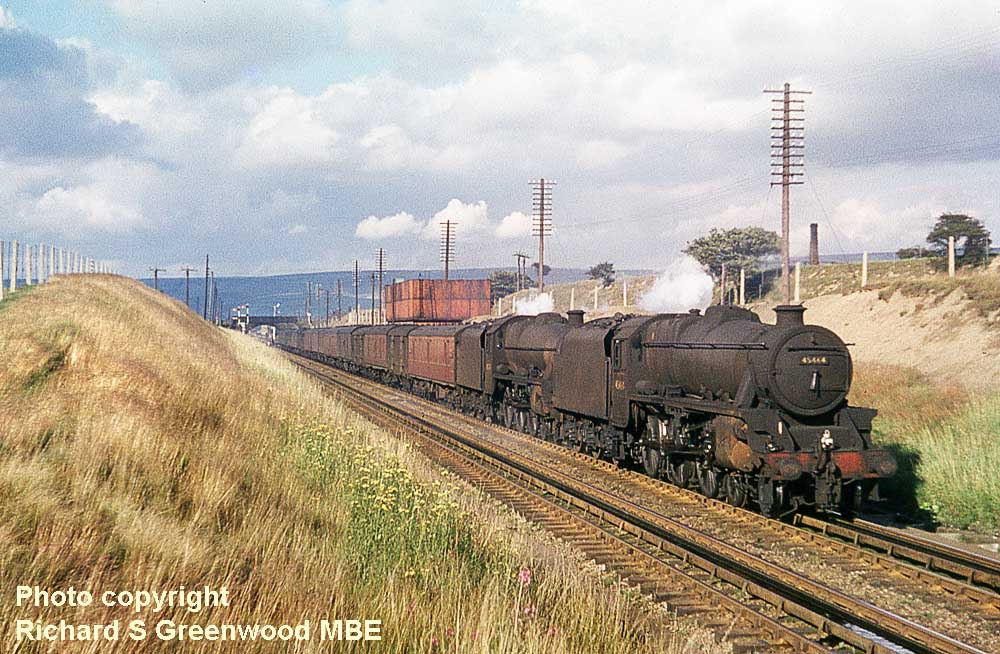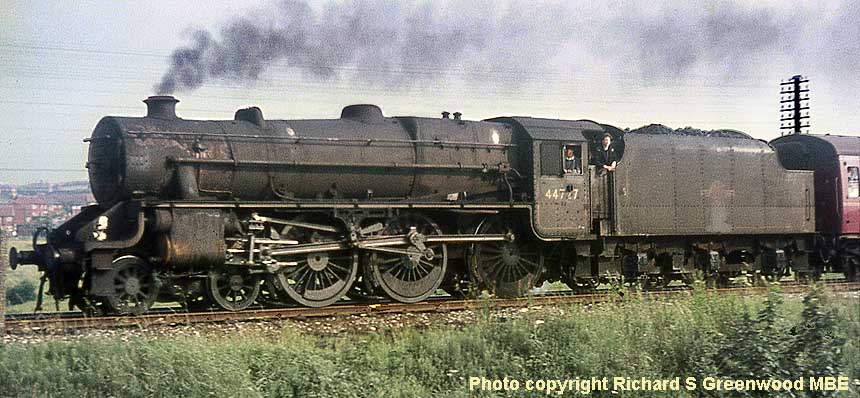 (Above) In the last batch of locos to be built (numbered in the 446xx and 447xx series) the top feed was moved to the front ring of the boiler; this final top feed position can be seen on 44727 which is working the celebrated Fridays Only 5.43pm Manchester to York relief; this working remained steam hauled until the end of December 1967. According to the Ian Allan abc, 44727 was one of ten built in 1949 with steel fireboxes. I remember finding it one day in Springs Branch shed out of steam. I climbed onto the footplate, stuck my head through the firehole door only to find the firebox was copper!

(Below)

During the winter, as late as the 1950s, BR used to run excursions most Sundays from Blackpool and all important intermediate stations to places like York, Doncaster or Leeds and Bradford. The local signalmen referred to them as 'Blackpool Landladies Outings'. Here

44730, a Blackpool engine, heads past the Dunlop Cotton Mills at Rochdale in charge of a Blackpool to Leeds and Bradford excursion on a misty Sunday 8th November 1959. The train will be split into two portions at Sowerby Bridge.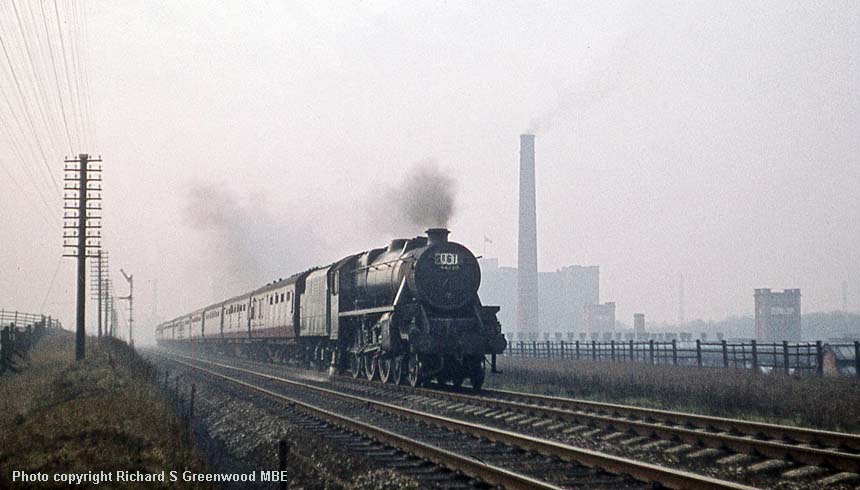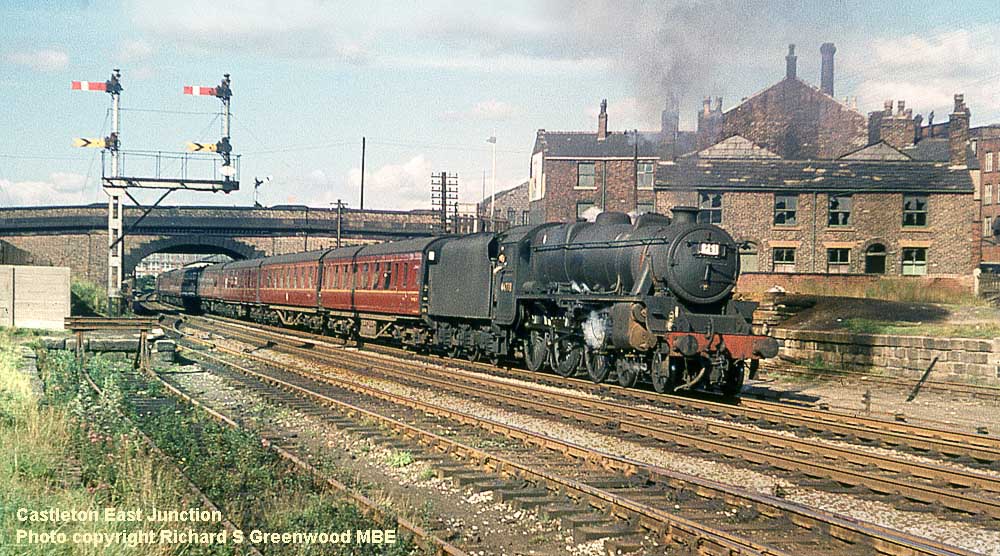 (Above-Below) 44778 was photographed at Castleton East Junction

with the 4.35pm Rochdale to Blackpool express

. (Below) One of the latest Black Fives to be built, No 44690, shows the front ring top feed arrangement to good effect

. The photo was taken at Newton Heath shed on 5th April 1967; the roof over this part of the shed was in a sorry state having been damaged by fire the previous February

.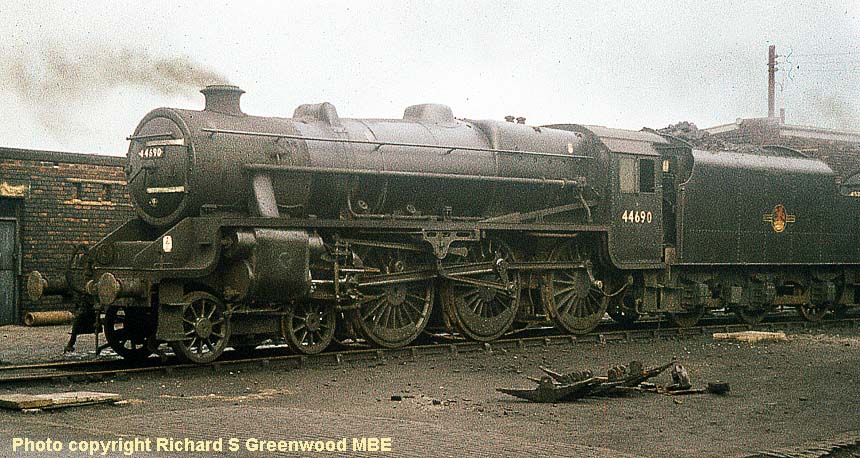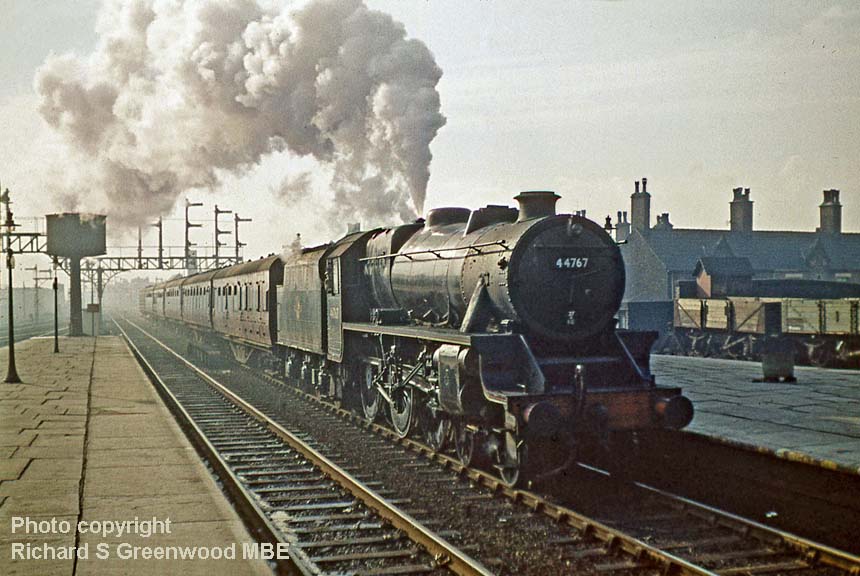 (Above) The first mechanical variation of the Class 5MT was 4767 (later BR 44767 and now preserved) which was fitted with outside Stephensons Link valve gear. It spent most of its working life at 27A Bank Hall (Liverpool) shed working express trains on the former L&Y mainlines as well as to Carlisle. It was later transferred to Southport shed and continued its career as a passenger loco before ending up at Carlise Kingmoor but still visiting its old L&Y stamping ground on such turns as the Oldham to Carnforth parcels. Its other features of double chimney and electric lighting had been removed much earlier.

Here, snow lingers in the shadows as 44767 approaches Rochdale station on 23rd February 1960. The train is the 12.30pm from Liverpool Exchange to Bradford Exchange and Leeds Central. This train ran as an express between Liverpool and Manchester, then became a stopper calling at all stations except Walsden, hence the headlamps in class B position. 44767 was a frequent performer on this train. It will return on the 5.9pm express from Leeds to Liverpool, adding a Bradford portion at Halifax, then calling only at Rochdale and Manchester Victoria. I believe the roster called for the loco to work a train between Liverpool Exchange and Preston in the morning.



(Below) Still with valve gear variations, there were four variations with Caprotti valve gear. The most numerous had single chimneys and normally positioned boilers. Several others had higher pitched boilers with very prominent outside steam pipes, three of which also had double chimneys. The last two were 44686/7 built at Horwich in 1951 with double chimneys, high running plate and various Ivatt modernisation features. They were the last two of the class to be built. 44743 is on the 8.30am Liverpool Exchange to Leeds and Braford Express at Castleton between South and East Junctions. The arrival in 1958 of three Caprottis at Bank Hall (27A) caused a stir and it took the crews some time to adjust to them especially when hill climbing.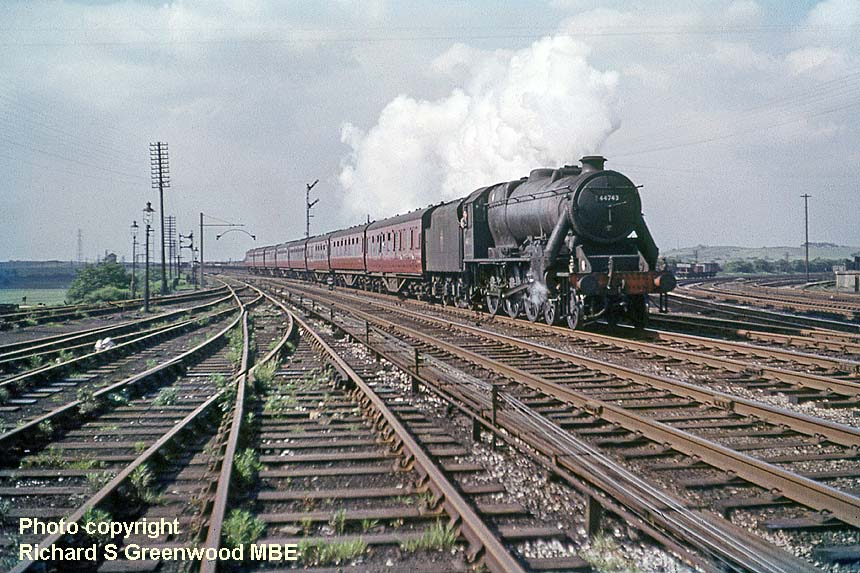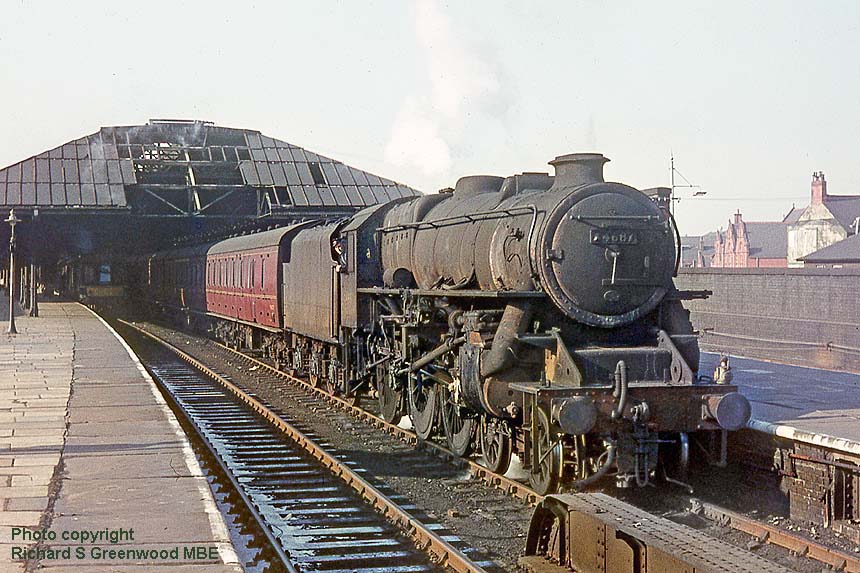 (Above-Below) Many of the Caprotti locos (including both 44686 and 44687) also finished up at Southport shed like 44767, seen above at Rochdale on 23 February 1960. The two Walschaerts locos with double chimneys but otherwise standard with the rest of the class ie 44765/6 never made it to the seaside resort at least on allocation. There are a dozen of these useful engines preserved, several passed to operate on Network Rail lines. They owe this to the fact that at the end of steam on BR in August 1968 they were by far the most numerous class of loco still running. (Above) 44687 plus (below) 44745 parcels caption required.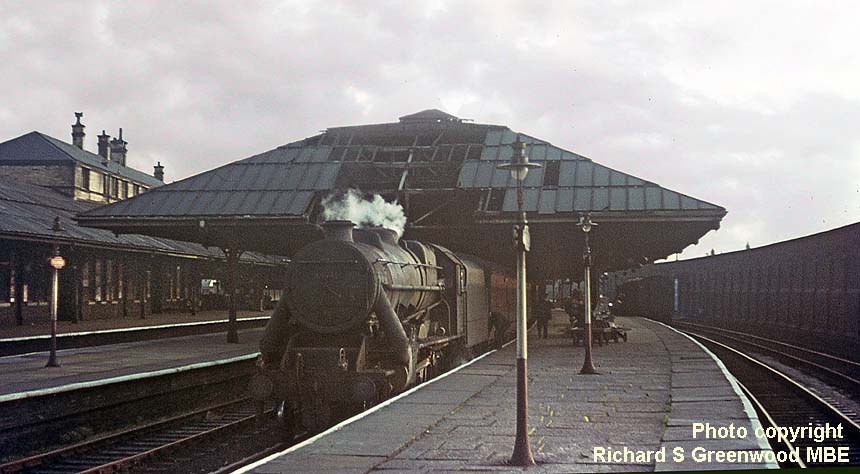 5 - FREIGHTS.


The bulk of the freight crossing the Pennines in steam days was coal: coal for factories, coal for electricity power stations, coal for Gas Works, coal for Steam Loco Depots and coal for household fires. The LYR moved it in trains hauled by 0-8-0s - the large boiler variety being nicknamed 'Lanky Bombers' - but these were replaced by the Fowler 0-8-0s 'Austin Sevens' which were themselves quickly replaced in the late 40s by a large fleet of WD 2-8-0s which in turn succumbed to Stanier 8F 2-8-0s in the mid-Sixties.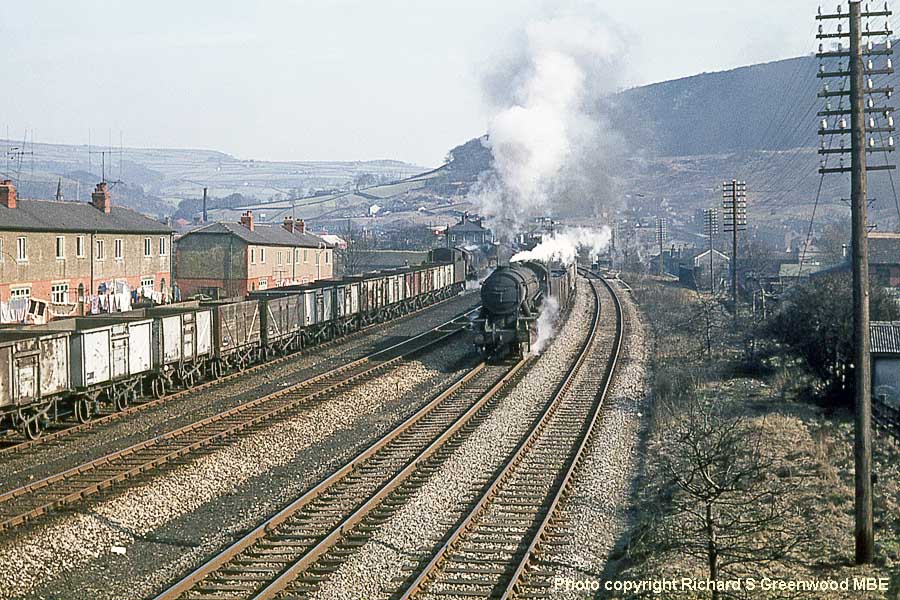 (Above-Below) Mytholmroyd had a small yard dealing only with westbound traffic. It despatched trains to such places as Fazakerley, Aintree, Moston and when it closed on 5 January 1964 the timetable showed three trains a day to Royton Junction, no doubt most of this traffic being coal for Higginshaw Gas Works. This shot (above) was taken on a Saturday morning looking east on the line between Hebden Bridge and Mytholmroyd where there were long up and down loops. A WD heads a load of coal for Lancashire on the up main line whilst a train of empties, again with a WD at the head, occupies the down loop. (Below) Turning round and observing the coal train making its way towards Hebden Bridge, another train of empty wagons is approaching on the down mainline overtaking the waiting empties in the down loop.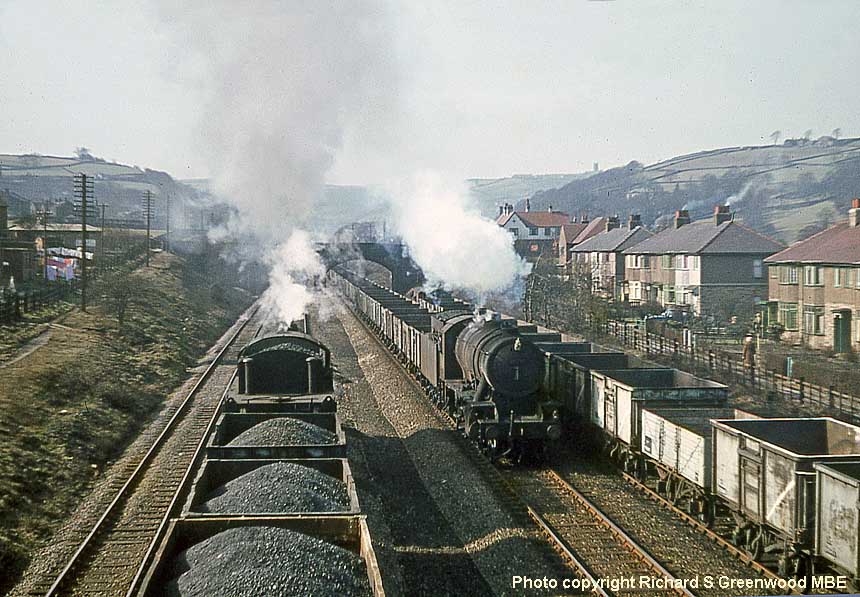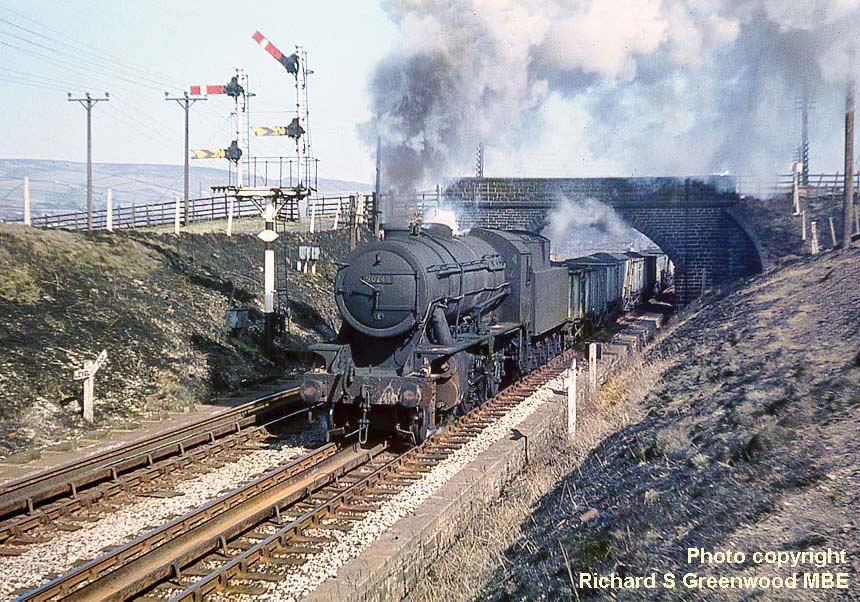 (Above-Below) Another westbound coal train, this time hauled by WD 90248, is seen passing over an empty Clegg Hall troughs; the water has been drained during a spell of severe frosty weather, although at one time they were steam heated. (Below) On a bitter cold Saturday 5 January 1963 a WD battles upgrade on the 1 in 88 between New Hey and Shaw on the Rochdale- Oldham line with a train from Moston to Royton Junction. The introduction of Natural Gas between 1967 and 1977 led to this traffic disappearing entirely.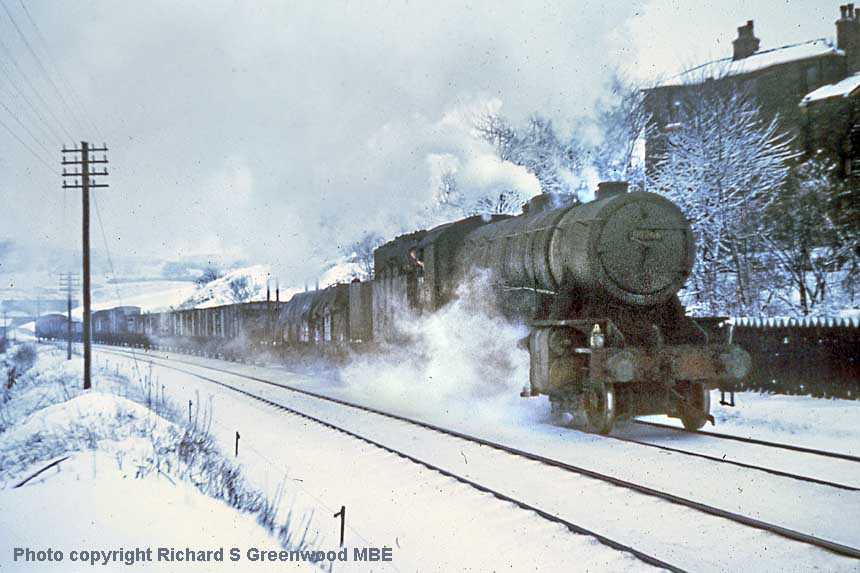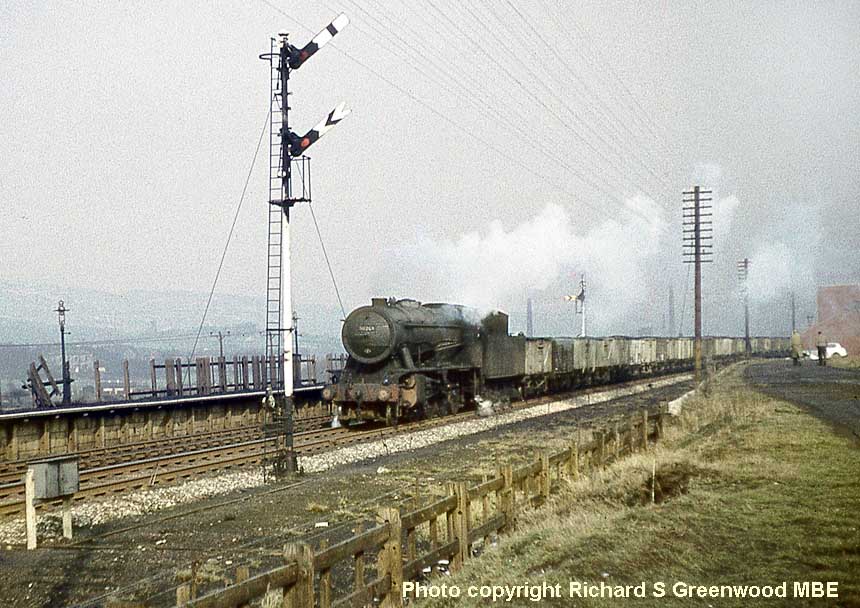 (Above-Below) In winter there were frequent extra coal trains, including many workings on Sundays - to the delight of footplatemen and guards who welcomed the overtime. WD 90264 approaches Smithy Bridge station (above) on 23 February 1960 and on another occasion a WD is making heavy weather of the climb through Walsden towards Summit (below).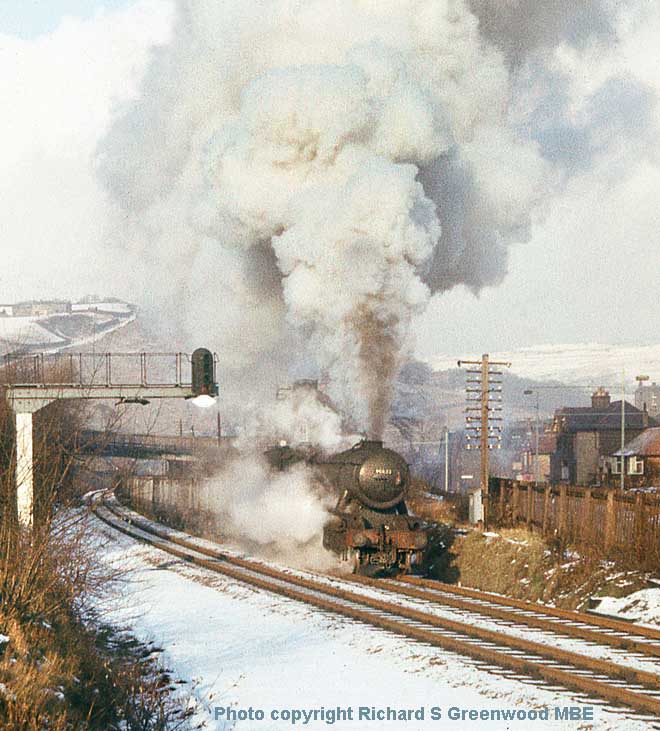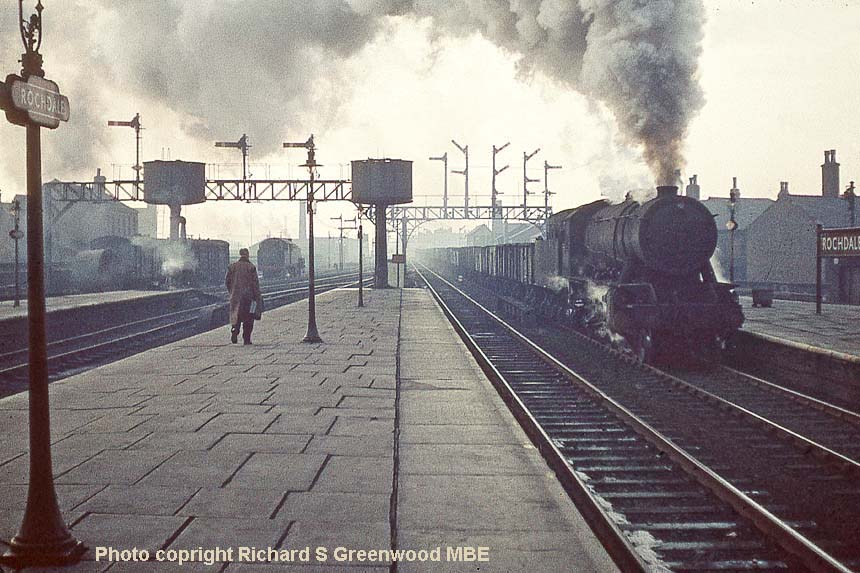 (Above-Below) An empty wagon train from Middleton Junction (serving Chadderton B power station) bound for Healey Mills rumbles through Rochdale station in wintry weather. Signalman Cyril 'Tater' Jones can be seen walking home after arriving by train from his place of work at Smithy Bridge level crossing. (Below) As empty wagon trains were inevitably longer than the loaded trains there was always a surplus supply of locos and brake vans west of the Pennines which would be hurriedly summoned back home to Wakefield and Sowerby Bridge sheds. The remoteness of the snow-white landscape at Smithy Bridge somehow accentuates the isolation of this unidentified WD hurrying light engine past the closed station on Saturday 3 March 1962.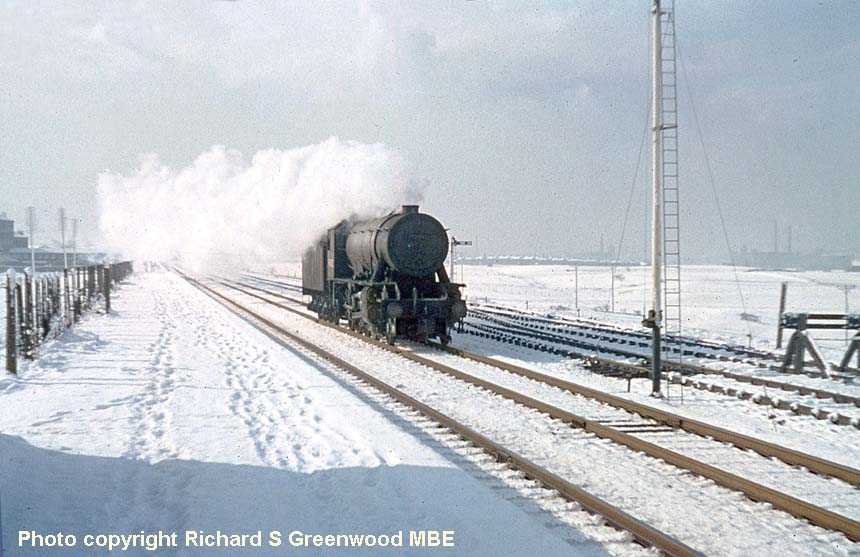 (Above-Below) In much warmer weather, WD 90555 is in the coal yard at Whitworth on the former Rochdale to Bacup line

on 15 August 1961

. Coal was the sole traffic at Whitworth for some years before closure in 1967. (Below) Returning to the main line there was other traffic besides coal as can be seen from this 1960 shot of WD 90725 disturbing the free-ranging hens on the embankment with a midday train from Healey Mills to Moston Sorting Sidings. The train has passed Summit East signalbox and is about to enter Summit East tunnel at the end of an almost continuous climb from Mirfield.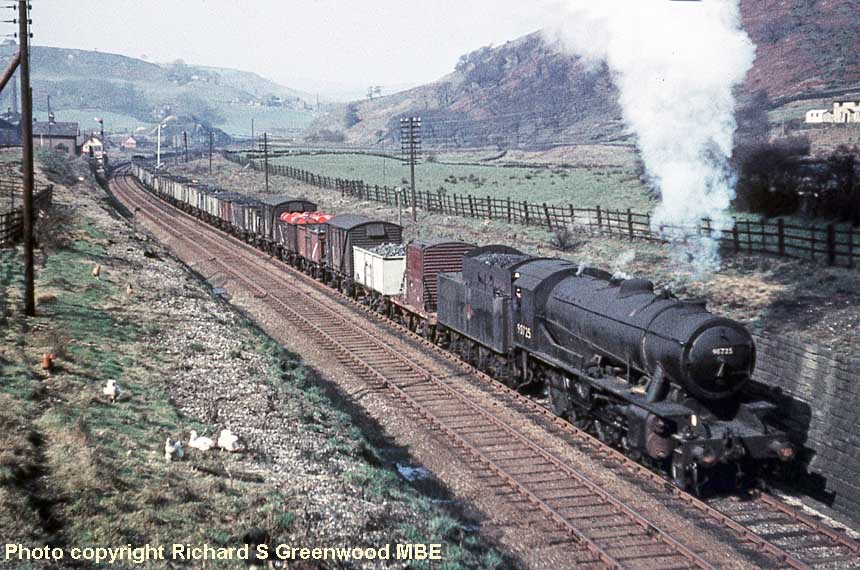 (Above-inset-Below) Royton Junction yard was used by the Carriage and Wagon department as a reception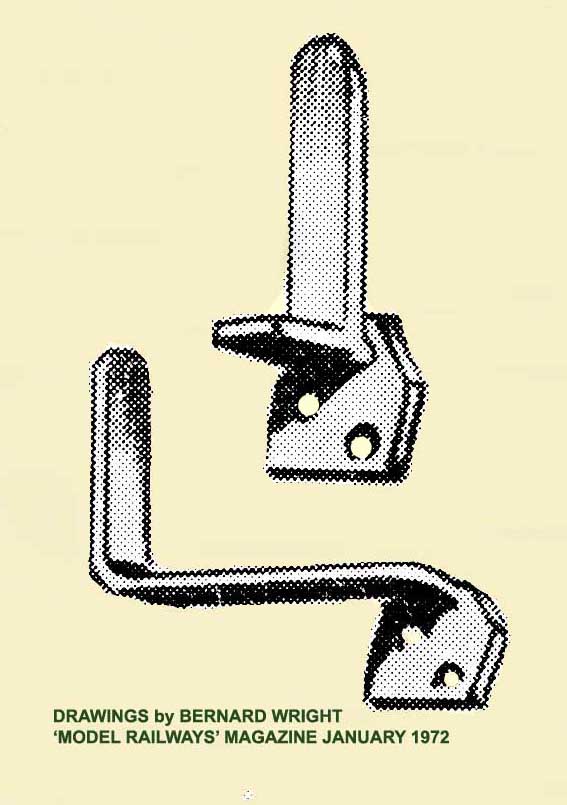 yard where wagons were classified as either fit for repair or scrap. So, trains of varied wagons used to be worked to Royton Junction and the same wagons, often marked for scrap, worked out again a few days later. The early afternoon Preston to Royton Junction train is in the down loop at Castleton waiting for a road. (Below) The BR Standard 9F 2-10-0s did not feature very often on the Calder Valley mainline freights, but here is 92233, having very recently been transferred from the Western Region, and still fitted with the WR pattern lamp brackets (incompatible with LMR lamps). Since the lamps could not be 'slotted' onto the bracket, the engine crew have compromised by 'hooking' the handles of the lamps over top. This Preston to Royton Junction train was photographed at Jubilee Crossing on a misty Saturday morning on 12 October 1963.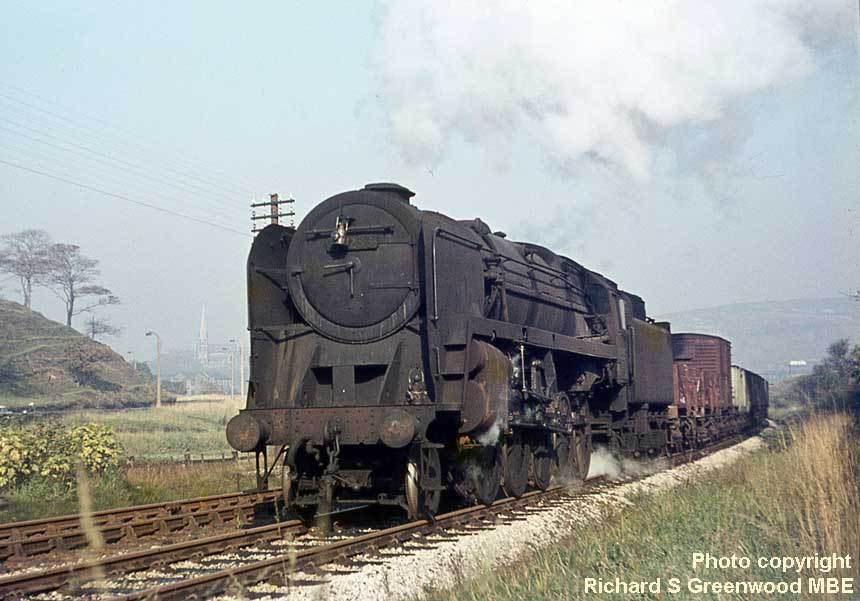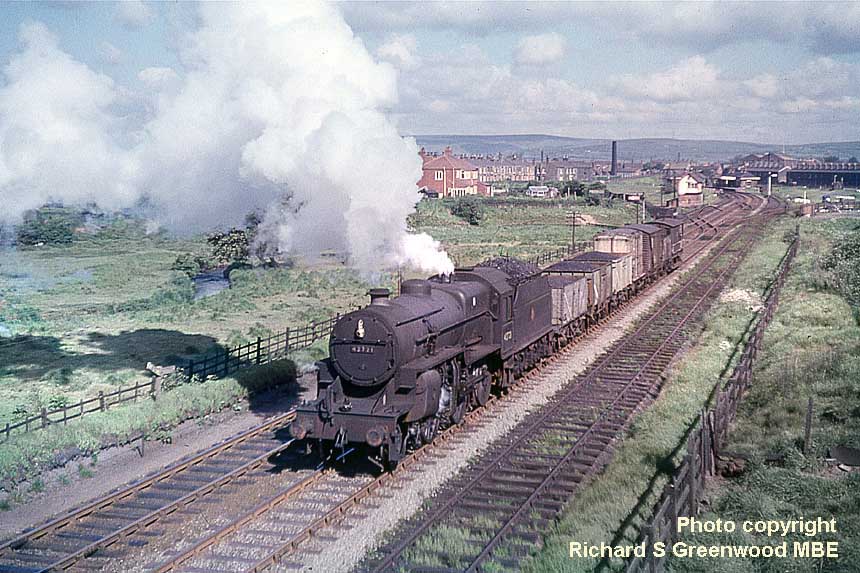 (Above-Below) The morning Bolton to Royton Junction has 'Crab' No 42721 in charge as it passes Milnrow. The Hughes 2-6-0s were widely used on passenger, parcels and freight workings on the former Lancashire and Yorkshire Railway lines, designated by the LMS as the Central Division. (Below) Moston Sorting Sidings was a busy place in the late afternoon and evening. Trains from local goods yards worked to Moston especially with urgent traffic for the 8.50pm Moston to Camden fully fitted freight. This train alternated between Newton Heath and Willesden power and men. As a result Newton Heath often found themselves at weekends with a Willesden Class 5 or even a 'Jubilee' on hand which they could 'borrow'. During each weekday evening there was a procession of half a dozen freights climbing from Bury Knowsley Street to Castleton North Junction where they turned right for Moston. They originated at places like Bolton, Radcliffe, Bacup (via Ramsbottom) and Nelson,

and sometimes required banking assistance up from Bury as far as Broadfield, and on occassions right through to Castleton

. The first of the procession was a Burnley to Manchester Liverpool Road train, as seen here behind Crab No 42898.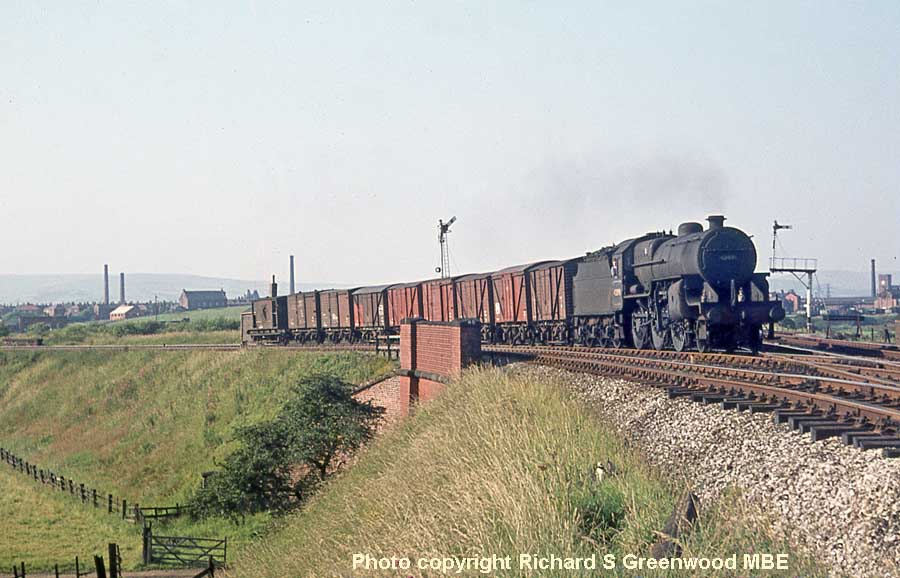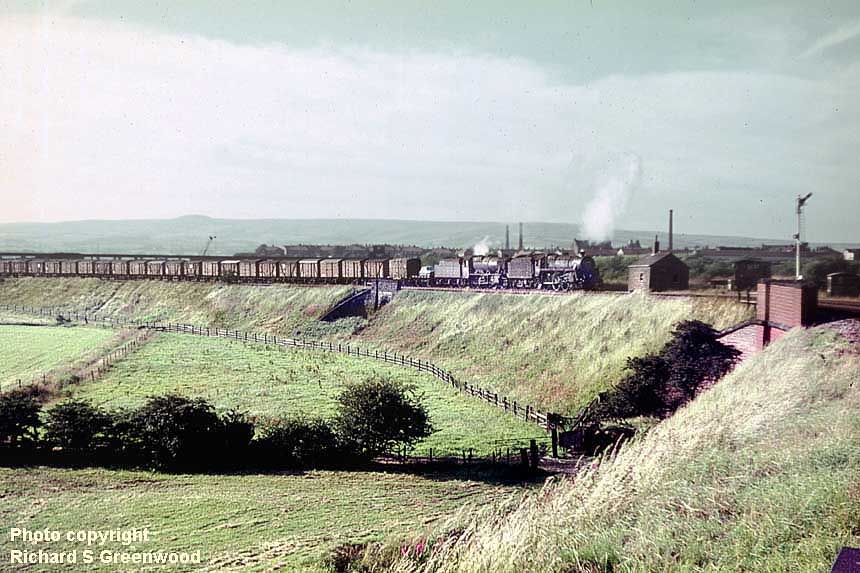 (Above-Below) Sometimes a shortage of goods guards would result in two of the early evening trains bound for Moston being combined as one. On this occasion a Standard class 5MT is paired with an 8F 2-8-0. (Below) The afternoon Hollinwood to Moston via Castleton carried other traffic besides urgent fully fitted vehicles. With the loco, as always, running tender first, here we have a side view of a Stanier 8F 2-8-0 coupled with a Fowler tender after its own Stanier design has been removed and allocated to a 'Jubilee' 4-6-0.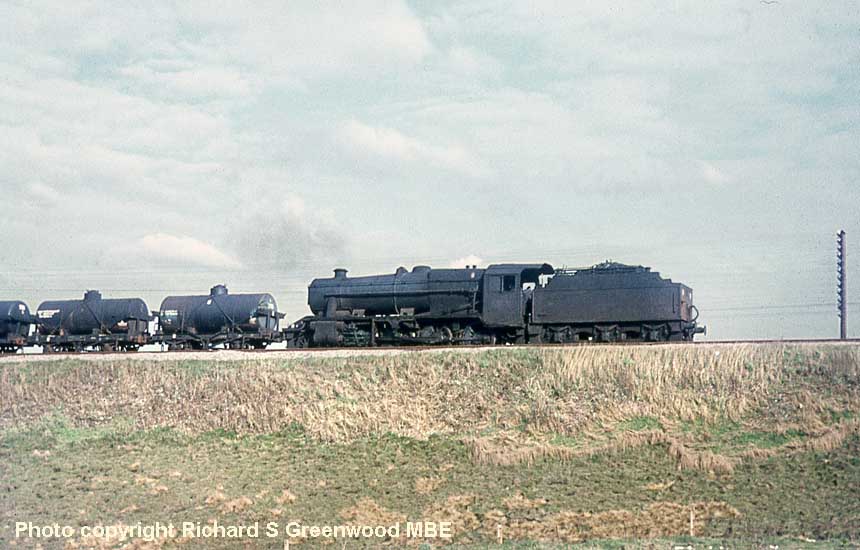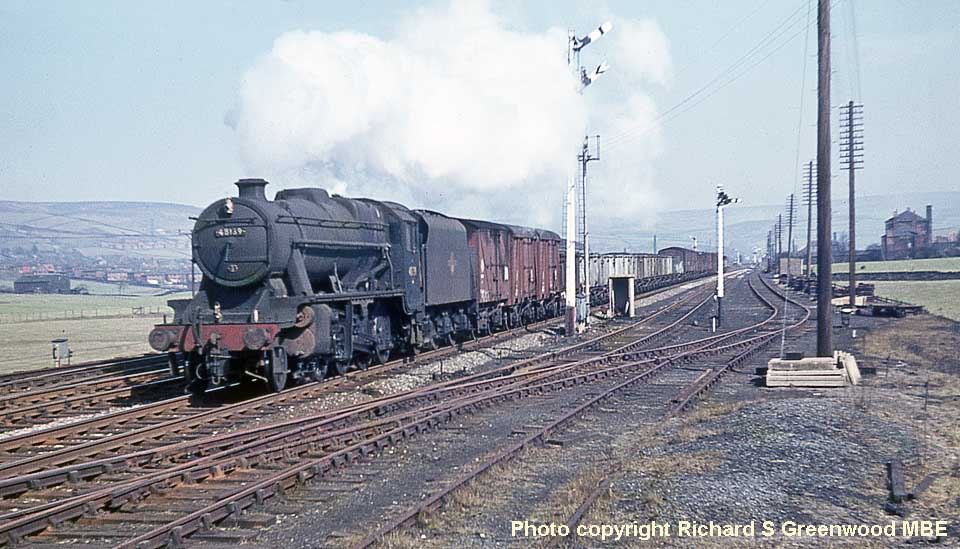 (Above-Below) Among the mixed freights on the main line was a morning Mirfield to Garston, notable for often conveying empty banana vans back to Garston Docks. Invariably a Widnes 8F was in charge as seen here with 48139 is at Clegg Hall, the western end of the loops from Smithy Bridge. (Below) A Saturday afternoon working from Bolton to Healey Mills was a favourite train on which to send an ex-works 8F on trials or running in. On Saturday 28 May 1961 No 48530, a Toton-based engine fresh off shops, is at Castleton station bound for Healey Mills. In the distance, another Toton 8F No 48384 is approaching largely hidden behind the signal post. In the spring of 1961, coal for Chadderton B power station at Middleton Junction was re-organised for a period into three daily though workings from Tibshelf (Chesterfield) on which Toton locos were always used.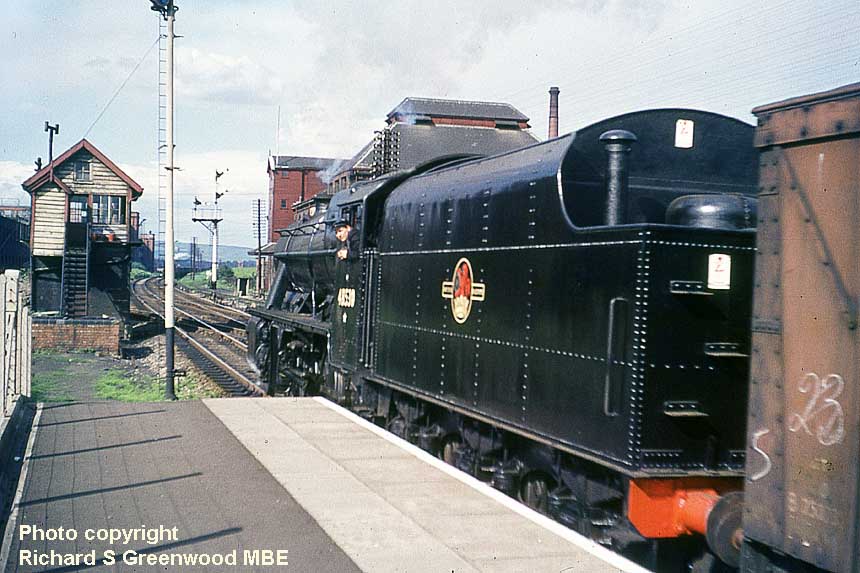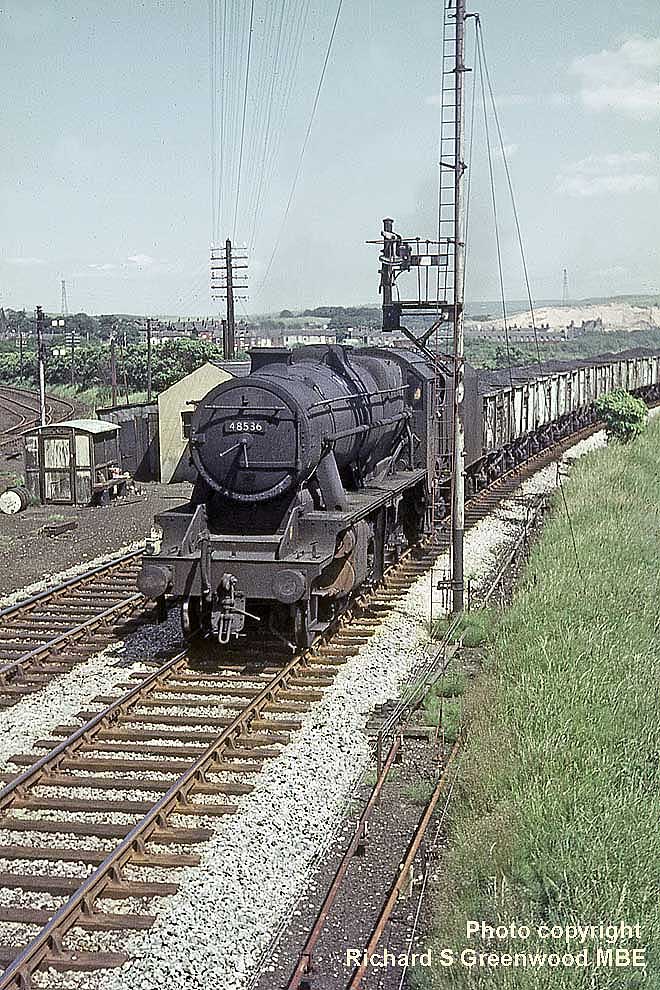 (Above-Below) As the WDs were withdrawn from the LM Region, an influx of Stanier 8F 2-8-0s took place. Here on a Brewery Sidings (Miles Platting) to Bolton freight is 48536. The train is approaching Castleton North Junction from South Junction in a view taken from North Junction signalbox. (Below) The LNWR 'Super Ds' disappeared long before the WDs. The Oldham Parcels Concentration Depot was always in need of empty vans, and this required six days a week workings from Carlisle and extra trains from places like York and Llandeilo (Swansea). Here Super D 49438 has a train from Llandeilo to Oldham on Whit Tuesday 12 June 1962.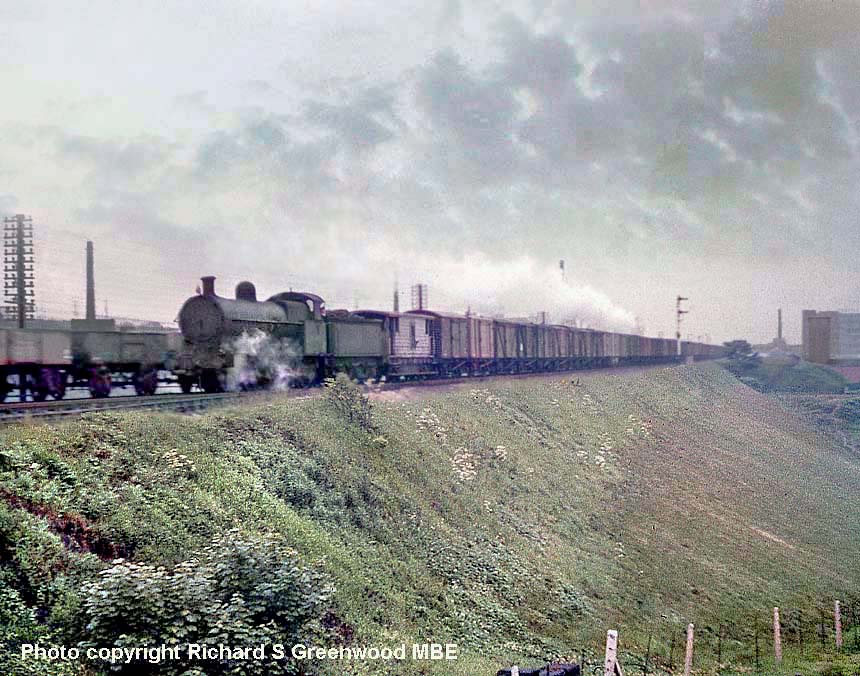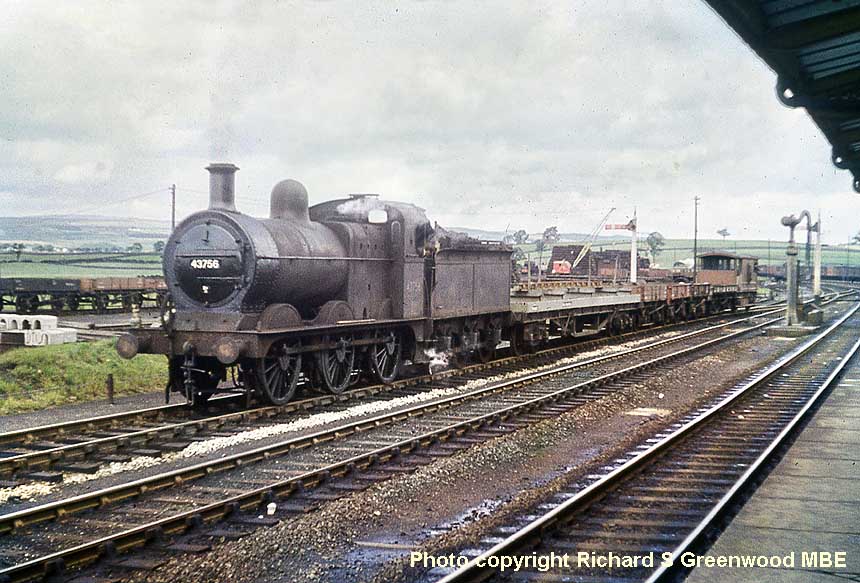 (Above-Below) Midland 3F 0-6-0s did have the odd regular working on L&Y metals such as the 2pm Aintree to Seymour (Chesterfield) empty wagons, but after 1958 a somewhat larger locomotive became the norm and the 3Fs were rarely used. Following the closure of Belle Vue shed in 1956, some of their locos were transferred to Newton Heath including a Midland class 2F (I think it was 58228) which was employed at Newton Heath as coal stage pilot and probably never left the shed yard. A Midland 3F No 43756 was also transferred, however by the summer of 1961 it had returned to Midland metals having been transferred to Hellifield where it is seen on a pw train on 9 August. (Below) Another former Midland Railway loco, Class 4F 0-6-0 No 43903, is seen here at Rochdale Goods Yard following a recent overhaul at Horwich. The loco was sent on an easy running-in turn on 21st July 1962 to work the Rochdale to Facit Saturday morning coal train. It was also a brakevan trip for the LCGB which perhaps influenced the choice of motive power.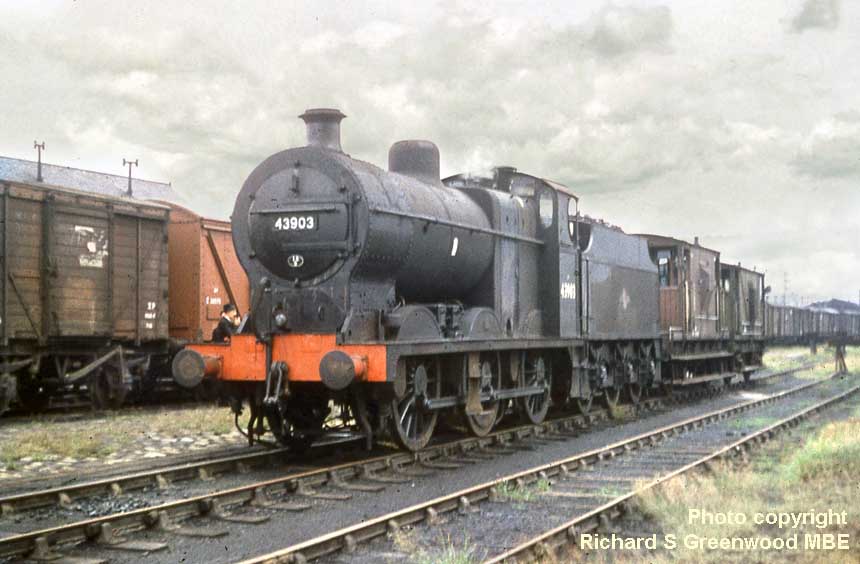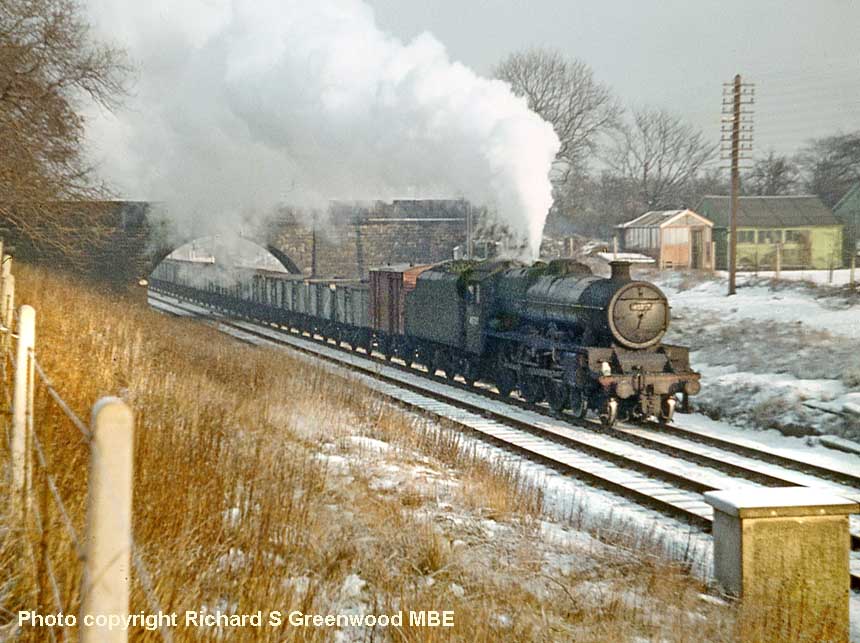 (Above-Below) Jubilees were not unknown on local freight workings. Indeed in the early 1960s a Newton Heath loco had a regular Saturday job on a Mytholmroyd to Moston coal train. Later members of the West Riding pool of Jubilees - retained by the Eastern Region largely for excursion work - were sometimes pressed into service at times of motive power shortage. 45694 'Bellerophon' is at Belfield Mill Lane in the snow with a Mytholmroyd to Moston probably in the winter of 1965. (Below) A last look at the parade of freight up the Oldham line bound for Royton Junction. A WD approaches Milnrow in the cutting leading to Buckley Hill Lane. Nowadays the Manchester Metrolink trams run here, and with mother nature taking its course the scene looks very different with impenetrable, dense tree growth on both sides of the line.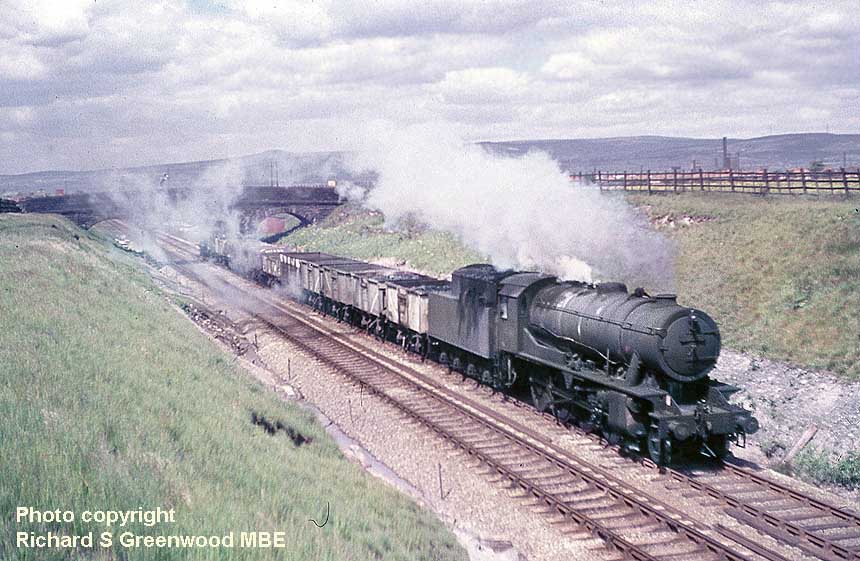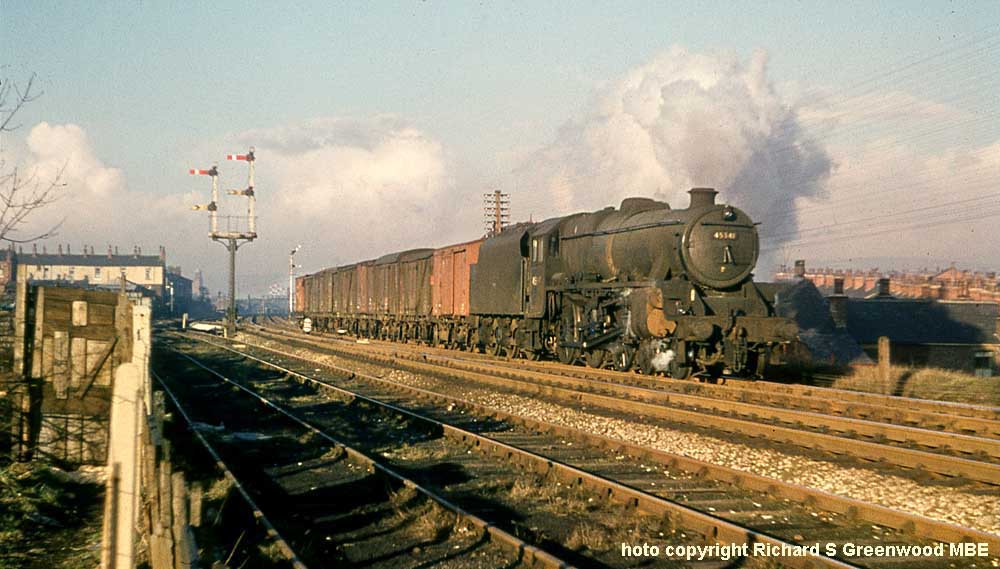 (Above) And yes, 'Black Fives' did work freight trains locally. The 6.5pm Rochdale to Hellifield would call at most goods yards en route before reaching its destination. On this occasion Newton Heath's 5MT 45341 is in charge. This train was known among local spotters as the 'Short Freight'.


6 SPECIALS

(Below) On 30 March 1963, a Newcastle-Aintree 'Grand National' special is pictured climbing to Copy Pit summit in pouring rain. The excursion is headed by a Farnley Junction (55C) Jubilee No 45581 'Bihar and Orissa' with a Rose Grove (24B) Crab providing banking assistance at the rear. This scene is between Portsmouth and the summit; a light engine WD is descending the hill just visible above the third and fourth coaches. In the loop is a train of empty wagons but the loco on this train is obscured by exhaust steam from the Jubilee. For the record, the 1963 Grand National was won narrowly by 66/1 shot Ayala, ridden by 19-year-old jockey Pat Buckley. Forty-seven horses ran and all returned safely to the stables. Ayala was jointly-owned by his trainer, Keith Piggott, father of Lester Piggott and by Pierre Raymond, the hairdresser also known as 'Teasy-Weasy', then a household name back in the 'Swinging Sixties'.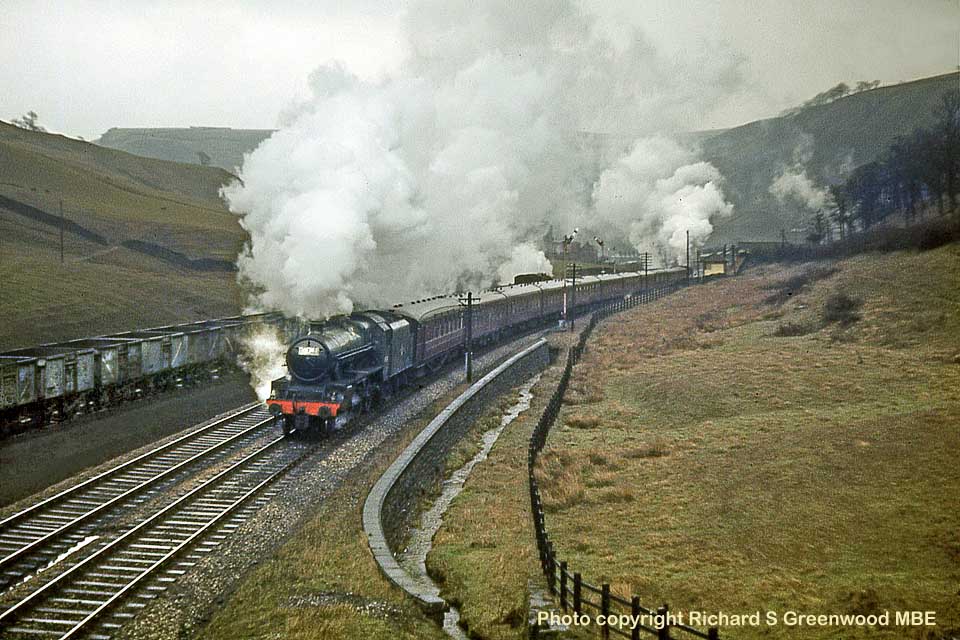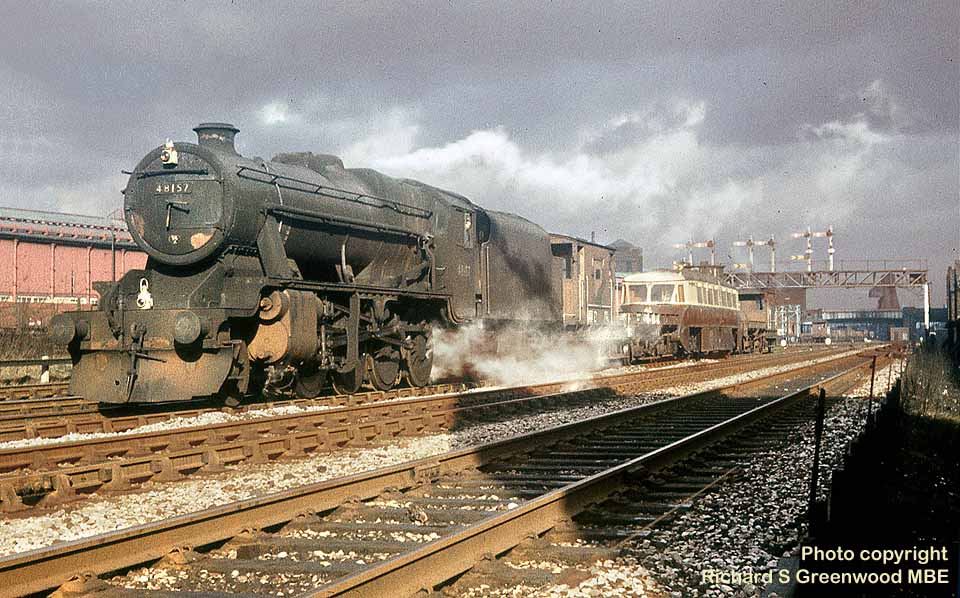 (Above-Below) The ensemble headed by Class 8F No 48157 with a GWR Railcar in tow is very much a special working. It is en route from store at Hellifield via Blackburn, Bolton and Heywood and is seen at Brewery Sidings, Miles Platting on 23rd February 1967. (Below)
Until I find my main 1962 diary some details are a bit sketchy. This shot of a 5MT at Eastwood is a case in point; there are few clues to offer much information. What I can tell you is that Eastwood is between Hebden Bridge and Todmorden, and westbound passenger trains would be working hard to recover from the 45mph speed restriction round the Charlestown Curve. The 'Black 5' - possibly 45014 - is passing the two up loops side by side; on summer Saturdays one or both were often occupied by westbound freights. If a freight booked over Copy Pit did not get to Hall Royd Junction by 9am the crew could expect to be looped until after noon. Now both loops have gone, but it still remains a favourite location for photographers. At one point it became badly overgrown by trees but these were largely cleared two or three years ago, however they are growing back once more.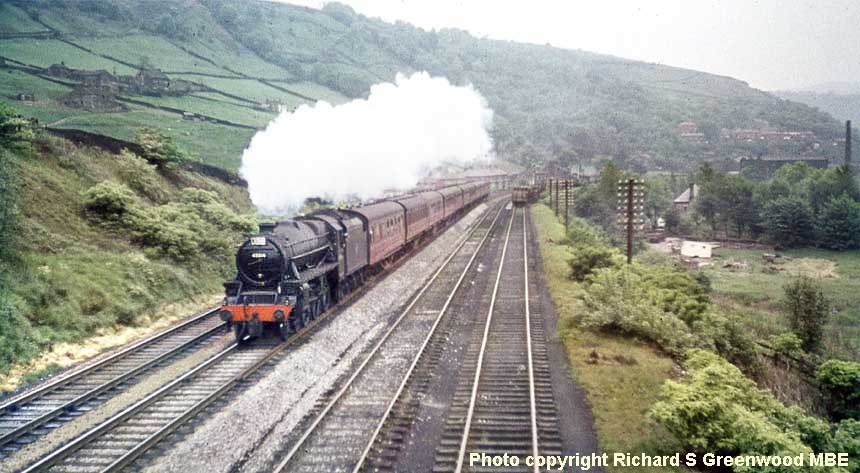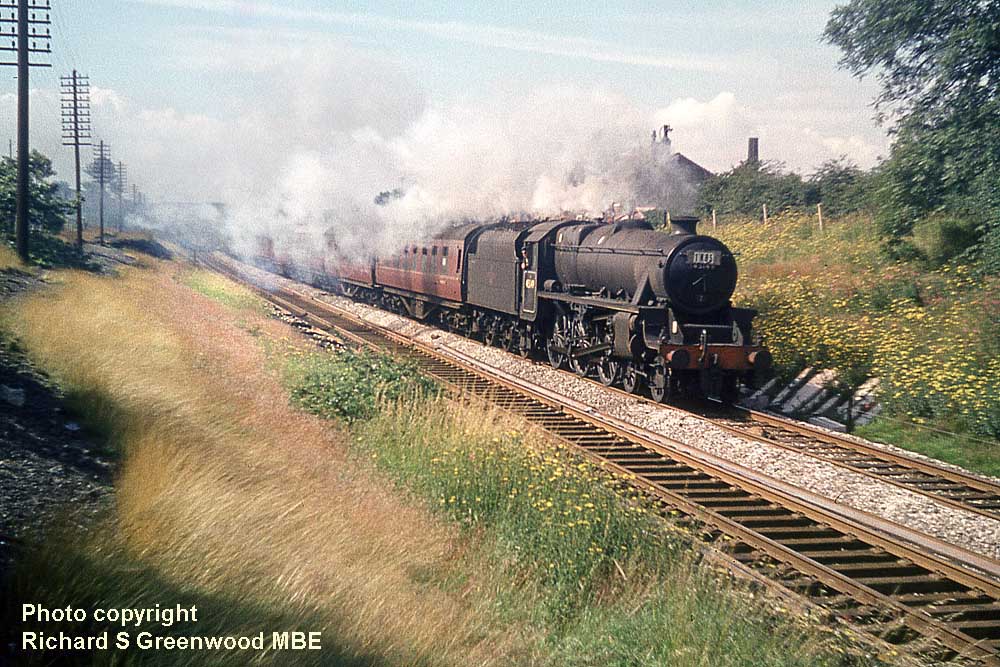 (Above) The shot with the colourful vegetation is a 5MT 45149 on a Summer Saturday only Llandudno to Bradford. Obviously late summer.

TRAIN REPORTING NUMBERS

At this juncture, perhaps it is worth including an explanation of the various Train Reporting Numbers to be seen in Lancashire before 1962.
These reporting numbers were displayed on the front of the locomotive along with the usual lamp headcode indicating the class of train. This happened with trains such as summer Saturday excursions, holiday reliefs and other specials in order to assist signalmen identify the additional trains working in the normal timetable. This code was either chalked onto the locomotive front or pasted as paper characters onto a headcode panel mounted on the top lamp iron of the locomotive's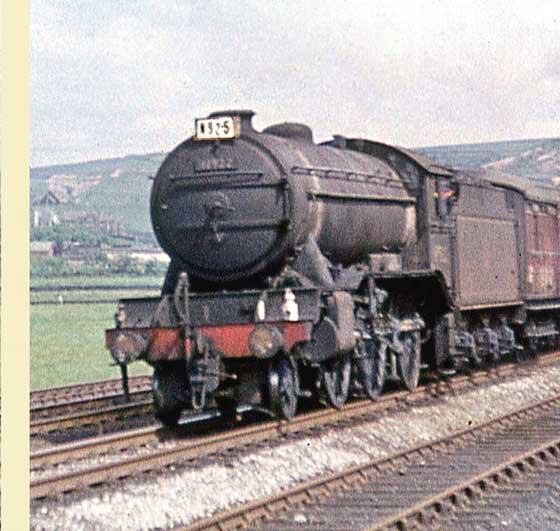 smokebox. This applied to diesel locomotives too, of course, however in 1961 British Railways introduced a new four-character letter and numeral roller-blind display system for its diesel fleet. The train classification, destination and identification system consisted of a four-character display; the first numeral identifying the class of train, followed by a letter indicating the destination, whilst the next two digits represented the train reporting number.

The following information on the specials in the Lancashire area may be complicated for the casual visitor but some explanation of train identity is better than none. So here goes...

The prefix 'C' indicated a train starting from the former L&Y lines in Lancashire.
'N' indicated a train starting in the North Eastern Region.
'W' was used on trains starting on the Western Division of the LMR - mainly the LNW system.
The Midland Division starters had the prefix 'M'.
Eastern Region starters did not have a letter prefix but just a three digit number.

Southern and Western Region trains had a four digit number, the first digit being a '1' and the same system was used for trains

to and from Western stations (eg Paignton) as well as Southern (eg Bournemouth)

.
Trains with reporting numbers below 500 were regularly scheduled, posssibly only as summer Saturday trains.
Trains with numbers 500 and above were extras, either excursions or holiday reliefs.
Numbers in the C99x series were reserved for additional station pilots such as at Southport during the annual Flower Show. Sometimes the empty coaching stock off an outbound holiday relief ran to a return destination using the outward reporting number.

However, this is only an overview and there were many exceptions and variations; the following are some examples from 1960...

W318 was regularly scheduled summer Satutrday train from Pen-y-Chain (Butlins) to Warrington Bank Quay but was usually extended to another destination whose holiday week was just finishing. On 25 June 1960 it was extended to run to Oldham, whilst on the same day W676 was a holiday relief from Rhyl to Oldham.
C223 was a regularly scheduled Summer Saturday train from Blackburn to Scarborough which on 8 July started back at Preston and was diverted from Blackburn via Bolton and Heywood. N974 on the same day was a regularly scheduled Bolton to Southport which started back at Lightcliffe.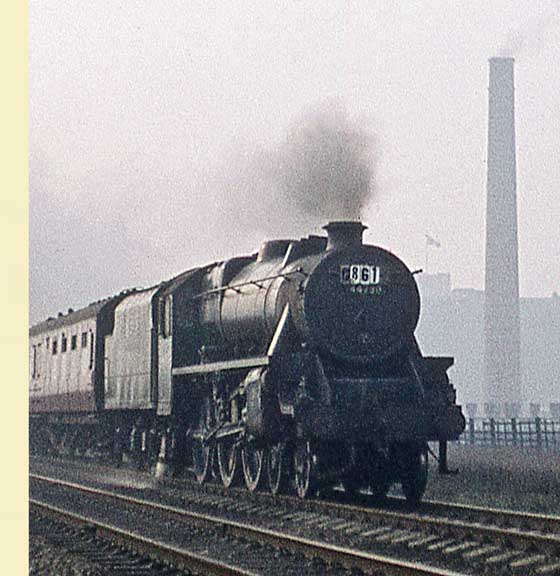 The North Eastern Region didn't seem to apply the above-below 500 as on 9 July 1960 a Scarborough to Sowerby Bridge scheduled service was extended to Ramsbottom and ran with number N972.
On Saturday 23 July 1960, four trains from the Eastern Region ran to Blackpool as follows: Lincoln as 528 (44779), Retford as 561 (48608), Chesterfield as 574 (92116), Sheffield as 575 (48144).
But there were numerous anomalies. On 27 August 1962 a Paignton to Castleton returning holiday train ran as '1960'. For local spotters it was a huge disappointment as the train loco was a common Southport engine 44729 just outshopped at Crewe, with Stockport's 42343 as pilot. By a quirk of fate a few years later 42343 itself became a Southport engine!
The week before, a Bournemouth to Castleton, running under reporting number '1M03' (below left), had been worked by Standard 5MT 73087, a Southern Region loco soon to be named 'Lynette' but then on loan to Bath Green Park shed.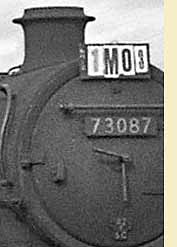 The following year a Bournemouth to Bolton special turned up behind an Eastleigh 9F! This was after holiday trains had been rerouted off the Somerset and Dorset route.
The suffices 'A' and 'B' meant separate section which would definitely run whereas the suffix 'Q' meant it was a reserve train and would only run if there was sufficient demand. I remember when Rochdale Hornets were playing Wigan in the Final of the Rugby League Lancashire Cup at Swinton. Three excursions were planned with another three 'Q' trains in reserve. In the event the day was a washout with incessant monsoon-type rain and three trains were sufficient. For the record, the Hornets lost 10-6.
On 8 July 1960, 1626 was a Manchester Victoria to Paignton starting back at Lightcliffe whilst 1079 was a Manchester Victoria to Bournemouth starting back at Halifax and 1629 was a Blackburn to Paignton extra and 1629B was a Preston to Paignton. M15 was a summer Saturday regular Sheffield to Blackpool and return. Some numbers seemed to be used for particular starting points. C72x would be Oldham line, C54x and C55x were usually Todmorden or Heywood
.

(Below) 1 '1920' - a Reporting Number for a train going to a Western Region destination...Friday 7 August 1959 an overnight Castleton to Newquay departing from Castleton behind Crab 42707 and Standard 5 73035 of Shrewsbury shed. 2 - 'W336' Saturday 18 July 1959. Empty stock off a return regularly scheduled Abergele to Manchester train. 3 - 'M932' Midland Division train. 26th September 1959 a Pye Bridge to Blackpool Illuminations excursion behind 45333. 4 - '972Q' 18th April 1960. An Easter Monday Sheffield to Blackpool half day excursion. Eastern Region reporting number, no prefix. There was sufficient demand for this 'Q' train to run. 5 - 'C721' An Oldham Mumps-Blackpool Evening excursion 'Passion Special' on 4 June 1960. Click-on Image strip 1-5 to enlarge.




(Above) 6 - 'C225' a Reporting Number of the regularly scheduled Summer Saturday Liverpool Exchange to Scarborough train hence it has a number less than 500. 7 - 'N956' North Eastern Region reporting number. Returning from Blackpool is a day excursion from Bradford Exchange on Whit Monday 22 May 1961. Shortage of the head boards mean the reporting number had to chalked on the smokebox. 8 - 'N956' 15 April 1961. An excursion from Halifax to Swinton for the Rugby League semi-final. 9 - 'N956' again. 18 June 1959. An excursion returning from Southport to Bradford Exchange. 10 - 'C79' 23 July 1960. This was a regularly scheduled Southport to Manchester Victoria stopping train and so the number is less than 500. Click-on Image strip 6-10 to enlarge
.

Needless to say, a full study would keep you busy for months!

(Below) Back to the pictures...this shot of a B1 was taken at Belfield

on Easter Monday 23 April 1962; the loco

is either 61109 or 61154, both from 41A Darnall shed; the train is either a Shefffield or Chesterfield excursions to Blackpool or Southport. By this date most excursions from Sheffield and Chesterfield were being worked by Brush Type 2s, singly or in pairs,

so it was a surprise to see the B1s working excursions

.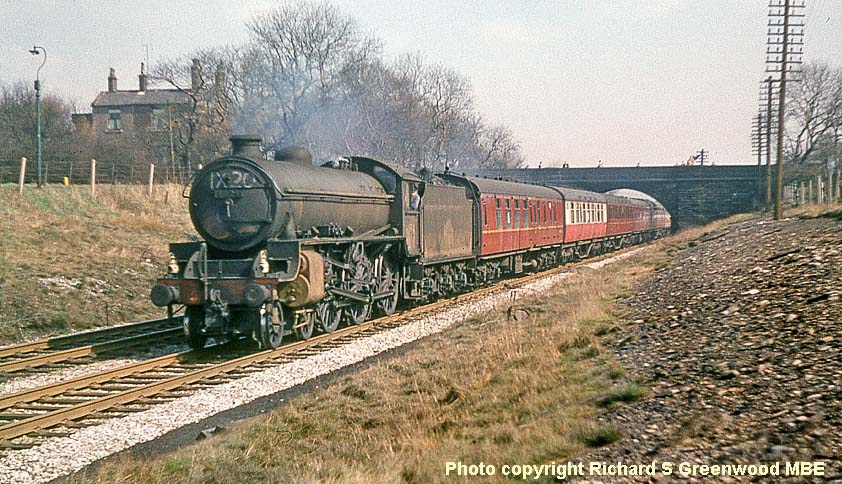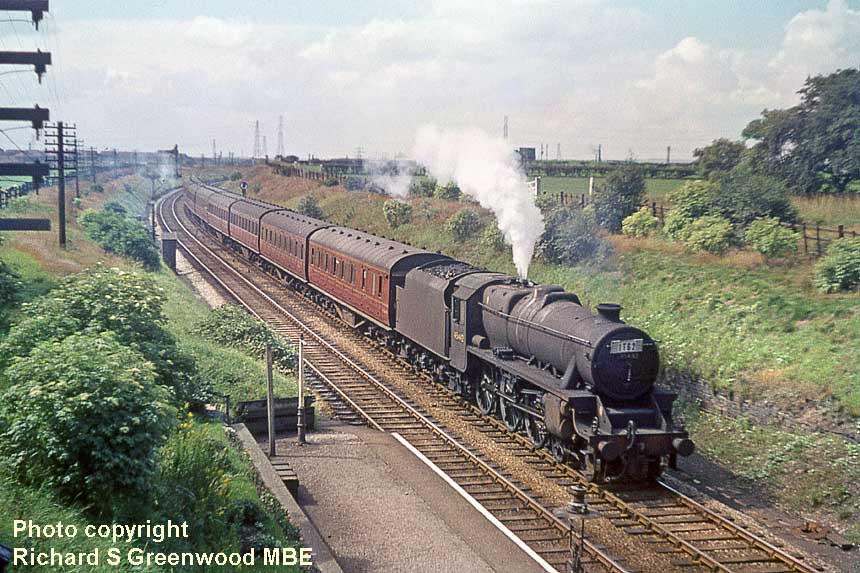 (Above) 'Black 5' 45442 was photographed at Radcliffe Black Lane station on Saturday 21 July 1962. It was a returning holiday relief after the first week of the annual holidays at Heywood and Todmorden. I think by this date 45442 was shedded at Blackpool so it would be a relief from Blackpool. (Below)

We end this specials section with a Crab. They were the mainstay of specials in the area. For example on Easter Monday 18 April 1960 there were 23 specials through Rochdale and Crabs were in charge of 13 of them. This is a shot of 42700 passing Belfield with empty coaching stock to Todmorden for a Todmorden to Blackpool excursion. As doyen of the class and a resident at Bury shed for a number of years, it was a favourite. Pity they could not have cleaned it better. It is of course now preserved at NRM Shildon.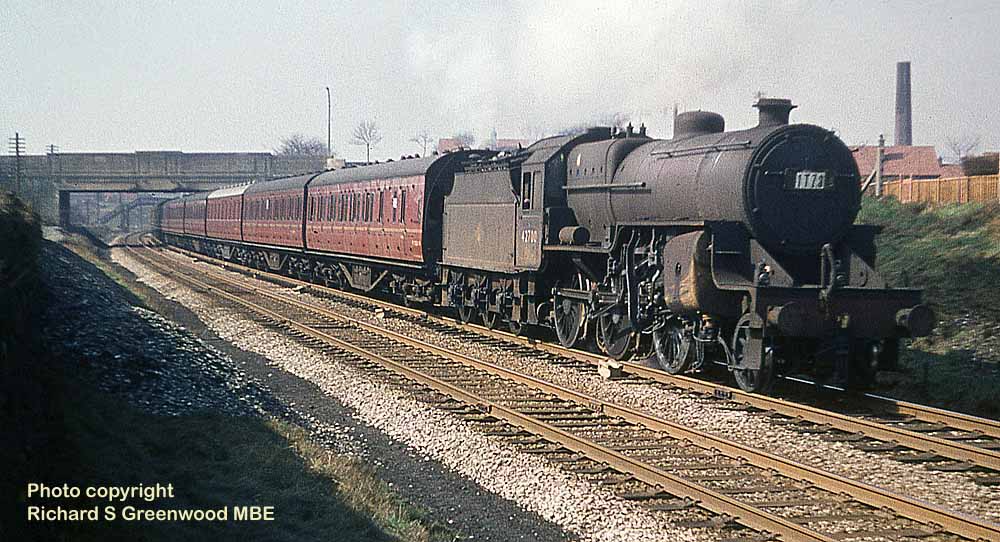 7 MOGULS.

Under the Whyte notation, the term 'Mogul' denotes the 2-6-0 wheel arrangement: a loco with two leading wheels on one axle followed by six coupled driving wheels and no trailing wheels.
The 2-6-0 was used extensively overseas in the late 19th century, but it had a slow start in the UK. Both the Midland Railway and Great Northern imported a handful of American 2-6-0s but they did not last long. The Great Western went in for them in a big way, building over 300 starting in 1911. The LNER inherited various classes from the Great Northern which were continued after the Grouping. The London Brighton and South Coast had built a small class of 2-6-0s but when large numbers of a standard Railway Executive design became available, they were welcomed by the new Southern Railway with open arms.
Only the LMS did not have any at the time of grouping. A need for a powerful mixed traffic 2-6-0 resulted in the Hughes 'Crab' locos being designed at Horwich and built to a total of 245 locomotives. Following George Hughes's retirement as CME the new LMS chief, Henry Fowler changed some details especially the tenders which throughout their lives resulted in narrow tenders matched to a wide cab. Valve gear design was pure L&Y and much of this detail design was carried forward into the Stanier 'Duchess' Pacifics.
The Crabs were a successful design. The only alteration throughout their 40 years' service was to convert five of the class to experimental Lenz reciprocating poppet valve gear in 1931 and the same five were then fitted in 1953 with Reidinger Rotary poppet valve gear. No others were altered.
The Crabs worked all manner of traffic, particularly express freight on the ex Midland and ex LNWR main lines. When new they had a ten year stint working express passengers on the ex-Highland mainline between Perth and Inverness. On the former L&Y lines they were a true 'maid-of-all-work' and had daily passenger work into the 1960s. South West Scotland found them the preferred power for coal trains. Above all they were the favourites for working excursion trains.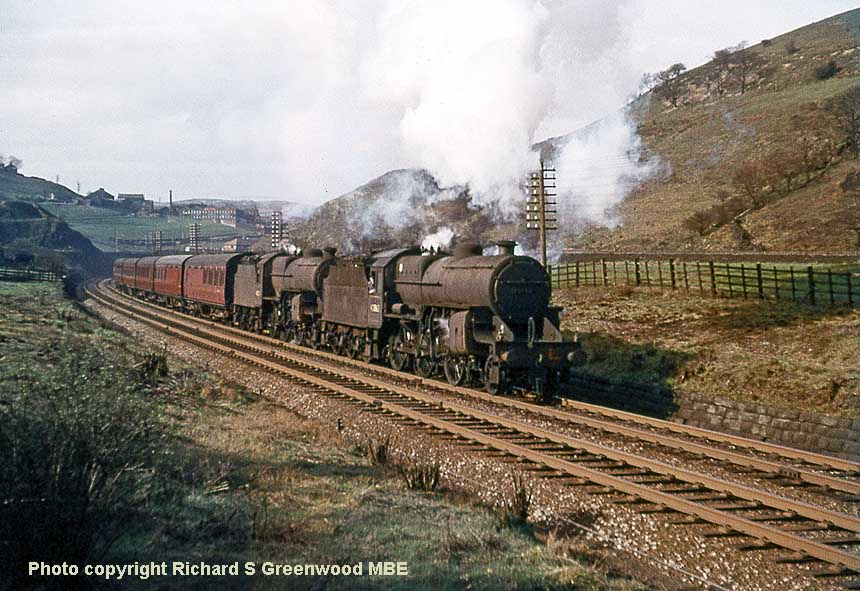 (Above-Below)
A pair of Crabs head up the Summit Gorge towards Summit East and the end of the climb from Wakefield with a lightweight passenger train. It is the 2.15pm Saturdays Only Wakefield Kirkgate to Manchester Victoria all stations. It was double headed during 1960 and 1961 for the purpose of saving a light engine move. The pilot was detached at Rochdale to work the 5.15pm stopper to Wigan Wallgate and a return. (Below) The bright sunny morning of 15 August 1961 greets Crab number 42701 on the 6.50am Manchester Victoria to Normanton passenger at Gypsy Lane near Castleton.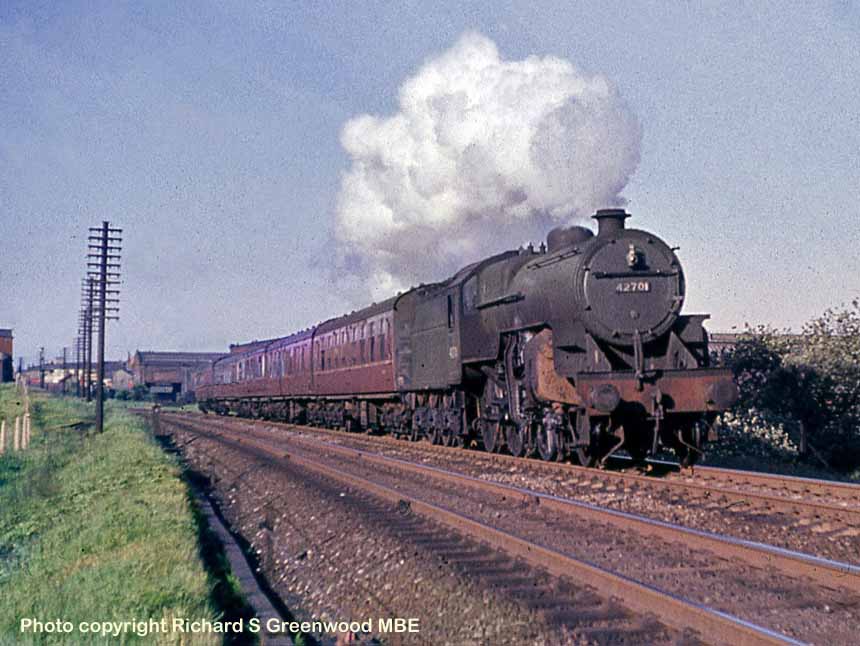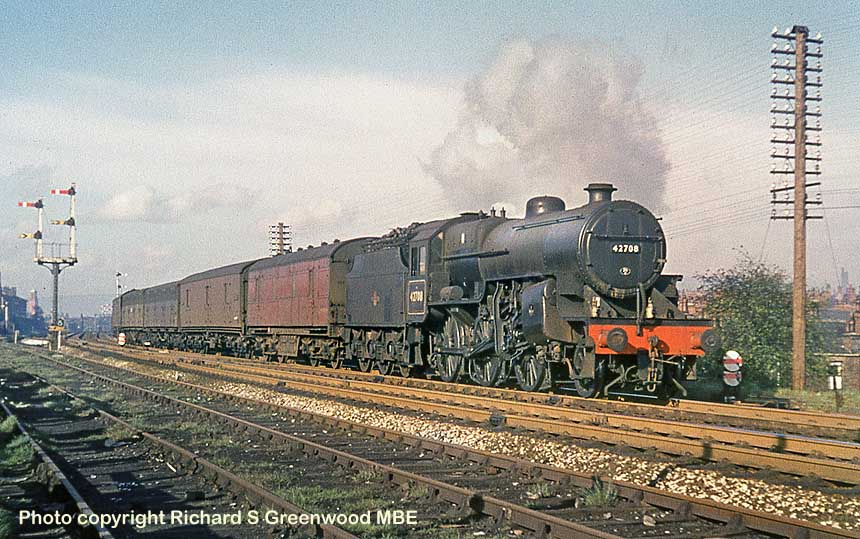 (Above-Below)

The Scotswood to Red Bank empty newspaper vans was booked to be double headed but on this occasion the leading locomotive, thought to be a B1, had failed at Todmorden, leaving Crab number 42708 to tackle the load alone. However it was only 3 miles to the summit of the climb at Summit Tunnel East. (Below) Wakefield Crab No 42863 is seen departing from Walsden station on 6 August 1961, the last day this station was open to traffic. The train is the Sundays 4pm Manchester Victoria to Normanton all stations taking almost two and a half hours for the journey. A new station was opened at Walsden in August 1985 this side of the footbridge seen in the photograph.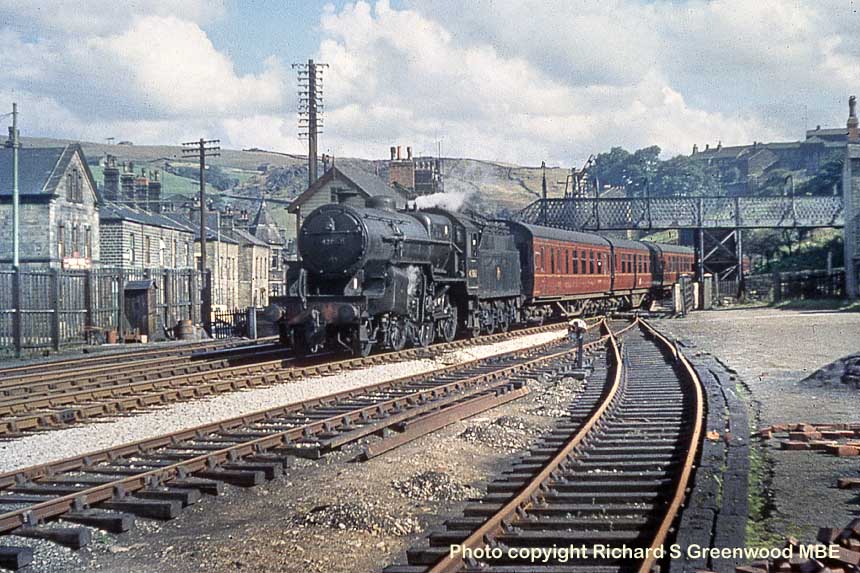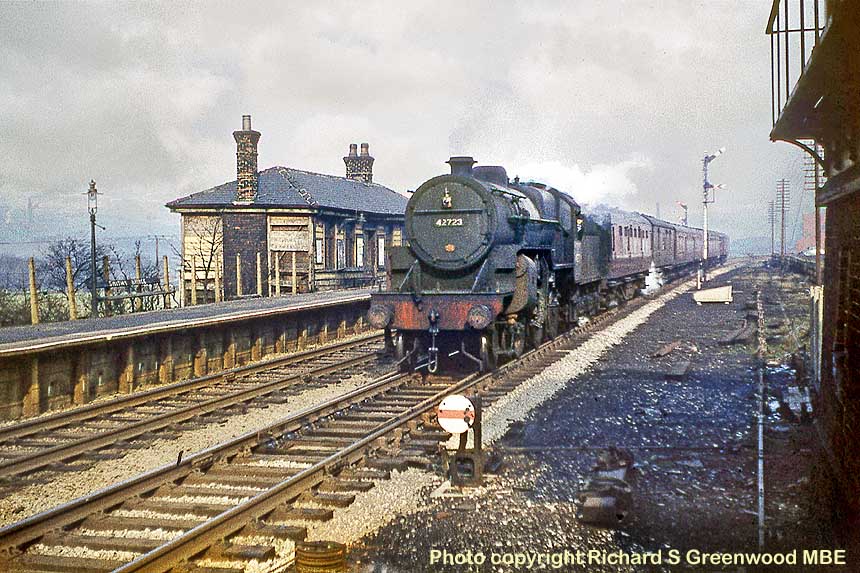 (Above-Below)

An Agecroft Crab No 42723 passes the down platform at Smithy Bridge station on 23 February 1960. Although the platform buildings appear decrepit, this station lasted until August 1961 and was replaced by a new station in August 1985 on the site of the former up platform. Agecroft locos always worked this train, the 11.50am all stations Normanton to Manchester Victoria. The makeup of the train was unusual. Behind the tender came a passenger coach, then a parcels van, then three or four more passenger coaches and on this occasion there is a second parcels van on the rear of the train. Right to the end of steam there were several trains between Manchester and Normanton a day. The original line of the Manchester and Leeds Railway which became the Lancashire and Yorkshire Railway ran from Manchester to Normanton with trains passsing forward to Leeds over the North Midland Railway until the L &Y R opened its line to Bradford and a more direct route to Leeds from Sowerby Bridge. (Below) Crab No 42722 is in charge of the weedkilling train in spring 1961, propelling along the down main line at Clegg Hall towards Smithy Bridge.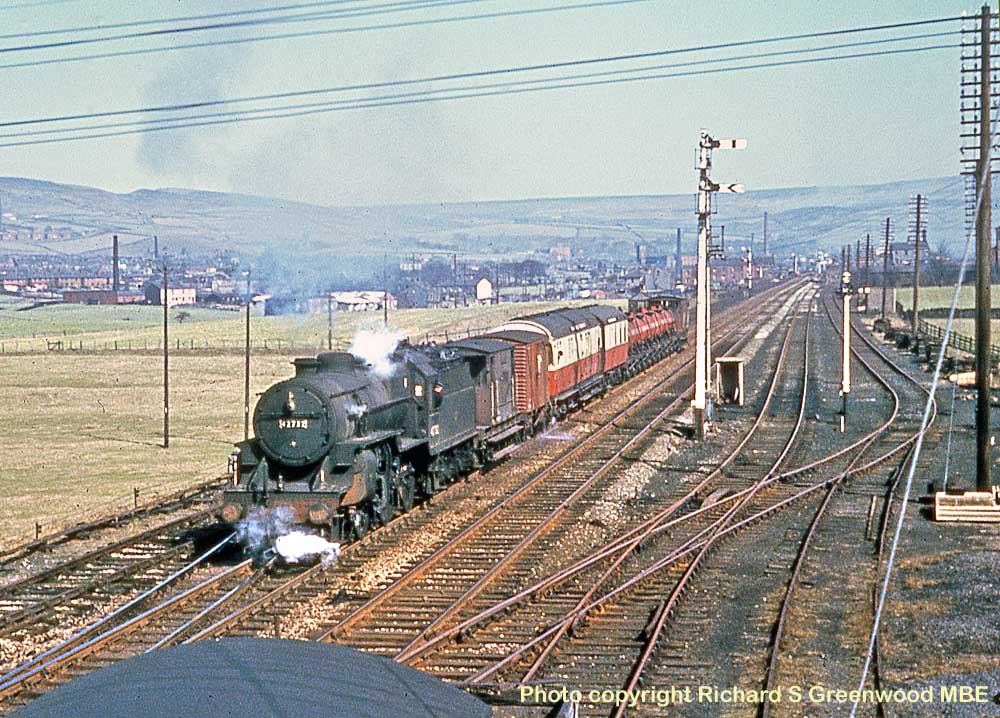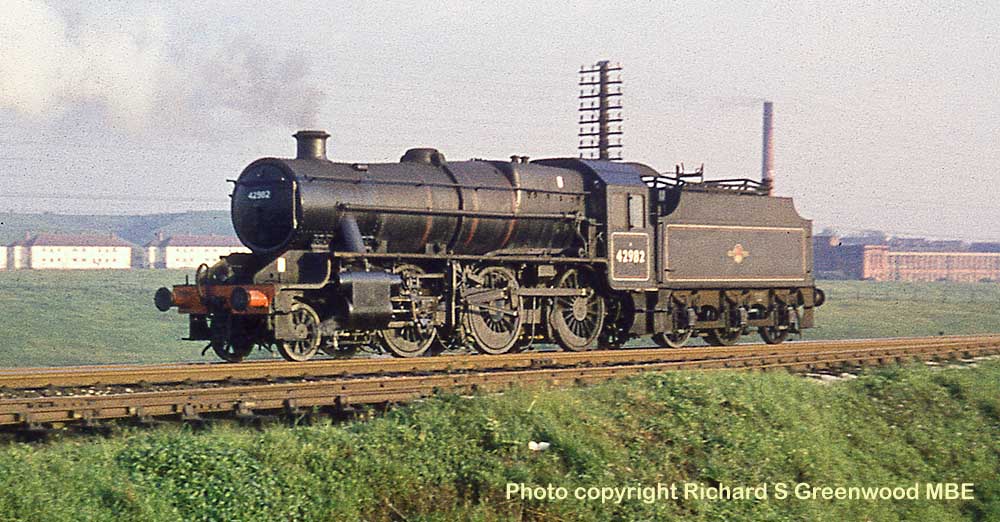 (Above-Below)

On taking charge of the LMS loco design office in 1933 William Stanier also built Moguls of similar power to the Crab with all his refinements of taper boilers and high pressure boilers. Only 40 were built and, mostly allocated to ex-LNWR sheds, they kept themselves out of the limelight

.

(Above) Works repairs to the Stanier 2-6-0s were carried out at Horwich. So the sight of members of this class whilst on running-in turns was not unusual. On 16 September 1963 a polar air stream allowed the brilliant sunshine to last right up to sunset and highlight every detail on number 42982 recently outshopped after a General Repair. It has arrived in Rochdale at 7.37pm on the 5.40pm stopper from Liverpool Exchange.

Having uncoupled from the train the Mogul has run forward, switched over to the up main line and is heading to Castleton where it will turn on the triangle and then return to Rochdale.

Eventually it will return to Bolton on the 10.45pm stopper. Sunset that day was at 8.12pm. (Below)

Also running in after an Intermediate Repair at Horwich is 42977 in August 1960. The train is the SO 3.55pm Leeds Central to Manchester Victoria.

The outward working had been the SO 11.47am Bolton Trinity Street to Leeds Central -- the only through train between Bolton and Leeds each week!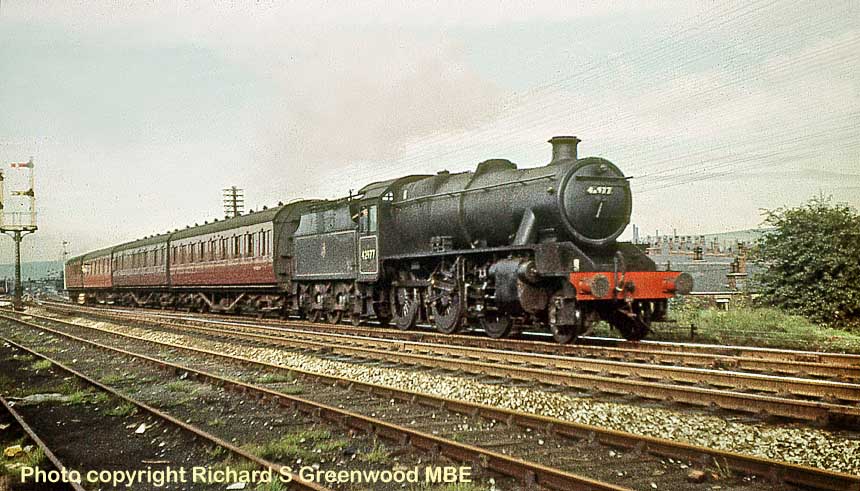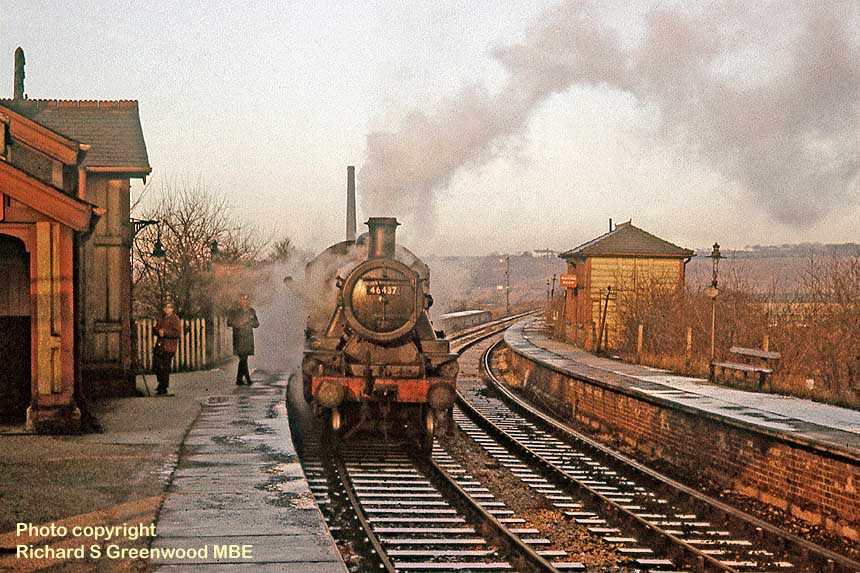 (Above-Below) In 1946 George Ivatt was in charge at the LMS and introduced a class 2 Mogul, ideally suited to branch line work. What a difference these made to the crews. Watertight cabs with comfortable seats and all the control to hand. They were often used on pilot duties in goods yards and at principal stations where their improvements were appreciated but largely wasted on the work they were doing. They were widely distributed on the LMR. After nationalisation, 25 of these locos revolutionised services on the ex-GWR Cambrian section. Others were gratefully received on the ScR, ER, and NER. A 2-6-2T version mentioned earlier in this Chapter was a huge success on the Southern Region. (Above) Ivatt class 2MT 46437 stands on the down line of the former (orignal) East Lancashire Railway mainline at Clifton Junction which led to Bury Bolton Street via Radcliffe Bridge station on 3 December 1966. This stretch of line closed completely that weekend (incidentally as did those from Rawtenstall to Bacup and Stubbins to Accrington) and the locomotive was one of two used on the 'Rossendale Forrester' Railtour covering these lines. It is seen waiting whilst a complicated shunt with 2-6-4T 42644 is carried out. (Below) Ivatt 46437 is leading Crab No 42871 into Milnrow station with an evening excursion from the Oldham line starting at Werneth to Blackpool

on Easter Saturday 16 April 1960

. Excursions travelling the Oldham line in the down direction were always double headed as far as Rochdale because of the gradients. Driving and firing on these evening excursions - 'Passion Specials' - was not for the faint-hearted. Note the use of compartment stock.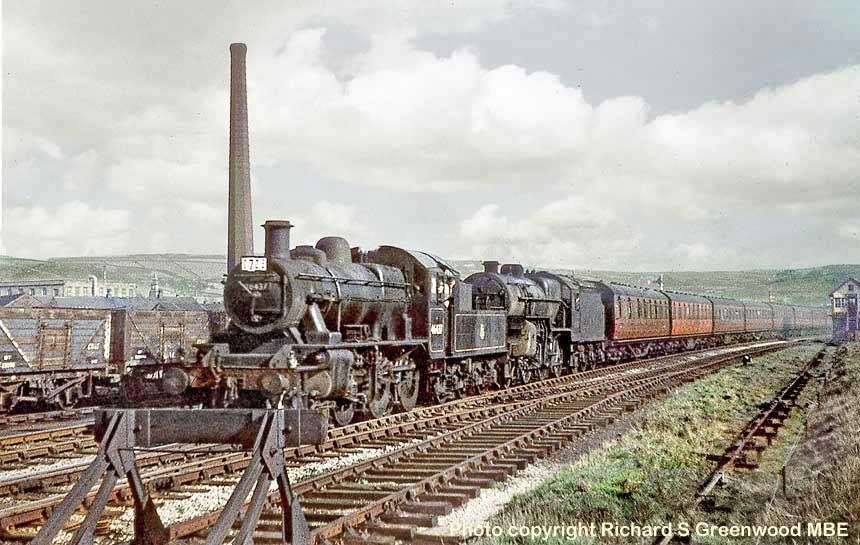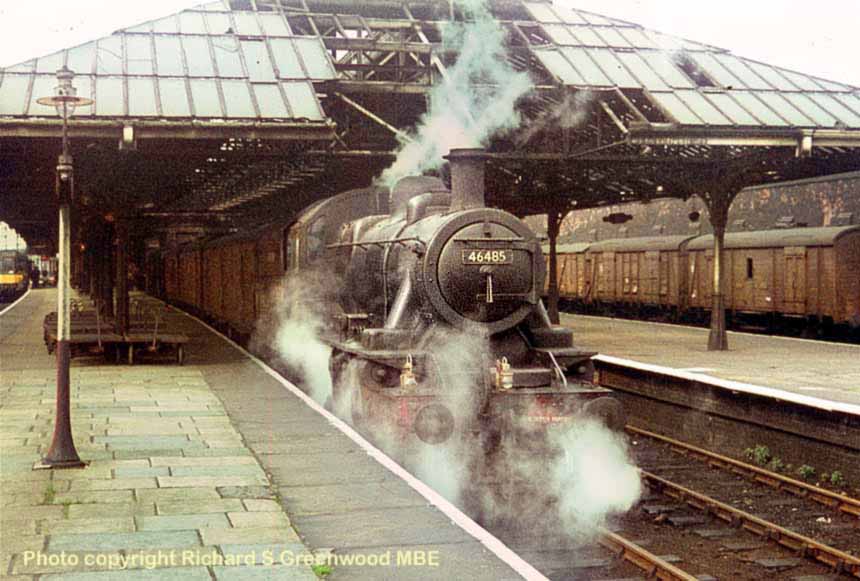 (Above-Below)
The accountants saw off the Ivatt class 2 2-6-0s far too early thinking it saved money on such items as spares inventories. What small beer they may have saved was lost many times over when much larger locos like 5MTs and 8Fs had to be used on lighter trains for which the class 2s were ideal. One of the last survivors of the class, number 46485 of Newton Heath shed, is on a morning parcels working from Victoria to Rochdale and Oldham. It's seen in Rochdale bay platform 2 detaching vans. (Below) When a lot of the Cambrian lines closed, redundant Ivatt and Standard class 2MT 2-6-0s were reallocated to Lancashire sheds. An ex-Cambrian Ivatt number 46506 is seen in Castleton station with a late afternoon Wigan to Rochdale train. A number of apprentices from the various Castleton Engineering works are waiting for it on the platform.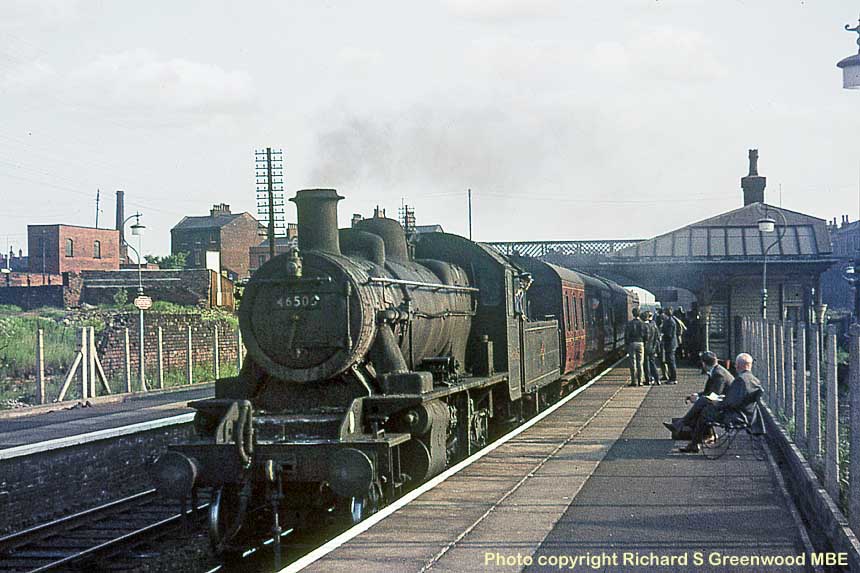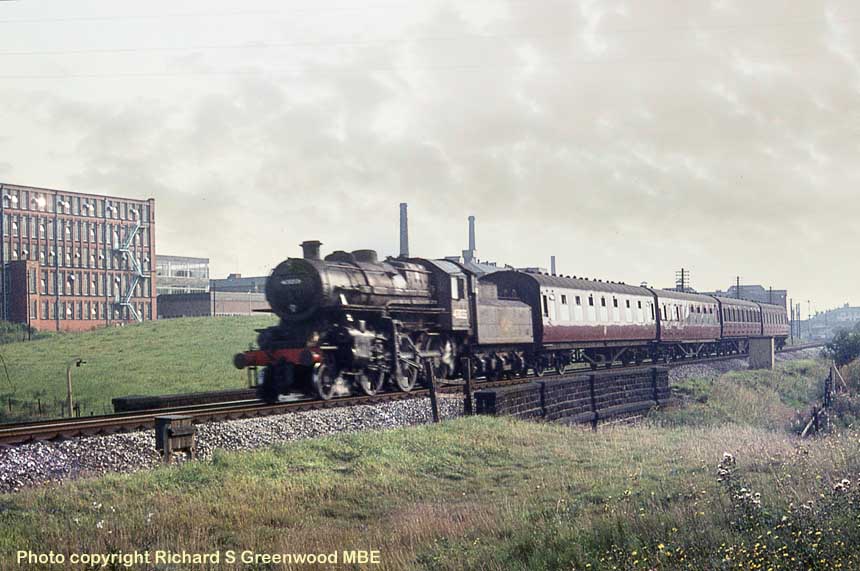 (Above-Below) F

ollowing the success of the Class 2 2-6-0s, in 1947 Ivatt built a Class 4 Mogul. After initial steaming problems it established itself as a very capable locomotive with large numbers built for the ER, NER, ScR as well as the LMR

.

Many of the Ivatt class 4 Moguls were attached to Horwich Works for repairs some coming from as far afield as Dawsholm in Scotland and even East Anglia. Here a Tebay engine 43035 is on the 5.40pm Liverpool Exchange to Rochdale passenger near to Gypsy Lane, Castleton. Arrow Mill to the left still stands but is no longer used for textile manufacturing. (Below) There were small allocations of Ivatt 2-6-0s at Normanton and Wakefield sheds. They used to appear on stopping trains to Manchester along the former L&Y route. We see 43114 at Belfield with the 9.5am Manchester Victoria to Normanton passenger. This was the return working off an early morning Normanton to Manchester mail train. In the early 50s it was a 2P 4-4-0 duty (occasionally one of the Midland types) but usually number 40630, one of the LMS built series. The Ivatt 2-6-0s took over but in the last couple of years a Standard 5MT recently allocated to Normanton shed, 73160 or 73167 might be used

.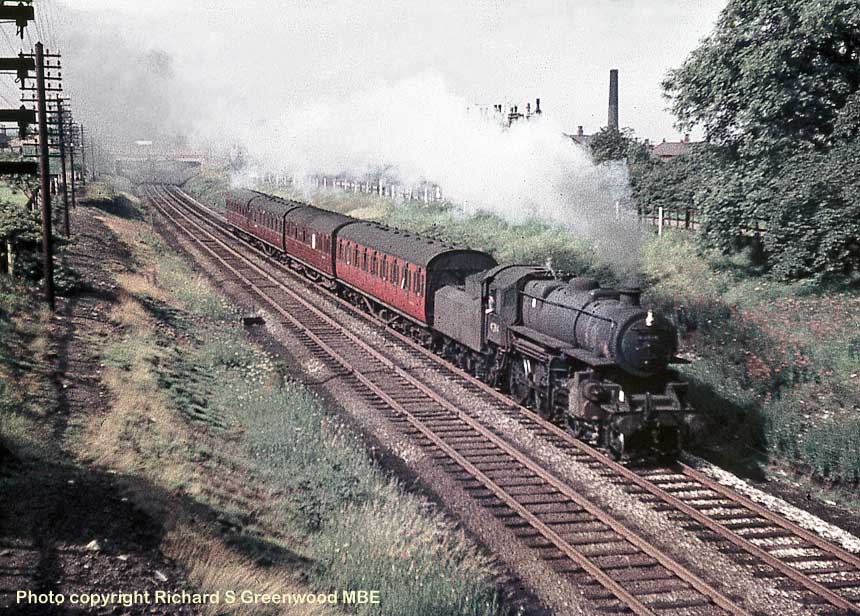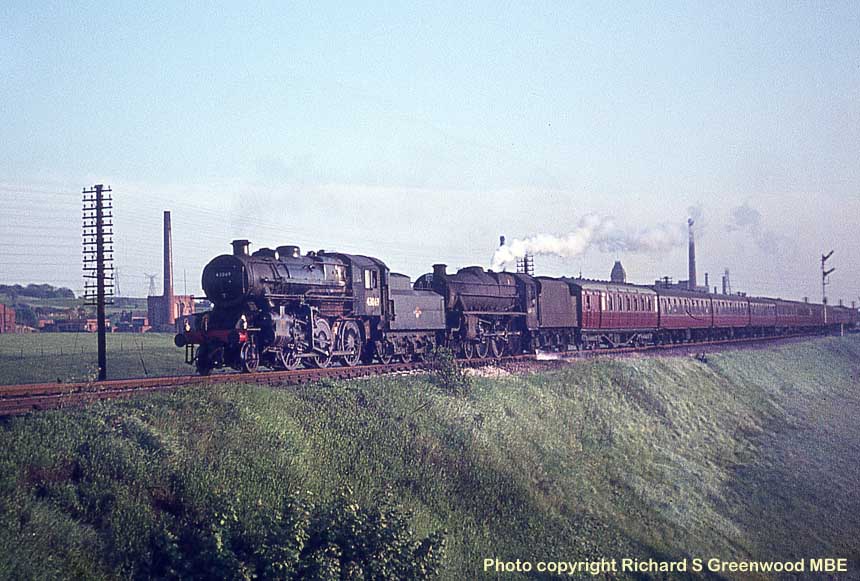 (Above)
Whilst excursion rakes were composed of 9 non-corridor coaches it was reckoned that Class 5s could handle them between Bolton and Rochdale including Broadfield bank without assistance, but when the excursion rakes were composed of 10 corridor coaches, assistant locomotives were often provided between Bolton and Rochdale. Ex-works Ivatt class 4 2-6-0s were often employed. Here ex-works 43069 provides the assistance between Castleton and Rochdale on Whit Monday 3 June 1963. The train engine is 44676 and the train is bound for Wakefield. On that date 43069 made two such trips whilst sister loco 43078, also ex-works, made three trips.

(Below)

The former LNER Moguls did not often cross the Pennines. However in 1960 there was a policy of equipping most of the Blackpool excursions from the West Riding and Humberside with K3/2s dating back to 1924. With their huge six foot diameter boilers they were impressive but unfortunately most were in very dirty external condition. To a lineside observer they seemed to be on top of the job.

In 1959-1961 a pool of ex-LNER class K3 Moguls was designated in the West Riding for excursion work but Doncaster and Hull K3s also got in on the act. One of the pool, I think one of the Ardsley allocated locos, overdoes things on Clegg Hall troughs between Smithy Bridge and Rochdale. No doubt on this occasion the driver had words with the fireman for not getting the scoop up early enough
.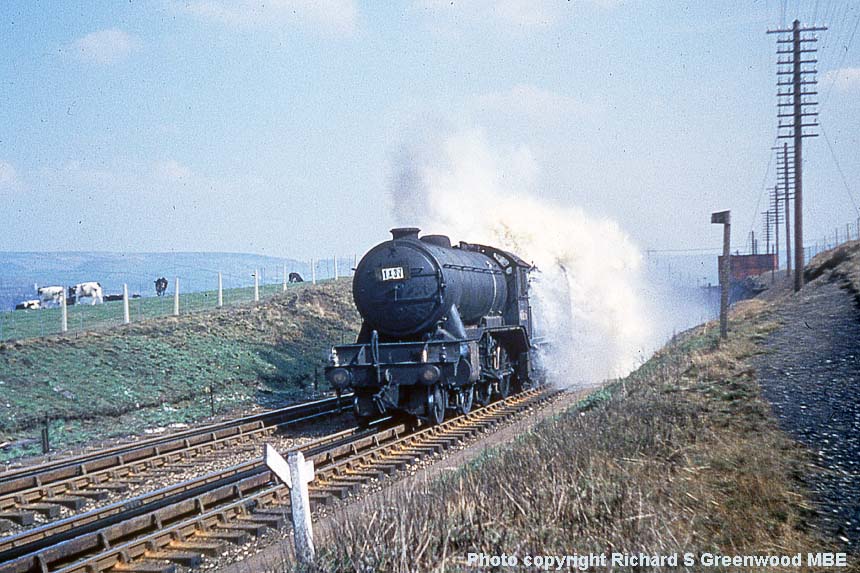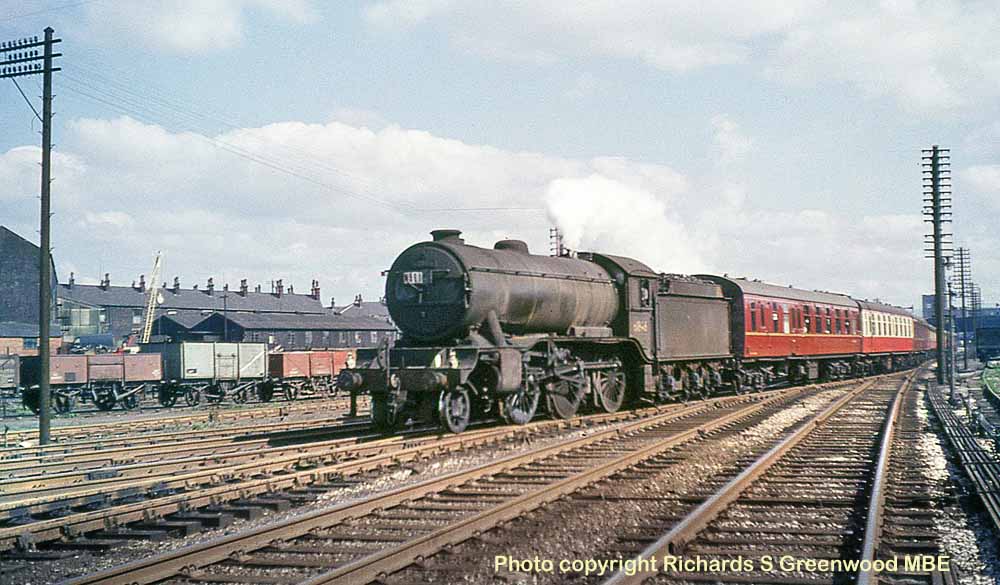 (Above-Below)

Another of the Ardsley K3s, possibly 61846, swings over onto the Bolton line at Castleton East Junction. What a pity the shed couldn't have turned out these fine looking locomotives in a cleaner state. (Below) A Hull K3 61922 rolls down the grade between Summit Tunnel West and Littleborough with an excursion to Blackpool.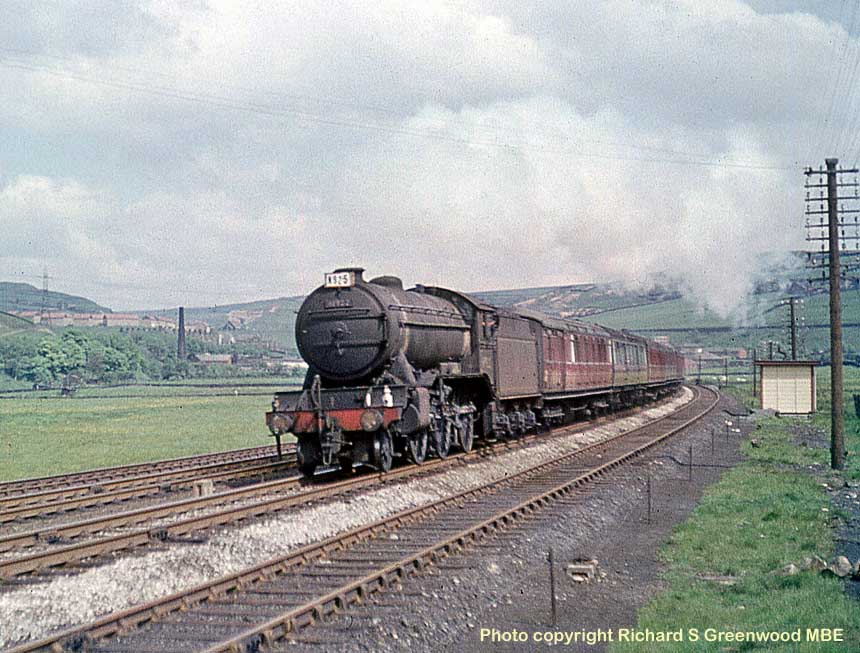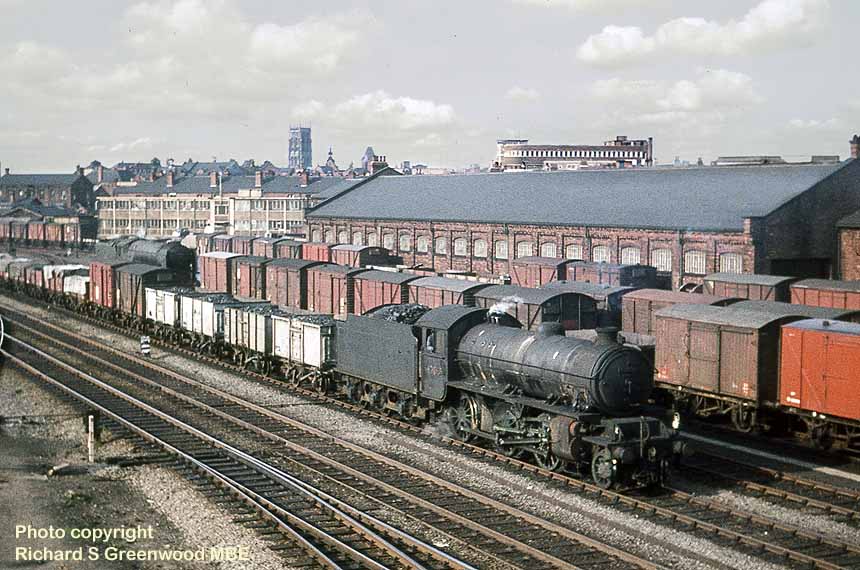 (Above) Edward Thompson, CME of the LNER, designed a powerful Mogul designated the K1 class though they did not appear until 1949 the year after Nationalisation. In total 70 were built and were widely distributed over ex-LNER lines. Those in the West Riding occasionally strayed into Lancashire on freights, empty stock and even returning holiday reliefs from Scarborough. Here a loco so dirty as to defy identification is in charge of a southbound freight at Doncaster.

(Below)

T

wo British Railways Standard classes derived directly from ivatt's LMS classes were the 78xxx (class 2) and the 76xxx (class 4). The smaller of the two was the class 2MTs, a smart looking loco and very much an old man's machine. Padded seats and backrests for the driver and injector controls grouped together by the fireman's side made for a really easy time. Both Wigan L&Y and Liverpool Bank Hall had an allocation which

did a lot of work on stopping and semi-fast passenger trains.

They were also to be found on the Cambrian section as well as on the ER, NER and ScR.. One of Bank Hall's locos 78042 stands in number 4 bay at Rochdale with the 8.40am fast to Liverpool Exchange. It's winter, steam curls up from the steam heat connections, there's little or no wind so the cold is tolerable.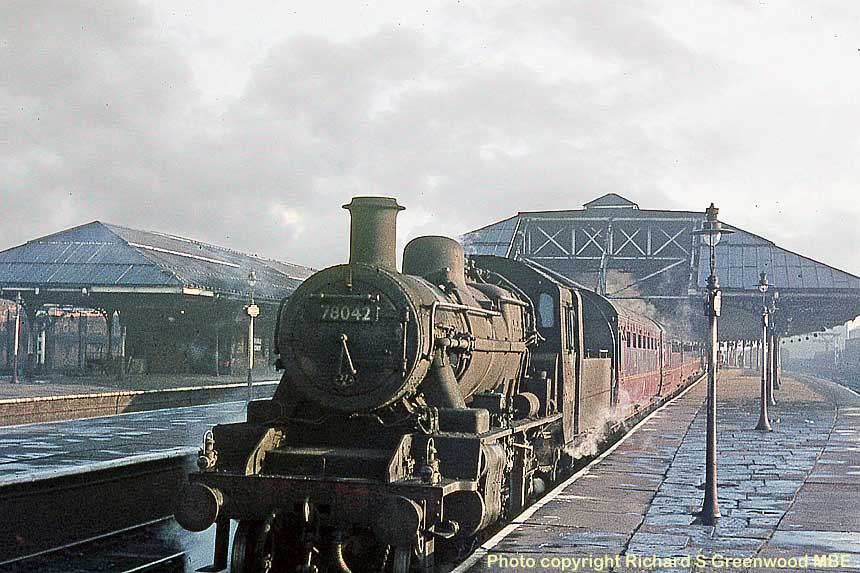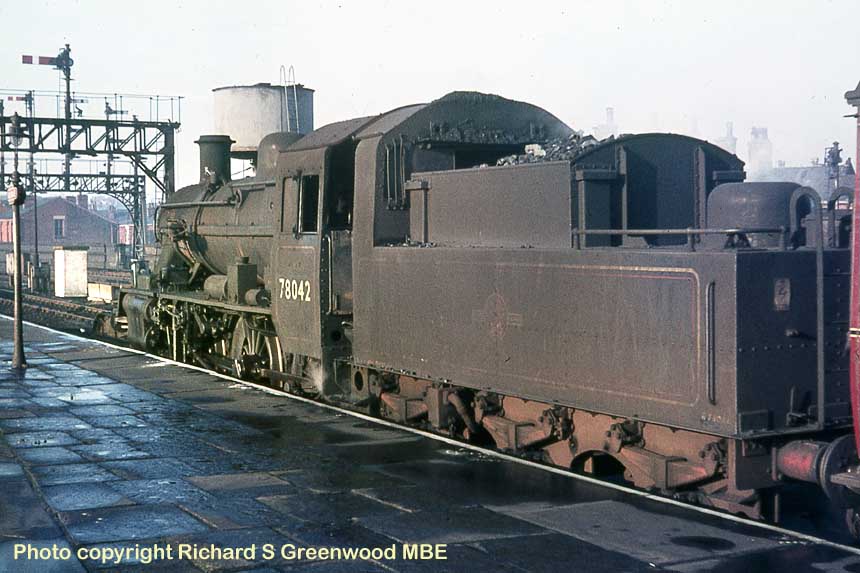 (Above-Below) The same train with a rear view of the locomotive. Sometimes Bank Hall's class 2MTs were smartly turned out but unfortunately not 78042 on this occasion.

The Class 2MTs had a surprising turn of speed;

what would you give today for an exhilerating run through the crisp morning air through Bury, Bolton and Wigan and then non-stop to Liverpool Exchange with speed into the 70s behind a Standard 2MT? (Below) Bank Hall's 78041 is a little cleaner as it gets away from Castleton Station with the 3.50pm stopping train to Wigan Wallgate.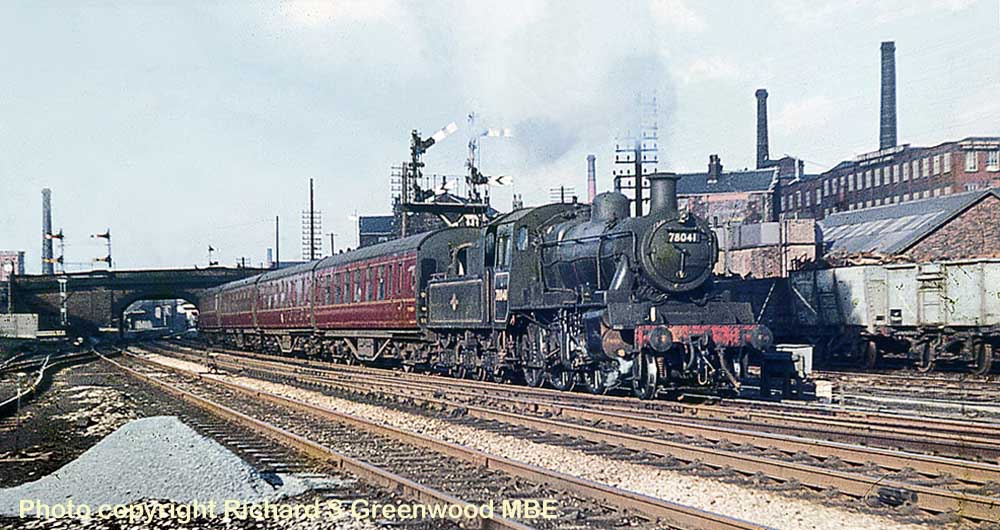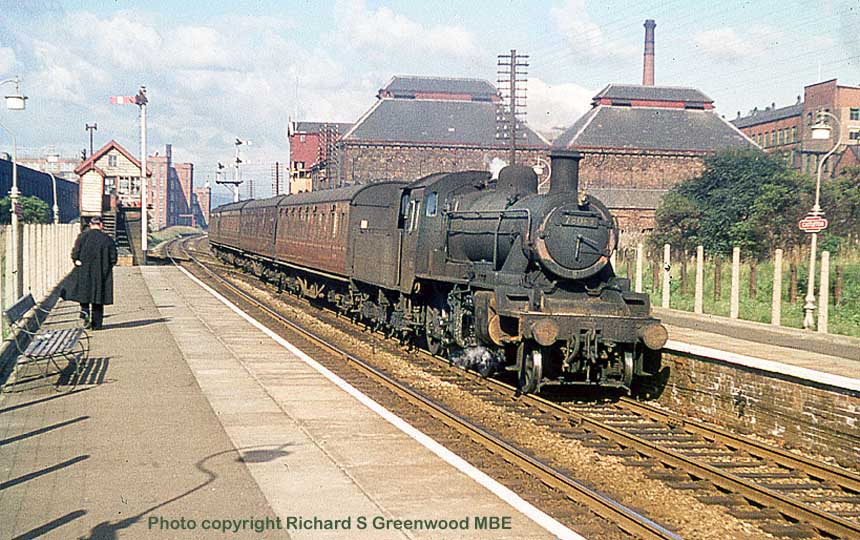 (Above) But the award for the dirtiest Standard 2 ever probably has to go to Wigan's 78063 also on the 3.50pm as it enters Castleton station; which brings us back to the beginning of 'Up North in Colour' - a view of Castleton station signalbox, a wider view of Magee Marshall's Maltings and the industrial environs east of Castleton station.

POSTSCRIPT

When I first selected the colour slides for this page, I concentrated on interest and quality rather than telling a story, certainly not a full story. So some classes were neglected, represented by just one shot even when there were other images possibly worthy of inclusion. Of course some classes were omitted because I have no colour slides of them. So to rectify matters here are some more photographs which for one reason or another missed the first 'cut'.
With David's help, I made an arbitrary but reasonable decision that anything north of Birmingham should be considered 'Up North', and of course 'Down South' is beyond Birmingham. This allows me to include a small selection of GW locos on the 'Up North' page as the GW ran to Birkenhead and, at one time, had through workings to Manchester Exchange. So here goes...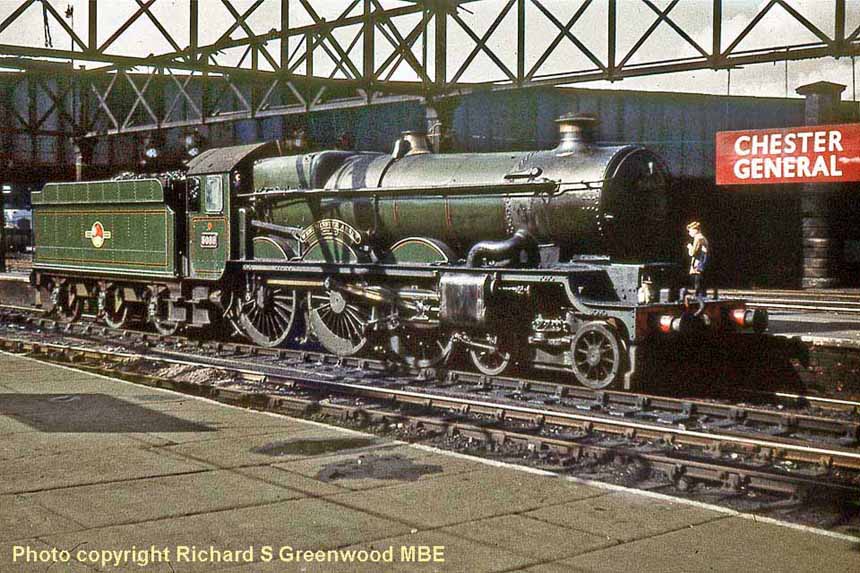 (Above-Below) At Chester General we see 'Castle' class loco 5089 Westminster Abbey taken on 23 August 1960 after working a through train from Paddington. (Below) A push-pull train propels into Wrexham Central with a train from Wellington on 1 September 1962. The loco was 0-4-2T 1458. Those who have visited Page 87 for 'Down South in Colour' (link at the foot of page) will remember my unexpected encounter with a member of this class on the Marlow branch in April of that year. To find the class at work so much nearer home as Wrexham was an even greater surprise.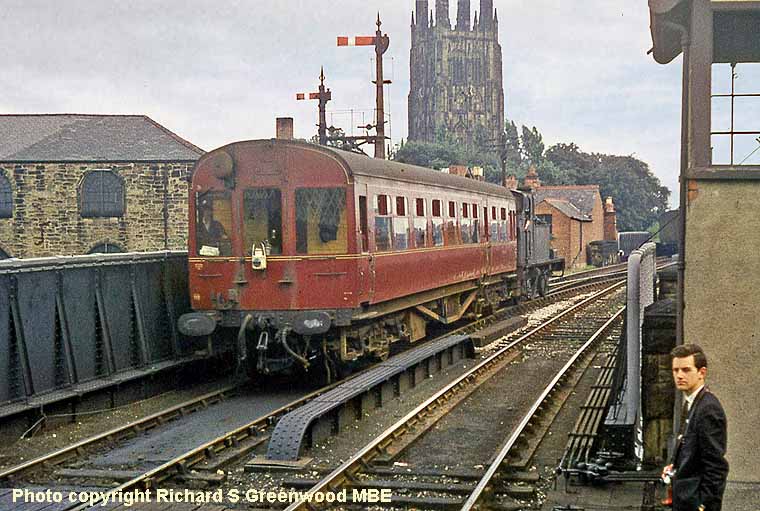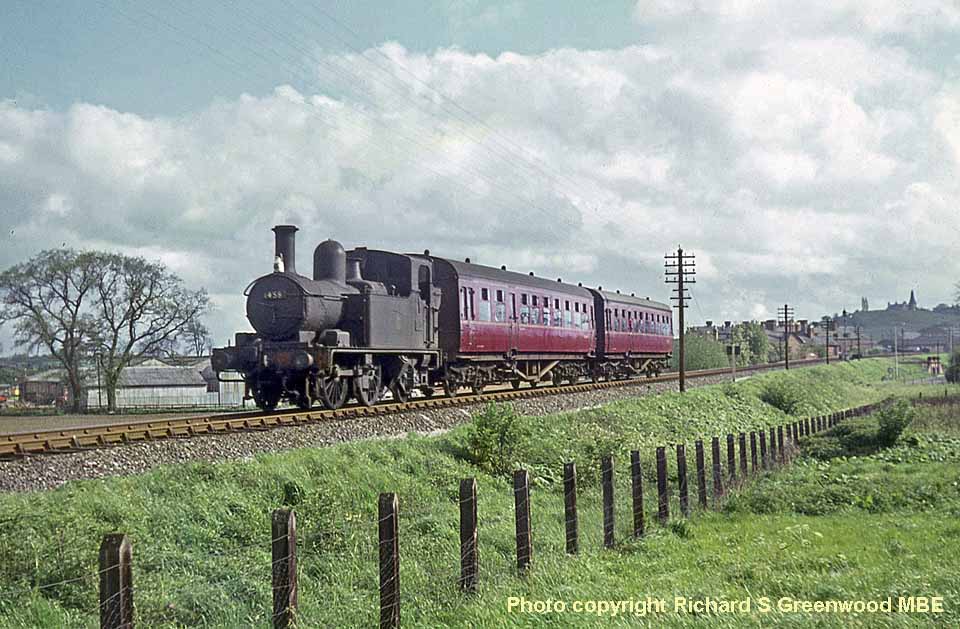 (Above-Below) A few months later on 18 May 1963 we found the same loco, 0-4-2T 1458, at work on the Oswestery to Gobowen shuttles and managed a couple of shots in brilliant sunshine, the one below showing it propelling away from Park Hall Halt. My diary laconically records that I had run out of cine film so had to resort to taking a still.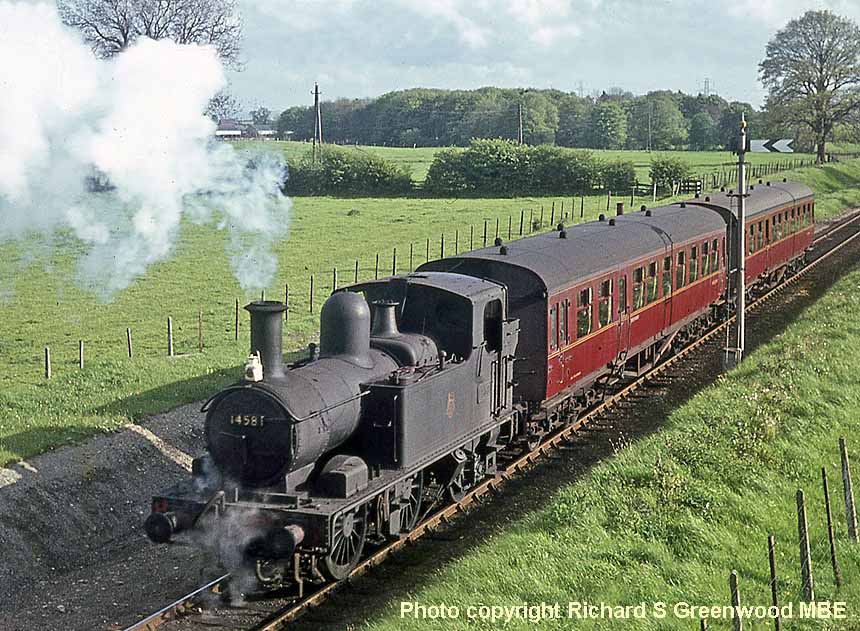 (Below) When I went through the classes in numerical order, the ex LNER K1 Mogul only had one entry, at Doncaster. Here's another, again in the Doncaster area, at the triangular junction of three single lines at Firbeck Junction on the South Yorkshire Joint Railway taken on 10 October 1964. The SYJR was jointly owned by the LYR, NER, GNR, GCR and Midland and served collieries between Shireoaks and Doncaster. I hadn't noticed that on the K1 shot, you can see the exhaust of the train going the other way. The lines leading to this location were all single so this was the place where trains could cross each other. The train in the distance was hauled by an ex Great Central 04 2-8-0 63738. We had chased it all the way from Worksop for some very good cine but regrettably no colour stills. The date is memorable as it was the day we received the letter from BRB offering to sell us the L&Y Pug 51218 for £450...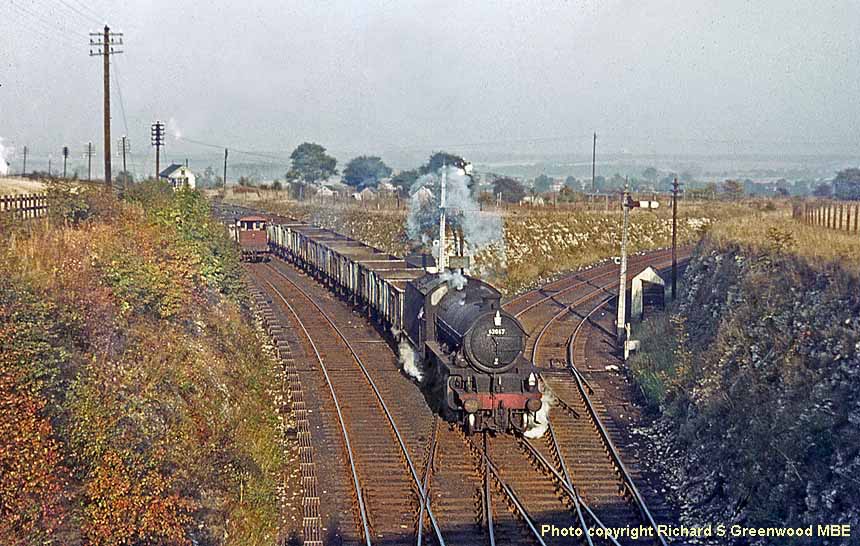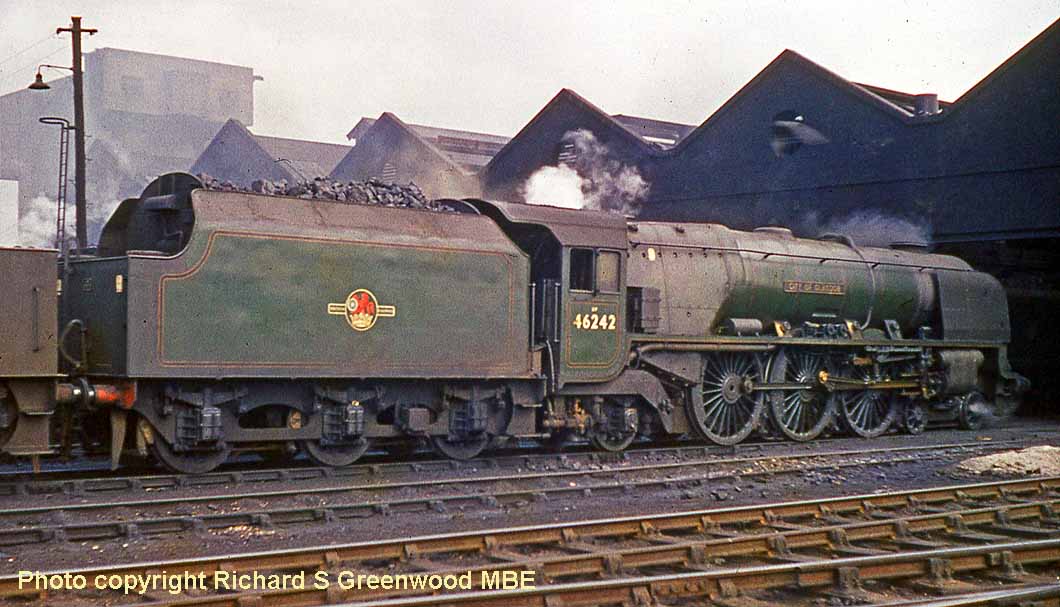 (Above-Below) Neglected by my enthusiasm for the Stanier Pacifics in BR red livery, those members of the class which remained green were forgotten so here's a selection. We start with a nice side on shot of 46242 'City of Glasgow' taken at Carlisle Kingmoor shed on 10 May 1961. (Below) No 46224 'Princess Alexandra', also at Kingmoor shed awaits her next turn of duty.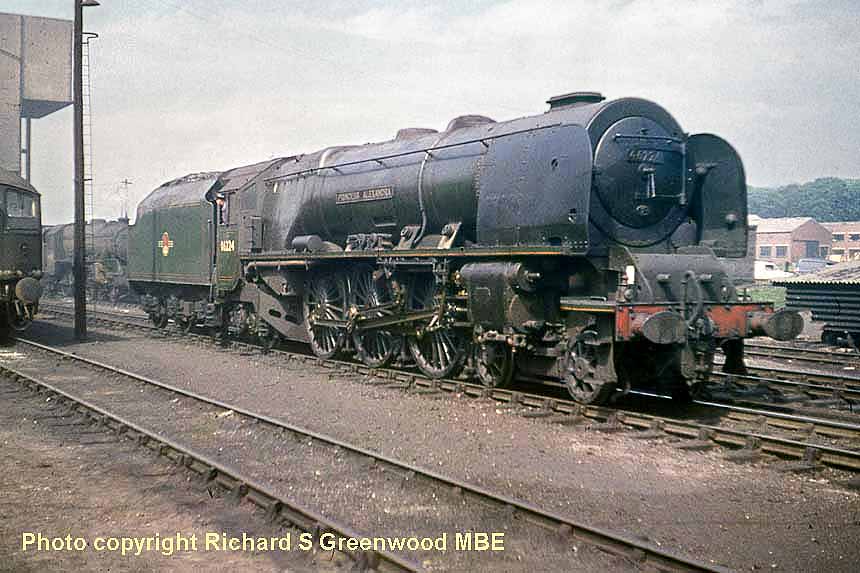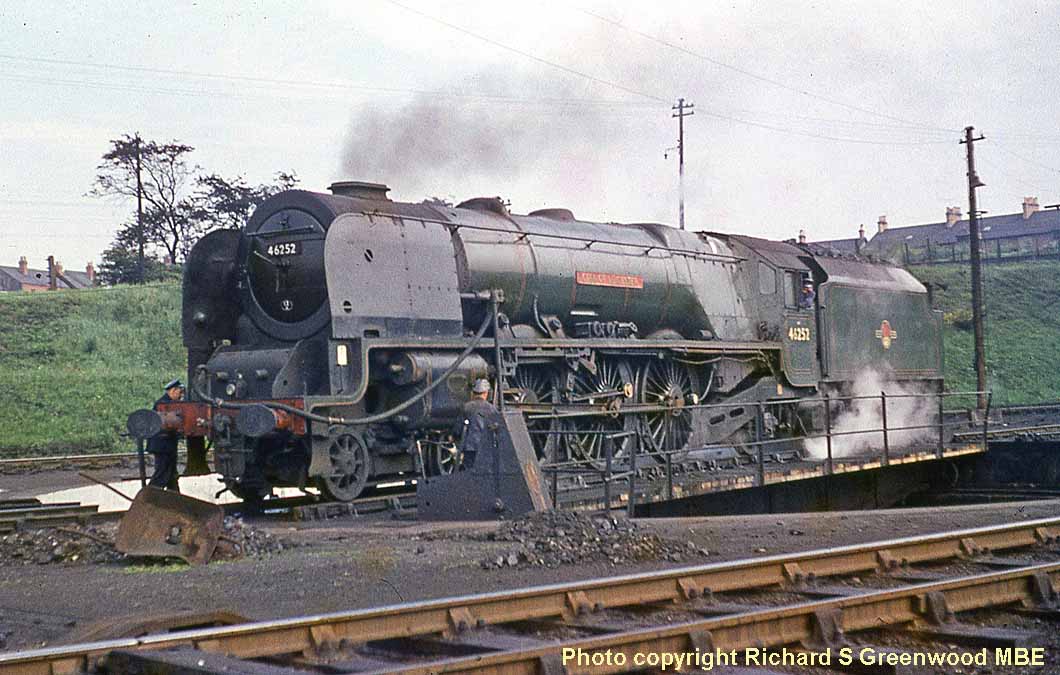 (Above-Below) 46252 'City of Leicester' is turned on the turntable at the south end of the shed. I believe it is true to say that Kingmoor shed did not have an allocation of Stanier Pacifics in the halcyon days of the West Coast Mainline but as diesels began to take over many of the express duties the Pacifics were cascaded down and Kingmoor basked in a blaze of glory. (Below) For our last green Stanier Pacific, 46234 'Duchess of Abercorn' sprints along the up fast line at Golborne, south of Wigan on 24 August 1961.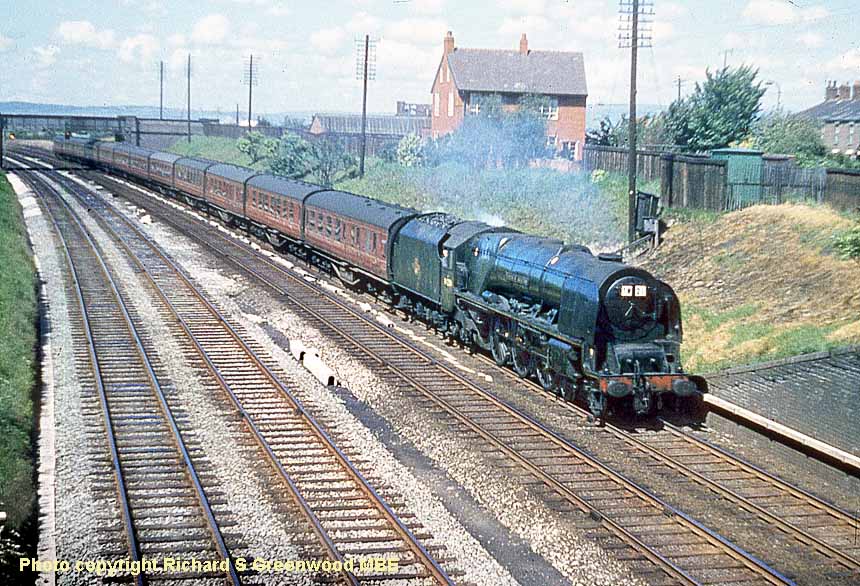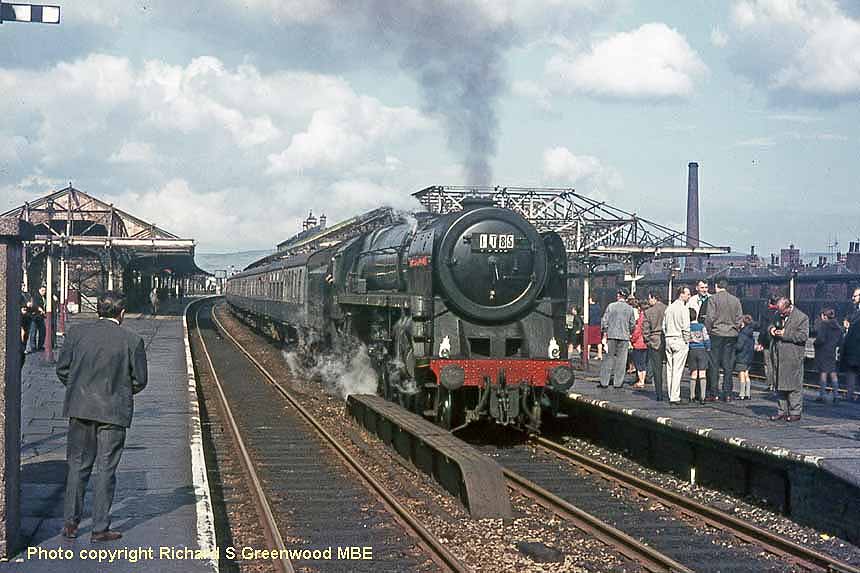 (Above-Below) Somehow the Britannia Pacifics escaped my colour still camera, at least in sunny weather, until the final months of BR steam. By then only one member of the class remained in traffic, No 70013 Oliver Cromwell, which was photographed on 28 April 1968 at the head of a Railtour at my home station on Rochdale. Departing Stockport Edgeley at 10.20, the GC Enterprises 'N W Circular Tour' was routed via Heaton Norris Junction, Denton Junction, Droylesden, Philips Park No 1 Junction, Miles Platting, Manchester Victoria, Manchester Exchange, Eccles, Newton-le-Willows, Earlestown, St Helens Junction, Huyton, Olive Mount Junction, Edge Lane, Breck Road, Bootle Junction, Marsh Lane Junction, Hall Road, Southport South Junction, St Lukes, Meols Cop, Pool Hey Junction, Burscough Bridge, Burscough North Junction, Moss Lane Junction and Farington Curve Junction to Preston NU. 70013 then hauled the return leg from Preston via Euxton Junction, Chorley, Horwich Fork Junction, Bolton West Junction, Darwen, Blackburn, Accrington, Copy Pit, Todmorden North Junction, Todmorden West Junction, Rochdale, Castleton East Junction, Newton Heath, Thorpes Bridge Junction, Brewery Sidings Junction, Philips Park No.1 Junction, Droylesden, Denton Junction and Heaton Norris Junction, arriving back at Stockport Edgeley at 17.21. Click HERE to visit the excellent 'Six Bells Junction' Rail Tour files.

(Below) The BR Standards had bufferbeams and front plating that was easily bent even in minor collisions - an early example of a 'crumple zone' - and it can be seen that the right hand side of the bufferbeam here and the footplating behind are deformed. That buffer is noticeably lower than the left hand one and the headlamp askew

.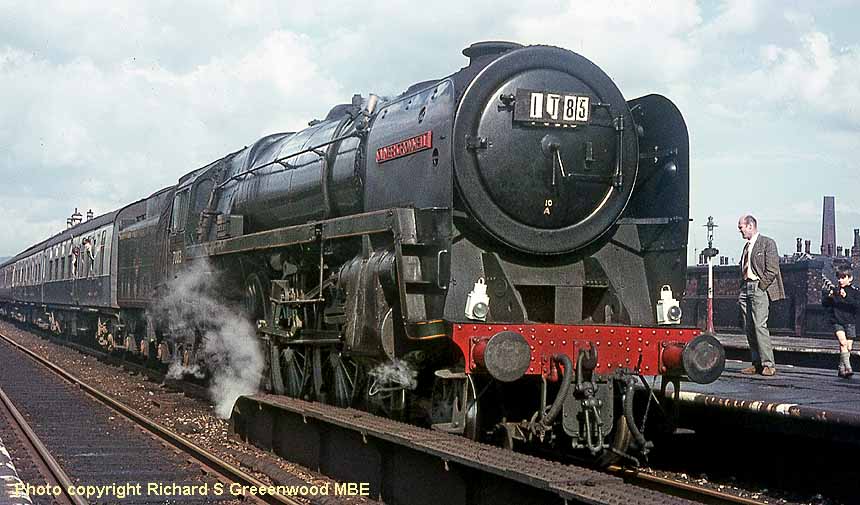 (Below) Another neglected class was the Clans. They often worked to Manchester and Liverpool on the through trains from Glasgow and later took their turn on express freight trains as far south as Crewe. They were perhaps less frequent at the Leeds end of the Settle to Carlisle line but here we are at Steeton and Silsden station on 27 July 1963 as 72008 'Clan Macleod' works a relief to the up 'Waverley'. This was the same day that I caught the clean 46240 'City of Coventry' climbing Grayrigg on the West Coast Mainline ...certainly a red letter day.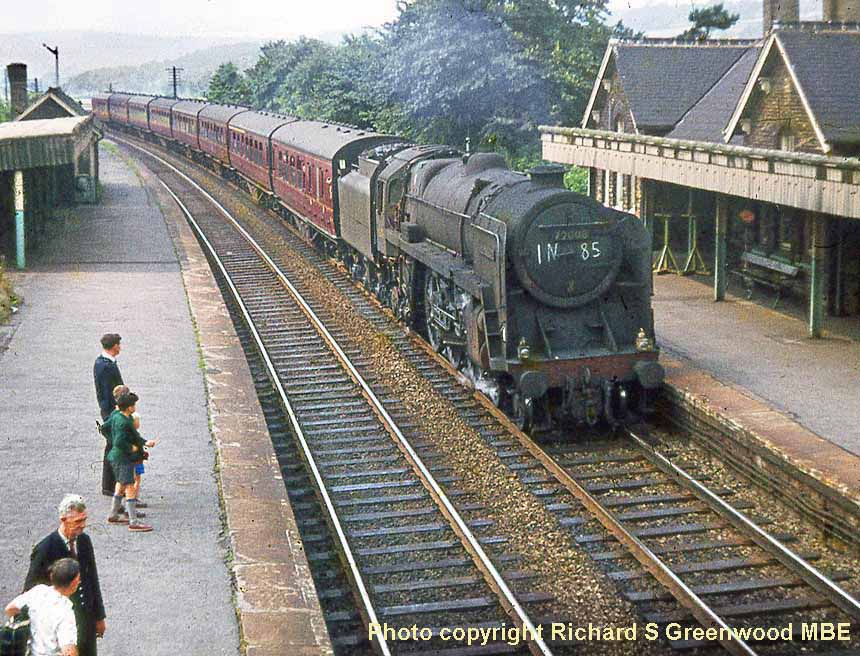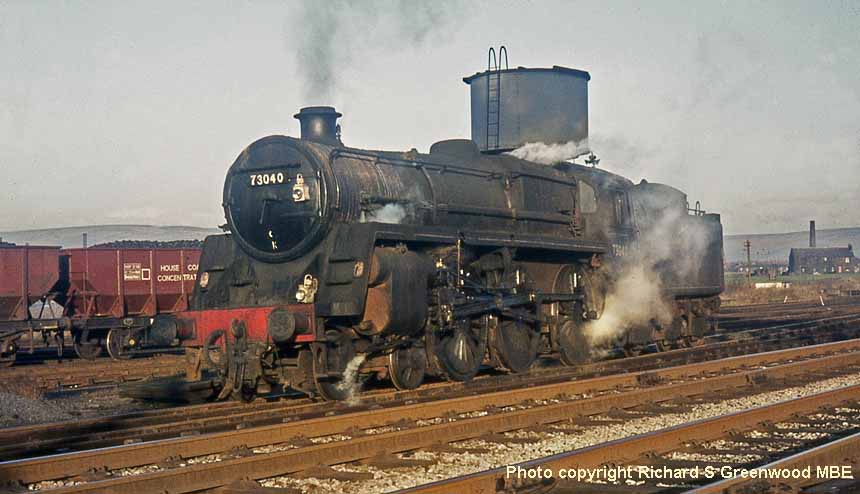 (Above-Below) As the older and smaller classes of steam locos were withdrawn, even pilot and shunting turns had to be covered by Stanier and Standard Class 5s or 8Fs. The Standard class 5MTs had been displaced by diesels and came into the Pennine areas, 73040 came from Chester and was performing menial tasks in 1967. (Below) Another Standard class I neglected was the 9F 2-10-0s. I don't know why but I have very few colour shots of this class. Former Crosti boilered example 92022 stands in the evening sunlight at Bolton shed.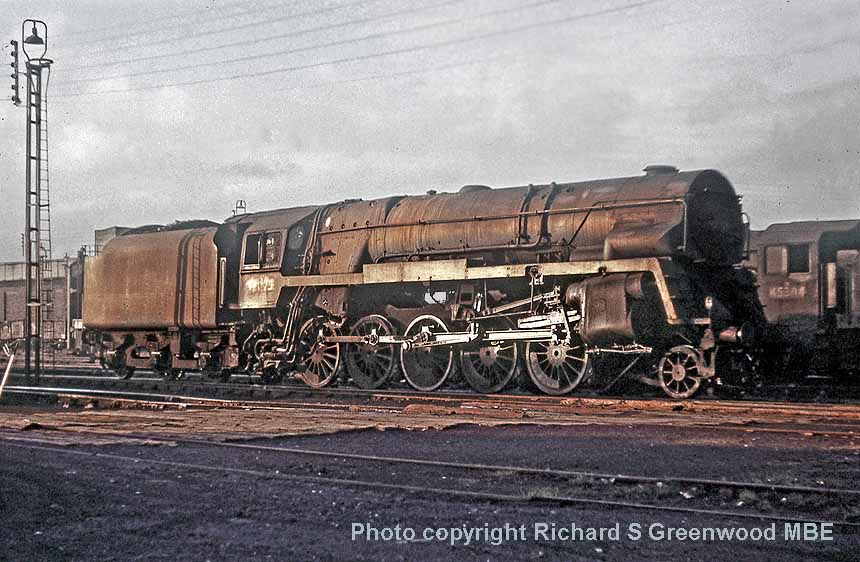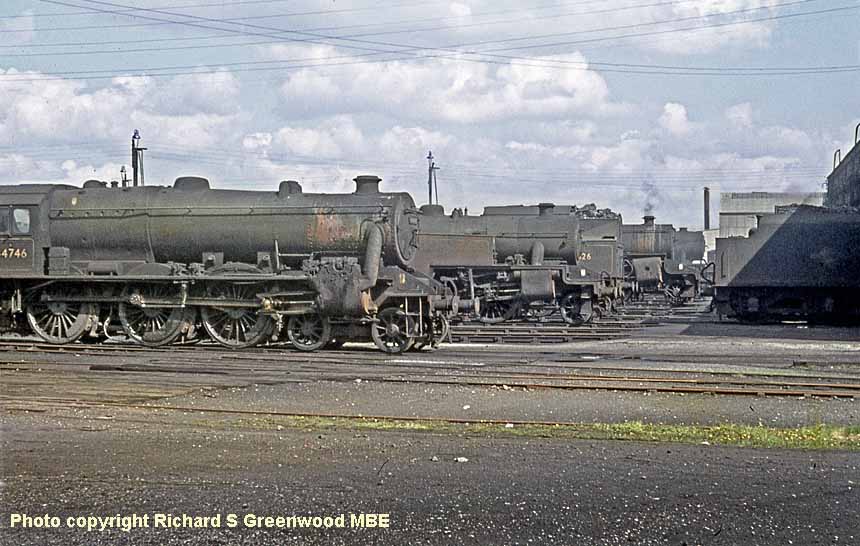 (Above-Below) There was no 'long cinder path' leading to Bolton shed. The ever open gate led direct from the street to the front of the shed.

This a typical line up of locos in the shed yard at Bolton taken from the shed entrance without setting foot in the shed itself! There's a WD 2-8-0, a Crab, two 2-6-4Ts and Caprotti Black Five 44746. Until the last years of steam, Bolton only had two Black Fives. One was 45290 and other 44746. Both came from Newton Heath in the early 1960s intended to work a new overnight express freight from Bolton to Goole. No doubt Newton Heath were well pleased to dispense with the services of a non-standard type. (Below) In the late 1960s Bolton was host to a number of Black Fives, one of them 44871, now preserved and a frequent performer on the mainline, seen in unlined black livery on Bolton shed on 27 June 1961, three days before the shed closed

.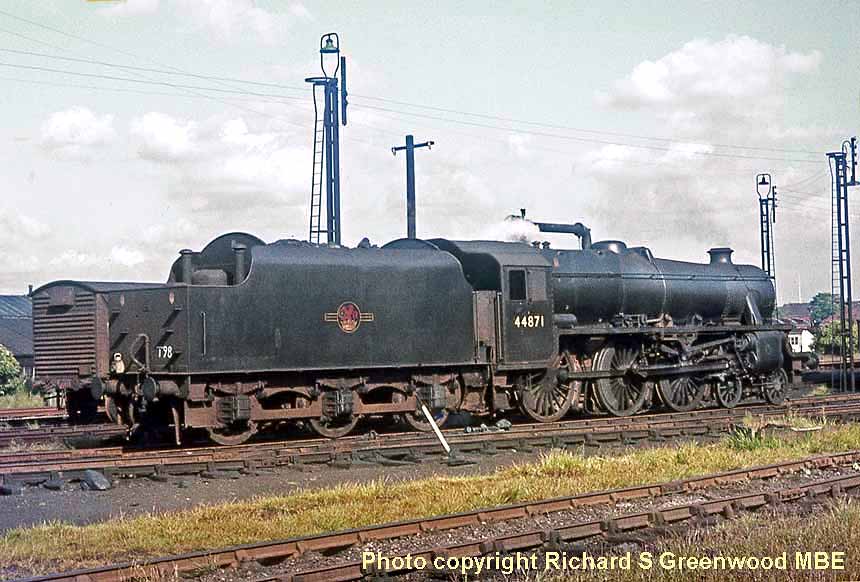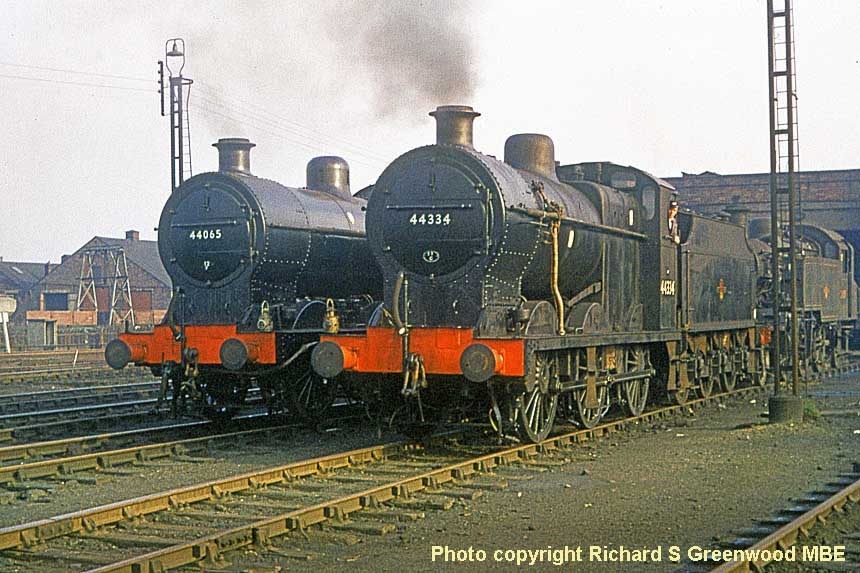 (Above-Below) Another shot at Bolton shed shows a pair of LMS 4F 0-6-0s just released from Horwich Works after overhaul. In its heyday there was always a handful of locos for running in. The classes overhauled at Horwich were all the ex-LYR types, Stanier 2-6-2Ts, 4F 0-6-0s, both Hughes and Stanier 2-6-0s, Ivatt class 4 2-6-0s, BR Standard 4 2-6-0s, Stanier 8F 2-8-0s and, until they all disappeared, the Fowler 7F 0-8-0s. (Below) Ex-LMS 4F 0-6-0s were considered mixed traffic locos and especially in summer were pressed into service on passenger work. There were three at Sheffield Grimethorpe shed (44245/6/7) which regularly worked excursions over to Southport and Blackpool in the late 1950s Here we see a somewhat easier duty being performed by 44475, running in after overhaul at Horwich. This is the 11.48am Saturdays Only Bolton Trinity Street to Leeds Central via Bury. This once-a-week train was the only through train from Bolton to Leeds in the timetable.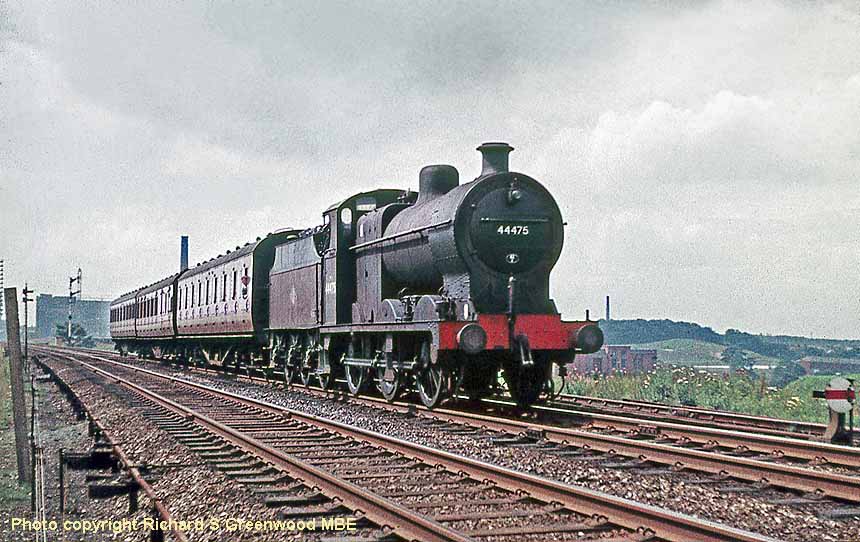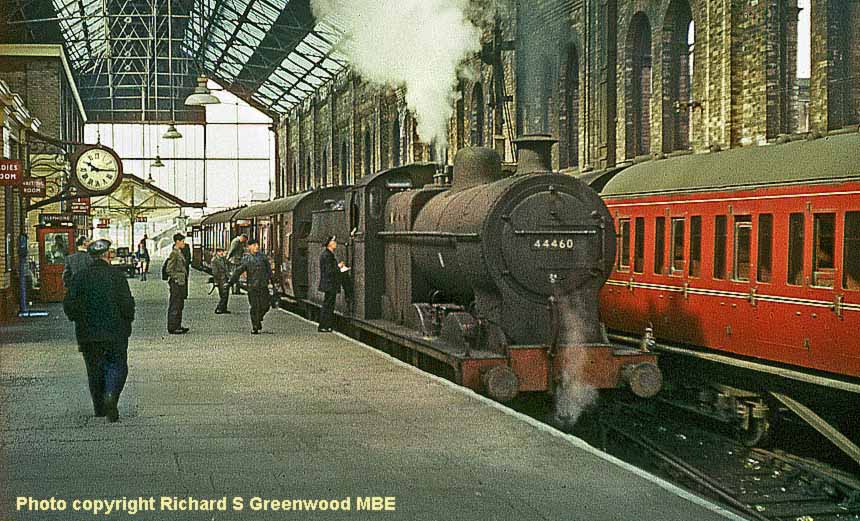 (Above-Below) This is the scene at Blackburn station on the morning of 10 May 1961, with Class 4F 0-6-0 44460 of Lower Darwen shed awaiting departure with the 10.19am fast train to Hellifield which called only at Clitheroe. Years before, this train had been a Manchester Victoria and Liverpool Exchange express to Glagow via the Settle-Carlisle line but it was gradually cut back to being a Manchester to Hellifield job then finally starting its journey at Blackburn. At Hellifield it connected with the down 'Thames-Clyde' express. The overall roof was not removed until the twentieth century. Eventually BR thought it was unsafe and ordered its demolition. During the course of its demolition it was so strong that it pulled a crane over! (Below) A Saturday morning in summer 1960 at New Hey and L&YR 'A' class 0-6-0 52341 has worked from Royton Junction with a coal train and is waiting to marshall the empties to go back to the Junction.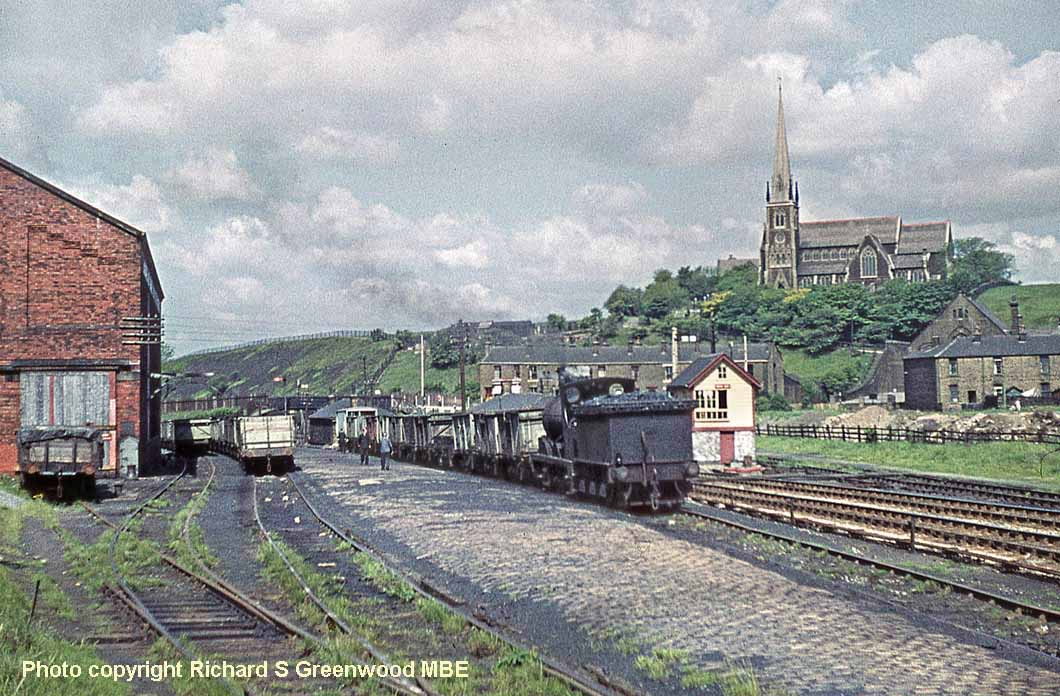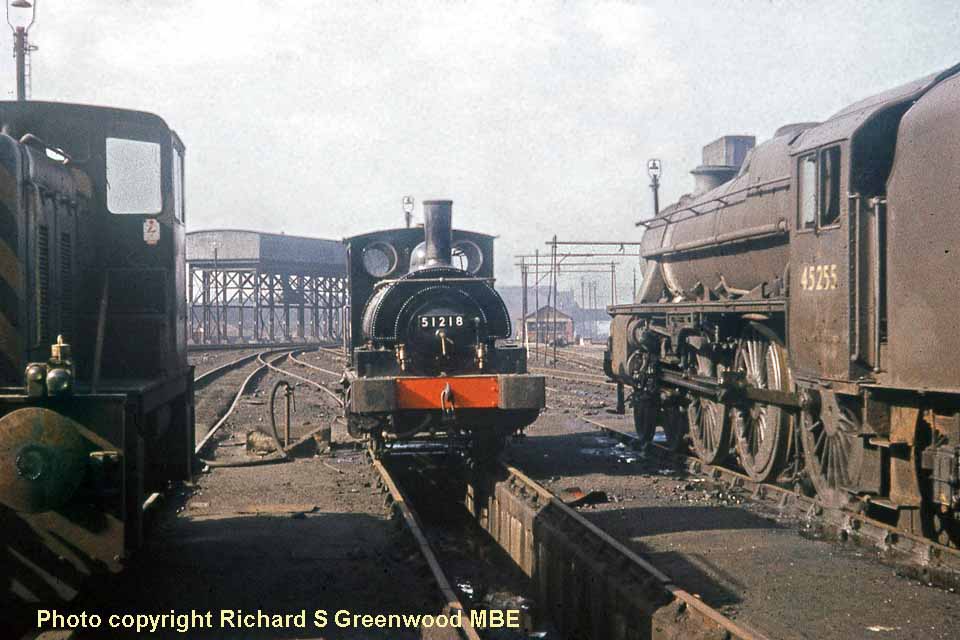 (Above-Below) Photographs of preserved L&YR Pug 51218 are featured earlier on this page, however the locomotive also visited Trafford Park shed in May 1967 for a washout after it's spell on loan to Brown and Polson. (Below) On Sunday 26 February 1967 the LCGB ran the 'Severn and Dee Rail Tour' on the day after their AGM. AL3 Class 83 Bo-Bo No E3035 hauled the train from London Euston to Nuneaton TV, where 'Black 5' No 44944 continued via Abbey Junction, Water Orton West Junction, Park Lane Junction, Rycroft Junction, Walsall, Pleck Junction, Darlaston Junction and Portobello Junction to Wolverhampton High Level Junction. 7029 Clun Castle hooked on for the next leg from Wolverhampton via Stafford Road Junction, Wellington, Shrewsbury, Gobowen, Wrexham General, Saltney Junction to Chester Genera, where ex-Crosti Class 9F No 92026 continued via Tattenhall Junction to Crewe. The return leg to London Euston was hauled by AL6 Class 86 E3130. 7029 is pictured at Wolverhampton High Level awaiting departure.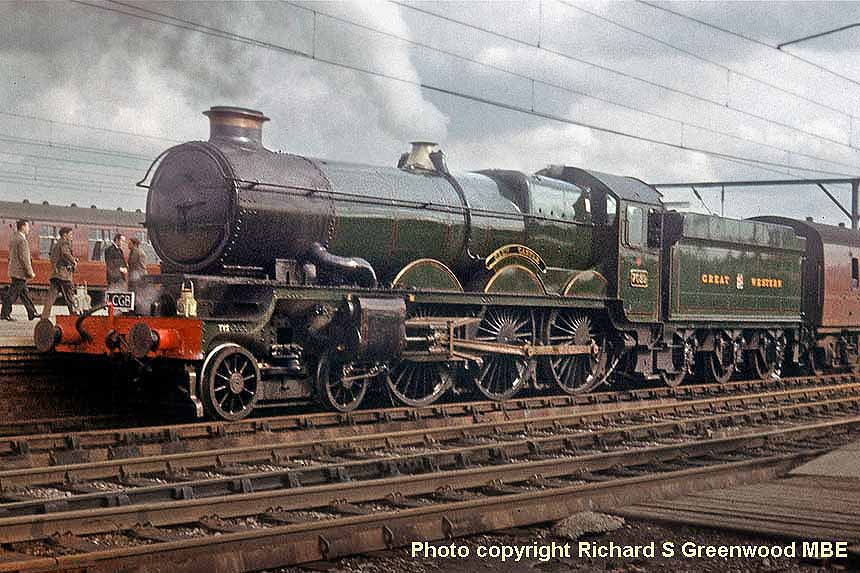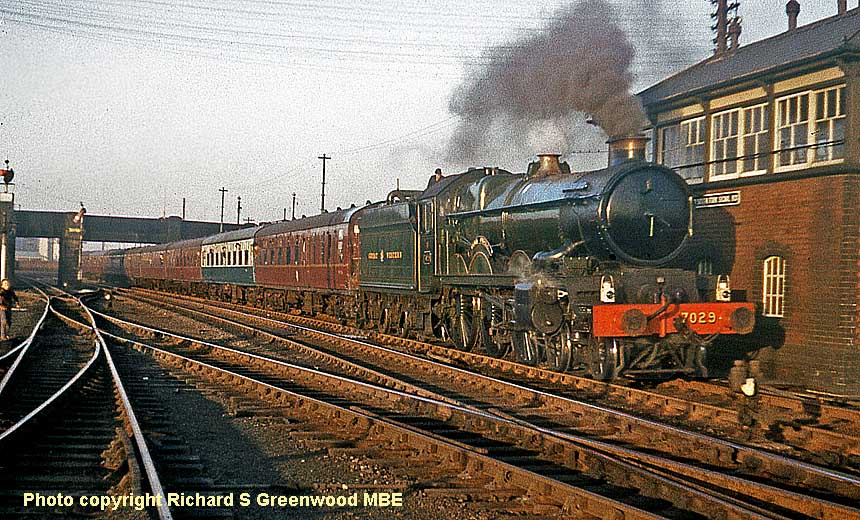 (Above-Below) One week later on 5th March 1967, 7029 is in action again, this time hauling the Stephenson Locomotive Society (Midland Area) 'Farewell to the GWR Birmingham, Birkenhead Service'. 7029 is pictured here taking water at Croes Newydd on the journey south from Chester to Shrewsbury. (Below) I had been in the Wrexham area two years earlier in September 1965; at the time Croes Newydd shed still had a handful of ex-GWR locomotives at work, including Collett 0-6-2T 6651 seen here shunting the yard on Saturday 11 September 1965.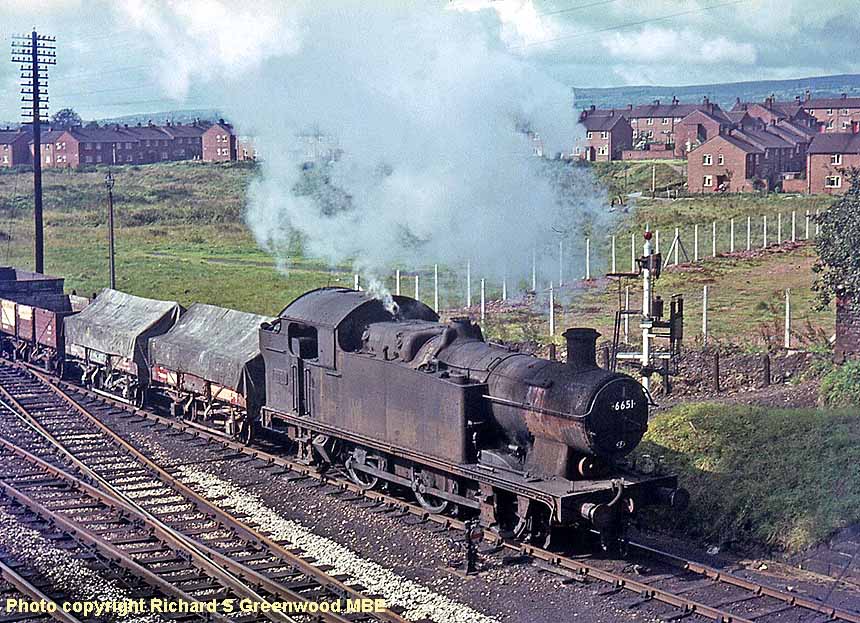 (Below) A long standing Newton Heath loco, 'Black 5' No 44891, stands on the scrap line at the shed on 17 May 1968. The cover is off the top feed and whatever the problem was led to its withdrawal just six weeks before the shed closed to steam. The withdrawal was officially confirmed in June 1968. Note the large ex-LYR signalbox of Newton Heath Junction in the background and also the semaphore signals with colour lights on the same post; the arrangement of a colour light distant enabled a double yellow aspect to be displayed as well as a single caution, which is all that a semaphore distant could show. It was used at the first signal entering a heavily trafficked colour light area.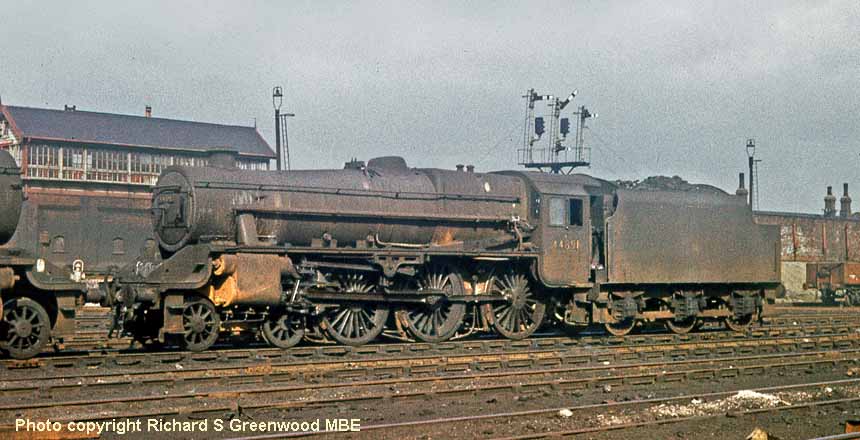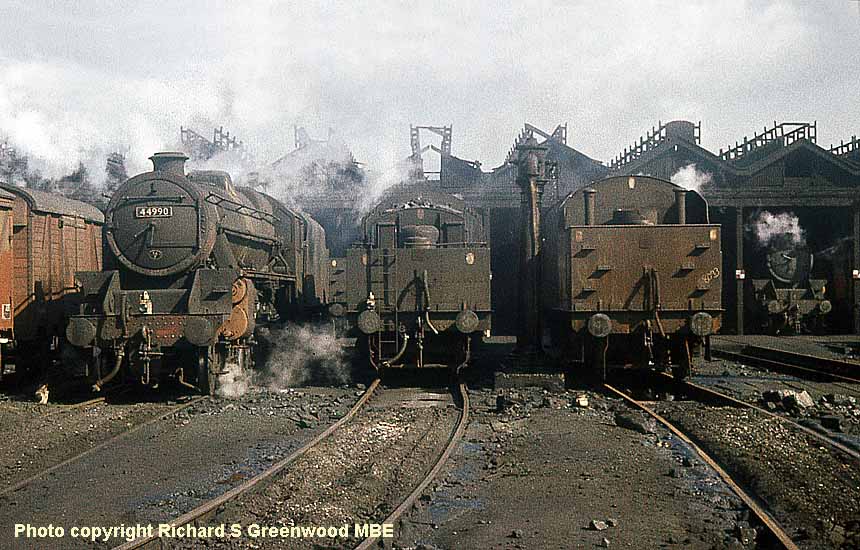 (Above) Although a cropped version of this shot appears earlier on the page, this is the full image of Newton Heath shed in 1967. No 44990 was withdrawn in October 1967 but the photograph is taken some time before that as the Ivatt class 2s disappeared from Newton Heath some time before....note the tender of an Ivatt 2MT 2-6-0 on the adjoining road with the rectangular air vents as opposed to the usual LMS tubular type. The roof over the western side of the shed was damaged by fire in February 1967.

(Below) As the number of BR steam locomotives in traffic dwindled, locomotives congregated in the North West. No 45260 was not a local engine but came north from Saltley and joined the growing stud of 5MTs at Bolton shed. This is an empty wagon train for Yorkshire passing Castleton North Junction in a view from the signalbox. The junction still survives but as a single line worked from a ground frame and controls the two exits from the East Lancashire Railway connection at Hopwood to the Network Rail system. In the background can be seen a wagon loaded with rail sent from Workington to the Castleton Rail Welding depot. Castleton was the pioneer BR rail welding depot but was closed November 2006 and the plant transferred to Scunthorpe. A sad loss of very varied and interesting rail traffic to the Castleton area.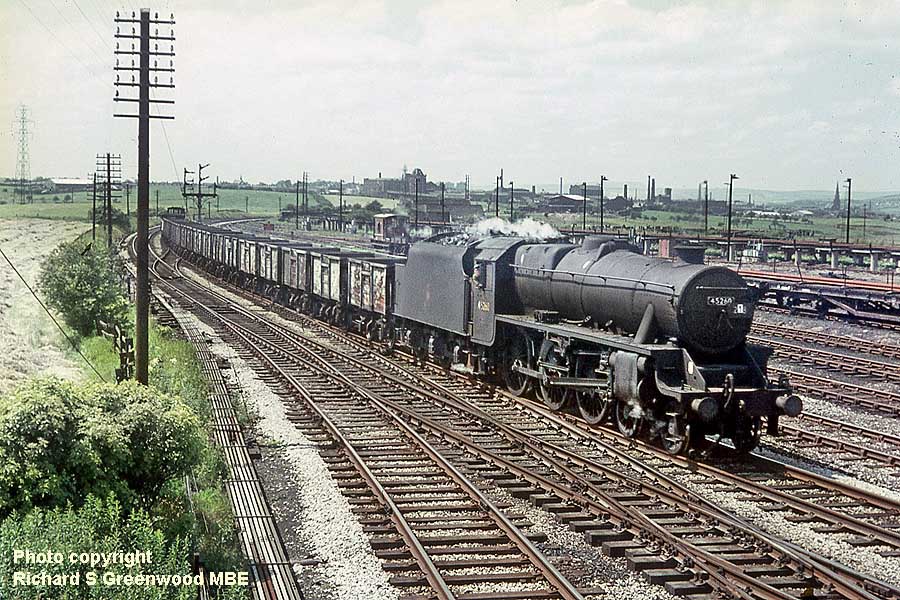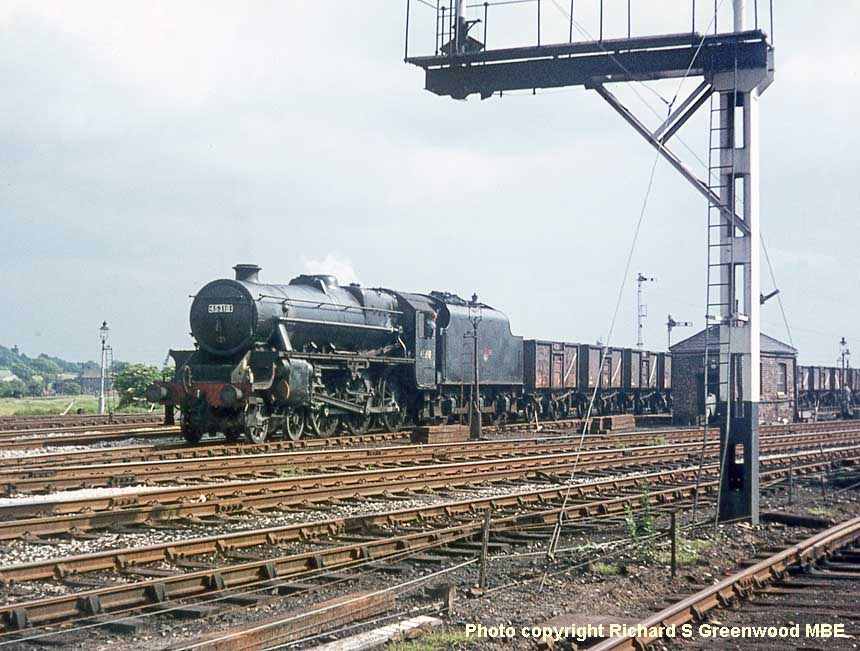 (Above) Not long before the end of steam in summer 1968, Stanier 5MT 45318, which had been a stalwart Blackpool engine for many years, was reduced to quite humdrum tasks on freight and pilot jobs worked by Bolton shed. Here the loco is employed as Castleton pilot and propelling a raft of overhauled 16ton mineral wagons into the down sidings. 45318 has brought them up from the Standard Wagon Works at Heywood. Whilst the exit signal from the sidings is showing clear for a train to leave them the loco is in reverse gear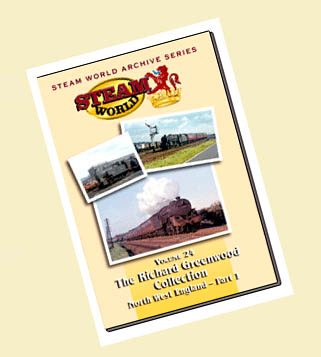 and the driver is looking intently past the tender to the shunter. 45318 of course was to gain fame as it worked the last BR steam ordinary passenger train, the 21.25 from Preston to Liverpool Exchange with a portion off a train from Glasgow, on the night of 3rd August 1968. Bolton shed had closed at the end of June and 45318 was transferred to Lostock Hall near Preston

(Left) Over the past 50 years Richard has documented a huge selection of high quality steam railway action in the North West of England, Scotland, Wales, the North East and also the Southern Region. A DVD based on Richard's 8mm filming days has been released by Telerail in their 'Steam World' series volume 24. This is the first of four volumes covering Richard's home ground in the North West of England, including locations in Manchester, Bury, Bolton, Oldham loop line, Copy pit, Rochdale to Todmorden and through to Sowerby Bridge, the line through Diggle and also up to Earby and Skipton. Archive footage of this quality is seldom seen publicly…click HERE to find out more from the Telerail website.

(Right) A second DVD - 'North West England-2' - takes a further look at working steam in the North West of England. Starting at Rochdale, Richard filmed the everyday scene including freight and local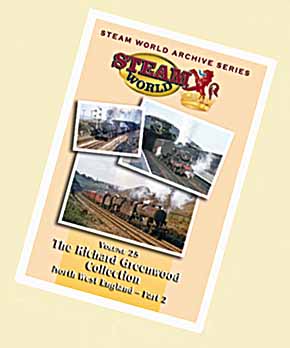 passenger operations. Also highlighted is 46497 on the little used turntable and a look at evening parcels workings. There's action on the Whitworth branch featuring a weed-killing train and a brakevan trip to Whitworth with 42343. The Calder Valley line from Rochdale to Sowerby Bridge provides plenty of nostalgic views including a chance to pause at Bellfield, Clegg Hall, Smithy Bridge, Littleborough, Summit Tunnel, Winterbutlee Tunnel, Walsden, Todmorden, Hall Royd Junction, Eastwood, Hebden Bridge and Sowerby Bridge, before returning to Hall Royd Junction for the climb to Copy Pit. The Programme ends with the 'Rossendale Forester' railtour on the last day of service to Bacup. The next volume in this exciting series will head away from Rochdale towards Milnrow and around the Oldham loop line and Manchester. Click HERE to find out more about Volume 25 in the Steam World Archive Series.

(Below) Shrewsbury was where the many summer holiday extras from the North West to Devon and Cornwall resorts changed engines for Western Region locos. Here two northbound extras are ready to depart after the WR locos have been taken off. I think to find a Class 6P5F Crab No 42859 still entrusted with one of these heavy trains in 1963 was a bit of a surprise.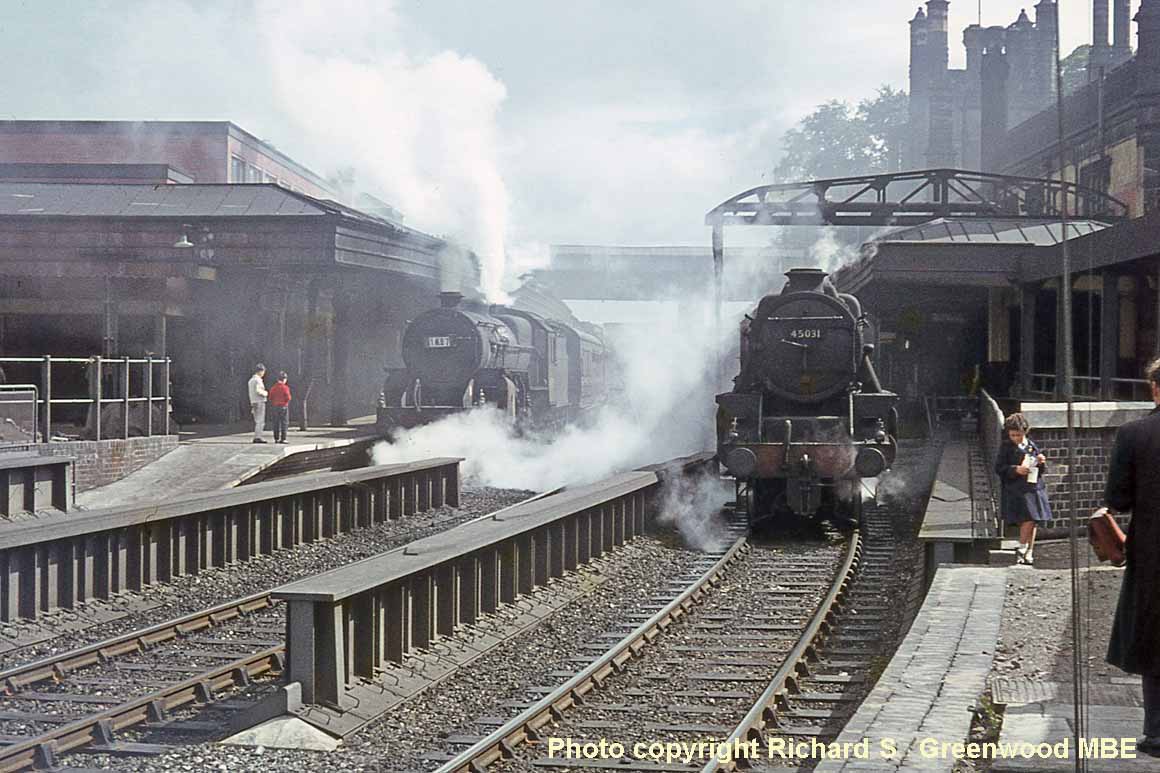 CLICK HERE TO VIST BARRY HILTON'S PAGE ON ROCHDALE'S RAILWAYS
CLICK HERE TO VISIT RICHARD'S SECOND 'RAIL CAMERAMAN' PAGE
CLICK HERE

TO VISIT RICHARD'S THIRD 'RAIL CAMERAMAN' PAGE.


CLICK

HERE

TO VISIT RICHARD'S RECONNAISANCE WITH A CAMERA - 'BR WESTERN REGION'
CLICK HERE TO VISIT RICHARD'S RECONNAISANCE WITH A CAMERA - 'BR EASTERN REGION'
CLICK HERE TO VISIT RICHARD'S RECONNAISANCE WITH A CAMERA - 'BR SOUTHERN REGION'
Polite notice: All text and photographs are protected by copyright and reproduction is prohibited without the prior consent of the © owners. If you wish to discuss using the contents of this page the email address is below. Please note - this is not a 'clickable' mail-to link via Outlook Express. You will have to email manually.
dheycollection@ntlworld.com