DOWN SOUTH IN COLOUR

My first experience of Southern steam was in the course of school trips to Switzerland when we were taken down to a Channel port from London Victoria where we saw Bulleid Light Pacifics and, on one occasion, the up Night Ferry. Then on a school historical trip to Old Sarum and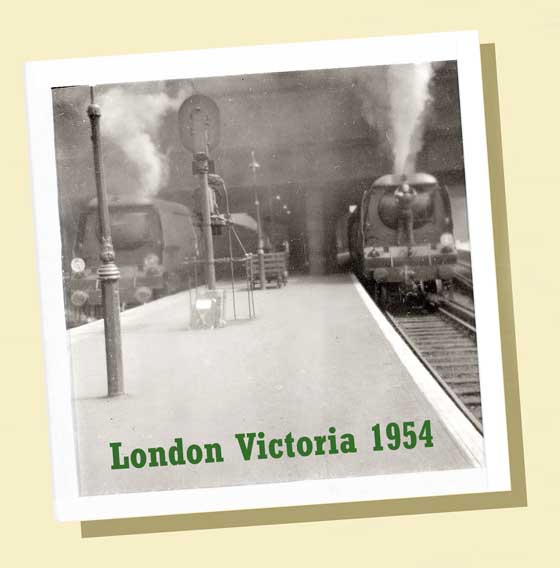 Stonehenge, our head of history (who once stood as a Liberal candidate at a General Election and lost his deposit) failed to understand the bus timetable and we had to travel by train from Blandford Forum to Wells changing at Evercreech Junction. This same gentleman doubted my attack of asthma justified me missing a day of the itinerary which I spent at Salisbury station in the company of Merchant Navies as originally built with streamlined casing, plus T9s with watercart 8-wheel tenders and some strange locos from the Western Region (he thought I had been distracted by a party of American schoolgirls whom we had been teaching how to play cricket; the way we played cricket...the girls said it was a much quicker than baseball!)
In 1961, I went to the old Gibson and Weldon cramming college at Guildford ready for the Law Society finals examinations. The short course lasted from 31 May until the end of October but with a four week gap in August. My friend Jim Davenport (who was in the office at Lees shed (26E)) had told me that Guildford was a very good spot for steam. He was right. From our digs we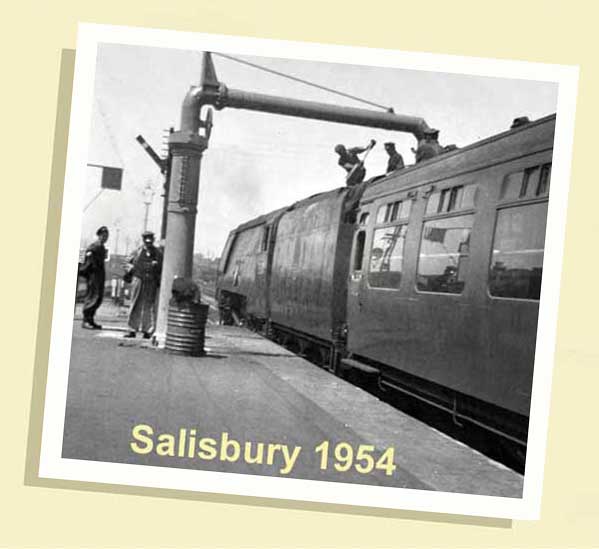 passed the station and shed en route to lectures and had every Wednesday afternoon free as well as the weekends. I took well over 500 black and white photographs and some 150 colour slides. Perutz had just introduced their new colour slide film which was faster than others available. It yielded pleasant images and although the pictures have suffered from degraded colours in over fifty years, auto colour correction in Photoshop brings them back to the original quality.
At this time I was using an Iloca Rapid with a top speed of 1/500th sec for colour and a Leica II with a tired 1/500th shutter for monochrome. Through an advert in 'Amateur Photographer' I purchased a Leica IIIa from a gentleman just down the line in Godalming and after matching it with the f3.5 Elmar lens off the Leica II, I had a magnificent camera with 1/1000th sec shutter speed and could venture onto the West of England mainline but that wasn't until mid July. Please note...all photographs on this page are shown as close as possible in chronological order, however subsequent to creating 'Down South In Colour' I continue to find old colour slides in dusty corners which have since been added to the page out of sequence in order to complete the full picture.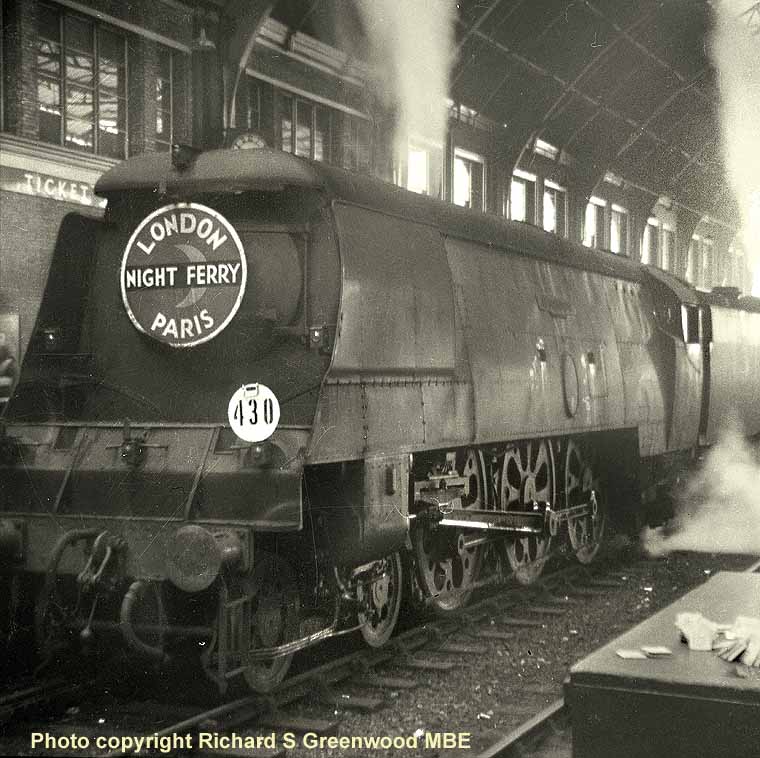 DOWN SOUTH IN COLOUR PART ONE
29 May 1961 - 28 June 1961

On my first morning in Guildford, Monday 29th May I went first to the Farnham Road overbridge and what a feast for sore eyes. Eight different classes: B4, C, 700, E4, M7, N, U and Q1...five of them pre-1923 vintage. In the afternoon the same day I indulged myself and journeyed out by train to Basingstoke.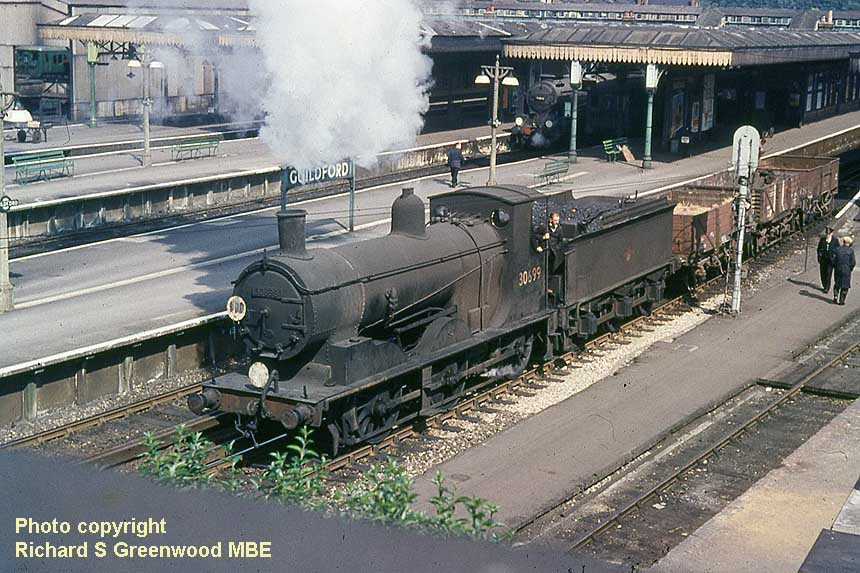 My first colour shot (above) was taken from the Farnham Road overbridge of LSW 700 class 0-6-0 No 30699 on a down freight passing along platform 2. The bridge is visible in the background as LBSCR E4 0-6-2T No 32468 trundles into the station bunker-first with a train from Horsham (below).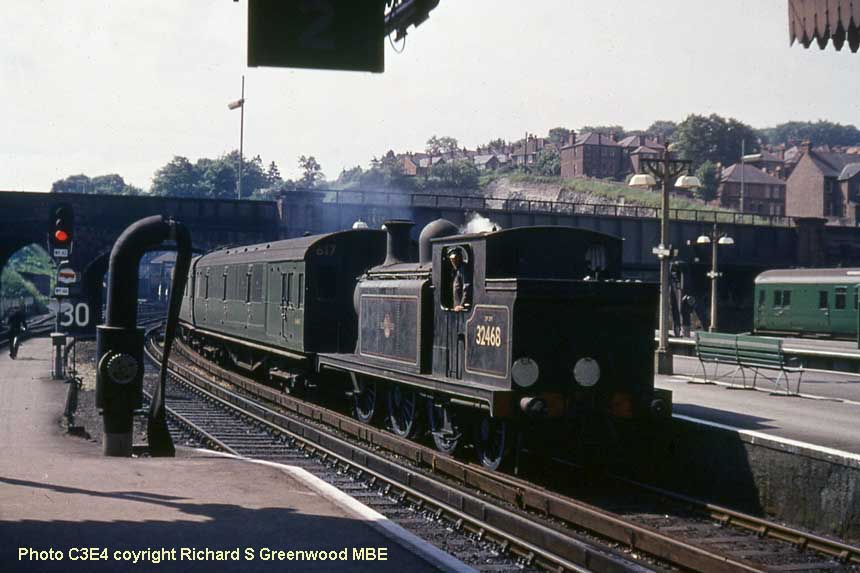 The

E4 0-6-2T

then ran round the stock (above) and propelled its train out towards Woking, ready to draw forward into platform 1 but then hooked off and went to the shed for attention. The coal stage pilot was in full view from platform 8 and occupied a variety of locomotives over the months. On this day it was an SECR C class 31723 and whilst I took several black and white shots I did not take any colour, however two days later it was the turn of 700 class No 30697 (below).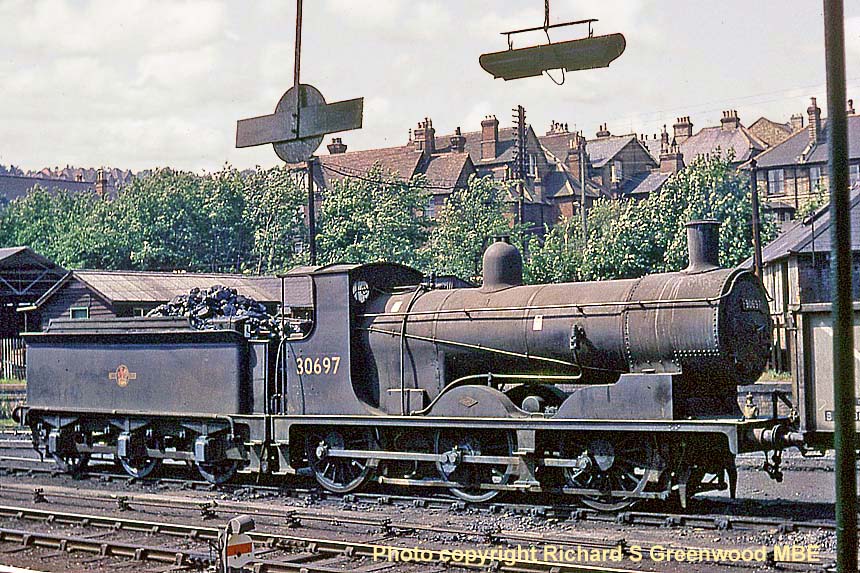 Although I took many black and white shots, the next colour photographs were on the Bluebell Railway on 10 June. The BR electrified branch from Haywards Heath to Horsted Keynes was still open. The Bluebell Railway was not yet operating from Horsted Keynes station. Miss Bluebell met intending passengers in the station subway and personally conducted them to Bluebell Halt a few hundred yards down the line. With no run round facility, the trains were top and tailed (in modern parlance) with the two SECR P class locos named 'Primrose' and 'Bluebell'. I was just a little disappointed their Terrier 'Stepney' was not in use. I took this shot of 'Primrose' taking water at Sheffield Park (below)...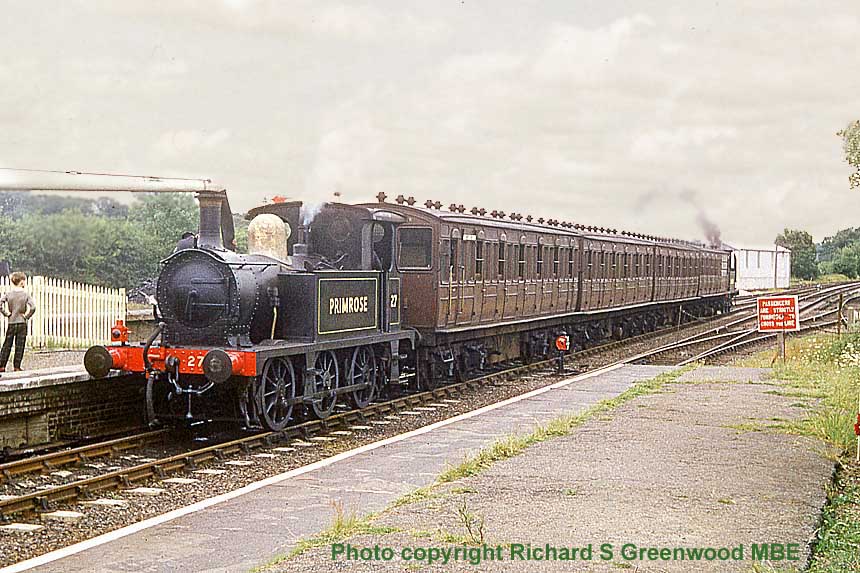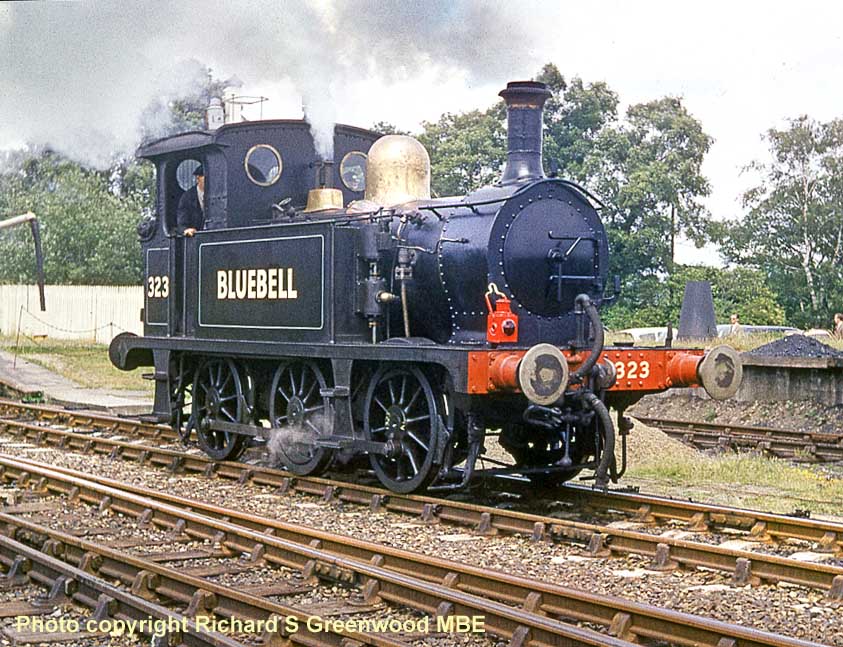 Following the earlier shot of No 27, No 323 'Bluebell' obligingly posed for the camera (above) and finally the train composed of ex-Metropolitan 'Chesham' stock in Sheffield Park station (below). How fortunate the Bluebell Railway was to acquire such a magnificent station building.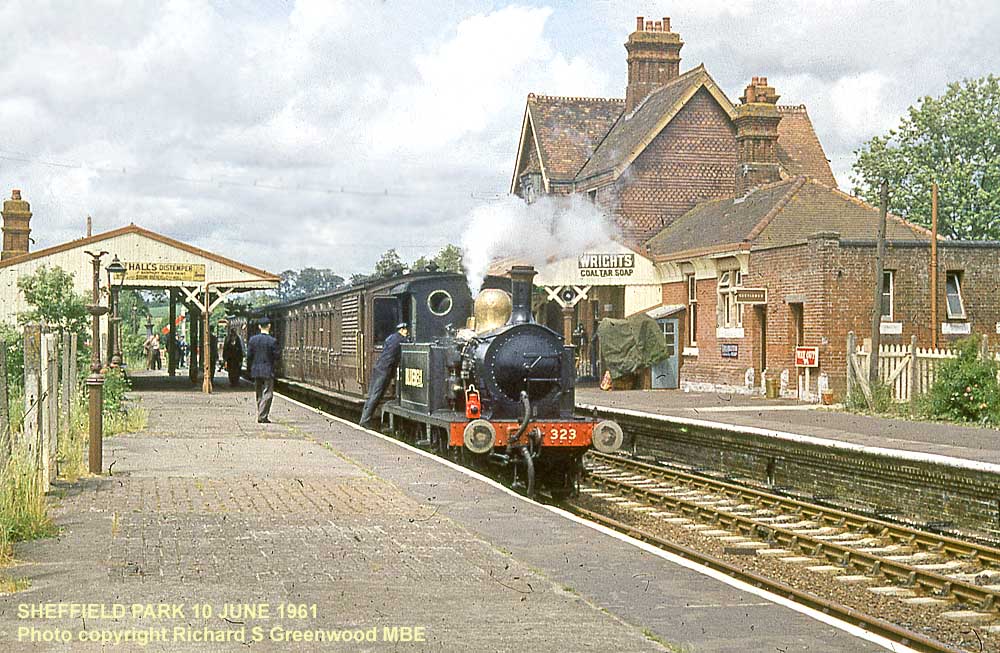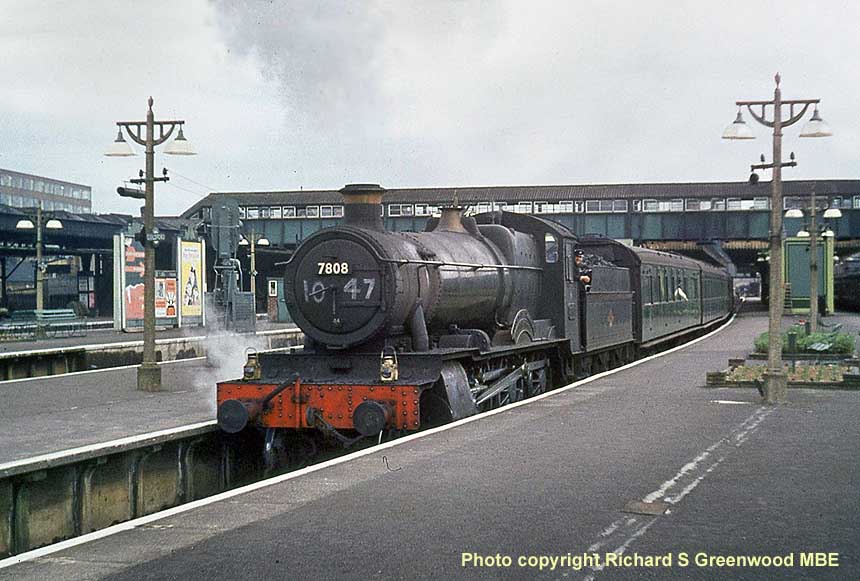 Having travelled back from Redhill behind ex-GWR Manor 7808 Cookham Manor, this loco was the next colour shot (above) as it departed Guildford for Reading. It was immediately followed by Ivatt class 2MT 2-6-2T 41303 (below) setting out for Horsham. The train included an ancient compartment coach still in the red colour used in early BR years for suburban stock and there was a rumour that one compartment still sported a notice advising on air raid precautions.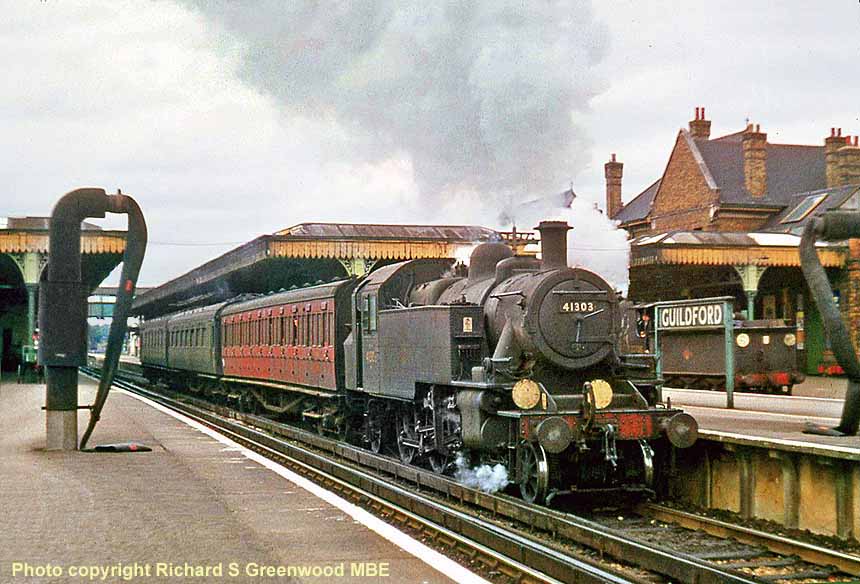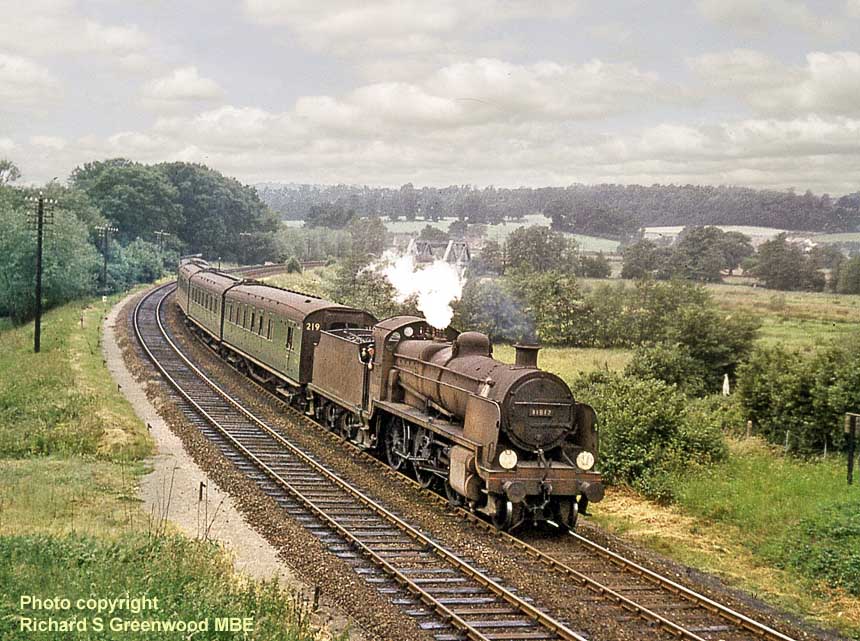 The following day, a Sunday, I walked out towards Shalford and shot N class 31817 (above) shortly after crossing the River Wey; the truss girder bridge being visible in the background. Having heard an evening freight passing our lodgings each evening, a few days later I went to Worplesdon Common and my first colour shot there was N class No 31812. Both N and U class 2-6-0s were very common at Guildford and worked most of the passenger and freight trains on the Reading to Redhill line.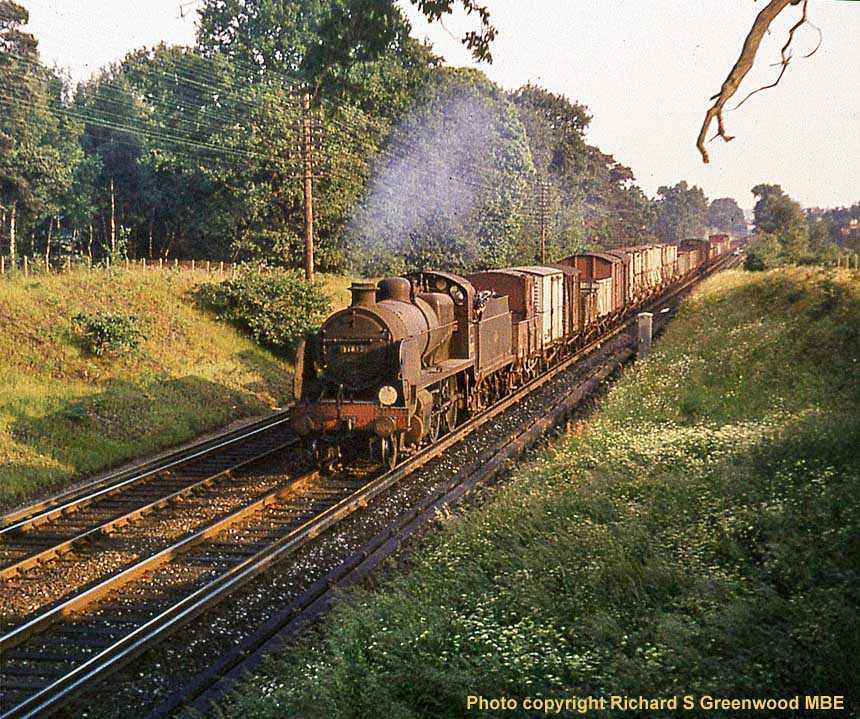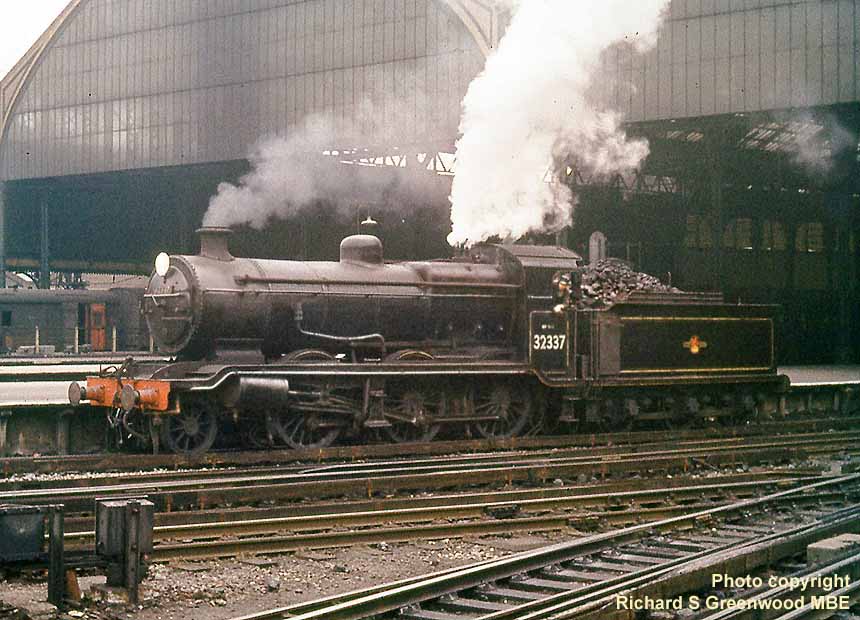 Saturday 17 June 1961 saw me travelling down to Brighton via Horsham where a variety of classes were found. The handsome LBSCR K class Moguls (the last pre-grouping class to remain intact on BR but all withdrawn simultaneously at the end of 1962) was represented by 32337 (above) and 32345 (below) as they head out of the station towards Brighton shed. Designed and built at Brighton works in 1916, 32345 spent most of her life at Brighton and then Three Bridges before withdrawal came on 31st December 1962. There is at least one detail difference between the two locos in the design of the slide bars.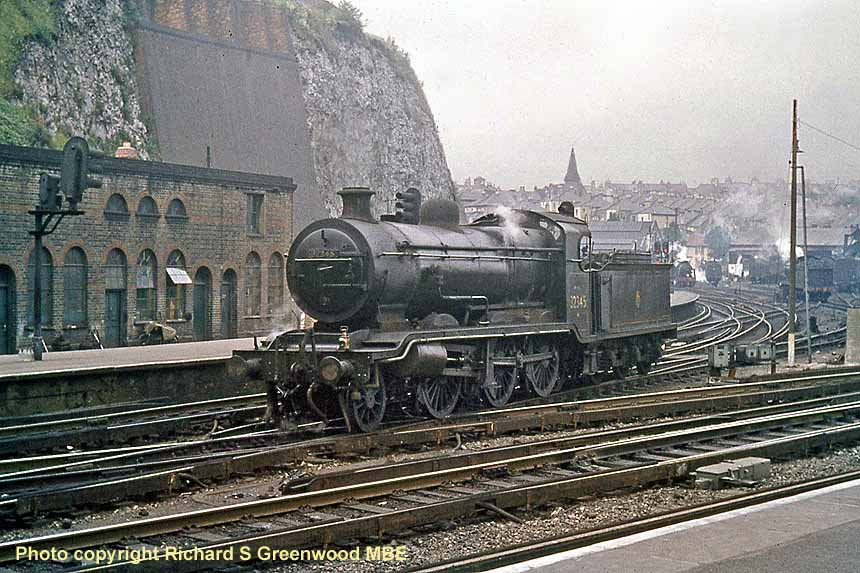 (Below) The Brighton Works shunter, 32635 in somewhat faded LBSCR livery was dead in the shed yard. Note the difference in buffer heights between 32635 and the next loco which I think was E4 32469.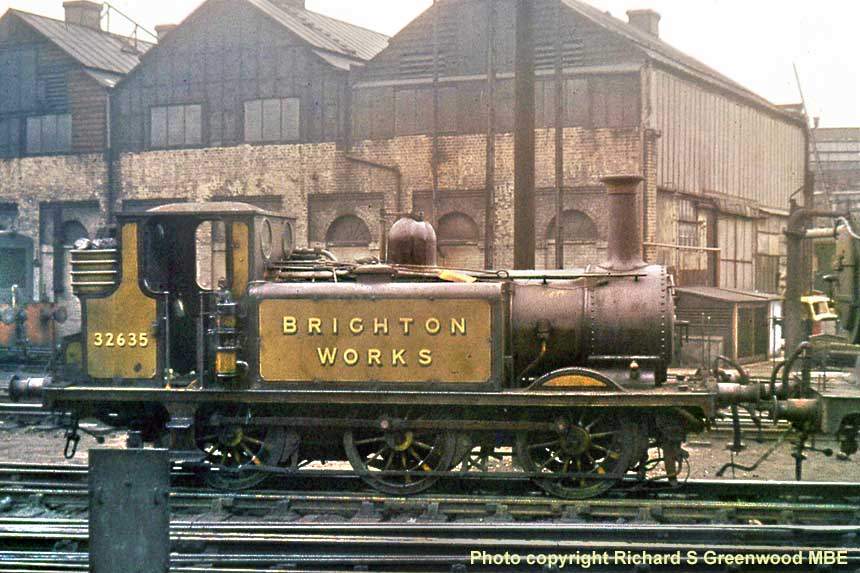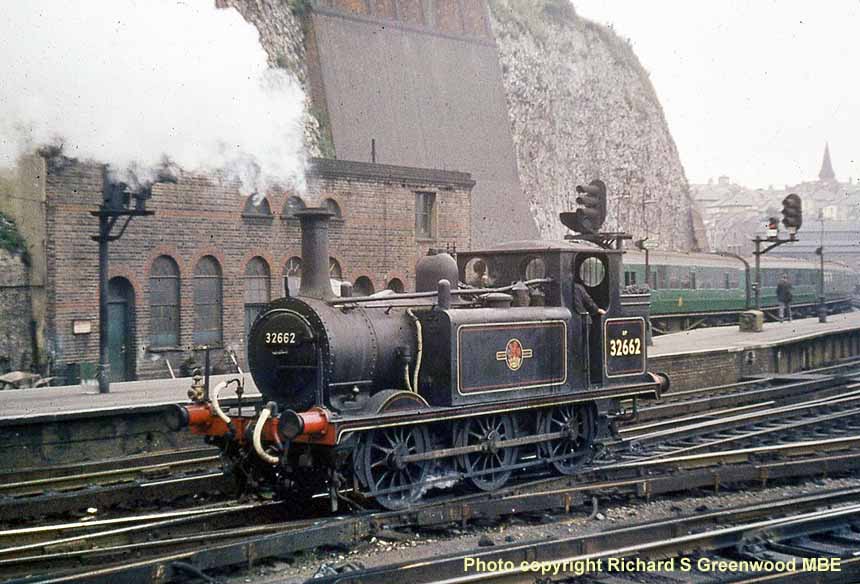 A second class A1X Terrier No 32662 (above) obviously ex-works arrived on shed light engine. Rebuilt 'Battle of Britain' No 34089 602 Squadron was nicely clean having recently worked a short Royal train possibly to the Epsom Derby (below).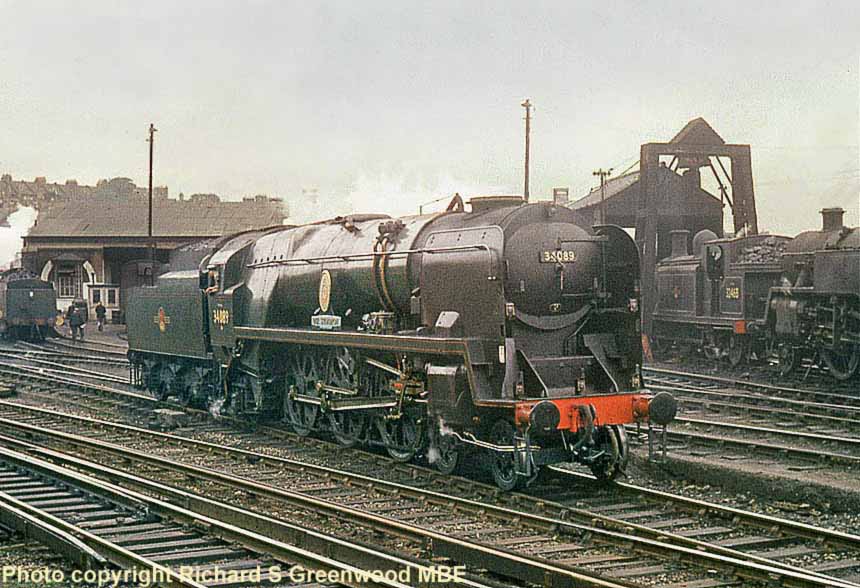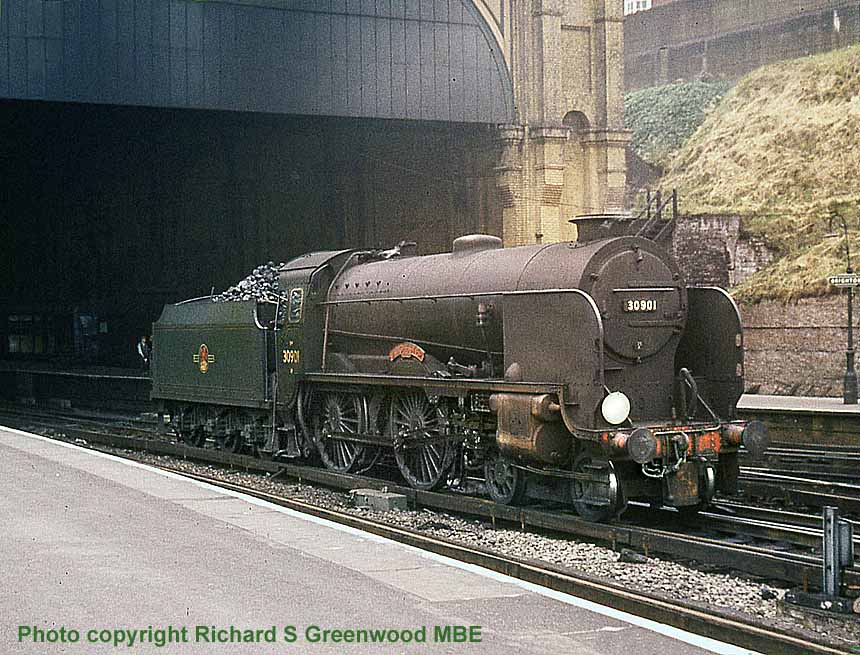 The doyen of the 'Schools' class, 30901 Winchester fitted by Bulleid with the Lemaitre exhaust system put in an appearance (above) and Q 0-6-0 30544 came into the station (below) with a return holiday train which had started at Eastbourne.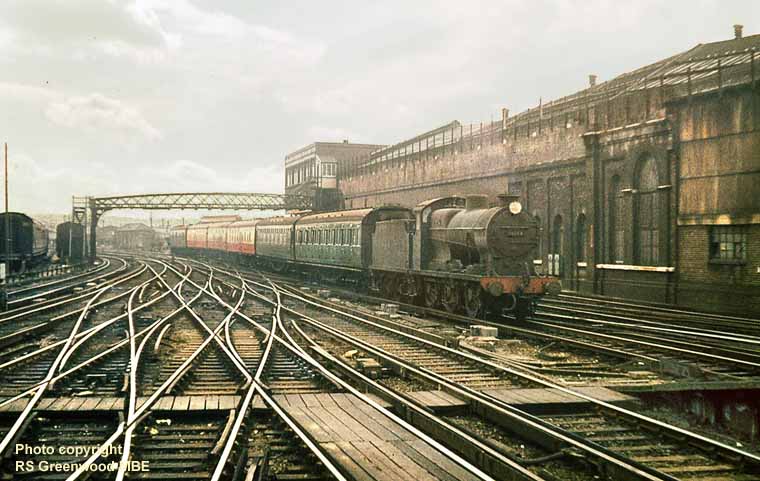 Perhaps this shot of Schools class No 30908 Westminster at Guildford working a holiday extra on 17 June 1961 is of sufficient interest to interpolate.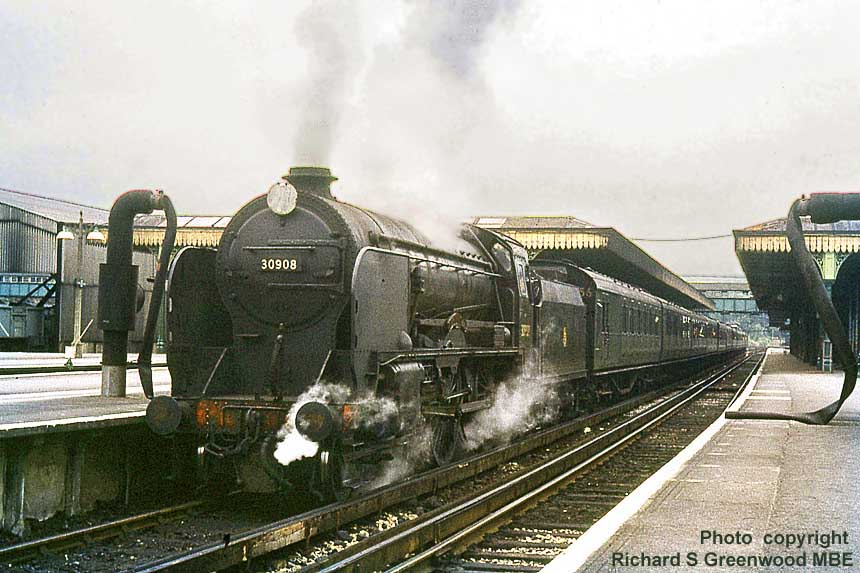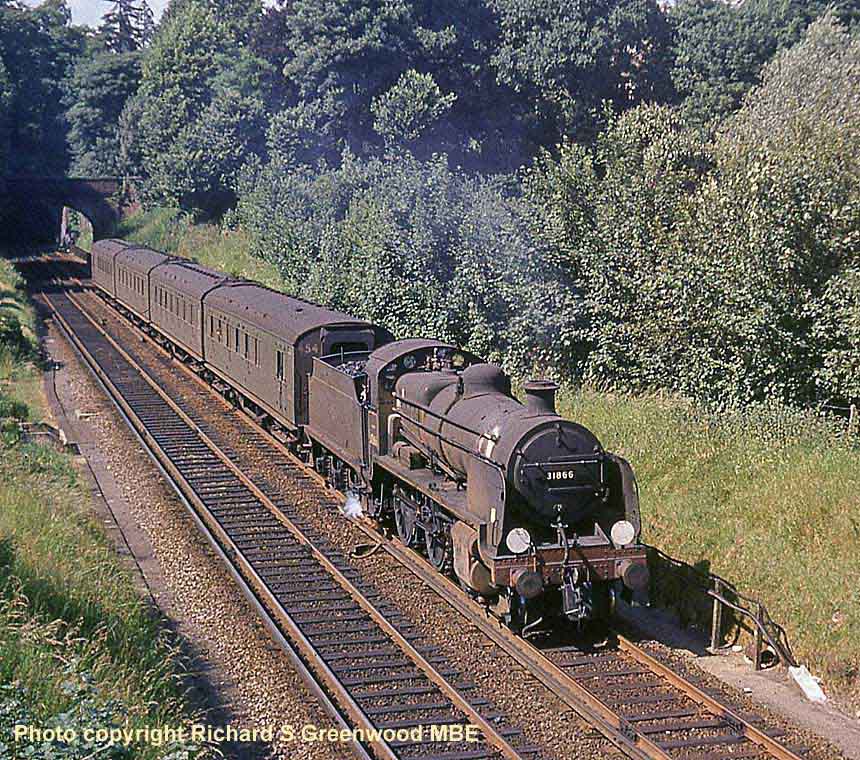 The following day Sunday 18 June, N class 31866 was caught on the 3.57pm departure from Guildford for Redhill at Ferry Road just south of Guildford (above). Meanwhile back at the station ex-LSW 0-4-4T 30246 was engaged on some horsebox shunting duties.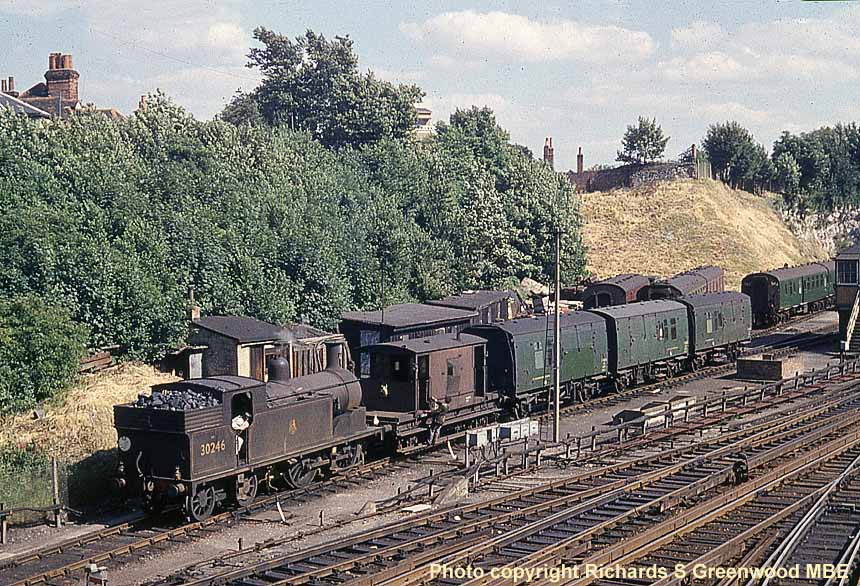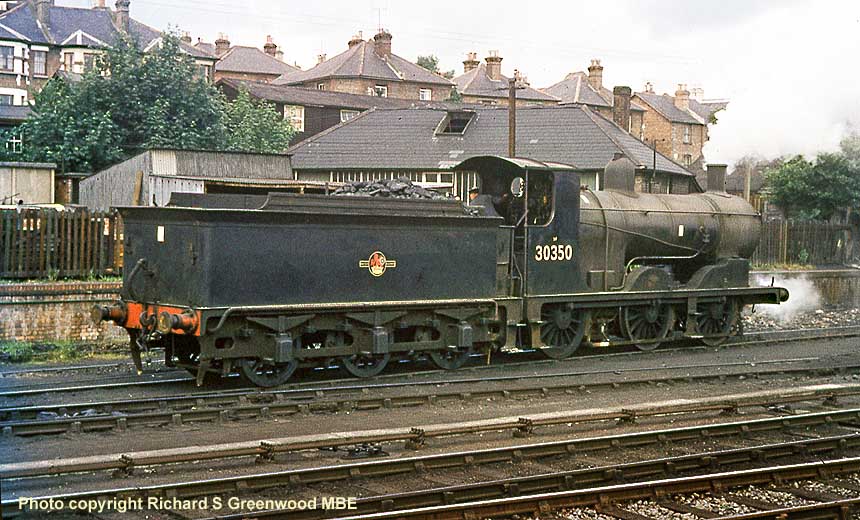 (Above) Driver Alfie Springall cautiously moves 700 Class 0-6-0 'Black Motor' 30350 from Guildford's coaling stage towards the loco on 18th June 1961. Designed by Dugald Drummond and built by Dubs & Co in 1897 she ended her days at Guildford in March 1962. None of the 700 Class were preserved.

(Below) BR Standard Class 2MT 84027 is seen working a Horsham to Guildford service between Cranleigh and Bramley & Wonersh on 19th June 1961. Several of this type of loco were used on the Guildford - Horsham line for a number of months alongside the Ivatt Class 2-6-2T locomotives until the line's demise on 12th June 1965.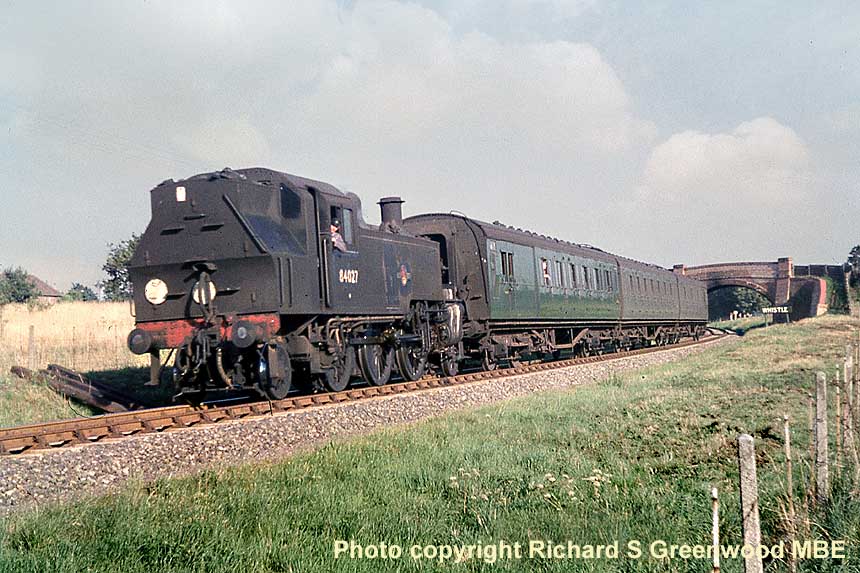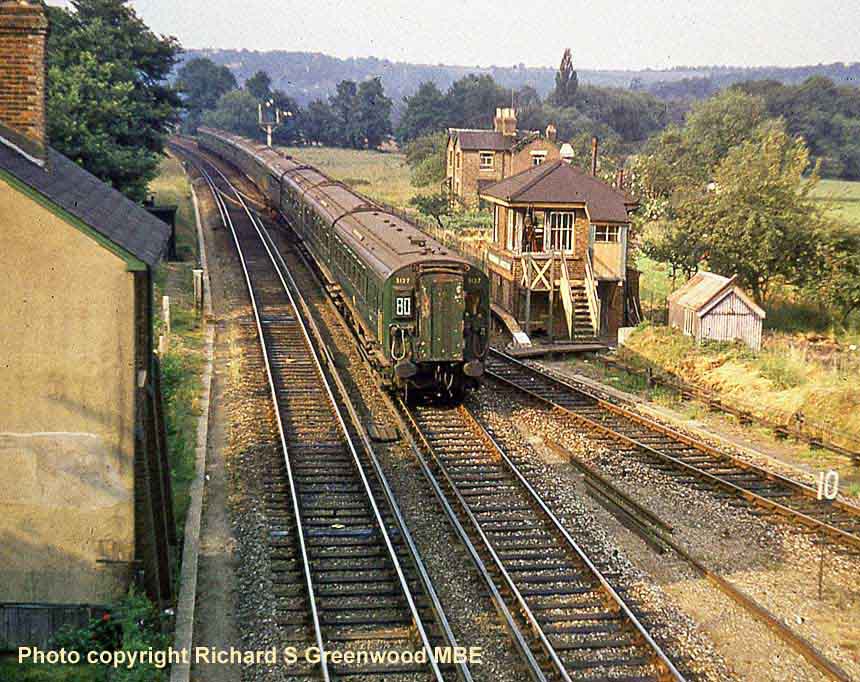 (Above) At Peasmarsh Junction, an electric for Portsmouth formed of three of the iconic 4-COR electrics was too good to miss on

20 June 1961,

but the next steam colour shots were on Wednesday 21 June when a clean M7 0-4-4T 30049 was on the Guildford coal stage road (below).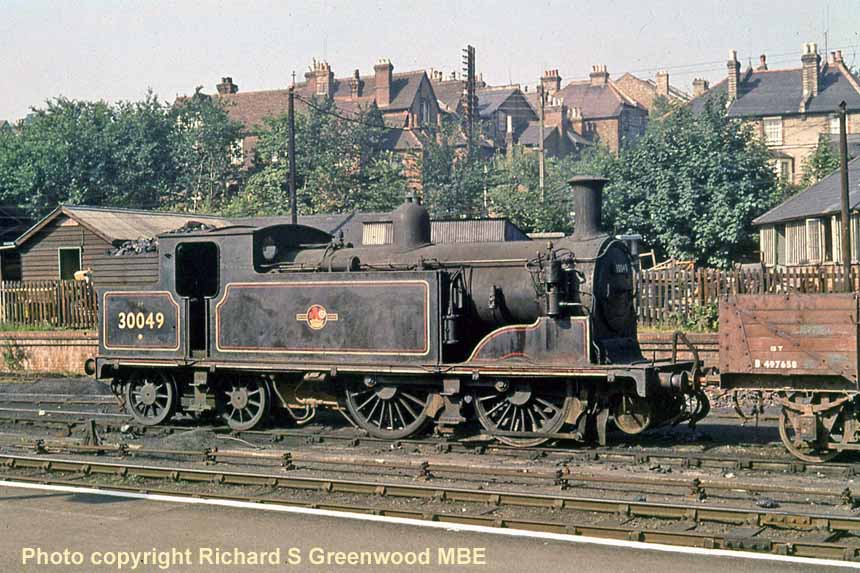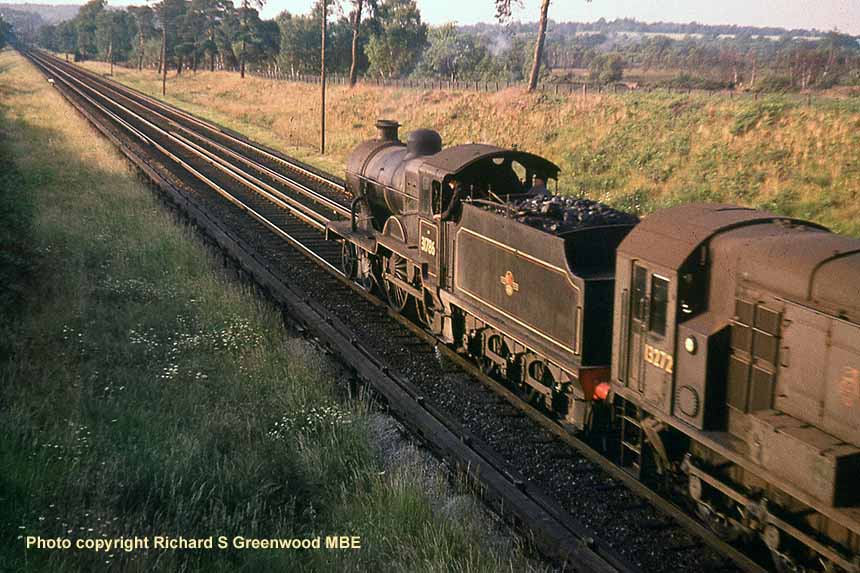 The following evening a big surprise involved the only L1 4-4-0 31786 I ever saw at work. It was on the evening up freight at the Common (above). I opted for black and white on the approach shot and colour on the rear view 1/250th at f4. The first vehicle was diesel shunter 13272 off somewhere for attention;

the 350hp shunter will have had its gearing de-meshed for it to run in tandem in the train as its normal maximum speed was 20mph.

(Below) On 23 June M7 30246 proved that this elderly class did more than shunt as it took out the 6.4pm passenger to Horsham. All three pre-grouping southern railways were represented at Guildford. The main line to Portsmouth from Woking and the branch to Aldershot were ex-London and South Western. The Redhill to Reading section was ex-South Eastern and Chatham, whilst the Horsham branch was ex-London Brighton and South Coast.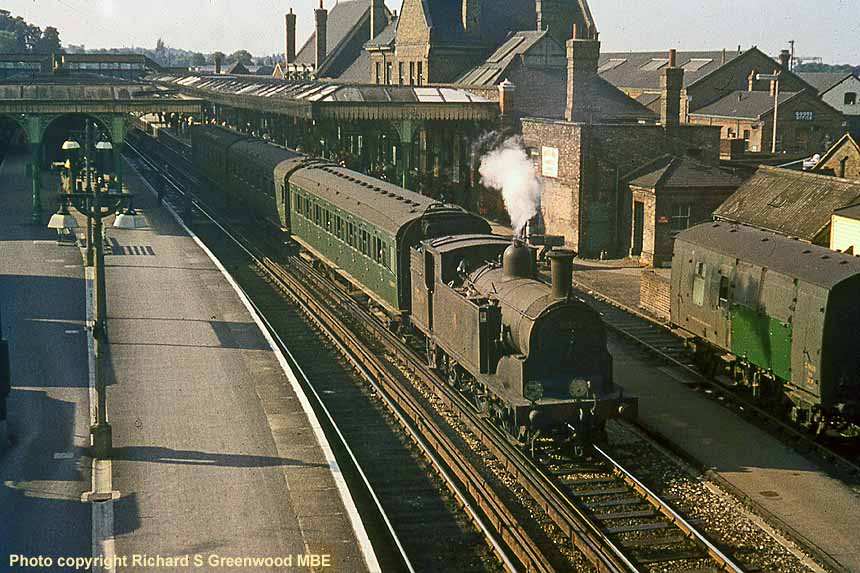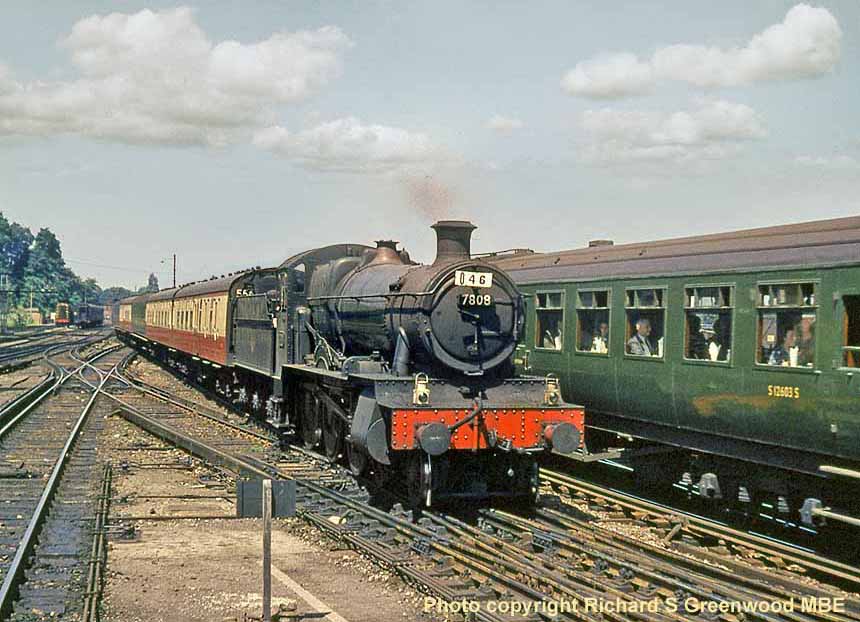 (Above) In the course of making a trip to the Bluebell Railway on 10 June 1961 I noted ex-SECR H class 0-4-4Ts working trains out of Three Bridges, and so on Saturday 24 June I decided to get better acquainted with them. I travelled across to Redhill behind the regular Birkenhead to Margate train engine, Manor No 7808 Cookham Manor and on the steep gradient at Deepdene the 11-coach train had speed down to 15mph.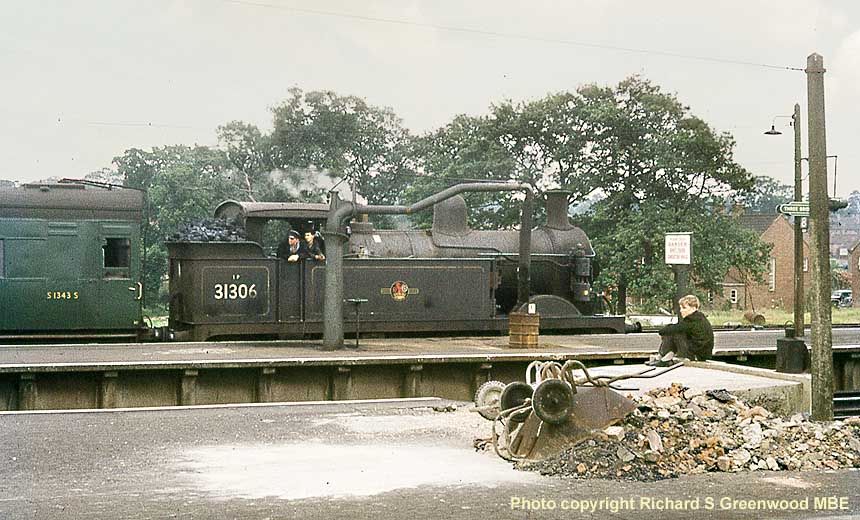 (Above-Below) The first shot of the H class at Three Bridges

is a side view of 31306 awaiting departure with a young spotter sitting by the bufferstops, followed by

31162 working bunker-first into the bay platform (below).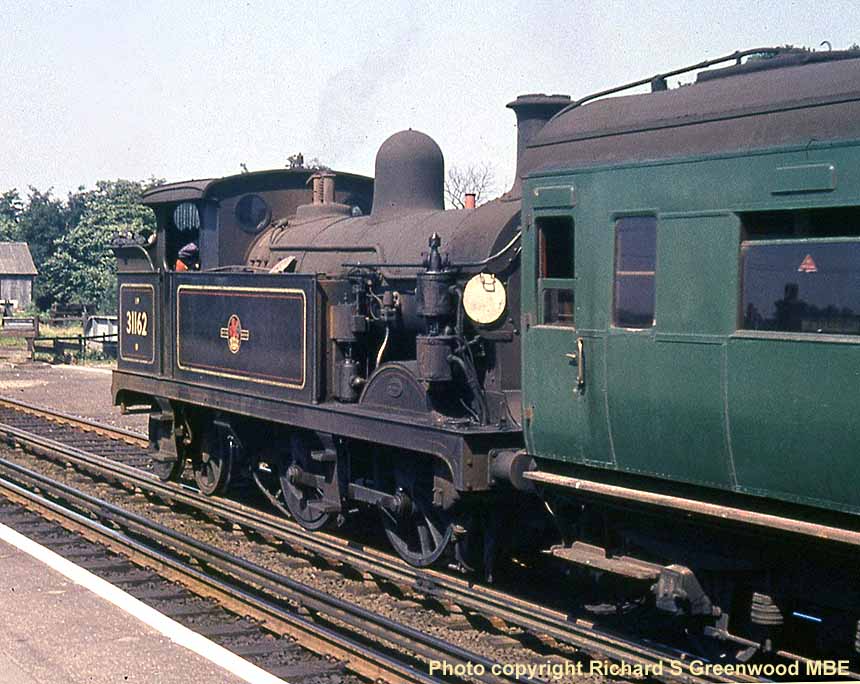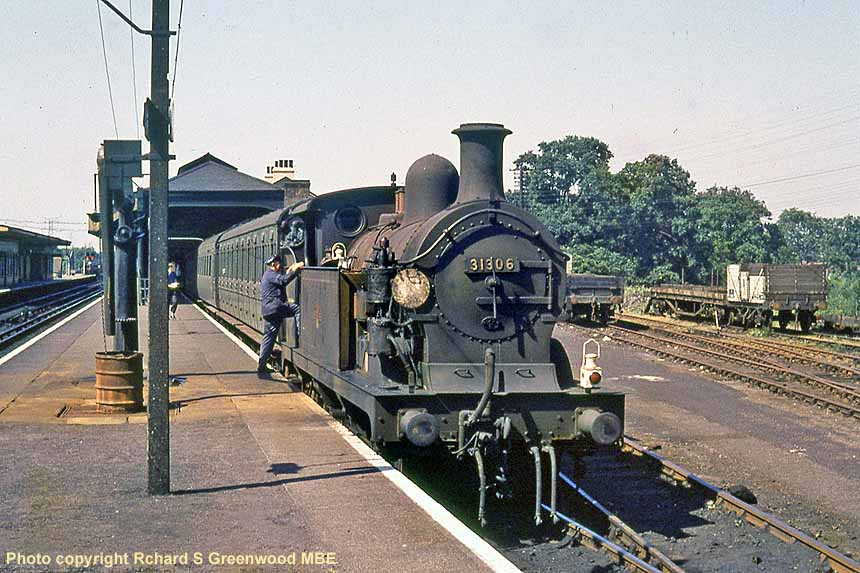 No 31306 has arrived at Three Bridges in 'push' mode and stands preparing to depart in 'pull' mode (above). The class worked trains to Tunbridge Wells West where 31543 was conveniently positioned in the sunshine (below).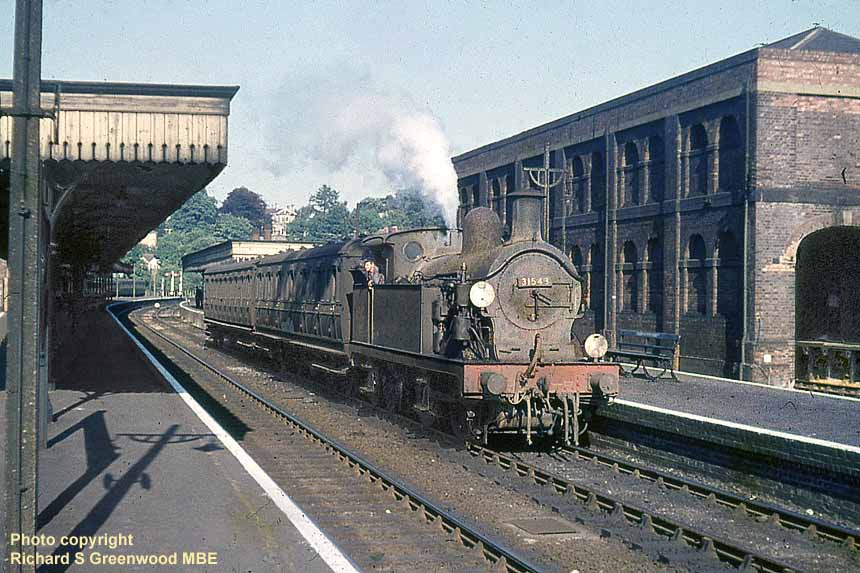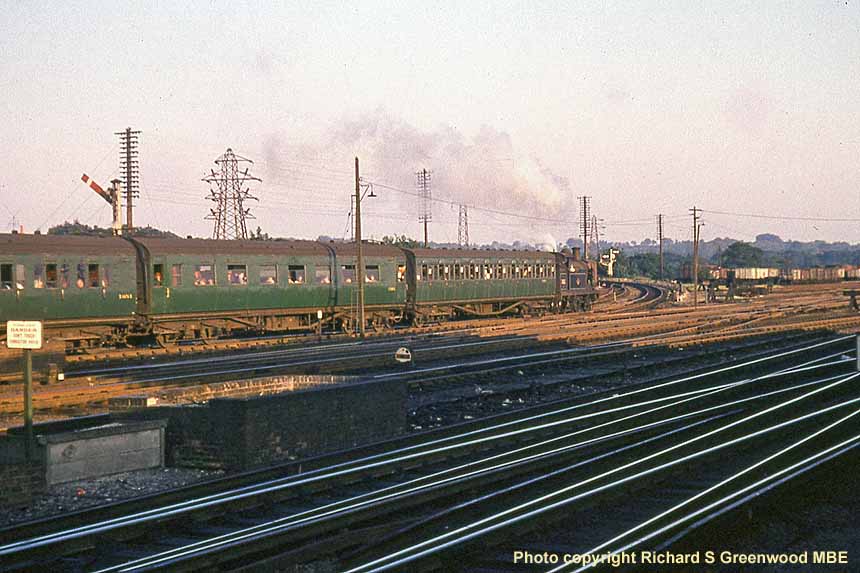 The last H shot that day was at Three Bridges capturing a mid-evening departure (above) with a lengthened train and plenty of passengers. The day after; a Sunday, I headed down to Hayling Island for the Terriers. However, before catching the Portsmouth train to Havant the sight of 'King Arthur' class No 30796 Sir Dodinas le Savage in the loco yard at Guildford was well worth a shot (below).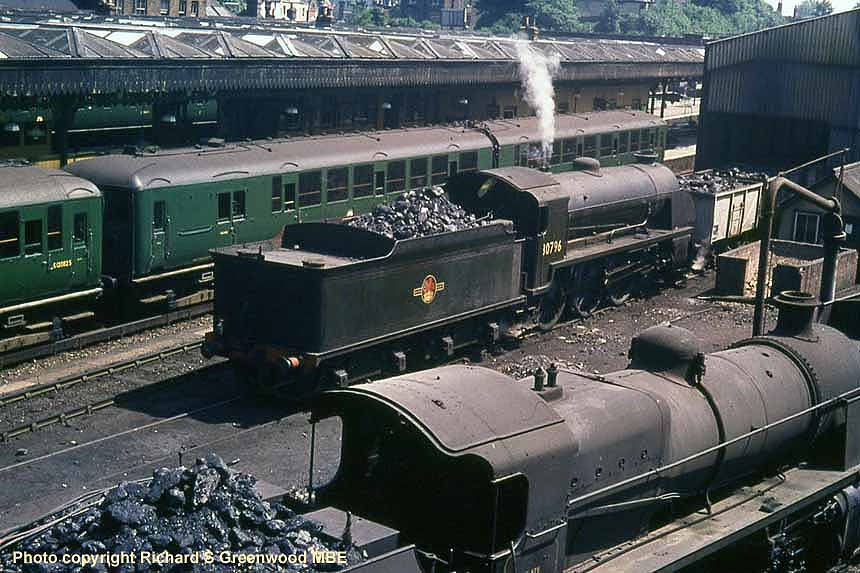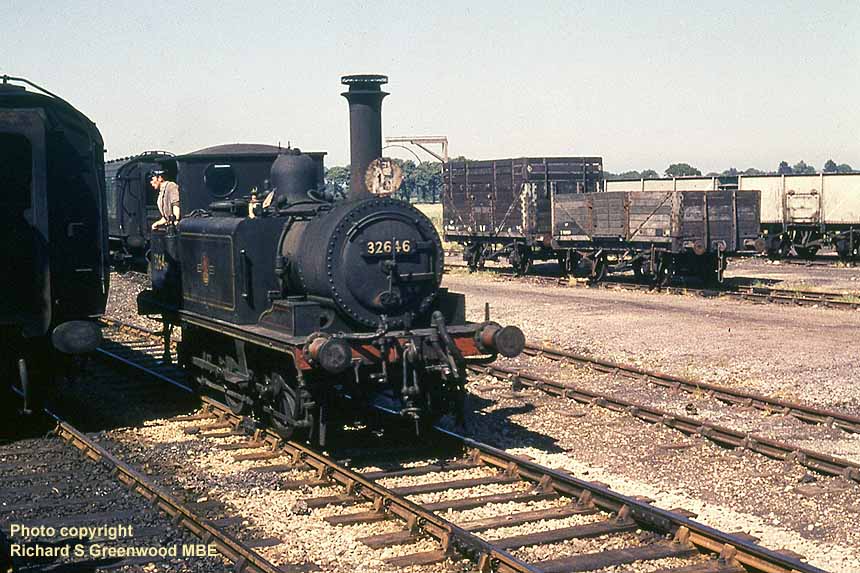 On the Havant to Hayling Island branch on Summer Sunday afternoons there was an intensive service of trains alternately running as 3 coach stoppers or 4 coach express and on 25 June three class A1X were involved, including 32646 (above) and 32661 (below).

Note the natty spark arresters - small caps above the chimney tops - and the tiny signal cabin

.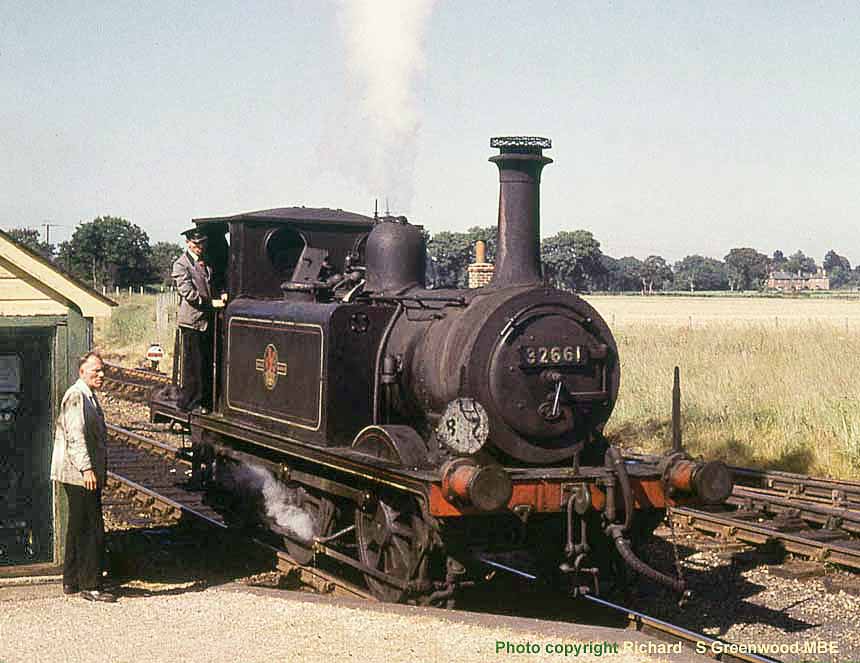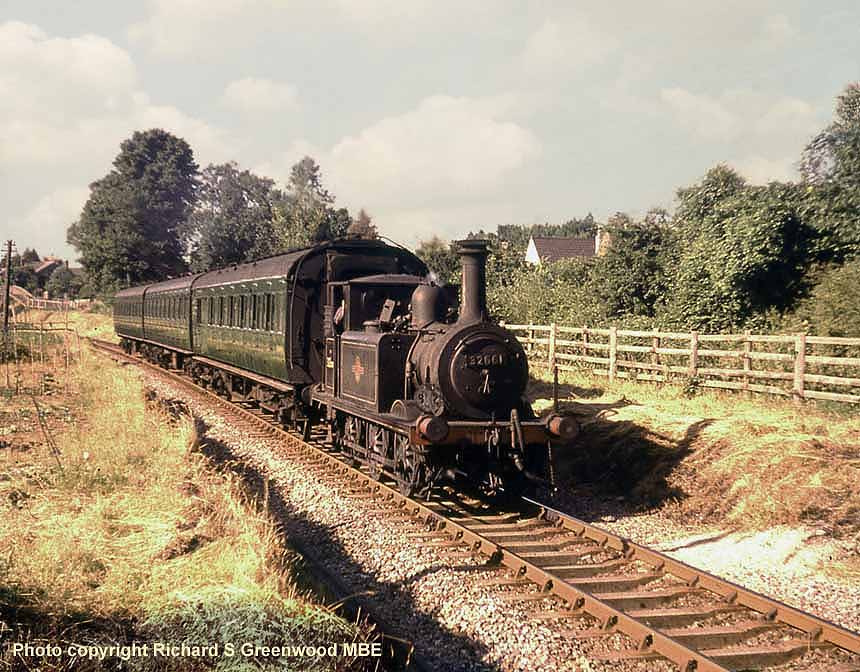 The other A1X working that day was 32662 (above). Larger locos were precluded by the bridge at Langstone Harbour. The leading coach behind 32646 (below) is the unique experimental fibreglass bodied coach S 1000.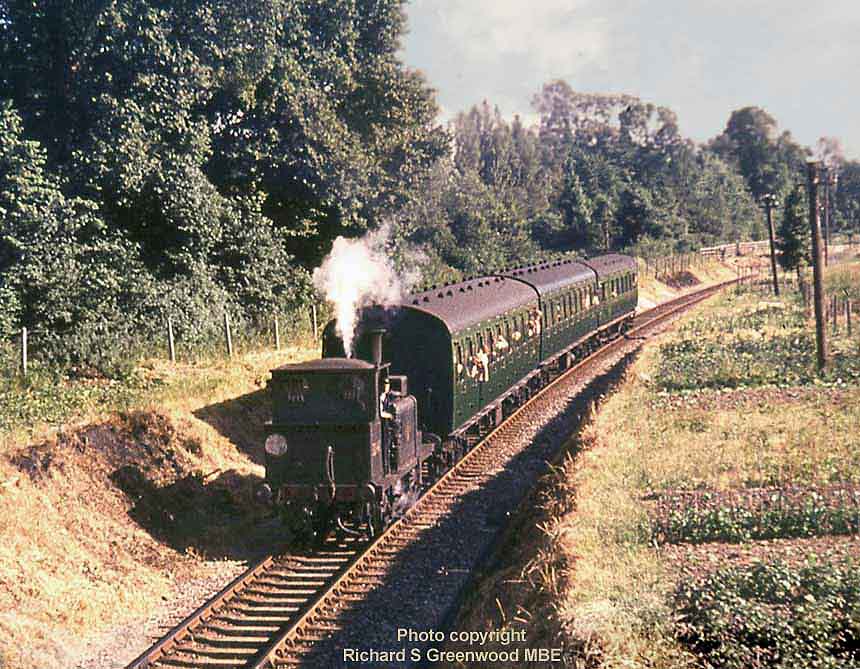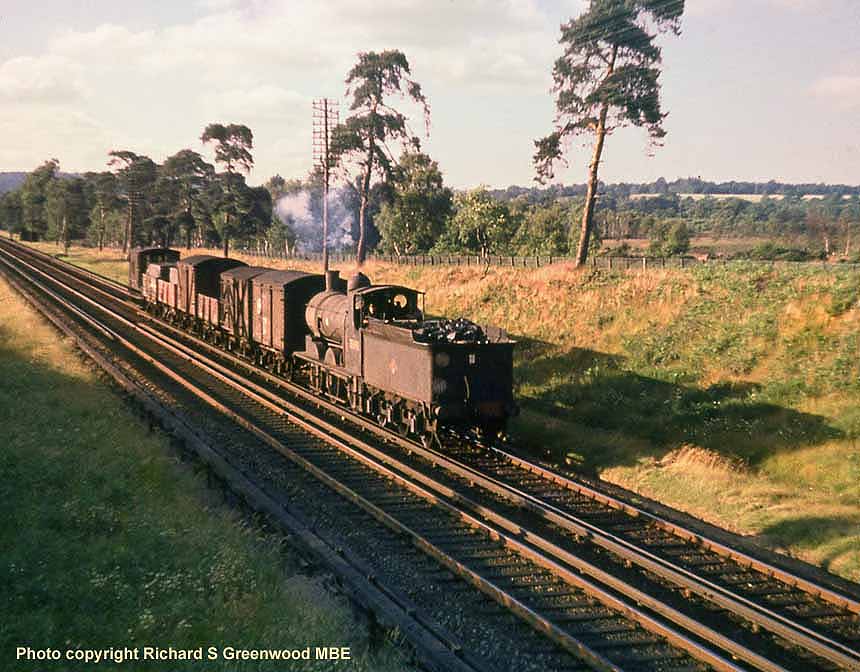 A 700, 30690, worked a down freight on the evening of 27 June across Worplesdon Common (above). King Arthur class 30796 was again seen at Guildford shed on the Wednesday 28th June (below) on coal stage pilot duties and actually engaged in shunting.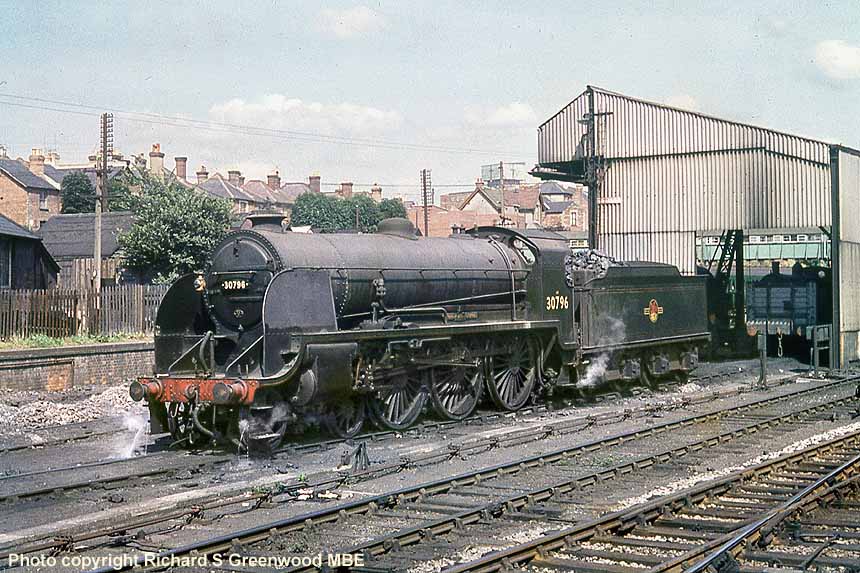 The Wednesday afternoon off (28 June) saw my first visit to Brookwood (above) where the mainline expresses were certainly running fast. However the first light Pacific rebuild and prototype for the Hornby Dublo model, 34005 Barnstaple, has a stopper from Salisbury with a van, 3 passenger coaches and another 3 vans.

The pneumatic lower quadrant signals situated on the gantry at the end of the platform on the down line were worked by compressed air instead of the usual wires attached to the signal frame levers. The Distant signal on the extreme left when clear, would indicate to the Driver that the route was set for the line to Ash Vale via Pirbright Junction.

(Below) Sister engine 34097 Holsworthy was on a down express with a well burnt smokebox door, but I realised that on a weekday, the number of express trains was but a tiny fraction of those on Summer Saturdays.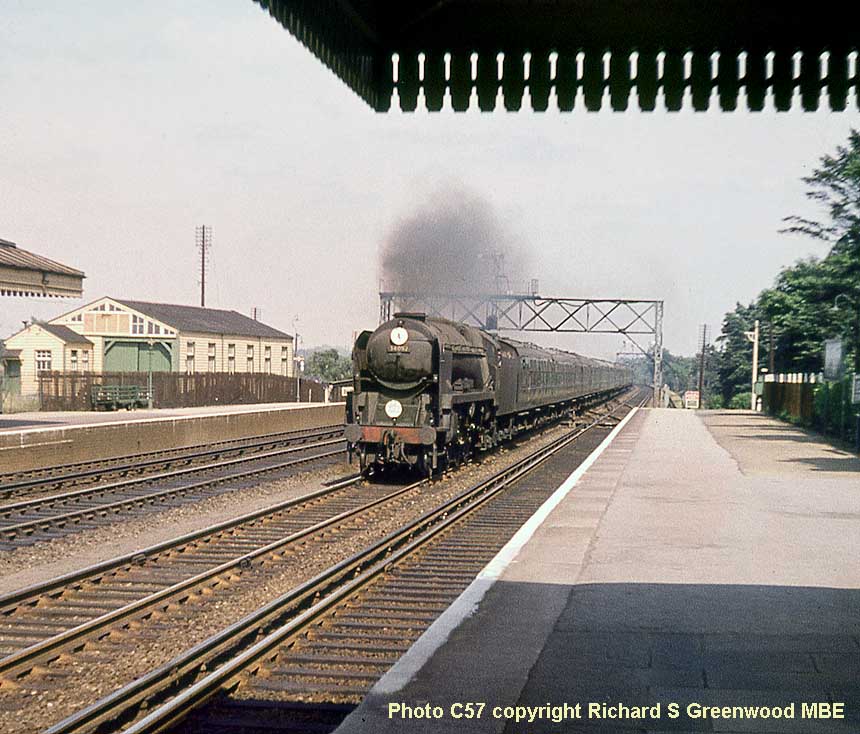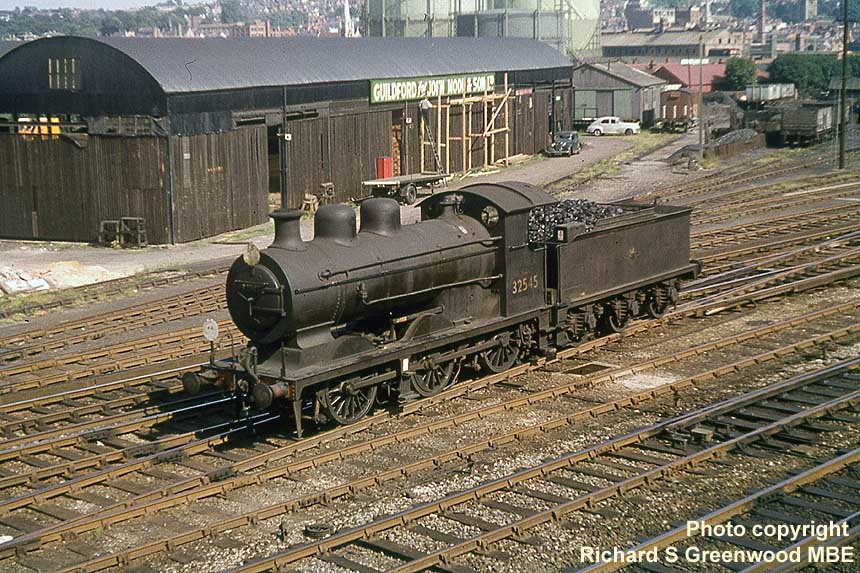 On a previous Wednesday afternoon together with my colleague, Fred Lill, I had gone to watch Surrey play a County Cricket match at Guildford and whilst there noted a LBSCR C2X 0-6-0 passing the ground on the Effingham Junction line engine and brake. So later, on 28th June, I went out to find C2X 32545 light engine from the shed but then freight running again as engine and brake.

DOWN SOUTH IN COLOUR PART 2
1 July 1961 - 1 August 1961

(Below) General view of Guildford from Yorkies Bridge in July 1961 shows in the foreground a Redhill to Reading passenger service leaving Guildford headed by an unidentified U class locomotive that will call at Ash, North Camp, Farnborough North, Blackwater, Sandhurst Halt, Crowthorne Wokingham, Earley and Reading. Heading the other way towards Guildford station is a passenger service from Ascot (via Aldershot) consisting of 2 x 2-BIL units. In the Up Yard, the resident 350hp shunter waits for its next shunting duty and a light locomotive is waiting to leave the loco reception road bound for Woking. Another 2-BIL unit is berthed in the middle siding and a passenger service consisting of 2 x4-SUB stock is about depart No 1 platform with a passenger service for Waterloo via Cobham (New Line). Note that although all of the station's starting signals were now 3-aspect colour light, the starting signal at the end of No 1 platform, an upper quadrant semaphore signal remains. This is a super-wide image - click on picture once then a second time to see full size.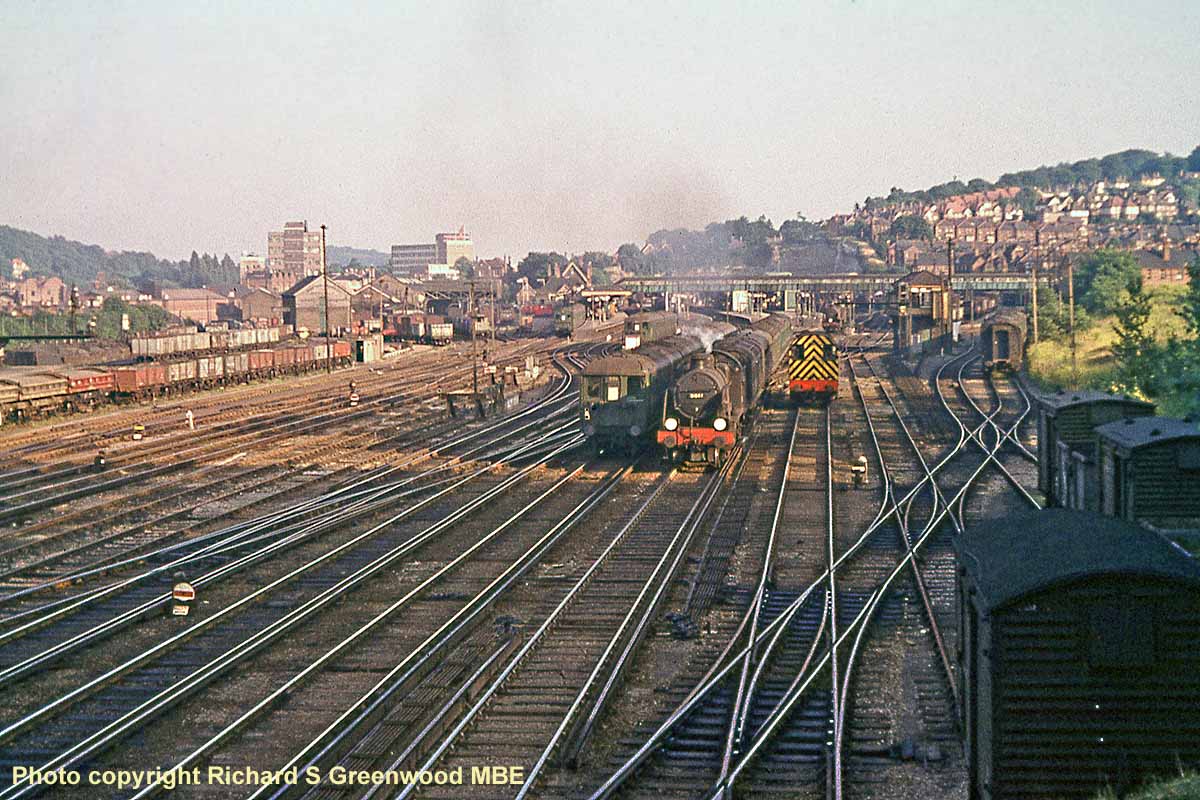 Saturday 1 July dawned, another bakingly hot day.

I was taking the train to the first station out of Guildford at Shalford on the Redhill line and

Maunsell S15 4-6-0 30843 was in the yard at Guildford, nicely posed for a picture (above). At Shalford N Class Mogul No 31850 was in charge of a holiday extra bound for a resort further east (below).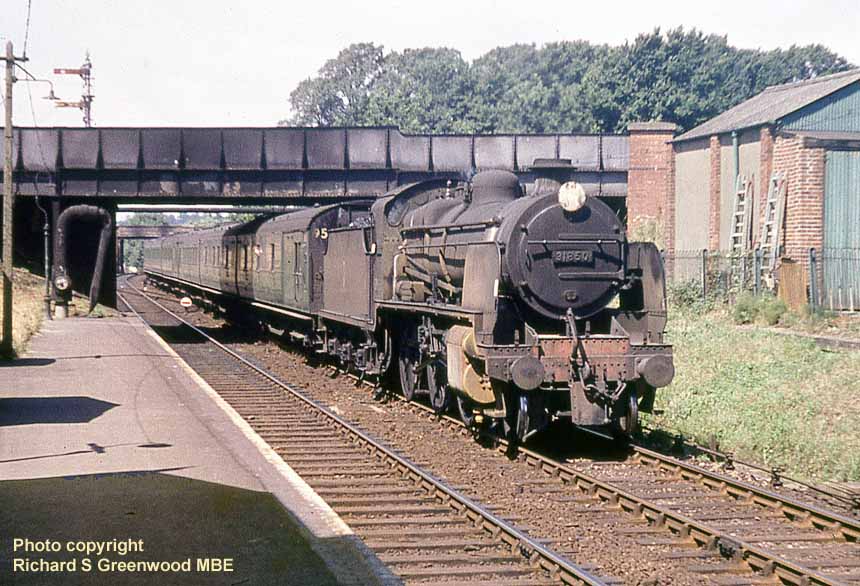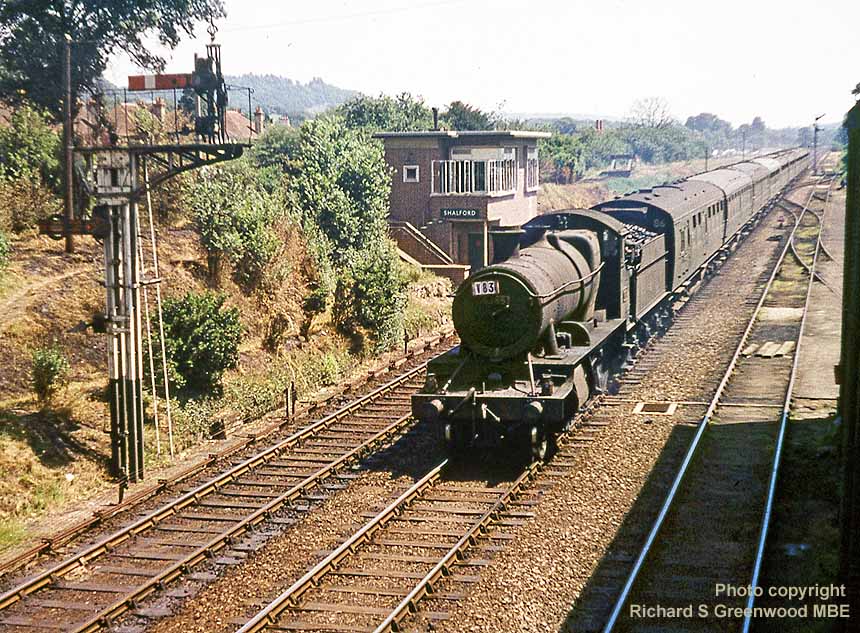 Shortly afterwards another summer Saturday holiday train, this time returning to the Midlands or North was powered by ex-GWR Mogul 6305 (above) in disgraceful external condition...mind you 31850 hadn't been much better. Then I took the train up to Reading and crossed to Reading General from the Southern station. However the sun was disappearing and the only colour shot I took was of King 4-6-0 6023 King Edward II on the down 'Capitals United Express' (below).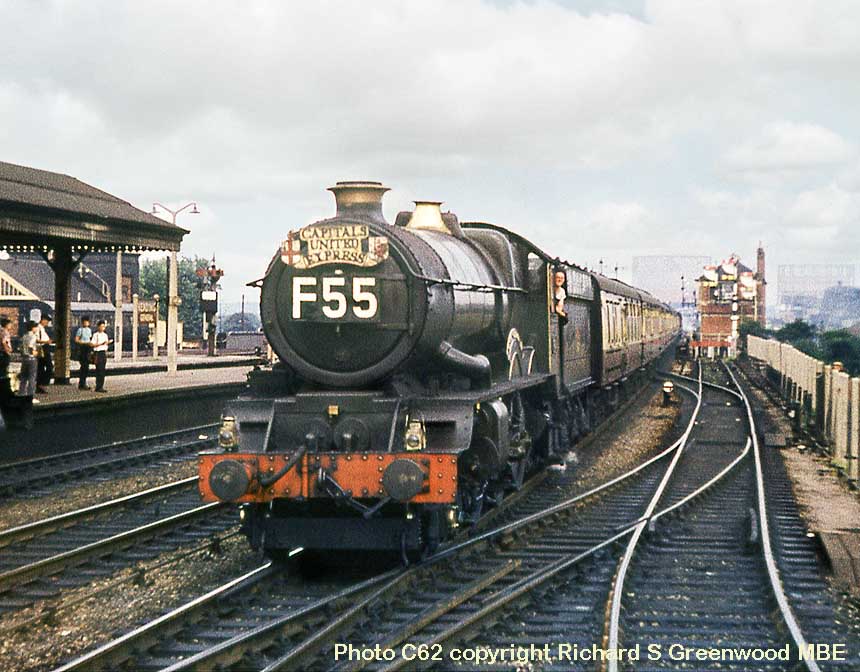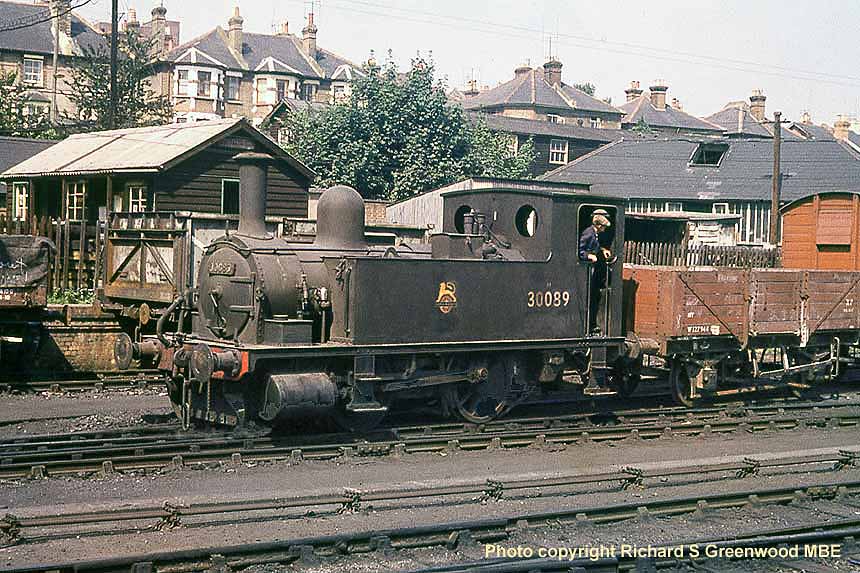 For the following week the cameras had a rest until Thursday 6th July when the Guildford shed pilot, B4 class 0-4-0T 30089 was in evidence (above); the exposure details 1/250th f5.6. (Below) M7 30378 was on coal stage pilot duties that same day.

Note the difference in the front sandboxes below the running plate; these are not incorporated into the leading splasher as on other examples of the class; comparisons can be made with No 30049 taken earlier

at Guildford on Wednesday 21 June

and featured further up the page.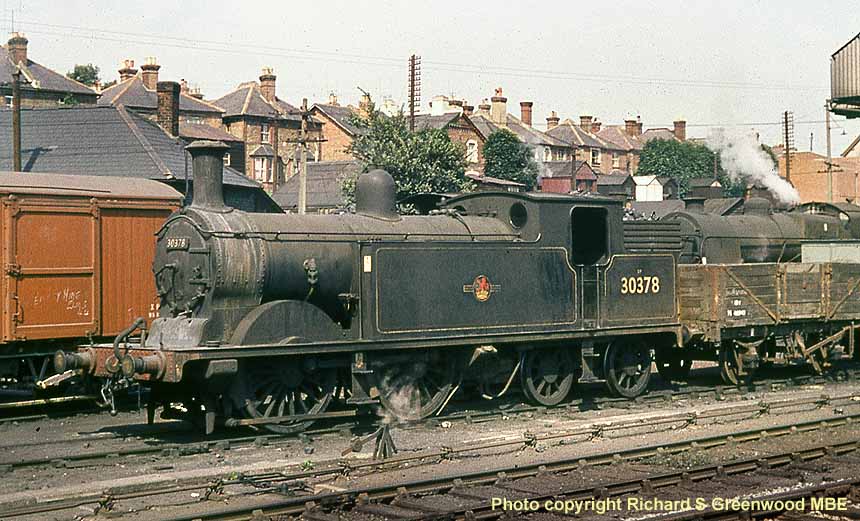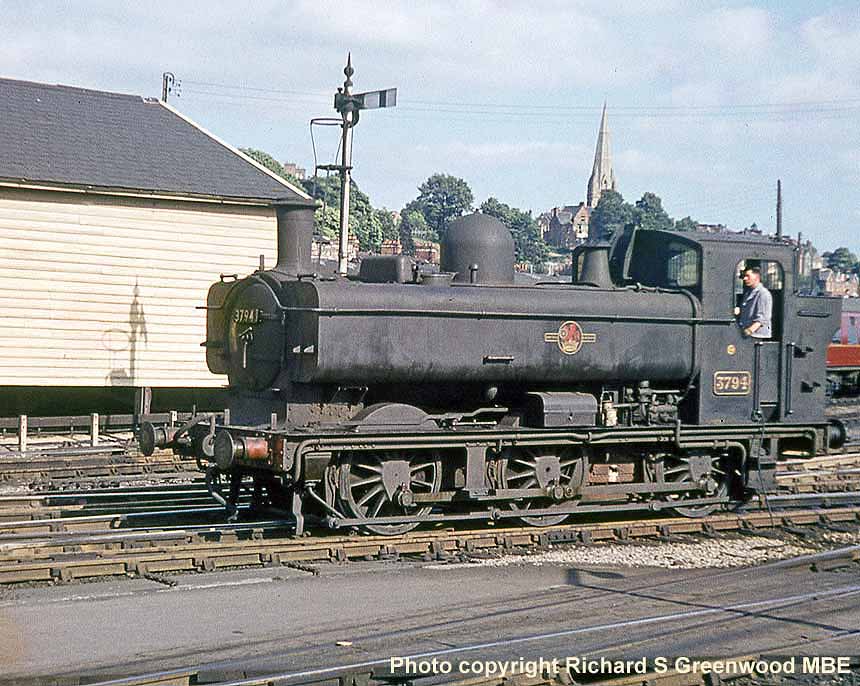 Sunday 9th July and I made use of one of the excellent cheap Sunday excursions which started from Waterloo and picked up at Woking. They ran on alternate Sundays to Exeter or Bournemouth/Weymouth. On the 9th it was Exeter. There I sampled the Exmouth branch and the ex-GW as far as Newton Abbot but the only colour shots were Pannier 3794 on station pilot at St Davids (above) and a couple of shots of the SR's three cylinder Z class 0-8-0T No 30962 used for station pilot duties at Exeter Central and banking trains up from St Davids (below).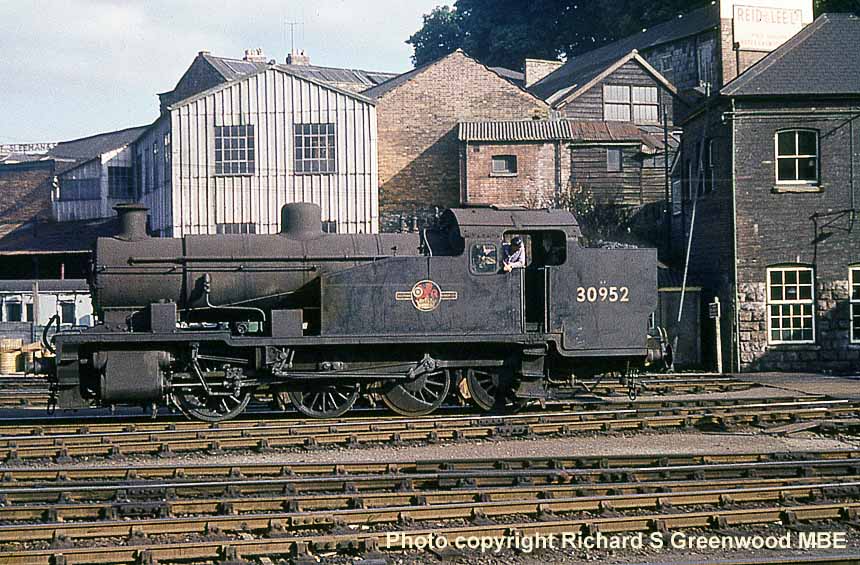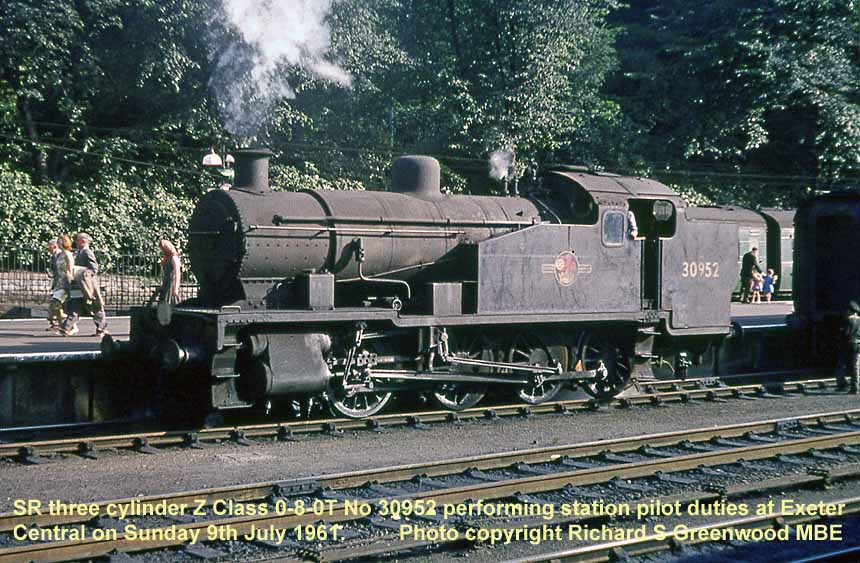 OXTED.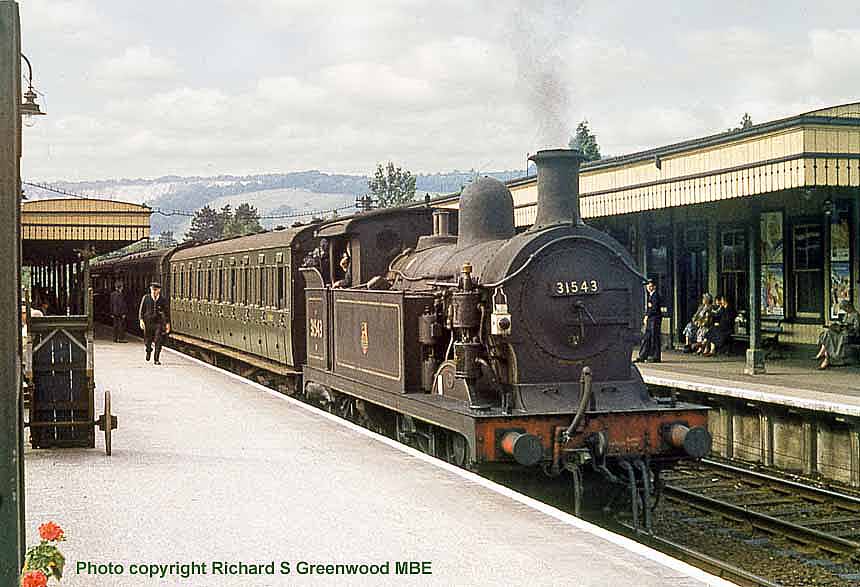 The following weekend was wet and the camera had another rest, or maybe I was studying? It wasn't until Wednesday 19 July that I ventured out with the newly-acquired Leica after someone had recommended the afternoon's activities at Oxted. There was a frequent service of push/pull trains worked by SCER H class 0-4-4Ts to East Grinstead and Tunbridge Wells via two different routes as well as commuter trains from London to Tunbridge Wells and Eastbourne. First we see H class 31543 (above) with the

4.0pm from Tunbridge Wells West via Hever, arriving at Oxted at 4.37pm which will eventually depart on the 5.41pm Oxted to Tunbridge Wells West via East Grinstead

. Many of the passenger trains on the Oxted line were worked by BR standard 4 2-6-4Ts. Passing the well-kept station garden is 80011 with

the 4.20pm London Bridge to Tunbridge Wells West via Hever.

.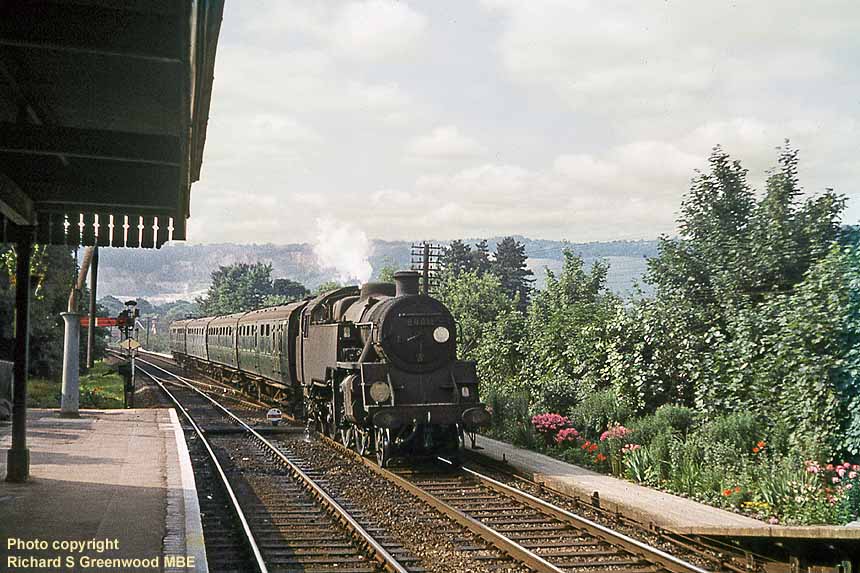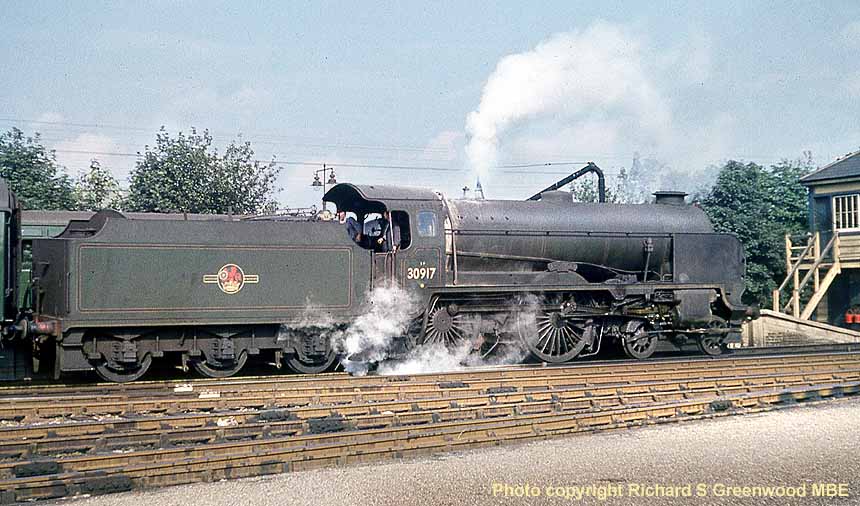 One of the commuter trains I photographed was

the 4.40pm London Bridge to Brighton via Oxted, Eridge and Lewes

seen here arriving behind 'Schools' class No 30917 Ardingly. (Below) A push/pull train - in Southern terminology a 'Motor Train' - is

propelled into the up platform by H class 31005; this is

the 5.0pm Tunbridge Wells West to Oxted via Hever arriving at 5.37pm. It will eventually depart as the 6.28pm to Tunbridge Wells West via Hever. It can be seen that 31543 has moved its train from the mainline platform to the bay.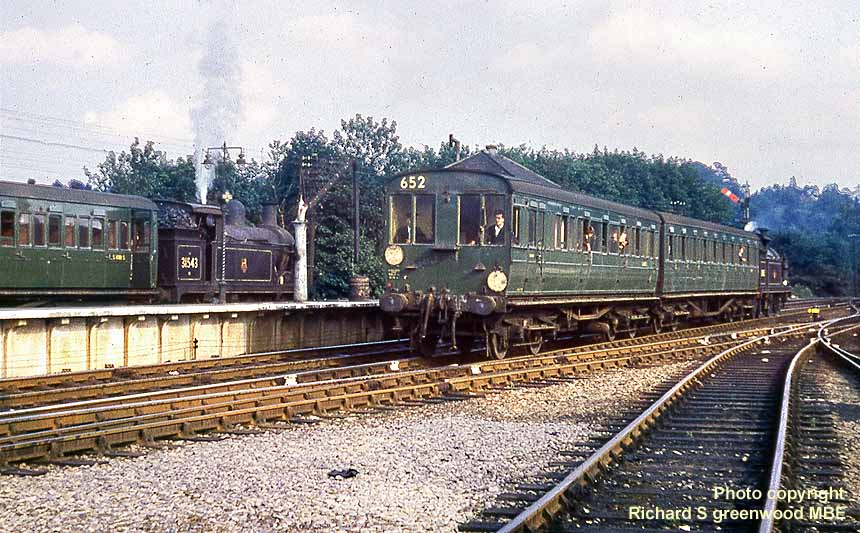 As 31005 completes the same manoeuvre, it takes the opportunity to take water on the down mainline platform (above). It is followed into the platform (below) by another BR Standard Tank 80154 (the last of the class to be built)

heading the 4.48pm Victoria to Tunbridge Wells West via Hever.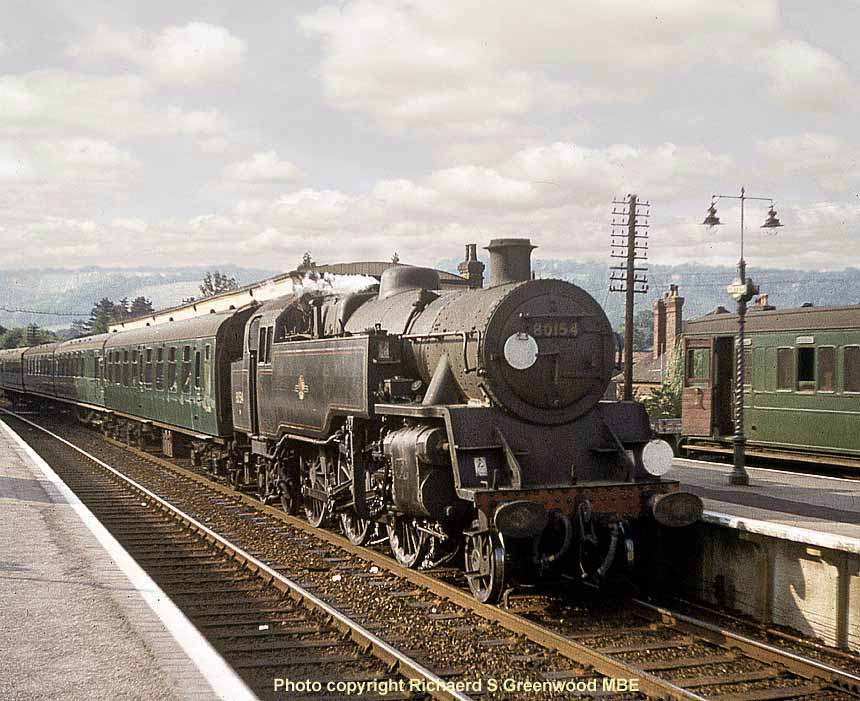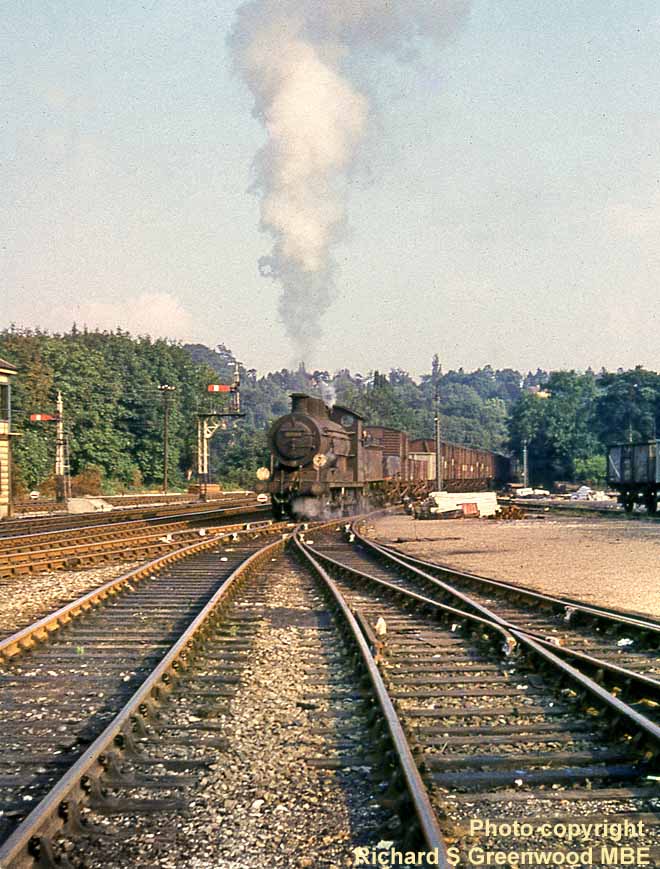 (Above-Below) Two shots of a LBSCR C2X 0-6-0 which had been simmering in the goods yard for some time before eventually taking out an up freight.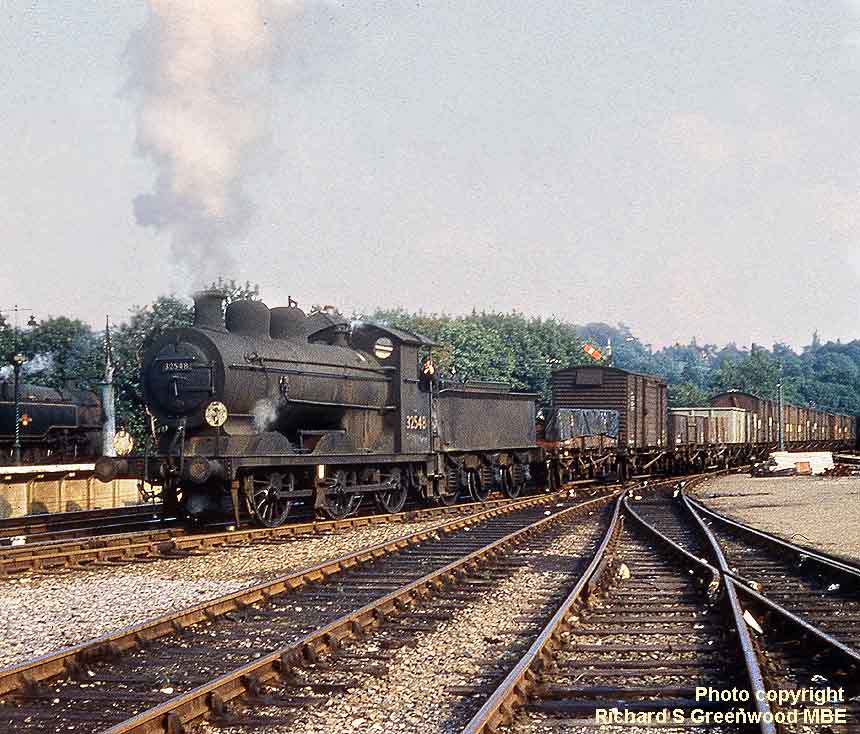 (Below) H class

31005 stands in the bay preparing to depart at 6.28pm.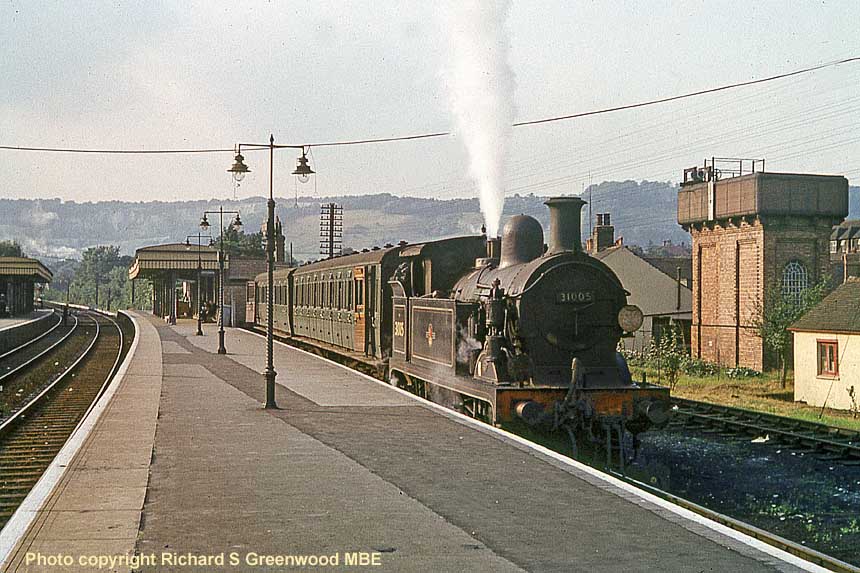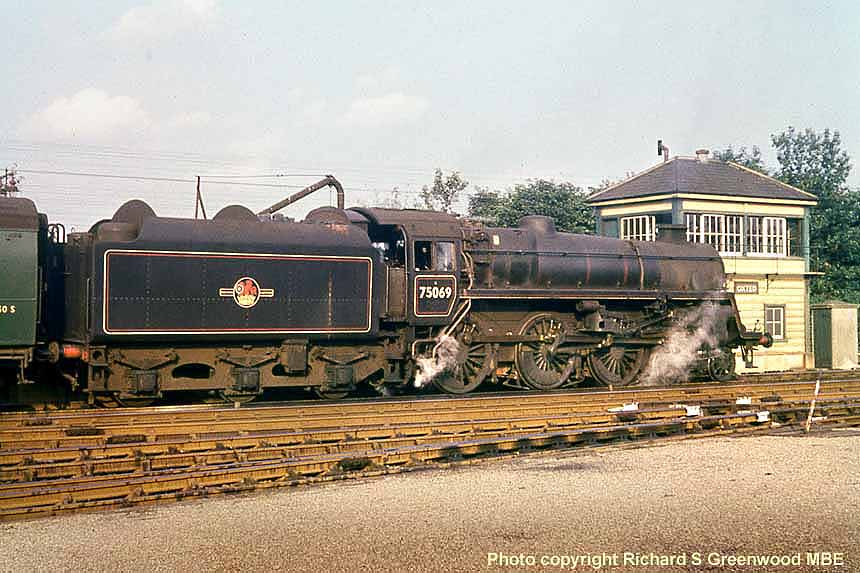 And the last view of a down commuter express (above) is of Standard 4-6-0 75069, later to be preserved on the Severn Valley Railway.

75069 is on the 5.49 pm Victoria to Groombridge with connections to Brighton and Eastbourne. The other locomotives seen during my visit included another Standard 4 4-6-0 No 75070, a second 'Schools' class No 30936 Cranleigh and the now-preserved rebuilt 'West Country' No 34101 Hartland…plus more Standard 2-6-4Ts and H class 0-4-4Ts. Oxted was a wonderful place to spend a few hours revising

in very pleasant surroundings.

WEST WEYBRIDGE

(Below) At last, on Saturday 22 July I had obtained the Leica IIIa with a genuine shutter speed of 1/1000th sec so I was able to take sharp monochrome photos on the main line. The chosen location was West Weybridge, later to be named Byfleet and New Haw in June the following year. Colour images were not ignored. Rebuilt 'West Country' Class 34052 Lord Dowding came storming along on a Summer Saturday train for the West of England mainline.

Byfleet Junction signal box can be seen to the right of the photograph with the line from Addlestone junction; this passes beneath the main line and joins the Down Slow line at the beginning of the station platform.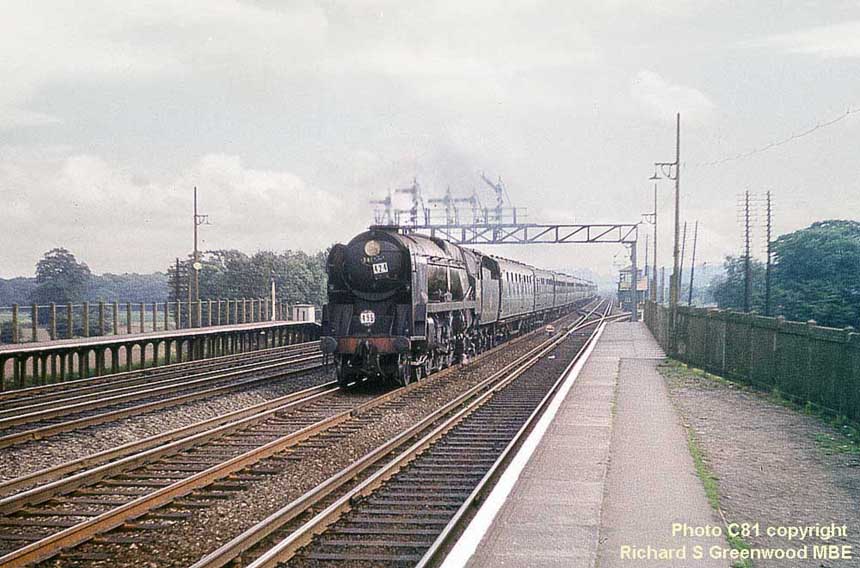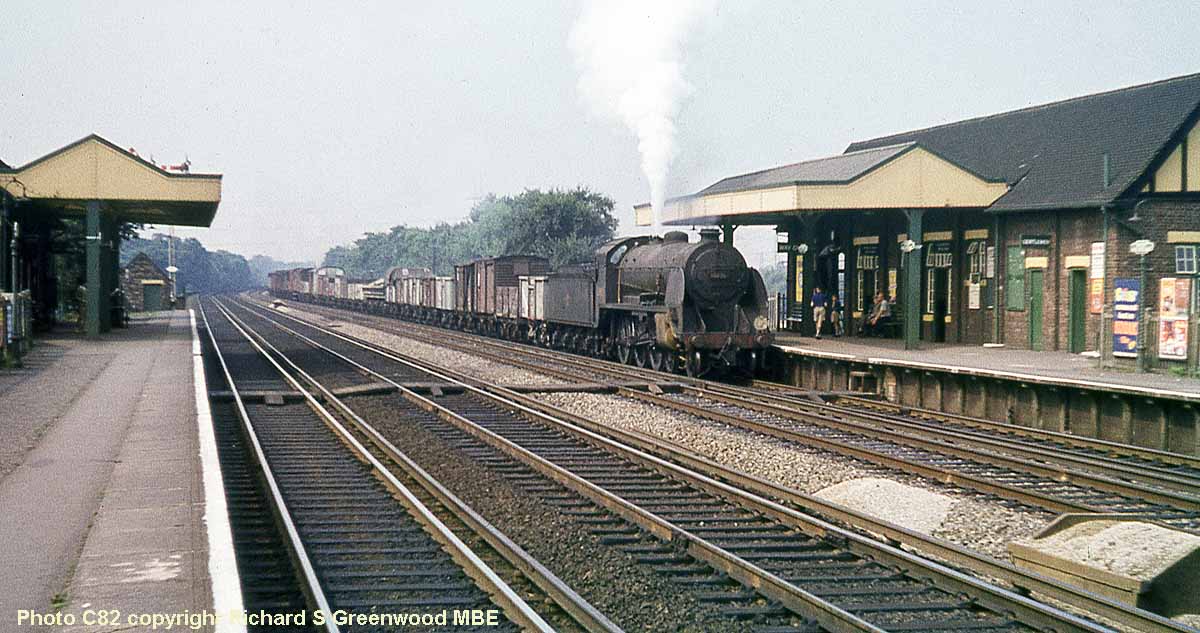 A long up freight is brought along the slow lines by S15 30826, one of the Maunsell engines but coupled to an earlier 8 wheel tender (above). As Lord Nelson locomotives were withdrawn, some of their high capacity 8 wheels tenders were fitted to Schools class 4-4-0s to give a greater range between water stops. No 30912 Downside with an LN tender storms along with a train for the Bournemouth line (below).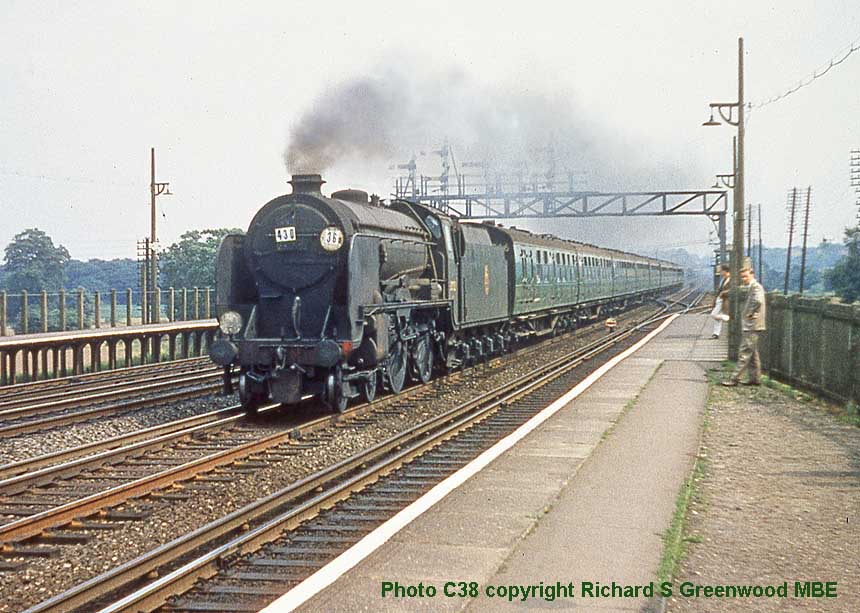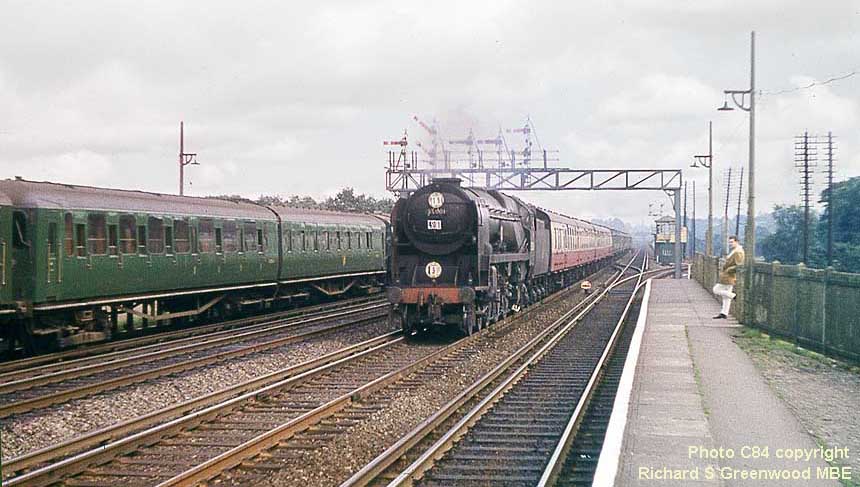 (Above) Merchant Navy 35001 Channel Packet has another express for the West of England line, possibly an Inter Regional in view of the blood and custard coaches. (Below) Hot on its heels is a BR Standard 5 No 73112 bound for Bournemouth with a textbook exhaust.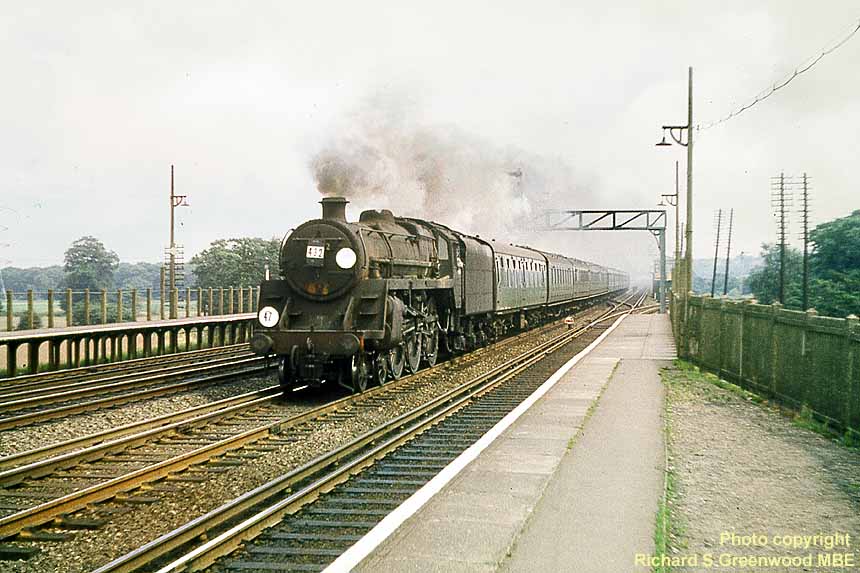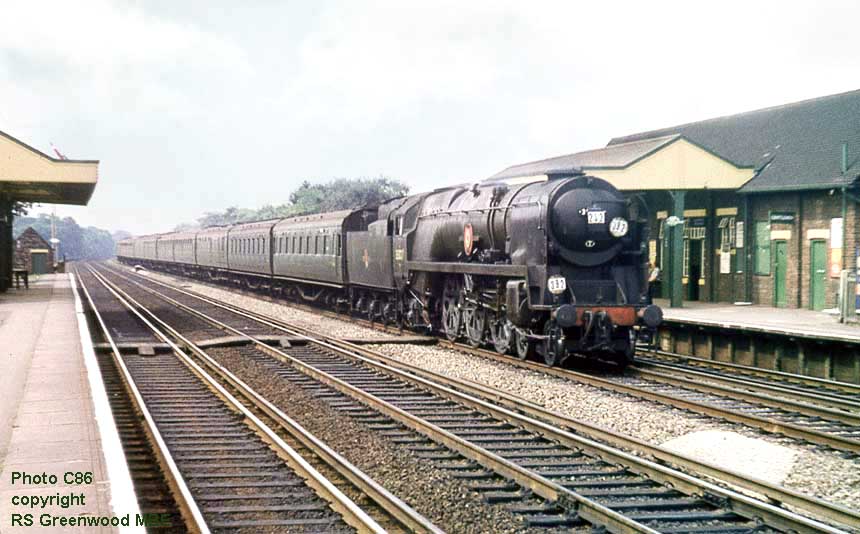 Taking holidaymakers home is 'Merchant Navy' No 35027 Port Line now preserved (above). Such was the pressure on motive power that S15s often had to be pressed into service on less important passenger trains. Urie S15 30507 has charge of a down Salisbury train (below).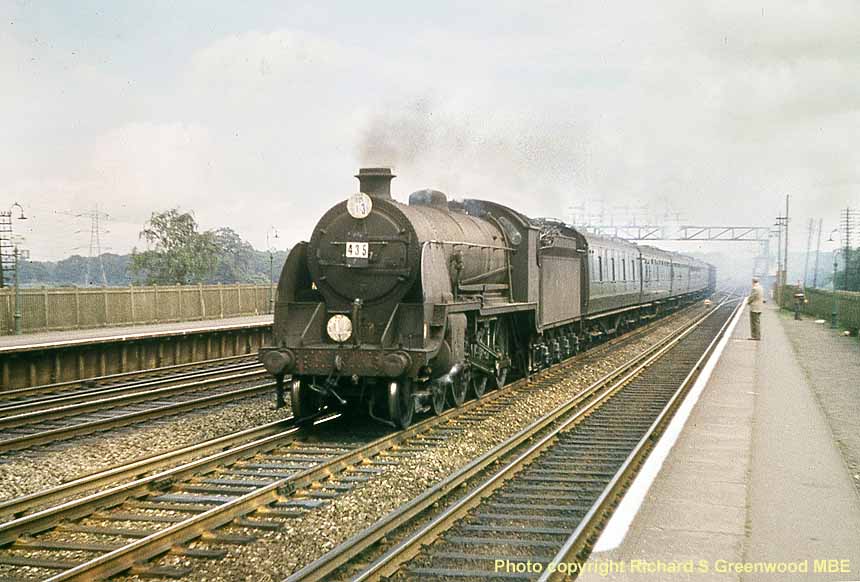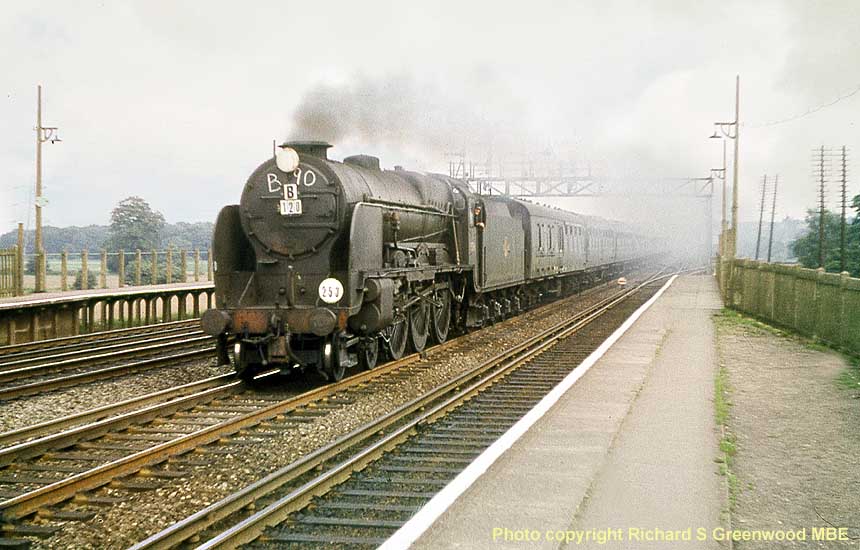 The headboard shows that 'Lord Nelson' Class No 30861 Lord Anson is in charge of a down boat train for Southampton (above);

the fireman is having trouble with his injector (below)

on 'King Arthur' Class No 30770 Sir Prianius - a North British-built loco - heading an up Bournemouth.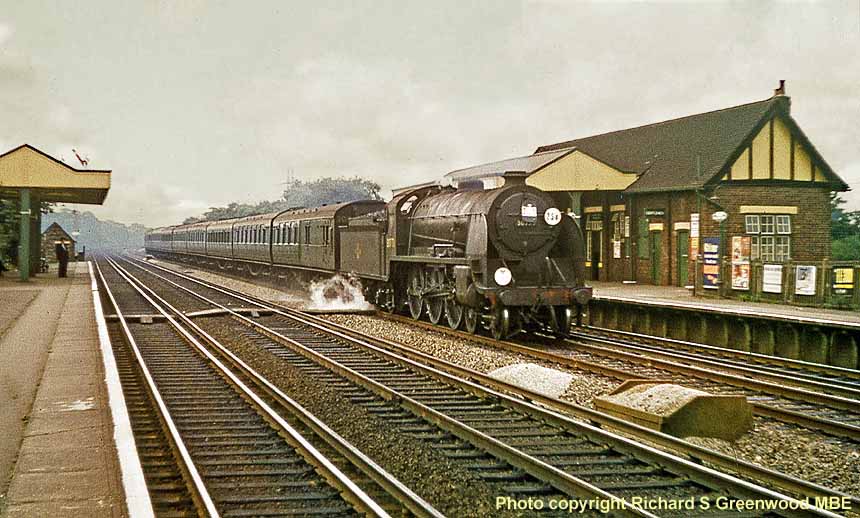 (Below) The appearance of the 'King Arthur' class above almost completes a full picture of Southern express power except for BR Standard Class 4 No 76012 on a Lymington Pier train and an unrebuilt Bulleid

'Battle of Britain' Pacific No 34078 222 Squadron

, albeit taken only in monochrome but perhaps one monochrome shot is permitted...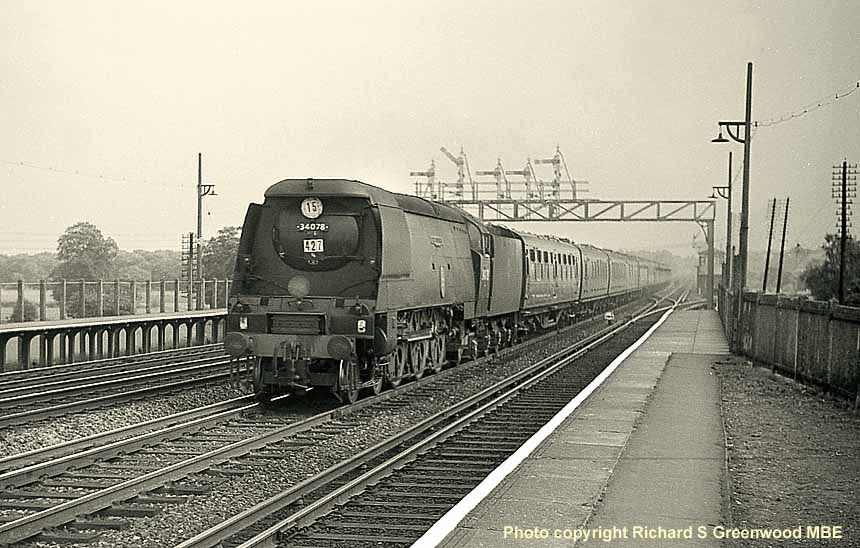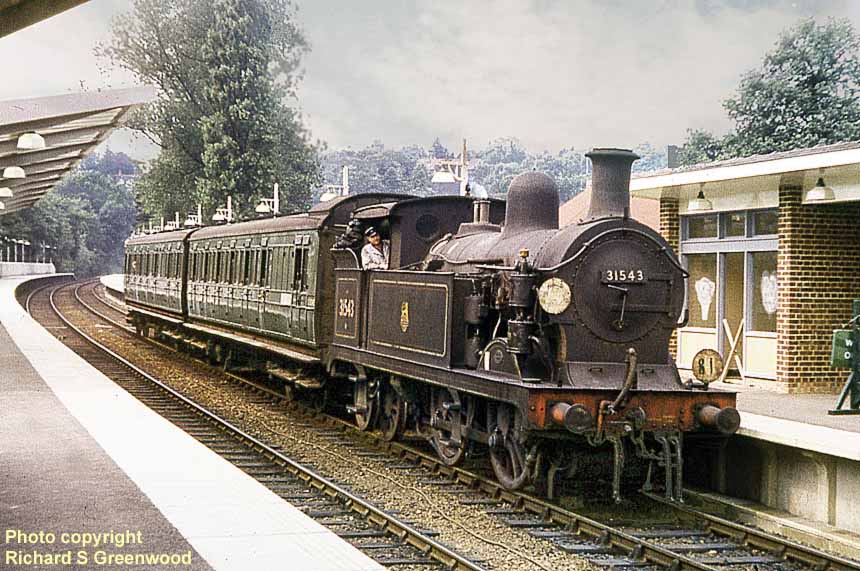 My onwards travel on 22 July took me to the first station south of Oxted, Hurst Green Halt, a large station for a halt and newly rebuilt. An H class 31543 on two elderly coaches including a birdcage brake contrasts with the modern buildings (above). I think the train was bound for Tunbridge Wells via East Grinstead. With Hurst Green Halt in the background a shot at Hurst Green junction itself of N class 31407 coming off the Ashurst line with a train from Tunbridge Wells (below).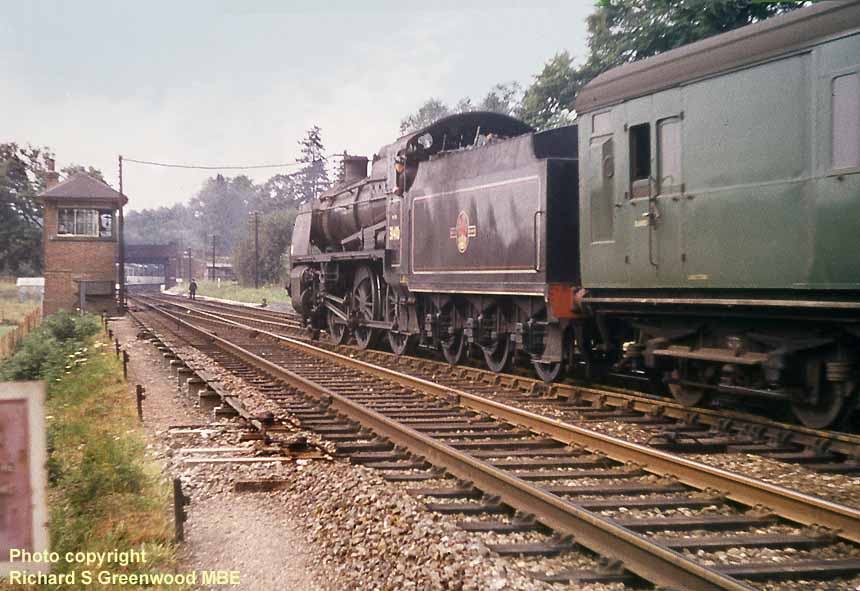 ISLE OF WIGHT

Off peak there was a very good value runabout ticket valid for the area bounded by Guildford, Waterloo and Redhill. From memory it cost 10 shillings and sixpence - 10/6...or 53p in today's money. Some nifty footwork was occasionally involved in re-booking at South Croydon for the Oxted line. Sunday 23rd July 1961 saw me taking advantage of the cheap ticket from Guildford to the Isle of Wight. Straight off the boat onto the Pier Head station as a train approaches bunker first along the pier whilst No W20 Shanklin awaits time for a departure (below).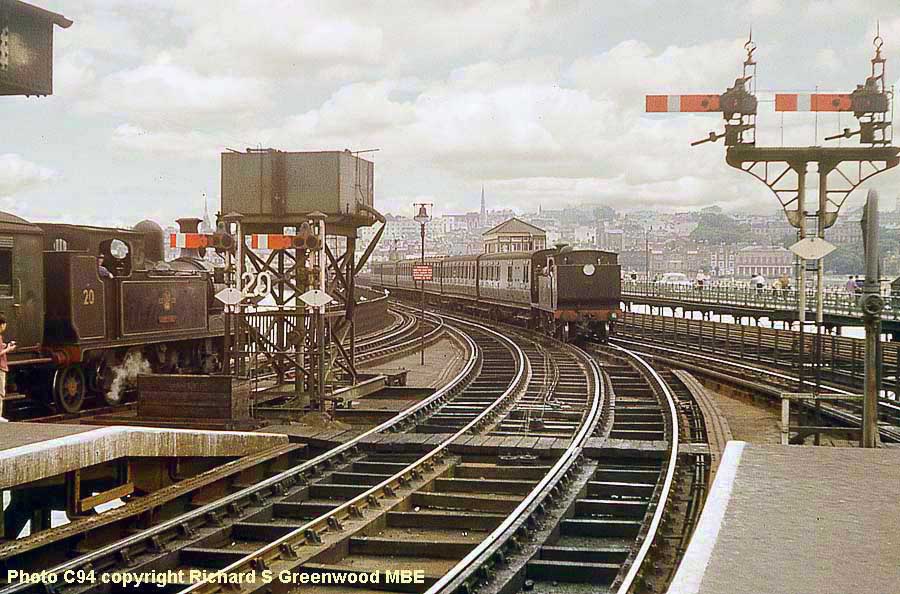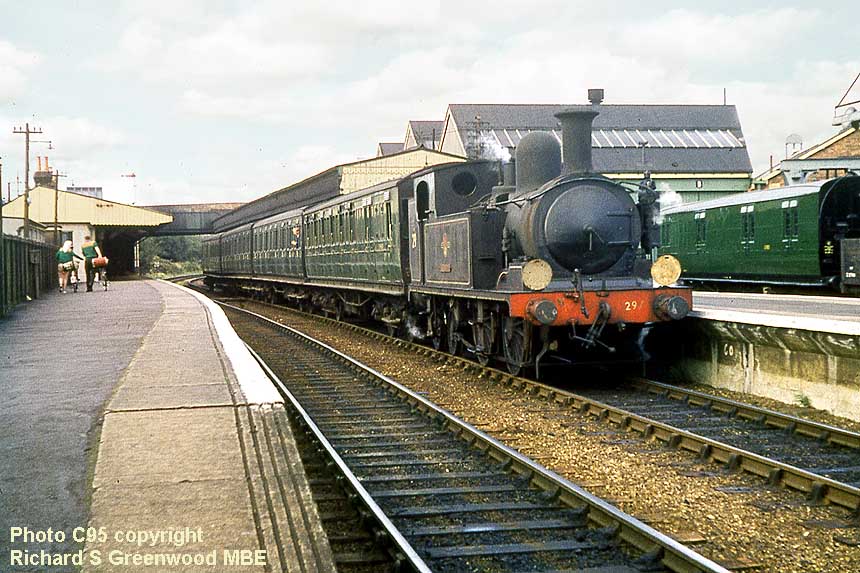 Round to Ryde St Johns as W29 Alverstone calls en route to Newport (above). Memory seems to think that the headcode of a disc above each buffer was a Newport trains and a disc under the chimney a Ventnor train but I may have got it wrong! After a rather cloudy afternoon, the sun came out later and a visit to the shed which seemed to be totally deserted of staff yielded some pleasing images. W18 Ningwood and W26 Whitwell are out of steam on one of the shed roads (below).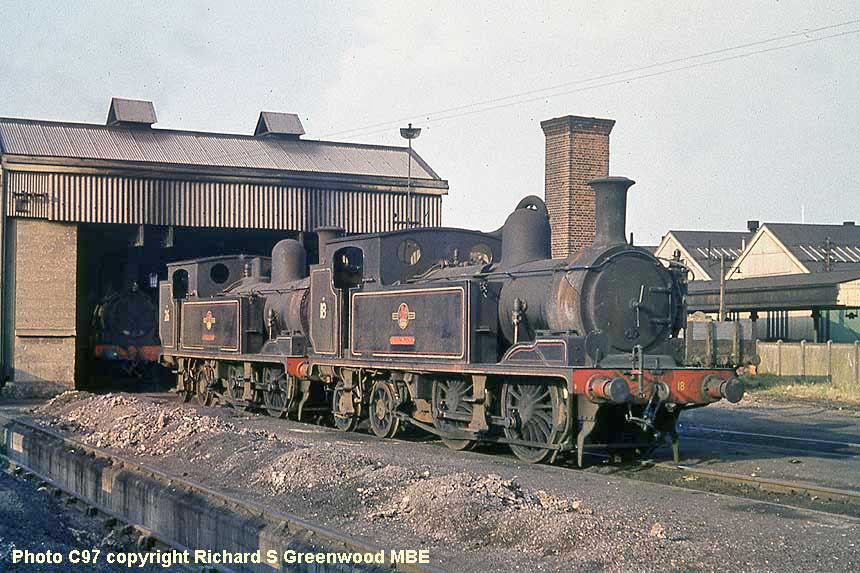 Whilst the tanks and boilers were clean, the smokeboxes had evidence of hard work where the paint had been burnt off. W18 has a frame to itself (above) whilst further along near the signalbox with a headlamp still in place, again nice and clean is W24 Calborne now preserved on the Isle of Wight (below).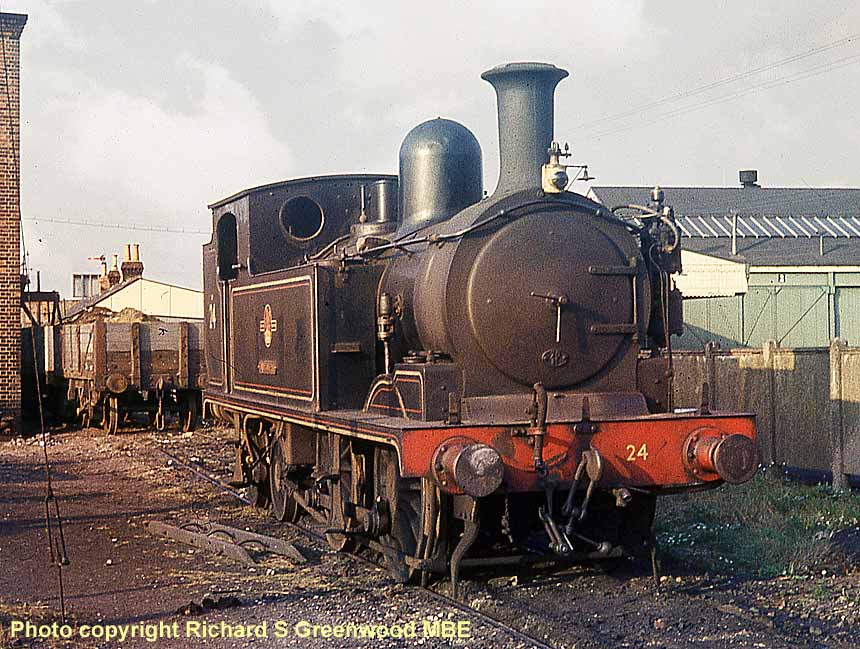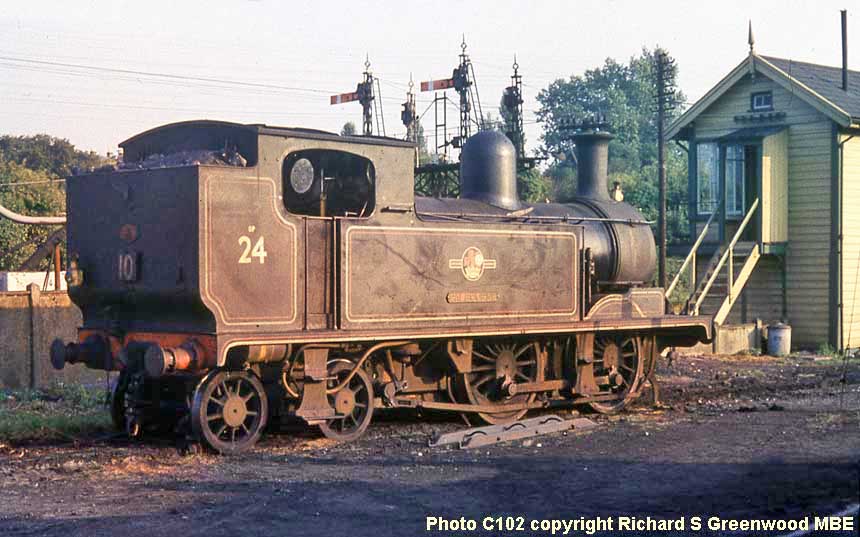 A rear shot of W24 Calbourne (above) is followed by the last colour image of the trip showing W35 Freshwater working bunker-first on the approach to St Johns station (below).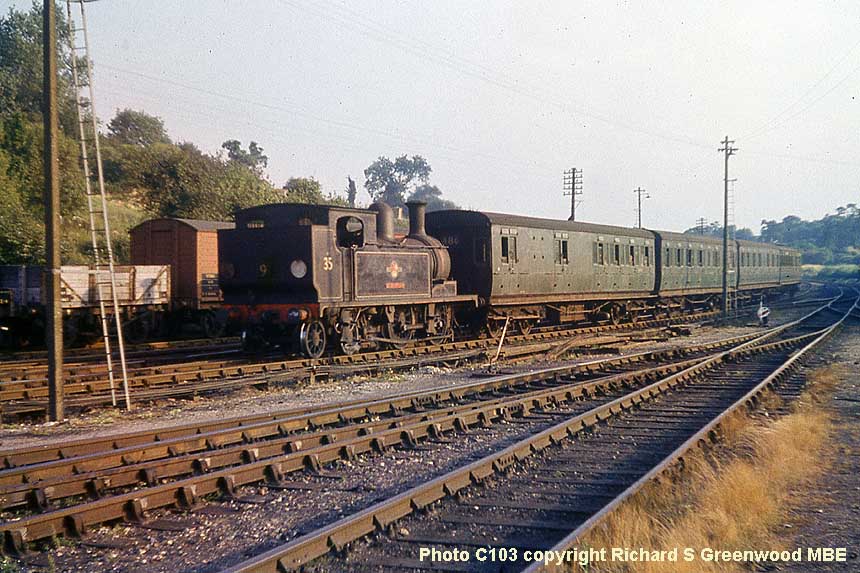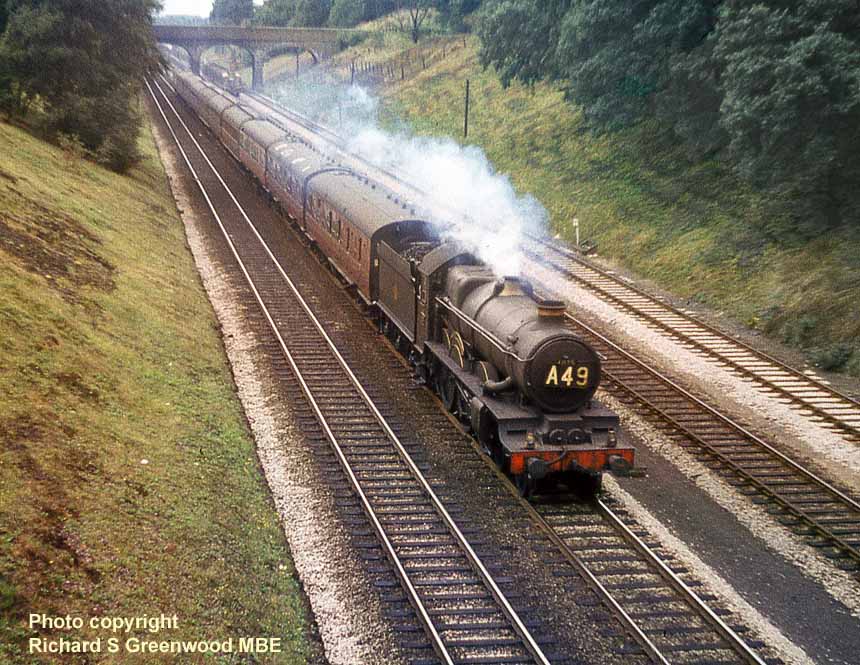 (Above) The following Saturday 29th July saw me head off to the Western Region at Twyford, Tilehurst and Reading. This single chimney 'Castle' class No 4075 Cardiff Castle was photographed in the cutting at Twyford with an up express. The rest of the Twyford colour shots are somewhere else. I will have to look for them...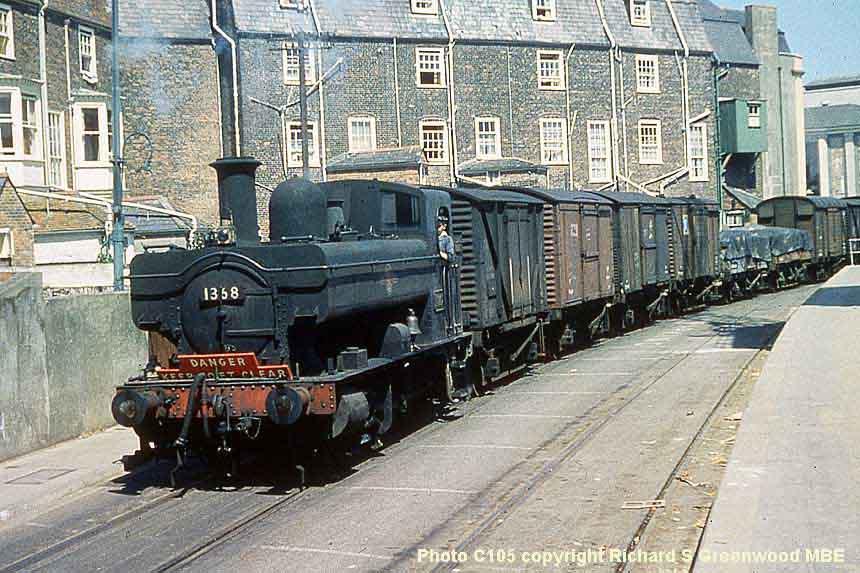 Again I took advantage of the Southern's Sunday excursions on 30 July to visit Weymouth and secure two shots of the ex-GWR Panniers used on the Weymouth Harbour Tramway.

The tramway ran from a junction just north of Weymouth main line railway station through the streets adjacent to the Backwater and the harbour of Weymouth to the station at Weymouth Quay. Opened in October 1865 by the Weymouth & Portland Railway and later worked by the Great Western Railway, the first goods traffic was horse-drawn and regular steam operation did not commence until 1880. The line was operated by various locos belonging to the pre-Grouping railway companies making up the GWR; the first GWR loco to work the line being Collett's 0-6-0 pannier tank No 1367. Still going strong (below) No 1367 was photographed on 30th July 1961

along with sister 0-6-0PT 1368 (above) in the typical dockside setting. My colleague, Fred was quite a bit older than myself. He was married with a young family, and so it was vital that he passed the Final exams. I have never known anyone capable of studying day and night like Fred. His only recreation was to visit the 'Three Pigeons' on a Saturday night. I was afraid for his sanity the way he was doing so much studying and I persuaded him to have a day off and accompany me down to Weymouth. We had a good day out but the following morning the phone rang and his mother-in-law demanded to know what he'd been doing in Weymouth the day before instead of studying!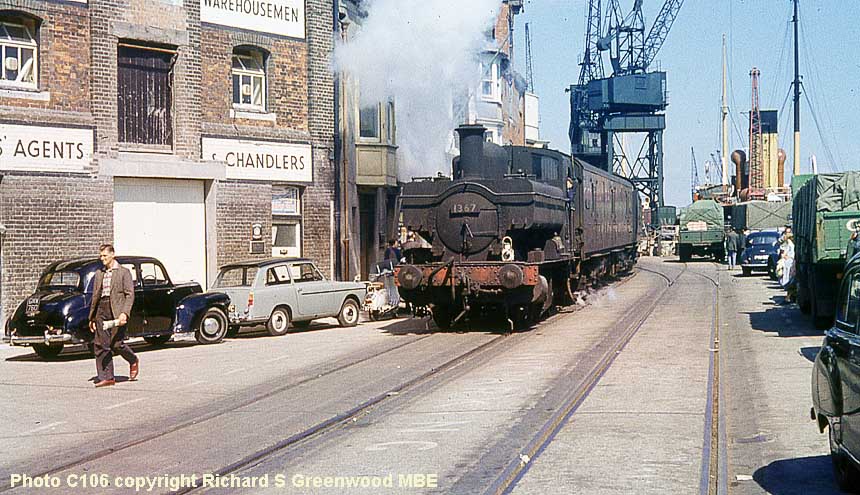 The next Wednesday half day, 1st August saw me travelling 'over the Alps' from Alton to Eastleigh, by then the service was dieselised with 'Tadpole' sets. A sad sight was the two last T9s called in for scrapping, 30117 (C 107) and 30715 (C 108). Little did I realise that within a few months, T9 number 120 would re-emerge in full LSWR livery for occasional use on the mainline.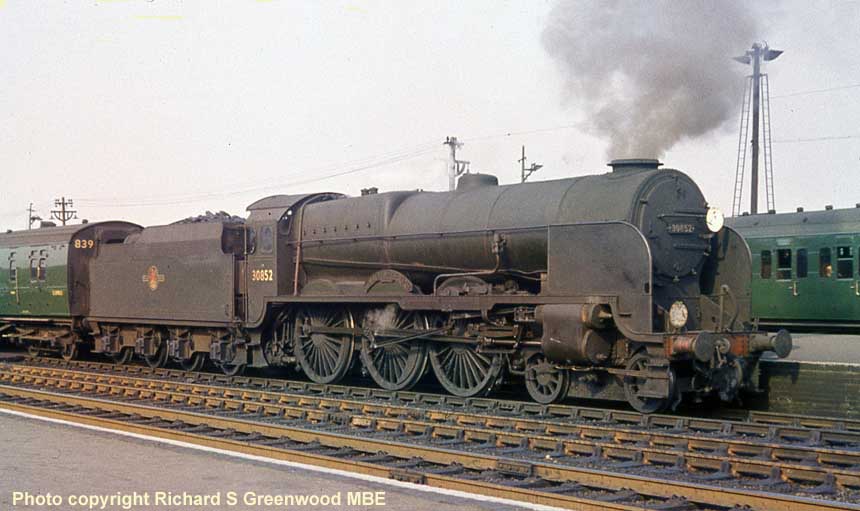 (Above-Below) Back at Eastleigh station, Lord Nelson class 30852 Sir Walter Raleigh has brought in the 3.30pm down express from Waterloo for Bournemouth West. They really were impressive locomotives with their huge boilers.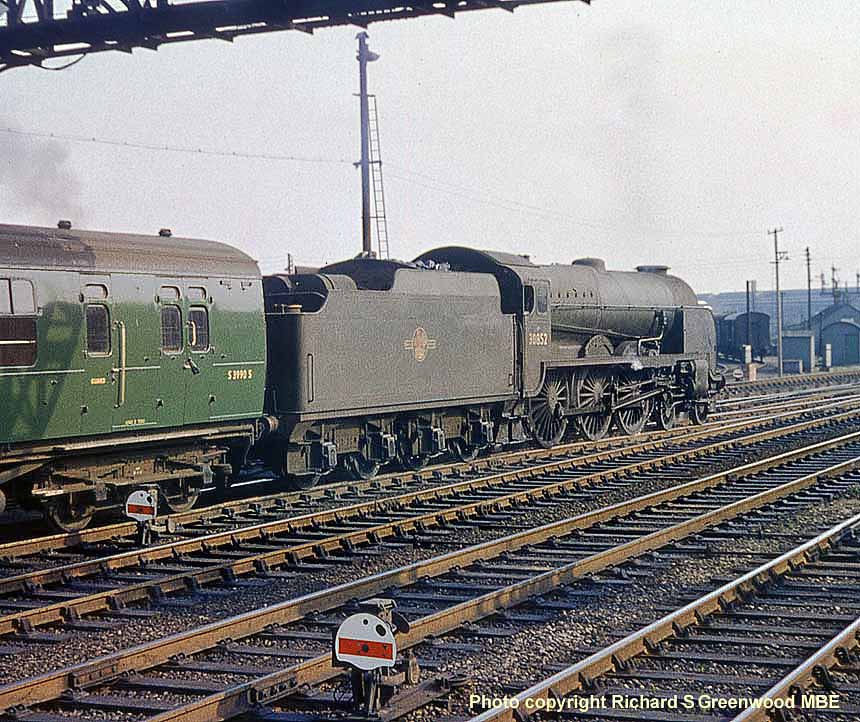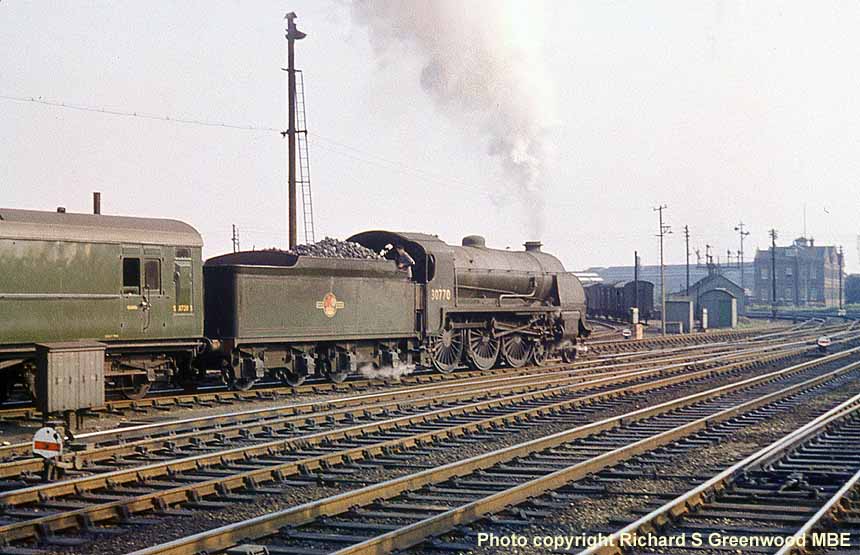 A few minutes later 'King Arthur' Class No 30770 Sir Prianius takes out the 5.20pm connection off the 3.30 ex-Waterloo for Fareham (above) and almost immediately the through train from Newcastle to Bournemouth West rolls in behind ex-GWR Hall No 7911 Lady Margaret Hall (below). This loco was a common sight on this particular train in 1961.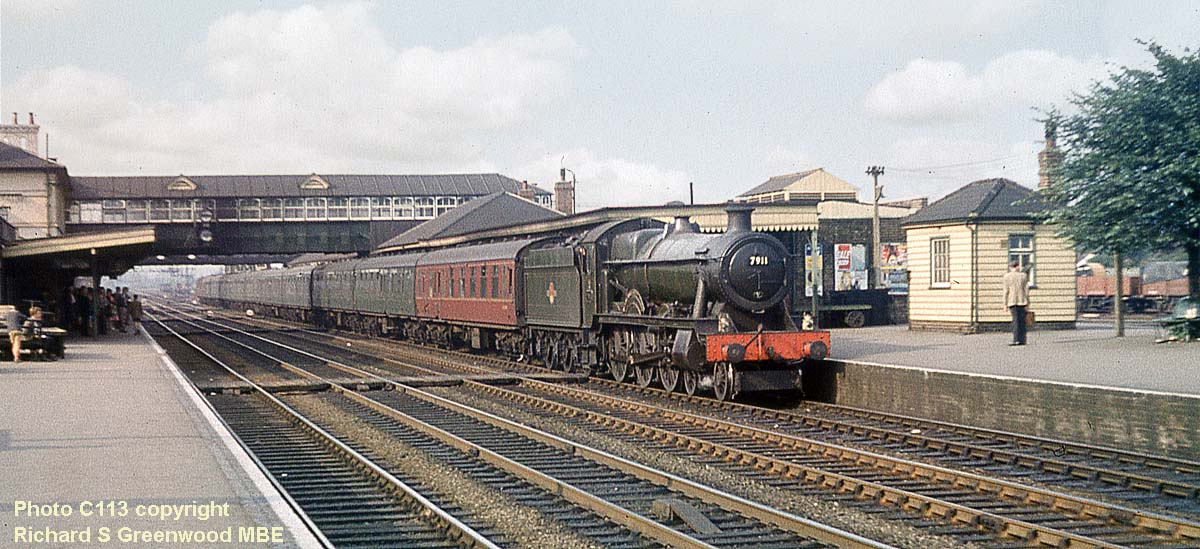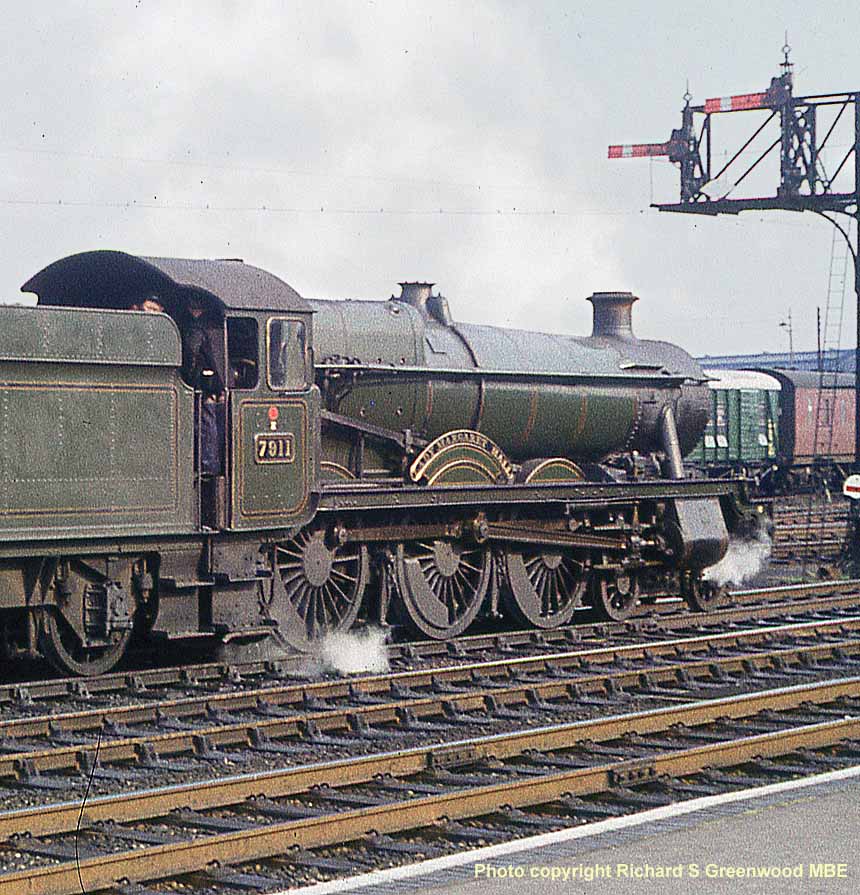 No sooner had Hall No 7911 Lady Margaret Hall

departed (above) I took the last colour shot for the day of a fairly clean Ivatt class 2 2-6-2T 41319. Note in the distance a class O2 0-4-4T number 30200 engaged on station pilot duties. The O2 class on the mainland differed from the Isle of Wight locos by having a smaller bunker.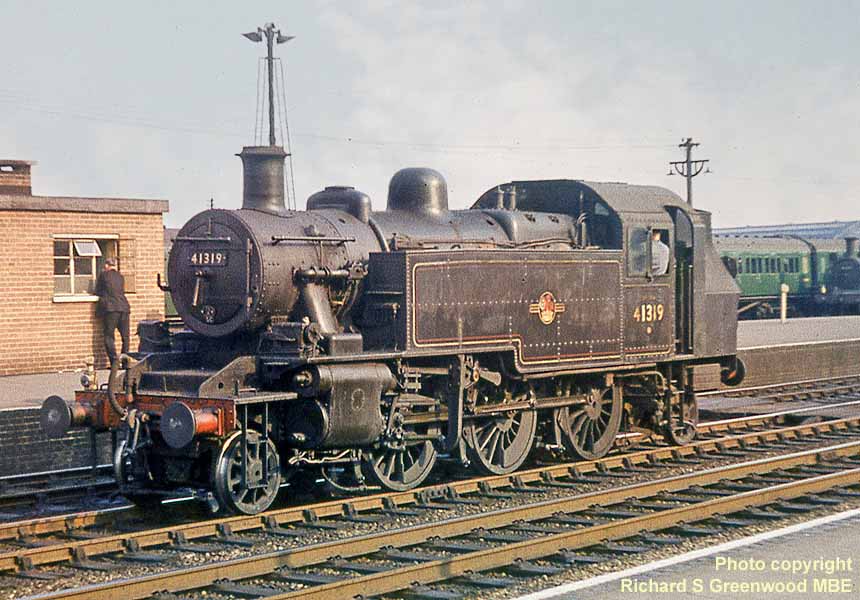 DOWN SOUTH IN COLOUR PART 3

I'd often wondered why a high proportion of the railway photographs in Trains Illustrated, Meccano Magazine and Railway Magazine seem to have taken in the South. Then I tumbled to it; photographic reproduction in magazines at that time needed the full range of tones yielded by shots exposed in sunshine. Fred and I were telling ourselves how good the weather was in Guildford in June and July 1961 yet the locals were calling it a poor summer. They'd obviously never experienced a Pennine summer. On 2nd August we went home, returning south on 27th August. During that period there was rain some part of every single day in Rochdale with a total rainfall in excess of 10 inches. My brother and four or five friends came down to sample the delights of steam at Guildford for a few days...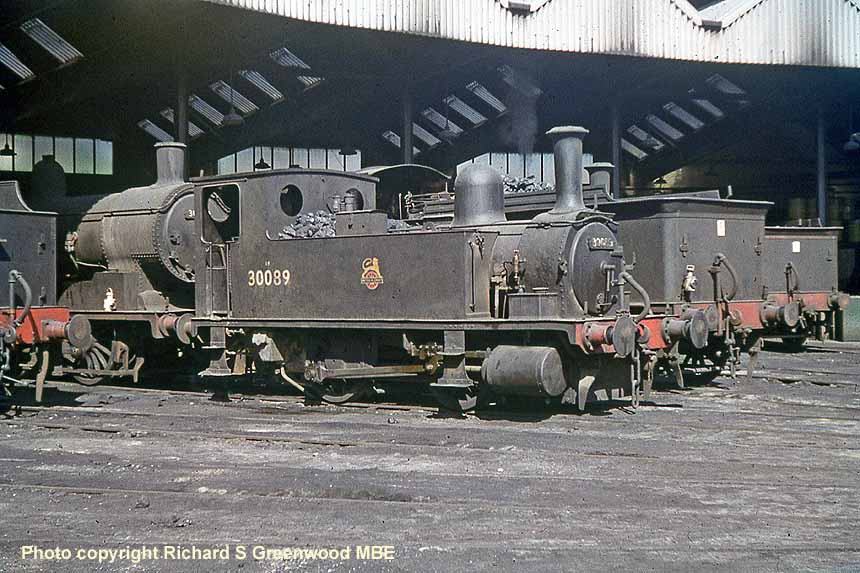 On Monday 28 August the weather was sunny and we all managed to get round Guildford shed where B4 30089 was surrounded by ex LSWR tenders and chimneys (above). (Below) The chance to photograph Maunsell's Class L1 No 31786 waiting her next turn of duty at Guildford shed was most welcome; a clean loco of a rare class by 1961; all had gone by February the following year...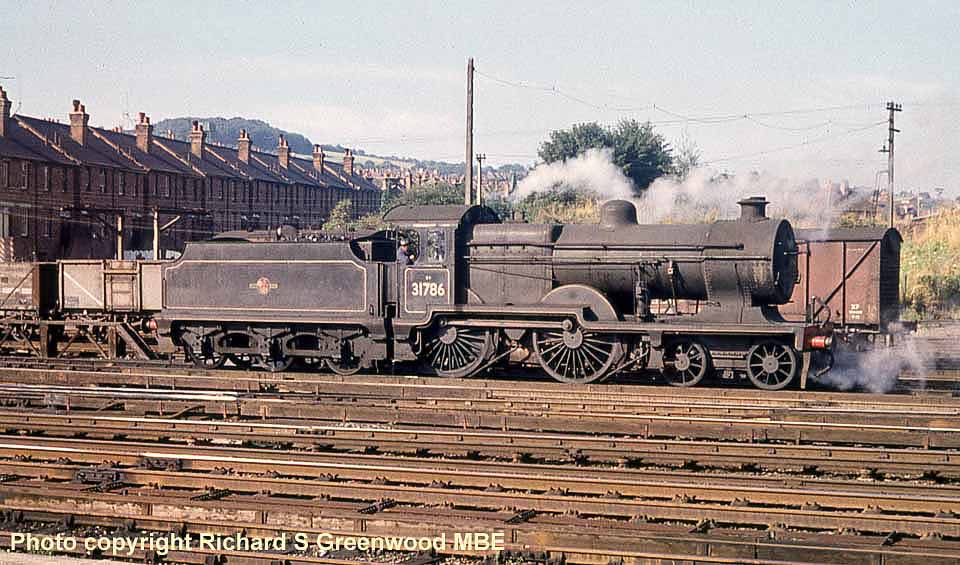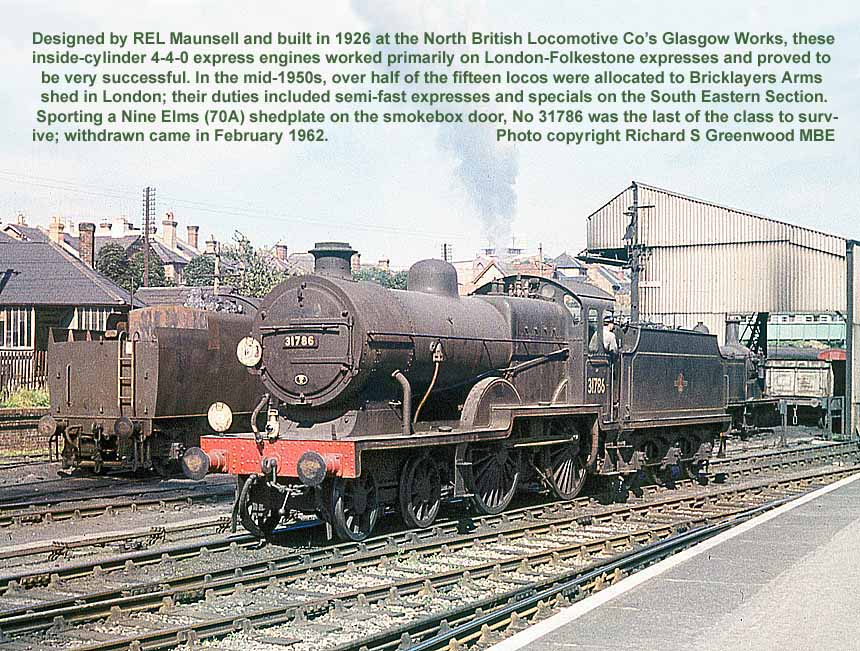 (Above) A second shot of the Maunsell Class L1 31786 at Guildford...I indulged in four photographs of this handsome machine before we set off by road to Eastleigh, where I took this shot of Urie S15 30510 on the shed entrance line (below).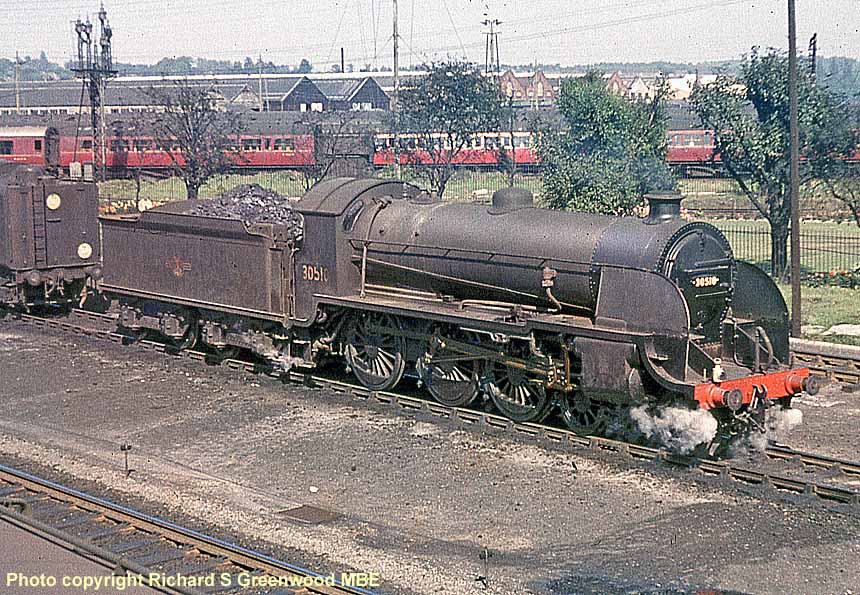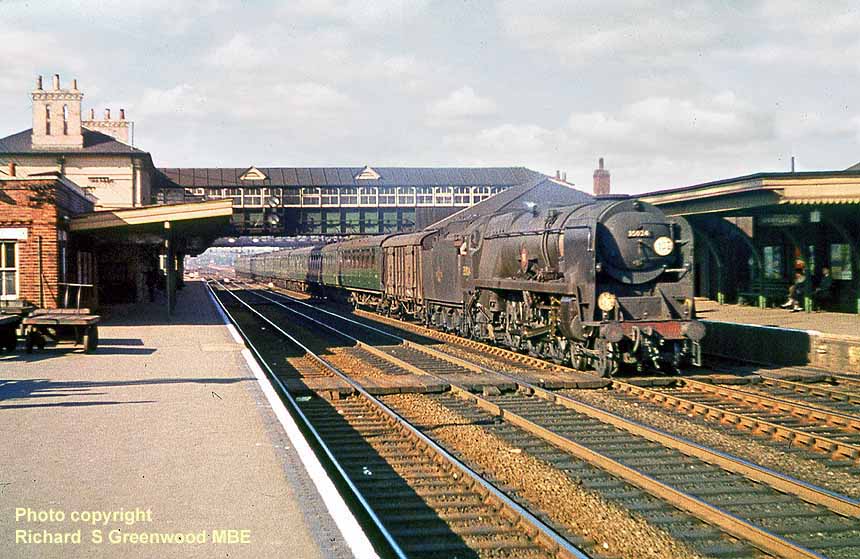 Merchant Navy class No 35024 East Asiatic Company has charge of a down express (above) not stopping at Eastleigh and the through train from Newcastle to Bournemouth was, unusually, in charge of a different 'Hall' class No 6929 'Whorlton Hall' (below).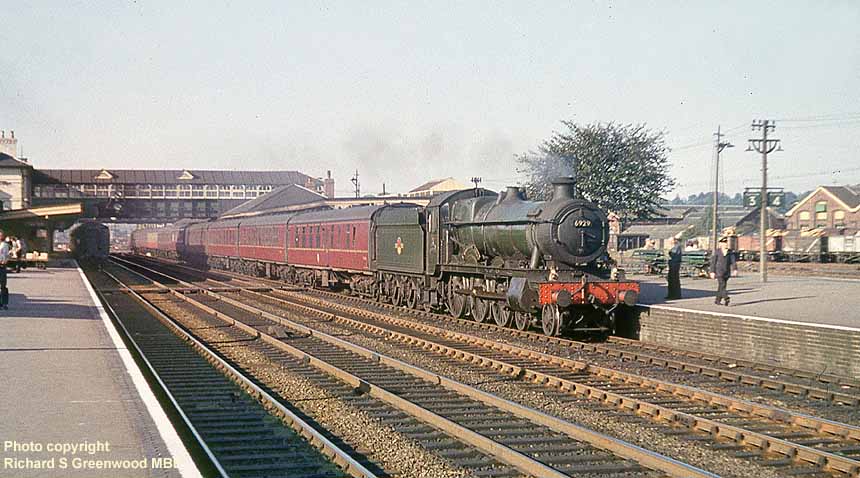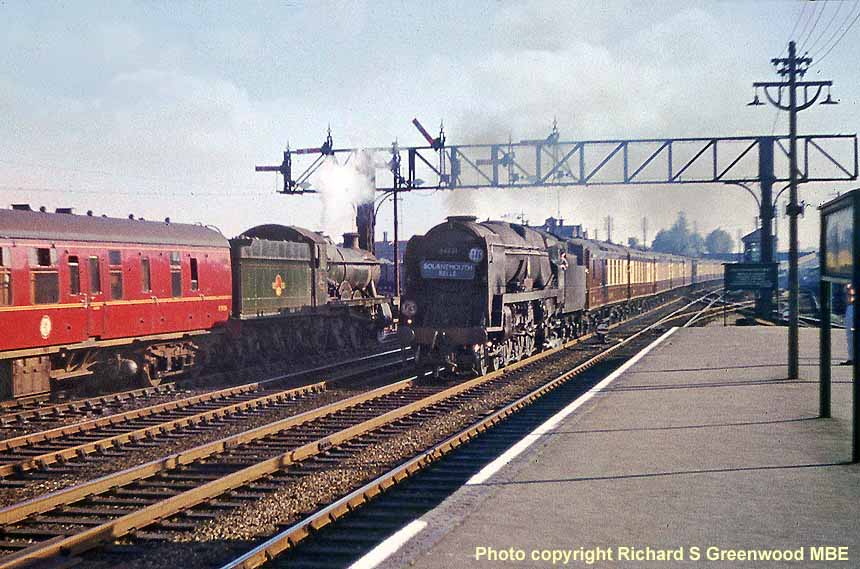 As the 'Hall' departs (above) the up 'Bournemouth Belle' speeds through with a very dirty rebuilt West Country 34021 'Dartmoor' in charge. Normally the Belle would have had a cleaner loco so maybe the rostered engine had been failed. (Below) The late afternoon sun picks out every detail on the Urie S15 4-6-0 30503 waiting to go on to shed.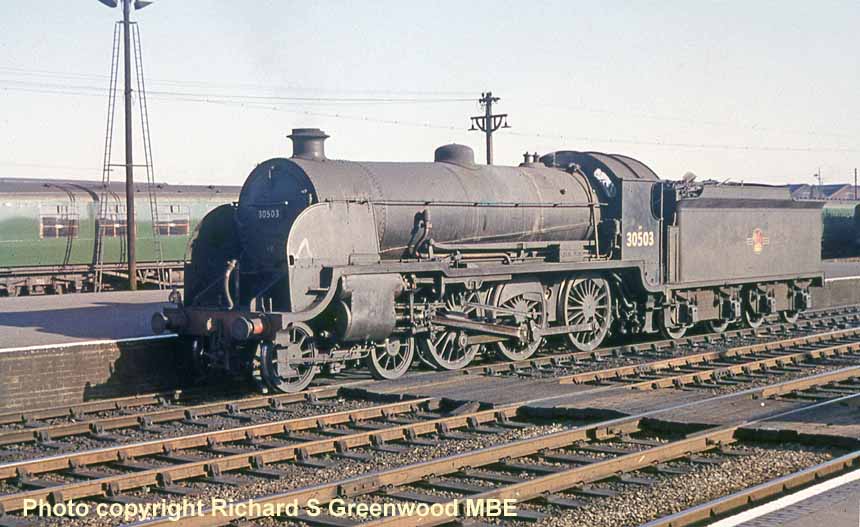 (Below) We left Eastleigh for the delights of the Guildford to Horsham line hoping that an M7 might still work the 6.4pm from Guildford but it was not to be and Ivatt class 2 No 41300 was on the train seen near Cranleigh.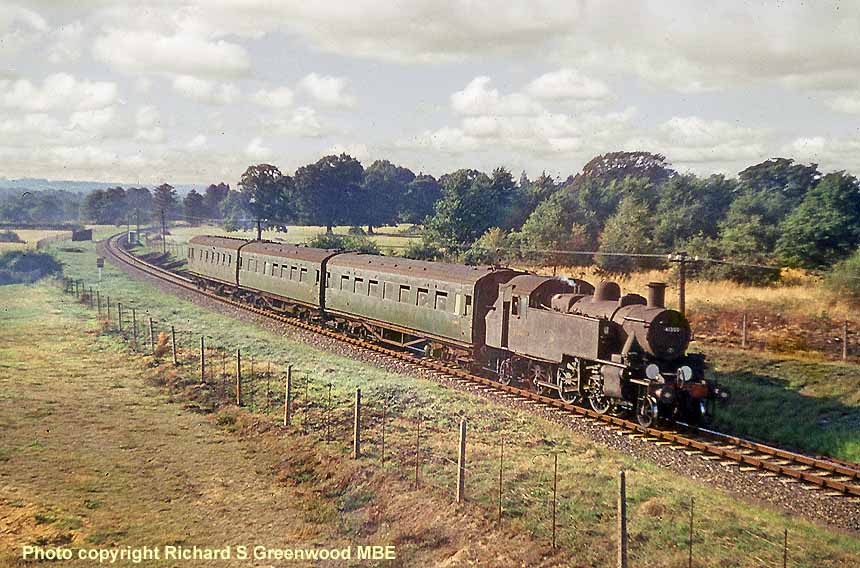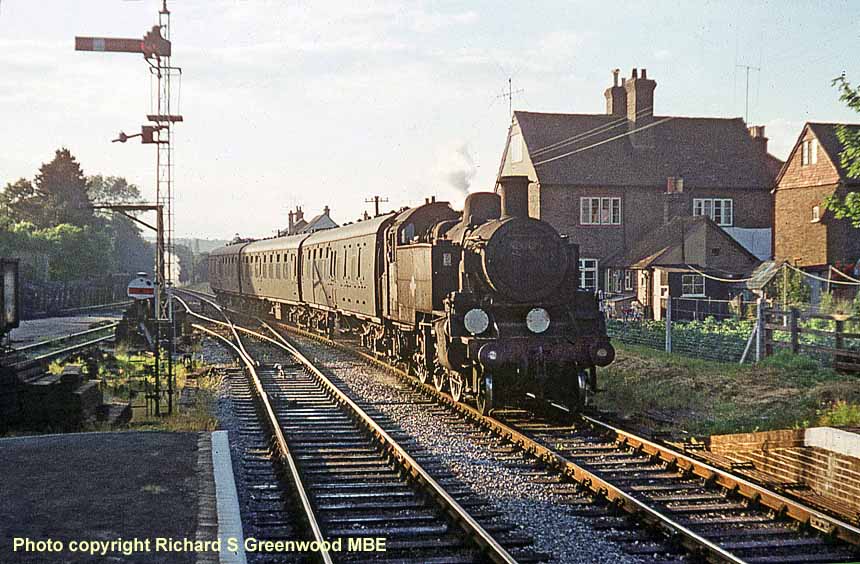 The next train from Guildford, the 6.34pm (above) is seen at Cranleigh station with BR standard 2 84024 in charge. Three days later, we are back at Guildford and the shed pilot 30089 was at the coal stage (below).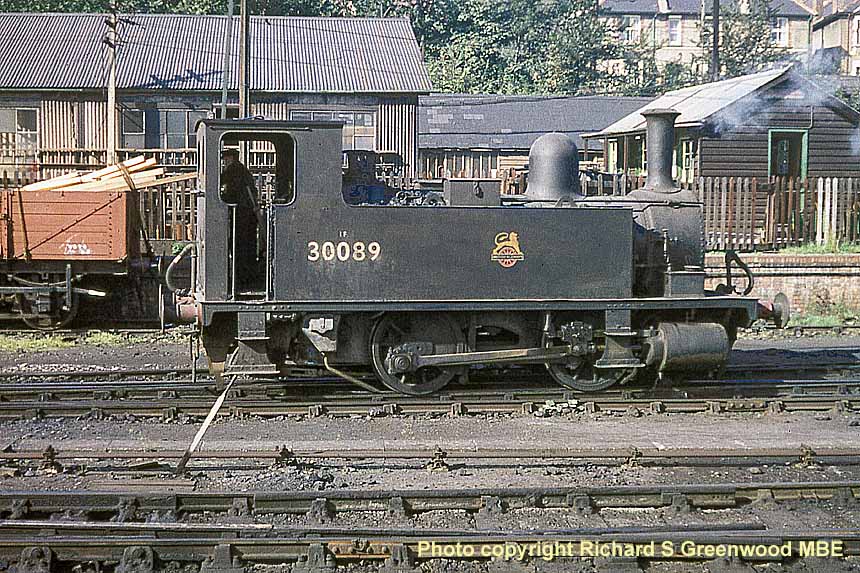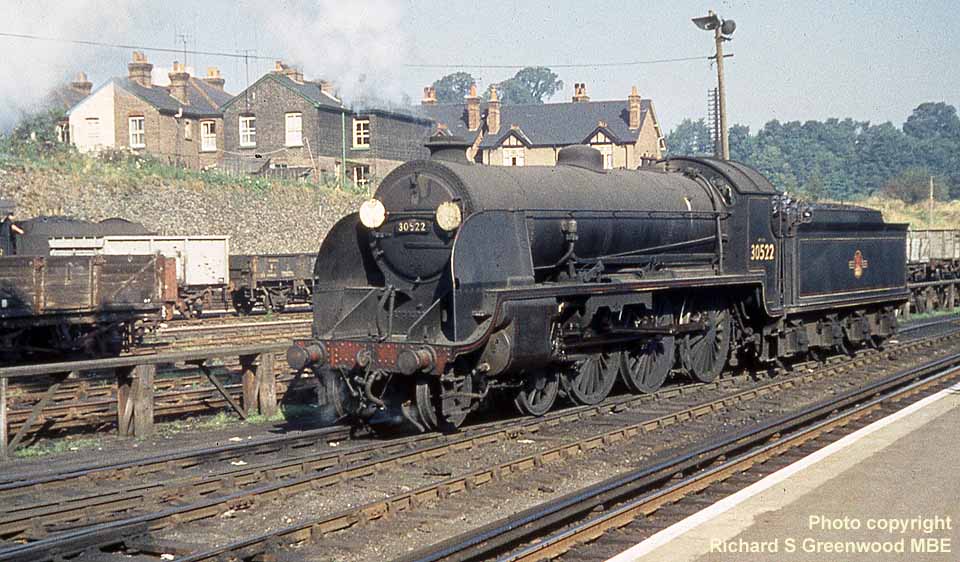 At the other end of the loco sidings (above) was one of the handsome LSWR H15s 30522 of which only a handful were still in traffic in August 1961. The S15s were primarily freight locos, the N15s (otherwise better known as King Arthurs) were express locos and the H15s were somewhere in between - true mixed traffic locos. Studying suddenly became more urgent although waiting on station platforms such as Brookwood or Oxted were excellent times for revision. So Saturday 9 September, another sunny day, was the next occasion for colour work. At Brookwood S15 30829 at the head of a long up freight passes a number of youthful spotters gathered on the up platform.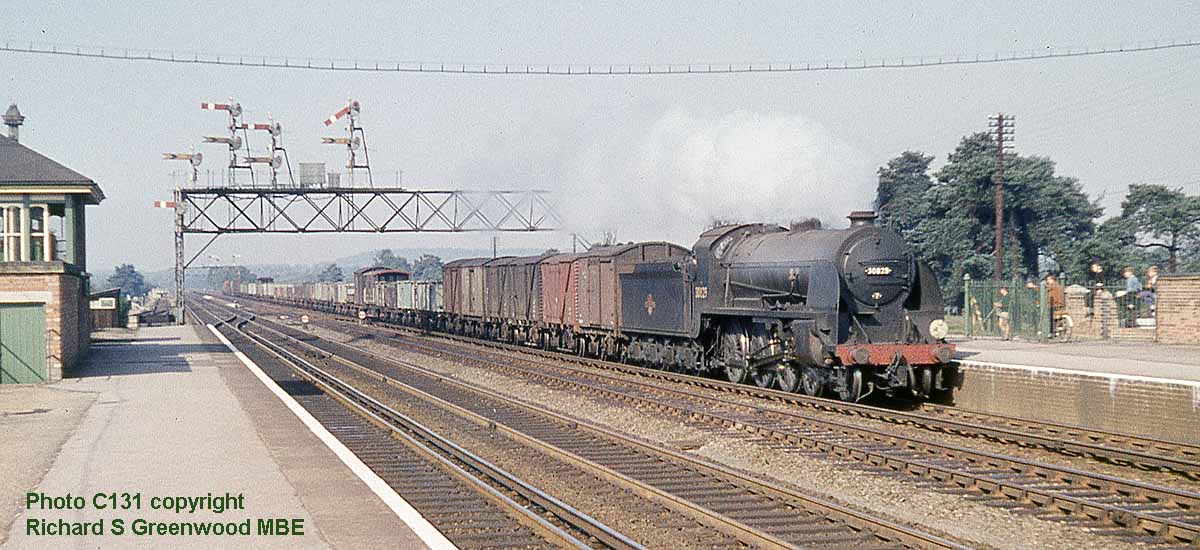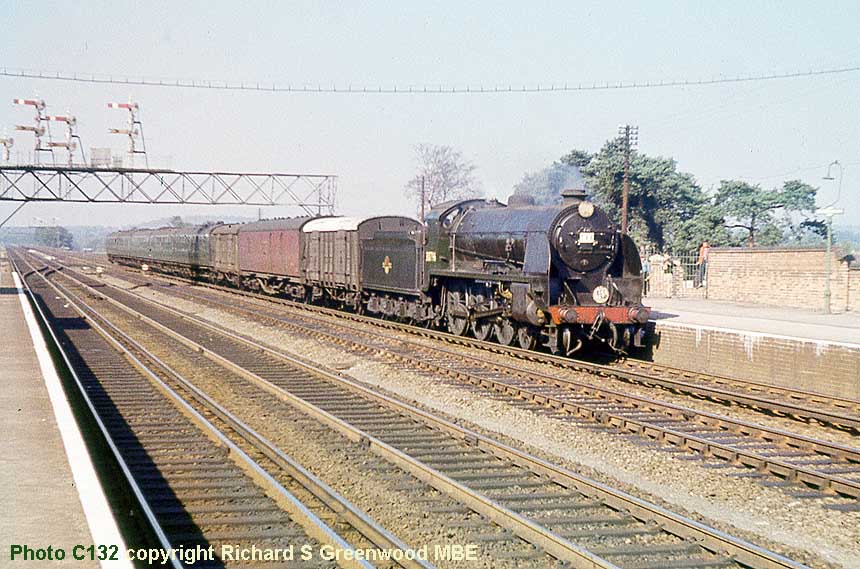 Shortly afterwards a stopping train from Salisbury with its usual number of vans as well as coaches runs into the up platform behind King Arthur N15 30796 'Sir Dodinas le Savage' (above). A clean rebuilt West Country with a matching set of Bulleid coaches makes a fine sight on an up Bournemouth train, 34029 'Lundy'. Most rebuilds had red backgrounds to their nameplates but 34029 has black (below).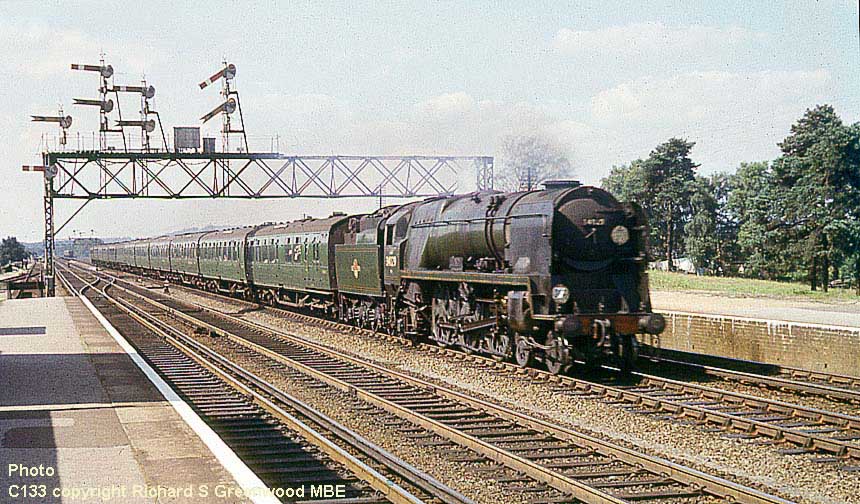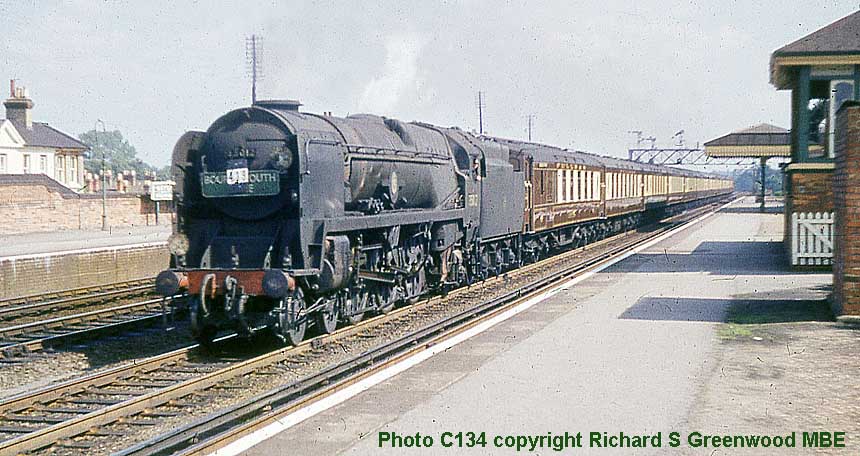 The down Bournemouth Belle (above) has a dirty locomotive again in the shape of 35012 'United States Lines' (above). It was followed (below) by another Bournemouth line express with yet another dirty locomotive 34095 'Brentor' - who would like to guess the colour of the nameplate background?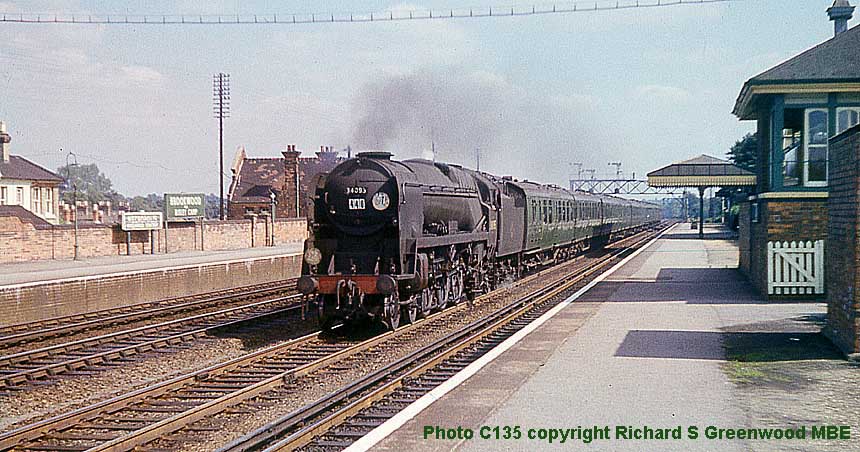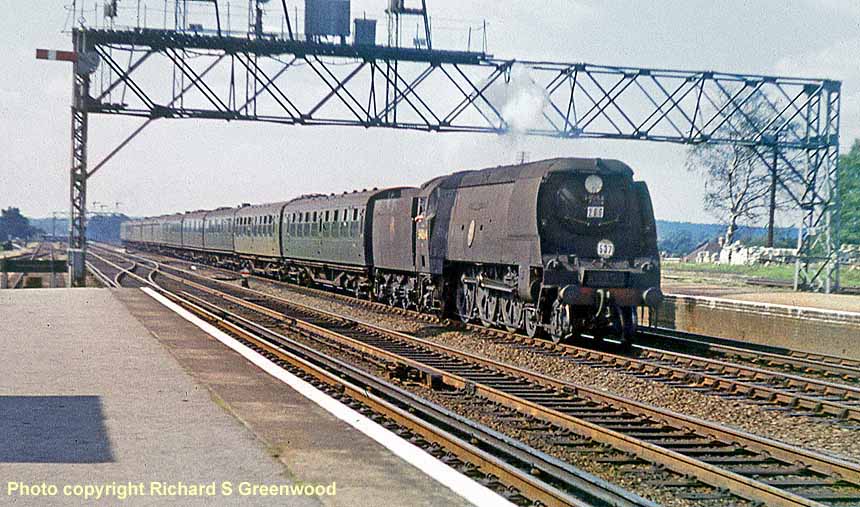 Finally a light Pacific with original tender (above) turns out to be the loco which twelve months later would be fitted with the 'Giesl' ejector blastpipe and chimney, 34064 'Fighter Command' with an up train from the west of England line. I have a diary note of my visit to Brookwood on 9 September 1961...although some of the midsummer holiday trains had ceased at the end of August, between 9.45am and 2pm the tally of steam workings was: 3 Lord Nelsons, 3 Schools, 4 King Arthurs, 1 U class Mogul, 12 Merchant Navies, 4 S15 4-6-0s (2 of which were on freight), 7 Standard 5MTs, 2 Standard class 4MT Moguls and 24 West Coutry and Battle of Britains of which 3 were as built with air smoothed casing. A total of 60, meaning an average steam working every 4 minutes 15 seconds.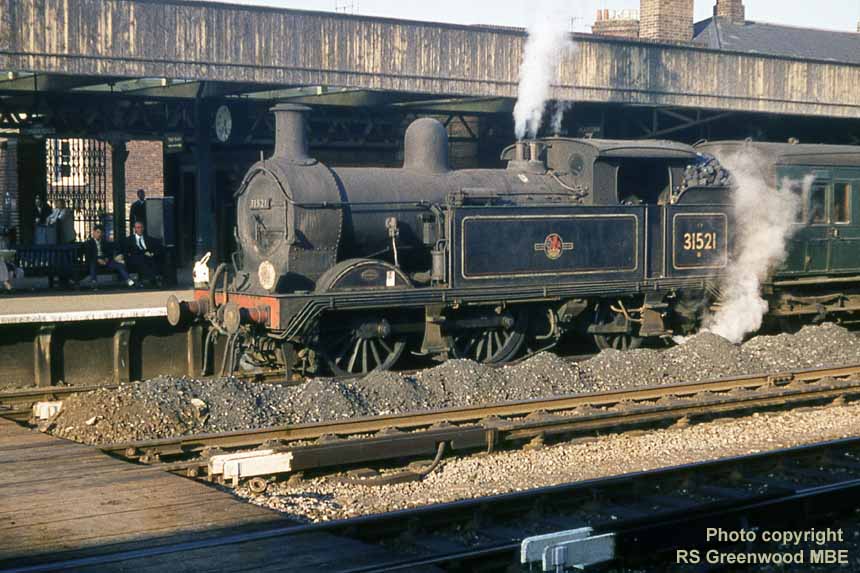 Then it was off to Tonbridge where the only shots were of an H class 31521 on a motor train for Tunbridge Wells and Oxted (above and below). Elderly pre-grouping coaches formed the train; two shots waiting at the platform and departing.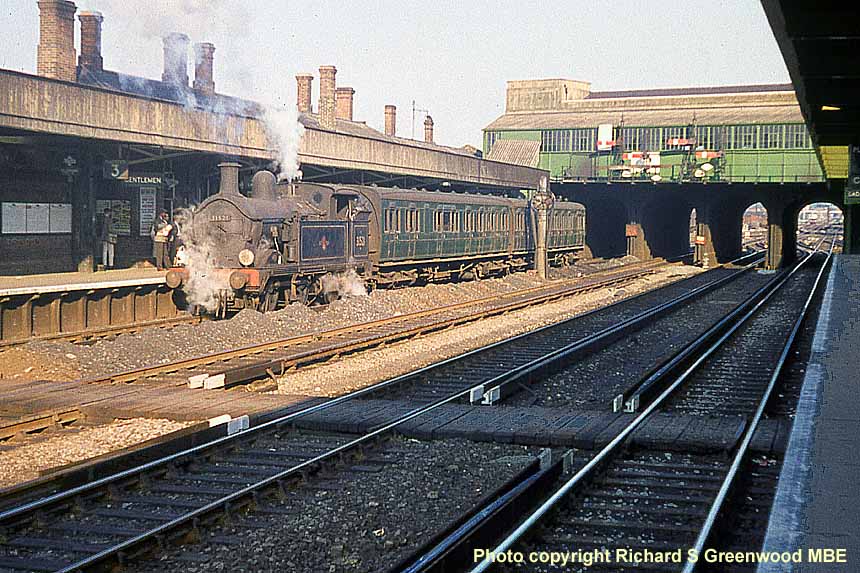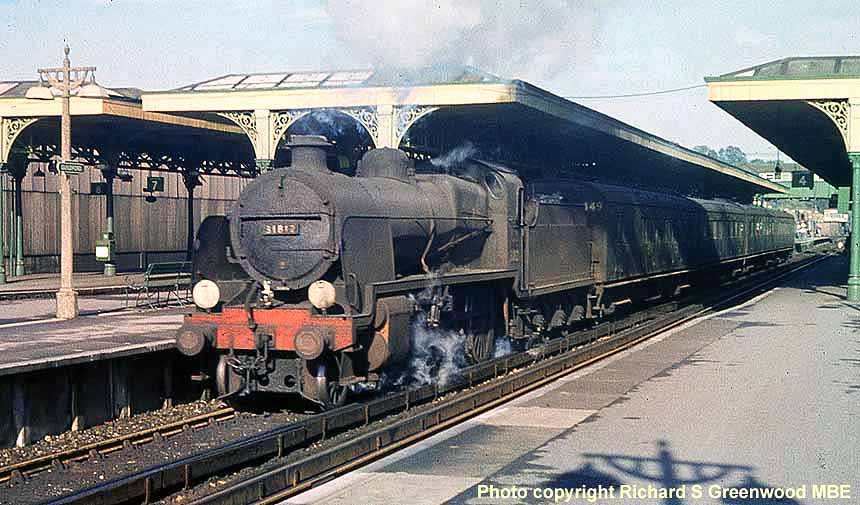 Saturday 23 October, another fine sunny day, saw 31812 an N class leaving Guildford on the 10.51am for Redhill (above) whilst sister engine 31868 was in the loco yard alongside the emu holding sidings (below).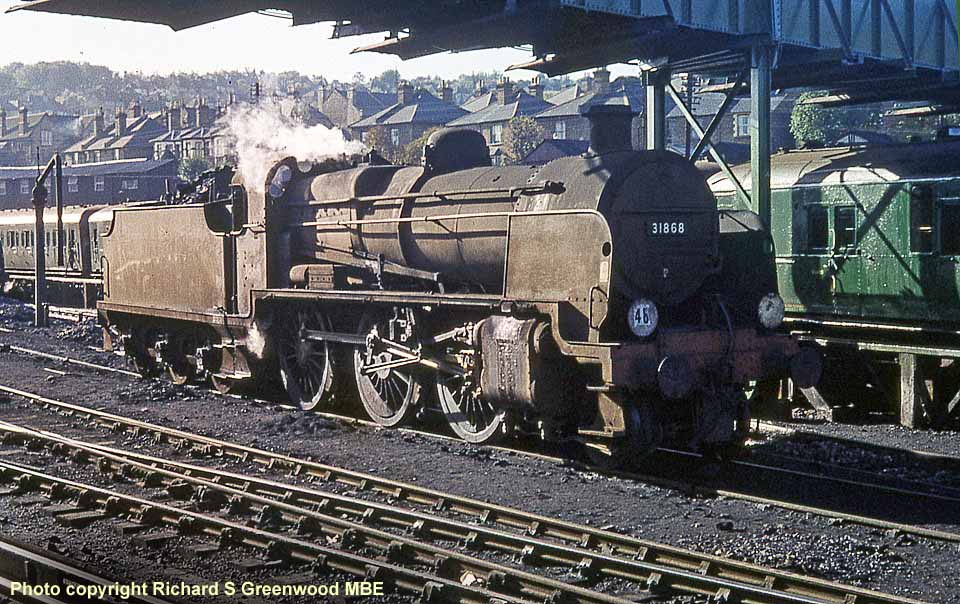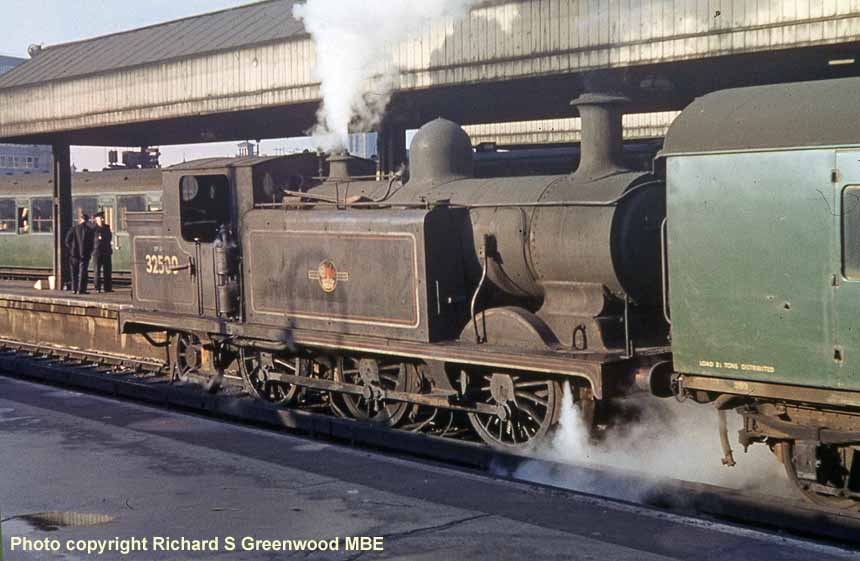 My Immediate destination was Waterloo where I took this shot (above) of E4 0-6-2T No 32500 waiting to take the empty coaching stock out to Clapham Junction yard off a train which had been brought in by Lord Nelson 30853 'Sir Richard Grenville' (below).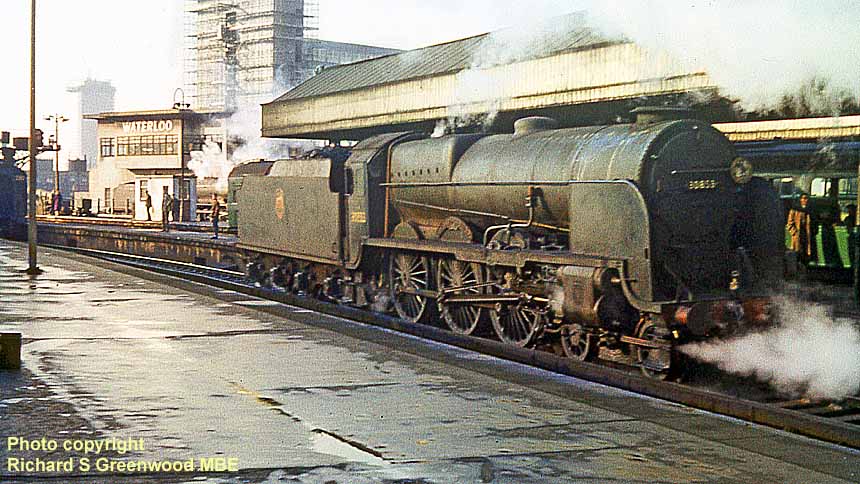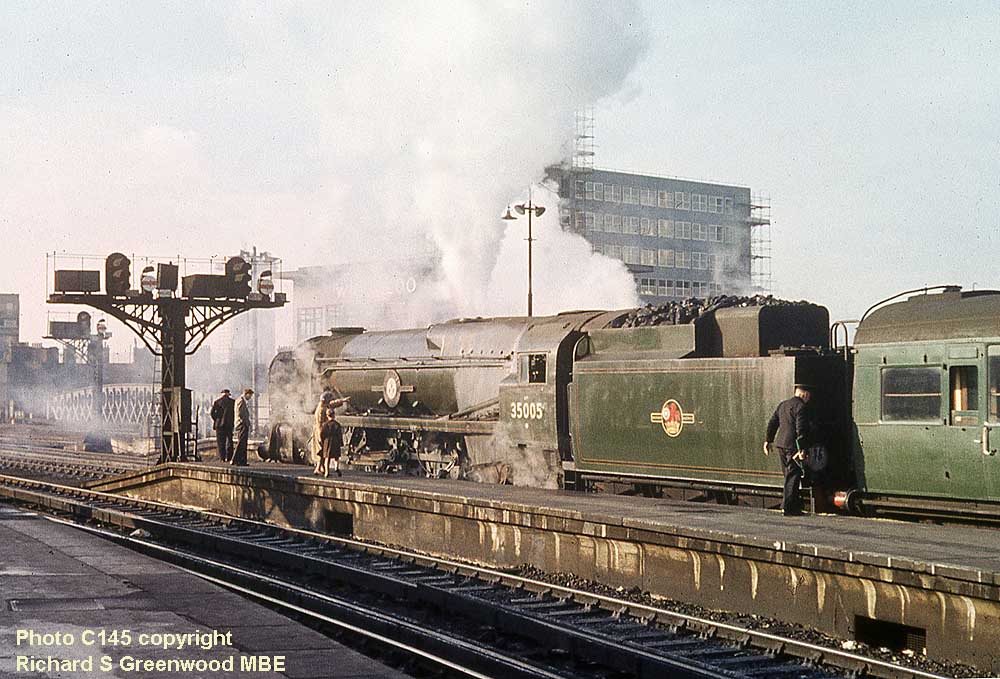 This brings us to my favourite Southern colour shot (above) of Merchant Navy 35005 'Canadian Pacific' waiting at the head of an express. The driver is checking the discs on the front of the loco. The guard watches the fireman coupling up. A small boy explains the loco to his mother whilst a more mature enthusiast just takes in the atmosphere.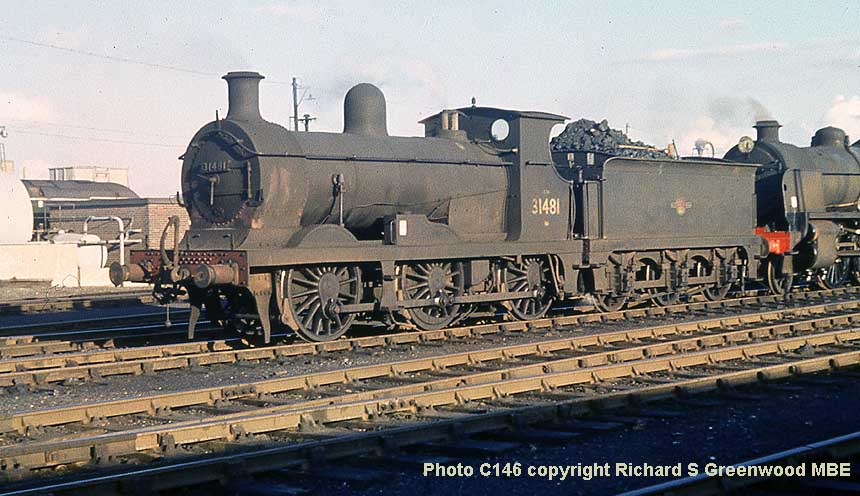 That afternoon I visited a very rundown Ashford Works where SECR C class 31481 was in the yard (above) as well as outshopped N 31848 (below). If only I had known it, an E1 4-4-0 was working trains on the Westerham branch on its last day and by the time I arrived there it was dark...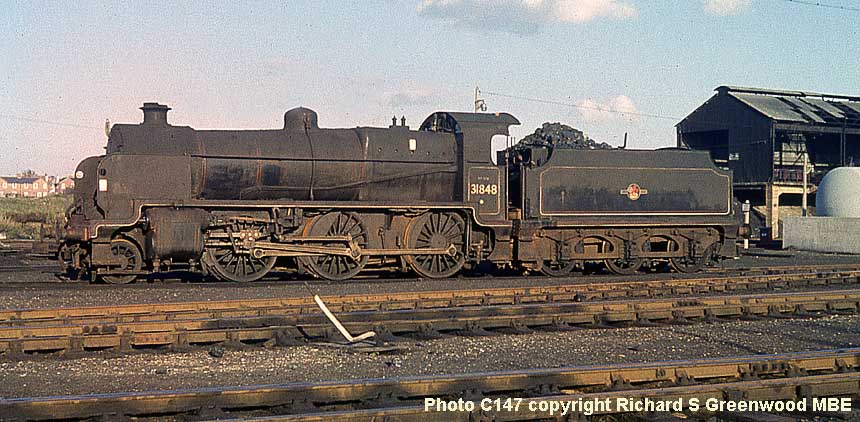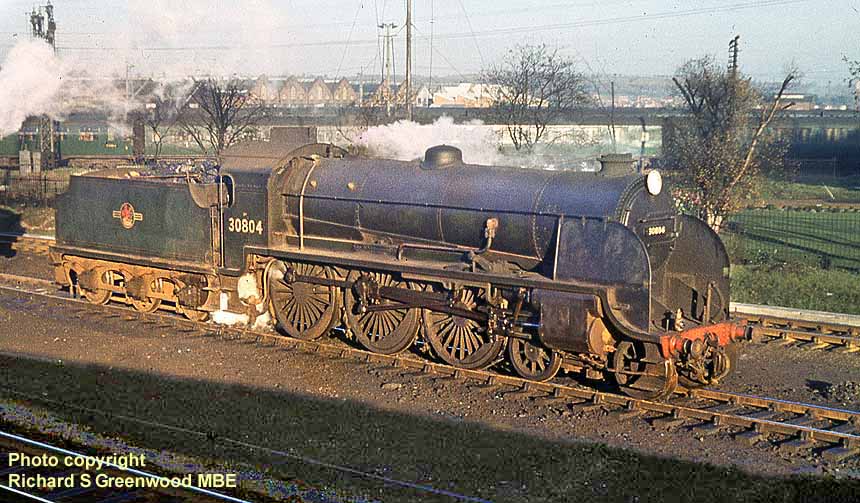 My final photographic expedition down south in 1961 was to Eastleigh where 'King Arthur' class No 30804 Sir Cador of Cornwall - one of those built at Eastleigh with a six wheel tender for use on the Eastern and Central sections - waits to come off shed (above) followed by BR Standard class 4 2-6-4T No 80040 after general overhaul in the works (below).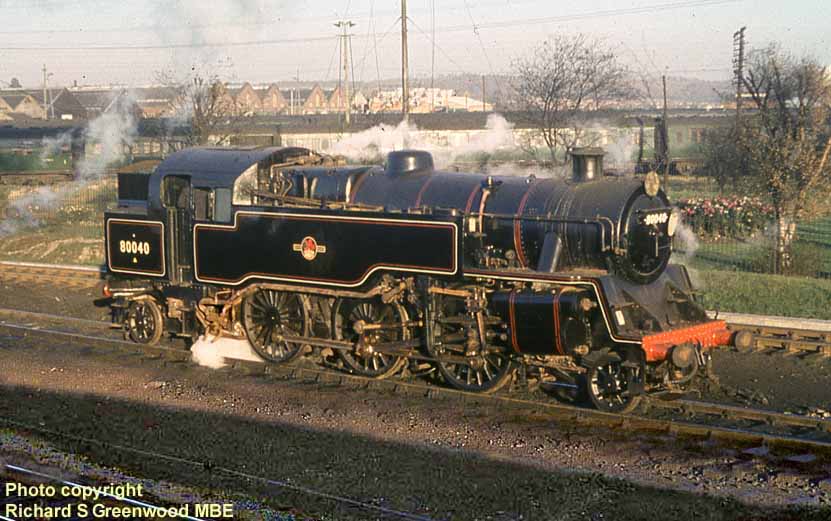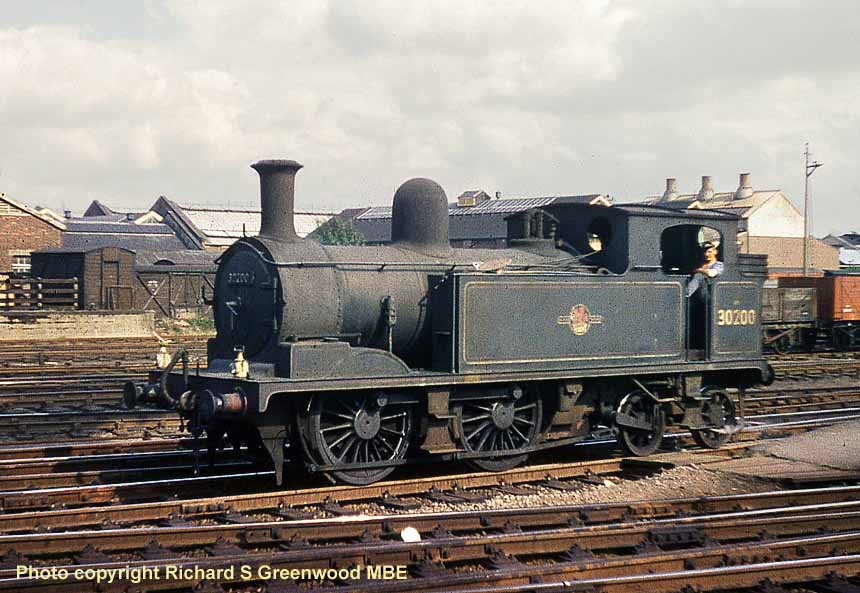 (Above)

It was always pleasing to see the station pilot at Eastleigh in 1961 when it was still an ex-LSWR 0-4-4T No 30200. Just a handful of the class were not converted for use on the Isle of Wight with larger bunkers. Were they kept in traffic just in case more locomotives might be needed to be converted for the Island railways?

No 30200 was photographed on 1 August 1961.


DOWN SOUTH IN COLOUR - PART 4 - 1962.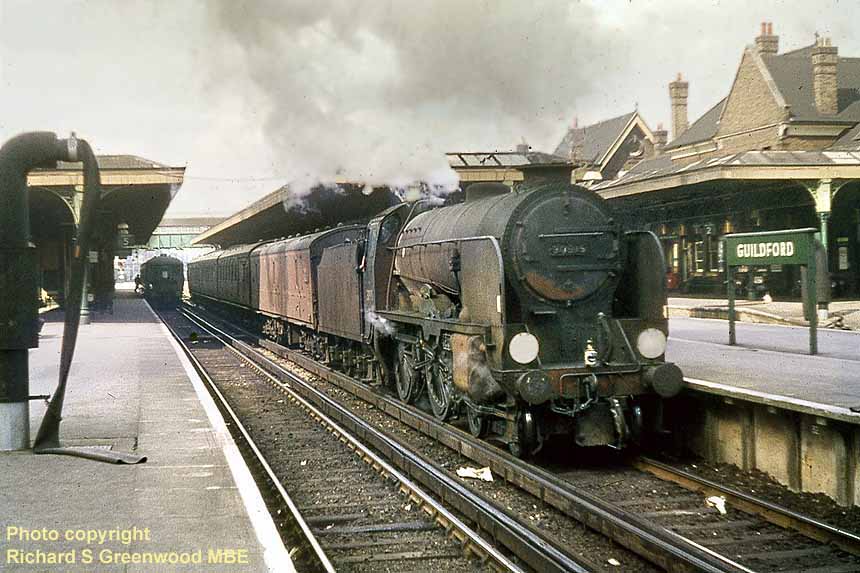 I was next in the south on Friday 13th April 1962 but just for a couple of days and the only colour shots I took at Guildford on the first day featured

this grubby-looking 'Schools' class No 30915 Brighton (above) and

Bulleid's Q1 0-6-0 No 33034 (below) departing with the 6.16pm Guildford to Dorking passenger (below).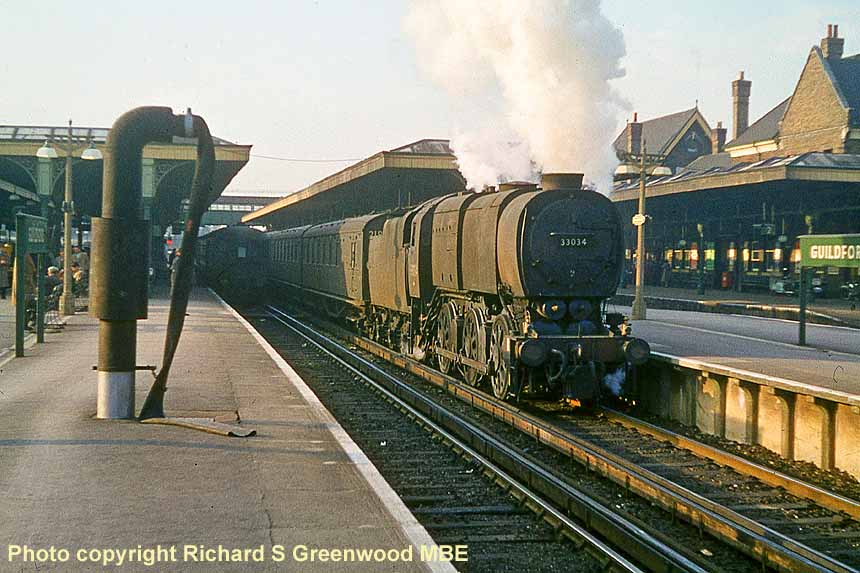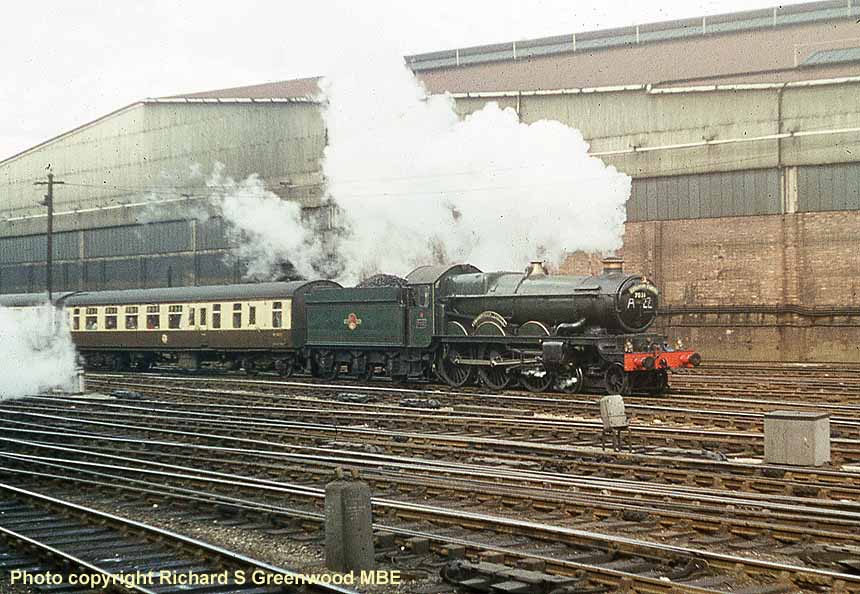 The following day I was at Paddington intending to reach Guildford via Reading General and South, and photographed Castle class No 7031 Cromwell's Castle bringing in the up 'Cathedrals Express' (above) and posing for the camera following arrival at platform 8 (below).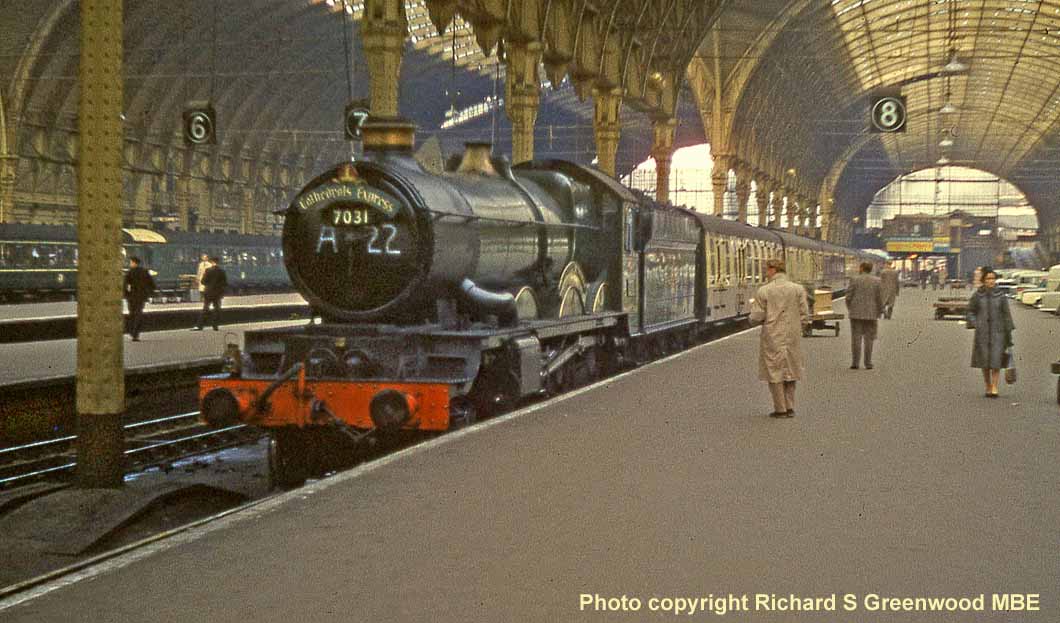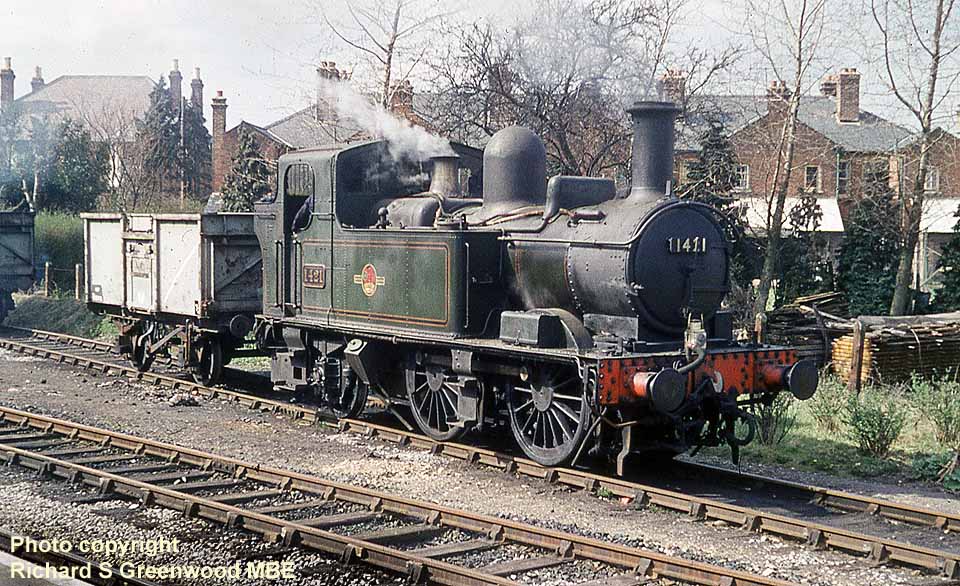 However, getting back to my visit to Paddington on 14th April, whilst en route to Reading our train called at Maidenhead and I was most surprised to see a nice clean 0-4-2T No 1421 standing on a one-coach auto train in the far platform. I just had to bail out and investigate; it was the branch train to Marlow and so I clambered aboard. After arrival at the terminus, the locomotive went into the sidings for coal (above) and then hooked back onto the coach in the platform (below) allowing me to take this 'picture postcard' shot of a branch line scene representing a bygone age now long since gone.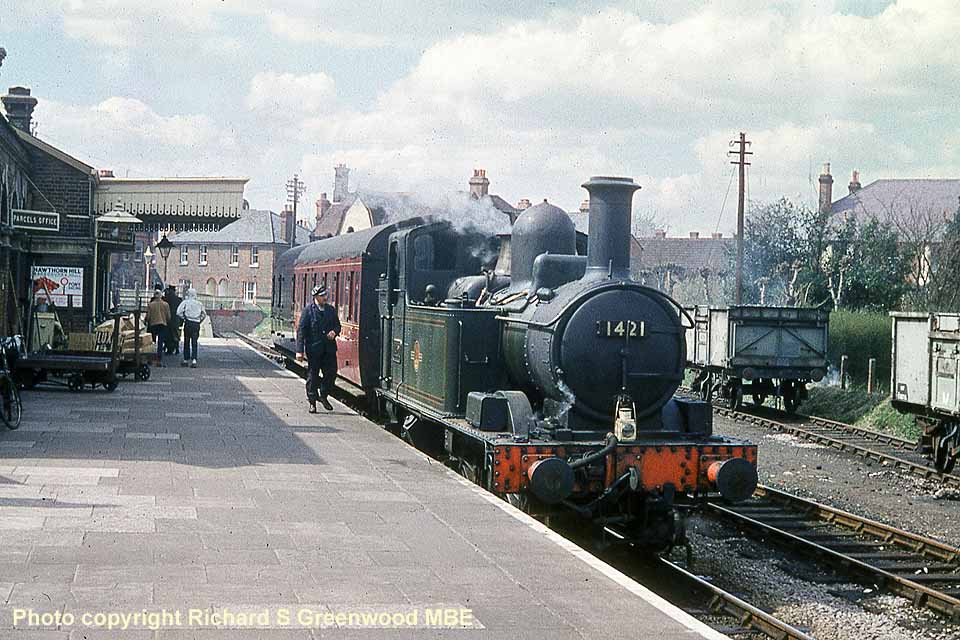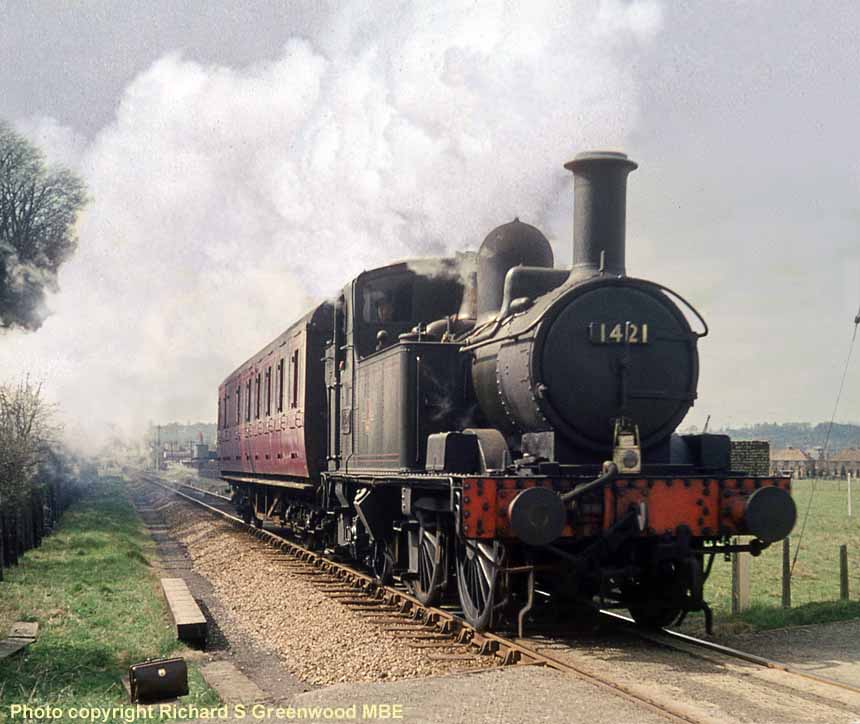 Prior to departure I walked some distance to a foot crossing and grabbed this hurried shot

of its return working to Maidenhead

(above). Eventually I did reach Reading General where the station pilot was Hall class No 6923 Croxteth Hall (below).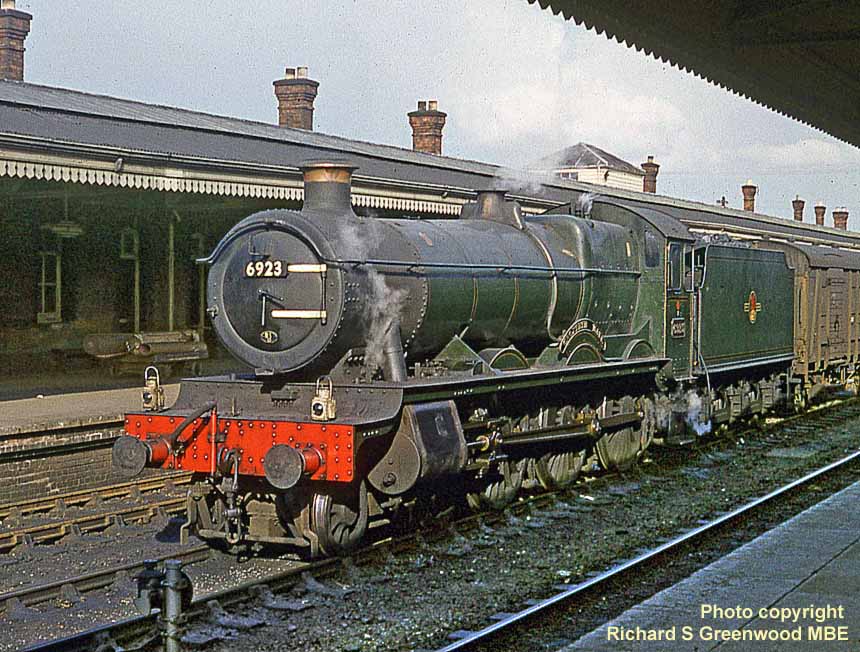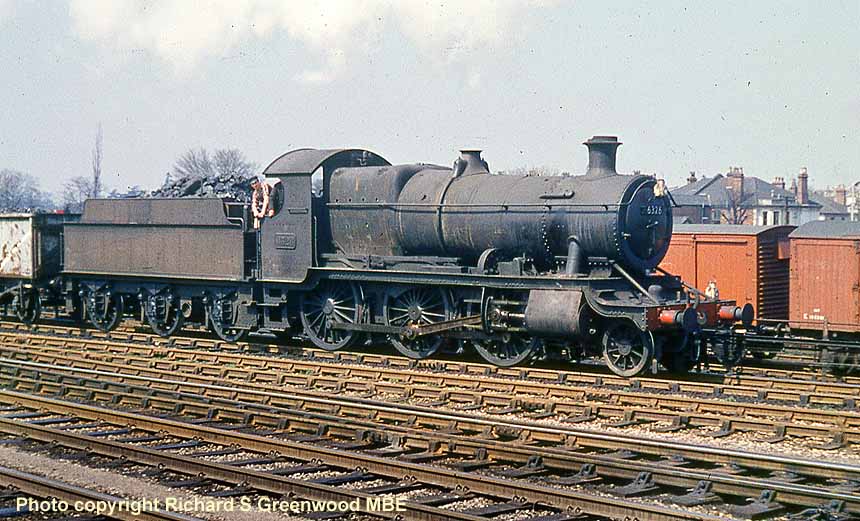 On Easter Tuesday 1962, a number of friends and myself made a pilgrimage to the Southern Region based at Guildford. Virtually all the classes which I recorded the previous year were all still at work. This time we had the advantage of a car at our disposal although we did quite a bit of running around by rail. On the way down we spotted an ex-LNWR Super D 0-8-0 but the loco was in an unphotographable location in the quarries at Buxton near the old A6. Our first stop was Leamington Spa where we found plenty of steam activity. Mogul 6326 was in charge of an up freight (above) and a freight in the opposite direction brought along 0-6-2T 6644 running bunker first (below).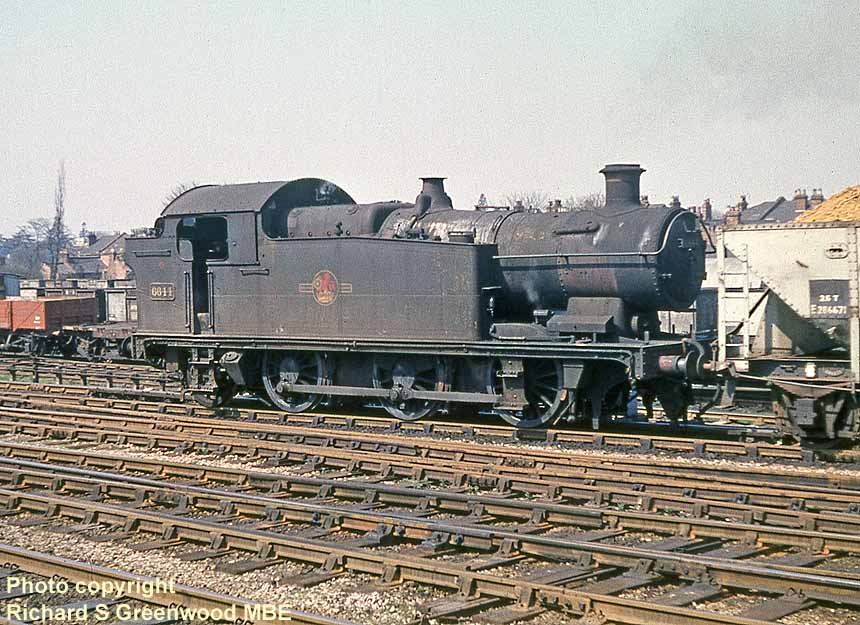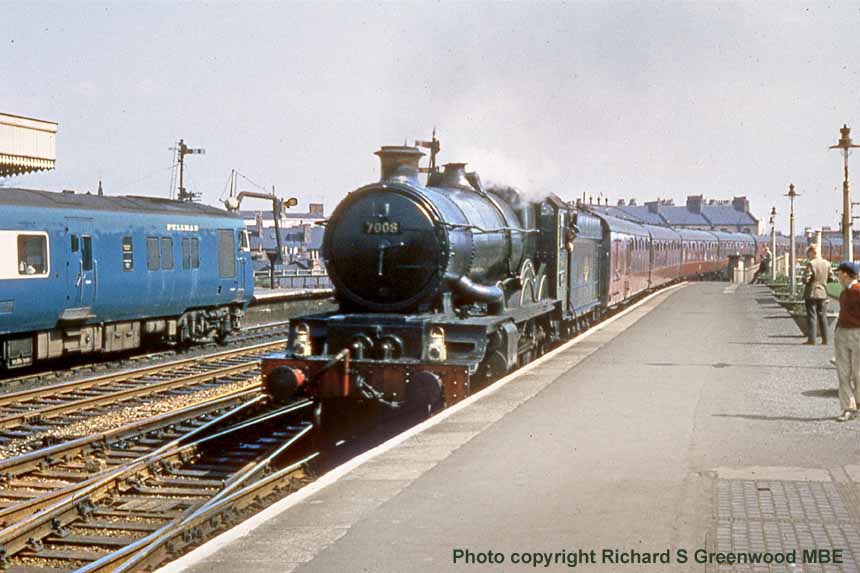 Castle class 7008 Swansea Castle made a fine sight on a down express entering the platform (above) with the Birmingham Blue Pullman visible on the opposite platform. Later sister engine 5060 Sarum Castle had charge of what appeared to be an inter-Regional train for the LM Region not calling at Leamington (below).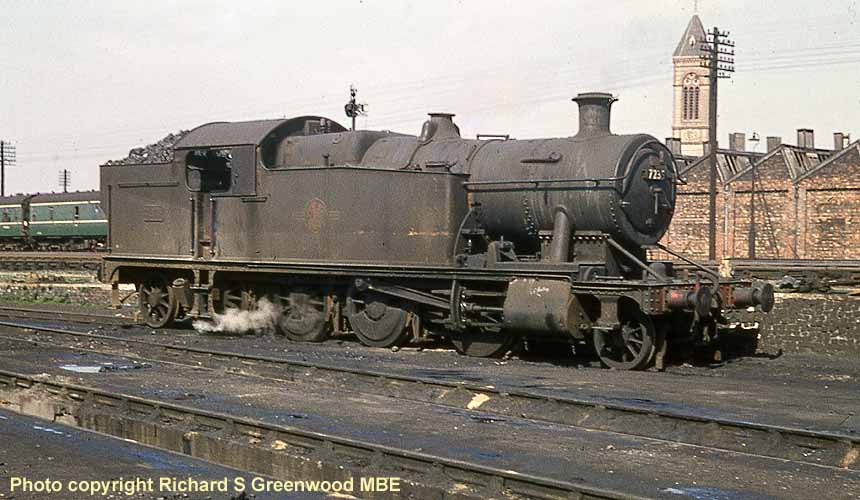 The next port of call was Oxford shed where the only colour photograph taken was of an incredibly dirty 2-8-2T 7235 (above). By contrast at Didcot we found a gleaming ex-works Grange 6821 Leaton Grange on passenger stock, the leading coach being an unusual ex-LNER vehicle (below).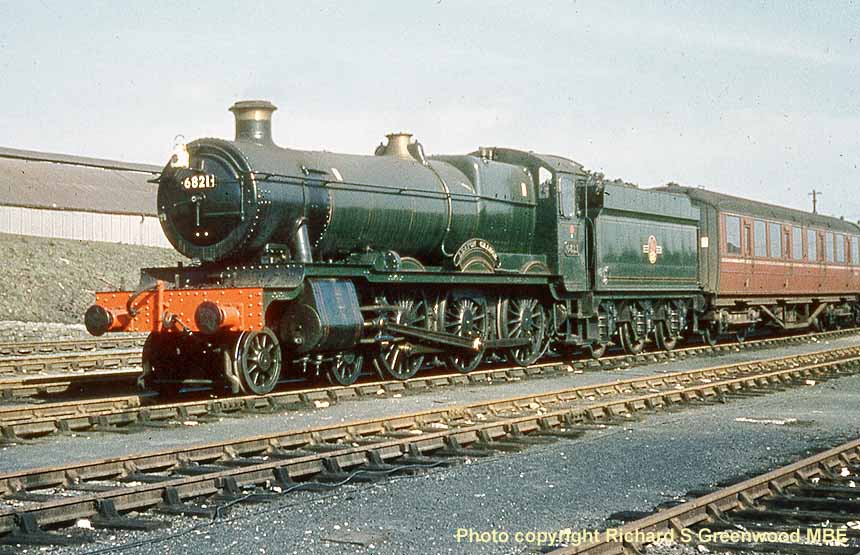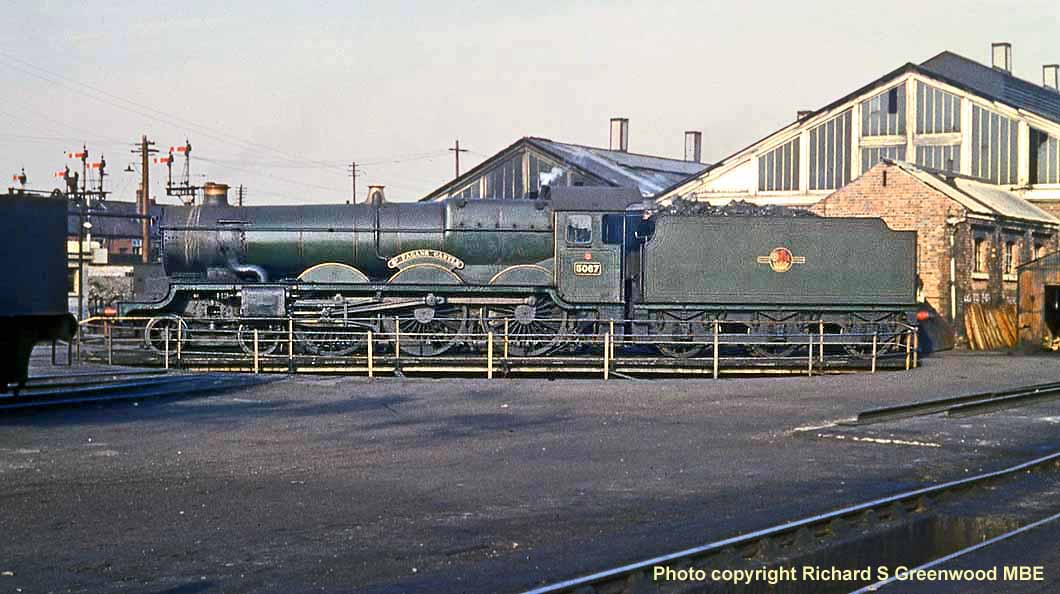 By the time we reached Reading the light was failing but there was just enough for a photo of 5067 St Fagan's Castle on the turntable (above). The next day, Wednesday 25 April, dawned bright and sunny. B4 0-4-0T 30089 was still the shed pilot;

however in my earlier August 1961 photo

here the 0-4-0T had been surrounded ex-LSWR chimneys and tenders

belonging to the 700 class 0-6-0s

, but eight months later it was now surrounded by more modern locomotives (below).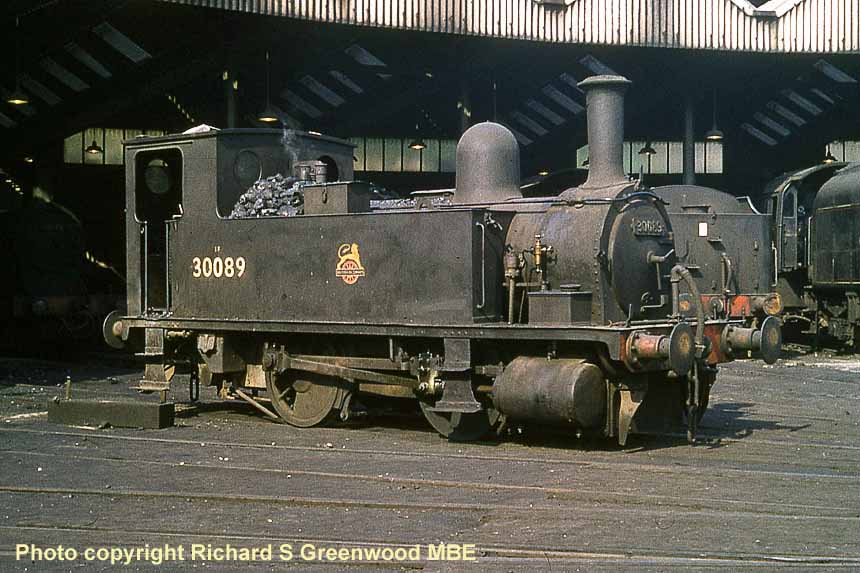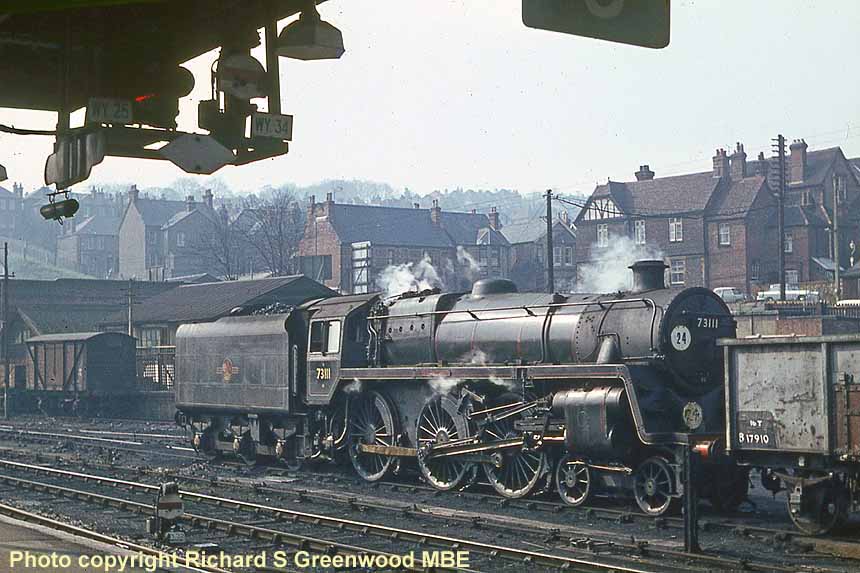 On the coal stage shunting duty was a BR Standard 5MT No 73111 King Uther, not a class I had seen at Guildford the previous year (above); it was keeping company with Q class 0-6-0 30532 (below), another class which had been quite shy in 1961.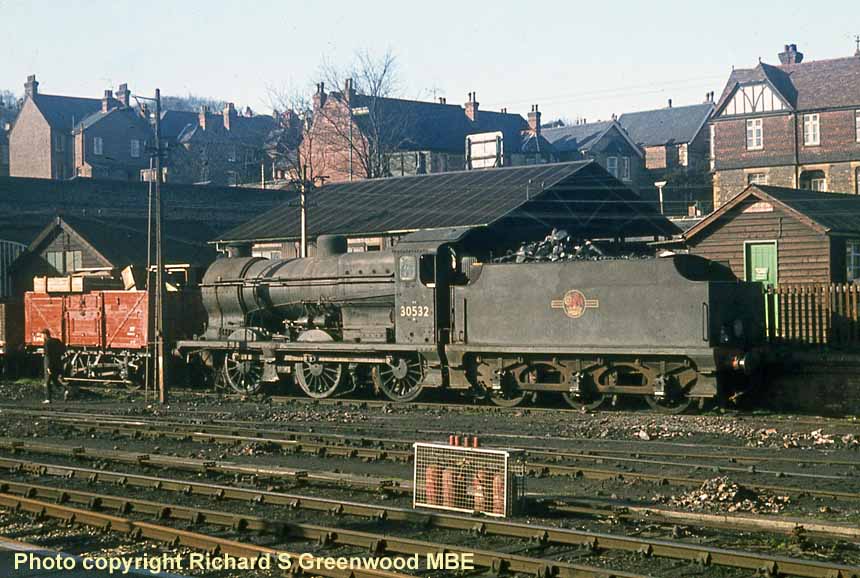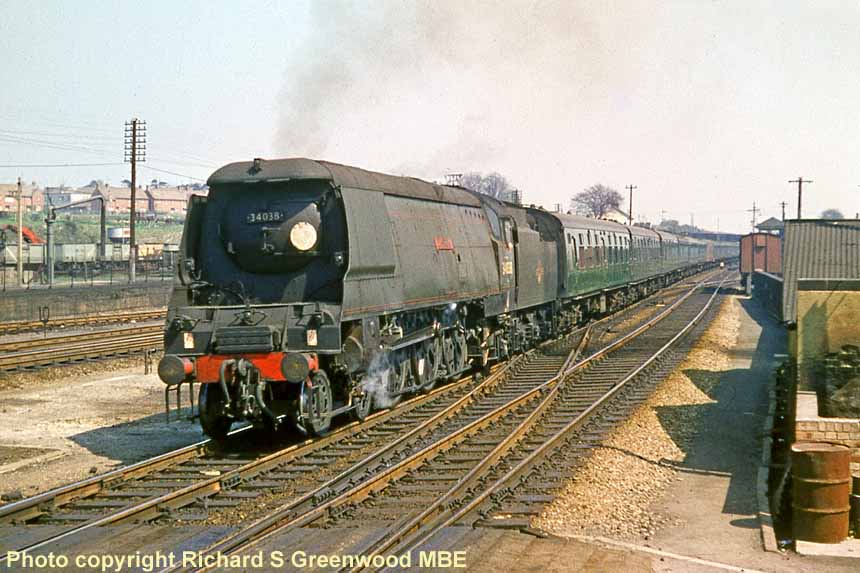 Next it was over to Basingstoke where a 'West Country' class was the first on the scene: No 34038 Lynton heading a down train into the station (above). This was followed by a shot of 'Battle of Britain' class No 34049 Anti-Aircraft Command on the shed (below) keeping company with 'Lord Nelson' 30856 Lord St Vincent.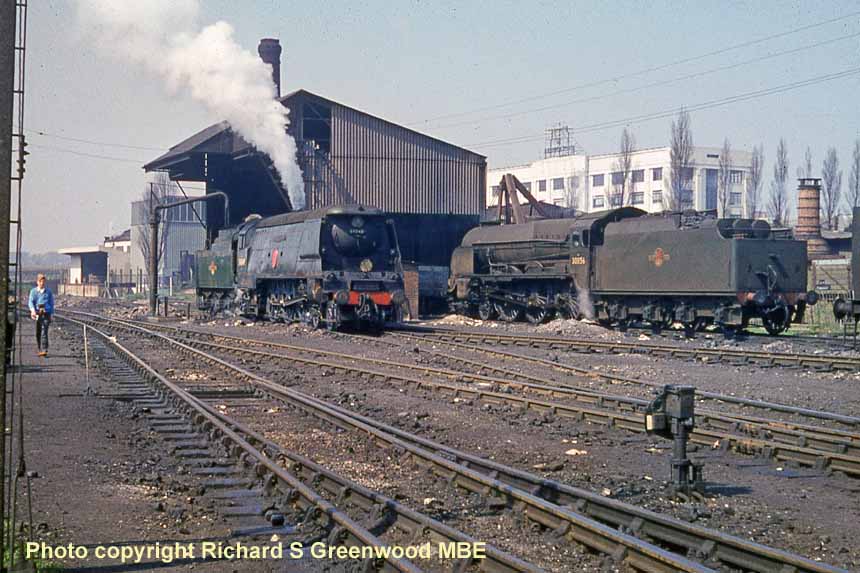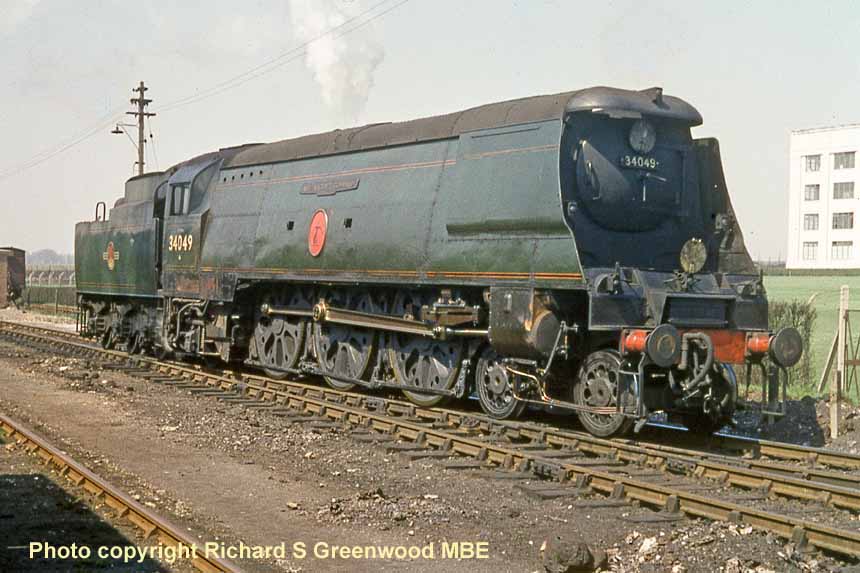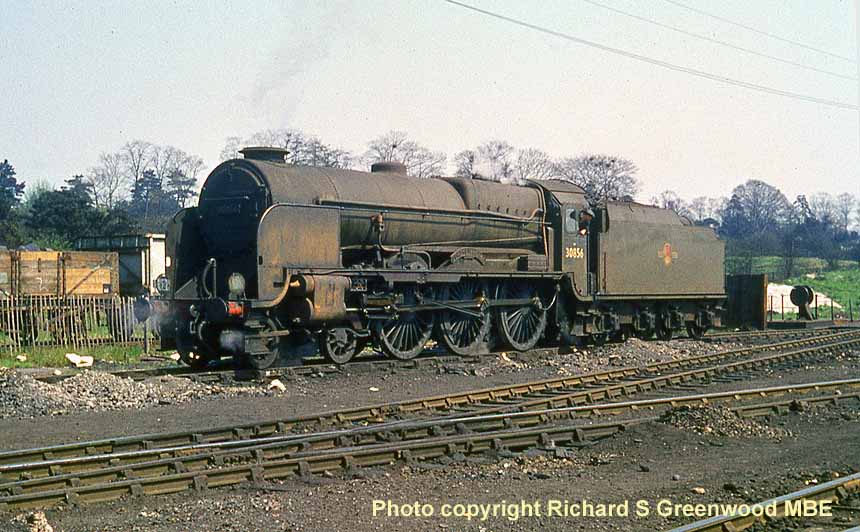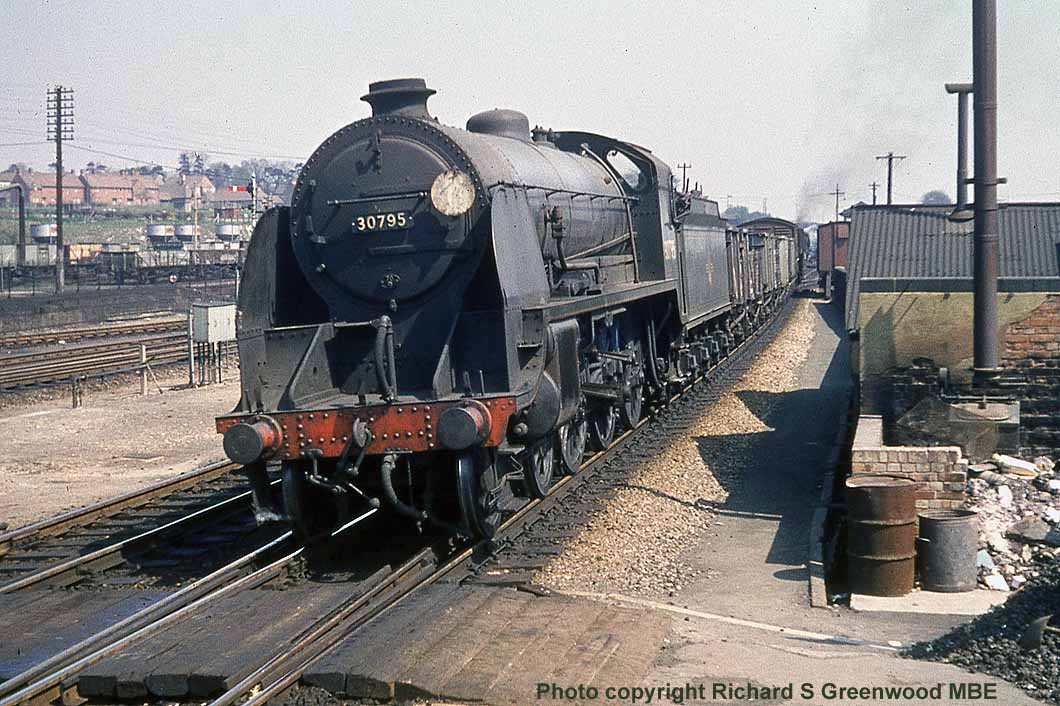 (Above) 'King Arthur' 4-6-0 30795 Sir Dinadan heels to the curve entering the platform with a down freight. Next we headed a short distance down the line to Eastleigh and a visit to the shed brought more photo opportunities. A handful of Standard 9F 2-10-0s were transferred to Eastleigh for working the heavy oil trains from Fawley refinery off the Totton branch. No 92231 has just taken coal. Note the lamp brackets have been fitted midway down the smokebox door to permit the SR route indications to be displayed. I think this loco was later transferred north, possibly to York shed (below).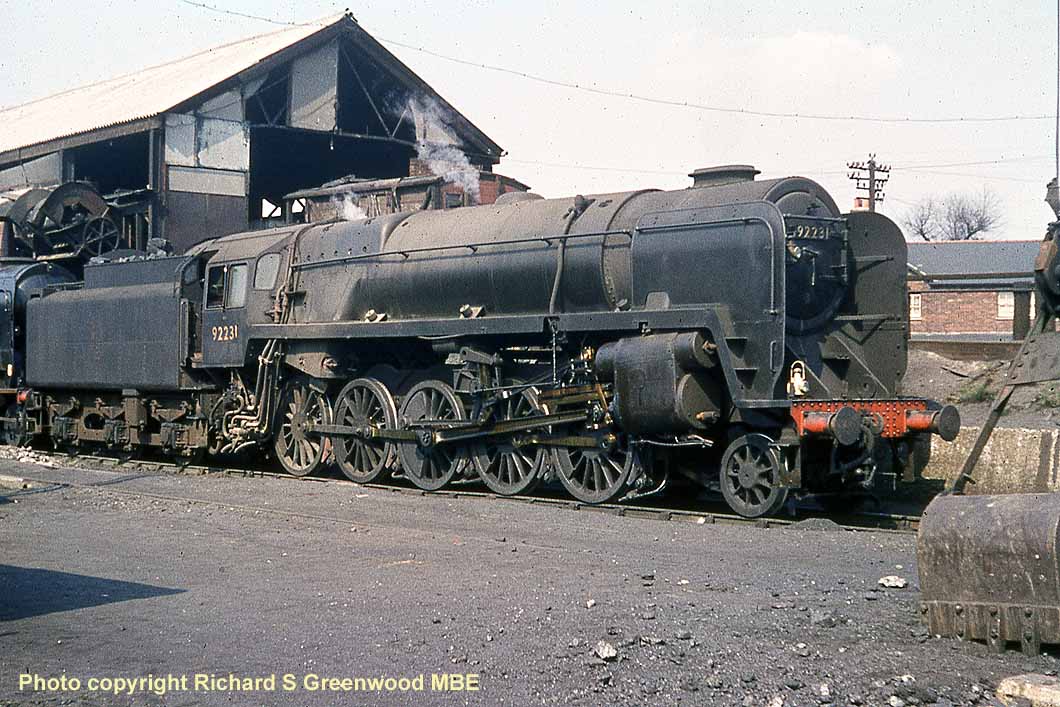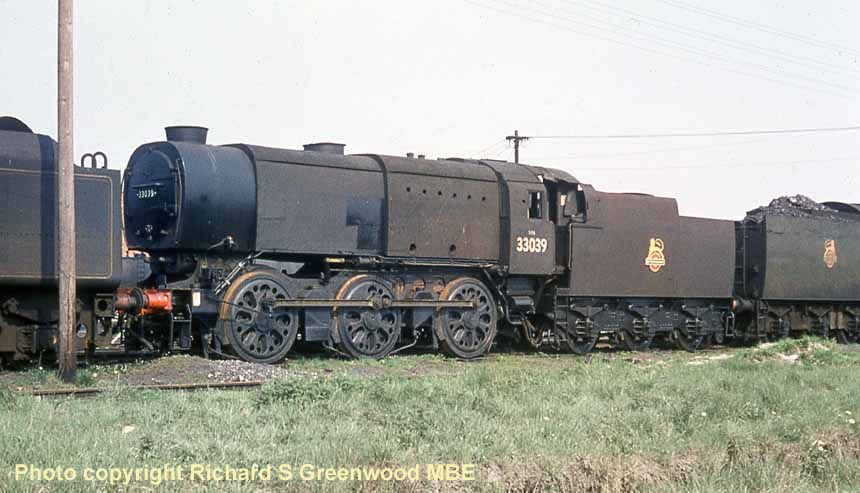 A Q1 33039 waits to re-enter traffic after minor Works attention involving a very partial repaint (above). Also just ex-works but fully repainted is ex LBSCR class A1X 'Terrier' 32636 ready to return to duties (below).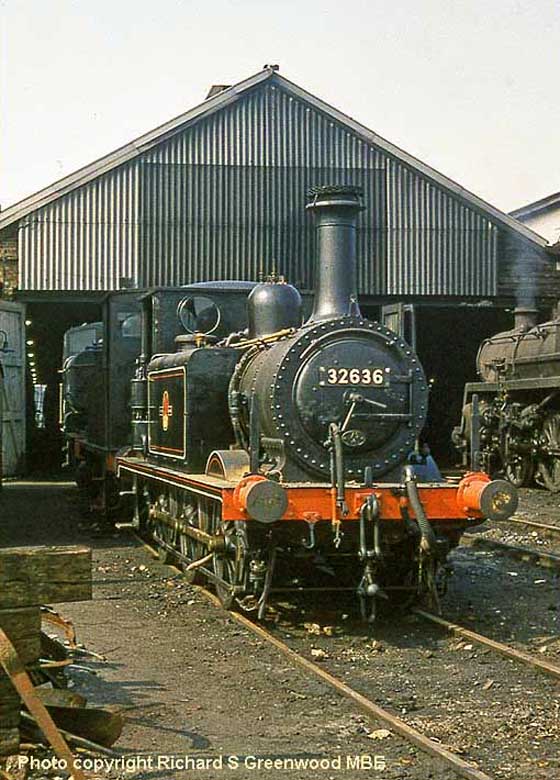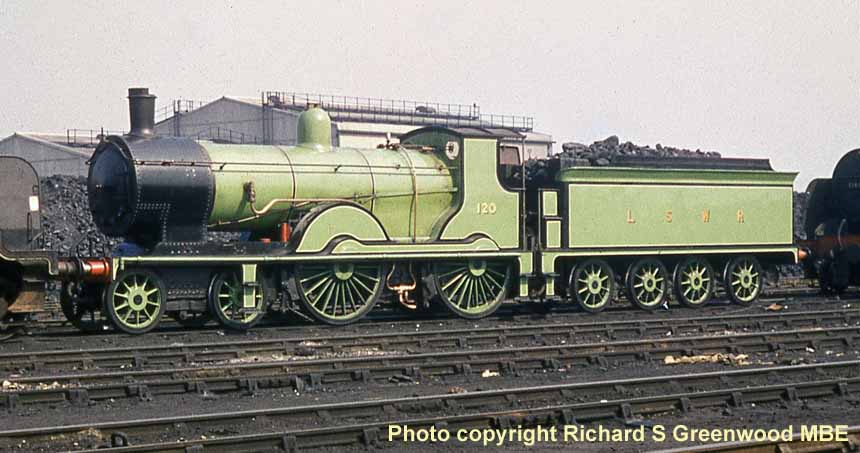 (Above-Below). Introduced in 1899, Dugald Drummond's Class T9 4-4-0s

had a startling acceleration

which quickly earned the nickname 'Greyhounds'; a total of 66 T9s were built, some at Nine Elms and others at Dübs and Company of Glasgow; No 120 was among the first batch of T9s built at Nine Elms in 1899 with a narrow cab. The class was paired with two types of tender, No 120 having the standard 8 wheel variety. When the LSWR was absorbed into the Southern Railway, No 120 was modified with Robert Urie's superheated boiler and repainted in the SR's lined Olive Green. Renumbered BR 30120 in 1948 and painted in BR's unimaginative lined black livery; the loco was withdrawal from Exmouth Shed in 1962. However, having been earmarked for the National Collection, No 120 was repaired at Eastleigh Works and re-painted in its original LSWR Sage Green livery, whereupon it continued in revenue-earning service working a number of Railtours up to withdrawal in October 1963. This is a super-wide image of the freshly overhauled T9 in the works yard at Eastleigh on Wednesday 25 April 1962. ...click on photo once, then again to see full-sized image. A word of helpful advice when viewing these images. Press F11 on the keyboard to empty the screen of all extraneous clutter (tool bars top-bottom etc) revealing a full-size webpage on screen...it really does make a difference! After viewing super-wide size, move cursor off the image and right-click to return 'back' to the page. You can press F11 on the keyboard at any time to return to the original screen...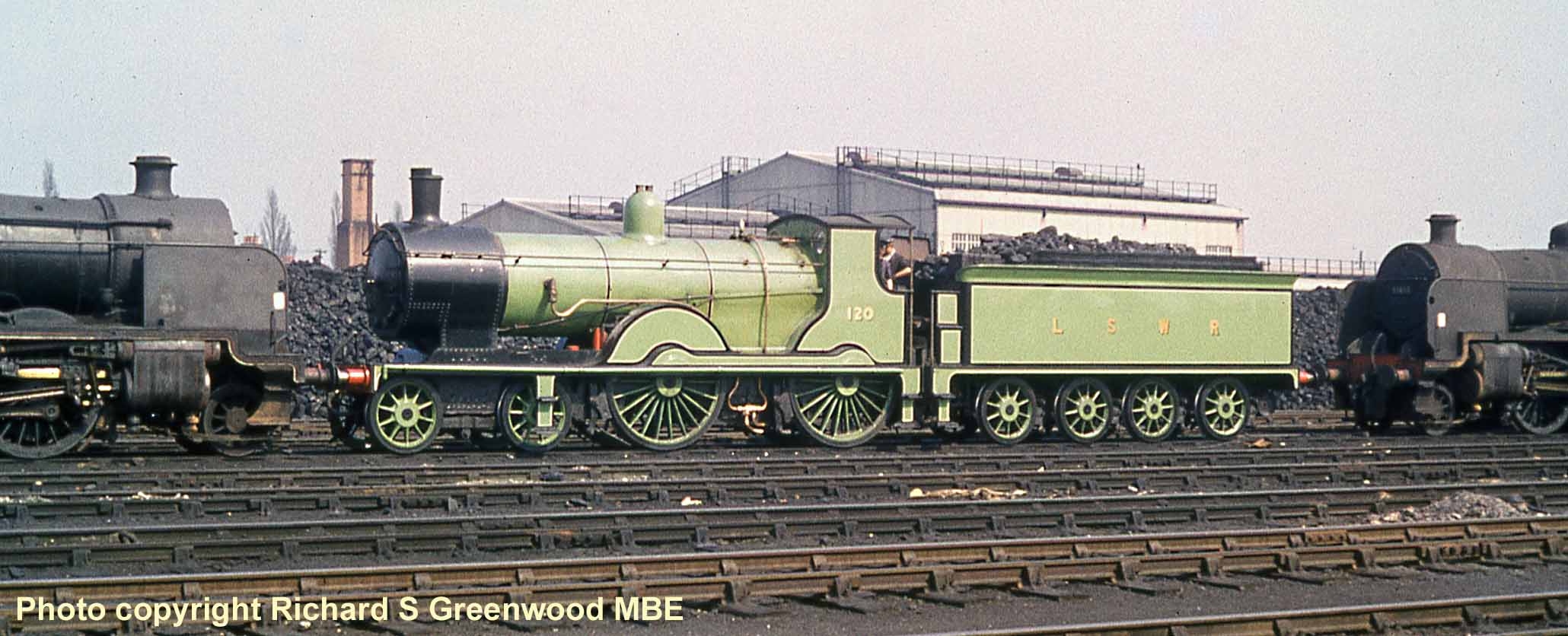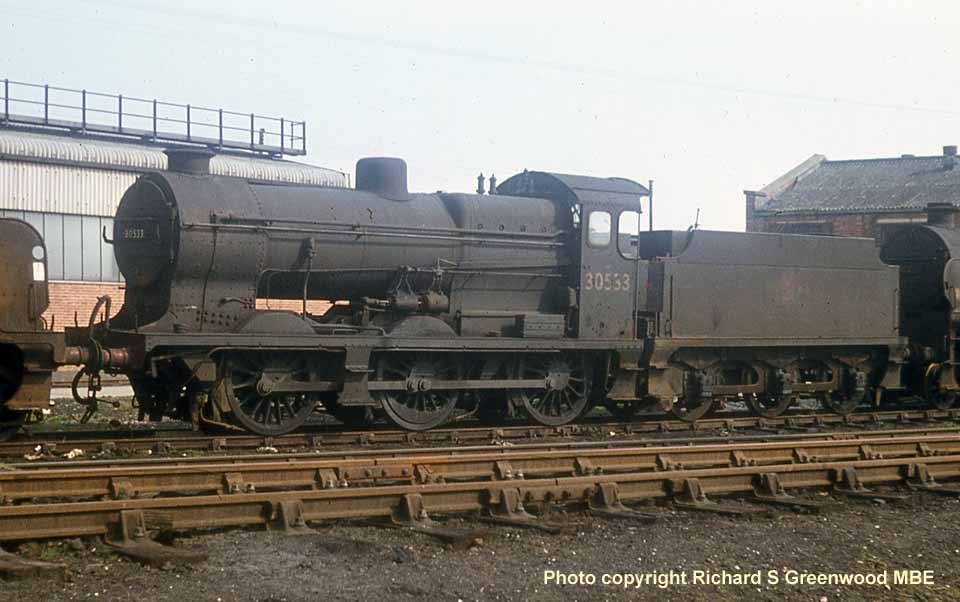 The Southern Q class 0-6-0s designed by Maunsell were graced by a variety of chimneys. First we see 30533 looking quite forlorn, waiting to enter the Works for attention (above) whilst its classmate 30543 has just been outshopped with a BR pattern chimney, and again after a partial repaint. (below).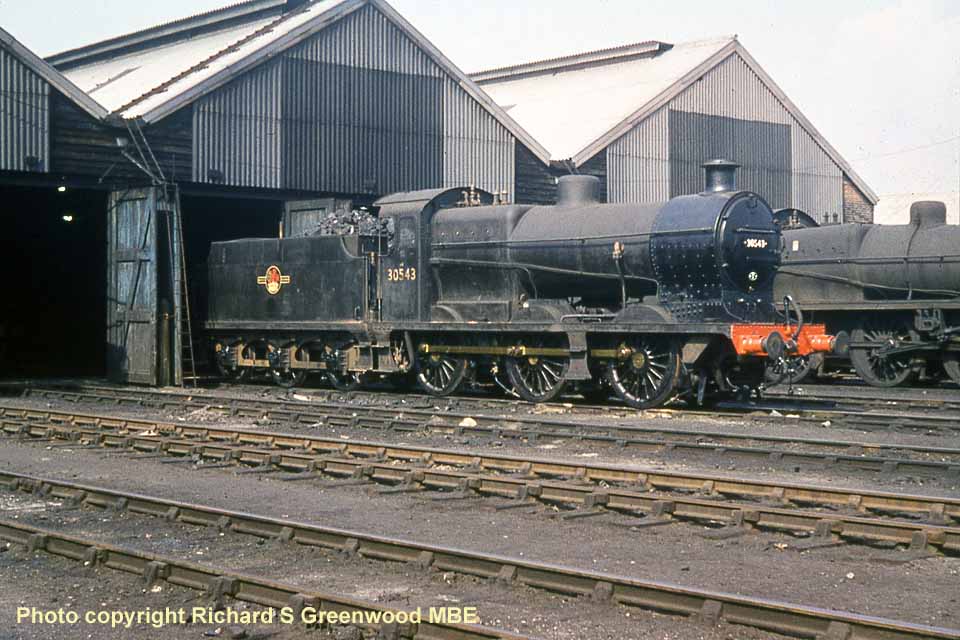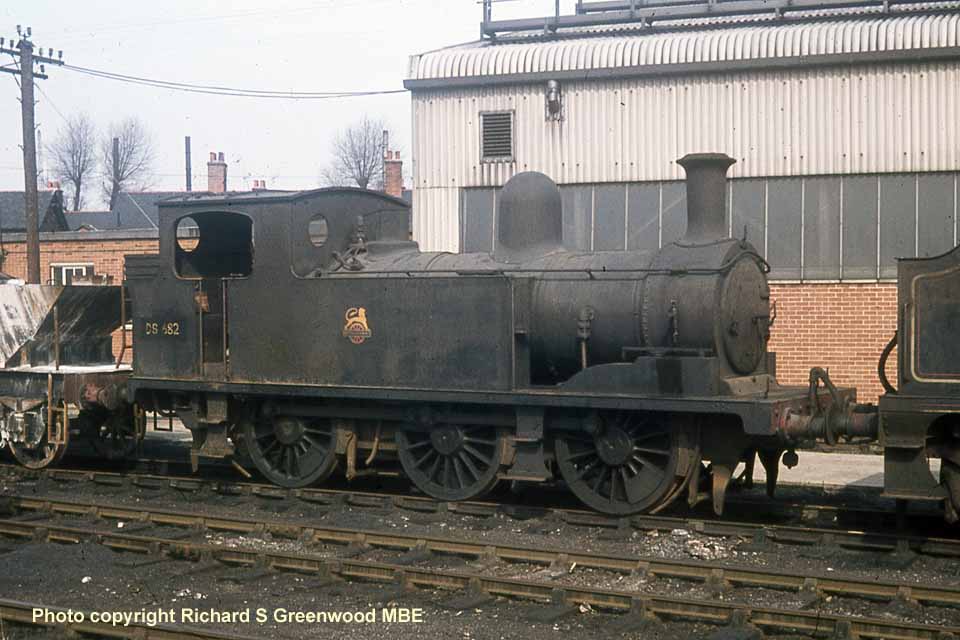 Dead awaiting works and no doubt withdrawal was an old LSWR G6 class 0-6-0 DS 682 formerly employed at Meldon Quarry (above). There was a G6 allocated to Guildford but it was always right at the back of the shed when I saw it and apparently it only came out into traffic during the December mail and parcels traffic rush. (Below) Being prepared for traffic to work a passenger train to the Fareham line is 'King Arthur' class 4-6-0 30782 Sir Brian; the fireman has climbed on to the tender to trim the coal. What a fine proportioned locomotive a King Arthur was especially with the old style bogie tender.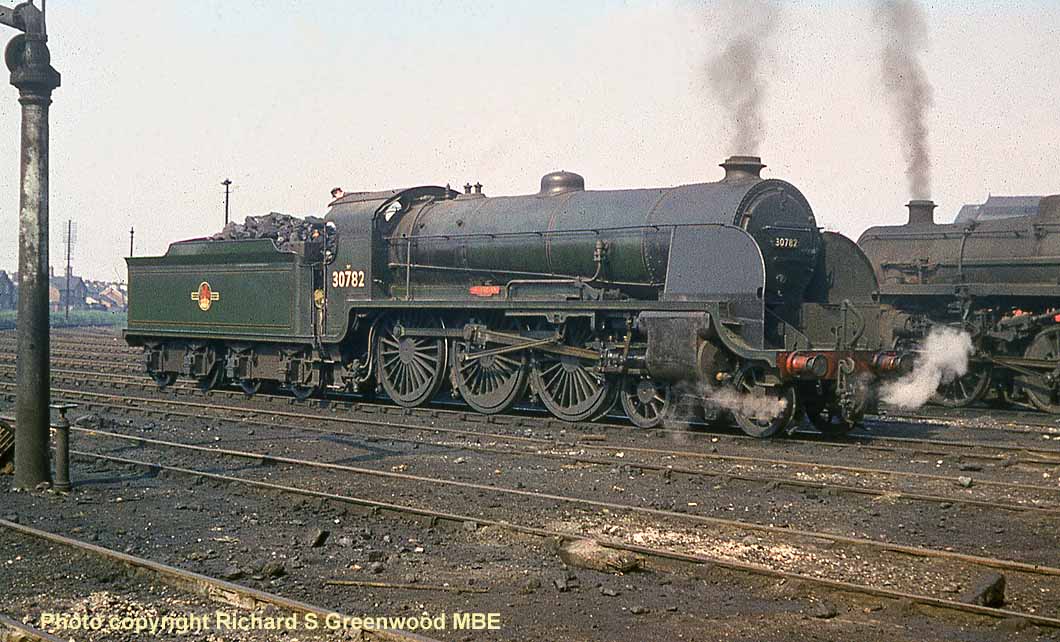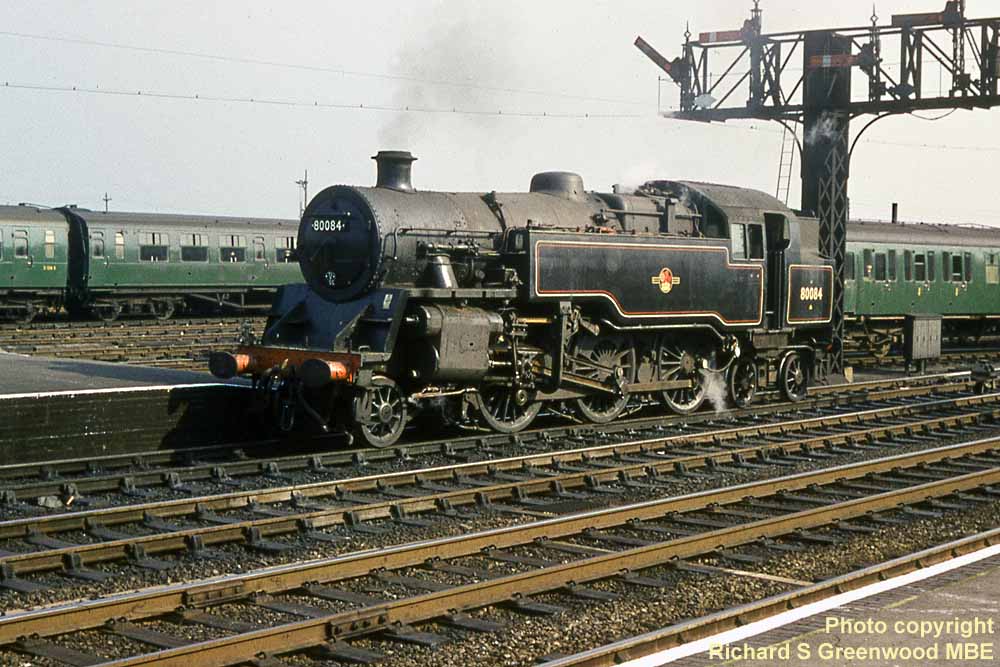 (Above) At the station, newly outshopped and repainted Standard class 4 2-6-4T No 80084 is seen awaiting signals. Behind a small part of a DEMU can be seen departing from the back platform (Below). A fairly clean Standard 4 4-6-0 in charge of an up freight c

aught my eye as a worthwhile colour shot

. It is heading on the down through line past a light engine 'West Country' Pacific. The Standard is 75078 and the Pacific 34092 City of Wells. Little did I imagine when I took the shot that 20 years later I would have the privilege of driving both locos on the Worth Valley Ralway!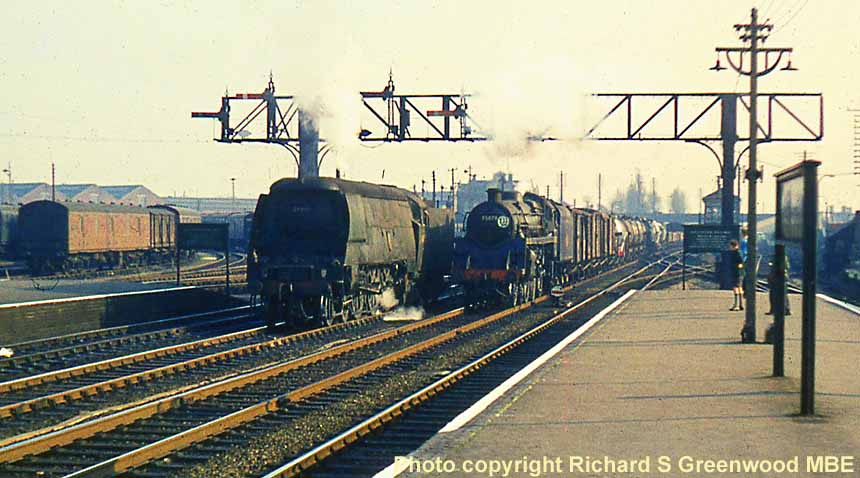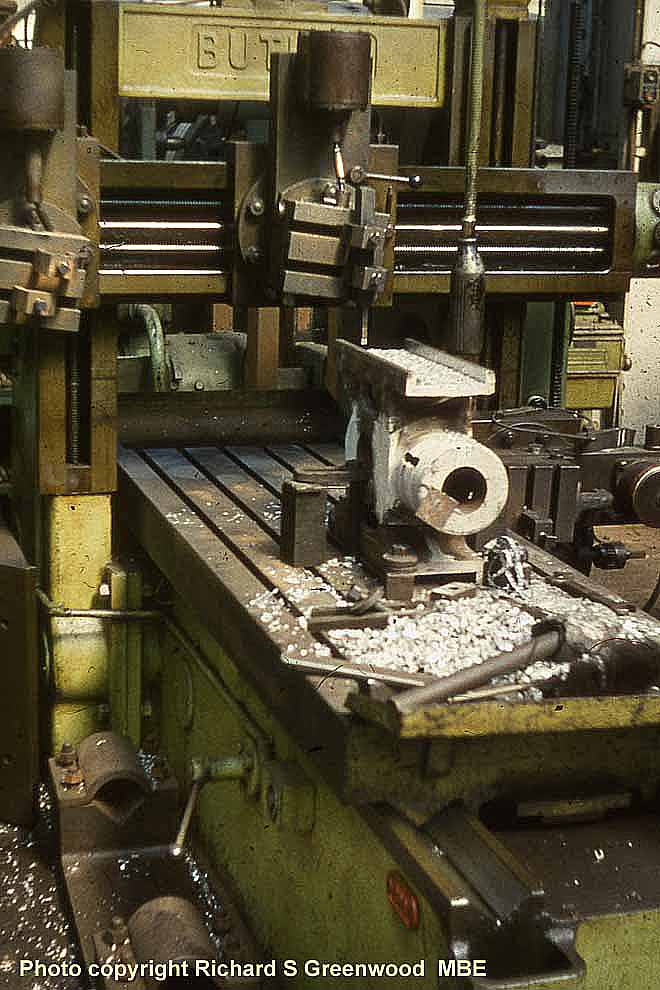 For the record, the next day (26 April) we visited Eastleigh Works but the only colour shots were two taken inside the works; first a crosshead is being machined on a planing machine (above) and the other is a shot (below) inside the mechanised foundry, probably non-ferrous; the lack of PPE (personal protective equipment) would be a concern these days!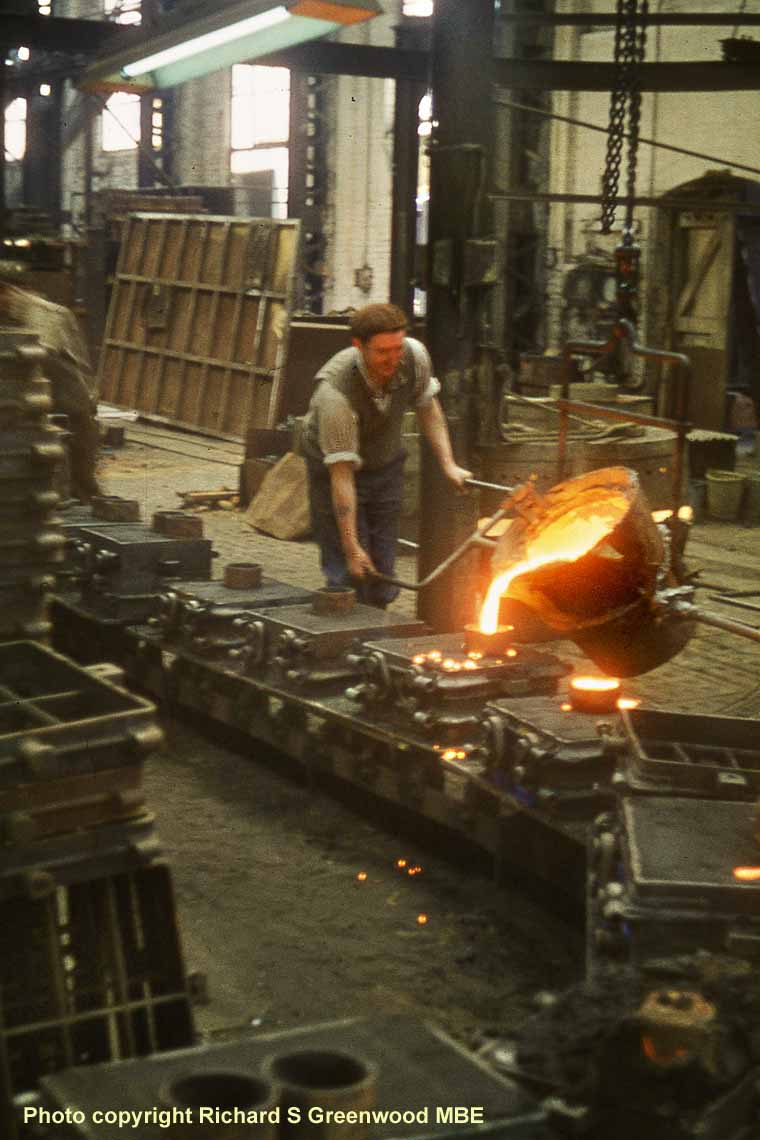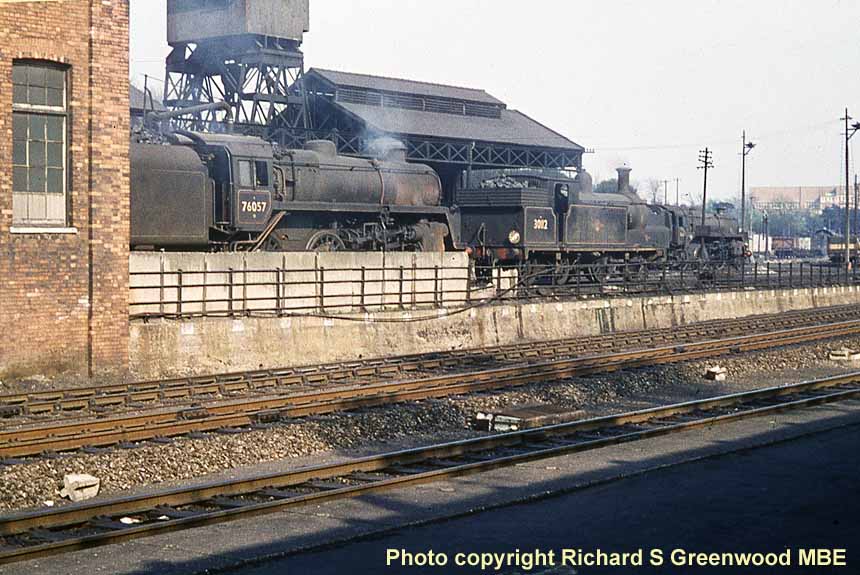 After the Works we headed down the line to Bournemouth where you had an excellent view of the shed and loco yard from the station platform at Central. BR Standard 76057 and LSWR M7 0-4-4T 30112 are seen looking from the west. The same two locomotives and two Light Pacifics, one rebuilt, 34037 Clovelly, and the other is the now-preserved 34105 Swanage which retained its original air smoothed outer casing throughout its working life.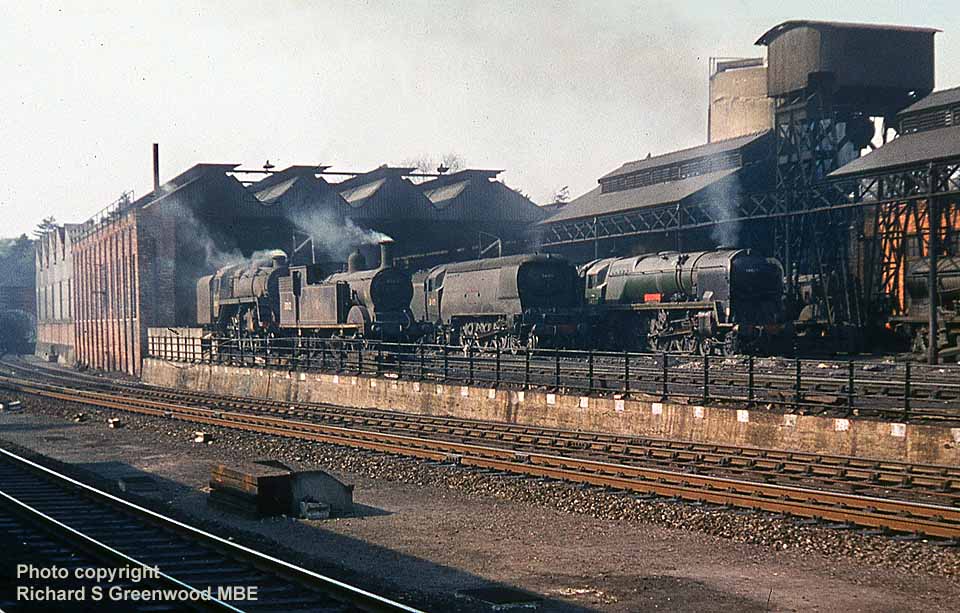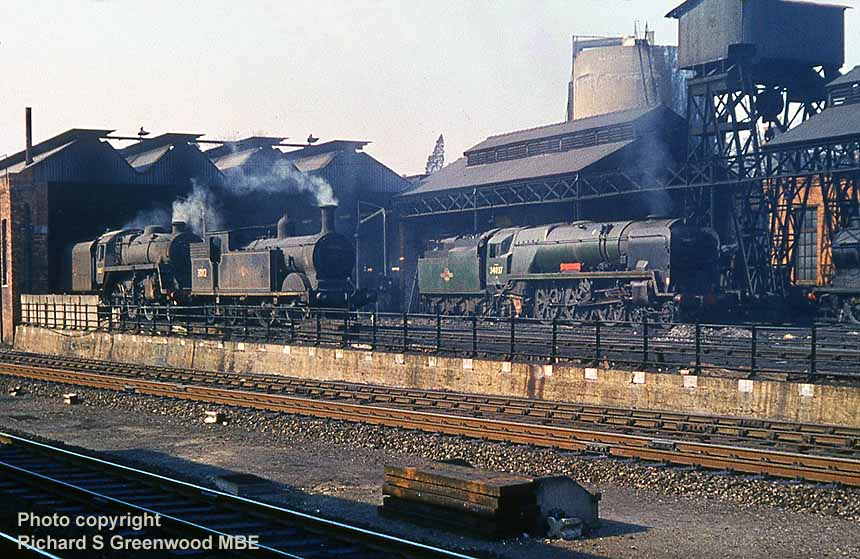 In the next shots (above-below) 34105 has moved off shed and poses for the camera at the shed outlet.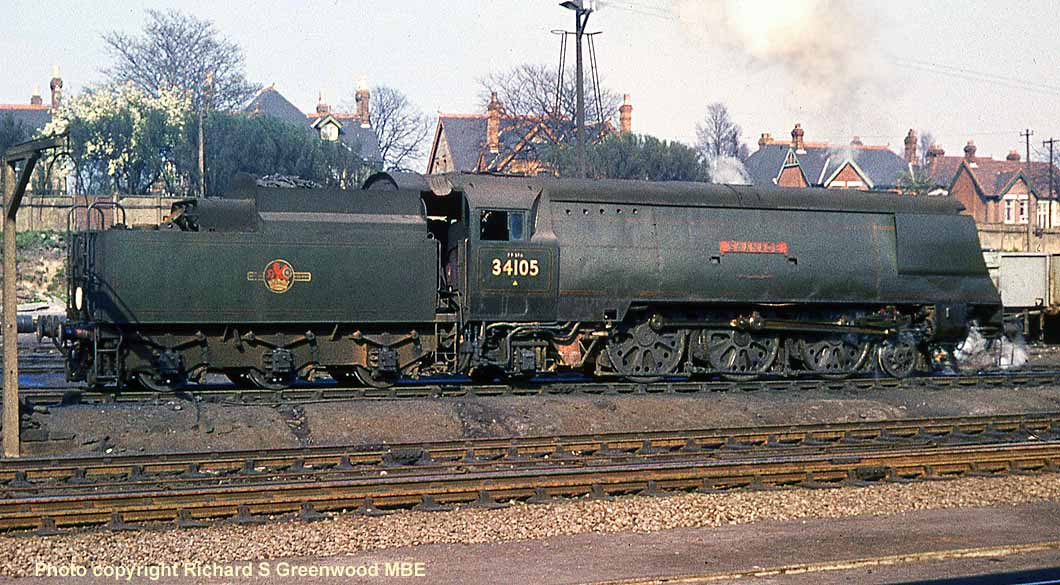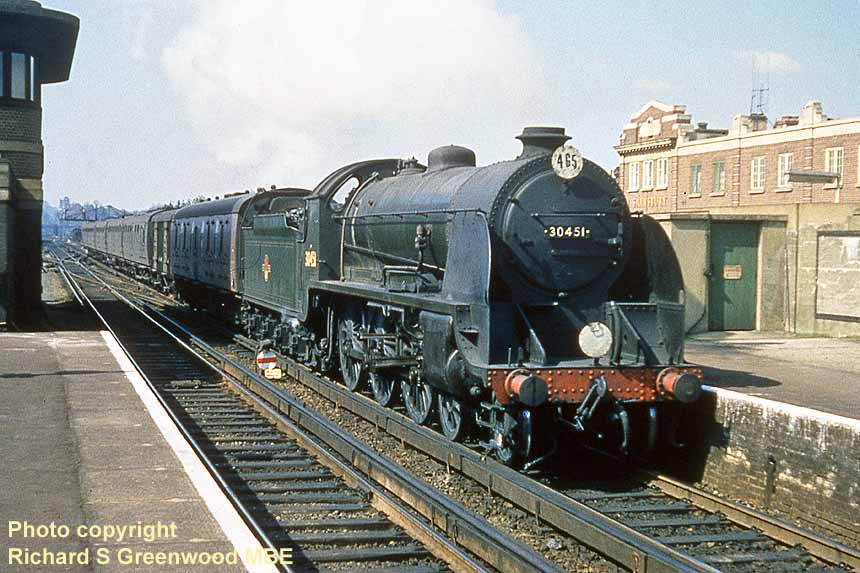 The next day, 27 April, was a visit to SwindonWorks but it was dull and the colour camera stayed in its bag. Not so Saturday 28 April, again bright sunshine greeted us as we went to Woking and boarded a semi fast Salisbury to Waterloo train headed by Urie Arthur 30451 Sir Lamorak (above). However the light was not conducive to colour work at Nine Elms, so the only exposure was Standard 4 75077 showing the double chimney to advantage in this side on shot. (below).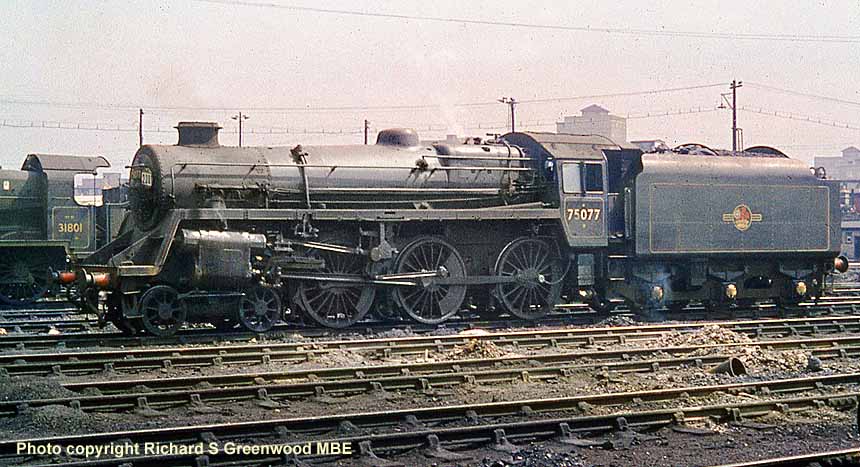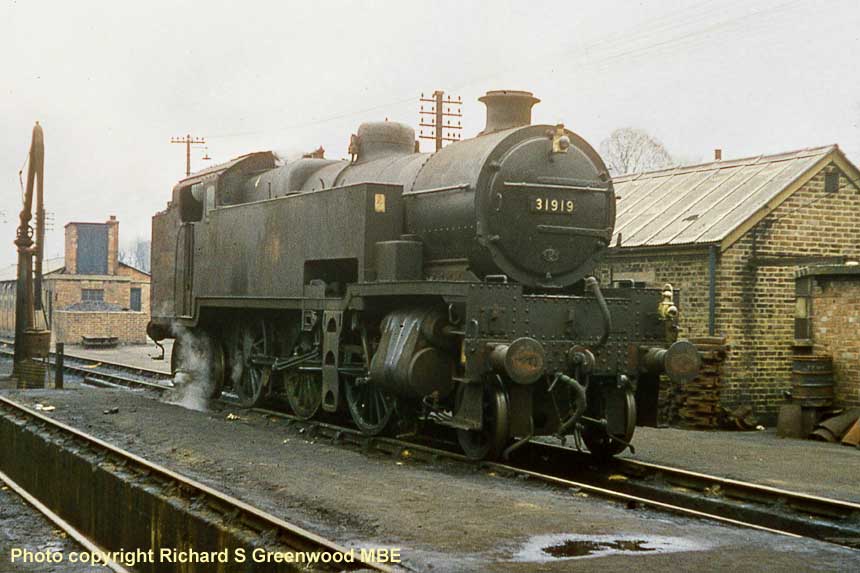 The sun had left us at Norwood Junction shed where class W 2-6-4T 31919 simmered in the shed yard.The Ws were three cylinder machines designed for heavy cross-London freight work (above). By the time we reached the seaside at Brighton the sun had come out again. Ex LBSCR K class 2-6-0 32340 only had a further eight months work as she and all other members of the class would be withdrawn from traffic at the end of 1962 (below).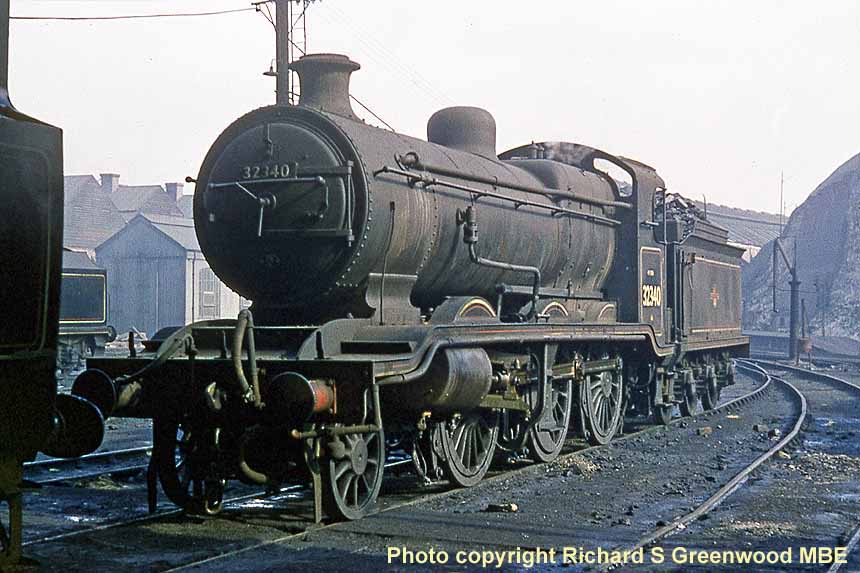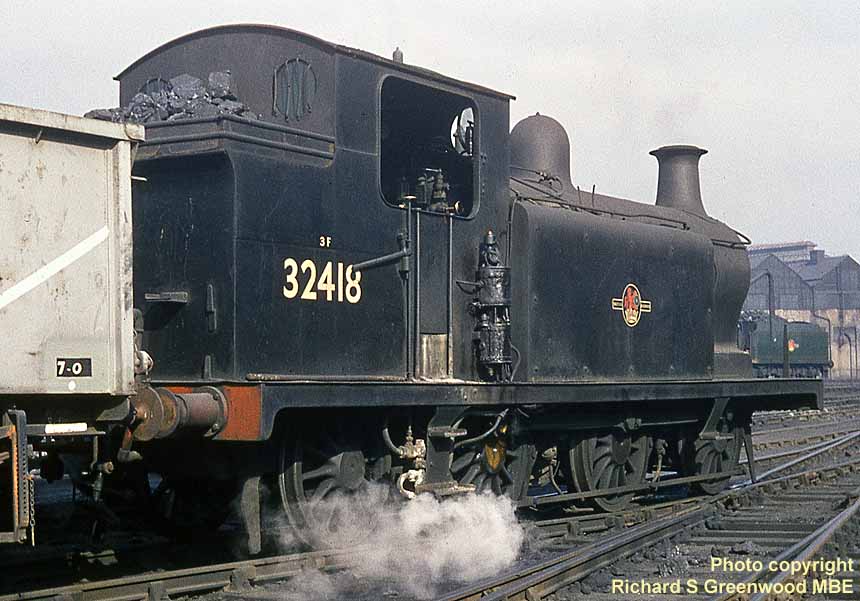 Another ex-LBSCR locomotive is this E6 0-6-2T No 32416 on coal pilot duties (above) whereas the modern era is represented by Ivatt class 2 2-6-2T 41301 (below).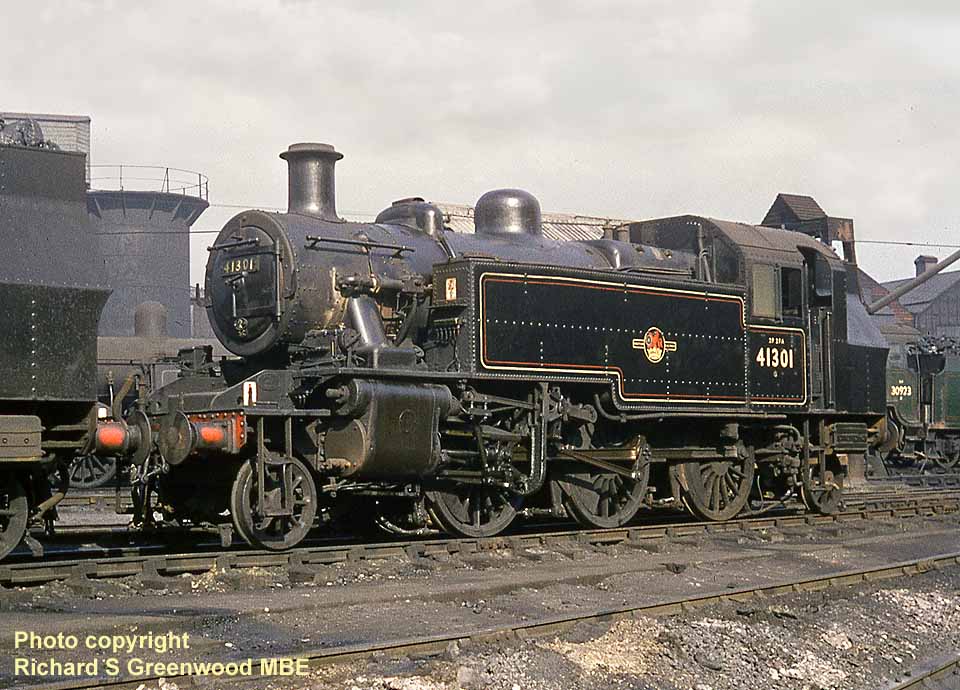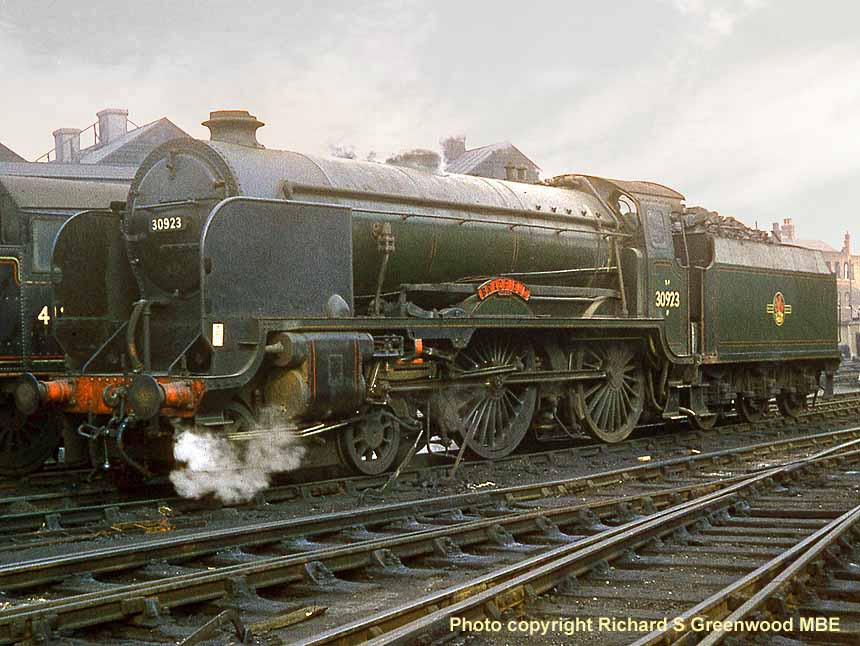 Finally for Brighton shed was this shot of 'Schools' class No 30923 Bradfield, but why did I take it when a stray cloud had obscured the sun? (Below) The last Southern shot of that week was taken after sunset from an unusual angle of

'Schools' class 4-4-0 30911 Dover

which had brought us from Redhill to Guildford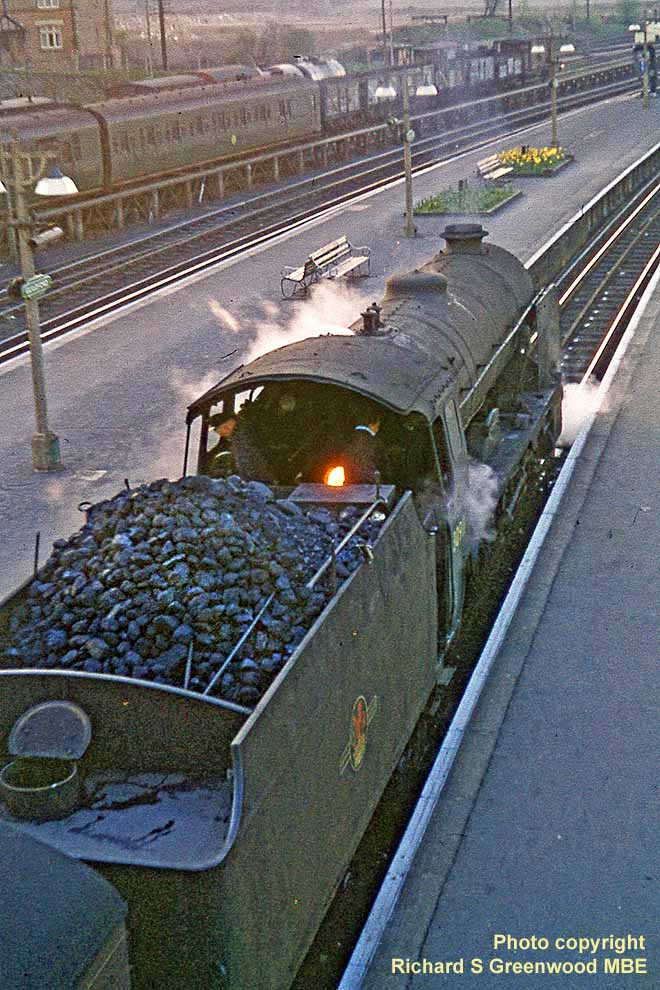 On the way home on Sunday 29 April 1962 we paid a quick visit to Feltham and Old Oak Common sheds. The sun was not co-operating and the only colour shots were 5093 Upton Castle (above) and a somewhat shaky picture inside one of the roundhouses (below) showing 'King' class 6000 King George V standing between 'Castle' classes Nos 7037 Swindon and 7003 Elmley Castle.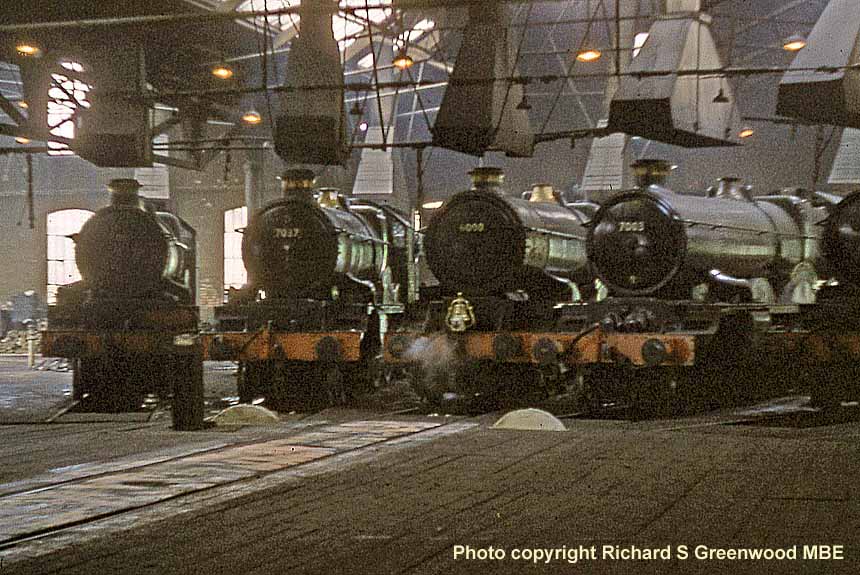 POSTSCRIPT

For the benefit of site visitors who are interested in photography, a brief mention is made of Richard's early camera equipment; his first railway photographs were taken on an Ensign FulVue box camera (left) which he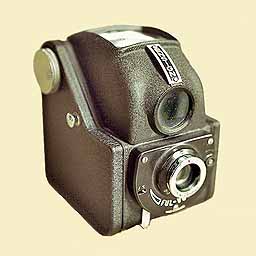 purchased in 1951...evidence of his earliest photos are featured at the top of this page. It wasn't until he started his first job in August 1958 that he was able to afford an Ilford Sportsman 35mm camera with a 1/200th second shutter and f3.5 45mm lens. It had its limitations, of course, especially when photographing fast moving trains or in poor light, but it turned out some acceptable work.
Then in October 1959 he graduated to an Iloca Rapid 35mm camera which had a 1/500th second shutter speed, a f2.8 lens and integral (but not coupled) light meter. The lens was a 3 element example and its performance fell off at wide apertures, but the Iloca served him well until early 1961 when he acquired a Leica II with its f3.5 Elmar lens and nominal 1/500th sec speed, though the shutter was very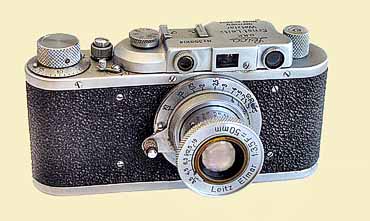 tired and something like 1/100th actual fastest speed was the best it could do.
His next camera was a Leica IIIa which had a 1/1000th shutter and this was to remain his camera of choice for black and white work until the mid 1970s. By this time, however, Richard had acquired his first 8mm movie camera, an Agfa Movex 88 (below) which had a fixed focal length lens but it did have focussing and an integral light meter. This performed very well until superseded by a zoom lens model by Bolex, but this was a very indifferent performer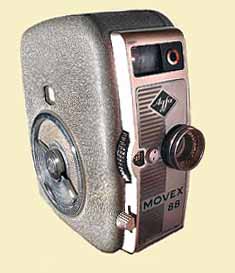 in poor light. The Agfa camera suffered a number of breakages of the main spring and each repair shortened the time that one 'wind' lasted and eventually it had to be retired.
Not surprisingly, having purchased his first cine camera, his still photography took a back seat, and in particular his colour work tended to play second fiddle to his black and white work with the Leica. He had experimented with colour film for several years, trying Dufacolour film once, but only one image has survived. Early Agfacolour film was very grainy and tended to produce excessive contrast but on occasions it yielded a 'pen and ink' effect which he found very attractive on some subjects. Then early in 1961 Perutz brought out a much improved film which he used extensively. Later it was back to Agfa CT 18 and, when supplies were difficult, even an occasional Ilfochrome was tried. The following images are just a few of the colour shots he continued to take from 1963 onwards...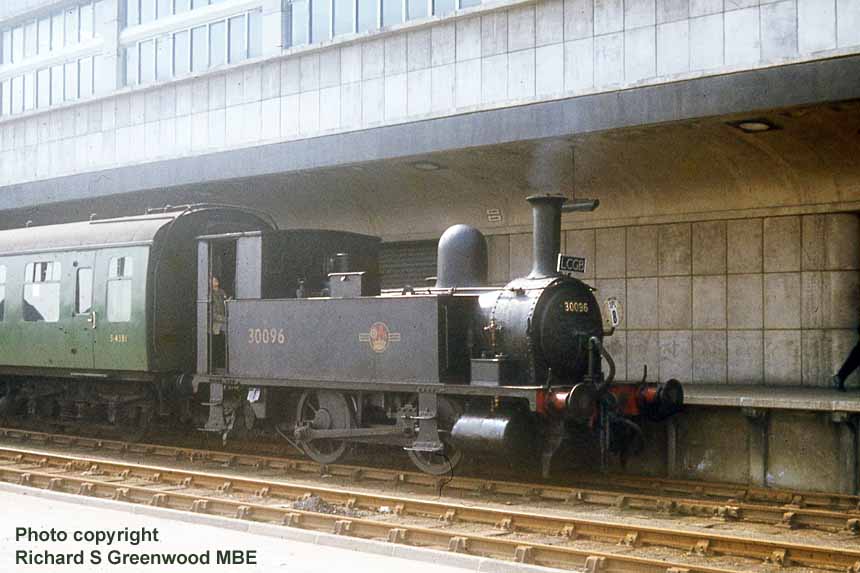 (Above-Below) Adams Dock Shunter Class B4 0-4-0T No 30096 on the LCGB's 'B4 Dock Tank Rail Tour No 2' on 6th April 1963. The coaching stock was comprised of one ex-SR 'Bullied' corridor vehicle and two BR Standard Mk1s, which appear to dwarf the 0-4-0T at Southampton Ocean Terminal. The tour ran from Winchester Chesil via Shawford Junction, Eastleigh Yard, Northam Junction, Northam to Southampton Ocean Terminal; the return leg ran via Northam Junction to Eastleigh for a visit to the Works and ended at Winchester City. (Below) E4 0-6-2T 32479

was photographed at Newhaven as it returned to the shed on Saturday afternoon 13 April 1963

.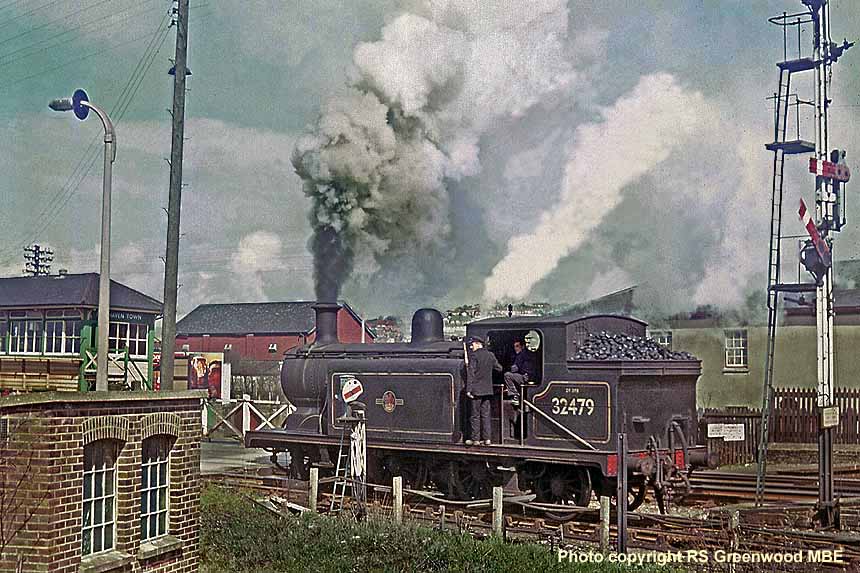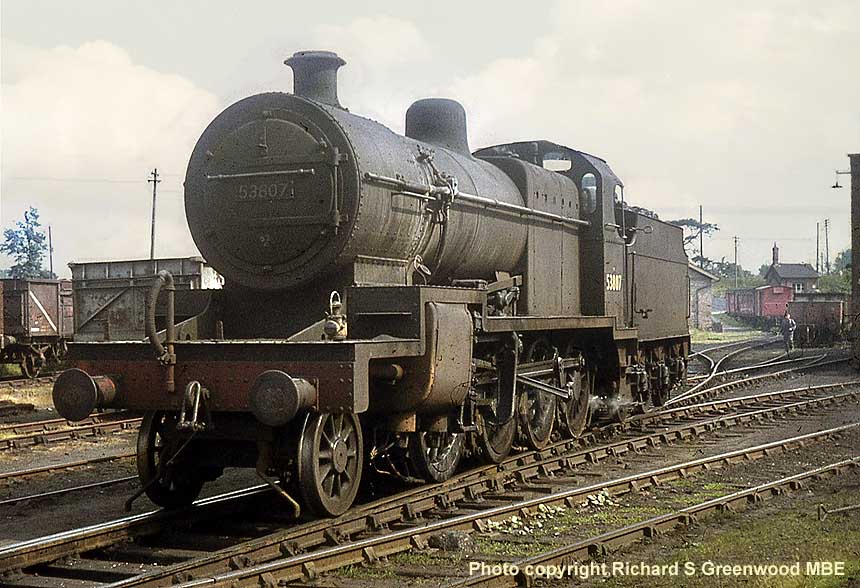 Having started on cine in early 1963, Richard arranged with a colleague to spend a few days on the Somerset and Dorset. Unfortunately all the through holiday traffic had been diverted away from the line and even the Pines Express ran via Basingstoke. Nonetheless there was still plenty of steam on local services to occupy their cameras but in Richard's case the emphasis was firmly on cine and he only took a couple of colour still opportunities of the Class 7F 2-8-0s which were still at work, though not on passenger trains.

In among the filming work is this shot of S&D 2-8-0 53807 at Bath Green Park shed (above) and 0-6-0PT No 4691 on a Highbridge branch service at Evercreech Junction on 1 August 1963.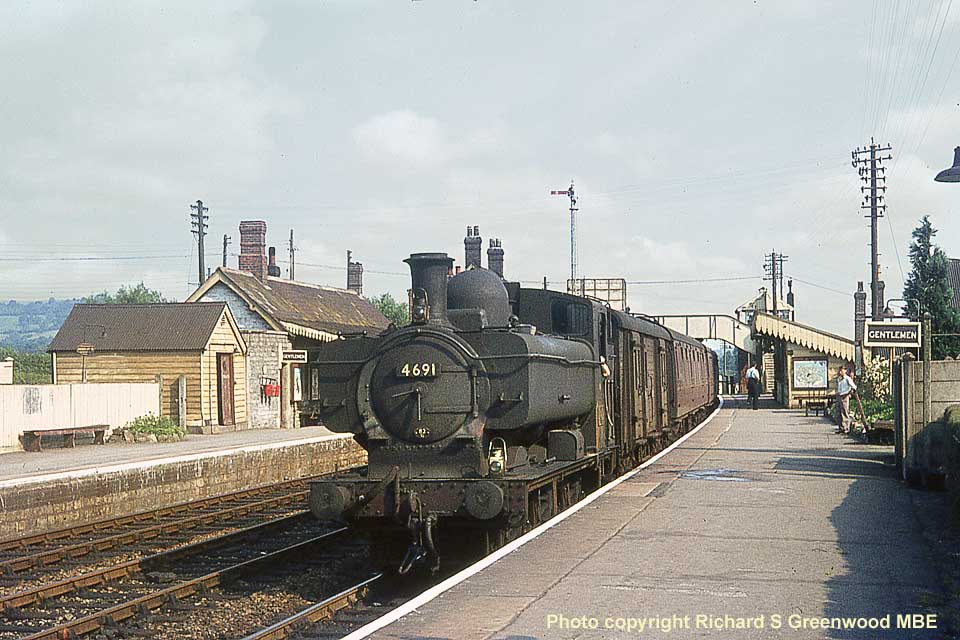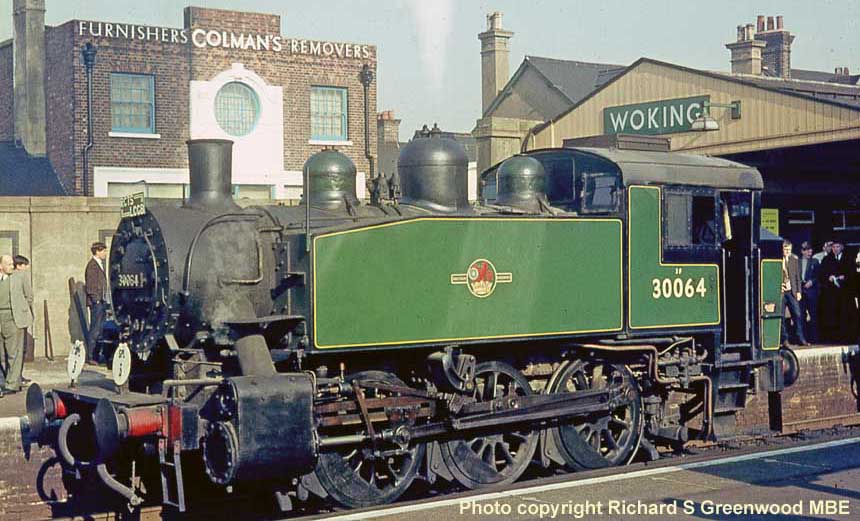 (Above) On 18th October 1964, the RCTS-LCGB 'Midhurst Belle Rail Tour' provided a last chance to travel over the closed Midhurst branch and a rare opportunity for a fast non-stop steam-hauled run over the Brighton-London line. S15 class No 30839 hauled the first leg of the tour from London Waterloo via Brentford Central, Ascot, Bagshot (via Sturt Lane East Curve) to Woking, where USA 0-6-0T 30064 (below) looks resplendent in green livery, took charge of the train to Guildford. The rail tour continued via Baynards, Christ's Hospital to Stammerham Junction, where Q class No 30530 hooked on for the Stammerham Junction-Littlehampton section via Christ's Hospital, Pulborough, Hardham Junction, Petworth and Midhurst. At Littlehampton 'BB' Class 35007 Aberdeen Commonwealth was used for the run to Preston Park, where the Q class 30530 continued with a return trip from Brighton to Kemp Town. The tour culminated with a fast run on the Central Division from Brighton behind 35007 via Haywards Heath, Three Bridges (via Quarry line) East Croydon, Selhurst, Clapham Junction, Battersea Park to London Victoria.

(Below) Stopping at Ash with an afternoon Redhill to Reading passenger service on

on 17 October 1964

, the fireman

of 'U' Class 2-6-0 No 31800

looks back for the tip from the Guard before departing for North Camp, Farnborough North, Blackwater, Sandhurst Halt, Crowthorne, Wokingham, Earley and Reading South Station. Ash Signal box was eventually demolished with the advent of colour light signals and was replaced with a more modern structure on the Guildford side of the station crossing. The semaphore signal to the right of the photograph was situated at the end of the bay road which was used for rush hour EMU services to Aldershot via Aldershot North Junction (the electrified line not being continued towards the Reading line). The yard to the left of the photograph in earlier years held a small combined two road shed engine shed originally built in 1856; one road for locos and one road for goods wagons. In 1905 the shed was rebuilt, the goods part removed and closed in 1946 then converted for private use. The engine crew were called 'The Ash Gang' which catered for local passenger services over the Tongham branch. The three Drivers were: Tom Smith, Tom Ware and George Hadfield. The Guildford LDC (Local Departmental Committee) accommodated them on transfer to Guildford loco in the late 1950s..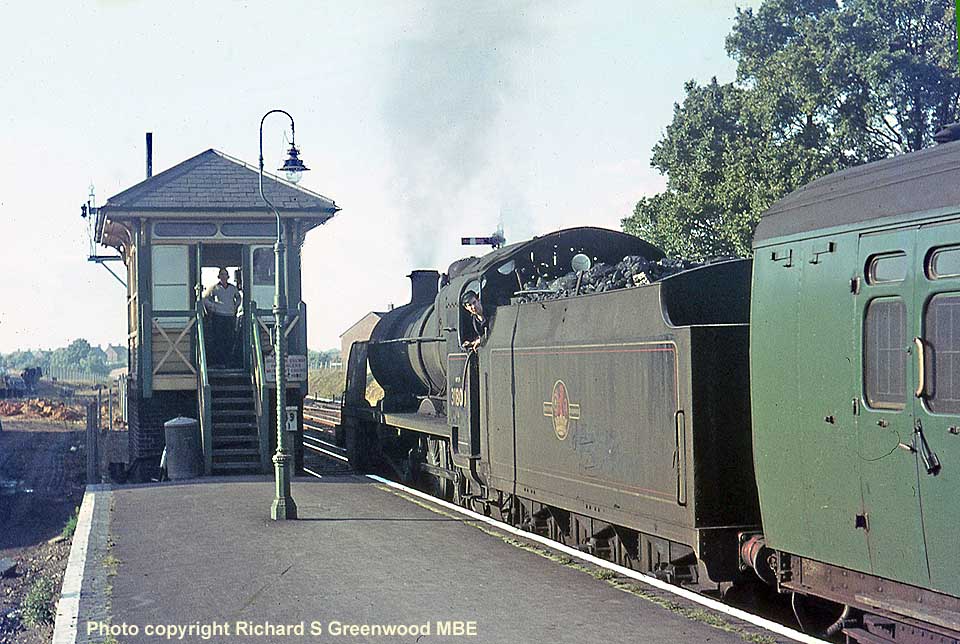 (Below) On 28th February 1965, Richard joined the LCGB's 'East Devon No 1 Rail Tour' headed by Merchant Navy Pacific No 35022 Holland-America Line from London Waterloo via Clapham Junction, Earlsfield, Wimbledon, Surbiton, Woking, Basingstoke, Andover Junction, Salisbury, Gillingham, Yeovil Junction and Axminster to Seaton Junction, where BR Standard 2-6-4T No 80041 was used on the branch to Seaton and return. 35022 then hooked on for the short run from Seaton Junction to Sidmouth Junction, where 0-6-0PT No 4666 and Ivatt 2-6-2T No 41206 were used on the branch serving Tipton St Johns, Budleigh Salterton, Exmouth and Topsham to Exeter Central. 35022 hauled the final leg back to London Waterloo..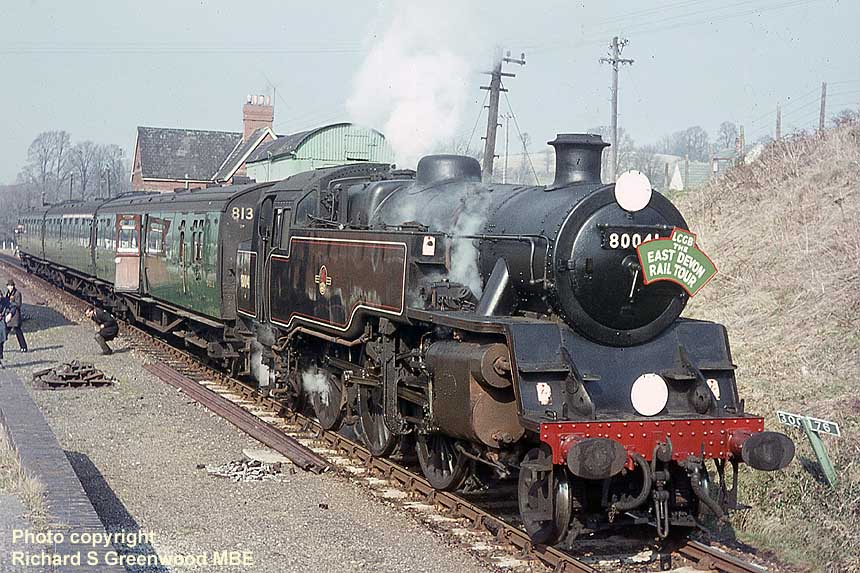 (Below) The now-preserved 'Merchant Navy' class No 35028 Clan Line heads the LCGB's 'Dorset Belle Rail Tour' through Woking on 27 February 1966. 35028 was responsible for the outward leg from London Waterloo via Clapham Junction, Earlsfield, Wimbledon, Surbiton, Woking, Brookwood, Ash Vale, Aldershot, Alton, Alresford, Winchester City, Eastleigh, Southampton Central, Brockenhurst, Bournemouth Central and Poole to Wareham, where LMS 2MT 2-6-2T's Nos 41284 and 41301 were responsible for the trip to Swanage and back. No 35028 then hooked on for the Wareham to Weymouth leg, where Nos 41284 and 41301 returned to haul the leg the from Weymouth via Dorchester West, Maiden Newton, Bridport branch and Yeovil Pen Mill to Yeovil Junction. 'Battle of Britain' No 34057 Biggin Hill was responsible for the return leg via Gillingham, Salisbury, Andover Junction, Basingstoke to Woking, then a reverse of the outward route back to London Waterloo...check out the excellent 'Six Bells Junction' website HERE.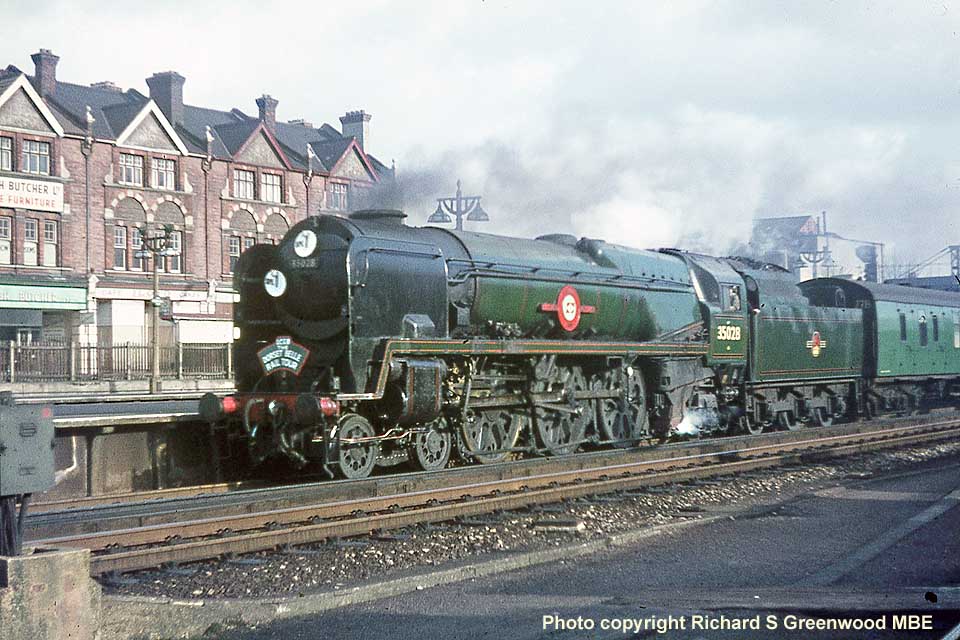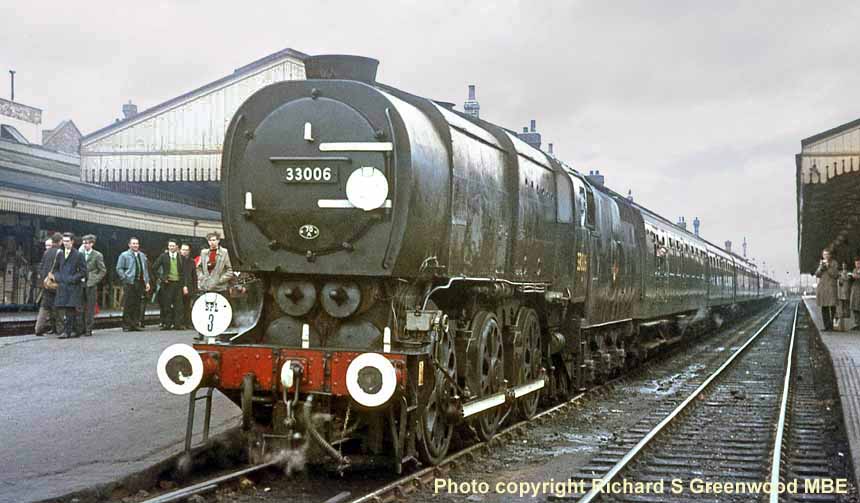 (Above) On 3 April 1966, 'N' class No 31639 and 'U' class No 31411 hauled the LCGB's 'Wilts & Hants Rail Tour' from London Waterloo via Clapham Junction, Twickenham, Hounslow, Barnes, Clapham Junction, Longhedge Junction, Factory Junction, Brixton, Herne Hill, Tulse Hill, West Norwood, Crystal Palace, Norwood Junction, South Croydon, Redhill, Reigate, Guildford, Ash, Wokingham, Reading, Mortimer, Basingstoke to Salisbury - where Q1 0-6-0 33006 (above) is seen awaiting 'U' class 31639 to hook on for the return leg via Romsey, Southampton Central, Eastleigh, Winchester Junction, Alresford, Alton, Aldershot, Woking, Hampton Court Junction, Clapham Junction to London Waterloo.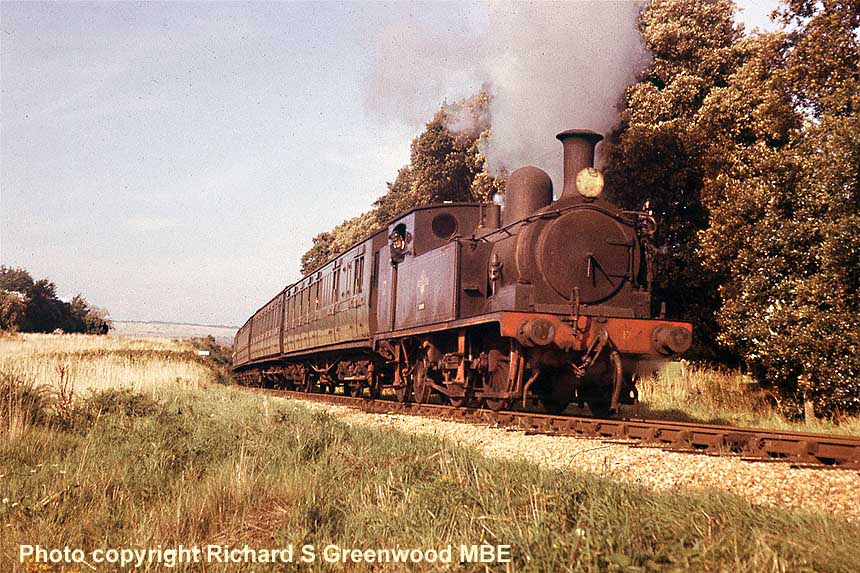 These Isle of Wight shots featuring ex-LSWR 0-4-4Ts Nos W17 Seaview (above) and W27 Merstone (below) were taken on 3 September 1966. By this time the standards of loco cleanliness had slipped since Richard's earlier visit in July 1961 (these photos appear in Part 2 this page). He's pretty sure these shots were taken near Sandown. This was after the Shanklin-Ventnor section had closed and only 4 months before steam working ceased prior to third rail electrification in March 1967.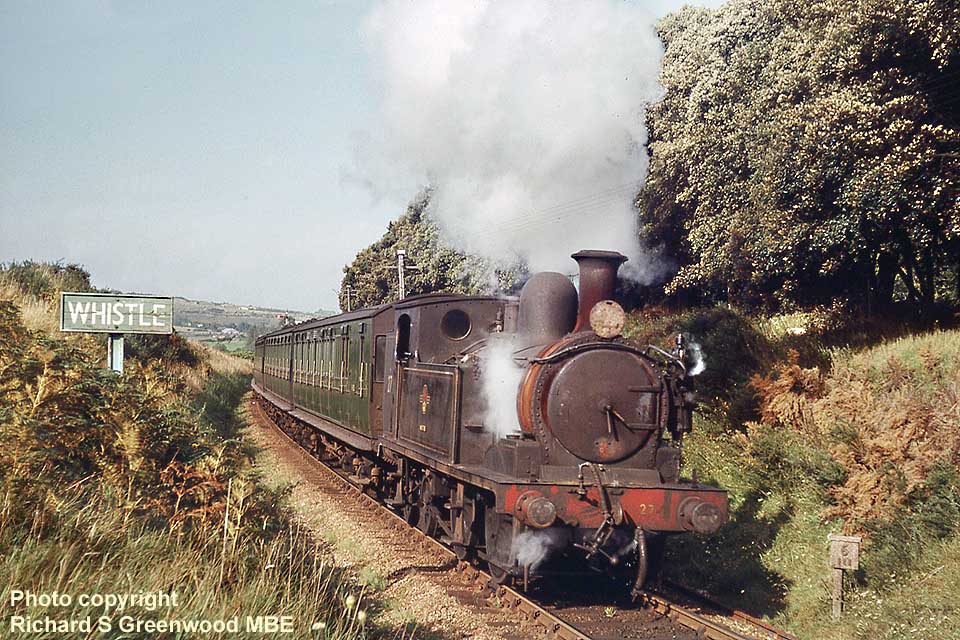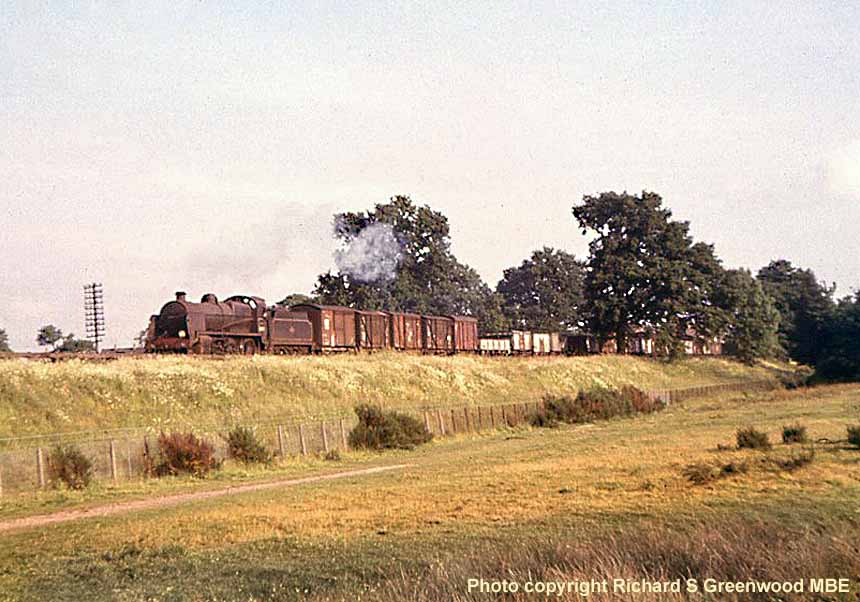 (Above) An unidentified N Class locomotive hauls an evening freight from Guildford to Feltham Yard (disc board on bottom left of buffer beam) with a vacuum head of five box wagons for extra braking purposes. The train is about pass over the railway bridge along Salt Box Road, Worplesdon. The dirt track in the foreground led to Burdens farm and eventually Grange Road (home of the then WRAC barracks) Guildford. Sadly, most of this land has now been swallowed up by housing - Grange Park estate and the Queen Elizabeth Park estate.

(Below) Battle of Britain Class 34057 'Biggin Hill' runs through Byfleet & New Haw station with a Waterloo - Salisbury passenger service on 5th September 1966. A Salisbury based locomotive, she ended her days there being withdrawn on 31st May 1967. The fine array of upper quadrant signals on the gantry were worked by Byfleet Junction Signalbox (seen just behind the train) the signals reading from left to right: Up Local Starter to Addlestone Junction, Up Local Starter and Distant for Weybridge (shown in the clear positions), Up Through Starter for Addlestone Junction, Up Through starter to Up Local to Weybridge and Up Through Starter and Distant for Weybridge. The line from Addlestone Junction to Byfleet & New Haw runs underneath all four lines and joins the Down Local just before the station platform.
This was the penultimate time that Richard photographed Southern Region steam; his very last visit took place on 22 January 1967 when he exclusively took cine including a sequence of 77012, the only BR Standard Class 3 2-6-0 to be allocated to the SR.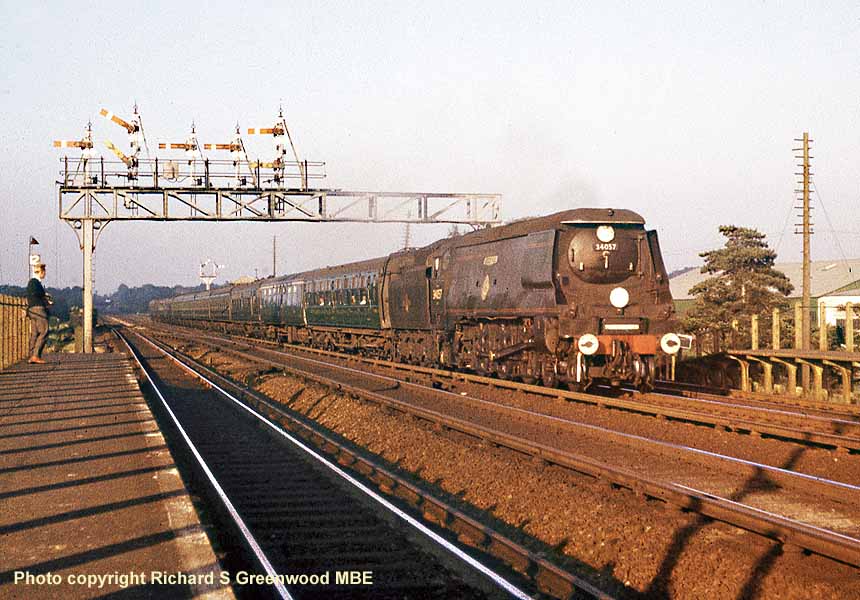 CLICK HERE TO VISIT RICHARD'S FIRST 'RAIL CAMERAMAN' PAGE.
CLICK HERE

TO VISIT RICHARD'S THIRD 'RAIL CAMERAMAN' PAGE.


CLICK

HERE

TO VISIT RICHARD'S RECONNAISANCE WITH A CAMERA - 'BR WESTERN REGION'
CLICK HERE TO VISIT RICHARD'S RECONNAISANCE WITH A CAMERA - 'BR EASTERN REGION'
Polite notice: All text and photographs are protected by copyright and reproduction is prohibited without the prior consent of the © owners. If you wish to discuss using the contents of this page the email address is below. Please note - this is not a 'clickable' mail-to link via Outlook Express. You will have to email manually.

dheycollection@ntlworld.com