On January 1st 1948, the former 'Big Four' railway companies: London North Eastern Railway (LNER); London Midland & Scottish Railway (LMSR); Great Western Railway (GWR) and Southern Railway (SR) were amalgamated to form the new British Railways. A total of 20,211 steam locomotives were taken into State ownership consisting of: 1,838 from the SR, 3,856 from the GWR, 6,525 from the LNER, and 7,805 from the LMSR. The rest was made up of service engines and Departmental locomotives.



(Above-Below) The heydays of the ECML! Another fine example of the artwork to be found on Don Marshall's 'Elegant Steam' website. Click here to visit the site. (Below) Sporting the LNER's 'Apple Green' livery, Class A3 2556 (BR No 60057) Ormonde heads a northbound express towards Peascliffe Tunnel on 6th June 1938. The leading vehicle is a teak passenger brake converted to a cinema coach, introduced on the Kings Cross-Leeds service in May 1935. When the 2nd World War broke out in September 1939 the cinema equipment was removed and the vehicle restored for use as a brake van again. Indeed many pre-war luxuries such as on-board hairdressing saloons were subsequently abandoned and never resumed after hostilities ceased. By and large the ravages of war had taken its toll on Britain's premier train services and the 'Big Four' Railway Companies were in poor financial straits.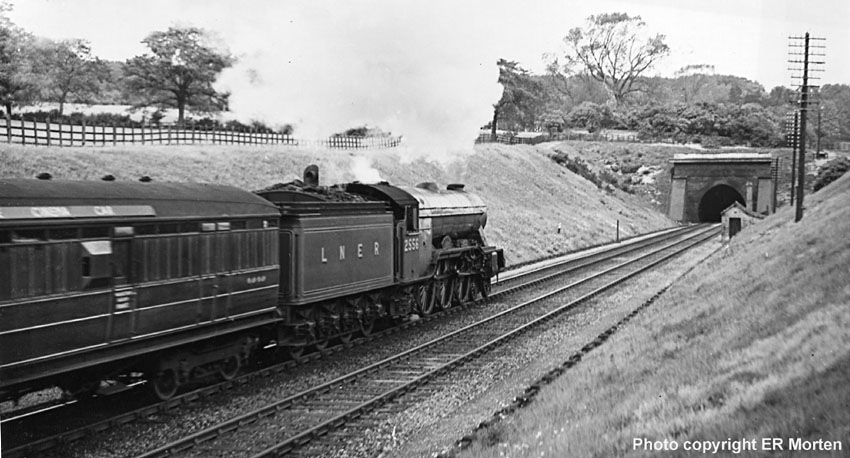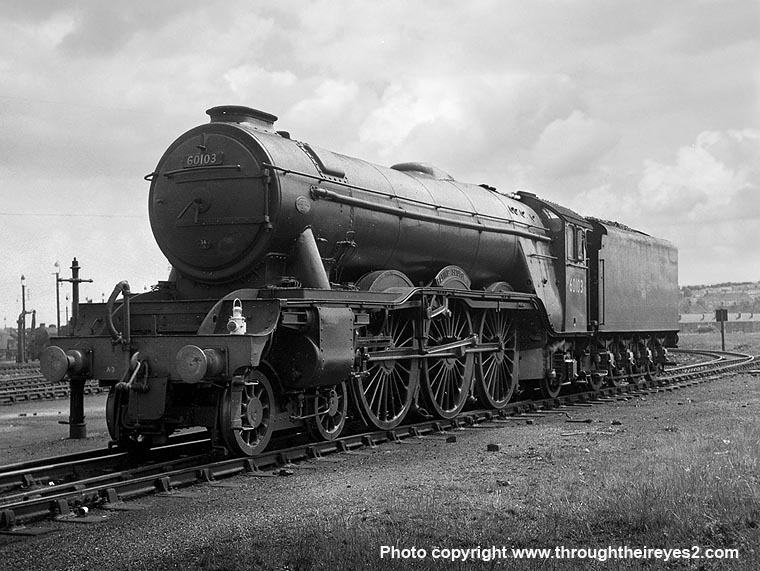 (Above) After five long years the most famous steam locomotive in the world - 'Flying Scotsman' - has been unveiled in the Great Hall at the National Railway Museum, York. Congratulations to everyone concerned for a job well done! The expectation of seeing her back in steam is a good reason to feature 60103 during BR Eastern Region days at Grantham Shed (above) in August 1960.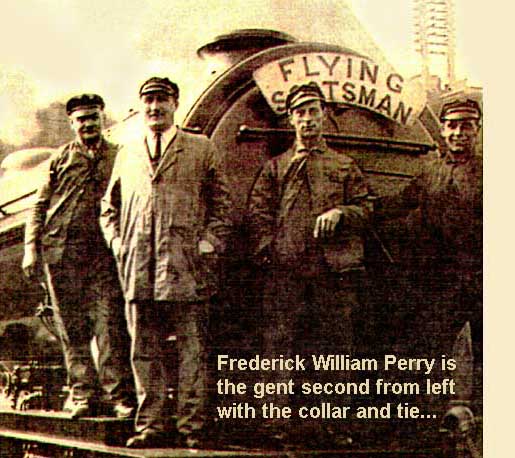 HELP! John Tadman has recently dug out an old photograph of his wife's Great Grandfather on the Flying Scotsman. John writes - ' I'm sorry about the quality of the picture but it has been copied so many times over the years. My wife's Great Grandfather is the gent second from the left with the collar and tie. His name was Frederick William Perry and he died on 24 February 1953 aged 80 yrs. He used to live in Finchley I believe.
We have some information from a newspaper which states that he retired from the LNER in 1933 and that he was the first driver to reduce the journey time of the Flying Scotsman between Edinburgh and Kings Cross by 45 minutes on 18 July 1932. On another occasion he was on the footplate when the journey was filmed and broadcast.
The National Railway Museum has told me that the LNER records are now held at the National Archives in Kew but I have been unable to find them yet. I would really welcome any pointers in finding any information about him. Looking at this picture of Kings Cross in 1929 it looks as though he is on an A3 loco but I am not sure that it is the Flying Scotsman. I would welcome views on that too. Kind regards, John Tadman…'
Please, if anyone can help, a contact email address can be found at the foot of the page…I will pass the message on. Many thanks in anticipation.

(Below) An almost identical shot to the earlier photo of 60103, only this one shows Class A3 No 60064 Tagalie at Grantham Shed on the same day in 1960. Footnote: Several photos on this page are reproduced courtesy of Jim Payne's CD from his website 'Through Their Eyes'. Click here for link. I am not affiliated with the sale of CDs in any way, merely reproducing what I think are interesting images of Eastern Region steam. A word should be added about Photoshopping - several images, excellent though the originals are, have been digitally enhanced with sky tones for suitable reproduction on the web. The subject of Photoshopping can be found on the 'Rail Photo Workshop' Page 46 of this site.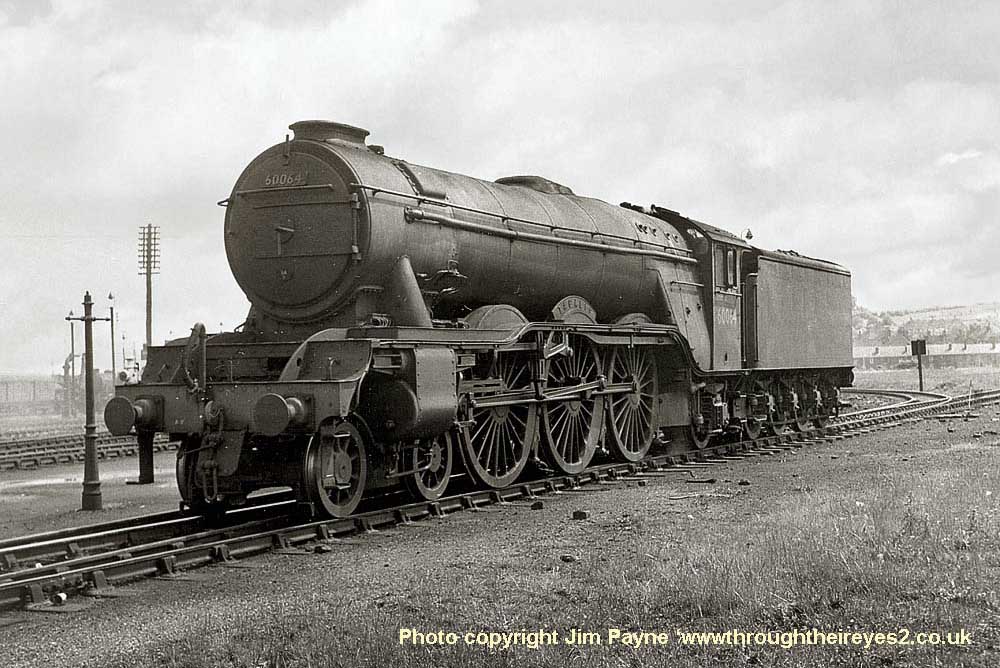 (Inset) This cast brass nameplate, 'Tagalie', was carried by the LNER A1 class 4-6-2 Pacific loco 2563, built at the North British Locomotive Company's Hyde Park Works. When the loco entered service in July 1924 (the first loco of the NBL batch) it was originally named 'William Whitelaw'. It was renamed 'Tagalie' in July 1941 when the William Whitelaw name was transferred to Class A4 No 4462 Great Snipe, later BR 60004. Rebuilt to Class A3 in November 1942, No 2563 was renumbered 64 in October 1946 then E64 in January 1948, and

finally 60064 in July 1949. The loco was withdrawn in September 1961 whilst in Doncaster Works under repair.
Interestingly, although the nameplate was cast in 1942 and produced a long time after the last ten A3 class locos all with Gills Sans lettering, this plate reverted to the original style of lettering. The racehorse 'Tagalie' won the 1912 Derby and 2000 Guineas. This nameplate went under the hammer at a Sheffield Railway Auction in 2009...a link to the fabulous Sheffield Railwayana Auctions website can be found at the bottom of the page...a visit is highly recommended.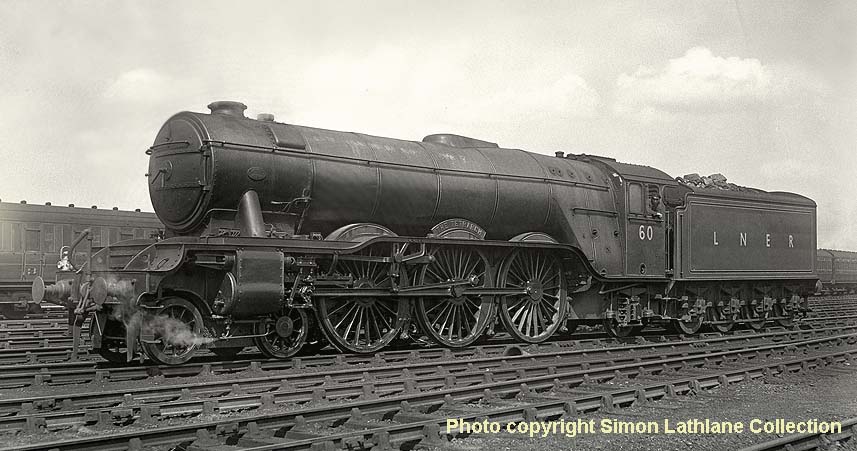 (Above-Inset) The Class A1 Pacific was designed by Sir Nigel Gresley, then CME for the Great Northern Railway, later to become CME of the LNER. The A1 class was Introduced in 1922 and comprised of 52 members, all built at Doncaster Works. The first, Great Northern, was appropriately named after its parent company while other members took names of high-ranking company officials and famous racehorses. The entire class was modified to A3 specifications between 1927 and 1947. The change in class designation to

A3 came about following Gresley's modifications of his earlier A1s during the late 1920s, which led to the fitting of a higher pressure boiler with a greater superheating surface and a small reduction in cylinder diameter. Eventually all the A1 locomotives were rebuilt to A3 specifications, with the exception of No 4470 Great Northern, which was rebuilt by Thompson in 1945 as Class A1/1 BR No 60113. (Above) This shot at York in 1949 shows the graceful lines of No 60 'The Tetrarch' (named after the winner of the 1913 Doncaster Champagne Stakes). One of the loco's nameplates measuring 50½" and clearly in ex-loco condition went under the hammer at Great Central Railway Auctions on 19th January 2013. Built at Doncaster Works as Class A1 No 2559 in April 1929, the loco was rebuilt to an A3 in January 1942 and renumbered 528 and then No 60 in 1946, becoming BR 60060. It spent all its BR days alternating between Gateshead and Darlington with a spell at Heaton during its final months. Withdrawn from traffic at Gateshead on 23rd September 1963, 60060 was cut up at Darlington Works the following month.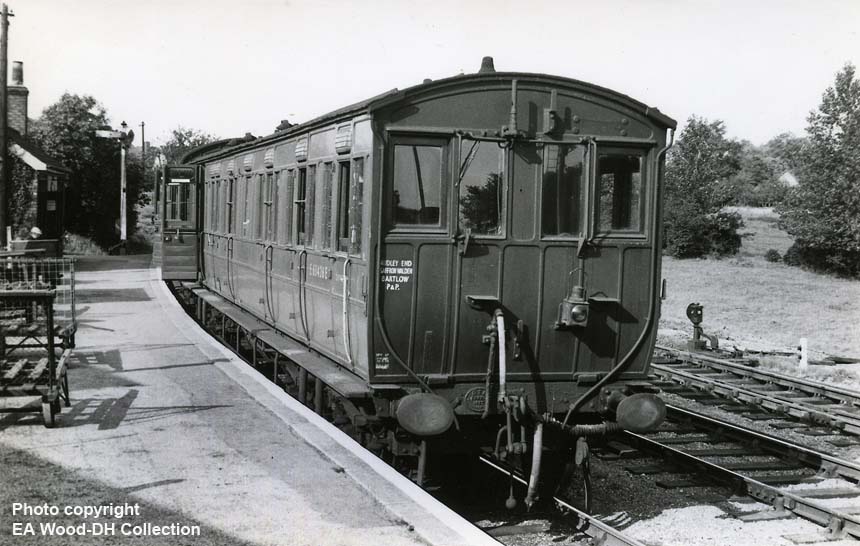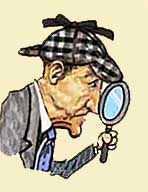 (Above) Seeking to identify the location of this interesting push-pull set, I contacted Ian McKellar who writes - 'There is a clue in the stencilled lettering on the front end of carriage No E63426E, which states that it is on the Audley End-Saffron Walden-Bartlow line in Essex...indeed it does look like the branch platform at Bartlow, which was sited 25 yards short of the junction with the Stour Valley line; a wooden hut provided a meagre shelter for passengers on the up side of the line and a raised 100 yard-long footpath linked the platform to the main line station. There was a run round loop on the down side of the line facing the platform. However, I have since been contacted by Tim Stephens who states that the location is in fact Audley End. My thanks to both for their help...

(Below) As long ago as 1914, James Holden of the GER began trials with auto-trains on branch line services as a means of reducing operating costs and several steam classes were push-pull fitted over the years, including F7, ex-GC F2, ex-NE G5, ex-GN C12, F5 and N7 locos. By the late Fifties most steam-operated push-pull services were replaced by diesel multiple units or rail buses introduced in the 1955 BR modernisation plan, but despite the savings in operating costs closure of rural branch lines were implemented throughout East Anglia. Diesel rail buses began service on the Saffron Walden branch on 7th July 1958, but falling passenger receipts led to the line being listed for closure on 7th September 1964 and freight facilities at the end of the year. Mention is made on this site about the wonderful artwork created by Arthur Nigel Wolstenholme, a freelance technical and commercial artist, who initialled his drawings tantalisingly ANW. Mister Wolstenhome is perhaps most famous for producing crisp, high quality illustrations of steam and diesel locomotives for the covers of Ian Allan's famous abc Locospotter Books. This pen and ink drawing features a BR(W) railbus used on the Kemble to Cirencester and Tetbury branches in the early 1960s. It is a fine example of Wolstenholme's work measuring 10½" x 7½", which went under the hammer for £170 at a Great Central Railwayana Auction in April 2011.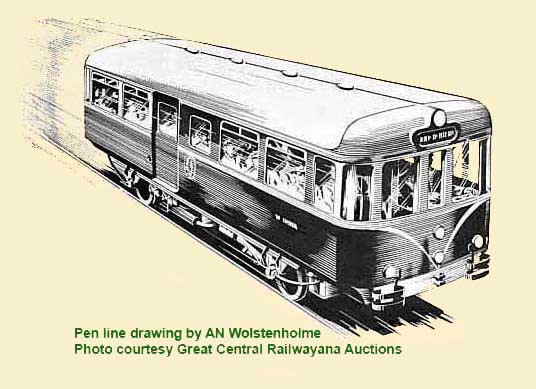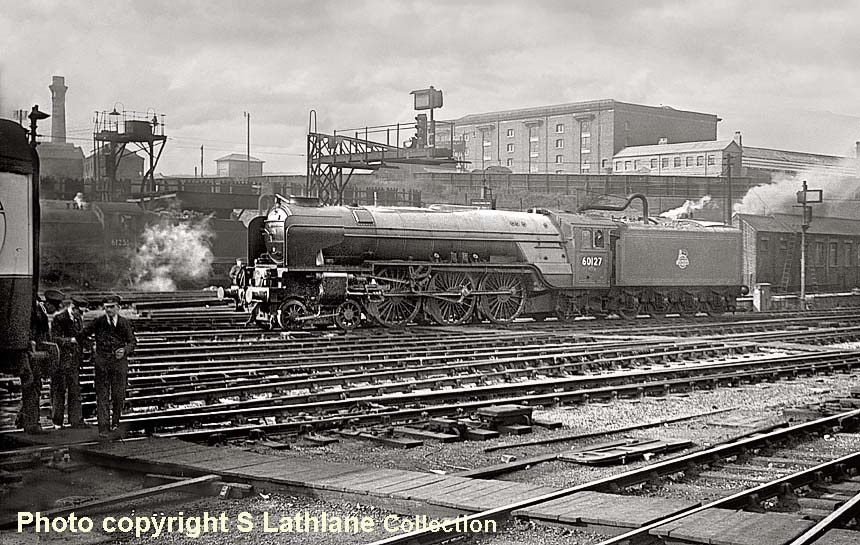 (Above) Rail Cameraman, Simon Lathlane is one of the few enthusiasts I know who has the knack of finding jewels of photos where nobody thinks to look; his growing collection of old glass plate negatives reveals a standard of railway photography that few of us can hope to rival - and let's be honest about this, considering what's on offer in today's high-tech digital age that's saying something!
Simon writes - 'I've recently purchased four more glass plate negatives but without any information and sadly no name of the photographer(s). The locations are easy to identify although the dates are not, but my guess is late 1940s to early 1950s. I'm sure your more knowledgeable visitors will be able to narrow down a date for them. The negative (above) shows a brand new Peppercorn A1 Class No 60127, the first of the class to appear in the new BR express passenger blue livery with black and white lining plus the early lion and wheel emblem on the tender…the loco entered traffic on May 13th 1949 and later named Wilson Wordsell (after the North Eastern Railway's CME 1890-1910) in September 1950; 60127 wasn't repainting in BR green until March 1952, so this shot clearly predates all that. It was taken from the platform at King Cross near to the signalbox. Also in the shot is LNER B1 Class No 61251 Oliver Bury...'

(Below) I am always greatly encouraged by the generousity of contributors like Simon, without whom this site would not be possible. No sooner had I updated his page and he contacted me again with another batch of classic shots he has recently acquired. He writes - 'Hi David, thought you might be interested in seeing three more glass slides I have found. The first shows a very new LNER A1 Class No 2547 'Doncaster' at Kings Cross dated 1925. You will see that the letters of the LNER are very small and the loco number is also on the tender. This was changed in 1928 when the loco number was repositioned on the cabside enabling the LNER lettering to be increased in size on the tender. The A1 would have been in the Apple Green livery. She was re-built in 1946 to an A3. She was named 'Doncaster' after the 1873 Epsom Derby winner. The engine was withdrawn from service at Grantham (34F) in September 1963 and stored at Doncaster before scrapping in October 1963...' Simon's newly-updated 'Rail Camerman' page 73 here features more new classic shots of steam.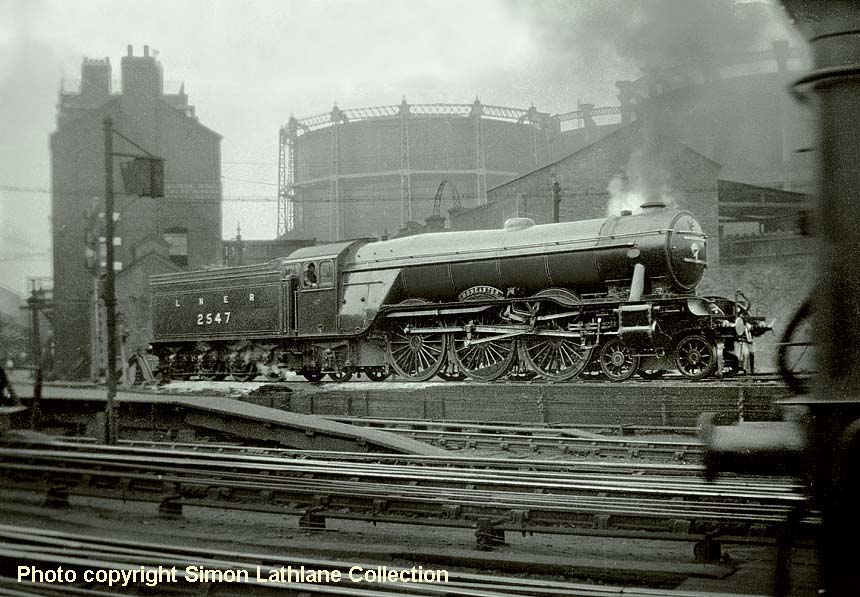 (Below) JG Robinson's Class D11 4-4-0 3P2F locomotive No 62667 Somme at Trent on February 2nd 1957. Introduced in in 1920, the D11/1 class 4-4-0 'Large Director' class was a development of Robinson's earlier D10 introduced in 1913. The remaining D11s were built to Scottish loading gauge and classified as D11/2s. The Scottish allocation (NBR) was named after characters in Sir Walter Scott's novels (the names were painted horizontally on the single splasher over both driving wheels) whilst the Eastern Region (GCR) allocation of D11/1s Nos 62660-626670 were were named after GCR Directors, Royalty, and World War 1 battles, and carried actual nameplates. The introduction of large numbers of Thompson's more powerful Class B1 5MT locos saw the end of the D11s and withdrawals began in 1958. Rolling off the production line at Gorton Works in November 1922 No 62667 Somme was withdrawn from traffic at Sheffield Darnall (39B) at the end of August 1960 and cut up at Doncaster Works the following month.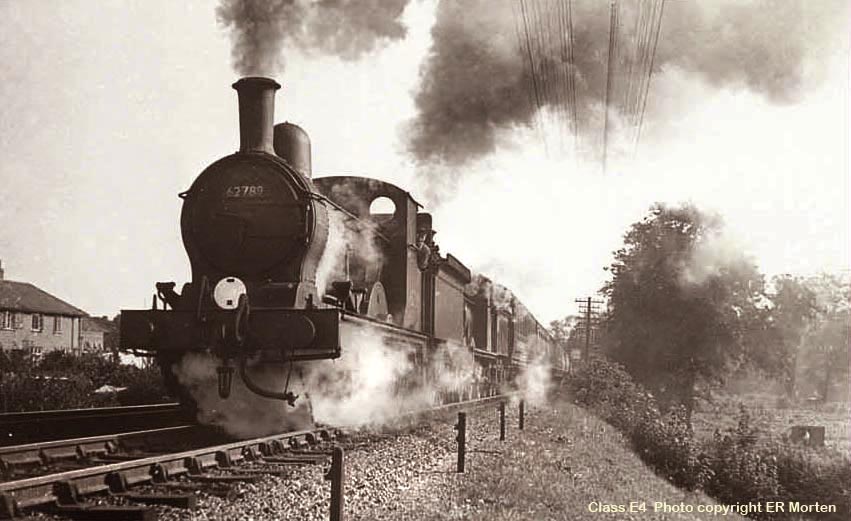 (Above-Below) J Holden's E4 Class 1MT 2-4-0 was typical of the engines built in the 1890s and gives a good idea of the light mixed traffic design of those days. Like all Great Eastern engines, the E4s were originally painted royal-blue and lined out in vermilion-red with the connecting rods also painted red. Here 62789 pilots another mixed traffic Class J15 0-6-0 on a stock train at Norwich Trowse on 7th September 1952. Three members of the E4 class: Nos 62781, 62788 and 62797 were fitted with side window cabs at Doncaster when temporarily transferred to the North Eastern Region Penrith branch. (Below). A general view of Grantham Loco (34F) with a pair of Class J6 0-6-0s Nos 64206 and 64178 in residence alongside Class B1 61346 on 20th August 1952. Of interest to modellers is the difference in handrails (and numberplates) on the J6s.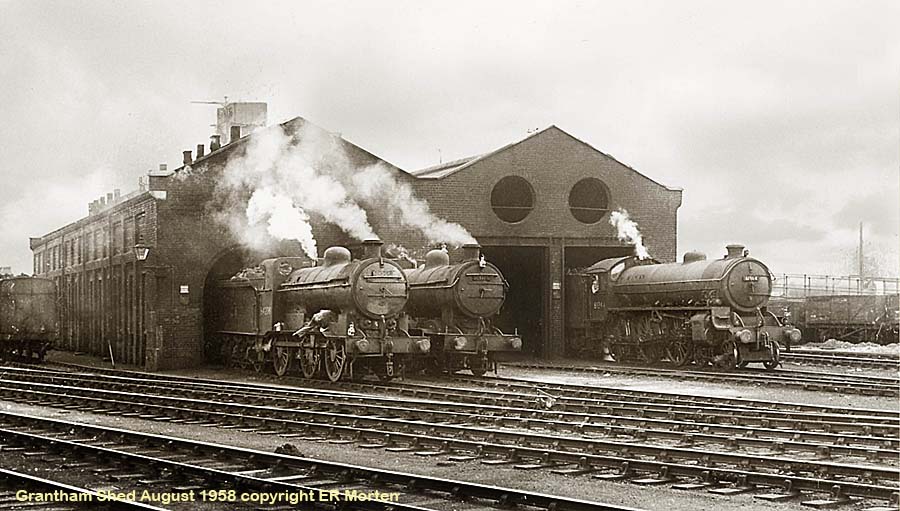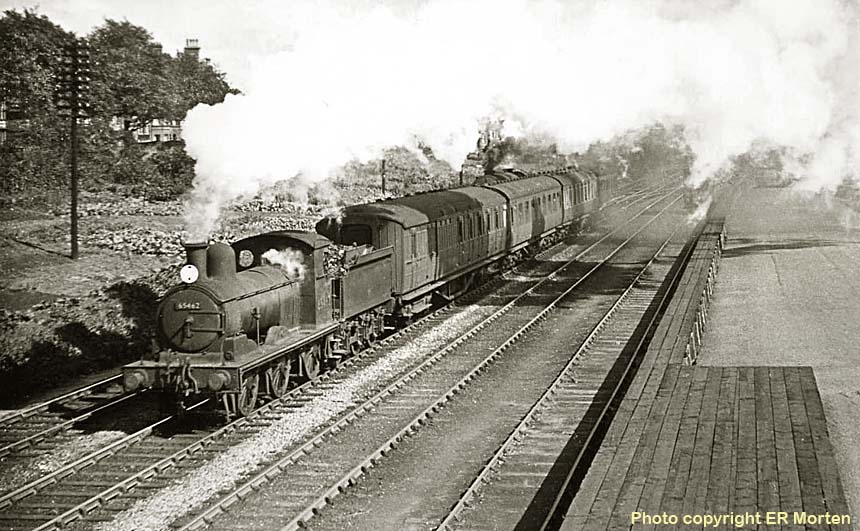 (Above) TW Wordsell's GER Class J15 0-6-0 No 65462 departs from Lowestoft on 7th September 1952. The J15 class originally comprised 289 engines built from 1883 to 1913, all with stove chimneys and Ramsbottom valves over the firebox, however 30 members of the class had Westinghouse brake, including 64562 which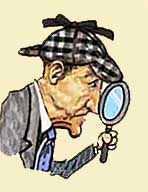 was amongst the last 50 built with cast steel wheels. Just as a matter of interest, I'm curious as to the reason for the wooden platform structure in the foreground… perhaps carriage cleaning?

Paul Johnson has kindly written to explain - 'This wooden staging was used for the numerous fish trains loaded at the site. Although the track extended into the docks, the track layout had a wide tarmac section between the main/pilot and sidings where the empty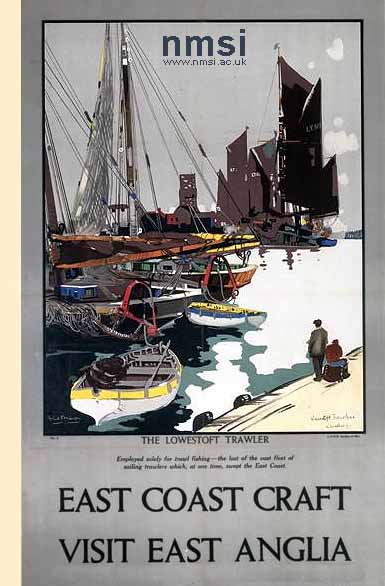 fish trains would be loaded by lorry from the fish market. The vehicles were driven the 400 yards or so into the siding for unloading onto the timber staging and then wheeled down the thin sections into the open fish vans.
The tarmac and concrete are still visible, but the timber was removed long ago and although the loading sidings remain functional in the current track plan, there's been nothing on them of any consequence for a long time.
The docks at Lowestoft were once serviced by open wagons to remove the fish guts and other waste, and a tram engine (I believe a Sentinel?) hauled the loaded wagons across the main road into the sidings. My father-in-law used to be a policeman, whose duties included stopping the traffic on the main road when the trains came across…the wagons apparently stank to high heaven in the summer, full of rotting fish guts! So that's what the wooden structure was for - fish!
Sadly, we have not a single trawler left in the harbour. At the height of the fishing days, there were over 50 fish trains leaving Lowestoft some days - it was a huge operation, virtually non-stop...'

(Right) This London and North Eastern Railway poster - 'East Coast Craft, No 2, The Lowestoft Trawler' - was painted by Frank Mason in 1929, depicting trawlers in Lowestoft harbour, with the accompanying text - 'Employed solely for trawl fishing - the last of the vast fleet of sailing trawlers which, at one time, swept the East Coast'.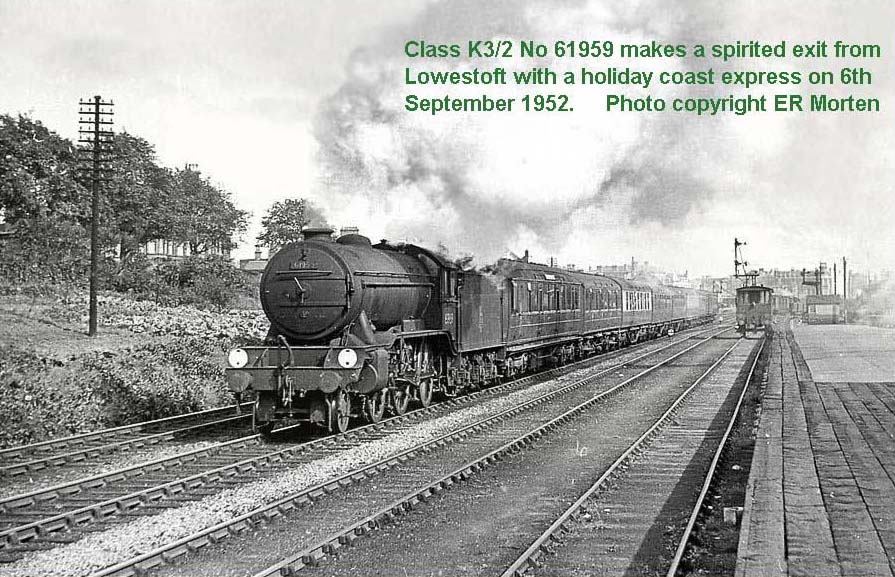 (Below) In the opposite direction, SD Holden's GER F5 Class 2-4-2T No 67199 arrives at Lowestoft on the same day. First introduced in 1911 for light passenger duties, this particular engine was amongst six members of the class built in 1949 to be fitted for push-pull working.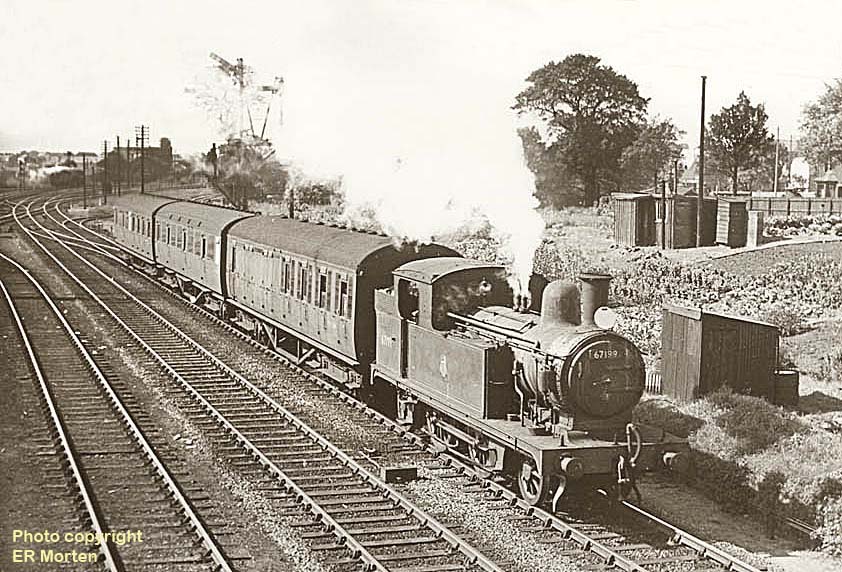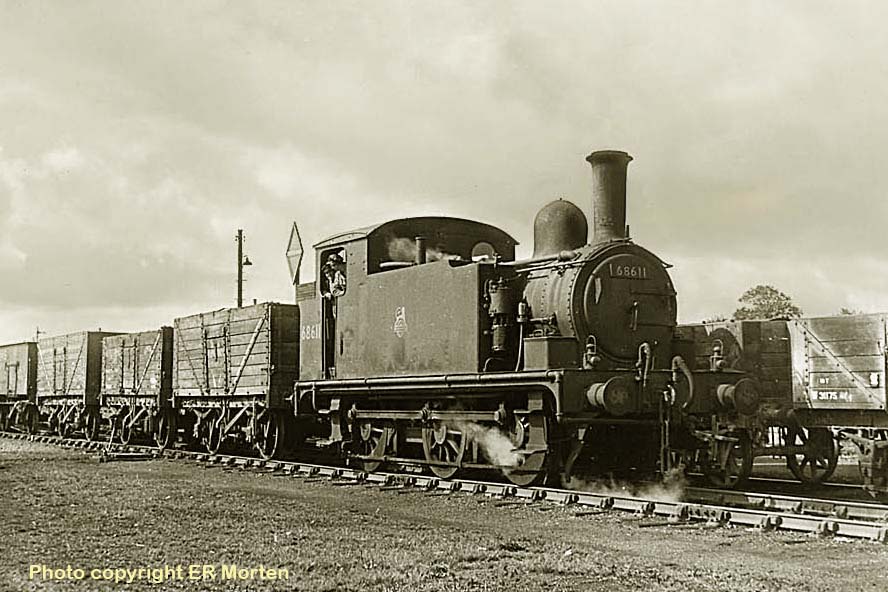 (Above-Below) SD Holden was CME of the Great Eastern Railway between 1908-1912, and is not be confused with his predecessor, James Holden, who was the GER's Chief mechanical Engineer from 1885 to 1907, and responsible for the introduction of the GER's J67 and J69 0-6-0Ts between 1890-1904. These two classes were almost similar in appearances, due to development and rebuilding which resulted in varying weights, boiler pressures and tractive efforts. Here J69 No 68611 was photographed at Lowestoft on 6th September 1952. (Below) Class J50 0-6-0T No 68899 at Norwich Thorpe on 7th September 1952.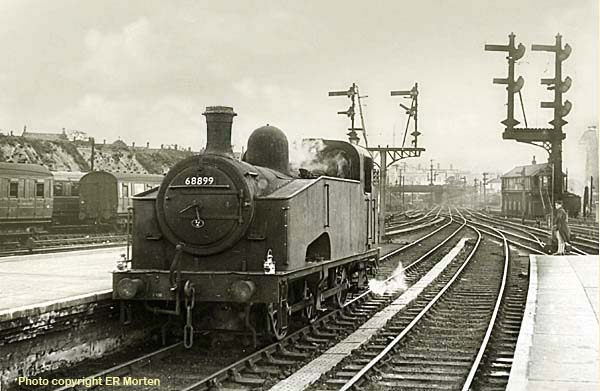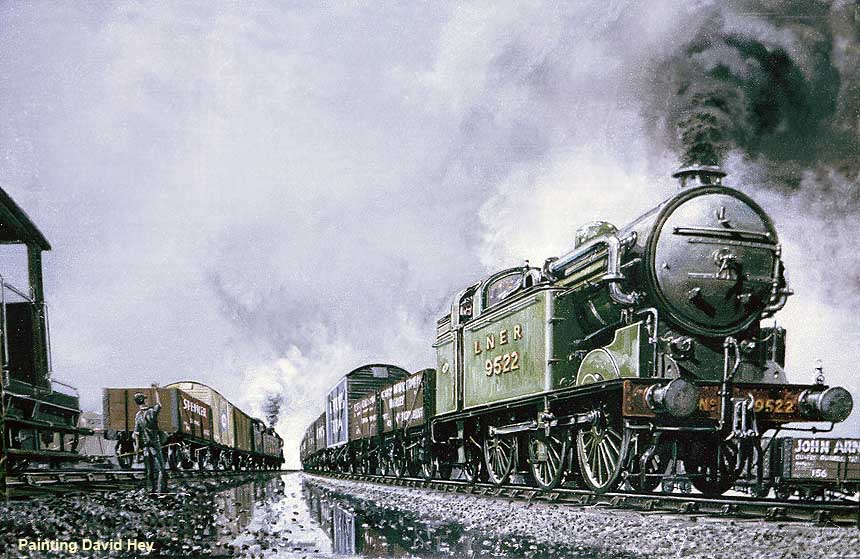 (Above-Below) An oil painting of Class N2/4 0-6-2T commissioned by a model railway manufacturer but subsequently aborted for reproduction on the front-rear cover of the company's catalogue. The distortion is due to the close proximity of the camera lens when I took a snapshot at home. (Below) Staying on a modelling theme, this interesting rear shot of Gresley's N2/4 0-6-2T 69592 at Hitchin Loco in 1957 might be of interest to modellers. Introduced in 1920, the N2 tank was a development of Ivatt's earlier N1 Class for suburban passenger and freight work. The City Widened Lines of the Metropolitan Railway, over which the GNR trains worked between Kings Cross and Moorgate, required locomotives to condense their exhaust in the tunnels, and Gresley's powerful superheated development of Ivatt's N1 led to sixty being introduced into service in 1921. The most distinguished feature was their condensing pipes running from the side of the smokebox to the top of the side tanks.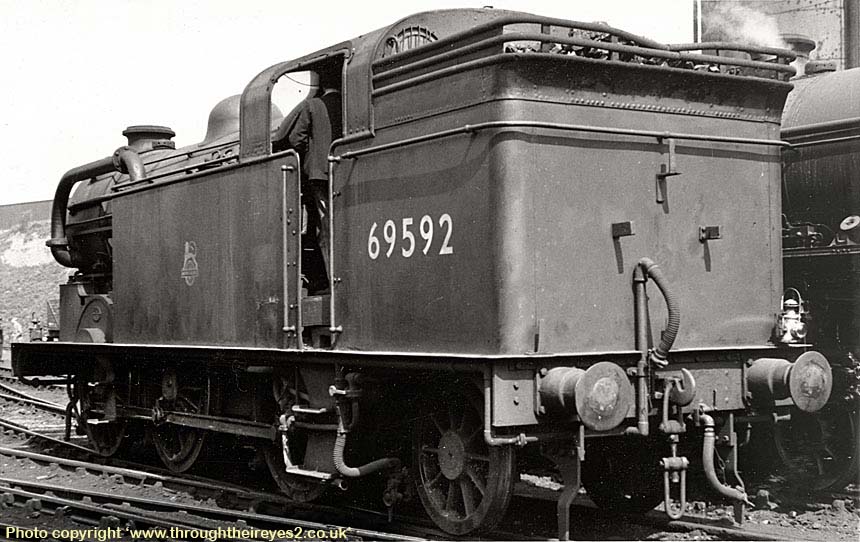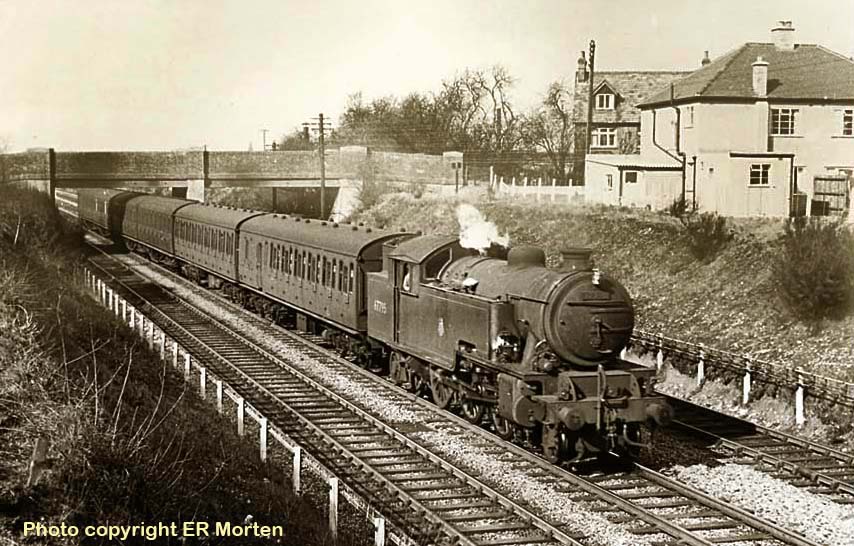 (Above-Below) Rolling out of Doncaster Plant's Paint Shop in a resplendent LNER green livery in 1945, the first of Edward Thompson's L1 Class 4MT 2-6-4T, originally numbered 9000, was an entirely new design. The next twenty nine locos were built at Darlington in 1948 and the remainder by contractors up to 1950. A total of 100 were built, ten for the North Eastern Region and the remainder for the Eastern Region's London suburban services. Here No 67795 heads an Aylesbury-Marylebone train at Rickmansworth on 5th March 1956. (Below) No 67719 near Colchester on 17th April 1955.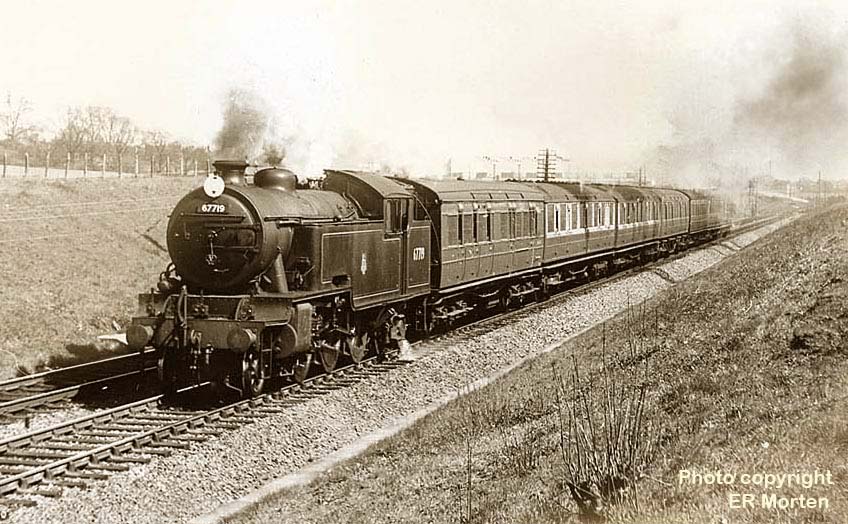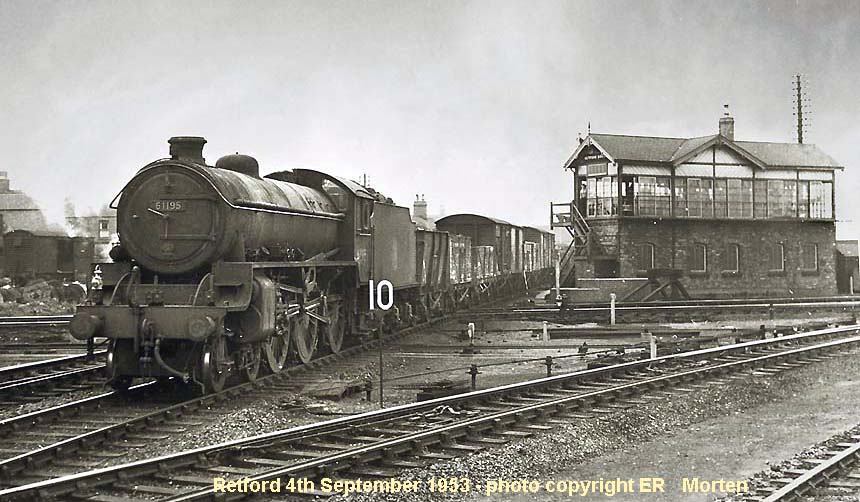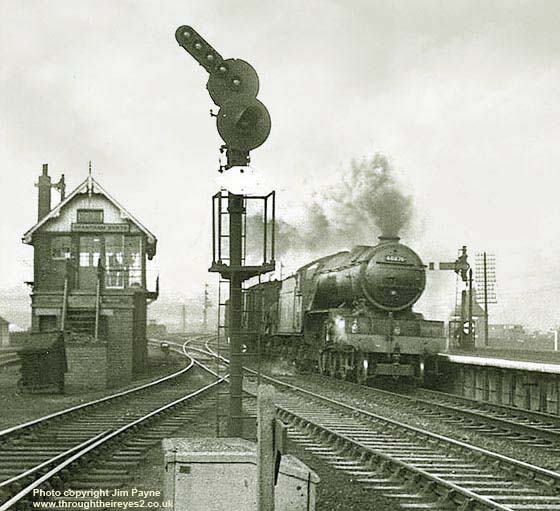 (Above-Below) East Coast Main Line memories! Class V2 No 60967 storms through Grantham on 2nd February 1957. (Below) Class A4 No 60028 Walter K Whigham light engine at Grantham for the 'up' 'Flying Scotsman' on 20th August 1952.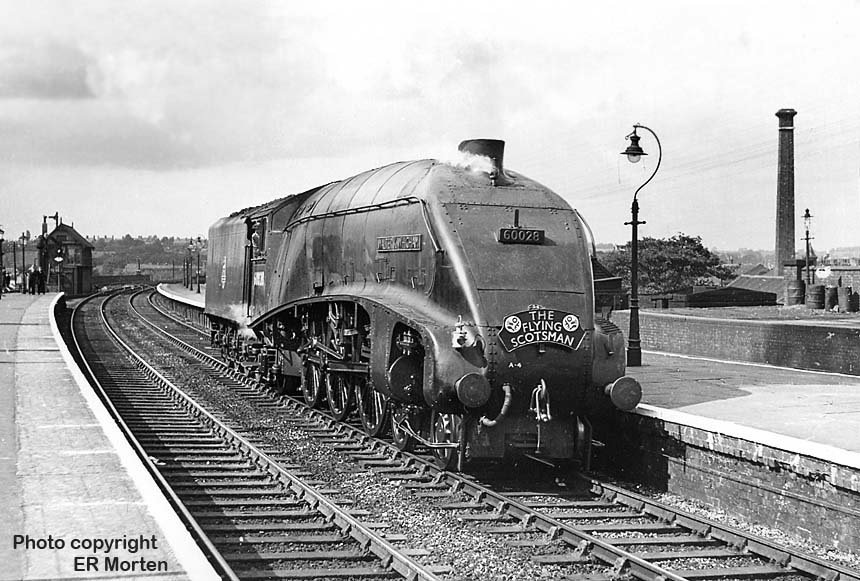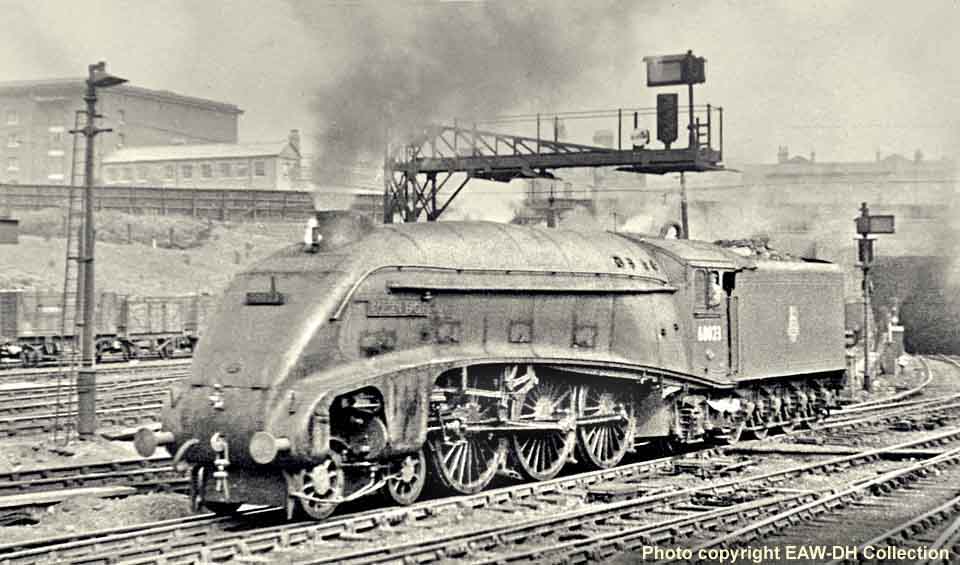 (Above-Below) Class A4 No 60023 Golden Eagle, one of the most evocative bird names to grace an A4, was photographed light engine at Kings Cross station, date unknown. (Below) A nameplate from the LNER A4 Class 4-6-2 No 4482, later BR 60023, went under the hammer for £31,000 at a Great Western Railwayana Auction in July 2016. Built at Doncaster works in December 1936, the locomotive was allocated initially to Kings Cross followed by a move to Gateshead in January 1942 and lastly to Aberdeen Ferryhill in May 1964 from where it was withdrawn in October that year. It was cut up at Motherwell Machinery & Scrap in December 1964. The face of the nameplate was restored a long time ago whilst the back is hand graved 'R H' indicating the Right hand side. Click HERE to visit the excellent GWRA website, a veritable trip down memory lane and highly recommended.




(Above-Below) A nameplate from Class A4 60003 Andrew K McCosh went under the hammer for £21,000 at a Great Western Railwayana Auction in April 2015. The plate is in two parts, one measuring 39.625in x 7.5in and the other 47.375in x 7.5in, making the overall length of 87ins. Built at Doncaster in August 1937 under Works No 1859 and numbered 4494, the locomotive was originally named Osprey but it was renamed Andrew K McCosh in October 1942 after the LNER Director, who came from the North British Railway to be Chairman of the LNER Committee responsible for locomotive building and repair. The A4 became No 3 in 1946 and renumbered BR 60003 two years later. It was allocated new to Heaton in August 1937, then Doncaster and Grantham, before moving in May 1939 to Kings Cross where it spent the best part of its working life as one of Top Shed's star performers. It was withdrawn on 29th December 1962 and cut up at Doncaster Works in January 1963. (Below) Here No 60003 Andrew K McCosh shows its paces through Hitchin with a northbound train.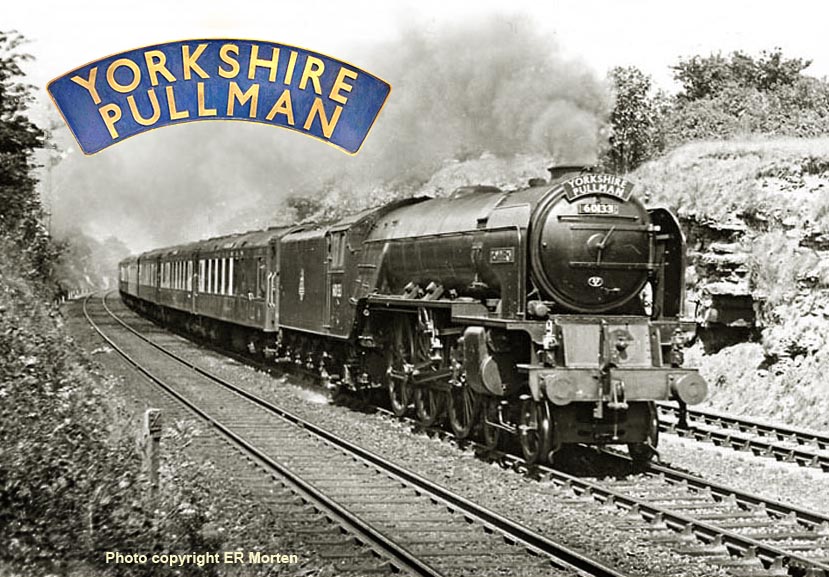 (Above) Built at Darlington in October 1948, Class A1 Pacific No 60133 Pommern makes a fine sight on the southbound 'Yorkshire Pullman' at Great Ponton on 20th August 1952. A Copley Hill shed (56C) for much of its life, 60133 was regularly used on the Kings Cross service out of Leeds, and was the first of 13 members of the class to be named after a thoroughbred racehorse. The other twelve were: 60117 Bois Roussel, 60121 Silurian, 60125 Scottish Union, 60128 Bongrace, 60134 Foxhunter, 60136 Alcazar, 60138 Boswell, 60144 King's Courier, 60148 Aboyeur, 60149 Amadis, 60150 Willbrook and 60153 Flamboyant. For the reccord, the racehorse, Pommern, ran ten times and won seven races. As a three-year-old in 1915 he won the 2000 Guineas at Newmarket and the Epsom Derby and St. Leger Stakes to win the English Triple Crown. He was retired to stud in 1916, but no such luck awaited 60133. The loco finished her days on the scrap heap in June 1965. (Photo Inset) A locomotive headboard, as used on this luxury Pullmam service from Kings Cross to Leeds and Harrogate, with portions for Hull and Bradford.This board is cast aluminium 39¾" wide with integral bracket to the rear, and went under the hammer at a recent Great Central Railwayana Auction.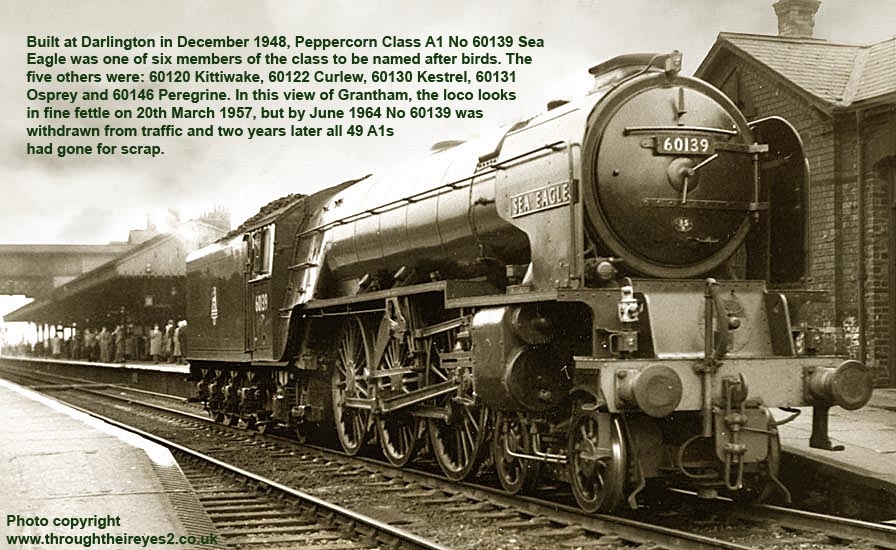 (Inset-Below) Several other Class A1s carried names relating to the works of Sir Walter Scott: Meg Merrilies, Hal o' the Wynd, Kenilworth, Guy Mannering, Marmion, Borderer, Madge Wildfire, Redgauntlet and Bonnie Dundee (see inset) which shows the actual nameplate as carried by 60159. Built at Doncaster Plant,

the loco entered service in November 1949. Named in July 1951, No 60159 was withdrawn in October 1963 from St Margarets and cut up at Inverurie works in March 1964. The cast brass namepleate measuring 66" x 7¾" sold for £19,250 at a Sheffield Railwyana Auction in June 2008. In keeping with the practice at Doncaster Works, the names carried by other plates using the same template, in this case No 7, are stamped in the back. This plate has no fewer than 16 such names and they include 'Sparrow Hawk', 'Golden Plover', 'Herring Gull', 'Ocean Swell', 'Owen Tudor', 'Straight Deal', 'Miles Beevor', 'Saint Mungo', plus eight others including 'Redgauntlet' as carried by No 60137 (below). This Class A1 was built at Darlington Works in December 1948 and named in June 1950 after Sir Walter Scott's historical novel published in 1824. It was allocated new to Gateshead where it stayed for almost twelve years, before moving to Heaton and Tweedmouth from where it was withdrawn in October 1962 and cut up at Doncaster Works the following May. Again the back displays a long list of Pacific loco names with plates of the same length of 64¾". The nameplate went under the hammer for £11,500 at a Great Central Railwayana Auction in May 2010.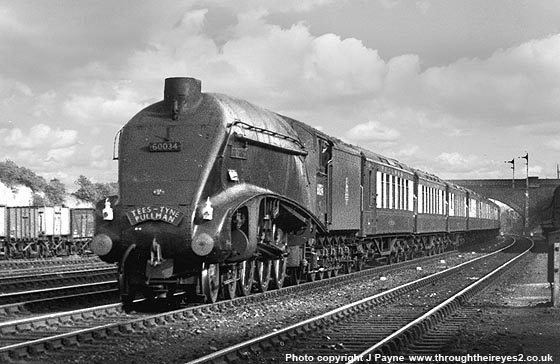 (Above-Below) The last A4 to be built, 60034 Lord Faringdon (originally numbered 4903 and named Peregrine) entered traffic on 1st July 1938 at Doncaster shed and was for a time used on the WCML during the Locomotive Exchange Trials in 1948. No 60034 was allocated to seven depots during her career: Doncaster from new, Kings Cross Top Shed from July 25th 1942, Grantham from October 5th 1942, Kings Cross Top Shed April 11th 1948, New England June 16th 1963, St Margarets October 20th 1963 and finally Aberdeen from May 17th 1964. It was withdrawn from Aberdeen Shed on 24th August 1966 and cut-up at Hughes, Bolckow, Blyth in October 1966. For the record, Lord Faringdon was best known as chairman of the Great Central Railway from 5th May 1899 until the end of 1922, and then deputy chairman of its successor, the London and North Eastern Railway from 1923 until his death in 1934.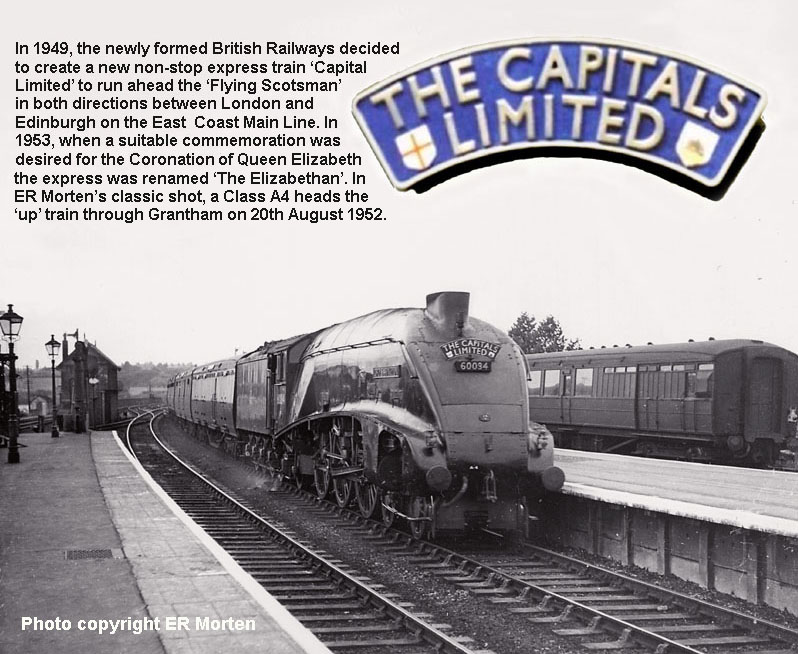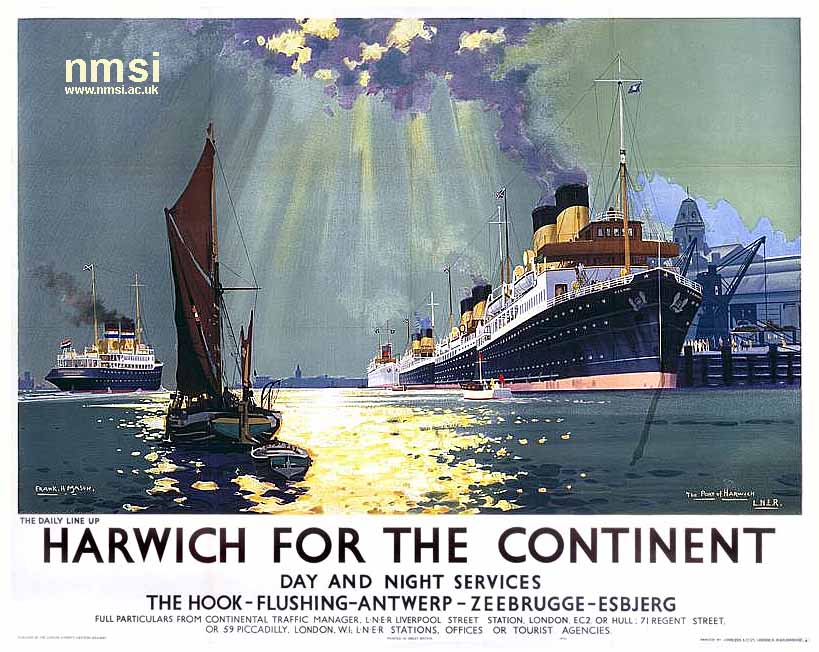 (Above-Insert) This London & North Eastern Railway poster - 'The Daily Line Up. Harwich for the Continent' - was painted by Frank Mason about 1939. The artist depicts the SS Vienna and a line of North Sea ferries docked in Harwich harbour, with a sailing vessel in the foreground and the Flushing registered Princess Juliana entering port. The accompanying text reads: 'Day and night services, The Hook - Flushing - Antwerp - Zeebrugge - Esbjerg.' The stunning images from the NMSI collection give some idea of the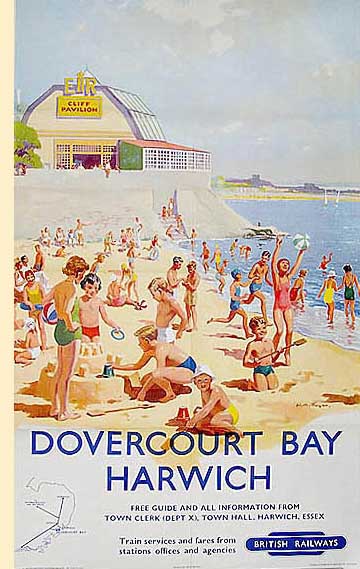 superb artwork commissioned by the 'Big Four' railway companies and later British Railways for posters across the country. The NMSI family is comprised of four award-winning museums, each with their own diverse identity: the Science Museum, the National Media Museum and, of course, the National Railway Museum (NRM) at York which houses the world's pre-eminent railway collection. The NRM is spread across three halls: the Great Hall - formerly the steam engine shed (50A) - complete with a working turntable, while the Station Hall (previously York's central goods depot) is now laid out like a 'period' railway station. The Science Museum at Swindon is a massive site housing collections ranging from the iconic Lockheed Constellation airliner to super computers, bicycles and the last Fleet Street printing press, however the NMSI's full collection is so big that only 8% of the artefacts are on public view. The rest are hidden-away at an ex-WW2 airfield just off the M4, but enthusiasts are amply compensated with the NMSI Collections Online; a superb website displaying thousands of objects including a range of fabulous railway travel posters...a visit is highly recommended.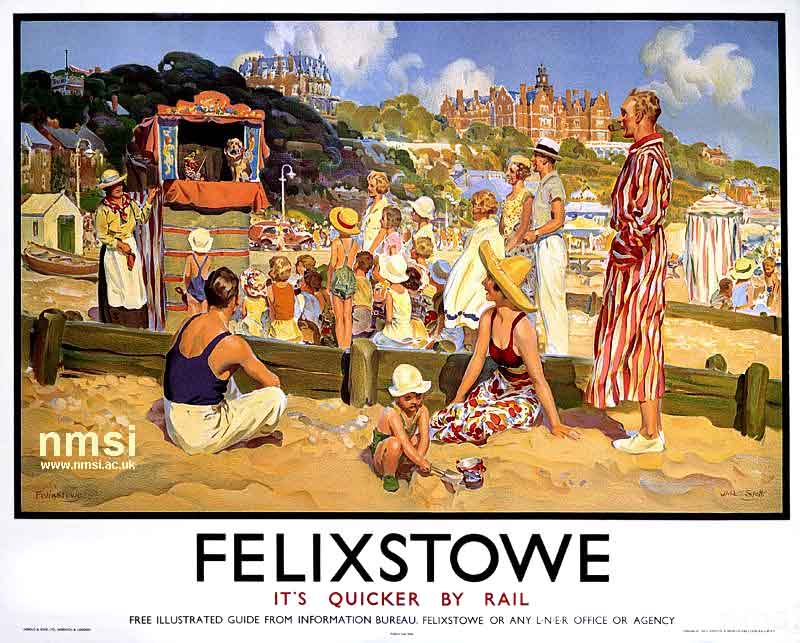 (Above-Below) The NMSI Collections Online is a superb website displaying countless thousands of objects, including a range of fabulous railway travel posters. Click HERE to visit the site. This lovely LNER poster - 'Felixstowe - It's Quicker by Rail' - revives memories of a bygone era when Britain's seaside resorts were the most popular holiday destinations for families. This 1930s painting by W R S Stott shows a group of children and their parents watching a Punch and Judy puppet show on the beach. We're harking back to a more innocent age when donkey rides, deckchair attendants and Punch & Judy shows were a familiar scene on Britain's seafronts up until the 1960s boom-time years of cheap package holiday deals overseas. The advent of affordable 'sun, sea and Sangria' holidays by jet to sunnier climes changed everything! (Below) This is another London and North Eastern Railway poster that appeared in the company's 'It's Quicker By Rail' series. 'The Broads - 200 Miles of Safe Inland Waterways' - painted by Michael in 1937, shows a party on a motor-cruiser with a yacht and windmill in background. The text reads - 'Holidays afloat £4 per week. Particulars of train services, fares etc from LNER Offices or Stations. Descriptive guide free from Blake's, 121, Broadland House, 22, Newgate St., London EC1.'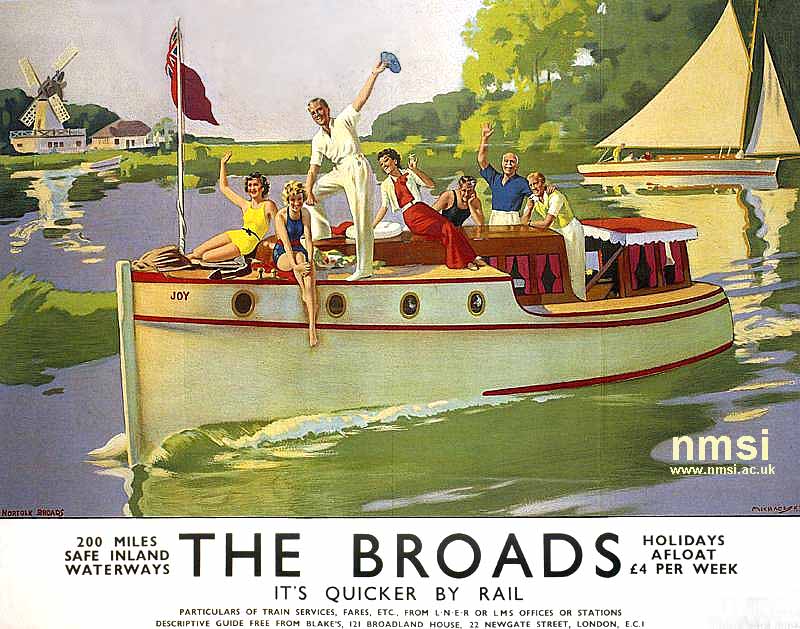 (Right) In January 2008, a BR Eastern Region (dark blue) enamel totem sign from Dovercourt station, described in the Great Central Railway Auctions catalogue as excellent colour and shine, with a tiny chip on the first 'R' touched in - plus the usual edge chips - reached a bidding of £740. On the same day a

smokebox numberplate from Gresley's Class A3 4-6-2 No 60093 Coronach, showing minor damage at outside edge of right bolt hole (where the plate was burnt off during scrapping at Doncaster Works in May 1962) was sold for £3,400. Click here for a veritable trip down memory lane on the GCR Auctions website.

(Below) Sporting a 30F (Parkeston) shedcode on its smokebox door, Class J15 0-6-0 65458 (power classification 1P2F) appears to be pushing the limit as it passes Dovercourt Bay station with a local ex-Harwich train on 17th April 1954. Opened on 15th August 1854, Dovercourt station is situated on the 11¾ mile Manningtree- Harwich branch between Parkeston Quay and Harwich Town stations. Now dubbed the 'Mayflower Line', the electric multiple unit passenger trains are operated by Greater Anglia over a bi-directional single track. ER Morten's shot was taken from the footbridge linking the two platforms but this was subsequently demolished when the abandoned 'down' platform was removed. The station also had a signal box which controlled the occasional goods movements to a short siding for coal deliveries to the town.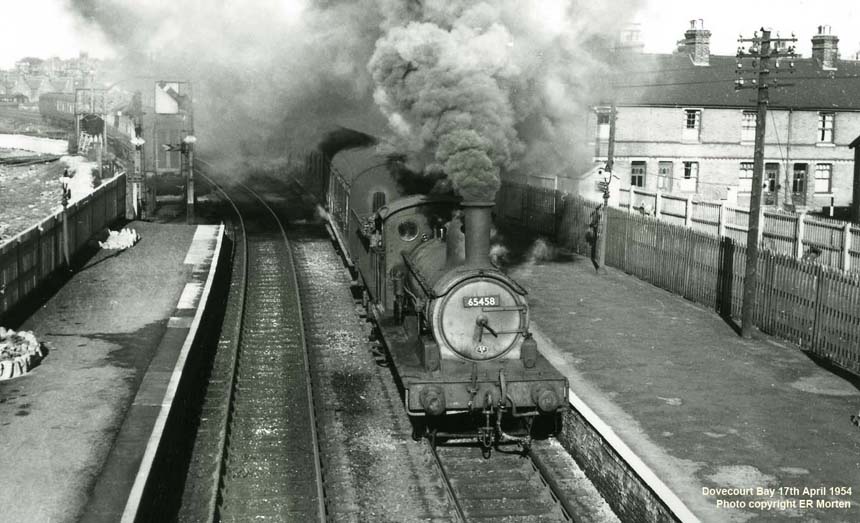 LONDON KINGS CROSS STATION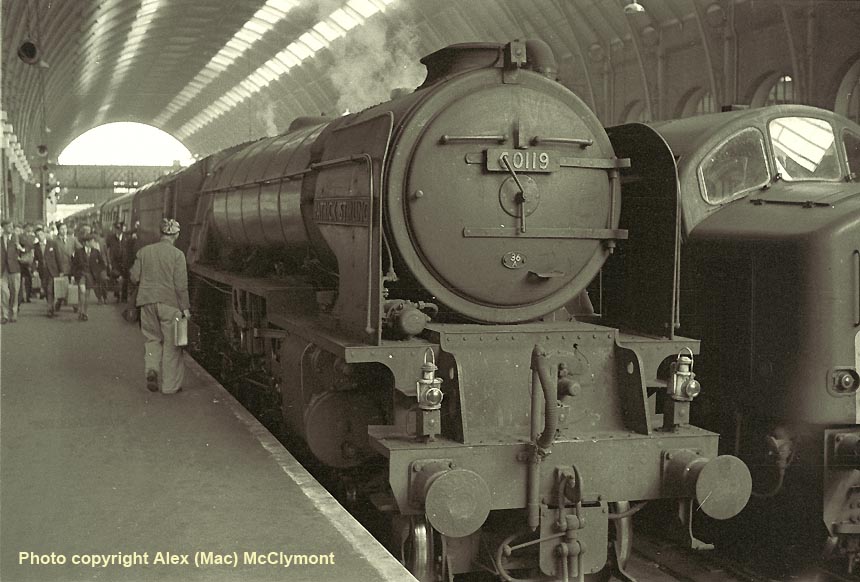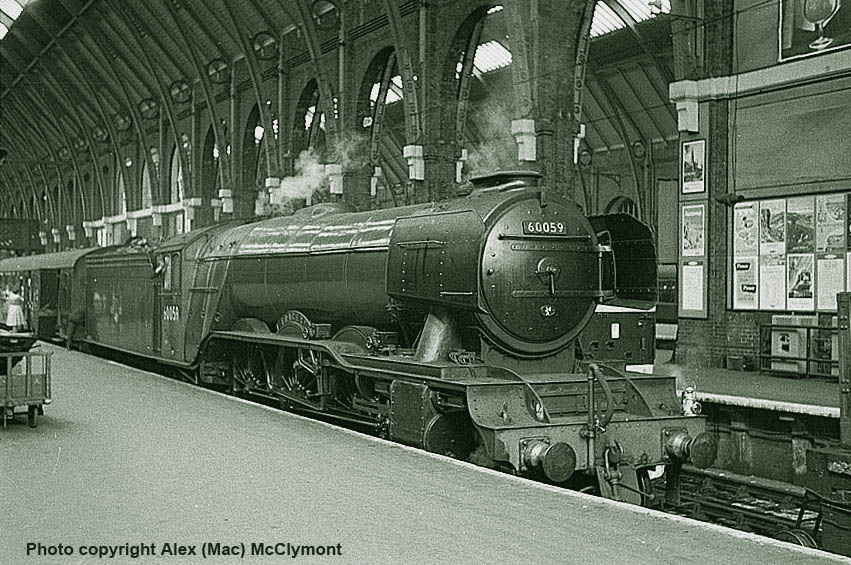 (Above-Inset Right-Below) An Eastern Region page would not be complete without featuring London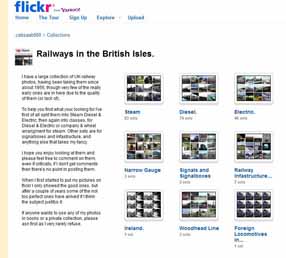 Kings Cross Station. Designed by Architect Lewis Cubit, the station was constructed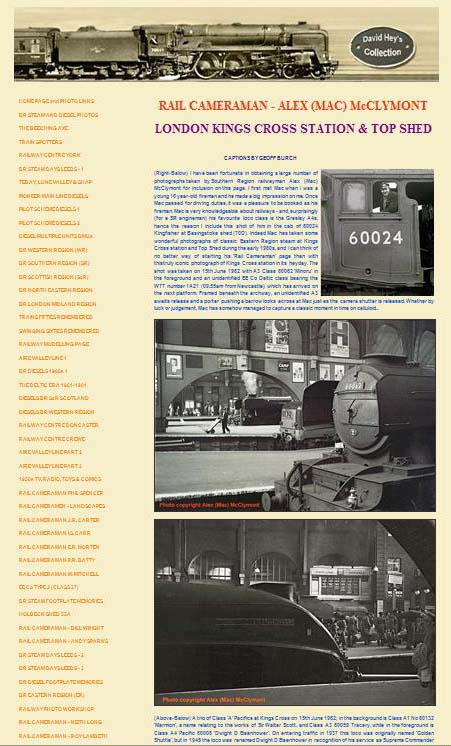 on the site of a fever and smallpox hospital and opened on 14th October 1852. These iconic shots were taken by former railwaymen Alex (Mac) McClymont and Keith Long, both of whom have 'Rail Cameraman' pages on this website. However, despite a near quarter of a century gap between them there is a timeless quality to be found in each one. (Above) A1 Class A1 No 60119 Patrick Stirling has just arrived with a train from Leeds; the loco was named to commemorate an eminent GNR locomotive superintendent whose tenure at Doncaster was three decades (1866 to 1895). (Below) Fast forward to 8th October 1988 and this shot by Keith Long shows 89001 on arrival with the 1A12 (10.01 from Leeds.(Inset Left - Inset Right) Click on page-links to visit Alex (Mac) McClymont's Page 74 and Keith Long's excellent 'Cabsaab900' Flickr website.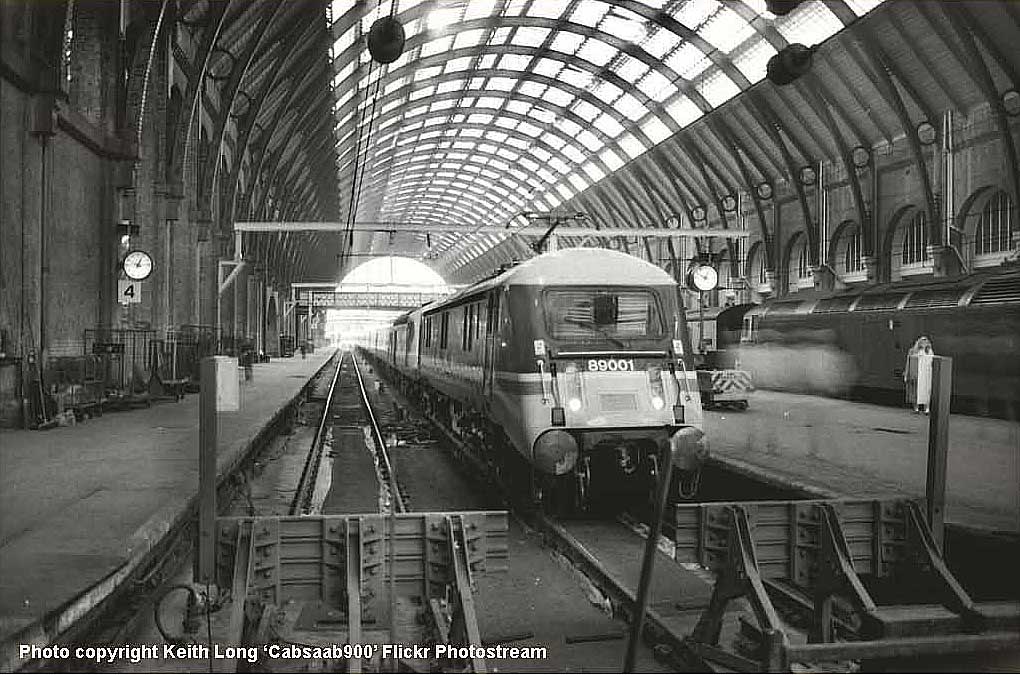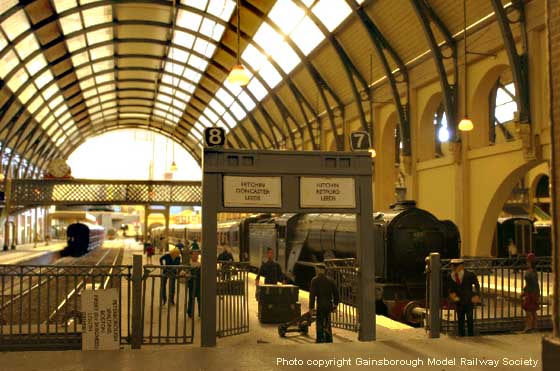 (Above-Inset-Below) By way of a change, these superb shots of the buffer stops beneath the magnificent arched roof are reproduced courtesy of the Gainsborough Model Railway Society. The Society's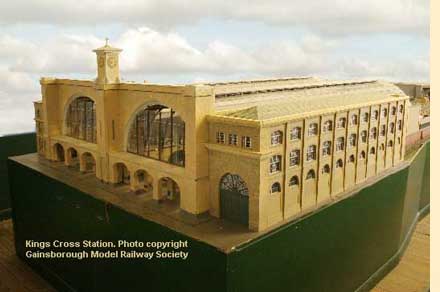 superb 'O' gauge layout depicts the East Coast Main Line from Kings Cross to Leeds Central during a period from the late 1940's to the transition from steam in the Sixties. Construction of the layout started in 1953 and the trackwork now covers an area of 2500 square feet, with over 1200 feet of main line, all of it requiring a team of ten skilled operators to control the complex system of pointwork, associated signalling and operating the trains; indeed this is no ordinary model railway, it is one of the largest 'O' gauge layouts of its kind in the country and the quality of workmanship is siperb...I'm sure architect Lewis Cubit would firmly approve! A visit is highly recommended. Click on photo link (left) for more details.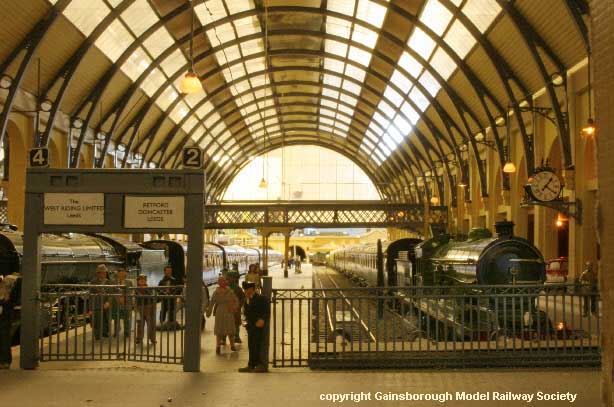 (Above-Below) Back to the prototype, comparisons can be made between four photos spanning more than fifty years. The first photo (above) was taken by Rail Cameraman, Alex (Mac) McClymont on 15th June 1962 showing Class A3 60062 Minoru in the foreground and the arrival of an unidentified EE Co Deltic on the 09.55am from Newcastle on the next platform. (Below) It would appear that great minds think alike! Fellow Rail Camerman, Trevor Ermel's photo shows a typical line up at Kings Cross on 7th January 1966. Left to right: Class 31 D5606, Class 37 D6750 and Class 47 D1502 - all still in green livery. The two nearest have had tail lamps attached prior to leaving the platform 'light-engine'.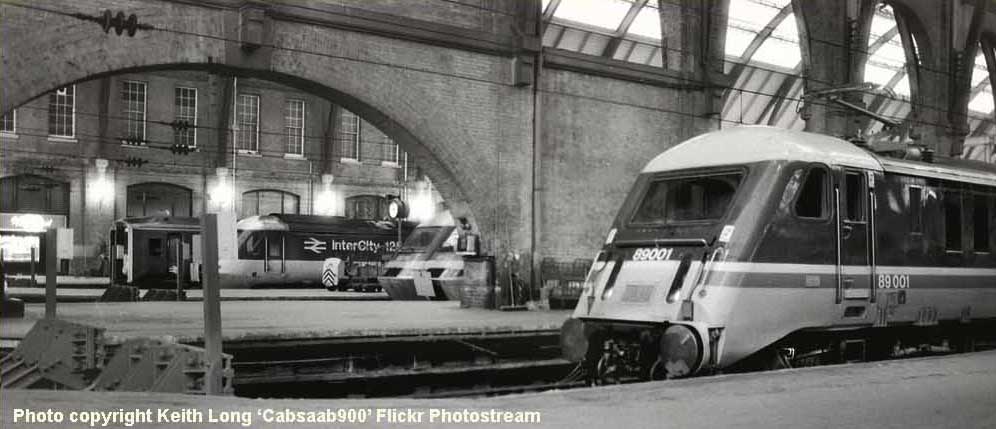 (Above-Below) Fast-forward another twenty two years and Rail Cameraman, Keith Long, took a similar shot at Kings Cross of 317350, 43074, 43060, 43087 and 89001 at the buffers on 8th October 1988. (Below) And bringing things slap-bang up to date, we have yet another Rail Cameraman, Phil Spencer, who took this present-day scene on 7th August 2013. All the photographers featured here have their own pages on this site...check out the left-hand page menu.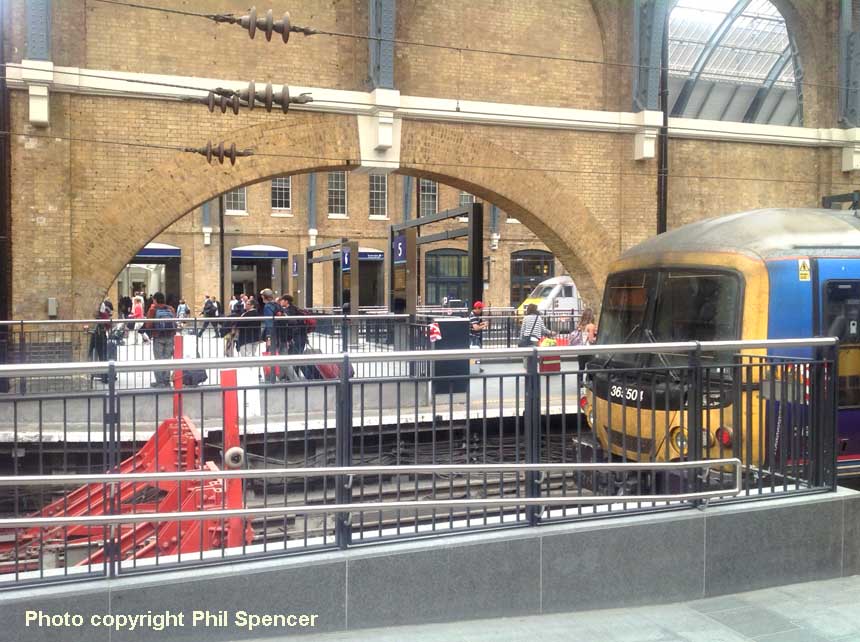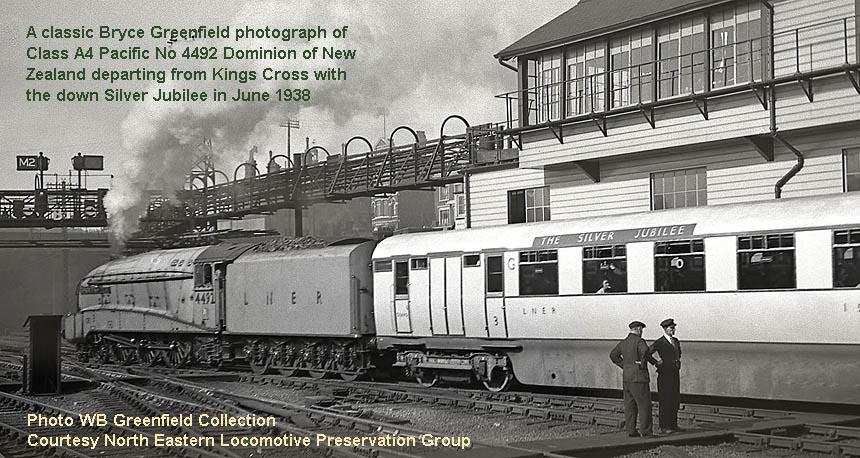 (Above) A superb shot by Bryce Greenfield of Class A4 No 4492 Dominion of Canada departing from Kings Cross with the Silver Jubilee in June 1938. When Bryce started taking railway pictures in 1934, his first subject was A1 Pacific No 2581 Neil Gow on the 4.42pm to Edinburgh at Newcastle Central Station in February. During the next six years Bryce became a prolific photographer of the LNER scene, particularly in the North East. However he did venture further afield including a week spent in London visiting many LNER locations such as Kings Cross, Marylebone, Stratford and Liverpool Street. He returned north to Newcastle in 4 hours by the 'Coronation', the last hour of which was spent in the rear of the beaver-tail Observation Car…what an experience that must have been! Following Bryce's death in 1977, his superb collection was bequeathed to the North Eastern Locomotive Preservation Group. Click here to visit WB Greenfield's photo collection on the NELPG's website. Further details of the full catalogue of negatives can be obtained via this link…well worth a visit!

THE NRM's LIVERPOOL STREET COLLECTION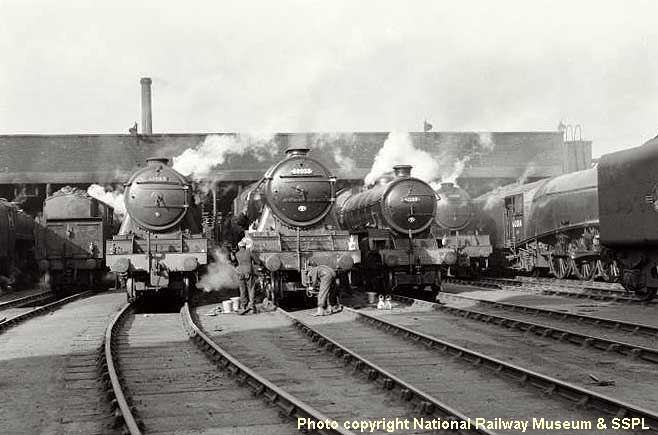 (Above-Below) This photograph from the NRM archive is dated 1st October 1958 and shows a very familiar scene at Kings Cross shed during steam days. The locos being prepared for duty include a pair of A3s Nos 60055 Woolwinder and 60042 Singapore; Class A4 No 60014 Silver Link, Class B1 No 61139 and Class V2 No 60924. Alas, such high standards are now being set by today's digital cameramen that traditional b/w photos of old steam days look very ordinary by comparison; indeed no matter how much thought and care went into taking this photo - focussing, choice of film, aperture settings, shutter speeds and filters - it is no match for the quality colour images produced today. Digital cameramen have it so cushy; they only have to think about composition and the camera does the rest! (Below) This b/w photo is quite another story! The photographer has climbed to a great height to capture this stunning birds-eye view of locomotives at King's Cross Motive Power Depot on 21st August 1956; The locos include V2 class 2-6-2 No 60903 and Class A1 No 60141 Abbotsford. It's amazing to think that a little over a decade later and Kings Cross MPD would be consigned to history. The National Railway Museum has a collection of 1¾ million photos covering the history of Britain's railways from 1850 to the present day. The NRM's archives are currently being digitalized to make them available to a wider audience and preserve them for the future - a visit to the 'Liverpool Street Photos' page here is highly recommended…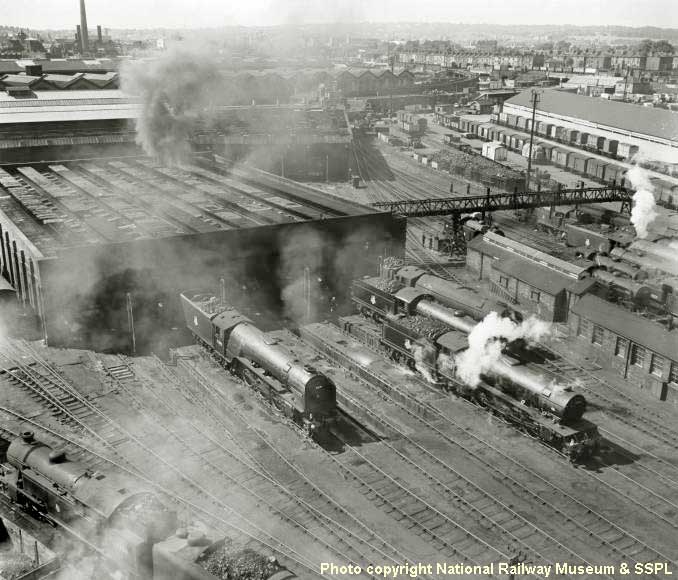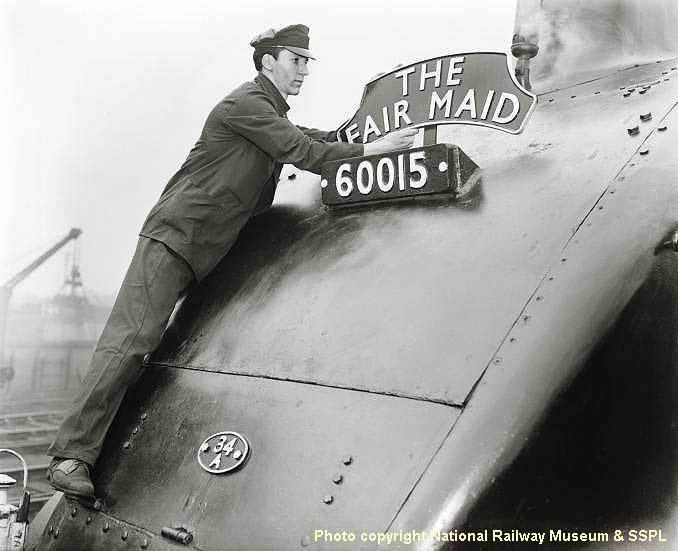 (Above-Below) Publicising a new train service is part and parcel of running a railway; wearing freshly-laundered overalls, an engineman is photographed attaching the 'Fair Maid' headboard to A4 Class No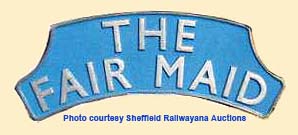 60015 Quicksilver at Kings Cross MPD (34A) on 3rd September 1957. Introduced in 1957, the Anglo-Scottish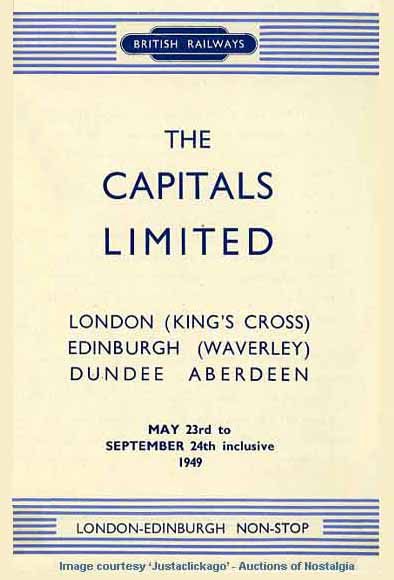 Fair Maid express was named after Sir Walter Scott's novel 'The Fair Maid of Perth', departing London Kings Cross at 7.50 am and arriving at 2.36 pm at Edinburgh Waverley. This titled train was originally named 'The Talisman' but this was changed to 'The Fair Maid' in 1957, and then reverted back the 'Talisman' again in 1958. (Below) Another Eastern Region titled train to have its name changed was 'The Capitals Limited',' a non-stop summertime express from London to Edinburgh which began service in 1949. The name was changed to 'The Elizabethan' to commemorate Queen Elizabeth II's accession to the throne in 1953. Here Class A4 No 60017 Silver Fox departs from Kings Cross on 30th June 1952. (Inset) A British Railways single fold Descriptive Named Train Timetable and Route Map measuring 7¼" x 4¾" approximately: The Capitals Limited - London (King's Cross) - Edinburgh (Waverley) - Dundee - Aberdeen - May 23rd to September 24th inclusive 1949. This Lot went under the hammer at a recent 'Justaclickago' Auction.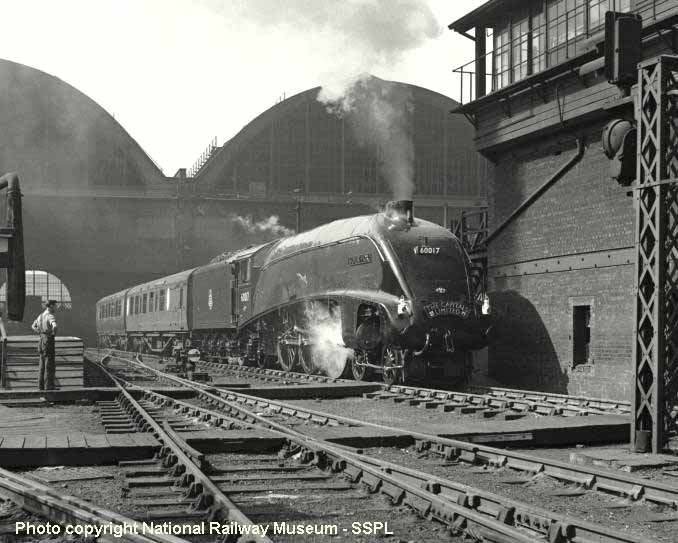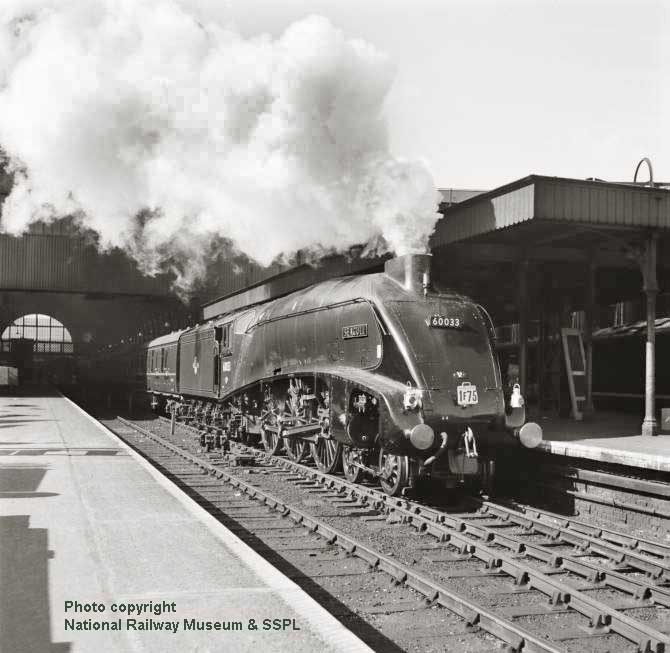 (Above) Class A4 No 60033 Seagull makes a spirited departure from King's Cross on 27th June 1961. Links on the NRM's website will take you to an extensive collection of railway travel posters and other images from the Science Museum Group collections - click here. Sales of postcards, notecards and framed or unframed decorative prints help towards funding the work of the National Railway Museum.

(Below) LNER A1 Class No 2580 Shotover took part in the inaugural non-stop 'up' run of the Anglo-Scottish express between London and Edinburgh, arriving two and half minutes inside the scheduled time. This photo by long-time photographer of the GNR-LNER, WJ Reynolds, can be found on Simon Lathlane's excellent Rail Cameraman page 73 (see left-hand menu) which features several images of LNER steam days on glass plate negatives. No 2580 is shown with a 220 lb/sq in boiler (first introduced in 1927) as well as a corridor tender, introduced in 1928. According to the RCTS volume, No 2580 got its 220 lb boiler in Feb 1928. The 220lb boiler is recognisable by the cover plates over the ends of the superheater header near the top rear of the smokebox. The image also shows the engine with the Westinghouse brakes seen on the outside mounted near the rear coupled wheel. They were removed from fifteen Class A1s between 1933 and 1935.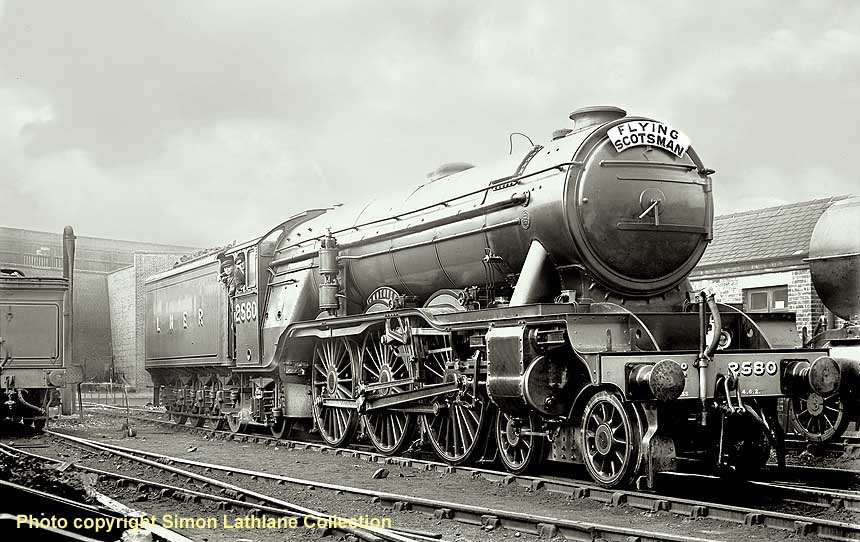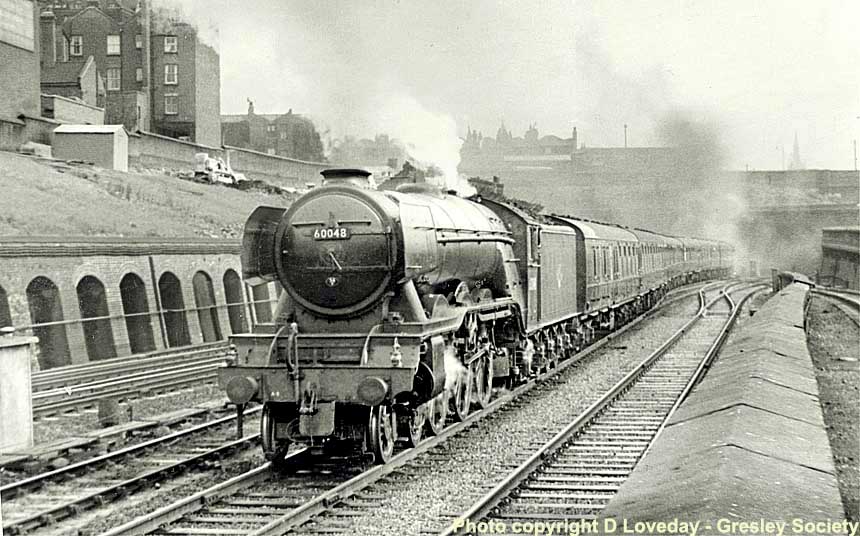 (Above) Spectacular images of the departures from Kings Cross have featured in books and magazines since early steam days. This fine shot from the Gresley Society archives shows Class A3 60048 Doncaster emerging from the murky depths of the 528yds long Gas Works Tunnel on the 1 in 107 climb to Copenhagen Tunnel. The locomotive rolled off the production line at Doncaster Works in August 1924 as LNER No 2547; it was later renumbered No 48 in 1946 followed two years later by its BR number 60048 which it carried up to withdrawal from Grantham shed (34F) in September 1963. For the record, No 60048 was named after the 1873 Derby winner - a chestnut colt with a white blaze originally named 'All Heart and No Peel' until bought by James Merry for 950 guineas at Tattersalls auction and the name was changed to Doncaster after the racecourse. Of interest to LNER enthusiasts, the Gresley Society was founded in 1963 to celebrate the life and work of Sir Nigel Gresley, renowned Chief Mechanical Engineer of the Great Northern Railway 1911-1922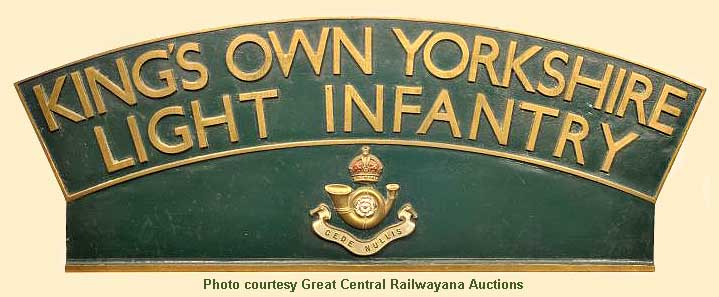 and the London & North Eastern Railway from 1923 to 1941. Click HERE to visit the Gresley Society Trust's excellent Facebook pages.

(Below-Inset Right) Here we have another fine shot by D Loveday which captures the sterling effort of Class V2 No 60847 Kings Own Yorkshire Light Infantry, one of eight Class V2 locomotives to be named out of a total of 184 members. Built at Doncaster Works in April 1939 the locomotive was named on 20 May 1939 in Doncaster Works yard by Lady Deedes, wife of General Sir Charles P Deedes, Colonel of the Regiment. It was renumbered 872 in 1946, becoming BR 60872 and spent most of its working life at Doncaster from where it was withdrawn on 22 September 1963 and cut up at the Works. The nameplate went under the hammer for £25,500 at a Great Central Railwayana Auction on 14th July 2011. Click here to visit the GCR Auctions fascinating website...the background information supplied for each lot is quite outstanding.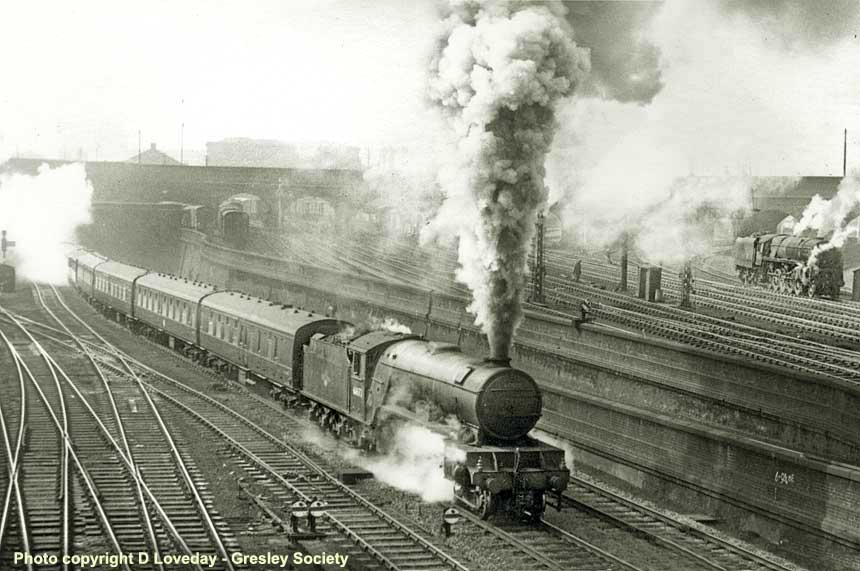 'A BRIEF MOMENT IN TIME - NEW BARNET - 2nd AUGUST 1961'
Photos Richard S Greenwood MBE Collection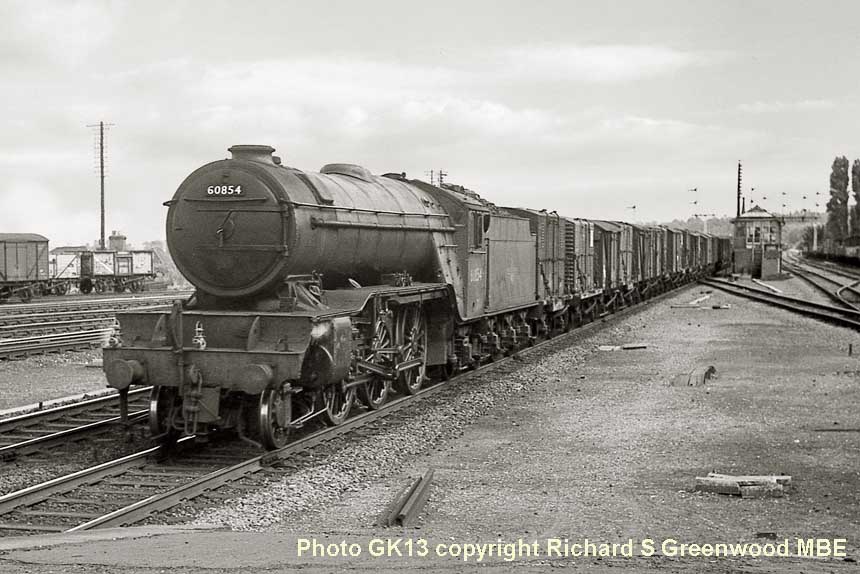 (Above-Below) During steam days, the departure from Kings Cross station was hard for both engine and footplatemen. No sooner had they got the right away and the loco was plunging into the murky depths of
Gas Works Tunnel (528yds long) on a gradient of 1 in 107 which continued to climb through the 594yd long Copenhagen Tunnel. The gradient eased at the approach to Finsbury Park, followed by a downhill run past Ferme Park Goods Yard and Hornsey, but at Wood Green the engine resumed its uphill climb at 1 in 200 which didn't end until reaching the summit at Potters Bar. The first signs of open country can be found at New Barnet, some 9¼ miles out of London, where Richard Greenwood visited on 2nd August 1961 to photograph the rank and file of ECML steam, including this shot of Class V2 No 60854 heading a northbound freight. Built at Darlington in April 1939, No 60854 was withdrawn from New England shed in June 16th 1963 and cut up at Doncaster Works in October that year. (Below) Richard's 1961 shots of ECML steam would soon become just a memory; the first of the EE Co Deltics was introduced earlier in the year, and in spite of being recalled to the factory for the fitting of modified bogies, by September thirteen members of the class were available. At the beginning of the winter schedules the Class A4s were removed from the premier ECML expresses and more frequently to be found on Kings Cross-West Riding duties. It was the beginning of the end of the A4s reign; the first five A4s to be withdrawn being 60003, 60014, 60028, 60030 and 60033 from Kings Cross shed in December 1962. Here, sporting at 34A shedplate, No 60029 Woodcock heads an 'up' express past New Barnett North Box. Built at Doncaster in July 1937, No 60029 was withdrawn from its New England shed on 20th October 1963 and broken up at Doncaster Works in January the following year.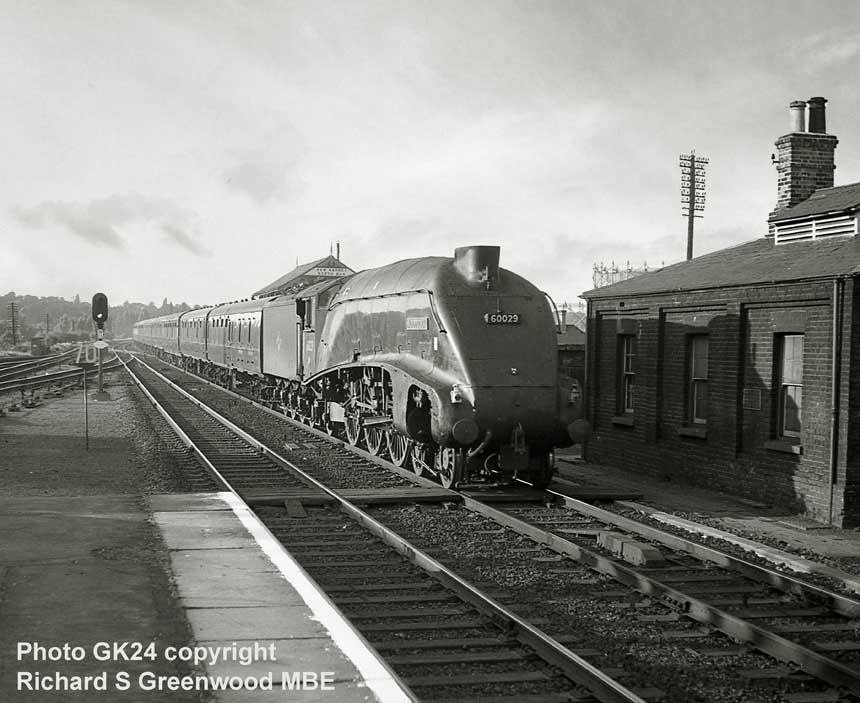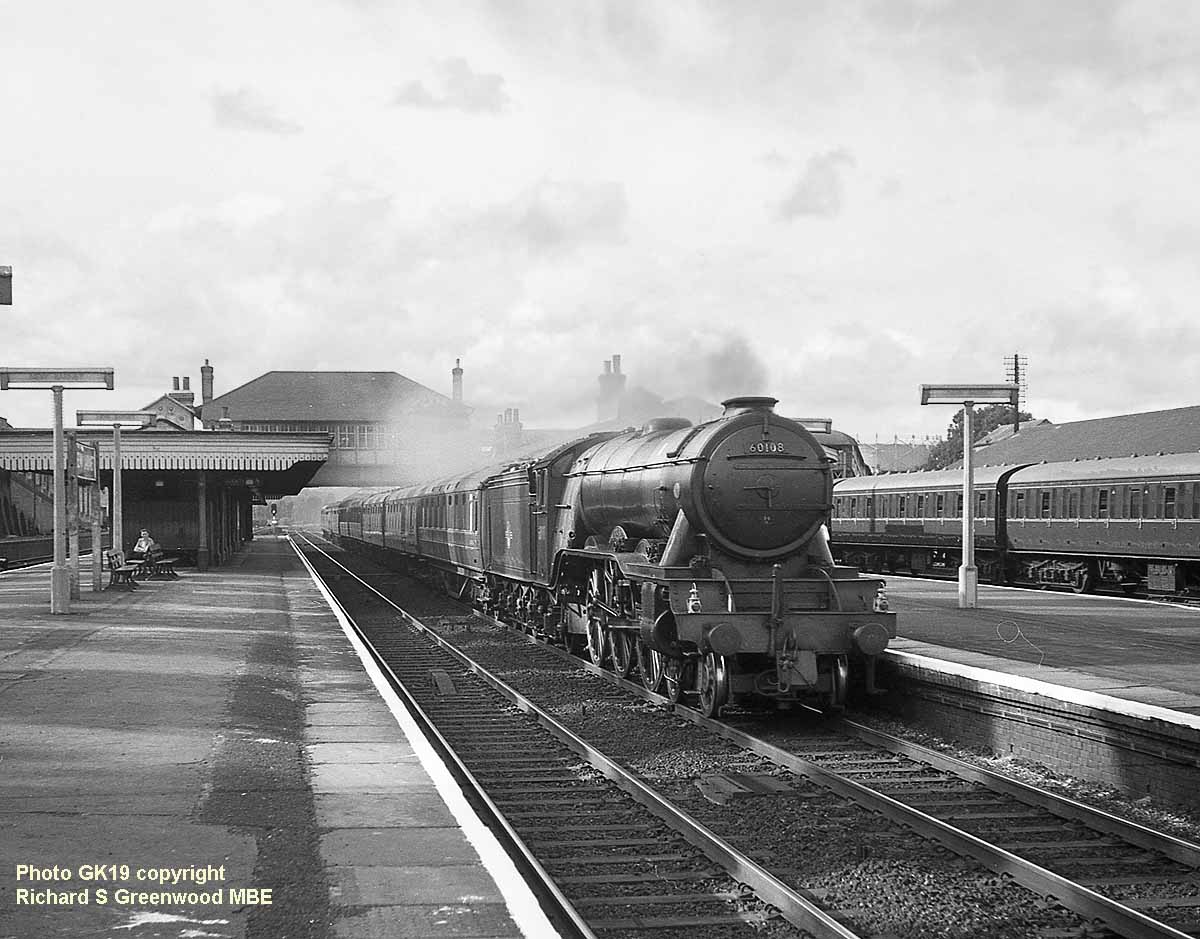 (Above-Below) Class A3 No 60108 Gay Crusader makes a splendid sight heading a southbound express through New Barnett. Built at Doncaster Works as A1 class No 4477 in June 1923 (and named after the winner of the 1917 2000 Guineas, Derby and St Leger) the loco was rebuilt to an A3 in January 1943. The last shed was Doncaster (34A) from where it was withdrawn on 19th October 1963 and cut up at Darlington Works in November. (Below) Sister Class A3 No 60062 Minoru is seen heading the northbound 'Yorkshire Pullman' with newly-fitted German smoke deflectors in place. Built at Doncaster Works as A1 Class No 2561 in May 1925, the loco was rebuilt as an A3 in June 1944 and renumbered 62 in October 1946, later BR 60063. Allocated new to Gorton, it had no fewer than sixteen shed changes, including three spells at Doncaster, the same again at Grantham and New England, and four times at Kings Cross, before returning to Gorton, and then on to Haymarket, followed by a stint at Copley Hill and finally New England from where it was withdrawn in December 1964, doubtless suffering post traumatic stress disorder from all the moving around it did! The A3 was cut up by Kings of Norwich the following March. For the record, 60063 was named Minoru after the racehorse owned by HM King Edward which won the 1909 Derby and 2000 Guineas.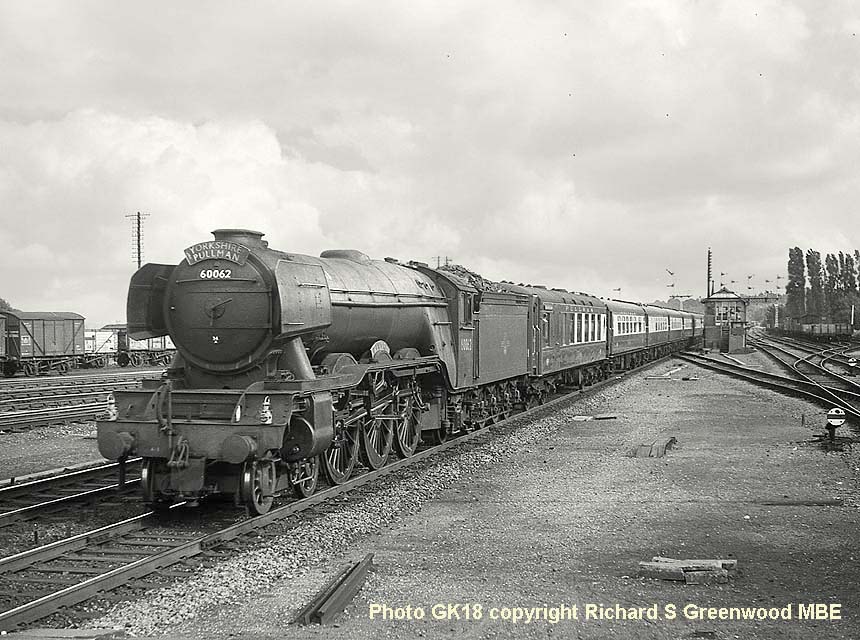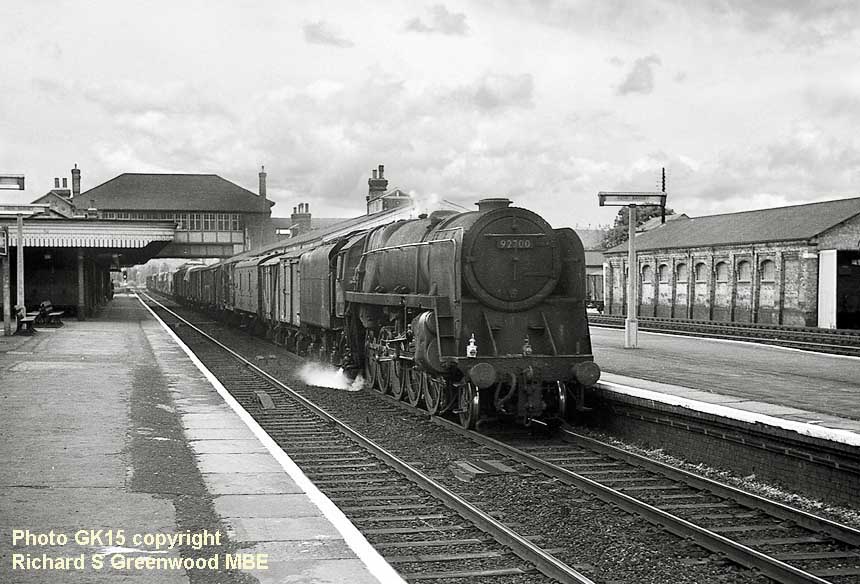 (Above-Below) Adding to the loco variety at New Barnet is Class 9F No 92200; built at Swindon Lot No 427,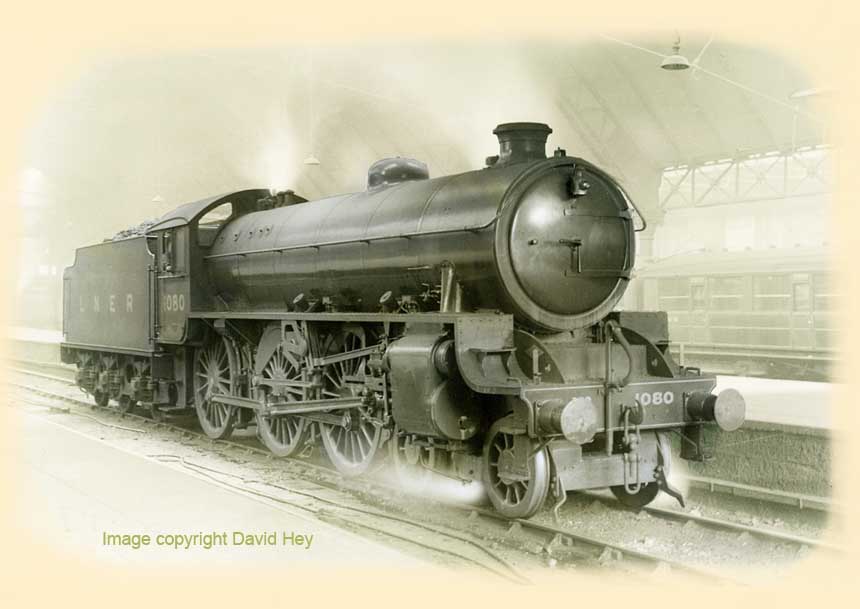 consisting of twenty five locomotives Nos 92178-92202. Here the loco is performing duties for what is was designed, in this case heading a lengthy up express freight. In the background can be seen the station booking office mounted on the station bridge linking the platforms; this was burnt down in a fire caused by a thunderstorm in August 1989. (Below) Heading a 'down' express at speed, the smokescreen from Class B1 No 61074 part obscures the outdated Victorian era semaphore signalling operated by the New Barnet South box signalman. It would take several years before the installation of multiple aspect signalling (MAS) was fully completed along length of the East Coast Main Line out of Kings Cross.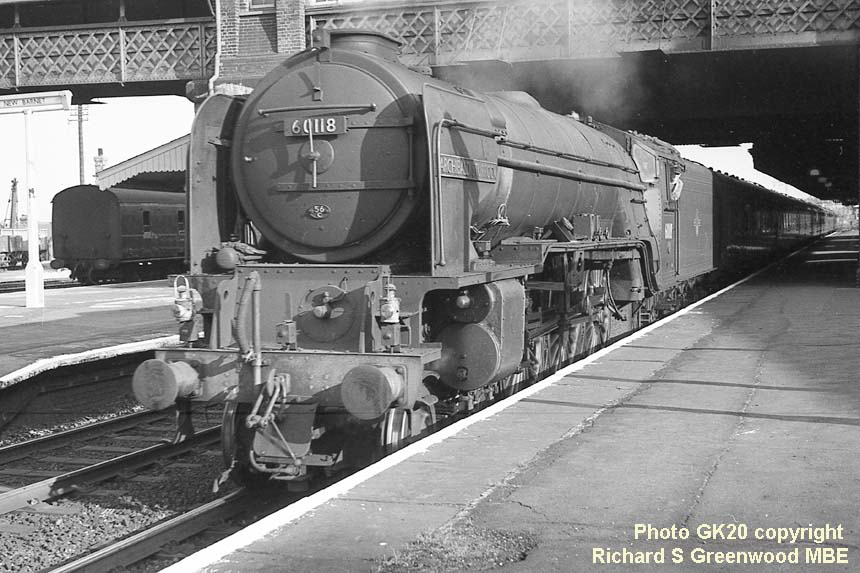 (Above) Built at Doncaster in 1948, the fifth of Peppercorn's Class A1s No 60118 (later named Archibald Sturrock after the GNR's Locomotive Superintendent 1850-1866) was allocated new to Leeds Copley Hill shed (56C) on November 12th 1948, one of five A1s to enter service at this shed when new. A West Yorkshire-based engine all its life, the bulk of it working from Copley Hill, No 60118 was employed on Leeds-Kings Cross express duties, but during the last years of its life the A1 moved twice. A brief transfer to Ardsley was followed twelve days later with a move to Neville Hill shed, one of five A1s transferred there to substitute for diesels on the Leeds-Newcastle passenger services. The end came for 60118 following withdrawal on October 4th 1965; it was sold to TW Ward of Beighton for scrap.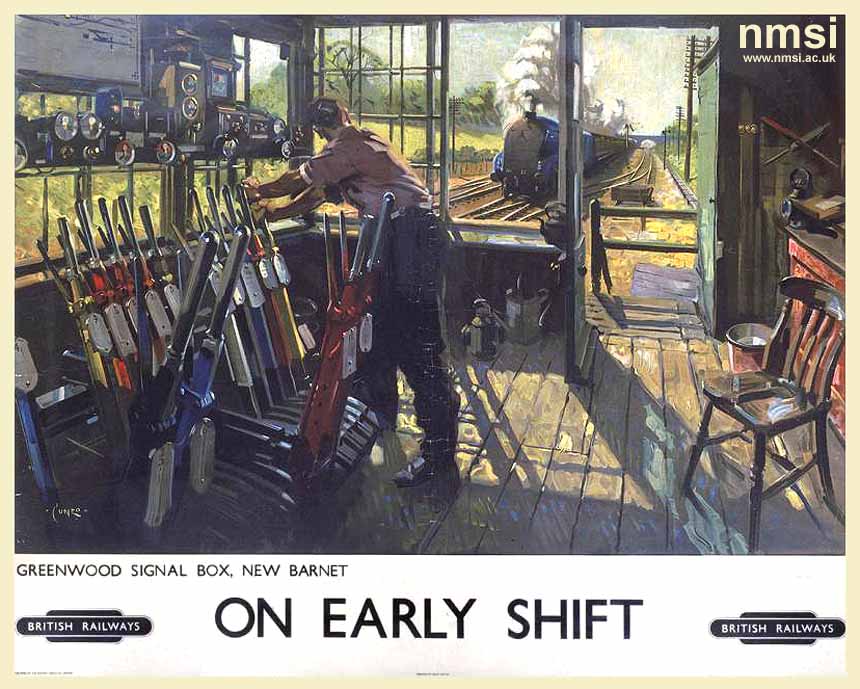 (Above) This British Railways poster 'On Early Shift' was produced in 1948. The picture is unmistakably the work of Terence Cuneo, who depicts the interior of Greenwood signal box, with a signalman holding the 'down main distant' signal lever, looking through the windows at an approaching northbound express hauled by Class A4 No 21 Wild Swan. The text beneath the image reads 'Greenwood Signal Box, New Barnet, On Early Shift' flanked by the British Railways 'totem' logo. Incidentally, I am unable to locate Cuneo's mouse in this painting. Perhaps someone might know?

With regard to the 'missing' mouse mentioned above, I received a reply from T Booth, who writes - 'Hi David, I'm sure you have already found this out, but the mouse on the Cuneo poster was, if I remember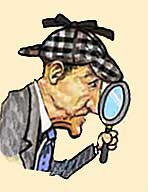 rightly, removed from the 'public' version by British Railways because it gave a bad impression of their signal boxes! I recall seeing a copy of the original picture somewhere with the mouse either sitting on or under the chair. Hope this helps. Great site by the way. Cheers T.Booth...'
Well, this explanation by T Booth seemed very plausible to me...one can imagine the BR hierarchy frowning upon a painting that depicted a signal cabin infested by mice!
But before posting anything on this page, I wanted to make sure of the facts first and so I contacted Vic Smith of York; Vic has helped me out before with numerous railway queries - and sure enough, he came up with the definitive answer.
Vic writes - 'Hi David, I think the removal of the mouse by British Railways is another example of the 'urban myth' becoming accepted as fact. I understand the original painting was produced in 1945 and the poster in 1948 but Cuneo did not insert the mouse into his paintings until 1953.
If you check out the National Archives website here you will find that Cuneo's mouse first appeared in a painting in 1953 and subsequently in most of his paintings thereafter. Also, if you check out a page on the wordpress.com website here by Lorna Owen, Cuneo is said to have been working on the formal painting of the coronation of Queen Elizabeth II when his Burmese cat came into his studio with a field mouse its mouth and the artist thought the tiny fellow would make a good still life...'
Well, my sincere thanks to Vic and T Booth for their help...
As the saying goes, you learn something new every day...
...indeed Vic goes on to mention that Cuneo may have possibly used artistic licence with the signalman's operation of the levers in the painting. This became the subject of a long discussion on the excellent Signal Box website here; it includes a fascinating comment posted by Dave Cockle, who writes - 'The signalman depicted in Cuneo's painting was Wilf Stockley. He was a resident signalman at Finsbury Park No 3 when I was box lad there in 1969. Wilf told me that Cuneo spent a couple of days in the box working on the painting and requested Wilf stand at a particular position at the lever frame so as to suit the composition of the painting. The fact that Wilf's hands were operating a particular lever that was not appropriate to the passing train was down to Cuneo's request...'
Needless to say, a visit to the 'Signal Box' website is highly recommended.

'A BRIEF MOMENT IN TIME - HADLEY WOOD - 24th AUGUST 1962'
The Paul Claxton Collection

The generally flat nature of the line out of Kings Cross is broken by a number of geological ridges between Hitchin and Potters Bar, with few other obstructions to speak of before the line arrived at Newcastle. During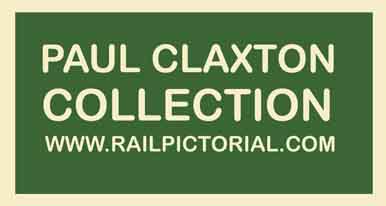 LNER days, the rural scenery around Greenwood Box (see Cuneo's painting above) became a favourite location for railway photographers, particularly as northbound trains were still climbing the 1 in 200 gradient to Potters Bar summit. Opened in 1876, the box controlled the 'up' goods line to Barnet, which later became the 'up slow' line on the East Coast Route at a point where the four tracks merged into two for the section through the tunnels at Hadley Wood. However, with rail traffic increasing it became a notorious bottleneck and the LNER acquired land in the 1930s with a view to widening the line, but it wasn't until 1953 (five years after nationalisation) that the British Transport Commission (BTC) instigated plans to bore a second set of tunnels alongside the original 1850 tunnels.




(Above-Below) By the early Sixties the ever-increasing demand for high-speed running necessitated the upgrading of the ECML between Kings Cross and Edinburgh. This involved the renewal of trackwork at major junctions plus a general easing in the curvature of the route in conjunction with the replacement of hundreds of miles of outdated Victorian-era semaphore signalling. Whilst work was carried out on widening the line at Hadley Wood the semaphores were replaced by modern multiple aspect (MAS) signalling, as seen in Paul's shots of Class A3 No 60107 Royal Lancer heading a down York Express on 24 August 1962 and Class A4 60017 Silver Fox storming through Hadley Wood with a northbound express on the same day.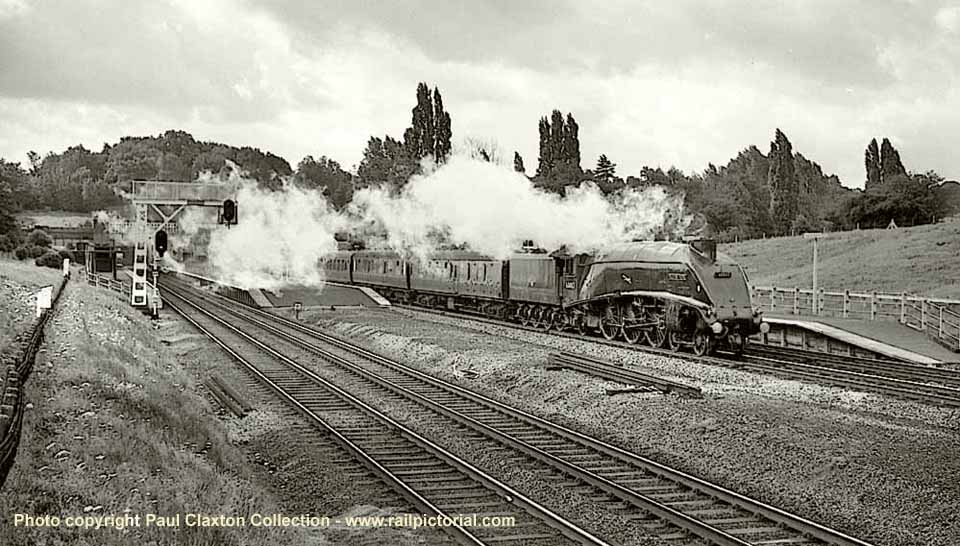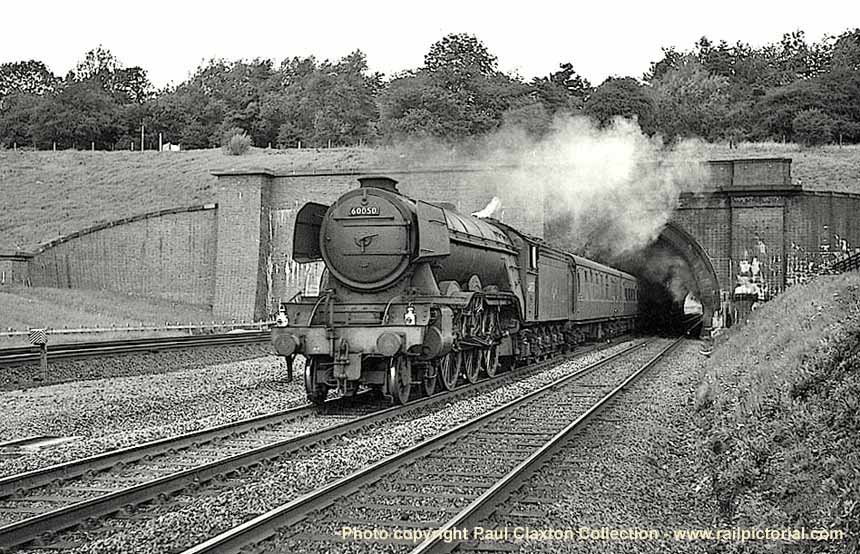 (Above-Below). Class A3 60050 Woolwinder emerges from Hadley Wood North Tunnel with a southbound express. The 'new' tunnel bore with concrete lined segments is on the left. These photos are just a small selection to be found on Mike Claxton's superb www.railpictorial.com websit, which is dedicated to the memory of his younger brother who sadly passed away in April, 2009.
Paul began train spotting at a very early age, and like most young boys during the late 1950s he started taking railway photographs, a natural adjunct to train spotting. His first camera was a Kodak Brownie 127, but this was quickly replaced by a Zeiss Ikon Nettar 120 rollfilm camera followed by a Kodak Retinette 1B 35mm camera in 1961. Paul acquired a Pentax S1A in 1965 and by the late 1970s he had graduated to a Nikon F [35mm] and a Pentax 6X7, albeit too late for BR mainline steam which ended in 1968, but ideal for recording most preserved railways and steam specials on the main line.
Mike has created this website so that enthusiasts can enjoy his late brother's photographic collection online…and what a collection it is! Rarely have I see such quality and in such high numbers on one website - currently standing at a little over 7,400 images and counting! Incredible! Needless to say, I am a big fan and a visit here is highly recommended. (Below) Class A1 No 60120 Kittiwake emerges from Hadley Wood North Tunnel with a Leeds Central-Kings Cross express on 24 August 1962.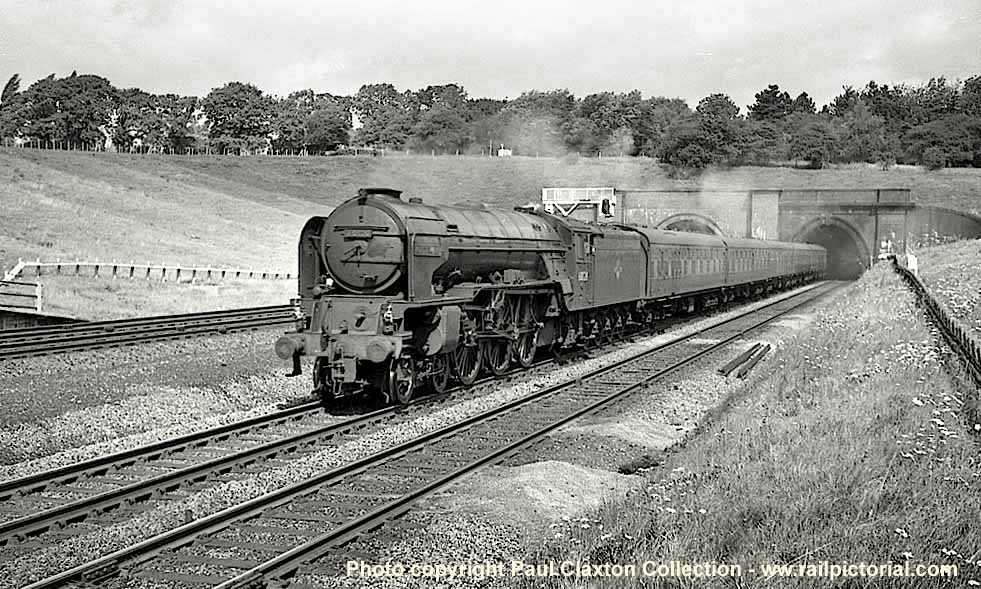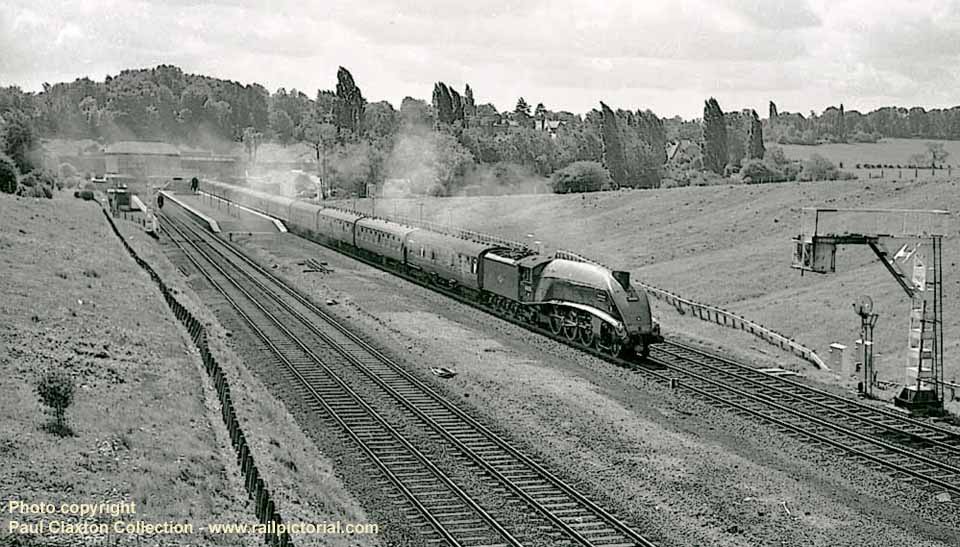 (Above) Class A4 No 60025 Falcon speeds through Hadley Wood with a northbound express on 24 August 1962. When work started on the Hadley Wood widening, the Eastern Region put forward plans to electrify the line from London Kings Cross to Scotland but due to penny-pinching stringencies, the Government only granted expenditure for electrifying the WCML out of Euston to Liverpool and Manchester via Crewe. As a result the East Coast route had to wait until the late 1980s. But I'm getting ahead of myself, we are still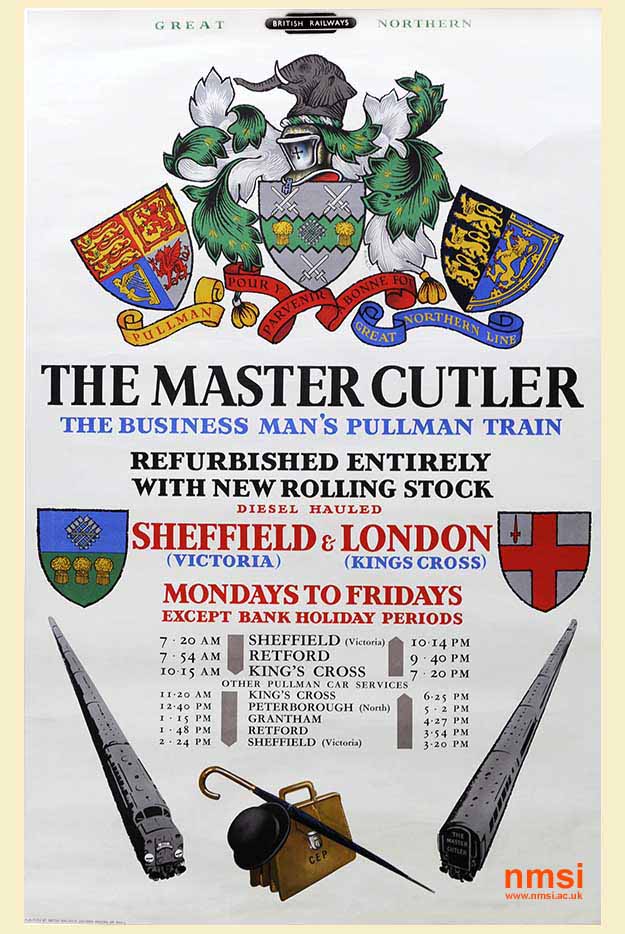 in the 1950s and after the tunnels at Hadley Wood South, Hadley Wood North and Potters Bar Tunnels had been completed in 1959, it became one of the first major improvements to the British Railways network since nationalisation over a decade earlier.

(Inset) The 'Master Cutler' began service on the London & North Eastern Railway from Sheffield Victoria to Marylebone via the Great Central route in 1947. Following closure of the GC line, the 'Master Cutler' Pullman was diverted to run on the East Coast Main Line via Retford into Kings Cross. The train was made up of an almost uniform rake of the new Metro-Cammel Pullman cars, introduced in September 1960. The vehicles were used entirely on the East Coast main line Pullman services, but as no Pullman brake cars were built in the same order, the elderly flat-sided Pullman brakes were utilised as seen in the photo of 'Falcon' below.

(Below) The late summer of 1962 saw the end of two chapters in the development of BR main line diesel power. The first was the completion of the EE Co Type 4 D200s with the delivery of D399 - the last of 200 locomotives in the series - and construction of the Type 4 'Peak' class was concluded at Derby and Crewe with Nos D193 and D57 being the last of the respective batches built there. Meanwhile Brush Traction had set about the task of developing a prototype Type 4 locomotive, wholly financed and owned by the company, but as there were no single diesel power units available to produce the required 2,800hp, the company installed two high-speed Bristol-Siddeley/Maybach engines of 1,440hp. Aptly named 'Falcon' (after the builder's works) the prototype began trials in BR service working from Finsbury Park depot, and was used regularly on the 'Master Cutler' between Kings Cross and Sheffield via Retford. This consisted of two round trips a day (670 miles every 24 hours) albeit the lightweight Pullman of 240 to 320 tons made so little serious demand on a diesel locomotive of such power. Here D2080 'Falcon' heads the up 'Master Cutler' on 24 August 1962.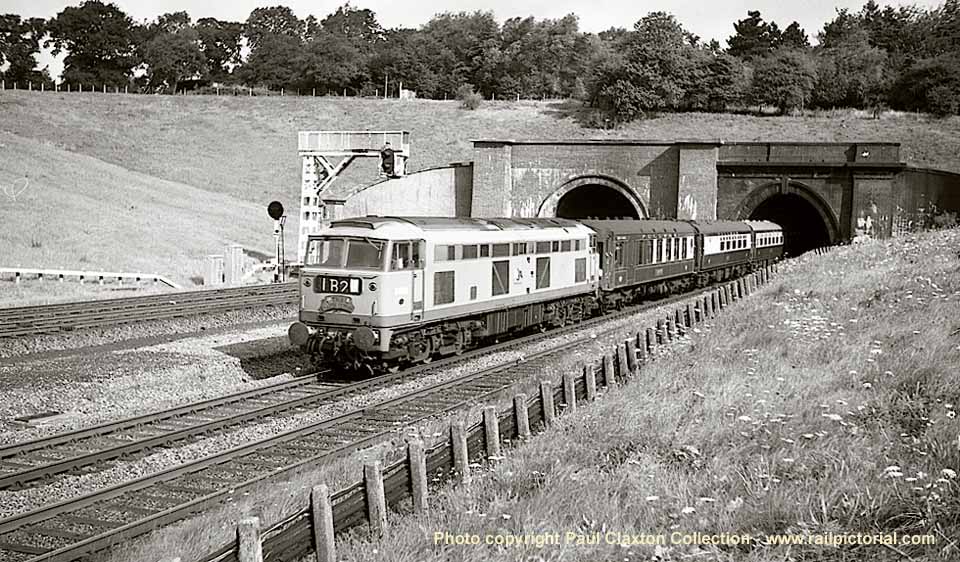 To give credit where it is due, Mike Claxton has pulled out all the stops in creating this website; he has done it for the simple reason that it gives enthusiasts a chance to enjoy his late brother's photographic collection online. It is an enormous task, and with only one pair of hands (and not enough hours in a day) Mike has had to ignore any thought of correcting the images, whereas the photos used on this page have been enhanced in Photoshop. Should you download copies of any of Paul's photographs from this page then it would be appreciated if you would make a donation to the Trinity House Hospice, Blackpool who cared for Paul in his fight against cancer. A click-on link is available here? It only takes a couple of minutes!
(Below) Hadley Wood North Tunnel is just over 200 yards long, and Hadley Wood South Tunnel 384 yards. Class A3 No 60048 Doncaster emerges from North Tunnel with a Grantham to Kings Cross express on 24 August 1962.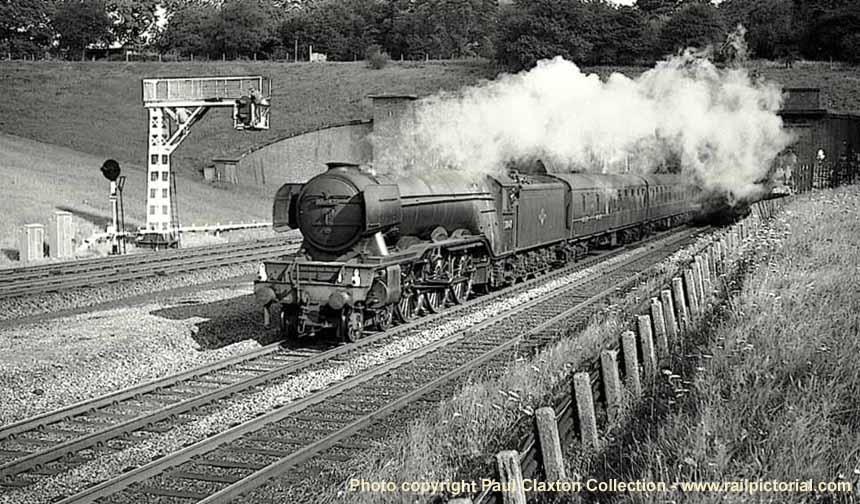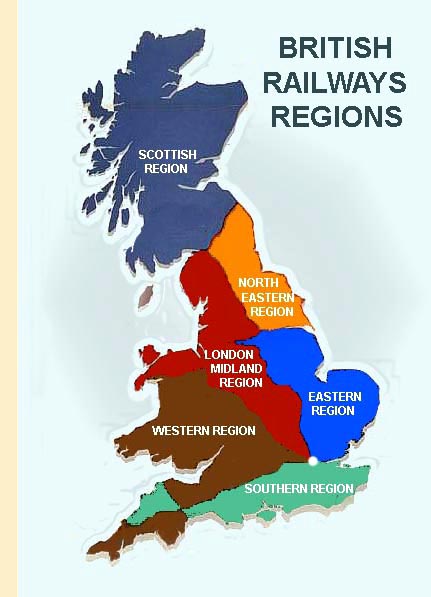 Upon nationalisation in 1948, six new BR Regions were formed, their new boundaries corresponding closely to the lines of the former 'Big Four' railway companies. Britain's railway network was now made up of the Western Region (WR), Southern Region (SR), Scottish Region (ScR), Eastern Region (ER), North Eastern Region (NER) and London Midland Region (LMR) - the old London North Easter Railway (LNER) being divided amongst the two newly-formed Regions: Eastern and North Eastern, whilst the Scottish Region was composed partly of the former LMS and LNER. This page deals with the Eastern Region that was formed in 1948 to take over the southern area of the old London North Eastern Railway. When the LNER was formed in 1923 its southern network of lines belonged to three main pre-grouping railway companies with routes running into London: the Great Northern Railway (GNR) which terminated at Kings Cross; the Great Central Railway (GCR) which ran into Marylebone via the Metropolitan Railway and the Great Eastern Railway (GER) which terminated at Liverpool Street station in 1874. A separate page deals with the North Eastern Region which was responsible for the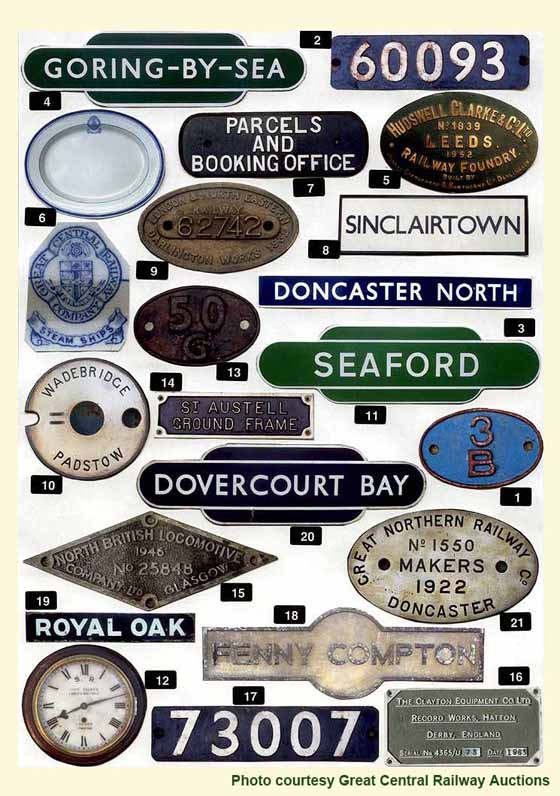 northern area of the old LNER. The North Eastern Region basically covered the same area as that of the old North Eastern Railway prior to grouping in 1923. Indeed, apart from a few minor adjustments to Regional boundaries, the resultant Eastern Region from 1967 onwards covered the same network of lines as the old LNER.
As mentioned above, BR's Regional boundaries diminished significantly over the years, therefore it is meaningless to classify any particular class of locomotive as belonging to any one Region during the transition from steam. For example, the Ivatt ex-LMSR Mogul could be found working at various locations of the Eastern Region and North Eastern Regions. To help younger readers, who were not around to witness steam days - and wonder at the complexity of its origins - the picture gallery (below) might throw some light on the subject.
Doubtless some enthusiasts will disagree with my choice of steam locos - you'll have your own favourites, surely - but the gallery does illustrate the difficulty BR faced in standardising the steam fleet, particularly in view of the huge number of BR steam classes involved, many originating from pre-Grouping days.
The LNER Encyclopedia site provides a wealth of information about LNER locomotives based on the old Whyte wheel arrangement - a visit is highly recommended.

PHOTO GALLERY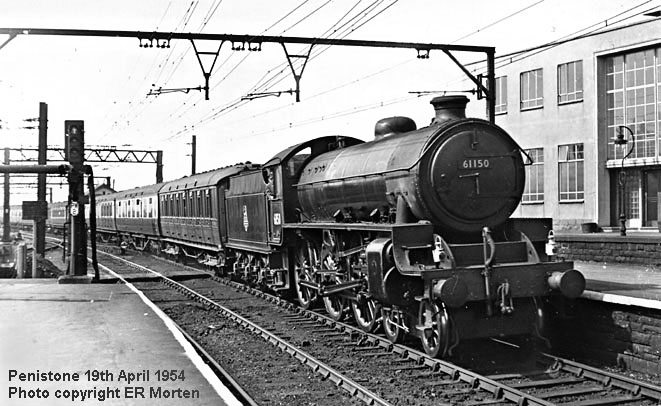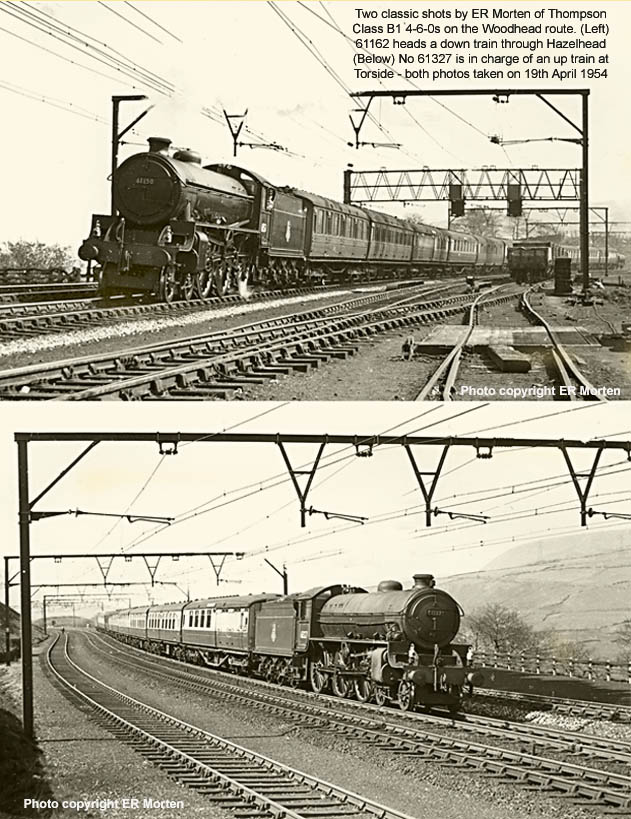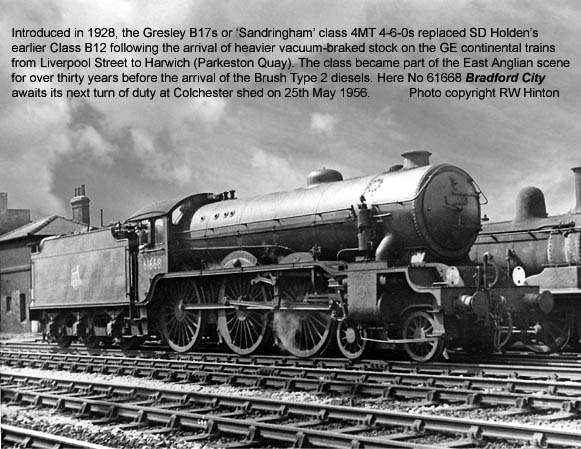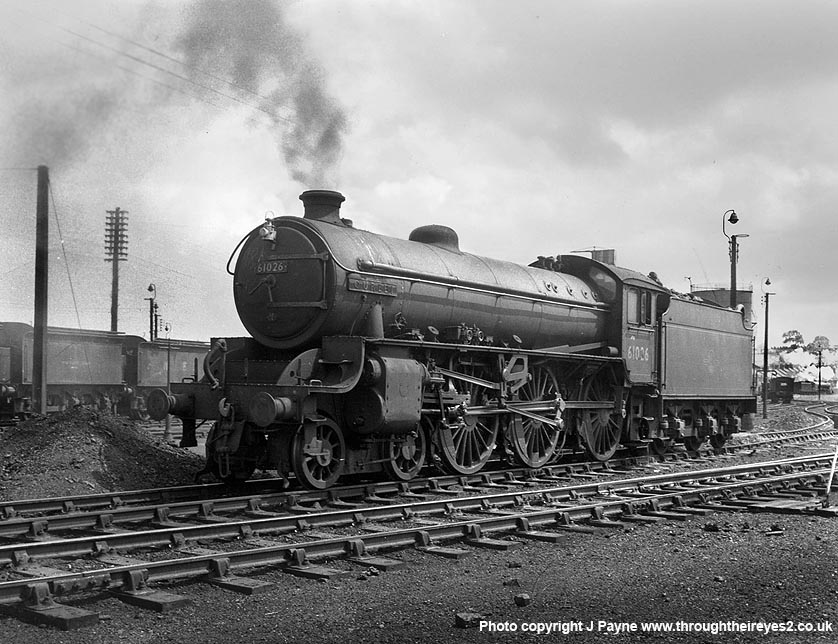 (Above-Below) Thompson Class B1 No 61026 Ourebi at Grantham shed (34F) in 1960. (Below) Oops! All too often mistakes occur when the facts are based on the contents of the shot. For example, this photo of Class A1 No 60117 Bois Roussel (with a seemingly empty tender) is described as heading the 'up' Queen of Scots' Pullman on the last leg of its journey to the capital. However, ex-Hitchin fireman, Francis Steeley, kindly points out that the train is in fact on the 'down' main and in consequence would not be nearing the end of its journey, but about 10 minutes into its trip on the 'down' Pullman. My thanks to Francis for pointing out the error…and if anyone else spots a mistake please let me know; I am more than willing to correct them.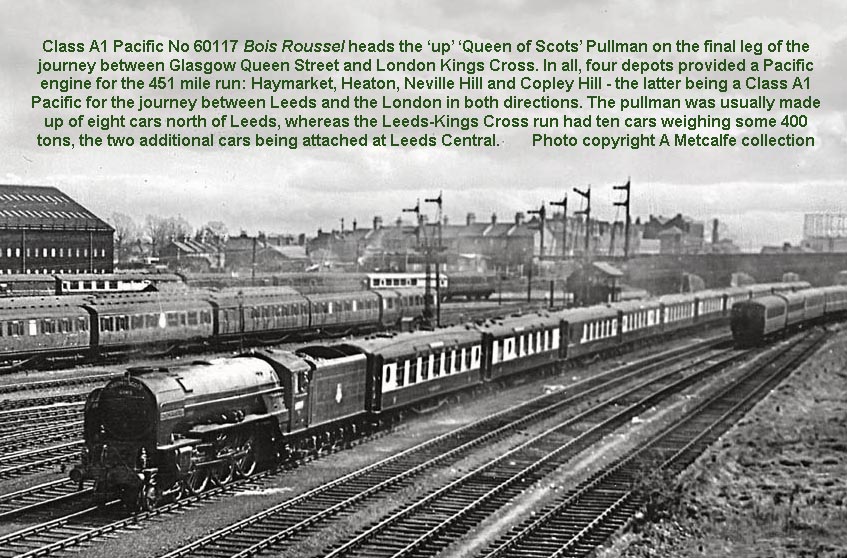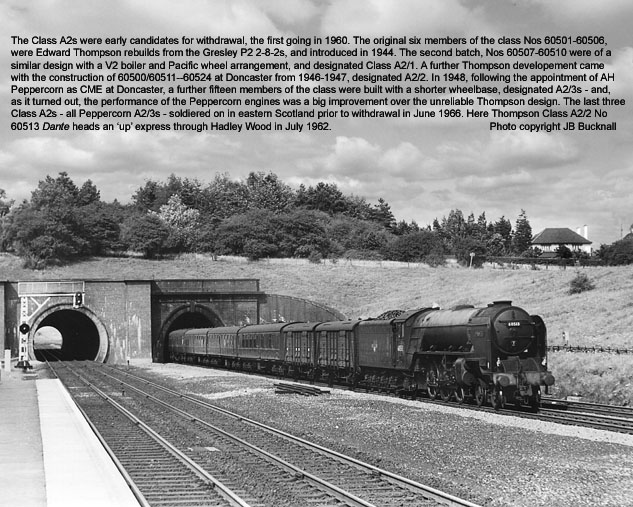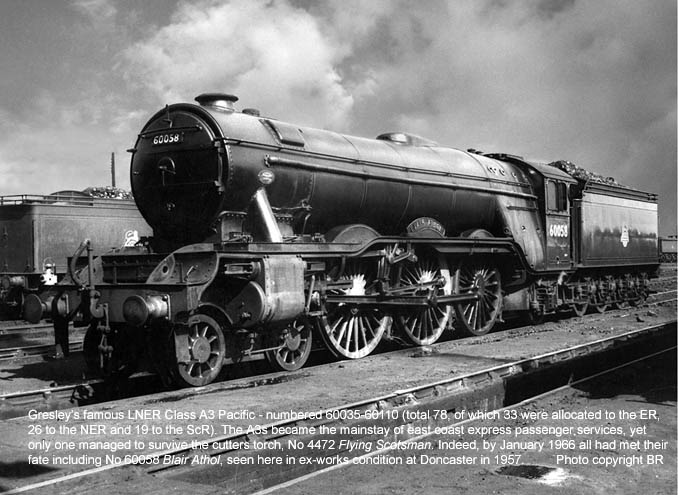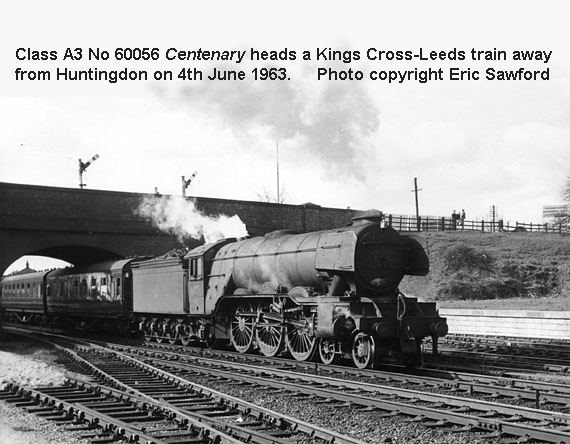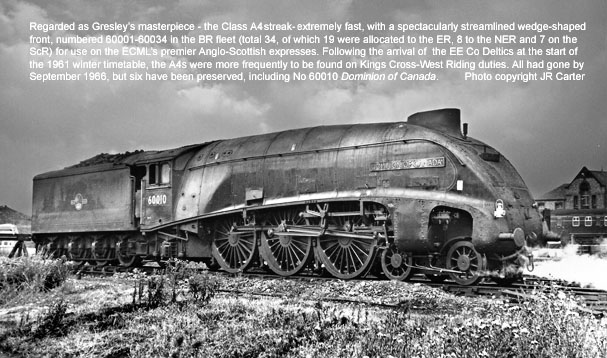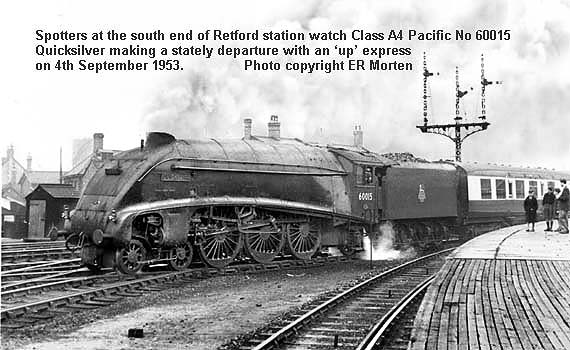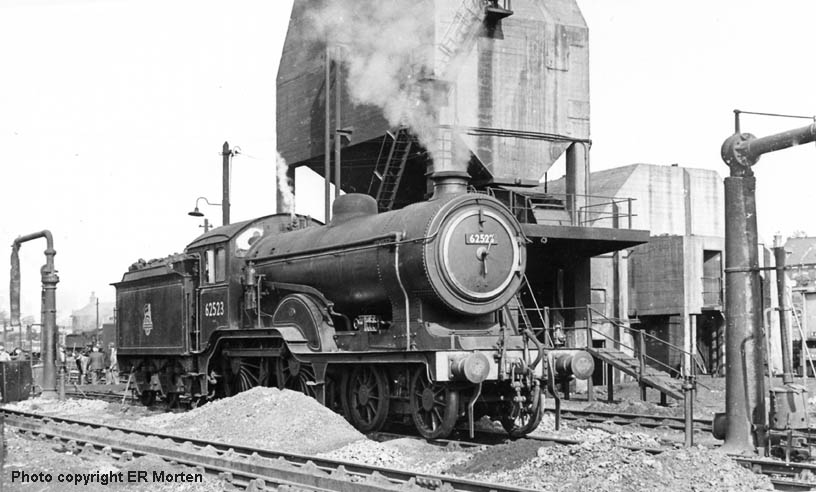 (Above) Before the arrival of the more powerful B12 class 4-6-0, J Holden's GER 7ft coupled 4-4-0 was the principal express passenger engine on the Great Eastern Railway. It was an elegant design, of which 121 were built in classes D14, D15 and D16. The D16s were introduced in 1933, and became known as 'Clauds' because the first of Holden's 4-4-0s (constructed in 1900) was named Claude Hamilton in honour of the then Great Eastern Railway Chairman. This Class D16/3 No 62523 originally had a straight footplate with a slotted portion raised over the coupling rods, but this was removed and replaced by a simpler upswept footplate. Nonetheless it doesn't detract from what is considered to be one of the all-time classic British steam locomotive designs. This ER Morten shot of No 62523 was taken at Norwich shed on 7th September 1952...the following day he was at Lincoln's Durham Ox Crossing (below). An email address dealing with all enquiries regarding ER Morten's photos can be found at the top of his 'Rail Cameraman' page 52 here.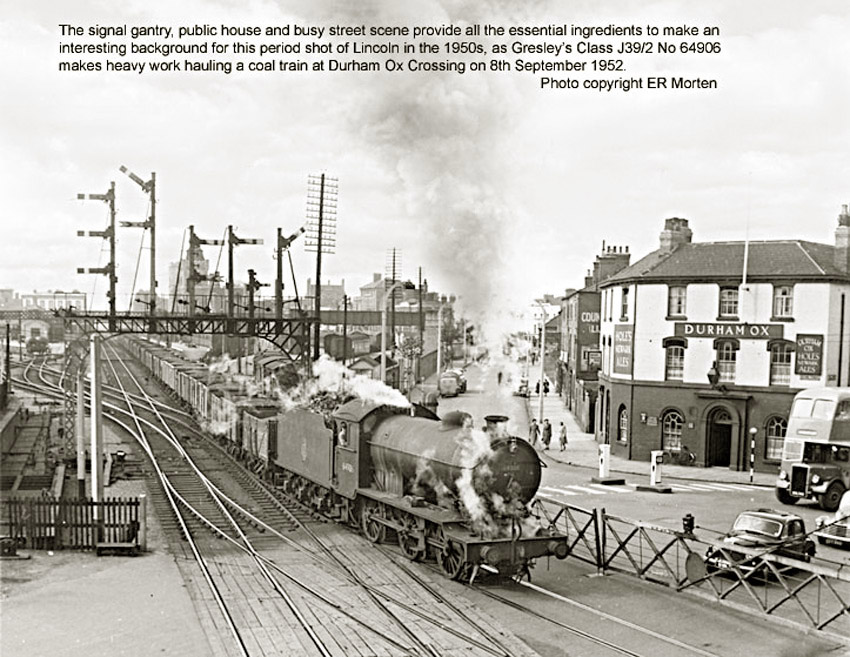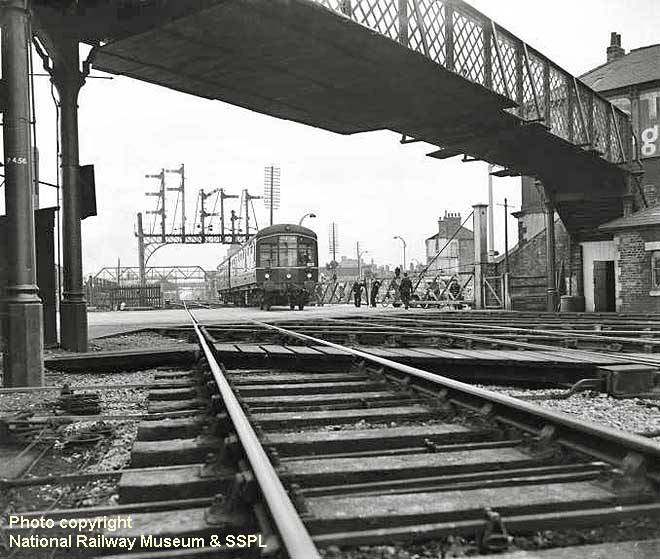 (Above-Below) The official BR photographer has adopted a less conventional view of Durham Ox Level Crossing with this shot of a 2-car DMU departing from Lincoln station on 19th June 1956. (Below) A view of the Erecting Shop at Stratford Works on 10th March 1952. These are just two images of BR's new diesel era from the 'Liverpool Street Photos Collection' which are now available from the archives of the National Railway Museum at York. The NRM has a collection of 1¾ million photos covering the history of Britain's railways from 1850 to the present day; the archives are currently being digitalised to make them available to a wider audience and preserve them for the future; a visit here is highly recommended.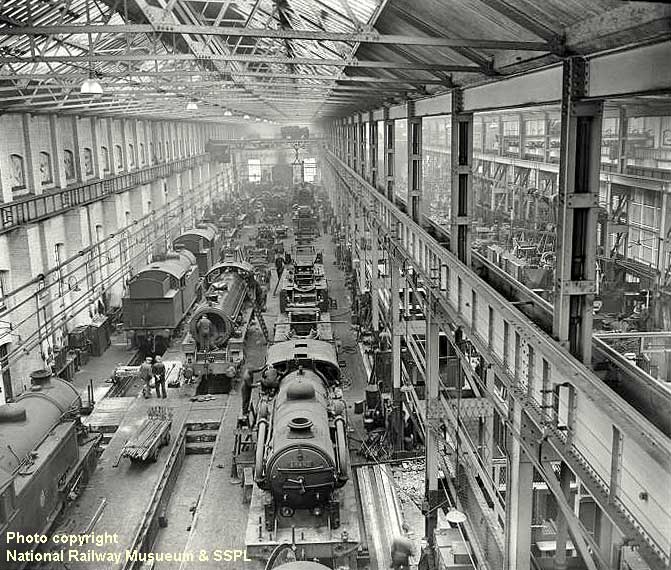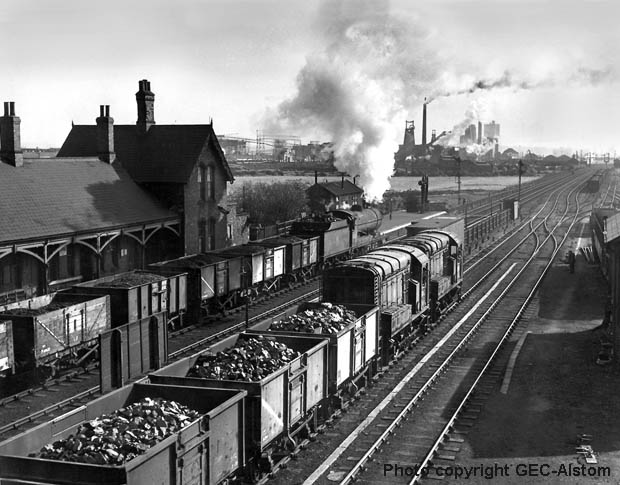 (Above) At the turn of the century, the pre-grouping railway companies (pre-1923) were quick to exploit the volume of traffic originating from the Yorkshire coal mines and iron and steel mills in the Don valley. The Great Central Railway started as the Manchester, Sheffield and Lincolnshire Railway, which had a connection with the Great Northern Railway at Retford, giving access to London. The GCR came into its own when the line from Annesley via Nottingham, Leicester and Rugby was opened to London in 1898. This shot was taken in the heart of the South Yorkshire coalfield, and shows one of Robinson's ex-GCR Class '04' 2-8-0s hauling a heavy freight through Wath-on-Dearne The ownership of the Woodhead route passed to the LNER in 1923, then to BR's Eastern Region in 1948. In the foreground a pair of Class DEJ4 diesel shunters head coal wagons on the slow lines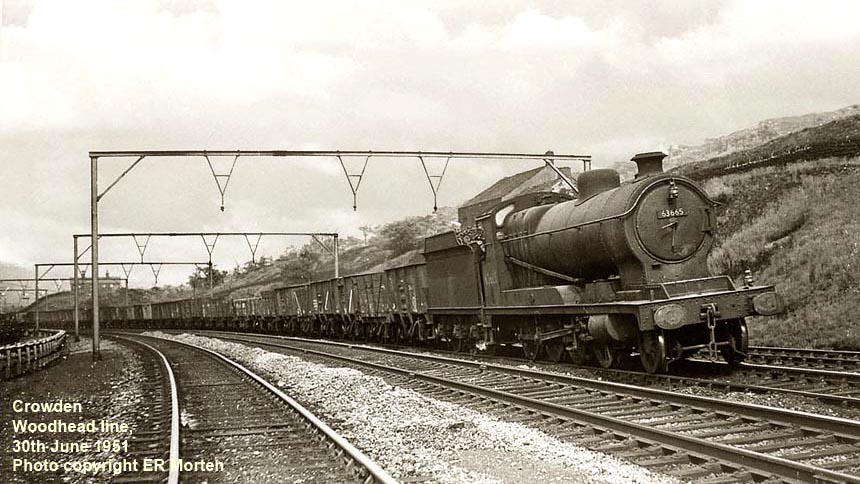 (Above-Below) The former Great Central main line between Sheffield and Manchester was electrified by the LNER in 1939 using the Government recommended standard 1,500 volt dc, with overhead line current collection. Work was halted at the outbreak of World War 2, and the electrification was not completed until 1955 - the same year that the BR Modernisation Plan was announced (including in its proposal the electrification of the WCML) It was generally assumed that the 1,500 volt dc system would be the future British standard, but the BTC adopted the 25kv 50-cycle ac system as used on the French National Railways. By 1965, the non-standard equipment on the Woodhead route was becoming life expired, and in 1970 all passenger services were withdrawn. The line remained open as a dedicated freight route until July 1981. (Above) The wires have yet to be erected as Class 04/3 2-8-0 No 63665, introduced in 1917, ROD loco with steam brake only, runs downgrade through Crowden in June 1951. (Below) Class 04/8 (Introduced 1944, rebuilt with 100A 'B1' boiler) No 63573 heads a westbound freight through Hazlehead Bridge station in April 1952. Hazelhead station closed to passengers in March 1950 and local goods traffic ceased in May 1964. Photos © ER Morten.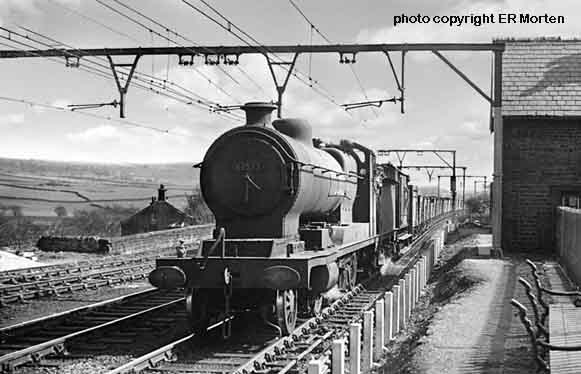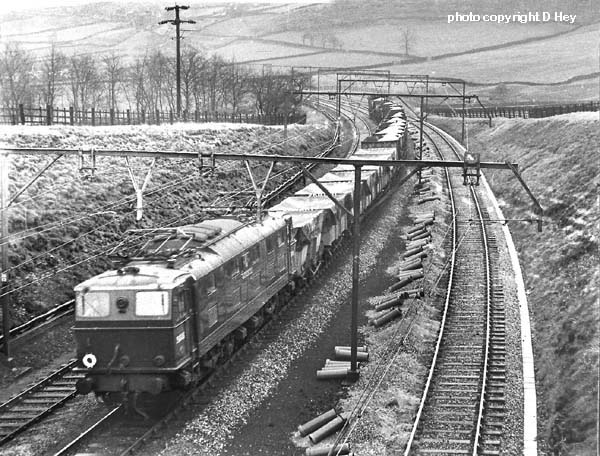 (Above-Below) The Class EM1 Bo-Bo (later TOPS Class 76s) were primarily freight locomotives originally numbered 26000-26057 in the fleet, however the final batch of 12 locomotives were fitted with a train heating boiler for passenger work, including No 26047 Diomedes, seen here heading a rake of 16 and 20 ton mineral wagons near Penistone on 1st April 1961. (Below) Another scene now gone forever is the depot at Wath-on-Dearne which stood on the perimeter of the marshalling yard. PR Batty's photo shows a line-up of Class EM1 Bo-Bos (late Class 76) Nos 26011/39/41 awaiting their next turn of duty
.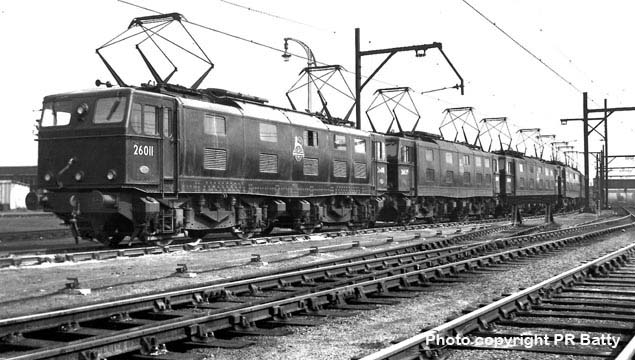 (Below)
An inglorious end to the Metropolitan-Vickers EM1 class B-Bs (TOPS Class 76s) in various stages of being dismantled at CF Booths, Rotherham scrap yard in 1983. When the Woodhead line became a freight-only route during the Seventies the EM1s hauled numerous merry-go-round coal services from the Yorkshire coal field to Fiddlers Ferry power station near Warrington. Thirty members of the class were modified to allow for multiple workings and air-braking on these heavy trains, but declining coal traffic eventually took its toll and the Woodhead route's days were numbered. The Woodhead route closed to all traffic on 18th July 1981, and the last thirty four Class 76 locomotives (out of a total 58) were subsequently scrapped
.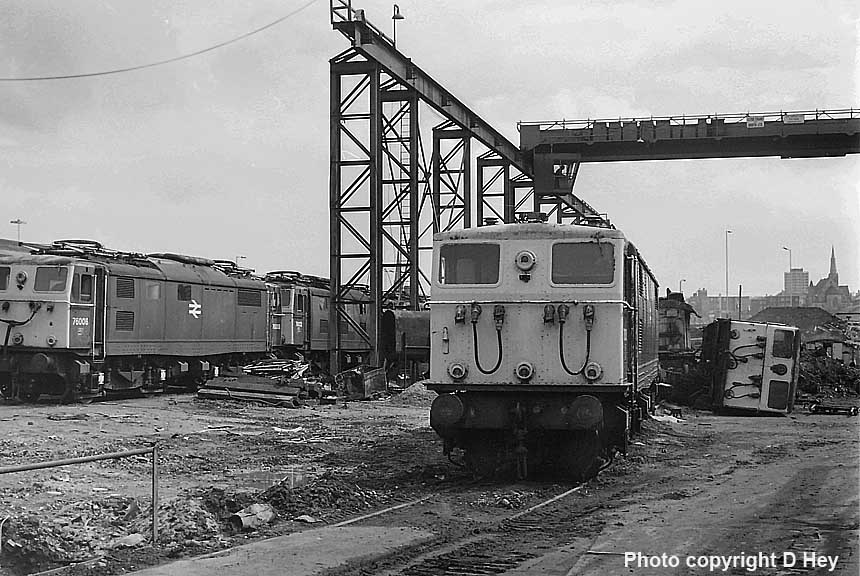 BR STANDARD CLASS 'BRITANNIA' CLASS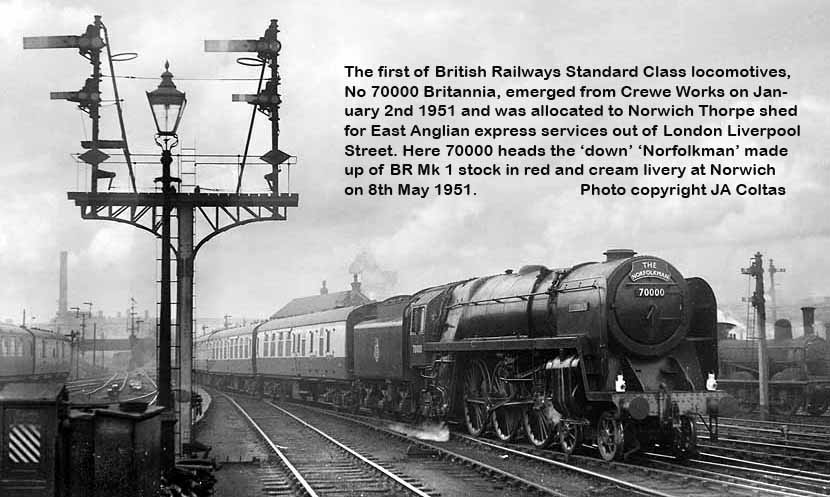 (Above-Below) In 1948, the Railway Executive of the British Transport Commission (BTC) announced its preference for developing future steam power rather than dabbling with new, untried diesel traction. This led to the Locomotive Interchange Trials, supervised by RA Riddles, then member of the BTC's Railway Executive who was responsible for mechanical and electrical engineering. He was assisted by ES Cox, then executive member of the British Transport Commission for design - both ex-LMSR men, hence it came as no great surprise that out of the twelve new BR standard classes (numbered in the 70-80,000s and 92,000s) many designs incorporated the latest features taken from LMSR practice. In 1951, the 'Britannia' Class 7MT Pacific was the first of the twelve new British Railways Standard types to appear. Designed at Derby and built at Crewe, with sections also designed at Brighton, Doncaster and Swindon, beautifying was not on the agenda, the basic ethos being simplicity in construction, lower coal consumption, and longer mileage between classified repairs. Of the first 25 Britannias built, Nos 70000-03/05-13 were allocated to Stratford and Norwich sheds on the Eastern Region in 1951. Sporting a Norwich shedplate (32A) on the smokebox door, No 70011 Hotspur heads the 'up' 'Norfolkman' past Norwich Trowse on September 5th 1952.
(Above-Inset) Britannia class 7MT No 70034 Thomas Hardy arrives at Liverpool Street with the 'East

Anglian'. The new 7MT Britannia class was a straightforward 2-cylinder design, and probably more of an amalgam of former companies engines than any other Standard type. The boiler, cylinders and valve gear came from LMS practice, the main frame and trailing truck from the Southern Railway, and the crossheads and slidebars were influenced by the LNER, whilst the GWR inspired the mechanical lubrication and various other steam fittings. When production of the new BR standard locomotives was launched in 1949, the decision caused some controversy amongst railmen, who argued that there was no need to develop a new standard class type, since there were plenty of locomotives of equal ability already available

throughout the BR Regions. It was only to be expected that many locomen had an in-built loyalty towards former company's engines, so the new BR Class 7MT received a mixed reaction, including downright complaint and criticism on the Western Region which had Class 8P 'Kings' and 7P 'Castles' available. However, the 'Britannias' received high praise on the GE section of the Eastern Region, though this is hardly surprising since locomen previously had no larger engines than the Class 5MT 'Sandringhams' and Thompson Class B1s, the latter having a fire grate area of only 27.9 sq ft compared the 'Britannias' 42 sq ft. (Inset) A smokebox numberplate as carried by the BR Standard 'Britannia' class 4-6-2 'Thomas Hardy' went under the hammer for £2,500 at a Sheffield Railwayana Auction in September 2009. Built at Crewe to Order E483/228 the loco entered service at Longsight in December 1952, but was soon transferred to the Eastern Region to join the stud of 'Britannias' based at Norwich (32A) for Great Eastern main line services. It was transferred back to the LMR again in March 1963 and following withdrawal from Kingmoor in May 1967 was broken up by J McWilliam, Shettleston in October that year. The front of the numberplate is shown here repainted red with white numbers, whereas the back remains in original condition.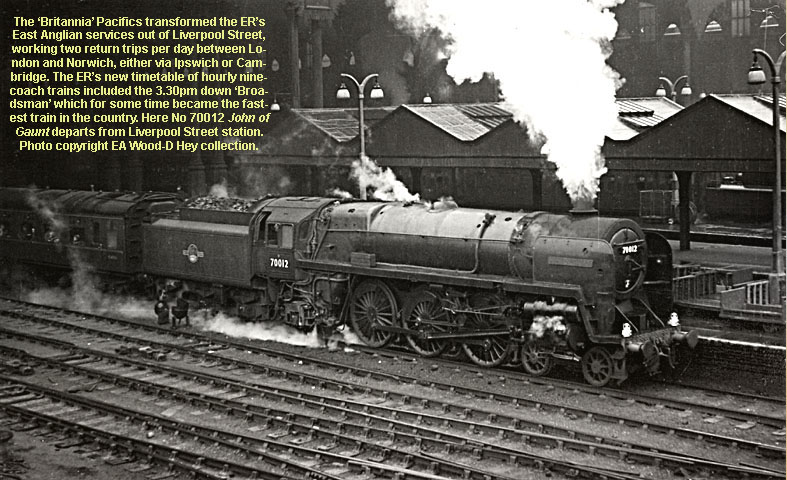 TRANSITION FROM STEAM




(Above-Below) These shots of London Liverpool Street are just two of the evocative images of BR's new diesel era which are available from the archives of the National Railway Museum. The NRM's Imagination Works project contains a huge photo collection of British Railways digital imagery; a visit to the 'Liverpool Street Photos' page here is highly recommended… links can be found on the NRM's website that will take you to an extensive collection of railway travel posters and other images from the Science Museum Group collections here.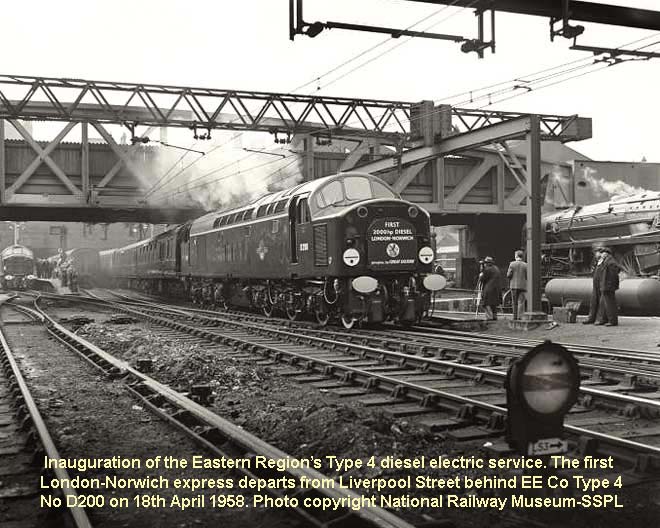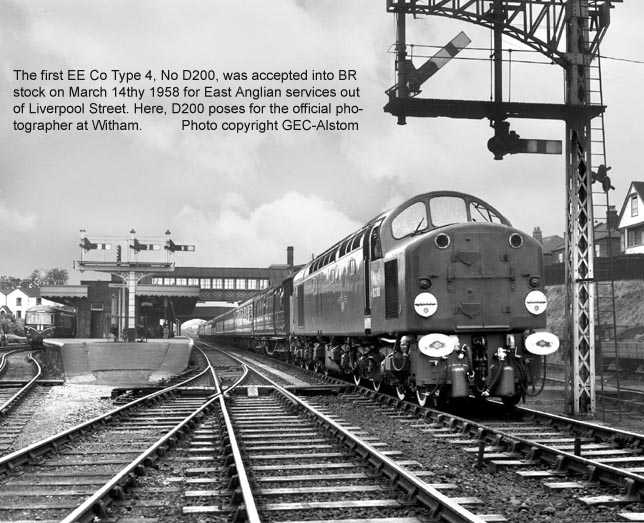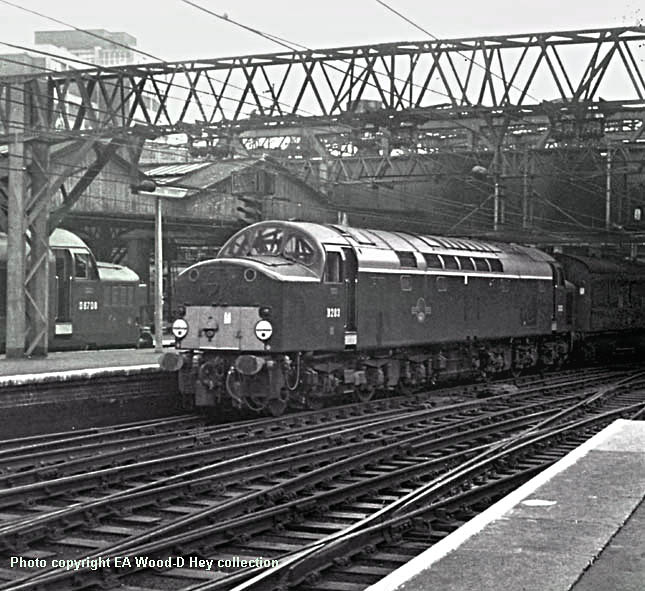 (Above-Below) The Britannias' days were numbered on the Eastern Region following the arrival of EE Co Pilot Scheme Type 4s Nos D200, D202-5 at Stratford in 1958. Having been displaced from East Anglian services out of Liverpool Street, several Britannias were transferred to Immingham to work the Cleethorpe-Kings Cross expresses and the Grimsby fish trains. The photo above was taken on 9th August 1963 (Below) General view of the new diesel facilities at Stratford.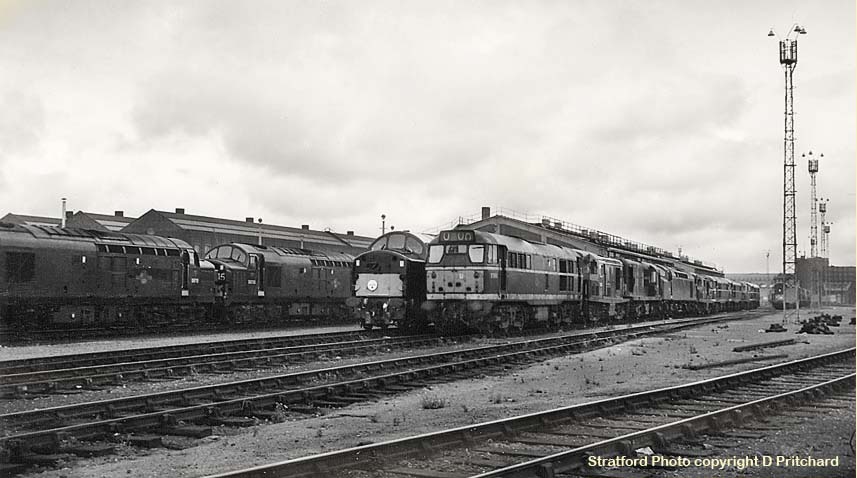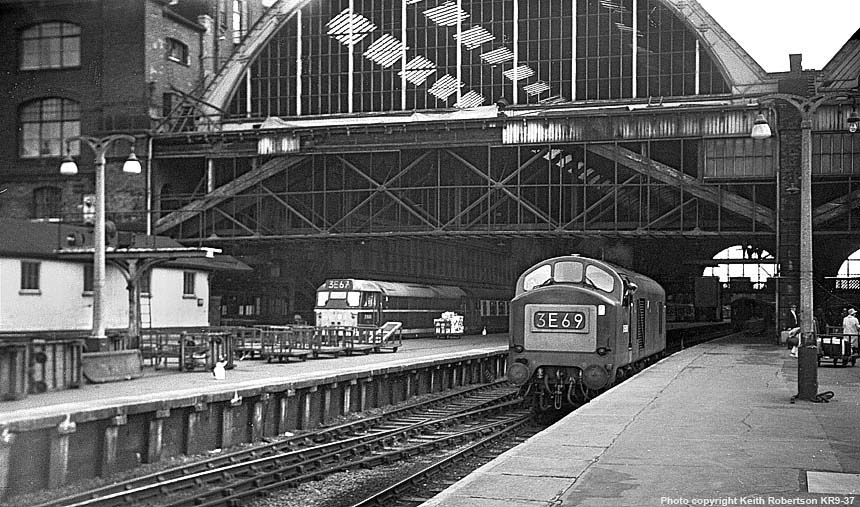 (Above-Below) The Introduced to traffic in 1959, the EE Co's candidate for the BTC's pilot-scheme Type 2 was one of the company's biggest failures. The ten troublesome 1,100hp 'Baby Deltics' Nos D5900-D5909 (the latter is seen above) were based at Finsbury Park for Kings Cross outer suburban services, but the availability of the class was marred by recurring failures of their Napier T9 29 power units. Despite undergoing costly engine repairs at the EE Co works, they never quite lived up to their more illustrious big brothers (Class 37, 40 and 55) in the company's diesel range and the entire class was withdrawn by March 1971. (Below) Introduced to traffic at Finsbury Park in May 1961, EE Class 55 No D9003 Meld survived until December 1980. D9003 makes a spirited start out of Kings Cross with a train to Edinburgh date unknown.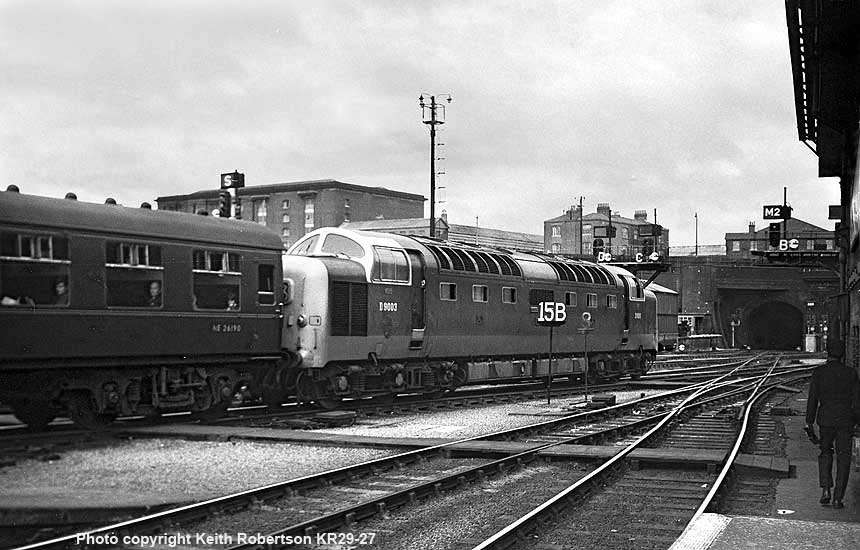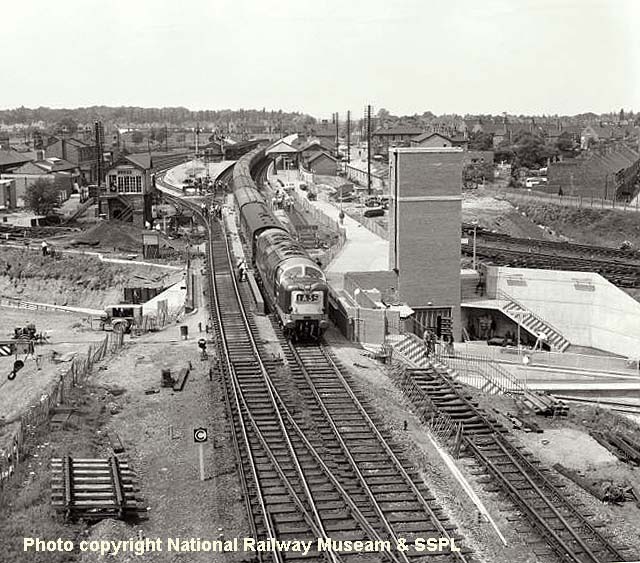 (Above-Below) With increasing demands for higher speeds on the ECML, greater emphasis was given to the introduction of more efficient locomotive rosters for the Eastern Region's new diesels, and so it was disappointing that they were unable to offer the complete predictability which was expected. At the time, the renewal of trackwork and outdated signalling was long overdue on the ECML, and until this work was completed BR's timetable was made up of a depressing number of engineering slacks. Here an unidentified Deltic class eases the southbound 'Flying Scotsman' through the revised track layout at Retford on 14 June 1965...the truncated Sheffield-Grimsby line can be clearly seen on the right. By this time, site engineers have eliminated the notorious 'right angle' flat crossing, and work is almost finished on the new dive-under and additional platforms for the Sheffield-Grimsby line. However, it would take several more years before the ECML was modified for 100mph running between Kings Cross and Newcastle, therefore the possibility of constant high-speed running by the EE Co Type 5 Deltics could not be fully exploited until the route was fully upgraded. (Below) A titled train headboard that will always be associated with the Deltic fleet, is the handsome gilt-winged thistle emblem introduced by the BRB design panel for the 'Flying Scotsman' express in 1964.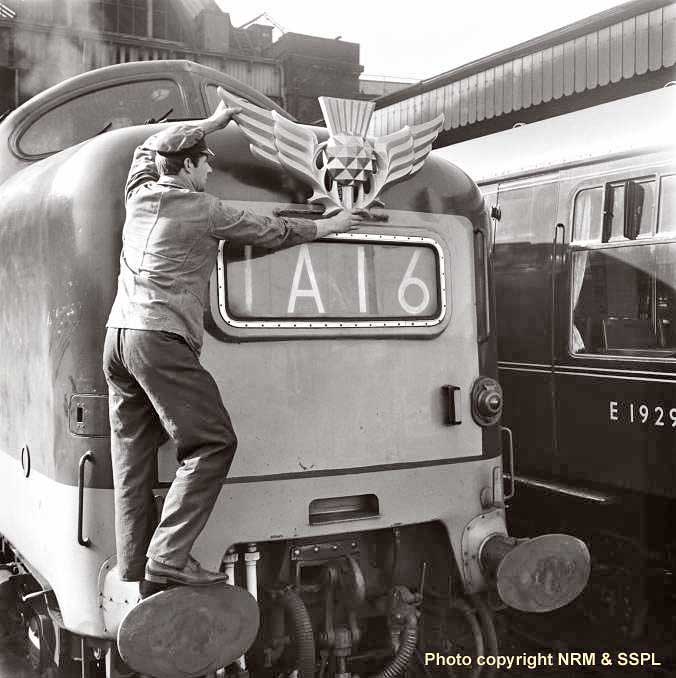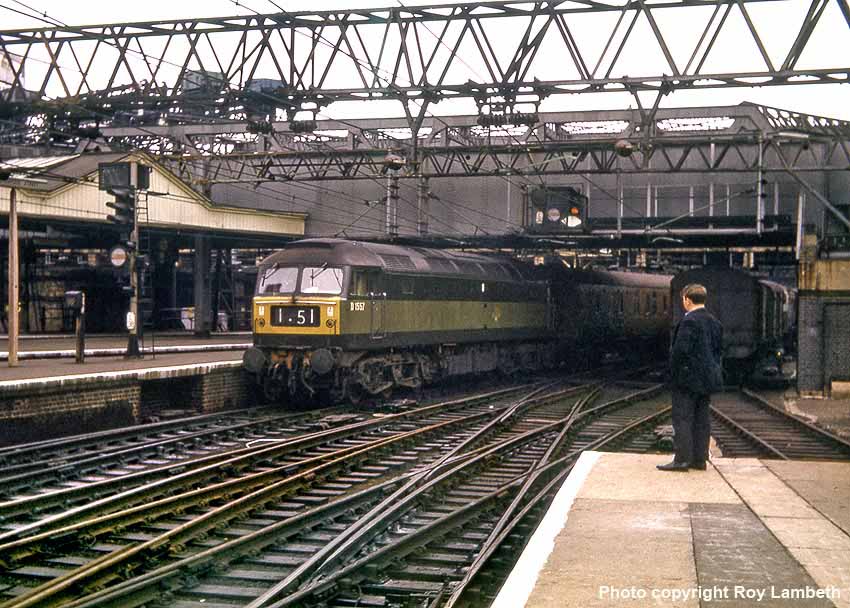 (Above-Below) Two fine colour shots by Rail Cameraman Roy Lambeth showing the transitional period at London Liverpool Street terminus in 1965.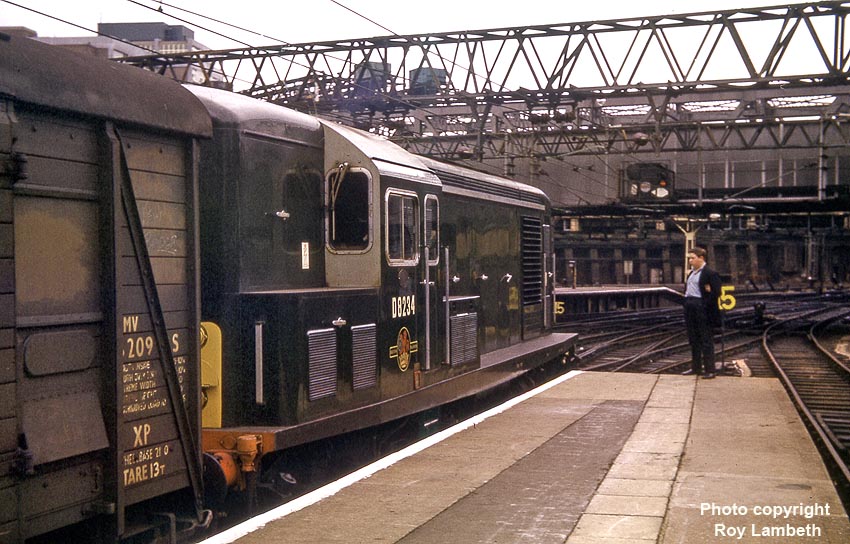 (Below) Click on photo-links to three pages devoted entirely to the introduction of the Pioneer Diesels and the BTC's Pilot Scheme Type 1, 2 and 4 locomotives.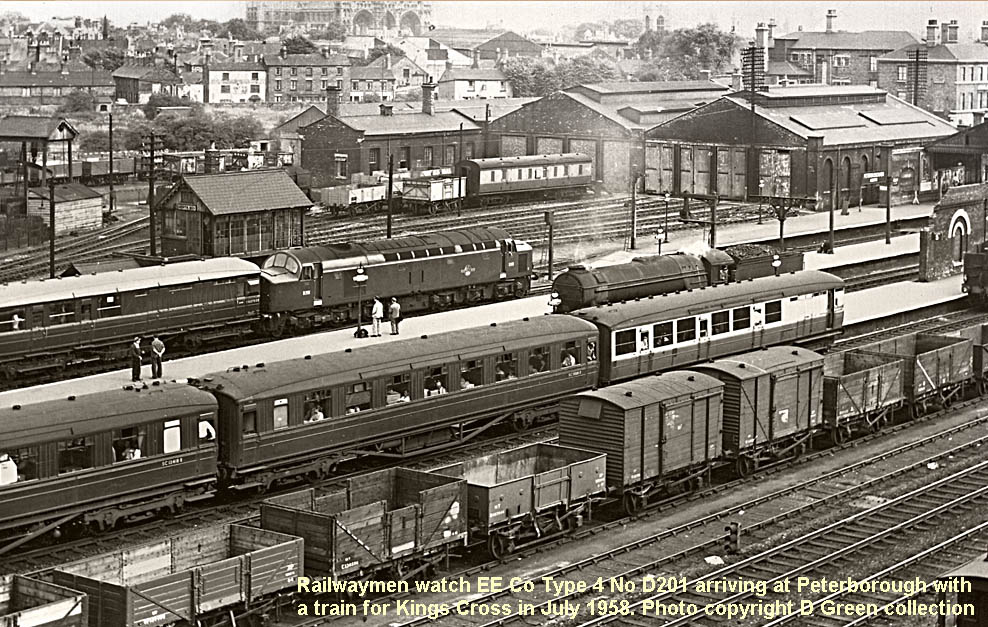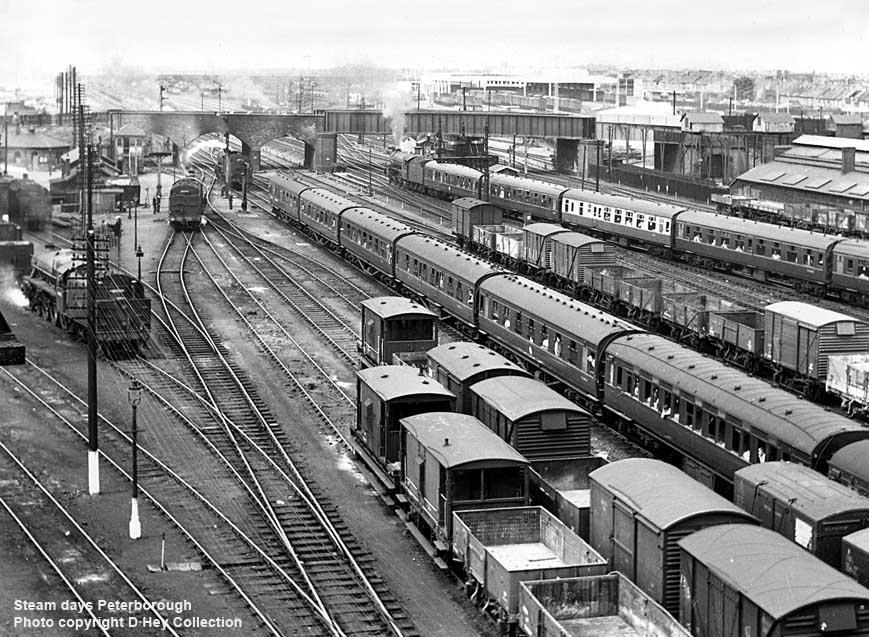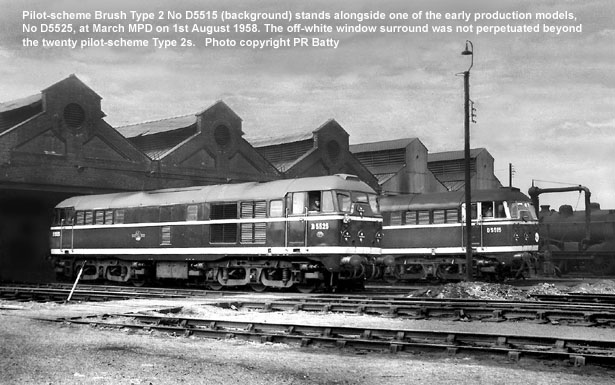 CJ Rush of March, Cambridgeshire writes: 'I have today, purely by chance, found your website. Pat yourself on the back for bringing back so many memories! I am an enthusiast of some 60+ years from March (31B) Cambridgeshire and to see so many 'dirty' shed scenes has made my day. I don't know if you ever came to our area but alas, like everywhere else, we lost everything, including part of our massive Marshalling Yards (largest in Europe) which was sold to the Home Office so that they could build HM Whitemoor Prison. However, in 2004 Network Rail re-built the remaining part of the yards for their process and distribution centre; it is big with (at this moment in time) some 88 km of new track. Phase Two of this operation has now begun and they are installing redundant rail cutting equipment, ballast cleaning facilities and a sleeper regeneration depot - it looks good! The yard is shunted mostly with a Class 08, and for a time we have had a Class 73 here, but namely Class 66 do the heavy stuff. Network Rail have had to close their old Temple Mills depot in North London for the new Channel Tunnel maintenance depot and, as I'm sure you're aware, the rest of the site is now undergoing re-building for the 2012 Olympics! Their loss ... our gain! Kind regards, Colin
---

Dennis Taylor writes: 'Visiting your site brings back many memories of the ECML. My father worked on the East Coast line for many years starting with permanent way before WW2 and as a goods guard post war. He was struck down with Thrombosis, possibly caused by sitting for so long in the old brake vans between stops. He worked out of New England and was given lighter duties looking after Castor crossing gates until it closed to passenger traffic. He then joined the East Coast Main Line again as a relief crossing keeper and general runabout; his area stretched from Corby Glen to Welwyn Garden City, and from Tinwell near Stamford to Ramsey and Turves out in the wilds of the Fens.
We lived near Peterborough and most of my early school life was spent near the ECML. After leaving school I worked for Wm Cory and Son in Peterborough They were authorised Shell and BP distributors and the depot was right next to Peterborough North station close to the old Midland Sheds which had all gone when I started work in the early 60s. The picture you have of Peterborough North station must have been taken from the old Coal Hopper (which was blown up in the late 50s) on the Midland shed site.
Where I worked in the fuel depot you could get an almost identical picture. Unfortunately in those days I didn't have a decent camera. I had a Brownie 127 for my 11th birthday and although family snaps were good, train pictures were not so good. I remember standing on the platform trying to get a picture of a speeding train racing through Wellingborough and wondered why the whistle was being sounded all through the station. Needless to say they resulting picture was just a blur but I am still alive to tell the tale.
I worked at the fuel depot from 1962 to 1969, spending most of my spare time standing on top of the tanks watching trains go by, including a blue Midland Pullman one day. I also saw a loose wagon drift all the way from New England yard right through the old Peterborough North station without a railway man or engine in sight...I often wonder who got shouted at for that one!
I worked at Baker Perkins Westwood Works when the first Scotsman was scheduled to pass through Peterborough on the newly-opened straight line. The whole works stopped and lined up next to the line to see such an historic event for the railway in Peterborough. Unfortunately it was held up by a signal south of the station and was only picking up speed as it went by the factory. There was only me and Keith 'Henry' Hall an ex-fireman watching the next day when 4472 went racing through without any hold ups whatsoever. Keith sometimes fired for a well known New England driver called 'Tubby' Lupton, and claims that 'Tubby' was so fat that he had to push him through the gap between tender and footplate to get him into the cab, however I've heard that Tubby was a real practical joker and was having 'Henry' on or having a joke with all his mates.
Many years ago along the East Coast Mainline there was a little crossing called Maxey Crossing; it had signal levers and wheels to open the gates, with some levers connected to Helpston main signal box therefore if Maxey's gates were closed to the line then Helpston also had to show their signals at danger...a failsafe method of averting a disaster (rail buffs will have a technical name for it).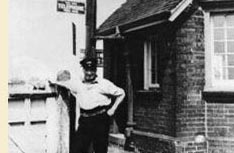 One school summer holiday in the 60s my father was working Maxey crossing. I used to spend a bit of time with him and recall one particular afternoon which passed very slowly with only the odd car or tractor crossing. However, after one of these events my father tried to close the gates turning the wheel, as he had done many times before, but nothing happened! The gates went so far then stopped, the wheel locked and the harder the wheel was pushed the more solid the gates locked. After a bit of shouting I suggested that he should close the gates to the line and then start again, which he did, but ... whilst he was doing this the local bus came racing along and seeing the gates open drove up and stopped - 'Quick!' the old man shouted, 'The driver always drops off the evening paper for me. Run out, get it and tell him to get out of here...' This I promptly did and raced back into the box. With the bus gone father again turned the wheel this time the gates closed to the road and the levers were pulled.
A few minutes later a diesel-hauled Pullman train came from the direction of Helpston main crossing obviously from a stationary position. When it was level with the box the hooter was sounded and a very irritated face appeared from the cab window hands clasped together pressed against his ear suggesting that the my old man had been asleep. If only he had known the amount of panic that was going on in Maxey box in the minutes before he had arrived he may have been a bit more sympathetic. But then again top drivers always appeared to think they were the bees knees!' Best wishes, Dennis Taylor...now retired but volunteering on The South Devon Railway....no Streaks, A3s Deltics or Dub Dees, just little 'Coffee pots' but beggars can't be chooses!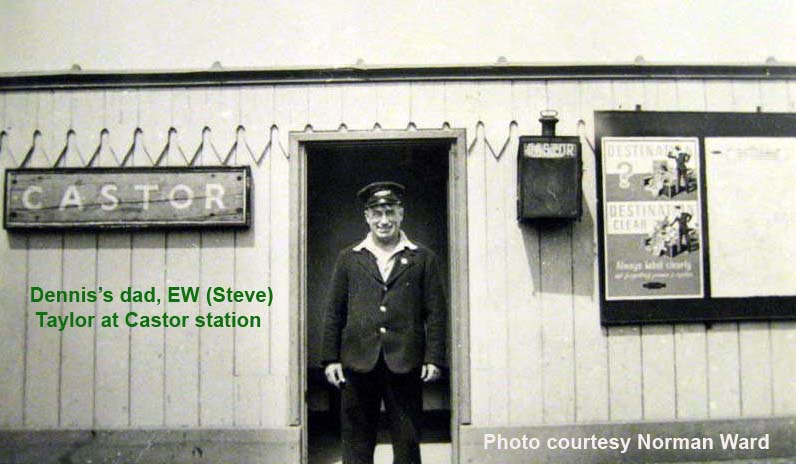 Great Central Railwayana Auctions....click here.

GW Railwayana Auctions.....................click here.

Polite notice: All text and photographs are protected by copyright and reproduction is prohibited without the prior consent of the © owners. If you wish to discuss using the contents of this page the email address is below. Please note - this is not a 'clickable' mail-to link via Outlook Express. You will have to email manually.
dheycollection@ntlworld.com