If a space-traveller from a far-distant galaxy was to land in one of Britain's major cities, he or she - or it - would have great difficulty working out which part of the country they were in. Nowadays, modern architecture no longer reflects the region's origins because many once-proud Victorian buildings have been mindlessly razed to the ground. As a result, British cities have lost their individual features and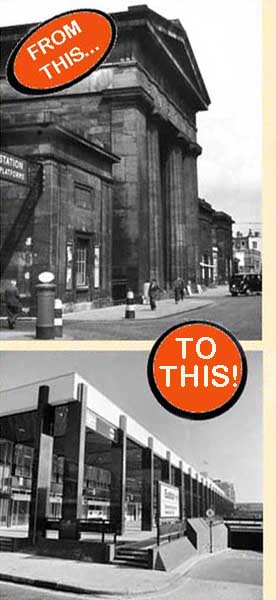 become identikit replicas of each other.
For example, our High Streets are bereft of independent retailers which leaves shoppers with the same chain stores selling the same brands as they do everywhere else.
The same can be said of our railways. The BRB's drive towards uniformity in the Sixties took place on a massive scale and scarcely anything remains of pre-grouping days (pre-1923). We cannot stop progress from happening, of course, but all too often our railway infrastructure, much of it developed by the former 'Big Four' railways companies, has since been replaced by soulless concrete and glass structures, which, in all fairness, are light, airy and clean - but that's not the point. Quite simply, today's property developers seem to live in a world with little or no sense of history. I'm mindful of the senseless destruction of Euston's historic Doric Arch (left). Click here to visit the interesting Euston Arch website...
So what has this to do with railway modelling?.
Well, it is not easy to research a project which no longer exists therefore model engineers and railway modellers must rely on a good quality photograph from the old days in order to achieve accurate prototypical appearances of layouts. The same goes for the railway artist seeking to paint accurate detail of wheels and motion beneath a locomotive's running plate. So why not produce a webpage showing close-up detail of both steam and diesel locomotives along with shots of the railway infrastructure from yesteryear?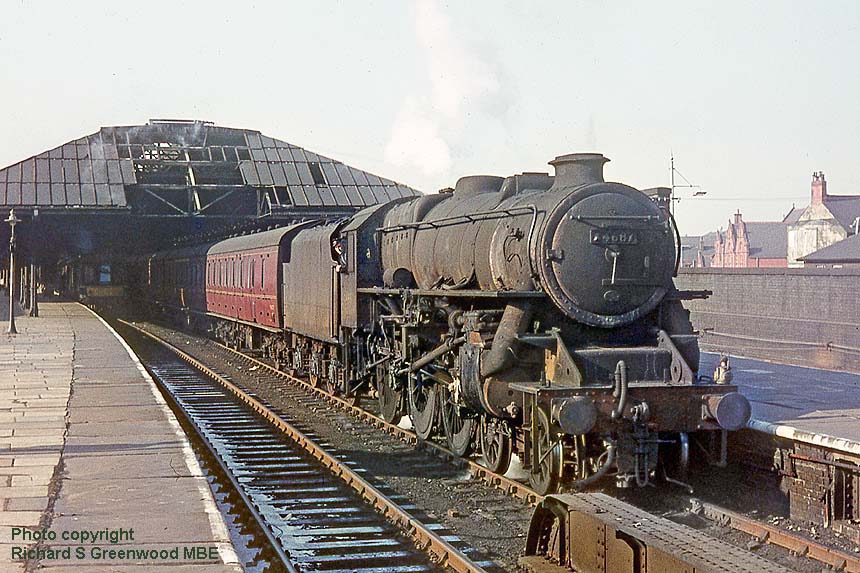 (Above-Below) The pages on this site are very much 'work in progress...including daily updates, plus several new pages have been added or are currently in the planning stage. Where will it all end? Well, just as long as you keep on visiting we'll keep on updating...this includes another recent update of Richard Greenwood's 'Up North in Colour' on page 53. There you'll find stunning colour images of BR London Midland Region steam days, particularly helpful if you are weathering a prized model; the page also includes this shot (one of my all-time favourites) of 46240 'City of Coventry' climbing Grayrigg Bank unassisted with a twelve coach Euston to Glasgow express in the late afternoon of Saturday 27 July 1963; note the steam-operated coal pusher in the tender is working. Click here to visit Richard's page...




(Above-Below) Model Engineer Ron Mitchell has commissioned artist, Nick Trudgian, to do an oil painting of one of his favourite locos, 71000 Duke of Gloucester and is looking for settings that haven't been painted in oils before. Ron contacted the site to see if I had any photos taken from the Euston signal box or thereabouts, of a heavy express just after leaving the platform end.
Ron adds - 'I've chosen this scene for a 90 year-old friend, John Dabson, who worked the box in the 1950s and early 60s. Incidentally, John was the first on the scene at the Harrow & Wealdstone crash and still has vivid memories of the day he climbed on the locos to turn blowers off and make them safe…'
Well, I've searched high and low but I haven't any photos he describes, but I feel sure someone will…site visitors usually come up trumps!
If you can help Ron's search, his email is - arm1@surfanytime.net - please note, this is not a clickable link via Outlook Express, you will have to email manually. Many thanks in anticipation.
Meanwhile, Ron has allowed me to reproduce an earlier oil painting that Nick Trudgian did for him; a superb picture (above) depicting Ron's 7¼" gauge Stanier 'Duchess' 6233 Duchess of Sutherland storming Shap - oh, those were the days! (Below) This is 90 year-old John Dabson driving Ron's 7¼" gauge Stanier 'Duchess' at Parklands Railway in Norfolk on the first day's running after a re-boiler and rebuild in May 2006.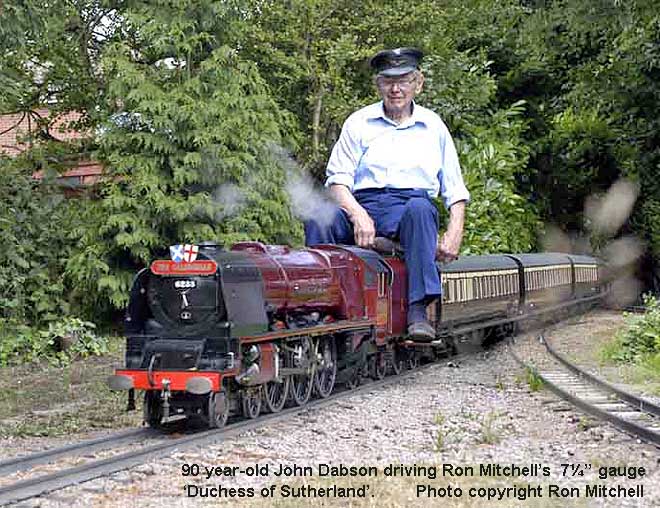 VIEWS OF PETERBOROUGH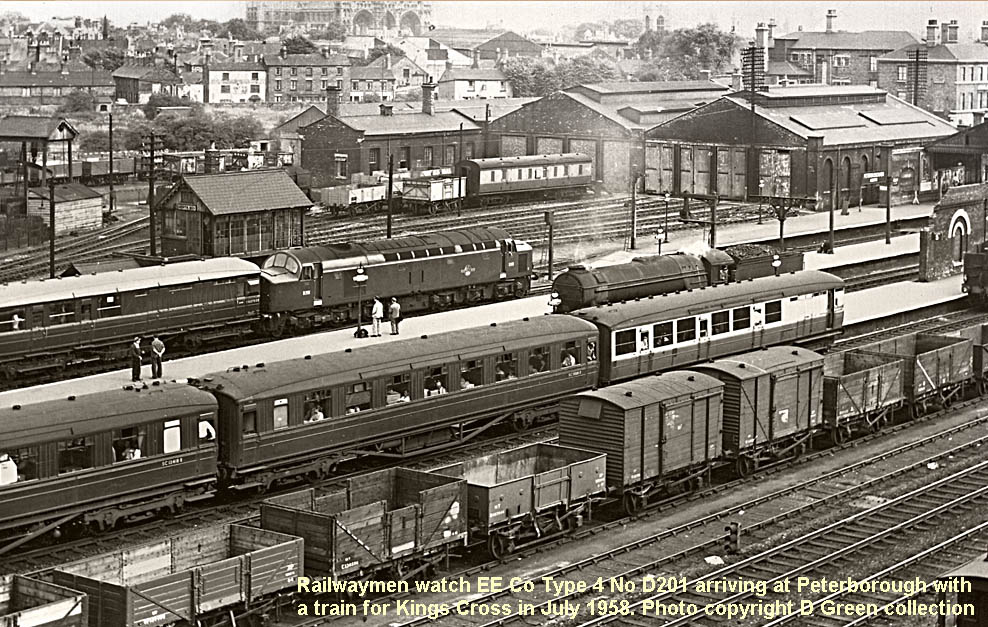 (Above-Below) These elevated shots of Peterborough might be of interest to the discerning modeller...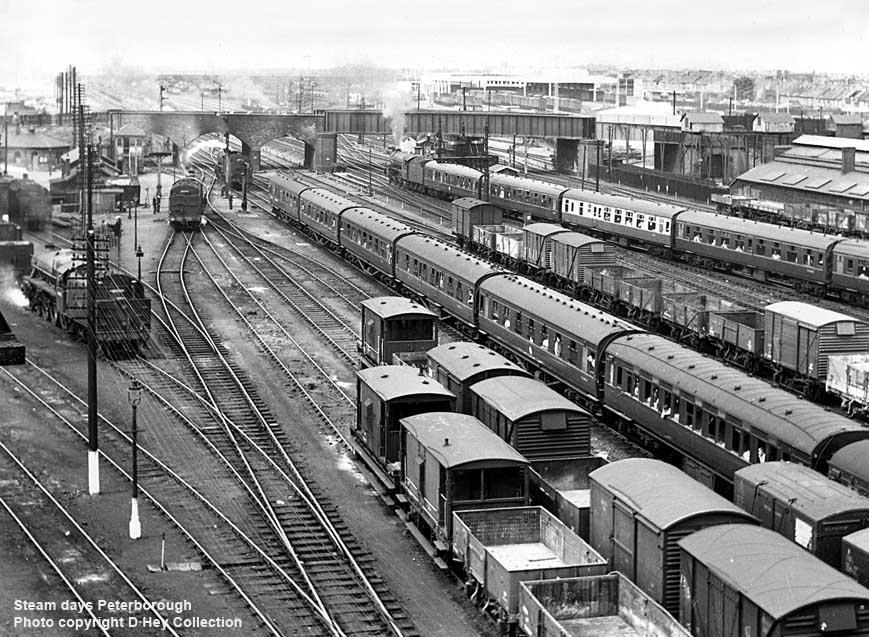 (Above-Below) Modellers will spot some interesting clutter in the background of this shot, an ideal solution for leftover bits and pieces from kits. (Below) John Black from Cambridge was interested in the Pilot Scheme Diesel page; in particular the fitting of brackets to the lamp irons of ER's allocation of diesels to allow a named train headboard to be carried. A close-up of the nose-end ladder on an early EE Co Type 4 (featured on the 'Train Spotters' page 4) is included below..if you have any requests or wish to add something of your own then I'll gladly paste something on this page. Just drop me a line...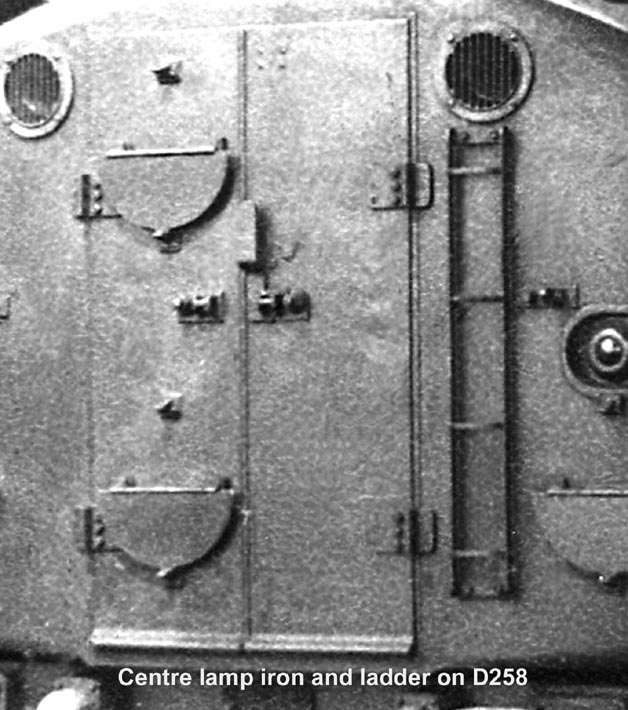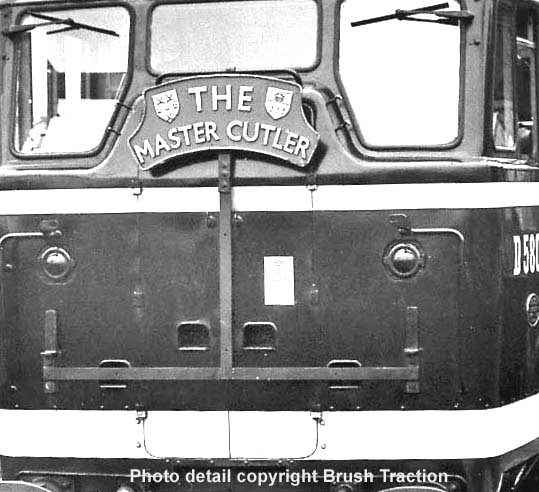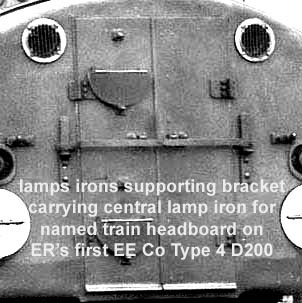 (Below) Four shots showing detail of Holbeck shed Leeds 1960s...click on photos to view larger images. The view from Nineveh Road overlooking the shed yard was a popular venue for weekend spotters in steam days. The shed (20A) came under the auspices of the North Eastern Region in 1957 and was subsequently re-coded 55A, along with its sub-depots bearing suffixes B-G in the regional reshuffle. Here, Class 8F No 48083 trundles empty flat wagons through Engine Shed Junction towards Stourton. In the shed yard, Stanier 'Black Fives' are accompanied by a pair of Class 25 diesels and a solitary Class 03 diesel shunter with its distinctive striped cab. The shed closed its doors to steam on September 30th 1967 and the buildings and No 1 type concrete coaling tower was demolished in 1970 - the structure had two bunkers that could hold 300 tons of coal and was able to service two engines at a time.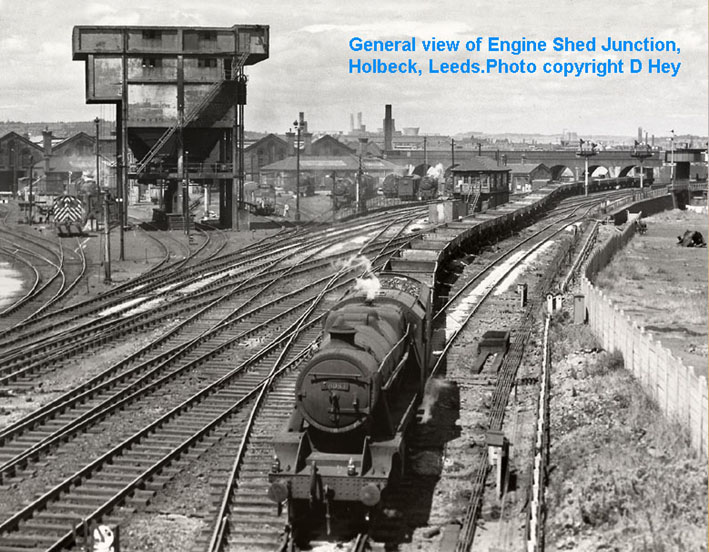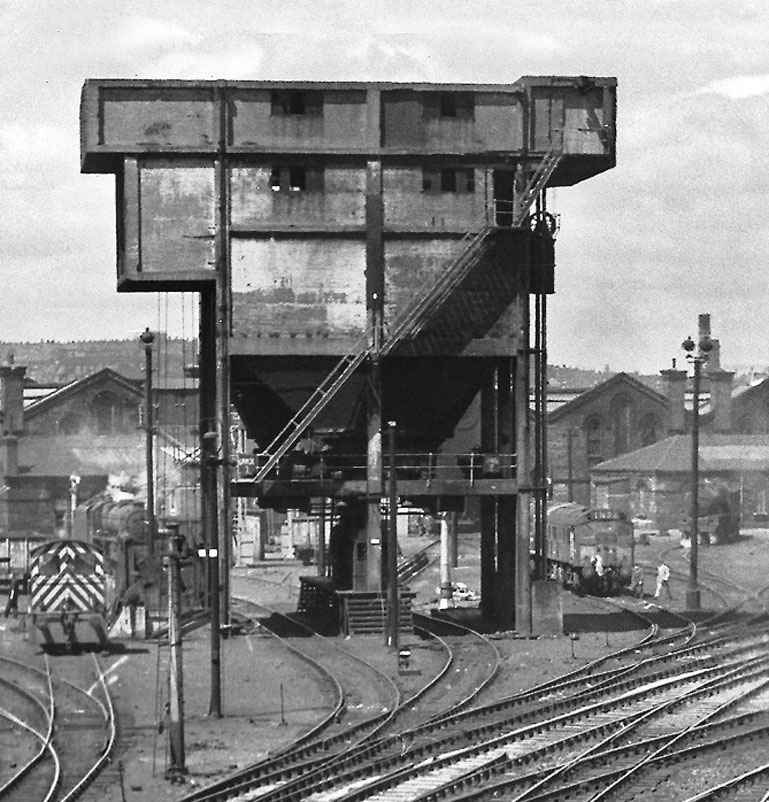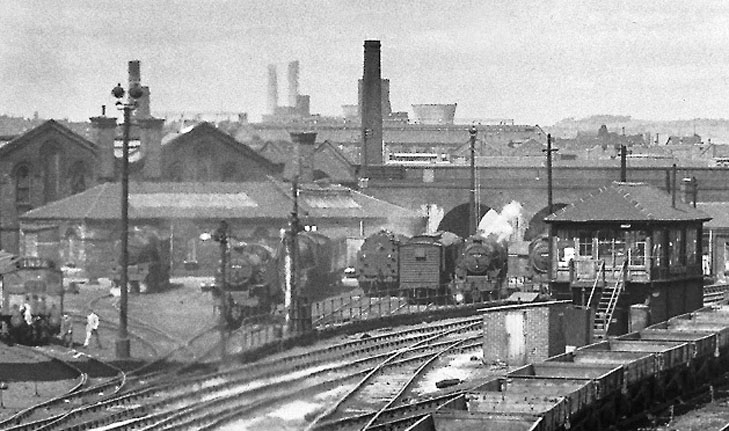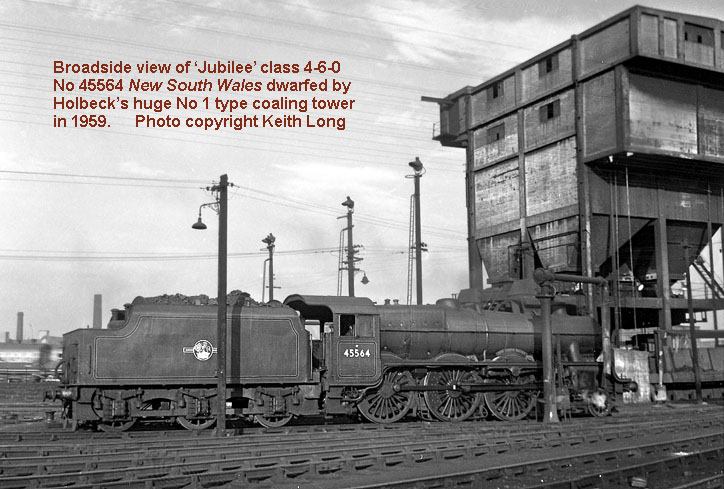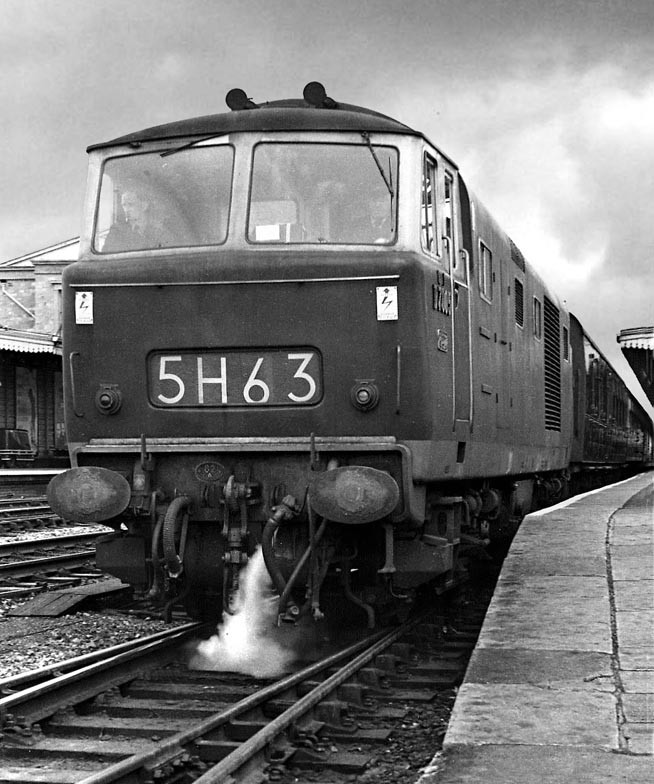 (Above-Below) Barry Simpson of Stroud asked for front-end detail of the 'Hymek' class diesel-hydraulics. Note the position of the shed plate. (Below) Rear-end detail of Stanier 3MT 2-6-2T, especially for rivet counters! In some cases the requests I receive have been answered privately and, for one reason or another, have not been featured on this page...this is especially the case when emails have accidentally been deleted to free up my in-box - my apologies.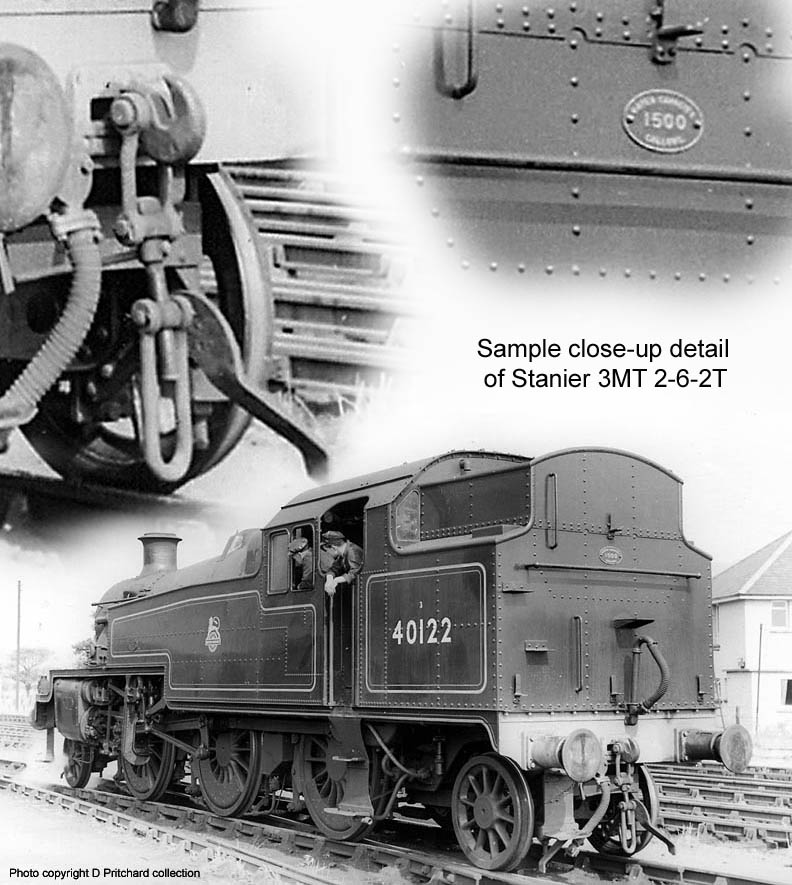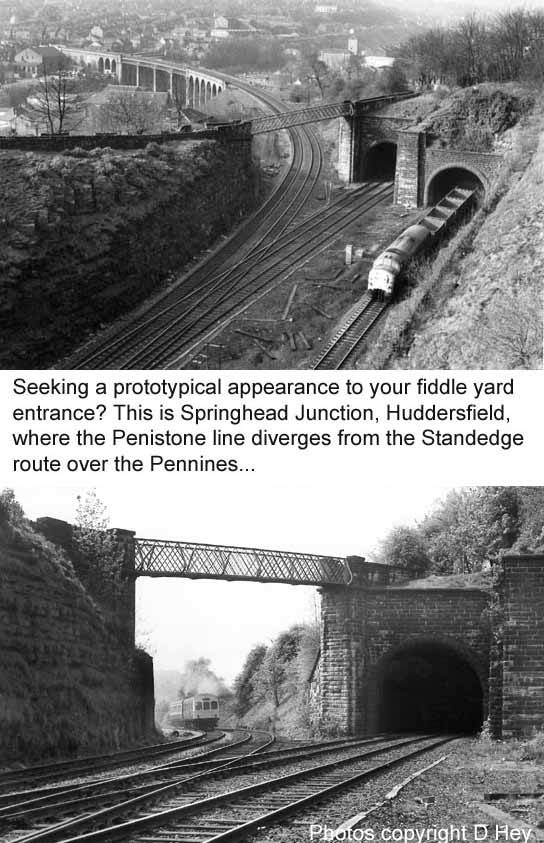 (Above) Alan Lewis has kindly pointed out that the above location is, of course, Springwood Junction - not Springhead! Alan, thanks for pointing out the error...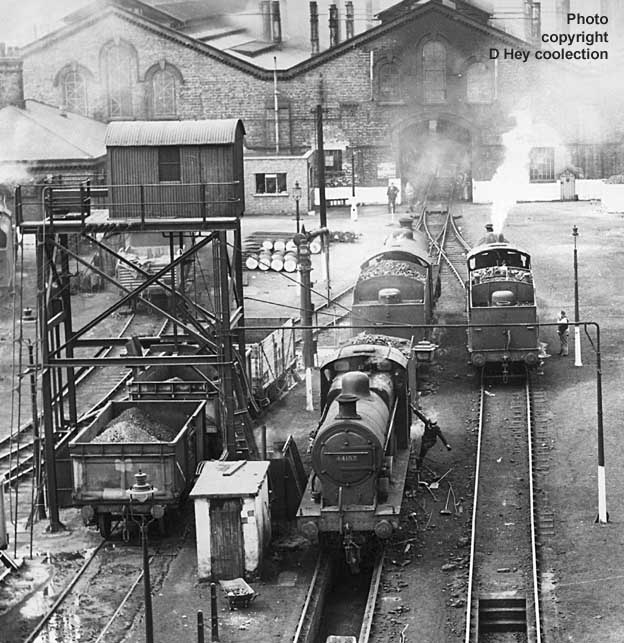 (Above-Below) Mr Shaw of Wakefield asked if I had an elevated view of the ash plant at Holbeck shed. I haven't - but I've got this one of the shed entrance at Peterborough...plus enlarged sections of the photo for more detail...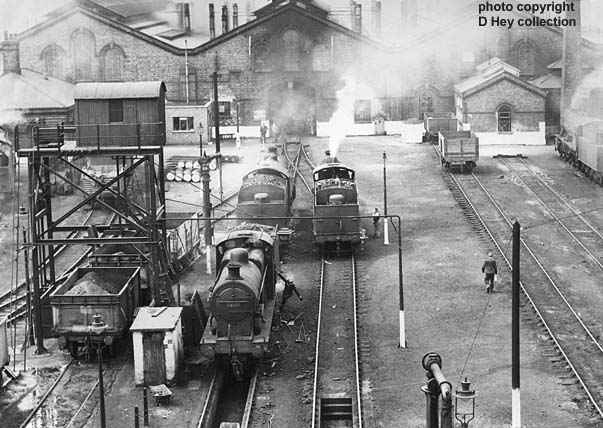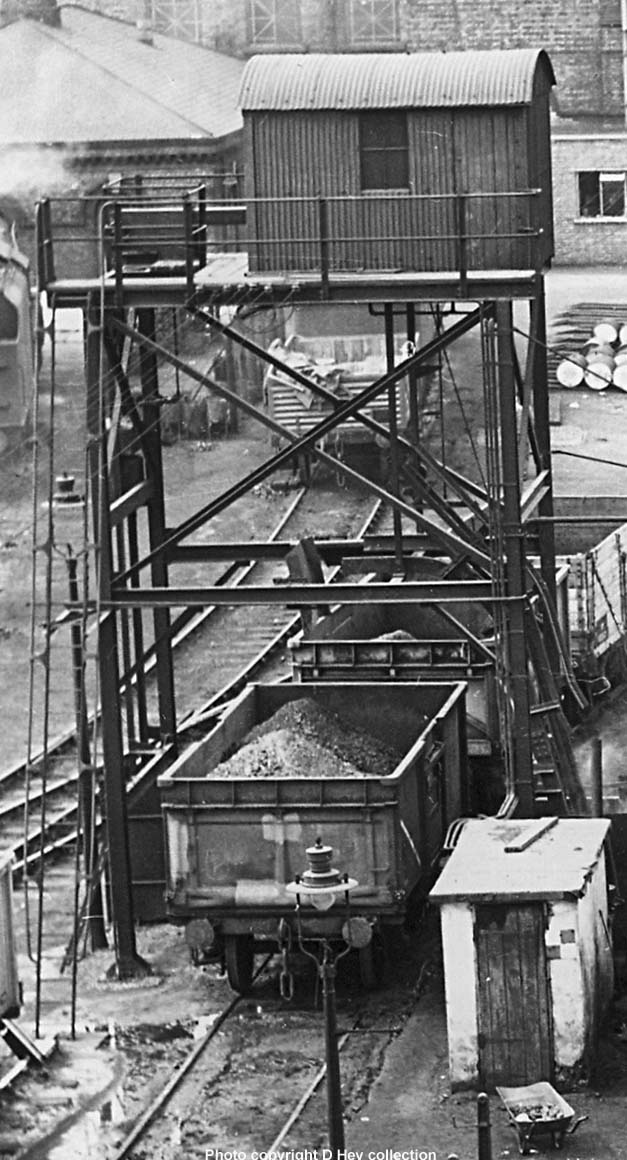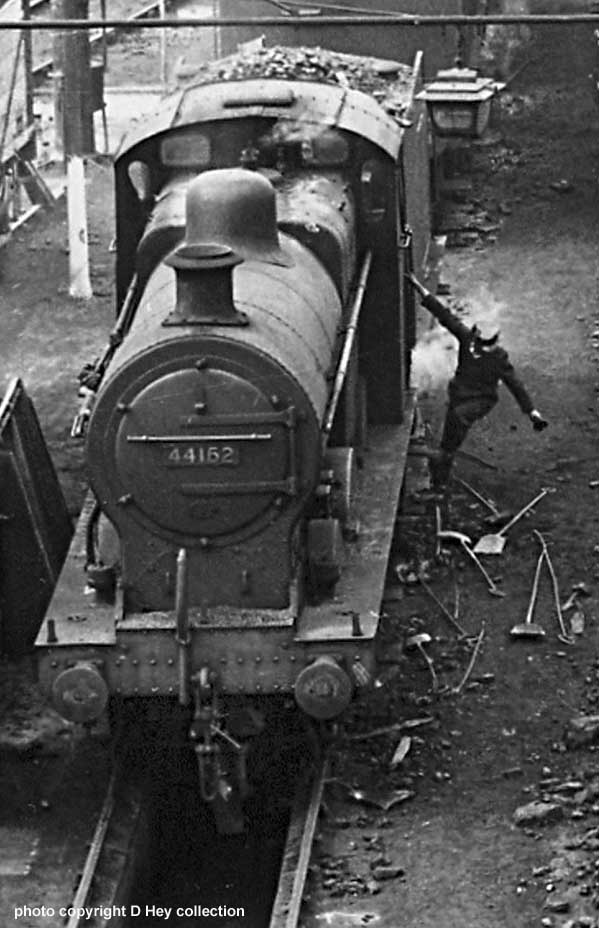 In the above shot note the discarded shovels! I mention shovels because I'm mindful of a story I heard about a dedicated '0'-gauge modeller, who had a perfect scale model of a double-track main line running around the entire garden which he operated from a control centre in his garden shed. Every weekend, he ran a train service using a condensed 24-hour timetable - starting off the day with a morning postal, milk train etc and finishing the session with an overnight sleeper. One winter morning, however, he awoke to find an overnight layer of snow covering the track, so he attached a snow plough to his trusty Class 8F and sent it out through the tunnel from his garden shed to carry out snow clearing duties on the 'down' main circuit of track, then he waited...and waited, but after five minutes there was no sign of the loco returning. He was about to investigate when he heard a rustling sound from inside the tunnel...the 8F had ground to a halt, its wheels spinning furiously, as it tried to push its accumulation of snow (by now a sizeable lump) through the entrance to the shed. Undeterred, he grabbed a shovel...but this was no ordinary shovel, it was a '0'-gauge scale shovel which he picked up gingerly between finger and thumb and started digging...now there is a fine line between 'hobby' and 'mental illness'...
(Below) Talking of snow, I've received an email from John Danson asking if I have information on British Railways snow ploughs. I haven't, but I do have a couple of Barry Tate photos in the collection (reproduced below) showing a Class 4F No 43893 with a sizeable snow plough attached.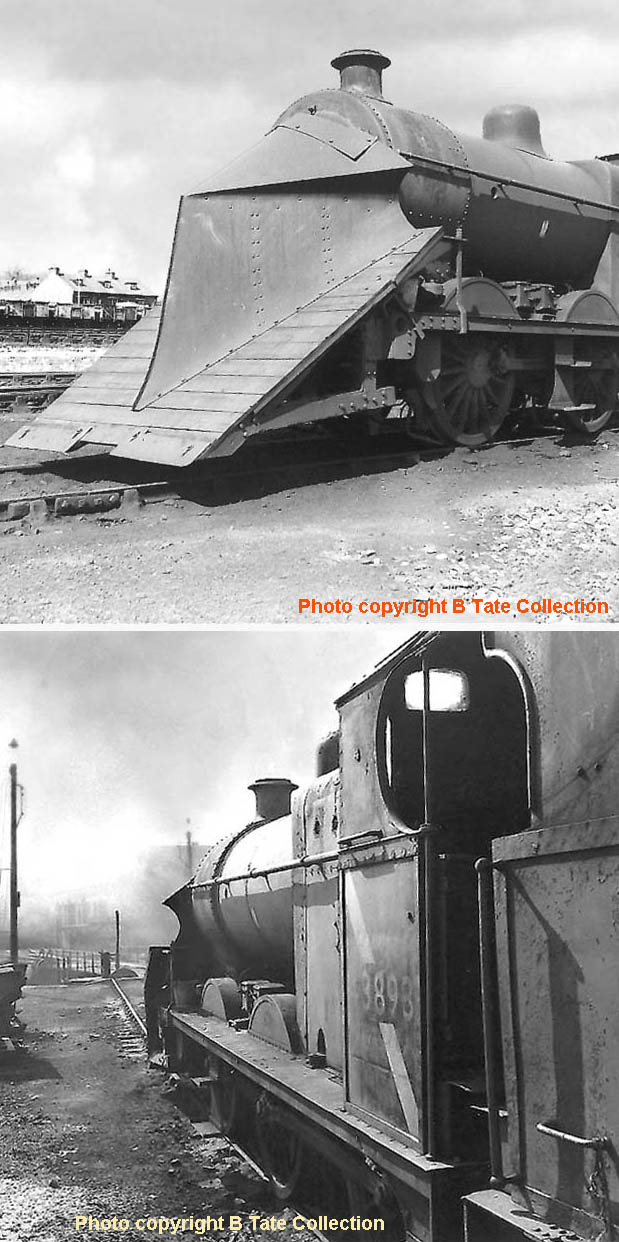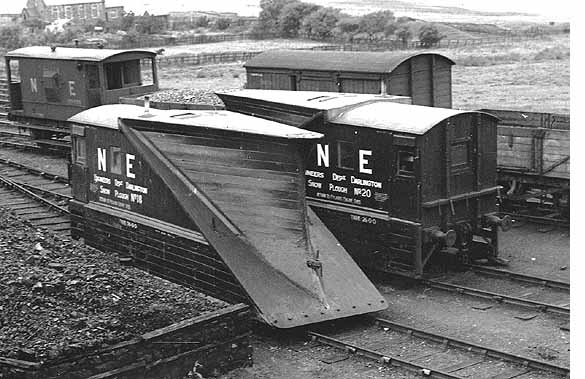 HELP! Bryan Blundell recently contacted the site requesting photos of any ex-NER Timber Snowploughs that operated around the NE region. Out of 20 timber ploughs, 3 survive - 1 at the NRM, 1 at Beamish and a 3rd at the NYMR that Bryan is currently in the process of restoring. Bryan's plough was featured in the BTF film 'Snowdrift at Bleath Gill'. This photo at Waskerley is of plough No 18 (Bryan's) and No 20 (now at Beamish) possibly mid-1930s, photographer unknown. Both ploughs spent most of their working life around the Darlington area prior to withdrawal circa 1974. Bryan is also seeking photos of the 4 steel-bodied ploughs, which ended their days at Holbeck and Mirfield. If anyone can help, Bryan can be contacted at bryanandchristine-at-tiscali.co.uk - please note this is not a 'clickable' email address via Outlook Express. You will have to replace the '-at-' with '@' and email manually'. Any help with photo material is much appreciated.

RIBBLEHEAD VIADUCT & BLEA MOOR SIDINGS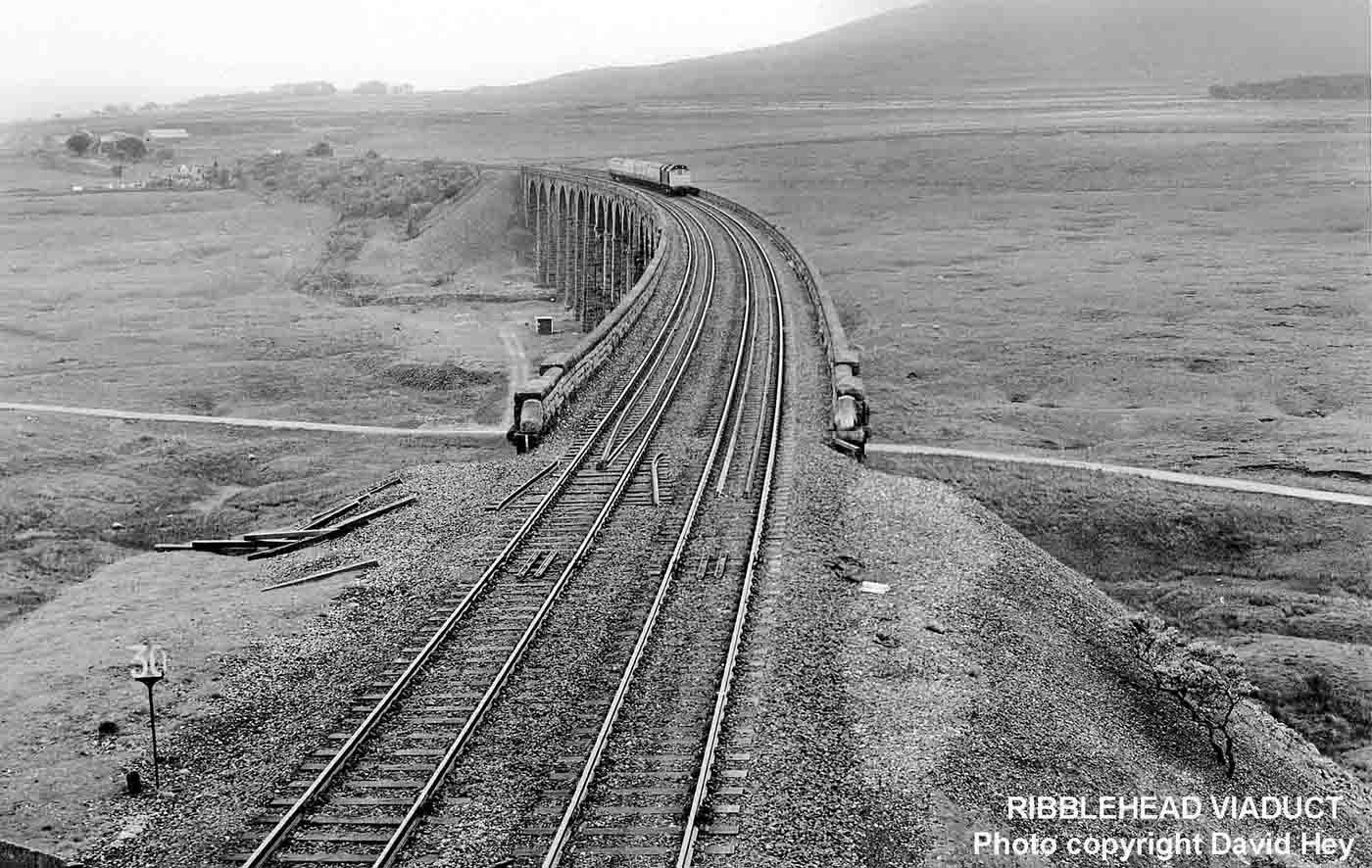 (Above-Below) Mike Barrett is building a layout of the stretch of line between Ribblehead and Blea Moor Tunnel in 2mm, and asked if I had any photos of the double-tracked Ribblehead Viaduct. I have this one of Class 25/2 No 25207 heading the lightweight 16.10 Leeds-Carlisle across the viaduct in September 1983. This shot was taken before BR civil engineers installed the present-day single, centrally positioned line to aleviate further stress cracking in the stonework; the waterproof membrane had allowed more than a century of Pennine weather to erode the stone piers. The work was coincident with track layout alterations at Blea Moor involving the removal of the 'down' siding and goods loop, whilst the accompanying semaphores were replaced by single and multi-aspect signalling.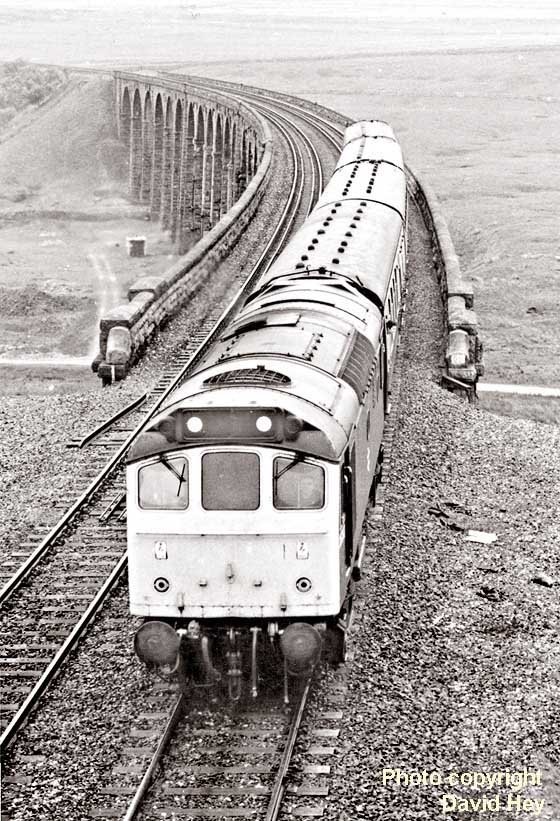 (Below) To complete the picture I've added this more conventional shot of Blea Moor Sidings. The blunt disclosure by BR of the deterioration of the quarter mile long viaduct at Ribblehead and the cost of repair was given as the main reason for the decision to close the line. In August 1983 the rumour of closure was confirmed, by which time only a modicum of freight, together with two daily passengers services in each direction formed the line's regular service. Class 31 heads the 16.35 Carlisle-Leeds past the remote Blea Moor Sidings on 23rd June 1983. This is a super-wide image - click on it once, then again to see extra-wide view.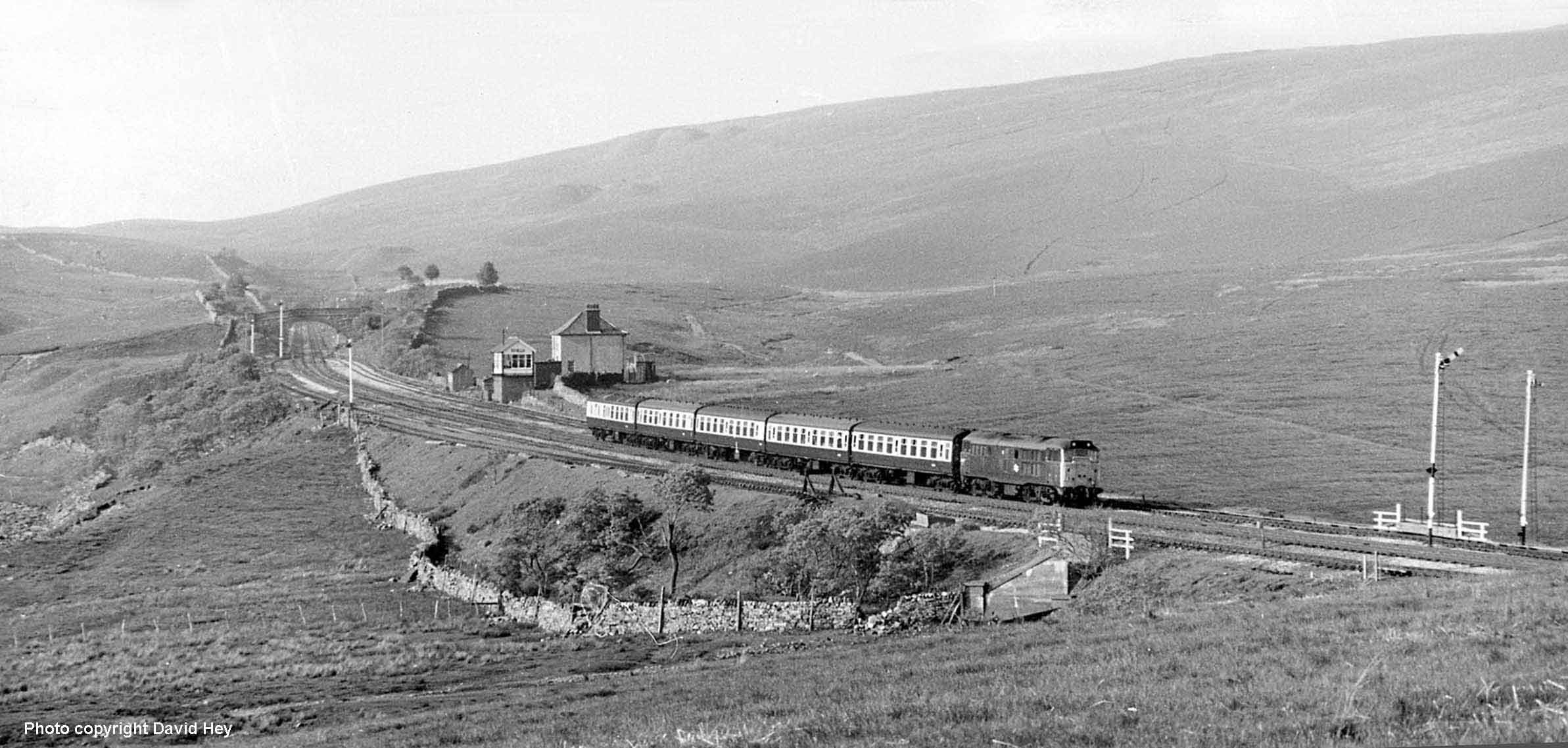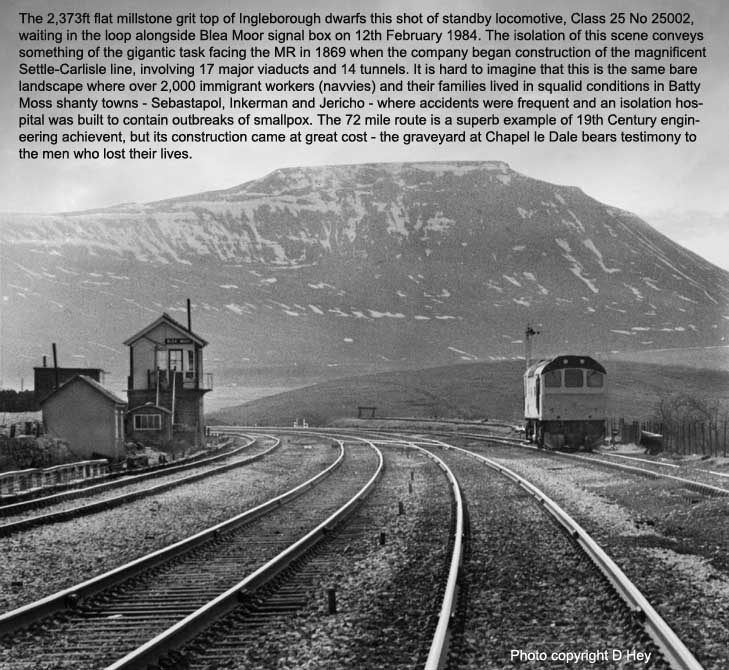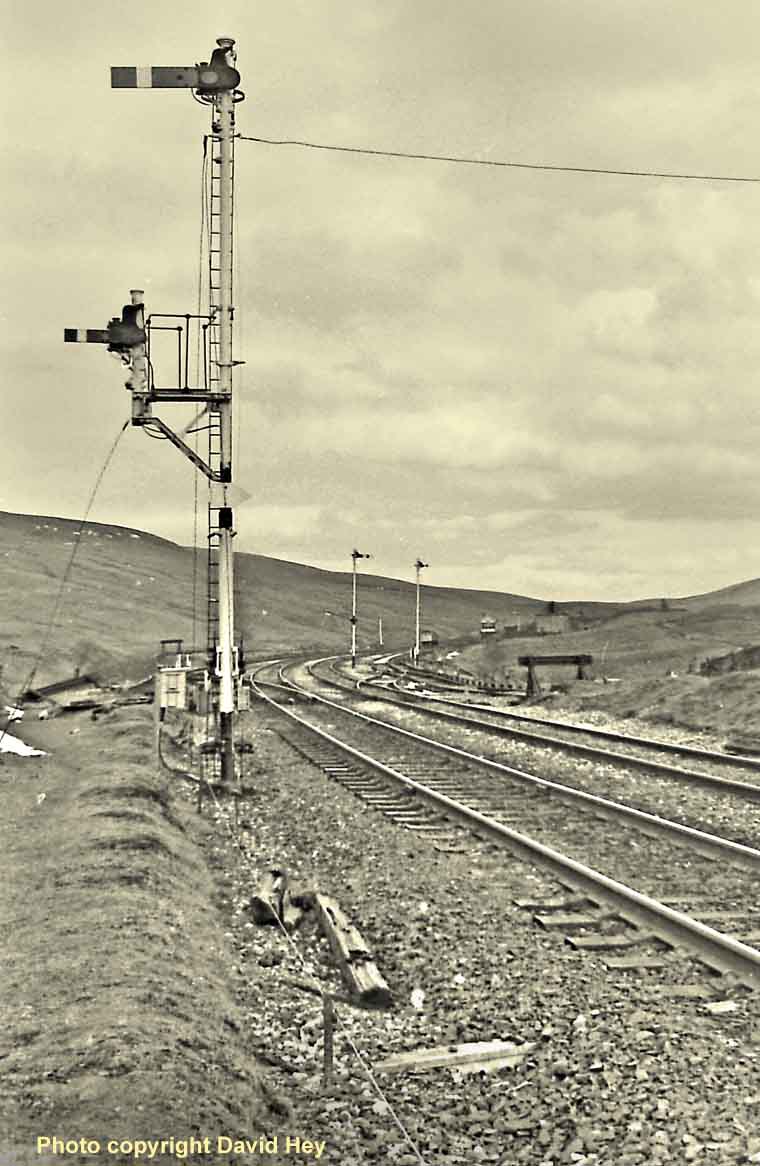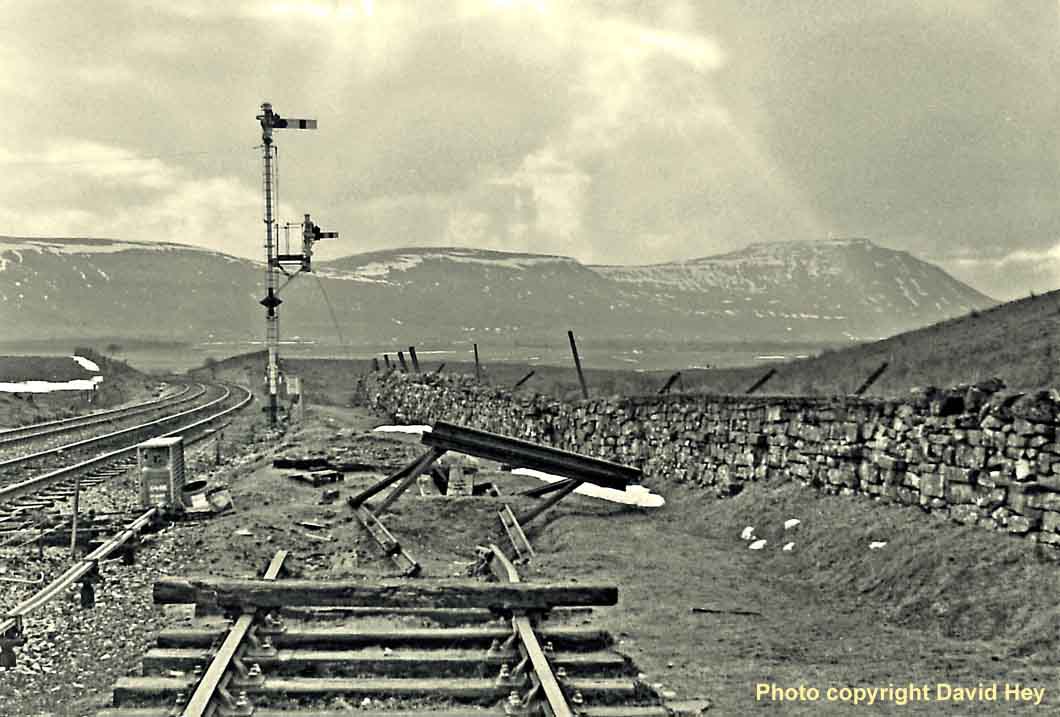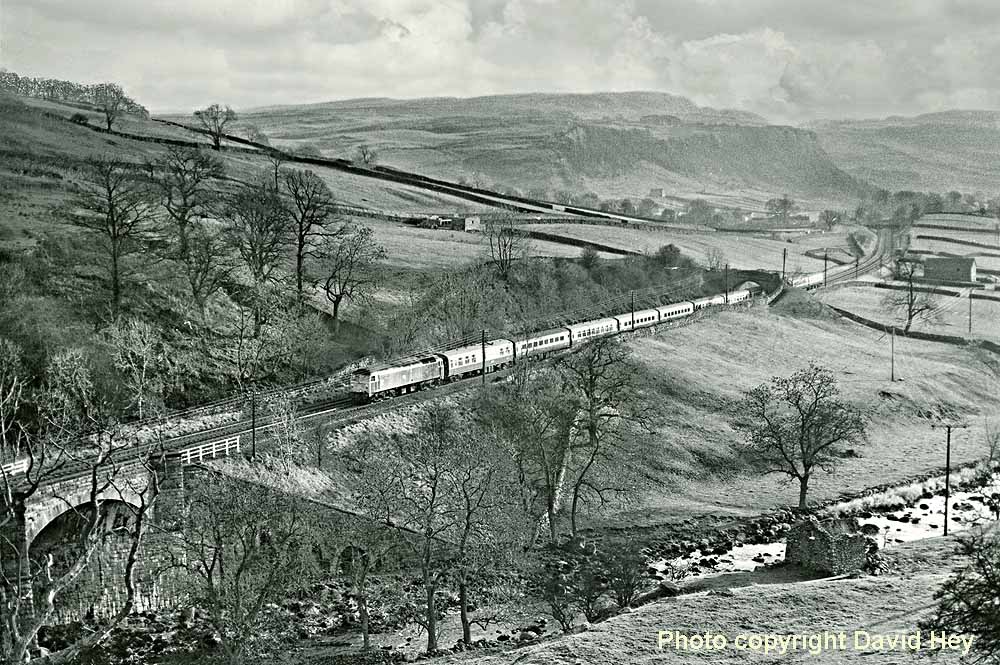 (Above) Ironically, on the very day that the S&C closure was published, the WCML overhead wires were down at Lancaster and trains were diverted via the S&C whilst repairs were carried out. It clearly illustrates what an indispensible asset the line is as a diversionary route when such trouble occurs. Over 40 trains were diverted, including this one headed by Class 47 near Sheriff Brow. On the left can be seen the 1,748yd long viaduct which carries the line 55ft above the River Ribble. The structure is built on the skew with heavy wing retaining walls.

HELP! Steve Tildesley recently contacted the site to find out if there was a specific incident that led to the cabside stripes appearing on certain locos on the LMR, and wondered if it had anything to do with what his father witnessed when he was working on Crewe station - according to his dad, he observed the fireman of 'City of Nottingham' climbing up in the tender while working under the power lines, and an arc set the coal that he was standing on alight! Steve's dad says there was a great flash, but reckons the fireman's rubber-soled boots saved him. Steve adds that it's unusual for his father to remember certain engines, since he was a trackman and more interested in keeping out of their way! Also Steve is building a model railway based in the London Midland Region around his home town of Stoke on Trent, and is trying to research what locos would have brought up the clay wagons from Cornwall to the Potteries in the early 60s. If anyone knows the answer, Steve can be contacted via email at s.tildesley-at-ntlworld.com - please note this is not a mail-to link via Outlook Express. You will have to replace the -at- with @ and email manually. Many thanks in anticipation
(Below) Frank Whitticker of Halifax saw this shot of the ex-L&Y Rly's coal staithes at Sowerby Bridge on the 'Lost Railways West Yorkshire' website and asked for a blown-up photo. He suggested it would make a fantastic feature at the front of a layout. I agree - I'm sure the coal staithes are still there today. Click on photos to view larger images.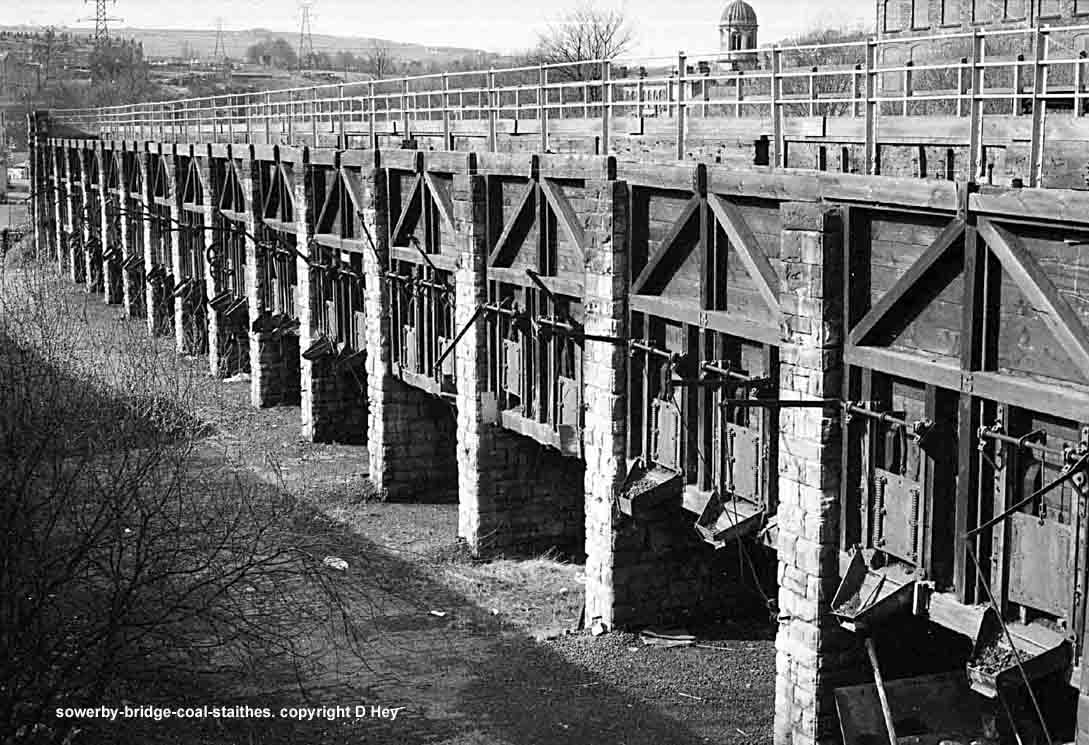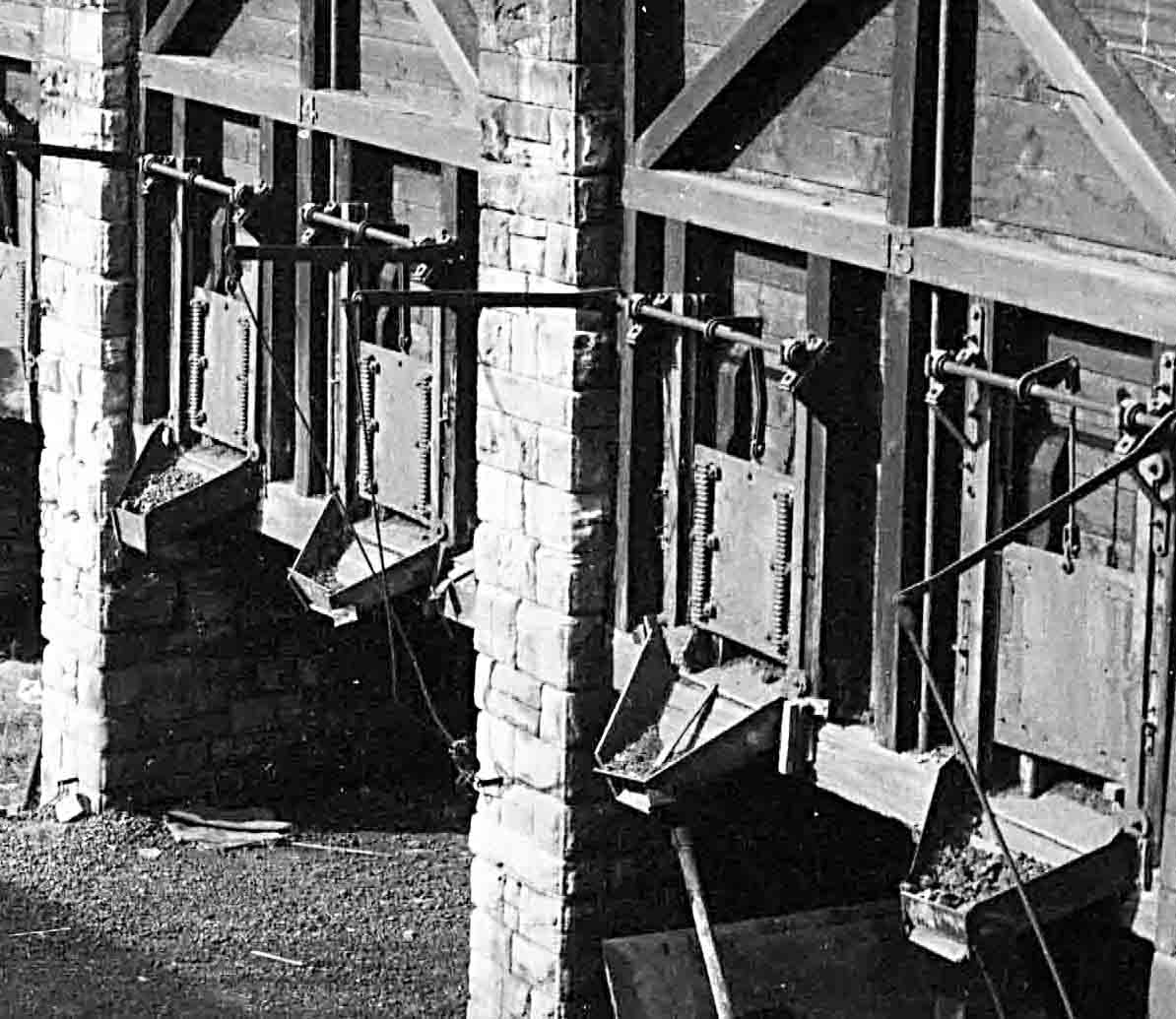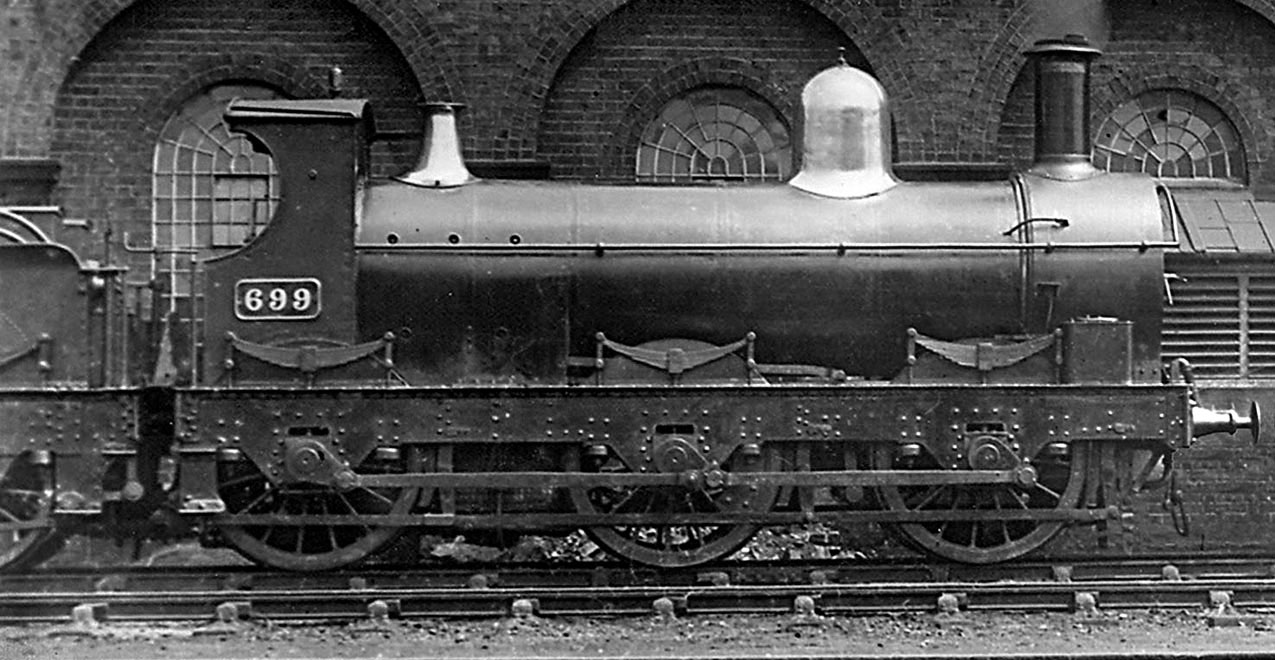 (Above-Below) George C recently contacted the site to identify the locomotives in a photograph posted on the 'Railway Photo Workshop' Page. The locos are GWR Standard 0-6-0 Goods (aka Armstrong Goods or 388 class) showing both positions of steam domes. Click on photos to see large images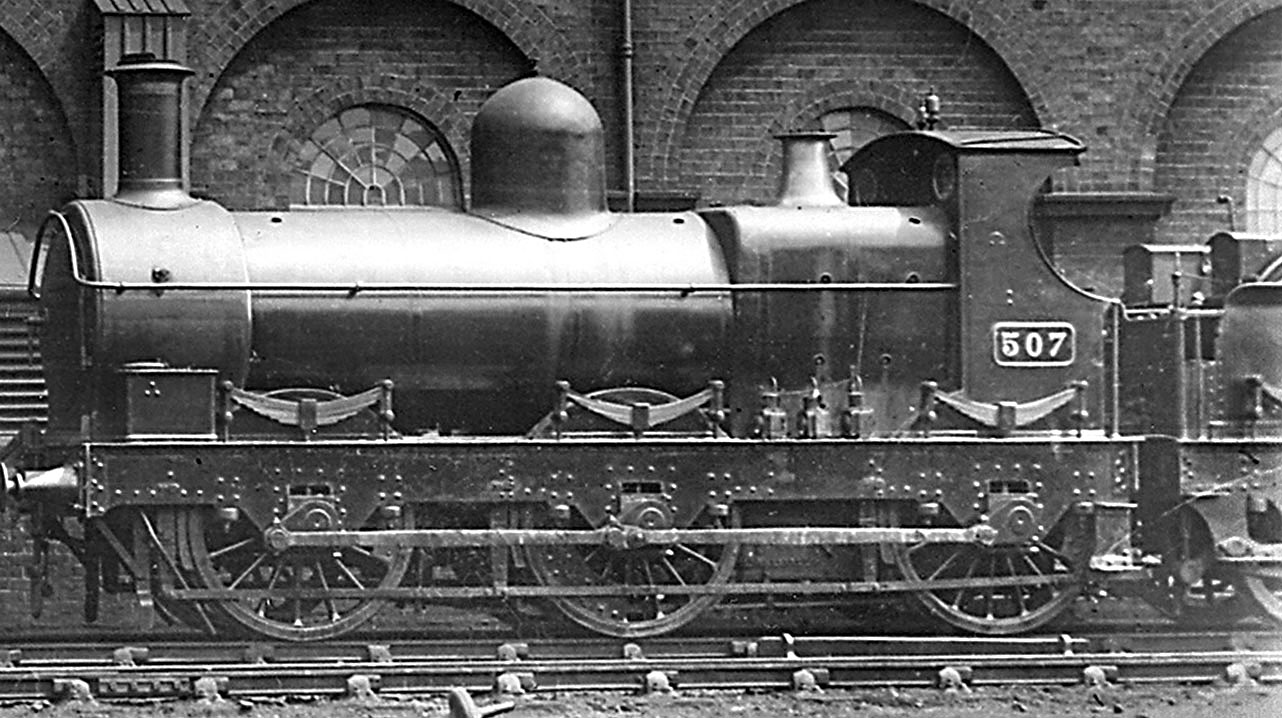 To be continued....

Polite notice: All text and photographs are protected by copyright and reproduction is prohibited without the prior consent of the © owners. If you wish to discuss using the contents of this page the email address is below. Please note - this is not a 'clickable' mail-to link via Outlook Express. You will have to email manually.
dheycollection@ntlworld.com