On January 1st 1948, the Big Four railway companies: London North Eastern (LNER); London Midland & Scottish Railway (LMSR); Great Western Railway (GWR) and Southern Railway (SR) were amalgamated to form the new British Railways. A total of 20,211 steam locomotives were taken into State ownership consisting of: 1,838 from the SR, 3,856 from the GWR, 6,525 from the LNER, and 7,805 from the LMSR. The rest was made up of service engines and Departmental locos.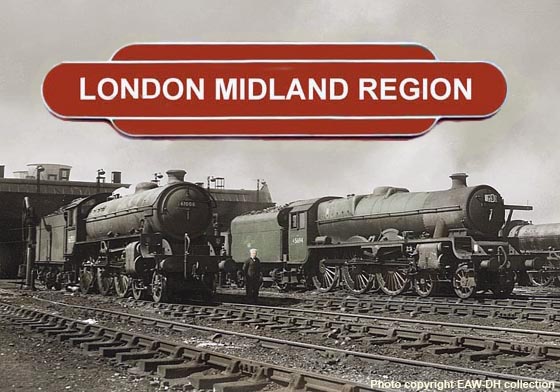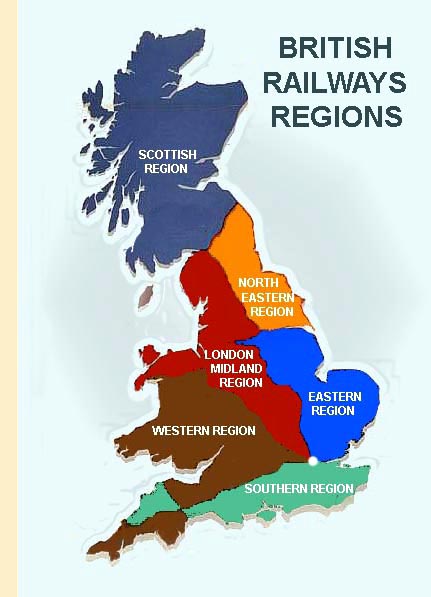 In 1948, six new BR Regions were formed, their new boundaries corresponding closely to the lines of the former 'Big Four' railway companies. Britain's railways was now made up of the Western Region, Southern Region, Scottish Region, Eastern Region, North Eastern Region and London Midland Region - the old LNER being divided amongst the two newly-formed Regions - Eastern and North Eastern, whilst the Scottish Region was composed partly of the former LMS and LNER. Over the years, the Regional boundaries diminished significantly as many locomotives (from an operational standpoint) worked beyond their arbitrary Regions, so in many ways it is meaningless to classify any particular class of locomotive as belonging to any one of the six Regions during the transition from steam. For example, it was not unusual for the new BR Standard classes to be found working hundreds of miles from the Region they were initially allocated.

(Above-Below) Click on NEW PAGE! Featuring Trevor Ermel's visit to Carlisle with a camera during the 1960s. Amongst Trevor's evocative photos is the one below shows 'Black 5' No 44876 after arrival at Carlisle with the 11.55 Euston to Carlisle (1L27).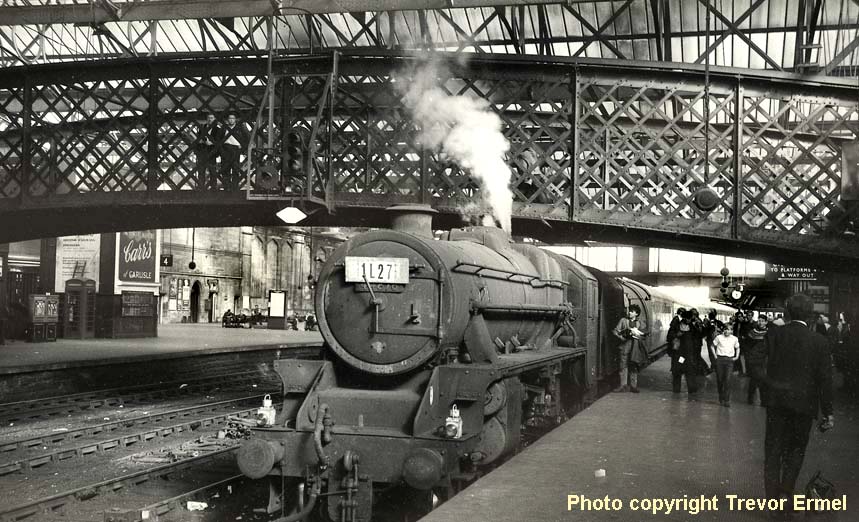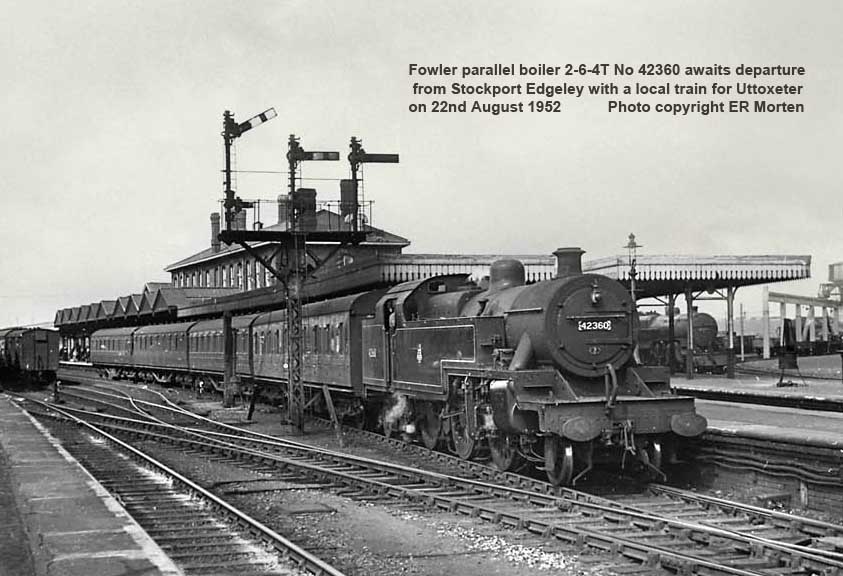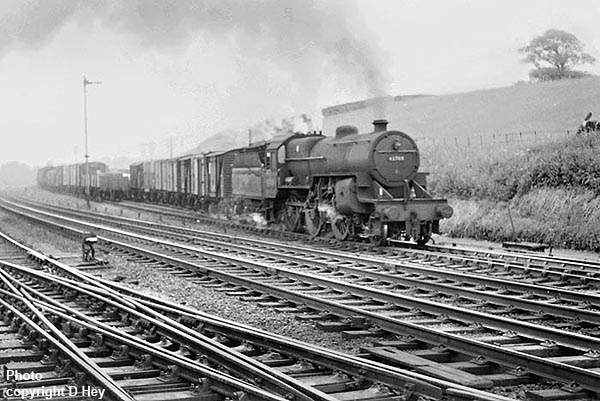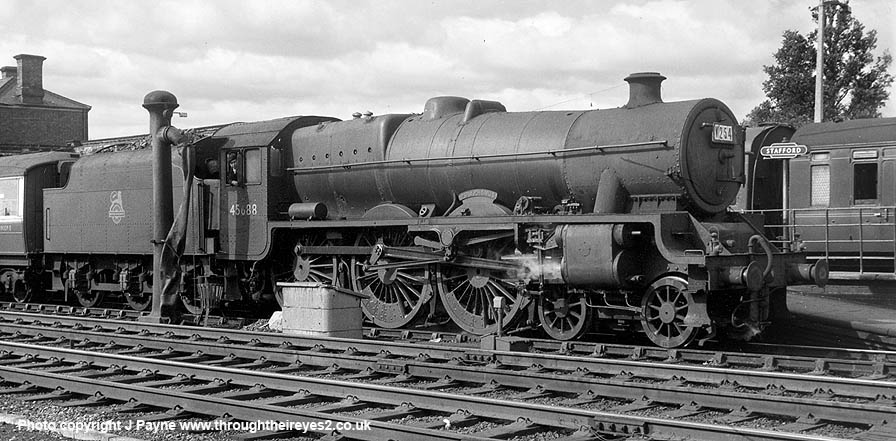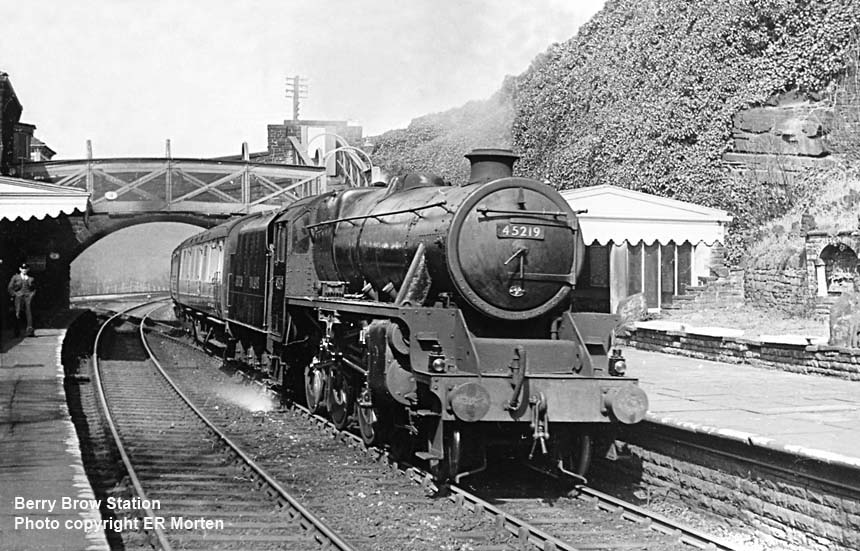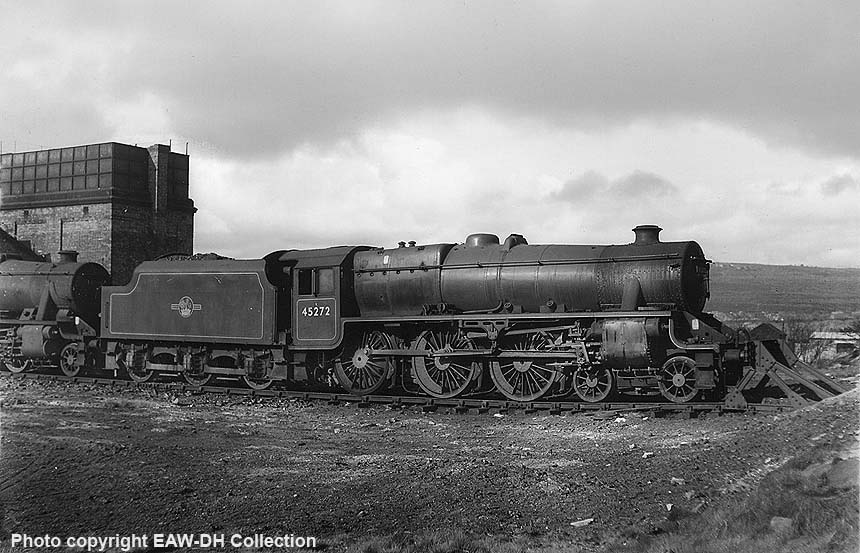 A RAILWAYMAN'S MEMORIES
BLOWBACK AT TYLDESLEY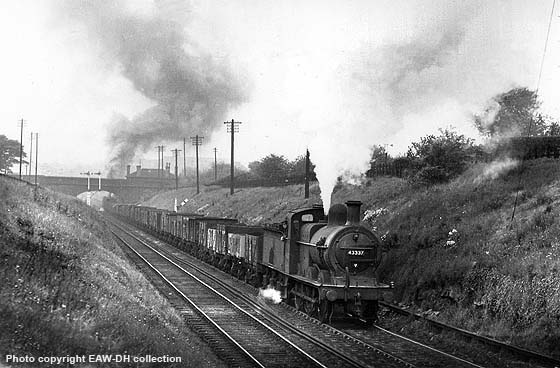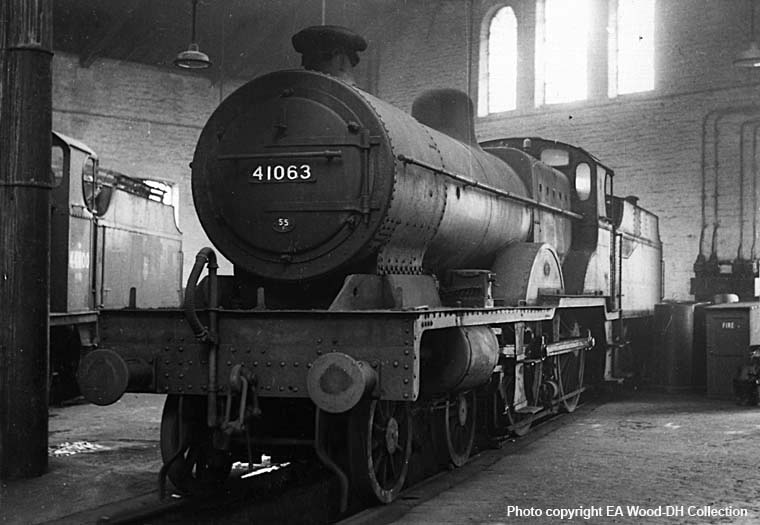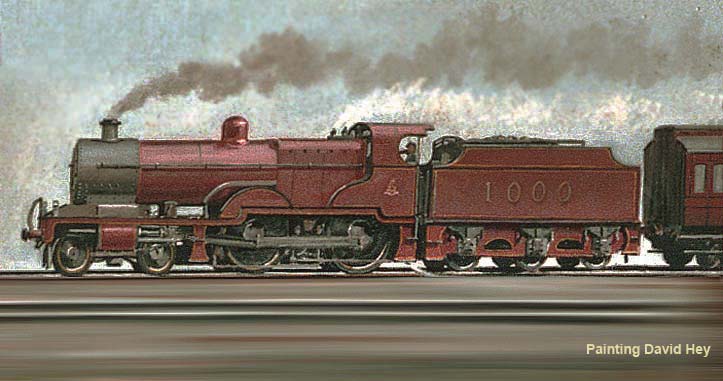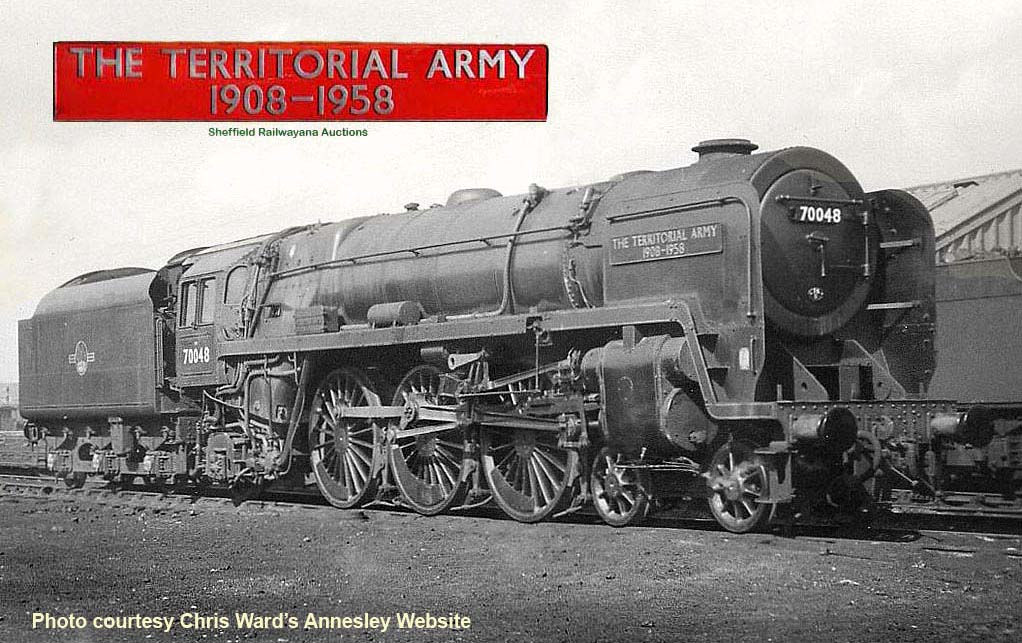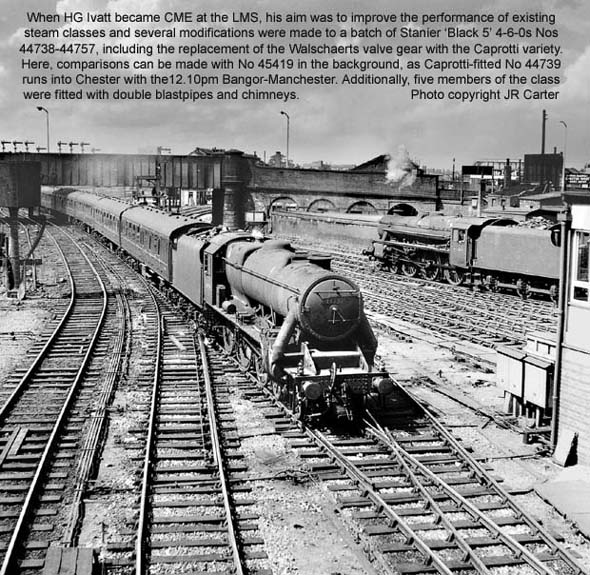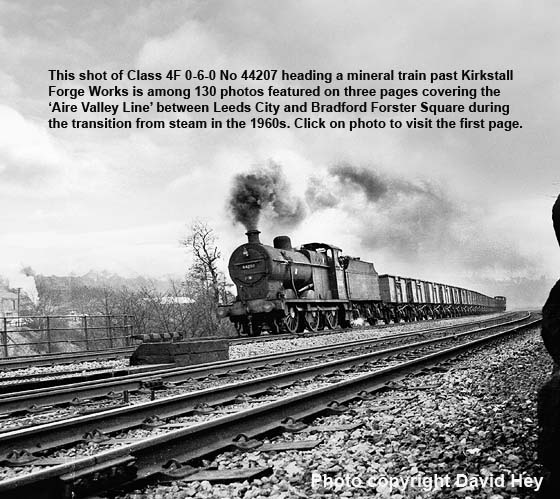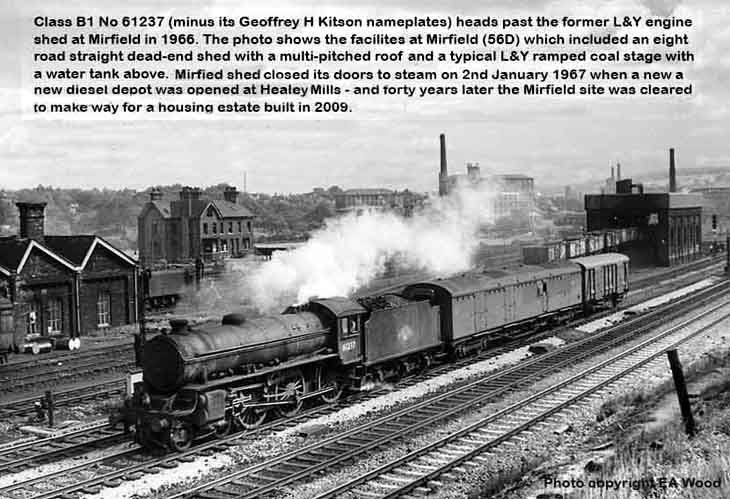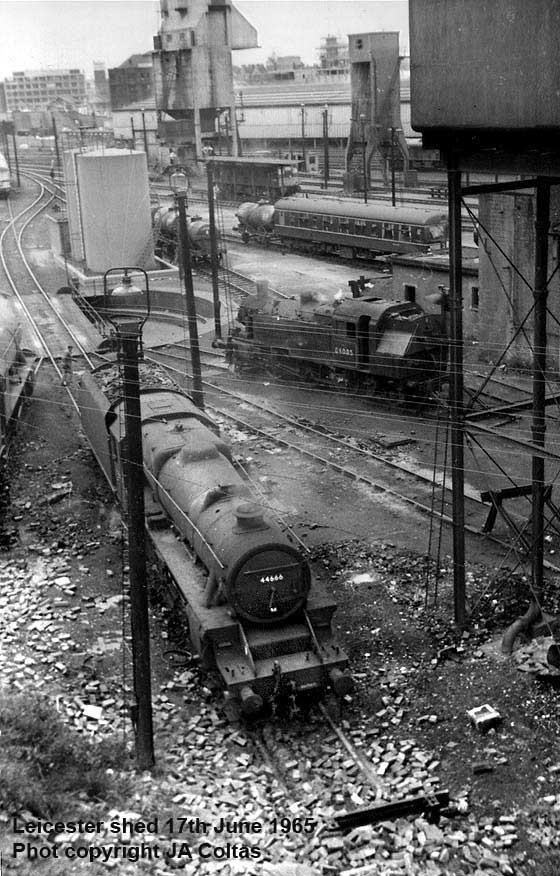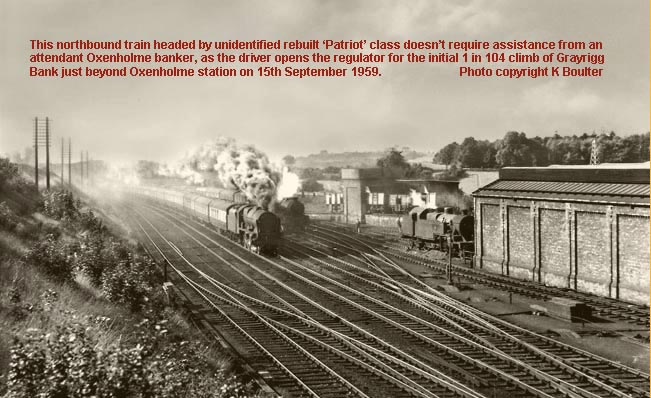 RICHARD COURTNEY'S ALBUM OF LOST PHOTOS FOUND - A RESULT!
Adam Parker recently contacted the Guest Book Page seeking information on a railway photographer called Richard Courtney from Gloucester. He wrote - 'A number of railway photographs and books came into my possession some years ago. The photos are largely of the LMR plus a few from overseas. There is also a logbook of a railway journey to West Germany in 1970. These items were about to be burned on a bonfire by local children, but fortunately they brought them to me. Richard Courtney's name is in the logbook with an address in Gloucester and I am assuming that he took the photographs. The logbook reveals two journeys to Europe - the first to Spain and Portugal in May 1970 and the second journey to West Germany in August 1970. This is the logbook cover (below left) featuring two photographs of Portugese tank locos. The logbook also lists the numbers of several German DB locos and records trips to France and Spain in 1970
| | |
| --- | --- |
| | |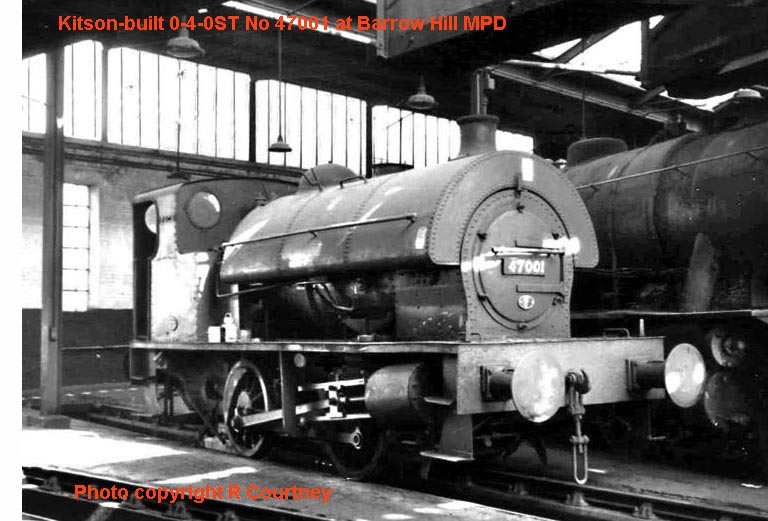 Although many of the prints have no details, dates or locations on the reverse, Adam managed to glean some background information - 'It would be good if I were able to trace Mr Courtney to reunite him with his books and photographs. I have always felt a bit of a 'guardian' of them.' Well, contact was finally made and Adam arranged to meet Richard and his wife at Gloucester Station to hand over the books and photos - 'It was very rewarding to return the items back to him after all these years. Richard suffers from Parkinson's Disease and as far as I know he was a fireman back in steam days and became a driver when diesels were introduced. I had contact from another old driver, Roger Stanbridge, who knew Richard from his Saltley days. Richard also travelled the world taking photograhs of steam railways and he doubtless has a wealth of material that has never been published or seen by a wider audience.I suggested he could share his pictures in some way on the Internet. Richard, who originates from Barnstaple, retired from the railways several years back due to his Parkinson's. It's a shame that we didn't have enough time to talk more about his days on the railway. I feel sure that in the right circumstances he could tell some interesting stories about his life - both as a railwayman and railway enthusiast...

| | |
| --- | --- |
| | |
(Above-Below) During the early 1960s, of the twelve remaining Johnson Midland 1F 0-6-0Ts, half were allocated to Staveley, including Nos 41835 and 41804, both locos having only a weather board, a short roof and devoid of a back sheet to the cab. Both locos are working in the Staveley area - perhaps the Iron Works or Gas Works? (Below) I used to live within sight and sound (and smell!) of the Gloucester Gas Works as a child, which probably explains why I've always had a fascination for railways serving Gas Works. This photo of a Class 8F has 'Duddeston Rd' written on the back, therefore the location was relatively easy to identify. With the magnificent edifice of Saltley Gas Works dominating the background, 48437 heads a southbound mixed freight past Duddeston Road box. Date unknown.
(Above-Below) As to who took the photographs? I am only assuming it was Richard Courtney, since there are no other indications. Some of the prints have serial numbers on the reverse, but no other clues and certainly no copyright information. Back in the mid 1970s I bought some railway prints from a photography shop in Teignmouth, Devon - and they were clearly stamped with the copyright information. You will notice that this photo of 'Black 5' No 45213 includes an NBL Class 21 awaiting their next turn at Sterling depot.
(Above) As mentioned above, some of the photographs are of engines being scrapped so it is quite possible that they are the last photographs ever taken of them. Unfortunately, there are no details of the location or date of these two photos - presumably they were both taken at the same time. However, the numbers are plainly visible so identification is quite possible from some die-hard LMR enthusiasts...David Campbell has since informed me that 43005 was cut up at Birds, Long Marston on 28th February 1966. Presumably the 8F was disposed of at Birds too...
(Above-Right) Ex-LMS 4-6-0 'Jubilee' class 45655 Keith awaits its fate at Hayes/Birds Bridgend, Glamorgan on 27th December 1965. A nameplate from this loco went under the hammer for £8,000 at a recent GCRA auction. Built at Derby in December 1934, originally numbered 5655, the loco was a Manchester

Longsight engine for a long period before going to Crewe in 1957. It had a short spell at Llandudno Junction followed by a return to Crewe, then a transfer to its final shed at Warrington in 1961 from where it withdrawn in April 1965. It remained in store at the shed until November prior to being sold to Birds of Bridgend in December 1965. The loco was cut up the following year. The GCRA sales brochure describes the plate as being in - 'Outstanding, ex-loco condition with lots of Brunswick green on the underside and more importantly, retaining all the original 'split-pin' bolts and nuts. A single punch mark on the rear denoted the left-hand side.'
(Below) Class 4F No 44169 was photographed on the same day.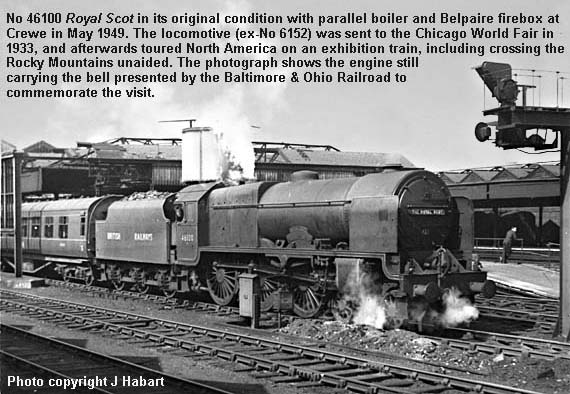 (Above-Inset) Prior to accelerating the Anglo-Scottish expresses on the West Coast route in 1927, the LMS took the unusual step of borrowing a 'Castle' class 4-6-0 from the GWR for tests between Euston and Carlisle. The performance of the GWR engine proved superior to the LMSR's 'Claughtons', so an order was placed with the North British Locomotive Company of Glasgow to build fifty 3-cylinder 4-6-0s with a parallel boiler and Belpaire firebox. At the time, the Southern Railway generously offered a few pointers of their own for the Derby drawing office to consider, which explains why the 'Royal Scots' had more than a passing resemblance to the Southern Railway's 'Lord Nelson' 4-6-0s introduced a year earlier. (Below) A locomotive nameplate from the first of the LMS Class 7P Royal Scot 4-6-0s went under the hammer for £13,000 at a Great Central Railwayana Auction on 14th April 2012. Built by the North British Locomotive Co Works No 23595, the loco arrived at Derby Works on 16 July 1927. The plate is 35" long, the front repainted, and mounted on a painted wooden splasher with an LMS brass oilbox below. The plate was accompanied by

documentary evidence detailing the history of the plate produced by the late proprietor of the 'Big Four' Railway Museum. This plate was one of the pair originally fitted to the loco and which were replaced by plates of a slightly different pattern when it returned from its 1933 North American tour and had commemorative plates fitted (see below).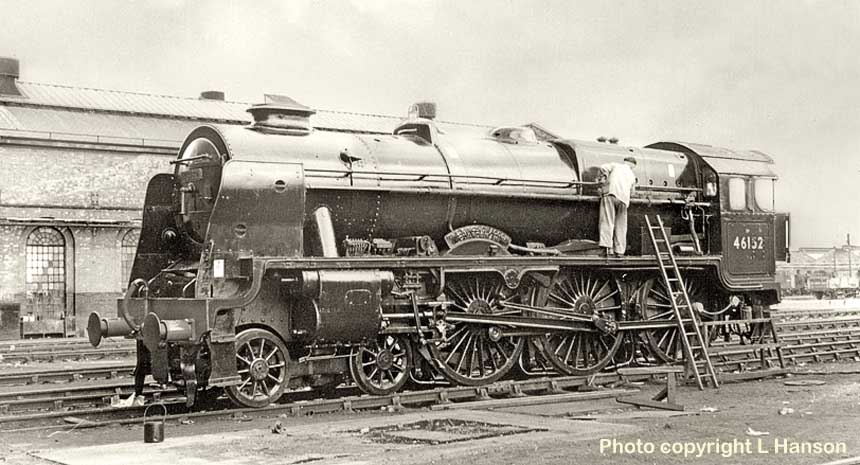 (Above-Below) In 1933 the LMS was invited to send a locomotive and train to the 'Century of Progress' exhibition in Chicago USA. It was decided to send a 'Royal Scot' class locomotive. The identity of the locomotive selected to assume the identity of the doyen of the class, No 6100 Royal Scot, is generally regarded as being No 6152 The King's Dragoon Guardsman, which was due a general overhaul at that time. The coupled axleboxes were replaced with larger ones, based on a GWR design, and the bogie replaced by a De Glehn type, also derived from GWR practice. Springs and spring rigging were also updated. This photo shows 46152 some years later following an overhaul at Crewe Works on 8th August 1963. (Below) Returning to 1933, on its return from the USA, the locomotive was fitted with an enlarged nameplat with details of its appearance at the exhibition. This is a close up of the nameplate and commemorative plaque, including the name of the driver, fireman and fitter who accompanied the locomotive on its visit to the Chicago World Fair and tour of the USA and Canada. The photo was taken by former-signalman, Keith Long...visit his 'Rail Cameraman' page 60, which has links to his fantastic flickr photostream.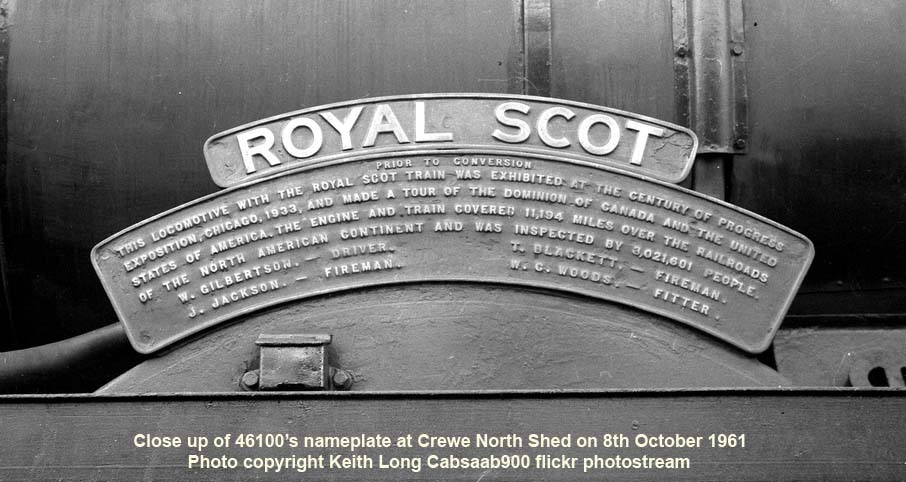 (Below) Thousands of enthusiasts visit the Internet every day, either searching for information or bringing with them their own diverse interests and expertise; indeed the subject of trains and railways is extremely complex and so it is essential to get the facts right. This is very important on the World Wide Web which is considered a major source of reference. Luckily, visitors to this site usually come up trumps when it comes to spotting inaccuracies…among the most prolific contributors is ex-BR Fleet Engineer, Vic Smith, who points out that the date of the photo is wrong - OHL warning flashes were not used on locos until 1961.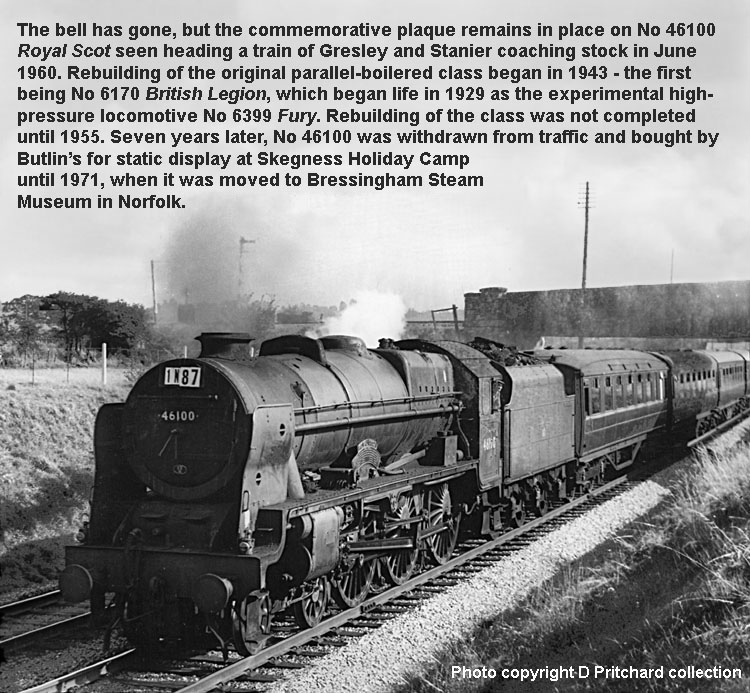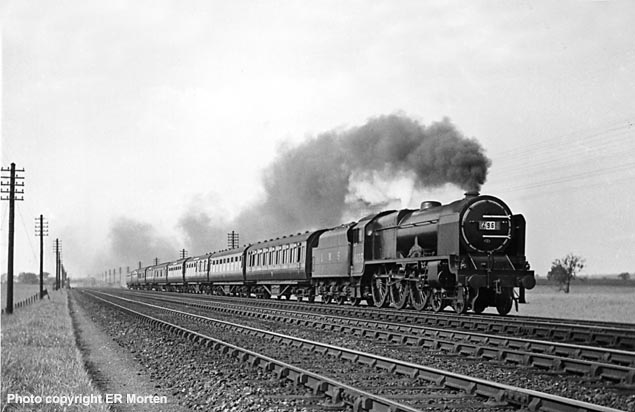 (Above-Below) No 6149 The East Lancashire Regiment heads a southbound express through Chorlton in August 1936. (Below) No 6108 Seaforth Highlander heads north at Chorlton on the same day.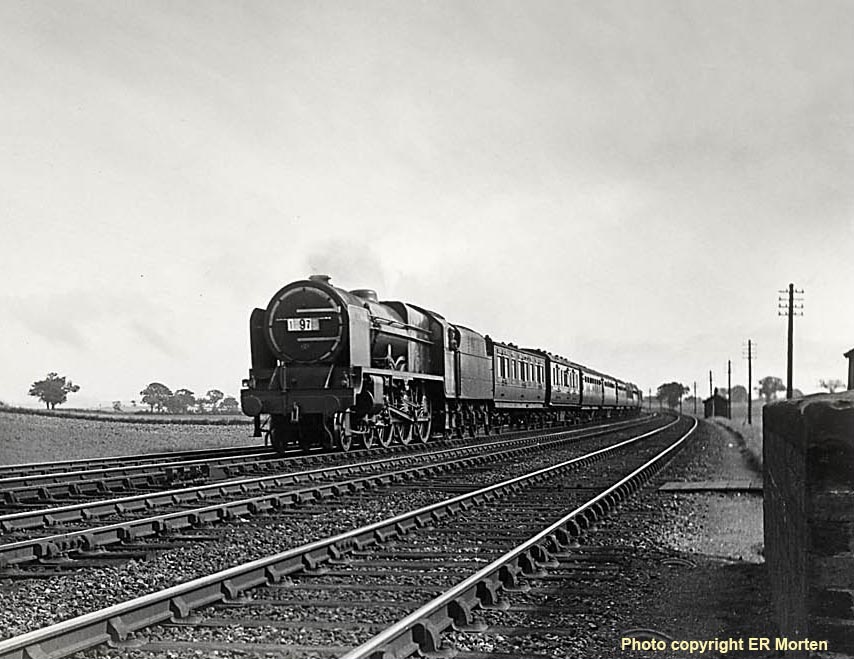 (Above) Unrebuilt 'Royal Scot' class No 46156 The South Wales Borderer (piloted by 'Black 5' No 45120) awaits departure from Huddersfield with a Newcastle-Liverpool train on 12th April 1952.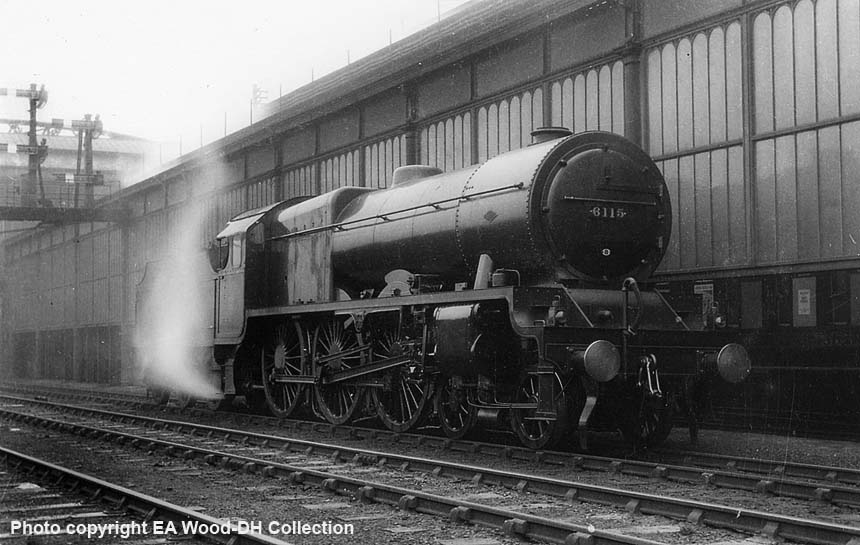 (Above-Inset-Below) Royal Scot class survivor! An interesting shot of newly-built 'Royal Scot' class No 6115 in its original LMSR form with parallel boiler. Constructed in 1927 by the North British Locomotive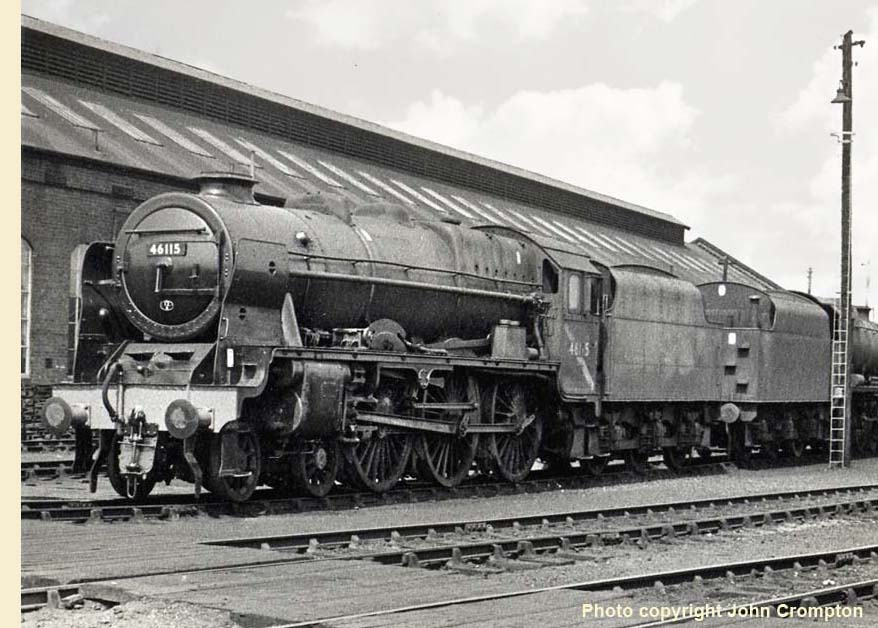 Company in Glasgow, No 6115 was later named Scots Guardsman. A Longsight engine for most of its life No 6115 was the last of the class to be rebuilt with a new tapered type 2A boiler by the LMSR in 1947; it also became the first to be fitted with the distinctive curved smoke deflectors. With nationalisation still a year away the rebuilt loco was painted in the LMSR's post-war black livery and lined out with maroon and straw yellow. After nationalisation in 1948, 46115 was the last member of the class to survive in BR service and following withdrawal was subsequently purchased by the West Coast Railway Company and restored to main-line running order in June 2008. (Right) John Crompton took this shot of Royal Scot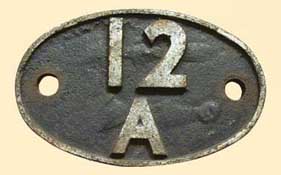 Class 46115 Scots Guardsman at Carlisle Kingmoor shed (12A) in June 1966…the engine was withdrawn in January 1966 and remains in remarkably good external condition for a stored engine awaiting a decision on its future. (Below) Barry Hilton photographed No 46115 Scots Guardsman working the returning 'Fellsman' at Waitby near Kirby Stephen on the northern climb to Ais Gill summit on the 11th August 2010.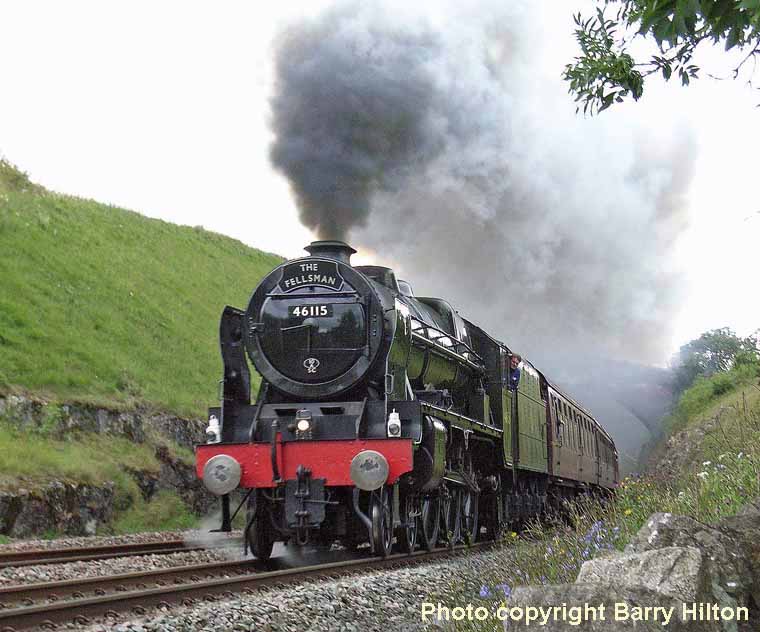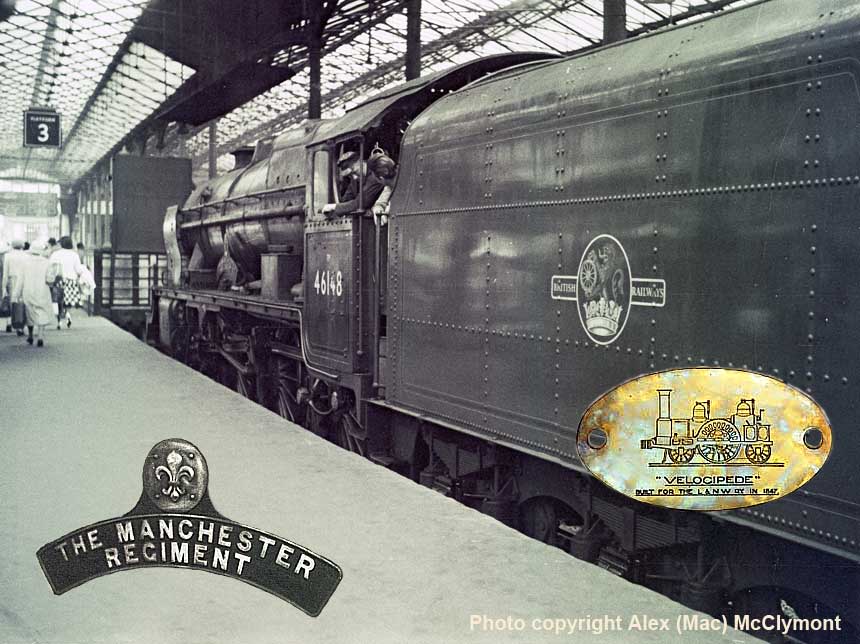 (Above-Insets below) A locomotive badge from the LMS 'Royal Scot' class 4-6-0 No 6148 Velocipede went under the hammer for £6,100 at a Great Central Railwayana Auction in July 2009. Built by the North British Locomotive Co (Works No 23643) in 1927, the loco was named Velocipede a year later. Following the LMS's decision to replace the historical LNWR engine names with regimental names on the 25 Royal Scots, the plaque was removed and the loco renamed 'The Manchester Regiment' as shown on the nameplate (insert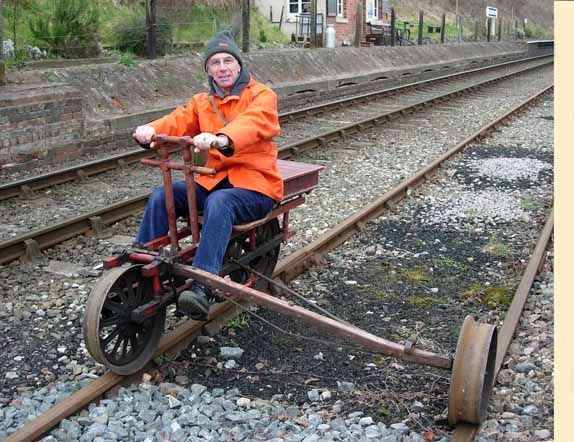 left in the photo). Here No 46148 was photographed at London Euston by ex-SR engineman Alex (Mac) McClymont. The brass oval badge (insert right) is engraved with the outline of an early 2-2-2 locomotive and worded 'Velocipede, built for the LNWR in 1847'. Interestingly enough, the name Velocipede (Latin for 'fast foot') is the old-fashioned term used to describe a human powered land vehicle with one or more wheels...in other words, the unicycle, bicycle, dicycle, tricycle and quadracycle. Well I never, a loco named after a bicycle! When captioning photos I often feel like I'm parked diagonally in a parallel universe! But then no matter what it takes to dig up quirky background facts there'll always be someone somewhere who'll know far more... (Inset Left & Right) Sure enough, following on from the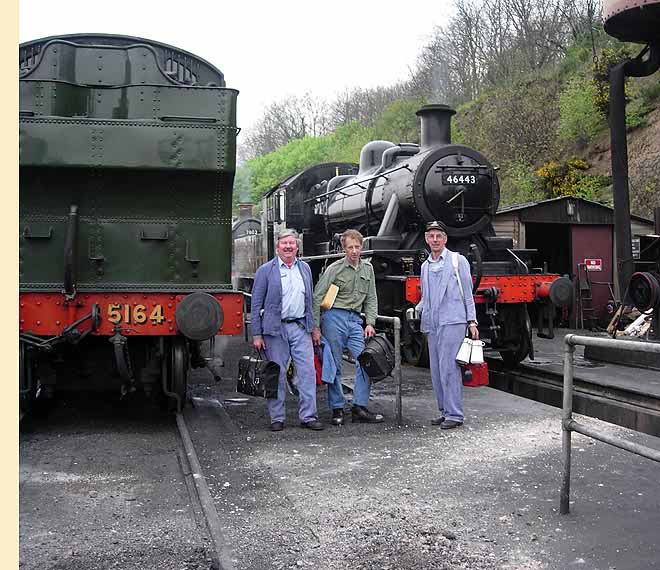 Velocipede plate mentioned above, Ivan Whitehouse has sent me this photo (inset left) of him on one of the now-preserved Linesman's velocipedes which was used by the Permanent Way Dept on the Severn Valley Railway; it is a simple 3 wheeled rail vehicle which is propelled along the track by the rider using his arms and legs. As an ex- fireman on the Midland Bushbury Shed (3B) from 1957 to 1963, 70 year-old Ivan is now a volunteer on the SVR, spending his Saturdays doing line walks from Bridgnorth to Arley, checking all the track, bridge work, embankments… indeed anything that doesn't move - or shouldn't! The weekend walks are sometimes shared with others depending on how many turn up, while at other times he helps out with the Bridgnorth Permanent Way Gang. He writes - 'Having turned 70 this year I can still swing the shovel but my aching back reminds that my footplate firing days will soon be over.. to Kevin Thomas's interesting website containing all you need to know about the Velocipede…well worth a visit..' The photo shows Ivan (right) and a couple of his SVR mates - Driver John Hancock on the left and Fireman Colin Astbury in the middle - at the end of a long day, desperate for a couple of pints! Check out this link

HELP! I've recently received an email from Paul Underwood appealing for a photograph of 'Black 5' No 45065. Paul writes - 'Hi David, I love looking at your photo collections which bring back many happy memories of my early days on steam locos. I worked at Aston MPD 1956 to 1963 and took a few photos with Box Brownie. I am compiling a photo scheme of all of the Black 5s based at Aston during that period. I am short of one loco and that is 45065. Do you have a photo of that loco or know someone who has please?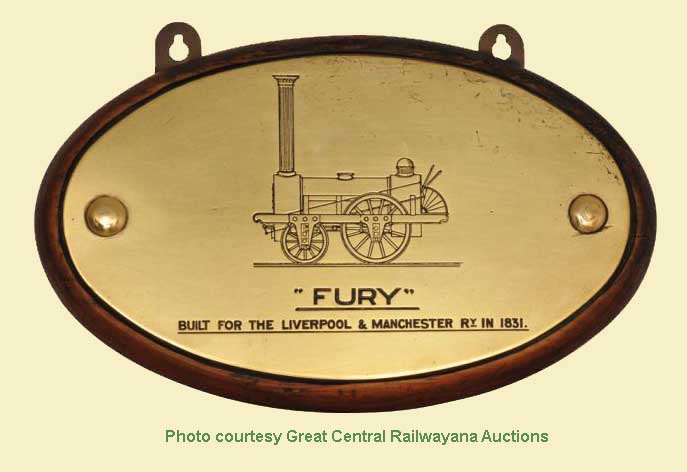 Best wishes, Paul...' Alas, I haven't...but I'm sure someone can help with Paul's search, his email address is: punderwoods@talktalk.net Please note this is not a 'clickable' link via Outlook Express. You will have to email manually. Many thanks in anticipation.

(Left) Staying with the theme of 'Royal Scot' names, an engraved brass locomotive nameplate measuring 10¼" X 6", Fury, went under the hammer for £10,200 at a Great Central Railwyana Auction in April 2011. The name was originally carried by a 2-2-0 locomotive No 21 built for the Liverpool & Manchester Railway by Murray & Wood in 1831. The 'Fury' name was later adopted for use on the LMS Royal Scot Class 4-6-0 No 6138 and later by the LMS Experimental High Pressure locomotive No 6399. The 'Royal Scot' No 6138 was built by the North British Locomotive Co in October 1927 and carried the name Fury from April 1928, but its plaques were not fitted until the second half of that year. The loco was renamed The London Irish Rifleman on 23rd October 1929. (Below) The experimental express passenger locomotive No 6399 was also built by the North British Locomotive Co (Works No 23890) in 1929 using modified Royal Scot frames and a high pressure water-tube boiler.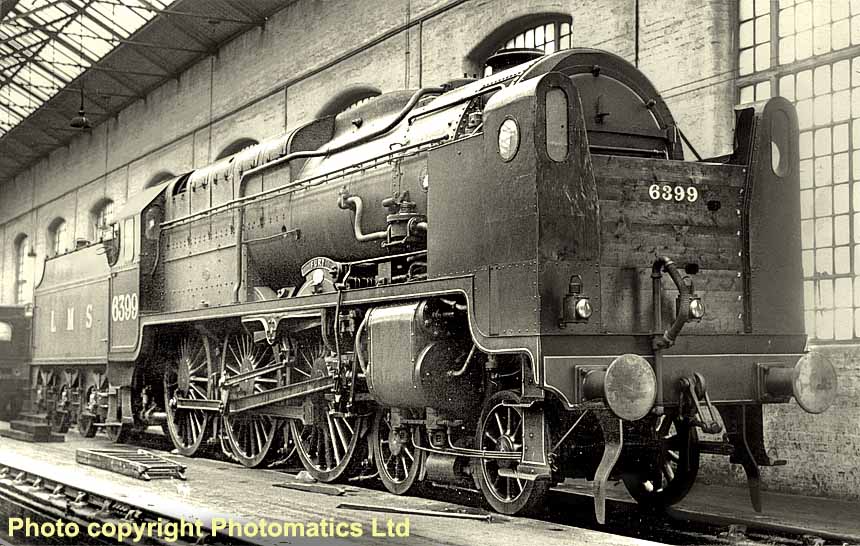 (Inset-Below) In February 1930 No 6399 started trials with the LMS, but on the 10th of that month, one of the superheater company's engineers was killed on the footplate following a blow-back at Carstairs station.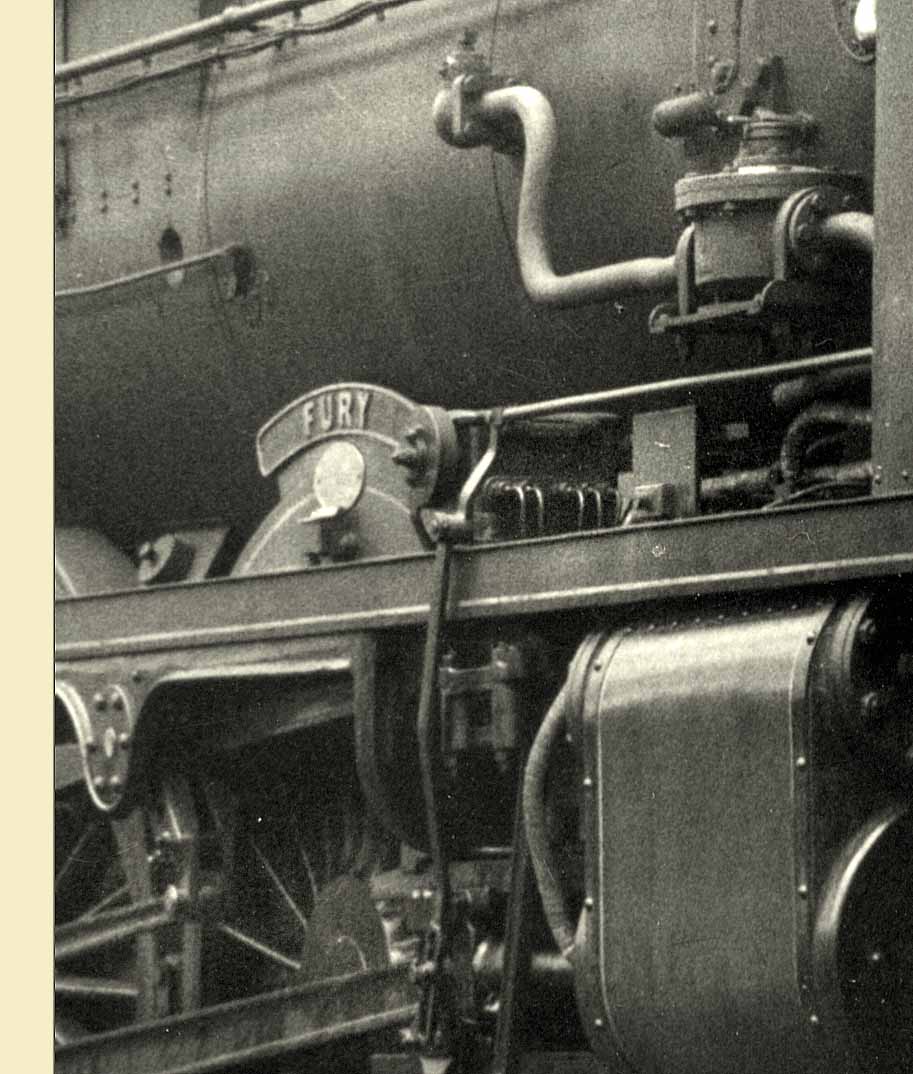 The accident was caused by a tube in the high pressure steam circuit failing. The loco never worked again and returned to NBL's Hyde Park works where it languished until finally moving to Derby Works where it was rebuilt in October 1935 and taken into LMS stock as No 6170 British Legion. Renumbered 46170 in BR days, it was withdrawn in 1962 and subsequently scrapped. (Below) 'David, can you make the sky as black the ace of spades? And how about bunging another shovel of coal in the box?'...in other words, make more smoke! Imagine working in Photoshop on your computer and having Footplate Camerman, Jim Carter, bellowing in your ear-'ole! Of course I was happy to oblige...Forever the perfectionist, Jim wasn't satisfied with the original print of 'Royal Scot' 46170 British Legion at Crewe North shed; he wanted to see what could be done in the new-fangled digital age! Click HERE to visit the fascinating Great Central Railwayana website and HERE to visit the Wikipedia page on 6399.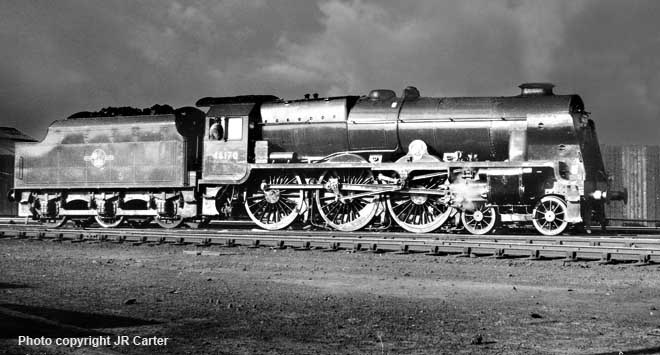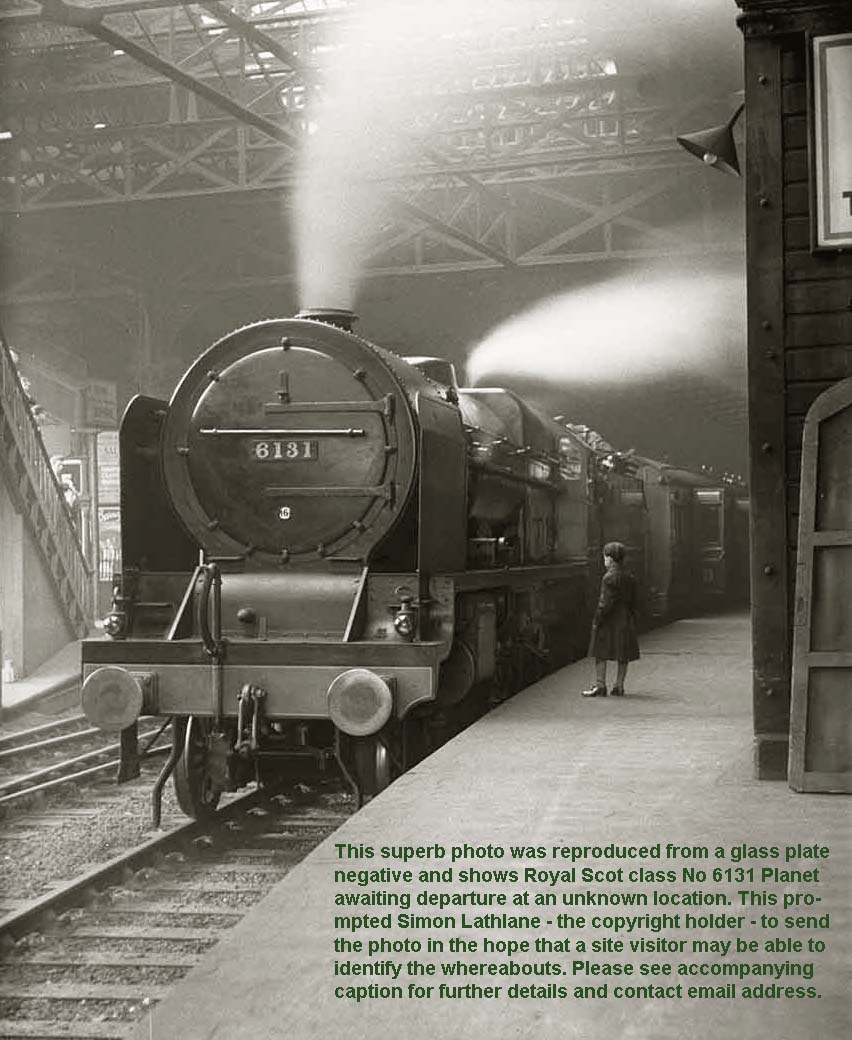 (Above) MYSTERY PHOTO This superb image of 'Royal Scot' class No 6131 Planet was sent by Simon Lathlane, who writes: 'Hi David, I have enjoyed your website for a long time and wondered if you might be able to assist me with a photograph puzzle. Some years ago I purchased a box of old glass plate negatives showing various early 1930's images of Royal Scots. Sadly the envelope containing the slides was torn

open and the information inside lost by the seller. This is one of the glass plate negatives showing Royal Scot class No 6131 Planet (later name The Royal Warwickshire Regiment) displaying a 16 shed plate code, which was Kentish Town. Do you have any ideas as to where the photograph was taken? One suggestions is Manchester London Road - the building on the right could be the base of London Road No 3 signal cabin. I look forward to hearing from you and many thanks for any help you can offer…kind regards, Simon.'
Unfortunately I am unable to identify the location, hence Simon has allowed me to post the photo on this page in the hope that a site visitor may possibly help.
Simon's email address is simonlathlane@btinternet.com Please note, in order to avoid spam this is a non-clickable link; you will have to replace the -at- with @ and email manually. Many thanks...
(Right-Below) Meanwhile Simon has a new 'Rail Cameraman' page (click on photo-link right) featuring a mix of new and old photos from his own collection, including this one of Hellifield in the 1960s. Once an important railway junction, this former MR station provided connections from Lancashire and the old West Riding to Scotland. Local passenger services were withdrawn from the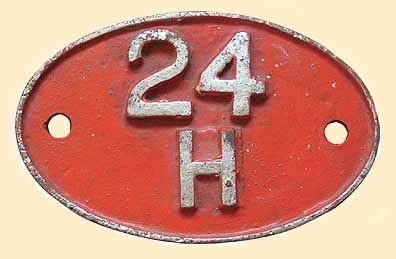 ex-LYR Blackburn line on 10th September 1962 and the steam shed 24H (the coaling stage is just visible on the right) closed a year later. Thereafter local trains to Carlisle were withdrawn in May 1970 and the station was downgraded to an unstaffed halt served only by stopping trains between Leeds and Morecambe. By the late 1980s, the deteriorating structure was a bad state and BR was seeking to demolish part of the wrought iron canopy, all of it adorned with historical MR insignia and ornate iron supports to reduce maintenance costs, but following a £500,000 cash injection from British Rail in conjunction with English Heritage and the Railway Heritage Trust, the building was refurbished. In this evocative shot, a couple of young spotters are talking with the crew of BR Standard Class 4, No 76080; probably in the hope of 'cabbing it'? The smokebox door displays a shed plate of 24D which was Lower Darwen until the code changed to 10H in 1963. No 76080 was withdrawn in December 1967 and taken to Barry scrapyard. She was the only engine cut up in 1972 although the 16 spoke driving wheels still exist having been stored at Eardington Halt on the Severn Valley Railway.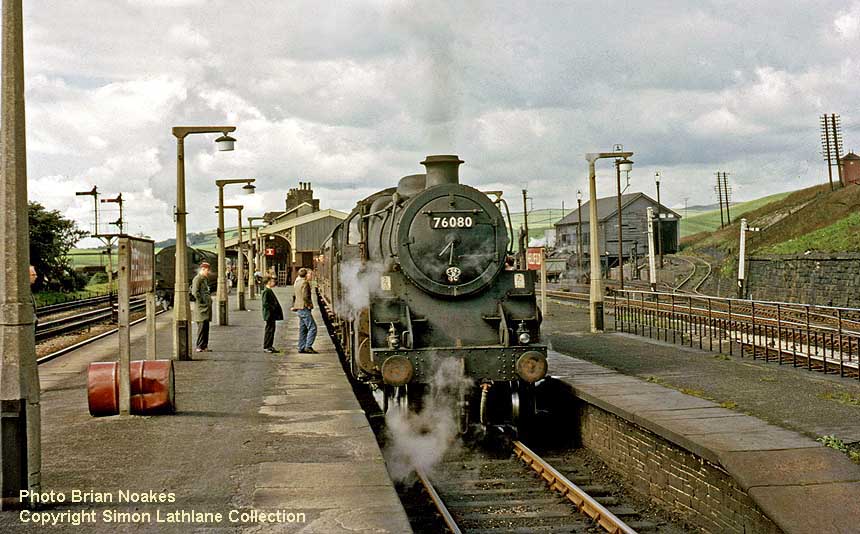 (Below) But getting back to the 'Royal Scot' class, the first batch Nos 6100-6149 emerged in 1927, followed by Nos 6150-6169 in 1930. Rebuilding of the class began in 1943. The work included replacing the old parallel-boiler with the Stanier No 2 tapered boiler, a new double chimney and blast pipes, new smokebox and new leading bogie. The only significant part to survive from Fowler's original parallel-boiler design was the cab. Here, Crewe North's rebuilt 'Scot' class No 46119 Lancashire Fusilier is sporting its new BR number but retaing LMS lettering on the tender.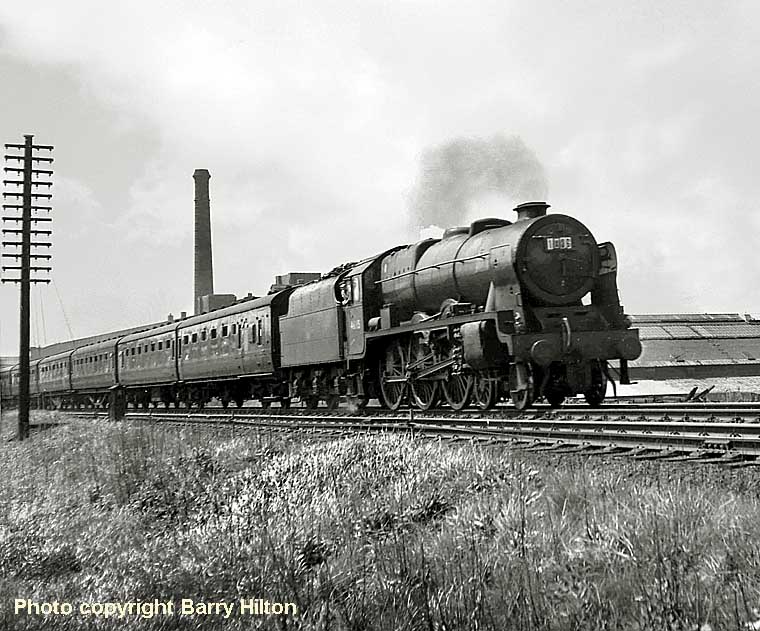 (Above) 'Royal Scot' class No 46115 Scots Guardsman is on a Manchester Exchange to Bridlington Party Special for Co-op Travel on 1st June 1963. Following withdrawal from traffic in January 1966 No 46115 languished for many years awaiting a decision on its future; now fully restored to working order the loco has become a major attraction on steam specials throughout the UK, including the Settle-Carlisle route...Barry Hilton's photo featuring No 46115 working a special on the northern ascent to Ais Gill summit appears further up the page.

(Below) There are some cracking railway websites on the Internet, but the most interesting ones (for me) are the railwayana auction sites, the wealth of research that goes into describing each lot is quite remarkable! One of the best on the web is the excellent Great Central Auctions (www.grcauctions.com). Here we have a locomotive nameplate 'The Green Howards' measuring 51½" long, complete with a replacement brass badge, which was produced from a cast of the only known surviving original badge. The nameplate came from the LMS Royal Scot Class 4-6-0 No 6133, built by the North British Locomotive Co (Works No 23628) in 1927. Originally named 'Vulcan' (after the loco built for the Liverpool & Manchester Railway in 1831) it was renamed in May 1936 after the renowned North Yorkshire based Regiment. Now it would be wrong to skimp over the Regiment's proud history, however with the help of the Internet I can direct you to the Green Howards Regimental Museum's website here - the museum is located in the old Trinity Church in the centre of the market place in Richmond, North Yorkshire. However, returning to details of the loco...6133 (later BR 46133) was allocated new to Polmadie in September 1927, its later sheds included Crewe North, Carlisle Upperby, Holbeck, Kentish Town and Newton Heath, from where it was withdrawn on 21 February 1963 and cut up at Crewe Works in May 1963. Click here to visit the fascinating GCR Auctions website for the October 2013 auction...a visit is highly recommended.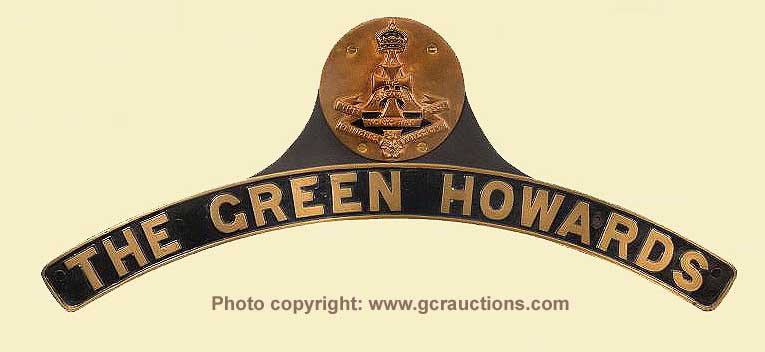 (Inset Right-Below) This is the cover of No 5 in the ABC Locomotive Series booklets series - 'My Best Railway Photographs' published by Ian Allan Ltd - and shows Canon Eric Treacy's shot of 'Patriot' class No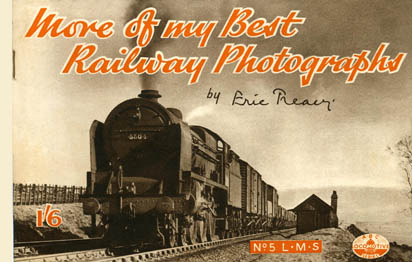 5504 Royal Signals making heavy weather with a northbound freight on the climb to Shap Summit in 1947. This was the second book he did in the series, in which this photo (below) appears.
In Canon Eric Treacy's introduction, he describes some of his experiences as a railway photographer during 1947, including his visit to Marley Junction on June 28th.
He writes - 'A sweltering afternoon. The section of line I had chosen runs beside a sewerage farm, and - to be quite frank - it stank! Every train was a disappointment: the engines were filthy, the weather was too hot for exhaust, and there was a dreary lack of variety - one class '5' after another. But there came a hail from Scotty Boyle in the near-by signal box: 'What about a cup of tea?' While the kettle boiled we chatted together and found that we were neighbours in the Normandy battle for Caen.
Before becoming a signalman he was a bus driver; now his only complaint about his present job was that ever-present sewage farm. Soon I was drinking as good cup of tea as ever came out of a pot. Then with a roar came into sight the 9.55am St Pancras to Glasgow and with a beautifully clean locomotive working hard and making much smoke. It was No 6133 Green Howards, a re-built 'Scot' on which much elbow grease had been expended...'
Okay, it is hardly edifying stuff but it does give you a measure of the great man; indeed in the first paragraph of the booklet he writes: 'However adept I may or may not be at composing sermons, extensive searching of the heart over a period of weeks have failed to produce any new and significant thoughts with which to introduce this fresh collection of photographs...'
It gladdens me to know that I'm not the only one straining to find something to say in captions!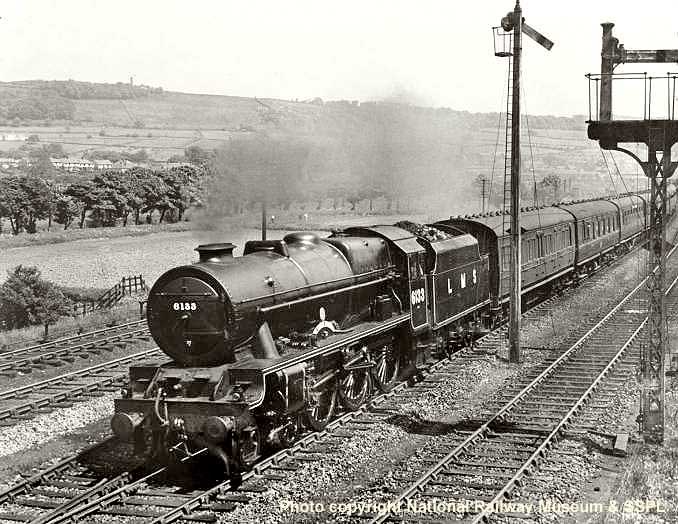 (Above-Below) Rebuilt 'Royal Scot' class 46133 The Green Howards heads the 9.55am St Pancras-Glasgow at Marley Junction near Keighley on June 28th 1947. (Below) Royal Scot class No 6108 Seaforth Highlanders makes a spirited start from Carlisle with a northbound express in 1947. Both locomotives carry the black livery with straw lining adopted by the LMS during the Second World War to reduce the cost of regular cleaning. The photos are reproduced courtesy of the NRM's archives. The National Railway Museum in York has a collection of 1¾ million photos covering the history of Britain's railways from 1850 to the present day. The NRM's archives are currently being digitalised to make them available to a wider audience and preserve them for the future - a visit to the 'Euston Collection' here is also highly recommended.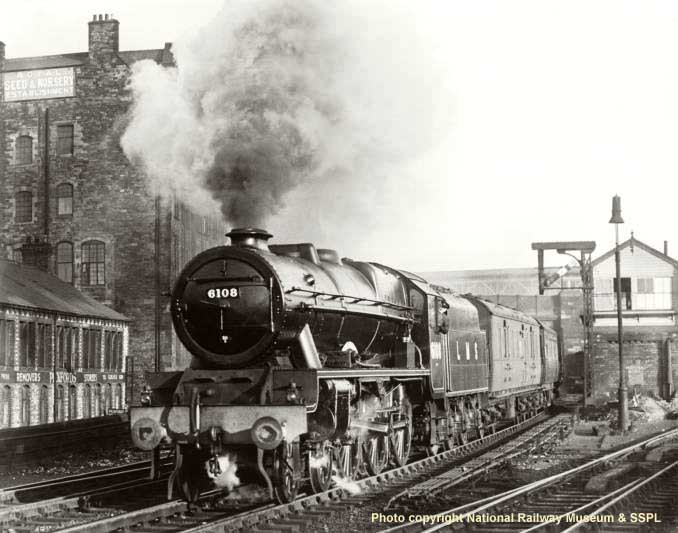 AROUND THE REGION - 3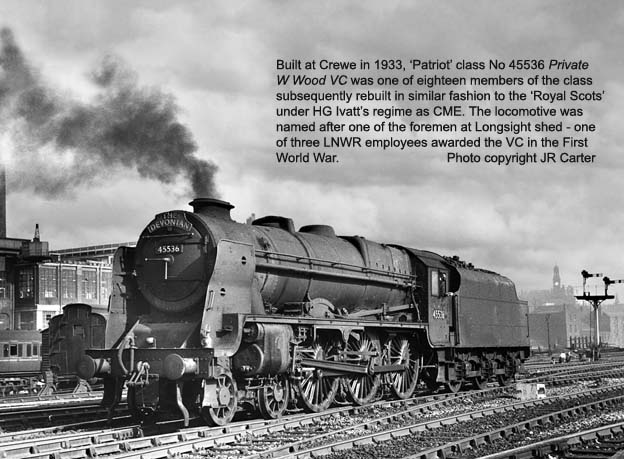 (Above-Inset Right) Rebuilt 'Patriot' 45536 Private W Wood VC is backing down to Leeds station from Holbeck shed in readiness to work the 'up' Devonian'. (Inset) It was a fifty-fifty decision on whether to feature this headboard on the 'BR Western Region' page or here, but in the end it was decided to use it on both pages. After all 'The Devonian' was an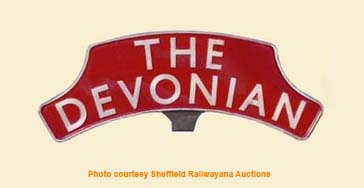 inter-regional titled train that originated in 1927 and initially applied to the Bradford-Torquay and Paignton section of through coaches, handed over by the LMS to the GWR at Bristol Temple Meads. Following the LMS Midland Division accelerations of 1937 the train departed Bradford at 10:25am arriving Torquay at 6:44pm and Paignton at 6:51pm.
The northbound train left Paignton at 9:15am arriving Bradford at 5:54pm. The service came to an end at the outbreak of World War 2, but was restored in October 1946, albeit with an increased journey time. This was not improved upon until the introduction of diesel haulage and the journey time was reduced to just over 8 hours. Latterly a Restaurant Car service was provided between Leeds and Paignton.
On 10th September 2011, a cast aluminium BR(M) 'Devonian' headboard measuring 36" x 12½" was sold at Sheffield Railwayana Auctions for £4,500. For serious students of Britain's railway history the various auction catalogues provide some fascinating background details on the items for sale. For example, the back metal of the 'Devonian' headboard was stamped with the legend 'Train Name Board W786 26-4-49'. Similar inscriptions applied to the names of other headboards produced to the same dimensions, such as: 'The Red Rose', 'The Red Dragon', 'The Bristolian' and the 'Inter-City'. The back was also stamped with the word 'Bristol' indicating the owning depot. Click here to visit the interesting Sheffield Railwayana website.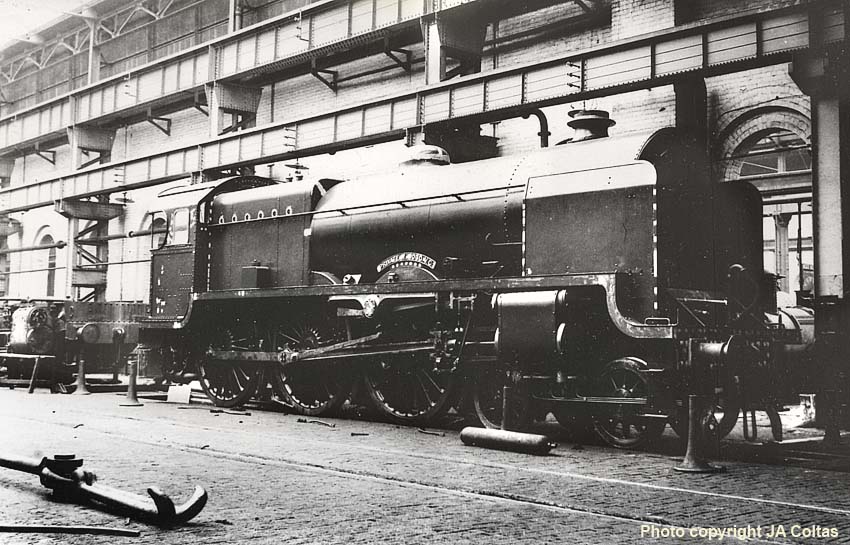 (Above-Left) Fowler three-cylinder 'Patriot' class 6P 4-6-0 No 6018 (later 5536 and then 45536 in BR days) carries the nameplate 'Private W Wood VC' whilst under construction at Crewe Works in 1933. (Inset Left) A locomotive nameplate 'Private E Sykes VC' as carried by the Fowler 3-cylinder LMS 'Patriot' No 45537 went under the hammer for £10,200 at a Sheffield Railwayana Auction held at the Gateway Centre, Derbyshire County Cricket Club, in March 2012. Built at Crewe in July 1933 the loco was originally

numbered 6015 and then 5537 (later BR 45537). During BR days the loco was allocated to Preston, Carlisle Upperby, Rugby and finally Nuneaton from where it was withdrawn in June 1962. Ernest Sykes was an employee of the LNWR/LMS and undertook various jobs on the railway including platelayer, ticket collector and guard. He became a member of the 27th (S) Battalion Northumberland Fusiliers and was awarded the VC in 1917 for conspicuous bravery and devotion to duty in France. He died on 3 August 1949 aged 64. Only two VC holders were commemorated by the LMS in the naming of locomotives - Private E Sykes VC and Private W Wood VC. One example of each cast brass plate was presented by British Railways to Alnwick Castle where they can still be seen. The second sides were presented to the families of the men concerned. Private W Wood VC is still owned by the family, but Private E Sykes VC was eventually sold and it is this example that was auctioned at the Gateway Centre. This name was originally borne by a Claughton 4-6-0 LMS No 5976.

(Below) During the Fifties, British Railways made great strides with the introduction of named trains and the fitting of headboards to locomotives. The standard pattern keystone-shaped headboards had polished Gill Sans lettering mounted on a black background (later red was adopted by the LMR and blue by the ER). By 1956, however, the LMR took full advantage of BR's leniency towards the uniformity of designs and came up with the distinctive 'Royal Scot' and 'Caledonian' headboards.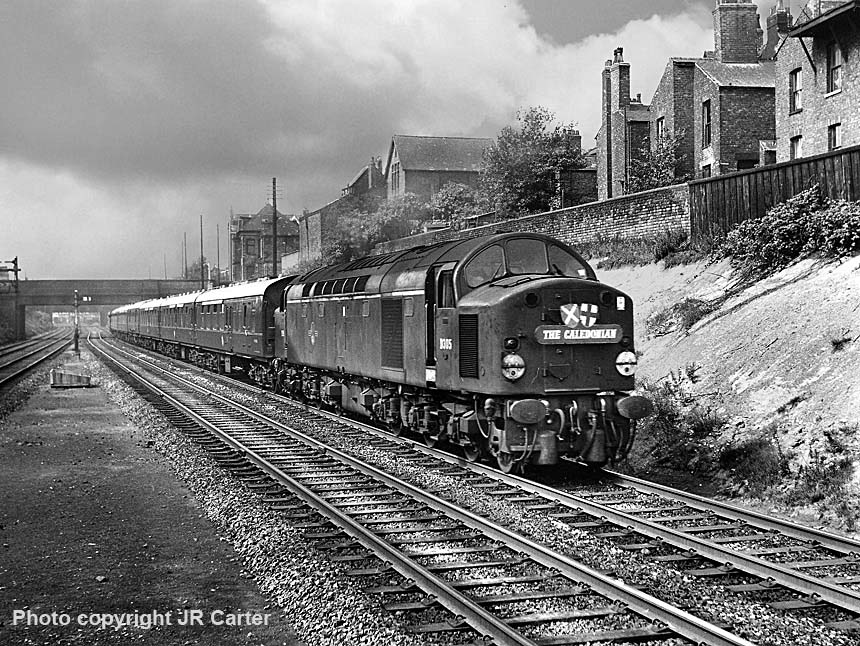 (Above) EE Type D305 heads through Eccles station with the diverted southbound 'Caledonian' due to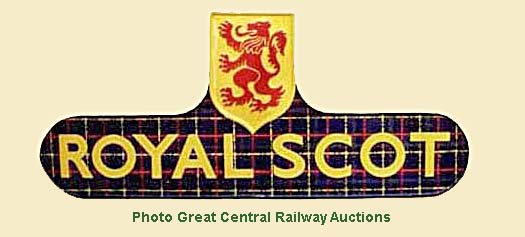 closure of the WCML following a collison at Warrington in August 1962...modellers: note the white roofs of the coaching stock. The Anglo-Scottish 'Caledonian' appeared in the timetable on 17th June 1957, as successor to the 'Coronation Scot', which was withdrawn at the outbreak of war and not restored. Although headboards were designed for steam locomotives, they sat just as well on the nose of the EE Type 4 diesels.
(Left) A cast aluminium locomotive headboard 'Royal Scot' measuring 69" x 25½", with yellow lettering on a tartan background crowned by a heraldic shield displaying a red lion rampart from the Royal Banner of Scotland, sold for £6,400 at GCR Auctions on 25th April 2009.



(Right) This extravagant 'Caledonian' locomotive headboard was used on the Anglo-Scottish express train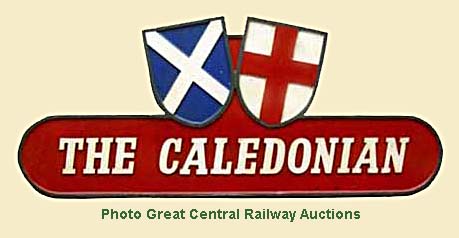 introduced in June 1957 between Euston and Glasgow. The service ran until September 1964. This ex-loco condition headboard measures 59" long crowned by a pair of heraldic shields displaying the white sulture representing St Andrew, the patron saint of Scotland and and the cross of St George, the patron saint of England. This lot sold for £4,000 at Great Central Railwayana Auctions on 18th July 2009. Click here to visit the GCR Auction website. Irish Mail' is the oldest named train in the world; it ran between London Euston and Holyhead to connect with sailings to Dublin. The first Irish Mail train left Euston Station at 8.45pm on 1st August 1848 and was timed to arrive at Holyhead at 6.45 the following morning. Here 'Royal Scot' class No 46134 The Cheshire Regiment heads the northbound 'Irish Mail' in June 1954...wrong! I have been contacted by Vic Smith Smith, who writes - 'This cannot be June 1954...the loco was not fitted with AWS until later than May 1958; it also appears to be carrying OHL warning flashes...' Thanks Vic.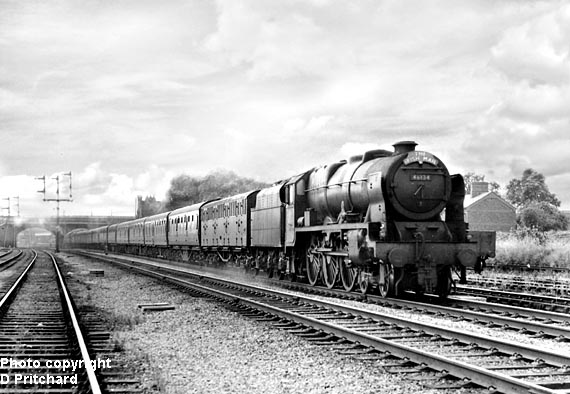 (Right-Below Left) The LMS was keen to publicise the Anglo-Irish service and several posters were published featuring the 'Irish Mail' express at various points along the North Wales Coast Line.
I've picked this railway poster (right) illustrated by Norman Wilkinson, as it shows a panoramic view of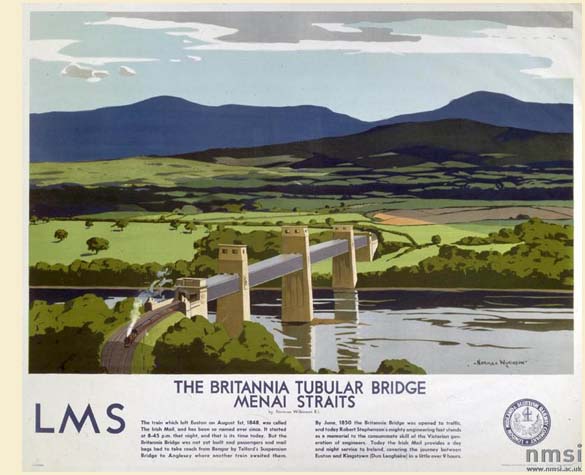 Robert Stephenson's famous tubular Britannia Bridge spanning the Menai Straits which links the Welsh mainland with the Isle of Anglesey. The publicity blurb beneath the picture states - 'The train left Euston on 1st August 1848, was called The Irish Mail, and has been named ever since. It started at 8.45pm that night, and that is its time today. But the Britannia Bridge was not yet built and passengers and mail bags had to take a coach from Bangor by Telford's Suspension Bridge to Anglesey where another train awaited them. By June 1850 the Britannia Bridge was opened to traffic and today Robert Stephenson's mighty engineering feat stands as a memorial to the consummate skill of the Victorian generation of engineers. Today the Irish Mail provides a day and night service to Ireland, covering the journey between Euston and Kingstown (Dun Laoghaire) in a little over 9 hours.'
I do like Norman Wilkinson's freestyle painting technique, though it's a shame he wasn't abke to incorporate Thomas Telford's elegant road suspension bridge in the composition - it was the world's first modern suspension bridge built in 1826.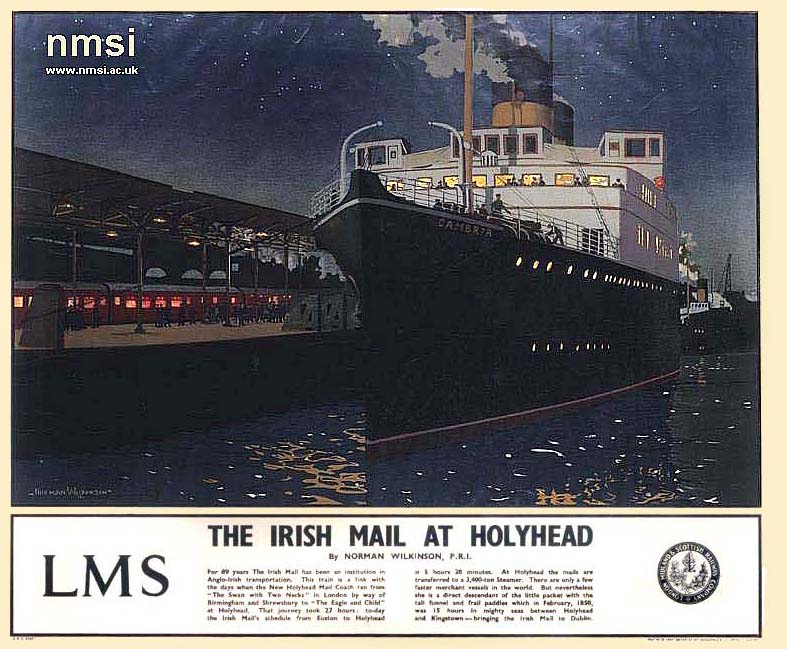 British artist, Norman Wilkinson RI (1878-1971) studied at Portsmouth and Southsea Schools of Art. He began his career as an illustrator with the Illustrated London News and went on to design posters for the LNWR, LMS and SR. His flamboyant style appeared on many London Midland & Scottish Railway posters, including this one (left) 'The Irish Mail at Holyhead' about 1925.
The artist has composed a night scene of Holyhead harbour showing the SS Cambria in dock and a boat train waiting at the platform alongside, with passengers and bystanders standing on the quay.
The very interesting text beneath the picture reads - 'For 89 years the Irish Mail has been an institution in Anglo-Irish transportation. This train is a link with the days when the new Holyhead Mail Coach ran from 'The Swan with Two Necks' in London by way of Birmingham and Shrewsbury to 'The Eagle and Child' at Holyhead. That journey took 27 hrs and today the Irish Mail's schedule from Euston to Holyhead is 5hrs 20mins. At Holyhead the mails are transferred to a 3,400-ton steamer. There are only a few faster merchant vessels in the world. But nevertheless, she is a direct descendant of the little packet with the tall funnel and frail paddles which in February 1850 was 15 hrs in mighty seas between Holyhead and Kingstown bringing the Irish Mail to Dublin'. There are dozens of fabulous posters by Norman Wilkinson to be found on the excellent NMSI Collections Online...a visit is highly recommended.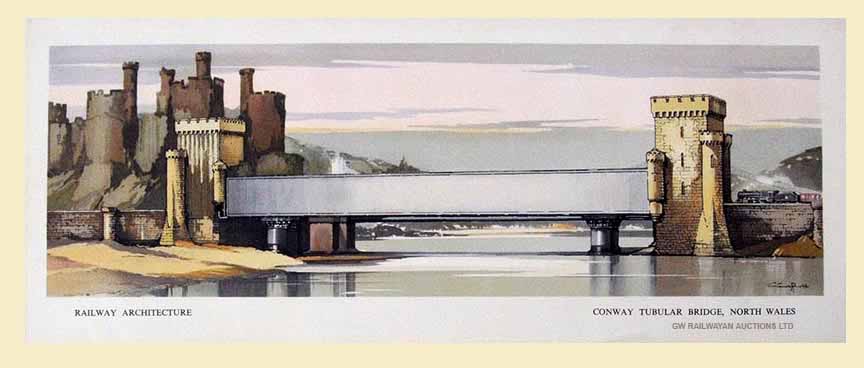 (Above-Below) A pair of carriage prints featuring the Britannia Tubular Bridge by Kenneth Steel, and the Conway Tubular Bridge by Claude Buckle, recently went under the hammer at the world famous specialist railwayana and transport auctioneers, Great Western Railwayana Auctions (GWRA) Ltd. Both prints were part of the LMR Railway Architecture Series. Established over 21-years ago the GWRA is the longest established railwayana auction house still under the same ownership. Click HERE to visit the GWRA's excellent website...highly recommended.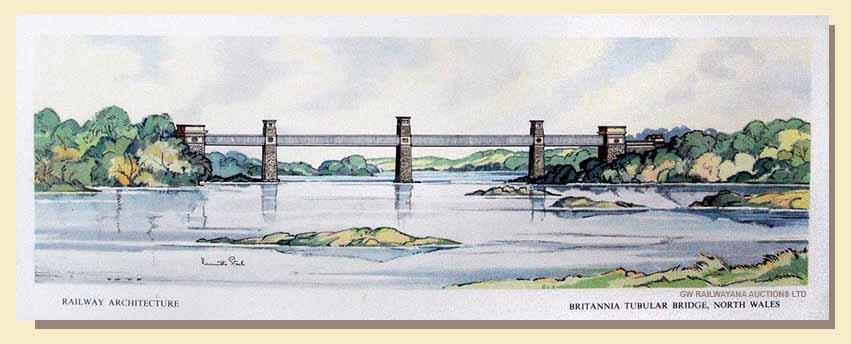 (Below) In 1970 a disastrous fire gutted the tubular railway bridge and the structure was rebuilt as a two-tier steel box girder and arch bridge with the A55 main road to Anglesey on the upper deck. Today the last surviving example of Robert Stephenson's wrought iron tubular bridge design is the railway bridge at Conwy which runs in parallel to Thomas Telford's elegant Conwy Suspension Bridge. These shots were taken during a cycling tour of North Wales during the late 1960s.
THE STANIER PACIFICS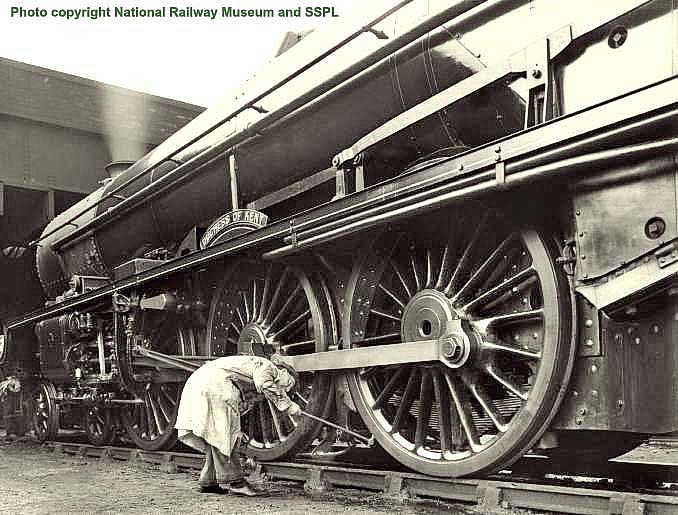 (Above-Below) This low level shot accentuates the 6ft 6ins driving wheels of London, Midland & Scottish Railway 'Princess Royal' class No 6212 Duchess of Kent circa 1936. The wheel Tapper is hitting the locomotive's driving wheels with a long hammer in order to detect any flaws or cracks from the sound it made. The inspector was also responsible for checking the brakes and couplings. (Below) Pure Boys Own stuff! The driver of the Princess Royal class 4-6-2 No 6204 Princess Louise is showing the motion to a young boy circa 1938. The boy is holding a Bassett Lowke '0' gauge model locomotive of the same class, No 6201 Princess Elizabeth. By the 1920s model railways, powered by clockwork or electric motors, were very popular. Manufacturers such as Bassett Lowke, Hornby and Bonds made model locomotives and carriages which were approved by children and adults alike. These photos are released under the Creative Commons Attribution-NonCommercial-ShareAlike licence. In a nutshell, this means they free for any non-commercial use as long as you credit '© National Railway Museum and SSPL' and add a link to the page of origin, in this case the NRM's 'Crewe Collection' HERE.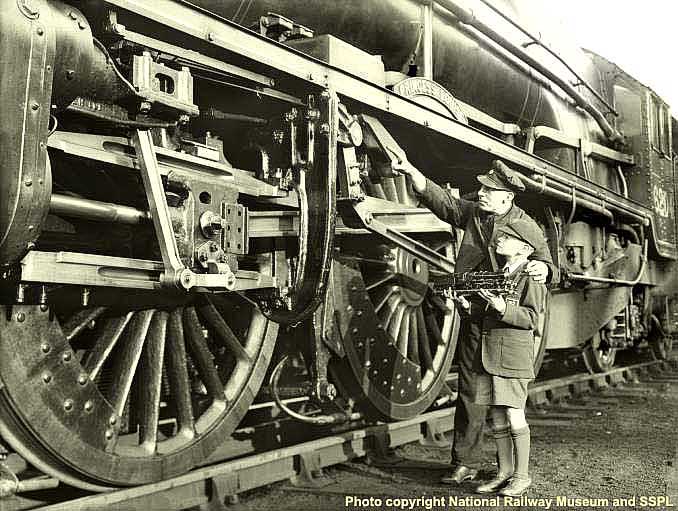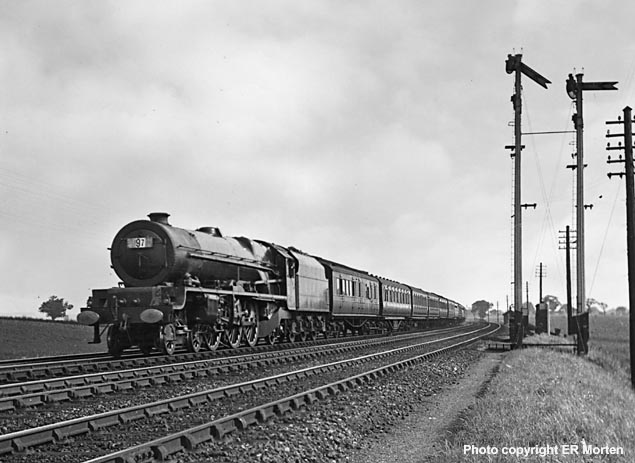 (Above-Below) Few British express trains have a more varied history than the LMSR's 'Midday Scot'. Inaugurated in 1891, the afternoon service between Euston, Edinburgh and Glasgow became the first Anglo-Scottish train composed entirely of corridor stock. By 1936, the 'down' train was comprised of never less than 14 bogies of 445 tons which required haulage by one of the Class 8P Stanier Pacifics throughout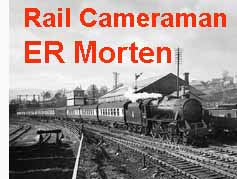 the 401 miles without change between Euston and Glasgow. It was one of the most exacting schedules in LMSR history. Two superb shots by master cameraman ER Morten - above: Stanier's 'Lizzie' No 6210 Lady Patricia heads the northbound train through Chorlton on the last leg of its initial 158-mile non-stop run from Euston to Crewe in August 1936. (Below) Fast-forward 21 years, and Mr Morten captures No 46209 Princess Beatrice heading the northbound 'Mid-Day Scot' at Whitmore on 23rd July 1957. (Inset Right) Of interest to LMR enthusiasts, ER Morten's 'Rail Cameraman' page covering the Peak Forest route between Ambergate and Chinley. Click on photo of 'Black 5' at Matlock to visit ER Morten's page.
STEAM DAYS AT CASTLETON IN THE 1960s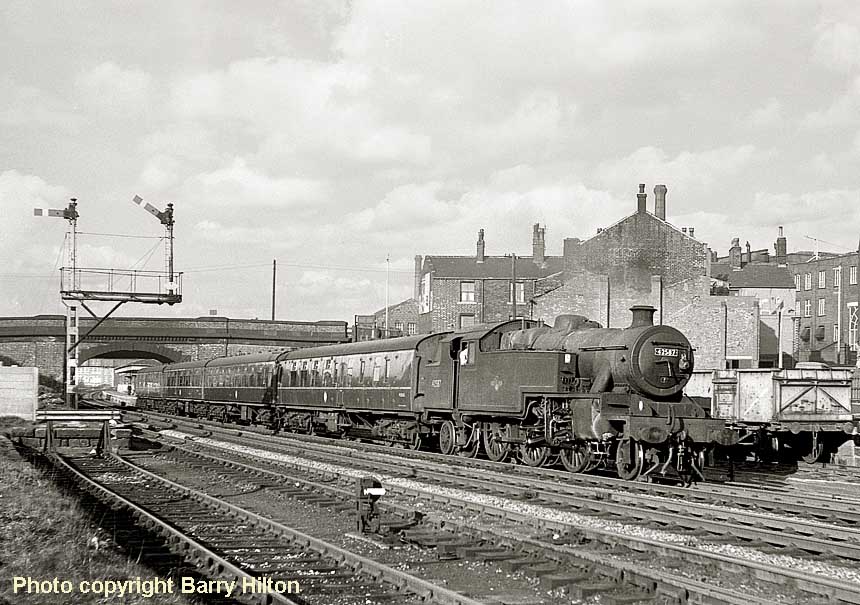 (Above-Below) Having spent some time in Nottinghamshire, Stanier 3-cylinder 2-6-4T No 42587 was transferred from Kirby-in-Ashfield (16E) to Wigan (8F) in 1963 and became a frequent visitor on the Wigan to Rochdale trains. It can be seen held at Castleton East Junction signals, awaiting signals for the Bury line doubtless due to a northbound express from Manchester taking priority. (Below) With the right away signalled for the Bury branch, No 42587 restarts its train. This engine later transferred to Low Moor (56F) and was regularly used on the Mytholmroyd to Rochdale day-old chick trains.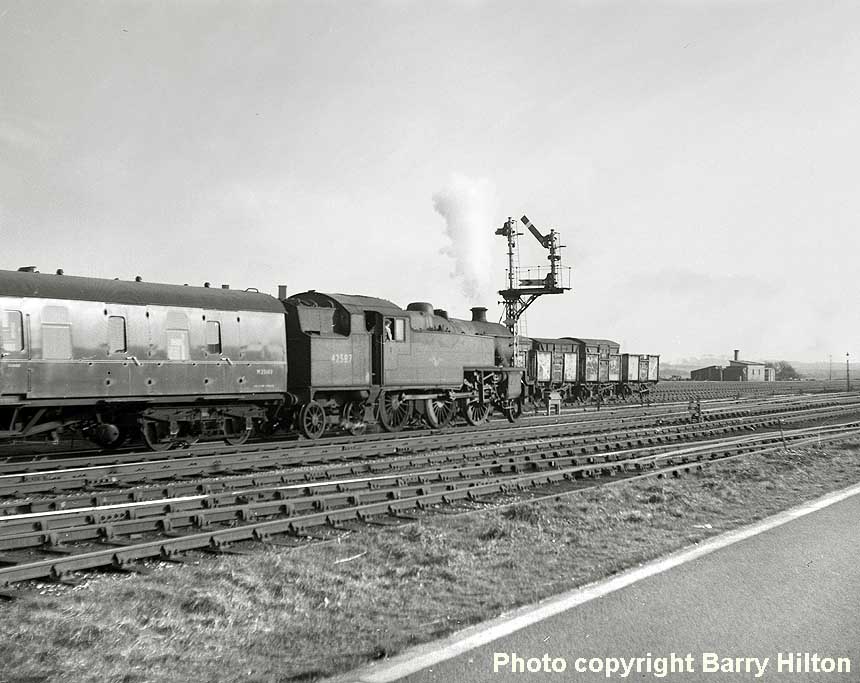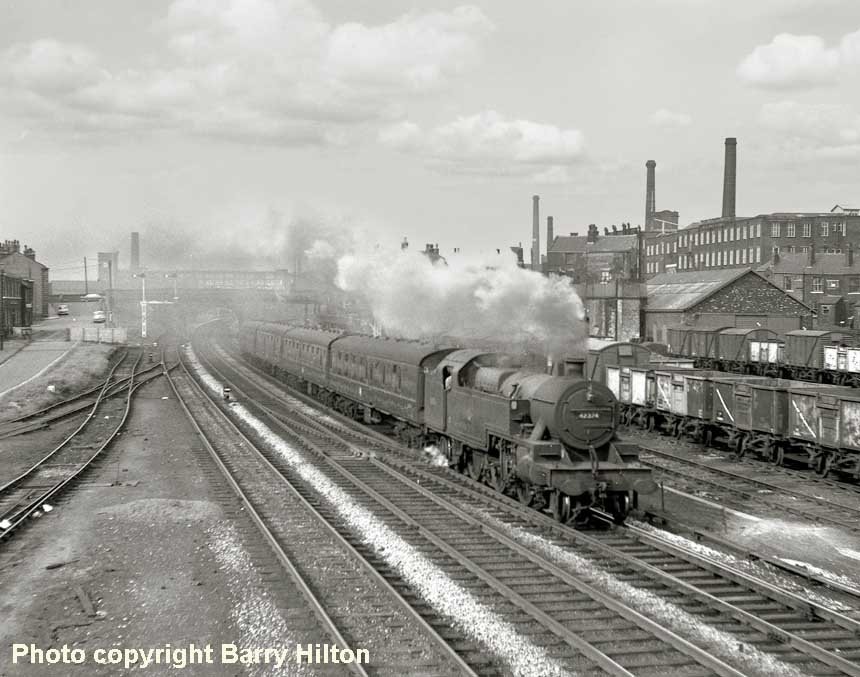 (Above-Below) Parallel boilered Fowler 2-6-4T No 42374 was previously a (9B) Stockport engine before its transfer to Wigan L&Y then Southport. Both this train and 42587 above it was the 4.25pm Rochdale to Southport. (Below) 'Jubilee' class No 45590 Travancore and an unidentified Stanier 5MT head the evening Scotswood to Redbank empty Newspaper train whilst a Metro-Cammell DMU slows for the Castleton stop on the local service to Rochdale. The tracks on the left feed the north facing loop and the Castleton PW Yard head shunt can be seen. In the background is the Manchester Road bridge and beyond that the Dunlop Mills which features predominantly in the Gypsy Lane Bridge photographs ealier on this page.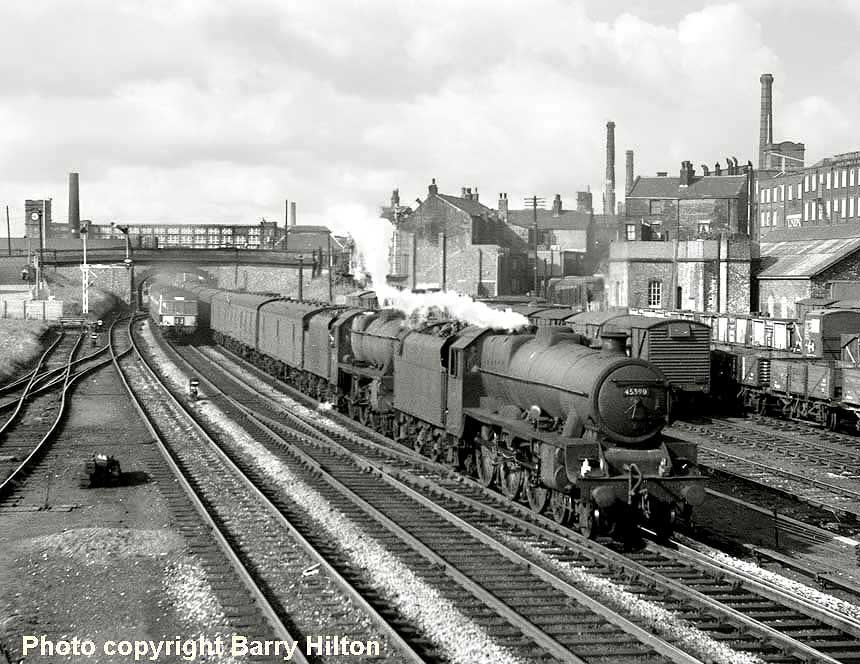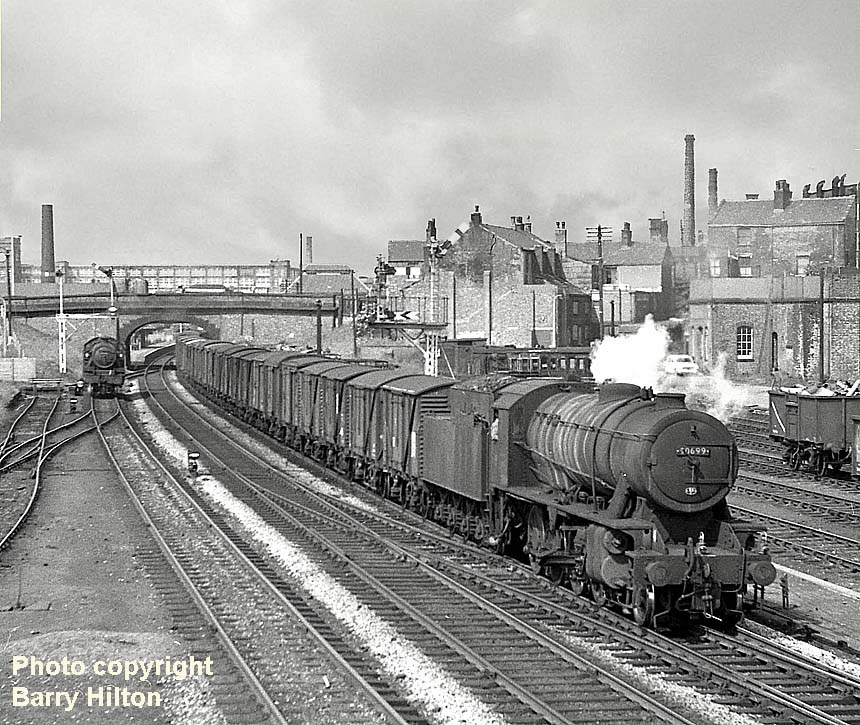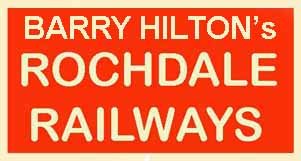 (Above) The semaphore signal indicates that WD Austerity No 90699 is heading the van train for the Manchester area. Then listed as a Farnley Junction (55C) engine suggests the train originated in the Leeds area. A Stanier 2-6-4T waits its turn in the loop as the signals above indicate a train is due from the south. It has probably been turned on the Castleton triangle and will head back to Rochdale to work a return train west. It could possibly be 42587 depicted above. Click here to see Barry Hilton's 'Rail Cameraman' page featuring 'Railways Around Rochdale'.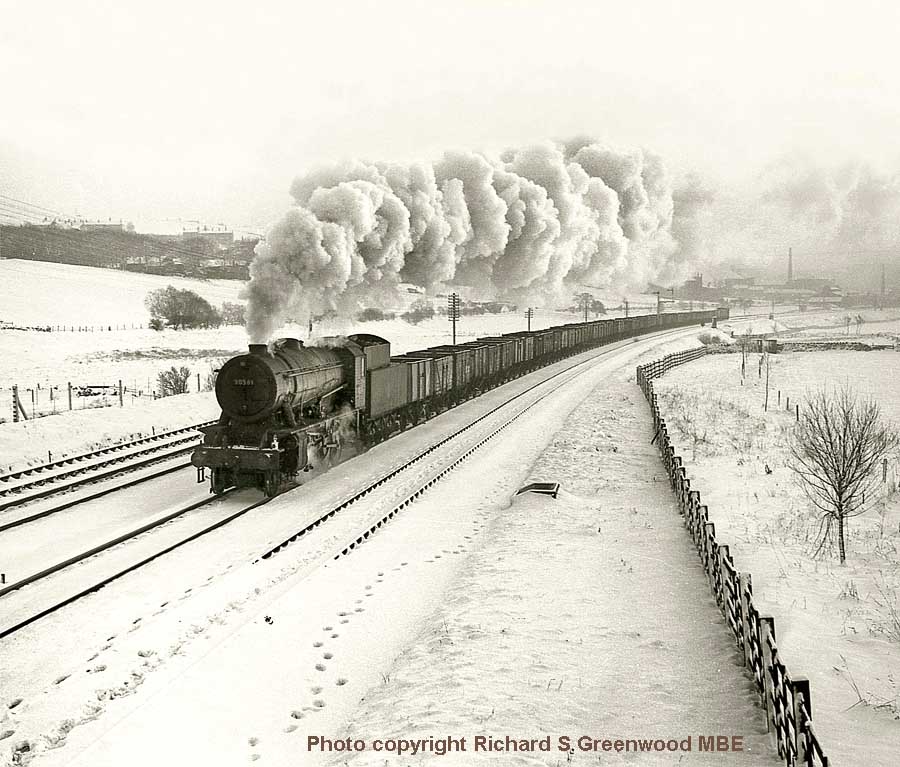 (Above) Staying with WD-hauled freight for the moment, on his 'Rail Cameraman' page 53 'Up North in Colour', Richard S Greenwood writes - 'The bulk of the freight crossing the Pennines in steam days was coal: coal for factories, coal for electricity power stations, coal for Gas Works, coal for Steam Loco Depots and coal for household fires. The LYR moved it in trains hauled by 0-8-0s - the large boiler variety being nicknamed 'Lanky Bombers' - but these were replaced by the Fowler 0-8-0s 'Austin Sevens' which were themselves quickly replaced in the late 1940s by a large fleet of WD 2-8-0s. Here No 90561 climbs to Summit West with empty coal wagons in the late afternoon of 1st January 1962. By the mid-Sixties the WDs succumbed to Stanier 8F 2-8-0s and later of course the EE Type 4 diesels (Class 40s).

UK MARSHALLING YARD PHOTOS SOUGHT...I have recently been contacted by Michael Rhodes, who is seeking images to revise his 1988 marshalling yard book - 'The Illustrated History of British Marshalling Yards'. The yard images he is short of are as followed… NE - Shildon (pre-1935), Erimus, Hull Inward,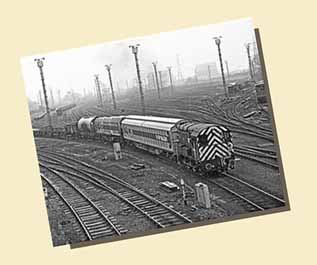 Dringhouses hump in action; EASTERN - Colwick, Dunford Bridge, humps working at Worksop, Warsop, Barrow Hill; LM - Edge Hill Gridiron, Chaddesden, Basford hall, Mottram; SOUTHERN - Feltham; WESTERN - Hump working at Swansea Burrows and Llandeilo Junction; SCOTLAND - Cadder and Alloa.
He adds - 'A bit of a rag tag mixture and all somewhat hard to find, but it would be really nice to update the 1988 book with a really definitive guide to all the yards in the UK. If you are able to supply any pictures of the above then I will pay a reproduction fee of £10 per picture, plus a copy of the book when I finish it. Any help will be most welcome. With kind regards, Michael…'
Michael's contact email address is mr@lapsurgeon.co.uk Please note this is not a click-on link via Outlook Express. You will have to email manually

(Below) Richard Greenwood's 'Rail Cameraman' page here is dedicated in part to Rochdale's railway history, including many shots in glorious colour of the various locomotive classes that visited the area. Bradford Low Moor shed (56F) on the North Eastern Region had a small allocation of Ivatt Class 2 2-6-2Ts and in 1962 they appeared on the evening parcels at Rochdale station from Yorkshire. Here No 41250 has just emerged from Summit tunnel. The bridge immediately behind the train is an aqueduct carrying the infant River Roch, and beyond the A6033 road bridge the line enters Summit Tunnel, 2885 yards long and the longest in the world when opened in 1842.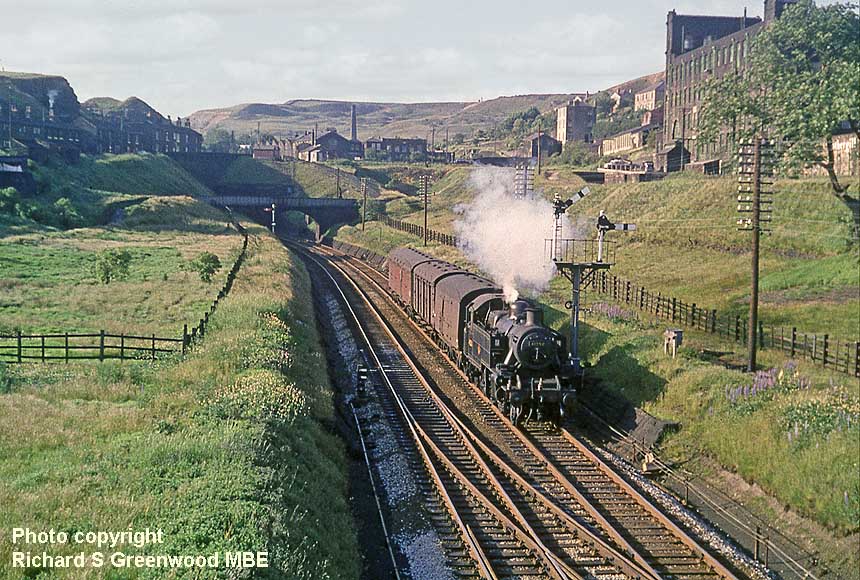 THANK GOODNESS FOR THE PRESERVATION MOVEMENT!

The following photos show the sterling work that goes into preserving our national heritage. The fact that almost 400 ex-BR steam locomotives have survived the 1968 holocaust is a remarkable achievement. Here is a selection of ex-LMS locos that have found a new lease of life.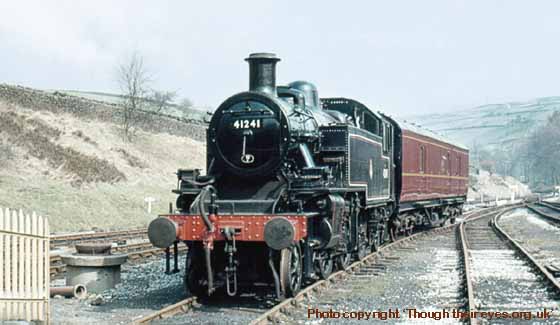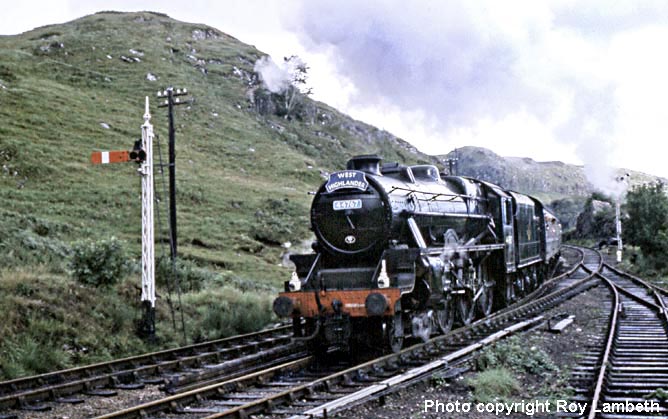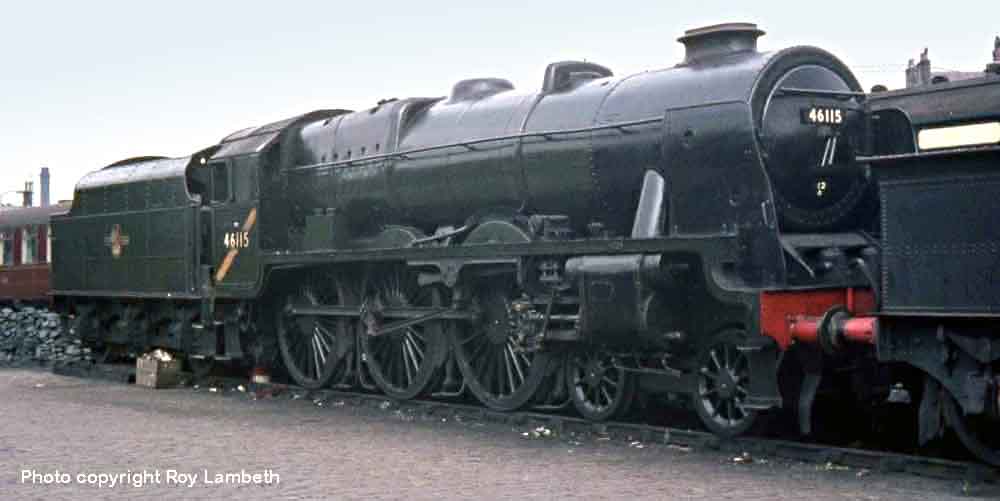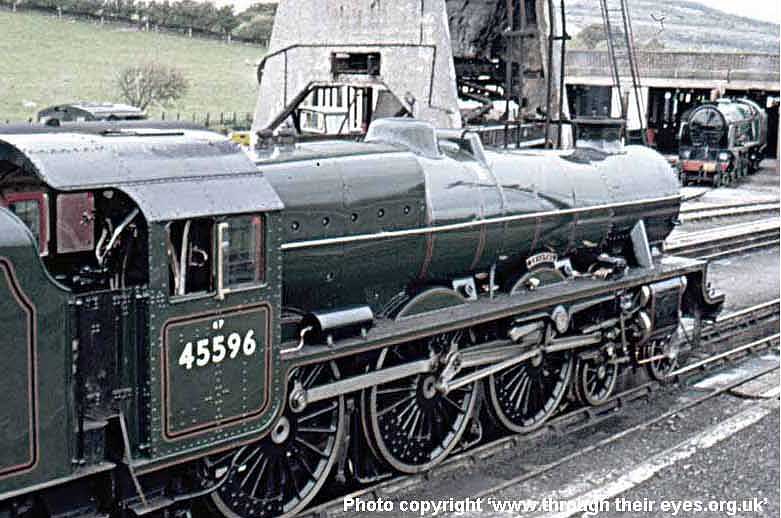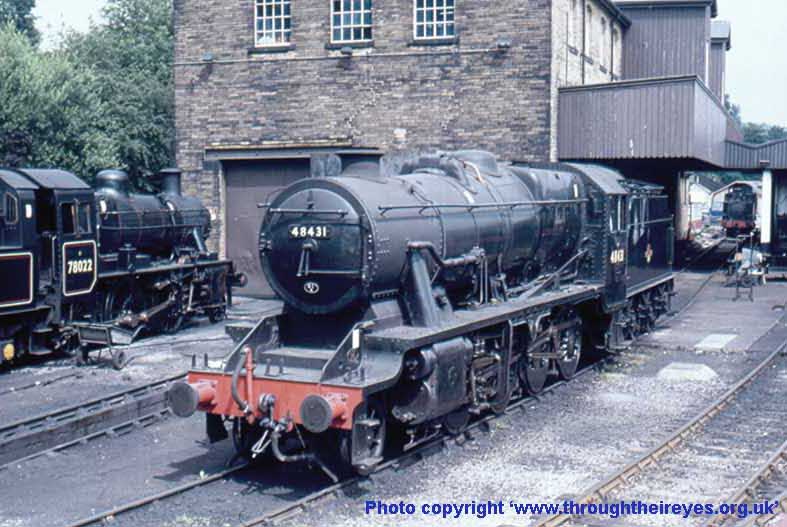 THE MISSING LINK.
The aim of the 'LMS-PATRIOT PROJECT' is to build a new 'Patriot' class steam locomotive to be completed in time for the 100th Anniversary of the Armistice in 2018. The new engine will be named 'The Unknown Warrior' upholding the tradition of former railway companies (in this case, the LNWR and LMS) who bestowed war memorial names on engines to commemorate the brave men and women who served the country in wartime. Click here to visit the site. The ER Morten photo gallery below is dedicated to the LMS-Patriot Project's praiseworthy efforts...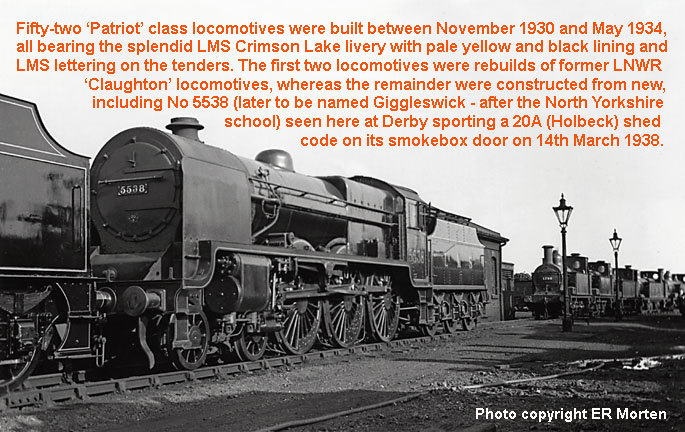 (Above-Below) 'Patriot' class No 45505 The Royal Ordnance Corps climbs the gradient from Warrington Bank Quay to cross the Manchester Ship Canal at Acton Grange. (Below) By 1945, the Class 6P5F 'Patriots' were becoming a little underpowered for the increased loading of traffic, and HG Ivatt rebuilt eighteen of them with the larger Stanier tapered boiler, new cylinders, double chimneys and blastpipes in a similar fashion to the 'Royal Scot' Class 7P. The subtle front end differences can be seen in this Jim Carter shot of 'Royal Scot' class No 46163 Civil Service Rifleman and 'Patriot' class No 45527 Southport standing side by side at the east end of Bangor station - none of the 'Patriots' have survived in preservation.
LMS 'JUBILEE' CLASS LOCOCOMOTIVES
(Above-Below) In providing a stud for express passenger services, Stanier set about the design of a 3-cylinder 4-6-0 class which was built concurrently with the 'Black 5' mixed traffic locomotives. The result was the 'Jubilees', based on the 'Patriots', except for a tapered boiler which Stanier imported from GWR practice at Swindon. No 45564 New South Wales was photographed inside the roundhouse at Derby. (Below) 5602 is released from the platform at St Pancras. Photos © EA Wood-D Hey collection. Click here for link to Simon Robinson's excellent LMS 'Jubilee' website.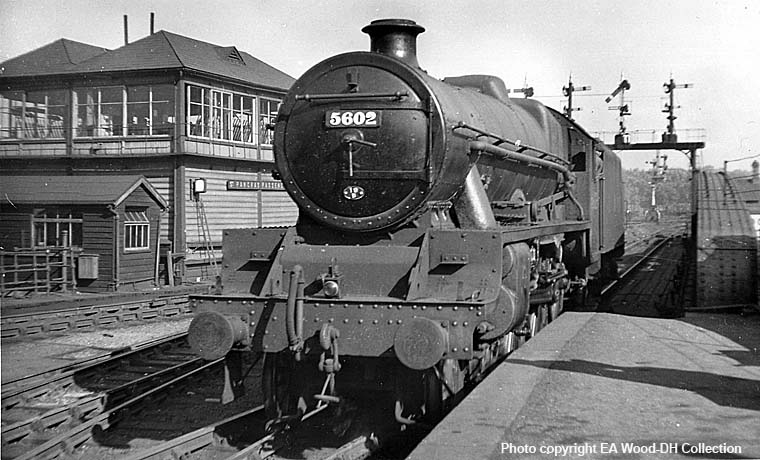 STEAM-DIESEL SHUNTING LOCOMOTIVES
(Below) In 1929, an interesting survey by the LMSR revealed that more than half the company's freight engine hours were taken up by shunting locomotives and, in order to effect some economies, a study was made into the possible types of shunting engine which could be used to replace steam. Out of all the types considered - petrol engined; light sentinel, and diesel with mechanical and electrical transmissions - it was recommended that a small batch be purchased for evaluation. In 1932, contracts were placed for nine shunters, made up of eight with mechanical transmission and one electrical. The tests proved that an engine of 300-350hp would be required for intensive yard shunting, and transmission should be more automatic to avoid gear changing and consequent mishandling by crewmen. Introduced in 1952, the fleet of BR Class DEJ4 0-6-0 diesel shunters was equipped with the trusty English Electric Co Type 6KT six-cylinder 400hp engines. These tough and reliable machines were to form the basis of BRs shunting locomotive fleet (TOPS Class 08) which led to a total of 1,193 eventually being built. Here No 13050 (later D3050) heads a motley collection of wagons into Basford Hall yard at Crewe in September 1954. On the right, 'Jubilee' class No 45722 Defence awaits a clear road with a mixed freight. Photo © GEC-Alstom
(Above-Top) A pair of dinky-sized 'old timers' rest between duties at Bank Hall shed, Liverpool, in July 1957 - the oldest being No 51237; one of Aspinall's saddle tank designs, introduced in 1891 for the Lancashire & Yorkshire Railway and designated Class 21. Note the wooden blocks on the buffer beam, the spark protector over the chimney and the covered-in slide bar (added for dock shunting purposes). On the right is another saddle tank variety, No 47002, one of two 0-4-0STs based at Bank Hall shed. Built by Messrs Kitson in 1932, the first five were numbered 47000-4 in the fleet, whereas Nos 47005-9 followed in 1953 and had a tractive effort of 14,200lb, compared to 11,335lb of Aspinall's saddle tank - both locos being classified as '0F'. (Above) The first preserved loco to arrive on the K&WVR on 1st July 1965 was Aspinall's L&Y 0-4-0ST No 51218, seen here basking in the sunshine at Haworth yard.

(Below) Regular contributor Ray Hindle has been trawling through his old slides and came across this one taken at the former Lytham Motive Power Museum (now defunct) of a steam derrick sometime in the late seventies. Both Ray and I have no idea what happened to it and would be grateful for any information anyone may have…Vic Smith of York dropped a line - 'This is Neilson & Company's 4004 built at Springburn Works in 1890. The locomotive was last reported to be privately owned and kept out of public view at the Engineering Works on the site of the former Lytham Motive Power Museum...'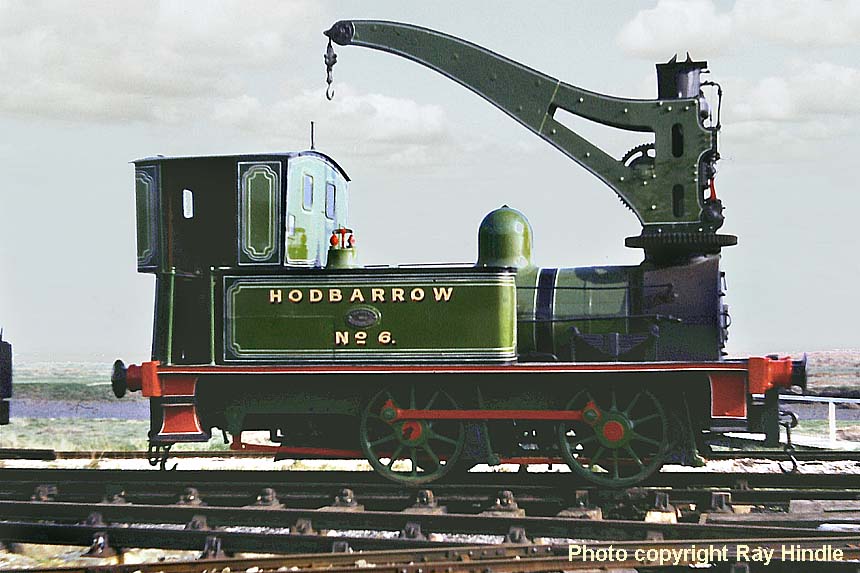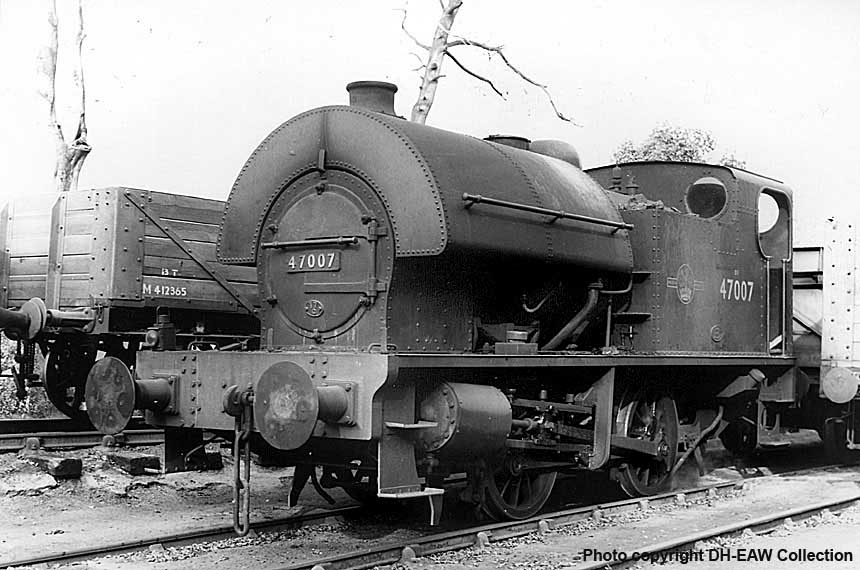 (Above-Below) A total of ten LMS Kitson Class 0F 0-4-0 Saddle Tanks were built between 1932-53. Nos 47000-47004 were built at Kitson's Works, originally numbered 1540-1544 then renumbered 7000-7004 in 1935-36 prior to nationalisation in 1948 when BR prefixed the numbers with a '4'. Nos 47005-47009 were built at BR's Horwich Works between October 1953 and January 1954 with extended side tanks and additional coal space. These were the last new engines of basically LMS design to be built. The 0-4-0ST's were located to Liverpool and Birkenhead docks, the Burton on Trent breweries and the Cromford and High Peak Railway, as seen here with 47007 sporting a 17C (Rowsley) shedplate...this was the first loco in the class to be withdrawn in December 1963. (Below) Another 17C (Rowsley) engine is this weary-looking Class 2F 0-6-0T No 58850 which was photographed at Cromford Wharf. This was the last of the JC Park's North London Railway Class 75 tanks to survive in service (total number 30). Built at Bow Works in 1879 (works number 181) it was used on local trip duties and dock shunting on the NLR's 14-mile line as No 76. After being renumbered 116 in 1891, the NLR became part of the LNWR in 1909 and the loco was renumbered 2650. It later became LMS No 7505 at grouping in 1923 and 27505 in 1934. Renumber 58850 by BR it spent its final years on the celebrated Cromford and High Peak line in Derbyshire performing shunting duties at Cromford and and hauling trains on the notoriously graded Cromford and High Peak line, including the 1 in 14 Hopton incline between Middleton Top and Parsley Hay. No 58850 was withdrawn on 10th September 1960 and after a brief spell at Derby awaiting a decision on it future, eventually found a saviour with the Bluebell Railway in 1962. Click here to visit the Bluebell site.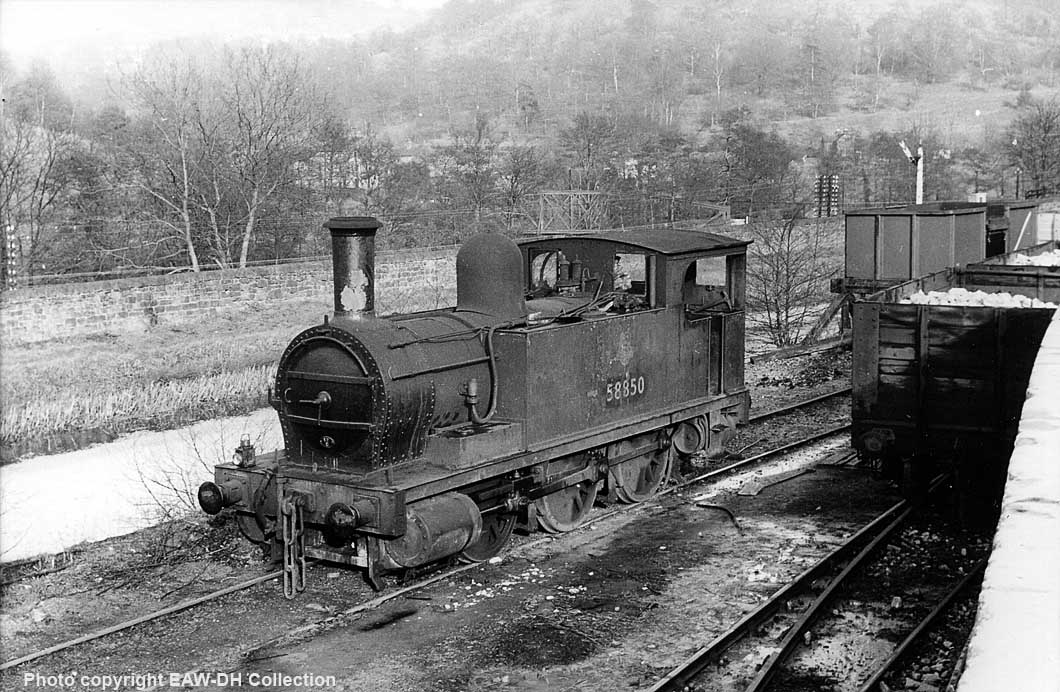 (Below) Introduced in 1960, a total of twenty Yorkshire Engine Co 170hp 0-4-0 diesel-hydraulic shunters were built for use primarily in goods depots and dockland areas which still featured tight curves and small wagon turntables. The rear entrance to the cab was reached by a railed verandah above the buffer beam, which can be seen on No D2866 as it emerges from Salford Yard in July 1963.The diesel shunter's very short wheelbase and similar weight to the L&Y Class 21 0-4-0STs enabled the versatile machines to take over light shunting duties on Mersyside and Manchester. Photo © D Pickup
LMS BEYER GARRATTS
(Above) In 1927 the LMS recognised the need to provide a more powerful locomotive to take over the heavy Toton to Brent coal trains worked by double-headed 0-6-0s. Built by Beyer Peacock of Manchester, the 2-6-6-2 Beyer-Garratt provided a tractive effort of 45,620lb and was essentially two 2-6-0s with one large centrally-placed boiler common to both, the first three being fitted with straight sided coal bunkers. The class was allocated to Toton, but a few were based at Wellingborough and Hasland near Chesterfield. Although the Beyer-Garratt was by far the biggest of the LMS locomotives (length 87ft 10½in) the distribution of the axle load conformed to the severe loading restrictions on the route, albeit the fitting of LMS standard axle boxes (at Derby's insistence) was a principal weakness of the Garratts. A further thirty were built with rotary coal bunkers in 1930, but as traffic conditions changed it was found that a Stanier 8F's tractive effort of 32,440lb could cope with the work. The 8Fs were replaced by the more-powerful BR Standard Class 9Fs in 1954 and all the Garratts were withdrawn by March 1958. These three shots provide both front and back-end detail for modellers. The 10 ton capacity revolving bunker is a distinctive feature. Photos PH Groom, PR Batty.

(Below) Preserved 'Jubilee' class No 5690 Leander heads the 'Severn Valley Limited' at Bank Quay station Warrington on 2nd October 2010. This shot was taken using a Nikon F90X and high speed motor drive using 400ASA Fuji Film. Photographer, George F McKie adds - 'The smoke filled the station for several minutes after it had gone. Wonderful smells! I had the pleasure of having a drive of the loco back in the 1970s at Dinting, albeit at walking pace…'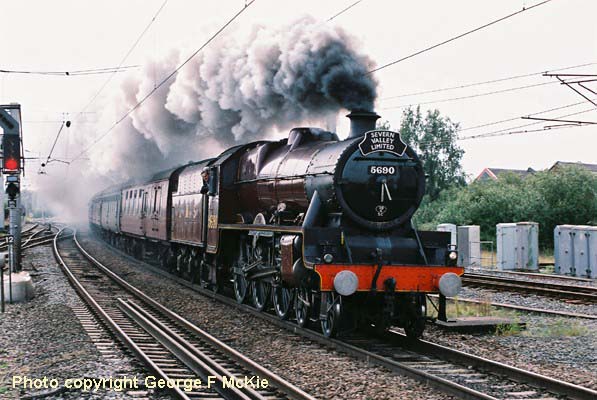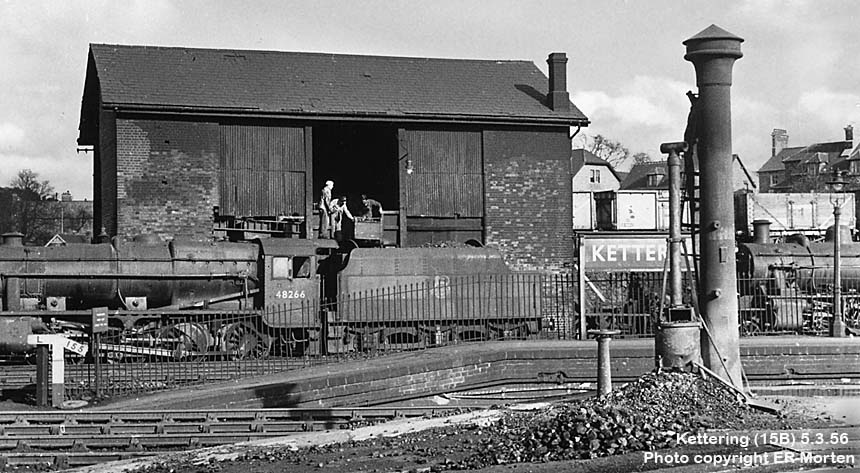 (Above) On the Guest Book page Marcus Driver asks if there are any photos of Kettering Shed (15B)…well I've picked this photo by ER Morten of Class 8F No 48266 beneath the coaling stage, primarily because it's an unusually-angled shot of an everyday scene during steam days plus it shows the platform-end bits and pieces which I'm sure will interest railway modellers (and artists) seeking to stamp something different on their work.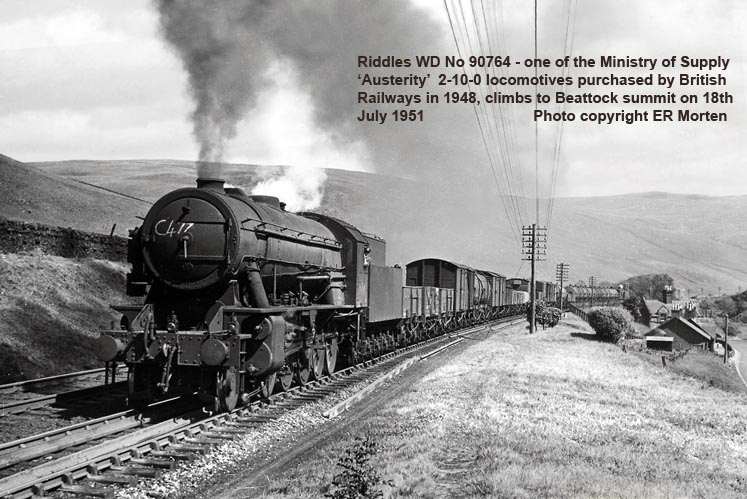 BR STANDARD CLASS LOCOMOTIVES
In 1948, the Railway Executive of the British Transport Commission (BTC) announced its preference for developing future steam power rather than dabbling with new, untried diesel traction. This led to the Locomotive Interchange Trials, supervised by RA Riddles, then member of the BTC's Railway Executive who was responsible for mechanical and electrical engineering. He was assisted by ES Cox, then executive member of the British Transport Commission for design - both ex-LMSR men, who doubtless had in mind their well intentioned plan for evaluating the relative performance of former companies engines in normal operating conditions. However it came as no great surprise that out of the twelve new BR standard classes (numbered in the 70-80,000s and 92,000s) many designs incorporated the latest features taken from LMS practice.




(Above-Below) The ex-LNWR shed at Holyhead was formerly coded 7C from 1935 to May 1952, later recoded 6J by BR up to closure to steam in December 1966. During that time it housed 90 different Black 5s as well as 17 'Royal Scots', a handful of 'Jubilees' and 'Patriots', but perhaps the shed is best known for its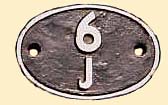 allocation of 15 BR7MT 'Britannia' class locos, including No 70031 Byron which was among the first members of the BR Standard Class Nos 70030-70034 delivered new to the shed between November and December 1952. These locos were attached to BR1 tenders (with inset sides) with a capacity of 7 tons of coal and 4725 gallons of water, but after a short while in service it was found that the tender's inadequate water and coal capacities made them unsuitable for the long distance running of the 'Irish Mail' between Euston and Holyhead; within a month all four were transferred to Longsight (9A). Here 70031 Byron heads the southbound 'Mancunian' at Madeley on 3rd August 1953. Inserted in the photo is a 132 inches-long carriage board which went under the hammer for £290 at a Great Central Railwayana Auction in July 2011.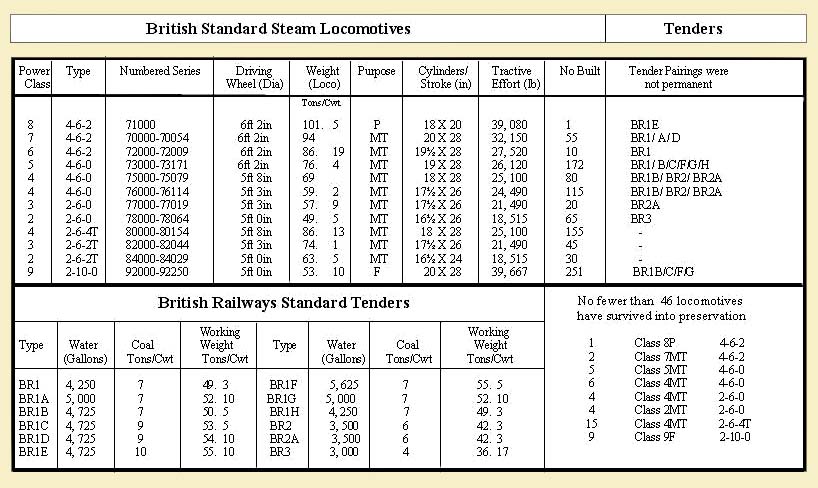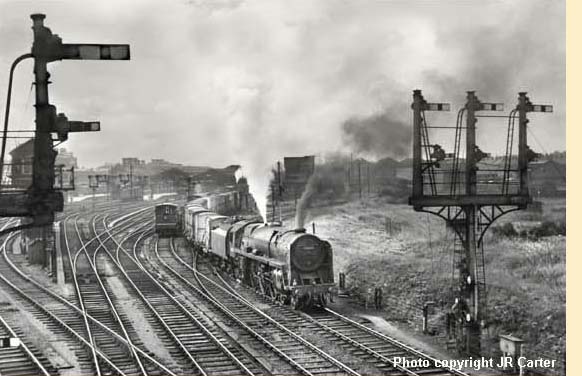 (Left) John Stoddart's waspish account of spotting days at Chester on his 'Lines Through A Life' page can be found here on Page 72. John writes - 'The Cardiff 'Brits' were invariably cleaner than our usual ones and the rail-less smoke deflectors with their brass step notches lent them an exotic aura. This photo shows 70025 Western Star taking the Manchester line out of Chester. As one of the former Cardiff Brits, this engine in this location would have caused train spotting palpitations at one time. Presumably, the photo was taken after the mass move of Cardiff's engines onto the LMR. The WR and ER got rid of their Brits almost simultaneously, LMR picked them up and suddenly they were everywhere. So we got to cop them. But it was a hollow victory, as if you'd finally got a long-pursued girl to come to the pictures with you, and found she'd been with half the lads in your class!'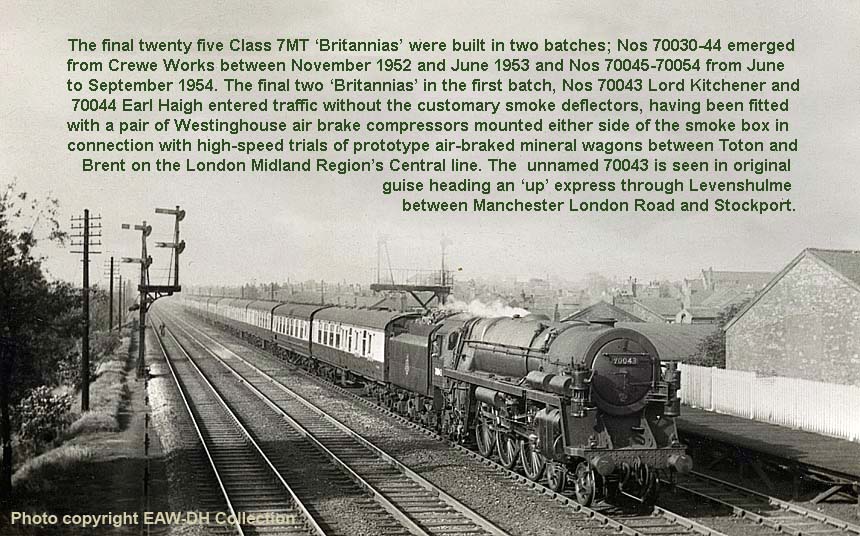 (Below) For the record, BR's 'Britannia' Class 7MTs Nos 70045-70054 were equipped with the BR1D, which had a capacity of 9 tons of coal and 4,750 gallons of water. The tender also featured a steam-powered coal pusher, which eliminated the need for the fireman to mount the tender to pull forward coal...Nos 70045 can be seen in Jim Carter's Edge Hill photo below.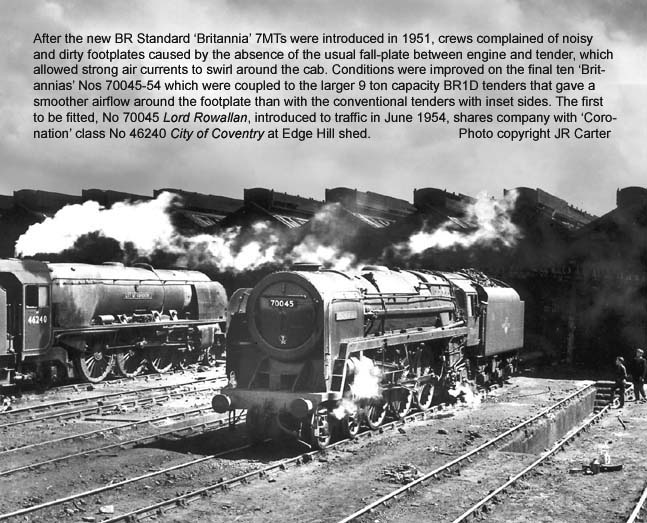 (Above-Below) Out of the ten BR Standard Class 6MT Clan Pacifics built at Crewe between 1951-52 Nos 72000-4 went to Polmadie (Glasgow) and Nos 72005-9 were assigned to Carlisle (Kingmoor) on the LMR for duties previously worked by the Jubilee and Patriot classes to Scotland. The 'Clans' were also used on the Glasgow-Manchester/Liverpool services, but their performance was hardly distinguished and withdrawal of the Polmadie five began as early as 1962. Here, No 72003 Clan Fraser heads an 'up' train from Penrith in August 1953. When introduced to traffic in December 1951, the Class 6MT 'Clan' Pacifics had a mixed reception by locomotive crews. The ten locomotives Nos 72000-72009 worked mainly in the north-west, where it is said that the majority of Scottish and Midland enginemen displayed a liking for the locomotives on regular duties, and as such, produced some good performances. However, the crews unfamiliar with the class found them difficult to handle, and this led to the 'Clans' somewhat undeservedly bad reputation. Nonetheles, since the principle of all the British Railways Standard class designs was to produce a hard working, easily maintained, economical, highly available, and all-purpose mixed-traffic loco, then in these respects, the Clans could be regarded as successful. (Below) Introduced to traffic in September 1952, No 72008 Clan MacLeod had a relatively short life. Here 72008 heads the 09.25 Crewe-Perth at Crawford on 22nd April 1965. The loco was scrapped in April the following year...photo Wainright 'C' Class Pres Soc.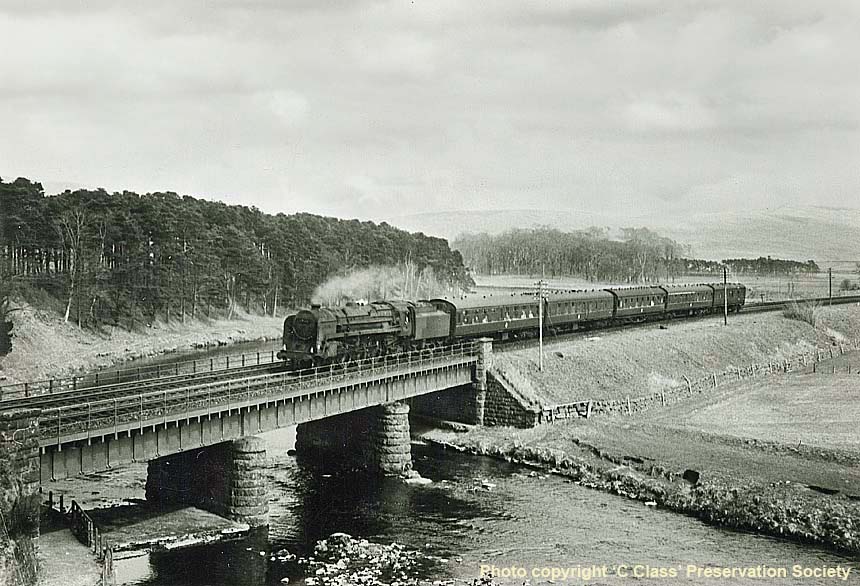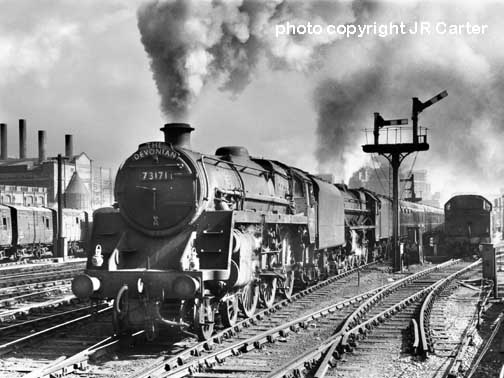 (Above-Below) Although fractionally less powerful than the Class 6MT Clan Pacifics, the new BR Class 5MT, numbered 73000-73171 in the series, were a more useful addition to the BR fleet. The Class 5 was a direct descendant of t he well-known LMS 'Black 5' and, on the grounds of utility and proven excellence in service the BTC might well have been justified in adopting the Stanier design as one of the standard engines. Although the 'BR5' was basically similar to the Stanier engine in its boiler and motion, the Riddles design looked very different from the LMS engine. Here, No 73131 pilots an unidentified 'Black 5' on the southbound 'W averley' express out of Leeds City. (Below) Model engineers might be interested in this rear view of the BR1 tender attached to BR Class 5MT No 73127 at Shrewsbury on 25th August 1956. The 'Black 5' leading is 44800.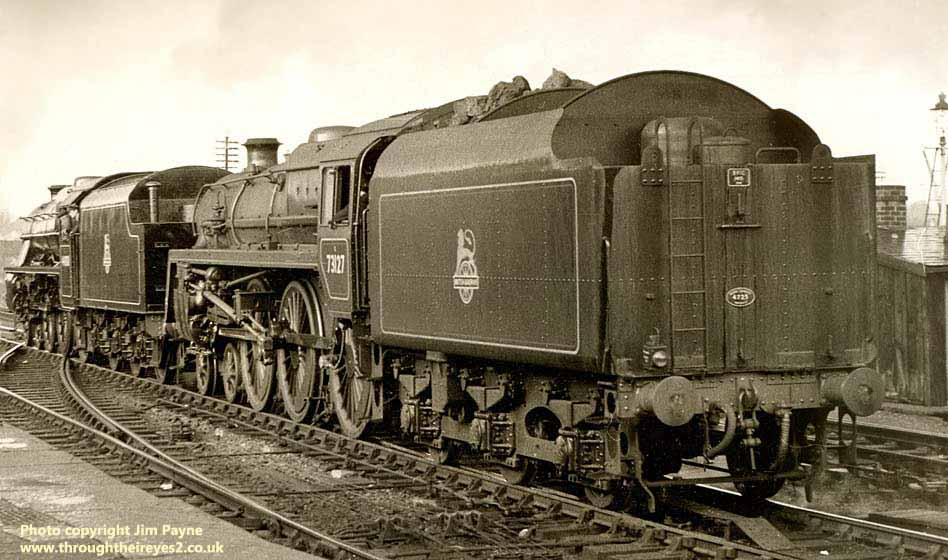 A RAILWAYMAN'S MEMORIES 2
by Tony Thompson

This is a story relating to the now-preserved BR Standard Class 5MT Caprotti No 73129 which resides at the Midland Railway Centre at Butterley.
During the time I was a fireman at Patricroft, No 73129 had just been outshopped from Derby works in June 1961 and the loco arrived at the shed shining like new; she was put on local work for running-in purposes for about a week.
About the same time, another BR Class 5 No 73144 arrived at the shed carrying the larger cabside numerals denoting it had been outshopped from St Rollox works in Scotland.
After 73129 had been run in, my driver Maz and I had this loco on Saturday 24th June for a Manchester Exchange-Llandudno and back home on the cushions. As we prepared our own engine at the shed I made sure the firebox was full of good Yorkshire coal and made certain I acquired two square LMR headlamps (I didn't like North Eastern type) the reason being that I could insert a square piece of silver paper into the LMR headlamp where the shade goes, which increased the luminosity through the spectacle glass for miles ahead!
We left Patricroft Shed at 8.15am and headed light engine to Ordsall Lane carriage sidings, picked up our stock - twelve on - and then headed empty stock to Exchange. As we ran through platform 3 a large crowd of passengers was waiting and I knew our twelve coaches wasn't going to be enough; having hooked off we ran round and hooked on again then I put a few rounds on, back damper open which got her up to 225lbs, put the injector on to keep her quiet, brushed the cab floor and used the slack pipe to swill the cab floor to keep the dust down, and then waited.
We got the right away dead on 9.00am; exhaust injector off and with just over 220lbs we pulled away from the station leaving behind a sizeable crowd on the platform pending the arrival of an extra train…the normal procedure in these cases was for the Station Master to inform control and a spare set of men were dispatched from Patricroft to clear the backlog with a follow-up special to Llandudno.
As we rounded the left hand curve over the viaduct at Salford Goods Yard and then onto the right hand curve towards Liverpool Road sidings, the pressure was up to 225 and the gauge glass water level in the top nut. The snaking of our train soon eased off and we were on the straight fast line as far as Earlestown …from then on it was all systems go! Maz didn't hang around! The Caprotti was blasting away past Salford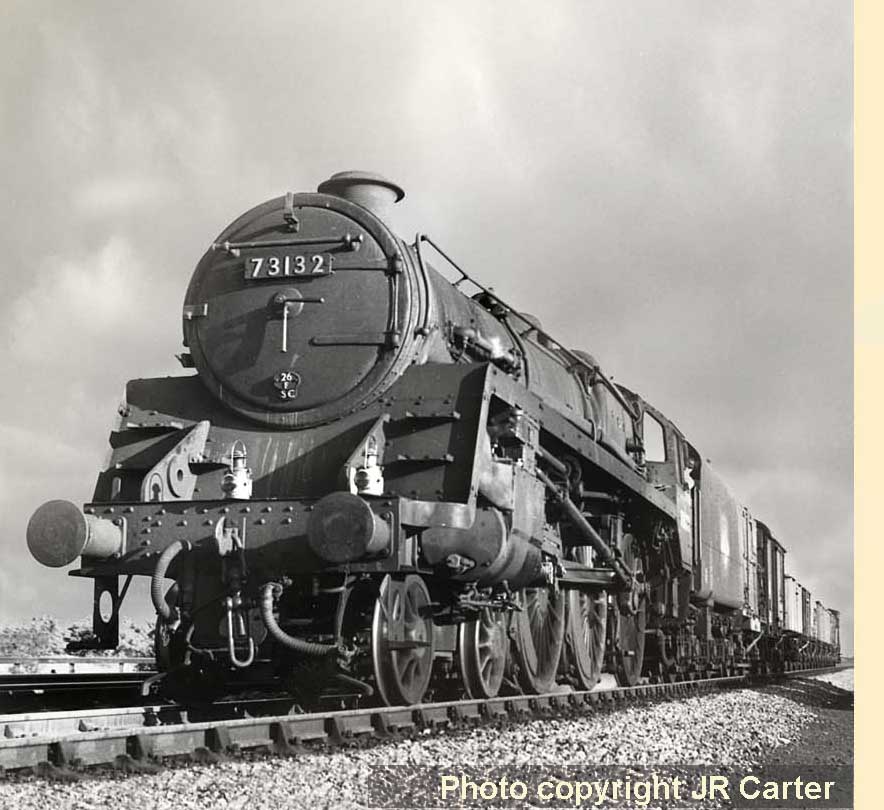 gas works, and I hadn't yet touched the shovel. She was steaming beautifully. Approaching Eccles water troughs at about 70 mph, I dipped the scoop, topped up the tender and put a few rounds on, and then had a comfortable sit down. We were approaching Barton Moss on 88 mph and the loco was running like a sewing machine - yet no matter how smooth the ride you could always tell when you are on the 'Moss'; there is a very slight 'up and down' motion from crossing the soft peat beneath the track! (Left) Sister Patricroft Caprotti No 73132 was photographed by my old engineman friend, Jim Carter.
We were more or less maintaining 88 at this point until Maz shut off for Earlestown curve; the loco was running like a dream with the regulator shut, though when you shut off with a Caprotti, under no circumstances did you touch the reversing gear, and if you were running at say 15% cut off, you left it there.
After rounding the sharp curve at Earlstown Station, we ran down the gradient past the Vulcan Works onto the West Coast Main Line through Warrington, and then on through Frodsham, Helsby, Mickle Trafford before rolling down the bank and around the back of Chester General. Leaving Chester I waited until beyond the tunnels before filling the box up for my mate…I was now on the regulator and we were 6 minutes early, so I kept her at 55mph as far as Connahs Quay before opening her up to 70 at 15% cut off; she was gliding along. After topping up the tender at Flint Troughs we started to get 'one-offs' (signals) instead of right of way, advising us that trains were queuing to get into Rhyl or beyond. Slowing to 10 mph on the approach to Rhyl we eventually got a '2-off' - and so it was back into second valve winding her forward to about 40% we passed through the station without too much noise. Then I really opened her up!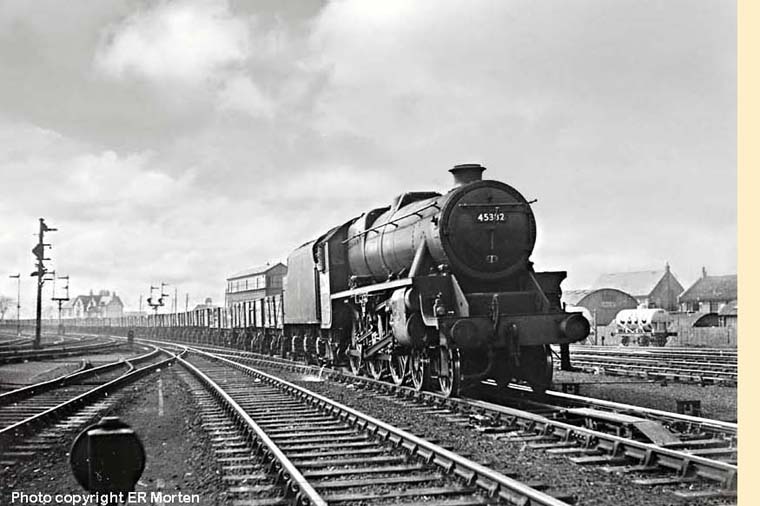 By now Maz was flashing that coal around the firebox in preparation for our climb from Abergele to Llanddulas signal box before dropping down into Old Colwyn and on to Llandudno Junction.
I must add that although this engine steamed very freely, the one thing I did not like about the BR Standard engines was the dampers. On a Stanier engine you could tap the handle with your foot and it would drop down and close, but the dampers were stiff on the BRs, hence we used a ⅝" spanner to wind it shut; we did this a number of times on the trip just to keep the engine quiet…blowing off was wasteful.
As we approached the junction - nice shot (above) of 'Black 5' at Llandudno Jnct - we got the right hand peg for Llandudno and a clear run right up to the stop blocks - journeys end, and still 3 minutes early. So I hooked off and after our coaches were taken away by the station pilot, we headed light engine to Llandudno Junction shed, showed our faces in the booking office, and then headed off to the station, a couple of pints across the road and back on the cushions to Manchester Exchange, followed by a light engine to Patricroft, before booking off and home James!
As for 73129? My thanks to all involved with saving a Patricroft engine. They have a fine locomotive that will give everyone endless pleasure for many years to come...
Yours, Tony Thompson, Agecroft, Patricroft, and Crewe - a steam man through and through!.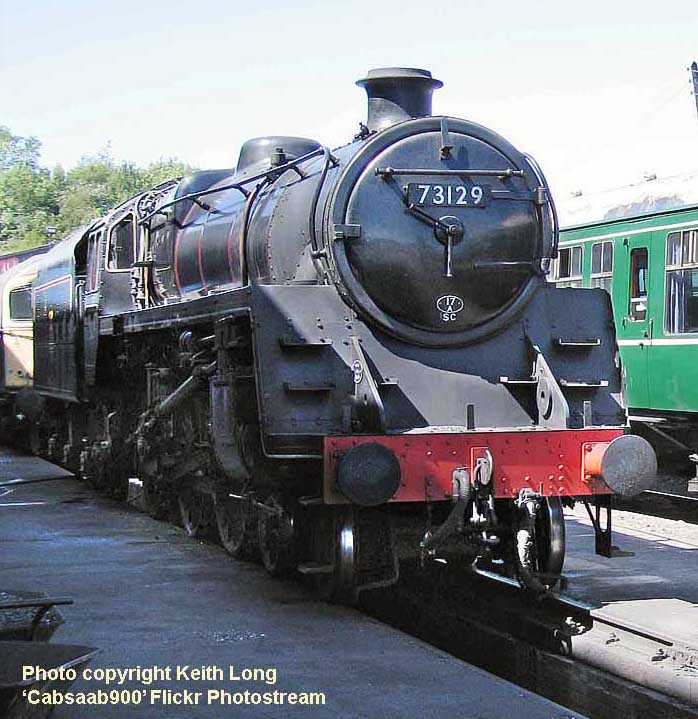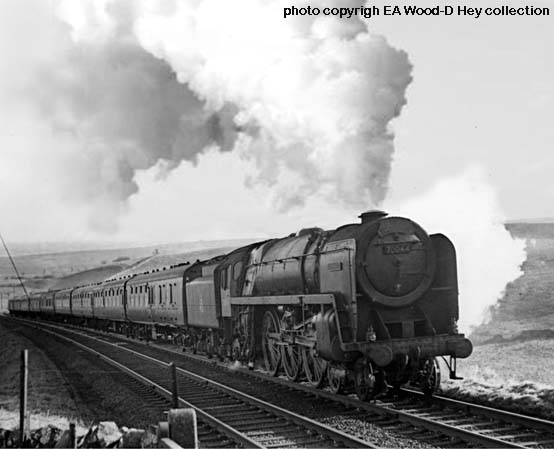 (Above-Inset) Sporting a 55A (Holbeck) shed plate, No 70044 Earl Haigh heads the northbound 'Waverley' near Garsdale of the Settle-Carlisle line. (Inset) Trevor Ermel's visit to Carlisle on 22nd July 1967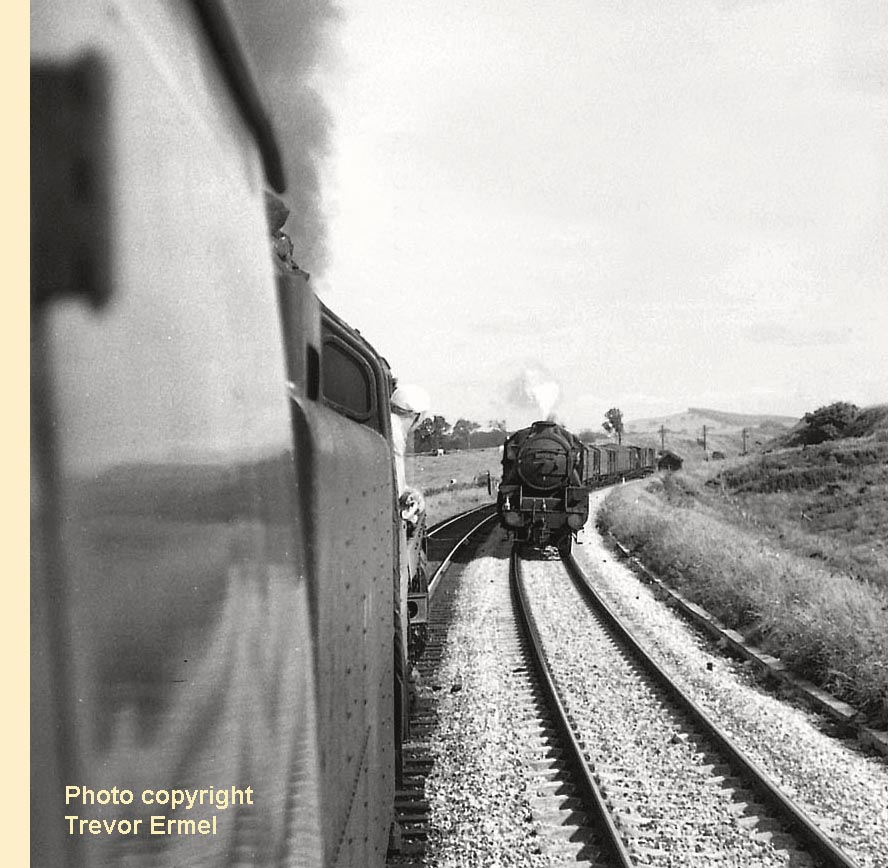 (see Page 73) included a trip to Penrith behind 'Britannia' class No 70038 Robin Hood on the 1M38 - 16.25 from Carlisle (originating in Glasgow and Edinburgh) to Manchester/Liverpool.

(Below) A young Derek Dean, a regular spotter at Birmingham New Street station in the late Fifties, writes on his 'Britannia' page 91 - 'A Stratford engine at Birmingham New Street was not uncommon in the early years of the 'Britannia' class, being used as a running-in trip from Crewe for an ex-Works engine, however I cannot recall seeing any even though I started spotting there in 1957. Here No 70037 Hereward the Wake is awaiting departure at platform 3 and the photographer, Rex Conway, is standing on the long extended platform 6, making the most of the rare appearance of the Great Eastern locomotive in Birmingham. The ugly backdrop of the Queen's Hotel detracts from the stylish lines of the Pacific engine which is almost as built, being just over three years into service..'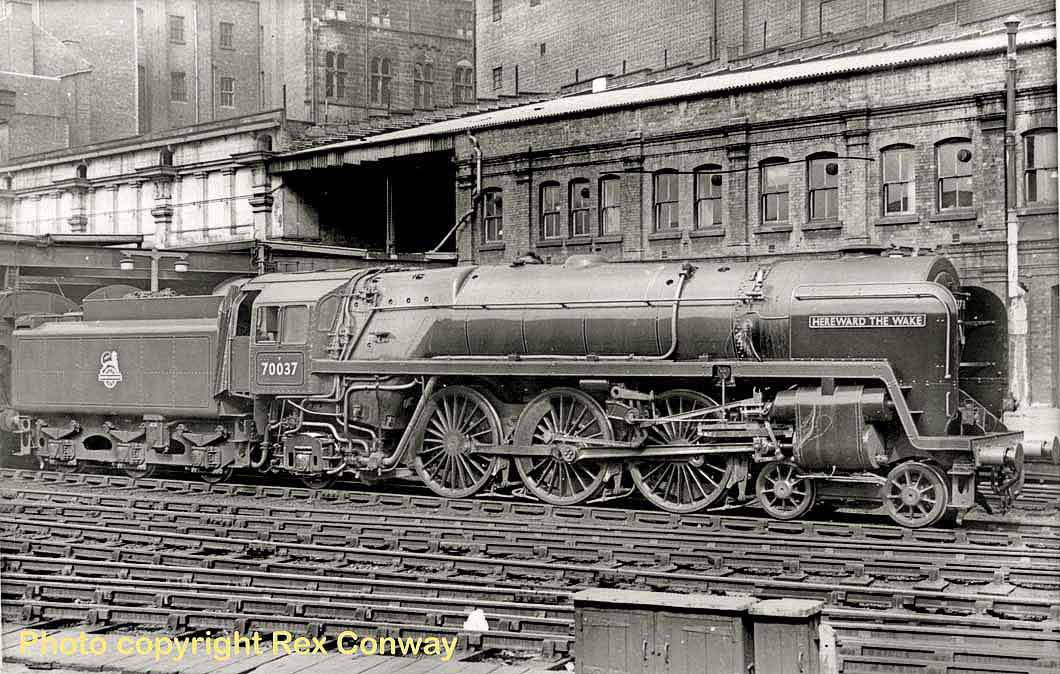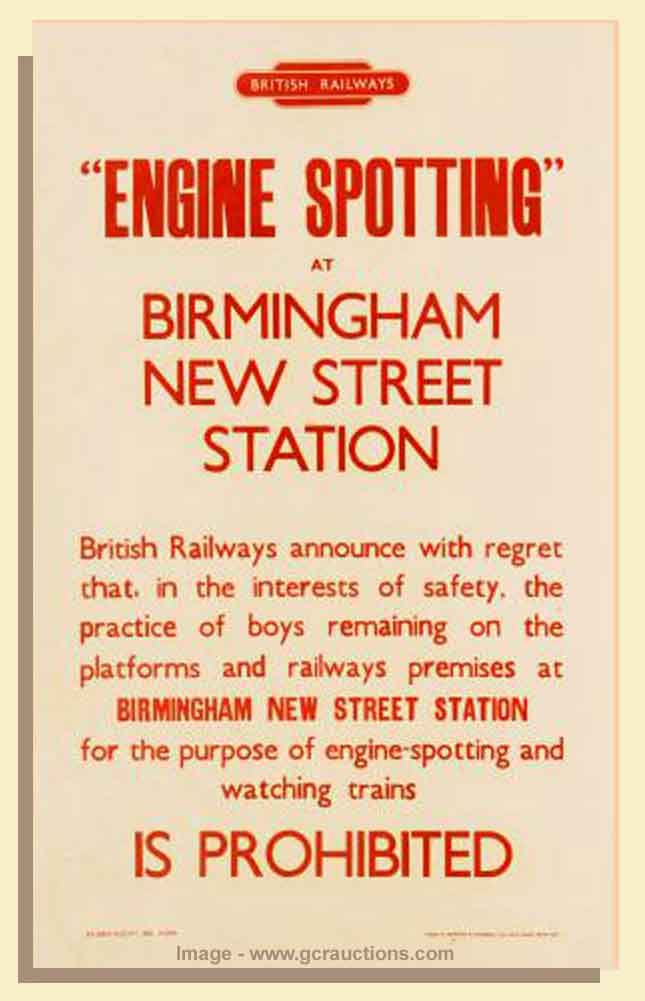 (Inset-Below) A BR(M) double royal poster - Engine Spotting at Birmingham New Street - announcing a ban on train spotters at the London Midland Region station, went under the hammer for £800 at a Great Central Railwayana Auction in March 2013.(Below) A grimy Britannia Pacific No 70014 Iron Duke gets to grips with the Long Drag at Sheriff Brow just north of Settle. Introduced to traffic in June 1951, No 70014 had a varied career, allocated first to the Eastern Region based at Norwich, then to Stewarts Lane shed on the Southern Region, finally to the LMR at Trafford Park, Newton Heath and Carlisle Kingmoor. The grimy appearance of the paintwork is in complete contrast to her Stewarts Lane existance where she was kept in immaculate condition along with one other Stewarts Lane Britannia No 70004 William Shakespeare for working the 'Golden Arrow' and other boat train services until 1958. For the record, both No 70004 and 70014 were among the last thirteen Britannias withdrawn from traffic at Carlisle Kingmoor in December 1967. Photo © D Hey.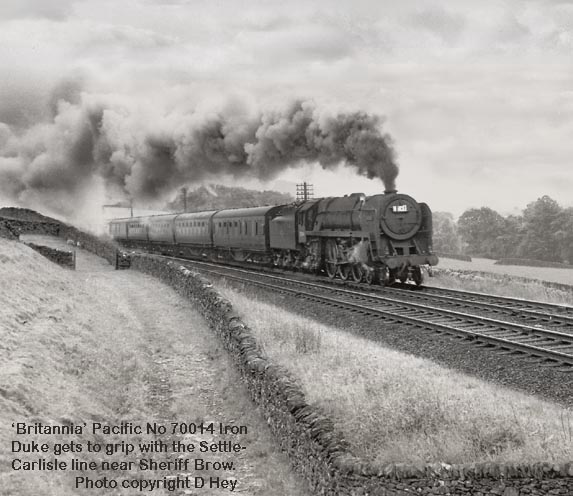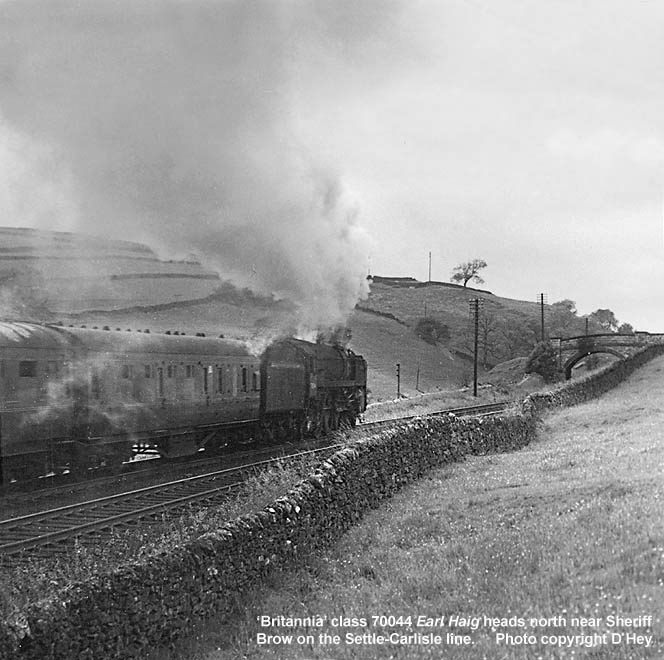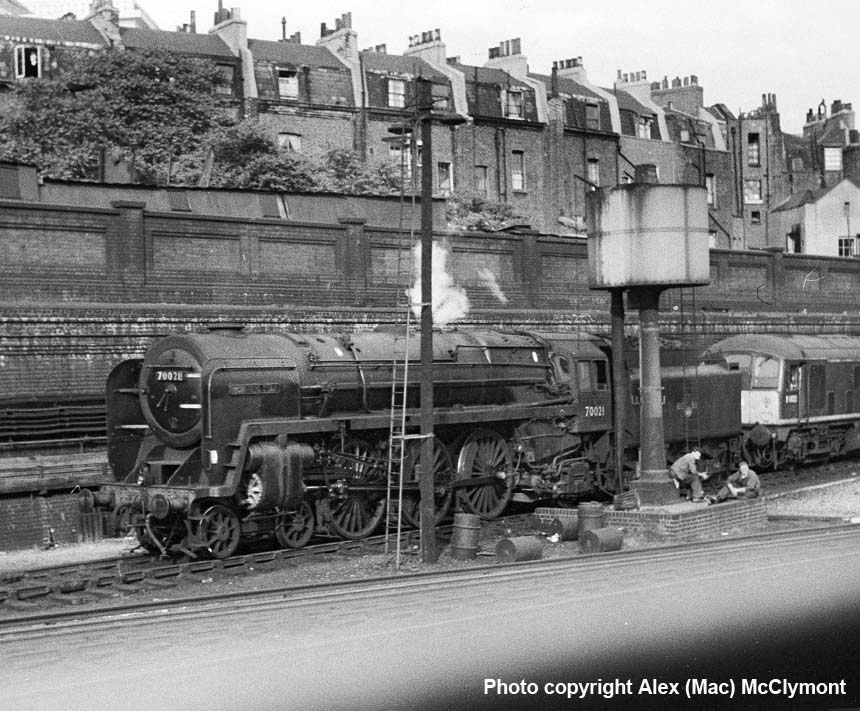 (Above-Below) 'Britannia' Class 7MT 70021 Morning Star at Camden (1B) loco sidings. (Below) Once the pride of BR's steam fleet, by the late Sixties the 'Britannias' were in a dreadful external condition. Here, No 70049, minus Solway Firth nameplates, waits in the 'up' loop at Ais Gill, as 'Peak' class D15 (one of the early production 'Peaks' to retain gangway doors in the nose end) heads the 10.05 Edinburgh Waverley-London St Pancras in April 1967. Photo © B Lister
(Above-Below) The BR Standard class 7MT 'Britannia' Pacifics were among the last survivors of WCML steam based at Carlisle Kingmoor before the shed closed its door to steam on January 1st 1968. No fewer than 13 engines survived up to the December deadline, including 70021 Morning Star and 70022 Tornado (both bereft of nameplates) as they await their next turn of duty. Also in the picture is sister engine No 70028 Royal Star and BR Class 9F cousins No's 92208/ 92110. For the record, BR found it necessary to remove locomotive nameplates when their value as collectors' items led to unlawful disappearances from depots.Today, two 'Britannia' class 7MTs - Nos 70000/70013, and nine Class 9Fs survive in preservation. (Below) Here is the preserved 'Britannia' class 7MT No 70013 Oliver Cromwell heading the outward 'Scarborough Flyer' on the climb through Diggle on Friday 12th August 2011.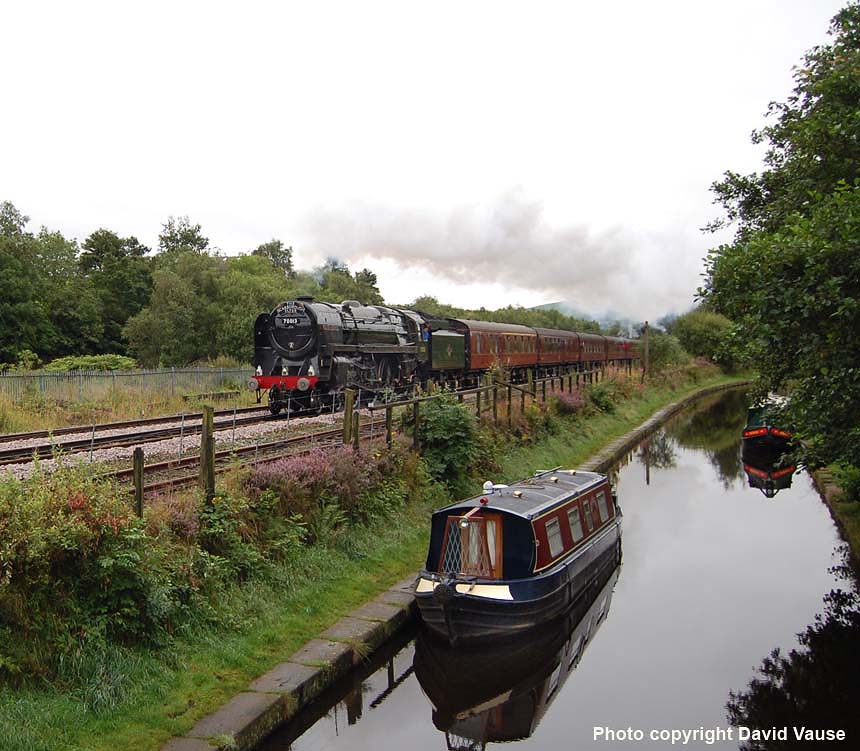 (Below) A total of 251 Class 9Fs were built, making the 2-10-0s by far the most numerous of all the British Standard classes. Despite their relatively short careers, however, the versatility of the 9F was a fitting tribute to more than 100 years of British locomotive building. The general dimensions of the Class 9F boiler was slightly larger than the 'Britannia' Pacifics, yet produced the same working pressure of 250psi. Here, the overall length of 66ft 2ins is not a problem for No 92155 on the tuntable at Kingmoor on 20th July 1967. In the background, an Ivatt Mogul No 43121 rattles past with a mixed freight. Photo copyright D Burdon collection
(Above-Below) In an effort to conserve energy, an experimental variation of the Class 9F 2-10-0s appeared on the London Midland Region when ten locomotives, Nos 92020-92029, were built incorporating the Italian Franco-Crosti double boiler. The design was aimed at increasing thermal efficiency by re-using the firebox gases and redirecting them through a second drum beneath the boiler to pre-heat the water feed. Sporting a Wellingbrough shed code (15A) on the smokebox door, No 92027 is ready for traffic at its home shed in 1955. Photo copyright Midland Railway Trust. (Below)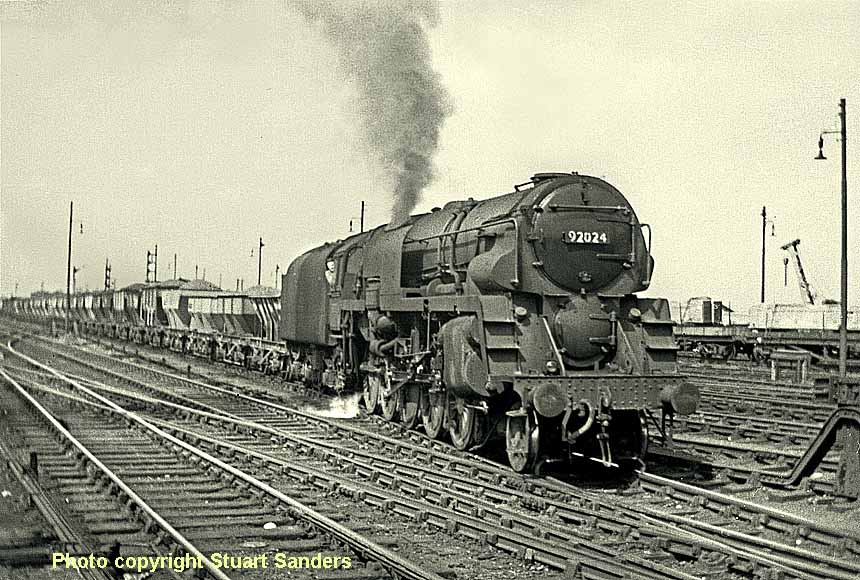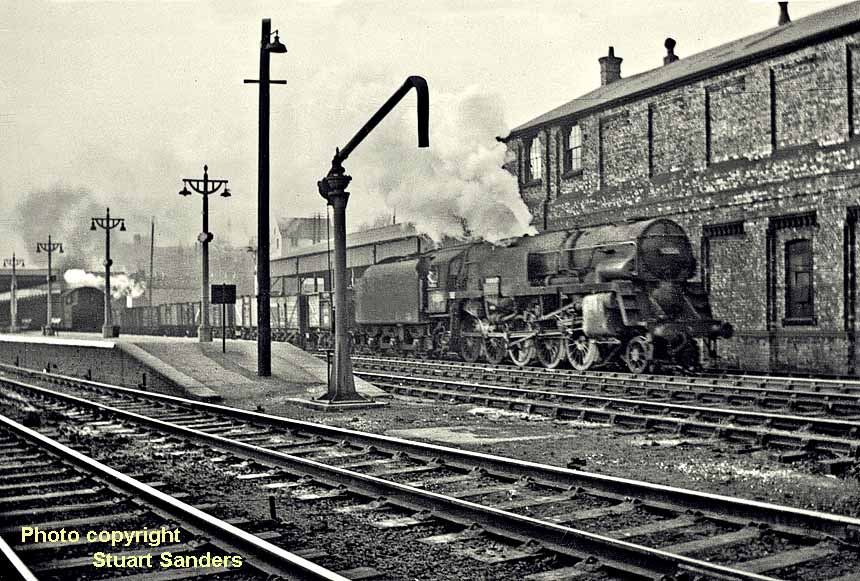 (Above-Below) The Crosti 9F's exhaust was expelled from a chimney slotted into the running plate, but this often led to unpleasant conditions for footplatemen and trailing smoke was inclined to obscure the driver's forward view. As a consequence, deflector plates were fiitted in an attempt to improve draughting, though the ten engines retained the front chimneys which were used when lighting up the engine from cold. Soon after the ten Crosti 9Fs were introduced to traffic the decision was taken to abandon steam in favour of diesel and electric traction. In 1955, the British Transport Commission announced the 'Modernisation Plan' and the short-lived Crosti experiment was subsequently discontinued. The first shot (below) shows No 92020 in store at Wellingborough between May 1959 and March 1961 before going to Crewe Works for conversion. In the next shot down, an unflattering view of 92020 shows the unconventional exhaust outlet has been removed and the cylindrical drum beneath the smokebox door plated over.
AROUND THE REGION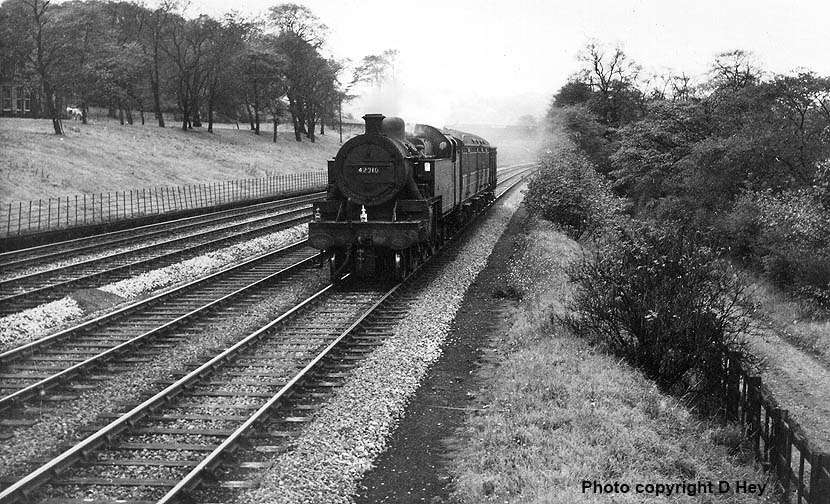 (Above-Below) Fowler Class 4MT 2-6-4T (with parrallel boiler) No 42410 between Mirfield and Ravensthorpe in 1961. (below) The Stanier and Fairburn Class 4MT 2-6-4Ts were identical in many respects to the BR Class 4MT 2-6-4Ts Nos 80000-80154. However, care was taken by Riddles to avoid favouring any former companies engines, which goes some way to explaining the uniform and distinctive external style for the standard range. A similar policy was adopted by BR with regard to establishing new identities for each of the six individual Regions. The new BR styles included a 'double lozenge' totem - maroon for the LMR, dark blue for the ER, tangerine for the NER, light blue for the ScR, chocolate for the WR and malachite green for the SR. Here, a pair of maroon enamel station nameboards frame a shot of 2-6-4T No 42154 awaiting departure from Hellifield on a local train. Photo: copyright EA Wood-DH collection
| | |
| --- | --- |
| | |
(Above) From an operational standpoint, an altogether unusual inter-regional motive power transfer occurred on the MR main line north of Leeds when the NE Region sent eight Gresley A3s from Tyneside to Holbeck shed for use on the Anglo-Scottish expresses. The cascading effect of dieselisation on the ECML was a welcome move for Holbeck crewmen, as most A3s were fitted with the double Kylchap blastpipe which produced a freer steaming engine and gave fireman an easier time over the steeply-graded Settle to Carlisle line. However, the erstwhile Rebuilt Scots reign at Holbeck shed was originally challenged by the Britannia Pacifics which arrived at Holbeck in 1959. Here Class A3 No 60092 Fairway heads the 'up' 'Thames-Clyde Express' past Kirkstall Forge during a torrential down pour in May 1961. Just visible in the background is Kirkstall Forge station, which closed in 1905 when the line between Leeds and Shipley was increased to four tracks. The Aire Valley route between Leeds and Shipley was dequadrified in 1967, retaining loops at Kirkstall for goods traffic. The service linking Leeds, Bradford, Ilkley and Skipton has since been updated with 25kV overhead line equipment.(Below) Hughes 'Crab' 2-6-0 No 42723 at Stafford in 1960.
(Below) The Pennine region is renowned for the severity of its winter months when snow and ice can disrupt the M62 motorway for days on end, but despite the wintry conditions our railways seem to keep on rolling along. The 1962-63 winter was more than just a cold snap, temperatures plummeted to an average of 0.2 Celsius from Boxing Day until April, with blizzards and white-out conditions sweeping the country for months on end. It was dubbed the 'Big freeze' by the media, and only the hardiest steam railway photographer ventured out. Jim Carter was rewarded with this evocative shot of 'Rebuilt Patriot' No 45545 Planet heading a Liverpool-Newcastle train across Dobcross Viaduct spanning the small River Tame and doubtless frozen Huddersfield & Ashton Canal in January 1963. Photo © JR Carter
(Above) Class 8F No 48123 heads a coal train from the Yorkshire coalfield along the Calder Valley main line near Thornhill Junction in March 1961. In that same year, EE Co Type 4 haulage was introduced on the Newcastle-Liverpool service. This busy section of track between Heaton Lodge Junction and Thornhill Junction is now rationalised, the work being coincident with raising the speed limit from 45mph to 65mph. The contact strip shows a variety of motive power - Class 31, Class 47 and Class 45/1. The 'Peaks' were drafted on to the Trans-Pennine service from 1981, with some trains formerly terminating at York being extended to Scarborough to improve stock utilisation. The final 35mm frames show a pair of the then new BR/Leyland narrow-bodied Class 141s on the WYPTE's local Leeds-Marsden service. The 4-wheeled vehicles were the first of the second-generation diesel units introduced to traffic in West Yorkshire in April 1984.
(Below) This photo of Diggle Junction shows the Standedge route in 1958, with tracks on the right for the Micklehurst loop via Butterhouse Tunnel to Staleybridge. Preparations for re-signalling are underway as 'Jubilee' class No 45567 South Australia heads the 2.45pm Leeds City-Manchester Exchange on 26th April 1958. Photo © B Hilton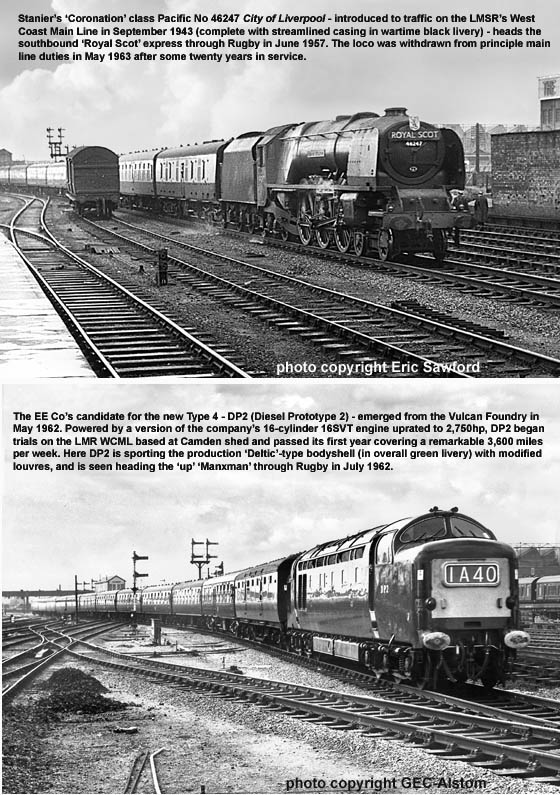 TRANSITION FROM STEAM TO DIESELS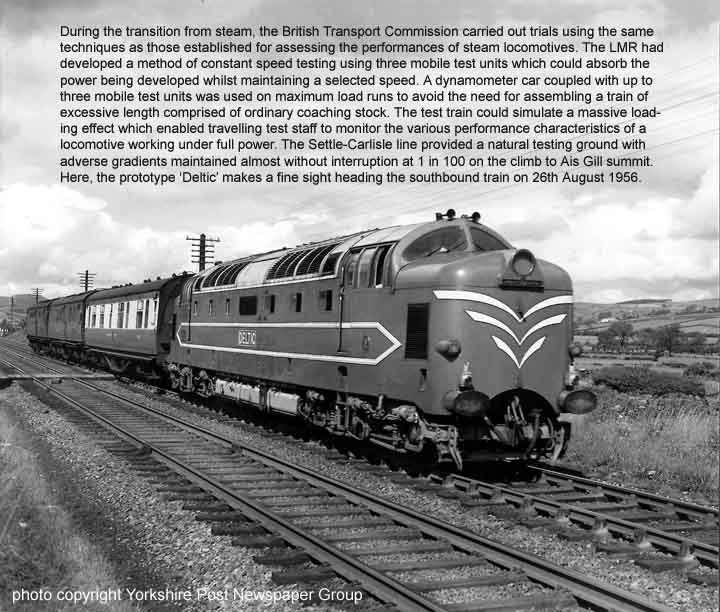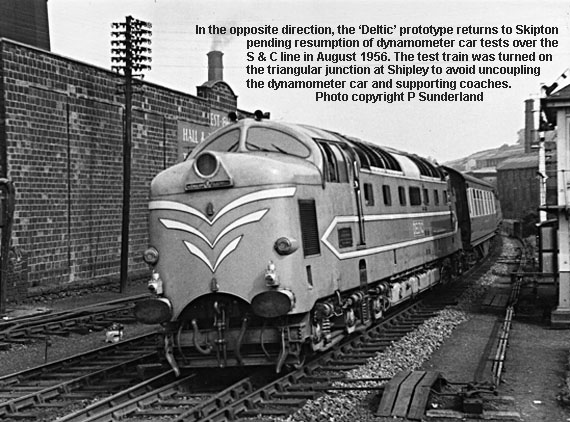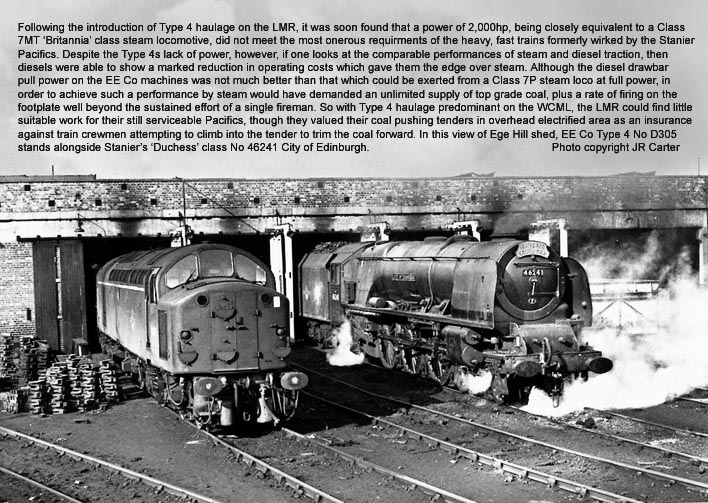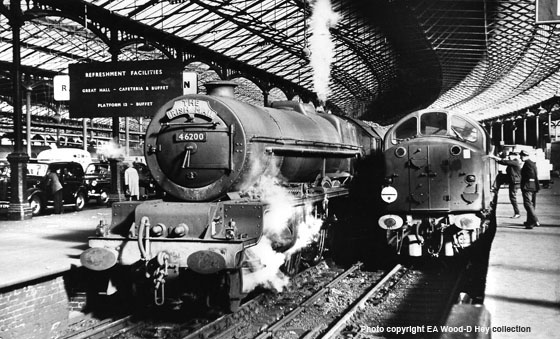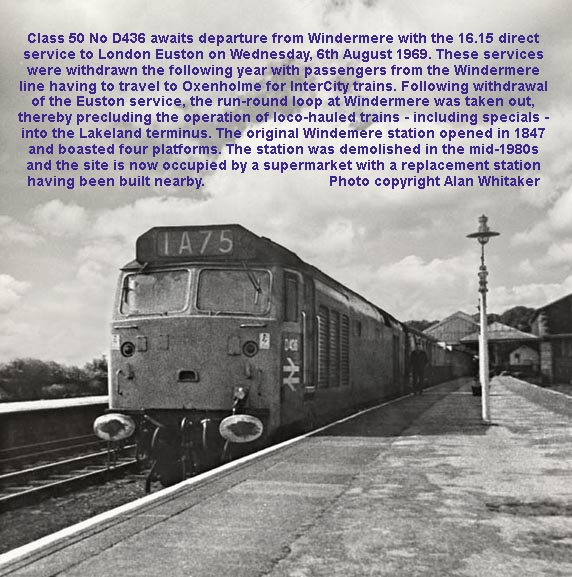 Polite notice: All text and photographs are protected by copyright and reproduction is prohibited without the prior consent of the © owners. If you wish to discuss using the contents of this page the email address is below. Please note - this is not a 'clickable' mail-to link via Outlook Express. You will have to email manually.
dheycollection@ntlworld.com