On January 1st 1948, the former 'Big Four' railway companies: London North Eastern Railway (LNER); London Midland & Scottish Railway (LMSR); Great Western Railway (GWR) and Southern Railway (SR) were amalgamated to form the new British Railways. A total of 20,211 steam locomotives were taken into State ownership consisting of: 1,838 from the SR, 3,856 from the GWR, 6,525 from the LNER, and 7,805 from the LMSR. The rest was made up of service engines and Departmental locomotives.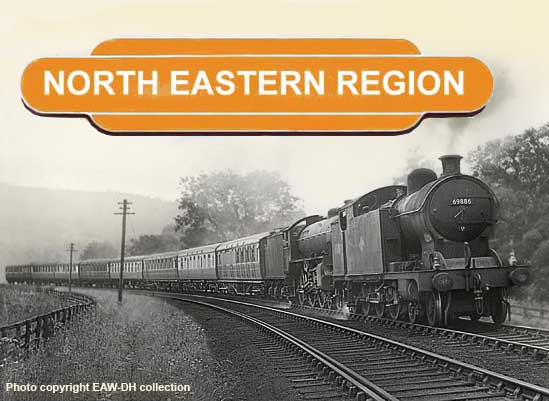 Following nationalisation in 1948, six new BR Regions were formed, their new boundaries corresponding closely to the lines of the former 'Big Four' railway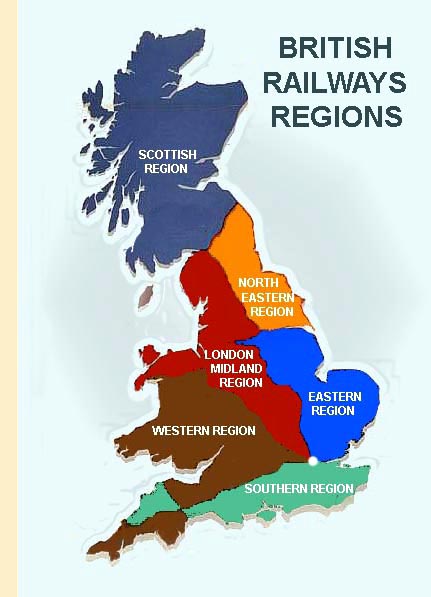 companies. Britain's railways was now made up of the Western Region, Southern Region, Scottish Region, Eastern Region, North Eastern Region and London Midland Region - the old LNER being divided a mongst the two newly- formed Regions: Eastern and North Eastern, whilst the Scottish Region was composed partly of the former LMS and LNER.
Over the years, the Regional boundaries diminished significantly, including the North Eastern Region which was absorbed into the ER in 1967. As a result, many locomotives (from an operational standpoint) worked beyond their arbitrary Regions, so in many ways it is meaningless to classify any particular class of locomotive as belonging to any one of the six Regions during the transition from steam. For example, it was not unusual for the Stanier 'Black 5' and in particular the new BR Standard classes, to be found working hundreds of miles from the Region they were initially allocated.

CORBRIDGE STATION MAP TO UPLOAD...

(Above) HELP!....I have recently been contacted by Colin Mason, who currently works and lives in Japan. Colin was born in the North East and spent his grammar school years living in Corbridge, Northumberland. He has started research for a plan to build a model of Corbridge station between Newcastle and Hexham in its heyday of the 1920s through into the 40s when it actually had a significant level of traffic serving local freight, 3 timber yards, a gasworks and so on. However he has found little information on the Internet beyond the track plan from the old OS maps (1922 copy below) and a small number of photographs. This has left him with large gaps in the overall picture, such as close-up pictures of the signal box, an NER gantry type similar to those which survive at Wylam and Hexham, but which seemingly burnt down in the early 60's. On the map he has marked some circles showing (1) a timber yard that no longer exists of which he would like to get pictures of (2) a building marked on the map at the southern edge of the yard west of the bridge of which he would like to find out the function (3) the location of the over-track signal box location that he would like to get more detailed pictures of (4) the Corbridge Gas Company gas works where he would like to get more details, maybe from pictures - especially he is wondering if it was served by what appears on the map to be a short siding or if the coal was carted round from the coal drops on north side of the tracks. Can anyone help? Any advice on online locations where suitable photo archives might exist (probably not ones that a search engine normally finds) will be much appreciated.
Colin's email address is colin.mason@mts-gk.com Please note this is not a 'clickable' link, you will have to email manually. Thanks in advance for any pointers that you may be able to give Colin.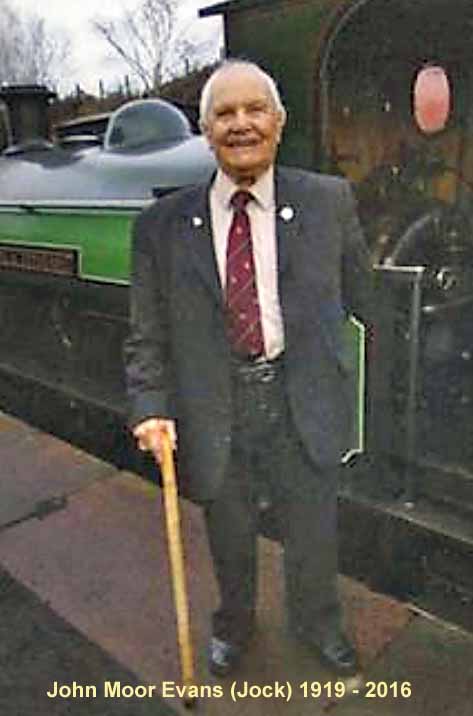 (Left) Former North Eastern Region engine driver John Moor Evans (Jock) sadly passed away aged 96, surrounded by family at Tandridge Heights Care Home, Hythe, Kent, on Monday 11th January 2016.
A Freeman of Berwick, and driver based at Gateshead 52A and Blaydon 52C, John 'shunted away' on a big wave of applause after singing with The Three Tenors. John always looked forward to visiting the 'Tappers' where he shared fond memories of railway journeys with his old mates - stories, tales repeated many times, all true. He did not see the romance in steam; hard graft, dirty and dangerous, whereas the diesels brought comfort of a type. But you still had to fill out your reports.! A service was held at Surrey & Sussex Crematorium, Crawley, on Monday 25th January 2016.
John's son, Nigel Evans, would love to hear any memories you may have of his father to pass onto his family.
Nigel's email address is nig1@blueyonder.co.uk Please note: in order to avoid spam, this is not a clickable link via Outlook Express, you will have to email manually.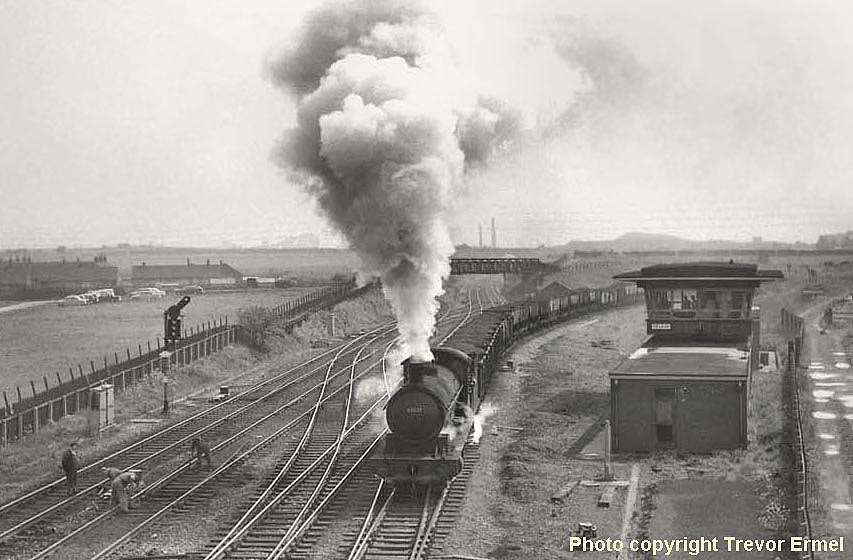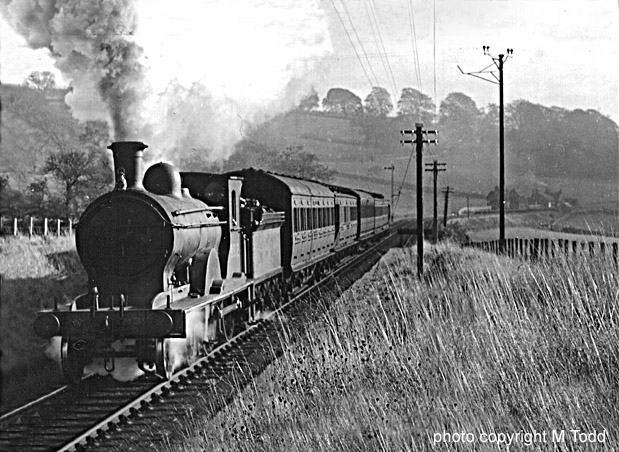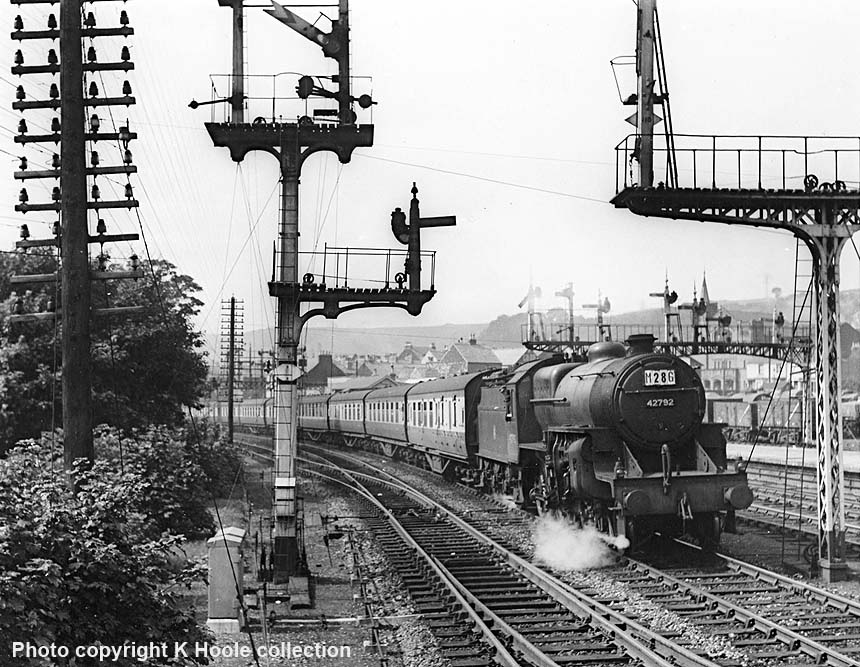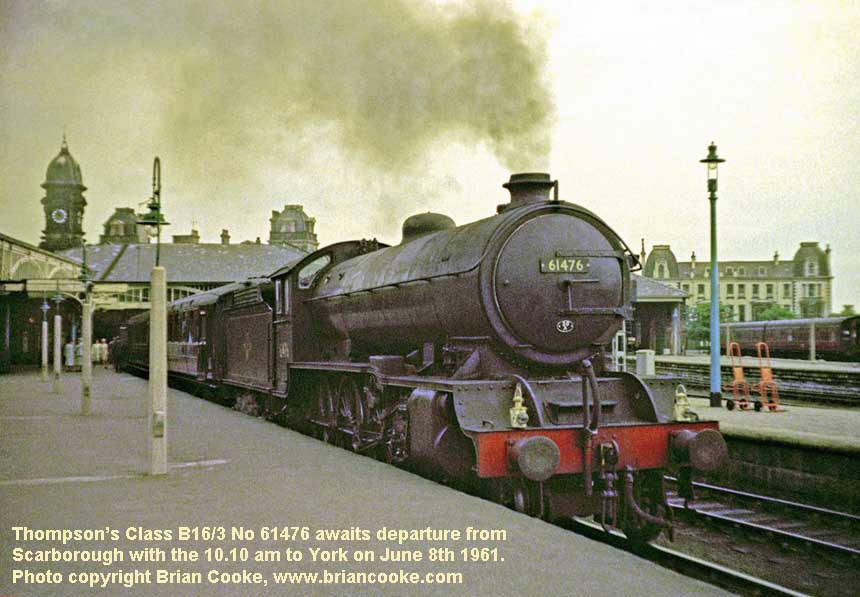 BY ROYAL APPOINTMENT!
A day in the life of Brian Cooke...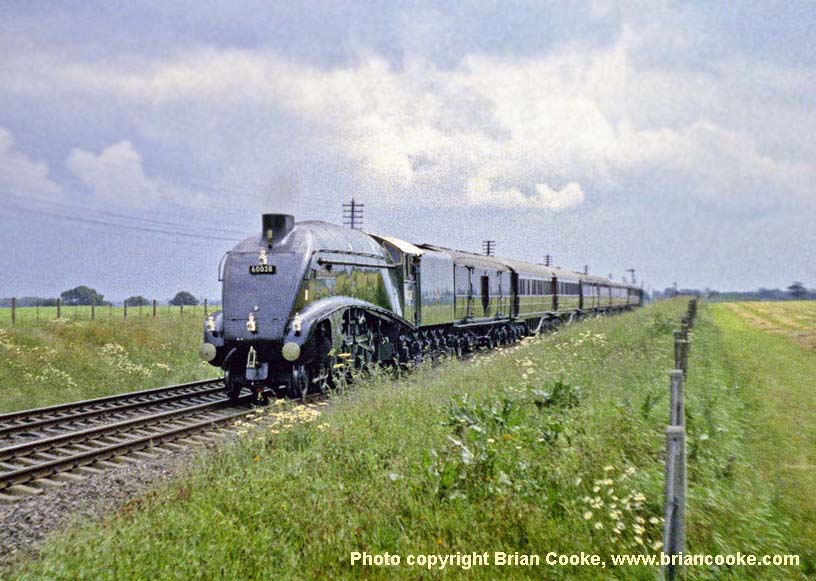 THE PATELEY BRIDGE BRANCH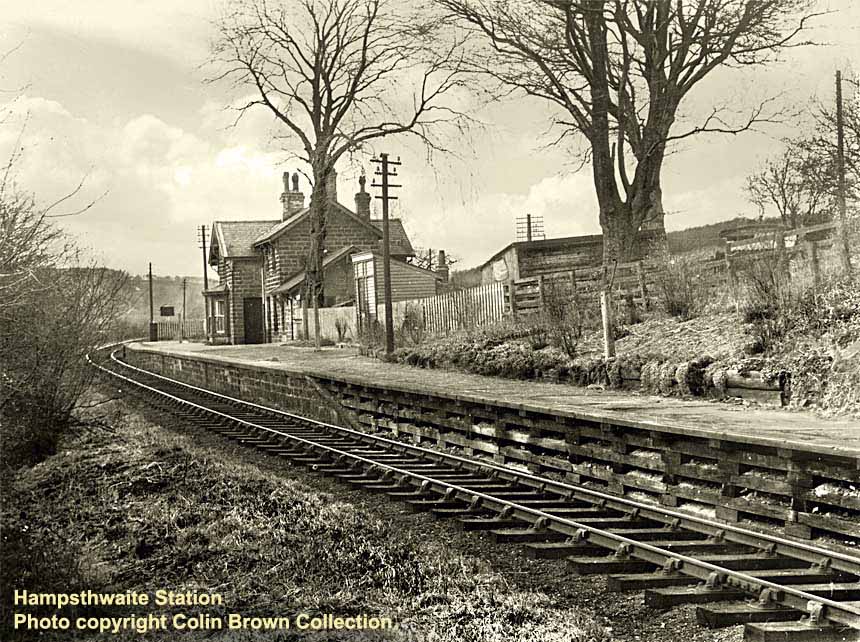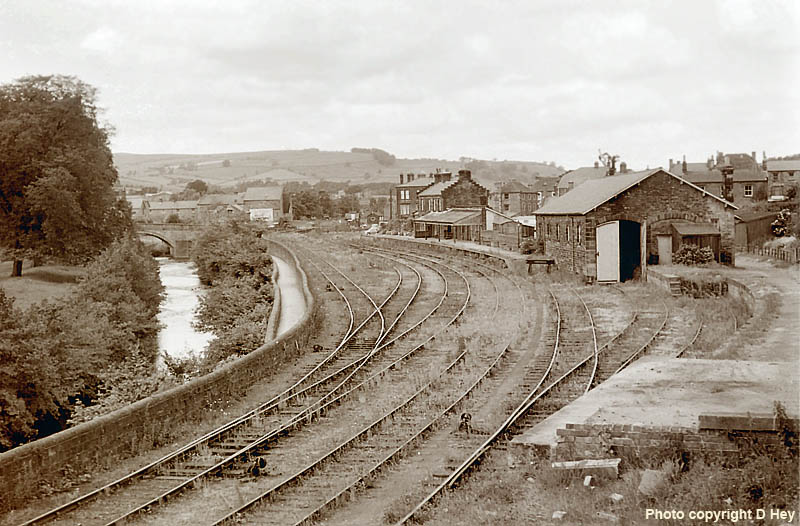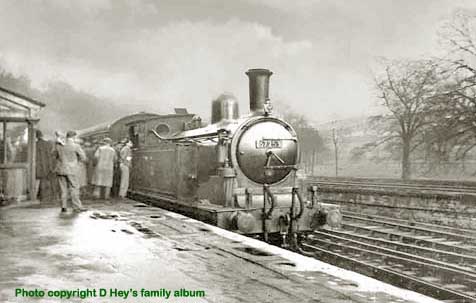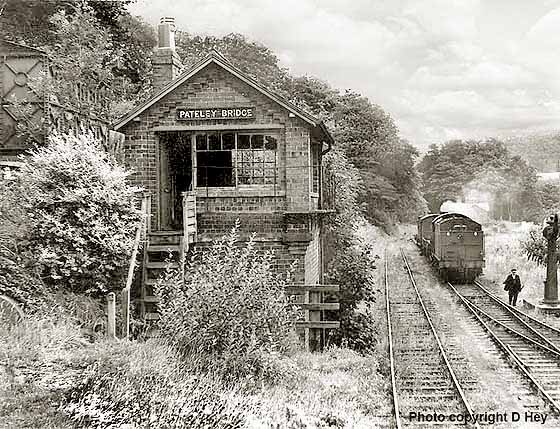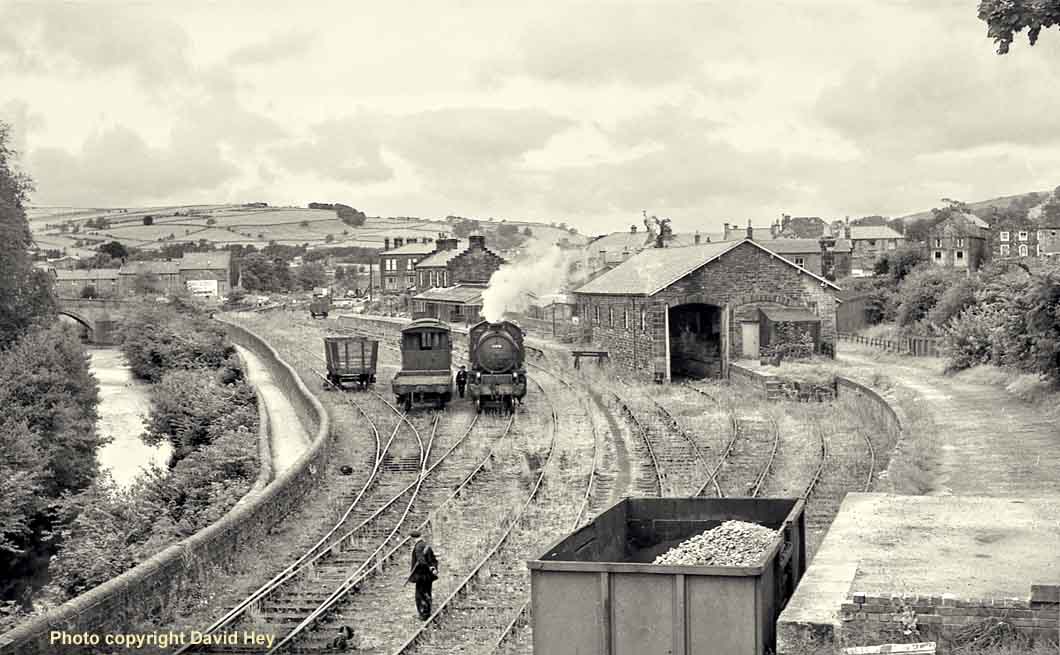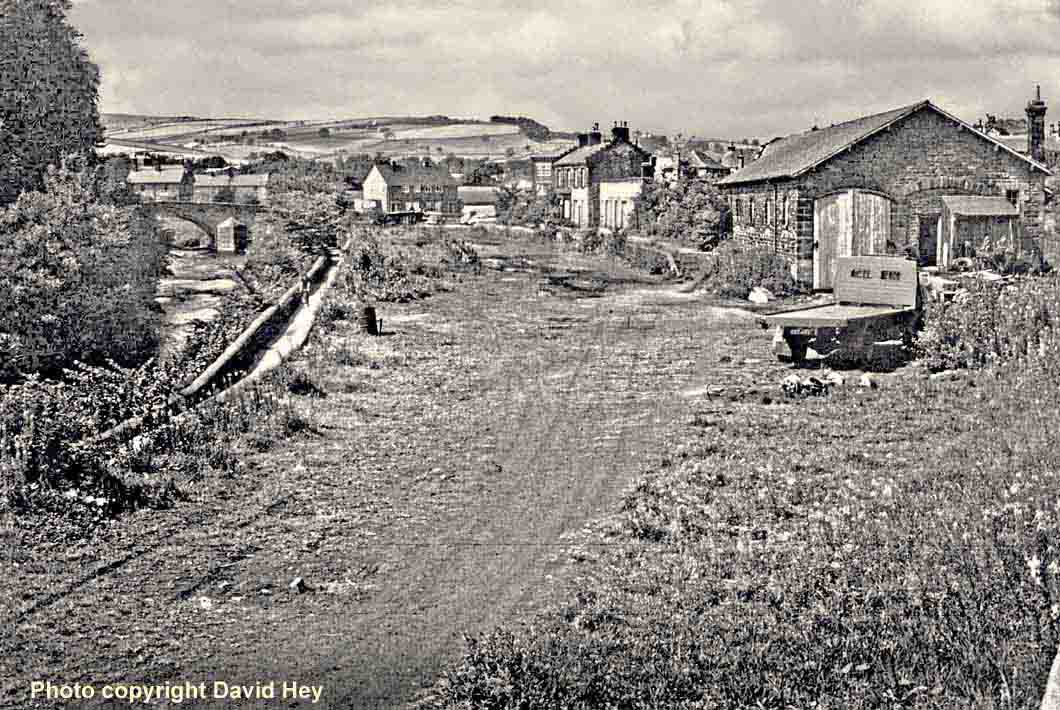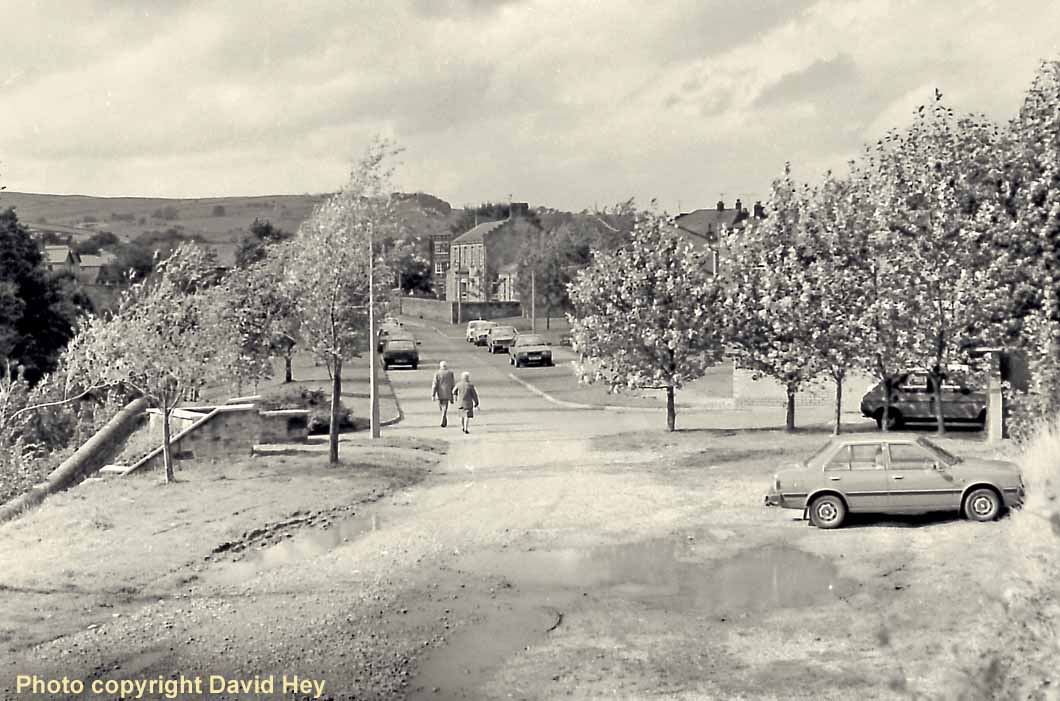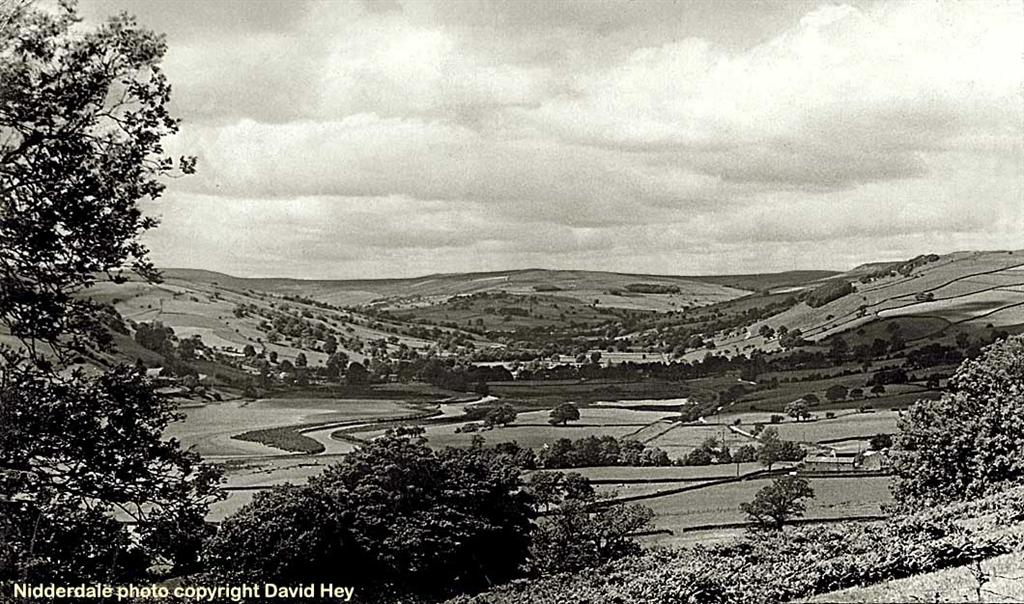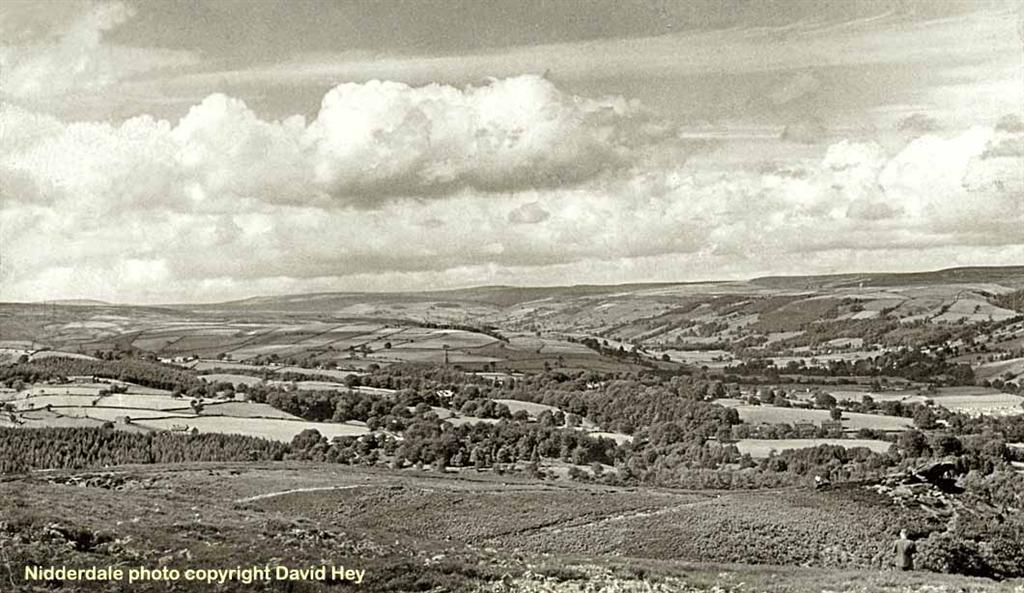 RAILWAYS AROUND HARROGATE.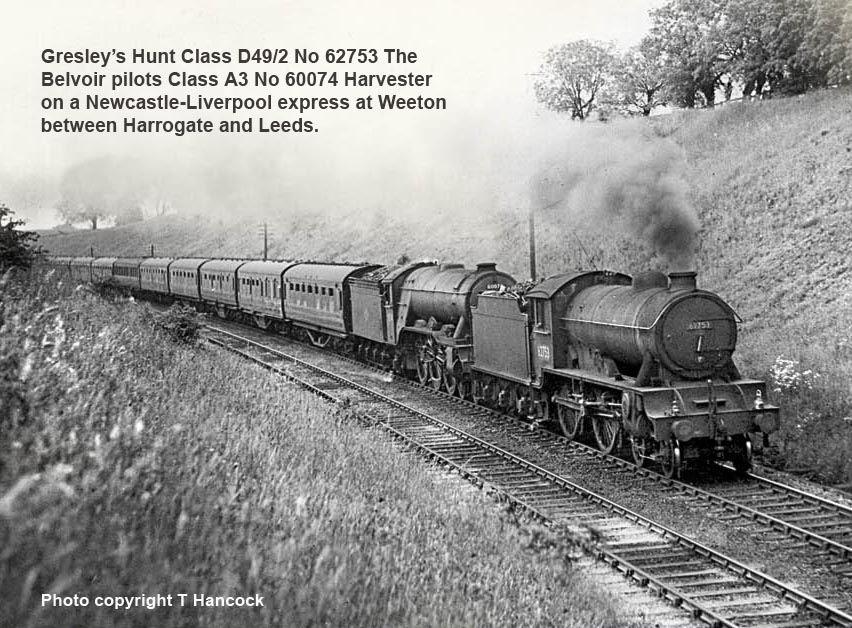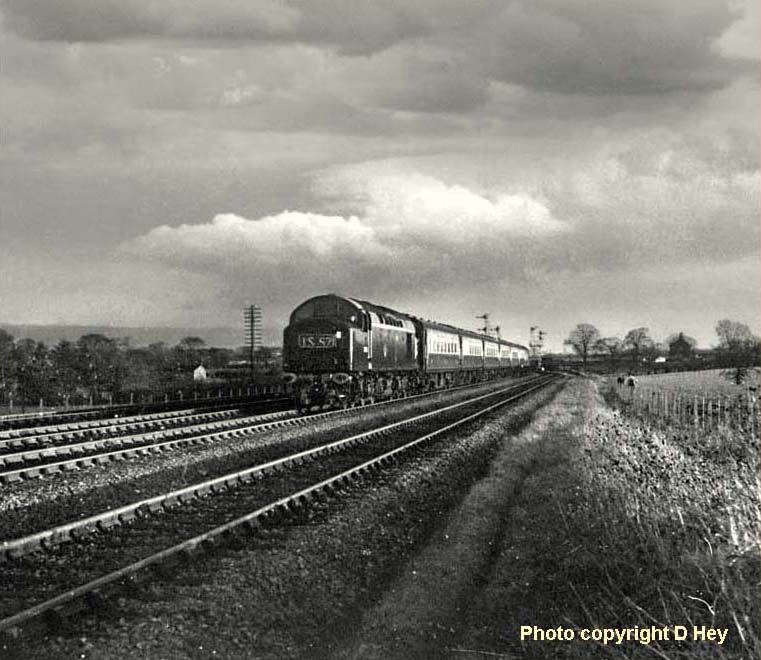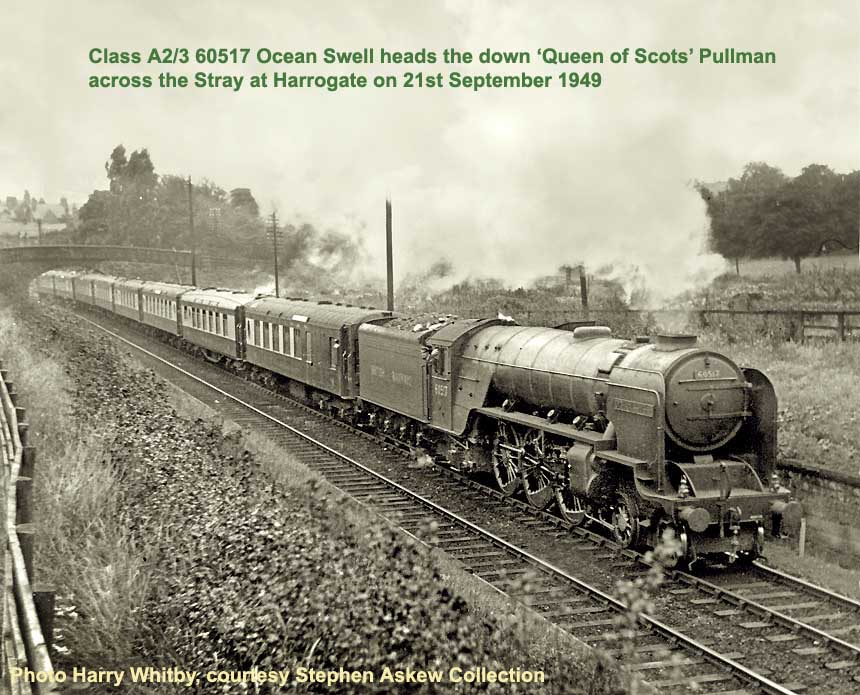 Memories of Bilton Junction Box
by Brian Allison.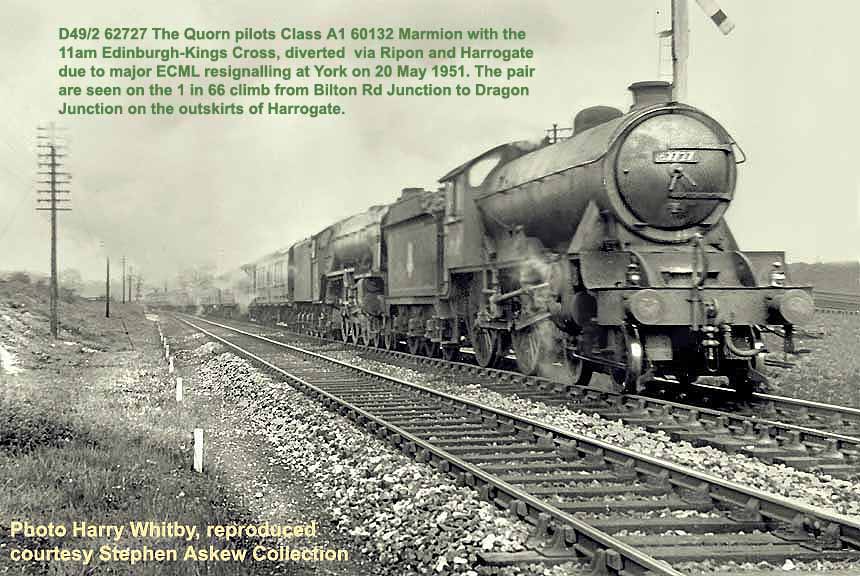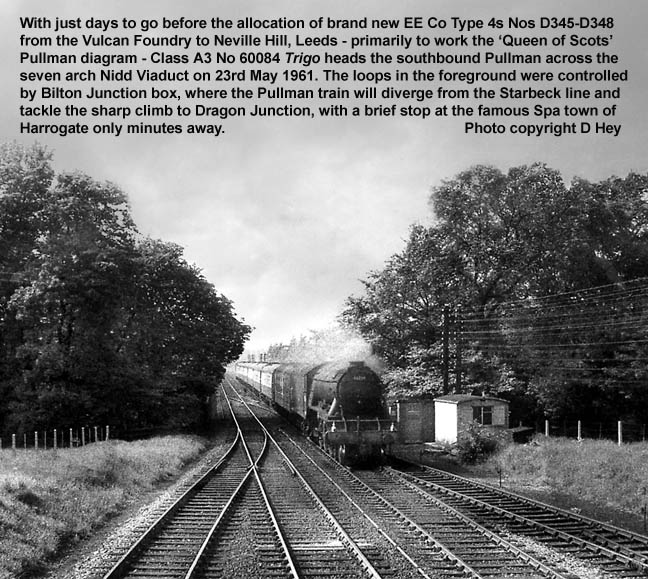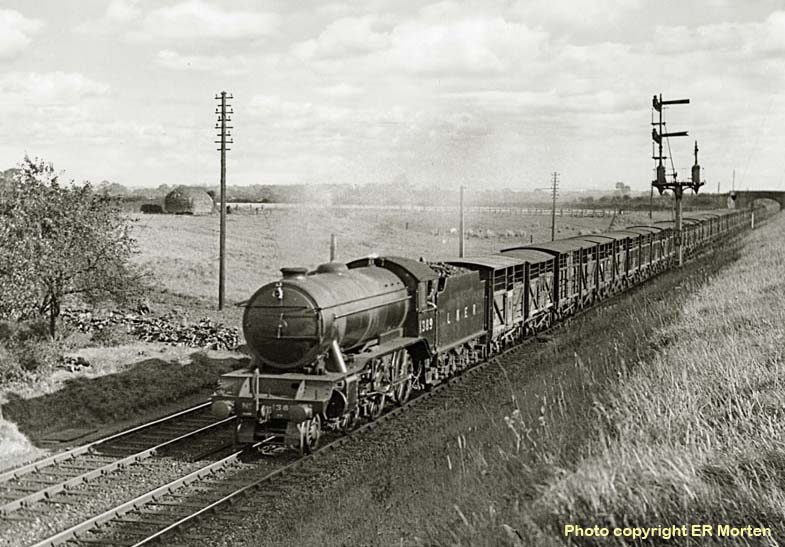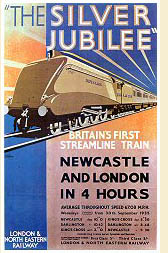 (Left-Below) Athough these photos are far removed from the transitional period of the 1960s, I hope you'll forgive their inclusion, particularly this shot of Gresley's famous Class A4 No 2509 Silver Link in charge of the southbound 'Silver Jubilee' train set at Darlington in 1936. Like the Deltic fleet some thirty years later, the LNER's Class A4 achieved a spectacular and quite unique intensity of operation on the ECML, and no other locomotive made such an remarkable impact than the doyen of the class, No 2509, which averaged a speed of 100mph for 43 miles during its famous press run on the 'Silver Jubilee' on 27th September 1935. The train was named to mark the Silver Jubilee of King George V, and the first four A4s Nos 2509-12 all carried names with a silver theme and emerged from Doncaster in a silver-grey livery to match the train.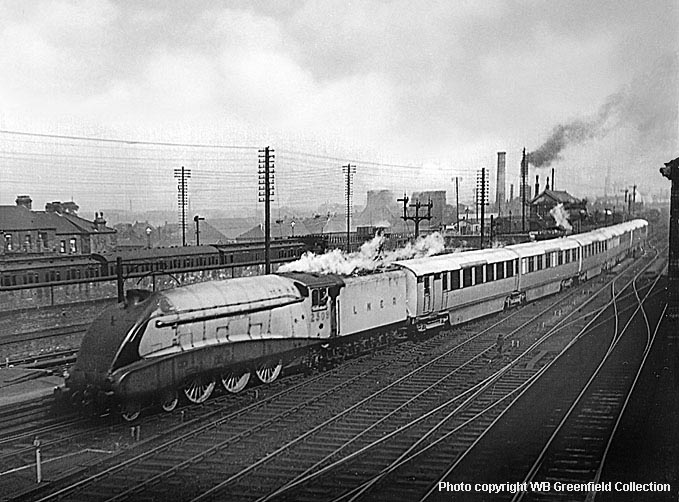 Above-Below) I couldn't possibly put this website together without the generous help of hundreds of contributors who submit photos, anecdotes and general chit-chat for publication on the Internet. This also applies to visitors who spot any errors that occur, which, considering the complexity of the subject (and every effort to avoid them) still appear from time to time.
I was recently contacted by Trevor Ermel, who writes - 'As a spotter during the 1960s living in Gateshead, may I comment on two photos that appear on your North Eastern Region page? One is of the A4 at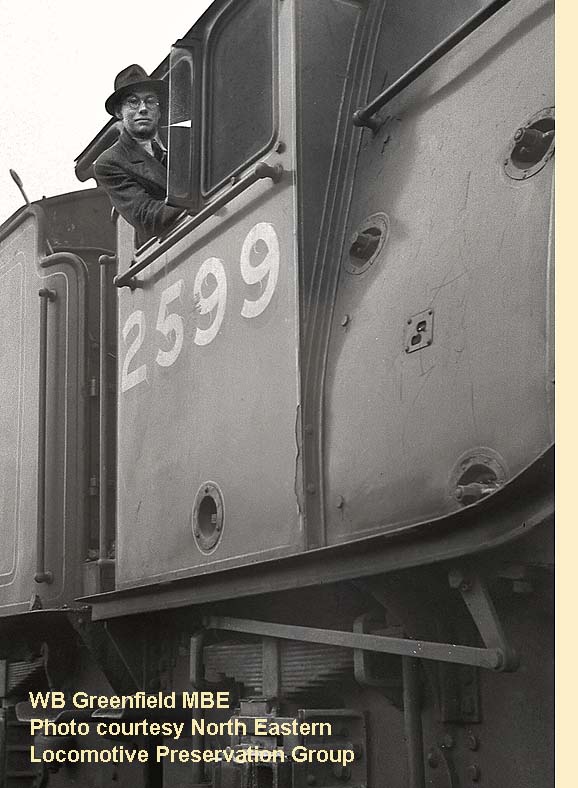 Darlington on the Silver Jubilee train in LNER days, and the second is another LNER photo of the A4 and A1 at Newcastle. The first photo is wrongly attributed to 'A Todd collection' and the second simply to 'A Todd'.
For the sake of accuracy may I point out that both pictures were actually taken by W B (Bryce) Greenfield and the negatives are now part of the W B Greenfield collection in the safe custody of the North Eastern Locomotive Preservation Group. I knew Bryce up to the time of his death in the 1970s and think it only fair that credit should be given where due. The NELPG's website shows many more of Bryce's wonderful pictures from the 1930s. Kind regards, Trevor Ermel…'
Trevor is absolutely right, of course, and my apologies for the mistake; indeed I'm pleased to be able to point visitors in the direction of Bryce Greenfield's superb collection of photos. They appear on the North Eastern Locomotive Preservation Group's (NELPG's) website here - a visit is highly recommended.
I have also learned a great deal more about the man: Born in 1918, Bryce Greenfield lived most of his life at Low Fell, Gateshead where many of his railway photographs were taken. He was awarded an MBE in 1951 for services to the Army Cadet Force, where he attained the rank of Major. Bryce was the NELPG's first Chairman and remained so until he resigned in 1971. His superb collection of railway photographs was bequeathed to the NELPG following his death in 1977. Enquiries and further details of Bryce Greenfield's collection can be obtained here All photos reproduced courtesy North Eastern Locomotive Preservation Group.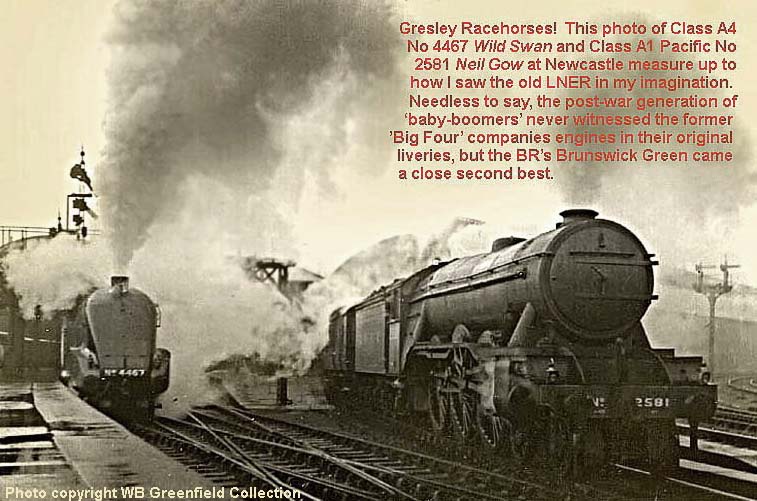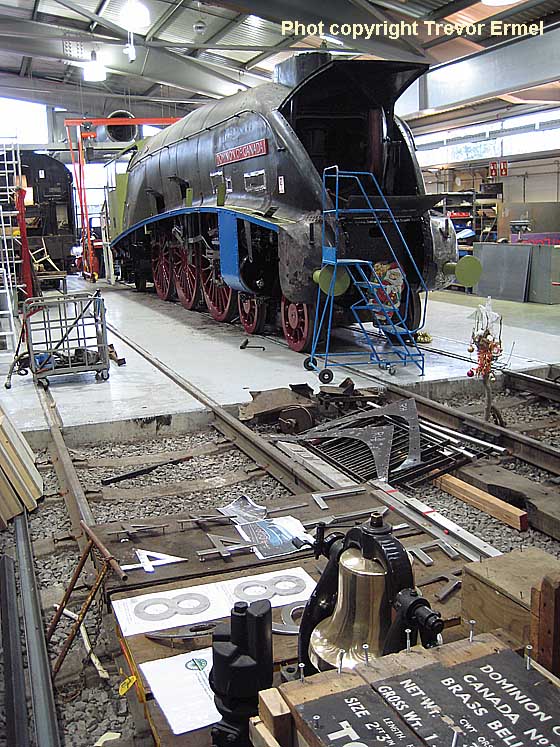 (Above) This Trevor Ermel photo reminds me of Terence Cuneo's 1947 painting 'Giants Refreshed' at Doncaster Plant! Class No 60010 Dominion of Canada is seen undergoing restoration to LNER livery at Locomotion, Shildon on 29th December 2012. The wheels have already been repainted red and a start has been made in applying the Garter Blue livery to the cylinder cover. New skirting will be fitted over the wheels and the double chimney is to be replaced by a single chimney, as built, allowig the Canadian bell to be refitted, seen in the foreground of the picture, along with the stainless steel figures of her original LNER number 4489. The locomotive will return to Canada after taking part in the gathering of all six remaining A4s at York in 2013, to celebrate the 75th anniversary of Mallard's 1938 record speed run. (Below) Trevor Ermel has become a major contributor to this site. His quite remarkable Rail Cameraman page - 'Spottings & Jottings' has evolved into one of the best pages of railway photographs on the Internet. The page features many poignant scenes from the north-east, including several shots of NCB Colliery lines long since gone...all can be found on page 69. Below is just a taste of what you will find...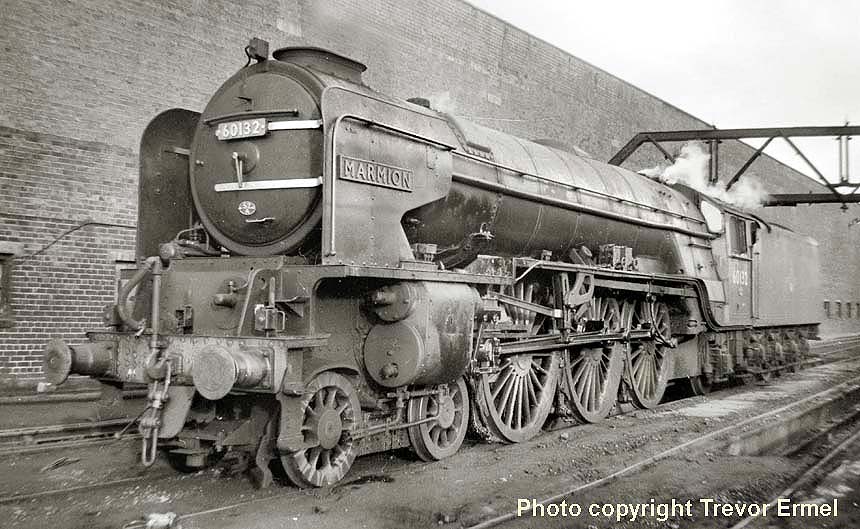 During a visit to Gateshead Shed in October 1964, Trevor photographed Class A1 No 60132 Marmion, complete with smokebox numberplate apparently painted in North Eastern Region tangerine. The building behind is part of the original steam shed which had been substantially rebuilt by then in order to house the recent influx of diesels. Gateshead shed closed to steam in March 1965 which reduced the sightings of Pacifics at Low Fell, although York and Darlington still retained examples for standby duties in case of diesel failure (quite a common occurrence that summer.) My notebook showing spottings from five days in the middle of August 1965 (below) gives another snapshot of activites at Low Fell, with actual train workings now being noted. On the other hand I no longer recorded local diesels (hence the absence of 'Peaks', Type 3s and 4s etc; even Deltics seem unworthy of note!) On the 13th Class Q6s predominated the steam workings, with 9F No 92097 also noted on southbound oil tankers and K1 No 62050 on another freight (coal, again?) On the 14th iron ore trains were again running through Low Fell, with 9Fs Nos 92061, 92064, 92097 and 92099 in action. On the 16th I copped No 60824, a Scotttish V2 on a southbound freight probably heading for nearby Lamesley Marshalling Yard (or 'Tyne Yard' to use the official term.)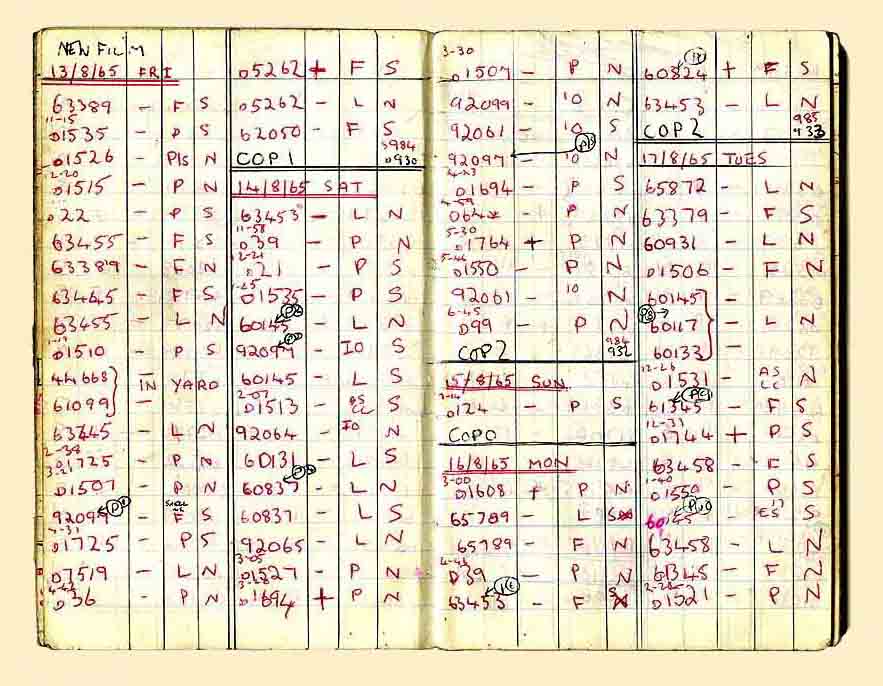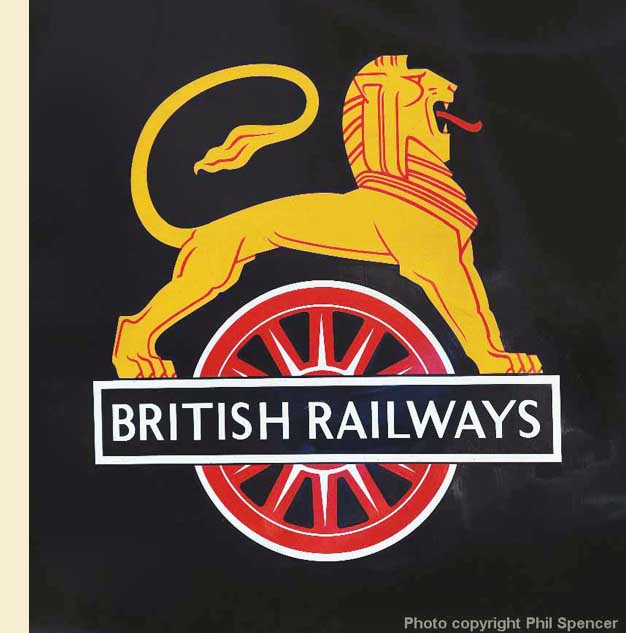 (Below) By September 9th 1967 steam came to an end in the north east and the locomotive sheds at North Blyth, Sunderland, Tyne Dock and West Hartlepool were closed. The once-familiar sight of Q6s and J27s were now replaced by Claytons, Sulzer Type 2s and the sturdy EE Type 3s. On September 9th 1967, Alan Peglar, then owner of preserved Class A3 'Flying Scotsman', along with the Gainsborough Model Railway Society, organised the 'Newcastle Railtour' from Kings Cross. The train was made up of nine Mk1 coaches hauled by D1994 from Kings Cross to Peterborough, where 'Castle' class No 7029 took over for the run north - but only as far as King Edward Bridge Junction. This was due to clearance problems with the Castle's cylinders at Newcastle Central, therefore the now-preserved Class K1 No 62005 was called upon for the remainder of the run into Newcastle. Check out Chris Boylan's comments on Page 54.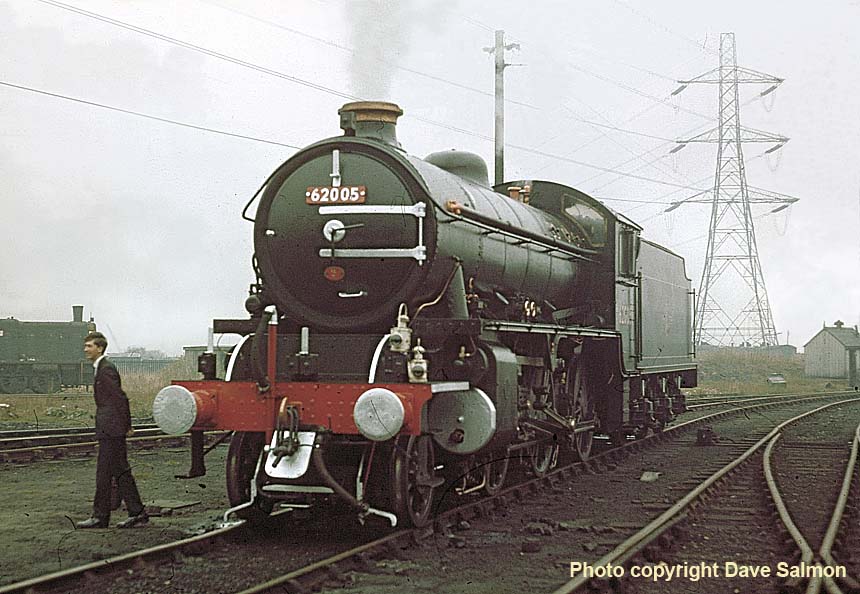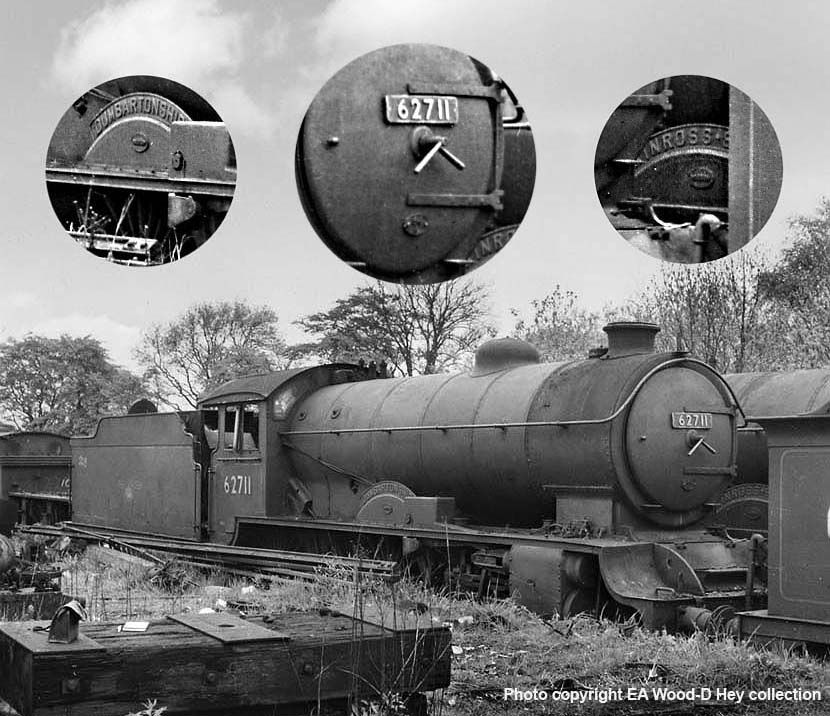 (Above-Below) Harking back to the days when a steam locomotive's nameplates, number plate, shed plate and works plates (builders' plates) could be bought at scrap value from British Railways stores in the

Sixties, I wonder how much this lot would have cost back in 1961…ten quid perhaps! One thing for certain, they're worth a darned-sight more today. Introduced to traffic in February 1928, Class D49/1 No 62711 Dumbartonshire was withdrawn from Hawick shed (64G) on 1st May 1961, and is awaiting the oxy-acetylene torch at Darlington North Road Works (the loco was cut up at the end of the following month). Behind it, sister D49/1 No 62718 Kinross-shire awaits the same fate…now I'm not familiar with the current auction house scene, but in this one photo alone we can safely assume that between both engines there is a total of: four nameplates, two number plates, two shed plates and four works plates…if anyone has any idea of the value, I'd dearly love to hear from them. (Left) Well, it would appear that the nameplates alone are worth in the region of £24,000! A brass locomotive nameplate that had never been offered previously at auction, was sold at the famous Sheffield Railway Auctions on 12th September 2009. The plate was carried by the LNER Class D49/1 'Shire' 4-4-0 No 62703 'Hertfordshire'. The D49/1 was built at Darlington in December 1927 as No 256. The loco became 2703 from January 1947and

renumber 62703 by BR in April 1949. The engine was withdrawn in June 1958 after it fell into the turntable pit at Bridlington and broken up at Darlington in October the same year. The plate measures 57" x 6½" with lightly polished brass lettering on a green background. However, a small hairline crack and slight bending at the bottom centre of the plate (probably caused by the mishap at Bridlington!) didn't put off bidders...the plate sold for £8,000. Click here to visit the Sheffield Railway Auctions website. Pure nostalgia! (Below) A healthy-looking No 62703 Hertfordshire slows on the approach to Seamer Junction with a train from Hull to Scarborough.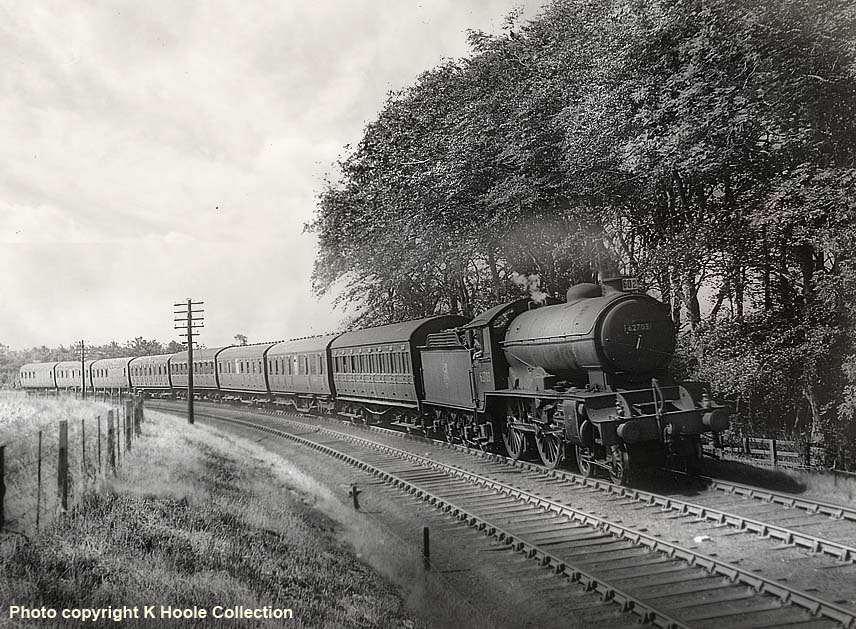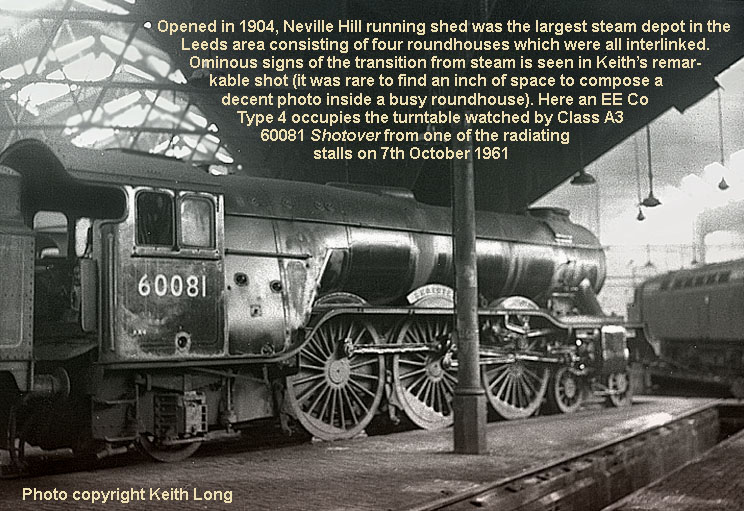 (Above-Inset Right) A locomotive nameplate, 'Shotover', from Class A3 4-6-2 60081 recently appeared at a GCR Auction. The Gresley Pacific, originally Class A1 numbered 2580, was built by the North British Locomotive Co, Works No 23118,

in November 1924. It was rebuilt and re-classified to A3 Class in February 1928, renumbered 81 in 1946, later becoming BR 60081. It was allocated new to Heaton, then went on loan to Haymarket, and its later sheds were Gateshead, Heaton again, Neville Hill, York, Gateshead again and finally back to Neville Hill where it spent its final thirteen years up to withdrawal on 1 October 1962. It was cut up at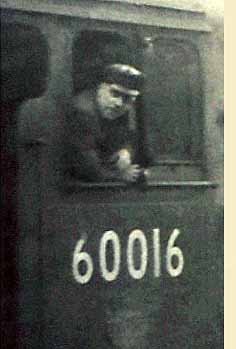 Doncaster Works. The loco achieved fame on 1st May 1928 when it hauled the inaugural southbound non-stop running of the Flying Scotsman, departing from Edinburgh Waverley at 10 am, with 4472 Flying Scotsman hauling the northbound train from Kings Cross on the same day. The cast brass nameplate measures 56½", the base clearly stamped 2580. The Lot sold for £14,800 at GCR Auctions on 14th January 2012. Click here to visit the GCR Auction's fascinating website; a wonderful trip down memory lane for enthusiasts of all ages...

(Left) HELP! I have recently been contacted 70 year-old Phil Cartwright, who at the age of thirteen accompanied his mother to Middleborough to visit his grandmother in May 1958. Whilst his Mum and Gran spent their days on the beach at Redcar, Phil spent several days spotting at Darlington Bank Top, where he took this photo of Gateshead shed's Class A4 60016 Silver King departing for Newcastle. He wondered if anyone could identify the fireman in the picture.
If you can help Phil with his enquiry please drop me a line at my email address dheycollection@ntlworld.com and I will forward it on to him.
Many thanks in anticipation. Meanwhile Phil also includes this shot (below) of Class A3 60058 Blair Athol coming off Darlington shed in May 1959.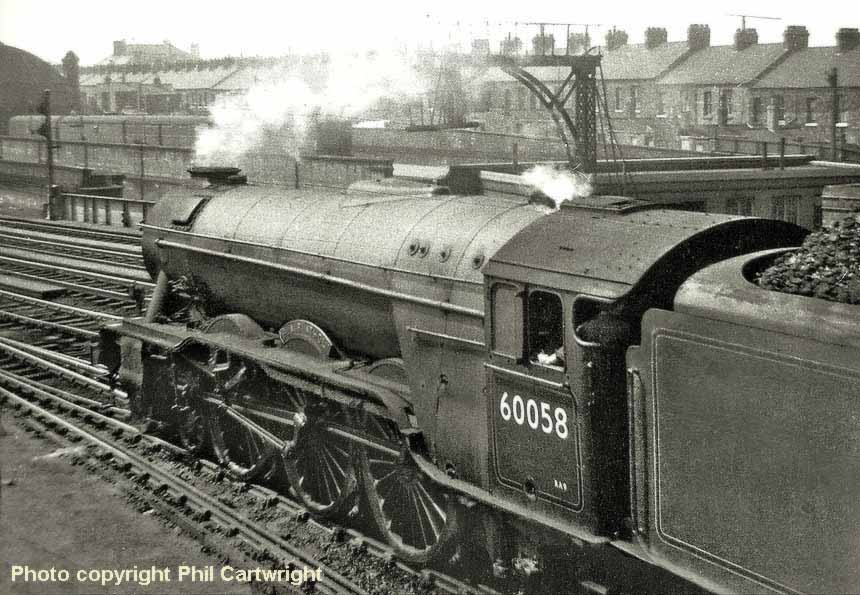 (Below) Introduced in 1927, the first thirty six members of Gresley's Class D49 4-4-0s carried the names of Shires through which the LNER ran, whereas the remainder (built 1932-1935) bore the names of famous fox hunting packs. The D49s were generally known as D49/1 'Shires' and D49/2 'Hunts' respectively, the D49/1s having Walschaerts outside valve gear and the D49/2s rotary camshaft gear. All were built at Darlington. A locomotive nameplate, measuring 34¼" long, from the LNER D49 Hunt Class 4-4-0 No 361 'The Garth' went under the hammer for £8,100 at a recent Great Central Railwayana Auction. Built at Darlington in October 1934, the locomotive was renumbered 2764 in 1946, becoming 62764 in 1948. No 62764 was allocated to Gateshead that same year, followed by a move to Scarborough and then Neville Hill from where it was withdrawn in November 1958 and cut up at Darlington Works.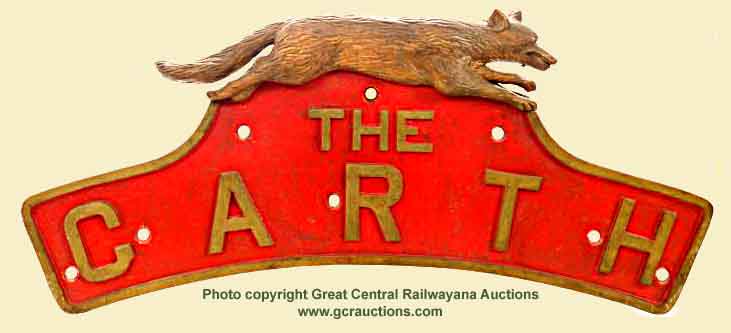 (Below) Whilst The the D49/2s were named after fox hunting packs in the LNER area, No 62764 was one of the exceptions - the Garth hunt was based in the Basingstoke and Reading area. Here No 62764 is being put through its paces whilst undergoing tests at the Rugby Locomotive Testing Station. Click HERE to visit the excellent Warwickshire Railway website.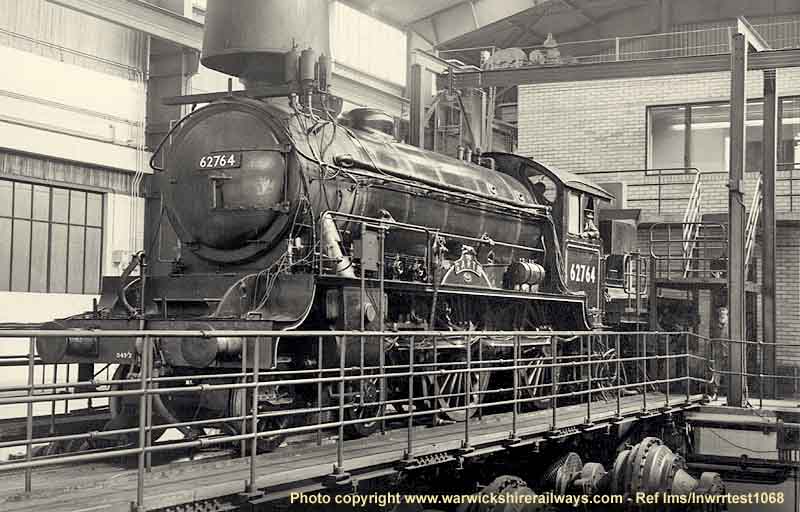 (Below) No 2756 The Brocklesby - introduced to traffic in August 1934, withdrawn April 1958 - is framed in this photo by a cast metal fox which was mounted separately atop the nameplates of all the 'Hunt' class engines…two casts were made, one for each side of the loco both facing the front; it added a certain panache to an otherwise fairly ordinary 4-4-0.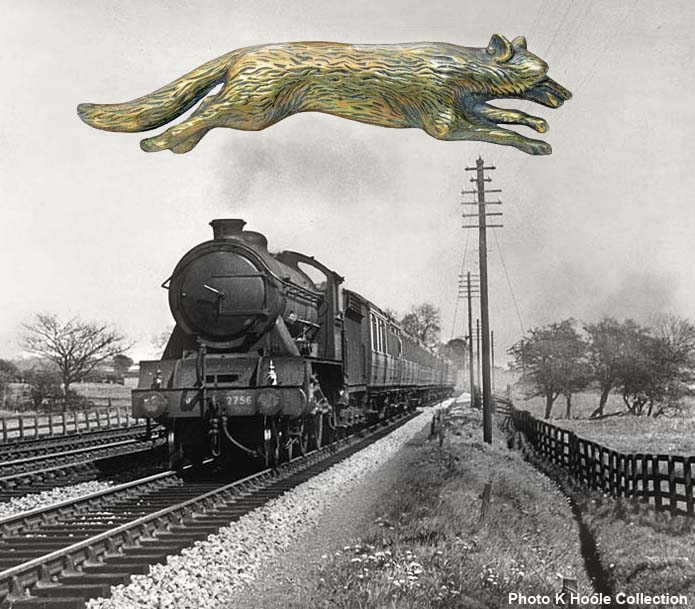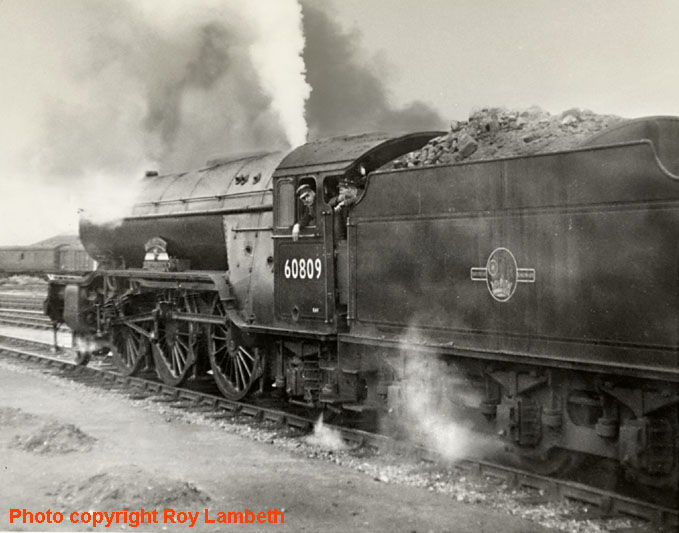 (Above) Locomotive nomenclature is a fascinating subject. If you were among the legion of young train spotters, scarcely old enough to read or write, who congregated at the ends of platforms in search of 'cops', then you'll recall the prized numbers to collect belonged to engines with nameplates. Perhaps you hadn't a clue how to pronounce their names correctly, but it did give you a handle on spelling and in most cases a sense of bewilderment as to the origin of such names as Umseke, Zeebrugge, Trigo, Bailie MacWheeble, Gnu, Cicero - plus a hundred more besides, and in case you're wondering it has taken me until now to fathom out most of them. Some nameplates had crests which made them even more interesting, though I have to say the nameplates fitted to the Class V2 didn't sit well above the centre driving wheels of the locos. The footplate on a V2 was raised over the cylinders, then further upswept over the driving wheels, and with an absence of wheel splashers it was almost as if the nameplates had been added as an afterthought. This can be seen in Roy Lambeth's shot of Class V2 No 60809 The Snapper; The East Yorkshire Regiment - the Duke of York's Own, awaiting departure from the Saltburn Bay platform at Darlington Bank Top with an afternoon Darlington-Leeds service via Ripon. Built at Darlington (No 4780) in August 1937 the loco was withdrawn from traffic at Darlington shed in July 1964.


(Above-Inset-Below) Staying with the theme locomotive names, this nameplate (above) adorned the ex-LNER Class V2 No 4831 'Durham School' built at Darlington in May 1939, renumbered 860 in 1946, becoming BR 60860 after nationlisation. It was named at Durham Elvet station on 15 June 1939 by CG Ferguson, Head Boy of the School. It was one of two V2s named in honour of public schools in the north-east of England, the other being 'St Peter's School York, AD 627'. Doubtless others would have followed had it not being for the outbreak of World War ll. Always a North Eastern engine, it alternated between Gateshead and Heaton with a spell at Tweedmouth. It was withdrawn from Heaton on 22nd October 1962 and cut up at Darlington Works in February 1963. The plate measures 54" wide, 15¾" high and sold for £21,000 at a Great Central Railwayana Auction on 8th October 2011. (Inset) The second 'school' nameplate featured came from Class V2 2-6-2 No 60847 'St Peters School York AD627'. Originally numbered 4818, the V2 was built at Darlington in March 1939 and named at a ceremony at York station on 3rd April 1939 by JT Brocklebank, Head Boy of the school. The loco

was renumbered 847 in 1946, becoming 60847 upon nationalisation of the former 'Big Four' railway companies. Appropriately a York (50A) engine all its life, 60847 was withdrawn in July 1965 and after brief periods in store at York and Oxley it was removed to Cashmores at nearby Great Bridge where it was cut up the following October. The plate was repainted in the correct colours and the brass lightly polished, overall dimensions being 54" long and 15½" high. This Lot sold for £24,000 at Great Central Railwayana Auctions on 25th April 2009. (Below) Another Class V2 locomotive nameplate, Kings Own Yorkshire Light Infantry, from No 4843 built at Doncaster, Works No 1898, in April 1939 and named on 20 May 1939 in Doncaster Works yard by Lady Deedes, wife of General Sir Charles P. Deedes, Colonel of the Regiment. It was renumbered 872 in 1946, becoming BR 60872 and spent most of its working life at Doncaster from where it was withdrawn on 22 September 1963 and cut up at the nearby Works. The nameplate went under the hammer for £25,500 at a Great Central Railwayana Auction on 14th July 2011. (Below) Click here to visit the GCR Auctions fascinating website...the background information supplied for each lot is quite outstanding. .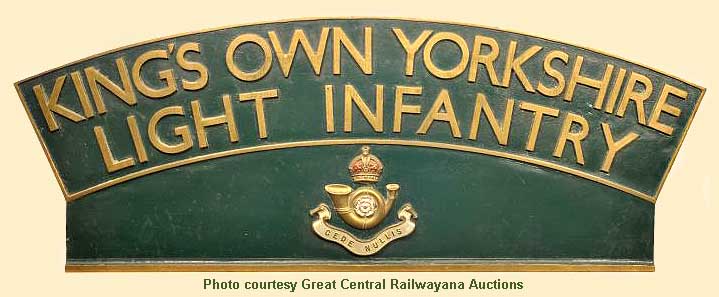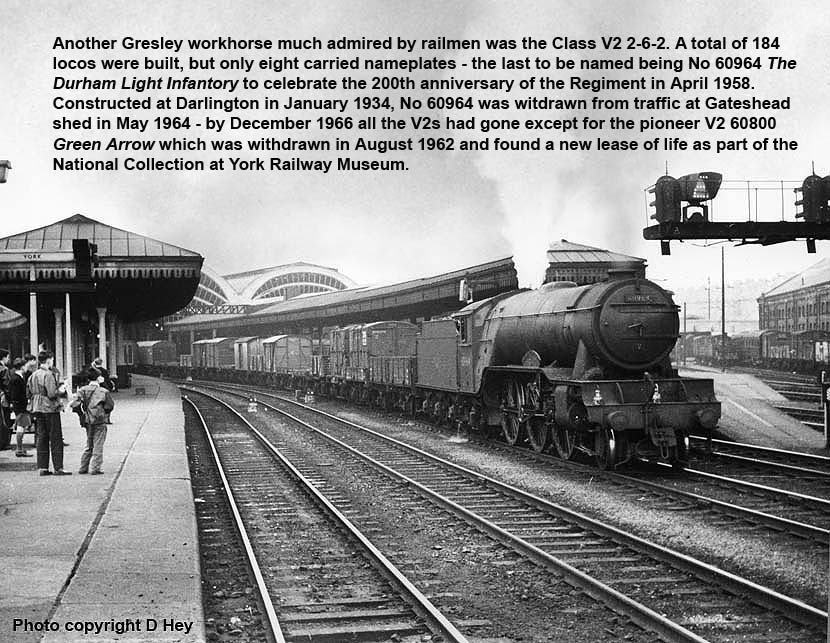 (Above) A seemingly impatient Class V2 No 60964The Durham Light Infantry blows off at signals with a southbound freight. A locomotive nameplate 'The Durham Light Infantry' appeared at a recent GEC Auction. The LNER V2 Class 2-6-2 No 3676 was built at Darlington, Works No 1904, in January 1943, renumbered 964 in 1946, becoming BR 60964. It was ceremonially named at Durham Station on 29th April 1958 by the Colonel

of the Regiment. The choice of 60964 was appropriate as the loco spent the whole of its working life at nearby Gateshead and Heaton. It was withdrawn from Gateshead in May 1964 and, after short periods in store it was cut up at Swindon the following October. The surviving nameplate and 'splasher' is a one piece brass casting with the regimental badge fitted separately, with the original BR chromium plating. The integral splasher repainted green with orange lining and the background to the lettering red, original chrome to the lettering, border and badge, the back also completely untouched. This lot sold for £20,000 on 17th January 2009, while the smokebox numberplate of 60964 sold separately for £2,300.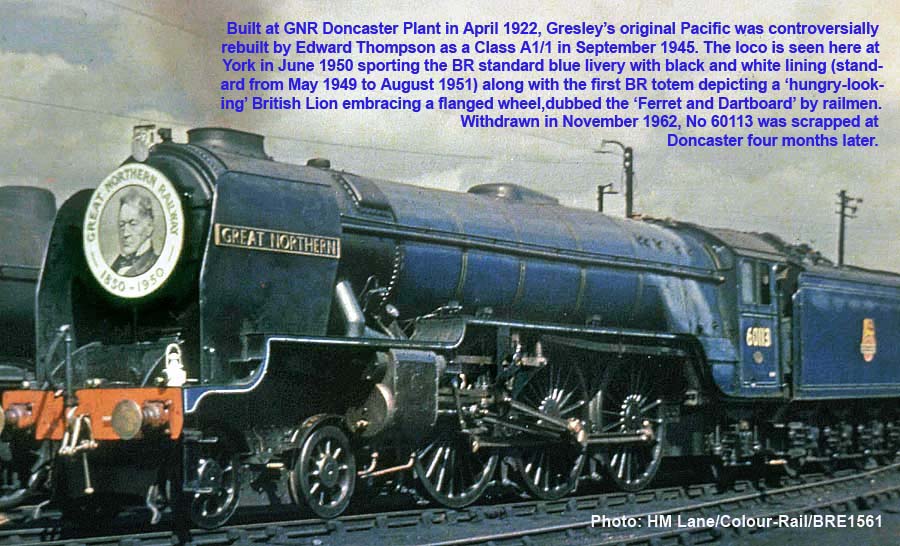 (Below) This Colour-Rail shot shows Edward Thompson's Class A2/3 No 60500 Edward Thompson arriving at York with a southbound train, date unknown…but just visible in the background is a BRCW 3-car set awaiting departure for ScarboroughThis new dmu service commenced on March 17th 1960, replacing most of the weekday steam-hauled passenger services to the Yorkshire coast…No 60500 was disposed of in June 1963, which narrows the photo date down. The original six Class A2/2s, Nos 60501-60506, were Edward Thompson rebuilds from the Gresley Class P2 2-8-2s, and introduced in 1944. The second batch, Nos 60507-60510 was a similar design with a V2 2-6-2 boiler and Pacific wheel arrangement, designated A2/1. A further Thompson development came with the construction of Nos 60500, named in his honour, and Nos 60511 to 60524 from 1946-1947, all designated A2/3. Following the appointment of AH Peppercorn as CME of the LNER, a further fifteen was built with a shorter wheelbase, designated A2s - and, as it turned out, the performance of the Peppercorn engines was in sharp contrast to the unreliable Thompson design, which were early candidates for withdrawal. I contacted Chris Boylan, an ex-BR Fitter based in the North-East for his comments (link here to Chris's page) and this is what he had to say - 'Gateshead had three A2/3s Nos 516, 518 and 521, which were not popular amongst the footplate fraternity at 52A, the reason being that they were a rough riding machine, heavy on coal and sometimes prone to slipping when starting a heavy train. Once they got going, however, they could put up some spirited performances. Their construction was based on Thompson's rebuilding of Cock o' the North'. This entailed the re-use of existing materials and retaining as much of the ridiculous short con rods which were used in the new building (shades of Ravens B16s and his Pacifics). This is why the outside cylinders were set so far back. All three con rods were the same length, with the middle cylinder driving on the leading driving wheels, which resulted in an ungainly-looking machine. For the fitters in the shed, the exhaust ducts fitted to the outside cylinders were little tinkers to keep steam tight, and you had to watch yourself when dismantling the middle eccentric strap. On the other hand, the disposal crews loved them for their self cleaning smoke boxes and hopper ash pans which made them easier to dispose at the depot...'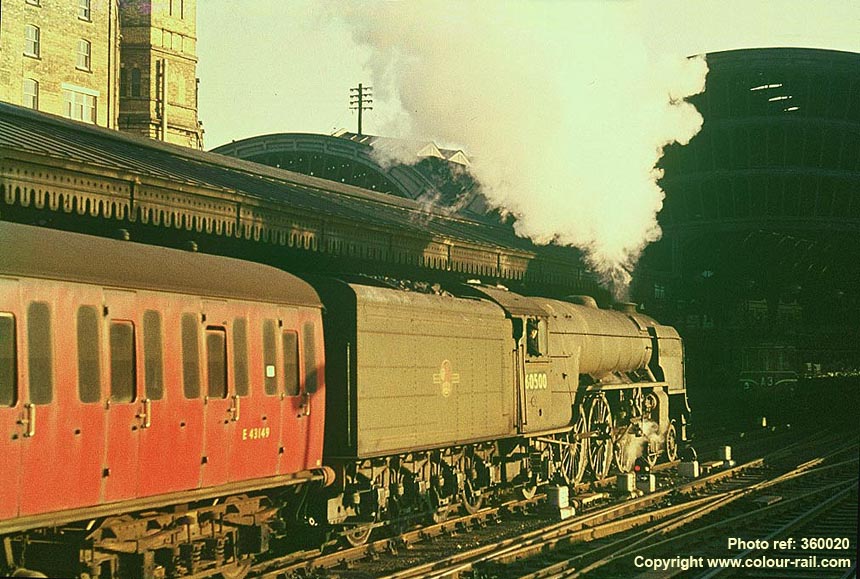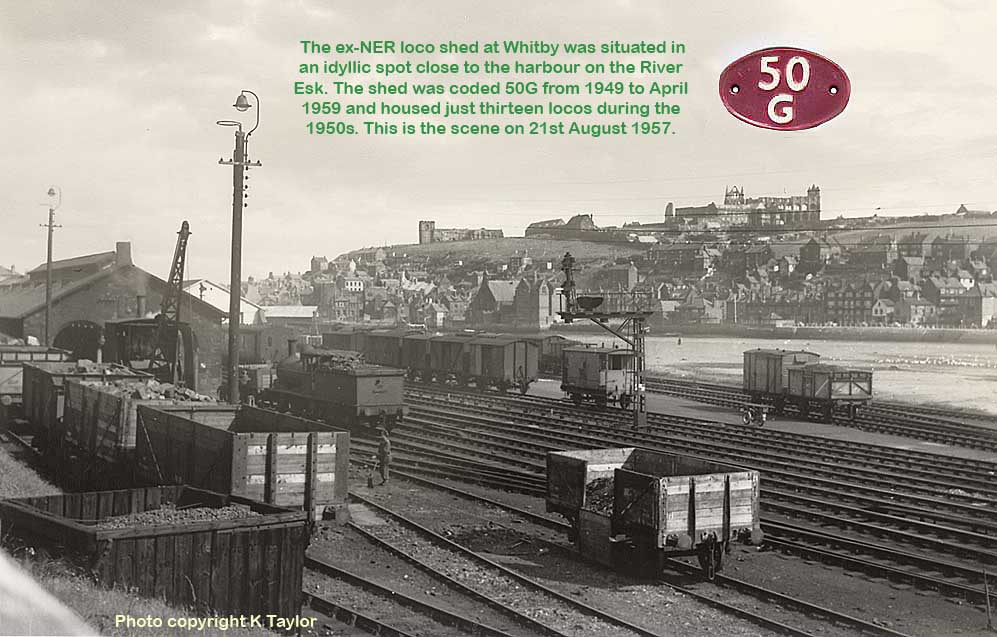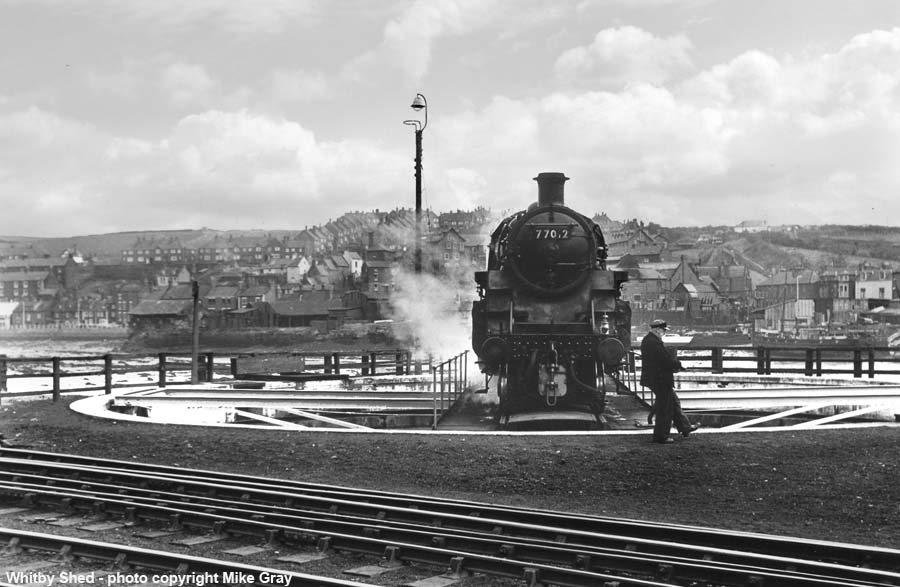 BR STEAM DAYS AT DURHAM
(Above) Fast-forward ten years and the ever-increasing demand for faster speeds on the East Coast Main Line meant that major trackwork alterations were necessary together with the replacement of aged semaphore type mechanical signalling. The track layout at Durham assumed a new guise in December 1969, when the four tracks were reduced to two 'down' lines and one 'up', and connections to the bays were removed. The remodelling allowed the 30mph speed limit to be raised to 50mph. Here 'Peak' class D154 (later Class 46 No 46017) slows for the Durham stop with the 16.15 Newcastle-Bristol on 6th September 1969. Gateshead took its first delivery of Class 46s during the first week in May 1962.
BR STEAM DAYS AT NORTHALLERTON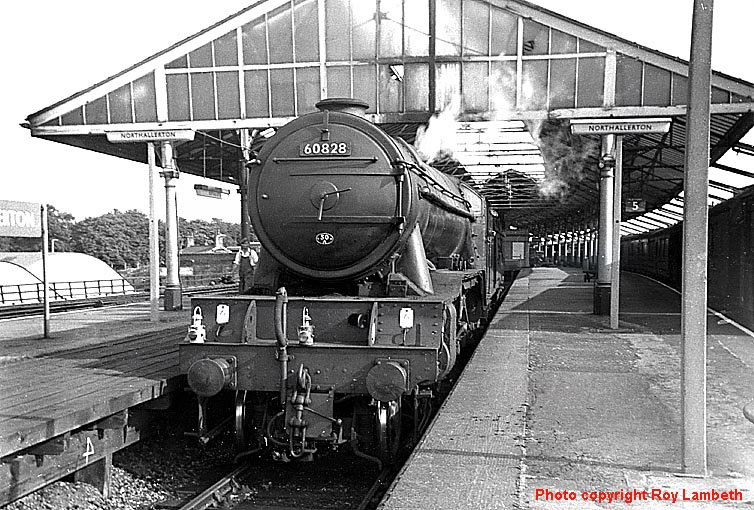 (Above) A lovely shot by Roy Lambeth of Class V2 No 60828 in the Wenslydale Bay at the north end of Northallerton's down island platform. Behind the camera are two water columns - one either side of the bay line - each with a water tank at ground level to catch any overspill. Roy recalls that one of them contained several large species of goldfish and carp that had been reared by the station master's wife. The fish were so tame they would take food from his hand - memories! Some things you never forget!

(Below) Every day hundreds of thousands of enthusiasts visit the Internet, all of whom have their own diverse interests and expertise; indeed the subject of trains and railways is extremely complex and so I welcome input from visitors. This is especially important as a lot of people use the Internet as a source of reference and so it is essential to get the facts right. Among the most prolific contributors is ex-BR Fleet Engineer, Vic Smith, who corrects me on the date of this photo showing the Stephenson Locomotive Society and Manchester Locomotive Society's 'Northern Dales Rail Tour' at Northallerton on 4th September 1955. Checking with the excellent Six Bells Junction site HERE the rail tour started from Manchester Victoria, the first leg hauled by ex-LMS Compound 4-4-0 No 41102 via Deal Street, Pendleton Broad Street, Bolton, Darwen, Blackburn, Daisyfield Junction, Clitheroe to Hellifield. The Compound then continued via the Ingleton branch to Tebay, where Ivatt Class 2-6-0 No 46478 and ex-NE Class J21 No 65061 hooked on for the second leg via the Stainmore route across the Pennines to Darlington North Road. Class A8 4-6-2T No 69855 hauled the next leg via Fighting Cocks, Eaglescliffe and Yarm to Northallerton. The photo shows Class D20/2 No 62360 awaiting the Class A8 69855 to couple-on for the return journey across the Pennines via the Wensleydale branch to Garsdale, where Compound No 41102 hauled the final leg via Hellifield, Clitheroe, Daisyfield Junction, Blackburn, Darwen and Bolton to Manchester Victoria.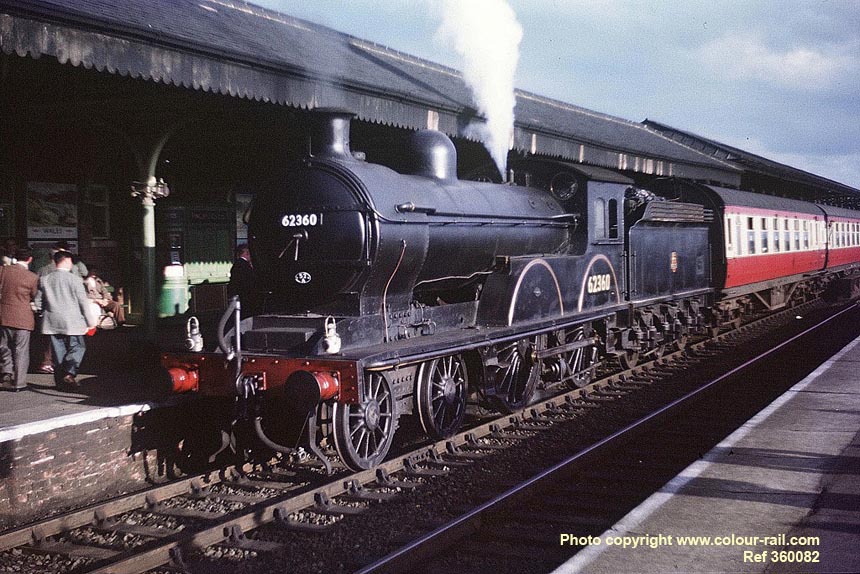 (Above) Chris Boylan adds his comments to this Colour-Rail shot of D20/2 No 62360 at Northallerton - 'In the days of the North Eastern Railway, the prototype underwent stringent running-in turns on the morning Newcastle to Edinburgh and return working, followed by the afternoon Newcastle to Leeds and return six days a week (not Sunday). By the time her first general overhaul arrived she had amassed 284,000 miles. Gateshead's Class D20s were responsible for working the fastest train in the British Empire, the 12.20pm Newcastle-Sheffield. They covered the 44 miles between Darlington and York in 42 and half minutes. My retired engine driver friend recalls that they had to be managed with little and often technique keeping a level thin fire. Personally I thought they were a handsome looking machine, albeit their valves & pistons exams could be troublesome but nonetheless we overcame them. What I learned at South Blyth on the Westinghouse G5s did not come amiss when a Class R D20 wanted looking at…the last loco was scrapped not long before I completed my apprenticeship.'

THORNABY TEESSIDE



(Above-Below) Thornaby Traction Maintenance depot (51L) was built primarily as a steam maintenance depot to replace the NER's steam sheds at Middlesborough (51D) and Newport (51B). Completed in 1958 in

close proximity to Tees Yard, the depot was designed initially to accommodate diesel traction alongside steam, with conversion to a full diesel facility at a later date. The depot consisted of a straight running shed and repair shop with facilities for major repairs, engine replacement and classified overhauls. I had trouble dating these shots and so asked railwayman Russ Piggott if he had any ideas; he writes - 'I reckon the Tees Yard shots date from 1985 as the up receptions are in the process of being lifted and it looks like the down hump is also closed (the hump closed in '85). The amount of stored coal wagons leads me to believe it could have been taken during the miners' strike; also the staging sidings (behind the centre lighting tower) doesn't look to have any 'MGR sets' staged. There always seemed to be at least one staged on there when the pits were open. Thornaby crews still worked a lot of turns to Horden and Easington back then, the diagrams were Tees-Horden or Easington, load, then work to York …leave the wagons in the up arrivals, loco over to the Down departures then work the empties back to Tees and relief...' Thanks Russ; these super-wide images of Tees Yard (with Thornaby Depot in the background) have been cobbled together from a number of individual 500mm telephoto shots taken side-by-side from the A19 trunk road viaduct straddling the yard. Click on photos once, then again to see full-sized images.
A word of helpful advice when viewing these images. Press F11 on the keyboard to empty the screen of all extraneous clutter (tool bars etc) revealing a full-size webpage on screen...it really does make a difference! After viewing, move cursor off the image and right-click to return 'back' to the page. You can press F11 on the keyboard at any time to return to the original screen.(Right) Photo-link to Phil Hodgett's superb page on the Port of Blyth deep in NER territory on the Northumberland coast.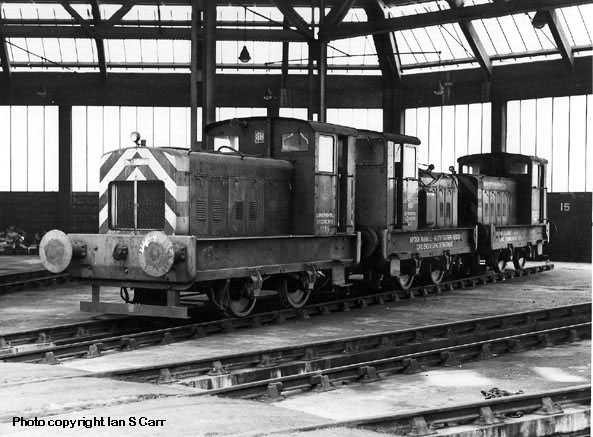 (Above-Below) The Thornaby site also incorporated an octagonal-shaped roundhouse at the rear of the building containing a 70ft turntable feeding 22 stalls. On May 27th 1970, Ian Carr took this interesting shot of withdrawn Civil Engineering Dept. 4-wheeled shunters Nos 56-57/82 awaiting disposal inside the concrete and glass roundhouse. Introduced to traffic in 1955, these Ruston & Hornsby 88bhp diesel mechanical shunters were used at the Dinsdale Civil Engineering Depot near Darlington. For the record, Thornaby roundhouse was demolished in March 1988. (Below) The hexagonal roundhouse provides a backdrop to this shot of Class 31 31105, Class 37s 37165 and 37193, and Class 47 47041.
(Above-Below) The stunning images from the NMSI collection give some idea of the superb artwork commissioned by the 'Big Four' railway companies and later British Railways for posters across the country. The NMSI family is comprised of four award-winning museums, each with their own diverse identity: the Science Museum, the National Media Museum and, of course, the National Railway Museum (NRM) at York which houses the world's pre-eminent railway collection. The NRM is spread across three halls: the Great Hall - formerly the steam engine shed (50A) - complete with a working turntable, while the Station Hall (previously York's central goods depot) is now laid out like a 'period' railway station. The Science Museum at Swindon is a massive site housing collections ranging from the iconic Lockheed Constellation airliner to super computers, bicycles and the last Fleet Street printing press, however the NMSI's full collection is so big that only 8% of the artefacts are on public view. The rest are hidden-away at an ex-WW2 airfield just off the M4, but enthusiasts are amply compensated with the NMSI Collections Online; a superb website displaying thousands of objects including a range of fabulous railway travel posters...click HERE a visit is highly recommended. This BR North Eastern Region poster (above) 'Service to Industry' was painted by Terence Cuneo in 1962, and depicts steam and diesel-hauled trains at South Grid sidings at the Imperial Chemical Industries site at Billingham, Stockton-on-Tees. The text describes the arrival of coal trains and departure of fertilizers, cement and bulk liquids. (Below) The popularity of Scarborough as a holiday resort is largely due to the enterprise of the LNER; this eye-catching poster - 'Scarborough' - was painted by W Smithson Broadhead, and depicts an elegantly dressed couple on a terrace overlooking Scarborough South Bay from above the Spa, with the beach, sea and castle in the background.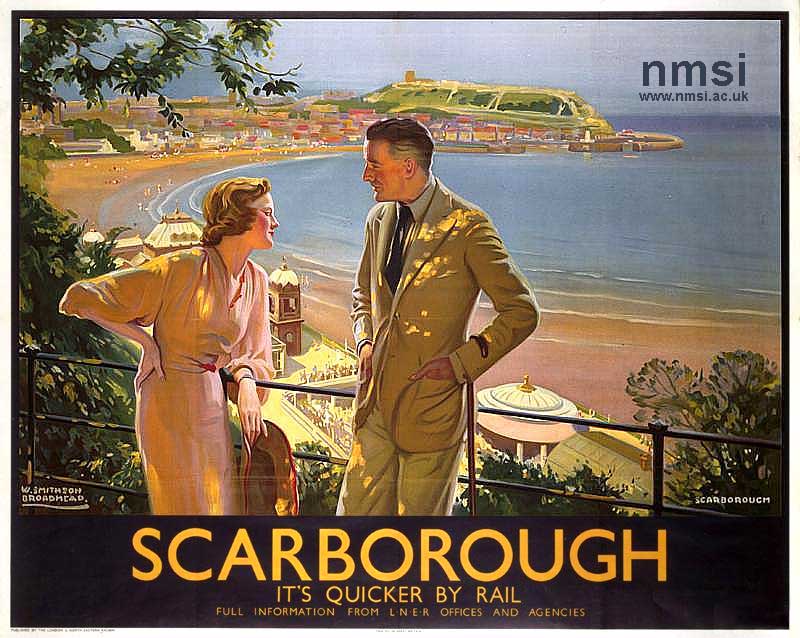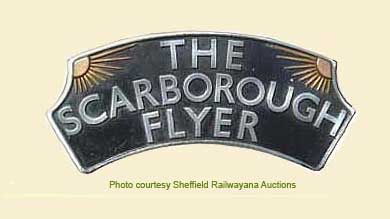 (Left-Below) Following nationalisation of the 'Big Four' railway companies, many locomotives from an operational standpoint worked beyond their arbitrary Regions, so in many ways it is meaningless to classify any particular class of locomotive as belonging to any one of the six Regions during the transition from steam. For example, it was not unusual for former companies engines to work hundreds of miles from the Region they were initially allocated. (Left) A sign of the inflationary times...a letter of receipt for £10 dated 1965 (obtained on purchase by the vendor) accompanied this 'Scarborough Flyer' headboard when it went under the hammer at a Sheffield Railwayan Auction in June 2008. Click here to visit the company's fabulous website. This summer-only service ran between King's Cross and Scarborough from the early 1920s to the late 1950s. The cast aluminium headboard measuring 40¼" x 14½" has two decorative 'suns' in cast brass

riveted in the top corners. Although Pacifics were used between King's Cross and York, the train was usually hauled by nothing more notable than a D49, B1 or sometimes a York-based V2, forward from York, but this Ted Hancock shot is something of a mystery. Now I'm not sure if the Loco Department had a serious shortage of engines with a suitable power classification or some wag has stuck a 'Scarborough Flyer' headboard on the front of ex-LMS Class 4F No 44108 hauling empty coaching stock from Scarborough Central Station to release the loco...if anyone knows the answer I'd dearly love to hear it...mystery solved (see below).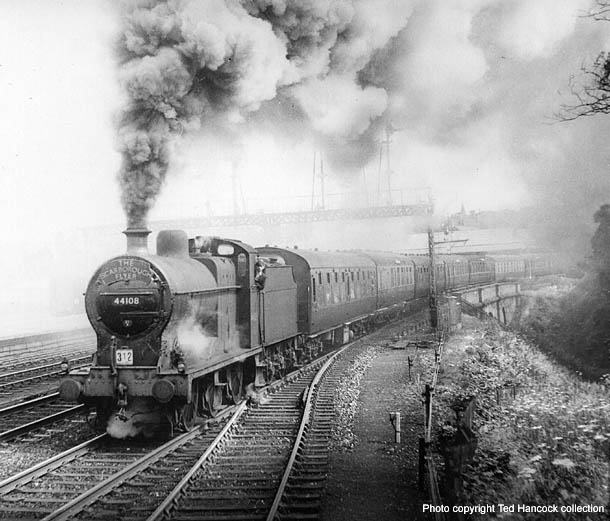 (Above) Mystery solved! I have been contacted by Pete Stellings who writes:
'The late-Ken Hoole's photo of 4F 44108 departing Scarborough was definitely 'The Scarborough Flyer'. This working prompted a letter to the authority's from Ken, who took the picture when he presided over the then Scarborough Railway Society (SRS).
When Ken took the photo I was sat opposite on the shed adjacent to Washbeck Signal Cabin; this was my usual Saturday morning spot in the mid 50's as an avid train spotter. The nominated diagram for the 'Flyer' was the engine used on the early newspaper train from York arriving approx 04.00. This engine then worked the 'Flyer' back to York where a Pacific took over for the remainder of the run to Kings Cross. A variety of motive power has been provided for the 'Flyer', including a Woodford Halse V2 on one occasion, but I am sure a B16/2 or B16/3 was normally diagrammed to fulfil this roll.
York shed must have been scratching for one on this day, so the 4F arrived and was prepared, however the driver said - 'NO I'm not taking that!' and was offered a B16/1 instead.
Perhaps the B16 had a dirty fire or something else was not up to standard because the driver said 'no' to that one as well. I must also mention that he refused to put the headboard up on the B16 but threw it on the ground!
The 4F duly went down to the station and took out the 'Flyer' with the headboard, and as far as I can recall reached York more or less on time.
Ken Hoole and others relayed this story at the following SRS meeting, when Ken read out his letter to the authorities, the gist of which said that the stock for the 'Flyer' was cosmopolitan (ie teak and modern stock mixed) and needed upgrading for such a prestigious train. He also added that as the morning newspaper train was not run to a fast timing, the motive power could be a Pacific running tender first (the turntable at Scarborough was too small for turning a Pacific although it managed a Britannia). Ken also suggested that even a V2 would have been more suitable being able to run beyond York.
The actual date of the 4F photo slips my memory (see footnote below) though it is documented in 'Trains Illustrated' I suspect 1957/58 and somewhere I have a copy of the photograph or I may even have given that to my cousin who is a heritage rail fan. I hope this will throw light on the subject. Cheers Pete Stellings...'
It certainly has and my thanks to Pete for clearing up a photo that has stumped me for donkey's years! Footnote...Vic Smith has identified the date as Saturday, 5 July 1958.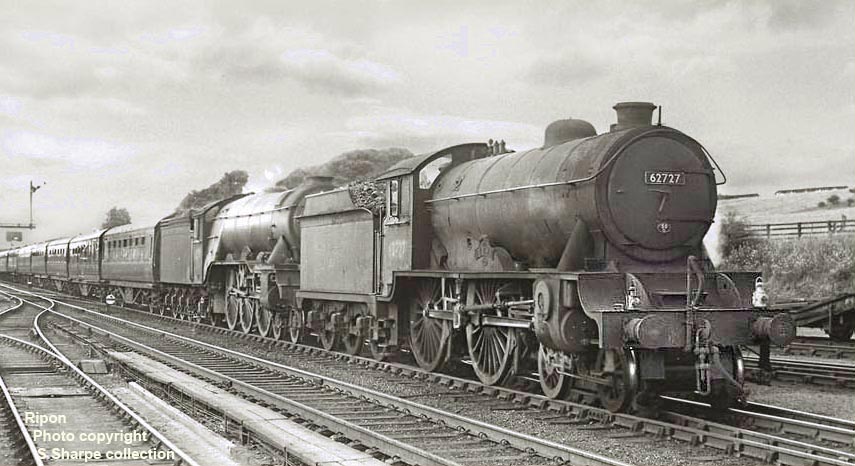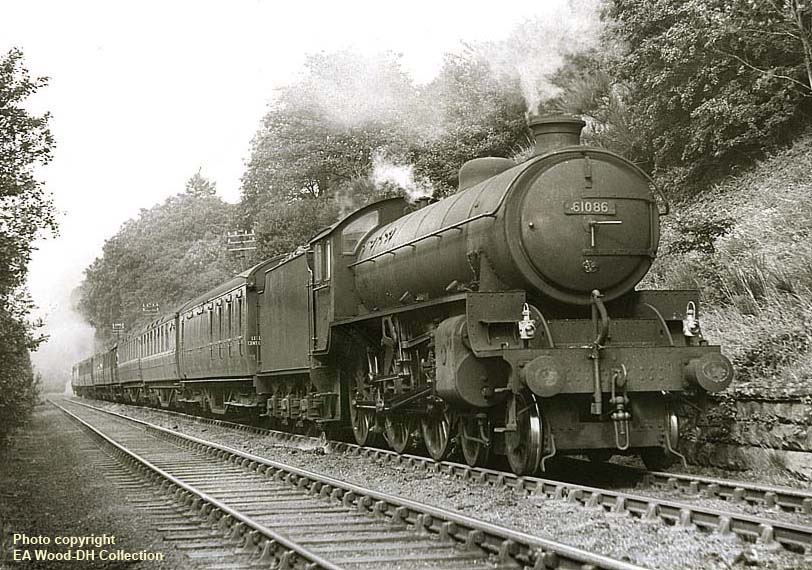 From 1948, steam locomotives were carrying their new BR numbers with the exception of the Great Western engines which retained their brass and cast iron cabside number plates below 10,000. The Southern engines were numbered in the 30,000s, the LMSR in the 40,000s and 50,000s, and the LNER engines appeared in the 60,000s. The new renumbering scheme also embraced a small number of diesel locomotives (mostly 0-6-0 shunters belonging to the former LMSR and LNER) which were allocated the numbered series in the 10,000s, while a small quantity of electric and gas turbine locomotives appeared in the 20,000s. Finally, the batch of WD 'Austerity' freight locomotives, built to Ministry of Supply design, and working on loan at the time of nationalisation, were purchased by BR in early 1949 and renumbered in the 90,000s.
(Above-Inset-Below) There are many excellent websites already dealing with the history of Hull Docks, so I'll concentrate on just two (circled in the railway map right). The map shows the extent of lines belonging to the North Eastern Rly and Hull & Barnsley Rly. This view of St Andrews Dock (above) is featured in this London and North Eastern Railway poster - 'East Coast Industries. St Andrew's Fish Dock, Hull'.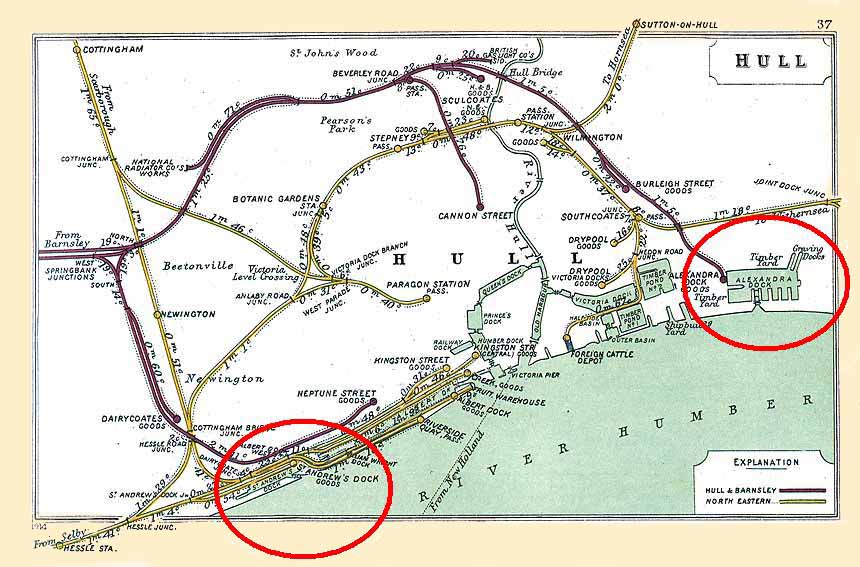 Painted by Frank Mason in 1938 the artist depicts a busy scene with a dozen or more trawlers berthed at the quayside, their sizeable catches being auctioned in the foreground, a poignant reminder of Hull's once-thriving fishing fleet. St Andrews was the most westward of the Hull docks opened in 1883, its primary purpose intended for handling coal traffic but it was used entirely by the fishing industry. The 10½ acre dock was later extended when the Hull Dock Company was taken over by the North Eastern Railway. The dock closed in 1975 after the fishing industry moved to Albert Dock. Following partial infilling of St Andrews Dock, the western part has been redeveloped into a Quayside Retail Park whilst the eastern part has been declared a conservation area due to its social historic interest. (Below) This is a general view of the Inward Marshalling Yard at Hull during early British Railways days in July 1954. In the foreground, a Class DEJ4 BR/English Electric 350hp shunter No 13075 propels Esso tanks into the sidings.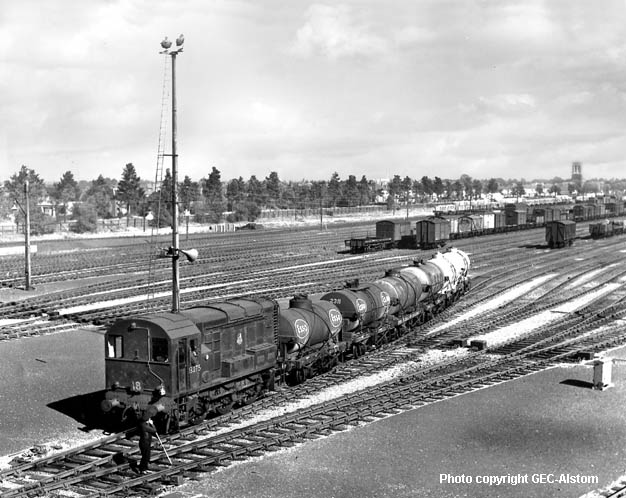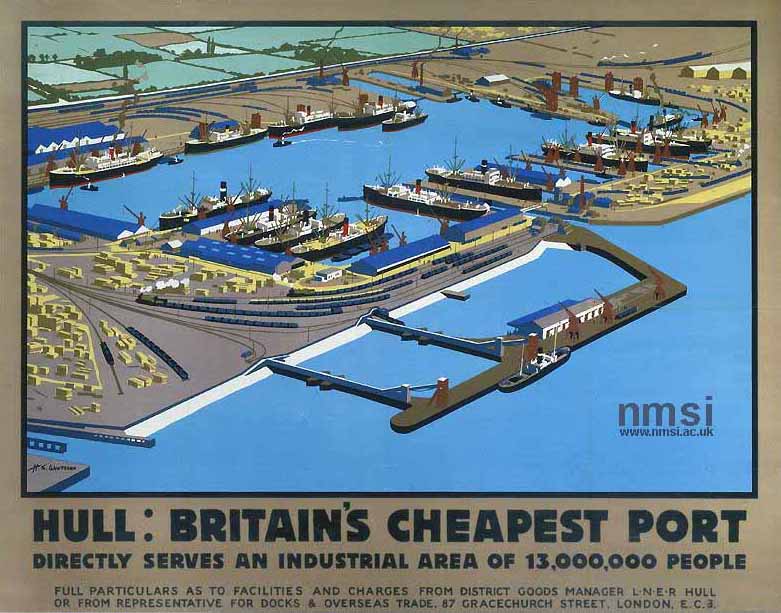 (Above) Another wonderful image from the NMSI Collection Online HERE is this London and North Eastern Railway poster - 'Hull: Britain's Cheapest Port' - painted by H G Gawthorn in 1929. The poster depicts an aerial view of Alexander Dock (circled in the map above). The text reads - 'Directly serves an industrial area of 13,000,000 people. Full particulars as to facilities and charges from District Goods Manager, LNER Hull or from Representative for Docks and Overseas Trade, 87, Gracechurch St. London. EC3.' The dock was built between 1881 and 1885 to facilitate the conveyance of coal from the South Yorkshire Coalfied for export to Scandinavia and the Baltic states by the Hull and Barnsley Railway. The Hull & Barnsley Rly was taken over by the North Eastern on 1st April 1922. The dock covered an area of 46½ acres to the east of Victoria Dock with an outlet to the Humber. The entrance lock was 550 ft long and 85 ft wide, and two graving docks were provided at the north-east corner, seen here top of the poster. A pier onto the Humber Estuary was added in 1911, which was equipped with electric conveyors for the transfer of coal to shipping.

UK MARSHALLING YARD PHOTOS SOUGHT...I have recently been contacted by Michael Rhodes, who is seeking images to revise his 1988 marshalling yard book - 'The Illustrated History of British Marshalling Yards'. The yard images he is short of are as followed… NE - Shildon (pre-1935), Erimus, Hull Inward,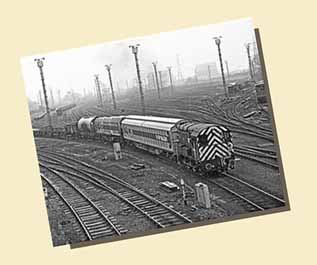 Dringhouses hump in action; EASTERN - Colwick, Dunford Bridge, humps working at Worksop, Warsop, Barrow Hill; LM - Edge Hill Gridiron, Chaddesden, Basford hall, Mottram; SOUTHERN - Feltham; WESTERN - Hump working at Swansea Burrows and Llandeilo Junction; SCOTLAND - Cadder and Alloa.
He adds - 'A bit of a rag tag mixture and all somewhat hard to find, but it would be really nice to update the 1988 book with a really definitive guide to all the yards in the UK. If you are able to supply any pictures of the above then I will pay a reproduction fee of £10 per picture, plus a copy of the book when I finish it. Any help will be most welcome. With kind regards, Michael…'
Michael's contact email address is mr@lapsurgeon.co.uk Please note this is not a click-on link via Outlook Express. You will have to email manually

(Below) Prior to the introduction of block trainloads on Britain's railways, the movement of loose-coupled rail wagons in marshalling yards was acknowledged as being the most mechanically demanding for steam power. The long periods of 'stop-start-forward-reverse' method of operation gave the diesel a definite advantage over steam for several reasons. Perhaps the most obvious is that a diesel can be operated by one man as opposed to a driver and fireman working on the footplate of a tank or tender engine - both of which were commonly found in big yards in steam days. Also, the diesel shunter can carry sufficient fuel to keep them working longer than an 0-6-0 steam locomotive, which by its very nature, had to replenish its coal bunker and water tanks at the nearest loco facility.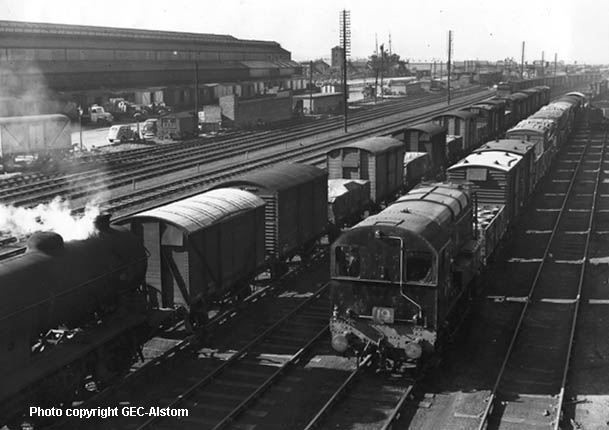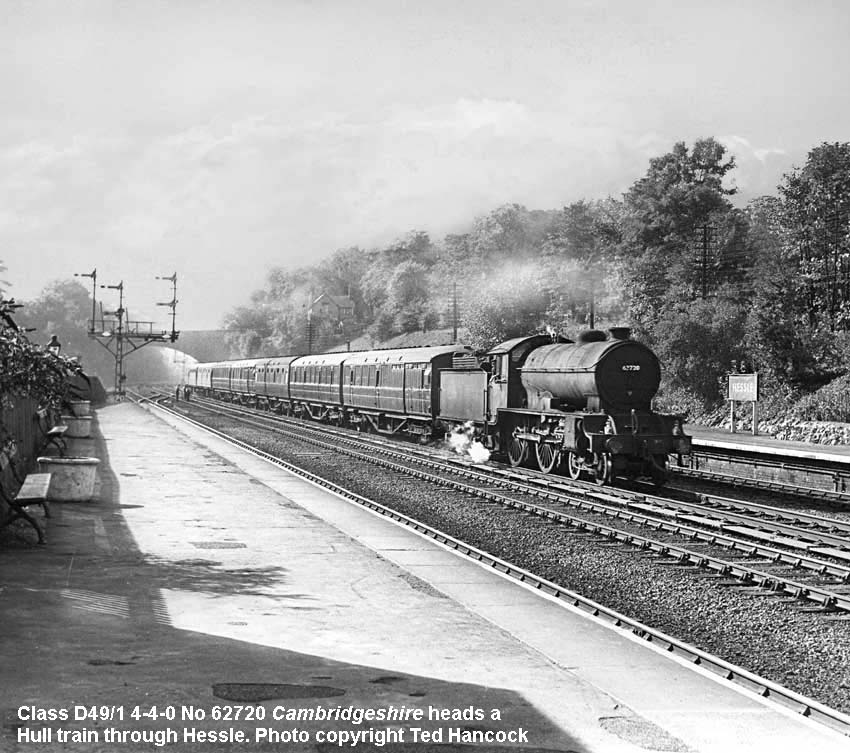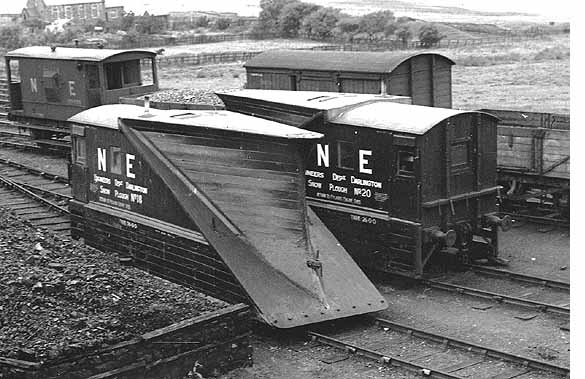 HELP! Bryan Blundell recently contacted the site requesting photos of any ex-NER Timber Snowploughs that operated around the NE region. Out of 20 timber ploughs, 3 survive - 1 at the NRM, 1 at Beamish and a 3rd at the NYMR that Bryan is currently in the process of restoring. Bryan's plough was featured in the BTF film 'Snowdrift at Bleath Gill'. This photo at Waskerley is of plough No 18 (Bryan's) and No 20 (now at Beamish) possibly mid-1930s, photographer unknown. Both ploughs spent most of their working life around the Darlington area prior to withdrawal circa 1974. Bryan is also seeking photos of the 4 steel-bodied ploughs, which ended their days at Holbeck and Mirfield. If anyone can help, Bryan can be contacted at bryanandchristine-at-tiscali.co.uk - please note this is not a 'clickable' email address via Outlook Express. You will have to replace the '-at-' with '@' and email manually'. Any help with photo material is much appreciated. (Below) Picturesque setting of Whitby shed (50G) on the Yorkshire coast.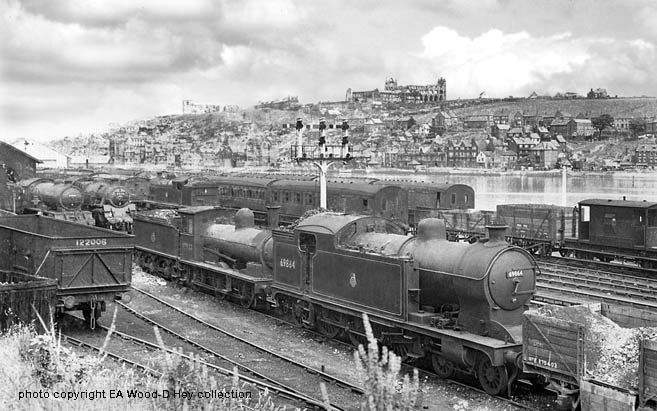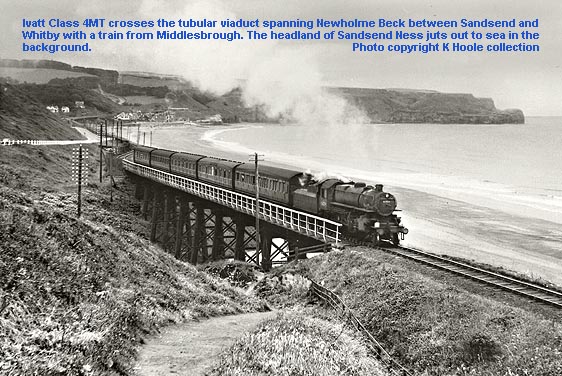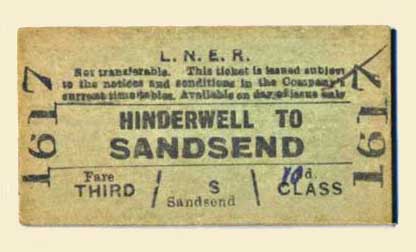 In 1948, the Railway Executive of the British Transport Commission (BTC) announced its preference for developing future steam power rather than dabbling with new, untried diesel traction. This led to the Locomotive Interchange Trials, supervised by RA Riddles, then member of the BTC's Railway Executive who was responsible for mechanical and electrical engineering. He was assisted by ES Cox, then executive member of the British Transport Commission for design - both ex-LMSR men, who doubtless had in mind their well intentioned plan for evaluating the relative performance of former companies engines in normal operating conditions. However it came as no great surprise that out of the twelve new BR standard classes (numbered in the 70-80,000s and 92,000s) many designs incorporated the latest features taken from LMSR practicw. (Below) I recently received a letter from Cecil Ord's daughter, Madeline, regarding her late father. Madeline writes - 'Hi, when dad died in 1967, his photographs and plates were dispersed, with a large number going to Peter Wilson of Darlington. My sister and I have little idea of where these and others now reside; despite several enquiries we have drawn a blank. Only out of curiosity are we wondering if you are able to help with the whereabouts of his photographs or plates. We would like to think they have found a good home! Many thanks, Madeline.' If anyone can help, Madeline's email is: mv.ord12@gmail.com (please note this is a non-clickable address to avoid spam, but you can email manually).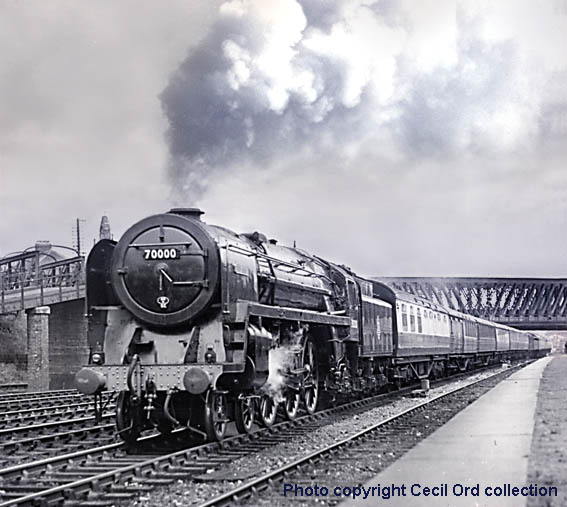 (Above-Below) In 1951, the 'Britannia' Class 7MT Pacific was the first of the twelve new British Railways Standard types to appear. Designed at Derby and built at Crewe, with sections also designed at Brighton, Doncaster and Swindon, beautifying was not on the agenda, the basic ethos being simplicity in construction, lower coal consumption, and longer mileage between classified repairs. The new 7MT Britannia class was a straightforward 2-cylinder design, and probably more of an amalgam of former companies engines than any other Standard type. The boiler, cylinders and valve gear came from LMS practice, the main frame and trailing truck from the Southern Railway, and the crossheads and slidebars were influenced by the LNER, whilst the GWR inspired the mechanical lubrication and various other steam fittings. (Above) Sporting a Stratford shedplate (30A) on the smokebox door, the doyen of the class, No 70000 Britannia, heads the 1.52pm York-Kings Cross on 18 June 1951. (Below) Following an accident involving No 70026 on the Western Region the smoke deflector handrails were replaced by grad holds on the WR's allocation of Class 7MTs, and the Eastern Region's No 70000 was similarly treated as seen below.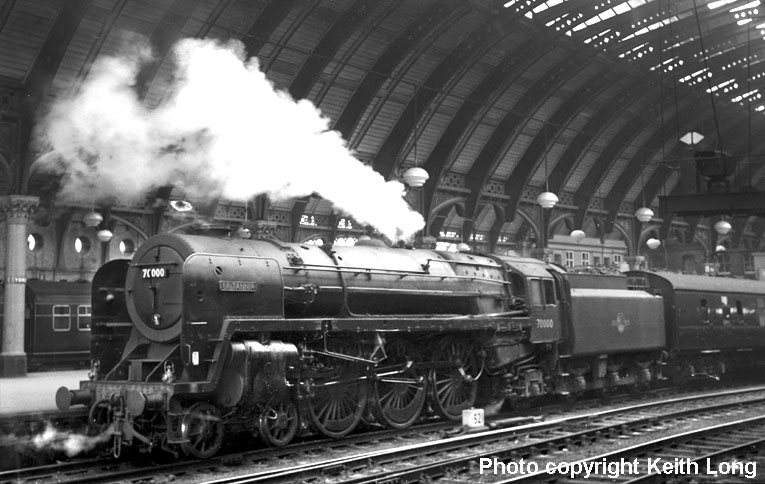 (Below) When production of the new BR standard locomotives was launched in 1949, the decision caused some controversy amongst railmen, who argued that there was no need to develop a new standard class type, since there were plenty of locomotives of equal ability already available throughout the BR Regions. It was only to be expected that many locomen had an in-built loyalty towards former company's engines, so the new BR standard classes received a mixed reaction. Perhaps the most successful Standard class locomotive was the 9F 2-10-0s. These big freight engines had 5ft coupled wheels enabling them to work fast fitted freights at 60mph, and a turn of speed of 90mph was recorded when a Pacific failed on the ECML. Here, the 'panning' technique gives the illusion of great speed, but in fact the 9F passed the camera at a little over 30mph.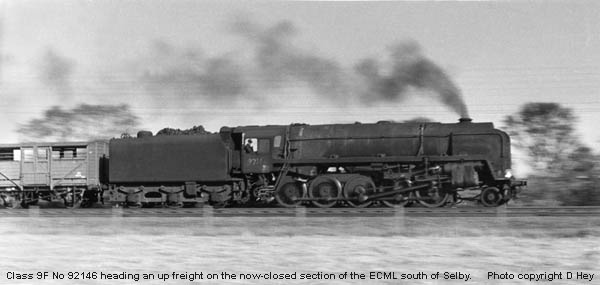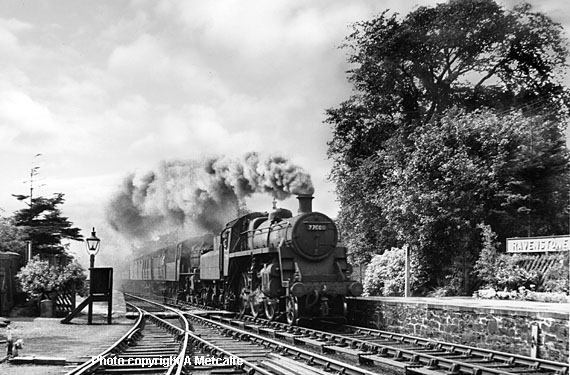 (Above) The Stainmore line was built to transport Durham coke to the West Cumberland blast furnaces, and pig iron eastwards to the steelworks on Teeside. The route also carried seasonal and excursion trains between the north-east of England and the Lancashire resorts of Blackpool and Morecambe. In LNER days it was mainly worked by NER class J21 and J25 0-6-0s, but these were replaced in the 1950s by the new BR Standard Class 3MTs. The doyen of the class, No 77000, pilots a BR Standard Class 2 2-6-0 through Ravenstonedale station with a return summer excursion from the Lancashire resorts. This combination of locomotives, either double-headed or providing banking assistance at the rear, was typical of the steam rostors during the final years on this steeply graded line between Darlington & Tebay. Photo © A Metcalfe collection.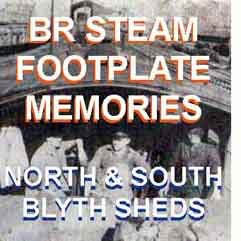 Some while ago ex-engineman Fred Wagstaff made contact (via the Guest Book page) seeking old photographs of North and South Blyth Sheds. During our exchange of emails it struck me that Freddy's anecdotes ought to be shared with others, and I'm pleased he agreed to write something about his 49 years service with British Railways, starting as a cleaner at Bournville in 1953. From there he moved to South Blyth, made fireman at North Blyth, then National Service. Following closure of North Blyth he moved to Cambois MPD, and after 30 years in the line of promotion finally made Driver at Gateshead MPD. I'm sure Freddy's memories of steam days will appeal to everyone. Click on photo to read Fireman Fred's reminiscences of life on the footplate in the North-East of England...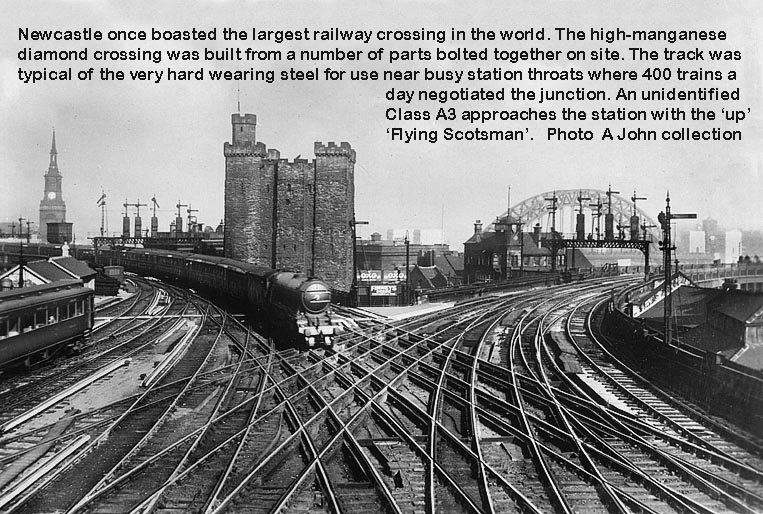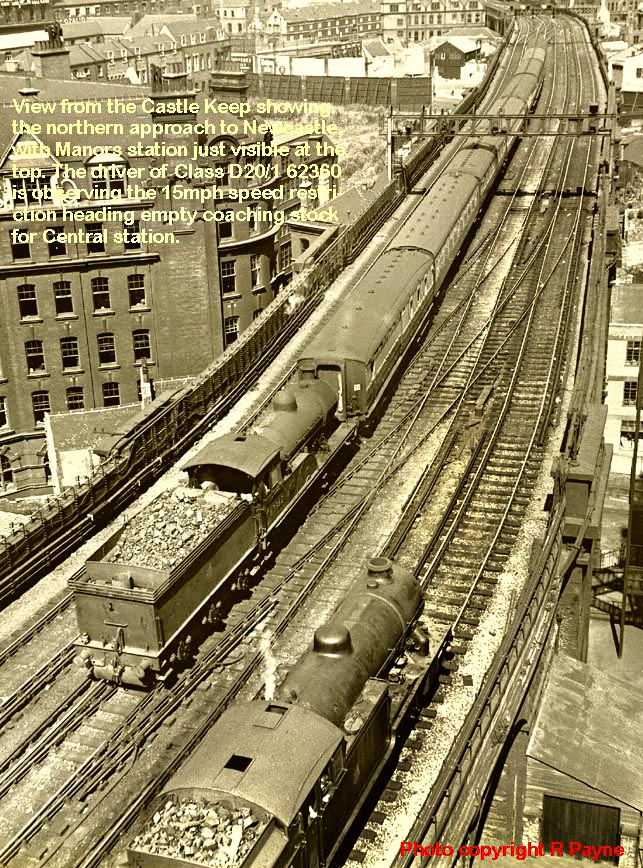 In many ways, this page has been the most difficult because the newly-formed Eastern Region covered the southern area of the old LNER, comprised of three main companies with lines running into London: the Great Northern Railway, Great Central Railway and the Great Eastern Railway. At the same time, the newly-formed North Eastern Region was responsible for the northern area of the old LNER, which basically covered the same area as that of the old North Eastern Railway prior to grouping in 1923. Indeed, apart from a few minor adjustments to Regional boundaries, the resultant Eastern Region from 1967 onwards covered the same network of lines as the old LNER.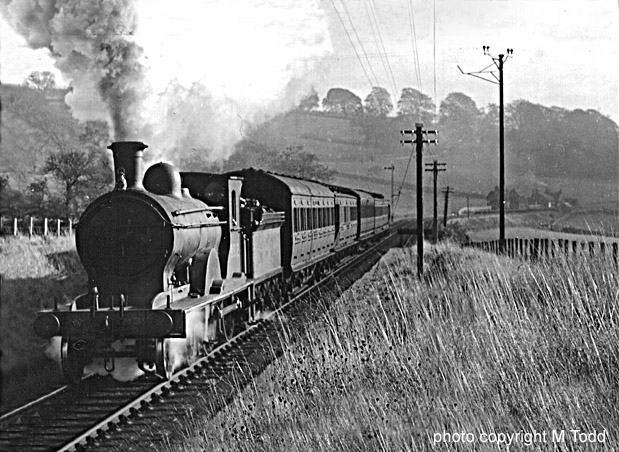 (Above) As mentioned earlier, BR's Regional boundaries diminished significantly over the years, therefore it is meaningless to classify any particular class of locomotive as belonging to any one Region during the transition from steam. For example, this ex-North British Class D30 4-4-0 heading a local train away from Wall station Northumberland, is typical of the inter-Regional workings to be found on the ex-NBR's lines crossing the Anglo-Scottish border. To help younger readers, who were not around to witness steam days - and wonder at the complexity of its origins -the picture gallery (below) might throw some light on the subject. Doubtless there will be many enthusiasts who disagree with my choice of steam locos - you'll have your own favourites, surely - but the gallery does illustrate the difficulty BR faced in standardising the steam fleet, particularly in view of the huge number of BR steam classes involved - many originating from pre-Grouping days. I do recommend visiting the LNER Encyclopedia website which provides a treasure trove of information about LNER locomotives based on the old Whyte wheel arrangement...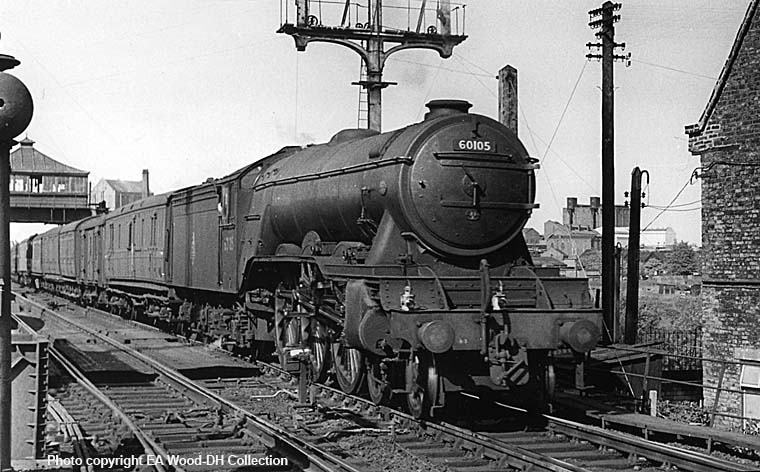 (Above-Below) Like most young train spotters in the Sixties - aspiring railway photographers each and every one - Roy Lambeth used pedal power to get around - no safety helmets or elbow-knee pads in those days. On 27th March 1966 Roy made the round trip of some 36 miles by pushbike from Durham to Tyne Dock, and was rewarded with these shots of Class 9Fs Nos 92098 (above left) and 92060 (above right) working the Tyne Dock-Consett iron ore traffic through Green Lane Junction, which, in steam days was perhaps one of the most photographed locations anywhere in the North-East. The Standard Class 9F 2-10-0s were fitted with Westinghouse Air Pumps mounted on the running plate to operate the air doors of the purpose-built hoppers - these photographs will be of interest to the most fastidious modellers, so too will Roy's 'Rail Cameraman's page, which features more photos of the Tyne Dock-Consett iron ore traffic. click here for link. (Below) Later in the day, Roy photographed this grubby pair of WD 2-8-0s Nos 90152 and 90207 awaiting their fate at King's of Norwich Scrapyard at Fighting Cocks on the original Stockton & Darlington line.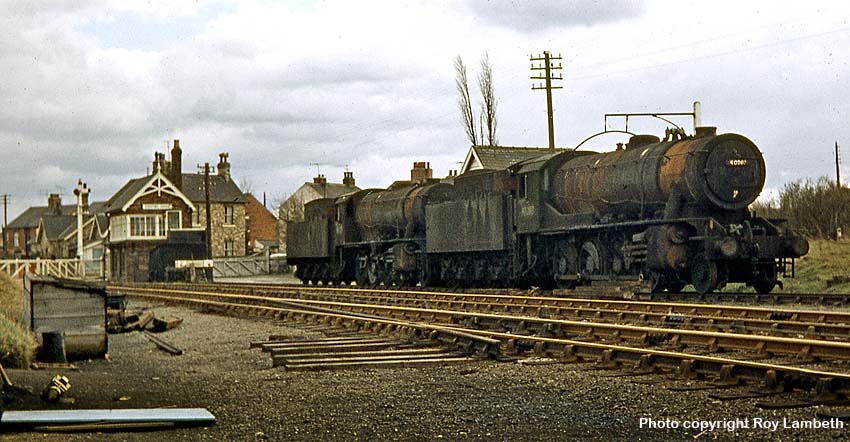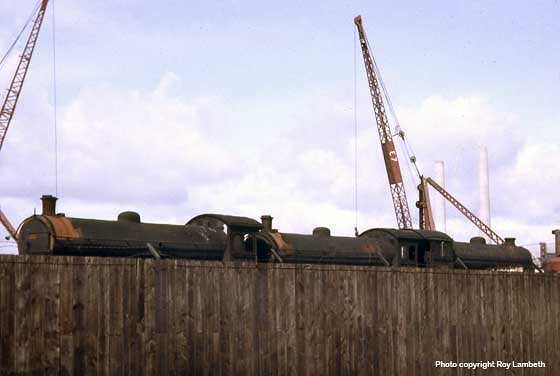 (Above-Below) On 25th April 1966, Roy Lambeth left home in the early morning and cycled the 45 miles from Durham to North Blyth via the Tyne pedestrian tunnel at Jarrow and West Sleekburn. On arrival at North Blyth, the sun was all wrong for photography and this snatched shot (above) of 63362, 63386 and 62010 awaiting the cutter's torch at Hughes Bolckow Scrap Yard is all he took at North Blyth. It was hardly the most inspiring start to the day's photography, but after cycling back to West Sleekburn Level Crossing Roy had better luck with these shots of Class K1 No 62002 and Class J27 No 65859 heading coal trains to the North Blyth Power Stations. Click on photos to enlarge images.
(Above-Below) On the way home, Roy called in at Tyne Dock Junction before heading back to Durham - a round trip of over 100 miles on a heavyweight Raleigh Tourer with totally enclosed chain! (Above) Class Q6 No 63381 passes light engine. The mass of lines all belonged to BR giving access to various parts of Tyne Dock Bottom and Tyne Dock Coal Staiths. The upper quadrant signals are on the BR operated lines and the lower quadrant signals are on the BR lines used by the NCB, all controlled by the BR signal box. BR introduced bogie iron ore hoppers for this service, each with a capacity of 56 tons. Initially a batch of Thompson 1944-built class O1 2-8-0s were fitted with Westinghouse Air Pumps mounted on the running plate to operate the air doors of these hoppers. These trains were made up of 6 wagons and a brake van, and operated every 40 minutes whenever an iron ore bulk carrier arrived at Tyne Dock. They were banked by tank engines out of Tyne Dock to the top of the bank, then hauled by the O1s via Brockley Whins flat crossing, Washington (on the Leamside Line) to South Pelaw Junction where they took on another banker, often a Raven Class Q7 or Q6, or another O1 - the ensemble then setting about the rigorous 1 in 36 climb via Beamish and Annfield Plain to Consett. (Below) In later years, the Class O1s were replaced by Standard Class 9F 2-10-0 similarly fitted with Westinghouse Brake. The extra power of the 9F allowed each train to be loaded to 9 bogies plus Brake Van. Here Riddles Class 9F No 92061 pounds up the incline at Simonside and passes beneath the 71-lever Green Lane Bridge box on its way to Consett with a train of iron ore.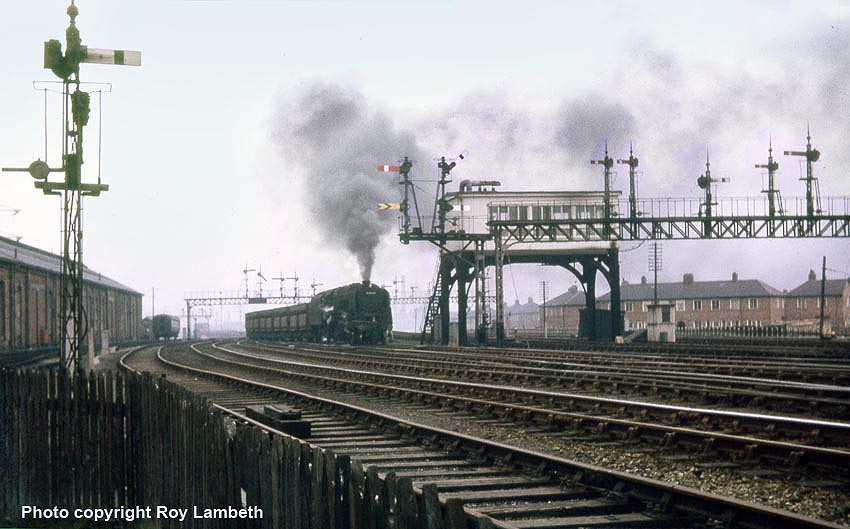 (Above) When the War Department needed a shunting locomotives for railway operations in military use, RA Riddles CBE, then Mechanical and Electrical Engineer for the LMSR, attached to the Ministry of Supply as Deputy General of Royal Engineering Equipment, approved a design based on the Hunslet 'Austerity' saddletank. The Hunslet Engine Co was the main contractor, but as the company could not meet deliveries for the large number required for war service overseas, the work was sub-contracted to Hudswell-Clarke, Bagnall, Stephenson & Hawthorn, Barclay, Yorkshire Engine Co and the Vulcan Foundry. After hostilities ceased, the 0-6-0ST was the most numerous steam locomotive in use in private industries, particularly at collieries and steelworks. The LNER acquired 75 locomotives and designated them Class J94 numbered 8006-8080 in the fleet. Sporting a Darlington (51A) shedplate on its smokebox door, No 68024 is being prepared for its next turn of duty - the majority of J94s were to be found on the North Eastern Region. Several Class J94s have found their way into preservation where they are still performing short-haul duties for which they were originally designed. Photo © EA Wood-D Hey collection.
(Below) The batch of WD 'Austerity' 2-8-0 freight locomotives, built to Ministry of Supply design, and working on loan at the time of nationalisation, were purchased by British Railways in early 1949 and renumbered in the 90,000s. The 'Austerity' 2-10-0s were a development of the earlier WD 2-8-0 locomotives designed by Riddles at the Ministry of Supply for use by the British Army overseas during World War 2. Among the first batch of 100 was No 600 Gordon, which was allocated to the Longmoor Military Railway. The loco was withdrawn following closure of the military establishment in October 1969. Here, an ex-works No 90156 accelerates an 'up' freight from the 40mph speed restriction at Selby in June 1954. Photo EA Wood-D Hey collection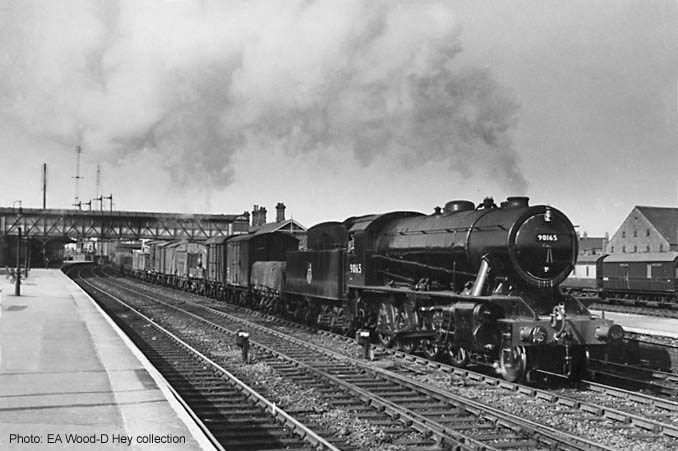 AROUND THE REGION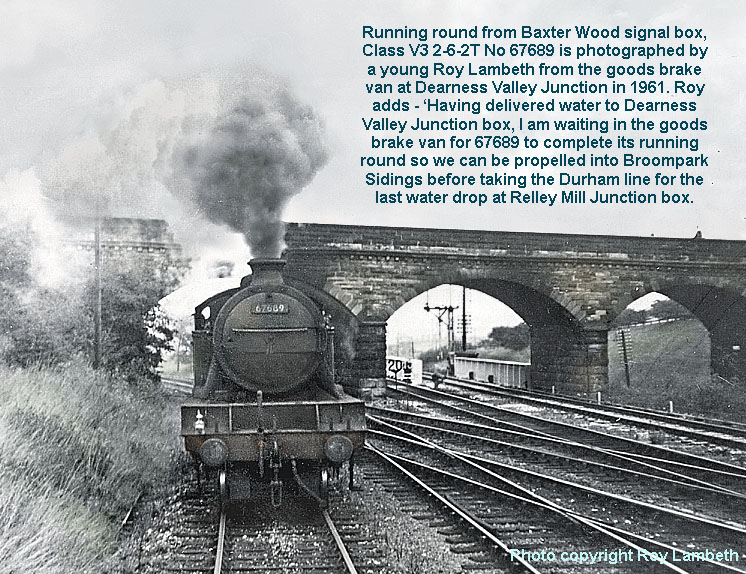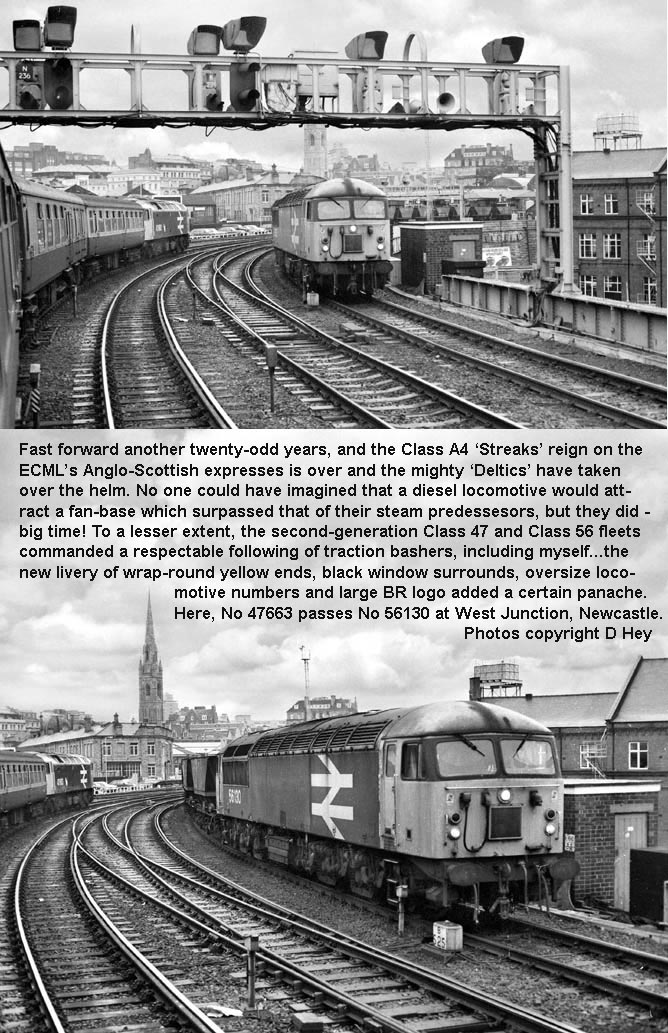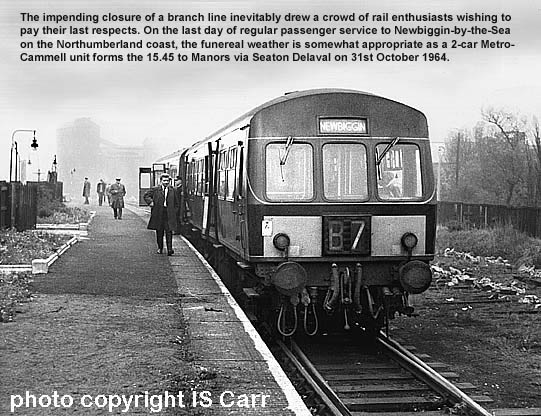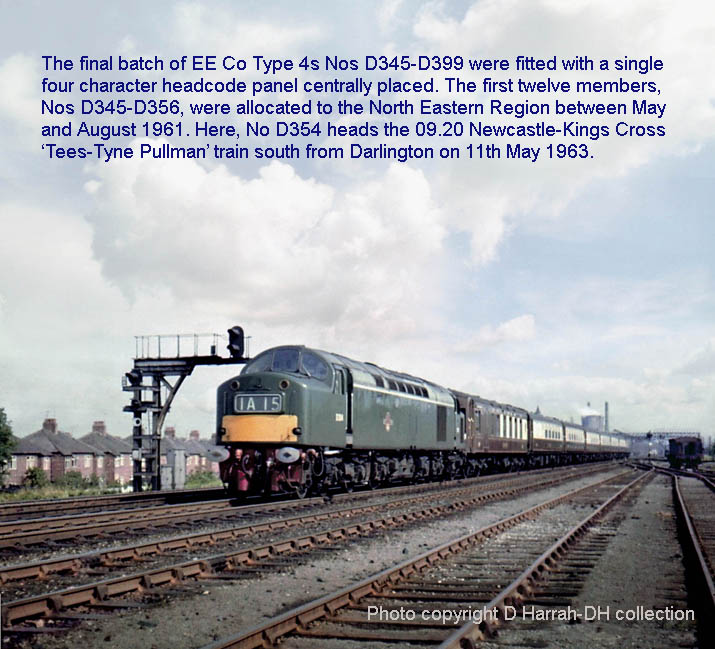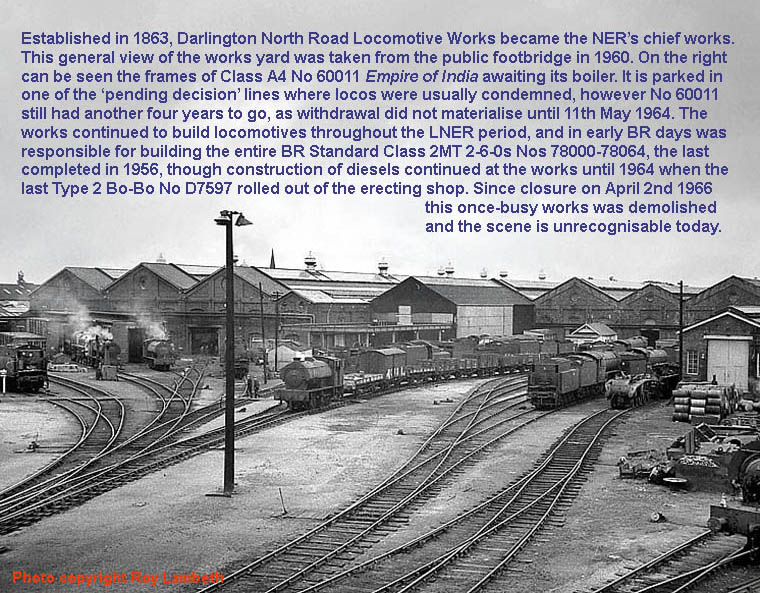 Polite notice: All text and photographs are protected by copyright and reproduction is prohibited without the prior consent of the © owners. If you wish to discuss using the contents of this page the email address is below. Please note - this is not a 'clickable' mail-to link via Outlook Express. You will have to email manually.
dheycollection@ntlworld.com