Life at 52A could be rich and varied...it certainly wasn't boring!
We worked a three shift system - days, nights, and afternoons. On the dayshift Monday, Ray the Foreman would invariably say - 'Right, get your gear together and away to Consett, there's a Class 08 failed with flat batteries…'
Quite honestly, I lost count of the number of times I went to Consett and surrounding areas to see to locos with flat batteries due to a marker light being left on over the weekend. Preparing a Class 08 for haulage at speeds in excess of 20mph entailed crawling under the loco and de-meshing the gears on both traction motors which could take some time. Then after informing Gateshead that the engine was ready for hauling back home, we often had a long wait for transport. Sometimes the shed van would come and at other times a Class 37 would do the honours. More than likely I would have to re-mesh the motors the next day; this entailed refitting the traction motor seals and replacing the two isolating links in the control cubicle...the two strips of brass transmitted the power from the generator to the motors thus preventing any current getting back to the engine.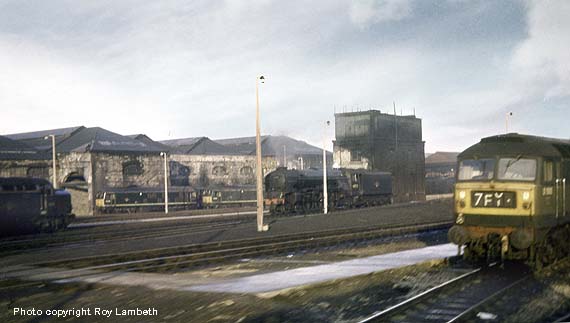 After we had familiarized ourselves with the various types of new diesel locos, it was only natural that fitters expressed their opinions on what they preferred. Top of the dislikes was the Class 45 Sulzers, albeit a quite capable locomotive with a sharp acceleration that was far superior to the Class 40 English Electric.
However, the main drawback with the 45s was in the engine room; looking down the engine towards the generator on the right hand side, there was a massive conduit box running along the full length. On routine examinations this presented a problem to somebody like me and others who were six foot plus; you had to squeeze down the side of the engine with this blasted thing pressing quite firmly on your neck!
Thank the Lord that the only time we got 45s at Gateshead was for fuel and routine examinations. The Class 46 Sulzers were practically identical to the 45 but the interior was much better laid out in the engine room, the main difference being that the electrical systems were designed by two separate firms...the 45's electrical gear were designed by Compton Parkinson the 46's by Brush.
Internally, the auxiliary machinery was laid out in more or less the same way on both types. On entering the engine room from No 1 cab, the Triple Pump (catering for the oil, water and fuel systems) was on the floor right-hand side, and opposite it was the air compressor. In later times the locos were converted to work air- braked trains and it was necessary to fit a second compressor in one of the nose ends. This resembled a 'bird cage' and housed all the valves necessary for working the different braking systems.
Beneath this was the exhauster which created the vacuum necessary for vacuum brakes, but only an idiot would have put it there! It was big and cumbersome, and replacing it was a backbreaking job due to the damned thing being below floor level in a recess.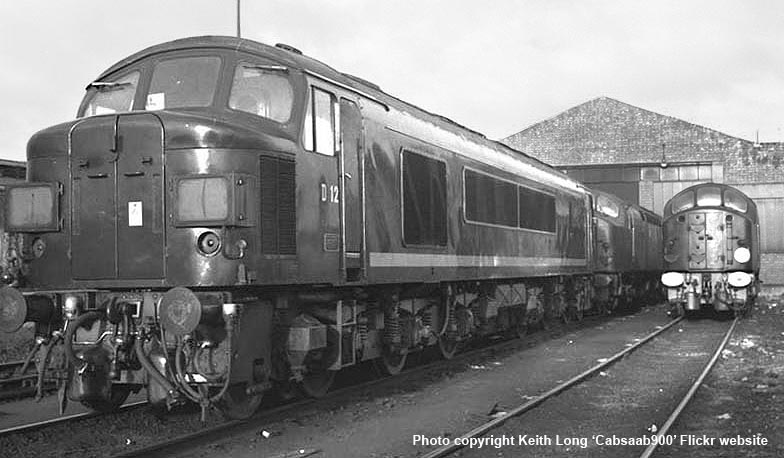 (Above-Below) This is the West End of Neville Hill shed Leeds with 'Peak' class D12 (later Tops Class 45 45011) and English Electric Type 4s D284 and D252 (later TOPS Class 40 40084 and 40052) on 10th March 1961. D12 was probably there for staff training purposes and like D190 at Chester-le-Street (below) has multiple working equipment fitted; some years later the 45s and 46s had this gear removed. 'Peak' D190 (later TOPS Class 46 46053) climbs past Chester Moor, south of Chester-le-Street, with the 15.16 Newcastle-Liverpool on 29th August 1964. The loco is probably carrying Class 'A' headlamps because of a defective route indicator mechanism. These indicators were a real pain for maintenance staff and no tears were shed when they became a thing of the past. Close examination of the loco reveals that she is still fitted with multiple working equipment enabling her to be coupled to a Class 40 with one driver controlling both locos.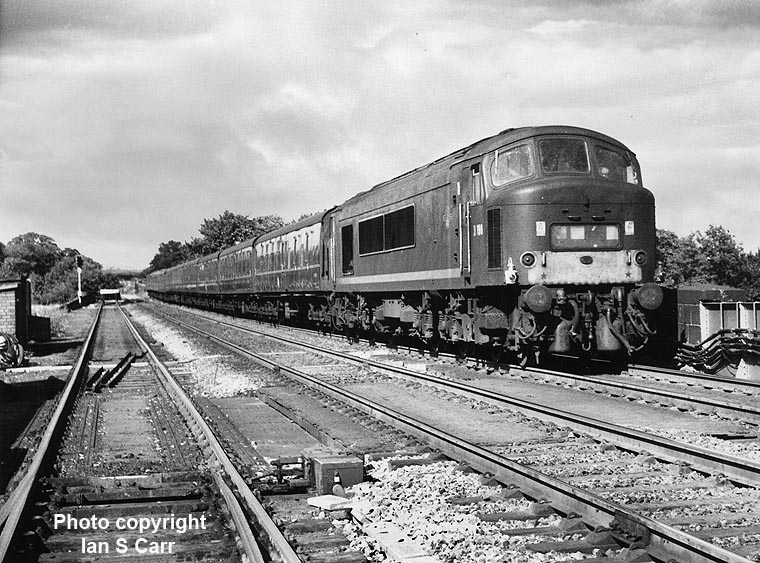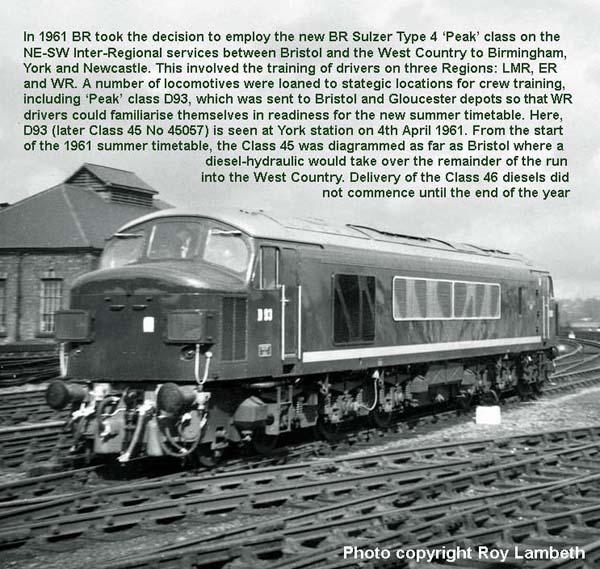 Roy Lambeth's photo (above) reminds me of the first problems we encountered with the Type 4 Sulzers, later to become the Class 45s and 46s.
When first built they had boilers fitted for steam heating. The main water tanks were situated in the engine room at No 2 end, one either side of the engine room door, which were supplemented by a secondary tank mounted between the bogies under the battery boxes, the latter holding some 250-500 galls.
After a period of time, the side seams started to leak - and as this got worse the leakage resulted in fine jets of water spurting out to such an extent that it would have made a grand sprinkler system!
Repairing these tanks meant draining all the water tanks and removing the secondary tank over a pit and hauling it away on a trolley for welding before refitting them to the loco. The removal and refitting of these tanks was a reasonably easy task, however in order to get a loco back into traffic in a relatively short space of time the stores at Gateshead had a spare tank, which meant that a tank removed from a particular loco didn't necessarily go back on the same loco.
In the fullness of time, however, other depots with Type 4 Sulzers (such as Bristol Bath Road and Plymouth Laira) were reporting the same problem, and after much humming and hawing, the Senior Management finally decided that the use of the supplementary tanks would cease and from then on whenever a secondary tank was removed the connections to the main tanks blanked off…and so ended a job that put some spare cash in our pockets.
By the time the lads at Gateshead had got 'run-in' as regards diesels, some expressed a preference for Sulzer or English Electric locos. Nine out ten times on my shift I was given the English Electric shunters (6KT Engines) and that old fairground favourite the Gardner (8L3) on the 03s and other types with Gardner Engines.
On main line locos between EE's and Sulzers the same component could have a vastly different design. For example Fuel Pump Covers; the EE engines had individual covers for each pump (16 on a Class 40) and 4 covers on 45, 46, and 47 (12 Cylinders) which were made from fibre glass...hurrah!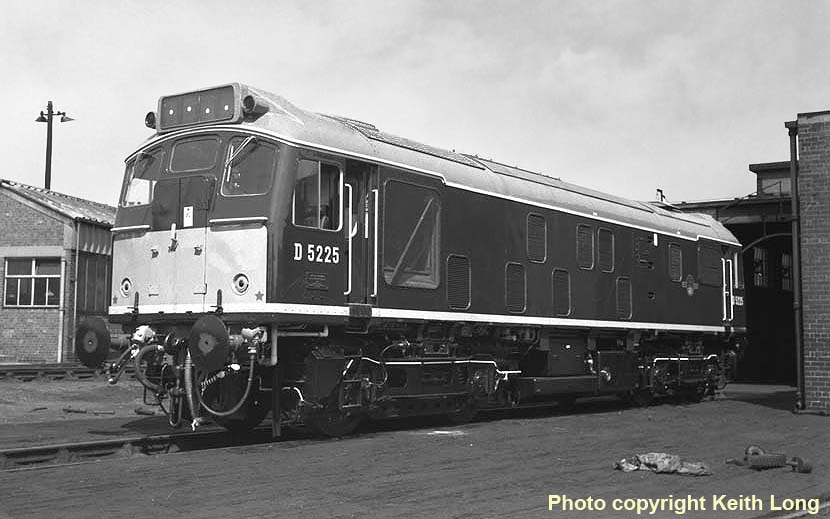 (Above) This is a fine shot by retired signalman Keith Long of a Type 2 Sulzer In the works yard at North Road...an excellant example of the workmanship that North Road put into its locos - both steam and diesel. Keith Long writes: This brand new Class 25 No D5225 was photographed at Darlington Works on 28th July 1963. The camera was an Ensign Selfix 820, using Ilford HP3 black & white 120 roll film developed in home bathroom darkroom. Click here to visit Keith's 'Rail Cameraman' page.

Keith's photo reminds me of small trip back to 1961 when Gateshead took delivery of its first Class 24s (the Type 2 Sulzer) complete with boilers for train heating. Over a period of time we got 10-12 of them and they were used in pairs (multiple) to Edinburgh and other jobs that did not go too far from home.
Now we start on the story proper. It came to pass that upon closure of Tyne Dock Shed its fleet of 9F 2-10-0s were dispatched (except one which was sent to Wakefield) to that great engine shed in the sky. After trials with various types of locos it was decided that Class 24s in pairs (multiple) would suffice.
Accordingly two of them were modified minus boilers to work the Tyne Dock to Consett iron ore trains. Sunsequent tests indicated that they would take one more wagon than the 9Fs. Believe me, once those 24s got into their stride they were mercilessly thrashed to death on those jobs...two turns a shift!
I recall being at Annfield Plain one night dealing with a Class 08 shunter. On informing Control that the job was completed I requested transport back to Gateshead and was told to hitch a ride on an iron ore train that was just leaving South Pelaw for Consett. The ensemble eventually appeared, labouring up the bank from Stanley with both engines working flat out at about 4-5mph...
I climbed on board without the train stopping and knowing the driver we exchanged pleasantries. The fire alarm bells on both locos were ringing and on walking through the first loco engine room I noticed that the exhaust pipes were cherry red!
The driver said that this was a regular occurrence. On reaching Consett I took the opportunity to examine the second loco and found it just the same. However, coasting back down the bank everything returned to normal.

(Below) Roy Lambeth's excellent photo shows Class 24 D5101 coming off the 1 in 36 at South Pelaw Junction with a train of enpty iron ore hoppers from Consett Steel Works to Tyne Bank. For all Gateshead had ten 24s modified they certainly earned their keep. Strange as it may seem they gave very little trouble compared with their larger cousins the 40s, 45s and 46s. Click here to visit Roy's 'Rail Cameraman' page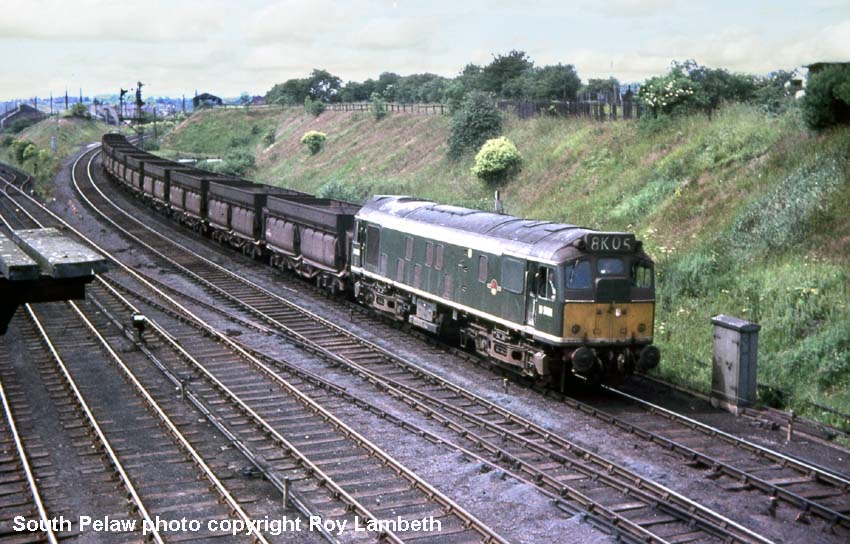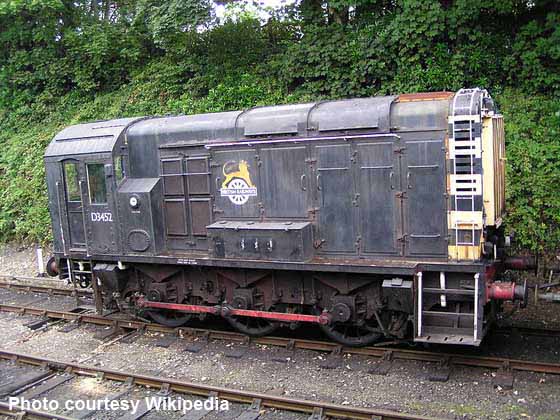 (Above) The Class 10 Shunter was powered by a Lister Blackstone diesel engine rated at 375 hp, although externally they looked no different from their English Electric cousins (08). Four Class 10 shunters are currently preserved including D3452 at Bodmin and Wentford Railway, Cornwall.
The odd thing about the Class 10 was that Lister Blackstone numbered their cylinders from the generator (1 to 6) forward...this is relevant to what I am about to relate.
One day one of these locos appeared at Gateshead with the report that No 1 Cylinder head joint was blowing. The No 1 head was stripped whilst Thornaby sent us a set of gaskets to effect repairs. The defect was remedied but when the engine was started there was still a heavy blow to be heard.
The Senior Foreman immediately began to tear a strip off me…
I simply let him get on with it. When he'd finished, I said - 'You do know that this is a Lister Blackstone engine.'
'So what?' he hollered.
'These engines are numbered 1 to 6 from the generator forward. I carried out your instructions.'
The upshot of this was that I had to de-mesh the traction motors for the errant loco to be towed away to Thornaby.

One day the Shift Foreman, Kenny Ball came up to me and put his arm around my shoulder.
My immediate reaction was - 'Uh ho! What's he want!'
'Christopher,' he said - 'There's a shunter off the top table that wants a 'B' exam, and make sure you do a bloody good job because it's been sold to the NCB at Blyth.
The exam was done and she passed her run up test with a clean bill of health and off she went to Blyth driven by a BR crew - and that, I thought was it…not so!
About three weeks later she re-appeared hauled by a 37, with the NCB demanding a new No 2 traction motor.
Ray, my usual foreman, asked me to see what I could find. When I took the covers off the motor, it was clear that the loco had been exceeding the maximum speed limit of 20mph.
An electrician confirmed my suspicions and after discussions with the Divisional Locomotive Maintenance Engineer at Newcastle, the NCB was informed of or findings (the Armature Windings had burst) and she was towed back to Blyth accompanied by a reconditioned motor in a wagon. The NCB dealt with it in their workshops.

I was once sent to Vickers Armstrong at Barrow to see the manufacture of the Sulzer 12LDA 28 C engine being fitted to the Class 46 and 47 locomotives. I became quite friendly with Stan, one of the lads from Thornaby on the same course. One day, while under the tutelage of Ernie, the Vickers Instructor - noted for his leather overcoat and leather Trilby - we were watching the Vickers staff fitting pistons to an engine under construction when Ernie commented on how easy it all was.
That bought an instantaneous reaction from Stan - 'What a load of bollocks!'
Ernie's face was a picture - 'What's the matter?' he asked.
Stan told him that it's all very well showing us what they did there, but what about the loco itself? - 'Don't forget we are working in a gangway not two feet wide; space is very limited…easy it ain't!'
That course lasted a fortnight and on the last night at Barrow we were taken to The Queens Arms on Walney Island for a slap up meal at Vickers expense. The next day we were to see the launch of HMS Resolution and then all went our different ways. Waiting for my train at Carnforth for Carlisle (over an hour) I was seeing Stanier 8Fs in action with a few 4Fs and two 37s winding themselves up for the assault on Shap with a heavy load. After that it was change at Carlisle for Newcastle.

During my time at dear old 52A, among the many places I visited for locomotive purposes were the UK's greatest shipyard at the UK's greatest shipbuilding town, namely Swan Hunter at Wallsend; Derwenthaugh Coke Ovens and the firm of Vickers Armstrong at Elswick…birthplace of HMS King George V that played such a prominent role in the hunt for the Bismark.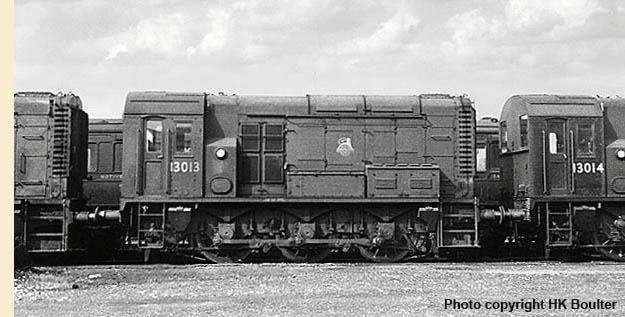 All these places operated a small fleet of steam or diesel locomotives that in varying degrees ran on BR tracks, and every so often these locos had to be examined by BR staff (me) or any other person.
One day I requested to go to Vickers at Elswick to give their three little tank engines an inspection. When I arrived two locos were ready to be examined and everything was going well until it came to examining the wheels. The flanges were razor thin and the flange gauge simply fell on. When the third loco arrived, that too failed the wheel examination, albeit everything else on the three locos were hunky-dory.
I informed the Vickers Foreman that I was going to withdraw these engines from registration and remove all the registration plates.
The cry went up - 'What are we going to do?'
I told him the company could run them anywhere on Vickers' lines, but not on BRs, and in case he wasn't satisfied to ring the Divisional Locomotive Engineer at Newcastle. Meanwhile the six registration plates were taken back to Gateshead. I got the distinct impression I was not too popular at Vickers.

Once in a while a visit was made to Derwenthaugh Coke Ovens, where a small fleet of tank engines had to be examined by BR staff and, like all the other locos that used BR track special attention was given to the condition of the wheels.
As time passed the NCB decided to phase out these engines on the grounds of good old-fashioned £-s-d. Some arrangement was made with BR to hire a loco which turned out to be - yes you've guessed it…a Class 08 English Electric shunter.
This loco was exchanged about every fourteen days driven by a BR driver under the guidance of an NCB driver. Once in a while that loco would require attention for some minor detail such as the sanding gear or the windscreen wipers.
I was down there one day with a mate when I saw the ovens being discharged. What a sight! And the smell too! The red hot coke being quenched created columns of steam all over the place.
The other point of interest was a collection of vintage wagons built in the very early 1900s. Most of those had been built by the North Eastern Railway and on closer inspection you could see the initials NER on the axle box end covers and other plates appertaining to the NER.
What would be their value to a collector today?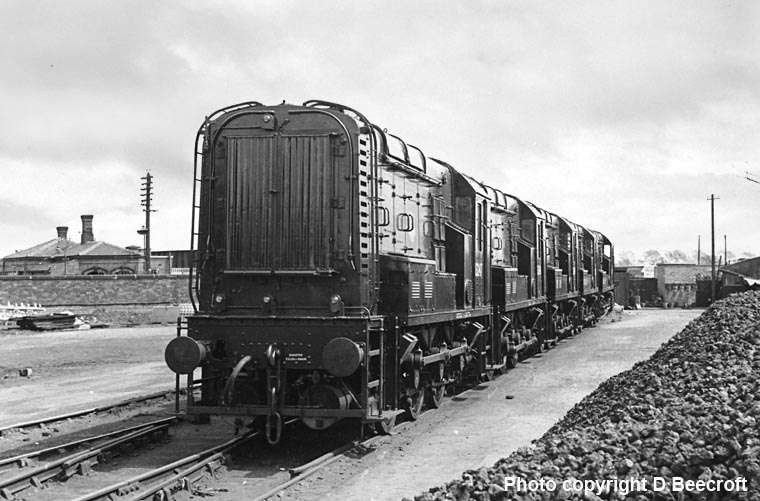 (Above) These are of that venerable warhorse, the English Electric 350hp shunter. The Class 08 design was based on the LMS 12033 series (later TOPS Class 11) design. There were also 26 Class 09, and 171 similar locomotives fitted with different engines and transmissions, some of which became Class 10, bringing the total number of machines to 1193. The locos were built by the BR Works at Crewe, Darlington, Derby and Doncaster between 1953 and 1962. There were variations within the class. For example some had smaller driving wheels than others. The 09 was geared to be run at 30mph and the air brake pipework at both ends was laid out to be compatible with the Southern Region EMUs in the event of failure. There were other 350s powered by Lister Blackstone engines, though externally they could not be distinguished from their English Electric cousins.

(Below) The Class 15 Train Heating Unit at Heaton was formerly D8244, a type not seen in the North-East. I remember this specimen well as I recall changing one of her Turbo Blowers at Gateshead. As these units were incapable of movement under their own power, they had to be towed to Gateshead for maintenance exams. There were other train heating units at various points of the E/NE regions utilising these redundant locos. All in all a not very successful loco which is why we landed up with the Class 20s of English Electric pedigree. This unit illustrates the steps taken to utilise redundant products until full scale modernisation could be implemented.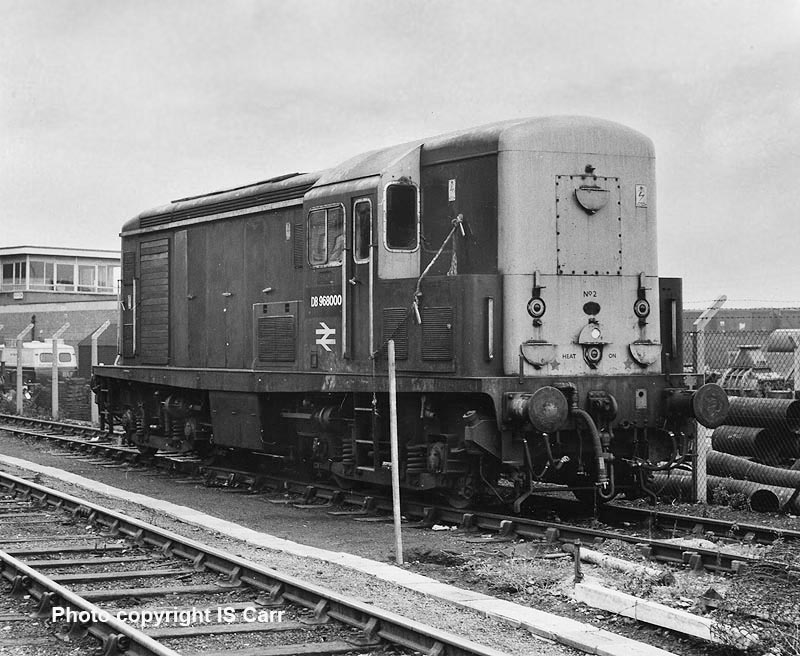 The following is a job that I only did once - and, Allah be praised for that...once was enough!
The compressor on a Class 08 was mounted underneath the engine at the front end of the loco, just above and slightly behind the two main air tanks. Space was at a premium which made the job such a b-----d!
And with regard to equipment such as a hand-operated hydraulic lift, the management's attitude seemed to be - make do with what you've got!
Well, what you actually got were numerous pieces of wooden packing built up on a strong pit board. This was placed beneath the compressor which then had to be disconnected mechanically and electrically. A few crowbars of various lengths completed the entourage along with a chain wrench known as a 'Sylvester' named after the makers. This was ratchet-operated by hand.
It was found that after dismounting the 08's compressor a few inches onto the packing it was then possible to put a short crow bar above it. You then had to hang the Sylvester from the bar and wrap a wire sling around the compressor and then hook it up and lift the compressor an inch, remove the packing and then lower the compressor into the pit. What a palaver!
Refitting a new one was the reverse. Some years later, after I left 52A, I went back to Heaton where a former colleague told me that whenever an 08 wanted a compressor change, a hand-operated hydraulic lift was now used and what a difference it made. My friend remembers the battles we had all those years ago, and at least some progress had been made on making it easier for the maintenance staff.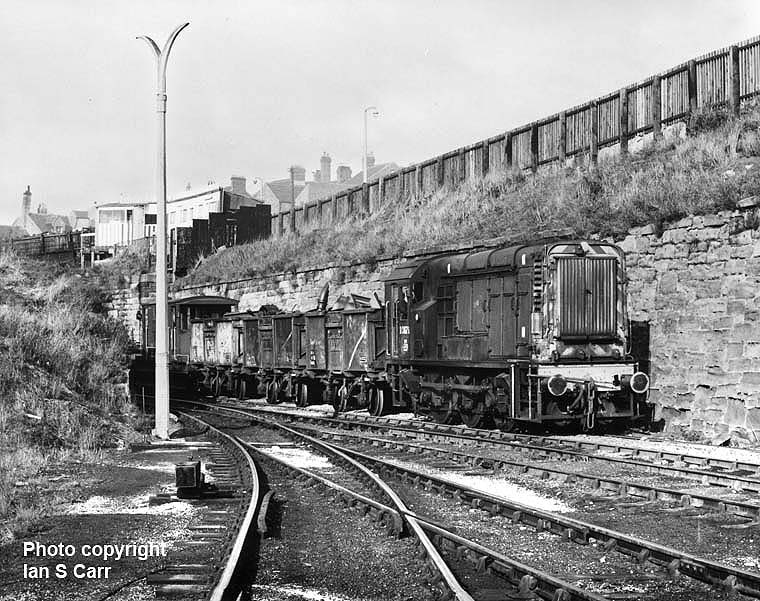 (Above) Ian S Carr was on hand to photograph D3679 with the Southwick branch pick-up goods near Wearmouth Colliery Sunderland on 27th February 1973.
I knew this loco intimately having taken her apart and reassembled her more times than I've had hot dinners. During my time at Gateshead, this loco along with other 08s and the 03s were known as my 'Flock', courtesy of my shift supervisor Ray Fender. Looking at her leading end you will see a three link coupling hanging on the draw bar/draw hook. Not an official fitting but quite a well known sight as the proper screw coupling was too heavy for shunters to use their shunting pole, hence the unofficial use of three link couplings.

(Below) The Class 03 was built for lighter duties such as carriage depots and station pilots. Here D2078 is seen at North Road Works Darlington in 1965.
Not long after she came to Gateshead in September 1968 to join 'my flock', she was sent to Doncaster Works to be fitted with dual air brake gear for shunting air brake stock on station pilot duties at Central. The reduction in the demand for shunting locomotives meant that the class was progressively withdrawn from 1968 onwards, many being sold to private industry.
However, some remained in service for quite a while longer, including D2078 - introduced to traffic at Thornaby (51L) in December 1959, withdrawn at Gateshead (51A) in January 1988 - the loco subsequently found preservation in April of that year at the Stephenson Railway Museum.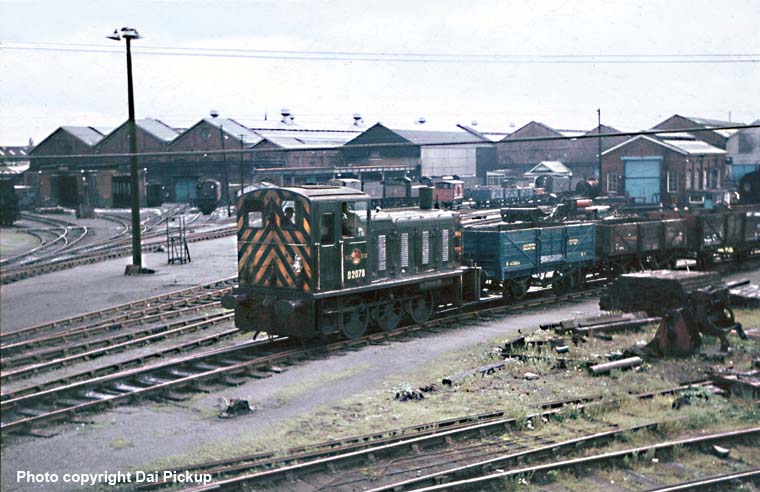 Here is a little story that always brings back a smile to my face. It happened at 6.30pm during an afternoon shift when Raymond, my hearty gaffer, said - 'I want you to get your gear together and get yourself and Davy the Mate off to Annfield Plain where there's an English Electric shunter (Class 08) in bother. The only problem is she's been dumped on the flat in the middle of a field.'
Transport was arranged to take Davy and myself - along with all the necessary gear to de-mesh the traction motor gearing - up to Annfield Plain. We arrived about eighty-thirty at night and the 08 looked a sorry sight on its own in a siding leading to the old engine shed; the shed closed in 1940...the site was cleared in 1949.
It wasn't long before it began to rain heavily, the leaden sky beckoning a thunderstorm, so I told Davy to put all the gear under the loco and stay in the cab and listen for me shouting for anything I want. First I dealt with No 1 traction motor then crawled across to No 2 motor, by which time the weather was worsening, so I dug out a £5 note and shouted for Davy - 'I can see a pub not 200 yards away. Go and see what you can rally in the way of refreshment…'
Meanwhile I finished the job then walked 200yds to the signal box at Annfield East and informed maintenance control that we were ready to be hauled back to Gateshead. Davy reappeared soon after, a sight for sore eyes, like the proverbial butler carrying a tray with two piping hot corned beef sandwiches, two bottles of liquid refreshment, and to cap it all - two sealed cups of steaming hot coffee. What a picnic we had under that loco! We kept the liquid refreshment for later whilst drying out ensconced in the cab.
A Class 37 eventually appeared to take us home, and by the time we reported in and left the spanners in the tool store and then washed up, we finally booked off at 2am. BR picked up the bill for transport and a taxi which dropped Davy off first at Felling and then yours truly at Whitley Bay.
When I finally got in from the wet, my wife was snoring her head off and it wasn't until breakfast the following morning, she asked - 'Did you have a good time last night!'
It is a belief that everything happens in threes so here's the third incident in the O8 trilogy...
It came to pass that one day at Leadgate just outside of Consett a third 08 became victim to the 'bent side rod' syndrome due to excessive slipping. She failed with one end blocking the main line.
Whilst a Class 37 was summoned, the rails into the siding were liberally oiled and the 37 did a great job bumping the 08 into the siding clear of the main line. The side rods were loaded up, the motors de- meshed and back to Gateshead she went. Doncaster Works supplied new rods and a month later that 08 was back in action.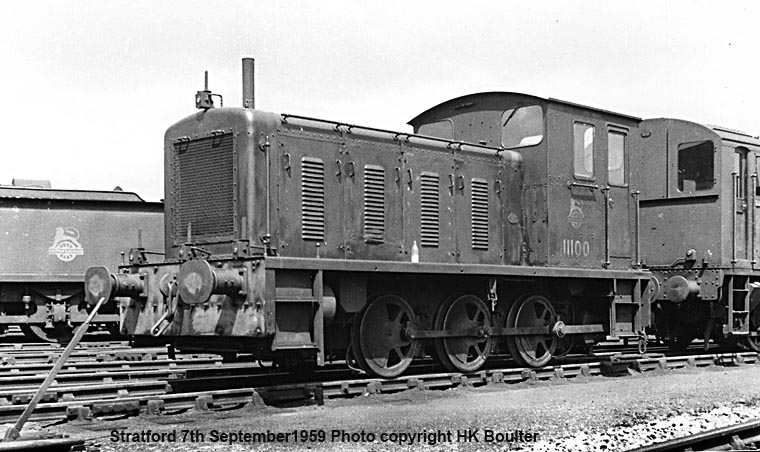 (Above-Below) The forerunner of the BR Class 04 diesel-mechanical 0-6-0 shunter originated in 1947 when the Drewry Car Company supplied a single locomotive for shunting trials on the LNER. This shot of 11100 at Stratford shows the early variant minus the cowling around the`exhaust pipe; it's the first time I've seen an 04 look like this. Rejected by the LNER the prototype was purchased by BR Southern Region for departmental use at Hither Green depot. In 1952, BR placed the first orders with the Drewry Car Company and Vulcan Foundry to meet the need for small but versatile locomotives, able to operate on light lines such as tramways, docks and private sidings, where the bigger 350hp diesel-electrics were prohibited. The batches incorporated detail differences, the most noticeable being on the first four (11100-11103) which were later fitted with side valances and cow catchers for use on the Wisbech & Upwell Tramway.(Below) The now-preserved Class 04 D2205 (originally numbered 11106) was built at the Vulcan Foundry for the Drewry Car Company in 1953. It was based at West Hartlepool then moved to Thornaby before withdrawal came in 1969. The 04 found its way into industrial service with the Tees and Hartlepool Port Authority in 1970 before being purchased for preservation in 1983, initially on the Kent and East Sussex Railway but since 1989 the loco has been resident on the West Somerset Railway.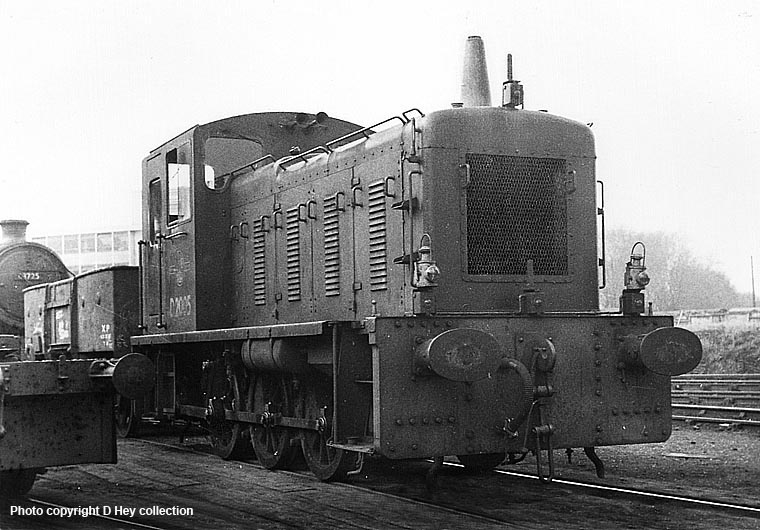 I recall one particular nightshift at Gateshead, when Ray our shift foreman, said to me - 'You and George are going to Sunderland; one of the 03s has failed with a broken Left Trailing Main Spring…'
We loaded up a lorry with a replacement spring and jack, and then off we went to Sunderland South Dock Shed, passing on the way a small van with steamed up windows, rocking from side to side in a lay by; it elicited a muted titter from us both.
On arrival at the shed it did not take long to change the spring situated alongside the gear box, but to our dismay we found the same spring on the opposite side was broken too. So we returned to Gateshead for another - and, guess what? That lay by was still occupied by the same small van rocking merrily away!
Sometime later we returned to Sunderland and b---y hell! The van was virtually jumping off the ground!
At Sunderland the second spring proved to be a little uncooperative but George and I succeeded in finishing the job then went for a walk around the now-closed shed; its allocation of engines and men having been dispersed to other depots. By 3-30 am, a slight fog began drifting in from the North Sea, and in my mind's eye I could picture the long-gone images of Q6s J27s and G5 locos in their stalls…it was really quite spooky.
So we set off home - and, unbelievably, the van was still rocking and rolling with its window steamed up. George glanced dispiritedly in the rear view mirror - 'Some blokes have all the luck!' he said grudgingly.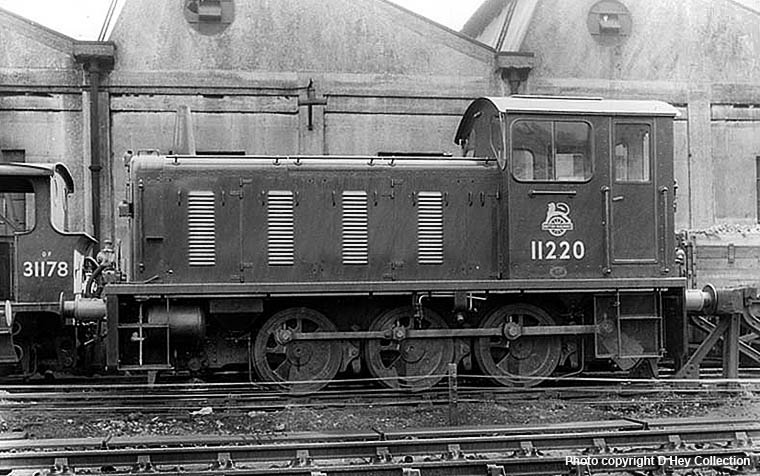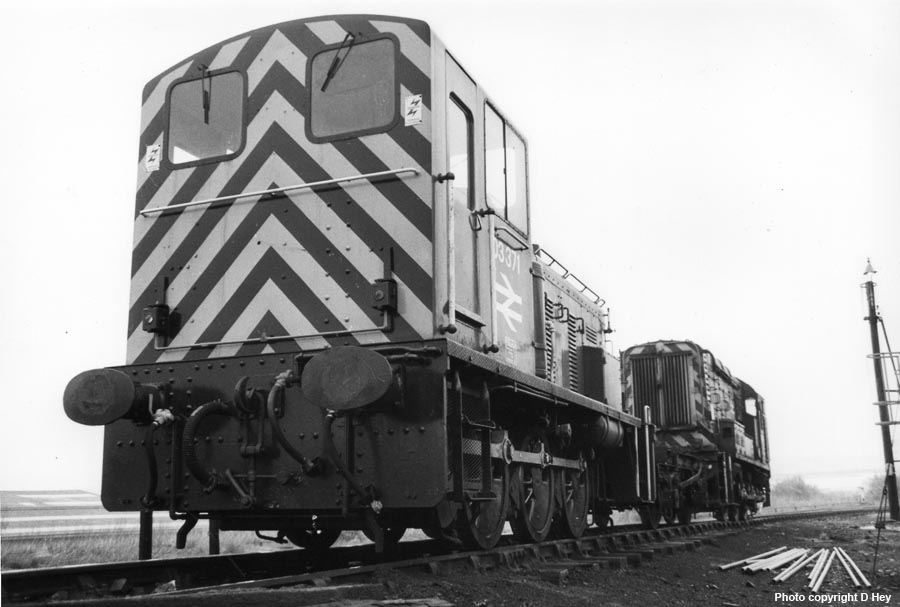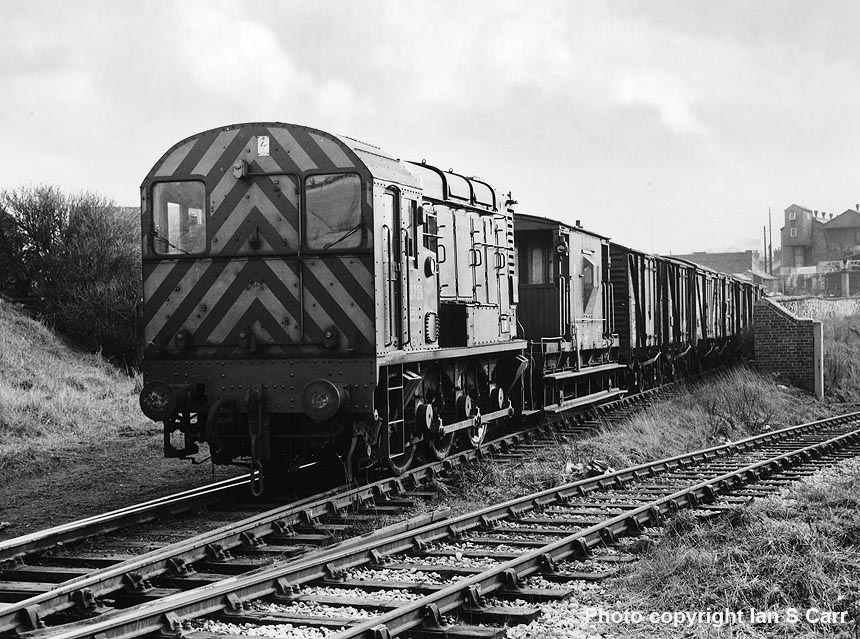 (Above) Class 08 No D3729, recently transferred from Leith (64H) to Gateshead, finds itself on the Deptford branch goods with box vans from the Pyrex factory on 31st March 1970.
This illustrates the way Gateshead's 08s ranged far and wide within the Newcastle Area; Sunderland, Blyth, Consett and Tweedmouth to name some of the locations where they were seen - not forgetting D3915 and D3926, resident pilots at Heaton until we got more dual braked 08s drafted in. The three link coupling on her rear end was a type not seen in the North-East where a screw coupling was standard

Here's one story I've plucked from my memory banks. Night shift was never a favorite of mine so here's something slightly different. It was 2 o'clock in the morning and I was thinking that I'd rather be tucked up in bed than sitting on top of 3455 (08) grinding a couple of exhaust valve assemblies, when Ray the Shift Forman whistled me down - 'Gather up your gear,' he said - 'and get the necessary heavy spanners for the side rod cap nuts of an 08; you can get the sizes off the one you are working on…we've got 3915 (08) failed just east of Beamish Station with badly bent side rods and it's stopped the job.'
'How am I getting to Beamish at 2 o'clock in the morning?' I asked.
'Tommy the mate is loading crow bars, steel wedges and heavy hammers into 1505 (47) and by the way, make sure that you take your waterproofs. It's teeming down.'
Teeming down! Ray was a master of understatement!
By the time we passed Tyne Yard it had turned into a full-scale thunder storm, with sheet lightning abounding in plenty. On arrival at Beamish we saw a very sorry-looking 3915 with the right hand side rods badly bent. The signalman warned us that traffic on the bank was still running both ways and traffic from Consett was running 'Wrong Line'.
This meant I had to contend with iron ore trains and other traffic running not more than a few feet away. For safety matters we decided to remove the left hand rods first, which were undamaged - and wonder of wonders! - the taper pins fell out and the cap nuts came off with no bother.
We had just got the rods out of the way when an empty iron ore train bound for Tyne Dock passed by - but still the rain poured down. By this time, with everyone in the team wearing waterproofs, anyone would have thought we were launching the Tynemouth Lifeboat - it's exactly what we looked like!
Next came the left hand side rods, which, to say the least, were uncooperative. The pins and cap nuts were no problem to remove…it was the bloody rods! They wouldn't budge at all; even hammers, steel wedges and crow bars all met with solid resistance.
The driver of the 47 made a suggestion - 'If I reverse down the bank a few yards I'll take a run and give 3915 a wallop!'
Well, any port in a storm, I thought and gave him the nod.
It worked! 3915 got such a wallop the rods fell off. Tommy and I parted the rods and put them in 3915's cab and then put our gear back in the 47's cab.
Eventually, much to the relief of everyone (the rain continued to sheet down) we got under way back to Gateshead - but all was not right. About a mile later I heard the all too familiar sound of a wheel skidding on the rail.
Stopping the convoy, I climbed down and asked the driver to move forward. As soon as he did I spotted the trouble…the leading wheels of 3915 were locked tight. We tried loosening the brake off but it made no difference. I asked the driver where the nearest sidings were and he said at Stella Gills Flats, which was about two miles away. So off we went again and dumped 3915 in a siding and informed Control by phone; they relayed my message to Gateshead and we got back to the depot at about 5.30am, soaked to the skin...
The following morning one of the dayshift lads was sent to Stella Gill Flats siding to de-mesh the reduction gearing on both traction motors in order to facilitate towing speeds in excess of 20 mph back to Gateshead. Let me tell you here that the maximum service speed of a Class 08 and Class 10 shunter was 15-20 mph. However, when towing to Doncaster Works or transfer to another depot the gearing had to be de-meshed to exceed the 15-20 mph. It later became the practice to send them by road….imagine 3915 doing 40mph along the A1 on the back of a heavy lorry!
A few weeks later, Frank (the driver of 3915) came to see me with a letter he had received from Senior Management about the incident at Beamish. He was being questioned about his speed down the bank from Consett.
Evidently some jobsworth had got 3915's point to point timings from all the signal boxes that Frank passed down the bank, and - ha-ha! - the speed was well inside the limit.
I told Frank that we had just found out what happened that night. After Doncaster Works lifted the loco and removed the defective wheels, they discovered that the armature windings had come adrift inside the traction motor and the motor had locked…result - bent side rods!
Another two weeks later we got 3915 back with new side rods, and sparkling with her new paint and demanding the attention of any Leica or Olympus.
I must say, though, no praise is too great for the great squad of men who worked at Beamish on that monsoon night.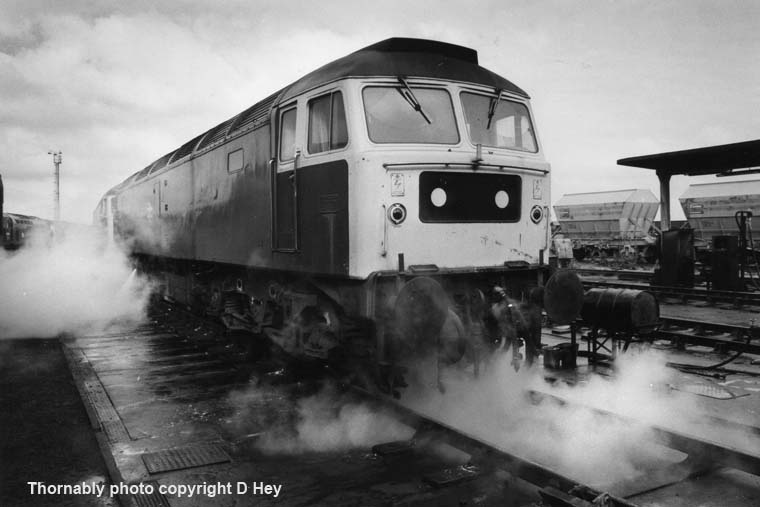 During the Sixties and early Seventies, time was spent working on 03s and 08s doing routine maintenance and examinations. There were occasions when I sidestepped to Deltics, Type 3 (37s) and also Type 4s (Class 40s, 45s, 46s and 47s). I was also made tool van fitter on our shift.
When changing oil filters during exams on the 46s and 47s the first job was to open the filter drain valves. If the engine was hot the filters would drain in about 15 to 20 minutes. If the engine was cold the time could take as much as 3 to 4 hours. This depended on whether it was winter or summer.
Whilst all this was going on you heaved-to and renewed the brake blocks which when done meant that the filters were empty. The Class 40s were a different kettle of fish. Their filters were barely accessible beneath the No1 end turbo blowers. There were four of them and one could not rush them.
We had ten Class 24s adopted for working the Iron Ore trains from Tyne Dock to Consett. Considering they were small locos they took a hell of a bashing but gave little bother compared with their larger cousins.
One day Ray the supervisor told me that D2078 was coming in from Sunderland. The station staff had complained to the Station Master that she was smoking badly and filling the station with smoke (the station is in a cutting and practically covered in). Inspection of the timing chain revealed that the timing had slipped. Working to the Gardner engine manual, I reset the timing and refitted the chain cover. The result was a smoke free engine. Boy did that lift my morale.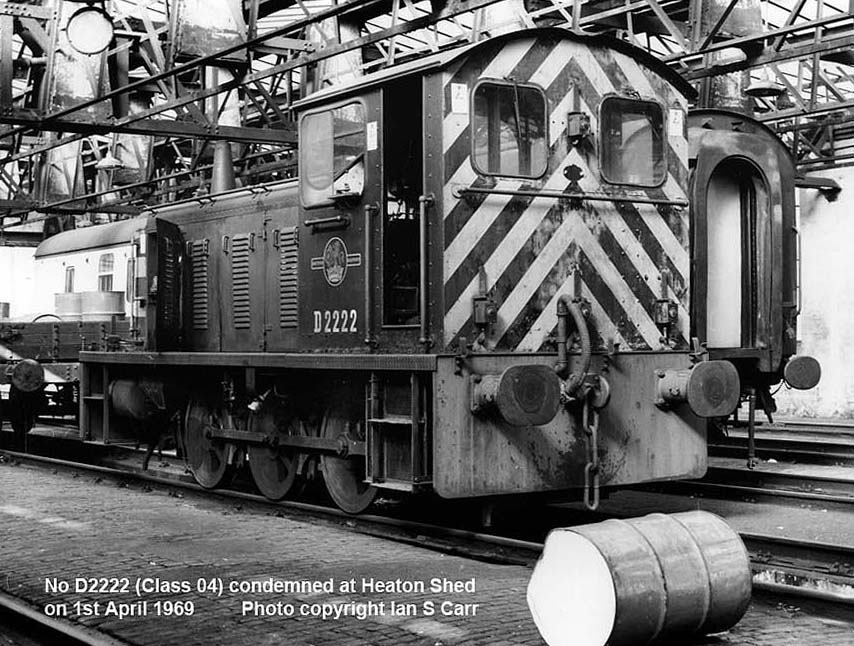 (Above) One of my wife's weaknesses is a tin of Berwick Cockles. She loves them! One day the shift foreman asked me if I fancied a trip to Berwick to collect 2333 (later 04) which had failed due to a hot box and needed to be brought back to Gateshead.
My mate John and I gathered our gear together plus six gallons of oil and two bags of sweat rags, then we climbed aboard EE Co Type 3 (later Class 37) 6787. On arrival at Tweedmouth, John said he wanted a newspaper, so I gave him the money to buy a tin of Berwick Cockles for 'Mein Kommandant'.
Whilst he was away I managed to draw the axlebox tray out of the 'hot box' and found all that remained was the springs of the oiler pad. On feeling the axle the bearing surface was badly scored, which meant filling the tray with oil and stuffing sweat rags in to make a temporary pad.
On getting ready for our journey home, Maintenance Control said 20 mph and we'd be put into every siding for examination and oiling, and to allow other traffic to pass. During the journey between Tweedmouth and Gateshead the sweat rags were used seven times and getting through Newcastle Central Station was a nightmare, but control made sure we had a clear run through over the King Edward Bridge, and we finally made it back to the shed with just two pints of oil left.
After several days under heavy repair 2333 was back in traffic at Central Station, and my wife got to enjoy her tin of Berwick Cockles. This Class 04 at Heaton depot (above) was condemned before her time as surplus to requirements. A lot of these were built by Robert Stephenson & Co, and a few were sold to outside industries such as Fords of Dagenham. I always thought these were better looking than the 03s.

My conversion to diesels started in the early Sixties on 03s and 08s, but a large part of my time was spent looking after steam until 1966. One day I could be doing valves and tappets on a Class 08 and the next doing heavy work on a Q6, J27 or Thompson K1.
The axe fell in the summer of 1966 when the diesel took over. A job that was not too popular was re-blocking. When the foreman dished the work for a Class 40 to be blocked, those detailed would rush out and head for No 1 bogie whilst the unlucky ones had to contend with No 2 bogie. The reason for this was because the toilet was in No 2 end of the engine room and therefore you had to contend with the waste pipe. This same problem existed also on the Class 44, 45, 46, 47s and Class 55s. You can imagine the smell in there! It was not too bad if the underside of the loco had been steam cleaned.
After some years the WC pans were removed and 'press to flush' water bowls substituted. The worst locos to block were the Class 08, 09 and IOs. The brake rigging on these locos were all the same; the design of the brake blocks had been purloined from an Ivatt 4MT 2-6-0 with the same arrangement of two blocks per wheel.
After some time a fitter on another shift made some gear to help with the job - and what a difference it made! If one of these locos wanted blocking it could present some problems, particularly if the brake rigging had seized. It meant that the brake block carriers were solid and a lot of time was spent freeing them; it was assumed that the loco had been working at Consett Iron Works where iron ore dust was the guilty party.
One night John and I re-blocked two 08s like this, but when we were asked by the foreman to do a third, he was told to go to hell!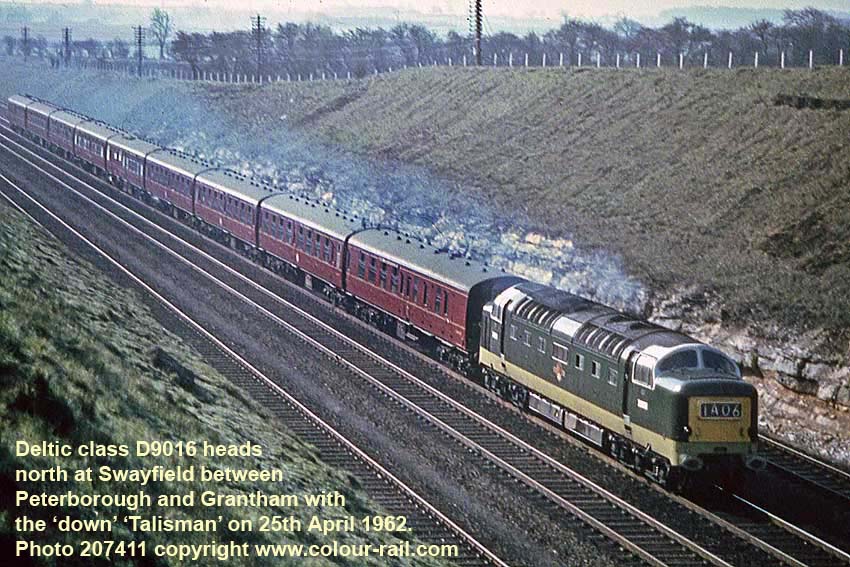 The post-TOPS Class 55 EE Co Deltics were a capable locomotive but a nightmare to service and maintain. Servicing a Deltic that had just arrived from London with 10/11 coaches on was - to say the least - like working in a sauna! The intense heat in the engine room was exhausting.
Oil and water levels had to be checked, followed by a walk through the engine room to listen out for any unusual noises with both engines running (two strokes). It was necessary to wear ear muffs; the noise was literally ear-shattering and on emerging into the cab, your eyes would be stinging like hell and watering almost to the point of crying. All this took place in the confines of the Service Shed, consequently the loco would be sucking its exhaust fumes back in again.
Most diesel locomotives had their fuel injectors changed on specified exams, but not the Deltics - theirs were done on an hour's run basis, therefore we had to read the engine hours run clock on both engines so that Maintenance Control at York could state when it had to be done.
Changing injectors was an uncomfortable job, which entailed lying on a mattress - the 'A' bank was not too bad because there was nothing to obstruct you; 'B' bank was a little better because you were on top of the engine. However, 'C' bank was awkward because you had to wrap yourself around the oil filters since there wasn't much space to work in.
I sometimes wondered if the cretins who designed these locomotives thought of the maintenance staff!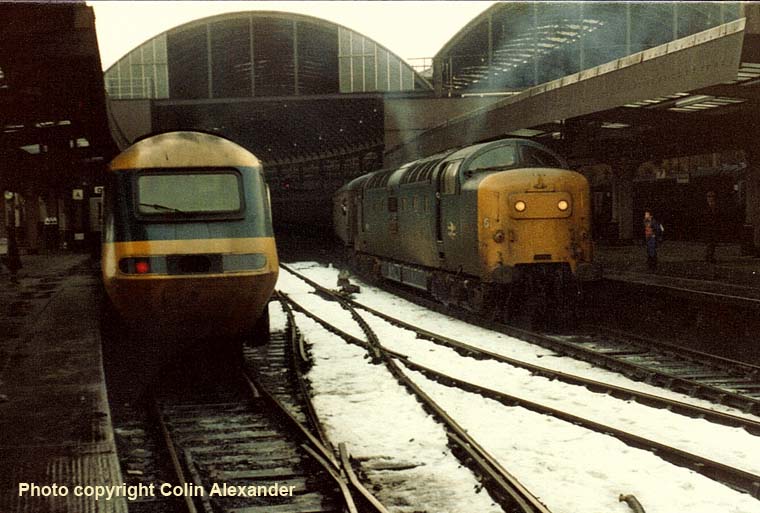 (Above-Below) I do recommend visiting Colin Alexander's page on the excellent Railscot website. Link The page has a drop-down menu containing a list of 124 locations that Colin visited with a camera, amongst them are several shots taken at Newcastle Central Station. When Chris was seeking a suitable shot of a Gateshead Deltic for his page he opted for this evocative photo of 55017. The caption reads - 'Twas Christmas Eve 1981, train 1S12 05.50 Kings Cross-Aberdeen prepares to leave Newcastle Central behind York's Deltic 55017 The Durham Light Infantry. With one week left in service, 55017 still looks every inch the Gateshead locomotive she once was, i.e. filthy dirty.'
Whoah! Chris, a proud Gateshead man, had plenty to say about that! - 'The general condemnation of Gateshead's so-called 'grimy locos' cannot go unchallenged. The fact is Gateshead concentrated on keeping the undersides clean. I can think of a typical instance when a Class 45 from Holbeck rolled in for brake block renewal. The dirt was inches deep and everyone on the shift refused to reblock it until the underside had been steam cleaned.
Perhaps 52A's locos were grimy but they were no worse than other depots. The reason for the good housekeeping underneath was to reduce the risk of a fire from brakeblock sparks…'
So there you have it straight from the horse's mouth! (Below) To placate Chris here's one of an impeccable-looking 55017 The Durham Light Infantry regain speed from an engineering slack with the 07.15 Plymouth-Edinburgh in August 1981. Footnote: this is a super-wide image, click once then a second time (not double-click) to see the full image.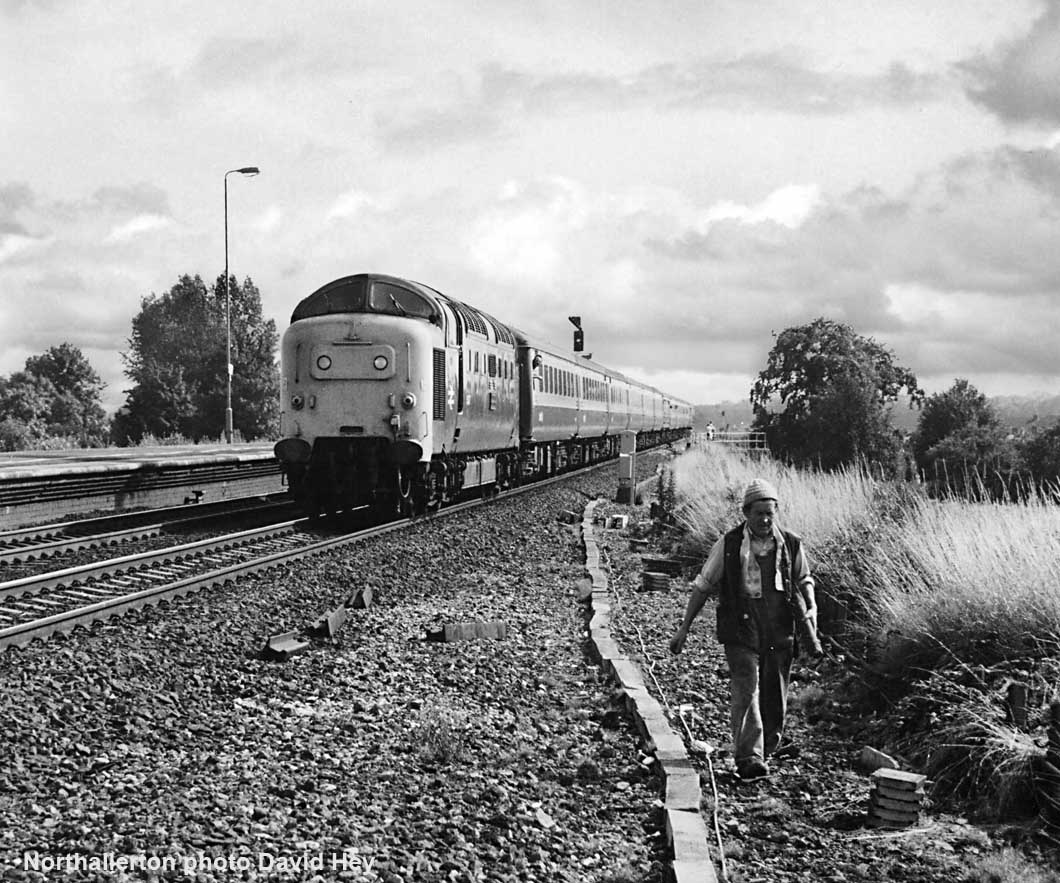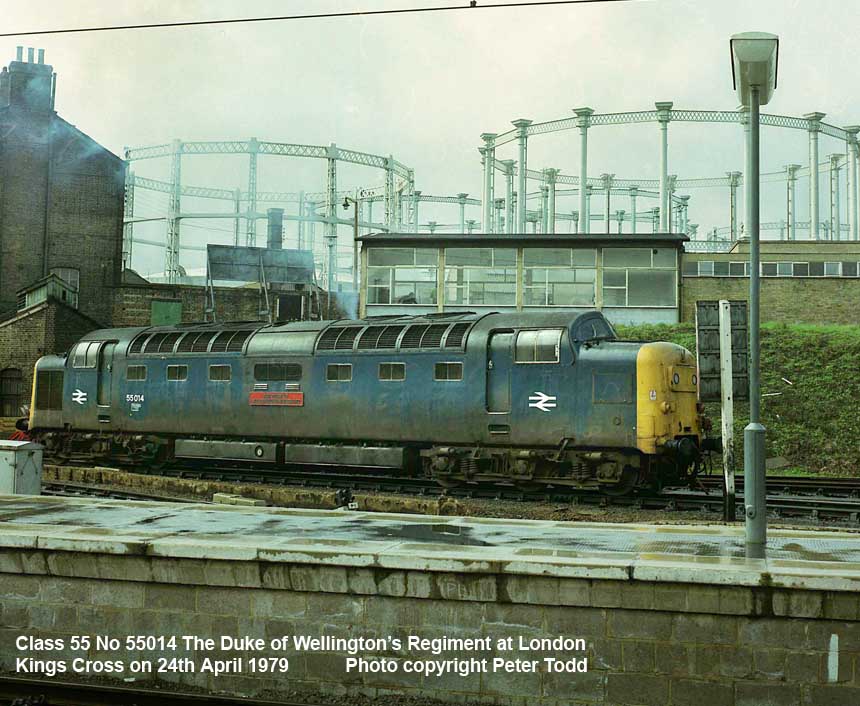 One night a Deltic was being run up at 2am after a major exam. One of the test items was to run both engines over max revs to ensure that the overspeed trips worked and automatically returned to idling. I was on a Class 46 next door when the Gaffer climbed on the Deltic accompanied by a policeman. Apparently the noise had woken the whole neighbourhood and numerous complaints had been made by phone to Gateshead Police.
Another time I worked a Friday night shift, and at about 6.15am on the Saturday morning a Deltic landed in for fuel and water, however when I shut the engines down, one engine gave out a loud 'dull thud' and the locomotive rocked from side to side; it was the Gaffer's opinion that the gear train had slipped out of synchronization - York control agreed, therefore the engine was isolated and thirty minutes later the locomotive was dispatched light engine to Doncaster Works. The following Monday morning, that same Deltic worked the 09-00 to London…
Doncaster certainly deserved a medal for that one!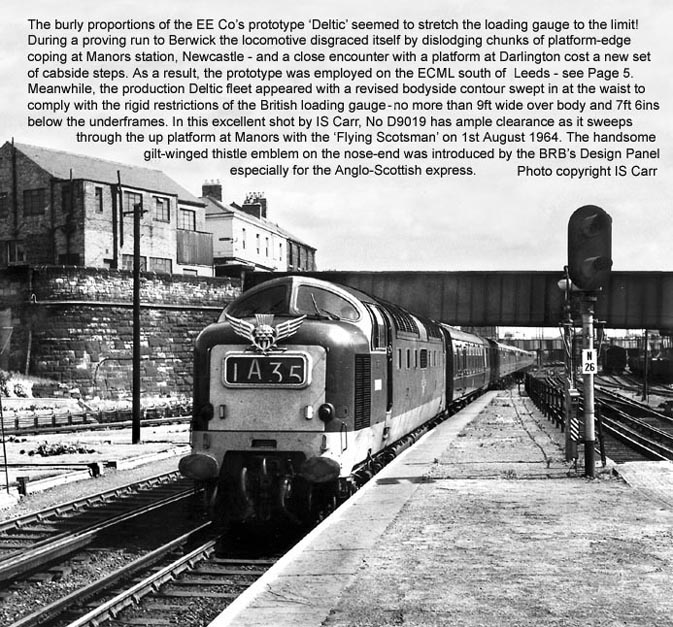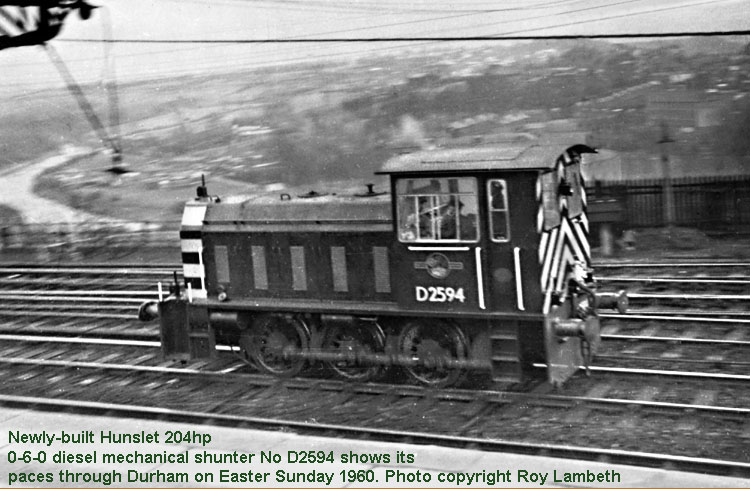 (Above-Below) Harking back to the early days when the chaneover from steam to diesel was getting into its stride, my mind mind might stray somewhat but I'm very clear about my likes and dislikes, and I can tell you what I think about that awful contraption that escaped from Hunslet and Barclay's - the 0-6-0 diesel shunters, later to become Class 05.
Mercifully we only had three of these blighters at Gateshead! The power unit could not be faulted since it was the celebrated Gardner 8L3 diesel engine that was used on a few different classes of small shunters. It was the rest of the loco that let it down; first there was the awful gear box which was one of Hunslet's creations. It was known years ago as a 'Crash gear box'., and in terms of maintenance it gave very little trouble for us but how the drivers hated them. They had to operate the gear lever twice to change gear, therefore if banking 5 or 6 twenty-ton coal hoppers up to Dunston Staiths this could cause problems for the driver who always preferred shunters that had self changing gears.
For fitters, it was the injectors and tappets on them that gave us problems. Space above the cylinder heads was very limited and when the cylinder heads had to be re-jointed it could give rise to back problems. D2594 had its engine stripped down and pistons removed for routine examination and my friend Keith was not to happy.
I was on the next road giving my favourite A4 No 60023 Golden Eagle a valves and pistons exam and Keith implored me to 'swap'.
I declined but I did help him when I was waiting for No 23's cylinders and steam chests being de-coked. All in all these 05's were not welcome and after about two years we said good riddance to them. I believe one of them went to Darlington and the other two were sent to Thornton Junction in Scotland or Goole in the East Riding. We got two more 03s and two 04s in replacement…hurray!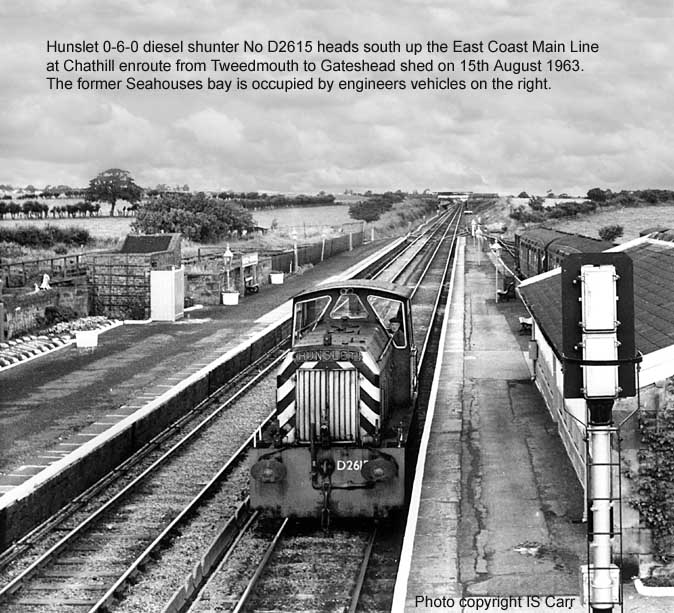 It should be mentioned here that with the Class 03s and 04s, a few jobs did crop up from time to time. Here are some of them as follows:
No 1 - Defective gear box that required renewal - This was a job that I had done more times than I care to remember and was the type that required two men; myself and a mate to work the overhead crane. It could be a job that could be awkward or easy. Prior to Darlington North Road Works closing in 1966 you could order a new or reconditioned gear box from them at 08.30 and have it delivered to Gateshead by 16.30 same day. After closure all gear boxes came from Doncaster which took about ten days.
No 2 - Flywheel Gland Leaking - A job that required the removal of the exhauster to gain access to the "prop" shaft and it's couplings. Once the shaft was removed, you were then able to strip the gland down and dispose of the old gland. Refitting the new gland was a job that required cleanliness akin to an operating theatre and on no account had any oil to touch the carbon faces. Once I had the new gland fitted and boxed up, I'd fill the fluid flywheel up and then go and have a cup of tea. On return an inspection was carried out and if was okay. I refitted the 'prop' shaft and the vacuum exhauster and fit new exhauster belts. You then started the engine and when the necessary air pressures were obtained you then tried the loco while stationary through the gears and she was then returned to active duty.
No 3 - Renewal of the Eng Fuel Pump and Governor. This was a job that we fervently thanked Messrs Gardner of Patricroft for their offset coupling. It was a flange coupling with six holes in it but, the saviour was one of these holes was drilled off centre. You could have five bolts in but, No. 6 would not go at all. It was essential that you had all six holes in both flanges lined up. Thus, when you had all six bolts in you knew that the engine was correctly coupled up.
No 4 - Right hand side Jack Shaft Bearing Hot. This entailed removal of the cab footstep and jack shaft coupling rod to gain access to the balance weight. The balance weight was extremely heavy and secured by three bolts that clamped the weight to the drive shaft in the final drive. Removing the balance weight required the use of steel wedges to loosen the weight but care had to be exercised when a mate using a fork lift truck when freeing the weight. That wedge had to be removed for safety because it could fly anywhere. Emery tape was then used to restore the bearing whilst a new brass bearing was being turned after the bearing housing was removed. The new bearing was then bedded in and then a slight modification was done. A complete assembly was marked off and drilled for a set screw. The modification was that the oil pipe hole in the brass bearing was only a small hole so we turned a groove around the outside of the bearing so that if the complete bearing turned in the housing the oil supply would not be cut off. The bearing and housing were then refitted to the locomotive and also the balance weight, coupling rod, and footstep. I often wondered why mechanical lubricators were not used instead of wool trimming in a small oil box.

(Below) Here we see Class 47 No 1867 at Kings Cross; by this time the prefix 'D' had been discontinued and all locos were referred to by their fleet numbers until BR's TOPS (Total Operations Processing System) came into being. In this instance 1867 became No 47217 and was later named Kingfisher.
Although these locos were versatile in their duties, maintenance on them was much more costly than English Electric locos...we are still in the period of 1967 to 1973 regarding my experiences with Dr Diesel's invention.
Although limited to 95mph the Class 47 was much favoured by drivers; if a driver had a good 47 they were quite capable of matching a Class 55's performance on timing a train. But as usual the comfort of the maintenance staff was not thought of. At No1 end of a Class 47 we had the brake compartment behind the cab which housed two air compressors, two vacuum exhausters, and right under the hydrostatic oil tank...in the most awkward position imaginable...was the triple pump, which as I mention earlier, pumped oil, fuel, and water around the engine.
From time to time that pump could go wrong. More often than not the tell-tale pipe would start dribbling coolant. The practice was to see how often the coolant header tank wanted filling and if it became 'too often' the loco was stopped for a new triple pump to be fitted. What a bloody awkward job that was!
As the pump was not easily accessible, a lot of stripping out was necessary to get it out and then getting it out into the cab. No provision for lifting was made and a ramp of wood packing and other bits and pieces to move the pump from the brake compartment to the cab, which was accomplished with brute force…and on more than one occasion the staging collapsed!
This invariably elicited some swearing - and John, one of the constant dayshift, said - 'There must be a better way…'
He really studied the layout of the roof and concluded that carrier brackets could be attached to the roof and left there. To these brackets two 'H' girders could be bolted when necessary with a chain block & tackle fitted with two stop blocks, one at each end to stop the block and tackle running off when lifting the triple pump.
John submitted his idea to the management and it was accepted. A 47 was modified and John's idea worked. The upshot was that all the Class 47s were modified and that earned John a lovely cheque.
The advantages were that on completion of the job were that after the two girders were removed and the chain block & tackle was stored till the next one wanted renewing.