ALL OUR YESTERDAYS - 1953
Introduction
by
David Hey
My thanks to John Parker for his generous assistance in the compilation of this page

Like it or not, the ageing process gathers momentum at an alarming rate as you get older; by the time you reach the 'Big Six-'0' the years are flying by! One of the best ways I've found to occupy retirement is to lose myself in those things that resonate most from childhood. I'm harking back to a more innocent age when countless thousands of youngsters with notebooks and pencils gathered on station platforms to collect engine numbers.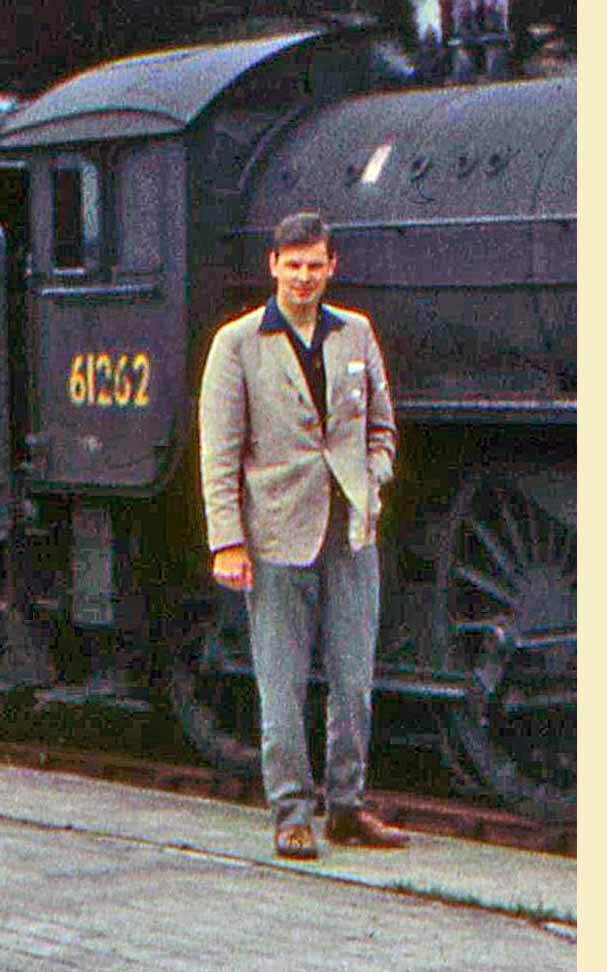 All things considered train spotting became the national hobby for boys

on a truly epic scale

; it embraced a whole range of 'Boys Own' adventures that today's mamby-pamby society would view with a large dollop of suspended disbelief! This is why I wanted to launch a website on the subject, though I had no idea where it might lead.
Well, having started the ball rolling in 2007 the site has just grown and grown. But I couldn't possibly have done it on my own. It's all thanks to the generosity of contributors who've become involved in this project for its own sake with no prospect of financial gain, just the satisfaction of creation...rare qualities indeed in a world obsessed with money and cheap fame

.


This brings me to Stuart Sanders' superb collection of railway photographs that he took some fifty-odd years ago, which, at the risk of sounding hopelessly sentimental, revive only the very best memories when I too was a young train spotter gadding off to goodness knows where, and in all kinds of weather...even when it snowed!

(Left-Below) A young Stuart Sanders at Perth during the summer of 1966. (Below) Now I ask you...who can fail not be moved by this lovely shot of Class A3 No 60059 Tracery storming through Hitchin with the 'up' 'Yorkshire Pullman' early in 1962. This has to be one of Stuart's finest photographs: the composition of the approaching train, the engine's exhaust lingering in the chill air, the signal box, signals and of course the position of the railwayman standing on the foot crossing waiting for the train to pass before crossing the main line...not a high visibility vest in sight! Imagine that happening today! The railwayman was a well known member of the station staff, who had a strong distinctive accent and a powerful voice. His station announcements were legendary - 'Trains for Bare -d -ford!' instead of Bedford.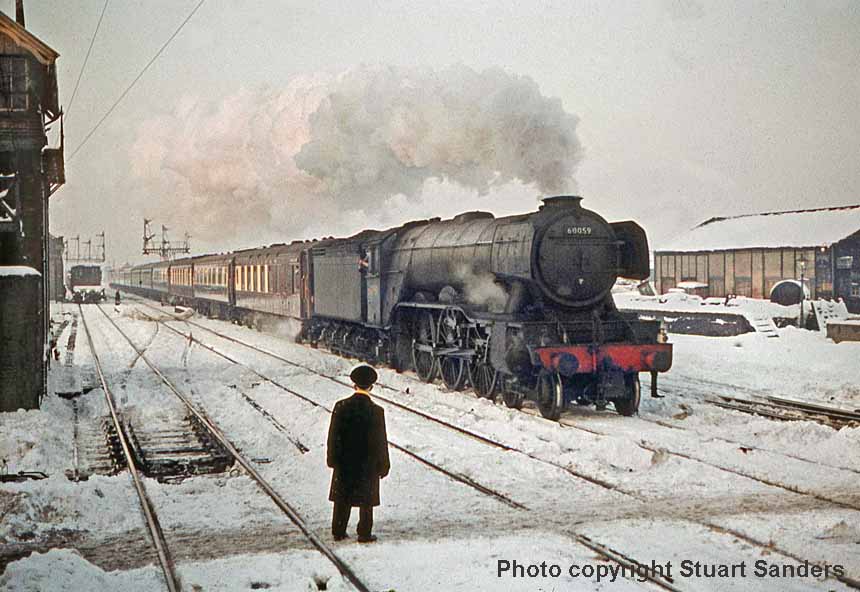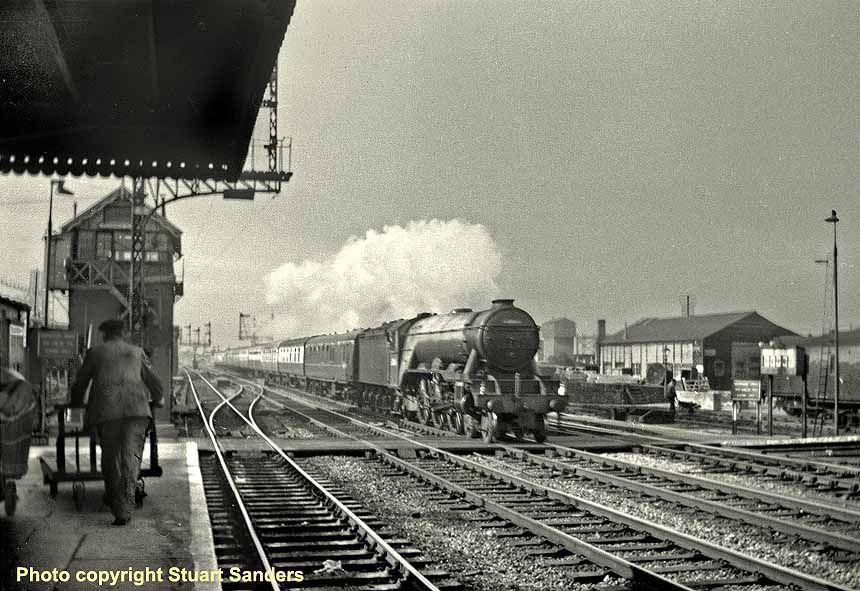 (Above) Human interest features in another shot of Hitchin station, only this time the fine spring sunshine gives a clearer view of the foot crossing and track layout; Class A3 No 60066 Merry Hampton heads an 'up' express on 15 April 1959.

Of course, a good wallow in nostalgia doesn't harm anyone, but this depends a lot on whether

you were born before, during or after World War II, because without doubt the six-year conflict made

a big difference

to one's perception of life.
For example, Stuart was born a decade before me, therefore the wartime hostilities he encountered as a boy are a far cry from my own cosy childhood. Mine was a world of emerging affluence as the country clawed its way out of the post-war doldrums; it was an old-fashioned, moral world where authority was respected and although the rationing of sweets ended in February 1953 (followed by sugar rationing in September) Britain remained firmly in the grip of post-war austerity. In fact

the country was stony broke; the government barely had sufficient funds to rebuild the damage following Germany's bombing raids, and

many major British cities remained scarred for decades afterwards.
Sadly, all was not well overseas either, for the world political situation continued to be volatile; t

he Korean War may have ended in August 1953 after two and half years and an estimated 4,000,000 deaths, but

the emerging communist-controlled Eastern Bloc was now perceived to be the new enemy of the capitalist West.
For my generation of post-war baby-boomers the 'Cold War' between East and West was the latest threat to world peace, with both sides armed to the teeth with an arsenal of intercontinental missiles capable of annihilating mankind once and for all!
But I digress...
Harking back to spotting days I was just eight years-old and Stuart was a teenager approaching adulthood and so our worlds were poles apart, however fast-forward to the present day and the difference in our ages means very little since we share one major common denominator - our mutual love of trains and railways...

(Below)

Stirring sight at Sandy as streamlined A4 Pacific No 60013 Dominion of New Zealand heads a southbound express at the start of the steady climb for twenty miles or so towards Knebworth and the last lap of the journey to the capital

.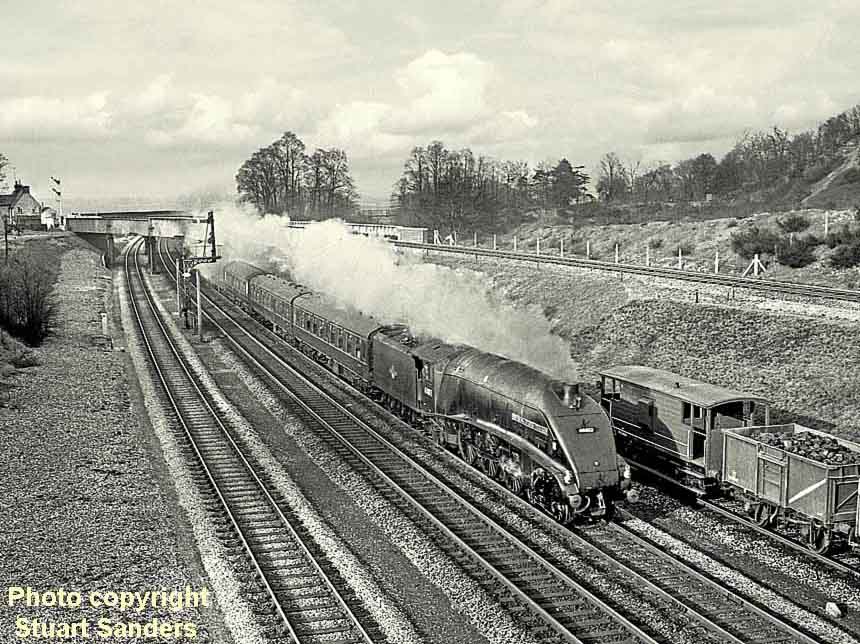 1. FROM HUMBLE BEGINNINGS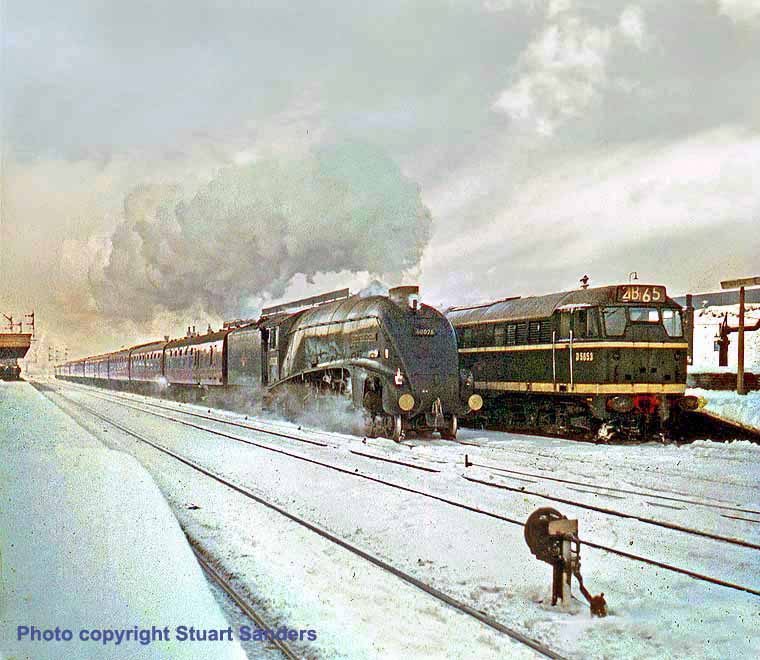 (Above) The story behind Stuart's collection of railway photographs begins at his local railway station at Hitchin, where he spent countless hours as a small boy train spotting at this once-busy junction on the East Coast Main Line just 32 miles out of London Kings Cross. This shot of Class A4 60028 Walter K Whigham speeding south past a Brush Type 2 D5653 at Hitchin in the harsh winter of 1962 reminds me of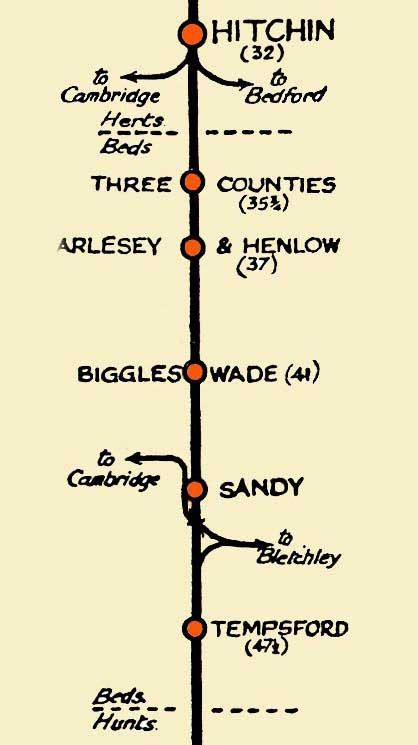 comments made by Fred Wagstaff (aka 'Fireman Fred') on Page 77 (see left hand menu). Now Freddy isn't the sort of bloke to mince his words concerning the media's hullabaloo over the affects of the British weather on our railways...
He writes - 'Any footplateman will tell you that 'leaves on the ine' is one of the worst conditions you can come up against. When trees shed their autumnal foliage on the track it makes the rail slimy and it becomes like ice. The passage of a train makes it worse, as the wheels compress the leaves into a slippery coating, resulting in a significant loss of friction and a serious lack of tractive force; wheels can spin uselessly and braking can become ineffective, and in some extreme cases the build up of leaf material can electrically insulate the wheels from the rail, resulting in signalling equipment failing to detect the presence of a train in a section. This is not only a nightmare for a driver; it incurs serious delays in the timetable for passengers. You only have to ask commuters using the Carlisle road along the Tyne Valley in the autumn! Failure to make the obligatory stop at station platforms was a regular occurrence in some of the heavily wooded areas. When the brake was applied and the train continued to slide through the platform it wasn't unknown for the driver to drop the window and inform the surprised passengers before reversing - 'I'll be back in a minute!' It's the same story with the 'wrong kind of snow'. Whoever invented that tale should be hung by the Katangas! The fact is some types of snow is so fine (more like ice crystals than snow) that it gets into everything on the outside of the loco, especially the brake gear and the traction motor cooling blowers. It is really unnerving when the brake is applied and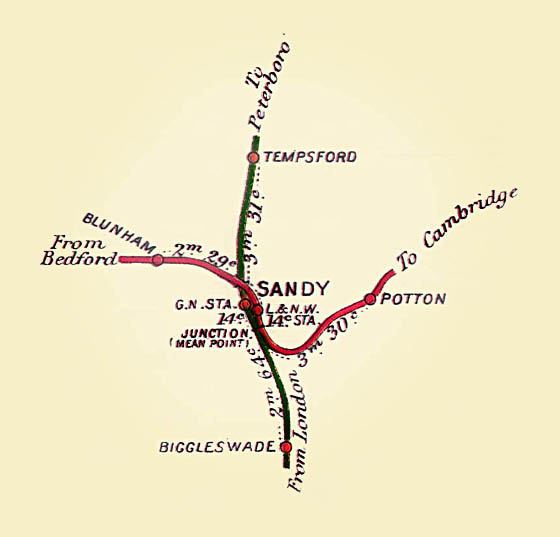 nothing happens! This is because the brake pads are just rubbing on ice. The upshot is, you might well find yourself driving a train that is running towards a stopping station at around two and a half miles minute!'

(Above-Left) A small section of map from Ian Allan's 'Famous Trains No 6 - The Queen of Scots' by G Freeman Allen in which the author describes the route from Kings Cross to Glasgow. (Left) Conjunction of the cross-country 'Varsity Line' and the East Coast route at Sandy.

Stuart's generation grew up at a time when the crack Anglo-Scottish expresses thundered though the station behind the prestigious 'A' Class Pacifics; to witness the sight and sound of a Gresley Class A4 'Streak' at speed left an indelible impression on youngsters, a grand cavalcade of famous 'named' trains interspersed by a steady flow of goods traffic and local trains to Cambridge and Bedford and beyond. Back in 1953 BR's freight business had a healthy 42% market share, albeit most of it was made up of vacuum-braked vehicles or unfitted wagonloads operating trip workings between goods yards and hump marshalling yard. Still there were one ot two exceptions, such as the ECML's fully-fitted 60mp freights, these being a precursor to today's modern Freightliner-type trainloads carried by long-wheelbase air-braked stock, but Stuart's spotting days were long before the advent of MGR trains with automatic loading-unloading at terminals

(Right) This lightweight Parcels train for Cambridge is child's play for a mixed traffic locomotive with a power classification of 6MT; the ECML can be seen in the right background as Class K3 61834 approaches Sandy, another popular venue for Stuart's reconnaissances with a camera; the station was built in 1850 by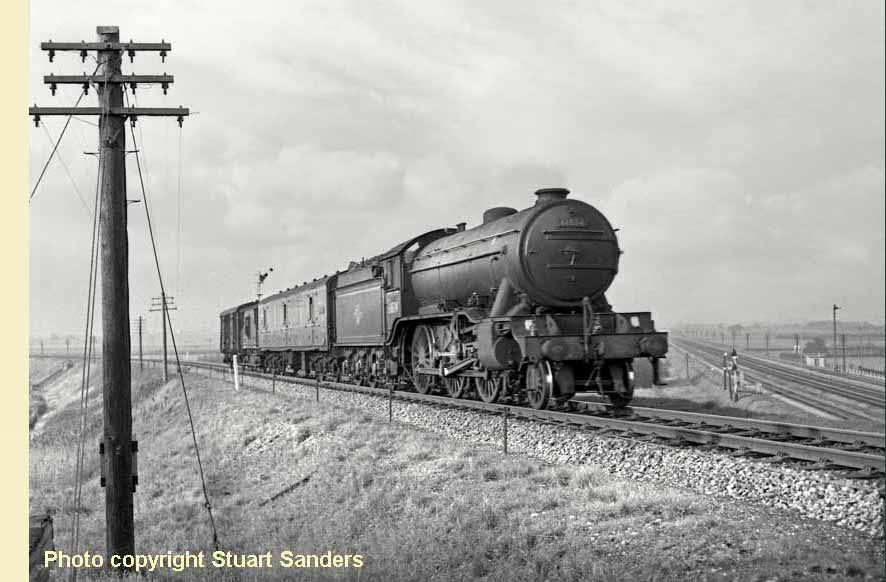 the Great Northern Railway; the London and North Western Railway opened an adjacent station in 1862 for its cross country route. Both stations were later merged into one and shared an island platform. Following closure of the Oxford to Cambridge 'Varsity Line' in 1967, the station was considerably rebuilt into a 4-track layout with platforms on the slow lines only; the

removal of the 2-track bottleneck

was carried out in the early 1970s.

(Below)

This is another example of the difficulties encountered by the operating department in their struggle to find a suitable locomotive with a power classification relative to its train formation (either being too heavy or too light for the purpose). Class 8F No 48550 provides ample power for an unfitted goods from Cambridge (marginally longer than the locomotive

); the 8F is climbing from Sandy to the flyover junction across the ECML just north of the station. Note the spotters on the far embankment and the loose-coupled coal train awaiting signals on the ECML's up slow line in the foreground.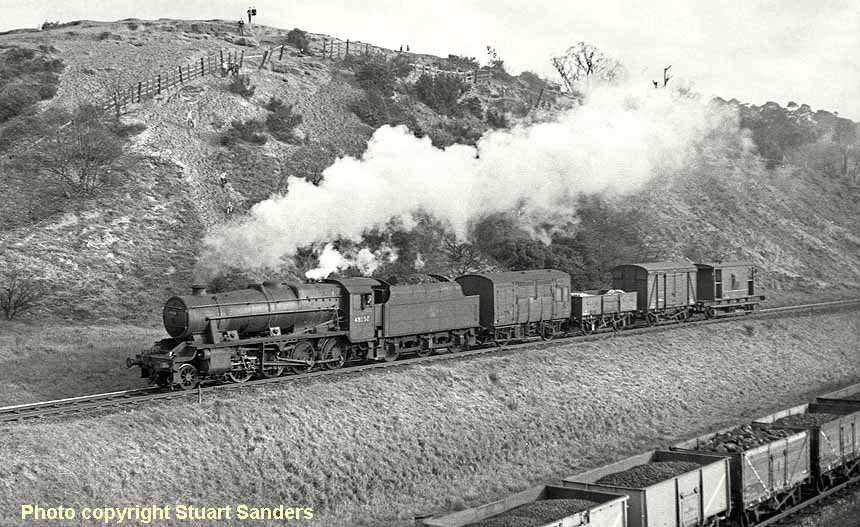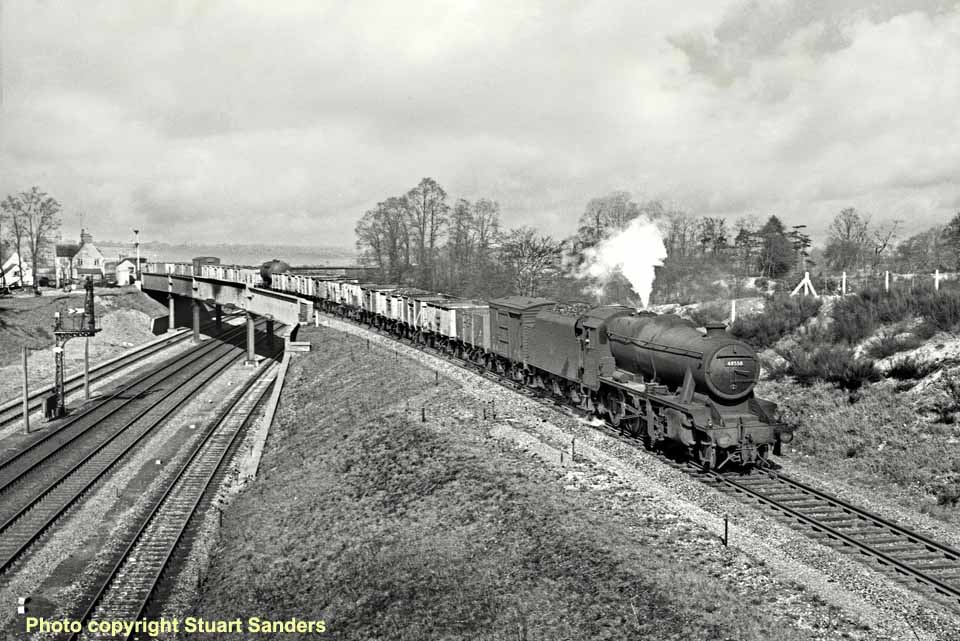 (Above-Below)

Class 8F No 48550

gets into the picture again, this time working a sizeable mixed freight in the opposite direction. (Below)

The eagle-eyed reader may spot something rather puzzling about the above photo! The location of the semaphore on the horizon appears to be in the 'off' position allowing the movement of single line traffic bound for Bedford? Or perhaps it controlled the 'down' slow line on the East Coast route and it had simply been repositioned there due to the clutter of the bridge obscuring a driver's vision? I queried this with Stuart who enquired with retired railwaymen who were familiar with the signalling arrangement at Sandy. The first station and signalbox on the Varsity line west of Sandy was Blunham; this box was mainly used for servicing local sidings and operated these signals. However, most of the time the box was switched out and a single line token used; in these circumstances the signals were left in the off position allowing for two-way traffic, though not at the same time of course! Stuart sent this photo of a 2-car dmu approaching Sandy on the service to Cambridge; in this picture you can now see two signals set in both directions in the off position, which, on the face of it looks rather confusing!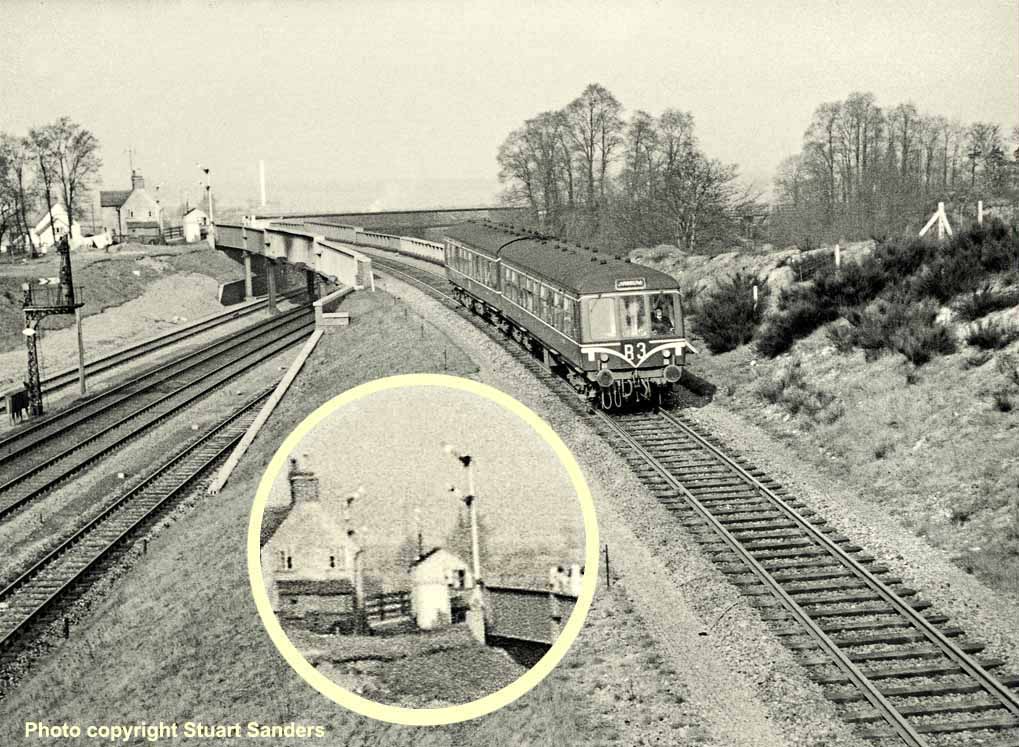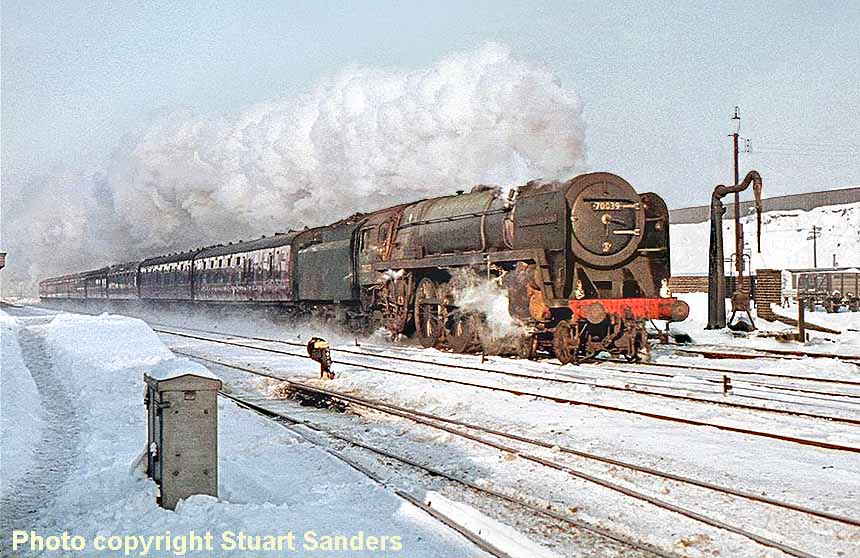 (Above-Below) When Stuart was train spotting at Hitchin, BR's main line diesel locomotives were still something of a novelty, but even at that young age he was aware that big changes were about to take place; in 1951 the first new BR Standard Class locomotives were rolling off the production line and the rank and file of aging steam classes, many dating back to pre-Grouping days (pre-1923) were reaching the end of their days. He doubtless gave little thought that the lifespan of the new BR Standard class locos would be

relatively short

lived. Here he captures an imposing image of Class 7MT 70039 Sir Christopher Wren powering through the snow at Hitchin with an express for Kings Cross. Introduced to traffic in February 1953, 70039 began service at Norwich Thorpe MPD (32A), but in June that year it was transferred to Stratford (30A) where it had a long association with the Great Eastern section. Then in December 1960, 70039 found itself among seven Britannias ousted by the new diesels, but the locomotive found favour at the North East Lincolnshire depot at Immingham (40B) where it stayed for almost three years, giving spotters on the ECML the chance to see something quite different from the Gresley and Peppercorn Pacifics. 70039 later moved to Carlisle Upperby (12B) for three months before ending its days Carlisle Kingmoor shed (12A). (Below) Fast-forward to 13th April 2013 (70039 was scrapped in September 1967) a nameplate measuring 70" long went under the hammer at a Great Central Railwayana Auctions for the princely sum of £13,000 - more than half the original cost of the locomotive…the loco was built at Crewe Works at a cost of £22,448 in 1953. Click

HERE

to visit the GCRA website.



(Below Left) One of the classes facing extinction was the J1 0-6-0 introduced in 1908 to operate the GNR's fast goods trains. Designed by the GNR's CME (1896-1911) HA Ivatt, the Class J1 was based on his earlier N1 0-6-2T locomotives, using the same boiler, motion, and coupled wheels. A total of fifteen J1s were built at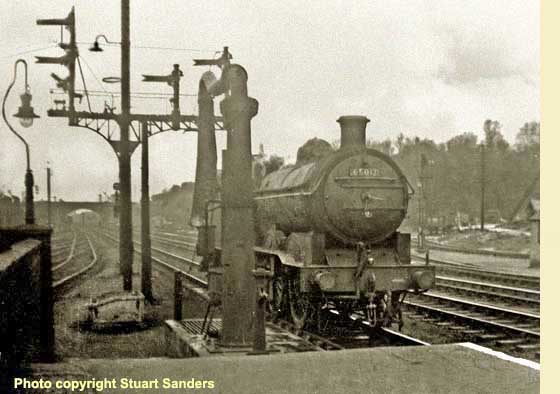 Doncaster and although primarily a goods engine, they did work passenger services on a regular basis. Withdrawals started in 1947 with four J1s being scrapped and the final eleven engines were withdrawn between 1951 and 1954; the last surviving member being No 65013, which at the time was eking out its final days at Hitchin shed (34D) and likely to be withdrawn at any moment. Stuart wanted his own picture of it, and so he borrowed the family's old Box Brownie to take this shot at Hitchin on 8 May 1954.

Stuart adds - On 27th September 1951, No 65013 was called upon to take over the 5.15pm express from Leeds to Kings Cross following the failure of a Pacific. The somewhat ancient J1 worked the 14 bogies weighing 487tons to Kings Cross unaided. I believe the failure happened at Sandy where the J1 was on light freight duties but the RCTS book refers to the incident as happening at Hitchin...but in any event it must have been a wonderful sight

, and this grainy old photo serves as a lasting memory of her last days at Hitchin.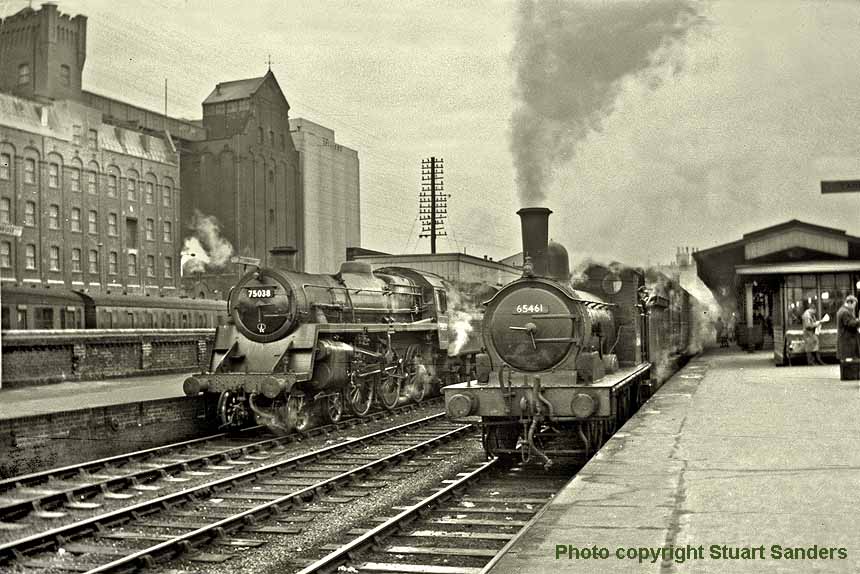 (Above) The inside-cylinder 0-6-0 tender engine was the most popular of British steam locomotives. The GER's 0-6-0s were introduced principally for freight duties, though many were also deployed on passenger duties such as branch line services or excursions. Indeed despite the introduction of more powerful eight-coupled engines this did little to dent the 0-6-0s popularity and by Grouping in 1923 the newly-formed LNER inherited more than 2,500, over half of which survived into BR days. Introduced in 1883, Wordsell's versatile Class J15 (later modified by J Holden) was a simple design with a very low axle loading enabling the class to operate virtually anywhere on the Great Eastern network. (Above...details please)

(Below) Classified 1P2F the J15s tended to be confined to local pick-up services. Even so, they would often be seen further afield hauling cattle and other trains, such as troop trains and excursions. Although withdrawals continued throughout the life of the LNER, 127 survived into BR ownership including 65451 seen here at Cambridge awaiting departure with the 08.37 to Ely on 28 February 1957. The last four J15s were withdrawn in September 1962, though
No 65462 managed to survive the cutters' torch and subsequently found a new lease of life with the Midland & Great Northern Joint Railway Society...link below.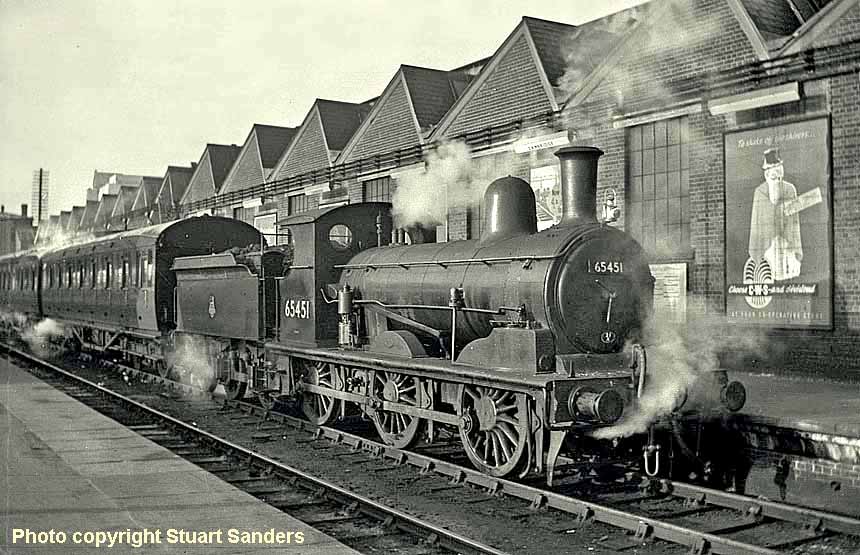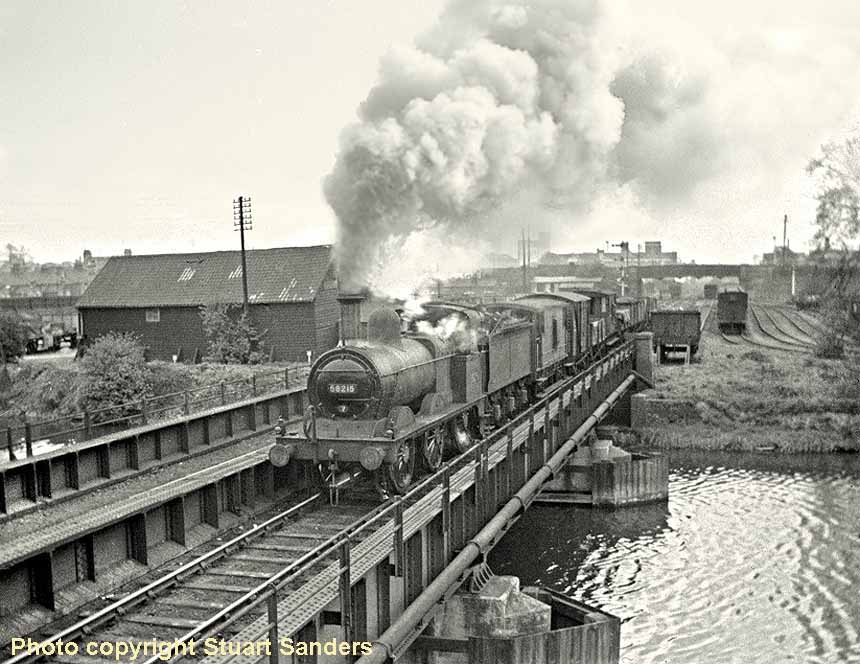 (Above) Stuart's interest in railway photography continued in earnest, and having

acquired a succession of better cameras

along the way he was able to indulge his hobby of taking pictures of elderly steam locos before they too had all disappeared. Moving across country to Bedford on the London Midland Region,

he managed to photograph yet another species of 0-6-0 tender engine facing extinction. On the whole, when the 'Big Four' railways companies were nationalised in 1946 the newly-formed London Midland Region inherited a motley fleet of small 0-6-0 freight engines of similar types

and not easily identifiable to the casual observer; this was due to the large number of modifications carried out on the various MR 0-6-0 goods engines, both as delivered and as successively rebuilt.

The ex-MR Johnson Class 2F 0-6-0 goods engine was a case in point; first introduced in 1875 with a round top firebox and 4' 11" wheels,

the biggest distinguishing features of the second batch of 2Fs (rebuilt in 1917) was their larger 5' 3"driving wheels and Belpaire fireboxes, both of which can be seen

in this shot of No 58215 crossing the Ouse Bridge at Bedford on 10th April 1957; judging by the assorted wagons the engine is employed on shunting duties.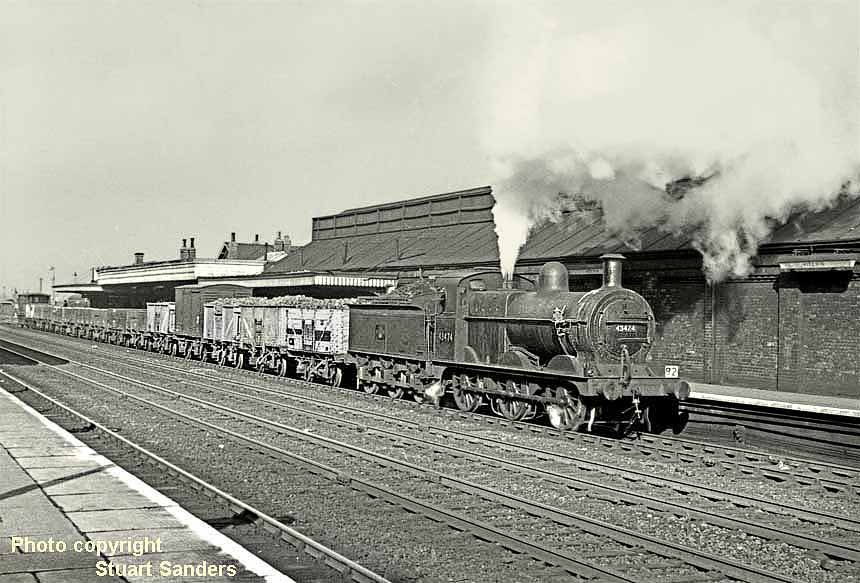 (Above) The production of a new superheated Class 4F 0-6-0s in 1925 meant that the LMS had no shortage of goods engines with a similar tractive effort: 3F-4F. Stuart took this shot of a Johnson Midland 3F No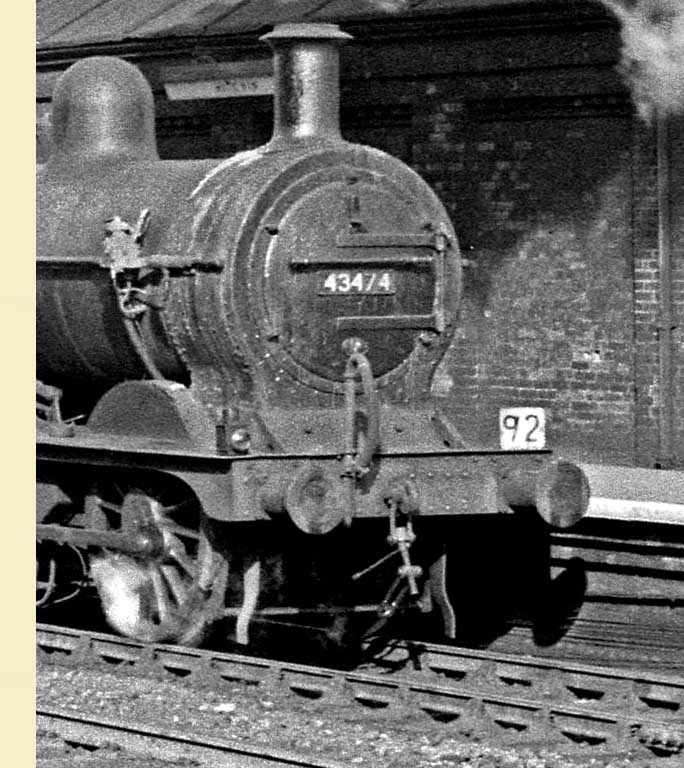 43474 working a freight from Bedford at Hitchin in 1960, by which time the numbers in the class remained relatively strong, though there were the inevitable gaps due to scrapping.

(Inset) If anyone knows the reason for the stencilled '92' on the front bufferbeam, I would dearly love to hear from them

.

(Below) Introduced in 1885 by SW Johnson (Midland Railway CME 1873-1903) the Class 3Fs were rebuilt in 1916 with Belpaire fireboxes and new boilers by Johnson's successor at Derby, Sir Henry Fowler. This Class 3F No 43529 was photographed on the Midland turntable at Hitchin in readiness for the return trip to Bedford. Stuart believes this could be the only photograph of this turntable…unless of course someone knows otherwise!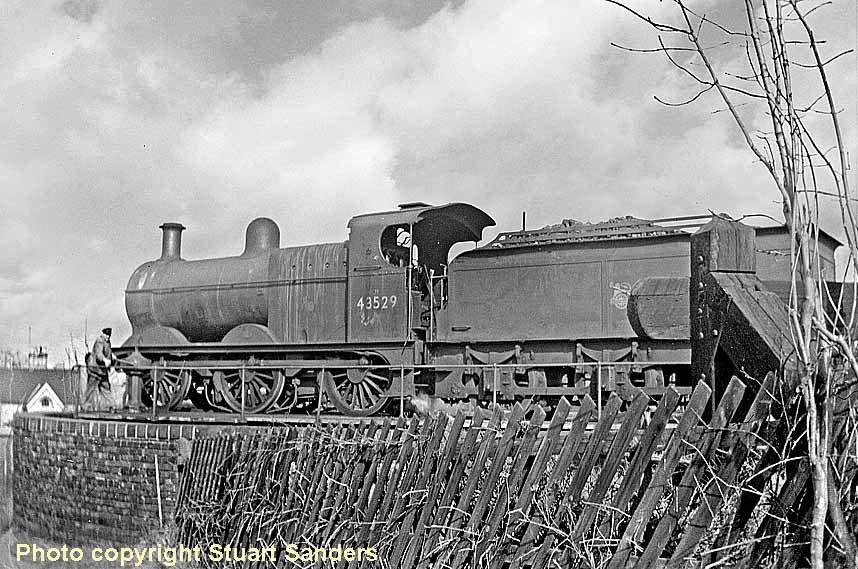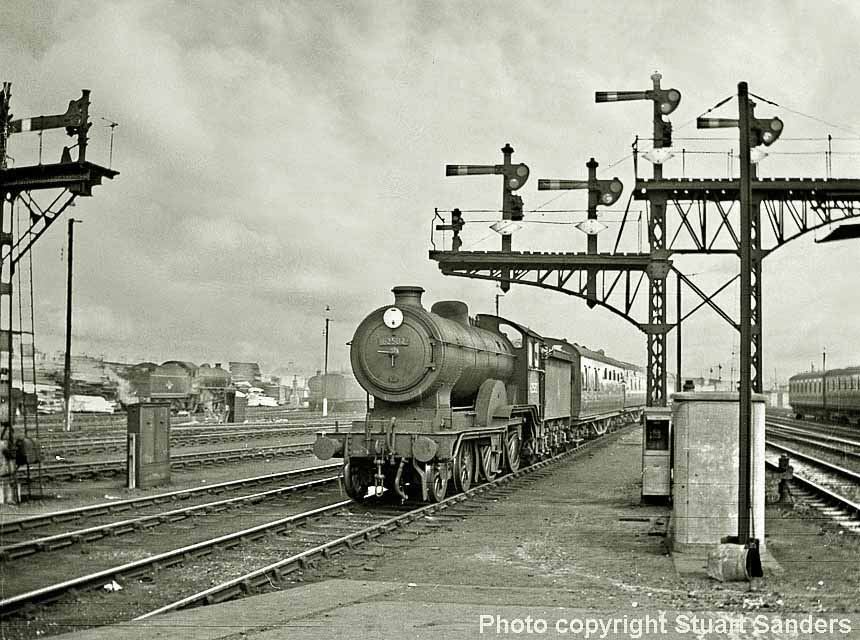 (Above-Below) Stuart's pursuit of engines took him to Cambridge to photograph the few remaining ex-GER classes still working on BR. Before the arrival of the more powerful B12 class 4-6-0 (see Stuart's shot of 61572 below) J Holden's 7ft coupled 4-4-0 was the principal express passenger engine on the Great Eastern Railway. Introduced in 1900, a total of 121 were built, the first of which was named in honour of the then Great Eastern Railway Chairman, Lord Claud Hamilton. This solitary naming led to the rest of Holden's 4-4-0s being dubbed 'Clauds' throughout their long careers, some of which lasted over fifty years.

Here, as it will have done countless times before, 62582 arrives at Cambridge with a train from …….on 19 March 1958.



(Below) The D16s length in service was a result of several rebuilding processes between 1933 and 1939. Gresley's 1933 Class D16/3¹ rebuild had a larger boiler, round-topped firebox and revised footplating - the original D15s had a straight footplate with a slotted portion raised over the coupling rods, but this was removed and replaced by a simpler upswept footplate. Nonetheless this doesn't detract from what is considered to be one of the all-time classic British steam locomotive designs. The elegant D16s were used far and wide, but in the main they remained true to East Anglia on both the GER and Midland & Great Northern Joint lines. Stuart's reconnaissance with a camera at Cambridge also includes this lovely shot of Class D16/3¹ No 62530 reversing out of the station. By July 1959 the class became extinct.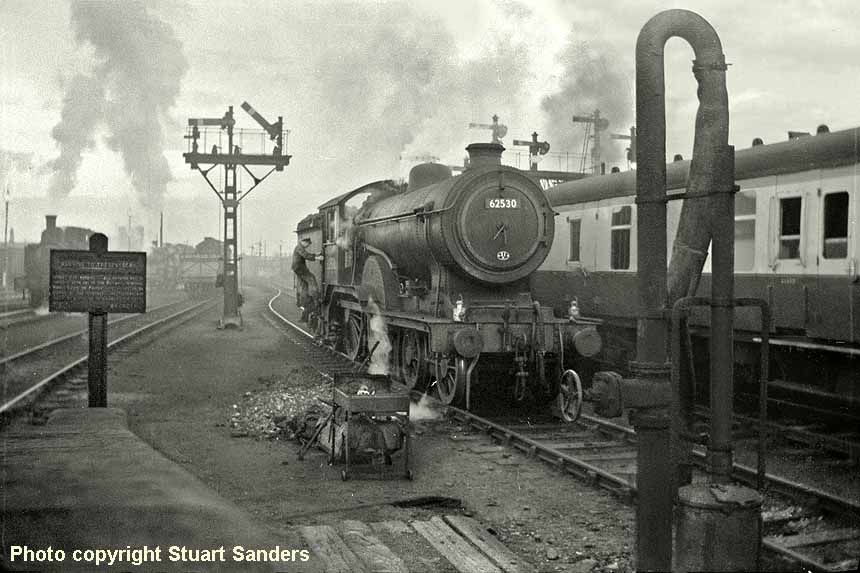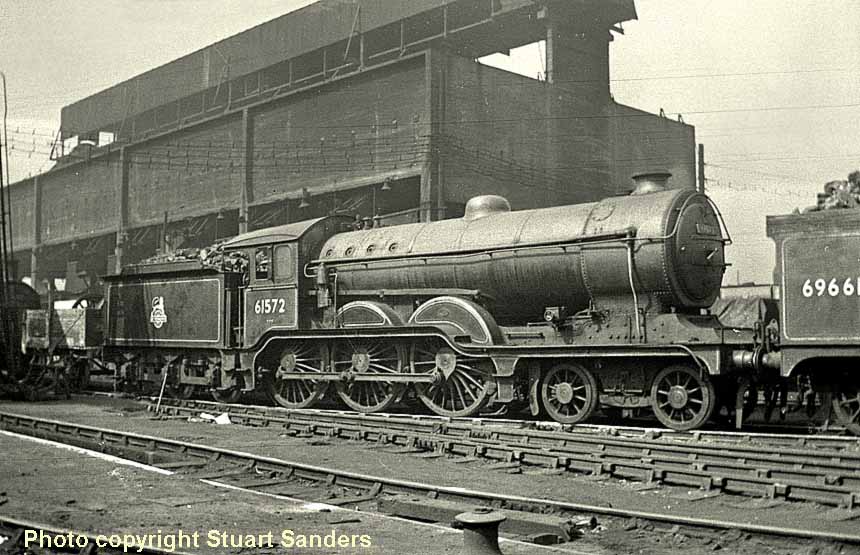 (Above) Although the Class D16 4-4-0s put in sterling work on the GER, the increase in train loads on GE passenger services led to the need for a locomotive of additional power; in 1911 SD Holden designed a 4-6-0 combining a light axle loading and short wheelbase suitable for GER lines. Later classified B12 by the LNER, the final batch of ten was rebuilt in 1933 and designated B12/3; these differed from the originals by having a larger boiler, round-topped firebox and long travel valves, in addition to which the decorative framing over the driving wheels was replaced by a simpler upswept footplate in the same way as Holden's earlier D16 4-4-0s had been treated. By 1944, all the B12s had been rebuilt, by which time the more-powerful Gresley Class B17 'Sandringhams' were widely available and withdrawals of the B12s began in 1947. Stuart photographed No 61572 at Stratford shed on......; this was the sole surviving B12 and became something of a celebrity running rail tours up to withdrawal in September 1961. Fortunately, the loco was saved from scrapping when it was purchased by the Midland and Great Northern Joint Railway Society based at the North Norfolk Railway HERE

(Below) Having started this chapter with the BR Standard classes, it seems fitting to end with yet another survivor, No 92212, one of nine Class 9F locomotives to have survived the cutter's torch; seven being rescued from Dai Woodham's scarapyard in Barry, South Wales. The list of other preserved 9Fs is comprised of: 92134, 92203 Black Prince, 92207, 92214, 92219, 92220 Evening Star, 92240 and 92245. For the record, No 92212 was built at Swindon in September 1959 and allocated new to Banbury; it was transferred to Bath (Green Park) in June 1961 for working the Somerset and Dorset route to Bournemouth, and this is where Stuart took the photograph at Bournemoth West in.... No 92212 was later transferred to Ebbw Junction, Newport in September 1961 followed by a move to Tyseley in July 1962. In November 1966 it was transferred to Carnforth from where it was withdrawn and sold to Woodham Brothers in Barry, South Wales, arriving there in January 1968. It was bought by 92212 Holdings Ltd and restoration was completed in September 1996 HERE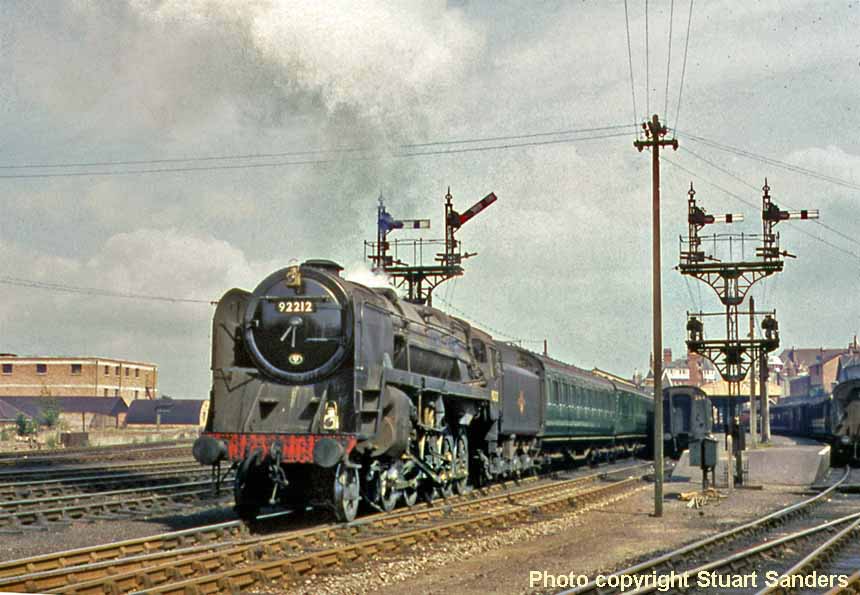 2. THE DIGITAL REVOLUTION!

With the demise of steam gathering pace in the early Sixties, Stuart's interest quickly waned and in 1964 he stopped taking pictures as the soulless 'box-shaped' diesels and electrics did not have the same appeal. As a consequence his negatives, slides and prints were banished to the attic where they laid in the proverbial dust largely forgotten about for almost 50 years. And that, to coin a phrase, should have been the end of the matter...his photographs would never see the light of day ever again.
Then, one day a few years back, he was having a chat with his neighbour John Parker and the conversation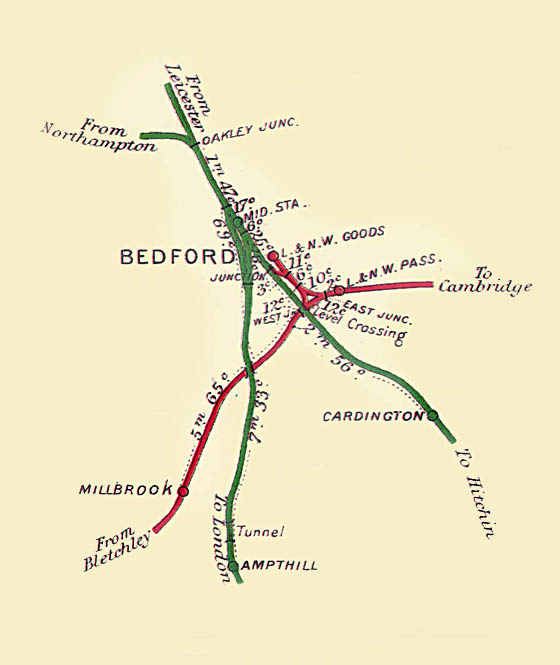 turned to the 'good old steam days', a subject close to both their hearts. Stuart mentioned that he had taken pictures at Bedford Midland, which happened to be the same station that John did his train spotting when he was just 11 years-old.
Needless to say John was interested in seeing these photos but Stuart was reluctant; in his opinion the shots were of poor quality; for one thing the prints were very small and most had bleached-out skies, and because they lacked any steam or smoke he deemed them unworthy photographically, especially compared to the shots taken by the Canon Eric Treacy's of this world.
Of course, this is very much a personal reaction; the tendency to find fault is not uncommon among photographers, who, like artists are inclined to view their earliest work with a critical eye.
However when it was discovered that Stuart had kept the original negatives and slides, John suggested he could scan them and perhaps produce a set of much-improved digital images.
Stuart tentatively agreed - and thank goodness he did!
Suddenly, overnight, his so-called 'poor quality' pictures that he'd rated a derisory 1 or 2 out of 10 had now miraculously shot up to a 7 and more. The machine-printed snapshots he had collected from the chemist all those years ago were less than satisfactory, which is the main reason he had lost the enjoyment of them.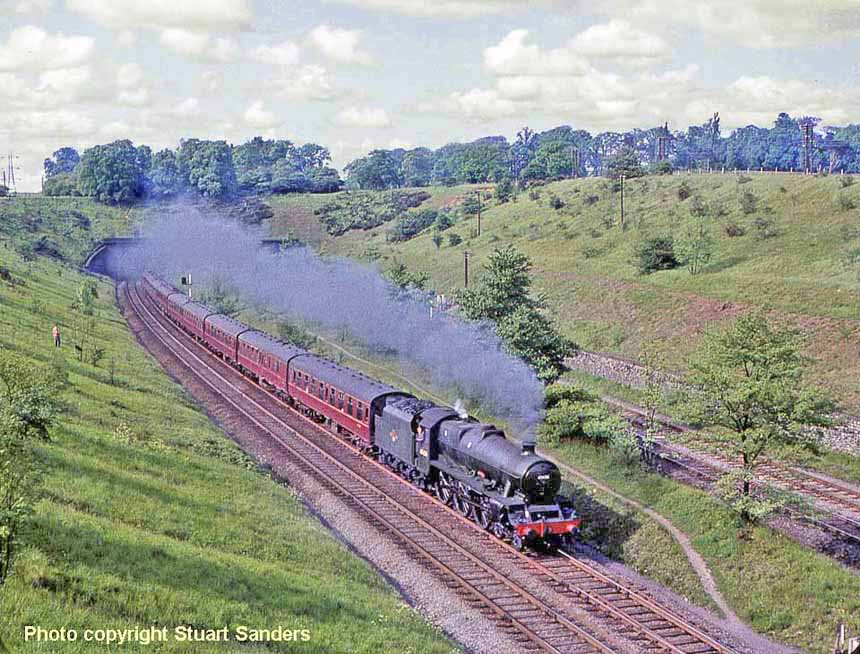 (Above-Below) At a time when many of the London Midland Region's Central Line expresses were entrusted to diesel haulage, Stuart captured this shot of 'Jubilee' class No 45650 Blake emerging from Ampthill tunnel (see map above right) with a southbound express on 13th May 1961. The photo clearly shows the two tunnel bores - one carrying a pair of fast lines, the other the slow lines - both 715 yards long. (Below) On the same day, 'Britannia' class 7MT No 70043 Lord Kitchener is in charge of an express for St Pancras. Built at Crewe in June 1953, No 70043 was fitted with Westinghouse air brake equipment in connection with tests of new air-braked mineral wagons between Toton and Brent….see Derek Dean's 3rd page on the Britannia class locos

HERE

. 70043 was the penultimate locomotive to receive a BR1 tender (with inset sides). Following completion of the air-braking trials, No 70043 entered Crewe Works

in April 1957

and the ungainly-looking compressors were removed; the loco acquired conventional smoke deflectors, which appear to be working effectively in this view. Withdrawal came relatively early for 70043; with a little over 12 years of service the engine was scrapped at TW Wards of Beighton in Sheffield in November 1965.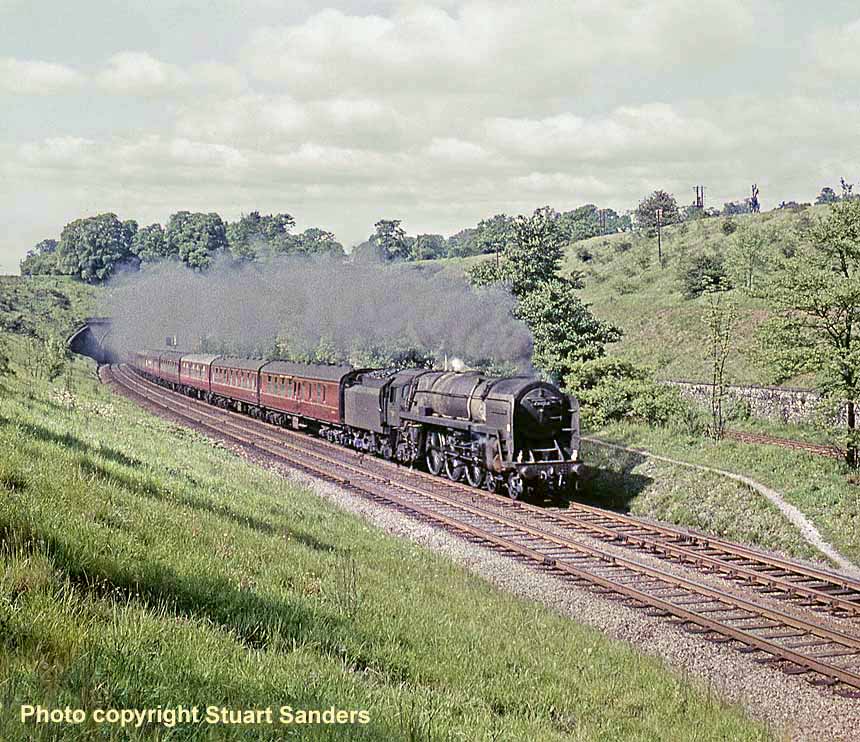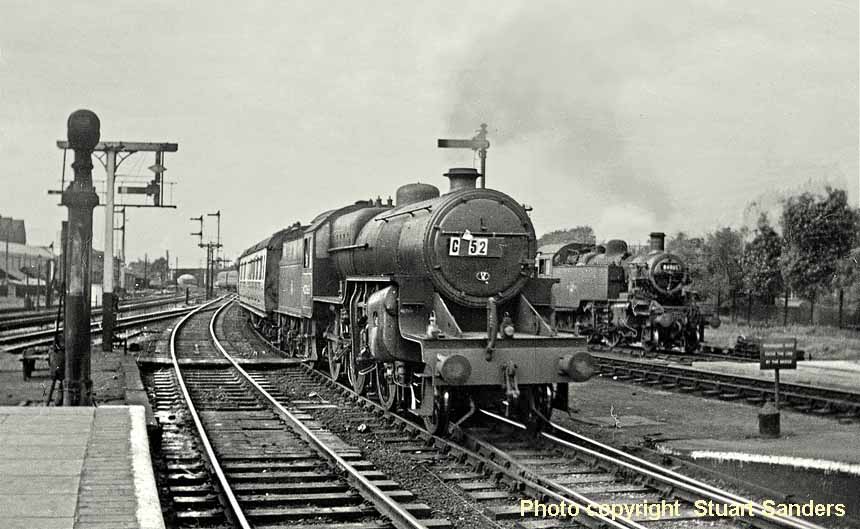 (Above) Stuart photographed this Hughes-Fowler 'Crab' 2-6-0 No 42763 arriving at Bedford with empty stock on 15 August 1959. The paper characters on the headcode panel show a Train Reporting Number 'C52', though it would appear the second stencilled digit (or number) has come adrift. Since this train terminated at Bedford and the engine went on shed, it would be very interesting to know if anyone knows why an engine from 17B Burton should terminate a special at Bedford? In the right background is BR Standard Class 2MT 2-6-2T No 84005 on the Cambridge service; this loco had the dubious distinction of hauling the last scheduled passenger train over the Hitchin-Bedford branch - the 7.00pm from Hitchin to Bedford on 30 December 1961. Goods services ended in 1964.

Spencer Jackson worked for British Railways from September 1958 to June 1963, starting at Kidsgrove Booking Office (6 miles north of Stoke-on-Trent) and finishing at Brent (Cricklewood, North-West London) as a goods guards clerk. Spencer has compiled his own website of railway memories HERE.
He writes - 'Hi, your query regarding the Stuart Sanders photo of a Crab 42763 arriving at Bedford with ECS on 15 August 1959 - the 15th was a Saturday, so the ECS would probably be for a Bedford-Brighton (possibly) excursion. Cricklewood loco will have purloined the Burton loco off the usual Burton-Brent working, I'm sure. The engine has probably worked up on the Friday, and wouldn't be required back at Burton until Monday. I comment on my site about an incident with an OAP returning excursion from Brighton to Bedford; this occurred during the time I spent as goods guards clerk at Brent. An engine was rostered off Cricklewood Loco, picking up a Brent goods guard at the shed exit, before heading down the branch via Kew to take over the returning excursion at Clapham…the only thing is, they forgot to pick up the guard! On arrival at Clapham they realised their mistake, and it took over an hour before they found a guard who knew Clapham-Brent route. After this incident orders were given for me to phone the loco foreman and ask what engine was on this particular job and then inform the guard to look out for it coming off shed. Best regards, Spen…'

(Below) Ivatt Class 2MT 2-6-2T No 41270 was photographed at Hitchin having arrived from Bedford on the push-pull service and parked behind the signal box in the fish dock, as it was called, in readiness for its return journey to Bedford. Perhaps the three spotters sitting on the brickwork in the foreground may be able to recognise themselves all these years later?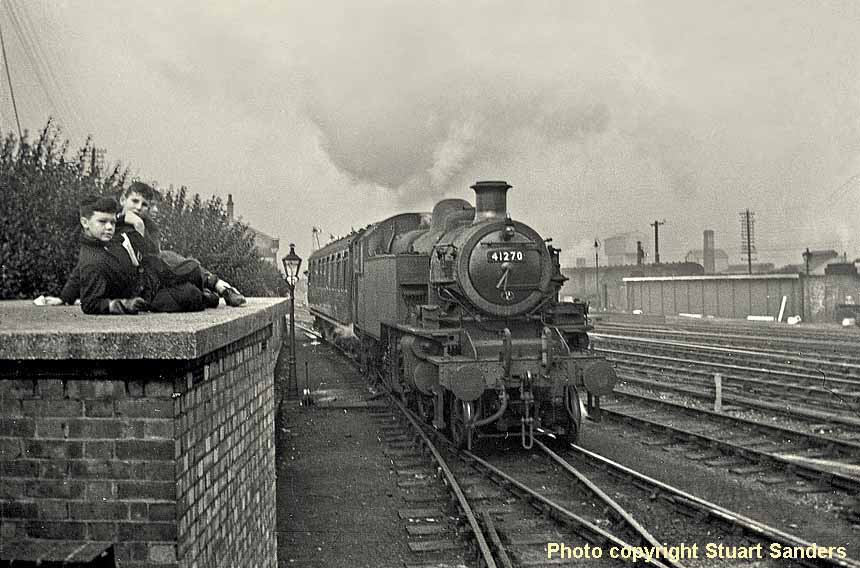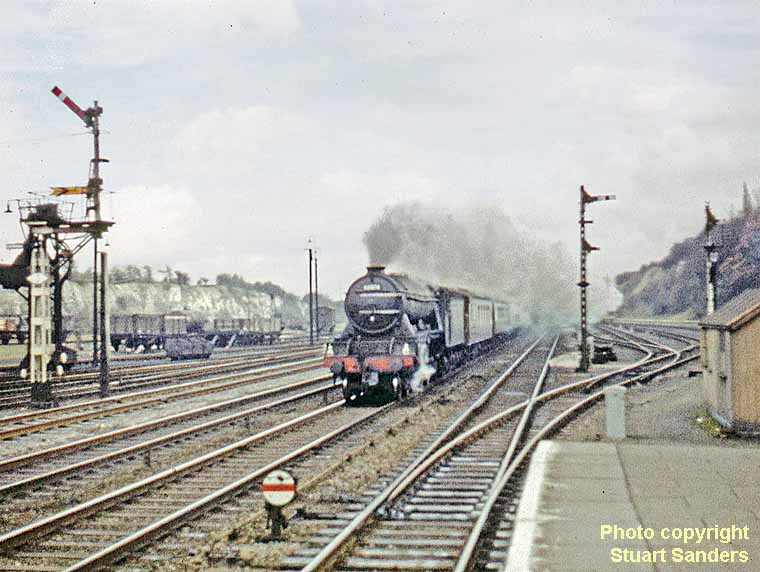 (Above-Below) Flanked by aged semaphores, Class A3 No 60074 Harvester storms through Hitchin with the down 'Queen of Scots' Pullman; the A3 was substituting for a failed Neville Hill diesel. The carriage sidings on the right were for Kings Cross outer suburban use. This is now the station car park. (Below) Class A4 No 60033 Seagull heads an 'up' express at Little Wymondley in 1962...the iron footbridge in the distance was known locally as Halfpenny Bridge. Correction - my thanks to Vic Smith of York who kindly points out that this

is a 'down' express viewed from Chantry Lane bridge at Little Wymondley looking towards Stevenage. Beyond the Halfpenny bridge is the newly constructed A1M road bridge. A milepost (29¼) can be seen at the bottom of the right hand embankment opposite the signal, confirming it as a down train...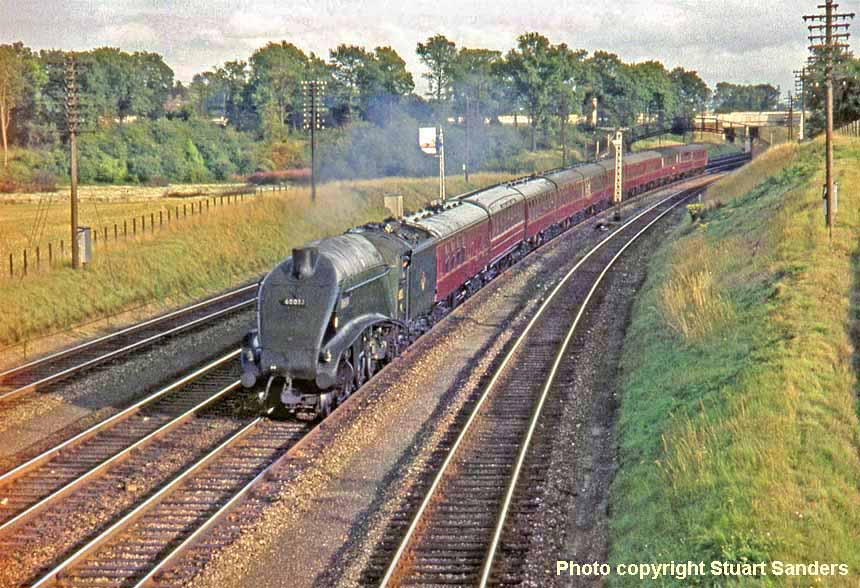 (Below) For the record, the GNR station at Hitchin became a junction in October 1850 with the opening of the first section of the Royston and Hitchin Railway (to Cambridge). Eight years later the Midland Railway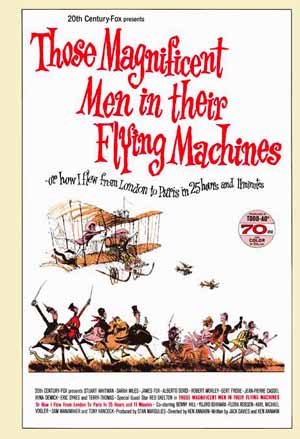 opened a route south from Leicester via Bedford to Hitchin; this gave MR trains access to GNR metals to reach London. The arrangement lasted ten years before the MR opened its own line from Bedford via Luton to their terminus at London St Pancras in 1868, and the Bedford-Hitchin line was subsequently reduced to branch status. BR passenger services between Bedford and Hitchin consisted of four trains each way daily but none on Sundays; a more frequent diesel railbus service was introduced in 1958, but this did little to increase revenue and the service was withdrawn at the end of 1961, leaving just seven goods trains in each direction from Monday to Saturday. Here the generous proprtions of the cutting at Warden reveal its two-track origins as Ivatt Class 2MT No 41224 emerges from the 880yd South Hill Tunnel with a mixed goods train from Bedford in 1961.

Following closure of the branch in 1964

the northern portal of the tunnel was partly bricked-up and the surrounding area transformed into a nature reserve whereas the cutting at the south end was infilled with a spoil heap up to the tunnel mouth. As a footnote, prior to the removal of track

the Bedford-Hitchin branch was used for the railway scene in the 1965 film 'Those Magnificent Men in their Flying Machines'

...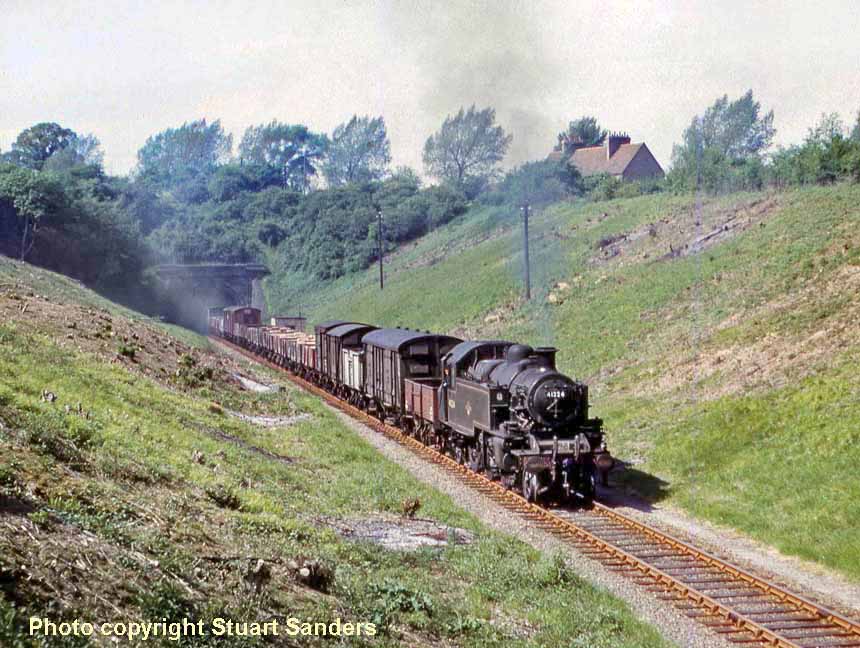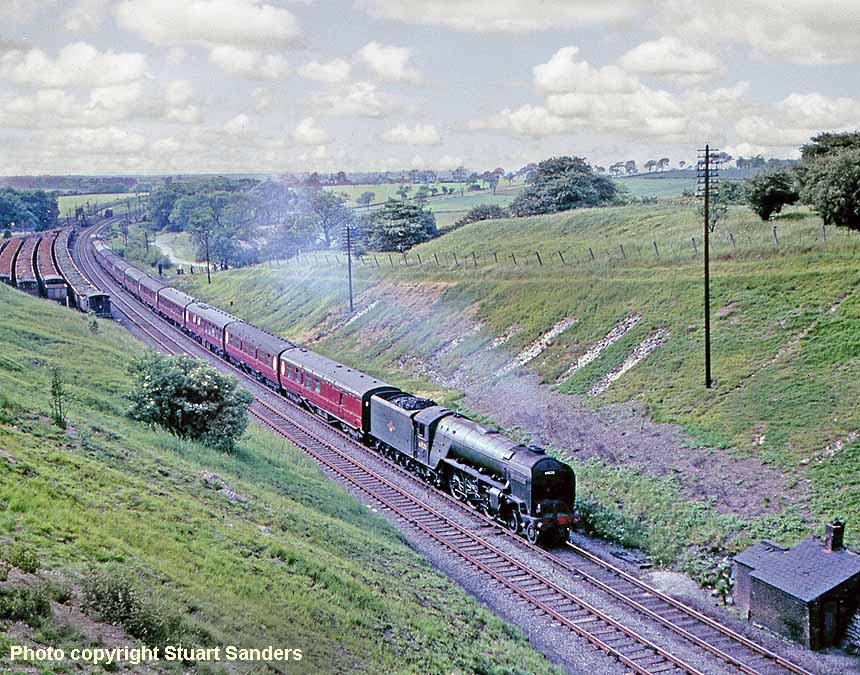 (Above) Having seen the results of John's scans, Stuart now regards his photographs in a more favourable light. Rather than viewing them as run-of-the-mill three-quarter views (in which the loco formed an integral part of the composition) of equal interest to him nowadays is the surrounding railway infrastructure and background scenery since so much of it has long since disappeared over the years; indeed his favourite shots of engines on their own have now been replaced by others which show the railway landscape as it was sixty-odd years ago…for example the backround scenery in this shot (above) of the East Coast route in its BR steam heydays shows Thompson Class A2/3 No 60523 Sun Castle working hard near the top of the 1 in 200 climb to Stoke Tunnel with an 'up' express for London Kings Cross. In the middle distance is High Dyke box at the junction for a mineral branch to Stainby serving some of the Lincolnshire ironstone quarries, where considerable iron ore traffic was generated. Note the four sidings chock-full of revenue-earning wagons loaded with iron ore waiting to be moved to Scunthorpe.

(Below)

This view of the ECML bottleneck at Sandy station in rural Bedfordshire is very much a scene of the past; you only have to compare it to today's forest of electrification masts and overhead catenary; beyond the bridge the two tracks fan out into four with the fast lines in the middle, and in the right background is a glimpse of the former Oxford-Cambridge line now long since removed. But the star of the show is newly outshopped

Class A3 No 60110 Robert the Devil heading a southbound express; the reversed headboard on the top lamp iron indicates that its next working out of Kings Cross will be a 'named' train for the north.
Stuart recalls a story from the 1930s concerning protests made by the organisers of a Methodist Conference at Leeds who remonstrated with the LNER for providing a locomotive called 'Robert the Devil' to haul their train. It was a clear case of mistaken identity; this particular Class A1 No 4479 was named after the winner of the 1880 St Leger - and not the Norman Knight, who, according medieval legend was the son of Satan. The 13th Century fable of 'Good versus Evil' tells the story of how Robert the Devil's satanic instincts propel him into a violent and sinful life, but he eventually overcomes them to achieve repentance..

At this juncture it seems appropriate to continue the page with Stuart's favourite locomotives, which just happens to be the Class A3 Pacifics...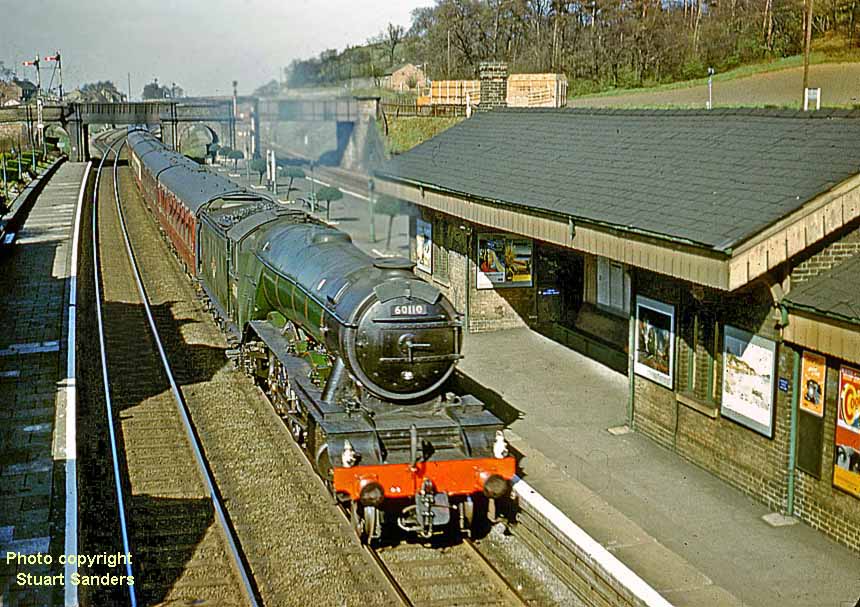 3. THE GRESLEY A3s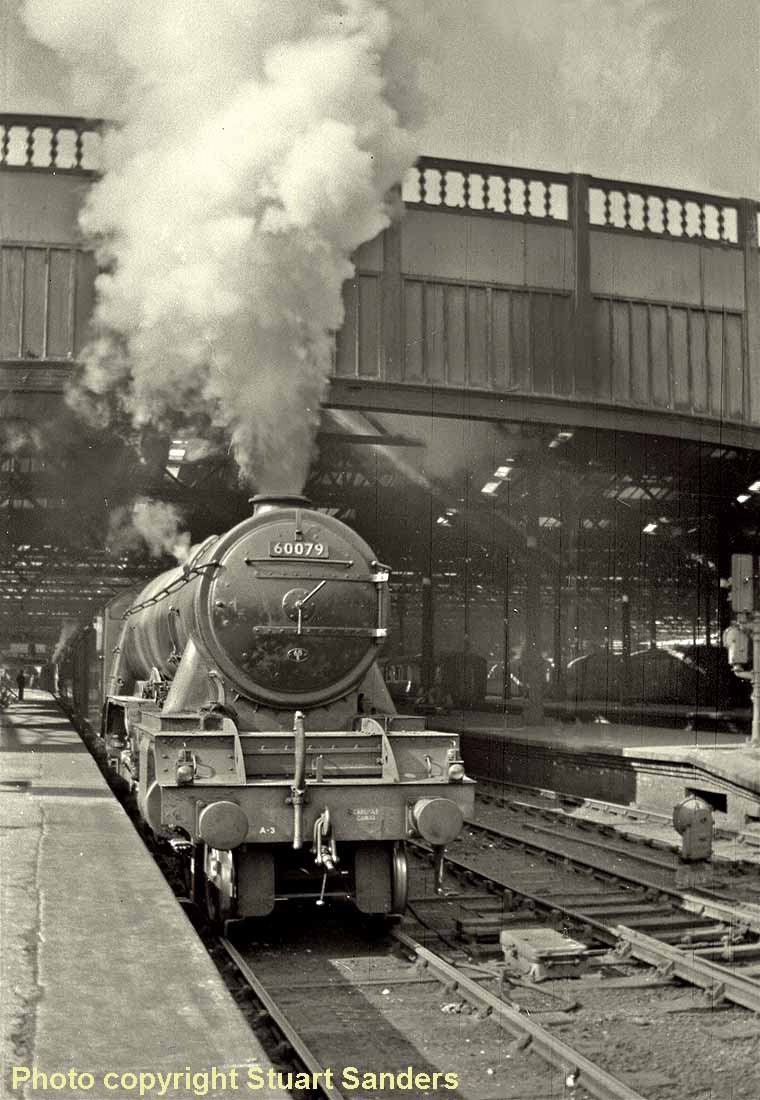 (Above) Designed by Sir Nigel Gresley, Chief Mechanical Engineer for the Great Northern Railway (later to become CME of the LNER) the first Class A1 Pacifics Nos 1470 and 1471 were built at Doncaster in 1922. The first, No 1470, was named 'Great Northern' after its parent company and No 1471 was named 'Sir Frederick Banbury' in honour of the final Chairman of the Great Northern Railway (the GNR was absorbed by the LNER at Grouping in 1923). Between 1923 and 1925, a further 50 A1 locomotives were built; twenty by the North British Locomotive Company and the remainder by Doncaster Works. Here, No 60079 Bayardo, a North British loco (built as 2578 in 1924, rebuilt as Class A3 in May 1928) awaits departure at Edinburgh Waverley on an express to Carlisle in 1959.

(Below) Another North British-built engine, No 60074 Harvester (formerly No 2573, later rebuilt as a Class A3 in April 1928) was photographed at Newcastle Central at the head of the 9.15am Leeds City-Glasgow Queen Street 'North Briton'. The eagle-eyed will notice an absence of a plate fitted behind the screw coupling under the front buffer beam of both engines; these plates were introduced from 1953 to prevent the coupling swinging and damaging the new Automatic Train Warning System receiver fitted below. This system was first tested on the ECML between New Barnet and Huntingdon (later extended the whole length of the main line between Kings Cross and Grantham) prior to its adoption as standard across the BR network.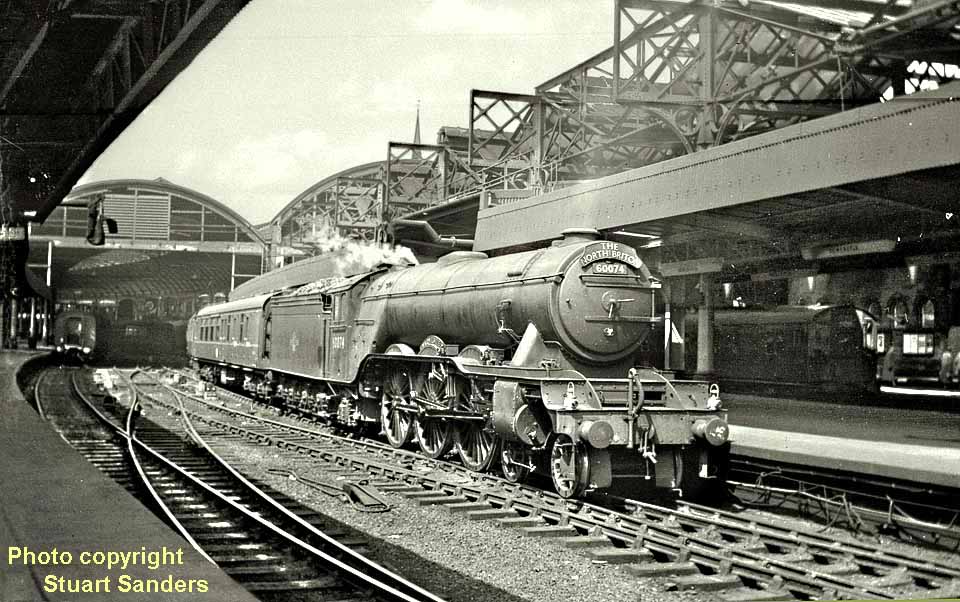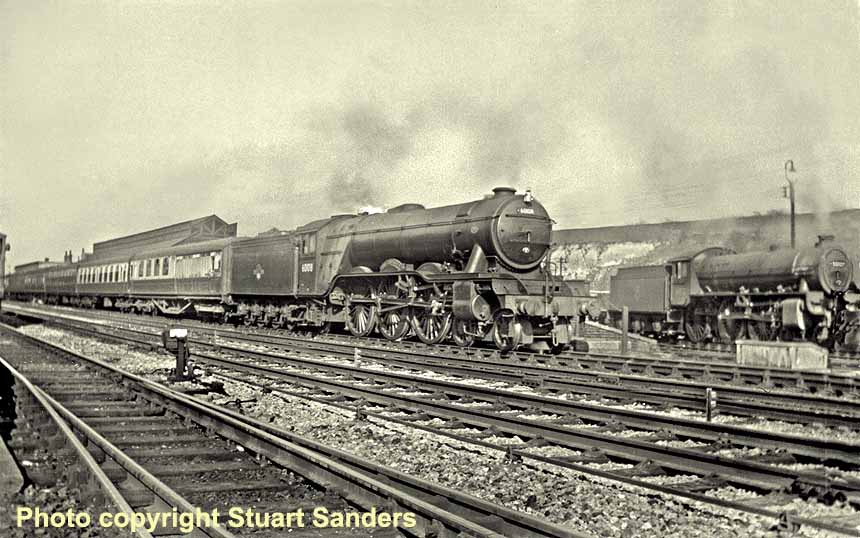 (Above) Class B1 No 61027 Madoqua (don't ask me how you pronounce it!) adds to the smoke as Class A3 No 60108 Gay Crusader (named after the winner of the 1917 2000 Guineas Stakes, Epsom Derby and St Leger Stakes; all held at Newmarket Racecourse due to the conflict with Germany in WW1) departs Hitchin with a stopping train. Given the sexual connotations of such a name nowadays, one can't imagine a locomotive being called 'Gay Crusader' in today's unforgiving climate. Built at Doncaster Works as A1 class No 4477 in June 1923, the loco was rebuilt to an A3 in January 1943. Its last shed was Doncaster (34A) from where it was withdrawn on 19th October 1963 and cut up at Darlington Works in November.

From August 1928 all future Pacifics were built to the new A3 specification, the first of which was No 2743 Felstead, renumbered 60089 in the BR fleet. In all, twenty seven new A3s were built, with few external variations except for a new type of boiler with a banjo dome, or more correctly the perforated steam collecting dome. Meanwhile a programme of modifying the existing Class A1s to the new A3 specifications began in 1927; this involved the fitting of a higher pressure boiler with a greater superheating surface and a small reduction in cylinder diameter, leading to an increase in locomotive weight. By 1948 all had been converted to A3s, except for No 4470 Great Northern which Edward Thompson (Gresley's successor as CME of the LNER 1941-1946) controversially rebuilt as Class A1/1 BR No 60113 in 1945.

(Below) Another Class A3 locomotive that retained the Great Northern type eight-wheeled tender with coal rails was No 60105 Victor Wild; this powerful study of 60105 storming through Sandy with a southbound express is one of my all time favourites...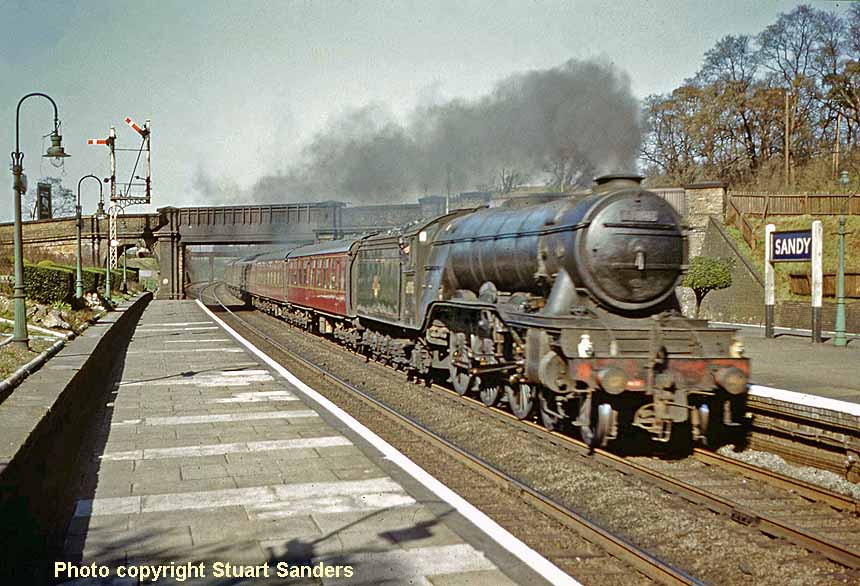 (Above-Below) A nameplate 'Victor Wild' from the LNER A3 Class No 60105 (built at Doncaster in 1923) went under the hammer at a UK Railwayana Auction at Stafford in January 2014. This Class A3 locomotive was allocated new to Kings Cross and had spells at Doncaster, Gorton and Leicester (GC) before being withdrawn from Grantham 35B (later 34F) in June 1963 and scrapped at Doncaster in August 1963. No 60105 was named after the winner of the 1896 Kempton Park Jubilee Handicap. The vendor was a railwayman who worked on the footplate at Kings Cross shed, and put in a request to purchase the nameplate on withdrawal. (Below) The second nameplate from 60105 resides in the railwayana collection at Doncaster School Museum...details of this fantastic collection is featured on the Doncaster page HERE.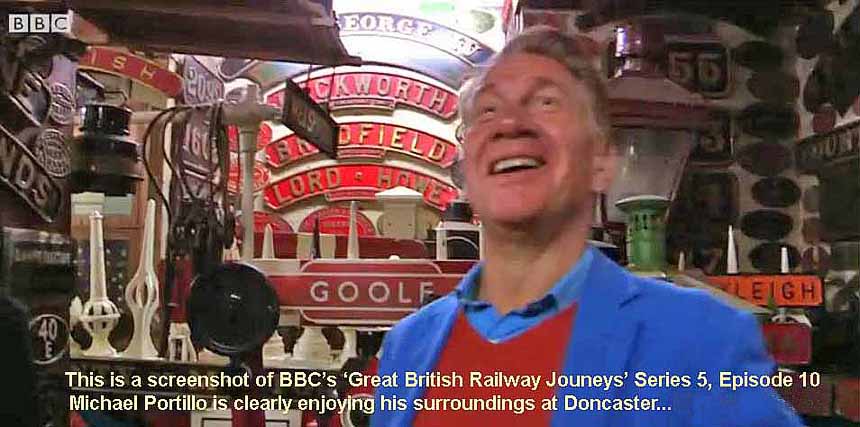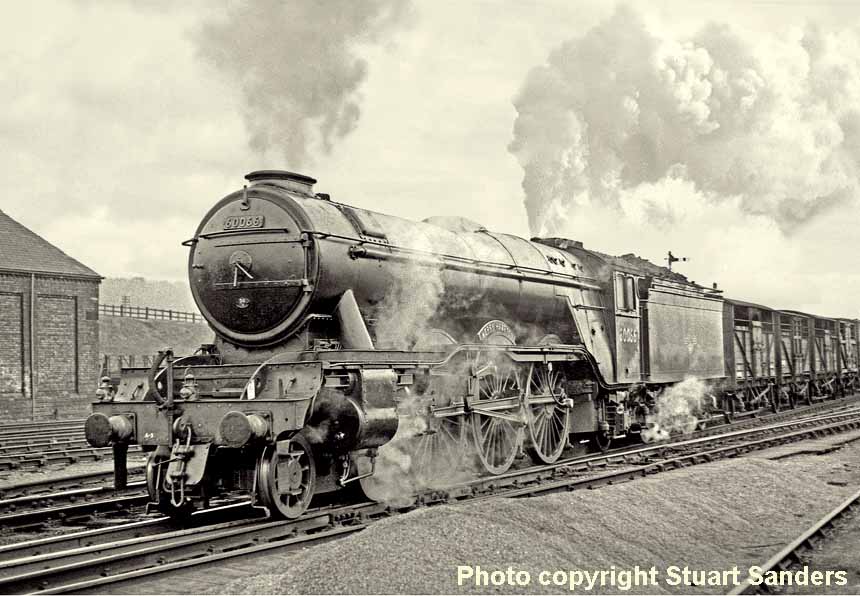 (Above-Below) The fitting of a double chimney was considered a major technological breakthrough in improving the steaming efficiency of the Gresley A3, since it increased the blast pipe nozzle area thereby reducing cylinder back pressure and increasing draught without loss of power. In 1926 Andre Chapelon developed a much more sophisticated and scientifically-based exhaust system that he called the 'Kylchap' in recognition of Finnish engineer, Kyösti Kylälä on whose ideas his new design was based. Sir Nigel Gresley was an early proponent of the Kylchap design and arranged for a Kylchap double blastpipe arrangement to be fitted to Class A3 No 2751 Humorist (later BR 60097) in 1937. A year later the Kylchap exhaust system was fitted to four of his then new A4 locomotives at Doncaster. However, despite having improved the A3's performance (and producing a saving of some 60lbs of coal per mile) it seems financial constraints deterred the widespread fitting of Kychap exhausts by the LNER, and it wasn't until the early 1950s (by which time that 'Big Four' had been nationalised) that it became a principal feature, most notably among the A3s
.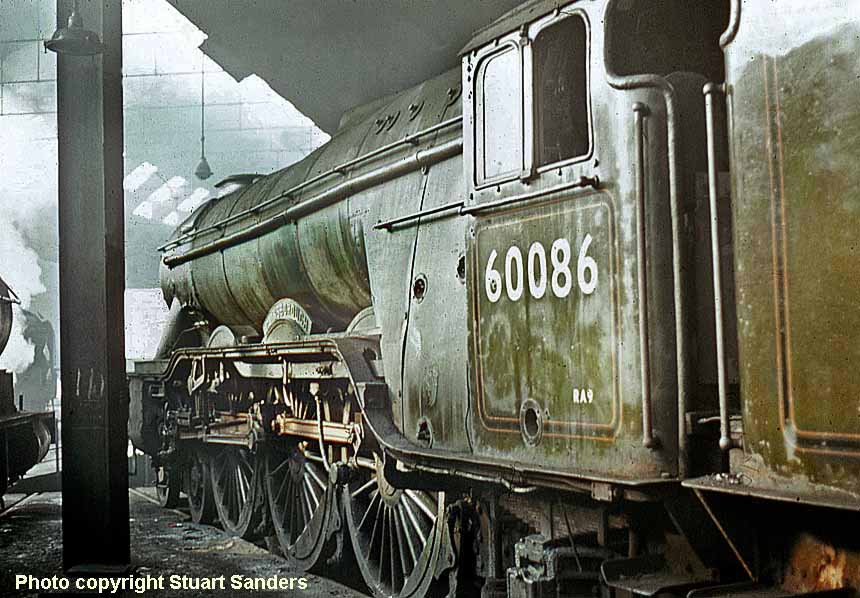 (Above-Below) The largest steam shed in the Leeds area was the former North Eastern running shed at Neville Hill. Opened in 1904 the layout of the original shed followed North Eastern practice; a large building containing four roundhouses with radiating stalls, each interlinked beneath one roof. At any given period during the immediate post-war years, the shed's usual allocation of engines consisted of five A3s, ten B16s,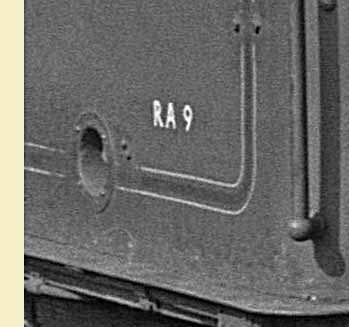 thirteen B1s, two D20s, four D49s, eleven J39s, five N13s, 2 A8s and four G5s. The shed was reduced to half its size during the late 1950's and demolished in its entirety in September 1970. In this view of the cramped interior, Stuart manages to squeeze in this shot of Class A3 No 60086 Gainsborough...note the letters 'RA9' on the cabside which denote the A3's route availability (RA1 to 9).
Upon nationalisation in 1948, BR's power classification code was adopted from the old LMS system using the numbers 0-9 to indicate power, based on tractive effort calculations; plus the letters 'P' for passenger, 'F' for freight and later the designation 'MT' for mixed traffic was added. This identification system was used on the LMR and Southern Region only. Meanwhile the Western Region continued to use the old GWR classification code, with the power rating based on letters A-E and coloured dots for route availability, while on the Eastern and North Eastern Region locomotives, the route availability code (RA1 to 9) was preferred. (Below) 60074 Harvester and 60086 Gainsborough share the company of an elderly Raven Class Q6 0-8-0 No 63424 (route availability 6) inside Neville Hill shed Leeds circa 1962.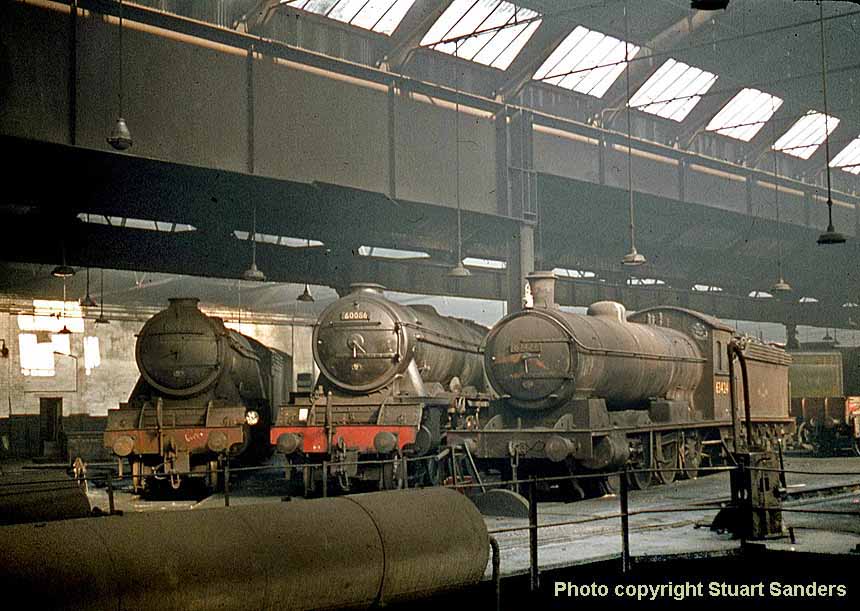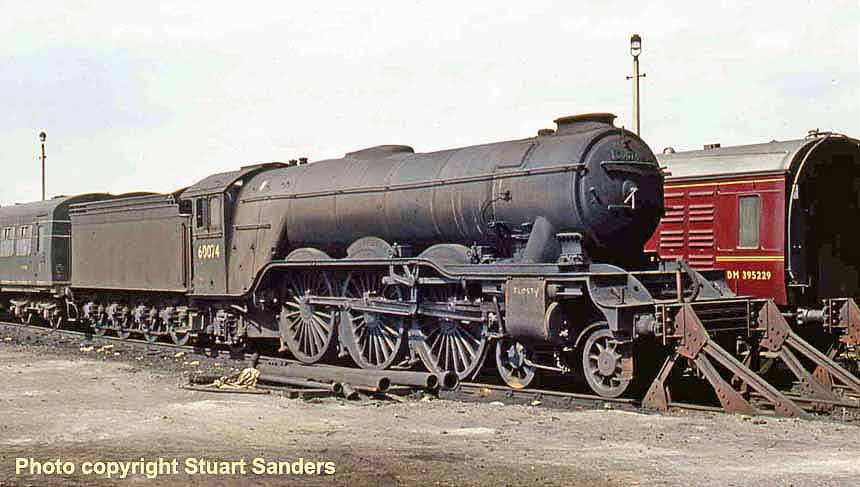 (Above) Stuart's photo of a rather forlorn-looking 60074 Harvester awaiting attention at Neville Hill reminds me of a story told by retired BR Fitter Chris Boylan on Page 81 'BR North-East Railmen 6' (see left hand menu). Chris began his BR apprenticeship at Percy Main in 1954 and finished at Gateshead in December 1959. After qualifying as a BR Fitter, his first shed was Leeds Neville Hill, where he spent ten months. He writes...
'One day at NH (Neville Hill) the Charge Fitter, Stan Ternant, asked me to have a look at No 74 (60074) as she was having great difficulty in creating her very necessary 21" of vacuum for her brakes. When I got to her I tried to recreate the problem and found out that she could only rally 17½"…so the first step was to fit a reconditioned Vacuum Governor and put the Vacuum Master Gauge on the vacuum pipe connection on the tender, but she could only manage 18½"…still no good!
The next step was to dismantle the vacuum ejector, and that's when I found the inside covered with a white fluffy substance. The problem was now clear. In those days the shed staff was provided with fluffy white cloths used specifically for drying their hands after washing, and someone on the footplate staff had been using the same type of cloth to drive the engine. As a result, when No 74's brake was applied bits of fluff had been drawn into the ejector. Further inspection revealed that the steam cones inside were very dirty. The cones were cleaned and the ejector re-assembled and the vacuum system tested and after re-adjusting the new governor against the Master Gauge we got 21" on both gauges. Result one A3 in good order!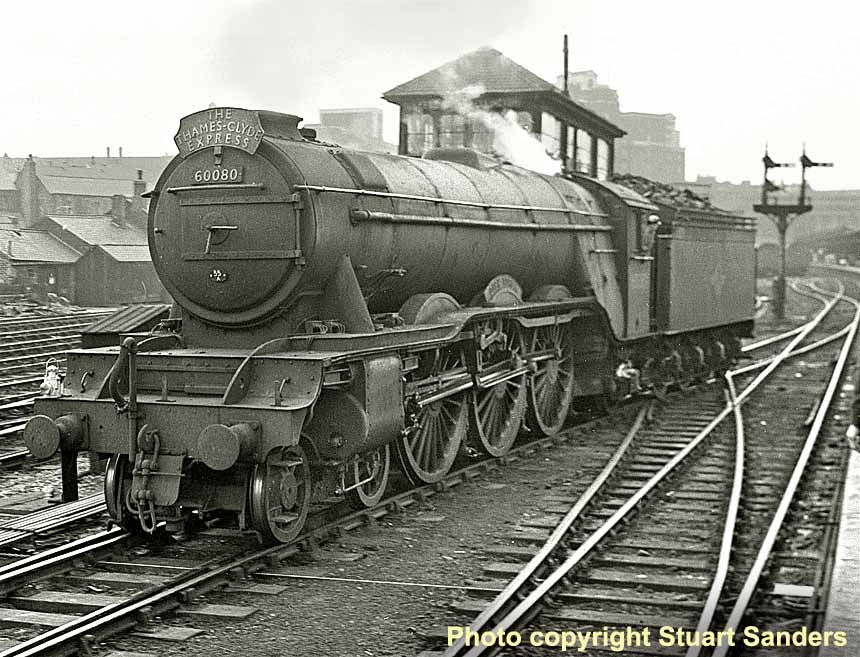 (Above) The onset of dieselisation on the ECML led to nine A3s being transferred from Tyneside to Leeds Holbeck shed (55A) for working trains over the Settle-Carlisle Line to Carlisle and Glasgow. On paper the A3s were Holbeck engines, yet all heavy maintenance such as boiler wash outs were done at Neville Hill. Holbeck shed didn't have a turntable stall long enough off to accommodate the A3s; hence they were turned on the triangular junction to the west of Leeds and they were sent to Neville Hill for routine heavy repairs. Holbeck's newly-acquired Class A3 No 60080 Dick Turpin was photographed at the MR station at Leeds Wellington Street prior to hauling the 'Thames Clyde Express' north of Leeds on 1 October 1960.



(Inset Left) This 'Neil Gow' nameplate from Class A3 No 60082 sold for £7,600 at the GCR's April 2011 auction.One of the great joys of surfing the Internet is visiting the Railwayana Auction websites which feature so many interesting facts hitherto unheard of. For example, although 60082 took its name from the racehorse which won the 2000 Guineas in 1910, I now learn that the horse itself was named after a celebrated violin player and composer of traditional Scottish airs (1727-1807) in whose memory the Annual Scottish Fiddle Festival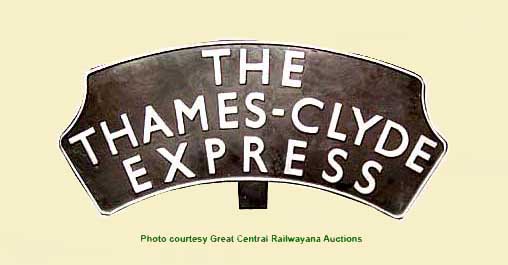 is held. Click here to visit the Great Central Railwayan Auction's fascinating website.
(Inset Right) This locomotive headboard, measuring 40" x 17½" sold for £3,600 at a GCR auction on 18 July 2009.

(Below) A striking picture of Class A3 No 60082 Neil Gow on the climb to Ais Gill summit with the up 'Thames-Clyde Express'. This LNER A1 Class (No 2581) was built by the North British Locomotive Company in November 1924 and later re-classified as an A3 in January 1943. Renumbered 82 in 1946, the loco became 60082 in BR days. The loco was allocated new to Heaton and remained there until moving to Gateshead in 1948; it then alternated between Heaton and Gateshead with brief stays at Darlington and Holbeck sheds. Withdrawn from Gateshead on 2nd September 1963, it was cut up at Darlington Works.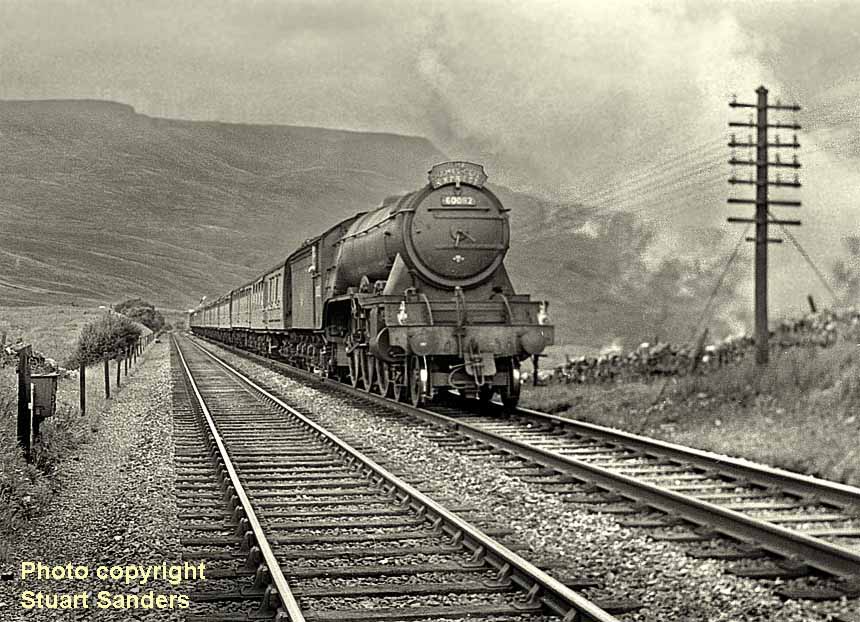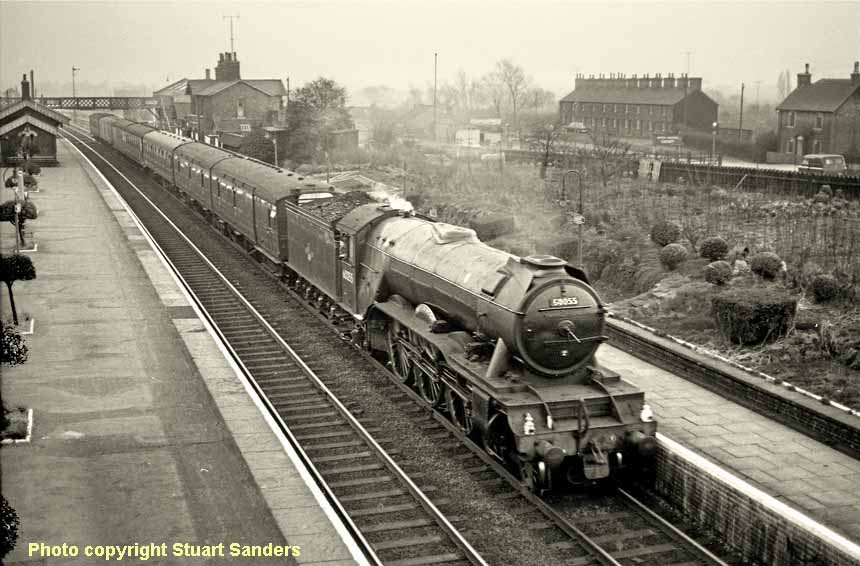 (Above-inset-below) For the record, smoke-lifting devices were not a priority with the normal single-chimney Pacifics but when the new Kylchap double blastpipe was introduced it produced a softer exhaust

and a solution had to be found in preventing trailing smoke obscuring the driver's vision;

it was decided to fit the A3s with small wing deflectors on either side of the chimney in order to lift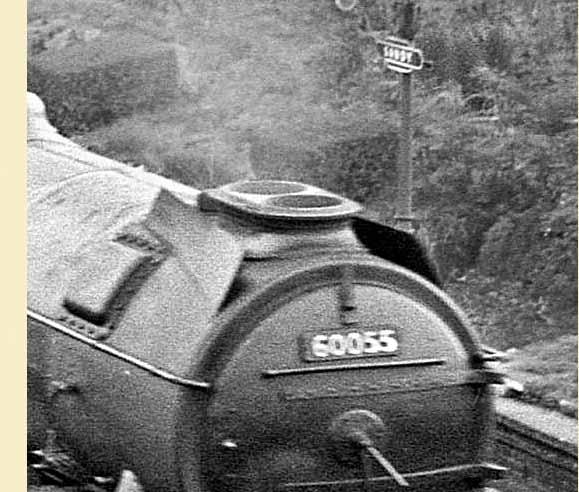 the air flow above the boiler. The minature deflectors were first tested out before the war when No 2751 Humorist (BR 60097) was fitted with a Kylchap double blastpipe arrangement in 1937; the wing deflectors were replaced in 1947 with the standard deflectors as used on the then new Peppercorn A2s and 60097 retained these throughout its career. Fast-forward twenty-odd years to 1958 and No 60055 Woolwinder became the first A3 to be fitted with a Kylchap double blastpipe since the war and this involved the fitting of small wing-type smoke deflectors

. Here, No 60055 heads a northbound express at Sandy in 1961. Of interest to modellers is this close-up (right) of the wing-style deflectors and a very clear depiction of the double chimney.

(Below)

I suspect modellers may also be interested in the beautifully kept garden, sizeable vegetable plot and lovely railway cottages

in this colour shot of

Class A3 No 60112 St Simon on a down stopping train from Kings Cross to Peterborough circa 1960. The Kylchap blastpipe-chimneys were fitted to all the remaining A3s between 1958 and 1959 and the wing deflectors were eventually substituted with the German trough-style smoke deflectors...featured down the page.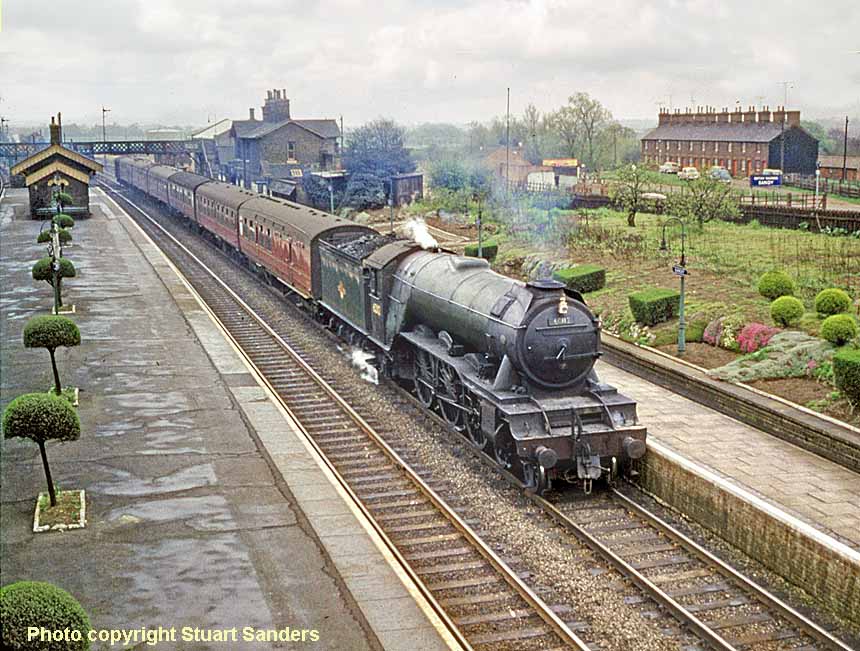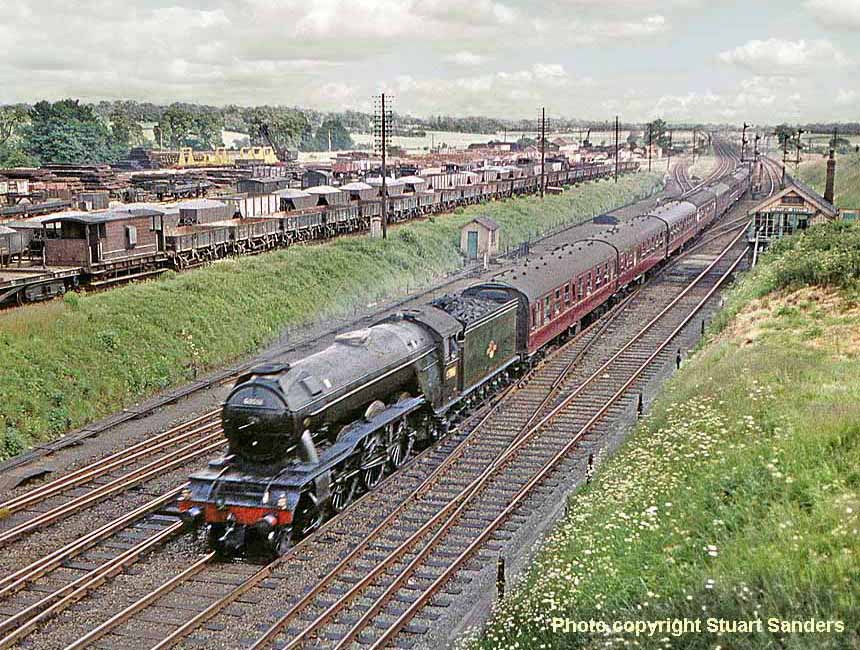 (Above) Kings Cross shed's No 60061 Pretty Polly was an early candidate to be fitted with the wing-style deflectors. This view of 60061 heading north through Hitchin in 1959 is scarcely recognisable today; practically everything has gone, including the maintenance depot known locally as the 'Farm' which is now a housing estate with all the roads named after railway engineers, such as Peppercorn Walk.

(Below) A nameplate 'Pretty Polly' measuring 57ins long and in ex-loco condition from the LNER A1 Class 4-6-2 No 2560, went under the hammer at a Great Central Railwayana Auction in October 2010. Built at Doncaster, Works No 1616, in April 1925 and named after the filly which won the 1904 Oaks, 1000 Guineas and St Leger, the A1 was rebuilt as an A3 in May 1944 and renumbered No 61 in 1946, becoming BR 60061. Allocated new to Gorton, it soon moved to Kings Cross and remained a Southern Section engine for the whole of its working life with spells at Grantham, New England, Doncaster and Copley Hill and on the Great Central at both Leicester and Neasden. It was withdrawn from Grantham on 16 June 1963 and cut up at Doncaster Works. The vendor purchased it direct from British Railways shortly after the locomotive was withdrawn.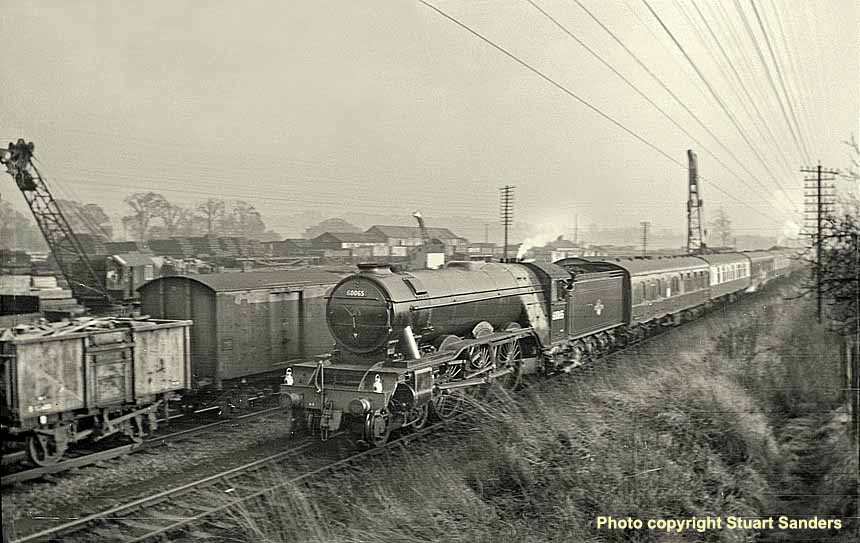 (Above) This shot of Class A3 No 60065 Knight of Thistle gingerly passing Hitchin South was taken following a triple collision involving three freight trains which occurred on 19 November 1958. The following report by Brigadier CA Langley was published on 20 March 1959 by the Ministry of Transport...
He writes - 'The 3.25am London to Peterborough Class E freight train passed an automatically operated intermediate semaphore stop signal at Danger and collided at about 15 mph with the rear of another Class E freight train. This was the 2.28am train, also from London to Peterborough which had just begun to move forward after having been stopped for about three minutes at the Down Main inner home signal. Some of its wagons were derailed across the Up Main where they were struck almost immediately by the 10.35pm Class D freight train from Leeds to London at a speed of about 35 mph. The driver of that train had heard the explosion of detonators placed on the line by the Hitchin South signalman in an attempt to warn him, but he had not had time to take action before the second collision occurred. The engine and 17 wagons of the Up train were derailed or badly damaged and a light engine standing on the adjacent Up Slow line was struck and overturned. The 3.25am Down train which initiated this triple collision was, however, virtually undamaged except for the derailment of the engine. Another freight train was approaching from the south on the Down Goods line, but it was stopped at Stevenage North by the prompt action of the signalman who replaced the signals to Danger and operated the emergency detonators. All four running lines were blocked. The permanent way in the Up and Down Main lines was extensively damaged and the two other tracks were thrown out of alignment and damaged in places. A signal gantry was demolished. Of the train crews, five members were slightly injured or suffered from shock. Four of them were conveyed to hospital but none was detained…'
The above MOS report was extracted from the excellent Railway Archive website HERE
Stuart adds - the light engine mentioned in the above report was Class L1 2-6-4T No 67785. The quick action of the driver on this engine saved his fireman's life. The firemen was about to jump out of the locomotive but was restrained and consequently neither driver or fireman was seriously injured.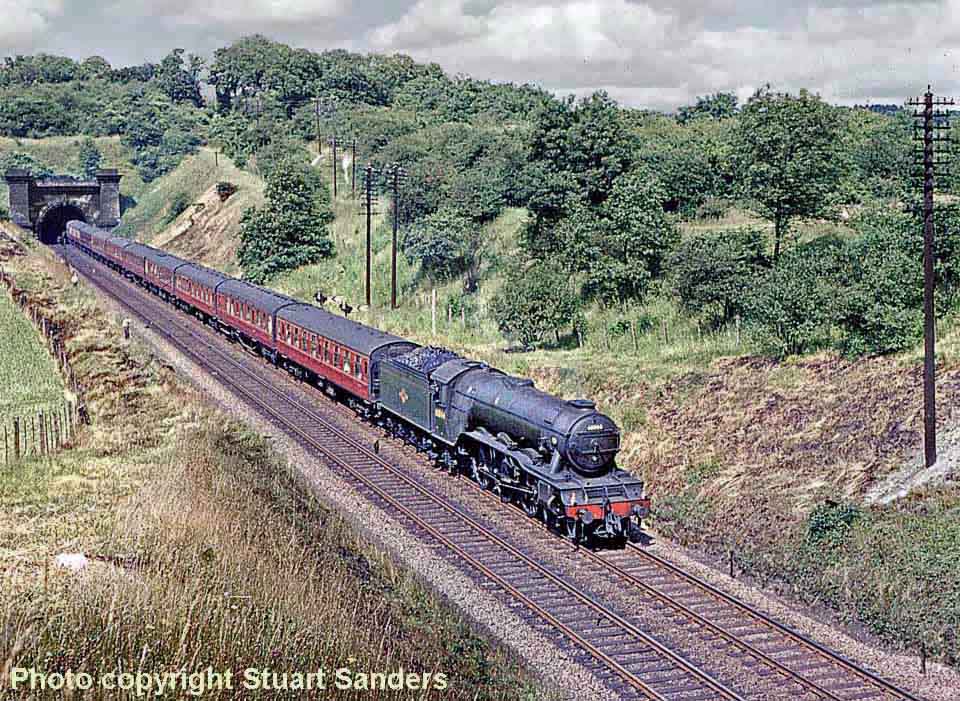 (Above-Below) Apart from the gravel ridges at Hadley Wood and Welwyn, the generally flat nature of the East Coast Main Line has few other obstructions to speak of before arriving at Newcastle. The rural scenery between the north and south tunnels at Welwyn became a favourite location for railway photographers, several of whom can be seen trackside in Stuart's shot of Class A3 No 60044 Melton heading an 'up' express. Over the years improvements to track alignment have been made over the southern section of the ECML, most notably with the construction of new tunnels at Hadley Wood, but the stretch between Welwyn Garden City and Knebworth still remains a notorious 2-track bottleneck due to the constraints of both north and south tunnels and the stately 100ft-high Digswell Viaduct spanning the Mimram Valley. Nonetheless with the predicted increase in the number of trains using the East Coast route the cost of upgrading to four tracks is perhaps now beginning to look more feasible. (Below) Sporting newly-fitted German-style deflectors No 60077 The White Knight heads an 'up' express at Brookers Yard just north of Hitchin in 1961...note the locomotive is coupled with a BR type non-corridor tender with higher sides.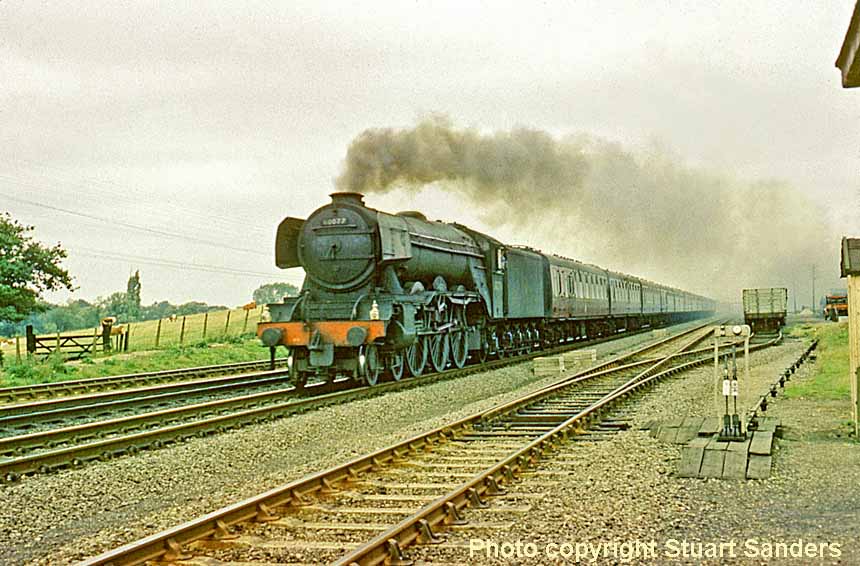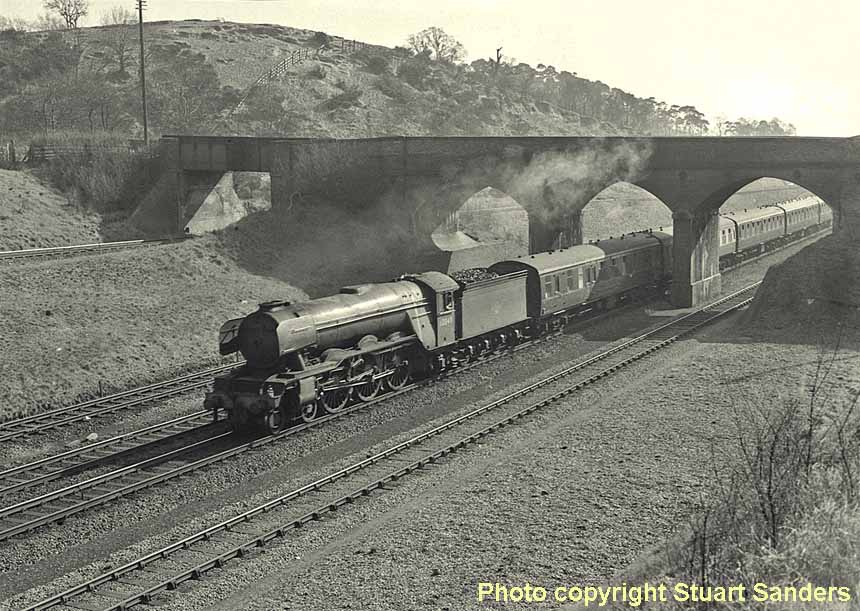 (Above) Peter Townsend, shedmaster at Kings Cross Top Shed and a leading authority on the LNER Pacifics, describes in his book 'The LNER Pacifics' published by Atlantic, how he came to be involved with testing the new German-type deflectors. He is referring to the time when the German railways were changing their full size plates to a smaller pattern fitted only to the smokebox, and since he had taken a side shot of a German Class 01 Pacific fitted with these new plates at Cologne station, he submitted the photograph with the offer that he would try them out at 34A if a set was supplied. Within a few weeks a drawing was sent for checking and the fitting of four A3s was authorised, the first of which was 60049 Galtee More in October 1960. This Grantham-based loco was loaned to Top Shed for a week during which it was tested on the then new diesel diagram of 'down' 'Flying Scotsman' through to Newcastle, returning with the 17.05 to Kings Cross, a round trip of 536 miles in a little over 12 hours. The raking light shows the somewhat cumbersome German-type deflectors fitted to No 60049 Galtee More as the A3 heads a northbound express at Sandy in 1961



(Below) By the early Sixties the ever-increasing demand for high-speed running necessitated the upgrading of the ECML. This involved the renewal of trackwork at major junctions plus a general easing in the curvature of the route in conjunction with the replacement of hundreds of miles of outdated Victorian-era semaphore signalling with modern multiple aspect (MAS) signalling.

Following closure of the Oxford to Cambridge 'Varsity Line' in 1967 Sandy station was considerably rebuilt in the early 1970s to provide a 4-track layout with platforms on the slow lines only, which effectively removed a 2-track bottleneck. Sandy signal box closed in December 1977 when the Peterborough power box came into use, making Sandy the most southerly point of the Peterborough's power box's area while the power box at Kings Cross controlled the ECML south of Sandy into the capital.

This newly outshopped

Class A3 No 60109 Hermit heads a southbound express at Sandy; it's certainly true that railway photographers are creatures of habit, for Stuart has captured the same train - featured in Part 2 above - where the reversed headboard on the middle lamp iron indicates that it too will work a 'named' train after reversal at Kings Cross. However,

Stuart points out that 60109 was more likely to be returning the reversed train headboard back to Kings Cross..
.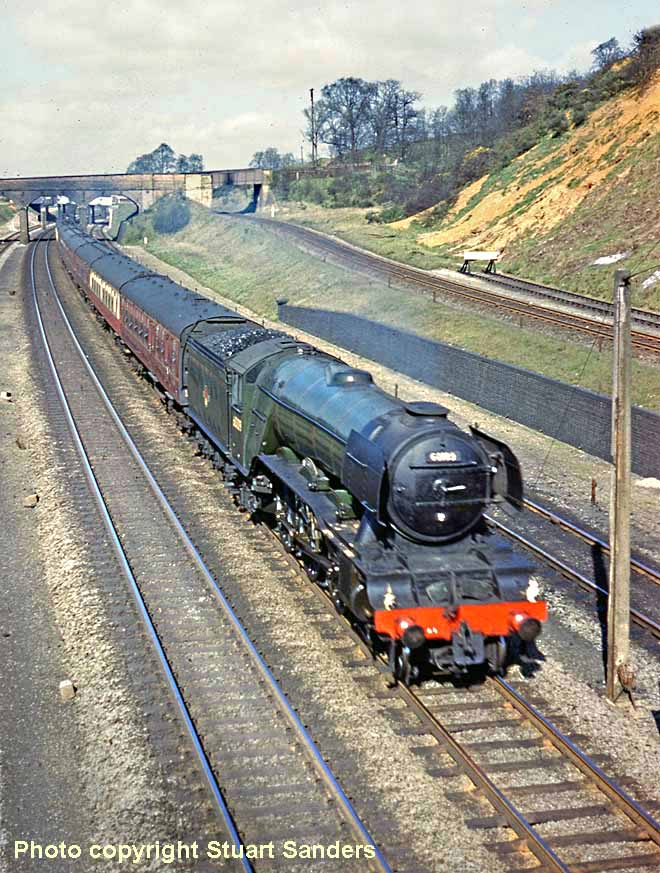 (Above-Below) A locomotive nameplate 'Hermit' from the LNER Gresley Class A1 4-6-2 No 4478 built at Doncaster, Works No 1570, in July 1923 and named after the winner of the 1867 Derby. It was rebuilt and re-classified to Class A3 in November 1943, renumbered 508 and then 109 in 1946, becoming BR 60109. Allocated new to Doncaster in July 1923, it spent the whole of its working life working the southern area of the ECML with spells at Grantham, Gorton, Copley Hill, New England, Doncaster and Kings Cross from where it was withdrawn in December 1962. The plate went under the hammer for £12,700 at a Great Central Railwayana Auction in 0ctober 2010.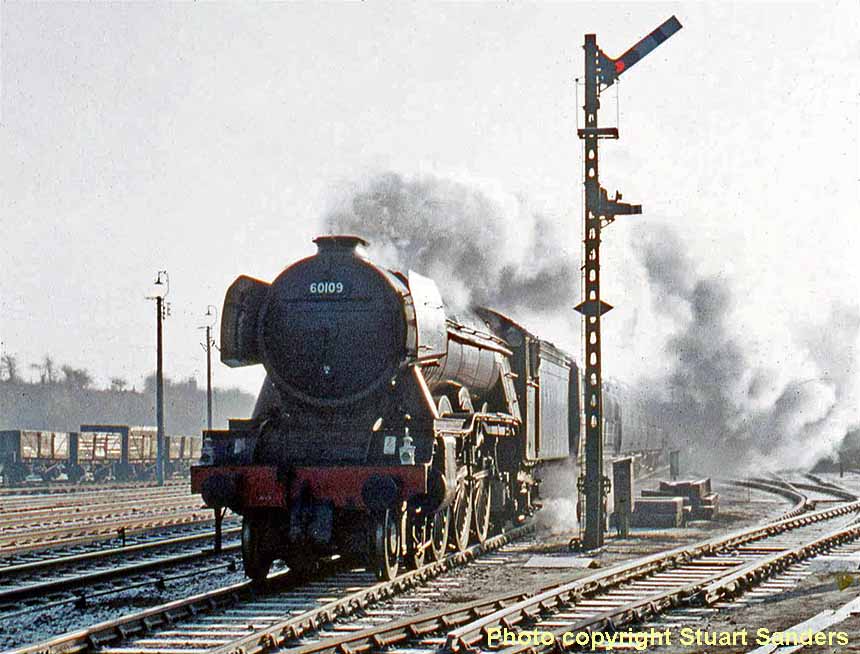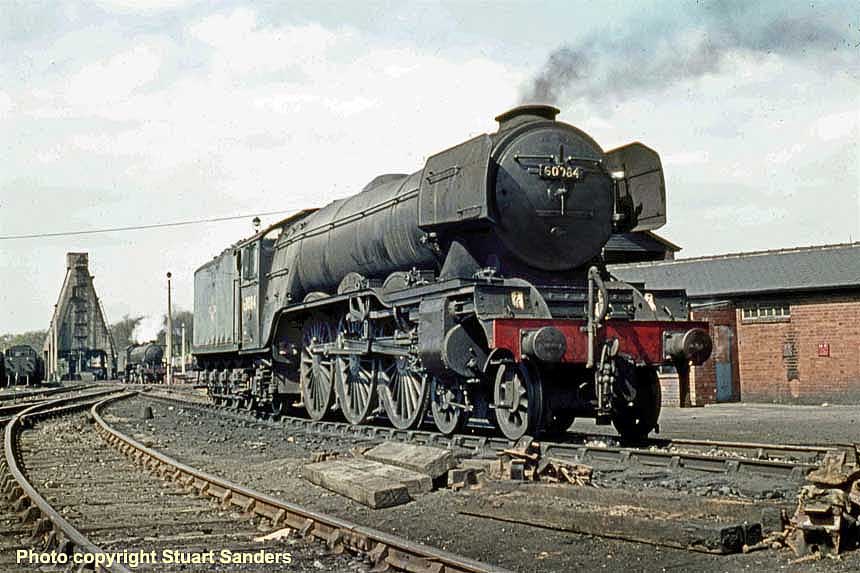 (Above-Below) Built at Doncaster Works in February 1930, Class A3 No 60084 Trigo (winner of the 1929 Epsom Derby, St Leger Stakes and Irish St Leger) looks in fine fettle at Neville Hill shed circa 1961. Around this period the smokebox numberplate and handrail were rearranged as part of an effort to eliminate difficulties fitting train headboards; this modification was also carried out on some of the Pepercorn Class A1 Pacifics. No 60084 was scrapped in November 1964.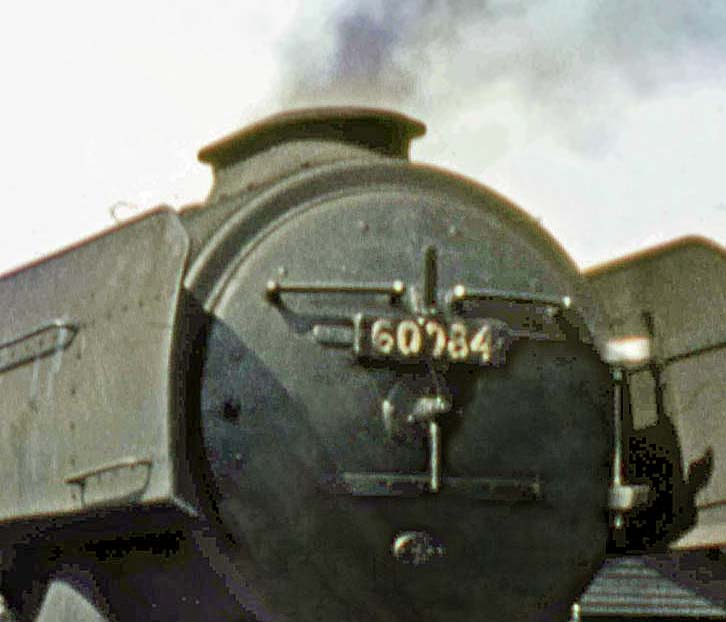 (Above-Below) Harking back to Stuart's early days in accountancy, he often stayed with his aunt in Royston on his way to work at Shelford, which he reached by train via Cambridge. He caught the 07.22 Hitchin to Cambridge at Royston; this train started from Kings Cross at 06.05 and was known locally as the '6-5 special' (after the then popular BBC TV pop musical show). It was a very slow train that placed few demands on a locomotive; hence it was often worked by such as an A4 running-in after repair at Kings Cross before resuming main line duties. On this occasion it was hauled by Class A3 60104 Solario (named after the winner of the 1925 St Leger Stakes). Built at Doncaster Works in March 1923, No 60104's 35-year career began at Doncaster shed followed by spells at Copley Hill, Gorton, King's Cross, Leicester and Neasden. It was withdrawn from Grantham shed in December 1959 and scrapped at Doncaster Works the following month, earning itself the dubious distinction of being the first Class A3 to go! Incidentally the last A3 was No 60052 Prince Palatine in January 1966. (Below) Whilst most Class A3s were given the names of famous racehorses, the most notable exception, and arguably the most famous locomotive in the world, No 4472 'Flying Scotsman' was named after the company's Anglo-Scottish express between London Kings Cross and Edinburgh Waverley. Following withdrawal in 1963, 60103 became a major celebrity and ultimately the sole surviving Class A3, therefore it seems fitting to end this chapter with Stuart's shot of the grand old statesman of steam heading north at Hitchin in the winter of 1962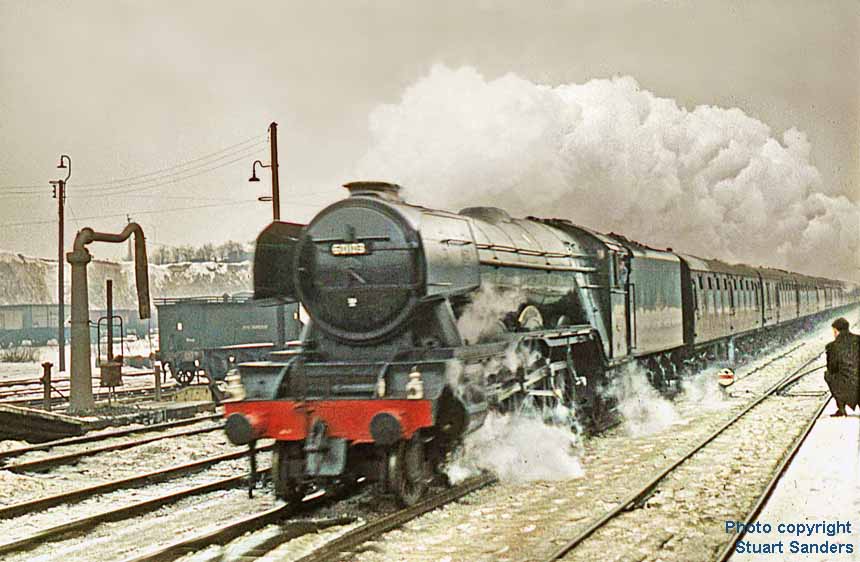 4. RAILTOURS and SPECIALS.

Preserved Class K4 3442 (61994) The Great Marquess at Darlington North Road Station with a portion of the Ian Allan 'Darlington Marquess Railtour' from Leeds on 3rd October 1964. The main portion of the railtour was hauled by Class A3 4472 Flying Scotsman from Kings Cross via the ECML to Doncaster, branching off at Hare Park Junction via Crofton Junction, Goose Hill Junction, Whitehall Junction and Wortley Junction to Harrogate. Both engines then doubled-headed the train via the Leeds Northern Line between Harrogate and Northallerton to Darlington Bank Top. At Darlington the railtour was topped and tailed by 3442 and Class K1 No 62041 for a visit to Darlington North Road Works. The return leg was hauled by 4472 and 3442 to York where the railtour split - the main train returning to Kings Cross behind 4472.and 3442 returning its portion to Leeds.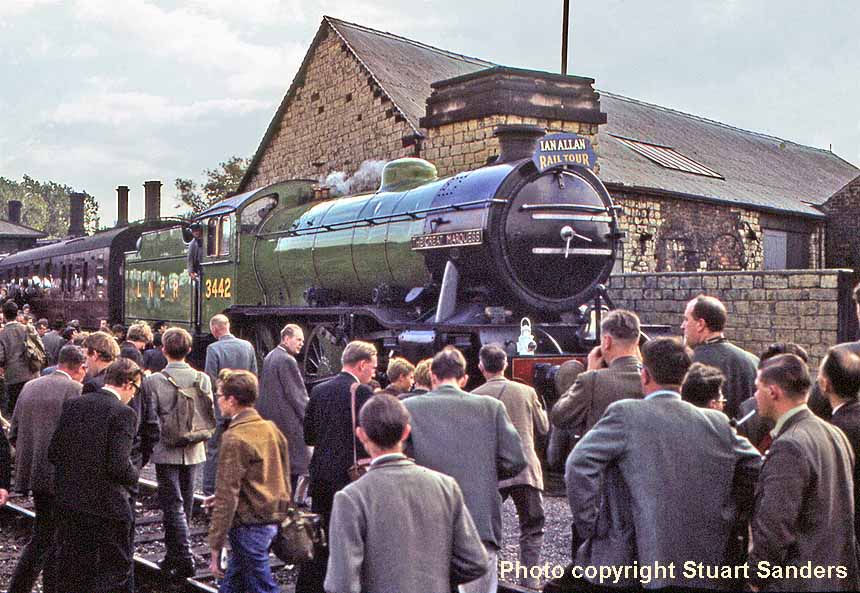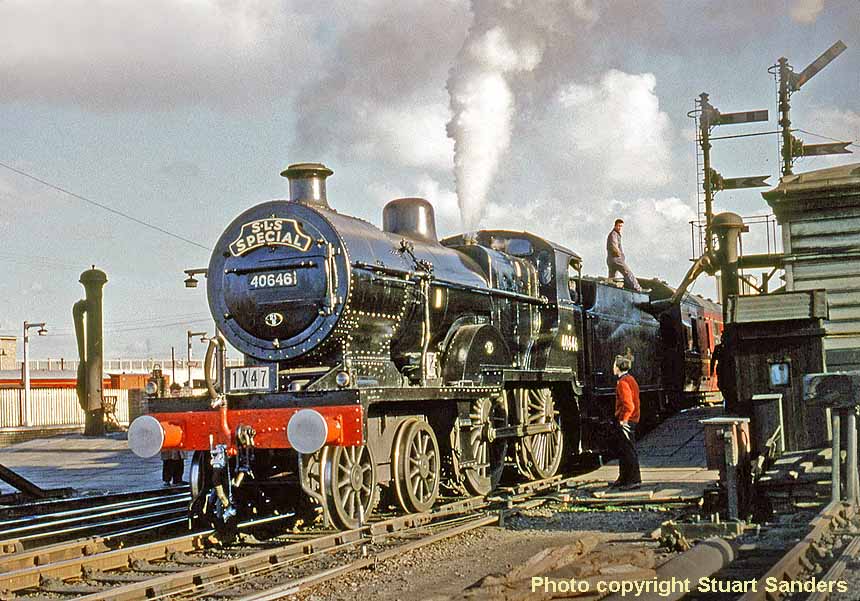 (Above-Below) The Stephenson Locomotive Society (Midland Area) organised the 'Tour of Seven Branch Lines' on 14 April 1962. Departing Birmingham New Street, the railtour was hauled by Class 2P No 40646 via Whitacre Junction, Nuneaton Abbey Street, Nuneaton Trent Valley, Bedworth, Three Spires Junction, Humber Road Junction, Rugby and Long Buckby to Northampton Castle, where No 40646 was accompanied by Fowler 2-6-2T 40026 for the run via Northampton Bridge Street, Hardingstone Junction, Ravenstone Wood Junction and Olney to Bedford. From here No 40026 hauled the train singly via Shefford to Hitchin, where it was replaced by ex-GNR 0-6-0T No 1247 for the trip via Stevenage, Hertford North, Cole Green and Welwyn Garden City to Hatfield, returning via Welwyn Garden City to Luton Bute Street. The Class 2P then hooked on for the final leg from Luton via Dunstable North, Leighton Buzzard, Bletchley, Hanslope Junction, Weedon, Daventry, Marton Junction, Leamington Spa Avenue, Kenilworth, Berkswell and Stechford to Birmingham New Street. The poignant leg of the railtour was the run over the Northampton to Bedford line (via Olney) on the last day it was open. Stuart photographed No 40646 taking water on the return leg at Bletchley. The above railtour information can be found on the excellent 'Six Bells Junction' website; a visit is highly recommended HERE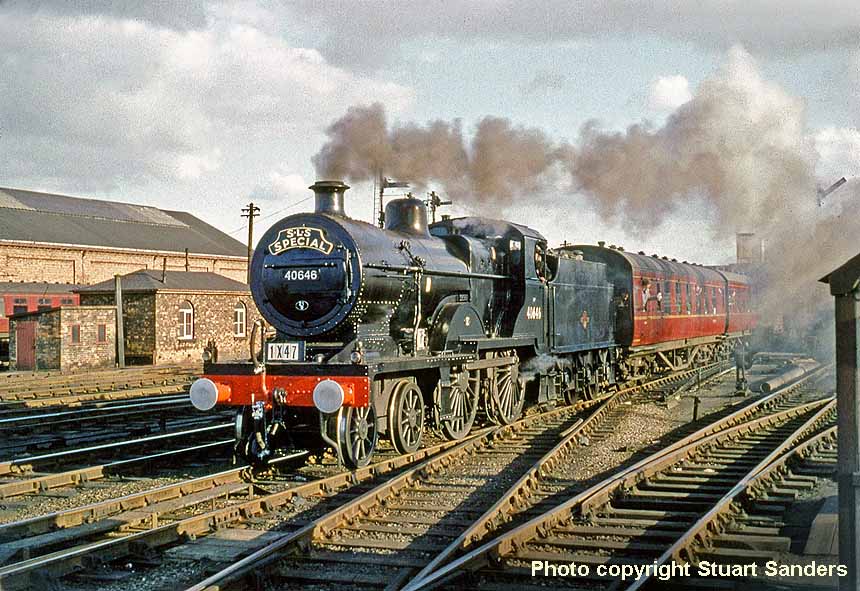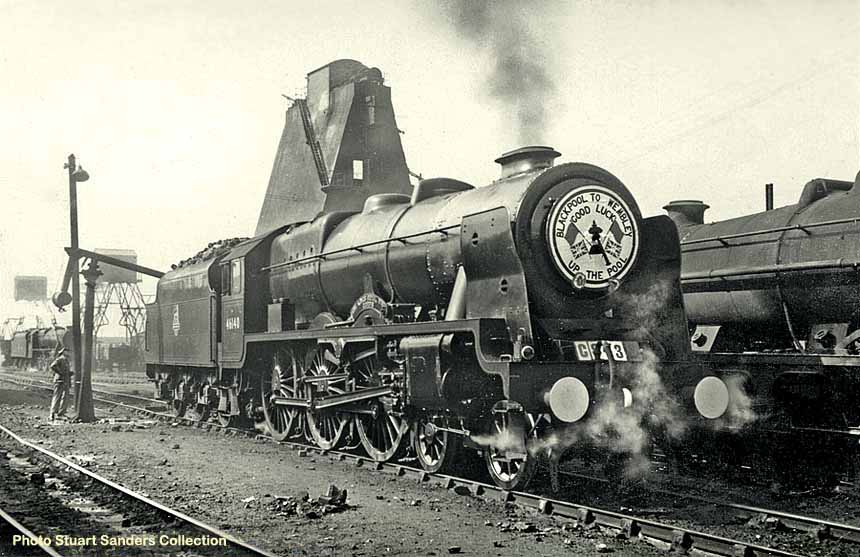 (Above) Stuart was

at Willesden shed on 2 May 1953 when

this shot was taken of 'Royal Scot' class No 46140 The King's Royal Rifle Corps...the circular headboard clearly reveals the purpose of its visit. This was Blackpool's third FA Cup Final appearance at Wembley in six years; the club was beaten in both the 1948 and 1951 Finals. However the 1953 Final versus Bolton Wanderers became famous for the performance of a certain 38 year-old Blackpool player, Stanley Matthews, who inspired his team from being 3-1 down to win 4-3. Bolton was leading 2-1 at half-time and scored again just ten minutes into the second half. The turnaround came with only 22 minutes remaining when Matthews crossed from the right wing and Mortensen netted. Then with less than two minutes before the final whistle, Mortensen equalised direct from a free-kick. Then, with
just seconds left, Matthews again crossed from the right wing. This time Bill Perry hit the winning goal to secure victory. Dubbed the 'Mathews Final' by the media, it was the first FA Cup Final to be televised, and the first to be attended by Elizabeth II, who was crowned Queen a month later. The Royal Mail issued a set of GB and Commonwealth commemorative stamps as a souvenir of the coronation in 1953. The set included this 1/6d (7½P) stamp showing the date (left).



(Below) Obscured by the rather ostentatious 'Crusaders' Union' headboard is BR Class 7MT No 70039 Sir Christopher Wren awaiting departure from Liverpool Street station with a special train to Norwich on 16th April 1958. On the left is B17/1 No 61625 Raby Castle which was withdrawn in December 1959. By this time the changeover from steam to diesel traction on the Eastern Region was well underway; just two days after Stuart took this photograph, EE Co Type 4 No D200 hauled the first diesel-hauled London-Norwich express from Liverpool Street on 18th April. Stuart was among 300-400 boys travelling on the 'Crusaders' Union' to Norwich, where a 2-car dmu was waiting to take them to North Walsham; in those days a diesel multiple unit was something of a novelty, however the return 'Crusaders' Union' working to London should have been diesel-hauled, but the diesel locomotive failed and 70039 was called in to save the day. Among the men on the right is CJ Allen, a distinguished railway engineer, and the station master of Liverpool Street. Mister Allen was also a leading light in the Crusaders' Union, a nationwide inter-denominational bible class organisation, which is still going strong but called Urban Saints today. Stuart remembers the trip to Nowich well because he won second prize in a competition for estimating speeds at the stations en route. This not only demanded a reasonable knowledge of the line but also of calculating speeds. He did this by using a formula ie: 900 divided by the time it took to do 22 sections of rail at 60 feet long (using the beat of the sound over rail joints) therefore if you count 15 seconds it is travelling at 900 divided by 15 which equals 60mph. His prize was an acknowledgment in the Railway Magazine.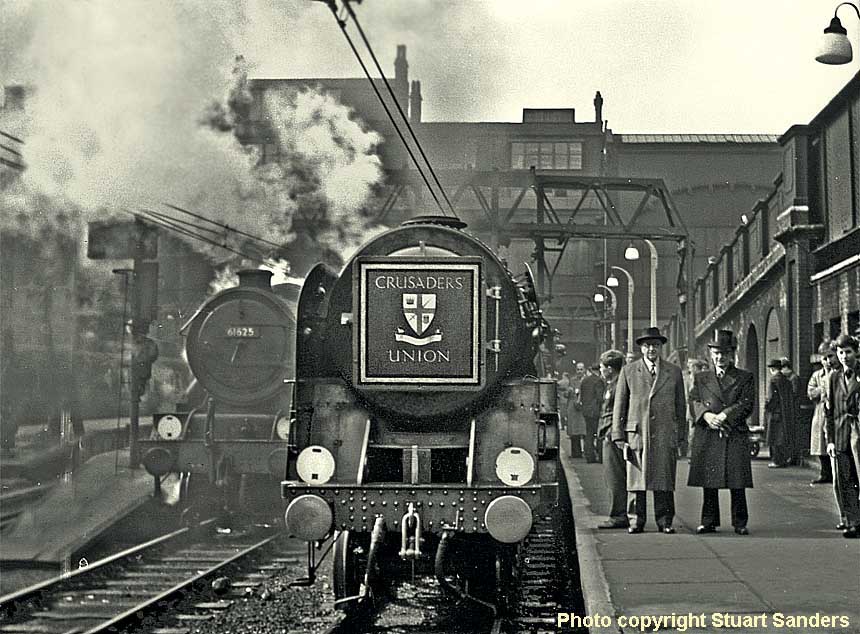 5. STEAM DAYS AT BLETCHLEY
My thanks to Derek Dean for kindly helping to caption these photos...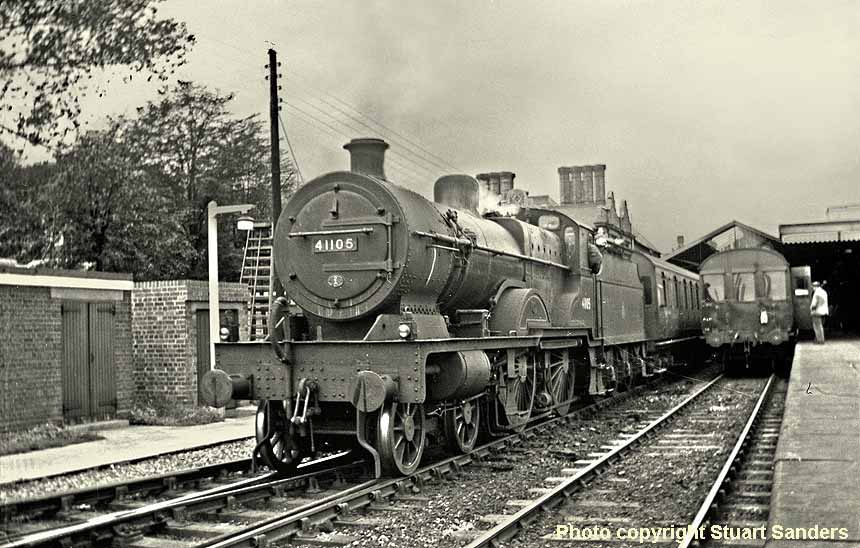 (Above-Below) The Fowler-designed Class 4P 4-4-0 Compound was a 3-cylinder superheated development of the Johnson Midland 3P 4-4-0 of 1906. The inside cylinder was of high pressure, but the two outside cylinders operated at a lower pressure. This once popular and highly efficient class performed splendid work during the early years on its native Midland system, most famously on the Birmingham 2-hour expresses from Euston. Introduced to traffic in November 1925, 41105 is now employed on less demanding duties, spending its final years based at Rugby from 1950 until withdrawn in September 1957. (Below) Another engine not long for this world is Fowler Compound 4-4-0 No 41093, seen here awaiting departure from Bletchley's Platform 5 on 27 July 1957. Sporting a Rugby (2A) shedplate on the smokebox door, 41093 is being prepared for a local train to Rugby, a task for which these remarkable engines were not well suited, since they were main line locomotives for many years prior to Stanier's larger express engines appearing on the LMS. The three young spotters are wearing typical attire for the period; sandles, knee-length socks and 'girlie' ankle socks, short pants, shirts with rolled-up sleeves and even a raincoat! Well, judging by the puddles on the platform it has been raining…typical July weather for you!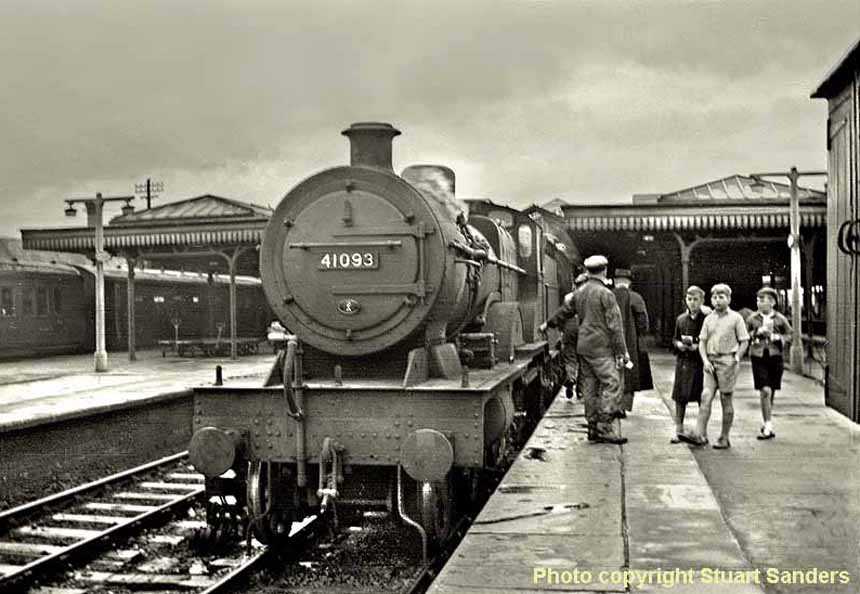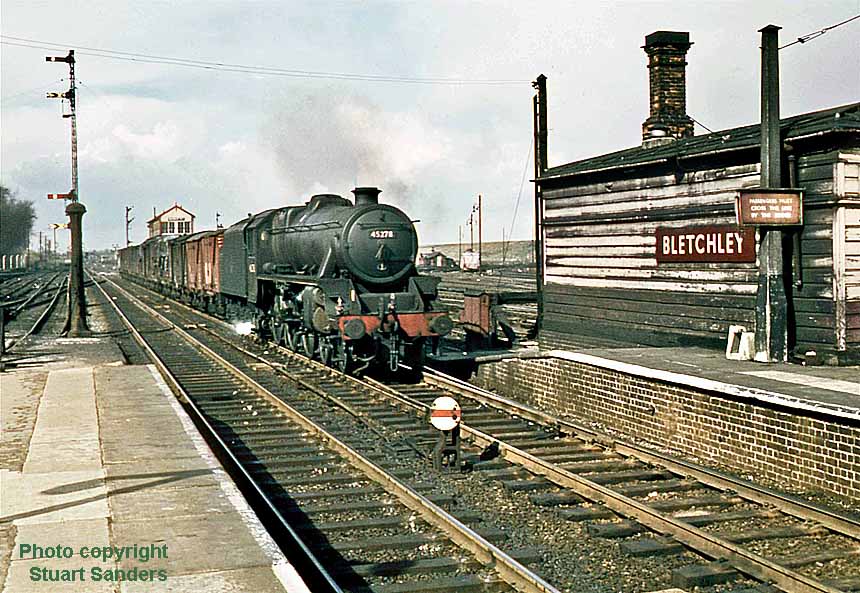 (Above-Below) A short freight working, hauled by a reasonably clean 'Black 5' 4-6-0 No. 45278 is seen heading south along the up main platform 4 at Bletchley Station early in 1962. The Willesden-based engine worked from the North London shed for almost eight years, before relocation to Holyhead for a short time, and then finishing off its service at Wigan Springs Branch. The newly constructed flyover embankment is prominent in the background, built at great expense and little used by any trains crossing through the double junction; it was inevitably nick-named 'The White Elephant' (Below) A double-headed train was always a welcome sight for spotters - two for the price of one! Three youngsters eagerly await the 'Royal Scot' to come into view after copping the very clean 'Black 5' No 45442 from Blackpool North shed. The train is a 15-coach express from Blackpool to London Euston, most likely stopping at Bletchley's platform 4, before continuing south to the capital, 46 miles away. In the background, an LNER B12 engine is awaiting departure at platform 7 with a Cambridge train.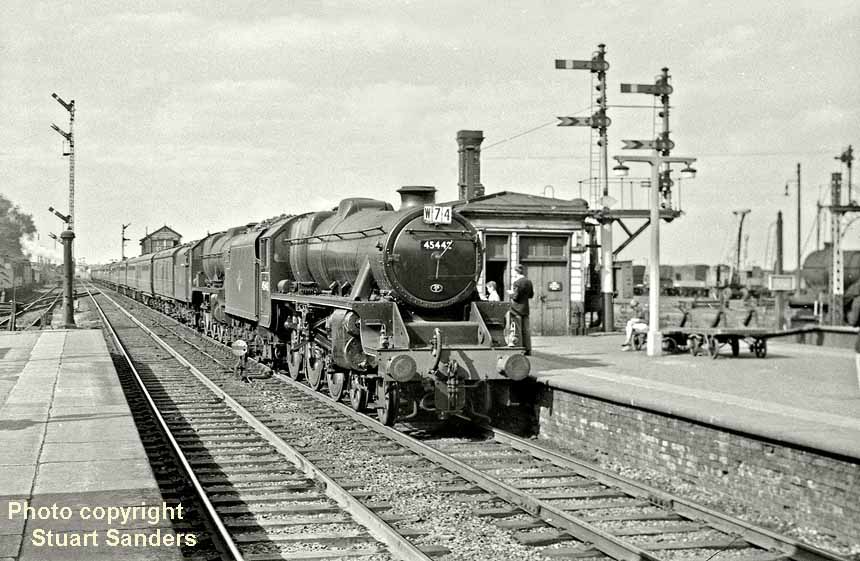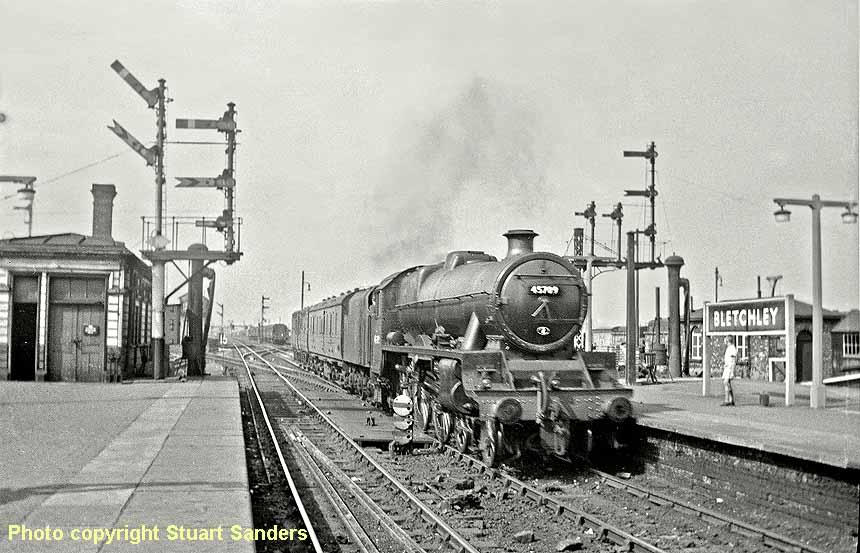 (Above-Below) The naming of steam locomotives is a fascinating subject, especially with the Stanier 5XP 'Jubilees'. The doyen of the class, No 5552, was turned out in a gloss-black livery with chromium-plated brightwork and named 'Silver Jubilee' to commemorate the Silver Jubilee of King George V and Queen Mary in 1935. The rest of the 'Jubilees' were named after celebrated heroes and famous ships of the Royal Navy. Here No 45709 Implacable is being admired by a young spotter, perhaps wondering the origin of such a name; in fact three Royal Navy vessels have been named HMS Implacable: the first was launched in 1795 as the French ship Duguay-Trouin, a 74-gun third-rate ship of the line. Captured by the British on 3 November 1805, she was renamed Implacable and, prior to being scuttled in 1949, she became the second oldest ship of the Navy after HMS Victory (a name carried by Jubliee Class No 45712). The second HMS Implacable was launched in 1899, a Formidable-class battleship which served in World War One. The third HMS Implacable (R86) was launched in 1942, the lead ship of a class of aircraft carriers which served in World War II before being broken up in 1954. As for 'Jubilee' class No 45709…built in 1934 the engine was withdrawn from Northampton in November 1963, and languished in store at Saltley before being cut up at Cashmores of Great Bridge in August 1964. (Below) The 'Jubilees' are best known for bearing the names of countries belonging to the British Empire; a poignant reminder of the Commonwealth countries that have now gone their separate ways. Here No 45620 North Borneo of Nottingham shed was captured by Stuart's lens at Bletchley in 1960; one has to ask how this loco was working local trains on the West Coast Mainline, given its 16A shed code. For the record, North Borneo is now part of Malaysia.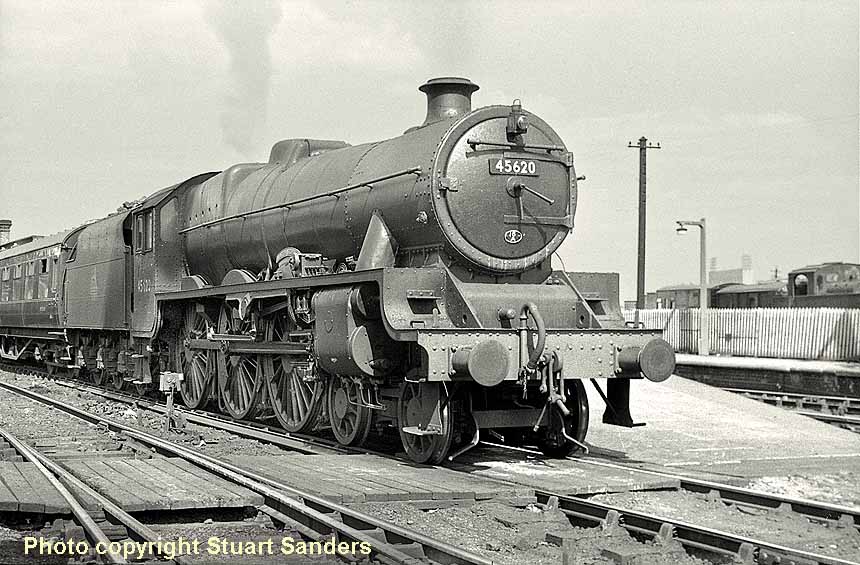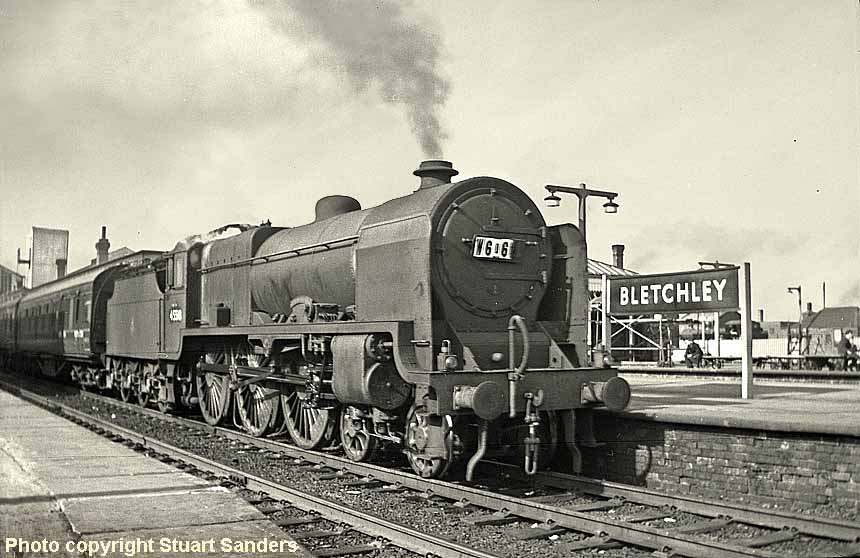 (Above) Dated Friday 15 May 1959, 'Patriot' class 4-6-0 No 45518 Bradshaw awaits departure at Bletchley's 'up main' platform 4 with a Liverpool Lime Street-London Euston express. These elegant Fowler 4-6-0s were always classed as second string engines, but they did sterling work on all parts of the LNWR and LMS systems. 45518 achieved a total mileage of 1,360,000, with a very good average of over 70,000 miles for the pre-war years. The eagle-eyed may spot a 'Jinty' shunting the goods yard in the background.

(Below) This 'Patriot' class locomotive nameplate measuring 34½" long went under the hammer for £9,000 at a Great Central Railwayana Action on 16th January 2010. Built at Crewe Works in 1933 (as LMS No 6006) the loco was renumbered 5518 the following year. It was named 'Bradshaw' in May 1939 to mark the centenary of the Bradshaw railway timetable publications. For the record, George Bradshaw was an English cartographer, printer and publisher, best known for developing the world's first compilation of railway timetables very soon after the introduction of railways in Britain; the first edition was published on 19th October 1839, costing sixpence - 2½p in today's money - a cloth-bound book entitled 'Bradshaw's Railway Time Tables and Assistant to Railway Travelling'. This rather long-winded title was changed to 'Bradshaw's Railway Companion' in 1840, however the following year a new volume was issued monthly under the title 'Bradshaw's Monthly Railway Guide'. An amusing snippet can be found on Wikipedia's page; evidently between the two World Wars the verb 'to Bradshaw' was a derogatory term referring to pilots in the Royal Air Force whose perceived lack of ability to navigate was betrayed by those who plotted a course by following railway lines! In BR days the 'Patriot' class loco was numbered 45518 and allocated to Carlisle Upperby, Preston, Edge Hill, Warrington, Aston, returning to Edge Hill again and finally Lancaster (Green Ayre) from where it was withdrawn in October 1962. After four months in store at Green Ayre, it was cut up at Horwich Works in February 1963.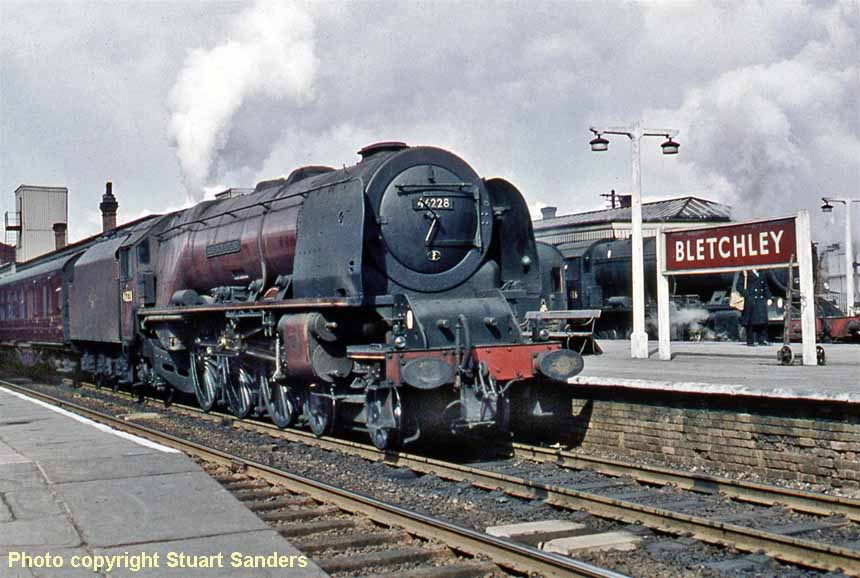 (Above-Below) 'Pride of the Line' was a term often used to describe the Princess Coronation Class Pacifics. Designed under the guidance of Sir William Stanier, 46228 Duchess of Rutland was one of the glorious original streamlined engines, built with a single chimney, but looking somewhat different in 1960, yet just as powerful as ever. The 4-6-2 is London-bound on platform 4, with another Stanier concept on platform 6 - Class '8F' 2-8-0 No 48416 of Willesden on a goods train. (Below) Class 8F No 48111 heads north through Bletchley with a rake of coal/coke empties from Stonebridge Park Power Station in 1961; construction of Bletchley's flyover's can be seen in the background.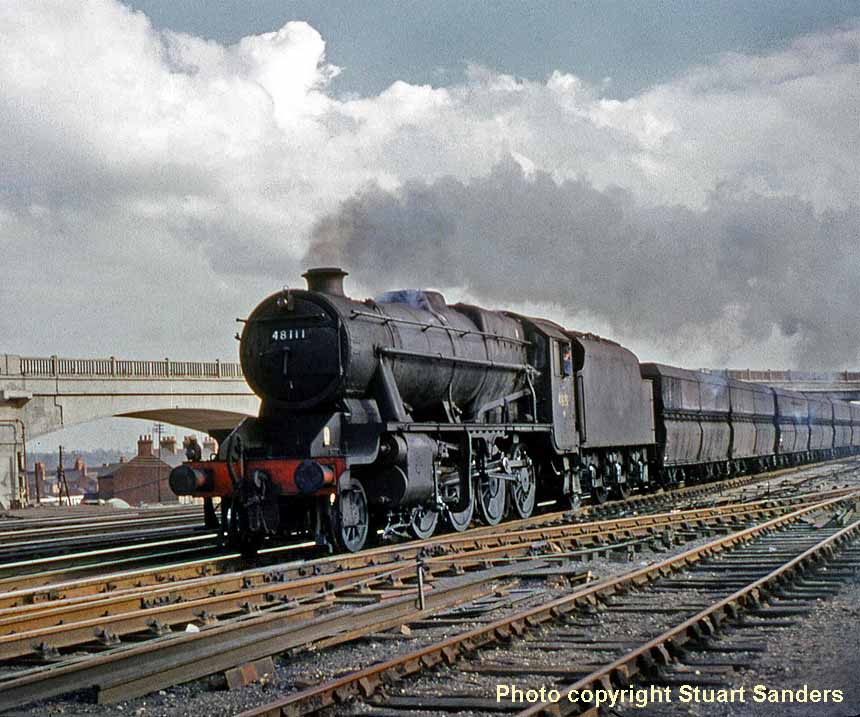 (Above-Below) A locomotive nameplate 'City of St Albans' - measuring 75½" long, the front repainted - went under the hammer for £20,500 at a Sheffield Railwayana Auction in June 2013. This LMS Princess Coronation Class 4-6-2 No 6253, BR 46253, was built at Crewe in 1946 and named when built. Allocated new to Camden on 14 September 1946 with later spells at Carlisle Upperby and Crewe North from where it was withdrawn on 23 January 1963 and cut up at Crewe Works in May 1963. (Below).......................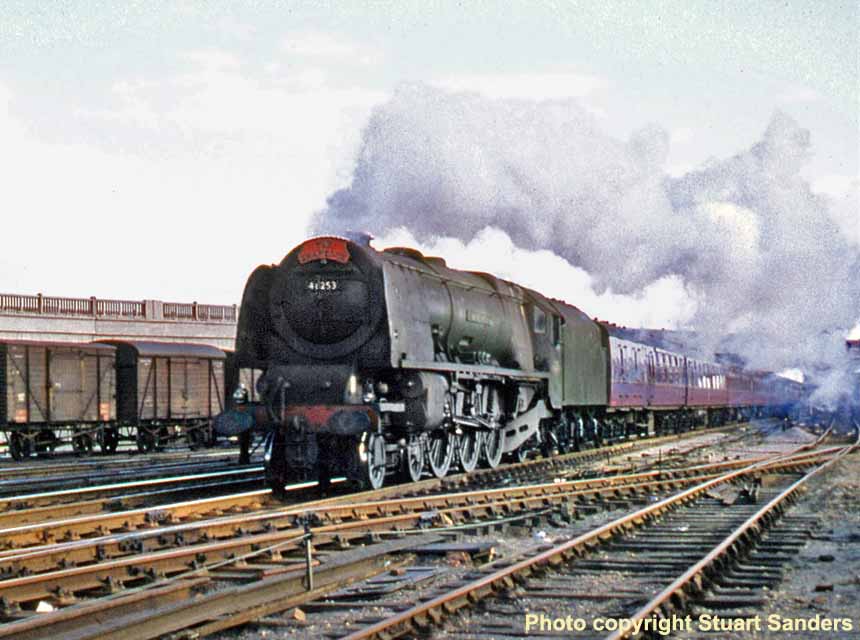 (Above-Below) A titled train headboard 'The Shamrock' went under the hammer at a Great Western Railwayana Auction in May 2010. The headboard was used between 1954 until 1966 on the London Euston-Liverpool Lime Street Boat Train service with connections to Ireland via the Coast Lines ferry services from Pier Head to Belfast and Dublin. (Below) BR Standard Class 7MT No 70028 Royal Star was among the first five Britannias to be allocated to Cardiff Canton MPD (86C) in South Wales where it enjoyed a long stint of almost nine years; this was broken by a short spell of four weeks spent at Exmouth Junction depot (72A) in May 1953 to cover for the temporary withrawal of the Southern Region's Pacifics due to axle problems. After moving away from Cardiff Canton, 70028's career went from the sublime to the ridiculous: starting in September 1961 the locomotive was transferred to Aston shed (21D), then to Longsight depot (9A), then back again to Aston, returning to Longsight for a second time, and then back again to Aston and yet again to Longsight in September 1962; all within the space of twelve months! 70028 continued to move around the depots, beginning with Willesden MPD (1A) from May 1963 then on to Crewe North depot (5A) in September. Following closure of 5A in June 1965, 70028 moved to Crewe South depot (5B) followed by a spell at Llandudno Junction shed (6G) at the end of February 1966, but this lasted only two months before returning to Crewe South depot for a little under five months. Finally, an exhausted 70028 made its way north to Carlisle Kingmoor MPD in September 1966 where it managed to last another twelve months before succumbing to the inevitable. This splendid colour shot by Stuart shows 70028 Royal Star performing a mundane task as it waits impatiently at Bletchley with a fitted freight bound for London in April 1962. The Longsight allocated engine had recently spent four weeks at Crewe Works and it is noticeable that the WR lamp irons have been replaced by MR types, but the WR's route restriction 'red spot' is still visible on the cabside below the loco number.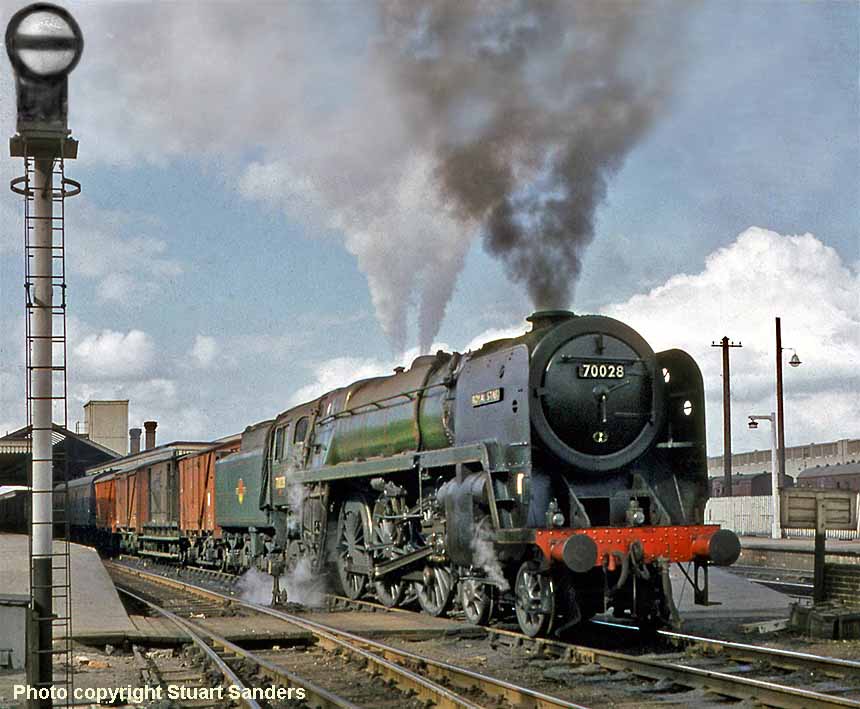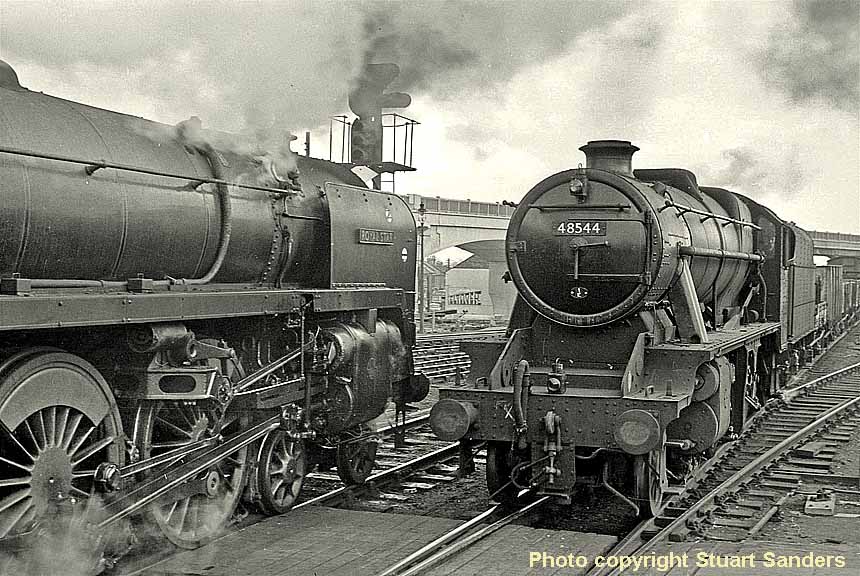 (Above-Below)

Immediately after taking his photo of 70028 Royal Star departing south, Stuart managed to grab this 'snatched' shot of Class 8F 48544 heading north with a mixed freight.
(Below)
The crew of Longsight-based Jubilee 4-6-0 No 45595 Southern Rhodesia await the starting signal to resume their journey south to London Euston from Bletchley's platform 4 on Saturday 15th May 1959. The engine worked from Manchester (Longsight) and Carlisle Upperby sheds for long periods, but would be returning to Crewe North depot very soon after this date. 45595 had an official Coat of Arms positioned above the nameplates, in recognition of the British Colony. Two other Jubilees were similarly treated: 45706 'Express' and 45739 'Ulster'.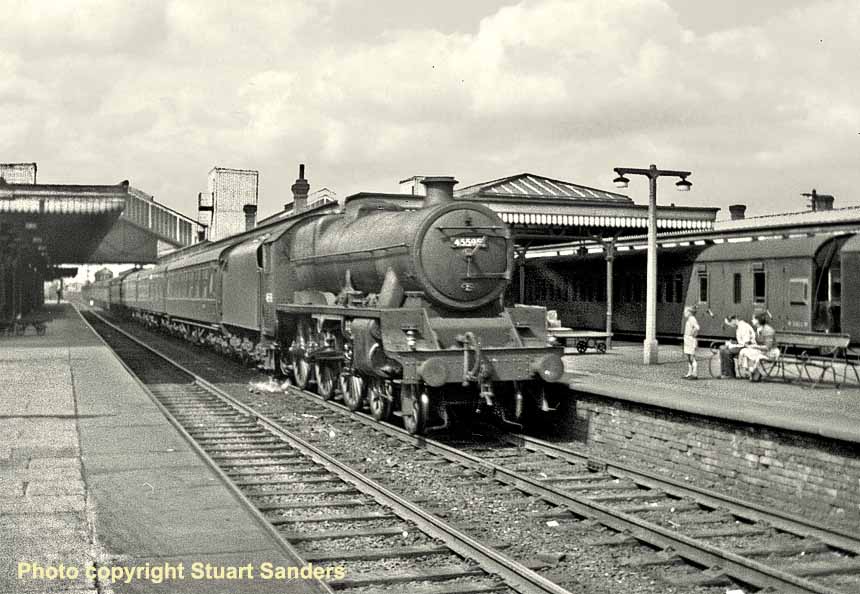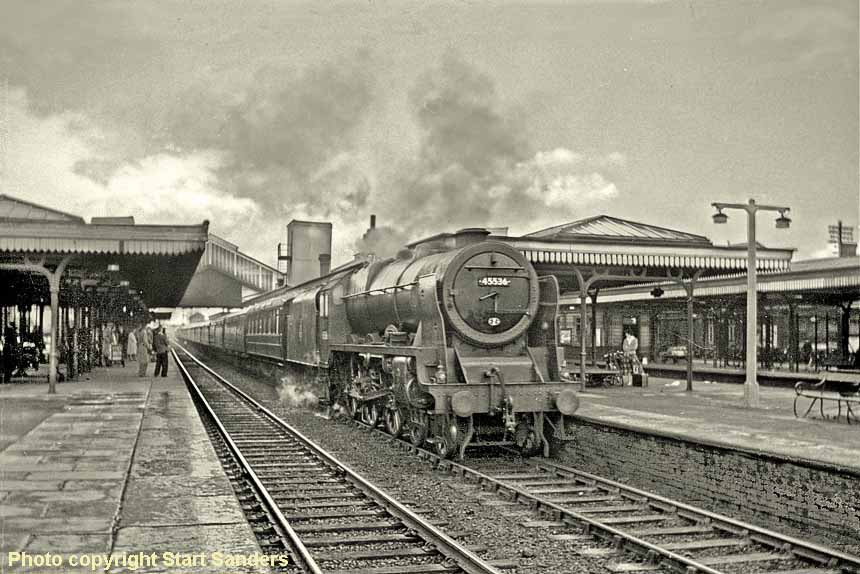 (Above-Below) 'Patriot' class 7P 4-6-0 No 45536 Private W Wood VC, rebuilt by HG Ivatt with a larger tapered boiler, new cylinders and double chimney, restarts a southbound train from Bletchley. The locomotive was named after a foreman at Longsight shed; one of three LNWR employees awarded the VC in World War 1. However, only two VC holders were commemorated by the LMS in the naming of locomotives - Private E Sykes VC and Private W Wood VC. One example of each cast brass plate was presented by British Railways

to Alnwick Castle where they can still be seen. The second sides were presented to the families of the men concerned. Private W Wood VC is still owned by the family, but this Private E Sykes VC nameplate (right) went under the hammer for £10,200 at a Sheffield Railwayana Auction held at the Gateway Centre, Derbyshire County Cricket Club, in March 2012. Ernest Sykes was an employee of the LNWR/LMS and undertook various jobs on the railway including platelayer, ticket collector and guard. He became a member of the 27th (S) Battalion Northumberland Fusiliers and was awarded the VC in 1917 for conspicuous bravery and devotion to duty in France. He died on 3 August 1949 aged 64.


THE THOMPSON B1s

(Below) Edward Thompson, CME of the LNER (1941-1946, has has been described unfairly by his critics as a man dedicated to diminishing Gresley's reign as CME at Doncaster, whereas supporters of Thompson say that the rebuilding of some locos designed by his predecessor was a sensible strategy given the wartime conditions; indeed Thompson's guiding principle was to standardise wherever possible by using existing patterns, jigs and tools to save on costs, though the scale of rebuilding Gresley's six Class P2 2-8-2s into new Class A2 Pacifics required extensive surgery and did not come cheap. Unfortunately, Thompson's A2s ended up becoming second-rate locomotives and had the dubious distinction of being the first ex-LNER Pacifics to be scrapped. But to give full credit where it's due, Edward Thompson's first new loco design for the LNER, a 2-cylinder all-purpose Class B1 4-6-0, was undoubtably one of his most notable contributions. Due to the priority on economies of materials, he went to great lengths to save on construction costs yet he managed to produce a locomotive class that was highly regarded by railwaymen. Here No 61211, introduced to traffic in July 1947, was photographed performing shunting duties at Retford on Saturday 4th May 1963. Stuart used his season ticket to good effect at weekends and his fondness for visiting Retford was because it was a junction station.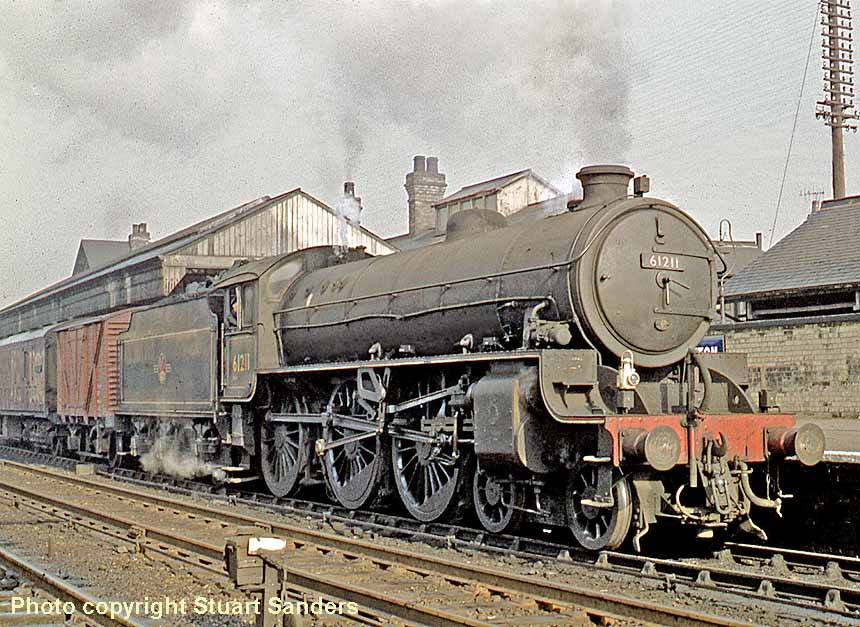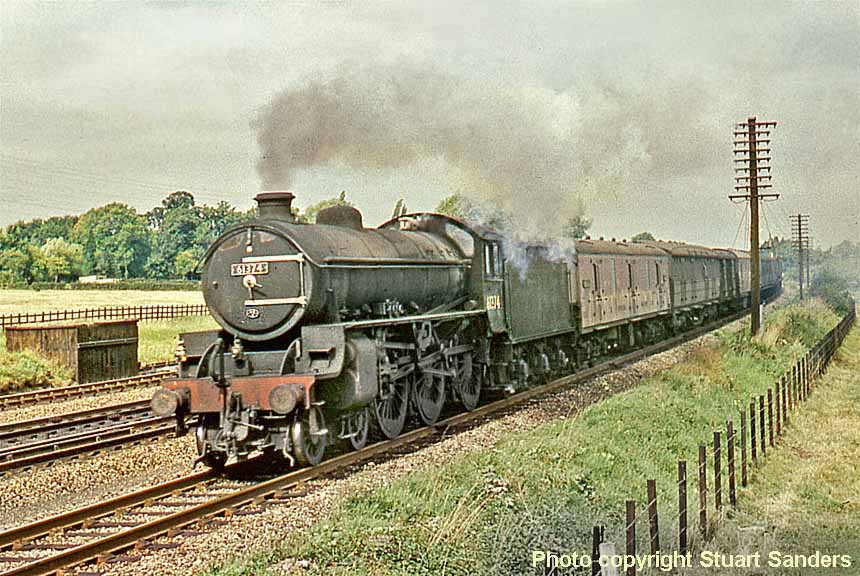 (Above) Thompson's new Class B1 was the LNER's equivalent to the highly successful GWR 'Halls' and LMS Stanier 'Black Five' two-cylinder mixed traffic 4-6-0s. The first was built at Darlington and entered service in 1942, at which time savings on expenditure had become a major wartime priority hence the LNER's draughtsmen went to great lengths to economise on materials and labour. Extensive use was made of welding instead of steel castings, and the B1 boiler was derived from the Diagram 100A type as fitted to Gresley's earlier LNER Class B17 Sandringham 4-6-0s, but with a larger grate area and an increase in boiler pressure to 225 pounds per square inch. In 1946 Thompson placed orders with two outside builders for the construction of additional locomotives: Vulcan Foundry built 50, and the North British Locomotive Co 290. Here NBL-built Class B1 No 61374, a 40B Immingham engine all its life, heads an 'up' parcels train at Little Wymondley in 1961.

(Below) Stuart used his season ticket on a regular basis from Hitchin to photograph trains at Cambridge; he took this shot of B1 No 61251 Oliver Bury, a Hitchin engine, awaiting departure with the Cambridge Buffet Express to London on 22nd March 1958. In all, 409 Class B1s were built, with 41 named after species of antelopes and 17 after LNER Directors…61051 was named after the former General Manager of the Great Northern Railway and Director of the London and North Eastern Railway. 61051 was among eighteen passenger locomotives chosen to take part in the 1948 locomotive exchanges; the tests were organised by the newly-formed British Railways to evaluate the performance of steam locomotives belonging to the former 'Big Four' companies. Various types of engines were swapped between the BR Regions so that comparisons could be made in order to identify the best qualities for use in a new fleet of BR Standard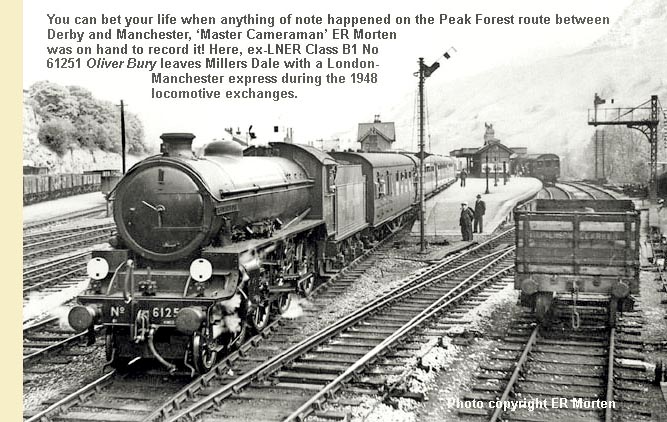 classes, however the test results were deemed to have little significance since the new CME of British Railways 1948-1953, RA Riddles, who oversaw construction of the new engines, had already decided upon a range of new designs based on LMS practice. Nevertheless, the trials were considered invaluable in uniting BR railwaymen, some of whom were intensely loyal to their respective railway companies and therefore did not relish the prospect of nationalisation. (Inset) During the 1948 locomotive exchanges No 61251 worked trains over the former MR Peak Forest route where the steep gradients provided a natural testing ground for mixed traffic locomotives in both directions; in his book 'British Locomotives of the 20th Century', OS Nock describes the route as having a profile like the gable ends of a roof! Here 61051 restarts a 'down' train from Millers Dale station on 24th June 1948.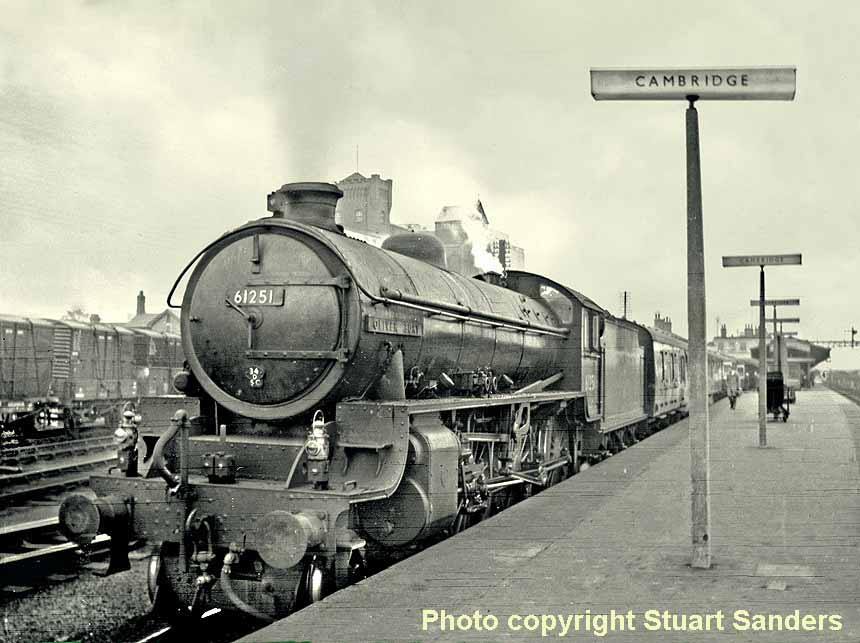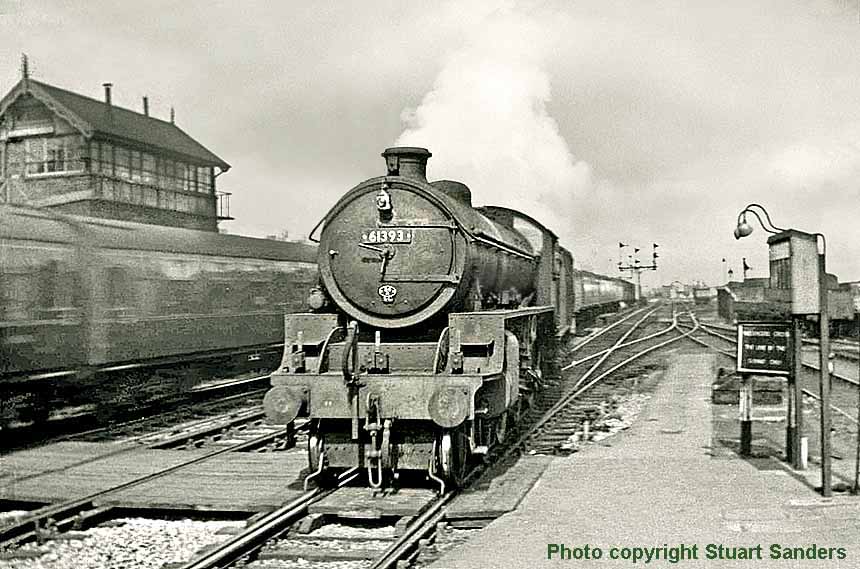 (Above-Below) Sporting a Kings Cross (34A) shedplate on the smokebox door, Class B1 No 61393 draws into the up main platform at Hitchin with a Peterborough-Kings Cross local train in 1958; introduced to traffic at 36A Doncaster in January 1952, No 61393 had a relatively short career of less than twelve years before withdrawal came at 36B Mexborough in September 1963; the loco was cut up at Cashmores of Great Bridges. (Below) The first batch of B1s was distributed among the former Great Eastern sheds at Ipswich, Norwich, and Stratford in London, where they became an immediate success employed on several top-link Liverpool Street-Harwich boat trains, such as the 'Hook Continental', 'Day Continental' and 'Scandinavian'. The B1s enjoyed similar popularity on the ex-Great Northern and Great Central lines, and engines based at Sheffield Darnall were regularly rostered for the 'Master Cutler' and 'South Yorkshireman' expresses. This splendid colour shot shows Class B1 No 61406 heading a Grimsby/Cleethorpes to Kings Cross express

at Little Wymondley in 1961

. This was one of Stuart's favourite locations because of the slight curve.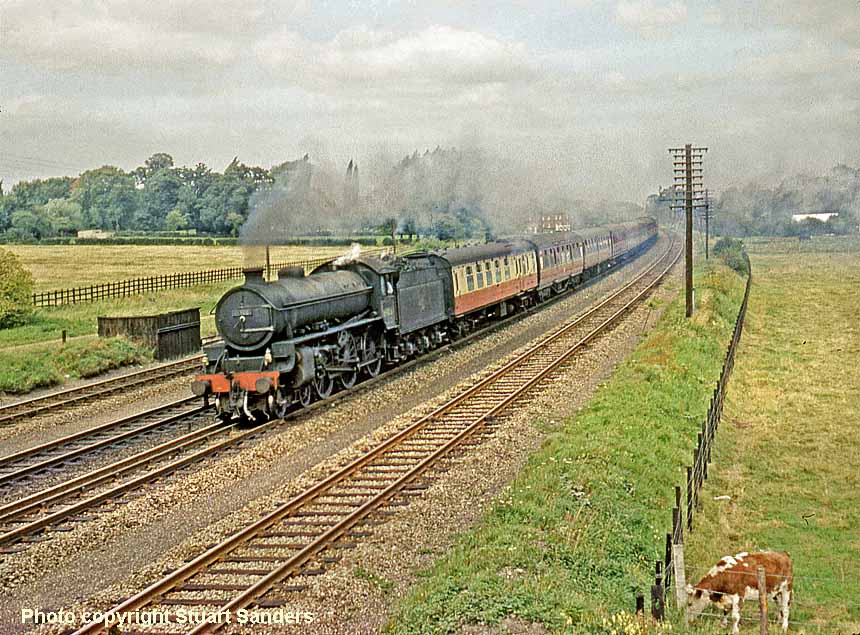 STEAM ACTION ON BEATTOCK BANK
Steam enthusiasts will remember the transition from steam north of the border with mixed emotions. The high point was the relocation of seven Gresley A4 Pacifics to Scotland and their final fling on the 3hr schedule Glasgow-Aberdeen expresses, two in each direction, the last hauled by No 60019 Bittern on 3rd September 1966. Another highlight was the amazing sight of preserved engines from the GNSR, NBR, Caledonian and Highland Railways, decked out in their respective pre-grouping liveries for hauling steam

specials on the main line.
The downside was the Beeching cuts which had a devastating effect on the ScR's rail network.
(Inset Right) For example, a ScR light blue totem sign from Beattock Station on the former Caledonian Railway's Carlisle to Glasgow main line. The station was once the junction for the short branch to Moffat, and its closure in 1972 produced the country's longest section of line without a station between Carstairs and Lockerbie
. Okay, perhaps it isn't the most densely-populated region in the country, but the closure of other major routes such as the line between Aviemore and Forres; Dunblane to Crianlarich; Dumfries to Stranrear - and, of course, the Waverley route between Edinburgh and Carlisle was typical of Beeching's excesses. Miraculously, despite proposals for the complete closure of the Far North line from Inverness to Wick and Thurso, and the Skye line from Inverness to Kyle of Lochalsh, both routes remained stubbornly
intact

.
(Below) In 1961 Stuart travelled north of the border to photograph steam action on the ScR; this lovely shot of Duchess of Buccleuch approaching Beattock station with a southbound express on 31 May 1961 will doubtless be of interest to modellers; the detail in the stonework of the loco shed (68D) and general trackside paraphernalia can be clearly seen. With the introduction of more modern diesel traction in the late 1960s, the importance of Beattock's allocation of banking locomotives to assist heavy northbound trains on the 10 miles of 1 in 74 gradient was no more; today both engine shed and station have long since gone, and the site is now occupied by engineer's sidings and passing loops.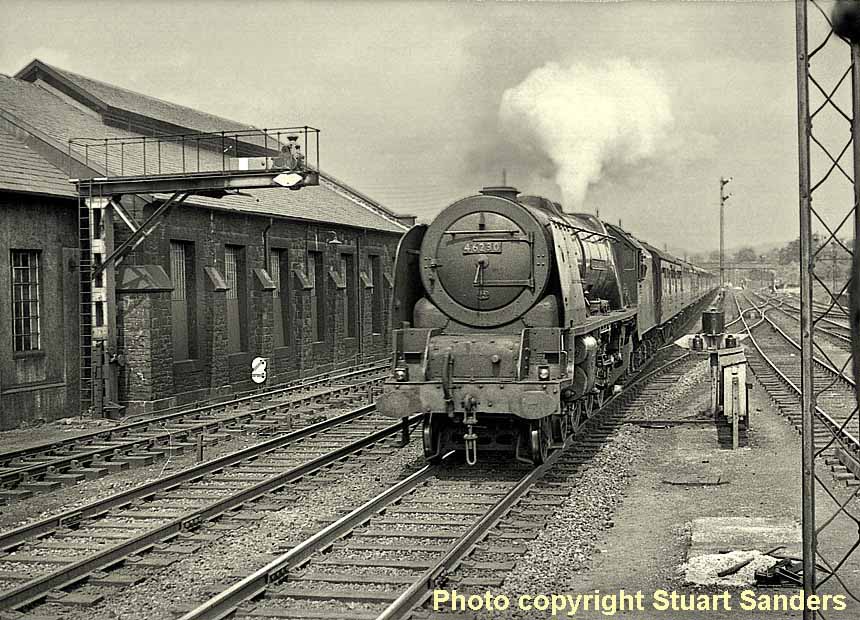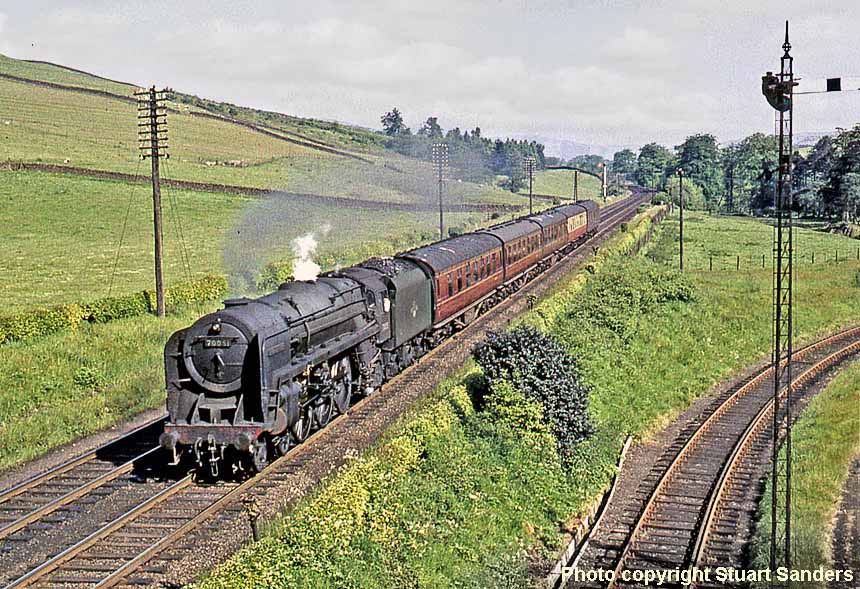 (Above-Below) From the river flats of the lower Annan valley, the landscape changes graphically with altitude during the ten mile climb of Beattock bank to the high watershed of the Annan and Clyde rivers. Dropping off the bottom of Beattock bank amidst pleasant countryside, BR Class 7MT No 70051 Firth of Forth slows for its stop at Beattock on 31 May 1961; the ex-Caledonian lower quadrant signal on the right controlled the 2 mile-long single-line branch from Moffat trailing in from the east. The branch lost its passenger service in 1954 and finally closed to freight in 1964. (Below) The rolling hills become more spacious as the line climbs higher; trees are fewer and airy open spaces dominate the landscape beyond Greskine. Here 'Black 5' No 44969 is three-quarters of the way up the bank at Harthorpe on 31 May 1961.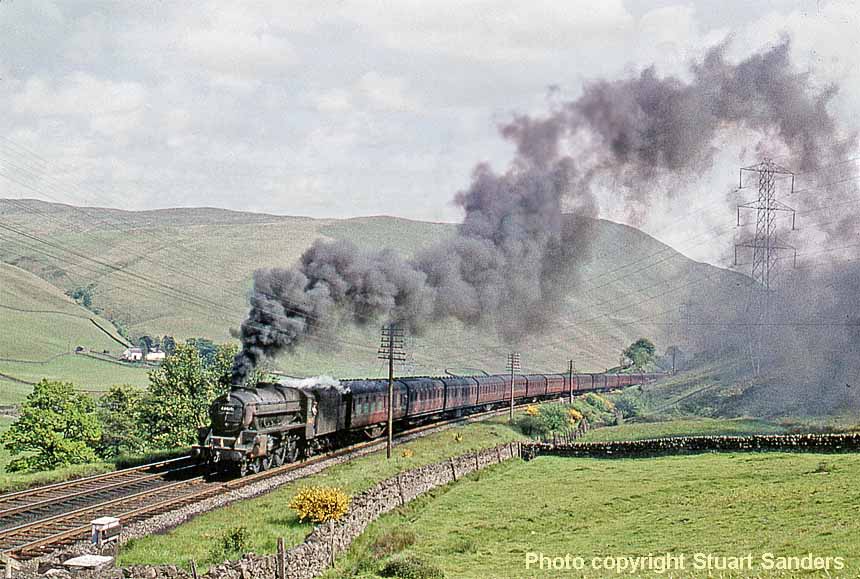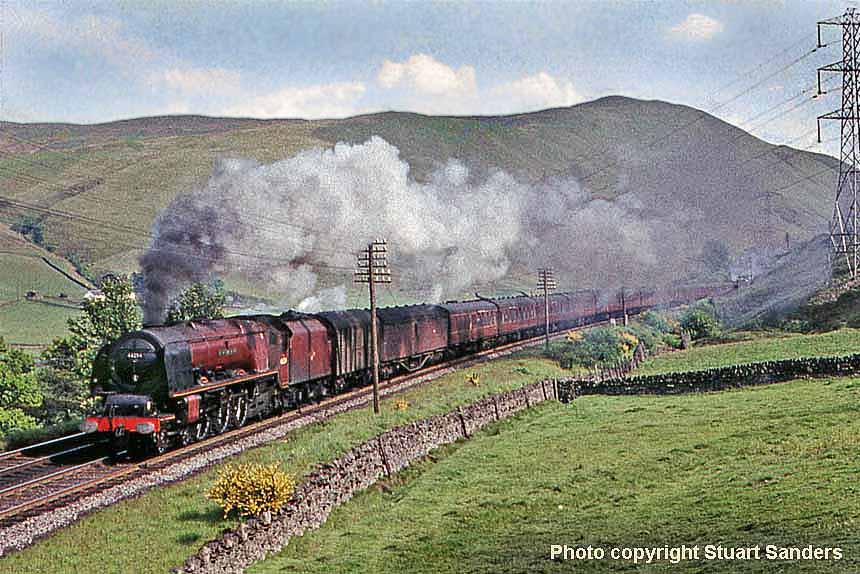 (Above) Stuart spent nearly all day waiting to photograph a red duchess, a rarity at this time, and so with evening approaching he crossed beneath the main line in order to be on the correct side for the sun, but as sod's law would have it, whilst under the bridge a red Duchess pounded north above him - an event surely all enthusiasts have experienced! But he was later rewarded when a second red 'Duchess' appeared, and this is the picture - No 46254 City of Stoke on Trent at the head of a northbound express.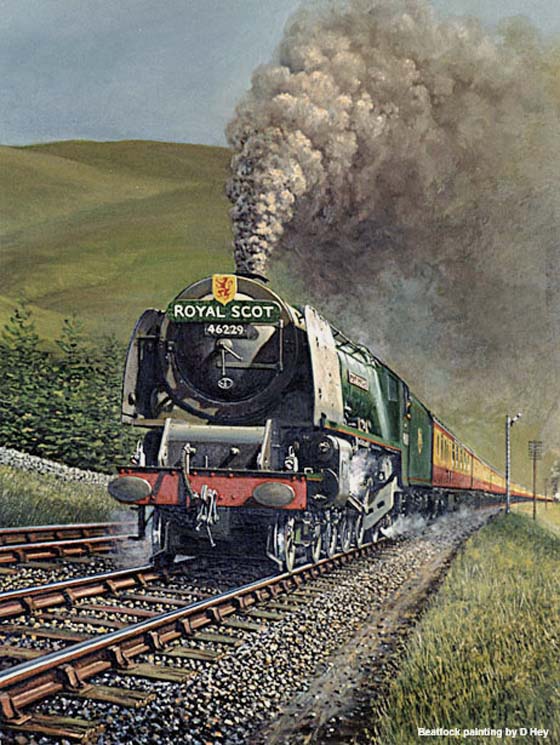 A BRIEF LOOK AT THE WAVERLEY ROUTE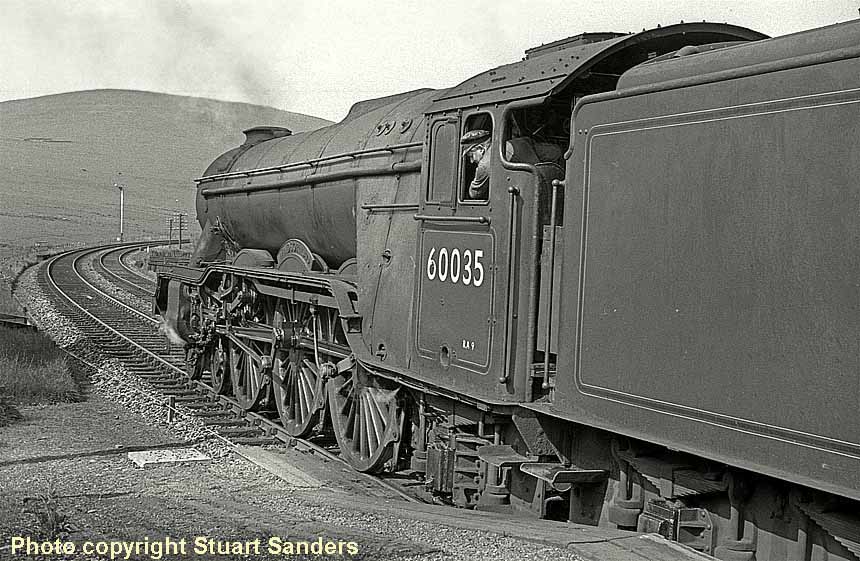 (Above-Below)
The NBR's Waverley route was opened between Edinburgh and Carlisle in 1862. A little over 100 years later - what can only be described as a barbaric act of vandalism - this scenic line through the beautiful Midlothian and Scottish Border landscape fell victim to Beeching Axe; the last passenger train to traverse the route being the 21.56 Edinburgh-St Pancras sleeper headed by Class 45 D60 Lytham St Annes on Sunday 5 January 1969. During 1950's steam days, expresses were limited-stop and covered the mileage from Carlisle to Edinburgh in roughly two-and-a-half hours. Motive power was usually in the form of a Gresley A3 Pacific locomotive, a class unsuited to hill climbing. With large driving wheels and three cylinders they were designed for running long stretches in excess of 80 mph on heavy expresses; however most expresses on the Waverley route were typically eight coaches, and speeds were limited to 70 mph with many tight curves involving severe speed restrictions. On the 1 in 75 climb from Newcastleton to Whitrope Summit the train would be down to 30 mph by Steele Road, with the locomotive being worked flat out. These brief details were gleaned from Nick Catford's excellent 'Disused Stations' website which contains a comprehensive database of Britain's railway heritage with details of closed stations, each one featuring a full history, photographs, tickets, timetables and handy map references showing the location of every station. The research material will eventually be affiliated to the Subterranea Britannica web site. Click
HERE
to visit 'The Waverely Route and Related Branch Lines'…highly recommended. (Above) 60035 Windsor Lad heads north through Steele Road on 2nd June 1961. (Below) 60043 Brown Jack heads south at Steele Road on a stopping train for Carlisle
.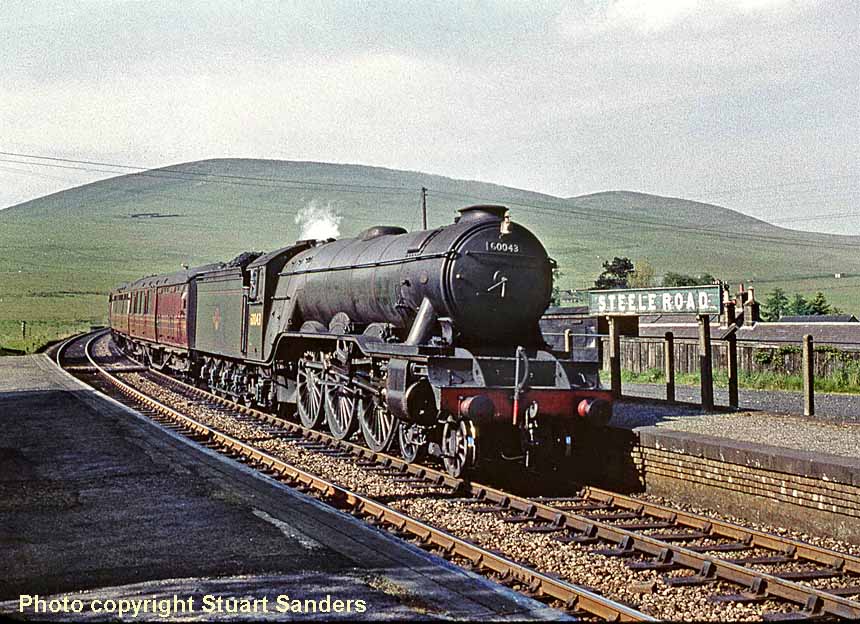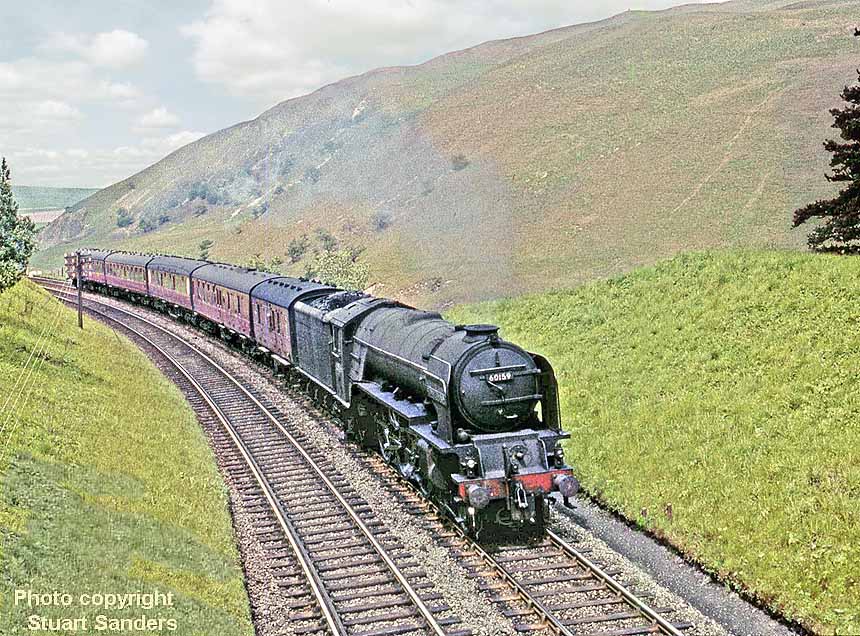 (Above-Below) Peppercorn Class A1 No 60159 Bonnie Dundee (named after the poem and song written by Sir Walter Scott) leans to the curve at Shankend with a train from Edinburgh to Carlisle. (Below) Class A1 60160 Auld Reekie (confessional time...this quaint-sounding soubriquet for the city of Edinburgh had this young spotter flummoxed back in the 1950s!) The A1 is climbing away from Hawick with a train for Carlisle
.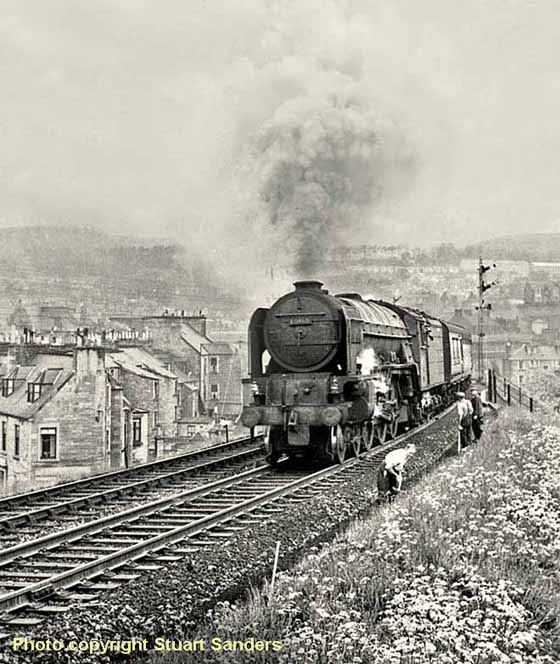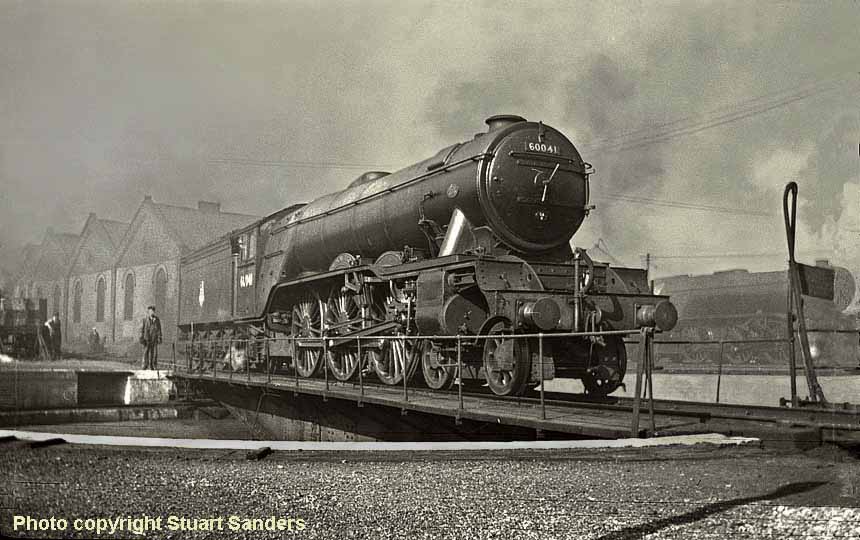 (Above-Below) Stuart took these evocative shots of Class A3s at Edinburgh Haymarket shed in 1959: No 60041 Salmon Trout poses on the turntable with a V2 in the background and (below) 60090 Grand Parade shows the classic lines of Gresley's design.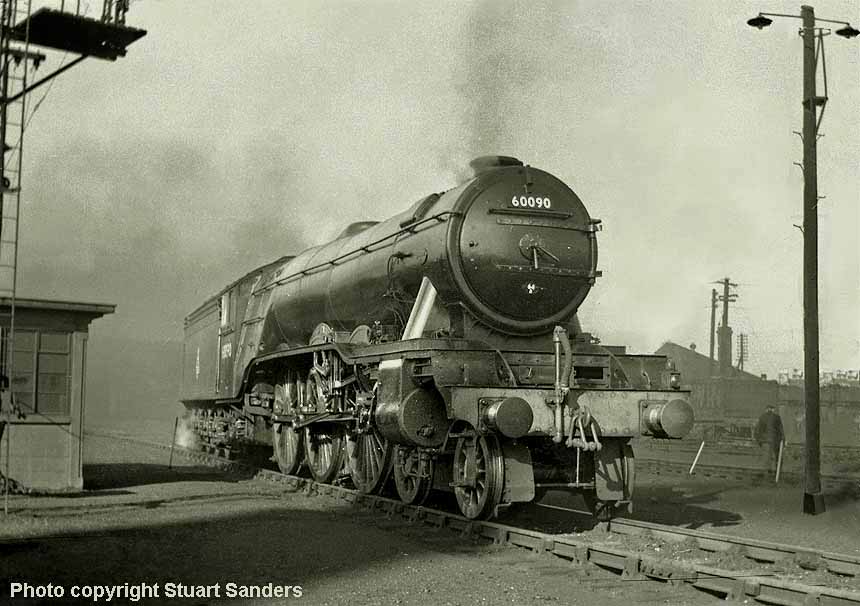 TO BE CONTINUED...





Polite notice: All text and photographs are protected by copyright and reproduction is prohibited without the prior consent of the © owners. If you wish to discuss using the contents of this page the email address is below. Please note - this is not a 'clickable' mail-to link via Outlook Express. You will have to email manually.

dheycollection@ntlworld.com