CONTRIBUTIONS BY PETER TRINDER, JIM PRINGLE, CHRIS BOYLAN, ROY LAMBETH and ED ORWIN
Introduction by David Hey

This website would not have been possible without the generous help of dozens of contributors, who have wracked their brains to revive old railway memories or searched through negatives, prints and slides to find suitable pictures. I am grateful to everyone, of course, but in an odd sort of way this had led to some misunderstanding. The domain name, 'David Hey's Collection' is something of a misnomer; it implies that all the photographs and memories on this page are mine. DEFINITELY NOT! Worse still, I risk delivering a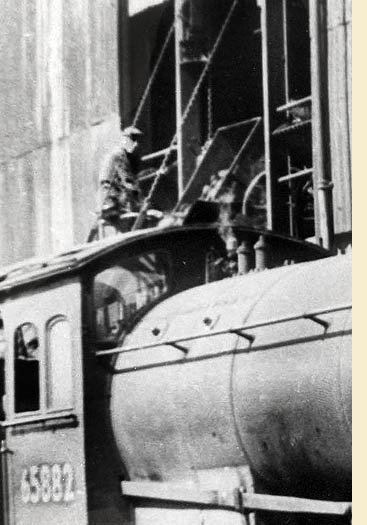 snub to the dozens of people whose generosity allows me to post so many memories and photos on the site in the first place, which is not what I intended. And in case you're wondering, the name 'David Hey's Collection' was chosen because both the 'Embsay & Bolton Abbey Railway' and 'Lost railways of West Yorkshire' websites adopted this name back in 2007 when they posted my photos on their websites. All I'm doing is following their lead...
Right, having got that of my chest it's now time to get down to serious business...
Blyth railwayman, Fred Wagstaff's steep learning curve continues - mainly men and machines - and I am proud to post another page of railway stories from days of yore, only this time Fred's

enduring skills as a raconteur, which never fails to raise a laugh,

is helped along by both railwaymen and enthusiasts alike, whose

personal reminiscences

cover a period of steam days during the 1940s and 1950s to the onset of dieselisation in the 1960s. The page ends with Fred's memories of Gateshead during the 1980s when the HSTs, Class 47s and 45s were the mainstays, with occasional Class 40 and the all conquering Class 37, and the Class 90 and 91 electrics were still on the slipways.
Meanwhile Freddy has received several emails from old workmates at Blyth and Gateshead, and a couple of queries, including one from a young lady in Mumbai asking what 'effing' means!
Freddy has kindly offered to bail me out here!
'This lady told me that she was learning English. She could not find the word in her dictionary, and so I explained to her that it was a shortening of an old Anglo-Saxon word that had its meaning derived from the act of copulation. She seemed quite happy with the answer and twigged that it was not a common word. I didn't like to go into more detail in case I got into trouble!'
We begin the page in fine style with Peter Trinder's contribution...

BLYTH & TYNE MEMORIES BY PETER TRINDER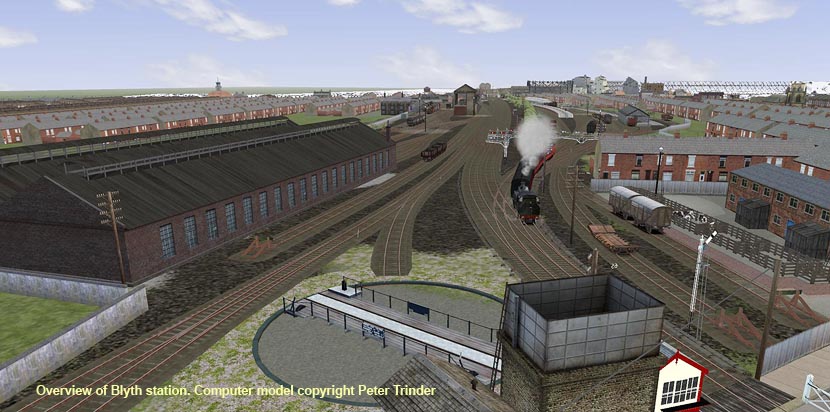 (Above) Now resident in Kato Argaka, Cyprus, Yorkshireman Peter Trinder - whose family on his mother's side lived in Blyth - recently sent Fred a number of photos of steam days in the Blyth area plus several screenshots of a superb computer model he is building of the Blyth & Tyne Railway circa 1950s/60s. Having already completed one version of the line south from Newsham to Percy Main and Whitehill Point, Peter has recently started a new improved version using new software. So far he has completed Newsham and South
Blyth, and is currently working on the Old and New Staiths, New Blyth sidings and the Harbour. Peter is trying to make the trackwork as accurate as possible, but at the moment the buildings are just a near match until he has time to make accurate models from photos. This is an overview of Blyth station and is very much work in progress...like Ed Orwin's 'N' gauge scale layout on the following page, the research and design work required to achieve prototypical accuracy is quite remarkable. Meanwhile, Freddy has added captions to some of the photos accompanying Peter's main text below. All photos copyright Peter Trinder.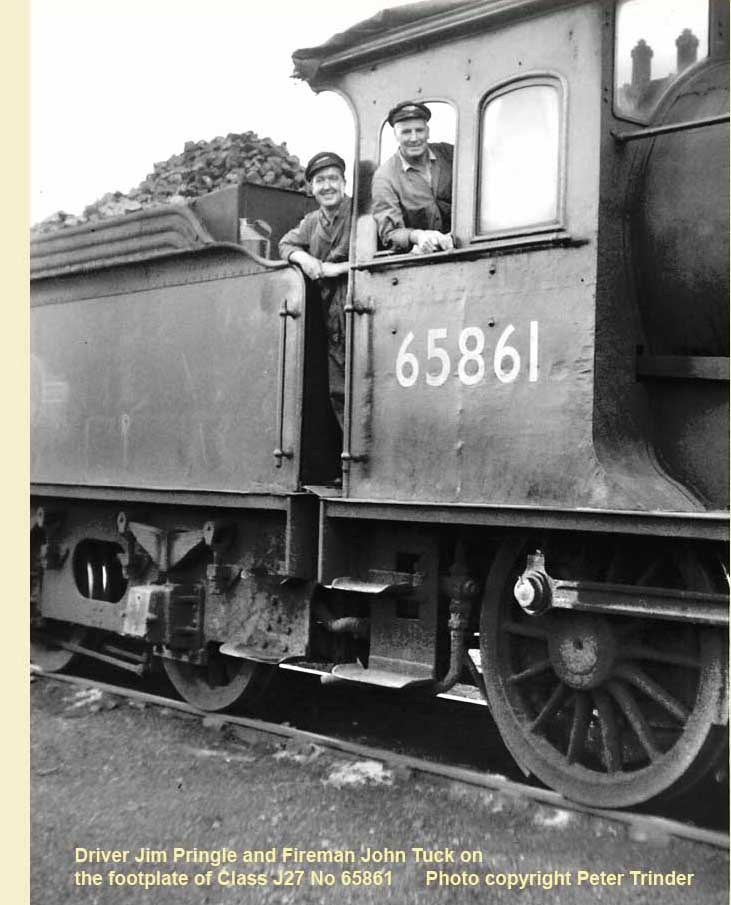 (AboveLeft-Right) Fred writes: Here's two grand pictures of Peter Trinder's grandfather, Jimmy Pringle together with his fireman John Tuck, two of the nicest blokes anyone could wish to meet. I fired a good few times for Jimmy, and it was always a pleasurable shift, with Jim guiding me when I was going wrong, but mostly allowing me to find my own way. He always seemed to be in a good mood with a big smile and a cheery greeting. His brother Walter was a different kettle of fish altogether. He could be a bit sharp and snarly if he thought you were being, or doing something daft, but I really don't believe there was a nasty bone in his body. John Tuck was a great lad, with a wicked sense of humour and always ready to give a hand or advice. Seeing these photographs reminds me of what a great time I had during the steam days, but at the time I surely didn't realise it. I'm going to cry again in a minute!

Peter writes - Hi Fred, I have been in contact with Joe Whittaker who has published a computer simulation based on the Blyth & Tyne in the 1970s-1980s. I have been doing the same thing but my simulation is based in the 1950s-1960s. Joe kindly told me of your page on the Internet and I have enjoyed reading your footplate stories.It occurred to me that you may have met my grandfather, Jim Pringle and his brother Walter. Both were drivers at South Blyth before retiring in the mid-1960s. You may also know my uncle, Roland (Roly) Rutter, who was a Fireman at North Blyth, and later a driver at Cambois.
My earliest railway memory as a very small boy is of my granddad trying to persuade me onto the footplate of a G5 in the branch platform at Newsham, but I was too terrified of the noise and the fire. I believe he mainly drove passenger services until they were withdrawn in 1964. I remember a trip on a Metro-Cammell DMU to Monkseaton and being allowed to drive the empty train out of the siding into the platform for the return trip. My uncle Jim Pringle (Junior) is now 72 and has built a model of Newsham in his loft. He tells two tales of my granddad's mishaps, though I suspect he may have exaggerated a tad - in one granddad was approaching Blyth station with a G5 passenger train, when he lost his brakes, went through the buffers and ended up with the engine embedded in the Booking Office. In the second he was running-round his train in the platform at Blyth. I gather that the signalling was altered after Blyth Station box was destroyed by a German bomb in the war. Granddad thought he had been given the all clear and set off only to end up in a dead-end siding where he stood a carriage on its end.
My first steam trip was to Rothbury on 77014, one of the two BR 3MTs sent to South Blyth to replace the J21s - I was so disappointed it wasn't 65033. When the passengers finished granddad went back onto mineral workings for a short time until he retiredat 65 years of age in 1965 I spent every possible school holiday travelling on the footplate with him. Looking back now I can't work out how I managed so many trips in such a short time, not only to places around Blyth and Ashington, but to Widdrington, Amble, Whitehill Point, Tyne Yard, Dunston and Stella North. I have particularly strong memories of taking a full set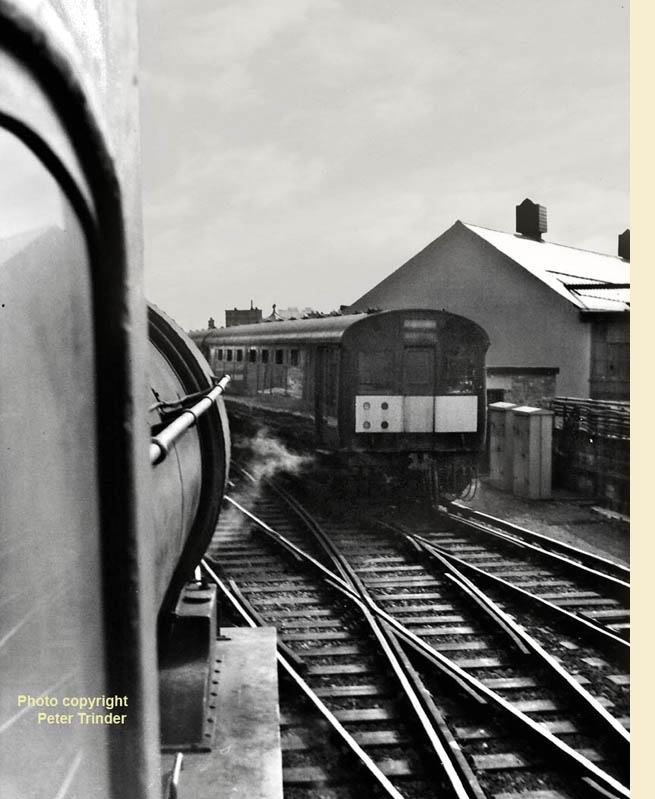 out of Lynemouth with a J27 on a damp dismal day and stalling on the bank up to Woodhorn. In the end we detached the train and ran the engine up and down the bank sanding the rails to give us enough grip to get away again. Perhaps my favorite trip was MTs from Tyne Yard in the evening. Going to Tyne Yard we were normally routed down to Percy Main, round the curve to the Electric line (left) and past Central on the Goods Lines, but coming back the signalman often sent us through Platform 8 and up to Gosforth, presumably to avoid crossing other traffic. It tickled my schoolboy sense of humour to see passengers on the platform stepping forward as if to get on the train, only to see our rusty clanking J27 and MT hoppers coming round the bend. The firework display of sparks from the chimney as we blasted up the cuttings through Jesmond made an indelible impression on this youngster!

(Above-Left) Peter Trinder writes:This shot was taken from the footplate of a J27 hauling a load of coal to Tyne Yard, having joined the Tyneside Electric Line at Percy Main. At one time Blyth crews rarely worked Mineral turns south of Newsham, but following the opening of Tyne Yard and the run-down of Percy Main shed, Blyth men regularly worked to Tyne Yard and to Dunston and Stella power stations on both banks of the Tyne west of Newcastle. The EMU from Newcastle Central is on a clockwise circuit to Whitley Bay and Tynemouth via Jesmond and South Gosforth, returning to Central via North Shields and Wallsend. Passengers from the rest of the BR network could not reach Blyth without travelling on one of these electrics as trains from Blyth and Newbiggin either ran along the Avenue Branch to Monkseaton or terminated in the bay platforms at Manors North (off to the right of this picture). Presumably there were insufficient paths and platform space at Central to allow access for Blyth and Tyne trains. I recall my 80-mile journey to Blyth from North Yorkshire normally involved five changes of train.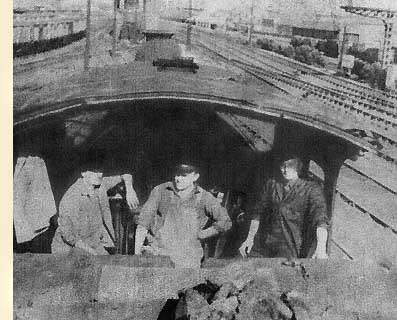 (Inset Right) Fred writes: This grainy photo shows John Reveley on the left - it was John who saved my life in the 'moving the loco without warning' incident at South Blyth shed, and also the Driver in the snow ploughing episode. The man on the right is Walter Pringle, brother of Jimmy, Peter's Granddad. Of course, the good looking young man in the middle with the immaculate physique is none other than my shy, retiring self. The photo was taken in about 1957. I can hardly believe it was that long ago!

(Below) Fred writes: This evening shot of the 'Black Bridge' over the River Blyth at Bedlington Station was taken from a public footpath. A good title for this photo would be 'Home with the Van' since the engine and brake van are heading back to Blyth after finishing their orders. On the south side of the River Blyth is the location of Michael Longridge's Locomotive Works, where engines were shipped in bits downriver to the port of Blyth on lighters and barges, and then exported all over Europe. Upon arrival on the continent the locos would be rebuilt and set to work. Indeed two surviving locos are still on display on the continent, one in Italy and another in Holland. Further up the river to the right, is the site of The Bedlington Ironworks where the first wrought iron rails were manufactured. It was a thriving little community, with the Ironworks providing a school for employees' children plus a pub for the men, hence the company managed to recoup most of the money it had paid in wages - still everyone was happy!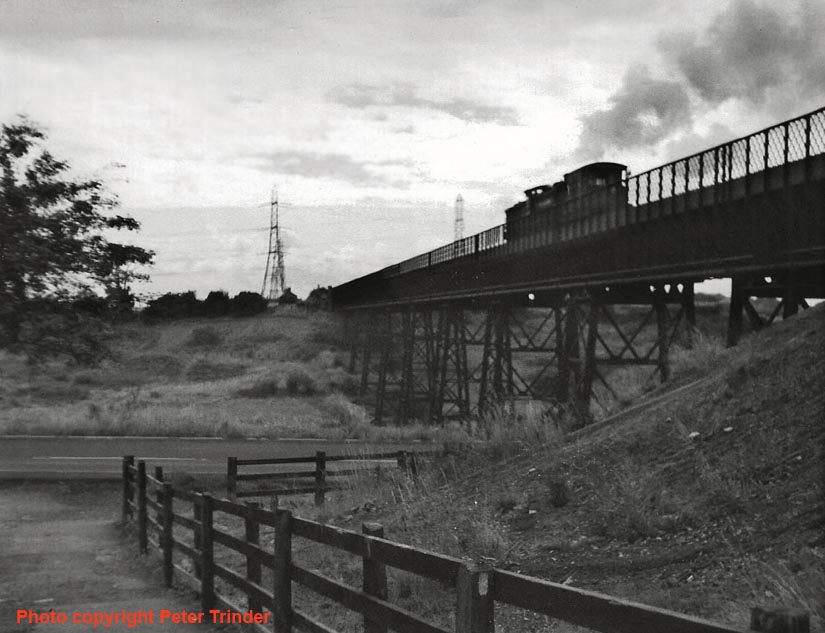 (Right) Peter Trinder writes: Class J27 65861 stands alongside the Coaling Stage at South Blyth shed at the end of her trip. Normal practice was for the tender to be topped up with both coal and water (there were water cranes attached to the coal stage) before moving the loco onto one of the shed lines for disposal or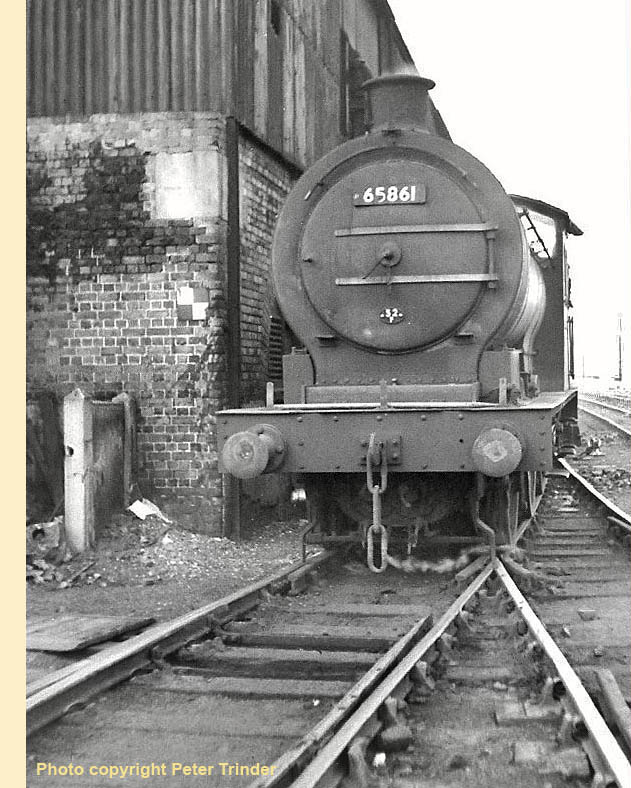 to await the arrival of another crew. Both Blyth sheds worked around the clock. I do not know what the procedure was for out-bound locos, as on my trips I was always picked up from Newsham. This must have been a late-shift as I was allowed to travel back to the shed on this occasion (management having presumably gone home by then!)

(Below) Peter writes: I must have been quite young when I took this shot - it's very likely that I had been taken to Ridley Park by my mother to play on the swings! The embankment to New Blyth sidings at the South end of the New Staiths ran around two sides of Ridley Park. From what I can see from Google Earth it has now been totally flattened. This train of empty hoppers is leaving the sidings heading for Newsham. The park was a great place for a young train spotter as there was a regular arrival of coal trains as well as constant shunting by the Staiths Pilot. By climbing the embankment to the left of the picture you could have a better look at what was going on, but it was not until years later that I realised that hidden behind the embankment was the network of tracks serving the harbour wharves and timber yards. Many mineral trains to and from Blyth ran with a brakevan at both ends of the train as trips often involved reversal at Newsham, Bedlington, or Morpeth.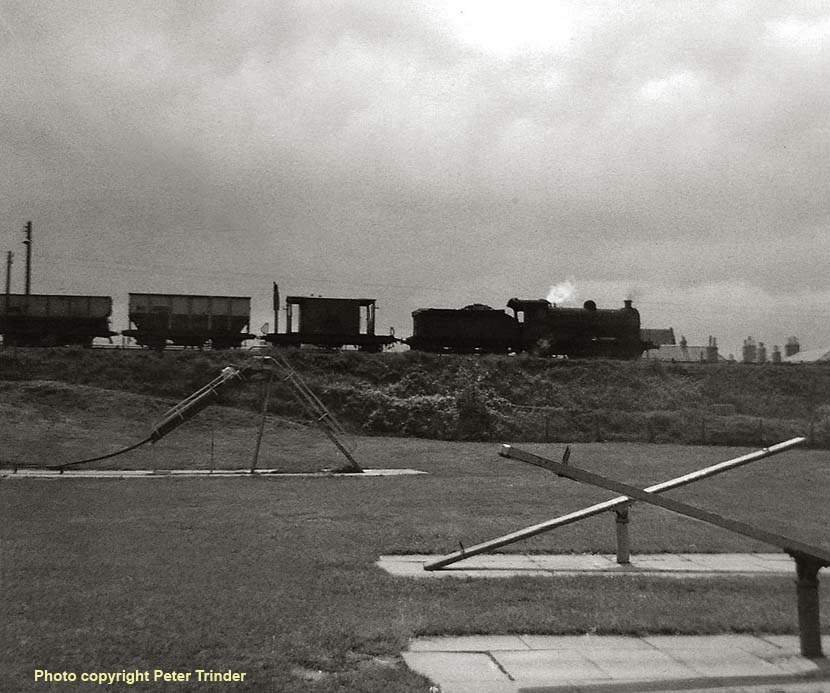 (Above) Fred (the great white rabbit hunter) writes: This shot of Ridley Park reminds me of the times I worked the New Blyth Shipping Pilot. During a break between shunting I'd sometimes go hunting rabbits with my trusty catapult and a pocketful of marbles for ammunition. There were hundreds of rabbits in Wrights Timber Yard, which was located on the opposite side of the sidings. The rabbits would sometimes forage for green stuff in the park and sidings, and it was there I'd be lying in wait to bushwhack them.
This particular morning, while everyone was having their break, I began stalking a large buck, which I'd spotted scoffing green stuff on the park side of the sidings. I crept round the top of the yard, so that I had the carriage and wagon men's cabin between us, and by the time I'd sneaked around the side of the cabin, he was no more than fifteen yards away - a fairly easy shot... just as long as I didn't make a noise and scare him off. I armed my catapult and was about to take aim when something spooked him and he hopped over the bank before heading into the park. I hurried after him, aware of the lads in the signal box taking a keen interest in the hunt. Creeping down the bank, I saw Mister Buck had dodged into a bush and got ready for him bolting, but as I closed in for the kill, there was no sign of him. I took a closer look inside the bush and couldn't believe my eyes! There, lying among the dead leaves was two bottles of Newcastle Brown Ale - alias electric soup - looking like they had just been placed there. I was absolutely stunned. I had never known a rabbit metamorphose into two bottles of ale before...David Attenborough would've had a field day!
I placed the bottles in my bag, and then headed back to the sidings. One of the lads shouted from the cabin - 'Did ja get the beast Bwana?'
I just shook my head and headed for the engine. Within minutes I was joined by Old Benny, who came puffing from his break in the signal cabin and heaved himself up into the cab - 'Didja gerrit? By it was a bigbugga! Have ye gorrit in ya bag?'
'Nah! I was too late,' I replied - 'He was away, but look what he left me.' I removed the two bottles from the bag and held them up. Benny did a double take; his eyes fixed on the sunlight glinting through the deep garnet-coloured 'journey into space' liquid inside. His face was a picture - 'Why ya bugga! Where the 'ell did they come from?'
'The rabbit left them,' I said.
'Don't be so bloody daft! Where did you get 'em?'
'I've told you the rabbit left them...'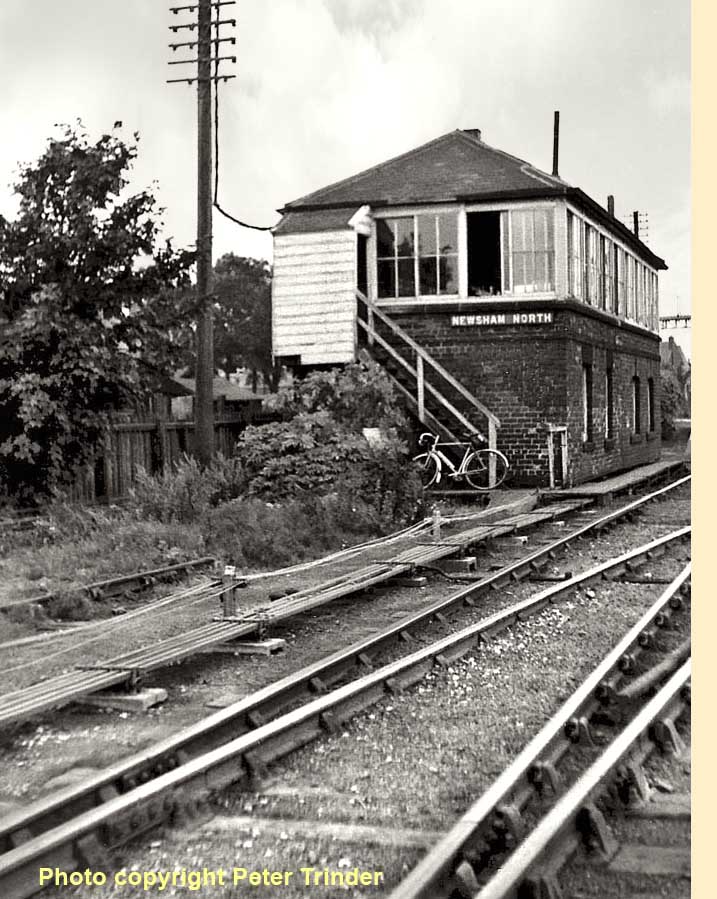 Old Benny wasn't amused...he began muttering something about young buggers like me not having any respect nowadays. He said that back in his day, if he'd tried taking the piss out of his driver he would've got a hefty clip around the ear'ole. And with that, he never ever mentioned the booze again. Mind you, he never spoke to me for a fortnight either!

Peter writes - If granddad was on the wrong shift for me to go with him, I used to go into Newsham North box - at first with Norman Dalby - then later with Alec Frizzell and sometimes with Norman's son Ivan Dalby, who was a relief signalman sometimes at Winning. I remember at Winning seeing a procession of loaded trains on the Permissive Block section toward Freemans Crossing travelling no more than a couple of engine lengths apart.
After granddad retired I continued to go to Newsham North, working the box (highly illicit, I know - but I was under close supervision at all times) until 1968 by which time it was all diesels and traffic was starting to tail off. I knew all 65 levers and their interlocking by heart and still have my handwriitten copies of the Train Register. I recall one particular driver at South Blyth called Raymond Birtles. You always knew when 'Birtles' was coming through Newsham - you could hear him for miles and always tried to pull the Distant off to help him on his way! I've heard tales of him demolishing buffers and doing serious damage to a few pairs of crossing-gates - before ending up in the signalbox at Percy Main. Granddad sent me the newspaper photo with the words 'Guess Who!' written on it. If I remember correctly he was taken off the footplate and made Shed Foreman!
Of course, being a railway enthusiast is one thing, but being a professional railwayman is quite another. I
know that most of the time it was a dirty, uncomfortable, physically demanding and far from glamorous job, and working at North Blyth in the North-East winters with the sea-mists and the North Sea winds must at times have been miserable. I have the utmost respect and admiration not just for the railwaymen of Blyth but also the trimmers and teemers, the pitmen and the ship-yard workers - all the men who kept that great industry going for so long. Museums and preserved railways with their smart brightly painted trains running up and down a single are great fun for a day out, but to my mind they don't convey the atmosphere of how railways in industrial areas used to be. Go to Blyth now and there's not much trace left. It was to try to recreate this atmosphere that started my computer simulations, but I think your Footplate Stories and the photos that go with it have made sure that it's all not going to be forgotten. Well done Fred! Brilliant job!

(Above-Below) Peter continues: This shot of Alec Frizzell in Newsham North Box must have been taken during one of his quieter moments! Newsham could be a very busy junction as very few trains ran straight though. There was regular shunting activity in the sidings with pickup goods calling from Blyth, Percy Main and Heaton, whilst mineral trains to and from Blyth Old and New staiths and Isabella and Crofton Mill pits all had to run-round. (Below) This photo of the Track Diagram inside Newsham North Box illustrates the unusual working arrangements for passenger trains from Blyth. The Branch Platform was located alongside the Down Branch (in the 'V' to the right of the photo) and could not be reached directly by trains coming from Blyth. Instead trains arrived on the Up Branch (Bottom right) - passed through the junction and stopped on the Up Main just beyond the signal gantry (Mid-left) They then reversed through the Branch Crossover ( just below the Signalbox ) to reach the platform. Many trains would then return to Blyth, but those for Monkseaton would change direction again and head back through the Crossover and proceed to Newsham South via the Up Main ( 3rd line down on the left ). Plenty of exercise for the Signalman! During one of my early visits to the box when Norman Dalby was on duty, there was seven trains in the section all involved in some manoeuvre or other, and Norman had achieved grid-lock! He surveyed the calamitous scene grimly, then barked - 'Come with me!' I accompanied him out the Box as he stomped off down the track in the direction of Newsham South to a pair of reservoirs which fed the twin water tanks, with a path around them. After a quick stroll around the reservoirs, he had seemingly solved the problem, and on returning to the Box he threw a few levers and got everything moving again. I have often wondered what the train crews made of that one! Fortunately there were no passenger services due at the time...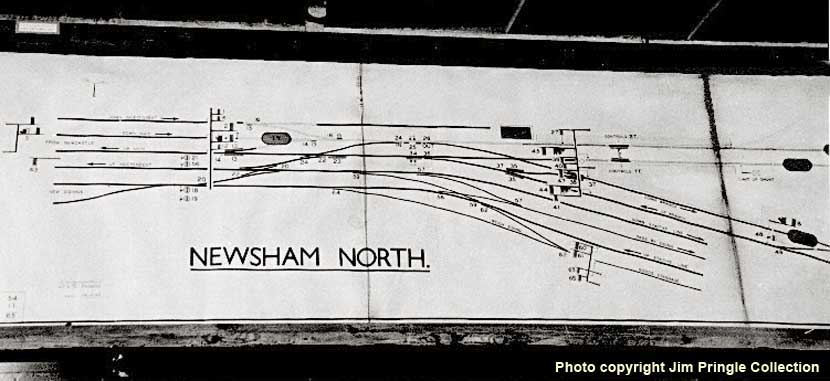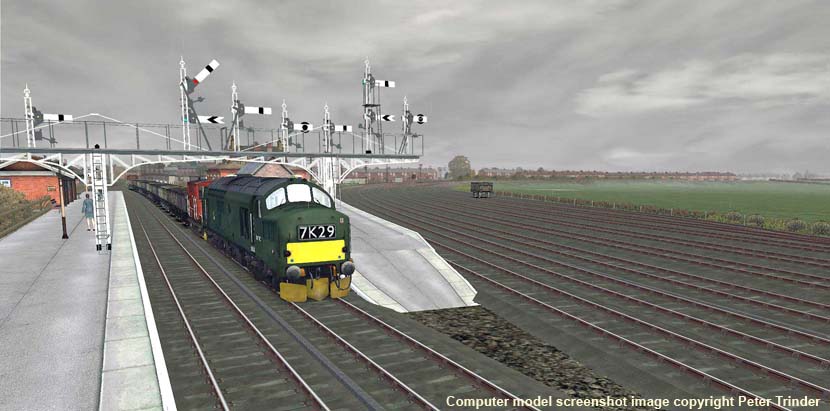 (Above-Right) Here are two further examples of Peter Trinder's computer simulation of the Blyth & Tyne Railway. The software that Peter is using for the model is 'Railworks' developed by Railsimulator.com
. All of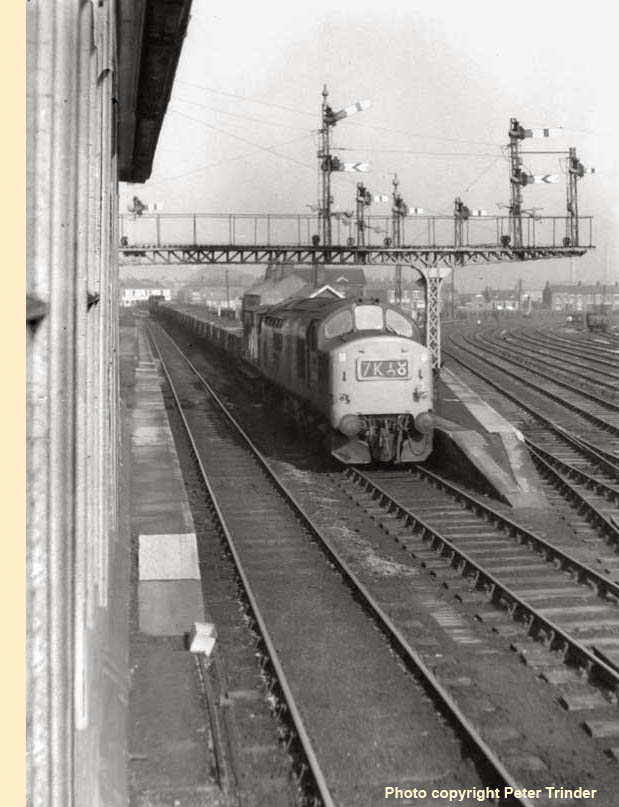 the items used, such as the track, buildings and signals etc, have been taken from the base package, commercial add-ons, or designed by amateur enthusiasts and made available as freeware on the web. Peter adds - 'I have selected the most appropriate items for his model based on historic maps available on the Durham Miners Mapping website, and such photos as I have available, including many photos I found on Phil Hodgett's excellent 'Cowpen & Blyth' page. Basically it's like going to the model shop, buying stuff off the shelf and putting it together to make a model railway, however there are so many different designers' stuff in the screenshots that I could not name them all. Also there are currently no NER models available for this simulator but the designers are working on a Class G5 and J21...I live in hope!'

(Left-Below) I am often asked if it's possible to match up prototype photos with my computer screenshots. The idea is a good one since most of my screenshots are based on existing photos, but one of the biggest problems - as mentioned above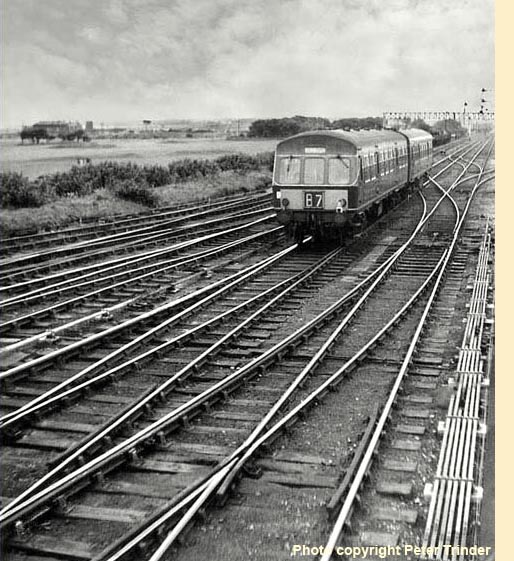 - is finding the right locos and stock to match the originals, therefore I am contributing two shots of my own - both depicting a typical scene at Newsham North box during the transition from steam. Checking my handwritten copy of the Train Register, in March 1967 the traffic was still mainly J27 hauled, but with a good mix of Class 37, a couple of Class 24, K1 and Ivatt 4MTs. The mineral workings was predominantly 21 tons coal hoppers, usually 30 or so in one train, often with a brake van at each end working on the Main, but with one or two workings of the branches presumably to and from Bates & Crofton Mill Pits. There were numerous Light Engine/Engine and Van movements to and from South Blyth Shed. I also noted on 28th March details of the various Pick-up Goods schedules for South Blyth, North Blyth, Percy Main and Tyne Yard engines - all of which called at Newsham. The North Blyth working showed calls at Isabella, Crofton and New Blyth, whilst the South Blyth engine was instructed to shunt as required at Blyth Shipyard. Unfortunately I did not note the publication date on the schedules, so they may have been out of date when I found them. However, on 26th August 1966 I recorded one of the more unusual B&T workings, the Friday only Pigeon Special hauled by D5101, which passed Newsham at 8:10pm. This was a regular weekly working calling at all stations (even though they had been closed to passengers since 1964) to pick up baskets of racing pigeons, and had previously been a K1 working.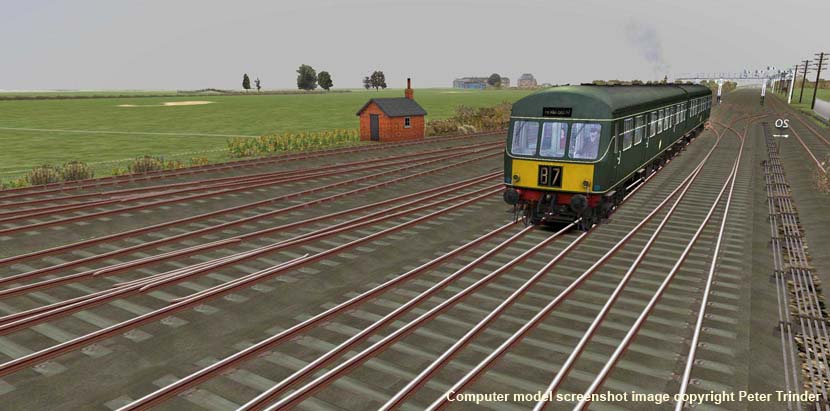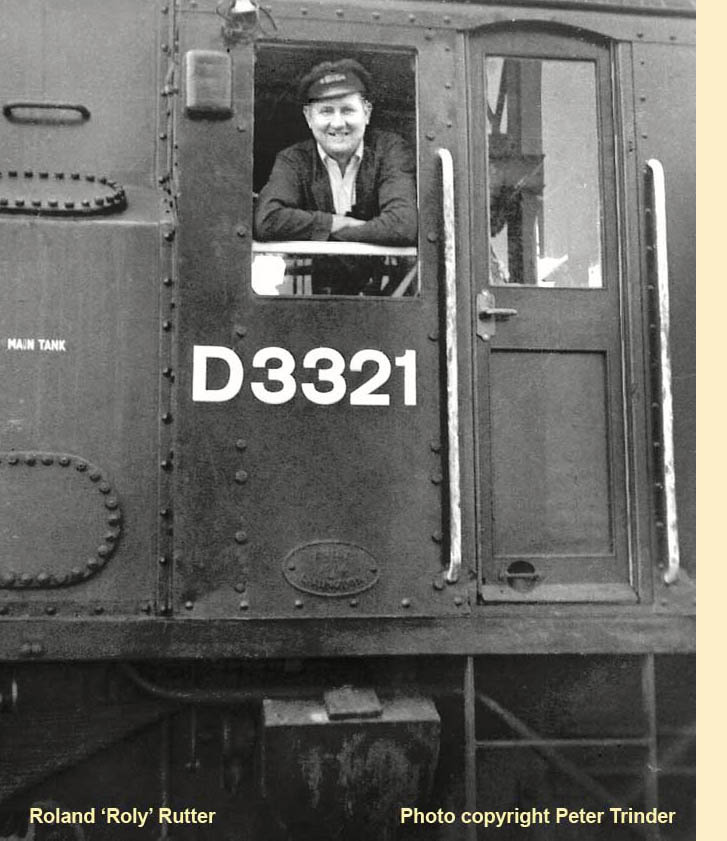 (Left) Fred writes: This good looking lad is 'Roly' Rutter working the West Blyth shipping pilot; this was always a 350 EE job as bigger loads could be accommodated on the West Blyth Staiths - twenty four wagons at a pinch - whereas North Blyth was worked by Drury 204s because of their lighter loading. Either way, it was a job that required nerves of steel! The wooden structure of the staith seemed to sway with the motion of eighteen or twenty wagons being relentlessly heaved up to the shipping spouts. In the twenty years or so I spent at North Blyth and Cambois, I'm pleased to say that I only worked this job twice. The view was spectacular, of course, but not spectacular enough to entice me up there - and the fact that plants were growing in the timbers did nothing to change my mind either.
Peter mentions above a driver from South Blyth. Could this be the same driver who did more damage to locos and buffers than twenty other men on the network put together? A very exciting day was guaranteed when working with him - you only needed to put a shovel of coal by the fire 'ole door...and it got sucked in and spat out of the chimney still burning! Whenever he was running into a bay platform his fireman would open the cab door ready to bail out!
Well, this very same driver ended up doing the job of West Blyth shipping pilot, and true to form, whilst pushing the wagons up to the loading spouts he kept bouncing the loads of coal off the buffers! This alarmed the teemers to such an extent that a complaint was made about his actions and an inspector was sent from Newcastle to assess his driving. When the inspector pushed open the cab door of the diesel shunter, the first thing he saw was a fishplate holding down the Drivers Safety Device pedal, which meant that the 'lunatic' could drive the loco without bothering to keep the pedal depressed with his foot (as laid out in the Regulations).
However, the inspector was a fair man and in order to give him a chance to remove the offending fishplate, he informed him that he was going to the cabin to sign the log - 'I'll be back in two minutes,' he said.
Alas, the Gypsy's warning went unheeded because when the inspector returned to find the offending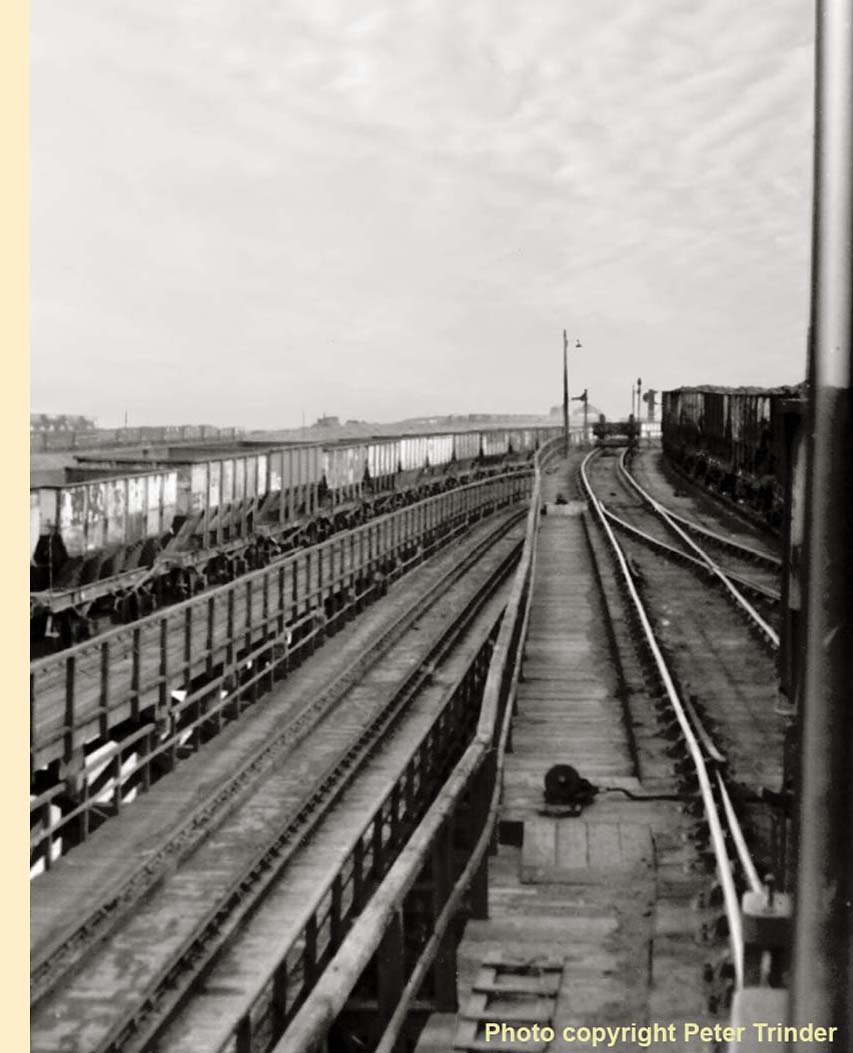 fishplate still on the DSD pedal, he had no alternative but to relieve the driver from duty and have him replaced.
The driver was subsequently suspended - miraculously on full pay - before he was called before his betters, who promptly demoted him to messroom attendant. However, that isn't the end of the story, because even more incredible, on appeal the 'lunatic' was reinstated! Not only was it a slap in the face for the inspector, it gave the driver the license to do as he pleased. Rumour has it that his Guardian Angel put a complaint into Head Office about being overworked and he was laid off for six months suffering from stress, and for six months the teemers no longer lived in fear of their lives!

(Right) Peter Trinder writes:This shot was taken from the cab of D3321 as we were pushing a set of loaded hoppers up onto North Blyth staiths. At both North and West Blyth staiths the loaded wagons were then allowed to run back down to the coal shutes by gravity. Once there the teemers would open the hopper doors in the bottom of the wagons and discharge the coal into the ship moored alongside the staith, where the trimmers would level the cargo to maintain the right trim for the ship. By the time the coal had arrived at the staiths however it had settled in the wagons and was slow to move when the hopper doors were opened. From what I saw the trimmers' normal technique for solving this problem was to climb onto the wagon after opening the doors, and run along the top of the coal load, this motion setting the coal moving. How often they followed the coal down the shute into the hold I do not know! But I'm sure modern-day Health and Safety Executives would have loved this practice! Once emptied, the wagons continued to run by gravity via the lower line in the photo to the holding sidings below the staiths. For this reason the sidings for empty wagons were lower than those for the incoming loaded sets, as can be seen in many of the photos of North and West Blyth.

(Below) Fred writes: The Wallaw van was a familiar sight on the Blyth station forecourt. The vehicle is seen here on 11th May 1961 advertising 'Payroll' - a 1961 British crime thriller featuring a gang of Geordies who carry out a botched factory payroll heist. The film was shot on location in and around Tyneside, long before 'Get Carter' came on the scene a decade later. The Wallaw cinema was one of four cinemas in the town, the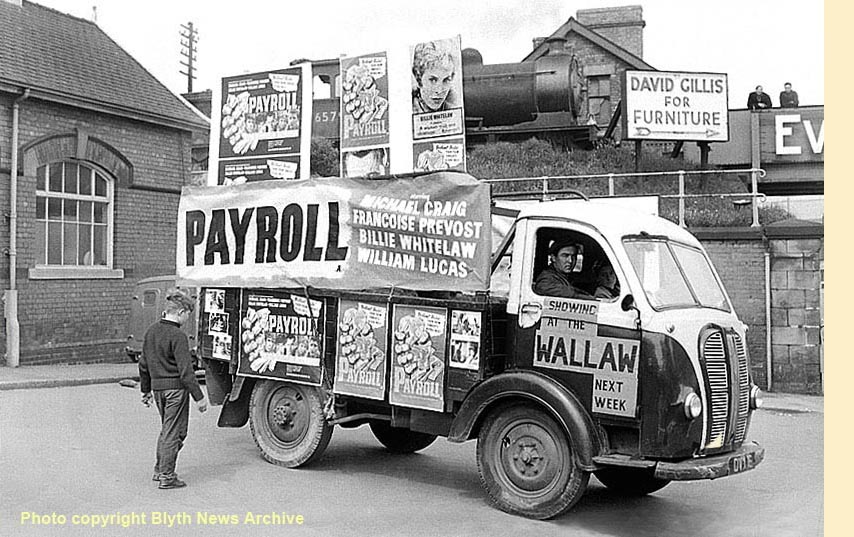 others being the Roxy, Essoldo and Central. The last to go was the Wallaw in 2004, and Blyth has no cinemas today.
The bridge in the background is where I first saw my lovely wife who worked in a tobacconists shop called Diddler Turnbulls situated in the building just behind the J27. When working on the Old Blyth shipping pilot, I would spend more time on the bridge hoping to get a glimpse of her than I did on the pilot. One morning I was working with a driver I shall call 'Clemmo', and we were parked up on this bridge while awaiting the next ship to get moored up on the spouts. Clemmo was busy scouring the racing pages of the local paper, and I was watching out for my girl arriving at work. I'd be about seventeen or eighteen at the time, and as green as grass as far as horse racing was concerned. Clemmo began enthusing about two racehorses he had been following. I shall never forget their names for as long as I live. One was called 'The Box' and the other 'Military Court'. Anyway, Clemmo persuaded me to go halfers in a 5/- each way double. He explained how the bet would work, and that if both horses won - or came in the first three past the winning post, we'd be quids in - 'We'll be able to take a fortnight off,' he said - 'you could put your wages on these two,' he said, 'they were as sure as daylight every morning!' he said.
He didn't have to say any more; I coughed up! That evening, I hurried up the street to the newsagents for the late edition of the local paper, my hands trembling as I scanned the back pages for the winners - and there they were! I couldn't believe it! The Box had dead heated at twenty to one and Military Court had won at one hundred to seven! I hurried home and had a sneaky word with my stepfather in the back yard; if my Mam found out I'd been gambling, she would have crippled me. I showed the old fellow the paper and asked him to reckon the bet up. The result took my breath away. It was in the region of one hundred and forty quid (at that time I was earning just £4-10/- a week). I couldn't wait to get to work the next morning and collect my parcel of loot, but when Clemmo arrived I was in for a shock! He solemnly handed back my five shillings with the catastrophic news that he hadn't been able to find a runner anywhere and so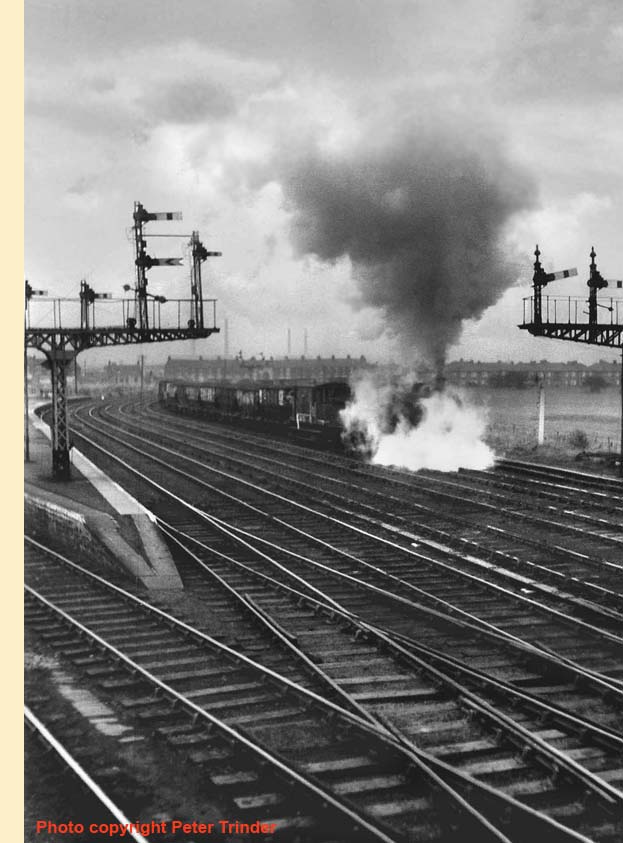 couldn't get the bet on. Remember, these were the days when bookies were illegal except on the racecourse, and bookies runners were to be found at certain strategic places taking illicit bets, all the time keeping a beady eye out for the law. If they so much as glimpsed a policeman half a mile away they'd merge like ghosts into the brickwork!
Needless to say I was totally devastated by this turn of events, and felt like jumping off the staiths every time we went up that morning. Two years later, however, during my National Service in Germany I was lying in bed one Sunday morning and suddenly realised what Clemmo had done. I'd had an uneasy feeling of treachery and skulduggery for a long time after the event, but now I was sure what had transpired and resolved to call on Clemmo at my earliest convenience and tell him a thing or two, hoping I could make him feel guilty enough to pay my fair share of the winnings. Alas when I eventually arrived on Clemmo's doorstep and knocked on the door, his good lady informed me that he had passed away six months previously. I suppose if anything came out of it, Clemmo's little deception put me off horse racing for ever and I never troubled the bookies again. Troo storey...

(Above Right) Fred writes: This shot was taken from Newsham North box and looks like a J27 hauling a load out of Crofton Mill Pit, or a set of empty hoppers from New Blyth Yard. It could be bound for anywhere, lots of steam from worn piston glands shows that a repair card will be heading the fitters way when he is next on shed!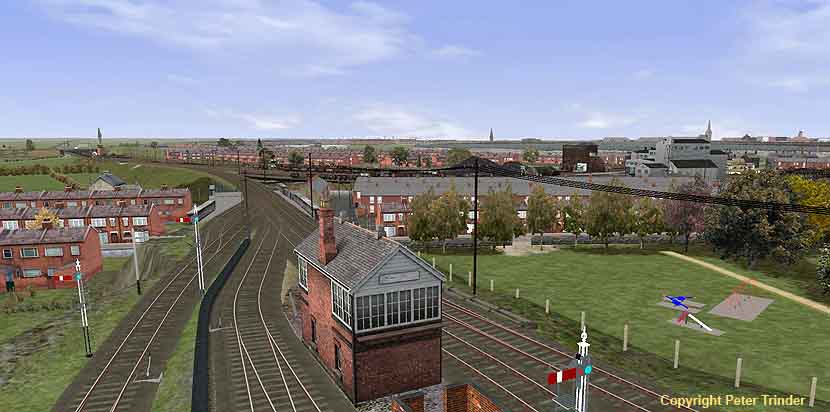 (Above-Below) Two additional screenshots of Peter Trinder's Railworks computer simulation showing the latest area of Blyth to be completed. The first shot (above) is a view from the sidings looking over New Blyth signal box towards Newsham. The lines to the bottom left lead down to the harbour. To the right is Ridley Park - you may recognise the slide and see-saws from Peter's photo taken from the park (featured earlier on this page above). In the mid-distance can be seen the sidings and screens of Crofton Mill Pit. The screens bear little resemblance to the real thing, but have been used to provide a working model in the simulation. The second view (below) is looking in the opposite direction across an untypically empty set of sidings towards the staiths. The park is missing its bandstand! The High Light on Bath Terrace is prominent - the Low Light is out of shot on the dockside to the right. The next stage is to complete the scenery around the staiths and the Old Blyth sidings, before moving on to the harbour itself...watch this space!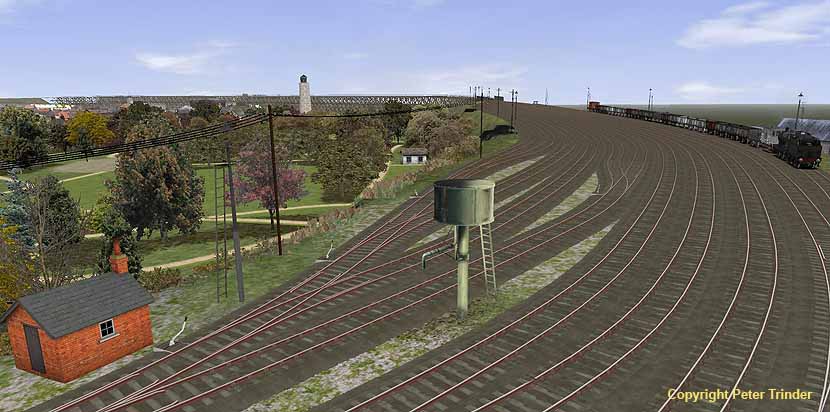 JIM PRINGLE's SNOW SCENES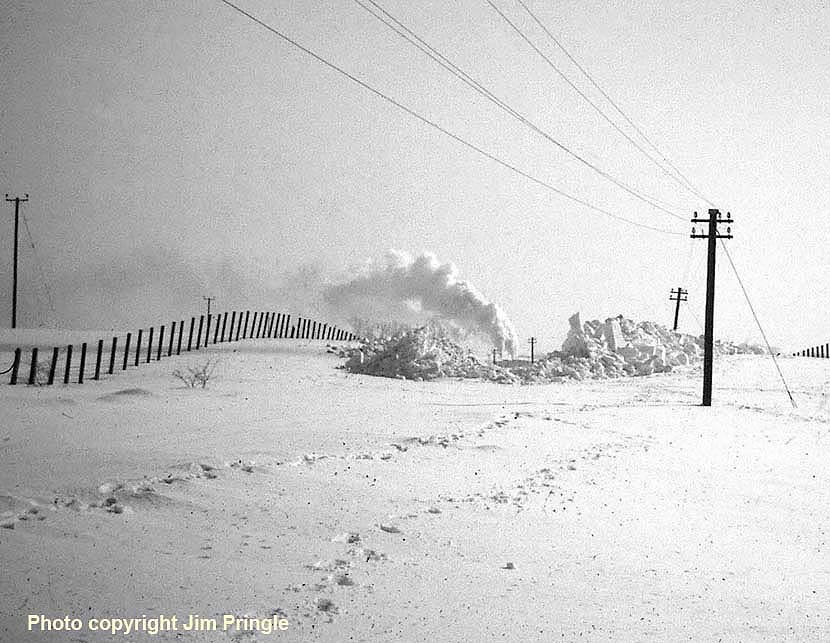 Peter Trinder writes: I wish I'd been on the footplate when my Uncle Jim Pringle took these photos in the snow on the Rothbury branch. Although the Rothbury and Bellingham goods were normally worked on alternate days, on the day I hitched a lift on 77014, driven by my Granddad Jim Pringle Snr with John Tuck as fireman, things were a bit different. At Morpeth there was little Rothbury traffic, but there were 15 wagons for Woodburn. So we picked up both lots, dropped the Rothbury traffic at Scots Gap, and proceeded to push the 15 wagons to Woodburn. I gather this was because there was no run-round available at Woodburn. I don't know whether this was always the case or because it was not a 'Bellingham Day' and Woodburn was unmanned. After returning to Scots Gap we then worked to Rothbury as normal. The one thing I remember about the trip made my hair stand on end; it happened part-way to Rothbury when a valve in the cab worked loose releasing a jet of scolding steam. With three in the cab there wasn't a lot of room, and as a somewhat naïve 14 year-old, who had just been reading a book about 'blowbacks', I was half-way out of the door (there was a door on 77014) before John Tuck turned the valve off…it nearly put me off footplate trips for life! These evocative photos were taken by my uncle Jim Pringle (Junior) of the snow-plough clearing the Rothbury branch in the winter of 1963. When you consider the disruption caused by a bit of snow today, it's amazing the effort being made then to clear a line for just two goods trains a week!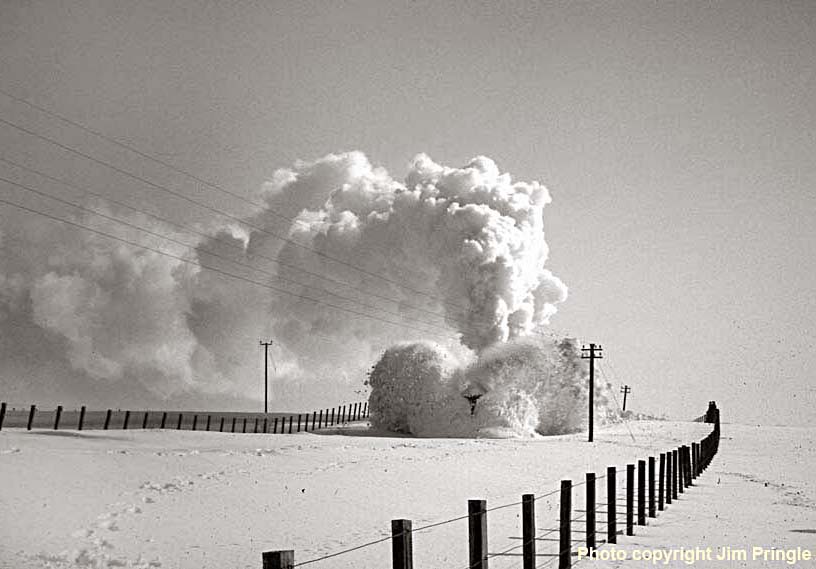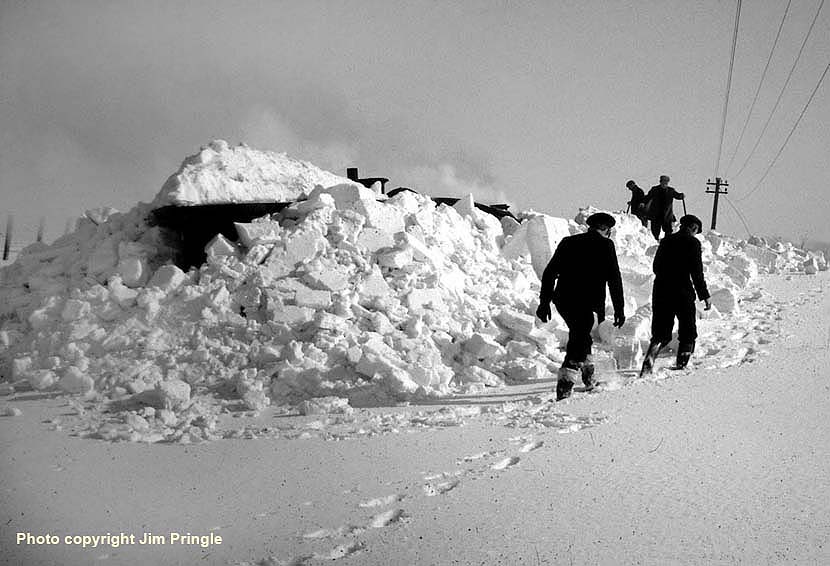 Freddy writes: These superb photos remind me of one Monday morning after a very cold winter weekend. I had signed on at Gatehead at four am for a spare turn and was promptly given a Hawker with ploughs on and orders to proceed to Carlisle and ensure that the road was clear. My mate was a young chap, who looked so tired he was acting like a zombie. We set off along the West road in sub-zero temperatures into a Fairyland of glistening snow and ice under a full moon in a clear sky. My mate promptly fell asleep, but every now and then the ploughs would touch some ice with a loud 'Triiiinggg!' and the poor bugger nearly hit the roof! I knew the ice would be pretty bad in Whitchester Tunnel (the interior was always wet even in the height of summer) so I slowed him right down to walking pace. I could see icicles hanging from the roof in the headlight beam, some as thick as a man's body, and the Hawker started jiggling and crunching the ice on the top of the rail. My mate stirred uneasily, then as the first icicle was dislodged and came crashing down on the roof, he leapt up and shouted - 'WHATTISSIT WHATTISSITT!'
'S-alright!' I said, to calm him, and after clearing the tunnel, we stopped at Haltwhistle Box to acquaint the signalman with the situation, and then carried on to Carlisle, where we were put into the bay platform five. The Foreman came out of his office and intimated that the Control wanted me on the phone - 'What's the road like Driver? 'he asked.
'Bloody cold' I replied.
'And is there much ice anywhere?' he enquired.
'Just in the tunnel,' says I - 'But I'll clear that on the way back'
'Which Tunnel will that be Driver? he asked…I was puzzled at first and could only answer - 'You know...the tunnel'
'Yes, but which one?'
My mind fought for something to say. Was he winding me up or what?
'Hullo, are you still there?' he said pompously.
'Aye, I'm here,' I shot back - 'Are you winding me up or something?'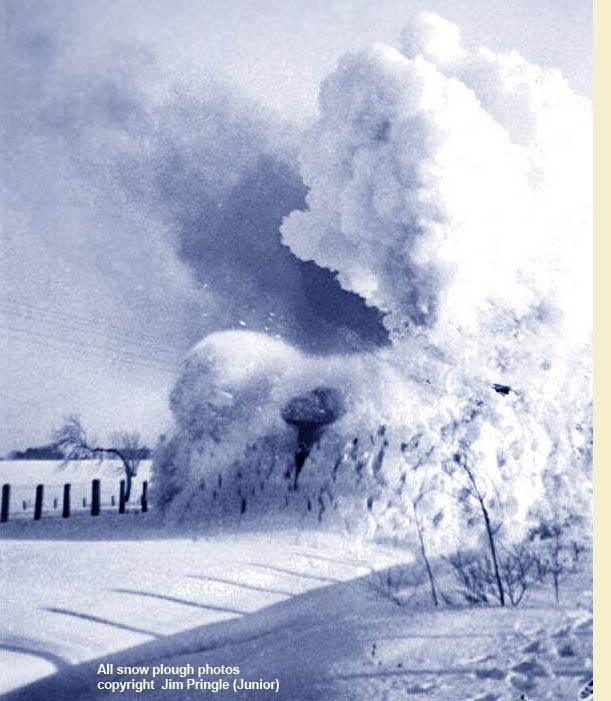 'Why would I do that?' he said.
'Because there's only one tunnel on the route, and it's at Haltwhistle'!
A deafening silence ensued, his bumptious attitude suddenly changed - 'Oh! Hullo!' I hit back, deliberately humiliating him to even the score - 'Are you still there?'
Finally a different voice replied - 'Thanks for your help Driver,' he said, turning on his heels - 'Just carry on with your orders...'
No-one would believe me when I told the story later. They said I was making it up!

(Left-Below) Jim Pringle writes: It was quite a day as I recall. The train consisted of two J27s with a plough at each end. From a mile away it was regulator fully open until the snow was impacted - like hitting a brick wall. It was quite disconcerting when chunks of snow about four feet diameter rolled along the loco sides and dropped into the cab. The ironical thing was that after battling away for a full shift and moving about two miles or so, a sudden thaw saw the line completely clear within a week! The two men on the roof of the cab are my father, Jim Pringle Snr, and John Tuck.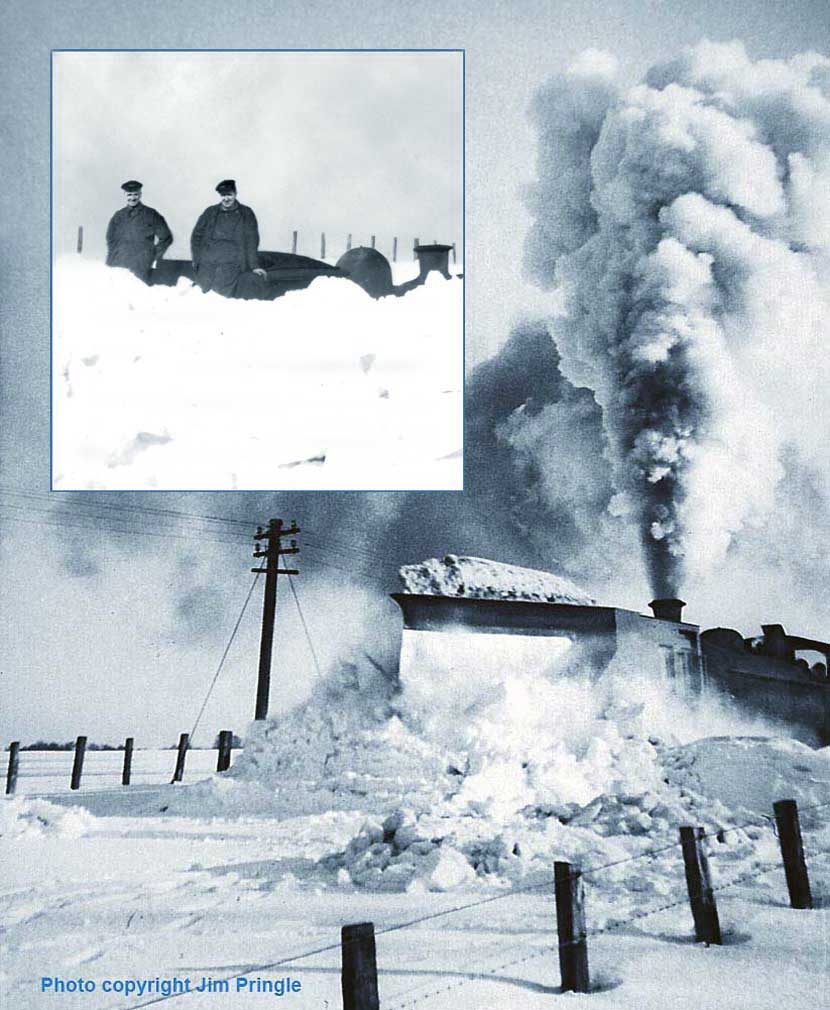 (Right) Bryan Blundell is currently restoring an ex-NER timber snowplough at the NYMR and was particularly interested in Jim's photos of the Rothbury branch, wondering if the plough could be one of the
timber snowploughs that operated around the NE Region. Out of 20 timber ploughs, 3 survive - 1 at the NRM, 1 at Beamish and the 3rd that Bryan is working on. Bryan's plough was featured in the BTF film 'Snowdrift at Bleath Gill'. However, the plough featured in Jim's photos is definitely one of the BR-built ploughs between 1957 and 1958. These ploughs can be distinguished by the slight recess on the doorway on the BR built variety, whereas the NER steel ploughs were flush sided. The twelve new steel bodied ploughs were built at Gorton on tender frames from J11 engines, and introduced by BR in 1957-58 to replace 10 of the 13 remaining timber ploughs with the exception of ploughs 17, 18 and 20. None of the BR-built ploughs have survived, as they were all scrapped between 1993 and 1999. The possible ploughs operating in the north east area in 1963 were numbered 981 to 990, with Nos 981-986 being scrapped at Stockton in 1993 and the last remaining three (Nos 987-990) going between 1998 and 1999. Bryan is seeking photos of the ex-NER snowploughs. If anyone can help, Bryan can be contacted at 'bryanandchristine@tiscali.co.uk' - please note this is not a 'clickable' email address via Outlook Express. You will have to email manually.

BUNGED UP!

(Right) Fred writes: This photo shows a good friend of mine, George Wombwell, attending to 65819 on No 1 road at South Blyth shed. George was an absolute artist who could talk his way out of anything. He originated from Bishop Auckland and joined the Royal Navy at a young age, and then joined the Railway. One of my first encounters with George came when I was rostered to work the Rothbury Goods turn with an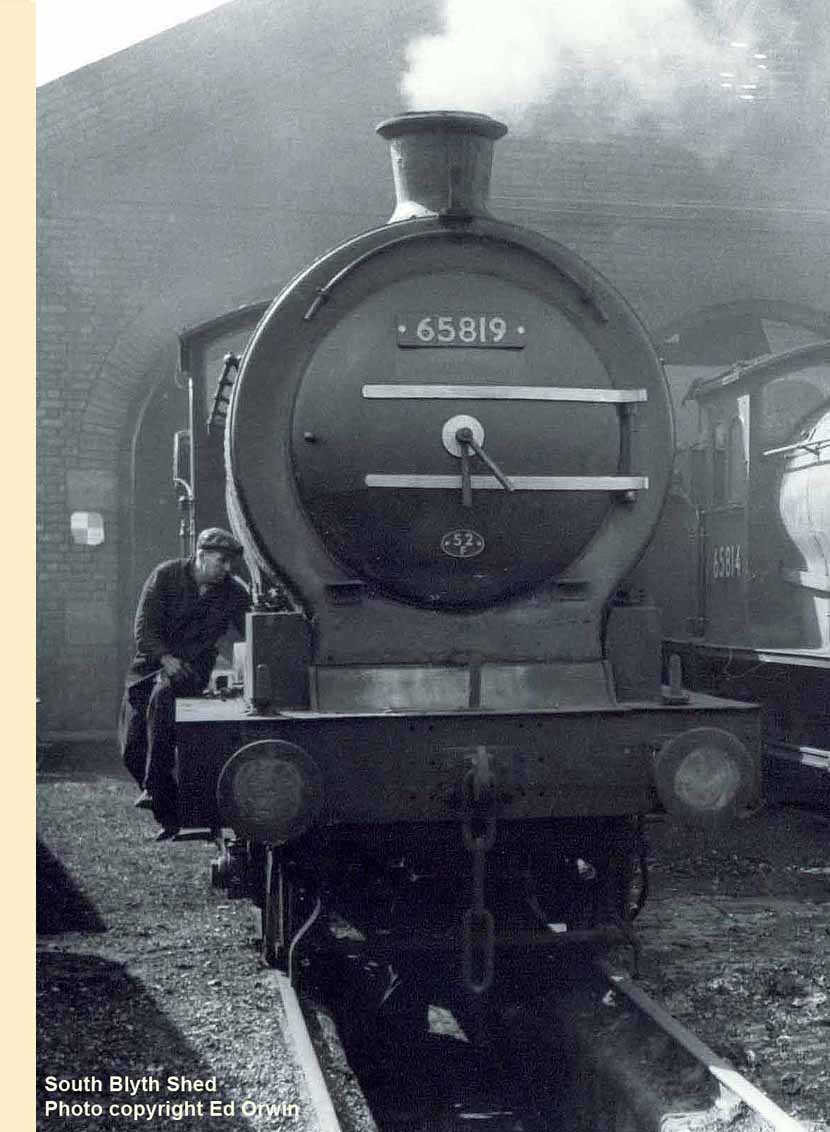 old driver named Ernie Stenhouse. The Rothbury loco was always prepared for the men working the job - an 08.50 start and step-aboard job. It was also an eventful trip, because I didn't feel well that morning; I hadn't been to the toilet for quite some considerable time and when Geordie overheard me complaining about feeling lethargic and bunged up, he called me over - 'Come with me lad and I'll fix you up,' he said encouragingly.
Of course, Geordie was a persuasive character and so I followed him to the fitting shop, where he produced a large bottle from one of the cupboards, and then after rummaging around in his bag, found a tablespoon and poured out a full measure right to the brim - 'Here, get this down yer neck,' he said.
'What is it?' I asked.
'Never mind that now, this stuff kept the Navy going for hundreds of years. So gerrit down yer neck and you'll be right as rain.'
I wasn't convinced; it tasted foul, but George urged me to swallow it in one go, and so I took a deep breath and down the hatch it went - and, unbeknown to me, it was my first introduction to Castor Oil, which, in case you're wondering, was used for lubricating the remote driving gear on the G5s!
After preparing our loco for the Rothbury turn, we were soon on our way to assemble the train at Morpeth - 'You feeling okay?' Ernie grinned manically.
'Fine,' I replied uncertainly...Ernie seemed to be unusually chirpy! After sorting out the train, we headed for Scotsgap and picked up two wagons of cattle, collected the Single Line Staff from the Signalman and set off for Rothbury - 'You still feeling okay?' Ernie asked again, still grinning.
By this time I wasn't so certain. After leaving Scotsgap I felt a little niggling pain in my stomach, only a faint twinge at first, then after a few miles it spread rapidly through my abdomen until I found myself bent double with cramping pains and knew I needed the toilet! - 'Ernie, we gorra stop!' I moaned - 'Where's the nearest toilet?
He hooted with laughter and pointed to the firing shovel - 'It's right behind you...'
'Bloody hell, I can't use that!'
'Well, you're not using the bucket. I've got to wash my hands in that!'
I looked at him, then at the shovel. I had no choice...this was an emergency! I'll spare you the graphic details, except to say I frantically dropped my kets and took aim for the shovel, which, on a footplate swaying from side to side, wasn't the easiest of s+++s I've ever had - yet to the accompaniment of Ernie cackling away - and his head shoved furthermost out of the side window to avoid the unpleasant odours permeating the cab - I managed to deliver a fair-sized payload and felt a colossal weight of relief - 'Whattle I do with this then?' I asked him.
'Sling it in the firebox you daft bugger!' he said, giggling fit to burst.
Another three times I had to avail myself of the firing shovel during the shift, and three times I slung it into the firebox. Things got so bad there was an imminent danger of putting out the fire and I vowed revenge on Geordie Wombwell when I got back, but then after the griping pains eased, I started to feel better and realised that Geordie had fixed me up good and proper. All I had to do now was face all the ridicule when Ernie told the tale back at South Blyth shed...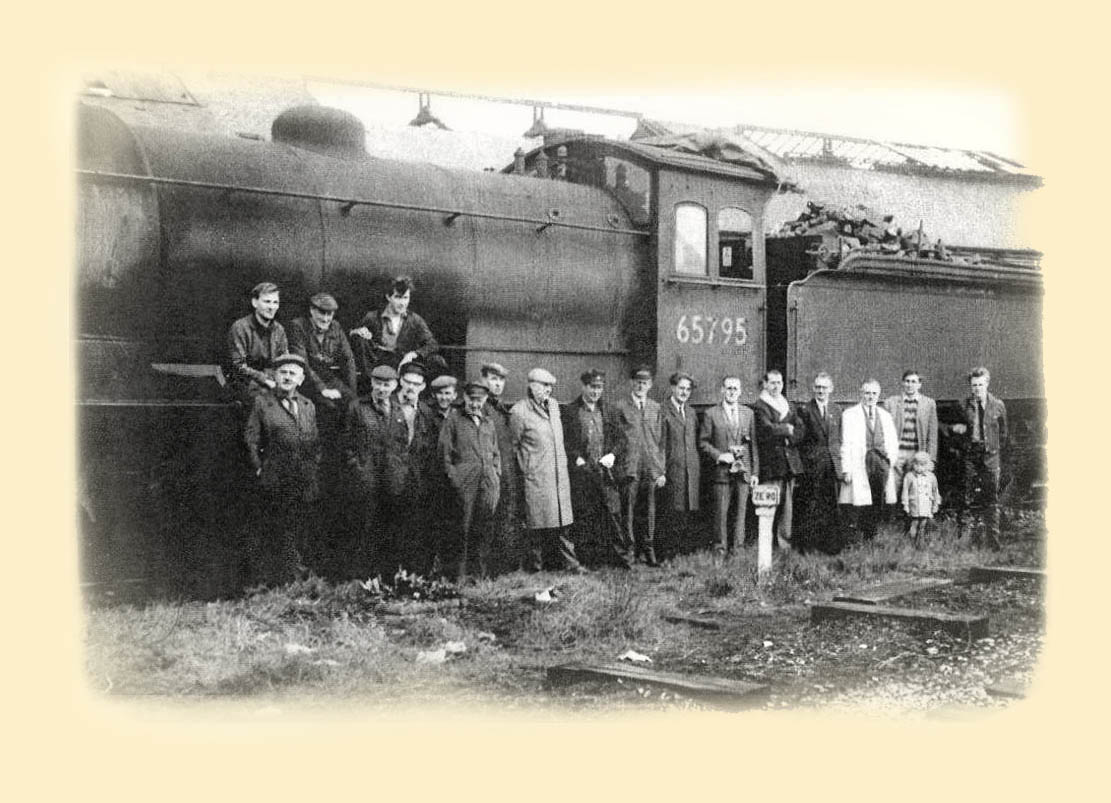 (Above) Regarding identifying the men in the photo of 65795 at South Blyth, after good detective work they are as follows: On the running board----left to right: Danny Barker, Davey Pawson - the young chap is not known at the minute. In the foreground: Ned Sparks, Billy Shepherd, Sid Stoneybanks, Billy Furness, not known, Geordie Wombwel, Shedmaster, Arthur King, not known, Geordie 'Baldygums' Gibson, Jackie Mayne, Norman Mason, Raymond Birtles, Tommy 'Bill' Cheeseman, Gordon Rankin and daughter, and Jimmy Branley.
Billy Furness was a remarkable fellow, who could get you anything you needed at very short notice. I always thought he was a descendant of Merlin the Magician! You know about Geordie Wombwel, as well as Raymond Birtles. Norman Mason survived an attempt on his life by ruffians who threw a windy pick bit through his windscreen; it penetrated as far as the flange, stopping a couple of inches from his Sternum. Tommy Cheeseman was a survivor of the Sleekburn collision. Finally Jimmy Branley's claim to fame was a good impression of Elvis, and trying to knock the footbridge down at Freemans Box with his head whilst trimming coal on the tender. He was never the same again and they took the bridge down a short time later.

(Below) More detective work reveals the identity of this group at Darlington North Road. They are: 1 -Bob Hale; 2 -Norman Mason; 3-Matty Willis; 4-RB Anderson; 5-Raymond Birtles; 6-not yet known; 7-not yet known; 8-Harry Whigham; 9-Joe Wake; 10-Les Wilson; 11-Walter Morrison; 12-T Allsop; 13-Ken Hedley; 14-D Brodie; 15-Tommy Foy; 16-Jimmy Burt; 17-Norman Mason; 18-Jimmy Pringle; 19-the boy is Jim Pringle's son; 20-Raffy Dempster; 21-Arthur King...click on both group photos to see full page image.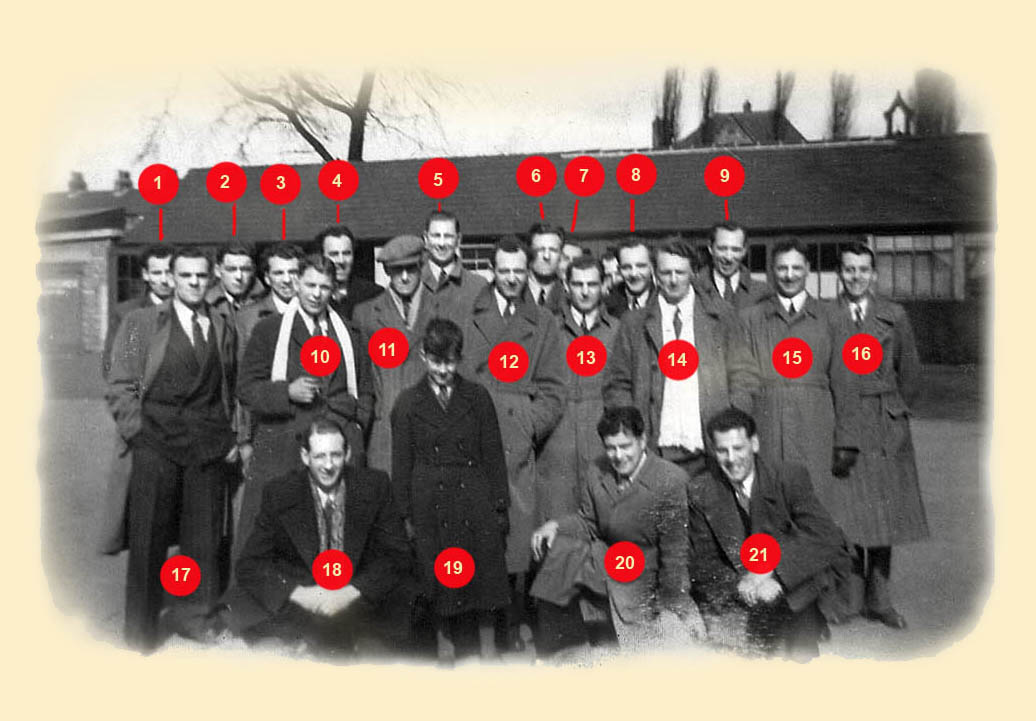 HANDBAGS AT KINGS CROSS!

Talking of facing ridicule...early one afternoon, my mate and I were standing at the barrier at Kings Cross, waiting for our train to come down from Bounds Green Carriage sidings, when we observed an old lady lugging a heavily-laden wheelie suitcase across the concourse...clearly in a hurry and on a collision course directly with us. Being gentlemen, we stood aside to allow her to pass, but she stopped abruptly just a few feet away and shrilled in a broad Brooklyn accent that she couldn't find her train - 'Some son of a bitch is going to get it in the neck for sure if it goes without me!' she hollered at us - 'Now where in the name of the Good Shepherd is it?'
My mate gently enquired in his best Gateshead accent - 'Wheraboots are ye wantin' te be hinny?'
The old girl regarded him like it was her first encounter with an alien species - 'I'm in England and nobody speaks English!' she wailed - 'Will somebody tell me where my train is?'
I decided I had best take charge of the situation and attempted to calm the old girl down by asking where she was going...'I've told you twice...' she yelled - 'I'm looking for my train!'
Out of the corner of my eye I could see my mate slyly edging away around the corner.
'Now calm down luv,' I said, trying to mollify her - 'I'm sure we will get this sorted out. Can you tell me where you are going on the train?'
Taking a deep breath she shrieked - 'I'm going to my son's home!'
I seized on this clue and quickly realised that all I needed to do now was ascertain where her son's home was and therefore deduce which train she needed to catch - 'And where exactly does your son live?' I asked, aware that several people were taking a keen interest in the proceedings, including the platform gaffer, who had a huge grin on his face until I shot him a look that would melt iron.
She began fumbling in her bag, pulled out a photograph of a handsome detached property and pushed it under my nose. It hardly taxed my brain to know what she was going to say next - 'He lives here!'
I heard a couple of stifled sniggers, which only steeled my resolve - 'Right then pet, and which city is your son's house in?'
'Why, Leeds of course,' she replied.
I gave out an audible sigh of relief, and glanced at the platform boss - 'The Leeds train?'
'Platform five,' he replied.
'That'll be platform five, luv...' I told her.
She gawped at me in disbelief - 'Then why didn't you say so before, you dummy! What have I done to deserve this? Do you guys make a habit of picking on elderly people and try to make them look stupid?'
I felt thoroughly chastened and attempted to help her with her luggage but she just snarled - 'Get out of my way you dimwit!' - then taking a firm grip of her suitcase, she struggled off towards platform five and the Leeds train.
The platform gaffer came over and gave me a congratulatory pat on the back - 'You can have a job down here any time Geordie...' he said, which did me no good at all...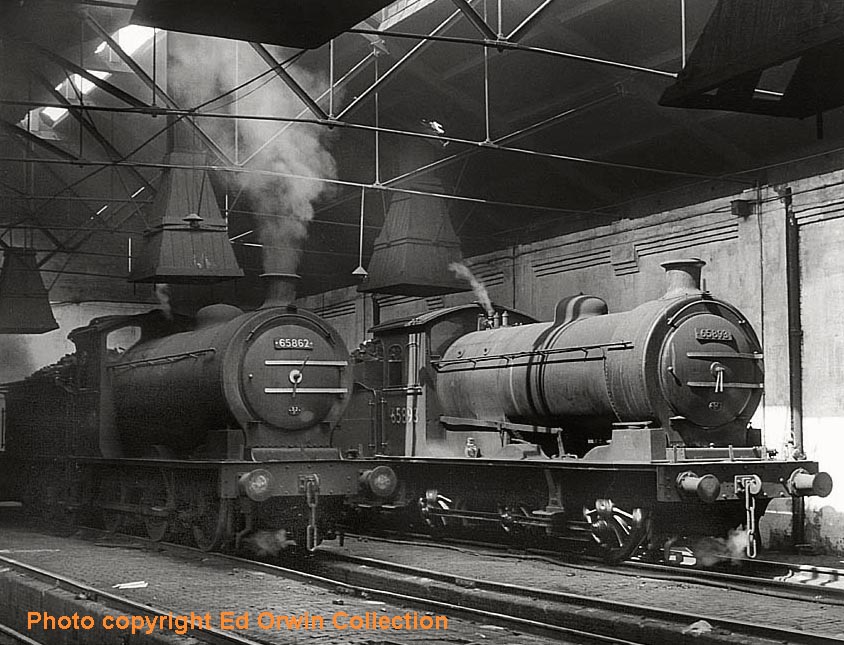 (Above-Below) Fred writes: The two on the pit look like they had both been stabled judging from the piles of smokebox ash opposite the front buffer beam..a nice dusty job that put you in grave danger of drowning in your first pint after signing off! How many years did the J27s toil around the Blyth & Tyne system? During their career they must have earned their construction costs time and time again.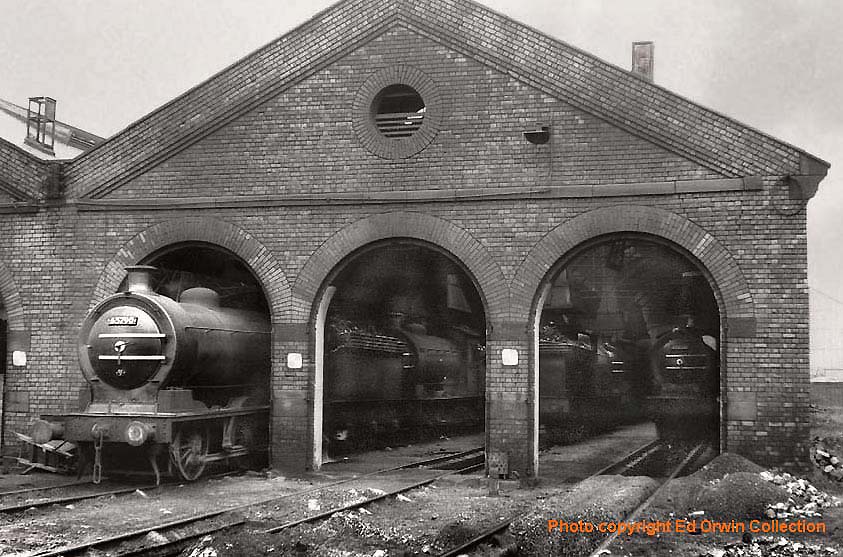 LIGHT ENGINE LAMENT

Chris Boylan's memories of Neville Hill on Page 82 reminds me of a very strange altercation I once had at the Leeds shed...after motor cycling the seventeen miles from home to Newcastle in torrential rain, I signed on at Gateshead at 2am for a spare turn and was confronted by the running foreman behind his little window - 'Forty-seven in the straight line for Neville Hill,' he barked - 'Light engine, your mate's young Anderson, sharp as you like...'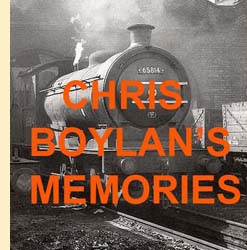 'Oh, thank you Mister Butler,' I said sardonically - 'I realise how much pleasure it must give you to hand me a crap job like that on a stinking morning like this. But before I start south, could you possibly allow me a moment to divest myself of this soaking gear that I'm wearing and get some dry underpants on?'
His reply was terse and to the point - 'Sod off'. So I did, but not before saying...tongue in cheek I might add - 'You know Mister Butler, a lot of the men regard you as a flint-hearted bastard, but I know it's not true...you're actually a lot worse than that!'
I hurried upstairs to the locker room to get changed into some dry clothes, then called at the messroom to collect my mate and we saddled up the loco and set off for Leeds. Being an early start we were mainline motoring all the way and arrived in good time. As we ran into the short end at Neville Hill, I told my mate to set the road for the fuelling point and we crept up to the pumps before shutting the engine down and screwing the handbrake on. Gathering our gear together we were about to dismount when I spotted a diminutive figure in a turban approaching us in the distance; for some reason he was waving his arms frantically and hurdled the rails without breaking his stride - 'Vot arr yoo doing?' he ranted - 'Oh my God! Vot arr yoo dooing!'
Now it has to be said that having a stark-raving lunatic bellowing in your ear-'ole at that time of a morning can be briefly discomforting, but then I could tell he was in a bit of a state, so I said - 'We're getting off this locomotive... we have just fetched it for you.'
'No...no, no, no!...I am not vantink any locomotives just now!' he insisted - 'Pleeez...take it avay!'
'And where do you want me to take it?'
'I am not caring,' he said, wagging a disapproving finger along the full length of the loco - 'But it cannot be staying here. You must take it away...pleez, pleez take it avay!'
All of a sudden his prickly demeanour had given way to animated pleading; he seemed close to tears and clasped his hands together earnestly.---'Shall I take it back to Newcastle for you?'
'Yes...yes, take it back...I vill tell the Signalbox.'
And away he went, hurdling the rails back to his office. I turned to my mate and said - 'Well chum, we had best get away before that poor bugger has a seizure!' So we mounted up and set off back to Newcastle, with my mate driving. As we approached York we started to get single-yellow signals, as if we were following a slow train, but we could see no sign of taillights in the distance. We were routed into platform eight, which had a red signal at the end, and there waiting for us was an official looking chap in a peaked cap.
I dropped the side window and gave a cheery - 'G'morning...' but only got a stern reply for my trouble.
'What exactly are you doing?' he said, looking none too pleased with me.
'I'm going to Newcastle,' I replied.
'Do you know this engine is supposed to be at Neville Hill?'
'Oh aye! We've just been there, and they chased us away. He said he didn't want us or the loco...'
'Who did?'
'The bloke with the turban...'
'Bloke with the turban? What are you talking about?'
'I'm talking about the bloke who said he didn't want us at Neville Hill...'
I heard him mutter - 'Hell's bloody fire!' - before he stepped away and started talking into his walkie-talkie. When he returned he informed us that our loco was required at Neville Hill for a special working to Carlisle over the Settle road - and would we please return to Leeds as quickly as possible?
'We can if you want,' I replied - 'But the bloke in the turban was really upset last time; he looked on the verge of tears...'
'The control has got it all in hand,' he ground out.
'Well that's okay then!' I replied, feigning relief - 'If control is on the job, what can possibly go wrong?'
It eventually came out that there had been a mistake with notification at the NH sidings of the special to Carlisle, but that Control was not to blame. I think they blamed it on the bloke with the turban!

RADAR SNIPERS!

Talking about Control reminds me of another tale, though the story I am about to relate has never been substantiated, since no-one has owned up to it and many people widely believe that there has been a cover up. However, having had an opportunity to approach each of the men involved and look them straight in the eye, I asked if it was indeed true. One replied that it was all lies, though he had a grin on his face as wide as Tynemouth; two others avoided my gaze, blushing furiously and robustly denied it, whereas the last one threatened to 'get me' if I caused any trouble for him - and so, just in case, I will not reveal the names of the individuals nor will I tell you the place that it happened...I'll simply leave you to make up your own minds.
It was a gorgeous summer morning at a level crossing on the East Coast mainline, and four Train crew Leaders were lazing on a grassy bank enjoying the warm summer sun. They had been sent there by the management to check the speed of passing trains with a radar gun and to ensure that the rules regarding the speed limit were being adhered to. But why the management should have sent four men to operate just one instrument is something of a mystery, yet it you consider BR's dotty organisational skills the fact that they had sent four men to do the job of one somehow makes the story more believable!
During a lull between trains, the four men were passing the time chatting to each other, when a Search and Rescue Helicopter came into view over the horizon heading for the local RAF Station farther down the coast. Curious as to how fast the chopper was travelling, one of the men idly aimed the radar gun and sent a squirt of ultra-high frequency radiation in its direction, and then wondered why the aircraft suddenly swerved and started jinking violently in the sky before rapidly losing height.
Of course, unbeknown to the men, that little squirt of radio frequency energy had been intercepted by a little gadget in the aircraft's cockpit which immediately activated a siren warning the pilot of a ground to air missile attack! Thinking that a hostile radar signal had locked on, the pilot was making emergency evasive manoeuvres and frantically searching for somewhere to set his aircraft down. Meanwhile the chopper's black box was beaming a radio signal via the emergency channel to the RAF Station, alerting all aircraft in the vicinity that a terrorist attack was imminent and advising diversions. At the same time, an RAF Regiment detachment was being issued with live ammunition and kitted for battle and placed on standby in their vehicles awaiting orders from the direction finders.
Back at the crossing the guileless radar snipers were happily clocking trains and chatting among themselves, when their rural idyll was suddenly disrupted by the arrival of an armoured vehicle emblazoned with RAF decals screeching broadside to a halt. Seconds later, the four men were surrounded by troops with weapons cocked and bayonets fixed; the unfortunate individuals were restrained with wrist and ankle ties and then bundled aboard a one-ton truck and driven off to the RAF Station and locked up in the Guardroom.
The length of time they were detained is open to question, but it was of some considerable duration, for they were not seen again for at least fourteen days and when asked where they had been, one man answered with a finger on pursed lips - 'Guantanamo Bay!'
Well, it serves the silly blighters right, some might say - for this was the same group of men who had been recruited to liaise between the men and the management, but in no time at all they had become the management's eyes and ears, prowling around and poking their noses into places at all hours of the day and night, trying to catch out the men doing things they shouldn't. They were supposed to assess their ability to drive trains, even though they themselves had never driven trains nor indeed had they ever been drivers!
I remember one who accompanied me on a trip to Edinburgh. I made him drive and when we arrived in Auld Reekie he asked - 'How did I do Fred?'
'I'll give you nine for that,' I replied.
'Nine out of ten's not bad!' he gleamed.
'You're not even close,' says I - 'I'm talking about nine out a hundred!'

CLOWNS, COMEDIANS AND DOWNRIGHT VILLIANS

With one or two exceptions, the men at Gateshead were a great squad of blokes, but it took a while before finally putting the blacklegging episode to bed. One young chap in particular always had a little snipe at me, until I eventually caught up with him in the toilet block and asked him point blank what the nature of his problem was. He was adamant that he didn't have a problem with me, in particular, but the system that allowed the likes of me to come to his Depot and, in his eyes, push him back in seniority, and delay his appointment to a Driving job.
I gently explained to him that this situation had held me back in the same way, but for much longer, as Depots closed all over the country, and men moved in to keep their jobs, but he wouldn't listen, claiming that my Depot wasn't closing, and that I had no right to move to his Depot.
I tried again to explain and told him that my seniority date was nineteen fifty three, and asked 'What's yours?'
'Nineteen seventy-four' came the reply.
I had a little smile to myself and said, 'I've had a pair of underpants on longer than that mate, now are you going to grow up and behave, or do you want to pop over the car-park and have a dig at me there? We'll see if that makes you feel any better!'
He visibly winced, clearly against that solution, so I told him - 'Now I want you to go in the messroom and tell your four mates what we've said to each other, and tell them that the car-park offer stands for them as well, one at a time, and if you don't, I bloody well will, okay?
He wasn't best pleased, turned and went out without another word. After about ten minutes or so, I strolled along to the messroom, pushed the door open, and went in. Four heads turned my way as I did a passable imitation of Wyatt Earp at the OK Corral - 'Has he told you?'
Two nods and two 'Aye's' answered.
'Is there any takers then?
Four heads shook in unison.
'Well let's have no more crap! As far as I'm concerned, it's finished.'
As I turned to walk out, the Relief Driver and his mate, looked at me with a big grin, and one said - 'You big bully, talking to the bairns like that!' and it took me all my powder to keep from laughing out loud!
After that, the younger element seemed to accept me, and I started to feel quite at home, but for me the highlight of the encounter came a couple of weeks later, when I saw one of the young lads trying to couple two 47s on the pit with a shunting pole. Now the screw couplings on the forty-seven were quite a big lump of metal, and normally the laddie would duck in between and lift the coupling onto the hook, but as the locos were on the pit he had to use the shunting pole over the top of the buffer, with the hook firmly in the coupling link, but was straining and heaving and failing to get the coupling up and onto the drawbar hook, going red in the face, with the strain of holding the coupling up.
'Look, mate, can I show you? Taking the pole off him, I put it under the buffer, hooked the coupling link, and leaning back slightly heaved the coupling up and clunked it over the hook, expertly twisting the shunting pole hook clear, to prevent it jamming between the coupling and the link.
He looked at me with his mouth open - 'Do that again,' he said.
So I did it twice, and then gave him a go, explaining that you had to let the weight of the coupling do much of the work, and that the first swing was the key to success. He tried twice, and at the third attempt got the coupling on, but jammed the shunting pole hook in the coupling, another two tries and he was perfect.
I put my hand on his shoulder and said - 'You see son, the surgeon has his scalpel and sutures and the shunter has his Pole. When each are wielded in a proper and expert manner, a good job will be done'.
And then was rapidly brought down to Earth by the Running Foreman's voice bellowing from the office window - 'Are youse two twerps in love, or what?'
Then realising it was me, he shouted - 'Wagstaff yer s'posed to be learning the West Line, watcha dooin still here?'
'Okay Boss I'm gone,' I replied, and scurried over the High Level Bridge to the Central to get the twelve ten to Carlisle.

FLYING WINGS!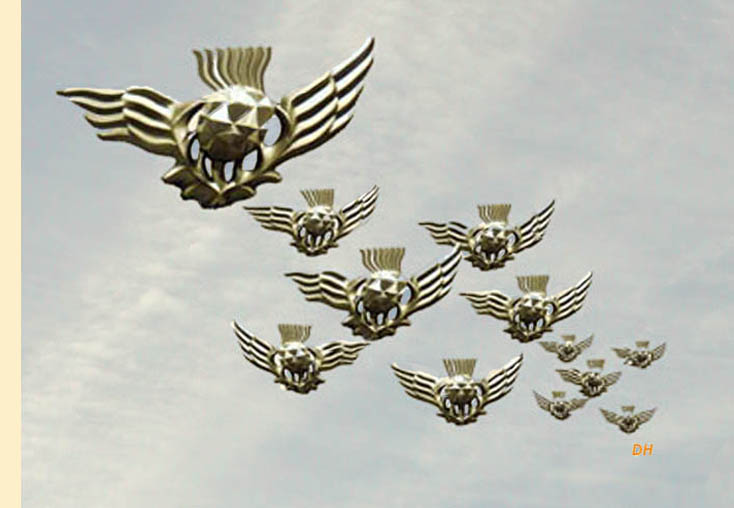 Geordie...Hi Fred, I was looking through your site and it had a photo of a Deltic on the 'Flying Scotsman' with the gold wings; it reminds me of the time when I was a fireman at Gateshead and I was on that turn. After coupling up, you went to the ASM's office at Waverley and collected the wings - they were lightweight, just made of fibreglass and clipped onto the top bracket. It was a windy day and as we passed Marshall Meadows a sudden gust of wind lifted the wings off the bracket and blew them out to sea. When we got to Newcastle the ASM came storming along the platform, demanding to know why we hadn't got the wings on - 'Where the 'ell are they?' he bawled. The driver shrugged nonchalantly - 'You'd better get the Berwick lifeboat out and have a look in the North Sea!' he replied. After that, the bracket was fitted with a grub screw that was tightened up, but as spanners were involved it became a fitter's job!


(Below) This shot of the thistle emblem being attached to the front of D9010 King's Own Scottish Borderer at Kings Cross on 9 March 1964, is among the hundreds of photos now available from the NRM's archives. The National Railway Museum in York has a collection of 1¾ million photos covering the history of Britain's railways from 1850 to the present day.
The NRM's
archives are currently being
digitalised
to make them available to a wider audience and preserve them for the future - click
here
to visit to the 'Liverpool Street Photos', or
why not try the NRM's 'Doncaster Photos' page

here
- a visit to both pages is highly recommended
!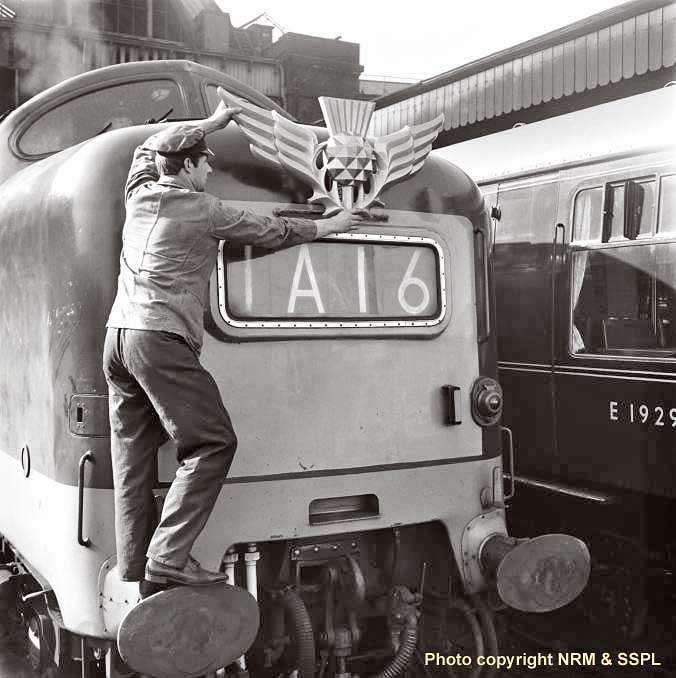 THE NEXT GENERATION

During a spare turn of duty one Autumn afternoon, I was sitting outside the office in a chair purloined from the messroom watching the day go by, when everybody's friend - Running Foreman, Geoff Butler - came sweeping out of the main door with his beard looking like a weaving loom that had suffered a serious accident. Judging by his aggrieved expression he was either in desperate pain or someone had told him a simple joke...his grimace was the same for either eventuality - 'There yow are, Wagstaff,' he announced in his broad Midlands accent, adding triumphantly - 'I've gorra job for yew that's rite oop yower street.'
'What is it, oh holy beard?' I said, snapping to attention and whipping off a perfect military salute.
'Never moynd orl that crap!' he chided - 'There's a cowl trayne in platform ten that wants a conducta to Toyne Yard. I just elected yow to dooit...now gerrova there, there's a good lad...'
What could I do but comply with his most eloquent request? I made my way over to platform ten where a class fifty-six stood humming at the head of thirty HAA hoppers. I opened the cab door and jumped up, to find a young bloke in the second man's chair. I took the driver's chair and gave him a cheery - 'Hello mate, what's your name?'
When he told me, I sat bolt upright - 'Was your Daddy a Driver at Cambois and North Blyth?'
'Aye,' he replied.
'He was a tall skinny bloke, looked a bit like a ferret, and tighter than a John Dory's ass'ole?'
'Aye, that's him. How do you know him?'
'I fired eighteen months for your Daddy,' I told him - 'In fact, I remember the day you were born. He came to work drunk as a skunk, fell off his motor bike at the shed gate and caused an uproar when they wouldn't let him sign on...he nearly got locked up.'
He looked at me amazed - 'Is that right?'
'Oh aye, he was over the moon because he had twins...by the way, your brother's not on the footplate as well is he?'
'Matter of fact he is, we've both got the same seniority date,' he replied.
As he spoke the signal cleared, and away we went to Tyne Yard. Ten minutes later, we ran into the up reception roads. I wished the young un so long, and dropped off, made my way to the main office to see what surprises were in store for me - 'Watchagot boss?' I asked, poking my immaculate features through the little window.
'There's a load of empty HAAs on three down departures for the town,' he said.
'Okay boss, I'm gone.' I made my way to the top of the road, found another fifty-six, up the ladders and into the cab - 'Hallo lad, what's your name?'
I nearly fell down when he told me...it was only the other lad's twin brother, but they looked nothing alike. 'Well, I'll be buggered!' I said - 'I've just fetched your brother down from the town, and the whole dialogue was repeated on the way back. He was just as interested in his Daddy's goings on as his brother and I wished I'd had more time to tell more tales, but at least I had enlightened them both a little bit..'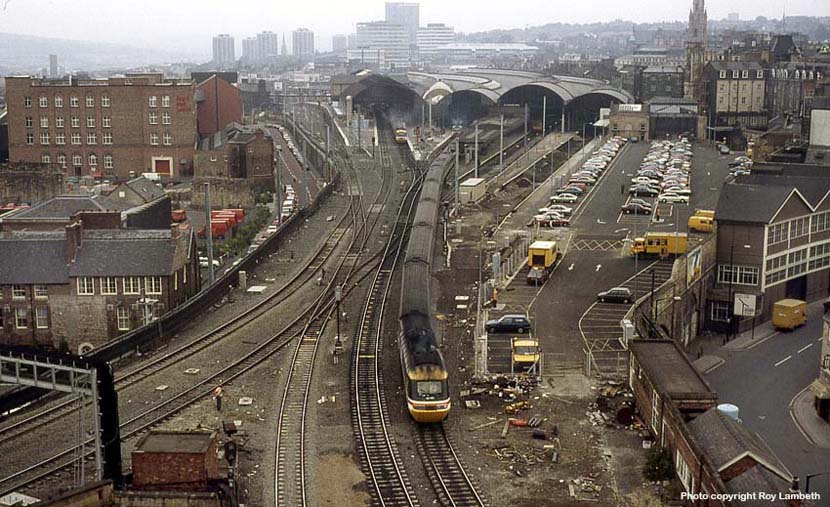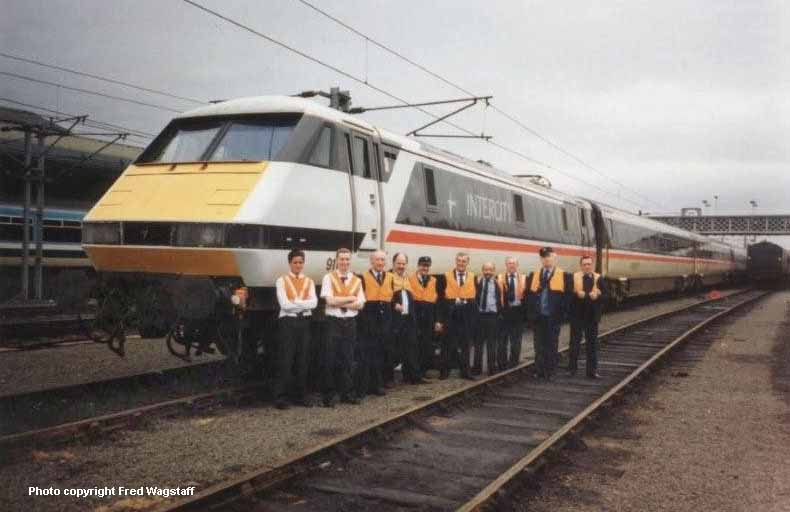 (Above) This photo of the lads beside a 91DVT was taken in Doncaster North Yard during a conversion course class. The two young fellers on the left were the instructors, who I always felt sorry for because they had to deal with gnarly, awkward old sods like us! If either of them made a booboo (trying to explain something that they hardly understood themselves) the lads took no prisoners...Fred's story continues on the next page...


JOKING BIG JOE!

One of the funniest chaps I worked with at Gateshead was Big Joe, who always seemed to be on the lookout for a laugh and a joke. He came up with some corkers over the years. For instance, one of his improvised stunts happened when the Management issued all footplate persons with a pair of expensive Polaroid Sunglasses, rumoured to be the same make and style as issued to RAF Harrier Jet pilots. Seeing as how footplate persons had managed all right without them for donkey's years, Joe was bound to use them as a prop! One afternoon he was observed walking down the platform alongside the train towards the leading cab, with the sunglasses on, holding on to his mates shoulder, and tapping the side of the train with a piece of white electrical conduit, proclaiming in a loud voice - 'If you just get me in the cab, I'll be okay…we'll be in London in no time.'
Several customers stepped back in alarm, partly because of Joe's tomfoolery and partly because the train he'd been booked to drive was the Aberdeen train. The next day Joe finished up on the carpet in the boss's office and got told to grow up. Don't be so bloody dopey, they said - but it was a total waste of breath and time, if you ask me!
I remember working a London turn with an HST and passing Beningbrough outside York, he turned to me and said in a broad Yorkshire accent - 'Reet, we'd best test t'footbrake, tha' knows - just to see if it works, like.' With that, he lifted his foot up off the brake controller and slowly pushed it to the 'on' button, held it there for a couple of seconds then pulled it back slowly, still using his foot. The speed dropped to exactly fifty on the curve, and Joe said - 'Aye lad, that'll be alreeet then!'
Later during the same shift, approaching Peterborough at speed, we had a two yellow aspect signal in the distance, Joe grabbed my arm, and pointing at the signal ahead, broke into song aka Fred Astaire and Ginger Rodgers - 'There may be trouble ahead, but while there's moonlight and music and love and romance, Let's face the music and dance,' and started clattering his boots on the cab floor.
I couldn't move for laughing.

GHOSTLY GOINGS-ON!

Chris Boylan writes about ghostly goings-on with EE Type 4 D257 (later Class 40 40057) at Gateshead - 'Hi Fred, at Mr Potter's instigation I could not let this one go, but I leave you to draw your own conclusions. One of my colleagues at Gateshead was working on 257's boiler (Stones) when he caught one of his hands in the belt drive. He went to the running foreman's office and related what had happened. While gathering his strength in a chair, the foreman went to get the first aid box; he had just turned away when the fitter fell to the floor dead from a heart attack. Now cynics might say that what happened next was merely a coincidence, yet no one can explain the reason why 257 began to act itself up! About a fortnight later another colleague of mine had 257's field divert doors off when he heard someone entering the engine room at No1 end wearing clogs. He looked around the cubicle door towards No1 end, but there was no one there, yet the sound of clogs could still be heard! Was it the fitter's ghost? After that I felt uncomfortable on 257, which spent most of its time as the Consett banker - even drivers did not feel happy with it. Later on the loco had a new engine and generator at Crewe but she always seemed below par.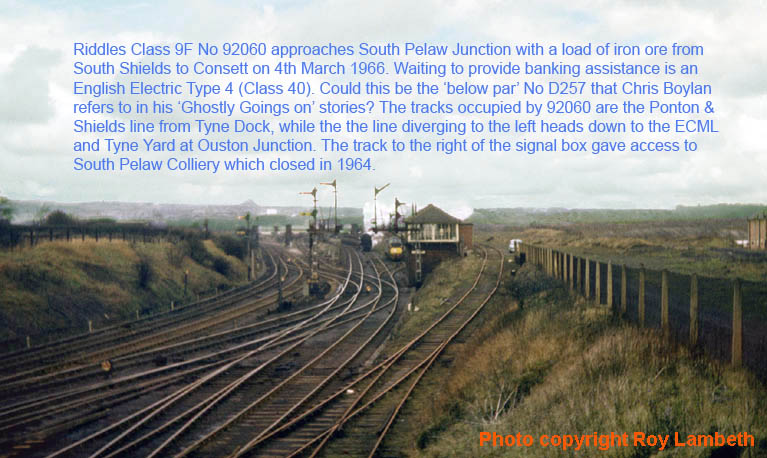 Chris continues - Also strange things happened with 37069, a Thornaby loco, which was involved in an unsavoury incident somewhere on Teesside. Some b ******d threw an iron bar at the drivers windscreen which struck him on the head and unfortunately killed him. Soon after that, strange things began happening to 069. Amongst the reported incidents are stories of the warning horns sounding off for no reason, and the fire bottles discharging for no good reason - and when the loco was single-manned there were reports of drivers experiencing an uncomfortable feeling of not being alone! On more than one occasion an apparition of the driver was seen in both cabs in the driving position. She visited Gateshead on several occasions but she did not affect me like 40257.

Russ Pigott writes: Hi David, just found your website - excellent great pics. I had a good laugh at Fireman Fred's pages and in particular the comments by Chris Boylan about ghostly carryings on with a Class 37 caught my attention.
As a current driver of 25 years and formerly based at Thornaby, I thought you may like to know the following and maybe pass it onto both Chris and Fred…Chris mentions 37069 being involved with an iron bar throwing incident. We as secondmen were always told that the chap killed on 37069 was JP, and the story goes that he had just put his mate in the seat approaching Thirsk, then sat in the secondmans' seat when a brake block flew off a Deltic passing on the main, which came through the windscreen.
Its right that the loco is a bit weird…there was many a messroom tale about it. In fact the first time I heard about it was in late '85 during a Sunday night/early Monday morning shift when several sets of men were on shed turns (this was the brief period when large numbers of DMUs were stabled and fueled at Thornaby) and one of my mates had been told by his driver to go and start a number of 37s stabled on the 'Bull Ring' road (the line which used to lead to the roundhouse).
So off he went, but returned a few minutes later looking white and shaking!
We all said - 'You look like you've seen a ghost!'
He told us that he'd got in the no1 cab of this 37 and there was a face in the fan house window looking at him!
We all roared with laughter.
At this point an old hand driver named Sid Brewer said - 'Which engine was it on?'
'37069,' said Mark in a shaky voice.
'Oh don't worry its only JP,' replied Sid…he then told us the story.
It doesn't end there though, last year I was in the fitters' cabin at Ipswich and there was picture on the wall of 37069 with a couple of the fitters posed in front of it - and a figure in the secondmans seat - 'Who's that in the cab?' I asked.
'No one!' said my mate.
So I told him the tale.
My encounter with the loco may not be over yet; I'm just waiting for my start date with DRS at Stowmarket where the loco often works from. Cheers for now...Russ Pigott, Sheringham.


FREDDY'S ANECDOTES CONTINUE ON THE NEXT PAGE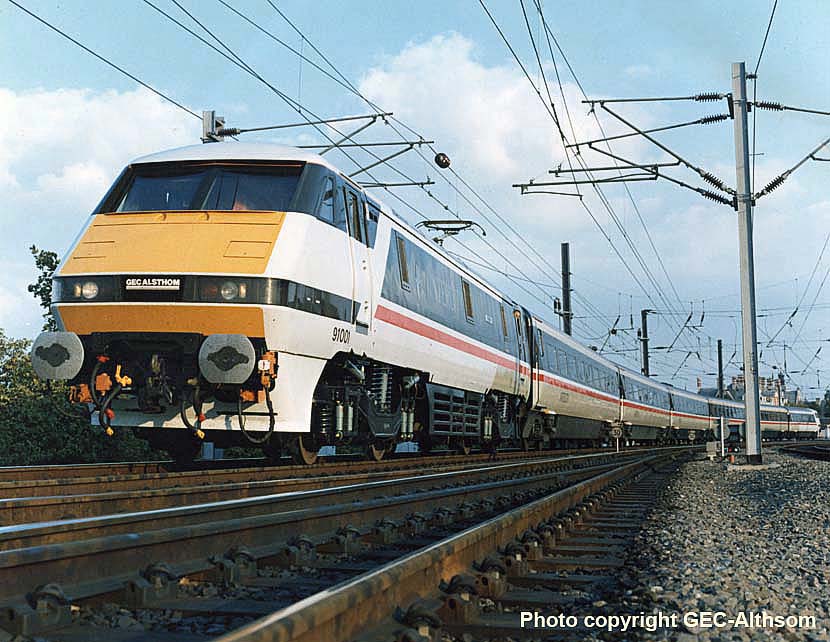 Polite notice: All text and photographs are protected by copyright and reproduction is prohibited without the prior consent of the © owners. If you wish to discuss using the contents of this page the email address is below. Please note - this is not a 'clickable' mail-to link via Outlook Express. You will have to email manually.

fwagstaff636@btinternet.com

dheycollection@ntlworld.com