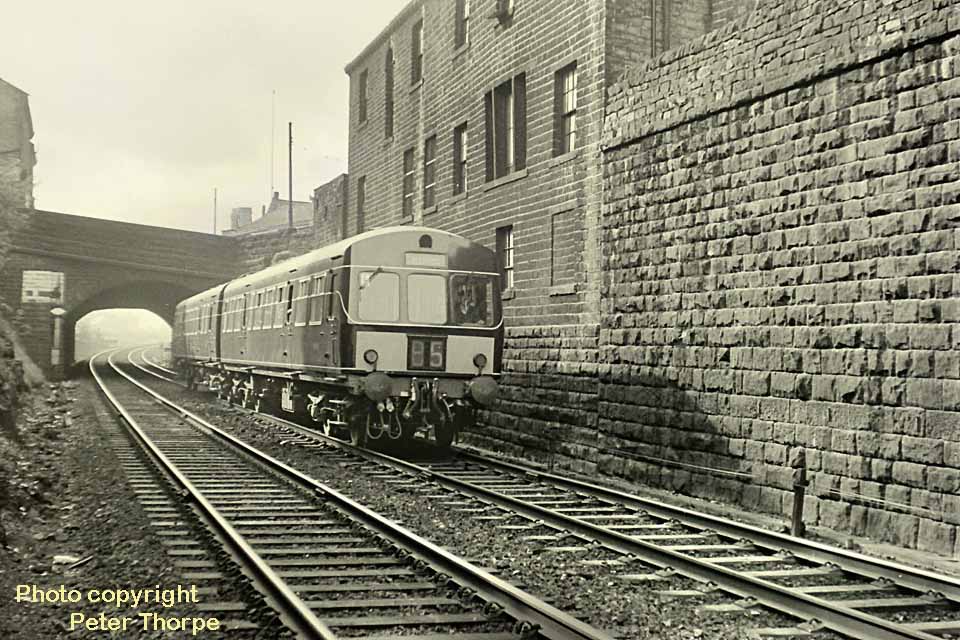 (Above) When BR's fleet of new diesel railcars ousted steam from local services, an irreverent band of steam enthusiast nicknamed the diesel upstarts as 'Bug Carts' which was about as insulting as one can get! Here a 2-car Metro-Cammel dmu approaches Shipley station on the Skipton to Bradford service at 5.30pm on Saturday 16 May 1964. The photo was shot at 1/250sec at f5.6 on a Fed 11 camera, which I still have today...

INTRODUCTION
by David Hey

Welcome to Peter Thorpe's 'Railway Cameraman' webpage, which, I have to confess, is one of my favourite pages because it features a collection of railway photos taken at lineside locations I am familiar with.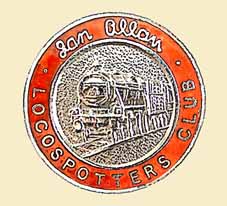 Having spent countless hours photographing trains at the very same places that Peter visited on the Aire Valley line between Leeds and Skipton, his shots of Apperley Bridge station (below) and Shipley (bottom) remind me of my own reconnaissances with a camera all those years ago.
Indeed I have only fond memories of train spotting in the 1950s. The decade may have been overshadowed by post-war austerities and a need to 'make do and mend', but on a positive note the stringent living standards led to a generation of 'baby boomers' learning very quickly how to budget within their means. Train spotting was the perfect answer. It cost nothing to sit on a fence collecting engine numbers on your local line.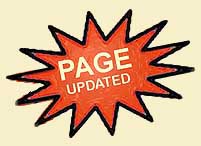 (Below) At 4pm on Saturday 16 May 1964, 'Black Five' 45126 looks in fine fettle at the head of the 3.40pm all stations stopper from Bradford Forster Square to Carlisle. The loco is getting into its stride following a brief stop at Shipley station, its exhaust barely visible in the spring sunshine as it climbs the short distance to its next stop at Saltaire. This humble train - usually made up of a motley collection of coaches and vans - held celebrity status among local railway enthusiasts as it was often hauled by a Class 7MT 'Britannia' Pacific, plus there was always the chance of seeing an occasional 'Clan', 'Patriot' or 'Royal Scot' locomotive. The 3.40pm train was the return working of a Carlisle Kingmoor shed's out-and-back roster and the relatively undemanding stop-start journey was frequently used as a running in turn, though the train did become fairly heavy after collecting more coaches and or vans at Skipton. In today's high-tech world it is hard to imagine that so few enthusiasts had telephones in the mid-Sixties; instead we had to rely on calling at one another's houses to pass on the news as to what the shedmaster at Carlisle Kingmoor had allocated that day, especially if it was a 'namer'. I remember calling at a friend's house in Bolton Road Bradford, to be greeted by his wife who explained Roy was in the bath so I asked her to pass a message on that it was a 'Clan!' The appearance of one of Kingmoor's Stanier 'Black Fives' did not generate the same amount of interest, however a big plus for this working was that it was rare to see the same locomotive two days on the trot.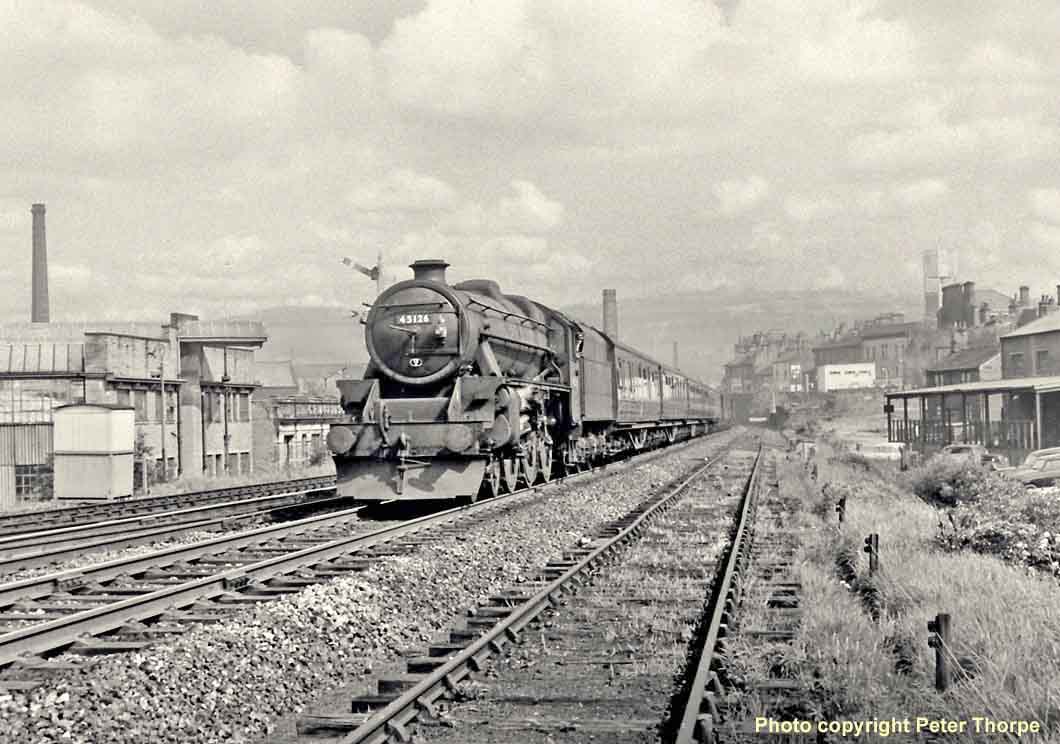 Harking back to the 1950s, the need to tighten one's belt didn't affect everyone. The British class system had changed little from the old colonial days of the British Empire in which the vast majority came way down the pecking order. The working class was still proud to be British, of course, but any patriotism was pushed to the limit in the face of financial hardship. It wasn't until the 1960s that attitudes towards social status began to change and Britain showed promise of becoming a better place to live…oh, dream on!
Fast-forward 50-odd years and we are still dogged by class divisions and money envy; however the big difference in today's society is that we are now dominated by a capitalist elite of self-indulgent 'high flyers' whose salaries are boosted by hugely-inflated bonuses that the rest of us would take a lifetime to earn.
Sitting at the top of this money-grabbing pile is a legion of over-rewarded bankers, who, like politicians, seem to have no concept of self restraint, and their perception of what constitutes a basic minimum wage is totally out of kilter with the 'penny-pinching' lifestyles that the rest of us have to put up with.
In fact there is something distasteful about such fabulous earnings; we are talking here about the very people we place our trust - the bosses of our energy companies, bankers and politicians - who, regardless of declining standards in customer care and a woeful lack of consideration for the electorate, can brazenly wriggle out of any ethical responsibility and moral self discipline.
But enough bellyaching from me; I mention it here because the content of this page is based on childhood memories of train spotting during the Fifties; indeed so much has changed in our lives over the years, both demographically and in terms of social attitude. The country is now faced with a mountain of namby-pamby health 'n' safety legislation, sexual and racial discrimination plus a barrage of soppy political correctness, not to mention soaring immigration, all of which is shepherding us headlong into a very different world to the one we were born.
At least I can console myself with Peter's stories of childhood spotting days. Not only are they a true chronicle of the way things were fifty-odd years ago, they serve to underline that even the bad times were good...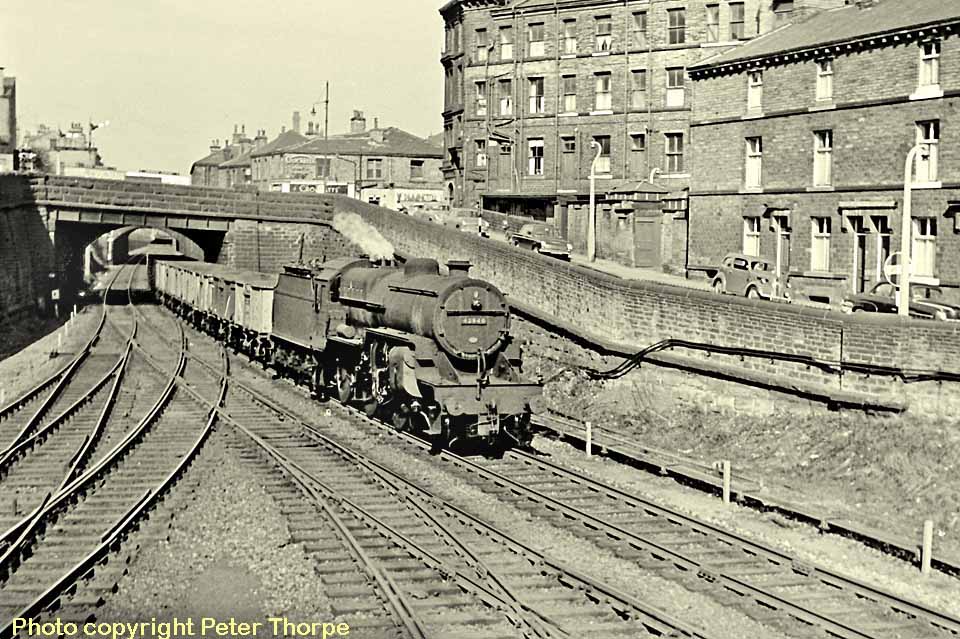 (Above) Having acquired a lineside pass in 1964, Peter had the opportunity to take photographs on railway property that were inaccessible in the normal way. This shot of Hughes 'Crab' 2-6-0 No 42940 heading through Shipley Bingley Junction with loose-coupled coal empties, was taken from signal box on 28 March 1964. A little over a year later this ex-LMS 2-6-0 would end its days at Stockport Edgeley (9B) where it was withdrawn in September 1965 and cut up by TW Ward of Killamarsh in December. Doubtless of interest to 'petrol heads' visiting this page are the vehicles parked on Stead Street beyond the wall on the right. Starting at the bottom of the slope is a Vauxhall Cresta E produced between 1954 and 1959. Next is a pre-war 1937-39 Ford 8, the bargain basement of motoring in its day, and very much a classic car when the photograph was taken. Next is the unmistakable outline of a Ford Cortina MK1, this being the earliest type built between 1962-66 with a simple front grill. It wasn't until after the second model went into production that Ford gave the car a 'facelift' including improving the grill. A Morris Oxford Series 6 can be seen next; a model produced from 1961 to 1971, however it is difficult to make out the remaining two cars clearly as the picture pixelates when zooming in. My thanks to Phil Hodgetts for the additional information.

EARLY DAYS
1950s

Following the end of the Second World War, everyone was hard at work rebuilding the nation's infrastructure, including the railways. The 1947 Transport Act led to the 'Big Four' railway companies being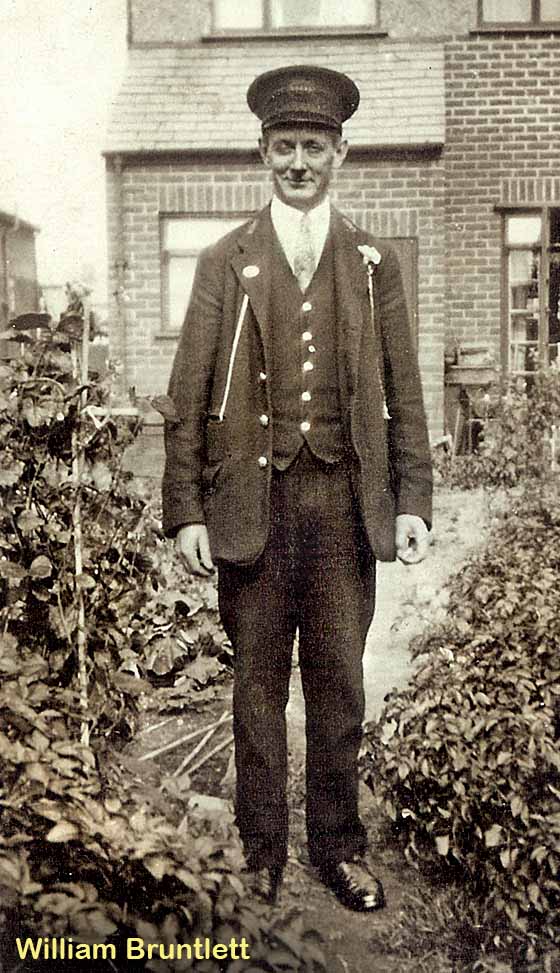 nationalised as British Railways, and on the 1st January 1948 the railway network was divided into six new BR Regions: Southern Region (SR); Western Region (WR); London Midland Region (LM); Eastern Region (ER); North Eastern Region (NER) and Scottish Region (ScR).
It was during that summer of 1948 that I was introduced to the railway scene at the tender age of five; I lived with my parents in the West Bowling area of Bradford and once a week we walked to my grandparents house in East Bowling via a small footbridge - known locally as the 'Donkey Bridge' - which crossed the line from Bradford Exchange to Low Moor.
My grandfather, William Bruntlett, was employed by BR as a guard working a thirteen-week shift pattern, and this often included an unfitted goods train working into Bradford Bridge Street Depot. The train would grind to a halt at the Bowling junction Signal box before crawling into the goods loop; the engine was often a L&Y Class 3F 0-0-0T No 52515, which would stop by the Donkey Bridge whilst my grandfather walked the length of the train pinning down all the brakes. After completing this task he would then exchange his shoulder bag with my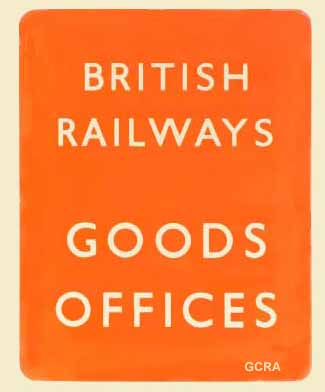 grandmother - sandwiches and a kiss for him, and a small bag for her, which I later discovered contained coal!
He then walked back to his guards van, blew his whistle and waved a green flag followed by a whistle from the loco, and with much groaning and squealing, the train slowly resumed its journey down the one in fifty gradient to Bridge St Goods Depot, often with brakes bouncing on and off as some of the locking pins fell out.

(Below) Alas I did not own a camera during my visits to Donkey Bridge as a small boy, however I did return many years later on a Bank Holiday Monday 30 March 1964 to photograph this Fowler 2-6-4T No 42411 banking Class B1 No 61030 Nyala on the 11.15am nine coach none-corridor excursion 1X43 to Southport, with both the footbridge and goods loop in view.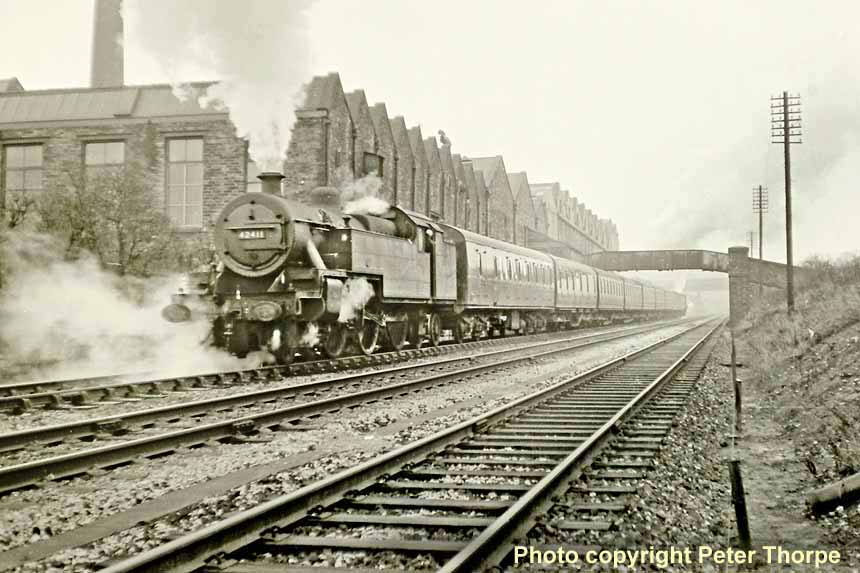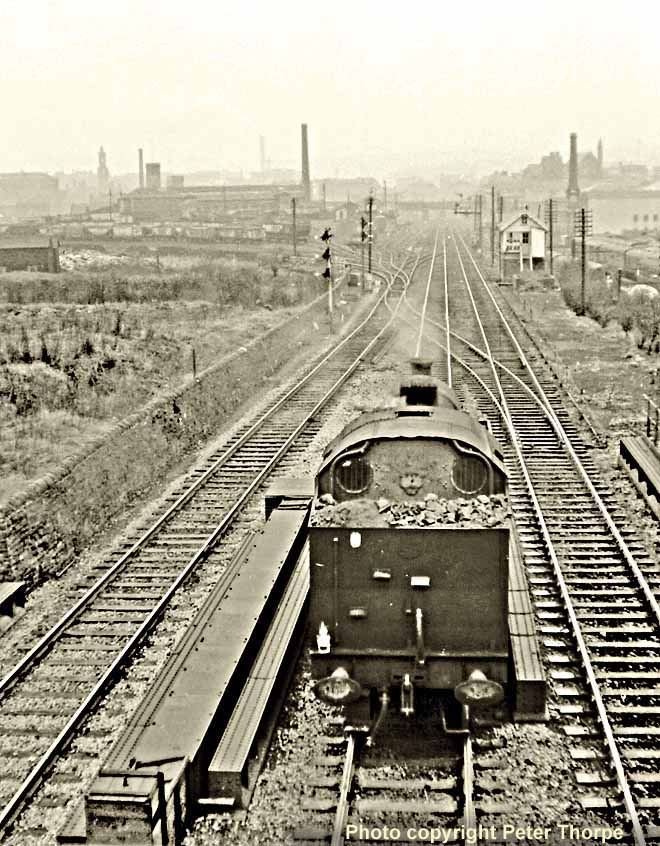 (Above) Having completed its task, this view from Ripley Street road bridge shows the banker rolling down the gradient on its return to Exchange station; No 42411 is crossing the ex-GNR lines to Keighley and Halifax via Queensbury which curve in from St Dunstans station behind the carriage sidings on the extreme right whilst on the left is the entrance to Springmill Street coal sidings. I recall the name of the signal box controlling trains into the coal sidings being called 'Coal Shoots' - and not 'Coal Shutes' as many publications have misspelt it! A full history of the lines serving Bradford can be found on the excellent 'Lost Railways of West Yorkshire' HERE.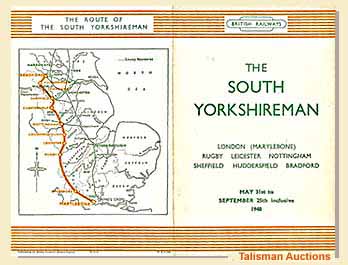 Later during the summer of 1948 my grandmother said she would take me down to the bridge to see a new London express 'The South Yorkshireman'. As we stood on the bridge gazing down the line towards Bradford Exchange station I waited expectantly as the hands of the town hall clock moved slowly round to 10am. Then right on cue, after the clock had chimed ten, I heard whistling from both the train engine and banker. All at once my anticipation soared as two columns of steam and smoke shot into the sky and both engines blasted up the incline to Bowling junction, at which point the banker eased off and crossed over onto the down line then rolled back down into Bradford Exchange Station.
I was instantly hooked on train spotting, and over the coming years spent many happy hours on that bridge jotting down the numbers of engines in my notebook But I wasn't the only boy keen on spotting trans. The hobby really took off during the Fifties; doubtless this is because it cost nothing to visit the lineside to spot trains and perhaps explains why cash-strapped parents gave the hobby their full support. In fact,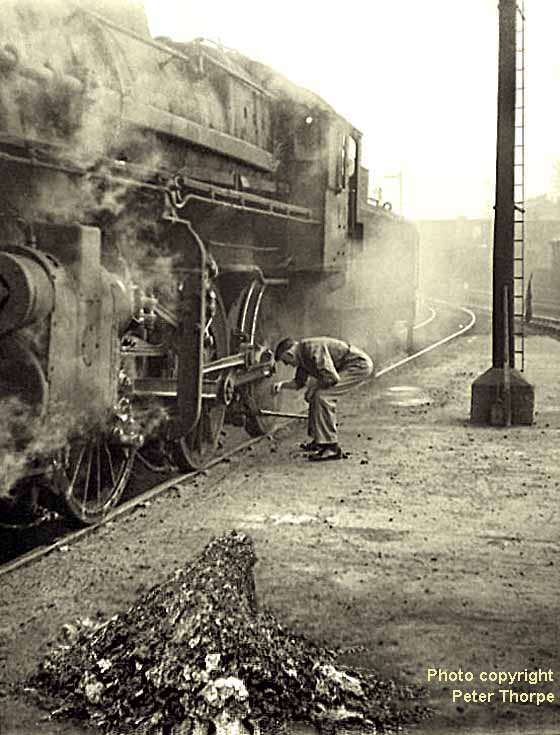 being careful with money was one of the reasons for our weekly visits to my grandparents who grew their own fruit and veg in their allotment; the sandwiches that mum made for my spotting trips were always filled with boiled egg and cress or sliced tomato...no prizes for guessing my grandparents also had hens! I remember plate salads with cucumber and even radish were common fare on our table, so too was rhubarb and custard as a sweet.
But getting back to spotting at Donkey Bridge, when my visits became more frequent and I saw the same engines time and time again, it soon reached a point when my 'cops' were drying up, and so I was delighted when during the family's ritual shopping trip to Bradford city centre on a Saturday, I was allowed, if I behaved! - to call in at Bradford Forster Square Station at around 5pm to see the arrival of a passenger train which was often hauled by a Holbeck 'Jubilee' or 'Royal Scot' class on a running in turn; the first loco I saw was 'Royal Scot' class No 46108 Seaforth Highlander - I was gob smacked!
By 1952 my parents gave me permission to go train spotting on my own, but no further than Bradford Exchange and Forster Square stations where I observed the D49s at Forster Square and the condensing tanks at Exchange.
Later they allowed me to travel as far as Manningham station, the first stop out of Forster Square, a station that gave spotters a good view of the engines in the shed yard just beyond the platform. There was always plenty of steam activity at Manningham to keep a spotter occupied, but the triangular junction at Shipley on the Leeds-Skipton line was the ultimate spotting destination, only my parents had ruled it out; in their opinion the distance was too far a nine year-old boy to travel on his own, and so I devised a cunning plan to keep the stub of my Manningham ticket in case they asked where I had been!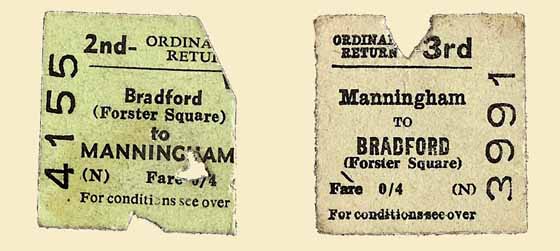 (Above) Two tickets from my collection that I still have today....(Insets and Below) I didn't acquire a camera until 1959 (see further down the page) and so the only way to illustrate this retrospective of early spotting days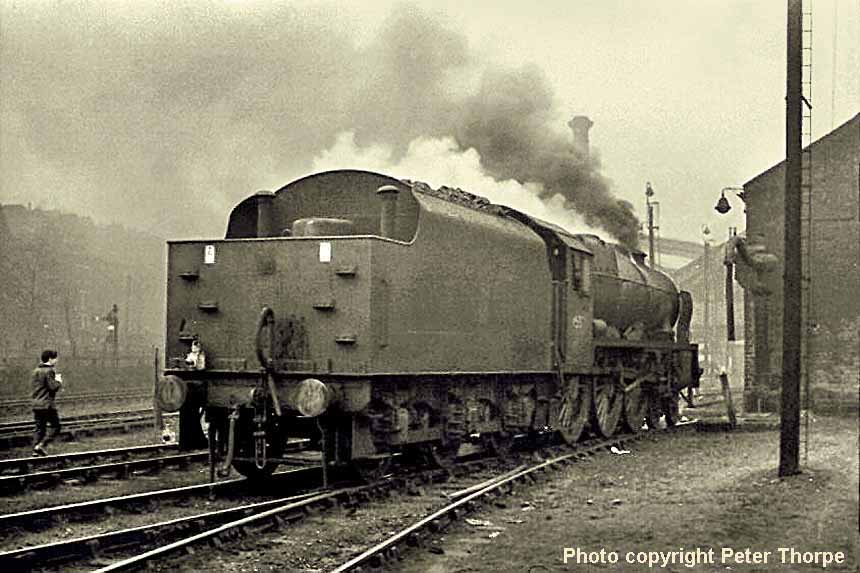 at Manningham is to include photographs taken a few years later. The main photo at the bottom is Manningham station with the shed yard on the left, and the locomotive is rebuilt 'Patriot' class No 45530 Sir Frank Ree, named after the General Manager of the London and North Western Railway; No 45530 is restarting the 3.40pm stopper from Bradford Foster Square to Carlisle, an all stations service which I was informed would be the last steam working of the train; this snippet came from the engine crew who had worked the train the previous day. I asked if Carlisle would turn out a special loco for this historic event?
Their reply went something along the lines of - 'If we have any steam loco spare! We seem to be covering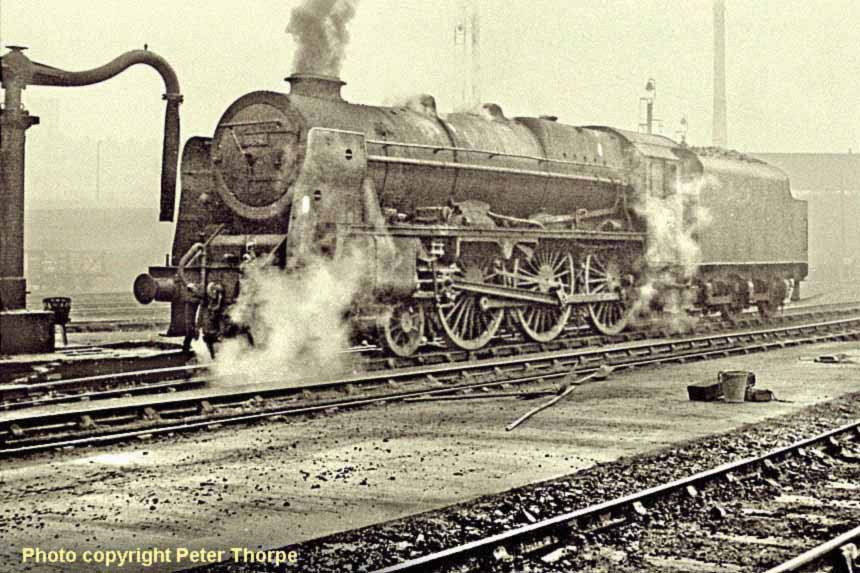 failed diesels all over the place!'
From memory it was early 1965 and 45530 was a Holyhead engine that had actually been condemned, but the loco was reinstated and acquired by a desperate Carlisle shed. Despite it being the filthiest 'Patriot' I had ever seen, minus both its nameplates and shed code plate, I took several photographs of it being serviced at Manningham shed prior to departure. However, on an upbeat note the train was loaded with enthusiasts, and as you can see here it looked more like a railtour. I'll confirm the full facts in due course…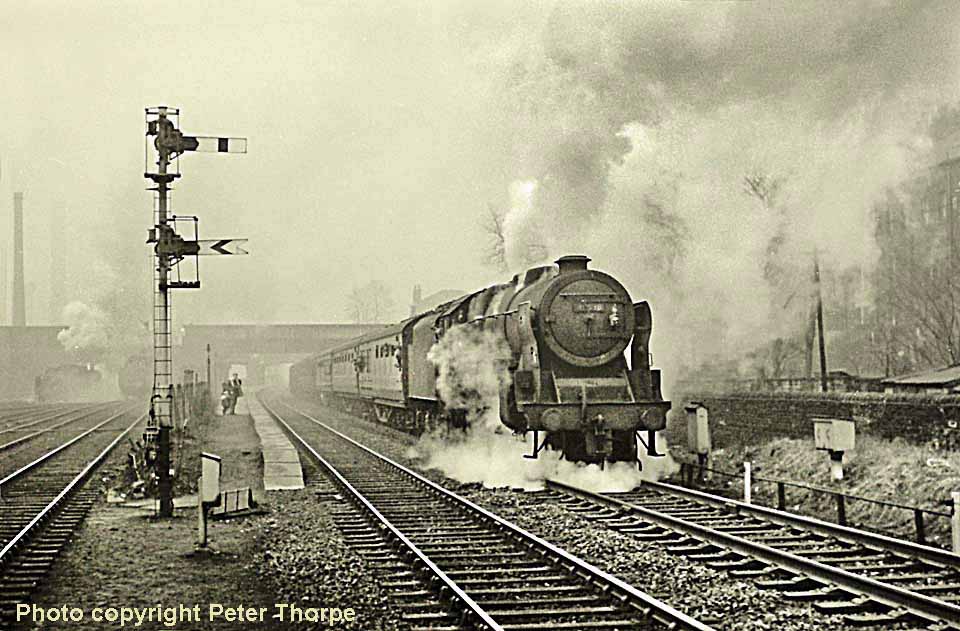 In between times the occasional visit on my own to Donkey Bridge on the Bradford Exchange to Low Moor line provided a few cops including three new Stanier 'Black Fives' Nos 44693-5 allocated to Low Moor shed (56F) during November 1950 followed later by the arrival of six new BR Standard 2-6-2Ts Nos 84010-15 during September 1953. These locos were employed on both the Penistone and Huddersfield trains. Other highlights in the early Fifties included the appearance of both 'Jubilee' class Nos 45698 Mars and 45708 Resolution (each ex-Works) with just an inspection saloon attached during the summer months to inspect the catch points near the bridge.
By the end of 1952 I was nine years old and halfway through a four year stint at Primary School, but much to my parents dismay I was considered an academic failure who fell into the category more commonly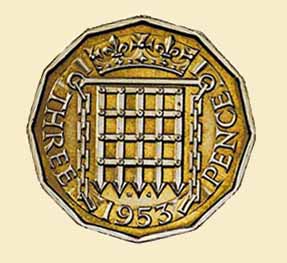 known as a 'dunce'. Charging to the rescue came my Uncle Bert who was determined I would study maths and improve my English, if nothing else, and so during my visits to see him he came up with a bribe of a 'thrupenny bit' (3d) in return for every well-written short essay - plus another silver thrupenny bit if I could do twenty sums correctly…and it had to be twenty, nineteen was a failure! He was determined that I would do better than follow him as a firelighter at Low Moor shed.
Needless to say, I was highly motivated by his offer. Back in 1952 a family's disposable income was much lower than it is today; the war had ended in 1943 but austerity measures and post-war rationing remained firmly in place, with housewives queuing with ration books at corner shops that had very little in the way of stock. In 1952, a one shilling (1/-) 5p-decimal charge was introduced for NHS prescription drugs dispensed at the local chemist, while the average yearly income was less than £600 and a 3-bedroom house cost in the region of £2,000; it sounds cheap by today's standards, but if you multiply the 1950's price by a factor of about fifty then today's equivalent is £100,000.
It goes without saying that a 'thrupenny bit' bribe was a most welcome inducement for this nine year-old; it went a long way towards supplementing my meagre spending money each week and it helped to finance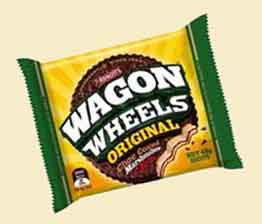 railway tickets, platform tickets, bus fares - plus a rare treat of a Burton's chocolate Wagon Wheel for my spotting trips. As it turned out, Uncle Bert's intervention paid off because at the end of my four year stint in Primary School I ended up top of the class at maths and came second in English, although I was an ignorumus at everything else!
What you may ask is this to do with the railway scene? Well, some of my spotting friends went to Carlton Grammar school where the playground overlooked the lines approaching Bradford Forster Square station and gave a good view of the turntable. Having passed the eleven plus exam my parents had to nominate one of two schools they wished me to attend, and their number one choice was Bradford Grammar School, however I managed to persuade them to select Carlton as a second choice. When the letter came I steamed it open to find it was to be Carlton - I was overjoyed - and quickly sealed it up again.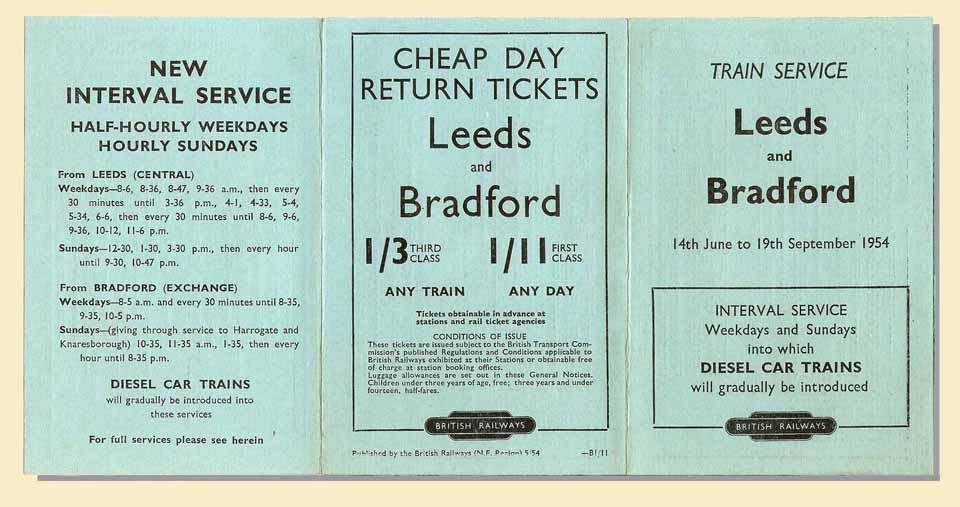 (Left-Below Right) As a reward for passing the eleven plus exam, my father treated me to a trip from Bradford Exchange to Leeds Central station on the new 'Bug Cart' (DMU) service. I remember the frustration of coming back on the same train - never once leaving our seats and not having any time to do any spotting at Leeds. The new railcars were introduced In April 1954 when the Ministry of Transport gave British Railways (North Eastern Region) approval for the introduction of eight 2-car diesel railcar units on the intensive rail service between Leeds Central, Harrogate and Bradford Exchange. The railcars were nicknamed 'Derby Lightweights' due to the use of a light alloy and steel during construction at the Derby Carriage & Wagon Works. The West Riding sets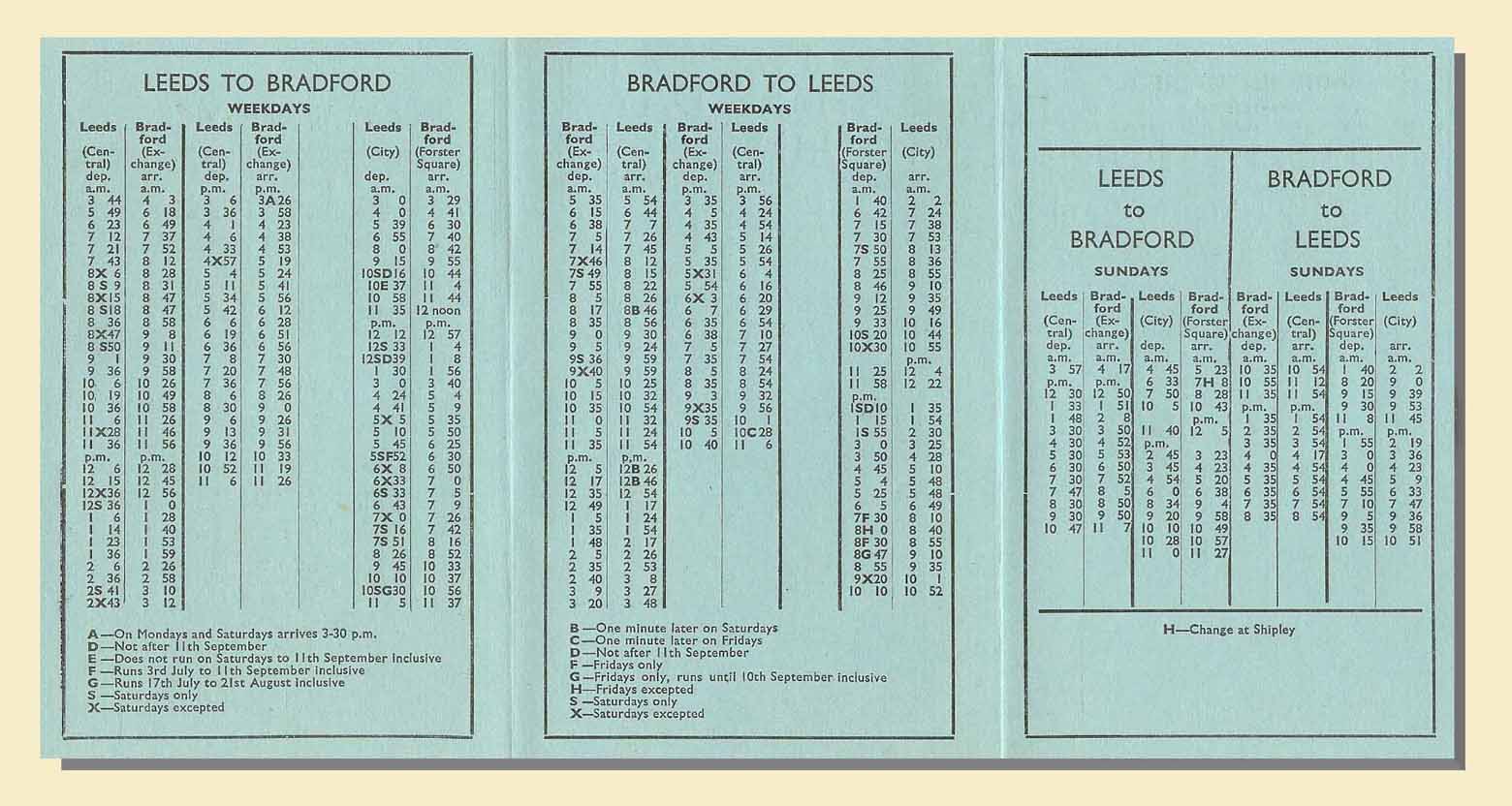 Nos 79000-79007 motor brake seconds and 79500-79507 motor composites were powered by two Leyland 6-cylinder engines, and suitable premises had to found for their stabling and maintenance. The site chosen was the ex-GNR steam shed (Hammerton Street) in Bradford. The attached Summer 1954 timetable published by the North Eastern Region reveals the intensity of the service between between Leeds and Bradford, including local trains on the service between Leeds City and Bradford Forster Square.

Living by now on the Delph Hill council estate in Bradford, family finances were still tight and my parents had a struggle to find the money for items such as school blazers, satchel, cricket bat and ties; it provided a valuable lesson for my future train spotting adventures, it taught me that the important requirements were money, permission, transport and planning.
By now the 3d (1¼p decimal) I earned from my Uncle Bert had ended, so a replacement source of income had to be found; this was achieved by joining the church choir, the pay was thruppence per week on condition that mid-week rehearsals were attended. Even better we received another thruppence if we were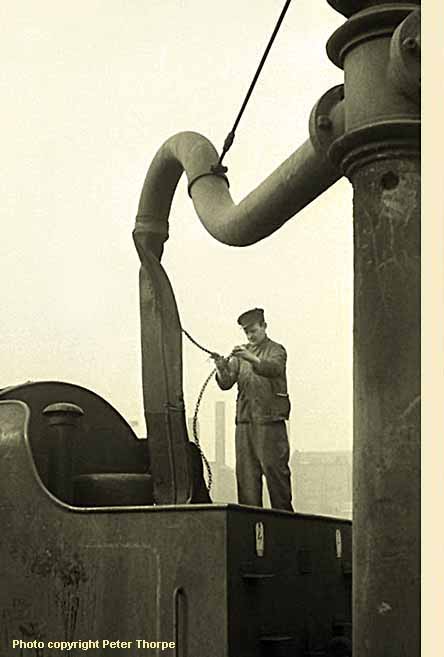 required to sing at weddings and, strangely, this was increased to a tanner (6d) for funerals. On top of this, I had a paper round which added considerably to the small amount of pocket money I earned each week. My father built a sledge for the children next door and in return I received an adult's bicycle, which enabled me to make frequent visits to both Low Moor and Farnley Junction sheds without having to fork out for travelling costs.
Soon I was able to increase my 'brass in't pocket' income by cycling into the countryside to collect conkers which I then sold at school. There were also the occasions I walked the four miles home from school to save on bus fares, plus I returned the empty pop bottles found in the local park; the deposit refunded on these were three or four pence each depending on the brand. I even made savings by buying just four school dinner tickets a week instead of five - thanks goodness we had free school milk in those days, plus the occasional apple and pear in season nicked from a garden on the way to school - and, of course, there was always the seasonal money earned from carol singing door to door at Christmas.
By the age of twelve, I had my finances in place (revenue streams in today's terms) and transport sorted (bicycle) together with my parents' permission to travel further afield, so at long last I was able to plan my spotting trips to such places as Leeds. The routes came from studying maps in the school library. If it was raining during the school lunch break pupils were allowed into the school library, and it was there I plotted cycling trips to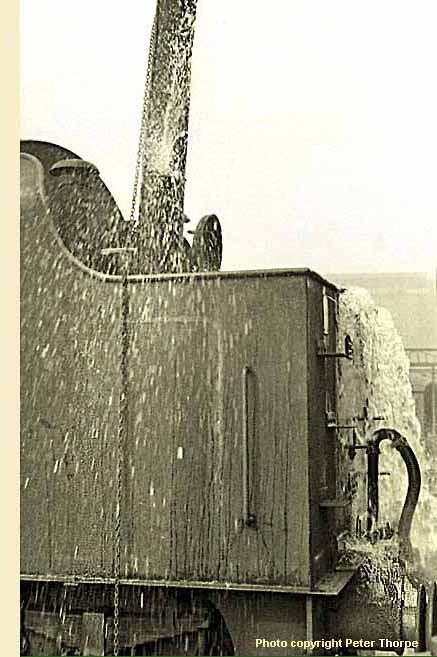 York and Doncaster on the pretext of going to Leeds for the day.
However, since I no longer had a financial incentive to do well at school and being totally absorbed into the railway scene, I proved to be an educational disaster during my five-year stay at Carlton Grammar School. So much so that when the time came to leave in 1959, I was summoned to the headmasters study and given a stern lecture on the fact that I was a disgrace to the school, and as no pupil had ever achieved a nil percent exam result he had instructed my French teacher to alter my final score to one percent for 'neat handwriting'.
I replied that I had represented the school at cricket, football, cross country running, chess and choir (singing competitions) but this all fell on deaf ears; he promptly walked me back to my classroom deliberately taking a route along a corridor adorned with pictures of ex-pupils who had become bankers, policemen and architects. His point was a salient one, and I accepted it as such, however coming as I did from a council estate background I had learned a good deal more from the 'University of Life' than I ever did at school. Also I doubt if the cleverest pupil at school could recite the numbers and matching names of the entire class of 'Jubilees'...

(Above-Below

) I wonder what today's Health & Safety executive would make of the day-to-day working conditions for railwaymen in steam days; no hard hats or high visibility vests in those days; in fact there were few safety measures to speak of! The fireman is balancing precariously on the tender of a 'Black 5' at Manningham shed in 1965. He's managed to get the bag in okay…but the water aint going where it should! (Below) This Manningham shedplate, clearly in ex-loco condition, shows the 55F code used by the shed from 1957 up to closure on 30 April 1967. The ex-MR shed at Manningham Bradford was a sub shed of 55A Holbeck Leeds; the previous shed code 20E was used from 1935 to October 1956

.

During my time at school, despite the many distractions of football, cricket swimming, chess, detention, lines - and even school lessons, my passion for all things railway did not diminish. Each day I would note the loco number on the early morning business express to Morecambe, usually a Compound followed by a lengthy parcels train that would stop at signals opposite the school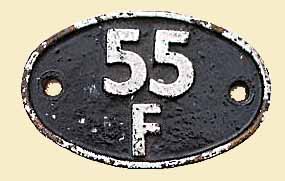 playground awaiting clearance to enter platform six at Bradford Forster Square. This

was nearly always a Carlisle rostered 'Jubilee' job hence the interest and rarely the same loco day in day out. If the loco was dirty one of us would nip out of school gates to get the number and we took it in turns to be late for first lessons.

Then there was station pilot, an Ivatt class 2-6-2T No 41265 or 41266, which could always be observed working away whilst dinner time saw the arrival of a passenger train from Hull double-headed often by a B1 and a Black Five. On one memorable occasion an ex works 'Clan' class 72007 Clan Mackintosh was noted on the station turntable much to the delight of pupils in the playground.
On another occasion one of my classmates arrived early at the school gates to advise us that Class A4 'Streak' 60028 Walter K Whigham had arrived on Bradford Hammerton Street shed the day before and was due to go on the wheel drop road for inspection and repair. This was hard to believe as the Gresley 'Streaks' were unheard of in Bradford, but he eventually convinced us he was not lying since the information came from his father who worked at the shed. So, come lunch time, a rather large party of about twenty boys sneaked out of the school, ran through Bradford to the shed where we were personally escorted to view the Class A4 by the boy's dad. We dashed back to school just in time for afternoon lessons and thought that was the end of it, but on arrival at school the following morning we were all given five days dinner break detention, hands on heads and all that! Still it was worth it and the lads who daren't go regretted it...


(Above) A nameplate measuring 86½" long, and clearly in ex-loco condition, went under the hammer for £27,000 at a Great Central Railwayana Auction on 13th July 2013. Originally numbered 4487 and named Sea Eagle, this Class A4 was built at Doncaster Works in 1937; the loco changed its name following an overhaul at the Plant on the 1st October 1947 when it emerged bearing the name of the Deputy Chairman of the LNER. The locomotive achieved fame on 24 August 1948 when it became the first of its Class to haul the up 'Flying Scotsman' non-stop from Edinburgh to Kings Cross taking the longer route via the Waverley line. The diversion was caused by heavy flooding of the ECML in south east Scotland and train services from Edinburgh were rerouted to St Boswells and then via Kelso before rejoining the East Coast Main line at Tweedmouth. 60028 was withdrawn from Kings Cross shed in December 1962 and cut up at Doncaster Works in January 1963. The excellent Great Central Railwayana Auction website is a veritable trip down memory lane and a visit here is highly recommended...you'll get lost for hours!
PHOTO GALLERY 1
THE SHIPLEY STATION TRIANGLE

Following the fanfare opening of the Stockton & Darlington Railway in 1825, a group of leading Bradford industrialists founded the Leeds & Bradford Railway Company (L&BRC) to provide a speedier transport system to convey their textile products. In 1843 the company obtained an Act of Parliament to build a line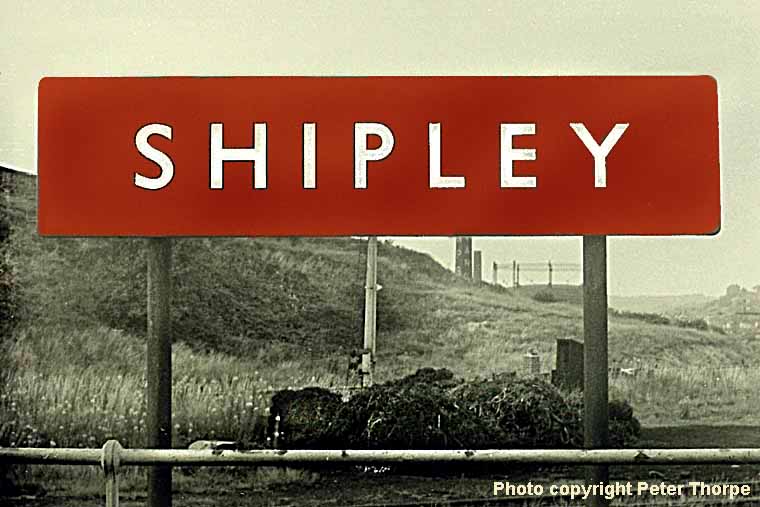 from Leeds to Bradford; the engineer chosen for its construction being none other than George Stephenson who, like the canal builders before him, chose the gentle contours of the Aire Valley to build a line from Leeds through Kirkstall and Rodley to reach Shipley, where the line then slewed south along a flat valley floor called Bradfordale to a terminus at Market Street near the Canal Basin at the bottom of Kirkgate.
Twenty years later the Leeds & Bradford Railway Company obtained a further Act to build an extension of the line through the upper Aire Valley from Shipley to Skipton and beyond to Colne. The first section opened from Shipley to Keighley on 16 March 1847, followed by a second section between Keighley and Skipton on 7 September 1847 and the final section between Skipton and Colne on 2 October 1848. Within two years the line from Skipton was extended to Morecambe, and in 1876 the Midland Railway opened a line from Settle Junction to Carlisle, thus creating a direct route for trains between London and Glasgow. The opening of this route, known colloquially as the Settle-Carlisle line, established the Aire Valley line as a major Anglo-Scottish rail artery for the Midland Railway.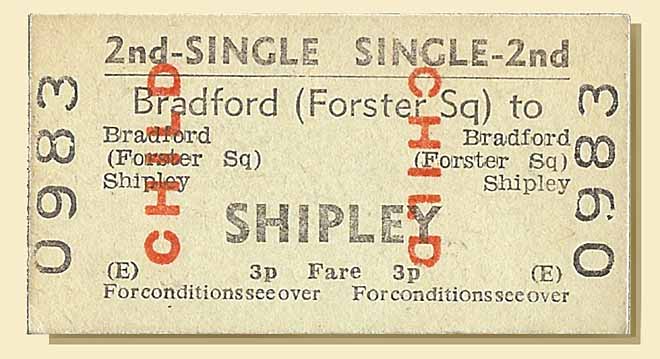 During my early spotting days the busy triangular junction at Shipley became my favourite spot for observing trains. My first visit, albeit in defiance of my parents who gave me strict instructions not to venture past Manningham Station, was an absolute eye-opener with a profusion of traffic converging on the junction.
The motive power noted consisted mainly of ex-LMS 'Scots', 'Patriots', 'Jubilees', 'Black Fives', 'Compounds' and 'Flying Pigs', along with BR Standard 'Britannia' and 'Clan' class Pacifics, plus ex-LNER B1s and ex-LMS 2-6-2 and 2-6-4 tank engines. What variety!
This heady mix was later complemented by ex-LNER Class A1 and A2s on CTAC specials, A3s on the 'Thames Clyde Express', not forgetting the ex-LMS 8Fs and 4Fs on freight traffic, and the WDs and 9Fs on oil and steel trains plus special workings to the Lancashire coastal resorts. Last but not least, there was an abundance of enthusiasts specials routed over the S&C, especially during the final years of steam, bringing with it such rarities as 'Merchant Navy' and 'Duchess' Pacifics to Shipley...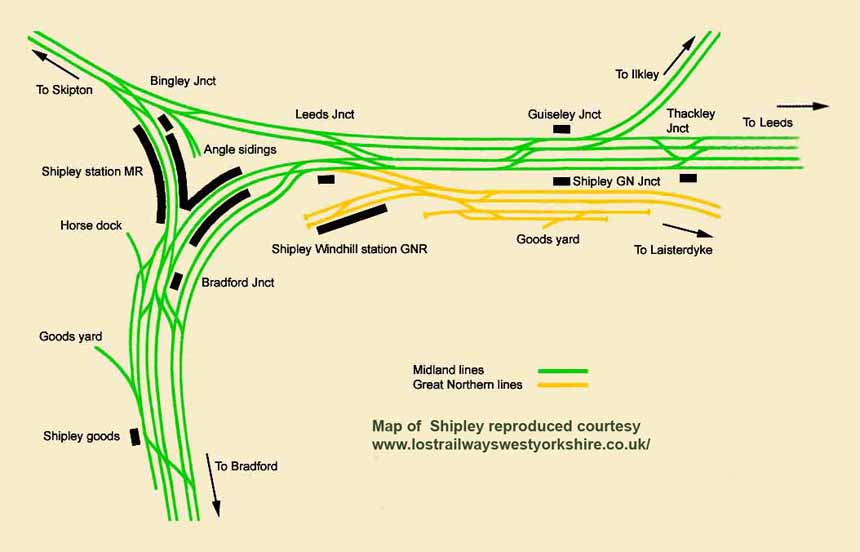 The triangular layout of the station at Shipley began in September 1847 when the L&BRC created a junction on the Leeds-Bradford line to accommodate the railway's extension to Keighley and beyond to Skipton. By this time the L&BRC had been taken over by the Midland Railway. Platforms were provided on the Bradford to Leeds curve and the Bradford to Skipton curve, but the Leeds-Skipton curve remained 'platformless' therefore trains on the local Leeds-Skipton services had to pass through the Leeds-Bradford platform before reversal into the Bradford-Keighley platform to allow passengers to board and disembark. This clumsy operation wasn't eliminated until May 1979 when a new bi-directional 'down' platform was opened on the Leeds-Skipton curve therebye allowing local Skipton-Leeds stopping trains to switch from the 'up' to the 'down' line' to reach the single platform. In 1992, a new platform on the 'up' line (to Leeds) was opened and Shipley is now one of only two triangular stations in the UK: the other being Earlestown in Merseyside. (Below).....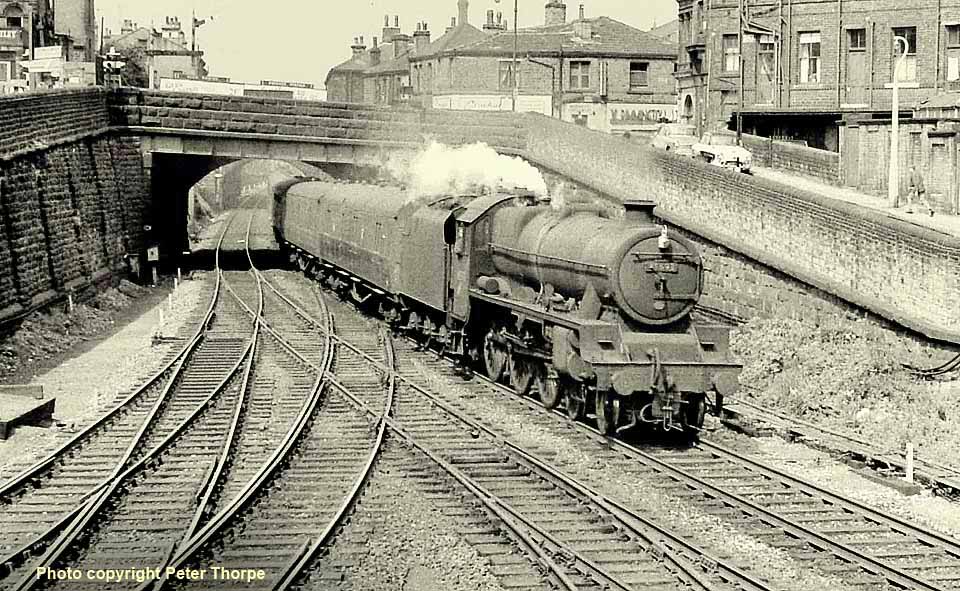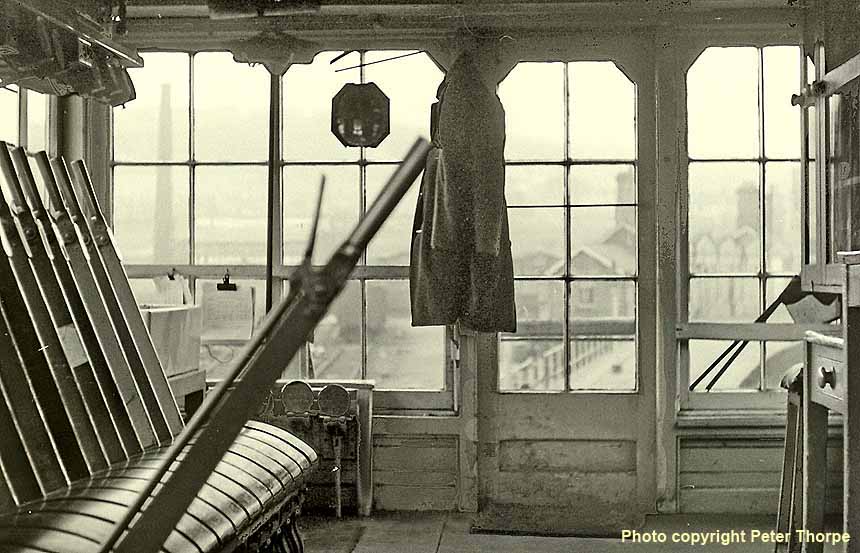 (Above) Interior view of Shipley-Bingley signal box looking towards platform 2, and showing the sidings on the left known as 'Angle sidings' although it was called the 'Engineers Sidings' by one of the signalmen. For the record, upon closure of Shipley-Bingley Junction signalbox on 25th June 1994, the structure was dismantled and moved to the KWVR the next day. It is anticipated the box will be commissioned in time to celebrate the 50 year anniversary of the opening of the Keighley & Worth Valley Railway in 2018. Click HERE to vist the excellent KWVR website.

(Below) The collection of signal box diagrams on John Saxon's Lymm Observatory website are a sight to behold.The diagrams are scanned with an hp scanjet 4600 A4 scanner, which is ideal for copying large documents: it is effectively an A4-sized transparent tablet. You place it on the diagram, scan an A4 section, then move it to the next section. The A4 sections are stiched together using Microsoft Digital Image Suite 10. However, the process of copying diagrams is very time consuming - a typical 6ft X 2ft diagram, scanned at 100 dpi, can take several hours, but the results are quite superb. Click HERE to visit John's excellent site, highly recommended.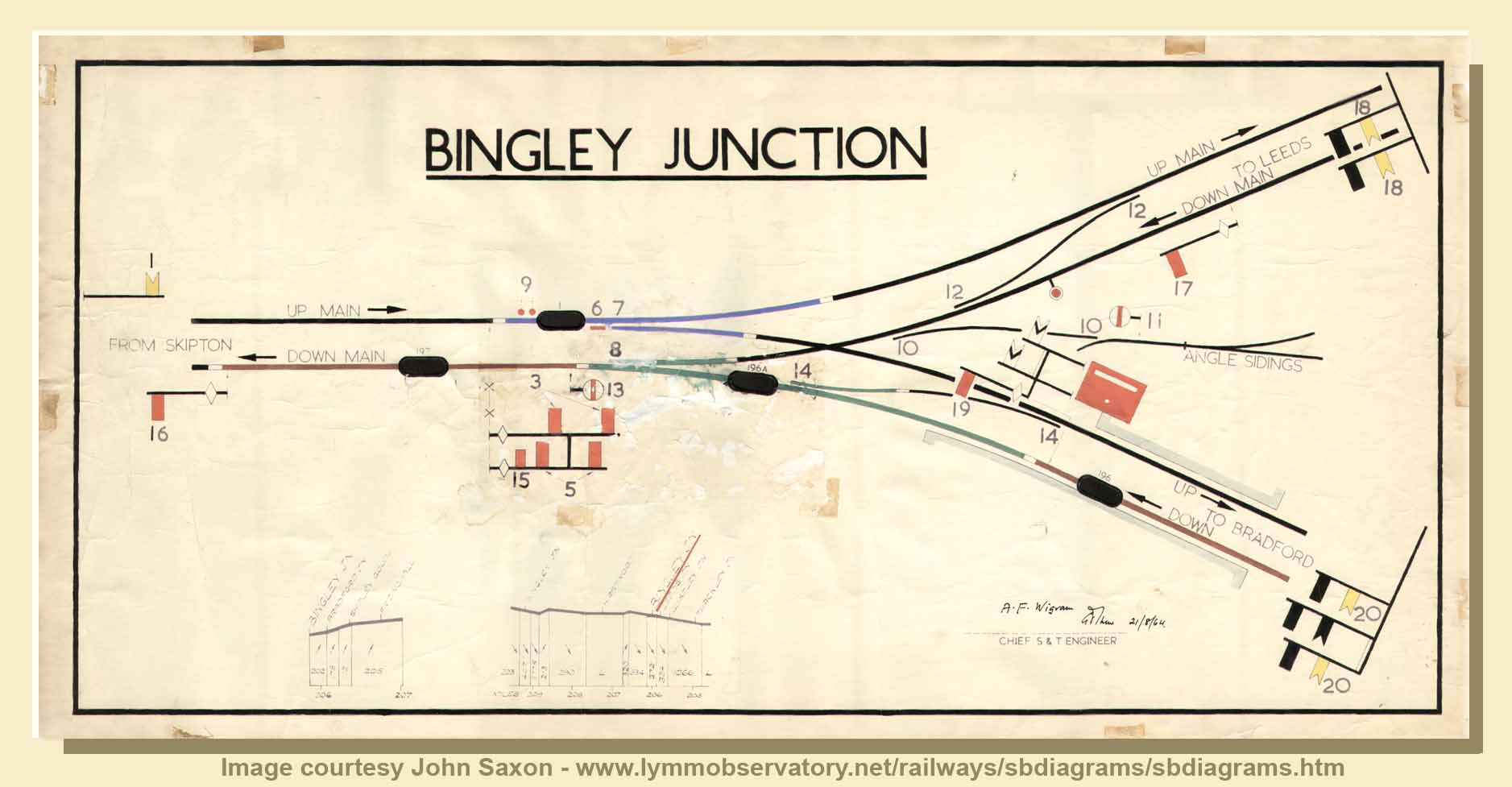 Despite frequent visits to major railway centres such as Leeds, Crewe, York, Darlington and Doncaster, the triangular junction at Shipley always remained my favourite spot. During late 1963 I got to know the signalmen who operated Shipley-Bingley Junction box quite well; all were most hospitable when I visited to photograph the changing scene.
The box was situated at the end of Shipley station's platform 2 and provided a good view of the junction; indeed having been allowed to take shots from the box and veranda I asked their permission to cross the tracks to take pictures from the other side. This was understandably refused, however one signalman - alas, over the passage of time I'm unable to remember his name, nor the name of his handsome Alsatian dog that invariably accompanied him.
However I do remember him suggesting that the best way to take lineside photos was to obtain a lineside pass, and gave me the contact name and address at BR(NE) at York. He also advised me that someone had already tried but failed before me, and so to avoid disappointment I should submit my request along the lines of (1) an application for a small area, (2) accompany it with a number of sample photographs (no steam!) and (3) state that I was interested in recording the modernisation of Britain's railways.
So I followed his advice and wrote a letter, using only the best Basildon Bond paper, making sure to include a stamped addressed envelope and enclosing my best Kodak Brownie shots of diesels, which, to be honest, were not that brilliant. I explained that as a responsible 20 year-old, I wished to compile a photographic record depicting the modernisation of the railways in a small area of Bradford-Shipley triangle - and, if that wasn't enough to ensure a positive response, I offered to submit character references as testimony of my trustworthiness.
Thankfully they were not required and shortly afterwards I received an acceptance letter, my photos were returned and I had my all important lineside pass…albeit very few diesel shots were taken, but steam a plenty!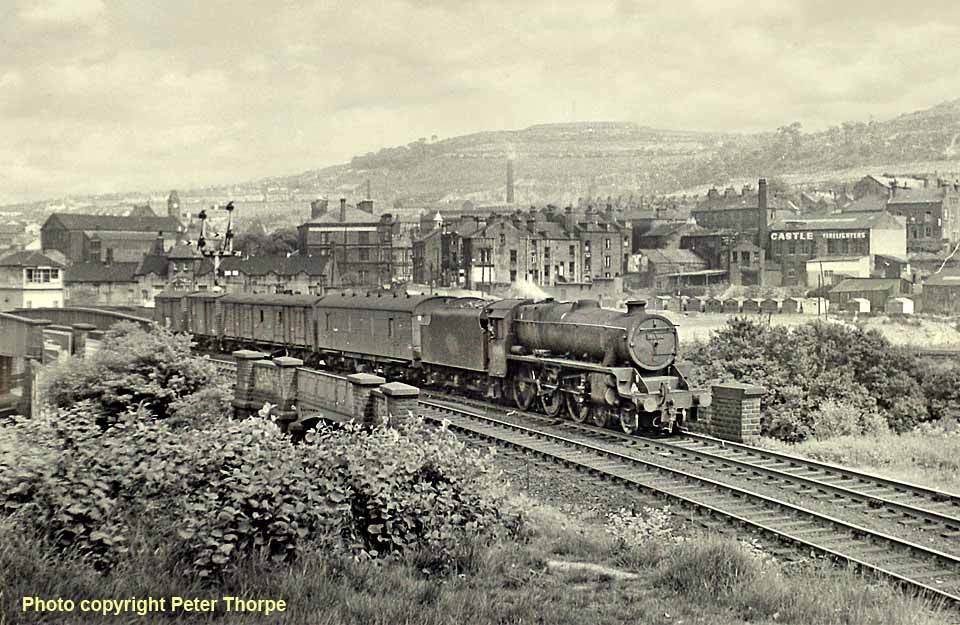 During the first few months of 1964 I tried various makes of 35mm cameras hired from Erick's camera shop in Bradford city centre, but I still could not find a camera I was happy with; I had experimented with colour photography in 1963 but the results were an abject failure, as was my experience with a hired 8mm cine camera. At least it gave me a much clearer idea of the basic requirements. I needed a 35mm camera with a minimum shutter speed of 1/500th, a cable release facility plus a brief time shutter option for shooting long exposures at night. Having tried different film types I eventually settled on Ilford FP3 fine grain film which I developed at home, though goodness knows what the neighbours thought of the strange red light in my bedroom window at night!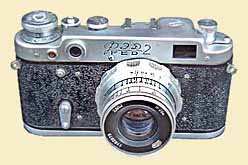 I also acquired a tripod plus a light meter which I never quite mastered and I never really got to grips with yellow filters either. However the real turning point came when I bumped into a fellow enthusiast; as soon as I saw the quality of the railway photographs he had taken with a Fed 2 35mm camera manufactured in the Soviet Union, my mind was made up!
So after much searching for a stockist, I finally became the proud owner of a Fed 2, with a shutter speed from B, 1/25-1/500sec, a combined viewfinder and rangefinder coupled to the lens; a Rolls Royce of a camera compared to everything else I had tried before. Over the next few years the Fed 2 became my most treasured possession and never left my side.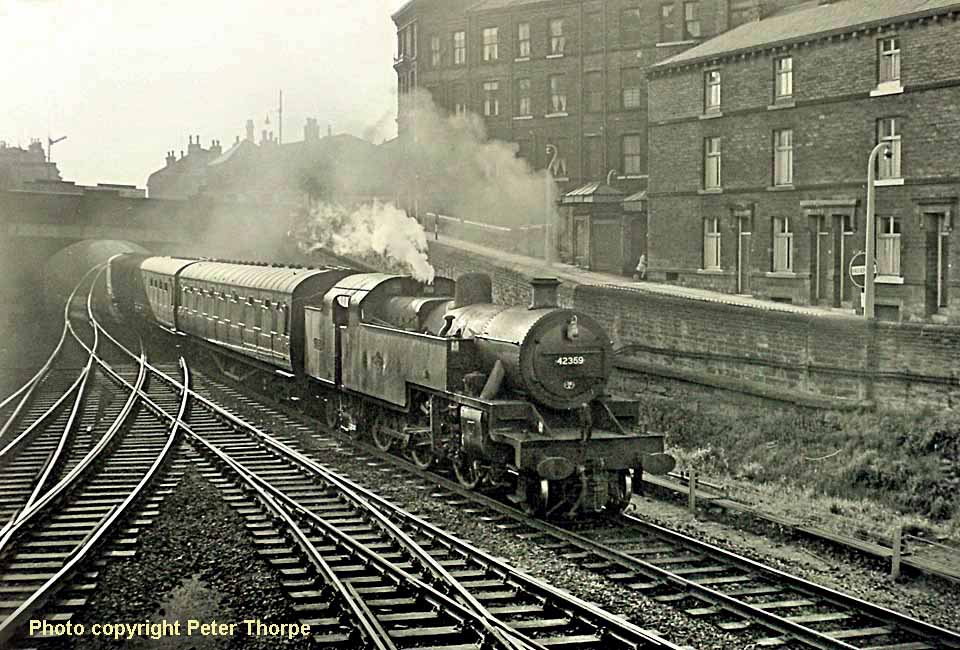 (Above-Below)

This photograph of Carnforth's Fowler 4P 2-6-4T No 42359 heading a Carnforth-Leeds turn was shot from the signal box window against the evening sun at 7.15pm on 15 May 1964. Photo details f5.6 1/250th

r

.

(Below) In order to assist signalmen identify additional trains working in the normal timetable such as summer Saturday excursions, holiday reliefs and other specials, reporting numbers were displayed on the front of the locomotive along with the usual lamp headcode indicating the class of train.This code was either chalked onto the locomotive front or pasted as paper characters onto a headcode panel mounted on the locomotive's smokebox. Displaying a stencilled 1X31 headcode on its top lamp iron, Lancaster Green Ayre's 'Crab' 2-6-0 No 42931 restarts a six-coach Bradford Forster Square-Blackpool holiday excursion from platform one on 23 July 1964. Photo details 1/500th @ f4.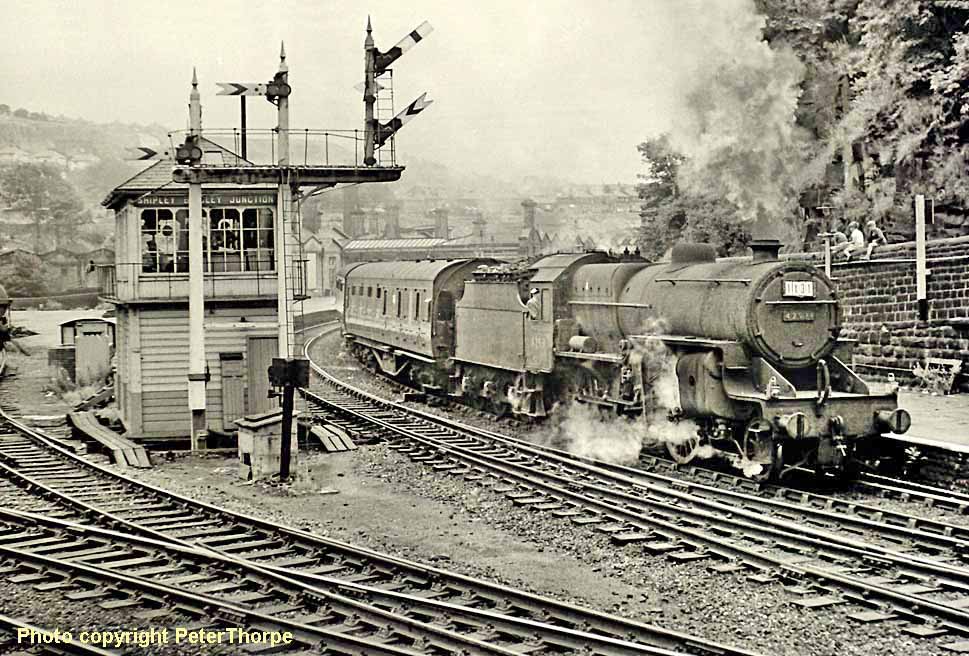 (Below) Unusually one of Low Moor's (56F) 'Jubilees' No 45565 Victoria awaits departure from Shipley's platform 1 on an unidentified passenger working from Bradford Forster Square during a bitterly cold spell. Even more unusual the photograph was taken from the signal box whilst drinking a mug of tea - just glad I had my tripod and cable release with me on that freezing day! For the record, platform 1 was abandoned in 1980 when the curve between Shipley-Bingley Junction and Shipley-Bradford Junction was singled and local passenger services in both directions were concentrated on the 'down' platform 2 on the left.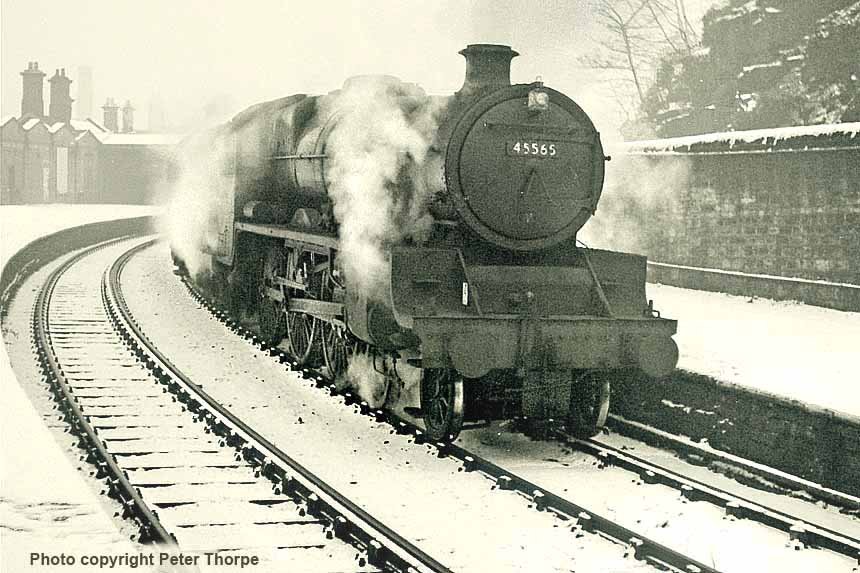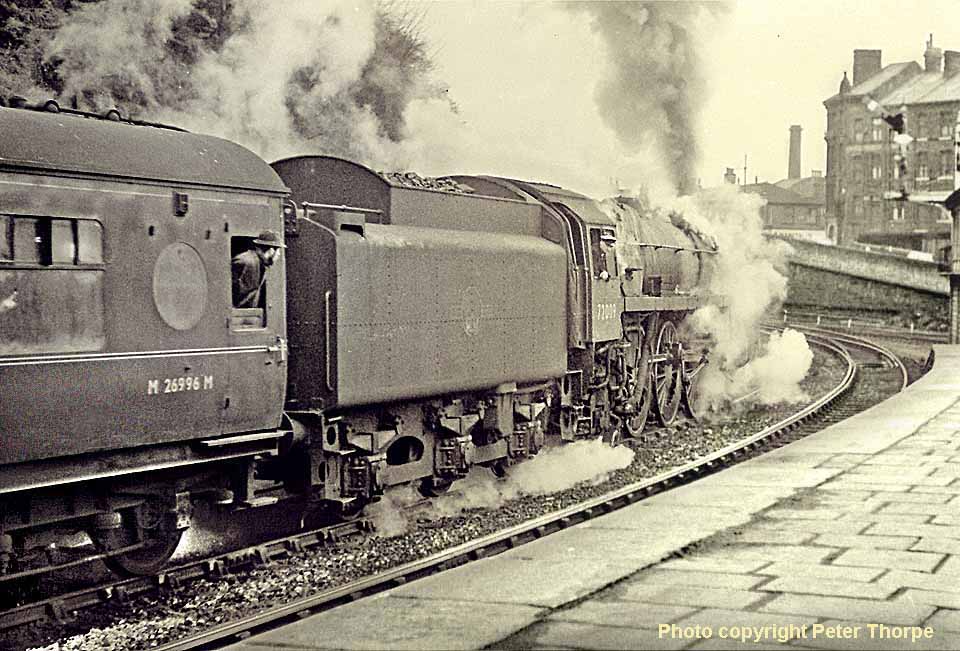 (Above-Below) The BR Standard Class 6MT Clan Pacifics were built at Crewe between 1951-52 with Nos 72000-4 going to Polmadie in Glasgow (66A) and Nos 72005-9 being assigned to Carlisle Kingmoor (12A) for duties previously worked by the LMS 'Jubilee' and 'Patriot' classes. When introduced to traffic the ten locomotives Nos 72000-72009 had a mixed reception by locomotive crews; the majority of Scottish and Midland enginemen displayed a liking for them on regular duties, and as such, produced some good performances, whereas crews unfamiliar with the class found them difficult to handle, and this led to their somewhat undeservedly bad reputation. Here, Clan Pacific No 72009 Clan Stewart makes a spirited departure from Shipley with the 3.40pm Bradford to Carlisle all stations marathon on 16 April 1964. The Clans based at Carlisle were occasional visitors on this working and I understood from one of the crews that this out-and-back trip was often used as a running-in turn by Kingmoor shed. No 72009 was withdrawn on 28 August 1965 and cut up by Motherwell Machinery and Scrap Company Ltd in November that year. (Below) Sporting a 12A Kingmoor shedcode and a recently repositioned lamp iron on the smokebox door, No 72005 Clan Macgregor gets away from Shipley with the 3.40pm Bradford Forster Square-Carlisle stopping service.

For the record, the topmost lamp iron was moved to a lower position for safety reasons; this prevented engine crews having to reach up to remove or replace a lamp at this unsafe height when working in areas with overhead electrification equipment

.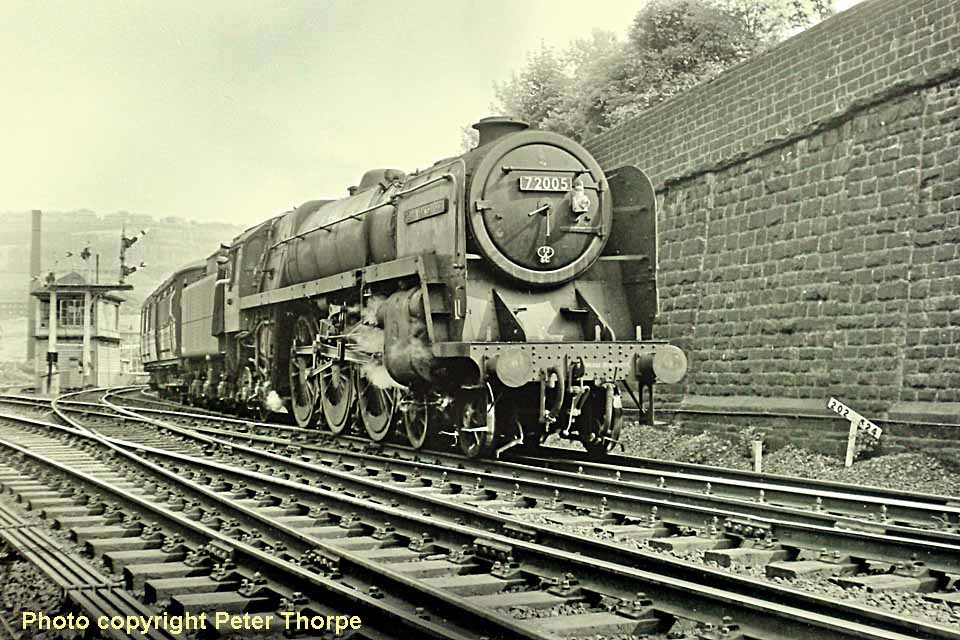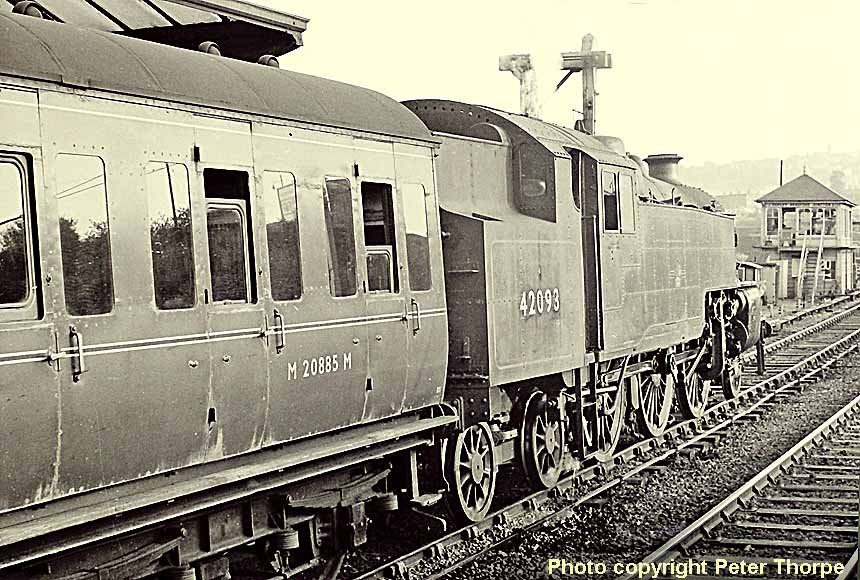 (Above-Below) Shipley-Bradford Junction box controlled the southern apex of the triangle. In this view, the signalman has pulled off the Down Main Home No 31, allowing Manningham's No 42093 to depart with a London-Bradford express on the final leg of the journey to Forster Square on 4 August 1964. I remember this loco well; I was in the first carriage behind 42093 as it powered out of Shipley's platform 3 at the head of a Leeds train and the engine had the audacity to overtake a Class A3 on the southbound 'Waverley'. The A3 had just come round the North curve and before it had chance to pick up speed again, we managed to overtake it on the four-track stretch from Shipley to Thackley Tunnel, much to my excitement. However, on exiting the 1,496 yard-long tunnel at the Apperley Bridge end I discovered the A3 was now well ahead and we had no hope of keeping up. But at least I had the memory! (Below) Nearing journeys end, Carlisle's BR 'Britannia' Class 7MT No 70036 Boadicea departs Shipley's number 2 platform with an evening Carlisle to Bradford Forster Square train on 23 April 1964. Photo details f2.8 1/50 Tripod.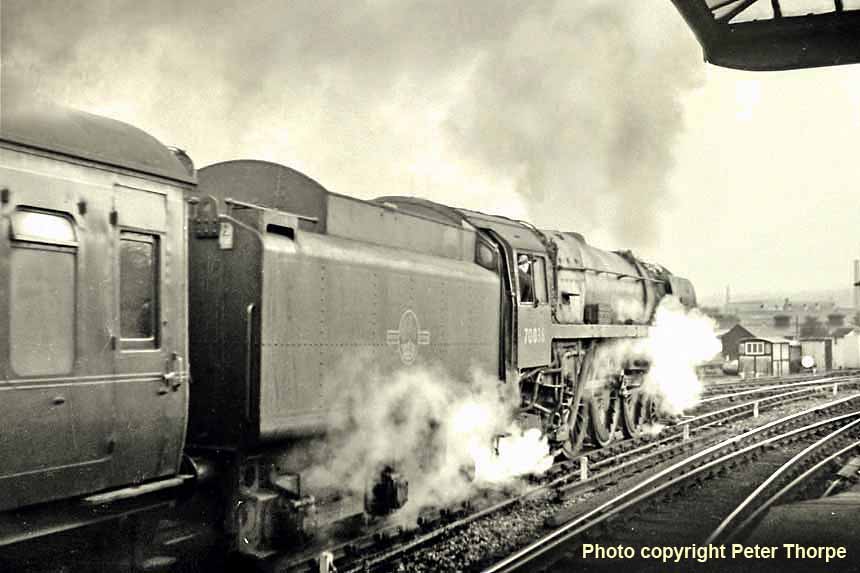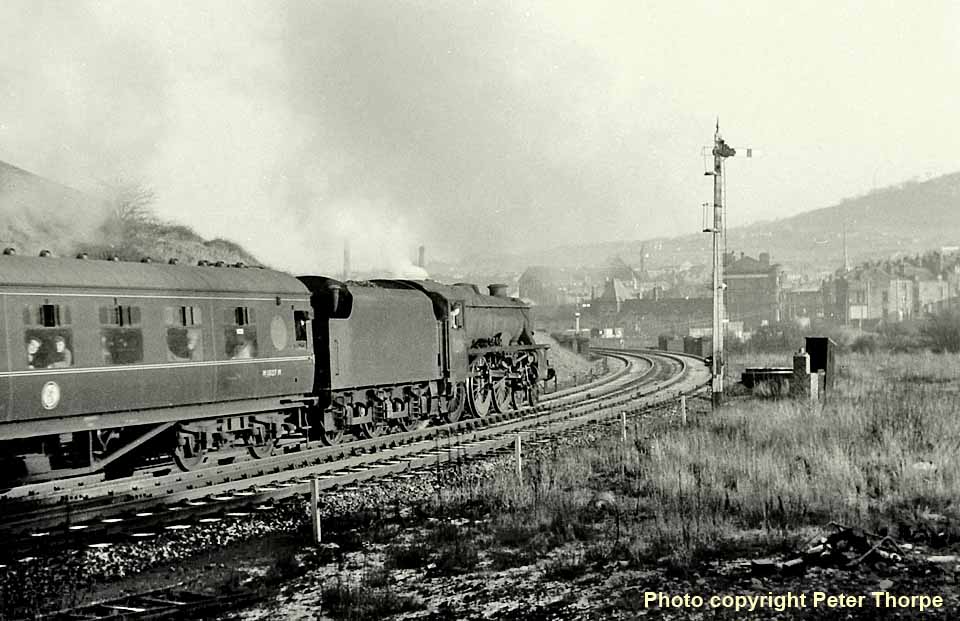 (Above-Below) A bitterly cold day in the mid-Sixties (Winter 64-65) sees a southbound special drifting round Shipley's curve towards Leeds behind 'Black 5' No 45154 Lanarkshire Yeomanry, one of only four members out of a class of 580 to be named; this made it a popular choice for hauling enthusiast railtours during the final years of steam. The photo was taken at 1/250th @ f2.8. (Below) Caption to follow....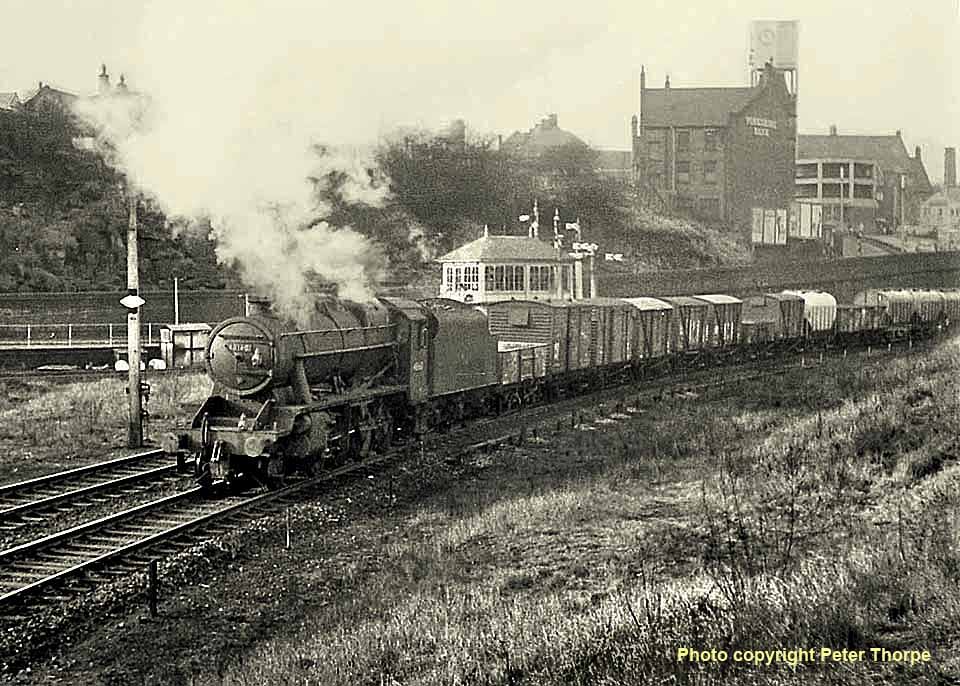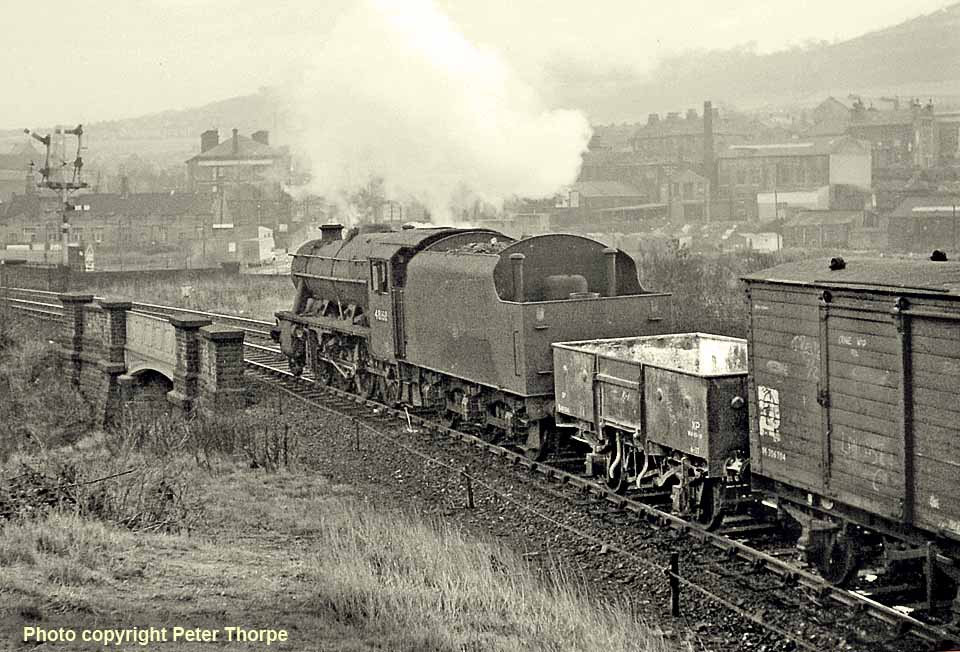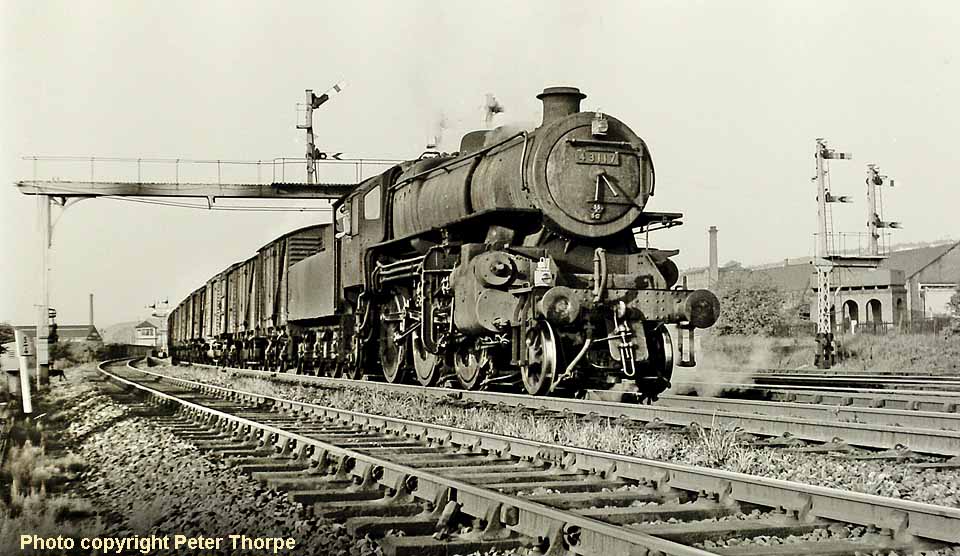 (Below-

Below) When British Railways was formed in 1948 it continued to build selected locomotive types belonging to the former 'Big Four' railway companies, the LMS Ivatt Mogul 2-6-0s being one such example. The first three in the Class 4MTs numbered 43000-2 were built by the LMS at Horwich in December 1947; these were followed by Nos 43003-49 and 43112-36 which were constructed at the same works by BR. No 43117 was among the second batch and entered traffic on 9 June 1951. However, with their very high footplate well clear of the cylinders and cab sides not carried down to tender-footplate level, the Ivatt Moguls were not the prettiest of engines, and soon acquired the nickname 'Flying Pigs'. They were either loved or loathed by loco crews; most of the Manningham lads considered them free running and liked them for both freight and passenger turns. Subtle differences were to be found on the BR built locos in respect of the wording on both the works and tenderplates. For example 43117's tenderplate was cast with a prefix letter 'M' as opposed to 'LMS' and carried the number 4757 and date 1951. Being a local shedded engine, 43117 was often seen in the area and is pictured here approaching Shipley-Leeds Junction with a northbound freight on the evening of Monday 25 May 1964. Withdrawal came in July 1967. (Below) Following closely behind the Ivatt Mogul was 'Black Five' No 45054 at the head of a northbound coal train; this Black Five was built in November 1935 at the Vulcan Foundry and spent most of its life working from Carnforth 11A. The Stanier 'Black Fives' proved very popular with crews being free steaming, reliable and powerful locos that could be relied upon for whatever task they were was allocated. They served on all the BR Regions and no fewer than eighteen locomotives have survived in preservation, a fitting testimony to the Stanier design.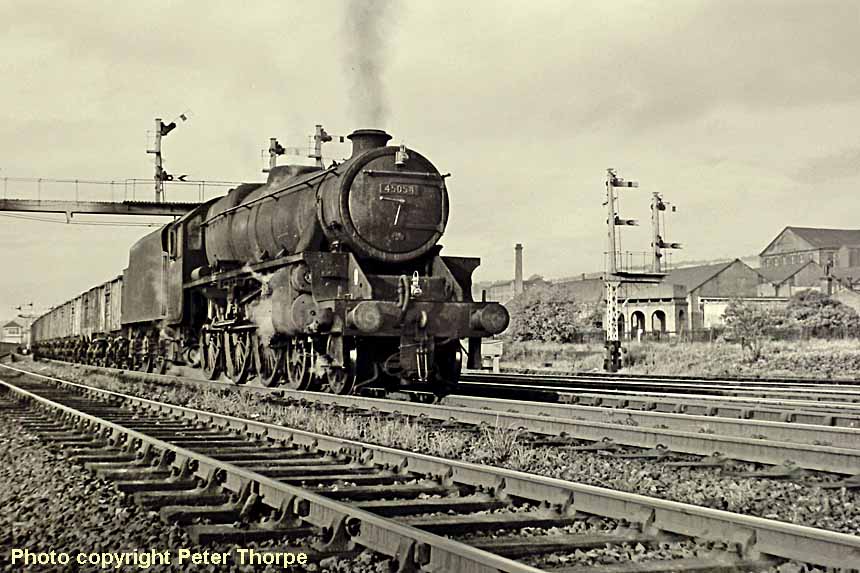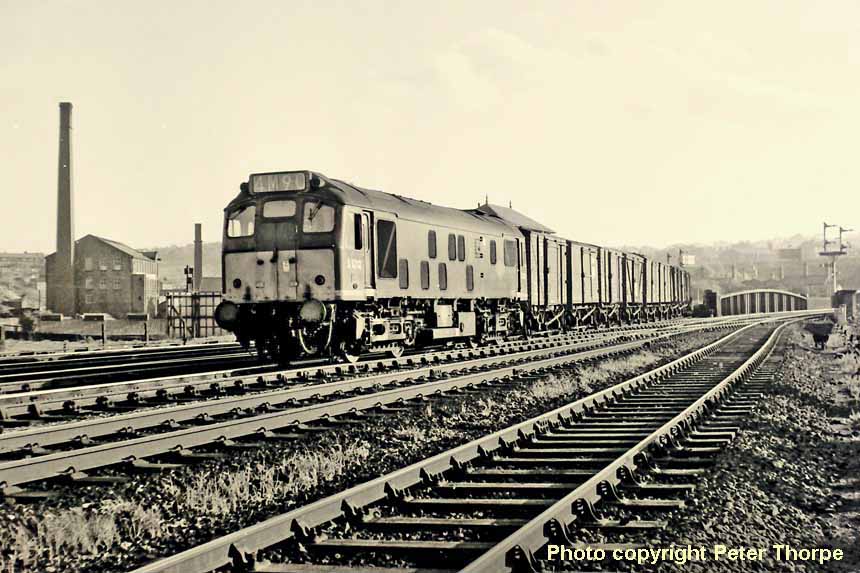 (Above

-Below) Having had the good fortune to secure a lineside pass on the pretext of recording the modernisation of Britain's railways, it was necessary to take a number of diesel shots in order to support my application for an extension the following year. By 1964 the infiltration of diesels at Shipley was very much in evidence, the biggest culprits being the Type 2 Bo-Bo 'Rats' and Type 4 1Co-Co1 'Peaks' which could be found on both passenger and freight workings. There were numerous parcel trains departing Bradford Forster Square for destinations far and wide. The majority of this traffic originated from two of the country's largest catalogue companies, Empire stores and Grattans. Supplementing these workings were the many freight trains departing Valley Road Goods Yard which also incorporated the full load freight workings from The Trafalgar Depot. Here, the headcode panel of Cricklewood's Class 25 Bo-Bo No D5212 displays an 'M' indicating a Midland destination whilst the first numeral 4 denotes a fully fitted express freight, in this case a lengthy van train. Less than a year old, but already looking grubby and sounding equally rough, D5212 heads past Shipley-Leeds Junction box in the late evening sunshine on Wednesday 13 May 1964. Having managed to at least reach this point from Bradford Valley Goods Yard, I did wonder how much further into its journey it managed! The locomotive did however survive until withdrawal from Inverness on 19 December 1982 before making its marathon last journey for scrapping at Swindon Works on 29 June 1985. (Below) The Type 4 'Peaks' were more commonly to be found on express passenger services at Shipley, most notably the Anglo-Scottish 'Thames-Clyde' and 'Waverley' expresses which were dieselised at the start of the 1961 summer timetable, however on this occasion the headcode panel of 'Peak' class No D49 is displaying a 'V' indicating a Western Region destination, probably the 7.15pm Bradford-Bristol (Westerleigh) Class 5 fitted freight with a minimum one third fitted vans next to loco. Both photos 1/250sec @ f5.6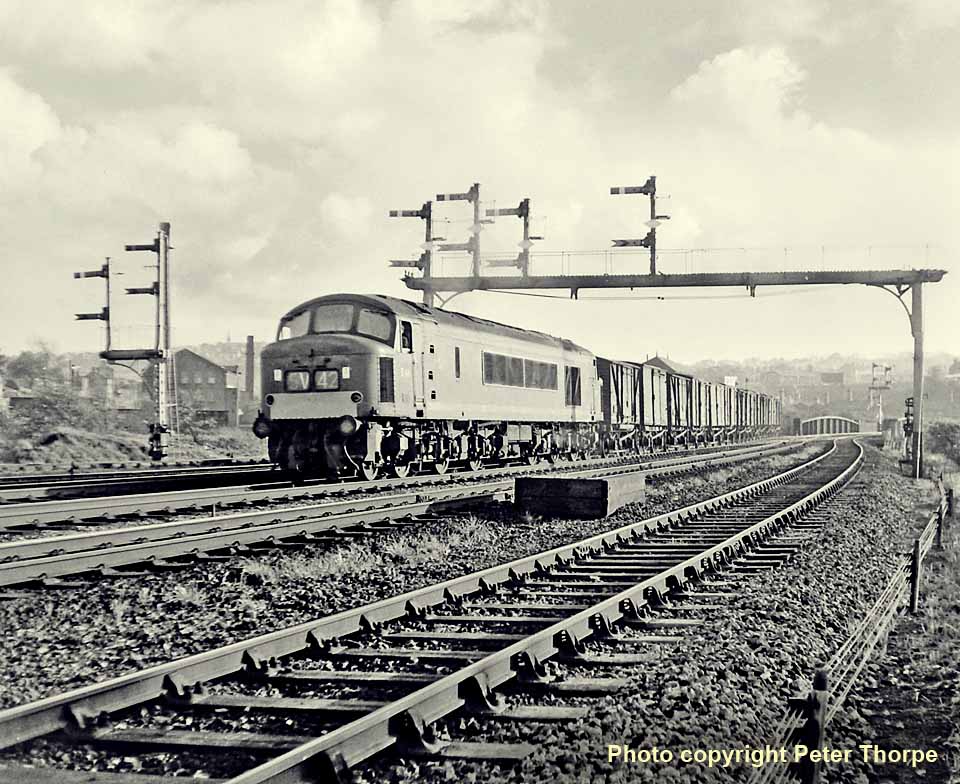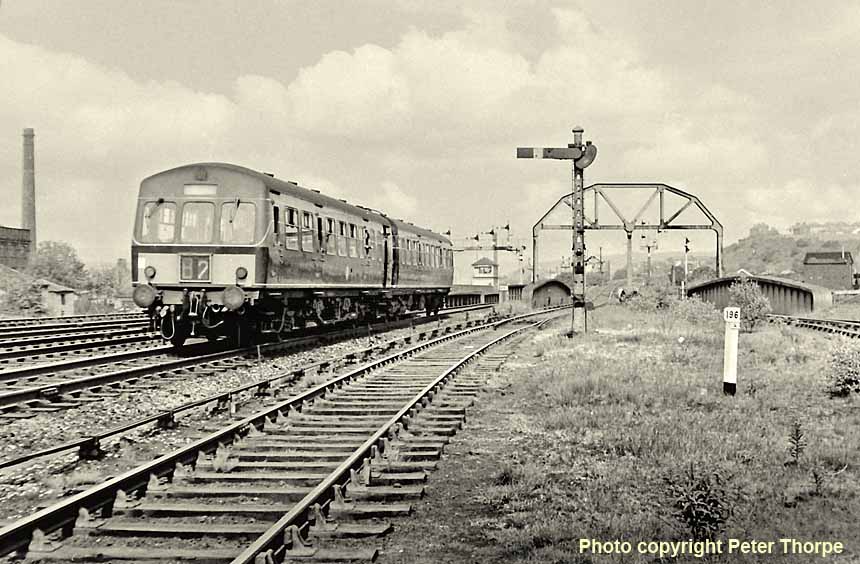 (Above) A 2-car Metropolitan Cammell dmu on the Leeds City-Bradford Forster Square service slows for the obligatory stop at Shipley on 30 May 1964. In the distance can be seen the timber-built Guiseley Junction signal box where the line from Ilkley trails in from the left, and on the right (at the foot of the 1 in 61 climb to the summit at Idle) is the stone-built GN Shipley Junction signal box which controlled train movements into Windhill Station, terminus of the GNR's branch from Laisterdyke. Note also the milepost to London marker in the foreground, and of much interest to GN enthusiasts is the unusual signal with a centre pivot arm, more commonly known as a GNR summersault signal. The GNR invented the new signal following a serious crash caused by snow freezing an arm in the wrong position in 1873. Photo details 1/250sec @ f5.6

(Below) I was keen to take pictures of goods trains climbing the incline to Idle on the ex-GN branch from Shipley to Laisterdyke, but as my lineside permit did not extend to this section of track the signalman in the Shipley-Bingley Junction box had a word with the Shipley GN signalman who agreed to help. Opened in April 1875 this rarely photgraphed branch gave the Great Northern Railway access to the MR at Shipley, its main traffic being coal from the Wakefield area with up to seven freights daily; passenger services were withdrawn on 2 February 1931 but the line remained open for goods traffic well into the 1960s, the last section to close being the two mile gradient between Idle and Shipley for transporting limestone from Idle Moor quarry until October 1968. The GNR branch joined the Midland Railway at Leeds Junction signal box at the eastern apex of the triangular junction. This photo shows a clean Low Moor Jubilee 45694 Bellerophon getting into its stride with a transfer freight working on Wednesday 29 July 1964.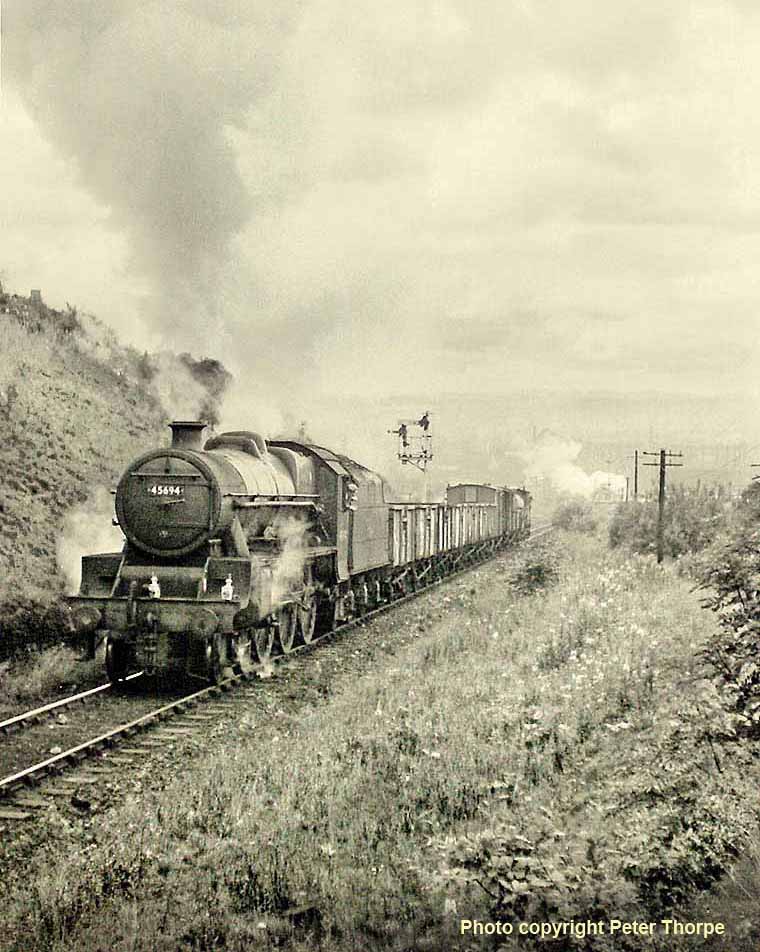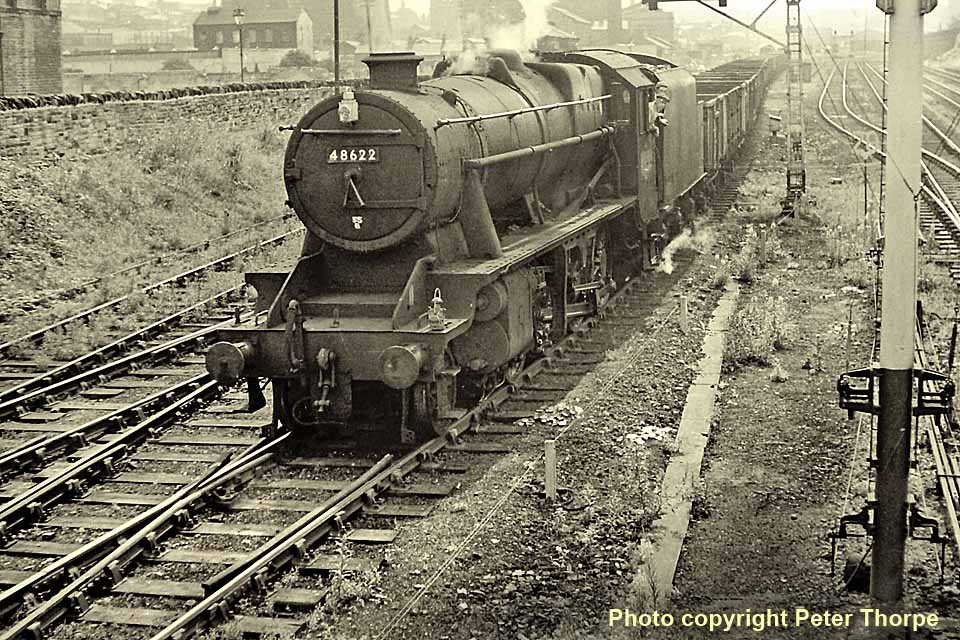 (Above) The following day, Thursday 30 July 1964, I photographed Stourton shed's Class 8F No 48622 from the signal box at the foot of the torturous gradient which rises at 1 in 61 for two miles to the summit at Idle. Note how the engine crews just love being in the picture!

Memories! On Saturday the 1 August 1964 I noticed a Low Moor WD 2-8-0 train awaiting departure with a lengthy freight from the ex-GN Windhill yard, and set off to photograph it...but it was like a ghost train - no crew or guard in sight! I checked with the signalman who said they had gone for 'refreshments' but were due back soon.
Sure enough, the crew duly appeared and said they had seen me taking pics earlier that week and would I like a footplate ride to Laisterdyke! I was dumfounded! Over the years I had frequently been able to 'cab' an engine if the crew had time, from D49s and Compounds at Bradford Forster Square to Brits and Class A4 'Streaks' elsewhere, but all previous requests for a footplate ride had been turned down. So without further hesitation I jumped aboard and followed the driver's instructions and stood behind the fireman whilst he explained the controls. I remember him adjusting the cut off, gently opening the regulator and waving to the signalman, then as we began the climb to Idle, in between keeping an eye on the road ahead he proceeding to do a crossword! During our trip the driver never appeared to change the cut off or the regulator until we neared Cutlers sidings at Laisterdyke. Nor do I remember the fireman using the shovel very often, he seemed more preoccupied waving to the women hanging washing out in back gardens on Thorpe Edge Estate.
What an experience! This was a footplate ride never to be repeated again, though I tried often enough. According to the crew the WD could pull anything anywhere, but it was a rough riding loco - I had the bruises to prove it - and most unusually on this occasion, I somehow managed to stay clean.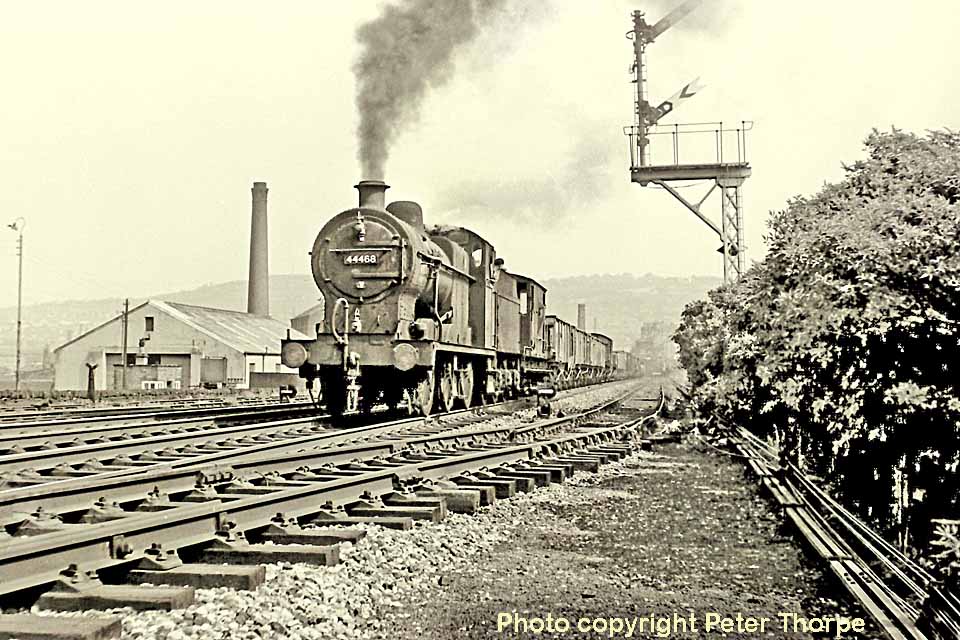 (Above) I only ever saw two locos run out of steam in the Shipley area, both being Class 4Fs on down goods trains. On this occasion, No 44468 was heading a long mixed freight at 3.10pm on 23 May 1964 and had to stop at the signal on the north curve near the Shipley-Bingley Junction box. Expecting a smoky exhaust when on the move again, I headed for the stone wall adjacent to the track just beyond Shipley Tunnel and waited there for what seemed an eternity; it took almost half an hour for the loco to brew up!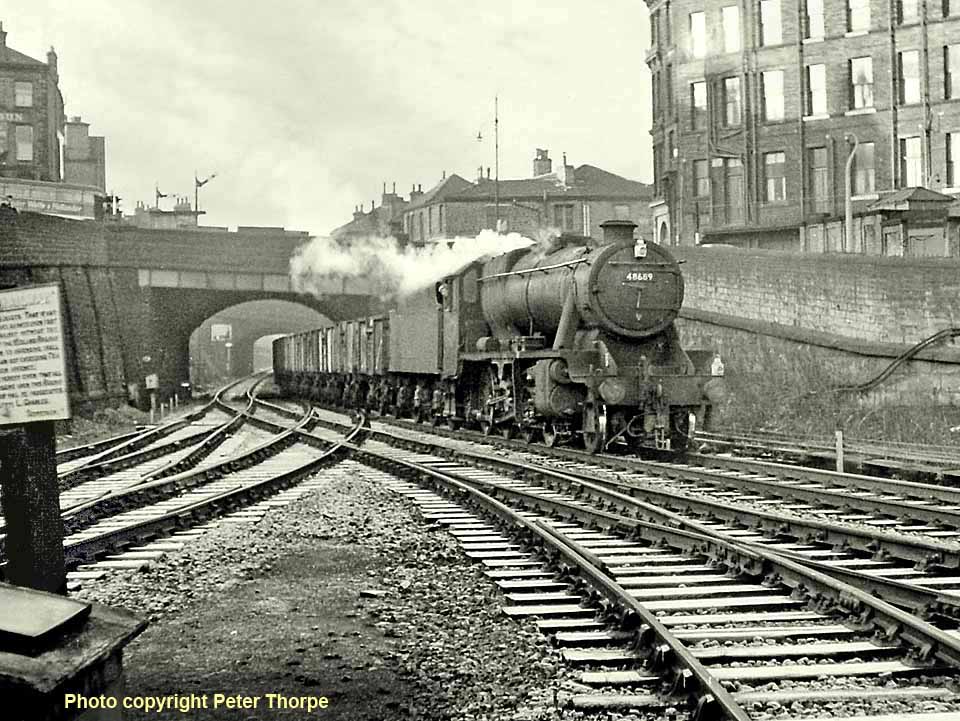 Then I heard its whistle and knew it was on the move again. Having restarted its long train on the Shipley curve it blasted its way out of the tunnel on the rising grade to Saltaire throwing up plenty of smoke just as I had hoped for. On returning to Shipley-Bingley Junction box the signalman explained that no traffic had been held up.

(Right) Class 8F No 48689 was photographed heading coal empties through Shipley-Bingley Jnct on a very chilly day in December 1964. Of interest to railway historians is the cast iron Midland Railway public notice at the end of platform 2 in the left foreground. After the acquisition of the former 'Big Four' railway companies, the newly-formed British Railways wasted no time in eradicating all signs of previous ownership by painting out the names of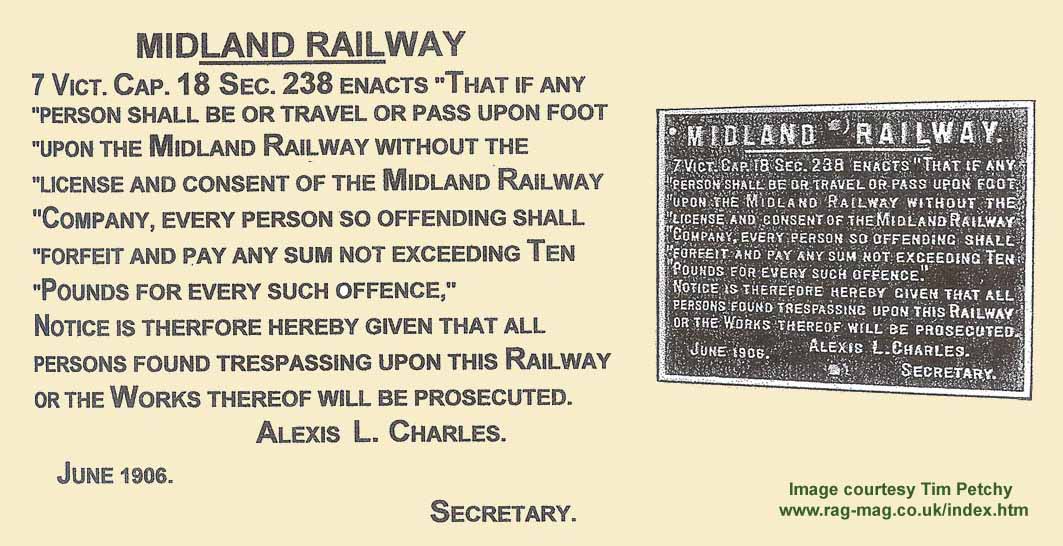 the former railway companies from public notices and station signs.


(Left) A Midland Railway sign reproduced courtesy of Tim Petchy's 'Railway Magazine for Collectors of Railwayana'. Each issue of Tim's Railway Antiques Gazette provides a balanced diet of articles about various aspects of railwayana collecting, visits to collections or museums, reviews of and comments on all main auctions, as well as lively correspondence from readers, commentary on fakes and forgeries plus Railwayana for sale and wanted advertisements. Click HERE to visit this fascinating website

(Below) This is an undated nocturnal shot of Britannia Class 7MT 70039 Sir Christopher Wren awaiting departure from platform 2 on the final leg of a Carlisle-Bradford Forster Square stopping service. Having set the camera on a tripod I asked the crew if there was chance of a bit of steam. 'No problem,' replied the driver - 'Just prior to moving off I'll blow the whistle nonstop until you give the thumbs up!' As good as his word, when the departure time came he blew the whistle continuously until a huge cloud of steam completely shrouded the engine. Alas, this is the only photo of four I exposed where you can actually see what it is!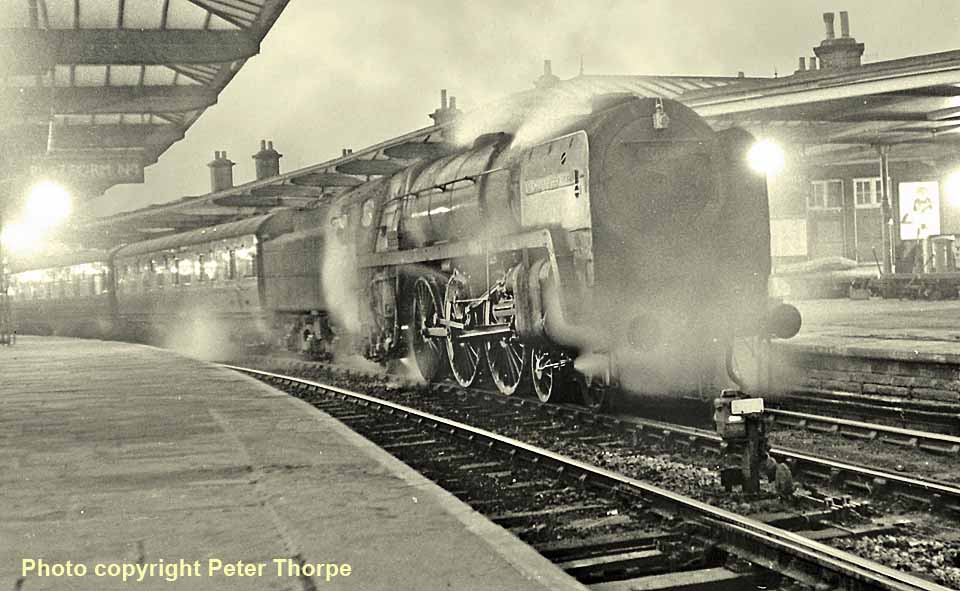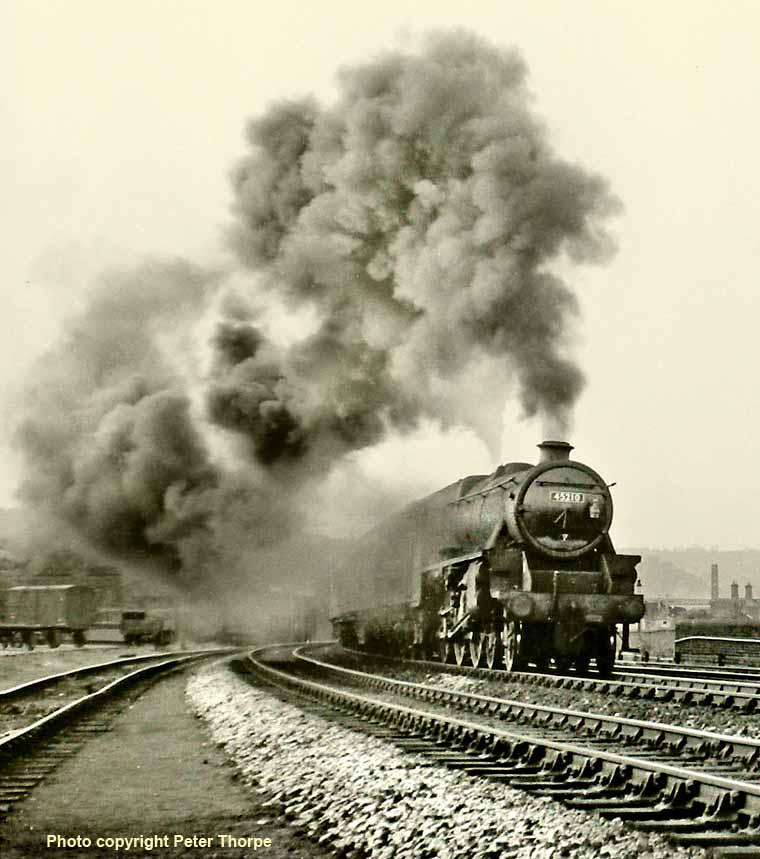 (Above) I always found steam loco crews to be most helpful. They had great pride in their work and on passenger turns they would often lean out of their cabs at journeys end whilst passengers disembarked, many complimenting the crew on a job well done with a 'Thanks driver' or 'a good run' plus similar appreciative remarks. Come the diesel era, however, and this deserved praise disappeared almost overnight. On Wednesday 27 May 1964, 'Black Five' No 45210 arrived at Shipley's platform 1 with a Carlisle-Bradford Forster Square train and I asked the crew if there was a chance of a smoke effect when departing? 'How much would I like?'replied the driver. 'As much as possible, please,' was my naive answer. The crew were more than generous and produced plenty of smoke, however having grabbed my first shot and wound the film on for the next shot they really opened the Black Five up; I was drenched in a black smog! The subsequent pictures were useless, and I finished up going home in an absolutely filthy state! I met up with the driver on the same working at Shipley some months later, and he had a good laugh about it. He remembered the event well; they had popped some sand into the firebox and cleaned the tubes having adjusted the cut off to blast it out, something he explained they did occasionally with poor steaming locos but only in the countryside away from built-up areas. I never requested smoke effects again - once was enough ! Photo details 1/125 @ f4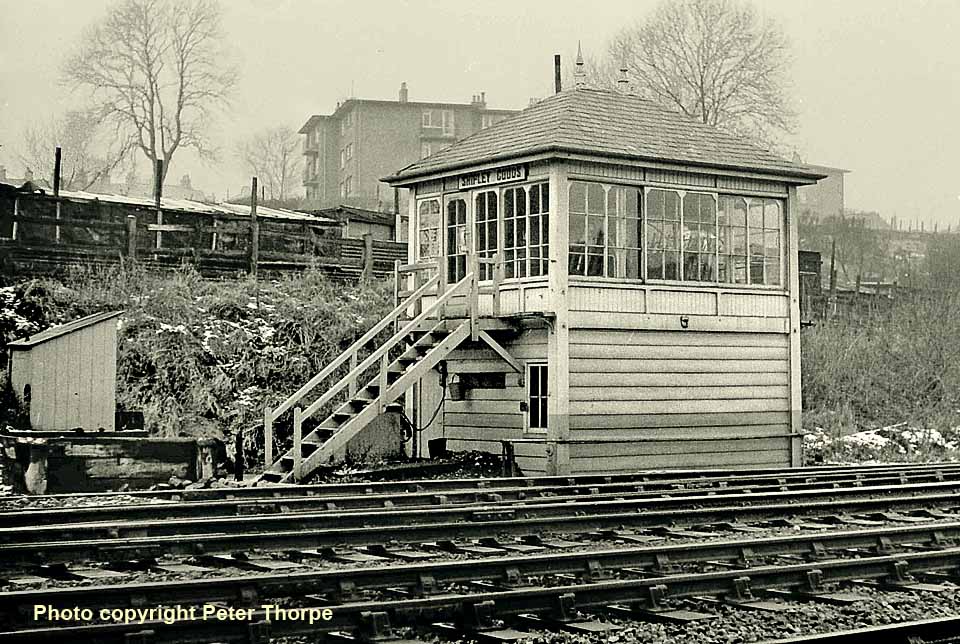 (Above-Below) Shipley Goods Signal Box was a typical MR design constructed wholly of timber with 'hipped' roofs sloping on all four sides; the box controlled the entrance to Shipley goods yard which was still in use in 1964 but later to become Crossley Evans Scrap Merchant yard with the rail connection still in place. (Below) Yet another Class 7MT 'Britannia' on a Carlisle to Bradford slow again, this time No 70003 John Bunyan is photographed passing the entrance to Shipley goods yard. Built at Crewe Works in 1951, 70003 was allocated new to Stratford MPD (30A) on 10th March 1951 and spent ten years on the Eastern Region with spells at Norwich Thorpe shed (32A) and March MPD (31B) before relocation to Carlisle Kingmoor shed (12A) in 1961, the last outpost of the Britannia class and pretty much anything else that was still in steam. Following withdrawal on 25th March 1967 the engine was stored out of service in the yard at Carlisle Kingmoor until late November and then transferred to G H Campbell's yard at Airdrie and cut up in December 1967.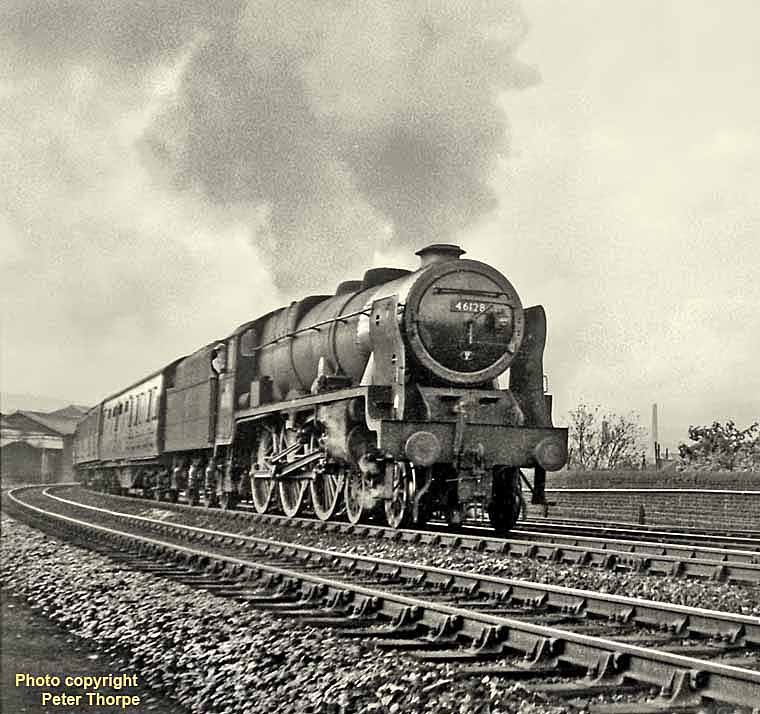 (Above) On Monday 25 May 1964, No 46128 The Lovat Scouts looks steam tight and in fine fettle as it cruises around the curve away from Shipley on the final leg to Bradford Forster Square, with a friendly wave from the driver. Amazing to think that when built in its original form thirty seven years ago, this class was required to haul the heavily-loaded West Coast Main Line Anglo-Scottish expresses of fifteen bogies not only unaided but without the use of bankers over Shap and Beattock banks. Photo details 1/125sec @ f4.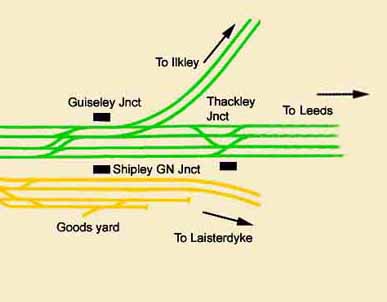 (Inset-Below) And last but not least, an anomaly on the Shipley map is the relatively short distance shown between Guiseley Junction signal box and Thackley Junction box whereas the actual distance is over 1½ miles. Doubtless this was done in order to include all relevant trackwork at Shipley within the map's parameters.However, in this shot of an Ivatt Class 4MT approaching Thackley Tunnel with an up freight, just visible in the distance is Thackley Junction signal box where a series of crossovers between fast and slow lines were located near the site of the short-lived Idle station… perhaps 'short-lived' is something of an understatement because the station survived just twelve months. Opened in September 1847 the station closed in September the following year.




MY THACKLEY TUNNEL EXPERIENCE

Having admired the pictures in the monthly railway magazines, I decided on the style of photograph I wanted to take and drew up a list of some of the best locations I'd visited at different times throughout the year. I had this wonderful notion that every picture would reflect exactly what I saw 'for real' rather than be 'framed' or deliberately 'posed'...in other words, if anyone got in the way or an object hindered the composition I'd ignore them. All too often I've felt that artists make the mistake of creating a painting or a drawing that is just too 'picture perfect'. Having said that, when looking back on my own photos I realise I was just as guilty as the next! Asking engine crews for smoke or steam, and requesting the movement of a Class A3 further down the depot yard at York (50A) so I could get a better shot - what a hypocrite!
One of the first targets on my wish list was to take some reasonable tunnel shots, and so on Saturday 11th July 1964 I set off for Thackley Tunnel between Apperley Bridge and Shipley on the Aire Valley line. The route between Leeds and Skipton is relatively easily graded for much of its length along the flat valley floor, necessitating crisscrossing both the River Aire and Leeds-Liverpool Canal at various places, however a major engineering challenge faced the railway builders at Thackley Hill, involving the boring of a 1,496 yard-long tunnel.

(Below) The tunnel follows a broadly east-west alignment, with a curving approach at its western end, a place easily accessible by footpath plus an overbridge provides a good view of trains emerging from the tunnel. The first to burst out into the open on the fast line was one of 55F Manningham's hard working Fairburn 2-6-4T No 42138 with a Class C parcel train to Bradford Forster Square at 6.40pm.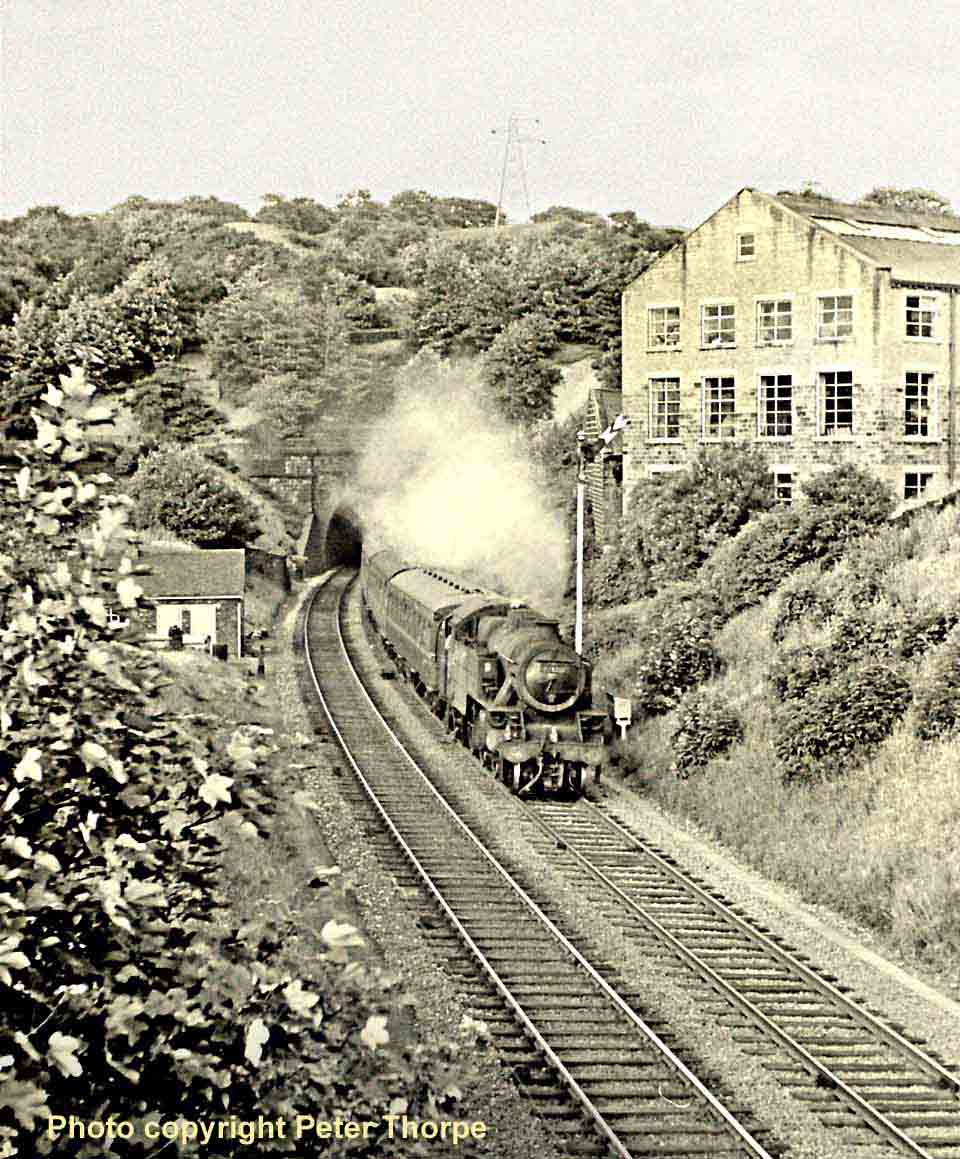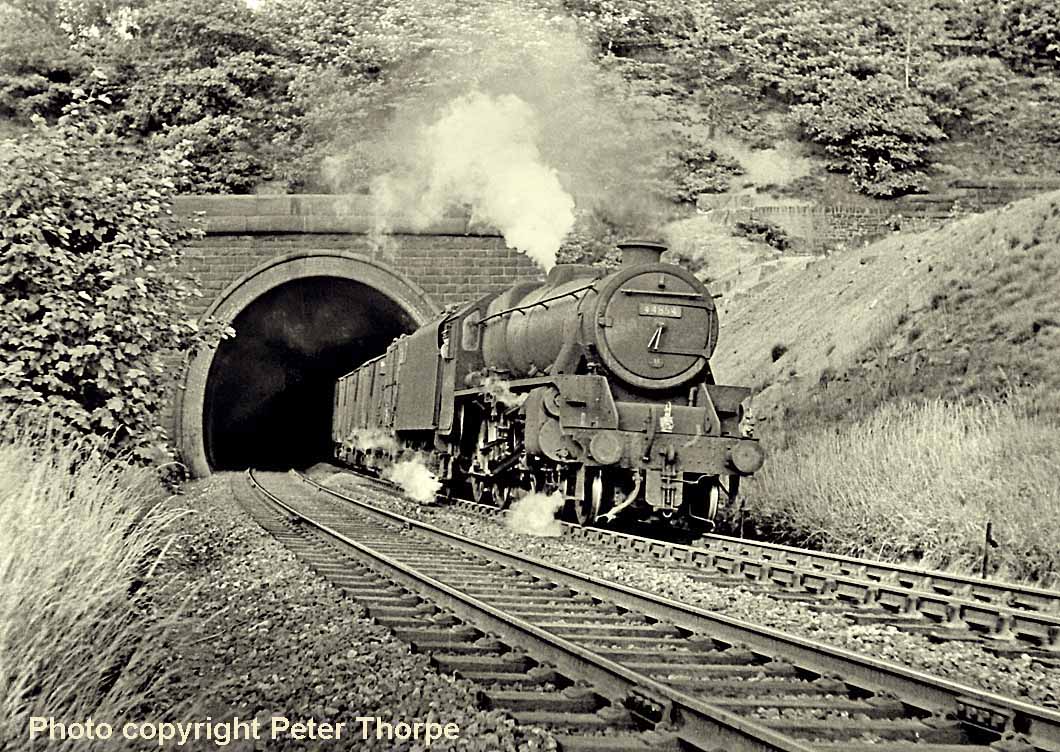 (Above) The Aire Valley line's history is covered in the Shipley Station Triangle chapter featured earlier. However, fast-forward to 1900 and the Midland Railway (MR) quadrupled the line between Leeds and Shipley to segregate local Leeds-Bradford traffic from the Anglo-Scottish trains via the recently opened Settle-Carlisle line. This necessitated the boring of a second Thackley Tunnel to accommodate the MR's service to Scotland; this tunnel accommodated the then 'slow' lines, whilst the original tunnel was used for local trains between Leeds and Bradford, and designated the 'fast' lines due to the higher density of traffic between both cities. At 6.50pm Stanier Black Five 44854, a long time 55A Holbeck resident, emerges from the second tunnel on the slow line with a down Class E express freight.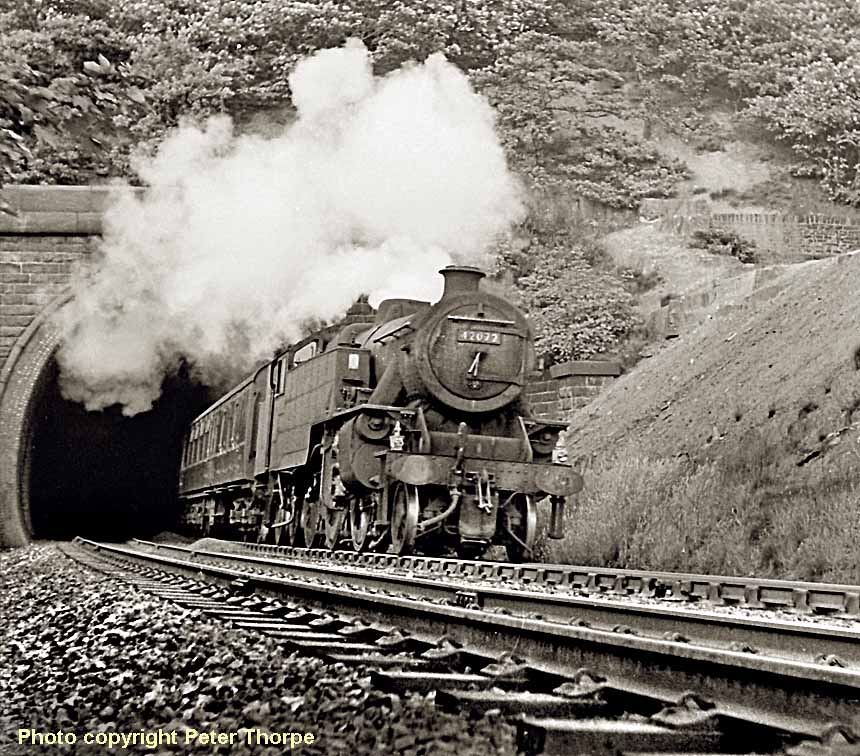 (Above-Below) At one point during my visit I had a sudden brainstorm - I would attempt to photograph trains emerging from the tunnel from inside the tunnel itself! I had this crazy idea that framing the loco as it burst out into the open would make a great action picture. So, with nobody in sight, I headed inside the tunnel and took up a position in one of the brick-backed recesses built at intervals in the walls for platelayers seeking refuge from passing trains. I didn't have to wait long; within minutes of setting up the camera I heard the distinctive sound of an approaching Class 4F gasping and wheezing from somewhere deep inside the tunnel. Judging by its faltering beat the engine was clearly struggling, but it wasn't until it loomed out of the darkness that I saw its chimney blasting out the filthiest smokescreen imaginable; all at once I found myself engulfed in a swirling cloud of hot, sulphuric-smelling slag - barely able to breathe, I waited for what seemed an eternity until the guards van had passed before staggering blindly out into the open, coughing and spluttering for air, eyes streaming tears. Talk about dicing with death! What I had done was downright dangerous and I shudder to think what might have happened had there been a train coming the other way. (Above) At 7.10pm another Manningham-allocated Fairburn 4P 2-6-4T No 42072 emerges from the tunnel with a Class A express passenger train bound for Bradford (Below) This was followed by 55B Stourton's Class 8F 48394 emerging from the tunnel mouth heading north on the slow line with a Class H through freight. All this batch of four taken @ f4 1/500th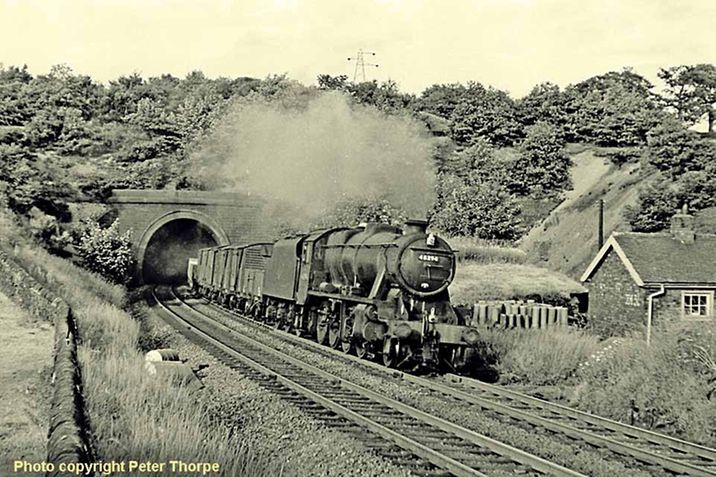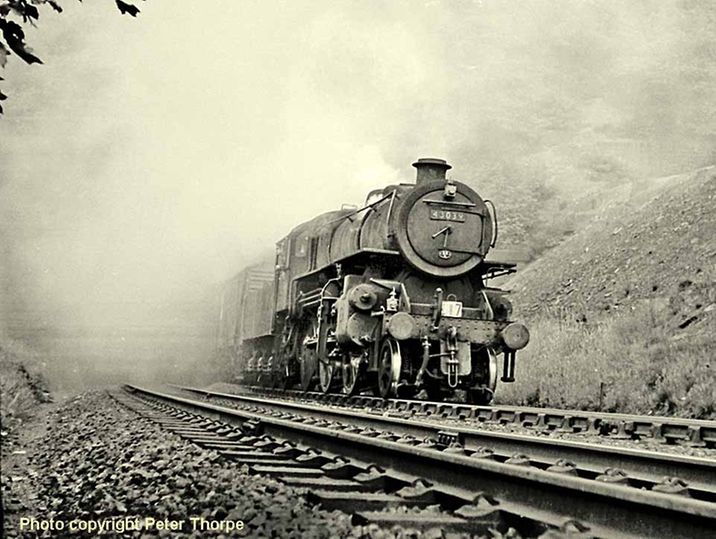 (Above-Inset-Below) I did return later on odd occasions to take a few more photos, but I was never daft enough to go inside the tunnel again! On Monday the 20th July 1964 I recorded Class 4MT No 43039, a 55A Holbeck allocated loco for all its life and a regular performer on the Aire Valley line, seen here working a

Class D express freight f2.8 1/500th. (Inset) A cast iron smokebox numberplate as carried by Ivatt Class 4MT 2-6-0 No 43039 went under the hammer at a Talisman Railwayana Auction in March 2014. Introduced to traffic in 1947, No 43039 was a long-time resident at Leeds Holbeck shed, its regular workings being the Leeds-Morecambe trains via Lancaster Green Ayre. The engine is reputed to have worked the last freight over the Skipton to Ilkley line prior to closure in 1965. Withdrawn in December 1966 the loco was cut up at Wards, Killamarsh.
'EARLY DAYS CONTINUED'
1950s

Returning to more schoolday memories, what with homework, football, cricket, evening chess matches, weekend cross country races, life was lived to the full and train spotting suffered away from school as a result. Despite all this I had an occasion to call at Carters Toy Shop in Bradford city centre on the way home from school one day to collect some balsa wood for my father who was building a model airplane. To my surprise I found out that Carters was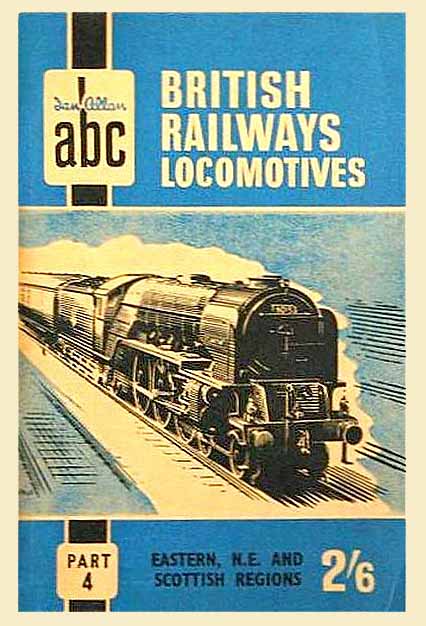 arranging trains spotting trips to sheds and works, one of them being a trip to Doncaster Works and shed plus Mexborough and Wath sheds - all to be visited by rail.
Wow! I just had to find the ten and sixpence for this trip.

(Left-Below Right) Covers of the Ian Allan ABCs 1956-57 Winter editions for the Eastern & North Eastern Region and the London Midland Region. Click

HERE

to visit the excellent Dave Rowland's 'Famous Ian Allan ABC Books'. This is a fabulous website and beautifully illustrated, featuring the covers of every conceivable spotters' book published…the site is clearly a labour of love; a veritable trip down memory lane

....don't forget to come back!

Luck was with me as my parents paid for the Doncaster trip as a birthday present and when my pocket money increased to half a crown (two shillings and sixpence) per week I was able to purchase Ian Allan's Winter 1956-57 ABCs for both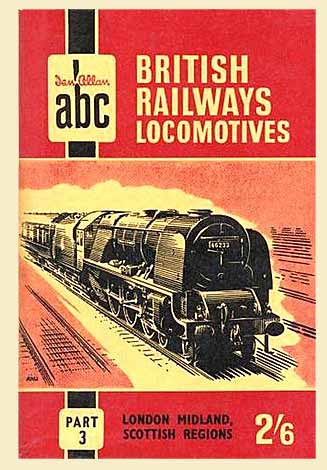 the Eastern and Midland Regions. As a result homework was bound to suffer as I spent quite a few nights underlining all the numbers I had collected over the years, but once it was completed I compared my books with those of my friends, and noticed that none of us had completed a single class of loco, so we decided to see who could be first to accomplish this feat without cheating!
When the big day of the spotting trip arrived I was not disappointed. Class A1 60128 Bongrace hauled us from Leeds Central and arrived at Doncaster just in time to see my first Sandringham class loco leaving the station. The shed visit was an eye opener - so many locos - so many 'namers', including the Class V2, B1, A4, A3, A2 and A1s, only surpassed by the works visit which was like something from another world. Pacifics were everywhere including the Paint Shop and I noted on how 'in house' everything appeared to be made. Mexborough shed also provided many cops of WDs plus Class 01 and 04 freight locos. Soon it was time to travel back to Leeds behind A1 60134 Foxhunter and on to Bradford behind a B1.
What a fantastic day out, never to be forgotten, with lots of cops and many classes I had never seen before, however the highlight of the day was copping the W1 4-6-4 No 60700, the rebuild of Gresley's experimental No 10000 - dubbed 'Hush-Hush' on account of the secrecy surrounding its revolutionary marine type water-tube boiler working at 450psi. Following a somewhat problematical career No 10000 had its water-tube boiler replaced with a more conventional fire-tube boiler and the loco was completely rebuilt with A4-style streamlining. I saw the solitary Class W1 languishing in Doncaster shed, which, much to my school pals disgust, meant I was the first to complete a full class!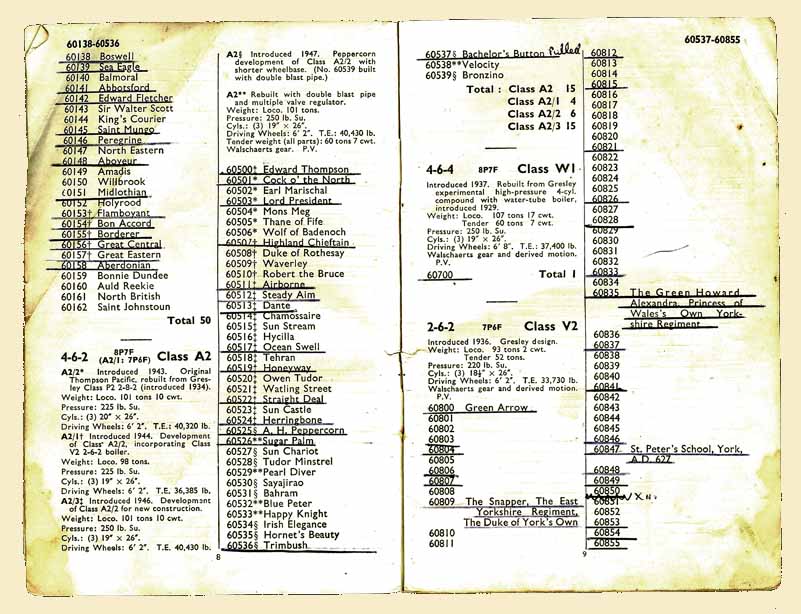 By 1958, I no longer required my parent's permission to travel. I was 15 years-old and my diary that year lists cycling trips to York on 12th July, Doncaster on 20th July and Hull on 27th July. York was a wonderful ornate station with its giant arched roof and curved platforms while Doncaster was plainer and had straight through roads, yet both stations were train spotting hotspots visited by countless thousands of small boys during steam days; the steady procession of East Coast Main Line's Anglo-Scottish expresses hauled by the prestigious 'A' class Pacifics left an indelible impression. Who will ever forget the sound and sight of a Class A4 'Streak' in full cry? Hull was a terminus station but Hessle provided many freight workings and a good variety of loco classes, which again resulted in many 'cops'.
My finances improved when I was offered a job at the local newsagents marking newspapers and magazines for the paper lads and lasses seven mornings a week. I was paid the sum of 21/- (known colloquially as a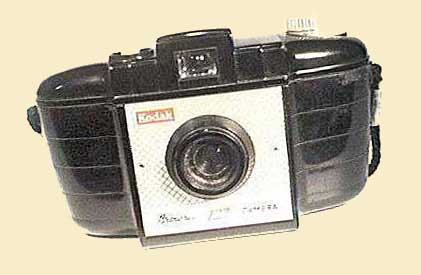 guinea in olden times or one pound five pence in today's decimalised currency) plus a free bottle of pop after the Sunday papers and magazines had been done. This meant I could leave both the choir and my paper round. I could even afford to buy a new Elswick Hopper bike with ten gears on the 'never-never'.
In June the following year I started a full time job. The pay was four pounds ten shillings (£4-50p) per week, two pounds of which was handed over to mum for my board, with the balance reduced further by the 'tanner' (2½p decimal) for bus fares and 'two bob' (10p decimal) for a dinner each day.
After starting work, my parents accepted my passion for railway photography and bought me a Kodak Brownie camera for my 16th birthday, and so began a new chapter in my obsession with steam. Having seen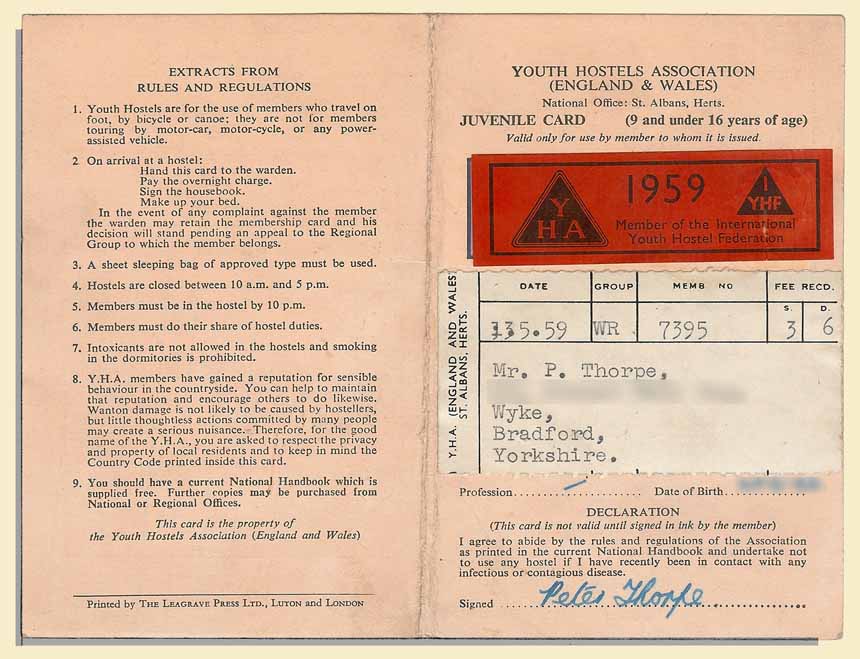 photos in 'Trains Illustrated' magazine, many showing yet another new diesel class rolling off the production line I was aware that wholesale modernisation was inevitable and so I was determined to record my sightings on film before the

harsh realities of

steam's demise got into its stride.
So, with finances more or less sorted, a Kodak camera plus a decent bike and annual holiday leave from work, I joined the Youth Hostel Association (YHA) in 1959 and cycled to Bridlington to observe the railway scene there.
Four years earlier in 1955, we had a family caravan holiday at 'Brid' and despite my protests at being dragged along to the beach with my little sister every single day, my parents steadfastly refused to let me go train spotting. In their view, building sand castles, eating ice cream and donkey rides were all part of a traditional seaside holiday…anyway, I did enough train spotting back home! Grrr! What made it worse was hearing the distant sound of steam trains all day long, even from the beach and especially at the night from my bunk in the caravan. I vowed to return on my own at a later date.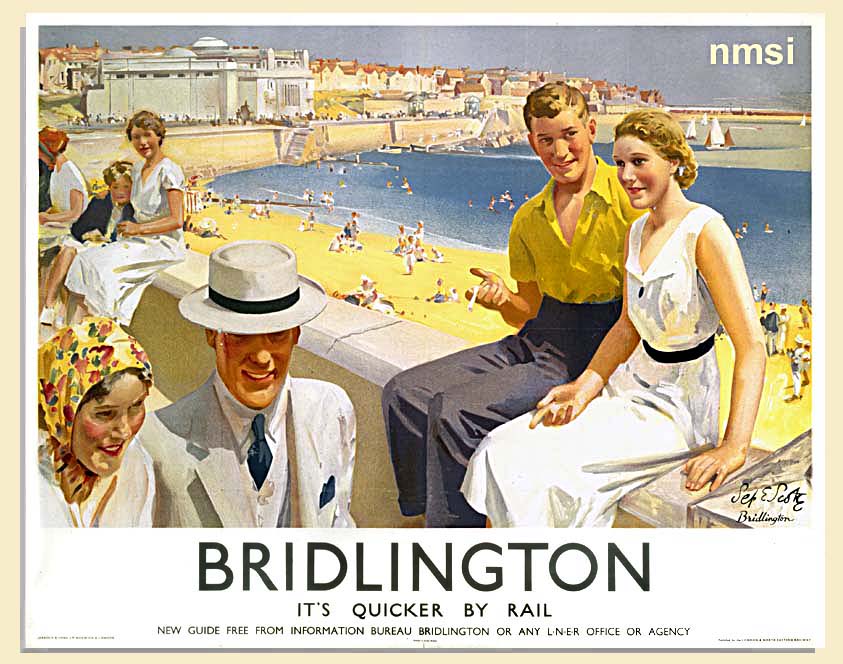 (Above) The stunning images from the NMSI Collection Online show the quality of poster art that graced station platforms across the country. This London & North Eastern Railway poster - 'Bridlington - It's quicker by rail' was painted by British artist Septimus Edwin Scott in 1935. The superb NMSI Collection website displays more than 230,000 objects including a range of the NRM's railway posters. This LINK will take you to a page featuring the poster artwork produced by Jarrold and Sons Limited of Norwich…a visit is highly recommended.


Despite the hardness of those times, a strong community spirit and stoical determination 'to get on with life' prevailed throughout the Fifties. The population continued to rebuild the country against a backdrop of physical hard work and long hours, including Saturday mornings which were considered part of the working week in those days. This was an era of continuity with most people working for the same employer from one year to the next; we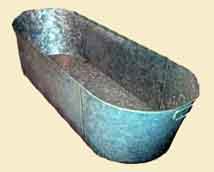 enjoyed the same milkman, postman, local bobby and our doctor knew our family medical history without the aid of computers - just a large bottle of whisky!
We lived in a back to back terrace house complete with an outside loo, we bathed in a tin bath filled with hot water from a gas boiler and a hand-operated Acme Wringer was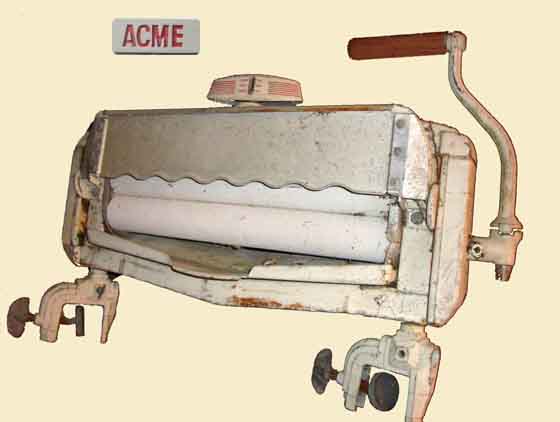 used to mangle the last drops of water out of wet clothes on wash days, not to mention the lino on the floors and fablon on the table with only a valve radio for entertainment!
Each week a group of lads from our street would huddle around our next-door neighbour's new Bush valve radio; it was the only one on the street that could pick up a signal from Radio Luxemburg; we listened to the latest episode of Dan Dare and the Mekon, and when the broadcast crackled and faded, often at the most exciting parts, the glowing embers of the coal fire and glimmering radio valves served to heighten the atmosphere.
Household chores remained the same throughout schooldays; being the first one home it was my job to set the table for tea, clean the hearth in the living room and prepare a fire for lighting later, followed by either washing or drying the teatime pots before 'bodging' homework.
In the meantime I set about recording the changing railway scene in earnest, but this produced mainly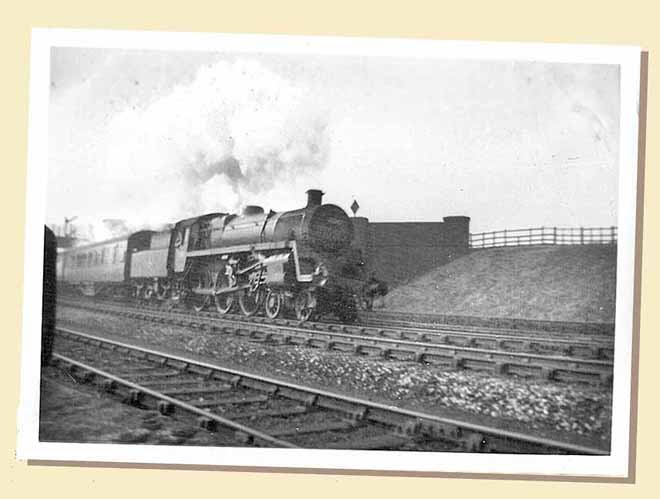 dismal results, especially when trying to photograph moving trains. But over time I learned to improve the quality by taking shots of stationary engines during visits to sheds - sometimes granted by the shed foreman but more often than not refused - and in no time at all 'bunking' became the norm! Then along came the Sixties sweeping in like a tidal wave...

(Left-Below) Kodak Brownie 127 shots of BR Standard Class 4 No 75047 at Bowling Tunnel on 2 July 1959, and early-liveried 'bugcarts' - aka Metropolitan-Cammell 3-car sets - at Donkey Bridge in May 1961.


It all happened so fast our feet hardly touched the ground. Bradford city centre was ripped apart with many old Victorian buildings and the magnificent Queens Arcade being razed to the ground; at the same time Broadway was redeveloped thereby ending all speculation that maybe - just maybe - the two termini railway stations at Forster Square and Exchange could be linked to form a large through Central station, but alas this wasn't to be. Future historians will doubtless say how a great opportunity had been missed!
New shops, offices and factories were built and modern council houses sprung up almost overnight in an effort to meet the growing demand. For many families the housing estates being built in the rural areas beyond the city Ring Road were a dream come true; all had inside toilets, electricity and plumbed in bathrooms plus gardens both front and back, however with many eager tenants on the waiting list, my family were one of the lucky ones - and so, at long last, the chilly outside loo, antiquated tin bath, gas boiler and Acme rollers became a thing of the past.
These were indeed changing times. With both my parents and myself in full time employment the family's finances improved dramatically. We acquired a fitted carpet on the living room floor, a black and white television set, a twin tub washing machine and even Izal toilet paper (one side varnished!) in place of torn squares of newspaper hung on a string in the outside lavatory.
All this new found spending power gave me the means I needed to achieve my ambition of photographing the railway scene before the impending demise of steam, but with Saturday mornings being part of the working week and night school studies accounting for two evenings each week, I had very little free time to accomplish much in the way of photography.
Never mind, being old enough to have my own key to the house I was able to come and go as I pleased, and with camera, finances and freedom in place, it was just a matter of working out a plan.
The first thing I needed to do was replace my new bike which had been stolen from outside Otley Lido, so I decided to swap my collection of old childhood toys I had outgrown (Lego, Meccano, clockwork Hornby train set, a wind-up record player and albums plus my Dan Dare and Beano annuals stored at the bottom of the wardrobe) for a Corgi paratroopers motor bike.
Now at last I could pursue railway photography in a big way, only my attempts at capturing that all-elusive 'master shot' were abysmal! Most of the photos I had taken were either out of frame or out of focus, badly exposed or blurred - and reality quickly hit home. I was useless!
Totally disheartened I deposited the majority of my photos in the bin!
Oh dear, the ups and downs of a teenager's naïve aspirations; mine were in tatters; at this low point in my struggle to master the art of photography I was mindful of my old school reports; almost all had scathing comments made by teachers, such as - 'Peter has lost interest' or had 'Given up the ghost and 'Must try harder'. Yet, in an odd sort of way, rather than feeling downbeat about my adolescent failures, it gave me just the motivation I needed to have another crack at photography, only this time I started taking more care in planning and composing the pictures, and slowly but surely the results began to improve.

HOLBECK SHED 55A
The change over from steam to diesels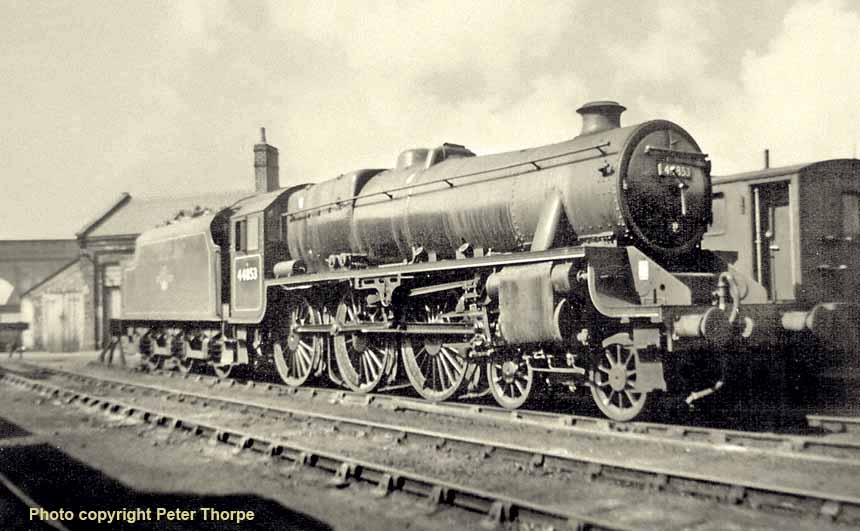 In 1962 I set about photographing the changing railway scene with renewed vigour, including frequent weekly visits to Holbeck shed, taking care to go on a Sunday afternoon and early evenings when the sun was in the right place. I no longer needed to bunk the shed; the foreman proved to be most helpful, as long as I advised him when I was on site and informed him when leaving. He seemed to appreciate my interest and explained the working of a busy mpd, often talking me through the roster board on the wall outside his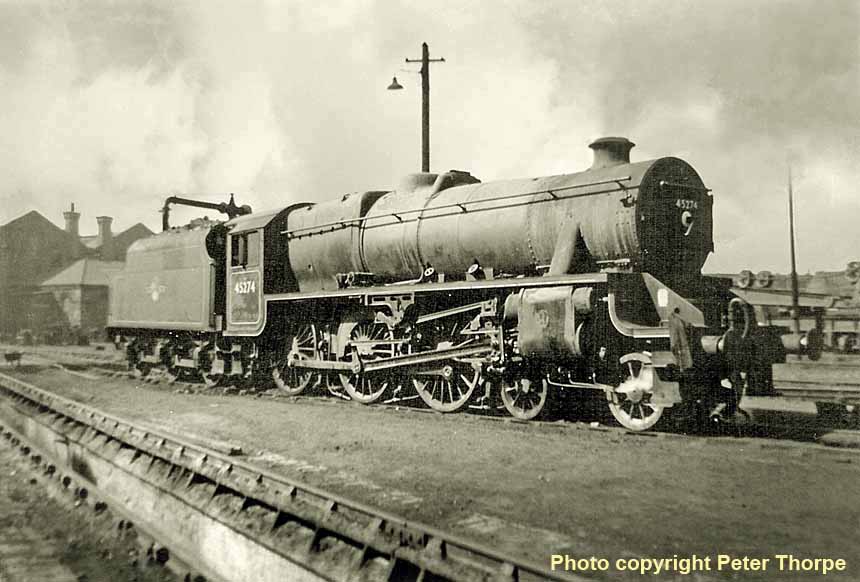 office just inside the entrance. Taking nothing for granted, I always made a point of thanking him each time when leaving.

(Above-Insets) Three Kodak Brownie 127 shots of 'Black 5s' Nos 44853 and 45274, and 'Jubilee' Class 6P5F No 45573 Newfoundland at Holbeck 55A on 4 May 1963

Holbeck had a very large coaling tower and during visits to the shed in 1963 I lost count of the number of times I asked the foreman's permission to take elevated shots of the shed yard from the top, but his refusal was the inevitable response until one day on 30th March 1964, I was both pleased and surprised to be told he would allow it just this once as a reward for my persistence.
Needless to say, he went to great lengths to warn me of the dangers of climbing to the top and to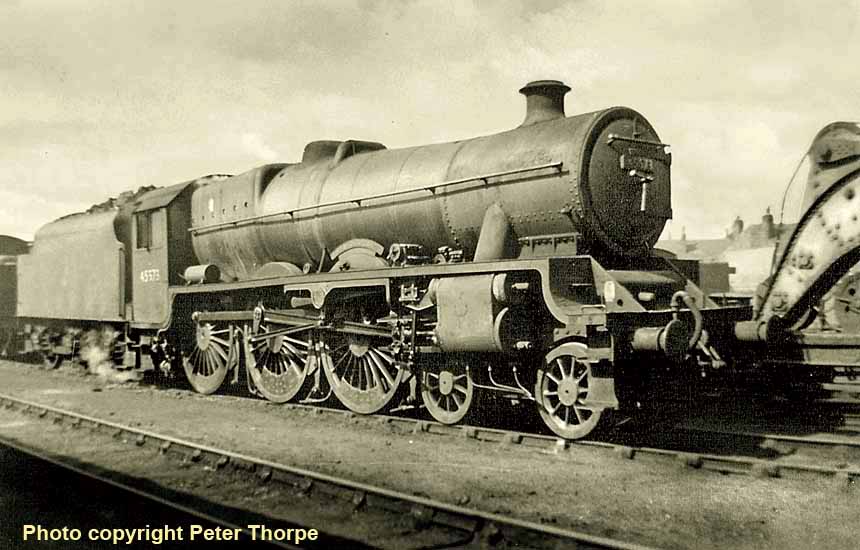 make sure of my safety he assigned a fireman to escort me. However the fireman had other ideas; he thought I was mad and stayed put at the base, making sure he was out of view of the shed master's window.
As I climbed halfway up the tower a Britannia 70052 Firth Of Tay (67A) backed in to coal up; the noise was deafening - its tender must have been empty - the cloud of coal dust was horrendous and the whole plant seemed to be vibrating. I eventually reached the top, snatched three shots and returned to terra firma,

sweating, shaking and absolutely filthy -

much to the amusement of the fireman.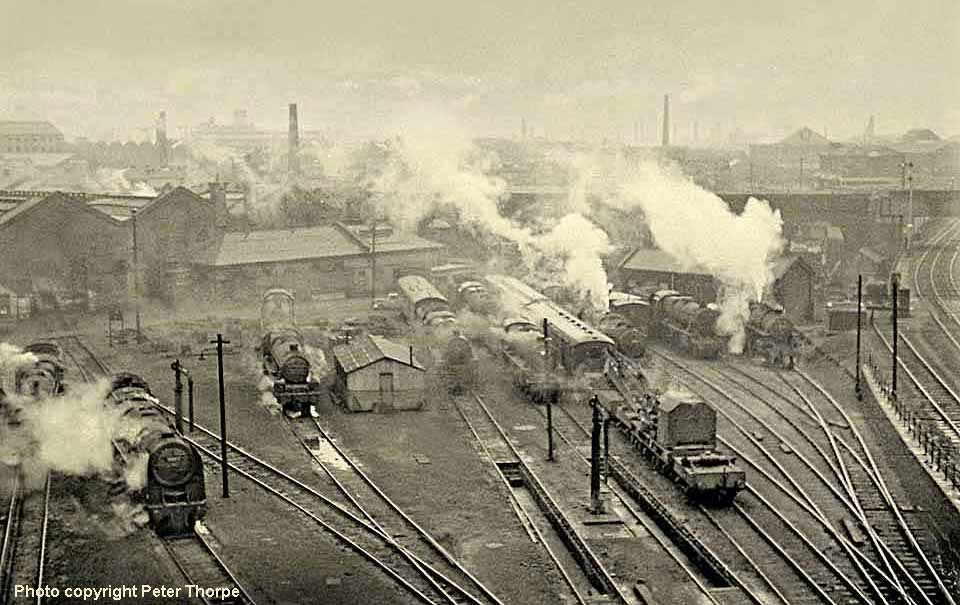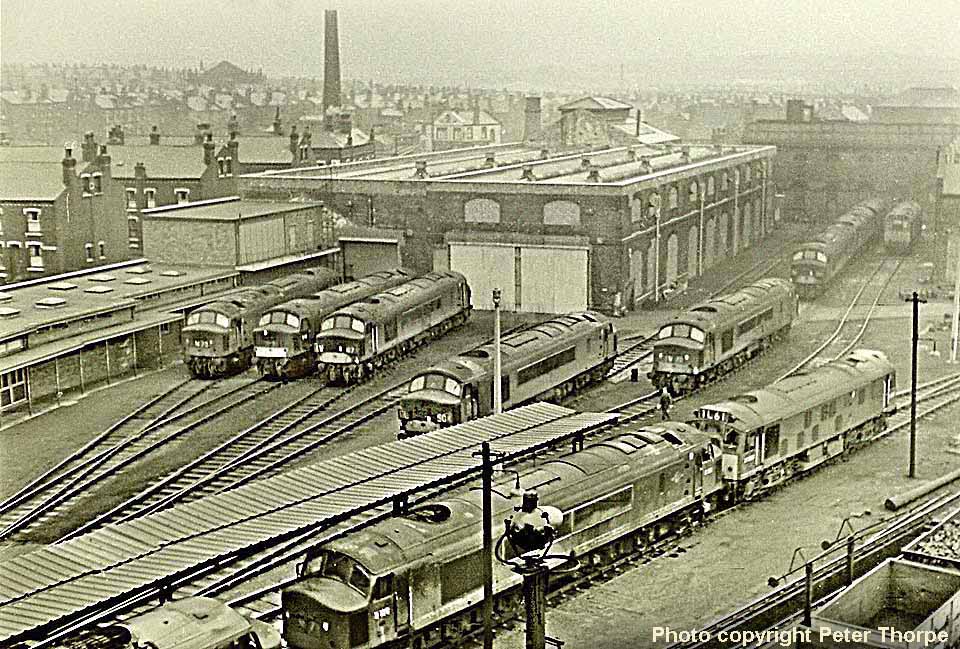 (Above)

This elevated shot shows Holbeck's new diesel facilities completed early in 1963 with both 1 and 2 Machine Shops converted to examine, service and repair its diesel allocation which gradually increased towards its intended approx 120 locos.

I suspect plenty of overtime was available!

On reflection, I remember thinking how lucky I was to be allowed up the coaling tower that day for I had borrowed my work colleague's 35mm camera over the weekend. I also remember the rollicking my parents gave me the next day. Despite sneaking in unnoticed I had left the worst tidemark in the bath you could ever wish to see!

(Below) Back on safe ground this is a more conventional shot of 70052 at Holbeck. Built at Crewe Works in August 1954, No70052 operated mostly in Scotland, serving Polmadie MPD (66A) from August 1954 to April 1962; then briefly at Corkerhill shed (67A) before being transferred to Crewe North MPD (5A) in October 1962. Next 70052 found employment at Crewe South shed (5B) between May and September 1965; this was followed by a move (along with seven other Britannias) to Banbury MPD (84C) (ex-GWR) now assigned to the Midland Division and recoded (2D), but this too was a short-lived exercise, as 70052 made its way in January 1966 to Carlisle Kingmoor shed (12A), where it saw out its rather short career being withdrawn from traffic on 1st April 1967.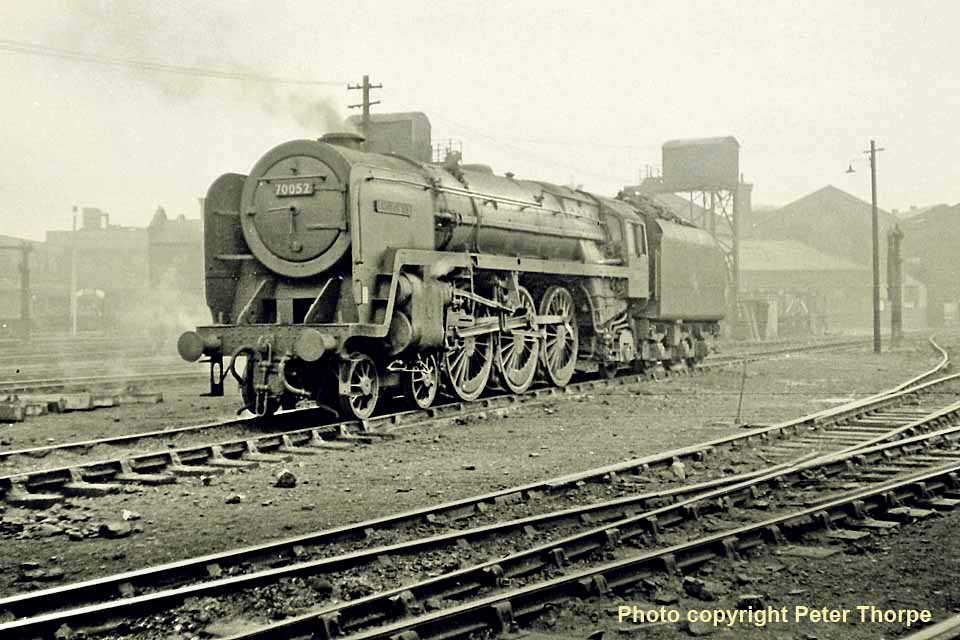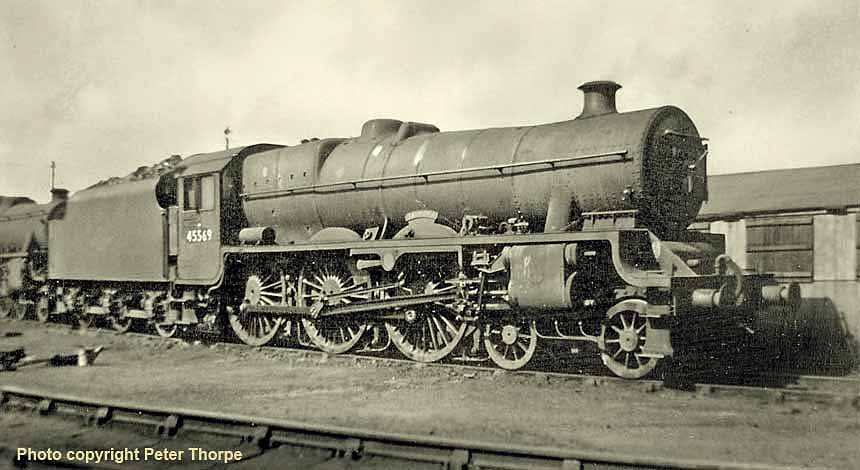 (Above-Below) Another Brownie 127 shot, this one showing Stanier's ex-LMS 'Jubilee' Class 6P5F No 45569 Tasmania simmering in the shed yard on 4 May 1963. (Below) A nameplate measuring 28¾" long from 45569 went under the hammer for £6,800 at a Great Central Railwayana Auction on 8 january 2014. Built by the North British Locomotive Co in 1934 and named on 10 February 1936, the locomotive was allocated new to Crewe North on 15 August 1934 followed by spells at Rugby, Derby, Kentish Town, Saltley, Holbeck and Patricroft from where it was withdrawn in April 1964 and cut up at Crewe Works by 1 May 1964.

During many visits to Leeds Holbeck in 1964, my friend and I often travelled by train from Bradford Forster Square to Leeds City. I remember one particular occasion on returning to Bradford when two smart young ladies were yet again undertaking a marketing consultation with all the passengers on the train. As on numerous previous occasions, as we proceeded through the Leeds suburbs we were asked the purpose of our journey to which our stock reply was something along the lines of 'studying the modernization of the railway infrastructure' followed by the usual response of 'train spotters' at which point they swiftly moved on to ask a suited gentleman sitting opposite the same question. 'Business,' was his reply at which point they became more interested, sat down and noted his comments concerning train times, punctuality, and how often he travelled on business. They then proceeded to the next coach, at which point we entered Thackley tunnel and my friend nudged me to point out that the businessman had numerous loco numbers noted inside the margins of his newspaper; my friend had spotted the tell-tale jottings reflected in the coach window whilst travelling through the tunnel.

When Holbeck shed came under the auspices of the North Eastern Region in the Regional reshuffle on 1 February 1957, its shed code was changed from 20A to 55A and soon afterwards it acquired its first diesel allocation in the form of a Class 04 shunter D2272 on 28 March 1958, thus heralding the beginning of the end for steam at this depot, albeit it wasn't until almost ten years later when the last two steam engines were finally withdrawn, with 'Jubilee' class No 45562 Alberta going in November 1967 followed by Class K1 No 62005 on 30 December 1967.


(Below)
With its broken windows, water, muck and changing atmosphere of steam, light and shade, the roundhouse at Holbeck was an absolute magnet for spotters and photographers from far and wide. A large variety of loco classes were usually in view both inside and outside the roundhouse. Here a Fairburn 2-6-4T No 42052 accompanies a couple of 'Black Fives' Nos 45079, and 44824 along with 'Jubilee' class No 45697 Achilles around the turntable on 24 May 1964.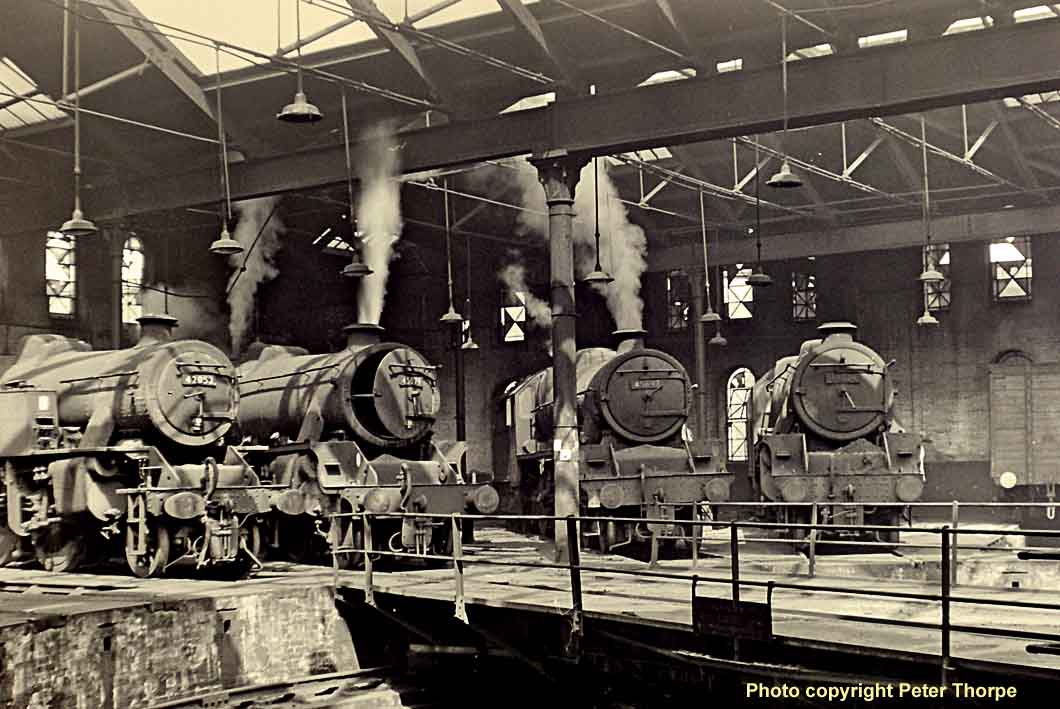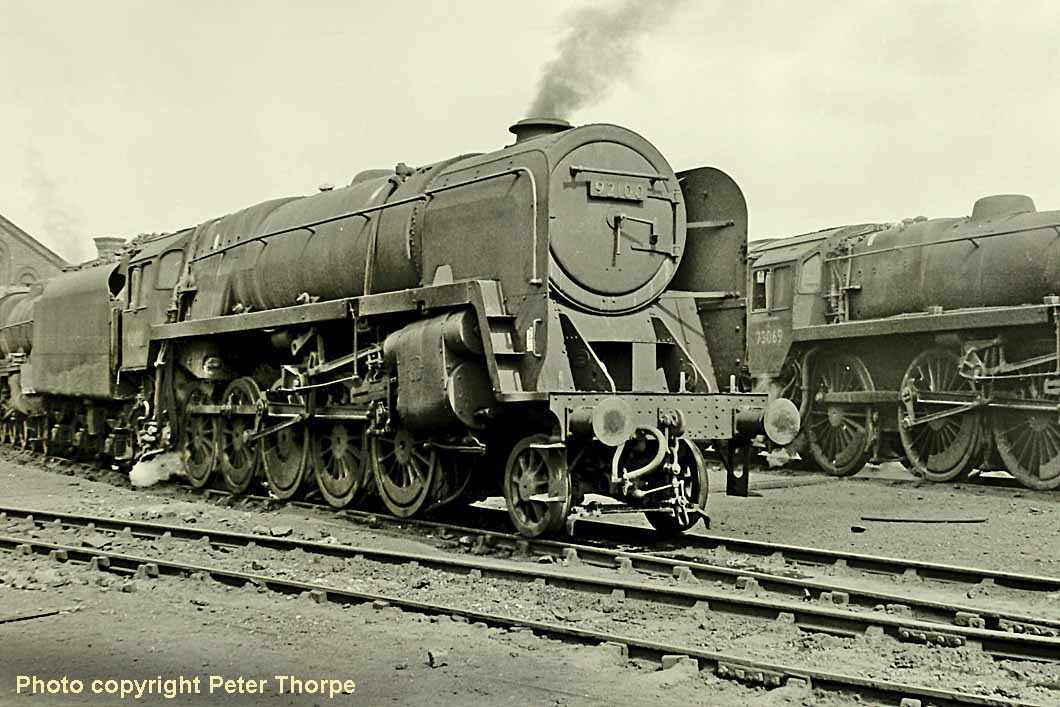 (Above-Inset-Below) BR Standard Class 9F 2-10-0s were occasional visitors to Holbeck, often a 52H allocated loco, but on this occasion it was 15C Leicester Midland-based No 92100 seen here sunning itself in the shed yard alongside BR Standard Class 5 No 73069 in July 1964. The 9F may have even deputised for a failed northbound Type 4 'Peak' on a passenger working as had previously happened with a northbound

Anglo-Scottish express. (Inset) Built at Crewe in 1956 and allocated new to Toton on 30 July, No 92100 was later based at Leicester MR, followed by Westhouses, Wellingborough and finally Birkenhead from where it was withdrawn on 11 May 1967 and despatched for scrap to George Cohen at Kettering on 23 November 1967. The loco's smokebox numberplate went under the hammer at a UK Railwayana Auction HERE in December 2015. (Below) With 1X92 in faded chalk still visible on the smokebox door, 'Jubilee' class No 45564 New South Wales was photographed in the shed yard on 24 May 1964.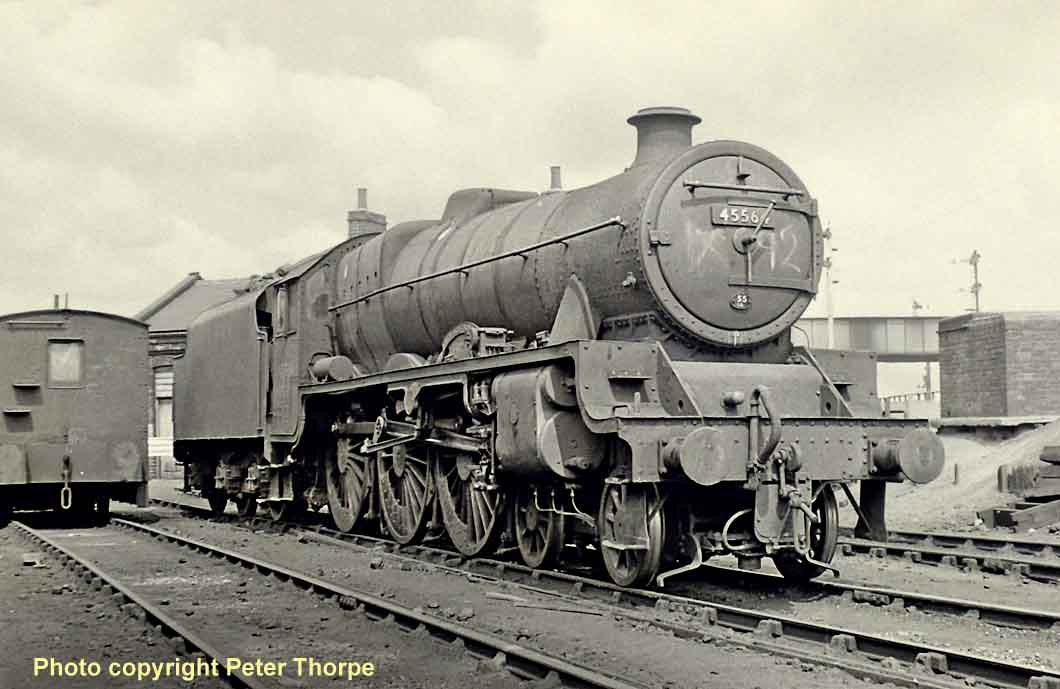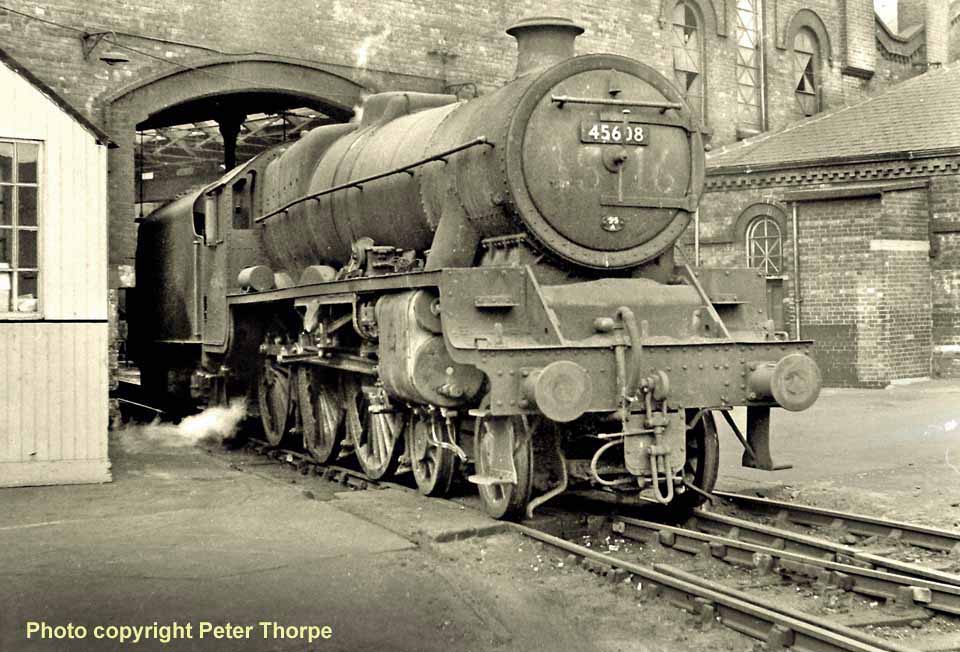 (Above-Below) Emerging from the roundhouse into the daylight on 2 September 1964 is another of Holbeck's famed 'Jubilees' No 45608 Gibraltar, also revealing a faded reporting number chalked on the smokebox from a previous working to Scotland. (Below) Over the years Holbeck enjoyed a small allocation of 'Royal Scots' and 'Britannias' before receiving a few A3s, many in poor external condition, until the arrival of the Type 4 'Peaks' for the Anglo-Scottish express trains. A horribly day, a filthy locomotive - and all things considered a poor photograph - but the only one I have of a Class A3 at 55A; this shot of No 60085 Manna was taken on 26 January 1963.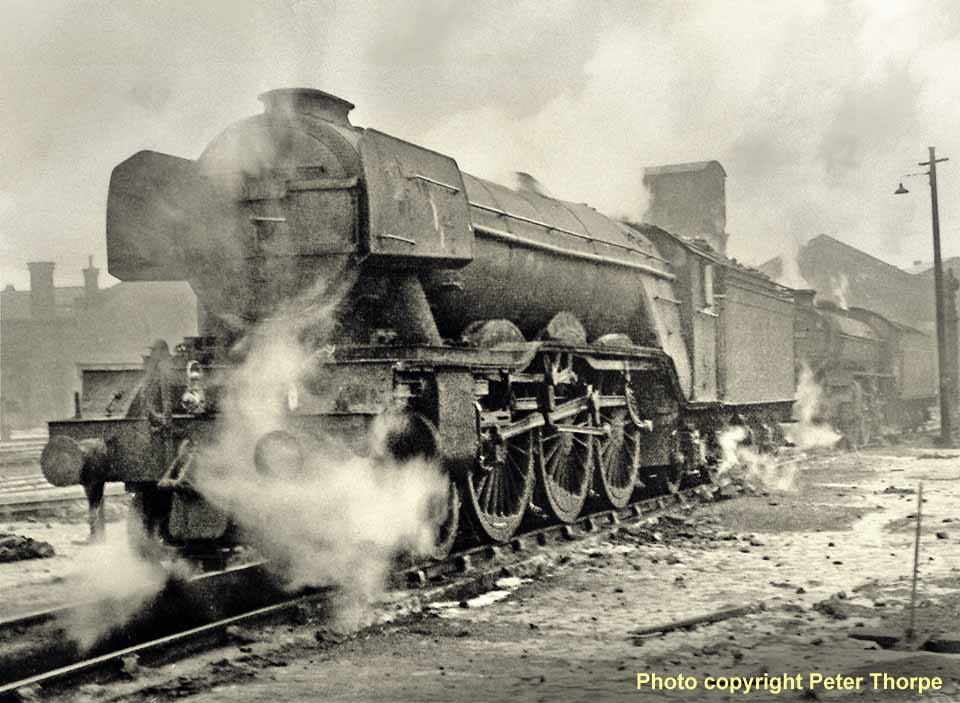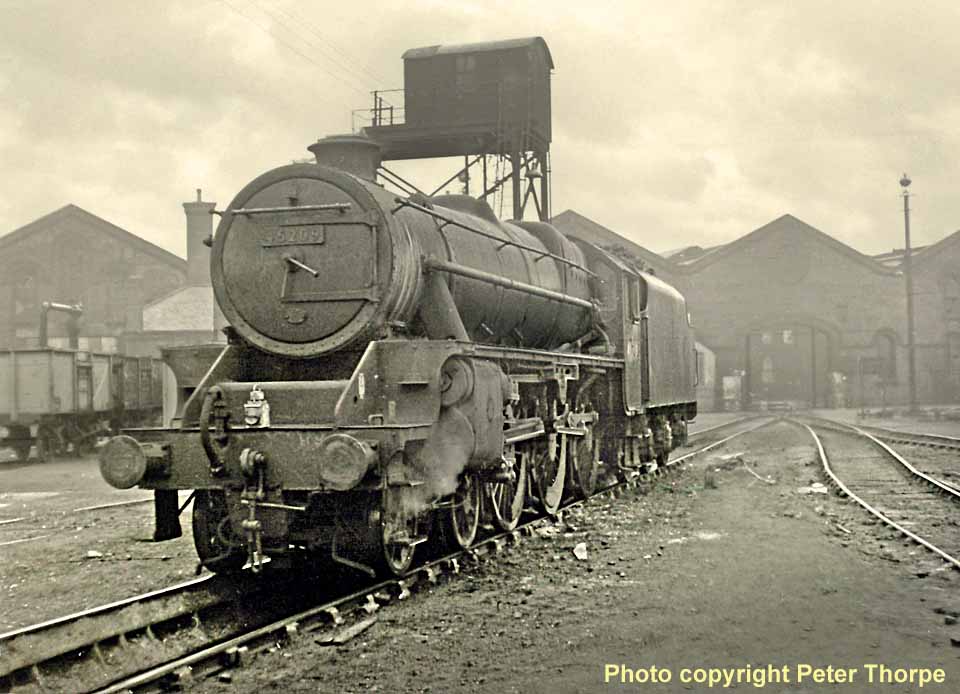 (Above-Below) 'Black Fives' in partnership with the 'Jubilees; were the backbone of Holbeck's steam allocation for many years; they were used on a variety of turns including fast freights, excursions, passenger reliefs and parcel trains. With the onset of dieselisation, the rank and file of steam found employment on everything from towing condemned engines to scrap yards, coal trains and pick up goods to being standby locos giving cover for failed steam locos and diesels - mostly Type 4 'Peaks'. No 45209 was photographed at Holbeck on 23 April 1964. (Below) 'Jubilee' class 45596 Bahamas drifts past Holbeck shed with a brake van in December 1964. Allocated to 9B Stockport Edgeley shed at the time, 45596 was an unusual 'Jubilee' with its double chimney fitted in May 1961 at Crewe Works. Thankfully the loco was subsequently preserved for future generations to enjoy and is based at the Keighley and Worth Valley Railway.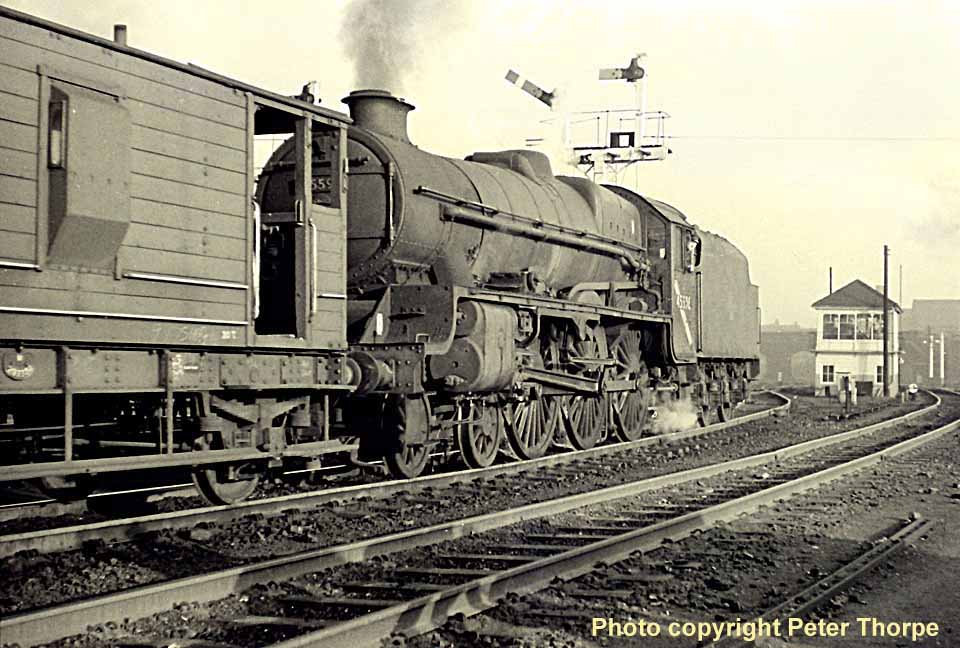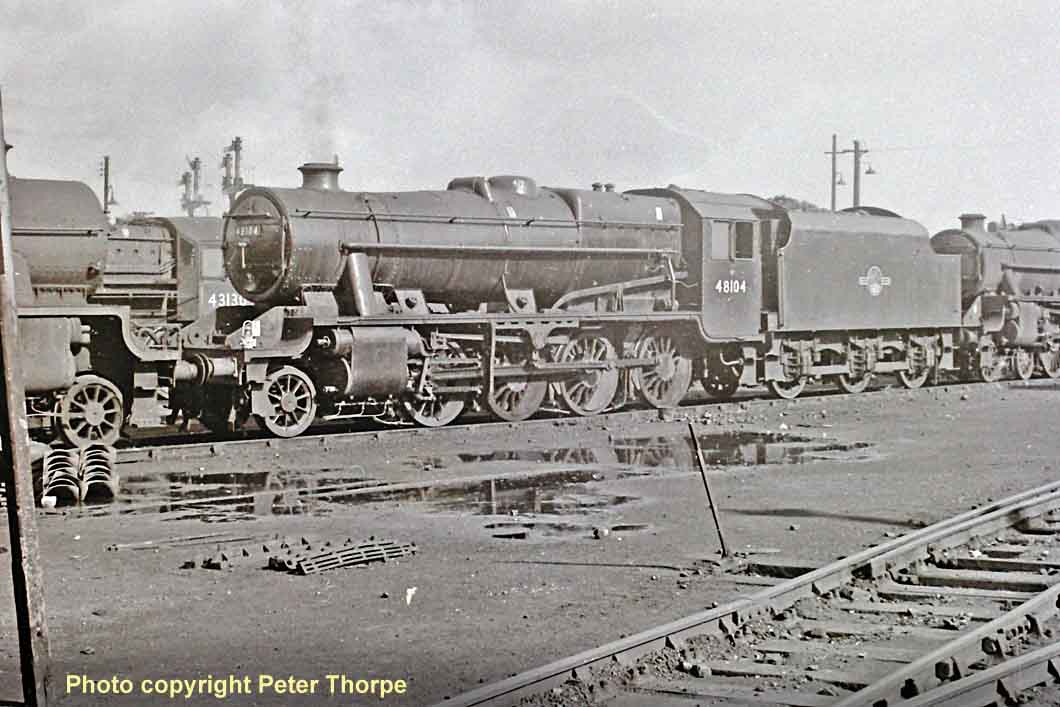 (Above-Below) Adding to the locomotive variety is Class 8F 2-8-0 No 48104 in August 1964. (Below) As can be noted from the earlier pictures taken from the coal tower, by 1964 the changeover from steam to diesel traction was well underway; out of a total allocation of fifty-plus locomotives approximately half were diesel engines and the rest steam. Having encountered its first main line diesel in the shape of Type 4 'Peak' class No D14 from Derby 17A on 24 December 1960, the shed continued to build up its allocation with a further nineteen on 8 December 1962 followed by another four in March 1964 making a total number of 23. This photo of Type 2 Bo-Bo No D5241 was taken in July 1964. Although it was a
15B Wellingborough
diesel, some wag has chalked 'City of Leeds' on its side.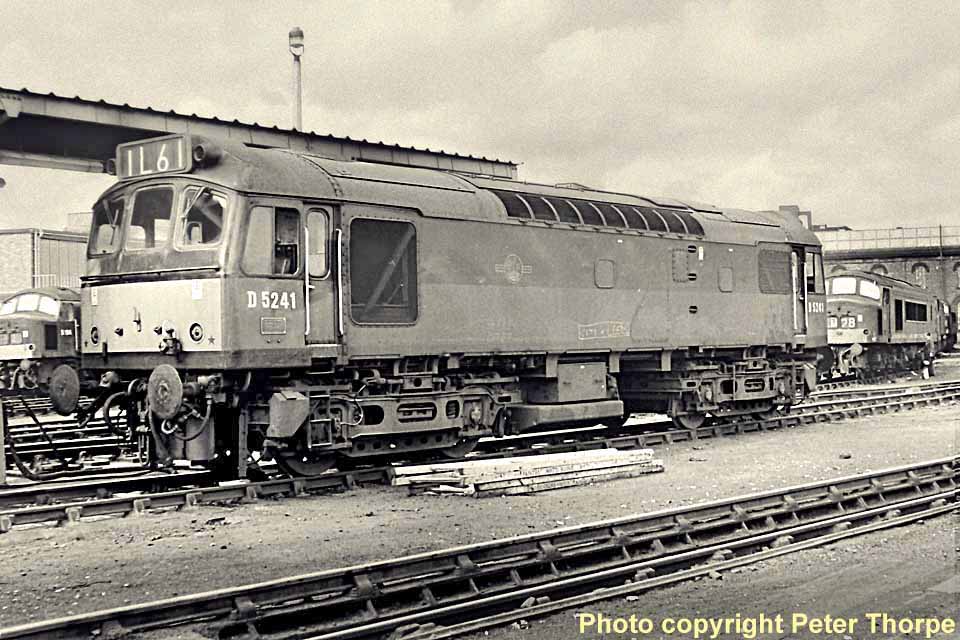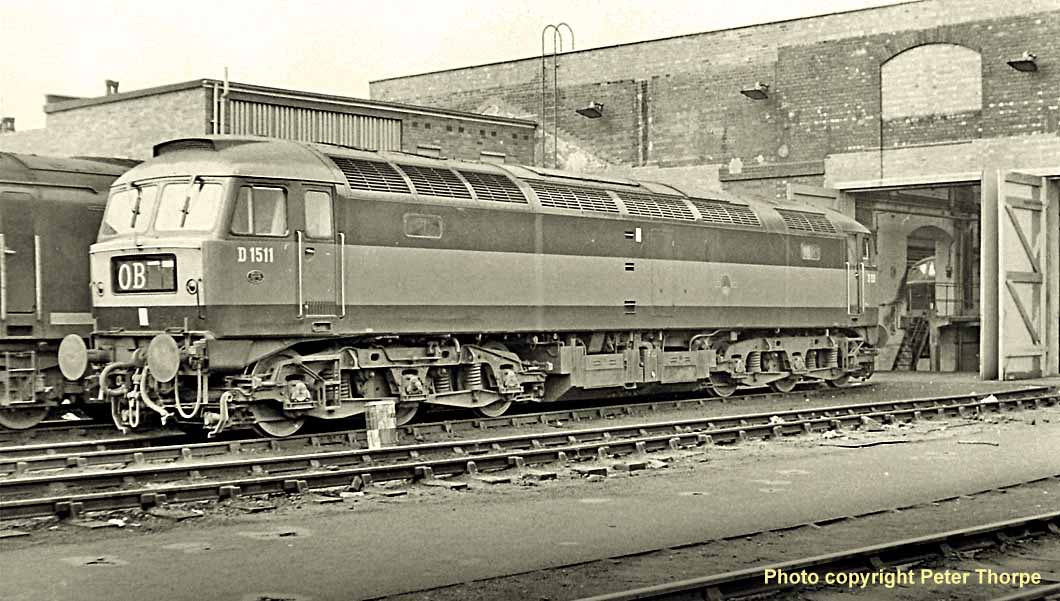 (Above-Below) Reflecting the variety of motive power to be noted on shed in July 1964 is 34G Finsbury Park's Brush Type 4 D1511 in its distinctive two-tone green livery; albeit sixteen months old at the time, it looks almost brand new. (Below) Class 04 No D2272 was photographed on 7 June 1964. This diesel shunter had the distinction of being the first diesel allocated to the shed in 1958. Presumably it was used for shunting coal trucks to and from the coaling plant, yet despite my frequent visits to the shed I never saw it in use. Again this loco has the distinction of being a survivor and is awaiting restoration by enthusiasts at Peak Rail, Rowsley.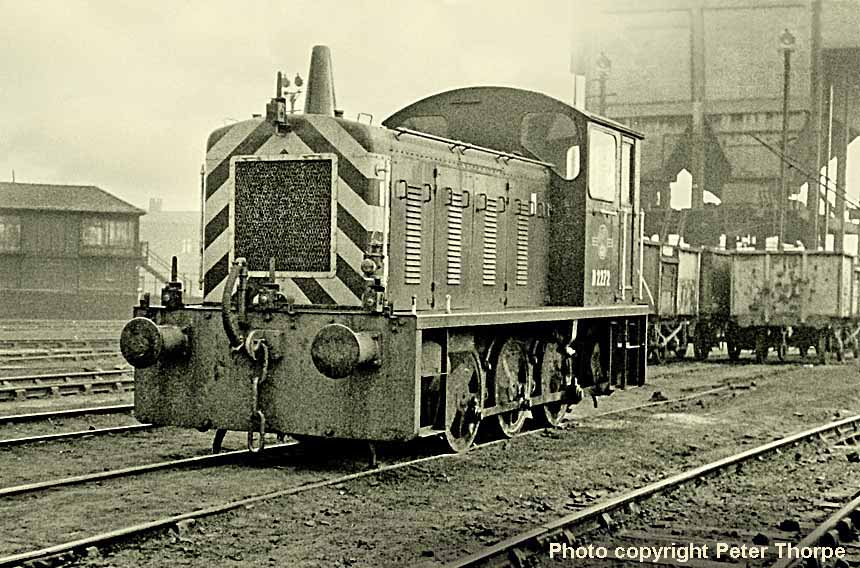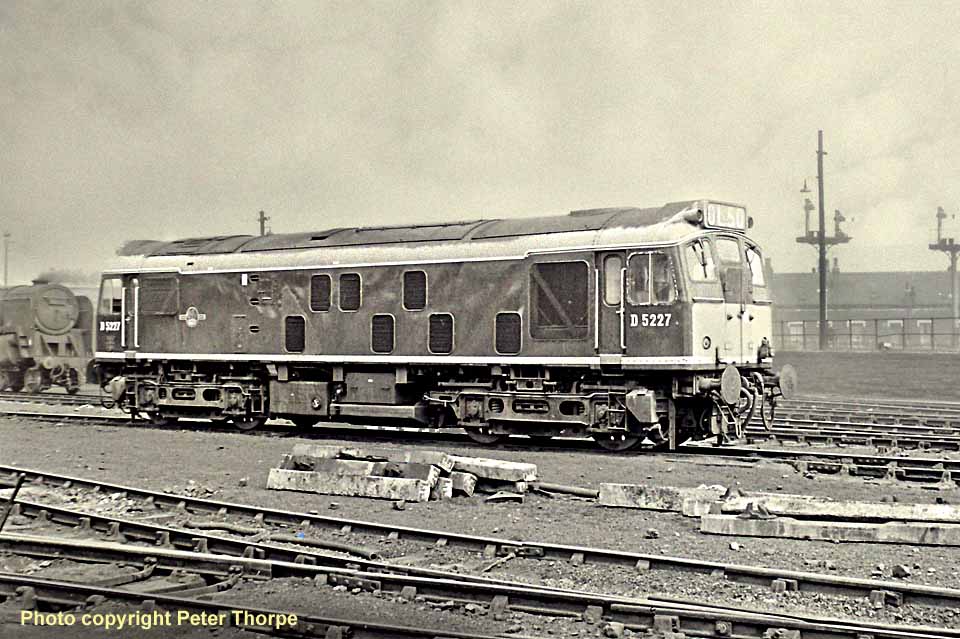 (Above-Below) Another visiting Type 2 Bo-Bo diesel to be seen at Holbeck was
Cricklewood's
D5227 in July 1964; soon after the beginning of the diesel era, the Type 2s became a common sight at 55A along with the 'Peaks'. (Below) Another 14A Cricklewood diesel, Type 2 Bo-Bo D7572, would probably have been another 'cop' for local spotters visiting Holbeck on 24 May 1964.
(Below)
The headlong rush to get rid of steam led to many large orders being placed for the new BR/Sulzer Type 2 Bo-Bo diesels, involving three BR Works at Derby, Crewe, and Darlington in their construction, together with the Beyer Peacock works at Gorton. When production was eventually completed in 1967, no less than 478 Type 2s had been built.

On 8 January 1963 t
he first of Holbeck's Class 25/1 Type 2s to arrive 'out of the box' from BR Darlington Works was D5176, fitted with a train heating boiler, while Nos D5177 and D5178, also fitted with boilers, followed soon after. They were often seen on excursions and timetabled trains to Morecambe, however on this occassion D5176 was photographed at Leeds Wellington Station with an excursion to Morecambe on
21 April 1963.
THE LAST STEAM-HAULED 'WHITE ROSE'

In between frequent trips to Holbeck MPD during the early part of 1963, I began to venture further afield with outings to Hest Bank and Lancaster in April, Chester in May, followed by yet more trips to York...these visits will be featured on another page currently in the planning stage. However, in June 1963 I found out that the last steam hauled 'White Rose' from Leeds Central to Kings Cross was about to take place on Saturday 16th June, and I just had to witness this occasion.
When the big day came I set off to Leeds Central with my humble Brownie camera and bought a return ticket to Doncaster. It wasn't long before Class A4 No 60025 Falcon was backing from Copley Hill with a full tender of coal, its blower on and safety valves almost lifting to be greeted by a small group of around twenty enthusiasts, a couple of whom were engaged in a conversation with the fireman. Being a somewhat naive youngster I was at a complete loss as to why money was changing hands!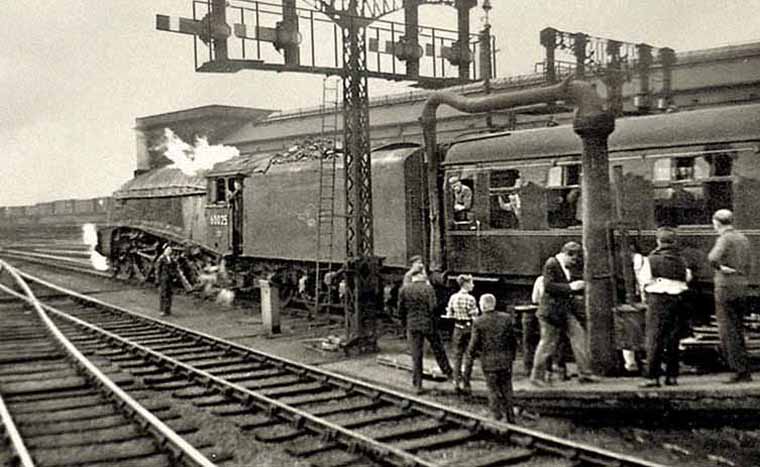 After taking a couple of rear three-quarter shots I clambered into the first carriage and found myself sharing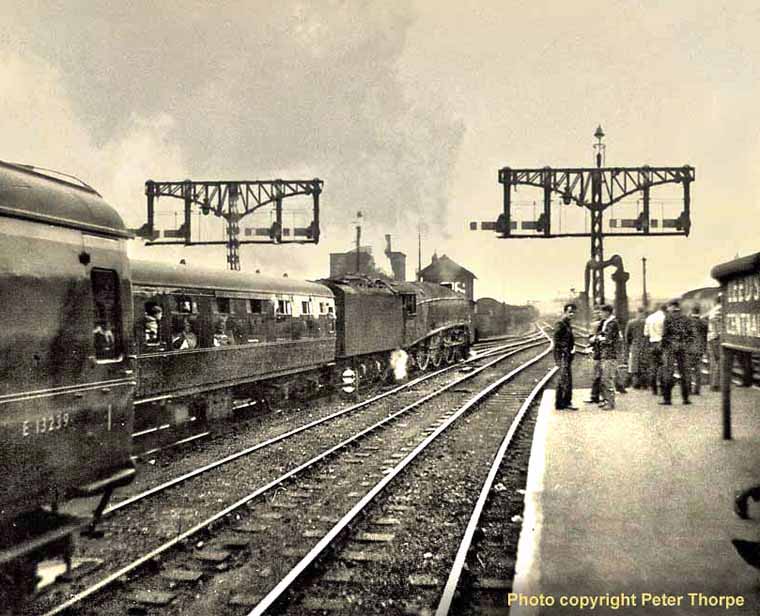 a compartment with the two enthusiasts I had seen earlier - and, being nosey, I asked them what was going on. They told me that they'd had a whip round for the crew in the hope that Falcon would hit 100mph down Stoke Bank!
But when departure time came we sauntered out of Leeds at a leisurely pace and after a brief stop at Wakefield Westgate we drifted into Doncaster with no indication of a possible fast run. On leaving the train I managed to have a word with the fireman who advised me to get back in the train and enjoy the ride - 'The engine is only just 'warming up' he said, adding that by the time they reach Kings Crss he'll have emptied the tender! Sadly, my cheap day return ticket was from Leeds to Doncaster only, and I regretted not having bought one for the full journey to London.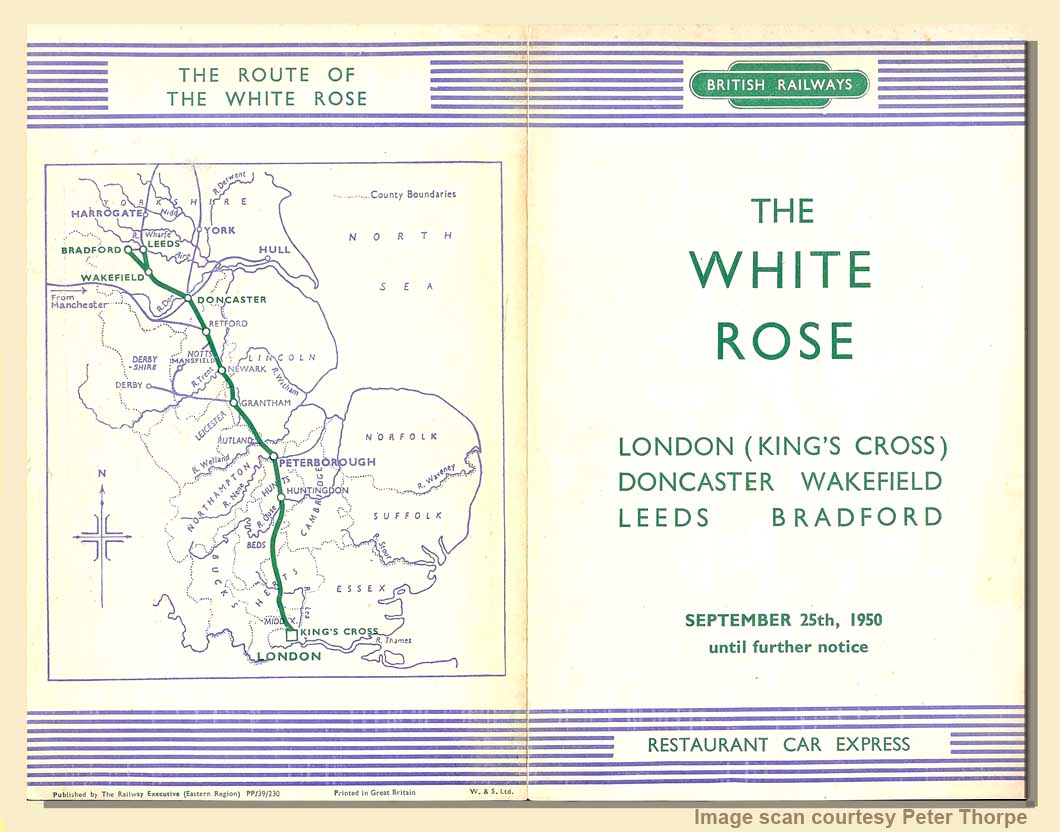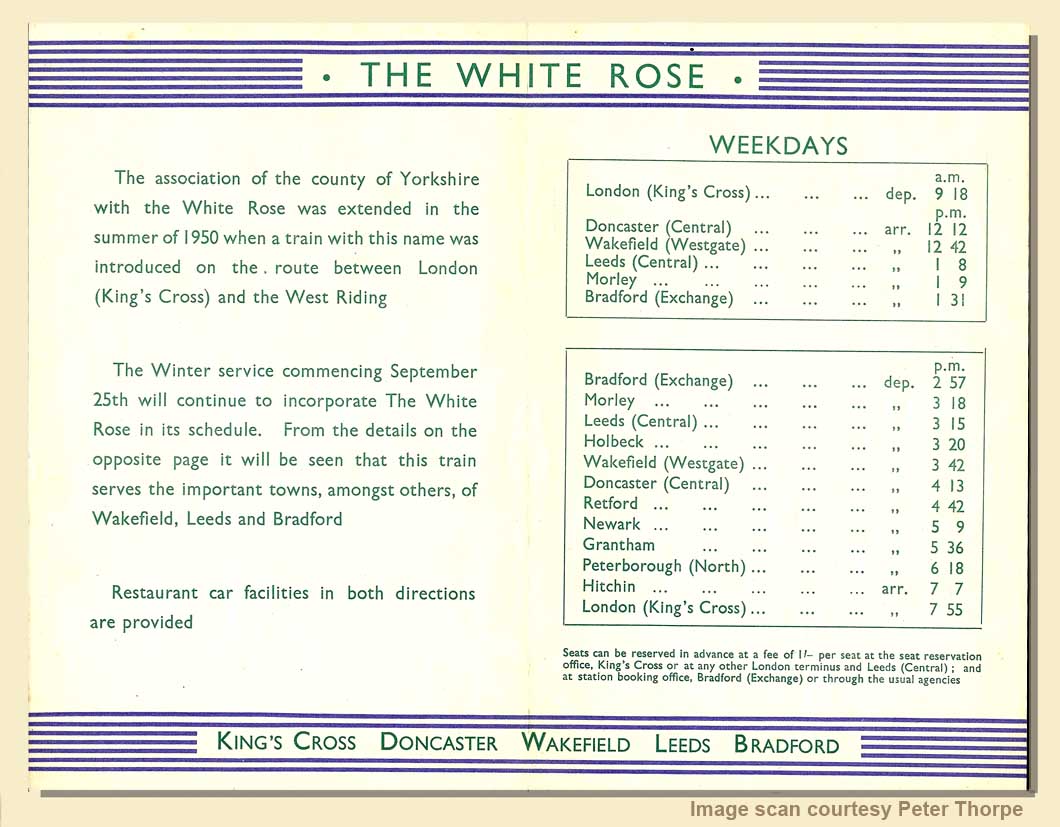 (Below) A 36A Doncaster stalwart Class 9F 92174 passes 60025 on the through road with a Class F unfitted stock express freight. It was great to see almost all the freight workings at Doncaster that afternoon were in the hands of steam…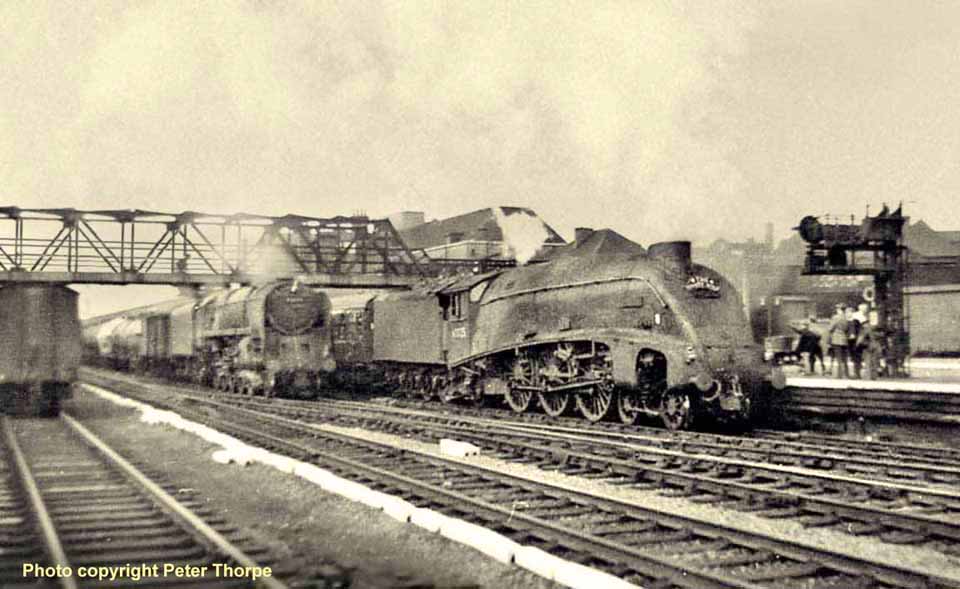 In view of what the fireman had told me, I expected fireworks on departure - but no, the train just eased out onto the fast line and headed into the distance in a dignified fashion. He also said they were hoping to contrive a late departure but if memory serves me right it was away on time. Still the inference from the fireman that they were planning a fast trip had intrigued me, and so during the following months I studied all the loco logs in the railway press in the hope somebody had timed the run but to no avail. A little research showed the loco had been fitted with a speedometer three years earlier, had a boiler change the previous year plus a light casual overhaul at Doncaster works three months earlier, so with a willing crew the engine was more than capable of putting in a decent performance. Saturday 16th June 1963 was also the last day for Kings Cross shed and 60025 Falcon was transferred to 34E New England along with Top Shed's other remaining nine 'Streaks' only to be withdrawn four months later.



(Inset) Measuring 40½" long, a nameplate from Class A4 No 60025 Falcon went under the hammer for £29,500 at a Great Central Railwayana Auction on 5th December 2015. Built at Doncaster Works as No 4484 in February 1937, the A4 was renumbered 25 in 1946, later becoming BR 60025. Allocated new to Haymarket, it moved to Kings Cross in 1939 where, apart from a couple of years at Grantham, it spent the remainder of its working life before moving for its final four months to New England from where it was withdrawn on 20 October 1963 and cut up at Doncaster Works week ending 4 January 1964.

(Below) Soon after Falcon had departed Doncaster, the distinctive chimed whistle of another A4 heralded the approach of No 60008 Dwight D Eisenhower with 'Steam for Ever' chalked in large letters on the smoke box door; as it hurtled south on the through road it created so much turbulence, my immediate thought was that it would very quickly catch up with the 'White Rose'; at the same time I imagined them side by side at the buffer stops in Kings Cross. Sadly the resulting pictures are not as good as I would have liked and I realized I must obtain my own 35mm camera since I was missing out on all these historic events and very soon the everyday BR steam scene would be gone forever.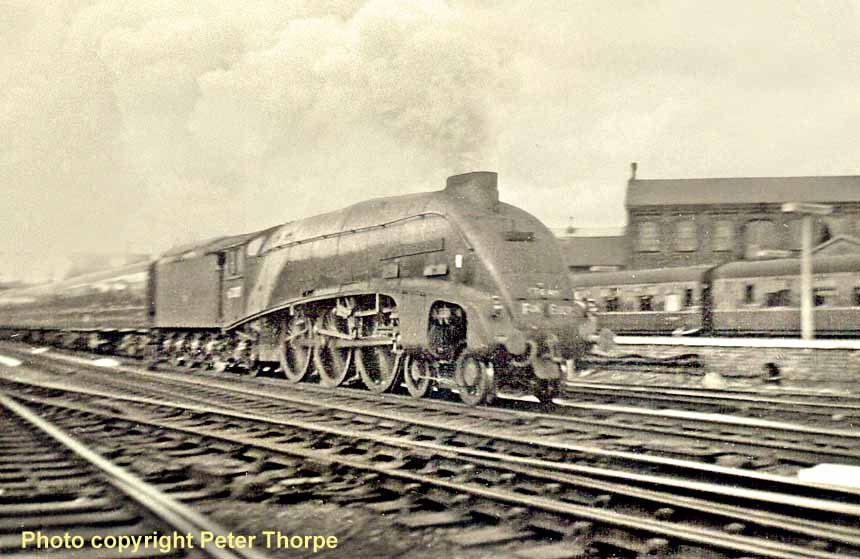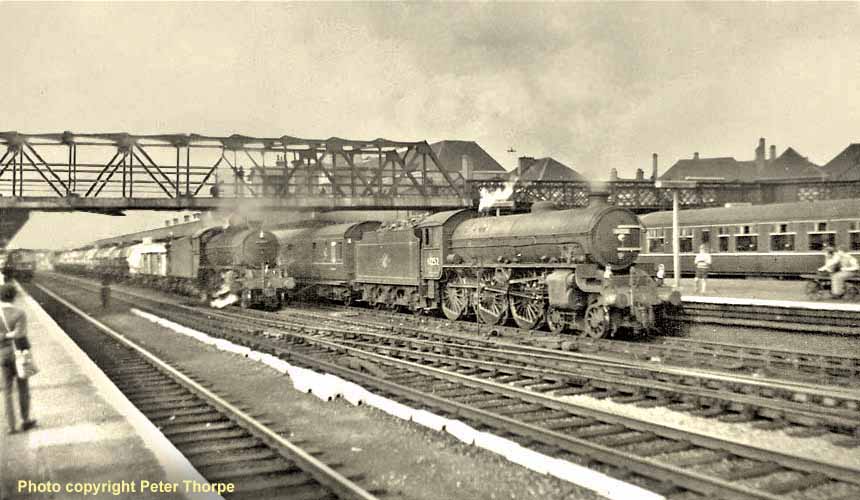 (Above-Inset) 31B March-allocated Class B1 No 61252 was photographed about to depart with an up express passenger working. Sadly the B1 lasted only a few more months before withdrawal came on 25th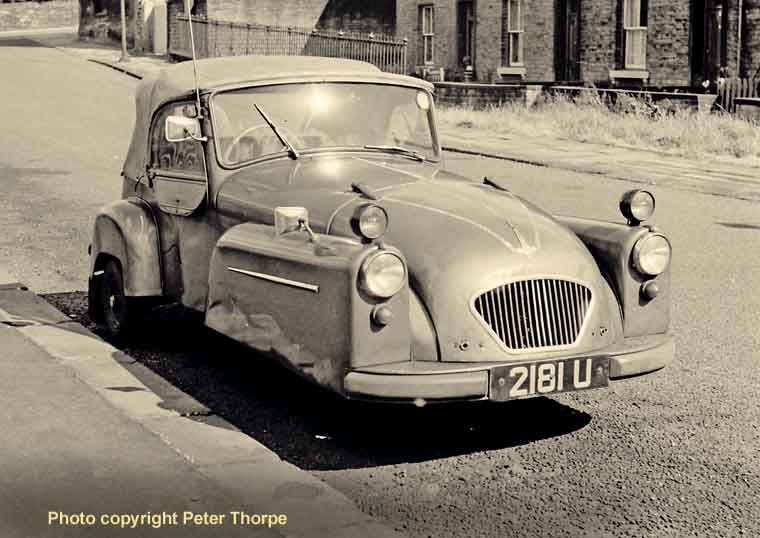 November 1963. (Inset) Towards the end of 1963 I part exchanged my motorbike for a three wheeler Bond minicar, and together with a friend, organised several shed bashes and planned a few tours of our own, but whilst our trips resulted in lots of 'cops' I was missing out on too many photo opportunities.
So later in the year, I hired a 35mm camera and exposed two rolls of Ilford FP3 films during a Yorkshire Railfans tour of Scottish sheds and then handed them into my local photography shop for processing. Alas when it came to collecting them I was told they had been lost! Despite much fruitless searching, it came to no avail, and the shop ended up replacing the two rolls of film free of charge with a brand I had never even heard of! Needless to say I was gutted…and my Christmas present request for that year was a developing tank, chemicals for the processing, numerous trays, red bulbs for the dark room (my bedroom) and clothes pegs for hanging the negative strips up to dry. Once I had the darkroom in place the films were then very carefully stored away in negative folders for printing at a later date.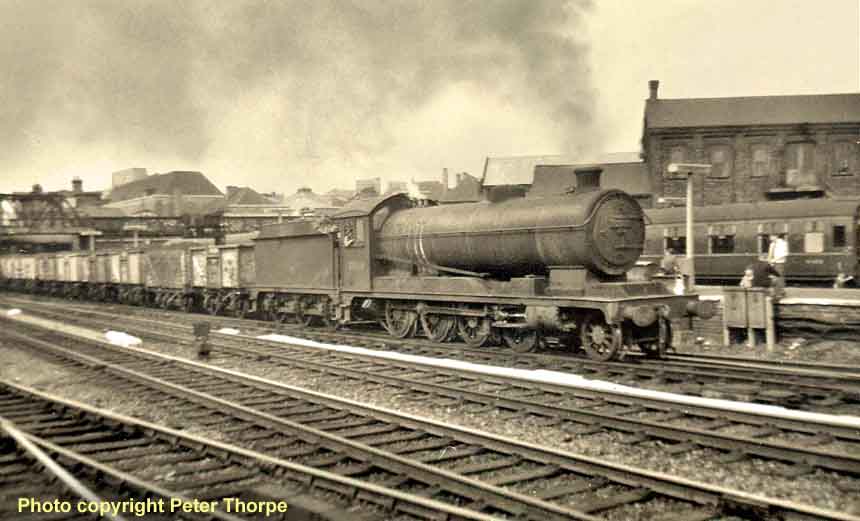 MYSTERY WORKING AT DONCASTER
Thursday 23rd April 1964.

On Sunday 29th December 1963, during the Christmas break, I had just returned from a trip to Crewe Works, 5A and 5B, calling in at Buxton 9L, Heaton Mersey 9F and Stockport 9B sheds on the way back. Over dinner I was relating the day's events to my Uncle Gordon who worked at Hepworth and Grandage, a large engineering firm in Bradford which manufactured piston rings, cylinder liners and gas turbine blades. He was most interested in my trip and asked if he could join me the next time I planned a visit to Crewe. This I did on Sunday 15th March 1964, an eventful day as it turned out; my three-wheeler car broke down and we ended up making a mad dash to Bradford Exchange Station to catch a train. Still he thoroughly enjoyed his visit to the works, which, for an engineer was a real eye-opener, especially the heavy engineering equipment being operated and the wide range of workers skills required; the well-organized workshop was practically self sufficient.
My uncle told me that an ex-workmate of his now worked for British Railways and was privy to information on special workings, one of which involved a Class A4 at Doncaster with an unusual train. When I asked if he had any more information he promised he would get his friend to ring me at work with the full details of the departure date and time. As good as his word, on Wednesday 22nd April I was returning to work from my dinner break when the switchboard gave me a piece of paper which simply said - 'The item you are chasing will be leaving at 9am prompt tomorrow!'
Now personal calls during working hours were strictly forbidden unless it was an emergency; however as part of my job involved chasing up the delivery of goods from railway depots there was nothing unusual in receiving this cleverly-disguised message. Needless to say I was dead keen on going, but there was a problem...seeking permission for a day's holiday at such short notice would undoubtedly have been refused, so I had no option other than to have a rare sick day off.
After finishing work, I bought an Ilford FP3 Fine Grain 35mm film and hired a 35mm camera, then popped into Bradford Commercial Library to study a street map of Doncaster and decided the best vantage point would be on the St James's Bridge just south of the station. Arriving home I borrowed the train fare from Mum and began to pack my duffle bag with the camera, tripod, wagon wheels, jubblys (orange drinks inside pyramid shaped waxed cartons) a pac-a-mac and an empty red Oxo tin containing a notebook, pen and pencils and unused platform tickets from my collection for both Bradford Exchange and Doncaster Stations, plus the unclipped return ticket from my previous visit behind 'Falcon'.
Then it was away to bed wondering what the special train could possibly be…a Royal Train perhaps?
Early next morning, I was greeted by heavy rain, but despite the inclement weather the bus and trains were running on time and I arrived at Doncaster Station in high spirits…

(Below) Soon after arriving at Doncaster, I took this first photograph at 8.40am and wondered at the time why Doncaster Plant was operating a 34-year-old 0-6-0 tank engine when there were numerous Class 08 diesel shunters readily available. The Class J50/3 0-6-0T No 68976 was withdrawn from traffic on 30 September 1962 and recruited into Departmental Stock at Doncaster Works as BR16. The 0-6-0T was cut up by TW Ward, Beighton, Sheffield on 30 September1965. Photo details Ilford FP3 f3.5 1/50sec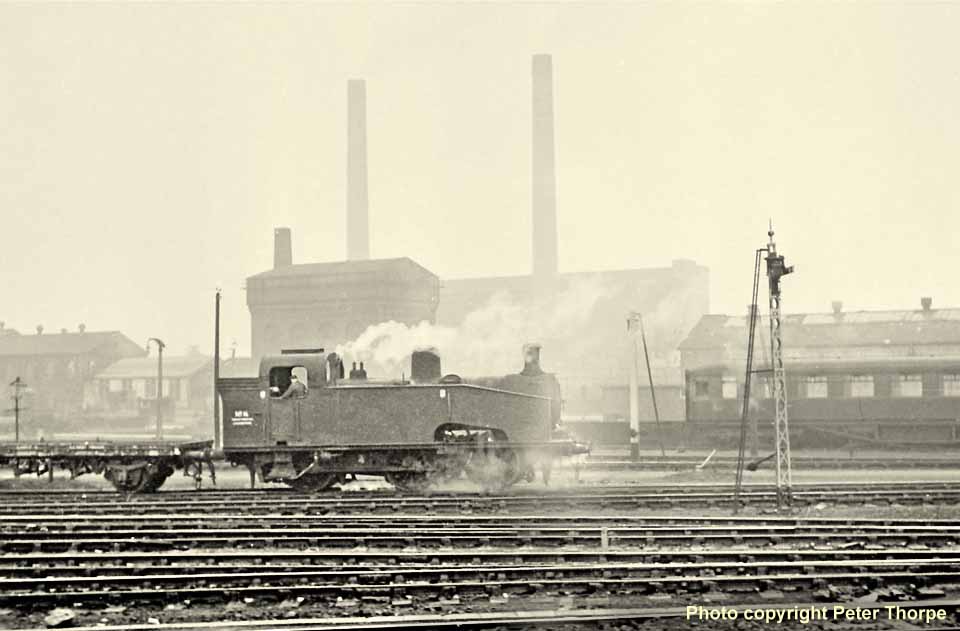 (Above-Below) At 8.45am, Brush Type 2 No D5677 of 34G Finsbury Park runs light engine from the Works to collect its train of aged passenger stock from the West yard. Years later I learned that the loco had visited the Works to be re-conditioned and serviced, and then moved into the Works yard for an engine start up and various checks including bearings. Once in the yard it was then shunted onto the ZP load bank resistor equipment for further checks before the engines were run up to maximum load level and maintained for four continuous hours.




(Inset-Below) With the time ticking away I made quick dash off the station platform, handed in my unused Doncaster platform ticket and then out into the pouring rain to take up a position on St James's Bridge.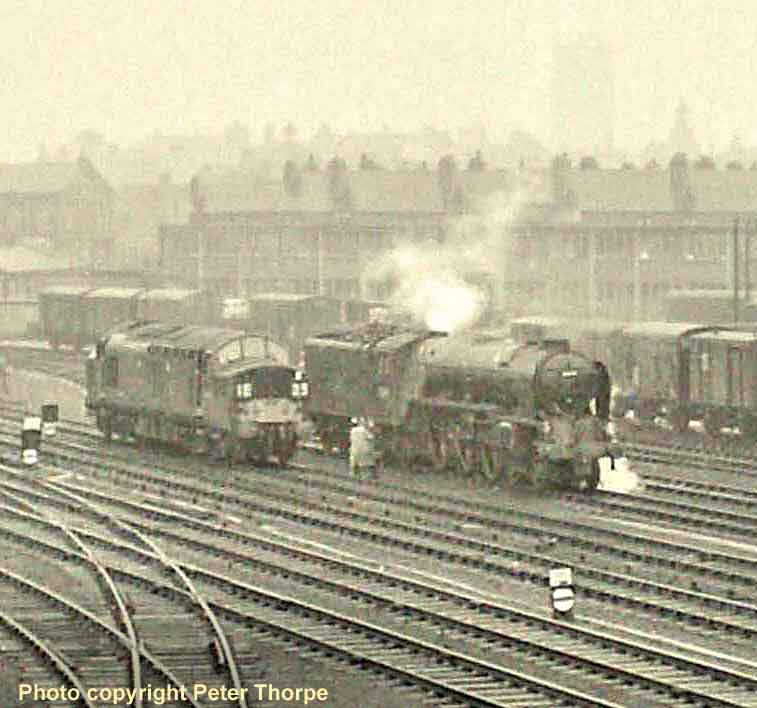 However with only minutes to go before 9am, the station looked strangely quite, almost empty in fact, with no evidence of police, reporters or paparazzi. However when I saw a clean Class A1 60114 WP Allen on stand-by duty and the crew talking to an Inspector trackside it raised my hopes of a possible Royal train in the offering!
How wrong could I be!
At exactly 9am I heard a whistle from the Works yard and out of the drizzle emerged Doncaster shed's Class B1 61157 with a short train on the Sheffield line, the lamps indicating a class H through freight train. The surprise was the immaculate Class A4 being towed tender-first; none other than 60008 Dwight D Eisenhower, and so I rattled off several shots as it rounded the curve at St James's station.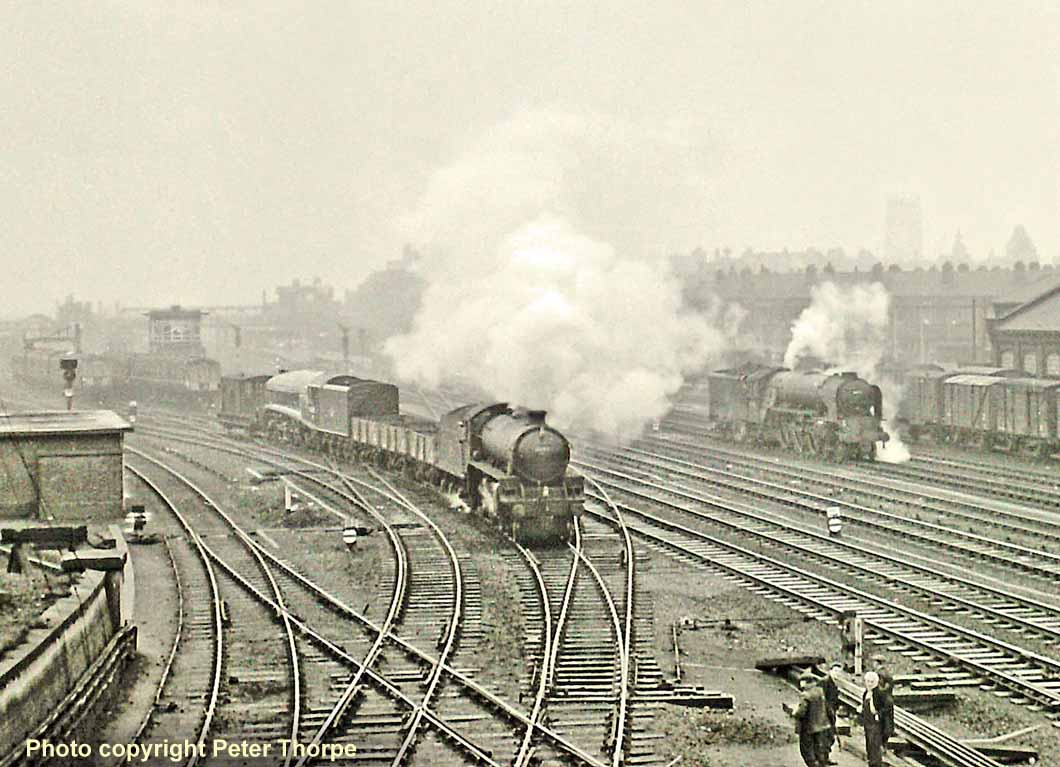 Built at Doncaster Works in 1937, the A4 was named 'Golden Shuttle' until 1945 when it was renamed Dwight D Eisenhower in recognition of his service as Supreme Commander of the Allied forces during World War 2; Eisenhower later became the 34th President of the United States (1953-1961). Following withdrawal from 34E New England shed on 20 July 1963 the Class A4 was sent to Doncaster Works for cosmetic restoration in readiness for shipment to the National Railroad Museum in Green Bay, Wisconsin, USA. It arrived in New York Harbour on 11 May 1964 and was transferred by rail to the museum later that month; the locomotive is now displayed with two British passenger carriages once used as part of Eisenhower's Command Train.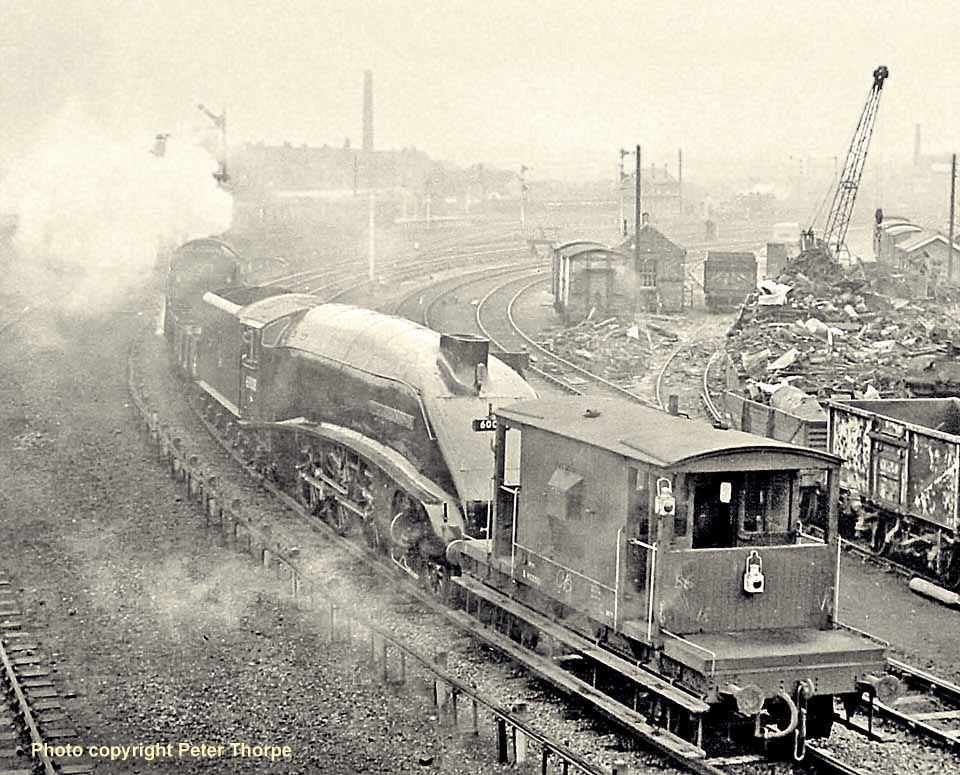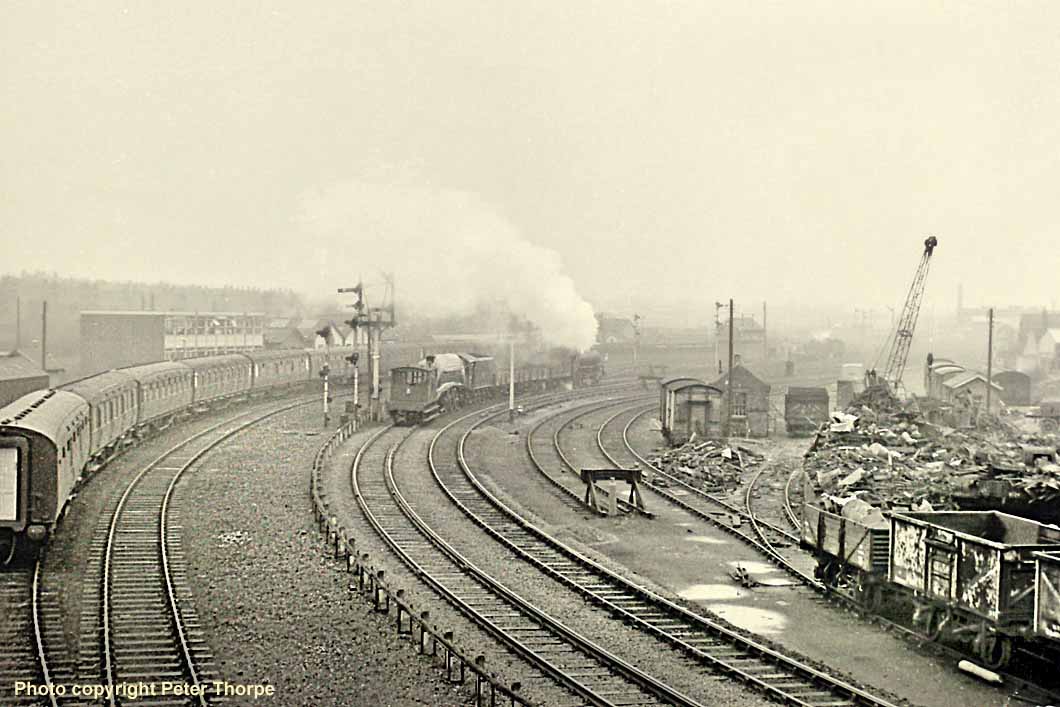 (Above-Below) 36C Frodingham shed's WD 2-8-0 No 90665 approaches Doncaster with northbound train of iron ore. At the time these heavy iron ore trains from the High Dyke area had not been entrusted to regular diesel haulage. Photo Ilford FP3 f3.5 1/300th. (Below) As the rain continued to pour, EE Type 4 Class 40 D247 of 52A Gateshead shed awaits a clear road through the station heading north with a class F express freight, all unfitted stock. Photo Ilford FP3 f3.5 1/100th.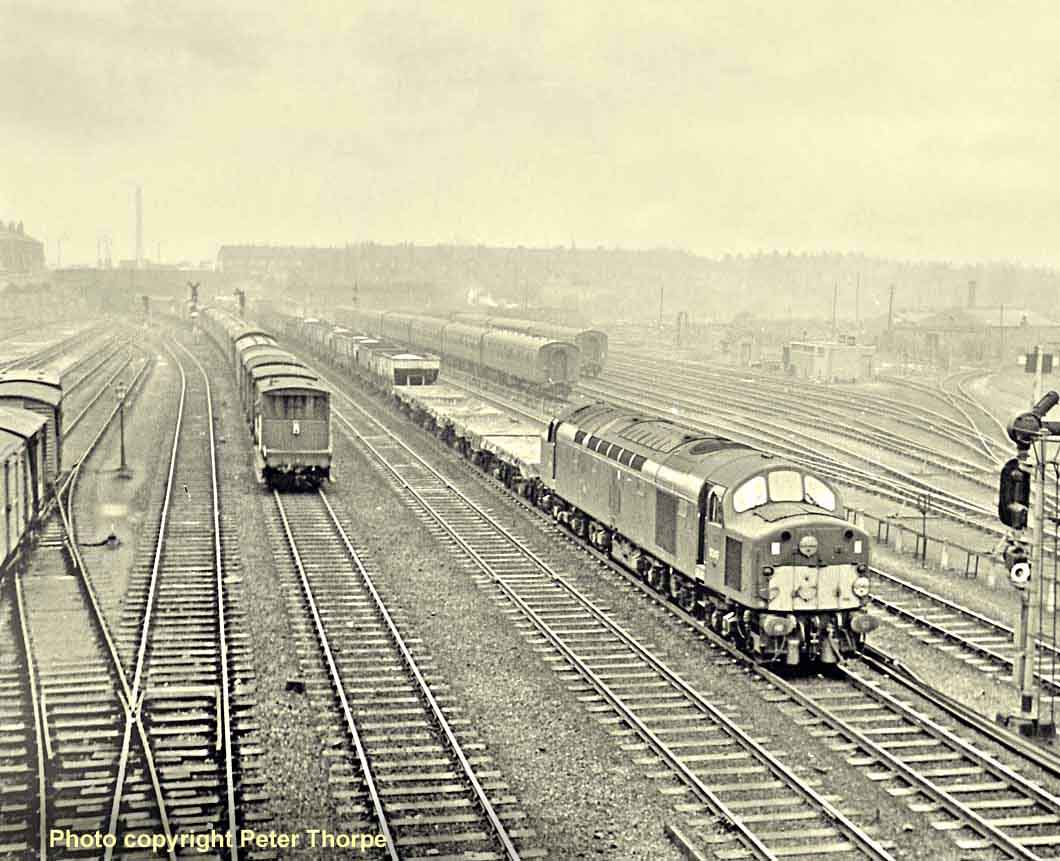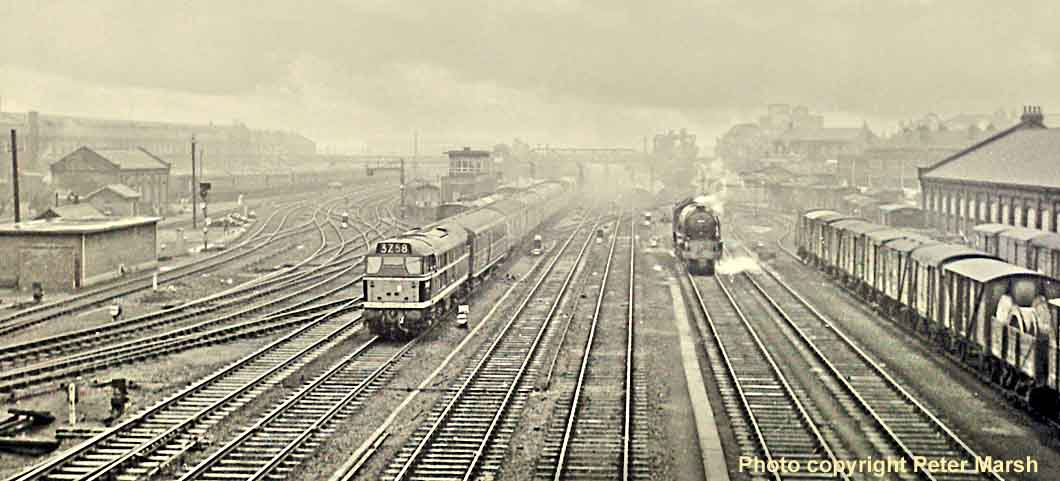 (Above-Below) At twelve minutes past nine, Brush type 2 D5677 now sporting a revised headcode 3Z58, the first numeral '3' indicating the class of train, (in this case a diesel engine on test with empty coaching stock), while the 'Z' character refers to a special train, and '58' indicating the train reporting number. The Type 2 is starting its test run south on the ECML to the sidings just north of Peterborough, where it will run around its train and return to Doncaster Works for any final adjustments prior to being released back in to traffic. Photo Ilford FP3 f3.5 1/100th. (Below) EE Type 3 D6710 of 50B Hull Dairycoates shed heads south after winding its way round the back of the station, passing the stand-by steam loco, Class A1 60114 WP Allen, looking in fine external condition with a full tender of coal and plenty of steam ready for any southbound diesel failures that may occur. Photo Ilford FP3 f3.5 1/100th.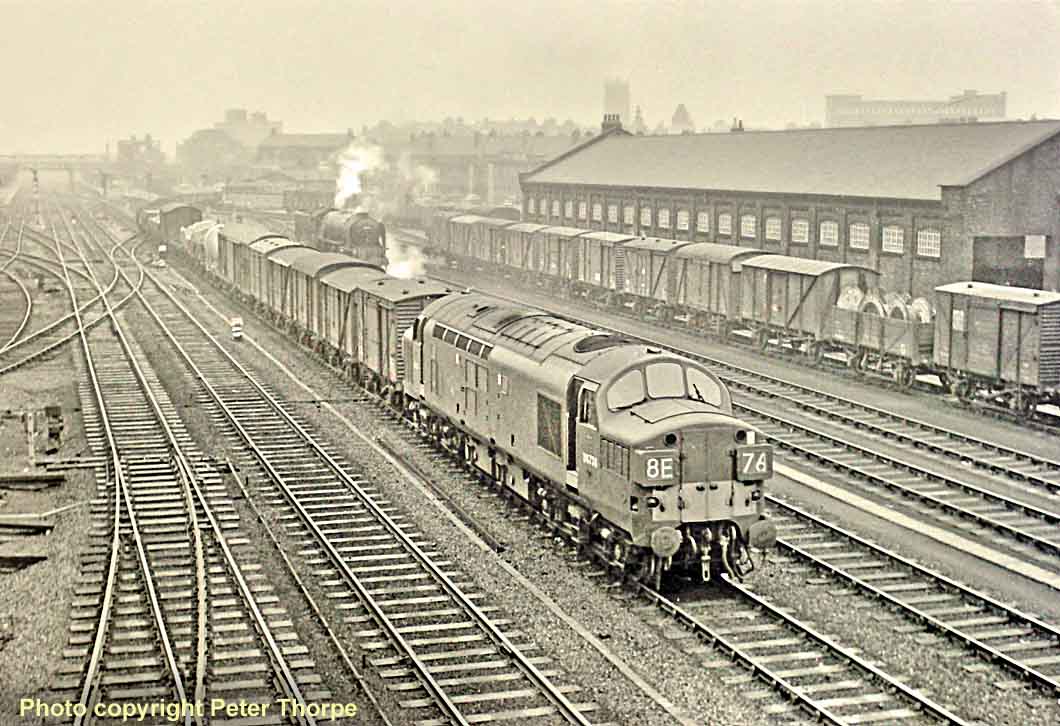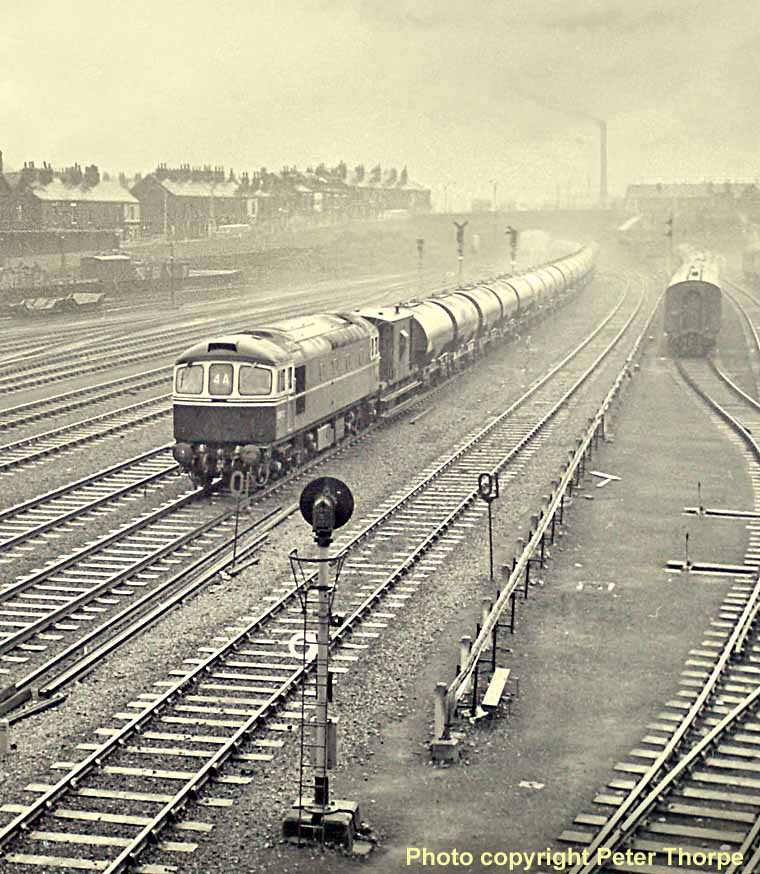 (Above) One of the most popular workings for northern rail enthusiasts was the northbound (A4) cement train from the Kent Cement Works at Cliffe to Uddingston in Scotland and the southbound returning empties (4E). It was rostered for a Southern Region 73C Hither Green-based Birmingham RCW Type 3 (Class 33) as far as York where it was replaced by a 50A York-based EE Type 4 (Class 40) locomotive for the remainder of its journey to Scotland. The train was recorded as normally having twenty six 4-wheeled cement wagons plus two guards vans equivalent to a total train weight - including the diesel locomotive - in excess of 1,000 tons, however the few times I saw this train in 1963 and 1964 it comprised of 30 wagons plus two guards vans, as seen here behind Birmingham RCW Type 3 (Class 33/1) D6573.
Departing Cliffe in Kent at 2.40am it was designed for 60mph running but following a rash of derailments including a rather severe one at Uddingston Junction in July 1965, it was downgraded to 45mph. This action proved to be of no avail,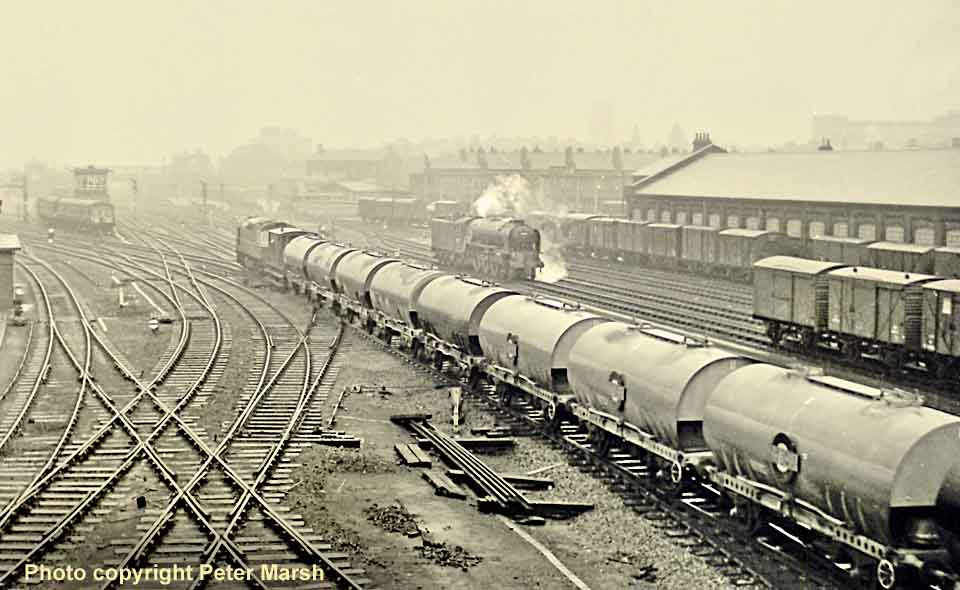 however, as a major accident occurred on the four-track main line near Thirsk in July 1967; the train was being hauled by D283 and travelling at the maximum permitted 45mph on the down 'Slow' line when the rear axle of the 12th wagon became derailed; this caused the coupling between the 11th and 12th wagons to fracture, the vacuum hose pipe parted and the brakes were fully applied. A number of wagons in the rear portion became derailed and went down the embankment, however the 23rd wagon ended up fouling the down 'Fast' line.
Approaching at high speed was DP2 on the 1A 26 12.00 Kings Cross-Edinburgh; the driver managed to reduce speed but could not prevent a collision; the locomotive and first seven coaches were derailed leading to seven fatalities and forty five passengers being seriously injured. The emergency services were notified by an RAF pilot who was flying overhead at the time. The derailment was blamed on excessive wear in the suspension components, thought to be caused by cement dust abrasion, along with slight variations in both wheel-set diameter and track alignment, which together caused a 'waddling' motion - a lateral oscillation of the poor riding 'CemFlo' tank wagons. Meanwhile DP2 - the privately-sponsored EE Co 'Diesel Prototype 2' - was written off, having clocked-up 100,000 miles in service, and leading to an order for fifty locos (Class 50) in BR's second generation diesel fleet - see page 19.

(Below) During the next hour two northbound and two southbound EE Co Deltics were observed. First on the scene was D9020 Nimbus, a 34G Finsbury Park loco, speeding south on the through road with the 07:50 Newcastle-Kings Cross. Photo Ilford FP3 f3.5 1/300th.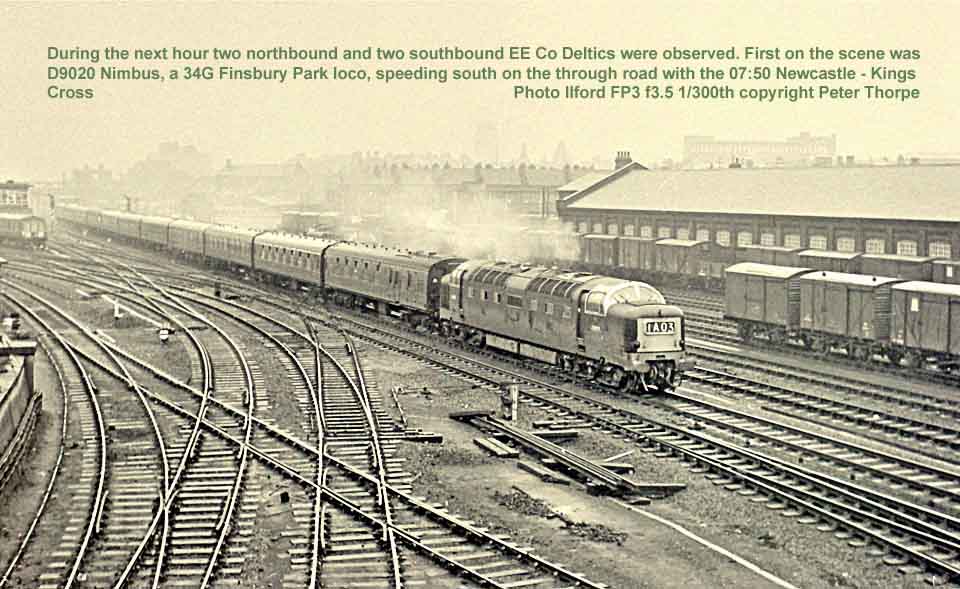 (Above) Following the demise of the Gresley Class A4s, the cumbersome EE Co Type 4 diesels were put to work on the ECML express passenger services. However Gerry Fiennes, then Line Traffic Manager at Kings Cross 1957-1961, was dissatisfied with the Type 4s meagre 2,000hp performance. His campaign for a more powerful locomotive was largely responsible for persuading BR into purchasing the English Electric Co's 3,300hp Deltics. In his opinion, the East Coast route's only chance of competing with the proposed new electrified service on the LMR's West Coast route was by providing him with a fleet of locomotives capable of sustaining 100mph running. His wish was granted and as a result the Anglo-Scottish service between London and Edinburgh was accelerated by as much as four per cent, while the Type machines were relegated to secondary duties including freight. Here, 52A Gateshead allocated Type 4 D237 comes to a halt at signals with a northbound Class F express freight, an all unfitted stock train.

(Below) The next Deltic to be seen was D9007 Pinza at the head of the 07:45 King's Cross-Leeds 'West Riding'. The EE Co's Deltic Co-Cos weighed in at just 100 tons, 25% lighter than their 1Co-Co1 EE Type 4 cousins, and with a total rating of 3,300bhp compared to the Type 4s 2,000bhp, they proved to be a very able replacement for the A4s. Photo Ilford FP3 f3.5 1/100th.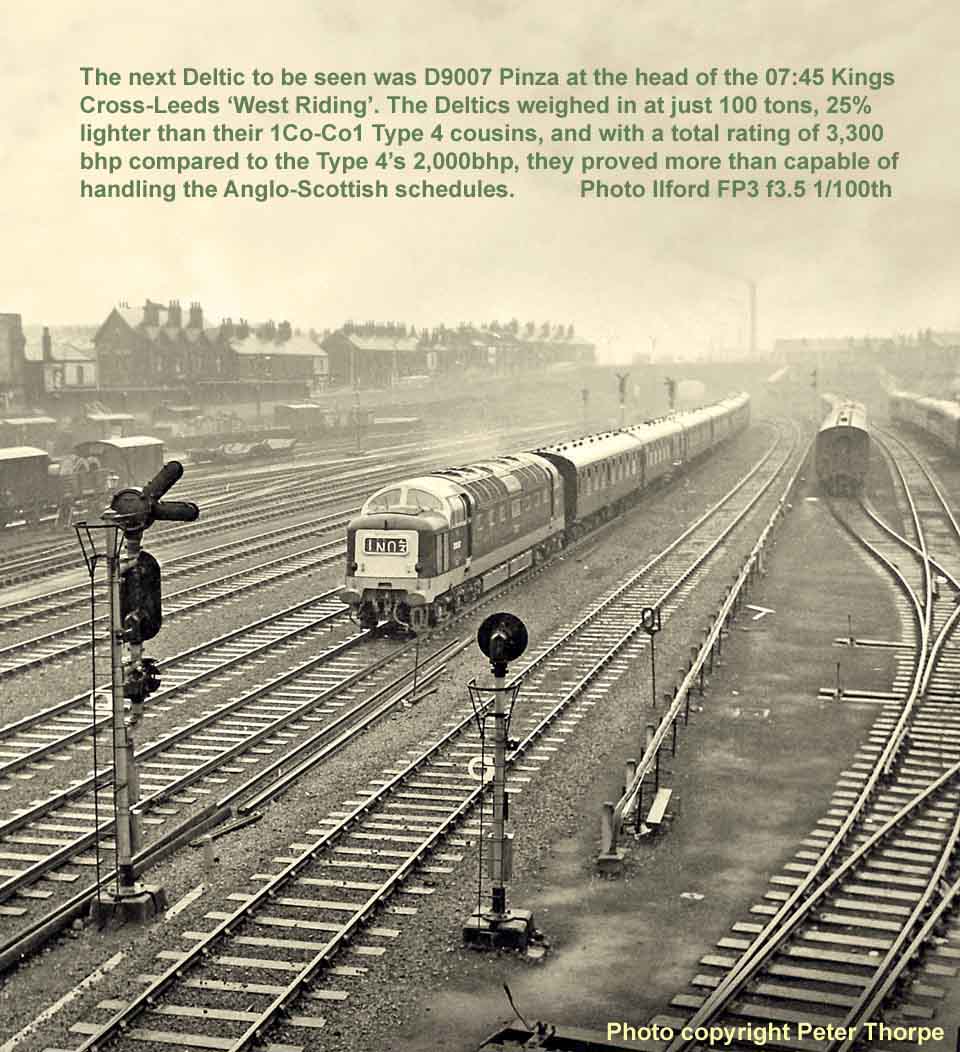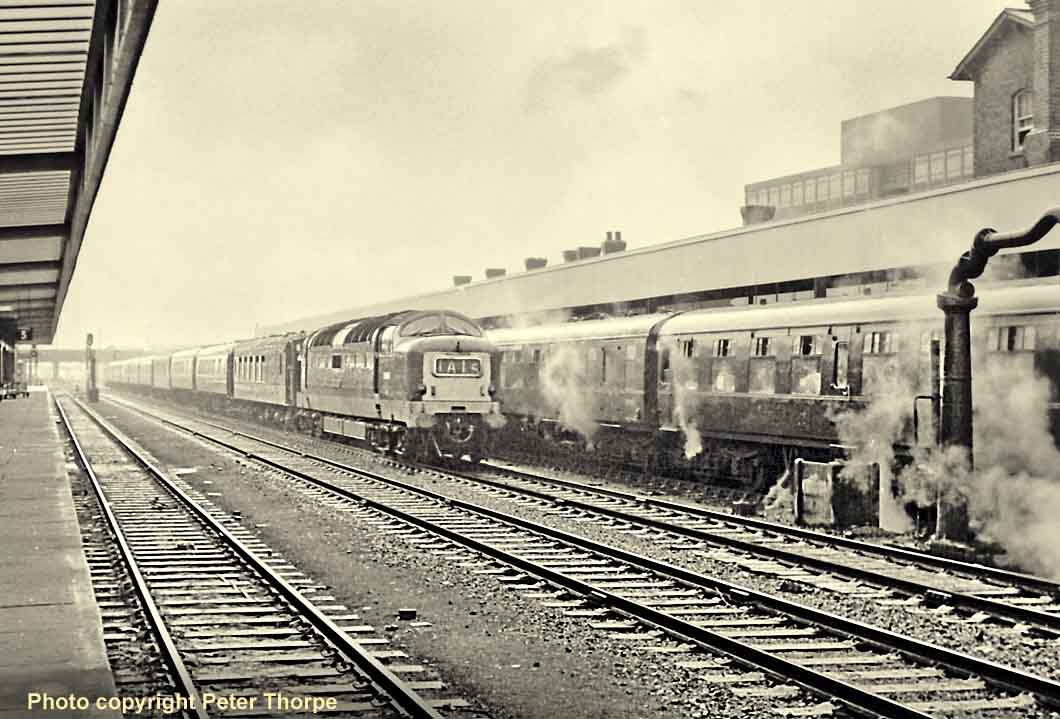 (Above) On such a wet, miserable day, the steam-heated coaching stock in platform 4 adds some welcoming atmosphere to this shot of EE Co Deltic D9008 The Green Howards of 52A Gateshead shed speeding south on the through road with the 1A15 09:00 Newcastle-King's Cross 'Tees-Tyne Pullman' Ilford FP3 f3.5 1/300thsec.

(Below) 11.12am. There was a steady procession of diesels, one after another, so I was pleased to capture 34E New England's Class A3 60054 Prince of Wales passing through Doncaster station with a northbound Class D freight. Sadly, the A3 was withdrawn from traffic a little over a month later on 28 June and cut up in August by RA King of Norwich. Ilford FP3 f3.5 1/100thsec.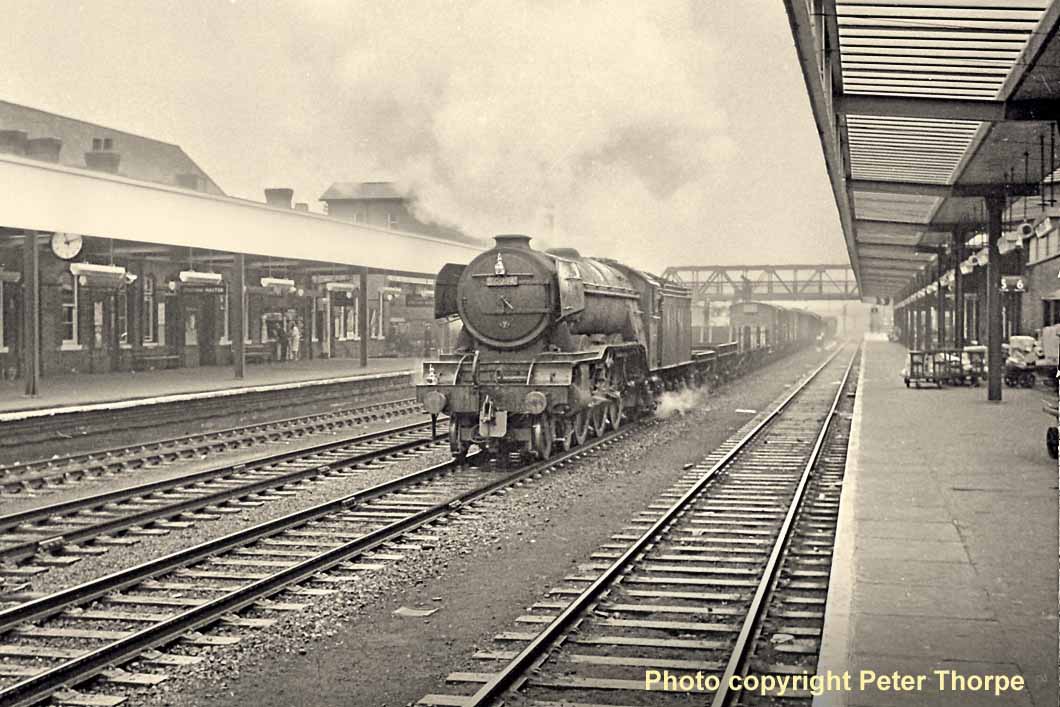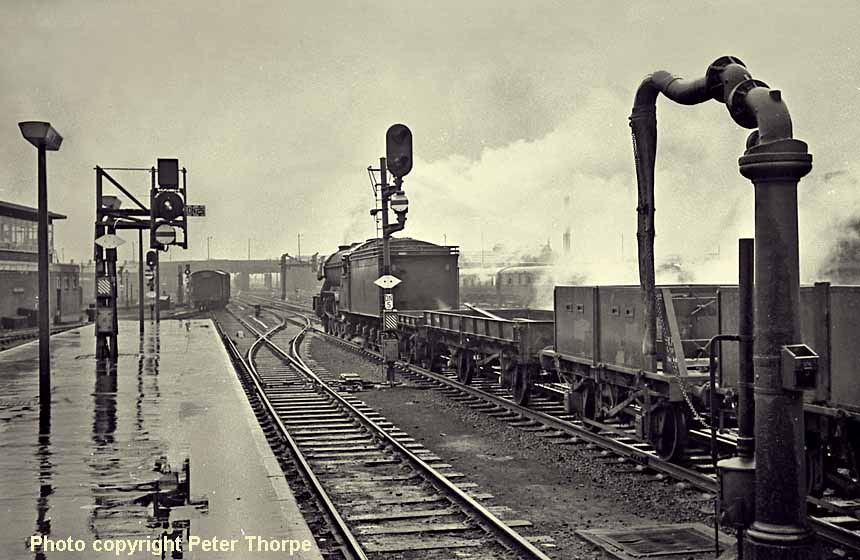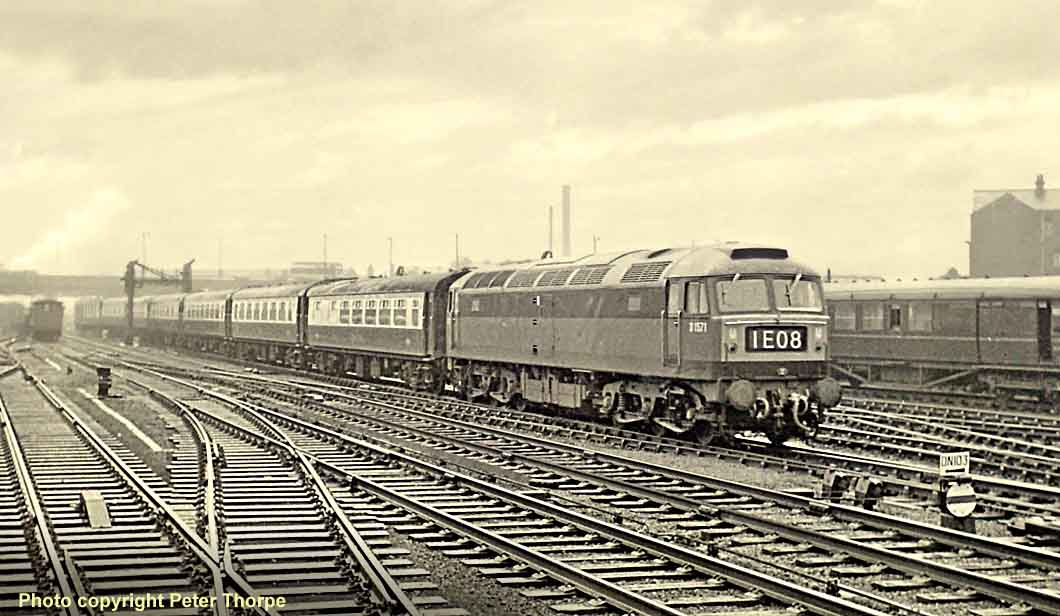 (Above-Below) 11.15am. Introduced to traffic on Saturday 4 April 1964, Brush Type 4 No D1571 was allocated to Holbeck MPD; the loco is working the 1E08 up 'Yorkshire Pullman' comprised of both Bradford and Leeds portions. An additional four Pullman cars of the Hull portion will be attached at Doncaster prior to departure for the non-stop run to Kings Cross. Ilford FP3 f3.5 1/100thsec. (Below) Shortly afterwards, during a brief spell of brighter weather, Brush Type 4 classmate No D1573 - released to traffic at Holbeck a week after D1571 on Saturday 11 April 1964 - heads south with a fitted freight; note both locomotives are displaying a 55A shed code plate above the buffer beam. It somehow seemed strange to see Holbeck-based motive power working both freight and passenger turns on the East Coast Main Line. Ilford FP3 f3.5 1/300thsec.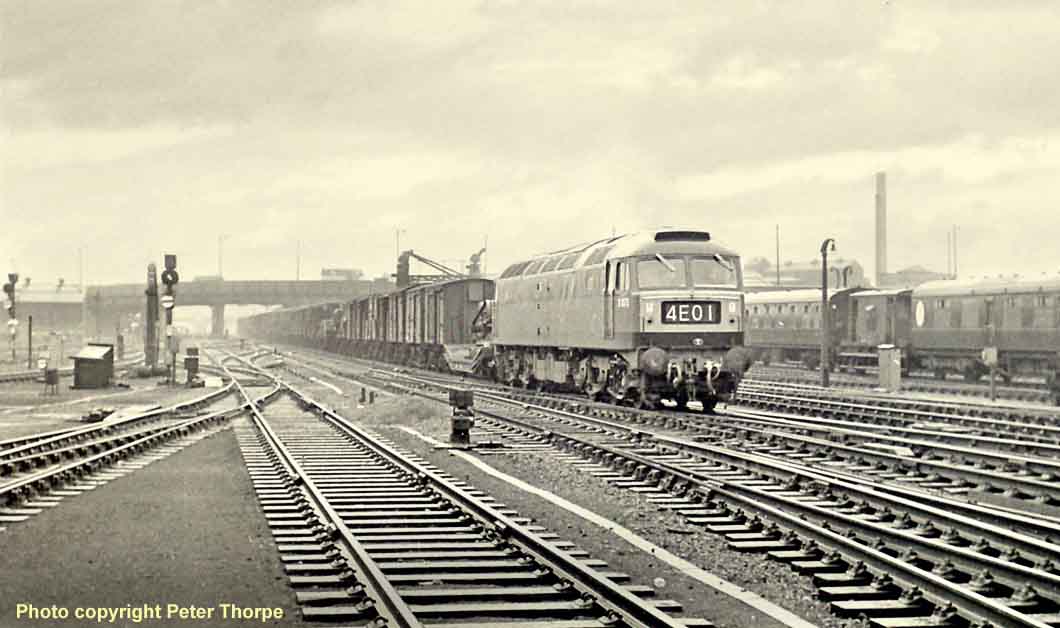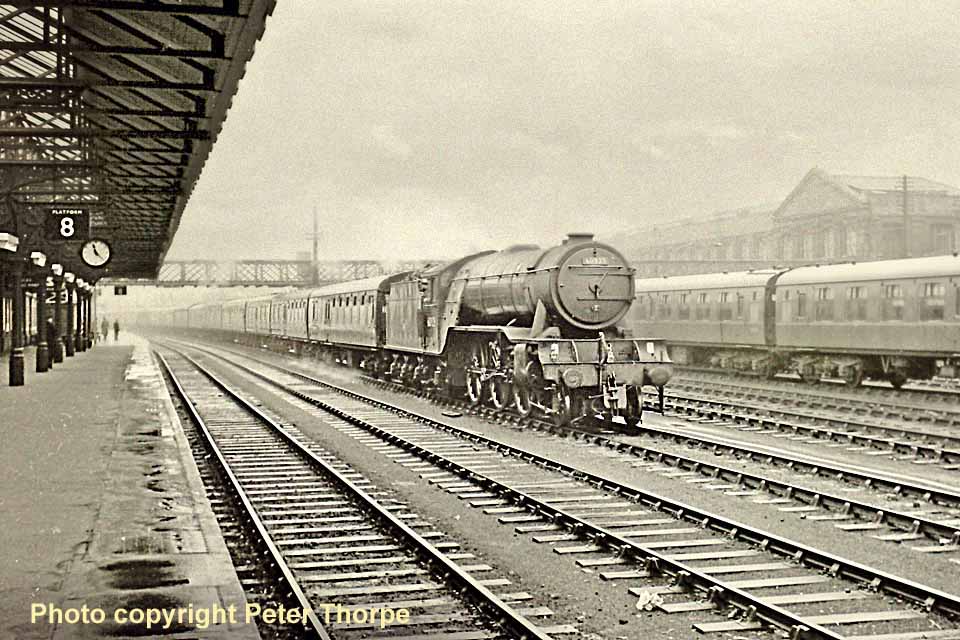 (Above-Below) 11.23am. Next to appear out of the drizzle was 50A York allocated Class V2 No 60929 heading north on the avoiding lines on the west side of the station with a sixteen coach empty stock working. This loco had a service life of almost twenty-four years before withdrawal on 21 June 1965. Ilford FP3 f3.5 1/300thsec. (Below) 1.10pm. With possibly just the one exposure remaining, I caught a train back to Bradford headed by one of 56A Wakefield's many B1s No 61034 Chiru; the photo was taken on the curve approaching St Dunston station on the final leg of the 1 in 50 descent from Laisterdyke to Bradford Exchange station...now back on my home turf, it brings me nicely to the next chapter featuring Exchange station and the lines south of Bradford...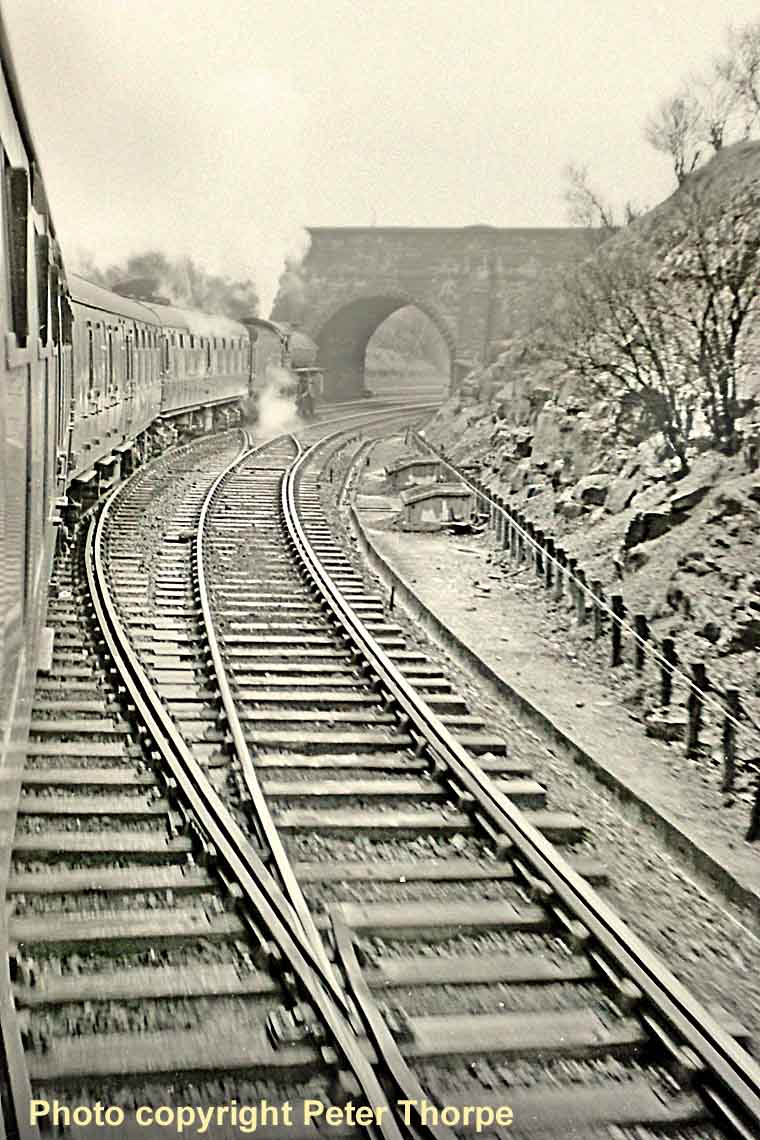 BRADFORD EXCHANGE STATION

Collaboration between the Lancashire and Yorkshire Railway and Great Northern Railway led to the construction of a joint Bradford Exchange station which opened on 9 May 1850. Seventeen years later, both companies were joined by the Leeds, Bradford and Halifax Junction Railway which diverted it passenger traffic from the company's own Adolphus Street station into the new Exchange terminus. By the end of the 1870s, the increased flow in
passenger numbers led to the station being completely rebuilt and the number of platforms increased to ten.
The new building consisted of two arched roofs, each one 80ft high and 100ft wide, flanked by a pair of 40ft high stone-built retaining walls. The two 450ft-long arches were supported by classical Corinthian style columns at platform level, and four glazed screens at the ends of each arch were designed in a fan pattern with decorative timber outer edging, however the attractive end screens to be seen at the station mouth end in my photos have subsequently been protected by rather ugly metal cladding.

(Below) An enamel British Railways North Eastern Region station sign, measuring 29" x 13" with an arrow pointing the way to Bradford Exchange Station went under the hammer for £2,200 at a Great Northern Railwayana Auction in April 2016. The enterprising GNRA auction house was started up by David Robinson, a confirmed train spotter and railway enthusiast since he was a small lad until the age of 17, when other things got in the way! However, as the years have gone by the urge to collect items of railwayana that revive fond memories of his childhood spotting days came steaming back, and so off he went again, only this time he is pursuing his hobby in a different way by running a top class Railwayana business based in the north. Click HERE to visit the fascinating GNRA website.


(Below) Sporting stencilled letters 'Ardsley' on the buffer beam, the now-preserved Fairburn Class 4P 2-6-4T No 42073 is looking steam tight and in good external condition at the head of a three-coach train about to depart platform 7 at Bradford Exchange in December 1964. Built at Brighton in 1950, No 42073 spent its first three months working from Stewarts Lane Depot before moving to Ashford in February 1951; later that year it had a brief spell at Dover before returning to Ashford again in 1952. Then in November 1954 it moved to the North Eastern Region first based at Gateshead. A brief period was spent working from Bradford then Sowerby Bridge in 1957 followed by a short spell at York and Neville Hill in 1958; then in 1959 it worked from Low Moor and Wakefield. Its longest stay was Ardsley 56B from 1960 to 1964. The locomotive finally ended its days at Normanton in June 1967 and was saved for preservation on the Lakeside & Haverthwaite Railway, Cumbria, along with sister member 42085.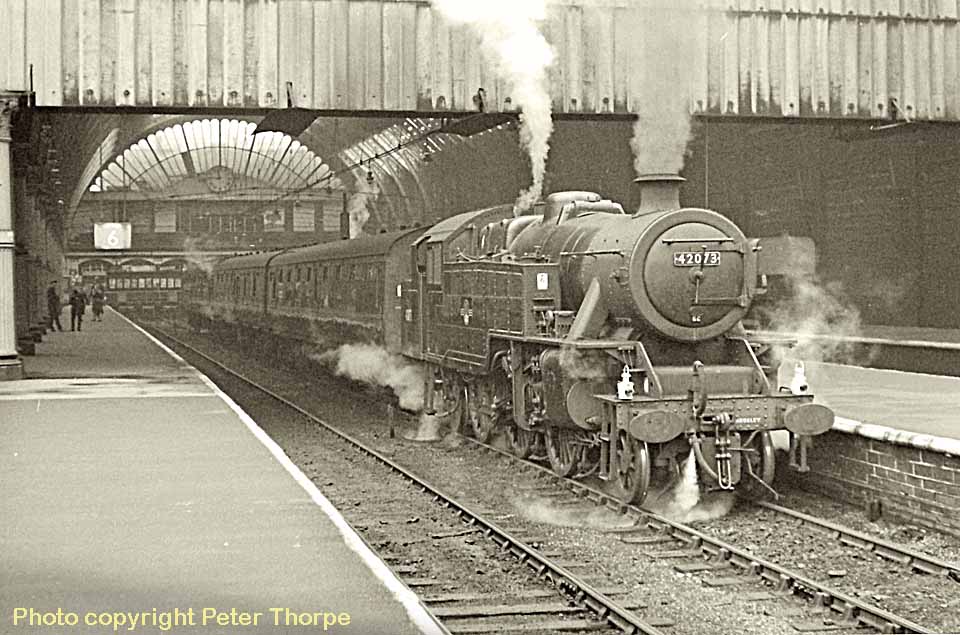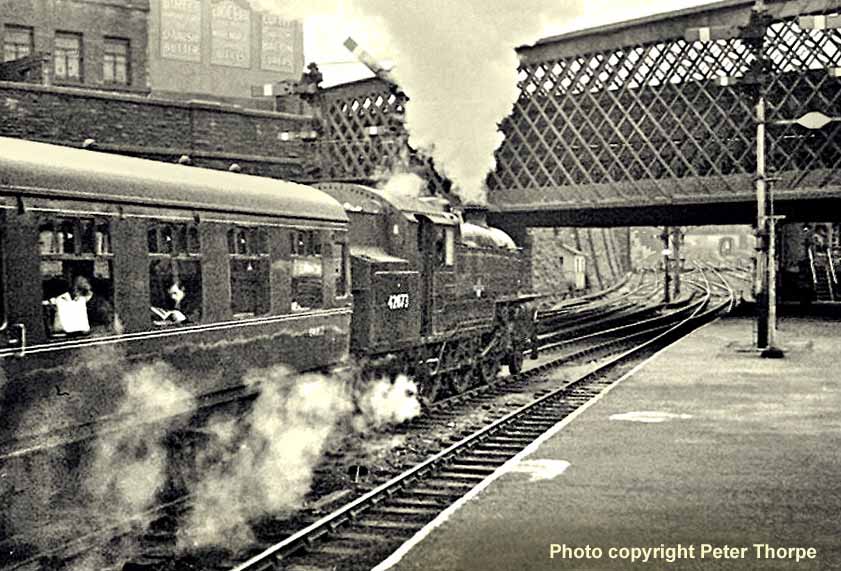 (Above-Below) The obligatory 'going away' shot shows 2-6-4T No 42073 making a spirited exit from Bradford Exchange's Platform 7. On the right is Bradford Exchange signal box just visible beneath the large iron girder bridge carrying Bridge Street over the station mouth; the box controlled identical layouts with scissor connections to serve the respective platforms. (Below) As mentioned earlier, Bradford Exchange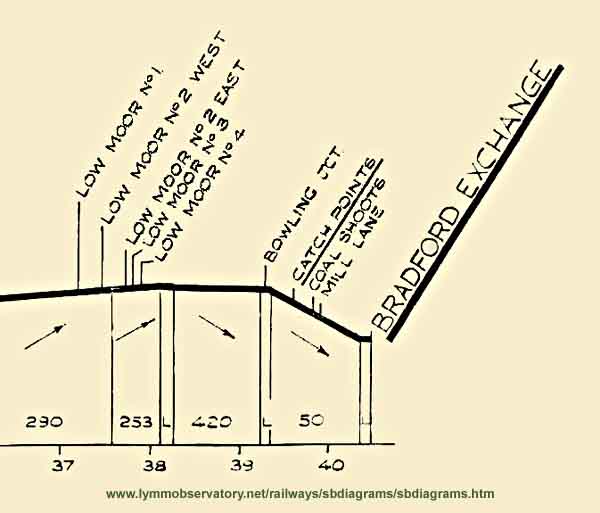 Station consisted of two unconnected halves to serve the Lancashire and Yorkshire Railway (LYR) and the Great Northern Railway (GNR), controlled by just one signal box. This is the Bradford Exchange signal box diagram showing the LYR half of the station serving Platforms 1 to 5. (The GNR trains ran into Platform 6 to 10). Connection between the LYR and GNR lines was provided at Mill Lane Junction, the next block post half a mile up the 1 in 50 gradient out of the station to the south. The diagram also shows the gradient profile from Milner Royd Junction into Bradford Exchange, however much of the detail is lost in this greatly reduced image, but you can click HERE to see the full-size image which can be found among the many signal box diagrams on the excellent Lymm Observatory website.



Following Grouping in 1923 the major running of the station was taken over by the LMSR (ex-L&Y) with the LNER (ex-GNR) retaining its own booking office, an arrangement which continued until January 1940 when it was closed down and a new LMS booking office handled all the station's business. After April 1950 the station came under the auspices of the North Eastern Region of BR, however the trains still operated in two independant sections running into platforms 1-5 and 6-10. By 1973, however, the reduction in passenger numbers led to the station being closed on 14 January the following year and a modern interchange station of four platforms, was built some 200 yards south on the site of the recently closed Bridge Street goods depot. Demolition of Exchange station then allowed for construction of a bus station to integrate bus and train services in the city centre; the station was renamed Bradford Interchange in 1983.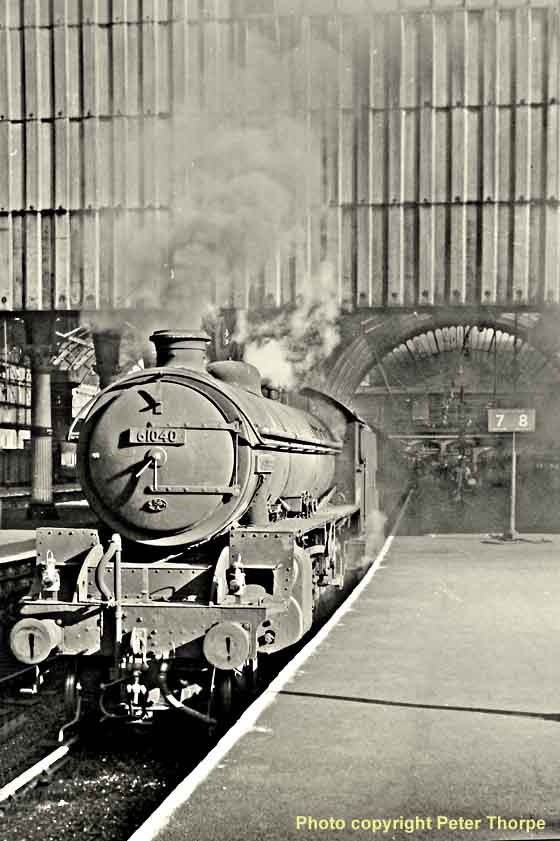 (Above-Below) In this scene we have a Wakefield 56A Class B1 No 61040 Roedeer brewing up as it prepares to depart platform 7 in bright sunshine on a cold day in March 1964. (Below) Another Wakefield 56A B1 No 61161 rests in platform 7 after arrival with an early morning train on Thursday 6th August 1964. It was long-standing practice for Bradford Exchange-Kings Cross passengers trains to run via Wakefield Westgate where the portions, usually made of three BR Mk1 coaches and on occasions elderly ex-LNER stock, as seen here, were attached-detached to and from Leeds Central-King's Cross expresses.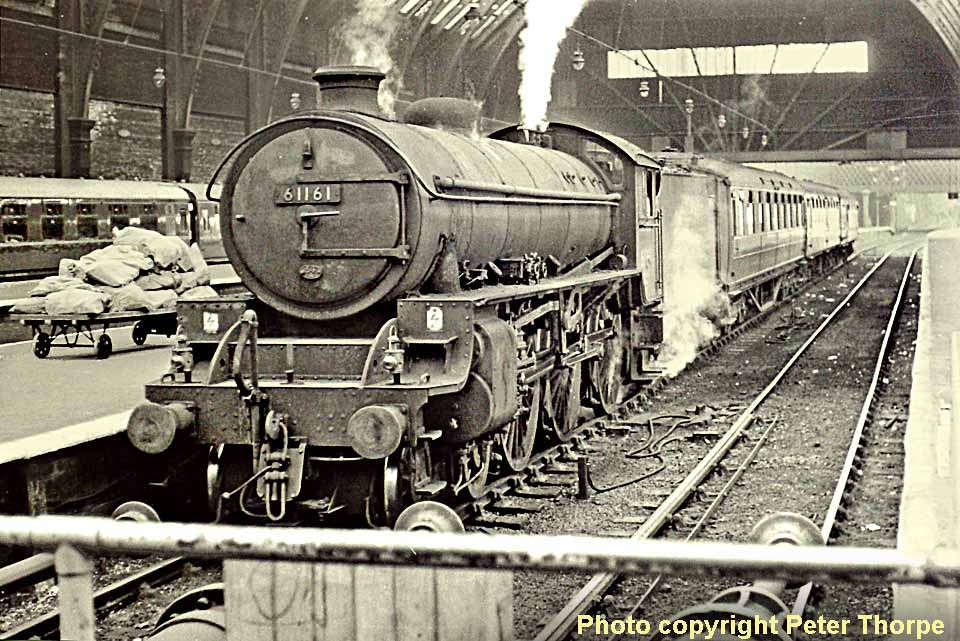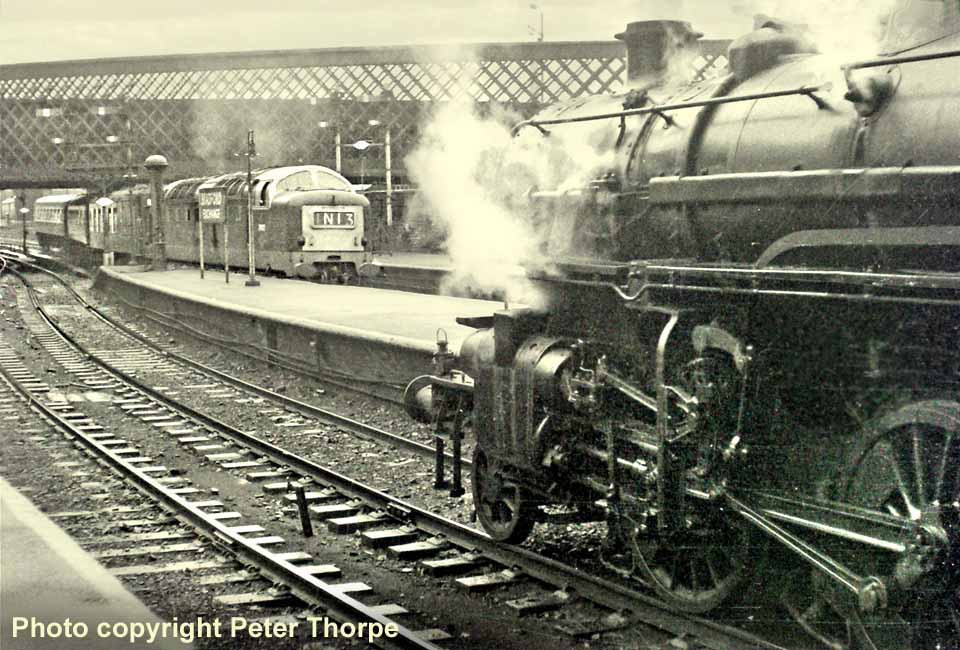 (Above-Below) Another clean loco about to depart Bradford Exchange is Ivatt Class 4MT 'Flying Pig' No 43070, a Low Moor shed 56F engine, seen here watching the changing of the guard as an unidentified Deltic slips into platform 7 with the three-car Bradford portion of the down 'White Rose' Pullman; the train is made up of two new Metro-Cammel Pullman cars, first introduced on the London-Sheffield 'Master Cutler' Pullman in September 1960. The 44 new vehicles were used entirely on the East Coast main line services, but as no Pullman brake cars were built in the same order, the elderly flat-sided Pullman brakes were utilised, as seen here immediately behind the Deltic. This Bradford portion was detached from the main train at Leeds Central - how cost effective must that have been for the operating department? (Below) The Ivatt Class 4MT blows off prior to departure from platform 8.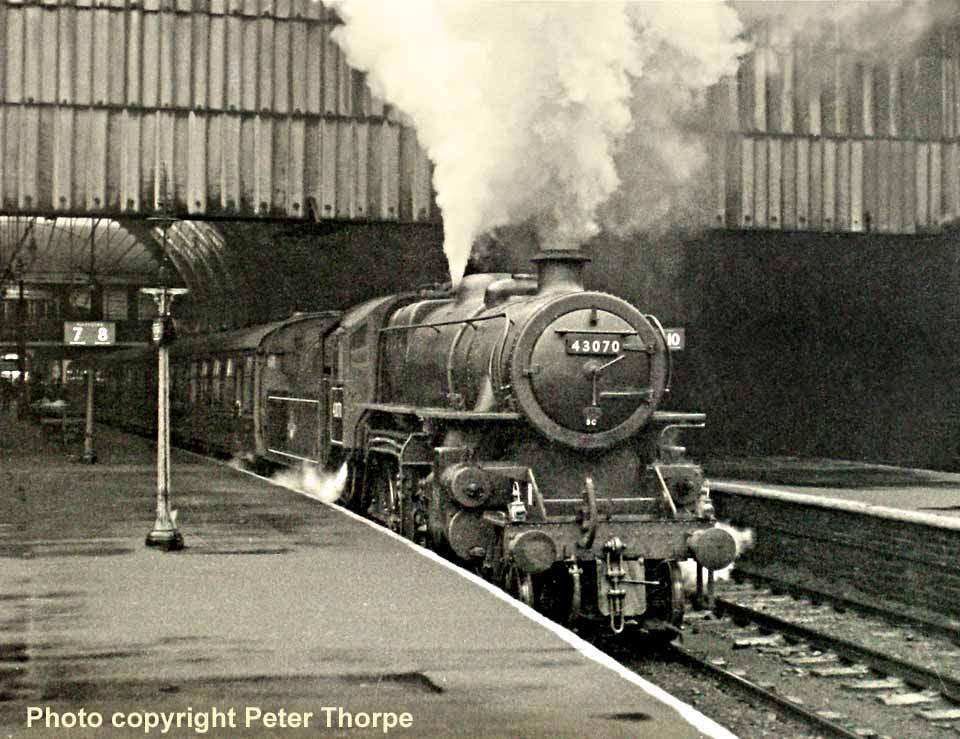 Despite having my own transport, I always travelled from Bradford to Leeds by rail. Not only was a second class return ticket relatively cheap to buy, it allowed me to travel to and from Bradford Exchange and Leeds Central or a journey from Bradford Foster Square to Leeds City and return, or a combination of the two. Also the journey could be broken at stations like Shipley or Stanningley which provided an opportunity to take a few additional photographs at new locations at no extra cost. There were times when I travelled from Exchange Station to Central Station to observe an A4 on the 'White Rose' before returning at tea time from City Station on the 'Devonian' to Forster Square. On occasions I caught a later train from Leeds City in the evening so I could observe the many freight trains taking refuge in the sidings at the fly-over junction at Kirkstall awaiting a clear path for the north-south spur at the notorious triangular junction bottleneck serving Leeds City station...




(Above-Below) Taken on bright but a very cold day in December 1964, Class B1 No 61014 Oribi, is brewing up at 11.40am with through coaches for London which will be attached to a Leeds Central-Kings Cross express at Wakefield. First allocated to Low Moor depot on 7th June 1964, this loco must have been in good nick during its stay of over two years since it was seen in action on a wide variety of workings most days of the week. Familiarity breeds contempt, they say, which in Oribi's case led to some local enthusiasts dubbing it 'orrible'! (Below) In this second shot of 61014, I saw an opportunity to take a photograph facing directly into the sun, but my exposure meter was of no help in these situations and I had to resort to 'bracketing' - taking around ten exposures before getting the image I wanted. This type of exposure was not easy to calculate, but I did enjoy the challenge; this particular shot being the pick of the frames I had taken. I remember being fortunate to capture the guard in the frame as he was running out of patience, urging me to alight and shut the door! I've added a similar shot beneath it of 43060 I took earlier; again the exposure was second-guessed until I got the right one!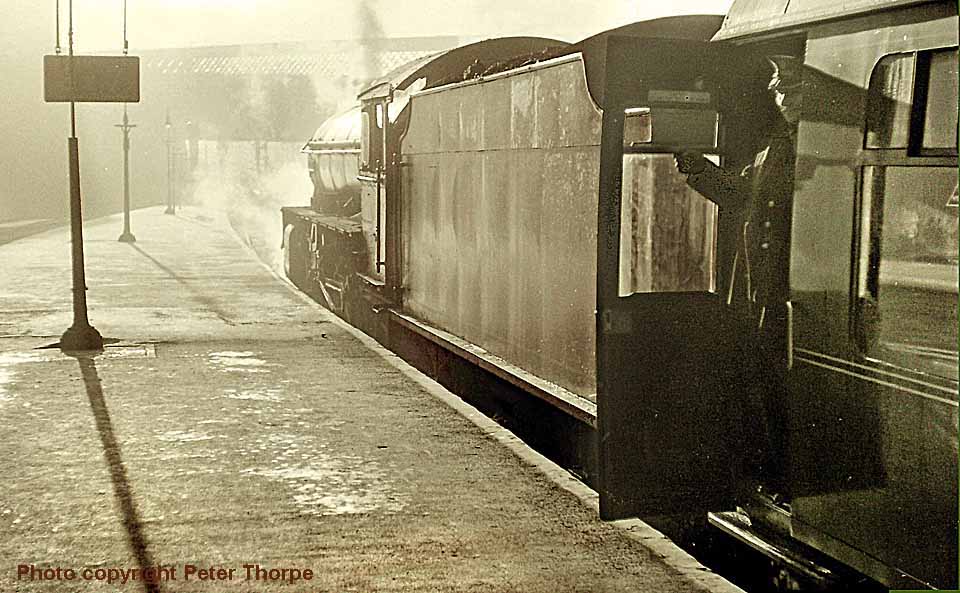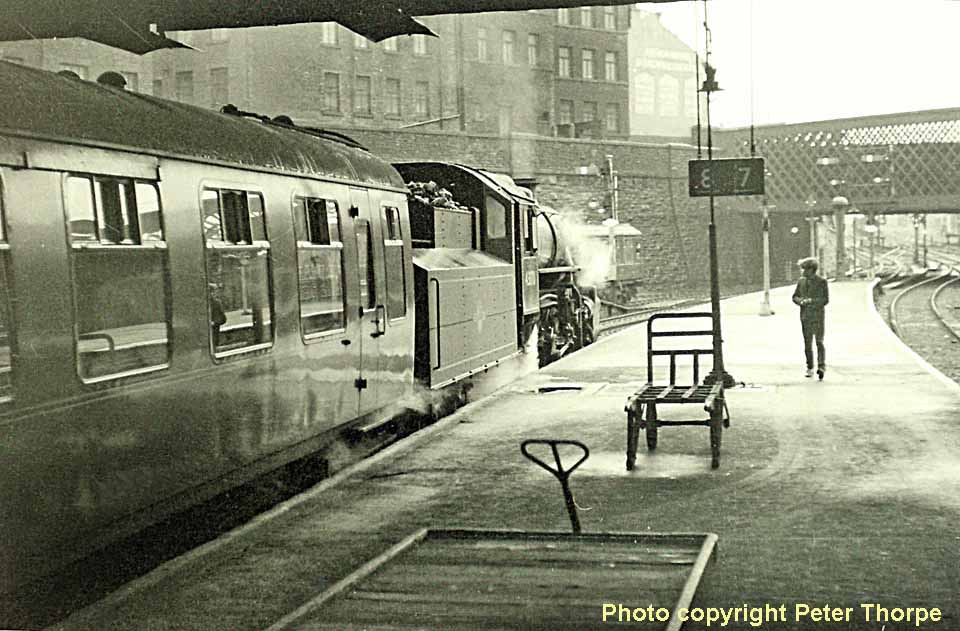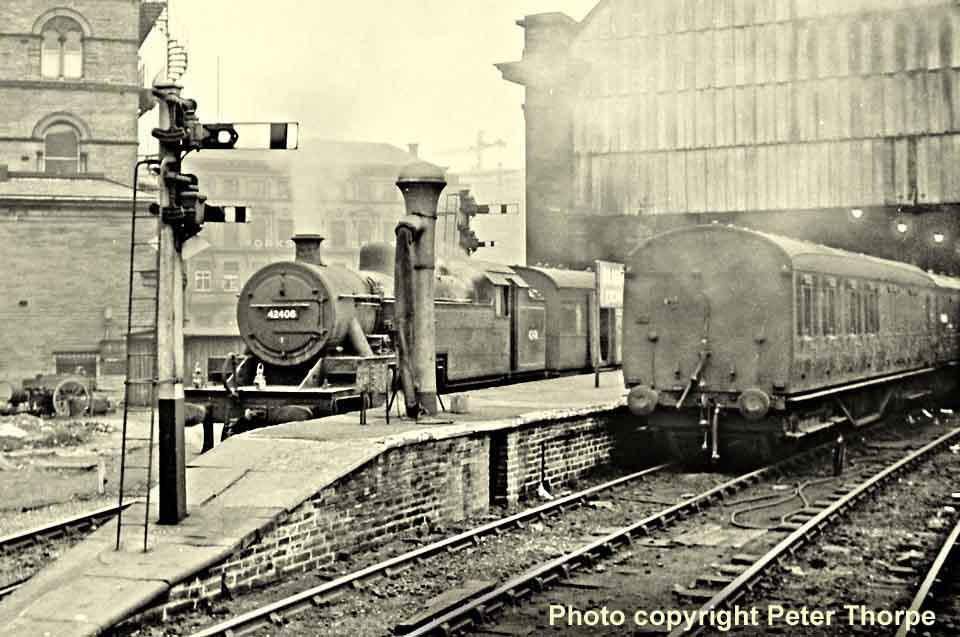 (Above-Below) In April 1964, 56A Wakefield-allocated Fowler Class 4P 2-6-4T No 42406 is awaiting its parcel vans being loaded on platform 1 (note its starting signal further back) - f3.5 1/100th. (Below) It's ten to three in the afternoon and this busy scene shows 56A Wakefield-allocated Fairburn 2-6-4T No 42650 preparing to depart platform 8 with an express passenger train, whilst fellow Low Moor-based 2-6-4T No 42285 is performing banking duties under the watchful gaze of enthusiasts.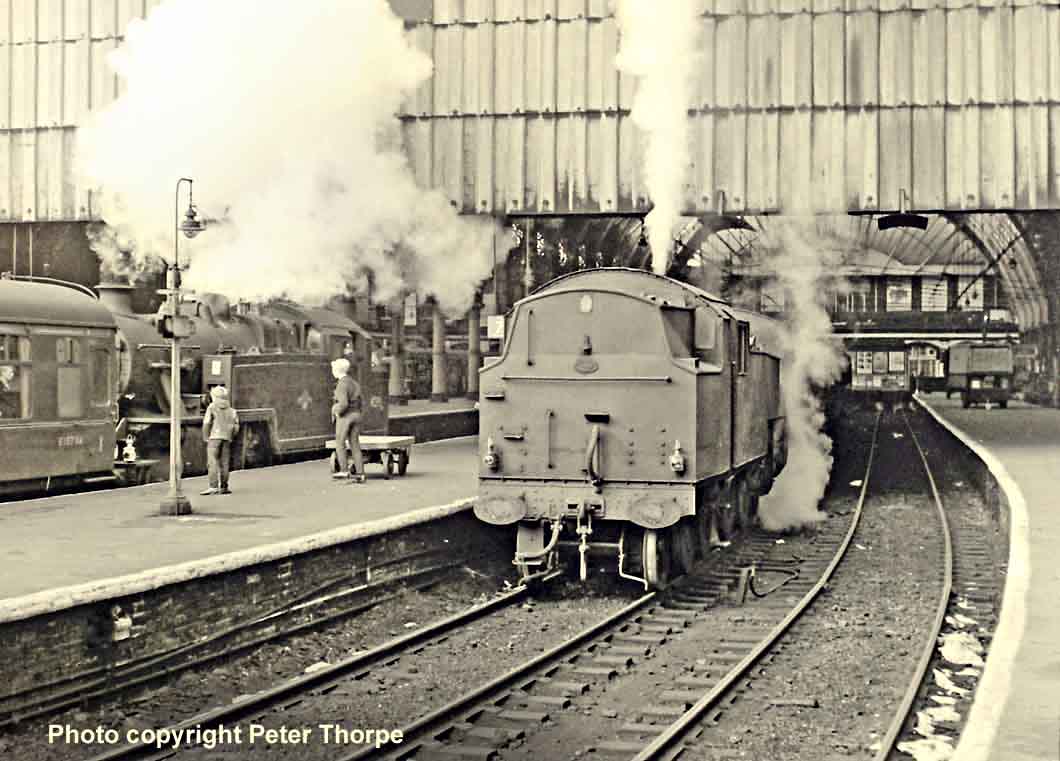 RAILWAY ACCIDENT AT BRADFORD EXCHANGE STATION - 1964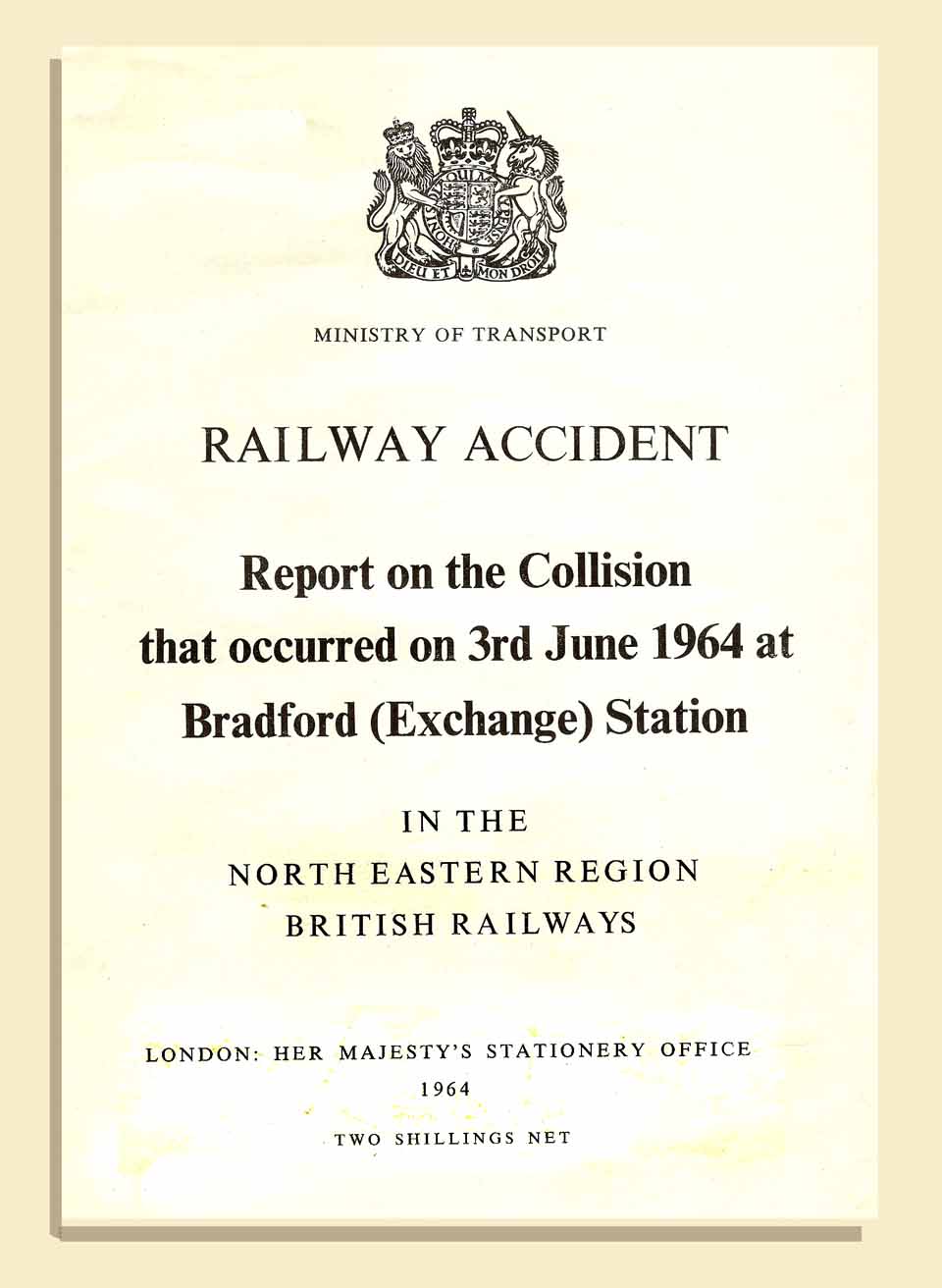 On Thursday 4th June 1964 an enquiry was ordered by the Ministry of Transport into the collision of a diesel passenger train with a stationary parcel train that occurred at 17.27hrs on Wednesday 3rd June 1964. The diesel passenger train was the 16.25hrs Manchester (Victoria) to Leeds stopping train, made up of a 2-car diesel multiple-unit set with M51944 leading and M52059 at the rear. The parcel train had 'Black Five' No 44695 on the front and despite an impact of 50mph caused by the runaway, it remained relatively unscathed. However, such was the impact three people lost their lives with another sixteen injured, twelve requiring hospital treatment. Colonel JHR Robertson undertook the enquiry and duly submitted his findings to the MOT on Friday 18th September 1964.

(Below) A tragic event that I managed to photograph only by sitting dangerously on the high stone retaining wall on the Vicar Lane side of the Station, I was fortunate I had my camera with me (it never left my side that year!) and after leaving work I would often jump up to glance over the wall to observe which locomotive was on the 17.47hrs Bradford Exchange-London Kings Cross parcel train. By 2.30hrs the following morning the station was operating normally again. I obtained a copy of the report and was very impressed with the thorough and professional way it had been conducted - so much so I used it as a template in my working environment at the time with much success.




CONCLUSION
by
Colonel JHR Robertson

65. In my view the only possible conclusion to be drawn from all the evidence is that Driver Smith suffered a severe attack of anginal pain while his train was approaching Bradford (Exchange) Station. What induced the attack at this particular time is a matter for speculation but it is possible that, running through Bowling Junction a little too fast and finding the Mill Lane Home signals unexpectedly at Danger, he mismanaged his initial braking in something like the way the driver mismanaged his in the accident at Royton on 8th February 1961. If this was so he would have suddenly realised that he was going to overrun the Home signals and might have assumed at this point, but in fact too soon, that his train was out of control on a steeply falling gradient into a terminal station. The mental shock of this to such a particularly conscientious and responsible driver might well have induced the attack, in the way that sudden and severe physical exertion might have done. Alternatively, Driver Smith may have suffered an attack while still short of his initial point of braking and his mismanagement of the brakes may have been the result of it, but this suggests no reason why so severe an attack should have struck him at this point.

66. I have discussed the possibility, from a medical point of view, of the former sequence of events with Dr. Graham Hayward, M., F.R.P., Consultant Physician at St. Bartholomew's Hospital, and he has told me that this might well have been what occurred. Sudden emotional disturbance could have produced a severe attack of anginal pain. In the agony of such an attack Driver Smith might well have clutched his safety device tightly, keeping it depressed, and, with his still conscious mind now almost wholly on his condition, might well may have made some of the right movements, such as sounding the horn, as if by instinct while forgetting others. The facts that Driver Smith continued to sit upright to the end and that his face was seen to be impassive would be in agreement with this view.

67. If the brake mismanagement did occur and was the cause of the attack I do not consider that the possible defect in the leading brake cylinder can fairly be held to have contributed to it. Even if the leading brake cylinder was not working Driver Smith had had ample time in which to get used to the defect and come to terms with it.

68. It goes without saying that no man who has had a coronary thrombosis should continue to be a driver of a singly-manned diesel trains. Driver Smith was such a man and on the face of it should not have been driving this train. He had however only recently been medically examined by a Specialist who had found no signs of coronary thrombosis and who had diagnosed the pain in Smoth's chest as being caused by spasm of the oesophagus. I have discussed with Dr. J. Sharp Grant, M.D., F.R.C.S., Medical Adviser to the British Railways Board, the significance of the word "cardiospasm" that was included in the Specialist's diagnosis and he has assured me that cardiospasm is not a symptom of heart disease. I do not think that anyone can be blamed for not having taken Driver Smith off driving such trains.

69. Rule 148(a) lays down that the guard of a passenger train approaching a terminal station must carefully watch the running of the train and take any action that may be necessary. Rule 148(c) lays down that in the case of an emergency the guard must apply the brake. With such a steeply falling gradient into the terminus Guard Hansell should have been particularly careful to keep a good lookout, but he did not do so and, by his own admission, only became aware of the emergency when he saw the passengers hastening to the rear. Had he obeyed Rule 148 he would have seen that the train was passing the Mill Lane Junction Home signals at Danger and should have applied his emergency brake at once. The distance from the Home signals to the point of collision is 791 yards and the braking distance for this train even if in fact the leading brake cylinder was in fact out of action, is 930 yards from a speed of 50 m.p.h. which is the likely speed of the train when it passed the Mill Lane signals. If Guard Hansell had kept a good lookout he could have greatly reduced the speed of the collision and mitigated its effects: if all the brakes were working, and I think they were, he might even have prevented the accident altogether. Even as things were he should have applied the brakes at least as soon as he saw the passengers hurrying back.

70. This accident's cause was misadventure but Guard Hansell must bear some blame for its severity.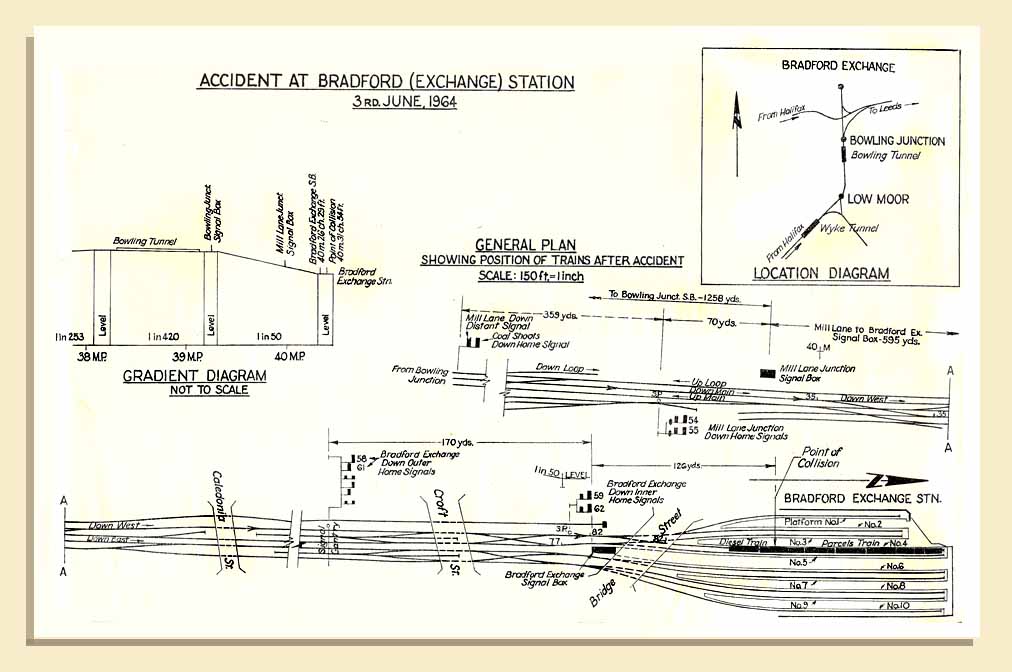 REMARKS
This was a most unfortunate accident in that the misadventure that was its cause stemmed from the coincidence of a number of unfavourable factors each of which would by itself be remarkable. These were the driver's heart condition and the fact he had been specially examined for it and found fit, his having an attack at such a dangerous point on a very steep gradient into a terminal station, and the chances that the brake handle was left in the full release position and that the driver in his agony clutched his safety device and not his body. Such a coincidence is unlikely to occur again.

BRADFORD SOUTH

During 1964 I took a lot of photographs of lines south of Bradford, but sadly many of my notebooks and negatives have been lost in the last fifty years. However the following group is a small selection of those I still have…

(Below) In this freezing winter scene, snow and ice can be seen on the rails as a six-car Birmingham Railway Carriage & Wagon Co (BRCW) Class 104, carefully drops down the 1 in 50 gradient into Bradford Exchange. Introduced in 1957, these BRCW vehicles, later TOPS Class 104, were followed in 1960 by a more powerful version (designated Class 110) which began operations on the former Lancashire and Yorkshire main line across the Pennines. Dubbed 'Calder Valley Sets', the new 3-car sets were fitted with a distinctive 4-panel route indicator boxes moulded as an integral part of the cab roof and power was provided by two 6-cylinder Rolls-Royce engines in order to gain the additional horsepower necessary to maintain the tight point-to-point schedules over the steeply-graded Trans-Pennine line. The Leeds-Bradford-Manchester route was served by an hourly service with some trains running throughout between Harrogate and Liverpool.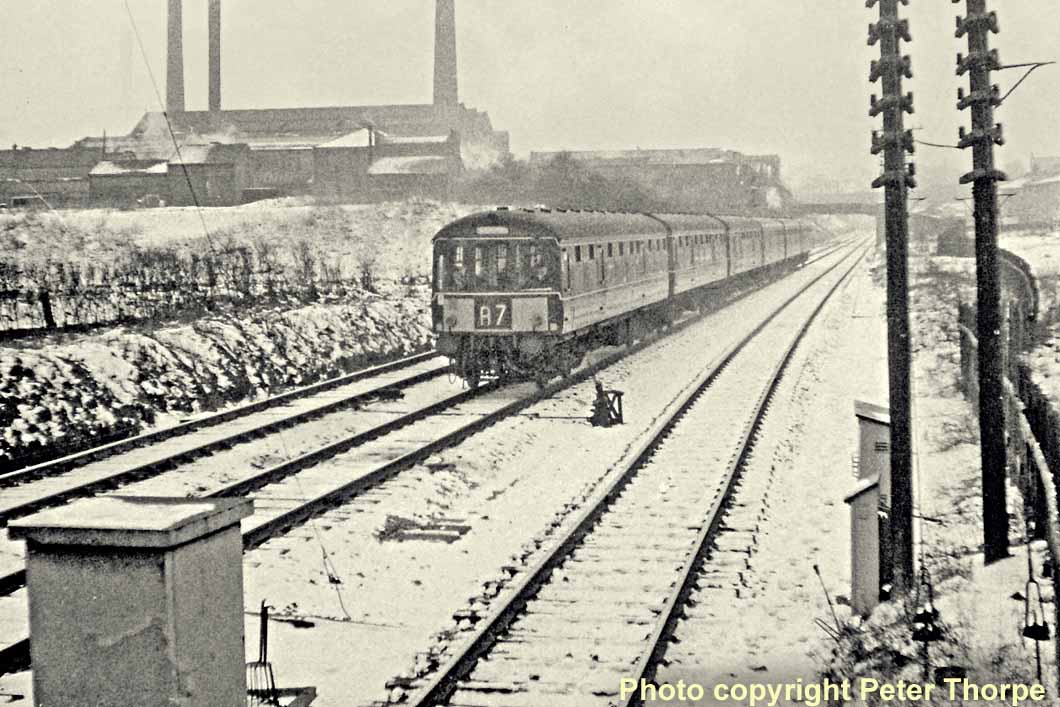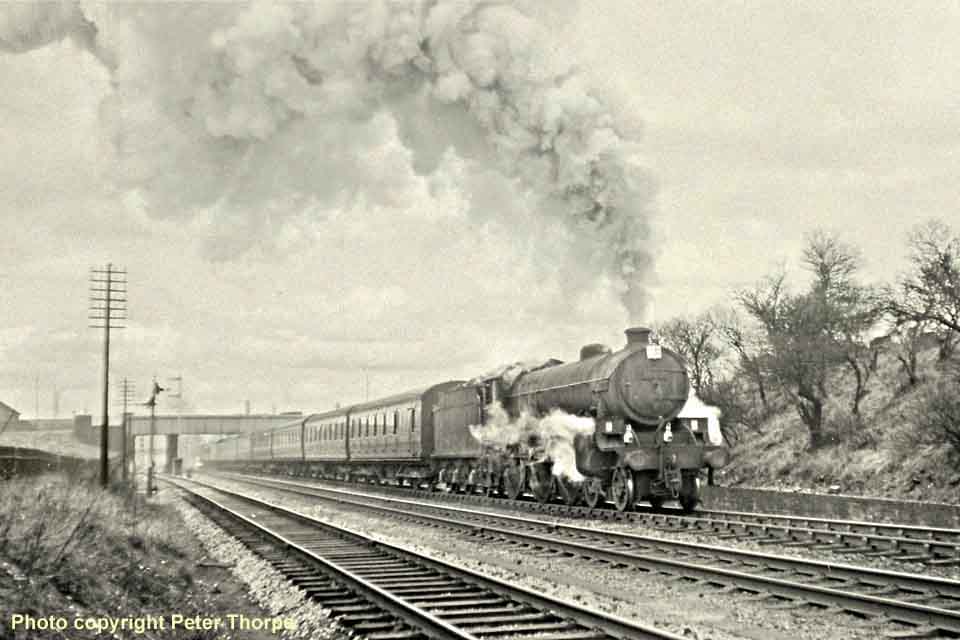 (Above) A resident of 56D Mirfield, this rather grubby Class B1 No 61189 Sir William Gray is struggling with greasy rails at the head of the 11am 1X43 excursion to Belle Vue Manchester on Easter Monday, 30th March 1964. Despite being banked out of Bradford Exchange by a Black Five, it took a full fourteen minutes for the ensemble to climb the 1 in 50 incline from Bradford Exchange to Donkey Bridge at West Bowling. For the record, No 61189 was named after Sir William Gray, an LNER Director (1933-1947) and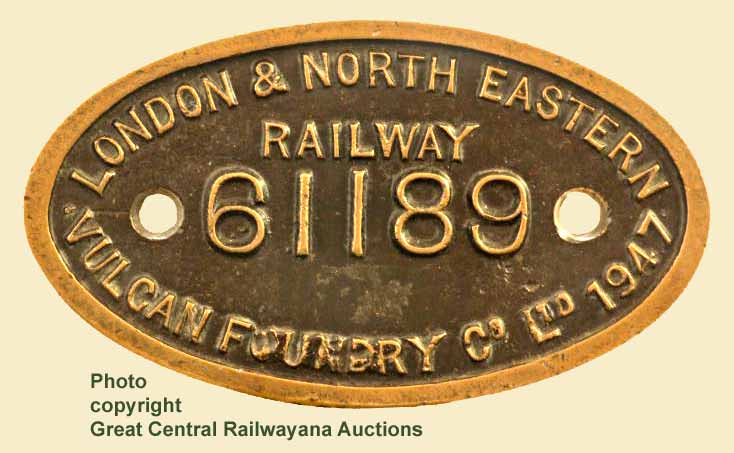 owner of the West Hartlepool shipyard William Gray & Co; which built the LNER's paddle steamers 'Tattershall Castle' and 'Wingfield Castle' for the ferry service between Hull and New Holland across the Humber Estuary. The preserved Wingfield Castle is now a floating exhibit at Hartlepool's Maritime Experience.

(Inset) A cast brass worksplate, measuring 9"x 5", from LNER B1 Class 4-6-0 No 1189, later BR 61189, went under hammer for £470.00 at a Great Central Railwayana Auction in December 2015. Built in August 1947, the BI was allocated initially to Stockton followed by moves to Ardsley, Copley Hill, Mirfield, Low Moor, Wakefield and York from where it was withdrawn on 11 May 1967 and cut up by Drapers of Hull in December 1967.

(Below) The movement of empty coaching stock was regular sight just before Bank Holidays with carriages arriving from all points of the network to cater for the additional excursion traffic; the majority of coaches were stored in the carriage sidings within the triangular junctions at both St Dunstons and Low Moor. Here an unidentified Fowler 2-6-4T banks a set of elderly non-corridor stock up the incline to Low Moor sidings...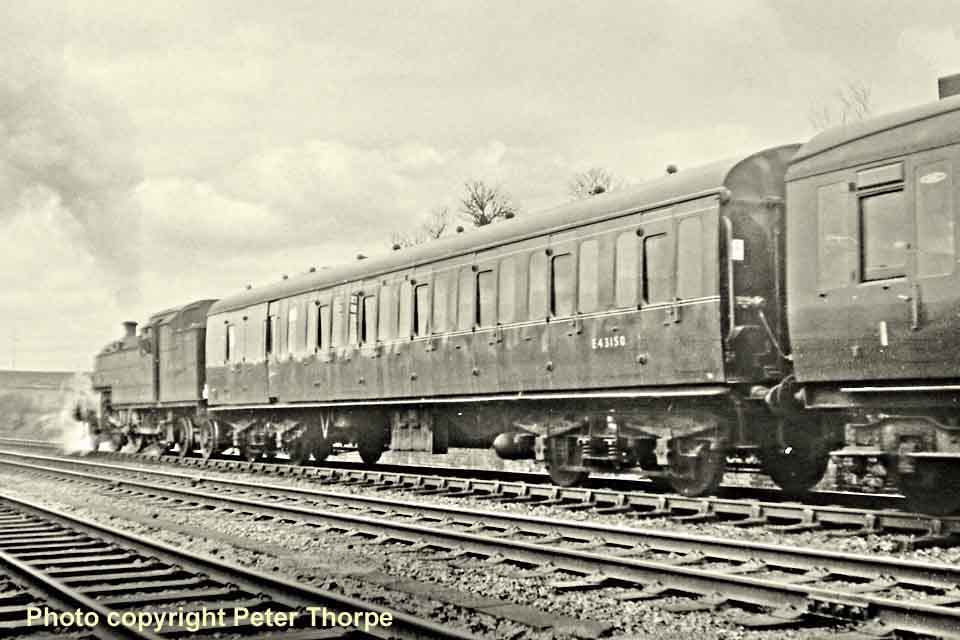 (Below) Low Moor's 'Jubilees' were always well turned out by the shed's cleaning staff. Here an immaculate No 45694 Bellerophon looks in superb external condition as it coasts down the gradient to Bradford Exchange station with a parcel train. Built at Crewe Works in 1936, the locomotive entered traffic as LMS No 5694 on 23th March 1936. The engine received its British Railways number (pre-fixed with a '4') upon nationalisation in 1948 whilst based at Bristol Barrow Road 22A; later allocations included Leeds Holbeck followed by a transfer to Low Moor 56B in June 1962 until February 1965; its last shed being Wakefield 56A from where it was withdrawn in December 1966 and cut up at Drapers of Hull in June 1967.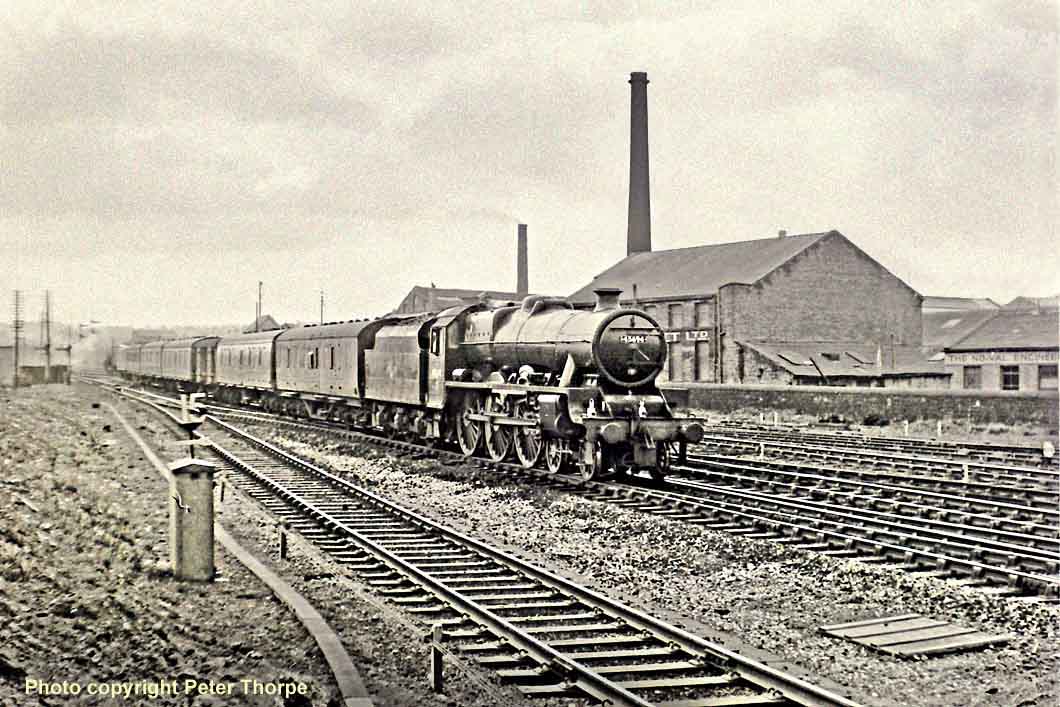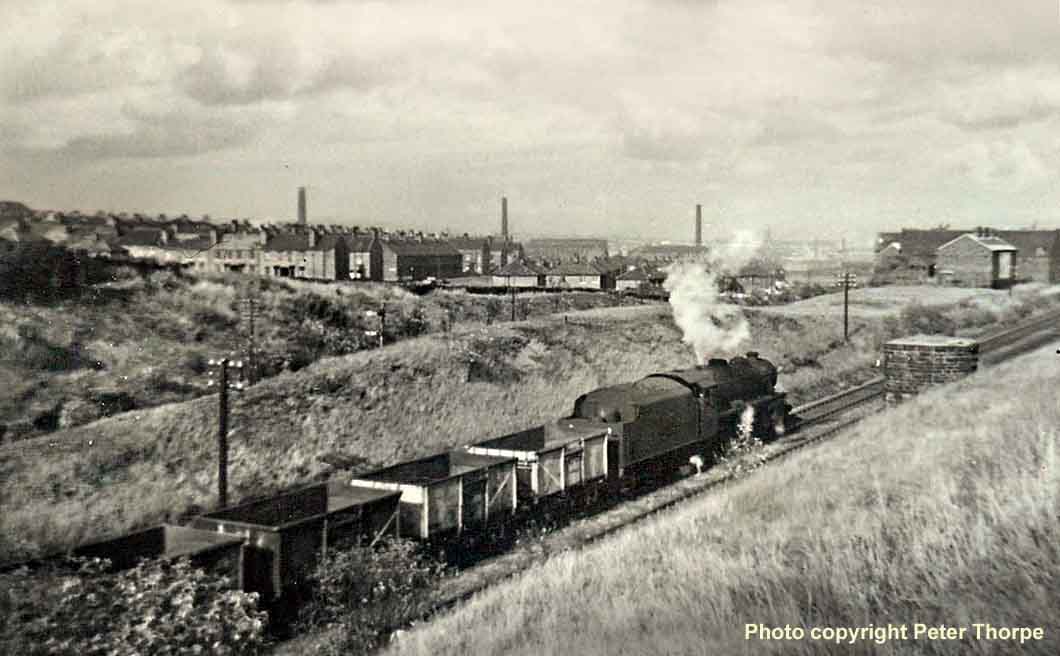 (Above) An unidentified Class 8F takes the line from Bowling Junction which diverges from the steeply-graded Bradford Exchange-Low Moor line (visible in the middle distance) and heads towards Laisterdyke; the 8F will shortly pass the Bradford Dyers Association Works on the left before reaching the half way point at Hall Lane. This poor quality photo was scanned from a print I took with a friend's camera and I have included it here, as I have never seen a photo at this location.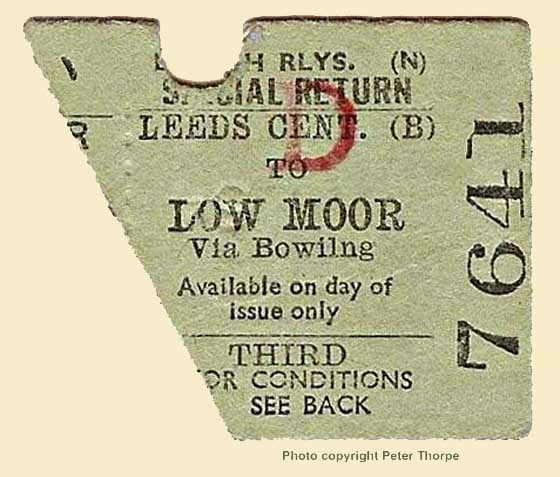 (Above-Inset Below) This Leeds Central to Low Moor via Bowling day return ticket was issued on 28 February 1954. I must confess I hadn't noticed the spelling error 'Bowilng' until David pointed it out. I have never seen a Bowling (Junction) station ticket or even mentioned on a ticket before. Both this and the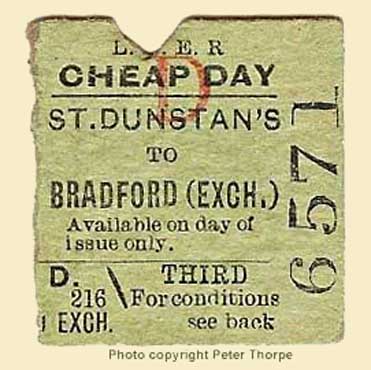 return half of an LNER Bradford Exchange-St Dunstan's ticket, issued on 14 January 1942, are very rare. Bowling Junction Station closed on 3 December 1951 and St Dunstan's on 15 September 1952

A full history of the line between Bowling Junction and Laisterdyke can be found on an excellent website created by M Latus (Pacer Chaser) - a visit is highly recommended HERE. The following brief summary is extracted from Mr Latus's in-depth research in which he describes the rail traffic using the line in 1910 consisted of just one GNR train per day between Leeds and Halifax, whilst the L&Y's service over the route was broadly hourly, consisting of a mixture of local services to Halifax and Sowerby Bridge and expresses to Manchester and beyond, including a Luncheon Car service to Liverpool and a train to Fleetwood which connected with the Belfast ferry.
The express services were generally worked as portions, around three coaches leaving Leeds Central behind a tank engine whilst the main part of the train would leave Bradford Exchange behind a larger locomotive. The two portions were then joined at either Low Moor or Halifax, the latter being used for the faster services to enable them to omit the Low Moor stop. Several times a day the pattern reversed so that the main train left Leeds and the lesser portion Bradford.
The local services to Halifax and Sowerby Bridge had finished by the 1950s, but the expresses continued to operate in two portions until 1st January 1962 when an hourly Manchester Victoria- Bradford Exchange-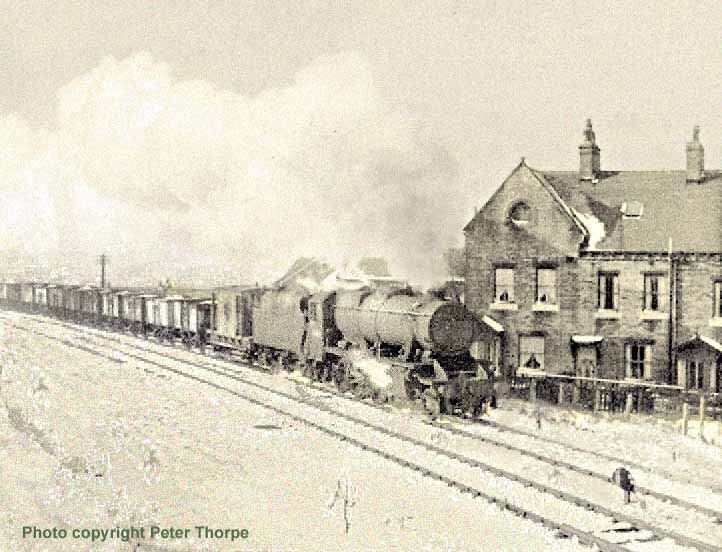 Leeds service began, operated by new BRCW 'Calder Valley' DMUs. This service, which generally extended to Harrogate and Liverpool, put paid to most passenger services over the Laisterdyke to Bowling Junction line, leaving only an early morning passenger/parcels service, occasional excursions and diverted services from other routes. The line finally closed to passengers on 9th June 1969, leaving only the dwindling freight traffic consisting of trips from the Halifax area to the yards at Laisterdyke and to Ardsley (near Wakefield), in addition to several traffic sources along the line itself.

(Inset Right) Having just passed Bowling Dyeworks private sidings, another unidentified Class 8F approaches Hall Lane with a loaded mineral 8F hauled train during a heavy snowfall. .




(Above-Below) Although the Bradford avoiding line from Bowling Junction to Laisterdyke saw little traffic I did manage to catch a couple of shots of Low Moor shed's Class B1 61016 Inyala, seen here scarcely breaking sweat on this featherweight midday trip working made up of two wagons and a guards van. The ensemble is approaching Hall Lane signal box which controlled Hall Lane level crossing and the divergence of the line serving Ripley siding. In October 1968, the manually-controlled gates were replaced with electric barriers then in March 1979 the box lost its full-time signalman, being staffed only when trains were required to pass; the signal box fully closed on 5th August 1979 and the barriers at Hall Lane were operated by the train guard using controls at the crossing itself.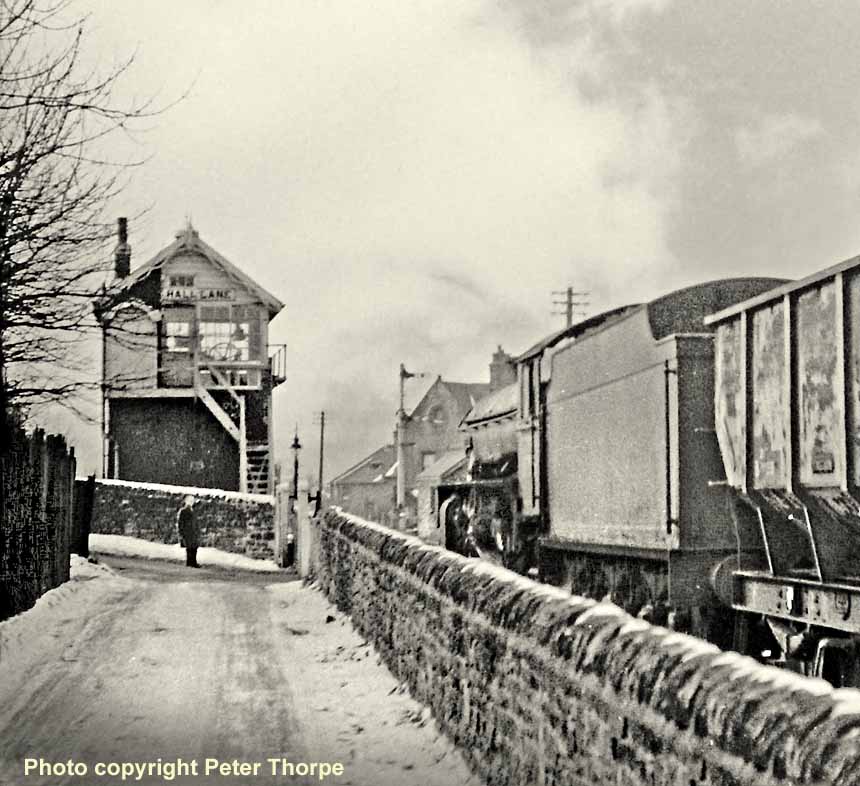 (Above) Class B1 No 61014 Oribi was photographed with a short ballast train in Quarry Gap yard, as viewed from Dick Lane overbridge looking west towards Laisterdyke station. Beyond the station the ruling gradient from Laisterdyke drops down to Bradford Exchange at 1 in 59 and 1 in 49 with a brief section of 1 in 44 passing Hammerton Sreet box and the former GNR steam shed 55F (formerly 56G) which once housed Class J50 and N1 tanks plus B1s and various 0-6-0 tender engines. By the mid-Fifties, evidence of sweeping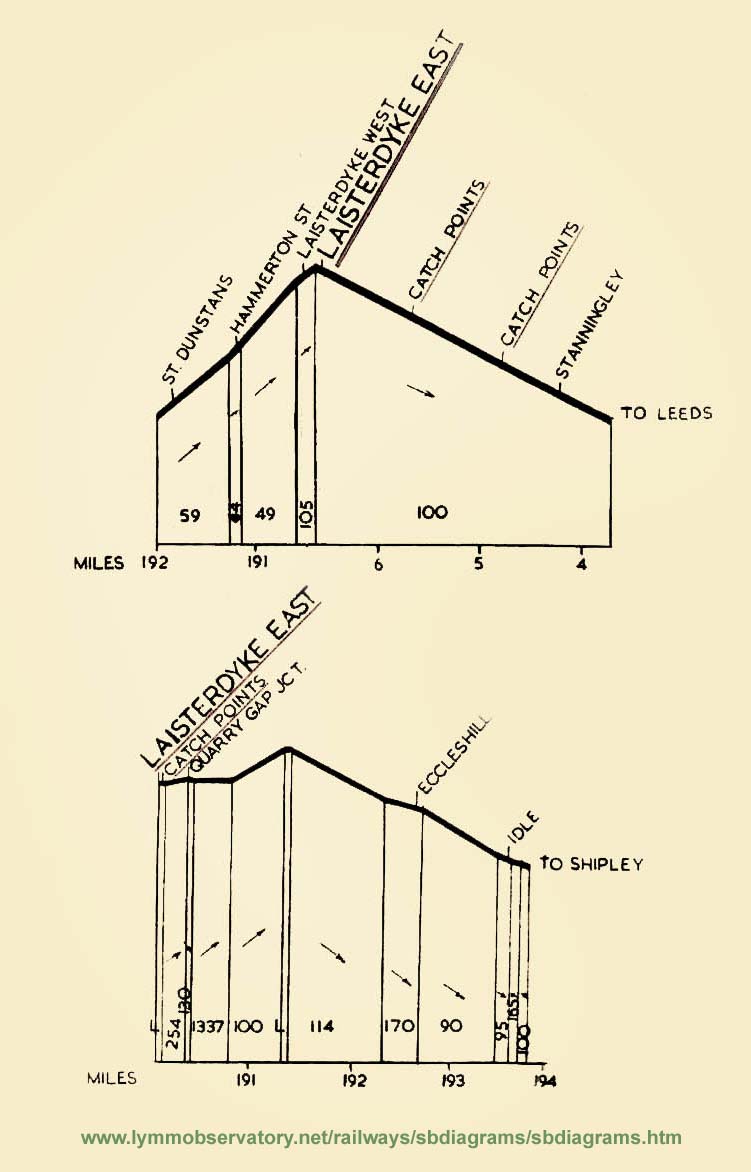 change to local passenger trains came with the introduction of a fleet of 'Derby Lightweight' dmus on the West Riding's Harrogate-Leeds Central-Bradford Exchange service in April 1954. The eight 2-car sets were the true forerunners of BR's diesel railcar fleet, however suitable premises had to be found for the stabling and maintenance of the new sets in a clean working environment, therefore Hammerton Street shed was closed to steam in 1958 to facilitate the new set up. The depot (later coded HS) played a vital role in the maintenance of BR's changing dmu fleet until 1994 when the work was transferred to Leeds Neville Hill and Hammerton Street was closed.

(Inset) Railway historians often refer to a steeply-graded line as looking like the gable end of a house; this is the case in a section of a Laisterdyke East signal box diagram. Opened on 1 August 1854, Laisterdyke station later became an important junction on the original Leeds-Bradford Adolphos Street route; new lines were built to provide connections via Dudley Hill and Morley Top to Ardsley; to Wakefield via Batley; to Shipley via Idle, and to Pudsey (Greenside); all within the jurisdiction on the enterprising GNR. The station had four platforms, two signal boxes and a sizeable goods yard, but the Beeching Axe put paid to all of that; both the Pudsey Loop and Wakefield via Batley services ended in 1964 followed by the line via Ardsley to Wakefield Westgate on 4 July 1966, the latter concurrently with closure of the station and no trace of it now remains.

(Below) This signal box diagram is reproduced courtesy of John Saxon's excellent Lymm Observatory website, however much of the detail is lost in this greatly reduced image, but you can click HERE to locate the list of generous full-size images.



(Below) Observed from the same road bridge but in the opposite direction, a 2-6-4T approaches Laisterdyke with the through coaches off a Kings Cross-Leeds/Bradford service. During the Sixties there was a regular service of eight such trains daily in each direction during the week, with haulage usually shared by ex-LNER B1s and ex-LMS 2-6-4 tanks. The scheduled steam-operated services between Leeds and Bradford were withdrawn on 1 October 1967. Visible in the distance is the bridge carrying the former GNR line to Shipley via Idle. Opened in 1874, the single line branch was an attempt by the GNR to capture some of the Bradford-Shipley traffic and gain access to the Aire Valley which at that time was wholly in the hands of the MR.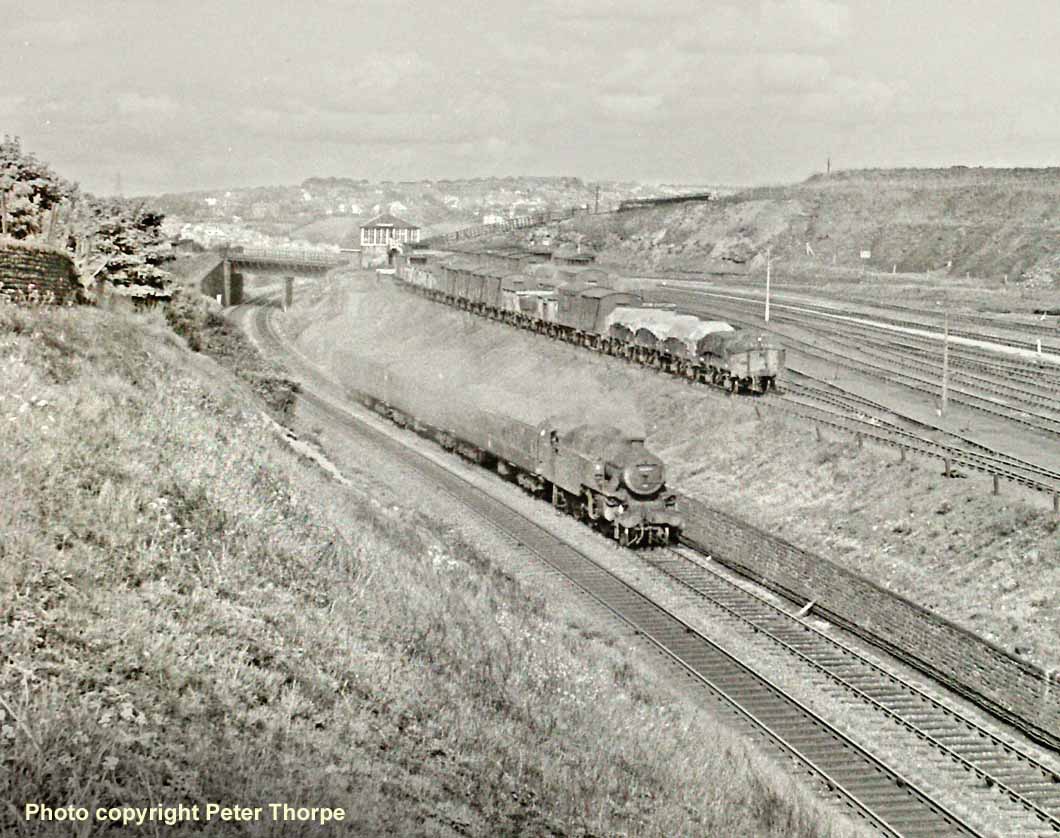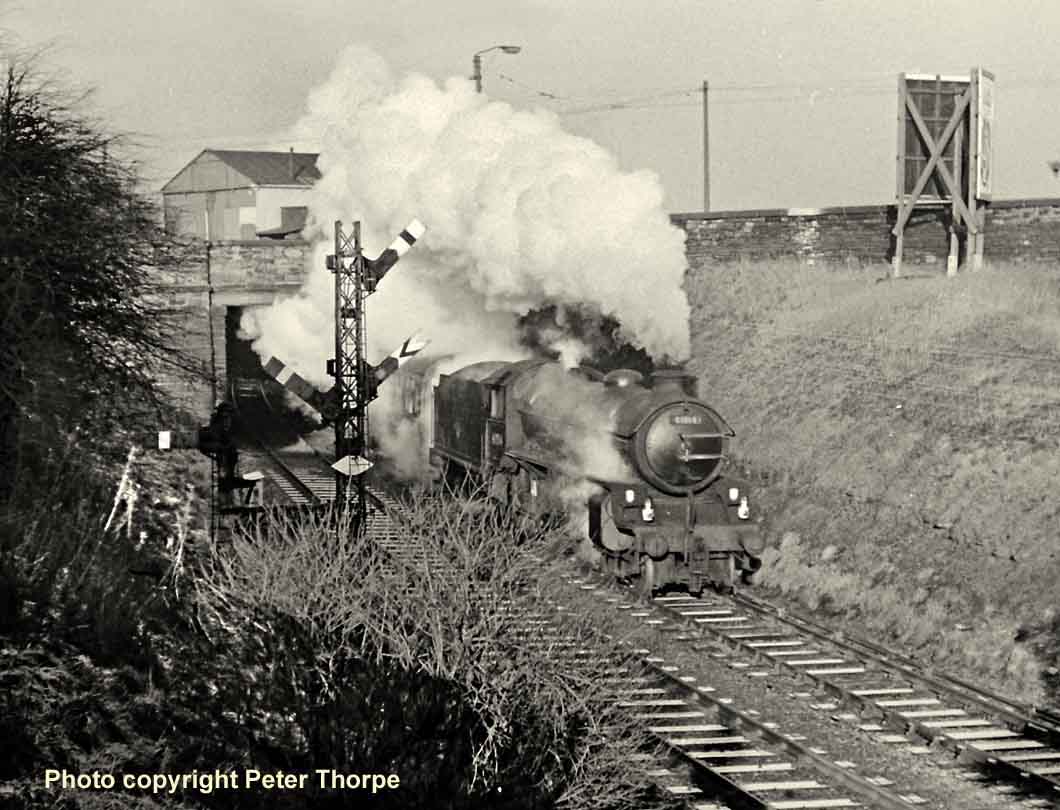 (Above) Class B1 No 61014 Oribi is seen again, this time shrouded in a cloud of steam as it approaches Laisterdyke Station on its way down to the Bradford Exchange. Of note are the unusual signals, one arm of which is almost buried in the vegetation!

Low Moor (56F) was the main shed in Bradford that supplied engines for services over the ex-L&Y lines into the city. Its allocation, until the closure of Bradford Hammerton Street to steam in 1958, was largely made up of ex-LMS types. Subsequently a large contingent of ex-LNER types also appeared.
Despite it being my 'local' shed, I had been ejected, chased and escorted out of it more times than I care to remember; it didn't matter if my visit had been made during daylight hours, at night, at weekends - even on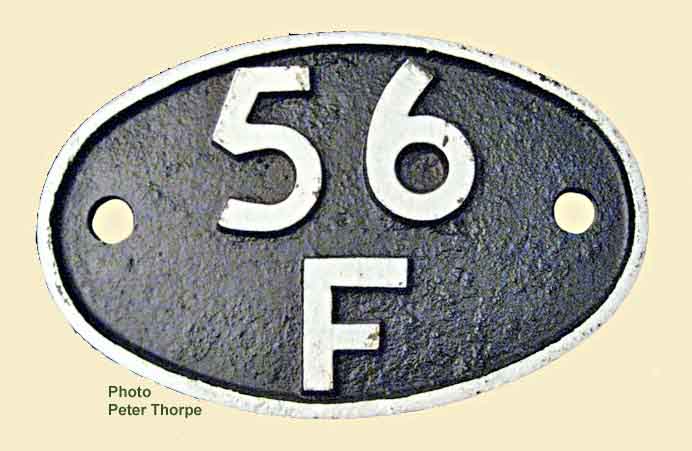 one occasion during Bradford's holiday week when I tried to take shots of a completely empty shed without a single engine in residence, both inside and out in the yard - all attempts had been a disaster!
Possibly owing to the fact I had been spotted on the shed roof, up ladders, down ash pits, climbing into cabs and onto the tops of tenders, I came to be regarded by staff as an irritating nuisance and all attempts at taking photographs with my Brownie camera during the Fifties ended up abject failures. On one occasion in 1962 I tried taking a number of long-exposure night time shots with a borrowed 35mm camera, but even in the early hours the eagle-eyed shed staff spotted me setting up my camera and ejection swiftly followed.
However, not being one to give up that easily, I was determined to make one last attempt later in the year. I'll never forget the stories my Uncle Bert told me of the time he was employed as a firelighter at this shed, and so I decided to try and take some photographs from the inside of a WD's firebox looking outwards to the tender. In my view a Sunday morning would present the best opportunity, and so I waited several weeks for an engine to be out of steam on one the roads in the shed yard.
At last, one bright sunny morning, I was in luck - a lifeless No 90711 was standing in a siding close by the shed entrance; there was no ash in the firebox and it was facing the right way for the light - even better still the rain from the previous night's downpour still glistened on the coal - bingo!
Well, to cut a long story short I somehow managed to squeeze feet-first through the firebox door and was about halfway inside, but as usual my rotten luck was having none of it, I was caught yet again and given the biggest rollicking of my life!
Understandably I decided never to go near the shed ever again; I had become a marked youth! It wasn't until 1964, by which time I had acquired better camera equipment, that I had the burning desire to attempt taking photographs at Low Moor again, only this time, rather than doing it sneakily, l would do it properly and apply for a shed permit. Why hadn't I thought of that before?
Alas the reply I received from BR simply stated that permits were only issued to organised parties. So after a discussion with my workmate, Ronnie, I persuaded him to submit a request for a visit by a party from a fictitious 'Pudsey Rail Enthusiasts Society', of which he should state he was the secretary. This was typed out at work on the best Basildon Bond blue tinted paper and signed with a Parker pen in royal blue ink and included a neatly typed stamped addressed envelope - and our diligence worked a treat, for a permit duly arrived at Ronnie's house in Pudsey several days later.
When the day of our visit arrived, I joined Ronnie and the group of lads we had rustled up off the estate to make up the numbers, and waited whilst he went to the foreman's office to register our arrival. We were allocated a guide to show us around, starting off with a tour of the shed yard where I grabbed just three shots (shown below). All seemed to be going well and I was feeling pretty confident until I made the big mistake of asking the guide if I could take some panoramic shots from the shed roof.
The guide flatly refused and then looked at me curiously, and I could tell straight away by the anguished look on his face that he must have 'twigged' who I was! I couldn't believe it! Despite being two years-older since my last visit, not only was I taller and leaner, I had a moustache, and I was wearing Arran sweater, jeans and creepers...a completely different person. I suspect he must have been one of the staff I had encountered in the past. He immediately frog-marched me off the site shouting loud abusive language in my ear, and I was forced to wait outside the entrance until the rest of the party finished the tour and we all retired to one of the pubs at the end of the road.
After this visit I vowed never to try again - and I didn't!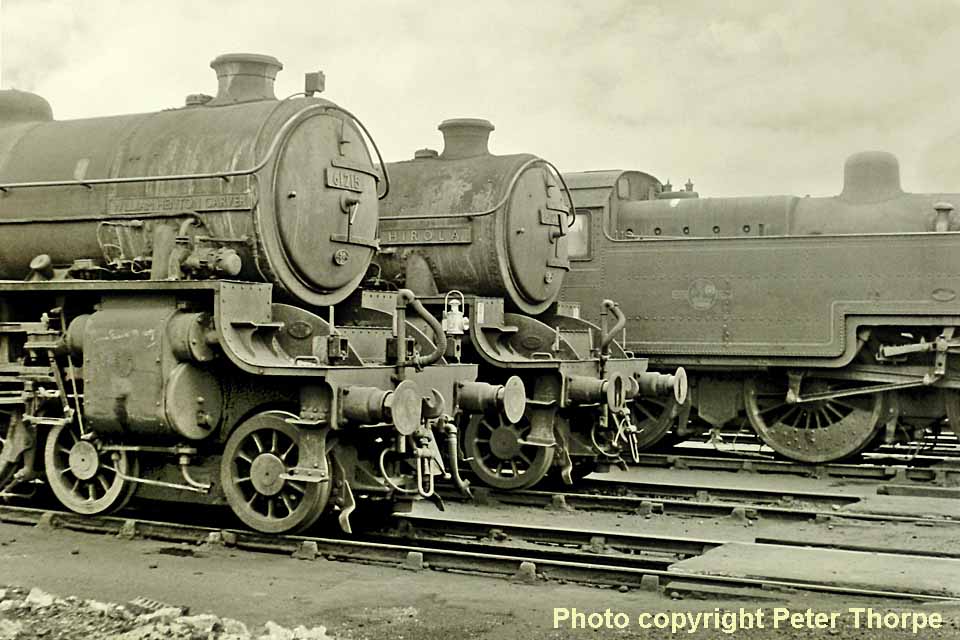 (Above-Below) This photo of Low Moor's Class B1 No 61023 Hirola and Ardsley-allocated Class B1 No 61215 William Henton Carver standing side by side in the shed yard is the first of only three shots I managed to take at Low Moor that day; it shows the detail difference of one loco equipped with electric lighting and the other without. (Below) The second shot shows a broadside view of the same pair including the renumbering on the cab side of 61215…the reason for painting an LNER number 1215 remains a puzzle! The 2-6-4T in the background was 42411.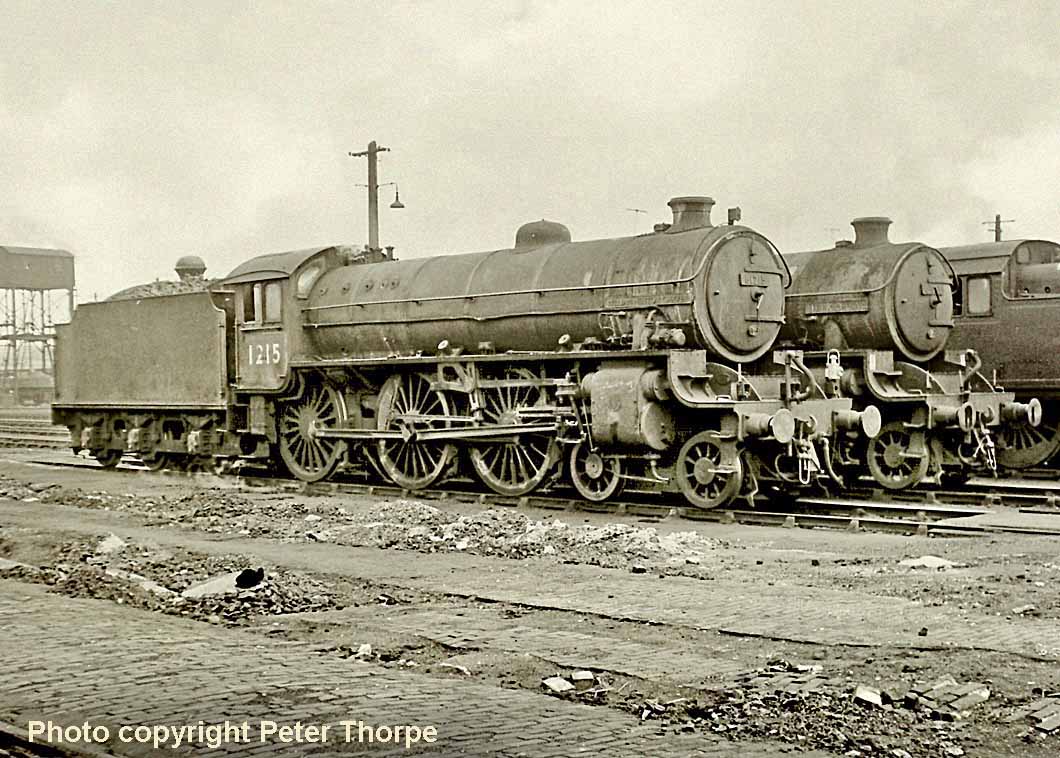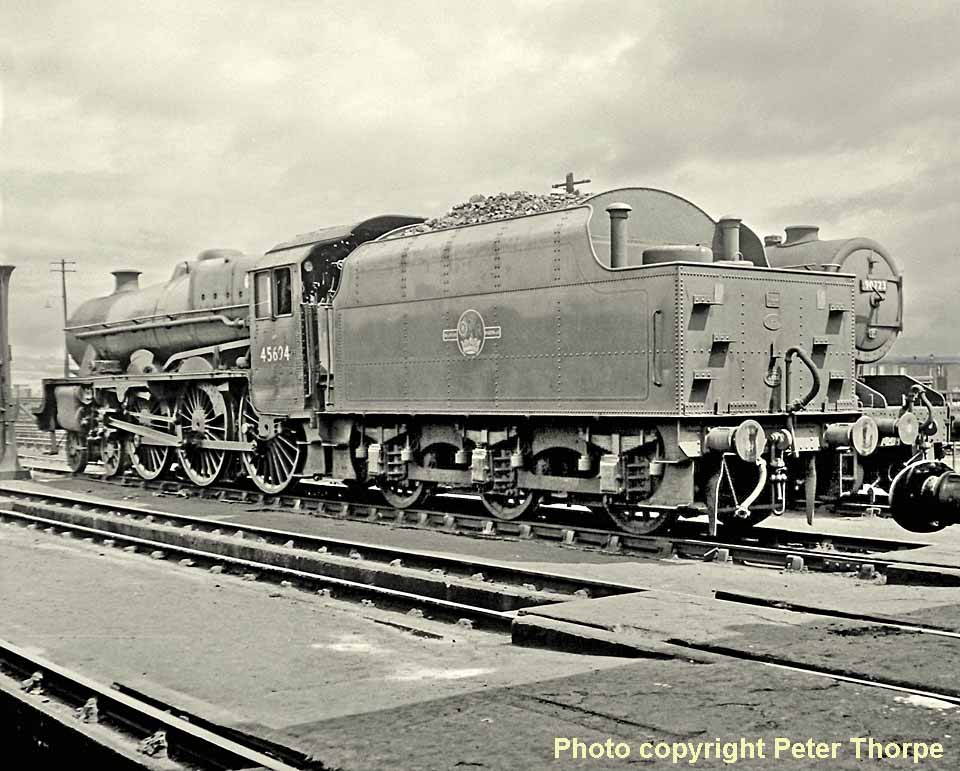 (Above) The final shot illustrates the immaculate external condition of Low Moor's 'Jubilee' class No 45694 Bellerophon which was a fitting tribute to the cleaners at 56F. The 'Jubilee' class locomotives are perhaps best known for bearing names of Commonwealth countries belonging to the British Empire, however a large proportion were named after celebrated heroes and famous ships of the British Royal Navy. The first vessel to be named 'Bellerophon' was a 74-gun warship launched in 1792; the ship was engaged in naval battles in the French Revolutionary War and Napoleonic Wars. Following Napoleon's defeat in the Battle of Waterloo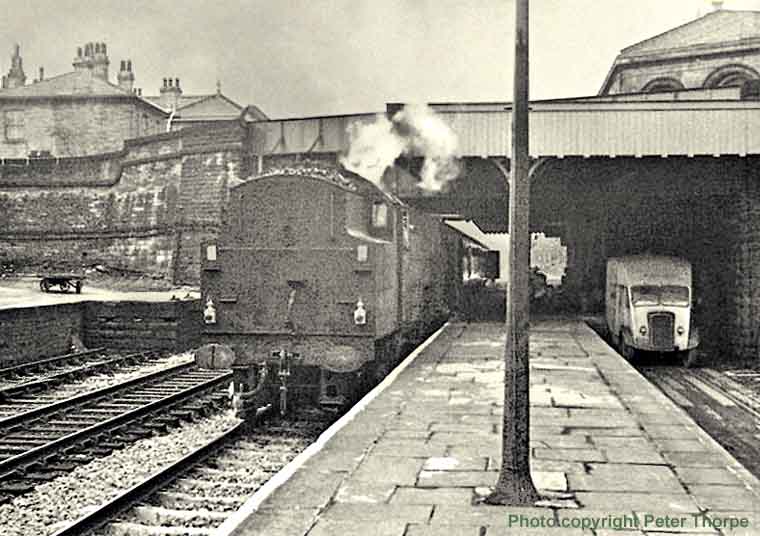 in June 1815, his reign as Emperor and that of the First French Empire came to an end. The warship served the Royal Navy for 44 years, seeing action in both the Battle of the Nile (1798) and Battle of Trafalgar (1805). The vessel was scrapped in 1836.

(Below-Inset) Opened in 1840 by the Manchester and Leeds Railway, later to become part of the Lancashire & Yorkshire Railway seven years later, the station at Brighouse was initially known as 'Brighouse for Bradford'. It wasn't until May 1850 that Bradford's first station at Exchange was opened by the joint efforts of the Lancashire and Yorkshire Railway and the Great Northern Railway. By 1970 the regular local passenger services on the Calder Valley main line fell victim to the Beeching axe and the station at Brighouse closed in January 1970, leaving one of the largest textile towns in the West Riding of Yorkshire without a passenger train service. The station remained closed for thirty years before the West Yorkshire Passenger Transport Executive (WYPTE) - implemented in 1974 to integrate local road and rail passenger services in the then new Metropolitan County of West Yorkshire - re-opened the station in May 2000. Here the driver of the 2-6-4T is seen urging the guard and two station staff at Brighouse to get a move on loading the carpets from the local Kosset carpet factory at Brookfoot (Kosset's later supplied carpets for the QE2). The company's delivery van (Dennis?) can be seen adjacent to the platform.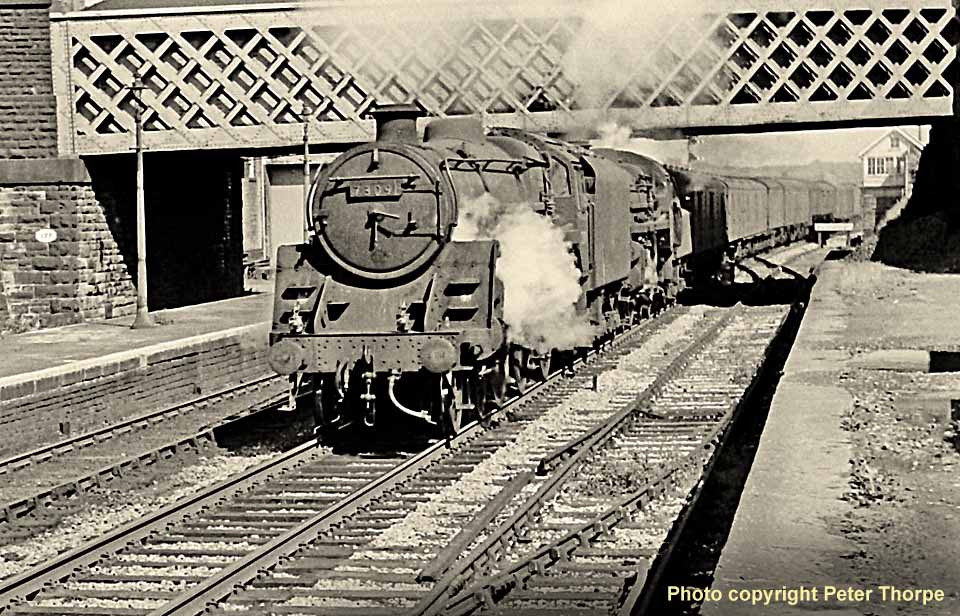 (Above) Crossing over to the other platform I arrived just in time to photograph the 2.43pm York (Clifton sidings) to Manchester (Red Bank) empty parcel stock that ran via Leeds and Mirfield. This was a notable working, almost always double headed with a wide variety of motive power used. This day's offering was most unusual in having BR Standards, one of which was Std Class 5 No 73091 reputed to be a Gloucester Horton Road loco at the time.

HEATON LODGE JUNCTION
Sunday 17 May 1964

I made many visits to this location to observe and photograph Aakefield shed's hard-working WDs on this quadruple section of track. Again I became friendly with one of the signalmen in the ex-L&Y Heaton Lodge Signal box, spending many happy hours observing the busy railway scene, often recording over twenty trains in an hour.
During an evening visit in May he suggested I might like to photograph some excursion traffic instead of the WDs; he added that he would be on duty at the time and despite my not having a lineside permit for the area he suggested I could take shots from the veranda of the signal box.
He then showed me the special workings list for Sunday 17 May that preceded the Bank Holiday Monday. I accepted his kind offer and copied the list of the workings, which were as follows:

1Z03 - 7.56am Huddersfield to Scarborough.
1X12 - 8.52am Wakefield to Blackpool.
1X31 - 8.56am Leeds to Blackpool.
1X21 - 10.08am Chesterfield to Blackpool.
1Z50 - 10.13am Bradford to .Liverpool.
1X22 - 10.23am Chesterfield to Blackpool.
1X32 - 10.29am Leeds to Liverpool
1X45 - 10.36am Castleford to Blackpool.
1X23 - 11.02am Chesterfield to Blackpool
1X09 - 11.05amLeeds to Blackpool.
1X24 - 11.18am Chesterfield to Blackpool.
1X16 - 11.24am Brightside to Blackpool.
1X15 - 11.43am Heeley to Blackpool.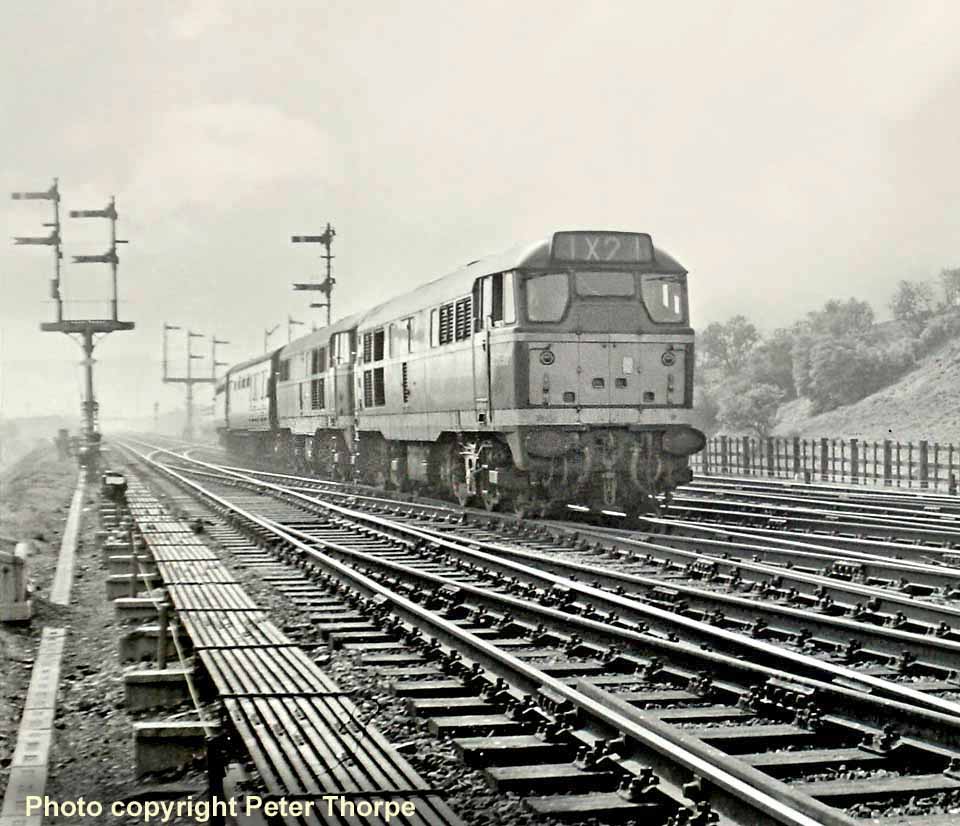 (Above) Alas I slept in that morning and so I did not arrive at Heaton Lodge until shortly after 10am when the 1X21 from Chesterfield to Blackpool came powering through behind a pair of 41A Sheffield Darnall-allocated Brush Type 2 diesels Nos D5690 and D5691. I was just in time to catch them crossing from the Up Fast to the Up Slow line from the trackside before climbing the steps into the box. However, I quicly realized that I faced a photographic challenge as all the specials were coming from the east and, at that time in the morning, it meant taking exposures against the sun.

(Below) Fifteen minutes later, having downed a welcome cuppa from the signalman, it was out onto the veranda with tripod and camera to photograph another pair of Brush Type 2 diesels on 1X22, again heading for Blackpool, this time hauled by Nos D5805 and D5813, both 41C Wath allocations. This exposure was taken of the train passing the signal box on the Up Slow line; the lines diverging in the left background lead to Huddersfield.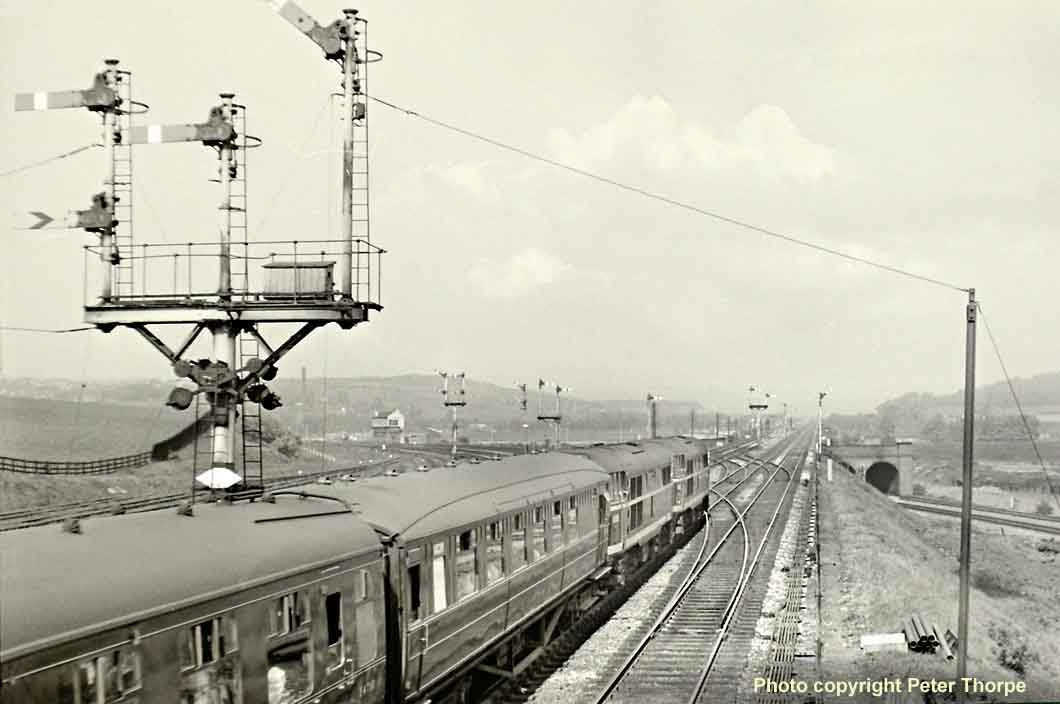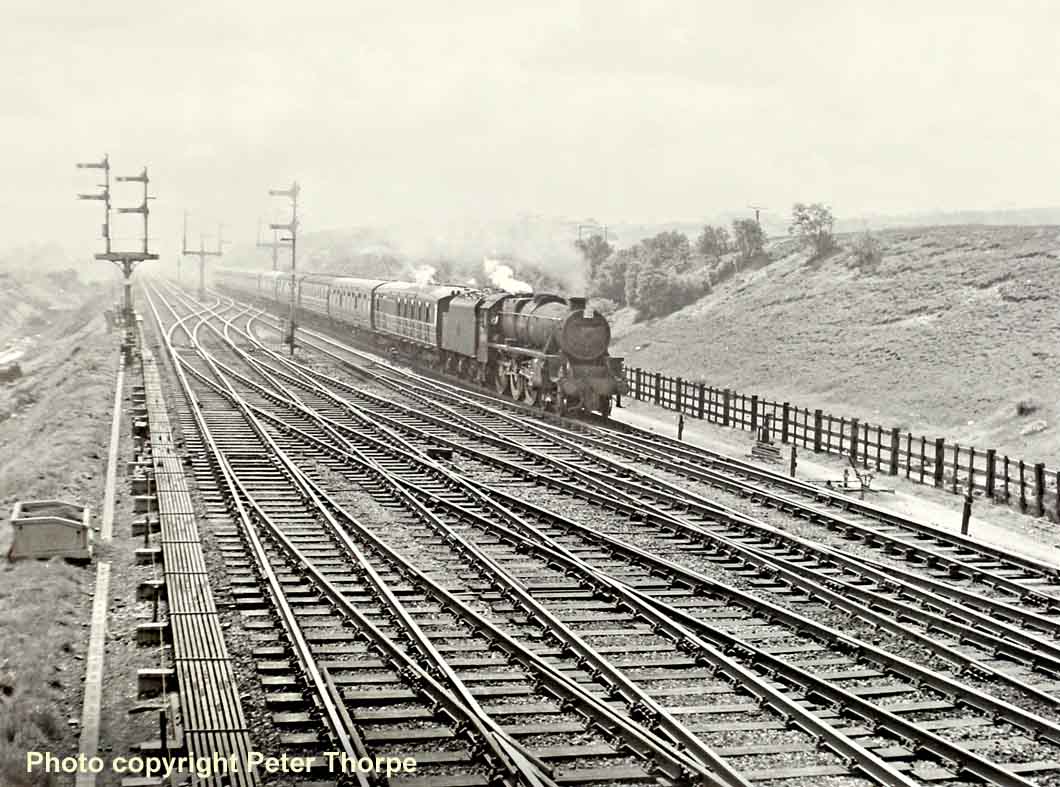 (Above) Next to appear on the Up Fast line was a steam-hauled Leeds to Liverpool extra comprised of the 1Z50 Bradford to Liverpool which had been hauled by 8L Aintree shed's BR Standars Class 4 No 75043 as far as Mirfield before combining with the 1X32 Leeds to Liverpool, hauled throughout from Leeds to Liverpool by 55C Farnley Junction's Black Five No 44943, a long time West Riding stalwart.



(Above) This pen line drawing of the track layout at Heaton Lodge Junction box circa 1956 was created by John Hinson, who has compiled a superb website covering all aspects of railway signalling in Great Britain. Of great interest is the emphasis he places on mechanical signalling which he deals with in a most orderly and easily understood manner; this includes descriptions and illustrations of semaphore signals, explanations of the rules and regulations, photographs, historic articles, reminiscences, museum and book lists - plus a lot more besides! Click HERE to visit John's excellent site; it is packed full of intresting facts and generous-sized drawings (the one above is greatly reduced) and a visit is highly recommended.

(Below) Soon after the Black Five, another steam-hauled special appeared in the form of 55F Low Moor's spotless 'Jubilee' No 45565 Victoria, cruising effortlessly up the gentle gradient on the Up Slow line with the 1X45 from Castleford to Blackpool.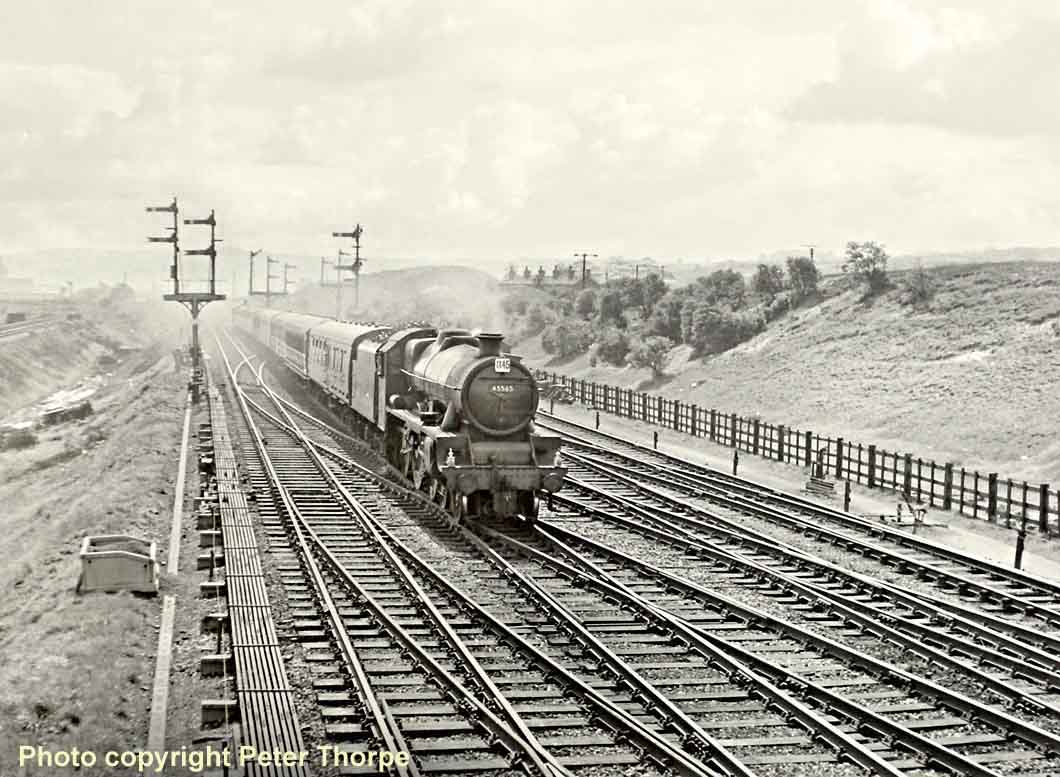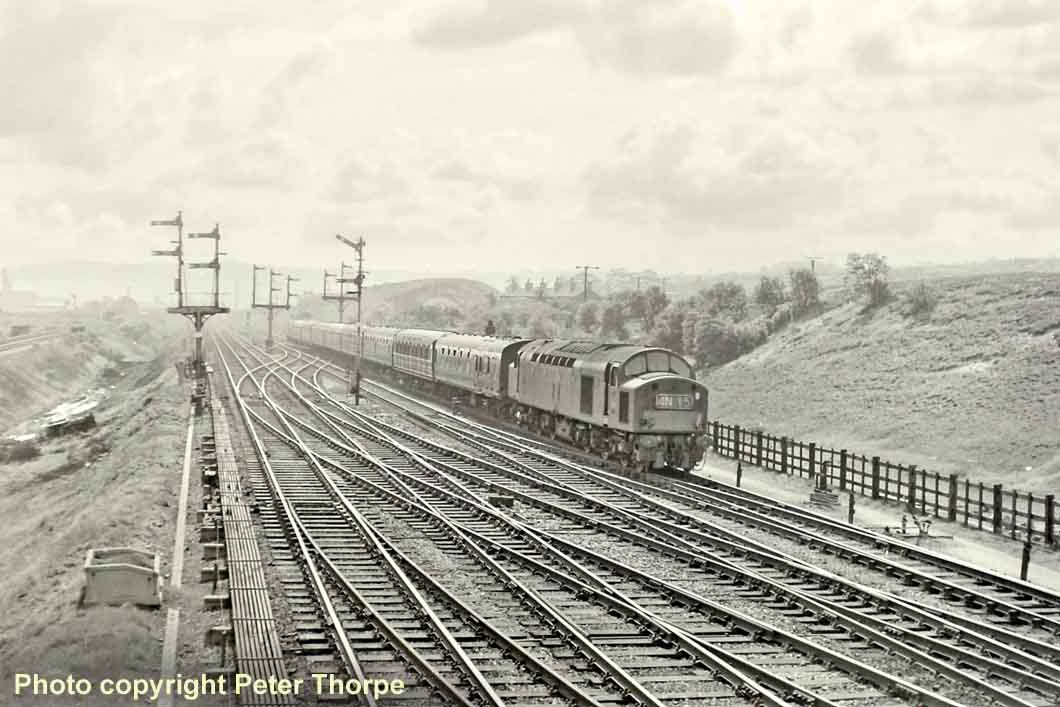 (Above-Below) Back to diesel-haulage again, this time with EE Type 4 D390 displaying a reporting number 4N15 at the head of an unidentified passenger train. I have been unable to fathom out the actual working as the diesel is also carrying headlamps denoting an express passenger train despite the number '4' in its headcode panel indicating an express freight working. (Below) Back to the specials with yet another pair of Brush Type 2s on the 1X23 to Blackpool, with 41C Wath-allocated D5819 and D5890 providing the motive power.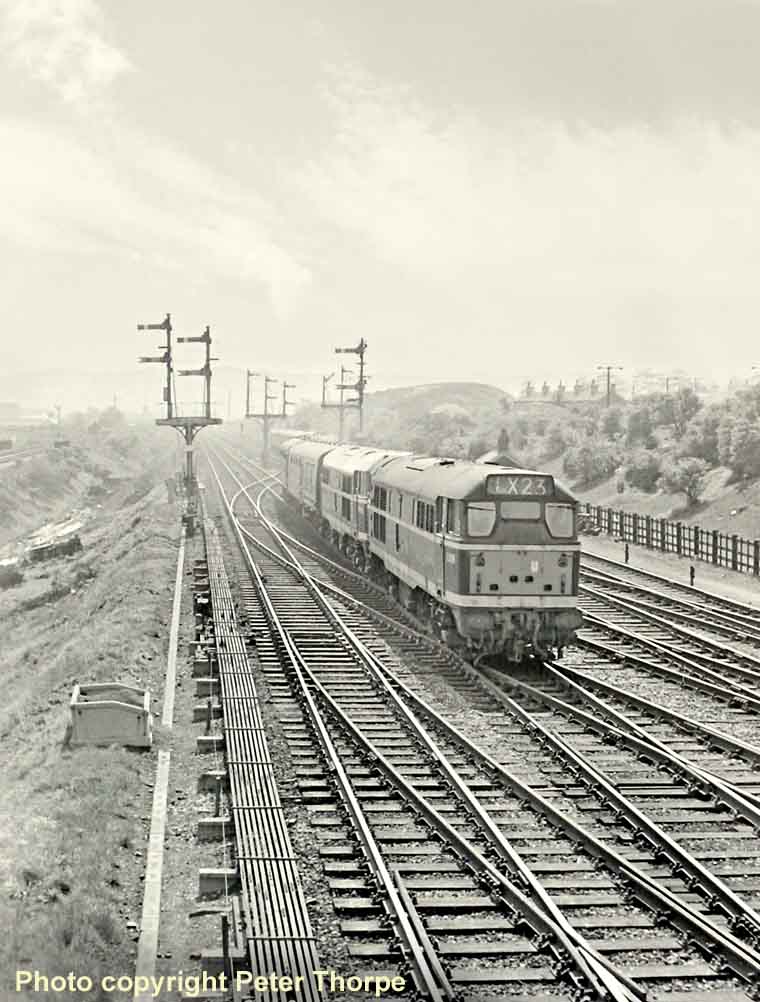 (Above) 1X09 followed but since it was a DMU, I did not bother to take a photograph. Of more interest to me, albeit another diesel working, was 1X24 on a fourth Chesterfield to Blackpool special, headed by Nos D5843 (41A) and D5834 (41C) at 11.05am. I imagine Blackpool Station must have been very busy that day!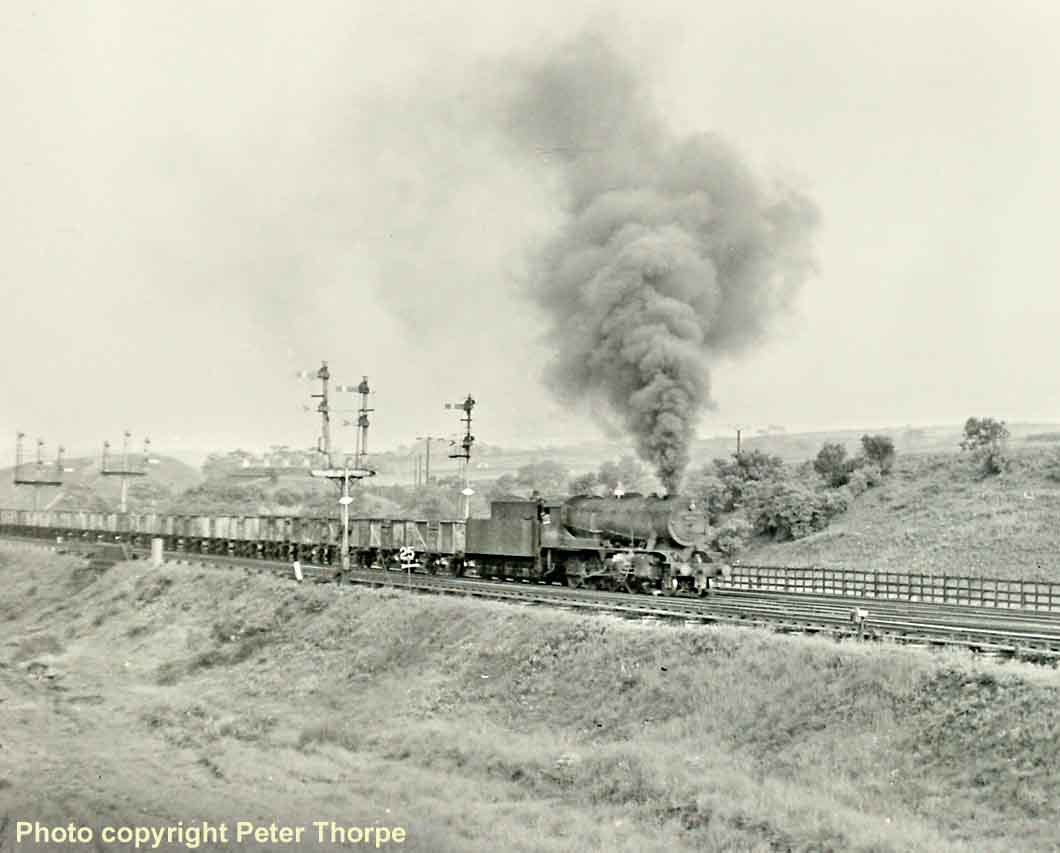 (Above) A long time resident of 56a Wakefield since October 1949, Class 8F WD 90656 powers steadily away on the Up fast line at almost 5mph with coal empties, albeit emitting plenty of clag in the process! The ensemble is about to pass Heaton Lodge signal box on Thursday evening 28th May 1964. I couldn't resist the chance of posting this picture, as it reminds me of the Brush type 2s inability to cope single-handedly with full-length coal trains from the Yorkshire Coalfield to the Scunthorpe steelworks despite it being a relatively flat route. The shortage of more powerful diesels resulted in a large number of sidings filling up with coal wagons awaiting delivery, hence a decision was taken to reinstate some of the run-down WDs to clear the backlog; the problem was later rectified by a decision to use the Brush type 2 diesels in pairs.
For the record, a train hauled by a pair of diesels and operated by one driver became known as 'multiple working' whereas coupled locomotives driven independently (due to incompatible transmission codes) were called 'tandem workings'. Although the double-headed diesels provided sufficient power to haul these long and heavy coal trains, the operating department had to address the problem of inadequate braking capacity; this was eventually resolved by the use of brake tenders. Perhaps it explains why all the diesel-hauled seaside specials were double-headed as apposed to previous years when a steady procession of 'Jubilees', Class B1s, 'Black Fives', 'Crabs' and even the occasional WD could be seen hauling these trains single-handedly. The specials I saw hauled by diesels on this date sounded as if they were working rather hard compared to both the 'Jubilee' and 'Black Five' which coasted effortlessly by.

LEEDS REVISITED.

The return leg of my circular tour of the West Riding by train back to Bradford Forster Square begins at Heaton Lodge Junction, where we leave the Huddersfield to Mirfield line and follow the Leeds new line's more direct route to Leeds, passing 55C Farnley Junction shed on the outskirts of the city.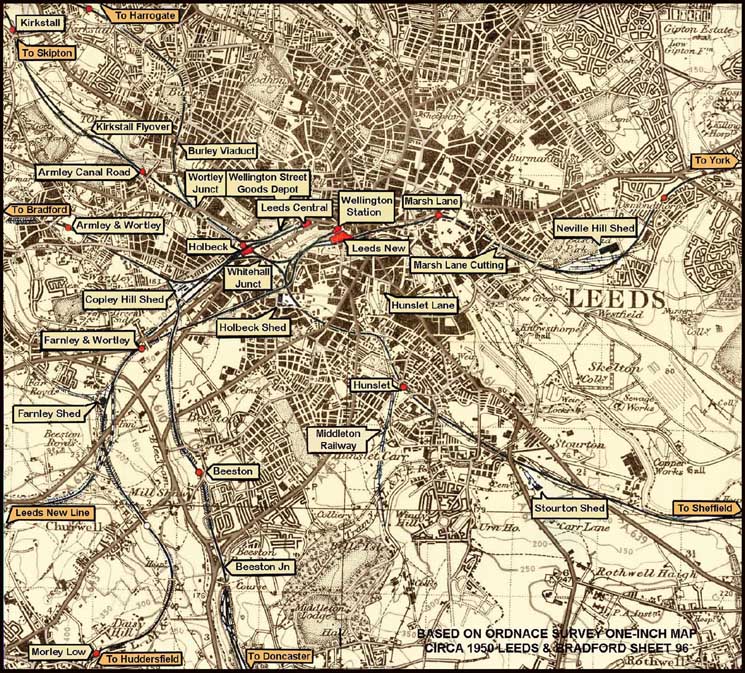 During my spotting days in the Fifties and early Sixties, the steam depots in the Leeds area became a major magnet for thousands of rail enthusiasts whose weekend visits, official or otherwise, were guaranteed to produce a wide range of steam loco classes, including many 'namers' such as the new BR 'Britannia' and 'Clans' Pacifics, the London Midland Region's 'Royal Scots', 'Patriots' and 'Jubilee' 4-6-0s, coupled with the Eastern Region's Class A1/2/3 and A4 Pacifics plus the Class V2 2-6-2s, the B1 4-6-0s and to a lesser extent the Class D49 4-4-0 'Hunts' which became extinct as early as July 1961.
By 1961, the new fleet of diesel locomotives and railcars were making major inroads and the railway scene was about to undergo a rapid change; the former NER shed at Neville Hill was to close to steam in June 1966; the ex-Great Northern shed at Copley Hill closed entirely in 1964, followed two years later by closure of the ex-LNWR shed at Farnley Junction, and in 1967 the ex-Midland Railway shed at Holbeck closed its doors to steam.
Diesel locomotives were now rostered for the majority of passenger turns and excursion traffic, though steam power was still required to cover for catastrophic diesel failures and a general lack of availability due to inoperable train heating boilers during the winter months. The transition from steam to diesel power took a decade to complete and as many enthusiasts witnessed during the mid years of this period there was plenty to interest them when a mixture of diesel and steam motive power put in an appearance, many of which were displaced from their home sheds.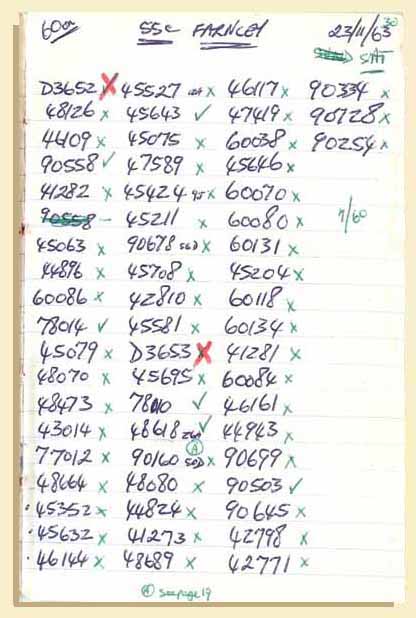 An entry in one of my surviving notebooks (right) records a typical Saturday afternoon shed bash in the Leeds area. The date was 23rd November 1963 and the first shed visited was 55C Farnley Junction which usually had a prolific number of diesel shunters, though it did not have an allocation of diesels - steam was still king at this depot. It was most unusual in that the shed building was located in a triangle of lines which enabled engines to be 'turned' without having to use a turntable, whilst the coaling tower was situated on the line to the rear of the shed. Farnley Junction shed is featured on the excellent 'Lost Railways in West Yorkshire website HERE.
Sadly none of my shots taken at this shed have survived, however I have posted a copy from my surviving notebook just to illustrate the variety of locos I recorded, many of them 'foreigners' from other sheds - along with a few redundant engines noted as withdrawn from service. Of the fifty nine locomotives on shed, two were diesel shunters while the remainder were made up of twenty eight 55C residents plus twenty visiting locos from other depots and nine withdrawn engines in store, including 'Royal Scot' No 46161 King's Own which had migrated from store at Neville Hill.
Farnley shed had a stud of 'Jubilee' class locos which provided the main source of motive power for the Liverpool and Manchester to Newcastle and Hull turns, however the harsh winters of 1962/3 and 1963/4 resulted in a high number of failures among the rostered diesels and this led to almost anything turning up unexpectedly, for example A3s to V2s, Black Fives to 'Royal Scots'.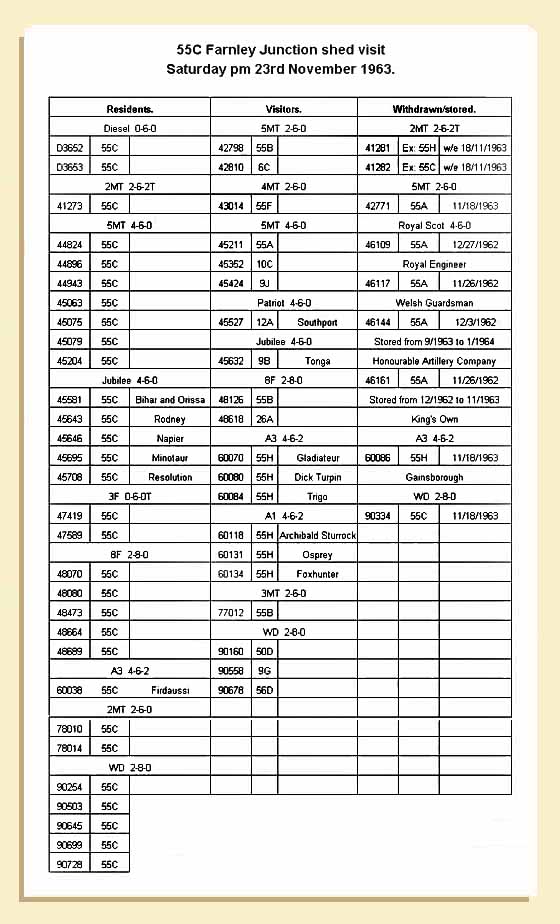 (Below) 55B Stourton was another interesting steam-only shed usually full of mainly freight locomotives, including among them the BR Standard MT Class 3s. This shot of No 77004 at Stourton shed on Saturday 19th September 1964 is an appropriate one, as towards the end of steam the ten class members allocated to the NE Region migrated at various times to 55B Stourton to replace the shed's long-serving Fowler Class 4F 0-6-0s. However the BR Standard 2-6-0s were considered rather underpowered and infrequently used on the Aire Valley line, whilst the Scottish contingent, allocated mostly around Glasgow and Hurlford, were reputed to be of little use for the same reason.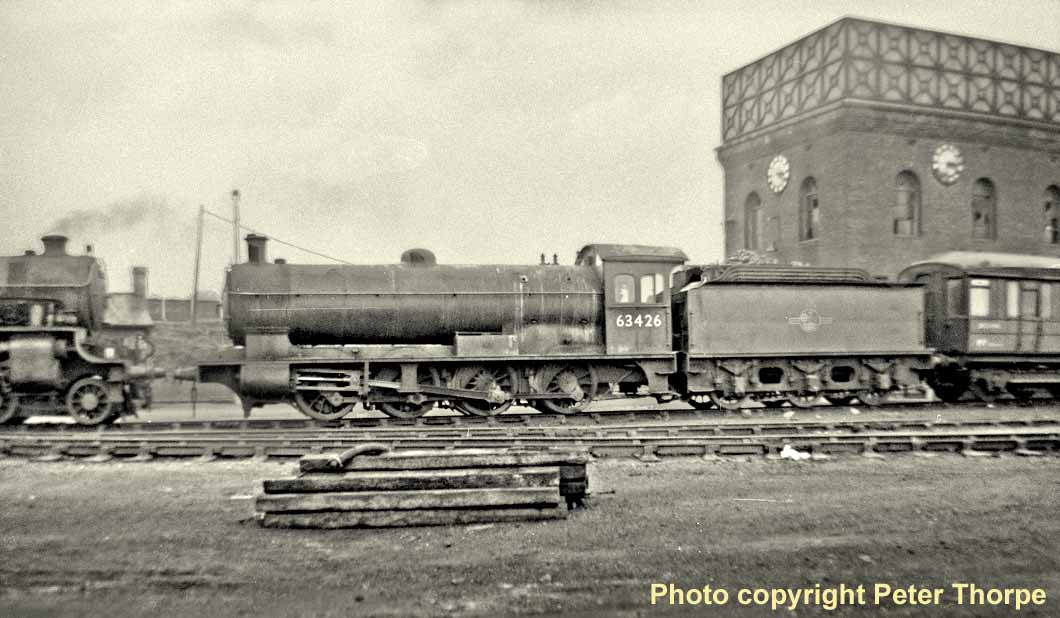 (Above-Below) 55H Neville Hill shed was the scene of my one and only attempt to acquire a smoke box number plate, shed plate and nameplate off one of the 'Royal Scot' class locomotives in store outside the shed. I first noticed Nos 46161 King's Own, 46117 Welsh Guardsman and 46112 Sherwood Forester, each complete with all their nameplates, number plates and shed plates still attached, during a previous visit to 55H on Sunday 21st April 1963. Furthermore one side of the row of engines was hidden from view alongside a row of goods wagons, which in my view provided a perfect cover for my plan. The following weekend, Sunday 28th, I armed myself with dad's torque wrench and socket set and set off for Neville Hill in the hope of liberating some pieces of industrial heritage. However I was spotted on the running board of 46161 and promptly ejected from the premises with a severe warning that if I tried it again I would be handed over to the police. To complete my day, on arrival home late at night my father gave me an ear bashing; I had no idea that I had prevented him from working on his car that day becuse he couldn't find his socket set! When asked what I was doing with it I had to lie and said that I had been trying to repatriate a cast iron sign from a disused branch line. Alas, if I hadn't taken the shots of Q6 class 63426 a 55H resident loco (above) and B1 class 61321 visiting from 51A Darlington (below) prior to my attempt I might just have succeeded, but with hindsight I could easily have ended up being arrested. Yet another failure! And the Brownie snaps were none too brilliant either.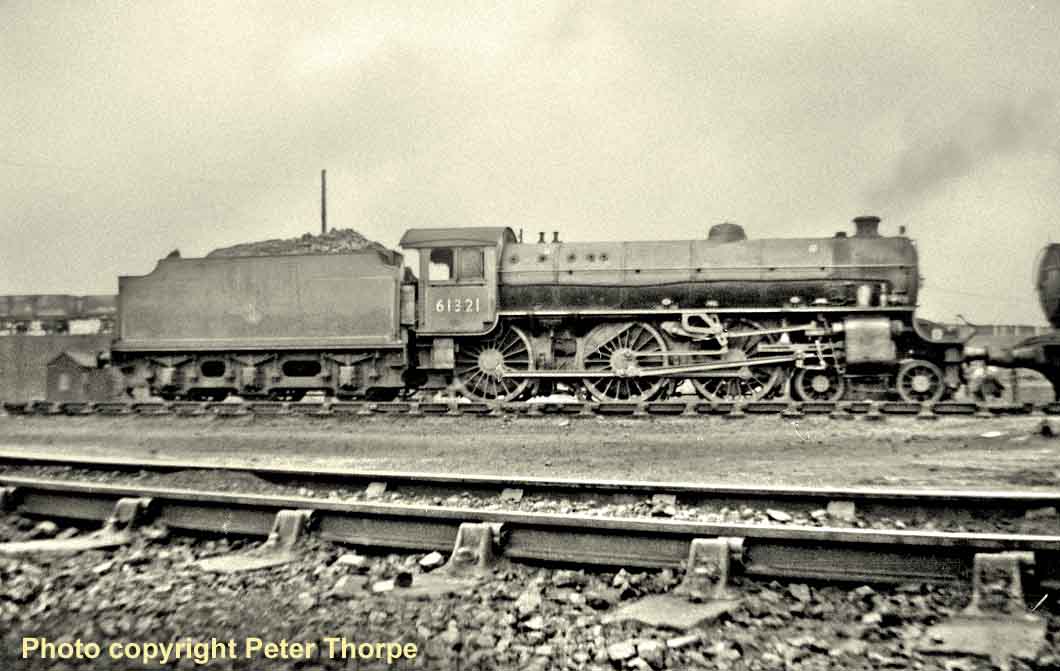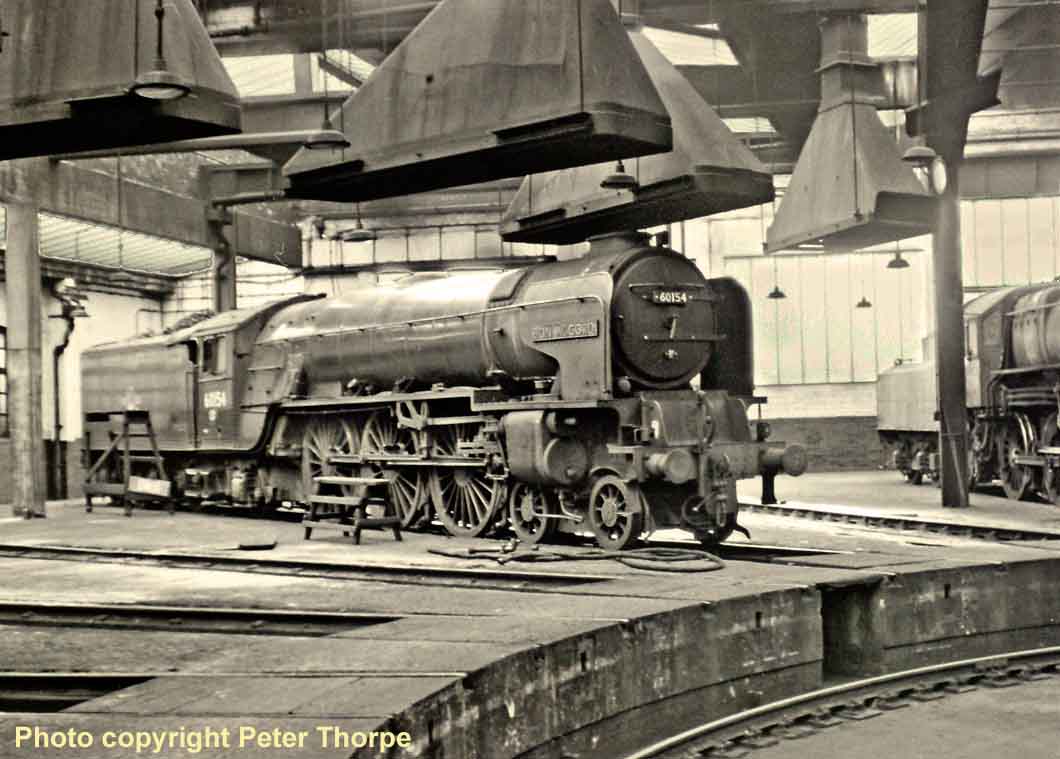 (Above) It was over a year before I was brave enough to venture anywhere near 55H again, only this time I was trying and track down the shed's resident Class A1 60154 Bon Accord which often deputised for failing diesels heading North to York and Newcastle from Leeds. It was kept in extremely good condition for use on what the diesel buffs termed a 'Thunderbird' mission. Following the engine's transfer from 50A York shed on 28 July 1963 it had three light casual and one unclassified overhaul at Darlington Works during the following sixteen months and was reputed to be in excellent condition, only to be withdrawn on the 4th October 1965. After a few visits I finally succeeded in photographing it in the roundhouse following a boiler washout during late June 1964.

(Below) A tour of the Leeds depots would not be complete without visiting my favourite shed at Holbeck, which, by 1964 had an allocation of steam and diesels in equal numbers. Nicknamed 'Nineveh' by enthusiasts, 55A Holbeck was by far the most popular shed in the area and I spent countless hours photographing the railway scene in all manner of weather conditions. Like Farnley 55C, the shed was often full of surprises with a variety of visiting steam locos from far and wide that had been pressed into service to rescue a failed diesel. I well remember listening to the depot foreman complaining that he was trying to locate some of his pet 'Jubilees'...more importantly when he could expect their return. Many sheds were so short of suitable motive power, especially during the bad winter months, that any serviceable steam loco arriving on shed would frequently be sent on a rescue mission taking it further away from its home base. The following shots were taken in December 1964, starting off with two unidentified ex-NE Region locomotives Class Q6 0-8-0 and Class B1 4-6-0 looking rather tired at the back of the shed while a Type 2 diesel and Black Five are passing the coaling tower.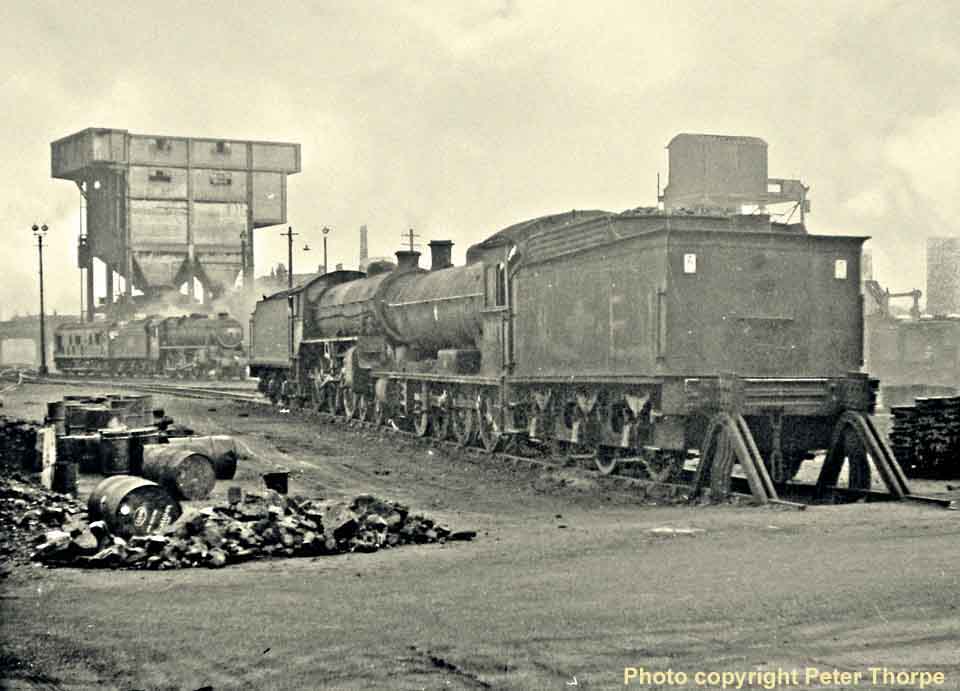 (Inset) What frequently happened wen a steam engine arrived on shed is that its fire was dropped and the build up of ash removed; a filthy job especially at smaller depots where facilities for ash disposal were limited. The working conditions in which the boiler washers and tube cleaners worked were just as bad; by its very nature a steam locomotive required regular boiler washouts in order to remove scale and improve efficiency;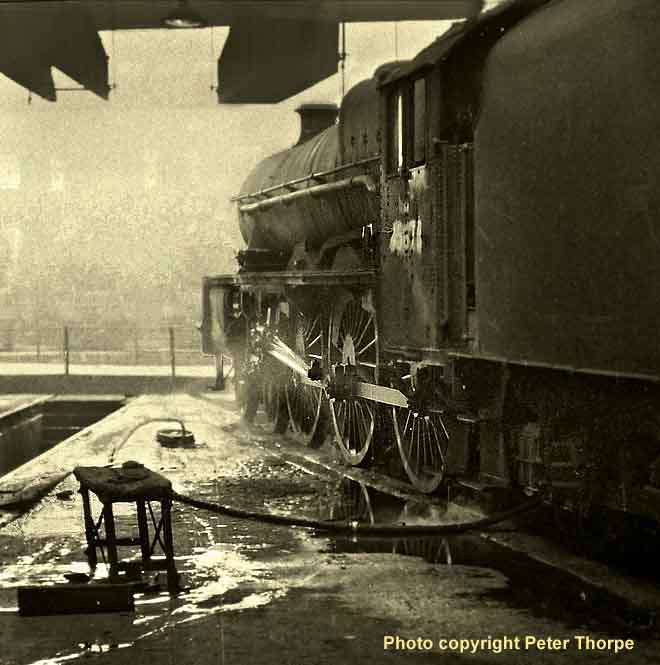 the boilers were emptied and blown down, others washed out with steam resulting in water going everywhere. One of 55A Holbeck's 'Jubilees' has just had a boiler washout and is waiting in one of the stalls pondering on what it will be despatched to do next; this photo illustrates the filth and neglect to be found in a busy shed during steam's final years.

(Below) The working conditions in a steam depot were harsh, often cluttered with bits and pieces off a locomotive, piles of ash and a thick layer of coal dust everywhere; the shed building at 55A offered little protection with broken windows and a dilapidated roof exposing hard-working shed staff to the elements; even the most dedicated railwayman must have found it hard to swallow. Awaiting attention at Holbeck is 41D Canklow WD 2-8-0 No 90203 displaying a 'Not to be moved sign' on its buffer beam; the WD is standing alongside 'Black Five' No 44828, a long-time Holbeck resident spending over 23 years at the shed up to withdrawal in 1967. The Black 5 is about to receive attention by a cleaner. I do remember the employee in this picture complaining about the large amount of ash left on its buffer beam.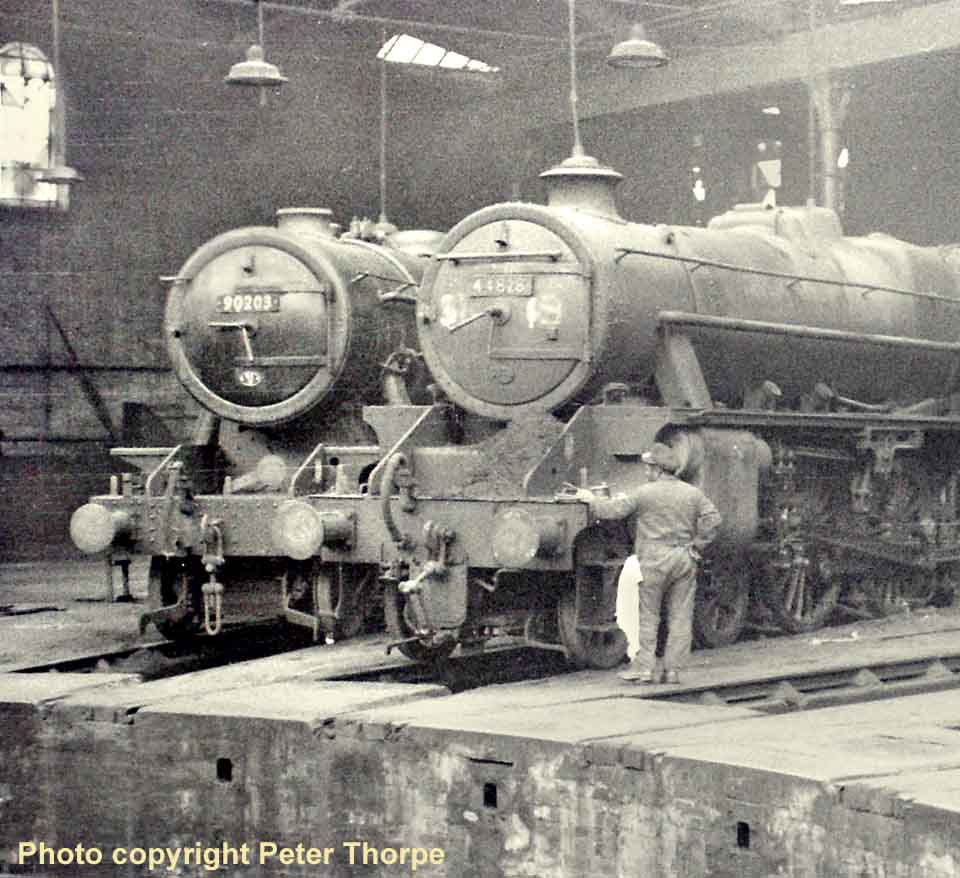 (Above-Below) More scenes inside the roundhouse in December 1964: 40B Immingham's Class B16 61406, resident 'Jubilee' class No 45602 British Honduras, Class 4P 2-6-4T 42618 and 'Crab' 2-6-0 No 42947 ex-1F Rugby shed. (Below) Earlier in the year on Friday the 7 August 1964 the roundhouse was full of engines, left to right Class 9F 'Spaceship' No 92160 of 15C Kettering; 'Black Five' 4-6-0 No 44857, 'Flying Pig' 43124 both 55A Holbeck residents, 'Black Five' No 44812 from 21A Saltley, 'Jubilee' 45608 Gibraltar, a 55A Holbeck resident, BR Standard 73021 from Gloucester shed, Class 9F No 92126 from 15C Kettering, and last but not least, 44852, one of Holbeck's many 'Black Fives'.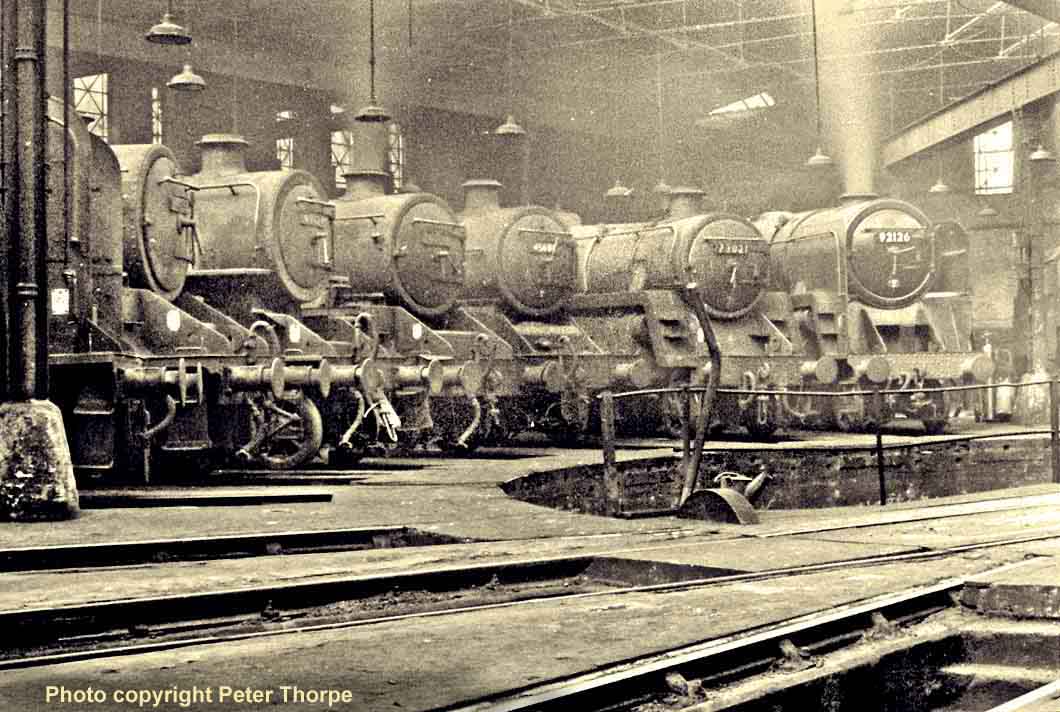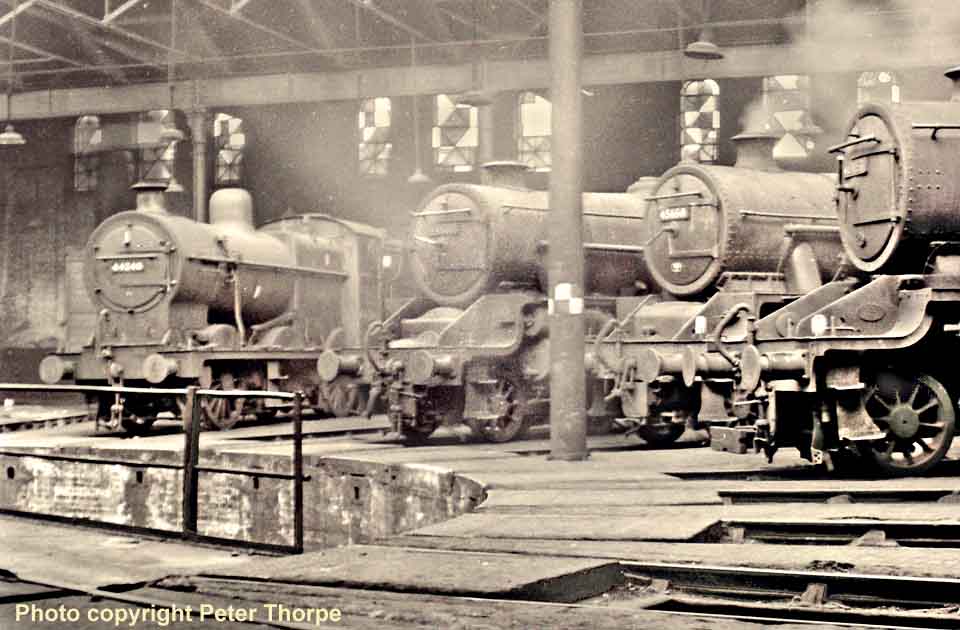 (Above-Below) 10G Skipton allocated 0-6-0 3F 44240 minus coupling rods (the loco was withdrawn just two weeks later), 'Black Five' 44853 and 'Jubilee' 45658 Keyes, both long time Holbeck residents, plus Derby 17A's Class 8F 48157 all awaiting their next turn of duty. (Below) Returning to the depot yard, an unidentified BR Class 6MT'Clan' is well prepared with a full tender of coal and safety valves almost lifting, awaiting the chance to work back to its home shed at Carlisle; the loco arrived in Leeds after deputising for a failed diesel on an express passenger working.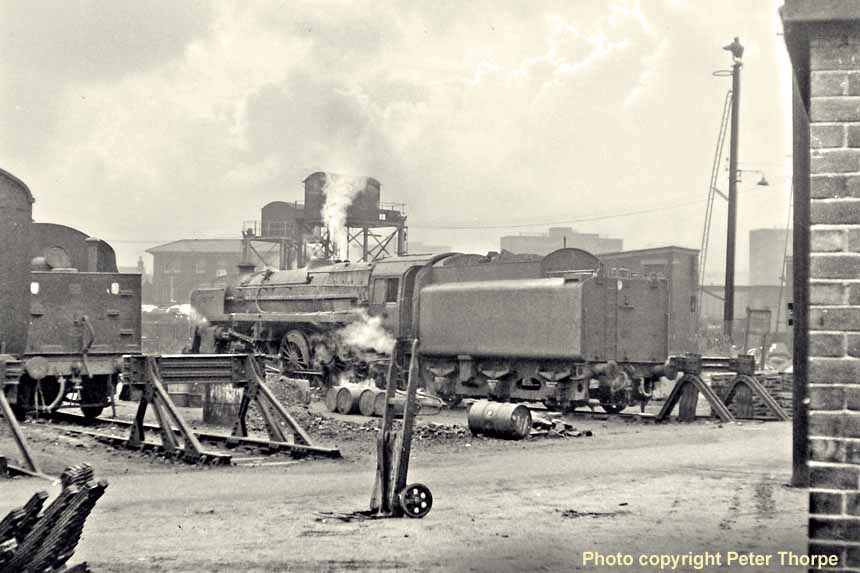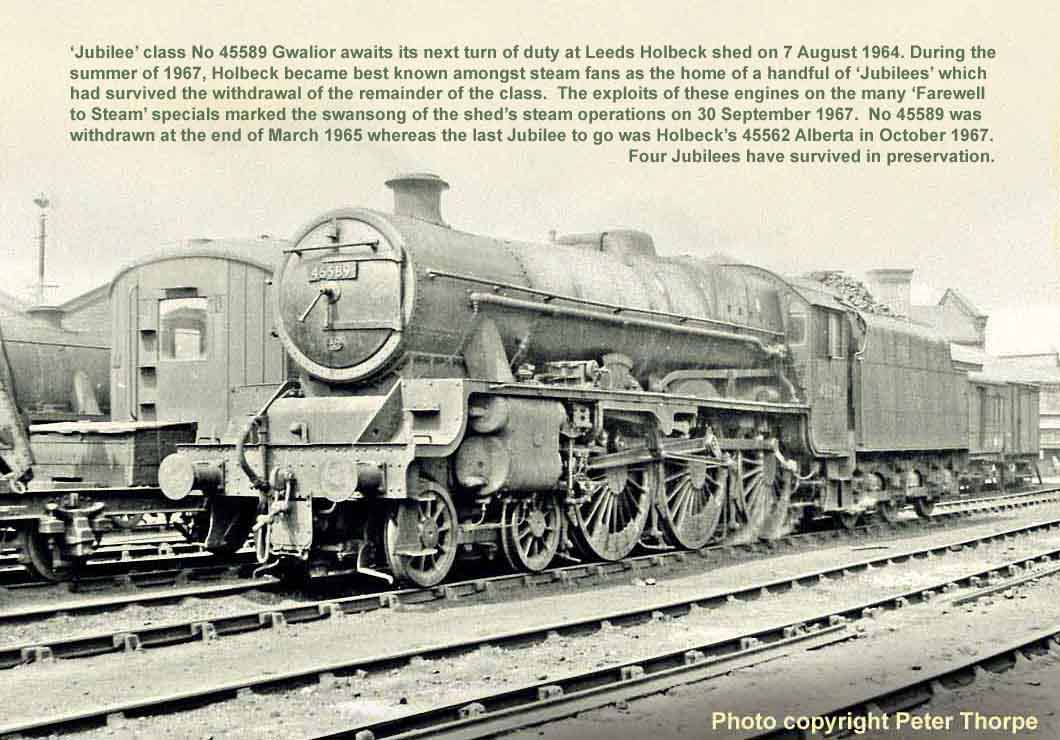 (Above) A fully coaled up 'Jubilee' 45589 Gwalior has been prepared for duty in the event of a diesel failure or lack of availability; the loco was pictured on one of the last two roads between the breakdown crane set and main line. Holbeck's stand-by locos were usually stationed at the back of the yard, enabling me to climb into the cab for a nosey around, just happy to soak up the sounds and smells. Interestingly during the harsh winters of 1962-3 and 1963-4, Bristol Barrow Road shed also had three 'Jubilees' on standby duty for the South West-North East express passenger service. They were often pressed into service at short notice on rescue missions and on occasions to provide train heating on passenger trains such as the 'Devonian', as indeed were the Jubilees based at the Burton on Trent depot. Of note in this picture is the damaged smokebox numberplate - I wonder how that happened?




(Above-Inset-Below) I visited Leeds Central station on an extremely cold Saturday 26 January 1963, and photographed 34A Kings Cross-based Class V2 60854 backing out of the centre road with the stock of a Class G parcels train. (Inset right) A few minutes later, a driver was captured climbing into the cab of Driving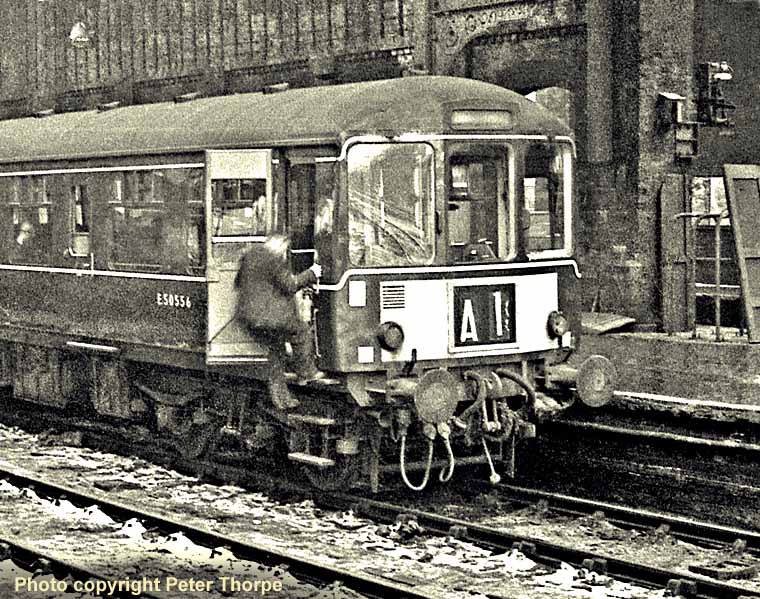 Motor Lavatory Composite (DMCL) E50556 prior to departing with the 12.36pm to Bradford Exchange. Built by the Birmingham Railway Carriage and Wagon Company from 1957 to 1959, later designated BR Class 104, the first 3-car units were ordered for the LMR whereas the North Eastern Region acquired a fleet of 4-car sets, made up of a Driving Motor Lavatory Composite (as seen here), two Trailer Second Lavatory vehicles in the middle and a Trailer Brake Second Lavatory (TBSL) at the opposite end. The diesel multiple units were powered by two BUT (Leyland) 6-cylinder diesels of 150 bhp each. The dmus were gradually taken out of service in the 1980s, though several units were to survive in departmental service as route-learner units until withdrawal came in 1995; thirteen Class 104 vehicles have survived in preservation. (Below) A general view of the Leeds Central concourse, which can be found on Leeds Loiner's You Tube posting - a poignant film featuring a gallery of still photographs covering the history of Leeds Central station from 1854 to 1967 - link HERE.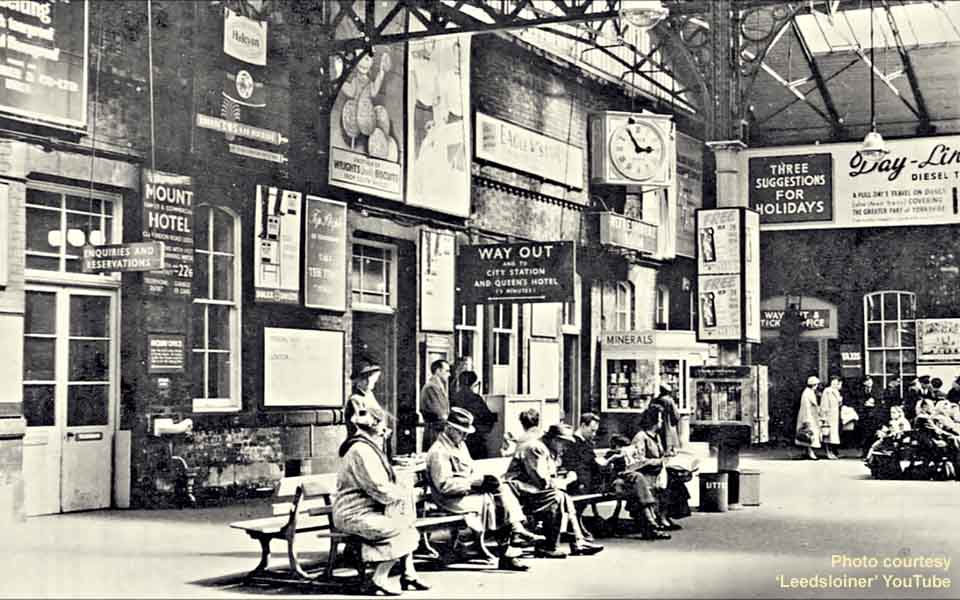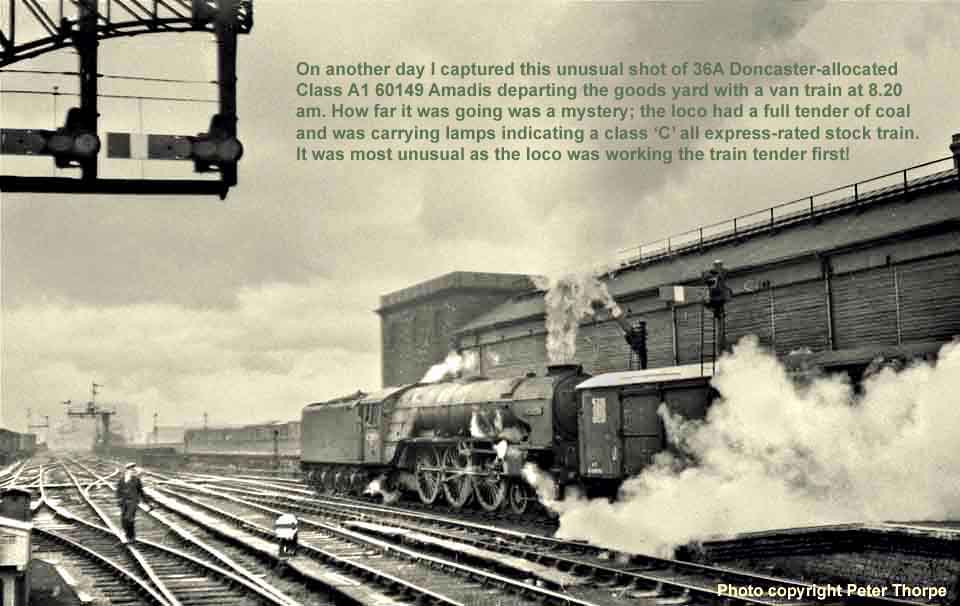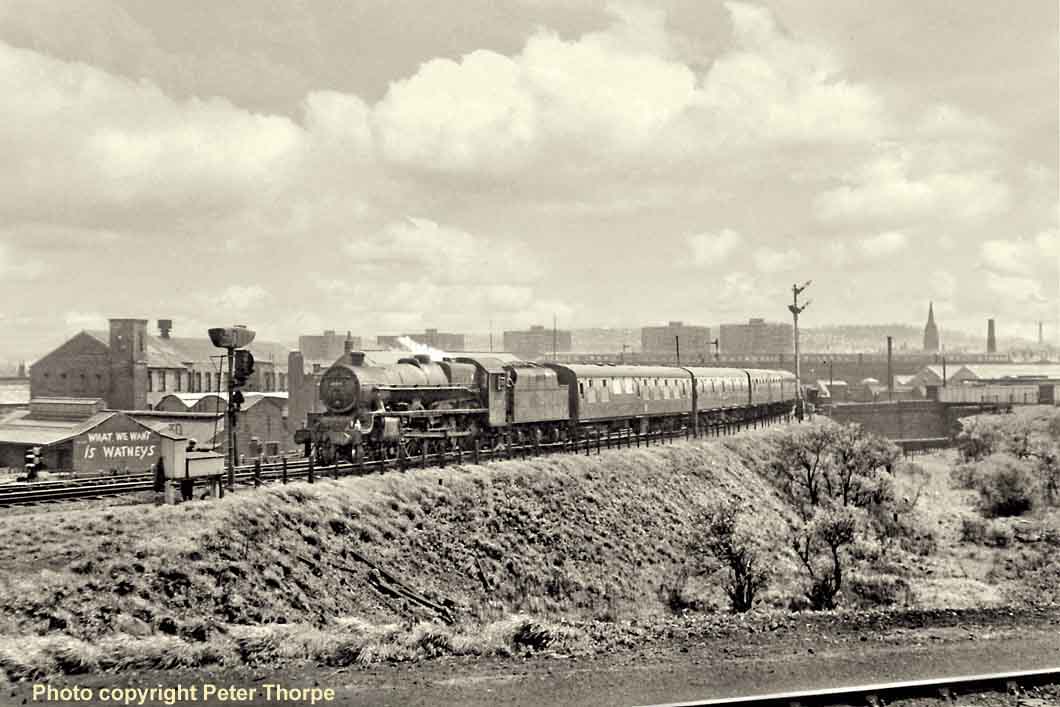 (Above-(Below) On Sunday 10 May 1964 I caught the 1.58pm London train from Bradford Forster Square to Leeds City and was delighted to see an 8B Warrington Dallam shed 'Jubilee' 45590 Travercore on the front; I took a photograph prior to departure from Bradford...see the Forster Square feature further down the page. As we approached Leeds City on the curve from Whitehall Junction to Canal Junction we were brought to a dead stand at signals. Looking out of the windows we saw the culprit, a late running train from the Midlands hauled by 'Jubilee' class No 45593 Kolhapur, then a 16F Burton on Trent shed engine. As it rounded the bend from Engine shed Junction on the southern spur of the triangular junction, its crew exchanged various hand signals with ours, the details of which I will not reveal. The eagle-eyed may doubtless have spotted the Swindon-built Trans-Pennine (TOPS Class 124) InterCity crossing the viaduct in the middle distance. This service began on January 2nd 1961 between Hull and Liverpool, with 6 trains each way daily via the Standedge route. The Swindon-built 6-car sets (including a griddle car) had four power cars fitted with Leyland Albion 230hp engines, which provided a formidable 1,840 horse power for the steeply-graded ex-LNWR route across the Pennines. (Below) The signalmen very soon gave us a clear road into the station, which was understandably very busy dealing with the three new arrivals. Although I don't remember much about our journey from Bradford, I do recall our train being the only one to arrive on time despite the signal stop.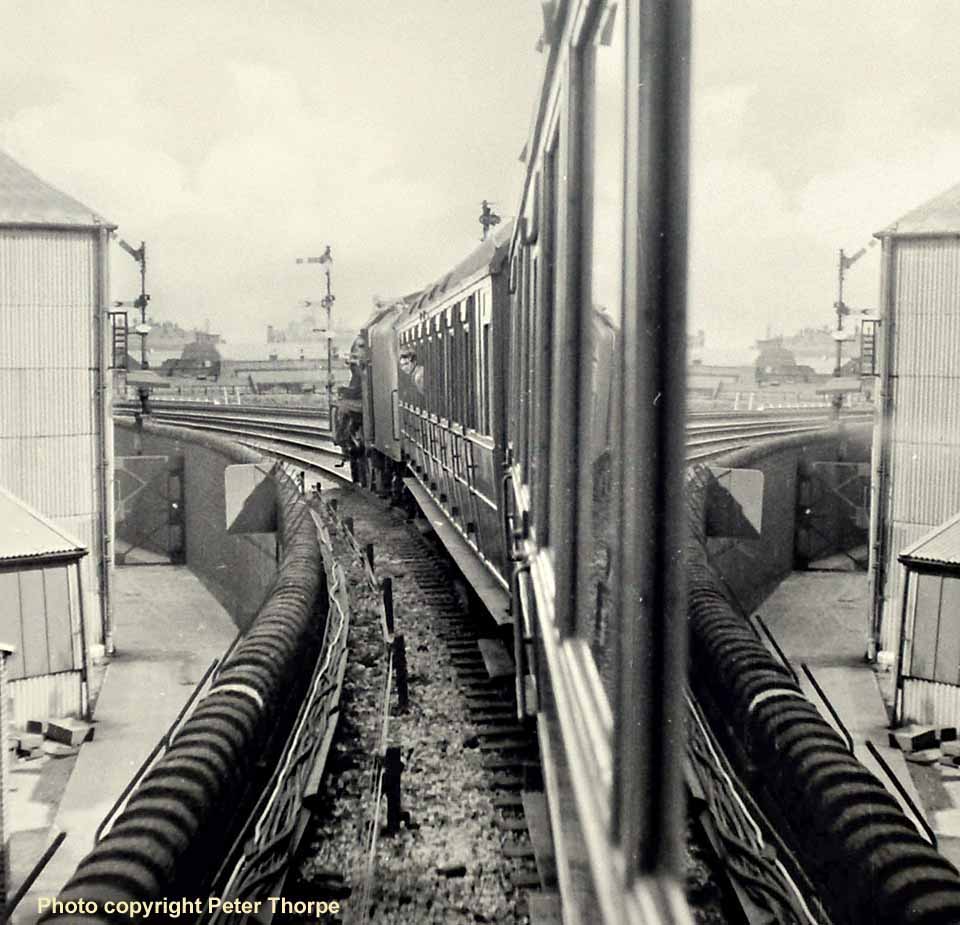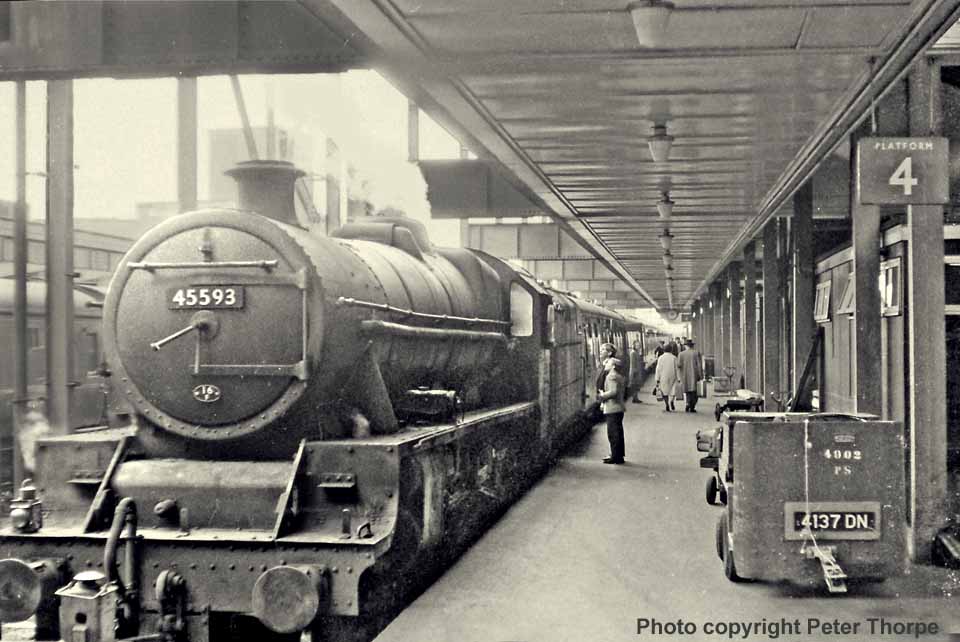 (Above) After arrival at Leeds, I photographed two enthusiasts chatting with the driver of 'Jubilee' class No 45593 Kolhapur resting at the buffer stops on platform 4. The LMS's policy of naming the Stanier Class 5XP 'Jubilee' 4-6-0s after Commonwealth countries is well known, albeit many of the countries have long since gone their own ways. No 5593 (built in 1934 by the North British Locomotive Company, Works number 24151) was named Kolhapur after a princely state in western India. Following nationalisation in January 1948, 5593 was renumbered 45593 and finished up being allocated to various sheds in the 1950s and 1960s, including Longsight, Carlisle Upperby, Willesden, Aston, Burton on Trent, Patricroft and Newton Heath.

(Inset-Below) In March 1965, following 45593's transfer to Holbeck shed, the engine was still missing its nameplates although at one point during its spell at 55A the name Kolaphur (incorrectly spelt as Kholapur) was painted on the backing plate above the left-hand splasher. This woeful tale of mistaken identity has since become part of train spotting folklore, particularly as the engine was among the celebrated 'Jubilees' based at Holbeck to be photographed countless thousands of times during their final years; indeed the full story - 'KOLHAPUR OR KHOLAPUR!' - can be found on Page 46 HERE, but an abridged version of 45593's misspelled name is well worth another mention as it is a classic tale of an enthusiast's unabashed passion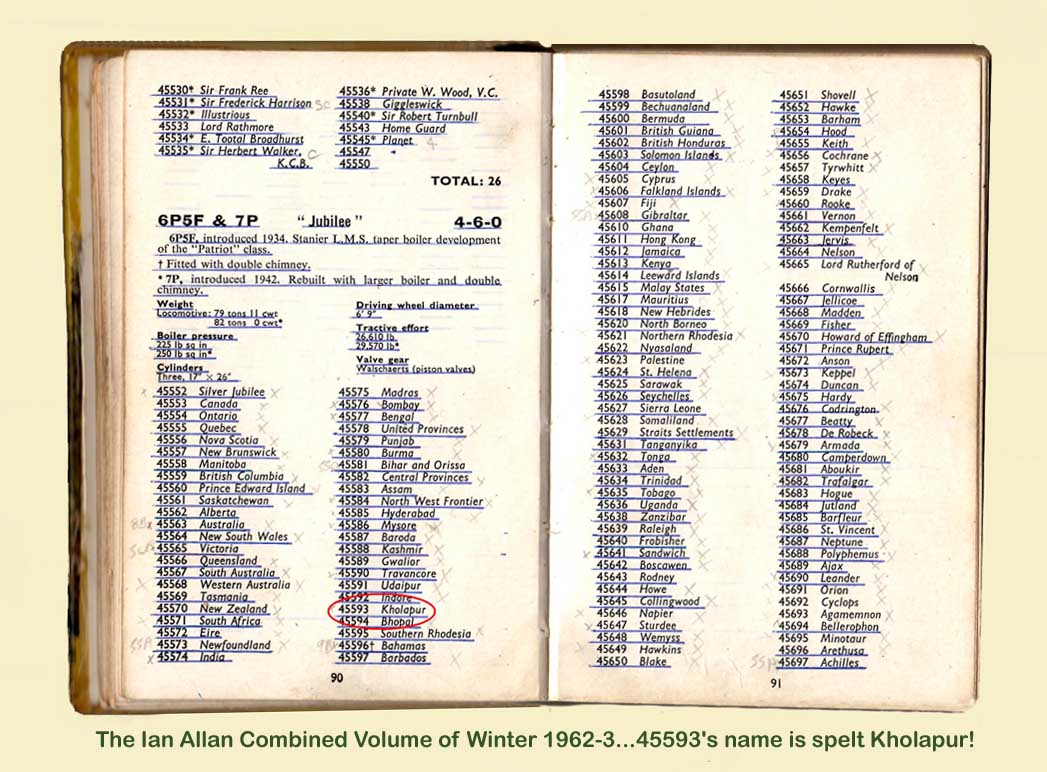 for railway photography.
The culprit who incorrectly painted the name 'Kholapur' on 45593's left hand backing plate can be revealed as 'Bob C', who writes - 'The background to the event began in early March 1967 when I wrote to (either Tom Greaves - DMPS (West Riding) one of the shedmasters at 55A) to ask if he would be good enough to roster one of his 5XP's for the northbound relief 'Thames-Clyde' on Maunday Thursday 23rd March 1967. On turning up at 55A in the early hours of Thursday I was very pleased to see that No 45593 was rostered for the afternoon Heysham parcels. So a start was made on cleaning the left hand side of 45593, and as the backing plate was bare I painted the name 'KHOLAPUR' on the backing plate. This sort of thing was common practise and I almost invariably carried small pots of red and white-cream paint for such purposes. It is interesting to note that in my last Ian Allan Combined Volume of Winter 1962-3 (see inset) in which 45593's name is spelt Kholapur!' It's all Ian Allan's fault!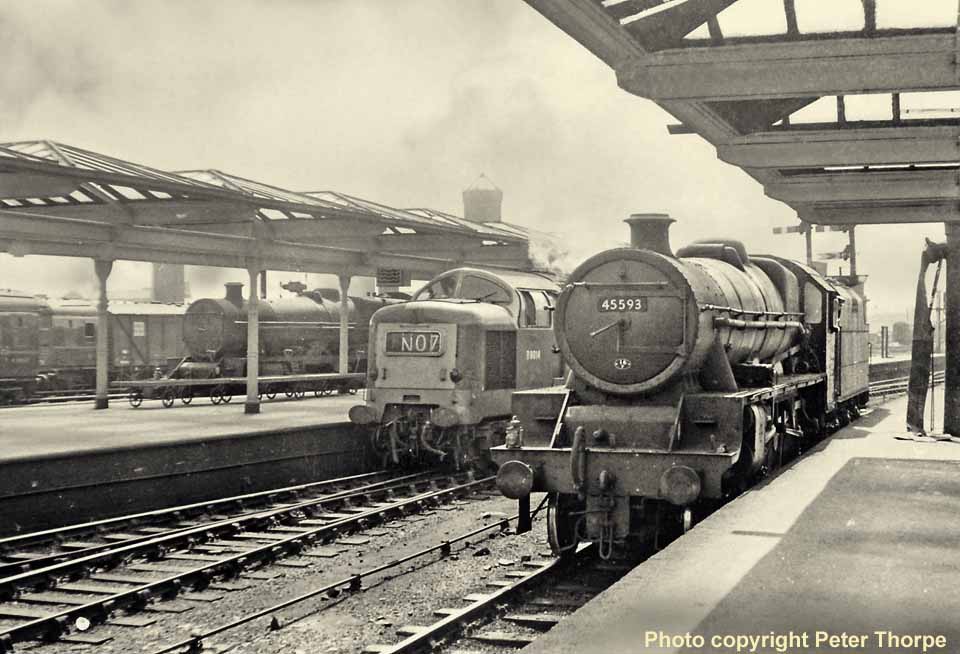 (Above-Below) Further confirmation of the rapidly changing scene at Leeds is illustrated by steam and diesel engines on a bright sunny Sunday afternoon on 10 May 1964, all three awaiting a clear path to Holbeck shed having arrived on express trains. From London King's Cross came Deltic D9014 The Duke of Wellington's Regiment, unusually arriving late on 1N07 09.45 Down 'Harrogate Sunday Pullman', and from the South West came Burton on Trent's 16F Jubilee 45593 Kolhapur which rolled in late on what should have been a diesel turn. Also 'Jubilee; class No 45590 Travercore gets into the picture, having arrived from Bradford Foster Square with the first leg of a London express. This was an unusual loco for the area, as it was based at 8B Warrington Dallam shed and was noted in the Midland area for quite a few days afterwards. (Below) In this later shot, Gateshead's Deltic D9014 The Duke of Wellington's Regiment is now displaying a 1E14 headcode as it awaits the arrival of the 11.00am Glasgow Queen Street - Kings Cross 'Queen of Scots' Pullman which it will haul for the remaining journey south to the capital. Is the front right-hand buffer damaged?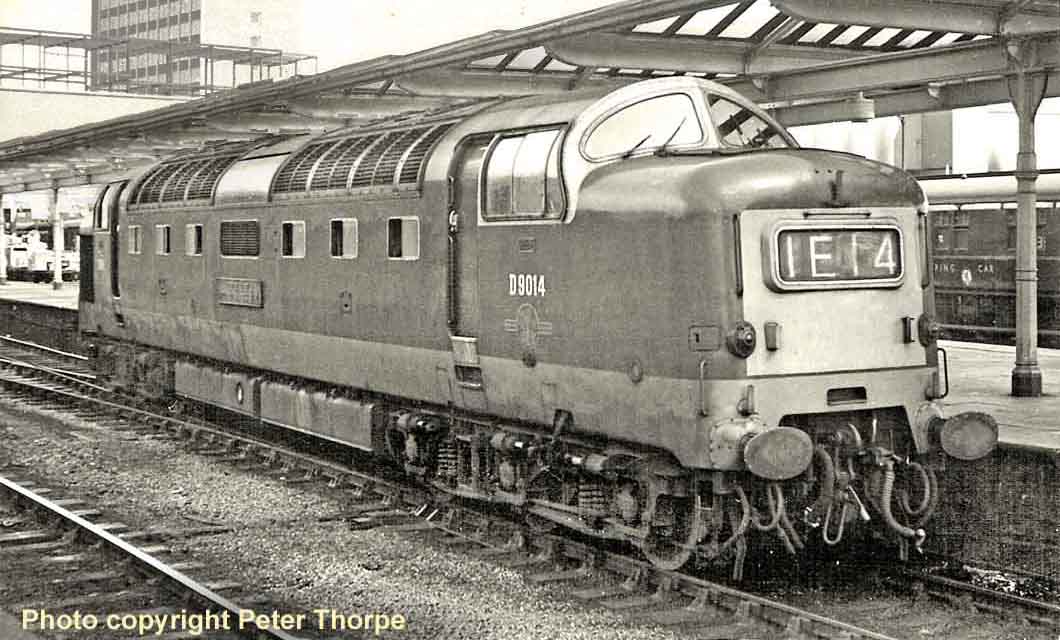 (Below) The first line to serve Leeds was the Leeds and Selby Railway which terminated at Marsh Lane station on the east side of the town in 1834 (Leeds wasn't granted city status until 1893). This was followed in 1848 by the MR's Leeds Wellington station and six years later the GNR's Leeds Central station was opened in 1854. The North Eastern Railway later extended the line from its Marsh Lane terminus to connect with the London North Western Railway at a joint LNWR-NER Leeds 'New' station in 1869. Both companies had previously shared facilities with the MR at the adjacent Wellington Street terminus. In 1938 both Wellington and New stations were linked and renamed Leeds City. Wellington station was essentially two halves, north and south, each with its own arrival and departure platforms used by trains from the south via Sheffield to St Pancras, and to the north via Shipley with connections to Bradford Forster Square, Ilkley and to Skipton and the S&C to Scotland. Here 55A stalwart, 'Black Five' No 44828, gets the right away with stopping passenger train. A Holbeck engine throughout its entire service life, 44828 was a common sight in the West Riding, working everything from express passenger services and excursions through to parcel, freight, goods and coal trains, clearly illustrating the versatility of Stanier's mixed-traffic class.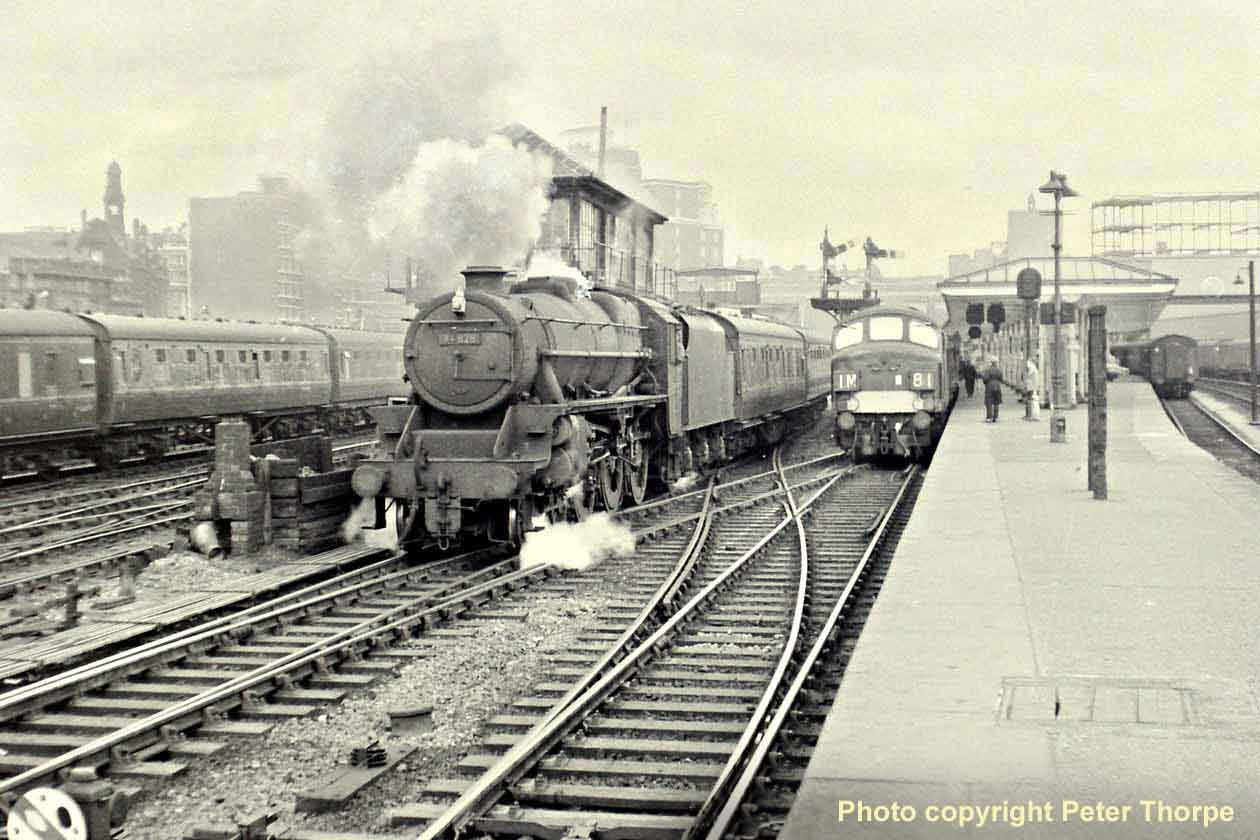 (Above-Inset) Saturday 9 May 1964 at 5pm, 10J Lancaster Green Ayre's Hughes Crab No 42938 was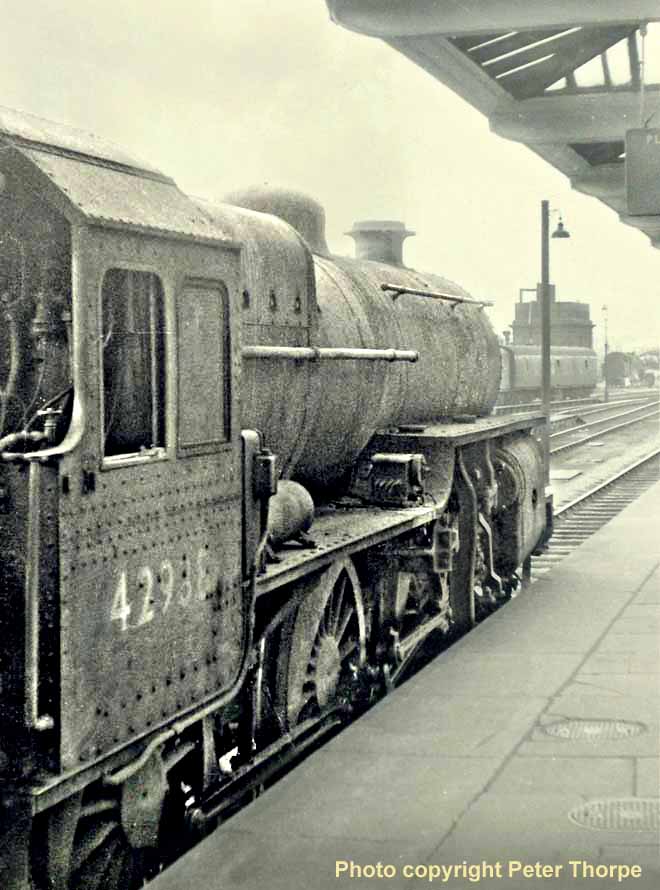 photographed awaiting departure with a parcels train on platform 6. I remember the occasion well as I was invited into the cab whereupon the fireman bemoaned the state of the fire that had been left by the crew that had worked the loco in from Lancashire a short time ago.

(Below) Towards the end of 1964, this Carnforth-allocated 'Black Five' No 45495 was patiently awaiting departure at Leeds City with a lengthy parcel train. Hoping to take a shot without the footplate crew leaning out of the cab, I asked the driver attending to the loco on the platform for his help; he was very obliging and asked his fireman to keep out of sight while he accompanied me onto the ballast to take my shot. Again a very helpful driver who clearly took pride in his work. Similarly I remember visiting Leeds on a bitterly cold 26 January 1963 and photographing 55A Holbeck's 'Black Five' No 44756 waiting to haul the southbound leg of the 'Thames Clyde' and Heaton-based Class A3 60085 Manna the northbound 'Waverley'. Both trains eventually arrived very late at Leeds City Station behind Type 4 'Peak' class diesels, with both being rostered for onward Type diesel power. However, it was to be steam for the second half of the journey, for regardless of the comfort of a diesel cab, quite a lot of engine crews still had much enthusiasm for steam, and this was such an occasion. On chatting to the crew of the 'Black 5', both men were relishing the challenge that lay ahead despite the grim winter weather conditions.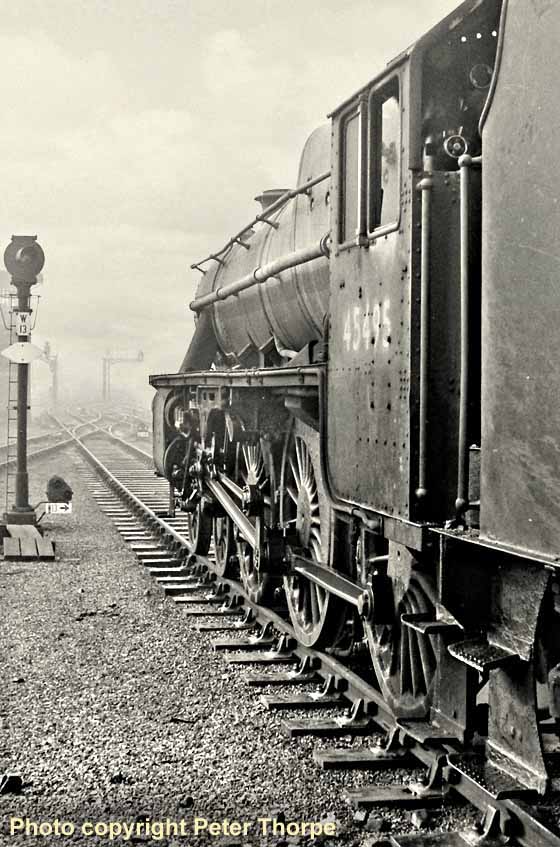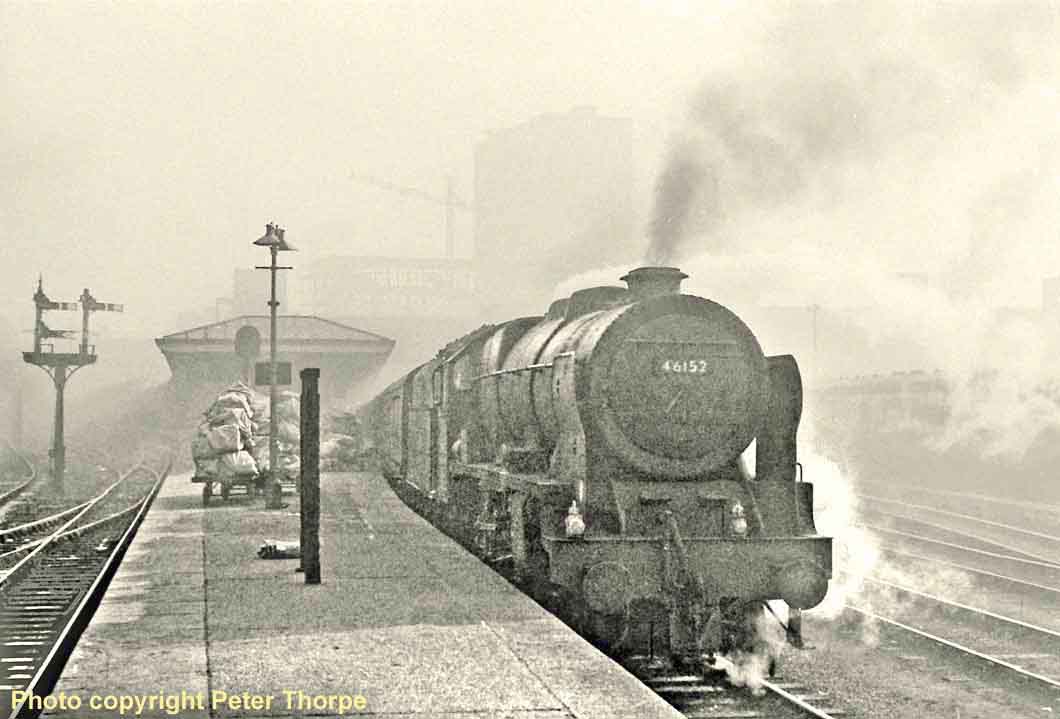 (Above-Inset) On a bitterly cold but sunny day early in 1965, Carlisle Kingmoor's 'Royal Scot' 46152 The King's Dragoon Guardsman, (originally named Royal Scot prior to the engine permanently swapping identities with the doyen of the class No 46100). The exchange was arranged by the LMS authorities who wanted the flagship of the class to participate in the 'Century of Progress' exhibition which included a tour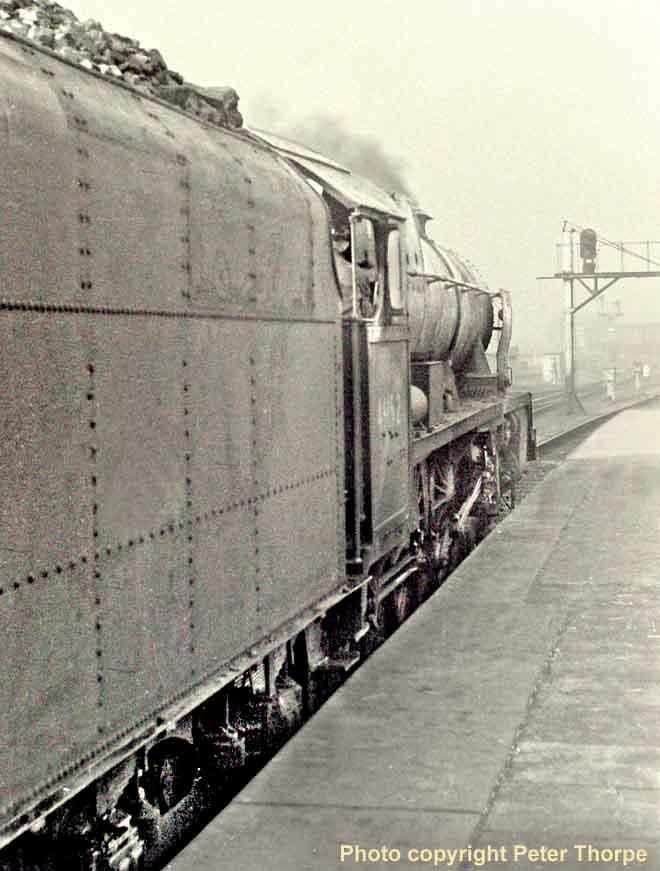 of America and Canada in 1933, however this was not possible as 46100 was undergoing a heavy overhaul at the time and so the decision was taken to exchange the nameplates with 46152. This lengthy parcel train in the photo was originally rostered for diesel power, but it was decided to substitute 46152 for the journey north enabling the engine to return to its home shed at 12A Carlisle Kingmoor. No 46152 was withdrawn soon after, the end coming week ending Saturday 17 April 1965 after almost 38 years of service.

(Below) This shot of Carlisle Kingmoor's Class 7MT 'Britannia' No 70003 John Bunyan departing Leeds City Station with a Class 'C' parcel train was taken on one of those days when, for one reason or another, train spotters were not allowed on the station platforms. The ban was enforced by a vigilant team of ticket collectors and several blackboards displayed a chalked message 'Train spotters are not allowed' at each platform entrance. I had encountered this restriction at Leeds before when I tried (but failed) to persuade a ticket collector that since he would not allow me on the platform I wanted a refund on my platform ticket. His response was a very clear - 'No!' On this occasion, however, I was carrying my lineside pass for Shipley (as mentioned earlier on the page) and hoping to avoid another altercation with a ticket collector, I located the Inspector's office and explained I had camera equipment and wished to record a parcel train about to depart. When I waved my BR permit in front of him he immediately granted permission, but cautioned me that I had to inform the ticket collector and report back to his office when finished. On arrival at the ticket barrier, I saw the parcel train was 'pegged off'…so after quickly explaining the position to the collector I hurried onto the platform and took two shots of the departing 'Britannia' before returning to the Inspector's office as promised. The whole thing took no more than five minutes, and as can be seen from the photograph the platforms were totally deserted.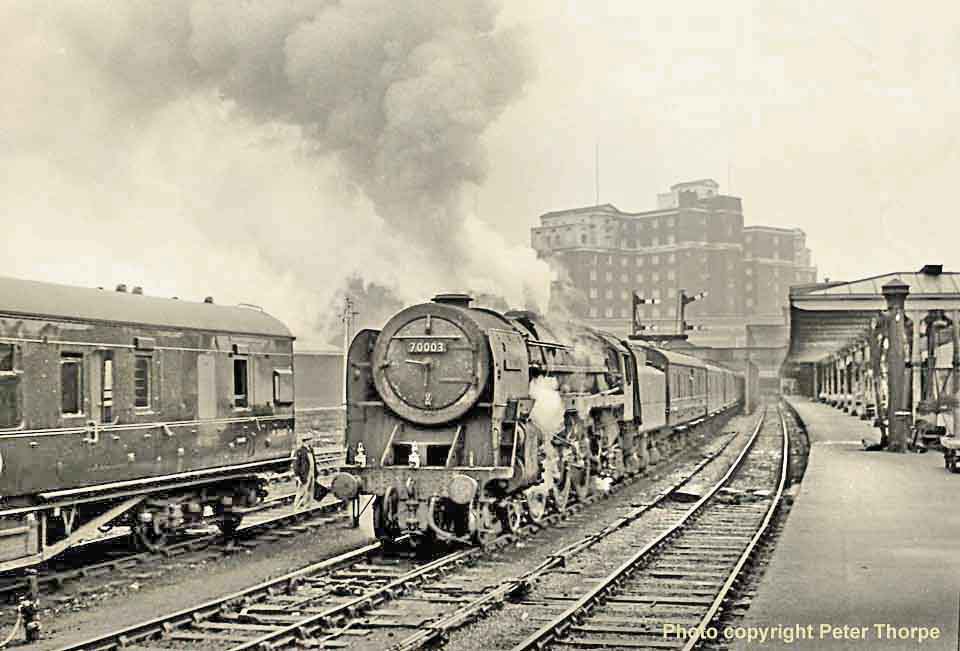 (Below) Another 12A Carlisle Kingmoor Britannia 70011 Hotspur runs through City station light engine. Built at Crewe Works in May 1951, the locomotive went brand new to Norwich Thorpe shed (32A), where it served the Great Eastern section for a little over ten years. Then on 10 September 1961 March depot (31B) was the locomotive's next venue for just over two years until December 1963 when it was transferred to Carlisle Kingmoor MPD (12A), the ultimate destination for the majority of the Britannias. Although the engine was reallocated to Carlisle Upperby depot (12B) from March 1965 until early December 1966, 70011 returned to Kingmoor to complete its service, lasting just twelve more months. Withdrawal came on 23 December 1967. A familiar landmark in the vicinity of Leeds City station is the dust extractor tower (a copy of the famous Giotto's campanile at Florence) clearly seen in the middle distance.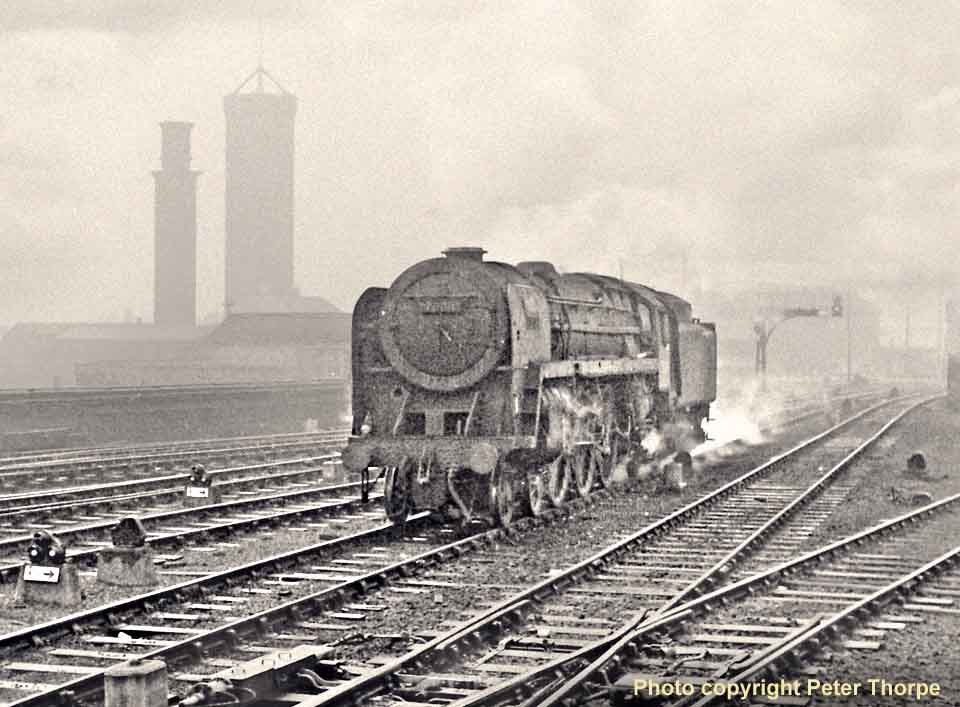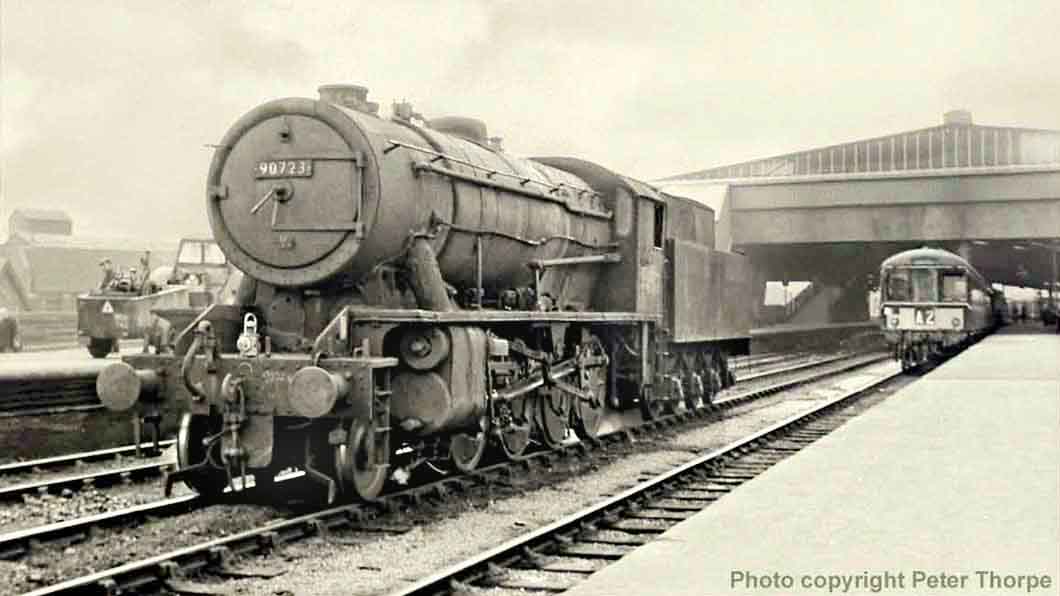 (Above-Below) Built to Ministry of Supply design, and working on loan at the time of nationalisation, BR numbered its WD 'Austerity' freight locomotives in the 90,000s.The design and construction of the 'WD' (War Department) 2-8-0 was prepared by RA Riddles CBE, then Mechanical and Electrical Engineer for Scotland, LMSR, and attached to the Ministry of Supply as Deputy Director General of Royal Engineering Equipment. The first batch was built by the North British Locomotive Company in 1943 for general war service overseas. This was followed by a second batch constructed at the Vulcan Foundry Ltd, and no fewer than 733 returned for service on British Railways, with 261 going to the London Midland region, 260 to the ER, 109 to the NER, 49 to the WR and 54 to the ScR. Although built for austerity conditions overseas, these locomotives played a vital role in ordinary freight service on British Railways. Here Low Moor 56F allocated WD 2-8-0 90723 meanders light engine on the through road at City station heading for Neville Hill. (Below) WD No 90520 approaches City station with a Heysham-Hunslet oil tank train; this was a noted heavy train and in the final years of steam haulage it was regularly hauled by Class 9F 2-10-0s coupled with a Type 2 Bo-Bo diesel.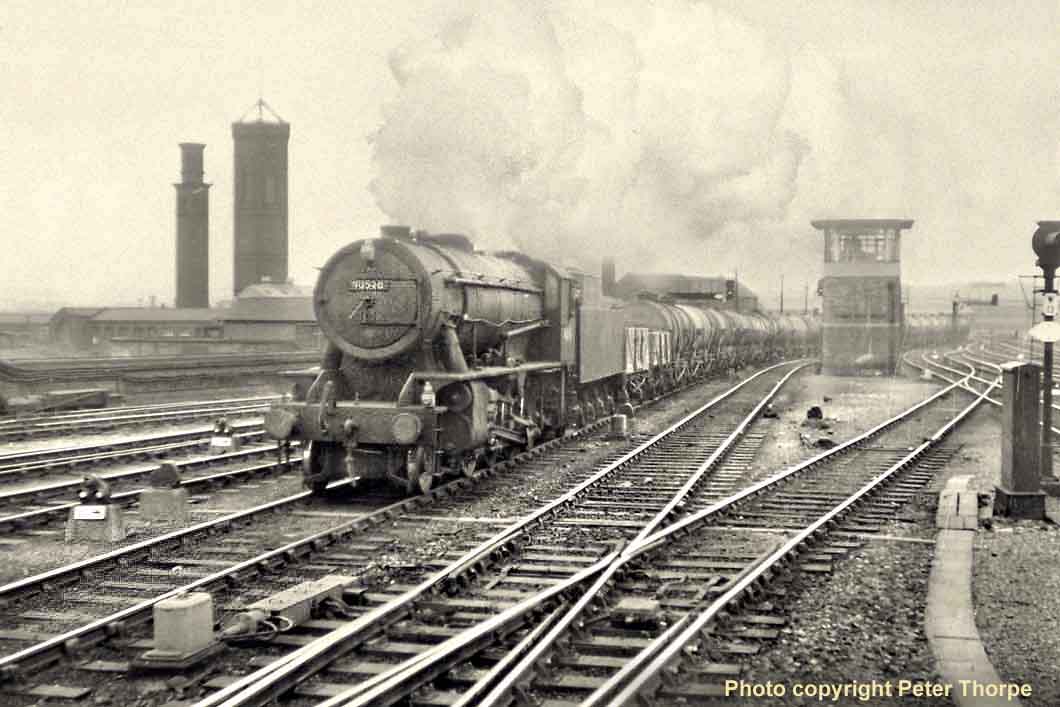 (Inserts) In an effort to breathe new life into Britain's ailing rail network, the Government gave financial backing to the British Transport Commission's 1955 Modernisation Plan for British Railways, the principle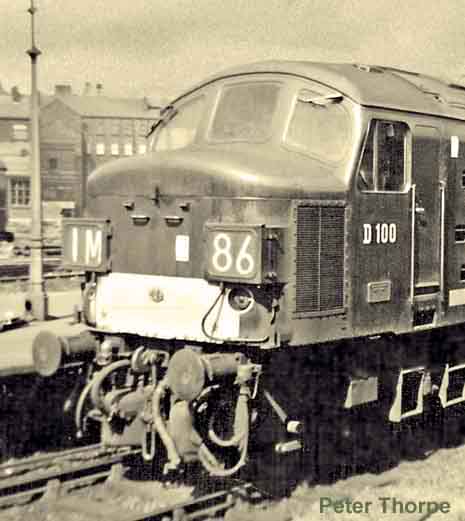 aim being to turn a succession of heavy annual losses into a healthy profit. A 'Pilot Scheme Diesel' scheme was announced whereby several new diesel types could be evaluated under normal service conditions. Costing £1.2bn, invitations were sent out to various British manufacturers to build 174 new diesel locomotives made up of three different power groups; the largest being a locomotive of 2,000hp and over (inset left and below) for heavy main line work (later designated Type 4), followed by a locomotive of between 1,000-1,250hp for mixed traffic work, later Type 2 (see inset right) and the smallest being a loco of 800-1,000hp for freight duty, later classified as Type 1.
However, in BR's haste to replace its ageing steam fleet, several private companies were invited to build a number of different prototypes for evaluation which led to standardisation going out of the window. The upshot was, even though frenetic efforts were being made by politicians and BR to eradicate steam, the changeover from steam to diesel traction took much longer than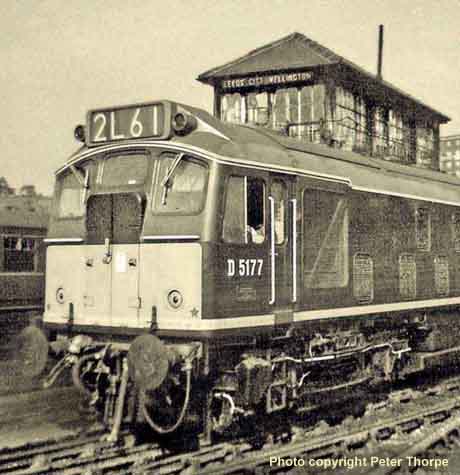 had been hoped. This was due to a constant stream of problems with most, if not all the new diesel classes.

(Below) Weighing 133 tons, the English Electric Co's Type 4s were mounted on the cumbersome 1Co-Co1 bogies (consisting of three motored wheel sets and an outer non-powered guiding axle to help distribute their bulky weight). The company's ten pilot-scheme Nos D200-D209 (destined for the Eastern Region) were followed by a production run of a further 190 locomotives No D210-D399. The BTC's specification for incorporating headcode disc displays into the nose end was used on Nos D200-324. The four discs were used in various combinations to indicate the type of train being worked. These gave way to a pair of four-character headcode boxes on either side of the nose on D325-D344, and finally a much neater centrally positioned headcode panel was used on D345-D399. Here, Camden 1B allocated Type 4 D372 is parked in a bay platform at Leeds City Station, awaiting its next turn of duty on Sunday 5 April 1964. Just out of interest, this is the only picture I've had published, it was used in Ian Allan's combined volume April 1965.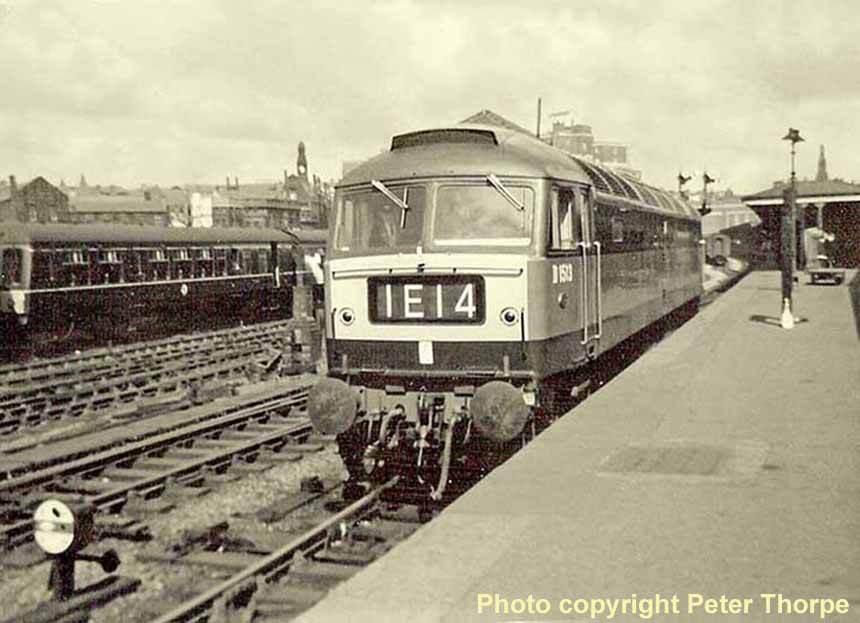 (Above) After five years into the 1955 Modernisation Plan, BR began seeking a new single-engined Type 4 of more than 2,500hp, which could be mounted on a lighter Co-Co wheel arrangement. This followed criticism of the poor power/weight ratio of the heavier Type 4s which had to be mounted on the bulkier 1Co-Co1 bogies. Brush Traction was awarded the contract for the new BR Type 4 and the first, No D1500, emerged from the Loughborough works early in September 1962. Here, Brush Type 4 D1513, allocated new to 34G Finsbury Park on 15 March 1963, is seen at Leeds City Station having worked the 11.00am Glasgow Queen Street - Kings Cross 'Queen of Scots' Pullman. For the record, the 'Queen of Scots' Pullman reversed at Leeds and ran via Harrogate and Ripon to connect with the ECML at Northallerton; the Pullman service was discontinued on 13 June 1964.




(Above-Below) Following the hasty abandonment of the 1955 pilot scheme, in which orders were placed for Type 1, Type 2 and Type 4 diesel locomotives, BR recognised the need for a Type 3 of around 1,750hp, which led to the building of the EE Co's Type 3, later TOPS Class 37, originally numbered D6600-D6999 in the fleet. The response by the operating department was unanimously favourable, particularly as the versatile Type 3 had sufficient power to take on many duties performed by the heavier Type 4 1Co-Co1s. Built at the Vulcan Foundry in 1961, the first batch of Type 3 Co-Cos were numbered D6700-D6741 in the series and included D6736, seen here at Leeds City station with the 'Harrogate Sunday Pullman' in April 1964. For the record, the London Kings Cross to Harrogate and Bradford Pullman train ran until 5 March 1967. (Below) Another Class 37 from the same batch, No D6730 was photographed at rest in the bay platform at the east end of City station. Diesel locos often carried a cast iron shed plate, and in both photos this can be seen on the cab side, indicating that both locos were allocated to 50B Hull Dairycoates.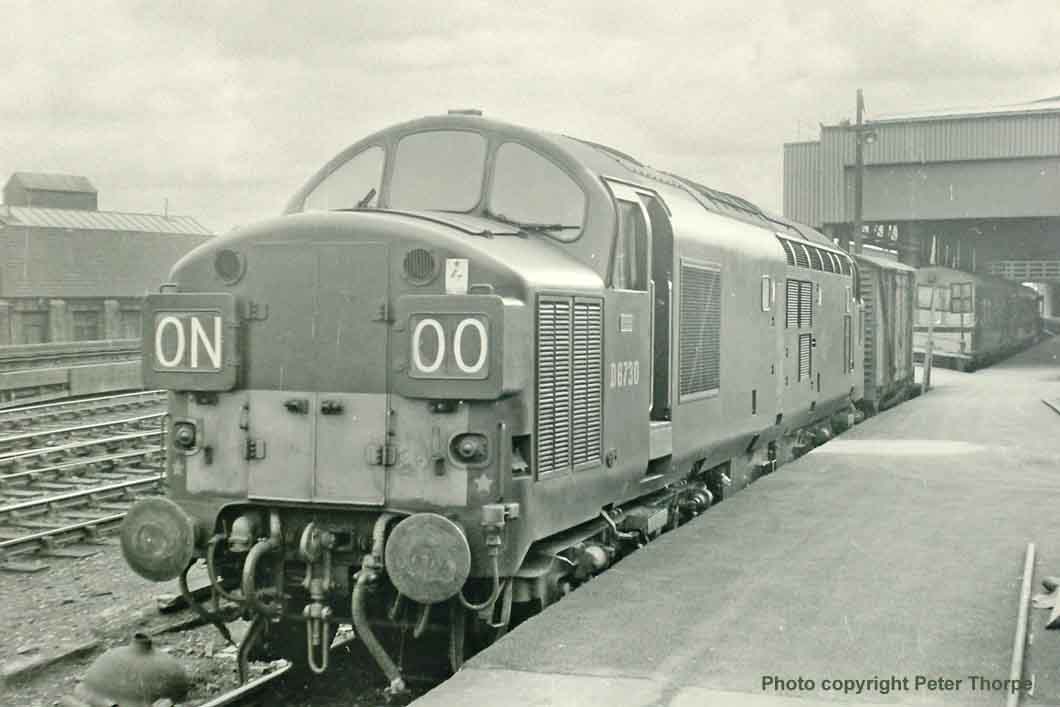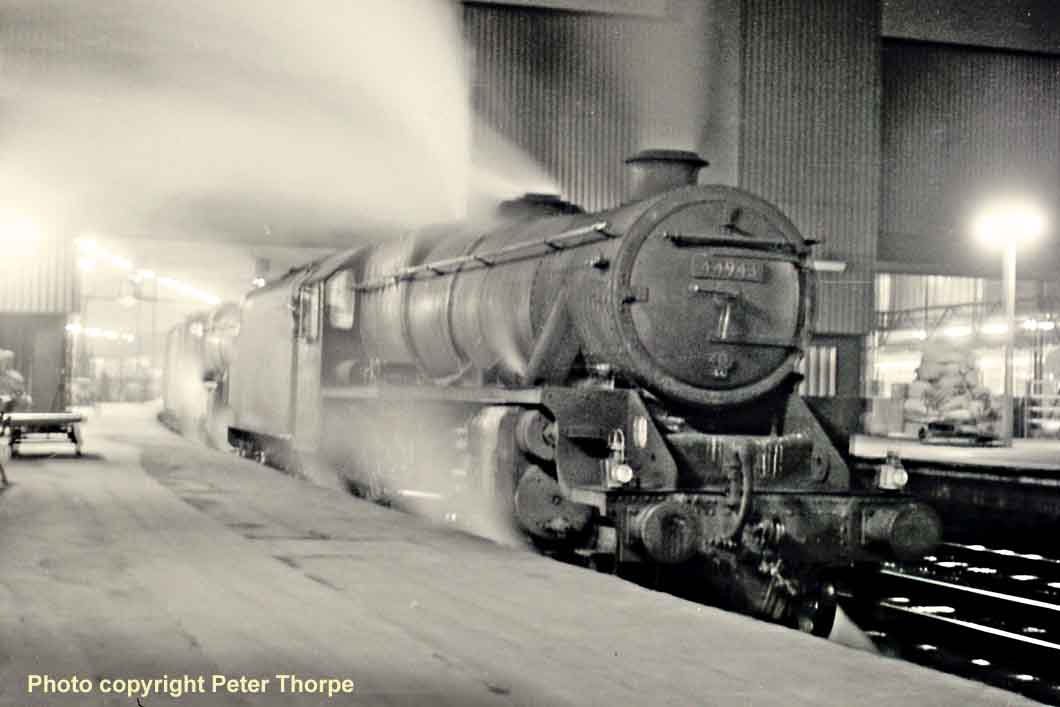 (Above-Insert-Below) The Postal Experience. From memory this train departed around 10.45pm and as such was difficult to film in daylight hours, therefore I decided to try my luck taking a night shot and waited for a bad snowy winter's night for the attempt. Needless to say I was very disappointed with the results; it was so cold even my tripod was shivering! Despite using a cable release and taking six exposures the images were not very sharp and looking at my exposure details I am not surprised - the best of yet another poor batch taken with the aperture set at f22 and the shutter opened for a full 2minutes!
Still I have fond memories of that night in December; the crews were very friendly and allowed me to 'cab' both engines, however they couldn't understand why I was taking photographs at night and especially in such atrocious weather! I was shivering so much with the cold that one of the crew took pity on me and gave me a mug of tea from his billycan. The drivers were very chatty and explained that the 'postal' was the most important train of the day and had top priority for running to time.
It transpired that timekeeping issues had been raised with the Farnley's shed foreman, who found himself on the receiving end of what he considered to be unjustified criticism from his bosses, since he had always made sure to supply the best crew and a loco of their choice, invariably a 'Black Five' in good nick. One of the drivers said that the majority of the Farnley crews preferred a good 'Black Five' rather than a 'Jubilee' on jobs over the Pennines because of their smaller diameter driving wheels.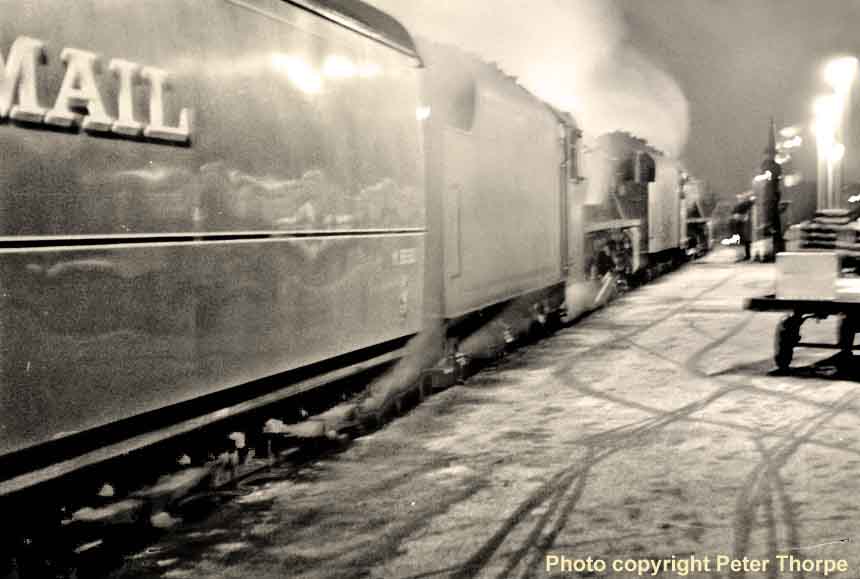 The men were also determined to run to time, and had filled the tenders of both engines brimful with coal, so much so that despite gently coupling up several lumps fell off onto the platform which the firemen picked up and shoved onto the footplate!
Pushing my luck I asked if I could ride in one of the cabs as far as Stalybridge but I was told it was too dangerous - apart from which they had an inspector booked to go with them. As the train had nearly half an hour to go before departing I felt privileged to be sitting with them, listening to their enthusiasm for the job and observing the preparation for the journey. First on the scene was a wheeltapper covered in snow who proclaimed all was well; next came the guard who was concerned by the weight of the train which was heavier than normal owing to the huge amount of Christmas mail. The drivers assured him that with two 'Black Fives' it would not be a problem. They then asked him to inform the postal staff loading the train that they intended leaving bang on time and any mail not loaded would be left behind, adding jokingly that if they did not see his green flag and hear his whistle he would be left behind too!
When the time came for departure, there was still no sign of the inspector; the crews had suspected this might happen, and so they prepared to set off without him, a parting comment being that they would be waking up the population of Huddersfield on the climb up to the Standedge tunnels!
The start was memorable, both locos safety valves lifting just prior to the off; no wheels spinning dramatics just a powerful clean exhaust beat as they moved off into the snow storm with both locos soon out of sight in the night. I watched the rapid acceleration of this heavy train which must have been well up to the permitted line speed before the last coach had left the platform.
Out of all the fond spotting memories I have from all those years ago, the night I spent chatting with those determined, enthusiastic crews has remained one of my favourites; despite having to walk the twelve miles home via Stanningley in the snow - oh and not forgetting being 'pulled' by a policeman who wanted to know what I was doing at that time of the morning? When I told him, he said that I must be mad and I had to agree, never again I told myself. Once was enough!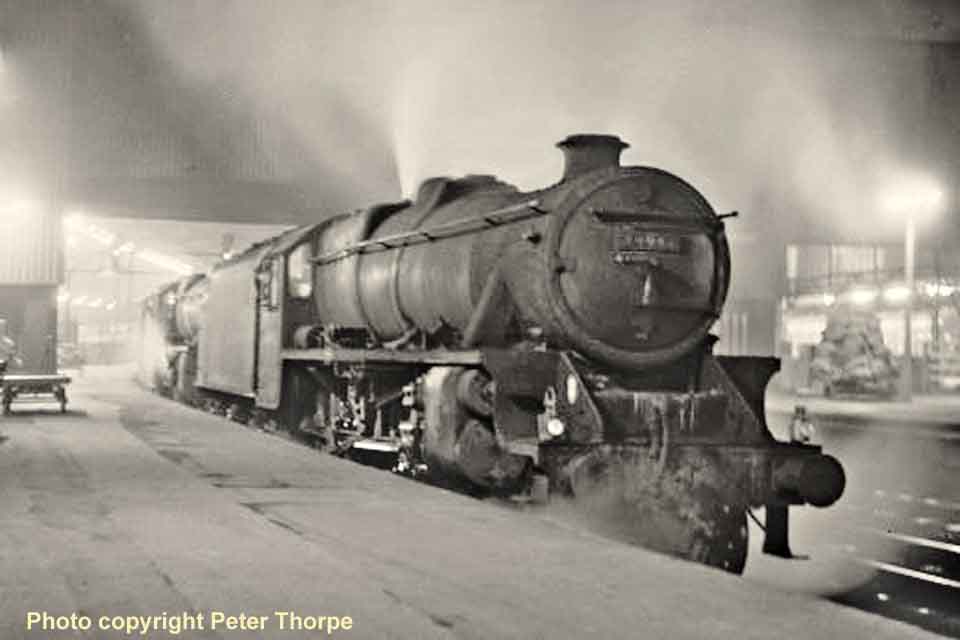 (Below) However, I did have more success when I returned to Leeds City to photograph an evening fish train at 9pm on Thursday 17 September 1964. The night fish train from Hull to Manchester was headed by 55C Farnley Junction's No 45647 Sturdee which was standing on the through road in the top half of Leeds City Station, however some of the insulated wagons were leaking and the rank smell from the slowly melting ice was unbelievable! I could still smell it when the time came to catch a train home from Leeds Central Station at 10.30pm.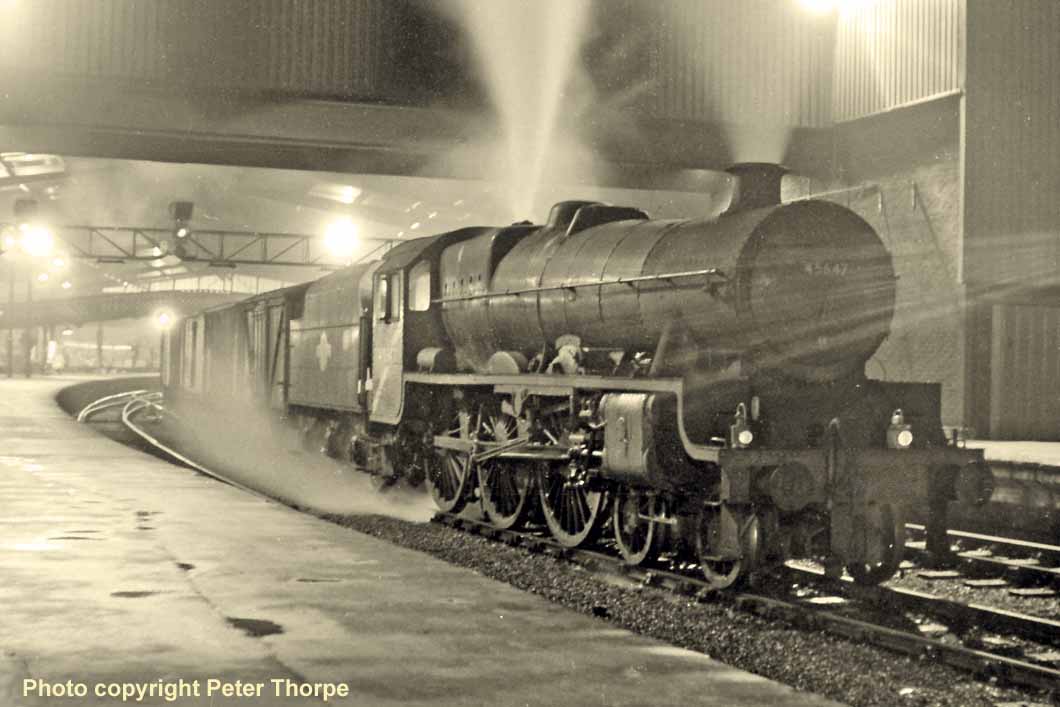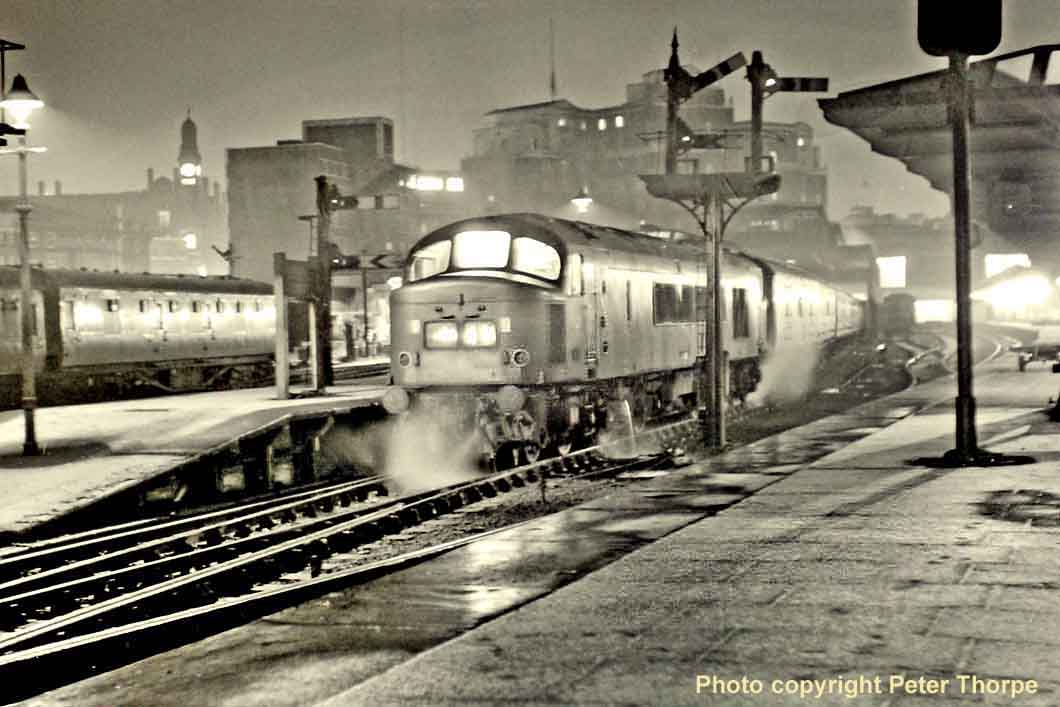 (Above) Weighing in at a hefty 138 tons and 2 cwt, the 'Peak' Type 4s were introduced in 1959 with 2,300hp Sulzer power plants and numbered D1-D10 in the fleet, the remainder were upgraded with 2,500hp Sulzer power plants Nos D11-D193 inclusive, whereas D138-D193 were equipped with Brush traction motors as opposed to the earlier Crompton Parkinson traction motors, and all were rated as having a maximum tractive effort of 70,000lb. When 'Peaks' were okay they were very good, but they did suffer from engine failures on occasions plus bad weather often crippled their train heating systems; their reliability was probably not helped by each loco needing twenty-one different component part suppliers. When I queried with a crew why the 'Peaks' were used so much on freight turns from Valley goods yard in Bradford while the 'Thames Clyde' often had to revert steam power, they replied it was because freight turns did not need the heating system. During February 1964 I managed to record 'Peak' D36 on another cold winter's night at Leeds City Station, before dashing round the corner to Central station catching the last train home. It was unusually on a parcels working despite its train heating equipment obviously working as can be seen in this photograph.

BACK TO BRADFORD FORSTER SQUARE

The quadrupled section of track through Apperley Bridge Station between Leeds and Shipley was very busy at times, especially in the late evenings. When the signalman at Apperley Station signal box explained that on rare occasions all four lines in his section had been occupied at the same time, I decided to try and capture one such event. Despite many evenings spent until dusk the most I managed to capture in any one shot was three, but never four - though it wasn't from the lack of trying. However I did take a few evening shots starting with an interesting observation on Saturday evening 18 July 1964 that I remember well...
From my position on the wall leading down to the station's goods yard, I could see the smoke of approaching westbound trains passing Apperley Junction signal box just beyond the curve in the distance and I noted how exceptionally fast this particular train was moving.
Setting the shutter speed to 1/500sec and a wide aperture of f2.8, I did not have to wait long before Carlisle Kingmoor's Class 7MT 'Britannia' No 70039 Sir Christopher Wren (below) came charging towards Apperley Bridge station with a northbound steel plate train. Over the years I had observed everything from Gresley A3s, 'Scots' and 'Jubes' through to Type 4 'Peaks' working express trains at Apperley Bridge, but this was by far the fastest I had ever seen on this stretch of line. I noted in my book - 60mph-plus!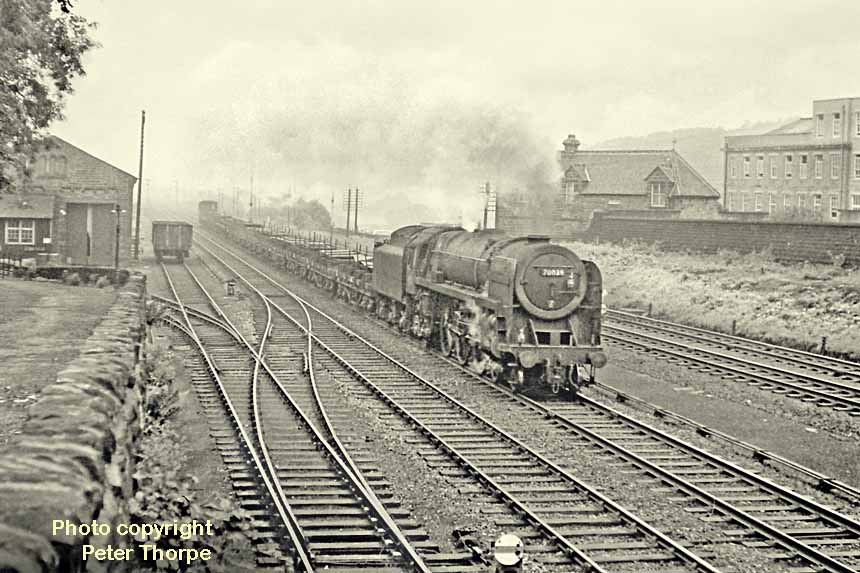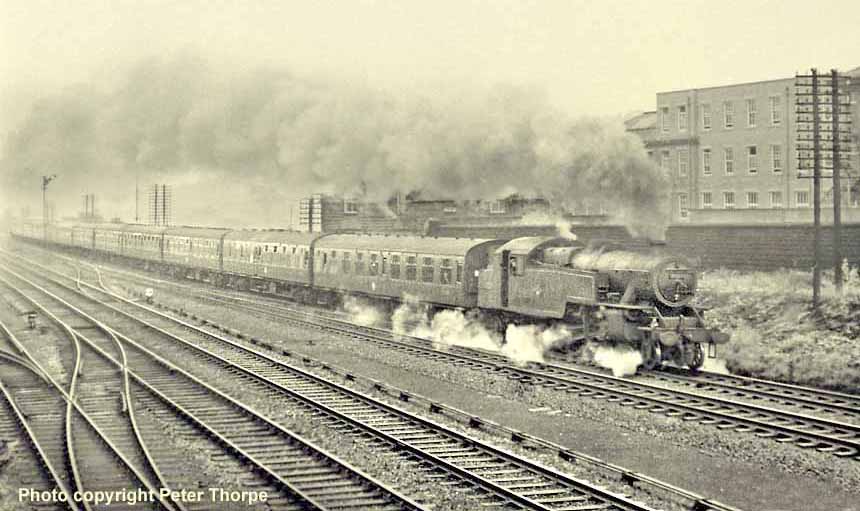 (Above) Only seconds after 70039's smoke had cleared and Manningham's 2-6-4T 42271 appeared at the head of the down 'Devonian' express on the final leg from Leeds to Bradford Forster Square, however the speed of the train seemed no more than a sedate pace compared to the 'Britannia', but it did have at least eleven on! Heaven knows what the passengers had made of a lowly goods train overtaking them at speed on this four-track section of main line between Leeds and Shipley!



(Above) 'Britannia' class No 70039 Sir Christopher Wren was completed at Crewe Works on 9th February 1953, costing £22,448. However fast-forward to 13th April 2013 - a month short of 60 years - and one of 70039's nameplates (measuring 70' long, the front repainted; the back in fine original condition) went under the hammer at a Great Central Railwayana Auctions for £13,000…now it's incredible to think that the price of the nameplate is more than half the original cost of the whole locomotive! Click HERE to visit the GCRA website.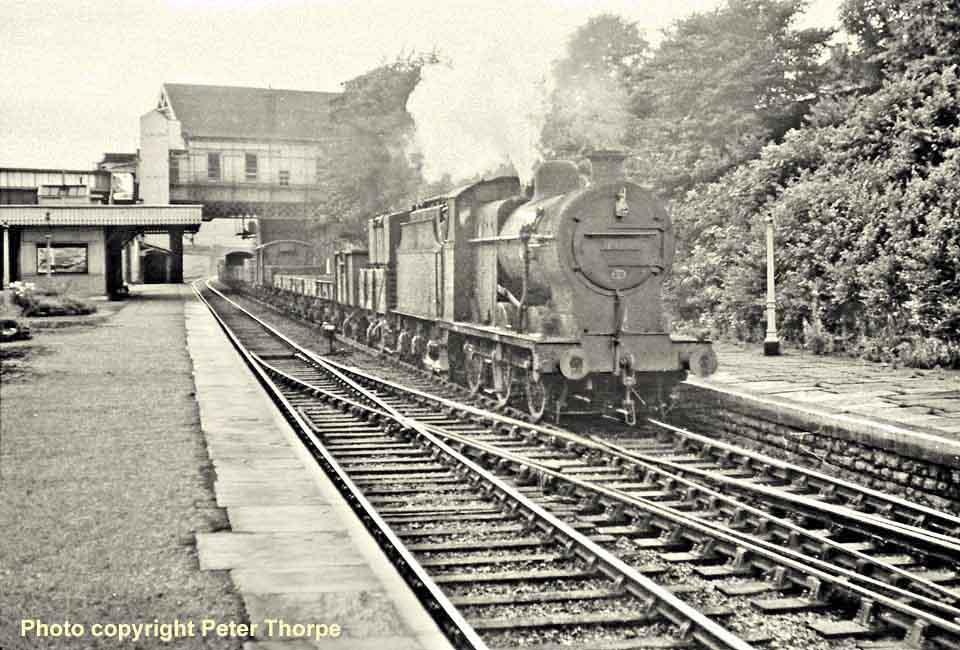 (Above) 24G Skipton-allocated Fowler Class 4F No 44149 heads a very long goods train through Apperley Bridge station towards Leeds at 7.30pm on Monday 27 July 1964. Rather surprisingly this class of loco invariably worked the longest mixed goods trains at the time. The loco is coupled with a coal-weighing tender which enables engineers to accurately record a locomotive's coal consumption; the tender was equipped with a separate bunker suspended on pivots connected to steelyards; this was fixed when the loco was working and released when the contents of the coal space was weighed. The quantity of coal used was measured by weighing the coal deposited in the tender prior to starting, then during the run and the residue was weighed again at the end of the run. The weight difference, taking into account the amount used for lighting up, gave the total consumption.



(Below) When the Aire Valley line between Leeds and Shipley was widened to four tracks at the turn of the century, the stations at Armley Canal Road, Kirkstall, Newlay & Horsforth, Calverley & Rodley and Apperley Bridge were enlarged to four platforms; the original station building at Apperley Bridge was demolished when the cutting was widened to accommodate the new 'fast lines' on the south side and a distinctive wooden building was constructed at road level on the bridge. Platform four, on the up slow line remained the original of the 1847 station while the other platforms, number 1 on the down fast line and the island platform 2 and 3 between the up fast and down slow, were longer, wider and higher. Steps were needed to board trains on platform 4. One of 55B Stourton Class 4Fs No 44003 heads through platform 2 towards Shipley with a class H coal train. This Class 4F was in service for over forty-four years until withdrawn in May 1965.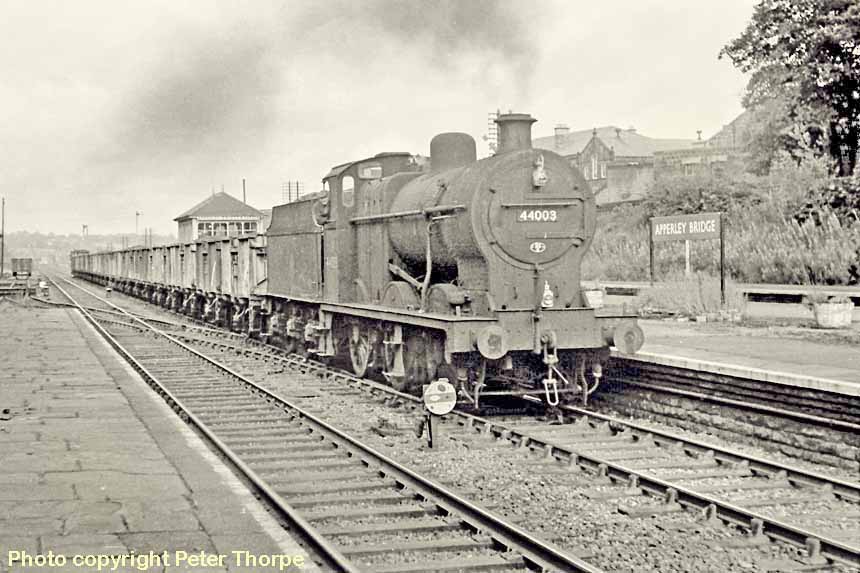 (Below) Both Skipton and Stourton sheds had an allocation of these Fowler 0-6-0 Class 4F locomotives that gave good service for many years plying their trade on the Aire Valley line, mostly on goods trains including local pick goods workings plus occasional trips on holiday specials. This shot is of a typical working during August 1964, with another 24G Skipton allocated No 44125 at the front of a coal train heading through Apperley Bridge Station, passing an Ivatt Class 4MT heading in the opposite direction towards Leeds. Running parallel to the railway in the right background are some of the buildings belonging to Woodhouse Grove School, where the pupils were among the railway's principle customers prior to the station's closure on March 20 1965; indeed in one fell swoop no fewer than seven intermediate stations were closed between Leeds City and Bradford Forster Square on that ill-fated day.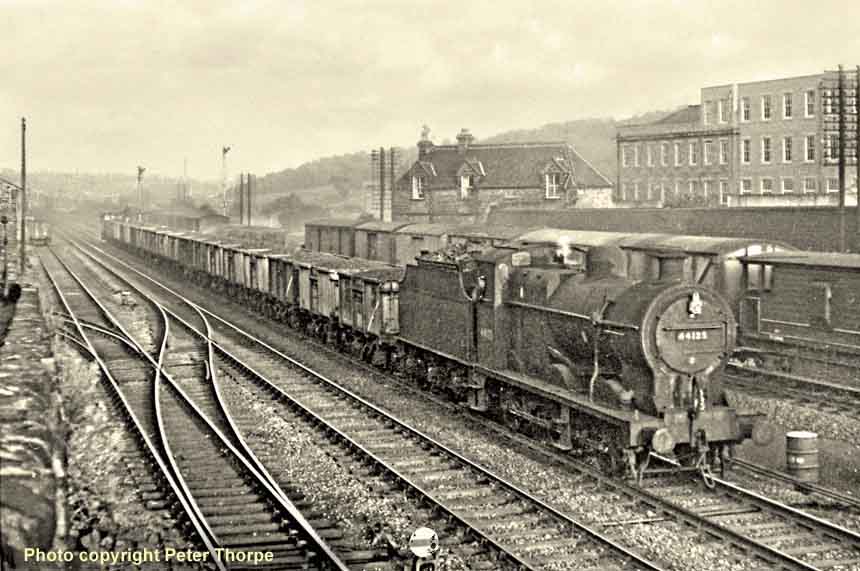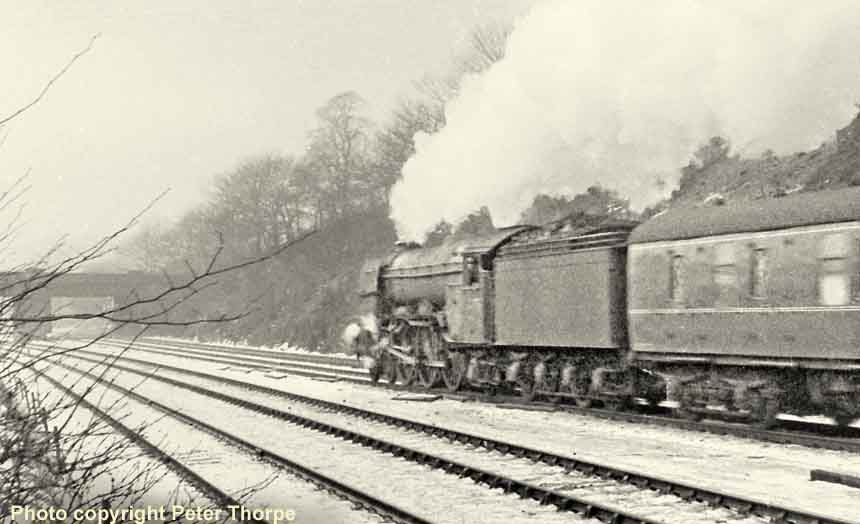 (Above) The murky afternoon light was fading fast when I attempted this unremarkable shot of 52B Heaton-allocated Class A3 60073 St Gatien running a tad late at 3.20pm with the northbound 'Thames Clyde Express' on a snowy Sunday 27 January 1963. I have included the photo here because it is passing the site of the recently-opened Apperley Bridge railway station; a rather long drawn out saga which began in 1999 when Metro put forward proposals to open several new railway stations in West Yorkshire. In September 2008, the Yorkshire & Humber Regional Transport Board approved funding towards the WYPTE's rail growth programme and a planning application was submitted in December 2009. Planning consent was granted by the City of Bradford Metropolitan District Council in March the following year and final approval was given by the Department for Transport on 29 May 2014. Construction work began in September 2014 and the new station opened on December 13 2015 at a cost of £8m; the 'down' platform occupies the trackbed of the abandoned fast lines in the foreground and the up platform is built just beyond the bridge in the background.

(Below) Beyond Apperley Bridge station there is a lovely wooded area occupied by Esholt Sewage Works which operated a fleet of standard gauge steam locomotives adapted to burn oil from wool waste. An unidentified BR Standard Class 4MT has just emerged from the eastern portal of Thackley Tunnel with a short mixed goods train and is crossing the Leeds-Liverpool canal heading towards Apperley Bridge.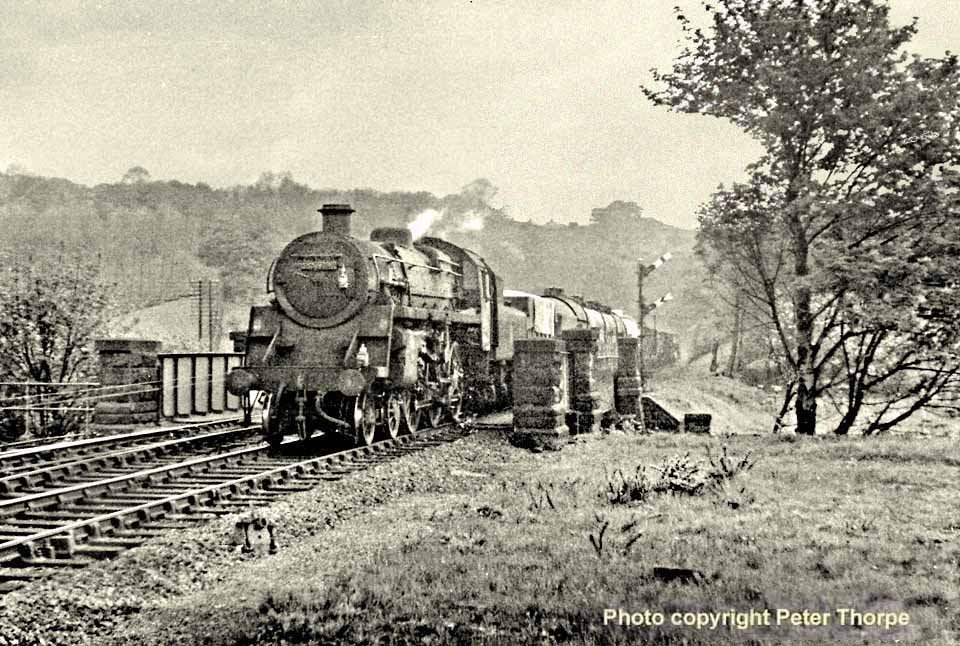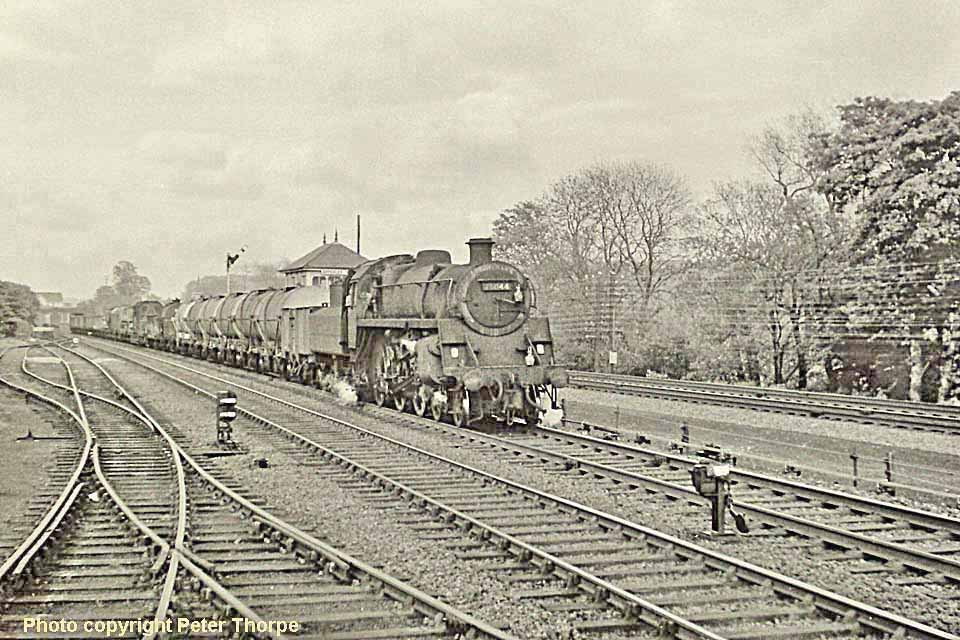 (Above-Below) In the opposite direction BR Standard Class 4MT No 75044 passes Apperley Viaduct signal box, a block post on the slow lines only between Apperley Viaduct and Thackley Tunnel. The box controlled the sidings on the left which served Esholt Sewage Works. (Below) Measuring 85ins long, a nameboard from Apperley Viaduct signal box with cast lettering went under the hammer at a Talisman Auction in March 2015.



Bradford Corporation's Esholt Sewage Works covered an area of over three hundred acres; the Works was served by a private standard gauge railway system originally covering twenty-two miles of track and operated by as many as eleven locomotives during its construction, but by the mid-Sixties the complex of lines had shrunk to around three and a half miles. The system was worked by two Hudswell Clarke 0-4-0ST steam locomotives named 'Elizabeth' and 'Nellie', which were responsible for the internal movement of incoming goods and excavated material for despatch by rail. Following 'Nellie's' retirement in 1970, the loco was loaned to the Yorkshire Dales Railway Society on a short-term basis pending the completion of Bradford Corporation's Industrial Museum Today 'Nellie' is a centrepiece of the museum's transport collection.
Esholt Sewage Treatment Plant sold processed raw sewage in the form of powdered fertilizer, grease and other compounds, all of which has generated a profit of around two million pounds per annum for Bradford Council. Around a dozen railwaymen were employed; including three regular drivers and a team of green card workers who were responsible for maintaining the system such as replacing old track with new rails and sleepers which BR delivered to the exchange sidings. One of the largest projects undertaken was to replace all four roads entering the Press House with new track and the installation of new points with a gentler radius curves to reduce the risk of derailments.
Raw sewage was sterilized by a steam cleaning process in the Press House and gravity fed to the waiting trucks below which were then shunted up to the Longholme area to dry before going through the mill. The end result was the manufacture of vast quantities of powdered fertilizer, which was then loaded into trucks and shunted to the weighbridge, each truck being individually weighed and labelled with its destination and weight. This process produced a daily average of ten to twelve trucks loaded full of compost which were shunted every afternoon up to the reception-despatch sidings adjacent to main line. The wagons were then collected by the BR pick up goods and 'Nellie' returned with a similar number of empties plus the occasional tanker of acid.
As I met up with the driver of 'Nellie' socially each week he regularly updated me on any odd events; this included the time he spent at the exchange sidings where he had the opportunity to observe both southbound 'Waverley' and 'Thames-Clyde' expresses on the main line, often running late and on two occasions reverting to steam haulage when diesel power had failed inside Thackley Tunnel. The first time this happened he could not understand why a steam loco was backing slowly 'wrong line' into the tunnel only to emerge soon afterwards with the marooned diesel and its train in tow before taking off in the direction of Leeds.
Even more interesting he told me of the occasion when the oil-fired 'Nellie' had been taken to the Hudswell Clarke factory in Leeds for a major overhaul which included work on the boiler and new tyres. Several weeks later he arrived at work to be informed that he was to collect the locomotive and a guards van from the Leeds factory and drive it back on the main line accompanied by an inspector and guard! Seemingly this penny-pinching decision had been taken by Bradford Council, which, despite making huge profits from its by products at the Sewage Works, had refused to hire a costly low loader for Nellie's return home when it was cheaper for her to come back under her own steam on BR rails! It could only happen in Yorkshire; indeed to make matter worse the council had also decided that as enough funds had already been spent on the engine's overhaul it refused to authorise a full repaint, and 'Nellie' was still in pink primer!
So off they set complete with the BR guards van and a full 'tank' of fuel only to be signalled twice to a stop in sidings by signalmen who thought the loco was on fire! After explaining that it was oil fired and the flames between the frames were normal, they were signalled back onto the main line much to the amusement of crews on passing trains at seeing the little pink loco chugging along! The trip ended with a lengthy delay at Apperley Viaduct signal box awaiting a clear road across the 'up' main to gain access into Esholt sidings. Health and safety? I'm sure this would not be allowed to happen today.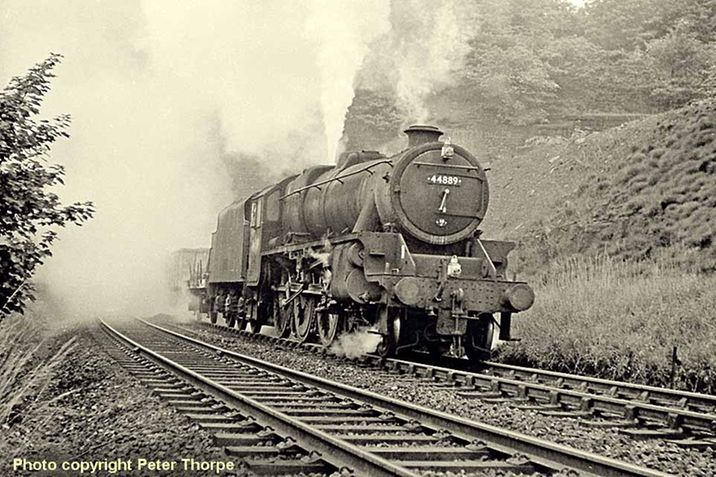 (Above-Below) At 9.30am on Friday 7th August 1964, 'Black Five' No 44889 emerges from the western portal of Thackley Tunnel with a northbound Class H through freight. This 10J Lancaster Green Ayre-based loco was often seen working both freight and Leeds-Morecambe passenger trains. f2.8 1/500th. (Below) You'd be forgiven thinking that this is a duplicate shot of the one posted earlier of Ivatt Mogul 4MT No 43014 heading an up freight towards Thackley Tunnel on the fast lines. It isn't. I photographed this particular Manningham shed roster on numerous occasions at this location, usually with a 'Flying Pig' in charge.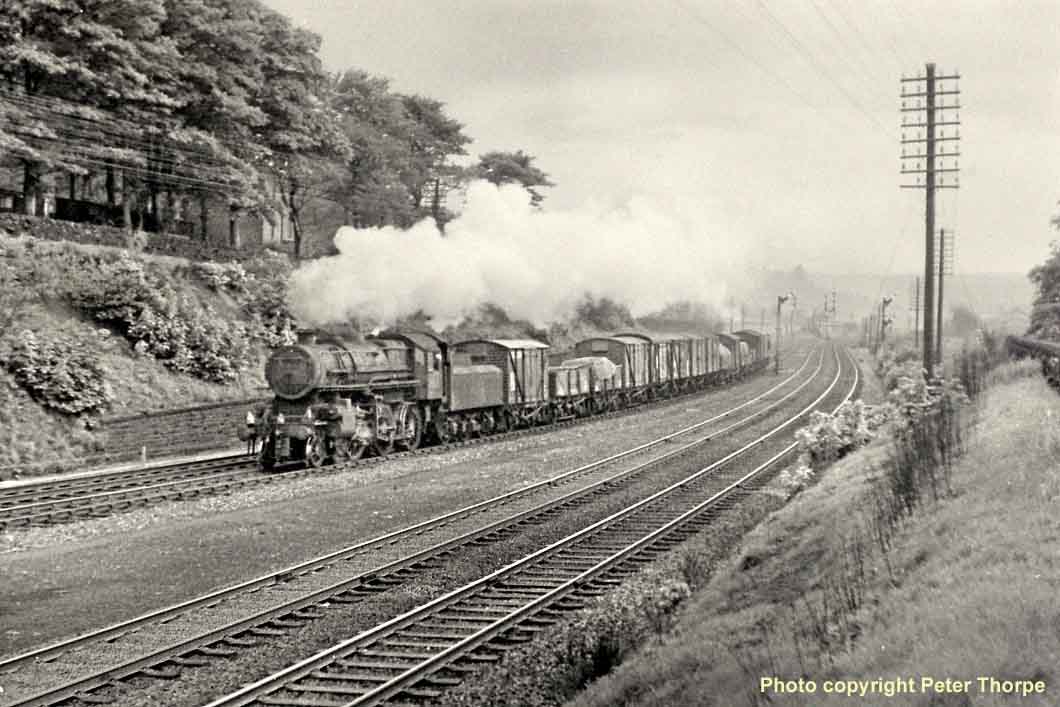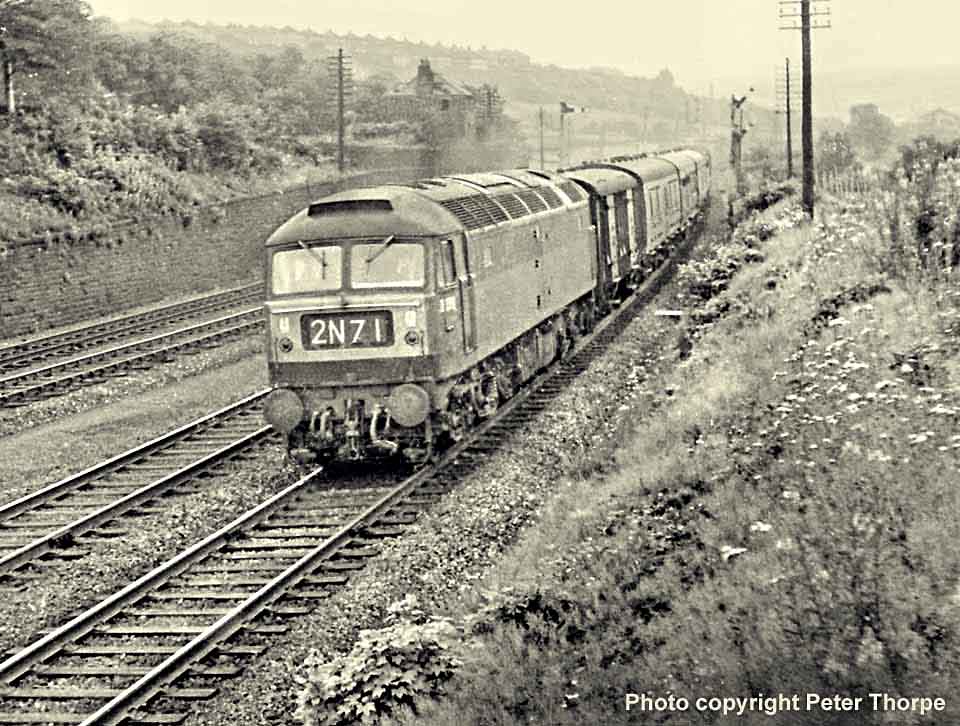 (Above) On Friday 7th August 1964, 55A Holbeck's Brush Type 4 D1570 grinds its way towards Thackley Tunnel with a Morecambe-Leeds train. This was one of four Brush Type 4s allocated new to 55A Holbeck on March 31 1964; it was followed by D1571 and D1573 in April. Whilst the 'Peaks' ruled the roost at Holbeck in the Type 4 diesel category I never recorded the 'Waverley' or 'Thames-Clyde' expresses with anything other than a Peak in charge, except of course, when the diesel had failed. Two of the Brush Type 4s I observed from time to time on the Leeds to Morecambe and Carnforth workings were D1571 and D1573 plus I recorded them on East Coast Main Line - see Doncaster feature. After a couple of years D1571 and D1572 were relocated to 41A Tinsley whereas D1570 and D1573 went to 52A Gateshead depot. The EE Co Type 4s had on occasions been used for crew training purposes over the Carlisle road prior to the introduction of the 'Peak' diesels (later TOPS Class 45) on the Anglo-Scottish expresses at the start of the 1961 summer timetable (see page 50) but I do not recall any EE machines being allocated to Holbeck shed or used on this route for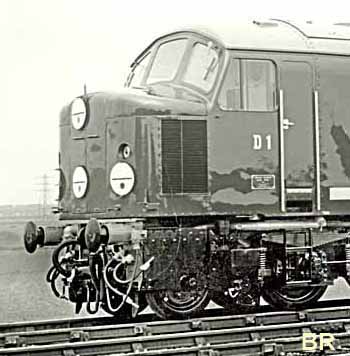 revenue-earning purposes. Incidentally the Brush Type 4's headcode panel is displaying 2N71 indicating a Class 2 ordinary passenger train, 'N' refers its destination being the North Eastern Region and '71' its train identification number.

At this juncture, perhaps it is worth including a brief explanation of the various Train Reporting Numbers that were displayed on the front of the early diesel locomotives and railcars. This system was introduced in 1961 to replace the aged 'disc' display system derived from the old standard steam locomotive headlamp codes introduced in 1903 to assist signalmen in identifying the class of train in his section.

(Above-Inset Right) With regard to the 'Peak' Type 4 diesels, the white headcode 'disc' display was incorporated in the nose end of the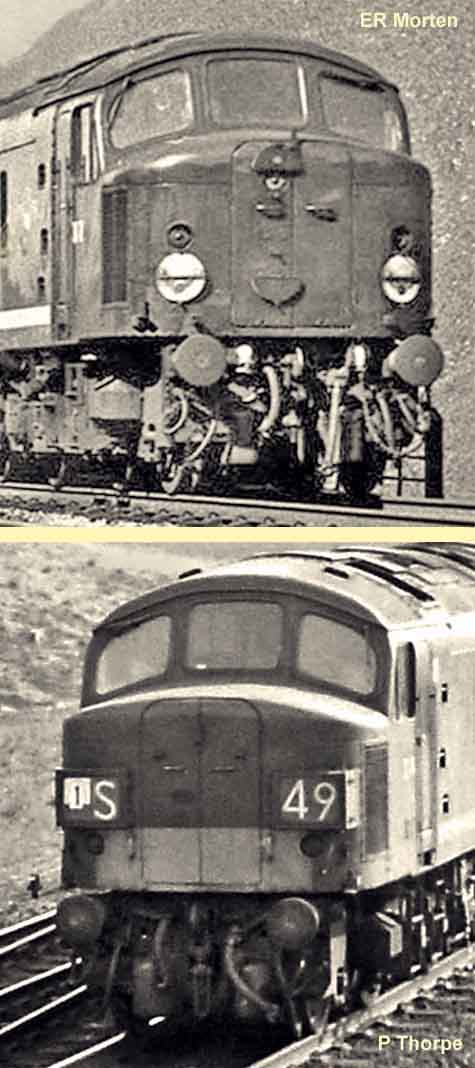 ten pilot-scheme locomotives Nos D1-D10 introduced to traffic in 1959; the four white discs were used in various combinations to indicate the type of train being worked. The inset photo (right) shows D7 displaying an express passenger train working.

(Inset Below Right) The nose ends of D1-D10 also incorporated a connecting gangway door which gave access to crewmen when two locomotives were coupled together, but the pairing of two Type 4s was a rare occurrence, and it was decided to abandon the gangway doors on the forthcoming production models except it was too late for the first five locomotives Nos D11-D15 which were already on the assembly line by then. Here D14 shows the gangway doors and the divided headcode boxes either side of the nose..

(Below Left Top & Bottom) By the time the production 'Peak' class locos were rolling off the production line, British Railways had opted for a new train classification, destination and identification system consisted of a four-character letter and numeral headcode display, the first numeral identifying the class of train, followed by a letter indicating the destination, whilst the next two digits represented the train reporting number. On the 'Peak' class locomotives it was decided to display the train reporting number in two headcode boxes either side of the connecting gangway doors, however when the decision was taken to abandon the doors the split headcode boxes gave way to a new four-character display contained in two headcode panels centrally positioned.
(Below Right) The final production variant was a solid, one piece centrally positioned headcode panel with no break in the display.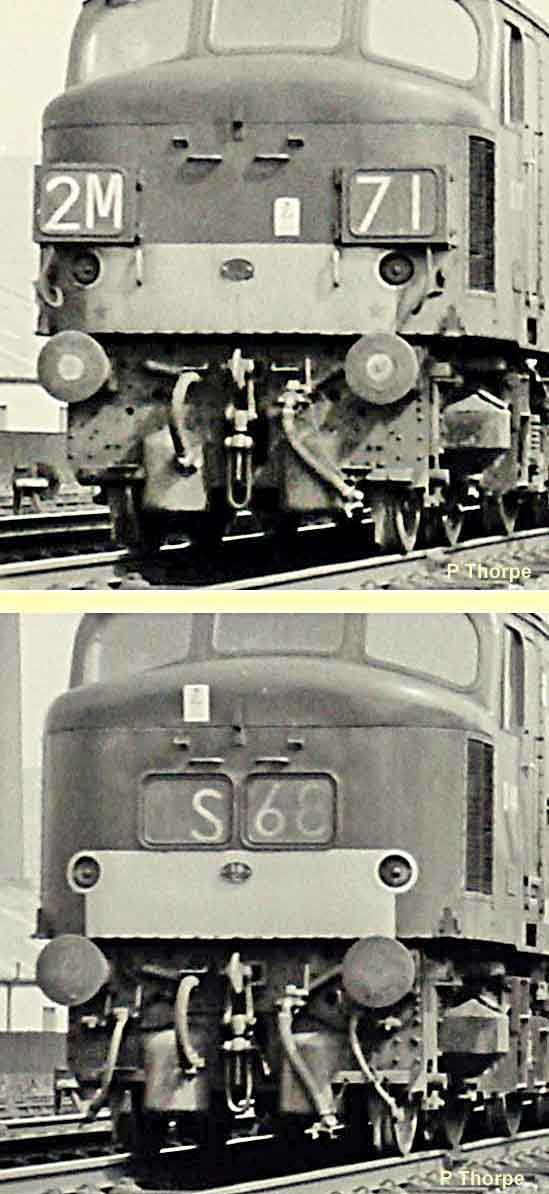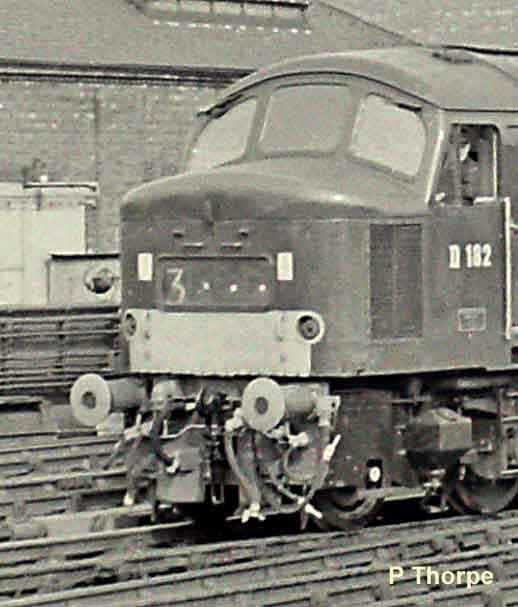 TO SUM UP As part of the Modernisation Plan, British Railways decided to replace the standard headlamp code with a more detailed train identification system using a four-character panel similar to the one used by the Western Region. Examples of how this was implemented on the Peak class diesel locomotives and of possible interest to railway modellers, is that the 'Peak' class diesel locomotives were built with four differing types of nose end styles incorporating the new indicator boxes.
These were:
Split indicator boxes either side of gangway doors….D11 to D15
Split indicator boxes only.…D16 to D31 and D68 to D107.
Split indicator boxes in the centre of the nose….D31 to D67 and D108 to 173.
The final production models had just one indicator box set centrally…D174 to D193.

The first character in the headcode display denoted the train classification and replaced the previous standard headlamp code as follows:
1 - Express passenger, newspaper, breakdown van train, snow plough on duty, light engine proceeding to assist disabled train.
2 - Ordinary or branch passenger train, mixed train, breakdown van train not in duty.
3 - Fish, fruit, livestock, milk or other perishable train, composed totally of vehicles conforming to coaching stock requirements, or empty coaching stock not specially authorised to carry code 1.
4 - Express freight train fully pipe-fitted with at least 90% of the vehicles having automatic vacuum brakes.
5 - Express freight train with the automatic brake operative on a minimum of 50% of the vehicles.
6 - Express freight train with the automatic brake operative on a minimum of 20% of the vehicles.
7 - Express freight train not fitted with a continuous brake.
8 - Through freight train not fitted with the automatic brake.
9 - Pick-up branch freight or ballast train requiring to stop in section.
0 - Light engine(s) with not more than two brake vans.
The second character indicated the train's destination area; with inter-Regional trains displaying the universal code as follows:
E - Eastern Region.
M - London Midland Region.
N - North Eastern Region.
O - Southern Region.
S - Scottish Region.
V - Western Region.
X - Special and excursion trains.
Z - Special department trains.
All Regional trains used a differing set of second characters, unique to each BR Region.
The third and fourth characters identified the train.

(Below) Holbeck 55A allocated 'Peak' Type 4 D14 (later TOPS Class 45 No 45015) eases the mid-morning Leeds-Glasgow express around the speed restricted north curve at Shipley's triangular junction, its divided headcode boxes displaying 1S49, albeit the malfunctioning roller blind in the left hand box has led to the missing '1' being substituted by a stencilled number pasted on the front. Diesel enthusiasts will no doubt be disappointed, that despite being purchased for preservation, this locomotive has been left to languish in a siding whilst various components have been removed for use on other preserved diesels. It was withdrawn from BR stock due to a seized traction motor in March 1986. Any hopes of it ever running again now seem very remote.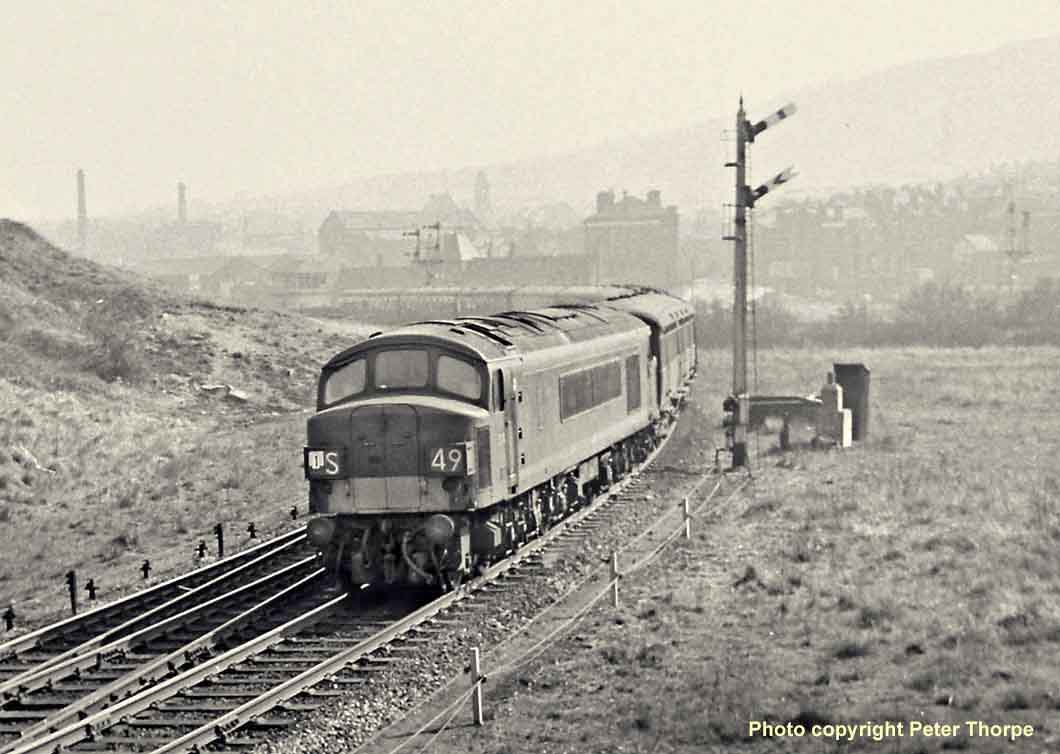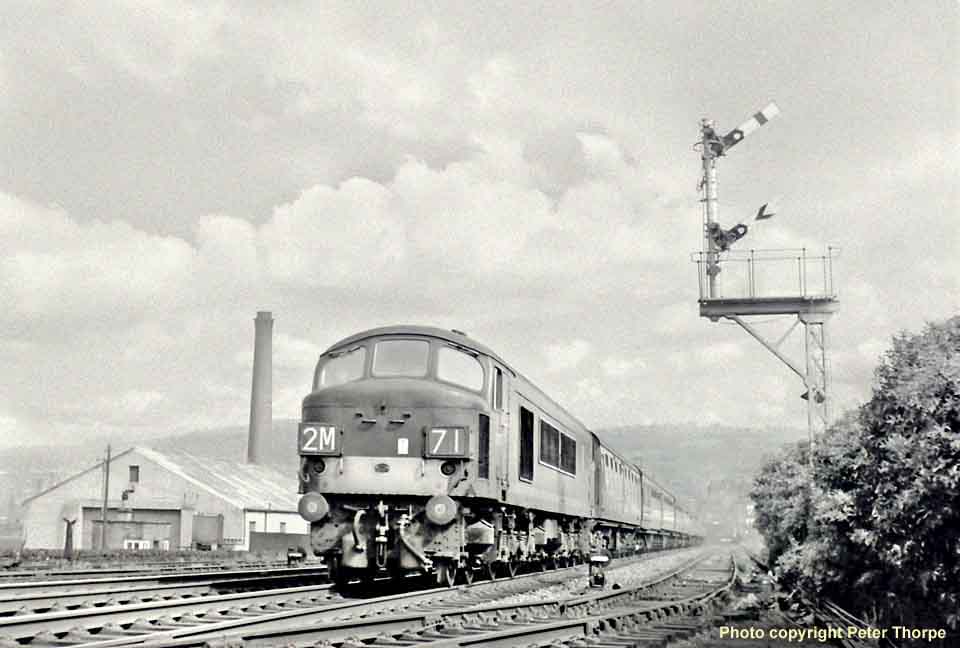 (Above-Below) At 3.30pm on Saturday 23rd May 1964, with a clear road ahead, D21 later TOPS Class 45 No 45026, one of 55A Holbeck's 'Peaks', powers away from Shipley towards Saltaire with train 2M 71, indicating a Leeds to Morecambe service. f5.6 1/250th. (Below) On the same day but prior to the above at 2.55pm, 16A Nottingham allocated 'Peak' D44 (TOPS Class 45 45035 accelerates hard in charge of the northbound 'Thames-Clyde Express', its two-piece central headcode panel displaying yet another inappropriate code due to a malfunctioning roller blind (it should read 1S68); indeed fast-forward a few years and the varying non-descriptive digits that appeared in the headcode panels was a major factor for BR's decision to dispense with them entirely. From 1976, BR decreed that operating handles were to be removed and blinds set permanently at '0000', then during classified overhauls at Works the distinctive four-character headcode boxes were removed and two fixed-beam lamps were fitted on the nose. Photo f5.6 1/250th.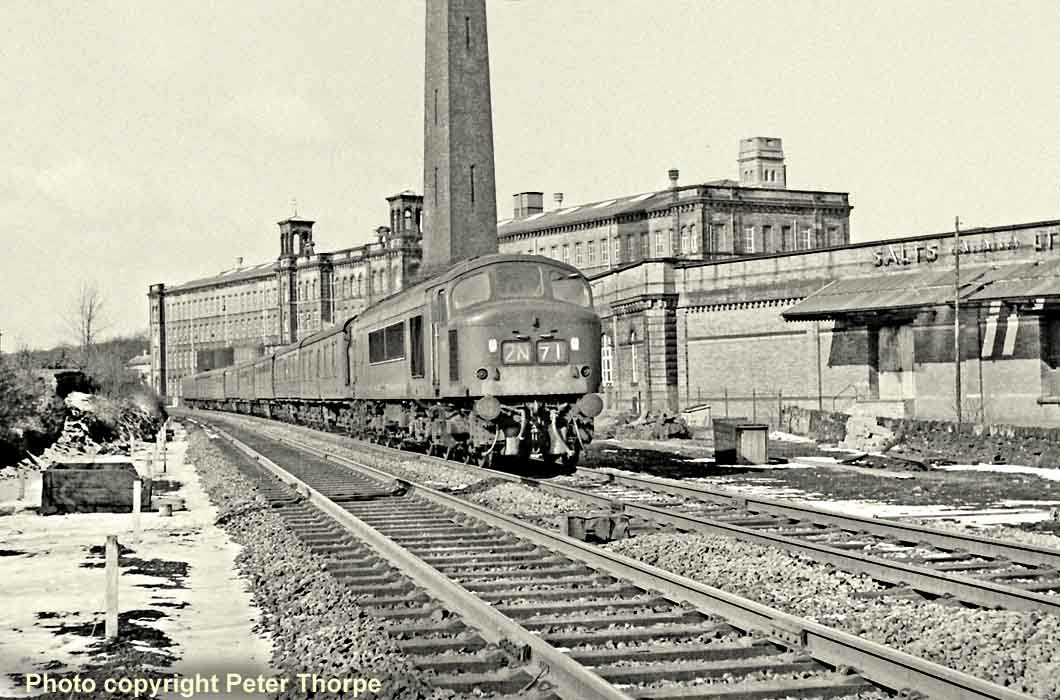 (Above) In the opposite direction, an unidentified 'Peak' approaches with a Morecambe-Leeds train; in the background is the famous mill complex at Saltaire, regarded as one of the finest examples of an intact Victorian industrial village and designated a conservation area by the Department of Environment. Saltaire Village was founded in 1851 by Sir Titus Salt, a leading industrialist in the woollen industry, who moved his business of five separate textile mills from Bradford to one large mill beside the Leeds-Liverpool Canal at Saltaire. His workers were provided with housing, school, church and a hospital.

(Below) But getting back to steam power…taken trackside in the company of two lineside and telegraph maintenance workers, this shot captures Holbeck 4-6-0 'Jubilee' No 45739 Ulster accelerating away from the speed restriction on the north curve at Shipley with an evening express freight turn on Wednesday 13 April 1964.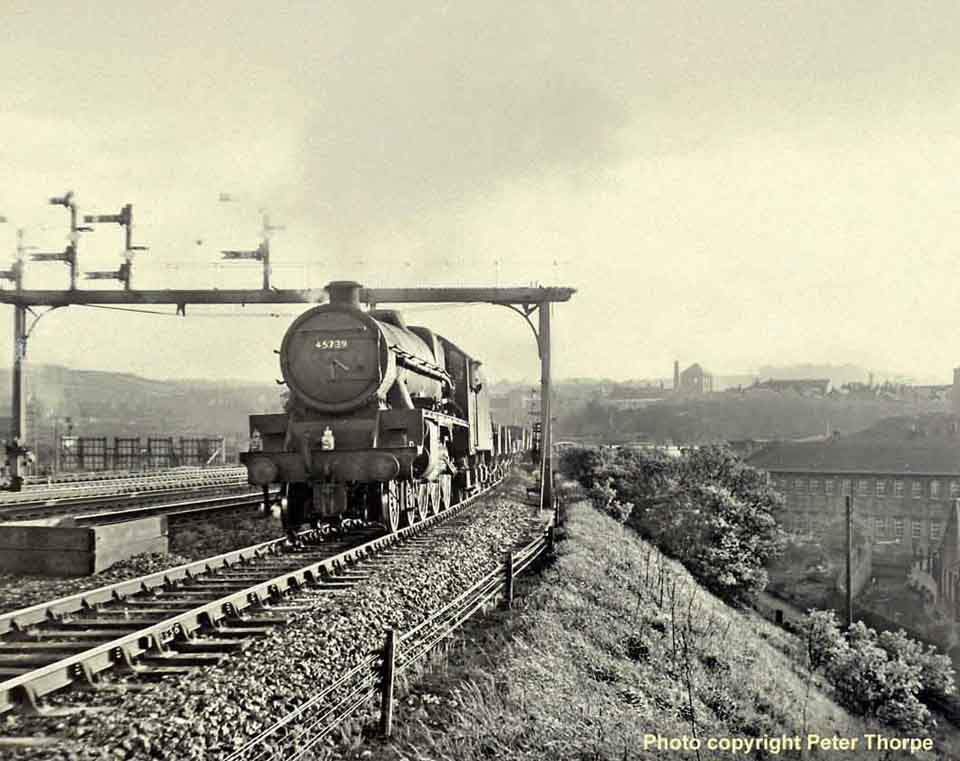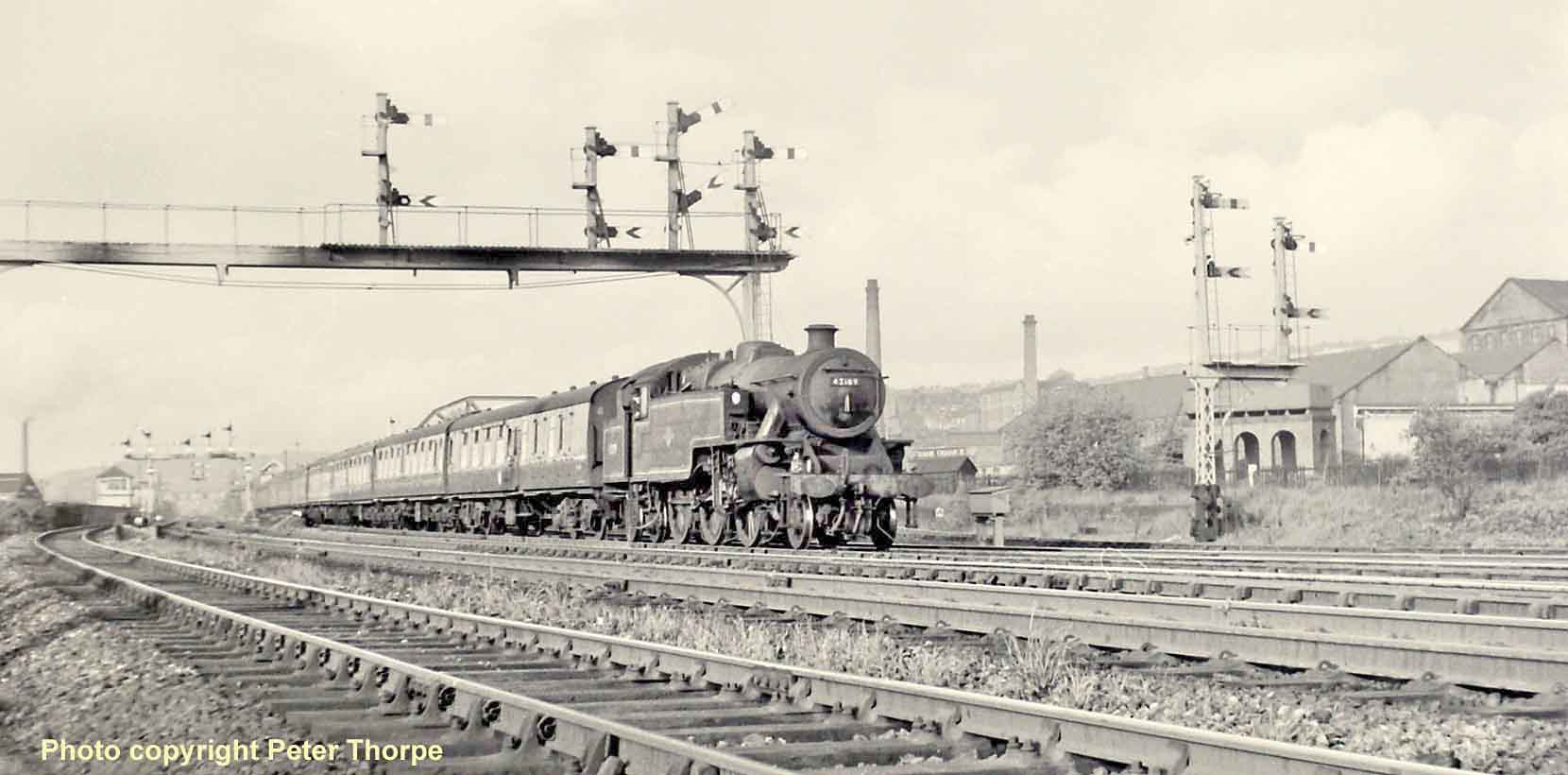 (Above) Viewed in the opposite direction, 55F Manningham allocated Fairburn 2-6-4T 42189 passes beneath the splendid signal gantry at Leeds Junction, Shipley with the Bradford portion of the 'Devonian' express on Easter Monday 30 March 1964. In those days the Aire Valley Line was a very different place than it is today; following closure of seven intermediate stations between Leeds and Bradford in 1965 and the reduction of four tracks to just two, traditional mechanical signal boxes and their attendant semaphores was still very much in evidence until the installation of multiple aspect colour light signalling and 25KV overhead line equipment in 1994. In the left background can be seen Guiseley Junction signal box where the branch to Ilkley diverges to the left, and just visible above the rear carriage is the stone-built GN Shipley Junction signal box at the foot of the 1 in 61 climb to Idle on the GNR's branch to Laisterdyke.

(Below) Next follows a batch of four 'Black Fives' - my favourite locomotive class - working in the vicinity of Shipley on the Aire Valley Line, starting off with this shot of the now-preserved No 45025 easing a Leeds-Morecambe passenger turn round the north curve. Before Sir William Stanier became Chief Mechanical Engineer of the LMSR in 1932, he was the Works Manager at the GWR Locomotive Works at Swindon, and many features of the LMSR's new medium powered mixed traffic 'Black 5' 4-6-0s was based on the GWR 'Hall' Class locomotives, both classes having similar cylinder arrangements, internal boiler design and 72 inch diameter driving wheels. Initially the LMSR ordered twenty 'Black Fives' from the Crewe Works and eighty from the Vulcan Foundry Works. No 45025 was among the first batch Nos 5020-5069 (Lot 119) built at the Vulcan Works in 1934; the first of the Crewe-built engines Nos 5000-5019 did not enter traffic until the following year. In all, a total of 842 Class 5 locomotives were built between 1934 and 1952 and no fewer than eighteen examples now survive in preservation, a fitting testimony to the Stanier design. No 45025's last shed was Carnforth (11A) from where it was withdrawn at the end of August 1968.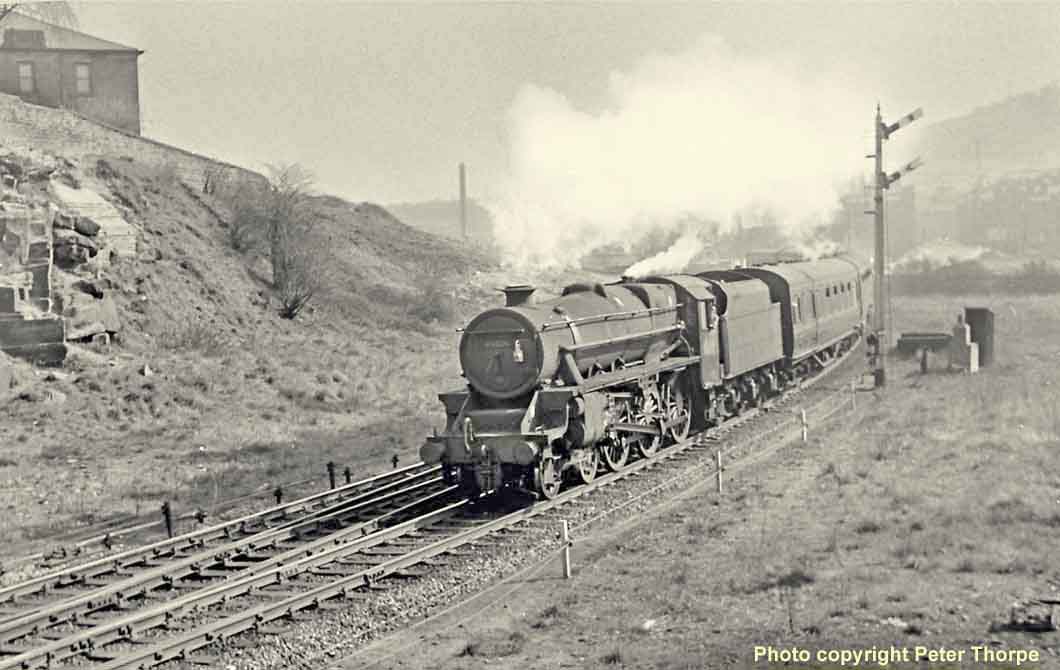 Despite the relentless invasion of BR's more modern diesel locomotives, the ex-LMSR 'Black 5' remained the predominant class of motive power observed in the Shipley area during the mid-Sixties. By this time Leeds Holbeck shed had acquired a substantial allocation of 'Peaks' for duties including the Anglo Scottish rosters from way back in 1961, however by 1964 they were still prone to malfunctioning train heating boilers resulting in steam power being called upon to provide cover. A quick look through my surviving 1964 notebooks shows that less than ten percent of the locomotive-hauled passenger trains on the Aire Valley Line were powered by diesels against twenty percent of goods trains! Over the years, the Stanier Black Fives proved to be a solid, reliable, genuine mixed traffic locomotive; not only were they well liked by most crews they were frequently to be found working all manner of traffic on the Aire Valley Line, including on rare occasions the southbound Anglo-Scottish expresss when Carlisle shed had nothing more powerful available. During June 1964 there was still a large contingent of almost one hundred 'Black Fives' readily available for traffic, including c55 allocated to Carlisle Kingmoor, c19 at Carnforth, c12 at Lancaster Green Ayre and last but not least, c12 at Holbeck. The upshot was, despite British Railways doing its utmost to eradicate steam power as soon as possible, the trusty Black Fives were still required to provide back up for diesel failures during 1964 and 1965 resulting in Crewe works overhauling around fifteen of them at any given time; indeed such was the demand for these reliable versatile machines, against all odds BR had to concede that steam still had an important role to play.

(Below) At 3pm on Saturday 23 May 1964, Lancaster Green Ayre's Black Five No 45014 accelerates north with a short parcels train towards Saltaire, famous for both its mill and the substantial village that Titus Salt had built for his factory workers. The headlamp code indicates a category Class 4 express freight. The photo was taken a f5.6 1/250th, using my usual choice of Ilford FP3 fine grain film.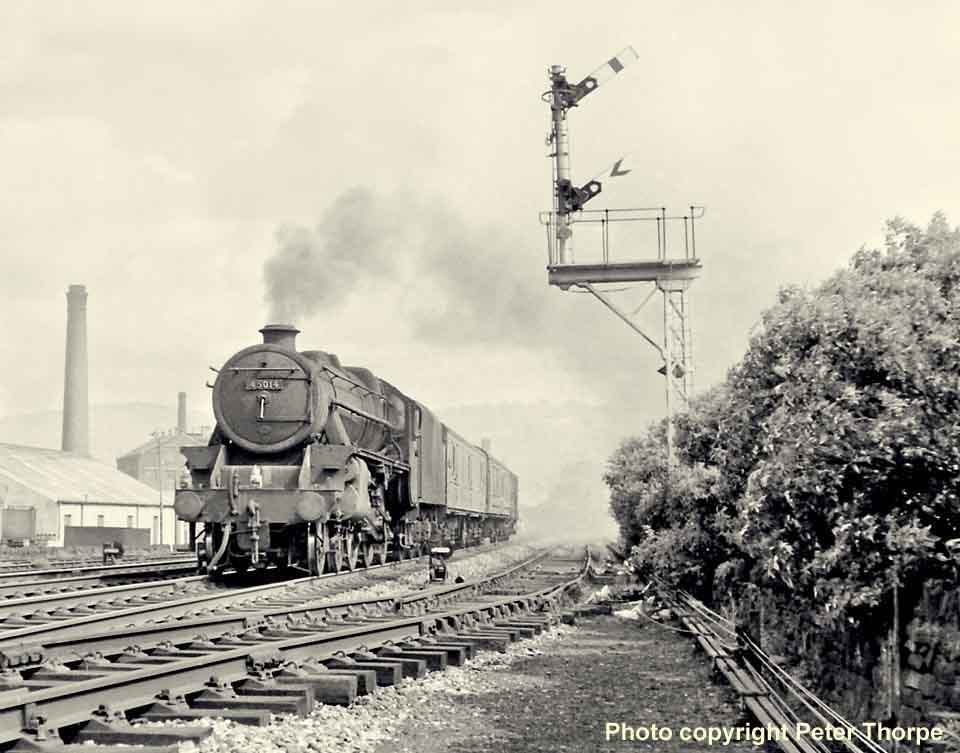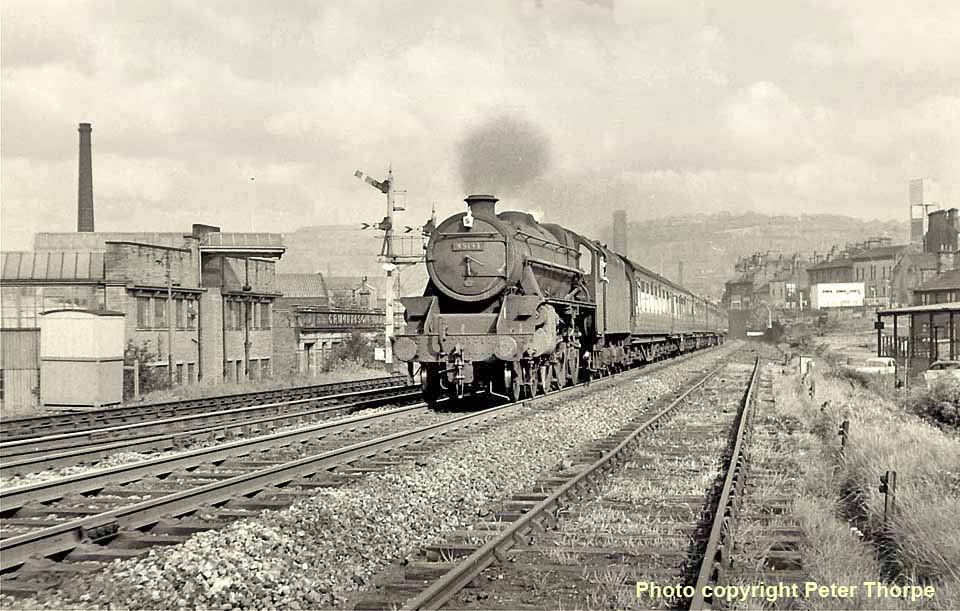 (Above-Below) A week earlier at 5.15pm on a sunny Saturday 16 May 1964, another Lancaster-based Black Five No 45193 is almost up to line speed as it heads homewards with a Bradford to Morecambe working. The loco was withdrawn in August 1967 after almost 32 years of service. f5.6 1/250th. (Below) By contrast this photo was taken on a bitterly cold winter's afternoon, and again it features one Lancaster's stud of Black Fives No 45354 at the head of a Morecambe train. Note the topmost lamp iron has been moved to a lower position on the smokebox door to protect engine crews from the 25kV AC overhead wires when working in the vicinity of the recentlly-electrified West Coast Main Line.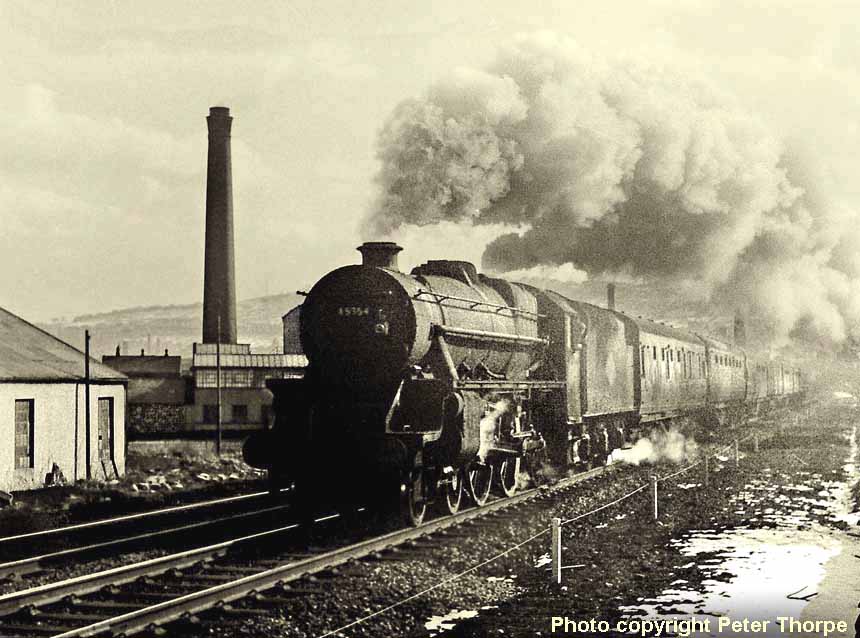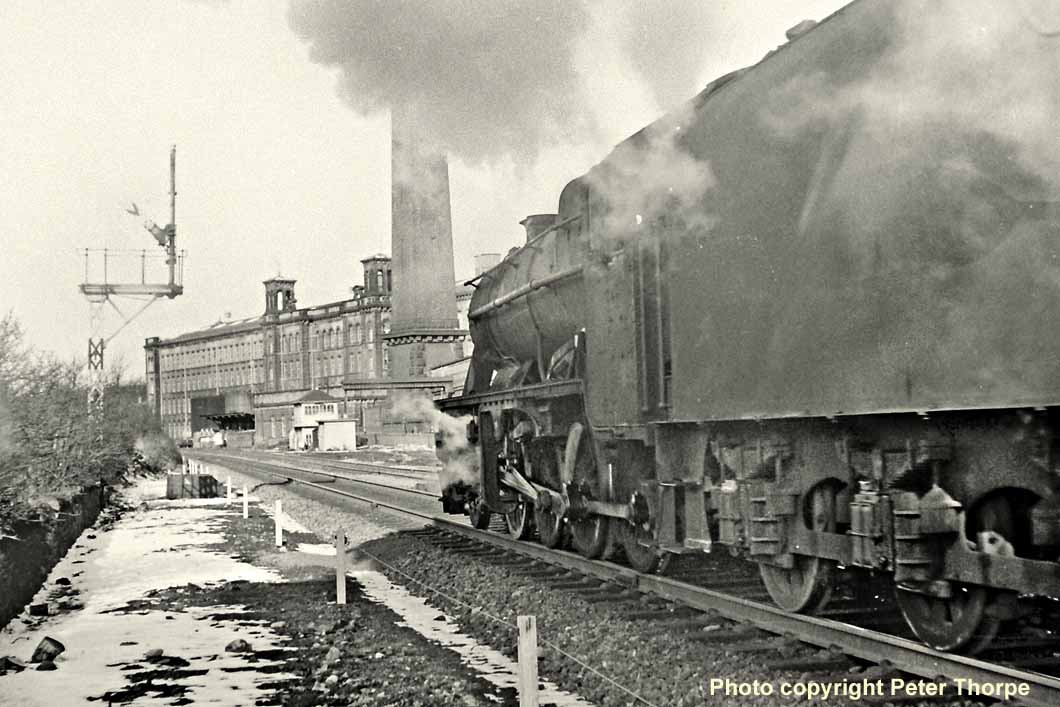 (Above) An unidentified Stanier 8F is working hard to keep its heavy coal train on the move in another winter scene at Saltaire. Following the lifting of the goods loop a change has been made to the upper quadrant semaphore signal. The topmost 'stop' arm has now been removed leaving just a 'distant' arm.

(Below) Despite the 'Black Fives' being the most common class of loco to be seen in the Aire Valley in 1964, the following group of pictures, all taken at Saltaire just west of Shipley, give a good illustration of the variety of motive power to be observed on both passenger and goods turns; we start off with this unusual visitor, a 50B Hull Dairycoates-based Class B1 No 61255 at the head of a Class 6 express freight with no fewer than 20% of the vehicles fitted with automatic brakes. This was one of the B1s equipped with electric headlamps.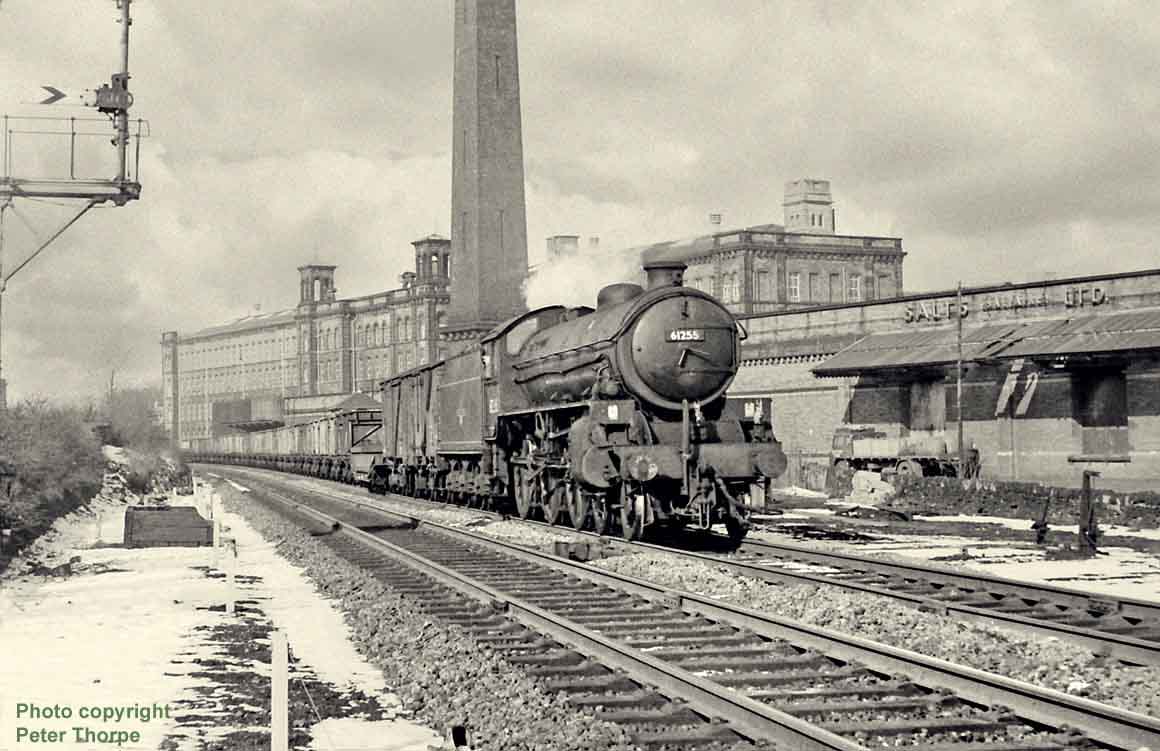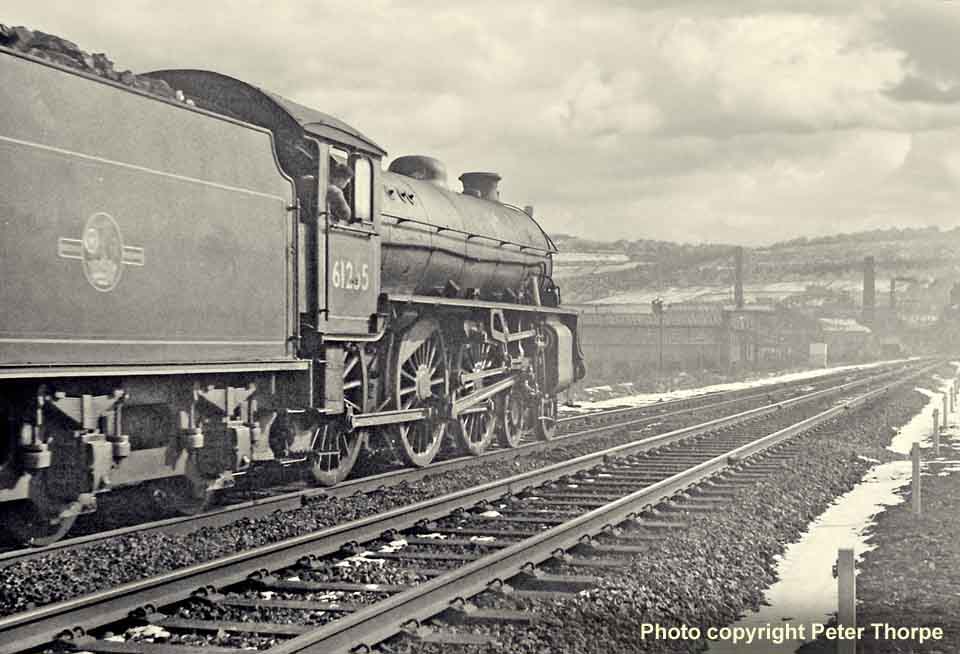 (Above-Below) In view of the scarcity of a Class B1 photo on the line I couldn't resist the opportunity of taking this 'going-away' shot showing the fireman looking out for the signal on the approach to Shipley; just the one attempt, but was happy with the result. (Below) At the same location, 16D Nottingham-based 'Black Five' 44918 looks in good condition coasting along with a Morecambe to Leeds train at 4.30pm on 16th May 1964. Photo f8.1/250th.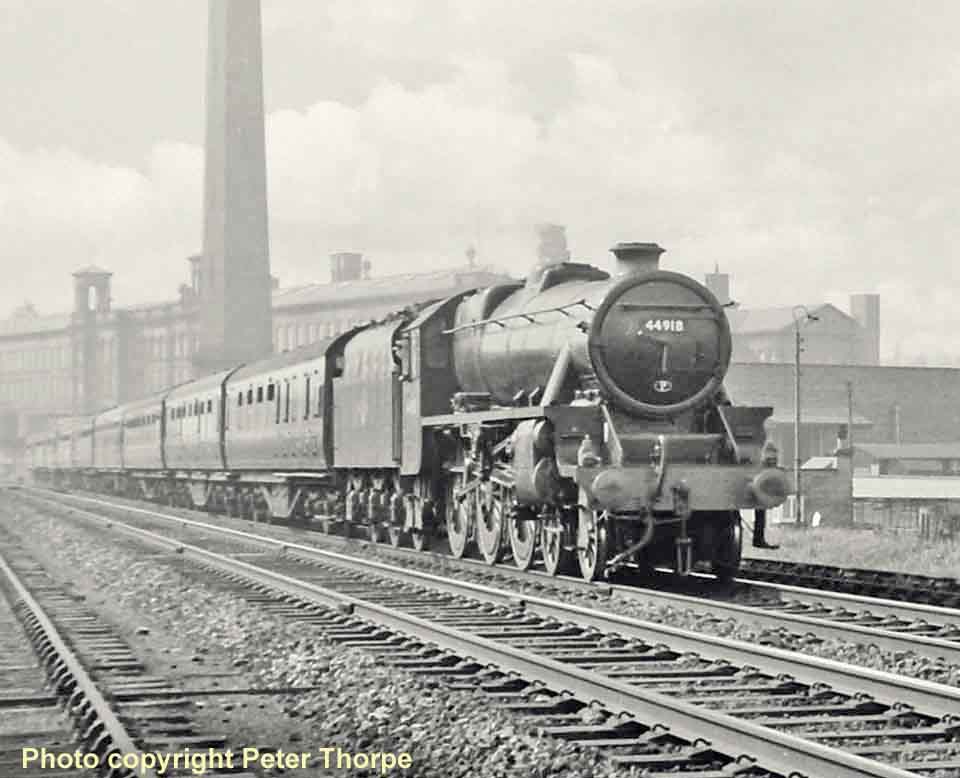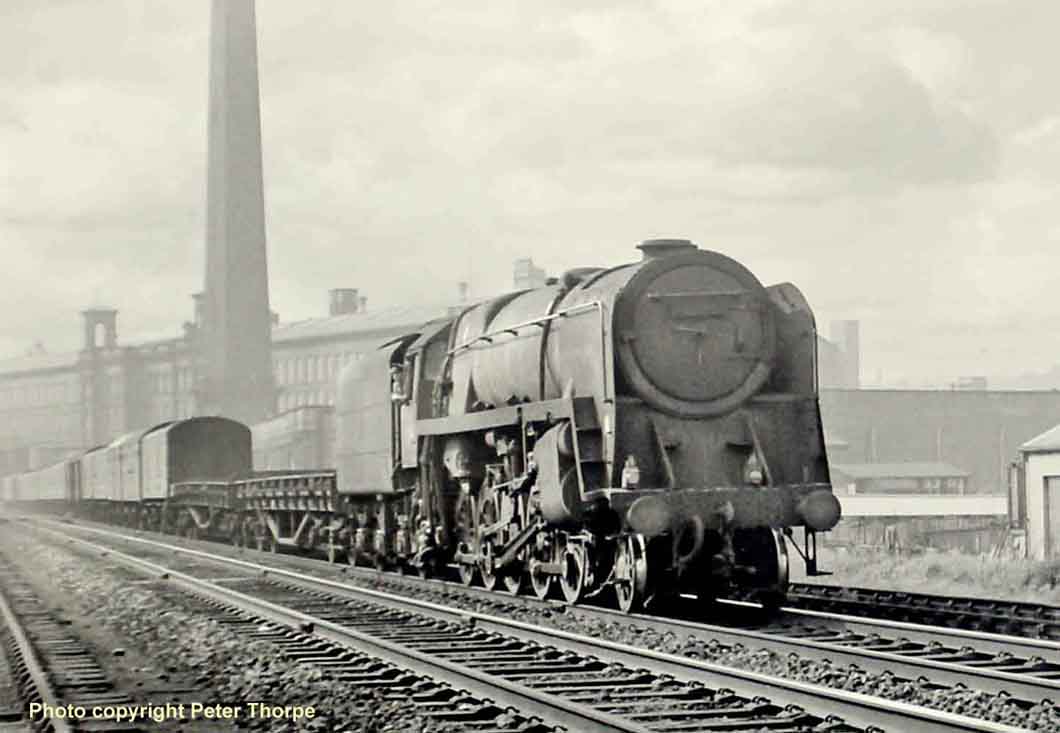 (Above-Below) Following the 'Black Five' at 4.45pm, was 12A Carlisle 'Spaceship' Class 9F No 92130 on a Class 4 express freight. (Below) Hot on the heels of the Class 9F at 4.55pm, was another Class 4 express freight headed by 55A Holbeck-based 'Jubilee' No 45739 Ulster. This photo above all others captures the lofty 255ft-high mill chimney at Saltaire which can be seen for miles around. Photo f5.6 1/250th.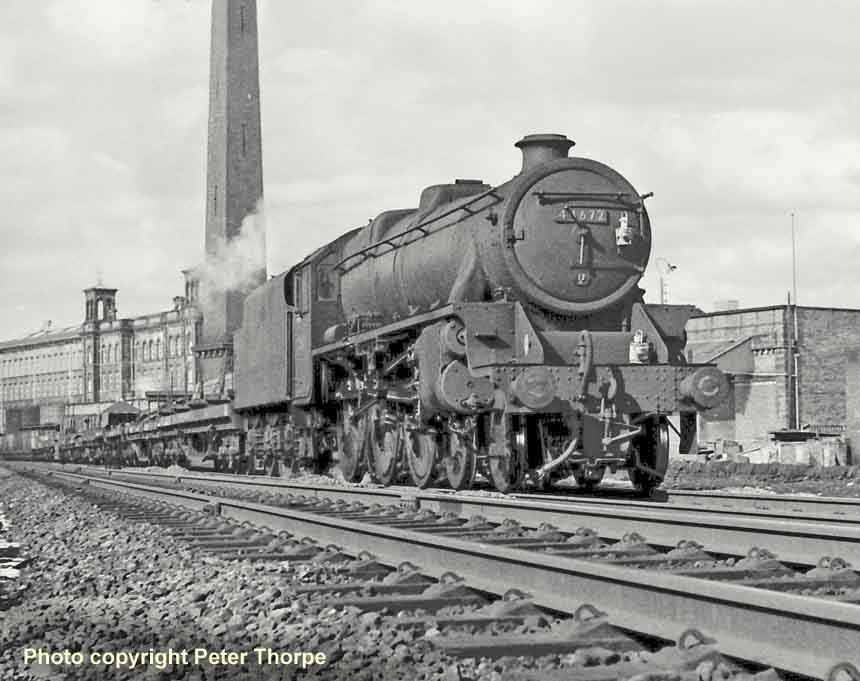 (Above) Finally I feature this photograph of one of Carlisle Kingmoor's Black 5s No 44672 heading a Class 8 freight comprised of vehicles not fitted with an automatic brake in December 1964. Photo f5.6 1/500th.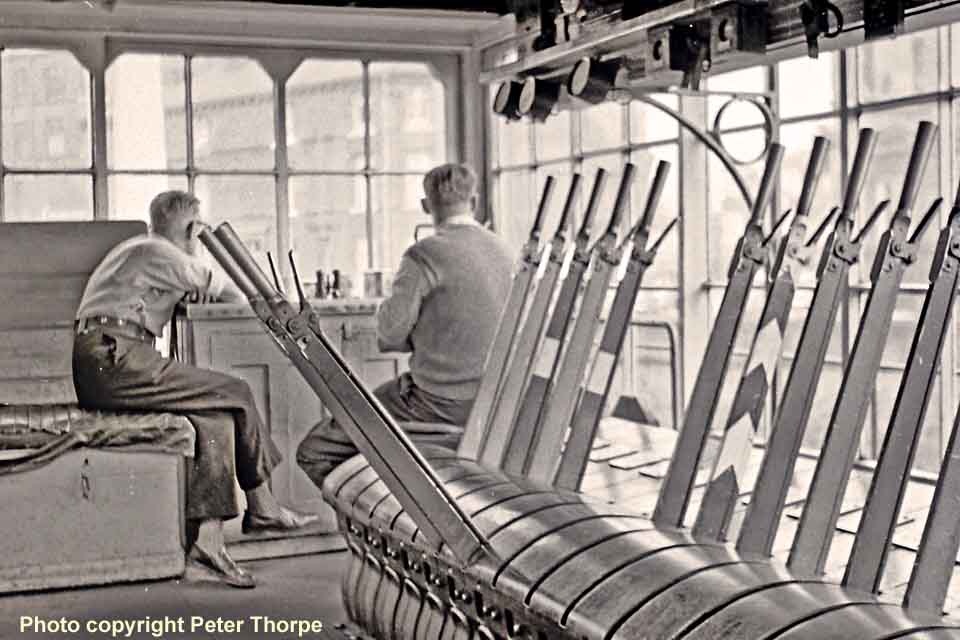 (Above) Shipley-Bingley Junction Signal Box became almost like a second home during 1964. Pictured here during a shift change are two of the very helpful signalmen who kept me well informed of any forthcoming special workings or any southbound passenger trains rescued by steam owing to the failure of the rostered diesel.
Collating all this information with my own sightings and those of other local enthusiasts, plus observations from the enginemen on the footplate of the 0-4-0ST 'Nellie' at the Esholt Sewage Works exchange sidings alongside the main line near Thackley tunnel, I was able to compile a long list of events that occurred in 1964 and promptly sent the details off to the 'Trains Illustrated' magazine...but it never appeared in print. When I wrote and asked why, the response was - 'Please confirm the dates and workings' - which I did, but to no avail.
This I found most odd, for having been an occasional contributor to the magazine's motive power report feature since my very first report was published in August 1956 (I was then just 13!) I assumed that their reluctance to highlight the very high percentage of diesel failures at the time may have been politically motivated; all my previous submitted observations had been published without question.
Here is a list of some of the failures I noted…

A CATALOGUE OF DIESEL FAILURES
The early Sixties saw many changes in the BR dieselisation programme; for example the Type 4 'Peaks' had upgraded power units fitted, which improved their power to weight ratio. Partly as a result of that and a reduction in the cost of spare parts, it was proposed to allocate some of the class to the Western Region as BR had made the decision late in 1962 to drop the WR's high powered diesel hydraulic building programme and substitute them with 'Peaks' and Brush Type 4s plus EE Type 3s. This decision was hardly surprising owing to the continuing problems of availability, which had been reported as dire. For example, during November 1962 - prior to the deep freeze! For the record, the 1962-63 winter was more than just a cold snap, temperatures plummeted to an average of 0.2 Celsius from Boxing Day until April, with blizzards and white-out conditions sweeping the country for months on end. It was dubbed the 'Big freeze' by the media, and in excess of a third of the WR hydraulic fleet had been stopped for attention with approx 7% being serviced and 27% crippled by mostly transmission failures.
To make matters worse this situation was considered to be the normal state of events as other Regions also suffered with diesel availability falling bellow 50% on occasions at that time. Therefore during the first five years of BR's transitional period of steam to diesel power, Kings Cross station recorded the arrival of many unusual motive power combinations, just a few examples being ailing D279 (52A) assisted by D5059 (34G) and D5094 (34G) triple heading the 4.55pm Newcastle to Kings Cross from Holme on Tuesday 23 October 1962, arriving ninety minutes late. Kings Cross also witnessed the arrival of the 6.52am from Sandy behind WD 90439 (34E) on Thursday 28-2-1963, complete with its failed Brush Type 2 diesel. Over on the Western Region, Paddington saw numerous pairings of Western Type diesels piloting steam locos, which were needed to provide train heating - and just to add to the variety, the Southern Region also employed combinations of steam and electric power, one example being E5018 and 73115 on a Newhaven Harbour to London Victoria working on Friday 4th September 1964. On the LMR Black Fives were often seen inside a 'Peak'-hauled 'Devonian' also for steam heating reasons.
Of the non-hydraulic Type 4 diesels, the cumbersome 1Co-Co1 'Peaks' - heavy beasts that they were - proved to be capable of fast running with heavy loads and easily met the revised speeded up schedules, especially on the NE to SW and Lancashire cross country routes, however four years after introduction they were still prone to failing (despite the class having had over 200 modifications, some of which were vital, some not), for example on Monday 22 October 1962 D27 (55H) expired at Shipley on the 9.30am St.Pancras to Glasgow which was rescued by WD 90721 (56F) and towed as far as Skipton. Thursday 23 May 1963 saw D32 (55A) failing whilst working the down 'Thames Clyde Express' at Kirkby Stephen. It was then assisted by 90626 (26B) as far as Armathwaite where D32 (55A) was removed allowing the WD to continue to Carlisle; any train spotters there, I am sure, would have been amazed!
A further couple of examples on the trans-Pennine route was 'Peak' class D171 (52A) failing at Liverpool on Saturday 3 November 1962 whilst on the 3pm to Leeds, replaced by 'Royal Scot' 46144 (6G), which then worked the train through to Leeds. Another recorded failure on a Newcastle to Liverpool train occurred on Tuesday 12 November 1963 when 'Peak' class D193 (52A) had to be rescued by WD 90649 (55G) and towed to Huddersfield to be replaced by Black Five 44714 (5A) that took the train onwards to Manchester.
Alas the EE4s did not fare much better, they also struggled with failures - D312 (8A) expired at Durham on the 11am Liverpool to Newcastle train on Tuesday 17 April 1962. 90445 (51A) came to the rescue and hauled the lot to Newcastle arriving approx 90 minutes late. Attention seeking D312 (8A) conked again on Saturday 3 November 1962 with the 3.16pm departure from Newcastle and was rescued by an unknown 'Peak', which in turn failed at Harrogate at which point D388 (50A) decided to have a go and arrived at Leeds 180 minutes late. The EE4s appeared to only have a chance of meeting the revised speeded up schedules of 'The Royal Scot', 'Midday Scot' and 'Caledonian' when hauling a maximum of only eight bogies, so much so the schedules had to be revised back downwards for hauling twelve bogies / 420 tons maximum!
Unsurprisingly BR (ER) were not enamoured with them either. The Brush Type 4s introduced three years after the 'Peaks' and four years after the EE4s appeared to be the most reliable at this period of time. The severe Winter of 1962/3 saw nature winning hands down, as timekeeping fell apart owing to diesel failures rising to unprecedented levels, compounded by frequent train heating failures, plus coal shortages owing to the freezing conditions creating challenges for the stand by steam locos, Brrrr, sorry, BR, were therefore faced with major challenges...stored and condemned steam locos had to be quickly reinstated, often in a very run-down condition, in a desperate attempt to ease the situation, 'Patriot' class No 45530 being just one example.
The Newcastle to Liverpool and return workings across the Pennines were reputed to be in constant disarray, and so on Thursday 24 January 1963 I went straight from work to Leeds City Station by bug cart from Bradford Exchange to see for myself. Departure from Bradford was delayed owing to ice and snow and I thought I may have missed the teatime Newcastle-Liverpool working, however the station announcer must have had the needle stuck in the record as all I heard was 'we are sorry to announce the late running of this train' over and over again, thankfully the Trans Pennine train was running late also. I remember having high hopes of another diesel failure resulting in say a Class V2 steam loco substituting. Imaging my surprise when I heard the distinct chimed whistle of a Class A4 'Streak' entering the station! It was 60026 Miles Beevor of 34A! In turn it was swiftly replaced by another surprise, 'Royal Scot' class No 46110 Grenadier Guardsman (8A) followed by the train departing vigorously at 7.14pm bound for Liverpool - fantastic - I was so pleased I had made the effort to see it on what was a bitterly cold night.
Many years later I learnt that a variety of 'Royal Scots' had been used at times on this train during the severe wintry weather in December 1962. It is also clear that even 52A had reliability/availability problems with both the 'Peaks' and EE4s. According to official BR statistics the severe weather during the 1962/3 winter resulted in the MR main line express trains punctuality performance reach a low with over fifty per cent arriving thirty minutes late or more, a decline that had started in October 1962.
February however saw a possible solution to the problem - double headed Peaks! Unfortunately this did not always work as on Friday, 8 February 1963 D179 (52A) and D183 (52A) double-headed the 9am Liverpool to Newcastle train only for D183 to fail at Leeds and then D179 gave up the ghost at York! At which point Class A1 60154 Bon Accord (50A) came to the rescue, the train arriving in Newcastle just one hour late.
Steam failures whilst not as common, did occur mainly as a result of poor maintenance, however the main difference being that the steam loco could usually struggle on to the nearest station or at least seek a refuge siding whereas a failed diesels often just expired on the spot resulting in chaos. Not only did diesels fail to totally eradicate the necessity of double-heading despite many being unable to work in multiple, even amongst locomotives of the same class! Some even had insufficient braking power, for example, 16D Nottingham's Class 4F 0-6-0 43888, boasting a service life of 45-plus years, was seen double heading 18A Toton's 'Peak' D1 Scafell Fell - with little more than a service life 17plus years - to provide extra braking power on a heavy train departing down the gradient leaving the Kirkby sidings on Thursday 7th March 1963. To address this issue, BR resorted to designing and building brake tenders.
In comparison to the design and implementation of the new standard steam locos, dieselisation appeared to be less well thought out and not as successful with BR taking a very long time to get to grips with all the ensuing challenges including availability due to severe winters, mechanical and electrical failures over the years, whilst not forgetting an issue with train heating systems.
Once the dust had settled on this transitional period, the public enjoyed swifter journey times, improved punctuality with BR crews and maintenance staff enjoying vastly improved working conditions, whilst the enormous capital investment costs were also slightly off-set by a substantial reduction in fuel costs.
For an interesting read, I recommend visiting the 'Gloucestershire Railway Memories' website HERE which recounts the disruptions to train services during the 'Big Freeze' of the 1962-1963 winter, an article I came across while researching a specific 'Jubilee' movement.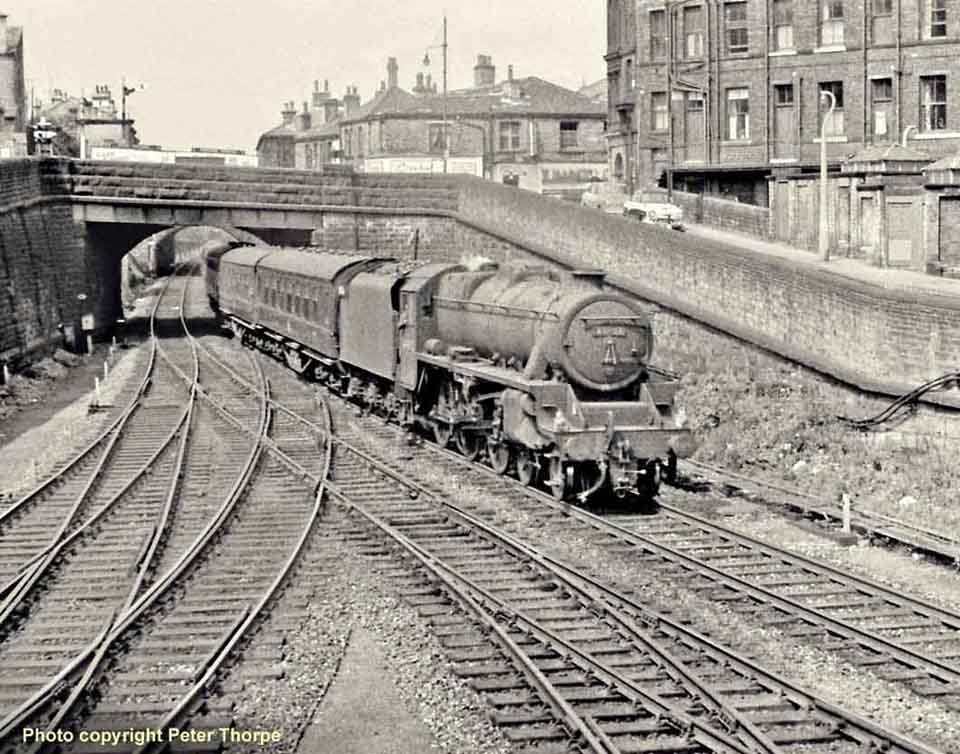 (Above) Between 1963 and 1965 almost anything could turn up on the passenger services between Bradford or Leeds and the Lancashire coastal resort of Morecambe or Heysham and Carnforth; I observed everything from 'Peaks', Brush Type 4s and Type 2 diesels to 'Britannias', 'Clans', 'Royal Scots', 'Patriots' 'Crabs' - and, of course, there was a bountiful supply of 'Black Fives'. Here an identified 'Black 5' was photographed from the Shipley-Bingley signalbox at the head of a Leeds train.

(Below) Just six days after its transfer from Longsight 9A to 10G Skipton, Class 25 Bo-Bo D5202 eases though Shipley-Bingley Junction apex of the speed-restricted north curve at 6.45pm on Friday 15th May 1964. The locomotive had only a brief spell at Skipton before being allocated back to 9A Longsight a few months later in August. The indicator panel is set at 7N72 advising it to be a Class 7 express freight not fitted with a continuous brake. These type 2 diesels were becoming a frequent sight working freight trains in the Aire Valley but I never recorded one on a coal train - steam still ruled on these workings not just during 1964 but for the following three years. Photo f5.6 1/250th.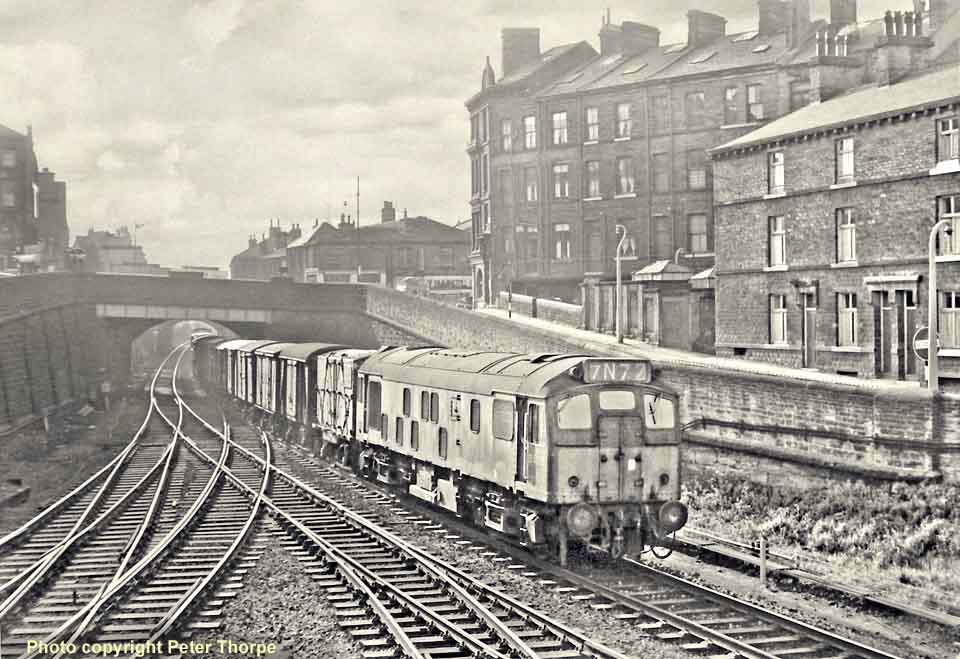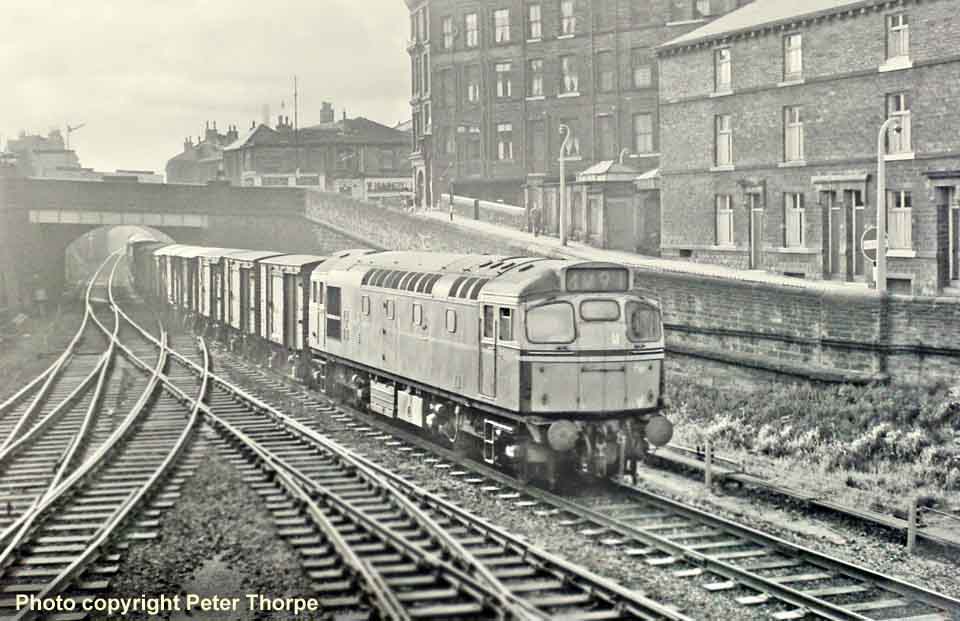 (Above) Following close behind the Class 25 at 7pm was another southbound express freight in the hands of a Class 27 diesel D5387. Built by the Birmingham Railway Carriage and Wagon Company in 1962, No D5387 was at the time a 15A Leicester Midland allocation, and clearly illustrates the variety of motive power to be observed that year; indeed for a while the Class 27 diesels appeared occasionally on Friday evenings with a southbound Class 4 freight turn at around this time. Photo f5.6 1/250th.

(Below) During December 1964 I waited for a cold snap to take some winter shots at Shipley; it is well known that a working steam locomotive produces the best smoke effects when the temperature is bitterly cold, though most of my previous attempts in such conditions were as grim as the weather. Discarding my light meter, which I never did master in the cold, a day duly arrived and checking in with the signalman at Shipley-Bingley box, he explained there was a southbound special due. Sadly my memory fails me as to where it was heading, but I do remember being impressed that it was running to time - and I do recall the distinct lack of diesels that day! With the hoar-frost clinging to the sleepers, a snowplough-fitted 'Black Five' No 44733 heads south through Shipley-Bingley Junction; the loco had only recently been transferred to 10A Carnforth at the end of September that year.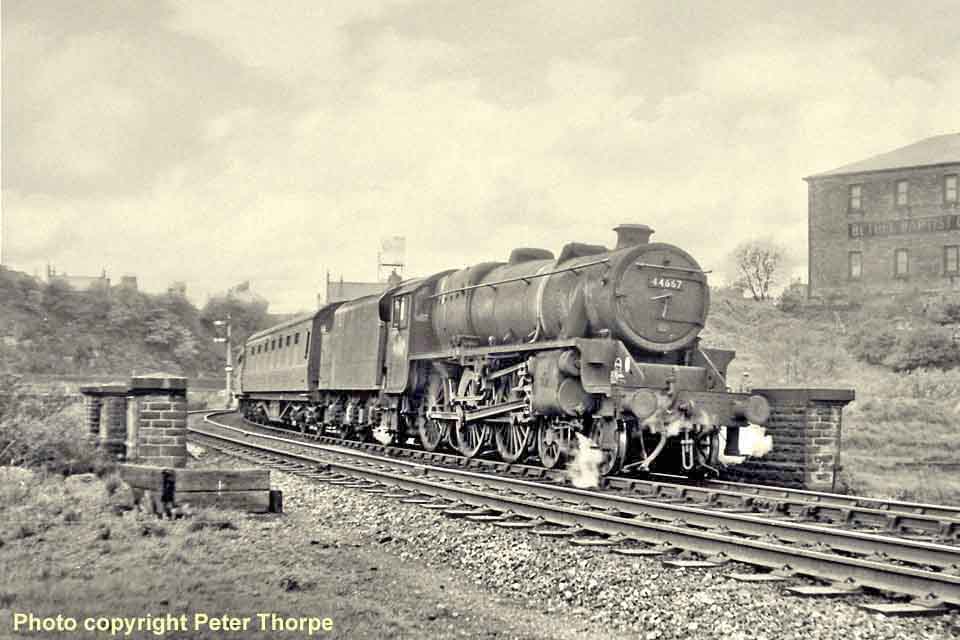 (Above-Below) The following three shots are of late running passenger trains, starting with 10J Lancaster Green Ayre's 'Black Five' 44667 accelerating away from Shipley's north curve with a passenger train for Leeds on Saturday 9 May 1964. (Below) When visiting the box on Saturday 30 May 1964, the signalman advised me there had been a motive power failure on the late-running southbound 'Waverley' express and that it was due to enter his section very soon. This gave me just enough time to take up a position on the hill at the rear of the Bethel Chapel, eager to find out which locomotive had been called upon to deputise for the failed 'Peak'. It turned out to be Carlisle Kingmoor-allocated 'Britannia' 70008 Black Prince seen here drifting around the north curve. Although the train was running approximately thirty minutes late at 3.20pm, the engine crew did not seem to be trying too hard to make up for lost time; the train gently proceeded towards Leeds at no more than a pedestrian pace. Photo f5.6 1/250th.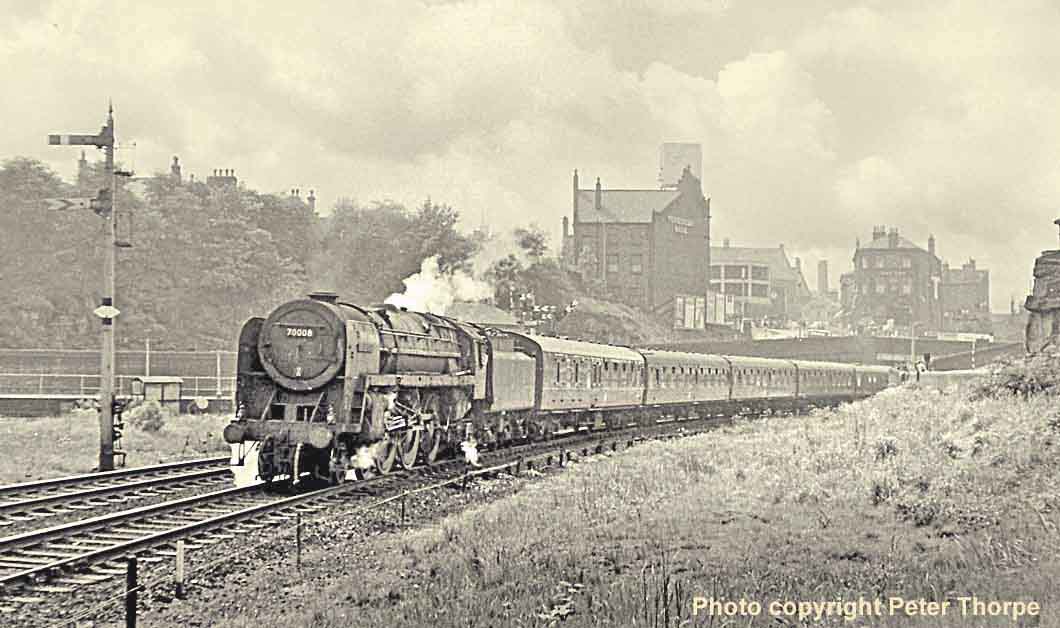 (Below) A nameplate from the BR Standard Class 7MT 'Britannia' Pacific No 70008 went under the hammer at a Great Central Railwayana auction held at the Fawley Railway Museum, Henley-on-Thames on 19 June 2016. No 70008 was named 'Black Prince' after Edward Woodstock, the eldest son of King Edward III and Philippa of Hainault; the nameplate's face is polished but the original red paint remains, whilst the back is in totally ex-loco condition. The auctioneers note that neither the nearside or offside nameplates have ever appeared in auction before.



(Below) On Monday 8 June 1964, while observing trains from Shipley-Bingley Junction signal box I was informed by the signalman that the reason behind the lack of southbound traffic was because Control had requested that priority should be given to a very late-running passenger train. News had been sent down the line by phone that it was travelling very fast and so I dashed out of the box to capture what I expected to be another 'Britannia'. To my surprise a spotless 'Jubilee' No 45721 Impregnable came around the bend in somewhat of a hurry, the engine crew more or less observing the strict 20mph speed restriction before accelerating fiercely away towards Leeds. The crew must have been pushing the locomotive to its absolute limit; the roar of its exhaust speeding off into the distance was incredible! I had never heard anything like it before or since. Returning to the signal box I recall the signalman's disappointment that the 'Jubilee' had just failed to break the record speed recorded for the journey from Skipton to his Shipley box which, If I remember correctly, he said was a distance of exactly fifteen miles. He was then kept very busy for quite a while with constantly ringing bells and a steady procession of southbound freight trains, one after t'other!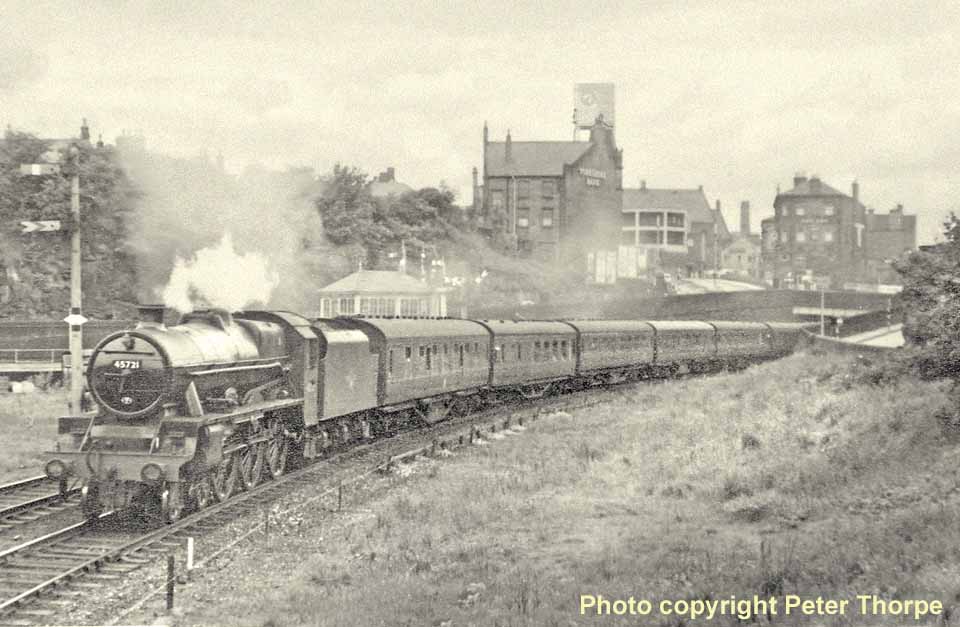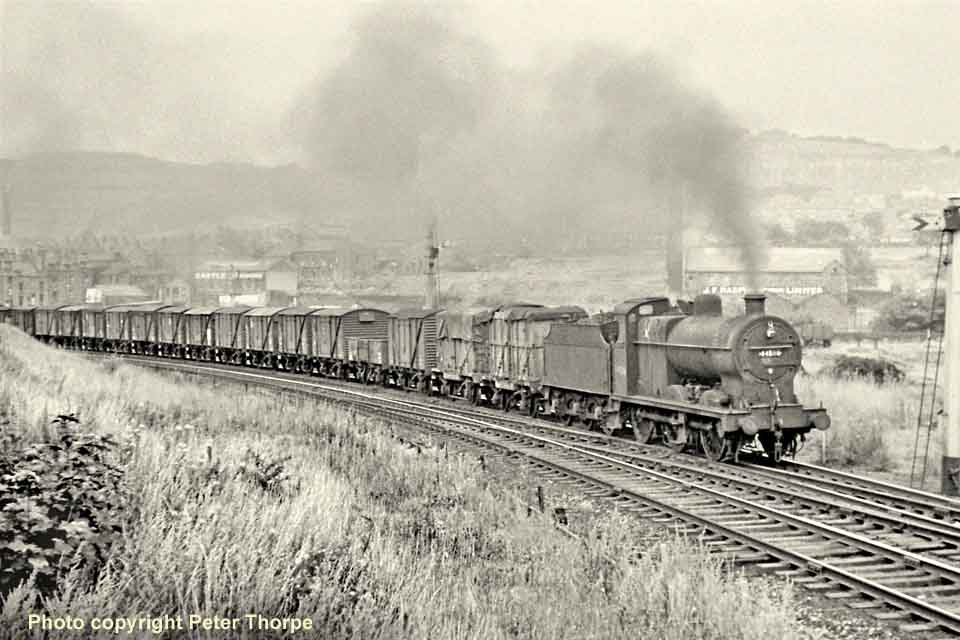 (Above) Fowler Class 4F 44586 was a regular performer on the Aire Valley Line and is seen here hauling a lengthy van train round Shipley's north curve on Saturday 8 August 1964. This loco completed 25 years of service in the area, spending an equal amount of time allocated firstly to 20D Normanton depot followed by a twelve and a half year spell at 55B Stourton.

(Below) Since mention has been made of the four character diesel headcode panels, it seems appropriate to include a brief mention of the stencilled numbers that appeared on the front of steam locomotives. While the aged system of standard lamp headcodes indicated the class of train being worked, additional reporting numbers were usually displayed for trains such as summer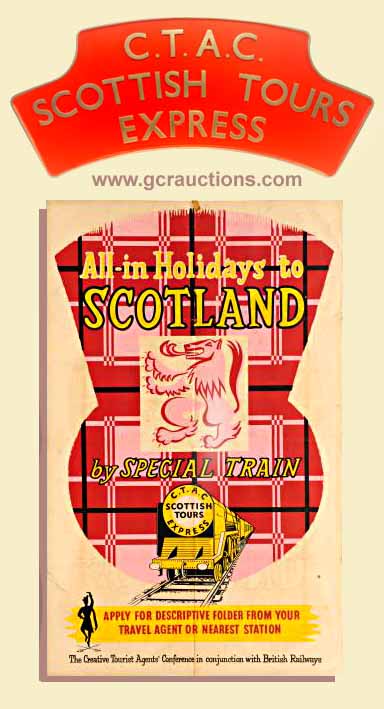 Saturday excursions, holiday reliefs, railtours and other specials, thus enabling signalmen to identify the additional trains working in the normal timetable. These codes were either chalked onto the locomotive front or pasted as paper characters onto a small headcode panel which was mounted on the top lamp iron of the smokebox. This shot was taken on a Saturday in June 1964 and shows a lightweight three-coach special headed by an unidentified 'Jubilee' class displaying a 1S43 headcode; the number '1' indicates an express passenger, the 'S' shows its destination is the Scottish Region (ScR) and the number '43' identifies the train as the CTAC (Creative Tourist Agents Conference) Leicester to Gourock for Rothesay holiday special. This train was chartered by a consortium of nine UK travel agents and firms from British Railways scheduled to run on Saturdays during the summer. Motive power was usually a 55A Holbeck 'Jubilee' which worked the train as far as Carlisle, before heading back to Leeds at 12.40pm on the 1M97 return working to Leicester. The signalman said at the time it must be one of the longest journeys for a regular three coach special! A red backed headboard was sometimes used in both directions on the equivalent West Coast train from the Birmingham and Preston areas to Carlisle whilst a blue one was used from Carlisle to Gourock and back.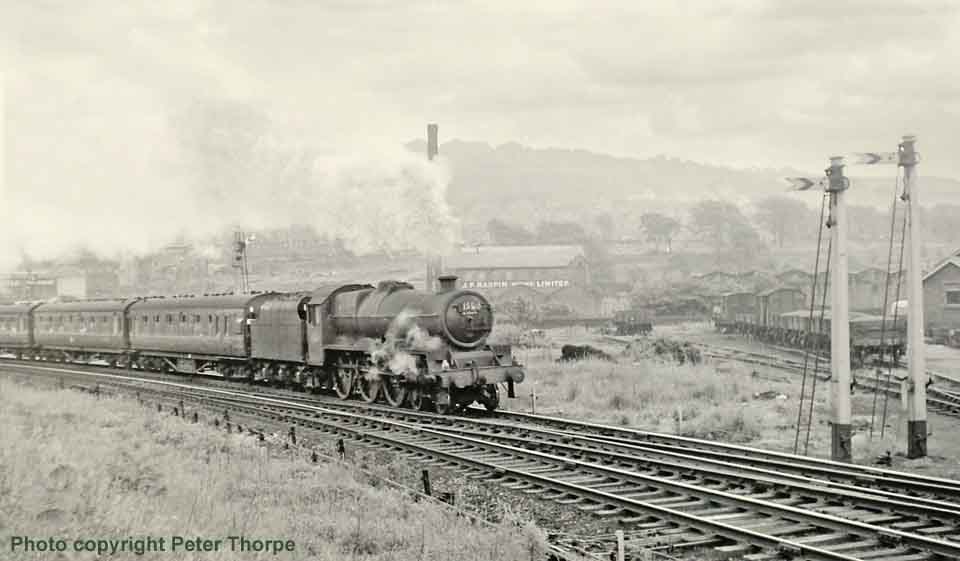 (Above) 12A Carlisle Kingmoor's 'Black Five' No 45293 heads for Bradford after a brief stop at Shipley with an ex-London St Pancras express on Saturday 8 August 1964. Shipley Goods Shed can be seen on the left. Following closure of the goods yard in the Sixties, the land was subsequently used as a large scrap yard facility by Crossley-Evans who retained the rail connection to the BR system. It covered an area of 16 acres and had a turnover as high as £23million per annum, employing around forty to a hundred staff and on a busy week could despatch five thousand tons of scrap metal by rail.

It has to be said that today's digital cameramen get off relatively lightly; the old roll film days were barely affordable for a stripling photographer, however by 1964 I had reached the ripe of age of twenty and the huge amount of time and effort I had devoted to railway photography was finally 'coming together'.
After years of scrimping and saving in my teens, and heeding all the juvenile setbacks I'd had along the way, I managed to acquire all I needed to record the rapidly changing railway scene in the Shipley area. I now had my own darkroom for developing and printing, I had transport and better photographic equipment including a decent Fed 35mm camera plus a British Railways lineside permit covering an area from Bradford to the triangular junction at Shipley. Furthermore I was working shifts, which was an added bonus as I could take photographs at any time day or night during the week, subject of course to the shift I was working at the time. This was one opportunity I grabbed with both hands…yes, there were others which I didn't, but we won't go into that right now!
With hindsight, had it not been for the help from BR engine crews and signalmen I wouldn't have been able to pursue my hobby in earnest, and I mustn't forget David for devoting a whole page of my photos in an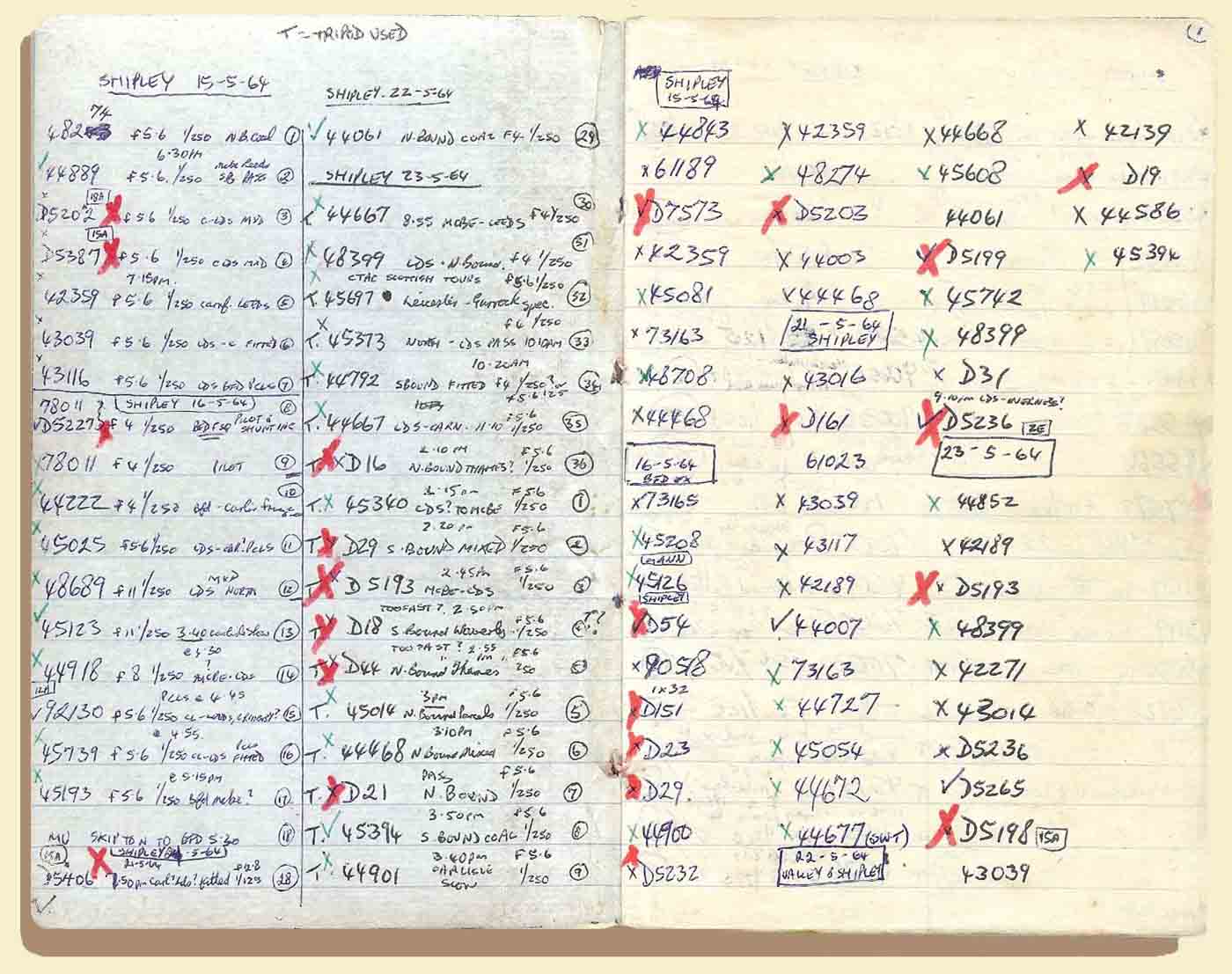 album of 1960's memories, which includes a diverse selection of around twenty five different steam locomotive classes plus twelve different types of diesels, not forgetting the four types of 'bug carts' which all added to the variety.

(Inset) This copy of my notebook illustrates the variety of traffic I recorded on several days during the summer of 1964.

When working on the day shift I would finish at 5pm, grab a chip butty from the local fish and chip shop - the term 'takeaway' was unknown back then - and travel to the Shipley boxes at around half past five to get an update on the day's events before settling down to observe the traffic coming through. I usually spent a couple of hours trackside before meeting up with my girlfriend a few miles away at around 8pm.
One of many favourite locations was the four tracks curving away from Shipley station towards Frizinghall. Access during my frequent visits was via the platform ends at Shipley station, where I would make a point of calling at the appropriate signal box to show the signalman my permit and explain my intentions, however their only concern seemed to be that I should refrain from climbing signal gantries in their section, not that I had any need. There were plenty of other viewpoints from which to take photographs including trackside, road bridges and signal box verandas on the stretch of line from Shipley to Frizinghall, just ¾ of a mile away. I must have taken photos of all the Carlisle Kingmoor Black Fives at this point, but for variety the following photos include shots I took of the various other classes on passenger turns - tank engines, Jubilees, Royal Scots and Britannias - plus Ivatt's Class 4MTs and Stanier 8Fs working freights to and from Valley Road Goods Yard.

(Below) Next we have another Carlisle engine, a clean looking 'Jubilee' No 45588 Kashmir on the 8.14pm Carlisle-Bradford with the fireman about to give a cheery wave as the engine accelerates away from its Shipley stop on Tuesday 4 August 1964. Photo f2.8 1/500th.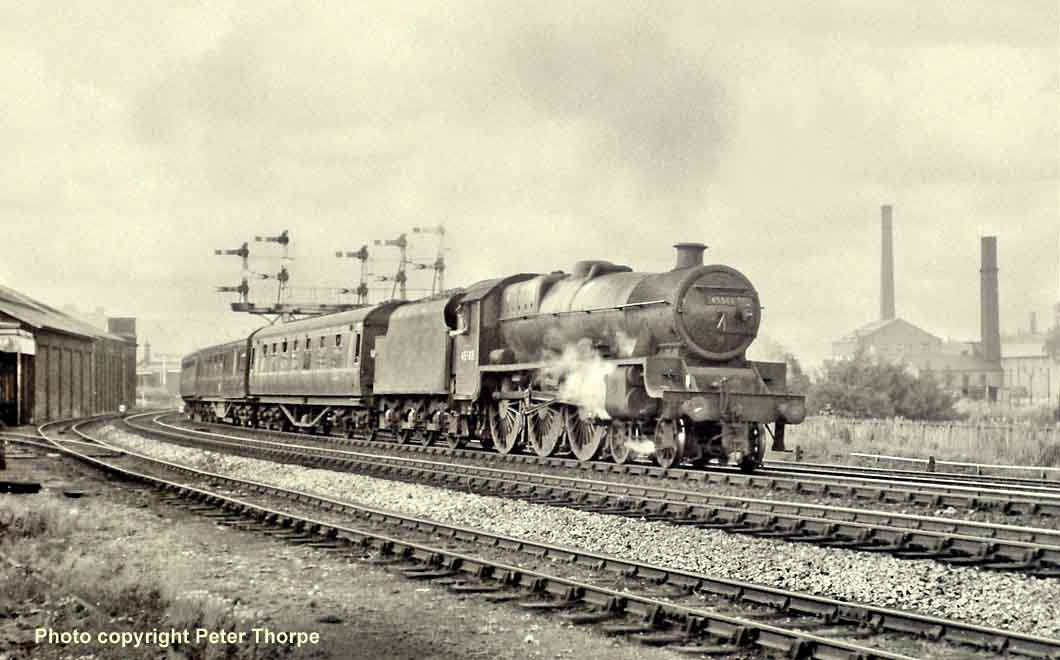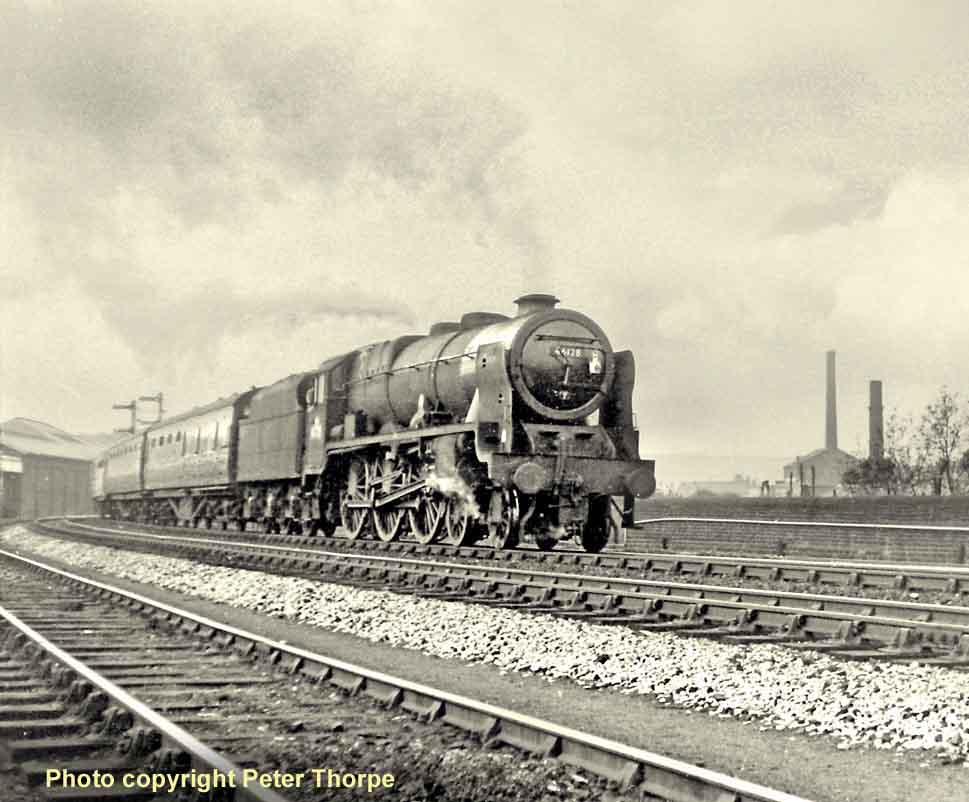 (Above-Below) Contrary to appearances this is not a duplicate of the shot posted earlier on this page; I photographed 'Royal Scot' class No 46128 The Lovat Scouts working the same train at the very same spot two days on the trot, the second time (here) on Tuesday 26 May 1964. After arriving at Bradford the crew explained that some minor niggles on the engine had been resolved by the maintenance staff at Kingmoor shed. Comparing both shots it is clear that its smoke box had been cleaned out; the smoke box door handles are in a different position whilst the single white headlamp had been replaced with a black one. (Below) A few days later I was back again to photograph Carlisle-based 'Britannia' No 70035 Rudyard Kipling nearing journeys end with the lightweight afternoon all stations 'stopper' from Carlisle to Bradford on Friday 29 May 1964. Photo f2.8 1/125th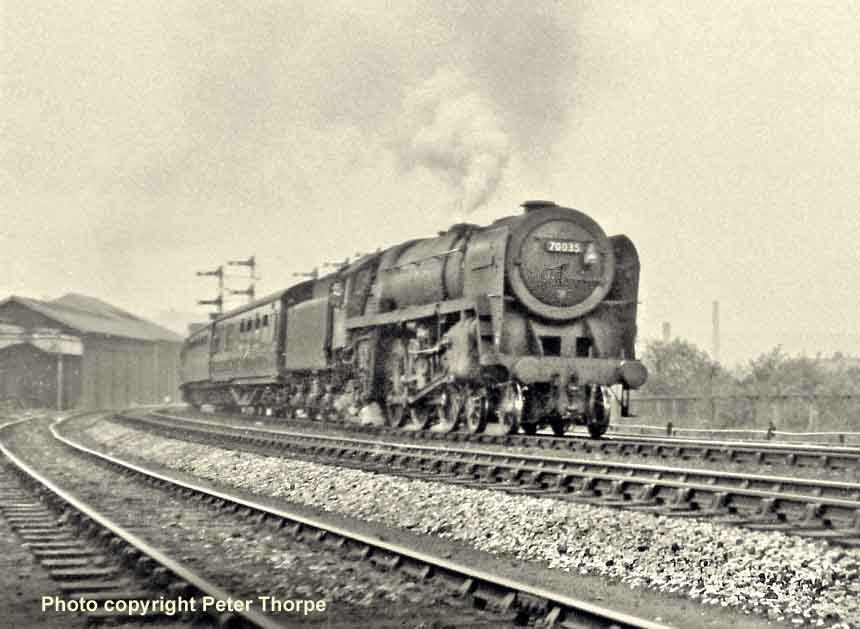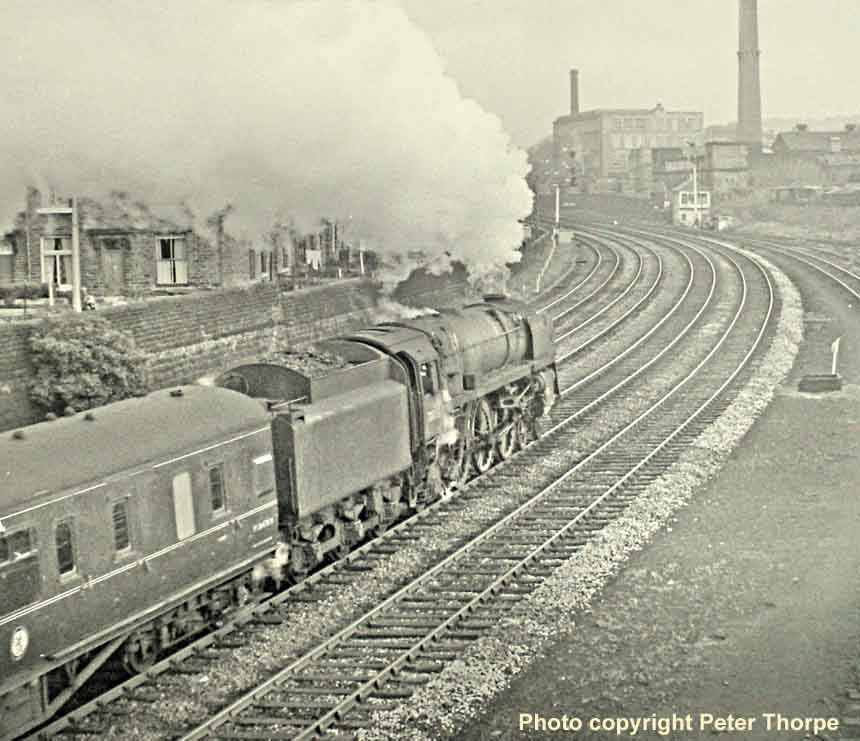 (Above-Below) Taken from the Valley Road Bridge, this shot shows yet another Carlisle Kingmoor 'Britannia' No 70003 John Bunyan approaching Frizinghall station with the same Bradfod-bound train on another day. The constant 'stopping and starting' at every station between Carlisle and Bradford might have been a tedious task for some Kingmoor-based engine crews, but the train itself was a walk in the park for a Class 7MT Britannia Pacific. (Below) Following its obligatory stop at Shipley railway station, Manningham shed's Fairburn 2-6-4T No 42093 gets to grips with a Leeds to Bradford passenger train on a cold, frosty day.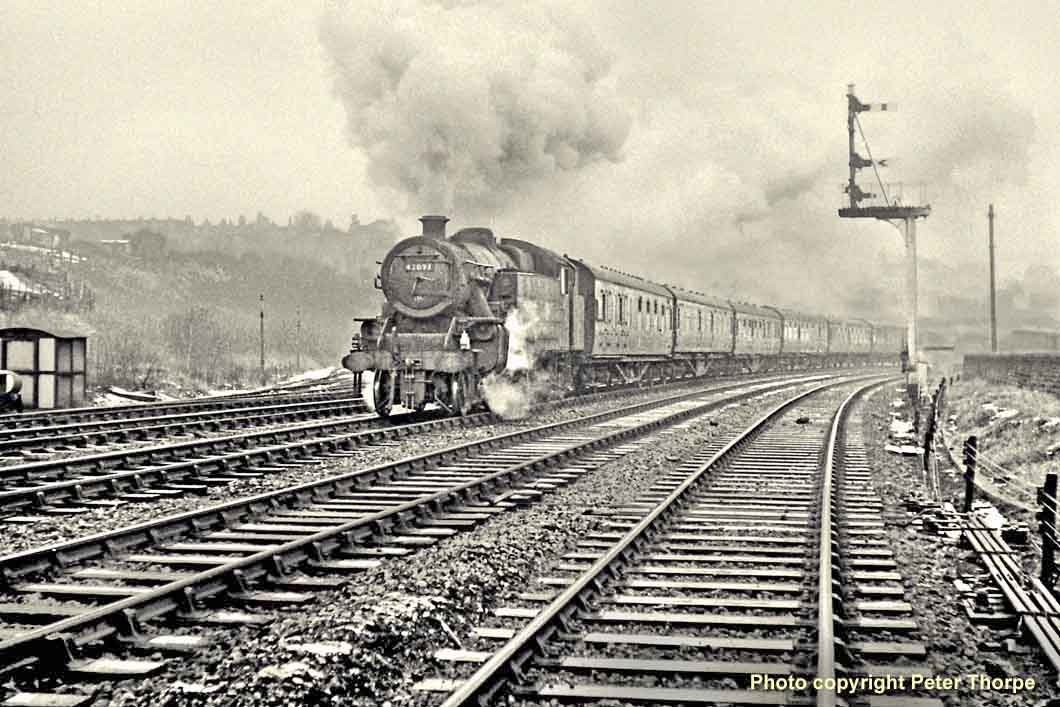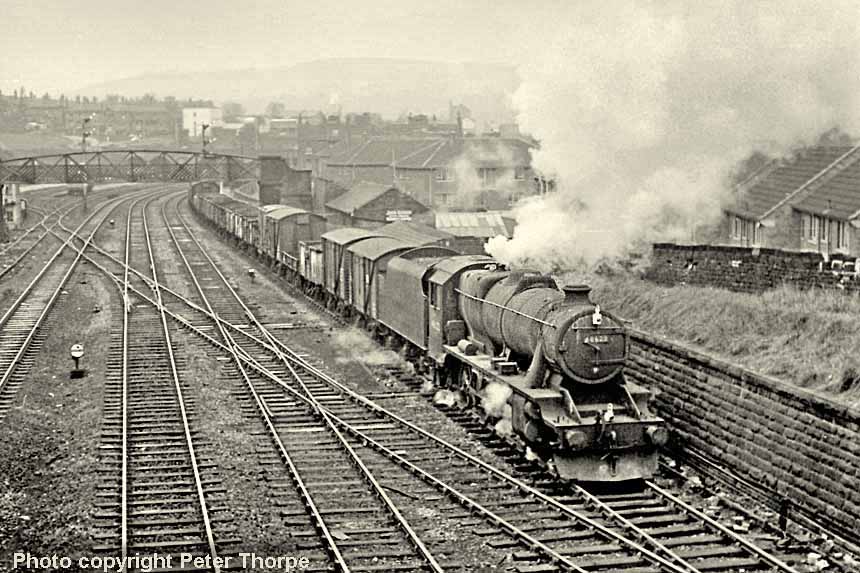 (Above-Below) The section of track was quadrupled in the early 1900s but unlike the Shipley to Leeds section, two tracks were provided for goods traffic only which terminated at the vast Valley Road goods yard, whereas those on the left are the up and down passenger lines to and from Bradford Forster Square station. Here a snow plough-fitted Class 8F 48622 of 55D Royston shed was photographed heading a mixed freight for Bradford Valley Road yard, while the going-away shot (below) shows the 8F being passed by a 2-car Class 108 dmu heading towards Shipley.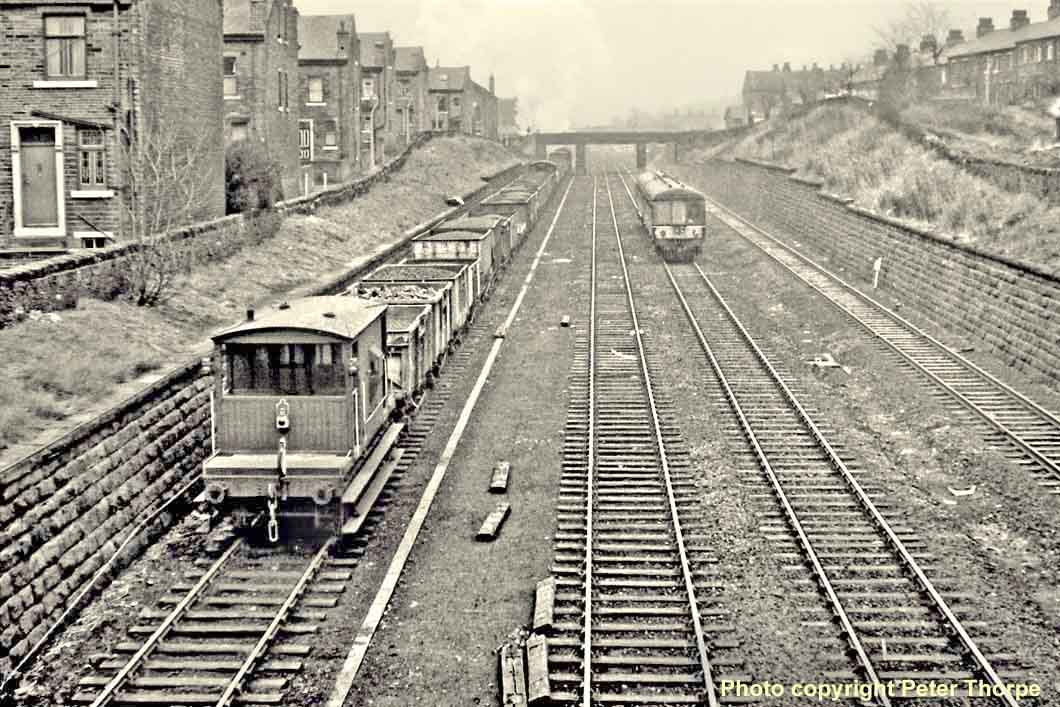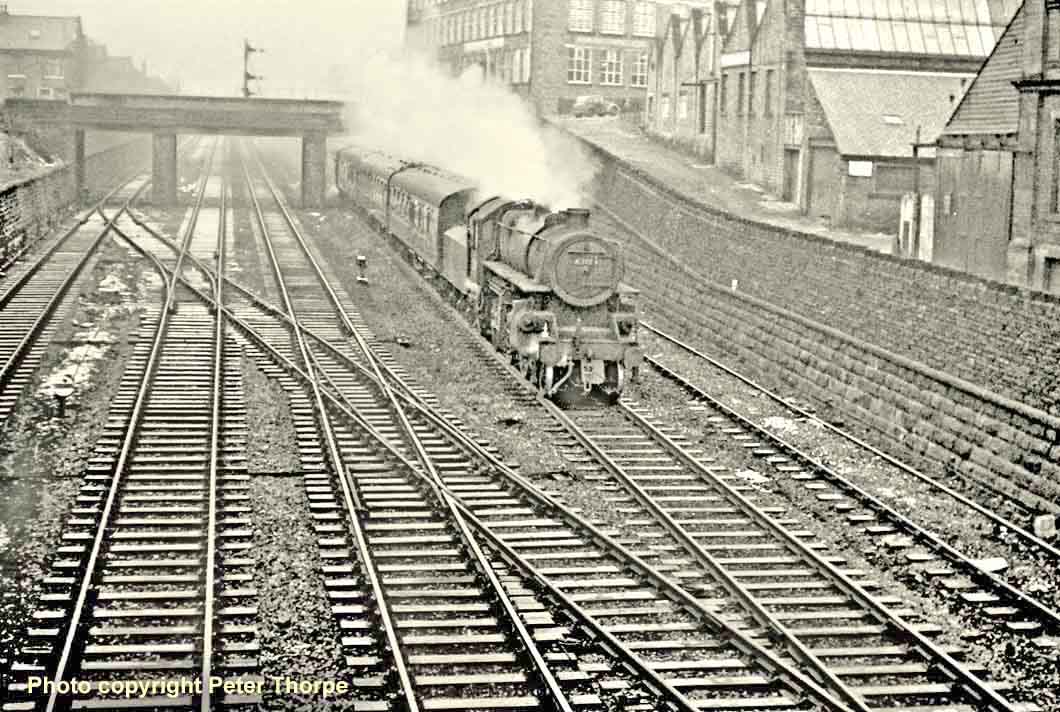 (Above-Below) On the same cold, misty day, Manningham's Ivatt Class 4MT 2-6-0 No 43124 heads an express passenger train to Leeds. (Below) I couldn't resist the opportunity to post yet another 'going away' shot, if only to illustrate the true mixed traffic capabilities of the class; this photo was taken from a vantage point on Wharncliffe Road bridge and shows an unidentified Ivatt Class 4MT 'Flying Pig' working a mixed freight towards Shipley.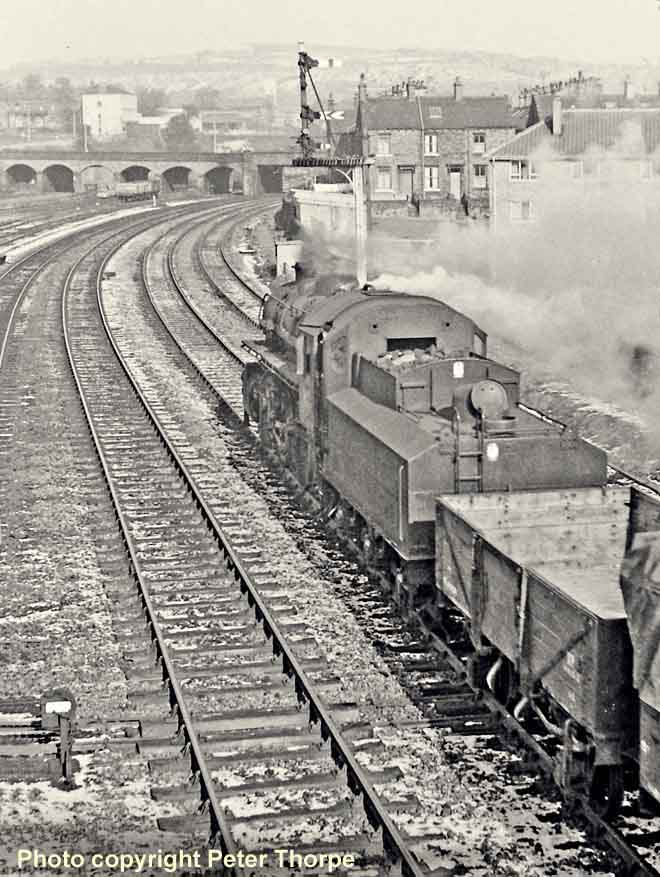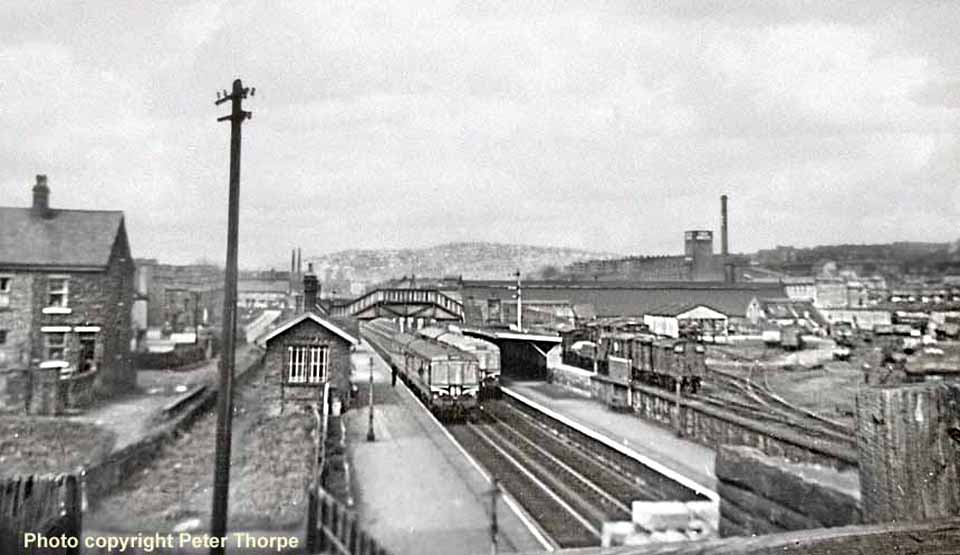 (Above-Below) This fifty-odd year-old Brownie shot of a busy period at Frizinghall station just ¾ mile from Shipley was taken from the Frizinghall Road Bridge and shows two early-liveried dmus (later designated Class 108) standing side by side in the platforms, both sporting cab front-end 'V' chevrons, or 'speed whiskers' as they became known; this was BR's first attempt at visually warning engineers working on the permanent way. Note also the healthy amount of wagon load traffic in the goods yard on the right which somehow adds a general air of industry to the scene. Frizinghall's goods yard included a wool warehouse and goods shed, and during its heyday it handled a diverse selection of goods such as print paper, wool, glass bottles and soda ash; the yard eventually closed to traffic on 6th July 1970 five years after the station closed; indeed despite a high number of pupils from the nearby Bradford Grammar School providing a major source of income, Frizinghall station became yet another casualty of the Beeching Axe and closed on 20 March 1965. This was proof in itself that Beeching's blanket refusal to recognise the impact that his station closures would have on local communities was nothing short of callous; rather than finding the middle ground on station closures, he wasn't prepared to listen to the voice of reason. However, fast-forward 22 years to 7 September 1987 and the enterprising West Yorkshire Passenger Transport Executive and British Rail opened a new station, which is now served Monday to Saturday by electric trains from Forster Square to Leeds, Skipton and Ilkley every 30 minutes each way on each route. For the record, the redundant Frizinghall signal box has been preserved in working order at Damems Junction on the Keighley and Worth Valley Railway.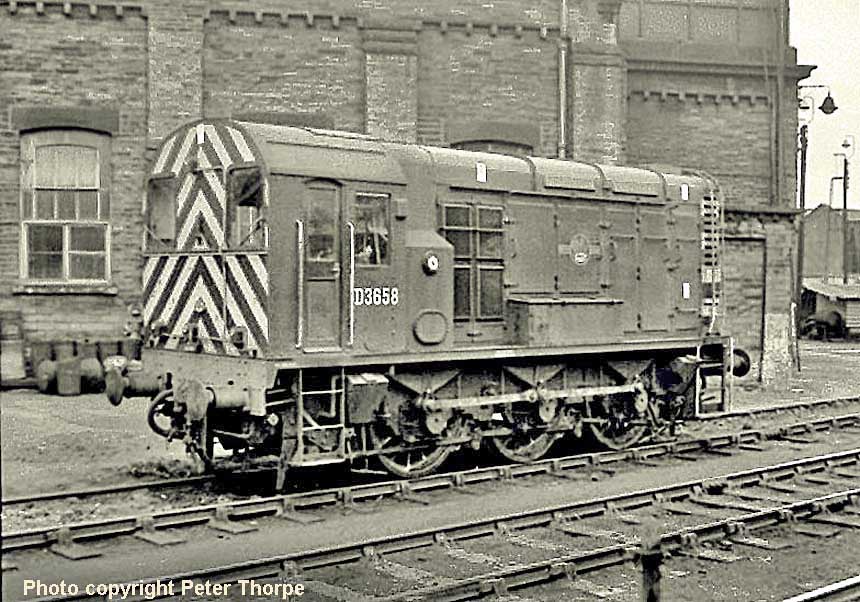 (Above-Below) A mile beyond Frizinghall station on the final leg to Bradford Forster Square station was Manningham station and shed (55F). During May 1964 whilst travelling by train from Bradford to Leeds I grabbed the opportunity to take these photographs from the carriage window of a pair of 55F Manningham-allocated 0-6-0 diesel shunters Nos D3658 and D3457 at rest in the shed yard. For the record, Darlington-built D3457 was delivered new to Stourton shed (55B) in June 1957 and renumbered TOPS Class 08 No 08372 in February 1974, withdrawal came in October 1984. No D3658 was built at Doncaster and also delivered new to 55B in May 1958; it became TOPS Class 08 No 08503 in February 1974 and withdrawn from traffic in September 1988.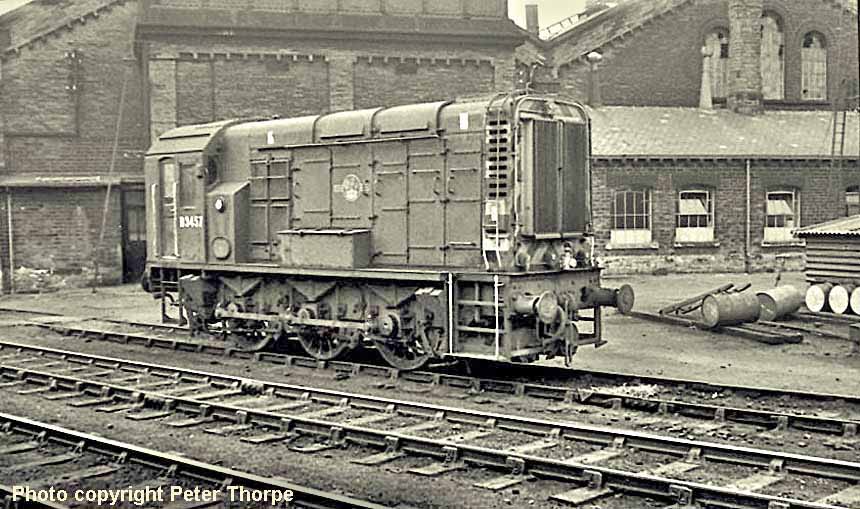 Just past Manningham shed was Valley Road Goods Yard that occupied an area trackside leading to Forster Square Station. It was a great place for photographing the railway scene with a wide range of locomotives both diesel and steam arriving and departing with an equally interesting variety of trains, especially in the late evening when the yard became a hive of activity.
Despite taking shots at ground level in the evening sun of locomotives awaiting trains to be made up, I foolishly decided it was an ideal location for trying some striking nocturnal shots from one of the many floodlight pylons dotted around the vast yard. Having carefully planned on taking brief-timed aerial exposures from the very top of a pre-selected pylon, I waited for a suitable dry night with a full moon and no wind. Then armed with all the equipment I needed (I kept it to a minimum as it looked quite a climb to the top) I arrived on site and slowly started climbing the attached ladder in darkness but very soon realized the structure did not feel very stable. It wasn't until I was about half way up that I was hit by a sudden panic-attack; I clung on for dear life, took several deep breaths to calm myself and somehow managed to slowly descend back to terra firma, sweating and shaking like a half wit!
Annoyed at my abject failure I decided to try again a week later, only this time I had a very good idea of what to expect and so I mentally prepared myself, but despite heeding my friend's advice to always look up when climbing or descending, I found myself standing at the very top in the middle of the night, and again I was clinging on to the handrail like a blithering idiot. Everywhere I looked seemed to be moving; the lights on the city skyline were visibly swaying from side to side and then I too began to shake which only made the unnerving motion sickness even worse. Then I made the mistake of looking down and realised that despite the absence of any wind at ground level it had been a cruel deception; the entire pylon was swaying sickeningly from side to side; it was patently obvious that any ideas I had of taking 'sharp' timed exposures were impossible!
By now every nerve in my body was telling me to stay calm, but I was in a right old state, at one point I thought I was about to pass out and it wasn't until several minutes later that I managed to calm myself enough to begin a slow descent. However just before reaching the final rungs at the bottom I was caught in the beam of a torchlight; I heard an Alsatian dog growling, then a man's voice shouted - 'What the hell do you think you're doing? Get down now!'
I don't remember my exact reply…it was more a snivelling whimper, but I do recall telling him that I had a lineside permit and tossing it down for him to inspect. He said that it didn't cover climbing infrastructures and threatened to release his dog should I think of doing anything else stupid; he dropped my pass on the ground and then stepped back, dragging the snarling Alsatian away to a safe distance.
I waited until he was several yards away before climbing down to retrieve my pass and he unceremoniously escorted me off the premises. I just prayed he had a strong grip of his dog straining at the leash only feet behind me. I was in a nervous state for weeks afterwards.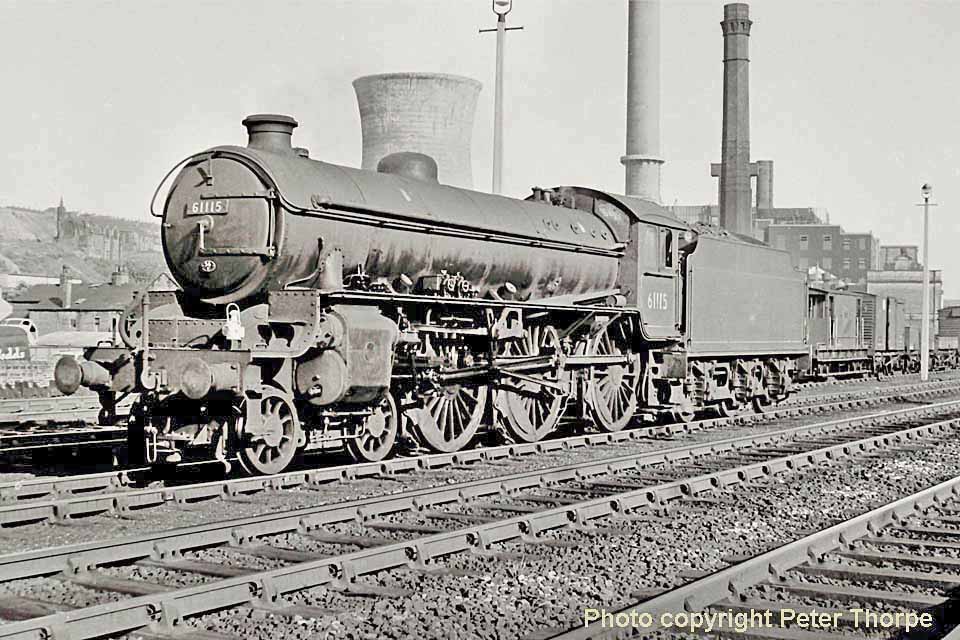 (Above-Below) On Wednesday evening, 13 May 1964, 56F Low Moor's Class B1 No 61115 is seen waiting for its train to be made up in Valley Road Goods Yard. (Below) That very same evening one of 56F Low Moor's small stud of immaculately-kept 4-6-0 Jubilees, No 45565 Victoria was in a queue sandwiched between a Type 2 and Peak Type 4 No D101, each awaiting to collect their allocated freight turns.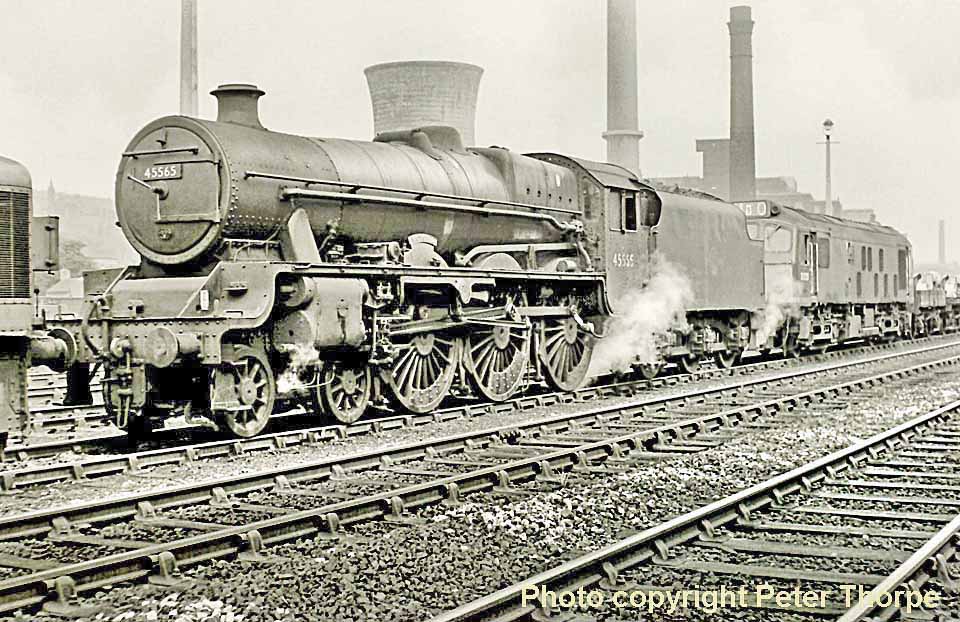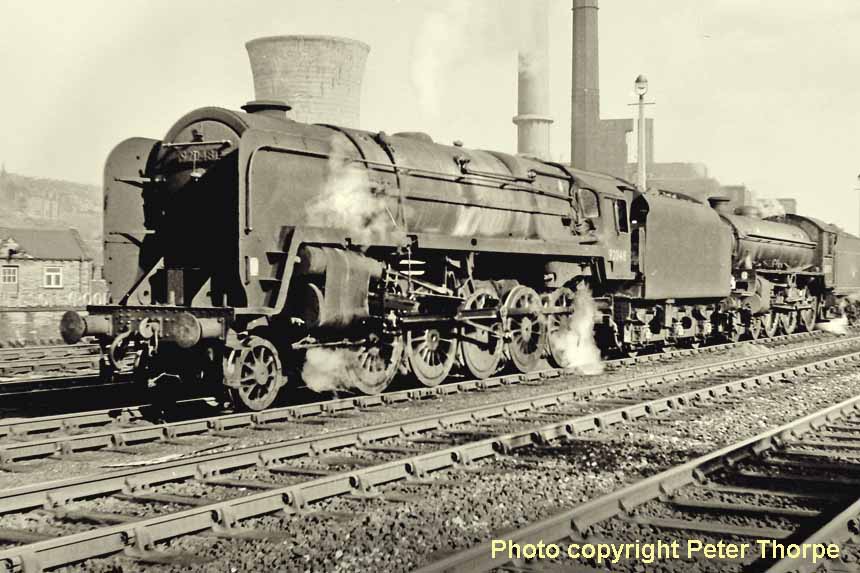 (Above-Inset) The last photo in this group of three shows 'Spaceship' Class 9F No 92048 the following evening on 14 May 1964 accompanied by Class B1 61189 recently allocated to 56F Low Moor on 12 April 1964. The Class 9F was transferred to16A Toton on 2 May and became a frequent visitor to the Aire Valley,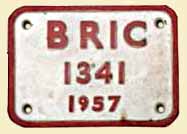 often noted on freight trains in the area. In later years it became a regular performer on the Stanlow-Leeds oil trains. Released new to traffic on Wednesday 26 February 1955 No 92048 was paired with tender BR1C 1137 until 16J Rowsley depot changed it on site for tender BR1C 1341 (see inset) on Monday 2 May 1960 only for it to be changed again, this time for tender BR1C1140 on Friday 25 November 1960.

BR STANDARD TENDERS

While improvements continued to be made on all the new BR Standard engines throughout their working lives, this also applied to the new BR Standard tenders which were subjected to modifications as a direct result of the experience gained from operating in normal service conditions. Amongst the most notable modifications was 71000's original tender (BR1E 1271, capacity 4725 gallons water and 10 tons of coal) which was replaced in November 1957 with a unique tender type BR1J numbered 1528. This was constructed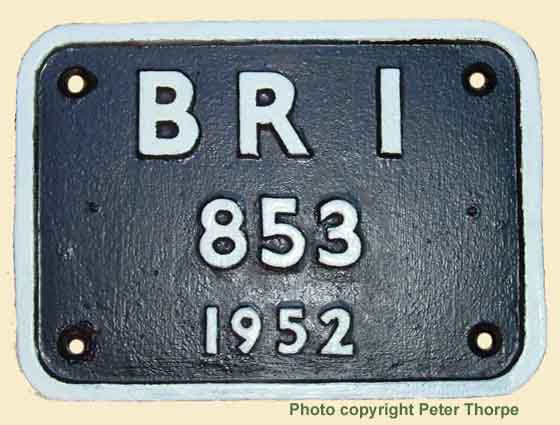 from a tender taken from the 1956 Class 9F programme; fitted with a coal pusher and extended side raves resulting in reduced water capacity of 4325 gallons with the coal capacity remaining unchanged at 10 tons. The original tender number BR1E 1271 was then married to 9F 92150/
The BR1 tenders paired with the first batch of 'Britannia' Nos 70015-70024 which were allocated to the Western Region were subject to both authorised and unauthorised modifications by Swindon Works during the early Fifties; one modification was the lowering of the pick up water scoop to two inches below rail level, whilst it would appear from photographic evidence that they were all converted to type BR1A around this time. Further evidence is provided by the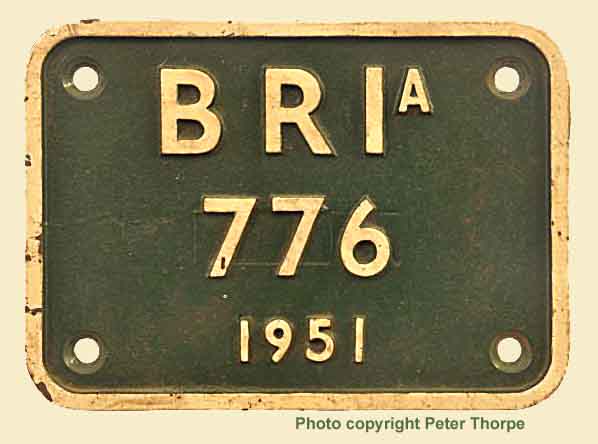 survival of the tender plate castings, which were unique to Swindon Works, being different to all the original tender plates fitted at Crewe Works.

(Above Left-Right-Below) Tender plate BR1 853 was paired with 'Britannia' class No 70034 Thomas Hardy when built. (Inset Right) Tender plate BR1 776 paired with 'Britannia' class 70017 Arrow converted to BR1A 776 at Swindon Works. (Below) Notification from the Southern Region's Motive Power Department at Waterloo to the Works Manager at Eastleigh, informing him of the exchange of tenders between ex-SR 'West Country' class No 34070 Manston and 34067 Tangmere at Stewarts Lane MPD on 5 September 1956.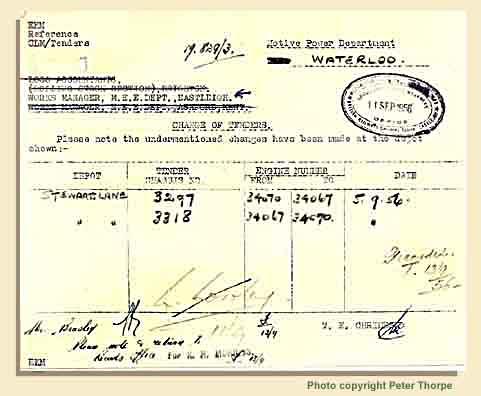 Swindon Works was well known for 'doing its own thing' and many of the modifications they applied to both engines and tenders were not always of the authorised variety. The original tender pairings for both the Class 7MT 'Britannias' and Class 9F 'Spaceships' did not last long, often being changed during a works visit or whenever a locomotive was being allocated to a different Region.
For example, the swapping of tender No BR1 771 among locomotives in the 'Britannia' fleet included No 70012 (21-5-1951), 70013 (8-9-1954), 70007 (18-2-1960), 70013 again (9-7-1960) and 70036 (unknown date) all of which enjoyed the company of tender number BR1 771. Likewise 'Britannias' Nos 70040 (21-3-1953), 70002 (22-4-1955) and 70007 (2-10-1958) were coupled with BR1 859 during their careers.
During its working life, Class 9F No 92069 was married to several BR1F tenders as follows: No 1158 when built, No 1160 on 22 January 1961, No 1184 on 3 December 1963, No 1177 on 22 November 1965 and No 1161 on 15 February 1966. Another example was Class 9F No 92094 which was coupled with tender BR1B 973 from new, then BR1G 1560 (ex-92249) and finally BR1F 1157 (ex-92090) which it acquired on 9 December 1965.
Tenders were also changed on shed, an example being tender BR1F 1160 which was changed at Annesley shed on 22 January 1961, 9F 92071 being the donor engine on this occasion. As well as Annesley, other sheds recorded as changing tenders on site included: Birkenhead, Cricklewod, Leicester Midland, New England, Newton Heath, Rowsley, Saltley, Wellingborough and Warrington.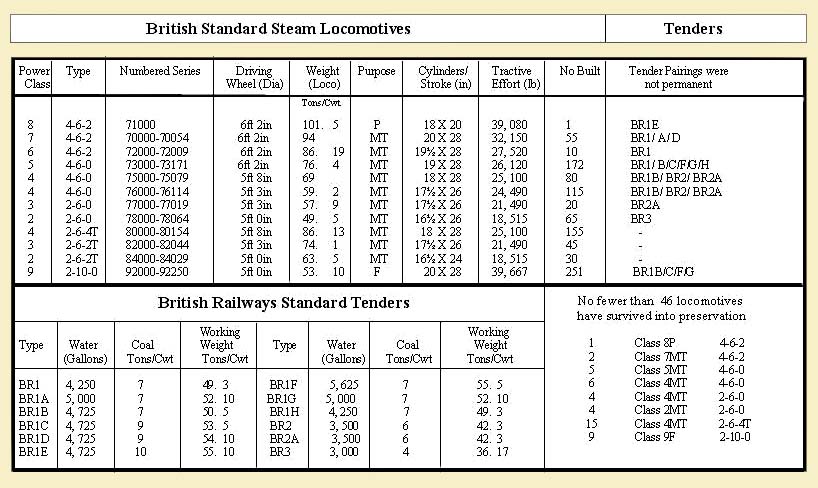 The practise of exchanging tenders goes back to early pre-Grouping when sheds were able to swap tenders with almost any class of locomotive; this continued throughout BR days, with some notable examples occurring during the 1948 Locomotive Exchanges; the trials were organised to evaluate the performance of steam locomotives belonging to the former 'Big Four' companies. Various types of engines were swapped between the BR Regions so that comparisons in normal service conditions could be made; this included the ex-LMS engines operating over the Southern Region which were paired with eight-wheeled ex-WD tenders with larger water tanks, as there were no water troughs available on the Southern Region. Similarly, the ex-Southern engines operating on the London Midland Region were coupled with ex-LMS tenders equipped with water scoops.
On a final note, the 'Clans' appeared to be the exception as there is no record of any changes of tenders during their working lives. This may have been due to the small number of locos in the class (ten in all) making it unusual for more than one being in Crewe Works for overhaul at any given time.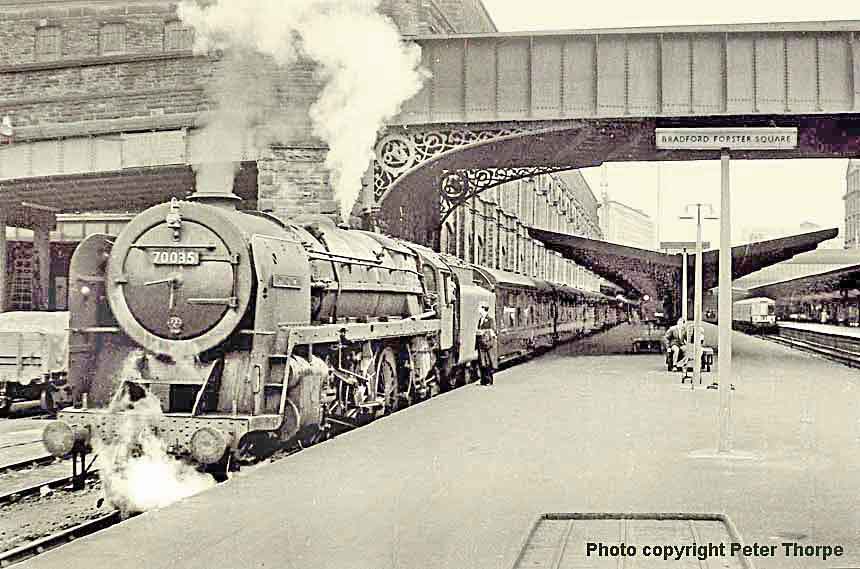 (Above-Below) Bradford boasted two large city centre terminal stations, Bradford Forster Square facing North and Bradford Exchange facing South, both a mere 800 yards away in a straight line - what a wasted opportunity to combine the two! The Midland Railway's architect, Charles Trubshaw, designed a new Forster Square station in 1892; the station had six platforms and a fine overall glazed roof of the ridge and furrow pattern; the roof was dismantled in the 1950s and replaced with utilitarian 'butterfly' awnings; these can be seen in this final group of pictures of my circular West Riding tour are of trains awaiting departure at Bradford Forster Square Station and again they serve to illustrate the variety of steam motive power to be seen in 1964. We start with Class 7MT 'Britannia' No 70035 Rudyard Kipling at the head of the 3.40pm Carlisle all stations stopper. This was a favourite working amongst local enthusiasts as it always produced a 12A Carlisle locomotive; an out and back trip often used as a running-in turn by the parent shed. As a result almost anything could turn up ranging from the usual 'Black Fives' to 'Jubilees', 'Royal Scots', 'Patriots', 'Clans' - and, as is the case here, a 'Britannia' Pacific. (Below) In the summer of 1964, Carlisle Kingmoor shed still boasted an allocation of around 150 steam locomotives including one of the few remaining Class 6MT 'Clans' No 72005 Clan Macgregor, which is pictured here ready to depart from platform 6 to Leeds on the first leg of a train for London on Saturday 30 May 1964. The locomotive was withdrawn on Saturday 1 May 1965 and cut up at West of Scotland Ship breaking Co at Troon in June.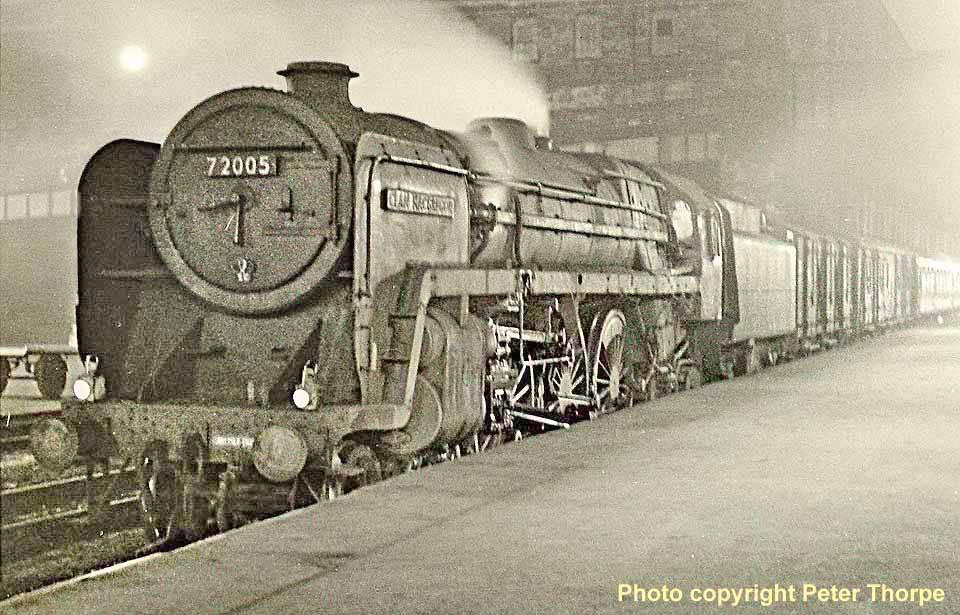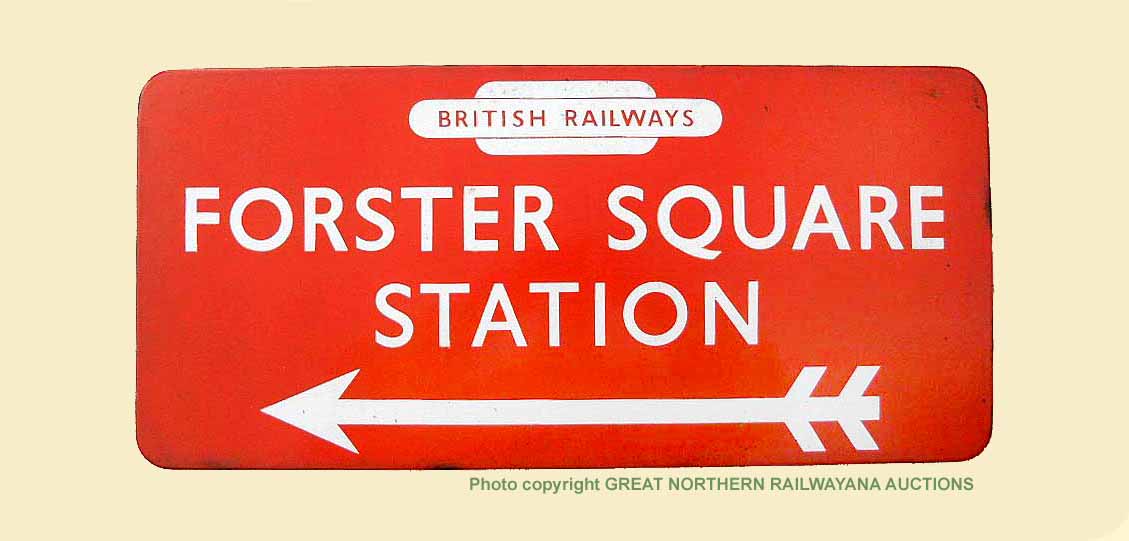 Above-Inset-Below) An enamel British Railways North Eastern Region station sign, measuring 29" x 13" with an arrow pointing the way to Bradford Forster Square Station went under the hammer for £1,800 at a Great Northern Railwayana Auction in April 2016. Click HERE to visit the fascinating GNRA website (Inset) The impressive road bridge connecting Cheapside with Valley Road spanned the platform ends at Bradford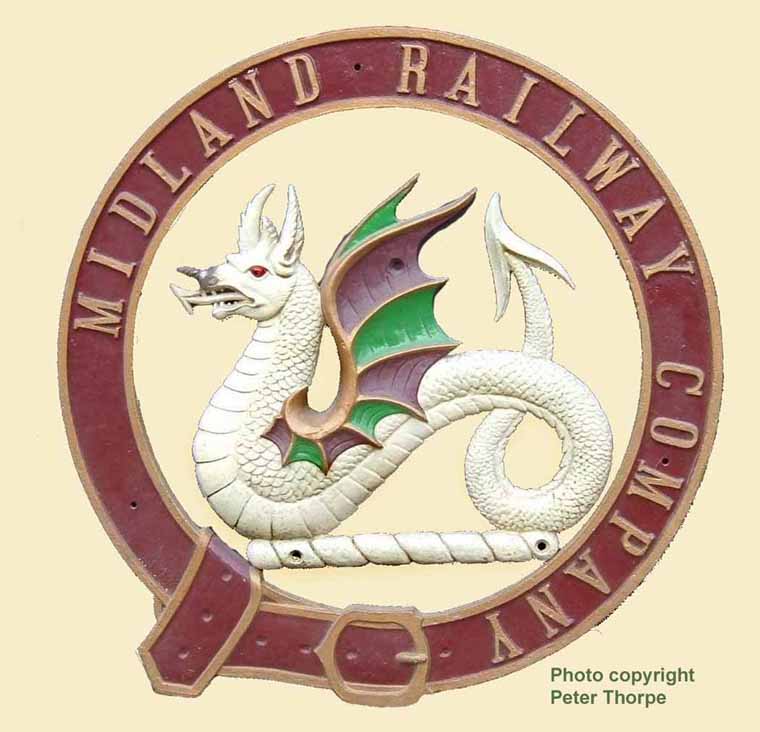 Forster Square; the wrought iron supports included a number of huge ornamental brackets decorated with the Midland Railway's Wyvern - a winged two-legged dragon with a barbed tail - which sits in the middle of a garter that once formed part of the company's coat-of-arms. There were eight to ten wrought iron supports under the bridge and I was amazed to see this Wyvern in auction (John Manders BRA) many years later. I sold some smokebox number plates to pay for it and was delighted to own it until a few years ago when we downsized on retirement. The item was very heavy and the letters were cast separately and screwed to the 'ring' individually; an example can be clearly seen in this photo (below) of Carlisle Kingmoor's 'Royal Scot' class No 46128 The Lovat Scouts awaiting departure from platform six on 26 May 1964.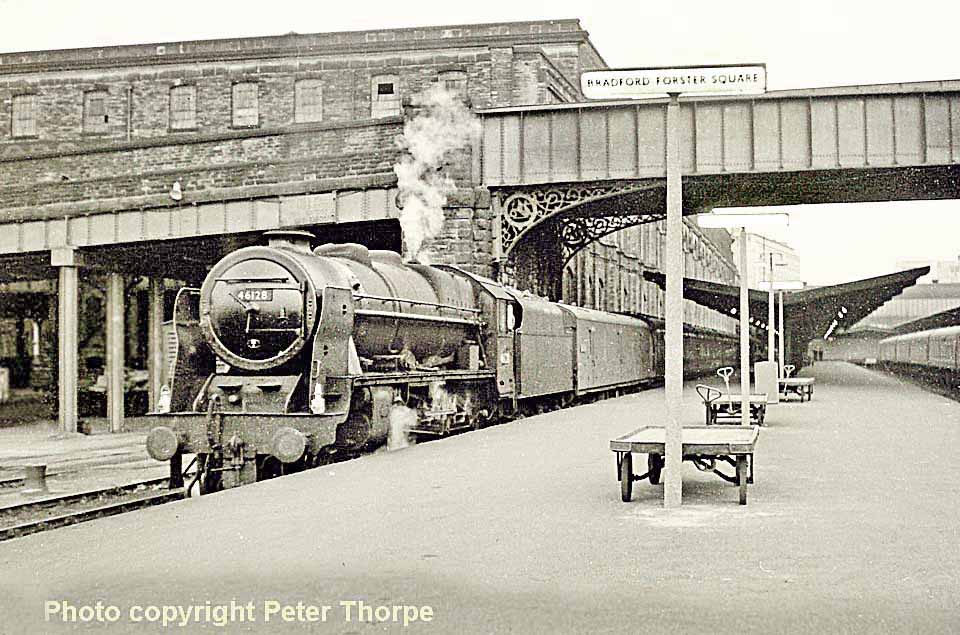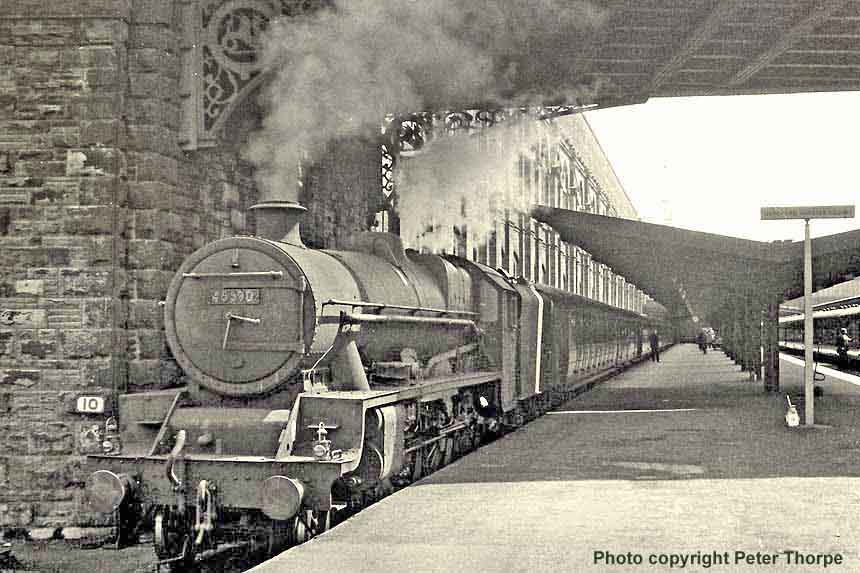 (Above-Below) 'Jubilee' class 45590 Travercore is simmering in glorious sunshine at the head of the 1.58pm express to London on Saturday 9 May 1964. I took this photograph prior to boarding the train to Leeds City station as mentioned earlier on the page. (Below) On Saturday 9 May 1964, a dirty diesel Class 25 D7568 awaits departure with the afternoon Sheffield train. Once the diesel invasion reached Bradford, the Type 2 Bo-Bos were the first to appear regularly on passenger trains. If memory serves me correct the signalman at Shipley explained that the Type 2s had to be limited to a maximum loading of seven coaches on the Morecambe turns owing to lack of power.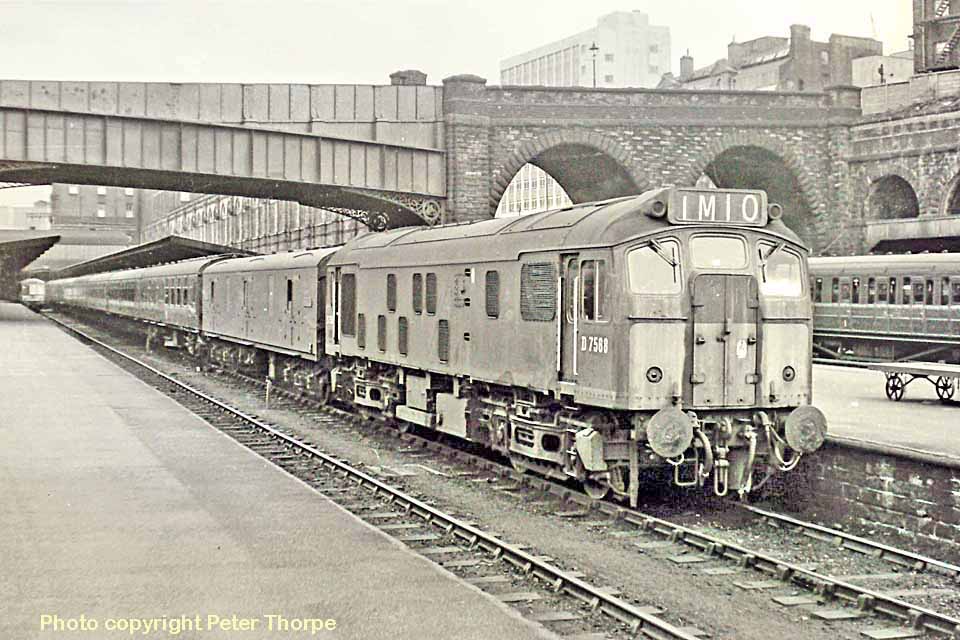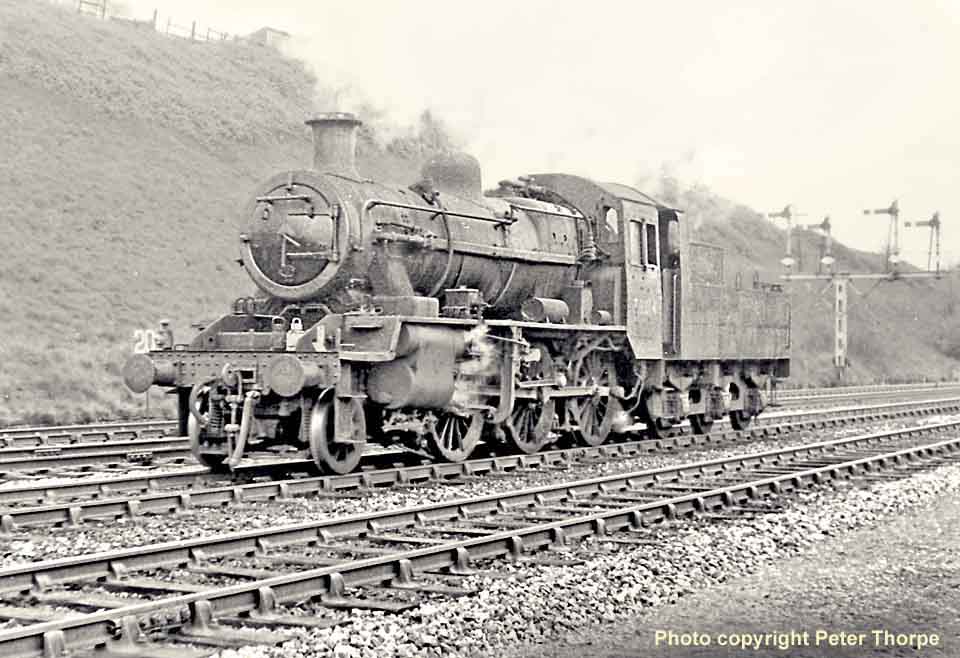 (Above) During December 1964 BR Standard Class 2, 2-6-0 78014 was the acting station pilot. For many years in the late Fifties a pair of Ivatt 2MT 'Mickey mouse' 2-6-2Ts Nos 41265/66 undertook this duty.

One of my objectives in 1964 was to take a sequence of photographs of the locomotive rostered for the popular 3.40pm Bradford-Carlisle stopper; this I managed to do towards the end of the year when the now-preserved 'Royal Scot' No 46115 Scots Guardsman - recently allocated to 12A Carlisle Kingmoor week ending 7 November 1964 - appeared on this turn several times in the week.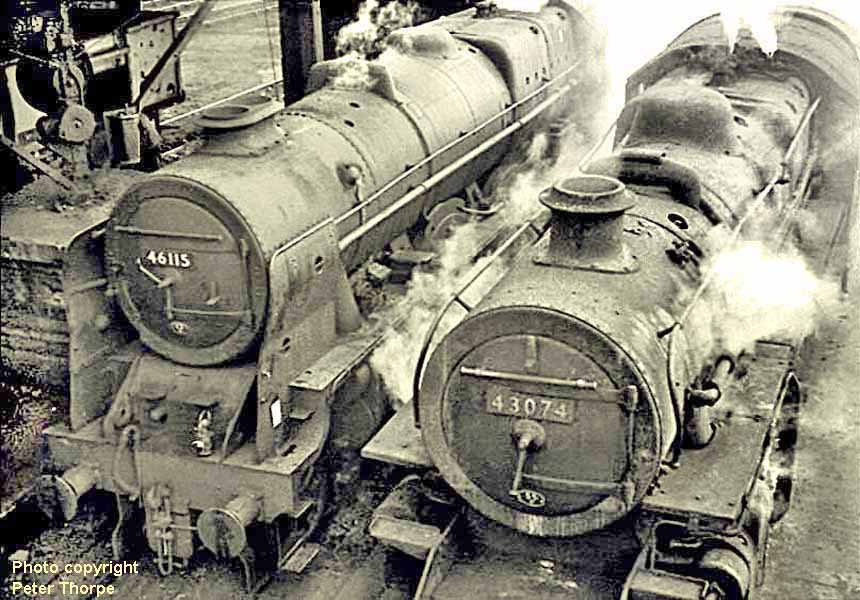 (Above-Below) Having managed to overcome my recent fears of climbing rail side infrastructure my first shot was taken from the top of a lamp post of 46115 standing side by side with Class 4MT Ivatt No 43074 at 55F Manningham shed; this angle gives a good view of the double and single chimneys. (Below) Here the locomotives are queuing up for coal and water alongside Manningham's coaling plant.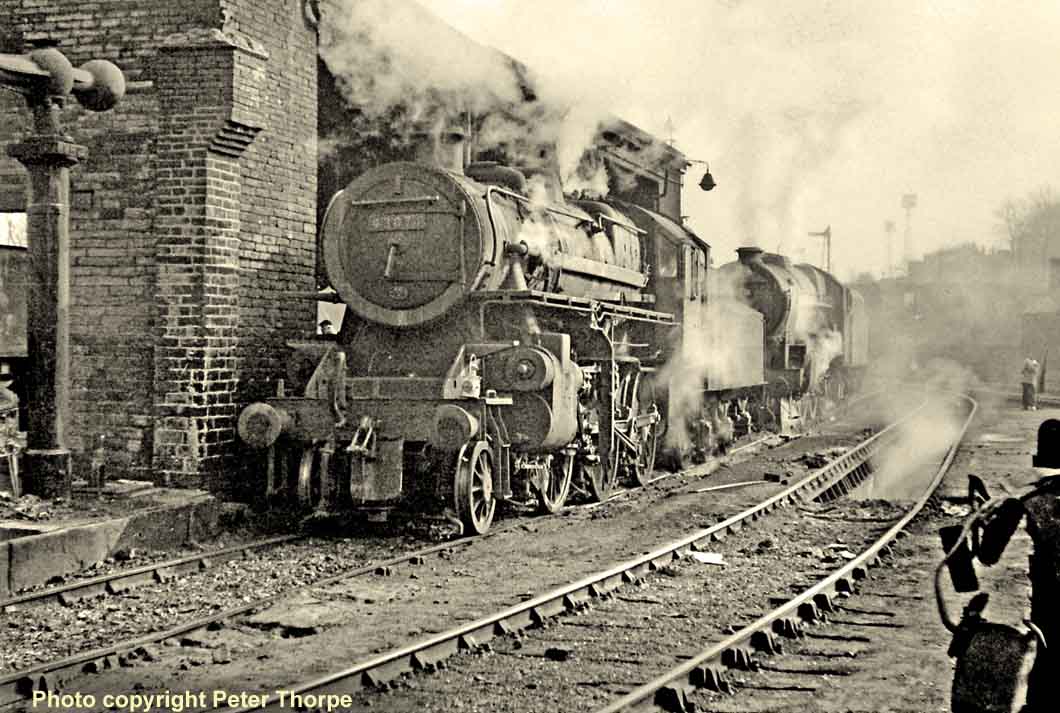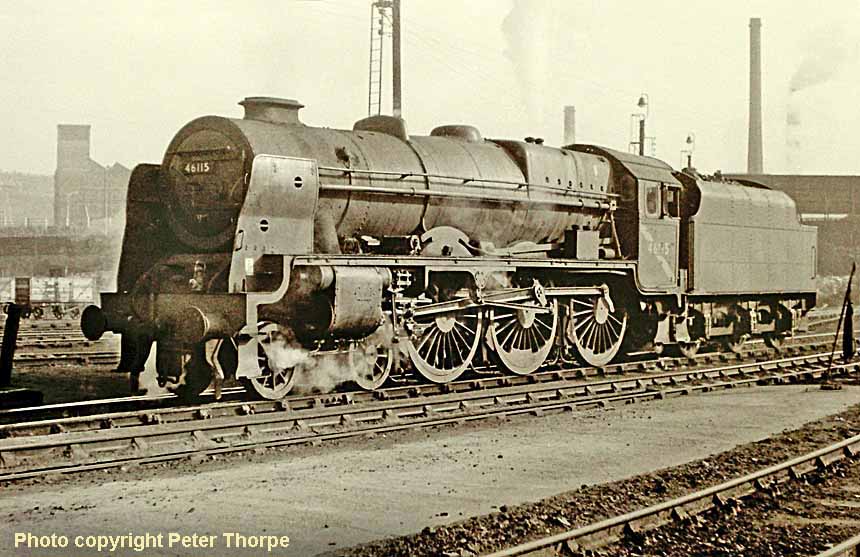 (Above-Below) No 46115 is now easing out of the shed yard and backing slowly down to Forster Square station to hook onto its train on platform 6. (Below) This is its 3.40pm departure photographed from the veranda of the signal box at the throat of Bradford's Forster Square station.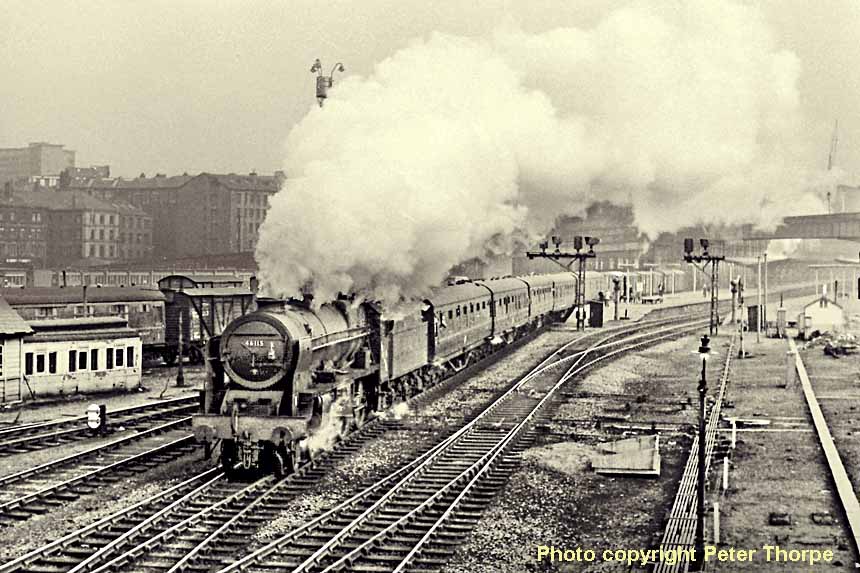 (Above) After collecting additional coaching stock at Skipton station, 46115 now gets into its stride heading for its next stop at Gargrave station. I had chased this train all the way from Bradford and arrived just in time to photograph it from Broughton Road's Niffany Bridge on the outskirts of Skipton.

THE PAGE IS STILL UNDER CONSTRUCTION
Polite notice: All text and photographs are protected by copyright and reproduction is prohibited without the prior consent of the © owners. If you wish to discuss using the contents of this page the email address is below. Please note - this is not a 'clickable' mail-to link via Outlook Express. You will have to email manually.
dheycollection@ntlworld.com