This page begins with Roy's railway memories featuring both steam and diesels starting with a number of railtours he photographed before and after 1968, including this fine shot of Flying Scotsman heading the North Eastern Locomotive Preservation Group (NELPG) 'The North Eastern' on the climb from Durham on 29th June 1969.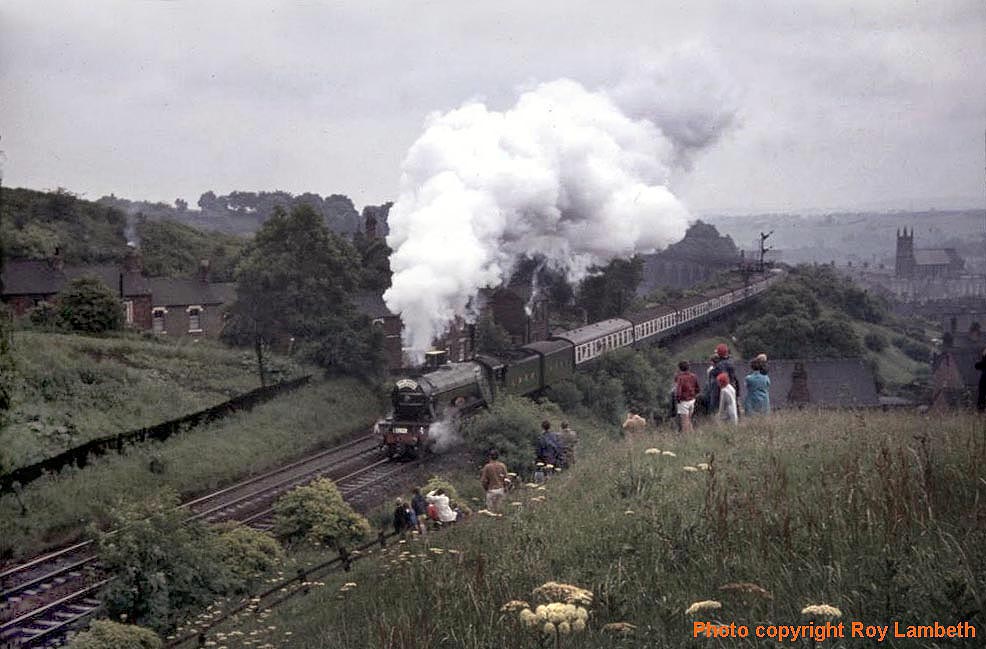 The above photo was not taken on 13th April 1969 as originally captioned...
Vic Smith from York explains - 'Having researched railtours involving 4472 Flying Scotsman I can hopefully clear up a long term mystery regarding the date of Roy's photograph of 4472 at Durham. For some time there have been doubts as to the date of this photograph. The following comments can be found on the 'Six Bells Junction' website...'
This tour was originally uploaded as having run on 13th April 1969 but several contributors have questioned this, all giving the date as 29th June 1969. Roy Lambeth however confirms that his slide of 4472 at Durham has the date of 13/04/1969 written on it and the fact it appears to show a different rake of coaches seem to confirm there may indeed have been a similar outing for 'Flying Scotsman' on 13th April with the same tour name?
'
Vic adds - 'Several factors rule out 13th April 1969. The white flowers are Yarrow, and these only flower between June and July. The coaches in Roy's shot at Durham (1st one white roof) appear different to other photos of the tour featured on the Six Bell site, as all others were taken after the stock was reversed at Guiseley. The loco is carrying a headboard at top of smokebox and NELPG board on buffer beam. The original railtour scheduled for 13th April 1969 was postponed until June 1st 1969, due to engineering work on Shap. This train did not carry a headboard (the photo on the Six Bells Junction website shows 4472 carrying a headboard at Penmanshiel Tunnel between Berwick and Dunbar - although this train never went anywhere near that location). The date of Roy's shot must therefore be 29th June 1969.
So 29th June it is then...No 4472 hauled the outward journey from Newcastle via York to Leeds, where a 'Peak' class took over the Leeds-Keighley section (involving reversal at Guiseley) and 4472 headed the return Keighley-Skipton-Colne-Accrington-Preston-Upperby Jnct-London Road Jnct-Hexham-Newcastle.
A final word from Roy - 'Looking at the photo now, I can confirm it as not being taken in April. Spring always comes late to the Durham Area and with all the trees in full leaf, it cannot be April.' Click

here
to visit the excellent Six Bells Junction website.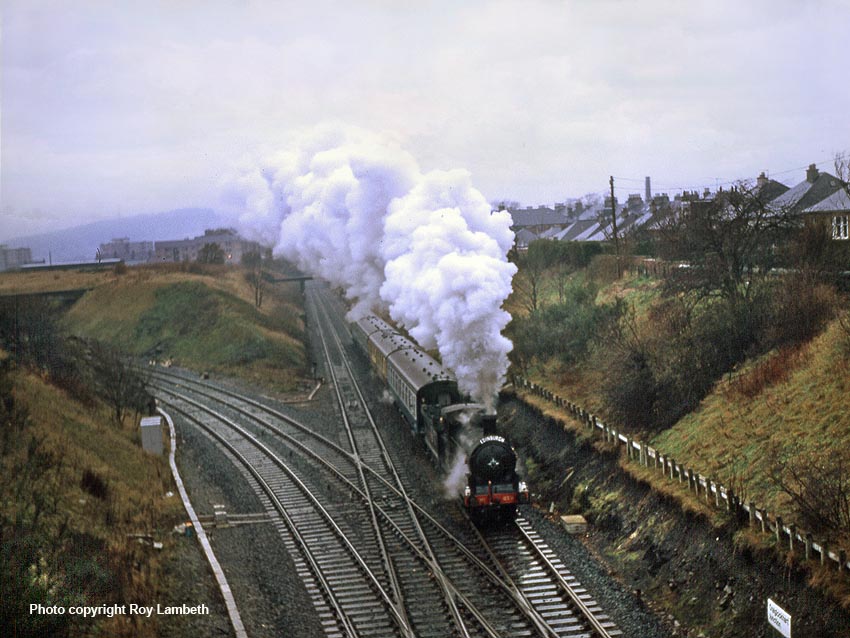 (Above) On 5th June 1986 the preserved ex-NBR Class J36 0-6-0 "Maude" did three trips around the Edinburgh Suburban lines. It struggled with dirty coal and poor rail surfaces throughout the whole day but made the best of it. I tried chasing the loco on the Edinburgh circle but only managed to take photos at Craiglockhart Junction from a vantage point on the Edinburgh & Glasgow Canal towpath in dismal weather.

(Below) A sight for sore eyes on the East Coast Main Line! - 'Merchant Navy' class No 35026 Lamport & Holt Line heads the Altrinchamian Railway Excursion Society's 'Elizabethan' through Durham on 22nd October 1966. The Bulleid Pacific shared the tour with Class A3 Flying Scotsman. No 4472 hauled the London Kings- Cross-York run via the ECML, while 35026 headed the York-Newcastle and return to York, where 35026 completed the run back to London.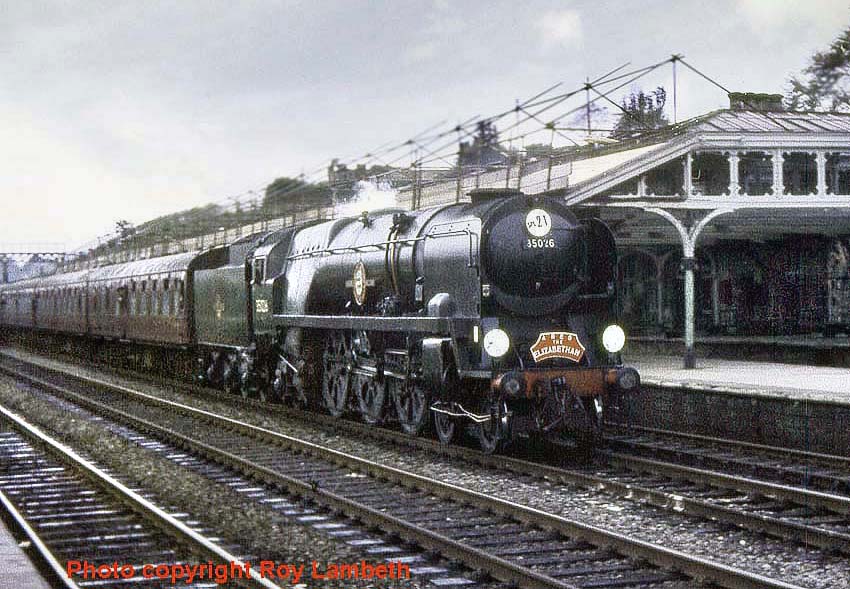 Cumbrian Mountain Express
.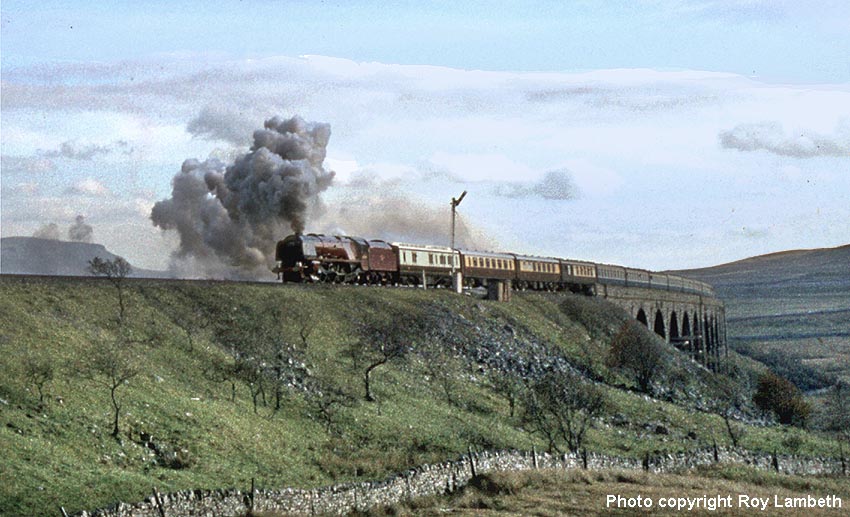 (Above-Below) Stanier Pacific No 46229 Duchess of Hamilton storms off Ribblehead Viaduct...we were told that there was a speed restriction on the viaduct and the best place to photograph the 'Cumbrian Mountain Express' would be the North end where the loco would open up again. When 46229 arrived, however, it did not slow down for the viaduct but pounded across as we see here.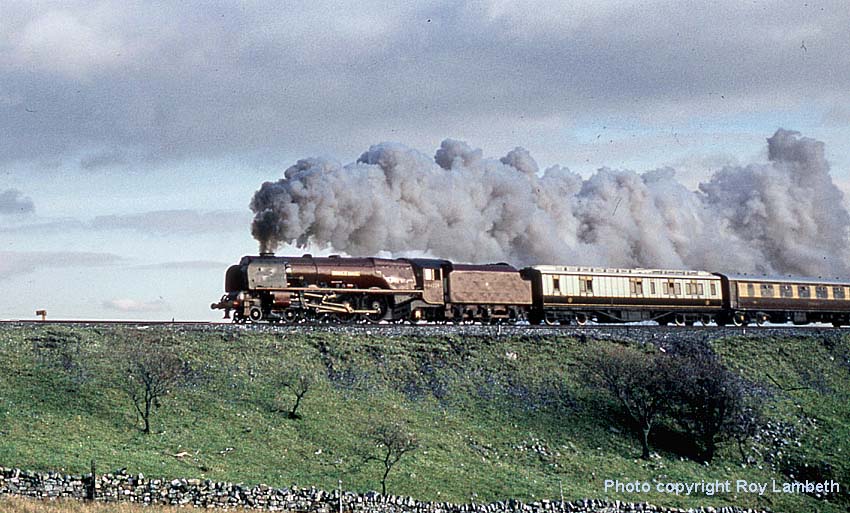 (Below) On 26th March 1983 No 46229 was heading 16 coaches near Ais Gill Summit. We had a a strong southerly wind that day and had been listening to what we thought was a diesel on a heavy train approaching. Then 46229 appeared flat out on full regulator sounding just like a diesel. It was doing a very liberal 60mph...I would think it was nearer Seventy!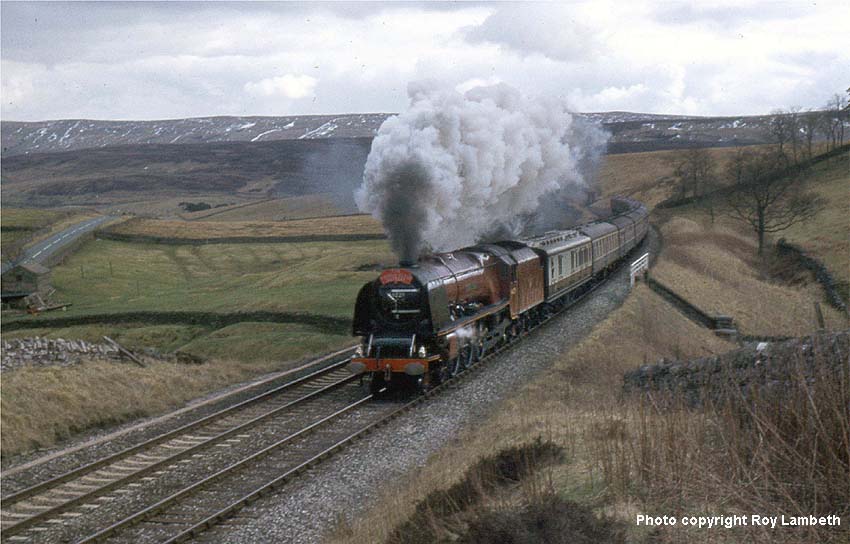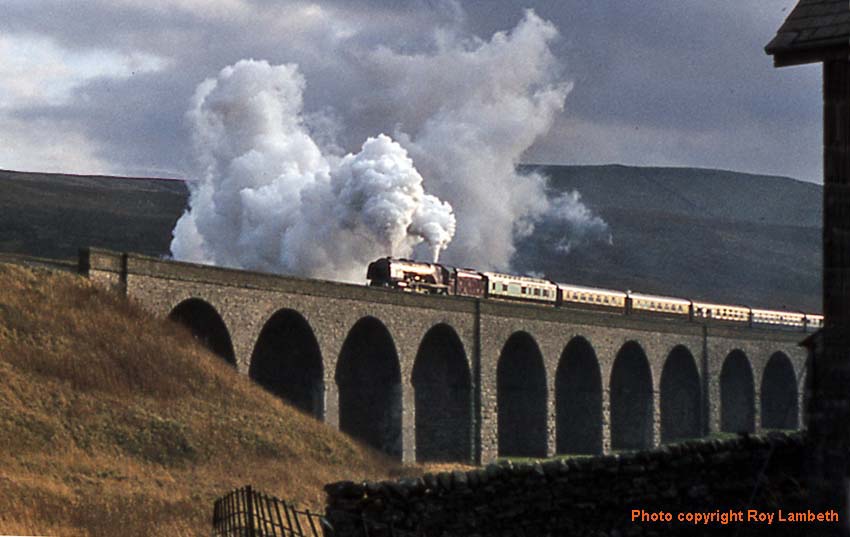 (Above-Below) Every railway photographer's dream! - a great location, superb lighting, smoke affect...all the necessary ingredients which can lift a photo into that all elusive 'master' shot. Here Roy records the splendid sight of Stanier PacificNo 46229 Duchess of Hamilton leaving a water stop at Garsdale with the northbound Cumbrian Mountain Express on 5th November 1983. Roy was standing next to a rather imposing gentleman with a black Bentley, and would love to see his photos taken from the same spot.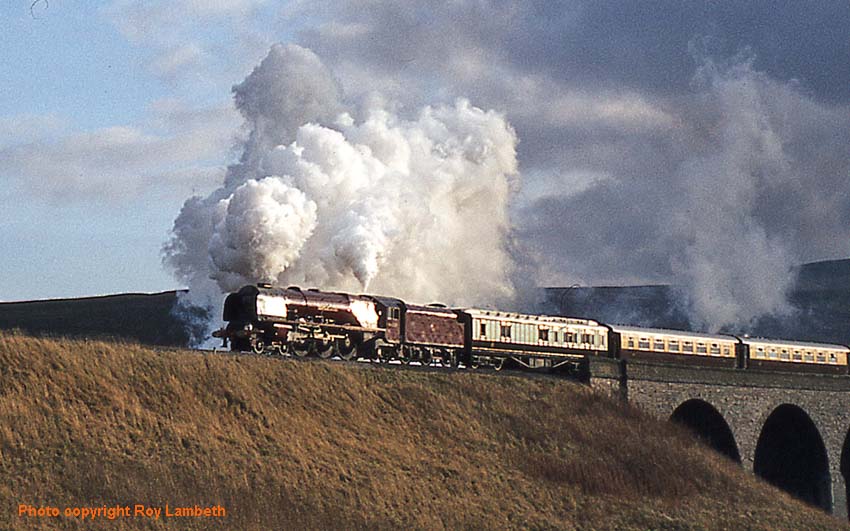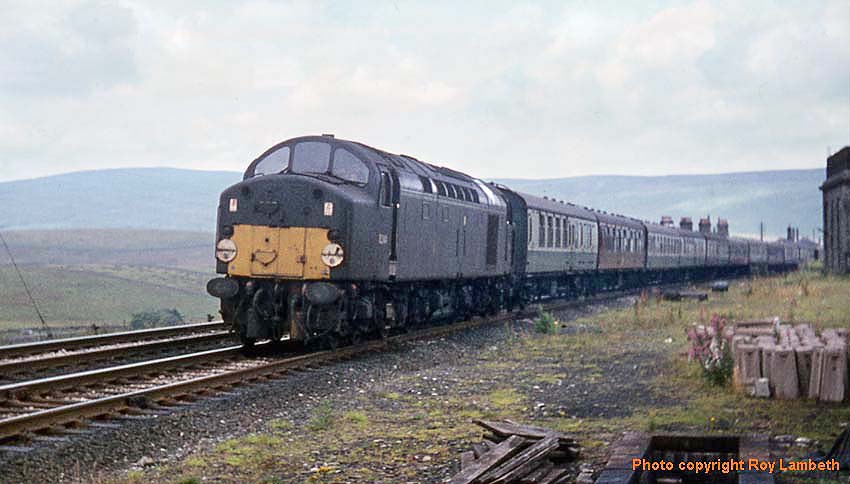 (Above-Below) Not strictly a railtour, but one of those impromptu shots that railway photographers are inclined to take, either to relieve the boredom during long lineside trysts or to rattle off a practise shot whilst waiting for something better to come along! This shot of EE Co Type 4 No D244 passing south through Garsdale on the S&C on 11th August 1968 fits the bill perfectly...the train was running in front of the 15 Guinea special (the last steam-hauled train on BR). The Pennine weather was very mixed during the day - in the shot above it is misty and cloudy, but the sun came out for the passing of the special (below) on the return trip behind Black 5s Nos 44781 and 44871.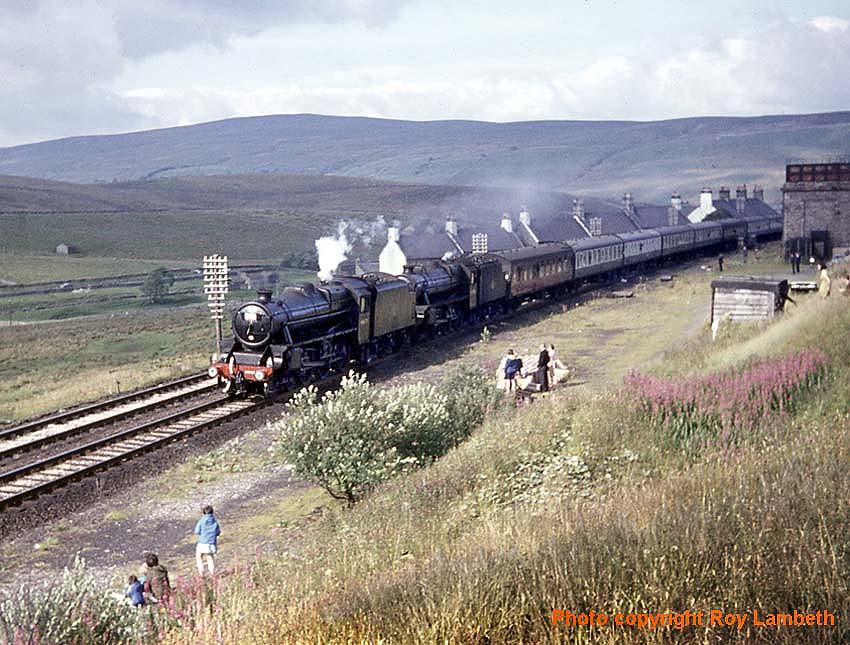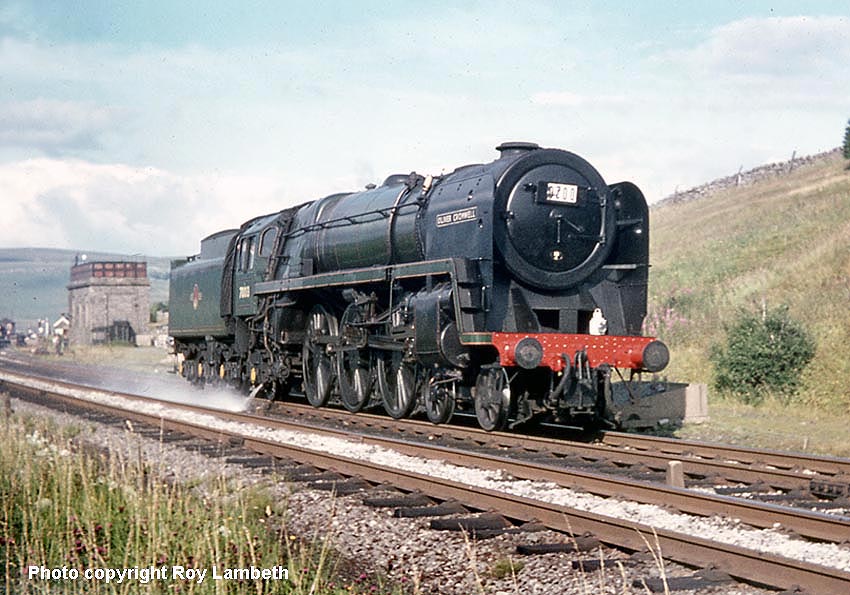 (Above) The very last steam loco on British Rail on 11th August 1968. 70013 Oliver Cromwell passes through Garsdale about an hour after The '15 Guinea Special' en-route to incarceration at Bressingham.

(Below) With the end of BR steam still fresh in enthusiasts' minds, the news that No 4472 Flying Scotsman was booked to haul 'The Moorlands' Rail Tour from Liverpool Lime Street to Carlisle via Rainhill - Earlestown - Newton-le-Willows - Golborne Jn - Wigan North Western - Preston - Carnforth - Penrith - Carlisle on 26th October 1968, caused quite a stir. The return journey was via the S&C to Settle Jn - Hellifield - Keighley - Engine Shed Jn - Normanton - Wakefield Kirkgate - Huddersfield - Diggle - Stalybridge - Miles Platting - Manchester Victoria - Eccles - Newton-le-Willows - Rainhill - Liverpool Lime Street. A week before Flying Scotsman was due to climb Shap bank I travelled to Cumbria to find somewhere suitable to get the desired photo. Following construction of the M6 Motorway through Cumbria, many roads were closed or altered, including a minor road which crossed the WCML at Shap Wells. This was closed along with the level crossing - once a popular venue for railway photographers in steam days. After several unsuccessful journeys down farm tracks and minor roads I eventually found the access to the site of Shap Wells level crossing via a gated farm road. Having got the farmer's permission to wander over his grazing land, I decided that it would be the best place to go. When the big day finally dawned, it was cold and very foggy. I left home at 5am and spent nearly five hours travelling the sixty miles across the Pennines to Shap in dense fog. By the time I arrived at the chosen point the fog was beginning to lift, but it was still freezing cold and not a breath of wind; 4472 was due to pass Shap Summit at 10.33 but actually passed Shap Wells at about 10.42 running just a few minutes late - and what a sight!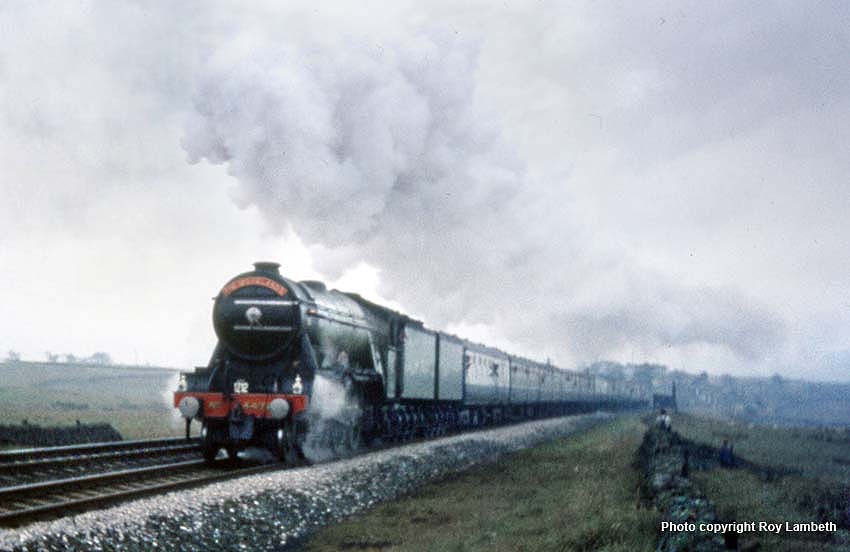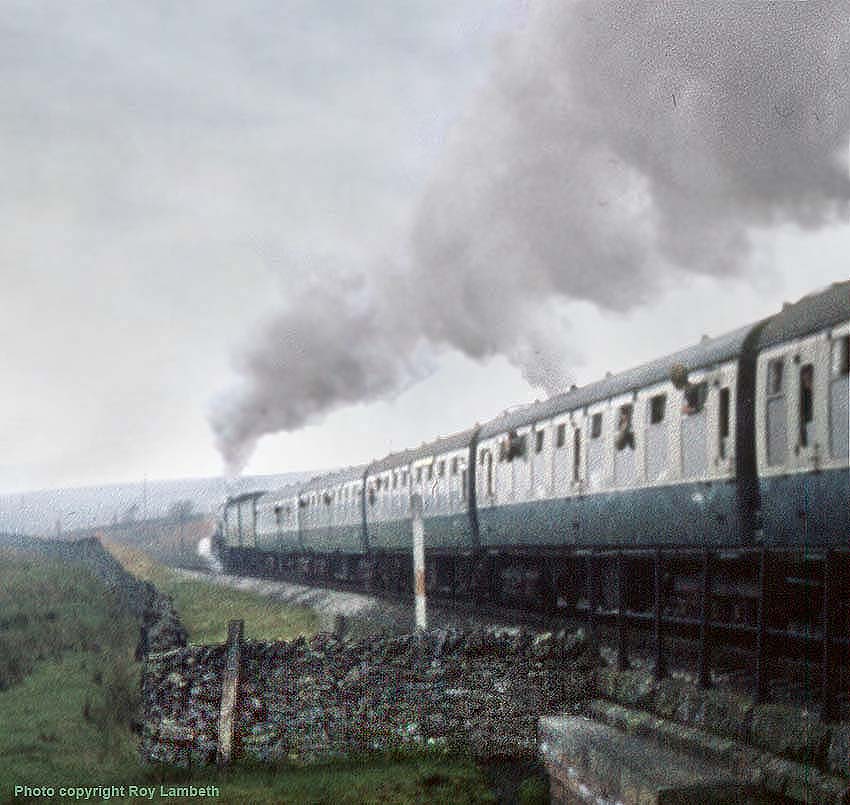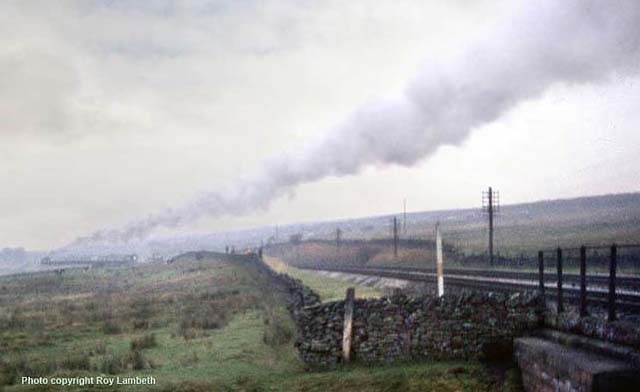 (Above) After the train had passed the exhaust hung in the air like the vapour trail from an aircraft for some 20 minutes afterwards - clearly the air was cold enough to form 4472's very own contrail and in the final shot, the drifting hot exhaust can be clearly seen cooling in the surrounding air precipitating a long trail of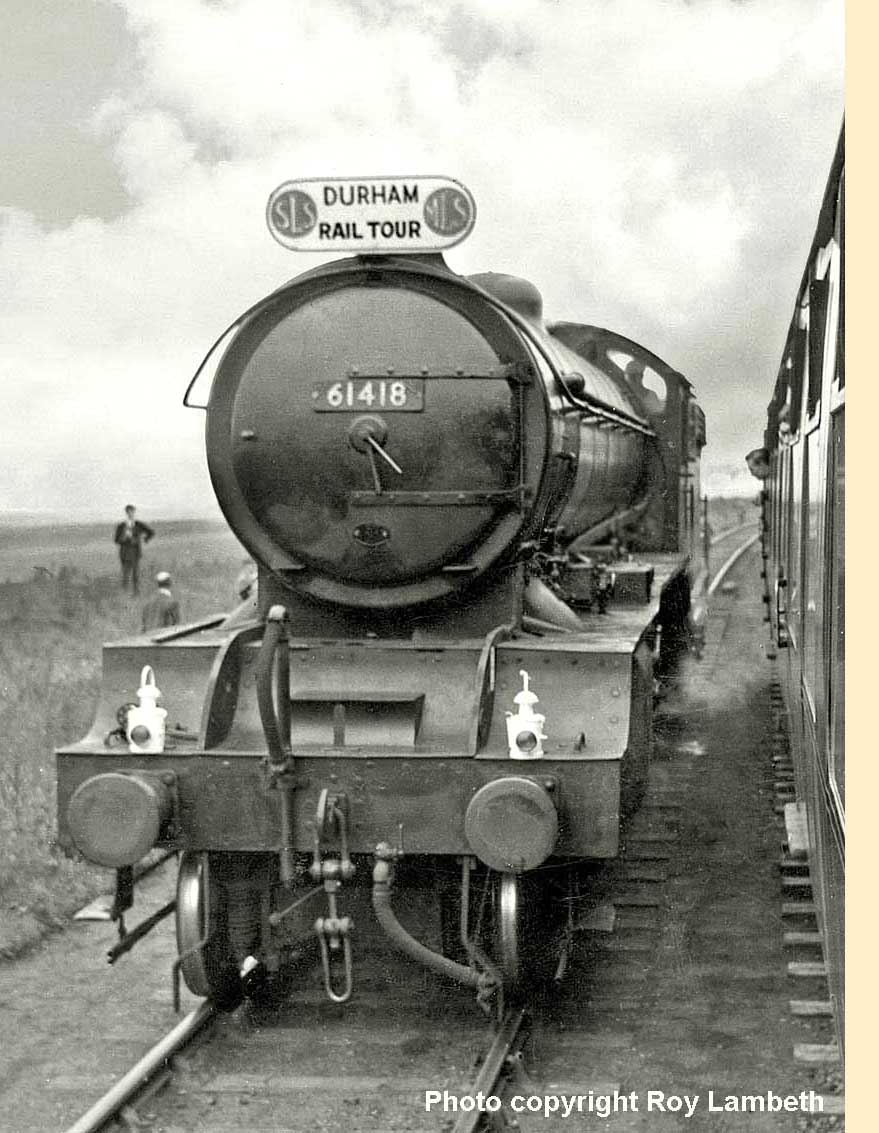 cloud. It gives some idea of the temperature at that height in the northern fells. Needless to say it wasn't the best weather for photography...

(Left) Class B16/3 (Thompson 1944 rebuild on a Raven N.E. design) No 61418 was one of the last of the class to survive. On 13th October 1962 the loco is seen running round the S.L.S./M.L.S./Kings College Railway Society (Newcastle) 'Durham Rail Tour' at Port Clarence before using the Billingham Beck Branch to Stockton. The Durham Rail Tour started at Durham and visited Bishop Auckland, West Auckland Colliery Yard, Shildon Tunnel Branch (built to avoid Brusselton Inclines), Simpasture Branch (Raven's pre-war 1200 volt overhead electricfication route), Port Clarence, Billingham Beck Branch. Stockton, West Hartlepool, Wellfield, Seaton Bank, Sunderland, Newcastle, Scotswood, Blaydon Loop, Dunston, Tyne Yard, Beamish (where it stalled on the 1 in 36), Consett Station, Consett Shed, Conset North, The Lanchester Valley Line back to Durham where it arrived hours late and after the last connection to Newcastle. The Railtour was extended to Newcastle as a result. For further details of the railtours on this page click

here
to visit Gary Thornton's incredible 'Six Bells Junction', which contains the largest archive of railtour information anywhere on the planet! Click on the Railtour Files on the site's side menu and you can explore over 11,000 pages of railtour information from over 150 years ago to the present day - a quite remarkable feat! For example, the 'Durham Railtour' can be found by clicking on the year (1962) and then scrolling down the list of tours in date order or by name. The site welcomes contributions, and the 'Durham Rail Tour' features another of Roy's photos along with his comments - 'We arrived at Consett in total darkness having stalled on the 1 in 36 somewhere near Anfield Plain due to a shortage of steam. I remember the storming start on the bank and the burning cinders high into the dark sky. Arrival at Durham was some 3 hours late. If railtours are your bag, then the 'Six Bells Junction' website is highly recommended…a fantastic reference source.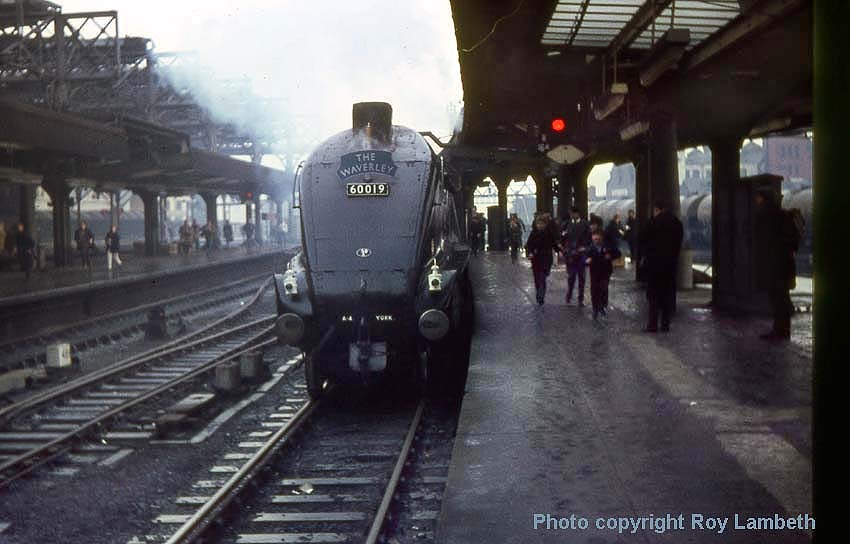 (Above-Below) Class A4 60019 Bittern is start attraction at Newcastle Station on 12th November 1966 while hauling "The Waverley" special (York-Newcastle-North Wylam-Carlisle-Hawick-Edinburgh-Berwick-Newcastle-York). (Below) Bittern at Hawick...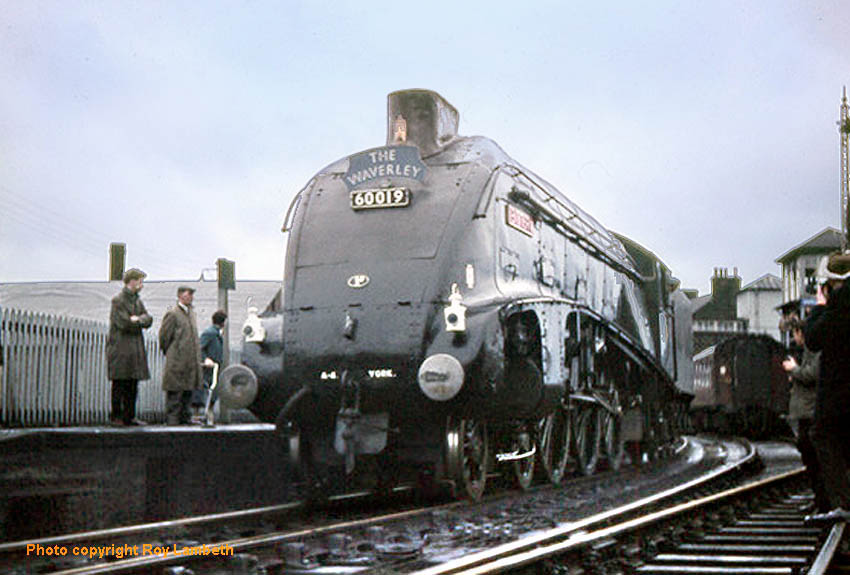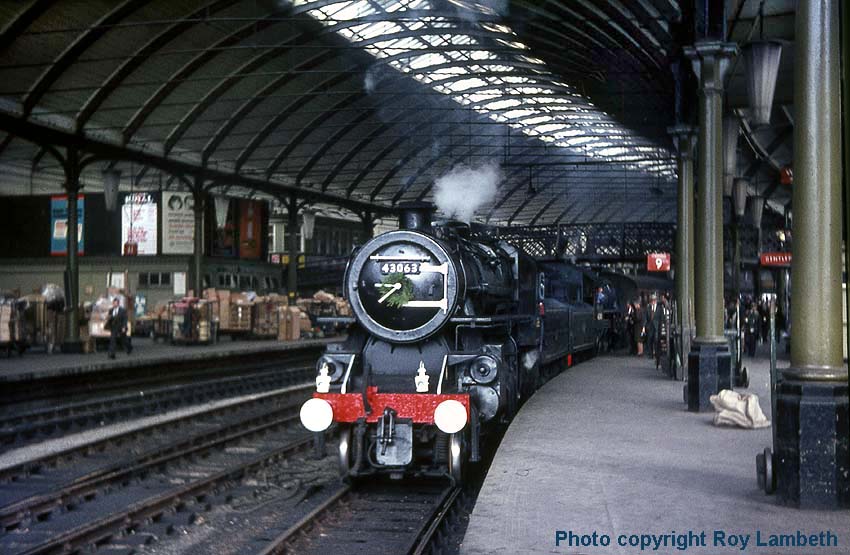 (Above-Below) On 2nd October 1966 Ivatt Class 4MT 2-6-0s Nos 43000 and 43063 (running tender to tender) arrive at Newcastle Central Station with the empty stock for The 'Wansbeck Piper' - the last train over the former North British Railway branch from Morpeth to Reedsmouth Junction. The train terminated at West Woodburn (line closed and lifted beyond that point). (Below) Camera shutters click away as the locos run round the stock of the 'Wansbeck Piper' at Morpeth.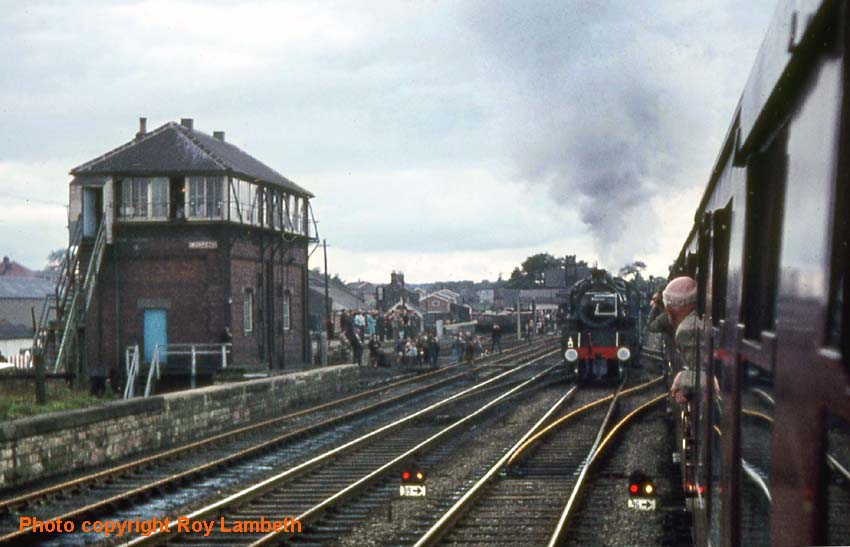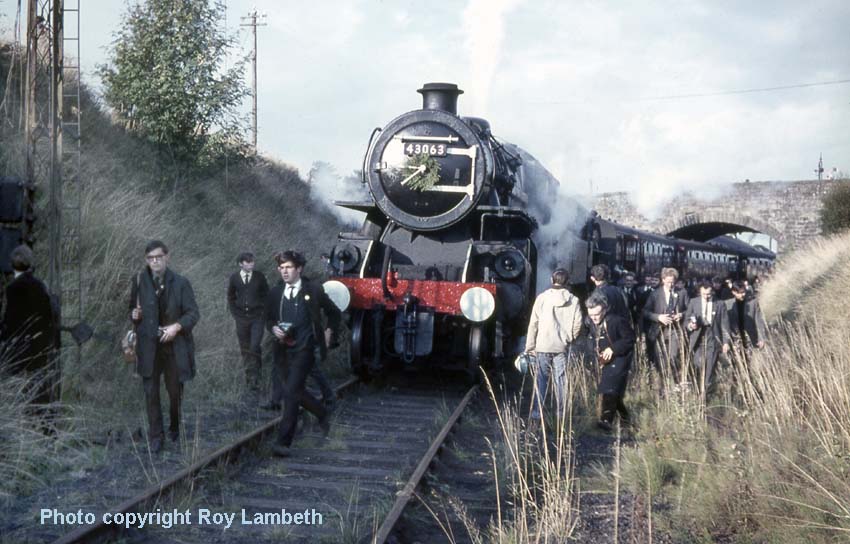 (Above-Below) A Scottish piper welcomed the arrival of the railtour at Woodburn, but enthusiasts were more interested in capturing the moment on film; it even looks as if one scallywag is appraising his chances from the top of the signal post! Due to the short headshunt, the locos (still running tender to tender) ran round the train one at a time. (Below) Preserved Class K4 3442 The Great Marquess with the RCTS 'North Eastern No 2 Railtour' at Deerness Valley Junction on 10th April 1965. The railtour started from Leeds and visited Ripon, Northallerton Low Level, Stockton, Billingham Beck Branch, Haverton Hill, Fighting Cocks, Stockton & Darlington Rly flat crossing over the ECML, North Road, Bishop Auckland, St. John's Chapel (Weardale Branch), Bishop Auckland North Curve, Durham & Newcastle.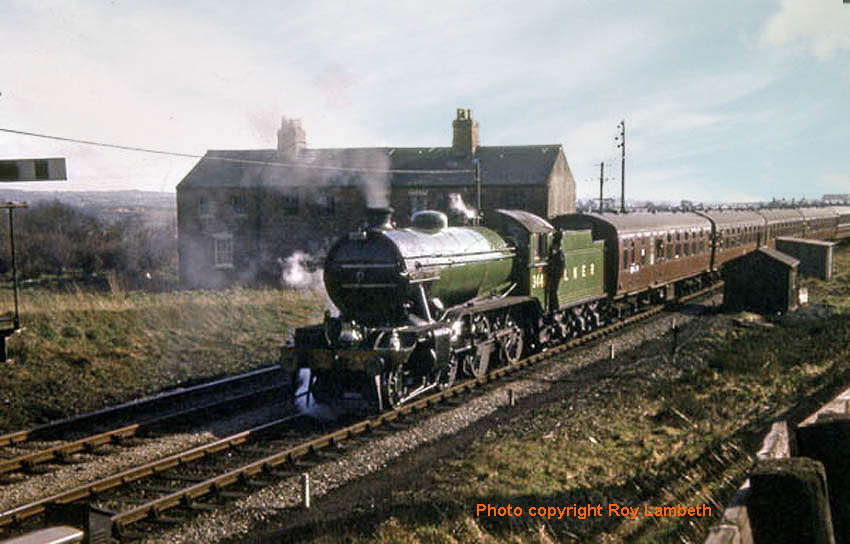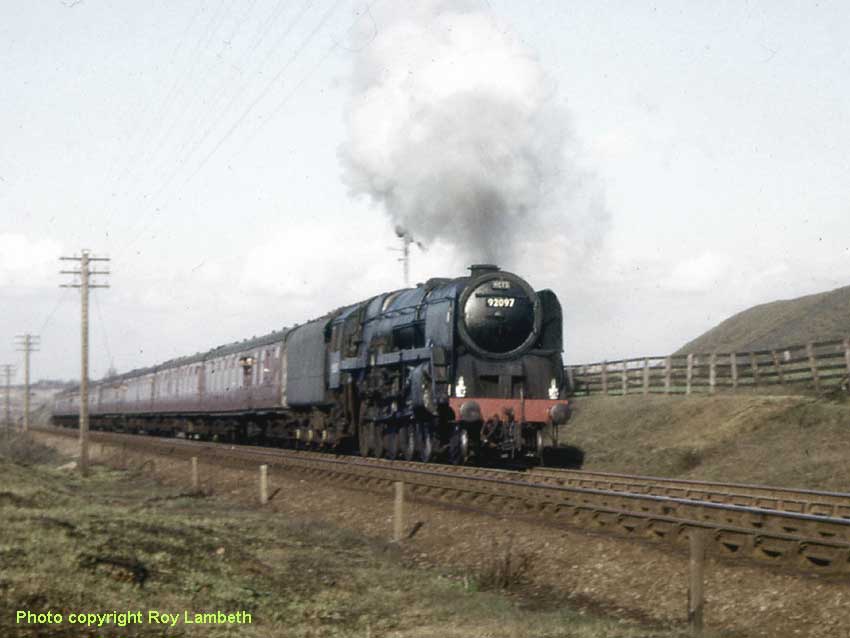 (Above-Below) Class 9F No 92097 hauled the 'North Eastern No 2 Railtour' from Newcastle to Consett via Tyne Yard. The passengers transferred to a DMU for the trip to Waskerley via Burn Hill Junction and back to Consett Station. Meanwhile the main train was hauled by K1 62027 from Consett Station to Consett North Junction (involving reversal) where 92097 took the train via the Lanchester Valley line and Relly Mill to Ferryhill and Darlington, and No 3442 took over again for the trip back to Leeds via Northallerton and the old Leeds Northern Line via Ripon. The photo shows Class 9F No 92097 near Anfield Plain on the 1 in 36 climb to Consett.
(Below) By way of a change, we feature EE Co Type 4s (Class 40) Nos 40 068 (D268) and 40084) (D284) heading past Trinafour on the 1 in 75 climb towards Drumochter Summit some 1484 feet above sea level with the F&W Railtours 'Skirl 'o the Pipes' from Gloucester to Wick, Thurso & Dufftown in May 1984. The 16-coach load consisted of all SK, FK & BSK coaches. The train was split at Aviemore with one portion (7 coaches) going on to Wick and Thurso with the 9 coach portion visiting the Strathspey Railway, then on to the closed Kieth & Dufftown followed by the freight only Burghead Branch. The two portions joined up around midnight for the overnight run back to the Gloucester area
.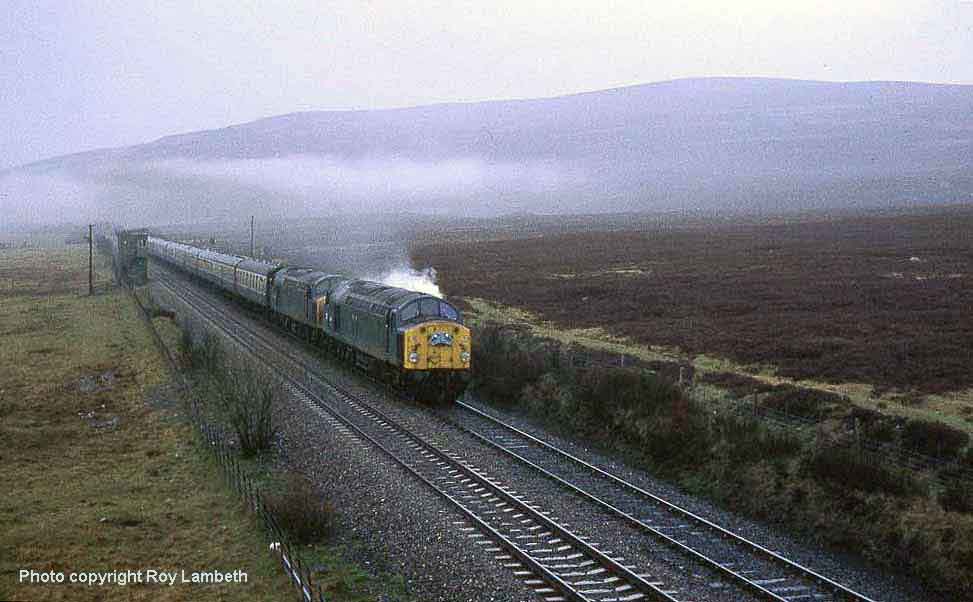 STEAM ON THE SHED
NORTH-EAST ENGLAND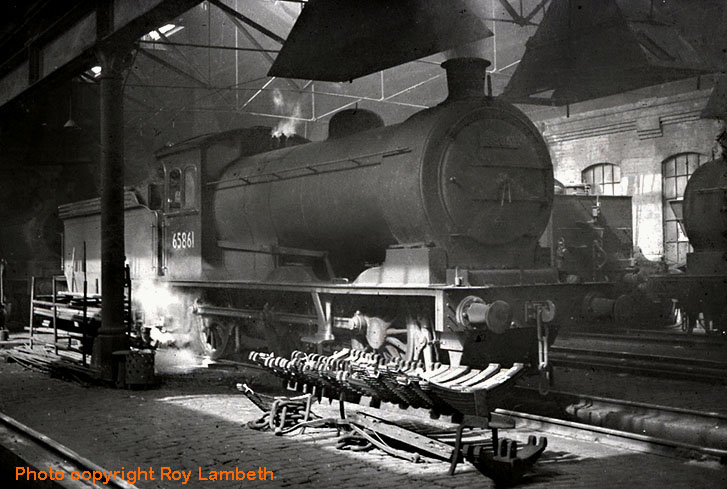 (Above-Below) A quiet moment in Sunderland South Dock Shed 54A shows Class J27 65861 awaiting its next job in summer 1961. (Below) A Sunday morning visit to Sunderland South Dock on 22nd April 1966 found us barred from entering the main part of the shed. There had been an accident. An ash wagon had been fly shunted into the roundhouse, but as the turntable had not been set correctly, the wagon ended up in the turntable pit and the staff was discussing ways of retrieving it before the Depot Manager found out - he didn't work Sundays. We were told - 'no cameras, no photographs!' In other words, the staff didn't want any proof that an incident had taken place! Therefore we photographed what we could in the shed yard and avoided the roundhouse and the diesels. Class Q6 No 63458 undergoing boiler washout with a tenderless 63346 behind.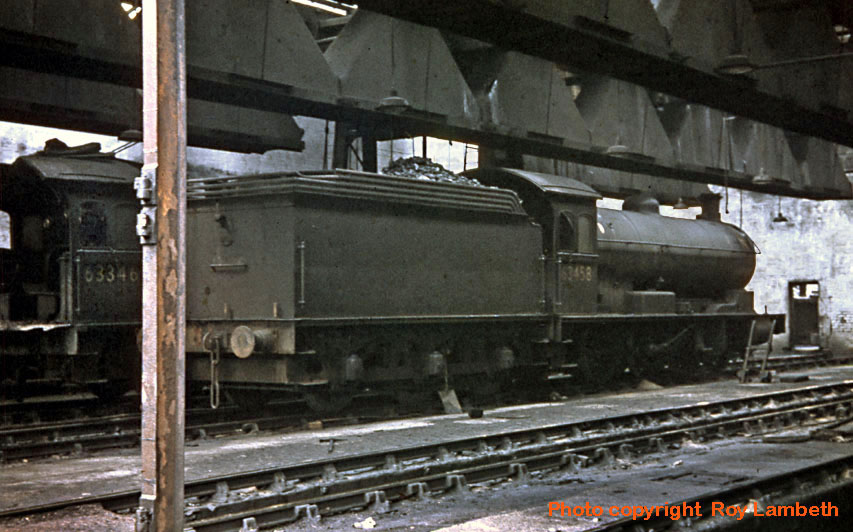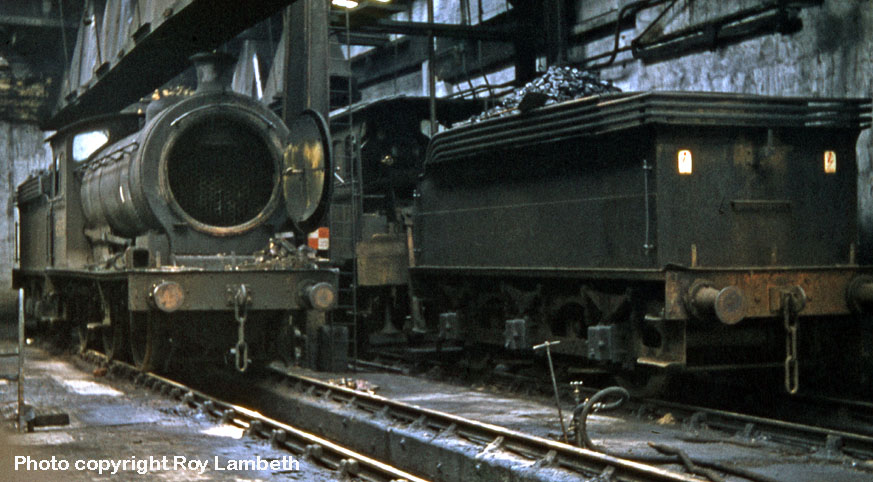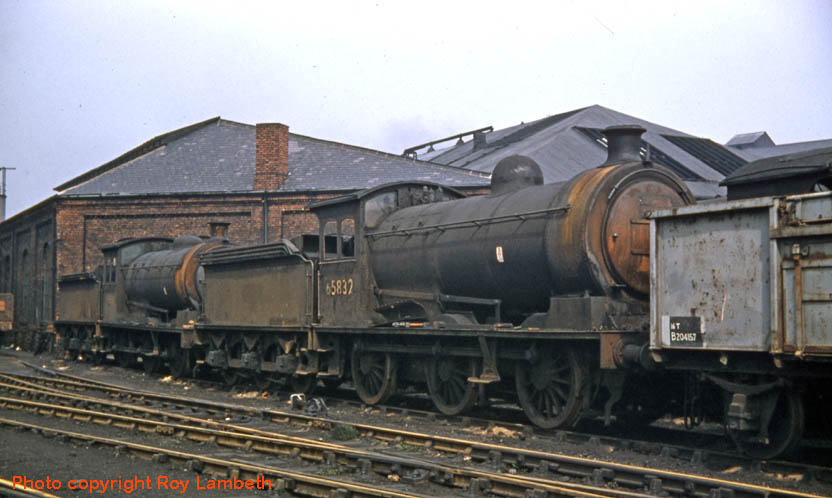 (Above-Below) Two Class J27 are undergoing maintenance. (Below) Long withdrawn Class J27s Nos 65831 and 65832 await their fate.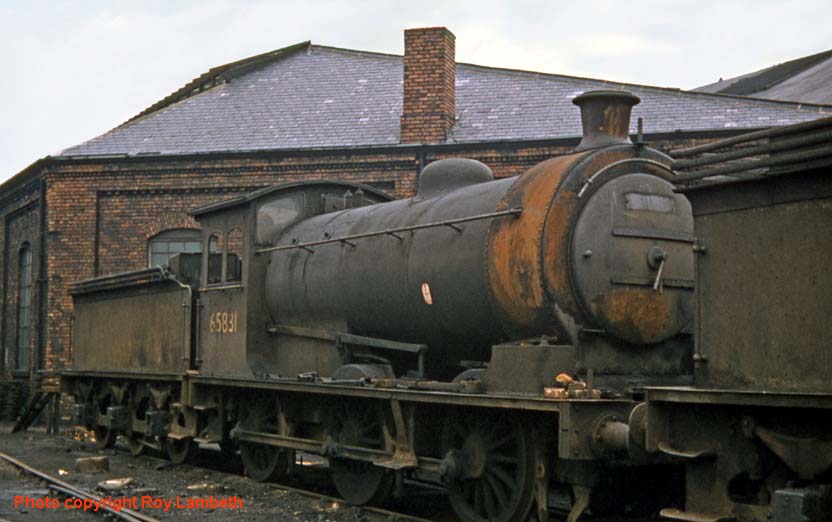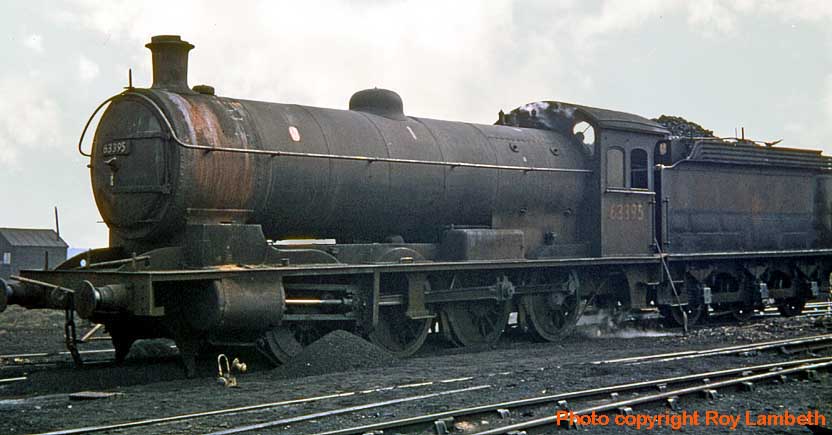 (Above-Below) The unlikeliest candidate for preservation is this rusty-looking Class Q6 63395, but the very opposite turns out to be the case. The loco is now enjoying a new lease of life on the North Yorkshire Moors Railway. (Below) The smartest loco on shed that day was WD 'Austerity' Class 8F 2-8-0 No 90434...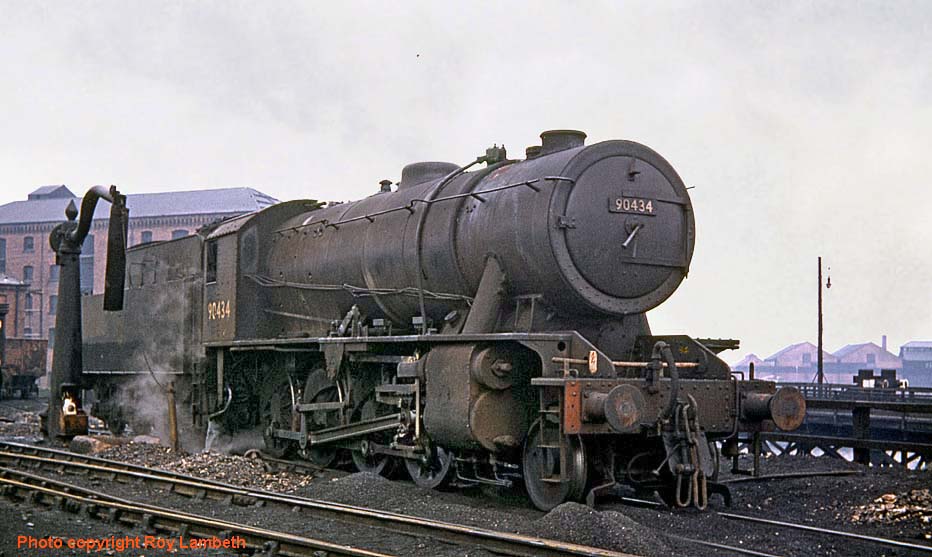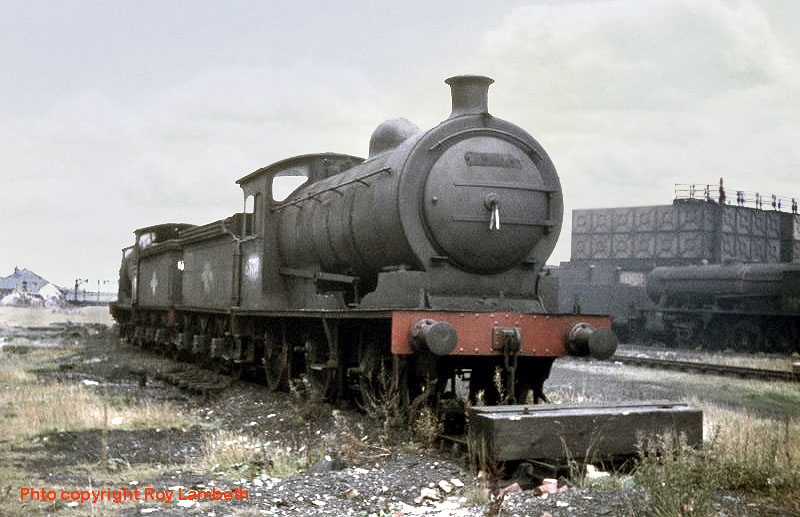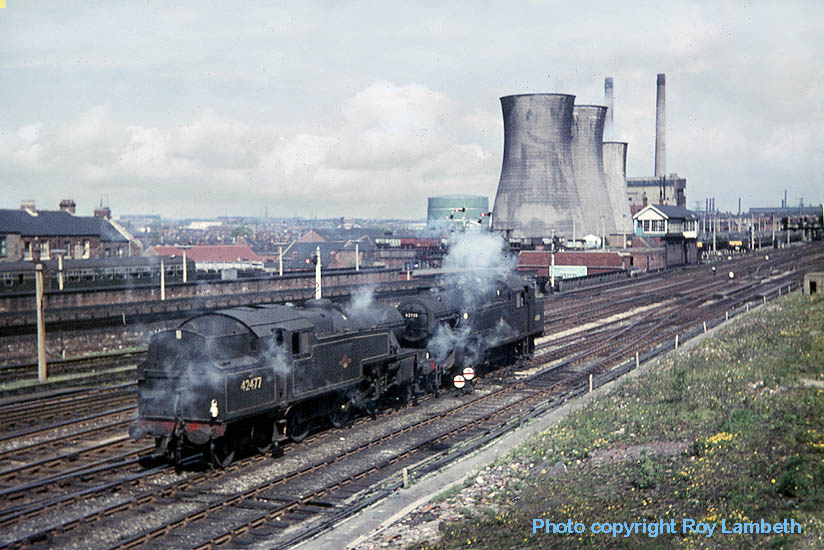 (Above-Below) Darlington shed 51A. Now preserved on the Lakeside & Haverthwaite Railway, Fairburn Class 4MT 2-6-4T No 42085 is coupled to Stanier 2-cyl 2-6-4T 42477. The locos are heading to Darlington shed from the south in July 1965. (Below) Following displacement by diesels and the rundown of Darlington North Road Workshops, six ex-WD 0-6-0ST Class J94s stand withdrawn outside Darlington shed in July 1965. They are 68023, 68060, 68011, 68062, 68043 plus one too dirty to identify.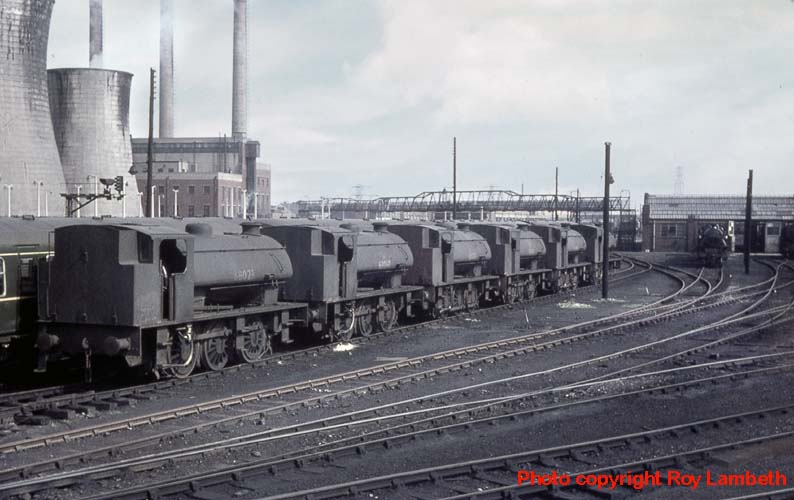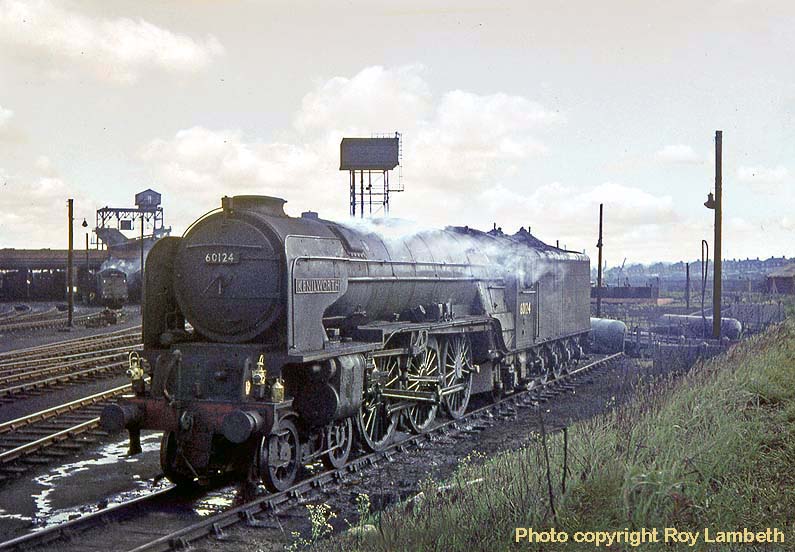 (Above-Below) Class A1 60124 Kenilworth does 'Thunderbird' standby duty by Darlington turntable in July 1965. (Below) Another 'Thunderbird' 1964 steam style. Gresley Class A3 60036 Columbo standing by Darlington Shed turntable in 1964.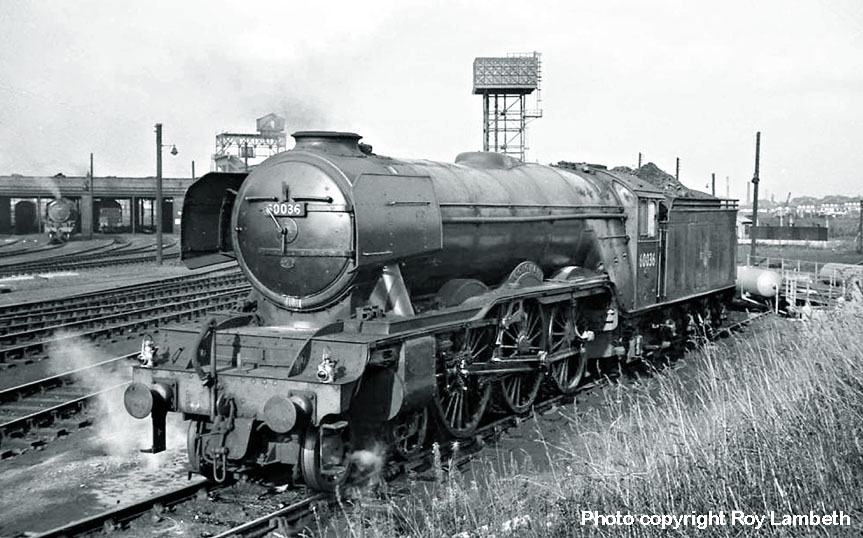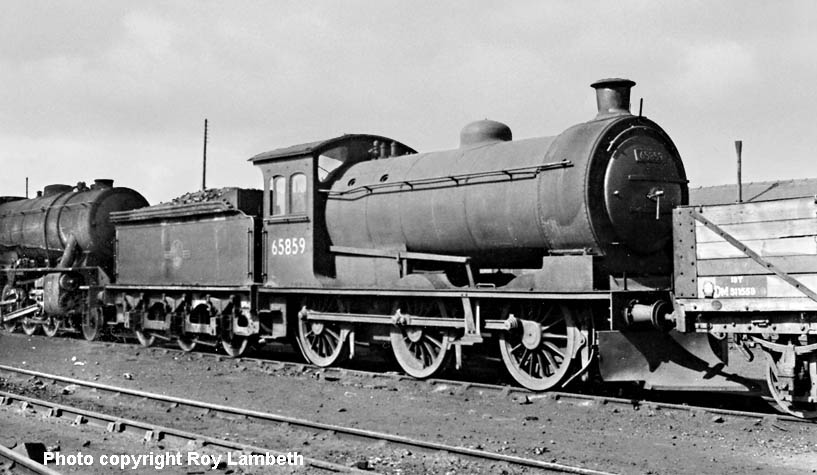 (Above-Below) Class J27 65859 in Darlington Shed Yard on 12th July 1965. (Below) Gateshead Shed was difficult to access due to 3rd rail electrification running past it at one end and a very steep ash bank at the other plus a large contingent of security staff. The only sure way of seeing some of its contents was by being lucky enough to be on a passenger train using the High Level Bridge into Newcastle. These were usually the Liverpool-Newcastle trains, but it was potluck as they were routed whichever way the signalling staff decided. You could pass the shed one day on a particular train, but be routed via the King Edward Bridge on the same train the next day. The following photos were taken one winters day in December 1965 from a moving train with Ilford colour slide film. They are far less than perfect but are a memory for me. Class V2 60976 stands by the coaling stage with part of a diesel brake tender in the foreground.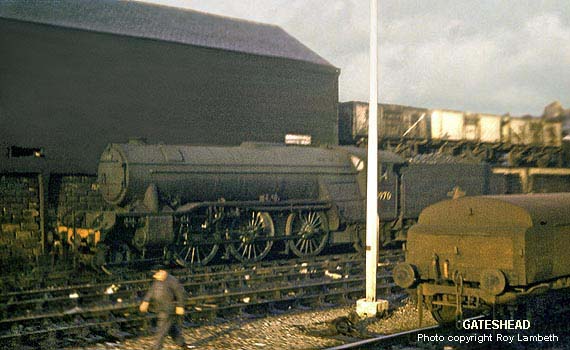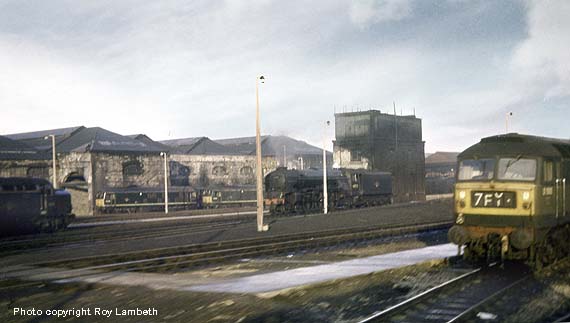 (Above-Below) The second shot from the train shows Class A1 60141 Abbotsford standing centre stage surrounded by EE Co Type 4 D329, two Class 2s (later Class 24) and a Class 47. (Below) West Auckland 51F was the main shed in South-West Durham. Its allocation included many Class Q6 0-8-0s and Standard 2-6-0 steam locos. Its main work was around the collieries in South-West Durham and the then (1950s) huge complex at Roddymoor near Crook. This complex included extracting various chemicals from coal and producing coke. Prior to 1962, it provided the majority of locos for the haulage of coal & coke over Stainmore to the factories and mills in Lancashire. It also had on allocation one Class J 26 No 65735 which was the regular performer on the daily goods up the Weardale Branch. It was also allocated to freight (mainly coal) on the Deerness Valley Branch near Durham, Durham to Bishop Auckland line, Darlington - Bishop Auckland-Crook - Tow law line, Bishop Auckland- Barnard Castle, The Simpasture branch (Shildon- Stockton) as well as many occasional passenger excursions including Durham Miners Gala and various summer sunday school outings from the colliery villages in its area.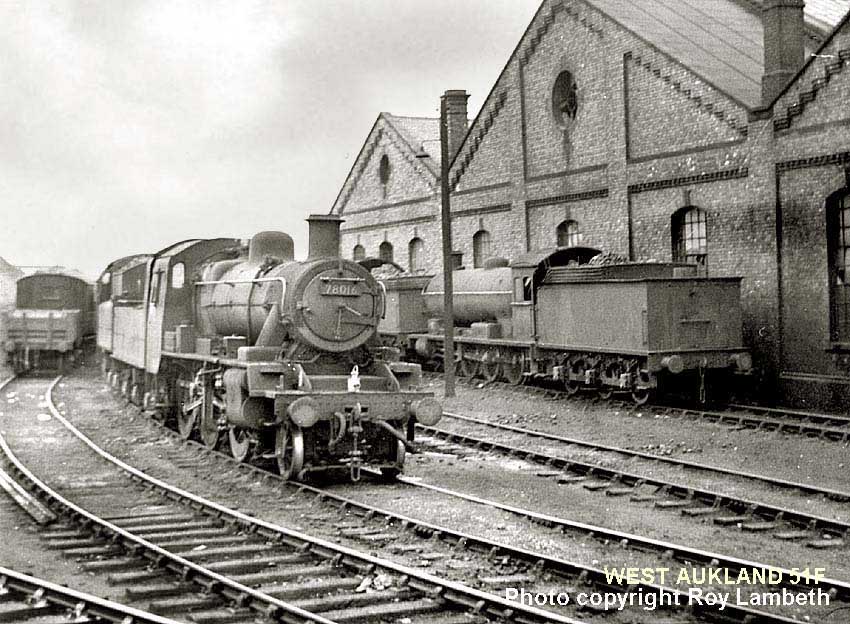 YORKSHIRE

On the 30th July 1967, I travelled down to South Yorkshire to join a shed tour organised by The Luton Railway Circle. We visited Healey Mills, Normanton, Royston and Wakefield situated deep in the Yorkshire coalfield. In those days the NCB had numerous collieries in the area, therefore coal was a staple commodity for shipment by rail, and the sheds we visited survived solely for this traffic. We start at Wakefield MPD, which, prior to closure in 1967, was one of the last sheds with an allocation of steam on the North Eastern Region.

Wakefield 56A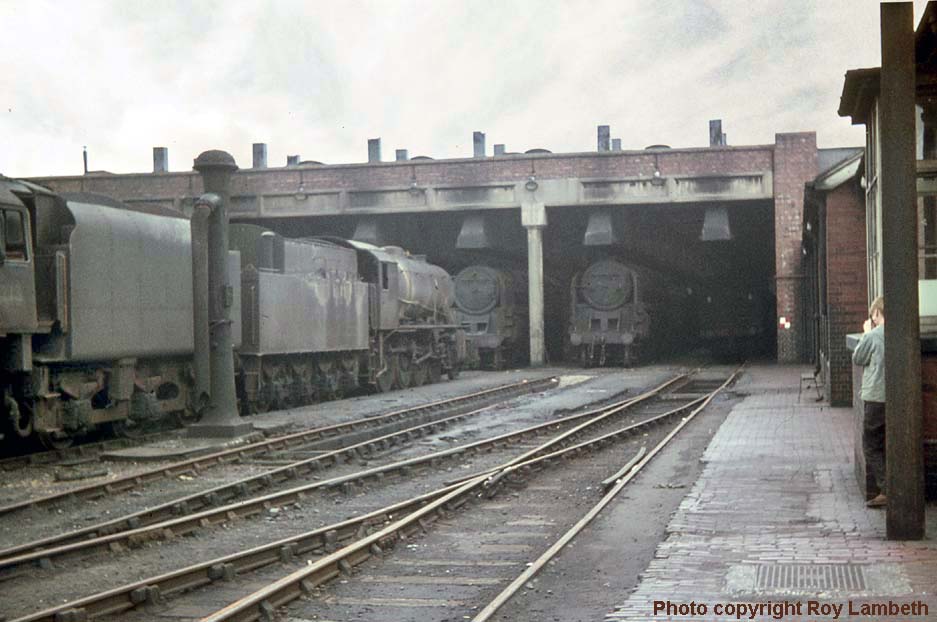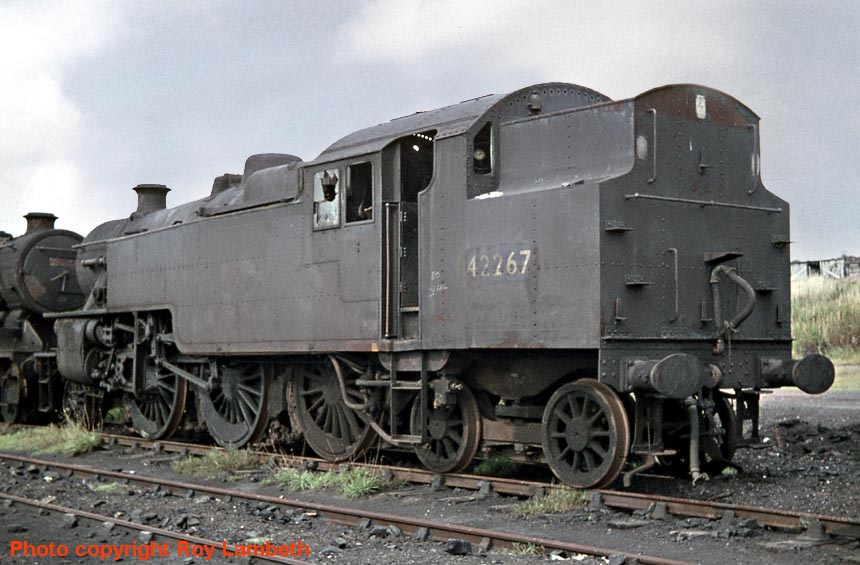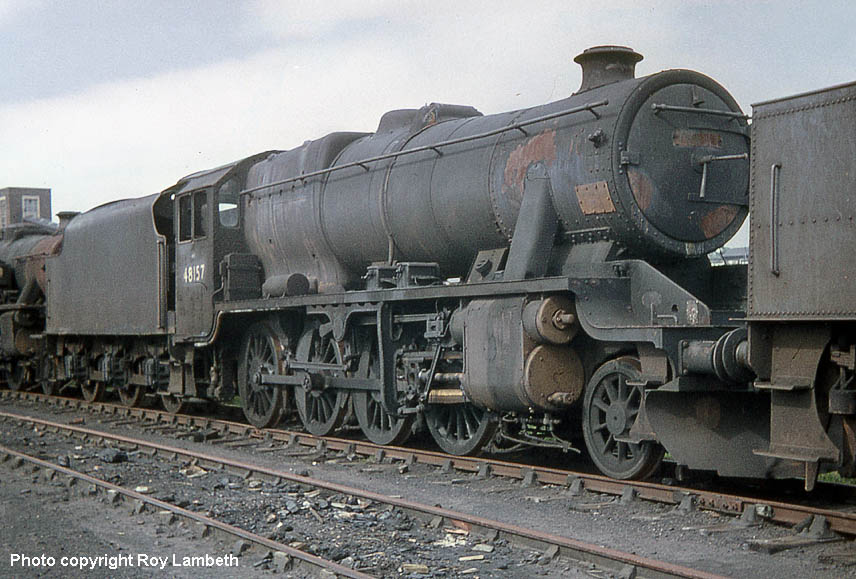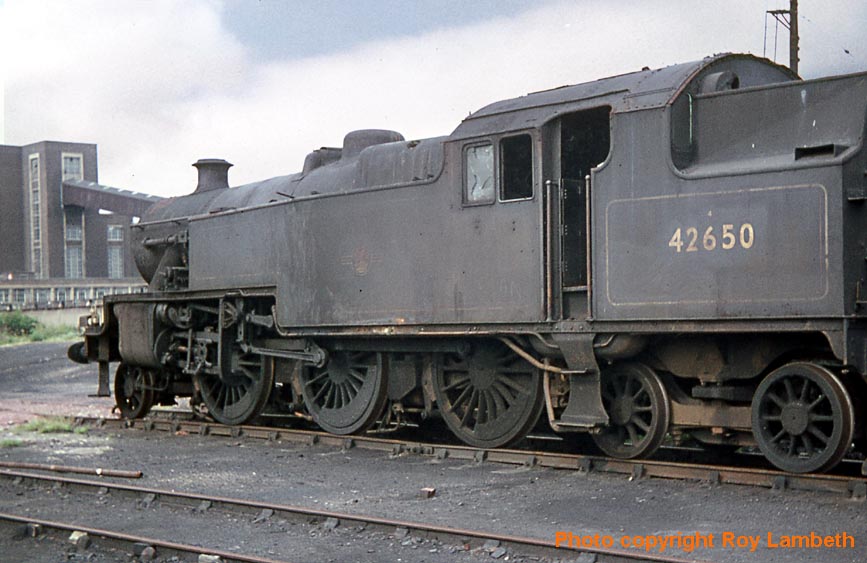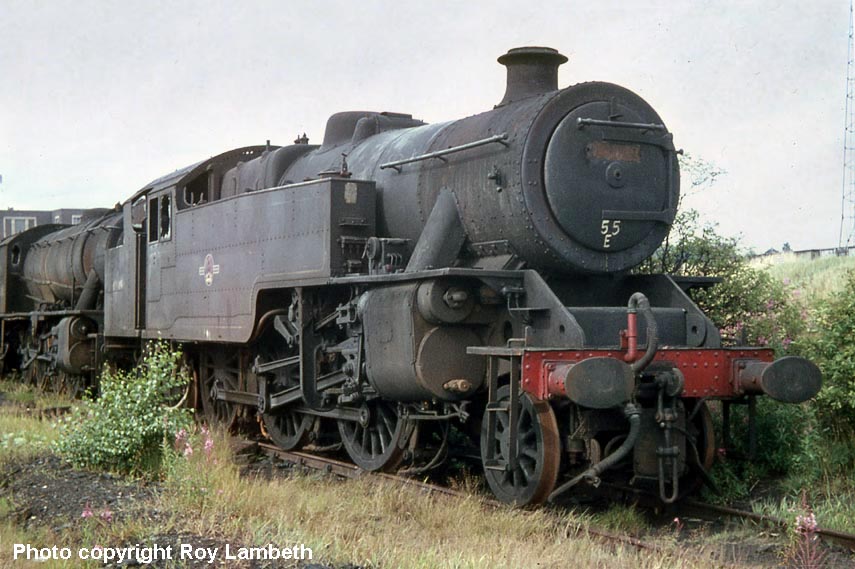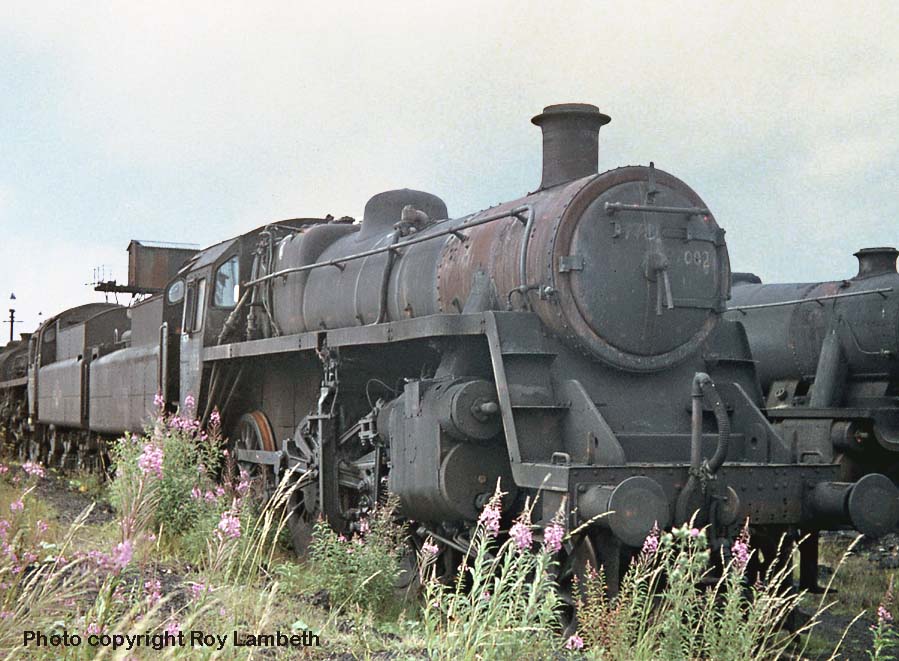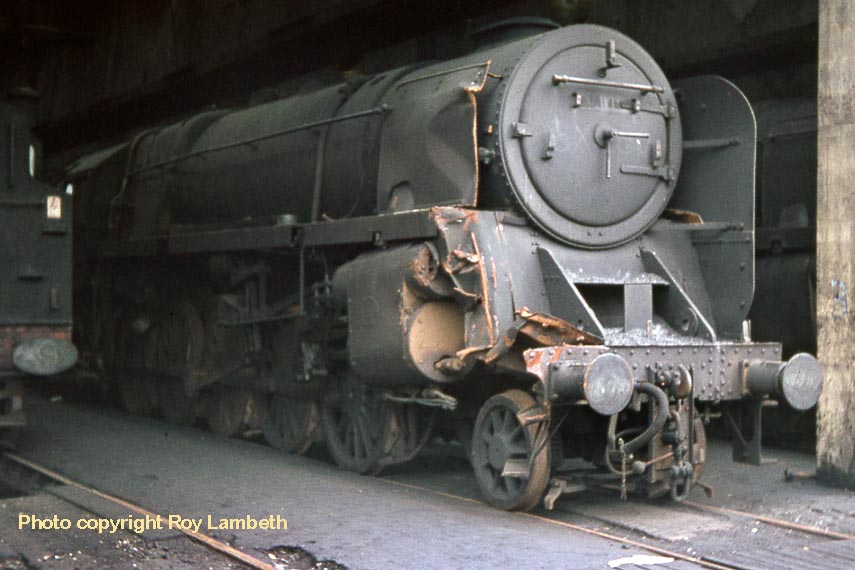 Royston 55D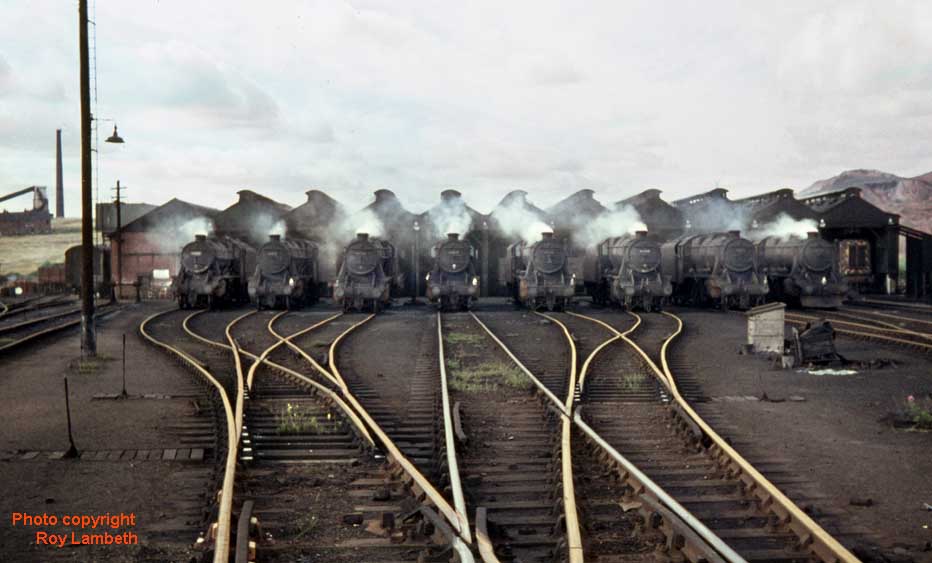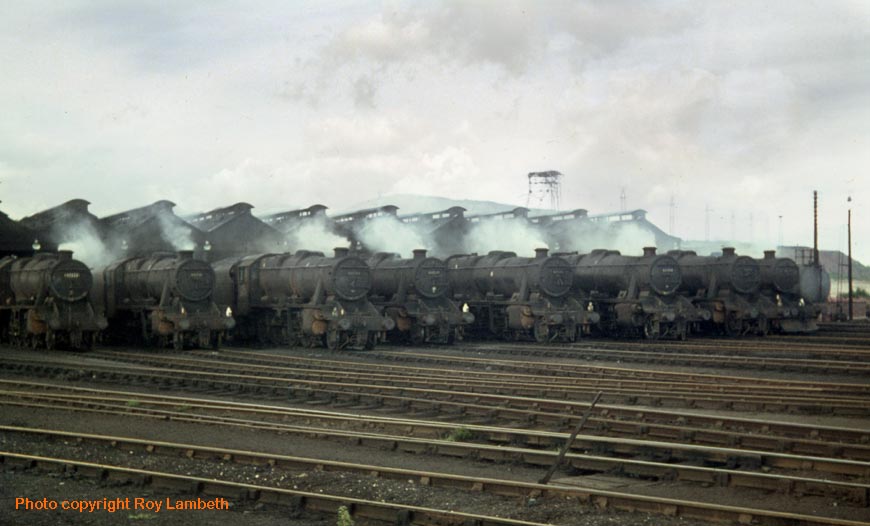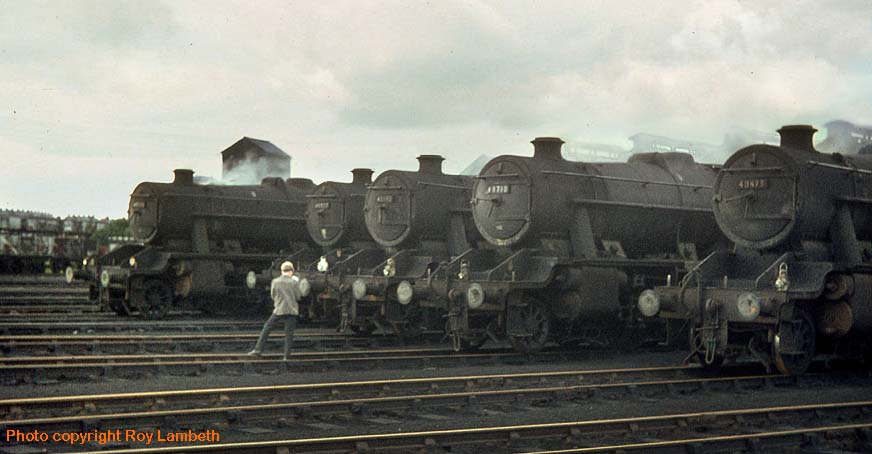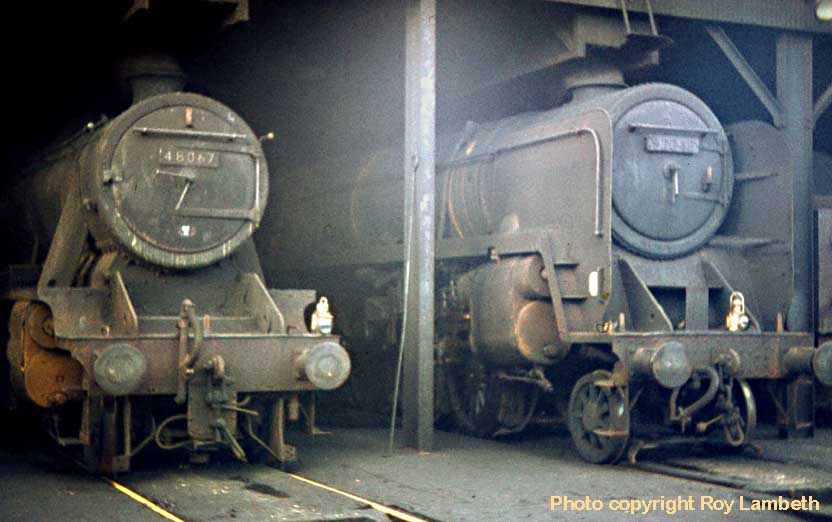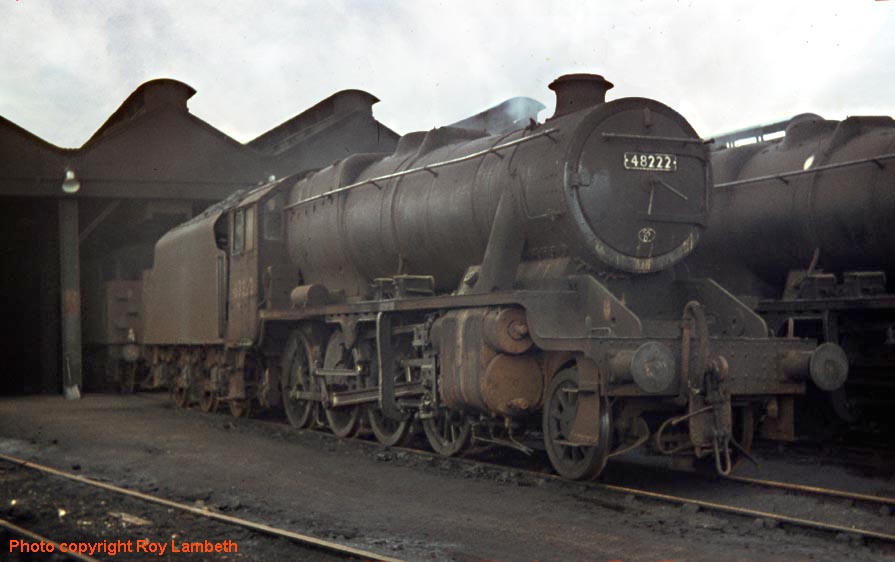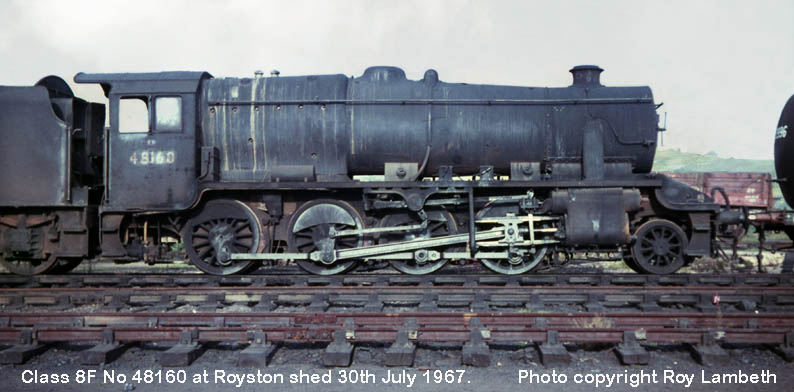 Normanton 55E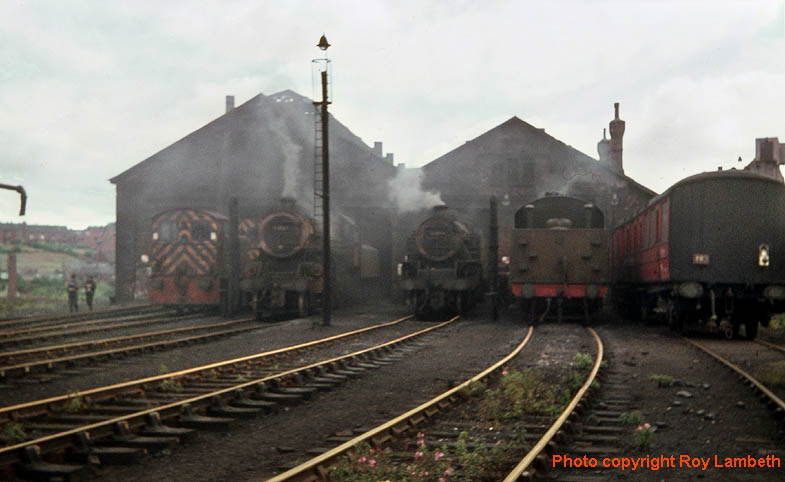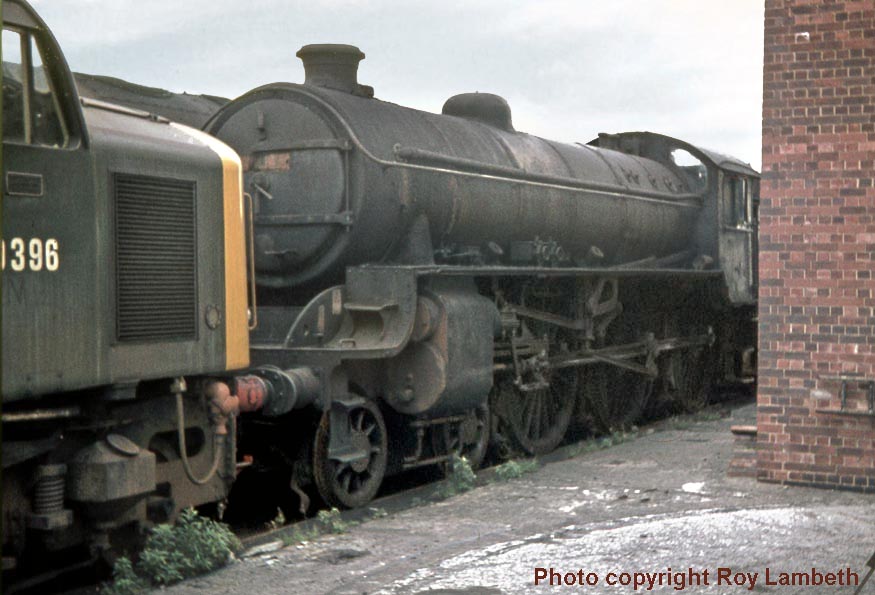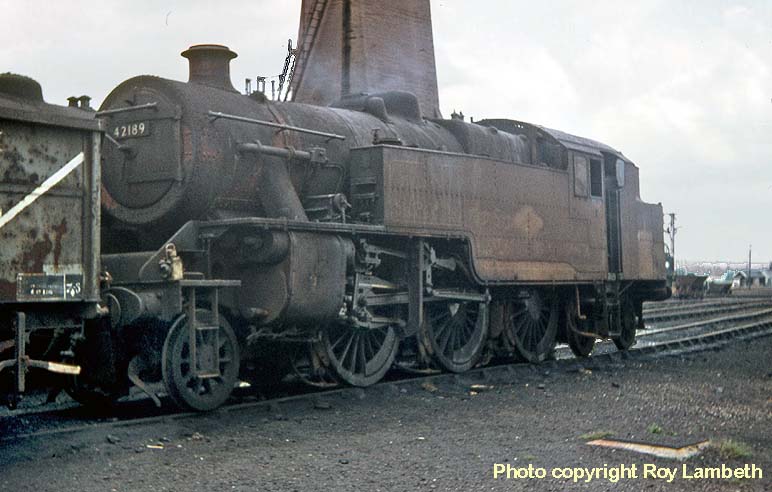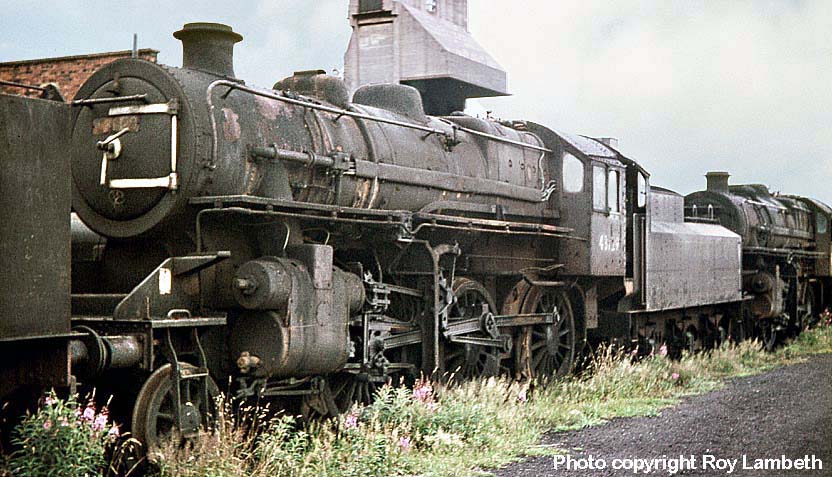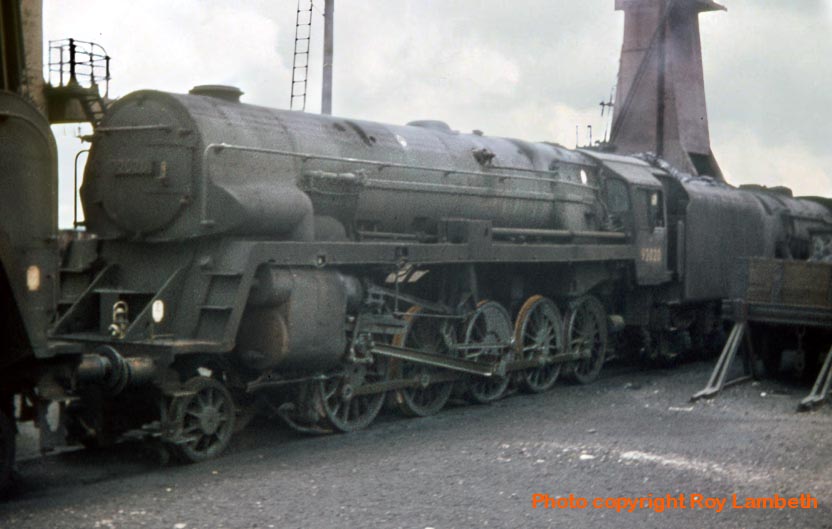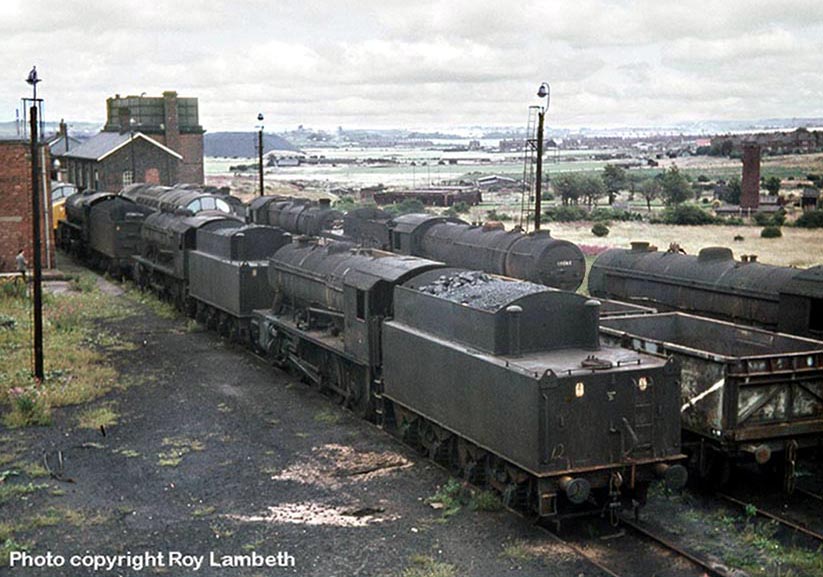 Holbeck 55A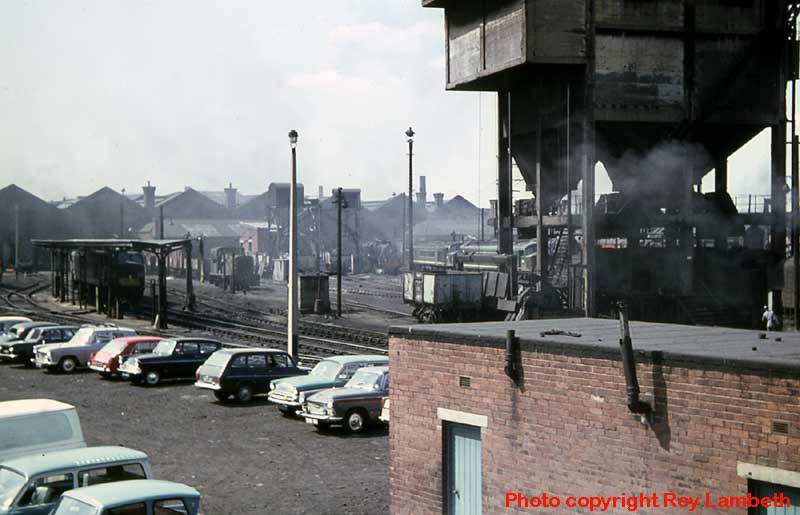 Above-Below) Holbeck 29th May 1967. While driving through Leeds one day I just happened to pass Holbeck shed, so I took a couple of photos over the wall. General view of shed yard with some Sulzer Type 4s (Class 45) and a BR/Drewery 204hp shunter in view. Typical of the scruffy state of BR's stock during the final years of steam, BR Standard Class 7MT No 70046 (minus its Anzac nameplates) heads into the shed yard for the coaling stage. Class 9F 2-10-0 No 92082 coupled to 70046 backs into the yard to get coaled.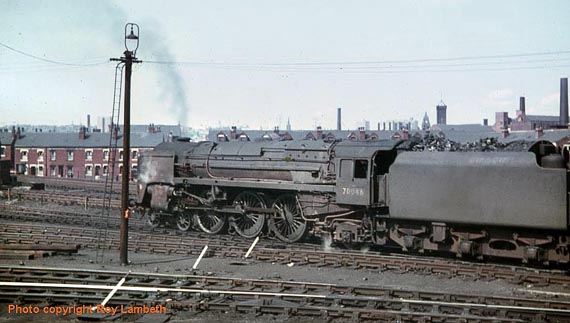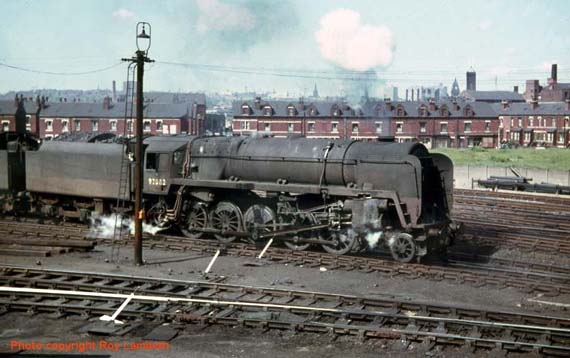 York 50A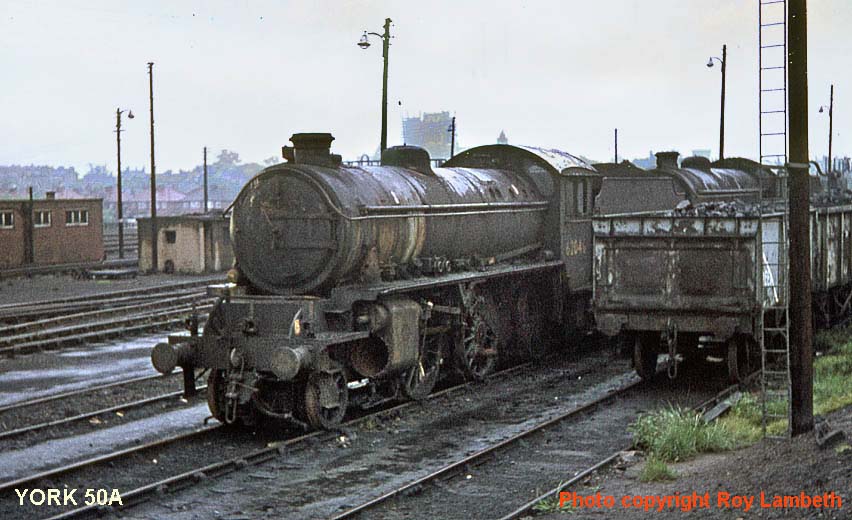 The York photos were taken on a very dark and misty winters day with a poor camera and slow colour slide film. What you see is a bonus from about 30 unusable photos.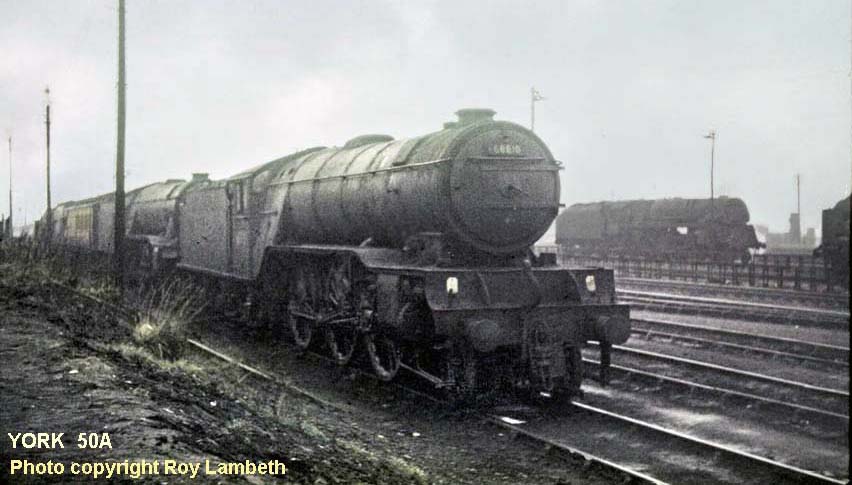 NORTH-WEST ENGLAND

(Above-Below) When my spotting pal, Stephen Dent, left school he went to work for BR. On April 21st 1968 he invited me to join him on his rail pass and visit three sheds in the Manchester area. At each one the depot staff made us very welcome. I have never drunk so much railway tea in my life! We start at Newton Heath 9D, with several weary-looking 'Black 5s' eking out their final days, including the now preserved No 45025...

Newton Heath 9D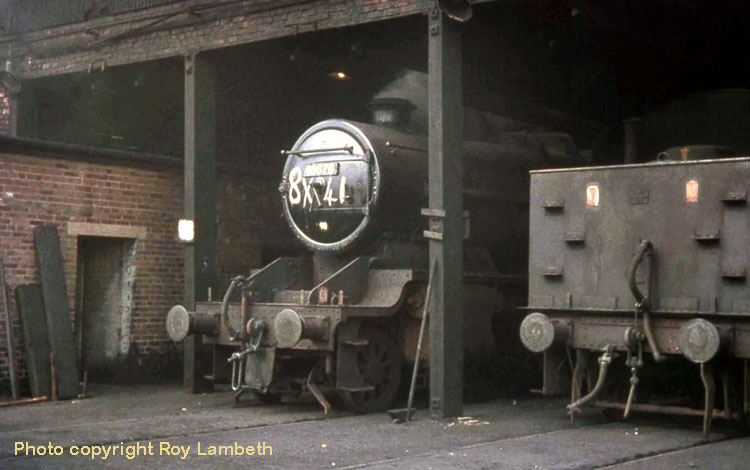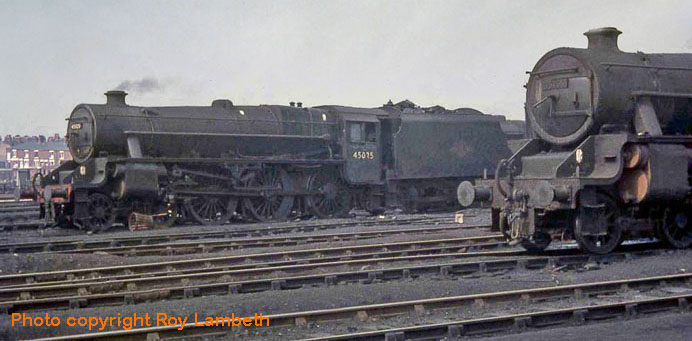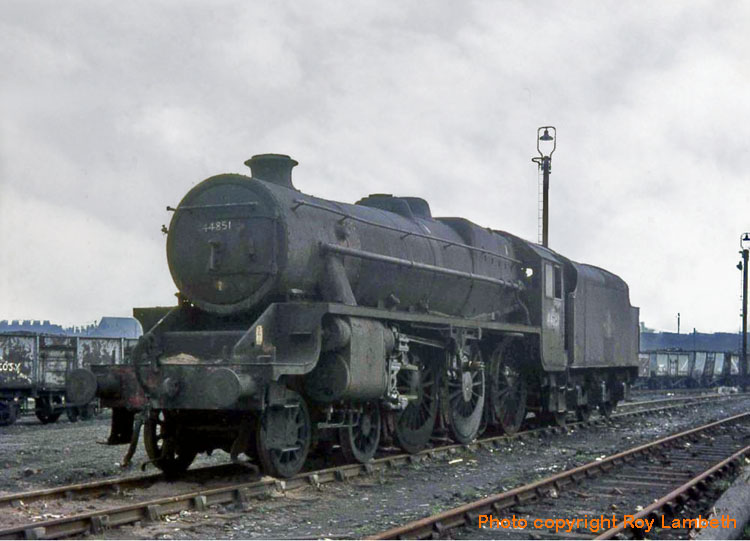 Heaton Mersey 9F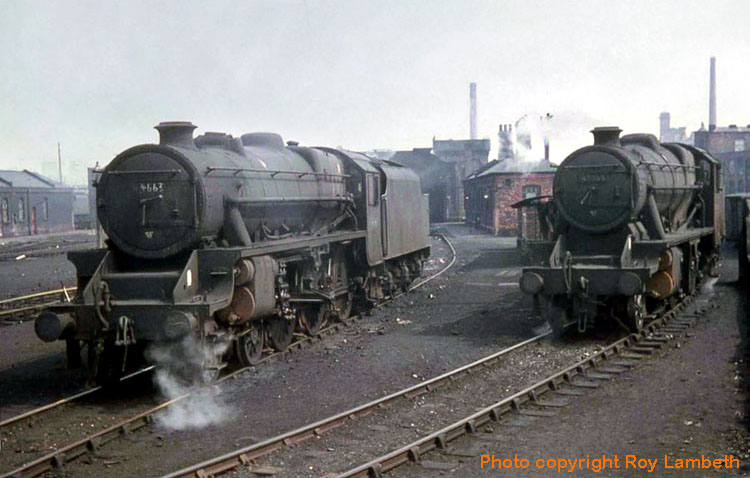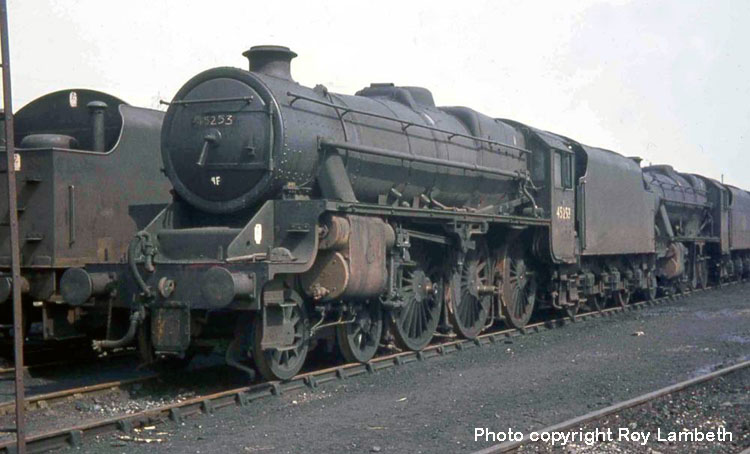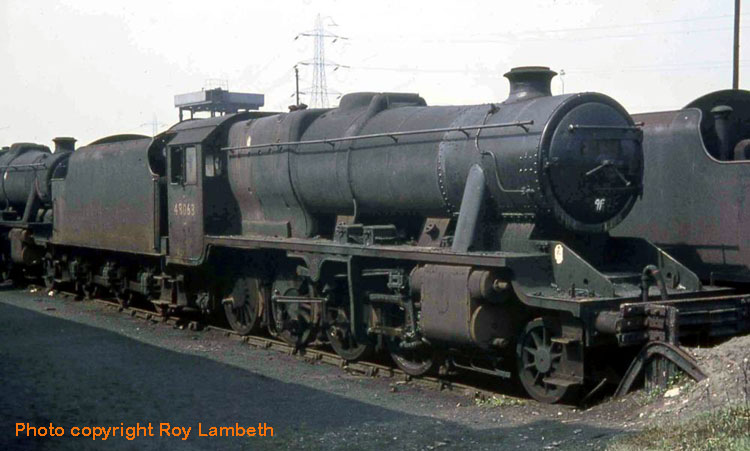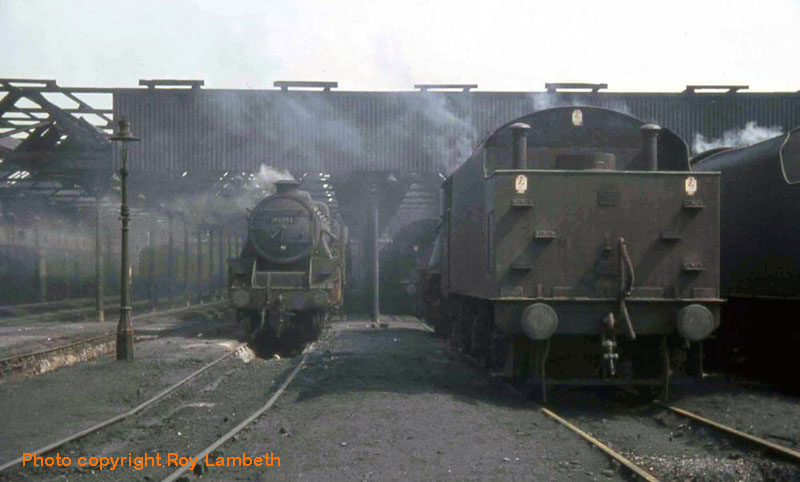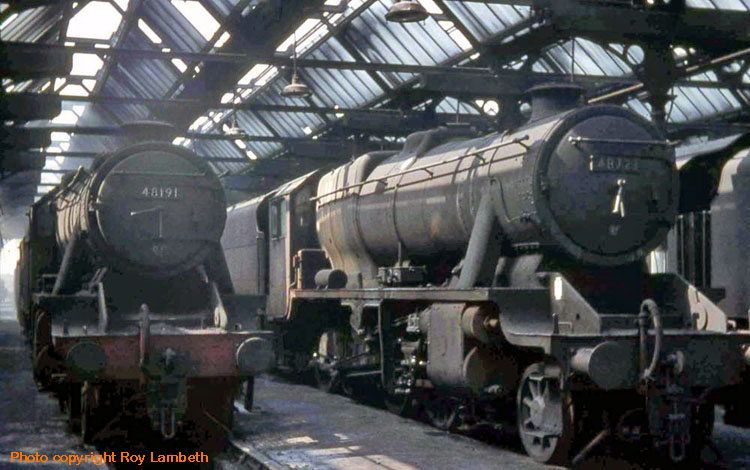 Stockport Edgeley 9B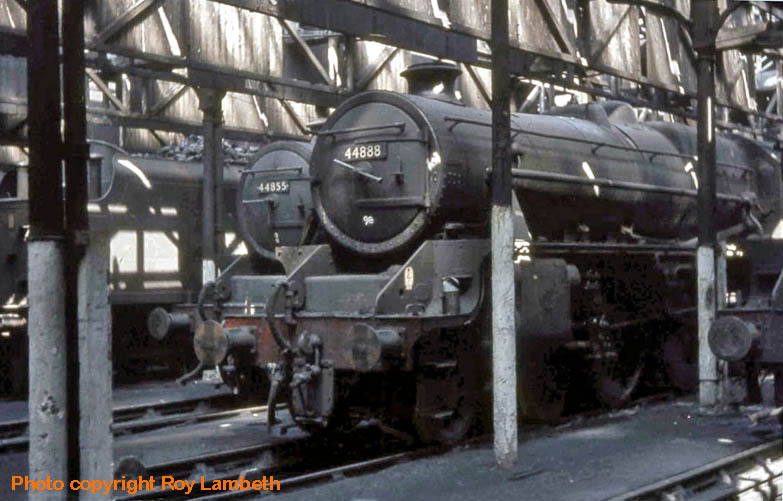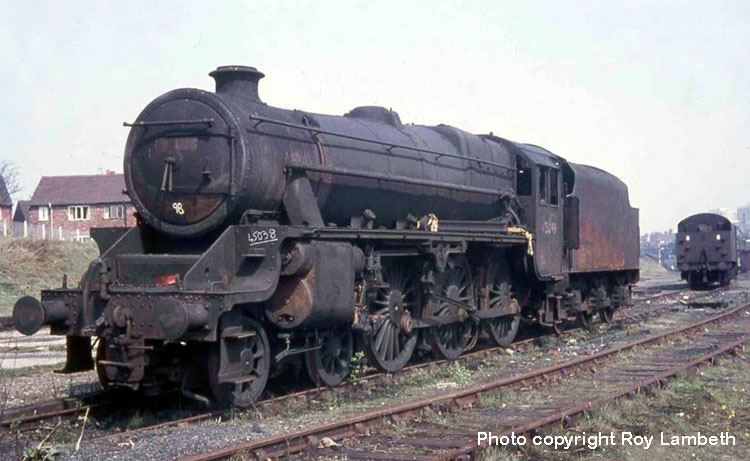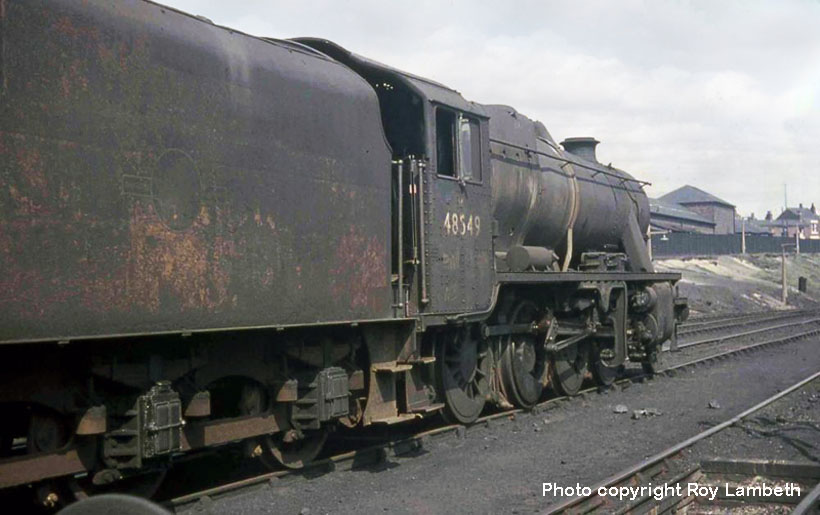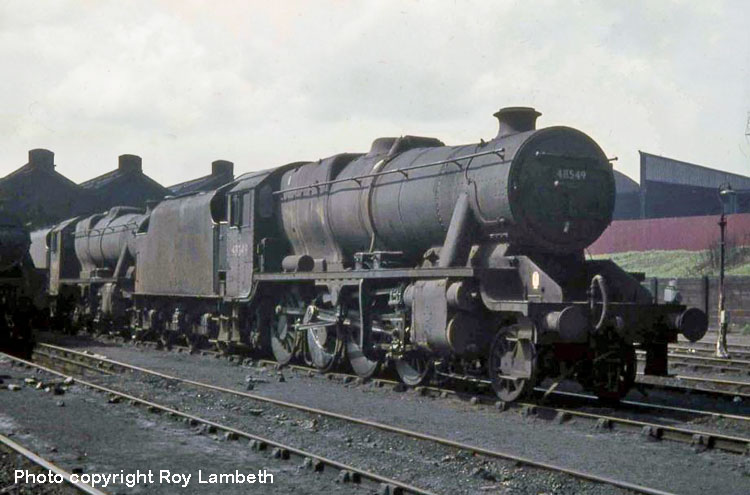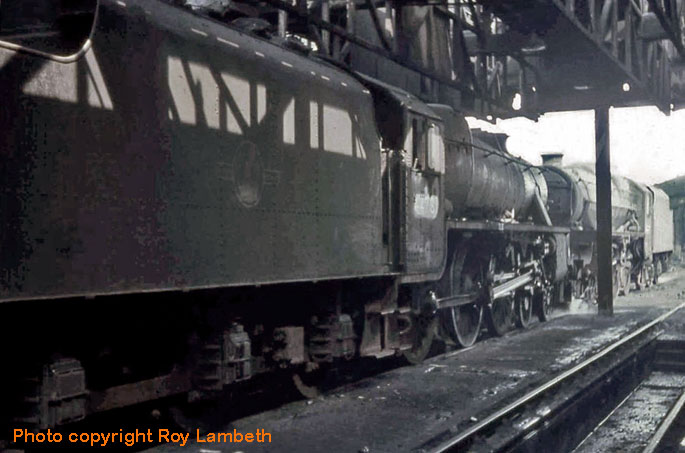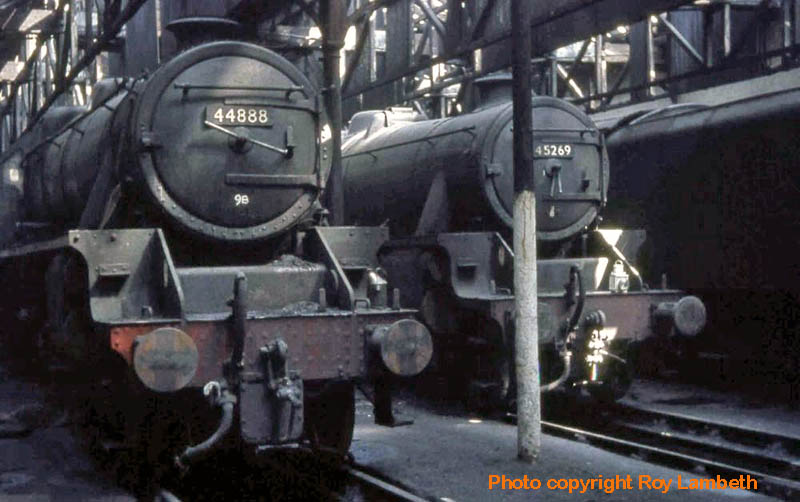 Carnforth 10A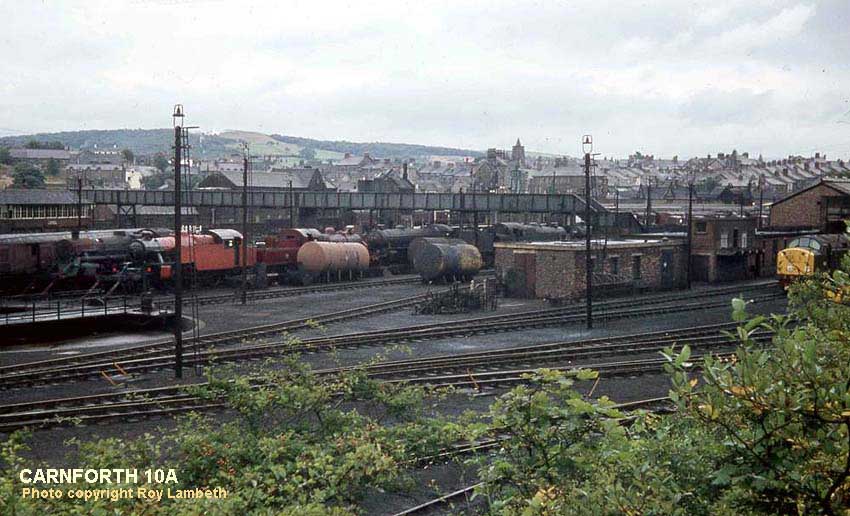 (Above) The last steam-hauled train on British Rail ran on 11th August 1968. Two days later on Tuesday 13th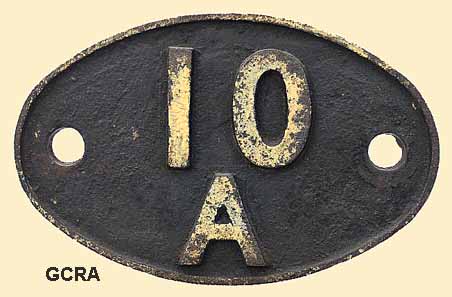 August I visited Carnforth Shed to view what was left. The shed had officially closed to steam, but there were a few diesels present but no other enthusiasts and very few staff. The weather was poor being very dull, but I took what photographs I could. On arrival at Carnforth, not wanting to trespass, I went along the public footpath that skirts the western perimeter of the shed area and took a few photos over the hedge. First a general view of the shed yard. To the left can be seen a few locos already purchased for preservation behind the turntable road, and to the right a Class 40 is standing outside the shed. (Below) Metro-Vick Co-Bo D5711 awaits its next turn of duty while 44781 and 44758 await their demise.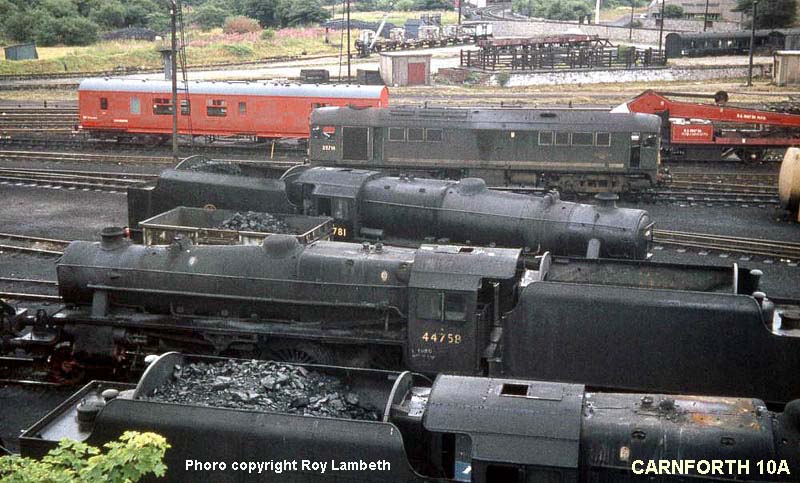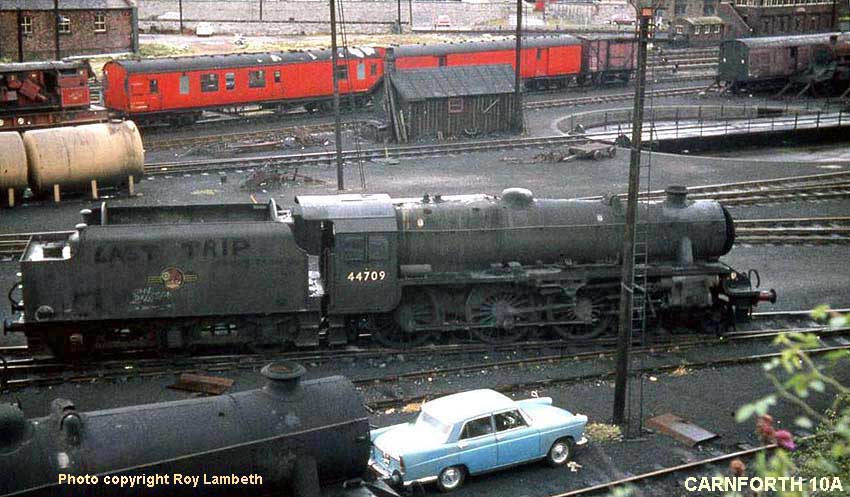 (Above-Below) End of the line for 44709. BR steam officially ended on 11th August 1968 - well, not quite, as there were still pockets of steam operations. The Vale of Rheidol Narrow Gauge Railway, then still owned by British Rail was still 100% steam. Also there were still several steam powered breakdown cranes stabled at various points around the system. Here we see the Carnforth based steam crane awaiting its next callout top-left of the photo.(Below) A member of the shed staff saw me and invited me onto the site. Evidently the shed master had spotted me trying to avoid trespassing and the member of staff was sent to show me around. The shed staff from the steam side were busy preparing locos for their final journey. This included emptying the boiler and tender of water and shovelling out coal into waiting wagons. The eagle-eyed might sopt a shovelful of coal mid-air from the tender of a 'Balck 5'!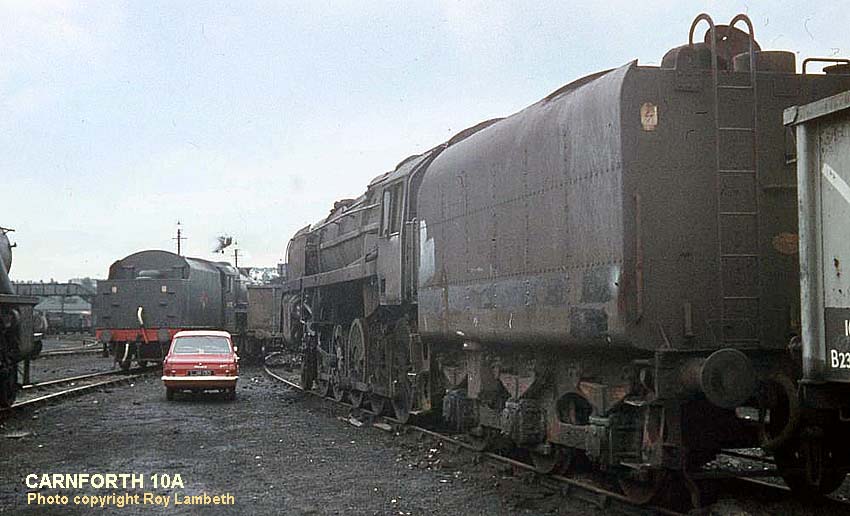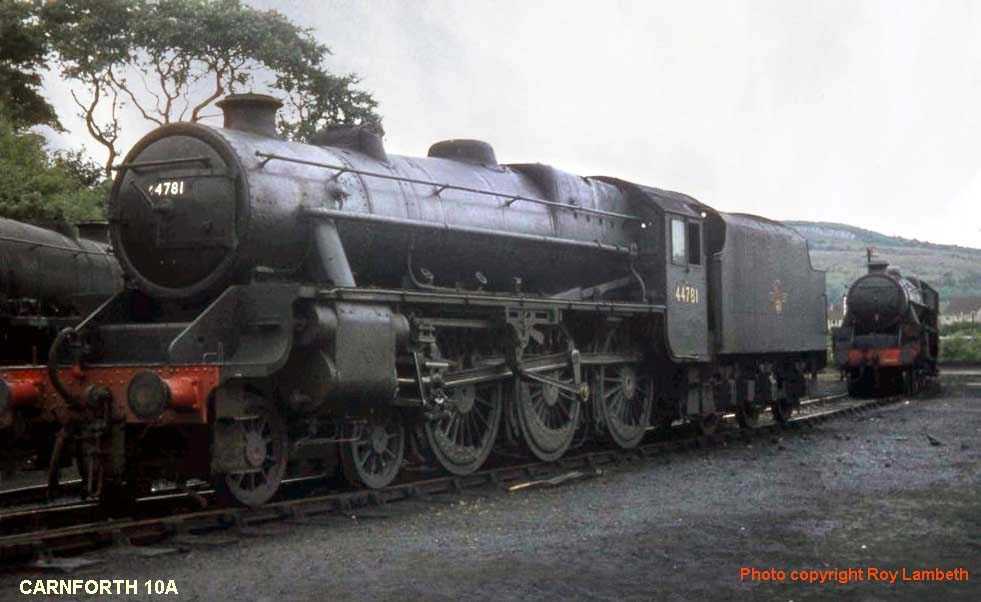 (Above-Below) One of the stars of the '15 Guinea Special' was 'Black 5' No No 44781; it should have been preserved, but missed out. It was purchased by a film company and moved to The Audley End to Bartlow Branch in East Anglia where it was disguised as a Far-East tank engine and 'blown-up' in the making of the comedy film 'The Virgin Soldiers' - a dreadful end for a famous Stanier Black Five. (Below) LNER Class B1 No 61306 waits on the preserved road for a bit of TLC with 42085.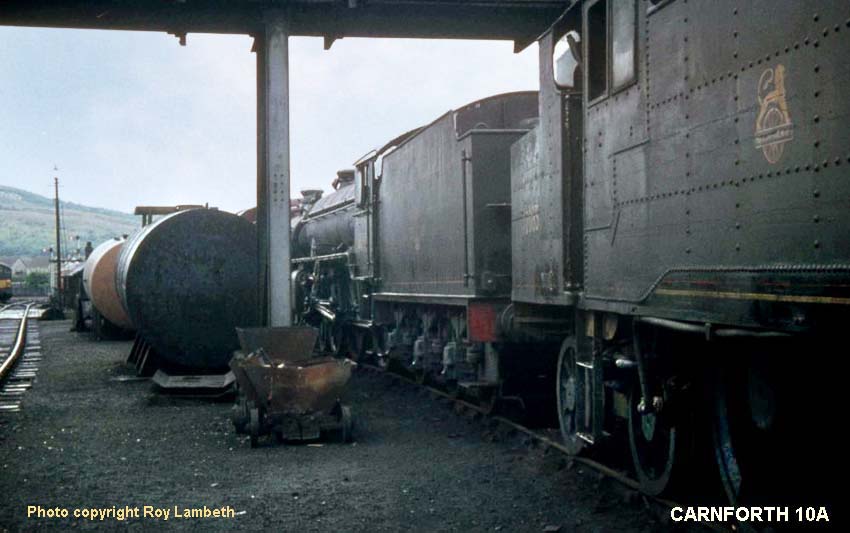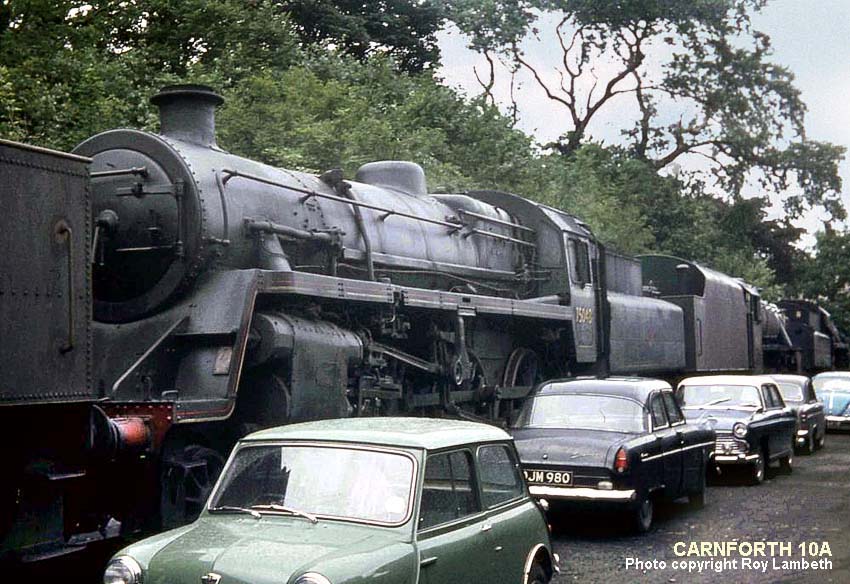 (Above-Below) BR Standard Class 4 No 75043 waits its turn to visit the scrapman. (Below) One of the BR Standard Class 4s fitted with a double chimney was eventually scrapped but lives on as a Bachmann 00 gauge model.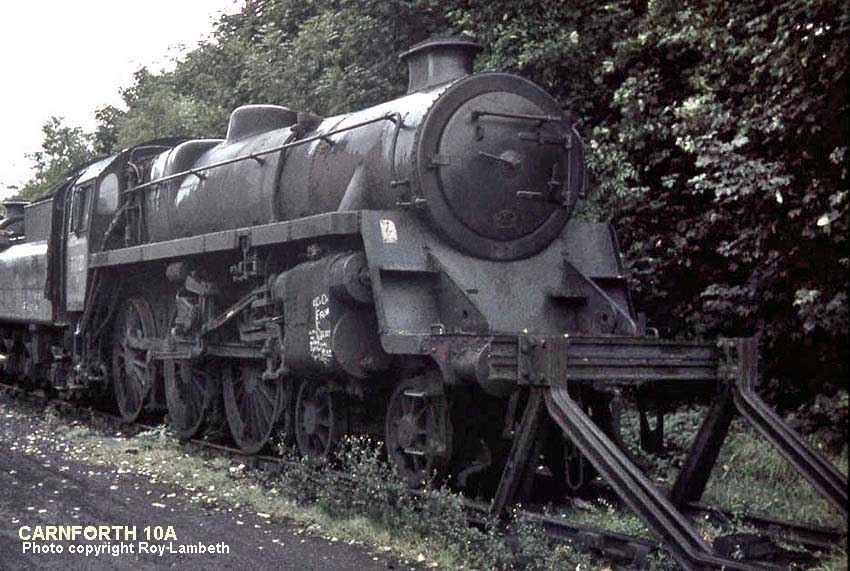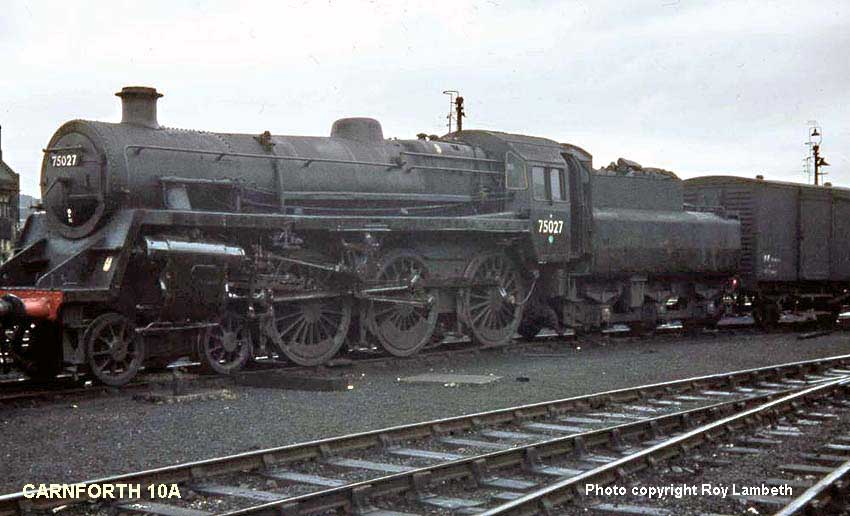 (Above-Below) A Standard Class 4 No. 75027. This loco survived into preservation on The Bluebell Railway. Not so lucky was Stanier 'Black 5' No 45394 acting as a buffer stop!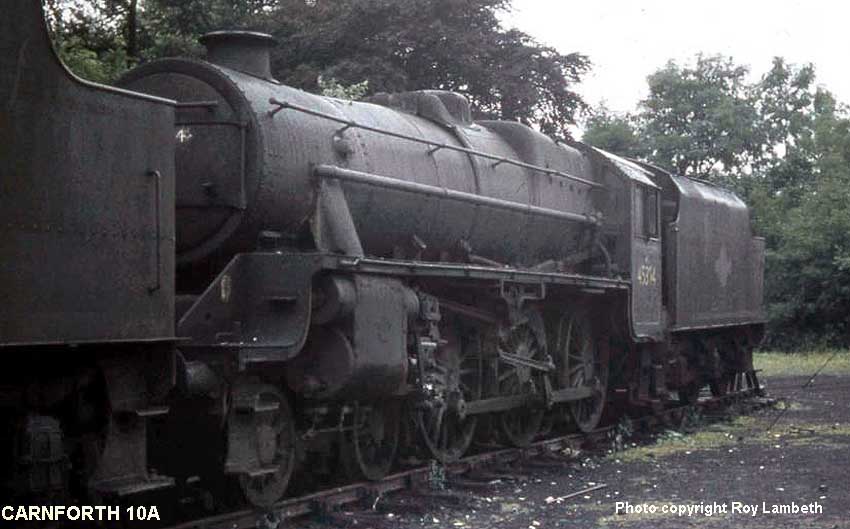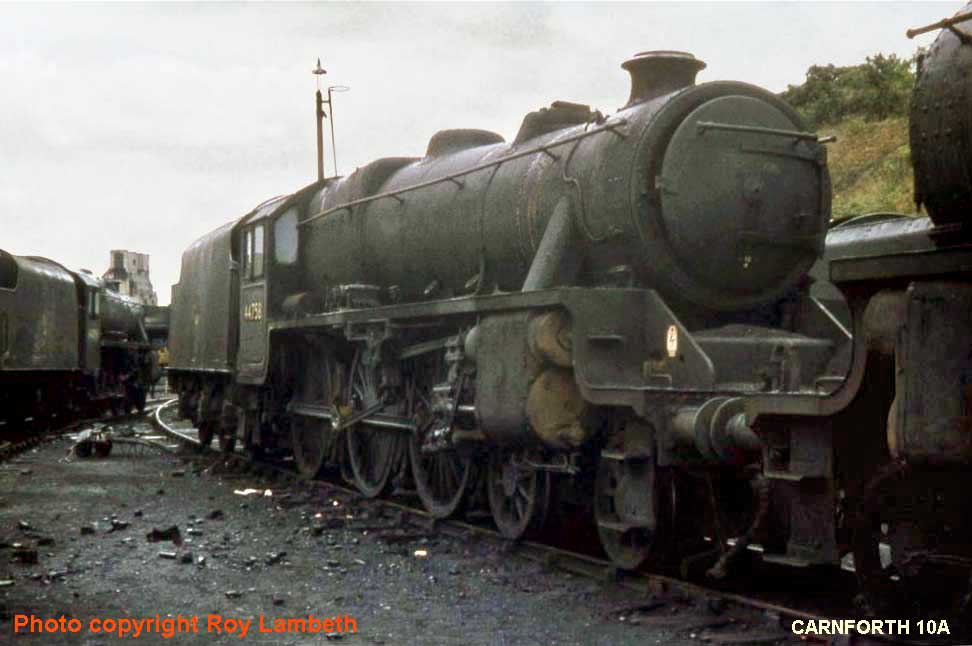 (Above) Winners and losers...Stanier 'Black 5' No 44758 awaits its call to scrap. (Below) Already purchased for preservation is Fairburn 2-6-4T No 42085 destined for the Lakeside & Haverthwaite Railway.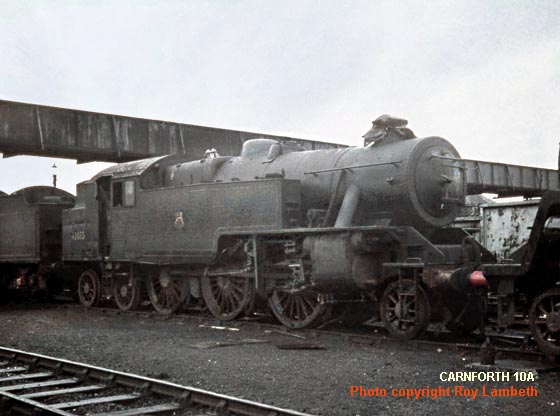 'End of Steam' - some member of the shed staff has been out with the chalk!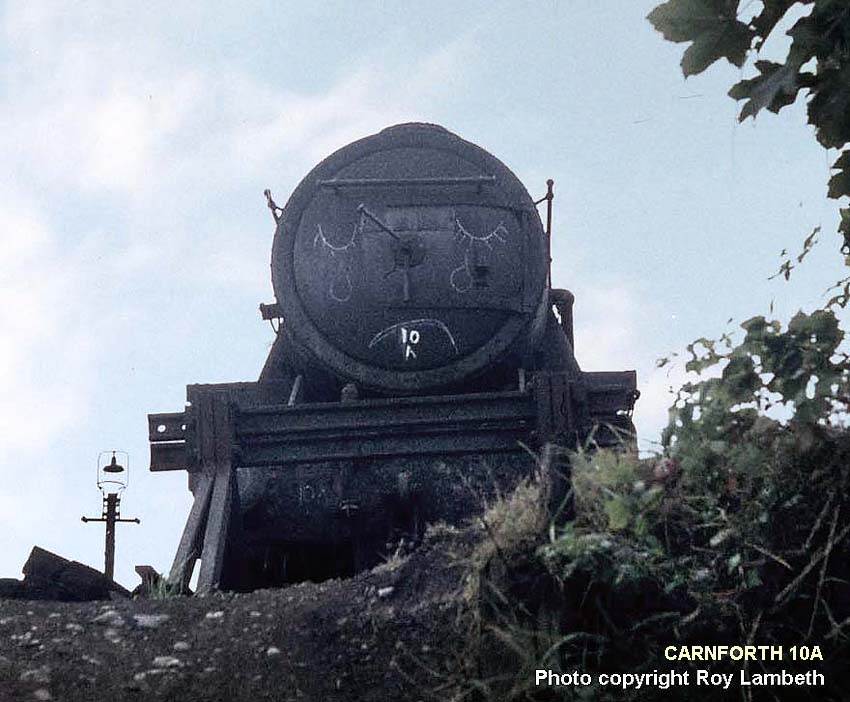 INDUSTRIAL RAILWAYS AND OTHER LINES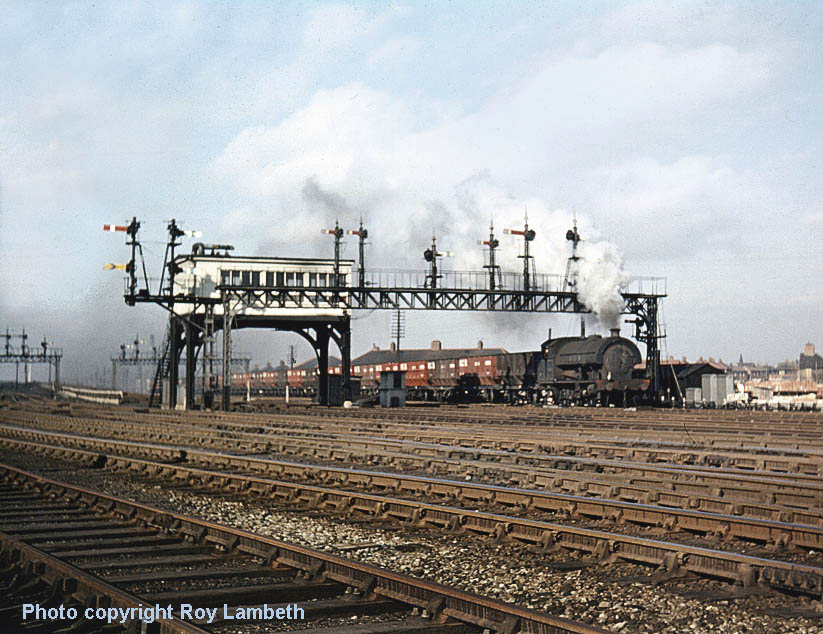 (Above-Below) Boldon Colliery was linked to the Pontop & Shields Railway just west of the flat crossing at Brockley Whins on the Sunderland to Newcastle line. The NER hauled the coal trains via Tyne Dock to Harton High Staiths, but as the size of collieries increased the staiths were used less frequently and the coal was shipped at Harton Low Staiths on the Harton & Westoe Colliery System. In BR/NCB days, the NCB had running powers over some BR lines in the area including Boldon Colliery via Whitburn Junction, and the Gateshead to South Shields line to gain access to the Harton & Westoe system at Dene Sidings. Here, Harton & Westoe 0-6-0ST No 6 - RSH 7603 of 1949 - heads a train of coal empties from Dene Sidings to Boldon Colliery on 22nd April 1966. No.6 was purchased by the NCB for the passenger trains on the South Shields, Marsden & Whitburn Railway around 1949. They were the first brand new locos for the Harton Colliery System since 1898. The passenger trains ended in 1953 and No.6 was sent to Boldon Colliery. They were known locally as 'Stubby Stephensons'. These NCB trains used the Tyne Dock to Consett iron ore line over the flat crossing of the Sunderland to Newcastle line to access Boldon Colliery. All is now history as the tracks have been closed and lifted. The only line out of Tyne Dock now is a single track that uses the old North-East to North-West link onto the Sunderland to Newcastle line.
(Above-Below) Built in 1855 for the Pontop & Jarrow Railway, Marley Hill Shed is the oldest surviving steam shed in the North-East of England. Following closure by the NCB in 1970, the shed was reopened by the Tanfield Railway and is now in use as the main workshops and shed for the railway. Here are three general views of the shed with the remains of Marley Hill Colliery in the background.(Below) This Barclay 0-4-0ST was new in 1949 and numbered 22. When it was transferred to Marley Hill in 1959 there was already a No.2 in residence, so it was renumbered 85. It later went to St. Anthony's Tar Works in Newcastle and now survives in preservation with the Bowes Railway at Springwell. It is currently to be seen on steam days at Beamish Museum where it shunts the museum colliery yard.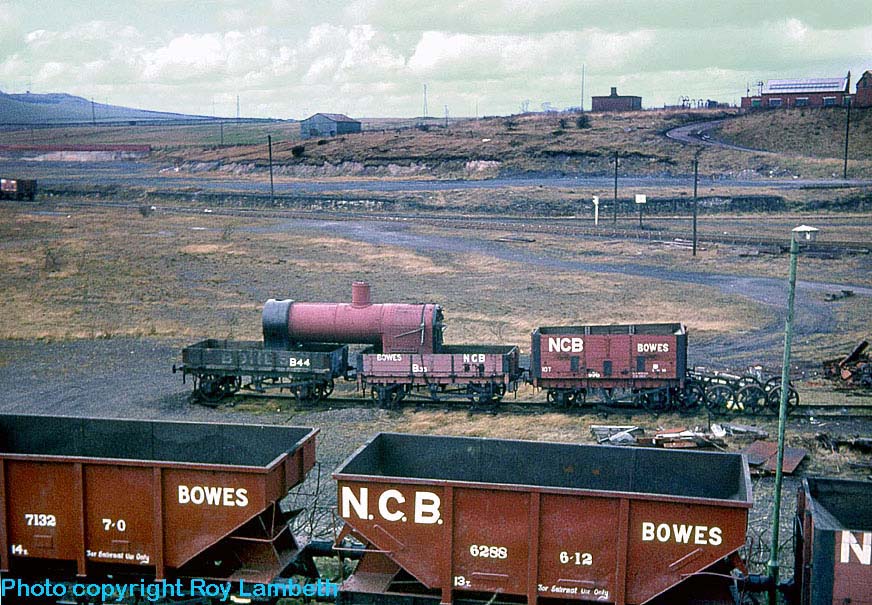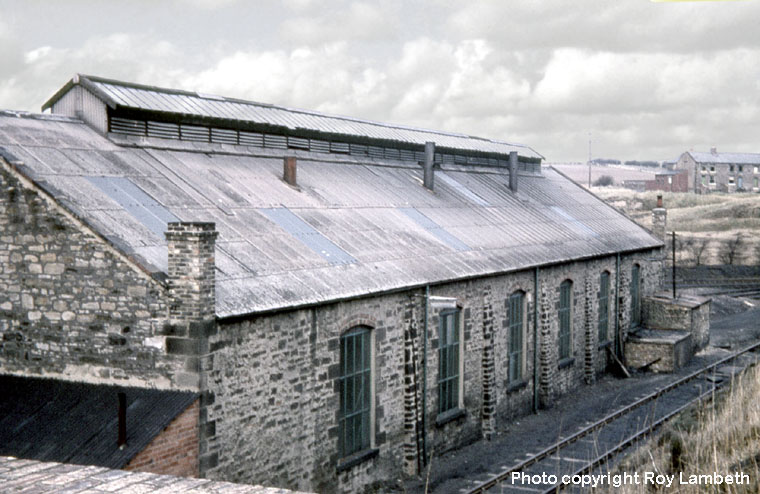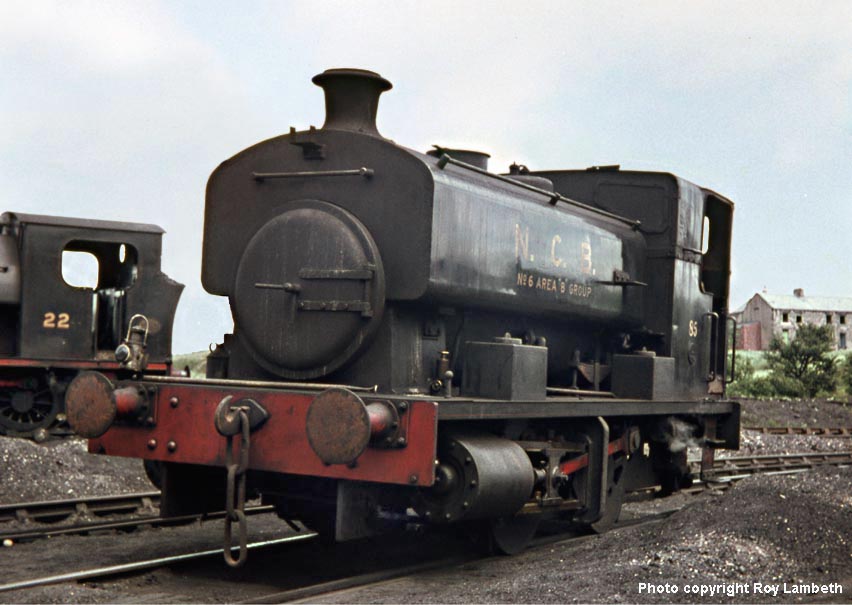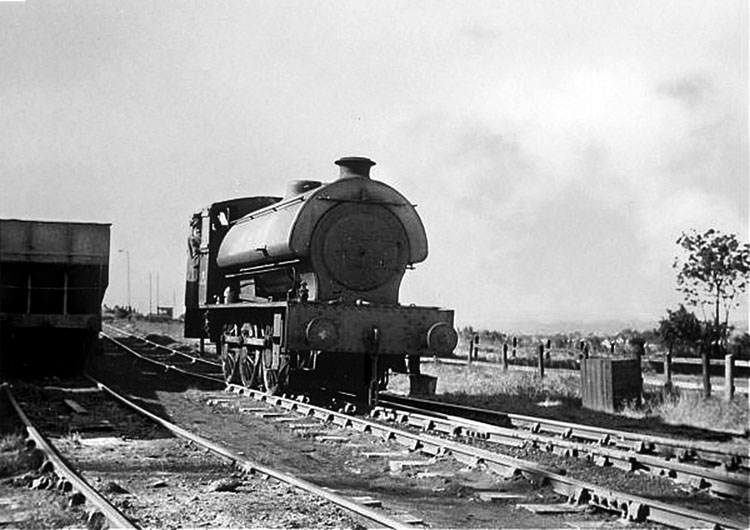 (Above) I have been interested in industrial railways from an early age, especially the NCB lines in the North East of England. In 1960 I hitched a lift on this RSH 'Austerity' 0-6-0ST Wks No. 7146 of 1944. I had been standing where the colliery line crossed the road in Sherburn Village and as 'Monty' approached I stuck out my thumb and it stopped! I had an interesting ride up the steep bank to Sherburn Hill Colliery, where I photographed a run-past with the driver, fireman and shunter happily posing for the camera. Both photos copyright Roy Lambeth.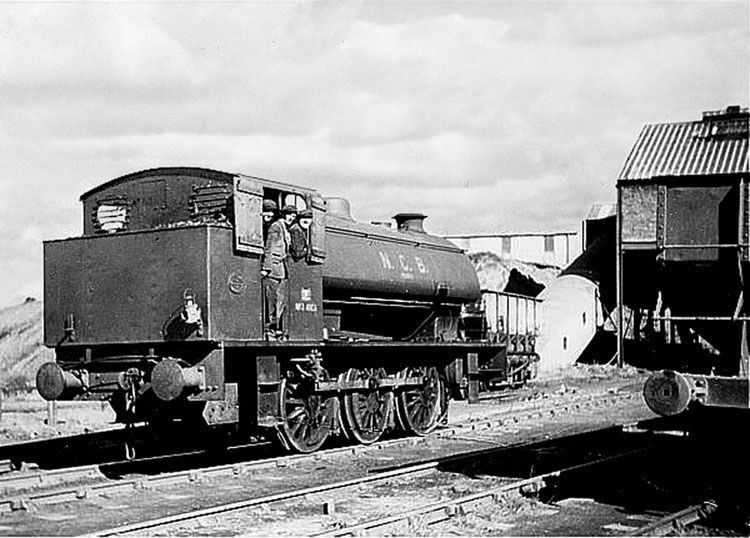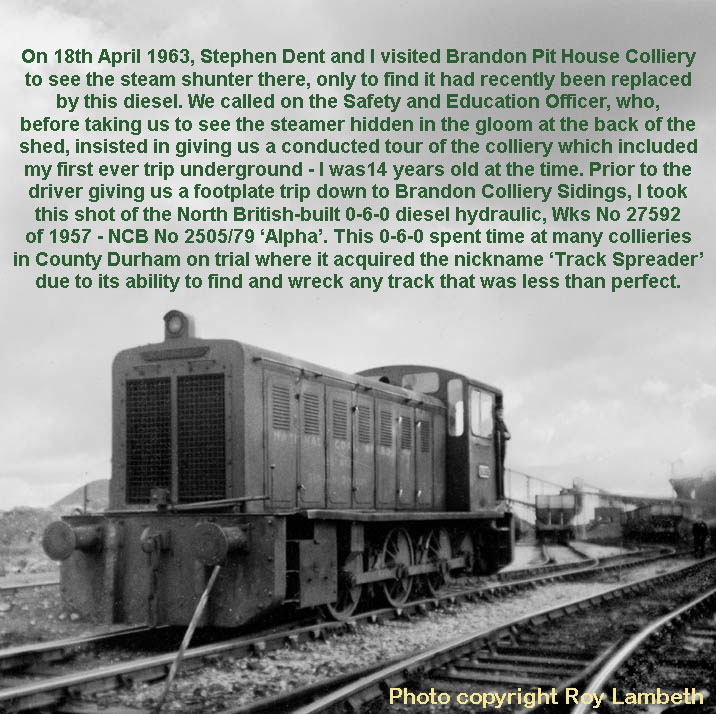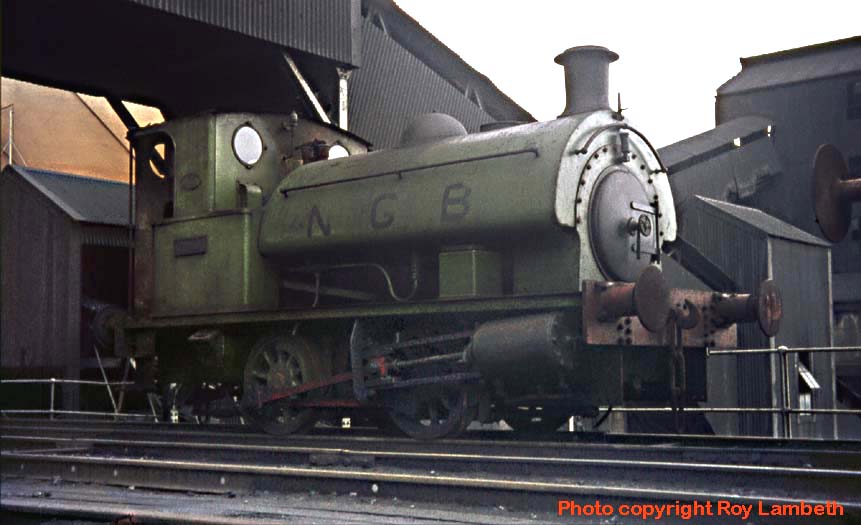 (Above-Below) RSH 0-4-0ST No 7243 of 1945 awaits its fate at Elswick Gas Works in Newcastle in 1969. It saw no more work and was scrapped in 1970.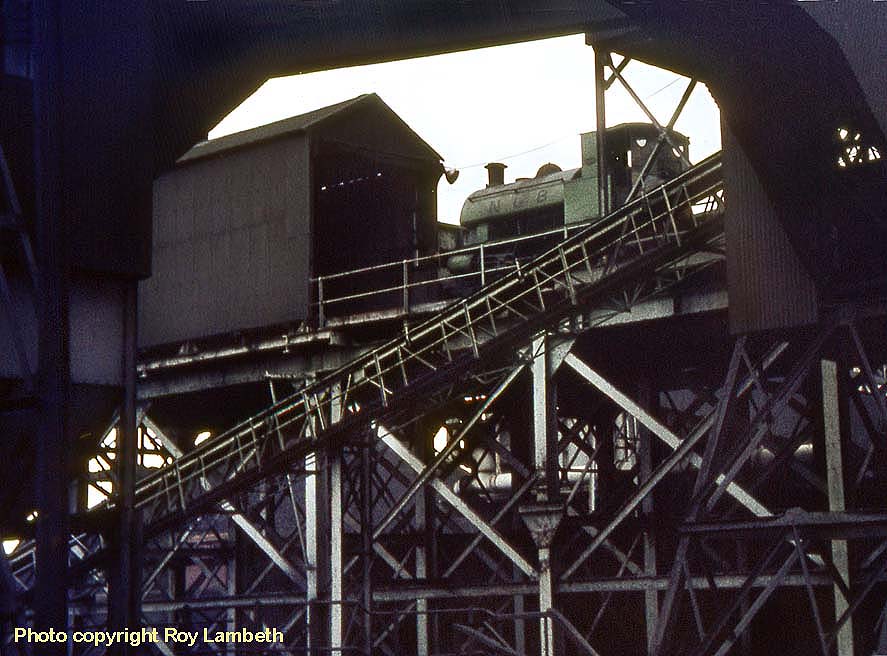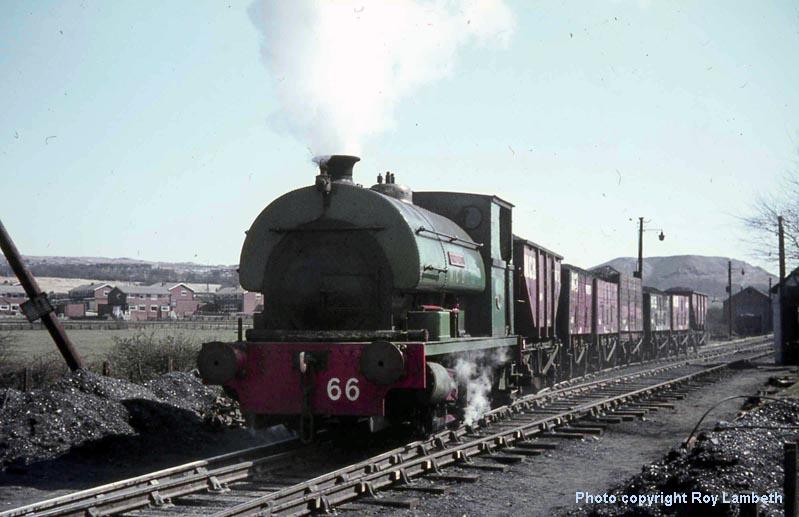 (Above) Photographed in May 1968, 40 year-old Peckett 1748 Charles Nelson shunts the remaining stretch of the old Pelaw Main Railway in the Team Valley just South of Team Valley Trading Estate between Ravensworth Park Drift and Ravensworth Ann Colliery.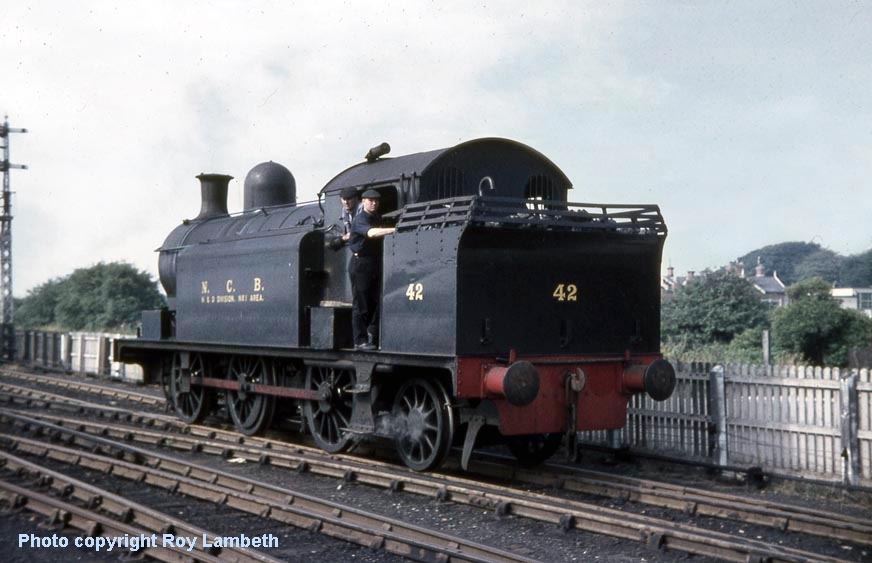 (Above-Below) Two photos of Lambton No 42. The Lambton Hetton & Joicey Collieries purchased a quantity of powerful 0-6-2T locos from both Kitson's of Leeds & Robert Stephenson's as well as the Cardiff Railway and a couple of other sources. The Kitson locos came first in 1904-1908, then the Robert Stephenson ones followed from 1909 onwards. No.42 arrived new in 1921 from Robert Stephenson's and proved to be one of the most popular amongst the drivers. It is seen here at the end of its shift heading back to its shed just to the right of the camera. No. 42 was destined to be preserved until it was found to have a major fault (the report said something was cracked but I cannot remember if it was the frames or the firebox), so No.5 (the oldest of the Stephenson locos) was chosen and can be seen on the NYMR.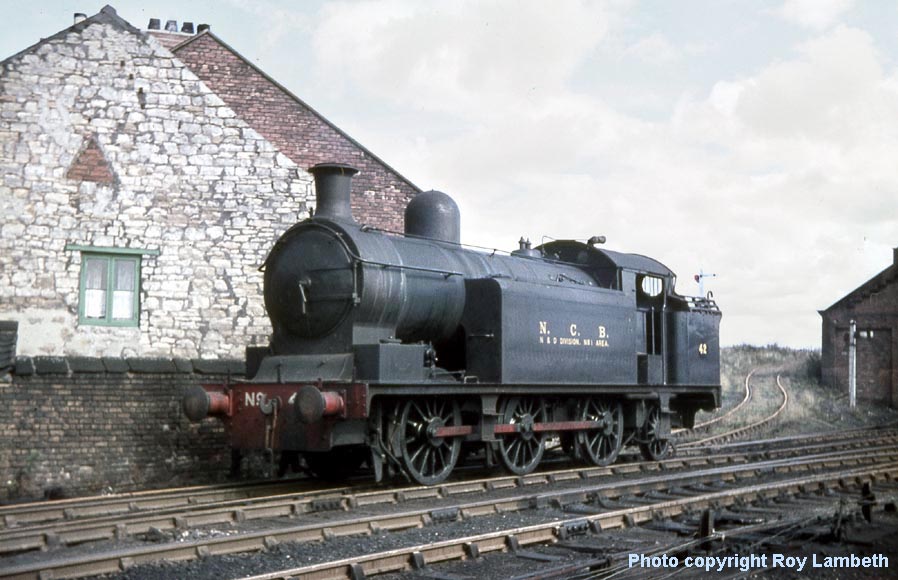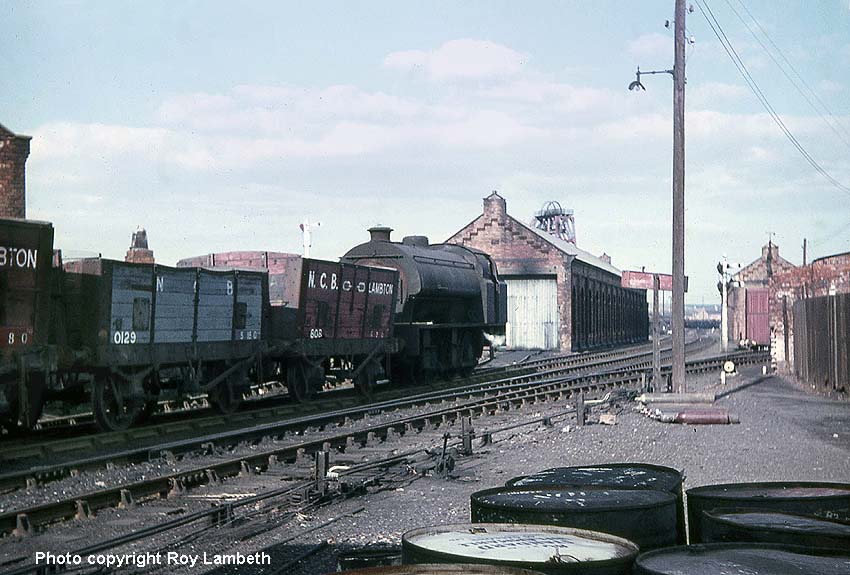 (Above-Below) Now preserved on The Strathspey Railway, LH&JC No 60 passes north through the Lambton Engine Works & Philadelphia shed complex with a train of empty coal wagons for New Herrington Colliery on 25th February 1967. Behind the loco is the Philadelphia Running Shed, normally filled with the 0-6-2T locos built specially for the LH&JC Railway by Stephenson & Kitson loco builders. Above the shed roof can be seen the headgear of Dorothea (Newbottle) Colliery. Incidentally I enjoyed driving No 60 for 10 years on the Strathspey Railway. (Below) During the 1980s I was a regular weekend driver on The Strathspey Railway. In 1985 we experimented with Barclay 0-4-0ST 'Clyde' on passenger trains on the quiet Saturdays. We discovered that if we had both safety valves blowing off, with a huge fire for the size of the grate and with the boiler and saddle tank full of water, with 3 coaches, we could just keep to the 20-minute timing without stopping for a 'blow up'. On this day one of my PW friends took my camera to catch the train going over the summit at about 20 mph flat out! I had filled the firebox to my satisfaction at Boat of Garten, and with the 3 coaches there was just enough steam at the summit to keep the brakes off and still be able to use the injectors. Here you see my fireman sitting on the coal bunker with his back to the boiler, his job done for this trip, while I am driving, happy there is still plenty of fire to keep making steam while filling the boiler on the way down from the summit to Aviemore.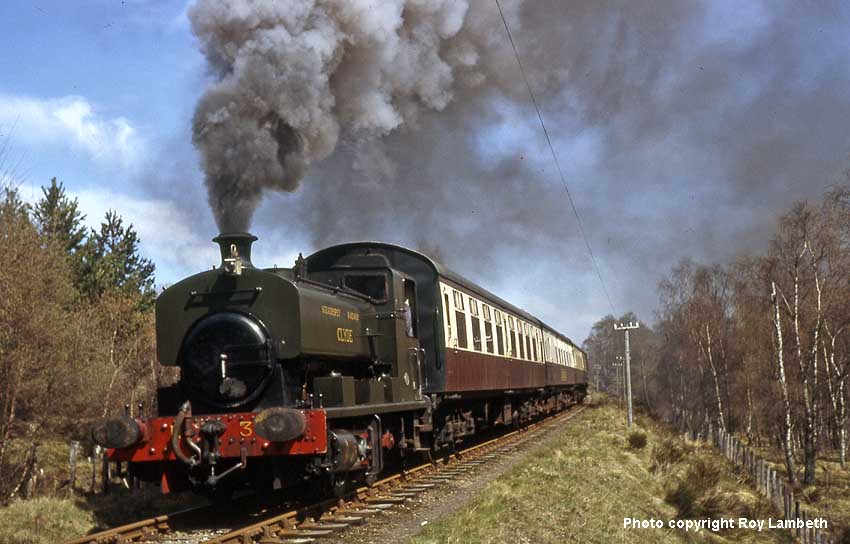 (Below) Light and shade inside the main erecting shop at the NCB's Lambton Engine Works at Philadelphia in County Durham in 1964. This was once the centre of the Lambton, Hetton & Joicey Colliery Railway empire. On the left is No. 10 a Robert Stephenson 0-6-2T Wks No 3378 of 1909 and on the right, the frames of No 59, an Austerity-style 0-6-0ST built by the Vulcan Foundry Wks No 5300 of 1945.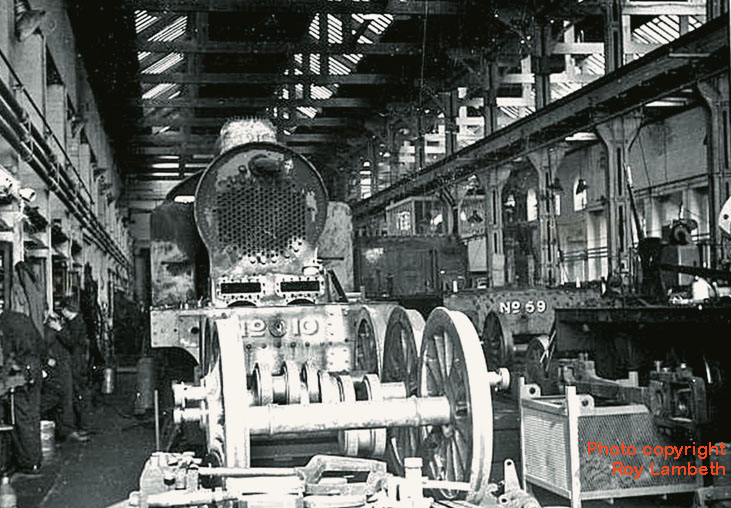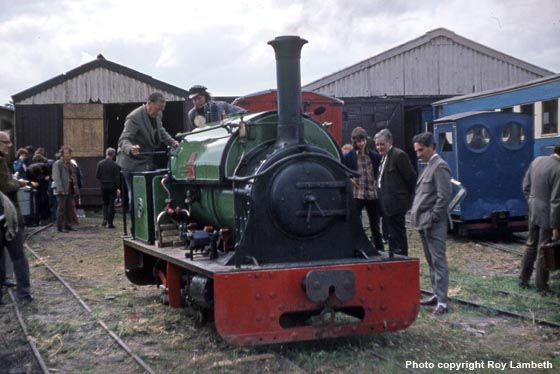 Above-Below) While serving with the RAF in Suffolk in 1972, I joined a M&GN trip to the now-closed Lincolnshire Coast Light Railway. This 2ft gauge line opened in 1960 using ex-WD rail from the Nocton Estates Light Railway. It ran between Humberston Fitties Caravan Park and bus services to Cleethorpes at its North Sea Lane terminus. It was closed and lifted in 1985 then rebuilt at Skegness, re-opening to the public in May 2009. (Above) Elin, an 1899 built Hunslet Wks No.705 'Quarry Loco' spent its working life on the higher levels of Penrhyn Slate Quarries at Bethesda in North Wales. It was fitted with a new boiler by Marshalls of Gainsborough in 1939, but due to a recession in the slate industry, was laid up in 1954. Purchased for preservation in July 1962 it was re-gauged from 1ft 10.25 ins to 2ft and went to work on the LCLR in 1969. When the railway closed in 1985 it went to the Yaxham Light Railway. Following occasional steaming, it was overhauled in 1988/89 and returned to its original black livery. It has since been re-built with a new shorter firebox allowing the removal of the frame extensions which reduced the loco to its original (pre 1939 new boiler) length. (Below) General view of shed area with Elin on left and on the right - Jurassic, a 1903 vintage Peckett Wks No 1008, built for the Lime Works at Southam in Warwickshire. It was purchased by the LCLR in 1961. Also visible are some ex-Ashover Railway coaches.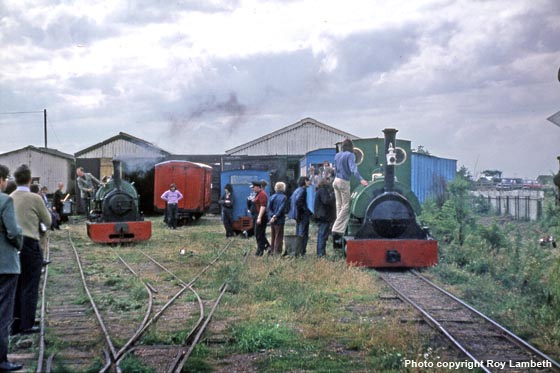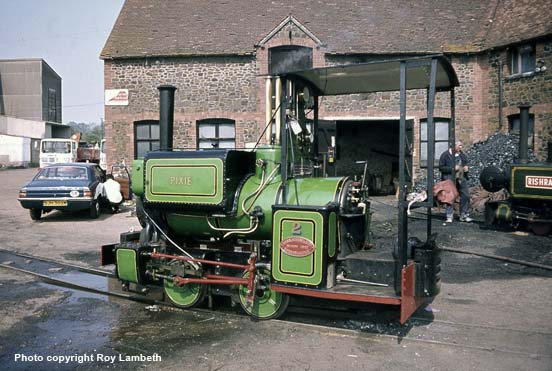 (Above-Below) Pixie. A Kerr Stuart 'Peter Pan' type locomotive of which several survive, this one being privately owned. (Below) This Baugley 0-4-0T was brought back from India by the late Mike Satow. Rishma became my regular engine on firing turns. It is fitted with a marine type boiler where the water jacket is circular round the fire grate and ashpan…she was a lovely little engine to work on.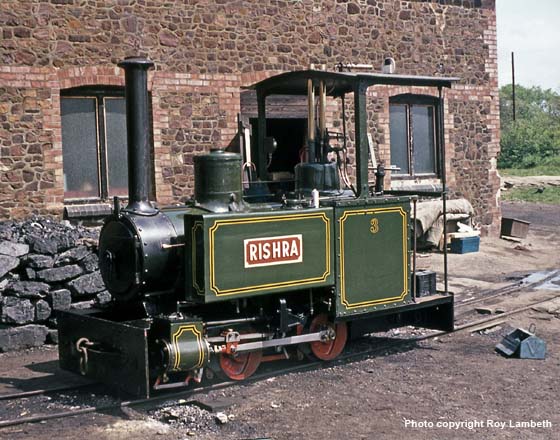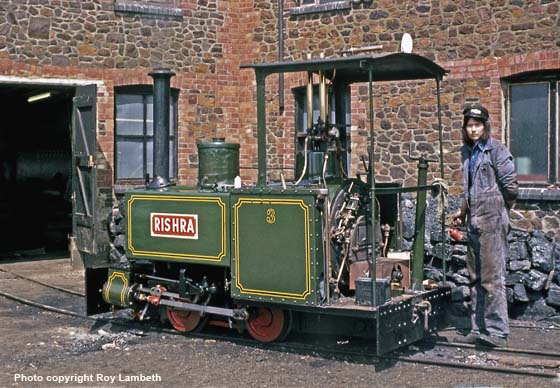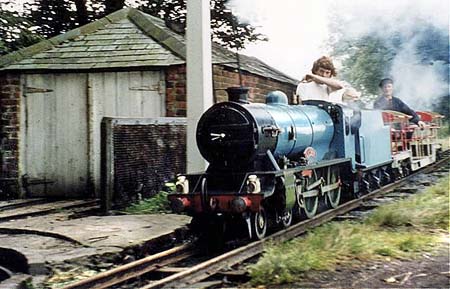 (Above-Below) In the early 1960s I spent a lot of free time with an old family friend, Tom Emerson Tate, who owned an ex-colliery owners house 'Haswell Lodge' built on a hilltop in about 10 acres of ground. Tom was a great steam enthusiast and a founder member of The North of England Steam Traction Engine Society, having at one time owned the ex-Murphy Fowler Showmans Engine 'Renown'. He discovered and rebuilt prototype Bassett-Lowke 15 inch gauge steam loco 'Little Giant' dating from 1905 which I drove together with his loco Yvette (now at Cleethorpes) on the half mile garden railway we built. In 1970 Yvette is at the station with our replica LNER signal box complete with a genuine working LNER frame. Yvette passes the engine shed (converted from pigsty) being driven by Neil Thompson (now General Manager of The Vale of Rheidol Railway) with owner Tom Tate in the coach.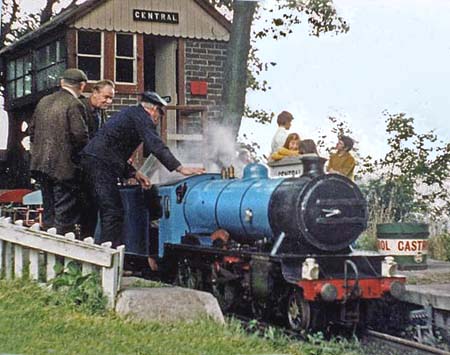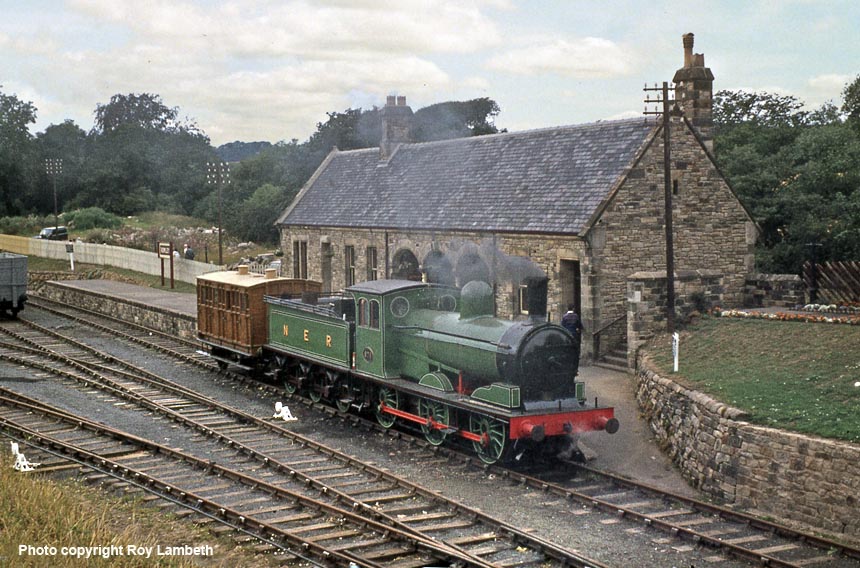 (Above-Below) Early days at The Beamish Open Air Museum with Class J21 65033, withdrawn from service in 1962. It was parked up in Darlington Works with sister 65099. One had a duff boiler and the other had cracked frames. Darlington works made one good loco from 2 unservicable ones. During restoration they discovered that the cab they were using came from yet another of the class, the number being discovered when being rubbed down for painting. The loco seen here is not in steam, but has some oily rags burning in the smokebox. Behind the loco is Rowley Station which had been removed stone by stone from Rowley on the Consett to Darlington line and rebuilt here. The loco is now on loan to the North Norfolk Railway who are having it fully restored for use on their line. (Below) Replica of the 1825 Stockton & Darlington locomotive is seen on the now disused colliery village branch which is not connected to the Rowley Station site above.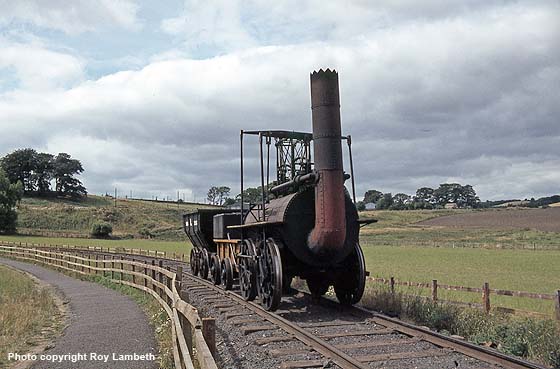 A DAY IN THE LIFE!...APRIL 20th 1968

With the August 1968 deadline for BR steam only a short few months away, this page ends with the 'North West Railtour on April 20th 1968, by which time the frenetic rush to photograph the few remaining steam-hauled specials was at its height.
When my spotting pal, Stephen Dent, left school, he followed in his father's footsteps and joined British Rail as a trainee at Newcastle Central Station. When I left school and applied for a post with BR at Newcastle, I was told that I lived too far away even though I lived four miles closer than Stephen!
Seemingly, my application was unsuccessful because I had no family already working for BR - such is life!

It wasn't long before Stephen was promoted to Station Inspector based at Blackburn in Lancashire, and in April 1968 he invited me down from Durham for a crazy weekend photographing the Manchester Rail Travel Society/Severn Valley Railway Society's 'North West Tour' on April 20th.
The railtour originated at Birmingham New Street hauled by E3180 to Stockport. The route from Stockport was: Disley LNW - Buxton No1 - Peak Forest Jn - Chinley - Romiley - Guide Bridge East Jn - Stalybridge - Standedge - Hebdon Bridge - Copy Pit - Rose Grove - Blackburn - (2) Bolton - Bury - Knowsley Street - Rochdale - Oldham Mumps - Philips Park No1 Jun - Droylesdon - Denton Jn - Stockport - Northenden Jn - Skelton Jn - Warrington Bank Quay Low Level - Ditton Jn - Liverpool Lime Street - Birmingham.
Having spread out a map and planned our route, we set off with one of Stephen's pals (an aspiring professional concert pianist) in his soft-top Sunbeam Alpine, and headed for the first of eight trackside locations on a glorious warm spring day...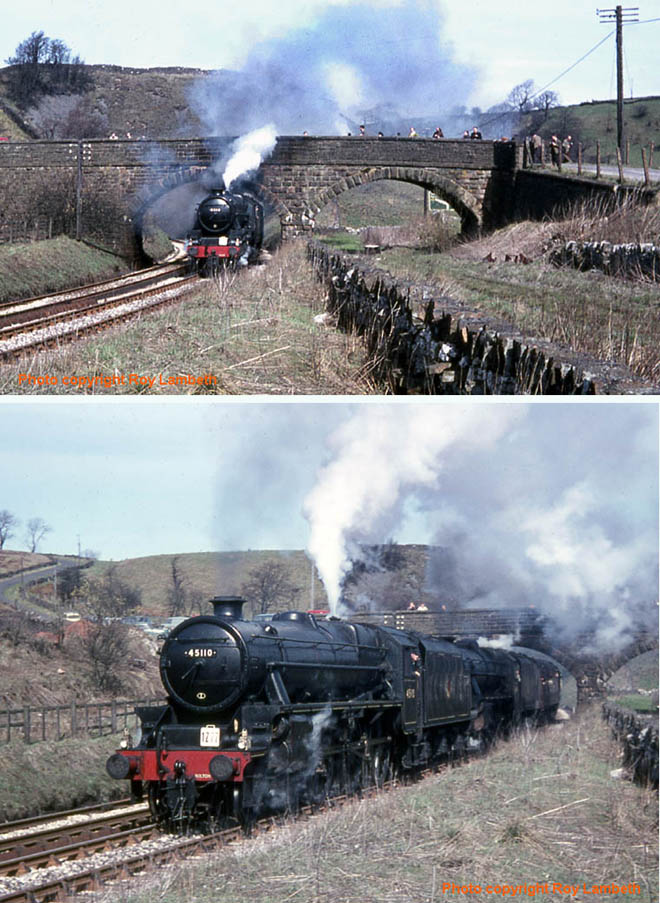 (Above-Below) The above photographs show Stanier Class 5s 45110 and 44949 near Barmoor Clough Tunnel on the LNWR Buxton line near Dove Holes Station - on the right can be seen the trackbed of the former Peak Forest Tramway just beyond the wall. (Below) The obligatory 'going-away' shot...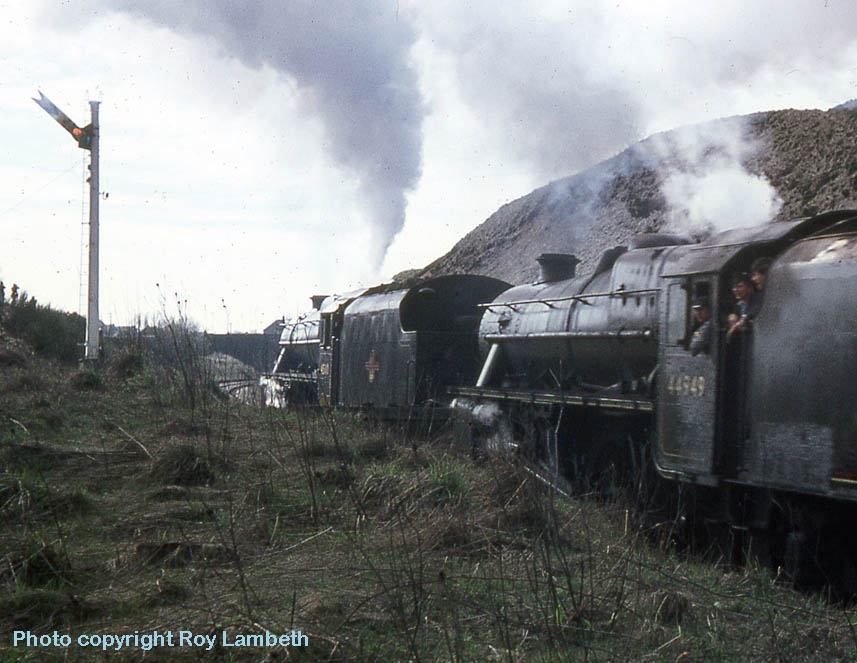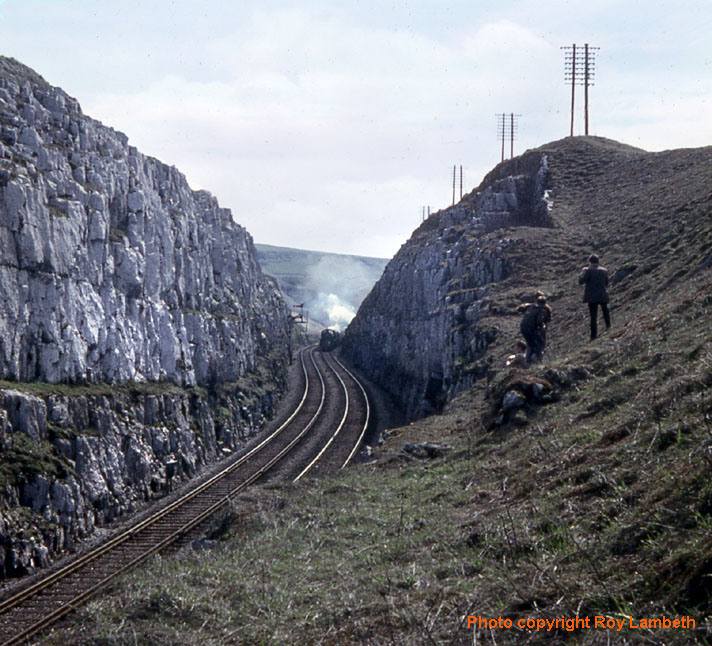 (Above-Below) The second chance came when the rail tour returned from Buxton via the MR line and we caught it heading through the deep cutting from Peak Forest Junction into Dove Holes Tunnel.
(Below) The next chance came near Ashton Park Parade on the Guide Bridge to Stalybridge line, aiming to get multiple shots from a vantage point with views across the town.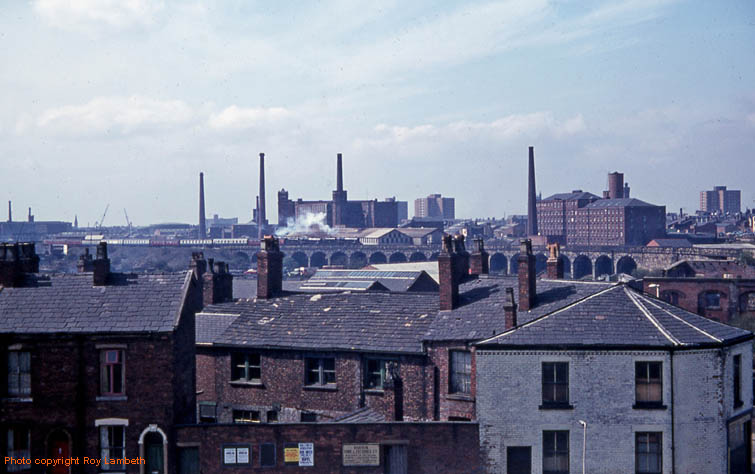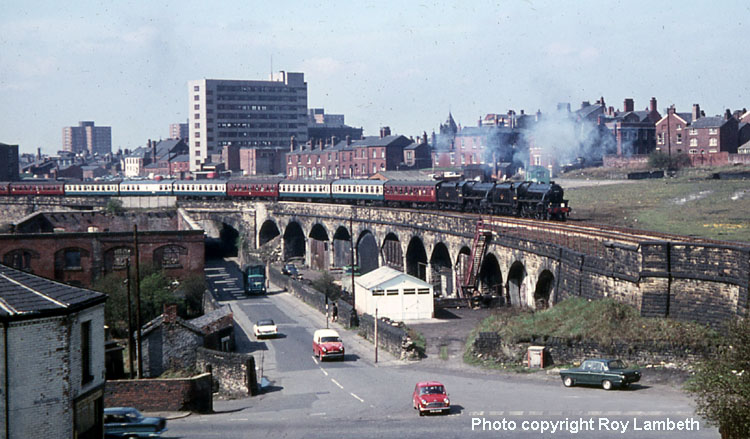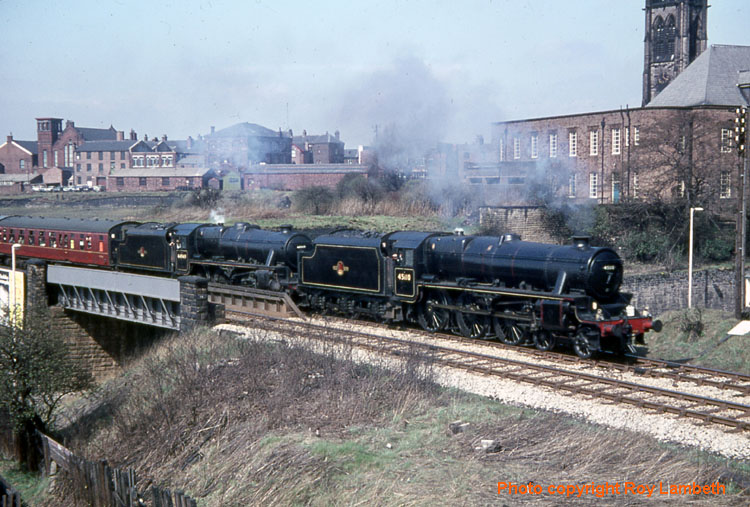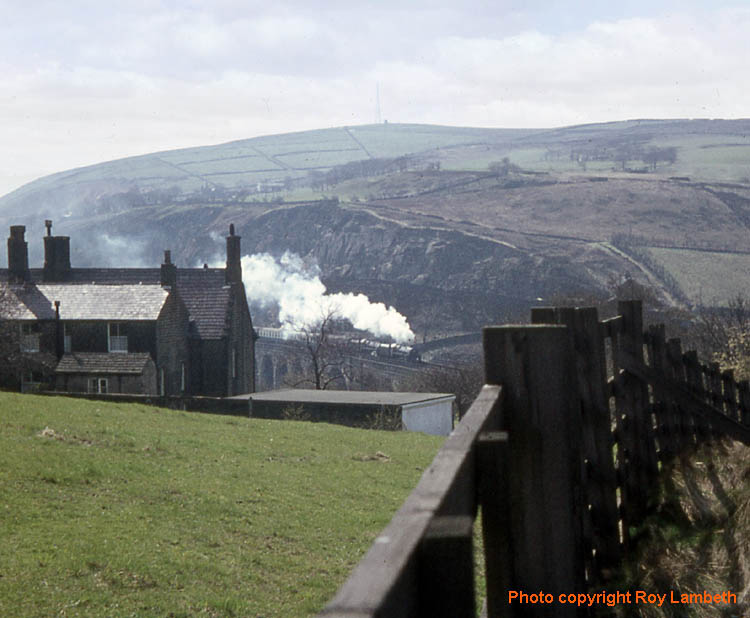 (Above-Below) After exchanging the 'Black 5s' for a pair of BR Standard 5MTs 73134 and 73069, we photographed the rail tour climbing from Saddleworth Viaduct to Diggle on the Manchester-Leeds Standedge route...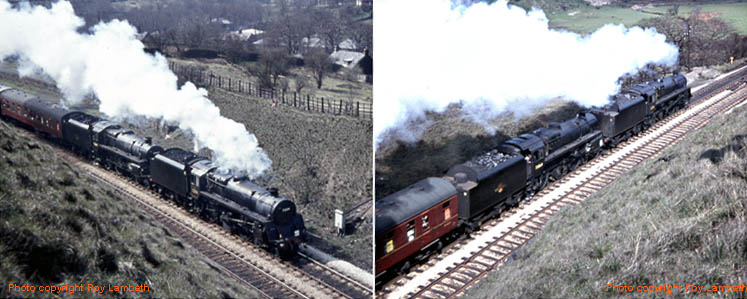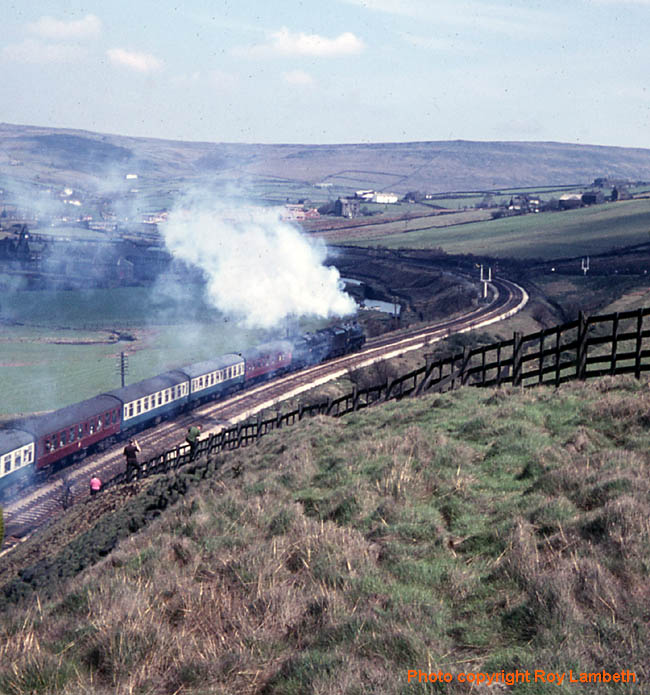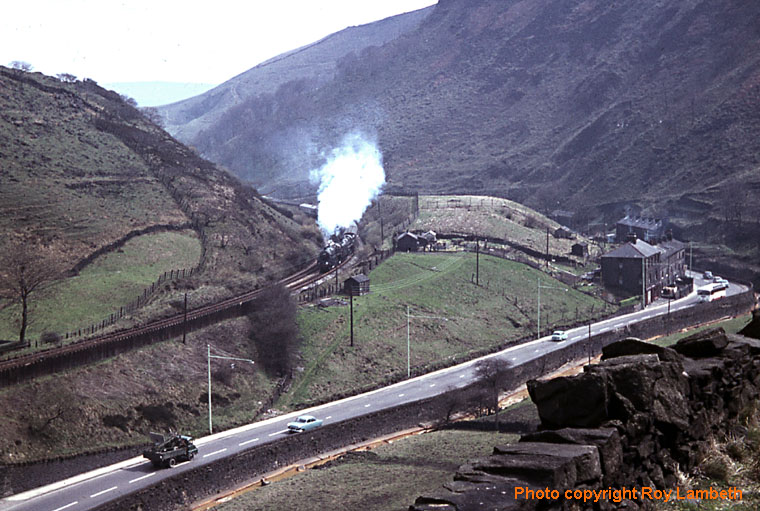 (Above-Below) These elevated view show the BR Standard Class 5s getting to grips with the 1 in 68 climb from Todmorden to Copy Pit.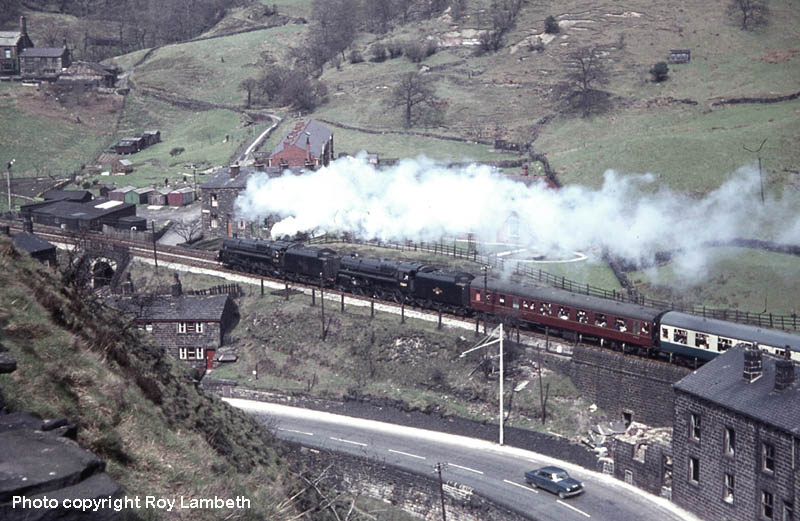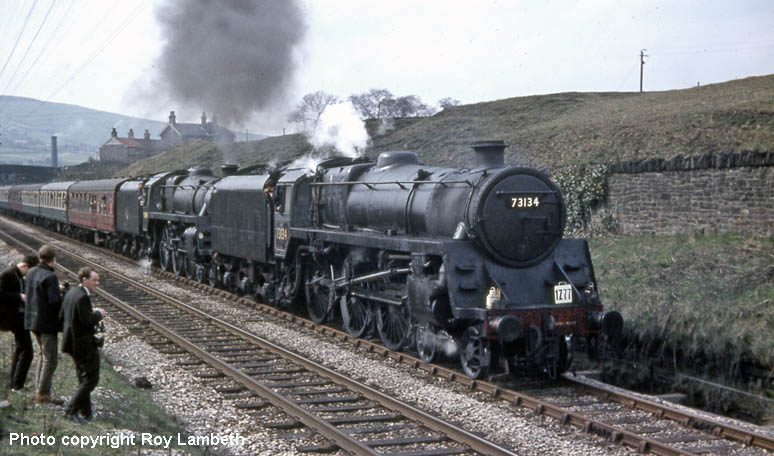 (Above-Below) Our next port of call was Spring Vale, hoping to see the rail tour storming up the grade to Slough Tunnel but when it arrived, it slowed to a stop and the Class 5s propelled the train through a cross-over before working wrong line into the tunnel. We later discovered that parts of the tunnel roof were under repair hence the change to wrong line working.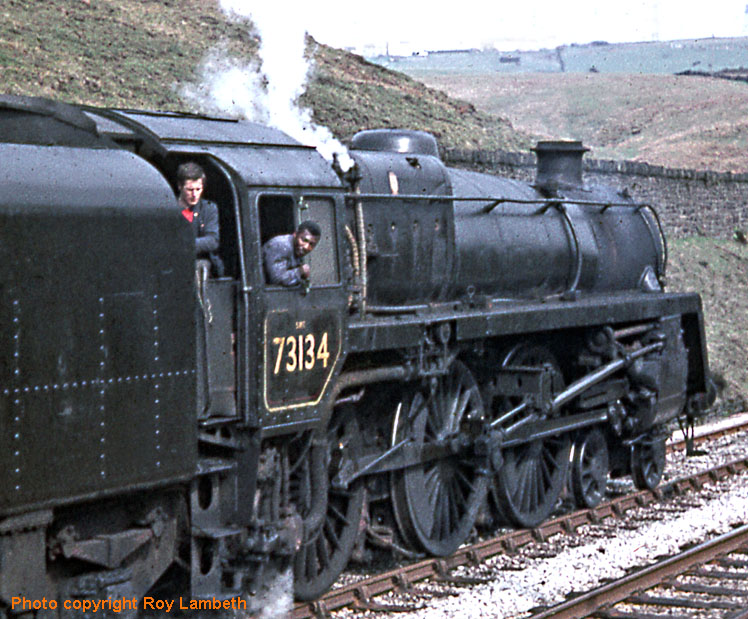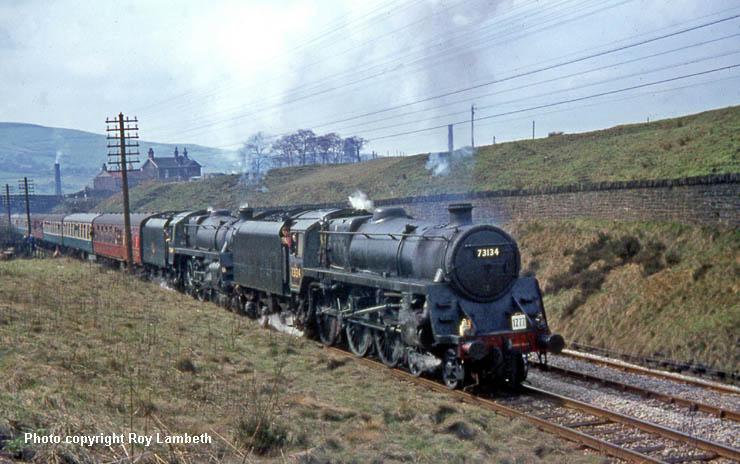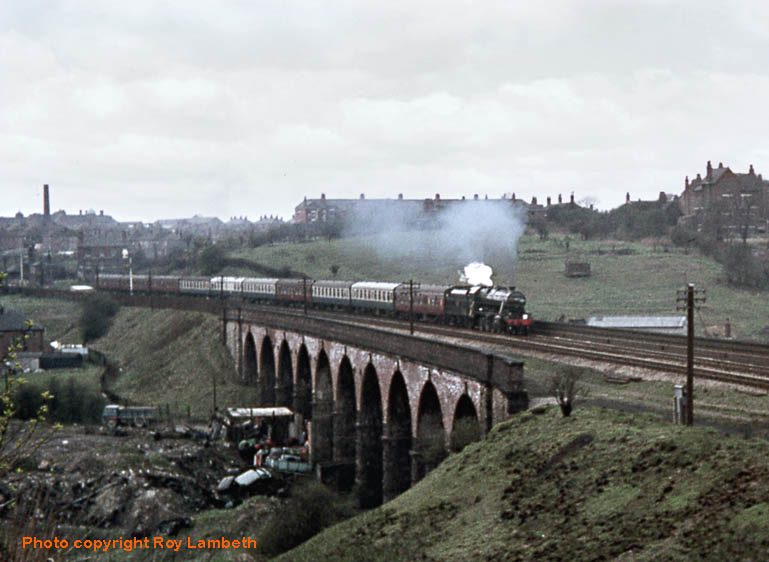 (Above-Below) Following another engine change to Stanier Class 8F 2-8-0 No 48773, we photographed the train storming to Clayton Bridge Viaduct, then coasting past us at speed, by now running rather late.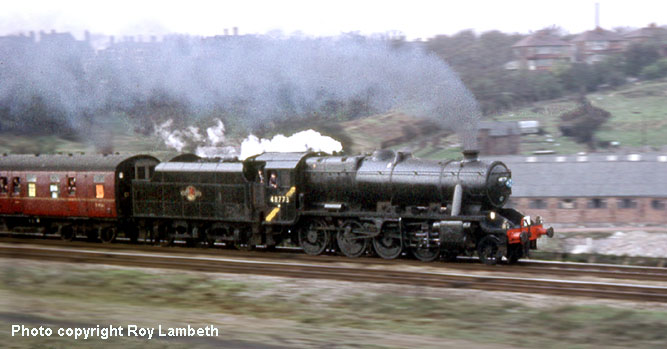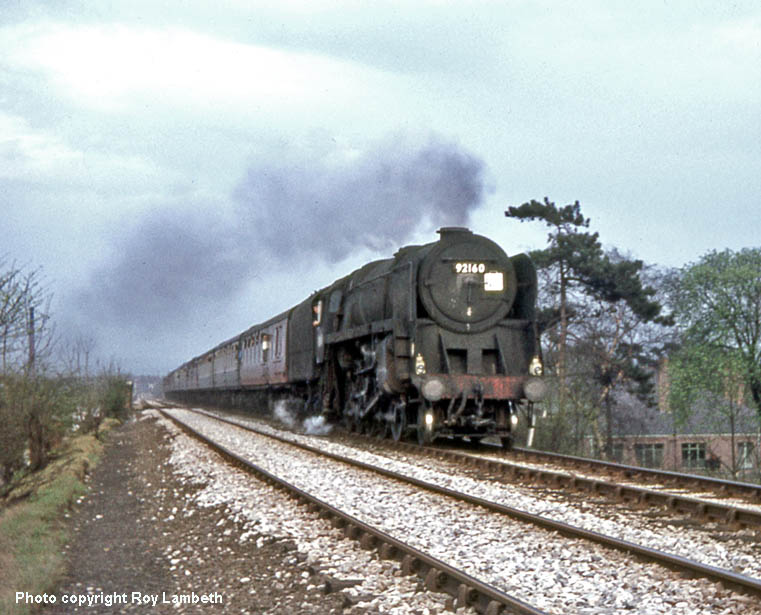 (Above) Our final shot of the day shows a filthy Class 9F 92160 at Boundary Bridge, Cheadle on the Stockport to Liverpool line, now running an hour late.
We saw the train hurtling towards us on the newly-ballasted track and thought it was going to derail; it passed over the bridge (just behind the loco) and the front end visibly reared up and became very unstable. Stephen duly reported this on Monday morning but was assured there was nothing wrong with the track. However, just a few weeks later, a diesel-hauled freight did derail on the bridge, went down the embankment (at the exact spot we had been standing) and demolished a car showroom full of Bentley and Rolls Royce cars. Stephen received a profound apology from BR for not checking out his observations, and we are sure it helped his career with rapid promotion
.

Unfortunately, I lost touch with Stephen over the years; I joined the RAF and I do believe Stephen was promoted to Shed Manager at Bristol Bath Road. He later concentrated on photographing Signal Boxes and his work often appeared in publications, such as 'Backtrack'. I understand he died some years ago.
Stephen meant a lot to me; on the first day I went to Senior School, he was in the 3rd year and made a point of seeking out a train spotter like himself to befriend…and he chose me! In those days, the school's senior pupils were encouraged to make new arrivals feel welcome in their first year.
Therefore I dedicate this page to his memory, for it was due to Stephen that I was accepted on the Dearness Valley Branch at Ushaw Moor Station (Porter Jack Railton), New Brancepeth Signal Box (Jacky Hammill), Flass Junction Signal Box and Waterhouses Station.
Every one of them made a lasting impression...
Polite notice: All text and photographs are protected by copyright and reproduction is prohibited without the prior consent of the © owners. If you wish to discuss using the contents of this page the email address is below. Please note - this is not a 'clickable' mail-to link via Outlook Express. You will have to email manually.
dheycollection@ntlworld.com

chairman@dmm.org.uk