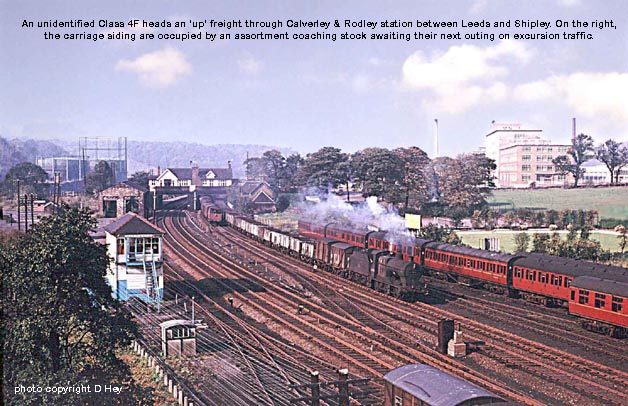 I'm a sucker for collection railway memorabilia, but I can think of no rational explanation for keeping an old exercise book from the 1950s. Had it been an old school essay book, then fair enough - I think most people enjoy harking back to the merry-go-round of school days. But squirreling away an old train spotting book is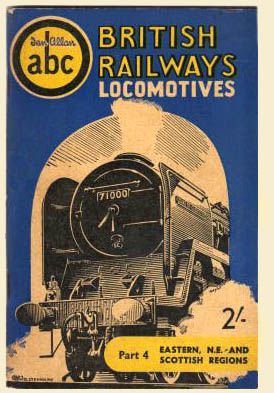 quite another story; a list of numbers count for little on its own, but when I cast my mind back to a miserable wet night at Calverley & Rodley in May 1959, the numbers on one page mean another thing entirely.
As spotting trips go it had 'kamikazi' stamped all over it. We had taken shelter from the rain in one of the carriages in the siding and, to put it bluntly, my spotting pal, Bonzo, was playing silly buggers. It was the cocky way he looked at the signal box opposite us - a flicker of wild courage? I couldn't quite put my finger on it, but that look meant something to me, such things always did. When Bonzo was in one of his rancorous moods he was capable of anything.


There's a name for this kind of behaviour in psychological circles; it's called egotsism. The bumptious Bonzo was constantly demanding attention and I was a fool for giving into him. Whatever compulsion drove him to press the self-destruct button, he wasn't the only victim. He was taking me down with him - and who in the world needs a friend like that? On the other hand, Bonzo was a more contradictory person than his swaggering persona would have you believe. Since his 15th birthday he was no longer a boy, nor a man - he was a rabble-rousing reprobate somewhere between the two. He was driven by a passion to collect as many engine numbers as possible, and if that meant spending the night in the carriage sidings, then so be it.
Trouble is, Bonzo's high-octane spotting trips had landed us in trouble many times before, so his fooling around made me real jittery. Had only he paused long enough to think it out, then a mote of common sense would have told him that standing at the carriage window in full view of the signal box bordered on lunacy, but would he listen to me? Not him! And that was the main problem - the difference in our ages (I was two years his junior) meant my opinions carried no clout in his company, but if there is one thing for certain, Bonzo's spotting credentials were not to be sniffed at. He knew all along that the railway sidings at Calverley and Rodley would be filled with empty coaching stock, and in his scheme of things the London Midland Region had unwittingly provided us with a roof over our heads for the night.
Okay, it seemed a good idea at the time. It was a whole lot better than spending the night out in the open, except for one thing - the only reason we had taken possession of a compartment in a railway carriage (in the middle of the night) was to spot a couple of boring diesels! - and that, to coin a phrase, brings me to the nub of the matter...the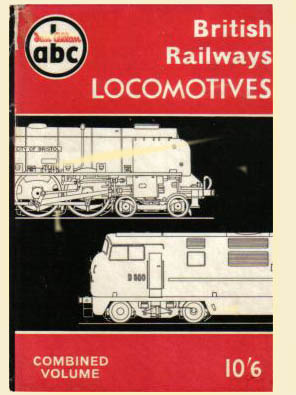 steam versus diesel debate, or more to the point - the BTC's perplexing and, some would say, chaotic rush to get rid of steam that ultimately divided the spotting community into two factions - the pro-steam lobby and the die-hard diesel fans.
Bonzo fell squarely into the latter. His enthusiasm for train spotting was infectious; his ambition was to 'cop' as many of the pilot-scheme diesels as possible, including the new Co-Bo diesels, numbered D5700-D5719 in the fleet, but as the 20 locomotives were allocated to Derby (17A) for working the London St Pancras-Manchester Central service, they rarely visited Leeds. Then on March 16th 1959, six members of the class were assigned to Cricklewood on a rota basis for working the double-headed 'Condor' overnight express freight from London to Glasgow via Leeds...Bonzo was buzzing...
'They'll be great cops for the both of us!' he said...continued below

(Below) Until sufficient numbers of the larger and more powerful Type 4 'Peak' class locomotives became available to the operating department, the twenty t roublesome Metro-Vick Type 2s were a regular sight on the MR main line between Manchester and Derby.The fleet was allocated to Derby 17A, but after a short period in service, their Crossley power units developed problems on a large scale and the class was put into store, awaiting a decision on their future. Smoking badly, a characteristic fault of the Metro-Vick Co-Bos, Nos D5705 and D5714 head a 'down' express at Great Rocks Junction on June 16th 1959.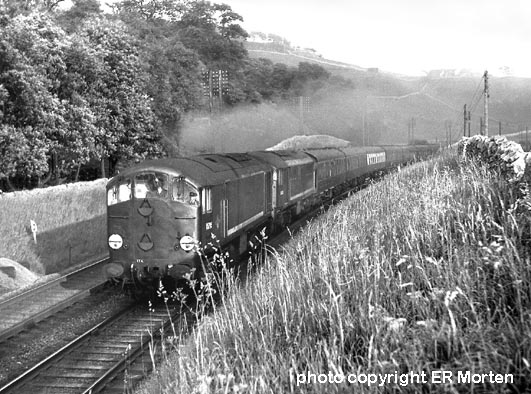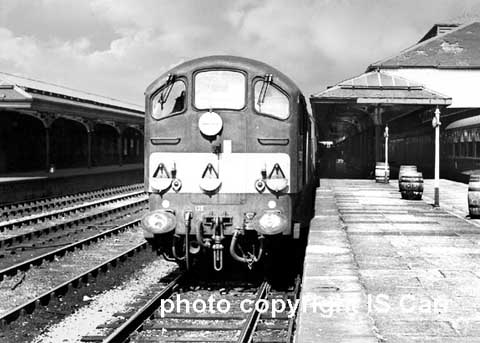 (Above-Below) Following refurbishment at the manufacturers works at Dunkinfield, the fleet was eventually assigned to work secondary passenger and freight duties in the Furness and West Cumberland areas of the MR, all based at Barrow, but with a few sub-shedded to Workington operationally. The original wrap-round windows were a neat detail design of the Co-Bos, but these were later replaced by a flat screen mounted in rubber mouldings to reduce maintenance costs. The modification can be seen in this view of No D5701 awaiting departure from Workington with the 15.12 to Liverpool Ex. on August 14th 1963. (Below) The signal gantry at Preston provided 'Footplate Cameraman' Jim Carter with this elevated view of Metro-Vick Co-Bo No D5701 and an unidentified Black 5 (called upon to provide steam heating for a Manchester-Blackpool working) on the climb out of Preston station in June 1960. During steam days, a double-header (a combination of steam locomotives coupled together) was often used, but with the onset of dieselisation a pair of locomotives coupled together and worked by one driver became known as multiple workings, whereas diesels coupled together and driven independently were called tandem workings. The use of a steam/diesel combination was discouraged by the operating department, but when this could not be avoided it was obligatory for the steam locomotive to be coupled inside to prevent the risk of hot ashes dropping from the leading engine which could ignite the accumulative oil deposits on the underside of the trailing diesel - plus there was a risk of coal tumbling from a tender and smashing the windscreen of a trailing diesel.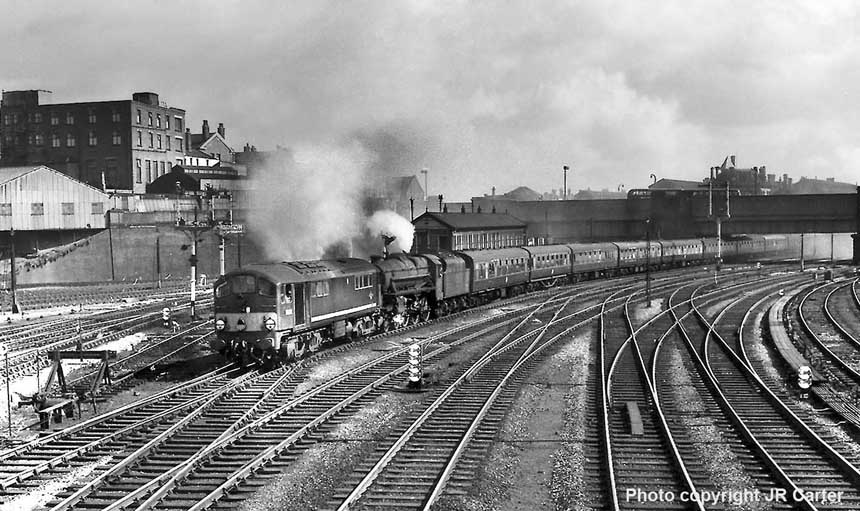 Great cops! I didn't share Bonzo's enthusiasm for spotting the Co-Bo diesels! In my view, anything that made such a racket couldn't be all that big a deal. Every night their rasping exhausts could be heard miles away as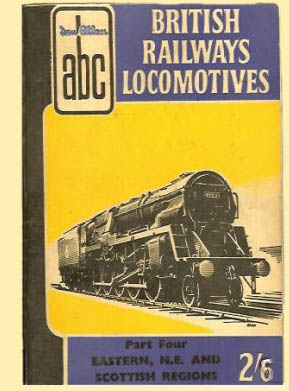 they headed along the Aire Valley line not far from where we lived.
But that wasn't enough for Bonzo. Not only was he determined to push the 'cop'-rate as far as he could go, he wanted to see the Co-Bos close up, and so having persuading my parents I'd been invited to sleep overnight at his house, then telling his mum he was stopping over at my place, he told me to pack a duffel bag full of sandwiches, crisps, a bottle of pop and a torch - and, daft as a brush, I did whatever he told me.
In those days we had a tacit understanding: He was the 'brains' behind our spotting trips, and I was his obedient lackey constantly at his beck and call. Before every trip he had an orderly list of things for me to do, which I found overbearing at times, yet I had always accepted it as such because without Bonzo I would never have 'copped' anything like the number of engines in my abc Locospotters book - and for that I could forgive him anything...continued below.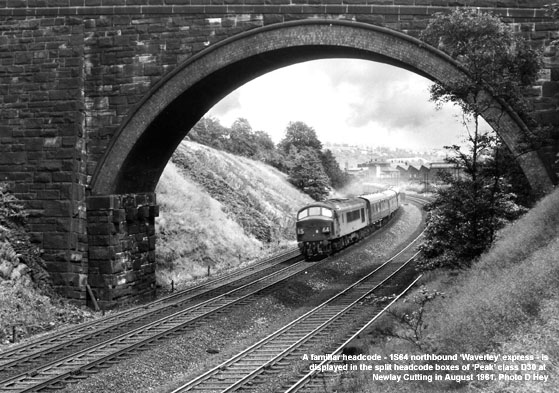 (Above-Below) Blow me! I keep banging on about boring 'square boxes on wheels', and within a couple of years I seemed to be photographing nothing else but diesels!
In the days before the Beeching axe cut a swathe through the railway landscape, I was a cocky, self-assured reprobate, who thought it was 'cool' to swagger around the school playground and slouch over his desk in class. I had the zany notion that it somehow exuded a raw, male animal magnetism that girls found irresistible.
In between listening to Cliff Richard's 'Bachelor Boy' on Radio Luxembourg and 'zapping' yellow puss out of spots, all my spare time (and paper round money) was spent photographing trains in the Leeds area. I had no idea that the villainous Dr Richard Beeching was about to shape the rest of my life. Alarm bells had been ringing, of course in 1963 hundreds of station closure notices were issued throughout the Yorkshire region, but the Beeching proposals seemed so preposterous, and so far ahead, that it scarcely merited contemplating.
Needless to say, had I known then what I know now, I'd have taken a lot more photos of stations under the threat of closure. Sadly, I missed a golden opportunity and regretted it ever since. Still, there is nothing to be gained by picking over what one should have done or didn't do. I suppose it's better to have photographed diesels than nothing at all.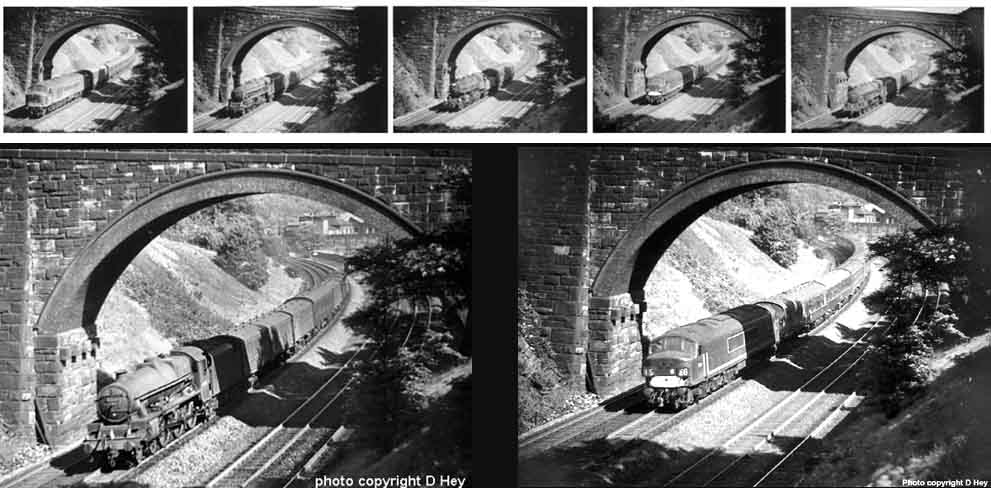 As we climbed inside the carriage, though, I had grave doubts about our sanity. It was like an icebox in there and I was immediately struck by an eerie silence that fell over the compartment that scared the both of us.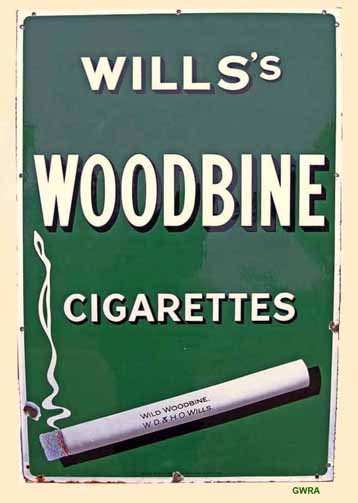 Then it started to drizzle outside, which somehow made our intrusion on railway property more defensible.
On the contrary, we were bang out of order and Bonzo's smoking didn't help either. The compartment was filling up with smoke and my biggest concern was the telltale wisps curling through the open window vent. Worse still, his dodgy petrol lighter leaked and his clothes reeked of fumes, which together with his nicotine habit made a lethal combination. It was like sitting next to an incendiary bomb that could combust at any second...
But I had my own phobia to deal with first because a fear of the dark can be the biggest enemy of any youngster, especially in unfamiliar surrounding where even the most innocent shapes can be altered so believably in the dark. In my vivid imagination, Bonzo's shadowy form had turned into the 'Creature From The Black Lagoon'. It was a weird apparition; it looked so real. Either he was trying to scare me, or he was battling his own fear of the dark? Whatever the reason, in between a couple of trains - both 8Fs on freights - it never dawned on me that his eerie appearance was an exact mirror image of my own and we were scaring each other silly for no good reason.
Minutes later, I heard the bell codes in the signal box, but Bonzo wasn't interested in a scruffy Ivatt Mogul rattling past our window; he was too busy tinkering with his petrol lighter, shaking it, turning it upside-down and adjusting the wick. Then, aggravated by his nicotine craving, he slammed it hard on the floor and a flame the size of a blow torch shot up his nose. Talk about Olympic high jumps! - he was all over the place. His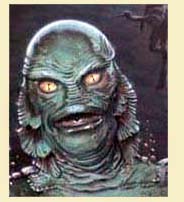 'hands-knees and bumps-a-daisy' took pain-relief to a whole new level. He howled like a wounded prairie dog and I was certain someone must have heard him, but the signalman was warming his backside by the fire, and thinking the crisis was over, we settled down again...
Unlike most other cinematic monsters from the 1950s, Gill Man - a half-man/half-fish creature, did not come from outer space, nor was it a hideous transmutation from nuclear contamination. The creature was a missing link in the evolutionary chain discovered in the remotest region of the Amazon jungle; the creature was made famous in the 1954 film 'Creature from the Black Lagoon', which, like Universal Pictures other 'X'-rated horror films - 'Wolf Man', 'Dracula', 'The Mummy', and 'Frankenstein', became a big hit with 1950's horror fans.
Another hour passed and I was beginning to think our outing was a complete waste of time. Apart from 'Jubilee' class No 45594 Bellerophon, nothing else of any note came through and, feeling drowsy through lack of sleep, I wasn't sure if the heebie-jeebies were playing tricks again, or had I really heard men's voices outside? I listened more closely and sure enough - somewhere in the distance a voice called out - 'It came from that one over there...'
Seconds later, I saw two men crossing the main line - one from the signal box, the other from the goods yard - both men heading towards us in a pincer movement. I jumped to my feet salivating like a halfwit.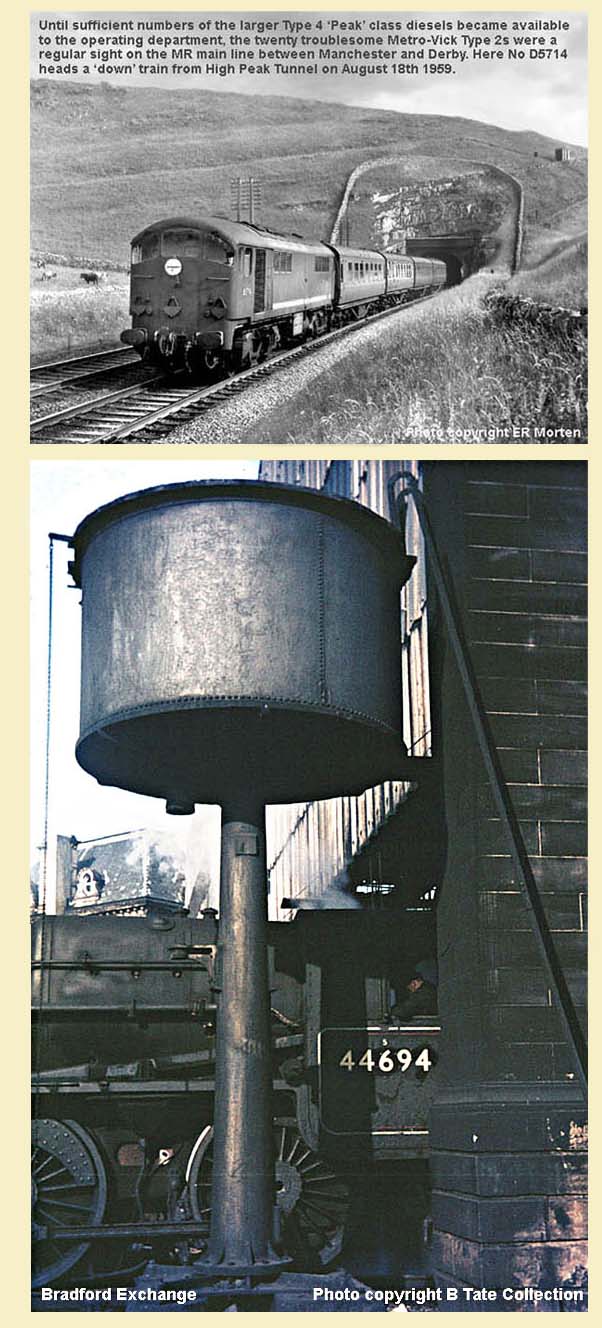 'Stop dribbling!' Bonzo said.
Stop dribbling! I was mortified. My parents had brought me up to respect authority, which might sound hypocritical coming from someone who habitually trespassed on railway property, but it hadn't always been that way.
Before I met Bonzo, I 'kippped' a few apples from the vicar's orchard and knocked on people's doors and ran away, which is hardly a hanging offence. I'm harking back to a more innocent age, when police cars were fitted with bells instead of sirens, when women PCs wore skirts instead of trousers and local bobbies plodded the beat with whistles.
No, Bonzo had gone too far this time. His harebrained scheme for train spotting at the dead of night was not my bag and I was about to tell him enough was enough, when I heard the 'clunk' of a door opening in the next carriage.
Bonzo's eyes goggled like dinner plates - 'Oooer!' is all he could say.
I sat perfectly still - smooth and ordered on the outside - chaotic and trembling underneath. Surely Bonzo knew what to do next?
He hadn't the foggiest!
He began searching the compartment for a place to hide - the luggage rack and under the seat - he even tried climbing through the window vent. The situation seemed irretrievable; he hadn't a hope of blagging his way out way out of trouble this time - 'What're we going to do, Bonzo?'
'Shut your cake'ole!' he ordered.
And that, I have to say, was his biggest failing. He might have revelled in his role as the mastermind behind our spotting trips , but in a moment of crisis, he turned into a cowardly custard.
Well, the big show-off had gone too far this time. This was not some childish game of peek-a-boo; we were seconds away from getting caught and Bonzo was all over the place!
His bombastic attitude was the first strident warning of the rebellious youth culture about to emerge in the Sixties. It was a decade dominated by all-powerful trade unions and wildcat strikes that brought major ports and car plants to a standstill. At the same time, banner-waving 'Ban the Bomb' marchers were determined to challenge the Government at every turn..continued below.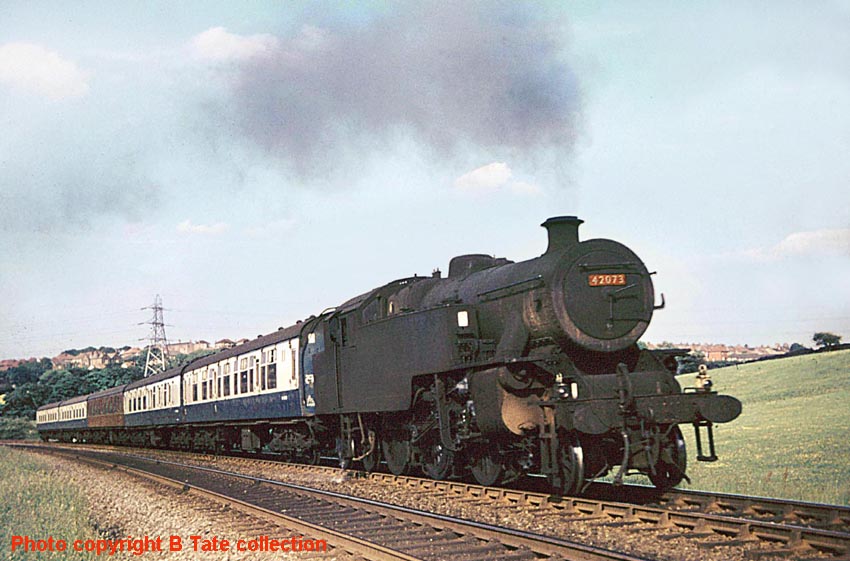 (Above-Below) A grim reminder of the dilapidated state of BR's steam fleet during the penulimate year of steam operation. Certainly, this grubby Fairburn 2-6-4T No 42073 looks an unlikely candidate in the preservation stakes. Built at Brighton Works in November 1950, No 42073 was saved from the cutter's torch in October 1967 and found a new lease of life with sister engine No 42085 on the Lakeside & Haverthwaite Railway in Cumbria. Click here to see both locomotives at Haverthwaite.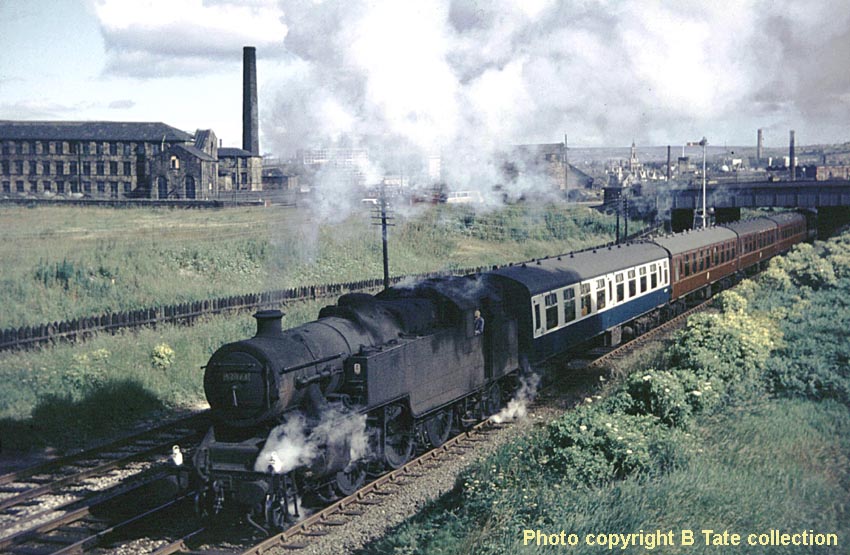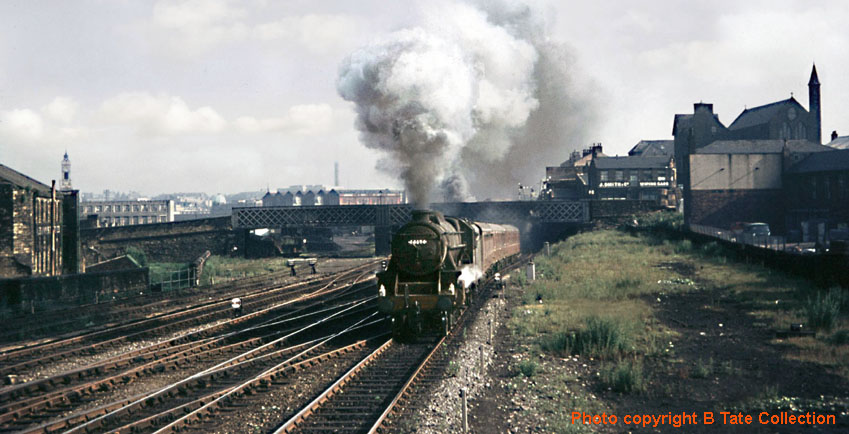 (Above-Below) I ask you, what was so swinging about the Sixties? With steam in rapid decline and the rail network decimated by the Beeching cuts, the decade is remembered with mixed emotions. The shots above and below of grubby 'Black 5s' departing Bradford Exchange on the stiff 1 in 50 gradient past Mill Hill Junction and St Dunstans are a graphic reminder of the penultimate year of steam. Scheduled steam-operated services between Leeds and Bradford were withdrawn on Sunday 1st October 1967. (Below Right) The carriage sidings look half empty as 'Peak' class heads the southbound 'Thames-Clyde Express'.
The impression most writers give of the 'Swinging Sixties' is one of rampant teenagers indulging in an uninhibited orgy of sex and drugs. Rubbish! The nearest most kids came to taking drugs was a Vic Inhaler,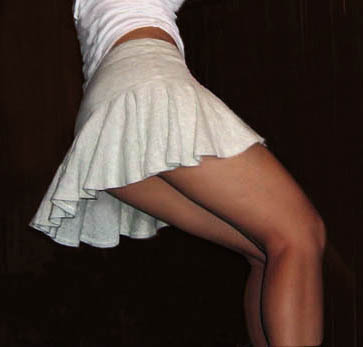 and the so-called 'free sex' had more to do with the San Francisco hippie community and their 'make love not war' mantra.
Here in Britain, the girls we fancied had little in common with their flower-power sisters overseas and the very mention of a quick grope behind the school bike shed ended up with your face being slapped!
It didn't help that a new range of affordable clothes hit the high street including Mary Quant's mini skirt that had no waistline and liberated girls from the voluptuous to the matchstick-thin.
As hemlines soared to new heights, so too did boys' pulses. The pelmet-sized micro skirt left nothing to the imagination, and I surely wasn't the only red-blooded adolescent to have ogled a pretty girl going up and down stairs on double-decker buses, albeit much longer than decency required...you didn't? It must've been just me, then?
In 1964, the cover of the Beatles album started a new trend in men's polo neck sweaters and the Rolling Stones epitomised the rebellious Sixties. As for the other Sixties icons? They're too numerous to list here, but I must mention the eye-popping 'Pan's People' who shimmied like crazy on BBC's 'Top of the Pops'. Check out the BBC's website...nostalgia at its best.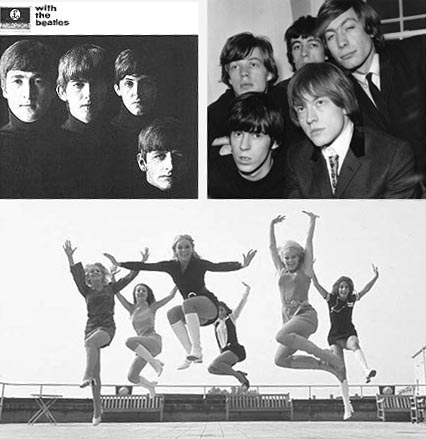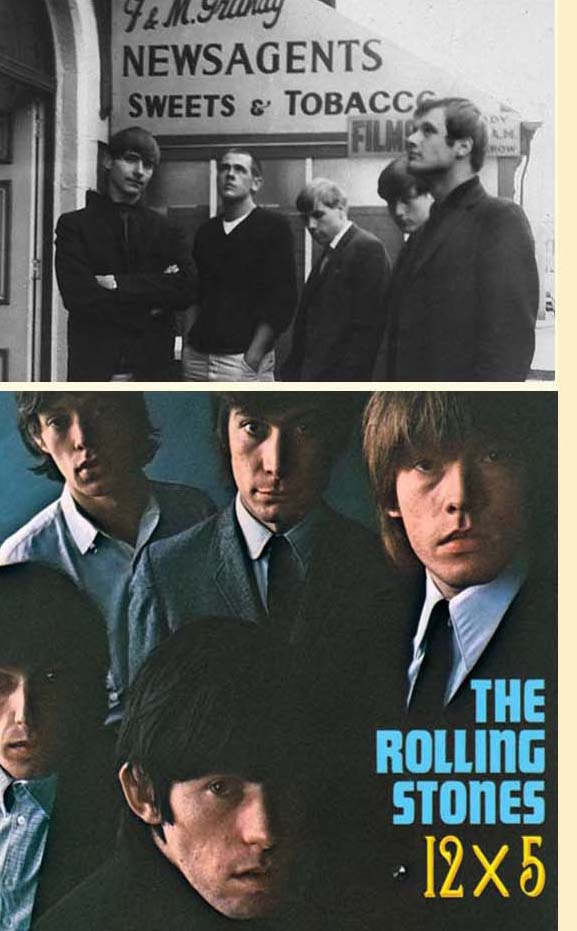 For most teenagers, the 'Swinging Sixties' really started when the 'Mersey Sound' exploded onto the scene. All at once, working class talent was in - David Bailey, The Beatles, Tom Jones, Michael Caine and Twiggy were crowned the new aristocracy and, just as quickly, a more permissive culture had arrived. Out went shapeless women's sack dresses and men's suits of the Fifties; and in came a new era in fashion.
By 1966, 'Swinging London' was reaching its height, and so too had girls' hemlines. The mini skirt not only rejected conventional clothing rules, it spelled the end of sexy lingerie and for the first time a boy could ogle a girl's visible panty line, hitherto seen only in the hosiery pages of mum's mail order club catalogue. By the end of the decade, the new-style 'baby doll' hemlines had reached unprecedented heights - and, at the rate they were rising, a charge of public indecency was surely not far away.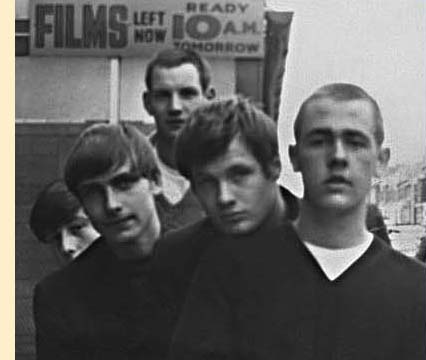 And as for attitude? In those days it was seriously uncool to smile, even for the camera! I recall a holiday at Blackpool with my mates - you really don't need to know anyone's name.
What I can tell you is that our digs were next to a shop offering an overnight film processing service (we're in the pre-digital era here) and keen to use up the tail end of a film we decided to rattle off a few shots parodying the angst-riddled expressions we saw on the LP covers - and no, we weren't poking fun at anyone...we were deadly serious!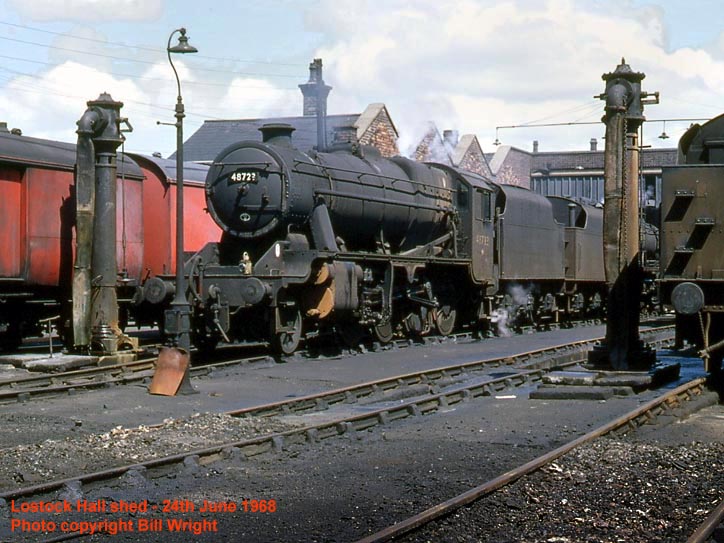 (Above-Below) Bill Wright's colour photographs are a poignant reminder of the BR steam's twilight months. There were occassions when an immaculate steam locomotive appeared on one of the popular 'farewell' rail tours, but this did little to compensate for the filth and negelct to be found at steam sheds. With only a few years to go before the cessation of steam in 1968, there was something of a doom-laden atmosphere hanging over steam shed yards filled with shabby engines - indeed, unless their chimneys were covered by sacking, it was difficult to tell which were in working order and those that were not. Check out Bill Wright's page 57 for more colour shots of steam's demise.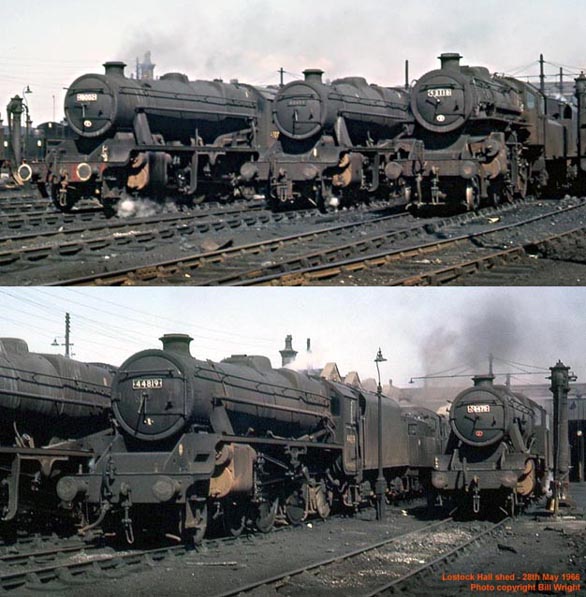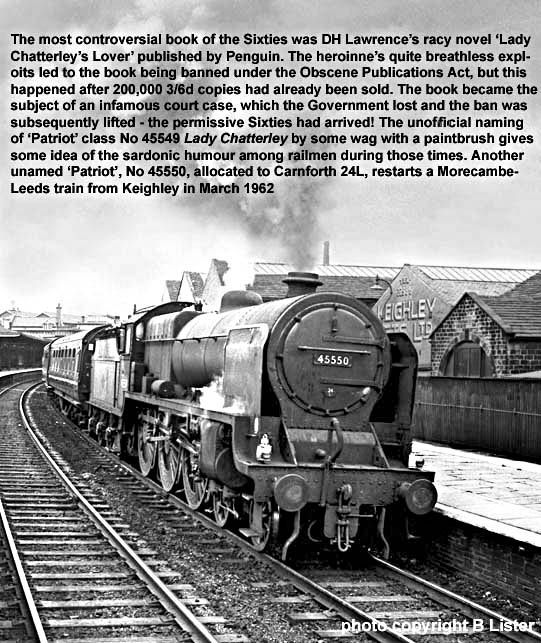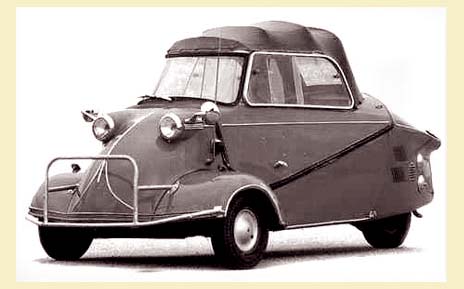 (Above-Below) During the Sixties, full-time employment stood at almost 100 per cent and credit was easy. The 'buy now-pay later' era led to vastly increased spending power and everyone was going for it. If you fancied a trendy Vespa scooter or 3-wheeled bubble car, both were cheap to buy and economical to run. They probably didn't have the same snob appeal as a Triumph Spitfire or Austin-Healey frog-eyed Sprite, but it was a whole lot better than hopping on a bus.
By 1959 the bubble car's bubble burst when the BMC mini car came onto the scene. The new mini featured a revolutionary transversely-mounted engine and front-wheel drive which made a huge impact on automotive engineering. Costing a little over £526 on the road in 1961, the car became globally famous after appearing in the smash-hit film, 'The Italian Job', starring Michael Caine.
Alas, five hundred quid was a lot of money for a hard-up teenager, yet the dream of becoming the proud owner of a Mini Cooper 'S' always made us smile. In those days, youngsters possessed a tenacious self-belief in their future which sums up the general attitude of the 1960s.
Perhaps we had a lot more going for us than today's teenagers?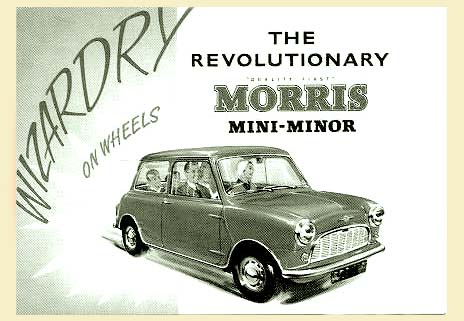 As for dating girls? Back in 1959, I had always dreamed of going out with Sonia Barker. She was the best-looking girl in my school and every Romeo had fallen for her, so it was obvious that a little squirt like me (hindered by an ill-fitting dental brace and chronic slavering) came way down the pecking order. But I was hopelessly in love - and, in a moment of madness, told Bonzo. Cruelly, he said that she fancied me too - 'Posh totty like a bit of rough!' he said, 'She's gagging for it!...'
Gagging for it? In all the time I had known Bonzo, he had never mentioned Sonia Barker in quite the same way before. And why did he have that strange, rapacious look in his eyes; the kind of sardonic smirk that a mugger might regard his next victim?' - Give me ten bob and I'll fix you a date,' he promised...oh yeah? I knew he was desperate to replace his out-of-date 1957 Ian Allan abc combined volume...
Okay, I couldn't trivialise the fact that I was desperate to go out with Sonia Barker, but the princely sum of 10/- was four times the wages I earned from my morning paper round, and I had no plans on frittering it away on some stupid dating game - unless Bonzo was right, and she really did fancy me.
And why ever not? If I wasn't very much mistaken, on the last occasion I bumped into her accidentally on purpose, hadn't she been letting me know of her sexuality in those s ubtle female ways of hers - the pouting lips, the gooey-eyed sideways glances, her well-formed mouth puckering teasingly? I hadn't a clue what to make of it. She could have been choking on a gob stopper for all I knew, but in Bonzo's scheme of

things, she was crazy about me, only too timid a creature to make the first move - 'So put the poor girl out of her misery,' he said.
So I did. With Bonzo urging me on in the background, I ran up to her, grinning frenziedly, as if I was about to perform some sort of exorcism. It was a dumb thing to do, but I was still wet behind the ears; a love-sick 13 year-old punching above his weight. Perhaps I should have taken a step back and weighed up the circumstances, but damage limitation never entered my head until a treacherous bead of saliva dripped from the corner of my mouth and her face drain of all colour - 'Yoiks!' she gasped - 'Your dribbling!'
Talk about deflated egos. I was inconsolable for weeks afterwards, but it wasn't the end of my misery. A delighted Bonzo then went and spread the news around the whole school. My confidence in tatters, I felt nothing but humiliation, coupled with a terrible sense of betrayal - betrayal because it never dawned on me that Bonzo had set me up for some reason.
But why did he do such a thing?
I'll tell you why - Bonzo was an out-and-out control freak! He possessed all the caprices, petulancies, jealousies and intolerances of a first-class prat - and, without quite knowing why, I blame myself for allowing it to happen. Even more alarming, a strange master-servant relationship had somehow evolved between us that I couldn't quite escape from and it was high time I stood up to him...continued below.
(Right) In 1959, Cliff Richard was voted best new singer in the annual NME Awards. Born Harry Roger Webb in 1940, Cliff had two smash hits during 1959 - 'Living Doll' and 'Travellin' Light'; he also made his film debut in 'Serious Charge' followed by 'Expresso Bongo' the same year. The Prime Minister of the day was the RH Harold Mcmillan, Ist Earl of Stockton, who resided at No 10 from 1957 to 1963.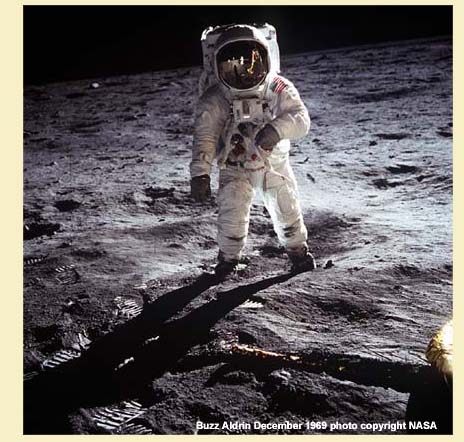 (Right) Those who lived through the celebrated 1960s may only remember its great music and fashion, yet hardly a week went by without some amazing feat of science and technology being unveiled. Perhaps the most exciting event was the announcement by the USA President JF Kennedy to put a man on the moon by the end of the decade... The moon! For a legion of boys brought up on the 'Eagle' comic-strip hero, Dane Dare, it was a dream come true, though not everyone approved. Miserly opponents of the space race objected to NASA's multi-billion dollar budget, yet when Neil Armstrong stepped onto the lunar surface from the Apollo 11 module on July 20 1969 and uttered the immortal words - 'That's one small step for man, one giant leap for mankind' - he could just as easily have been talking about the decade in which this momentous achievement took place.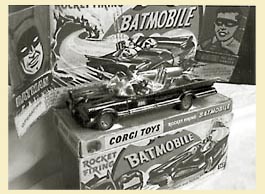 (Left) On a lighter note, the biggest influence in the Sixties came from the medium of television, since most of our memories have their roots in what we saw on TV. We witnessed the building of the Berlin Wall; the frame-by-frame scrutiny of President JF Kennedy's assassination in Dallas, Sir Alf Ramsey's stiff upper-lipped celebrations after England won the World Cup and Neil Armstrong's first steps on the moon.
Meanwhile, in Gotham City, Commissioner Gordon is in urgent talks on the Batphone to the cape crusader. The Joker is threatening to destroy City Hall with a gooey slime.
Back at millionaire Bruce Wayne's luxury mansion, Batman's teenage protégé, Robin, slams gloved fists together in anger, 'Holy grease nipples!' he gasps - 'That dastardly Joker is a slimeball!'
Bruce Wayne pauses wistfully for a long moment - 'You're right, Robin. To the Batcave, and quickly! The good citizens of Gotham City are in a sticky situation!'
Okay, I made the dialogue up, but the deadpan humour and corny fight sequences - Zap! Kapow! Crunch! Sock! made the 1966 series part of TV legend. It also created a host of TV merchandise including this rocket-firing Batmobile introduced by Corgi Toys.
Talking of BBC television bloomers...during the 1976 England-West Indies test series, cricket commentator,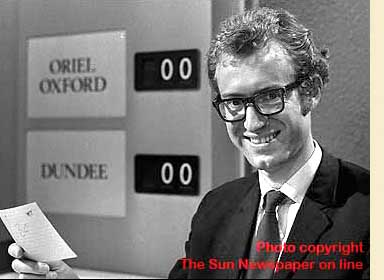 Jonathon Agnew, in describing a delivery from West Indies pace bowler Michael Holding to England batsman Peter Willey, announced - 'The bowler's Holding, the batsman's Willey..

(Left) One of the most popular TV catchphrase in recent years has been 'Am I bothered!' and 'I'll phone a friend'. But catchphrases have been around for donkey's years. I can think of: 'Swinging, 'Dodgy', 'Zabadabadoo' and I'm in Charge'...I'll leave you to work out who said what! First shown in 1962, the intellectual television quiz, 'University Challenge' gave us the icon of quiz masters, Bamber Gascoigne, whose 'Fingers on the buzzers' and 'Your starter for ten' became nationwide catchphrases. The quiz was initially monopolised by teams from elitist institutions such as Oxford and Cambridge, whereas polytechnics and colleges of further education had none. It was ample evidence of the class system at work and, driven by revolutionary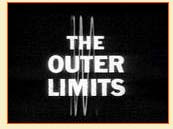 fervour, students rebelled against this so-called conspiracy until the BBC embraced a wider range of contestants. .'
(Right) In 1963, a series of sci-fi anthologies, 'The Outer Limits' was first aired on British TV - 'There is nothing wrong with your television set,' droned a deep voice from the corner of our living room - 'Do not attempt to control the picture. We are controlling transmission. We will control the vertical...we can change the focus to a soft blur or sharpen it to a crystal clarity. We will control all you see and hear!' And they did!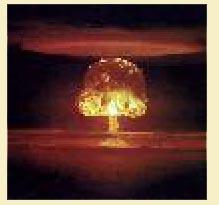 (Left) But not as scary as the 'BOOM-BANG-A-BANG YEARS!: In the days before television turned us into a nation of couch potatoes, the local cinema was the 'in' place to go. The majority of films had a certain feel-good factor about them (big-budget musicals mainly) but Hollywood also made its fair share of 'x'-rated alien-invasion movies (sparked off by the Communist threat). The scariest films for me, though, showed the deadly effects of radiation which somehow transmogrified even the most placid nuclear physicist into a crazed mutant. It imbued a lot of people with a genuine fear of nuclear power which still exists today. Odd then, that the mushroom-shaped clouds billowing above nuclear test sites looked strangely beautiful in a perverse sort of way - but beautiful they were not. They were a constant reminder that thousands of missile systems were in a perpetual state of readiness on both sides of the Atlantic, and in the event of a nuclear strike there'd be no collateral damage - the bomb would take out everything...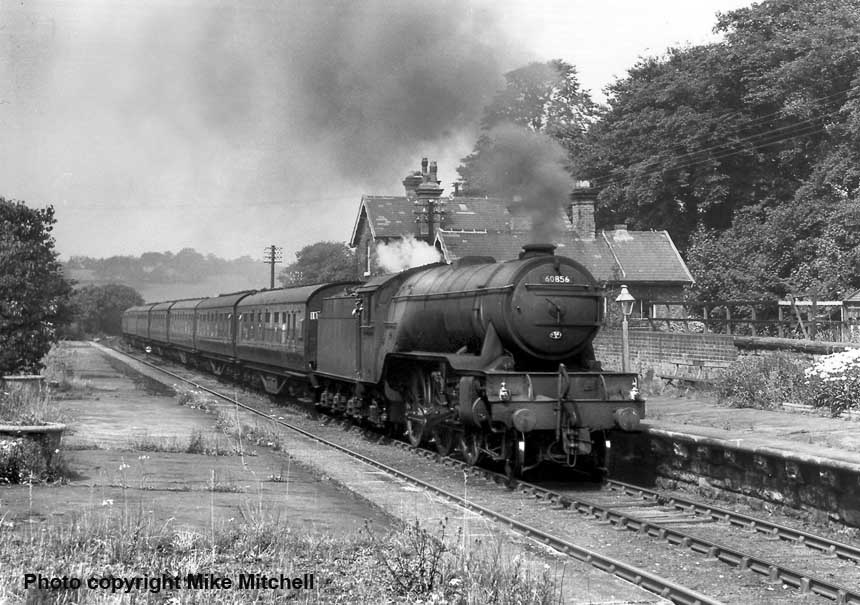 (Above) Whilst the 'Fab Four' - The Beatles - topped the charts with 'I Feel Fine', it was anything but for rail passengers between Leeds, Wetherby and Harrogate, and Wetherby to Church Fenton. Local passenger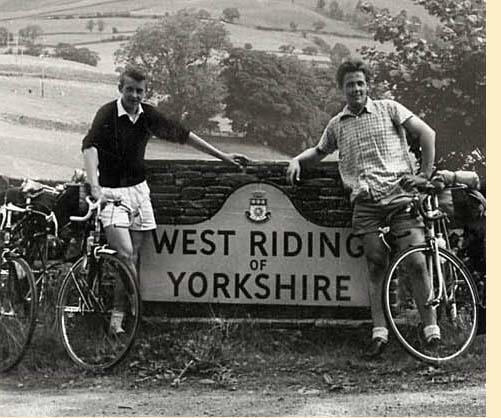 services were withdrawn on January 6th 1964, involving closure of eleven intermediate stations. It was the first line in Yorkshire to fall victim to the Beeching Plan published the previous year. Less than six months before closure, York's Class V2 No 60856 heads the 11.25 (SO) Newcastle-Llandudno past the decaying platforms at Bardsey on July 27th 1963...

(Left-Below Right) Back in the Sixties, Barry 'Spud' Tate, Melvyn Sunderland and I shared a common interest in photography and cycling. I'll never forget the mammoth cycling tours we did of the Yorkshire Dales, North Wales and the Lake District. I'm harking back to a more innocent age, when a 100-mile round trip to the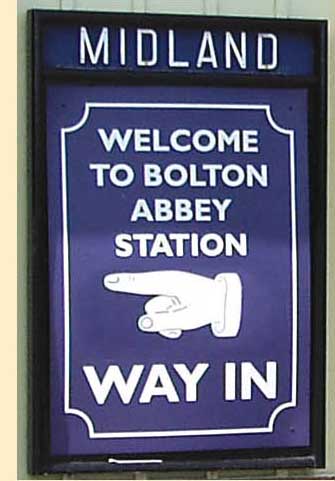 seaside took so long that it was time to go home before you got there. But a lot has changed over the years. Some men mature into fine wine, others vinegar. I can still touch my toes, but can't get back up again. Growing old is when the broadness of mind swaps places with the narrowness of the waistline and the geniality of middle age gives way to grumpy independence.
Still we can always console ourselves with old photos of weekend Youth Hostelling trips during the early Sixties - a blissful reminder of bygone days when we still had hair! Recently Barry asked me to cast an appraising eye over some old slides of Sixties steam - and what a surprise! They had obviously been taken by a dedicated enthusiast, but Barry didn't know who. Therefore I posted a few shots on the 'Embsay & Bolton Abbey Steam Railway' website, in the hope of tracking the photographer down. Until the rightful owner comes along, Barry remains custodian of the original slides...click on poster-link above right.

REMEMBER THE COLD WAR?
Perhaps the most awesome images of the cold war was the Berlin Wall. The German city became divided in 1961 when the Soviet premier Nikita Khruschev - humiliated by the thousands of refugees fleeing East Germany's communist dictatorship into West Berlin - ordered all major crossing points to be closed along the border. During the early hours of August 13th, a 103 mile barrier of barbed wire was hastily erected. Then, a few weeks later, the frontier began to take on a more sinister appearance when two high walls of reinforced concrete were built, dotted along its length with watchtowers, searchlights and machine gun bunkers overlooking a barren no-man's-land (sown with mines) and patrolled by armed East German Grepos (border police) and Vopos (security police).


Over the years, the Berlin Wall became something of a tourist attraction for Westerners, including President JF Kennedy who visited Berlin in 1963. During his rousing speech on June 26th - a rallying cry to a divided Germany - he inadvertently told the cheering crowd - 'Ich bin ein Berliner' - (I am a doughnut!) when he really should have said - 'Ich bin Berliner' (I am a citizen of Berlin).
For the record, the end of the wall came in 1985 when Mikhail Gorbachev was made leader of Russia and vowed not to interfere with the internal affairs of the communist bloc countries. This led to visa-free travel behind the Iron Curtain and a huge increase in the number of East Germans seeking asylum at West Germany's embassies in Budapest and Prague. The exodus of East German compatriots seriously undermined the confidence of the communist leadership and it was not long before the Cold War abated.
In November 1989 a start was made on pulling down the Berlin Wall which eventually cleared the way for the reunification of Germany. With Berlin no longer a divided city, the once familiar backdrop for TV newsreaders reporting the troubles on the border - the US military police's 'Checkpoint Charlie' - still remains a grim reminder of a bygone age.
However, this great step towards world peace is two decades away from the height of the cold war. We must return to October 1962, at which time the threat of a nuclear war had reached its climax after US reconnaissance aircraft spotted Russian missile sites being installed on the island of Cuba within striking distance of the USA. President Kennedy immediately ordered the US fleet to intercept any Russian ships delivering missiles to the island.
When the news reached Russia, the official Communist newspaper 'Pravda' accused the Americans of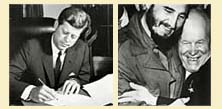 being the aggressors, but conveniently failed to mention its own country's intentions to arm their Cuban brothers. The situation was critical, and anyone with a mote of common sense knew the possible outcome. We were on the brink of a nuclear war but powerless to prevent it, and although the here today-gone tomorrow parliamentarians kept dumbing down the situation, nothing could stifle the nation's growing concern. But then, how were we supposed to know that there was a military doctrine in existence? It was known as MAD - Mutually Assured Destruction - which meant neither Russia nor America would ever unleash a nuclear bomb because they knew the consequences for themselves would be utter annihilation.
So in between listening to the Beatless' 'Love Me Do' on Radio Luxembourg and 'zapping' yellow pus from spots, it was easy to pick up on the doom-laden inflections in newsreader's voices; it parodied people's fear more than anything the poker-faced politicians had to say - a slight slowing down of voice, a drop of tone. The US President, John F Kennedy had given Krushchev an ultimatum: either turn the missiles back or receive a nuclear strike. The world held its breath...
Thank goodness, Krushchev and Kennedy came to their senses and a compromise was reached. The Russians agreed to withdraw their missiles from Cuba and the Americans promised to withdraw their missiles from Turkey within 8mins firing time of Moscow. It was a close call, but even though nuclear war had been prevented this rime, the 'red menace' was still thought to be a major threat, and while the stockpile of nuclear weapons continued to escalate, many feared that one mistake; just one itchy finger on the button - or a flock of migrating birds mistaken as a hostile 'blip' on a radar screen - and we'd all be blown to smithereens...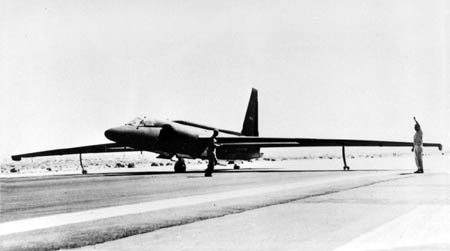 (Above) AMERICAN U2 RECONNAISANCE PLANE. For many Sixties teenagers, the first tangible fear of a nuclear confrontation came in May 1960 when the USA launched 'Operation Overflight' using a Lockheed U2 spy plane - a hybrid of a jet and glider - capable of flying over 3,000 miles and, at a height of 75,000ft, higher than any other plane. Its mission was to photograph every inch of Russian soil in search of military installations. But it was a risky venture, particularly as the U2 was encroaching upon the air space of a country capable of launching a satellite called 'Sputnik' into Earth's orbit.
Sure enough, the plane was shot down by Russian ground-to-air missiles, yet President Eisenhower denied all allegations of spying, saying it was a weather research aircraft.
Wht a lame excuse to make! Certainly it didn't fool the Russian premier, Nikita Khruschev, who hotly refuted the claim - and he had good reason...seemingly the US pilot Gary Powers had failed to self-destruct the plane, therefore the Soviets had ample evidence of spying paraphernalia being found in the wreckage. This gave Khruschev a wonderful propaganda opportunity to expose the 'Imperialist' Americans as the villains of the piece and - waving the damning evidence on the world stage - he stormed out of the Paris Peace Summit with self-righteous anger and, just as quickly, the world became a more unsettled place in which to live...
(Below) RADAR. One of the biggest breakthroughs of World War 11 was the ability to bounce radio waves off aircraft and naval vessels. The development of Radio Detection and Ranging (more commonly known as radar) proved crucial in both the Battle of Britain and the Battle of the Atlantic. Here, the flight crew and ground crew of Central Flight Establishment (CFE) based at RAF West Raynham, Norfolk - pose beneath the wings of a Mosquito, one of several aircraft in the CFE Squadron to be used as radar targets (the nose-end has been converted to house experimental radar equipment). From the Fifties to the Sixties, the Cold War was gathering pace and the Ministry of Defence was working on advanced radar technology to combat the threat of a nuclear strike by the Russians. It was a time of acute international tension, with radar operators sitting in darkened bunkers, scanning their screens for a hostile blip. Meanwhile, long-rage Vulcan bombers were in a state of perpetual readiness at their Lincolnshire air bases, with atom bombs already installed in their weapons bays.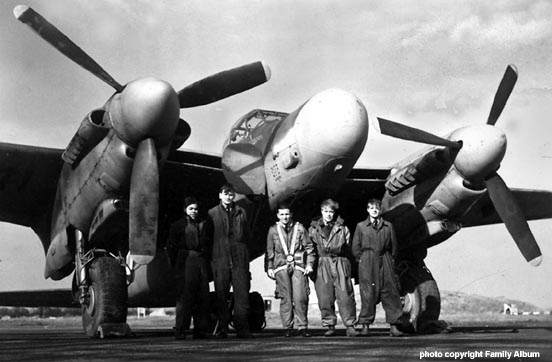 (Below) The success of the Apollo programme raised the profile of science fiction from the lowest echelons of 'B' monster movies to the mainstream of British television. In 1969, a new sci-fi series, 'Star Trek', took over the BBC1's Saturday 5.15pm slot normally reserved for 'Doctor Who', an eccentric Time Lord, whose wacky travels through the Dalek-infested cosmos scared kids witless in 1963.
Well, not wishing to rubbish the BBC Prop Department's inventiveness, but the alien pepper pot-shaped exterminators may have looked menacing to children hiding behind sofas, but the crazy homicidal thingamajigs had deadly ray guns that looked suspiciously like toilet plungers to me...no, pull the other one. If I wanted shocks, the Daleks didn't have a leg to stand on. They ran on castors - and all that 'Exterminate-exterminate!' shouting made them even more irritating.
On the other hand, Star Trek appealed to a more cerebral audience; the extraterrestrial voyages by the crew of the Enterprise took viewers on a five-year mission - 'To explore strange new worlds, to seek out new life and new civilisations, to boldly go where no man has gone before…'
It was pure hokum, of course - a political sideswipe at the cold war - yet the storylines always had a reassuring 'feel good' factor about them that championed NASA's cause. William Shatner played Captain James T Kirk, whose uncanny knack for patching up hostilities between stroppy intergalactic aliens spawned a whole generation of devoted Trekkies.
And I mustn't forget Spock's deadpan delivery of logic and pointed ears which made actor Leonard Nimoy one of the best-loved TV characters of the Sixties - There's life out there, Jim, but not as we know it.' Well, thanks Spock, but most of us were ogling Lieutenant Uhura's (Nichelle Nichol's) legs at the time...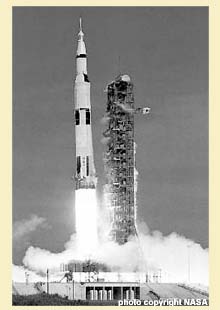 The decade also produced a wide range of other inventions including the non-stick saucepan and the powerful laser that could slice through James Bond's crutch.
Today the laser has found a more civilized use as a universal component in CD players and bar-code readers, whereas opponents of the space race continue to bemoan the non-stick saucepan as being the only useful by-product to come out of NASA's budget. Perhaps they've forgotten who launched our global communication satellites into orbit, then?
Indeed a lot of innovations from the Sixties are now taken for granted, such as felt-tip pens, smokeless fuel, even disposable nappies. But perhaps the most useful device was the Liquid Crystal Display (LCD) which is used for read-outs on everything electronic from video players and cameras to cash tills and petrol pumps - and had it no been for the invention of the integrated circuit, where would we be today?
During the Sixties, computers may have been getting smaller and more powerful, but they still had to run on long reels of magnetic or punched tape that filled an entire room. It is hard to imagine that one of today's cell phones can generate the same amount of power as the old computers packed inside NASA's lunar module.
(Above) Standing at over 110m high, the 3-stage Saturn V rocket was the largest rocket ever used by NASA's Apollo and Skylab programmes. At 9.32am on July 6th 1969, the Saturn V rocket SA506 blasted off from Cape Kennedy carrying the Apollo 11 mission to the moon. The lunar module landed in the Sea of Tranquility at 17.40hrs on July 20th - the rest, as they say, is history...fantastic!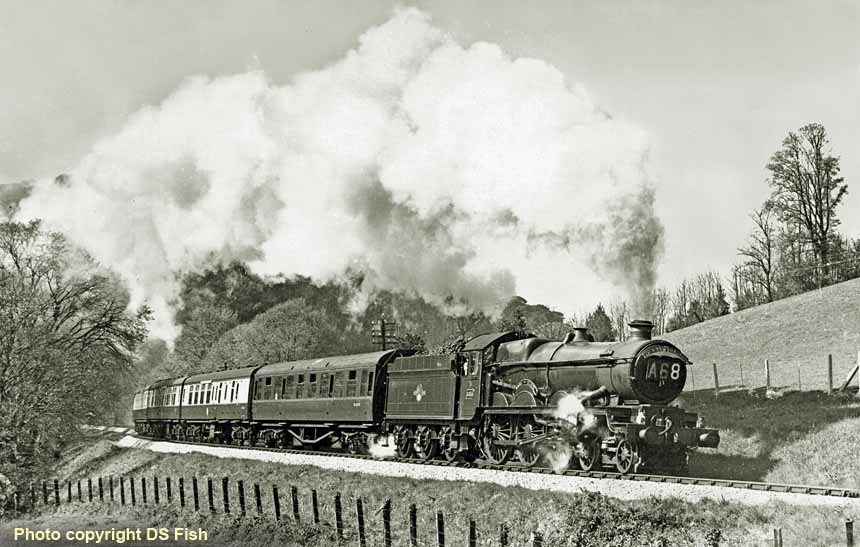 (Above) This superb action picture of 5055 Earl of Eldon of 83A Newton Abbot shed was taken on Saturday 15 April 1961, long after 5 September 1959 when the Saturday Torbay Express joined the Monday to Friday service and became diesel hauled. One of the most eminent railway photographers of the Western Region, DS Fish, captured this scene 2½ miles from the terminus at Kingswear, on the single track 1 in 66 upward climb after Greenway Tunnel, with 1¼ miles to go before reaching double tracks at Churston station. With the coming of dieselisation, 5055 was one of the last Castles left at Newton Abbot in February 1962. Then it was shunted around various sheds in South Wales, put into store, reinstated and finally withdrawn at the end of September 1964. It had given stalwart service since being built in June 1936, when it was named Lydford Castle, then renamed in August 1937. Unlike all other 'Castle' class engines which were not named Castles, the Earls did not have a plate reading 'Castle Class' beneath the Castle name.

Getting back to that night at Calverley & Rodley, it happened such a long time ago, so I must guard against exaggerating the spat I had with Bonzo. Besides, I'm a lot older nowadays, and the word 'grumpy' - often so loosely applied to the older generation - certainly rings true with me. Being the wrong side of Sixty, I've logged a few miles on the clock and the call for legalizing voluntary euthanasia doesn't seem as hair-raising - not that I have any hair to raise; the last time I visited my barber, he charged me a search fee. Mind you I came close to losing my hair at Calverley & Rodley back in May 1959...I was sitting buttocks-clenched in the compartment when we heard footsteps heading our way down the corridor. I was scared witless and hoped that Bonzo would find a way out of the dilemma, but as he contemplated our next move, the seconds seemed to pass with maddening slowness...
'What's that pong?' shouted the man in the corridor.
'It smells like burnt flesh!' shouted another voice from outside the window.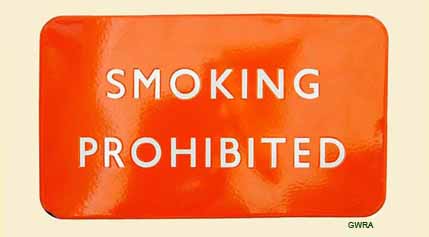 I gaped at Bonzo's nose, not daring to speak or move. He put a finger to his lips and told me to stay calm. Stay calm! How could I? I was in a state of shock and made a move to leave, but it was too late - a railwayman in overalls and wearing NHS spectacles with bullet-proof lenses appeared in the doorway. He glowered at me for what seemed an age, and unable to stand the tension any longer, I fell to my knees sobbing hysterically, punctuating it all with a load of mindless drivel….'P-p-p-please, I'm only thirteen,' I wailed (hoping it might elicit some sort of sympathy) but it was a woeful performance and Bonzo told me to pipe down - 'Just leave the talking to me,' he said.
The railwayman probably hadn't heard him or chose to ignore the remark - either way, he could tell at a glance that we were no match for him physically - 'What've you found?' said the voice from outside.
'A couple of gormless kids...best call the police!'
Police! It was my worst nightmare - 'You can't do that!' I protested, but wished I hadn't. The man grabbed my hair and yanked me off the floor with savage zeal, 'If I hear another peep out of you, my lad, you'll get the back of my hand!'
'Okay!' I squeaked.
In that same instant, Bonzo's eyes blazed liked distress flares - 'Leave 'im alone, Mister,' he said indignantly - 'It weren't his fault, it were mine.'
I suppose he was only trying to protect me and I can hardly fault him for that. After all, not wanting to put too fine a point on it, who had got me into this mess in the first place? - 'That's right,' I said, 'It's all his fault.'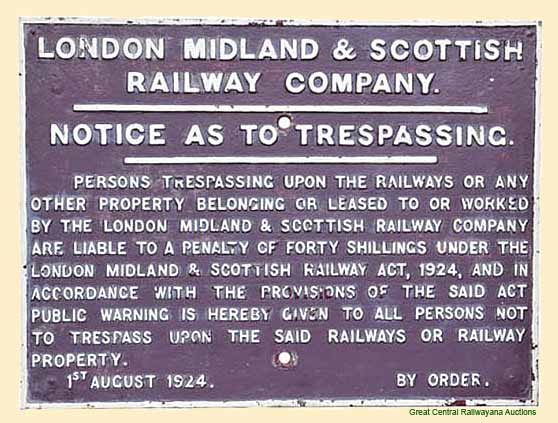 Bonzo said nothing for a while, seemingly lost for words, which in a way he was, but it was also a calculated silence to give him enough time to work out the best way to kill me later.The man ordered us to sit down, which I did promptly, but Bonzo stood his ground in a parody of a gunslinger goading a local sheriff to a fast draw. Was he mad? The railwayman was built like a brick s**thouse!
'SIT!' he hollered.
Bonzo sat down sullenly and gazed disinterestedly out of the window, ignoring the railwayman's grandstanding speech on the differences between right and wrong - 'Did we know that trespassing on railway property was a serious offence? Had we any idea what happens to kids in borstal?' As he steered the conversation from one wretched accusation to the next, manly restraints prevented me from blubbering like a baby. I stared diligently at the floor, avoiding any eye contact with him. Then, for some strange reason, he relented - 'Right, get out of my sight!' he ordered, pointing to the door, 'I don't want to see your ugly mugs in here again...'
He was letting us go? I couldn't believe it! I had almost reached the door when Bonzo piped up - 'Hold on a mo!' he protested - 'We'll get soaked outside!'
The man visibly wobbled at the knees - 'I don't care if you get pissed-wet through! I'm going to count to ten -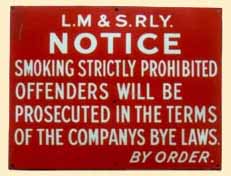 and if you're not out of my sight by then, you'll get a good leathering! ONE!'
Bonzo shook his head, refusing to give way, holding out his arms in a bargaining gesture, adopting one of his holier-than-thou attitudes; it was as if he was trying to negotiate some kind of peace settlement. That did it for me; my stomach was in knots. The best thing to do in the circumstances was skedaddle fast before the railwayman changed his mind. If Bonzo wanted to stay, he could - but I had no intention of hanging around a second longer - 'TWO!…'
I ran into the corridor and began tugging at the leather strap on the door. Bonzo was right behind me jabbering in my ear like a rabid chimp. I grabbed the outside handle and we tumbled into the night. I'd forgotten how eerie it was outside - a Transylvanian forest looked less scary. Somewhere in the distance a werewolf howled. Bonzo heard it too; he shone the torch across the field, then into the woods. The canopy of trees made the woods look even more haunted and a team of wild horses couldn't have dragged me in there, but the man was hanging out of the window like an ugly gargoyle - 'SEVEN!' he shouted.
We clambered over the fence, but the undergrowth was shrouded in mist. It probably explained why Bonzo lost his way. He stopped momentarily to gather his bearings. Then, without any warning, he was off like a shot! Well, something must have spooked him, so I took chase and, unbeknown to me, overtook him at some point. Several minutes later an aggrieved Bonzo joined me on the Leeds Ring Road, accusing me of leaving him in the lurch…Me leaving him? We finally made our way back home, but having told our parents that we were stopping the night at one another's houses, we ended up sleeping in a barn opposite Horsforth Hall Park.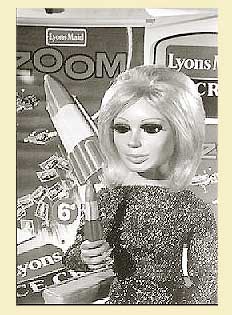 As for the 'Condor' express freight? We didn't hear the Co-Bo diesels that night. It turned out that they'd been substituted by a pair of Black 5s due to an engine failure - which, I have to say, sums up the whole miserable night. As for the notebook? I suppose some things are best forgotten, and it has ended up in the bin where it belongs...END
(Right) 'Four feather Falls' was the first of Gerry Anderson's supermarionation productions made in 1959. It starred Tex Tucker, the town sheriff, who, with the aid of four magic feathers, could swivel his guns and fire automatically without using his hands. The puppet cowboy was followed in 1960 by 'Torchy the Battery Boy'; a clockwork toy with a battery-operated light on top of his head. If you watched them as a child, then don't tell the grandchildren, they'll laugh their socks off!
But mention of the 'Thunderbirds' series evokes a completely different reaction. Okay, the acting may have been wooden, but the daredevil adventures are still popular with children today. Back in May 1963, I was shocked to hear that Lady Penelope had fallen on hard times! The makers of Lyons Maid signed her up to promote a new rocket-shaped 'Zoom' ice lolly. It was a shrewd move by the company - like Sooty before her in the Fifties, the aristocratic stringed-puppet became an icon of the Sixties.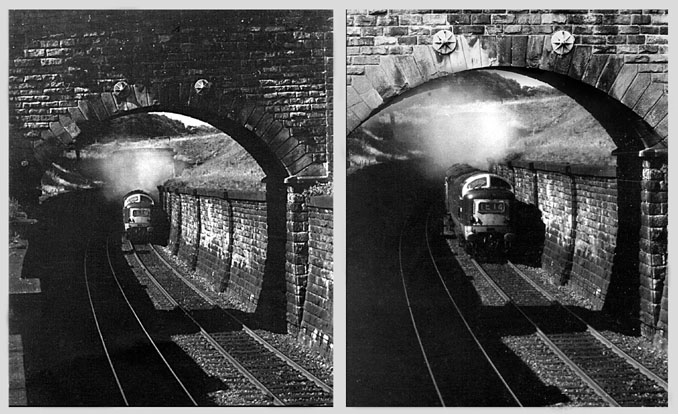 (Above) As memory of the fun-loving 'Swinging Sixties' recede, it's easy to forget that it was a decade dominated by the Cold War, CIA, KGB, Iron Curtain, Berlin Wall, Vietnam and, our biggest fear of all -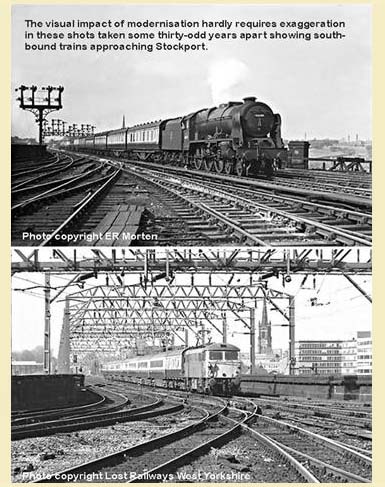 nuclear war. For many teenagers, the threat of a Russian strike became a fixation - our grandfathers fought in one war, our fathers in the second, and we fully expected to be fighting in a third.
Perhaps it explains why the 1960s youth culture turned out the way it did? The Sixties was an informal decade, dominated by Beatlemania, hippies, beatniks, flower power and the aspiring young radicals who launched the 'Green' issue which grew out of the anti-nuclear (CND) protest rallies launched in the late Fifties.
Today we have another threat to mankind - global warming, creating a new generation of banner-waving eco warriors fearing for the future of our planet. Surely, someone must be held accountable for the rise in greenhouse gasses - including BR?
With the headlong rush into dieselisation, the British Transport Commission (BTC) was trumpeting facts on how the new diesels would be immeasurably cleaner than steam, whereas in reality the diesel fleet was often just as smoky as its predecessors. Environmentalists will be fuming over the smoky exit of 'Deltic' class No D9009 Alycidon from Bramhope Tunnel with the 'up' 'Queen of Scots' Pullman train in August 1961. Photo © D Hey

(Below) Many innovations came out of the decade, including the Anglo-French supersonic jet Concorde which made its maiden test flight on March 3rd 1969 and, flying at twice the speed of sound, heralded a new era in air travel. Concorde made its first scheduled trip from London to New York in 1976, joining the new Boeing 747 Jumbo fleet on the lucrative trans-Atlantic route.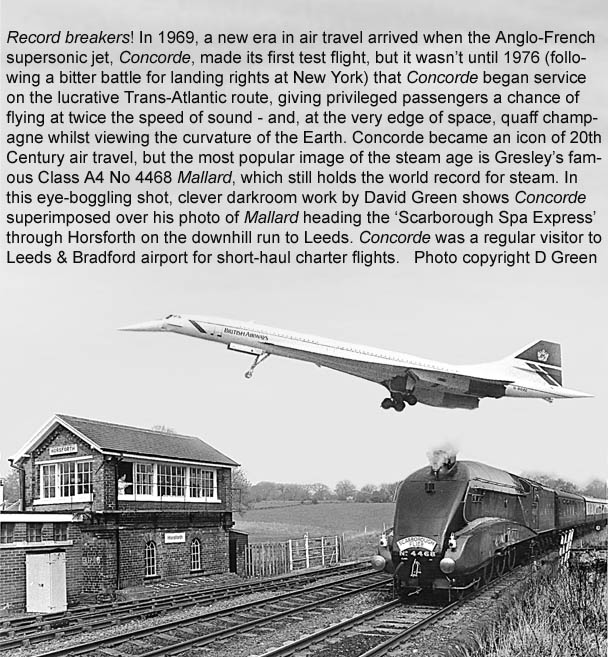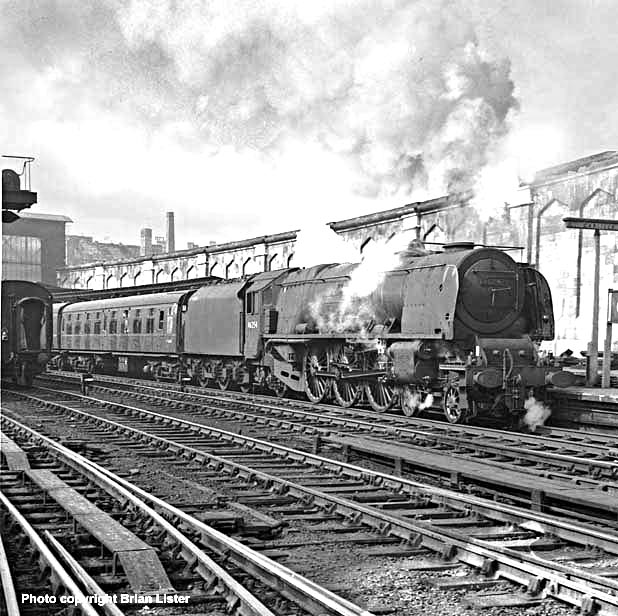 Meanwhile the framework for Britain's motorways began to materialize as solid blue lines on road maps, and the future of rail travel looked fantastic too when a magnetically-levitating monorail was unveiled - a clever idea, but perhaps way ahead of its time. After the Government slammed on the investment brakes, the inventor, Professor Eric Lethwaite joined the 'brain drain', taking his ground-breaking idea with him.
On the medical front, in 1967 Dr Christiaan Barnard performed the world's first heart transplant in South Africa, whilst Dr Pincus's contraceptive pill (conceived during the Fifties) was finally approved by the Family Planning Association - and, for the first time, women had control over her reproductive right, which some commentators say was the dawn of the permissive society.
Sadly, the advances in medicine came with its downside too. From the 1950s to the early 60s, thousands of pregnant women were prescribed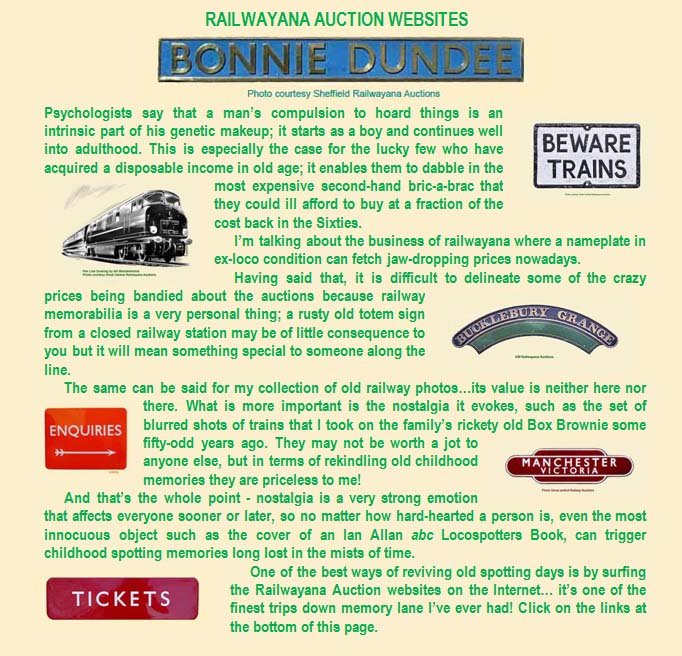 a new pill to stop the nausea of morning sickness in early pregnancy. Later it was discovered that if a woman took just one dose of Thalidomide between the 30th and 43rd day of pregnancy, their children would be born with disabilities - many without limbs and fully formed hands.
In 1963, the world of politics was rocked by a scandal in the 'Profumo Affair' when a showgirl called Christine Keeler found herself catapulted into a world of London Society's lords, ladies and politicians. But by sleeping with Eugene Ivanov, the naval attache at the Soviet Embassy and Lord Profumo, then Britain's Defence Secretary, it called into question the most fundamental assumption that ordinary folk had of politicians in the 1960s. There was a palpable belief that our parliamentarians should be revered, not ridiculed, but when Profumo lied to the House of Commons, it marked the end of our regard for MPs who, time and again, have gone so far back on their word that you forget what it was they promised in the first place!
The Profumo affair led to the downfall of the unflappable Harold Macmillon and his Tory Government, but waiting in the wings was the Labour Party which had reinvented itself by throwing off the leftish ideologies of the past and a genial pipe-smoking Harold Wilson scraped into power with a majority of four in the 1964 general election.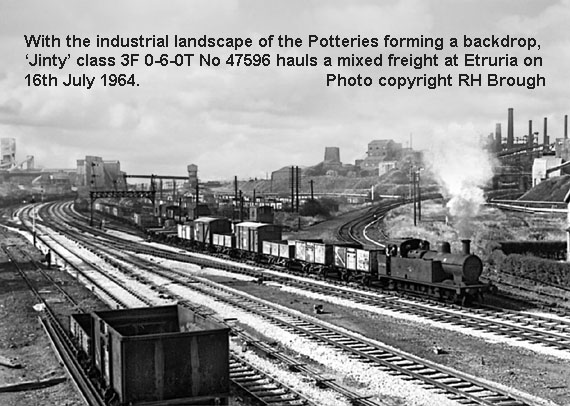 (Below) But squares like politicians were unimportant to the younger generation who were only interested in having a good time. The new decade saw the launch of the Mattel 'Barbie' doll for girls, and an American toy soldier called 'GI Joe' invaded British shores under the guise of 'Action Man' (hands up the boys who manipulated the dolls into compromising sexual positions! Oh, come on - even giggly girls did it!) Boys still liked to assemble Meccano or play with model trains, of course and Dinky Toys were popular too - but the erstwhile brand leader was about to be challenged when a new range of Corgi die-cast miniature cars took the toy market to new heights. The new Corgi range of die-cast toy cars came complete with working suspension, jewelled headlights and opening doors; the best known models being the James Bond Astin Martin DB5 fitted with machine guns, a pop-up bullet shield and ejector seat, then there was the ice cream van with a working chime - both very much collectors items today.
(Above Right-Below Left) At the local cinema, Hollywood continued to dominate the big screen, but British studios made some gritty films too - 'Saturday Night and Sunday Morning' (1960); 'A Taste of Honey' (1961); 'This Sporting Life' (1963) and the Hammer horrors were popular too. But perhaps the best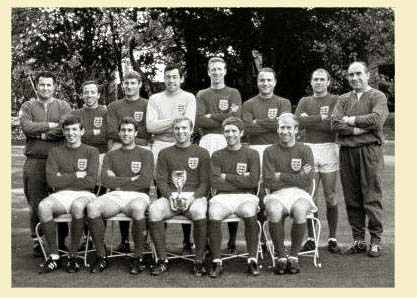 remembered film was Sean Connery's seminal first assignment as British Secret Agent 007 in 'Dr No'; the Oscar-winning 'Lawrence of Arabia' and Stanley Kubrick's '2001: Space Odyssey' - starring, of all things, a lip-reading computer called HAL.
Less than popular, however, was Michael Caine's cheeky Cockney lothario, Alfie, whose philandering ways with the girls led to an outcry of protest from the bra-burning feminists. Women objected to the exploitation of their sex, which was a worthy cause, but given that sagging boobs are a big turn off, their actions probably set back the women's movement by years.
(Above Left) Meanwhile, on the sporting field, the highlight of the decade was Geoff Hurst's hat trick helping England win the World Cup in 1966, but perhaps the most exciting thing about the Sixties was the music scene in which British pop groups like the 'Beatles' and 'Rolling Stones' became landmarks in British pop history - and, like Cliff and Elvis fans before them, the school playground became divided into one camp or the other.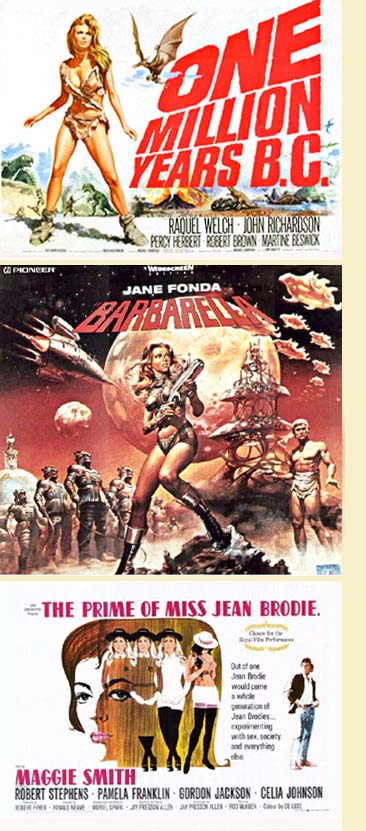 (Left) During the Sixties, there was some confusion between art and pornography, yet the term 'sexploitation' could well describe the Hammer film, 'One Million Years BC' - a prehistoric cave opera starring Raquel Welch who cavorted around in a fur bikini. The filmmaker billed it their 100th film made in corroboration with Ray Harryhousen, a maestro stop-motion animator; whose special effects have been superseded by modern computer-generated graphics by today's film makers. Sex also played a big part in the space fantasy 'Barbarella', starring a perky Jane Fonda, who floated around in zero-gravity like a helium-filled sex doll.
Not surprisingly, the film attracted a huge fan base of chiefly male cinemagoers, who sat through the entire film with seriously cricked necks, but no permanent disfigurements were ever recorded.
Of course, the exploitation of women in the movies was not new. In 1953, a girl's vital statistics was something of a mystery to this 8 year-old until I overheard a group of men raving about a new 3-D film, 'The French Line' starring the buxom charms of Hollywood superstar, Jane Russell. Prior to the movie's release, the studio was trumpeting facts about the 3-D film's undoubted biggest asset - her boobs. 'They'll knock your eyes out!' declared the billionaire studio boss, Howard Hughes. More in keeping with the feminist's perspective of the modern woman was the Sixties film adaptation of Muriel Spark's 'The Prime of Miss Jean Brodie' which told the story of a girl's school teacher (played by Maggie Smith) who tried to turn her class of 10-year old Edinburgh lasses into the crème de la crème. Barking mad, if you ask me...buth then I'm mindful of my old Secondary Modern School and the gang of tyrannical girls with cauliflower ears, who terrorized the younger kids in the lower forms.
On a more serious note, by far the most disturbing film for me was 'In The Heat Of The Night', featuring the on-screen hostility between Sidney Poitier's dignified black Philadelphia detective, Virgil Tibbs - 'They call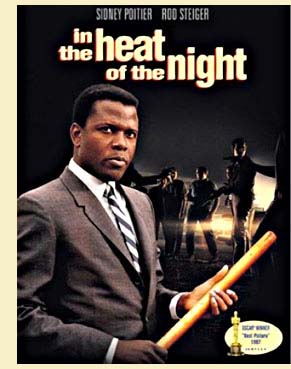 me Mister Tibbs!' - and Rod Steiger's white slob of a police chief. Set in America's Deep South, the film (winner of five Academy Awards) was a classic Sixties combo of a police murder enquiry and race relations drama, which shocked me to the core. I'm harking back to a more innocent age when children cheered the weekly shoot-outs between palefaces and redskins at the local flicks. I never dreamed that racial discrimination actually existed in the world - and, to be honest, I cannot recall a single case of a race relation problem where I lived as a child. Gradually, though, tensions did arise. It started in the mid-Fifties when employment stood at almost 100 per cent and the British Government recruited thousands of immigrants to fill the most menial of job vacancies. Then, as more families began to settle, the newly-arrived immigrants seemed to integrate less, wore traditional clothes and spoke Urdu, Punjabi, or some other unfathomable language. Sound familiar? It should. This country has successfully assimilated overseas immigration for more than 150 years. The first significant wave came from Ireland to build our Victorian railways, then thousands of immigrants from Commonwealth countries were actively encouraged by the Government to fill the acute shortage of manpower.
However, there are two sides to every story, and I speak from personal experience - for having lived in Spain for several years in the 1990s, I found it easier to fraternize with the expat community rather than integrate with my Spanish hosts - and, I'm ashamed to say, I never did learn the language. Now I regret it. The barely disguised hostility on the native's faces made it clear what they thought of foreign interlopers seemingly determined to turn a huge slice of their sunny Costa del Sol into a British colony. Not only did I fail to embrace their culture, I had no desire to do so - what a fool! I wasted a golden opportunity...
Returning to the Sixties, it was a decade of political and vocal demonstrations, as radical protesters organised 'Ban the Bomb' demos, challenging authority at every turn. Meanwhile, a range of new fashion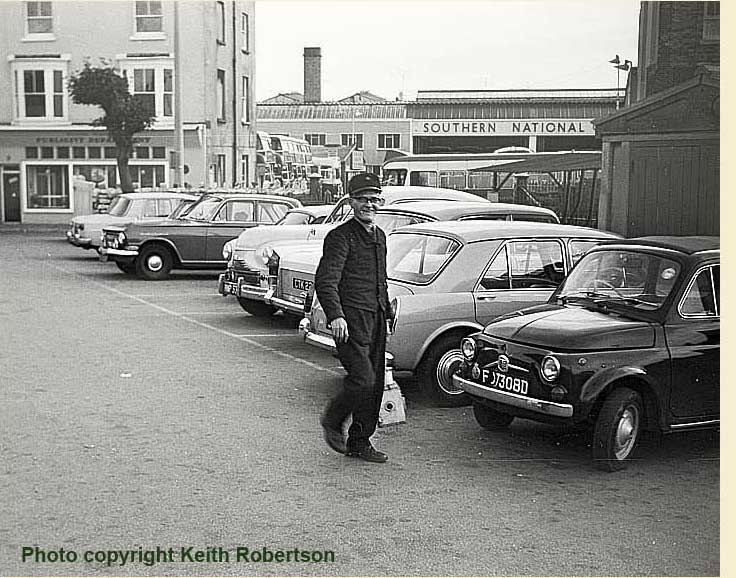 suddenly exploded onto the scene and a pencil-thin, 17 year-old schoolgirl, Leslie Horsnsby, became an icon of the 'Swinging Sixties'. Twiggy was the prototypical super model of the day, who, along with Mary Quant's ground-breaking mini skirt, changed British fashion for ever. As for men's fashion? It was the first time in living memory that men had girly-long hair and went to women's hairdressers instead of a barber. The older generation probably thought the gender-bending was caused by something nasty in the tap water, like fluoride, for example? - a hot topic at the time...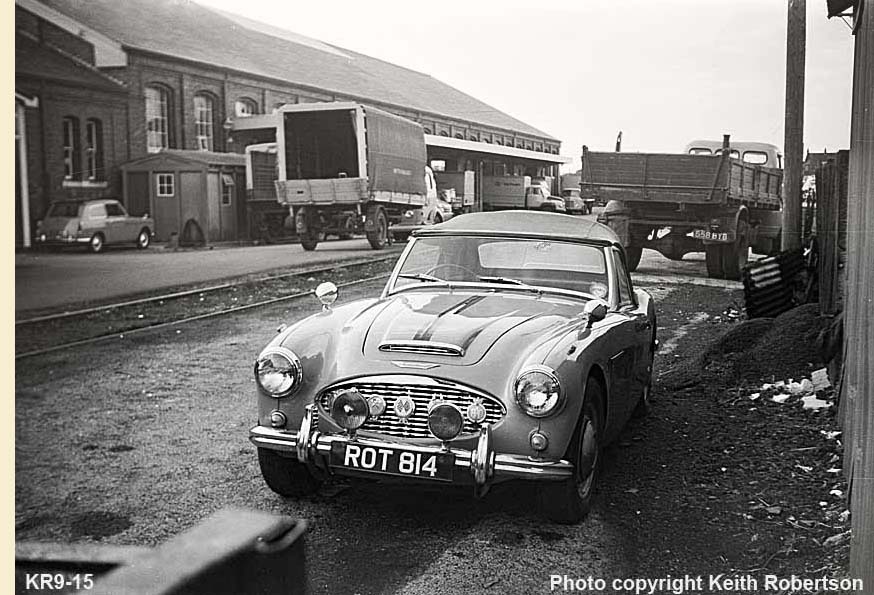 By the mid-1960s BR's staff was issued with the new blue uniform (for engine crew) and continental style headgear. (Above) With the Southern National bus garage at Weymouth visible in the background, a station porter is photographed by Keith Robertson on the concourse of Weymouth rail station in his new uniform carrying a stop lamp. Of interest is the range of 1960's motor cars which revive memories of the famous makes associated with Britain's once-thriving car making industry: MG, Vauxhall, Wolsley, Humber, Austin, Morris, Jaguar and Ford....there is only one 'foreign' interloper in these shots, a Fiat...a far cry from the vehicles that we see on our roads today.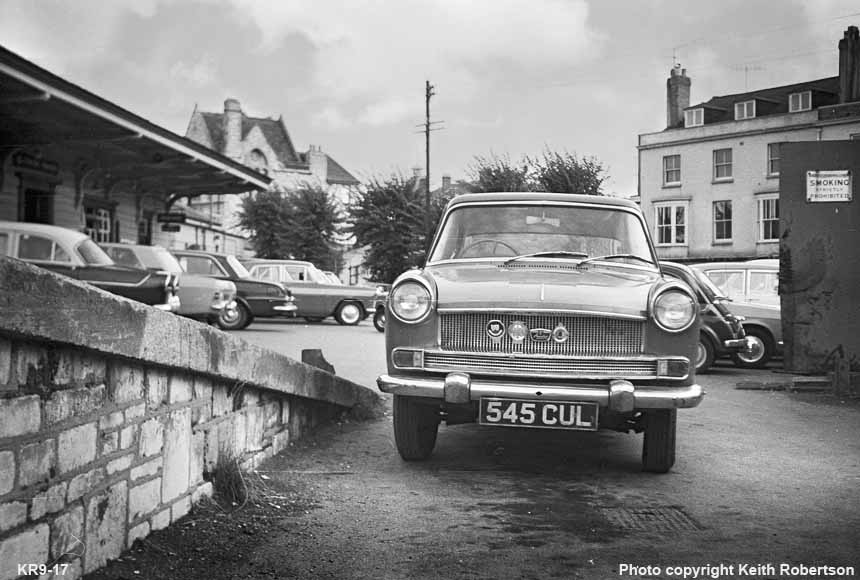 But perhaps the biggest change in the Sixties was the British attitude towards food; the nation's taste suddenly changed - we became dangerously continental and traditional favourites like Sunday roast, bubble 'n' squeak, bangers 'n' mash and fish 'n' chips took second place to a new range of unpronounceable pasta and rice dishes. Even the humble chip was reinvented as French Fries and pomme frites, and for anyone with oriental preferences, the omelette became a foo yung. Then, as more and more Chinese take-a-ways (and later Indian ones) began popping up on street corners, the die-hard opponents of the so-called 'foreign muck' invasion headed for the local Berni Inn where it was still possible to order a prawn cocktail starter without pointing to a number.
At the start of the decade, supermarkets made a huge impact on the way we lived. The first one opened in 1954, and by 1959 it had risen to 270, and in 1961 we had 570. Not only was the British way of life being Americanised, manners were changing too. Gone were the days when a friendly shop assistant sliced-up bacon and weighed a bag of biscuits, flour, sprouts or sweets. Instead, the new supermarkets displayed a range of cut-price, pre-packed foods on open shelves and shoplifting became a national disease. Mercifully, some things didn't change. Before the 'D-Day' decimalisation con-trick of 1971, we still spent big brown pennies, threepenny bits, tanners, solid half-crowns, two shilling pieces, and substantial ten-bob notes - and in spite of Harold Wilson's clumsy devaluation of sterling in November 1967, the 'pound in your pocket' was still worth 240 old pennies - and eggs were good value too because you always got twelve in a dozen, and didn't they taste a whole lot better then?
Indeed a lot of fuss is made about genetically modified foods nowadays, and rightly so. Back in the Sixties though, almost everything we ate was grown naturally. The latest fad in healthy eating was a tub of yoghurt, and the hearty bacon butty was substituted by a Swedish-style crispbread, yet no matter what you spread on top, it still tasted like calorie-reduced cardboard, so perhaps it comes as no surprise that we've spawned a generation of junk food guzzlers.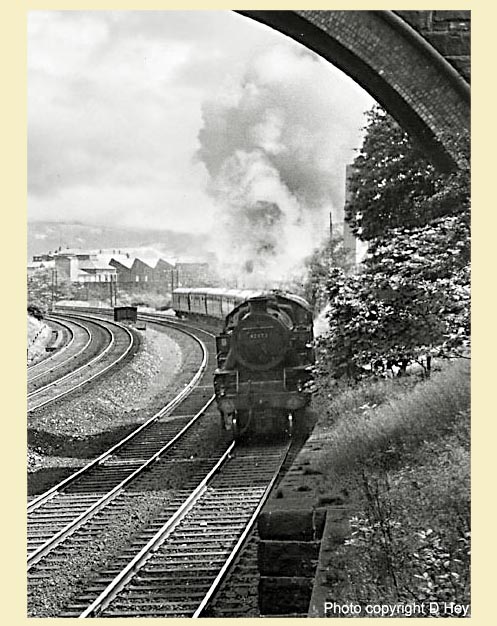 In summing up this personal view of the Sixties, I think most teenagers will remember the decade as a time of love, peace and hope. It was a decade in which barriers were broken down, a cultural melting pot simmering away, and we were all blessed with the good fortune to be in the right place at the right time. Indeed, I thought so, too, but then Beeching came along...ah yes, Mister Beeching! What can I say about the man? Several colloquialisms spring to mind, none of which can be published. Perhaps the only thing I can say is that he will go down in history as a railway enthusiast's worst nightmare! Not only did Beeching rack up the pressure on closure notices, his callous decimation of the rail network did not endear him to anyone…
The decline of Britain's railways began on January 1st 1963, when the British Transport Commission (BTC) was replaced by the new British Railways Board (BRB). By May 1963, Sir Brian Robertson had retired as Chairman and Dr Richard Beeching was appointed on the princely salary of £24K - more than double Sir Brian Roberston had earned! The publication of Beeching's first infamous report 'The Reshaping of British Railways' was clear enough; to make the railways pay, yet the huge number of lines he proposed for closure (5,000 route miles and 2,363 stations) was almost as indiscriminate as their construction.
The labyrinth of slapstick blunders that followed could well have been written as one of Brian Rix's Whitehall farces, except the Beeching script wasn't even remotely funny.
After what he did to Britain's railways, Beeching is perennially seen by the spotting fraternity as being as the villain of the piece, because the cuts he originally proposed amounted to nothing less than an extraordinary act of barbarism, and I cannot think of any other time when BR was more in need of friends than during the 1960s, yet rarely can it have shown a more blatant disregard for rail travellers than in its clumsy implementation of line closures. I'm sure they hadn't bargained on wholesale slaughter. To watch the railway network being desecrated in such a horrible way was a personal anguish shared by all of us - a grief that provoked such a bitter depth of feeling that we can never forgive and forget...
In all fairness, most sensible rail fans will acknowledge that some reshaping was desperately required, but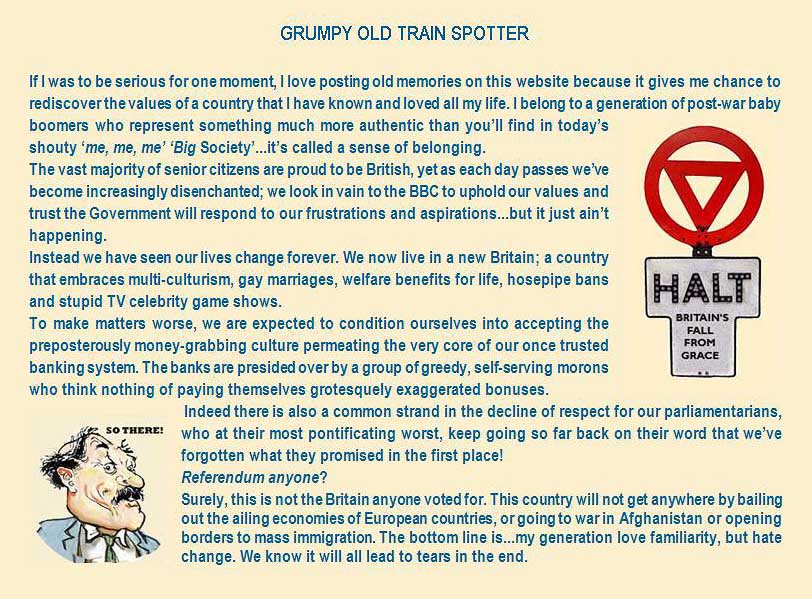 After steam vanished from the scene in 1968 everything that came afterwards seemed a poor second best. In particular, the British Rail Board's (BRB's) Corporate Identity Programme left me stone cold. The new 'barbed-wire' logo was an ugly design compared to the first BR totem consisted of a 'British Lion' embracing a flanged wheel to symbolize rail transport. This was followed by the second totem which had the 'British Lion' rising from a crown holding a driving wheel in its front paws. A variation of the 'British Lion' and crown totem was cast in polished aluminum for the WR's prototype 'Western' class No D1000 Western Enterprise and the LMR's new fleet of WCML electrics.
But why change? The British Lion was a superb design and should have been left well alone.
After all, what's wrong with 'Britishness' - or is it just me being a misery-guts?
| | |
| --- | --- |
| | |
But then, I enjoy hamming up the curmudgeon role, because it gets easier as you get older. You develop an endless capacity to wage war against change. That's why I embarked on this website, since nostalgia becomes embedded in everyone's consciousness later on in life. But nostalgia isn't what it used to be...
I can paint pretty pictures of steam trains (above right) until I'm blue in the face, but back in the Sixties it was a different story.
With the demise of steam gathering pace, there was something out of kilter with a hobby that involved jotting down the number of a scrapped engines awaiting disposal at locomotive works, which probably explains why so many train spotters turned to railway photography.
One of the easiest ways of getting started in railway photograph was to beg, steal or borrow the family's Kodak Brownie 127 camera and finish off the tail end of roll film forgotten about in the camera since last year's holiday! But the temptation to fill the viewfinder with a speeding locomotives (to the exclusion of everything else in the surroundings) inevitably ended up with a set of blurred shots. It wasn't until my dad suggested taking a step back from the action and embracing more of the railway scene that things improved - and thank goodness I heeded his advice, because the railway network has changed out of all recognition over the years and the general view often produces a more interesting picture. The views below show an 8F heading south through the upper Aire Valley, a Class 4F at Horton in Ribblesdale and skimming over Garsdale water troughs on the Settle-Carlisle line.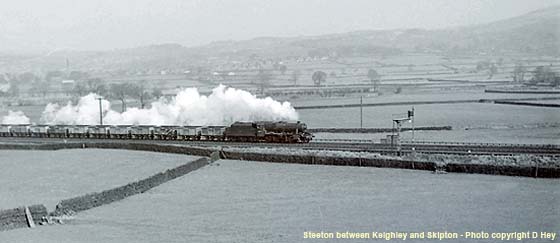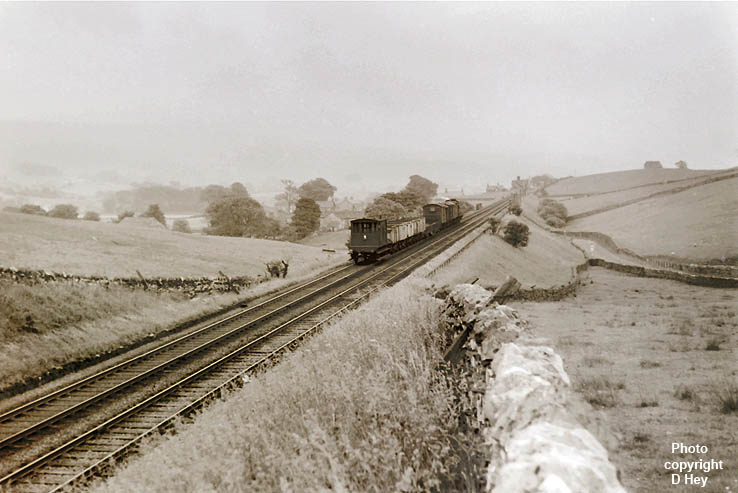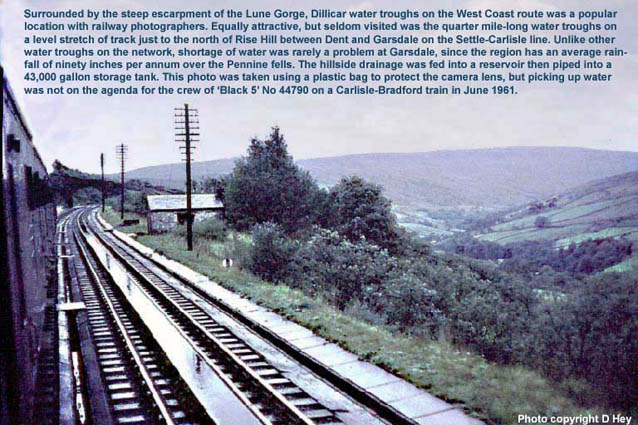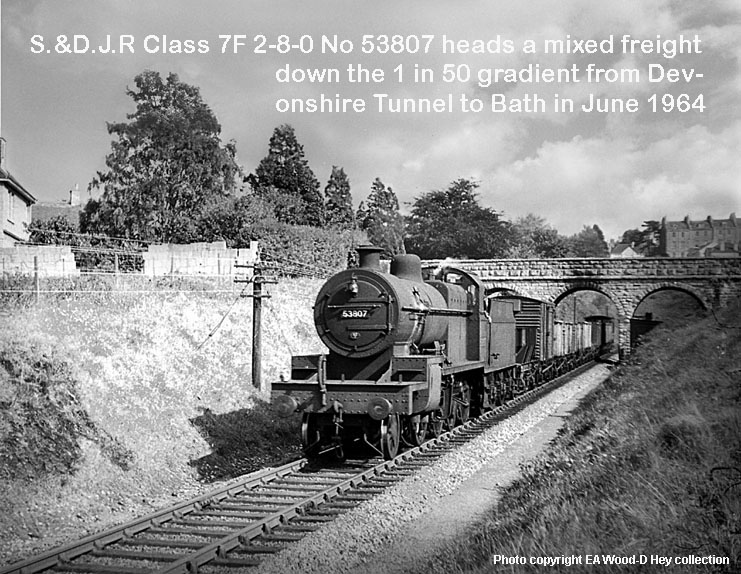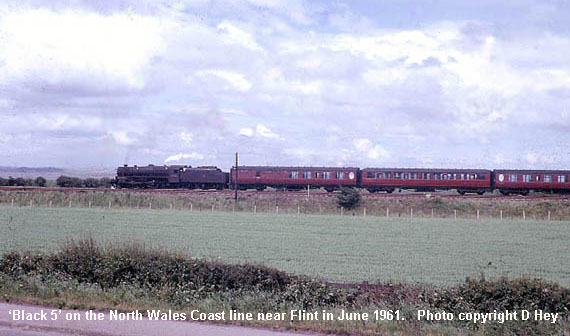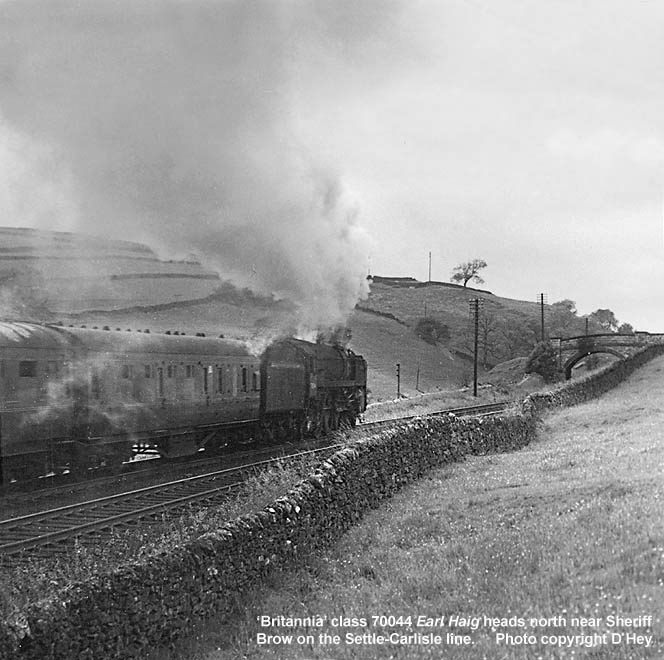 Great Central Railwayana Auctions....click here.

GW Railwayana Auctions.....................click here.

Polite notice: All text and photographs are protected by copyright and reproduction is prohibited without the prior consent of the © owners. If you wish to discuss using the contents of this page the email address is below. Please note - this is not a 'clickable' mail-to link via Outlook Express. You will have to email manually.
dheycollection@ntlworld.com