INTRODUCTION BY GEOFF BURCH

On this fourth page of the 'BR Southern Enginemen Remember' series we move away from Guildford to hear of some experiences from a man I first met at the Dog School when I was working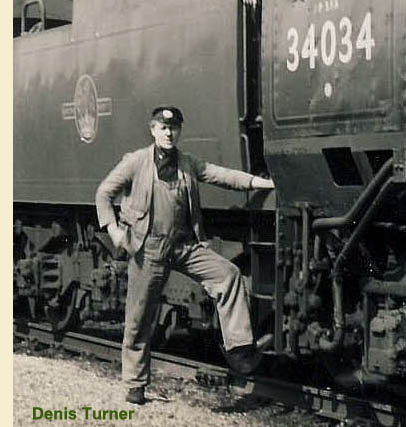 at Surrey Police as a Police National Computer (PNC) Trainer in 1996. We didn't realise it until we started chatting in the canteen one day that we had led parallel lives.
Denis had started work as an engine cleaner at Weymouth in 1960 just before I'd started my career as an engine cleaner at Guildford in 1961. He'd graduated to become a fireman as I had and then after steam ended in 1967, moved to Dorking EMU depot in 1969 to obtain his driving job and I moved to Effingham Junction EMU depot in 1973.
We didn't realise it then, but we probably saw each other at various places during our initial driving career and probably had our PN break at Waterloo Driver's room at the same time on a number of occasions!
Denis's interest waned a little being at a 'juice only' depot, and as it was no longer the job that he had joined as a boy, he decided to change careers (as I did later following privatisation in 1994) and he joined Surrey Police, firstly as a probationer and finally ending up as Manager of No 5 Police Dog Training School at HQ, Guildford.
Here's Denis's fascinating tale....




RAILWAY MEMOIRS - WEYMOUTH & DORKING





I was born in Weymouth, Dorset in 1945 and the busy 'GWR' quayside in Weymouth Harbour was something I grew up with and took for granted. Little 1300 pannier tanks pulling the boat train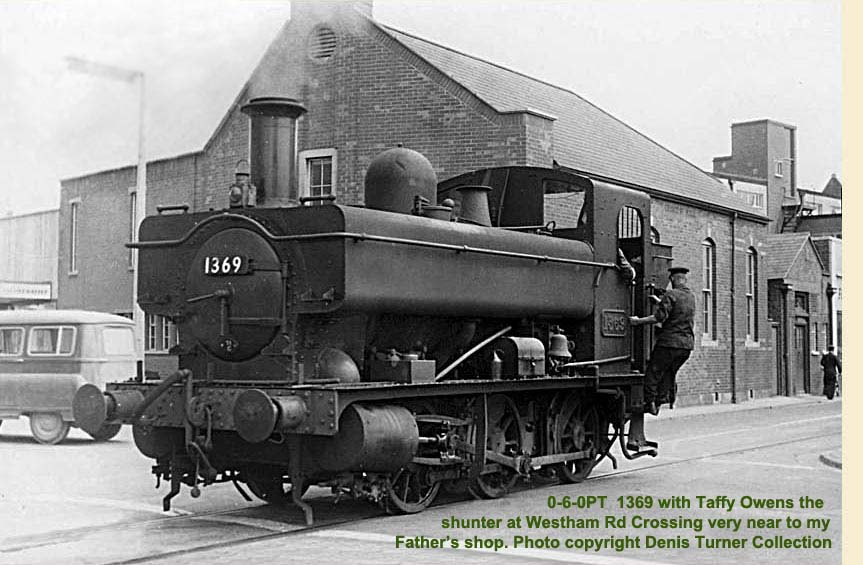 through the streets from Weymouth Station to and from Weymouth Quay was commonplace either taking passengers to the railway passenger boats or collecting them after their arrival from the Channel Islands. Freight services through Weymouth from the Channel Islands, France and further afield kept the port busy and, at certain times of the year, it struggled to meet the workload. New potatoes from Jersey, tomatoes from Guernsey, cauliflowers from Roscoff, cider apples from Normandy and much more. These sights together with the sounds of boat hooters and train whistles were very common occurrences and at midnight on every New Year's eve there would be a cacophony of such sounds heard all over the town.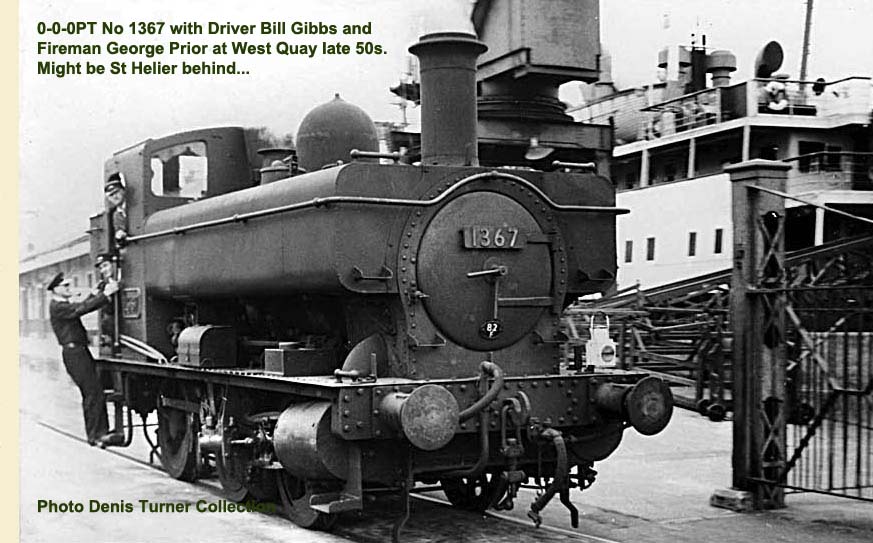 As a boy I recall catching the little branch line train down to Abbotsbury usually hauled by a GWR 1400 class tank, normally working a 'push and pull' service. The house in which I was born was also not far from Rodwell Station, which was on the Weymouth to Portland branch line, little did I know then that I would be the fireman on the last passenger train across this beautiful little branch line!
The Portland branch was run as a joint railway due to an agreement in 1862, which leased the line in perpetuity to the GWR and the LSWR who agreed to work it jointly.
The Royal Navy base and dockyard ensured that the Portland branch kept busy, as did the Portland stone quarries that pervade the island. Some heavy trains of open trucks loaded with huge blocks of this lovely white limestone came out of Portland to end up all over the world with much of London being built from it with the most famous images being that of the Cenotaph and of course St Paul's Cathedral.
The signalman at Rodwell was a good friend of my parents and my brother and I used to go up to the station as he allowed us into the signal box where we were awed by the site and sounds of the railway albeit that it w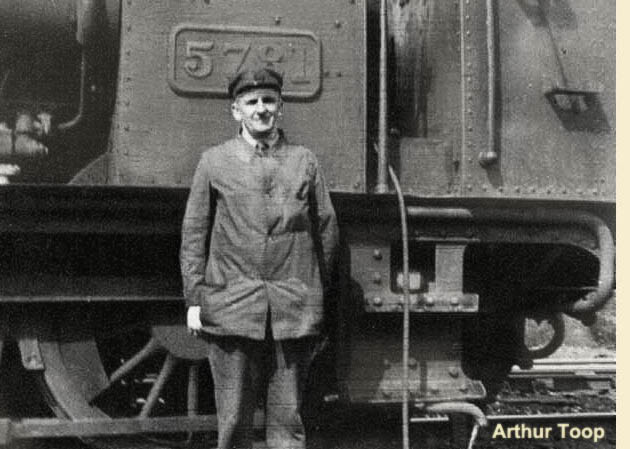 as a fairly quiet branch line of the sort that Betjeman would have enthused about. My other contact with railways was through my Uncle Arthur (left), the husband of my mother's sister.
Uncle Arthur was a driver on the GWR and by the time he retired in the 1960's he had completed his full 50 years on the railway and his nephew, (me), had been his fireman on a few occasions. Uncle Arthur's party piece was the ability to recite 'Skimbleshanks The Railway Cat' word perfectly - 'There's a whisper down the line at eleven thirty-nine, When the Night Mail's ready to depart.'
But I digress...
Like a lot of small boys I used to go up to Weymouth railway station to watch the comings and goings of the steam hauled trains in the mid to late 1950's unaware that their days were numbered. Weymouth was a very popular seaside resort then and its location was the terminus for mainline trains from London, both the Southern railway from Waterloo as well Paddington, the GWR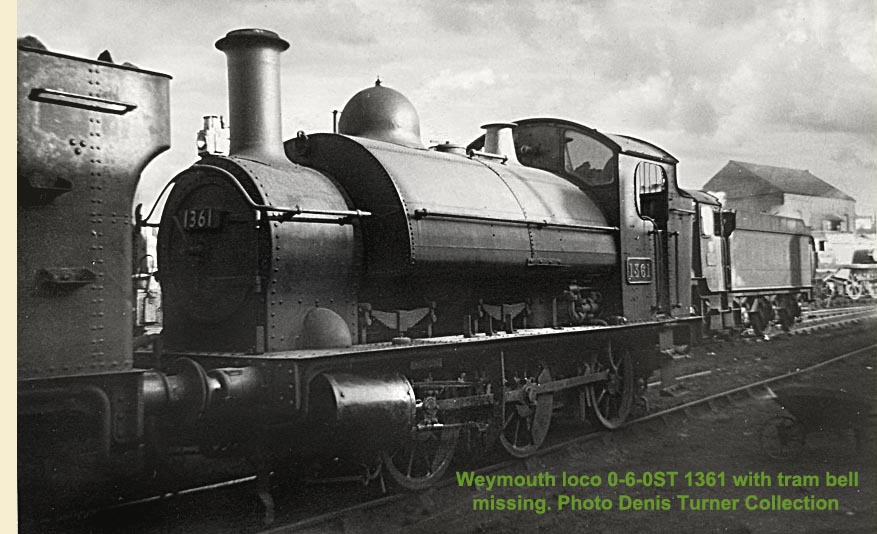 main London terminus. This ensured a wide variety of locomotive from these two great pre-grouping railway companies. I was to learn that, although the British Railways Board ran the railway system, that loyalties died hard for those men who served under the old companies.
But for a keen railway enthusiast, Weymouth also offered more, especially in the summer months as many summer excursions ran into Weymouth down the old GWR metals from Swindon, Bristol, Wolverhampton and Birmingham so it was not unusual to see them hauled by former LMSR locomotives, Stanier Black Fives (see below) with other infiltrators such as Stanier 8F's and BR Standard 9F's and GWR 8F's on heavy freight schedules. On rare occasions former S&DJR Fowler 4F's would arrive to much excitement. The late 50's saw Southern King Arthur's, Lord Nelson's and the occasional School, all this mixed in with the GWR Halls, Castles, Manors, Grange class engines together with Standard 5's, GWR Moguls, Prairie's Pannier's and 1400 class tanks engines. Sadly, GWR Kings were not permitted into Weymouth at the time due to axle loadings over a couple of bridges.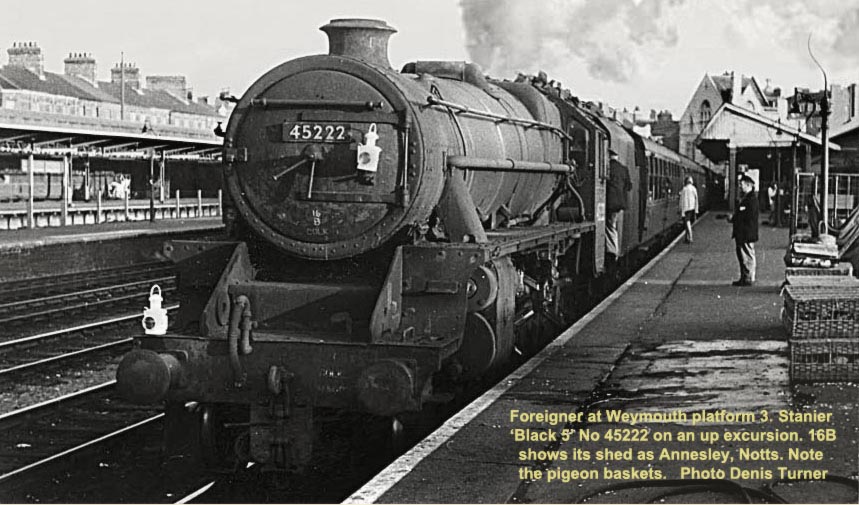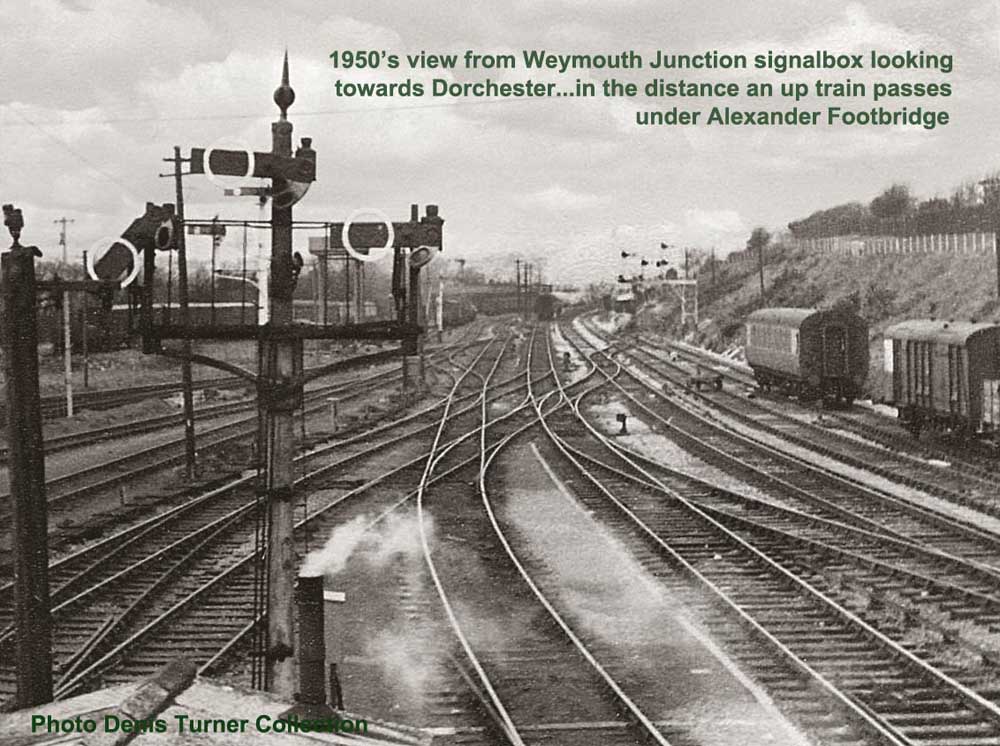 The railway embankment footpath and the nearby Alexander Bridge (see above) which spanned the railway was, on a summer Saturday in the late 1950's, a young railway mad boys dream place to be. Standing on the bridge you could look tantalisingly in to the distance where you could see the steam and smoke rising from Weymouth loco sheds and you would see an engine start to move off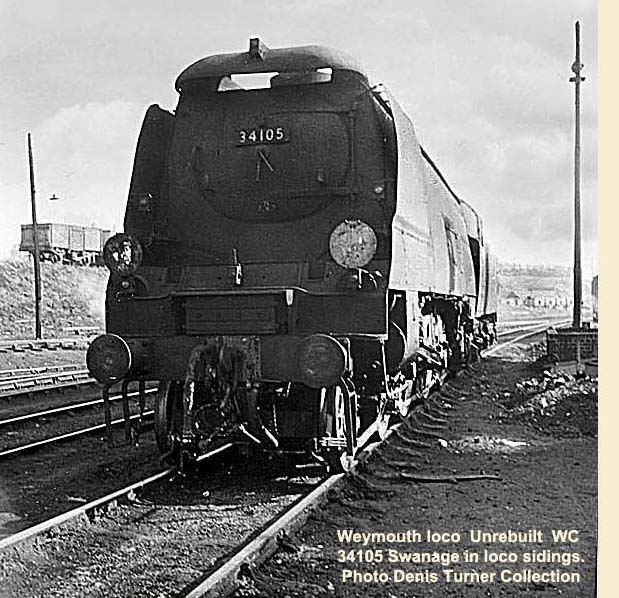 towards the station to pick up it's train and I would wait excitedly for it to steam under the bridge to find out the number. On other occasions I would wait on the platform at Weymouth to see the arrival of a Waterloo train in the hopes that a friendly driver would allow me on the footplate, which they often did to their credit. A friendly Bournemouth driver and fireman, when I asked them their names, replied Frankie Lane and Johnny Ray and after I joined the railway we often chuckled about it but although I can recall what they told me at the time I am afraid their real names have escaped me with the passage of time mainly due to the fact I continued calling them Frankie & Johnny whenever we met! I do recall though that the engine they allowed me on to was N15 Class 30453 'King Arthur', one of the 'Eastleigh' Arthur's, which was withdrawn in July 1961, a year to the month after my commencement of work on the railway.
So it was then that in the summer of 1960 I reached the grand age of 14 years but being 15 in July I was to leave school at the end of the spring term, which was June of 1960. Fortunately I had already got Uncle Arthur to arrange an interview with Mr Attwood, who was the shedmaster at Weymouth Loco sheds. I was not alone though as a boy in the same class as me at my school heard that I had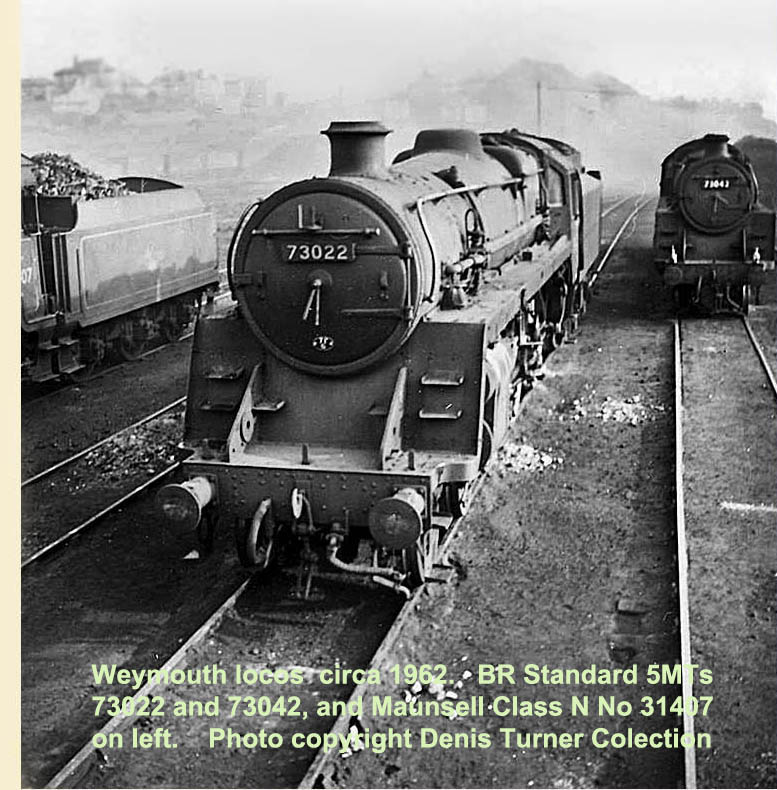 the interview and he muscled in on it. So what, you may say? Well, for several years after we both got the job it was a major irritation for me as we both started the same day but as he was about a month older than me he gained seniority over me which, as any railwayman will know means that he got the first firing jobs that came along when we were passed cleaners and he also got a substantive fireman's job before me. Fifty-one years later that still rankles as I had taken the trouble to get the job interview in the first place! It was my first lesson as I entered the adult world in that life is not always, often, fair.
However, what I do still vividly recall all these years later is that summers day that I actually got to lawfully open the gate by Alexander Bridge that led onto the railway footpath that took you to the Loco sheds. Having passed the interview with Mr Attwood I had been to Eastleigh to see the railway doctor and my eyesight and health was good enough to start work. Arriving in the shed I can still recall standing by the huge locos and realising the awesome power of the these beautiful machines the driving wheels of which seemed to tower over me. I was now a railway employee at Weymouth Loco, 71G, formerly GWR 82F...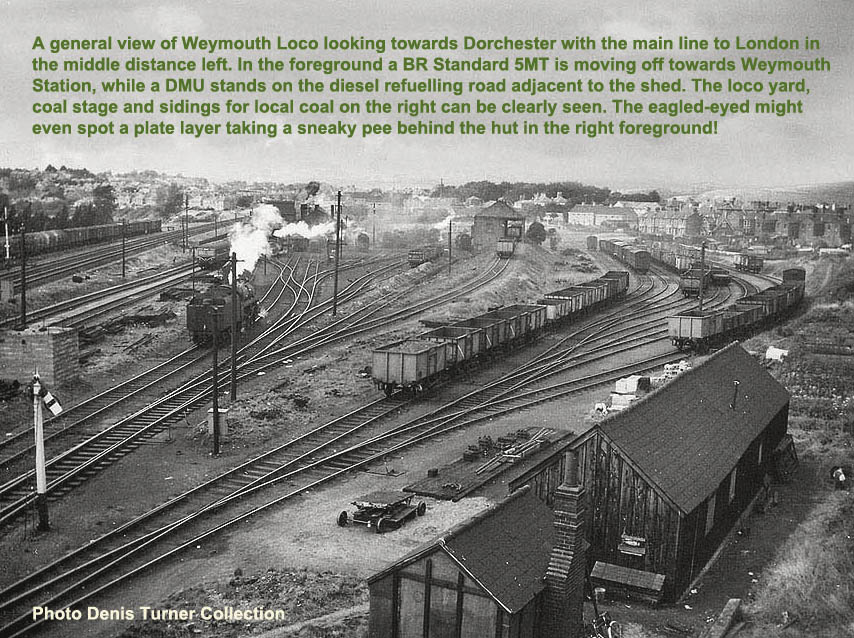 Having started my life on the railways as an engine cleaner (the names of Footplate Crews at Weymouth 1960-1969 can be found at the foot of the page) I soon had to realise that this was not a playground but a serious and often dangerous place of work. Uncle Arthur, (Toop), had already told me the story of how he had pulled Bill Wareham out from under a locomotive when Bill slipped off the steps as he tried to jump on a moving loco in the sheds one dark and wet night many years before. Sadly Bill had his right leg severed and, after he recovered, he and his wooden leg spent the rest of his railway career as a driver on the Weymouth passenger shunter where he used to enjoy emptying the smoke box ashes over the neighbouring houses that were alongside the railway. This caused more than one letter of complaint to the Dorset Evening Echo from irate housewives who had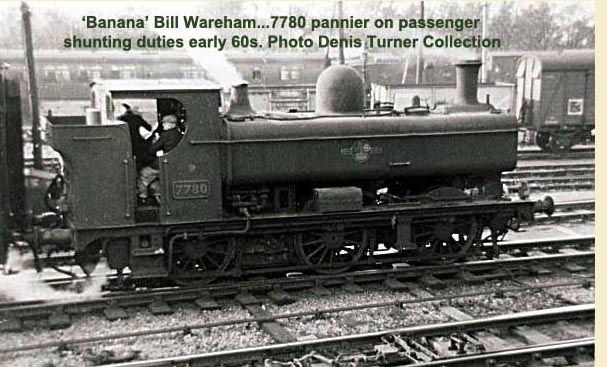 their washing out! However, Bill, commonly known as Banana Bill, (I believe because of his love for the fruit), always remained cheery and I can still hear his cry of, "give us a pound Den", whenever he wanted to throw the reversing lever back or forth. On the first occasion of hearing this I thought he was on the blag for money but I soon got used to being in the right place at the right time.
Being a new boy in the job I had to find my way, not only about the place but also about the people. I was born at the end of WW2 but in 1960 I found myself working with men who were born at the start of the century and were coming to the end of their working lives. These men started work around the same time as WW1 broke out and had seen two World Wars working on, what was, a crucial industry for the country at the time. I am now a similar age to those men I started work with but I look back and see them as old men mostly in bad health. Bearing in mind the conditions they worked under that is no surprise as they had given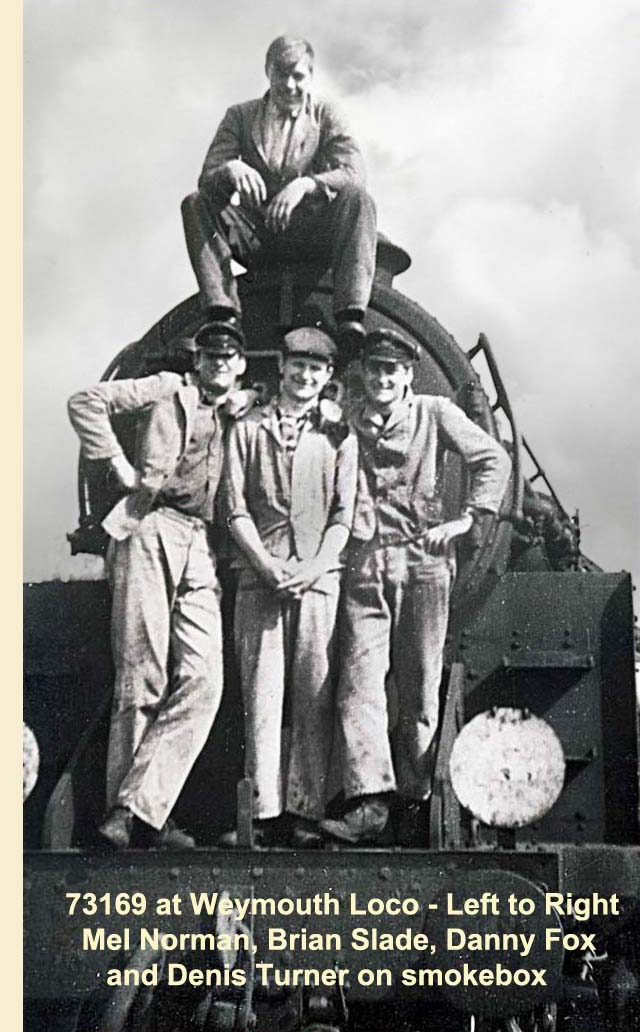 their all. If some of them were grumpy and had little time for a young lad then I could forgive them that but, in all honesty, they were in the minority and I found the majority still enthusing about the job they did and, above all proud of being a railwayman.
This attitude soon rubbed off and I discovered that railwaymen were a special breed that looked after one another. At Weymouth the old GWR Mutual Improvement Classes, 'MIC', was still strong and men like Gordon Brewer would take us young lads in his own time, (and ours), for classes to learn all about the workings of locomotives and the rules governing the running of the railways in preparation for our exams to become passed fireman, still cleaners but passed for firing duties as and when they were available. I still recall the drafty and cold former clerestory railway coach that was stuck up on concrete blocks used for the classes at the back of the loco sheds. With an old round stove in the corner that you could get glowing red the draft blowing through the cracks would still get to you.
In the meantime, not only were cleaners expected to do engine cleaning duties they were also used to deliver 'call papers' to engine crews. This entailed getting on your push bike and cycling all over Weymouth to wherever the driver or fireman required lived to deliver the call paper that the shed foreman had given you. On it was written a change of duty for the following day often at short notice due to sickness or a special train that was suddenly laid on. Most of the time I was told it was OK but if it did not suit I was instructed to go back and tell the foreman that there was nobody home. As the call paper required an answer it was not permissible to leave the note through the door so although often this entailed extra work for the callboy/cleaner, he would go back and tell the foreman that there was no reply to the knock at the door because his first loyalty was to the footplate crew that you so wished to emulate. Another duty that was starting to get less and less was the job of knocking on the door to get a driver or fireman out of bed for work early in the morning. Fortunately the use of alarm clocks made that job less pressing which then allowed the cleaner to get his 'head down' on nights!
During this period I also used to get to know the many fitters, boilersmiths, fire raisers, fire droppers and coalmen. One fire raiser I remember was a man called Joe Blake. Everybody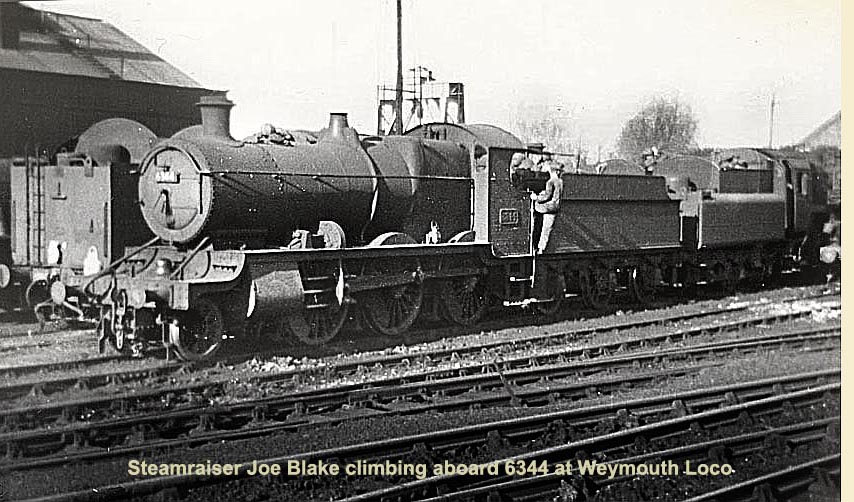 commonly called him 'Noddy' Blake as his head constantly shook from side to side. It was some time before I found out that he suffered the affliction because he was gassed in the First World War. From the day I found that out I never called him Noddy again. He was a lovely man who put up with us boy cleaners like we where his sons. Another fire raiser called 'Geordie' Askew seemed to talk never-ending nonsense and had features not unlike Popeye The Sailorman. You could often walk by a line of engines in the shed only for Geordie to shoot his head out of the side of one them and shout, "got any cake?" Well I did say he talked nonsense!
But most of these men had useful information to impart to a young lad keen to know all there was to know about steam engines. Steam engines were labour intensive and needed a great deal of work to keep them in fine fettle although by the early 1960's the writing was on the wall for them and so as more and more disappeared for scrap less and less time and money was expended upon them. One group of men mentioned here were the fire droppers. Being a former GWR depot Weymouth enginemen did not have to clean out their own fires or smoke boxes EXCEPT when they left engines at Bournemouth or another Southern depot. Fire droppers and coalmen at Weymouth included 'Lofty'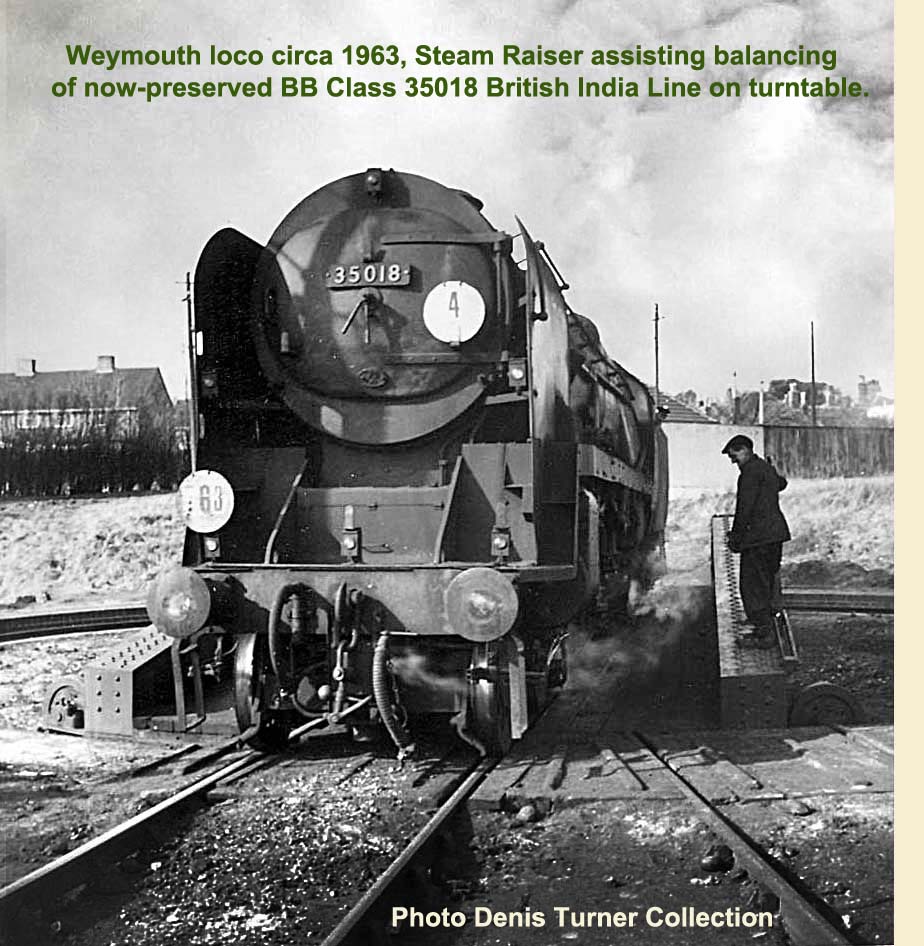 Yeomans, Jim Ellery whose son John was a fireman and a stocky little Pole called Stanko. I never knew his first name as everybody called him Stan. Stan was a wiry, hard working little man who had been through a tough time of it during the Second World War.
The coaling stage at Weymouth was built to the GWR design with an embankment to the side with track running up to the top where loaded coal wagons could be propelled up to the top for the coalmen to shovel the coal into small hand propelled wagons which would then be pushed out on a ramp to be tipped up and emptied into the tender of the engine waiting below. It was hard work and I had to do it many a time when there was a shortage of coalmen. When I was scheduled shed duties it was great fun to get the shed pilot engine, usually a Standard Class 5, and pick up some loaded wagons in the coal sidings, (after bringing down the empties), and whilst my mate stood on the catch points at the bottom of the hill I would take a run at the bank, propelling the coal trucks ahead of the engine. The bank was short and steep and at the top the trucks were soon in coalhouse and just as quickly out the other side. The far side of the coal siding was quite short and only held about five trucks in total to the buffer blocks. The idea was to get all the trucks through the coalhouse and up against the blocks so that the coalman could let them back into the coalhouse as and when required. When empty they would let them run slowly down the hill to stop them halfway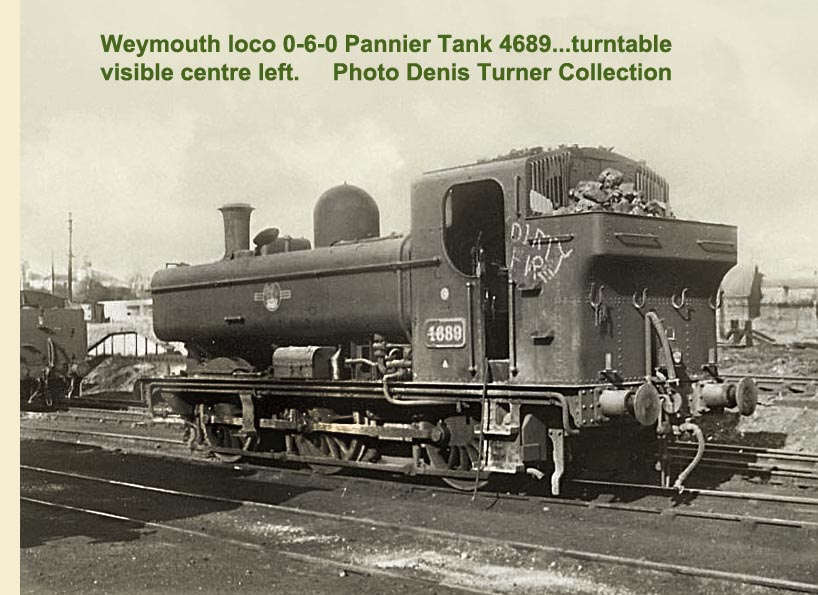 down ready for collection again. So getting the loaded trucks up the hill to the stop them correctly was not always as easy as it sounds. If it was wet and slippery and you did not get enough momentum you could slip the engine to a standstill, which gave you no option but to drop back and start again. With your mate on the catch points in the rain that would not go down well. The art was to get a fair bit of speed up so that the momentum would get you to the top and keep enough steam on to let the trucks settle gently onto the buffer blocks. I do not recall ever failing to get them in the right place first time but I have witnessed many others slipping and sliding and struggling to get there only to fail and have three or four goes at it before succeeding. I am not aware of anybody hitting the blocks hard enough to push the trucks over the other side, which was the great fear of course.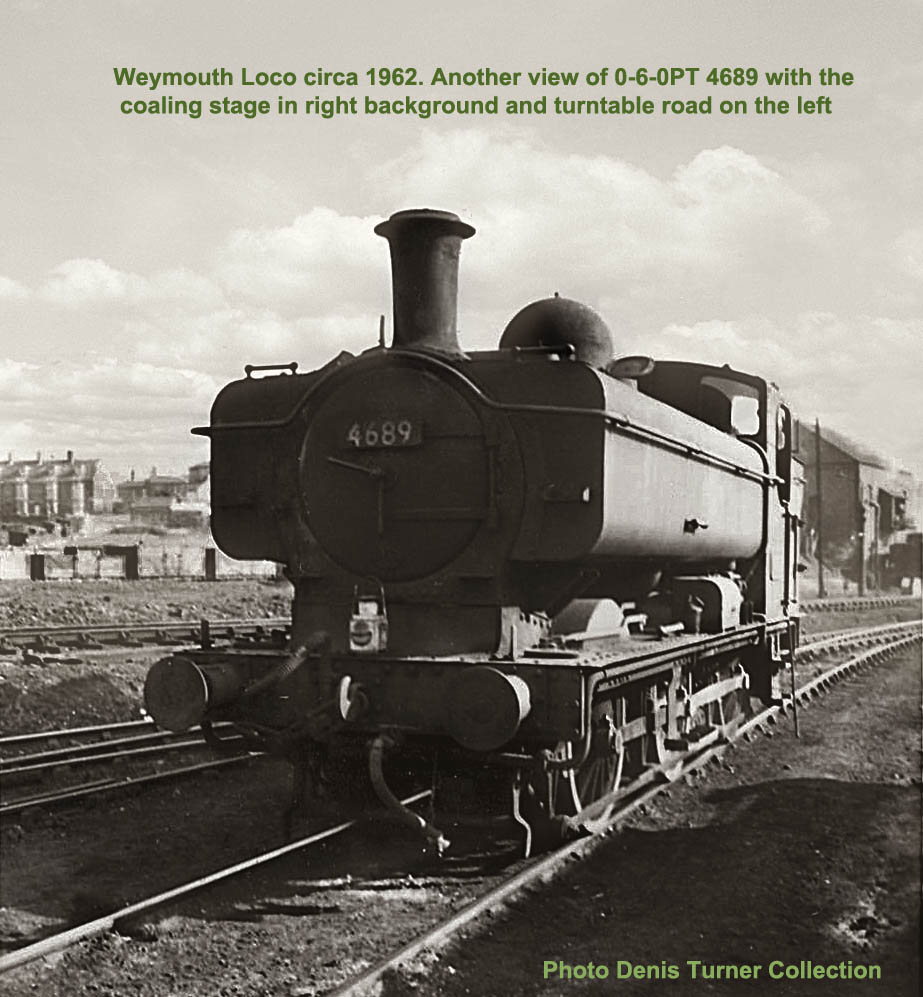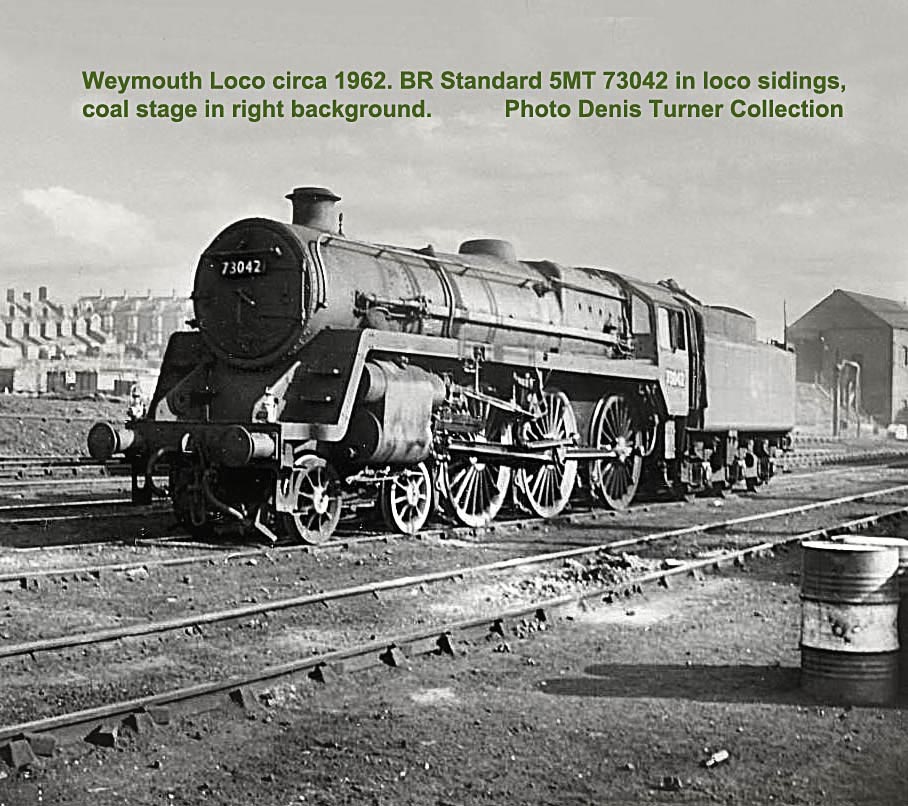 Staying on the subject of engine maintenance I found that, on the whole, the ex Southern men who had to do a lot of their own maintenance were easier to get on with and in many ways had a better understanding of the job of the footplate crew. That is not say that some of the older ex GWR men were not knowledgeable but some of them could be aloof and perhaps a bit elitist. Maybe it had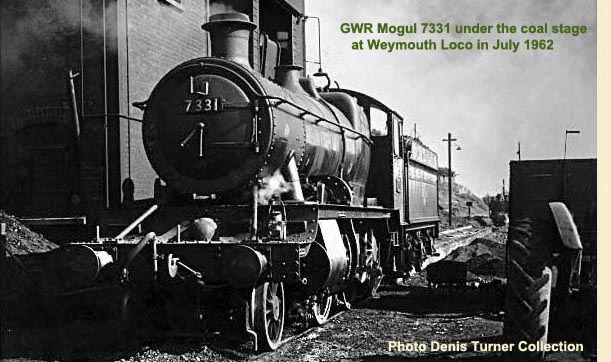 something to do with the fact that they had climbed the slippery pole to the top of their trade. They also had a tougher time of it as in their day they worked 'double home' shifts which entailed them working a Weymouth to Paddington passenger train and, on arrival in London, they would then take their engine to Old Oak Common for servicing. They would then stay overnight in the railway hostel there before working a train back down to Weymouth the following day.
The GWR men were also subject to transfers and many spent several years away from home in Wales and elsewhere before being able to return to their home depot. One such driver I worked with, Percy Bowyer, used to regal me about his time spent "in the vallees" and although nothing to do with Wales as far as I could see he had a favourite saying, "up the wing and in the netski". Don't ask me why he said it he just did. He spent his final days on the freight yard shunter and often you would hear this saying after he had propelled a line of wagons into the sidings. Another Percy was Percy Gardiner, a driver who shared the passenger shunting duties with 'Banana' Bill Wareham.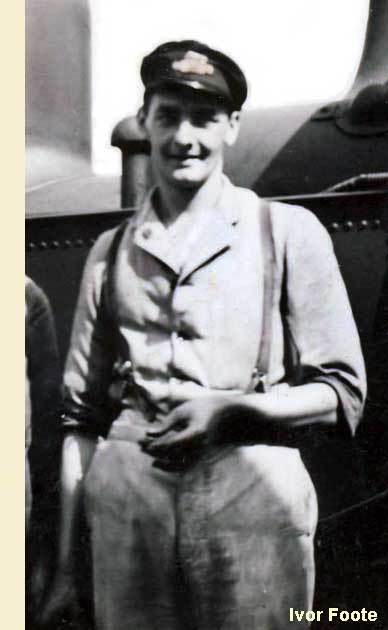 Percy Gardiner was a jolly little Welshman who was always happy; I don't think I ever saw him cross. He used to wear his shiny footplate cap rakishly at an angle and always seemed to have a smile on his face. If he walked past you he would keep walking, wave and shout in his singsong Welsh accent, "how are you?" almost singing the question as he spoke. The 'how' would start about middle C and the 'are' would be up around the G above middle C and then back down to middle C for the 'you'.
The younger drivers and passed fireman had a very different approach to us youngsters as they had experienced the difficulties that some of the older drivers could hand out and they did not want to perpetuate that, to their credit. I was fortunate enough to eventually become a fully-fledged fireman and was crewed with a young driver called Ivor Foote - see photo right. His father, Hector, was a Royal train driver and Ivor used to have a photo of his Dad on a Royal train out of Weymouth which was decked out overall. As often happens in the railway environment, Ivor became a life long friend and when I heard of his passing in June 2006 it was as upsetting to me as losing a brother.
But before that happened I was trying to learn my trade and worked hard to get any firing turns that I could. As the new boy these were mainly on the various shunting engines at Weymouth and. of course, working on Weymouth tramway from Weymouth Town down to the quay. At this time, as previously mentioned, the quay was a hive of industry and even into the mid sixties new sidings were constructed to try to cope with the heavy traffic. When I think back about the amount of men working at Weymouth on railway and shipping related work it is amazing to think that it is all gone now and it also a very sad thought.
One other produce that I have not mentioned was the seasonal banana traffic. As a result of this traffic I got my very first mainline firing turn due to a special train required to be laid on at the last minute, joy of joys! I was the next availabe cleaner and Don 'Ginger' Mentern, who was a passed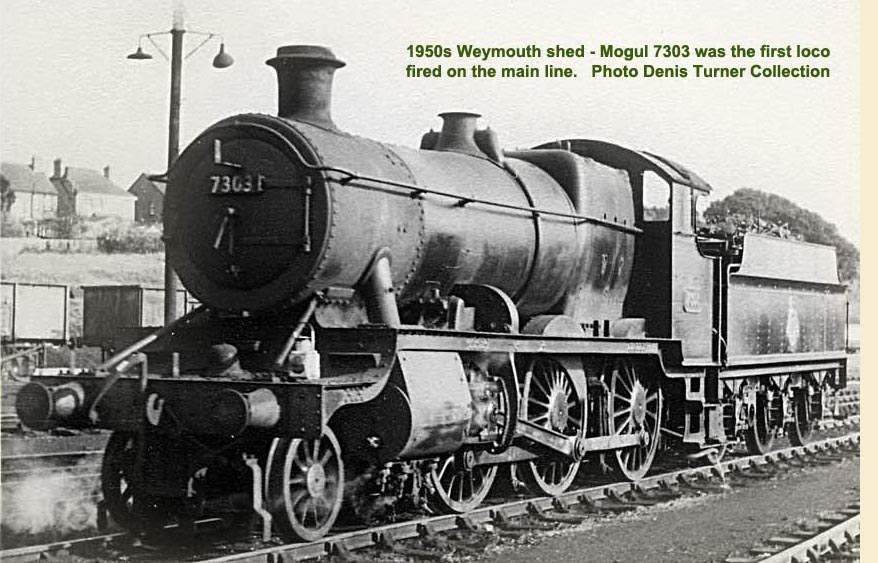 fireman at the time was on duty, spare. Don cheerfully accepted me as his fireman for this trip to Westbury in Wiltshire, no mean feat taking this boy who had not been past the starter signal at Weymouth. A Weymouth engine which was a GWR mogul, 7303, was to be our engine and Don advised me how to get the best from it firing wise. I excitedly prepared the engine and we set off from the loco sheds to back onto our train in the goods yard which was a fully fitted train of about 50 fully loaded banana wagons. My memory tells me these trains were called venlos but I cannot find anything on that name but because they had vacuum brakes fitted throughout I remember that they could exceed the maximum 40 mile an hour rule that applied to unfitted wagons. However, they must have had an upper speed limit that I cannot recall, maybe 60mph?
Weymouth sits at the bottom of a steep incline called Bincombe Bank. With a heavy train and a cold fire it was testing for driver and fireman alike especially as at the top of this long steep climb sat Bincombe Tunnel, a long, dark and dank tunnel with catch points and a sand drag at the leading edge of the tunnel to stop any train that may slide back out from ending back down the bottom of the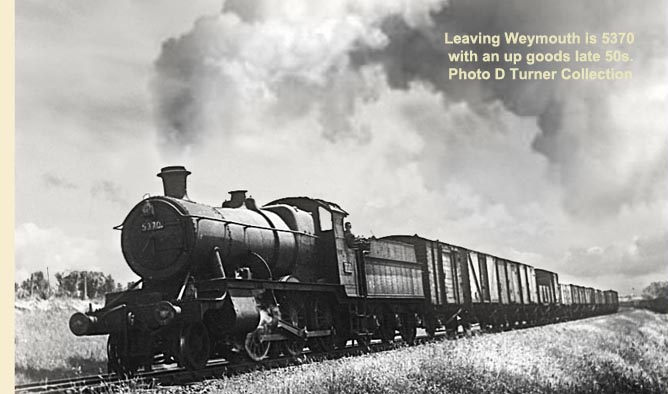 bank back in Weymouth. In truth we should have had assistance from a banker but there was none available so Don decided to go for it, a brave decision with a rookie fireman. However, the mogul dug its wheels in and stormed up the bank with me keeping the boiler pressure on the red line to give Don plenty to work with.
These little two cylinder engines rocked from side to side when worked hard as the steam entered one cylinder and then the other. We entered Bincombe Tunnel at around 25 miles an hour working hard and held our breath that she would not slip as we went through this half mile long tunnel. In the heat and smoke it seemed a long half mile before we burst out of the other end at the top of Bincombe Bank without the hint of a slip. From then I started to enjoy the trip and marvelled how well it all went onward to Westbury. There we unhooked the engine and took a quick trip around the triangle and headed back to Weymouth light engine with me grinning from ear to ear. What an unforgettable trip, I had grown from a boy to a man in a day...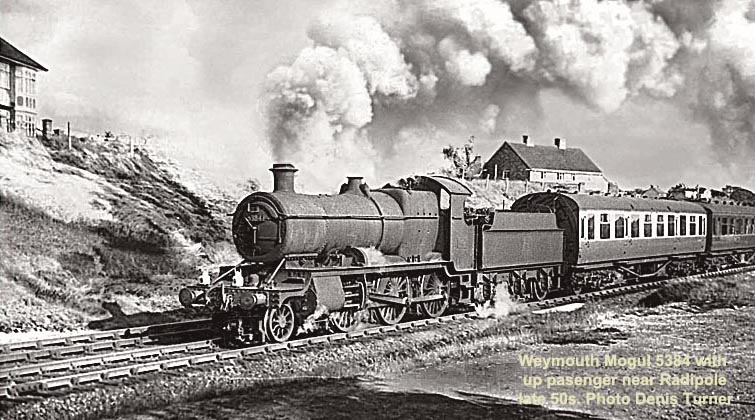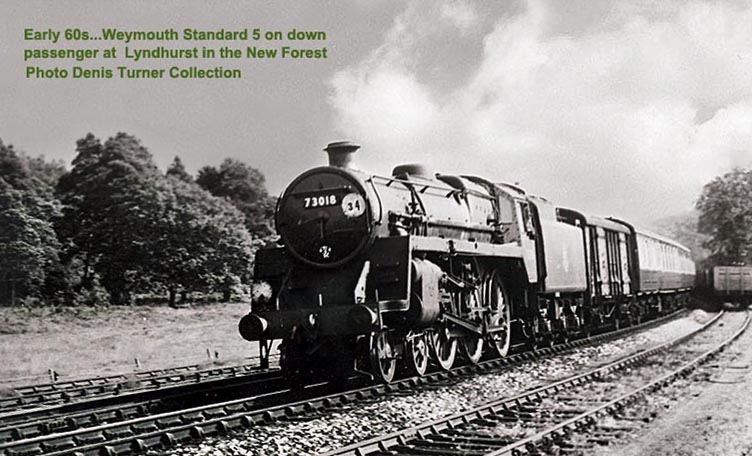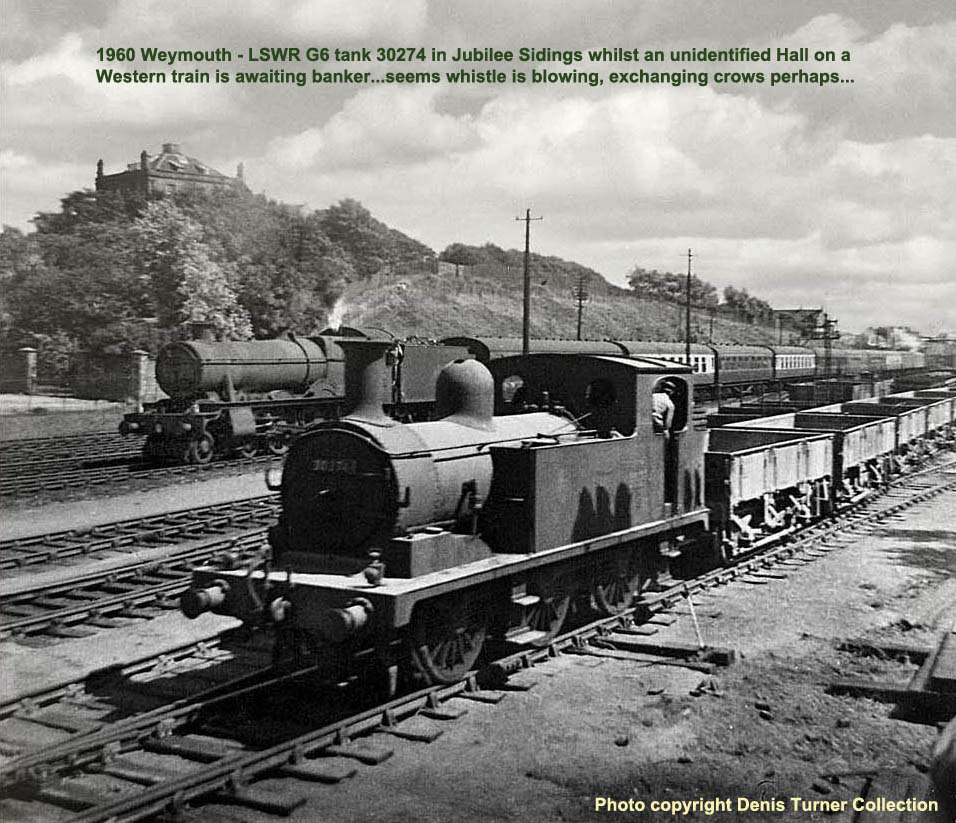 It was not long before I became a full fireman because, as already mentioned, many of the older drivers were coming up for retirement within a year or two of me starting work. So it was that passed fireman became drivers and passed cleaners became fireman and I became Ivor Foote's regular mate. Here was a man who had steam in his blood, he loved his job and, no doubt, this was instilled in him as a boy by his Royal Train driver Dad, Hector. He was, of course, a 'Western' man through and through. 'God's Wonderful Railway' was a phrase I heard spoken for the first time by Ivor and he meant it. He still enjoyed 'flashing the blade' so it was common for him to say, "come on over here mate" and with a pride fit to burst I would take on the driving role and he would fire. He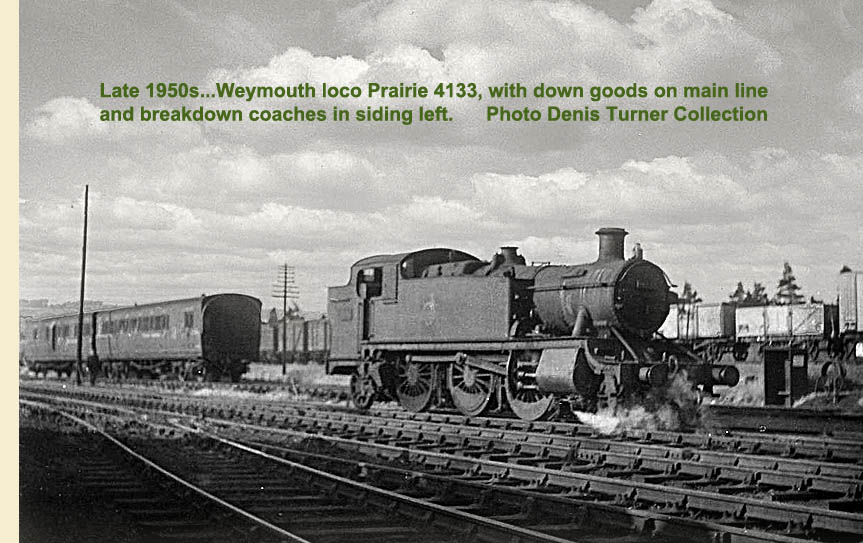 taught by example and would not necessarily tell you what to do it or how to do it but he would show you how to do it and do it well he would. If we had a quiet few minutes in the yard on a shunting engine he would get the paraffin and engine oil bottles out and with some sand out of the sand boxes he would start to clean the brass on the footplate until you could see your face in it. If we kept the same engine for a week by the end of it the fooplate and fittings were gleaming as I could not sit there and watch but had to join in. So it was he who motivated you to take pride in what you did. He took time to explain the intricacies of any route that you were working on so that eventually you knew exactly where you were any time of the day or night in fog or falling snow. I learnt my trade with Ivor and as we moved into the goods link together we instinctively knew what the other wanted, whether it was more steam or less steam or where to look out for the distant signal the other could not see on his side of the engine. Leaving a station would see me looking back to check we left safely whether the station was on Ivor's side or mine and all the little things that made life on the footplate a safer and more enjoyable place was done without question and automatically. It became an art and I took pleasure in a job well done.
Another driver I spent time with was Cyril Hollwood. Cyril was another young driver but he started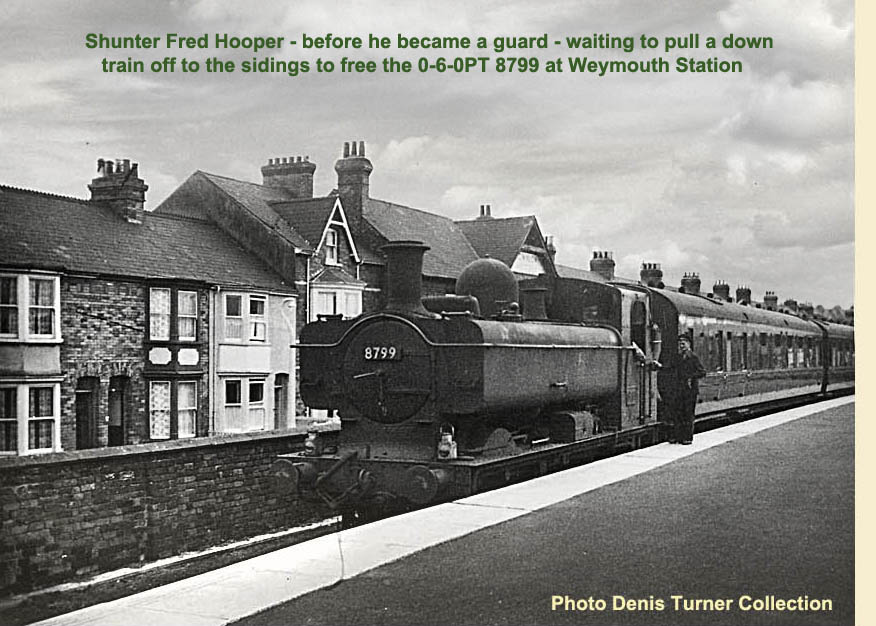 his railway life on the Southern at Dorchester loco shed. Dorchester loco closed in the early fifties and that is when all the Southern men were transferred to Weymouth loco. At the same time the small Southern shed servicing the joint Portland Railway branch was also closed. Cyril, like Ivor loved his job and his upbringing gave a youngster like me a different slant of life on the footplate. The knowledge that both drivers had was invaluable to me and I soaked it up. I loved the summer Saturdays when heavily loaded excursion trains ran in and out of Weymouth.
One of the greatest jobs was the banker and you were working with a driver such as Pete Keene. it was a blast, literally! We would try and give the train crew a good start and push them as hard as we could up Bincombe but it could get sticky at times when blasting through Bincombe tunnel as not only did you have your own heat and smoke to contend with at the back of the train you also had the lead engines fumes. At times it was difficult to breathe! On a really busy day you could be heading back down to Weymouth having shoved a train up only to find another waiting at Upwey half way back down the bank which had been sent on to await your arrival. So it was cross over and off we go again only this time much harder work as we had a standing start right at the steepest point of the bank. Good job that Pete was Keene by name and keen by nature, another great bloke who always seemed to have a grin on his face.
It was Peter who gave me one of the best experiences of my railway life when we were booked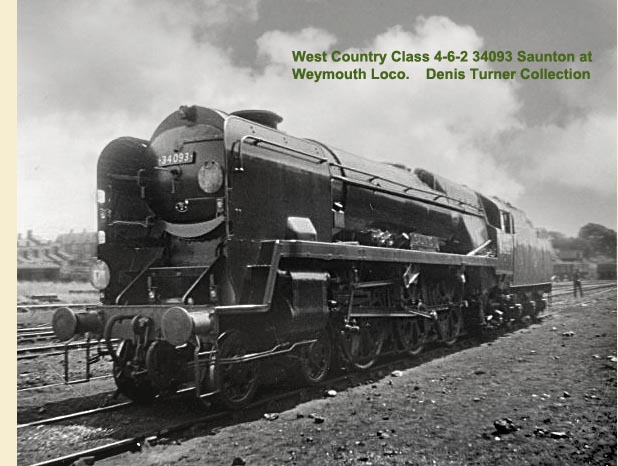 together to work the up Channel Island boat train one afternoon. This was a fast 12 coach heavy train that only stopped at Poole, (all trains had to), and Southampton where a Nine Elms crew would be waiting to take over. Normally it was worked with a Merchant Navy class engine but often it could be a West Country or Battle of Britain class loco. On this particular day I cannot recall the engine but it may have been 35028, 'Clan Line', as she was shedded at Weymouth for several summers for this sort of role. What I do recall was that we had a great start up the bank out of Weymouth with a hearty shove in the rear by the banking crew. Exchanging double crows at the start we leapt up Bincombe and stormed out of the tunnel in fine fettel. This made for a comfortable run as we ran happily through the Dorset countryside at speed. I kept the fire built up and the the engine ran like a sewing machine. We stopped at Poole and set off up Branksome bank towards Bournemouth. As we coasted past Bournemouth Central on the through road suddenly Peter leapt up and said, "come on then mate". I looked at him astonished and he said, "I'll do the firing, you know the road, she's all yours!"
I always loved that fast run from Bournemouth through the New Forest to Southampton and now I was going to drive the Channel Island Boat Express on that route. It was like a dream as we rushed down through Christchurch picking up speed as we headed towards Brockenhurst with all signals set in our favour. By now the valve gear was set very fine and the regulator was on the first port as the engine had gathered up it's load and was running extremely well. We were travelling at about 85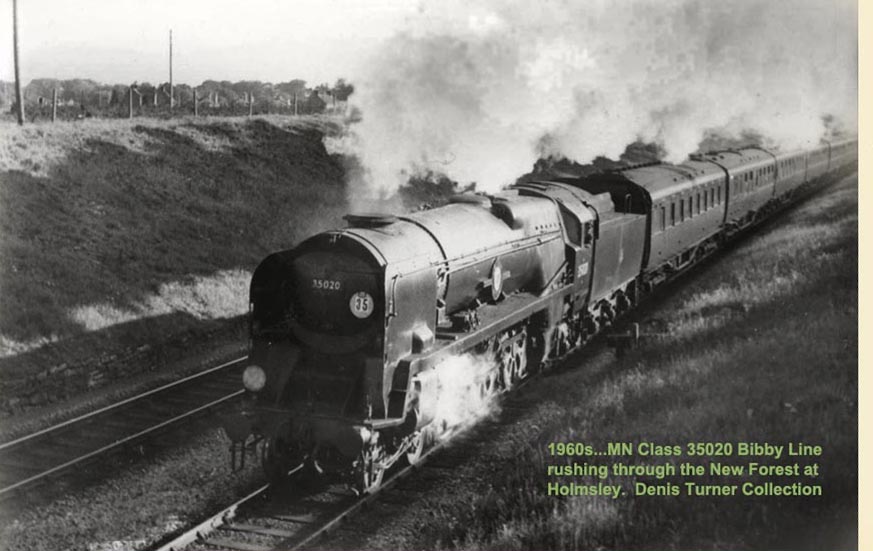 miles an hour as we flew down the hill towards Brockenhurst station with me hanging on the whistle. The station and crossing gates went by in a blur but if anybody could have seen who was at the controls they would have seen a young fireman sitting in the driving seat of this wonderful steam engine with his hand casually on the regulator with a huge grin spread right across his face!
It was all over far too quickly and as we drifted into Southampton Central we saw the Nine Elms crew waiting for us. I even managed to stop the train so that the engine was in a perfect position to swing the water column straight into the tender. I don't think I could speak for a time whilst we walked away from the engine to go and have a meal break but it was an unforgettable experience for sure.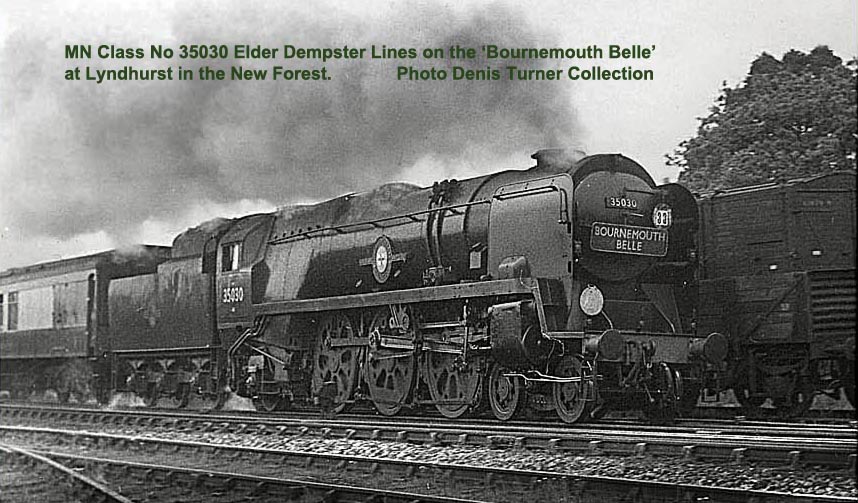 Not all trips would be so enjoyable though and another summer Saturday experience that started badly and got worse is another memory I clearly recall. My driver on this day was Alfie Parker, a heavy handed driver who was also very religious. The closest I have ever got to putting a shovel over a driver's head was with him. I have mentioned before that on summer Saturdays there many excursions in out of Weymouth. Many came down the 'Western' side, Swindon, Bristol, and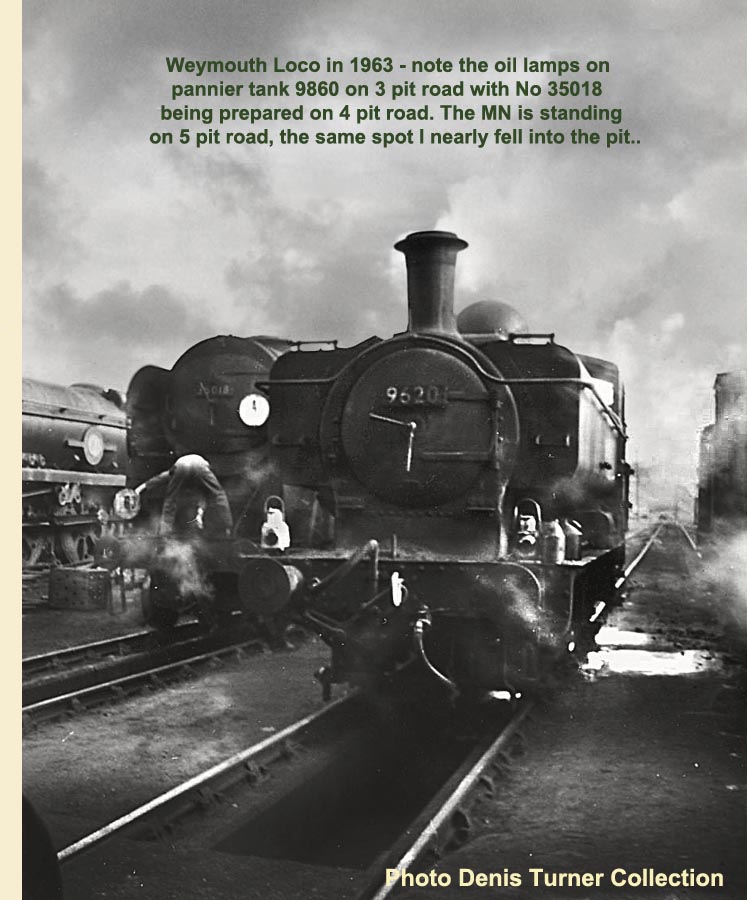 Birmingham. One working we had involved a Wolverhampton engine up or back, usually a Hall and a Weymouth engine up or back, normally one of our standards. We used to work a twelve coach heavy excursion up to Westbury, hard work but with a fresh engine OK even with a heavy handed driver. Coming back was different, as the down engine had been hanging about for a couple of weeks if it was one of ours.
To be fair Alfie was always cheerful and amenable as a mate but I always thought his affability hid some insecurities and that he was a bit of a worrier. We started the day by preparing the Wolverhampton 'Hall' class loco that had travelled down a couple of weeks previously. As she had been used in place of our missing Standard Class 5 she was in good fettle. I recall getting up on the front of the engine to check the sandboxes and tighten the smoke box door. As I swung on the smoke box door handle to tighten it my hand slipped and I felt myself falling backwards off the engine. I narrowly missed falling into the service pit the engine was standing over but fell heavily striking my head hard on the concrete surface of the pit road. I think I lay there concussed for a moment or two when suddenly Alfie, who must have heard me fall, scrambled out from under the engine where had been oiling the motions. At this stage I was all for going to hospital for a check up but Alfie would have non of it as he knew that if I did he would end up with a young cleaner as his fireman. "You will be alright mate", he fussed, "no need for a check up I will look after you". Much against my better judgement I very groggily insisted on making an entry in the accident book and tried to clear my head for the busy day ahead of me. The trip up to Westbury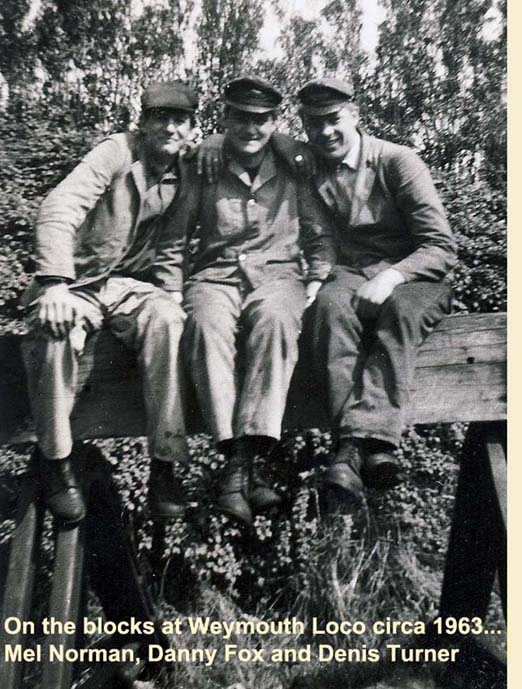 was heavy work but fairly uneventful even in spite of my sore head as the Hall performed well. After having our meal break we went across to meet the down Wolverhampton and relieved a Bristol crew on one of our Weymouth Standard 5's, 73018. Unlike the Hall on the up trip it's fortnight away had seen it return to us in bad shape. The hand over was poor with mostly coal dust in the back of the tender and we struggled from the outset. That did not stop Alfie hammering seven bells out of the engine and by the time we got to Yeovil, about halfway, I was on my knees. We then had the prospect of Evershot bank to climb. Not a slope by any means. We did have a banker for assistance but I think we did the lions share and I am sure at one stage I looked back to see the banker leaving a gap between it and us! I am now raking coal dust down from the back of the tender with no sign of any lumps and we are hammering up Evershot with the 'coal' I was trying to build the fire up with leaving the shovel, straight through the tubes and out the chimney, well that's what it seemed like! Now picture this, suddenly, Alfie, a red faced 60 year old, who was hanging on to a wide open regulator with about a 75% cut-off, suddenly started singing, 'Onward Christian Soldiers!' I could have killed him then and there with one swift blow of the shovel, I kid you not...
There is a footnote to that story as many years later when in my early fifties I suffered with a cataract in my right eye. The eye specialist at the time was surprised that I had it at that age and asked if I had ever suffered a heavy blow to the side of my head. Of course the only incident I could recall was the time I fell off a Hall. Although the cataract was operated upon the eye eventually got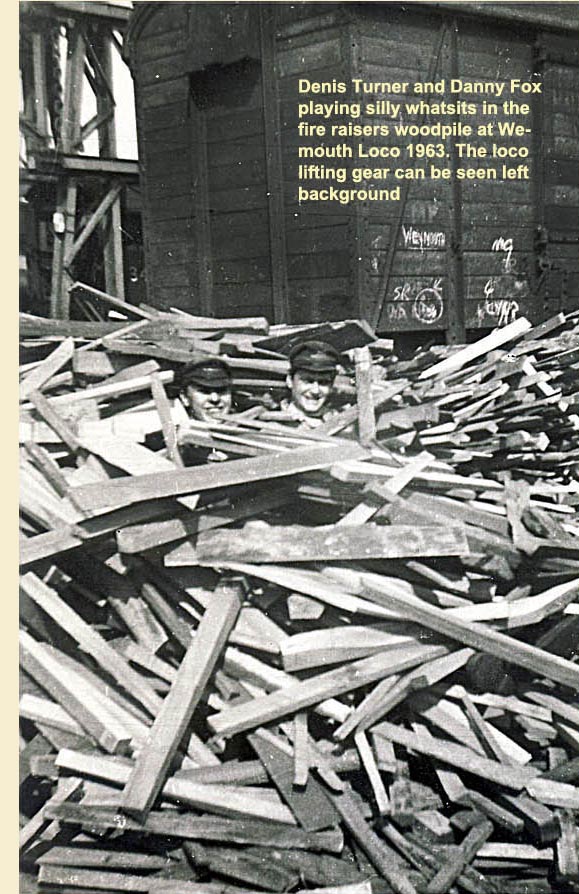 worse and I suffered burst blood vessels which caused a permanent partial loss of site in my right eye. It will come as no surprise to anybody that when, in 2001, I tried to track down the accident book for circa 1965 there was no trace of it even though a helpful employee with the railway company did his best to find it.
Staying on the subject of bad trips I recall the day I was booked to work the 19.15 parcels train to Westbury. My driver was Wally Stroud, another affable and easy going man. Often this turn was used as running in turn for a newly shopped Swindon works engine that had been overhauled, Manor or a Grange, but this day it was a Standard 4MT 2-6-0 we had, 76009. Not an engine I knew and although I think it may have been a Bournemouth engine, it was a stranger to me. I have to admit that I was not a great lover of these engines as they were too small for my liking but capable enough for what we had to do. I set about preparing the engine for the job and as soon as I got on the footplate I blew the gauge glass through to check the water level in the boiler as I always did. However, I could not see the level and it appeared that the boiler was filled to the gunnels. This was not unusual as steamraiser 'Geordie' would often fill the boiler levels right up to save him checking the engines again in a hurry and he was on duty that day. I blew the gauge glass two or three times more but was not happy with what I saw so I called Wally up on to the footplate and showed him. After checking a couple of times more we both reached the same conclusion that there was indeed water in the boiler as we could see movement but that the boiler was far too full and there was a danger that the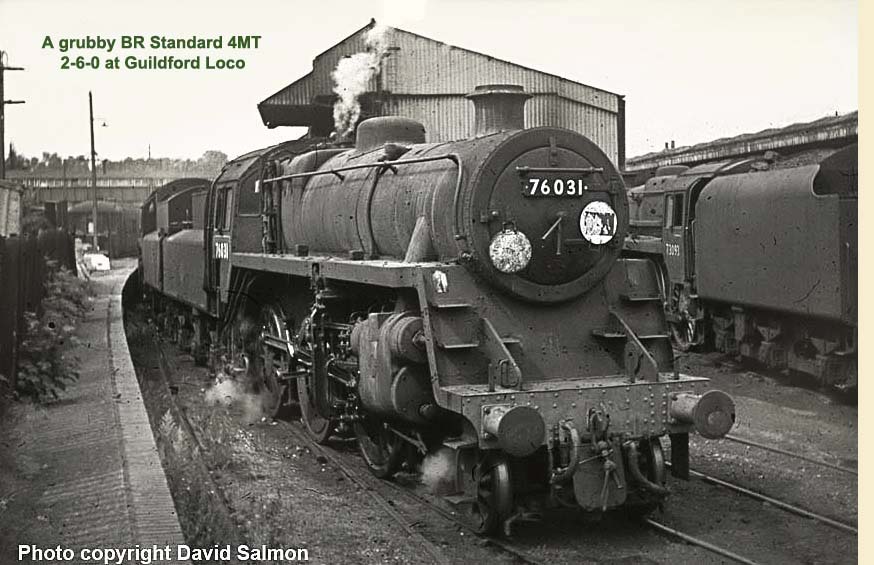 engine may 'prime' under load. Priming occurs when an over full boiler fails to condense water correctly to steam as there is insufficient room for it to do so. Instead of steam driving the cylinders water can be pushed through with the danger that over compression could lead to severe damage although what normally happened was that water would be exhausted out of the chimney cascading everywhere which caused the engine to malfunction. During this time, experiments were being conducted with water softener tablets in the tender to soften hard water to prevent limescale building in the boiler. The problem with that was that it made the engine prime far more easily and often the boiler water levels would be kept lower than normal to avoid this happening. Wally and I therefore agreed that I would keep the boiler pressure down to avoid the safety valves lifting which caused even more problems with an over full boiler and, having only briefly used the injectors to wash the footplate down, we were quickly off shed and back on to our train. We had no delay and departed quickly with me still checking the boiler levels regularly. Steam pressure was fine and we passed through Radipole Halt and on towards Upwey and Broadwey about four miles up the track. We had only gone about half a mile Dorchester side of Upwey Station when there was a huge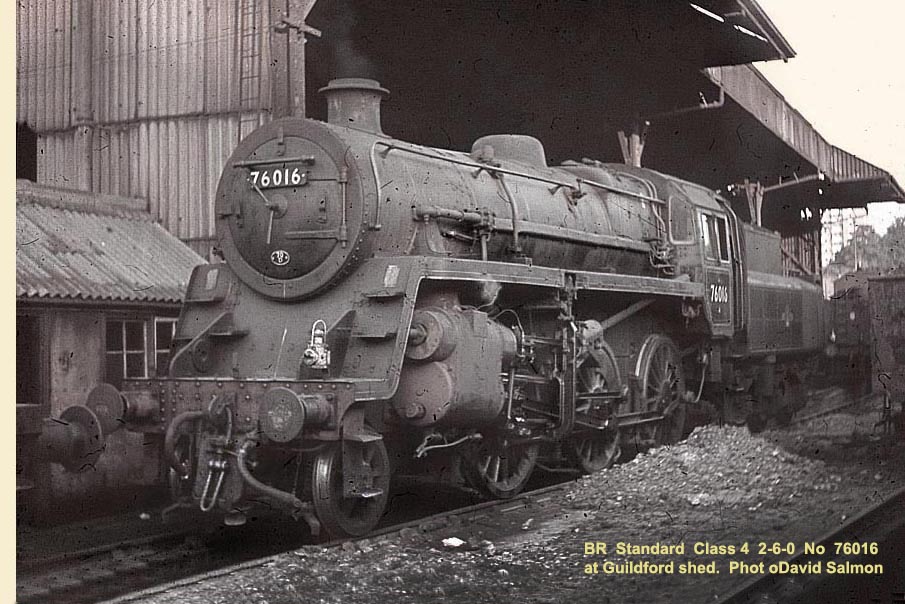 bang and the cab filled with steam. Wally quickly brought the train to a halt and we rapidly realised to our horror that the boiler plug in the firebox had gone. The plug is there for safety and it consisted of a hard metal bolt with the centre drilled out which was filled with a softer metal as a plug. Everything is fine all the time the water levels in the boiler were right but if the water levels fell to a dangerous level the plug would melt to prevent severe damage to the firebox. A 'dropped plug' was a footplate crews worst nightmare and as Wally went back to get assistance I set about dropping the fire out of the engine to prevent any further damage. We were now halfway up Bincombe bank, blocking the mainline and helpless. Eventually an engine came up from Weymouth and we were pulled ignominiously back down to Weymouth with a wrong line order. Disaster upon disaster for me and my mate Wally and we ran over the sequence of events time and time again but could not reach any other conclusion than we had done the right thing.
In the subsequent enquiry we were both exonerated as it was discovered that the top gland of the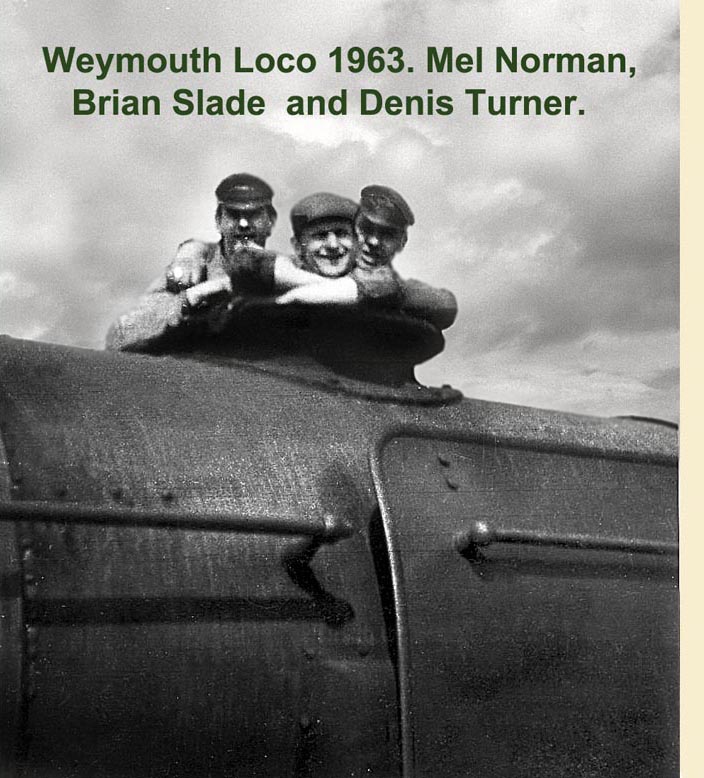 water gauge was blowing through and was giving a wrong reading of the boiler water levels. Relief for us both yes but it did not make me feel any better about the whole sorry incident and to this day I wish it had never happened. It has to be said that the steam raiser's actions needed close scrutiny because for the boiler to have been as low as it apparently was showed that it had not been checked for many hours before we got aboard the engine. However, no further action was taken other than repairing the engine, which, according to records, was withdrawn on the 31st July 1967, and scrapped at Cashmores Yard on 31st January 1968.
Another happier story involves another ex-Dorchester driver, Bill Perkins. A Southern Engineman through and through and a top rate one at that. He was my driver one day on the fast Weymouth/Waterloo, the 5.35pm up. I was still a fairly young hand on the shovel and because I fired a lot on former GWR locos I was still firing right handed. We had a Channel Packet, I forget which one, and as I was getting the fire ready to climb out of Weymouth up the bank he suddenly said, "here mate, get your arse out of my face". It took me aback a bit but I decided, (not at a good time on a fast up), to fire left handed and from then on I never looked back. Bill was a kindly bloke and he did say to me that if I was struggling I could revert but being a stubborn young so and so I never did.
Bill had a falsetto voice and used to sing in the choir for the Casterbridge singers at Dorchester. His regular fireman was Brian Ellis, a big jolly rotund man who Bill used to call 'organ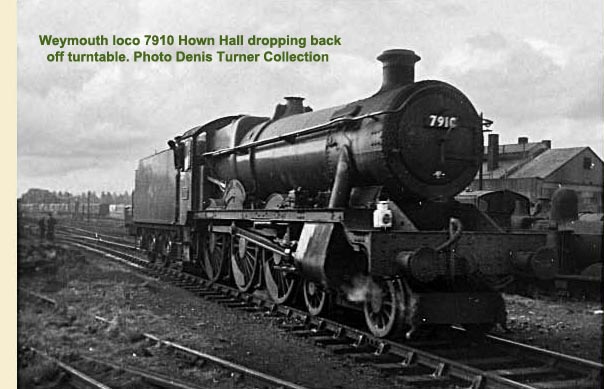 arse' as he reckoned Brian could play tunes out of his backside! Another time I fired to Bill we worked a fast down from Southampton and we had a good trip. Doing my usual I had run the fire down and was settling back as we climbed out of Dorchester and ran into Bincombe Tunnel at the top of Weymouth bank. It was all downhill now so all I had to do was to keep the water level in the boiler down a bit so I could keep the engine quiet in Weymouth Station waiting for the shunter.
Bill unusually kept the steam on all the way through the tunnel and by the time we rocketed out the other end we were heading up to 75 miles and hour. By the time we were halfway down the bank we hit Upwey & Broadway Station close on a 100 miles an hour. We were now about four miles from the buffer blocks at the terminus...
Bill suddenly left the controls and sauntered over to me. I forgot to mention that Bill had a ssstutter... He had a big grin on his face when he shouted, "here mate, d'ddid you s's'ssee that in the papers the other day?"
"What was that then Bill," I said.
"Didn't you s'ssee about the l.....little ssshits who had taken the fffish-plate bolts out of the rrrrails"?, and he slowly sauntered back again still with a broad grin on his chops.
Obviously we did stop the right side of the blocks but I do not ever recall braking so late or at such high speed running into Weymouth before or since.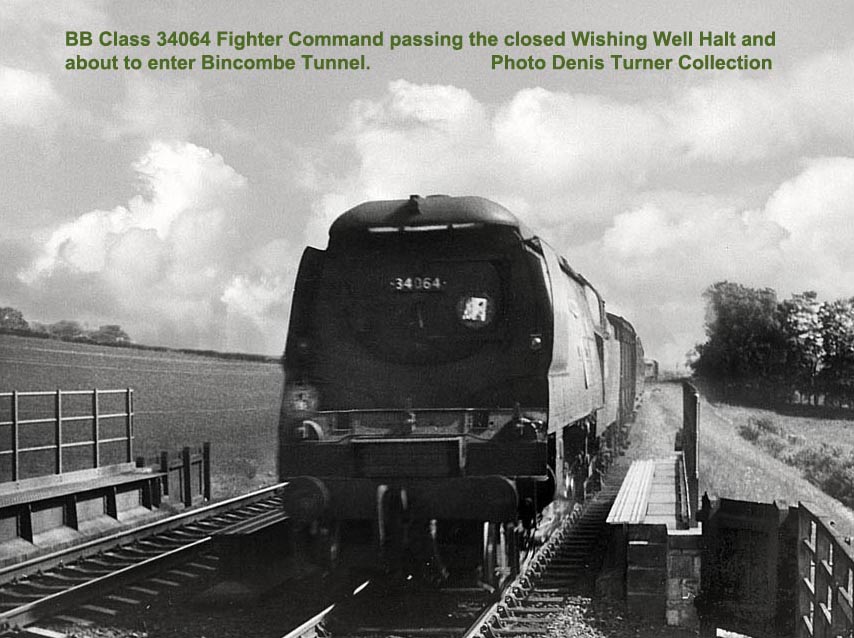 As the 60's drew on it became patently obvious that steam hauled trains were soon to be consigned to the dustbin of history. More and more diesel locos were appearing and more and more steam engines were disappearing. Our sturdy little pannier tanks slowly went to be replaced by Drury diesel shunters in some cases and in other by Ivatt 2MT tanks some of which had been displaced from places like Guildford upon the closure of such branches as the Horsham branch. I recall 41392, 41324, 41296, 41284 arriving and these engines caused some consternation with drivers as although they were perfectly sound engines, they were larger and gave less vision when working them down the tramway to Weymouth Quay as they were also to replace the sturdy little GWR built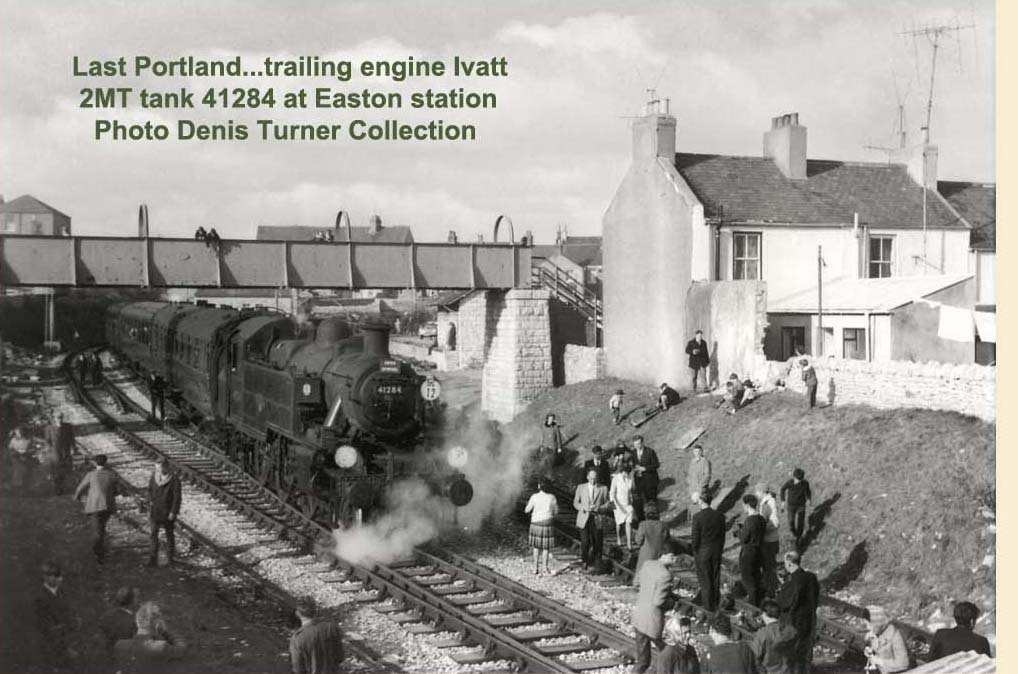 1366 class pannier tanks that had served the line so well. The LDC, (local union reps), was consulted and a ban imposed on the use of those engines on the line. However, after some trials this was reversed and the engines were used without any problem on the route. I came to quite like these little tanks engines as they were roomier on the footplate than the GWR panniers and you were less likely to scrape your knuckles when firing on them. The cabs were comfortable and the engines were free steaming.
By the mid 60s after Beeching branch lines around Weymouth were being closed. The Abbotsbury branch had already gone back in 1959 and the Bridport branch was under threat as was the Swanage branch. Swanage was worked by Bournemouth drivers but Weymouth crews used to go as far as Furzebrooke on the branch to collect the Kimmeridge clay wagons. I have also worked the branch when on loan to Bournemouth as a fireman, and I mustn't forget working the Bournemouth Belle Express when on loan to Bournemouth but only from Bournemouth West to Bournemouth Central!
So it was in 1965 that I found that I was selected together with my driver at the time, Les Moore, (who became a shed foreman at Weymouth), to work the last passenger train across the Portland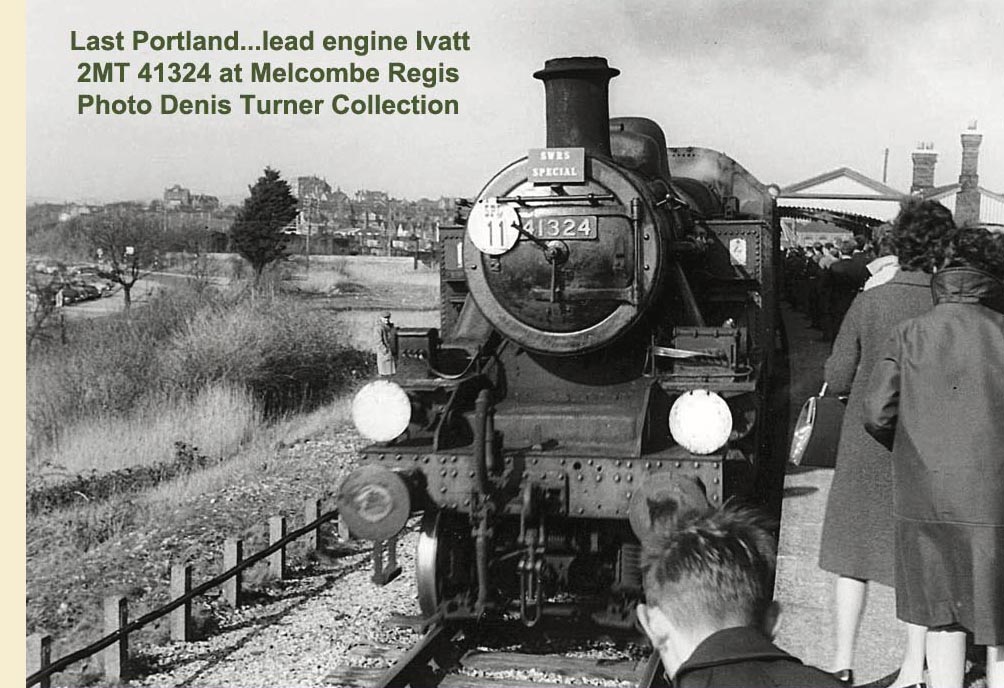 branch before it's closure. Because of the train weight and to avoid run around problems it was decided to have an Ivatt tank at the front of the train and an Ivatt tank coupled at the rear. Our engine was 41324 and the rear end crew being Driver Dave Pointer and fireman Terry Bush worked 41284. The guard was the lovely Fred Hooper, another smiley man with a rackishly angled hat. Three packed trains went across to Portland on that momentous day with crowds all along the track. Make no mistake, this line was a thing of scenic beauty with superb views across Portland Harbour at one stage and as you climbed the steep incline from Portland Square to Easton the views along the Dorset Coastline was breathtaking, (now called the 'Jurassic' Coast). Whoever decided to close this line had no vision, no business acumen and needed locking up. It is now a nature trail and is enjoyed by many people as the beauiful walk it is.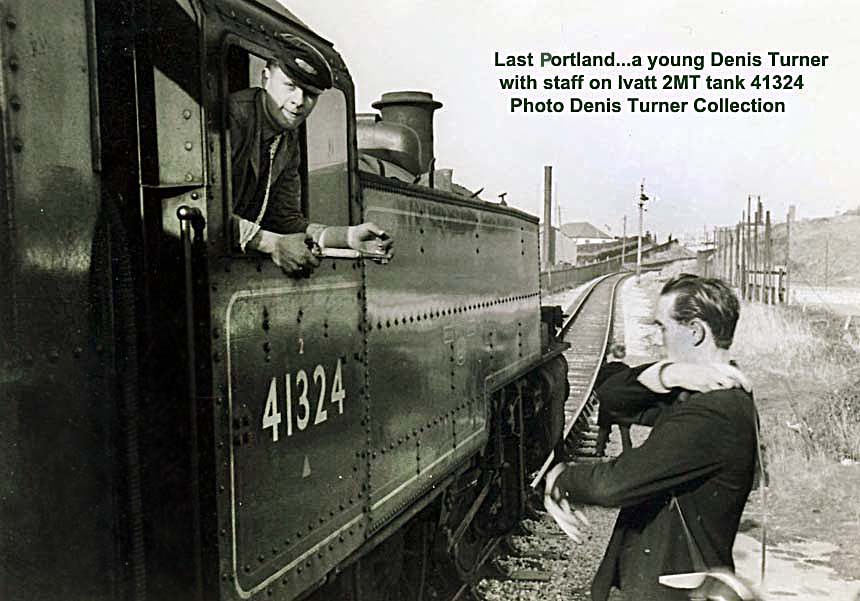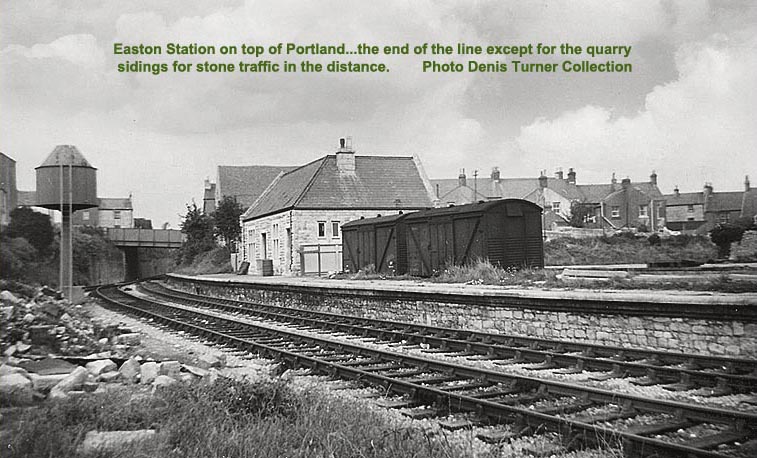 An incident involving a Portland turn I worked on was as follows. Having spent the day on the Portland freight working three or four years before the closure of the branch with my old mate, Ivor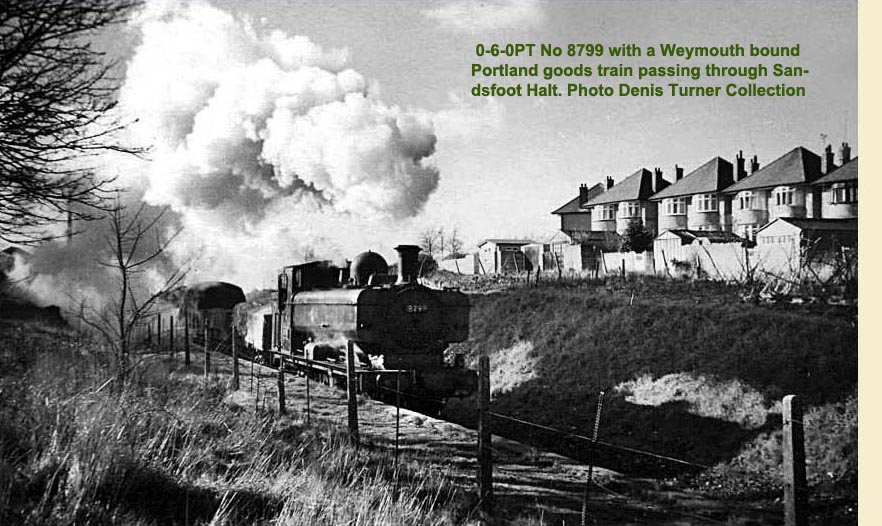 Foote we then worked a number of freight wagons back to Weymouth. The train was a mixture of box wagons and open trucks, these were carrying large lumps of Portland stone freshly hewed. As we pulled up the sidings away from the the Portland branch in readiness to propel the train back into the goods yard, a Drewry diesel shunter being driven by an ex-Dorchester driver, Ernie Batchelor was also pulling a long string of trucks, probably a hundred or more, out of the goods yard. Ernie stopped about the same as we stopped and we were both waiting for the signal to drop back into the good yard. By this time the Drewry shunters were single manned so Ernie had no look out on our side although, of course he could have crossed the cab to see for himself. We got the signal to set back into the goods yard and we started to set back only to realise that Ernie had mistaken the signal as his to set back also. The problem was that I could see that a set of hand points he had gone through were now set towards our train. I leapt off the footplate and rushed towards the points knowing that I would only get one go at it. The points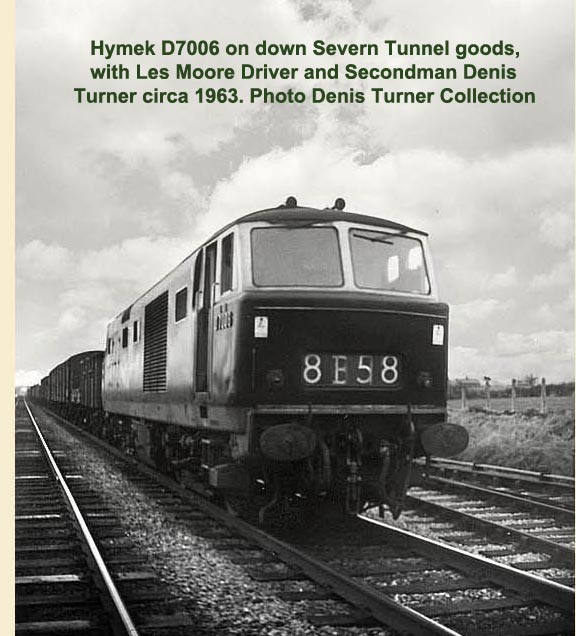 handle was laying on the ground and I prayed that when I pulled the lever the points would change but it was not to be as they failed to change at the first attempt of pulling them. By now the tail end of Ernie's line of wagons were passing me and I did not have time for a second attempt before they slewed across in front of my eyes and hit the middle of our train - BANG! Several wagons were derailed and it caused chaos for some hours as the entrance to the goods yard was now blocked. Had those points changed at the first attempt all would have been well but luck was not on my side.
The mid sixties saw a speeding up in the change in the motive power at Weymouth with increased dieselisation. Hymek haudralic and Brush Type 4 diesels were becoming more and more commonplace and the first time I sat opposite Ivor in comfort on a Brush Type 4 diesel I was blown away by the ease with which it hauled twelve coaches up Bincombe and flew through the tunnel at the top at over 40 miles an hour with a clear view right through the tunnel. It became more common to work a steam engine up to Westbury expecting to work back on steam only to find a Hymek arriving for you to work back home. At first it was a novelty but as time wore on you realised that this was the beginning of the end for steam and also the beginning of the end for a great number of staffing jobs that steam required to function correctly.
Most steam engines were having little expended upon them during the 60's and it was amazing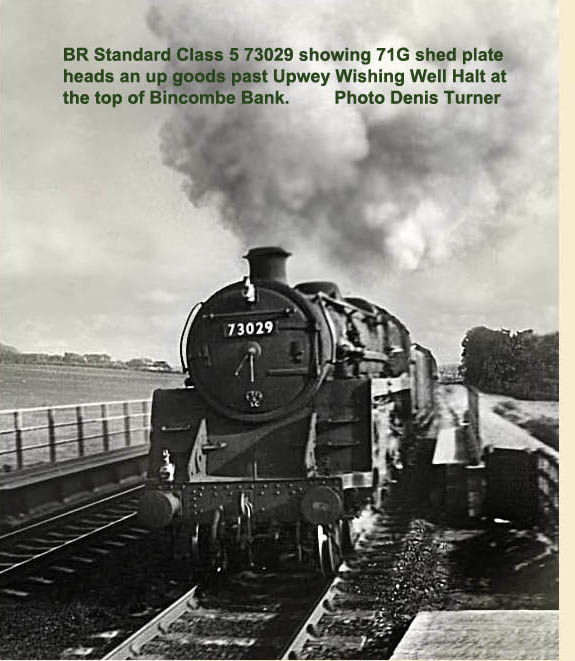 that crews could still get the best out of them most of the time. Swindon works was still trying to send out engines from their shops with as much pride as they could muster and around 1960/1 I clearly recall a Weymouth Standard Class 5, 73029, going away to Swindon for a major refit only to reappear looking like new in a beautiful GWR Brunswick Green colour. The story was that the foreman fitter at Swindon used up some of the last of the old GWR paint on 73029. As the writing was on the wall for Swindon Works it was a last gasp from a great loco works. It was great to see her come back gleaming, like a new engine resplendent in green instead of dull black. One of my favourite '5's' at Weymouth but we were to lose her to Nine Elms before much longer. 73029 was the last Weymouth loco to have such a refit.
One other memory was of working a very fine engine in terrible condition visually. It must have been late in 1964* that my driver at the time, Les Moore and I were booked to work the 0900hrs passenger up from Weymouth to Westbury. On arrival at work expecting to find a Hymek diesel we instead found a Castle class loco 5018 'St Mawes Castle' waiting for us. My joy at the thought of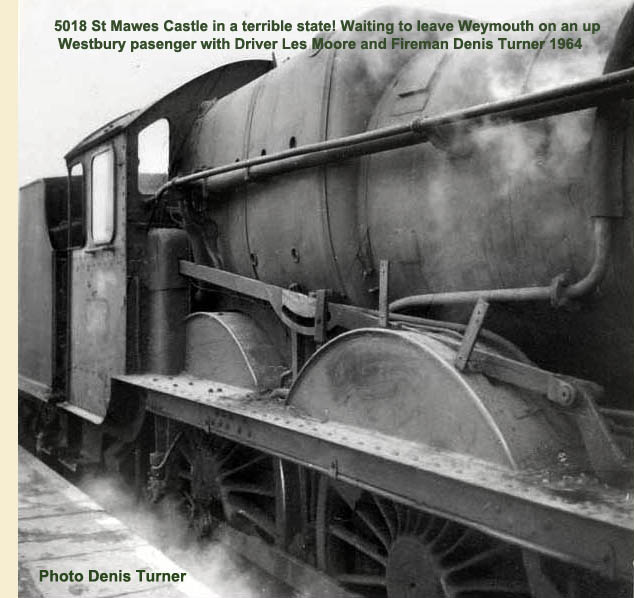 working this engine turned to sadness at the sight of this once magnificent locomotive, which now looked like a rust heap. It had been withdrawn from service with the onslaught of diesel hydraulics but because they were so unreliable hastily withdrawn steam engines occasionally had to be put back into service to cover shortages of locos. Such was the case with 5018. *The records show that this engine was withdrawn in March 1964 and scrapped at Chen's Kettering in December of that year so I am guessing that the official records may not show the fact it was put back in service for a period of time.
In spite of its appearance with rust everywhere, which I tried to improve upon on the footplate by using copious amounts of engine oil, this engine performed magnificently and was such a pleasure to work and ride on. I got off the footplate at Westbury with a mixture of pride and sadness that this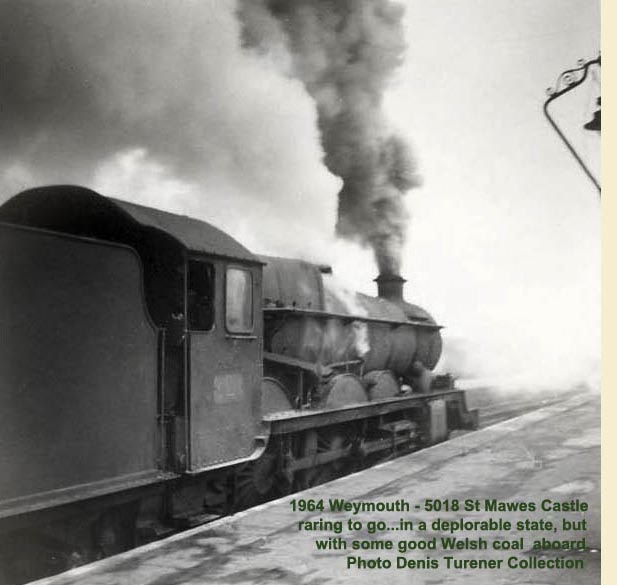 wonderful machine would soon be back on the scrap heap having had only a very short reprieve from its fate.
Another bizarre move by railway management in the early 60's was the decision to completely refurbish the turntable at Weymouth loco sheds. By now the writing was on the wall and why so much was spent on this task I still do not know. The engine crews learnt of the decision and also were told that a fleet of BR Standard Class 4 2-6-4MT tank engines were to be shedded at Weymouth for the duration of the turntable refit, to the best of my knowledge, a period of about six weeks I seem to recall. It was not a popular move but in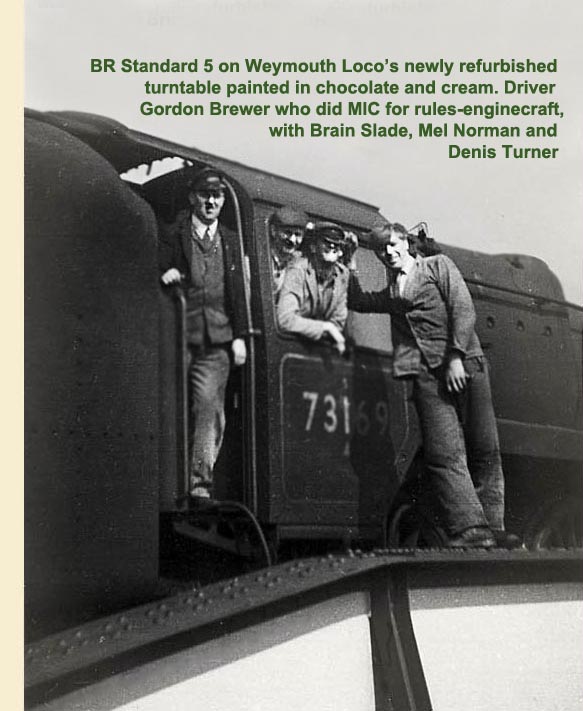 the best traditions of footplate-men everywhere we got on with the job in hand. Whilst I am sure that many would say these tanks engines were fine for the job they were built for it was stretching credibility to expect them to perform on fast trains as well as the larger engines they temporarily replaced. As a result many trains ran late because they were underpowered and lacked the speed required. It was an experience but I cannot say I enjoyed working them on the mainline as they had insufficient coal storage in the bunker, limited room on the footplate and the main problem was that their water capacity was hopeless for the task they were given which meant stopping for water at places you would not normally stop at. So it was that we breathed a sigh of relief when the turntable refit was completed which, for some reason, was handed back for use painted in a glorious GWR 'chocolate and cream' paint finish! I do not know where that turntable ended up but I hope it was not scrapped, as it would have served a preservation line well for it had very little use after its refurbishment as within a few years it was redundant.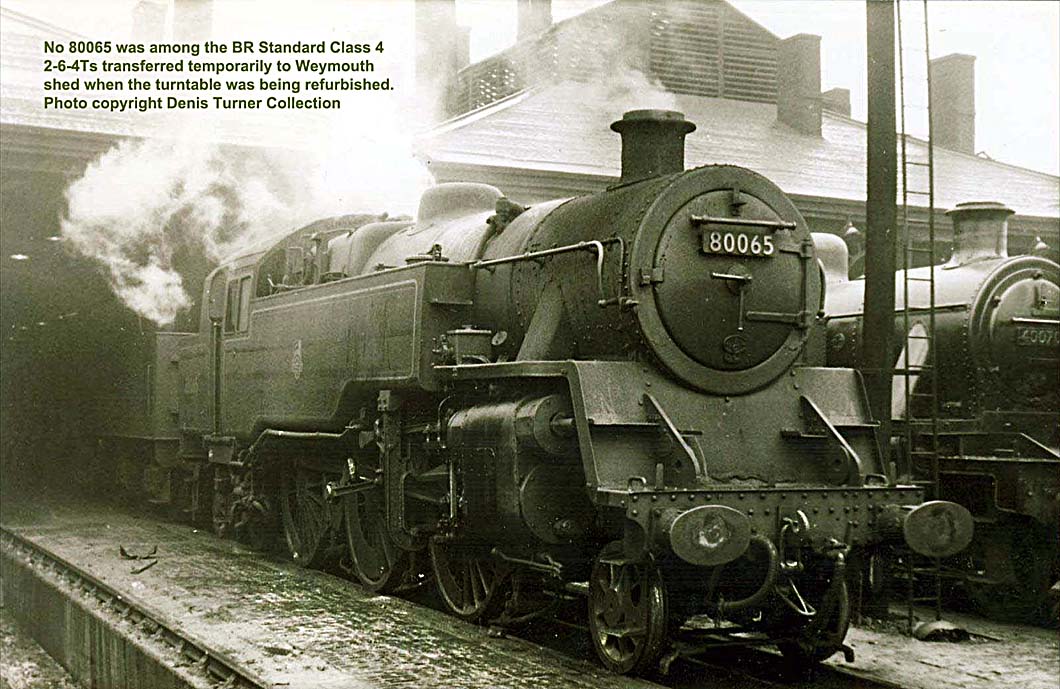 Enthusiasts sensing the end were by now everywhere and any steam hauled train we had we tried to give them a show. By now I was in the passenger link and my driver was Vic Lucas. Vic had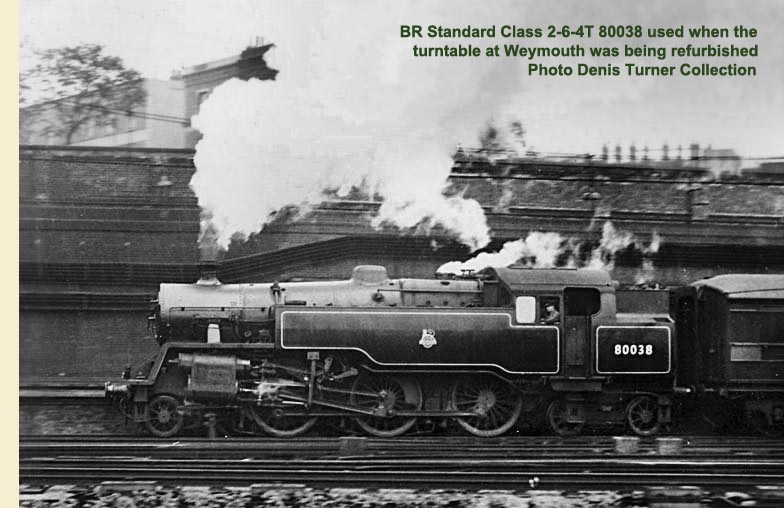 transferred up to London in the late 1950's and had been driving commuter trains in and out of Charing Cross up until he came back to Weymouth on his preference move. Vic was a single man who lived with his Mum and also had a brother, Bob, at Weymouth as a fireman. Bob and Vic were as different as chalk and cheese but both great blokes. Vic was a rotund man who talked very fast and very loudly. He found it impossible to keep clean on steam engines, (or any engine come to that), and he would arrive in spotlessly clean, almost white overalls only to emerge from under the engine after he had finished oiling absolutely filthy! On his back you would see a criss cross of marks where he had leant up against an oily shaft or engine frame that had left the imprint of his string vest showing through his overalls. Vic loved being back on steam and would relish letting an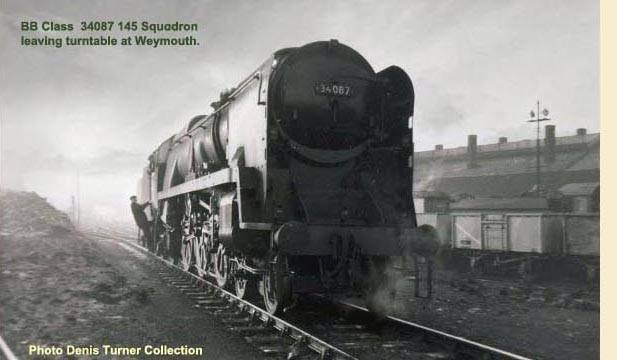 enthusiast have some good sounds if they were leaning out of the forward coach with a tape recorder.
Some very fast runs with Merchant Navy, West Country and Battle of Britain class locos were recorded back then even though they were not in the best of condition as footplate crews were not going to let these fine engines go out with a wimper!
Vic's other party piece was at meal break as he would always open his lunch box and take out a large wedge of bread and cheese that his Mum had made him as as sandwich and then fold it in half and shove it in his mouth, often in one go. That was bad enough but he would then carry on talking so anybody with half a brain would ensure that they did not sit opposite him because he also had a habit of laughing loudly at his own jokes and if he had a mouthful of food at the same time there was a danger you would end up wearing most of his partly chewed sandwich!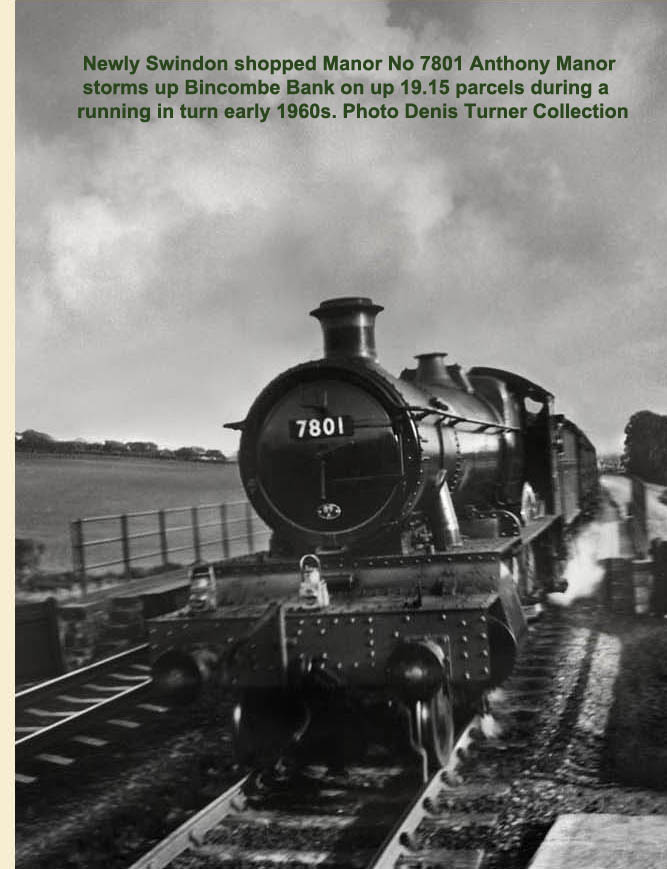 The last day of steam was scheduled for Sunday the 9th July 1967 and as I worked that weekend I was present as the fateful day arrived and watched as one by one steam engines came to the shed, and had their fires dropped never to be lit again, (with a few exceptions). Weymouth loco sidings filled up with dead steam locos where they stayed for months only to be eventually taken away in twos, threes and fours with side rods disconnected and strapped to the running plates to meet their fate in Wales and elsewhere. For most railwaymen it was a very sad time and also a very unsettling one because it became clear more and more men were losing their jobs. All the paraphanelia relating to steam engines were loaded up into open wagons and taken away for scrap. Items that any preservation society today would give their eye teeth for now were then just classed worthless junk. Initially I do not think anybody seriously thought that steam had gone forever but that realisation slowly dawned as over a period of time the loco sheds became empty places with only the ghosts of what was lingering on. It was hurtful to see the destruction of all that commitment and skill of the, mostly, dedicated railway staff and by the end 1968 I knew I had to move on or I would be out of work at the age of 23.
I recall now that sometime around 1960 I wrote to Swindon Works to ask how much it would cost me to purchase a 'Dukedog' number plate from an engine that had been recently scrapped, I believe it was 9017. It was a solid brass plate and somewhere I still have the letter in reply telling me that I could purchase the plate as scrap for the princely sum of 30 shillings plus carriage. I also enquired about the purchase of name plates from withdrawn Castles and other named locomotives and was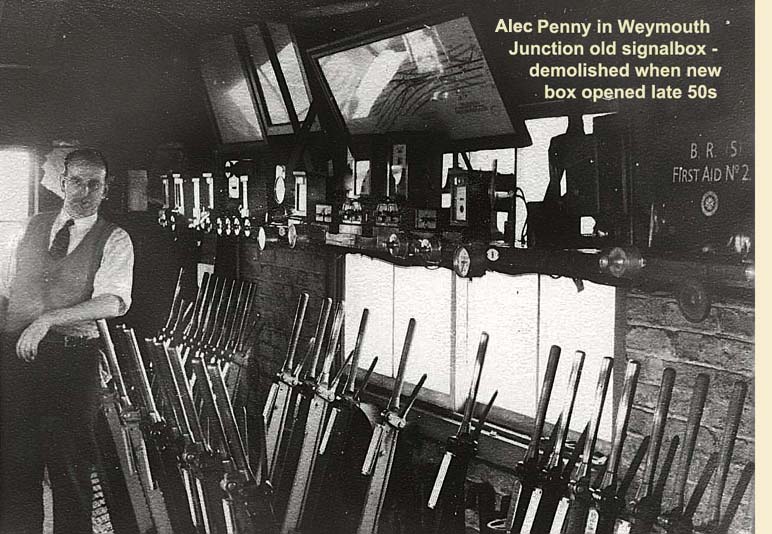 similarly informed that I could buy one for £15 plus carriage. Like many how I wish now that I had bought a couple! I did buy a cast iron cab plate from a former Weymouth mogul, 6344, when it was scrapped plus some other bits and pieces but when I got married and had children money was tight so they got sold to keep the wolf from the door. Looking at railway auction websites on the Internet now such things are exchanging hands for vast sums of money.
But returning to my situation after the withdrawal of steam, so it was then that I, together with three other Weymouth fireman, cousins Dave & Alec Penny plus Dave Squibb, applied for driving jobs in the London area. The father's of both Pennys as well as Dave Squibb's Dad were signalmen, two at Weymouth and one at Dorchester Junction. We all applied for different depots and in different areas of London so it was a great surprise to the four of us when we found out that we had all been offered driving jobs at the same depot, Dorking North! Alec and I were posted to the Western side of Dorking North and Dave, (Penny), and Dave were posted to the South East side but all sharing the same Drivers office.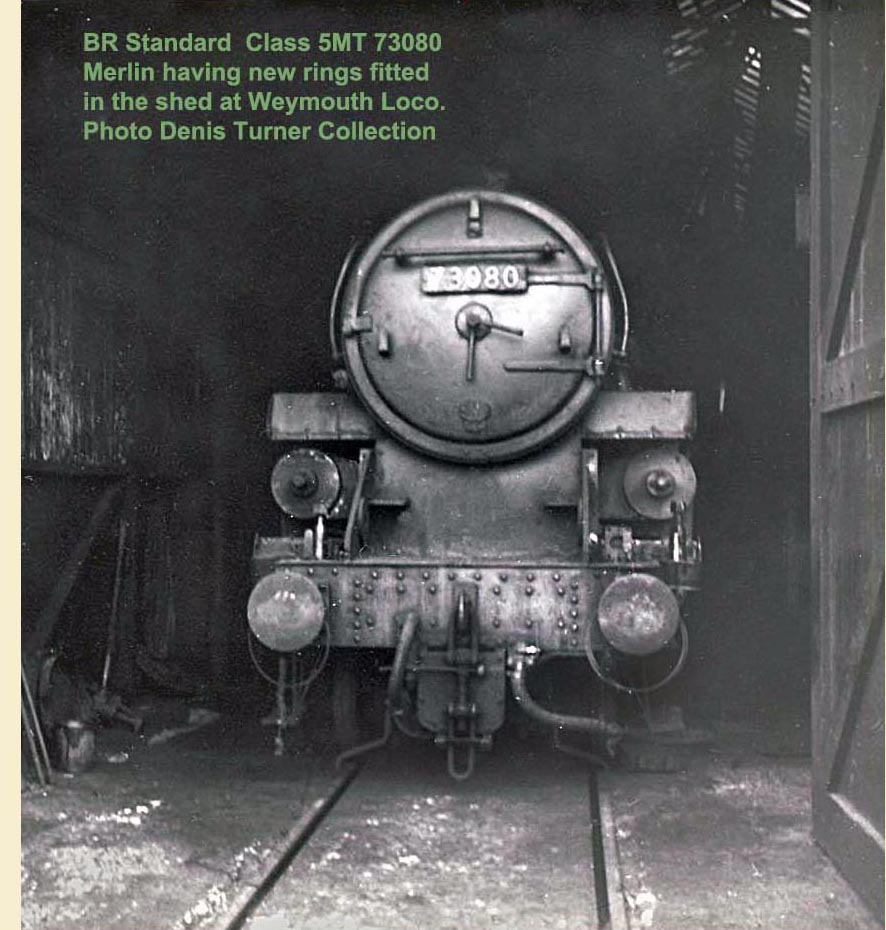 In January 1969 the four of us set off for the 'smoke'. I was the only single person out of the four of us. We left Weymouth on 'The Royal Wessex', 0732 ex Weymouth fast to Waterloo. My old driver, Ivor Foote, came to see me off and said, "you will be back in a couple of years". I reminded Ivor many years later about it and he chuckled and said, "I was wrong". I never did return to my home town to live and as I write this at the end of 2011 almost 42 years later, now living in France, I realise that, apart from spending many holidays there and at one time owning a holiday home in the resort, that moving away was the right thing to do although I have always missed not living next to the sea. Even now, if I hear a seagull I am back in Weymouth in my mind.
But on that January day in 1969 we arrived in Dorking and went across to Redhill to see the shedmaster there as it was his area that Dorking fell under at the time. As we could not find any suitable accommodation, for the first six months or so we all lived in shared caravans on Boxhill during severe winter conditions and we wondered what the hell we were doing there, especially the married lads.
In the meantime we got on with the job of learning the surburban roads and getting to know a host of new railway colleagues who were, apart from the accent, no different to those we had left behind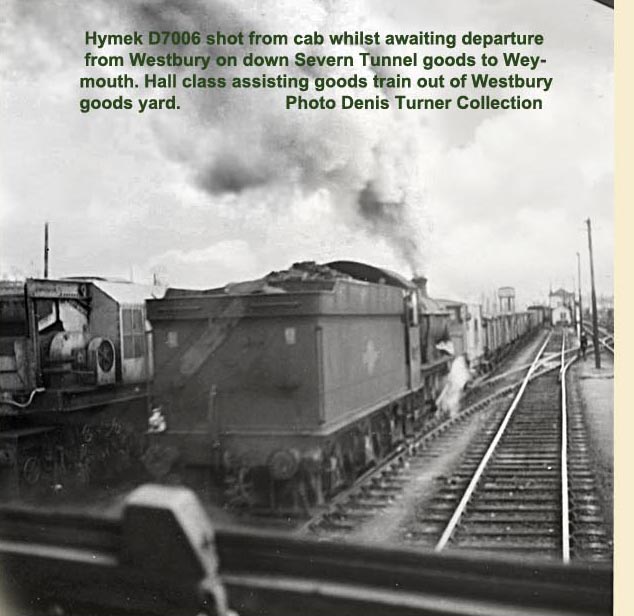 in Dorset. I also attended a course to learn the 'new', (to me), electric traction I would be driving although the stock was hardly new as it had been around since the 1930's. Geoff Burch reminds me that the 'juice' training was held in the Prefab huts at Waterloo South Side which was accessed via 'The Cut'. He also reminded me that one of the Instructors at the time was 'Gentleman Bob' Phillips and I am fairly sure that it was he who took my course also and passed me out for driving.
I spent the next three years driving suburban trains in and around the London area with Waterloo as the main London terminus. So it was then that I experienced both ends of the Waterloo to Weymouth line but in completely different circumstances. Drivers I worked with at Dorking included Nev Weller, Mick Rowswell, Norman Laws, (he who had a window cleaning business part-time and would tell any lady who complained that he had not done the corners of the windows correctly, "I'll do them the next time madam". I should have remembered that many years later when we employed him to do the windows of the police house we came to live in at Dorking!), the inimitable 'Ginger' Bearham and many others.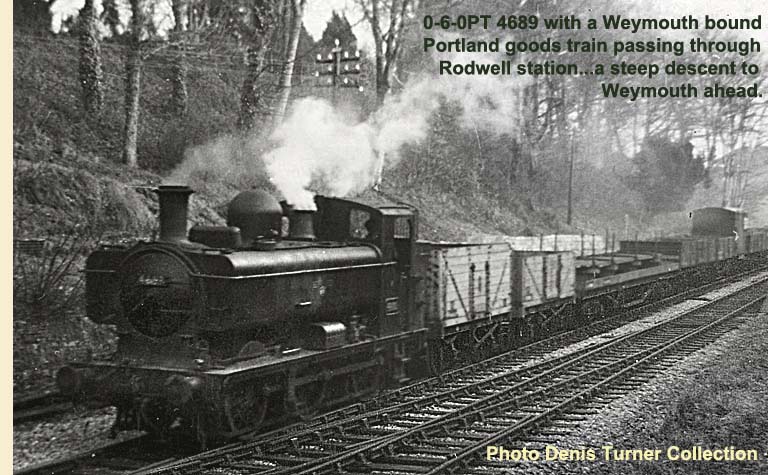 On the whole I enjoyed the job I transferred into but in some respects perhaps I would have been happier had I been posted to one of the mixed traction depots that I had applied for instead of a suburban station as much as I liked Dorking and the Surrey area. The three others I transferred from Dorset with continued their careers on the railways eventually transferring back to Weymouth on their preference moves where they all retired with a full railway service. However, I became unsettled and in 1972 I decided that with steam gone forever it was not the job I joined and I could not see me remaining as a 'motorman' for the remainder of my working life so I resigned and eventually started a new career in the Surrey Police, which I did for the next 30 years instead where, many years after leaving the railway I again got reacquainted with a certain Geoff Burch.
But that, as they say, is another story…

Denis Turner
Lautrec - France
15th November 2011

The above memoirs are my own and how I recall them 50 or more years after the event. I cannot guarantee the accuracy of my memory so any errors are also my own. Writing it has brought back many happy memories of many good people, most of whom have passed on now. There are many good men whose names I have not mentioned here but their names are still imprinted in my memory and live on there.
Likewise the locomotives I worked on together with such men are still alive in my mind. I salute the steam railway preservationists who have saved many of those superb locos that I started my working life on from the torch so that, not only can my children experience the pleasure of steam, so can my grandchildren.
Geoff Burch in asking me to put my memories down unwittingly put me back in touch with a long lost friend who is also a steam fan and in our teens we not only chased young ladies but steam engines across Dorset and beyond. Keith Robertson and I were also motorbike mad and we enjoyed owning Triumph motorbikes that would now grace any historical motorbike collection. In the photo left to right are Norman Gillespie, Denis Turner and Keith Robertson - the passenger's name escapes me now.
As a result of Geoff putting us back in touch I rang and spoke to Keith and a long call of one and a half hours it transpired to be. I discovered that after Keith left Weymouth in 1967 he worked in the music industry and became a road manager for many famous names, not least, Billy Joel, Steely Dan, The Beach Boys, Donna Summer and many others. His work took him to America where he lived in Los Angeles for twenty years. In my collection I have photos of Keith when him and I used to chase steam in the 60's including pictures of him calling in to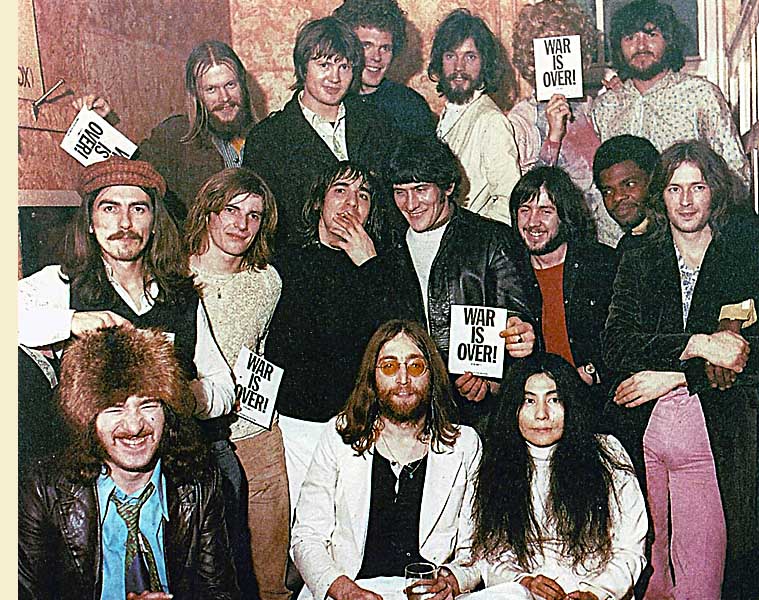 Weymouth Loco when I was at work. It transpired that he also had similar pictures of me some of which are included in the gallery below.
One particular photo of interest that Keith sent me was of him with a host of stars of the rock industry including John Lennon with Yoko Ono when the Plastic Ono band had performed at the Lyceum Theatre in London for UNICEF in December 1969. So many great names that included Eric Clapton, George Harrison, Billy Preston and others (Keith can be seen in the middle row third from the right).
For me, after Keith and I went our own ways, as I mentioned in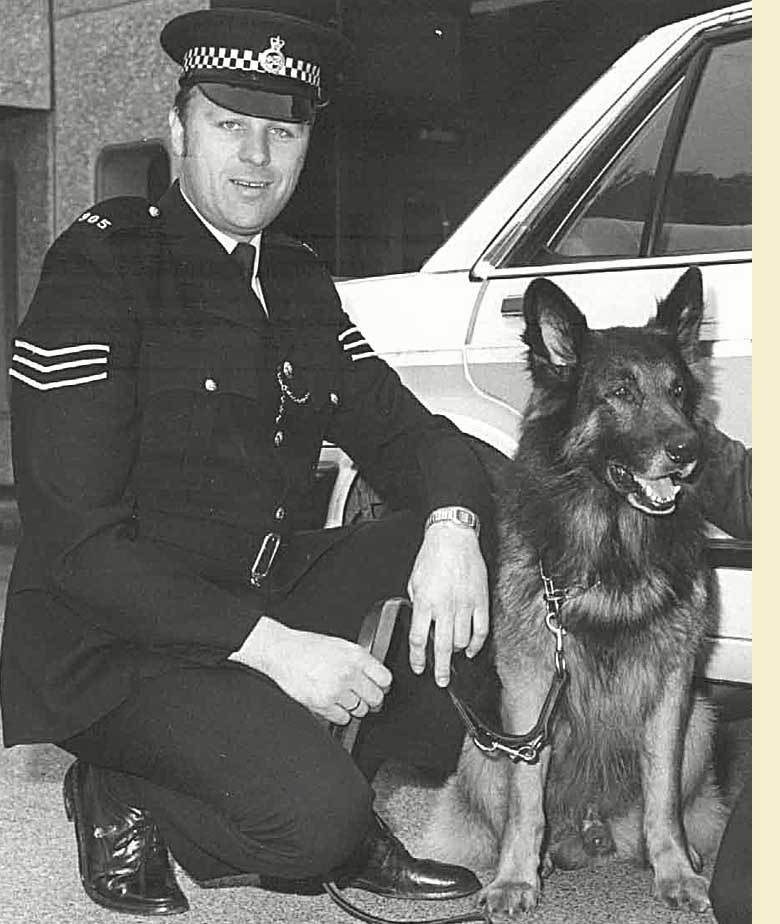 my closing, I left the railway industry and eventually joined the Surrey Constabulary, (later Police), where I spent most of my service indulging in another passion of mine, dogs. The photo left shows me with Police Dog Magnum in about 1984 and was taken as a result of a young lad, (out of view), wishing to be reunited with Magnum after the dog had found him missing from home.
Happy days recalled but in closing I would like to thank David Hey sincerely for the excellent work he has done in putting this page together, which I hope enhances and does not detract from the rest of his excellent site. I have read many of the other pages on this site and not only has it brought alive a bygone time it has done so in an interesting and worthwhile way so well done David and thank you once again.




Geoff Burch's contact details can be found HERE.
Polite notice: All text and photographs are protected by copyright and reproduction is prohibited without the prior consent of the © owners. If you wish to discuss using the contents of this page the email address is below. Please note - this is not a 'clickable' mail-to link via Outlook Express. You will have to email manually.
dheycollection@ntlworld.com