EDITED BY DAVID HEY & GEOFF BURCH

After the end of World War II the Government set about nationalising the 'Big Four' railway companies in the 1947 Transport Act. A total of 20,211 locomotives were taken into State ownership consisting of: 3,856 from the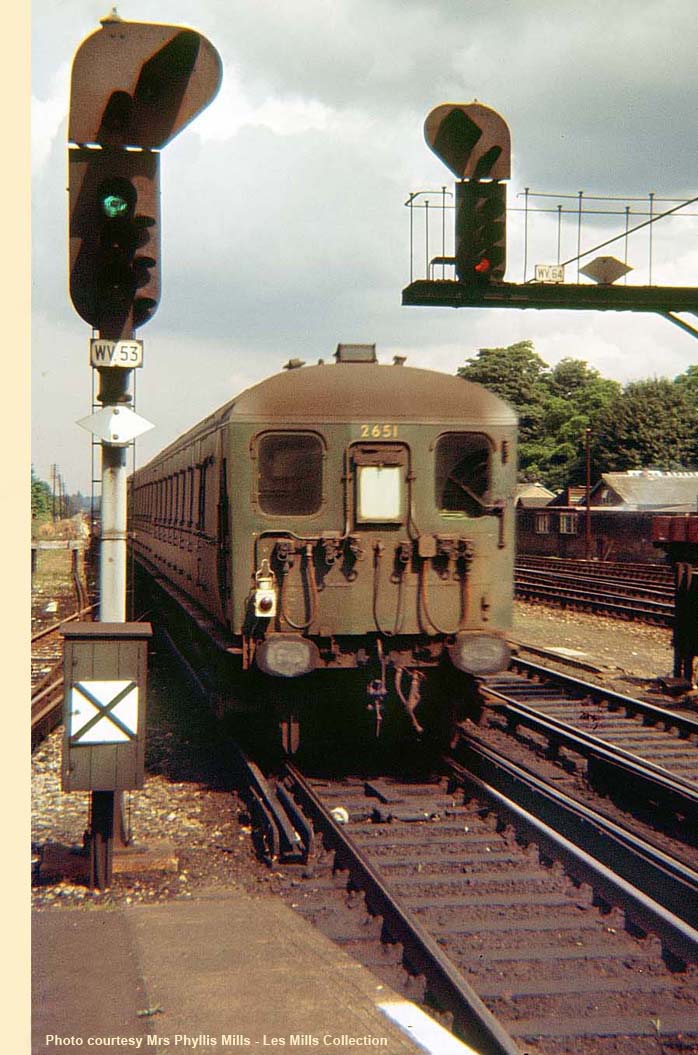 GWR, 6,525 from the LNER, 7,805 from the LMSR, and a relatively few (1,838) from the Southern Railway which was operated largely by third rail DC electrification. The rest was made up of service engines and Departmental locomotives.
The Southern Region was one of six new geographical and administrative Regions formed, its boundaries corresponding very closely to that of the former Southern Railway. This covered an area of south London, southern England and the south coast, including the busy commuter belt areas of Kent, Sussex and Surrey. The Region also served Hampshire, the Isle of Wight, parts of Dorset, Wiltshire and Berkshire and even as far as Devon and north eastern Cornwall, which became known colloquially as 'The Withered Arm'.
However, due to the changes in Regional borders over the ensuing years, it is meaningless to classify any particular class of locomotive as belonging to a single Region, since many engines (from an operational standpoint) could be found working well beyond their arbitrary Regions, and it was not unusual to find the ex-LMS Ivatt 2-6-2Ts working alongside the more traditional ex-SR engines at places like Weymouth, situated well outside the London Midland Region where the Ivatt tanks were initially allocated; indeed out of the three enthusiasts raitours organised on March 27th 1965, Ivatt tanks were employed on two on the Southern Region: Nos 41206 and 41291 worked the RCTS's 'Exmoor Ranger' between Barnstaple- Ilfracombe, and Nos 41324 and 41284 hauled the South-West Railway Society's 'Last Passenger Train Weymouth-Easton' over the Portland Branch, which is featured below...

(Above Right) A stopping train comprised of a two car unit (2-HAL) 2651 leaves platform 2 at Woking for Waterloo, its next stop West Byfleet. Still in use on the left of the photo is Woking station's Up Bay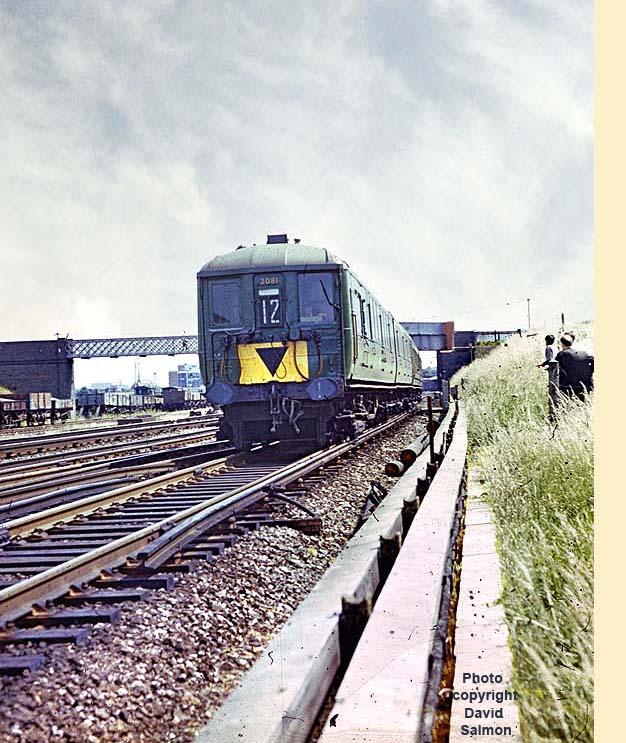 (platform 1). The train has just passed signal WV53 (WV being the prefix for Woking signalbox) bearing a white diamond sign; this means the signal is 'track-circuited' and Rule 55 (detention of trains on running lines) would not have to be carried out unless detained for an unusually long period (ten minutes). The box with the black cross on a white background housed a telephone which could be used for this purpose and connects directly to the signalbox.

(Left-Below) The first of these elderly EMUs (headed by 2 BIL 2081) have just left Woking passing under 'Twin Bridges' heading for Brookwood, Ash Vale and Aldershot. The 2-BIL units (2-car Bi-Lavatory stock) were so-called because each set had two lavatories, one in each car. They were built at Eastleigh in four batches, each for service on newly-electrified lines and had two English Electric traction motors of 275 hp (205 kW) each. The black inverted triangle painted on the front of the Driving Motor Brake vehicles of SR 2-car & 3-car multiple units was for the assistance of station porters to afford an early identification that there was no luggage accommodation at the other end of the unit. (Below) Approaching Woking from the opposite direction.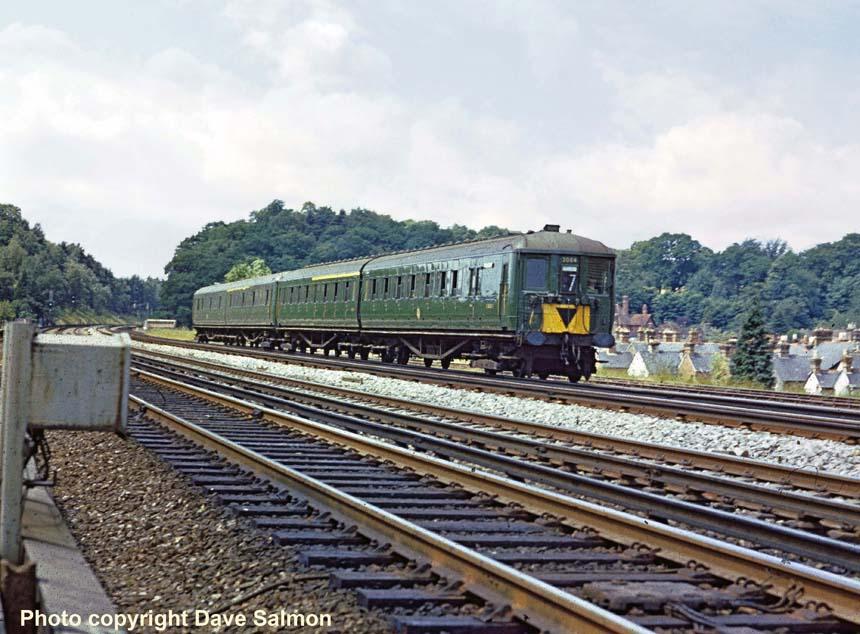 THE PORTLAND BRANCH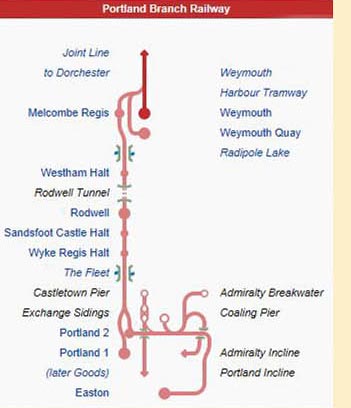 The Portland branch was closed to passenger traffic in 1952, but remained open for goods traffic until 1965. The branch is already covered on the previous page by Denis Turner, who was privileged to be among the enginemen to work the last passenger train over the branch that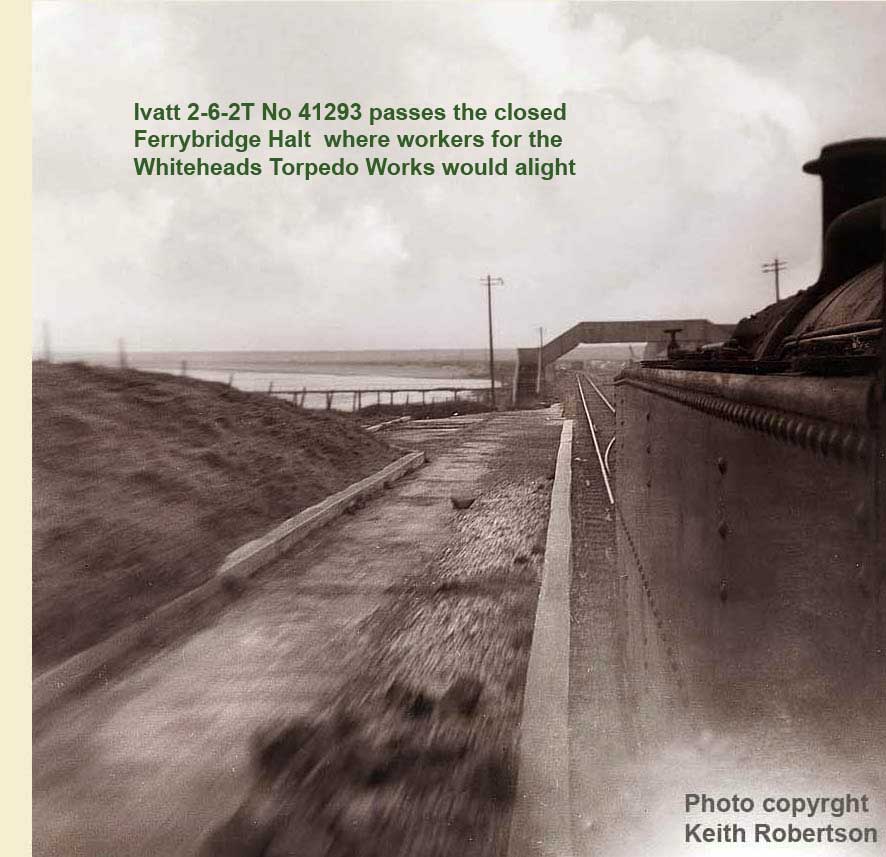 sad day, but since finishing Denis's page I have received several excellent pictures from Keith Robertson of that lovely little seaside line and it would be a shame not to include them here.
The Portland branch ran from Weymouth Junction via Melcombe Regis, Rodwell, Sandsfoot Halt, Ferrybridge Halt to Portland Square, and eventually climbed up around the side of Portland to Easton Station.
Denis Turner was selected together with his driver at the time, Les Moore, (who later became a shed foreman at Weymouth) to work the last passenger train across the Portland branch before its full closure. Because of the train weight and to avoid run around problems it was decided to have an Ivatt tank at the front of the train and an Ivatt tank coupled at the rear. Denis's engine was 41324 and the rear end engine No 41284 was worked by Driver Dave Pointer and fireman Terry Bush. The guard was Fred Hooper.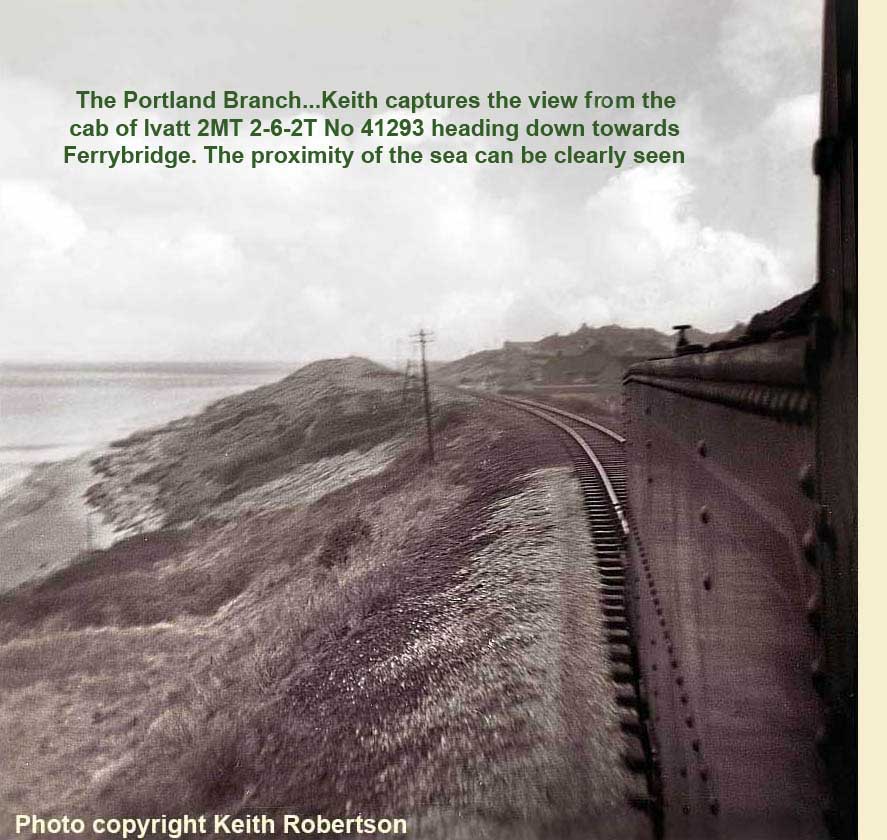 Three packed trains made three round trips - Saturday morning, lunchtime and afternoon - across to Portland on that momentous day with crowds all along the track. Make no mistake, this line was a thing of scenic beauty with superb views across Portland Harbour and as you climbed the steep incline from Portland Square to Easton the views along Dorset's 'Jurassic' coastline were breathtaking.
Denis comments - 'Whoever decided to close this line had no vision, no business acumen and needed locking up.' Indeed the branch was one of the most scenic coastal lines in the south of England and had it only survived then there is no doubt that it would have become one of the most spectacular tourist attractions on Dorset's World Heritage Jurassic Coast.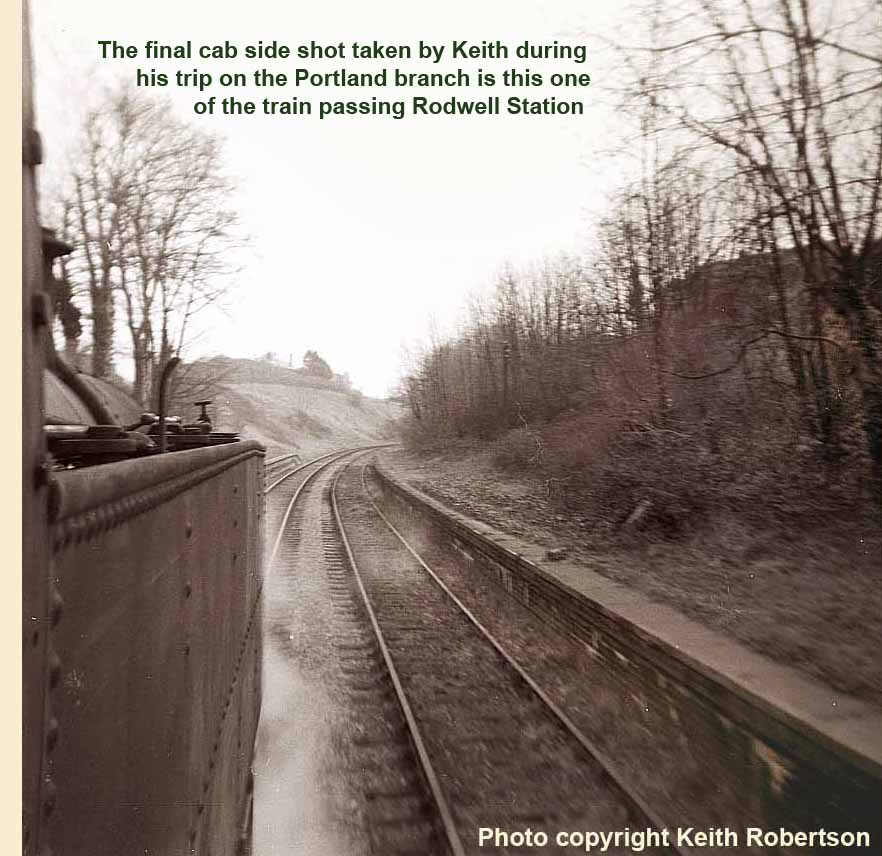 As this gallery of pictures show, Keith Robertson managed to 'hitch' himself a ride on the footplate of Ivatt tank No 41293 on one of the last freight services over the line. His final cabside shot (right) of 41293 shows the train passing through abandoned platforms at Rodwell Station…and the first shot (below) shows the last special passenger train from the same platform at the top of the bank out of Weymouth. Fireman Denis Turner can be seen leaning out of the side of the cab. The remaining shots show both Ivatt 2-6-2 tanks 41324 and 41284 working hard at various locations along the branch. The engine crew that day were Driver Les Moore with Fireman Denis Turner, along with Driver Dave Pointer and Fireman Terry Bush...teamwork at its best!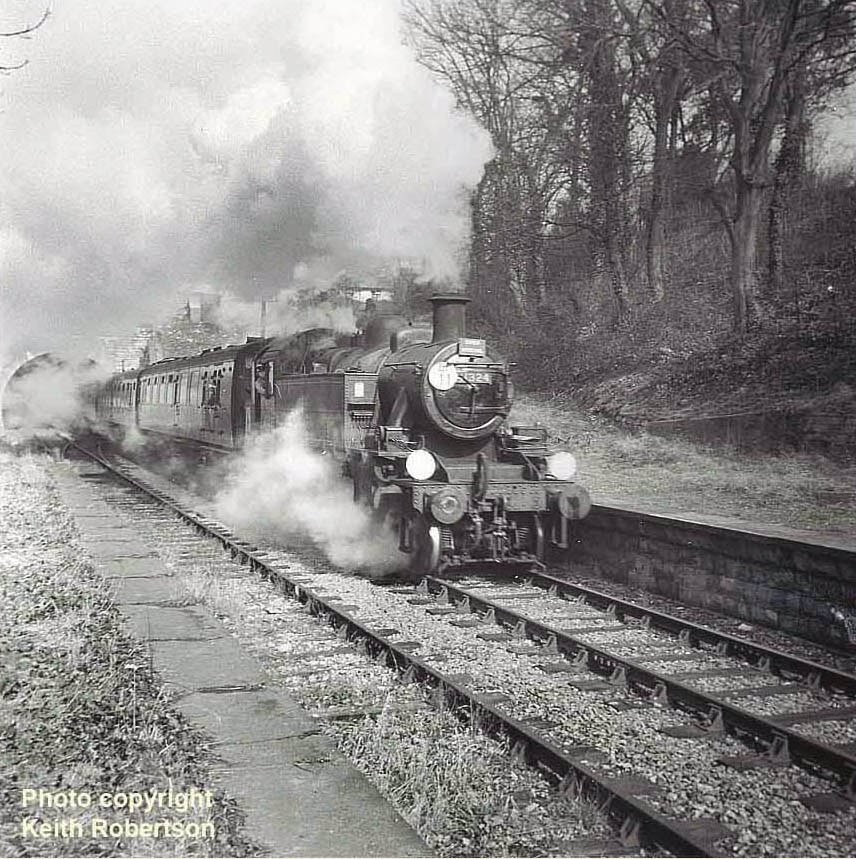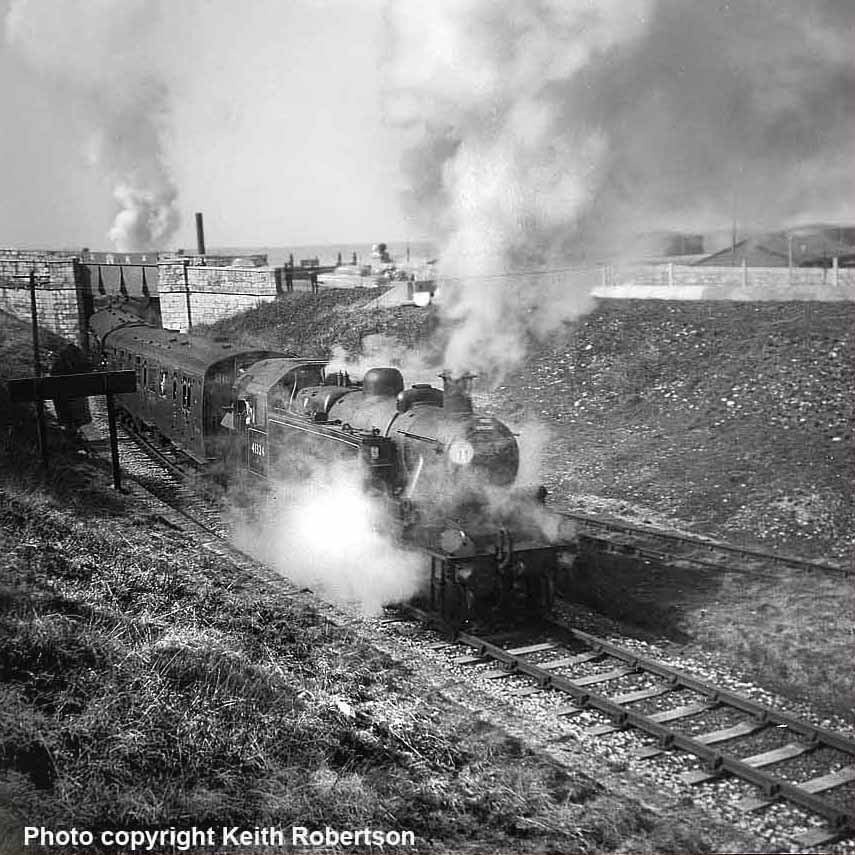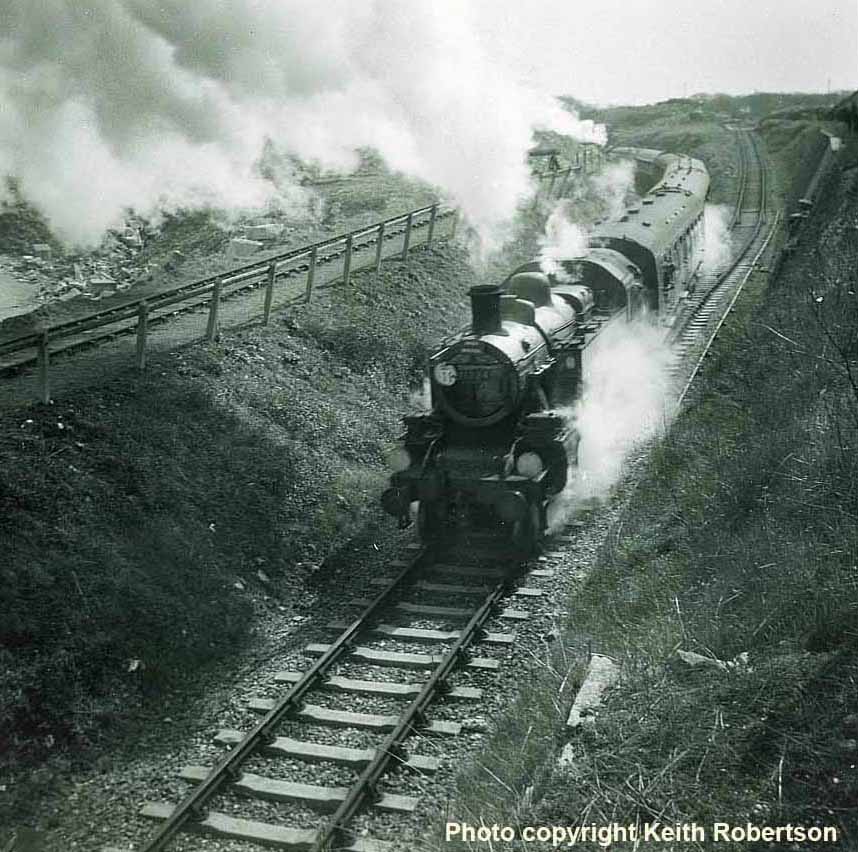 THE WEYMOUTH HARBOUR TRAMWAY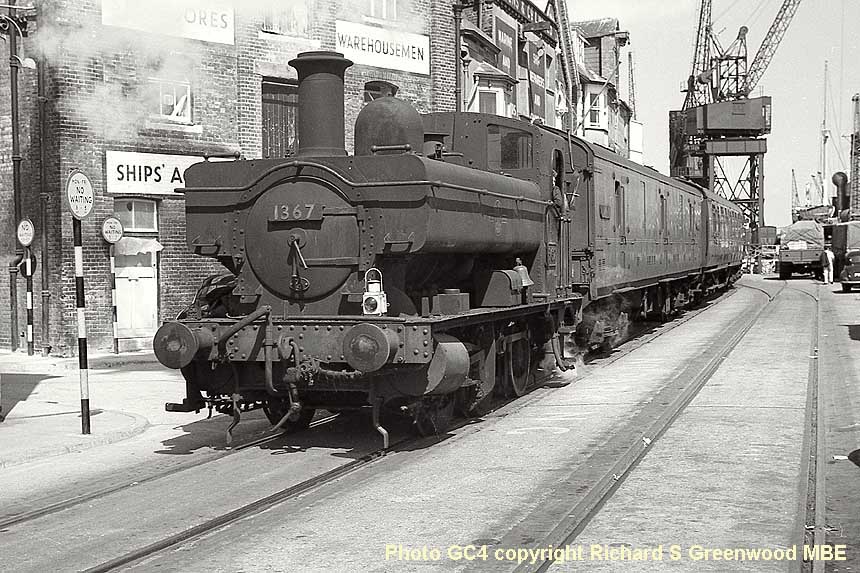 (Above-Below) Staying on the Dorset coast, mention must be made of the Weymouth Harbour Tramway which ran from a junction just north of Weymouth main line railway station through the streets adjacent to the Backwater and the harbour of Weymouth to the station at Weymouth Quay. Opened in October 1865, the tramway was owned by the Weymouth & Portland Railway and later worked by the Great Western Railway, the first goods traffic being horse-drawn. A little over ten years later, the bulk of goods increased in frequency hence a decision was made to carry out trials with a steam locomotive in March 1878, but regular steam operation did not commence for another two years. The line was operated by various locos belonging to the pre-Grouping railway companies making up the GWR; the first GWR loco to work the line being Collett's 0-6-0 pannier tank No 1367. Still going strong No 1367 was photographed on 30th July 1961. (Below) Running a standard gauge railway locomotive along a public road gave rise to a different set of rules, not least of which was the requirement for railway staff (the shunters) to precede the train at walking pace with an array of warning devices: waving a red flag, blowing a whistle, ringing a hand bell or swinging a lamp at night. In later years the locos were fitted with a warning bell which the fireman rang continuously as they moved along the road. This can be seen beneath the nearside tank in front of the cab of 1358, in addition to which a warning sign has been mounted above the buffer beam...see Denis Turner's comments below.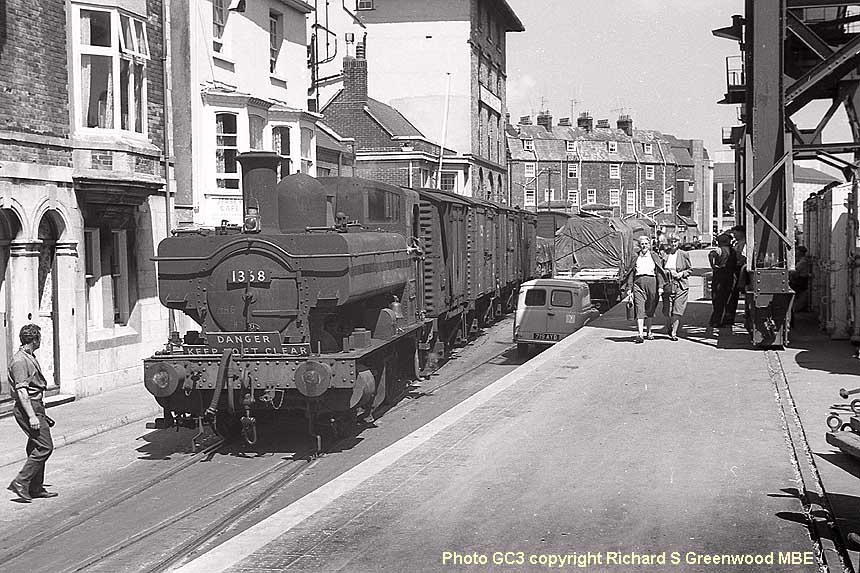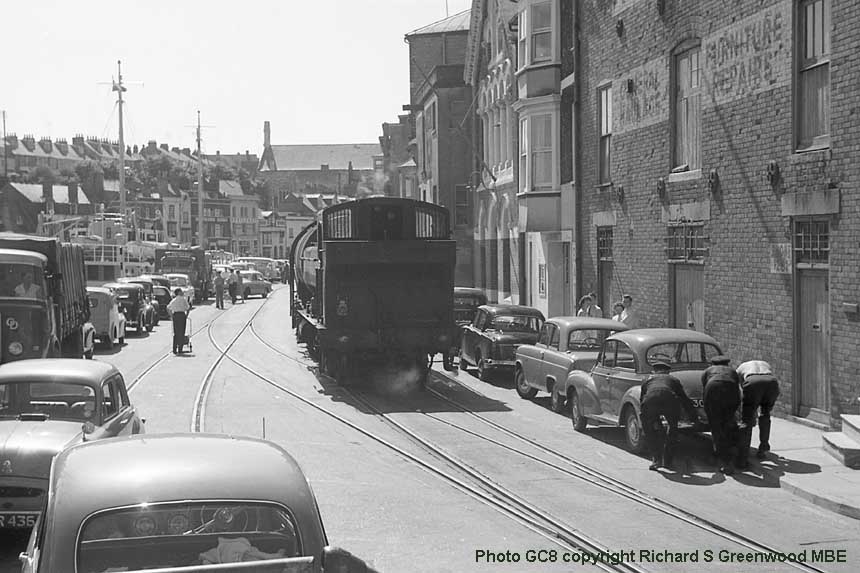 (Above-Below) After passenger station facilities were completed on the quayside, the first passenger rail link to the Channel Island ferry service began in 1889; this was operated by the GWR which had taken control of shipping operations. Then as freight traffic grew additional sidings and loops were installed; the station eventually increasing from a single track to a double track and later three roads. Fast-forward to nationalisation in 1948, and the old Weymouth Harbour Railway came under the auspices of the Western Region, then followinga shift in Regional boundaries in 1958 Weymouth became part of the Southern Region and the boat trains from Paddington were relocated to the SR's Waterloo station. Fast-forward again to 1987 and the end of a regular passenger boat train service was announced, by which time there was only one train per day which ran empty to Weymouth Quay and conveyed passengers to Waterloo. After regular goods traffic ceased in 1972 fuel oil continued to be transported to a facility at the pier until 1983 and the station was occasionally used for special trains, the last being a Pathfinder Railtour hauled by two Class 73 electro-diesels in May 1999.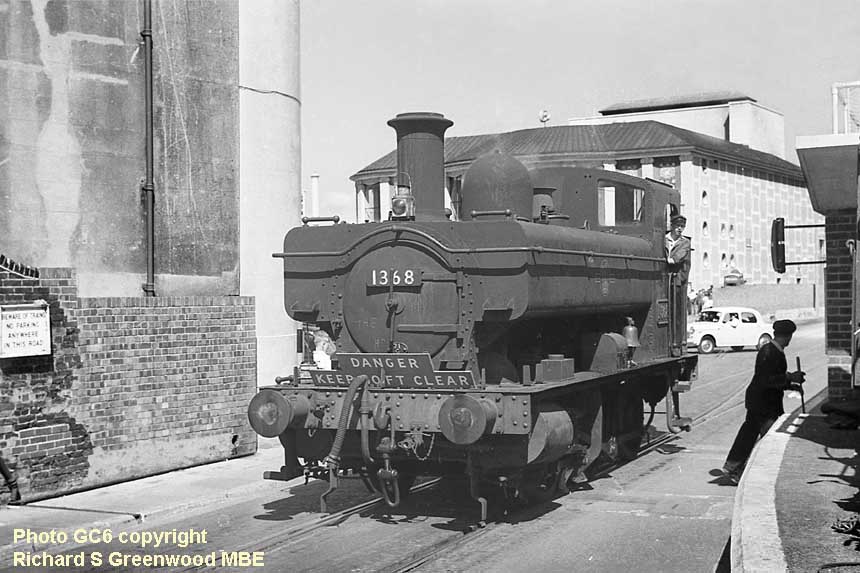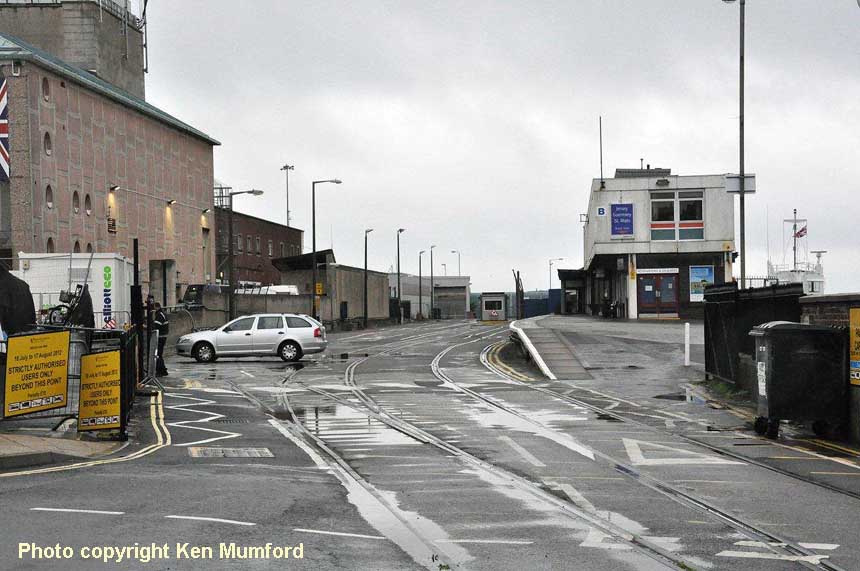 (Above-Below) Today the line remains part of the rail network, although the station buildings are now used as offices by Condor Ferries. These shots by Ken Mumford, Editor of Abergavenny & District Steam Railway Society's magazine 'Coal Tank', show the tramway in remarkably good condition, and despite some sections of rail being buried beneath tarmac the line could in theory be used again, however in January 2009 Weymouth and Portland Borough Council expressed a wish to remove the tramway, and since Network Rail had no wish for its retention the council agreed to purchase the line from Network Rail for £50,000, prior to a final decision on its future...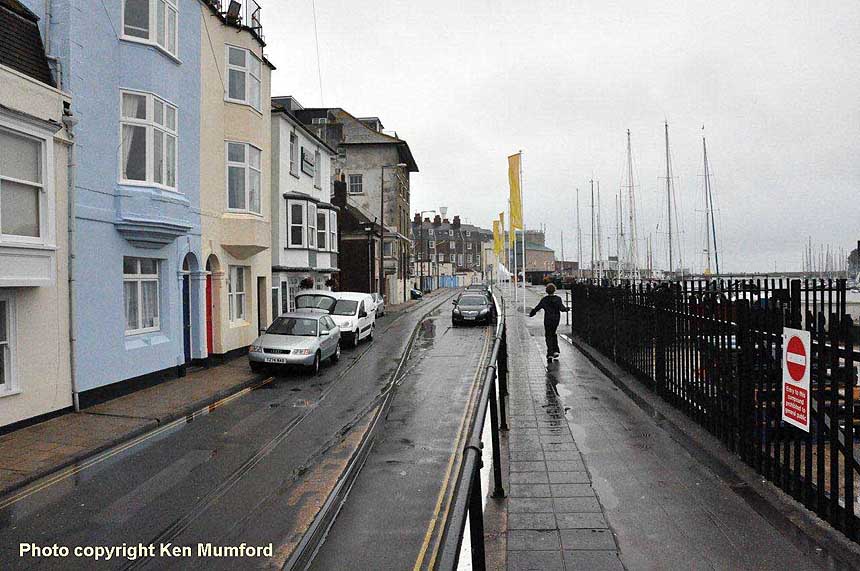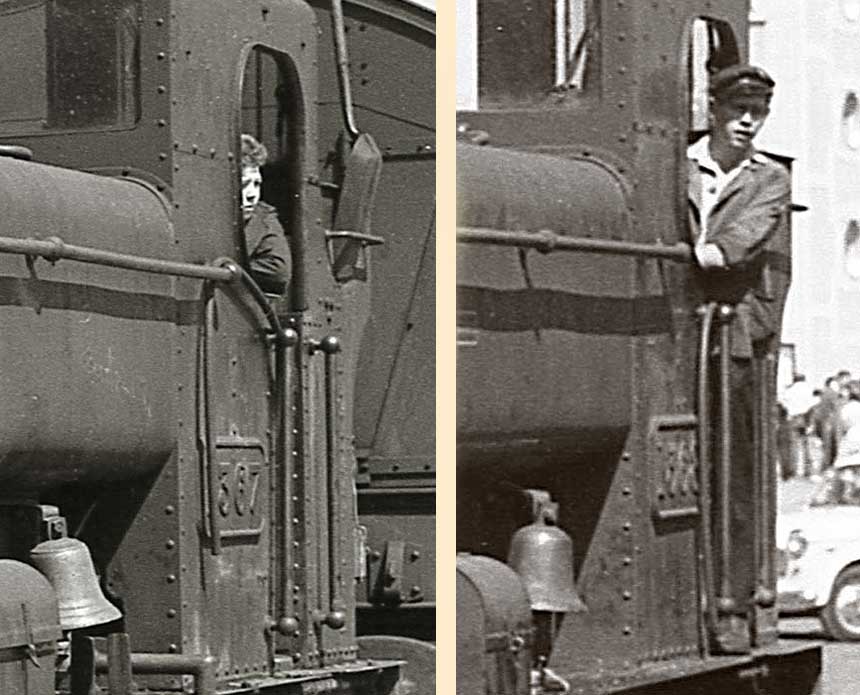 (Above-Below) Former Weymouth engineman, Denis Turner, (see Denis's memories on the previous page) kindly adds his comments to these sections from Richard's shots - 'The above photos show a young looking Jim 'Tommy' Greening (left) looking out for movements along the quay; his father's name was probably 'Tommy' and as in most cases on the railway, the Father's name seemed to be handed down to their son even if it wasn't their proper forename. On the right Fireman Dave 'Tommy' Steele' is waiting for the shunter to operate the points before giving his Driver the tip to move Pannier Tank 1368. (Below) A Morris Minor is parked foul to gauge and the shunters are 'bumping' the vehicle out of the way of the loco. This was a regular occurrence on the line and I have been up and down the cab many a time to give them a hand...no H & S then to worry about!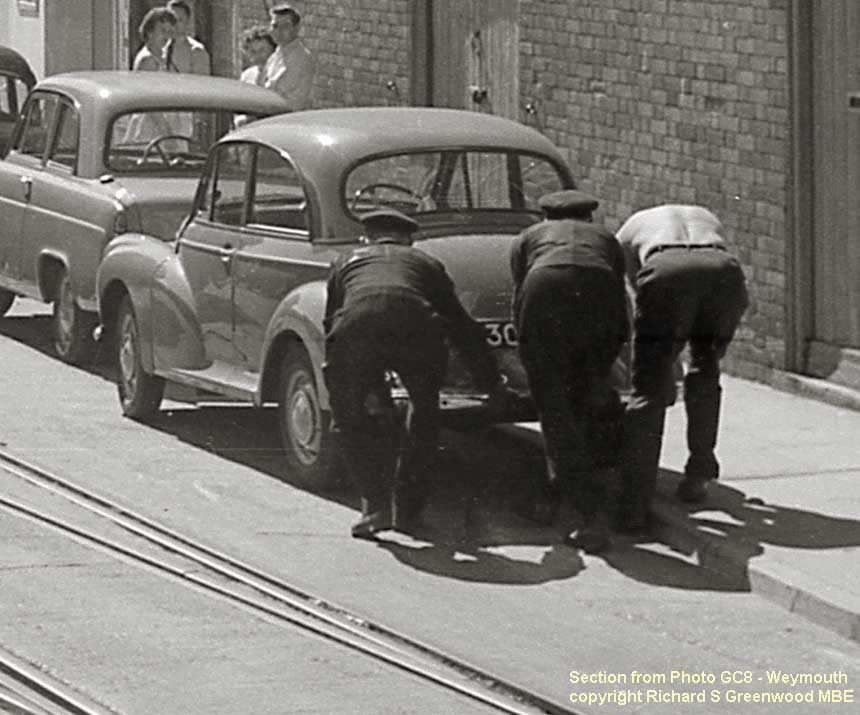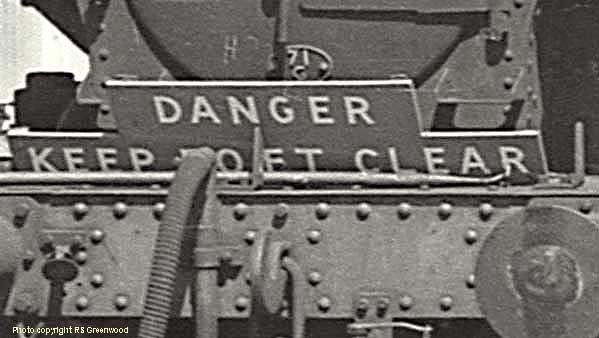 (Above) The 'Danger - Keep 50 feet Clear' board on the front of the loco had recently been introduced as a result of cars getting too close to the rear of a string of loose coupled goods wagons rebounded into them if the loco Driver came to a sudden halt (usually as a result of a motorist either flying round the corner or leaving a car across the tracks). The board was hung on the hook of the last wagon on the way down to the quay or back to the town station. It still didn't seem to stop them getting too close though! (Below) We take our leave of Weymouth Quayside with this superb colour shot of Collett's 0-6-0 pannier tank No 1367.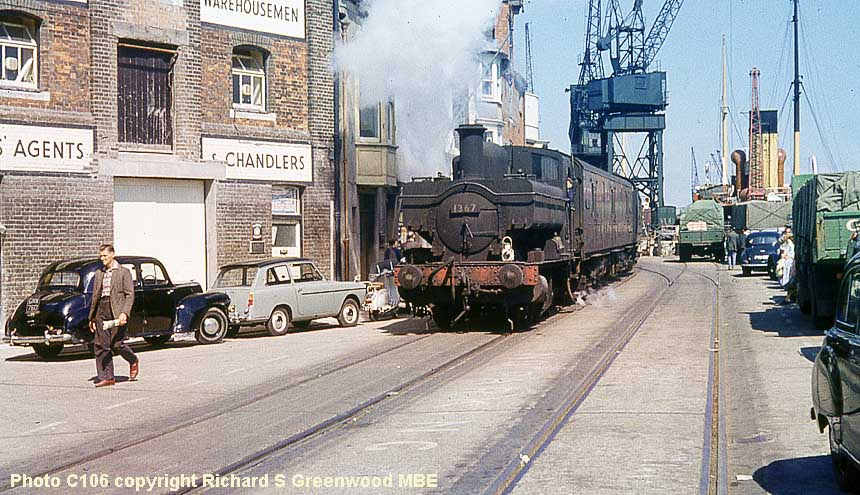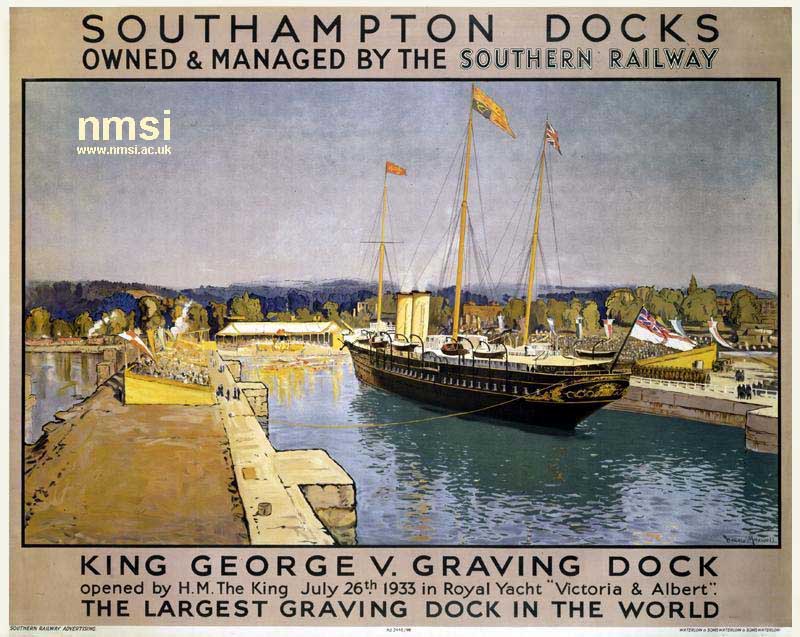 (Above-Below) The stunning images from the NMSI collection shows the superb artwork commissioned by the 'Big Four' railway companies and later British Railways for posters across the country. The NMSI family is comprised of four award-winning museums, each with their own diverse identity: the Science Museum, the National Media Museum and, of course, the National Railway Museum (NRM) at York which houses the world's pre-eminent railway collection. The NRM is spread across three halls: the Great Hall - formerly the steam engine shed (50A) - complete with a working turntable, while the Station Hall (previously York's central goods depot) is now laid out like a 'period' railway station. The Science Museum at Swindon is a massive site housing collections ranging from the iconic Lockheed Constellation airliner to super computers, bicycles and the last Fleet Street printing press, however the NMSI's full collection is so big that only 8% of the artefacts are on public view. The rest are hidden-away at an ex-WW2 airfield just off the M4, but enthusiasts are amply compensated with the NMSI Collections Online; a superb website displaying thousands of objects including a range of fabulous railway travel posters...a visit is highly recommended. These Southern Railway posters are typical of the quality artwork commissioned by the company; the one (above) was painted by Donald Maxwell in 1933 and depicts the royal yacht 'Victoria and Albert' in Southampton's King George V Graving Dock on the day of its opening. The yacht is flying the white ensign at its stern and royal standard on the mast. On either side of the dock are stands for spectators. The Southern Railway poster (below) - 'The World's Greatest Liners use Southampton Docks' - was painted by Leslie Carr in 1936.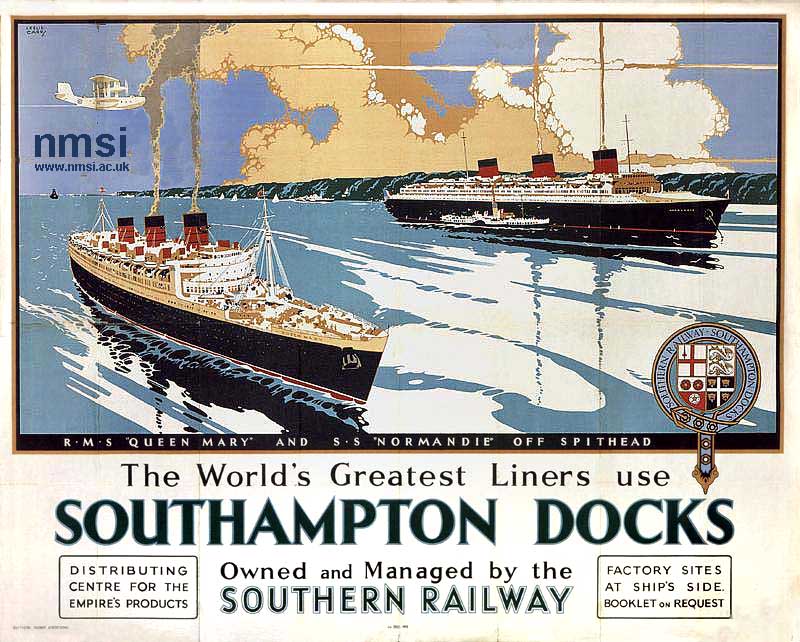 JOHN NEVE's SOUTHERN RAILWAY PHOTO ARCHIVE.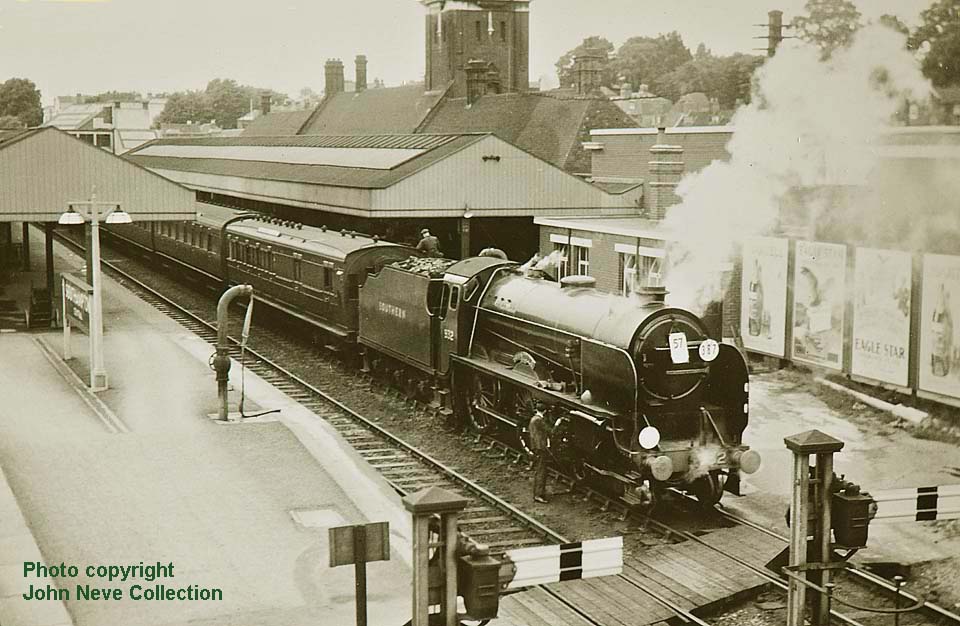 (Above-Below) A page featuring BR Southern Region steam would not be complete without paying tribute to one of the Southern Railway's greatest engineers, REL Maunsell, who was Chief Mechanical Engineer (CME) of the South Eastern and Chatham Railway 1913-1922 before taking up the post as CME of the Southern Railway from 1923 up to retirement in 1937. Among Maunsell's many achievements are the

Southern Railway's 4-6-0 'Lord Nelson' class and the 'Schools' Class V 4-4-0s, the latter proving to be the ultimate development of all the 'Big Four' 4-4-0 express passenger types. Here No 932 Blundell's awaits departure from Southampton on 14th July 1939, by which time the locomotive had been fitted with a high sided self-trimming tender in June the previous year. Built at Eastleigh in 1934, the loco is variously quoted as Blundells or Blundell's (the apostrophe appears on the nameplate). Blundell's School itself was founded in 1604 by the will of Peter Blundell in Tiverton, Devon. Numbered 30932 by BR in 1948, the engine was among the mass withdrawals of steam classes during 1961; all the Schools had gone by December 1962. (Below) Maunsell's 'Lord Nelson' class No 851 Sir Francis Drake arrives at Southamptom with the 'down' 'Bournemouth Belle' on 14th July 1939.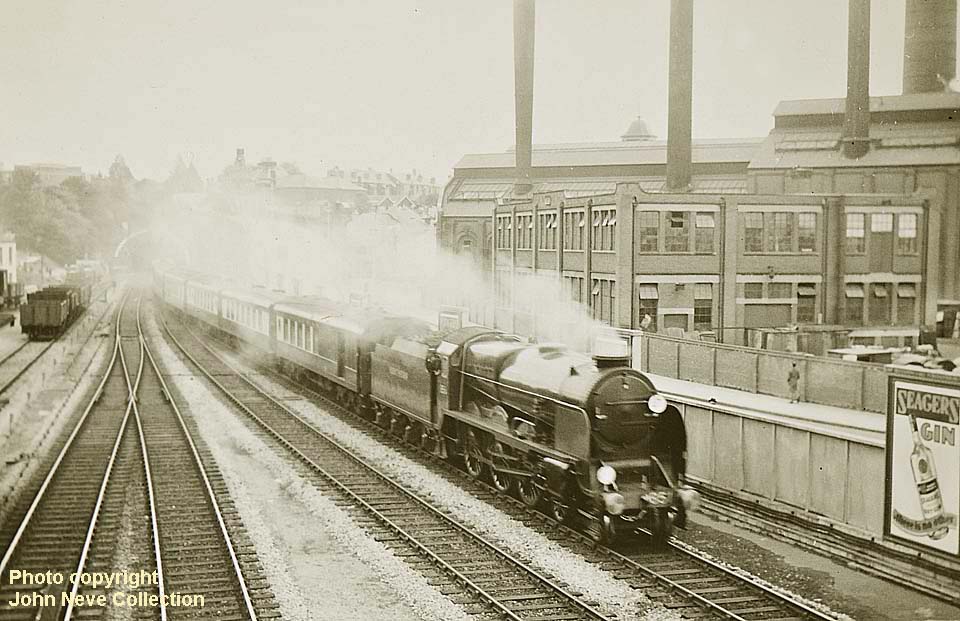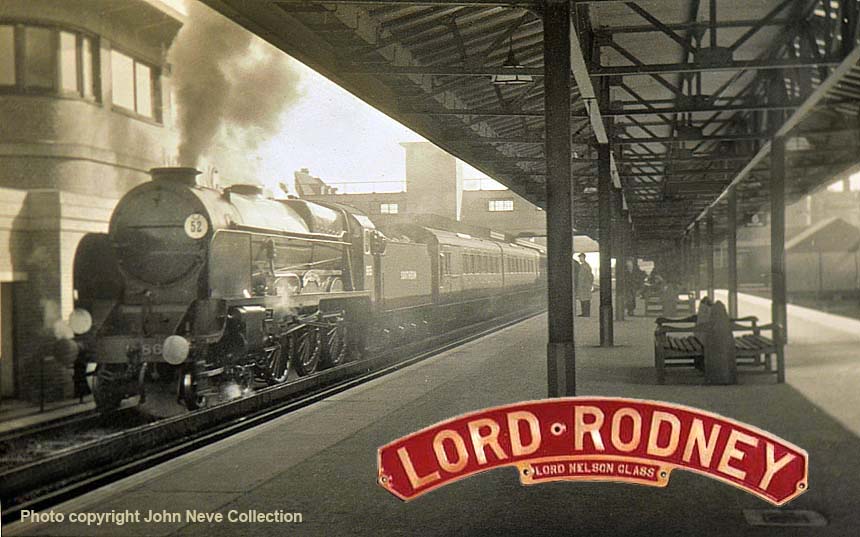 (Above) This atmospheric shot shows Southern Railway 4-6-0 'Lord Nelson' class No 863 Lord Rodney leaving Woking with a Bournemouth service in July 1939. Built at Eastleigh in October 1929, the engine became 30863 upon nationalisation in 1948. A long-time Eastleigh loco, No 30863 was the first of the class to be painted BR dark green with black and orange lining; 30863 was withdrawn in February 1962 and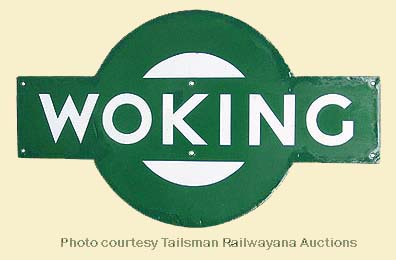 broken up at Eastleigh. Inset in the photo is a cast brass nameplate with chevron ends (the face has been repainted and brasswork lightly polished) which went under the hammer for £12000 at a Sheffield Railwayana Auction in March 2009. Admiral Lord George Rodney was born in Walton-on-Thames Surrey in 1719 and died in 1792. (Below) The Class Q 0-6-0 was the final locomotive class designed by Maunsell before his retirement in 1937. This shot of No 540 in Woking Down Yard might be of help to the discerning modeller; the raking light picks out the various identification features as described by HC Casserley in the excellent Observer's Book of 'Railway Locomotives of Great Britain'…the flat-topped Belpaire firebox, the large flat-topped dome and large, the squat chimney; the sloping double row of bolt heads at sides of smokebox saddle immediately in front of the leading splasher, and the side-window to cab in front of the cut-away. Introduced in 1938, these 0-6-0s were primarily intended for freight duties, but the locomotives were also fitted with steam-heat connections for working passenger trains when required.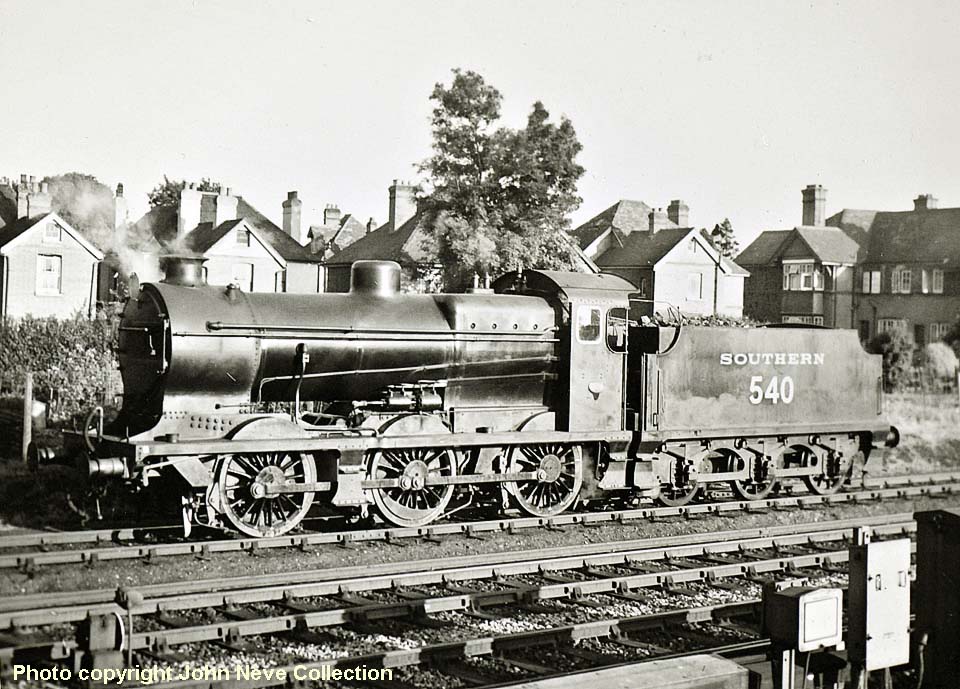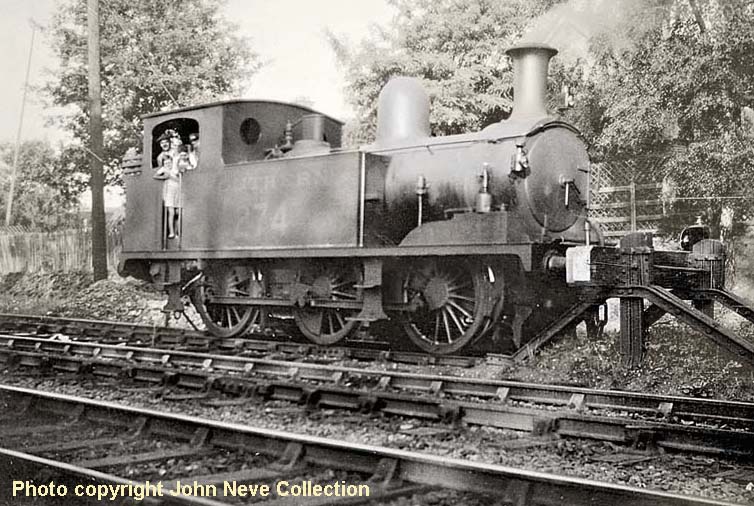 (Above-Below) The G6 0-6-0T was designed by W Adams (LSWR CME 1878-1895) for shunting duties on the London South Western Railway. Introduced to traffic in 1894, the class was completed to a total of 34 engines by his successor, Dugald Drummond CME 1895-1912. This photo of No 274 was taken at the end of the shunting neck in Woking 'Down' Yard taken circa 1935. On the footplate is Driver Bicknell accompanied by a young John Neve and his sister. (Below) Designed by RW Urie, the S15 class 4-6-0 was introduced to traffic on the LSWR in 1920-21 for freight work on the Southampton and West of England main lines. Construction of the class continued in 1927 and 1936 when REL Maunsell became CME. In BR days the Urie engines were numbered 30496-30515 in the fleet, and the Maunsell engines 30823-30847. Albeit designated Class S15, the Maunsell engines differed slightly with a straight footplate over driving wheels and cylinders, whereas the footplate on the Urie engine was further raised over the cylinders. Here, looking as proud as Punch, the driver poses in front of this unidentified Urie S15 class in Woking 'Down' yard prior to working an empty stone train to Salisbury in 1939.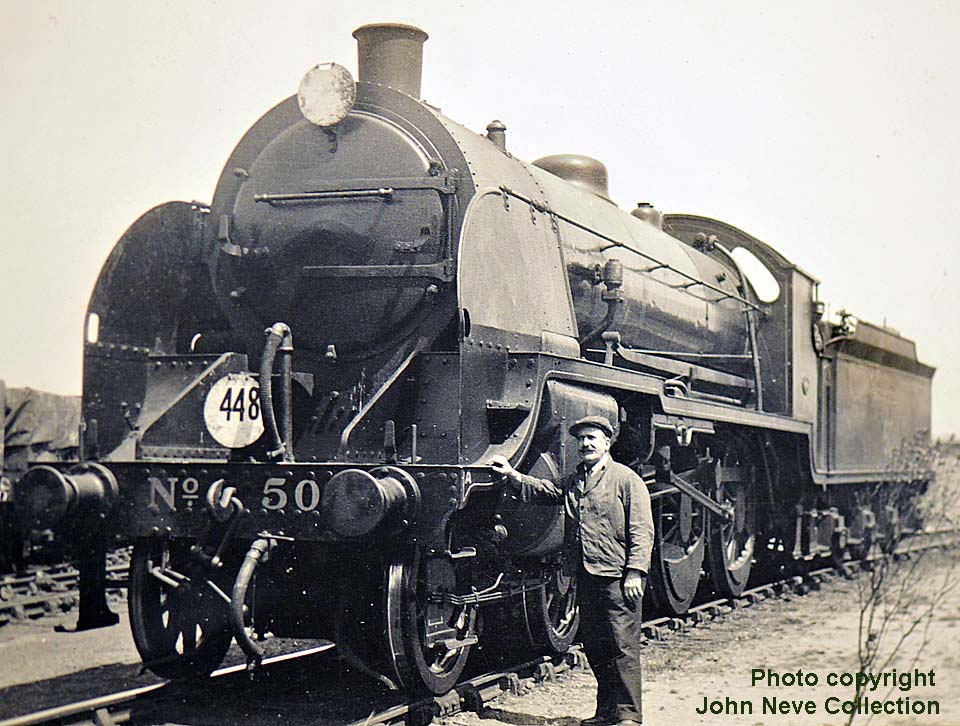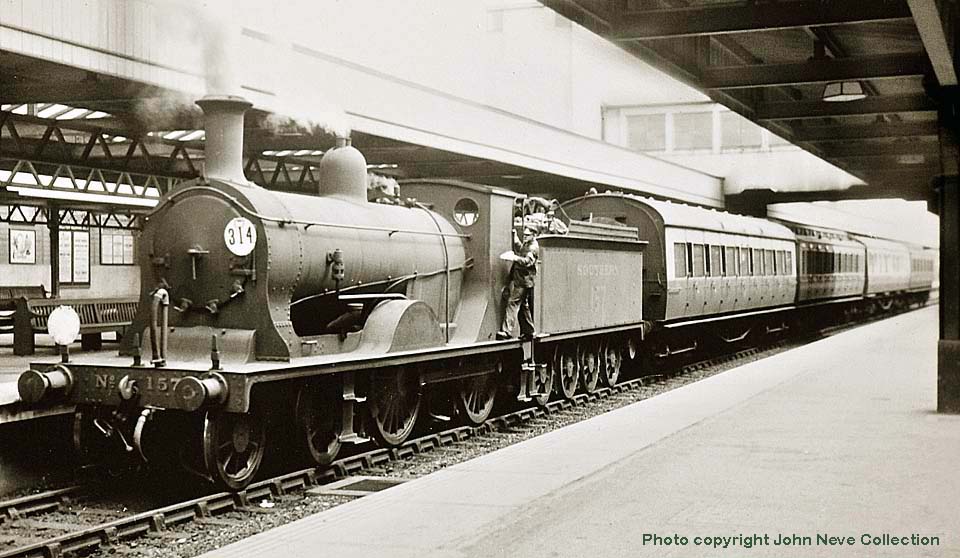 (Above) Dugald Drummond's L11 class mixed traffic 4-4-0 No 157 was among five L11s numbered 154-158 built in 1903 for mixed traffic duties on the London South Western Railway. Nicknamed 'Large Hoppers' by enginemen, the L11 was among several locomotive classes designed by Dugald Drummond featuring a large proportion of standard parts that could be used by other locomotive classes, including the boiler which was interchangeable with his earlier T9 class. The L11s were coupled to a six-wheeled tender as standard, although from time to time these were exchanged with the Drummond eight-wheeled 'watercart' as seen in this shot of the firemen edging gingerly along the footplate to clean the spectacle glass on the cab front at Southampton on 14th July 1939.

(Below) Following Maunsell's retirement in 1937, Oliver Bulleid became CME and Eastleigh works constructed all thirty of his SR Merchant Navy Class Pacifics. Here MN Class No 21C11 (BR 35011) 'General Steam Navigation' was photographed in original black livery, standing on the 'up' middle road at Bournemouth Central station circa 1946. Built at Eastleigh Works in December 1944, she was rebuilt in July 1959 and withdrawn from service in February 1966. Regarded as the only steam locomotive to bear the word 'steam' in its name, she is currently being restored at Sellindge in Kent. Click here to visit the 'general steam navigation' website. The two middle roads through the station were used to berth passenger coaches (which are evident on the adjacent line) and when unoccupied, the lines were used for passing goods traffic.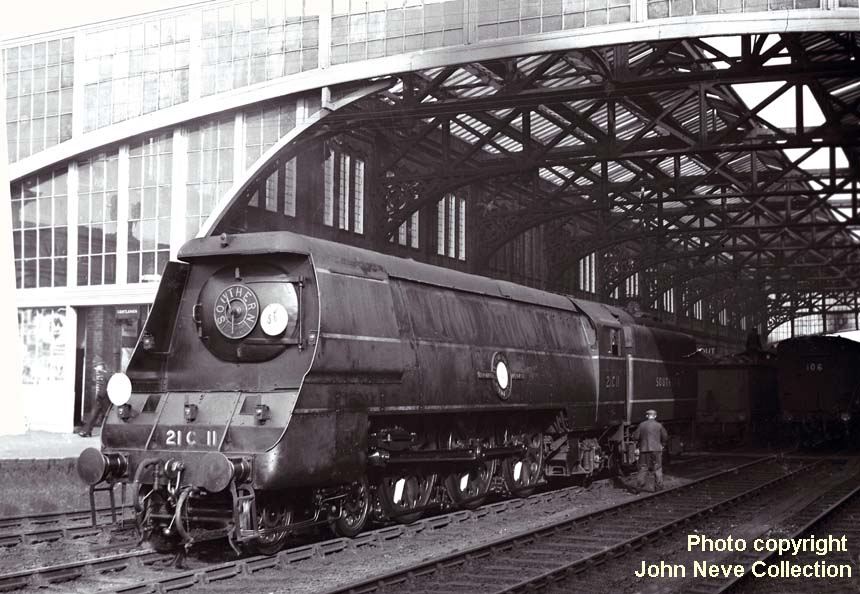 (Above-Below) HELP! I have recently been contact by Nic Greene, a volunteer at the Watercress Line, who is in the process of making a short video to promote awareness of, and hopefully raise funds towards, the overhaul of Merchant Navy No 35005 Canadian Pacific and he is desperately trying to find 30-plus seconds of mainline footage of Merchant Navy locos, in particular 35005, from the 1950-60 period. If anyone has any footage or ideas for sources he would be very pleased to receive them. If you can help Nic (who goes by the name of 'geralldus' on YouTube) he can be contacted at n.greene@blueyonder.co.uk Please note this is not a clickable link via Outlook Express; you will have to email manually. Many thanks in anticipation…



GOGGLES!
by Alex (Mac) McClymont

During my time as a fireman at Guildford (70C) my regular driver in 1961-1962 was Fred Brown, who started work at Barnstaple Depot on the LSWR. On 23rd April 1918 he transferred from the West Country to get his appointment as a Fireman at Guildford Loco. Fred was appointed Driver at Guildford on the 11th April 1944, some 26 years after starting on the railway.
Guildford had not long been issued with protective goggles, which I hated; not only did the rubber cut into your cheekbones they were very hot to wear and often misted up and obscured your sight. However, I did wear them for travelling short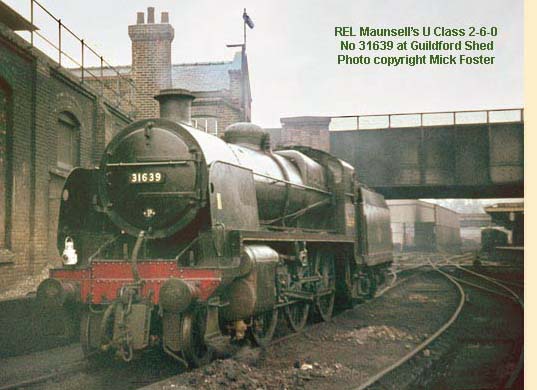 distances tender-first, since they kept any coal dust out of your eyes, but other than that I avoided them. Fred, on the other hand, loved them!
One of the turns in our gang was the 9am goods train from Guildford to Reading and back with the 12.18pm goods. The sky was laden with mist and the first stop on the outward journey was North Camp; it was nearly always a heavy train and so a U class loco was provided. The load for a 'U Boat' (as we called them) was 480 tons plus a brake van. However, it was a dead start from Guildford straight on to Pinks Hill Bank, which, at its steepest had a 1 in 80 gradient, with tight curves and check rails, and to prevent the loco slipping on greasy rails it was important to make sure the sand boxes were full and working. If she had a full head of steam the 'U' was master of the job, and it was a lovely sensation climbing the bank with her 'digging her heels in', as we used to say. The loco would rock from side to side with each beat of the exhaust and one of the joys was hanging your head outside of the cab listening to the loco chopping them off!
Once we had left North Camp it was a case of stopping to drop off or pick up wagons as required, followed by a non-stop run from Wokingham to Reading. On arrival at Reading South Yard, we unhooked the train then crossed over the road to the Loco shed, turned the loco, took on water and headed back to the yard to pick up our return train. By now the mist was getting heavier, with visibility down to 200 or 300 yards and less in places, and Fred as usual was wearing his goggles.
So, with 25 wagons on, we set off for Guildford and found the distant signal for Wokingham at caution.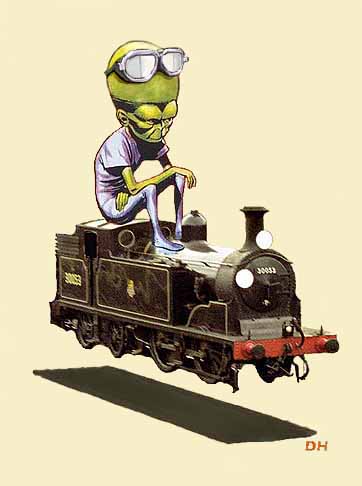 There were two distant semaphore arms - one for the Ascot line and the other for the Guildford and Redhill line. The next signal was the outer home signal, which was situated before entering a brick-built skewed bridge about 20 feet in length with independent arches across both the 'up' and 'down' lines. Since the 'U' class was a right-hand drive loco, the signal was on my side and when it came off, I informed Fred - 'Okay, we've got the stick.'
He released the steam brake and opened the regulator, then hanging his head out from the side of the cab we had gone no further than just beyond the bridge, when he gave out an almighty screech! - 'Lookey Yer! Lookey Yer!' he shouted in his
broad Devon accent - 'It's as thick as assholes out here!'
His outburst gave me one hell of a fright, I can tell you…
I was about to ask him what was wrong, when I saw him peering back at me like the Mekon from Eagle Comic...
He had two enormous eyes magnified like dinner plates! He hadn't realised that after going through the tunnel his goggles had steamed up!
I screeched with laughter until my stomach ached; it still makes me laugh thinking about it today...

Farnham Junction Remembered
by Charles Green

History tells us that the first railway to reach Farnham was a branch of the LSWR from Guildford. This line diverged from the Guildford to Reading line at Ash Junction. From there, it ran through Ash Green to Tongham and then on to Farnham. This line was opened on 8th October 1849 and terminated at Farnham until 28th July 1852 when the extension to Alton opened.
On 2nd May 1870, a more direct line to the town was opened. This line ran from Aldershot. It converged with the original line at Farnham Junction. This new line was laid as single track for economic reasons. It was not long however before the need for a second track emerged. Therefore, some five years later a second track was laid. A further significant development was the opening of the spur between Aldershot North and Aldershot South Junctions in 1879. This provided an alternative route to the original one through Tongham.
In spite of this new route and the consequential loss of traffic to the Tongham branch, the line between Ash Green and Farnham Junction on the 4th June 1884 doubled. On 9th February 1930, single line working was again established over the entire branch and the signal box at Tongham was replaced by two ground frames. An Intermediate key token instrument was also provided. Passenger services were withdrawn along the whole branch on 4th July 1937. The war years saw the line used for strategic traffic. This included the well known incident involving an ammunition train. Two railway workers living nearby were both awarded the George Medal for separating some burning wagons from the rest of the 47 wagon train which had been bombed whilst standing on the single line towards Farnham Junction.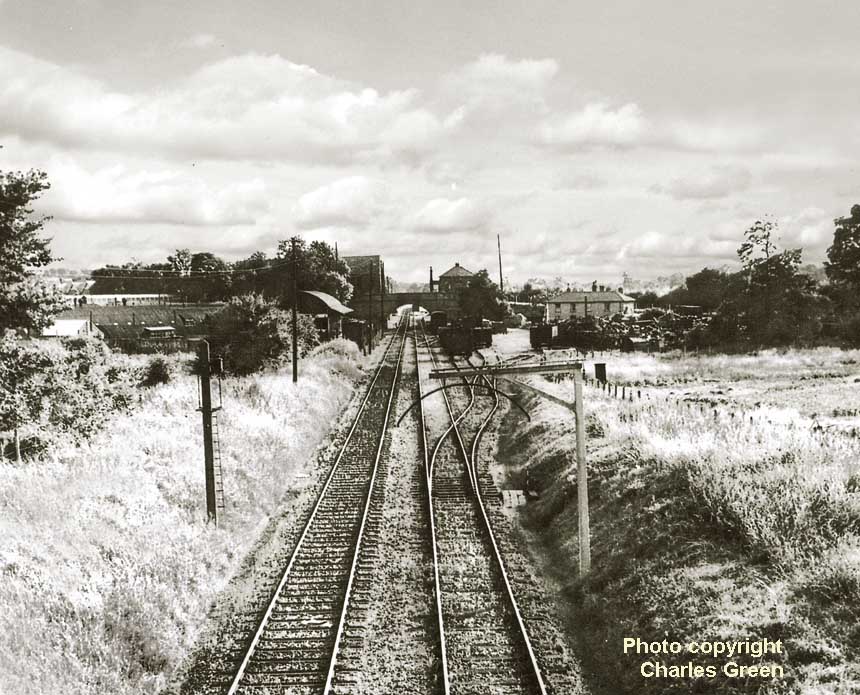 There used to be a daily goods train to Tongham from Farnham. This I believe ran until early 1953. This ceased however when BR decided to abandon the section of line between Farnham Junction and Tongham. Another date worth mentioning is 21st November 1954. This then made Ash Junction the only means of access to the line. Aldershot Gas Works was served by this end of line and regular coal trains and a daily goods train kept this end of the line open for several more years. When coal for the Gas Works ceased and the daily goods to a twice-weekly service, the writing was on the wall. The final train to leave Tongham was on 31st December 1960. Amongst those on board the brake van were a small group of railway enthusiasts from the Railway Enthusiasts Club (REC).
Going back to 1953, an REC railtour named the 'Hants & Surrey Tour' was planned to pass over the entire route. Some months prior to the actual tour date, a track inspection between Tongham and Farnham Junction was carried out. To do this, B.R. utilised the daily goods train engine at Tongham. The engine duly departed with the Inspector on board only to find that the track was unsafe due to subsidence. As a result of these findings, the railtour was unable to go through to Farnham. However, on 26th September 1953 a run from Guildford to Tongham via Ash Junction and return was carried out successfully. The locomotive used on the tour was Guildford based L12 Class 30434 utilising a five coach Push-Pull set No. 348. After this, the train departed from Guildford once again and proceeded towards its destination of Bordon by way of the alternative route mentioned earlier.
After the branch to Tongham closed, Farnham Junction box continued to be used. This was found necessary because of the need to split the section between Aldershot West (latterly Aldershot B) and Farnham East (latterly Farnham A) boxes. However, this requirement for splitting the section was not carried out on a regular basis.
It was because of this that I was caught by surprise one Saturday afternoon in September 1962. Whilst in my back garden, two trains from Aldershot passed by in quick succession. These trains followed one another so closely that I thought that the second train was a 'run-away'. I ran down the road to see that the down Distant signal for the junction was at 'caution' which meant that the box was operational. I came to this conclusion because the signal box was normally switched 'out'. Sadly, this is the only time that I remember the signal box being in use.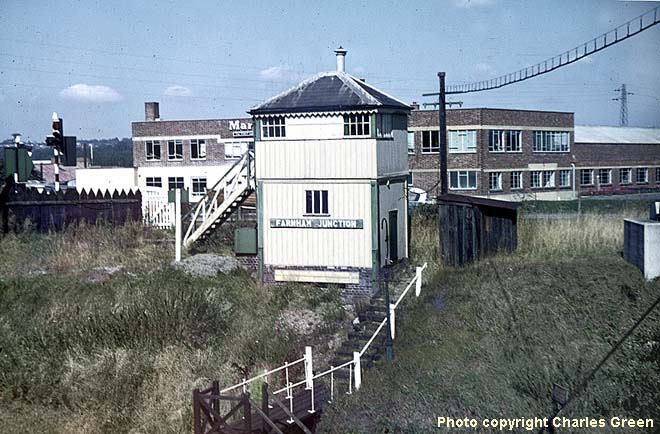 The photo (above) of Farnham Junction signal box was taken in the summer of 1964. The dismantling of the box I believe occurred in 1966. The LSWR lattice posts that held the signals remained as marker posts until around the end of steam in 1967.
The unusual site of Farnham Junction Signal Box was because of its close proximity to the road bridge. This led to complications with point rodding so it was because of these two requirements and the need for good visibility that determined it being built on stilts.
One amusing story was that the paraffin for the signal lamps was delivered by bicycle. Apparently, two five gallon drums would be the required amount. Just imagine the poor lampman having to push his bike along the one-and a-quarter miles from the station! Eventually however, this was later carried out by using light engine workings or carried in the Motorman's cab of a 2BIL Unit! This caused much joy and relief for the lampman.
Other items of note were the: C: Commencement and T: Termination signs to warn Drivers of the permanent speed restriction around the curve. These were illumianated at night by the aid of paraffin lamps.

CHARLES GREEN COLLECTION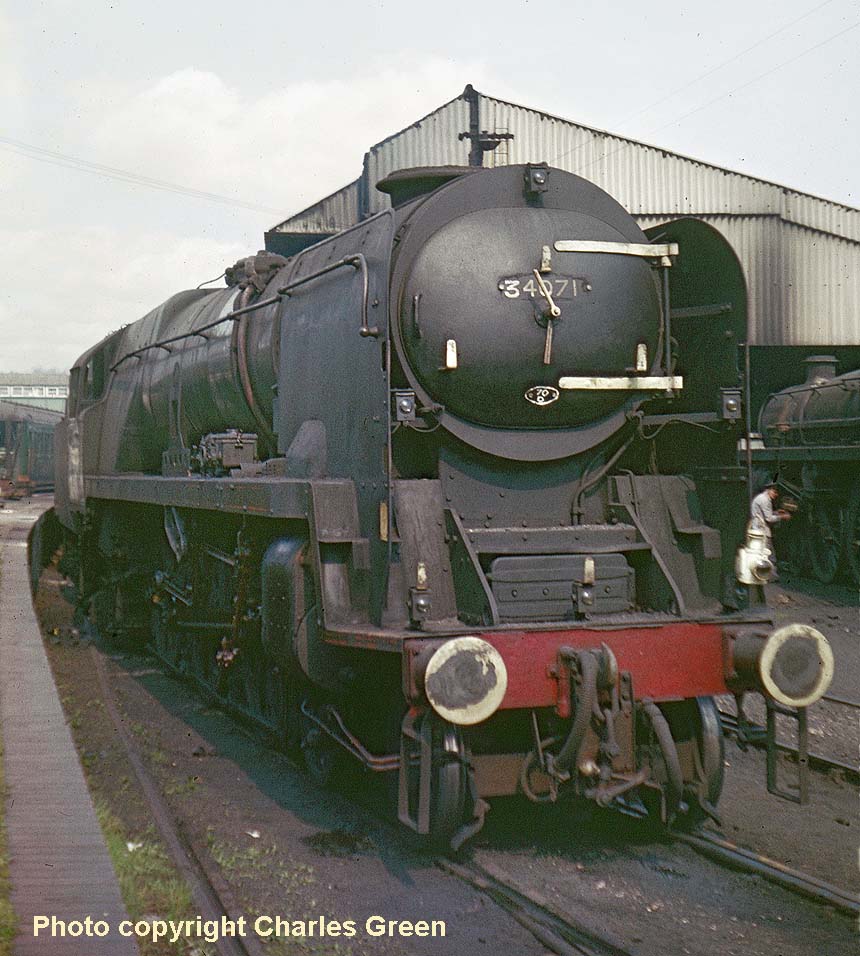 (Above-Below) Rebuilt Battle of Britain Class 34071 '601 Squadron' stands in the Back Road at Guildford waiting for her next turn of duty. Originally named 615 Squadron (a bomber squadron) when first built, the name was changed later in 1948. Rebuilt in 1960, the locomotive was withdrawn in May 1967 and cut up at Cashmore's later that year (Below) Two BR Standard Class 4MT tanks stand in the back road at Guildford Coal Stage along with a BR Standard Class 5MT locomotive. On platform 8, an electric train (headcode stencil 21) formed of 2BIL 2031 waits to depart to Aldershot where the Driver would change ends and work the train to Ascot (headcode stencil 28).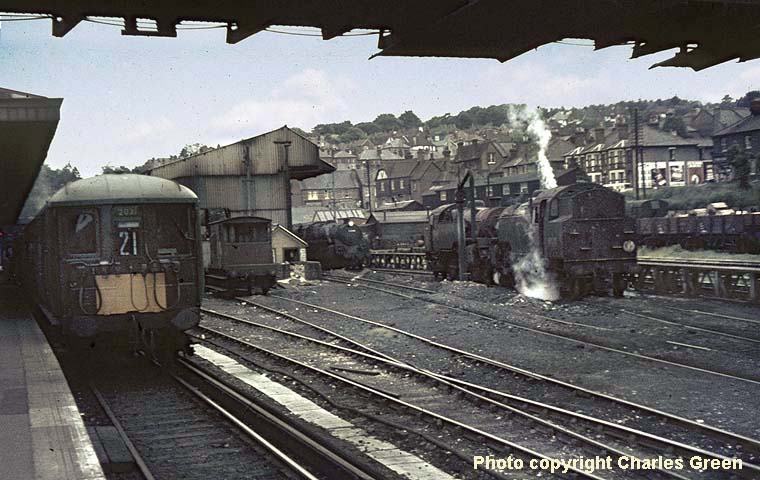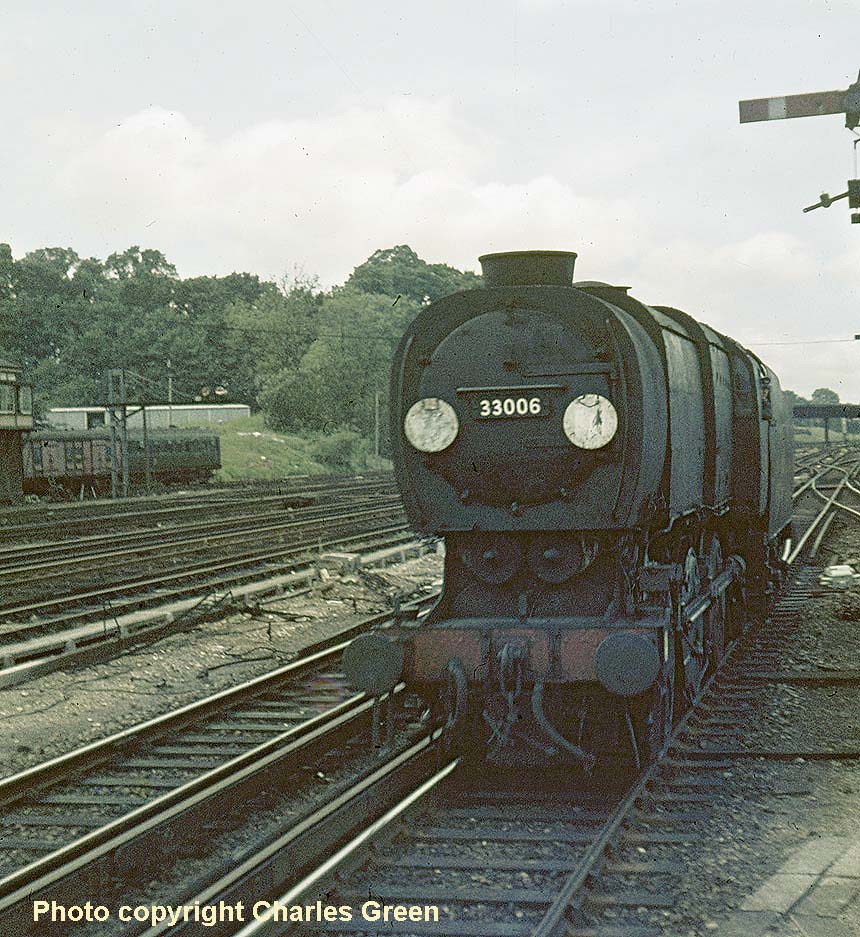 (Above-Below) Q1 Class 33006 is about to run light engine through Guildford's Down Cobham platform on to haul the REC special working on 12th June 1965. The semaphore signal to the right of the photograph was the starting signal for the Down Bay (No. 1 platform) this being worked by Guildford Yard Signalbox. (Below) A view from Farnham Road Bridge shows three locomotives: two U Class 31791 and 31619 on the Old Pit waiting to be placed in the shed for their next turn of duty and Q1 Class 33006 waiting to leave from the New Pit having exited the turntable. Guildford South Signal box can be seen in the background.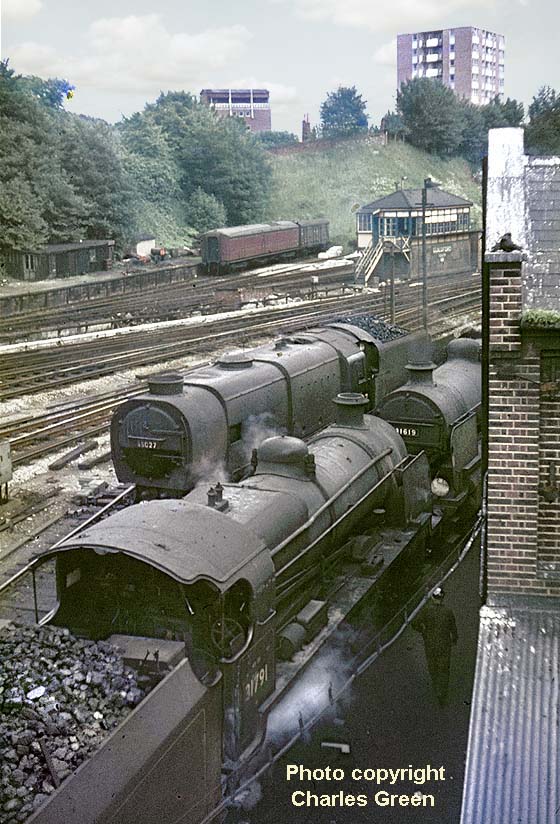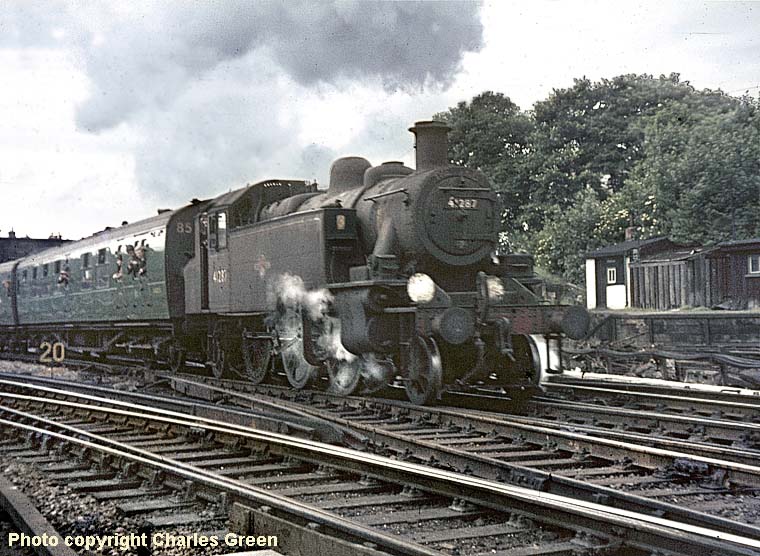 (Above-Below) One of the last passenger service trains to traverse the Guildford to Horsham branch, Ivatt Cass 41287 leaves Guildford and is about to pass Guildford South Signal box and enter the chalk tunnel. (Below)Another fine shot from Farnham Road Bridge shows that U Class 31791 has disappeared from view (back towards the coal stage (or to be berthed in the back road) and the ginger haired fireman on Q1 Class 33006 (could possibly be Malcolm Peto) has just removed the water pipe from the tender having taken water. The photographer's vantage point also gives a birds-eye view into the Shedmaster's office window - the pigeons on the roof don't seem to be bothered!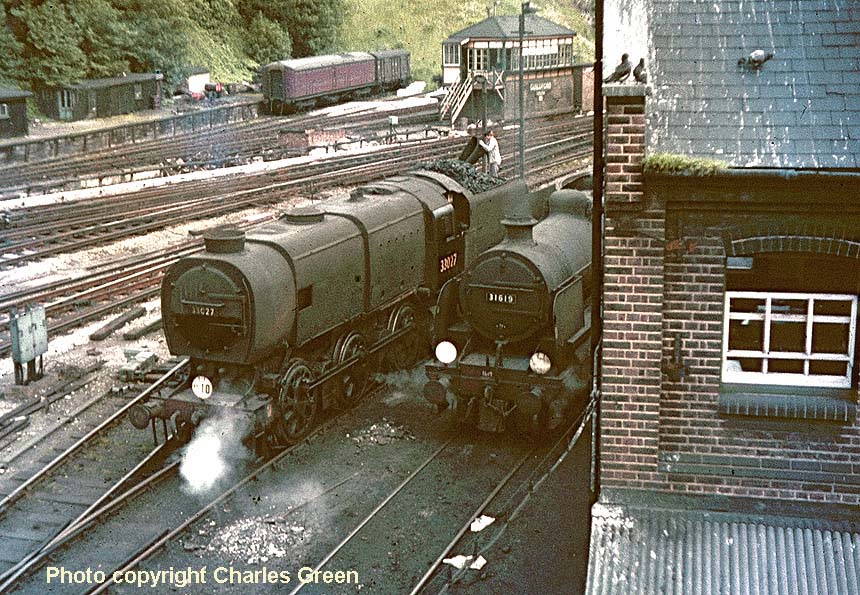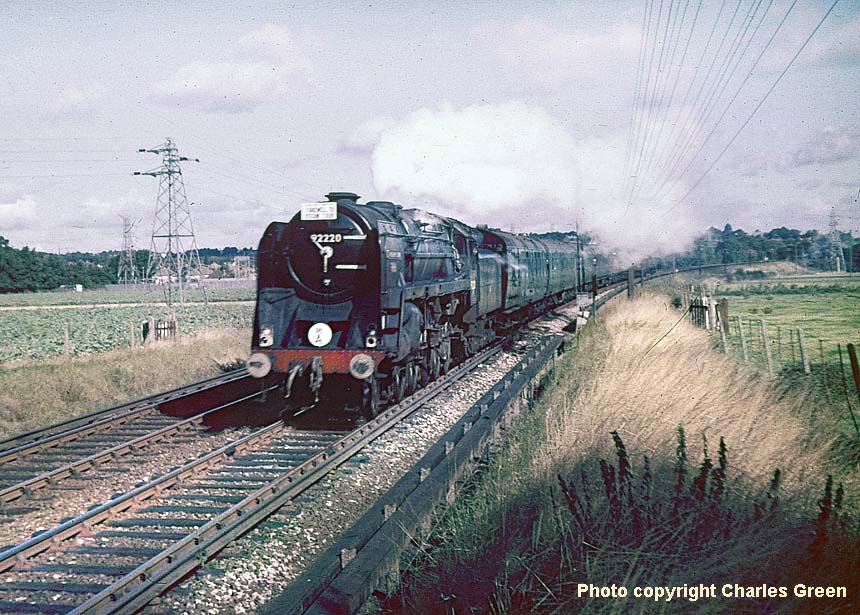 (Above-Below) Adding to the loco variety BR Standard Class 9F 92220 'Evening Star' is about to enter the permanent speed restriction between Aldershot and Farnham whilst working the first leg of the SCTS 'Farewell to Steam Tour on 20th Sept 1964. The tour which commenced at Victoria, made its way to Aldershot via Clapham Junction, Balham, Tooting, Wimbledon and Woking and continued to Yeovil Junction via Alton, Alresford, Winchester City Eastleigh, Southampton Central Romsey and Salisbury. From here the train continued from Yeovil Junction to Yeovil Town and return double-headed by Ivatt Class 41206 and 41308. It then went to Axminster and Seaton Town and return with the same two locomotives. The train returned to London Victoria via Salisbury, Basingstoke, Woking, Byfleet Junction, Chertsey, Staines, Twickenham and Clapham Junction. (Below) Class 37 37022 rounds the curve at Badshot Lea hauling an ECS special working from Farnham to Aldershot where it will pick up returning football fans following a game at Aldershot stadium.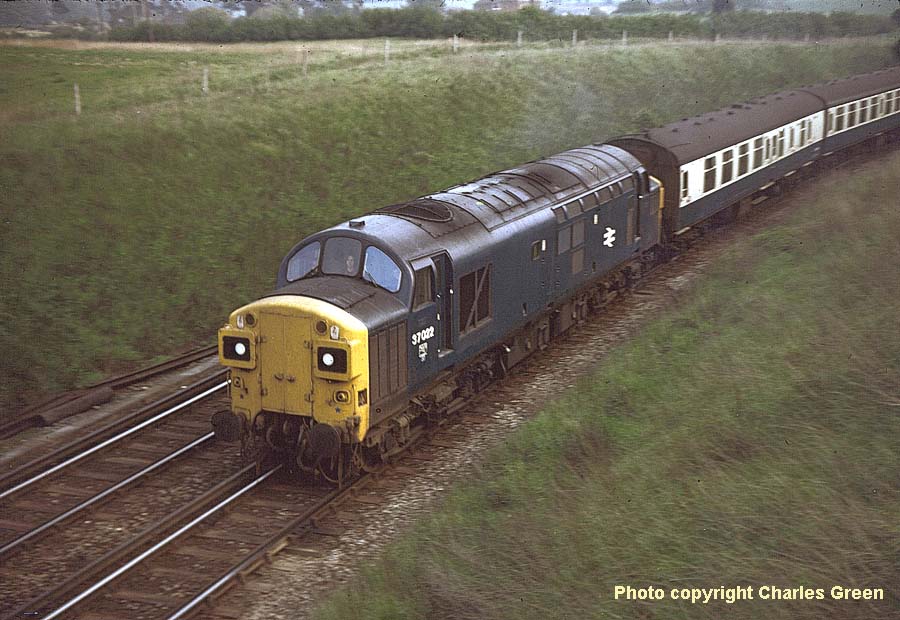 (Below) The design of the new BR Standard Class 4MT 2-6-4T was based on the LMS Class 4 Stanier and Fairburn 2-6-4Ts for general purpose duties on all the Regions of British Railways except the Western. Construction was shared between BR Brighton, Derby and Doncaster Works from 1951 to 1957, but with the onset of dieselisation many of the 2-6-4T locos had a relatively short lifespan, the first to be withdrawn being No 80040 in May 1964. The last eleven locos ended their days in July 1967, however fifteen Standard Class 4 tanks have survived in preservation. Here, BR Standard Class 4MT 80151 replenishes her side tanks at Brockenhurst before setting off to Lymington Pier with the third leg of the Manchester Rail Travel Society Hants & Dorset Branch Flyer on 25th March 1967. Other Locomotives utilised during this tour were the USA Class 30064 for the run between Southampton Central, Redbridge, Totton, Fawley and return; Ivatt Class 41320 between Brockenhurst, Bournemouth Central, Poole, Broadstone, Blandford Forum and return; then to Poole, Wareham, Worgret Junction, Corfe Castle, Swanage and return to Bournemouth, where Rebuilt West Country Class 34004 Yeovil hauled the return trip from Bournemouth Central to Southampton Central.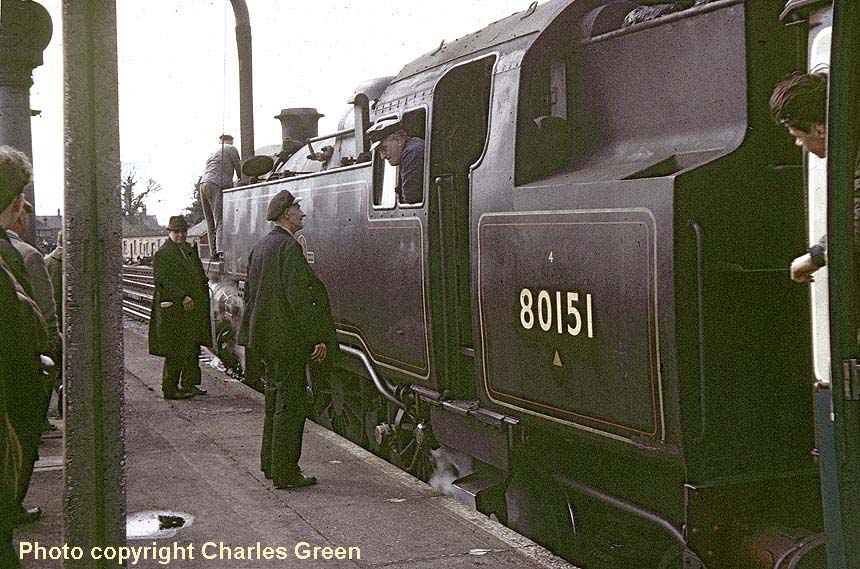 (Above-Inset-Below) A fine view from the footbridge which ran across from one side of Aldershot station to the other showing BR Standard Class 4MT 76031 hauling a portion of a ballast train containing a crane before engineering work commences. The remainder of the train containing the materials can be seen standing on the down line. The wagons standing in the Up Yard probably contained bananas as there was a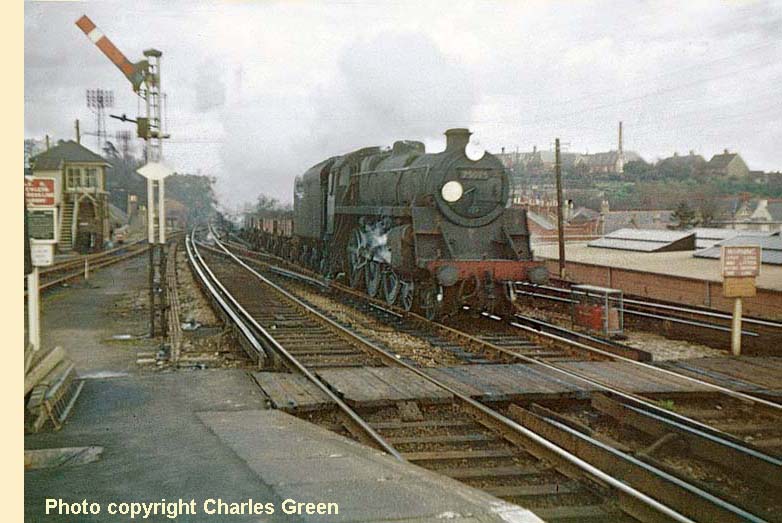 Fyffe's Cold store situated nearby. (Inset) BR Standard Class Standard 4MT 75075 was photographed passing through Aldershot station with a dirty ballast train heading for Farnham Tip in 1966. A ballast cleaner would have sifted any small pieces of ballast and dirt from a section of track then with the aid of its conveyor belt, deposited the spoil into open wagons. This was then taken to Farnham Tip and sold on as road aggregate. The semaphore signal in the off position in the foreground denotes that an Up train is due to depart Aldershot station. (Below) 76030 Aldershot 1966 - an atmospheric photograph taken from the footbridge at Aldershot station showing a train of empty wagons containing some left-over straw which probably protected either bricks or concrete troughing from breaking. The Up Starting signal is in the clear position and the train is just about to depart which should stop the engine's safety valve from blowing off! Interestingly, an engine's tender could be replenished here by the use of the water tank at the end of the Up platform. A fleet of Yellow Parcel Freight lorries stand in the Up Yard and in the background, the floodlights for Aldershot Football Stadium can be seen in the distance.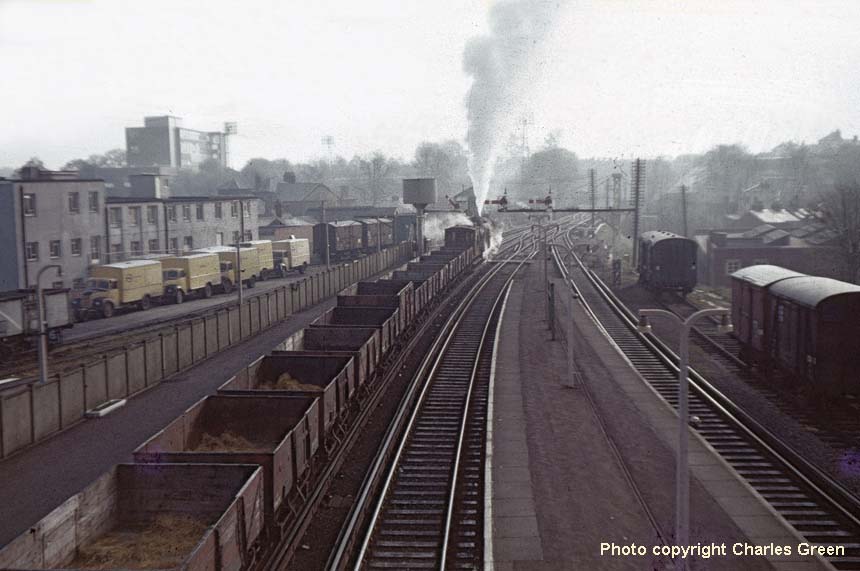 Mid Hants Railway...pre-closure - closure - and latterly 'Watercress Line'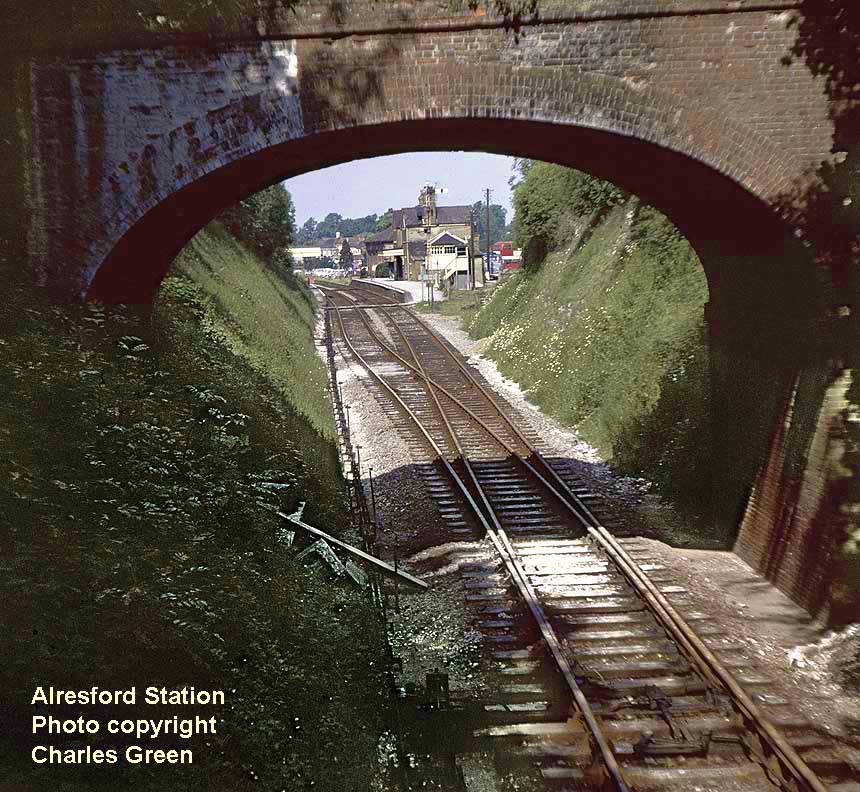 (Above-Inset-Below) An intriguing shot of Alresford Station post closure 1973. Constructed in 1865 for the new Alton, Alresford and Winchester Railway Company (which later became the first incarnation of the Mid-Hants Railway) the station later joined the London and South Western Railway which was absorbed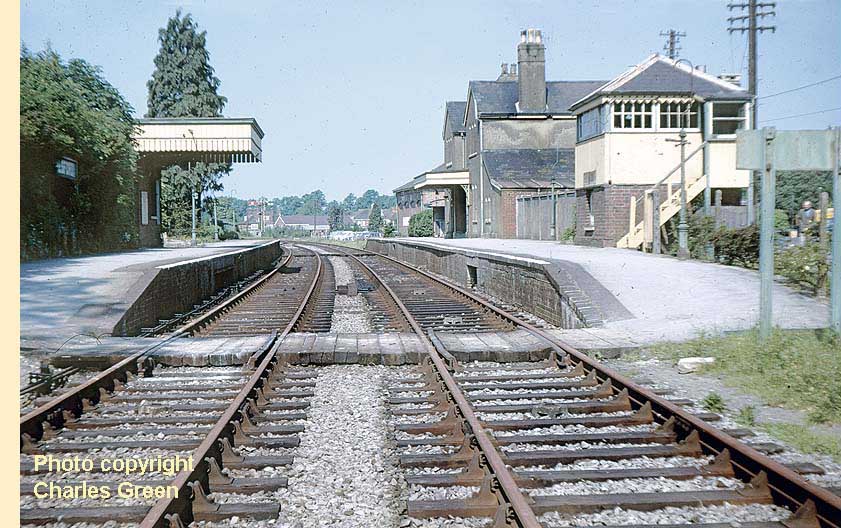 into the Southern Railway during the Grouping of 1923. The station then passed on to the Southern Region of British Railways in 1948, and was closed by the British Railways Board in 1973. The station then reopened on 30th April 1977 as the western terminus of the Mid Hants Watercress Railway. (Below) This July 1973 photo of Alresford Station shows the Up home signal on the right and the goods shed which is now used as a shop, as well as meeting and tourist facilities for the Mid Hants Watercress Railway. Adjacent to the station is a large warehouse which was built in 1873 for trading agricultural produce. This warehouse is now used for offices. The buffet building came from the old station building at Lyme Regis in Dorset, which was dismantled and rebuilt here. Following the closure of the route between Alton and Winchester, the line from Alresford eastwards to Alton has been reopened in preservation, but the section west of Alresford remains closed. With the subsequent construction of the M3 motorway and new housing at various points along the route It is unlikely that the line will ever be re-extended towards Winchester.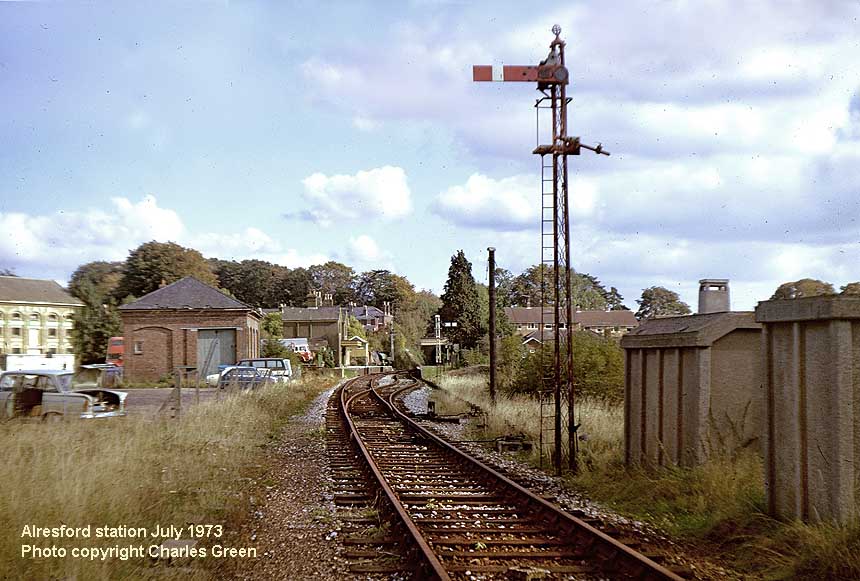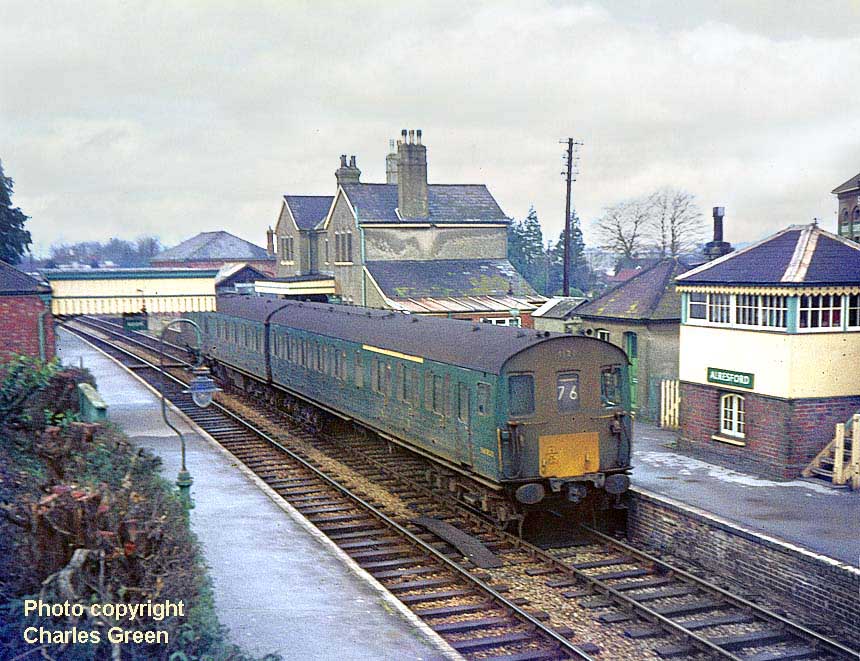 (Above-Below) Nicknamed 'Thumpers', this DEMU 1121 is awaiting departure from Alresford station with an Up passenger service to Alton on 2nd February 1966. The DEMU can't leave the 'up' line until the token that's being exchanged on the 'down' line has been replaced in the token machine. This will then give the Driver of the DEMU an assurance that the single line is clear to Ropley. He will obviously need the starting signal to be in the clear position (but this would also be locked in conjuction with the token machine). DEMU 1121 has been preserved and is now running over the Lavender Line in Sussex. (Below) Motive Power Inspector Arthur Jupp exchanges Single Line tokens at Alresford as Rebuilt Merchant Navy Class 35028 'Clan Line' runs into Alresford station with the first leg of the LCGB 'Dorset Belle Rail Tour' on 27th February 1966. The token that's been handed to Inspector Jupp on 35028 will give the driver of the train permission to continue over the single line through Itchen-Abbas to Winchester |Junction and join the main line to Southhampton. Here again, the starting signal would need to be cleared.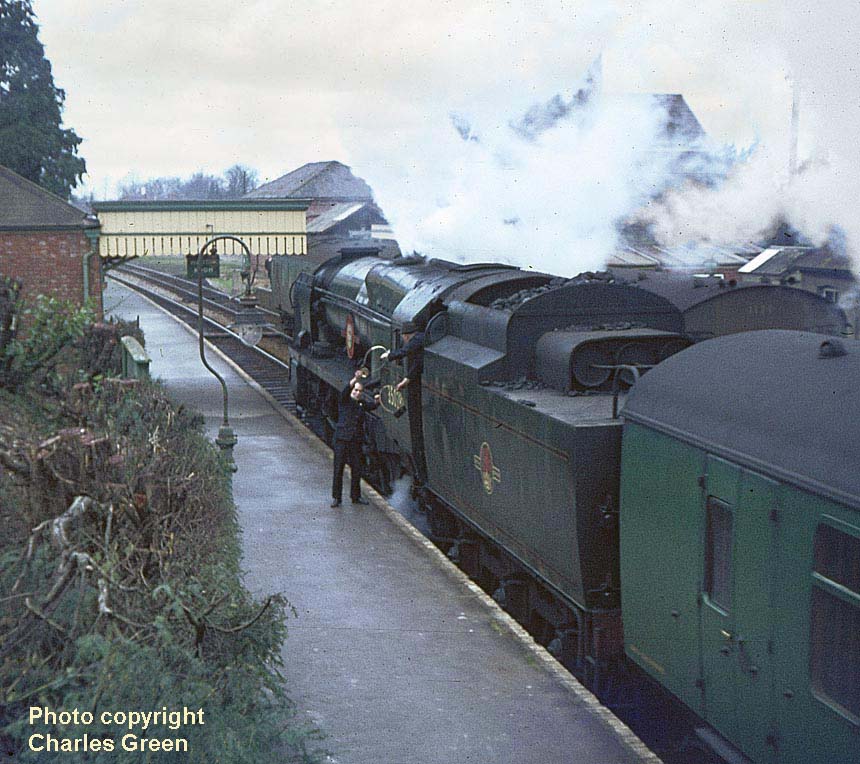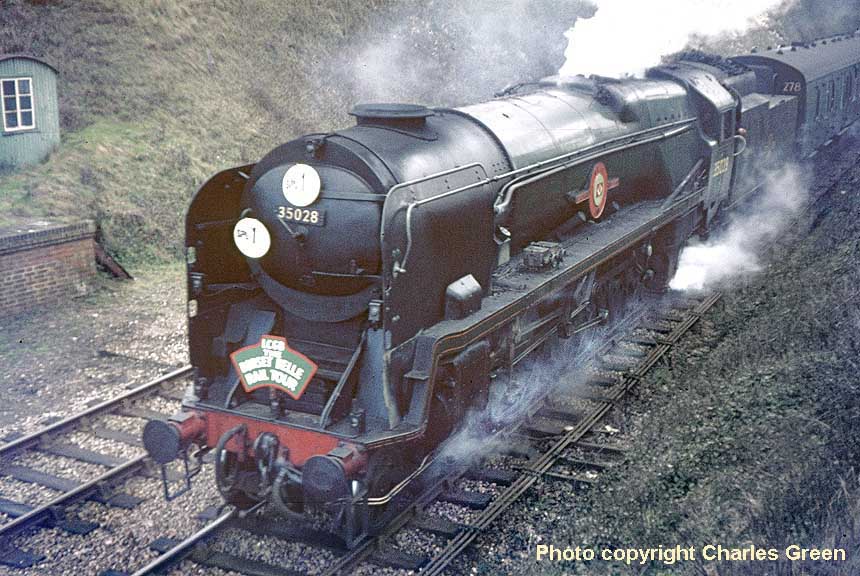 (Above-Below) Single Line token collected, Rebuilt Merchant Navy Class 35028 'Clan Line' storms off towards Winchester stopping also at Eastleigh, Southampton Central, Brockenhurst, Bournemouth Central, Poole and Wareham, where two Ivatt Class locomotives took over the tour for its journey to Swanage. Once the train returned to Wareham, 35028 continued with the train to Weymouth. Other places visited on the tour included Dorchester West, Maiden Newton, Bridport, Yeovil Pen Mill and Yeovil Junction before returning to Waterloo via Salisbury hauled by Battle of Britain Class 34057 'Biggin Hill'.Mid Hants Railway...pre-closure -closure - and latterly 'Watercress Line'. (Below) A lovely shot of Ropley station after closure looking in a westerly direction towards Winchester. The station gardens (featuring the notable yew topiary, which has been in situ for over 100 years) can just be seen in the photo. The station was reopened by the Mid Hants Railway (Watercress Line) on 30th April 1977. It is an intermediate station on the preserved line from Alton to New Alresford. The main locomotive shed and workshops for the Mid Hants Railway are located just to the east of the station. A footbridge was added to the western end in 1986. This was recovered from the closed station at North Tawton in Devon in August 1983.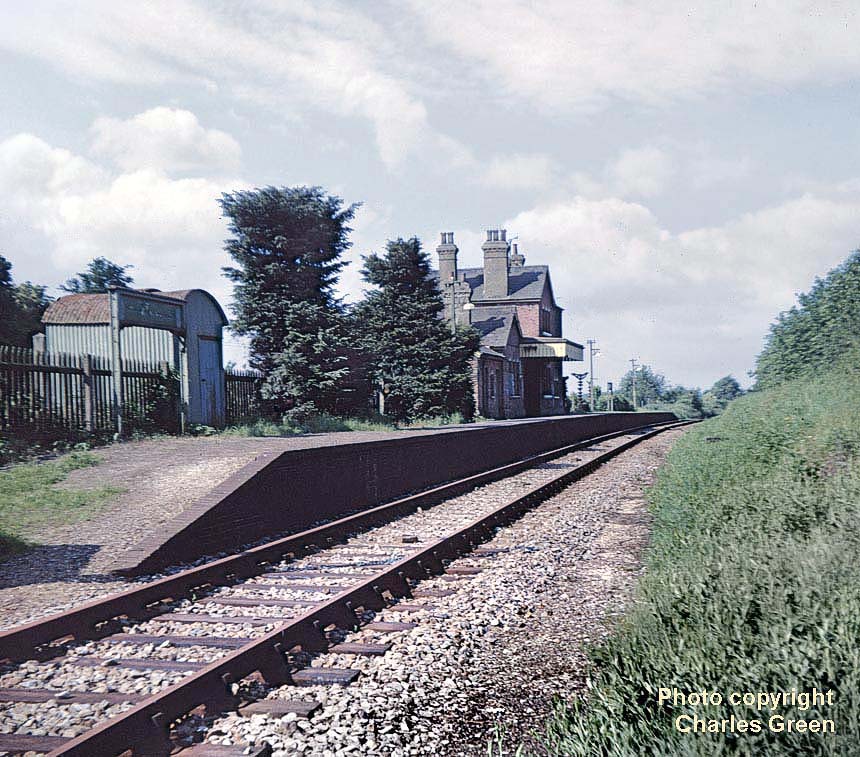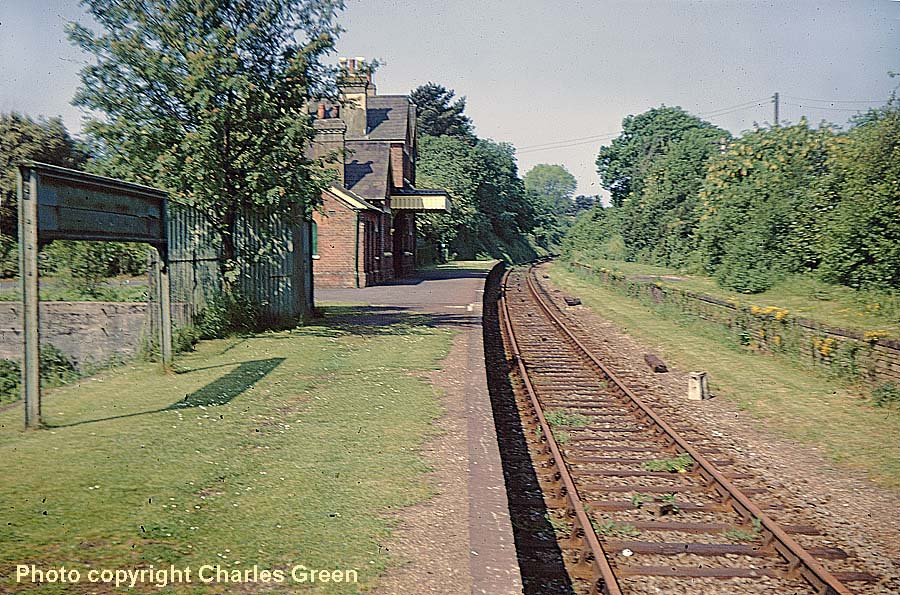 (Above-Below) This is the view of Itchen Abbas station after closure (looking towards Alresford) in July 1973. This was one of the original stations built when the line opened on 2nd October 1865 by the Mid Hants Railway and closed on 5th February 1973. The station was originally built with two platforms but, in the 1930s the up platform was taken out of use and only a single track serving the down platform was used. The station was destaffed in the 1960s. Following the closure of the route between Alton and Winchester, the line from Alresford eastwards to Alton was reopened, but the section west of Alresford through Itchen Abbas remained closed. It is unlikely the line will ever be re-extended to Winchester due to construction of the M3 motorway and new housing at various points on its route. At the beginning of the 1980s, the original station was demolished and a new house built on the site; parts of the platform still stand in its garden. Further west of the station site towards the junction near Winchester other houses have been built along the line and further east (between the station site and Alresford) is the now disused but complete viaduct over Northington Road. (Below) A view of Medstead & Four Marks station after closure in 1973. Opened in August 1868 as Medstead, it changed to its present name on 1 October 1937. It was reopened on 28th May 1983; the footbridge currently on the country end is from Cowes on the Isle of Wight. Beside the station is the Signal and Telegraph department, which also house the Permanent Way Gang and the Building Department.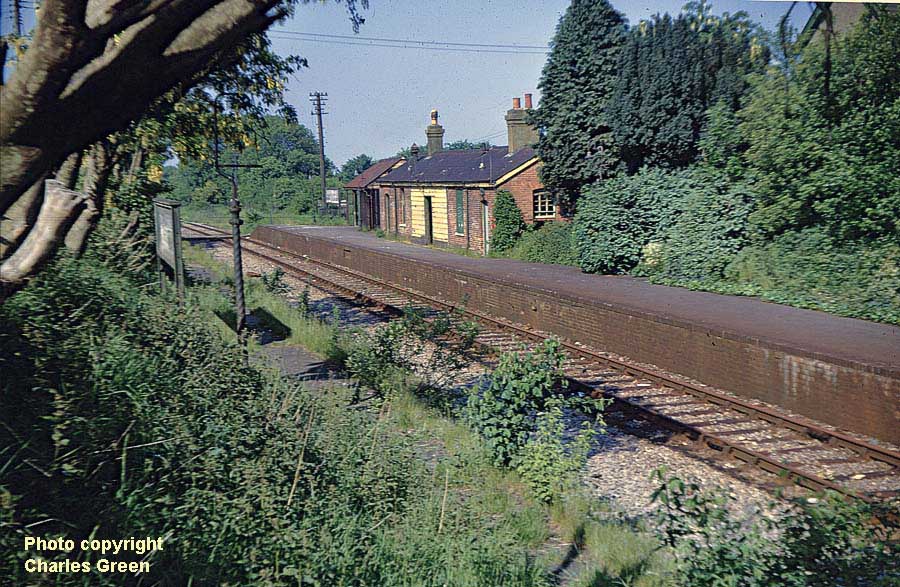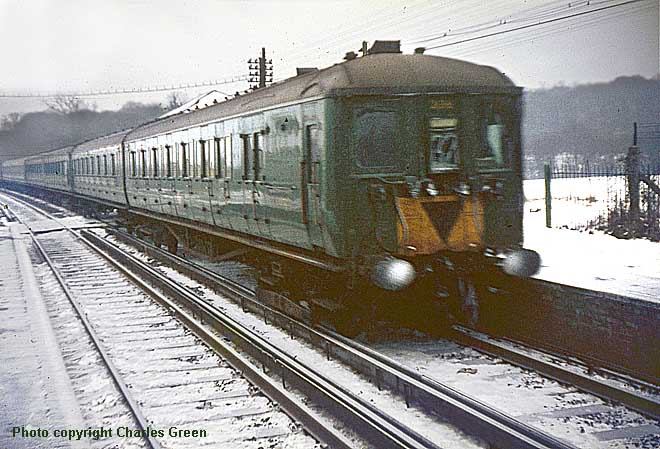 (Above-Below) An 8-car passenger service formed of 4x 2BIL Units runs into Bentley station on its way to Alton (Sunday working) in January 1966 where the train would terminate. Passenger trains beyond Alton were worked by a Hampshire diesel-electric service (DEMU) as there was no conductor rail beyond Alton. (Below) S15 Class 30837 comes to a stand at Bentley after completing the first leg of the S15 Commemorative Rail Tour (Waterloo - Bentley) on 16th January 1966. On the left, U Class 31639 waits in the Up platform to work the second leg from Bentley to Bordon and return. Route restrictions on S15 Class locomotives over the Bordon branch necessitated the change of locomotives. Due to demand for tickets, this was a duplicate of the tour which ran on 9th January 1966. This is the snowy scene at Bentley with 30837 attached to the eight coaches and 31639 waiting to take the tour to Bordon.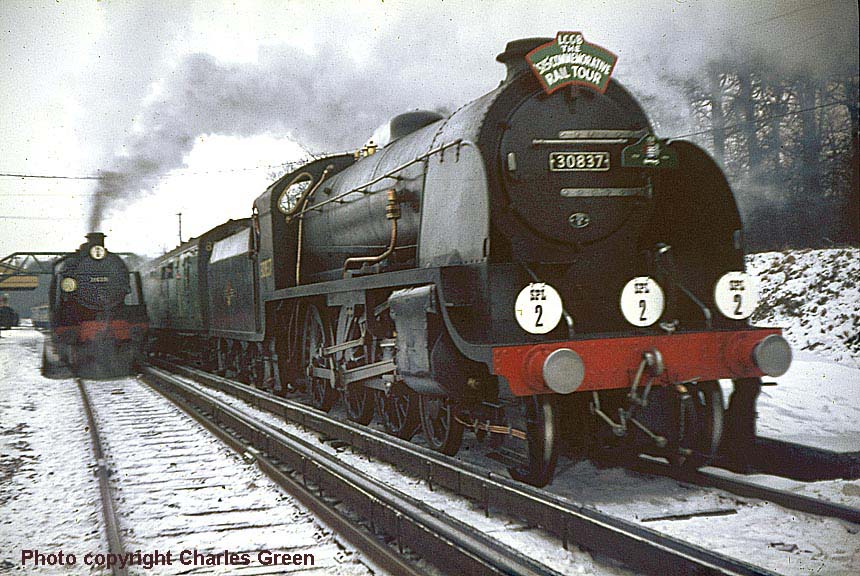 (Below) U Class 31639 works the second leg the LCGB S15 Commemorative Rail Tour from Bentley to Bordon. The tour departed London Waterloo and ran via Clapham Junction, Hampton Court Junction, Woking, Aldershot to Bentley, where a run was made to Bordon and back, then it continued from Alresford via Winchester Junction to Eastleigh for a works visit. The return leg was routed via Fareham, Havant, Guildford, Woking Junction, Hampton Court Junction and Clapham Junction to London Waterloo.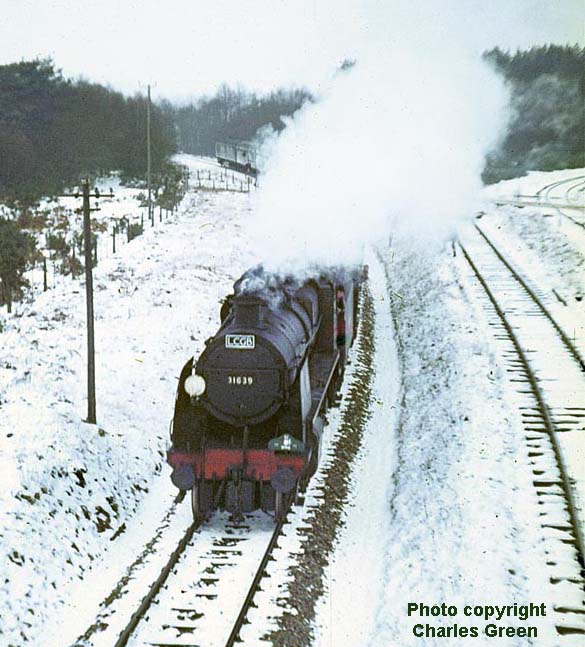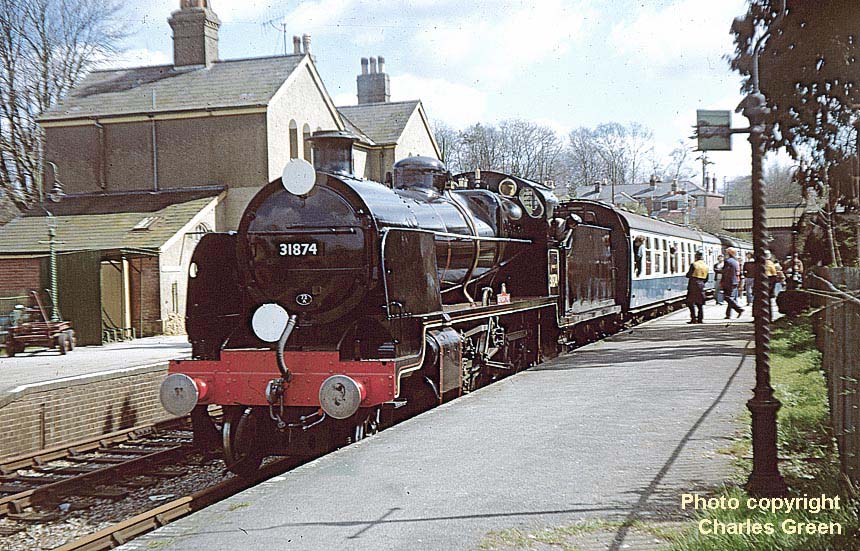 (Above-Below) The Mid-Hants 'Watercress Line' in its infancy with 31874 heading an Up Crew-Training trip between Alresford and Ropley in April 1977. (Below) 31874 with Coach + Brake Van makes a photographic stop for the Down Crew-Training trip. This is the only surviving member of the Maunsell N Class; withdrawn in 1964 the loco languished at Barry Scrapyard until purchased by John Bunch in 1974. Named 'Brian Fiske' after the owner of 'Mayfair' - a prominent men's magazine featuring a different kind of bodywork - some of the proceeds from the magazine sales went into this steam loco's purchase and restoration. Now deceased the locomotive no longer carries his nameplate.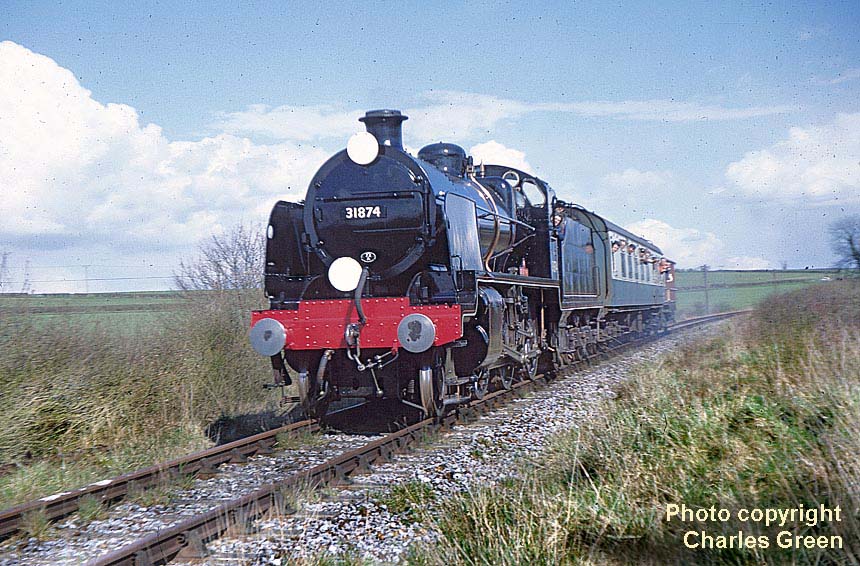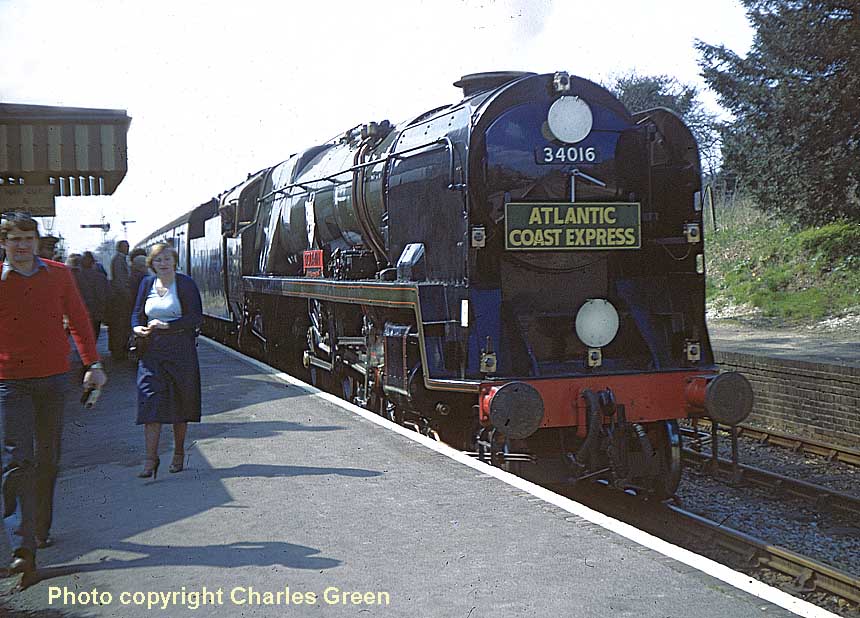 (Above) Flagship of the Watercress Line, Rebuilt West Country Class 34016 'Bodmin' at Ropley in June 1978. Originally numbered 21C116, 'Bodmin' spent the first 12½ years at Exmouth Junction shed before she was rebuilt, having covered over 554,000 miles. Following her rebuild, she moved to Ramsgate shed in 1958. The loco's claim to fame came on 13th May 1958 when she was selected to haul a special train carrying the Italian President from Dover to London Victoria.

JOHN NEVE's BR COLLECTION (71A)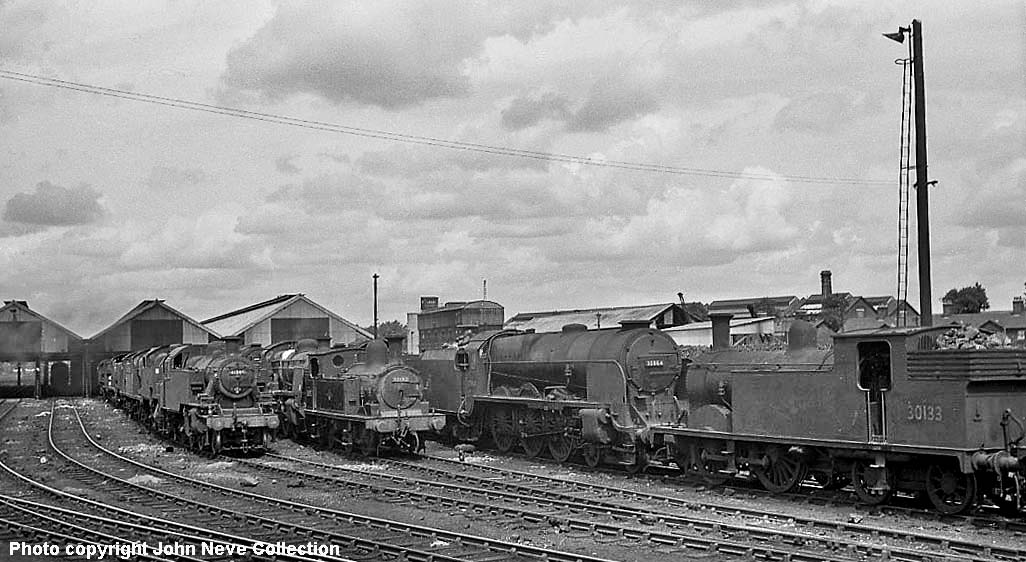 (Above-Inset-Below) Eastleigh's long railway tradition dates back to 1891 when the London and South Western Railway (LSWR) established a carriage and wagon works in the town. This was followed in 1903 by the building of a 15-road locomotive depot adjacent to the works, and seven years later the company transferred the construction of its locomotives from Nine Elms in London to the new workshops at Eastleigh. Among the locomotives produced by Dugald Drummond (LSWR's CME 1895-1912) were the Class

P14 and T14 4-6-0s, the D15 4-4-0s and the Class S14 0-4-0 and M7 0-4-4 tanks, the latter seen here on the extreme right in the shape of No 30113. Behind it is Maunsell '7P' 'Lord Nelson' class No 30864 Sir martin Frobisher. (Inset) Cast brass Locomotive Nameplate 'Sir Martin Frobisher' as carried by the Maunsell '7P' 'Lord Nelson' class No 30864. Built at Eastleigh in 1929, 30864 was a Bournemouth engine for much of its post-war life prior to withdrawal from Eastleigh in Jan 1962; the loco was cut up at the works. Naval Commander Frobisher was a bit of a pirate in his day (mid-16th century) robbing both French and Spanish galleons, yet he was later knighted for his services in repelling the Spanish Armada in 1588. A superb nameplate measuring 61½ inches long, lightly restored and complete with a lined wooden splasher, went under the hammer at a Talisman Railwayana Auction in May 2011. (Below) Another fine view of Eastleigh MPD (71A) with a varied collection of locomotives on shed - Rebuilt Merchant Navy Class 35028 'Clan Line', LN Class 30862 'Lord Collinwood' being the most prominent. A bi-plane can be seen taking off from the adjacent airfield (now Southampton Airport). It was here on 5th March 1936, that the first Spitfire aircraft made its maiden test flight.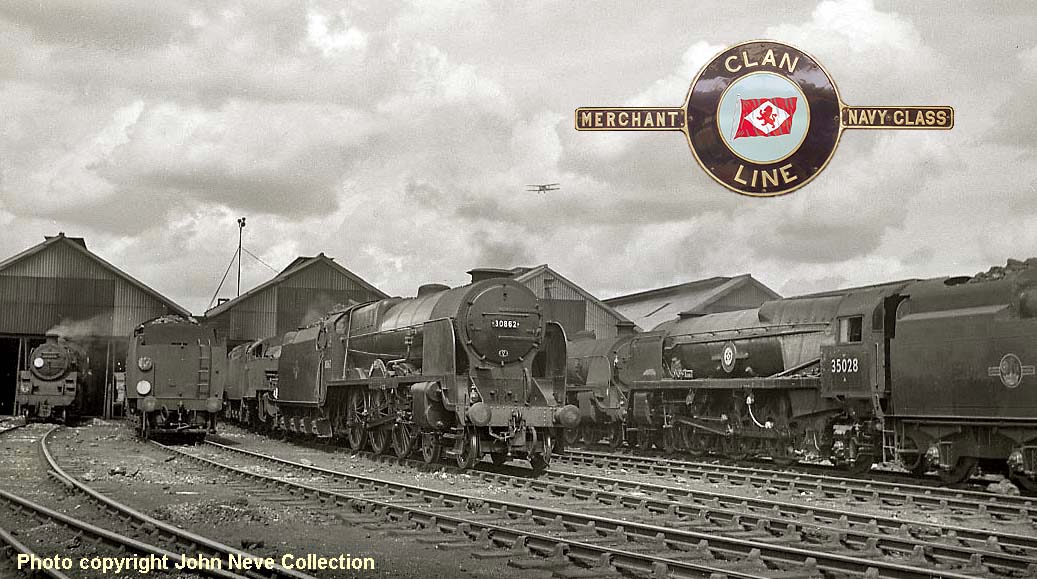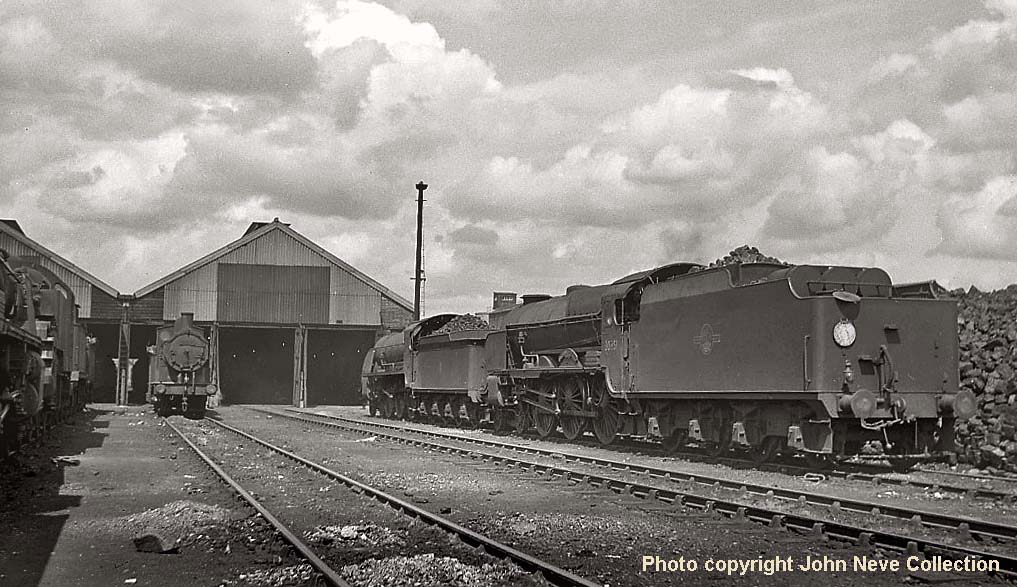 (Above-Below) Following Drummond's retirement in 1912, Robert Urie was appointed CME of the LSWR and he was responsible for the construction of the Class H15, S15 and N15 (King Arthur) 4-6-0s, the G16 4-8-0 and H16 4-6-0 tank engines. After the 1923 Railways Act, the LSWR was among the railway companies merged into the Southern Railway and the Eastleigh site was established as the SR's principal works. The new CME, Richard Maunsell designed and constructed several new classes, including the Schools 4-4-0, U1 2-6-0, W 2-6-4 tanks, Q class 0-6-0 and the Lord Nelson 4-6-0 locomotives, including No 30851 'Sir Francis Drake', the only identifiable locomotive in this shot. Across the road at Eastleigh Works, sixteen of these 4-cylinder locomotives were built between 1926 and 1929 and only the doyen of the class, No 850 'Lord Nelson' survives. (Below) 0415 Class 30584 is standing on the blocks in Eastleigh MPD, probably awaiting the cutter's torch. During the 1950s, three of these locomotives were still to be found at work on the Lyme Regis branch attracting many enthusiasts, especially on summer Saturdays when a pair of these locomotives could be seen double-heading. No 30584 was the first withdrawal in February 1961 - the last two locos 30582 and 30583 were withdrawn in July 1961, the latter is now preserved on the Bluebell Railway as LSWR No. 488.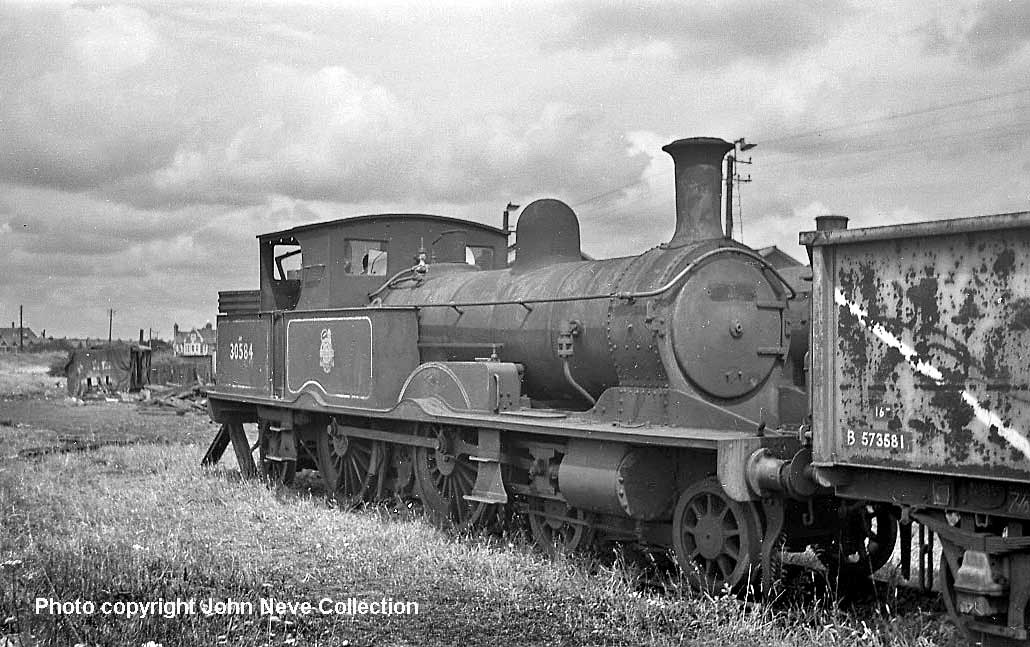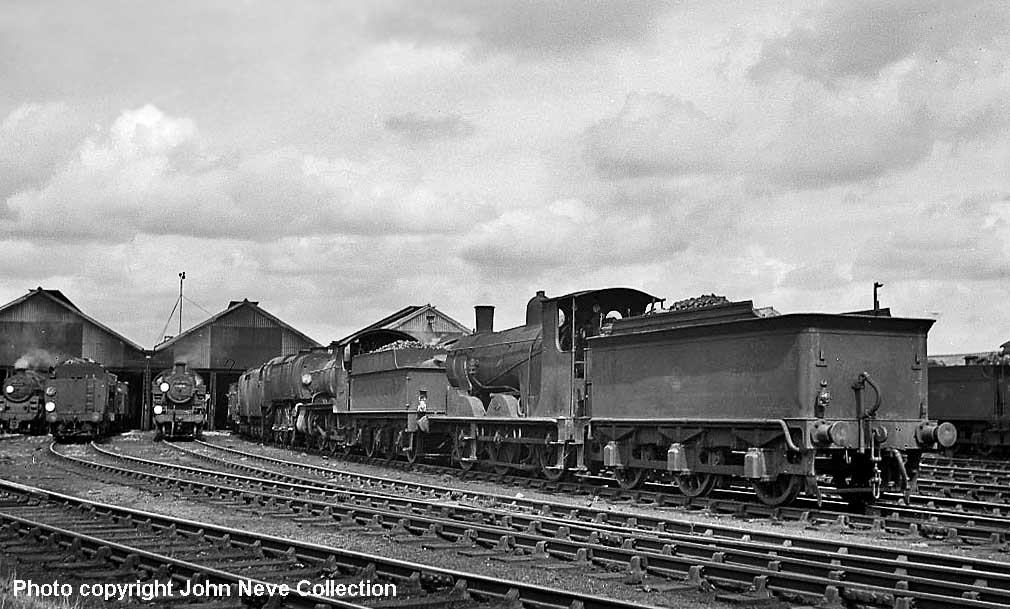 TIME AND MOTION
by Pat Kinsella

It may be a surprise to some readers that in steam days drivers were not issued with time pieces, neither pocket or wrist watches. Some drivers of course bought their own, usually pocket watches; Timex and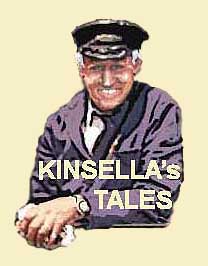 Ingersoll being favourite brands. Guildford men who bought timepieces could rely on a steam raiser in the depot by the name of Claude Johns who in return for a small gratuity repaired both wrist and pocket watches as a hobby.
Drivers were expected to go by the depot clock for departure time from the shed. At Guildford this clock was above the stores serving hatch. In yards and sidings the train guard, who was issued with a pocket watch would give his driver a 'clue' when departure time was imminent. Locomotive crews mostly knew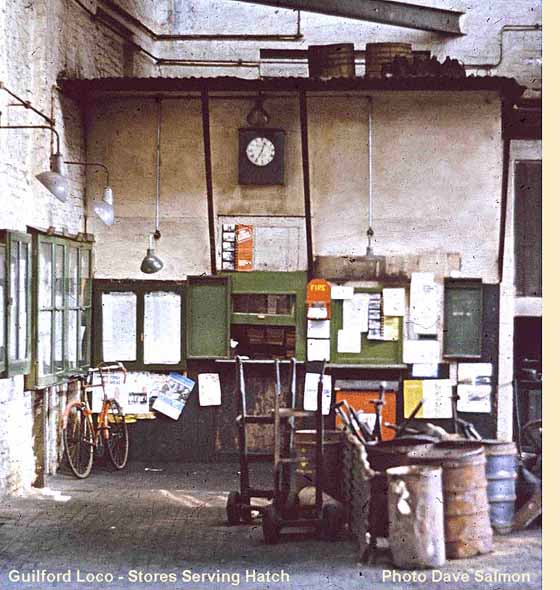 which train they were diagrammed to follow and so when that train had passed by they were prepared to leave as soon as the foregoing train had cleared the section.
At the end of his duty the driver had to guesstimate some departure and arrival times when filling in his daily returns, especially if there was any delay or time lost during the journey. This applied to passenger trains as well as parcels and freight. Train guards were expected to issue 'lost time' tickets to drivers if they considered that the time lost was due to shortage of steam or other locomotive problems. The completed ticket, on which the reasons for the delay would be documented, would be submitted with the driver's daily 'bill', that is, provided the driver hadn't thrown it into the firebox in disgust.
Drivers checked their running times as they passed through stations. Some station wall clocks were large affairs, the face being up to about 22 inches in diameter and easily spotted in either direction. The clock body was often of a double faced 'V' shape design mounted directly onto the wall under the veranda. During the hours of darkness and after the last train had departed, the station porter before going off duty would switch off all the station lights except those illuminating the clock. Obviously the larger clock faces were of great assistance to locomotive crews passing at speed.
Working a freight train between Basingstoke and Feltham sometime after midnight was typical of the steam era when in the early hours of the morning an evocative atmosphere hung heavy over railway property. We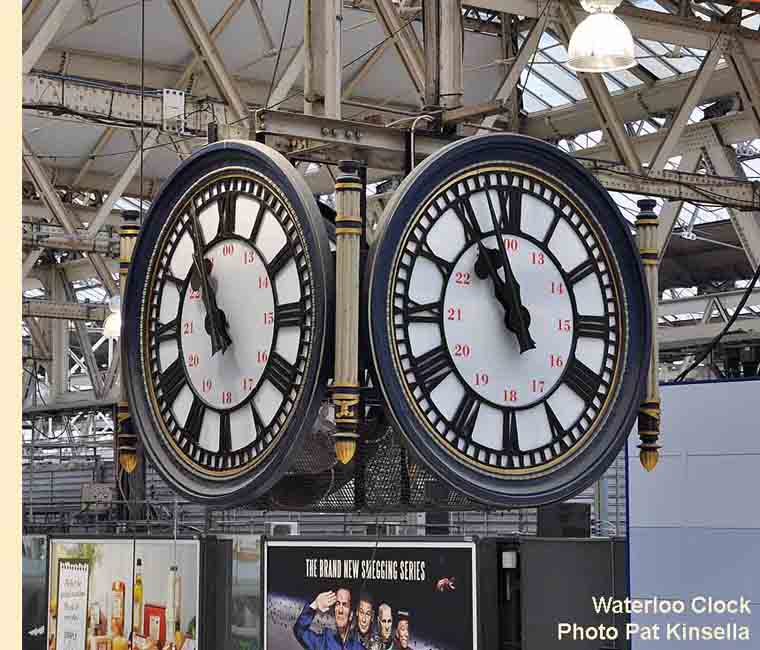 would depart Basingstoke yard on a dark night with an S15 hauling upwards of 900 tons; mostly 'loose coupled' with a 'fitted head'. On starting from the yard it was the fireman's duty to exchange hand signals with the guard to ensure he was aboard and the train complete; a green hand signal from him waved slowly from side to side and responded to by a white light from the fireman was the regulation; rule 142, clause 'D'. Four running lines, two up roads and two down. Lower quadrant pneumatic operated semaphore signals, between Basingstoke and Brookwood, reds greens and yellows facing us on the up and the white backlights of signals on the down line. My driver, soon after departing Basingstoke and reaching the maximum speed of 45mph for our train sets the valve cut off to 20 per cent and first regulator.
Left and right of us the outside world is fast asleep. On a clear night, due to long straight sections of track, signals can be seen for several miles. We are routed via the up slow line while the up London bound Royal Mail is timetabled to pass us on the fast line. Approaching Winchfield we can see our signals glowing green, we are almost freewheeling on the slightly falling gradient; greens all the way as we pass under the high arch bridge. Rapidly approaching the station I can see the signal box ahead, situated on the redundant island platforms between the up and down fast lines, but looking subdued with 'mood' lighting. Most signalmen appear to switch their lights out late at night except for the one over the 'train register book' which is positioned on a rostrum.
Winchfield is in darkness apart from the illuminated clock tucked under the veranda. As we approach, a lonely local policeman on foot patrol wanders onto the platform hoping to see someone to talk to and perhaps expect a cup of tea from the signalman. "On time" shouts my driver with a sense of achievement as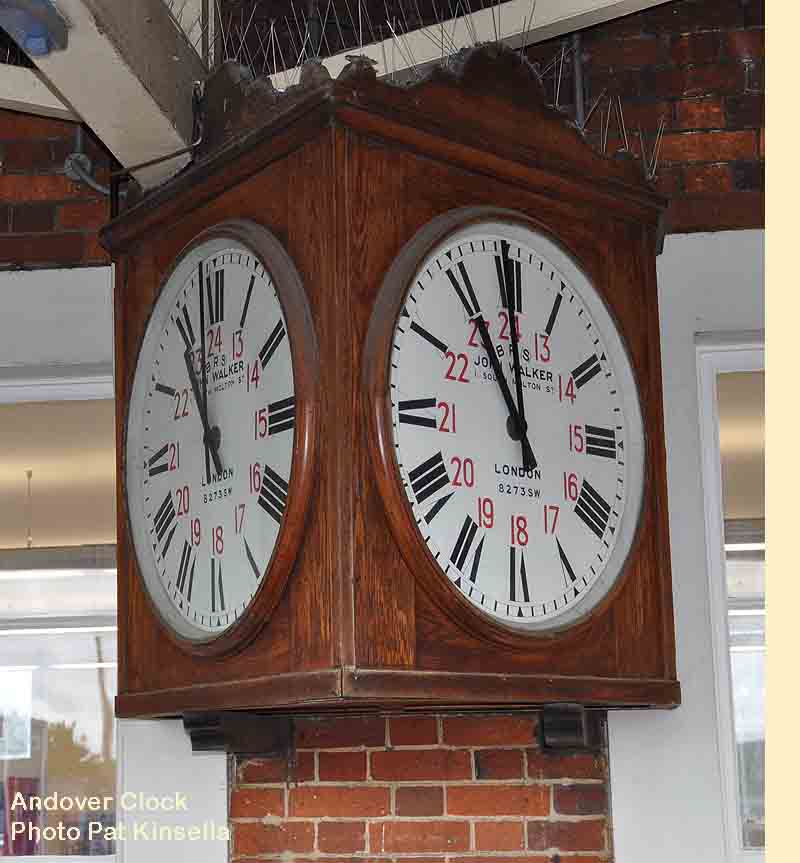 we pass the clock. Drivers did not like receiving 'lost time tickets' from the guard, considering it an affront to their professionalism.
Boiler pressure to spare, I am firing over the 'half door' allowing a flush of light to reflect on the exhaust steam passing over the tender and reflecting diamond like on the dampened coal.
We are not alone in the world though, trains pass us on the down lines, ghostly and mysterious to outsiders perhaps but not us footplate men, the locomotive headcodes indicating their specific line of route and possible destination. Bulleid Pacific locomotives have small electric powered destination headcodes but all other locomotives display oil lamps. One lamp up by the chimney with another in the middle of the buffer beam designates the Salisbury and Exeter route. One on the left hand side of the smokebox and another over the right hand buffer indicates Bournemouth and Weymouth. Depending where we pass each other illustrates to each of us our progress. My driver sees the 'top and middle' headcode lights approaching us on the down fast line on the front of a 'Bullied'.
'The 'Tavey' market empties is running late Pat,' he shouts, 'I wonder what happened to him tonight? Salisbury men working home will be annoyed finishing so late...'
Progress is relatively fast and uninterrupted through Farnborough and Woking, both station clocks confirming our steady progress, until we reach West Weybridge where we diverge to Feltham via Addlestone, Virginia Water and Staines. 30mph from the main line to the branch; this is where the guard as well as the driver needs to have a good knowledge of the road to avoid breaking the train in half and/or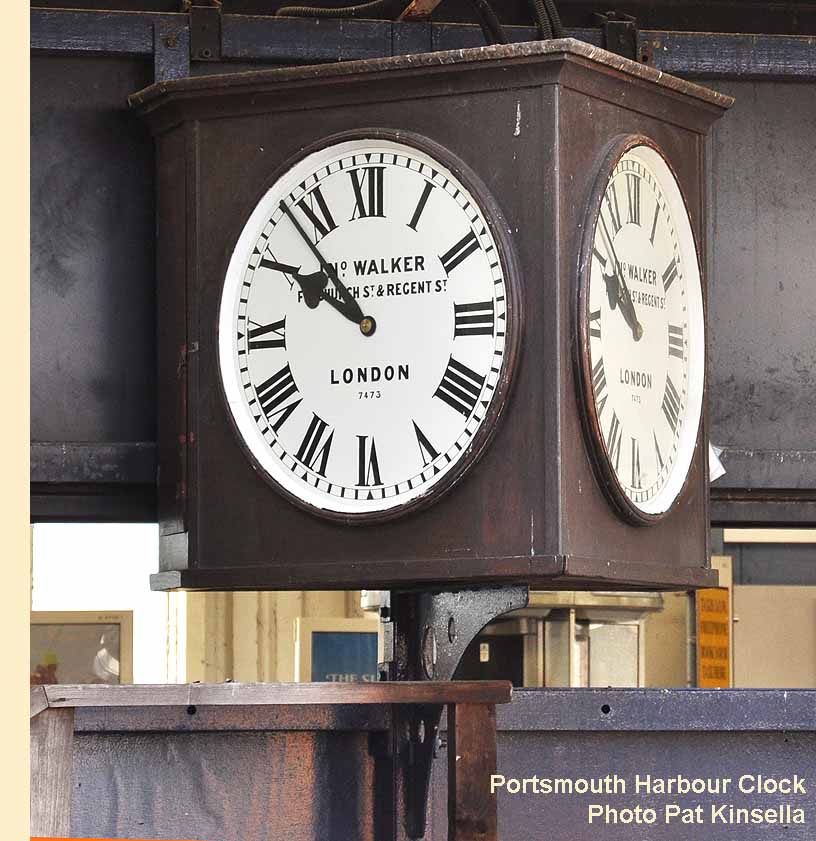 catapulting the 'man in the van' across the handbrake over the next fourteen miles of route. There are seven or eight level crossings to be traversed where signals might be against us. Added to that the various gradients and severe speed restrictions at Virginia Water (15 mph) and Staines (20 mph) over the Thames river bridge and station curve demand skilful train handling and timing.
'Chonking' up the reception road into Feltham marshalling yard our arrival time is displayed on the distinctive quadruple faced clock tower. Allowing our train to come to a gentle stand my driver destroys the vacuum brake on the loco and fitted head to permit the waiting shunter to uncouple us from the train and enable us to run to the locomotive depot to dispose of our engine before returning home on the 'cushions'.
Notes: 1). British Railways had their own telephone system and used the facility to synchronize all essential clocks such as those in signals boxes etc: This was achieved by the operation of a special switch key whereby a master clock activated all dedicated telephones by transmitting a daily time signal at a prearranged time each day.
(2). Fitted head; in the days of loose couple trains, i.e. on freight trains with no continuous brake it was at times incumbent on shunting staff to provide a small number of vacuum brake fitted vehicles 'operated in conjunction with the drivers brake valve' behind the tender to increase braking capabilities on falling gradients; know to all as a 'fitted head'.
(3). Exchanging hand signals with the guard was at times quite difficult on longer trains. Reverse curves departing yards and sidings meant that it was impossible to 'spot' the guards light until a mile or so after starting.
(4). Continental time was first introduced on British Railways on Monday 14th June 1965.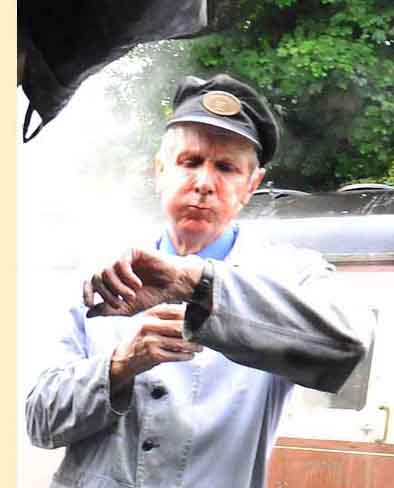 1950 Rule Book.
Rule 33 (a) Clocks at stations and signal boxes must be corrected as may be necessary on receipt of the daily time signal, which is sent in accordance with the special instructions on the subject. Any defects must at once be reported.
(b) At stations where the time signal is not received the Station Master must obtain the precise time from the Guard of the first stopping train commencing its journey after 10.0 a.m. or other specified time and correct the station clocks as may be necessary.
(c) When on duty each Guard must satisfy himself that his watch is correct...

(Right and Below) Talking of clock watching, self-appointed Time & Motion expert (Driver Bob Cartwright on the Mid Hants Railway) jokingly checks his watch as he assesses the stoking capabilities of retired fireman, Geoff Burch, aboard 850 Lord Nelson - 'Shift your ass, Geoff…we'll never get away on time at this rate!'




BR STEAM DAYS AT BASINGSTOKE.
Captions courtesy Geoff Burch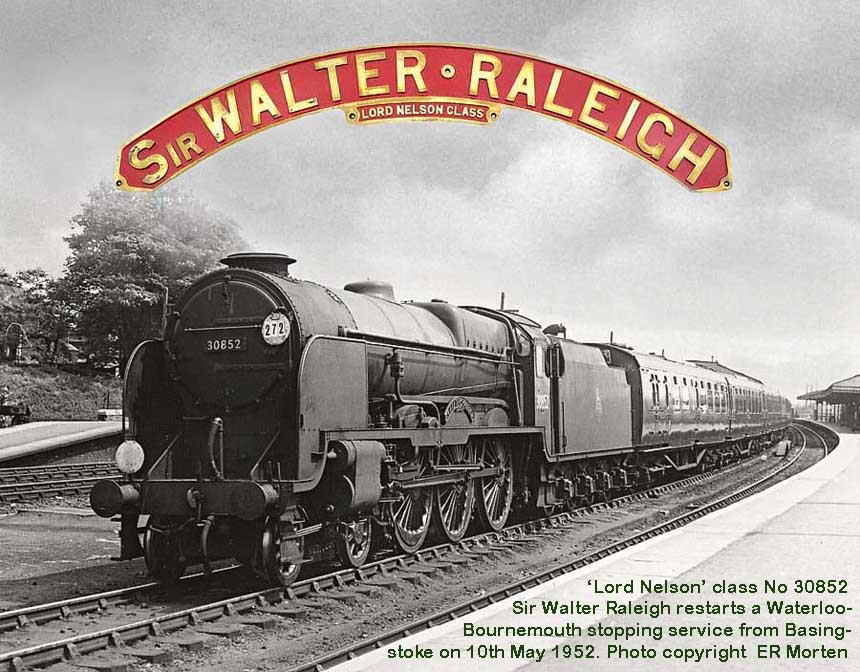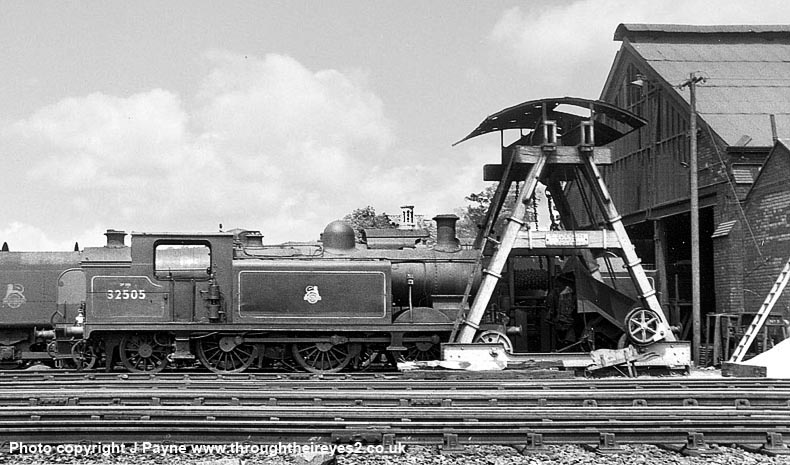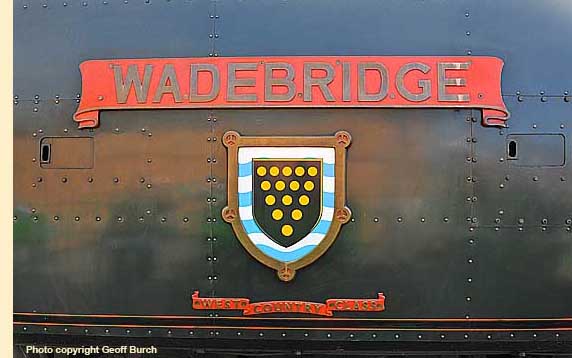 (Above-Below) The first photo shows E4 Class 32505 outside Basingstoke shed next to a lifting device - I'm not sure what it was used for, but after meeting a colleague who worked at Basingstoke during that period I'm told that the contraption shown is a hand operated crane (mounted on rails either side of the four foot) used to lift a loco framing from its bogie etc. (Below) Another view of the lifting device as the now-preserved 34007 Wadebridge slows for the Basingstoke stop with a Bournemouth-Waterloo service. Completed at Brighton in August 1945 as No 21C107, this 'West Country class loco began her mainline career based at Exmouth Junction shed before moving to Nine Elms in 1951. She was transferred to Salisbury shed in August 1964 where she ended her days in October 1965 after clocking up 823,193 miles in service. Consigned to Barry scrap yard in May 1966, the loco was rescued for preservation in 1981 at the Plym Valley Railway, and later restored at the Bodmin and Wenford Railway. In the past few years 34007 can be found working on the Mid Hants Railway (Watercress Line).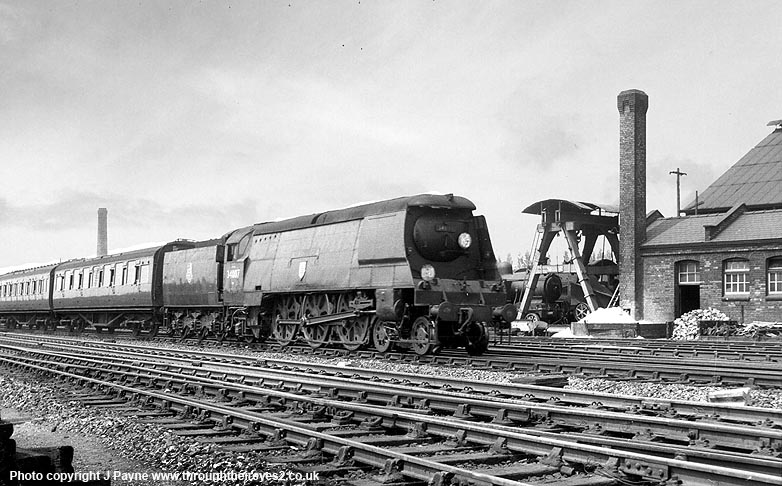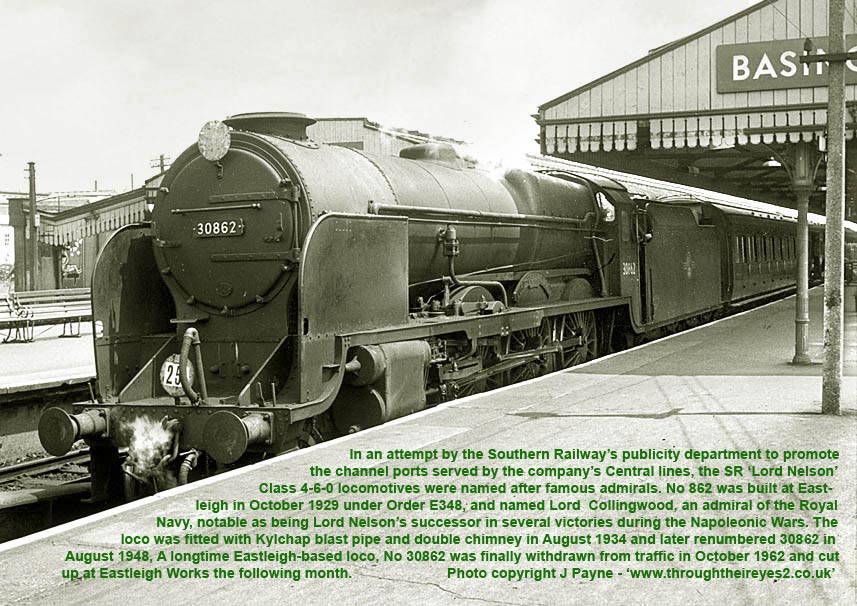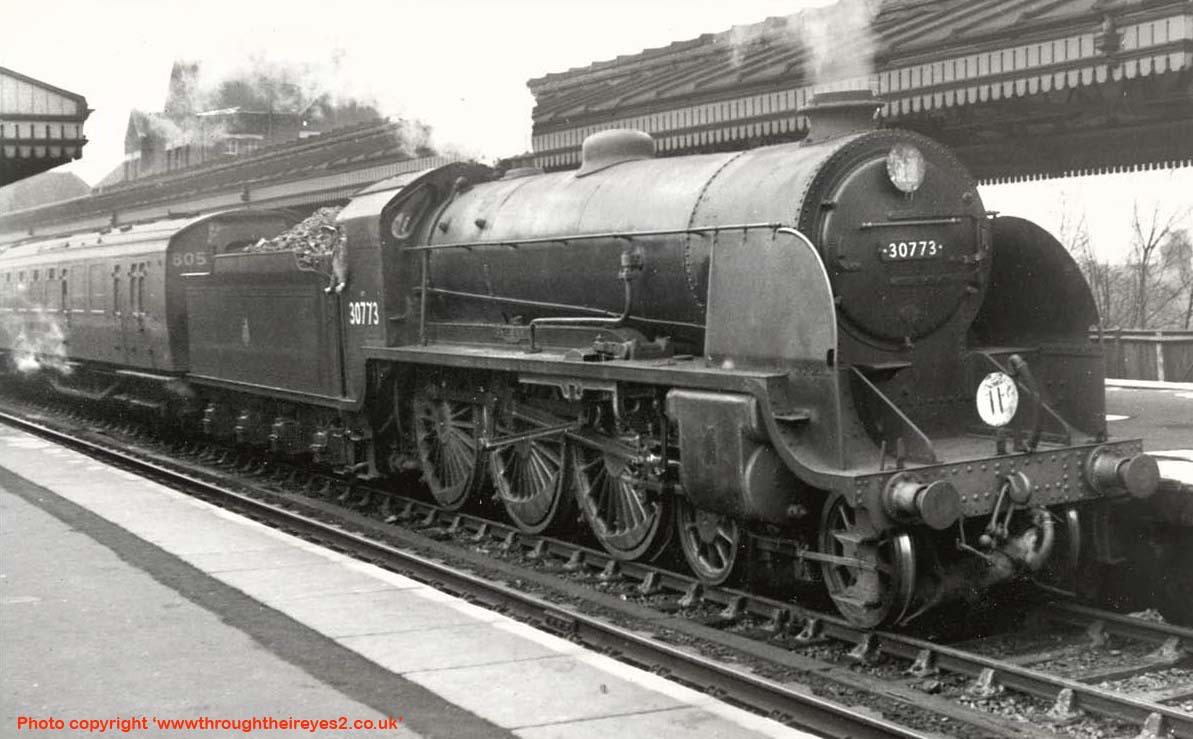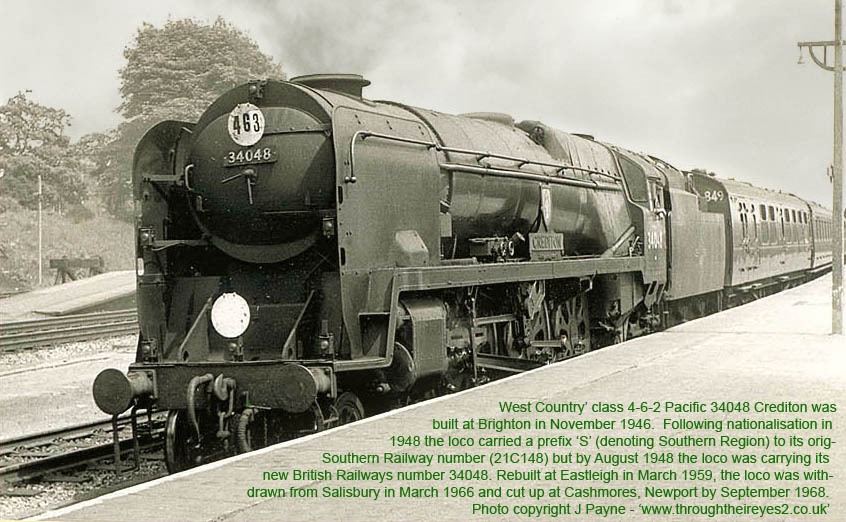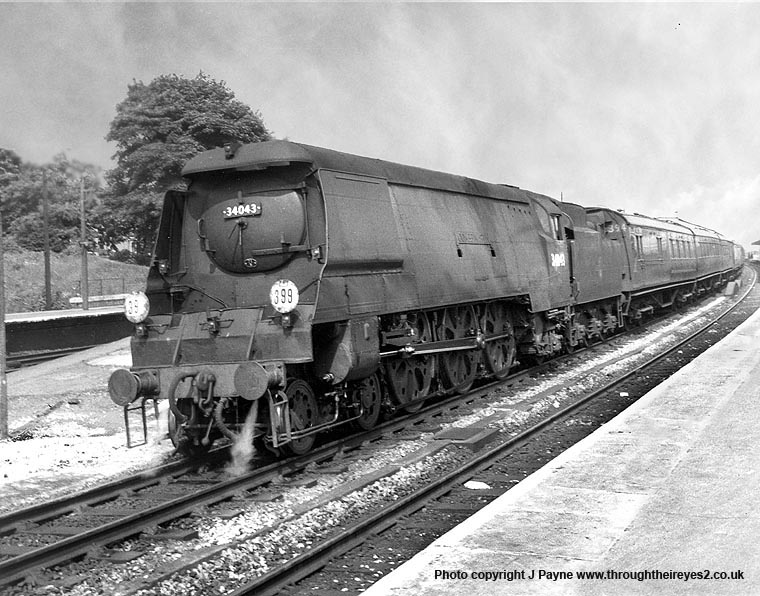 (Above) The headcode on Unrebuilt West Country Class 34043 'Coombe Martin' denotes that she is working 'The Pines Express' (which ran from Manchester to Bournemouth) seen here at Basingstoke on its southbound journey.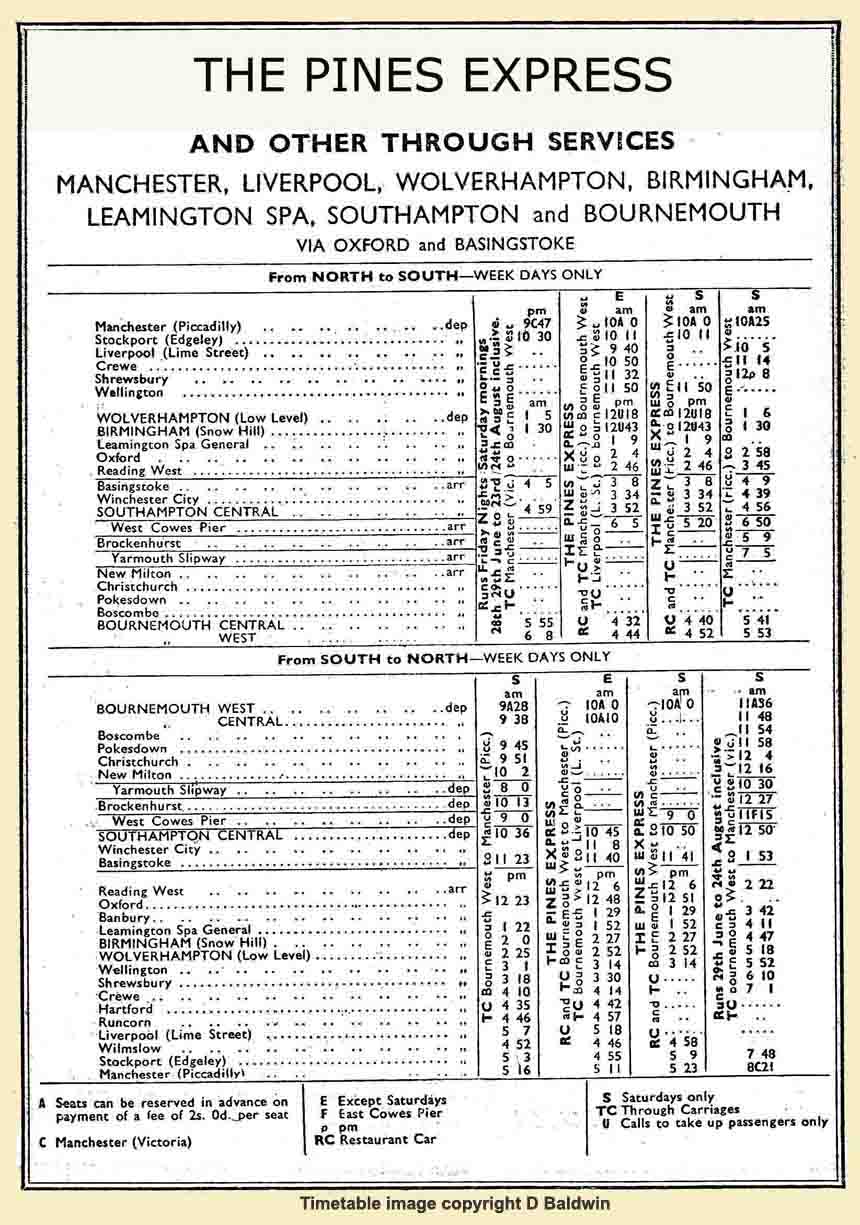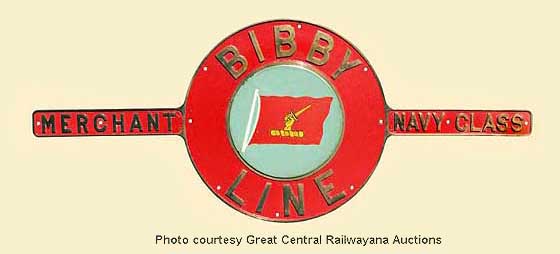 (Above-Below) A nameplate from the SR Merchant Navy Class 4-6-2 No 21C20 Bibby Line went under the hammer for £24,500 at a Great Central Railwyana Auction on 13th October 2012. Built at Eastleigh in June 1945, No 21C20 was the last of the Class built by the Southern Railway, the remaining ten built by BR in 1948-49. It became BR 35020 in May 1948 and was rebuilt in April 1956. It spent most of its working life at Nine Elms before moving in 1964 to Weymouth from where it was withdrawn on 14 February 1965 and cut up at Eastleigh Works two weeks later. Bibby Line achieved notoriety when, on 24 April 1953, it came close to disaster heading an Exeter to Waterloo express at Crewkerne when the driving axle fractured at speed; a serious accident was narrowly avoided thanks to the prompt actions of the crew. The outcome was that all the Merchant Navy locos were temporarily withdrawn pending inspection of all coupled axles and Britannias, V2s, Class 5s and B1s were drafted in from other Regions to carry out their duties. Click on nameplate image to visit the fascinating GCRA website. (Below) Rebuilt 'Merchant Navy' class 35020 'Bibby Line' shown hurtling through Basingstoke with 'The Atlantic Coast Express' - known to spotters as the 'ACE' - which departed Waterloo at 11am and reached Exeter Central in 2 hours 56 minutes. This Waterloo-West Country express began operations during LSWR days but it wasn't until 1927 that it was given the title 'Atlantic Coast Express'. The train had as many as nine different sections in the formation, including Ilfracombe, Torrington, Padstow, Bude and Plymouth. The service ceased in the mid-1960s when most of the lines it served closed as part of the Beeching Axe.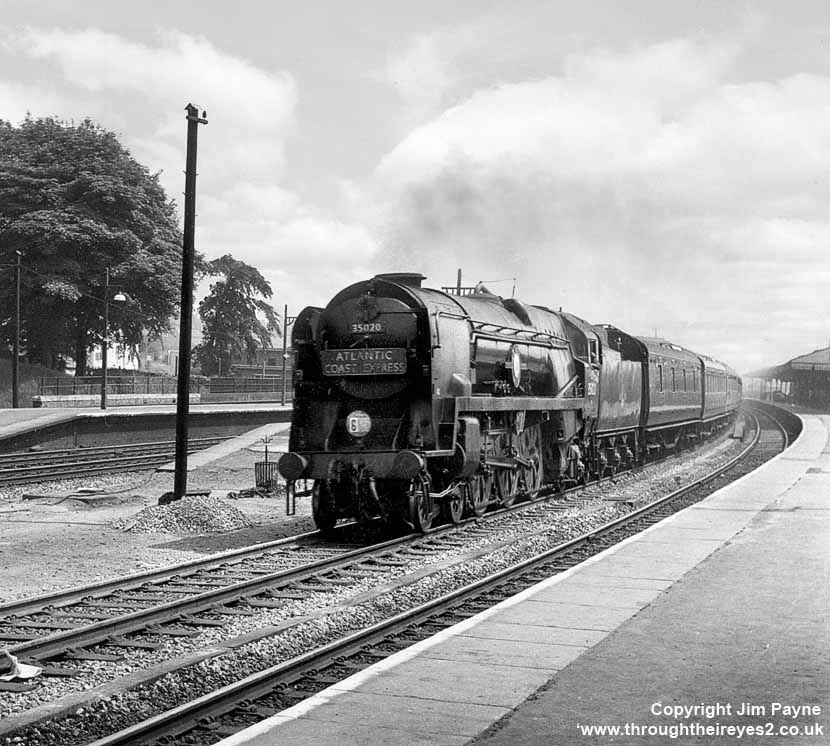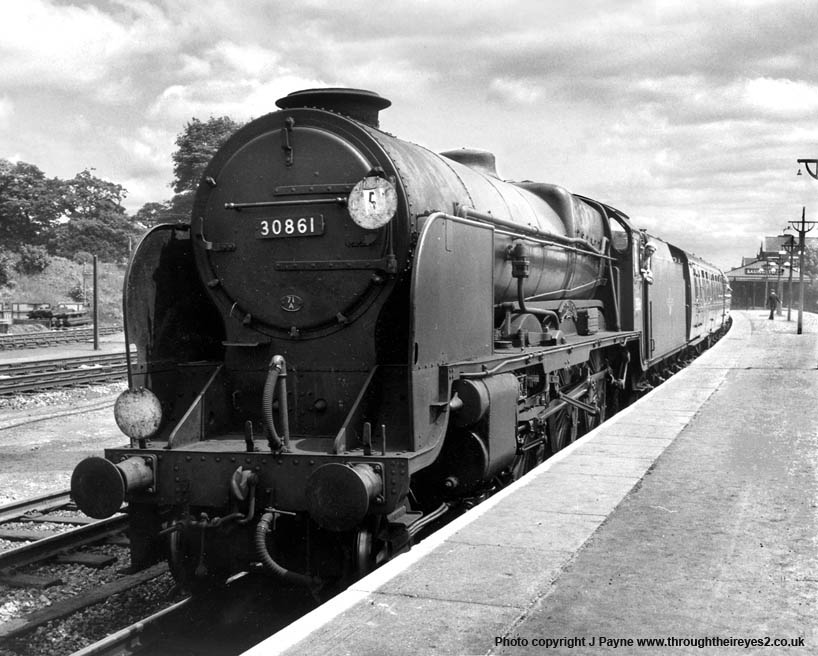 (Above-Below) LN Class 30861 Lord Anson shown here on the down local platform at Basingstoke working a Waterloo - Bournemouth stopping service (headboards left smokebox and right bufferbeam). When I was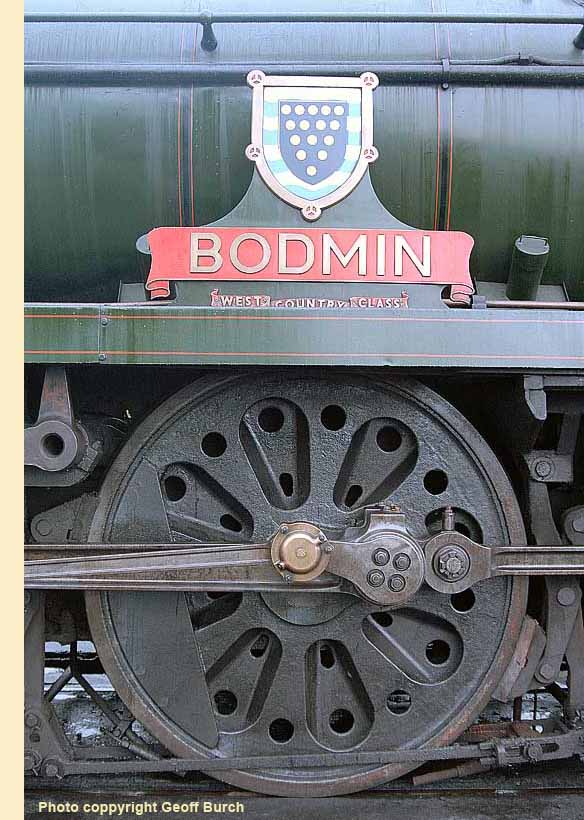 a young 16 year-old fireman, I was 'on loan' to Nine Elms and was preparing a LN Class locomotive which was booked to work a summer excursion from Waterloo to Brockenhurst. The fireman who was booked the turn didn't appear and I nearly went the turn. However, they found someone else (who was probably far more experienced than me) which was a good job as I'd never heard of the place let alone been there! Unfortunately, the LN Class all disappeared before I became a more experienced fireman. (Below) Class S15 30515 (this one built by Rober Urie) shown outside Basingstoke shed) were typical freight locomotives of the Southern. There were more of this class of loco built by Richard Maunsell between 1927-28 and again in 1936.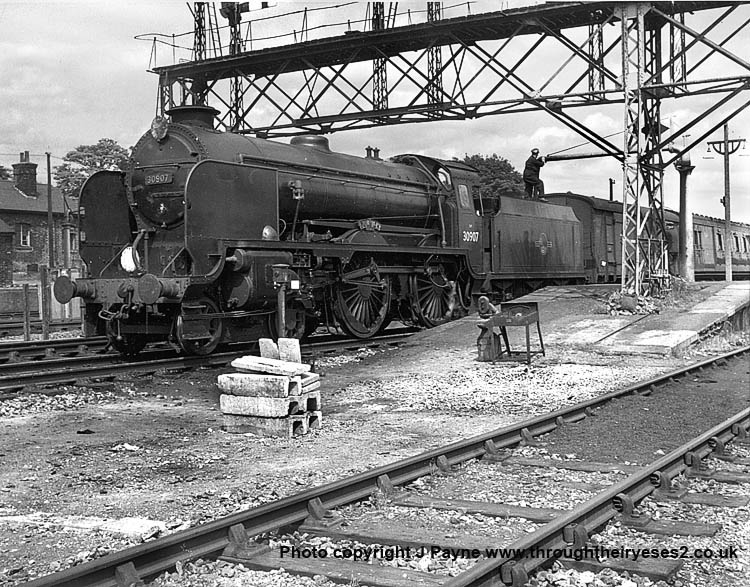 (Above-Below) Classic Southern Region steam: the V Class 'Schools' class, this one being 30907 'Dulwich' seen taking water at Basingstoke at the end of the down Local platform; the headboards top of smokebox and middle of bufferbeam designates a run to Salisbury (and maybe even further west to Exeter). When I started work as a cleaner at Guildford in 1961, we had three 'Schools' class locos - 30903 Charterhouse,

30906 Sherbourne and 30909 St Paul's (which incidentally was the first engine that I cleaned on my first day at work).They were fantastic locomotives to work on, extremely powerful, automatic injectors and as I was left handed (and not been taught how to fire right handed as required on N & U Class locos) I was in my element! Sadly, all three of them were scrapped in my first year as a fireman. (Inset) A Southern Region target sign from Basingstoke station went under the hammer at a Great Central Railway auction for £290 in July 2010. (Below) BR Standard Class 5MT 73085 Melisande (previously the nameplate belonged to Urie King Arthur Class 30753) shown here leaving Basingstoke with a 'down' local with a stopping service from Waterloo to Bournemouth. Excellent locomotives to work on, with bucket seats, free steaming and easy disposal duties (with rocker grates).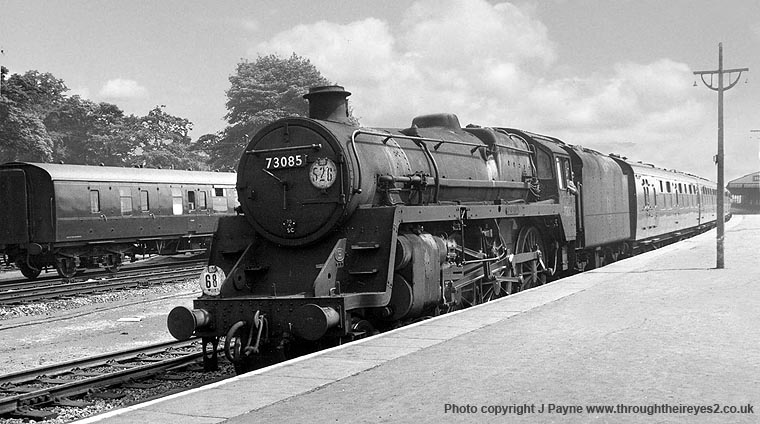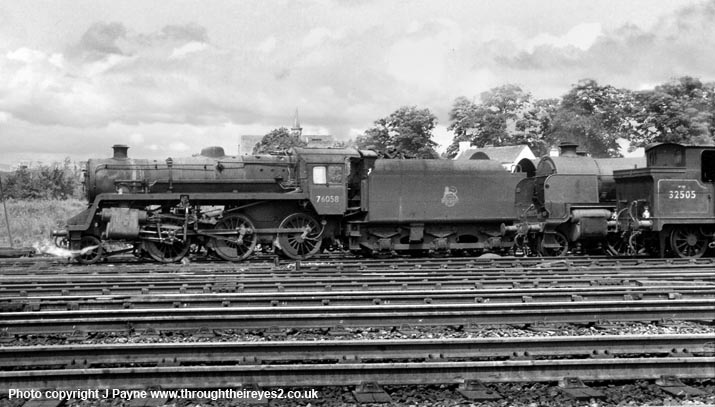 (Above-Below) The Southern Region's BR Standard Class 4MT Moguls became concentrated around Eastleigh, Southampton and Bournemouth for cross-country services between Portsmouth, Salisbury and Cardiff, Reading to Redhill, Brighton to Bournemouth and the Swanage branch. Perhaps their most famous turns was the London Waterloo-Lymington boat trains, though this had little to do with their capabilities, rather their ability to fit the the turntable at Brockenhurst. Here 76058 rests at Basingstoke shed (70D). (Below) S15 Class 30501 simmers gently between Basingstoke Loco and the station awaiting her next turn of duty....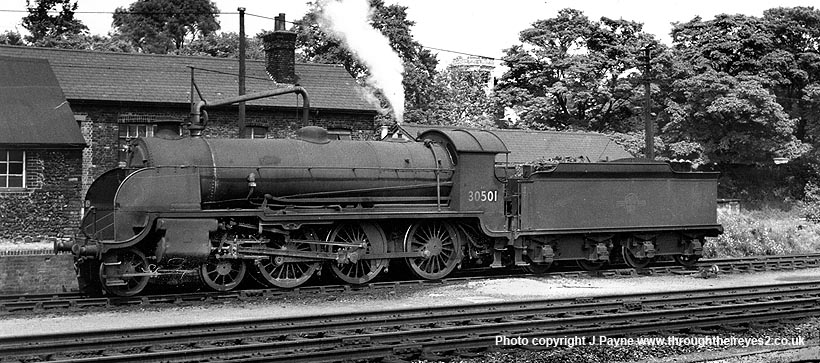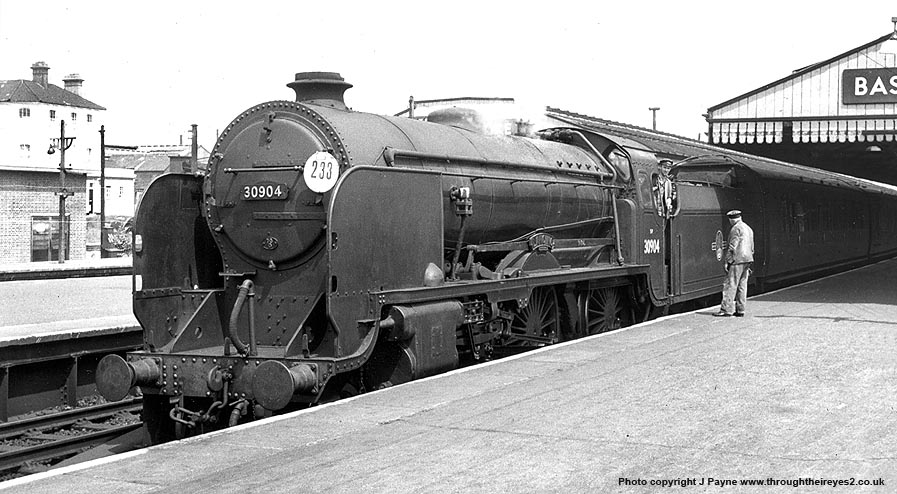 (Above-Below) V Class 'Schools' 30904 Lancing at Basingstoke station. Hard to tell whether it's the 'up' local (to commence a stopping service to Woking then Waterloo or whether it's on the 'down' local platform and has just completed a stopping service from Waterloo). Whichever, from the position of the loco, he probably only has four coaches. (Below) Class H15 No 30523 pauses for water on the Down Local line at Basingstoke before heading off to Salisbury (and then possibly Meldon Quarry) with a train made up of stone empties.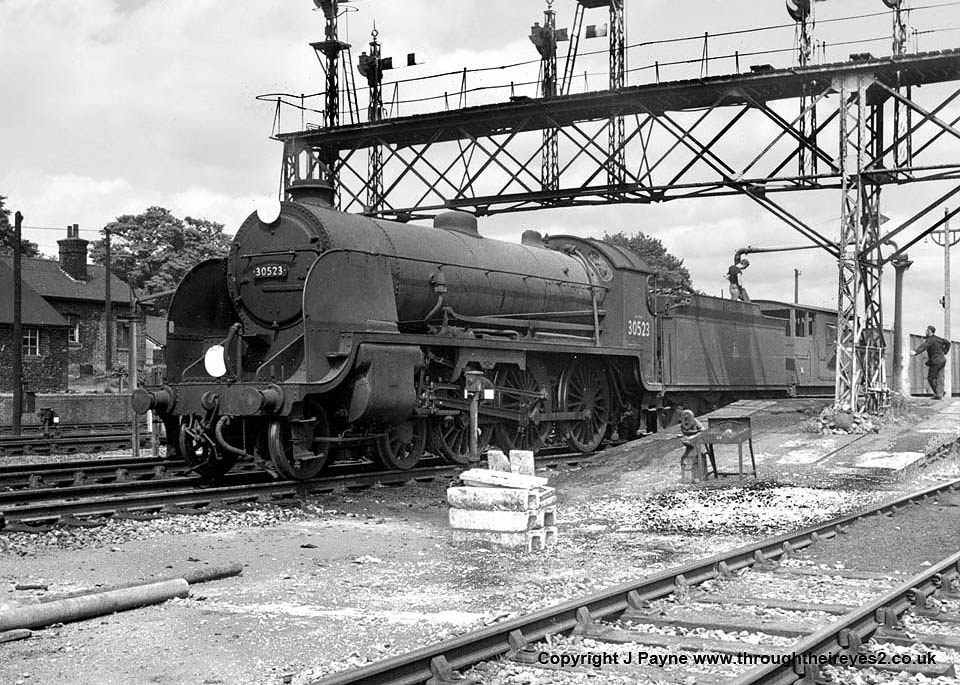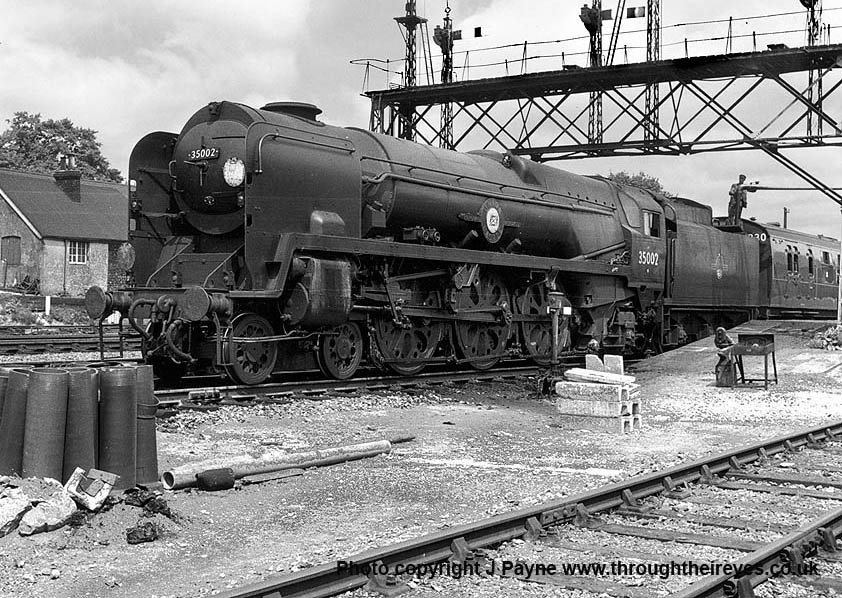 (Above-Below) The handsome lines of rebuilt 'Merchant Navy' class 35002 Union Castle with the 'bag in' at Basingstoke. She is heading a Bournemouth Service. (Below) The now-preserved Rebuilt 'Merchant Navy' Class 35005 'Canadian Pacific' with a Waterloo bound service from Bournemouth. In the left foreground is an interesting ground signal for modellers to note...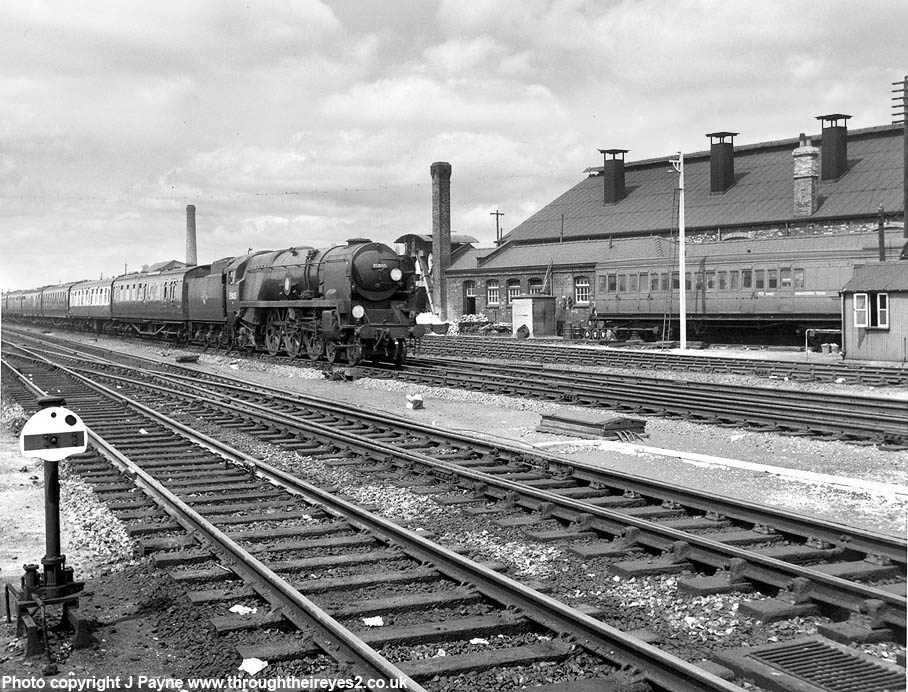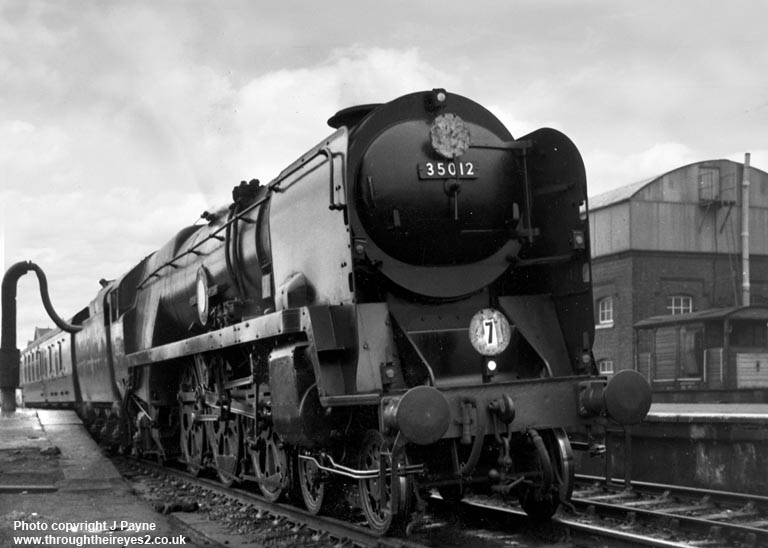 (Above-Below) Rebuilt 'Merchant Navy' class 35012 'United States Lines' is replenishing her tender before departing for Waterloo with a service from Exeter. (Below) BR Standard Class 4 No 75077.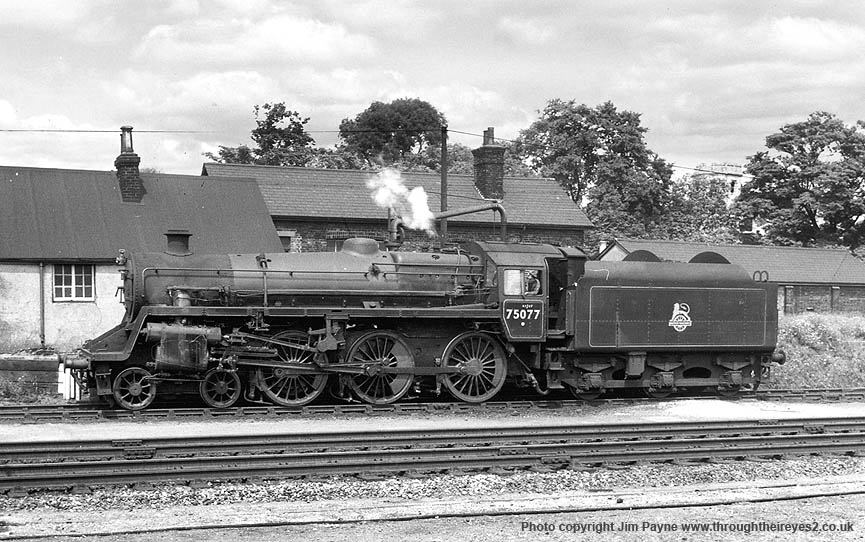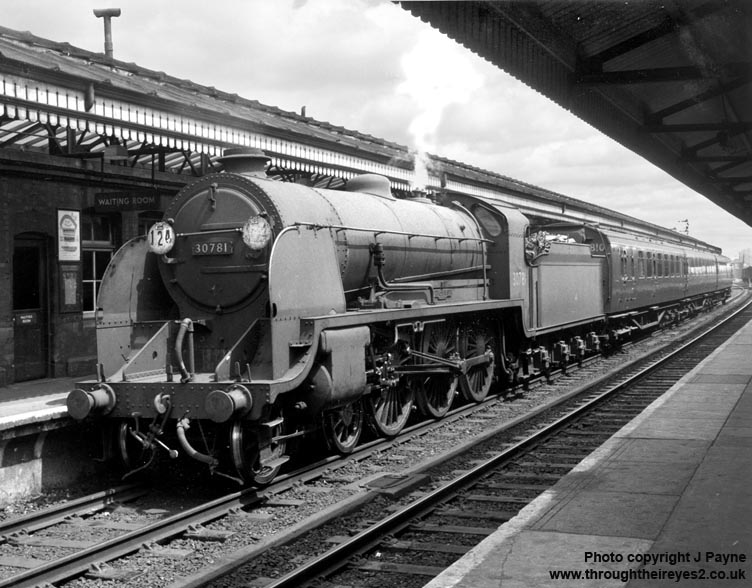 (Above-Below) Class N15 'King Arthur' class 30781 'Sir Aglovale' running into the Down Through platform at Basingstoke. I'm not sure where the train is heading with the headcode shown. (Below) This was one of many Western locomotives seen at Basingstoke. The WR Main Line was only a few miles away at Reading. Here, 'Hall' Class No 6975 Capesthorne Hall adds to the loco variety. Several photos on this page are reproduced courtesy of Jim Payne's CD from his wonderful website 'Through Their Eyes'. Click here for link. I am not affiliated with the sale of CDs in any way, merely reproducing what I think are interesting images of Southern Region steam. A word should be added about Photoshopping - the above images, excellent though the originals are, have been digitally enhanced with sky tones for suitable reproduction on the web. The subject of Photoshopping can be found on the 'Rail Photo Workshop' Page 46 of this site.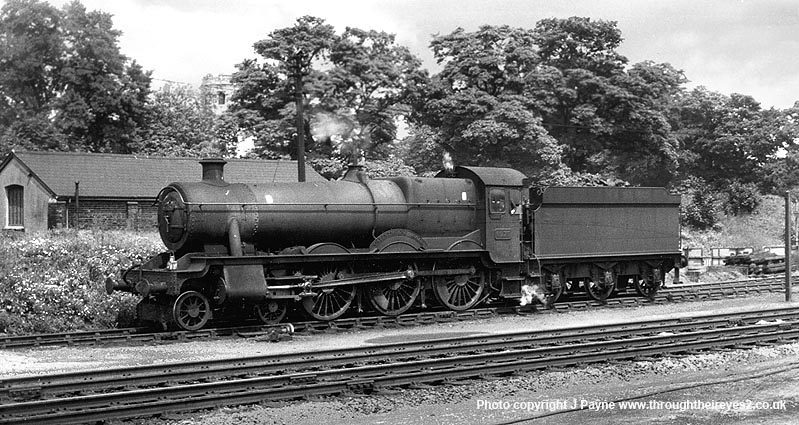 (Inset-Below) We end our visit to Basingstoke with this 70D shedplate (1950 - September 1963) then Eastleigh (closed to steam July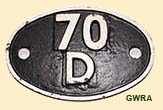 1967) went under the hammer for £80 at a Great Western Railwayana Auction in May 2012. The ex-LSWR shed at Basingstoke was most noted for being home to the 'Remembrance' class 4-6-0s in its small allocation during the 1950s. Eastleigh took over the code when Basingstoke lost its allocation, however the shed remained open for servicing until the end of SR steam. (Below) This view from an 'up' train shows Basingstoke MPD on 11th June 1966 with a Brush Type 4 and a number of BR Standard Class locomotives in residence.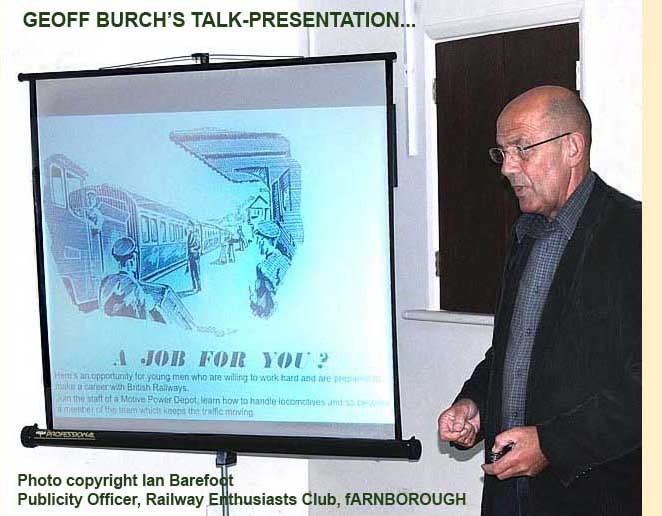 (Left) This photo of Geoff Burch at a recent talk and presentation at the Railway Enthusiasts Club at Farnborough was kindly taken by Ian Barefoot, the club's publicity officer, who writes - 'The social history of those involved in the operation of Britain's railways (particularly at the 'sharp end') are rarely told but always fascinating. It was with great pleasure therefore that the Railway Enthusiasts Club at Farnborough (link) hosted a presentation by Geoff Burch, a former railwayman with British Rail (Southern Region) based at Guildford shed.
For nearly two hours Geoff talked about his reminiscences of life at Guildford Locomotive Shed - a period which spanned the late 1950's to the end of steam at Guildford in 1967.
Geoff's interest in railways started in his school-days - his classroom backed on to the 'main line' and like many of his fellow classmates he became an avid train-spotter, much to the despair of teachers when lessons were interrupted by boys making a dash for the windows to watch a train pass! Geoff later responded to a 'British Railways' job advert and, at the age of fifteen, started work as an engine-cleaner at Guildford, gradually making his way up to the position of fireman.
Geoff's presentation was full of anecdotes -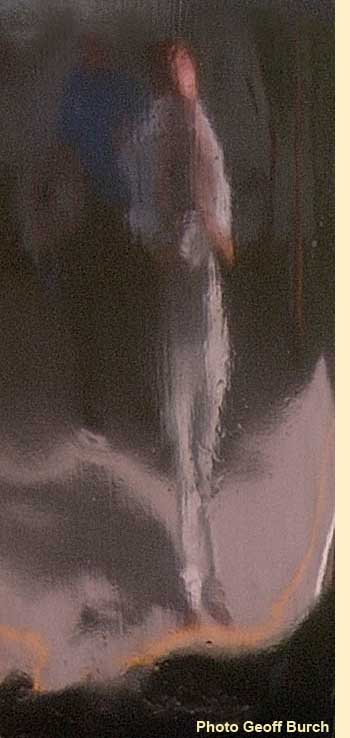 interesting not only for the locos and locations involved - but because of the involvement of his work colleagues, bringing a realisation that work of this nature is very much a team effort.
Whilst Geoff's presentation concentrated on the 'steam age', his career on the railway extended far beyond the demise of steam when he became Assistant Operations & Safety Training Manager based at South West Train's Operations & Training Centre, Basingstoke...'
Following retirement in 2009, Geoff is now available to give a talk and presentation to your group, and can be contacted via telephone - 07710094113
His email address - ramblingrailwayman@gmail.com

(Left-Below) Meanwhile here are some of Geoff's more recent photographs, starting off with an unusual 'selfie' during a visit to the Dartmouth Steam Railway. The photo below reveals the full image...perhaps innovative photography of this kind may not be everyone's cup of tea, so to placate the diehard enthusiast there is traditional shot of Lord Nelson on the Mid Hants Railway beneath it...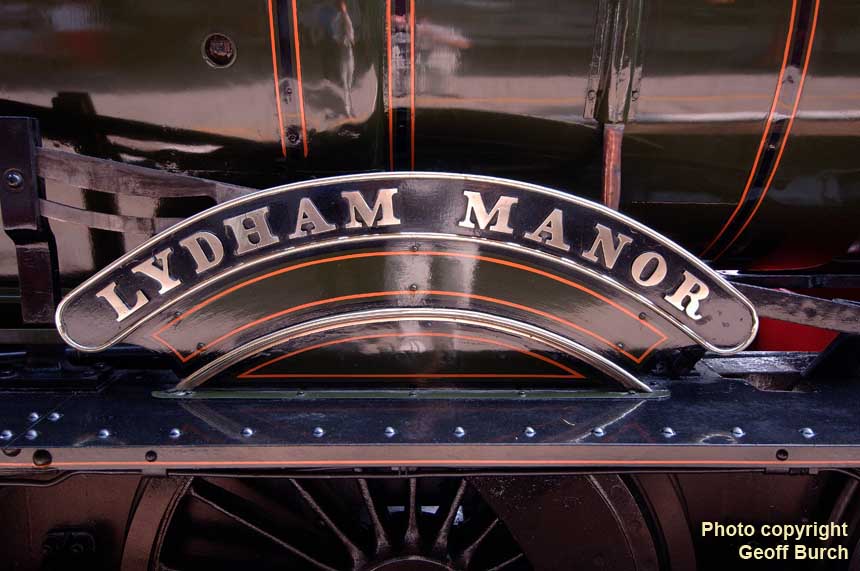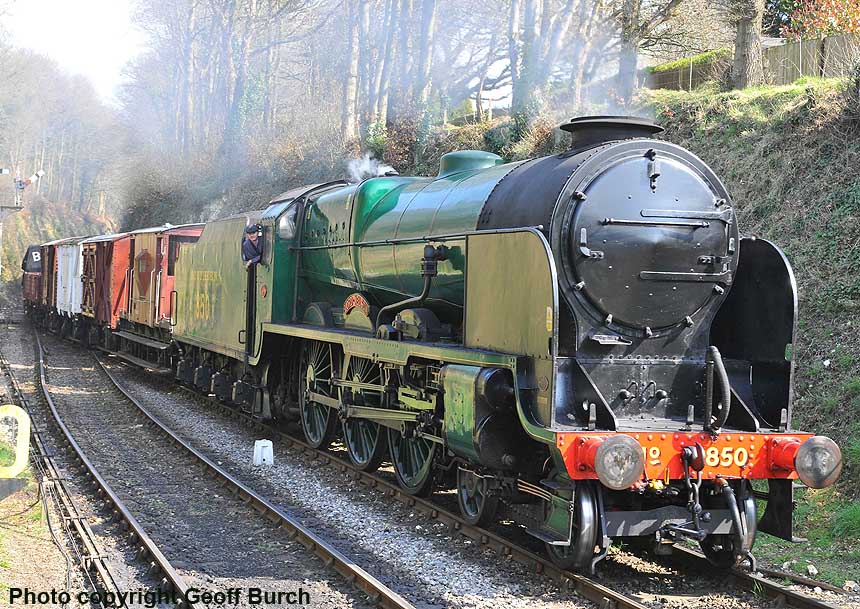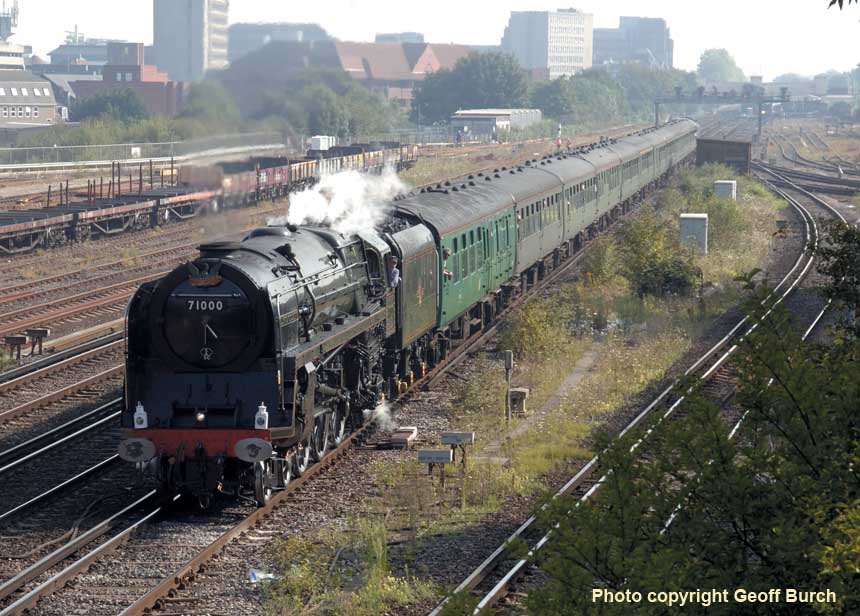 Above-Inset-Below) BR Standard Class 8P 71000 'Duke of Gloucester' heads the outward leg of the 1Z94 Clapham Junction-Exeter 'Cathedrals Express' past Woking Junction on 24th July 2005. This shot was taken with one of my first digital Nikon cameras (D2X) but since I wasn't entirely familiar with the camera I relied on my trusty Hasselblad medium format (roll film) camera for the nocturnal shot (below) of 71000 pausing at Woking station on its return 1Z95 run from Exeter. (Inset) An original nameplate 'Duke of

Gloucester' as carried by the unique BR standard 8P Pacific, went under the hammer for £29,000 at a recent Sheffield Railwayana Auction (the nameplates currently fitted to the loco in preservation are not the originals). Built in 1954 under Order No E486, Robert Riddles requested this loco be constructed to replace LMS Pacific 46202 Princess Anne which had been destroyed in the 1952 Harrow disaster. No 71000 entered service at Crewe North MPD (5A) in May 1954 to work alongside the Stanier Pacifics on the heavy WCML express trains between Euston and Glasgow. Following withdrawal in November 1962, the loco was originally scheduled by the British Transport Commission (BTC) for preservation, but it was subsequently removed from the list and the outside cylinders removed and sent to the Science Museum in London for display along with one of the nameplates. Meanwhile the redundant loco was sent to Woodham Scrap Yard at Barry, but its journey there was not without incident as it ended up at Cashmores of Newport instead, where it may well have been broken-up, had not the mistake been spotted and rectified. Thanks to a dedicated band of volunteers it was rescued from Barry and restored to working order. The nameplate (shown inset) was sold by BR in the mid-1960s; at the time there was no perceived need to preserve two nameplates from the same loco, therefore the Sheffield Railwayana Auction was a unique opportunity to obtain a nameplate from this famous and totally one-off loco...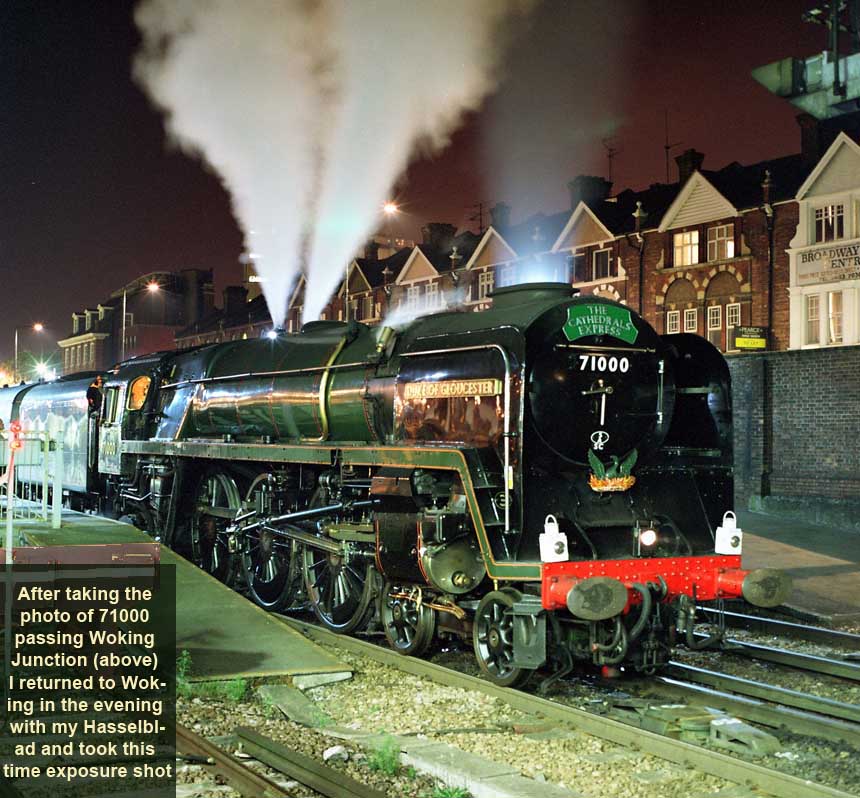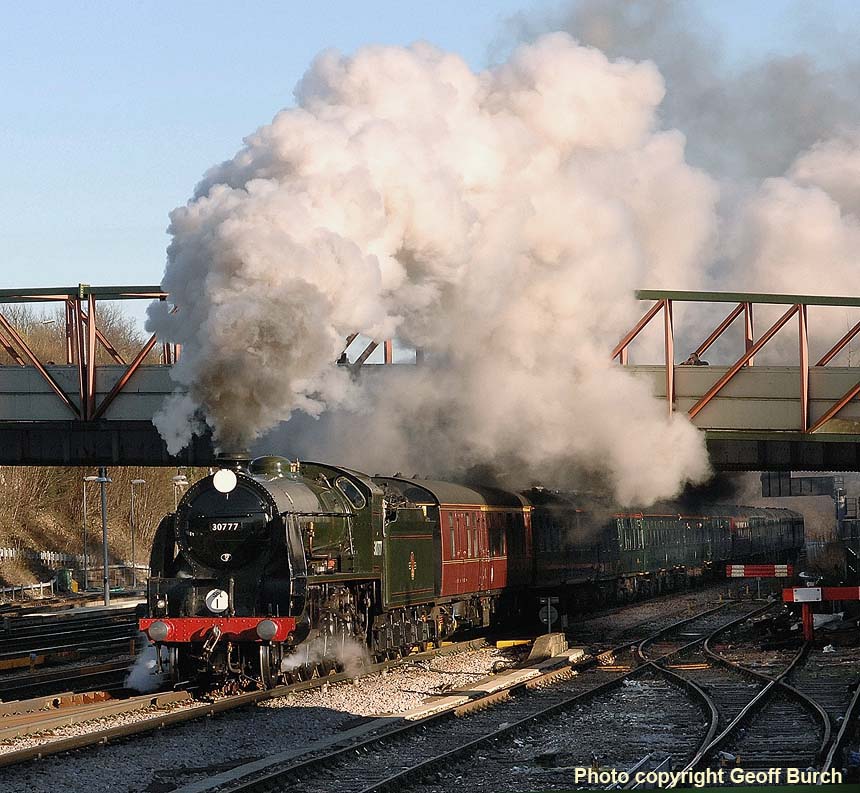 (Above-Below) N15 Class 'King Arthur' 30777 'Sir Lamiel' passes Basingstoke with the 'Cathedrals Express Carol Concert Special' on Tuesday 11th December 2008 with Driver Dave Hewson in charge. Dave started work at Guildford MPD a couple of years before I did where we were firemen together before the depot's closure in 1967. One of this series of photographs was used on the cover of my book 'The Ramblings of a Railwayman'. (Below) Looking resplendent in SR livery, LN Class No. 850 'Lord Nelson' receives a signal check at Basingstoke whilst working 'The Cathedrals Express' from Waterloo to Salisbury on Wednesday 9th May 2007 with Driver Pete Roberts in charge. Pete started his railway career at Nine Elms MPD as a cleaner then fireman. I also had the pleasure of working with Pete when we were Instructors at South Side Training Centre at Waterloo in the 1980s.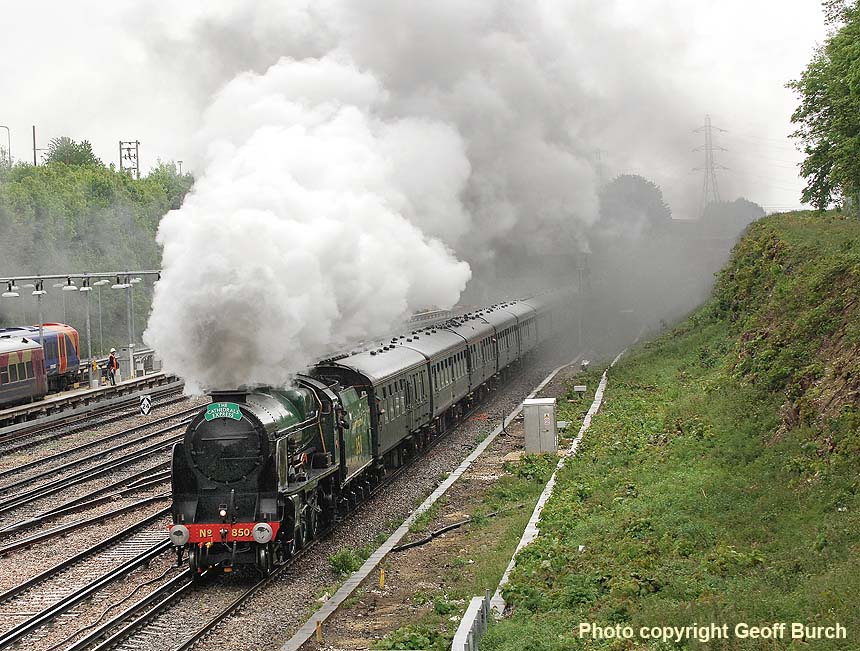 SR engineman, Kenneth Peter Oxlade, 24th April 1928 - 4th November 2012
A tribute by his daughter Julie and son John

Julie writes - 'Dad was born on 24th April 1928 in Southampton - the eldest of three children. He went to school in Southampton and was evacuated to South Wales during the war. After Dad completed his National Service he went to work for the Ordnance Survey in Southampton, but soon realised he didn't really like office work and so he applied for a job on the railway as a cleaner at Salisbury shed in 1949. In those days you had to work your way up, and when he had progressed to fireman he met my Mum, whose father was a driver...
When Dad progressed to become a driver himself there were no vacancies at Salisbury and so he got a temporary job at Norwood until a vacancy came up at Redhill. I was then 3 years-old; the family moved into a railway house in Redhill during the bitter cold winter of 1962-63 and we had no carpets in the house, nor any furniture either as British Rail had lost it en route.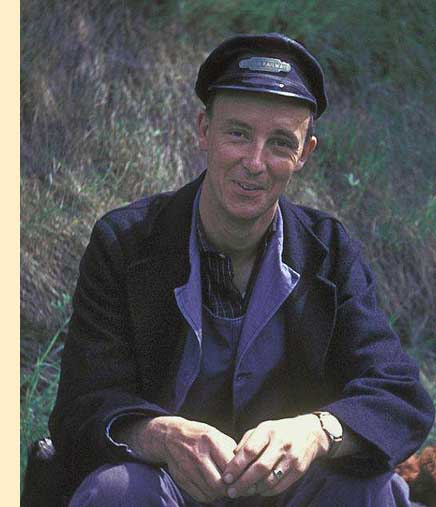 Dad didn't like driving electric trains at Norwood and was glad when a vacancy came up at Redhill where he spent the rest of his career in the motive power department driving diesels. He worked mainly on the Tonbridge-Redhill-Reading line but also drove on many other routes throughout the south east and latterly even as far as Oxford.
I can remember at school having to write an essay about Dad, and said - 'my Dad drives tadpoles!' This was the nickname given to the hybrid units on the Southern Region's Reading - Tonbridge line which were made up of disbanded 6S narrow Hastings units and some EPB driving trailers to form six three-car 3R units. I think the teacher got in touch with my Mum to find out exactly what I meant by tadpoles!
I'm sure Dad used to drive Mum mad with his hobby of model trains. We had various layouts over the years starting with a 6 foot by 4 foot baseboard propped up against the living room wall! This then migrated to John's bedroom and then into the loft; getting larger each time. The ladder to the loft was in my bedroom and on more than one occasion Dad and his friends came down the ladder when I was in bed! Mum would never have to worry about Dad spending all his pay in the pub but he may well have gone out and bought a new engine or some more coaches for the model railway.
Dad had a wealth of railway knowledge, especially on the South West of England and was able to tell many stories about 'the good old days'. Incidentally, he passed his fascination for railways onto both me and John, though he must have hated it when I decided to go onto the railway as a conductor-guard.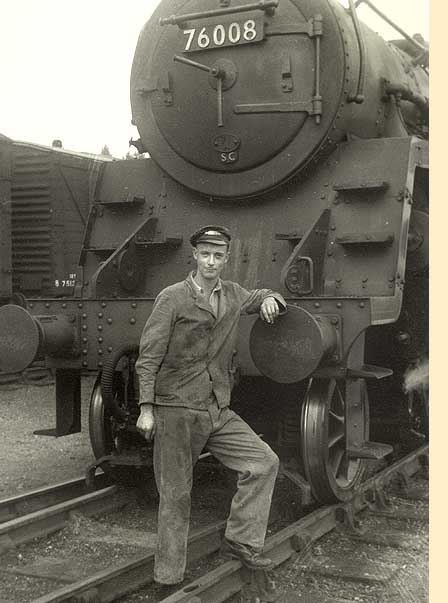 However, he went with me for the interview and was supportive throughout my time with British Rail. I'm not sure how he felt on the few occasions when we were working on the same train together!
Dad retired in 1993 and at first found that having lots of spare time was not to his liking. He had never really enjoyed gardening or DIY so he decided to do some voluntary work driving people to hospital appointments. He really enjoyed this and continued to do it for several years. Dad began to feel unwell and a medical revealed he had angina, which unfortunately meant the end of his hospital driving. Around the same time he and Mum bought their static caravan in Dorset; an area which he knew well and loved to visit.
In August 2002 he had a heart attack which was the start of a long illness. He joked that he had his own bed in the East Surrey Hospital and that he knew most of the ambulance staff by their first names.
It wasn't a joke though and Dad fought on through each bout of illness bouncing back when we thought there was no hope, until this time...'
John writes - 'How can I add anything to what Julie has said? I think the best thing would be a few stories, although one in particular he might not wish repeated. From time to time Dad would take me along to work. This was always frowned upon but everyone used to turn a blind eye. It was only in later years that it became taboo. I remember one day when Dad was rostered for an early afternoon trip driving a Tadpole (one of those again) from Redhill to Reading. I went along in the cab and coincidentally Julie and Mum were on a shopping trip to Reigate; so we had the whole family on board. Even though Tadpoles were not grand (actually rather run down by then), I was chuffed being up front with Dad as we pulled out of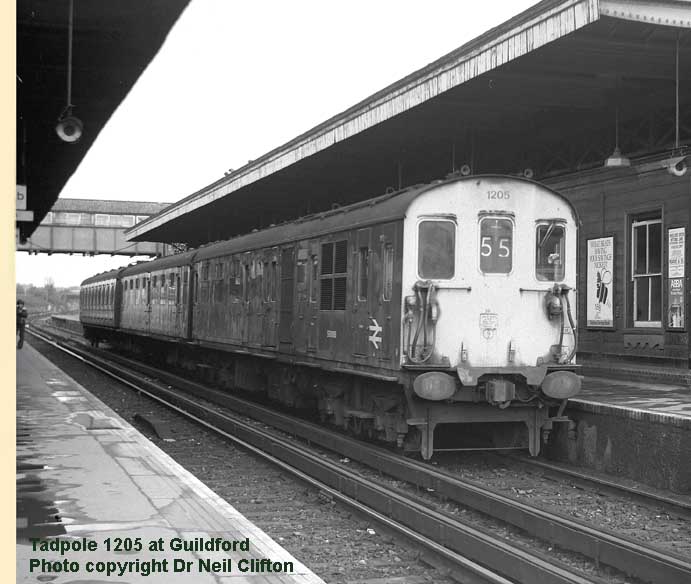 Redhill station, round past the old goods yard, round towards to Linkfield Street bridge and then … we broke down! Could you believe the embarrassment of it? The whole Oxlade family on board and the thing packed up not half a mile out of the station!
You know it's a funny thing but the only time I ever heard my father swear was one day when I went to work with him. He came out with some not-too-flattering comment about one of his peers and I was quite shocked, not by what he said, but that my father actually said it...
One of the perks of being a railwayman was the discounted rail travel and a number of free tickets each year. This meant that we'd go to all sorts of places by train. We travelled extensively in England, Scotland, Wales and even Switzerland, Austria, Germany and Spain. Lots of people went on holiday to Spain, but how many of them went by train? As we got older, Julie and Mum would go off and do 'girl holidays' and Dad and I would go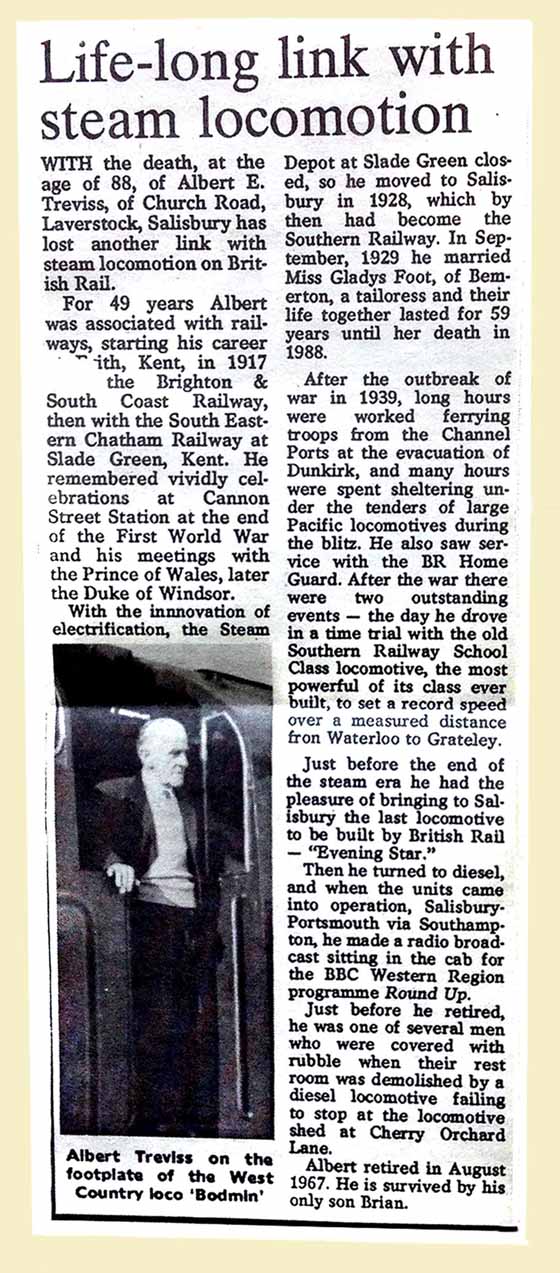 off and do 'boy stuff'. We travelled all the way to the far south east of Switzerland and throughout Germany by train. Just don't call it train-spotting, that's for geeks, we were serious enthusiasts. One particular shared passion of ours are the narrow gauge railways in Wales and I enjoyed nothing more than visiting and riding them with Dad; something I will dearly miss but fondly remember each time I return. I love just about anything that runs on rails, but it is not the same without being able to share it with Dad; I will miss him very much. As one of his old railway colleagues used to say - 'He has dropped the fire and booked off for the last time...'

Since posting the tribute on this page, Julie has kindly sent me some more photographs that her father had taken whilst being a fireman at Salisbury.
I took them down to Wilton to show Fred Johnson and for those of you that don't know of the connection, Fred has written a chapter in my second book 'Further Ramblings of Railwaymen' which tells of his tales as a fireman at Salisbury.
Fred and another old work colleague Mick Oakley (who was also a fireman at Salisbury) recognised the men in the photographs instantly.
One in particular was Albert 'Bert' Treviss who was Fred's regular Driver for a couple of years. Whilst we were chatting, Fred produced a newspaper cutting (left) that he'd kept since 1991 which told of Bert's obituary and a resume of Bert's railway career. Below is a gallery of other railwaymen featured in Julie's collection of photographs...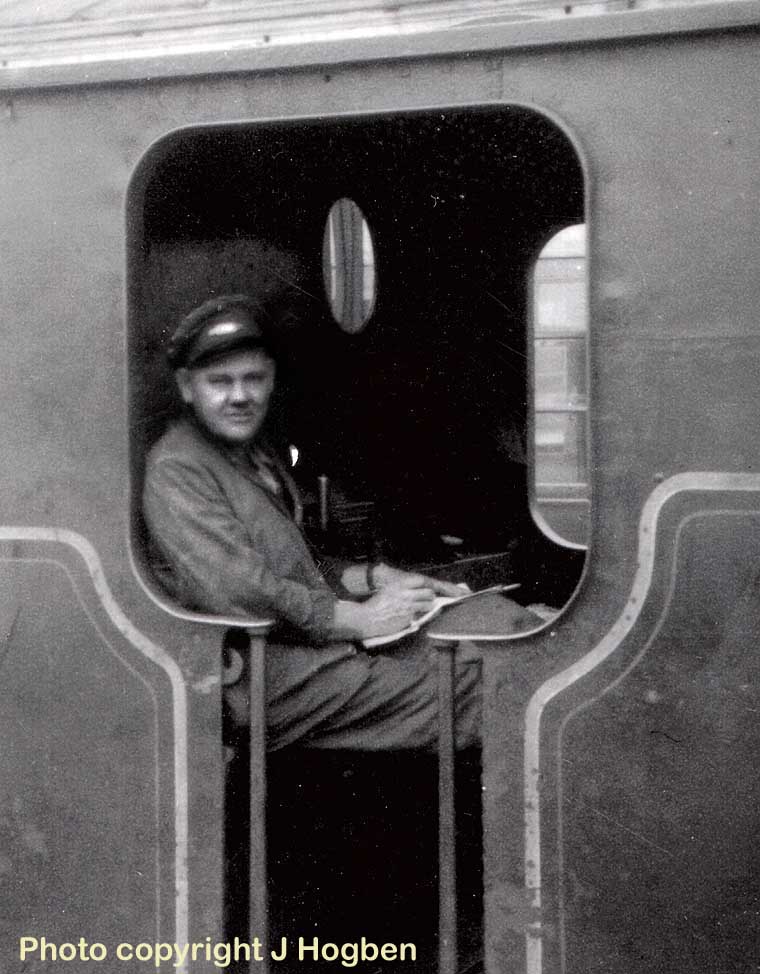 (Above) Driver Jack Blanchard takes a break between shunting jobs on M7 Class 30673 at Salisbury in 1952. (Below) Driver 'Bert' Treviss about to drink his tea whilst aboard a BR Standard Class loco at Totton in 1961.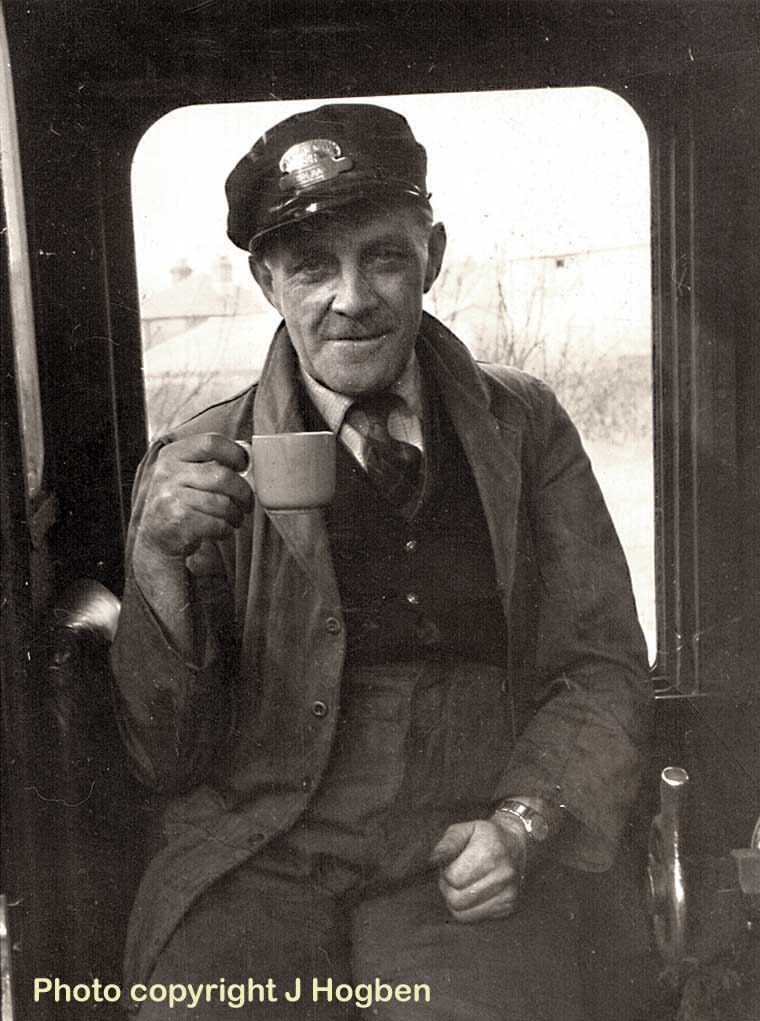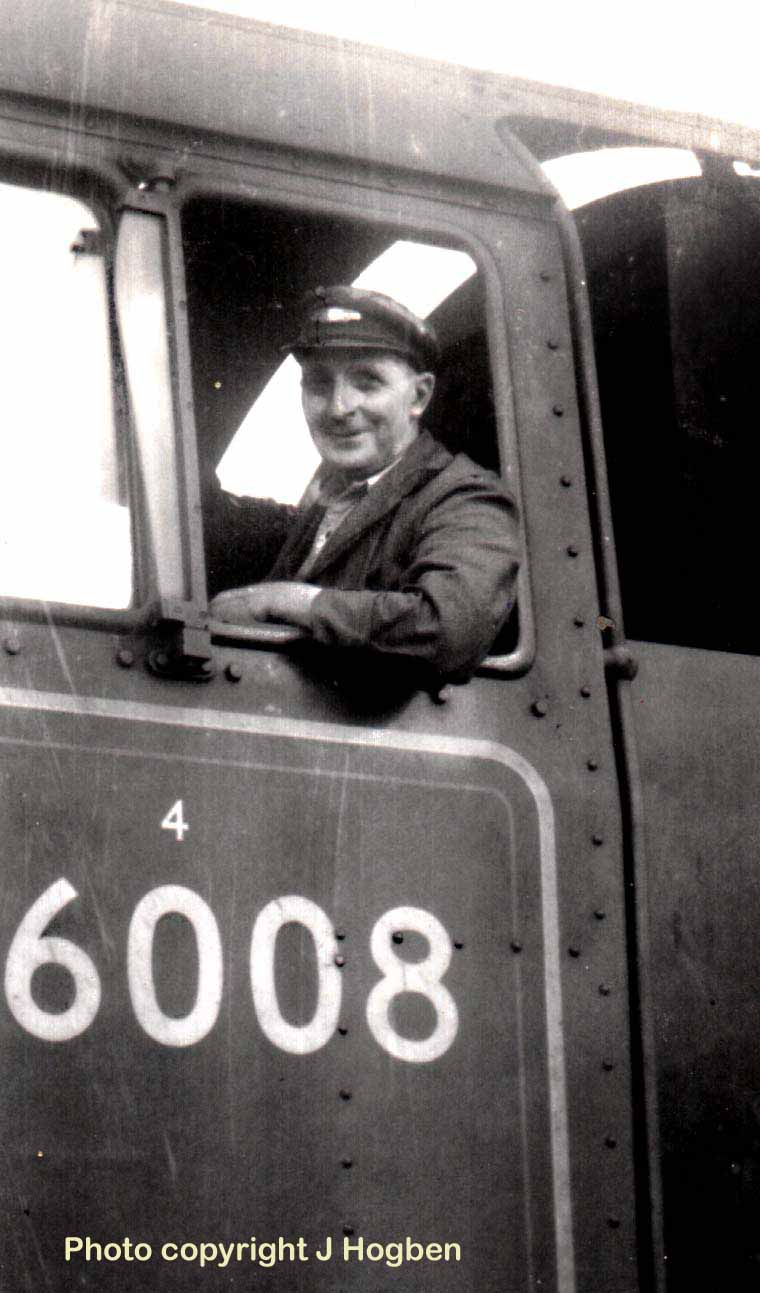 (Above) Driver Ernie 'Ted' Windsor smiles from the cab of BR Standard Class 4MT 76008 whilst at Milford Goods in 1952. (Below) Driver Frank Hoskins poses from the cab of E4 Class 32506 at Fisherton in 1952. Notice the somewhat battered 'donkey pump' which was required for the Westinghouse air brake.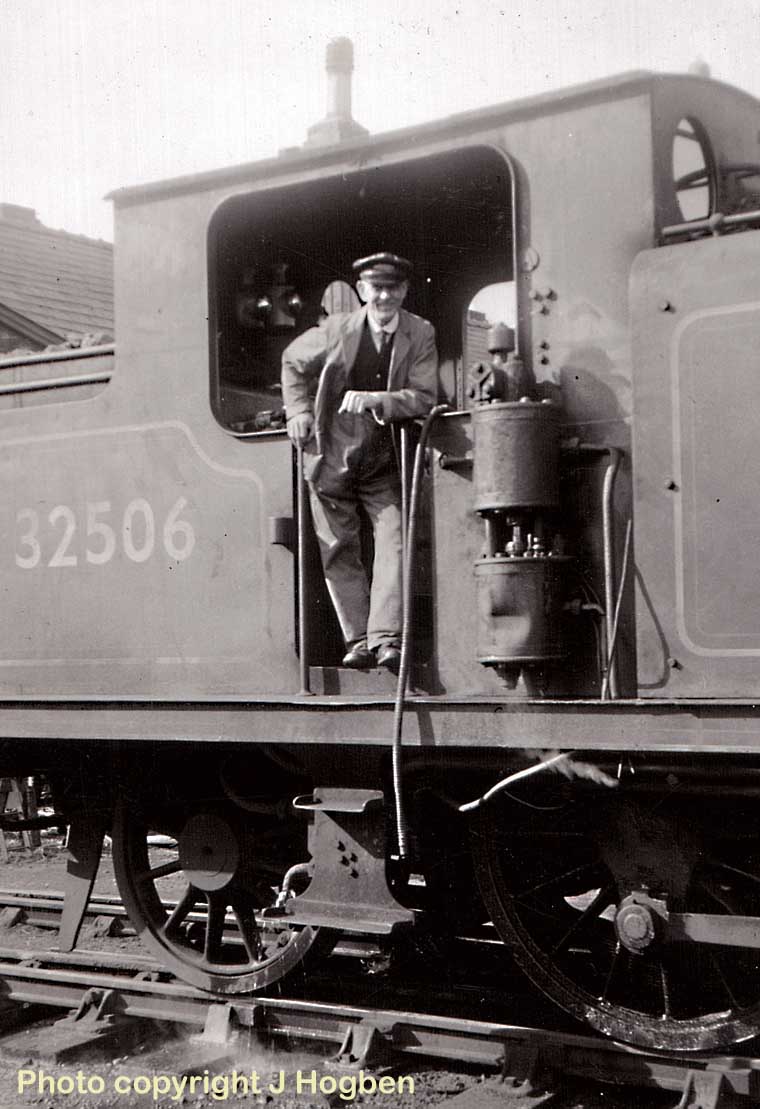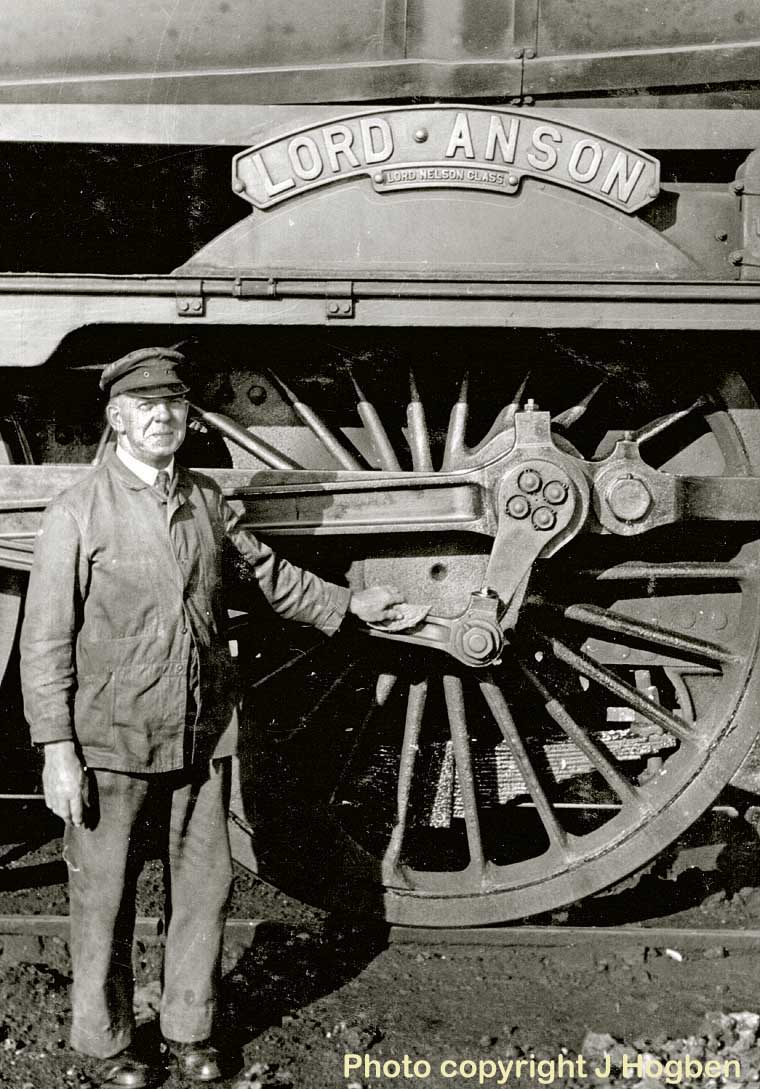 (Above) Driver Frank Jenkins stands next to LN Class 30861 'Lord Anson' at Eastleigh MPD in 1959. (Below) Driver Jim Tanner stand next to the reversing lever in the cab of an unidentified loco in 1959.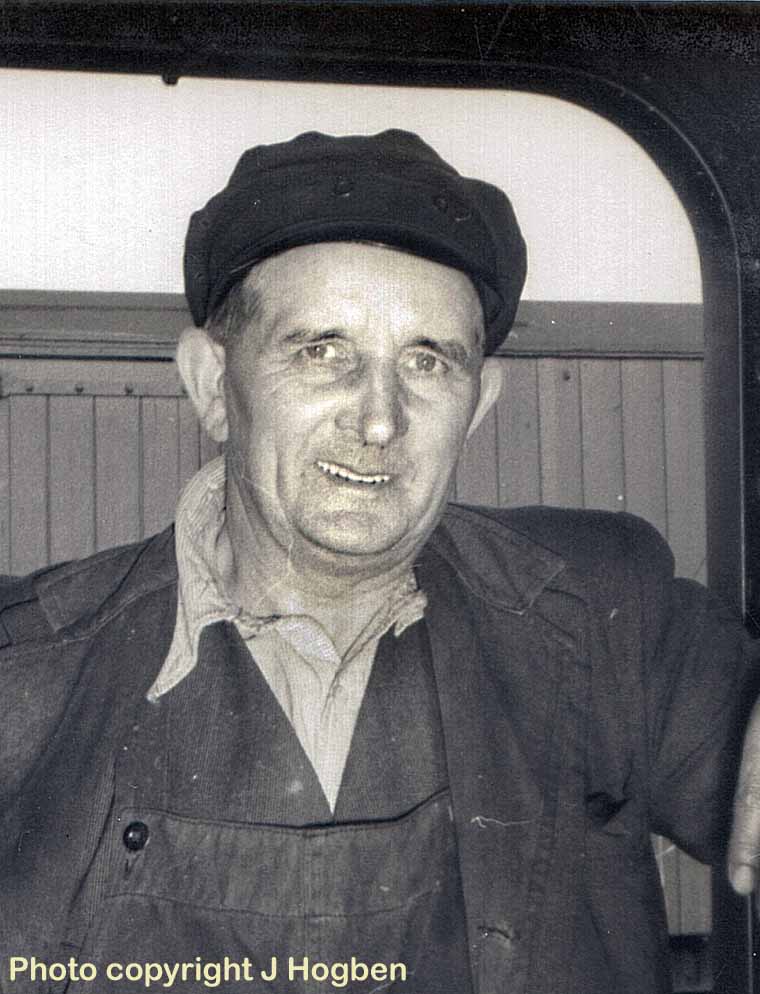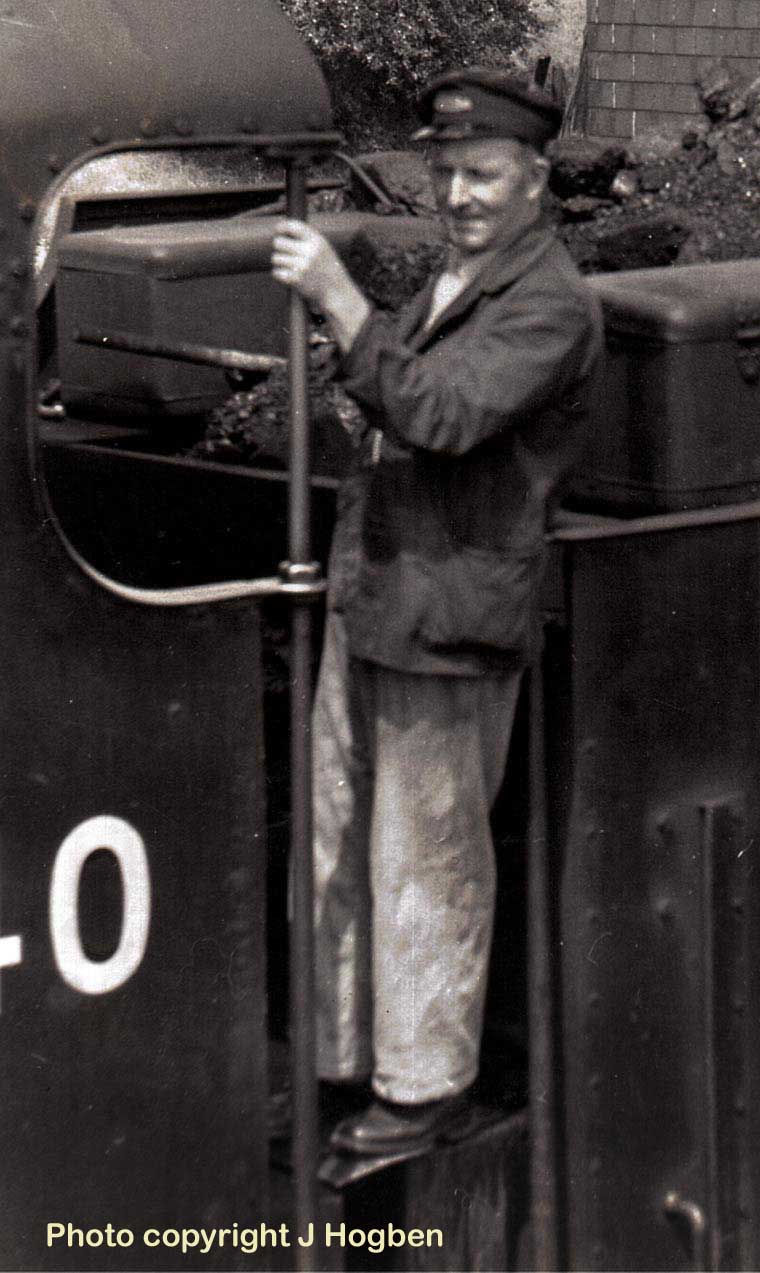 (Above) Driver William 'Bill' Sharp holds the handrail of S15 Class 30840 at Worting in 1960. (Below) Another photo of Driver Frank Jenkins this time with oil feeder in hand next to ex-GWR 43xx Class 2-6-0 5337 at Eastleigh in 1959.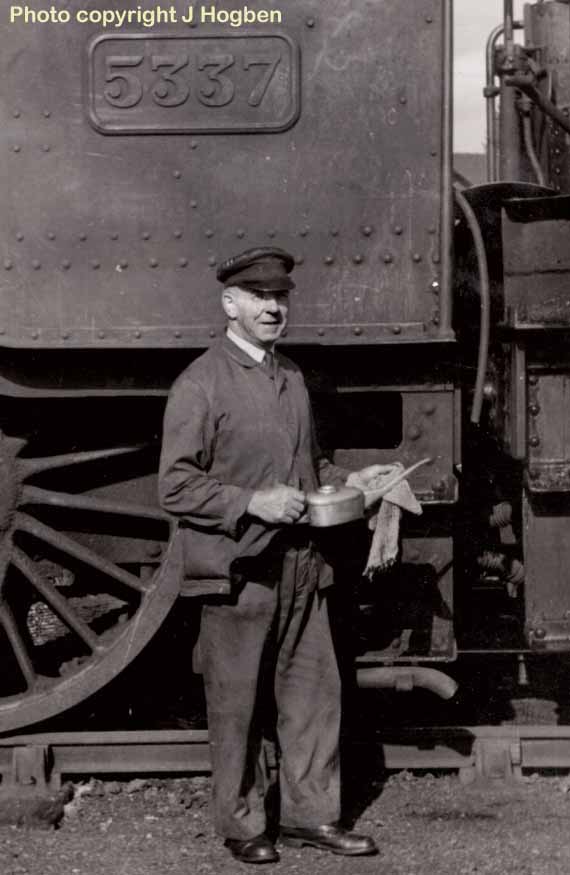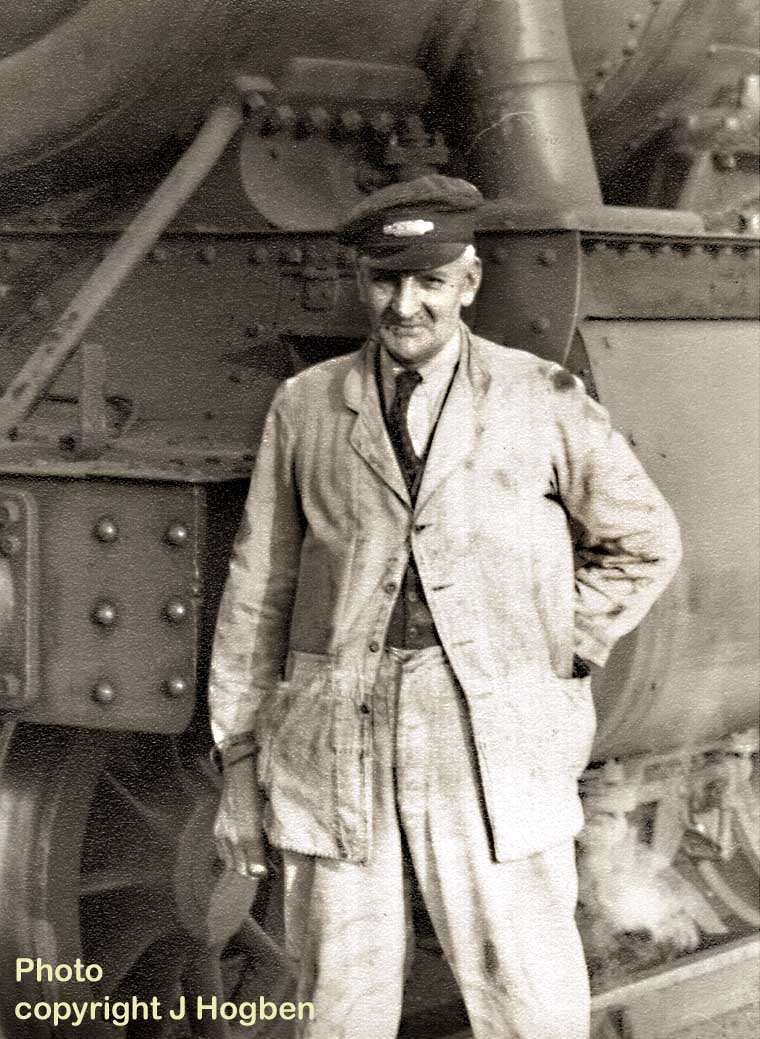 (Above) Driver Fred Lovelace wearing faded blue overalls stands in front of an unidentified loco at Eastleigh in 1959.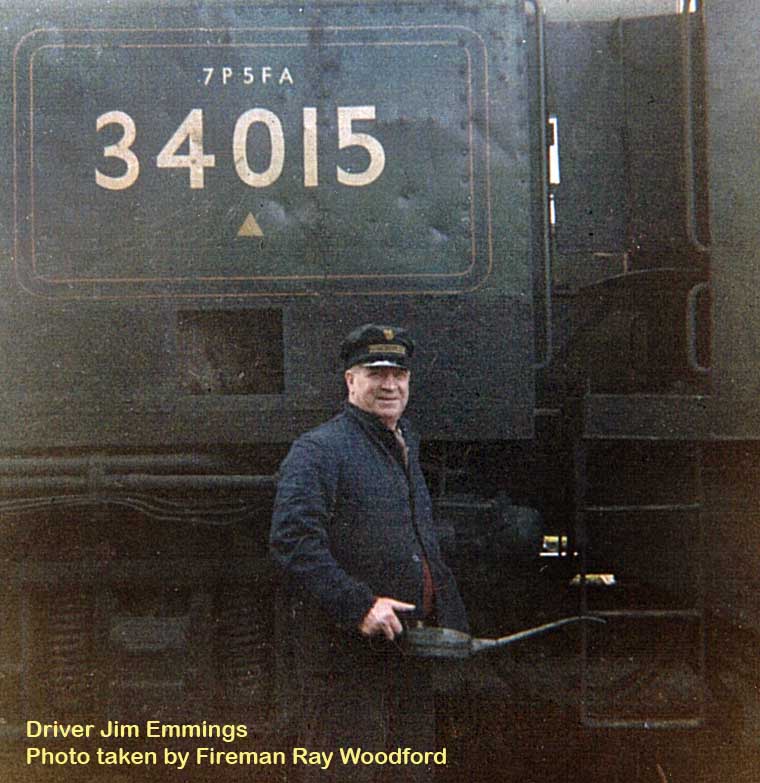 (Above-Below) Both Jim Emmings (above) and Arthur 'Tom' Reeks (below) were Guildford drivers whilst I was a fireman there - both Top Link men. I fired to Jim quite a number of times and here's what I said about him in my first book: 'Jim joined the railway in 1916 and was appointed Driver in 1942. It was always a joy to be booked along with Jim as he was such a jovial character. If we had to travel passenger anywhere in a single compartment on a train he'd tell me to start scratching myself so that any other passengers wanting to join you in the compartment would think better of it! Another of Jim's great sayings, especially when we were nearing Hampton Court Junction was 'Don't talk to me now, we're in the London area!' I had some excellent times with Jim and was sad to see him retire. A true gentleman and great Engineman. The photo was taken by Ray Woodford (his fireman that day on 6th February 1966) oiling Original West Country Class 34015 'Exmouth' situated in the back road of the coal stage at Guildford before running light to Woking Yard to work the 12.02 stone empties to Salisbury.
(Below) Unfortunately, I didn't get chance to fire to Tom Reeks but I remember him quite clearly talking of his earlier experiences as a fireman and driver whilst sitting round the table in the driver's cabin. A kind likeable man, he'd have all of us 'young firemen' enthralled with his tales. Arthur 'Tom' Reeks started his railway career as an engine cleaner in February 1917 becoming a fully fledged driver in March 1943. The photo of him in the cab of Q Class 30533 was sent to me by his great granddaughter Rebekah Vickers.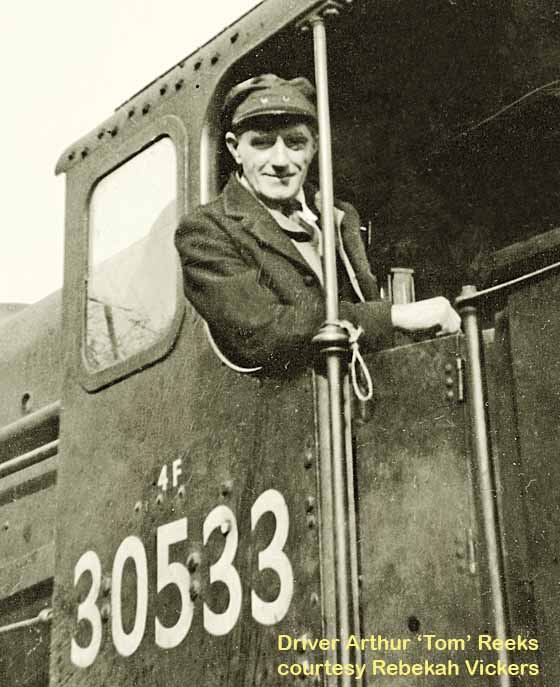 (Below) On 13th April 1958 the RCTS organised the 'Sussex Coast Limited' from London Victoria with haulage provided by the LBSCR Class H2 Atlantic No 32424 Beachy Head for the outward journey from Victoria - Clapham Junction - Balham Jnct - Windmill Bridge Jnct - East Croydon - Coulsdon North - Earlswood - Three Bridges - Haywards Heath - Keymer Jnct - Lewes - Newhaven Town - Newhaven Harbour. At Newhaven Stroudley's 'Terrier' tank No 32640 hauled the train to Newhaven Town where Brighton-built BR Standard 2-6-4T No 80154 handled the Newhaven Town - Lewes - Brighton leg. Finally 'King Arthur' N15 Class No 30796 Sir Dodinas le Savage is seen here awaiting departure from Brighton for the final lrip to London Victoria. The tour itinerary was titled the 'Sussex Coast Limited' however other sources report the tour name as the 'Brighton Atlantic Farewell'. The BR Standard 2-6-4T No 80154 was the last engine to be built at Brighton and the outward leg of the tour was the final duty for 32424 Beachy Head. The stock consisted of seven coaches including the Pullman Car 'Myrtle'. This information was gleaned from the excellent Six Bells Junction website.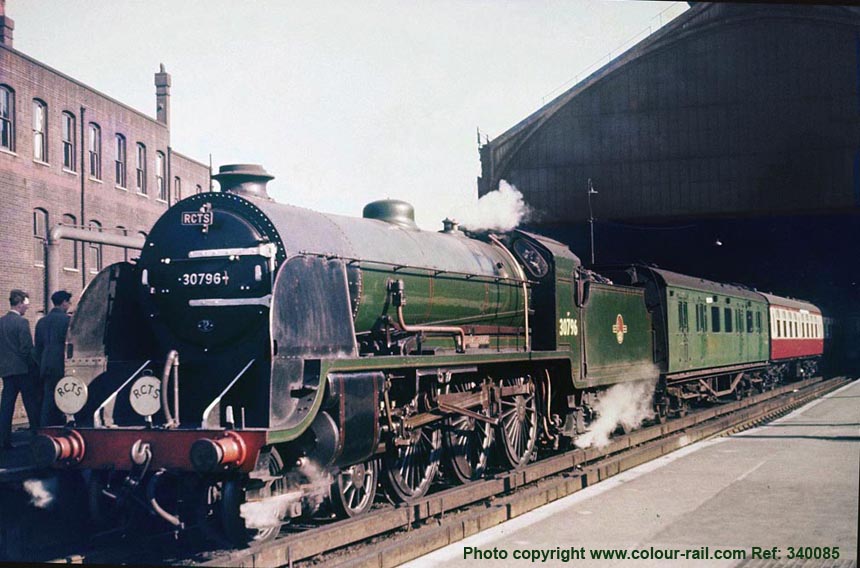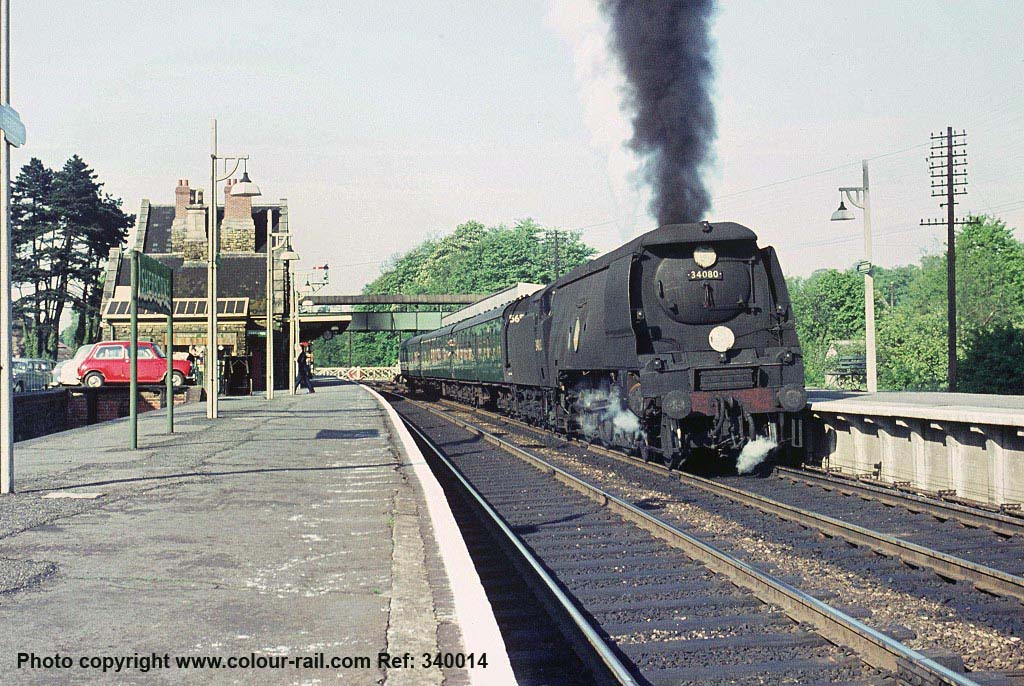 (Above) Bulleid's 'Battle of Britain' class No 34080 74 Squadron at Sherborne station with a train for Exeter on 10th May 1964. Opened in 1860 by the Salisbury and Yeovil Railway (S&YR) the station is situated on the London Waterloo-Exeter line, which later came under the auspices of the London and South Western Railway. In 1923 the L&SWR became part of the Southern Railway prior to the BR Southern Region taking over following nationalization of the 'Big Four' railway companies in 1948. When Beeching's infamous Reshaping of British Railways report was published in 1963 the route was transferred to the Western Region at which point most trains beyond Exeter St Davids were diverted to other lines. In May 1967 the 21 miles to Chard Junction was reduced to single track to save on running costs, but a section was hastily restored as far as Yeovil Junction. The photo gives a good view of the surviving station building on the 'up' platform, an architectural gem when compared to today's minimalistic bus stop-style shelters at stations of this size - a poignant reminder of the S&YR's grandiose plans. At the end of the up platform can be seen the old-style level crossing gates which were converted to lifting barriers in January 1970.

BR SOUTHERN REGION GALLERY - 1
Photos Bob Hind Collection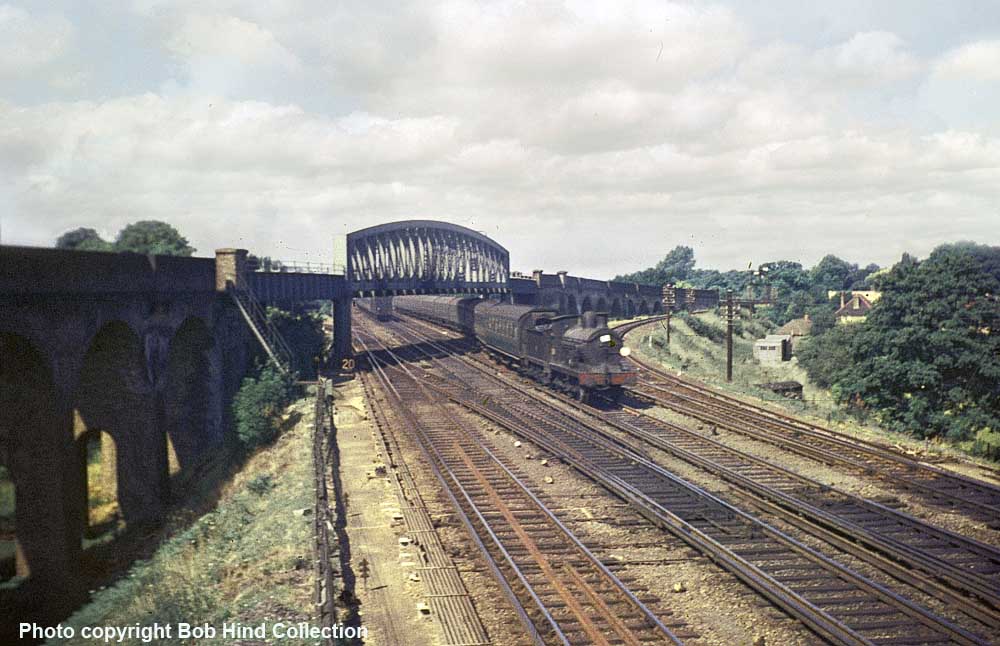 (Above-Inset-Below) An unidentified 'C' Class locomotive and passenger service crosses from the Up Local to the Up Through line at Hampton Court Junction. The flyover above the train and the spur joining on the right leads to and from Hampton Court station where the line terminates. The line branching off to the left (with 20mph permanent speed restriction stencil) is the branch line to Guildford via Cobham, commonly known as the 'New Line'. The headcode suggests that the train has commenced its journey at Basingstoke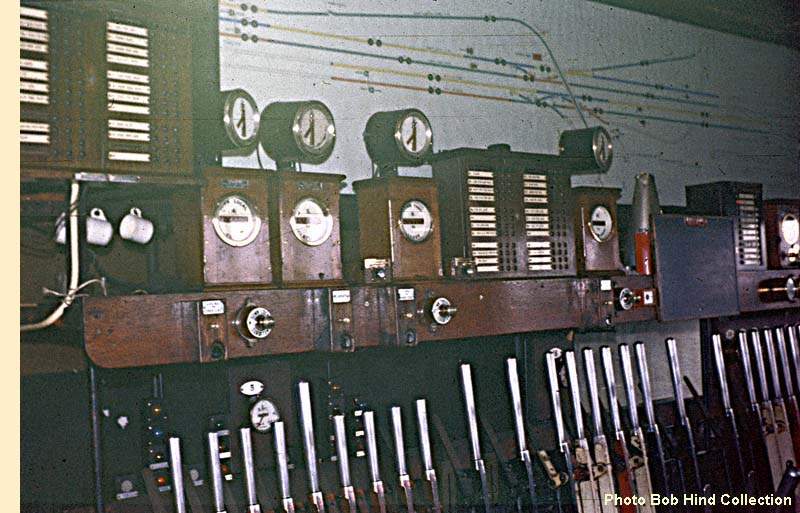 and the loco could have been utilised because of a locomotive failure. Pat Kinsella adds - the 'C' class was known to us at Guildford shed as 'Eastern Cs' because they were built by the South Eastern and Chatham Railway. They were usually employed on local freight and shunting duties such as the Ascot goods. The date is unknown but most of the class had been withdrawn by 1962-63. (Inset) This is a view of the frame inside Hampton Court Junction Signalbox showing the levers, block instruments and panel displaying the position of trains via track circuits. Once a train entered a particular portion of line, its wheels would trigger a track circuit which would illuminate the two small round red lights on the signalman's panel. Also seen on the panel, is the long sweeping curve at the top (in green) which is the line leading across a girder bridge to Hampton Court; the other line at the top of the panel is the spur leading to Hinchley Wood station and onward to Guildford via Cobham (the New Line). Other areas of the panel show the various crossovers between lines. (Below) Resplendent in Apple Green livery, ex-LNER A3 Class 4472 'Flying Scotsman' passes the railway cottages at St John's, Woking with the 'Farnborough Flyer' special working on 12th September 1964. The train ran from Doncaster for the SBAC (Society of British Aerospace Companies) Show at Farnborough Airfield.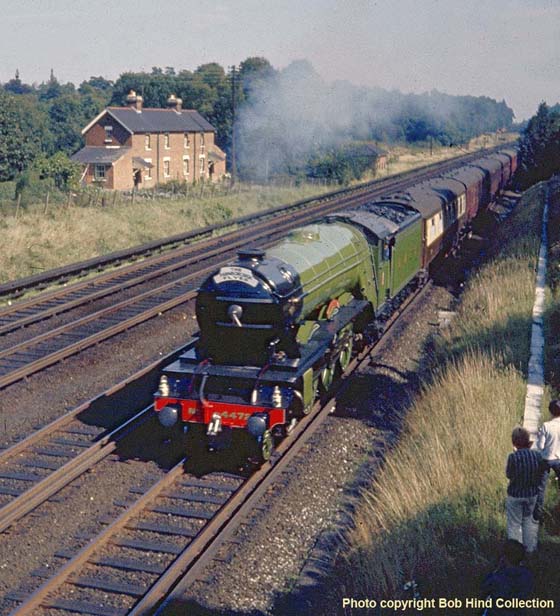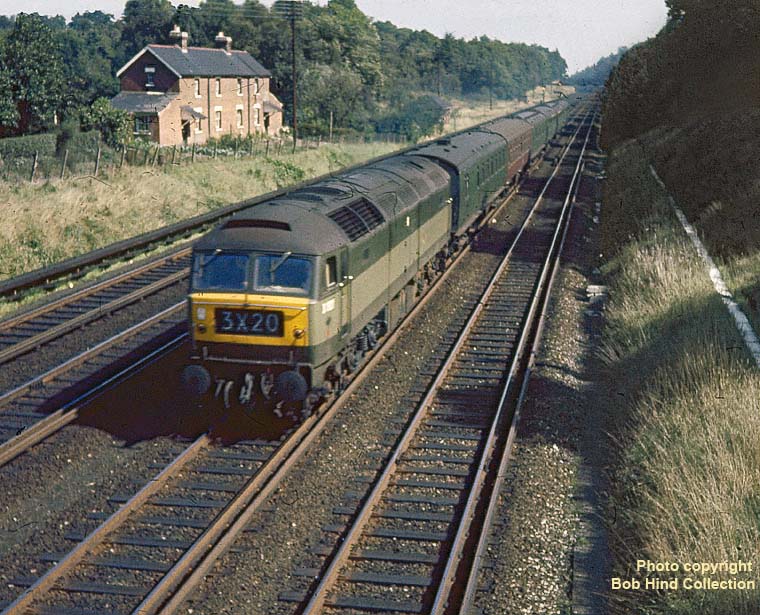 (Above-Below) Brush Type 4 D1921 in original two-tone green livery passes through St John's, Woking with a Driver Training Trip in June 1967. (Below) 'Warship' Class 42 D822 'Hercules' passes Woking Junction with a passenger service from Waterloo to Exeter on the last day of steam - Sunday 9th July 1967. In the background, Woking Up Yard is full of engineer's wagons.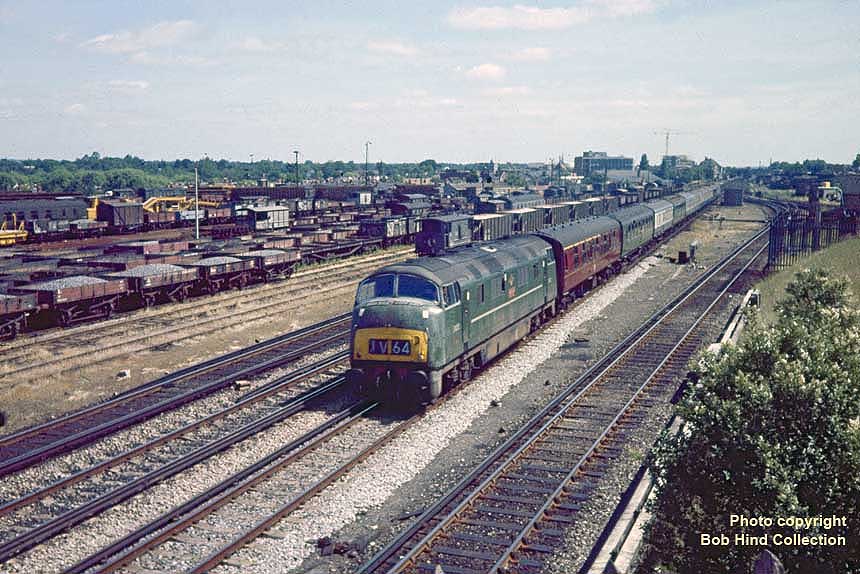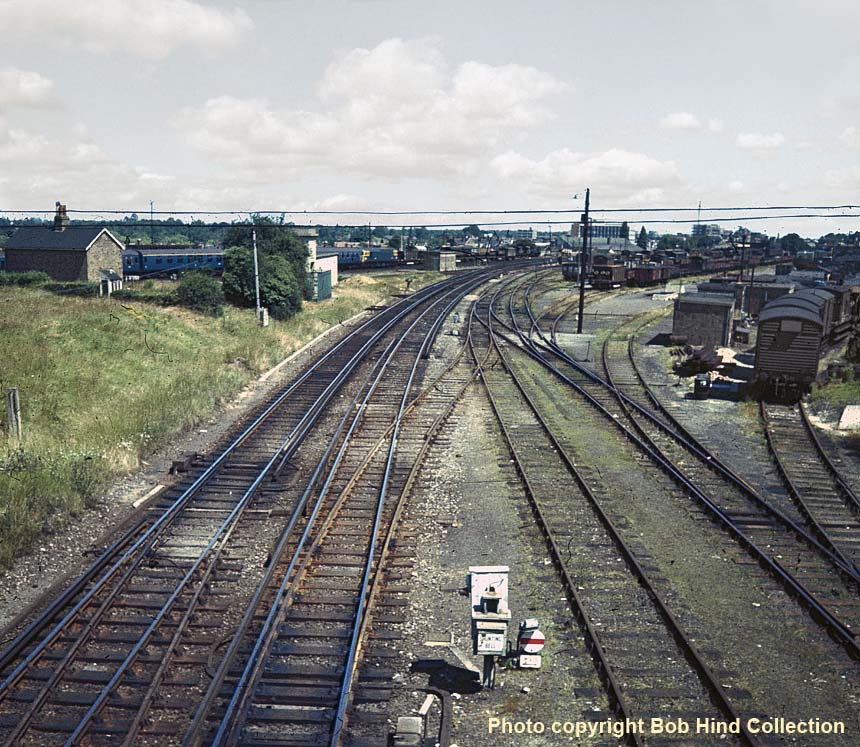 (Above-Below) Woking was a pre-assembly depot for track repair and maintenance; this is a view of Woking Down Yard from 'Twin Bridges' looking over the Portsmouth direct lines that branch off at Woking Junction. The skyline is completely devoid of the 'high rise' blocks of flats and offices that are there today. (Below) A view from the other side of 'Twin Bridges' this time looking towards and across Woking Up Yard. As mentioned, the area was a PAD (pre-assembly depot) for engineering trains; the crews' green-coloured mess coach is shown on the middle of the photograph. Wooden & concrete sleepers wait to be unloaded and re-assembled for a job during the night or weekend. Note the lengths of track stacked in the background waiting to be dismantled.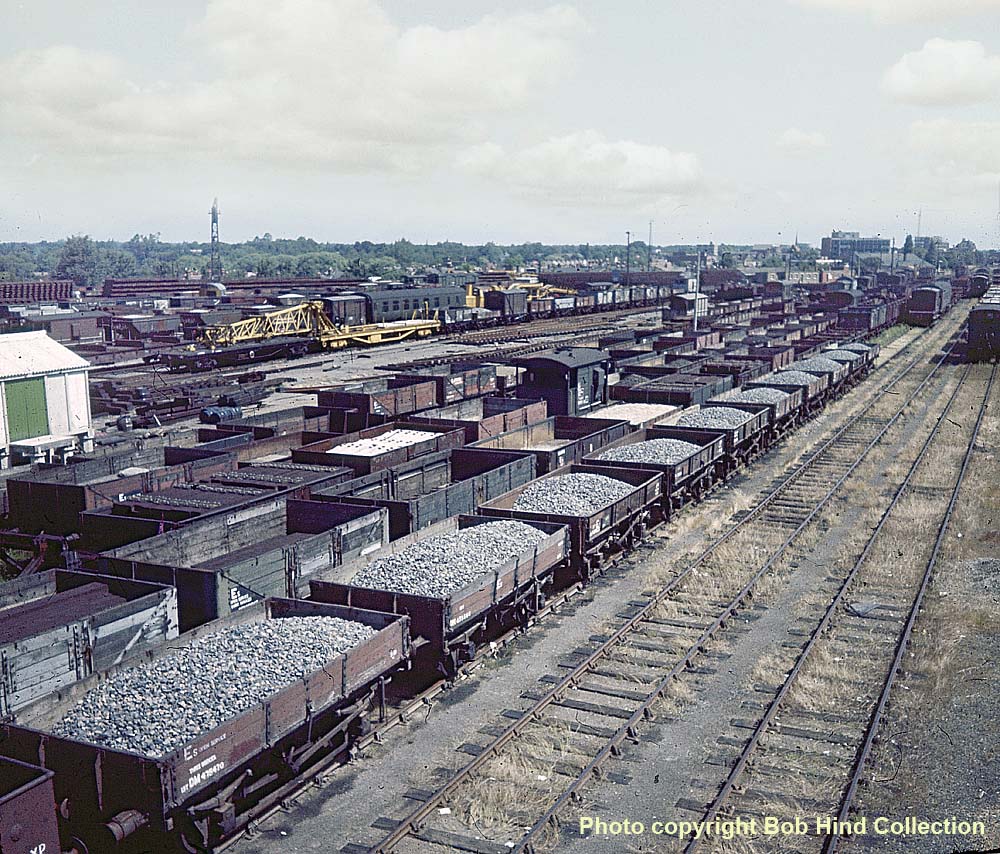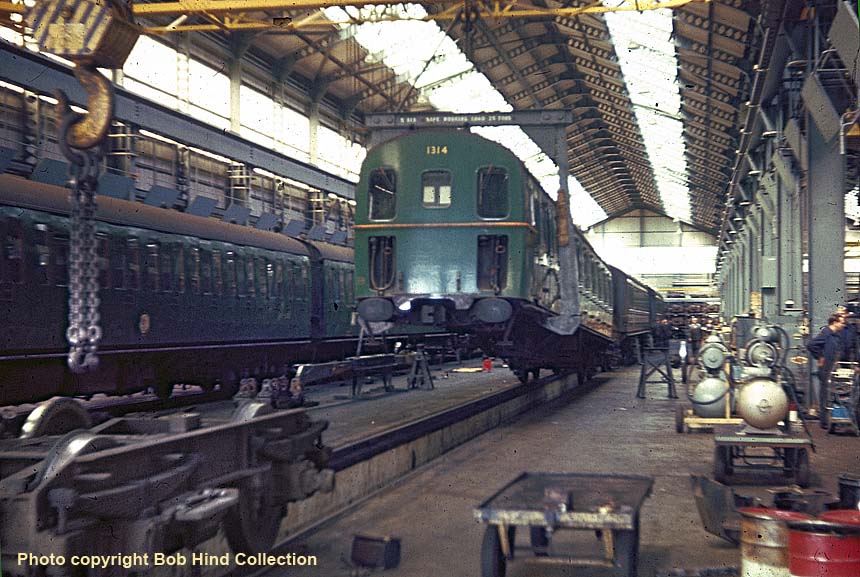 (Above-Below) Unit No 1314 is lifted for bogie replacement at Chart Leacon Depot in March 1965. (Below) A Hampshire DEMU (Diesel Electric Multiple Unit) number 1126 runs into Basingstoke Down Fast line to continue its journey to Eastleigh and perhaps Southampton. A fine array of semaphore signals for the Up lines are displayed on a gantry at the London end of the platform....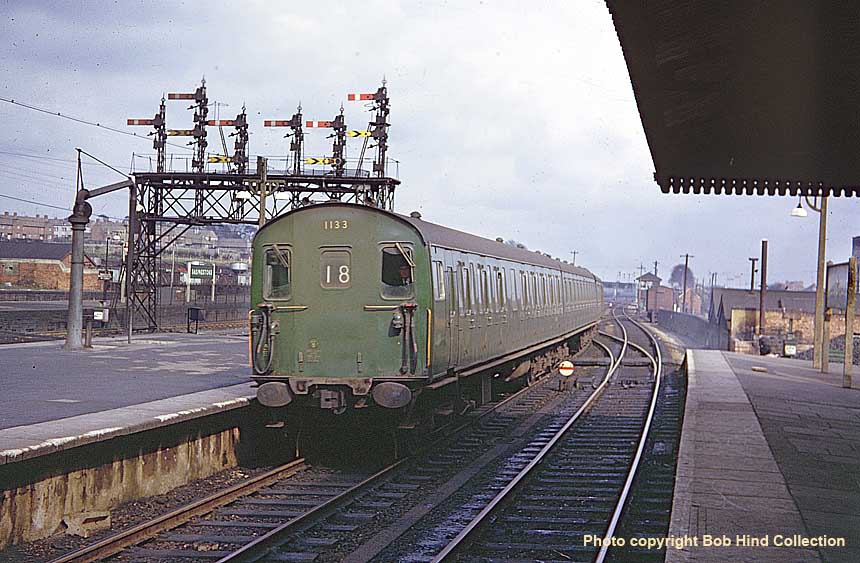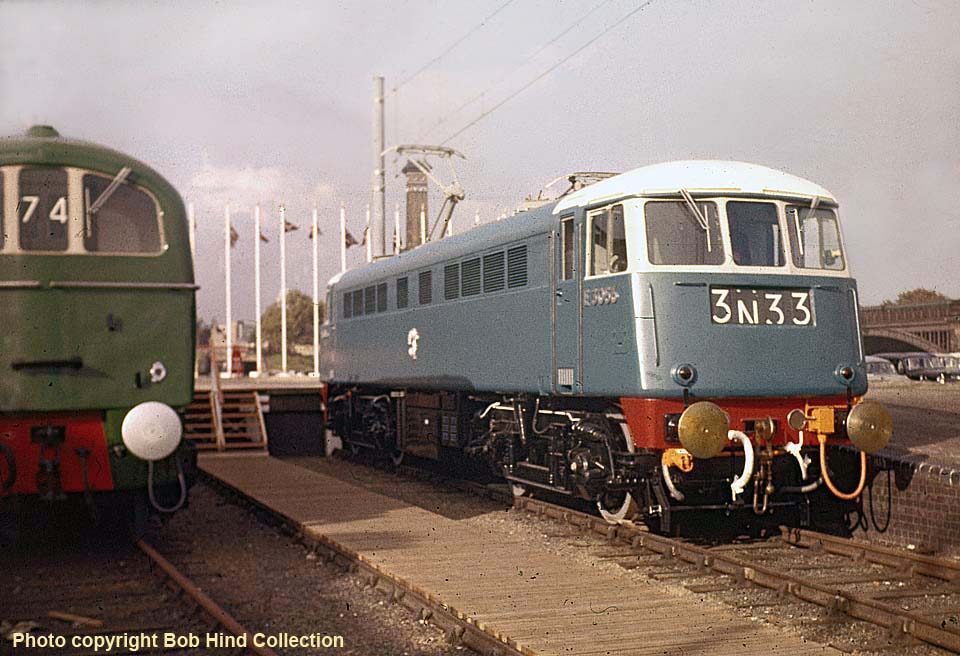 (Above-Below) The first of the AL5 Class 85 E3056 stands alongside Class 71 Bo-Bo E5022 at an exhibition held at Battersea Wharf between 3rd and 6th October 1960. At the time, the British Transport Commission (BTC), in association with the British Electrical & Allied Manufacturers' Association and the Locomotive & Allied Manufacturers' Association of Great Britain, was staging an Electrification Conference at Battersea. No E5022 was bound for the Southern Region and No E3056 was destined for the LMR's newly electrified WCML service, both locomotives being products of Doncaster Works. E5022 had 2700hp which packed quite a punch for a small Bo-Bo locomotive and proved useful in both theatres of heavy freight and express passenger work. Acceleration on passenger trains (even when heavily loaded) was quite astonishing - to the extent the climb out of London Victoria was almost unnoticeable. Prestigious services including the 'Night Ferry (London to Paris overnight by train-ferry) and the 'Golden Arrow' were the mainstay of the class for many years. Although the HA had a pantograph on its roof, the locomotive normally collected its power from the 650-750v third rail system. There were however, two areas where an overhead supply was available for a time - Hither Green, South London and Snowdown Colliery near Dover. (Below) HA Electric Locomotive No E5021 awaits departure from Dover Marine with the 'Golden Arrow' Boat train to Victoria.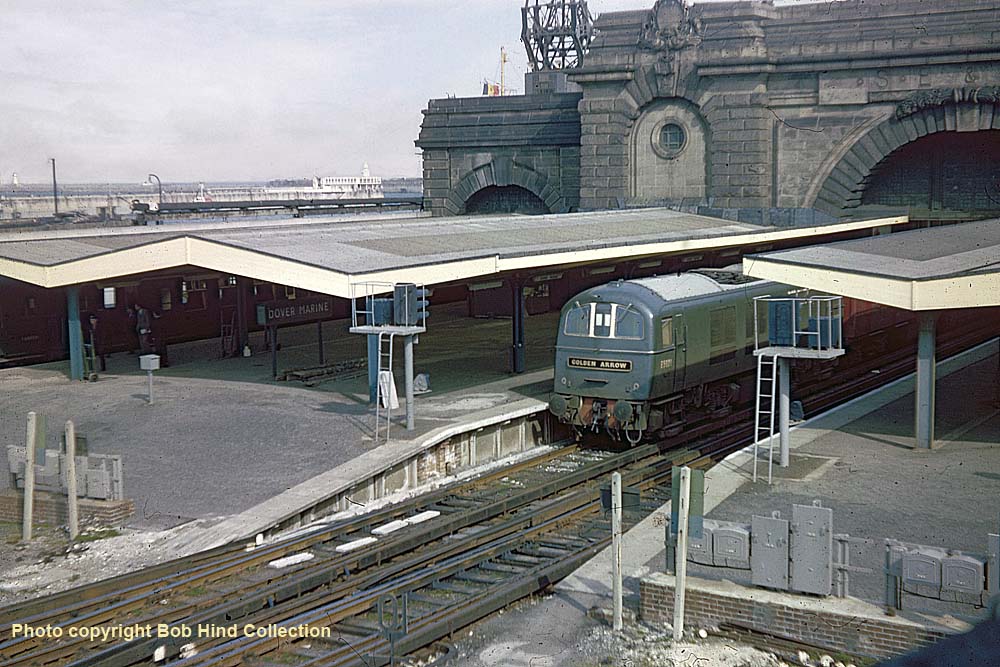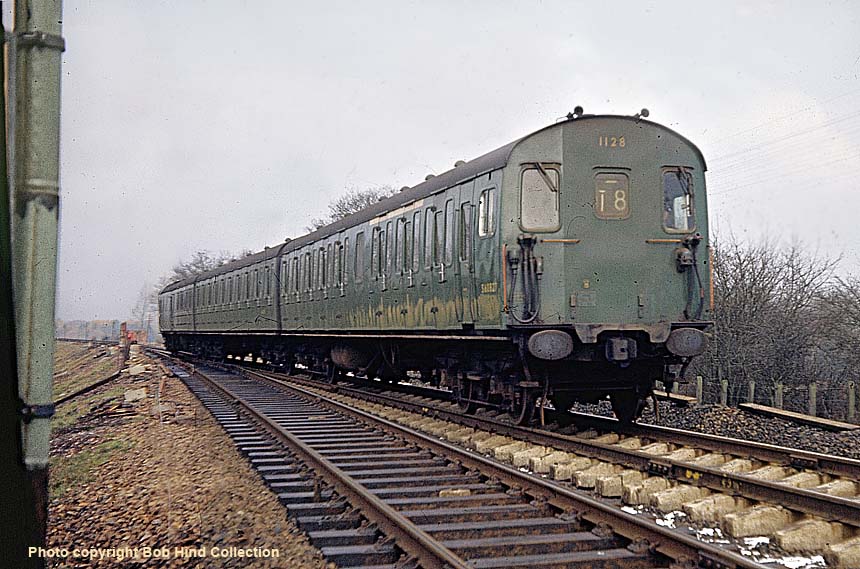 (Above-Below) No idea of the location of this Hampshire Unit DEMU 1128 - it's a single line that has a passing loop (devoid of ballast at the moment). (Below) Sporting its original blue livery, 1600/600hp (JB) Class Electro-diesel locomotive E6040 (later to be classified Class 73/1) waits for the signal at Woking Up sidings in February 1967. The first six prototypes of this class built were numbered E6001-E6006 and classified (JA) were painted green. They were later classified as Class 73/0. Differences were slight, one of the features being that they could pre-heat trains using a generator driven by the diesel engine. A highly successful and versatile locomotive, some of which still survive today.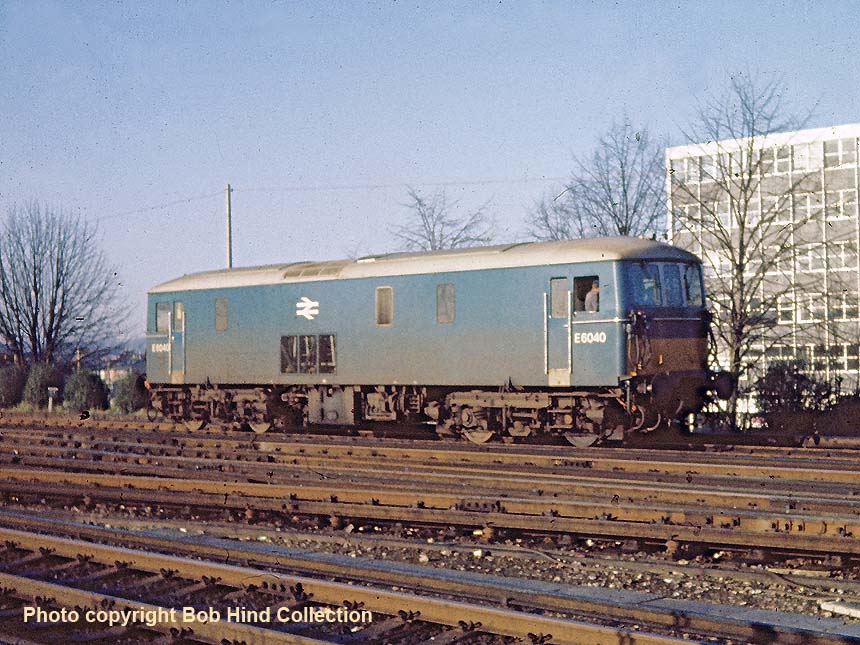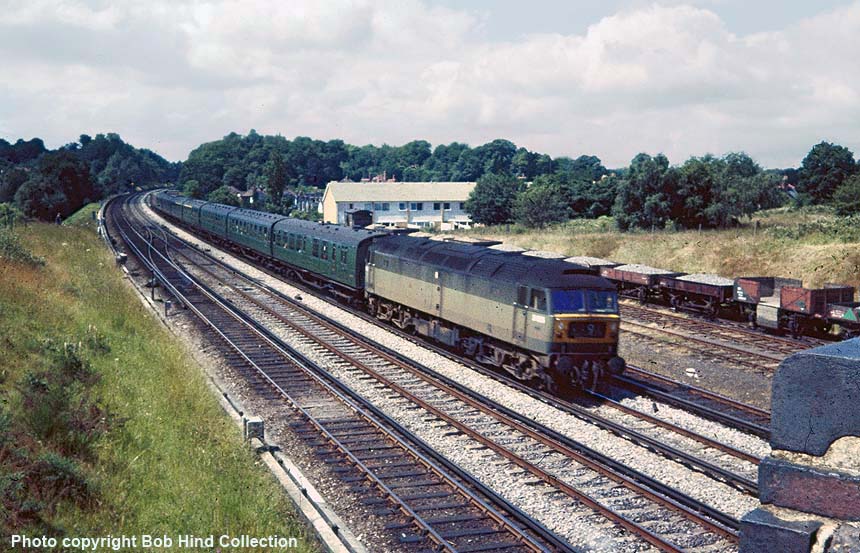 (Above) Unidentified Brush Type 4 rushes under Twin Bridges at Woking with an Up passenger service for Waterloo on the last day of steam, Sunday 9th July 1967.

FLOODS AT WOKING STATION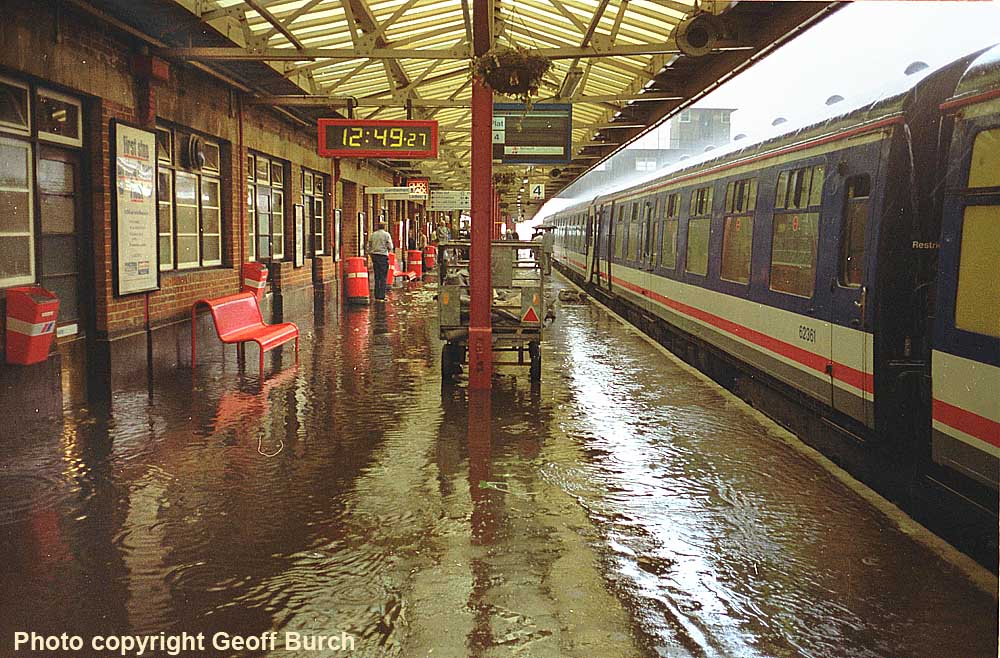 (Above-Below) The vagaries of the British weather! Everyone's heard of the expression - 'being in the right place at the right time' - or, as the case might be, 'in the wrong place at the wrong time', but rarely do we find ourselves in both places at once! In terms of photographic opportunities, though…this happened to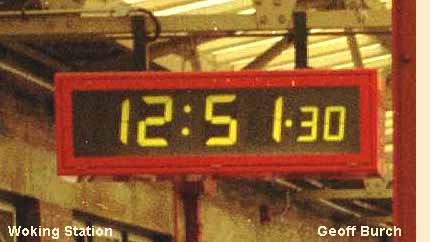 me at Woking railway station in May 1993 when a gigantic, spiralling low-pressure system from the mid-Atlantic swept across southern England. When the centre of the storm hovered directly over Woking station, it would be wrong to describe it as being of 'biblical proportions', but it came pretty close! The sloping car park outside the entrance couldn't cope with the deluge and a torrent of water swept through the ticket barrier onto platform 4, and the overspill water off the platform canopy swamped the guttering and cascaded down as passengers staggered through the maelstrom, heads bent against the driving rain. (Above) The station clock says 12:49 and 27 seconds and platform 4 is fast becoming a river, but in true British bulldog spirit the railway keeps on rolling along! With rain bouncing off its roof, a Class 442 EMU heads through Woking with a fast Bournemouth service.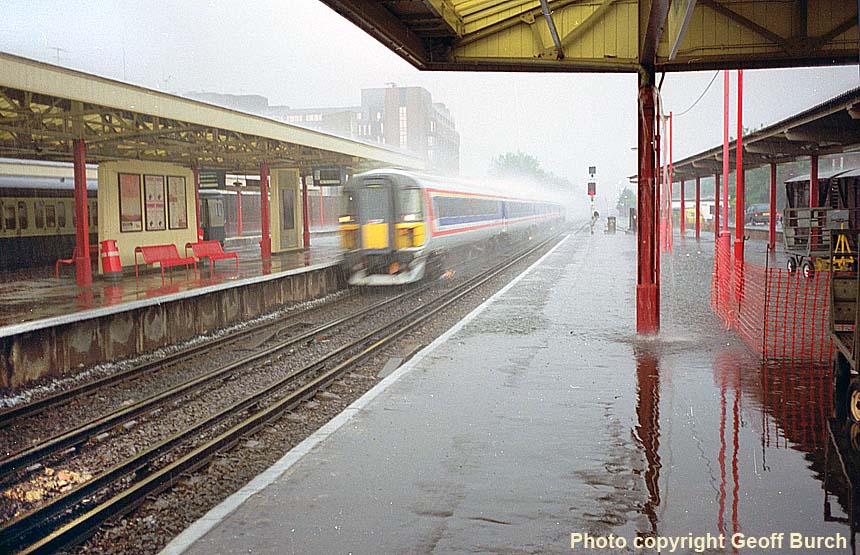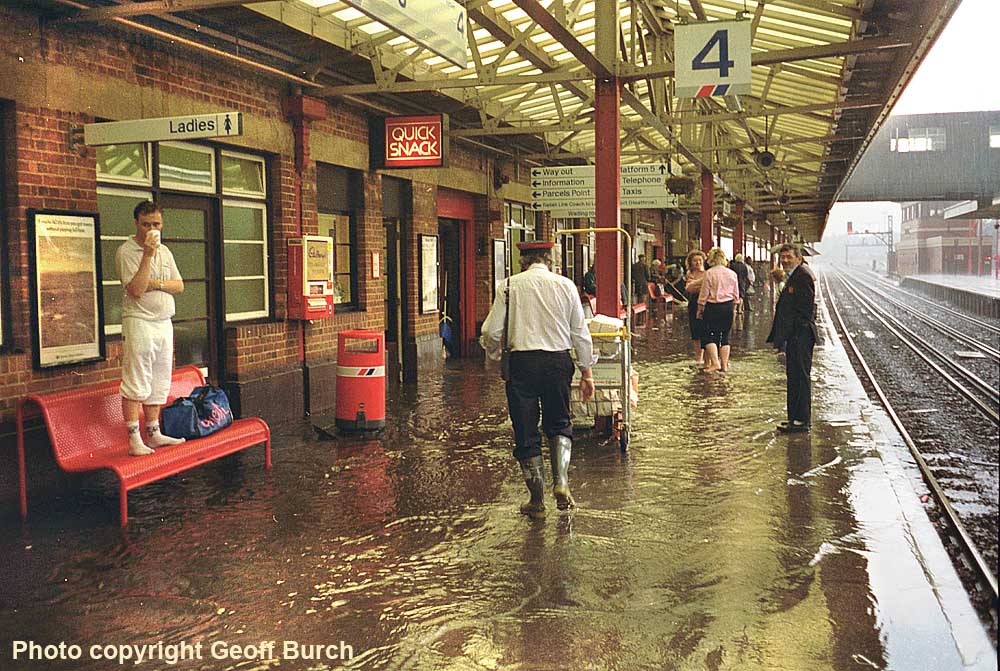 (Above-Below) A member of staff dons his wellies whilst a passenger rolls up his trousers and moves to higher ground! (Below) Seeking refuge on a platform seat, the man standing in the bow of his makeshift lifeboat along with Wham's George Michael-lookalike (sitting amidships) appear to be on their very own luxury land cruise to the end of the platform!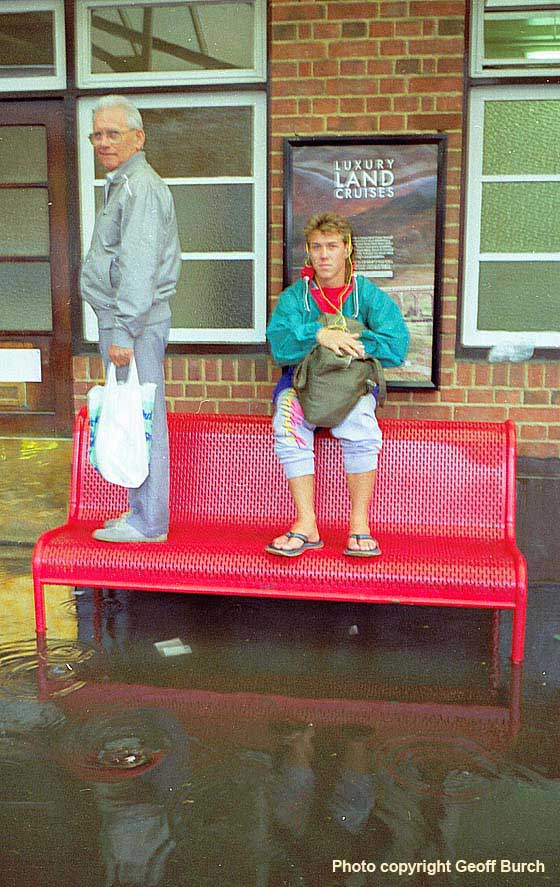 BR SOUTHERN REGION STEAM GALLERY - 2
Photos by Dave Salmon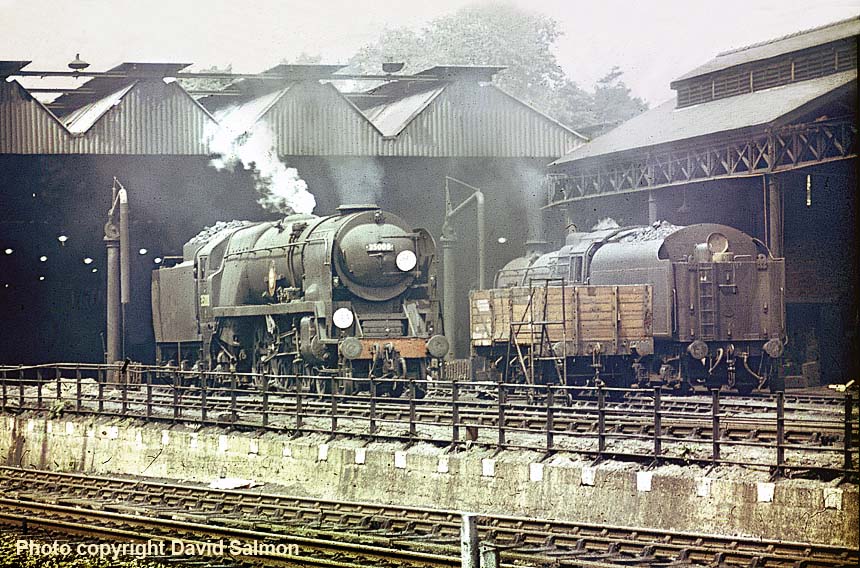 (Above-Below) Rebuilt Merchant Navy Class 35008 'Orient Line' is being prepared to work an express passenger service from Bournemouth to Waterloo on Monday 25th July 1966. BR Standard Class 4MT 75074 (partially hidden by an ash wagon) is being prepared to leave light engine for Weymouth. (Below) BR Standard Class 4MT 75074 is heading away from Bournemouth light engine to Weymouth as two platelayers working on the track nearer the station finish their interrupted work. The station platform 3&4 (from which the photograph was taken) are continuous and is one of the longest in the country. The end of steam in 1967 saw the removal of the centre tracks through the station.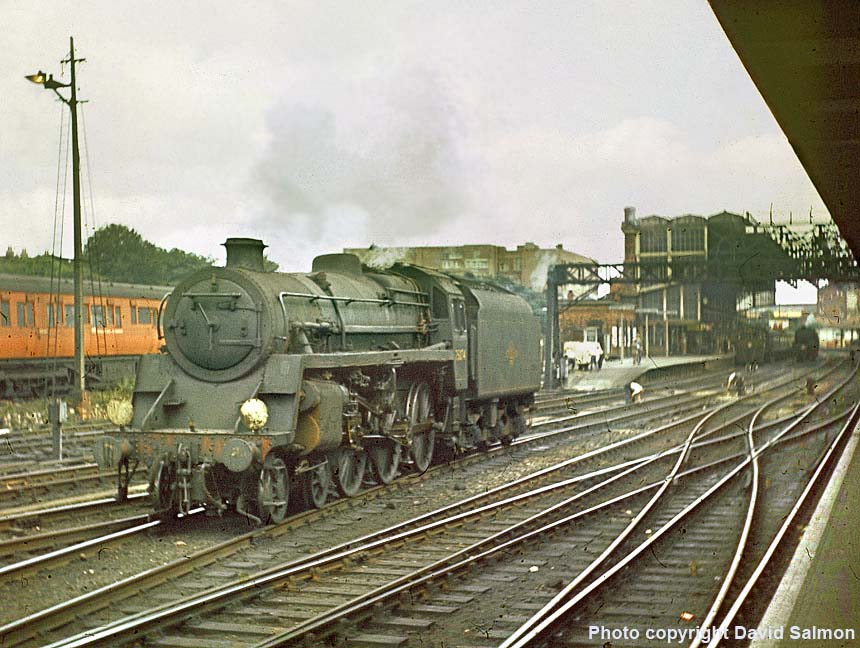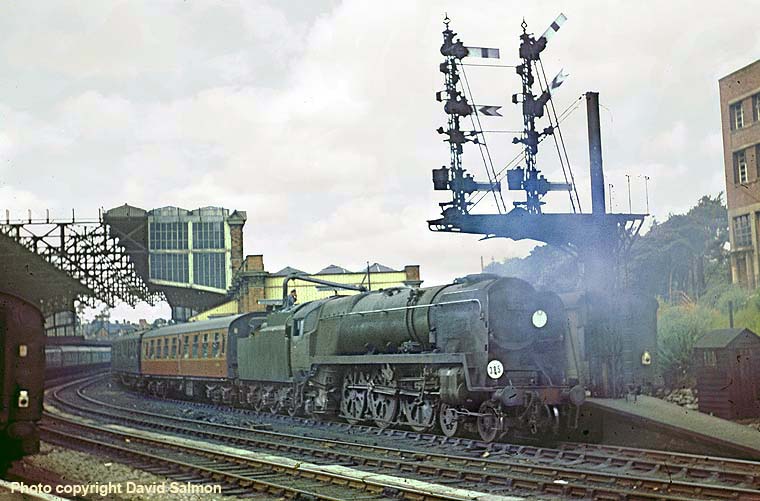 (Above-Below) Rebuilt Battle of Britain Class 34090 'Sir Eustace Missenden, Southern Railway' replenishes her tender before leaving Bournemouth Central station with a Semi-Fast stopping service for Waterloo on 25th July 1966. (Below) With safety valve blowing, Unrebuilt Battle of Britain Class 34066 'Spitfire' is about to leave Bournemouth Central station with a Semi-Fast stopping service for Waterloo on 25th July 1966.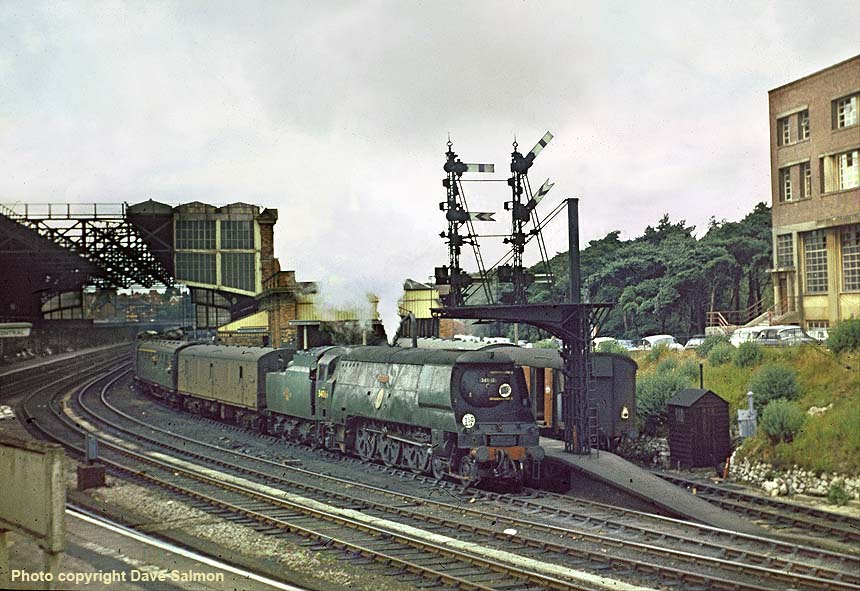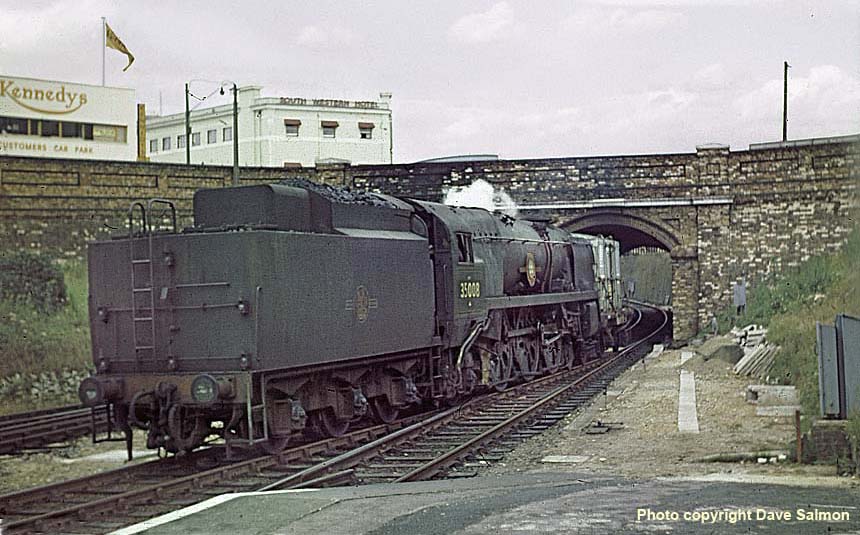 Above-Below) Rebuilt Merchant Navy Class 35008 'Orient Line' shunts a container wagon from the London end of Bournemouth station 25th July 1966 (Below) BR Standard Class 4MT 76057 runs into Bournemouth. One of the platelayers in the foreground keeps a watchful eye for passing traffic as they perform the annual fish plate lubrication service. This would allow the rails to move either way during expansion and contraction during varying weather conditions.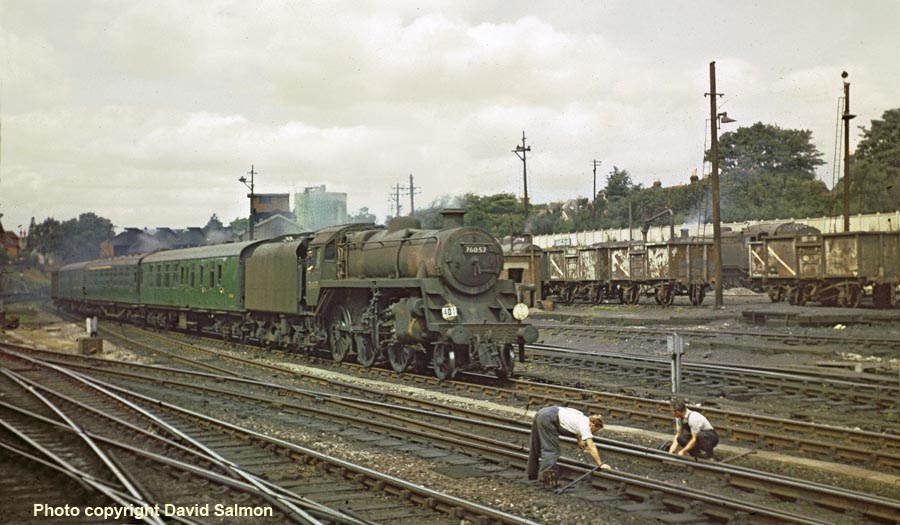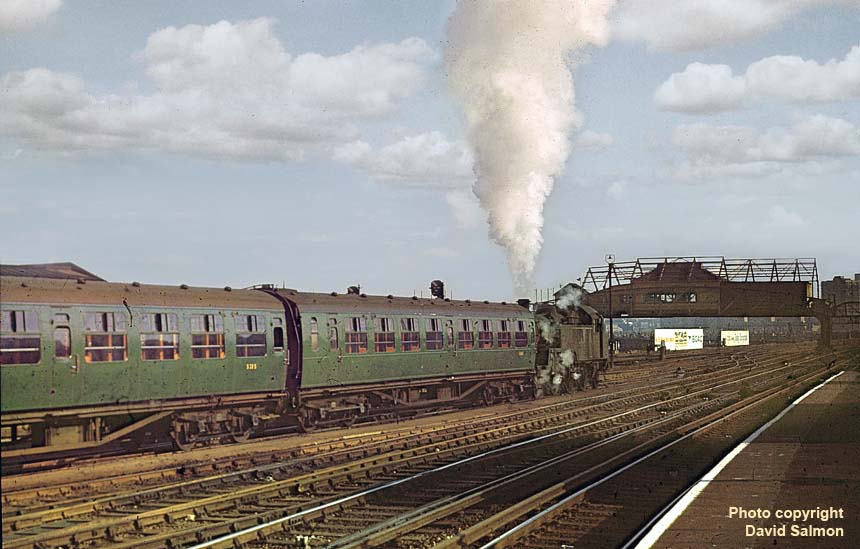 (Above-Below) BR Standard Class 3MT 82029 hauls a set of empty coaching stock ECS from Clapham Yard to Waterloo on 24th March 1967. Clapham 'A' Signalbox (one of three Signalboxes at Clapham at the time) can be seen spanning the Windsor lines. Clapham junction 'A' survived into the late 1980s. The structure consisted of a series interconnecting sheds on a bowstring girder bridge. During World War II, a steel roof weighing around 40 tons was added as an air raid precaution (see Clour-Rail photo below). The steel roof was removed in 1965 and the remaining framework is clearly visible. The weight of the roof caused the bridge to subside some 3½ feet at the London side, northern (left hand side) on Monday 10th May around 08:40 and this collapse resulted in the complete closure of all Waterloo train services. The subsidence was caused by rust. (Below) BR Standard Class 4MT 80145 trundles into Clapham Yard with a set of box wagons and vans from Waterloo on 24th March 1967.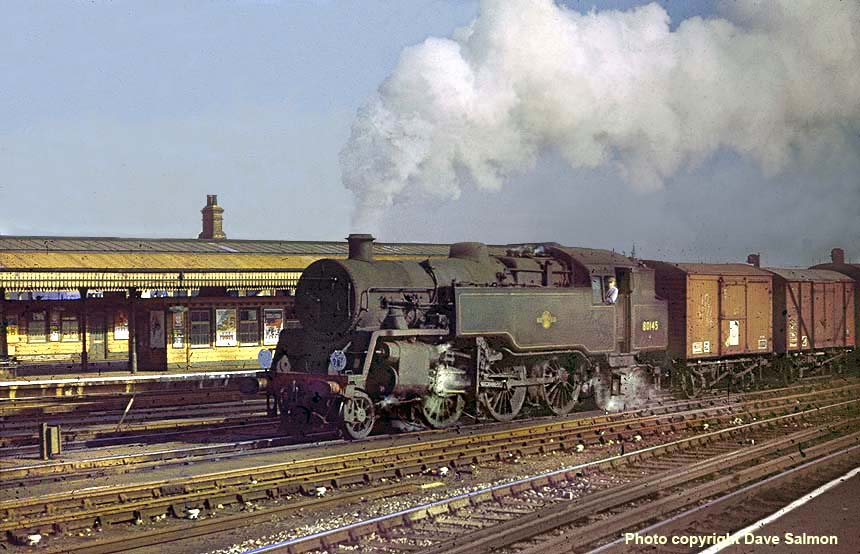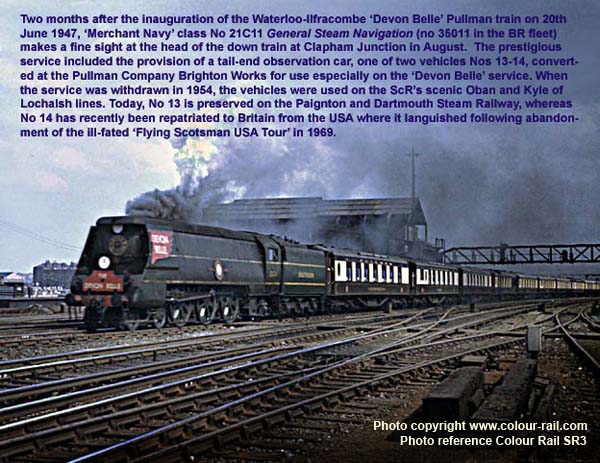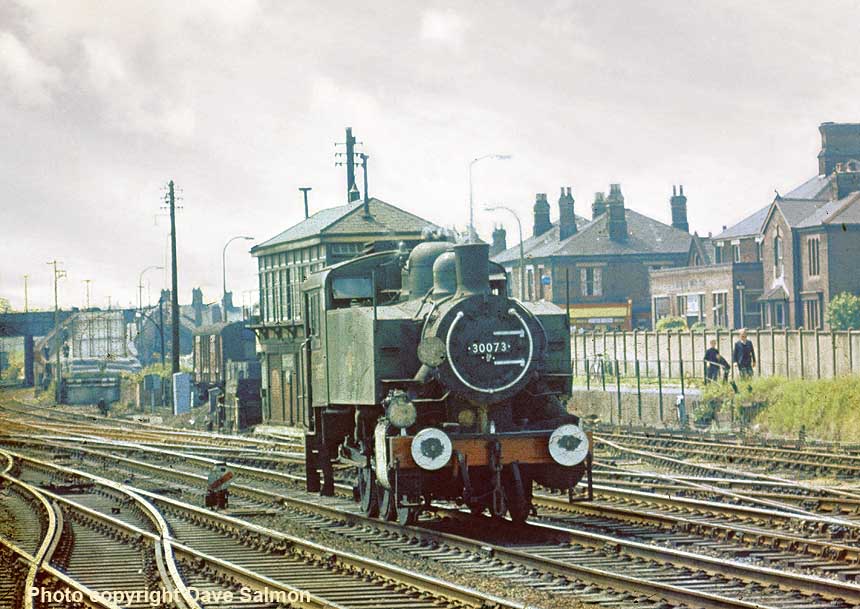 (Above-Below) USA Class 30073 waits for the clearance of the ground signal before travelling light engine to Eastleigh Loco for disposal duties on 11th June 1966. (Below) BR Standard Class 5 73170 hurtles through Eastleigh on the down fast line with a Bournemouth passenger service on 11th June 1966.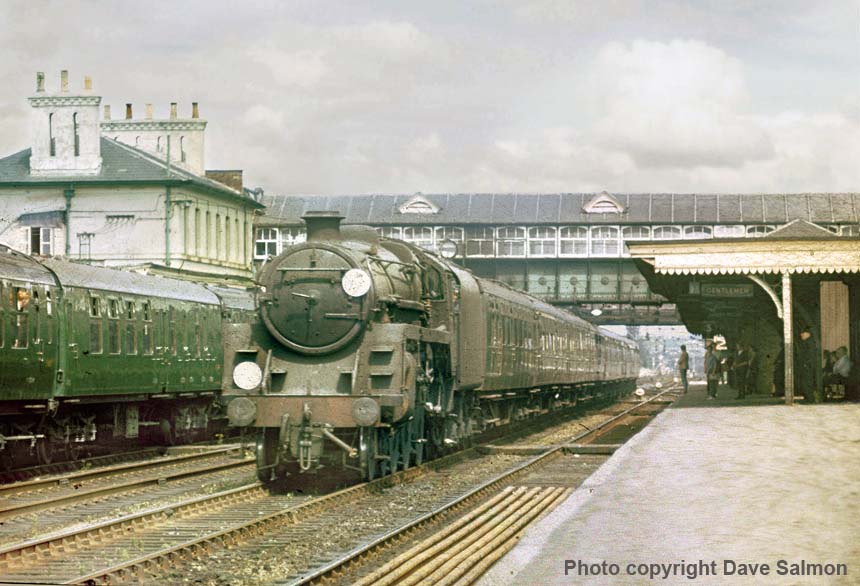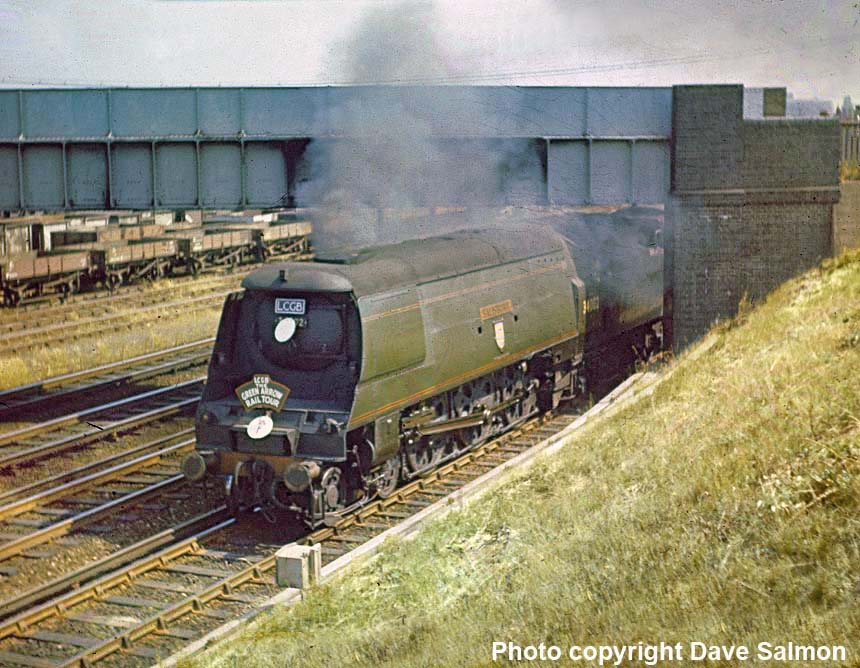 (Above-Below) Unrebuilt West Country Class 34002 'Salisbury' charges under 'Twin Bridges' at Woking with the L.C.G.B. 'Green Arrow Rail Tour' on 3rd July 1966. As the name suggests, the train should have been worked by a V2 Class locomotive (in this case 60919) which had travelled down from Dundee the previous day. Unfortunately, the locomotive failed at Nine Elms with a cracked framing and 34002 had to be utilised instead.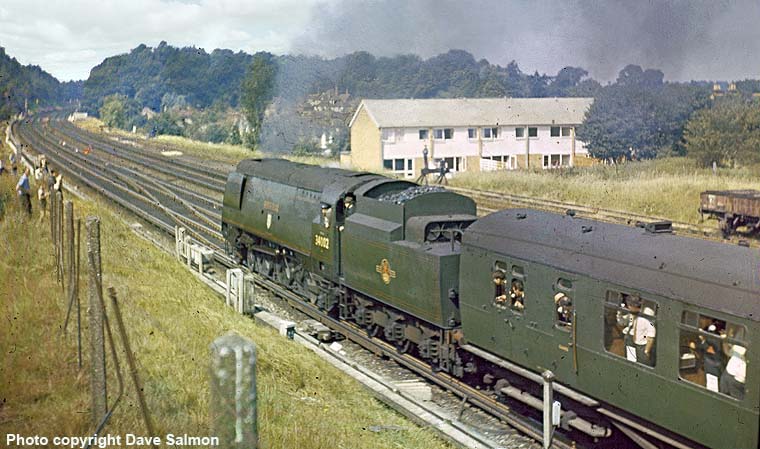 (Below) A smokebox numberplate for 'Battle of Britain' Class No 34057 'Biggin Hill' went under the hammer for £4,000 at a Great Central Railwayana Auction in April 2013. Built at Brighton in March 1947 and originally numbered 21C157, the locomotive was named after the famous RAF Biggin Hill Aerodrome which hosted the 'Operations Room' for the Operation Crossbow V-1 flying bomb defence during World War II.



(Below) 'Battle of Britain' Class No 34057 'Biggin Hill' runs into Woking with a Semi-Stopping Service from Waterloo to Basingstoke on 10th September 1966. No 34057 was one of three light Pacifics to be loaned to the Eastern Region on trial in May 1951 with a view to replacing the Thompson Class B1 4-6-0s on secondary services in East Anglia. The following October all the 'Britannia' Pacifics were temporarily removed from traffic for inspection and subsequent modification at Crewe and the light Pacifics took over their duties with 34057 spending most of its time on the various boat expresses. During BR days the locomotive was allocated to Dover, Stewarts Lane, Nine Elms, Exmouth Junction, Brighton and finally Salisbury from where it was withdrawn on 7 May 1967 and sold for scrap to Cashmores at Newport.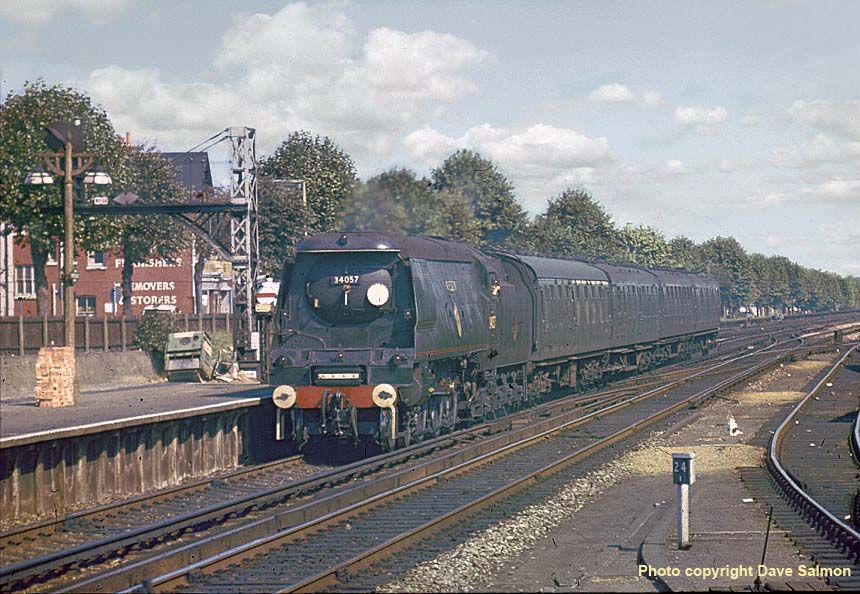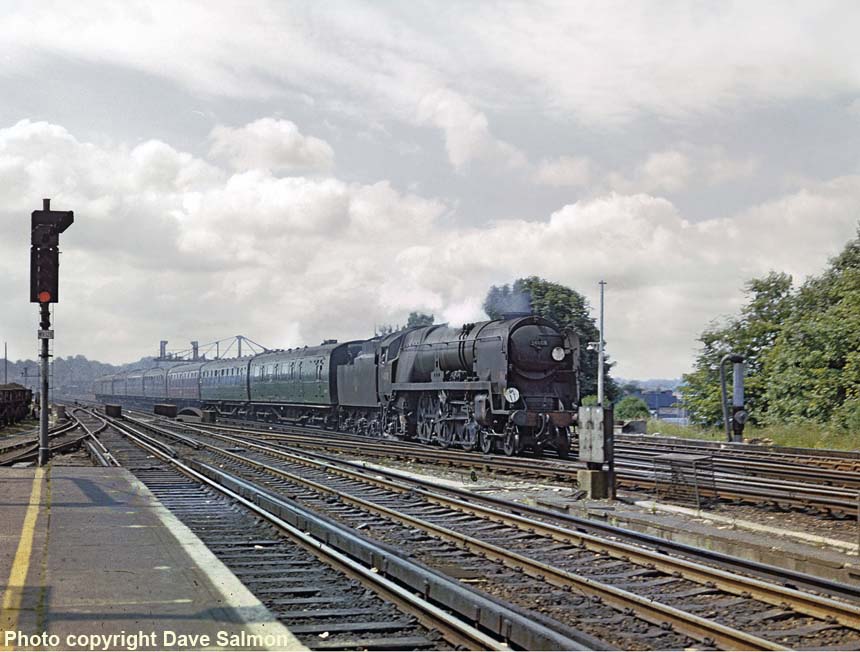 (Above-Below) Great shots of the same loco two weeks running taken from Woking down local platform (5) and the locomotive - Rebuilt West Country Class 34008 'Padstow' (minus her nameplates) is working an 'up' semi-fast passenger service from Bournemouth to Waterloo on Saturday 3rd and 10th June 1967 respectively.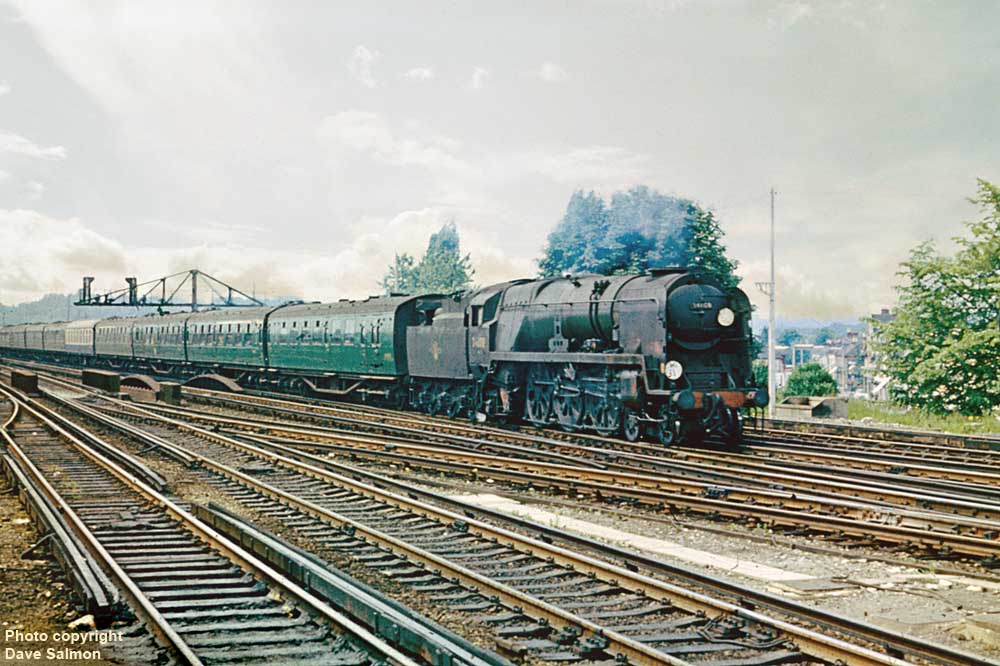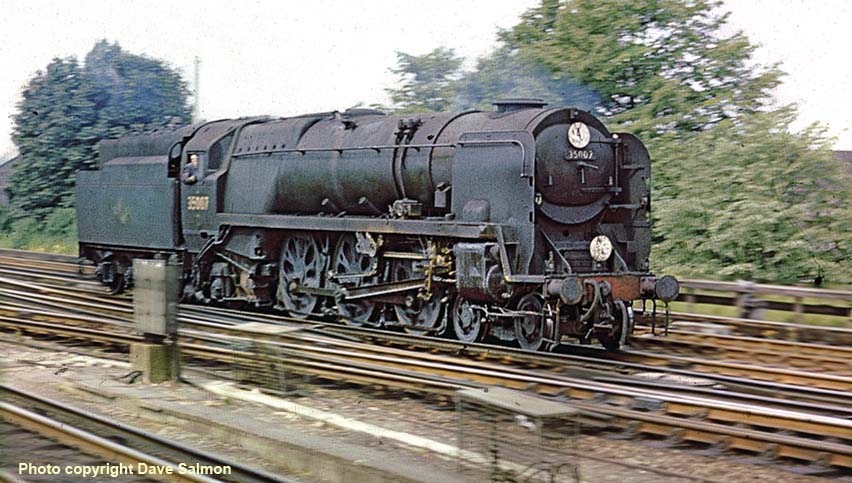 (Above-Below) Rebuilt Merchant Navy Class 35007 'Aberdeen Commonwealth' runs through Woking light engine from Salisbury probably bound for Nine Elms MPD on 3rd June 1967. (Below) Rebuilt Merchant Navy Class 35008 'Orient Line' heads towards Bournemouth through Woking with a 'Farewell to Southern Steam' Special passenger service on 2nd July 1967.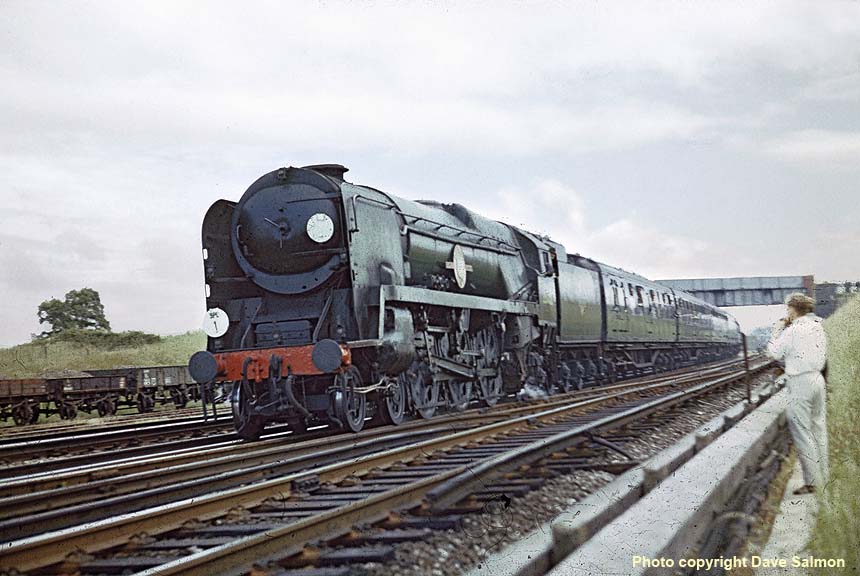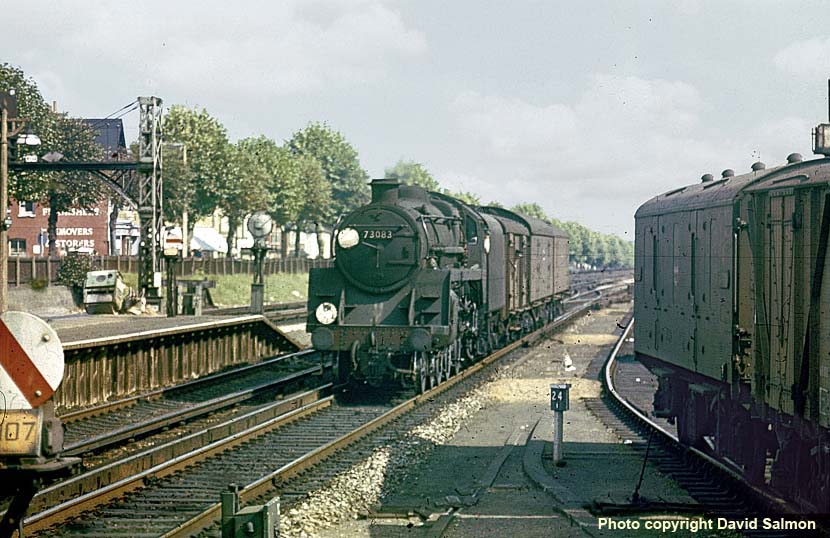 (Above-Below) BR Standard Class 5MT 73083 sets back into Woking East End sidings with some vans on 19th September 1966. The headcode on the front of the locomotive suggests that after shunting, the train will continue to Portsmouth and Southsea. (Below) BR Standard Class 4MT 80015 replenishes her side tanks at the Country end of platform 5 on 10th June 1967 before setting off with a parcel service for Basingstoke.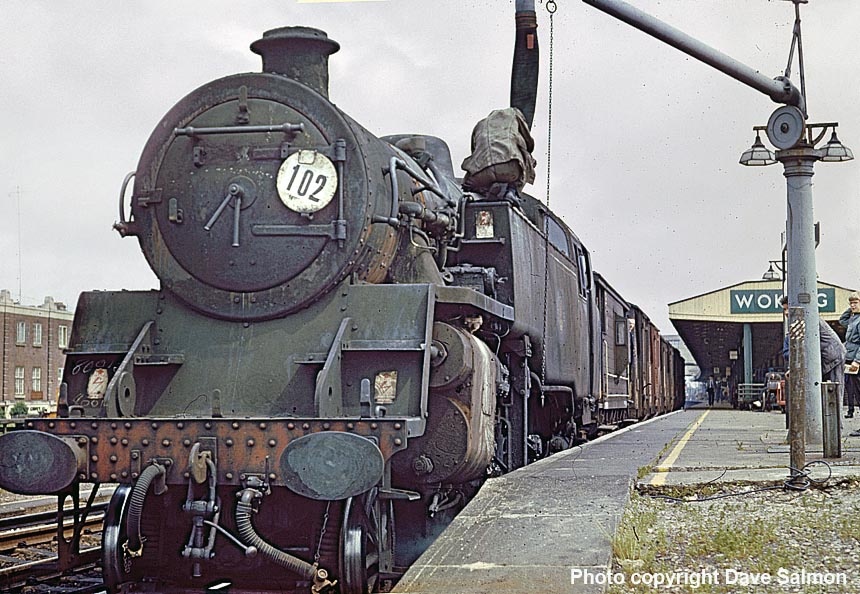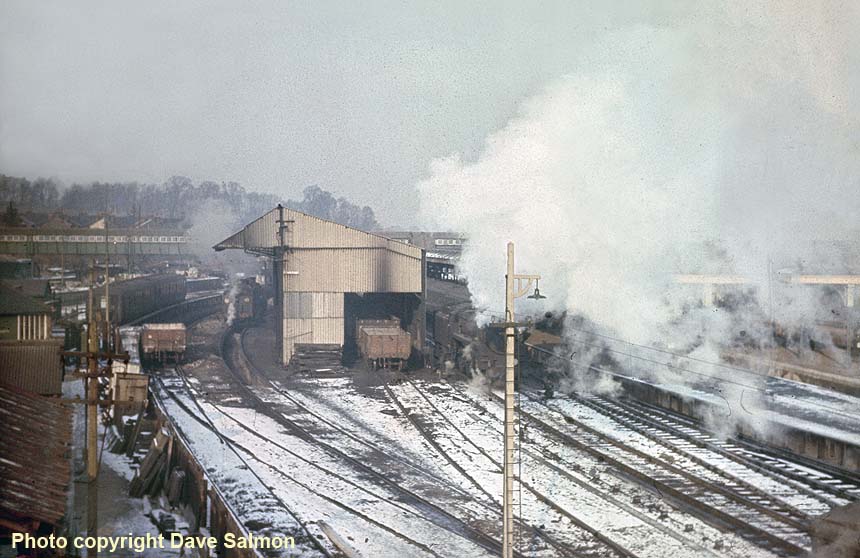 (Above-Below) A view of Guildford MPDs Coal stage from Farnham Road bridge on a snow covered morning of the 21st January 1966. N Class 31411 is receiving disposal duties in the coal road and a BR Standard Class 4MT locomotive is seen moving towards the exit signal. (Below) BR Standard Class 76031 moves off the Guildford turntable into No.1 road of the New Shed on 17th June 1967.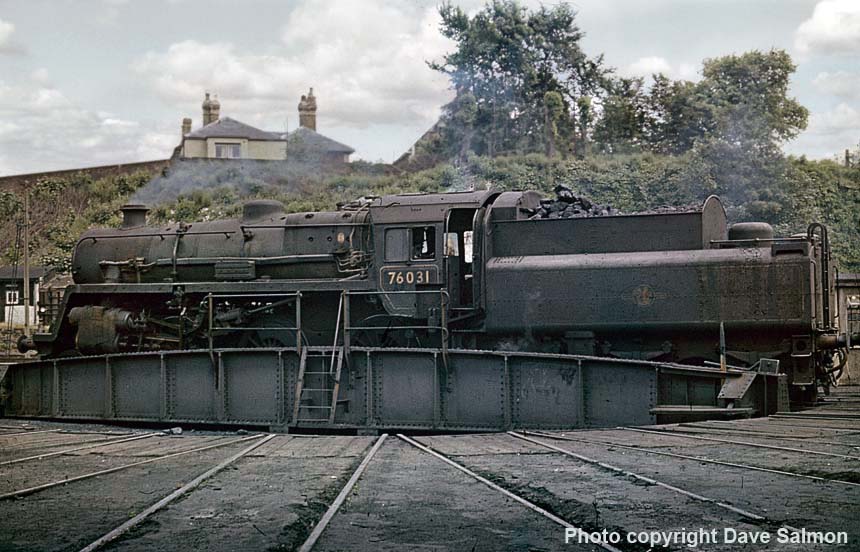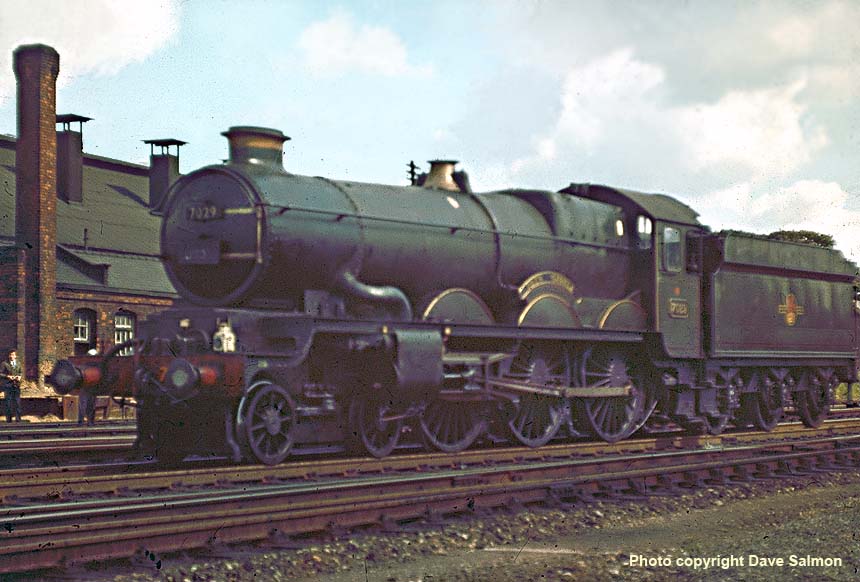 (Above) 'Castle' Class 7029 'Clun Castle' stands outside Basingstoke MPD probably waiting for a special working. Its first shed allocation was Newton Abbot and had a double chimney and a 4 row superheater fitted in October 1959. Its most famous moment came on 9 May 1964 on the Plymouth to Bristol leg of a special train to mark the record set sixty years earlier by 'City of Truro' when it was timed at 96 mph on the descent of Wellington Bank in Somerset.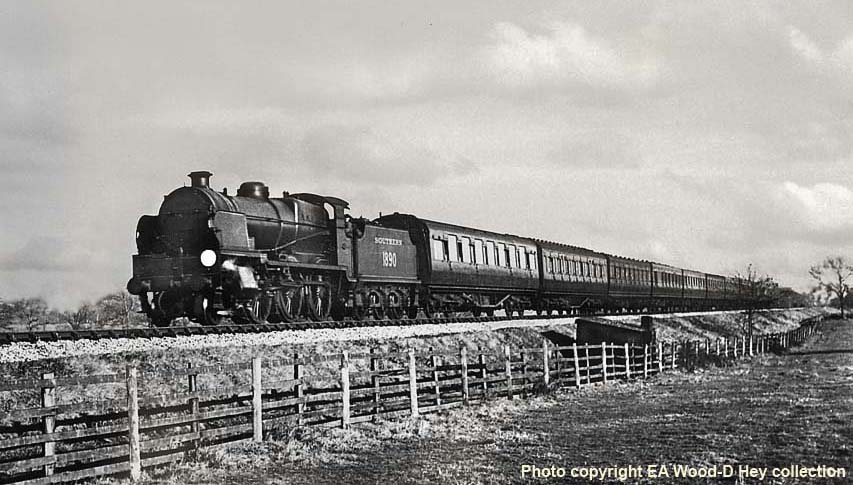 (Above-Below) 3 cylindered U1 Class 1890 meanders through the Kent countryside with a passenger service in pre-nationalisation days. 1890 was a rebuild of K1 Class 2-6-4 A890 'River Frome' and the prototype for a further batch of locomotives to be built at Eastleigh in 1931. After nationalisation, the majority of the class were withdrawn from service in 1962 with the final three (including 1890 (31890) gone by 1963. None were preserved--to be continued!...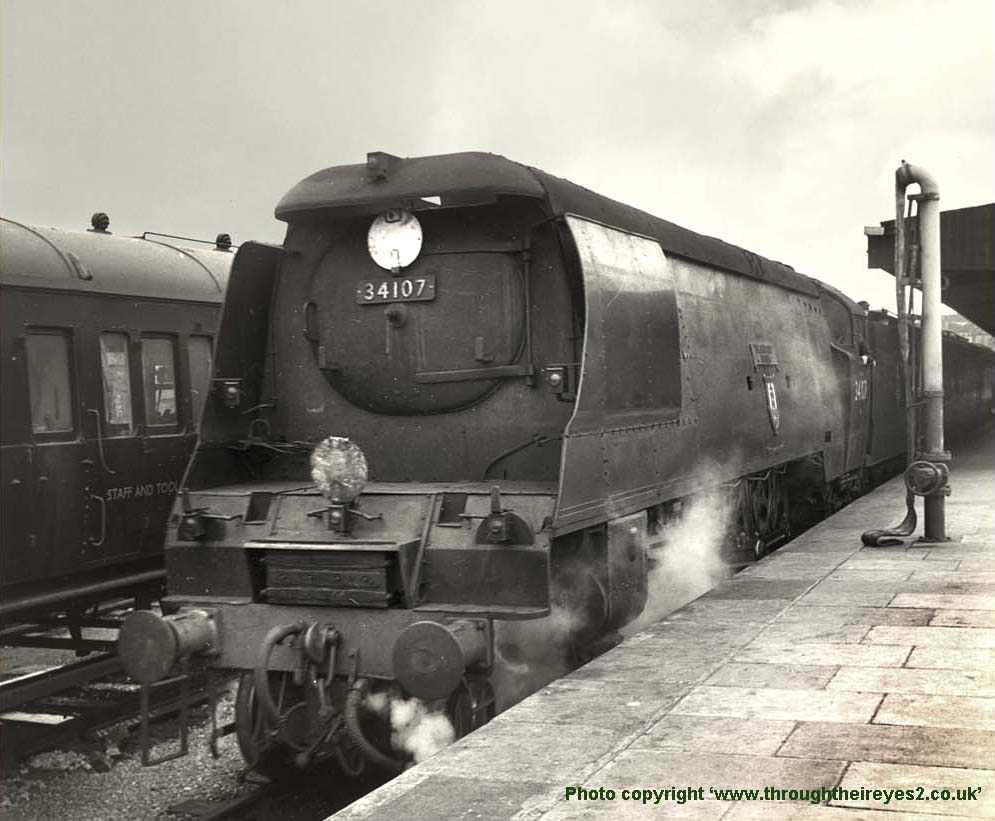 Geoff Burch's contact details can be found HERE.

Polite notice: All text and photographs are protected by copyright and reproduction is prohibited without the prior consent of the © owners. If you wish to discuss using the contents of this page the email address is below. Please note - this is not a 'clickable' mail-to link via Outlook Express. You will have to email manually.
dheycollection@ntlworld.com