EDITED BY DEREK DEAN

BR WESTERN REGION
SOUTH WALES

Upon nationalisation in 1948, the newly-formed Western Region inherited a total of 3,857 steam locomotives from the GWR, though a small number of engines were taken into stock from absorbed lines, including several surviving pre-Grouping 0-4-0 saddle tanks belonging to the Swansea Harbour Trust (SHT). The SHT was responsible for operating the railway system at Swansea East Dock, its small fleet of locos being supplemented by a number of 0-4-0 saddle tanks provided by Powlesland and Mason (P&M) for duties within the docks. These P&M engines were built by five different firms: Peckett and Sons, Brush Electrical, Avonside, Andrew Barclay and Hawthorn Leslie and Company, and as a consequence the Western Region had a variety of elderly shunting locos on its books.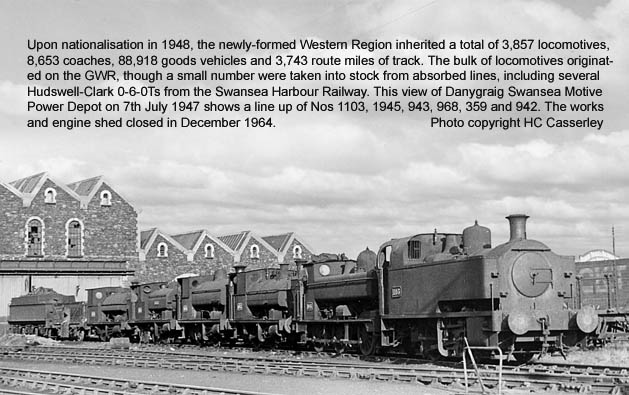 (Inset-Below) On 1st January 1924 the GWR acquired the docks including 23 locomotives from the SHT and 14 from P&M. The GWR rationalized the dock's shed facilities and concentrated the stabling of locos at East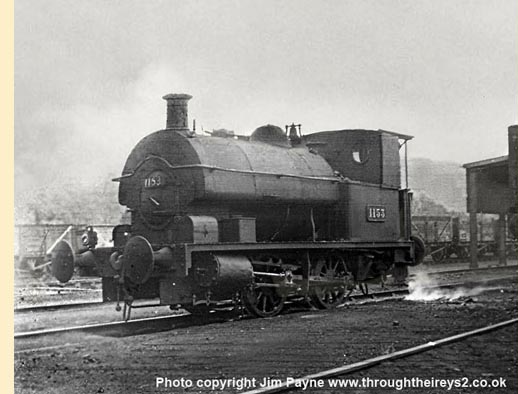 Dock shed or at Danygraig where the 1101 class provided motive power for the new Kings and Queens Docks. The GWR continued to use the ex-P&M steam locomotives for shunting and short-trip freight train workings. Some P&M locomotives were based at locomotive sheds away from the immediate vicinity of Swansea docks, including Danygraig shed, to the east of Swansea, which was located to the west of Jersey Marine railway station. A feature of the dock shunters operating out of 87C was the warning bell mounted in the front of the cab; this can be seen on the former P&M-owned Peckett 0-4-0ST (BR No 1153) at Gurnos, a sub-shed of Swansea Victoria (87K) and No 1143 at Danygraig (87C) below on 28 June 1959. The latter locomotive was acquired by the Great Western Railway from the Swansea Harbour Trust (SHT No 12) in 1924. A bell is also carried by Collett's 0-4-0T dock shunter no 1103 behind it; this was built by the Avonside Engine Co, Bristol, in 1926 and spent all its life in and around Swansea docks.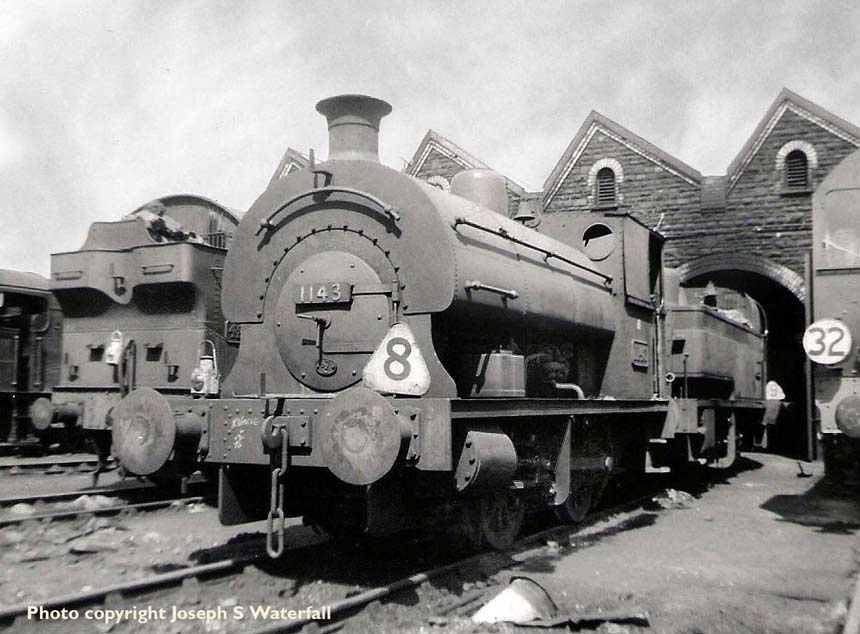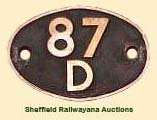 (Right) Danygraig shed performed most of the dock work, but Swansea East Dock shed had turns into the older docks and mainline shunting. The East Dock MPD was one of several in the Swansea area. Coded 87D under BR, it had an allocation of 35 tank locos made up of 2-8-2Ts and 2-8-0Ts which were employed on the heaviest coal trains originating from the South Wales
coalfield, though they were often seen further afield in England. The rest were made up of 0-6-2Ts, 0-6-0Ts and 0-4-0Ts: the shed closed in June 1964.

(Left Top) Sporting a Danygraig (87C) shedplate on the smokebox door, Class 3F 0-4-0T No 1105 was one of six engines (Nos 1101-6) built by Avonside Engine Co based on a design to GW requirements for dock shunting. Introduced in 1926, No 1105 is still going strong on 14th March 1957. Weighing just 38 tons 4 cwt, it had a tractive effort of 19,510lbs. (Bottom Left) Another Danygraig loco, 0-4-0ST No 1151 - one of 2 members in the class - was photographed on the same day some fifty years after its introduction in 1907. Weighing just 33 tons 10cwt with a tractive effort of 14,010 lbs, this Class 0F Peckett design was built for P&M. 1963 saw the last Peckett-built 0-4-0ST to be withdrawn from service - BR No 1152 (formerly P&M No 12, later GWR No 935).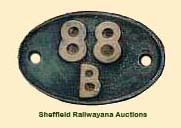 (Right) A Cardiff East Dock (88B) shedplate (1949 to March 1958), then Radyr (October 1960-July 1965) went under the hammer at a Sheffield Railwayana Auction in December 2011. The former GWR depot at East Dock was once home to 60 locos during the 1950s before it was run down and lost its allocation in 1958, but in September 1962 - with the onset of WR's dieselisation gathering pace - a remarkable revival took place when the shed inherited all of Cardiff Canton's steam allocation including Castles, Halls, Granges and Manors.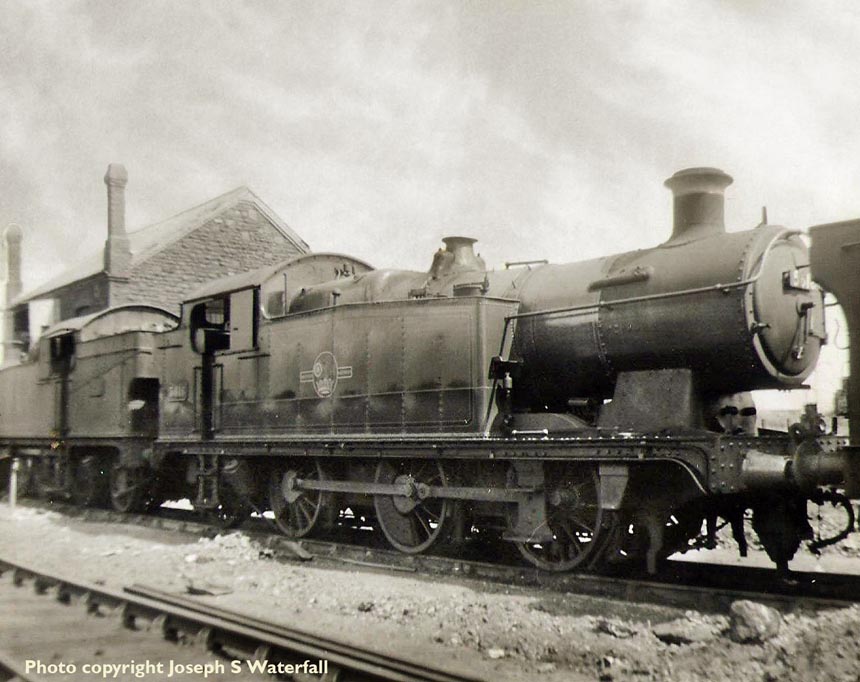 (Above-Below) The exceptional overhang of Collett's '56XX' class 5MT 0-6-2T smokebox can be seen in this shot by Joseph S Waterfall of No 5616 at Danygraig MPD in June 1959. Note the difference in bunker size between 5616 and the Collett 72XX class 8F 2-8-2T behind it. Numbered 7200-7253 in the fleet these 2-8-2Ts were conversions of Churchward's earlier Class '42XX' 2-8-0Ts, being fitted with a radial trailing truck and larger bunker (coal capacity 6 tons) almost double that of No 5616. Introduced in 1924 the '56XX' class was designed for passenger services on the heavily-graded valley lines in South Wales.(Below). Opened by the Taff Valley Railway in 1884, Cardiff Cathays MPD together with its sub-shed Radyr became the principal Loco Depots of the Cardiff Valleys Division. Coded 88A (1949-57) by BR's Western Region) the combined depots of Cathays and Radyr had a compliment of 82 locomotives, the majority of which comprised of 62 '56XX' Class 0-6-2Ts. The remainder were made up of two 2-8-2Ts; fifteen 0-6-0PTs and three 0-4-2Ts. In 1959 part of the steam shed was converted to accommodate diesel multiple units and two years later Cathays closed to steam entirely, its allocation of steam locos being moved to Radyr. Following the opening of the new diesel depot at Cardiff Canton in November 1964, Cathays was shut down and the site demolished.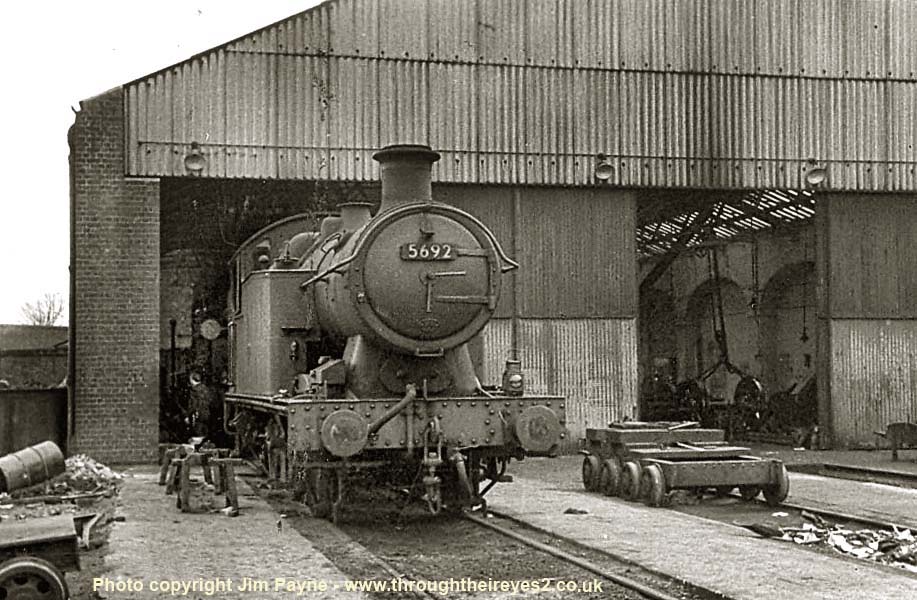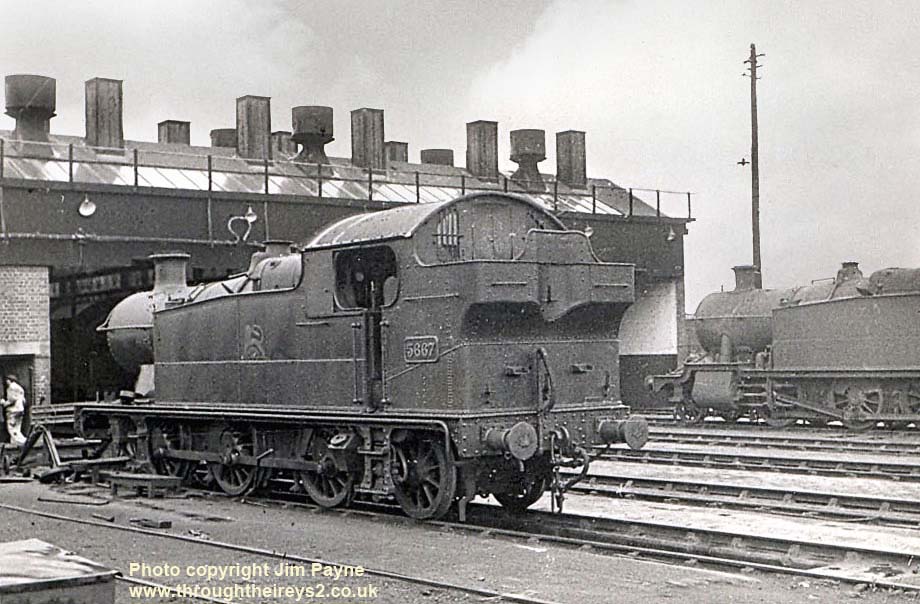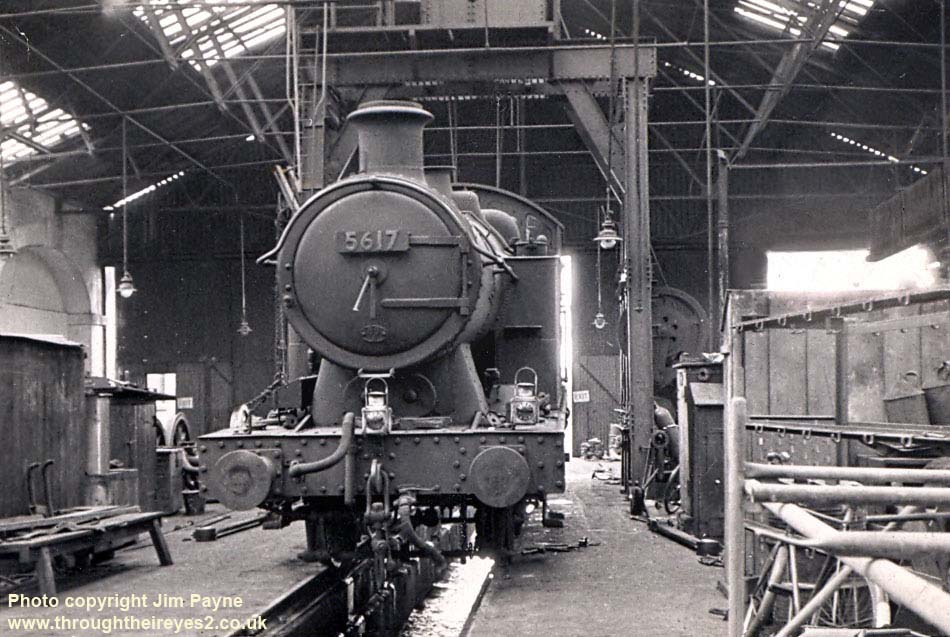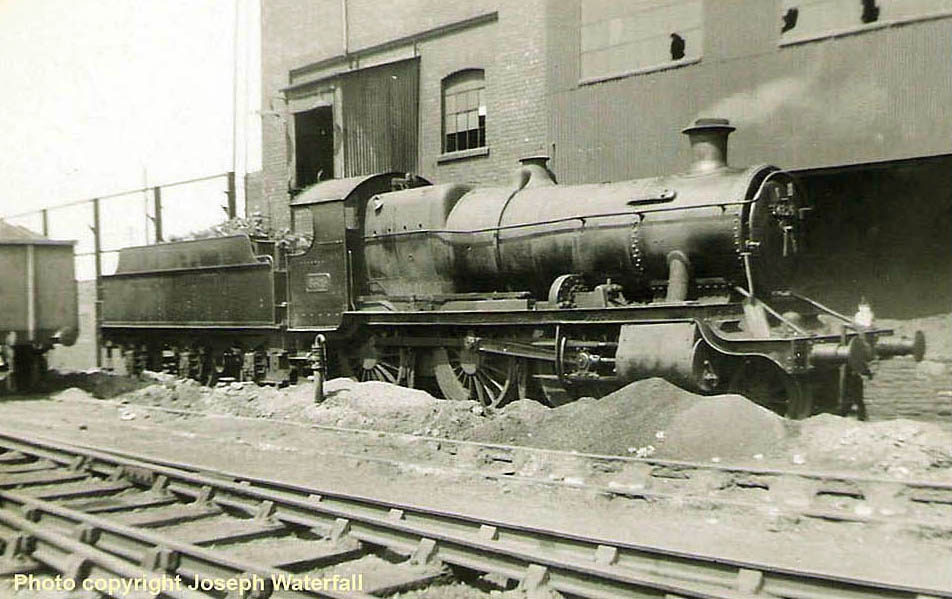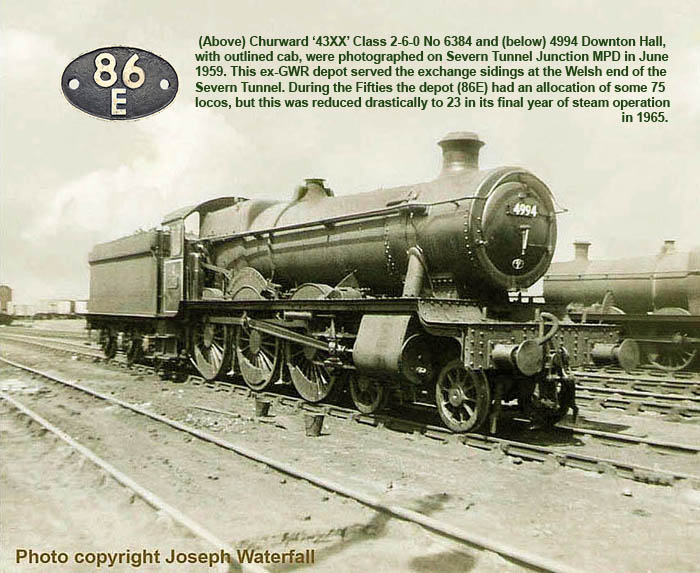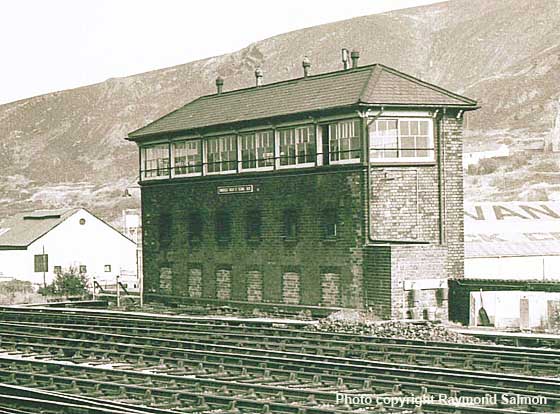 (Above) I have recently been contacted by Raymond Salmon who is seeking a photo of Jersey Marine South signal box. When Raymond was 15 years-old he started his working days at Swansea High St Station goods yard as a messenger boy, from there he went to Swansea High St Station Signal Box as booking boy; it had 120 levers which all booking boys unofficially got to learn. At 18 he applied for a Class 4 Signalman's job, and due to shortages was allowed to jump one class, starting as a Class 3 signalman at Jersey Marine Jnct South signal box. Having retired 5 years ago, Raymond is still interested in railways and occasionally photographs excursions. He has a black and white photo of Swansea High St box (above) but is seeking a photo of Jersey Marine South signal box. If anyone can help it will be much appreciated. Raymond can be contacted via email - fullsteam.ahead@talktalk.net



(Below) Goodwick MPD (87J) can be seen in this general view of Fishguard and Goodwick station in June 1959. Opened on 1st August 1899, the station was originally called Goodwick until 1st May 1904 when the GWR opened their 5 mile extension to Fishguard Harbour and moved their Irish Ferry operation from Neyland. The station at Goodwick was closed to passenger traffic on 6th April 1964 though it continued to be used as the terminus for the seasonal Motorail service from June 1965. Motorail kept the station in use during the summer season until the regular service from London ended on 19th September 1980 and the occasional peak service in September 1982. Of interest is the freight traffic generated by the RNAD Trecwn, a Royal Navy Armaments Depot, built in 1938 to store and supply naval mines and munitions to the Royal Navy. At its height the depot employed 400 permanent workers who were housed within the Ministry of Defence's town infrastructure. The site also had its own 2 ft 6ins narrow gauge railway. The weapons were delivered and distributed by BR locos hauling Ministry of Defence-Royal Navy private owner wagons to Fishguard, Neyland for Milford Haven and latterly Pembroke Dock. Following closure of Goodwick station in August 1964, the site fell into a dilapidated state, however there is a happy ending - reopened on 14th May 2012 the station saw its first 'commuter' train service from Carmarthen for 48 years.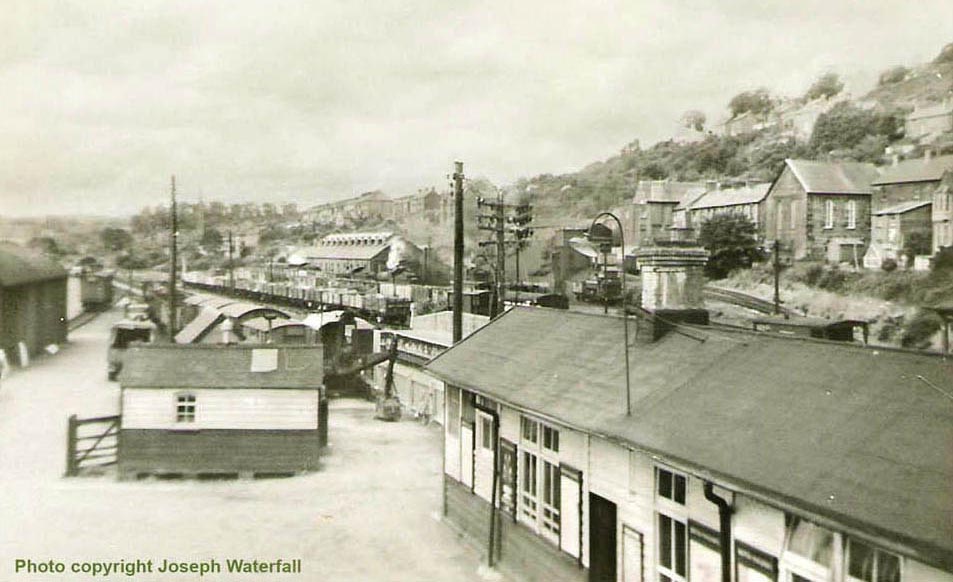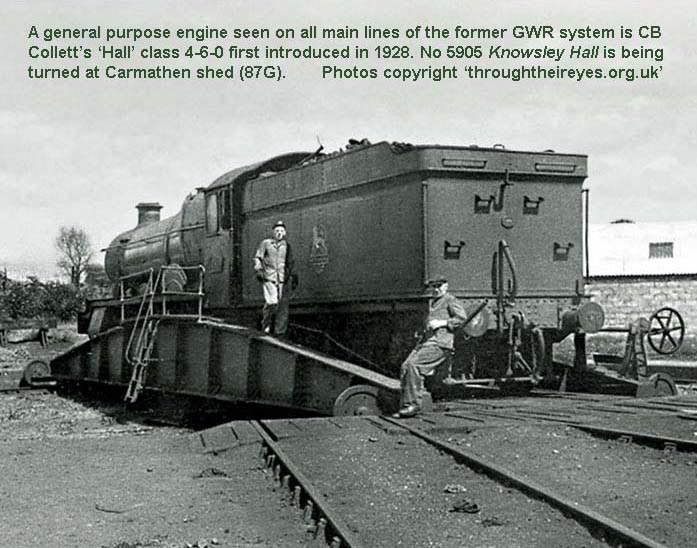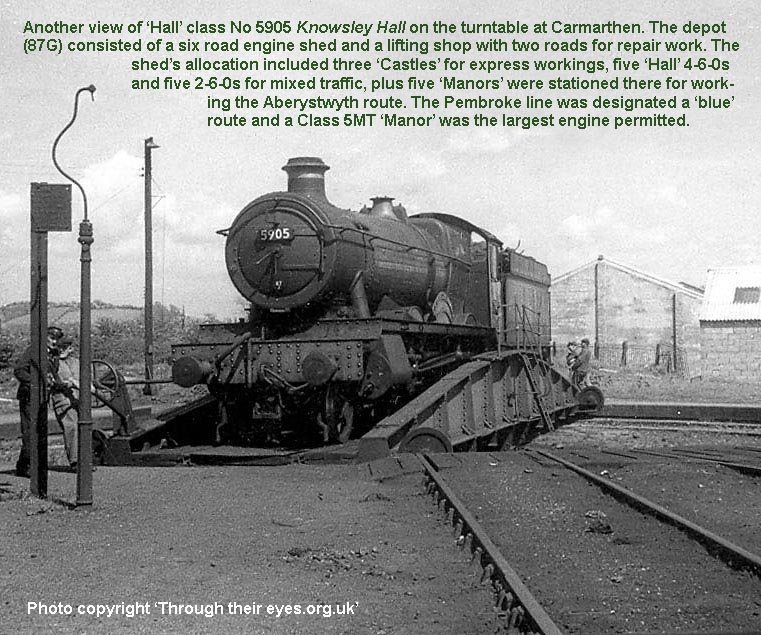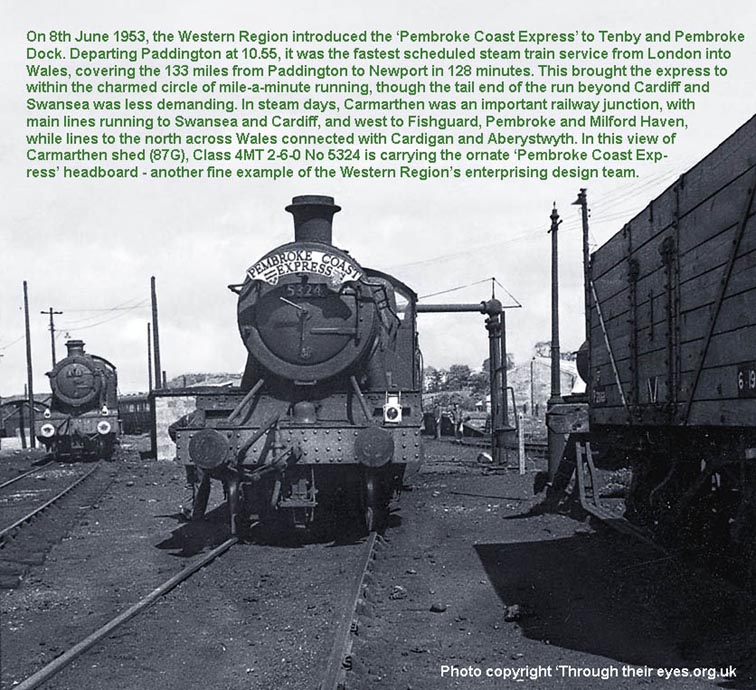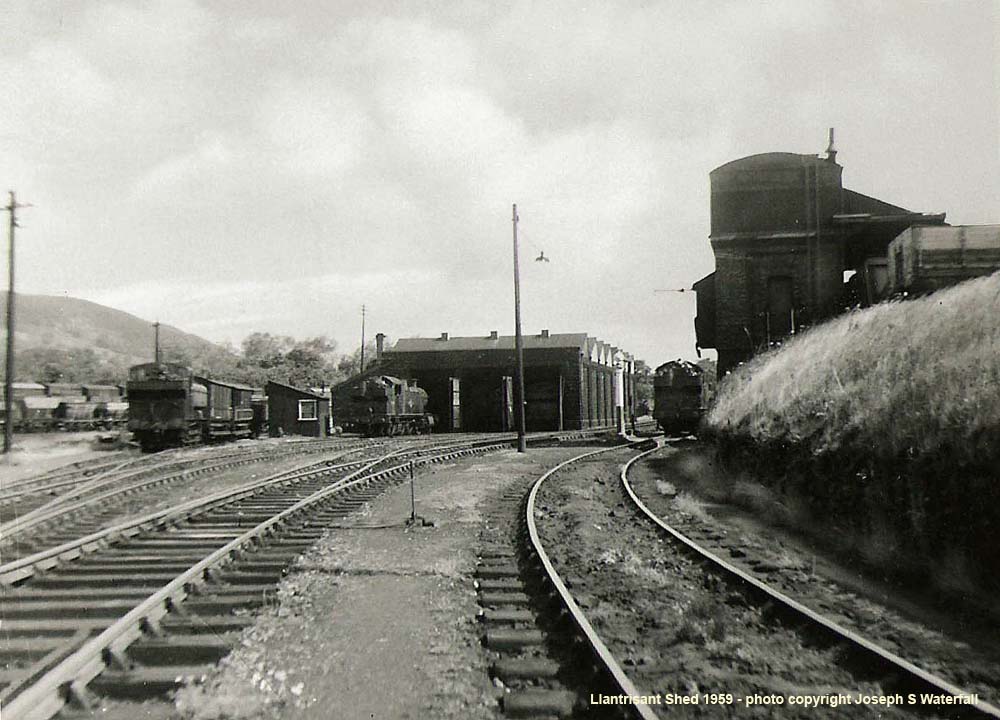 (Above-Below) A general view of three-road engine shed and coaling facilities at Llantrisant (then coded 86D) in June 1959. This shed fell within the Newport division at this time with the main MPD being Ebbw Junction (86A). For the record, when the GWR introduced depot codes in 1910 Llantrisant was coded LTS. Then in 1932 a separate code for accountancy purposes was introduced and under this new system Llantrisant became No 86, the last digit '6' indicating that it belonged to the Newport division. However, in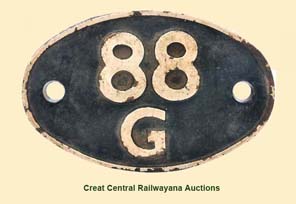 February 1950, BR's Western Region adopted the LMS's method of depot coding and Llantrisant was allocated a new code 86D, the figures 86 now denoting the Newport division. But in October 1960 Llantrisant's shed code was altered yet again to 88G when it became part of the Cardiff division beneath Canton MPD (88A). The depot at Llantrisant remained 88G up to closure in October 1964, by which time its allocation of locos had dwindled to 14. (Below) Llantrisant was once a major junction on the ex-Great Western South Wales main line between Cardiff and Swansea. The station consisted of two central through platforms and bays for the Ely Valley line, the Llantrisant & Taff Vale Junction line and the branch to Cowbridge and Aberthaw, hence extensive sidings were built to handle the coal traffic generated in the area. Closed on 2nd November 1964, the station was rebuilt and reopened as Pontyclun on 28th September 1992. These shots by Joseph S Waterfall show the transition from steam at Llantrisant station with one of Hawksworth's 0-6-0 pannier tank No 9482 arriving on a local train from Tondu in June 1959 (inset) and I am advised by Brian Williams that this early liveried 4-car multiple-unit arriving at Llantrisant from Bridgend is not a Craven unit as originally stated - it is in fact a Swindon Cross-Country set (later Class 120)...thanks Brian.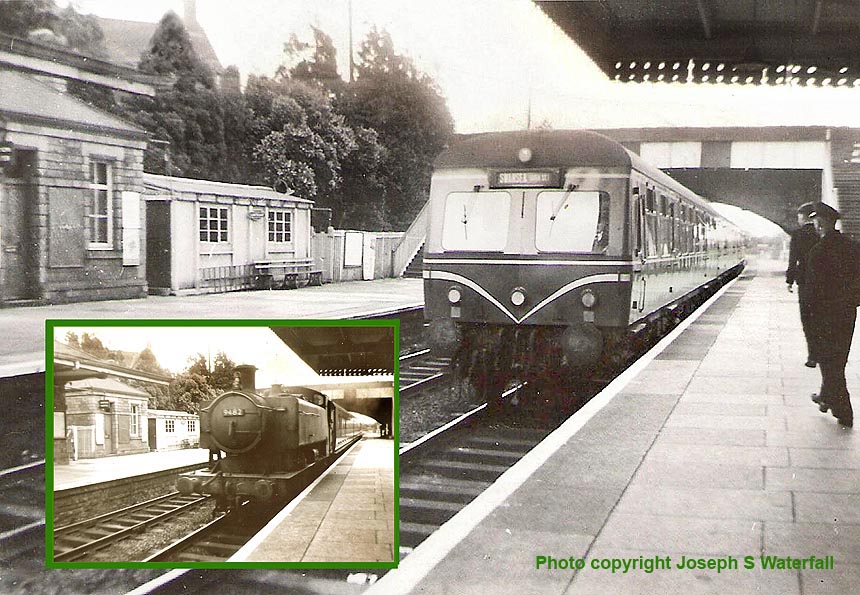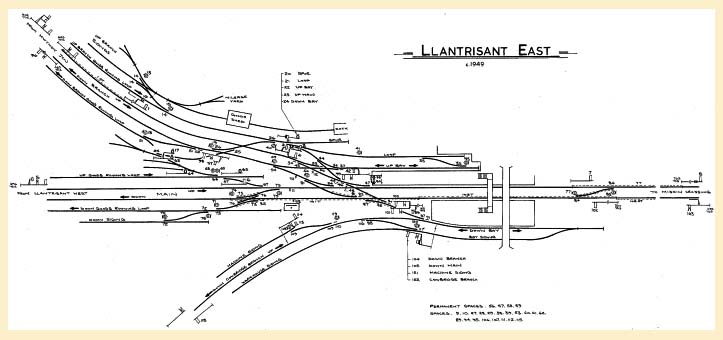 (Above-Below) This track plan of Llantrisant East is an excellent example of the SRS Drawing Office collection of signal box diagrams that has been built up over many years and constitutes hand-drawn sketches of the layout controlled by a signal box, with signals and connections numbered. The collection is being digitalised and published on CD-ROM. Information can be found here on this fascinating website. (Below) Newport MPD with 2-6-2T '81XX' class 8103 in June 1959; believed to be the last of its class.

I place a high value on visitors who kindly correct mistakes that appear in the captions; it is important to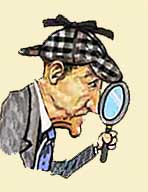 get the facts right. Geoff Kerr recently dropped a line; he writes - 'Whilst visiting your site I have found an error on the BR Western Region page 22. Immediately under the track diagram of Llantrisant East is a photo of a 2-6-2 tank described as 8103 at Newport Ebbw Junction. It's actually No 3103, the last survivor of the small 3100 class rebuilt from the older 3150 class. These had 5' 3" driving wheels and the larger No 4 boiler, whereas the 8100s had 5' 6" wheels and No 2 boiler. The bunker shape is also different, the 3100s having the deeper extension to the bunker top. I grew up in Bristol and mainly saw the 4100, 5100 and 6100 versions of this design, all similar but you learnt to spot the differences! I regret not having a camera in those days and am grateful for the efforts of others. Regards…'
Thanks Geoff, your diligence is much appreciated...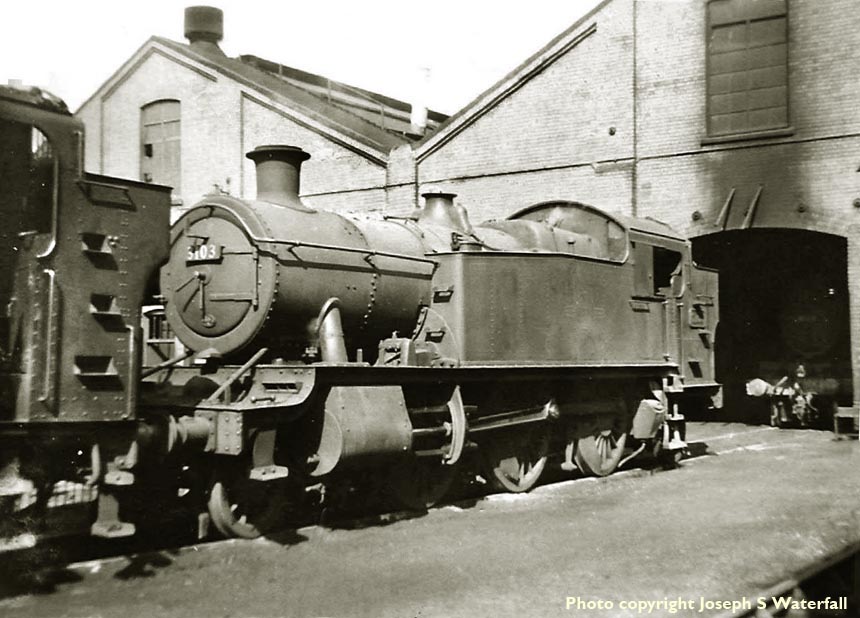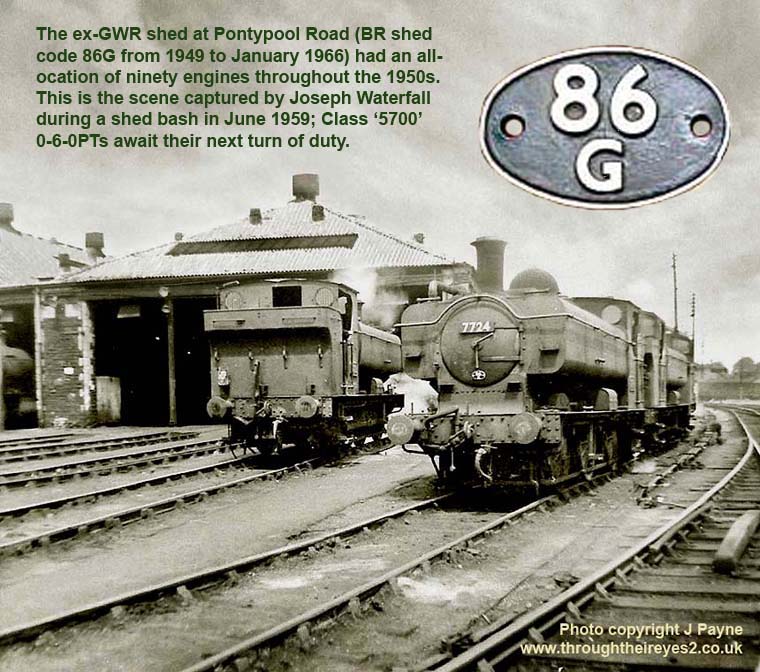 (Above-Below) By the end of 1962, diesels were making major strides but steam was still very much in evidence in South Wales. On Sunday 18th November 1962 the Worcester Locomotive Society (WLS) organised a visit to the Western Region's MPDs in the South Wales area and an interesting record of this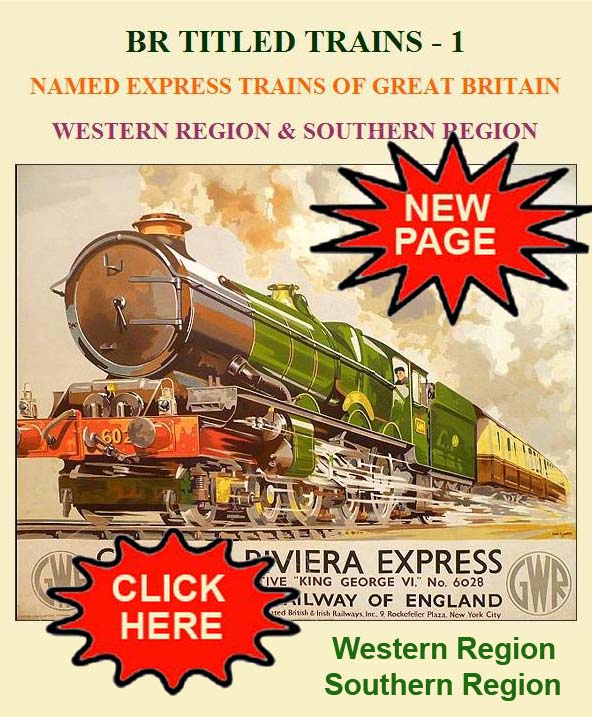 trip has been complied by Andrew Smith from personal recollections with additional notes and locomotive lists supplied by Gerald Wadley and Lyndon Knott. As mentioned earlier, during 1962 the two principal passenger engine sheds (Cardiff Canton and Landore) were closed for rebuilding as diesel depots and Canton's allocation had been sent to a re-opened Cardiff East Dock shed...alas permit difficulties prevented WLS visiting Cardiff East Dock, but the rest of the tour consisted of visits to: Pontypool Road (86G); Newport Pill (86B); Newport Ebbw Junction (86A); Caerphilly Works, Radyr - a sub shed of Cardiff Cathays (88A); Llantrisant (86D); Duffryn Yard (87B); Neath (87A; Danygraig (87C); Llanelly (87F); Llandovery - a sub shed of Swansea Victoria...these places were a spotters dream! Click here to visit this interesting webpage. (Below) An undated shot of the interior of Newport (Ebbw Junction) loco depot 86A (1949-1963). The shed code was changed to 86B for its final two years prior to closure in 1965. Ex-SR engineman David Salmon's colour photos (beneath it) show the abandoned roundhouse building in a dilapidated state on August 13th 1966.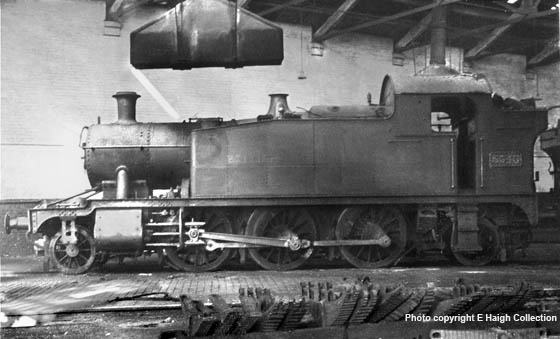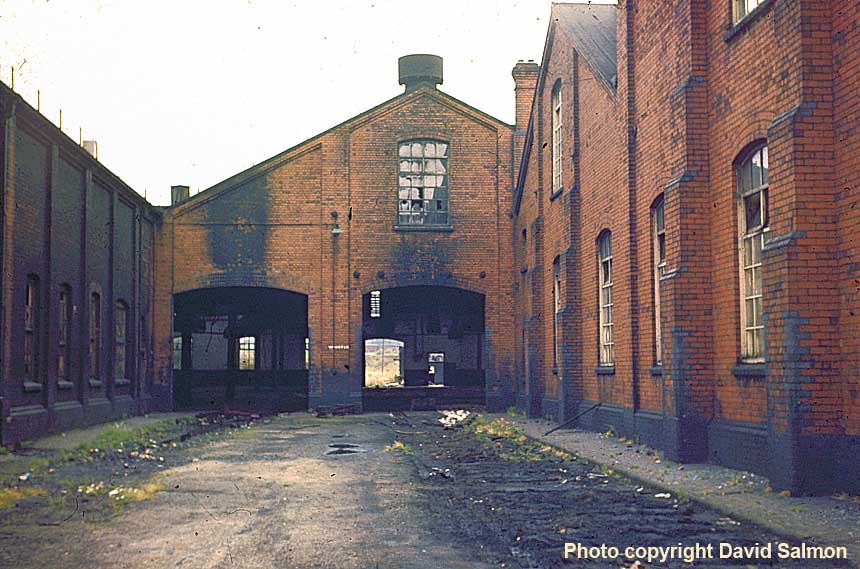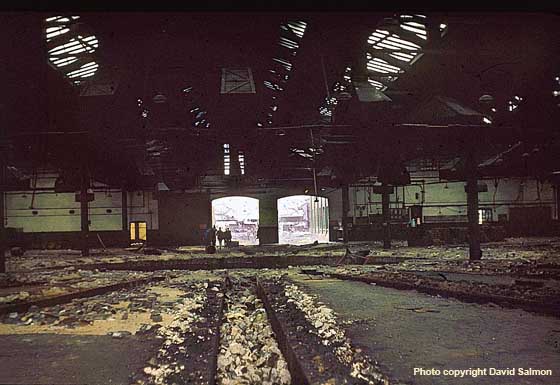 (Above) Abadare MPD...these two photos of engines herded around the turtable give a good idea of the light and shade to be found inside the roundhouse at Abadare. This ex-GWR shed housed 50 locos during the time it used the BR shed code (86J) from 1949 to January 1961. From 1961 it became 88J and finally closed to steam in March 1965



It's always great to receive emails relating to train spotting days or perhaps a family railway history for inclusion on the website, no matter how big or small. Vyv Cox recently contacted the site and included a photo. He writes - 'I found your superb website yesterday and have spent several hours studying just two pages of it! My particular interest is the GWR in the Cardiff area, where I lived in the early 1950s. My grandfather was stationmaster at Marshfield, between Cardiff and Newport, where the attached photograph by my late uncle Ronald Cox was taken. I have no idea of the date but I suspect it was shortly after WW2. The house in the background is Station House, where my grandparents lived. Best regards Vyv Cox…'
Thanks Vyv, the photo you've sent is of No 2980, built in May 1905 as 4-4-2 number 180; its first shed allocation being Paddington. It was named 'Coeur de Lion' in March 1907 - 'Coeur de Lion' is the nickname of King Richard 1 of England who appears in Sir Walter Scott's novel 'The Talisman'. The loco was rebuilt by the Great Western Railway as a 2900 or Saint Class 4-6-0 in January 1913; its last shed being Newport in South Wales; withdrawal came in May 1948 just after nationalisation, so you're probably right about the date.
Vyv later added - 'My brother and I spent a great deal of time at Station House in Marshfield. The highlight of our day occurred at 10.10am every morning when the 'Red Dragon' to Paddington thundered through. The train was always pulled by a 'Britannia' class loco, of which I remember Morning Star, Polar Star and Shooting Star in particular. These locomotives, along with the Halls and Castles, were always kept in superb condition out of the Canton sheds. I have vivid memories of drivers descending from the footplate of stopping trains to do a little polishing or oiling around while passengers boarded...'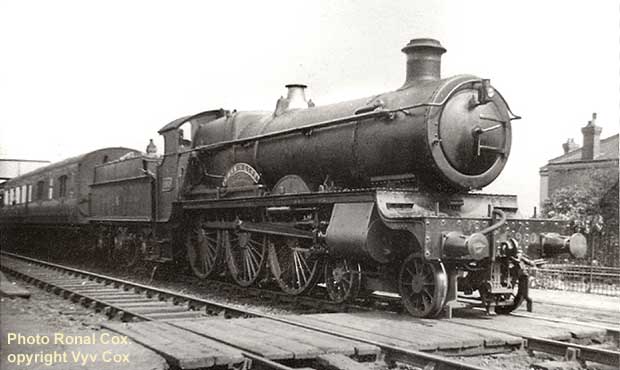 A TRIBUTE TO CARDIFF CANTON CLEANERS

A webpage featuring MPDs in South Wales would not be complete without photos of Cardiff Canton. Opened as a six-road shed in June 1882, Canton was extended in 1897 when a 55 ft turntable was installed in a square building with 28 roads (stalls) radiating off the turntable. In 1925 the GWR added a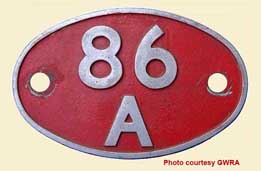 locomotive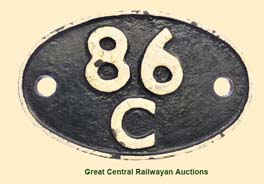 repair and lifting shed along with a new coaling stage.
In 1931 the original 55ft turntable was removed and replaced by a larger 65ft table at the west end of the shed yard. At its peak the depot had an allocation of 40 heavy goods locomotives and 30 small locos for local passenger, goods and shunting operations, but perhaps the biggest attraction for spotters was its allocation of 50 main line passenger locomotives, which included Castles, Halls and a dozen BR 'Britannia' Pacifics. Cardiff Canton was designated the shed code 86C from 1950 to September 1960 followed by a new code 88A until September 1963 when it became a diesel depot 86A.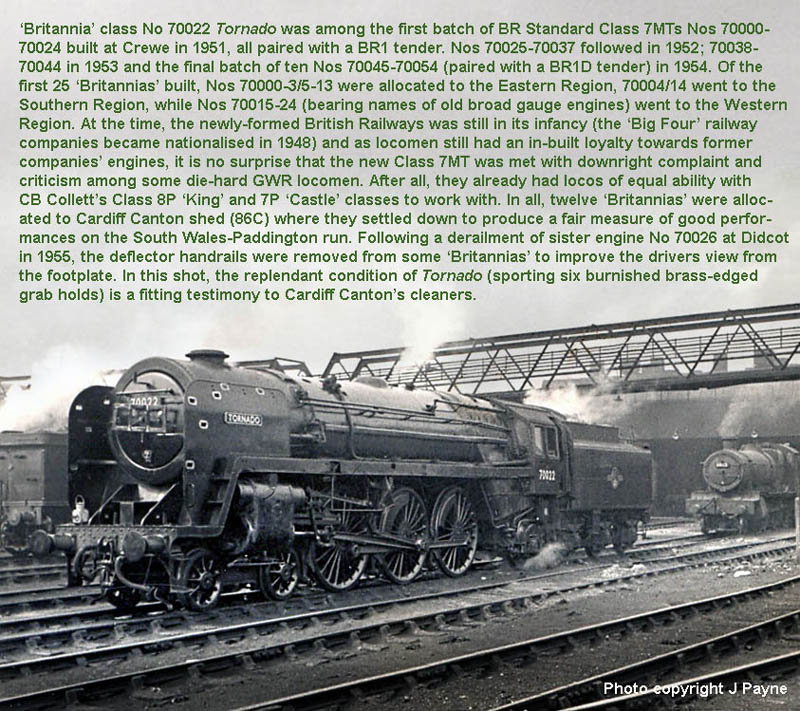 (Below) Classic shot from the Jim Payne Collection of steam days at Cardiff Canton shed (86C) in the mid-Fifties. The filthy conditions involved in servicing engines at busy depots often required enginemen to work outside in all weathers; the activity in the shed yard is captured here as the driver of 'Castle' class No 4098 Kidwelly Castle goes about his business with an oil can.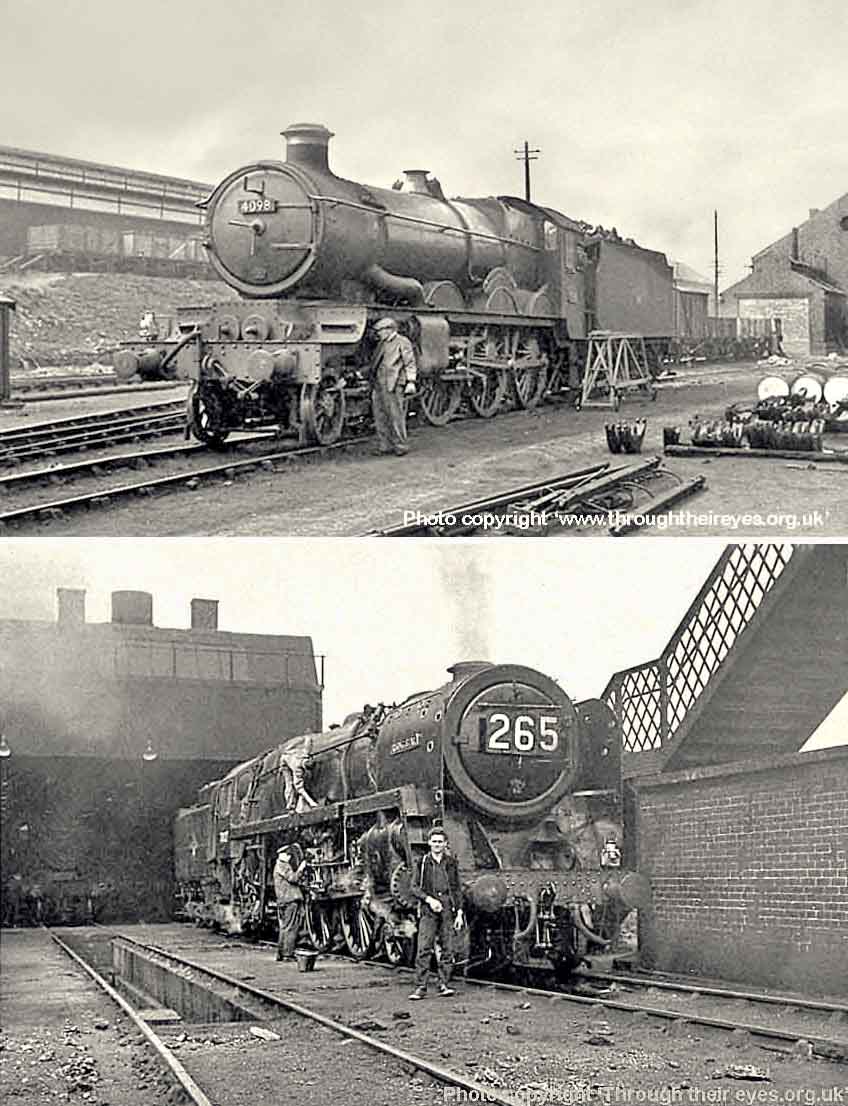 (Above) An impeccable 'Britannia' Class 7MT No 70027 Rising Star is being prepared at Canton for the 11.15 (11.50 SO) Swansea-Manchester. The engine was the only 'Britannia' to have the Swindon modification of the sand box fillers. This consisted of a metal surround to the normal capped pipe. A full history of the 'Britannia' class Pacifics can be found on pages P90-92…well worth a visit.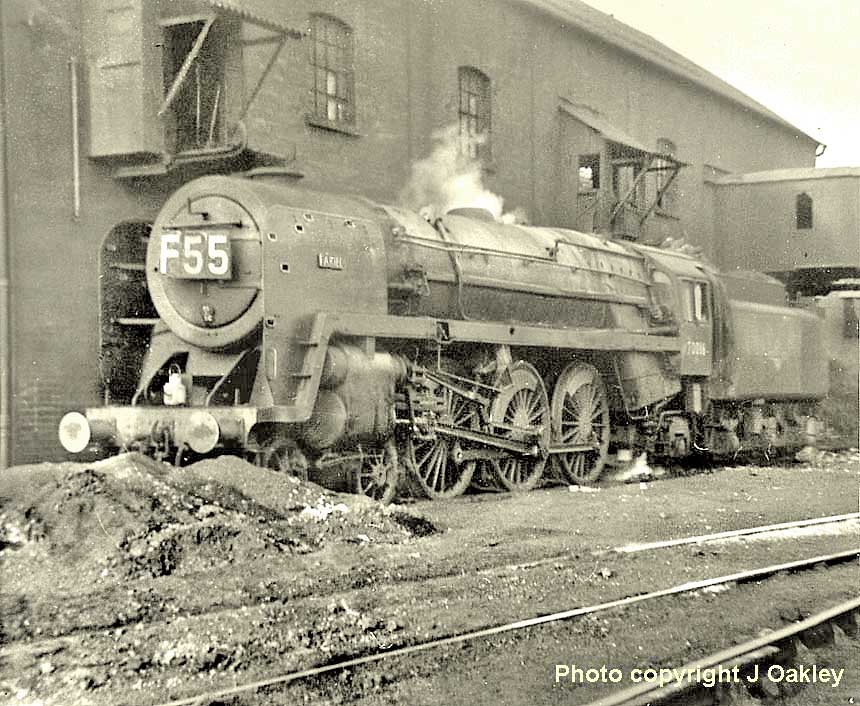 (Above) What a shocking state! Bent handrail, very thin tyres, a generally run-down condition that smacks of neglect, even if the loco was due a visit to Swindon Works in the near future. Also visible in the photo is a mix of coupling rods, exhaust ejector valve still in lower position, a short lube rod and an 88A shedcode suggesting the year is 1961. F55 was the train reporting code for a Paddington to Carmarthen express although the crew must have been feeling sheepish with this engine in such miserable condition. Ed Chaplin has completed an in-depth study into the Western Region's Train Reporting Numbers (see next page). The train identification system began on 14 June 1960 and all express trains to Paddington began with an 'A'. The letter 'F' applied to all trains to the west of Cardiff; 'B' to Bristol and the 82 shed code area; 'C' to 83 etc, 'E' to Eastern Region destinations and so on. This was an all-Region wide system that replaced the separate systems that each Region had previously used. It took BR 12 years from nationalisation to actually get a system that applied throughout all the BR Regions. Cardiff Canton's coaling stage was situated to the south end of the steam depot and this is the first time I've seen it from this angle! The covered walkway was unique and provided a remote tipping point for tank engines to gain a quick turnaround thus avoiding the need to queue in line for the three single tips - the third is on the other side of the walkway, which can be seen in the HC Casserley photo below...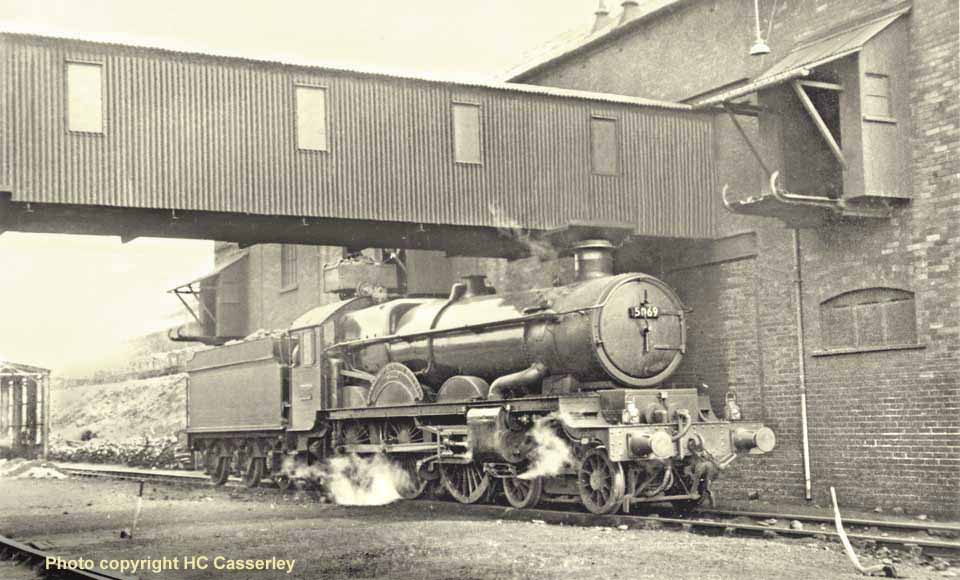 (Above) 'Castle' Class 4-6-0 No 5069 'Isambard Kingdom Brunel', named after the creator of the 'Great Way West' rail route - including Box Tunnel between Bath and Chippenham, and Saltash Bridge at Plymouth -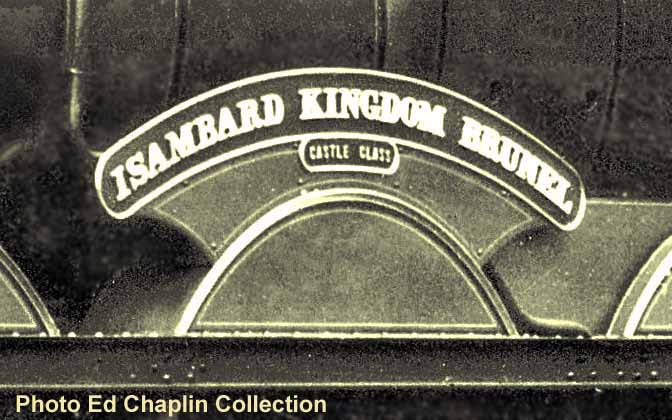 has replenished its tender and will move forward to turn in preparation for a return to London.

(Insets-Below) At this juncture, mention must be made of 5069's elongated nameplate which posed something of a problem for the Swindon team; rather than using Brunel's initials the plate consisted of twenty one letters spelling out the full name of the enigmatic engineer. No 5069 was named from new in June 1938 and this rare GWR official

photograph (below) shows the engine bearing its original nameplate; a somewhat bizarre faux pas in both geometrical and aesthetical terms, its curvature being totally at odds with the clean lines of the engine. Fortunately the nameplate was replaced after just one month in service. Click HERE to visit he Great Western Railway Museum at Swindon. From new, No 5069 was allocated to Old Oak Common, and after 14 years it was allocated to Bristol Bath Road shed in October 1952, followed by a move to Laira in June 1954; the engine was withdrawal from the Plymouth shed in February 1962.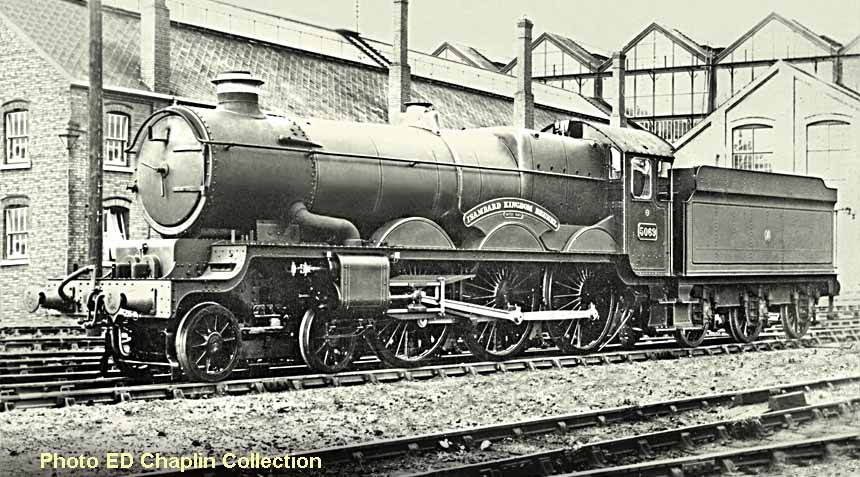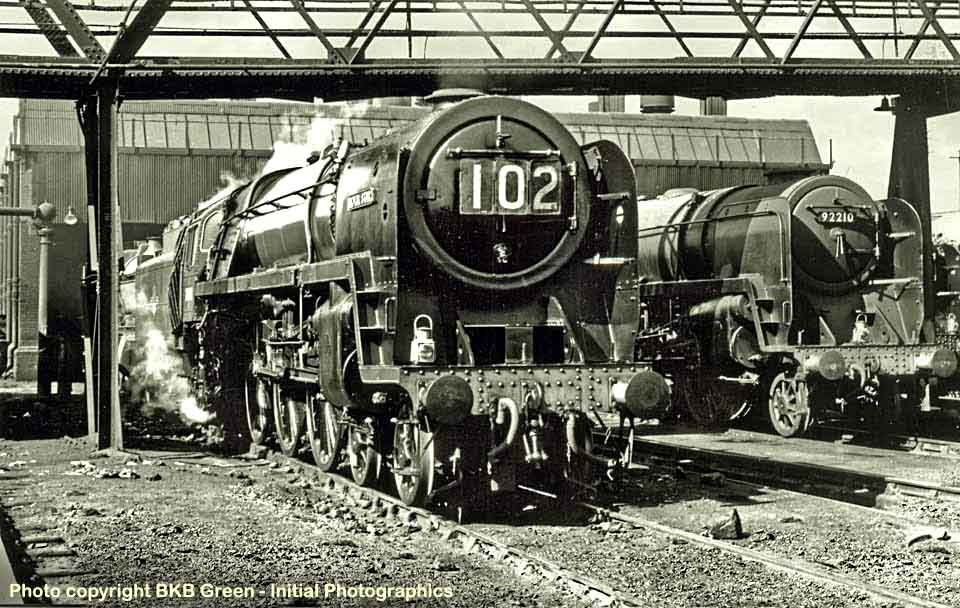 (Above) A very well presented picture by BKB Green for Initial Photographics shows Britannia Pacific 70028 Royal Star being prepared for the road at Cardiff Canton MPD in September 1959; the Britannia shares the company of a recently recruited Class 9F 92210 and a pair of former-GWR engines on either side. The picture is framed by the 1935-built footbridge which extended all the way across the yard and allowed staff a safe passage to and from the coaling stage on the south side.
Upon nationalisation of the 'Big Four' railway companies in 1948, the Railway Executive of the British Transport Commission (BTC) announced its preference for developing future steam motive power rather than dabbling with unproven diesel traction. This led to the Locomotive Interchange Trials of 1948, supervised by RA Riddles, then member of the BTC's Railway Executive, who, along with ES Cox was responsible for the design and construction of twelve new classes to be numbered in the 70-80,000s and 92,000s in the fleet. In 1951, the 'Britannia' Class 7MT Pacific became the first of twelve new British Railways Standard types to appear. Designed at Derby and built at Crewe, with sections designed at Brighton, Doncaster and Swindon, the basic ethos was simplicity in construction, lower coal consumption, and longer mileage between classified repairs. However, when production of the BR standard locomotives was launched in 1949, the decision caused some controversy amongst railmen, who argued that there was no need to develop a new standard class type, since there were plenty of locomotives of equal ability already available throughout the BR Regions. Of course, partisan feelings were only to be expected by railwaymen and the new BR Class 7MT received a mixed reaction. On the Eastern Region the 'Britannias' earned a well deserved 'pat on the back' from crews at Stratford depot operating on the GE section, as they previously had no larger engines than the Class 5MT 'Sandringhams' and Thompson Class B1s. However, negative feedback was received from crews on the Western Region, which had Class 8P 'Kings' and 7P 'Castles' available. This in-built loyalty by railmen towards former company's engines included downright complaint and criticism of the 'Britannias' 'left-hand drive' in contrast to the 'right-hand drive' locos that ex-GWR men were used to. It wasn't long before the WR's Old Oak Common and Plymouth Laira depots declared the class surplus to requirements, however Cardiff Canton depot continued to display a liking for the class on the Paddington-South Wales expresses.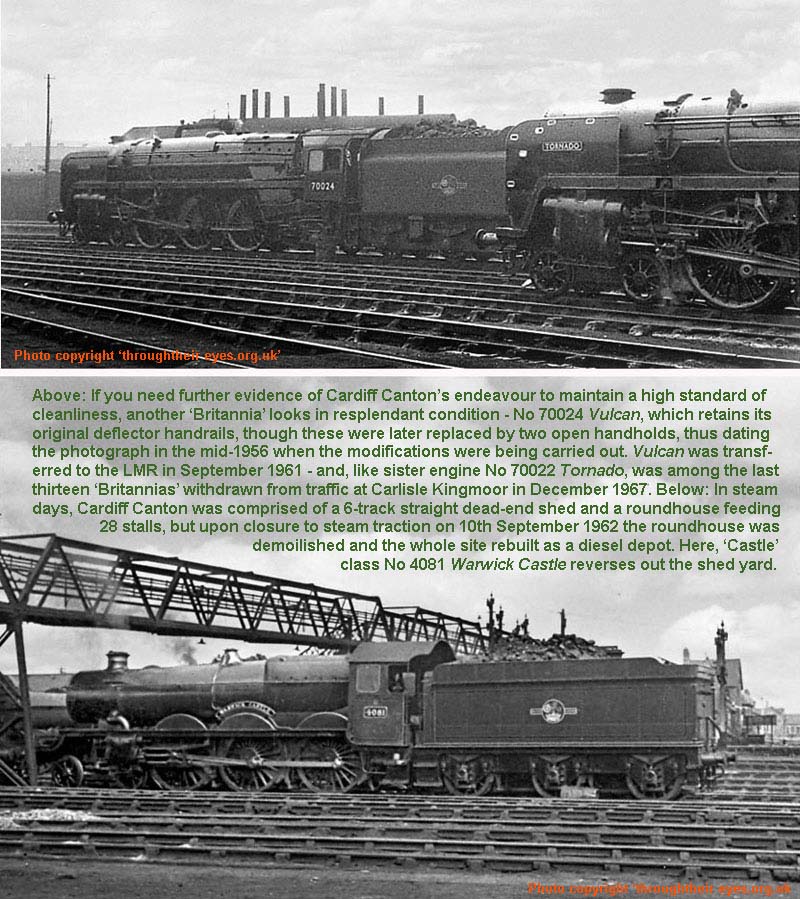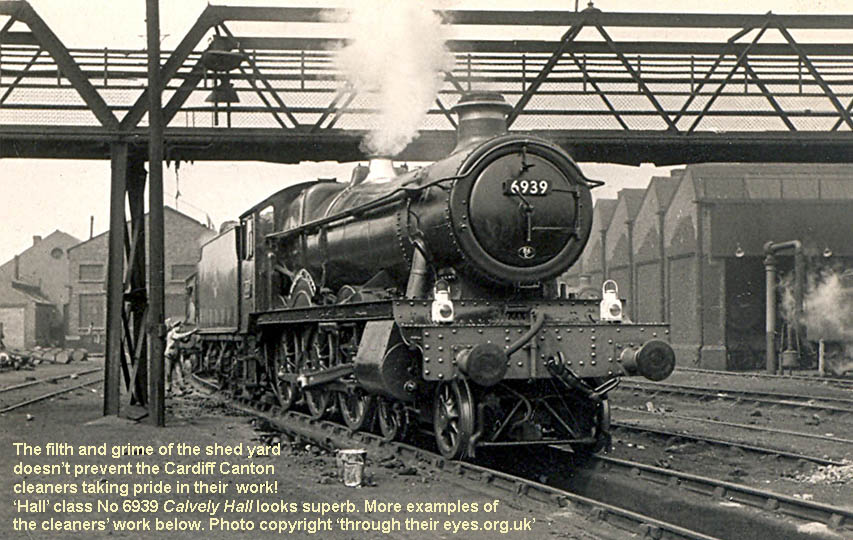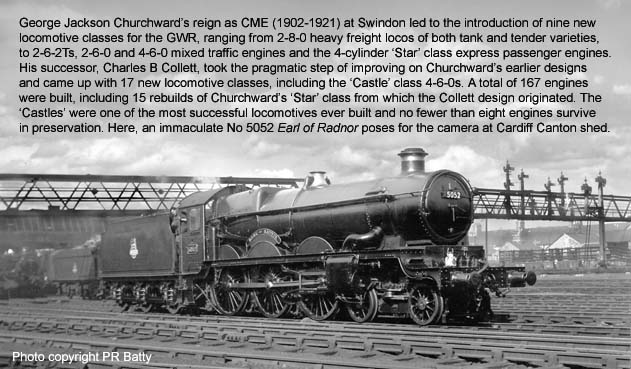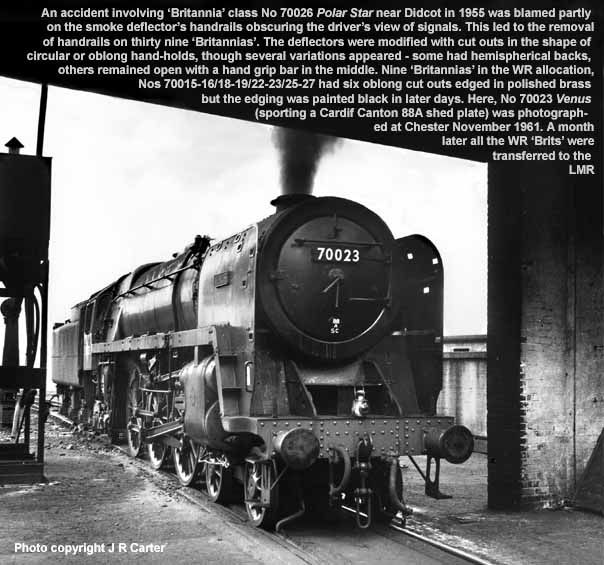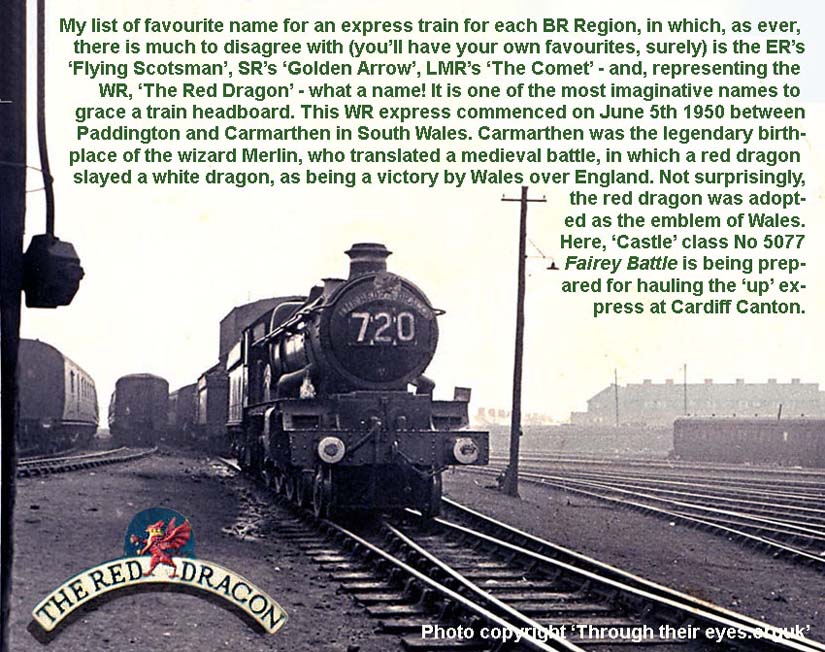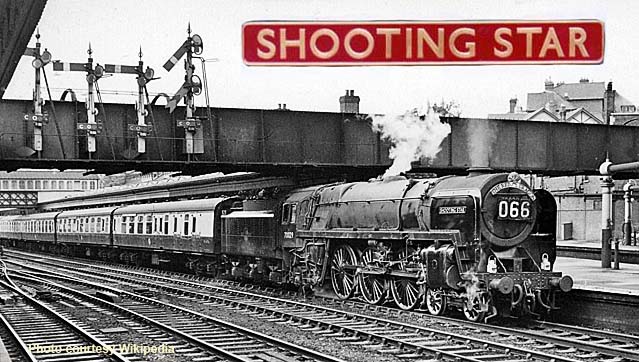 (Above) Steam days at Newport Station on 10th October 1958. Newport was one of the busiest railway stations in Britain, with about 250 trains daily, two-thirds of which consisted of freight traffic originating from the South Wales coal mines located in the Eastern and Western Valleys. One of the station's most prestigious trains was the 07.30 Carmarthen-Paddington 'Red Dragon', seen here headed by BR Standard Class 7MT 'Britannia' 4-6-2 No 70029 'Shooting Star'. Built at Crewe to Order E483/228 under Swindon Lot 403, No 70029 entered service at Cardiff Canton in November 1952 and stayed there until September 1961. This was followed by a three-year spell based at Aston before the loco was transfered to Carlisle Kingmoor in October 1964, where it was withdrawn in October 1967 and finally broken up at J McWilliam, Shettleston in March 1968. This cast brass nameplate (inset) went under the hammer for £15,100 at a Sheffield Railwayana Auction in March 2009. Click here to visit the Wikipedia page on the 'Britannia' class locos.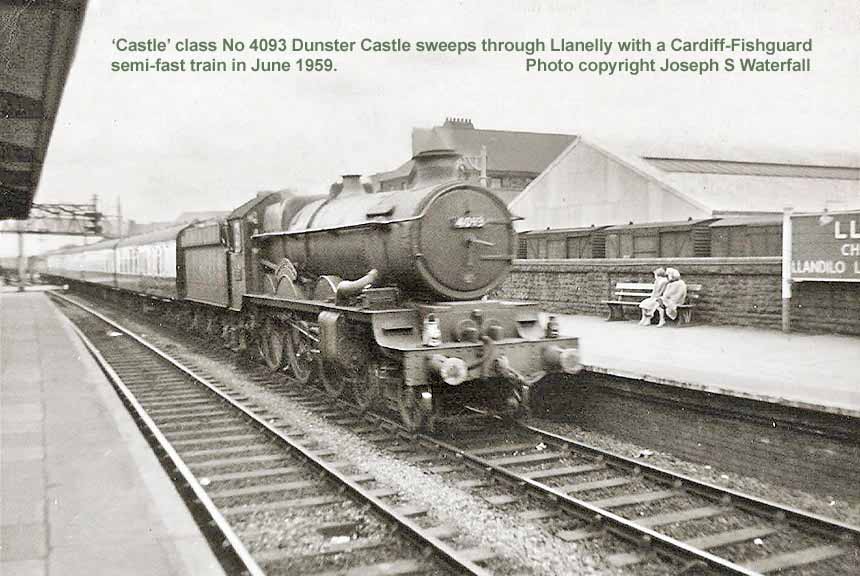 (Above) Corrections to captions are always welcome, therefore I am grateful to Brian Williams who pointed out an error in the original caption describing an Up' train; the giveaway is the presence of vans behind the wall, the 'Up' side (on the left) having the approach road and bus stops. Thanks Brian.

(Below) We take our leave of South Wales with these shots of 'Castle' class-hauled expressess. (Below) The Welsh Marches Line runs from Newport to Shrewsbury via Abergavenny, Hereford and Craven. This line was established by the Newport, Abergavenny & Hereford Railway in 1854, later becoming part of the GWR and subsequently the Western Region of BR. In 1862, the Merthyr, Tredegar & Abergavenny Railway built a line from Abergavenny Junction to Merthyr Tydfil across the heads of the South Wales valleys to facilitate the transport of coal to the Midlands and north of England. This route became part of the LNWR and then the LMS. Closure of the line came in 1958 and this was marked by a special train organised by the Stephenson Locomotive Society on 5th January. The special was hauled by two ex-LNWR locos - Webb's last surviving 'Coal Tank' 0-6-2T No 58926 and Class 7F 0-8-0 49121. Here, 'Castle class No 7022 Hereford Castle heads through Abergavenny Junction with a train for the north on 2nd June 1952.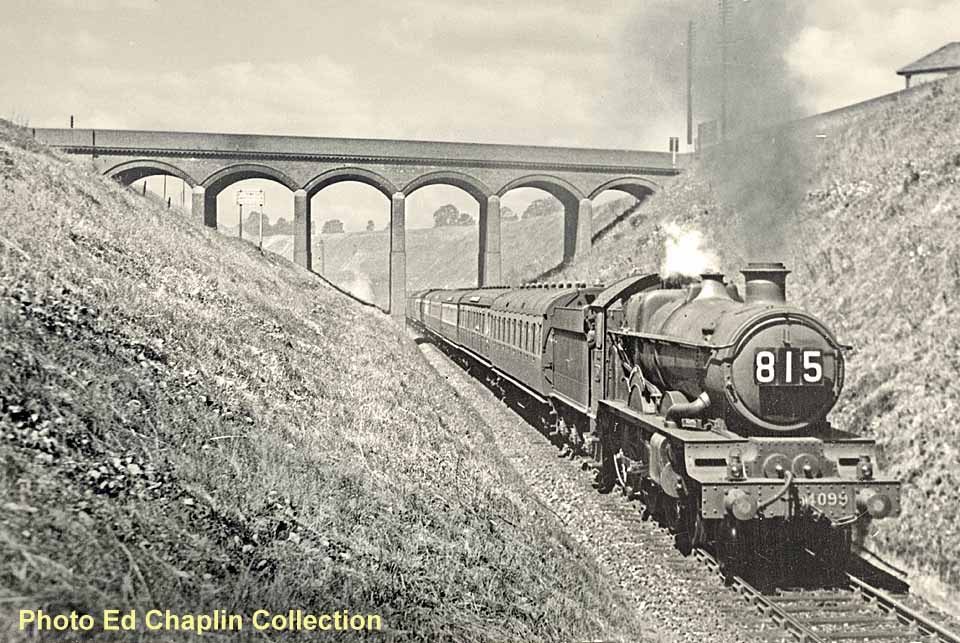 (Above-Below) Before taking our leave of South Wales, I include this interesting photo of 'Castle' class No 4099 Kilgerran Castle, which was formerly based at Cardiff Canton from 1931 to 1934 and then moved to Old Oak Common until 1936, and this photo was taken during that period. Ed Chaplin (see Page 23) thinks the train is the 8.15am Fishguard Harbour to Paddington. The location is the 1 in 80 climb of the 'up' line towards Patchway station on the English side of the Severn Railway Tunnel. Built by the GWR between 1873 and 1886, the 4 mile 624 yard-long tunnel - of which two miles and a quarter runs beneath the estuary of the River Severn - remains the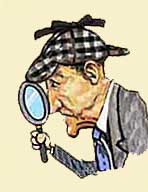 longest subaqueous main line railway tunnel in the world and provides an essential rail link connecting Southern England and South Wales.
However, of particular interest is the enlarged section of the photograph (left) which shows a warning notice on the 'down' line that runs at a higher level of the 'up' line; at this point the 'down' line begins the steep 1 in 100 descent into the tunnel from the English side thus necessitating the pinning down of brakes on loose-coupled freights. The wording on the sign is not very clear, but it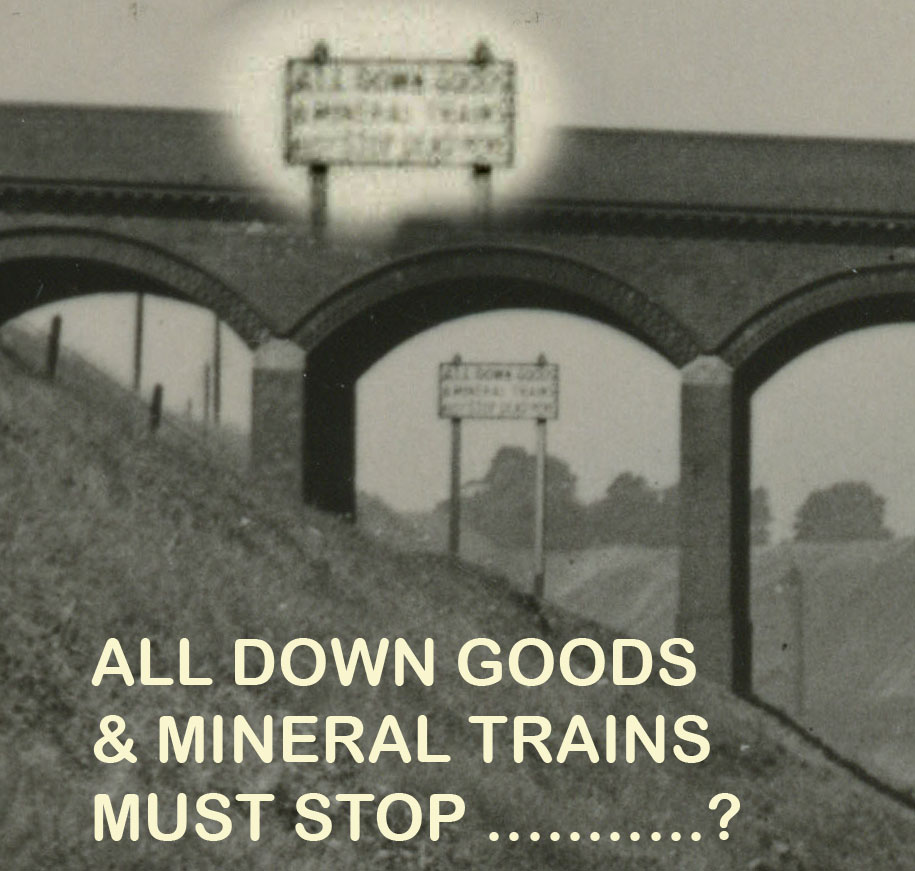 appears to read - 'All Down Goods & Mineral Trains Must Stop…I think the remaining two words are 'Dead Now'.
Indeed there is an identical stop board at the summit of Dainton Bank where all loose-coupled 'up' goods and mineral trains halted so that the required number of wagon brakes could be pinned down before departure down the bank. A corresponding sign for the picking up of brakes was sited at the bottom of the incline alongside the Aller Junction up main starting signal. This begs the question - did 'down' trains entering the tunnel stop at the foot of the incline (inside the tunnel) to carry out this practice? I presume the brakes would have to be released prior to tackling the 1 in 90 climb out of the tunnel on the Welsh side.

DAINTON MEMORIES by Andrew Fiderkiewicz

The above query about stop signs prompted Andrew Fiderkiewicz to drop a line. He writes...
David, I found your website by chance and one thing I spotted was your comment on stop boards on the Western Region. I have the remnants of the stop board at Aller Junction which was sited at the bottom of the Dainton incline in the 'up' direction. I rescued it when it was thrown aside after unfitted freights had become a thing of the past. The wooden planks of the board disintegrated some time ago and the letters are all in a box waiting to be placed on a new backing board.
However I have set them out and photographed them on our kitchen table - the shiny ones are replacements for the broken or lost originals - note also the use of different 'font' sizes to emphasise the message. The missing word on the stop board that you have 'blown up' is 'HERE' not 'NOW' - as shown on my board below...




One more thing, was Dainton unique? In the up direction most goods trains were lightly loaded or empties, with exceptions such as the china clay trains. As a result the arrangements were quite simple for up goods trains with a stop board on the Newton side of the tunnel for pinning down and a similar one (mine) at Aller Junction to pick up brakes. However, in the down direction trains were more heavily loaded hence there were two stop boards at the summit; one was situated close to the signal box for goods trains of 35 or less wagons, while the other for trains of more than 35 wagons was sited a bit further down the bank towards Totnes. This was because the summit of the incline inside the tunnel was gable-shaped, therefore when stopping to pin down brakes, the trains had to be balanced so that the weight was of the train was roughly equal either side of the summit!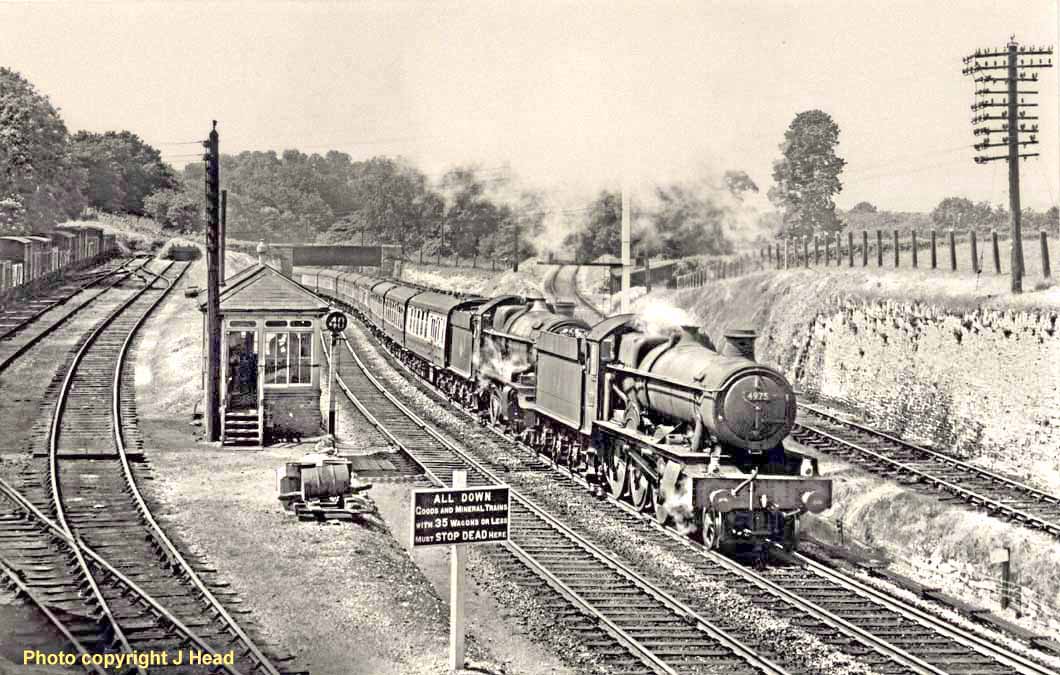 (Above-Inset-Below) This fine picture by J Head shows 'Hall' class 4975 Umberslade Hall of Laira shed piloting of Old Oak Common's 6023 King Edward II to the summit of Dainton Bank with the 8.35am SO from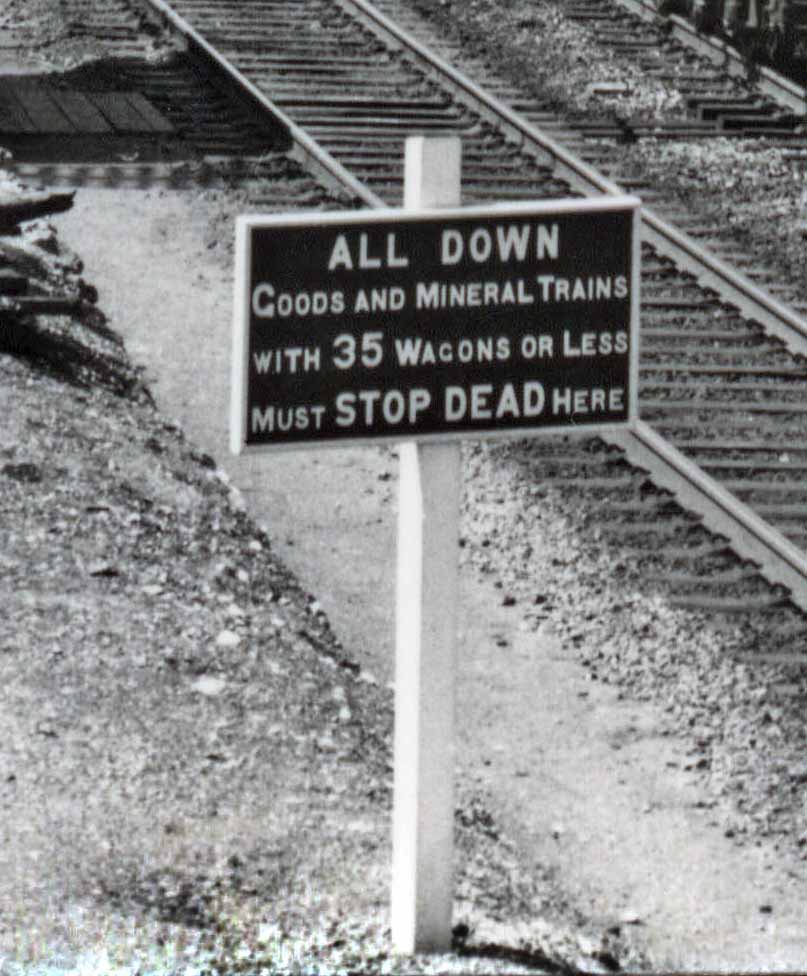 Falmouth to Paddington on Saturday 28 June 1958. The level sidings on either side of the main line clearly illustrate the severity of the eastbound climb from Totnes to the summit. Note the wording on the STOP DEAD notice - 'ALL DOWN GOODS AND MINERAL TRAINS WITH 35 WAGONS OR LESS MUST STOP DEAD HERE - and the 40 mph speed restriction. (Below) On Monday 16 September 1957, 6902 Butlers Hall of Swindon heads the 3.55pm Plymouth - Swindon parcels on the approach to Dainton Tunnel. The second loco is 3440 City of Truro being returned after its Sunday excursion trip to Penzance and back from Plymouth. No 3440 was withdrawn in 1931 and preserved at York Railway Museum, but the loco returned to service in 1957 to head a few semi-fast services from Didcot to Southampton via the DN&SR line, and also for special excursions such as the one this weekend. This photo was taken beyond the signal box and shows the second stop sign displaying the words - 'ALL DOWN GOODS AND MINERAL TRAINS OVER 35 WAGONS MUST STOP DEAD HERE'.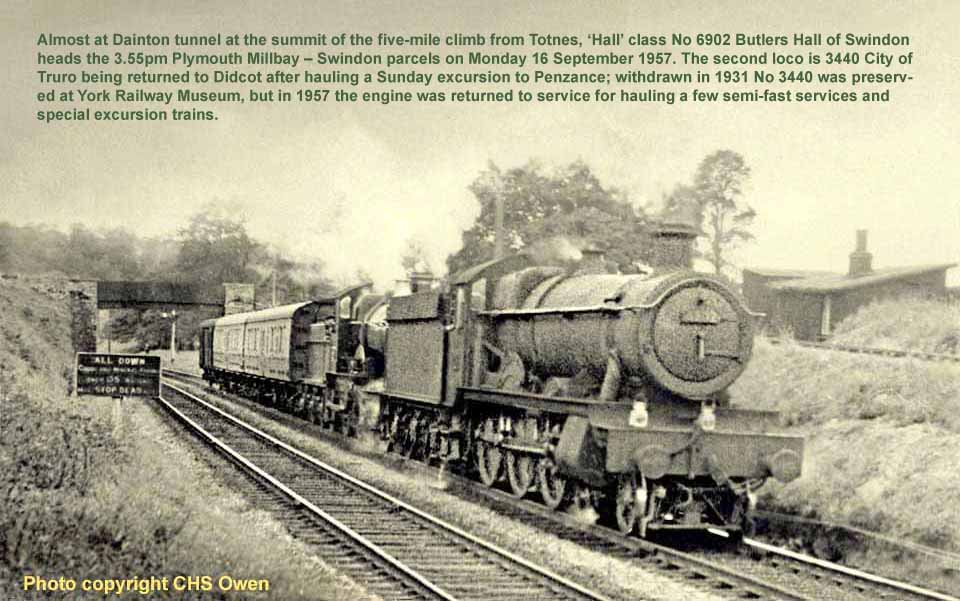 I recall the preserved 3440 coming down twice in latter steam days, once for a special onto the Torquay branch and once with a publicity train to advertise the new commercial channel - Westward Television. At the bottom of the bank was a single board on the down line similar to mine where the trains stopped again to pick up brakes and continue on through Totnes onto Rattery bank. I don't know of any other GWR location where there were two boards such as this.
As a matter of interest my board was at the site of a serious accident in 1929. My late uncle, Norman Cole, knew Bill Drake, the signalman at Dainton on that fateful day, and he had correctly released the late running up 5.50am Tavistock Junction to Bristol goods to Saffin, the Aller Jnct signalman. Saffin had already obtained release of the train to Newton Abbot West box and so the adjacent stop board was already off although the train had to stop anyway to release brakes. At the same time there was a parallel movement of a train off the Torquay branch on the up relief line. Unfortunately, after Saffin had pulled off the up relief starting signal on clearing the branch train to Newton Abbot, he mistakenly cleared the up main inner home, outer home and distant (these were protecting the stationary goods train in the rear).This was only possible because the up main starter was also clear (otherwise the locking would have prevented this series of actions). Saffin had already accepted from Drake at Dainton the following local passenger train on the main line, the 7.10 ex-Plymouth so this now had a clear road signalled, even though the goods was still stationary at the bottom of the bank. The goods train comprised of 47 wagons had just restarted with Class 2-8-0 No 2865 at the front but the rear of the loose-coupled train was still stationary when the passenger train hauled by nearly-new 'Hall' class 4909 Blakesley Hall struck it. The guard was still walking back to his van after picking up the brakes so he was the lucky one as the Toad was shoved violently forward into and over a crane truck. Less lucky was Edgar Yabsley, the crane driver who was still at the rear of the train when the accident happened and was killed outright. My uncle recalled Drake telling him that Saffin had telephoned him in a state of panic immediately after the accident saying - 'My God Bill, I've let that train through!'

(Below) Grange' class No 6841 Marlas Grange and Diesel Hydraulic A1A-A1A No D601 Ark Royal of Old Oak Common pass Dainton Tunnel Signal Box at the summit of the 5 mile climb from Totnes. This is the Up Cornish Riviera on Saturday 20 September 1958 during the first week of the Winter 1958 timetable. No 6841 was a St Philips Marsh (82B) engine, not commonly used as an assisting engine on this train, although a frequent visitor to Devon on holiday extras and freight trains. The aim of the D6xx 'Warship' class was to haul the main West Country expresses, but they proved unreliable and the WR soon relegated them to less prestigious duties.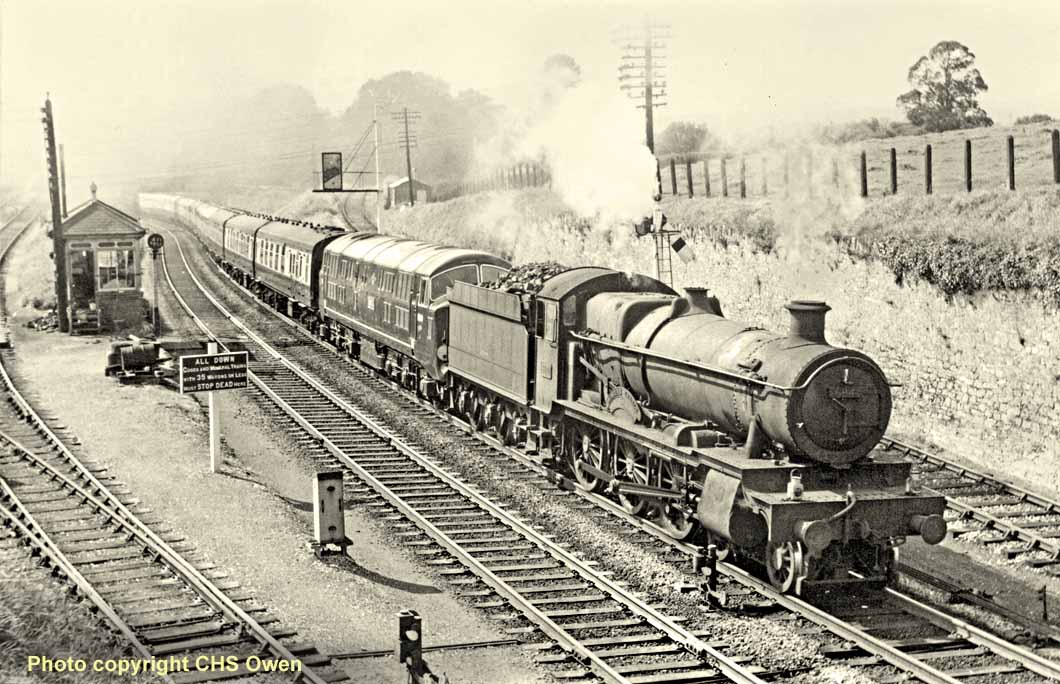 The above shot shows a lot of interest, including the large mirror above the first coach. The mirror enabled the signalman to confirm the continuity of up trains entering the tunnel by checking the presence of tail lamps which might otherwise be obscured by steam or by a standing freight train on the down main (while brakes were being pinned down). It also shows the wicked gradient profile as the down sidings and the single up siding were level while the main line dropped away very steeply towards Totnes. The sidings were used for storing cripple wagons and for bankers awaiting a path back to either Totnes or Aller.
Mention of the down sidings, I should add that they originally served a quarry dating right back to South Devon Railway days with its own sidings trailing in from behind the cameraman's left shoulder. Of course, this was in addition to Stoneycombe Quarry a couple of miles back towards Aller Junction on the Down side of the line. This too had rail links and its own signal box. The quarry used to supply ballast for rail use as well as building and road stone locally (it still does the latter even today). The Dainton quarry links were finally removed in 1949 according to RA Cooke's booklet on track layout diagrams (I certainly don't remember them). The sidings also had linking points at the stopblock end to allow locos which had drawn in wagons to be released (I'm not sure of the operating rules but it's unlikely that they could easily or safely be stabled in the sidings any other way bearing in mind the gradients on the main line).
In addition, the signal box was destroyed by fire and replaced by a flat roofed affair for the last few years until MAS signalling was installed! There was a trailing crossover on the Main at the west tunnel portal together with a single slip entry into the Down siding complex. My understanding is that the single Up siding was not normally used to hold up bankers as they would run just into the tunnel and then cross back either to the Down sidings or, if traffic allowed, to the Down Main for direct return to Totnes. Down bankers would either run forward and use the crossover to gain access to the Up Main to return to Aller or, again, they could be stabled in the Down sidings to await a path back to Aller. The Up siding was occasionally used but only when traffic was heavy. Interestingly, the Up siding lasted six years longer than the Down ones as it wasn't T.O.U. until 1974. The isolated siding stop block is still there too! I know this because I managed to break through brambles and nettles to find it just a couple of years ago.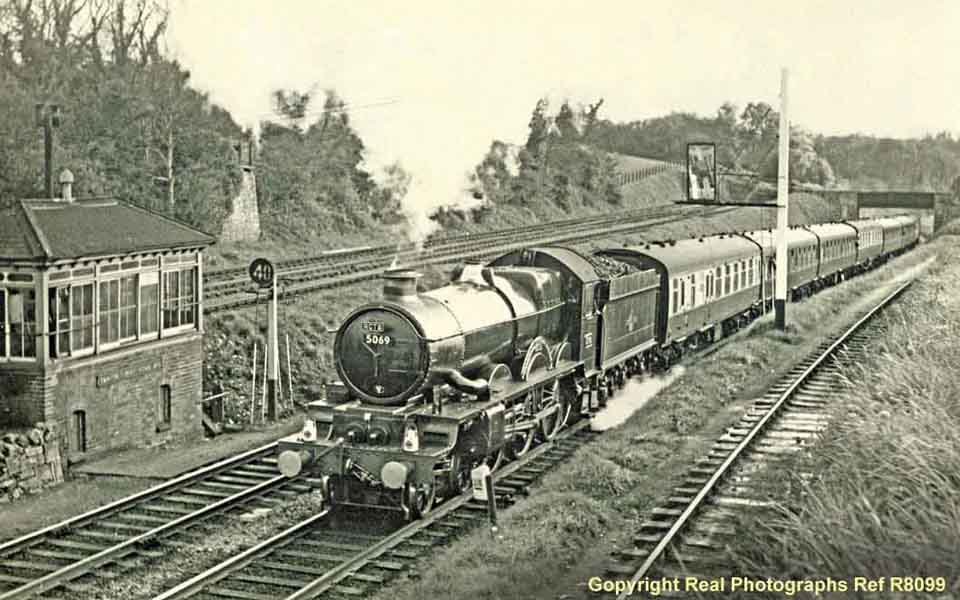 (Above) Almost at Dainton summit, Laira's 'Castle' class 5069 Isambard Kingdom Brunel heads the return RCTS Paddington excursion to Saltash on Saturday 2 May 1959 to mark the centenary of the opening of the Royal Albert Bridge. There is much to note here: (1) the second word of the Signal Box name is Tunnel, (2) the 40 mph restriction sign, (3) the mirror above the first coach, (4) the shiny buffers of 5069, usually a Landore speciality, (5) the milepost (MP218) is quoting the distance from Paddington on the original route via Bristol, subsequently reduced to 197½ miles once the direct route was fully open in 1933, (6) the siding on level ground on the right lower edge of this photograph. 5069 received its double chimney six months earlier during a Heavy General overhaul at Swindon Works completed on 28 November 1958. Photo is by REAL ref. R8099.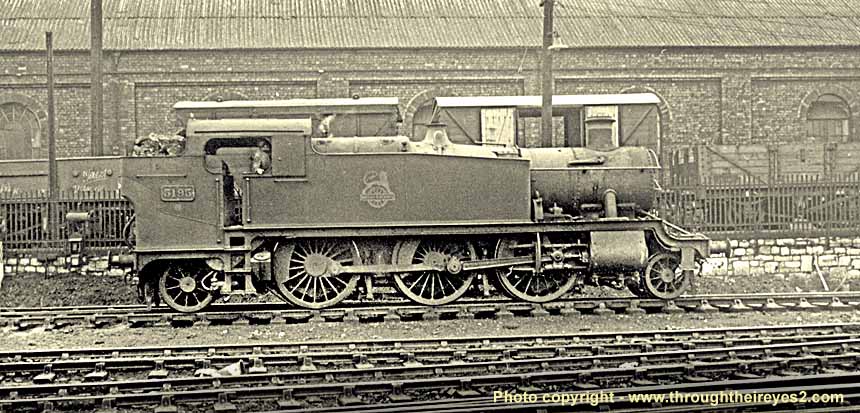 There were at least three 72xx locos based at Newton Abbot shed at times in the 1940s and 50s but the crews preferred the larger wheeled 51xxs (see above) as they were freer runners when returning light back to the bottom of each bank. The 72s were mainly used as train engines on freight workings to Tavistock Junction etc. Then there was the use of pilot locos on passenger workings.
In the early to mid-20th Century the pilot locos had been 'Bulldogs' and in the 1950s 'Manors' were used for this work but by the 1960s these had been dispersed and there was no single class of pilot loco specifically retained for the job. In his book, 'No Steam Without Fire' there is a good description of the working of the Newton Abbot banking link by 'ASLEFT' who states that Up bankers were always coupled to the train between Totnes and Dainton summit (the gradients were initially very easy and the line had a lot of curvature) but he is silent as to whether or not they were coupled in the Down direction
There was one significant working which we spotters would look out for and that was when there was a relief for the down 'Riviera'. Normally the main train had a 'King' from Paddington and it would stop at Newton for two 2-cylinder locos (Halls or Granges) to take the train on non-stop into Cornwall ('Kings' being banned from crossing the Royal Albert bridge). The 'King' would then await the arrival of the relief, which did stop at Plymouth and it would act as pilot to that train. Of course, that too could have a 'King' at the front and so we were sometimes given a show of strength as the train would leave Newton for Plymouth double-headed by two 'Kings' - I could go on as I have other Dainton related anecdotes from Peter Gray but I'd better stop now! Happy days!
Footnote: The photos accompanying this feature came from Ed Chaplin, whose page on the WR Reporting Numbers (click on Next Page link at the foot of this page) is the best on the web.

A GALLERY OF KINGS - 1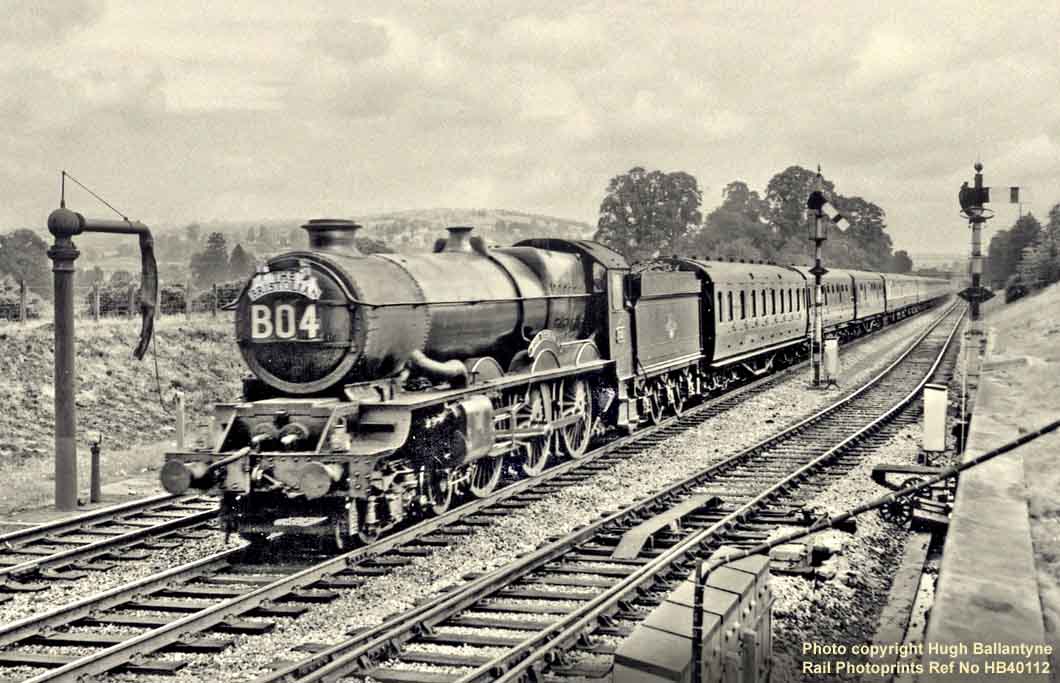 (Above-Below) Regular Saturday fare for the King class was the 'Bristolian,' a prestigious, fast service that was usually lightly loaded during the week, but as the train was often strengthened to 14 bogies for the weekend it required the services of the most powerful Class 8P 4-6-0s in the land, a job that remained with them well into 1962. Here No 6021 King Richard II dashes through Bathampton in 1962. (Below) A Summer Saturday morning at Paddington would reward the visiting enthusiast with a succession of steam-hauled expresses to all destinations, with six trains each to Penzance and Paignton, plus three to Weymouth and several more departures to Bristol and Wolverhampton. No 6019 King Henry V is seen ready to depart for the Midlands in 1959.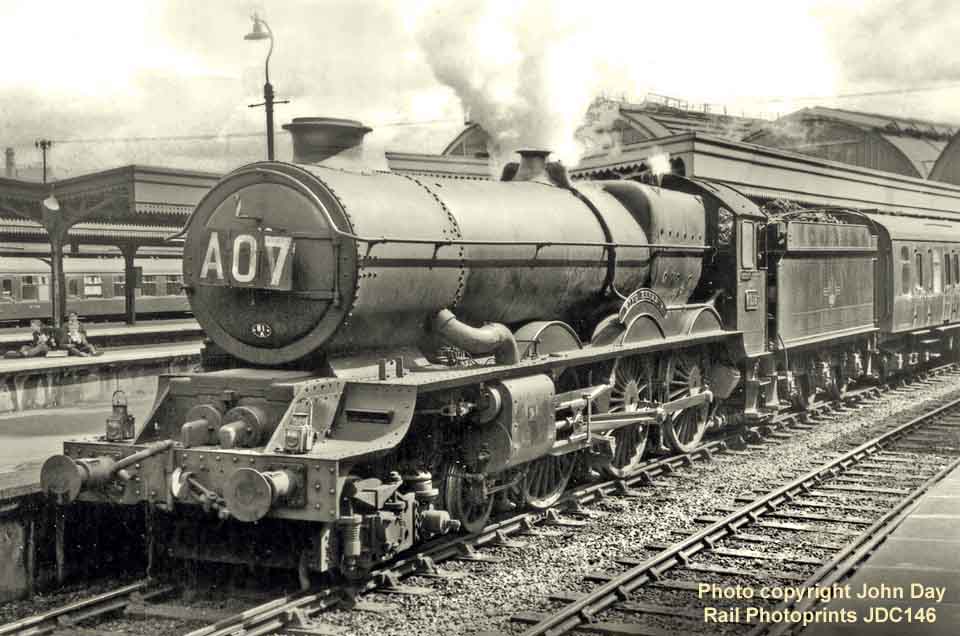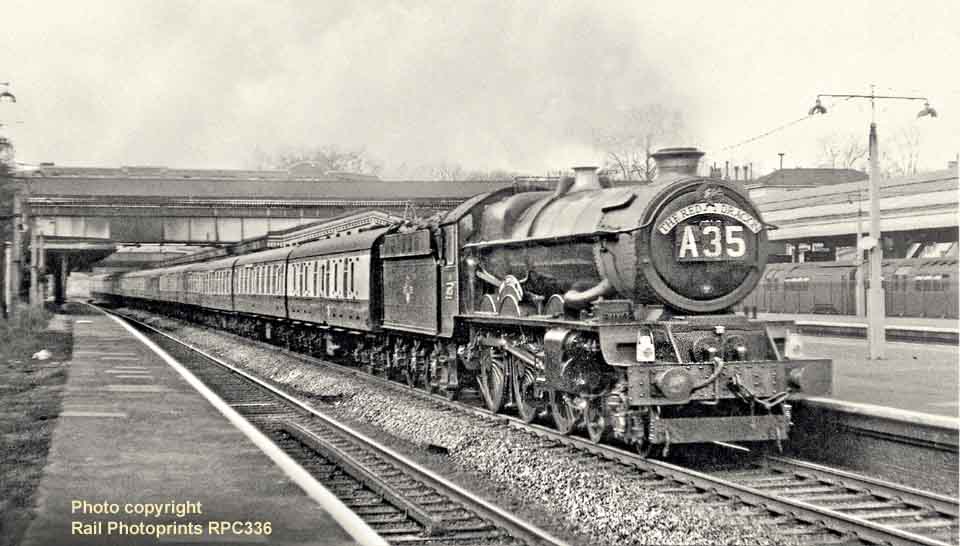 (Above-Below) Speeding through Ealing Broadway is Cardiff-allocated King No 6023 King Edward II in early 1961. British Railways had by this time named a number of existing express trains to enhance passenger interest, and this gave the independently-minded Western Region an opportunity to repaint much of its rolling stock from BR's carmine and cream to its more familiar chocolate and cream livery; the new livery began to appear on coaching stock in large numbers from 1957. (Below) Wolverhampton Cannock Road sidings were close to Stafford Road depot 84A, which was home for eighteen King class locomotives during their final year in service in1962. Many daily trips were made to London but the Kings also made regular journeys further north to Shrewsbury and on the West to North route between Bristol and Shrewsbury... Click HERE to visit Steve Jones's excellent Flickr Photostream, featuring an album of photographs taken by the late John Evans of BR's steam era, including this one of No 6021 King Richard II.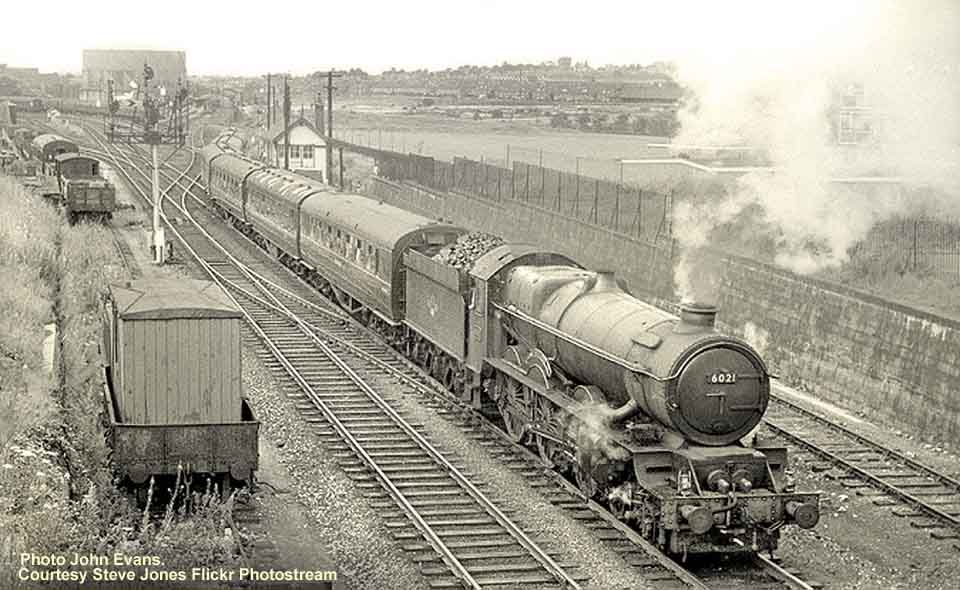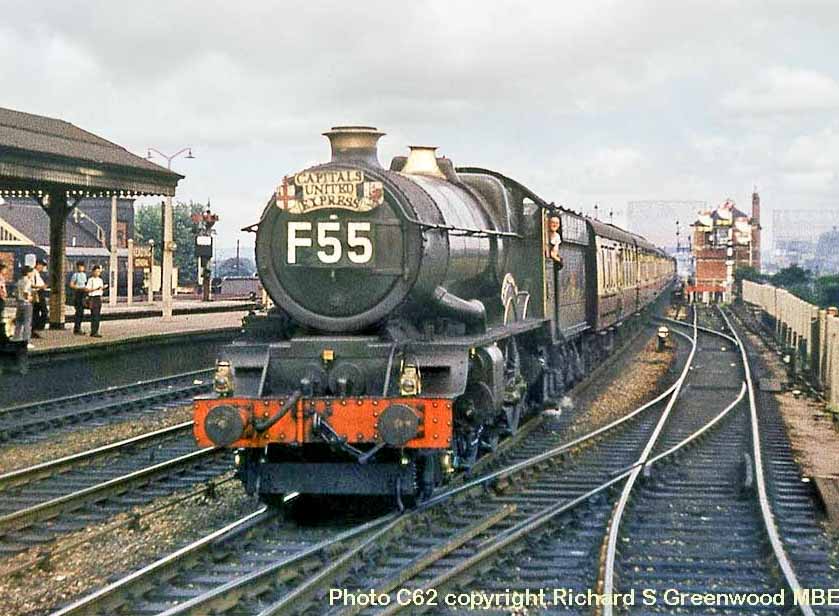 (Above-Below) The express passenger service between the Welsh capital at Cardiff and London was a non-stop affair that first ran in 1956, designated as a businessman's train, although the down service did convey carriages for Swansea, Carmarthen and Fishguard Harbour. The schedule was not exacting as 170 minutes were allowed for the 145 mile trip into the capital. Here 6023 King Edward II heads the Anglo-Welsh titled train through Reading. (Below) No 6007 King William III awaits the arrival of the remainder of its train at Plymouth North Road station in the Summer of 1958. Due to the weight restrictions imposed on the Tamar bridge this was the furthest west that the 'King' class locomotives were allowed; they were also barred (officially) from travelling down to Millbay Docks where the GWR's boat train traffic generated a substantial income for the GWR over the years.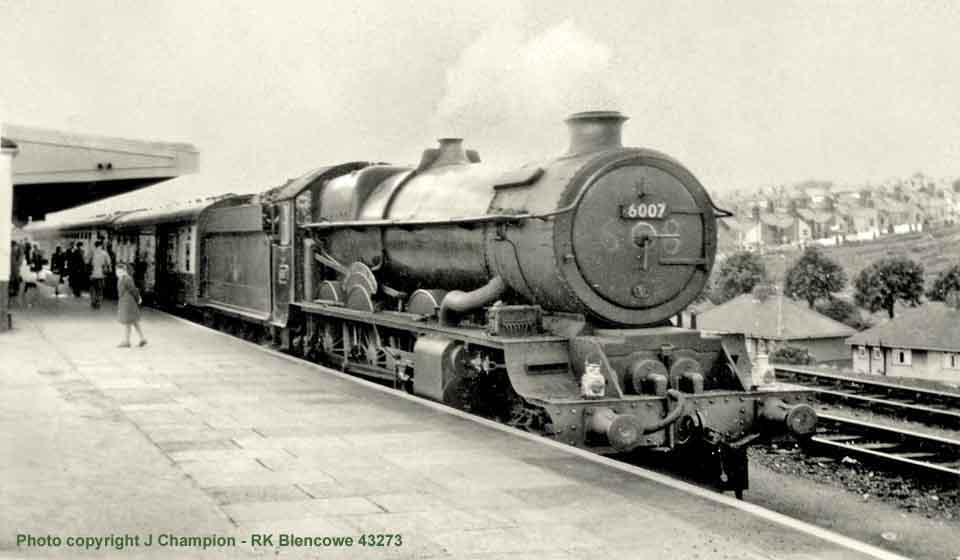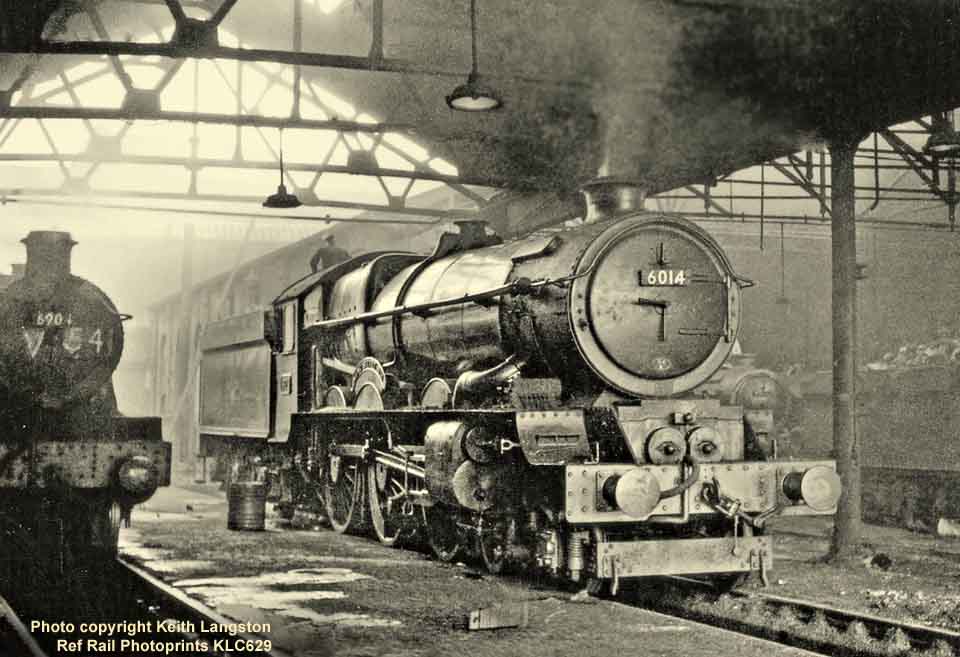 (Above) The ramshackle shed at Wolverhampton Stafford Road 84A housed the WR's top passenger locomotives, but the dilapidated surroundings fell a long way short in that respect as can be seen in this atmospheric shot of King class No 6014 King Henry VII being prepared for duty. However the photo also reveals the harsh reality of running a railway, for the rickety structure was only added as an ash shelter to provide cover from the Luftwaffe's bombing raids during World War Two, yet here it remains almost two decades later offering scant protection for the beleaguered shed staff who, like the majority of steam railwaymen, had to endure some of the toughest working conditions of any other industry. A whole page featuring every single 'King' class locomotive - plus a second gallery of 'King' photos - can be found on Page 24 HERE.



EXETER ST DAVID'S
by David Hey

(Below) Every picture tells a story, they say, and this is definitely the case with this shot of Exeter St Davids station. In the original caption I wrote - A busy scene at Exeter St Davids in 1960 with 'West Country' class No 34017 Ilfracombe, 'Castle' class 5069 Isambard Kingdom Brunel (what a nameplate!) at the head of the 'down' 'Cornishman' and the now-preserved 7029 Clun Castle, which is also carrying the 'Cornishman' headboard. Perhaps a WR enthusiast can throw some light on this anomaly? See below...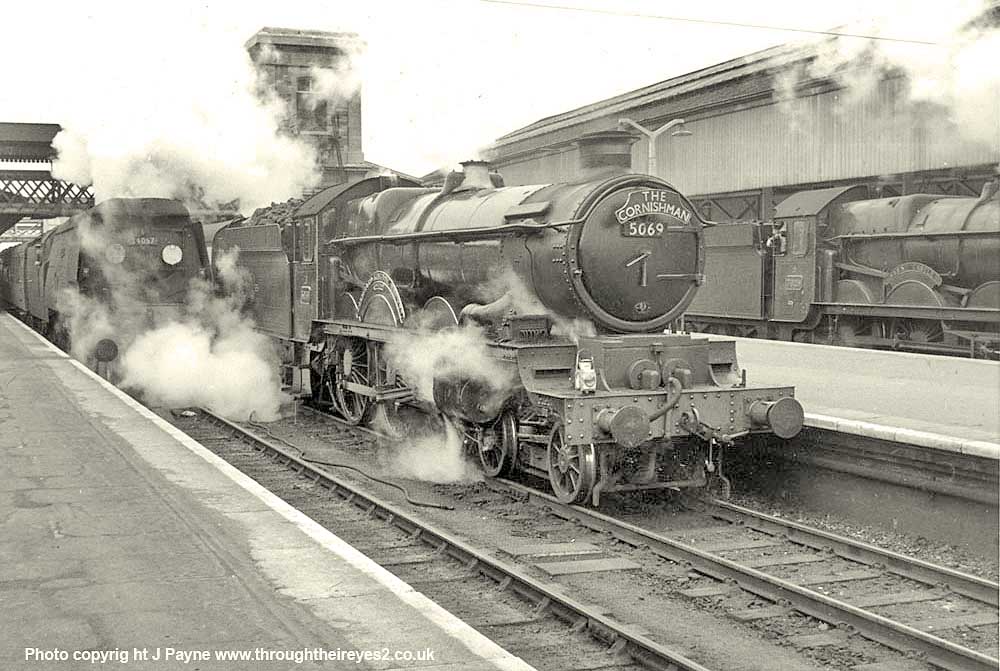 (Above) WR enthusiast and regular contributor, Robert Green, writes - 'The caption to Jim Payne's picture at Exeter St David's is inaccurate. The train is not a 'down' Cornishman. It is an 'up' train - though more correctly the 'northbound' Cornishman as it is not heading for London.
At Exeter, things work differently these days though the platform numbers are the same. In the 1960 picture, 5069 is at platform 5, the main up, or northbound platform for WR trains, though platform 6 on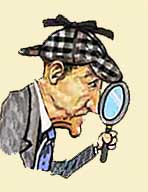 the opposite side of the island would also be used. The Bulleid Pacific is in platform 4 the main down, or westbound, platform for SR trains, and judging by the headcode is bound for Padstow (the WR and SR ran in opposite directions to the same destinations of London and Plymouth out of Exeter).
In the opposite side (left) of that island is platform 3, the main up platform for SR trains which climbed the 1 in 37 bank sharp left up to Exeter Central immediately south of the station. To complete the platforms not shewn (sic - the GWR always used this archaic form of the word) in the photo, platform 1 was the main down or westbound one for WR trains and 2 was a bay at the north end of 1 used by the Exe Valley branch trains. Platforms 1-3 are, of course, off to the left. The building in the background is the old goods shed and the MPD was behind that. Thus 'The Cornishman is going north...
It is difficult to say why 7029 also has a headboard (not evident in the picture). It may have suffered a failure, though the fact that both have headboards suggests not. More likely, but just a guess, is that one loco is taking over from the other (which way round is dependent on when the photo was taken, since both were shedded in the West Country at the time) and the one coming off may well turn and take over the down train to Penzance later...'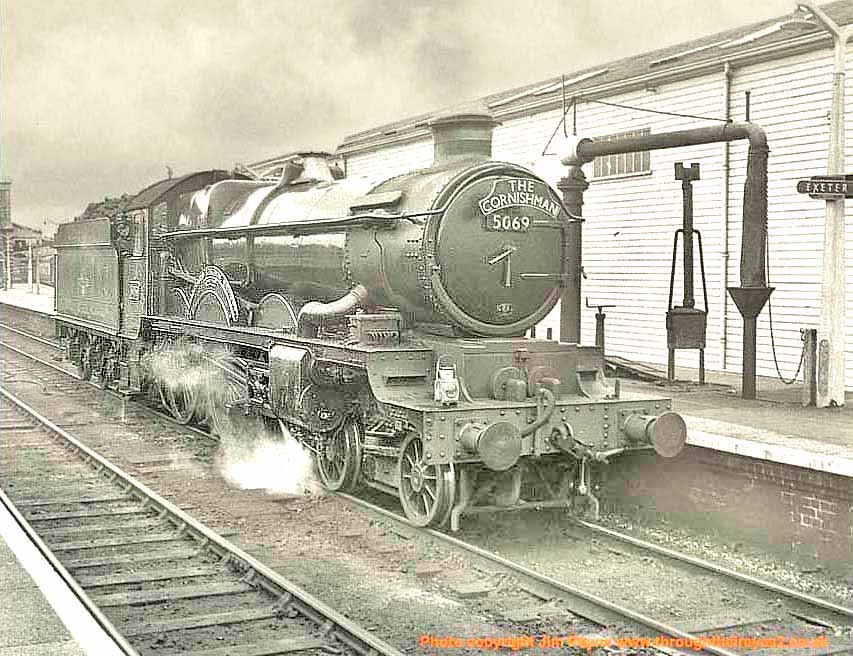 Well, Robert's email got me thinking...I was certain that I had a photo of both Castles (with headboards) in one shot, but seemingly this is not the case. However I did find these two shots (above and insert right)
and posted them to Robert, who replied - 'Now that I see the additional photos I lean more towards my theory that 'changing engines' is correct as we see 5069 drawing forward and 7029 apparently ready to take its place with what appear to be two more coaches to strengthen the train...'
Robert continues - 'However, there is a further alternative that, in 1960, the train was run in two portions due to high demand and the two trains have arrived at Exeter one after the other and 5069 is to be replaced by another (unknown) engine whilst 7029 may have already done the same at Newton Abbot - its home shed. In any event, you will need to amend your caption to correct the number and name of the Bulleid to 34057 Biggin Hill from 34017; this is immediately apparent in the enlargements you sent me. The additional photos also confirm the platform numbers and that the SR train is bound for Padstow. I'll leave those thoughts with you for the caption...'
Well, rather than alter the original caption I have included Robert's comments with my thanks - and on a final note...I eventually found the missing photo of all three locos in one shot below...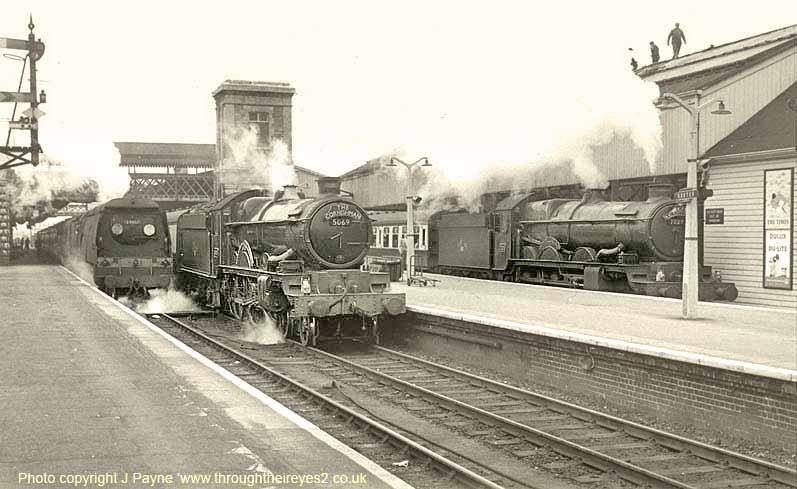 Continuing the general discussion regarding the two Castles at Exeter (above) I include this interesting email sent by Dave Spencer for two reasons: (a) Dave has taken the trouble to research his findings for the page and (b) it gives me a good excuse to add a few more 1960's shots of Exeter during the transition from steam.
Dave writes - 'I have just been looking at your site and think I can provide a solution to your query. It looks very much like 'Clun Castle' is going to take over the service and strengthen the train. You can check this by looking at the lamps on the loco. It would appear that 5069's fireman has been idle and left one on the left hand side of the buffer beam instead of putting it into the middle, whilst 7029 displays the standard express headcode, though the right hand one appears a little dirty.


This is an undated photograph therefore I can't say for certain if it is a summer working or not. In the 1959-60 winter timetable valid up to June 12th 1960 the service had a 10 minute stop at Plymouth North Road and no indication of any loco change. The only notation related in the timetable is the provision of a pilot to Newton Abbot when required. I have checked the Southern Region timetable for 1963 and found a Mon-Fri service to Ifracombe at St Davids around 14:10…not much changed on the Withered Arm! However, I have no experience of GW steam during this period (being only 4 years-old at the time) but the loco change at Exeter appears logical in that it is approximately 130 miles from Penzance to Exeter and 160 miles to Wolverhampton. I don't have the times for Exeter as the Western Region timetable runs out at Totnes, but I would guess the time as being 2.10pm. 5069 would not be doing the Wolverhampton-Penzance as it would have left Exeter at 12:55 pm. This gives rise to the question; did 7029 work the service from Wolverhampton-Bristol? After all, 85 minutes to turn, clean the fire and coal is not impossible.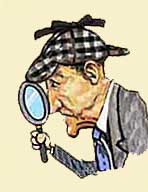 However on closer inspection the photo has opened up a further query. This relates to the headcode carried by the 'Spam Can'. From my readings on the 'Withered Arm' and recalling illustrations (particularly at Halwil Jn) I did not think that the service was an Ilfracombe one, as the 'two eyes' (discs) carried by 34057 relate to a Padstow service. Ilfracombe was a 'one eye' to the right. A search of the Internet 'Stonybridge Library' has confirmed this. From the lack of people on the platform I believe the shot was possibly a Friday, with the stock being strengthened for the Saturday return; in this way the WR got its coaches back! It could also be a train earlier in the week, returning a set of Wolverhampton-based coaching stock. However, where the confusion arises is that in 1963 there was a 11:00 ex-Waterloo to Ilfracombe dep Exeter Central 14:04 and Exeter St Davids 14:11, Fridays excepted a portion off this service departed Exeter Central 14:15 and Exeter St Davids 14:21 for Padstow. On a Friday this was a through service 11:05 Waterloo-Padstow and ran on the same timings…these are, of course, 1963 timings. Going back to 1960, I have reviewed the WR timetable again and noted that the 'Cornishman' was booked to pass Newton Abbot at 13:50 so it would be at Exeter around 14:10 to 14:15. Whilst standing at Exeter St Davids, both services could theoretically have left. In effect I do believe we are looking at either a portion off the 11:00 Waterloo-Ilfracombe working to Padstow, or the 11:05 Waterloo-Padstow...'
My thanks to both Robert Green and Dave Spencer...

The late Ed Chaplin also added his comments - 'Named the 'Cornishman' from Summer 1952, the train ran on Mondays to Fridays; the northbound train left Penzance at 10.10 am. It was due Plymouth North Road at 12.50 pm. The arriving loco came off and a Laira loco came on, due to leave at 1.00 pm. The train now ran non-stop, not even stopping at Newton Abbot, due at Exeter St. David's at 2.15pm. Separately, the South Devon portion of the train left Kingswear at 12.15 pm and stopped at most stations till it reached Exeter. It called at Newton Abbot (1.20-1.24 pm) and usually carried the headboard but it was not an 'A' class train, it was a semi-fast with many stops, and 4 carriages or so. It was hauled by a Newton Abbot loco that had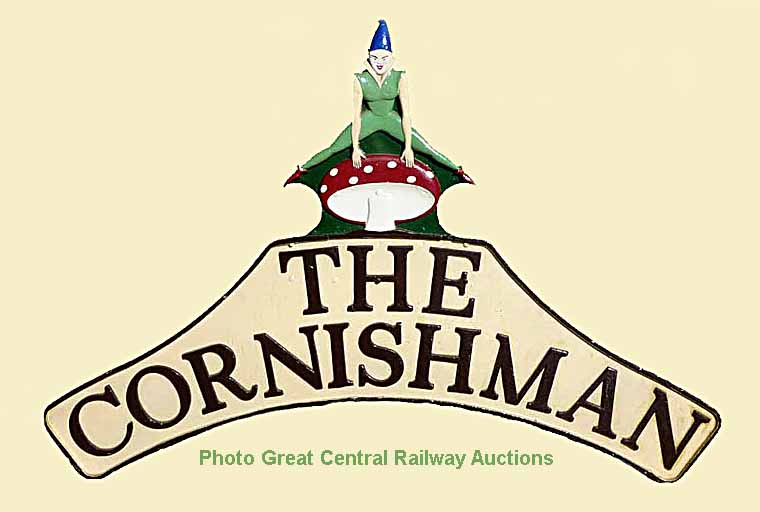 gone down to Kingswear and turned there earlier. At Exeter, it was this loco that combined the Devon portion to the Cornwall portion, and took the combined train forward to Bristol, due there about 4 pm. Then it would come off and a Stafford Road loco would take the train on to Wolverhampton, due there about 7.25 pm.
Your photos show 5069 of Laira with the true Cornish portion. The Devon portion has 7029, home shed Newton Abbot, to take the full train forward. The southbound train used a similar procedure. A special distinction of this train was that it made the longest daily run of any complete train over WR metals throughout, 318¼ miles. Haulage was usually by a Castle, but other WR 4-6-0 classes did appear and, very rarely, a King. Sometimes the train was double-headed.
The above is broadly what happened, arrival and departure times changed by a minute or two during the Fifties as minor alterations were made to the timetables. Also the above did not apply on Summer Saturdays when the 'Cornishman' as a named train did not run. In its place there were separate full length trains of 10 or more carriages between Penzance and Wolverhampton, and Kingswear and Wolverhampton in both directions. This procedure also occurred on peak Summer Fridays, plus weekdays at Easter, Whitsun, August Bank Holiday and Christmas. The 'Devon Cornishman' was often referred to as the 'Relief Cornishman'.
For those interested in Reporting Numbers, and the photographers who are likely to have several shots of these trains, I believe the following numbers applied from the outset, 30 June 1952 till 10 September 1961, Mondays to Fridays. The title name board was normally carried by the locos throughout; and the Reporting Number was often carried, unlike many other weekday expresses.

Cornishman:
Summer 1952 up to and including the Summer 1958 timetable: northbound 675, southbound 825.
Winter 1958 up to and including its end: northbound 819, southbound 449.
Summer 1959 up to when the Summer 1960 timetable started: northbound 849, southbound 428.
Summer 1960 up to when the Summer 1961 timetable started: northbound H32, southbound C33.

Relief Cornishman:
Summer 1 952 up to and including the Summer 1958 timetable: northbound 556, southbound 826.
Winter 1958 up to and including its end: northbound 854, southbound 315.
Summer 1959 up to when the Summer 1960 timetable started: northbound 851, southbound 329.
Summer 1960 up to the end of the Summer 1961 timetable: northbound H31, down train C76.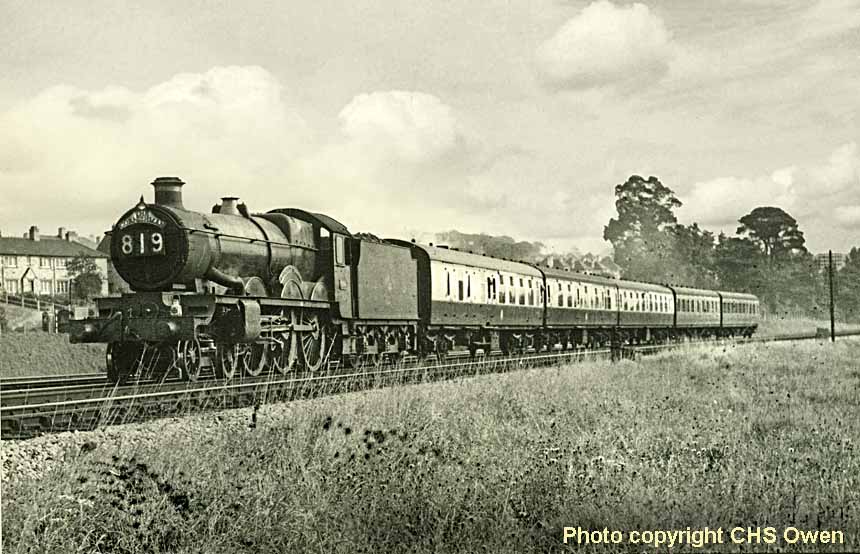 (Above) Ed Chaplin sent this lovely shot taken by the late Cedric Owen's photo which shows 'Castle' class No 4098 Kidwelly Castle approaching Newton Abbot with the 12.15pm Kingswear to Wolverhampton on 18 October 1958. The titled train headboard belies the fact that this is not a Class 'A' train but essentially a semi-fast from Kingswear to Exeter consisting of three Mk1 carriages - plus two non-corridors that did not go beyond Exeter. The ensemble only became the 'Cornishman' forward from Exeter when the three Mk 1 coaches were combined with the main train from Penzance.

Footnote A full page devoted to Ed Chaplin's in-depth research into the Western Region's Train Reporting Numbers can be found on the next page.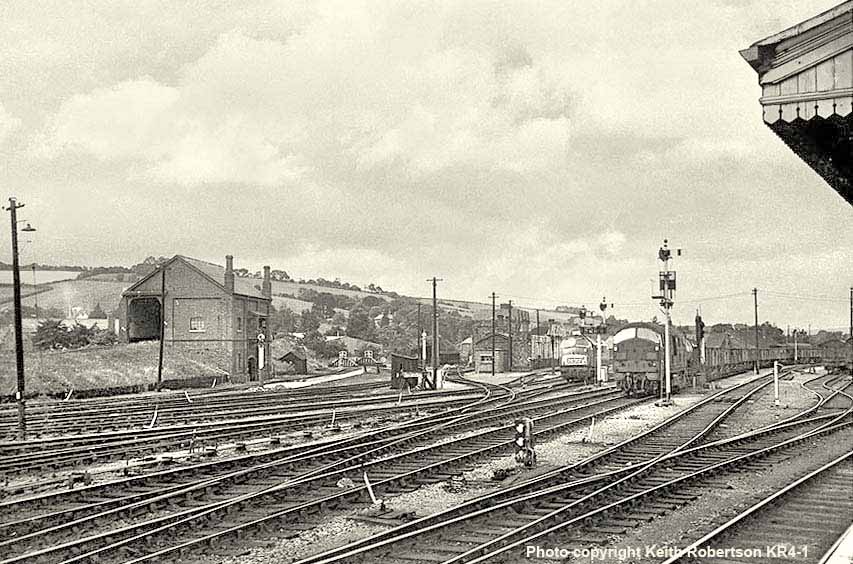 (Above-Below) Interesting comparison can be made between these before-after photos taken some twenty years apart showing the changes at Exeter Loco Depot from 1960 to the 1980s. Established in 1844 by the Bristol and Exeter Railway the engine shed at Exeter was extended a few years later by the South Devon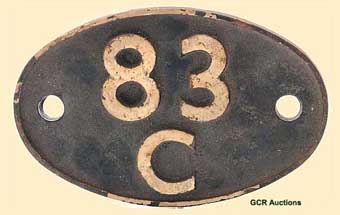 Railway and the two were combined under the Great Western Railway in 1876 and given the shed code 'EXE'. Following nationalisation of the 'Big Four' railway companies in 1948, the newly-formed British Railways introduced a series shed codes and Exeter became '83C' from 1950-1963. The shed had an allocation of some 35 locos during the 1950s, but during the final 18 months of its life, this was reduced to single figures. Following closure to steam on 14th October 1963, the code was transferred to Westbury 1963-1967. Meanwhile the shed area at Exeter continued to be used as a fueling and stabling point for diesel locos and DMUs working in the area. In December 1976 Exeter was reinstated as a depot and given a new code 'EX' and in 1980 a new covered maintenance area was built. Today Exeter Traction Maintenance Depot is operated by First Great Western. (Inset) A similar example of this ex-loco condition 83C shed plate went under the hammer for £440 at a Great Central Auction in July 2010.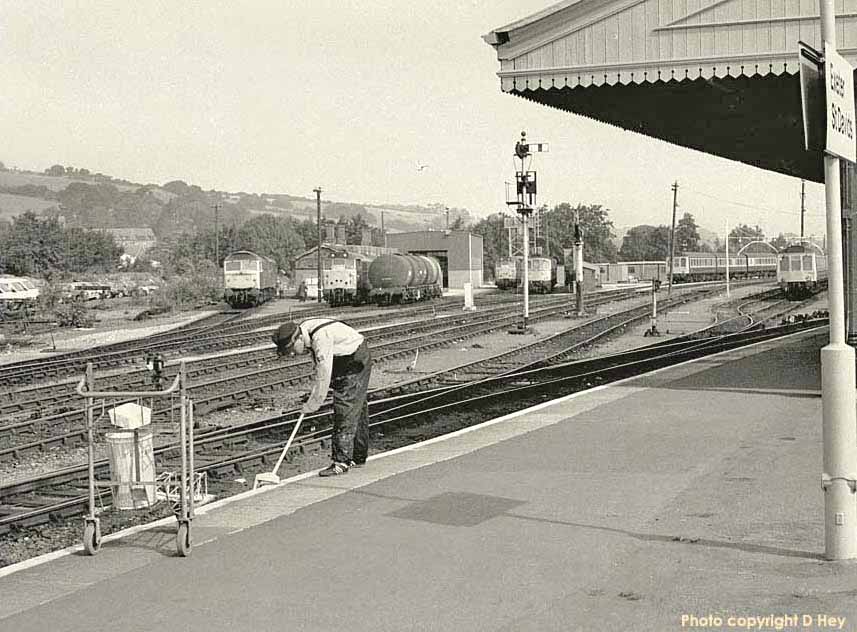 A SNAPSHOT IN TIME
by David Hey
Featuring pages From Jim Oakley's Spotting Notebook
Harking back to the 1950s and early 1960s, the term 'train spotter' never carried the same savage insult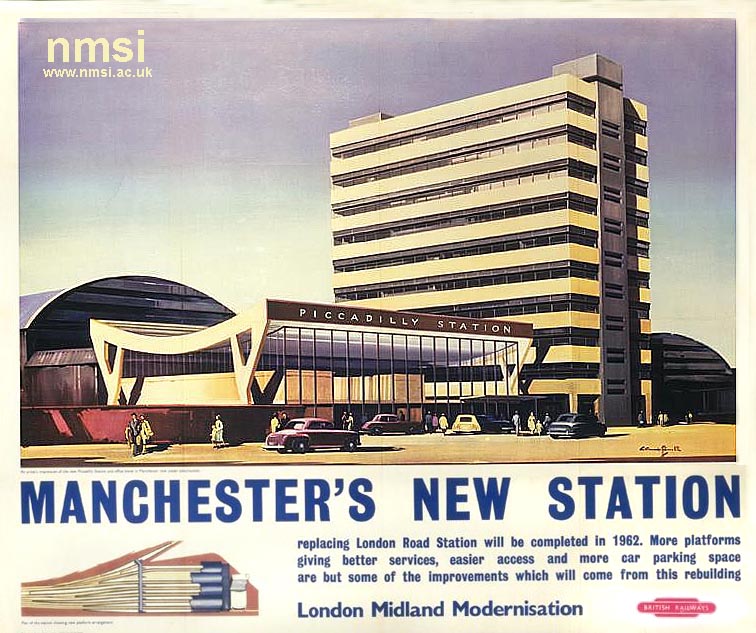 that it does today. Okay, there might have been the odd jokey putdown aimed at teenagers who were still caught up in the hobby, but this didn't burden us with the stigma that today's hoi-polloi dish out; it's almost as if they are determined to cause the maximum ridicule and hurt.
However, back in the Fifties collecting engine numbers was the national pastime for small boys. Before Beeching got his grubby hands on the rail network there were trains to the left and trains to the right - it's hardly surprising that boys got hooked. Even less surprising is their infatuation with trains continued into adulthood, but then there are some things in life that are just too good to give up, including train spotting, no matter what the age.
The fact is, the hobby wasn't just for kids; delve a little deeper and it gave youngsters a sense of belonging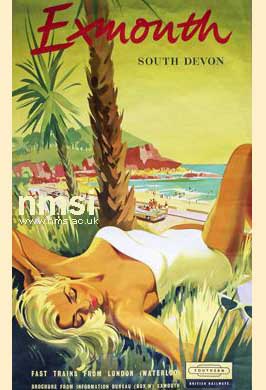 and, more importantly, a sense of purpose; by the start of the Sixties the new diesels were making major inroads and with steam was in rapid decline, this brought about a sense of 'unfinished business', which is why so many youngsters were determined to finish what they had started out in childhood before it was too late and there were no steam locos left.
Getting to the point...one of the best ways of understanding the psyche of the spotting fraternity is by leafing through the pages of an old railway magazines or Ian Allan abc Locospotters book, but here we take a look at Jim Oakley's spotting notebook, which, on the face of it, contains nothing more than a list of loco numbers, but on closer examination it reveals a slice of our railway history.
For instance, on 30th June 1961, whilst Del Shannon was belting out his UK No 1 smash hit 'Runaway', 16 year-old Jim Oakley and his spotting pal, Peter Jacques, were catching an overnight train from Manchester Piccadilly to Exeter St David's, arriving at Exeter early on Saturday morning. This was the start of a week-long stay at Exmouth, combining a few days of sun, sea and sightseeing - plus the chance to catch up on some train spotting on the Western Region.Region.
In September 1960, Manchester London Road station was renamed Piccadilly at the start of the new electric service to Crewe. The additional Crewe-Liverpool electrification scheme was completed on 1st January 1962, but it wasn't until 12th November 1965 that the first electric trains arrived at London Euston; the full London to Manchester and Liverpool service started on 18th April 1966 and the first Anglo-Scottish electric trains began operations between Euston and Glasgow in 1974.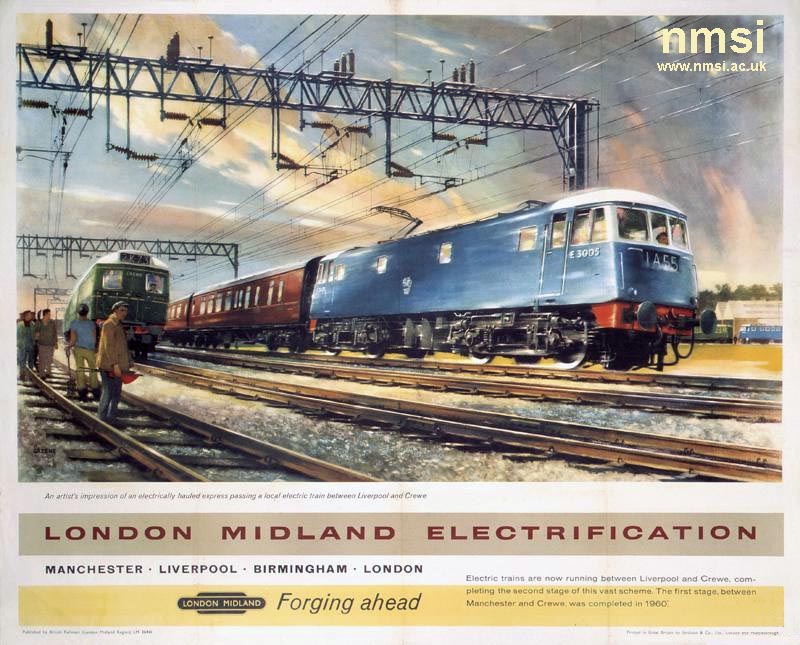 (Above images) A British Railways London Midland Region poster from the fabulous NMSI Collection features an impression of the new Piccadilly Station and office block in Manchester by artist Claude Buckle in 1960. The second poster (above) was painted by John Greene in 1961, and depicts a permanent way gang watching an express passenger train hauled by AL1 class (later Class 81) No E3005 speeding past an electric multiple unit beneath the recently-erected overhead catenary. The accompanying text reads - 'An artist's impression of an electrically-hauled express passing a local electric train between Liverpool and Crewe' and 'Forging ahead, Manchester, Liverpool, Birmingham, London. Electric trains are now running between Liverpool and Crewe, completing the second stage of this vast scheme. The first stage, between Manchester and Crewe, was completed in 1960...'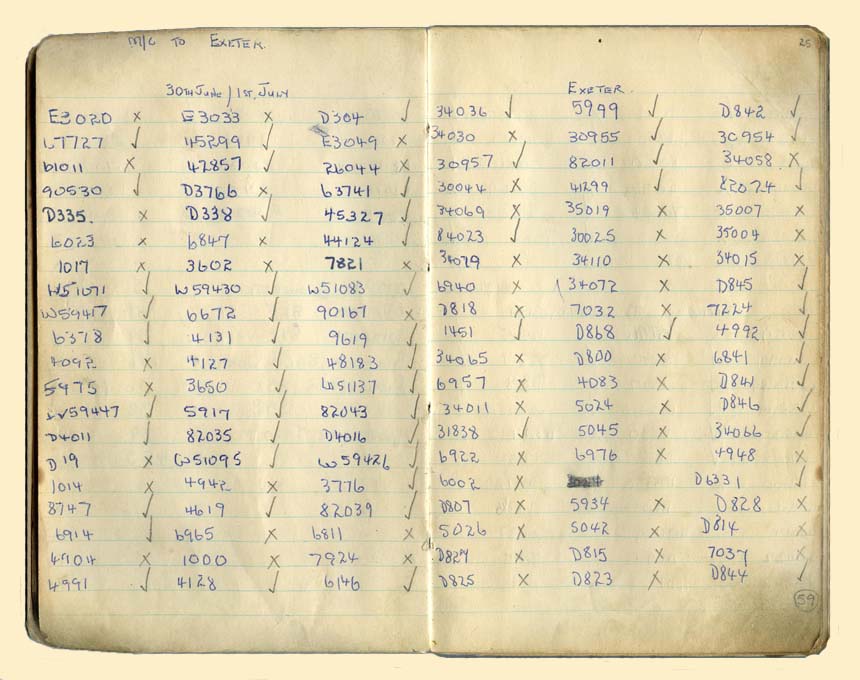 Having been dropped off at Manchester's Piccadilly by Peter's brother-in-law, Jim noted Nos E3020, E3033 and E3049 (later Class 81s), along with a Class EMI Bo-Bo No 26044 on the service to Sheffield over the electrified Woodhead route. On the first page of Jim's notebook pages (above) it seems appropriate to mention of the elegant 3,200bhp blue electric locomotives built for the LMR's new service on the 25kV electrified line between Crewe and Manchester line. Five types of 'A' Class express locos were introduced (AL1-AL5 in the fleet) built by Beyer Peacock, North British, Birmingham Carriage and Wagon Works, English Electric and BR's workshops at Doncaster and Crewe.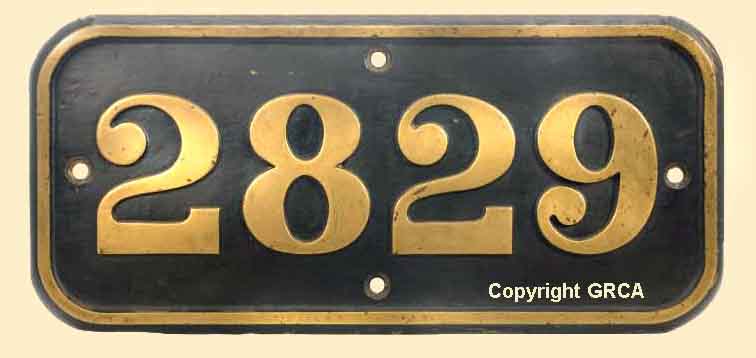 The first signs of entering Western Region territory came with the sighting of 'King' class No 6023 King Edward II, 'Grange' class No 6847 Tidmarsh Grange, 'County class' No 1017 County of Hereford at Shrewsbury - plus several first-generation diesel multiple units (later Class 119) built by Derby for the WR, a vast improvement on Derby's earlier WR suburban sets comprised of Motor Composites and Motor Brake Seconds each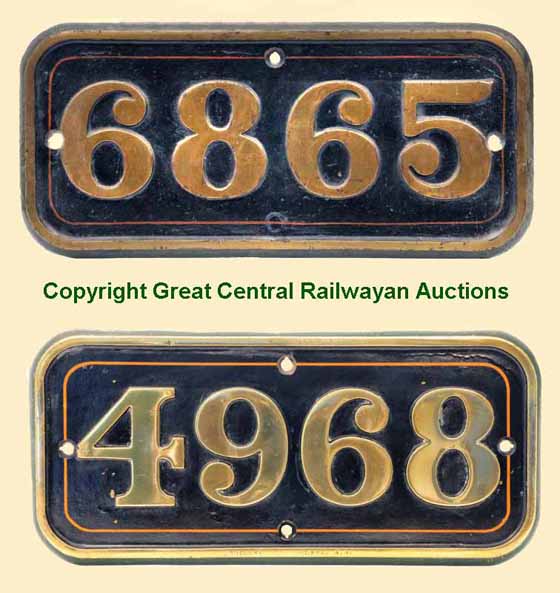 vehicle being non-gangwayed with side doors to each compartment.
The Western Region's engines were certainly different in the 'good looks' department, though it could be argued that it didn't necessarily make them steam any better, but the polished brass number plates did add a certain panache.
Whilst all other Regions adopted BR's numbering system in 1948 the Western Region retained their attractive GWR brass and cast iron cabside number plates, so little had changed on the Western Region since GWR days.
Continuing their journey south from Shrewsbury, the train then went on to Hereford, Pontypool Road and Bristol Temple Meads where Jim noted a smattering of Bristol's BR Standard Class 3MT 2-6-2Ts numbered in the 82000s range, a solitary Type 4 'Peak' D19 (later Class 45 No 45025) and somewhere between Bristol and Taunton they spotted the doyen of the GWR 1000 'County' class No 1000, County of Middlesex. Built at Swindon in August 1945, the loco spent its days at Old Oak Common, Laira, Chester, Swindon, Bristol Bath Road, St Philips Marsh and Swindon where it was withdrawn by 4th July 1964, and sold for scrap to Cashmores at Newport in September 1964.



On the final leg to Exeter, they were 20 minutes from arriving at St David's when Peter discovered he had lost his ticket; it had probably fallen out of his pocket when he was getting in and out at each engine change. The upshot is he had to pay again, which needless to say, made a huge hole in his funds. As it turned out all was not lost. After returning home, Jim's mum organised a raffle at the place she worked

(Ferranti at Hollinwood near Oldham) and raised enough to cover his losses.
Following their arrival at Exeter they caught a local train to Exmouth, booked into their 'digs' - and after a bite to eat, caught a train back to St David's where they spent what Jim describes as - 'One of the best afternoon's spotting I've ever had...before or since!'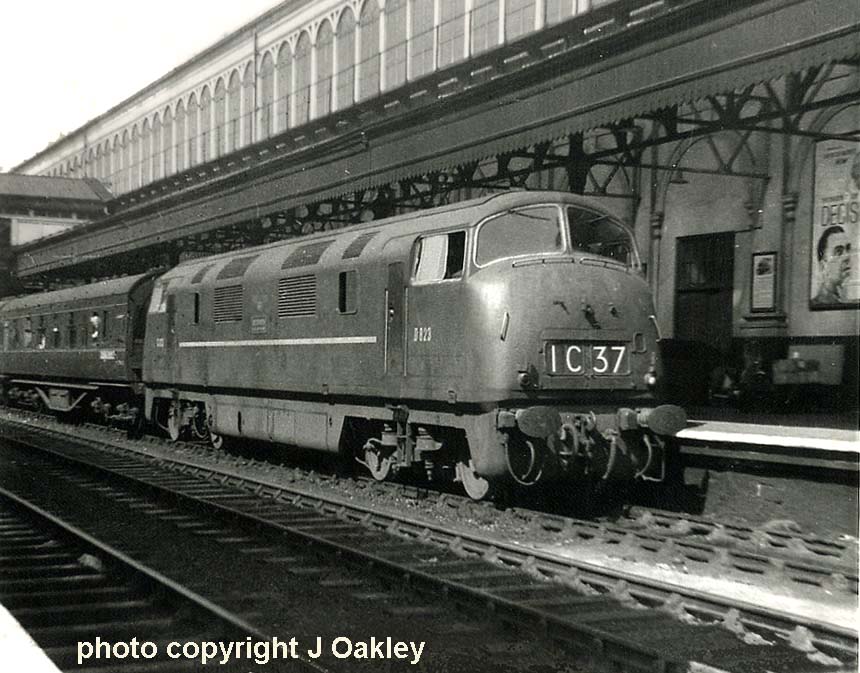 Indeed during the summer of 1961 the Western Region trains were great mix of both steam and diesels and he noted no fewer than eighteen D800 class 'Warships' B-Bs including D823 Hermes (above) along with a wide range of Western Region steam classes, including 'King' class No 6002 King William 1V and 'Castle' class No 4087 Cardigan Castle (both featured below) plus a few 'West Country' and 'Battle of Britain' classes thrown in for good measure. The Southern Region locos passed straight through to and from Exeter Central. The big surprise of the day was copping 'Britannia' class No 70024 Vulcan...not a regular visitor.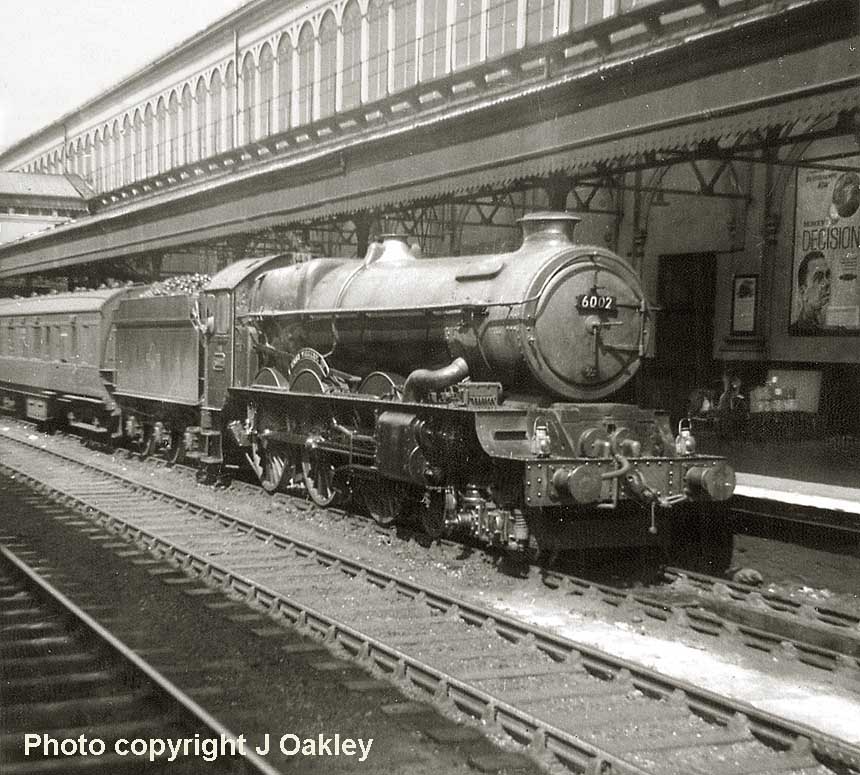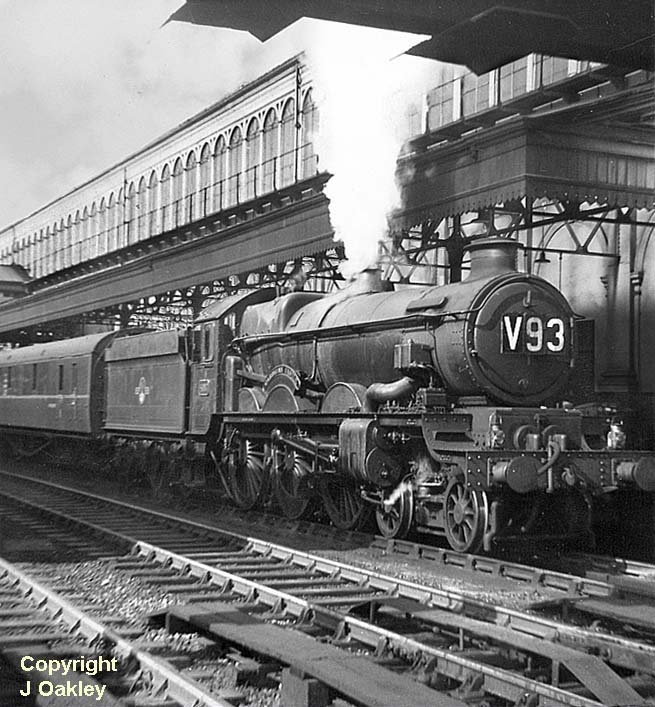 When Jim and Peter weren't spotting (Peter didn't want to spend every day looking at trains) they spent their days playing pitch and putt in Phear Park, Withycombe near to Jim's aunts, and generally taking in the
sea air and catching some sun. However, they were back on track on Tuesday 4th July.
Having obtained two permits, one for a visit to Plymouth Laira (83D) on Tuesday and one for Exeter (83C) on Thursday, they set off in the Tuesday morning and caught the local ferry from Exmouth across the Exe estuary to Starcross Pier, adjacent to the railway station, where they took a train down Plymouth. It wasn't until they were passing Totnes that Jim noticed he'd mixed up the dates - the permit for Plymouth was for the Thursday (not Tuesday) and the Exeter permit was for the Tuesday (not Thursday). They were heading to Plymouth on the wrong day!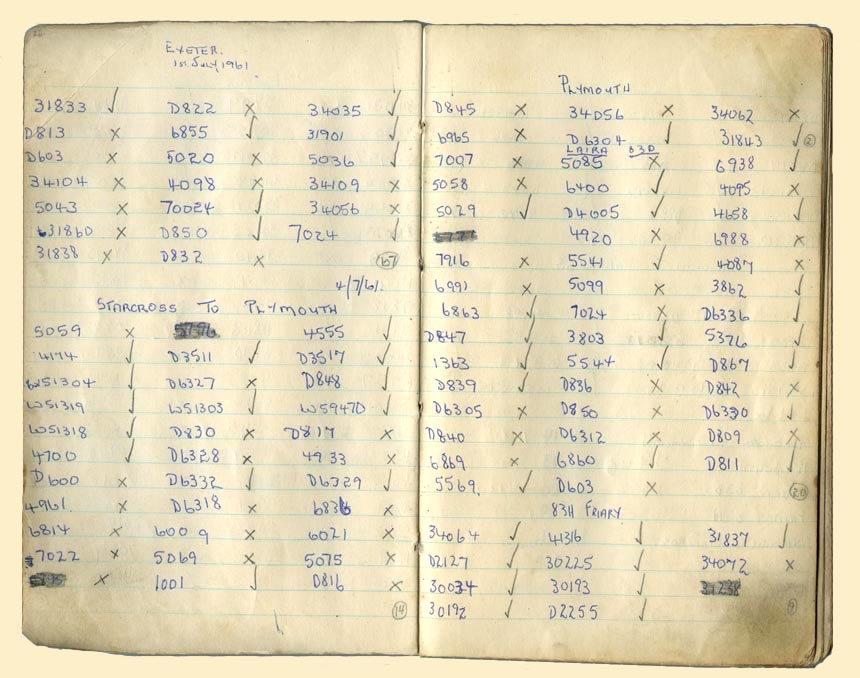 Needless to say there was a good deal of apprehension for the rest of the journey, but that didn't stop Jim noting D600 Active, the first of five 2,000hp A1A-A1A diesel-hydraulic 'Warship' class locomotives Nos D600-D604 constructed by the North British Locomotive (NBL) works at Glasgow.
The first three, Nos D600-D602, were a belated addition to the original pilot scheme orders, and all five were named in alphabetical order: Active, Ark Royal, Bulldog, Conquest and Cossack. No D600 commenced revenue-earning service on 21st April 1958 working two return trips daily between Plymouth and Penzance. By 1961, however, the first-generation D800-series 'Warship' B-B class became available; the first, No D800, being named Sir Brian Robertson, then Chairman of British Railways. D800 was delivered to the Western Region in July 1958 and with others following in quick succession, the A1A-A1A D600s were soon displaced from principal duties on the West of England main line and assigned to less demanding duties working Cornish china clay traffic. Jim noted D800 on his first day at Exeter St David's on 1st July.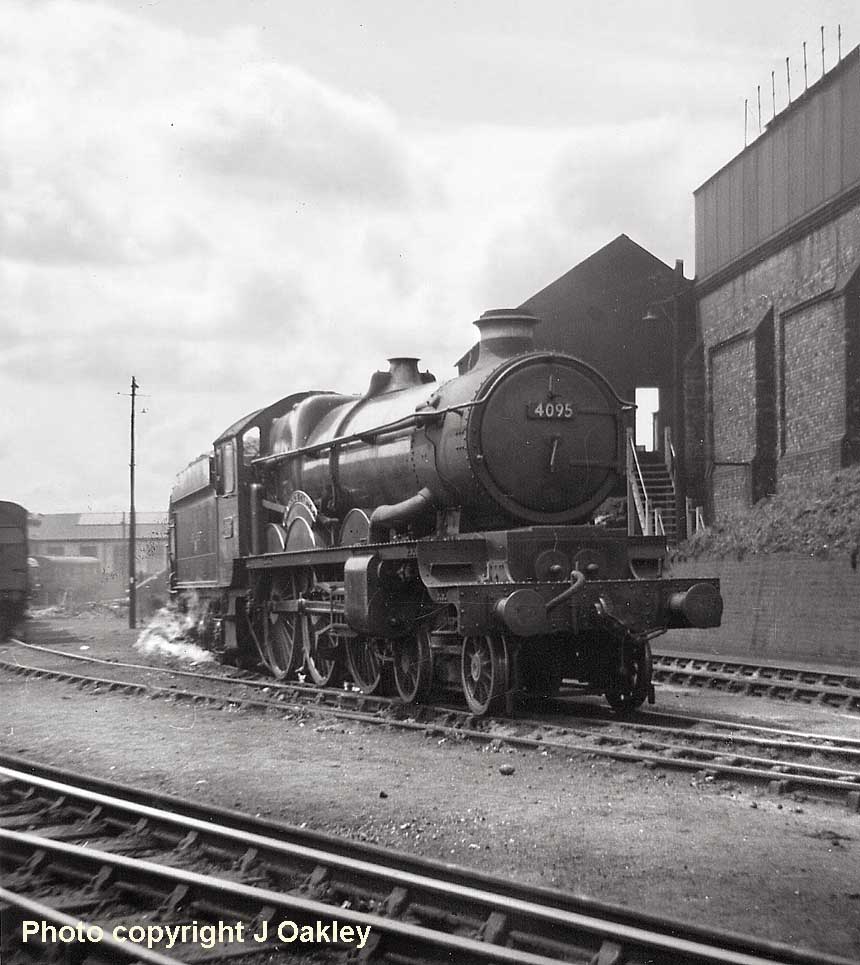 After arriving at Plymouth they made their way to Laira shed, but despite their earlier fears once Jim had explained the mix up in dates the amiable shed staff were okay with it. As can be seen from his notes, there was a great mix of both diesel and steam, including 'Castle' class No 4095 Harlech Castle (above) and a solitary 'West Country' class No 34005 Barnstaple.
The diesels in residence included the NBL Co Type 2 B-B diesel-hydraulic locos (later Class 22) of which D6300-5 were ordered as part of the BTC's pilot-scheme. Introduced to traffic in 1958, the Type 2 was designed for secondary work or coupled together in multiple for heavier duties, and this entailed the fitting of gangway doors in the nose ends. The NBL/MAN engines of later locos were uprated to 1,100hp which

corresponded with the NBL-built D800 'Warship' class then rolling off the production line, and this enabled multiple working between both classes.
Also on shed that day was the North British-built Type 4 A1A-A1A 'Warship' class (later TOPS Class 41) D603 Conquest, the second time Jim had seen it in the week; the first at Exeter on July 1st. Delivered new to Plymouth Laira in November 1958, the loco was withdrawn from Laira in December 1967 and together with sister members D602 and D604, was sold to J Cashmore's of Newport where it was cut up in November 1968.
After doing the rounds at 83D they made an unplanned visit to Plymouth Friary (83H); a small shed used by a few Southern Region classes. Returning to Plymouth station, they made their way back to Exmouth, bagging a few more 'cops' on the way, making a total of 62 in the one day.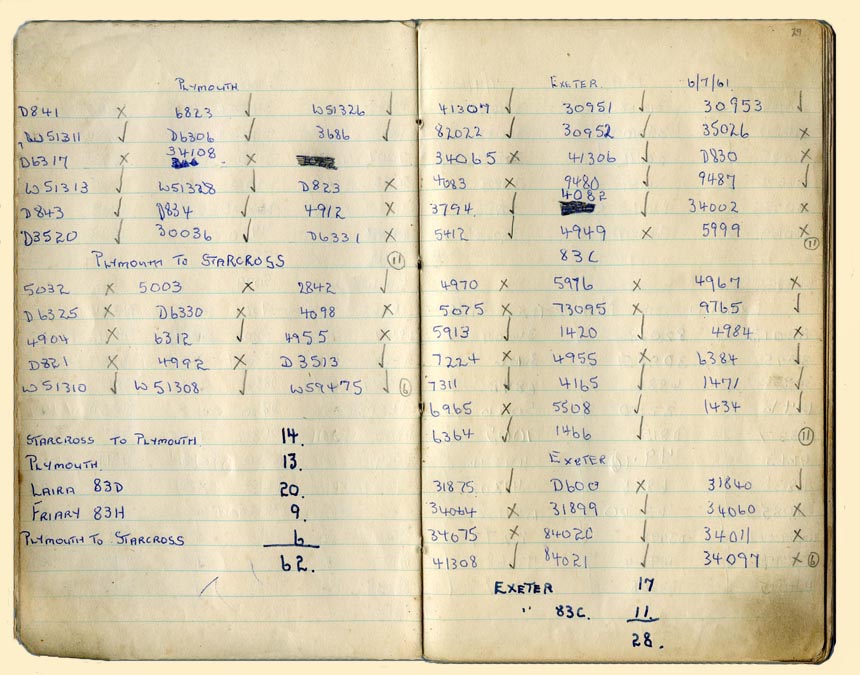 Jim and Peter decided to take the Wednesday off from spotting, which gave them a chance to catch up on some sightseeing and perhaps brush up their handicap on the pitch & putt course in Phear Park,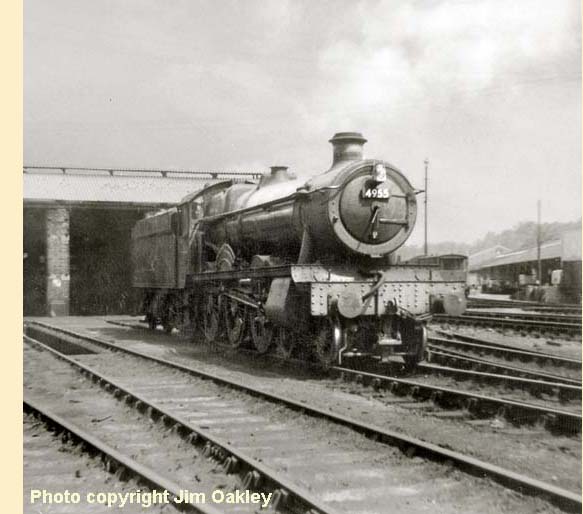 Withycombe. However, on Thursday they were back at Exeter St David's again, this time armed with a permit for the shed at Exeter (83C). Needless to say an apology was called for to account for them arriving on the wrong date, but the shed staff gave them the go-ahead. Among the locos in residence were the quaint-looking '1400' Class 0-4-2Ts, a 'Castle' class 5075 Wellington and four 'Halls' 4970 Sketty Hall, 5913 Rushton Hall, 5976 Ashwicke Hall and 4955 Plaspower Hall (right). As the photo reveals the number of locos on shed was disappointing.
So the following morning they caught a bus to Exmouth Junction shed (72A), albeit the visit was done without permit, but nobody seemed to bother.
Amongst the locos in residence were five 'Light Pacifics' and two 'Merchant Navy' class loco Nos 35010 Blue Star and 35020 Bibby Line (below). Built at Eastleigh in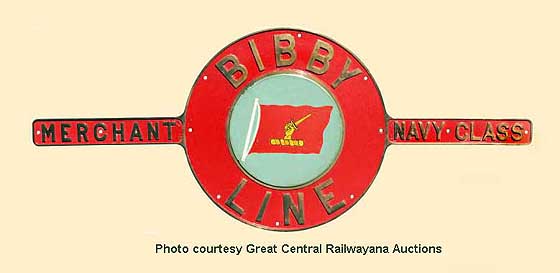 June 1945 as No 21C20, it was the last of the class built by the Southern Railway, the remaining ten being built by BR in 1948-49. It became BR 35020 in May 1948 and was rebuilt in April 1956. It spent most of its working life at Nine Elms before moving in 1964 to Weymouth from where it was withdrawn on 14 February 1965 and cut up at Eastleigh Works two weeks later. Bibby Line achieved notoriety when, on 24 April 1953, it came close to disaster heading an Exeter to Waterloo express at Crewkerne when the driving axle fractured at speed; a serious accident was narrowly avoided thanks to the prompt actions of the crew. The outcome was that all the Merchant Navy locos were temporarily withdrawn pending inspection of all coupled axles and a number of locos including Britannias, V2s, Class 5s and B1s were drafted in from other Regions to carry out their duties. A nameplate from Bibby Line went under the hammer for £24,500 at a Great Central Railwyana Auction in October 2012...click here to visit the fascinating GCRA website.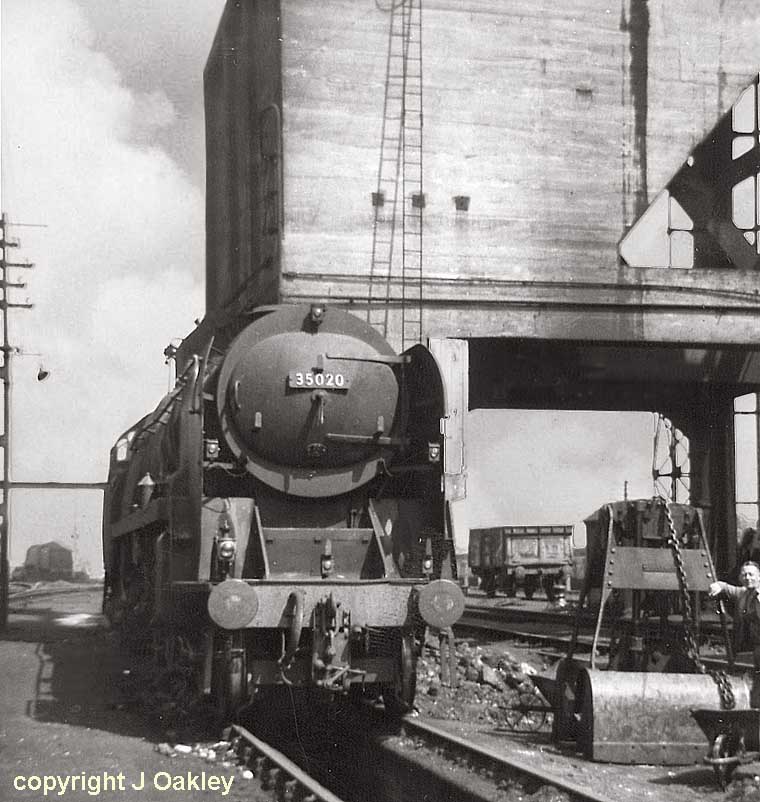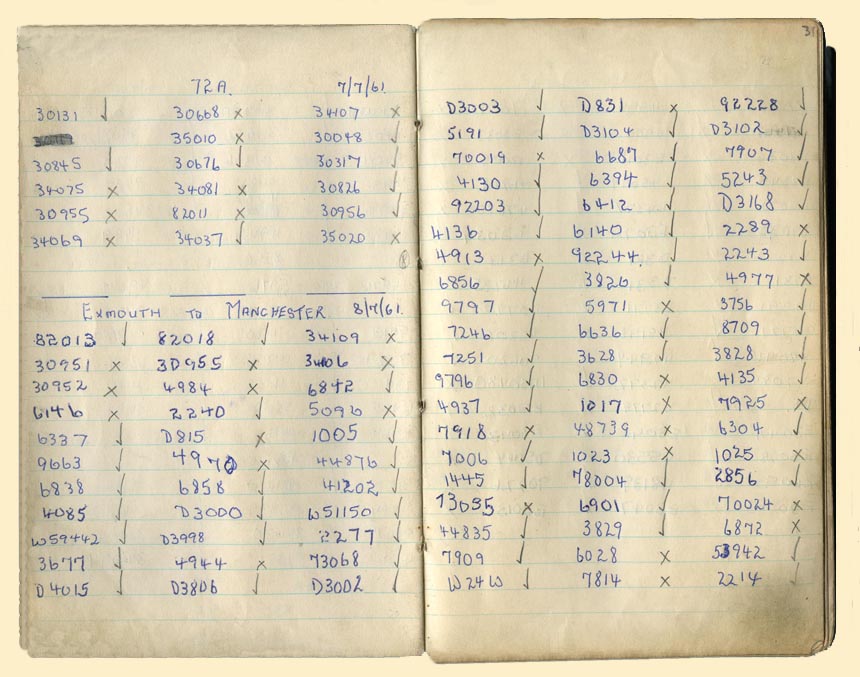 By Saturday morning it was time for their journey home. They caught a train direct to Manchester Piccadilly from Exmouth, with portions from North Devon and South Devon attached at Exeter St David's. During the journey, Jim jotted down 144 numbers in total, from shunters to Pacifics and anything else in between, including BR Class 9F No 92203 which was withdrawn from traffic and subsequently rescued for preservation by wildlife artist, David Shepherd.
Closer to home and they were back on London Midland Region territory, once again collecting familiar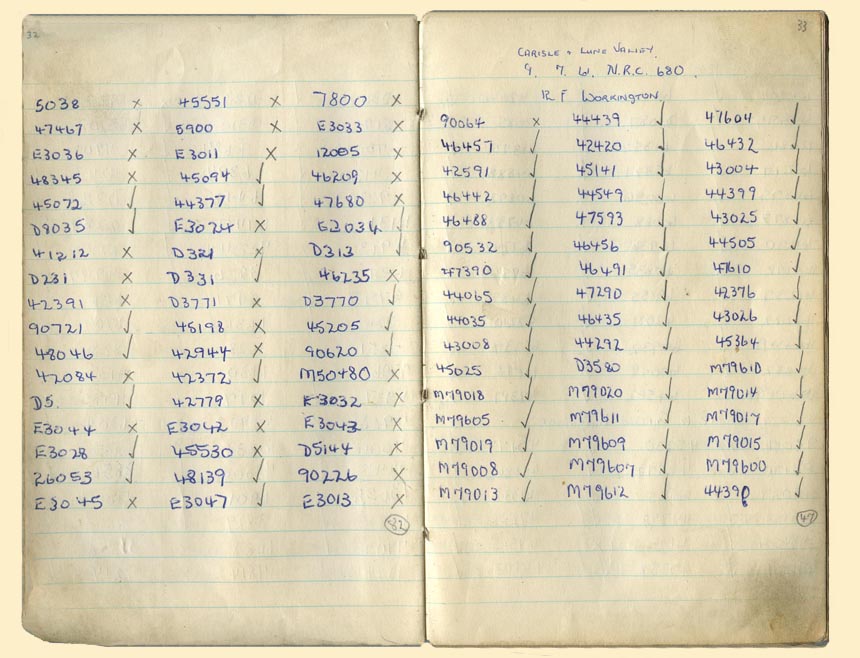 engine numbers pre-fixed with a '4', including 'Princess Royal' class No 46209 Princess Beatrice and the now-preserved Stanier Pacific class No 46235 City of Birmingham - and, of course, modern traction was well to the fore with the English Electric Type 4s (TOPS Class 40), a pilot scheme 'Peak class D5 (later TOPS Class 44005) along with the fleet of 'A' Class blue electrics...back to where they started!
However, not content with spending a week on the Western Region, no sooner had Jim arrived back home on July 8th and the following day he was back on the road again, this time joining a Northern Railfans Club (NRC) visit by overnight coach to sheds in Westmorland and Cumberland...the Cumbria we know today wasn't established until 1974. The first shed on the agenda was Workington (12F) where he noted several 'Black 5s, 'Jinties' Class 4Fs and Ivatt 2-6-0s etc - ending up 'copping' a total of 47 out of 48 in residence there. This included several Derby Lightweight twin units made up of Driving Trailers numbered M9600-E79625 in the fleet along with the Motor Brake Seconds fitted with two BUT (AEC) 6-cylinder 150bhp engines and numbered M79008-E79046. The units (pre-fixed 'M') began operations on the Workington-Keswick-Penrith line, ousting in the process all of west Cumberland's steam-hauled local services. The fleet was maintained at Carlisle Upperby carriage sheds and at Workington's steam shed, where five tracks were partitioned off specifically for the purpose. The other units in the fleet (pre-fixed with an 'E') belonged to the West Riding pool based at Hammerton Street in Bradford...but as the saying goes, that is another story entirely...


The only beef I have about today's technology is that the handwritten letter is no longer the most heartfelt form of communication. So few people can be bothered putting pen to paper nowadays; everyone is in such a mad rush, either blogging, tweeting or emailing one another in the cold anonymity of cyberspace, and often the message is as brief as possible with little or no substance.
Now call me old-fashioned, but an uplifting email is like a breath of fresh air. I received one the other day. It came from 75 year-old Ian G, whose childhood reminiscences of living in a Devon seaside village during the 1950s whisked me away on a leisurely meander down memory lane. In essence, Ian was harking back to the days of his youth when at the age of 14, his family upped sticks from the Midlands and set out for a new life in Dartmouth.
Over the years, Ian has compiled several strands of stories which have remained filed away in various repositories deep in the bowels of his PC, but at long last he has revived them for publication on the web and I'm pleased to say the first of his stories is featured below...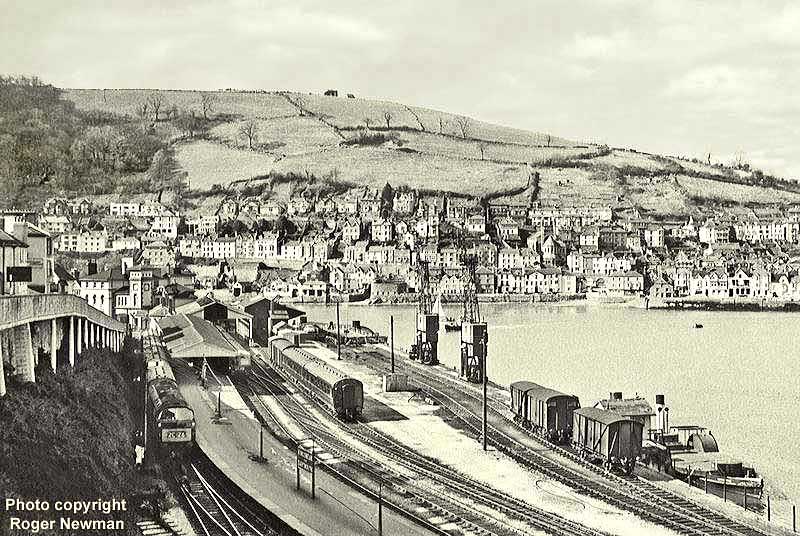 MEMORIES OF KINGSWEAR STATION
Ian G remembers the day he joined the Railway

In the summer of 1953, my Aunt and Uncle were staying with us for their holiday. It must have been my Uncle who first spotted the advertisement in the Dartmouth Chronicle for a Junior Booking Clerk at Kingswear Station.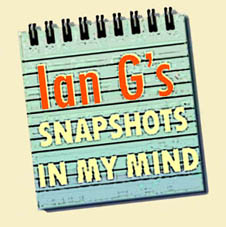 Everyone knew I was not fond of school, so it seemed natural that I should apply for the job. With some help from my Uncle, I sent off my application to the Area Offices at Exeter and waited. The reply came to the effect that I would be required to attend an interview and examination to be held at Exeter St. David's Station, a free rail ticket was enclosed for the journey.
I remember little of that day, but somewhere I still have that letter of all those years ago. I was duly informed that I was sufficiently numerate and literate to undertake the onerous responsibilities of the Booking Office, in the first instance at Kingswear station. In all candour I must say, as it was the beginning of a new school term I am sure there were no other applicants so the job was mine.
It was an extremely nervous young man who on the first day saw me reporting to the Stationmaster, Mr Ralph Bovey, whose very appearance suggested he was Lord of all he surveyed. A bulky man with grey whiskered sideburns dressed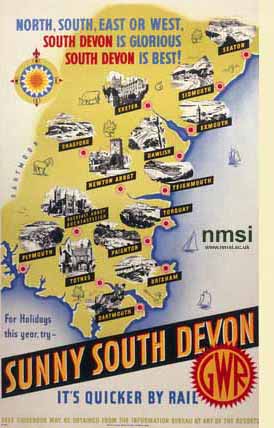 in a uniform with a gold braided cap. In my young eyes he was a very imposing man, a figure of the utmost strict authority; indeed a character from another age, as if he had stepped straight out of a Victorian melodrama.
However, he was congenial enough to introduce me to his railway station, showing me around and telling me who was who and who did what. I found out that he was to retire soon having spent a great number of years working on the Great Western Railway which by now had become the Western Region of British Railways. So a fast disappearing breed would become one less.
Dougie Weeks was a local youth, tall willowy and tending to baldness even at this early age, which I guessed to be twentyish. He was the local boy done well; he had joined the Railway from the local school at the age of fifteen and had progressed to relief booking clerk having spent some time at the booking offices at Paddington. He was now back at Exeter relieving at local stations. I was to come under Doug's wing, and in the coming months he was to mould me into a Junior Booking Clerk.
At this time I was still living in Dartmouth, and so it was, that every day I would leave home and make my way down to the river. The only way to get to Kingswear was by ferryboat at the lower end of the river which was crossed by two ferries. One operated by Dartmouth Corporation and the other by British Rail. If I was hurrying or running late, I would catch the smaller boat run by Dartmouth Corporation; it had a two-man crew and was akin to the boat featured in the film African Queen. Sometimes when there was a swell coming in from the sea the boat would pitch and roll quite a lot, adding a sense of adventure to the journey. If I had time to spare I would often cross the river on the railway ferry, which was altogether a more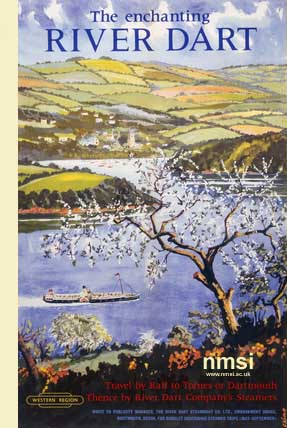 leisurely affair. SS Mew was a much bigger boat capable of taking cars and lorries in addition to the passengers wishing to connect with the train at the start of their journey at Kingswear. Each side of the river were floating pontoons, linked to the shore by covered walkways, it was to these that the 'Mew' tied up.
There was even a third means of crossing the river, operated by Dartmouth Corporation the car ferry was quilt unique; a floating pontoon-like structure, with lowering ramps at each end which was pushed and pulled by a powerful diesel tag alongside. Eight cars could be carried at a time, at a cost of something like half a crown each (12.5p) the passenger fare was one old penny. I have very fond memories of the hundreds of ferry crossings made in all types of weather throughout the seasons.
Kingswear station lay at the foot of a large mound of a hill upon which the village of Kingswear was situated. The single railway line's approaches hugging the contours of the River Dart crossing a creek bridge before entering the curved platforms to the buffer stops. Kingswear was the end of the line, the continuing journey to Dartmouth being by ferry, a station was built at Dartmouth by the GWR thereby creating a unique situation, a railway station that never saw any trains.
This was the early 1950s; I was a boy of fifteen setting out on my first job. The mass ownership of private motor cars had not yet made a significant impact on the travelling public, especially when going on holiday so it was by rail that millions of people would travel to the seaside.
Without doubt, Kingswear was a holiday destination, creating a situation where a sleepy village station was transformed into quite a busy terminus during those brief few weeks of summer, only to return to its undisturbed rhythm for the remainder of the year.
Access to the Booking Office was through the Parcels Office in which there was a small alcove which served as a diminutive office for the Station Foreman, Percy Wadham...Albert Phillips and Bill Bearman were the Parcel Porters. There was a counter, with a raised portion through which one could pass, a large set of red Avery scales, walls adorned with numerous scale of charges and conditions all lit by a stark single light bulb dangling from a plaited flex.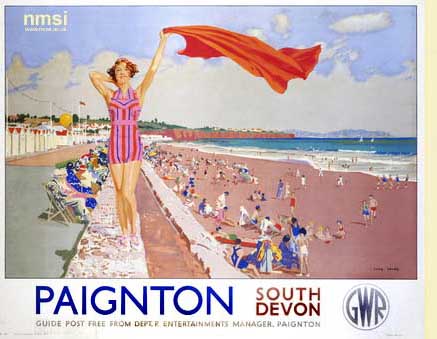 The Booking Office door was a solid affair and when opened revealed a high ceilinged room whose focal point was a large wooden structure containing hundreds of tickets of all colours stacked in small compartments side by side. A large engrained wooden table dominated the centre of the room with several chairs to keep it company. A wardrobe like cupboard for the stationary completed the main picture. I remember telephones of very early vintage both in the Booking Office and Parcel Office; these were railway telephone lines for internal communication and must have been there for decades. A modem GPO telephone line was in the Booking Office for outside use. I must mention the black leaded fireplace, which must have been there since the station was built, a bucket of coal by ifs side. One of my earliest discoveries was an ancient ledger, rather like the old family bible containing copper plate writing dating back to the 1880′s...what became of that I wonder?
Dougie began by describing the various tickets - 'Now these are Day Returns; these Single First Class; these Second Class Returns' - and so on, until the whole range of tickets were explained, adding - 'And don't forget to date stamp them before issuing them'.
The knowledge required seemed endless. A bowed face appeared filling the window - 'Single to Paddington please,' and without hesitation Doug's hand plucked a ticket from the rack and with a deft flick of the fingers punched dated the ticket - 'Thirty shillings please,' he declared and with a swift exchange of cash it was all over.
Goodness me, would l? Could l ever learn to do that?
The questions from passengeres were endless - 'What time is the next train to Birmingham? Do I change at Newton Abbot? Is there a restaurant car attached?'
Doug's answers were reeled off like a machine gun - 'Ten twenty five change at Bristol...I'm sorry Sir, but it doesn't run on Saturdays...You will have to reserve a seat on that one.' I felt very much in awe of this nonchalant, confident young man in a brown pin striped suit. When the phone rang, Dougie nodded to me - 'Answer that,' he said. I was gripped with panic. The person on the other end of the line must have thought there was a lunatic answering as I stammered and garbled my words in sheer terror. This was the first time in my life that I had encountered such an instrument. My! How the world has changed!
Winter was setting in; the pace of the station was slow with occasional bursts of activity, especially at Christmas. Being the hub of the village, it was an ideal place to monitor what was going on, who was travelling where and who was visiting who! It was at about this time of the year that a large side of venison arrived for a well-to-do resident of Kingswear. It was simply wrapped in hessian with an equally simple label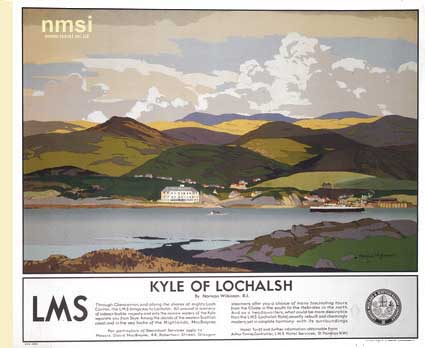 attached. The label was printed with the legend; 'The Kyle of Lochalsh'. I don't know why, but the name sounded pure magic to my young being, I would gaze at the large pull-out folded map in the back of the timetables and trace the route of that side of venison, all the way down from Scotland to this little village in the West of England. I made a solemn promise that one day I would take the reverse route and visit The Kyle of Lochalsh. It is now many years later and the promise has never been fulfilled.
I cannot recall how long Dougie and I were together, however within a few weeks I was given a shift opposite another young man whom I have not yet mentioned, one called Fred Didsbury. Fred, a product of the local Grammar School was altogether a different character from Doug. Prematurely bald, twentyish, a sophisticate, I got the impression that Fred was destined for better things in the Civil Service but life had dealt him a cruel blow, which explained his premature baldness and presence in the Booking Office. I liked him and got on well with him; we had a matching sense of humour.
Depending which shift, my Mother sometimes brought my meal accompanied by a flask of hot sweet tea. I treasured these occasions. I would sit by the glowing fire and eat my meal almost in complete silence save for a ticking clock. Winter gave way to Spring, and with lengthening sunny days Summer would arrive. New sets of timetables would herald the Summer workings. A parcel of them would arrive for distribution, a set would comprise of all the different Regions of the BR system denoted by a colour code. Brown for WR, Maroon for MR etc...I possess such a set today. These timetables were the meat and drink of us Booking Clerks, looking back, the information contained within, to my mind, was nothing short of miraculous. The age of the computer was many years away; these priceless timetables were compiled by hand by ordinary people from ordinary walks of life and to my mind, even to this day, are an extraordinary tribute to the human mind.
It has been well documented elsewhere as to the Jekyll and Hyde character of village stations in the transition from Winter to Summer workings. Kingswear was no exception. I well remember the activity of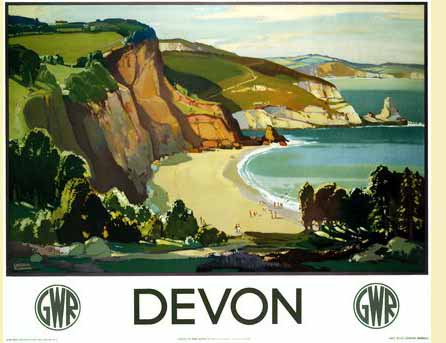 Summer Saturdays. Strangely, I seem to remember that for us in the office, most of the work leading up to Saturdays was done during the week as at about this time compulsory block bookings were in force. This in effect, said that anyone travelling out of the Torbay area on a through train on a Saturday had in fact to book on that train in advance. So to some extent the heat was taken out of a Saturday's work by the time Saturday came round. My favourite occupation was whenever possible, to stand outside the Parcel Office and watch the scene unfold as a long distance train came to a halt at the buffer stop. A sweat stained 'Castle' class locomotive would be standing directly in front of me; one could swear its tongue was hanging out with the exertion of hauling its load of carriages and passengers mile after mile in the heat of a summer's day. When the train was secured, the engine crew would retire to the Porter's room to replenish their hot water supply. An engine's crew and their Billycans seemed inseparable.
Perhaps at this point I might say that much has been written about the fuel consumption and efficiency of the steam locomotive. To my mind the efficiency of the loco paled into insignificance compared to the efficiency of the fireman who had thrown ten tons of coal into a white hot furnace on a rolling platform for hundreds of miles, all on a can full of tea and a handful of cheese sandwiches. Efficiency indeed!
Then, a slow river of people accompanied by all manner of luggage would flow towards the exit, where Ticket Collector Norman Jones or Ed Trickey would be waiting to perform their raison d'être. Most of the passengers were destined for the ferry to Dartmouth and beyond, to be absorbed into the holiday countryside of South Devon. Then two weeks later the process was reversed as the same people set off on their return journey home. With the last of the passengers through the ticket barrier the platform was once more deserted; the tempo of the station reduced to waiting for the next burst of activity, a slow build up of engine movements and carriage stock movements, all of which added to the expectant departure or arrival

of the next train.
Without doubt, the main event of the day was the departure of the 'Torbay Express'. This non-stop train from Torquay to Paddington was the pride of the local line. Due to leave Kingswear at eleven twenty five in the morning, the well turned out 'Castle' class engine would arrive earlier in the morning on a local train from Newton Abbot. The eight coaches of chocolate and cream stock would be backed into the platform in good time.
The staff of the restaurant car would have been busy for some time, immaculate in their uniforms; tables would be laid with snow white linen and sparkling cutlery. The carriage cleaners had done a first rate job; one was able to see one's face reflected in the paintwork. The guard would be fussing about his charge; he too, not to be outdone, sporting a fresh rose or carnation in his buttonhole. It was to the loco's crew that one's attention was inevitably drawn; the all-knowing driver, usually in his Sixties with clean blue overalls, busying himself with the oilcan, all the time running his expert eye over his charge. This man exuded a quiet calm assurance, that with him in charge, everything would go well. The railway system bred such men in their thousand. Whilst the driver was engaged in his ritual, the fireman, whose job for the next few hours was to feed this monster with something like ten tons of coal, was by this time relaxing, sitting reading his newspaper, conserving his energy for the toil ahead. Meanwhile the members of station staff were ant-like busy, seeing to the hundred and one last minute preparations. Reserved seats to be dealt with, luggage in advance to be stowed in the guards van, passengers queries to be dealt with. By now the stationmaster, Mr L F Nickels, had set the scene with officialdom, as it was his custom to be present at the departure. With appropriate seriousness, watches would be consulted, glances exchanged and with a flourish of hands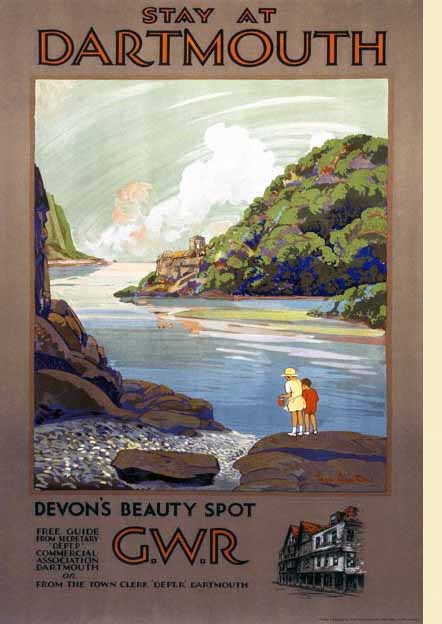 and green flag waved, a shrill whistle would signal the right 'o way - then as the engine's barking exhaust fainted away into the surrounding hillside, the station once more, descended into a quiet calm of inactivity.
Winter and summer alike, Saturdays saw something of a migration of Kingswear and Dartmouth people to the Torbay area. The train preferred, being the one fifty in the afternoon. I personally, mentally and physically prepared for this train as no other. You knew that a mad rush would develop by quite a crowd of people within a short time of departure, therefore I first made sure that the Paignton and Torquay Cheap Day Return ticket racks were full, and even then have some more in reserve ready to replenish the soon to be rapidly emptying compartment. Having done that, I made sure that all available change was easy to hand and the desk area was clutter free. From one forty onwards, a brisk trade would start leading to almost frenzy by the time the train was ready to go. I always breathed a sigh of relief when the last passenger had hared round the railed platform, through the ticket barrier and dived on to the already moving train. It had been instilled into me that the most important thing was that after each train had departed; the first thing was to balance the tickets sold against cash receipts. This was done by systematically inspecting each ticket compartment and recording where tickets had been withdrawn from the rack. It was always an anxious moment when the final balance was made. Sometimes there would be more money than accounted for, this usually meant that you had forgotten something and so had to backtrack and check again and again if necessary. Alternatively, of course, there might be a shortage of cash, which usually meant you had given incorrect change at some point. Whichever way, short or over, the exact amounts had to be scrupulously recorded and accounted for. Of course, this balancing time would, especially in the summer, be constantly disrupted by any number of things, such as, telephone calls, train enquiries - you name it.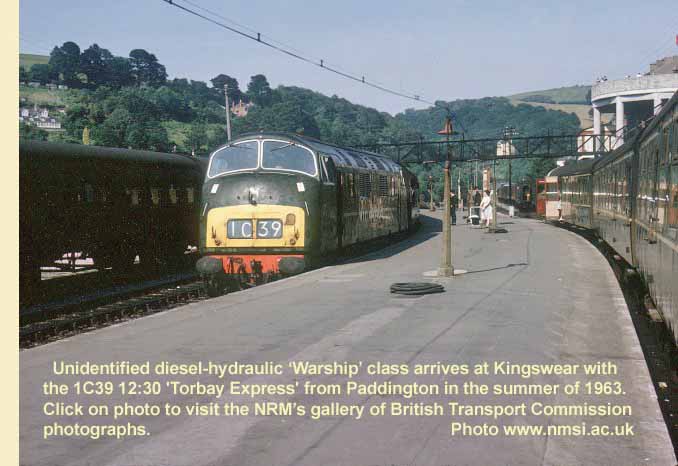 Like the four seasons, the station had a cycle of its own, it always had and, it seemed always would. However, by the time I was called up for my National Service in 1956, there were distant rumblings that all might not be as they seemed. The ever growing ownership of private motor cars was evident for all to see. Those whose business it was to see these things were busying themselves with their notebooks. As for me, it seemed the station would go on forever. Soon it was time for me to keep my appointment with HM forces, little realising that my association with Kingswear and the railway was almost at an end...

(Above) The NRM's collection of railway posters forms a comprehensive archive of railway style and graphic design from GWR days to Britain's Railways. The selection of posters featured above are just a few of the posters produced for the Great Western Railway (GWR) and later (BR) Western Region, promoting South Devon as a holiday destination. Click HERE to visit the NRM's fabulous website.

(Below) This is the view from above the station itself looking up river eastwards in 1964. The photo is a taken atop of a huge retaining wall rising vertically from platform level. Behind the photographer is the village main street. As can be seen, the vantage point provides a panoramic view of the railway topography. The skill of the Victorian railway architects and engineers is plain to see. As I appraise the picture my mind recoils at the amount of comment I could recount from personal memory. I shall have to curb the urge to do so. Underneath the footbridge steps you will note a brick building with an angular roof, I never knew the origins or purpose of this building but it is where I stored my outboard motor for my boat, the boat itself being tethered to running moorings from the embankment at the end of the bridge.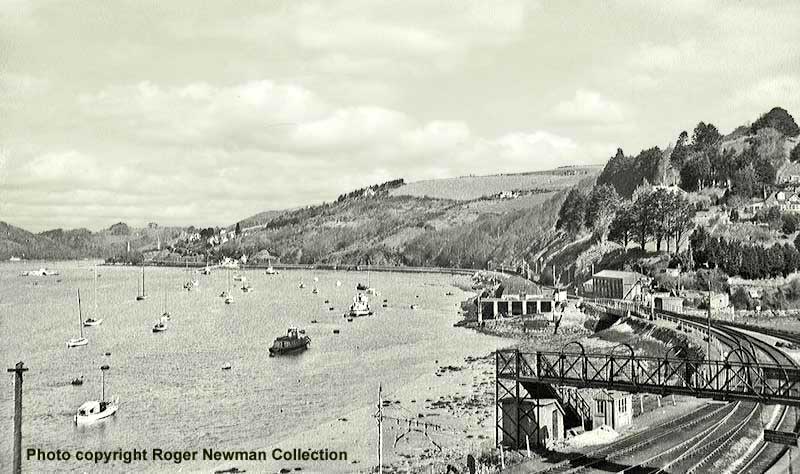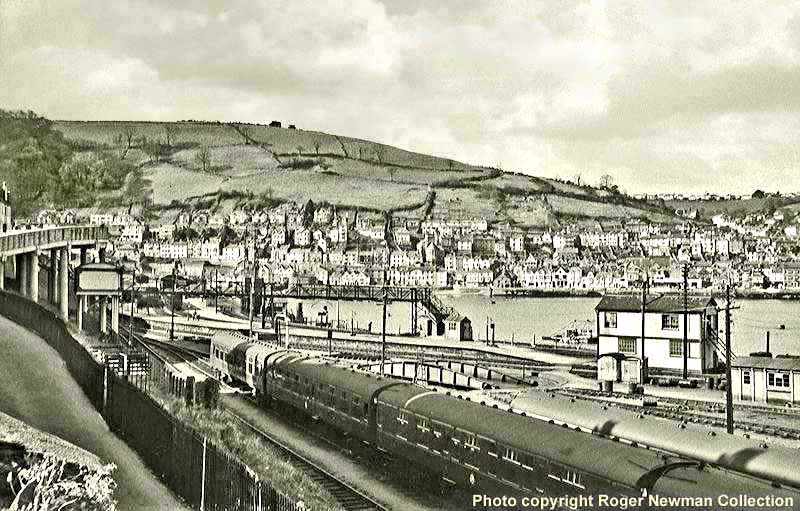 (Above) I like this one. It is the view from where my parents lived looking west, providing an informative view of the station's environs. In the foreground is the carriage formation stabling for cleaning. Raising one's gaze, framed by the footbridge can be seen the platforms leading to the station and buffer stops. Also can be seen is the substantial deep water jetty where the coal was offloaded from the coastal colliers into wagons by crane grabs and forwarded to Torquay gasworks. The river Dart's tidal flows its way past the station leftwards to the open sea some mile distant.

(Below) This is taken from the heights above the village itself, almost of model railway proportions. It is the only such view I have seen pictorially. It can easily be compared with the topmost photo but the elevation provides more detail including signal box, turntable, carriage cleaners quarters, lamp room etc. Note the narrowing neck of access to the station necessitated by the creek bridge. Notice also the neatly accompanying signal gantry. The dome shaped building and environs is the legacy of wartime naval activity in the form of a clandestine squadron of MTBs operating cross Channel raids and French resistance activities. Today this view is no longer possible as it is blighted by hundreds of boats for it forms the marina which was started in the Sixties.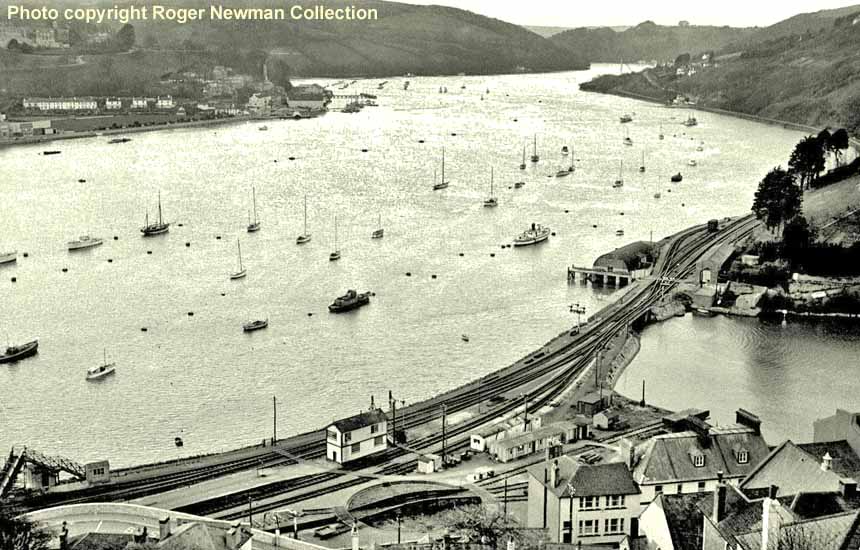 THE NRM's RJ SELLICK COLLECTION.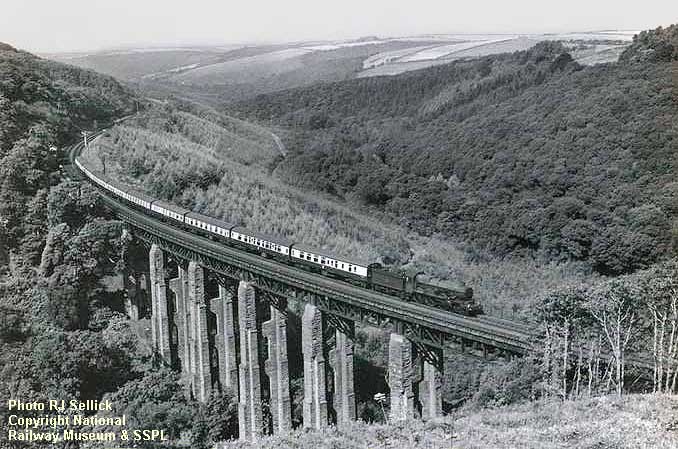 Above-Below) This evocative image of an unidentified 'Castle' class heading an up express across Largin Viaduct between Liskeard and Bodmin Road stations in Cornwall on 7th September 1959 (above) and (below) a goods train crossing St Germans Viaduct over the River Teddy on 22nd July 1957, can be found in a collection of railway photos taken by R J Sellick, now safely in the hands of the National Railway Museum at York. The NRM's collection of 1¾ million photos covers the history of Britain's railways from 1850 to the present day; the archive is currently being digitalised to make them available to a wider audience and preserve them for the future - more West of England images like these can be found on the 'Sellick Collection' page here - a visit is highly recommended…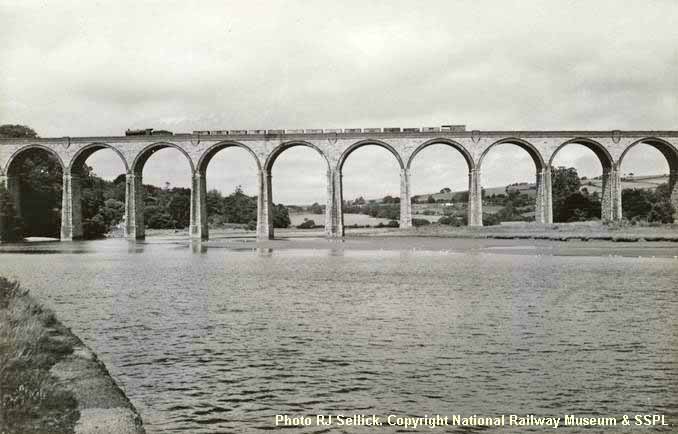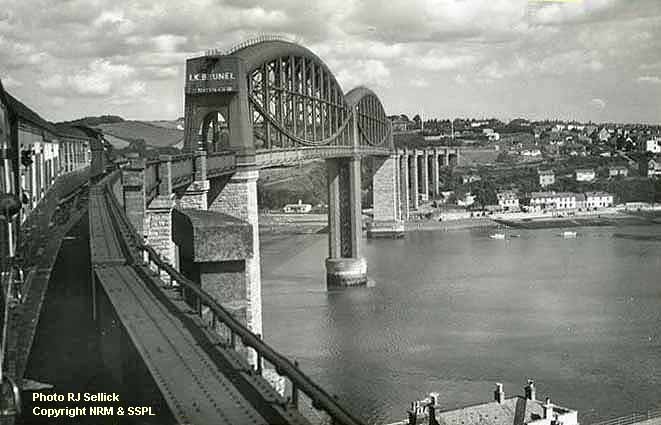 (Above-Below) RJ Sellick captures a splendid view from the carriage window of a train crossing the Royal Albert Bridge between Plymouth and Cornwall on 22nd August 1956, and (below) a general view from the station of a local train departing for Plymouth on 25th October 1956. Other links available on the NRM's website will take you to a large collection of railway travel posters and images from the Science Museum Group collections here. All sales of images such as postcards, notecards and framed or unframed decorative prints help towards funding the work of the National Railway Museum...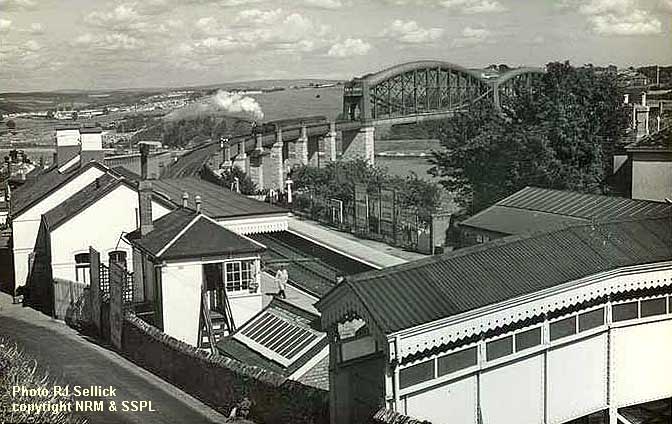 THE WESTERN REGION HYDRAULIC DIESEL ERA
During the transition from steam, the spotting fraternity was made up of countless thousands of youngsters, who, by virtue of their youth, had no way of knowing what had gone before, therefore the end of steam mattered little to them. Train spotters on the Western Region were luckier than most, however, because no matter what one's opinions we then had towards the soulless appearance of the new diesels, the WR's Type 4 'Warships' and 'Westerns' must rank as being one of the most handsome designs to appear on BR. Their impressive bodyline gave them an altogether aristocratic look surpassed only by that of the stylish GWR 'Kings' and 'Castle' classes they replaced.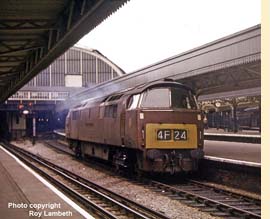 When the BTC abandoned the pilot scheme plan in 1959, the changeover from steam to diesels escalated and several orders were placed with manufacturers for diesel-hydraulic traction before the new designs had been fully evaluated in service conditions.
As a consequence, forty five 'Hymek' B-B Type 3 diesel-hydraulics were ordered from the Beyer Peacock Works at Gorton without a single prototype ever being constructed. The same happened with the 'Western' class C-C when the BTC ordered no fewer than 74 in October 1959, whereas the first three members of the 'Warship' class, albeit a belated addition to the pilot scheme orders, was introduced to traffic in 1958, the first - No D800 Sir Brian Robertson being delivered to the WR in July.

(Above-Inset Right) Crewe-built 'Western' D1052 Western Viceroy at Paddington in 1965. (Below) Mention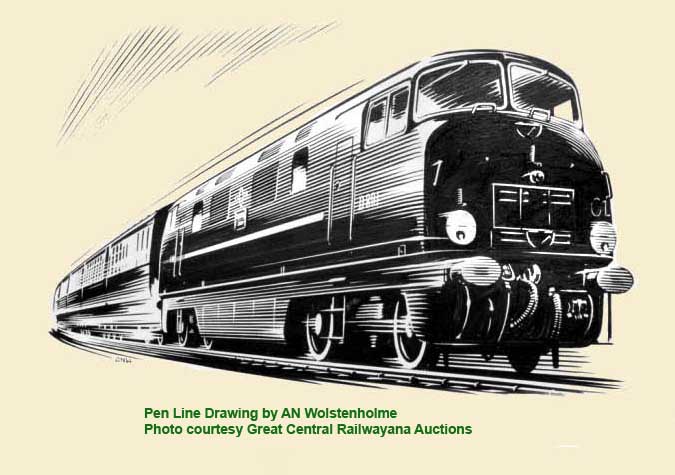 is made on this site about the superb artwork created by Arthur Nigel Wolstenholme, a freelance technical and commercial artist, who initialled his drawings tantalisingly ANW. Mister Wolstenhome is perhaps most famous for producing crisp, high quality illustrations of steam and diesel locomotives for the covers of Ian Allan's famous abc Locospotter Books. This original pen and ink drawing of Warship Class diesel hydraulic D801 Vanguard was produced for the BR(W) publicity department. The image measures 8" x 5½" and went under the hammer at a recent Great Central Railwayana Auction.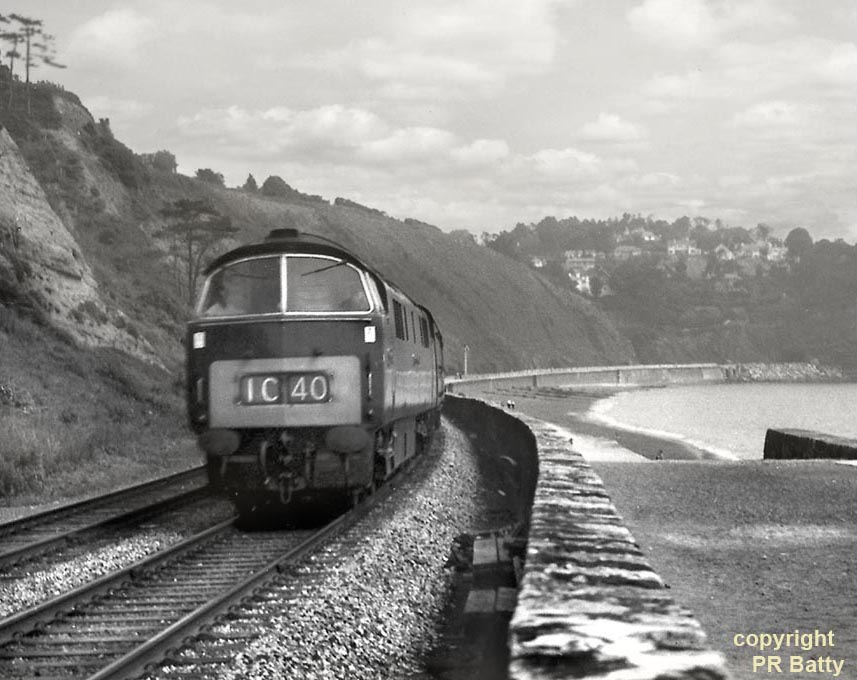 (Below) Swindon-built D810 Cockade was photographed at Plymouth and shows the clumsy arrangement of the original headcode discs (a legacy of steam days) which didn't sit at all well on the bulbous nose of the D800 class. A new four digit route indicator panel replaced the original discs and number board frames form D813 onwards and these were retro-fitted to D800-D812 at a later date. Although Nos D803-D812 could only work in multiple unit with each other, Nos D803-D870 were eventually fitted with the 'White Diamond' multiple unit coding which enabled them to work in common with the North British D6306-D6357 series B-B Type 2s. The initial specification of Spanner train heating boilers was also changed to Stone-Vapor)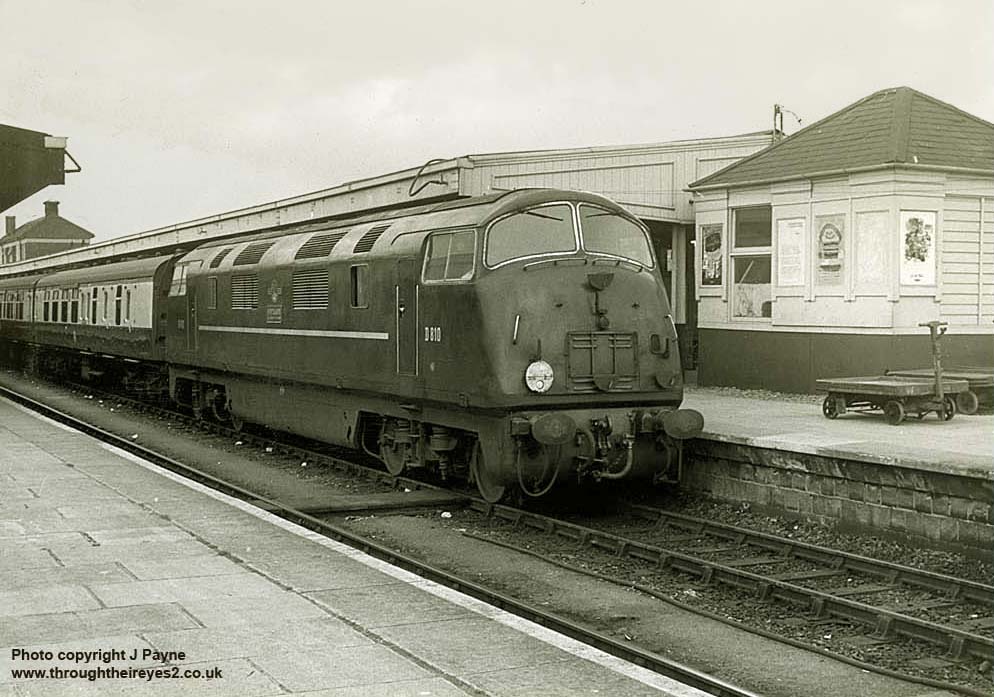 As the saying goes, you're never too old to learn, and my knowledge of WR diesel-hydrauilics is somewhat limited. I was recently contacted by John Gilbert, who writes - 'Reading the info about the WR diesel-hydraulics on the 'Diesels BR Western Region' page I've noticed a technical error. The class 42/43 and 52 wheel arrangement should be classified as 'B-B' and 'C-C' respectively. 'Bo-Bo' and 'Co-Co' is used for four or six axle bogies on diesel-electrics, where each axle has its own independent motor (which is what the 'o' designates). However, because the axles on the hydraulics were all coupled together, each axle did not have its own independent drive, hence classes 22, 35, 42 & 43 were 'B-B', and class 52 was 'C-C'. You can see this designation used on the Western Locomotive Association website...click here for link. I hope you don't think I'm nit-picking! It's a great website, and I thought you might appreciate the extra info. The mistake is quite common these days when most diesels have electric transmission and are therefore Bo-Bo and Co-Co...' On the contrary, John...I am happy to rectify the mistake. This is especially important since many visitors use the Internet as a valuable source of reference therefore it is essential to get the facts right. Any corrections suggested by visitors are encouraged.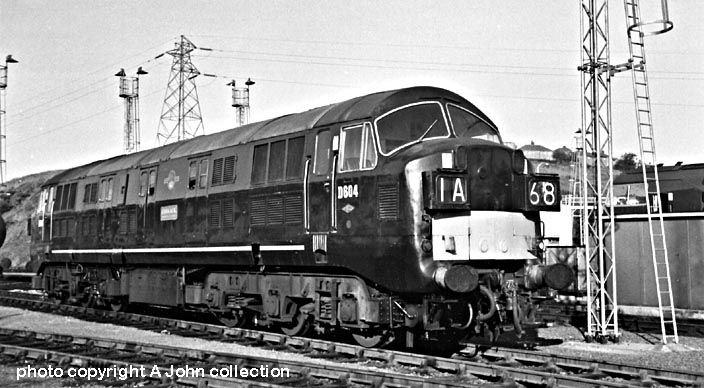 (Above-Below) The five 2,000hp A1A-A1A diesel-hydraulic locomotives Nos D600-D604 destined for the Western Region, were constructed by the North British Locomotive (NBL) works at Glasgow. The locomotives were given names of famous warships in alphabetical order: Active, Ark Royal, Bulldog, Conquest and Cossack. No D600 Active commenced revenue-earning service on 21st April 1958 working two return trips daily between Plymouth and Penzance. By 1961, the new D800-series 'Warship' class became available to the operating department, and the D600s were displaced from principal duties on the West of England main line and assigned to less demanding duties working Cornish china clay traffic. By 1966 poor availability and high running costs prevented further use of this non-standard class and Nos D600-1 were sold to Dai Woodhams of Barry whilst D602, D603-4 met their fate at Cashmore's of Newport. Sporting the standard BR green livery with a blue/grey stripe running the length of the body between the cabs, No D604 Cossak looks in fine fettle at Plymouth Laira depot. (Below) Type 4 Diesel Hydraulic 'Warship' D600 'Active' languishes in Dai Woodham's scrapyard at Barry where she spent the last ten years of her life. One of five of the class introduced to the Western Region in 1958, they unfortunately suffered transmission problems from the start and all five were withdrawn by the end of 1967. Other names of the five locomotives were D601 'Ark Royal', D602 'Bulldog', D603 'Conquest' and D604 'Cossack'.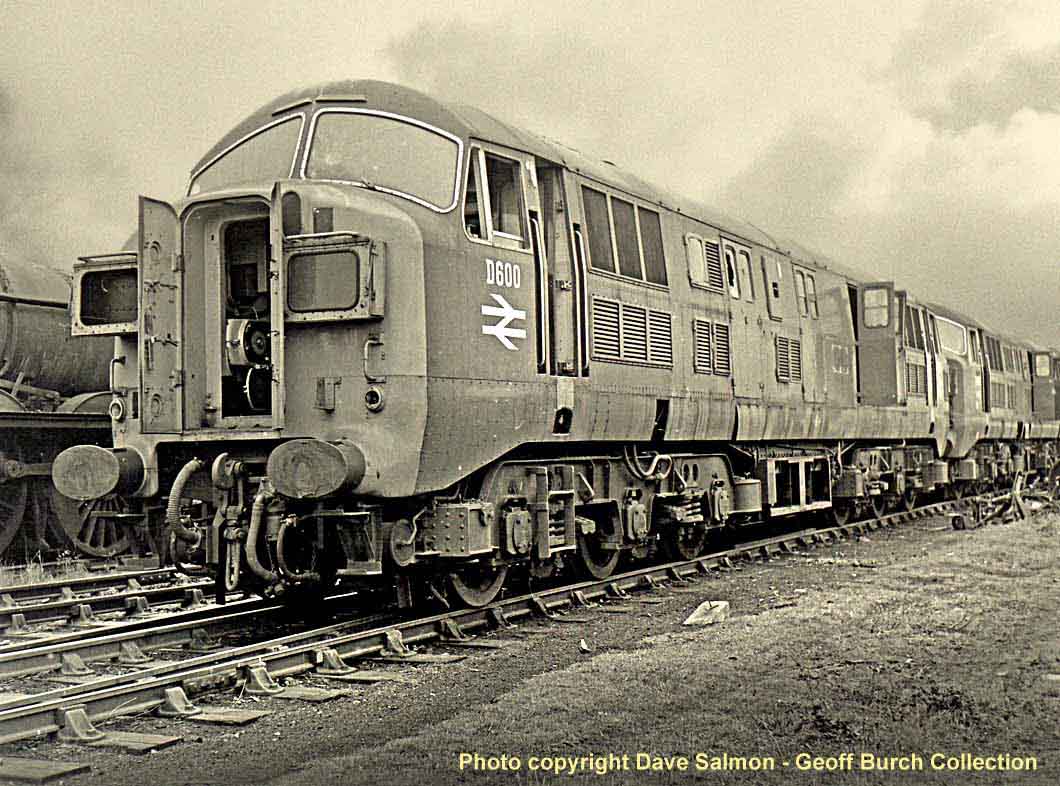 (Below) Swindon-built D806 Cumbrian, introduced to traffic on 3rd June 1959, was photographed at Exeter in 1960. I am aware that modellers use the Internet as a source of reference, and so there is a blown-up shot of D810 Cockade at Plymouth (inset) which shows the clumsy arrangement of the original headcode discs (a legacy of steam days) which didn't sit at all well on the bulbous nose of the D800 class. A new four digit route indicator panel replaced the original discs and number board frames form D813 onwards and these were retro-fitted to D800-D812 at a later date - click here to see D806 Cambrian at Paddington with the revised headcode panel displaying an incomprehensible configuration of digits; this was one of the reasons headcode display boxes were disbanded some years later. Although Nos D803-D812 could only work in multiple unit with each other, Nos D803-D870 were eventually fitted with the 'White Diamond' multiple unit coding which enabled them to work in common with the North British D6306-D6357 series B-B Type 2s. The initial specification of Spanner train heating boilers was also changed to Stone-Vapor.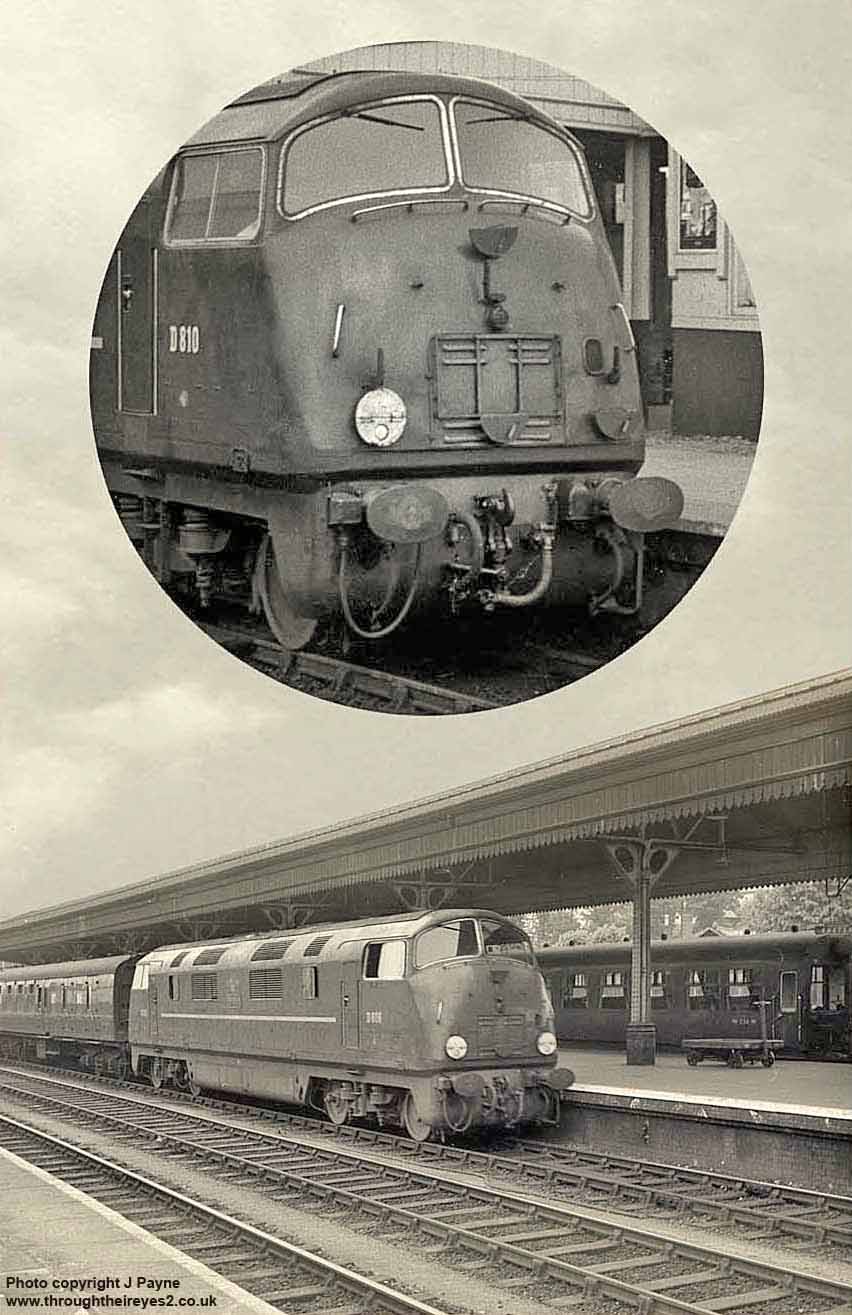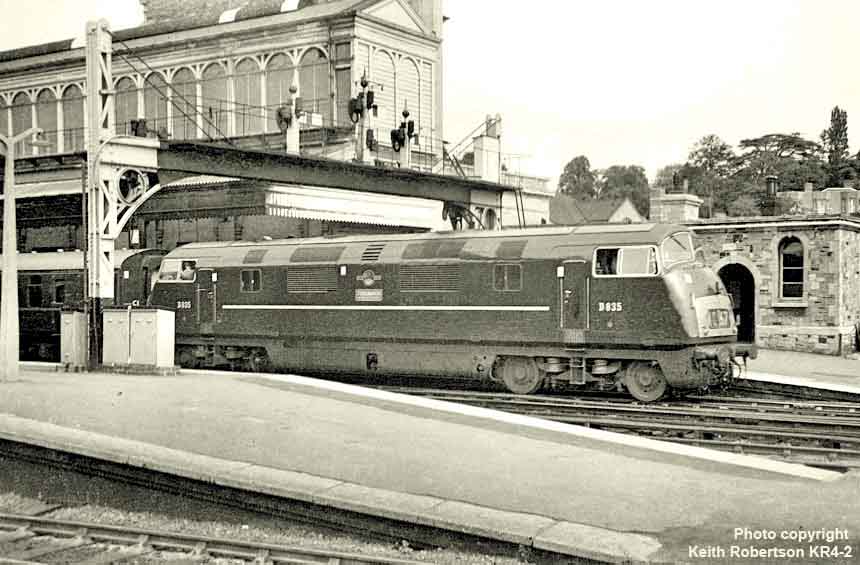 (Above) The D800 'Warship' class was also to be seen with three varieties of wheel design - plain (solid), two-holed and four-holed - the latter seen in this shot of NBL-built D835 Pegasus awaiting departure from Exeter St David's with a westbound train.
The administrators of the Western Region management team of British Railways wasted no time in railing against the rules and regulations imposed by the higher echelons of BR's overall management. The WR retained its old GWR locomotive numbers whereas the other Regions pre-fixed theirs. Then there was the WR's choice of chocolate and cream livery for its coaching stock, its dalliance with gas turbine locomotives and the decision to operate diesel-hydraulic traction instead of diesel-electric, and even the house colours for its mainline diesel fleet was different…it's almost as if the WR was doggedly determined to do things differently from everyone else!
In January 1955, the British Transport Commission (BTC) announced its Modernisation Plan for Britain's railways, the basis of which was to get rid of its indigenous collection of former 'Big Four' steam locos (absorbed into British Railways stock in 1948) and replace them with a fleet of brand-new diesel and electric locomotives. In January 1956 the BTC accepted the Western Region's proposal to build three pilot-scheme Type 4 diesel-hydraulic B-B 'Warship' class locomotives Nos D800-2. The Western Region had negotiated a licence with German manufacturers to scale down the German Federal Railway's 'V200' design in order to suit the smaller loading gauge of the British network. In February 1957, even before the first of the trio was built, Swindon received a further order for thirty 'Warships' Nos D803-D832, equipped with the Maybach engines uprated to 1,135bhp, all except for D830 which was fitted with Paxman 12YJX engines rated at 1,135bhp.
However, such was the BTC's haste to eliminate steam, that even before the doyen of the class No D800 had entered revenue-earning traffic, a further order for 33 'Warships' was awarded to the North British Locomotive company (NBL) in Glasgow in July 1958. These were numbered D833-65 in the fleet and equipped with the same MAN L12V18/21B engines of 1,100bhp and Voith transmissions as fitted in the earlier D6300 class.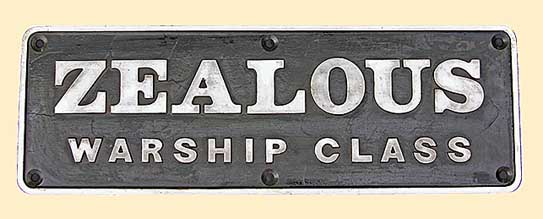 (Above) The 'Warship' class locomotives were named in alphabetical order from the first of the production batch No D803 Albion to the final member of the class D865 Zenith, but in April 1959 Swindon received a final order for an additional five locomotives Nos D866-70, hence it was necessary to search for an additional five warship names beginning with the letter 'Z'. To solve the problem Nos D864/5 had their names changed to maintain the alphabetical order.
All members of the class were delivered new sporting BR's obligatory standard green locomotive livery, with red buffer beams, grey roofs and black bogies and an additional white stripe at waist height along the body sides. By the mid-1960s, however, despite BR's strict policy on a livery scheme, the Western Region decided upon maroon as its new house colour for mainline diesel locomotives. The nameplates originally had red backgrounds but these were changed to black with the introduction of BR's overall blue livery. However, the lettering was still the same traditional Swindon 'Egyptian slab-serif' lettering as requested by WR management …pushy lot, weren't they! Good for them I say! The quirky individualism that existed before to BR's dull Corporate Identity Scheme was is what makes this hobby so interesting.
(Below) NBL-built D836 Powerful arrives at Exeter with the 1E70 (not sure of the working) and finally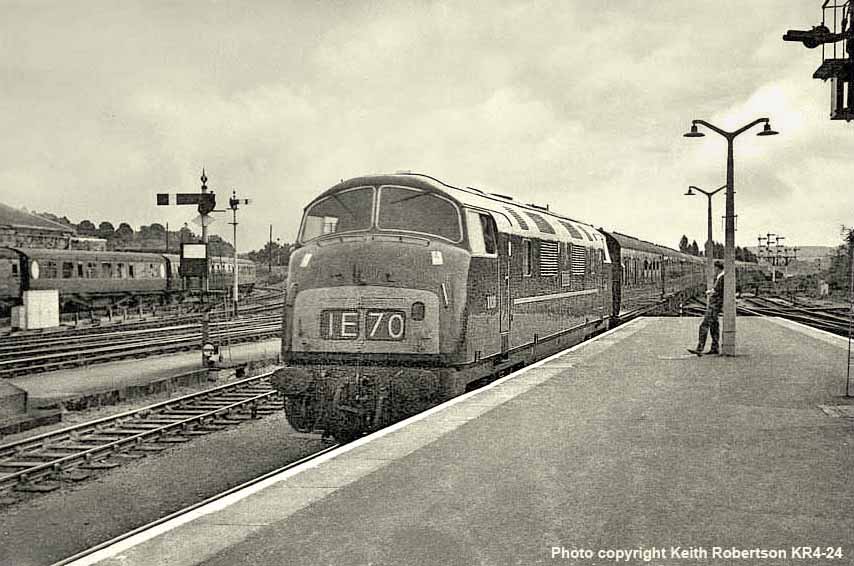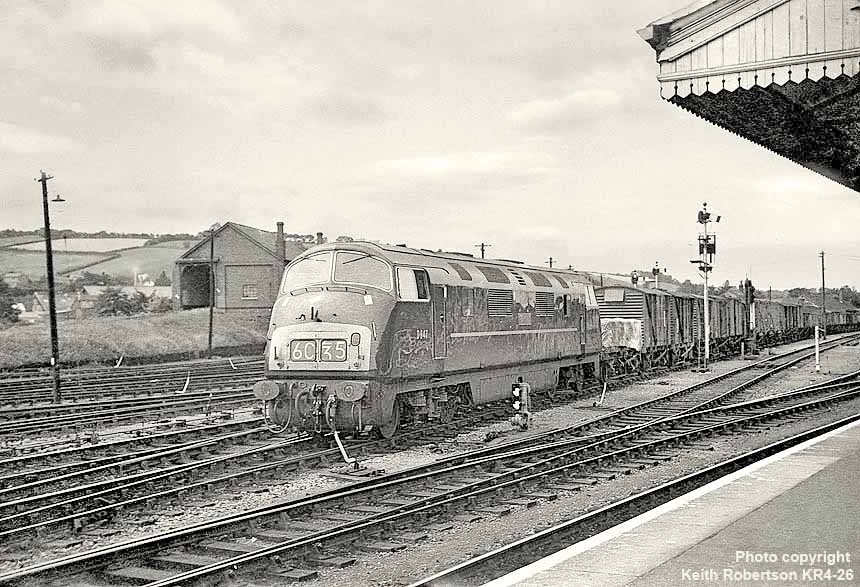 (Above) D847 Strongbow gets the right away from Exeter yard with a mixed freight.
(Below) Ed Chaplin advised me that this shot of D800 Sir Brian Robertson at Newton Abbot - displaying the numerals 962 in its number board frame - is the up 12 noon Penzance-Crewe, known by railwaymen as the North Mail; its leading carriages were TPO coaches equipped with en-route mail pickup facilities.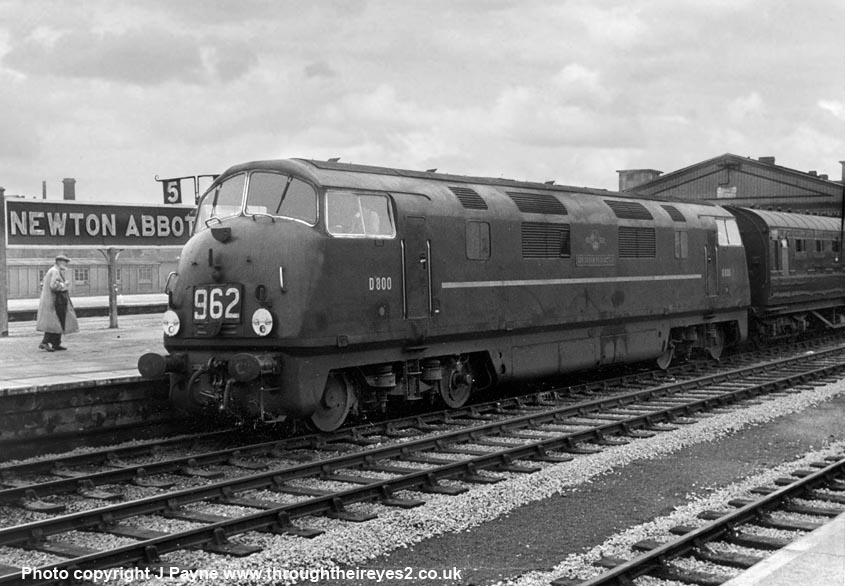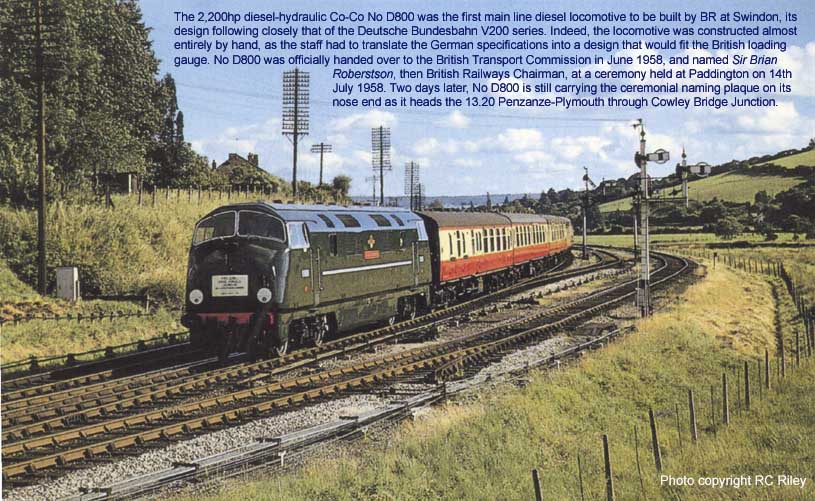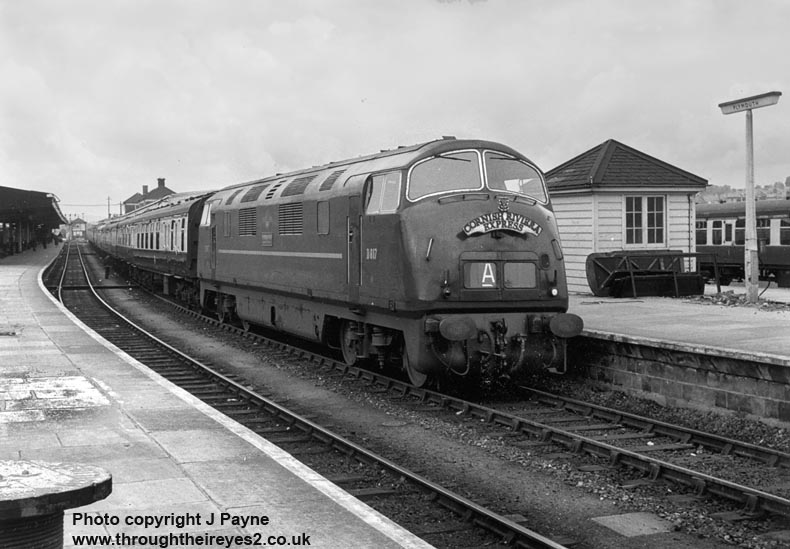 (Above-Below) The new 'Warship' class was an innovative design inspired by the Deutsche Bundesbahn V200 series incorporating the use of a stressed skin construction which enabled a high power/weight ratio to be achieved. The first 33 locomotives (and final five) were built at Swindon, whereas Nos D833-D865 were constructed by the North British Locomotive Company, Glasgow. Here Swindon-built D817 Foxhunter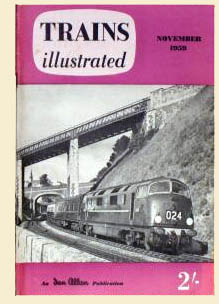 awaits departure from Plymouth with the 'Cornish Riviera Express'. In 1961, British Railways abandoned the aged 'disc' display system (a legacy of steam days) in favour of a new four-character letter and numeral headcode display. The train classification, destination and identification system was introduced to assist signalmen in identifying trains. The headcodes consisted of a four-character display; the first numeral identifying the class of train, followed by a letter indicating the destination, whilst the next two digits represented the train reporting number. For example, a headcode display starting with a '1' denoted an express passenger train and, until the system came fully into operation, locomotives were often seen with the first numeral showing only, or in this case the letter 'A' is displayed. (Below) The newly-built NBL Company's Type 4 diesel-hydraulic 'Warships' destined for the Western Region ran via the WCML from the company's Glasgow works. Here, diesel-hydraulic B-B Warship No D855 Triumph heads through Wigan with NBL diesel-hydraulic No D6324 in tow...incidentally this photo has been greatly reduced in size. Photo © JR Carter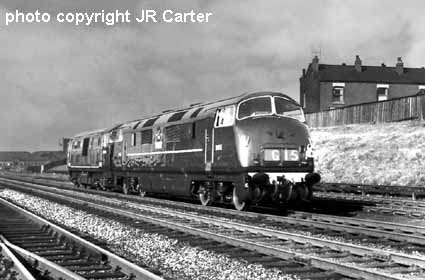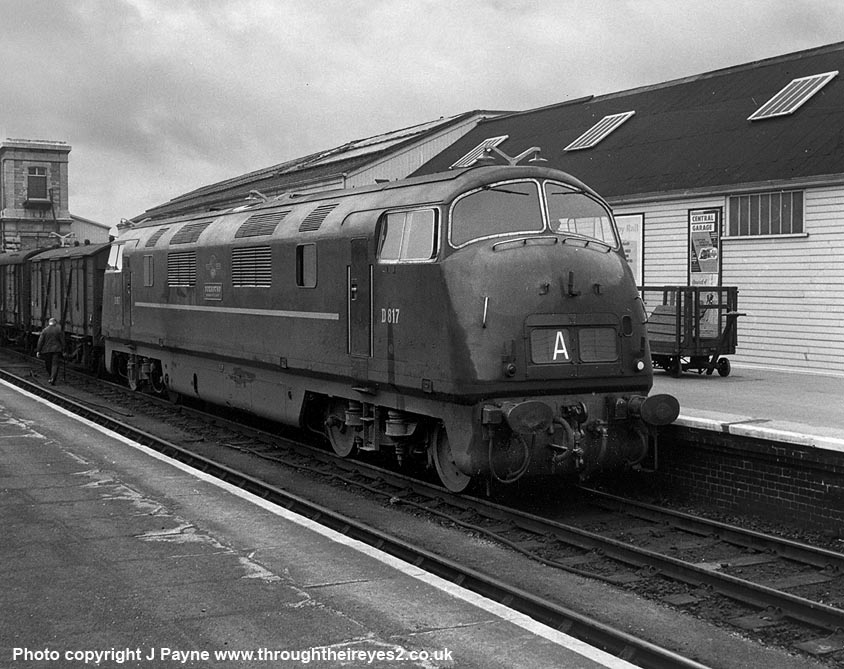 (Above-Below) D817 Foxhunter again, this time on quite different duties at Exeter in 1960; it sums up the mixed traffic capabilities of the new diesel fleet. The NBL batch of Class 43 'Warships' differed from their Swindon-built Maybach-powered Class 42 cousins in having the NBL/MAN engine and Voith transmission as used in the earlier D600 series. The entire 'Warship' class was named after Royal Navy ships in strict alphabetical order, the NBL batch carrying names beginning with the letters 'P' to 'Z' - D833 Panther to D865 Zenith, while the last in the fleet, No D870, a Swindon-built machine, was named Zulu. (Below) Here No D841 Roebuck stands in the yard at Swindon following a general overhaul in May 1965.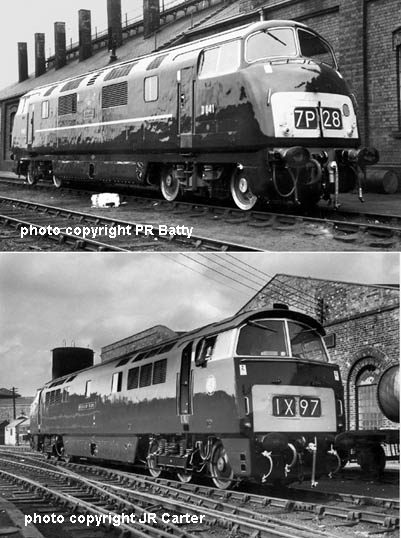 (Above-Below) Outside Crewe Works paintshop 'Western' class No D1072 Western Glory is positively gleaming in its smart maroon livery. (Below) In 1959, BR abandoned the pilot scheme orders, therefore the 'Western' class was introduced without the benefit of full prototype trials, yet no fewer than 74 locomotives were ordered - 35 to be built at Swindon and 39 at Crewe, but as it turned out, Crewe also constructed the last five of Swindon's allocation. Still in workshop primer, 'Westerns' Nos D1055 Western Advocate and D1056 Western Sultan are shunted into the paintshop yard at Crewe by Class 3F No 47597.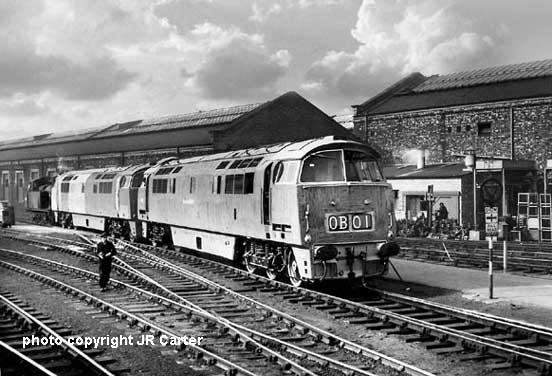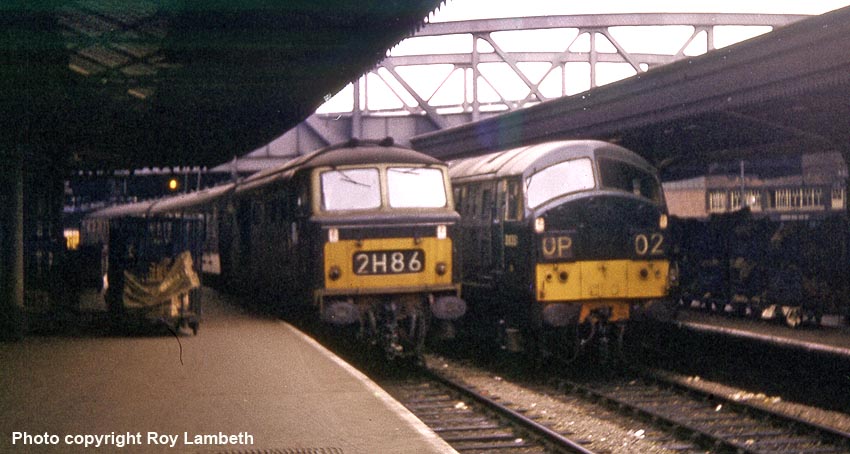 (Above-Below) 'Hymek' B-B D7085 and NB B-B Type 2 D6351 side by side at Paddington in 1965. (Below) The BR Brunswick green livery and bodyside stripe show up well in this shot of 'Warship' class No D851 Temeraire heading a WR train out of Crewe in July 1962.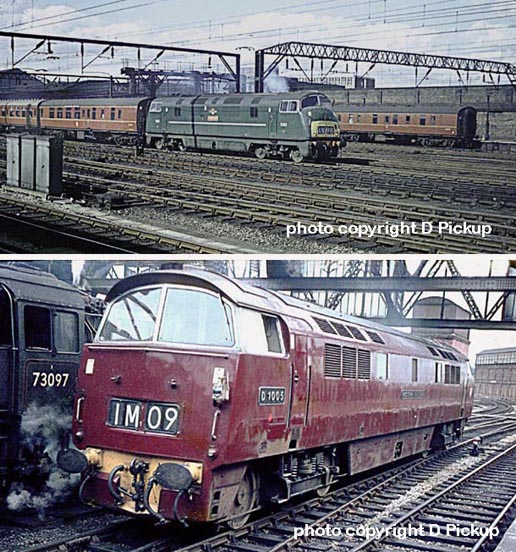 (Above) Before the British Rail Board imposed its dull overall blue livery on locomotives, the stylish Westerns appeared in shades of green, chromatic blue, golden ochre and maroon. The class was designed by Swindon to fulfil the WR operating department's need for a more powerful Type 4 than the lightweight 2,200hp B-B D800 'Warships' which struggled with the heavier WR trains and required assistance over the south Devon banks of Dainton, Hemmerdon and Rattery between Newton Abbott and Plymouth. At 2,700hp, the C-C Westerns were powerful enough to handle the heaviest trains single-handed throughout. Here, No D1005 Western Venturer is seen at Shrewsbury in July 1962. The locomotive was allocated to Laira depot (83D) on June 18th that same year, and survived in traffic until November 16th 1976.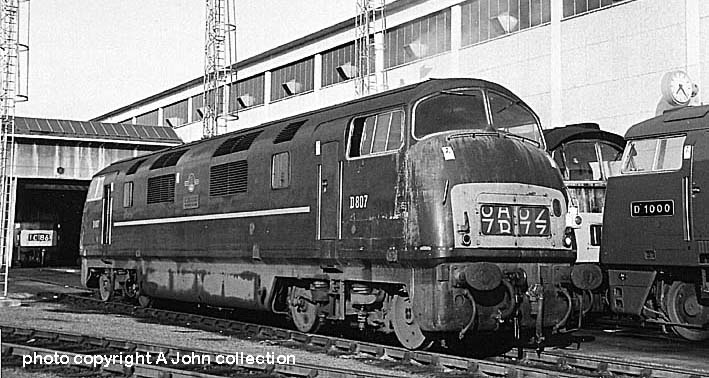 (Above) The second BR emblem (1956-1967) had the British lion rising from a crown holding a driving wheel in its front paws, and was used on steam locomotive tender sides and the new diesel locomotive fleet. A variation of the British Lion and crown totem was cast in polished aluminum for the WR's prototype 'Western' class No D1000 Western Enterprise, which is seen here in the company of diesel-hydraulic 'Warship' class D807 Caradoc at Plymouth Laira. We are now in the post-1961 BR period, after the British Rail Board (BRB) was formed, and the diesel fleet has acquired the obligatory yellow warning panel on the nose end (as stipulated by the BRB's Accident Prevention Service) though the effectiveness of the panels are somewhat marred by the centre position of the four-character headcode panels on the nose end which restricted their size.
(Below) Following the hasty abandonment of the pilot scheme, in which large orders had been placed for predominantly Type 2 diesel locomotives of between 1,000 and 1,365 engine horsepower, BR recognised the need for a more powerful Type 3 of around 1,750hp, which saw the beginning of the diesel-hydraulic 'Hymek' era on the Western Region and the introduction of the EE Co machines (later TOPS Class 35 and 37 respectively). The first of the Beyer-Peacock 1,700hp Type 3s was handed over to the Western Region at a ceremony held at Paddington on May 16th 1961. Here, the two-tone green livery, white cab window surround and raised metal cabside number, show up well on the doyen of the class, No D7000, whereas the sister member behind it looks in a less than clean condition at Weymouth depot.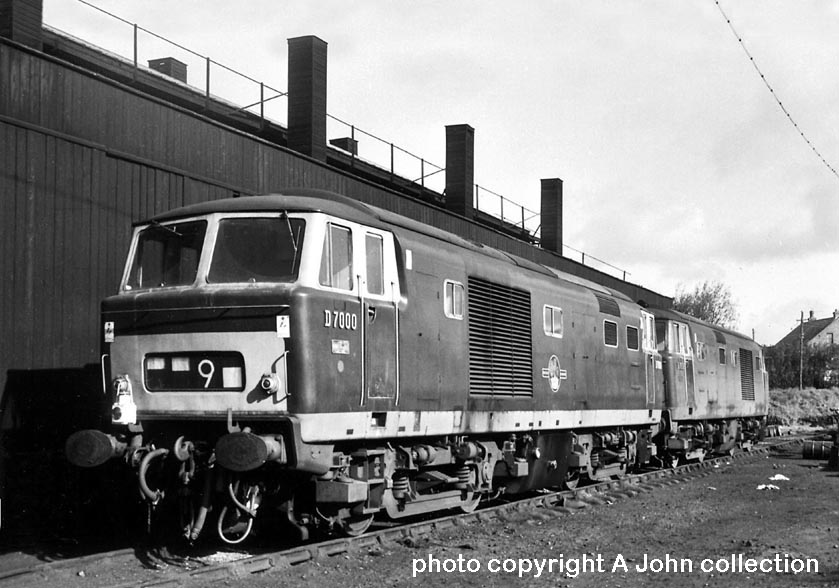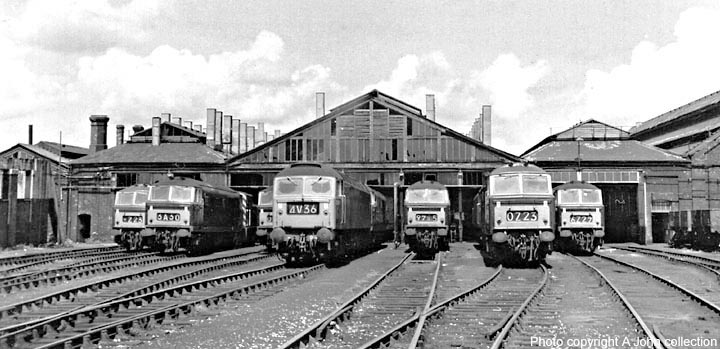 (Above) A line up of Hymeks await their next turn of duty at Swindon shed in June 1964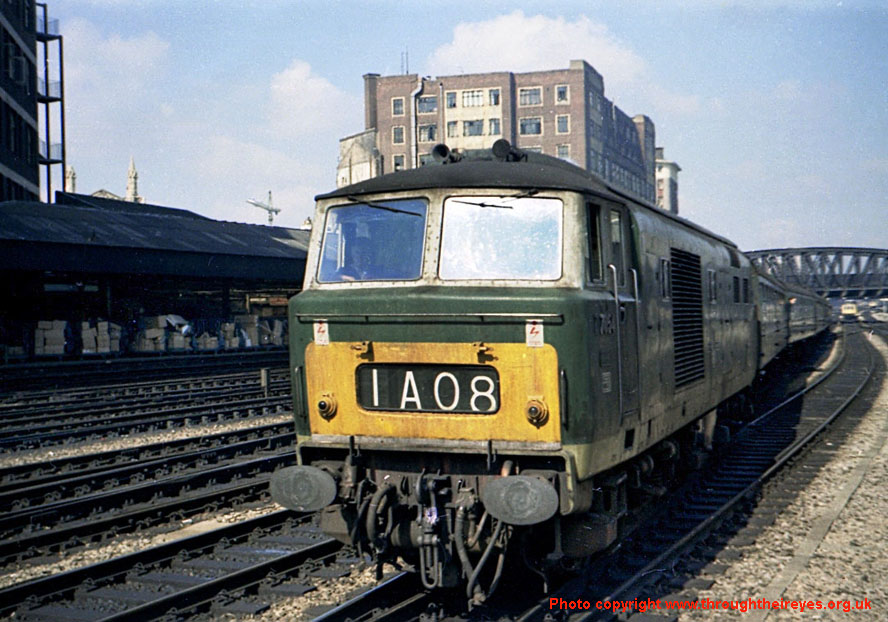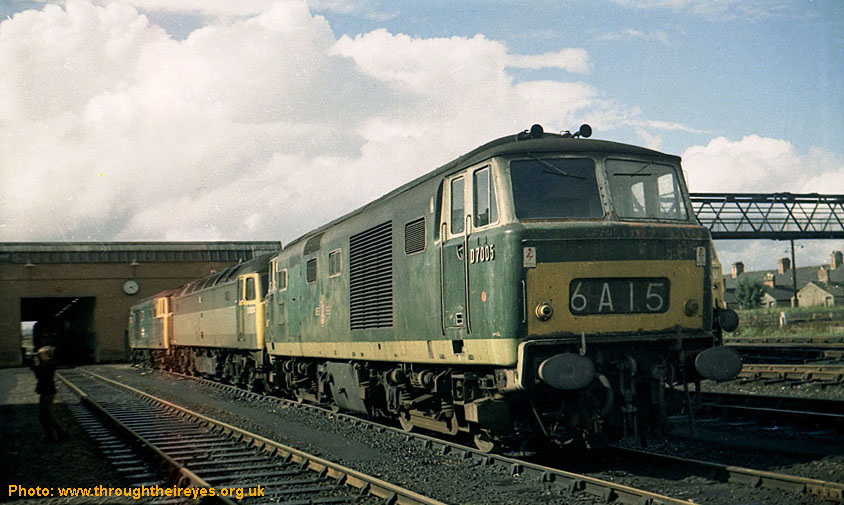 THE RAIL BLUE ERA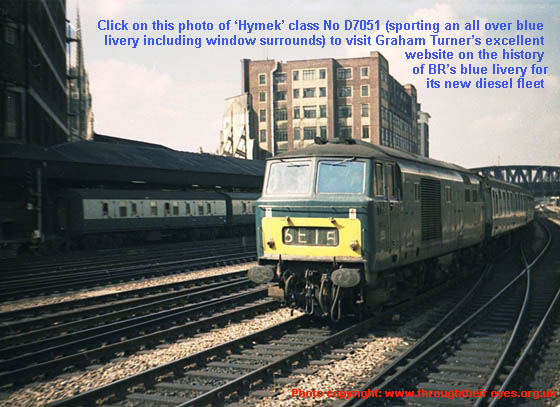 (Below) Fast-forward to BR's new Corporate Identity Scheme and D7000 has lost its pleasing two-tone livery, white window surrounds and the 'D' prefix has been painted out, yet the stylish design continues to show up well with the full yellow ends carried around the cabs at window level.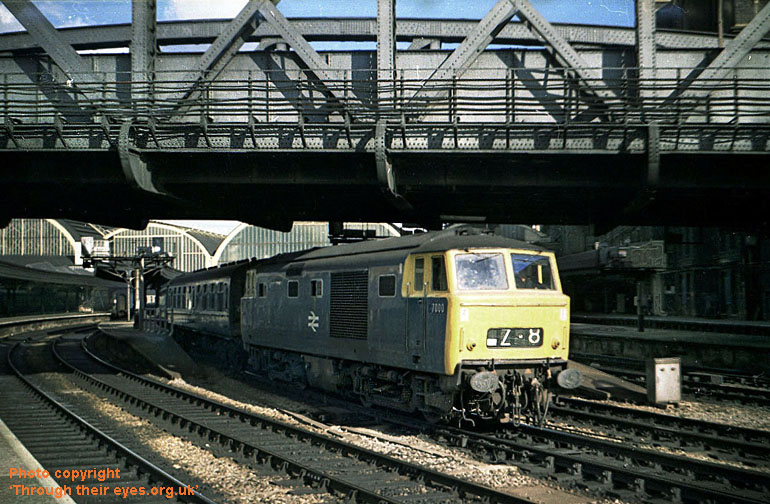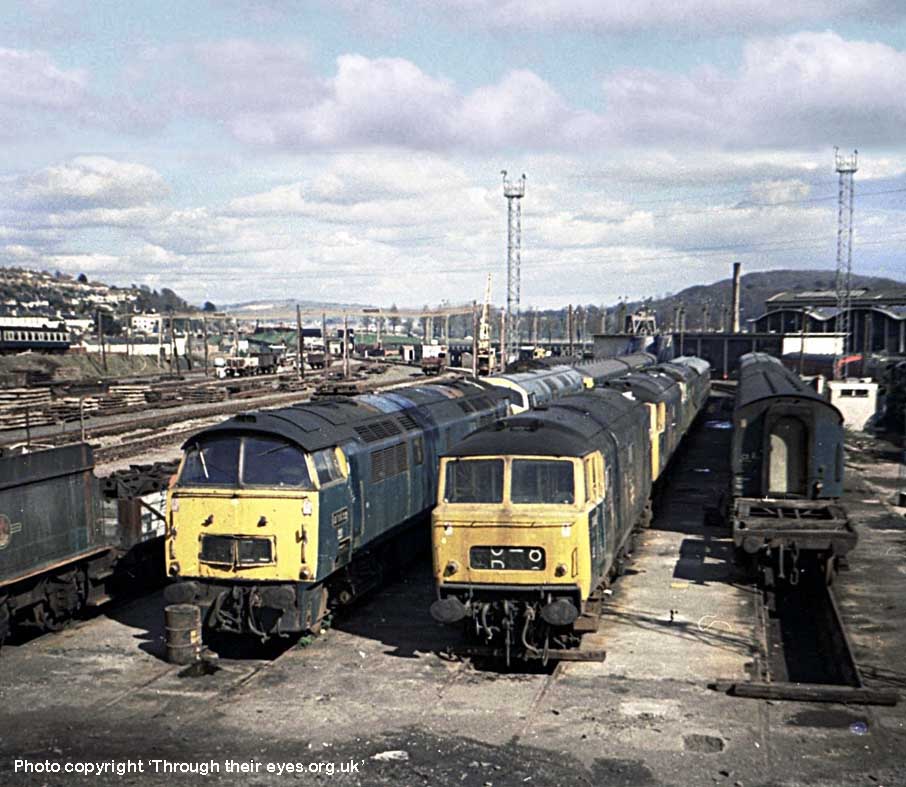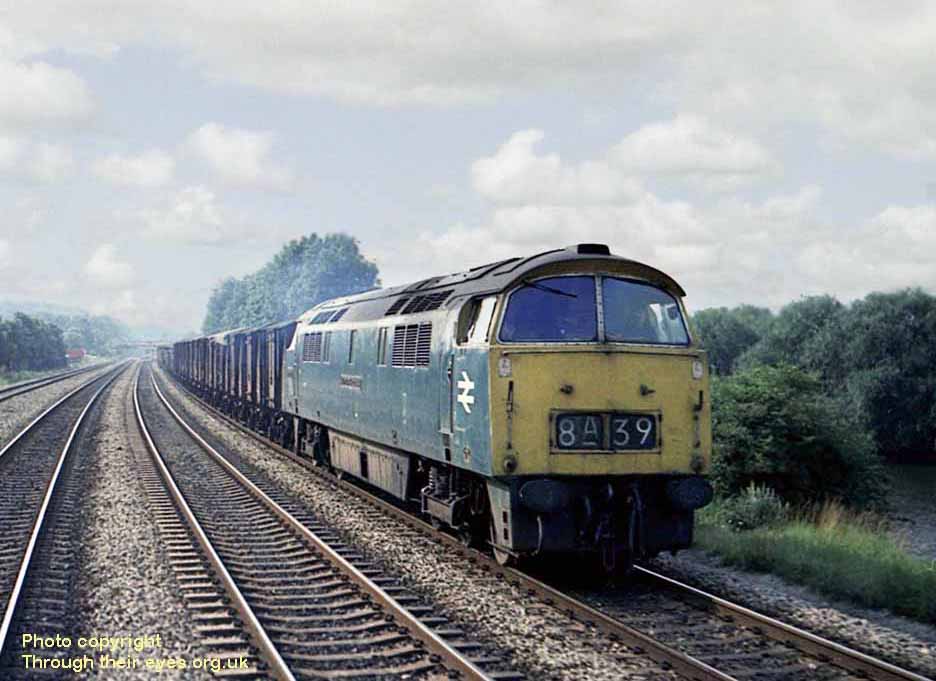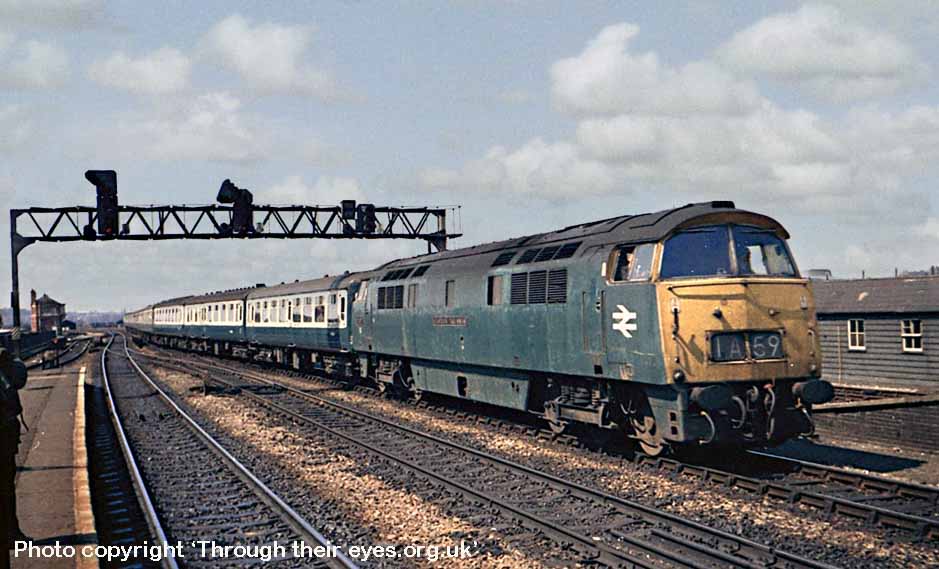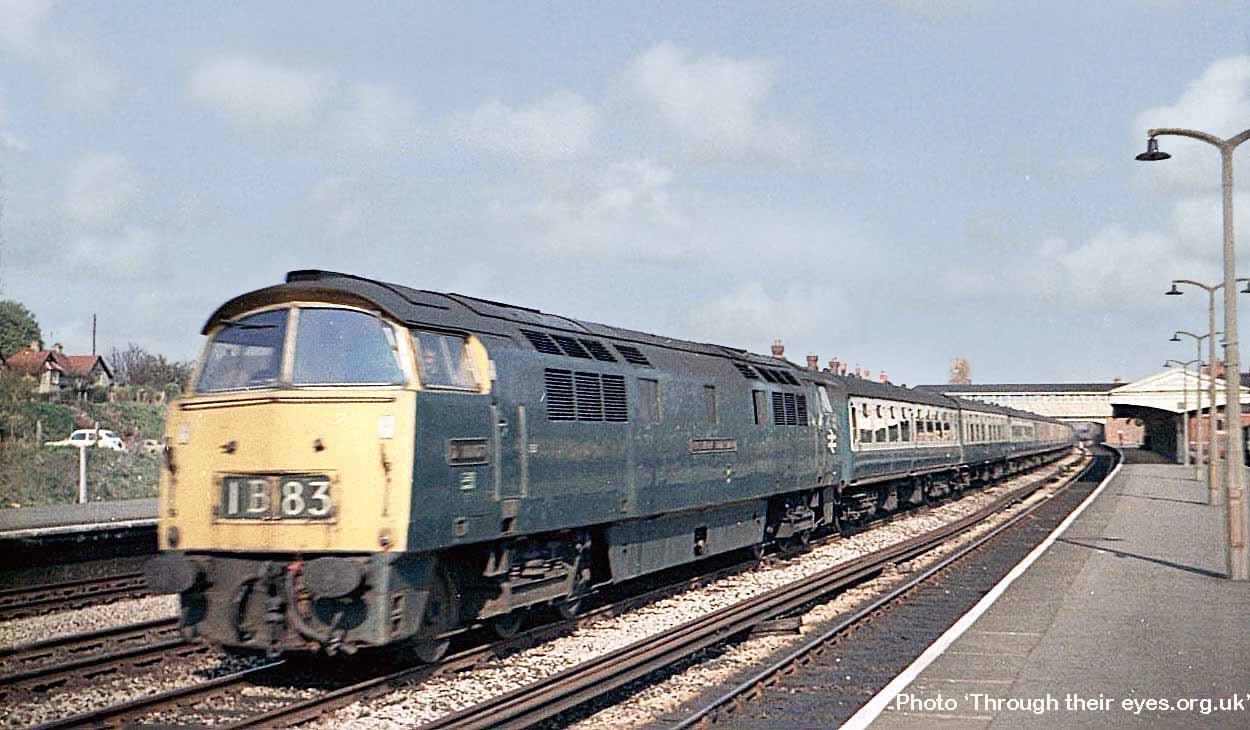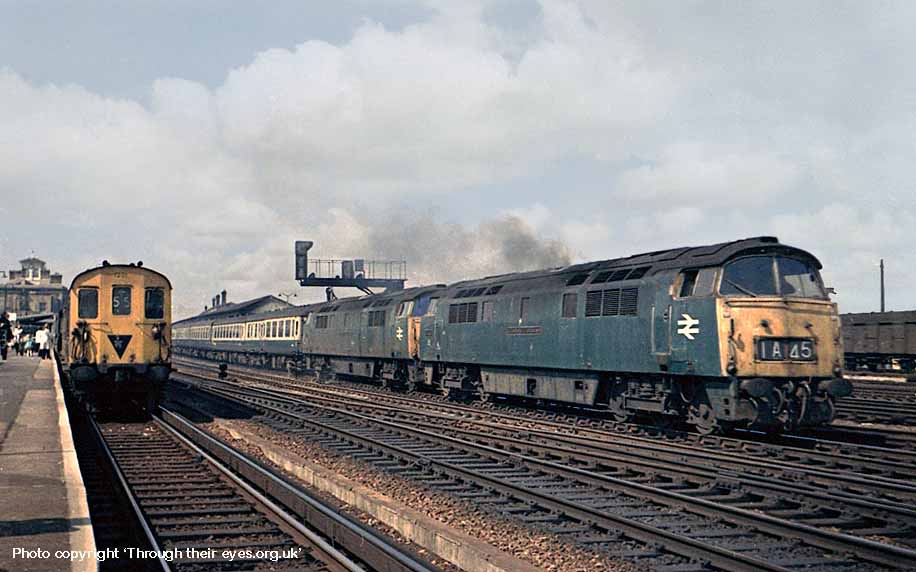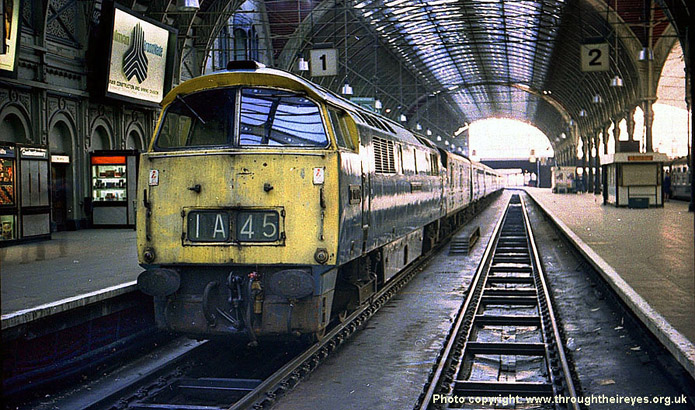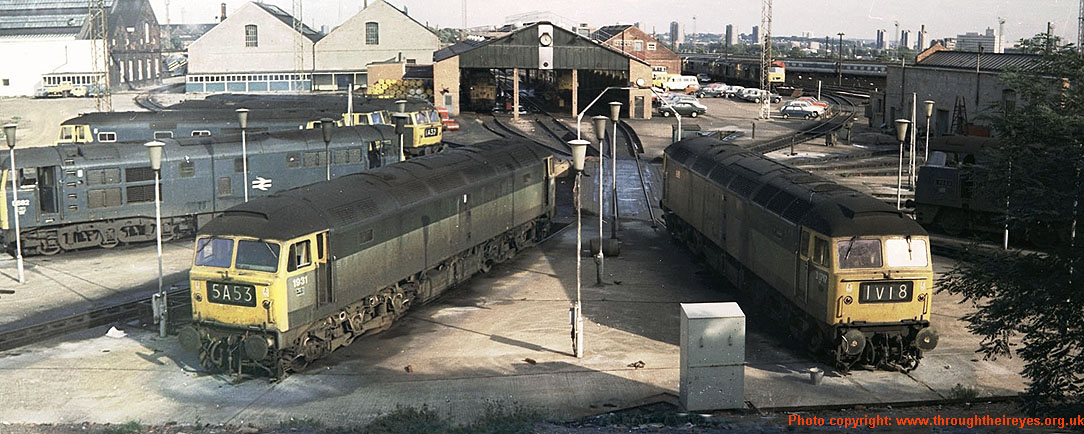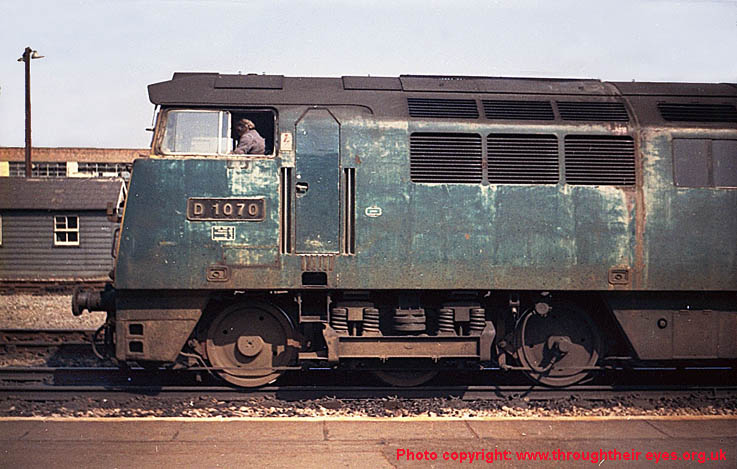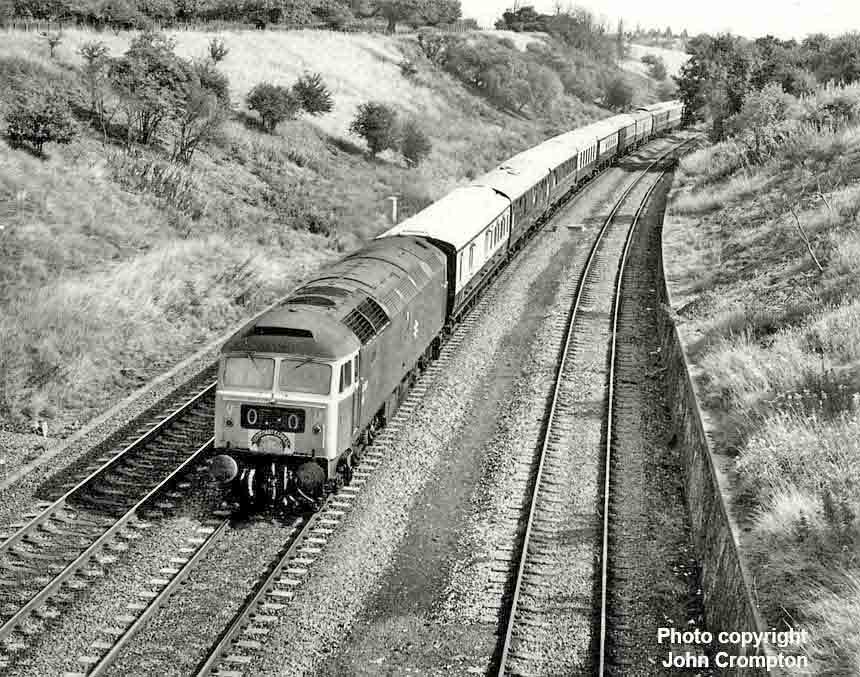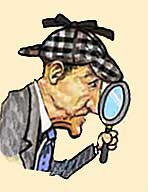 (Above) Can you help? A regular contributor to this site is John Crompton, who has sent me this photo taken sometime in the 1980s. The Class 47 is carrying a headboard 'Centenary Express' and is heading an interesting collection of historic Royal Train carriages, possibly for exhibition somewhere. It is seen here ascending Hatton Bank, North of Warwick on the former GW Main Line. If anyone knows the identity of the train and its destination it will be greatly appreciated..
My thanks to Tony Willmore from the Rhos Helvg Locomotive Works at Criccieth in North Wales - click here - who has written in to say that they are not Royal Train vehicles. The Class 47 47056 is heading the Travellers Fare 'Centenary Express' made up of various vintage restaurant cars from the NRM to mark the 100th anniversary of on-train catering. The special train ran from various locations (on various dates) during 1979 to celebrate 100 years of on-train catering in Britain. Some timings and route details can be found on Six Bells Junction website...Thanks Tony.

Once again, Vic Smith of York has dropped a line; he writes...
'Please allow me to correct the above revised information. Yes, the train is the Travellers Fare 'Centenary Express' but it is not being hauled by 47056, which by this time had a domino spot route indicator. This is 47203 which worked the train from London Marylebone to Shrewsbury on Saturday 15th September 1979. (note the '0 dot dot 0' route indicator).
No 47056 worked the Southampton - Havant - Guildford - Reading - Basingstoke – Southampton train on Monday 17th September 1979...'
Thanks Vic.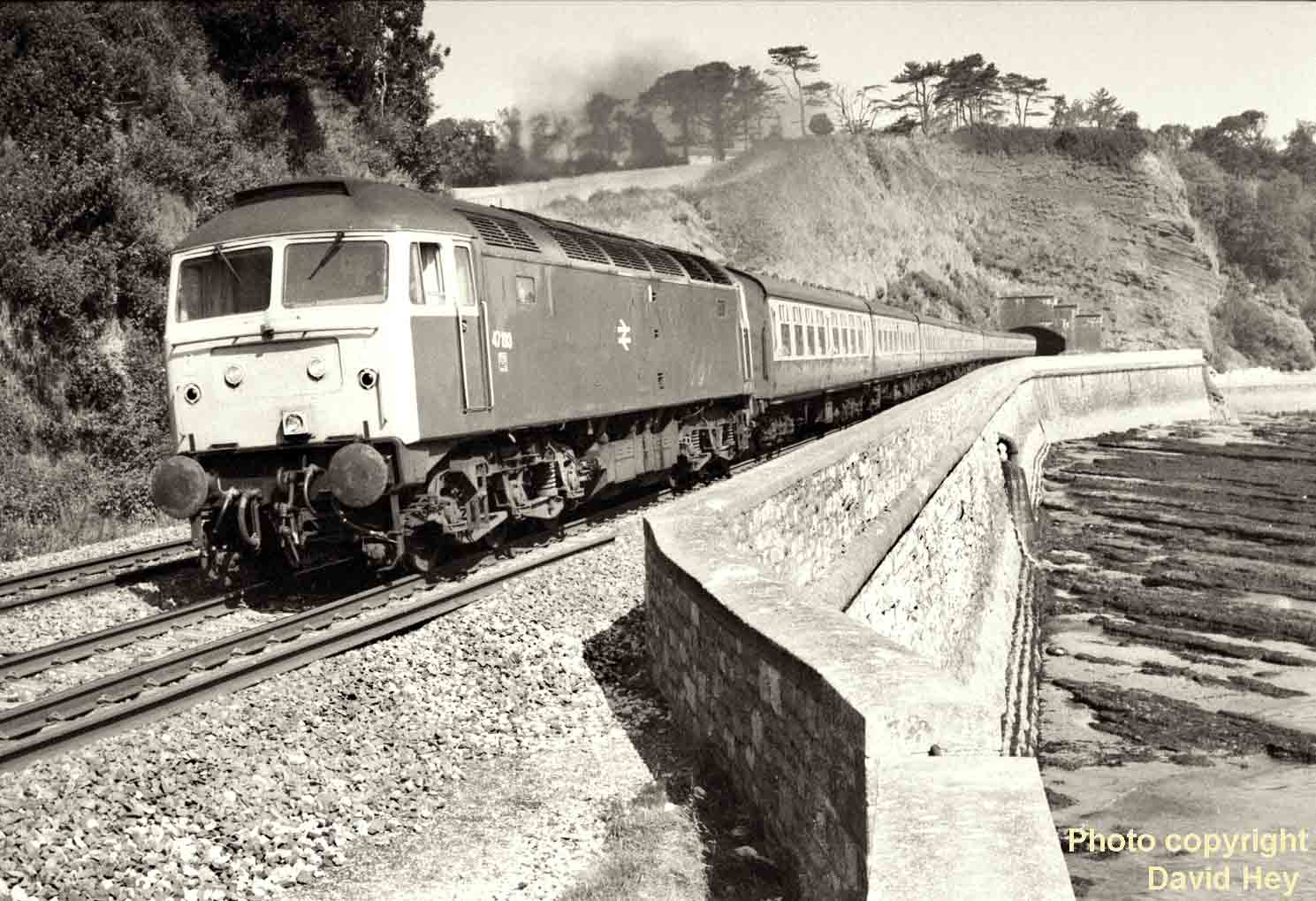 Some of the original photos featured on this page were provided by 'www.throughtheireyes2.co.uk' and are available on a several DVDs I purchased from the proprietor, Jim Payne, over the years. The high resolution scans are produced from original negatives, slides and photos. Click here for link to this interesting site. I am not affiliated in any way with the sale of DVD's.DVD.

Polite notice: All text and photographs are protected by copyright and reproduction is prohibited without the prior consent of the © owners. If you wish to discuss using the contents of this page the email address is below. Please note - this is not a 'clickable mail-to link via Outlook Express:
dheycollection@ntlworld.com