Welcome to the first page of Edward (Ed) Chaplin's 'Great Way West' (GWW) which describes the journey by train from London Paddington to Penzance in the post-WWII era; the pages will feature more than 450 photographs covering a period of BR steam operations during the Forties and Fifties.
This remarkable piece of writing is the final work of Ed Chaplin who sadly passed away at home on 21st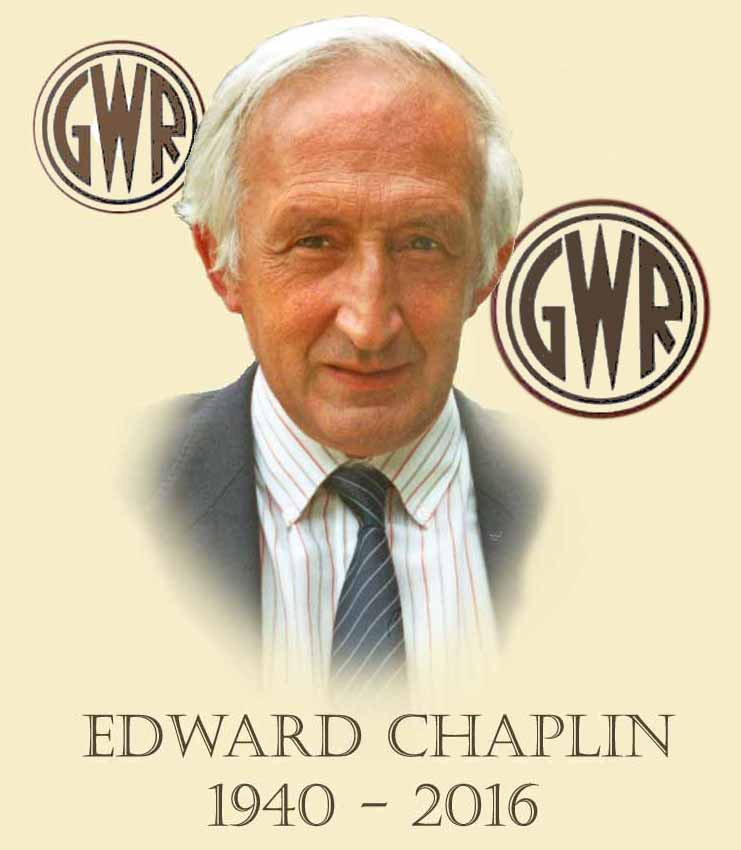 April 2016. He is survived by his wife Christina and two sons Jeremy and Robin, and Grandchildren Katie, Jonathan and Chelsea.
Born in London in 1940, Ed was just 2 years-old when his family moved to Surrey to escape the London Blitz, however he showed little interest in the Southern Railway's third-rail electric trains. His passion for all things 'Great Western' began as a small boy during family trips by steam train from Paddington to visit his grandparents in Gloucester. Like most boys he became a keen train spotter and was delighted on one trip to Gloucester in April 1951 to see a spanking new 0-6-0 pannier tank loco shunting at Swindon, but when it came to underlining the number in his Ian Allan ABC book he discovered it was not yet listed. Instead the publisher had inserted an advisory note, stating - 'engines of this class are still being delivered'. This left Ed with no option but to add 9444 in ink to the page and he could barely wait to update his next ABC when it was published in the summer.
In 1949 he became the grateful recipient of a Hornby Dublo train set consisting of a circle of track, goods wagons and a model of the LMS 0-6-2 tank engine 6917 - a hybrid of the GNER Class N2 0-6-2T. He later acquired an LMS 4-6-2 No 6231 Duchess of Atholl, followed by a BR Standard 2-6-4T No 80054, an LMS Class 8F No 48158 and 46232 Duchess of Montrose, then as new models were introduced he added more rolling stock to his collection. During the early part of the 1950s, Hornby Dublo didn't produce a specific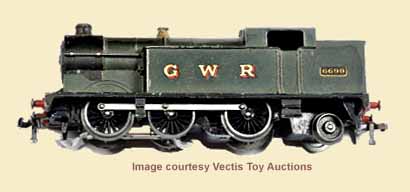 model of a Great Western loco; instead the company released yet another version of its GNR 0-6-2 tank disguised in a GWR green livery and numbered 6699, but even as a novice spotter, he knew it was a fake!
Some years later he joined the Great Western Society and regularly attended their open days. Then in 1981 he began collecting postcards of WR main line steam, many purchased from John Smith, proprietor of Lens of Sutton on Westmead Road, then a Mecca for serious students of British transport. As a teenager some years before, Ed had bought many second-hand 00 gauge items from John Smith's previous shop at 50 Carshalton Road in Sutton.
(Below) Lens of Sutton also had a fine collection of postcards for sale, including many shots taken at Paddington by the legendary Jack Craig.
This photograph of the class leader, No 6000 King George V leaving Paddington platform 4 with train 144 - 11.30am SO to Minehead on Saturday 3 July 1954 - is a great shot, with a lot of steam but clear enough to see this marvellous King. The first stop is Taunton, 142¾ miles ahead, and the train is due there at 2.10pm, where the 'King' will come off. The train will then be split into 2 portions, one each for Minehead and for Beachcomber. Both portions will be taken forward separately by branch locos. No 6000 will be turned and made ready to return on the 2.15pm SO ex-Minehead, 3.30pm ex-Taunton, due back at Paddington at 6.25pm. The engine will have run for 290 miles today, including to and from Old Oak Common. 6000 continued to give top-notch service until being withdrawn from WR service in December 1962, after clocking up a mileage of 1,910,424, since new on 29 June 1927.
Ed bought several of his prints with 'No Neg' written on the back, and many of Jack's negatives are now in the custody of Norman Preedy and Ray Hinton. Ray not only supplied Ed with a copy of Jack's 34 page list of pictures, he kindly noted the negative numbers that he and Norman had acquired and this information proved very useful.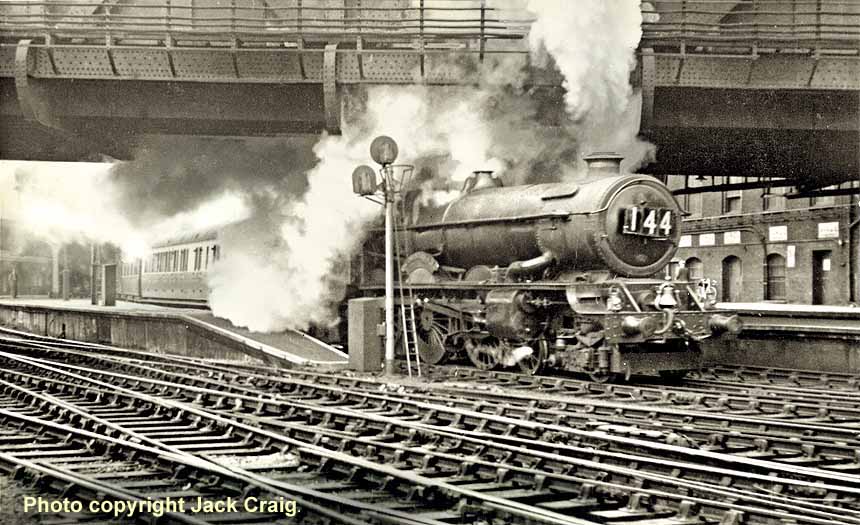 (Below) John Smith also gave Ed many of his own copies of photos, including this shot of engineers scrutinising 'Grange' class No 6865 Hopton Grange undergoing clearance tests alongside Clapham Junction's platform 16 on Easter Monday 11 April 1955. Possibly the locomotive had travelled in reverse on the West London Extension Line via Kensington and Latchmere Junction No 1 and on to SR metals at Clapham Junction. Platform 16 (the up platform) and 17 (down) were at the eastern edge of the station, and used by many freight trains on this most useful connecting line between the LM Region and the Southern. No 6865 had been a Reading (81D) engine since August 1949, but three months after this photo was taken it was moved 184 miles away to its next shed at Carmarthen.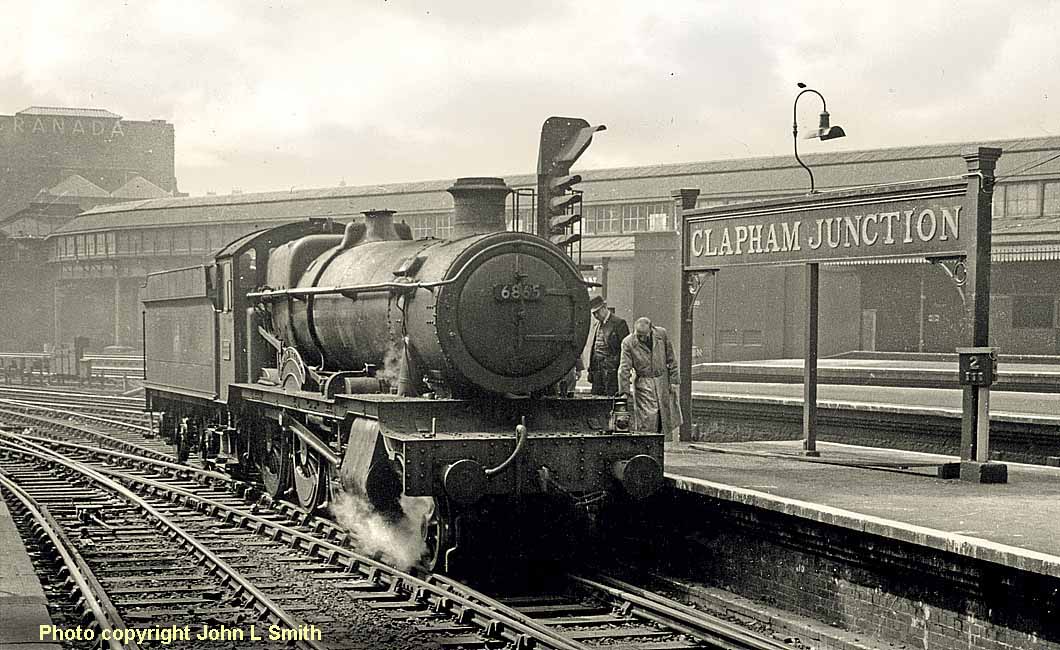 The background detail of the above photos is typical of Ed's dedication to the subject; the high level of research required to accurately caption a picture was extremely important to him. Ed very often came across a photograph with no details whatsoever on the back therefore a great deal of sleuth work was required to shed light on the subject, a process involving several knowledgeable contacts, all of which led Ed to comment - 'This is all part of the fun of this hobby of ours, isn't it?'

Indeed it is. As David Hey states in his commemoration at the top of page 23 - 'Ed's contribution to the hobby has been immense, particularly with regard to the BR Western Region; not only has he generously helped with the creation of this website, his willingness to share his in-depth studies with others was an admirable quality and many enthusiasts have dropped a line to express their appreciation.'

I couldn't agree more. Ed's exemplary attention to detail on the GWW pages is a culmination of his lifelong interest in all things 'Great Western' and a dogged determination to write a definitive article on the subject, but this led to several revisions and long delays in publishing the finished work. The upshot is Ed sadly passed away before seeing the fruits of his labour on the Internet, but I feel sure he will firmly approve of the way his GWW pages have turned out.

His epic journey by train from London Paddington to Penzance is a fitting testimony of his allegiance to the Great Western...




THE GREAT WAY WEST


by Ed Chaplin



Like all collectors of railway photographs, I have added to what I began with, by mail order, responding to adverts in the press, attending swapmeets and fairs etc. Again, like all collectors you find you've bought something with no data on the reverse, sometimes with wrong data, even today in 2016 you can find books published with wrong information as to loco, date and whether going Up or Down. I have also made contact by letter with many kind knowledgeable people who have shared their knowledge with me, and encouraged me in every way to learn more about the Great Western Railway. In this project here my main focus is on the last 20 years of steam. Numerous fine books have been published on the history of The Company; I only mention such things in this project when describing in a caption to venture into historical detail, otherwise I try to focus on the picture.


Main Sources



Much of the data in the GWW is checked with these valuable sources, given in alphabetic order. Also from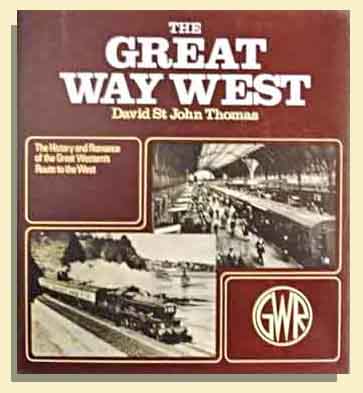 information and detail given to me in letters and verbally from GWR enthusiasts. Each book contains the results of enormous research by authors and makes for wonderful reading. I cannot praise too highly the time and effort each author and their colleagues have put in to producing them. Each book has much information accompanied by well-chosen photographs. Publication year of my copy is given where printed in the book; when it is unknown I show 'uk'.

Atlas of the GWR 1947, by RA Cooke, revised edition 1997, Wild Swan Publications.

The Book of the Castle 4-6-0s by Ian Sixsmith, 2nd edition 2014, Irwell Press.

The Book of the Grange 4-6-0s by Ian Sixsmith, 2014, Irwell Press.

British Express Trains No.1 Western Region, by Cecil J Allen, 1960, Ian Allan

BR Main Line Gradients, the Age of Steam, 1966, Ian Allan

Cornish Riviera Express, from the footplate, by Stephen Austin, 1997, Ian Allan

Cornish Riviera Express, a view from the past, by Stephen Austin, 2000, Ian Allan

The Day of the Holiday Express by Richard Woodley, 1996, Ian Allan.

Devonian, From the Footplate, by Stephen Austin, 1994, Ian Allan

The District Controller's View, Plymouth - Penzance, by A Walnutt-Read, uk, Xpress Publishing.

Gone With Regret by George Behrend, 1969, Neville Spearman.

The Great Way West by D St. John Thomas, 1975, David & Charles

The Great Western Railway, A New History, Frank Booker, 1977, David & Charles

The GWR in East, Mid, and West Cornwall (3 separate books, 1988 to 1990) by Alan Bennett, Runpast

Great Western Albums Nos. 1 & 2, 1966 & 1970, by RC Riley, Ian Allan

Great Western Steam in the West Country by Mike Arlett & David Lockett, 1990, OPC

GWR Junction Stations by Adrian Vaughan, 1988, Ian Allan

Locomotive Practice and Performance, Vol. 1, by OS Nock, 1989, Patrick Stephens Ltd

Main Lines to the West by Simon Rocksborough Smith, 1981, Ian Allan

The Power of the Counties, L Waters, 2006, OPC

Taunton Steam, Colin G Maggs; 1991, Millstream Books

Operation Torbay, by WS Becket, uk, Xpress Publishing
Peto's Register of GWR Locomotives, Vol. 1, King 4-6-0s, (1995) and Vol. 2, Manors 4-6-0s (1996) edited by Martin Smith, Irwell Press
Plymouth Steam, 1954 - 1963, by Ian H Lane, 1984, Ian Allan
A Royal Branch Line, by CR Potts, uk, Oakwood Press
Summer Saturdays in the West, by David St. John Thomas & Simon Rocksborough Smith, 1973, David & Charles
The Story of the Westbury to Weymouth line by Derek Phillips, 1994, OPC
Taunton Steam by Colin G Maggs, 1991, Millstream Books
Titled trains of the Western, by Cecil J Allen, 1974, Ian Allan
Through the window, the GWR from Paddington to Penzance, 1924; Oldhouse Books
West from Paddington, by Stuart Cole, 2007, Etica Press
West of England Resignalling, by Adrian Vaughan, 1987, Railway World Special, Ian Allan
Many ABC locoshed and other small size books, invaluable to the enthusiast, Ian Allan
Many 'What Happened to Steam' books, produced by Peter Hands
Many in the BR Past and Present series, covering the West Country, P&P Publishing
Many Middleton Press books, which cover the route on a section basis.



In addition to the books listed are those mainly devoted to wonderful photographs: many by Dick Blenkinsop, countless others (now in random order) by Kenneth Leech, Mike Arlett, Ivo Peters, Gordon England, Michael Harris, Michael Rutherford, Hugh Ballantyne, and many published by Bradford Barton; not forgetting several others that combine much valuable detail with good photographs by, and the collections of, Adrian Vaughan and CG Maggs.




The earliest books in my schoolboy days were published by Ian Allan. I have to pay tribute to this man, whose magazines and books were at 'the start' of my hobby, and I suspect this is true for many people. His death on 28 June 2015 aged 92 was marked by many tributes. More than 500 people packed into Guildford Cathedral on 23 November to honour his life. A 2-minute audio recording of a steam locomotive on a gradient was played during the service - surely the first time such a sound has been heard in a cathedral.




Magazines - Great Western Railway Journal, Great Western Echo, Steam Days, Steam World, Locomotives Illustrated, Railway Magazine and Trains Illustrated plus many Ian Allan publications such as the Railway World Special 'Cornish Riviera' by Chris Leigh. British Railways Western Region, Section C, Working Time Table of Passenger Trains, Exeter District, Summer 1958.




(Below) All the reading matter cited above is highly recommended to visitors wishing to examine more closely specific sections of the route, and delve more deeply into GWR history. The Great Western Railway Journal is a quarterly magazine published by Wild Swan Publications, and it as a wonderful source of reference on the Great Western Railway. A comprehensive history of Paddington since its inception until 'the end of the 'Kings' in 1962 is contained in the following seven issues of the 'Great Western Railway Journal' Nos 70, 71, 72, 76, 77, 78 and 82, written by John Copsey. Click HERE to find out more.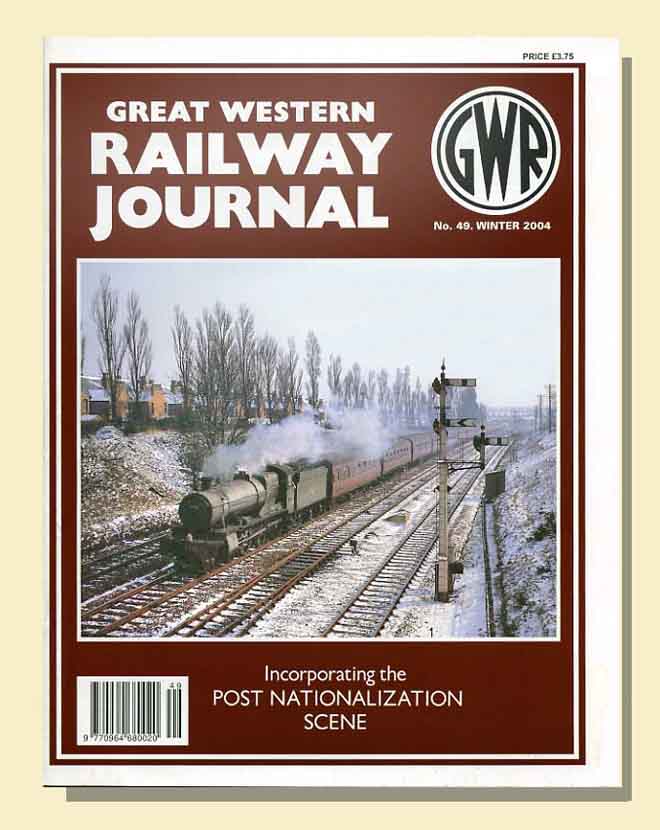 (Left-Right) The book 'Paddington, a 150th Anniversary Portrait' by Tim Bryan is a very fine work, as are several other books describing aspects of operations at Paddington. And mention must be made of a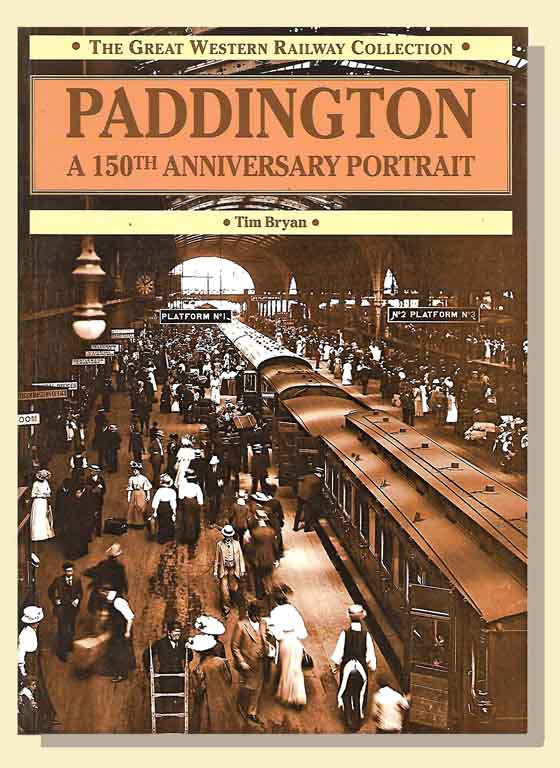 series of eight pocket-sized booklets 'Famous Trains', published by Ian Allan Ltd, which contains useful information for both rail travellers and enthusiasts. Compiled by Geoffrey Freeman Allen and featuring a distinctive pen-line drawing by AN Wolstenholme on the cover, each booklet contains a detailed description of a journey by train from London; this includes gradients, junctions, route maps and mileages plus an explanation of the places of interest to be viewed from the window. (Right) The 'Famous Trains' No 3 in the series - 'Cornish Riviera Express' - by G Freeman Allen was published in May 1959. The author's father, Cecil J Allen, was also a prominent writer (he edited the monthly magazine 'Trains Illustrated' and 'Trains Annual'). Following in his father's footsteps, G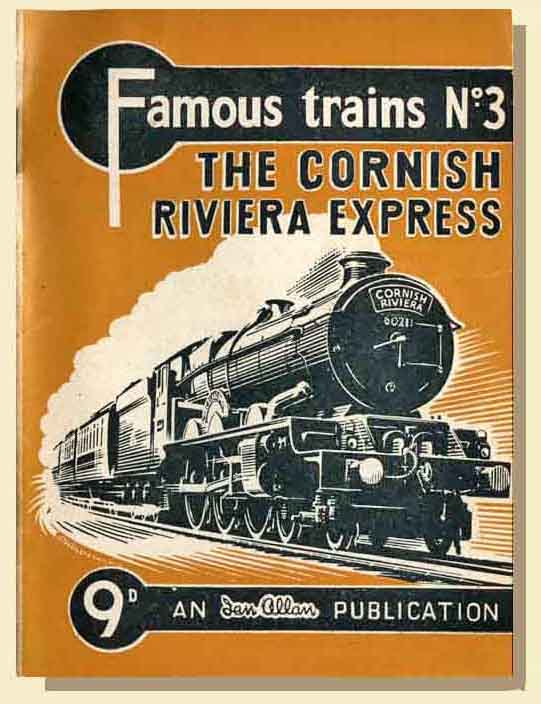 Freeman Allen
became the editor of Ian Allan's 'Locospotters Annual' and 'Jane's World Railways' plus he had several dozen railway books to his credit. For more details on the books published by Ian Allan, why not visit Dave Rowland's excellent railway website; it is beautifully illustrated, a veritable trip down memory lane.
HERE
(Below Left) However, if I was asked to
single out my very first inspiration and appreciation of the Great Western Railway I would opt for 'Gone With Regret' by George Behrend. I was given this book by someone who was clearing out the books from the library at HMP Send, Woking. I don't know what the effect on the inmates was, but I have found over the years, that it captures the essence and extent of the GWR perfectly. The blurb on the back carries one review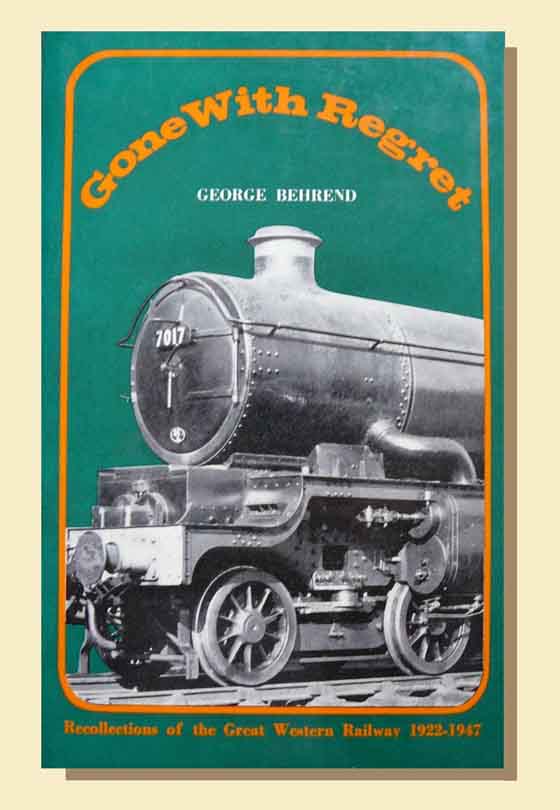 extract from Western Daily Press, Bristol, which states - 'Packed with eccentricities and surprises, beauties and triumphs, Mr. Behrend's book reads like a novel. It is an infectious book of a quality and vividness which demands a place on any bookshelf'.

Terms and Conventions.

I use the phrase 'original route' to mean the line first built, to join London with Bristol that went via Reading, Swindon, Thingley Junction, and Bath Spa to Bristol Temple Meads. I also include it when referring to the line beyond Bristol to Taunton, Exeter, Plymouth, across the Tamar to Penzance. The first trains to operate from the initial station at Temple Meads did so on 31 August 1840. I use the phrase 'direct route' to mean the line that left the original route at Reading, and then travelled via Newbury, Westbury and Castle Cary, ultimately meeting the original route just before Taunton. It is that route that is the subject of this 'Great Way West'. The direct route has also been referred in official railway documents as 'via Lavington and Somerton', with the 'Westbury and Frome cut-offs or avoiding lines'. I have standardised on the term 'avoiding lines' - except at Bristol.
In addition to the well-known lines that go into and out of Temple Meads station, there is also the Bristol Relief Line, opened on 10 April 1892, sometimes called the Bristol Avoiding Line. Here, I prefer to follow Cooke's Atlas and use the word 'Relief' rather than 'Avoiding'. A major purpose of this through line was to reduce traffic into and out of Temple Meads. That station had been progressively enlarged in its 52 years of existence since 1840, which together with Bath Road shed at the western end, had become very busy. This Relief line was to the south of TM, went past St. Philip's Marsh shed, and carried goods traffic and through passenger trains that otherwise had no cause to travel via Temple Meads. In addition, importantly on holiday Saturdays, several Up and Down West Country passenger trains in the holiday season, to assist in traffic flow each way, used this line, with crews and-or engines changed close to St Philip's Marsh shed. This leads me to emphasise that traffic using the Great Way West comes not only from London, but also the same, if not more in total, that originated in South Wales, the Midlands, and the North, even Scotland; and vice versa.
The two lines heading for Devon and Cornwall come together at Cogload Junction just before Taunton, and this caused many operational and time-keeping problems that had to be overcome. Many trains to 'the North' are shown in WR documents as only 'to Crewe'. In reality, this is wrong: these trains travelled a further 31 miles to Manchester, or 36 miles to Liverpool, mostly with a portion for each. But, coming south, the place of origin rather than Crewe is given, with the train often made of two portions, one from these cities, combined at Crewe. This northern section is in LM territory, and their engines cover not just the lines north of Shrewsbury, but in fact share the through trains between there and Pontypool Pool Road in Monmouthshire, 85 miles to its south, and crews and engines for through trains may be changed there.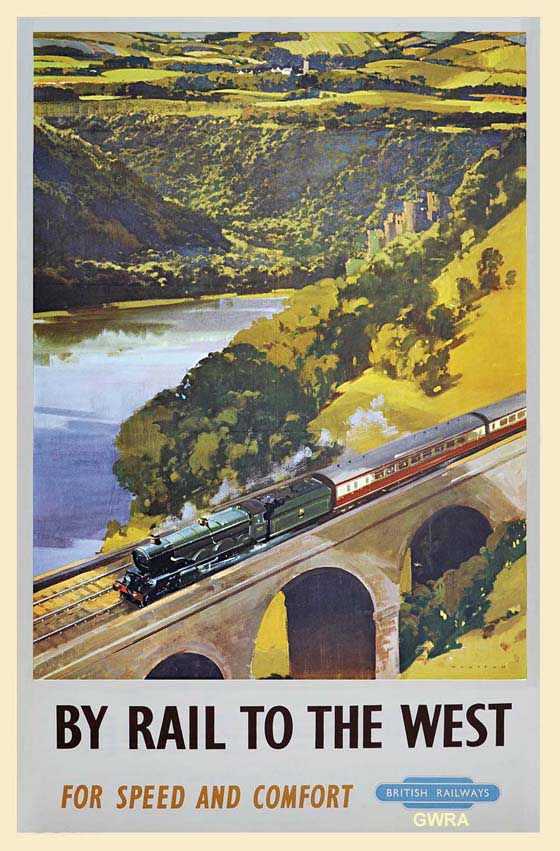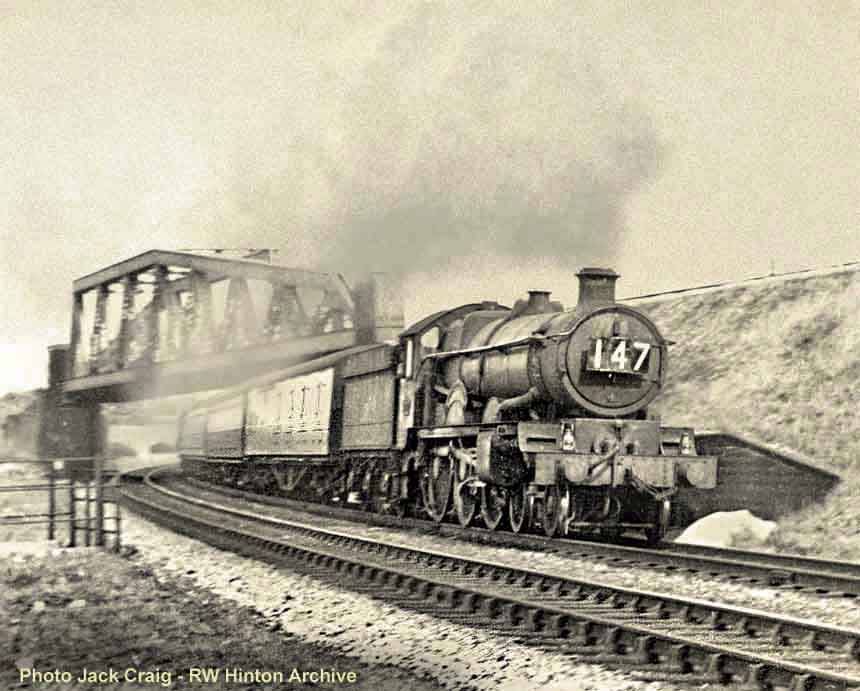 (Right) Cogload Junction is where the line from Bristol meets the line from Castle Cary, forming a 4-track section for 6¾ miles to Norton Fitzwarren. At Cogload the original 2-track section was rearranged, so that the Down Bristol line uses a flyover above the line from Castle Cary and then runs alongside towards Creech St Michael and Taunton. The distance to Cogload Signal Box from London Paddington on the original GWR route via Bristol is 158 miles, and 138 miles and 11 chains via the route using the Berks & Hants line. Here 'Castle' class No 5044 Earl of Dunraven of Old Oak Common shed heads the 12.05pm SO Paddington-Plymouth beneath the flyover on Saturday 10 September 1955. Photo is by Jack Craig, now in the RW Hinton archive.
MILEPOST DIFFERENCES

Since much has been written about GWR services to and from the West of England, I have tried to avoid this being a re-hash of what has been written before, preferring instead to make it 'my take' on this marvellous route. Inevitably it contains facts from previous writings, but I have tried to add in much detail on timings and other items that may not be given in the well-known sources, but include informaton from enthusiasts who have shared much with me, and from official papers.
I began the Great Way West to try to answer this question: Milepost 326½ is on Penzance station but it is actually 305 miles, 18 chains from Paddington. Why?'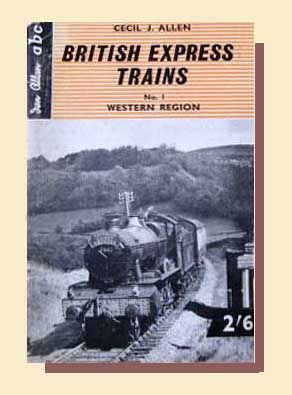 For the route from Paddington to Penzance, Cecil J Allen in British Express Trains - Western Region writes - 'Over much of the distance, the mileposts bear no relation to the direct mileage from Paddington via the Patney - Westbury, Westbury, Frome, and Castle Cary - Langport avoiding lines, and by the direct spur from Plymouth North Road to Devonport.
From Paddington to Westbury station, the mileposts are measured via Newbury, also from Castle Cary to Cogload (via both Westbury and Frome stations). Between Westbury station and Castle Cary via Frome station the posts are measured via Chippenham and Trowbridge. From Cogload onwards, the mileposting is from Paddington via Bath and Bristol, and this continues to Plymouth. But west of Plymouth the mileages include a diversion into Plymouth Millbay and out again.'
Many GWR notices and their documentation refers to miles and chains: there are 80 chains to one mile. Mileposts were shown in miles and 20 chains units, with 1 unit being 20 chains; 1 chain is 22 yards. So mileposts from 20 to 21 miles show as: 20 with I below the 20; the next one would show 20 with II below the 20, the next 20 with III below the 20, and finally milepost 21. My convention is to show these mileposts as MP20, 20¼, 20½, 20¾, and 21. Today, you will find railway bridges and much else, contain a notice that shows the distance in miles and chains between that bridge and an important point on the line: here in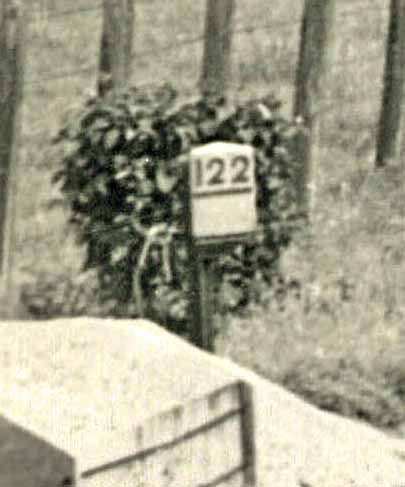 Surrey, the important point is Waterloo.

However with regard to the route from Paddington to Penzance, we learn from Cecil J Allen's informative 'British Express Trains Western Region' the following - 'A point of significance on the route is when the summit by MP122¾ is reached. This milepost was regarded by the GWR as sufficiently important to have passing times of express trains shown against it in their Working Timetable. The MP of 122¾ miles from Paddington is 108 miles and 42 chains via the later, direct route via Newbury. This shorter figure is not reflected in the numbers on the mileposts in this section of line as they adhere to the original route to Westbury via Trowbridge...'
(Inset right-Below) I don't have a photo showing a train passing MP 122¾ but here is a fine shot of 6025 King Henry III passing MP122 with the Down Cornish Riviera. Many more photographs of both Down and Up trains were taken at this point by RHG Simpson, which is ¾ mile before Brewham summit in the Down direction
.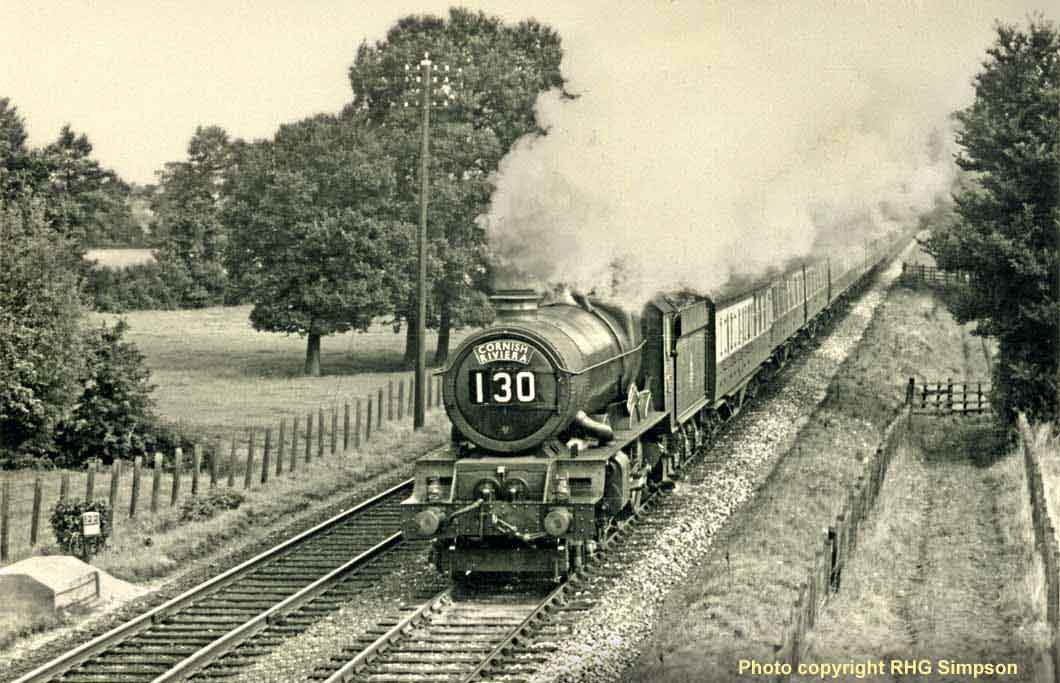 Historical Background and Development of the Great Western main line in brief.



Numerous books cover and discuss the origin, history and operation of the Great Western Railway, which built anew, and later absorbed many already formed companies. Also Brunel's choice of using the Broad Gauge rather than the Standard Gauge, caused later rebuilding, the discarding of locos, wagons, writing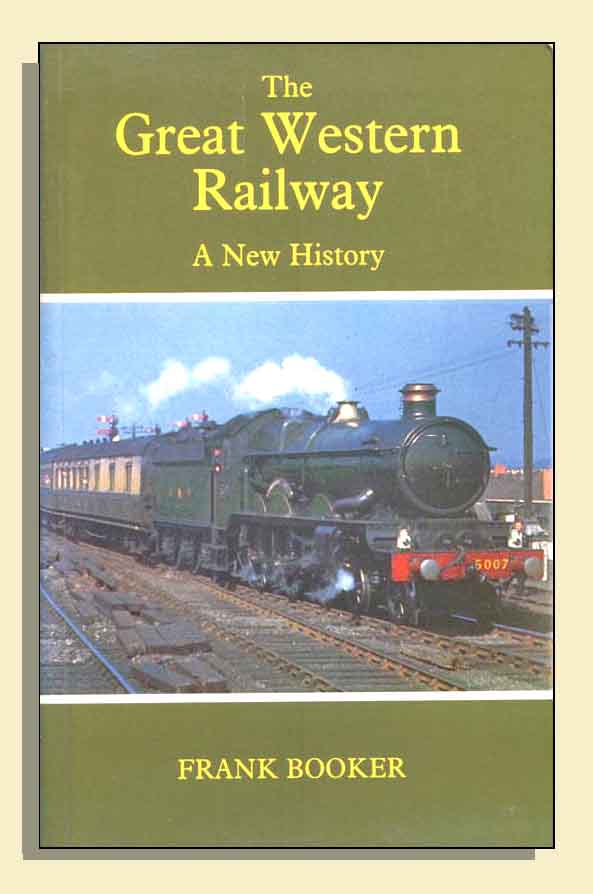 off costs and much else. Details of all of that, the personalities, the drama, the planning, changeover, disruption, cost has been covered in many books. I found it made my effort too long and complicated to include much of the history of the lines. Except I include historical places where it is relevant to describe photographs and operations that deserve such mention.
In Frank Booker's 'The Great Western Railway, A New History' (left) published in 1977 by David and Charles, he writes: 'On 31 August 1835 the Bill for 'the line laid down by Mr. Brunel' from Bristol to London via Bath, Chippenham, Swindon, Maidenhead and Reading with branches to Trowbridge and Bradford-on-Avon, received the Royal Assent.' King William IV was the royal ruler of the day; he died two years later and was succeeded by his niece, Victoria.
(Above) The first section of Isambard Kingdom Brunel's Great Western (Broad Gauge) main line was constructed initially as far as the first terminus at Maidenhead 24¼ miles out of London. On 1 July 1839 the route was extended to Twyford and this became the second terminus on the line just 31 miles out of Paddington. Then on completion of Sonning Cutting on 30th March 1840 the broad gauge line was extended a further five miles from Twyford to Reading. This image of the line near Reading will almost certainly have been taken to record the start of construction of standard gauge rail lines through Sonning Cutting circa 1882; the row of sleepers on the far left suggest that Brunel's favoured 'Baulk-style' track will soon be replaced by more conventional track. For the record, the basic design of the Broad Gauge express engine was that of an eight-foot single, which dates back to 1846, although the first locomotives appeared in 1837 some twenty seven years before any standard gauge engines were seen on the GWR. By 1866, however, the total broad gauge stock had reached its peak of 393, and for the first time standard-width traction had outnumbered its counterpart. By 1892 more than 2,000 new standard gauge engines had been constructed and the call for standardisation became too loud to ignore.
Brunel's initial task was to construct the line between London and Bristol via Reading, Swindon and Bath; onwards to Taunton, Exeter and Plymouth followed, while lines further west were also being built by other railways, that were later absorbed within the GWR. The GWR regarded Weymouth an important port and source of traffic, so after nine years, a line was fully completed between Thingley Junction (off the Bristol line between Swindon and Bath) and Weymouth by 1857. This line to Weymouth went via Westbury, Castle Cary, and Yeovil.
Some years later the GWR built the Berks & Hants Extension line from Reading via Newbury to Hungerford, Patney & Chirton to Holt where it joined the 1857 built line coming south from Thingley Junction. This now made Holt a junction and was 94 miles from Paddington via the direct route, against 102¾ miles via the original Brunel route via Swindon. This further strengthened the GWR's presence in Wiltshire but did not lessen the time taken to Devon, as several more stretches of line needed to be built to do this, as outlined above, in Construction of the route. It was not till 21 July 1906, with the line from Reading to Taunton, via Newbury open, was the GWR able to reduce the time and distance by rail between Reading and Taunton, and hence between Paddington and Plymouth and Penzance.
As a crucial aside, it must be pointed out that line and traffic construction was to Brunel's Broad gauge (7ft 0¼in). This was found to be unsatisfactory for several reasons and all trackwork had to be changed to Standard Gauge (4ft 8in) and after several years, all earlier locomotives and rolling stock had to be withdrawn. It was a costly operation to replace all tracks and rolling stock. Interruption to services was kept to a minimum by planning all activities in a phased manner. Eventually, it was regarded as a major achievement that everything was accomplished in accordance with the plans, to redress what was found to be a wrong decision on the gauge used.
(Below) On Tuesday 15 September 1959, 'Castle' class No No 5069 Isambard Kingdom Brunel is ready to depart Paddington with a special train to commemorate the centenary of the great man's death. Usually the 1.15pm down was the return working of the 9.00am ex-Bristol, but not today. Prepared with shiny buffers and very clean bodywork for this special occasion, No 5069 had come up as the second engine behind 5005 Manorbier Castle chalked 054 on the 7.05am ex-Cheltenham Spa, which both had taken on at Swindon and double-headed from there to Paddington, arriving at 10.30am Platform 1 was full of many gentlemen paying their respects to both the man and 'the company'.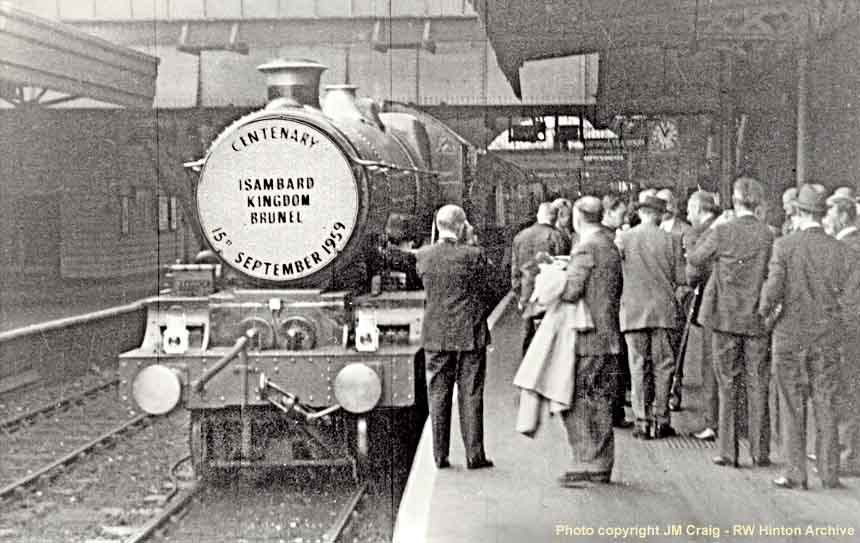 The reason for the variation in mileages is because the original route was not built as a direct route from London to Penzance. It came about in stages using original lines, improvements, and new sections added over the years. This culminated in the (shorter) 305 mile route, but the original mileposts applying to former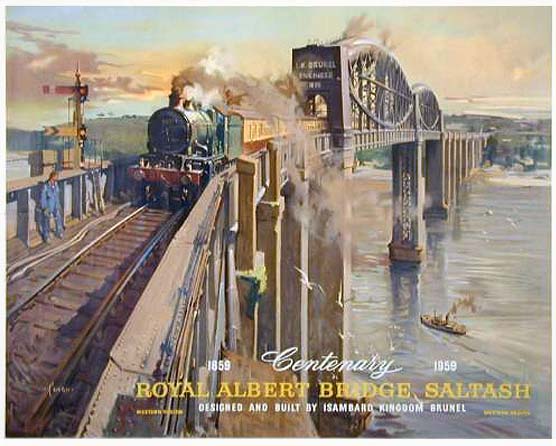 sections were kept. The extra distance in the Plymouth area and beyond was due to Millbay being the original terminus of the South Devon Railway and later, the Cornwall Railway. The South Devon Railway began services from the east to Millbay on 2 April 1849.
Ten years later, 4 May 1859, the completion of the Royal Albert Bridge enabled the Cornwall Railway to bring trains to Millbay from the west. In anticipation of this, the South Devon Railway built a line from Millbay to the eastern side of the Bridge, so as to link up with the Cornwall Railway.
Geographically this meant Millbay was at the bottom of a V. What was missing was the link between the top of both sides of that V. But it was not until 7 May 1876, that this short link (of 34 chains, or 748 yards) was made by what was called Cornwall Loop Viaduct. This enabled trains between Devon and Cornwall to run without using Millbay. What became the main station for Plymouth, North Road, was also opened in May 1876. Therefore it was as long as 17 years before trains could run across the Royal Albert Bridge from when it was built, to Plymouth North Road, and vice versa.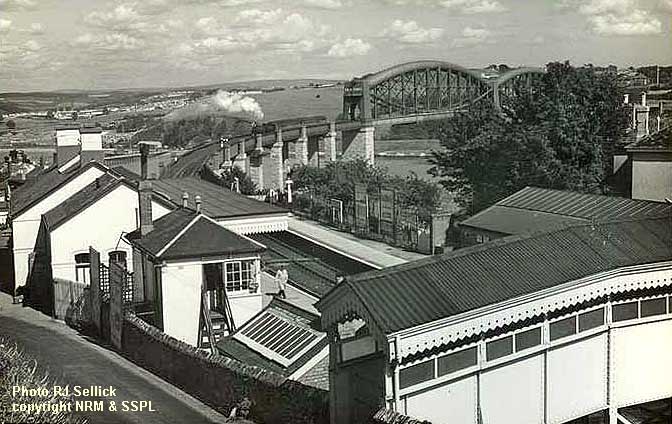 (Below) Meanwhile In Wiltshire and Somerset, the direct route was created in several phases: (a) Extend from Hungerford to Devizes (1862); (b) Make a junction off the line to Devizes at Patney & Chirton, and build a new line via Lavington to Westbury (1900); (c) Build a line from Castle Cary to the west of Langport to make a junction at Curry Rivel with the existing line heading east from Taunton to Yeovil (1906); (d) Build a line from just after Athelney towards Taunton to omit Durston and join the Bristol line further west, at what was to be called Cogload Junction (1906); (e) Build a flyover at Cogload instead of the flat crossover for Down Bristol trains (1932); (f) Build avoiding lines near Westbury and Frome, suitable for fast running and avoiding the curves into and out of these towns (1933).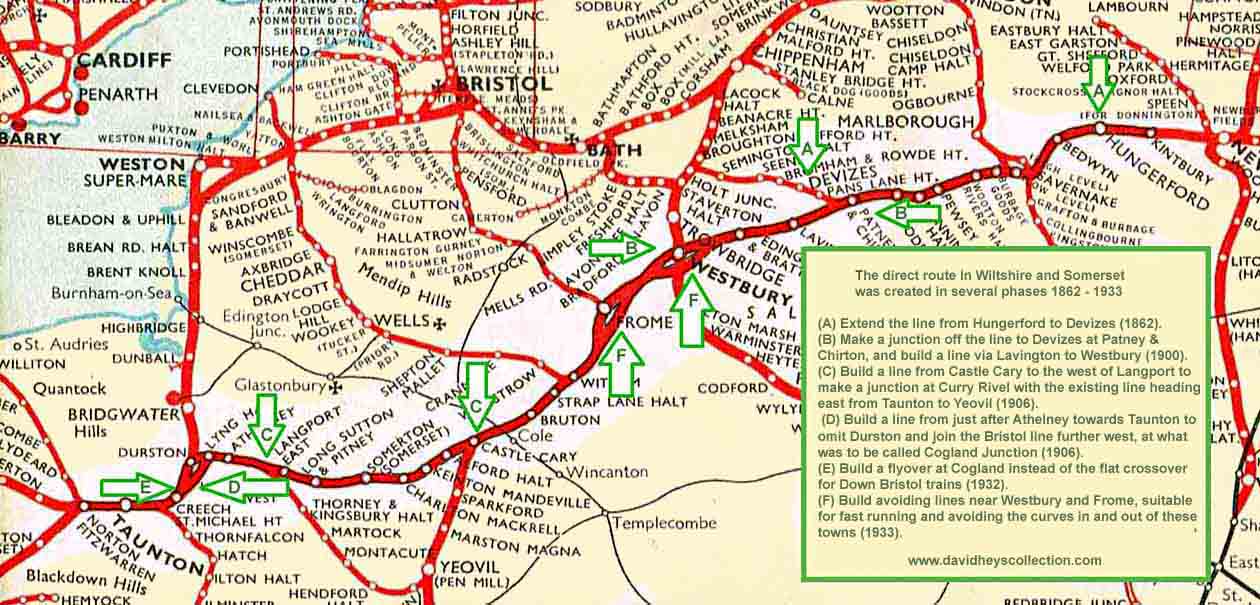 The debut run of the Cornish Riviera Express was on 1 July 1904 and ran via Bath and the Bristol Relief Line to before Pylle Hill. The reason was: at that time Temple Meads was small and congested. At the start of the Summer Timetable 1905 the word 'Limited' replaced 'Express'. Then on 21 July 1906, the train used the newly opened direct route via Castle Cary to Langport East, thus clipping 20 miles and 20 minutes off the time between Paddington and Plymouth.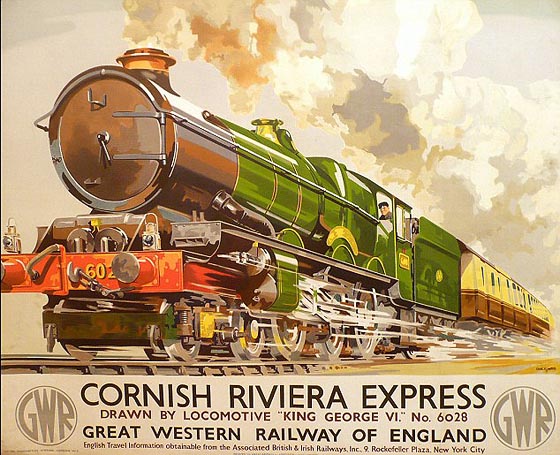 (Inset Left) Over the years changes to trackwork were carried out at numerous places to improve running. This was particularly the case in the West Country and Cornwall where the lines were relaid to reduce the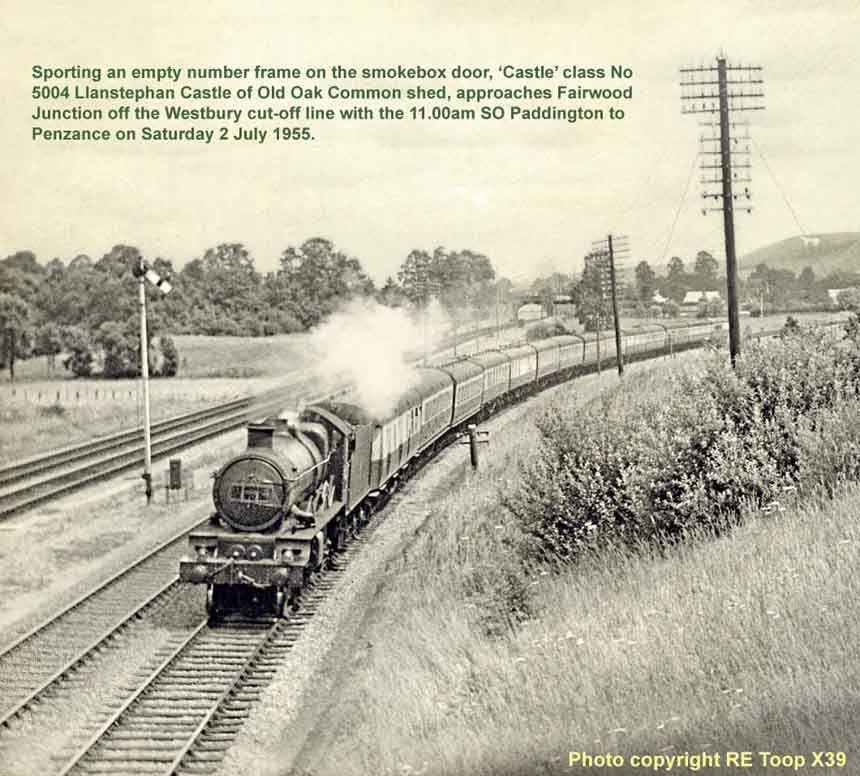 curvature. Also the old timber viaducts from the Brunel era were replaced by brick and metal-built ones alongside, as the safety and longevity of the timber ones was questioned. At several country stations along the route, rebuilding took place with new through lines to allow an express to pass while a slower passenger or goods train was held at the platform. As traffic increased, Refuge and other sidings, and Loops were added, to allow slow-moving goods trains to be held and allow an express to pass. New avoiding lines (I have standardised on that term, instead of 'cut-off' or 'bypass') were built to allow express trains to maintain speeds near to towns at which they were not due to call, in particular Westbury in Wiltshire, and Frome in Somerset. This is Fairwood Junction, 97 miles by the direct route from Paddington. Major track realignment was carried out when the direct route via Newbury was built, and further work took place in 1933 when the avoiding line was built to allow express trains to and from the west avoid the curves and junctions involved in travelling through Westbury. Here 'Castle' class No 5004 Llanstephan Castle of Old Oak Common shed is on a Down express for the West Country on the Westbury avoiding line on Saturday 2 July 1955. The train is the 11.00am SO Paddington - Penzance, due past here at 12.44pm. Despite the apparent confusing position of the signalling, the semaphore on the ex-Westbury line is off, and is applying to this line and train, not to the ex-Westbury line. Photo is by RE Toop Ref X39.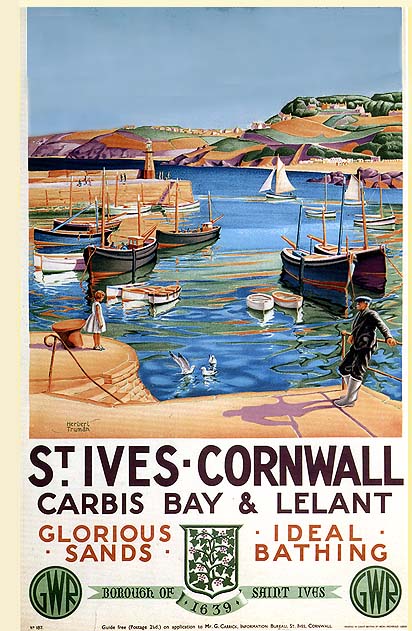 ON A FINAL NOTE.

I cannot stress too highly what a delight it has been to collect, read and refer many times to all the above books, over my years as an enthusiast of matters Great Western and BR Western Region in steam days. I have been lucky to receive letters and emails from several people, in particular Ben Brooksbank, Roger Clemo, Derek Dean, Derek Frost, Chris Hawkins, Colin Stacey, John Copsey, Paul Tomlinson, Richard Woodley and CT Wray. All have answered my questions and generously given much relevant information from their own research over many years. Plus the proprietor of this fine website, David Hey, deserves a medal for how hard he has worked to produce a fascinating and growing website, covering so many aspects of the railways; and he hasn't finished yet. So while it may be my name as collator, chooser of photographs and writer of text, my sincere thanks are to all the persons and the printed words in the items noted above.

About the photographs. A great job has been done in Photoshop to improve many of the postcards used as a basis for this work. Numerous books contain magnificent photographs taken by all the well known and less well kown cameramen over the later steam years.
I have tried to select ones that have not been published. Most selected are of moving trains, and I think it is important whenever possible to define the train, rather than a lame 'westbound express'. A few pictures have been published before, as I am unable to offer a look at the Great Way West without them; the most obvious examples are those by Maurice Earley and RC Riley. All are credited where I can. Many are uncredited as the card I have has no such information on the reverse.
I try to give a reference as often as possible in case viewers wish to get a card for themselves. The picture credits given are taken from the back of the card in my collection. Since the time I acquired many of them, the ownership may have passed to AN Other. But I show what is on my card. Like many collectors, I have acquired too many cards without any information at all on the back, including the loco identity, locality, date etc., or with quite wrong information. Much investigation, 'checking with others' work has been done, and I hope that all captions here are correct.
Discrepancies: Not all sources agree on distances, loco shed and transfer and withdrawal dates etc. Except where noted, I use those given in Atlas of the GWR, as at 1947, by RA Cooke, revised edition 1997, Wild Swan Publications, RCTS loco allocation booklets, and on the Internet BR database, but be warned the latter is incomplete and wrong in some details regarding shed allocations.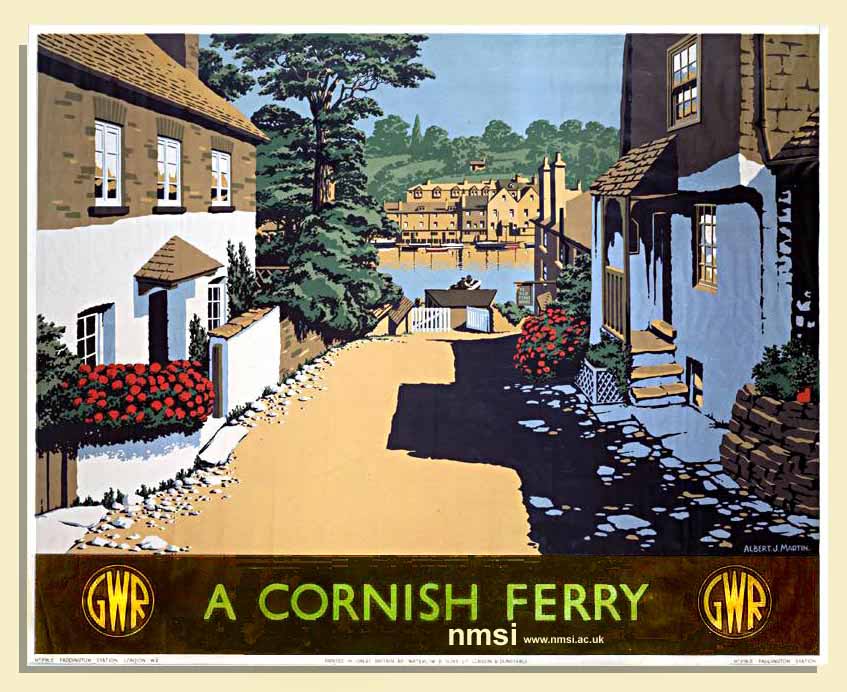 Prior to nationalisation in 1948, the 'Big Four' railway companies commissioned a number of artists, including members of the Royal Academy, to produce artwork for use on railway travel posters. In particular they were keen to promote the most beautiful parts of the country through which their lines served, and the GWR wasted no time in publicizing the holiday destinations in the West Country. It's fair to say that during the inter-war years the popularity of many Devon and Cornish resorts was largely due to the enterprise of the GWR's promotional campaign. The stunning images from the NMSI collection give some idea of the superb artwork commissioned by the railway companies and later British Railways for use on posters across the country.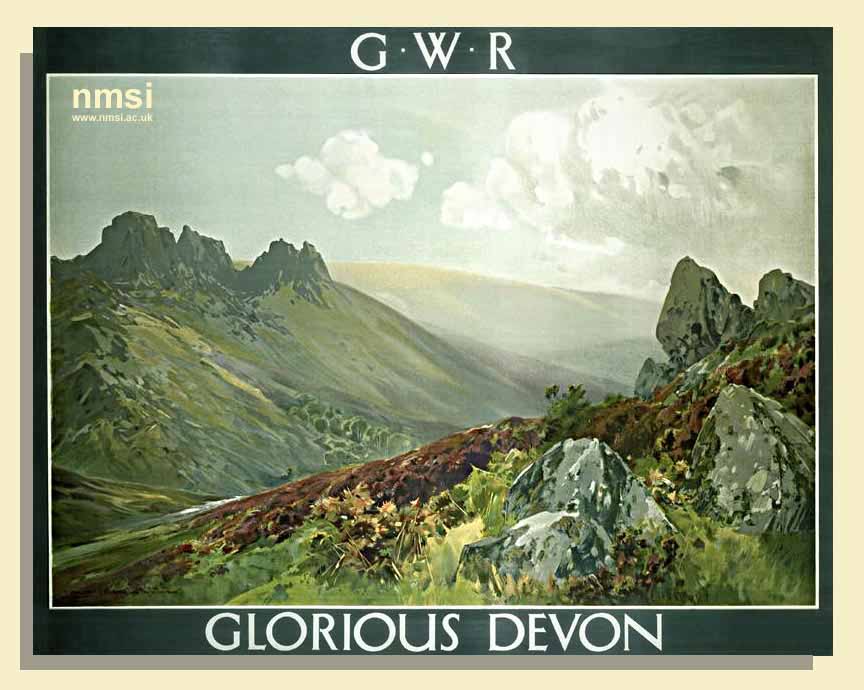 The NMSI family includes the National Railway Museum (NRM) at York which houses the world's pre-eminent railway collection. The NRM also has a superb website which includes a range of railway posters HERE..a visit is highly recommended.
(Above) A Great Western Railway poster - 'A Cornish Ferry' - was painted by Albert J Martin in 1946, and depicts Boddinick, near Fowey; the artist features a village street leading down to the Fowey estuary with a boat carrying two men about to depart. The coloured lithograph was printed by Waterlow & Sons Ltd, London & Dunstable.
(Inset above-Below) A Great Western Railway poster - 'Glorious Devon' - features Little Hound Tor and Hey-Tor, Dartmoor, was painted by F J Widgery in 1925. The artist depicts the view from the summit of a moorland tor, looking from a rocky granite outcrop across a valley towards the rocky summit of another hill. Printed by SP & Co. (Below) A poster commissioned by Southern Railway and Great Western Railway, 'Cornwall' was painted by Adrian Allinson in 1946. The coloured lithograph depicts rolling hills and fields with farm buildings and the coast in the background. Printed by McCorquodale & Co Ltd, London. Format: quad royal. Dimensions: 40 x 50 inches, 1016 x 1270 mm
.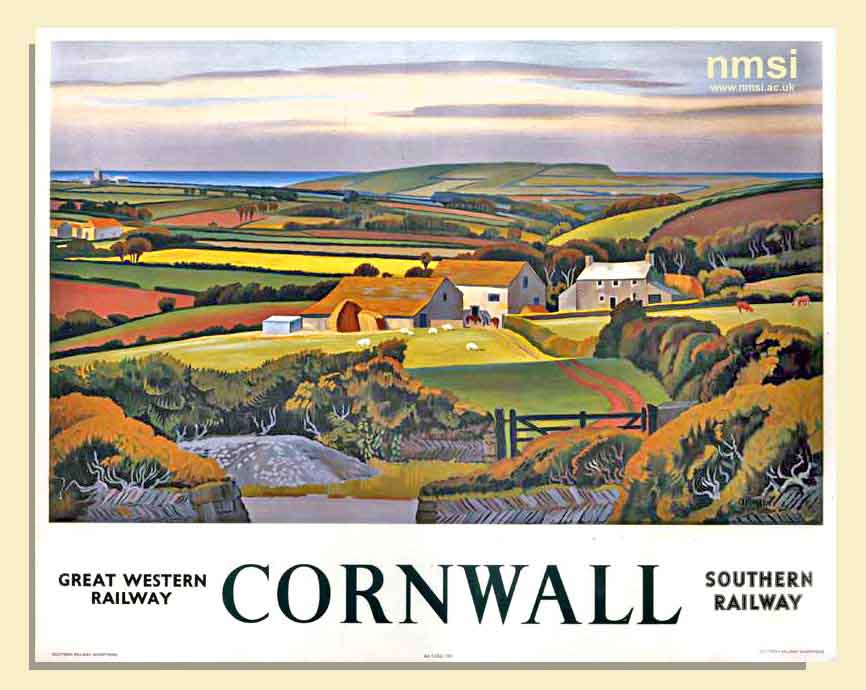 For many wags, the initials GWR stood for the 'Great Way Round' because it meant travelling 325 miles to Penzance rather than the later 305. Another variation was created by the eminent railway historian Andrew Dow who died at the age of 71 on 24 April 2015. Being an LNER enthusiast, he claimed it was 'Gresley Was Right'. Other jokers have offered other ideas. I like good jokes; but to me the GWR is no joke, it is a superb achievement by dedicated, modest, creative, hardworking people, and admired by countless people in many countries of the World. Its methods and influence have been shown in design, behaviour, style and beauty, in so many developments in the Railway Age....

GREAT WAY WEST
-
1
London Paddington to Iver 0-15 miles
To cover the route from Paddington to Penzance, a series of maps will accompany the pages to help show the location to which each photograph relates. There are some areas where it will be helpful to show greater detail, such as: Reading, Reading West and down to Southcote Junction; Grafton and Savernake area;

Westbury and Frome areas; Bristol showing via Temple Meads station, approaches and the Bristol Relief Line; Somerset, from near Athelney, Durston, Cogload, and Taunton to Norton Fitzwarren; South Devon: Dawlish Warren, Dawlish and Teignmouth. (Editor's note - these will be added in due course).
On departure from Paddington the sequence of road bridges crossing the line are Bishop's Road Bridge, Westbourne Bridge, Ranelagh Bridge, Lord Hill's Bridge, Green Lane Bridge, Golbourne Road Bridge, Ladbroke Grove Bridge, Scrubs Lane and then Mitre Bridge which carries the West London Line.
Once this last bridge is reached, the incoming and outgoing tracks were arranged as follows: Down Main; Up Main; Down Relief; Up Relief; Down Goods and empty stock from an arrival and light engine; Up Goods. The next two lines beyond these were adjacent to the Grand Union Canal and provided access to and from the flyover: the Down Empty stock line for removing carriages for service, finally the Up Empty stock line for later departures.
The huge Old Oak Common complex with its four large connected roundhouses was after Mitre Bridge almost 2½ miles from Paddington. After Old Oak Common West box, over 3 miles out, the lines to and from Birmingham diverge to the north.
Now the main line has reached Middlesex, we pass the stations at Acton, Ealing Broadway, West Ealing and Hanwell & Elthorne before the approach to Southall. The double track line throughout is almost straight and on the gentlest of uphill gradients. From a standing start at Paddington, a down express will take 15 minutes for the 9 miles to pass Southall station, doing 60 or so. Then at West Ealing, 6½ miles out from Paddington, the Loop to the Birmingham line at Greenford diverges to the right. At West Ealing station there is a bay platform and sidings where Milk Empties trains are assembled. Empty tanks arrived here on short trains, hauled by tank engines from the Wood Lane milk depot in North Kensington via the West Ealing Loop. When ready at the West Ealing bay platform, a 'Castle' or 'Hall' that has come down light engine in forward gear from Old Oak Common 4 miles to the east, couples up and leaves with a milk train to a destination such as Swindon, the West Country and Wales. Some go west using the Berks & Hants line. Empty tanks have a tare weight of 14 tons, but when loaded with 3,000 gallons of milk, its weight doubles to 28 tons.
There are nine signal boxes in the four miles between Paddington and Acton: Paddington Departure (at the end of platform 1) - Paddington Arrival (at the end of platform 10) - Westbourne Bridge -- Subway Junction - Portobello Junction - Ladbroke Grove - Old Oak Common East - then West - finally Friars Junction. Then there are another eight boxes in the next 5 miles before Southall Junction East (first of fo for this town) Acton has 3 (East, Middle and West) - Ealing Broadway - Longfield Avenue - West Ealing - Hanwell & Elthorne.
At Southall, on the down side are firstly the AEC works, then the 4 mile branch from Brentford Dock on the River Thames, past a biscuit factory and the Firestone rubber works. A WR Railcar can often be seen on the siding spur or on a passenger service between Southall and Trumpers Crossing Halt and Brentford station.
The 4-track main line continues almost straight and level from Southall through Hayes & Harlington before countryside is reached between West Drayton and Iver where the train passes from Middlesex into Buckinghamshire near MP14.
(Above) Starting at Paddington, No 6017 King Edward IV of Laira shed proudly displays the special coronation crown and EIIR fitment above the 'Cornish Riviera' headboard. In the period shortly before the Coronation of HM Queen Elizabeth II, some titled trains carried these fitments in this way. The seventh Monday after Easter, May 25th 1953, was to have been Whit Monday, as per tradition, but as Coronation Day was set for Tuesday June 2nd, Whit Monday was deferred for one week to June 1st so as to give four consecutive days of bank holidays. It is possible this unrecorded photograph is dated Monday May 25th 1953 which was the first day these fitments were displayed.
(Below) Many of the Paddington photos in my collection were taken by railwayman Jack Craig, who took many others at Bristol and Taunton. Years ago I became quite friendly with the late John Smith of Putney whose shop 'Len's of Sutton' had a vast collection of pictures. When Jack Craig passed away his negatives went to several people such as Norman Preedy, Arthur Ellis, Cedric Owen and Ray Hinton; Ray kindly sent me a copy of Jack's list which was most helpful. However, some of Jack's negatives were misplaced, although he had printed a photo from them; I have several prints with 'no neg' written on the back, so presumably I have the only copies. Here No 7904 Fountain's Hall is at rest at Paddington after bringing in an express in the late 1950s. This engine was at 81A from new in April 1949 until May 1964 by which time nobody at BR cared much for the remaining steam locos, hence it was shunted around to 81D, 85A, 82E and 81F until withdrawal at the end of WR steam in the Winter of 1965/6. Perhaps its finest moment was on Wednesday 15 September 1954 when it was taken off an up freight at Little Somerford, 12½ miles before Swindon, to replace an ailing 'Castle' class No 5073 Blenheim of Shrewsbury shed on the up 'Bristolian' (5073 was itself a last-minute replacement for a 'Castle' that was failed at Bath Road shed). The up 'Bristolian' was due at Paddington at 6.15pm and 7904 pulled in at 6.28pm, a fitting tribute to the crew, signalmen and all responsible for catching up so much lost time on an already tight schedule. Photo is by JM Craig.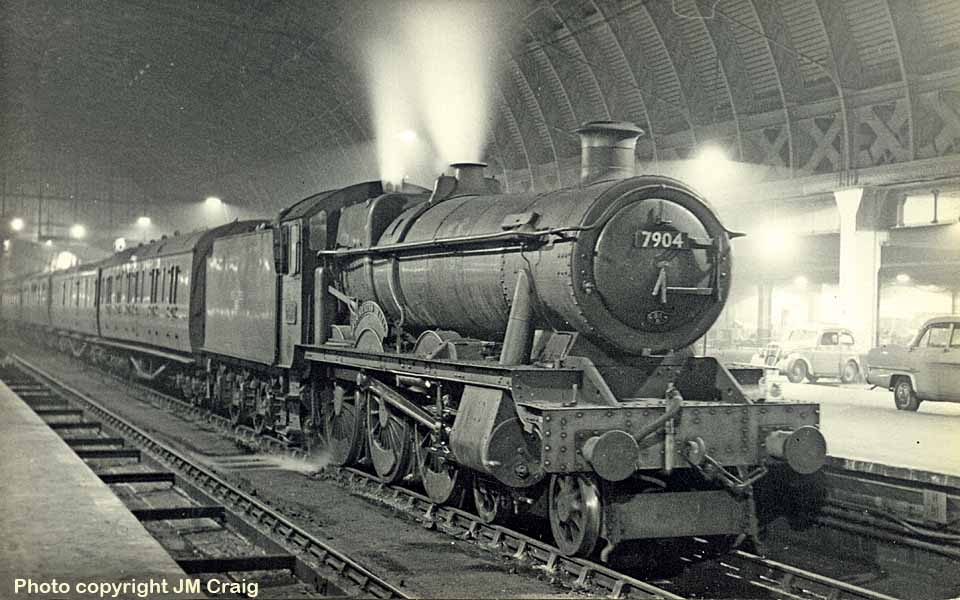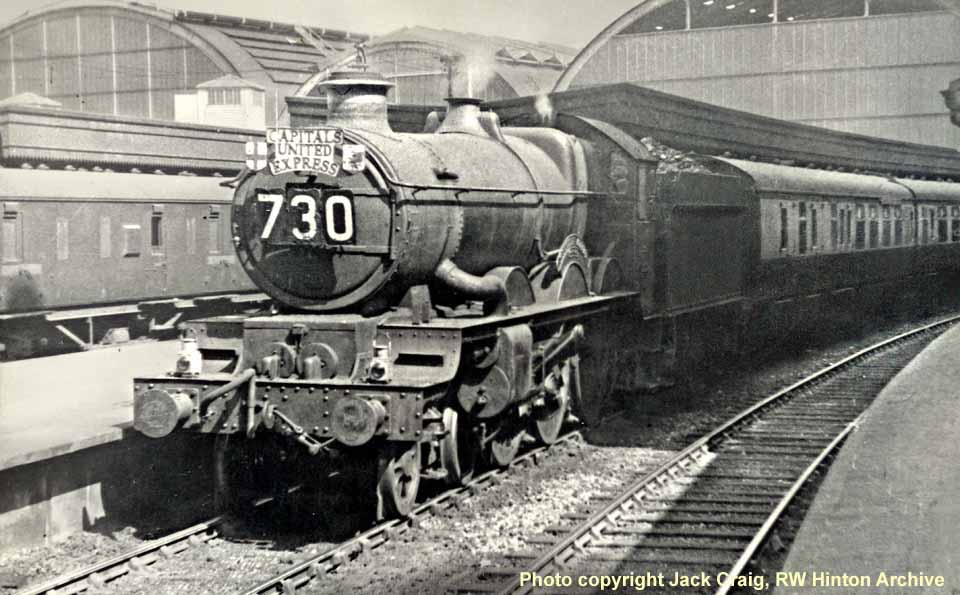 (Above) 'Castle' class No 5087 Tintern Abbey of Old Oak Common, is about to leave with the 3.55pm to Neyland, the Down 'Capitals United Express' during the Summer 1959 timetable. This is only copy I have of the 'Ranelagh spare' engine being used. Train 730 was a Canton duty, the return working of the loco on the Up 'Red Dragon' due at 1pm, but seemingly the loco on this train, usually a Canton 'Britannia', had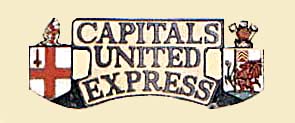 developed a fault that caused its replacement for the return run to Cardiff by the 81A 'Castle', already watered and coaled awaiting such an eventuality. The usual practice was for the failed loco to be taken to Old Oak, repaired, and returned on the next suitable down train. Likewise the Ranelagh spare would be used on the next suitable Up express from Cardiff. Photograph is by Jack Craig now in the RW Hinton archive.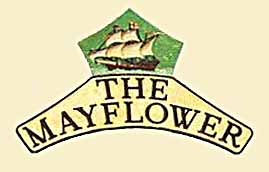 (Below) No 6026 King John of Laira shed has arrived at Paddington platform 8 and passengers alight from the Up Mayflower due at 1.25pm on this day in July 1957. The return working at this time was nominated as Tn 157 and departed at 17.30. Platforms 7 - 12 were the usual arrival platforms but platform 7 seems to be used for something else today. At the far end was a one way road leading to a cab rank between platforms 8 and 9, so passengers can get a cab within the station in the dry. A similar facility was provided between platforms 10 and 11. Photo is in the SV Blencowe collection Ref G172.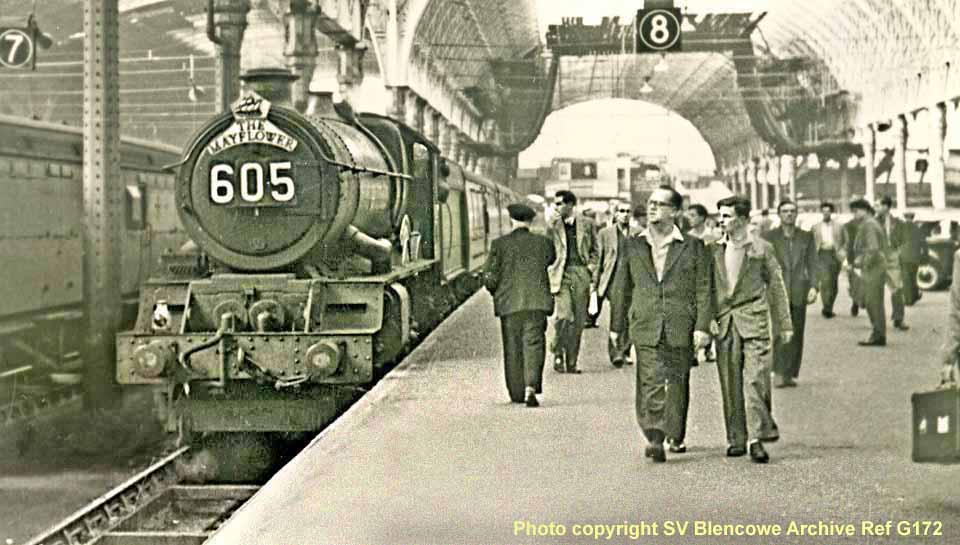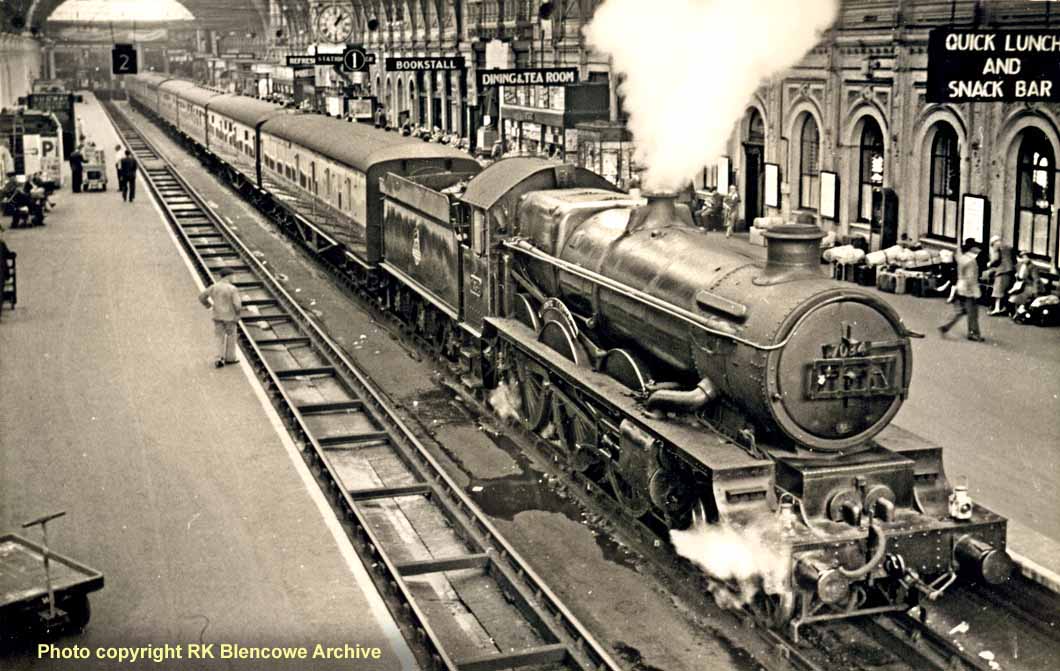 (Above-Below) These scenes at Paddington on Tuesday 13 July 1954 show 'Castle' class No 7034 Ince Castle of 82A Bath Road awaiting departure at platform 1 with the 1.15pm to Bristol (due 3.15pm), Yatton and Weston-super-Mare. The photo shows the baulk style track in use at platform 2 and this form was used across all the other platforms, an idea from the brilliant engineering brain of Isambard Kingdom Brunel, designed originally for the Broad Gauge railway. (Below) This photo was taken at 1.14pm and shows the train about to leave. There is no train yet in platform 2, but passengers for the 1.30pm to Penzance are boarding at platform 3. The mainly Hawksworth-designed stock formation had been utilised for the early morning express from Weston-super-Mare and was limited to seven coaches including a dining car for the weekdays, but was strengthened on a Saturday to cope with extra demands. This tightly-timed service would call at Bath, before reaching Bristol in 2 hours and hand over the train to a locally-based 'Hall' class engine, to complete the journey.Both photos are in the RK Blencowe Archive, Ref 26824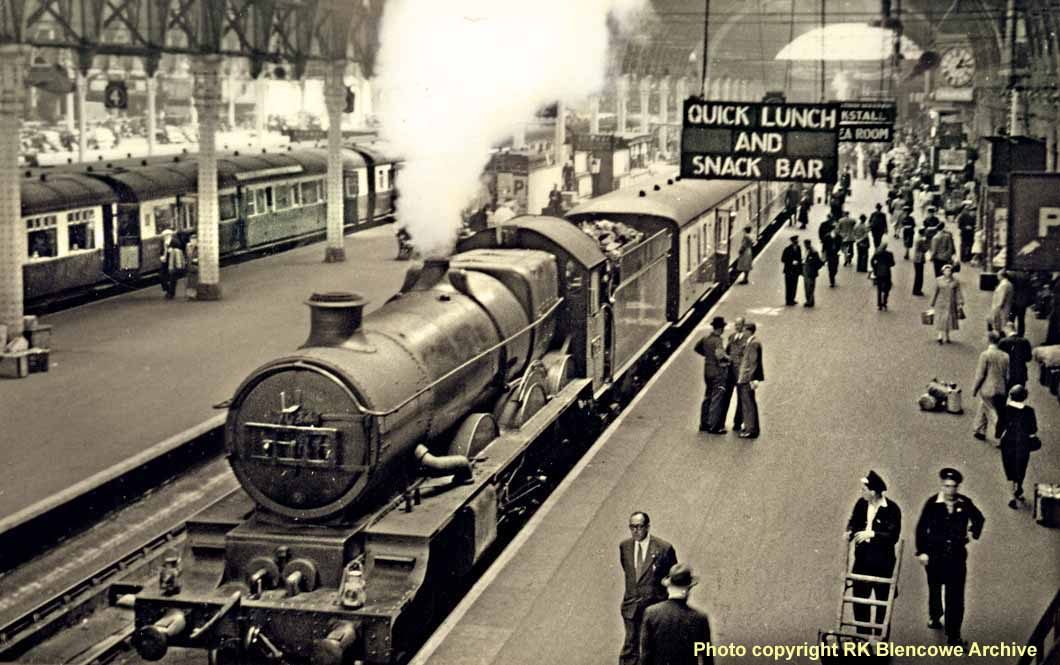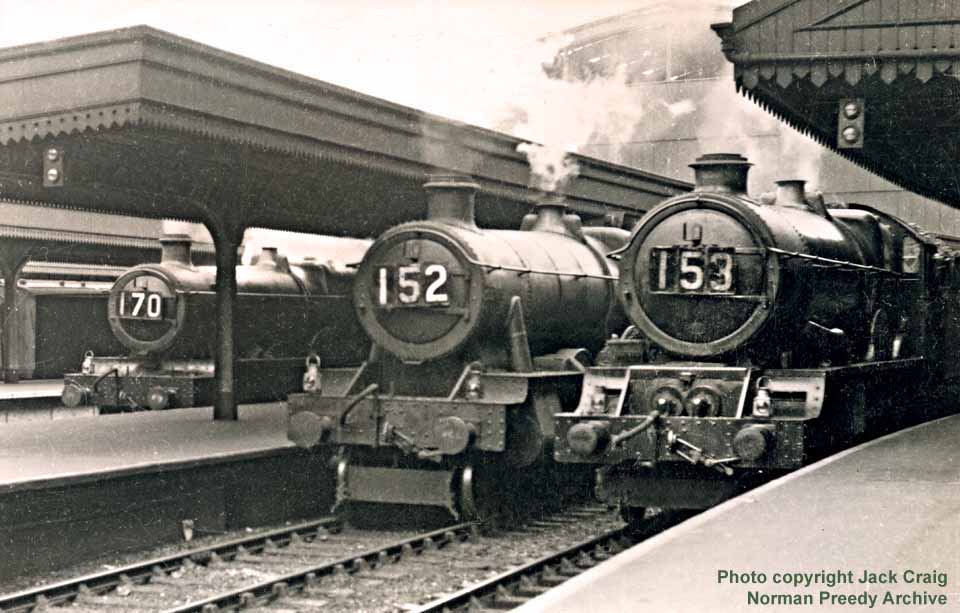 (Above-Below) This is the standard Paddington scene on a busy Friday 30 July 1954, with Bank Holiday Monday on 2 August to follow. Train 152, the 3.33pm to Kingswear, headed by 'Modified Hall' No 6990 Witherslack Hall is at platform 2 and is normally a Saturdays Only train leaving at 3.20pm but runs today as extra traffic demands. Train 153, the 3.30pm every weekday to Penzance is at platform 1 headed by well polished elder statesman, 'King' class No 6028 King George VI. Following them out will be 'Hall' No 5986 Arbury Hall with Train 170, the 3.45pm every weekday to Fishguard Harbour. Old Oak Common is the home shed of all 3 locos, Nos 6028 and 6990 for the long term, but 5986 pretty soon moved on to Shrewsbury depot and each train has 11 well-filled carriages. The photo is by Jack Craig, now in the Norman Preedy archive.
(Below) In complete contrast to the above, Paddington station looks virtually empty of passengers in this view at 1 o'clock on a Sunday in the mid-Fifties, with only two trains in sight, one a semi-fast with 'Hall' class No 5960 Saint Edmund Hall of Oxford shed in charge. Photo is by RK Blencowe.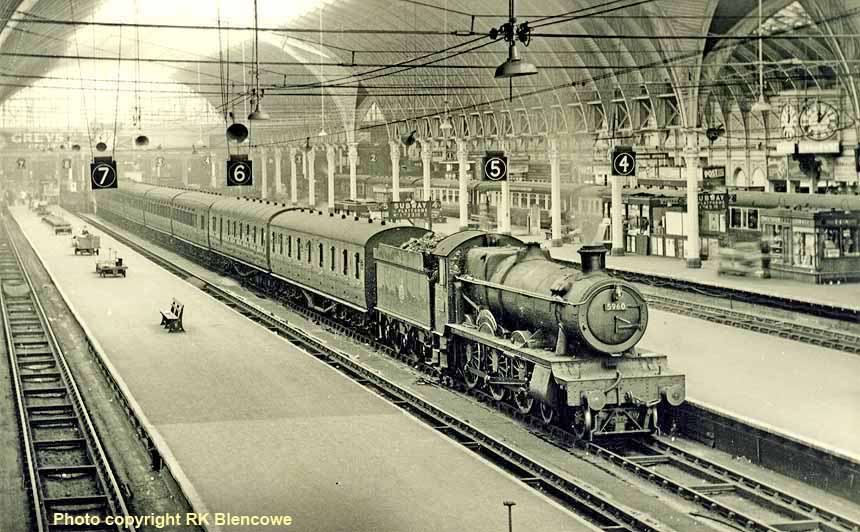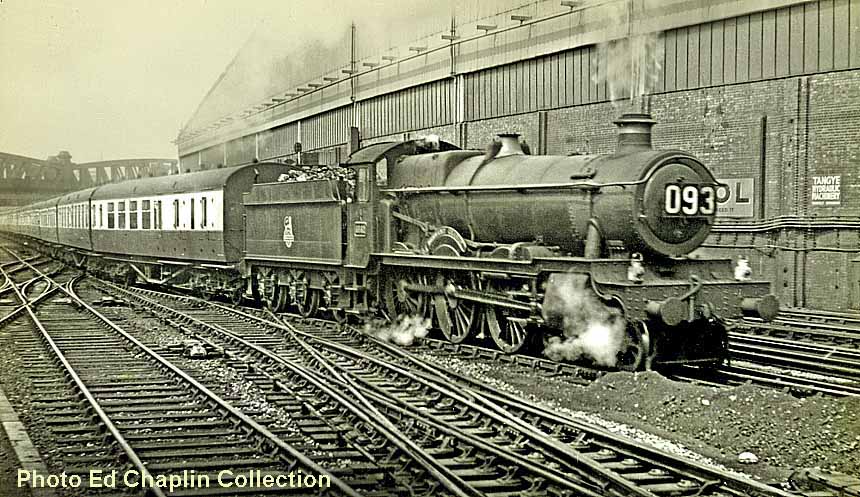 (Above-Below) Two photos of FA Cup Final day football extras, starting with 'Grange' class No 6862 Derwent Grange arriving at Paddington carrying West Bromwich Albion supporters for the FA Cup Final against Preston North End on 1 May 1954. West Bromwich Albion was appearing in their ninth final, having won the cup on three previous occasions, while Preston had won the competition twice and was playing in the final for the sixth time. Albion won 3-2 which capped off the club's greatest ever season as they also finished second in the table, agonisingly losing out on the 'Double' to their Black Country rivals Wolverhampton Wanderers. (Below) A year later Paddington goods shed was being renovated when 'Modified Hall' No 7921 Edstone Hall arrived in the capital with fans for the 1955 FA Cup Final. On this day Newcastle United beat Manchester City 3-1, with an opening goal scored byJackie Milburn after just five seconds, a record in a final at Wembley. The game was effectively decided after Manchester City fullback Meadows was stretchered off with a bad leg injury leaving City down to ten men; substitutions were not allowed until 1967. The game was dubbed the 'Gaudies v the Geordies' due to Manchester City players wearing flashy tracksuits - virtually unheard-of at the time! Additional information by Wikipedia
.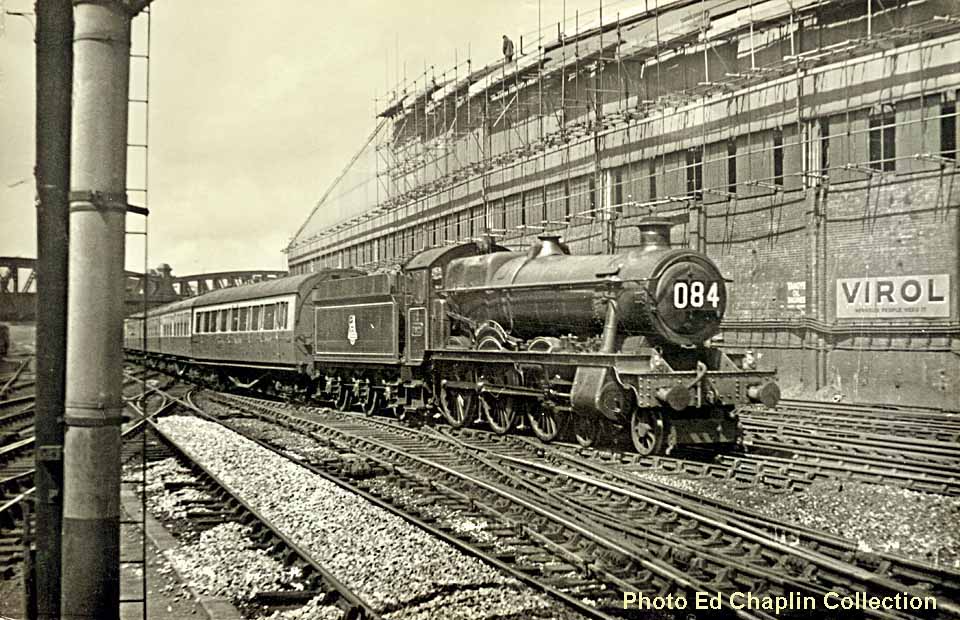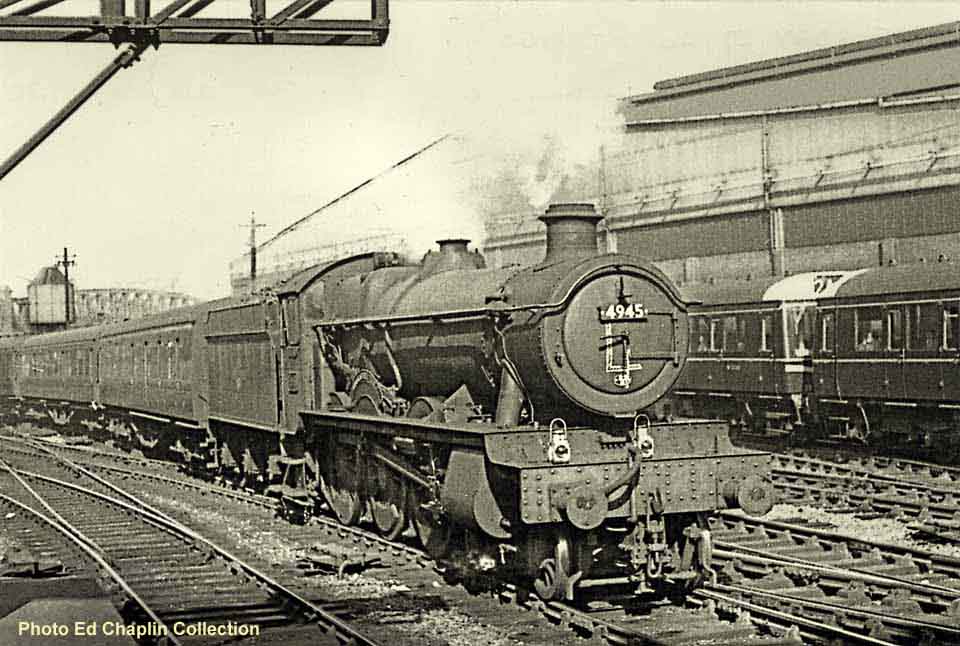 (Above) 'Hall' class No 4945 Milligan Hall of Old Oak Common draws empty coaching stock into Paddington station. Barely legible on the smokebox door is a chalked number '4' which indicates one of the early Saturday morning empty stock trains into Paddington from the London division sheds to augment the busy summer timetable. Numbered 1 to 5, the trains consisted of stock, a loco and crew to assist with the heavy increase in weekend traffic.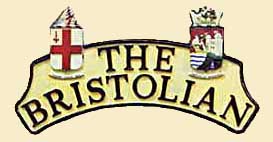 (Below) Paddington arrivals in April 1958 show 'Castle' class No 5015 Kingswear Castle, which had recently moved from Stafford Road to Bath Road, resting at platform 9 with the up 'Bristolian', due at 6.15pm, whilst No 7001 Sir James Milne, a resident of Old Oak for ten years, has brought in the up 'Cambrian Coast Express', due at 6pm; No 7001 is still carrying the Reporting Number of the down named train, which it had hauled from Paddington earlier in the day. Photo is by PH Groom.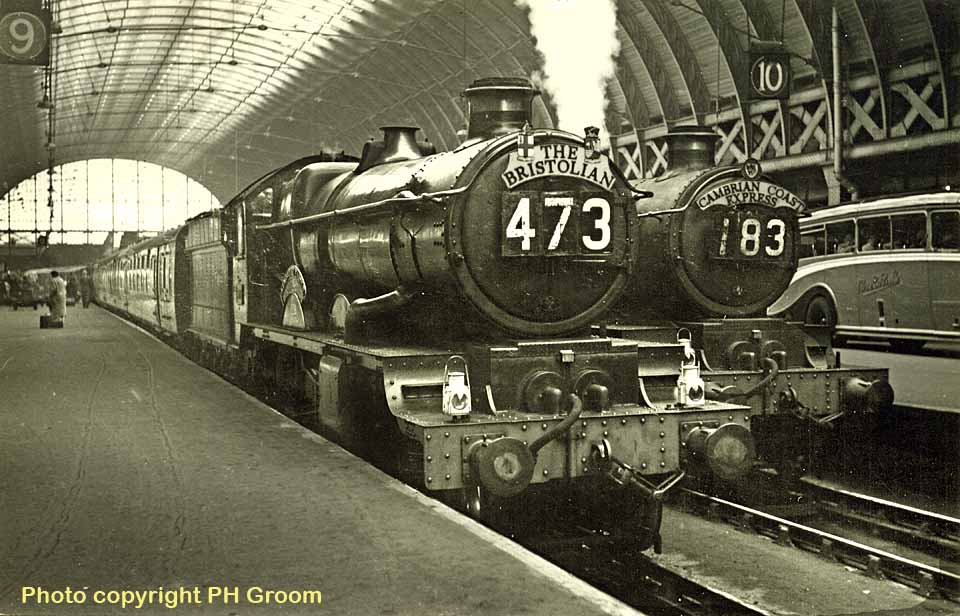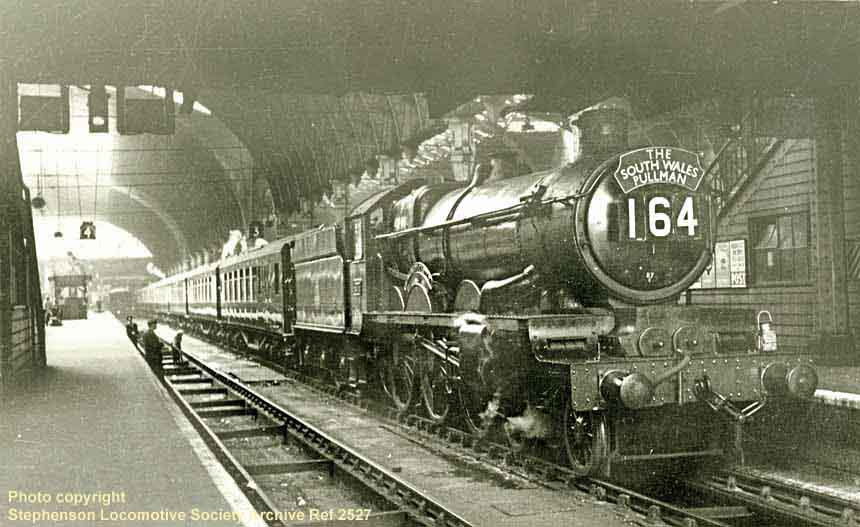 (Above) On Monday 4 July 1955 'Castle' class No 4074 Caldicot Castle awaits departure with the 9.55am down 'South Wales Pullman' from Paddington to Swansea (High Street) due there at 2pm. No 4074 was buil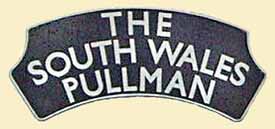 in December 1923, and spent much of its life working on Landore duties...and typical of 87E Landore, the loco looks totally right for the job. Photo is by the Stephenson Locomotive Society Archive Ref 2527
.
(Below) Bank Holiday Saturday morning at Paddington, 31 July 1954, and three expresses are soon to leave. From left to right, there is BR-built 'Castle' class No 7009 Athelney Castle of Landore (87E) on train 165, the 10.55am every weekday down 'Pembroke Coast Express' for Pembroke Dock, ready to set off to Swansea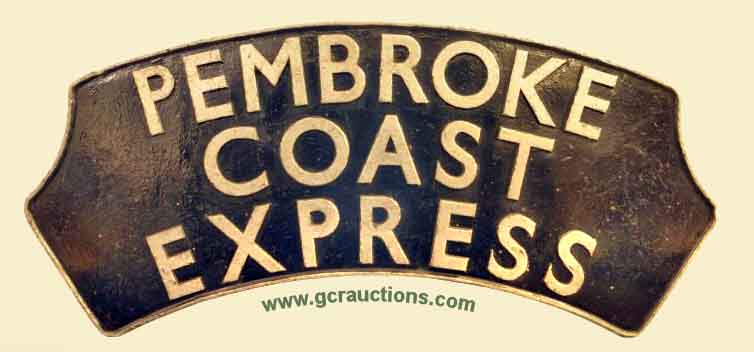 High Street, due there 2.40pm Next is No 7031 Cromwell's Castle of Laira (83D) on train 140, the 11.05am SO departure to Penzance, and on train 138 is No 5082 Swordfish of Old Oak Common depot for the 11.00am SO departure to Penzance, with a portion for Kingsbridge, to be detached at Brent. The last two are due to arrive at Penzance at 7.45pm and 7.00pm respectively. The photo is by Jack Craig, now in the Norman Preedy archive.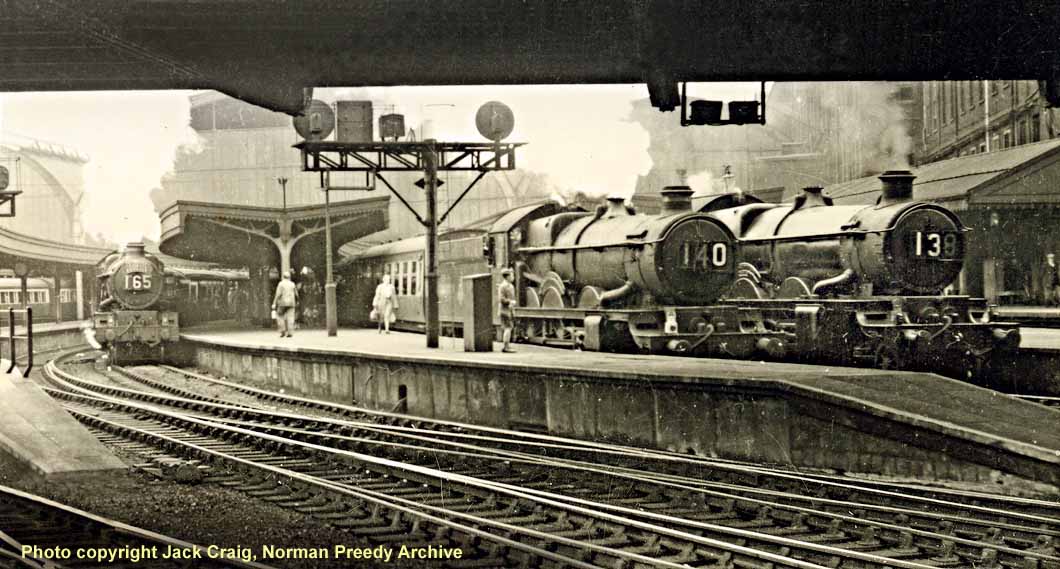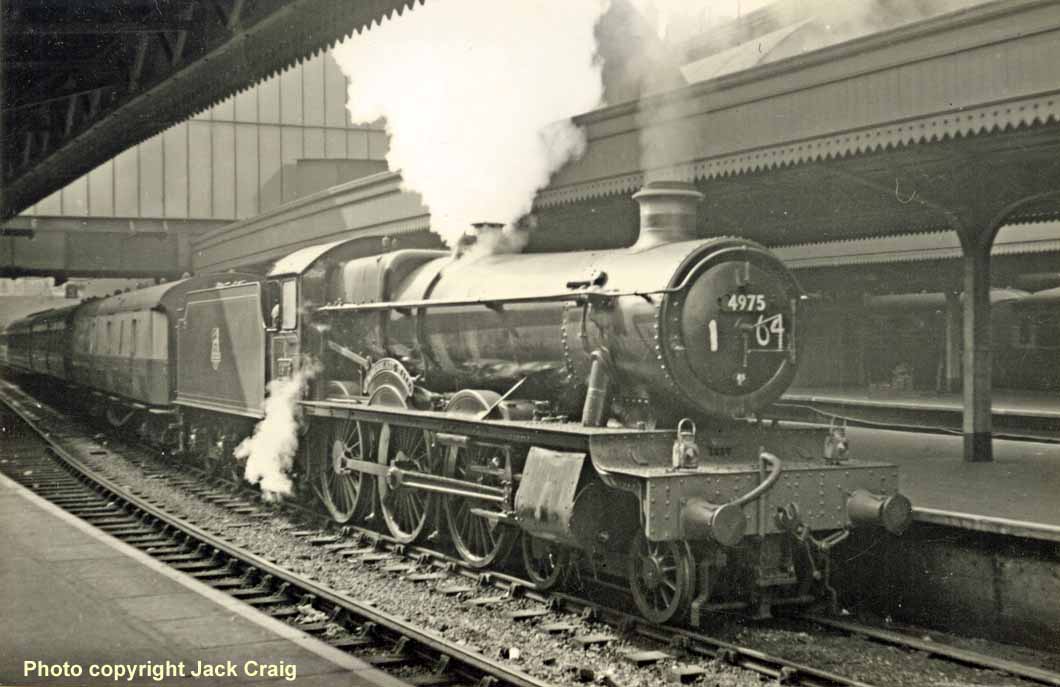 (Above-Below) Soon to leave Paddington on Saturday 20 August 1955 is No 4975 Umberslade Hall of Hereford shed, ready to haul the 9.55am SO Paddington - Neyland as far as Swansea (High Street). Then another loco will take the train on for the 70 more miles to Neyland. The next duty for 4975 is the next day Up train 711, 4.35am ex-Fishguard Harbour. Photo is by Jack Craig.
(Below) For the 1952 Winter timetable, the Reporting Number for the down 'Merchant Venturer' was changed from 142 to 143; then it was changed back and stayed 142 until the Summer 1958 timetable began. So it is something of a rarity to see it about to leave Paddington platform 1 hauled by 'Castle' class No 7024 Powis Castle of Old Oak Common shed. 7024 will run non-stop to Bath Spa, due there at 1.01pm before continuing to Bristol Temple Meads for an arrival at 1.22pm; 7024 will then come off and another loco will take the train forward to Weston-super-Mare, due there at 1.56pm
.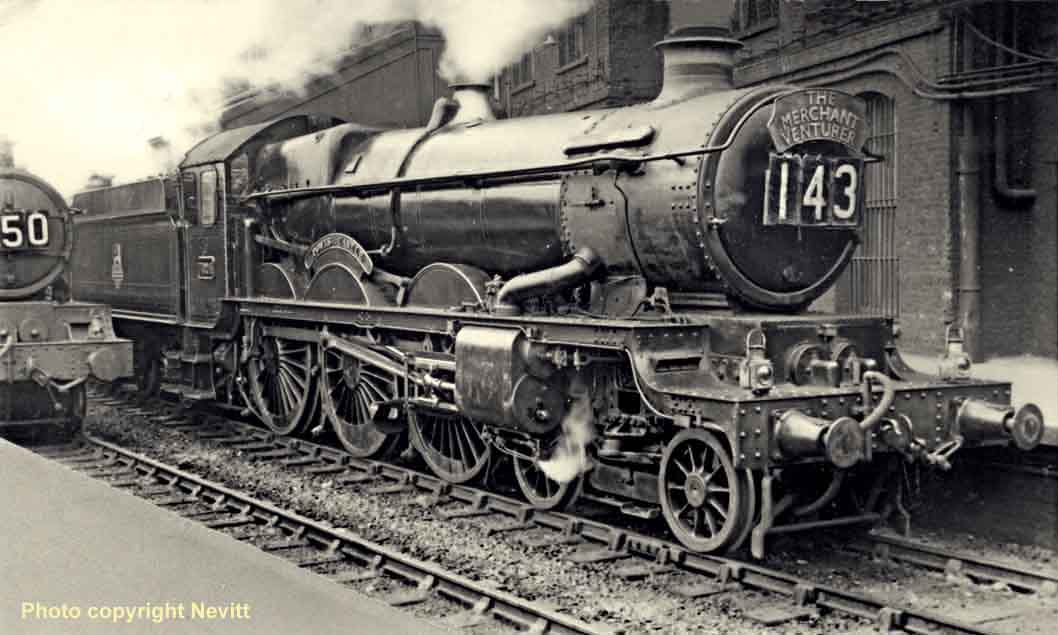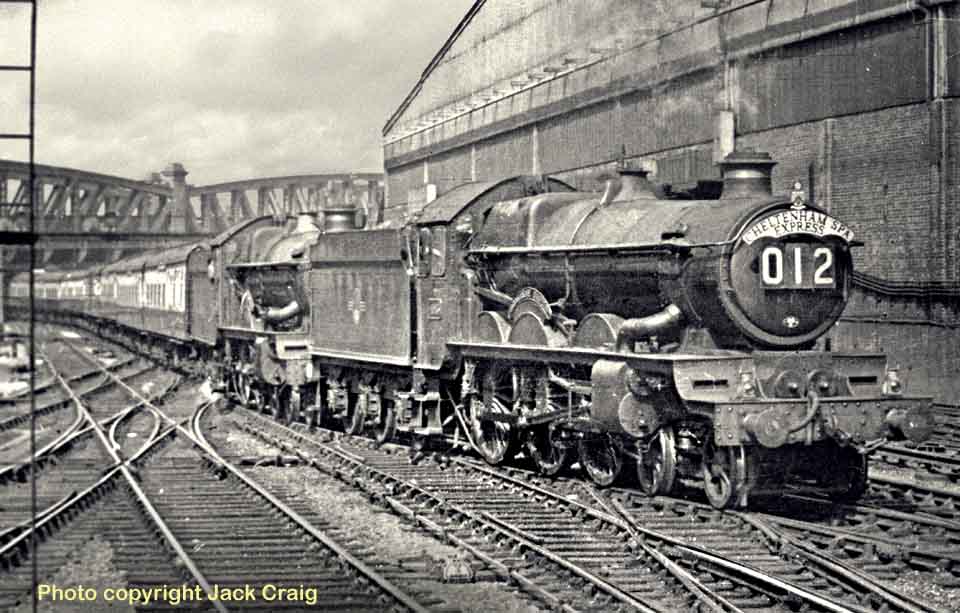 (
Above-Below) To my knowledge, no up or down trains were scheduled to be double-headed except for the Monday 12 noon down 'Torbay Express'. This was to return a Newton Abbot 'Castle' that had come up on a late Sunday evening train from South Devon. Otherwise double heading applied on an ad hoc basis such as (1) returning a Laira engine that had come up on an Ocean Liner special; (2) Bristol Bath Road may send up a 2nd loco on the 11.45am to enable an extra afternoon down train to run, such as at 4.05pm or the 5.05pm to run in two parts; (3) Gloucester may send up a second 'Castle' on the 8.17am or 12.07pm expresses, in order for a further down Gloucester train as relief to the 2.15pm 4.55pm or 6.35pm Paddington departures; (4) Worcester has been known to send up a 2nd loco on either of the up morning trains in order to run a down Worcester relief to the 4.45pm; (5) a relief to an up express was run, and the loco needed to be returned to its home shed. Here the up 'Cheltenham Spa Express' enters Paddington behind No 4085 Berkeley Castle and No 5094 Tretower Castle, both of 85B Gloucester shed. This train was so hauled twice to my knowledge - Saturdays 25 July and 8 August 1959. The locos returned each hauling a portion of the 2.15pm Paddington - Cheltenham. Photo is by Jack Craig. (Below) Cardiff Canton's 'Britannia' Class 7MT No 70029 Shooting Star and 'Castle' class No 5054 Earl of Ducie make a powerful pair as they enter Paddington on Maundy Thursday 7 April 1955, the day before Good Friday, with train 715, the Mon-Sat 6.30am ex-Swansea, which they have brought up together from Cardiff, aiming for a 10.50am arrival in the capital. This pairing was a regular feature at busy weekends when many extra trains were run from London beforehand along with extra returning trains after the weekend. This is another example of Canton providing locos that will each haul their own train back to Cardiff. Photo is by Jack Craig, now in the Ray Hinton Archive.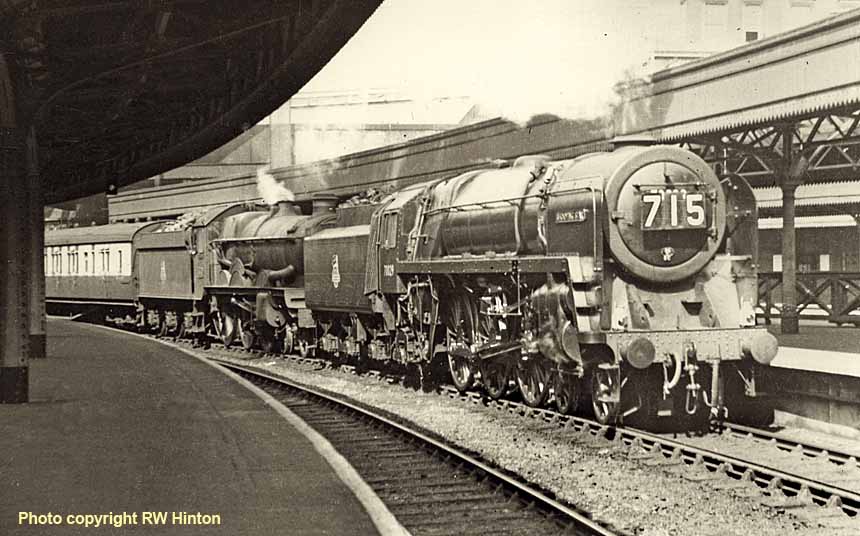 Apart from the trains shown in the public timetables, additional arrivals and departures from Paddington needed to be organised to facilitate such trains as the following:
(a) horse race meetings at Newbury or Cheltenham, and return traffic, at least two specials would run, and as many as five have been known on one day for Newbury races.
(b) football, rugby, hockey, athletics or other sports events, and return traffic, at places such as Bristol, Plymouth, football grounds in the Midlands; eg the FA Cup matches before the final at Wembley always generated extra traffic; International Boy Scouts Jamboree and other such get-togethers required additional, ticket-only, trains.
(c) Royal visits for special ceremonies or tours in parts of the country covered by GWR/WR, and return.
(d) special railway operating reasons: such as the train of empty diners that left on Summer Fridays at 12.05 pm with restaurant cars for the next day's Up holiday expresses. This train called at Exeter St. David's to enable the gassing of the cars. When completed, it left and dropped off some cars at Plymouth. With change of loco, it then went on to Truro where individual cars were detached and inserted into the coaching sets for next day's work.
(e) Boat or Ocean Liners trains: special trains ran non-stop to Fishguard, Weymouth or Plymouth Millbay, and return traffic; these trains were solely for customers travelling by ship to or from those ports that otherwise are not in the public timetable. The trains are solely for passengers booked direct on voyages with travel companies; and return traffic.
(f) returning customers home who had attended special meetings, events, rallies or conferences in London.
(g) returning customers who had arrived on day excursions, works outings, shopping and 'nights out in London', particularly at Christmas. Cheap fare tickets often applied to specific trains only.
(h) for and by the armed forces, either going on leave or on exercises, and in some cases travelling to London for parades and ceremonies.
(i) Swindon Trip trains, including return traffic for returning families of employees.
These trains would be hauled by anything among the 'King', 'County', 'Castle', 'Modified Hall', 'Hall' and 'Grange' fraternity; but if the situation was dire, 47xx, 53xx Moguls and 'Manors' would be utilised, and from 1959, the use of Class 9F 2-10-0s began.
Finally, there was the 'Ranelagh Bridge spare'. Old Oak Common provided a 'Castle' or a 'Modified Hall' as a standby loco and crew ready at this depot in case an incoming train was badly delayed adversely impacting the prompt departure of the locomotive's next duty on a down train, or a fault was found when the loco was being checked over for its next duty and it could not be quickly rectified.
(Below) CB Collett-designed, but BR-built 'Castle' class No 7017 GJ Churchward entered traffic in late August 1948, was subjected to various tests at Swindon, re-entered traffic without nameplates, and is seen here carrying train reporting number 450, the 7.00am Weston-super-Mare - Paddington. No 7017 will have taken over this train at Bristol Temple Meads, due to leave at 7.45am to arrive Paddington at 10am Train 450 was an Old Oak turn, being the return duty of the loco that took the 2.25am 'down newspapers' from Paddington to Bristol. The tale that it had been intended to carry, or indeed did carry the nominated nameplate 'Cranbrook Castle', has never been confirmed, so is regarded as false. On Friday 29 October 1948, the engine was named by the President of the Institute of Mechanical Engineers, at Paddington. I won't repeat the history nor repeat here the immense influence 'the grand old man' had on locomotive design. Suffice to say the newly named 7017 acknowledged the 43 years since Churchward designed the first 4-cylinder express engine and laid the foundations of British locomotive practice that followed, including the Stanier Black Five, 8F and the Riddles Standard Class 5 locos. Photo is by JN Maskeylene.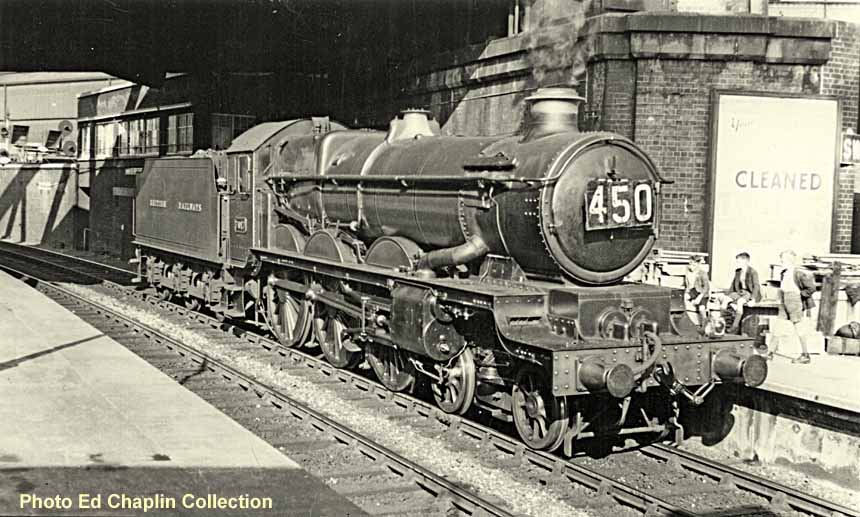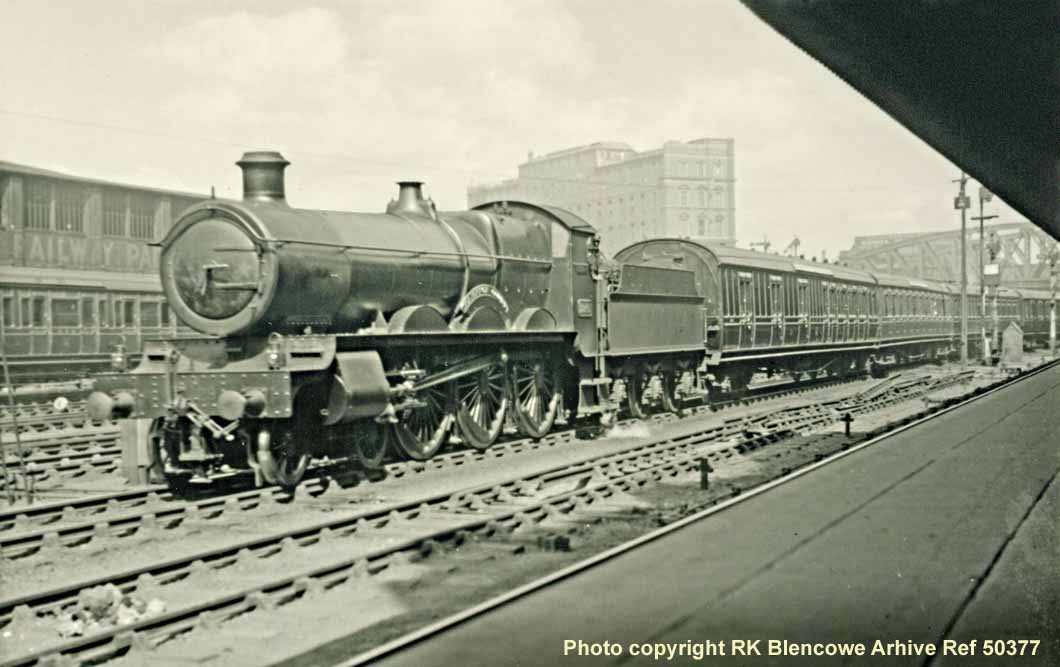 (Above) 'Saint' class 4-6-0 No 2943 Hampton Court is passing Paddington's excursion and parcels platform 1A to the west of Bishop's Bridge Road and before Westbourne Bridge with a down express on an unknown date, but believed to be around 1925. This spot is midway between MP¼ and MP½, which is shortly before Ranelagh Bridge depot. The lack of a cab side window and the tall chimney were a feature of these engines and all the carriages have place name boards fitted. Also of note; all of the brass beading was removed for the duration of the war to prevent pilfering. No 2943 ended its days at Cardiff in January 1951; this post-WWI photo can be found in the RK Blencowe archive, Ref 50377.
(Below) An occasional sight to be seen on arriving or leaving Paddington on the London Underground lines, was one of the 20 Metrovick 1,200 hp Bo-Bo electric locos of the Metropolitan Railway that ran from Liverpool St. to Watford or Aylesbury. These locos might well be 'Hall' class No 4990 Clifton Hall and No. 20 Michael Faraday. Confirmation or correction will be welcome. Photographer is unknown and the date is presumably recently post-war.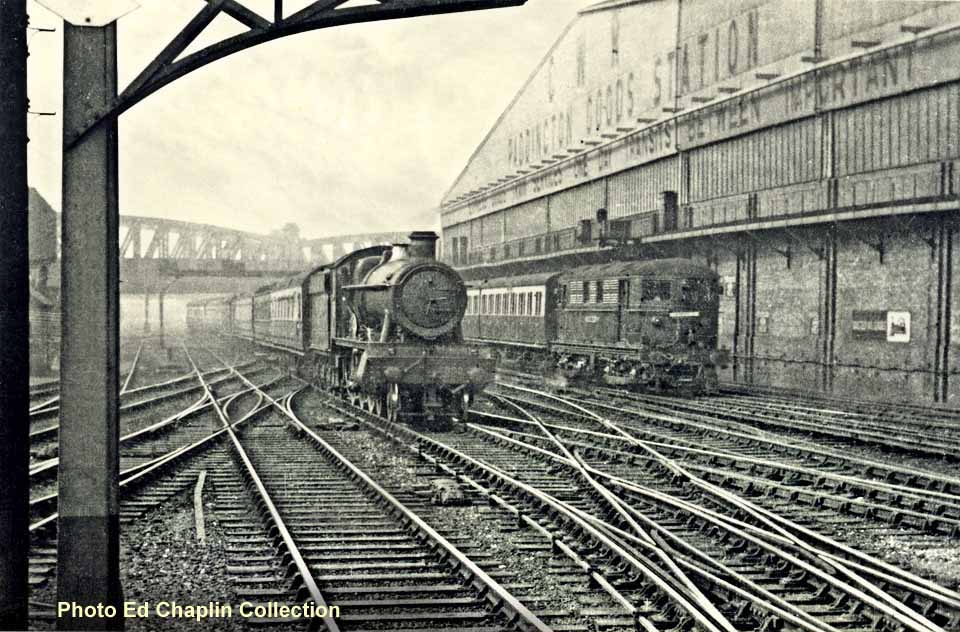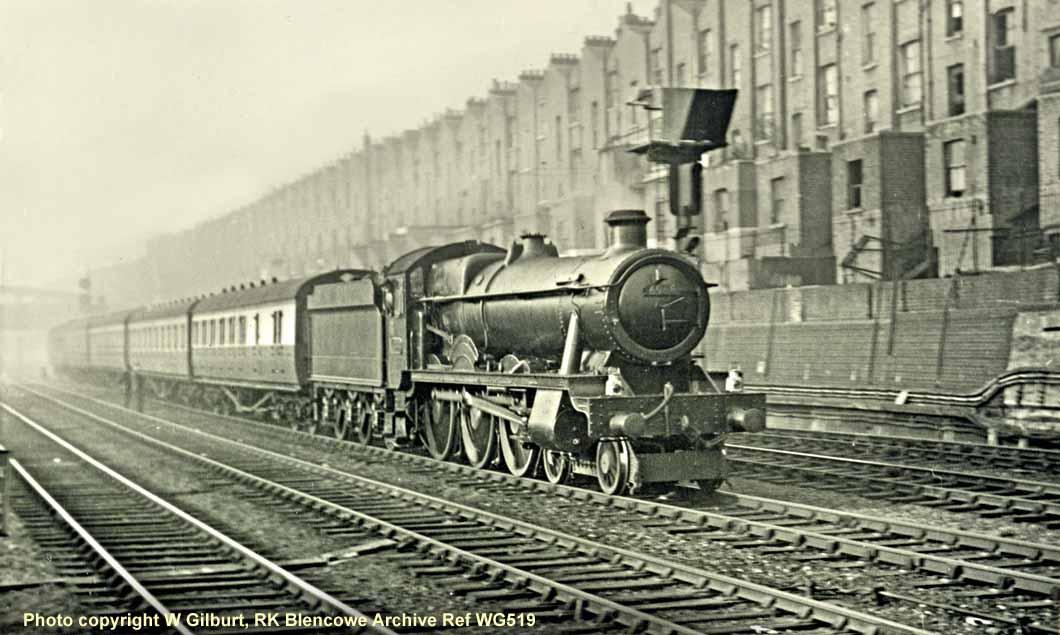 (Above) Always to be seen on departing Paddington, was another incoming train. This is 'Modified Hall' class No 6968 Woodcock Hall a long-time Reading depot resident, passing Westbourne Park, 1¼ miles out on Thursday 3 November 1949. Two railwaymen are seen very close to the train, and the London Transport Underground lines are beyond the train. Photograph by W Gilburt in the RK Blencowe archive, Ref WG519.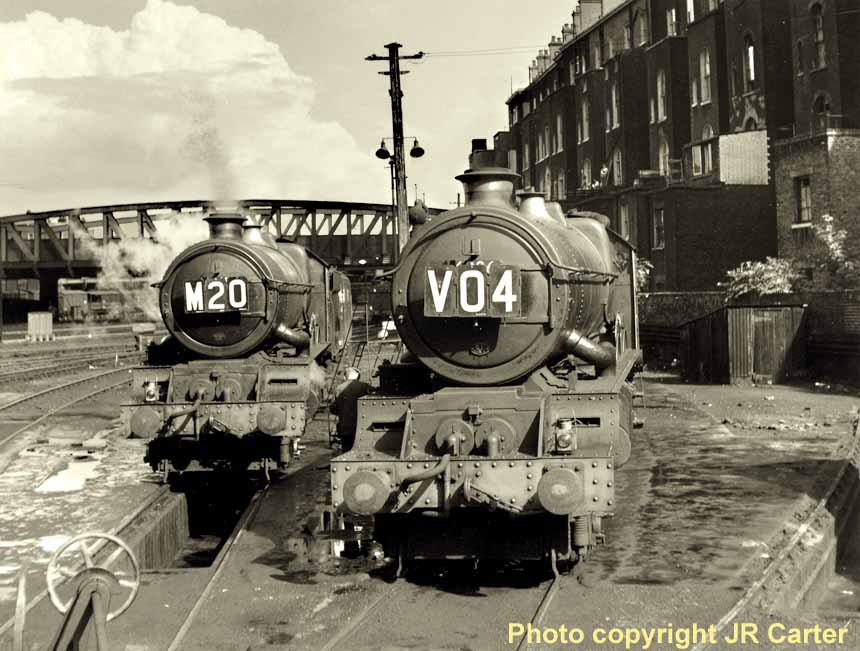 (Above-Below) (Editor's note) In Ed's preparation of the GWW he omitted to provide a photo of
Ranelagh Bridge servicing point. This was constructed in 1907 to supplement the facilities provided by Old Oak Common depot (OOC) enabling visiting engines to turn and gain fresh water supplies without having to cross the main lines more than once. Sufficient coal supplies were required by each locomotive to be able to complete their return journey, as no coaling was allowed at the service point. Strict rules were set in place to keep noise levels down to the absolute minimum due to the close proximity of local tenement housing. The manual-only turntable could accommodate the largest of the Western Region's fleet, as seen in this image by the late Jim Carter. To the left is 'King' class No 6007 King William III, which is now in prime position to back down to Paddington Station for a return to the Midlands; while No 6026 King John has been turned, but has been positioned on the only long stall available until required for service. The photo is dated 4th September 1962 and both engines will soon to be making their respective final journeys to the scrapyard later in the month. The Ranelagh Bridge Pilot (OOC Turn 90, scheduled for a 'Castle') was due to leave the shed at 5.00am and be positioned at Ranelagh at 5.20. The locomotive then remained on standby to substitute any ailing engines throughout the day's proceedings; it wasn't until 10.40pm that the engine was allowed to return to base.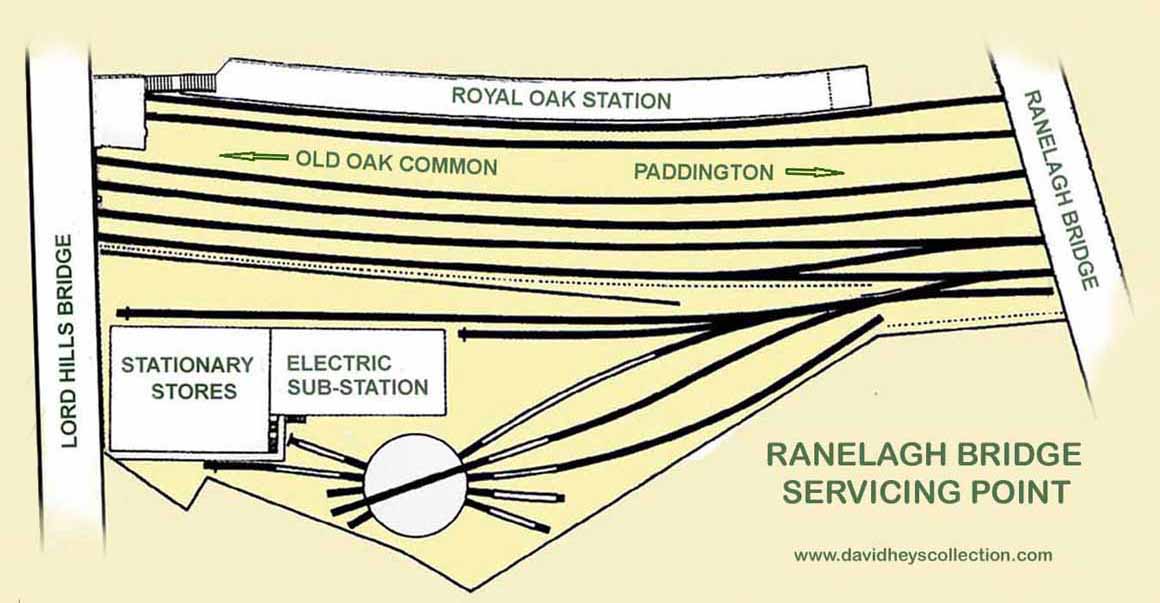 (Above-Below)
Opened in 1871, Westbourne Park station was the first main line station 1¼ miles from Paddington on the Great Western (Broad Gauge) main line constructed by Isambard Kingdom Brunel initially as far as Maidenhead, then the first terminus out of London. Following completion of Sonning Cutting in March 1840, the broad gauge line was extended to Reading. A basic station at Westbourne Park was opened in 1866 by the Hammersmith and City Railway which was quickly absorbed by the Metropolitan Railway before the GWR amalgamated with them in 1867 and began to develop the Westbourne Park site with the construction of four platform faces, whilst a new replacement station was built for the Metropolitan Railway's traffic immediately to the south. The fact that Metropolitan Railway trains needed to cross the GWR main line caused conflict, so in 1878 a 'fly under' was constructed for suburban trains that is still in use today, however all traces of the GWR platforms at Westbourne Park station were removed at the end of 1991. In this 1959 photo, 6021 King Richard II is in charge of train 253, the 6pm Paddington to Weymouth, its first stop being at Newbury 52 miles ahead. 6021 will come off the train at Westbury, and return on the 6.35pm Weymouth milk train that will stop at Westbury 10.05pm-10.25pm to change engine. 6021 will then take the Trowbridge route and call at Swindon, Didcot and Reading before reaching Paddington at 1.30am, the only up milk train that terminated at Paddington. These milk trains were very heavy, consisting of 16 loaded milk tanks of 448 tons, plus at least one van. Of particular interest to modellers are the substantial platform canopies complemented by covered stairways at Westbourne Park, which was pretty much standard for most GWR stations.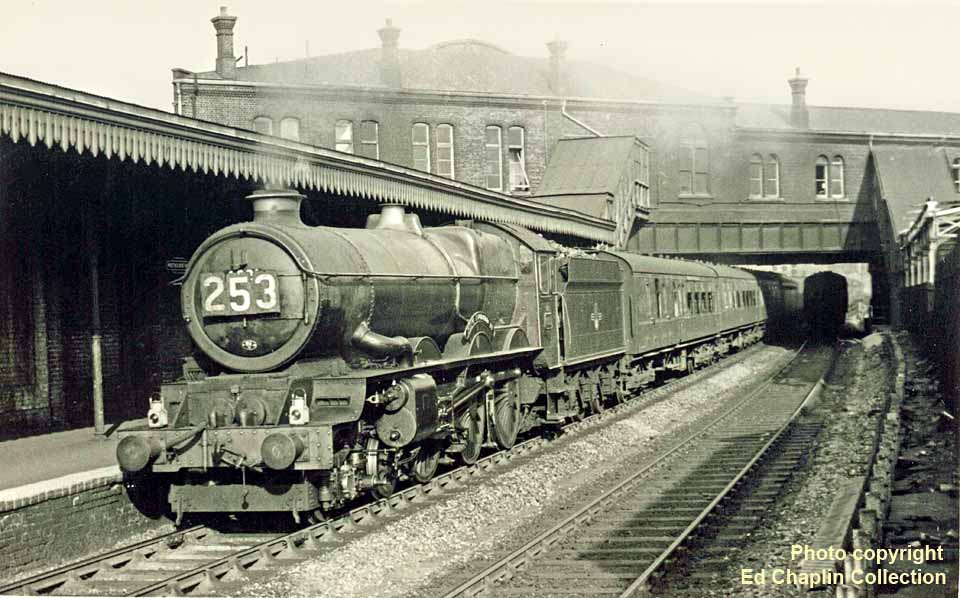 (Below) In forty years of collecting photographs I have never seen any other picture taken from this point of view. On Wednesday 12 June 1957, 6000 King George V of Old Oak Common takes the down 'Cornish Riviera Express' under the double track flyover after Kensal Green gasworks, 2¼ miles out of Paddington.
The identification of the engine would normally be very difficult from this obtuse angle, but the two medallions (copies) above the cabside numberplate give rise to only one answer; it is No 6000 King George V, the class leader, seen in 1957.
This flyover was used for light engines and empty stock to and from Old Oak Common and Paddington.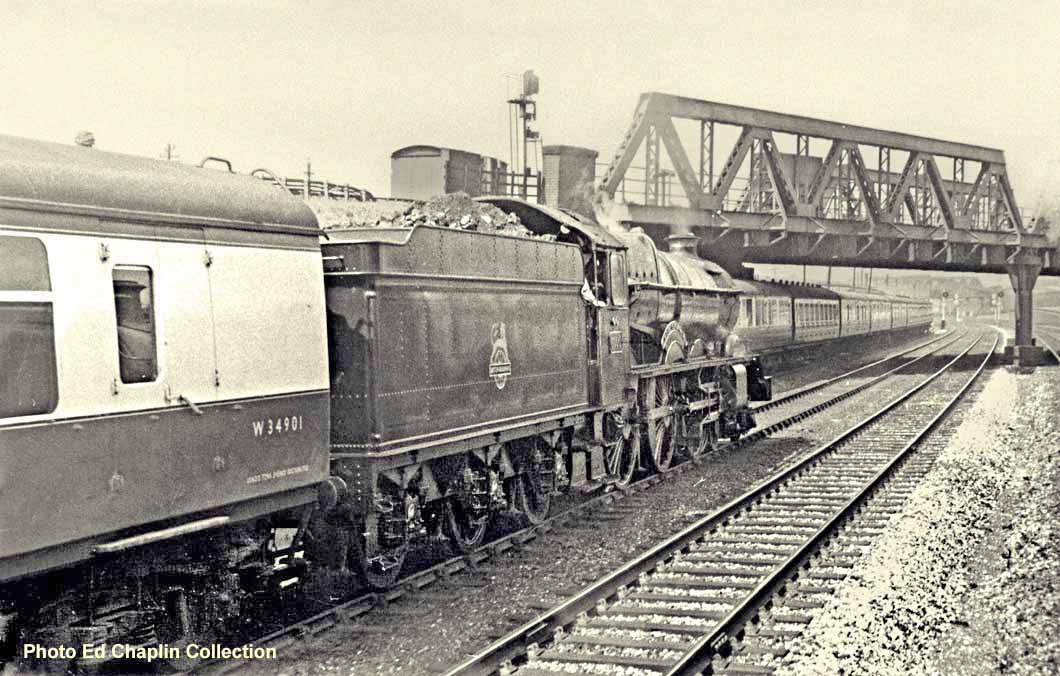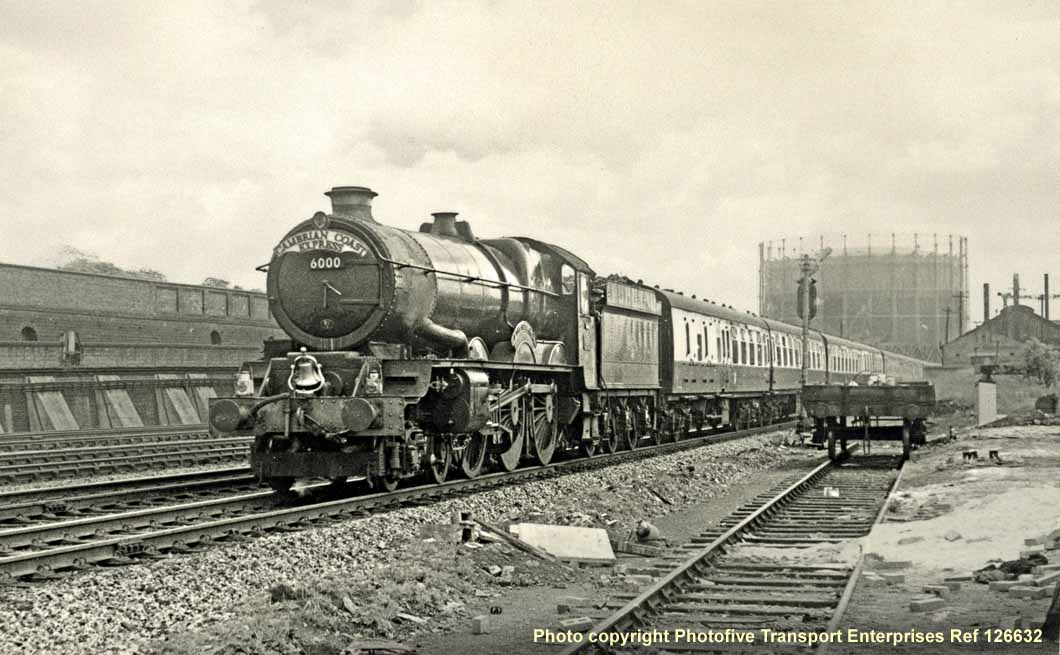 (Above)
This is a more interesting picture than it seems. Today is Saturday 2 June 1962, and 6000 King George V passes with the Down 'Cambrian Coast Express' on the Down main (West of England) line. RC Riley writes in 'Trains Illustrated' Summer Annual No 2 'trains from Paddington to the Birmingham line
usually cross to the Down Relief line at Subway Junction (0 m 76 ch); occasionally they cross at Ladbroke Grove (1 m 65 ch) and sometimes as far as Old Oak Common West (3 m 24 ch) before crossing over.' (I have inserted the distances from Paddington in miles & chains). Bear in mind that this photo is taken 2½ miles out, so it will be the third alternative above that applies to this train, assuming that it doesn't go as far on the Down Main as the West Ealing Loop line, to about MP 6¾ then join the Birmingham line just before Greenford, 7¾ miles out of Paddington, which is feasible if its aim is to avoid a blockage between North Acton and Greenford). Photograph is by Photofive Transport Enterprises Ref 134310.

(Below) The extraordinary sight of 'Castle' class No 5005 Manorbier Castle with all its streamlining still in place, takes a down express near Ladbroke Grove with the huge Kensal Green gas works seen beyond the over-bridge, nearly 2½ miles out of Paddington. The full streamlining and fairing fitted in March 1935 is visible, so the photo is dated within the 6 months before the front cowling was removed in September. The train is made up of a very mixed set of carriages including at least two Collett Centenary carriages, so it is a typical workaday express. Photographer is J M Craig.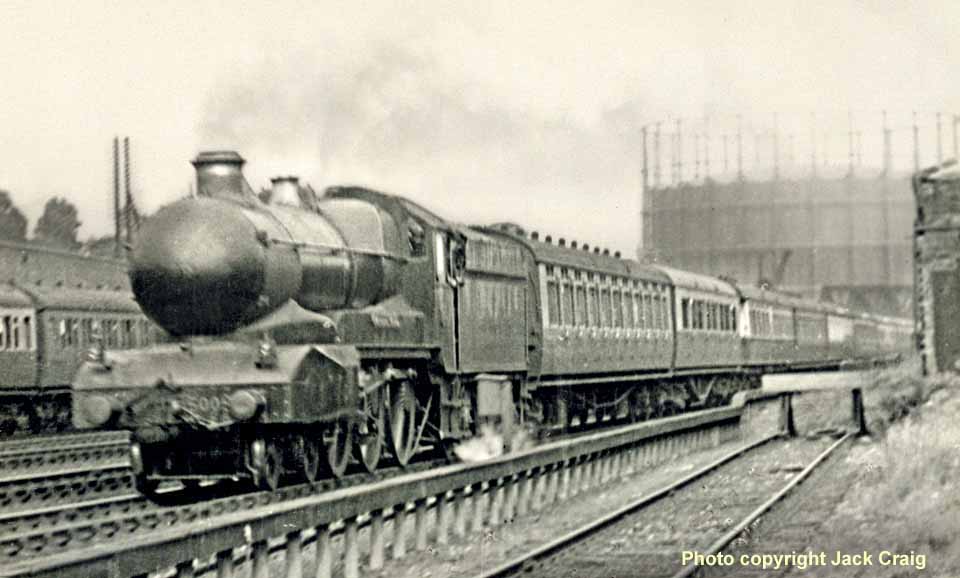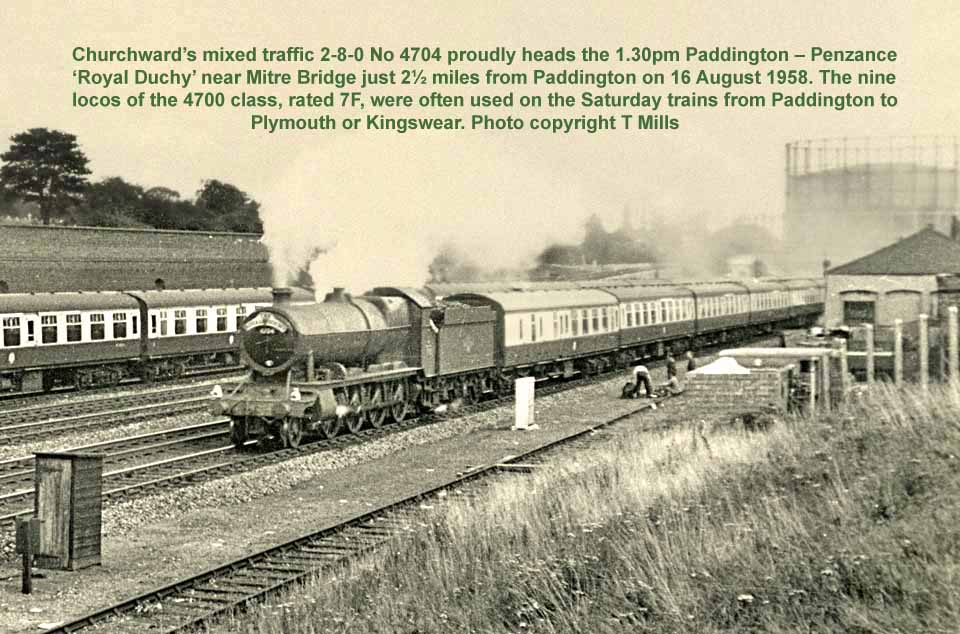 (Above) Churchward 2-8-0 No 4704 hauls the 12.05pm SO Paddington - Plymouth on Saturday 31 August 1957, on the approach to Mitre Bridge with Kensal Green gasworks in the distance. The 4700 class of nine locos, rated 7F, was quite often used on the Saturday extras to Plymouth or Kingswear leaving Paddington between 12.05pm and 1.35pm. On Saturday 4 August 1951 4700 itself took the down 'Torbay Express' all the way to Kingswear, and in 1958 there were six different Saturdays when one of the class took the 'Royal Duchy' to Plymouth. These fine engines were not normally used on passenger turns due to their official limitation of 60 mph, but pressed into service at very busy times such as this Summer Saturday. Train reporting numbers were not too often carried on this service whichever the locomotive, but the 4700 class engines were not able to retain the required framework on the smokebox door. The down service at this time was nominated Train 150 and was due to change to '147' the following summer; also '421' (winter 1958) and '437' for the summer of 1959.
(Below)
At Mitre Bridge circa 1936, two 0-6-0 PT (Pannier Tank) engines, GWR '5700' class No 9708 with condensing apparatus, and No 9726 (without) are waiting to turn into the Old Oak Common shed and sidings complex, over the other side of the tracks. A London Transport tram heads over Scrubs Lane, which is the A219 above all the lines. 9708 is grubby and has Great Western lettering, 9726 has the small GWR roundel motif. 9708 lasted until January 1959, 9726 until June 1965. Both were Old Oak locos, but in 1936 the depot was coded PDN even though Paddington itself was 3 miles east of Old Oak Common. Photograph is by Jack Craig.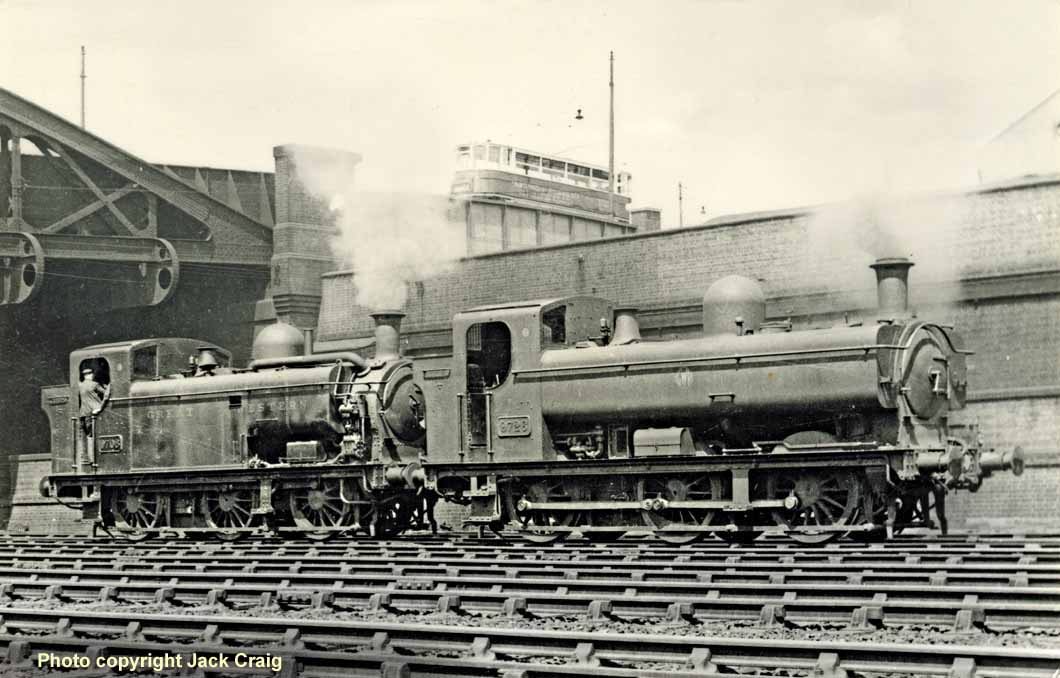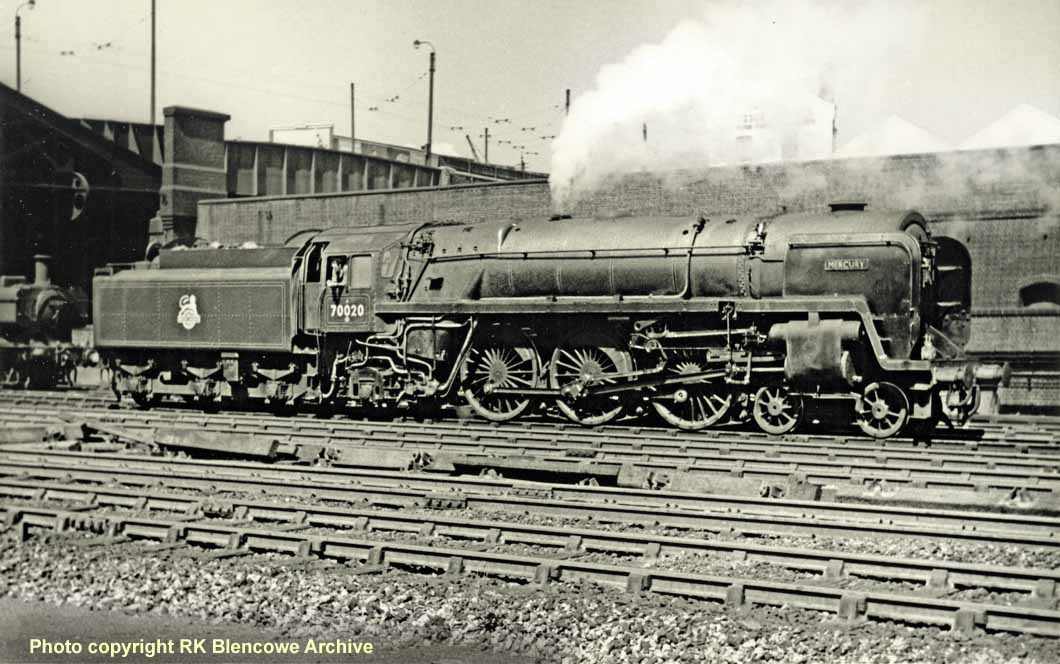 (Above-Below) At Mitre Bridge, nearly 2½ miles out, BR Standard 'Britannia' Pacific No 70020 Mercury of Old Oak Common depot for slightly more than 5 years, is seeking to reverse into its home shed area on Saturday 14 August 1954. This photograph shows the extent of pipework, all accessible, compared with the usual 'Kings' and 'Castles' that shared main line duties with the five 'Britannias' of 81A. Photograph is in the RK Blencowe Archive. (Below) To the west of Mitre Bridge on March 11 1961, we can view a smartly-turned out Collett 4-6-0, 'Hall' class No 4909 Blakesley Hall from 82D Westbury shed sneaking by on an up parcels train for Paddington via the flyover. Dwarfed by the retaining wall of the Grand Union Canal, close to Old Oak Common, the engine is now almost at the foot of the flyover that began after Ladbroke Grove Bridge allowing safe passage to platform 1A, specified for excursion and parcel trains. Photo by BWL Brooksbank Initial Photographics Ref 195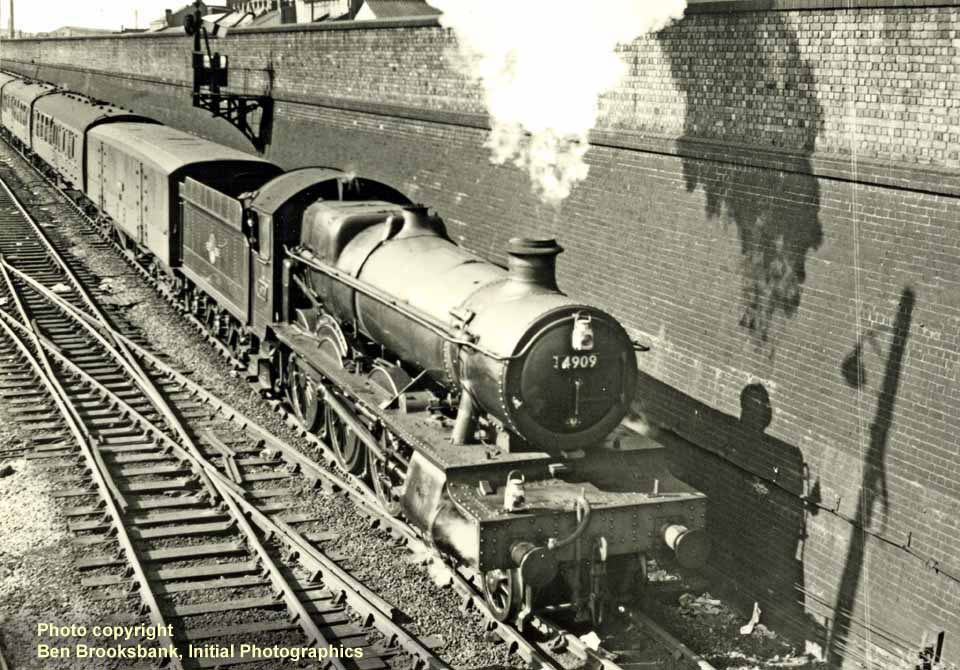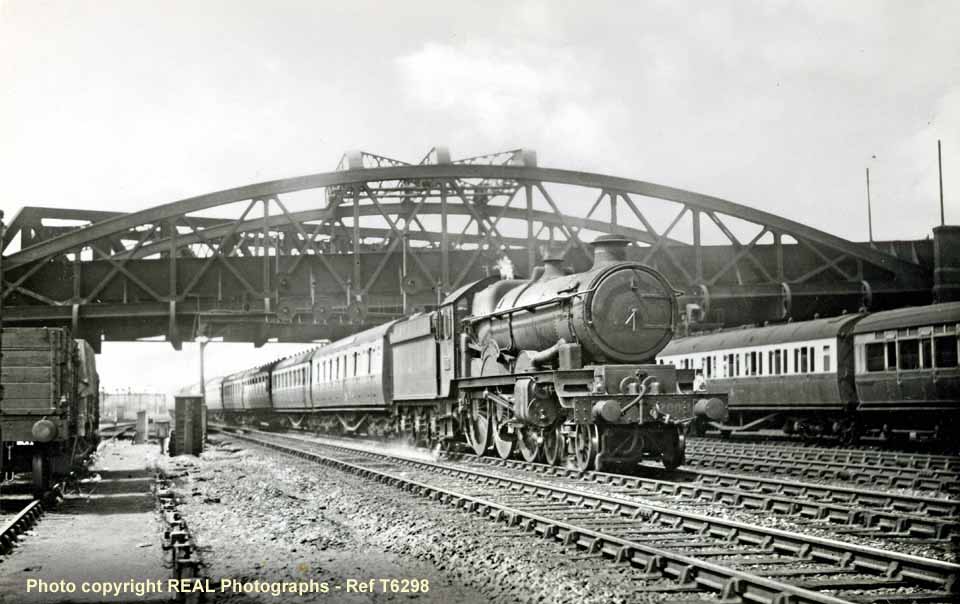 (Above) Built almost 23 years after the pioneer 'Castle' engine appeared, No 7003 Elmley Castle brings an up express from South Wales under Mitre Bridge in 1949. The loco is still in GWR livery and is one with the mystery box on the front right hand side frame, which would seem to be an early lubrication system. No 7003 was new in June 1946 and based at Landore until December 1958 when its home shed briefly became Bath Road, before moving after a Heavy General overhaul to be based at Gloucester from June 1960, and with a double chimney fitted. From there, it was a regular on the London expresses until it was withdrawn in August 1964. Unseen but beyond to the right is the approach to the huge Old Oak Common site. Photo is by REAL photographs, Ref T6298.
(Below) Affording us an excellent view of the two sections of the large spans of Mitre Bridge, this scene shows 'Hall' class No 4975 Umberslade Hall, formerly of Canton shed, now of 85C Hereford, on Sunday 21 August 1955, as it brings train 711, the Sundays Only 4.55am from Fishguard Harbour. The first flyover is Scrubs Lane, while the second span supports the West London Line which connects Willesden Junction to Clapham Junction for cross-London freight services. Photograph is by JM Craig.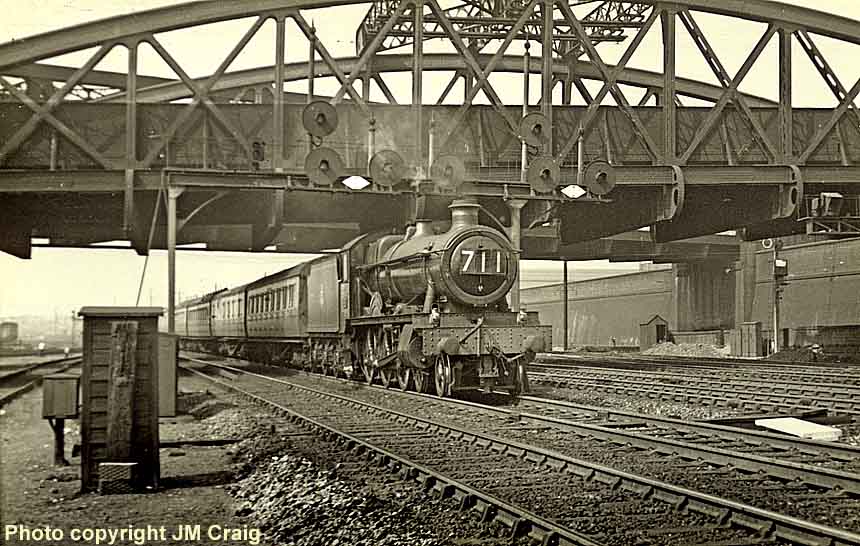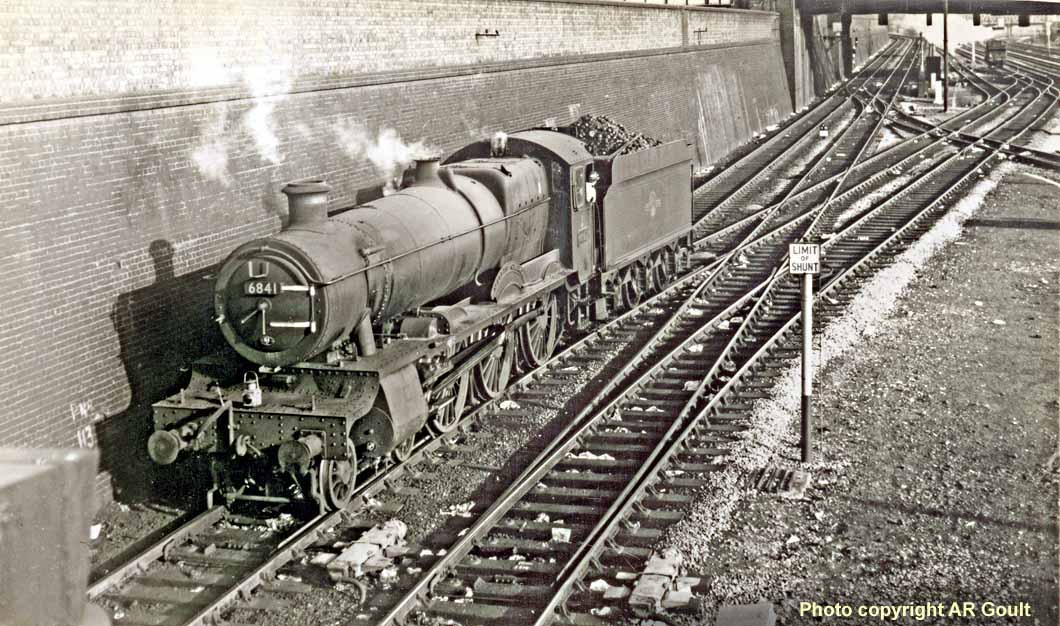 (Above) This photo of 'Grange' class No 6841 Marlas Grange of Southall shed on Thursday 14 November 1963 shows it backing out of Old Oak with a full tender of coal, about to go under the westerly of the 2 bridges at Mitre Bridge. This bridge carries the original LMS railway line from Willesden Junction to Kensington Olympia (formerly Addison Road), over the up and down Paddington lines, and carries inter-regional traffic, both goods and passenger. The fireman is watching a tank engine on the line ahead, both locos doubtless making their way to Paddington station. With withdrawal occurring in June 1965, No 6841 today looks quite tidy with white painted smokebox door straps, and the later WR crest visible on the tender. Photo is by AR Goult.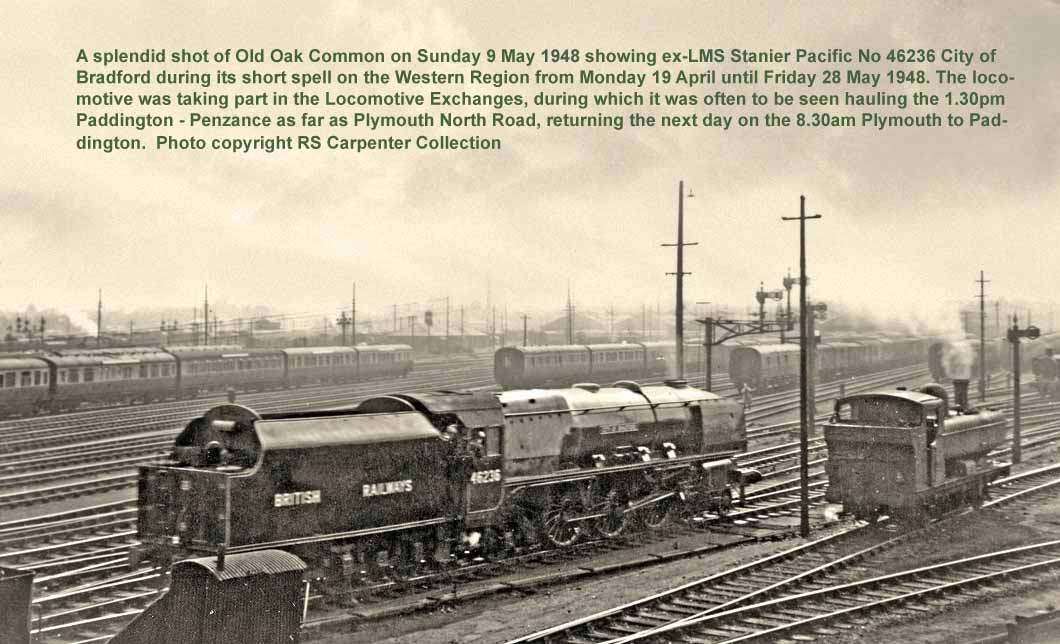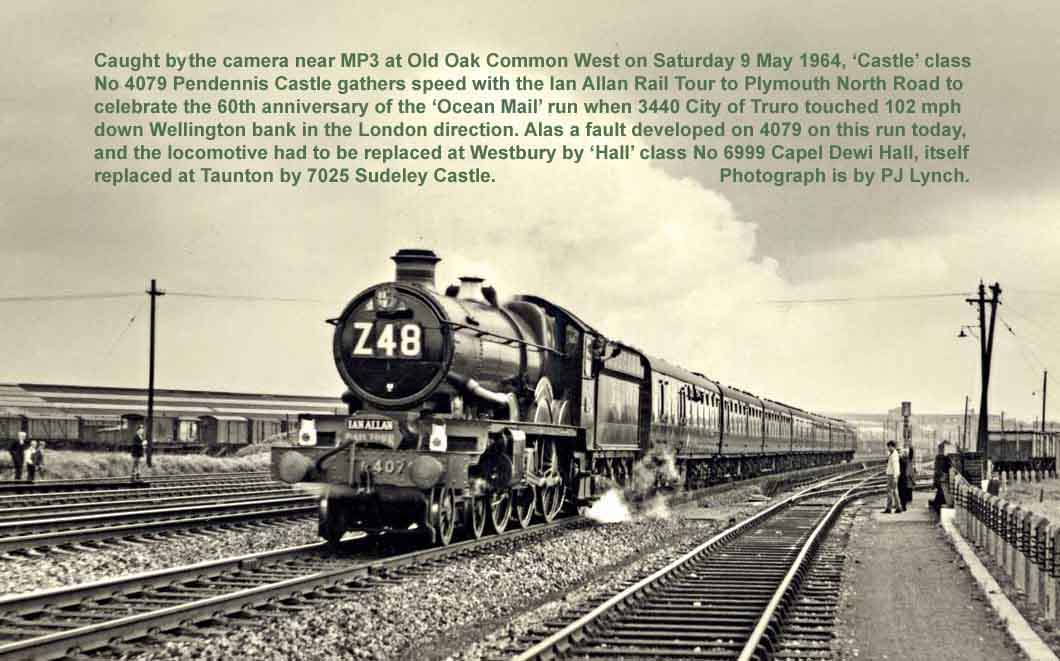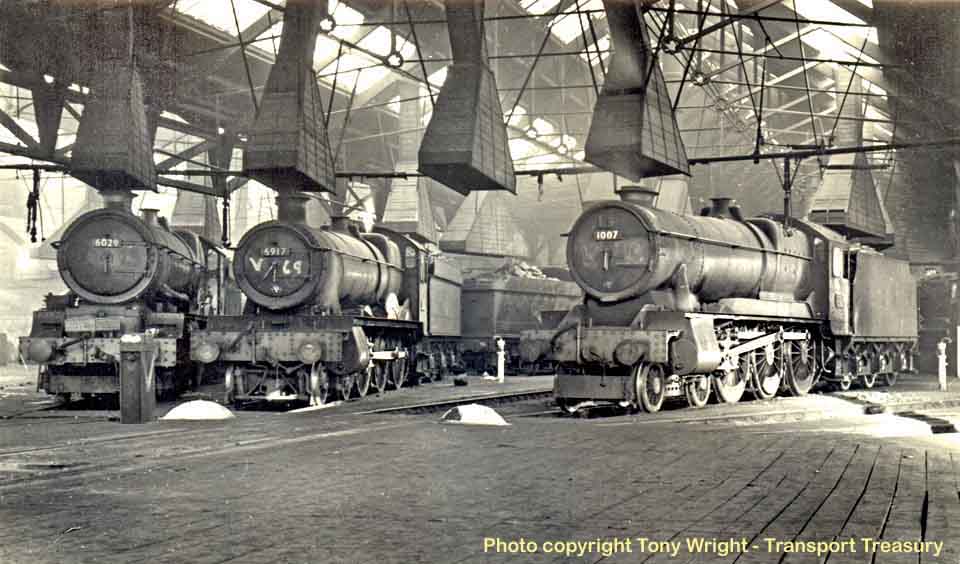 (Above) This photo of the premier steam depot of the GWR, Old Oak Common (81A), was taken in August 1960; the depot was nominated 81A in 1950 when BR re-organised the shed codes for each of the nine districts making up the Western Region of British Railways. Old Oak Common was the third engine shed built to serve Paddington; this vast new shed was necessary due to the GWR's increase in train services creating an urgent need for a much larger building to accommodate many more engines than previously realised. The cavernous interior of the quadrupled turntable shed can be seen in Tony Wright's atmospheric shot of three 4-6-0s at rest, with 'King' class No 6029 King Edward VIII awaiting repair on the left displaying a 'NOT TO BE MOVED' notice on the front; the repair could be as simple as a boiler washout or a monthly inspection. In the centre is Gloucester shed's favourite 'Hall' class No 6917 Oldlands Hall and on the right 'County' class No 1007 County of Brecknock of Exeter shed 83C.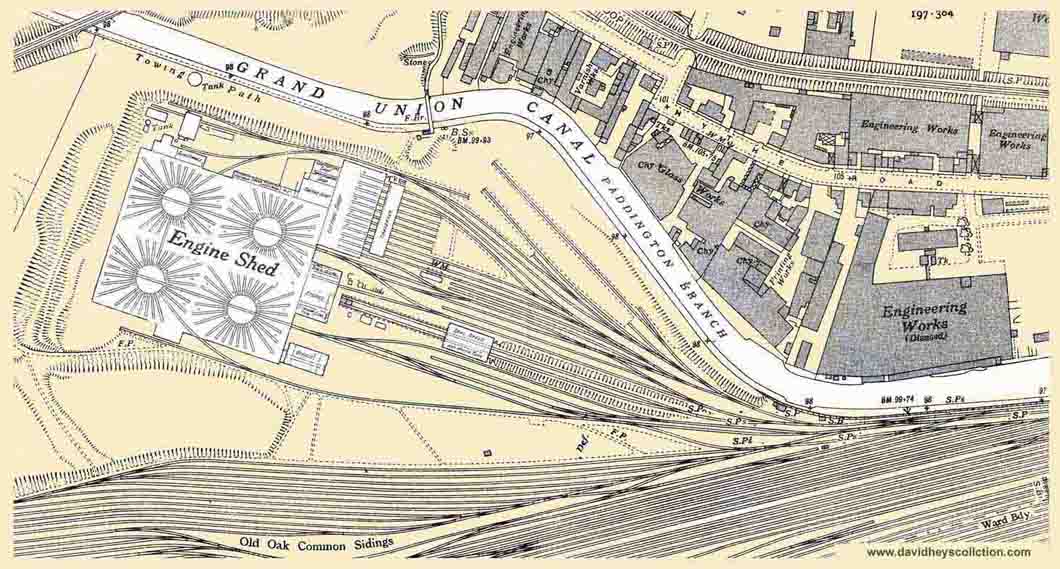 The extensive workload exerted on the Old Oak Common staff was constant, unrelenting and unforgiving; this became extremely demanding during the busy 'summer holiday' periods when extra engines had to be manned, readied and fully checked over; their tenders replenished with coal and water, while many extra carriages had to be serviced and made ready for the huge increase in the number of trains required.
Around 800 members of staff were employed throughout the site and much of the work was laborious, dirty, often time-consuming and requiring a number of late-night or early morning turns. But the result of their labours was the relative smooth running of what was essentially a complicated and chaotic operation, especially during the busiest periods when the constant movement of incoming and outgoing express trains was set at maximum, leaving very little in the way of additional or realistic paths available at peak times.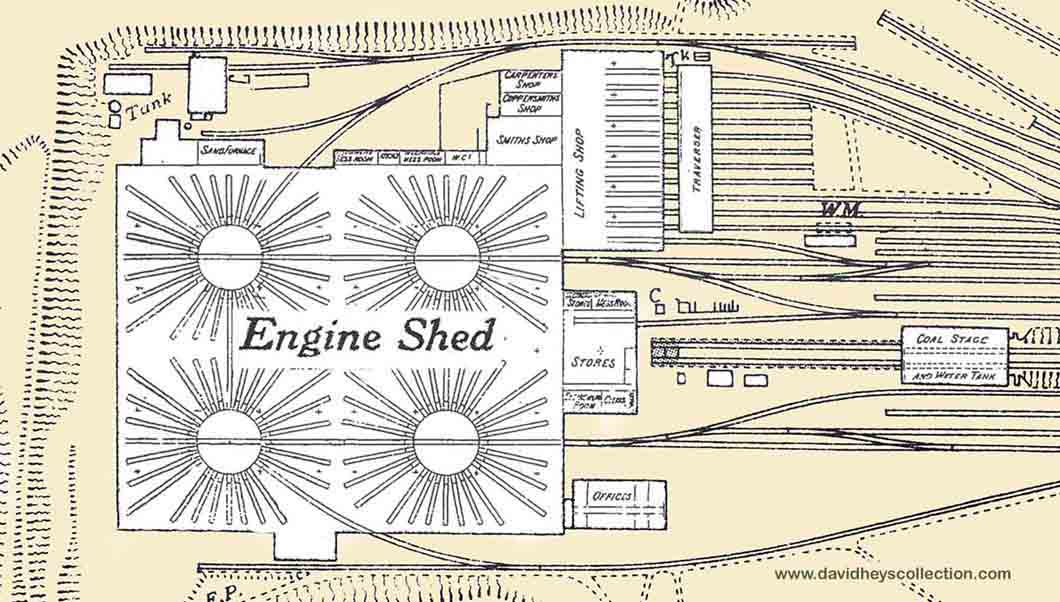 Old Oak Common was known as 'The Cathedral' to many of the engine crews, the massive shed was the heartbeat of the GWR; the great hub around which the Railway functioned. Designed by George Jackson Churchward and opened in 1906, the shed was considered by many to be way ahead of its time; a combination of four large turntables with 100 stalls in total; the immense slated roof included plenty of glazing to lighten the working areas, and at night the site was illuminated by electric lighting from the start.
The under-girder turntables were operated by electric motors, each being fully boarded for safety reasons and although the tables were inter-connected via through rails, they could be accessed individually by way of side spurs. In 1950 Old Oak Common had an allocation of around 200 locomotives; these were made up of 86 4-6-0 express passenger engines; 8 'Counties', 28 'Castles', 13 'Kings', 25 'Halls' and also 12 'Modified Halls'. A similar number continued throughout the 1950s until the end of 1962 when the massive cull of Western Region steam began in earnest.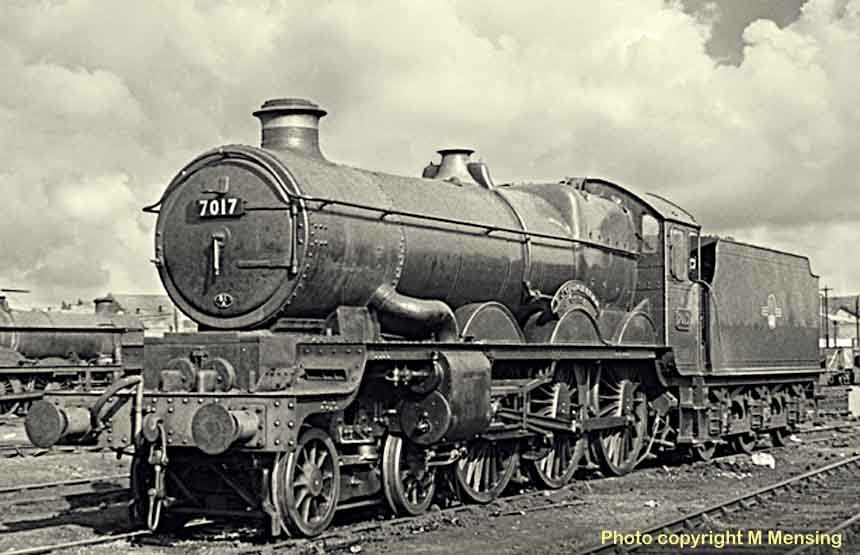 (Above) 'Castle' class No 7017 GJ Churchward enjoys a lull in proceedings in the shed yard at Old Oak Common on 20 September 1959. A genuine thoroughbred that carried the name of the 'Great Engineer' from its construction in 1948 and is now viewed on the very site designed by George Jackson Churchward in 1902 and completed in 1906. The following year was relevant for the simple reason that the first 'Star' class engine appeared, setting the standard for a further 273 4-cylinder 4-6-0 locomotives built for the GWR, including No 7017.
(Below) When the line between Old Oak Common and West Ealing was under repair, trains heading west towards Reading or beyond had to be diverted. They went as far as Old Oak Common West signal box near MP3¼, then took the Birmingham line for 4 miles before bearing left at Greenford East Loop signal box near MP7¼, and then used the 2 mile double track of the West Ealing Loop line, heading south. On this West Ealing Loop line were three Halt stations: South Greenford, Castle Bar Park, and Drayton Green. On reaching Drayton Green junction, the train would turn right (west) to rejoin the West of England main line near MP7¼ (direct from Paddington) at Hanwell & Elthorne station. The first station on the Birmingham line beyond Old Oak Common West was Old Oak Lane Halt, 3½ miles out of Paddington, seen here with oil-burning No 3953 Leighton Hall, from April 1947 to September 1948 of Old Oak Common, formerly and later No 6953, passing on a semi-fast on Tuesday 24 June 1947. Photograph is No 49086 by HC Casserley.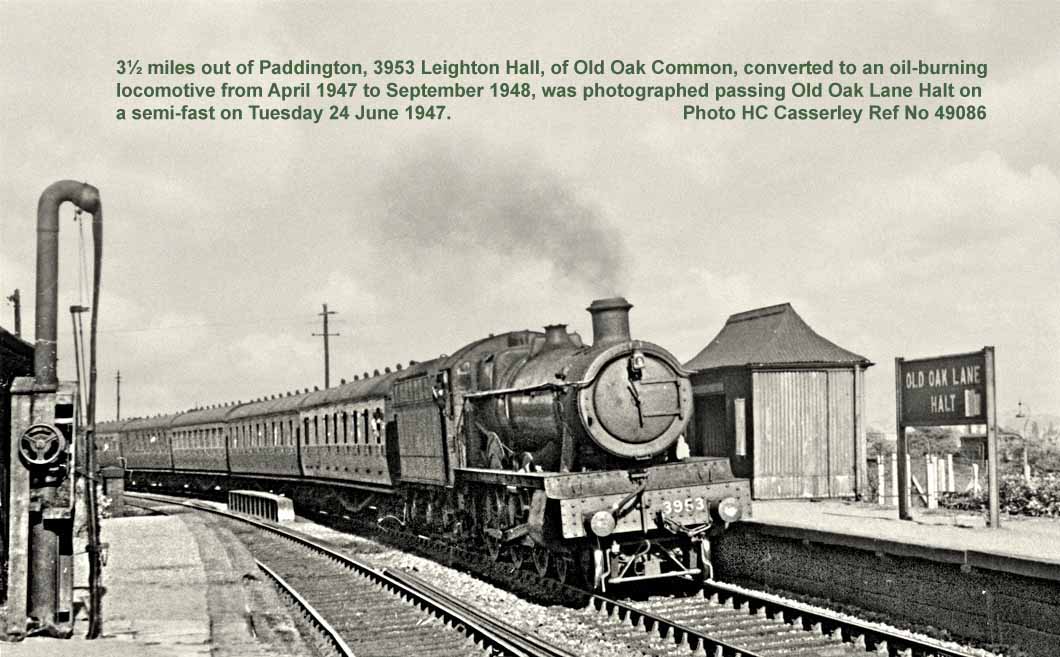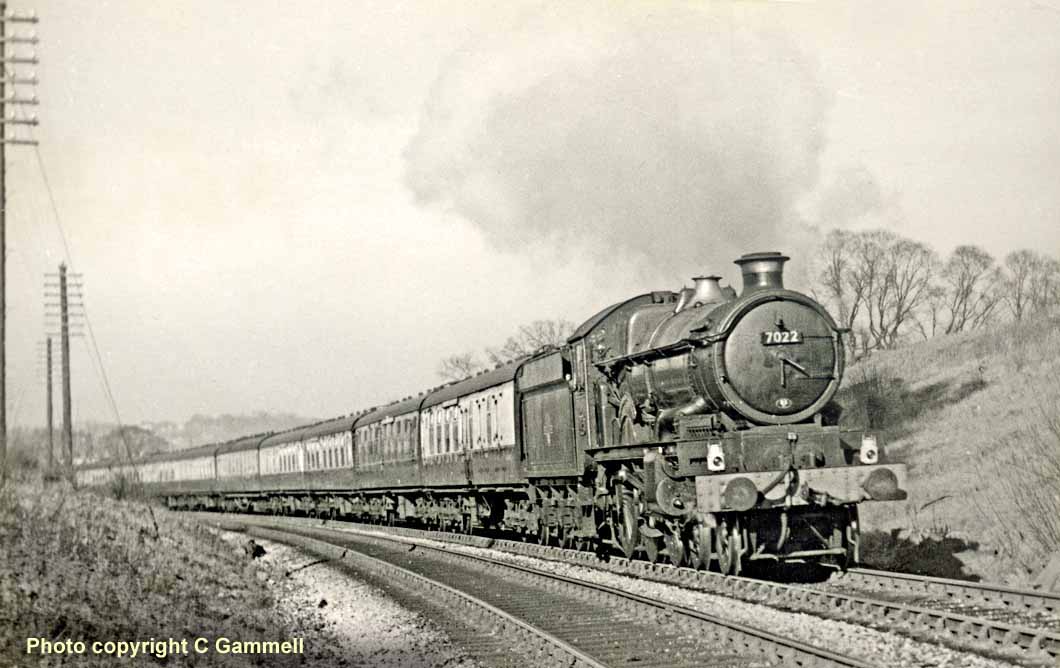 (Above) On the West Ealing Loop line this is 'Castle' class No 7022 Hereford Castle of Laira depot, on Sunday 16 February 1958 near Castle Bar Park Halt, hauling the diverted 1.30pm Paddington - Plymouth. Built new in July 1949 and based at Canton, it was not until 23 January 1958, 3½ weeks before this photo was taken that Laira became its home shed. With this diversion due to a bridge renewal east of Acton Main Line station so very early in its journey, and probably with more delays yet to come in the train's 225½ mile journey, it will be fortunate indeed if a target arrival of soon after 10pm at Plymouth is accomplished. No 7022 was just out of a Heavy Intermediate overhaul with a double chimney fitted, so it is in good shape. It lasted until withdrawal in June 1965 with 733, 069 miles travelled. Photo is by C Gammell. WR10-26
(Below) This is another picture from a unique viewpoint; it came to me with no details except the loco is Collett 'King' class No 6026 King John. As the engine had a double chimney fitted in March 1958, the date can only be in the Summer of 1958, and the train is the except Sundays 6.30pm Paddington to Weston-super-Mare. But where is it? I think it only can be where the down relief line turns away after Old Oak Common West box, at the start of the line to the Midlands. No 6026 was a Laira loco at the time, and was withdrawn from Old Oak Common depot, in September 1962. The intrepid photographer seems to have been between the up and down Birmingham (relief) lines, new in 1903, but his name is unknown.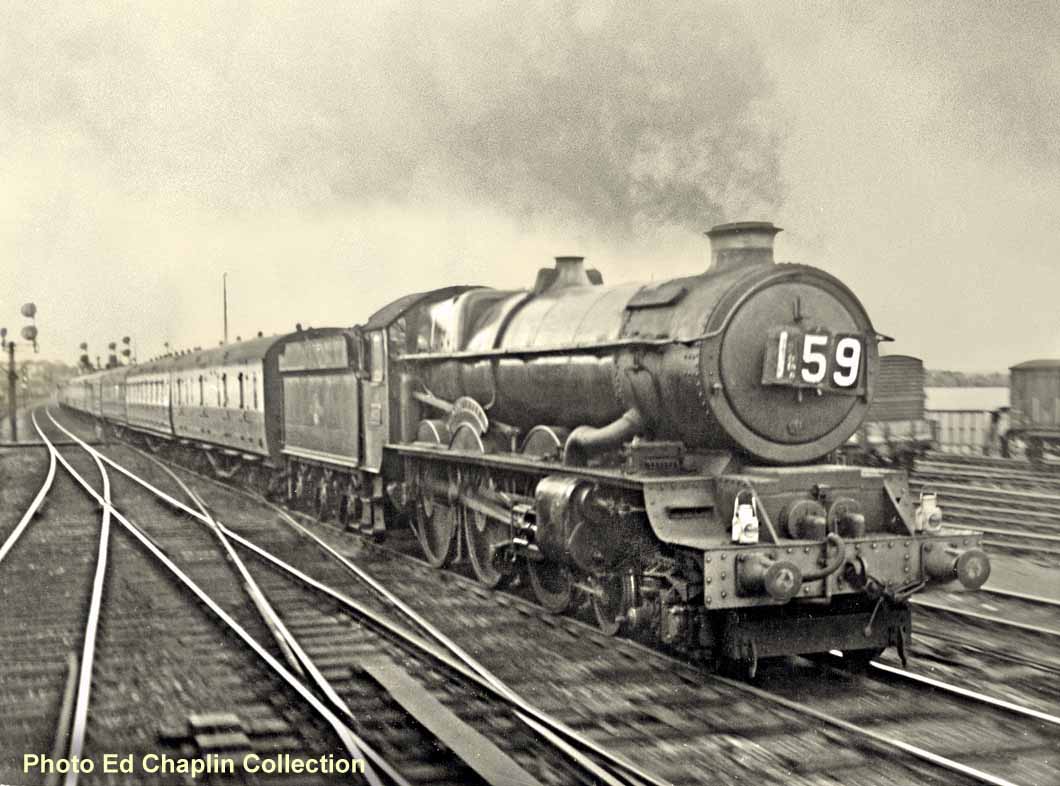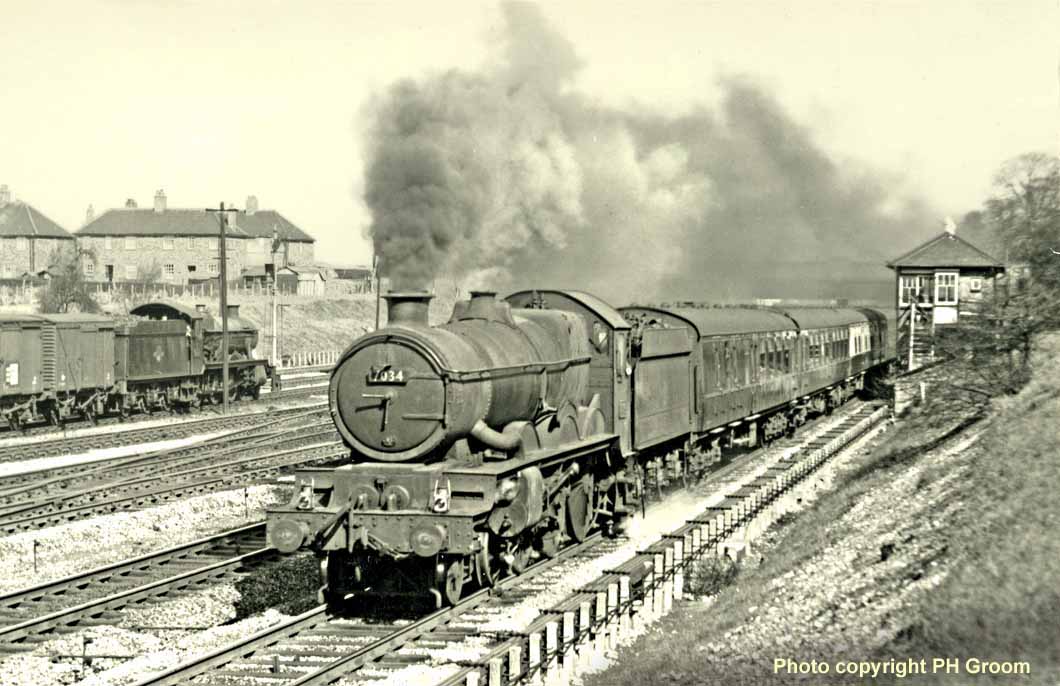 (Above-Below) Passing Acton East signal box in April 1964, 4¼ miles out of Paddington is 13-year old 'Castle' class No 7034 Ince Castle of 85B Gloucester shed on a down express. As well as the WR lines, those beyond are lines serving the Acton Wells branch to several places such as Euston and Kensington Olympia. Photo is by PH Groom. (Below) It is Sunday 29 August 1954 at Acton Main Line station as 5338 of 82F Weymouth and 6864 Dymock Grange of 81D Reading bring up the afternoon express from Weymouth Quay. This rarely photographed sight is a change from a succession of more powerful engines passing through. Photo is by JM Craig.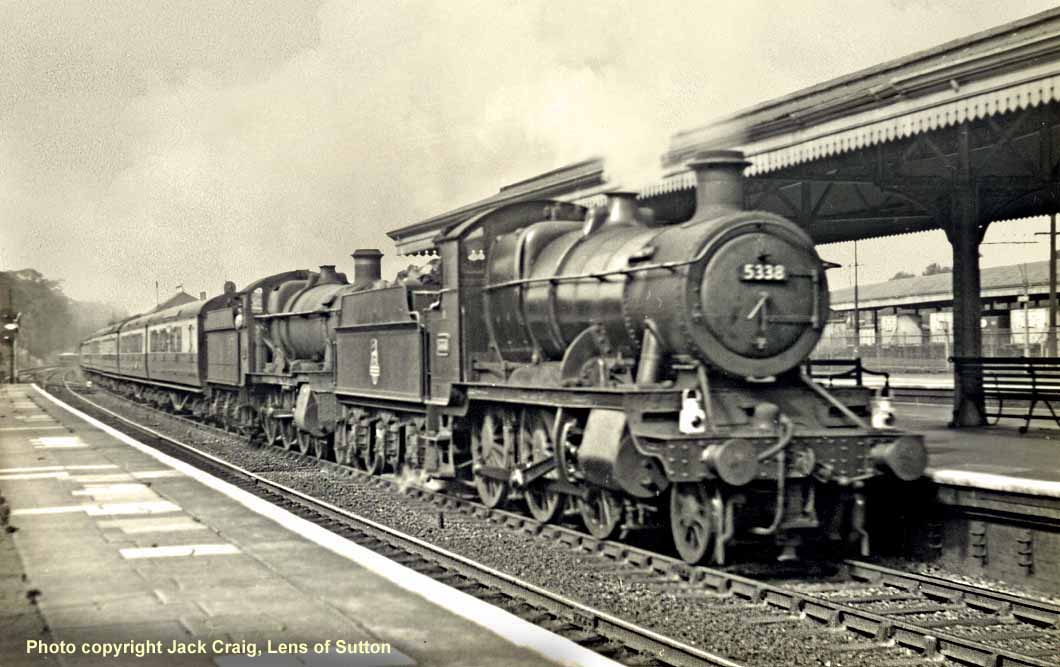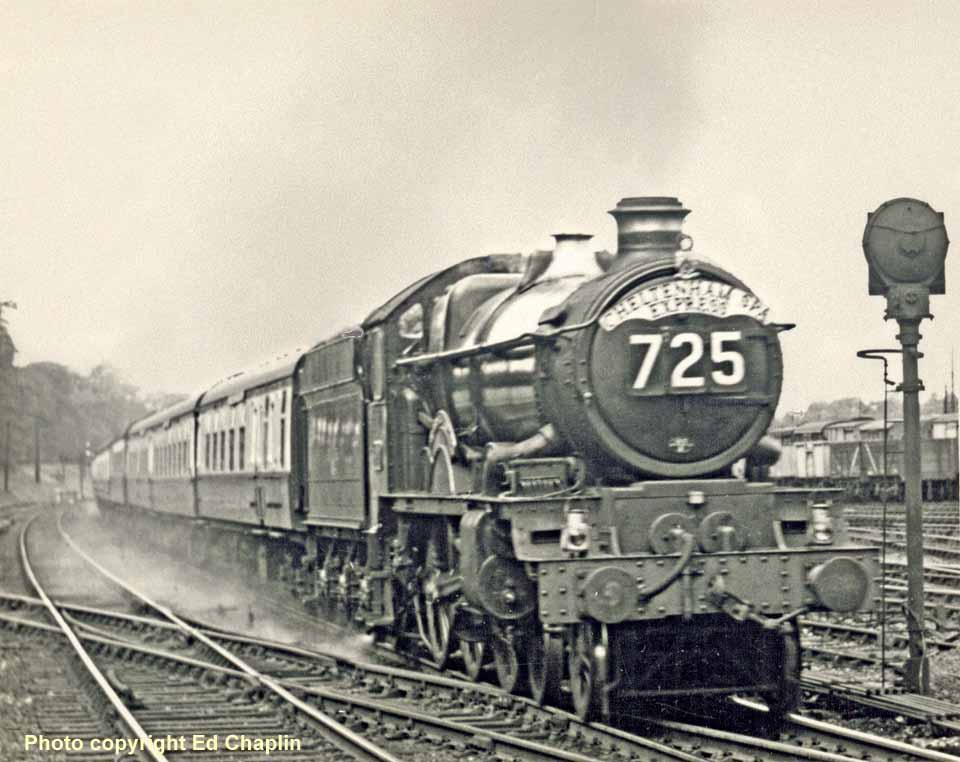 (Above-Below) Racing into Acton (Main Line) station in the Spring of 1957 is 4-6-0 No 5042 Winchester Castle of 85B Gloucester shed with the up 'Cheltenham Spa Express', aiming to reach Paddington for 10.35am. No 5042 was in Swindon Works for a Heavy General overhaul until 19 February 1957 during which it kept its single chimney but was one of the single chimney Castles to have its mechanical lubricator moved to in front of the right hand steam pipe. Acton was only 4¼ miles before Paddington but this shot by an unknown photographer has a look of speed about it. (Below) Collett 'Hall' No 6903 Belmont Hall, currently from 87E Landore depot is viewed at speed about to rattle the windows of Acton Middle Signal Box, hauling Train '716' the 07.50am from Cardiff General into Paddington, a distance of some 145 miles. Some of the extensive goods yards at Acton can be perceived in the centre of the picture. Photographer is not known.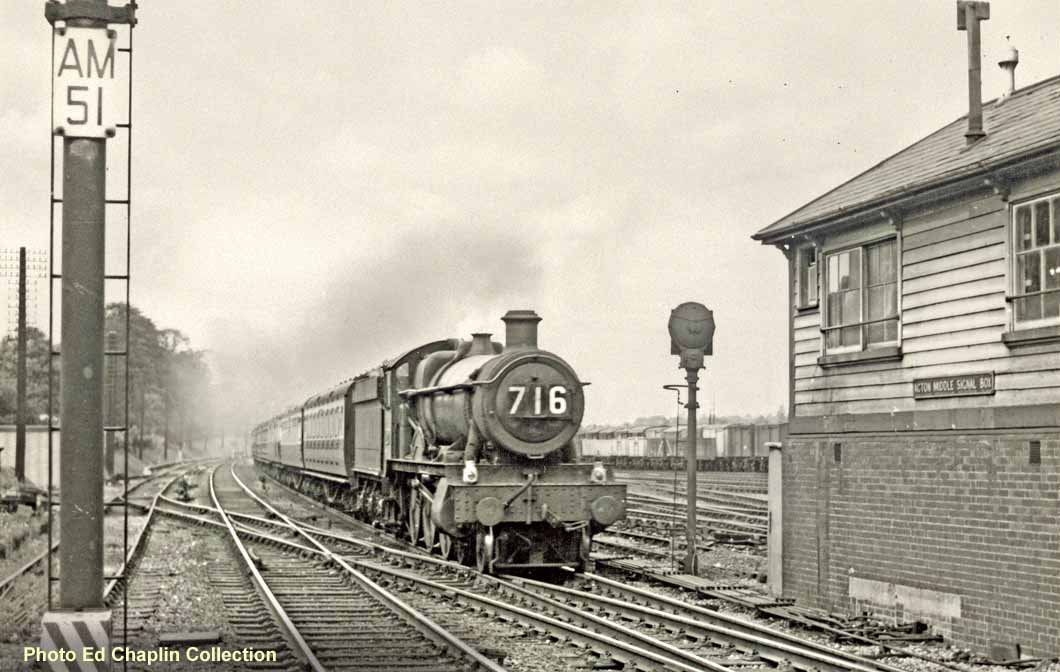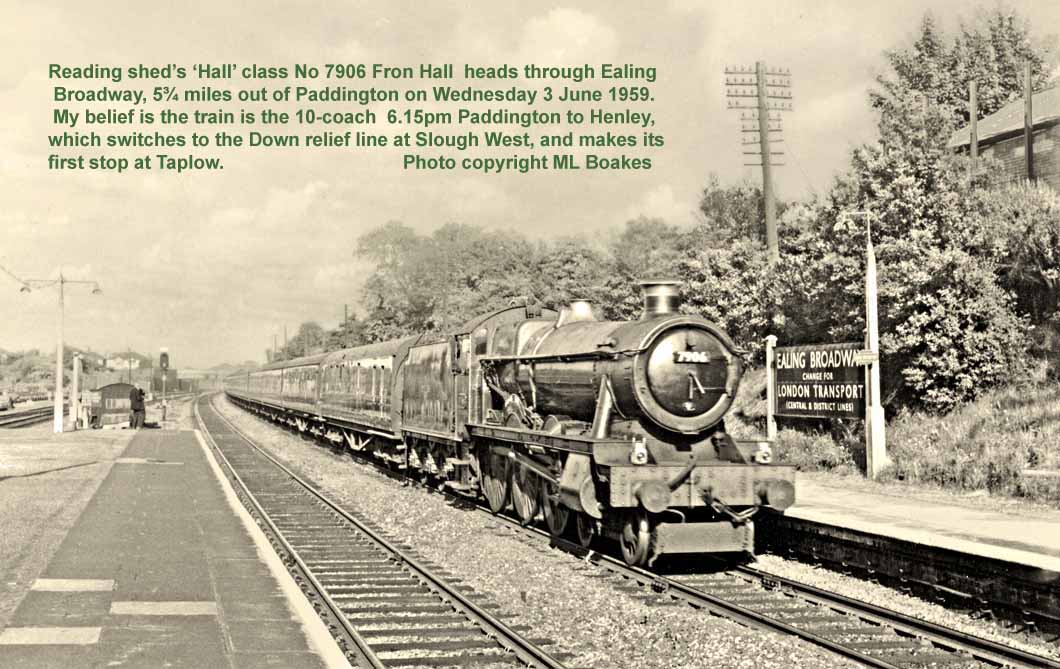 (Above) 'Modified Hall' class No 7906 Fron Hall of 81D Reading is passing Ealing Broadway, 5¾ miles out of Paddington on Wednesday 3 June 1959. My thought, as the train seems to have 10 coaches, is the 6.15pm to Henley, which switches to the down relief line at Slough West, and makes its first stop at Taplow. Photograph is by ML Boakes.
(Below)
Hurrying on the Up line at Ealing Broadway in 1949 is 'County' class No 1024 County of Pembroke, home shed from new in January 1947 was SRD, Wolverhampton Stafford Road, with a 50xx Castle as second loco. The train is the forerunner of the Up 'Red Dragon', the 7.30am ex Carmarthen. The usual practice for Up expresses from South Wales is for the engine(s) to come on at Cardiff General and replace the incoming locomotive that has brought the train in from Swansea or further west, for the remaining 145 miles to Paddington. The platforms here, including those for London Underground trains, look completely deserted, which is a little odd as the time is about 12.50pm unless it's a Sunday. No 1024 was also based at Shrewsbury, Laira, Old Oak Common, Chester, and Bristol Bath Road during its existence until withdrawal from Swindon in November 1963 with a mileage of 643,975. Photograph is in the RK Blencowe archive Ref 14030.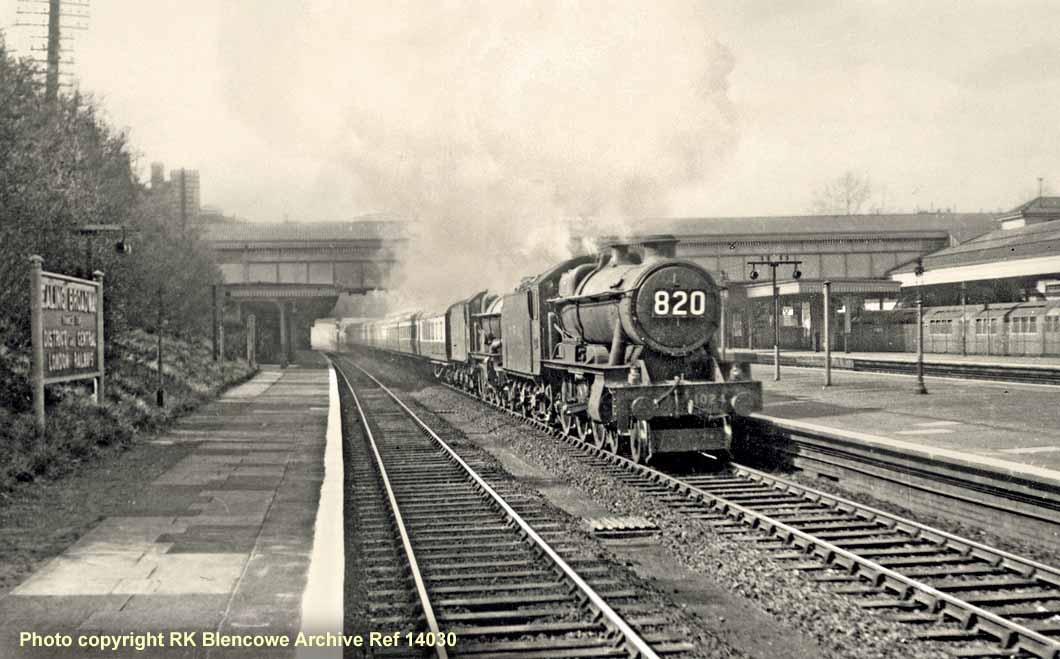 (Below) Seen at Ealing Broadway station, 'Hall' class No 5926 Grotrian Hall, of Banbury depot, is working a mixed goods on the 8th day of its last serviceable month, September 1962 before withdrawal. September seems to be the 'mass execution month' for many remaining steam engines, as delivery of diesels was increasing and the requirement for many Saturday extras was coming to an end. Even so, 5926, with its nameplate, cab and smokebox door numbers still intact is fulfilling its everyday duty: taking a Class 6 goods with a cargo of very mixed wagons. Note a glimpse of a London Underground carriage at one of the Tube platforms. Photographer is unknown.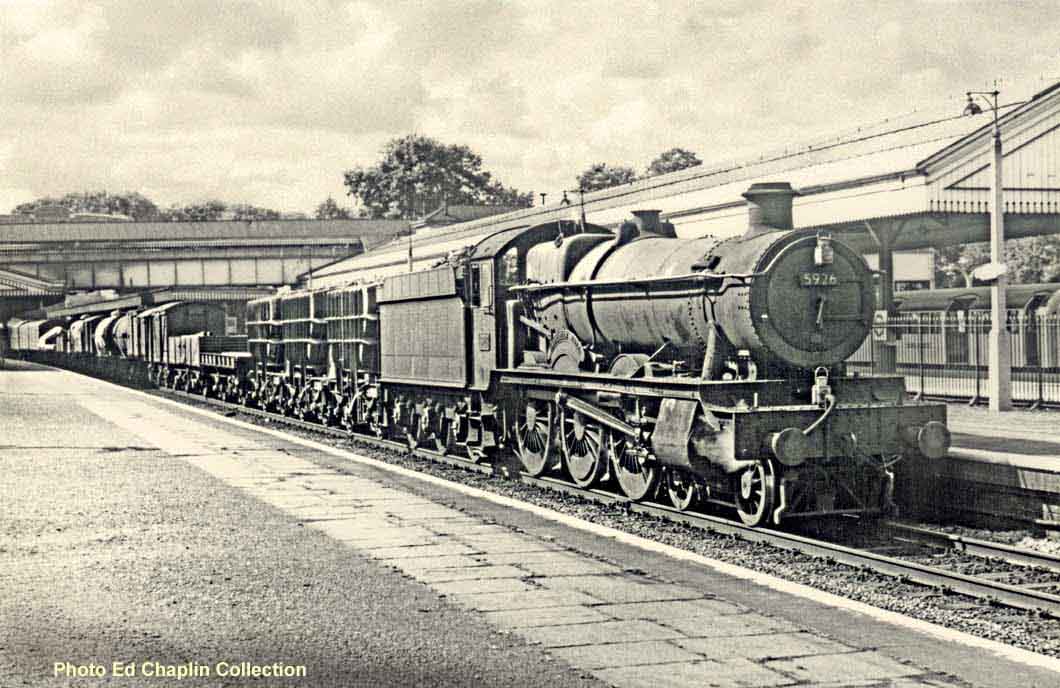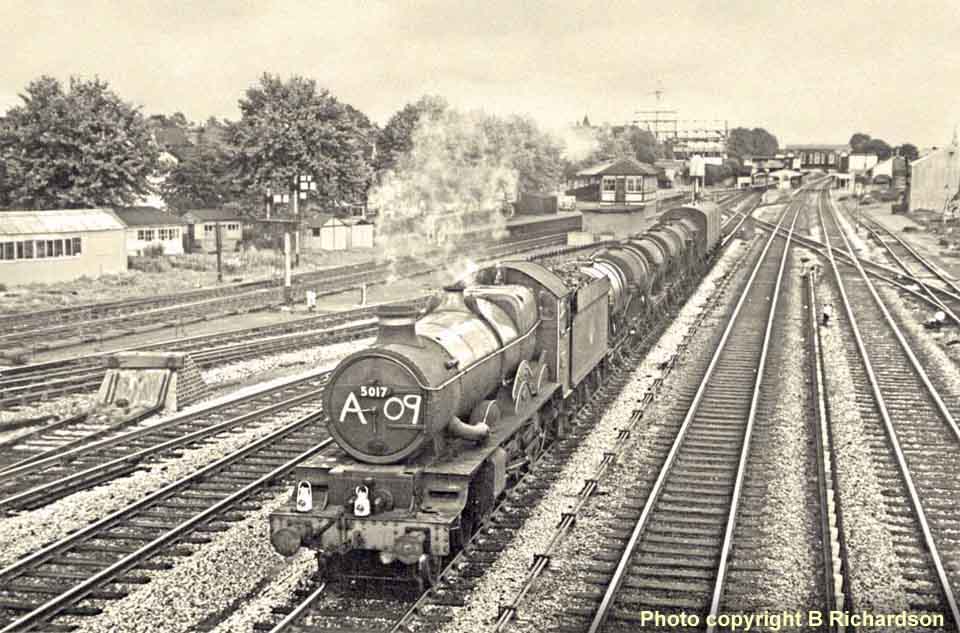 (Above) 'Castle' class No 5017 The Gloucestershire Regiment 28th 61st of 85B Gloucester shed sets off from West Ealing with a short down milk empties train, probably the 12.10pm Kensington - Whitland, on Saturday 4 August 1962. No 5017 had worked up to Paddington, due there 10.35am with the up Cheltenham Spa Express, 8.17am from Gloucester. Now it returns west, after being turned at Ranelagh Bridge and working 'light engine' to here, on a less prestigious but no less important working. Photographer is B Richardson.
(Below) A very presentable Collett 'Hall' class No 4919 Donnington Hall, of Old Oak Common depot, with a down parcels, in June 1962 just after West Ealing station which is 6 mile 41 chains from Paddington. The train is approaching the Greenford Loop line at Drayton Green Junction, sometimes used as a diversion route. Over the other side of the train beyond the signal box, you can see a train of milk tanks with a guard's van headed by a 'Castle' class engine and in the distance, an office block being constructed. Photo by BWL Brooksbank for Initial Photographics.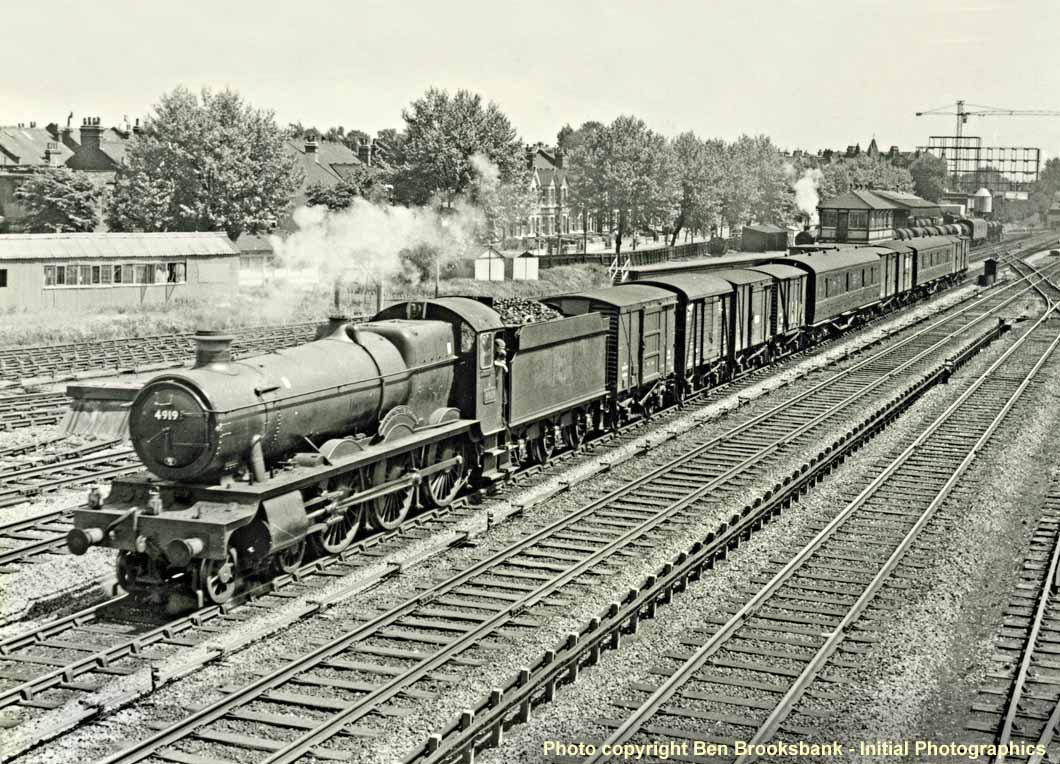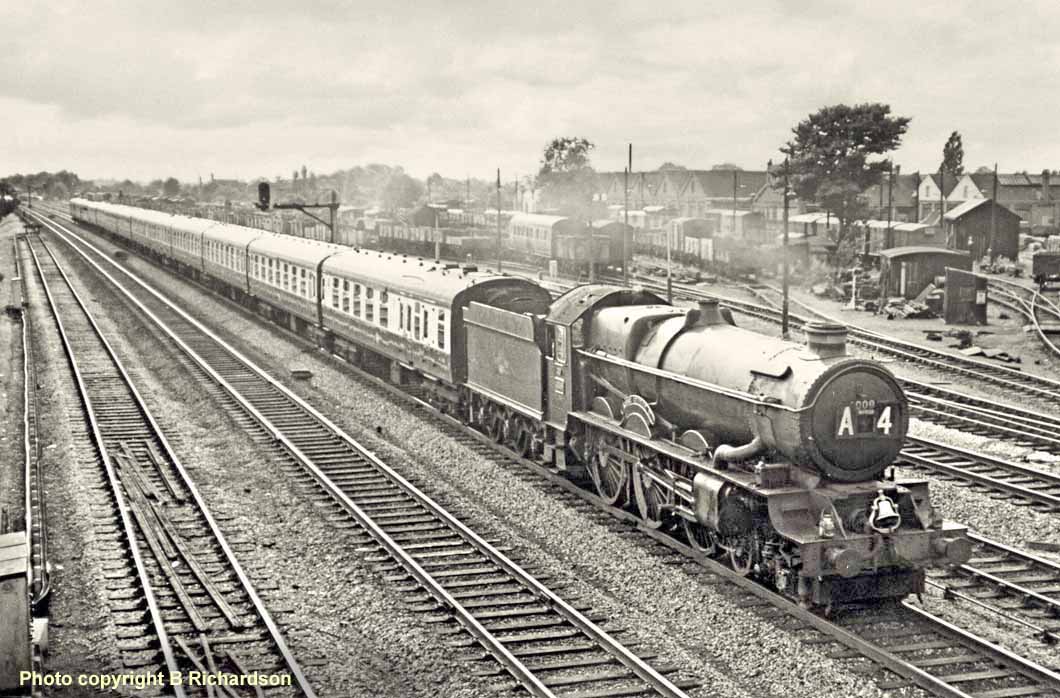 (Above) Collett's masterpiece, the class leader and now preserved No 6000 King George V approaches West Ealing on Saturday 4 August 1962 with train A74, the 1.50pm SO from Bristol, due Paddington at 4.30pm. West Ealing is 6½ miles before Paddington, so if possible, No 6000 will maintain its best speed for some time yet. It looks like a fine uniform set of carriages. Photographer B Richardson has taken a superb shot of classical proportions; a very creditably clean locomotive at speed with a very uniform coaching set made up of 13 relatively new units, showing that even at this late hour (for the King class) this ageing engine can still pull some punches and compete with the newer Diesels. Rather odd that for once we can easily view the front number plate, because of the missing number '7' from the reporting number, but the omnipresent bell tells all.
(Below) It was unusual to see BR Standard 'Britannia' class No 70018 Flying Dutchman speeding west just before Southall, 9 miles out, still carrying the reporting number for its previous duty, the up 'Red Dragon', 7.30am ex Carmarthen, which it brought to London from Cardiff, due 1pm. Its next duty is scheduled to be the 3.55pm Paddington - Neyland, the 'Capitals United Express'; but I cannot be certain it is of that train, with neither train number or titled train headboard. As it is not a uniform rake, it might be the 3.45pm down to Fishguard Harbour, train 723. However, the photo shows the eastern approach to Southall with a WR Railcar in the siding, the AEC works partly hidden by the smoke from the engine, and the Brentford Dock branch with a 57xx on a goods train visible to the right. The photo is undated, but it is in the period from August 1959 and taken by an unknown photographer.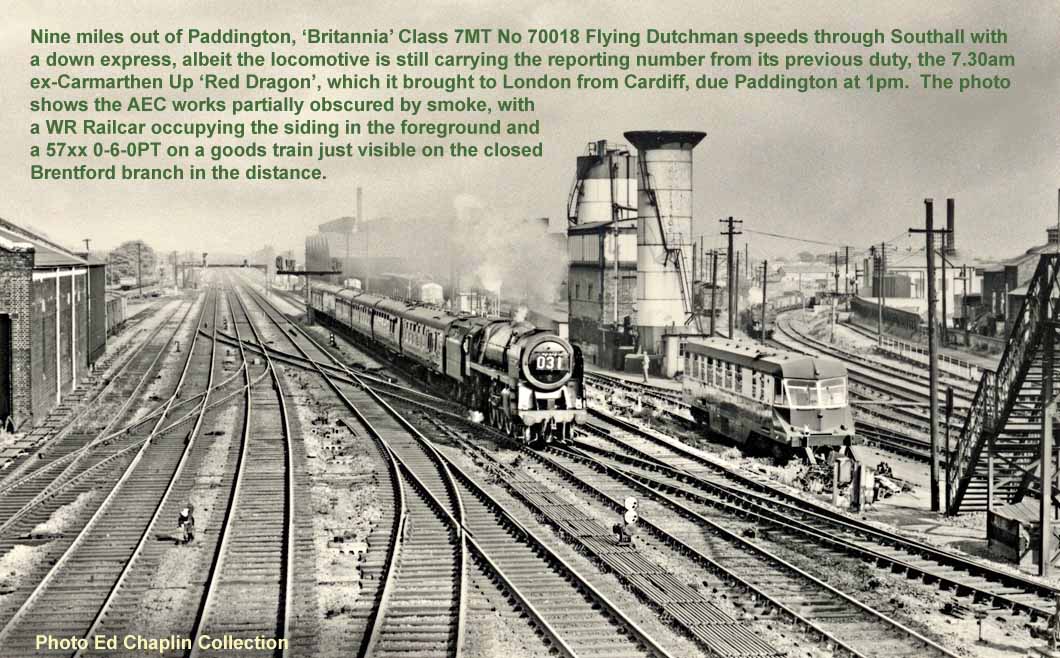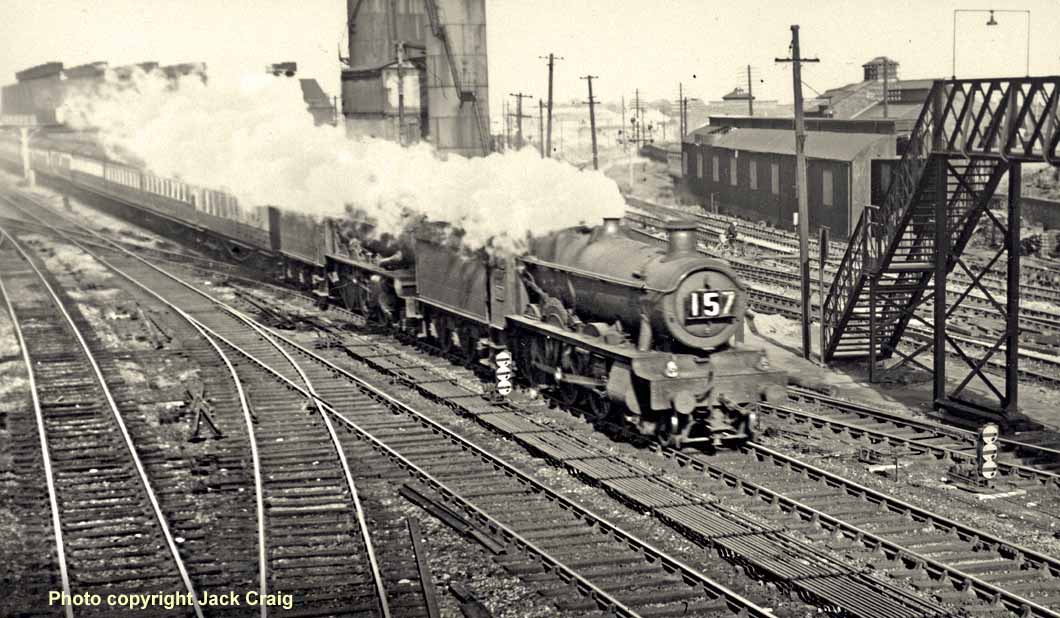 (Above) On Friday evening 17 July 1953, 1931-built 'Hall' class No 5906 Lawton Hall and a slightly older 'King' class No 6028 King George VI hurry past Southall with the 5.30pm Paddington - Plymouth. Both locos are based at Old Oak Common, and this will be a heavy train to the West, justifying double-heading. The first stop is at Taunton, and the train usually has a front portion of seven carriages for Plymouth and a rear portion of 4 for Kingswear, due there at 10.13pm with separation taking place at Newton Abbot at 9.33pm. The branch to Brentford Dock is seen away to the right. Photo is by JM Craig.
(Below) On Whit Sunday, 20 May 1956, a down parcels train headed by standard 'Hall' class No 5941 Campion Hall of Old Oak Common shed is about to enter Southall station. As always, by here, there is a lot of smoke and steam as the down trains enjoy their first chance of speed since almost everything passing here on the down lines have started out at Paddington at regular intervals, compared with the up line which has trains coming from Devon, Cornwall, Bristol, Gloucester, Hereford, South Wales; some will have stopped at Reading, some won't. So the sequence will be uneven, but always most interesting with passenger trains mixed in with a variety of freight trains. Photographer is unknown.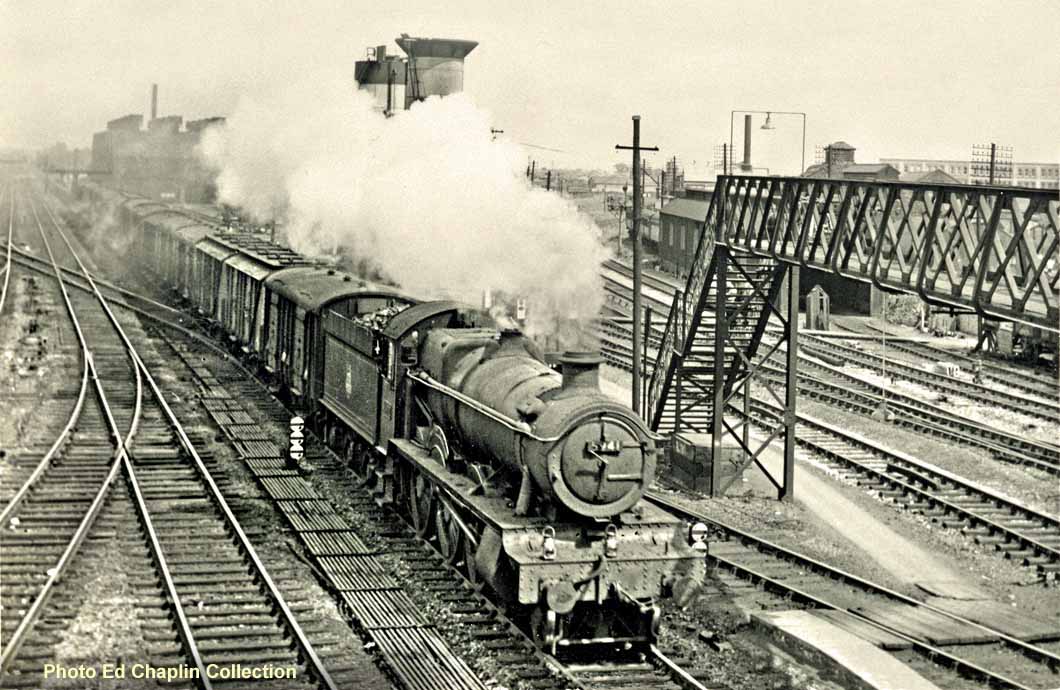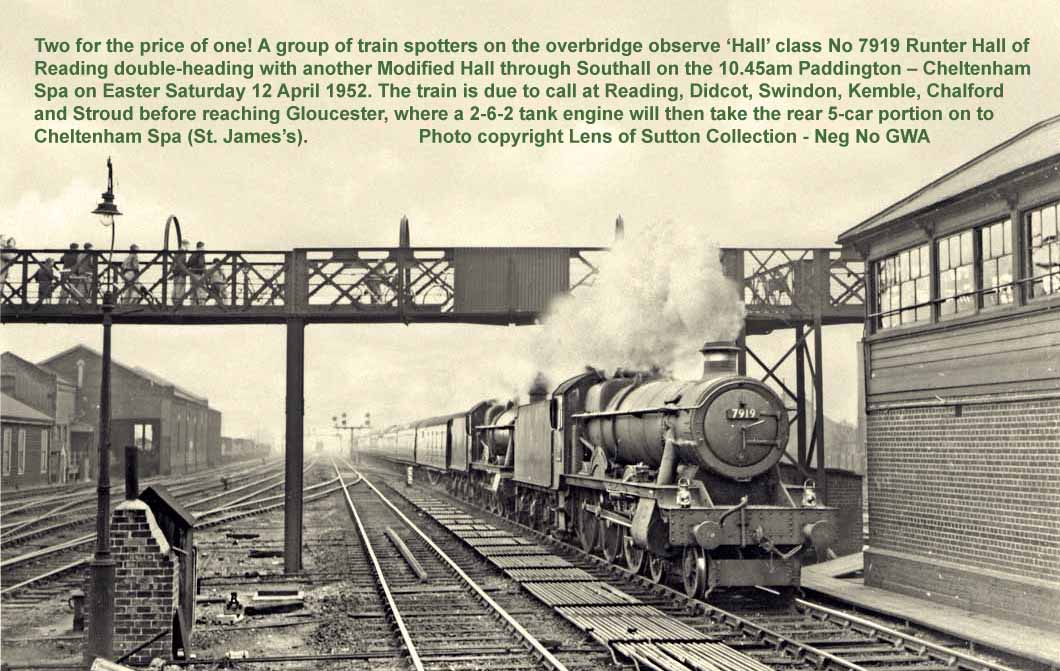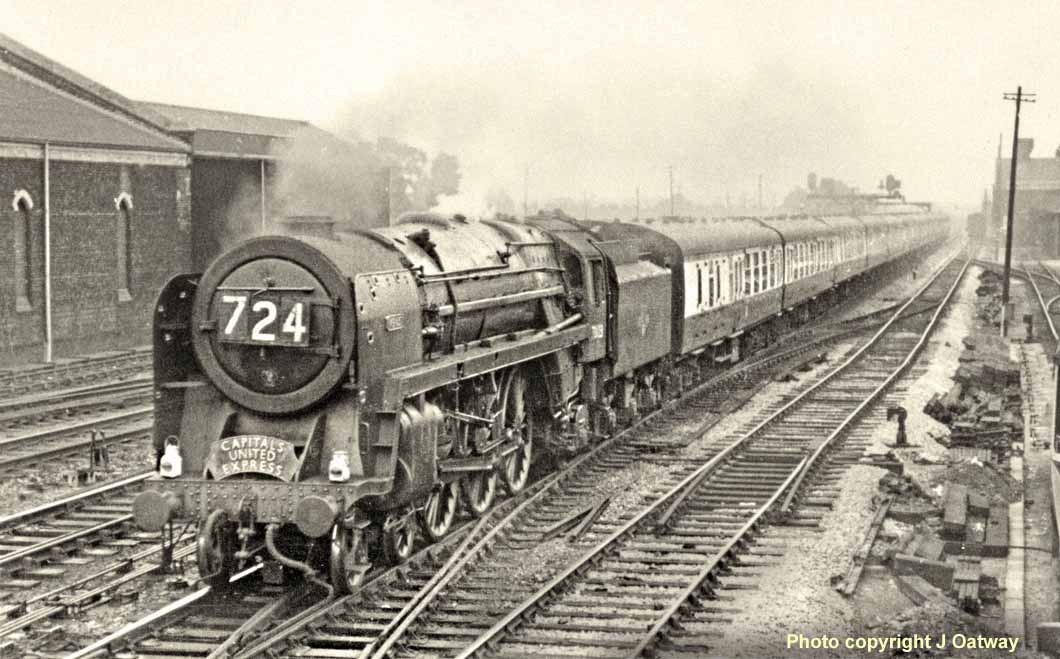 (Above) With the 'Capitals United Express' headboard resting on the buffer beam instead of higher up, caused by a broken top lamp iron, 'Britannia' class No 70023 Venus of Cardiff Canton is on the down main into Southall station on Saturday 30 May 1959. The Saturday timing is the same as Mondays to Fridays: depart Paddington at 3.55pm arrive Cardiff, non-stop, at 6.53pm That is 145 miles in 178 minutes and gives an average speed of 49 mph. Two years earlier the time was tighter, 161 minutes, and that allowed for a conditional stop at Badminton plus a definite stop at Newport. The excess of sleepers and debris are a result of hurried track repairs, which were ongoing at this time. Photo is by J Oatway.
(Below) Heading towards London at Southall station, probably in mid 1953 is 4 year-old 'Castle' No 7027 Thornbury Castle of Old Oak Common on the 7.15am SX Plymouth - Paddington. It has travelled 216 miles since setting off, and now has just 9 miles more to go until it reaches Paddington at 12.15pm. Beyond the relief lines is a platform for freight and one can just see a Cordon wagon and others. Although known as an up Plymouth express, it does convey also a 4-car rear portion that started from Paignton at 7.40am and was added to the portion from Plymouth at Newton Abbot, 8.01 to 8.06am Photograph is by JM Craig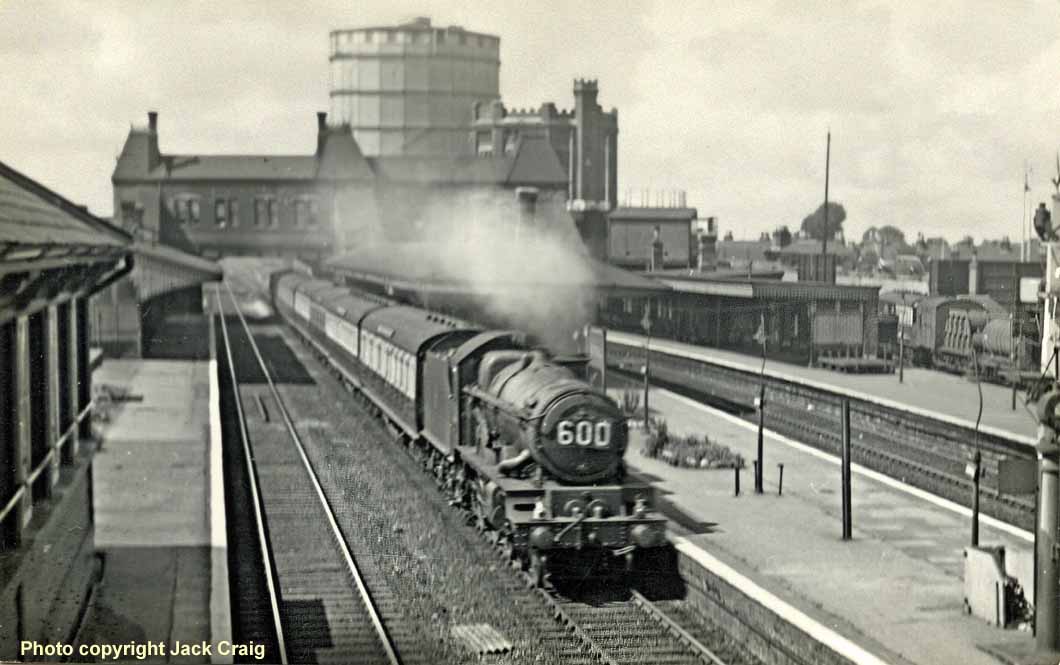 (Above) Racing into Hayes and Harlington station, just before MP11 on Bank Holiday Monday 7 August 1961 is an unknown down express, double headed by 81E Reading allocated 'Hall' No 5987 Brocket Hall and 'Castle' No 5008 Raglan Castle, of Old Oak Common shed. On the right are the GWR wagon creosote sidings and works. Now, fifty or so years after this picture, the Heathrow Link Line leaves this line after this station and goes south, near where Dawley Signal Box was, and Stockley, where there is now a flyover for British Rail trains to Heathrow Terminals 1,2,3 and 4. Also at Stockley is a huge Business Park for IT and other businesses, all crying out for a good main line station, but I doubt this country is 'up' to creating one: everybody seems to go by road nowadays. Photo is by J Oatway.
(Below) 'King' class No 6029 King Stephen (until renamed King Edward VIII on 14 May 1936) of Old Oak Common (PDN) is taking the 9.55am Paddington-Weston-super-Mare train by Dawley signal box near MP11½ after Hayes, Middlesex on Whit Monday 16 May 1932. This train was called the 'Kiddies Express'. No 6029, the last King built, was moved to Plymouth Laira depot, in 1939, but returned to 81A to work out its service there, before withdrawal in July 1962 with a mileage of 1,859, 278. Photograph is in the LCGB Ken Nunn collection, Ref 5995.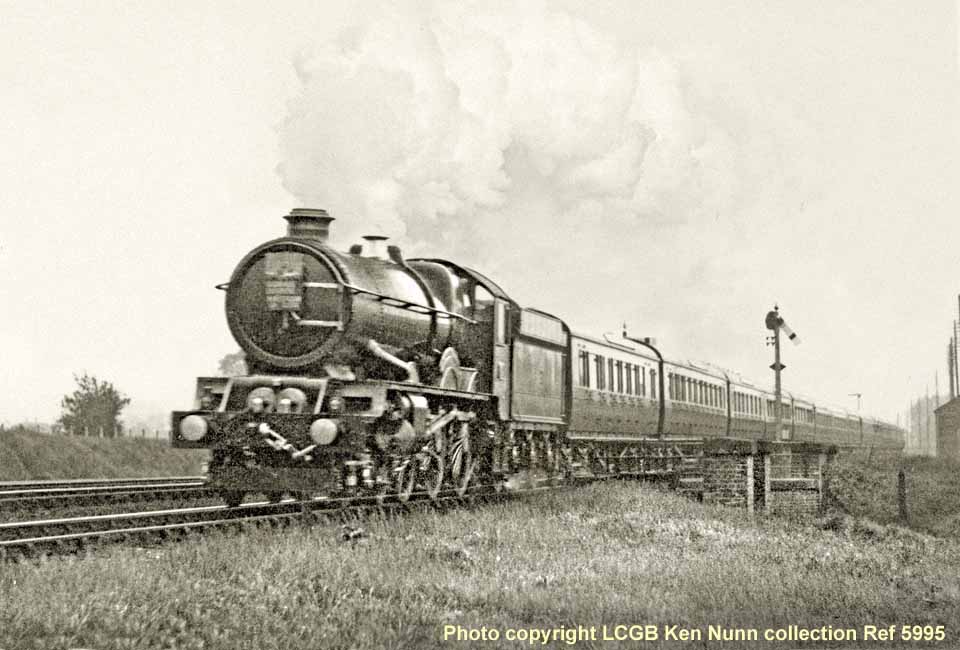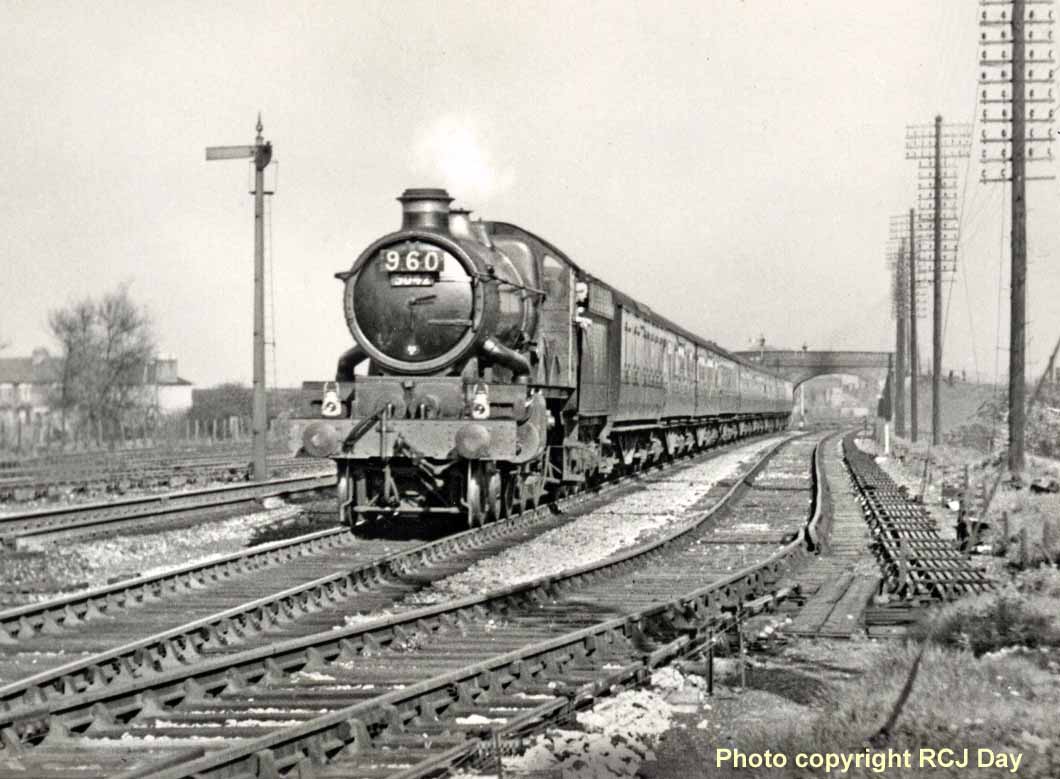 (Above) 'Castle' class No 5042 Winchester Castle of 85B Gloucester shed on train 960, the 4.55pm 'Cheltenham Spa Express' (before it was so named) on Monday 23 April 1951 approaching West Drayton & Yiewsley, 13¼ miles out. The engine had a 20 year stay based at Gloucester from May 1939, leaving in February 1959 to 85A Worcester. In April 1960 it went to 81A Old Oak Common, where as before, it was highly regarded, and used on all the titled and other prestigious trains using 81A duties. It was one of the very last Castles to be withdrawn in June 1965, having done close to 1½ million miles. Sadly No 5042 was not preserved, but it was a much admired engine and kept in good order by 85B, 85A and 81A. Photograph by RCJ Day.
(Below) Here is the original No 4082 Windsor Castle (completed April 1924) with a down Worcester express at the same place, West Drayton & Yiewsley Signal Box. The two main visual differences between this engine and the later built No 7013 Bristol Castle (July1948), were the fluted casing over the inside cylinders, standard to these earlier built engines, and the cab grab rail which was only a horizontal section originally, modified to an 'L'-shaped affair (from No 5098) as seen on the remaining class members. Photo Ref 23167.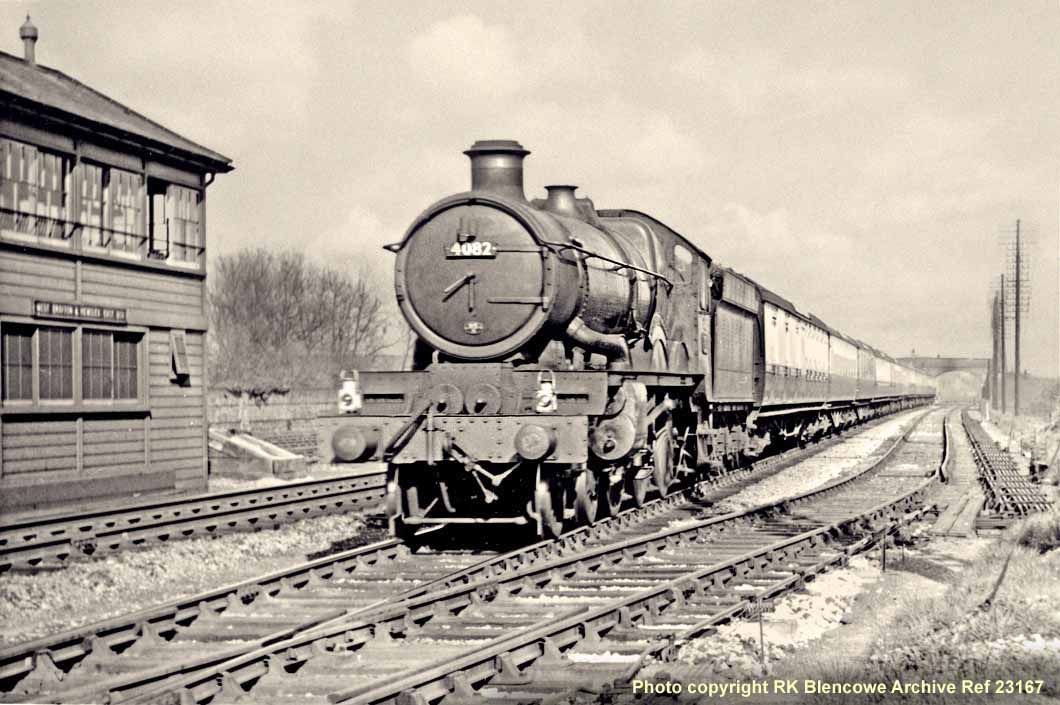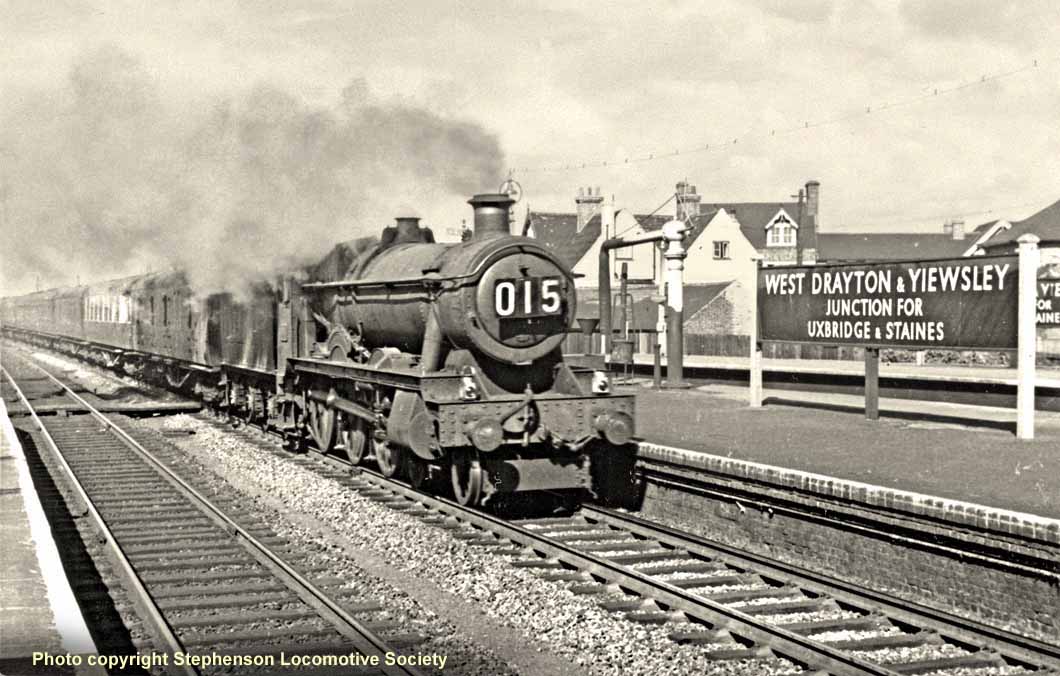 (Above-Below) The third 'Modified Hall' to appear, No 6961 Stedham Hall of Old Oak Common brings train 015, the 'As Required' 4.25am Fishguard Harbour to Paddington express through West Drayton & Yiewsley station, 13¼ miles before Paddington on Saturday 29 August 1959. No 6961 came on at Cardiff at about 7.45am and the train is due at Paddington at 10.42am. Passengers off the Rosslare - Fishguard boat will have been on the train for 248 miles so far and if they are still awake, will know 'the end is in sight'. The station was the one of the originals when the line opened in 1837 and was used to store the first two locomotives; 'Premier' and 'Vulcan' which were delivered by sea and canal in that first year. Ref Michael Hale 'Twixt London and Bristol' - Photograph by SLS Ref 3813. (Below) At the same location and on the same day in August 1959, 1939-built 'Castle' class No 5094 Tretower Castle of 85B Gloucester is on train 012, 8.00am Cheltenham Spa - Paddington due 10.30am (SLS-3810).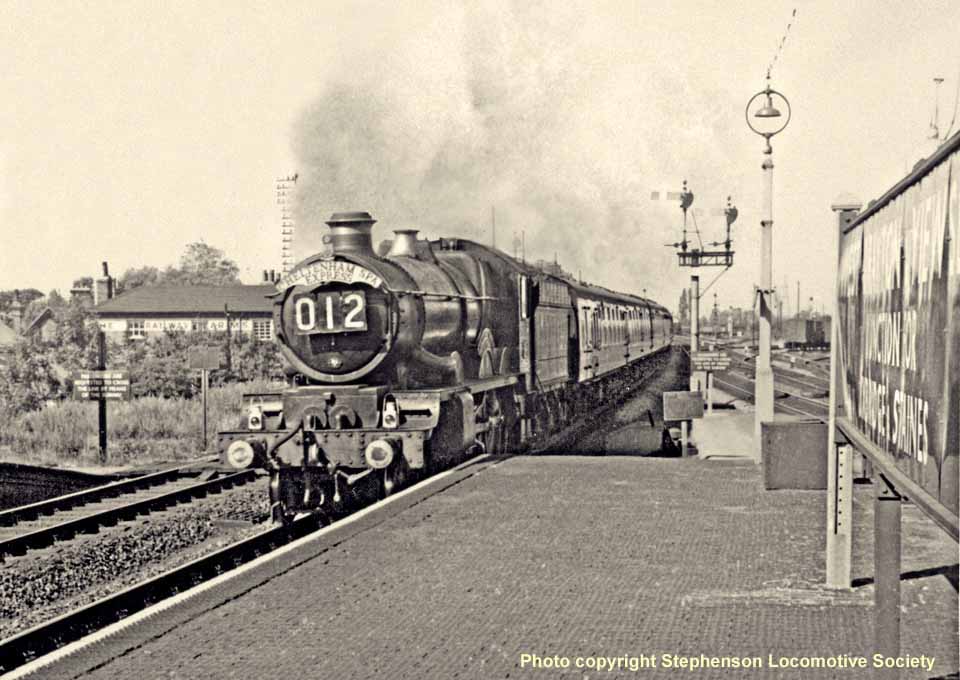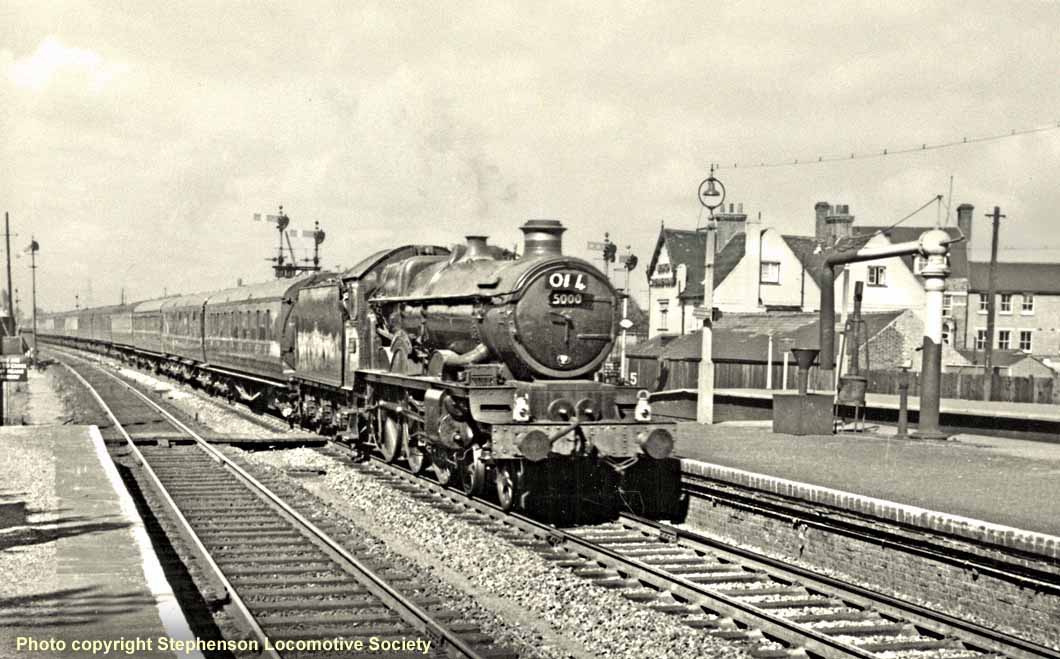 (Above) No 5000 Launceston Castle of 82C Swindon on train 014, 7.05am Cheltenham Spa - Paddington (with many more intermediate stops than train 012 plus a loco change at Swindon), due Paddington at 10.35am No 5000 was constructed 13 years earlier and survived an extra 2 years in service thus completing far more miles than its classmate; a good return of 1,870,200 compared to just 948,540 miles for the former, despite having a double chimney fitted in June 1960. Ref SLS-3809.
(Below) During the Locomotive Exchanges in the Summer of 1948, Stanier 8P 4-6-2 No 46236 City of Bradford was used on WR routes. Here it is together with the dynamometer car on Friday 21 May 1948, near Iver with the 8.30am ex Plymouth. This train called at Newton Abbot, Exeter, Taunton, Westbury and Reading before arriving at Paddington, 1.25pm There were two more occasions when the LMS Class 8P Pacifics were to be seen on WR routes. In April 1955, No 46237 City of Bristol was given trials, before it was decided to fit double chimneys to all of the 'King' class. In February 1956, four Pacifics were loaned when all the 'Kings' were out of traffic due to queries about their bogies. These were: 46207 Princess Arthur of Connaught, 46210 Lady Patricia, 46254 City of Stoke-on-Trent, 46257 City of Salford. Photograph is in the L&GRP collection
.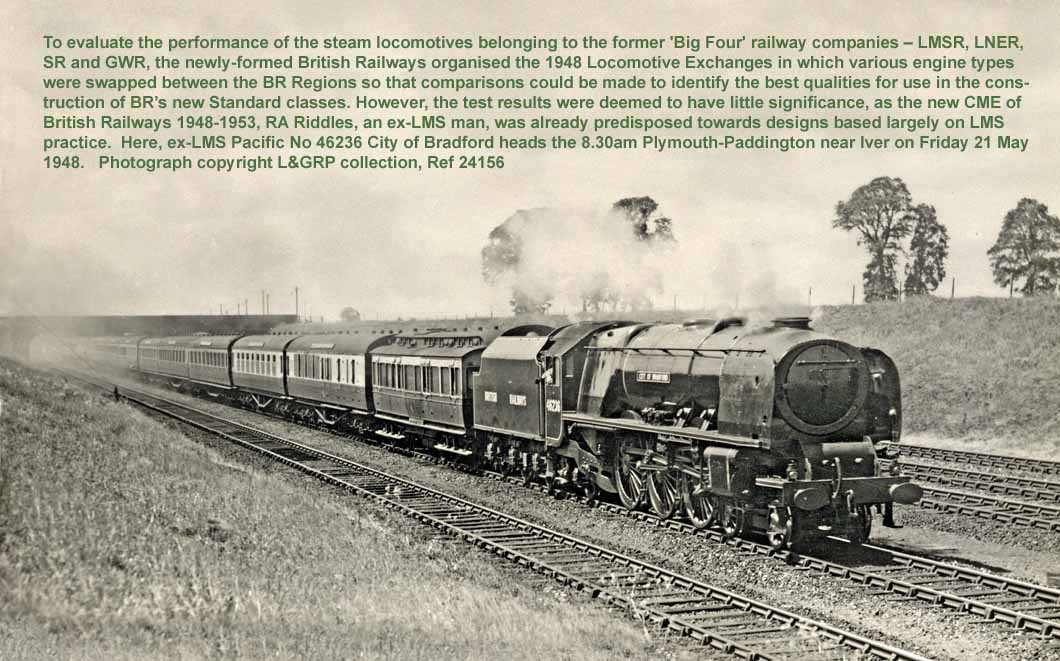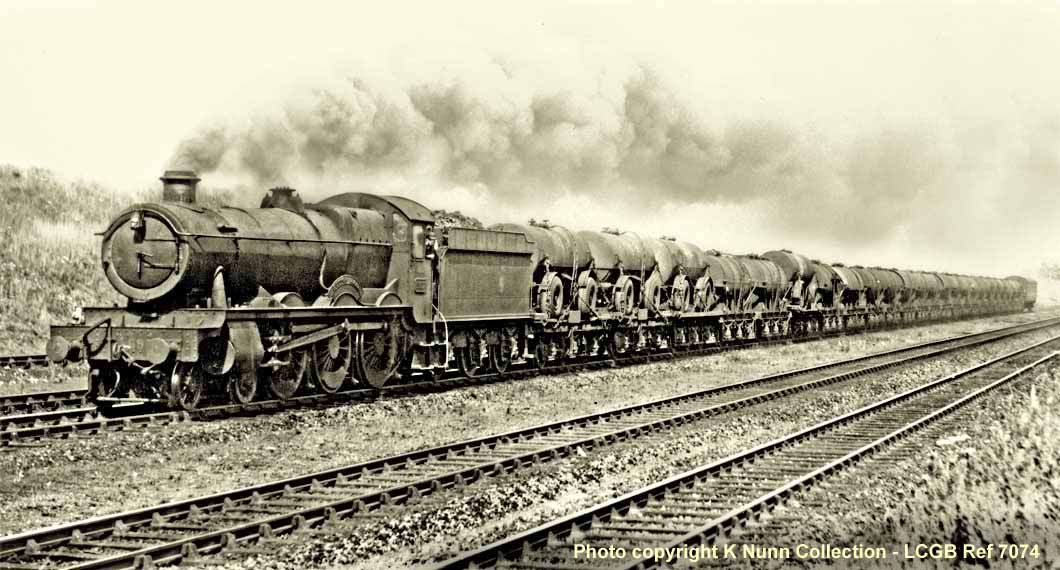 (Above) Following the rigours of World War II, the condition of most steam locomotives was very similar to this 'Hall' class engine No 5957 Hutton Hall, home shed quite possibly Wolverhampton Oxley (OXY) as it certainly was from January 1948. The main reason was an acute shortage of manual labour, but despite the austere period, sights such as these were always to be found as No 5957 heads the 2.15pm Kensington - Plymouth milk empties on the down relief line approaching Iver on Wednesday 3 July 1946. Note there are four demountable tank wagons, each weighing 18 tons empty; the average tank wagon weighs 14 tons, showing that these important trains were hard work for the locomotives involved. The train travels on the Berks & Hants line and is due at Plymouth about 11pm. Photo is in the Ken Nunn collection of the LCGB, Ref 7074.
(Below) Smartly turned out 'Castle' No 5038 Morlais Castle of Old Oak Common with the down Merchant Venturer, later headboard, approaches Iver in 1957. Built in June 1935, it went to Old Oak Common from new and that was its home base for almost 23 years until March 1958 when it was assigned to Shrewsbury. Finally after travelling 1,438,862 miles, it was withdrawn from Reading in September 1963. The actual Morlais Castle (or what's left of it) is in mid-Glamorgan. Photograph is in the L&GRP collection, Ref 25039.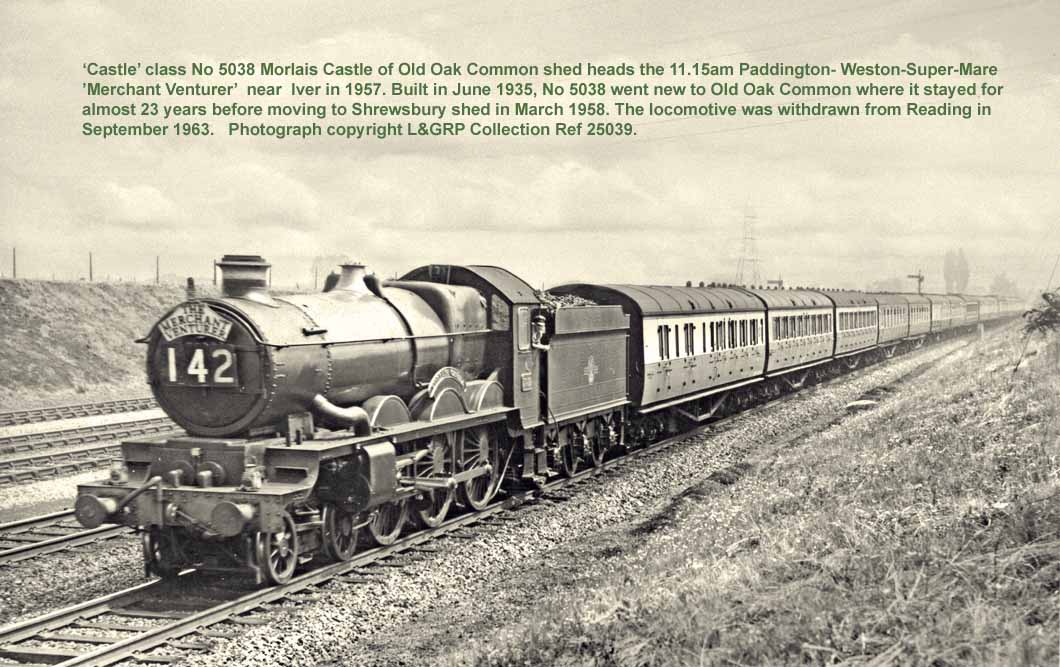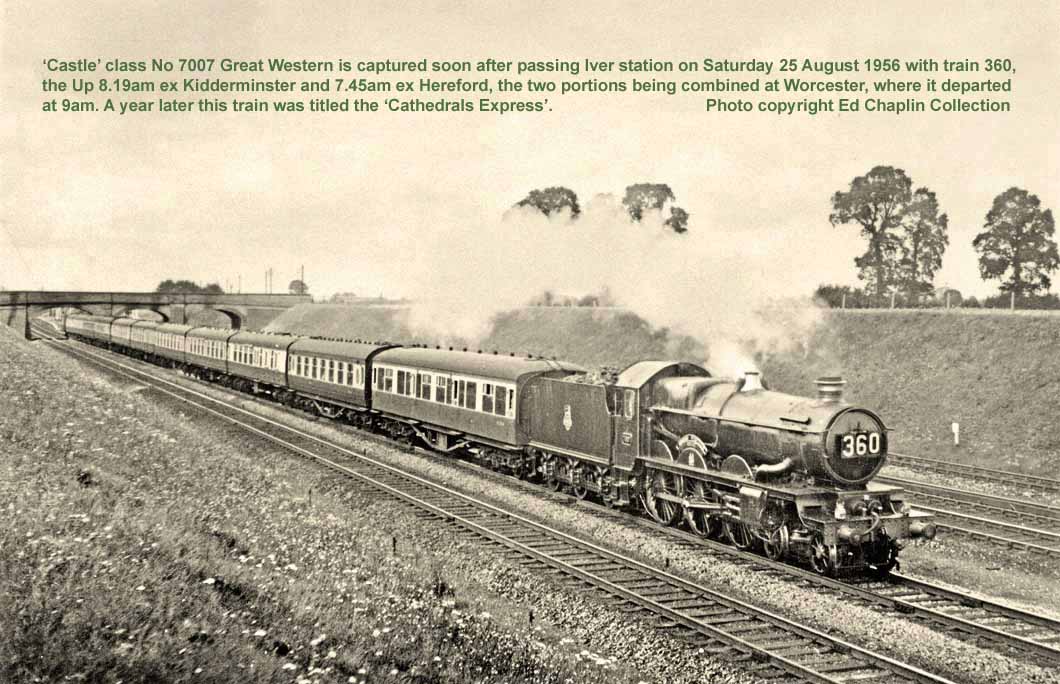 (Above) The renowned 'Castle' class No 7007 Great Western is captured soon after passing Iver station on Saturday 25 August 1956 with train 360, the up 8.19am ex-Kidderminster and 7.45am ex-Hereford, the two portions being combined at Worcester. A year later this train was titled the 'Cathedrals Express'. This was the last Castle built by 'The Company' in July 1946 when it was named Ogmore Castle. Renaming took place in January 1948. It was first shedded at Stafford Road, then Old Oak, and finally, Worcester in February 1950. It was based there until withdrawal in February 1963, having travelled 851, 649 miles, most of it on journeys between Hereford and London. This train was due at Paddington at 11.30am, so the time is about 11.10am if the train is running to time. The photographer is unknown.
(Below) 'Castle' class No 7007 Great Western is now captured on Saturday 8 September 1956 with train 186, the 1.45pm Paddington - Hereford, the return working of the loco used on up train number 360. Again the location is just on the London side of Iver station, which itself is 14¾ miles from Paddington, so the photo was taken about 2pm if the train is running to time. Excellent work has been done by the cleaners at Worcester depot to present a well-polished locomotive, which was 3 months beyond its last repairs at Swindon Works. The easy gradients of the Thames Valley allow for good fast running on this section and choosing the right moment to press the shutter release button was always crucial. The photographer is unknown.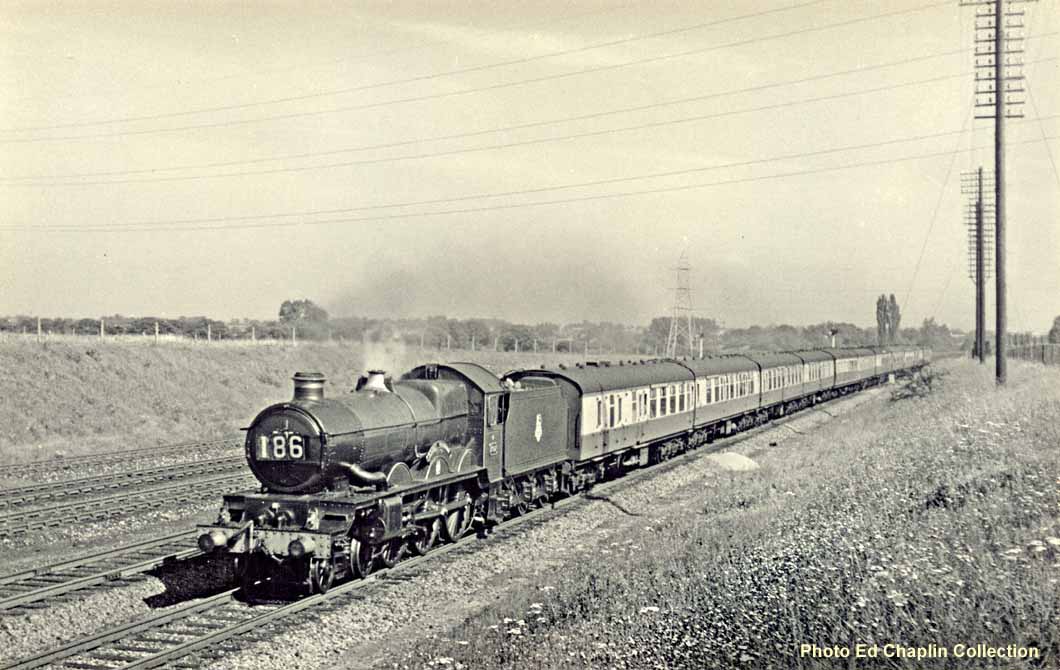 THE RAILWAY PHOTOGRAPHS ON THIS PAGE
RAIL PHOTOPRINTS
The Rail Photoprints collection is a labour of love for John Chalcraft, who has taken many hours producing high quality images from transparencies and negatives that photographers were unable to achieve in the old days of the photographic dark room. However john is constantly seeking new material either to purchase or to work with the photographer on a 'Royalty' basis paying a set fee for sales of any prints produced from his work; in such instances the photographer retains ownership and copyright.
For further details e-mail John Chalcraft at john.railphotoprints@googlemail.com or you can write to him at 'Stoneycombe', 8 Paulmont Rise, Temple Cloud, near Bristol, BANES, BS39 5DT. Visit the Rail Photoprints website
HERE
RK BLENCOWE
My thanks to Rod Blencowe for his generous help in filling the gaps of my own collection. Over the years, Rod's negative archive has swelled to become one the most important collections in the country; not only is the archive regarded a valuable resource for publishers, railway enthusiasts and historians, his high quality images are readily available to all collectors. If anyone requires traditional photographic prints or any other photographic services,
Rod Blencowe's email address is: r.blencowe@ntlworld.com Please note this is not a 'clickable' link via Outlook Express. You will have to email manually.
SV BLENCOWE
This page also features photographs supplied by Stewart Blencowe, who has a superb archive of black & white postcard-sized photographs of locomotives from both the pre-Grouping and 'Big Four' eras. Many pictures are from his own negative collection and can only be purchased direct from him, either by visiting his website
HERE
or via selected railway book fairs, auctions and Open Days…the venues are listed on his website. Stewart has more than forty years of successful trading in all manner of railway items from secondhand books, photos and timetables to ephemera and railway minutia, relics, tape recordings models and miscellania. Postcard size prints can be ordered at £1.50 each including packing and postage.
Stewart's email address is - stewart.blencowe@btopenworld.com - Please note this is not a 'clickable' link via Outlook Express...you will have to email manually.
TRANSPORT TREASURY
The Transport Treasury collection supply rail, bus, and tram photographs to publishers and enthusiasts. Many well known railway photographers have chosen Transport Treasury to care for their collections, familiar names such as: R C Riley, Dr Ian C Allen, Richard HN Hardy, Roy Vincent, John Robertson, David Idle, Alan Lathey, Mike Mitchell, Eric Sawford and W (Bill) A C Smith to name but a few. You can contact the Transport Treasury using any of the following: Telephone 01464 820717 - Mobile 07867 645410 Email
info@transporttreasury.co.uk
or by post to: The Transport Treasury, Logie Shannoch, Drumossie, Insch, Aberdeenshire AB52 6LJ. Visit the Transport Treasury website
HERE



GREAT WESTERN TRUST




The Great Western Trust (GWT) (Registered Charity 289008) was established by the Great Western Society (GWS) in 1984 to conserve and display artefacts and memorabilia of the GWR collection at Didcot Railway Centre. The vast majority of the collection has been donated by visitors or by GWS members and spans the period from 1833 (the First GWR Share Prospectus) to 1977 (withdrawal of the BR Western Region's Diesel Hydraulic locomotives). The Trust's photographic collection is vast and comprises images in both black and white and colour covering the Great Western and other British railway companies. Full details can be obtained from the Hon Photo Archivist c/o Didcot Railway Centre, DIDCOT, Oxfordshire England OX11 7NJ. Please enclose a stamped addressed envelope.




STEPHENSON LOCOMOTIVE SOCIETY




The Stephenson Locomotive Society (SLS) photograph collection is a marvellous archive of over 50,000 historic railway photographs along with more contemporary images. The SLS list was previously only available to SLS members, but from January 2016 the archive became accessible to everyone. Full contact details and price lists can be found via the links provided on the excellent SLS website

HERE




LOCOMOTIVE CLUB OF GREAT BRITAIN




The Locomotive Club of Great Britain's (LCGB's) Ken Nunn Collection has been transferred to the NRM, which will make pictures available to historians and enthusiasts in due course. The Ken Nunn collection of 35mm black and white and colour copy transparencies covers British railway history from the earliest years of the LSWR, GWR, South Eastern, NER, Midland, Southern and LNWR, with views of locomotives, carriages, wagons, road vehicles, workshops, stations, bridges, people, shipping and events. Click

HERE

to visit the National Railway Museum's photographic collection.


LOCOMOTIVE & GENERAL RAILWAY PHOTOGRAPHS


Charles Clinker, a historian of the Great Western Railway, was so deeply disturbed by the destruction of collections of early railway photographs by FE Mackay and E Pouteau, that he set up the Locomotive and General Railway Photograph (LGRP) with the aim of preventing future collections being destroyed. In June 1939 he went into business with V Stewart Haram, who ran the sales section, and W Vaughan-Jenkins who managed the photographic side. Charles Clinker's role was to persuade early railway photographers to pass over their negatives to the care of the LGRP, which would provide prints for sale to enthusiasts. The original partnership came to an end in 1951 when Vaughan-Jenkins sold his share of the business. The archive then passed from owner to owner, including the publishers David & Charles, Real Photographs, Ian Allan Ltd, before finally taking up residence at the NRM which purchased the collection and its associated rights with the aid of the National Heritage Memorial Fund in 1992. Click HERE to visit a Guide to NRM's Photographic Collections. Details of the L&GRP can be found on page 117.


LENS OF SUTTON ASSOCIATION


As mentioned earlier, Ed Chaplin was a frequent visitor to Lens of Sutton on Westmead Road, then a Mecca for serious students of British transport. Ed purchased many wonderful old photographs from John Smith, proprietor of this specialist transport book shop. As a teenager some years earlier, Ed had bought many second-hand 00 gauge items from John Smith's previous shop at 50 Carshalton Road in Sutton. Sadly John Smith passed away in 1999, and the Lens of Sutton Association was established in 2001 to help maintain the collection and keep the name of 'Lens of Sutton' alive. The objective the Association is to make available a number of photographs from their extensive collection at very competitive rates. Lists are available at this contact address postal only: The Lens of Sutton Association, 46 Edenhurst Road, Longbridge, Birmingham B31 4PQ, or click HERE to visit the excellent Warwickshire Railways website for further details

.
The NRM's photos come from two main sources, the railway operating concerns and private enthusiasts. The official photographs produced by the railway companies passed into public ownership under British Railways in 1948. These images, together with those of BR's own photographers, were acquired by the Museum under the terms of the 1968 Transport Act, which made provision for the retention of historic objects of national importance
HERE
.
CONTIUED ON NEXT PAGE
Polite notice: All text and photographs are protected by copyright and reproduction is prohibited without the prior consent of the © owners. If you wish to discuss using the contents of this page the email address is below. Please note - this is not a 'clickable' mail-to link via Outlook Express. You will have to email manually.
dheycollection@ntlworld.com